The best personalized home decor gift ideas have a touch of flair, a dash of pizzazz, and are full of inspiration. Before you commit to anything, you will need to carefully consider the impression you are trying to make with the space you wish to utilize. If an item is too large it will overwhelm an area and look gaudy. If an item is too small, it may go completely unnoticed. Will bold colors and contrast liven things up, or would soft colors and muted tones serve the space better? Does the space in question have a particular theme you would like to match, or is something more utilitarian in order? Is this piece of home decor a treat for yourself or intended for someone else?
29 Personalized Home Decor Gift Ideas to Last a Lifetime

When purchasing a gift for others it is tempting to buy something that you would like, but it is always better to reflect on what the giftee may need or want. These days, people are more in tune with the environment. Even if this isn't a big concern for you, it is still better to look for gifts that are eco-friendly. In this way, the gift you give to a friend or loved one can be a gift for everyone. Salvaged and repurposed materials in the hands of a talented artist make some of the most charming items. Non-toxic paints and natural finishes are safer for everyone. Does the intended recipient live far away? Will you be ordering a gift to send directly to them? If so, be sure the seller knows the item is being sent directly as a gift. Some sellers will include a personalized gift tag and offer gift-wrapping services for such circumstances. Make certain the item will be sent in a sturdy box with proper packing materials so that your gift arrives intact.
You will need to allow ample time for delivery if you need your gift to arrive before a certain date. After you have taken into consideration all of these factors, you are ready to shop to your heart's content. Here we have a curated list of 30 amazing decorations and gift ideas that are good for a variety of occasions and needs. So, grab a nice cup of tea and relax while you peruse all of these spectacular and heartfelt gifts.
1. Personalized Baby Cushion for Nursery Decor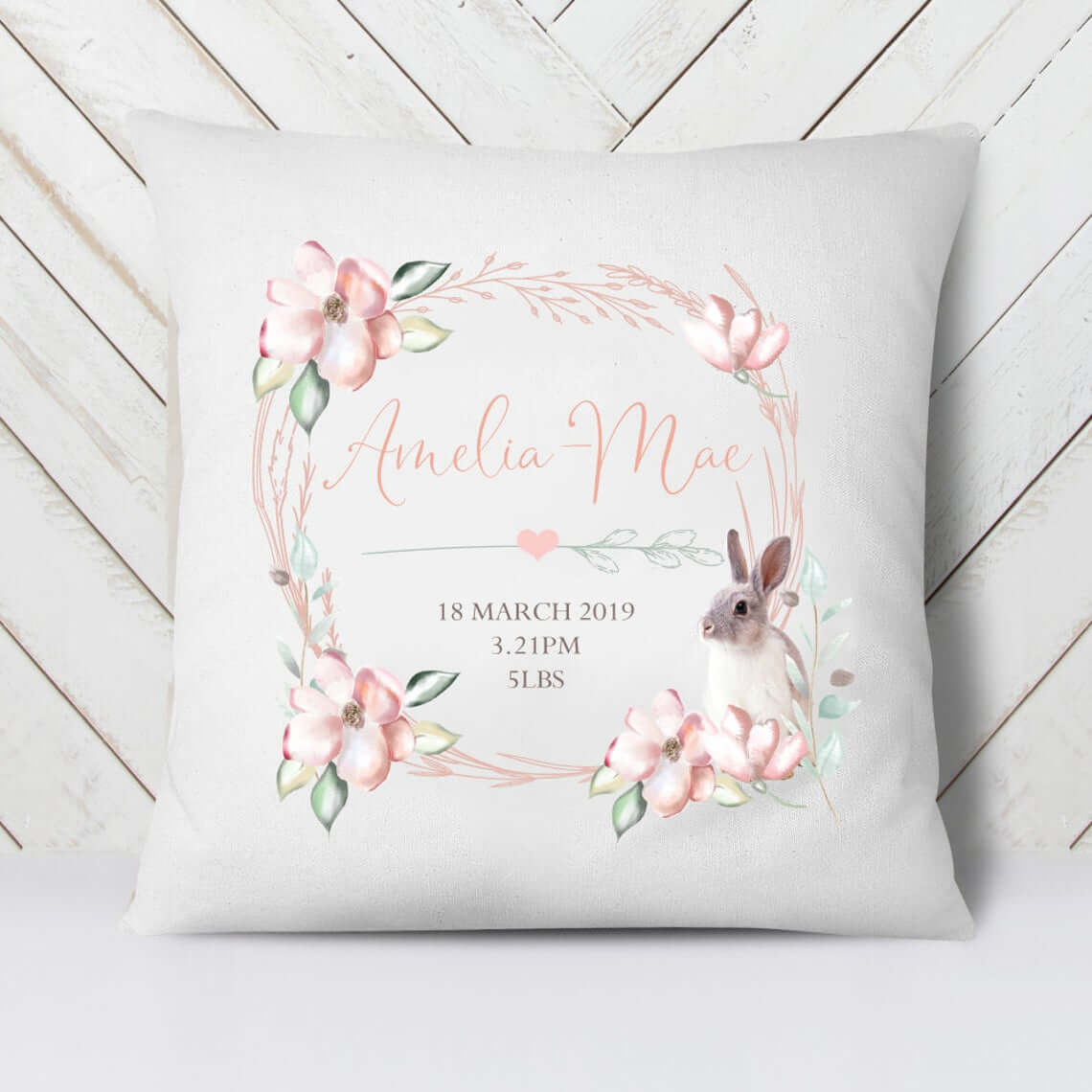 Baby gifts can be the most satisfying to give. Welcoming a new child into a home is a glorious and hectic time for any parent. Help them commemorate the big event with this personalized baby announcement cushion. The quality of this pillow is stunning and would be a great addition to any nursery. Expectant parents will be pleased with this unique and thoughtful gift. High-quality materials are used in the construction of this handmade cushion to ensure that the finished product is long-lasting. This pillow looks most at home resting in a comfy chair and is sure to bring smiles for years to come.
2. Customized Sign for Outdoor Decoration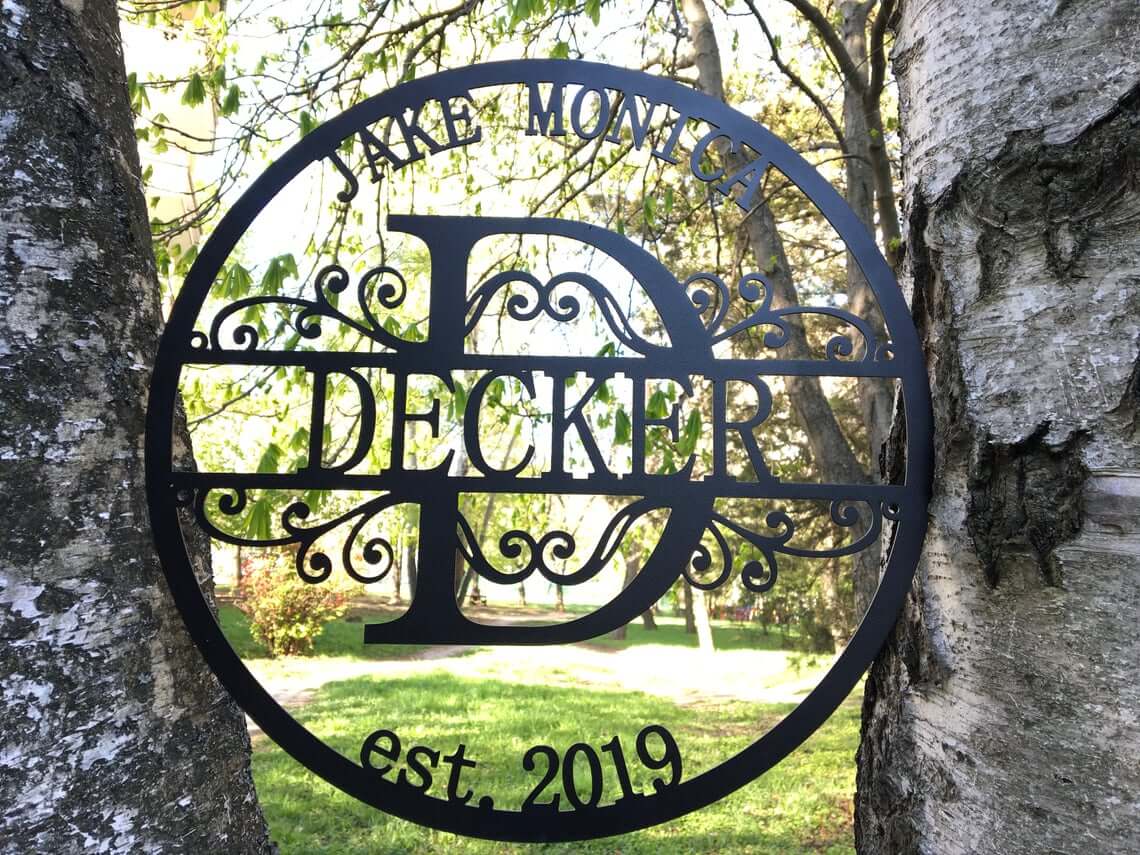 The top-notch workmanship of this intricately designed personalized metal sign really shines through. Made from robust materials, this outdoor sign is meant to withstand the elements. It can be difficult to find the perfect wedding or housewarming gifts, but this cool sign is one of the best personalized home decor gift ideas around. Whether it will eventually be placed in a garden or hung on a door, this lovely sign will be certain to receive many positive compliments from admirers.
3. Personalized Sign for the Entryway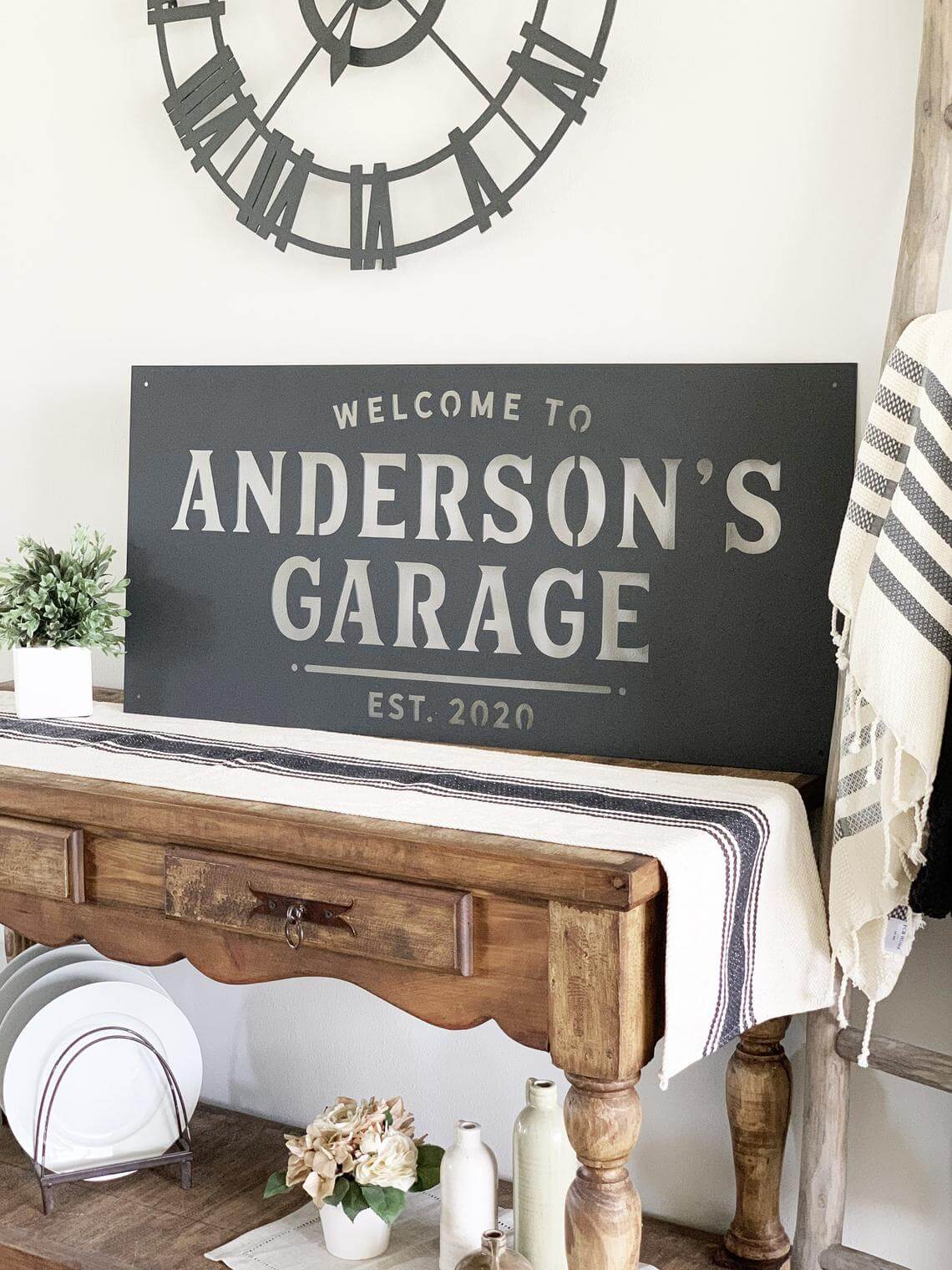 Home decoration can be both pleasing and functional. A beautifully rendered custom metal established sign is an excellent addition to any entryway. Proudly display the date you established your home (or ranch), for all your visitors to see. This sign is also a lovely way to help your friends or neighbors christen their backyard (and a great reminder for them to invite you to their outdoor barbeques). Sturdy material and high-quality craftsmanship mean this sign can be cherished for a lifetime. This would make a lovely gift for any new homeowner.
4. Custom Cutting Board for Kitchen Decor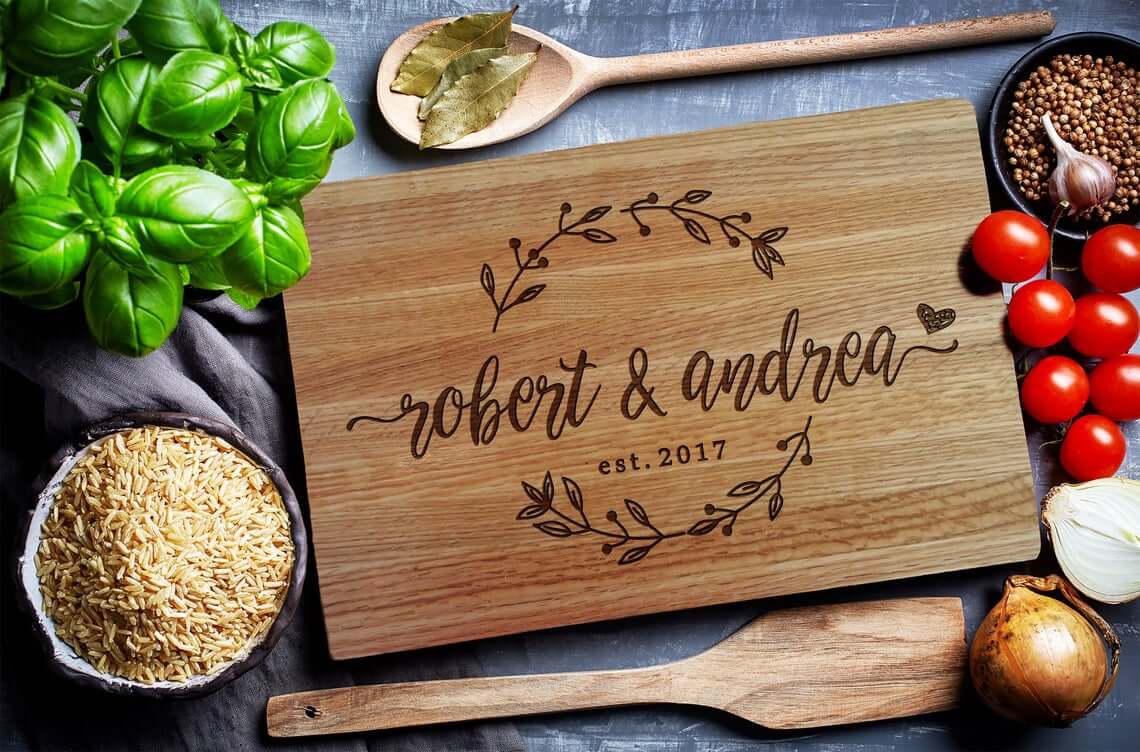 Looking for the perfect wedding gift can be a tricky task. You want your gift to be the perfect combination of thoughtful and functional. The bride-to-be will absolutely adore this customizable personalized cutting board. Made with the high-quality natural wood and hand-crafted to ensure that this cutting board will be the star of the sideboard. Food safe mineral oil is applied to the board so that one side is beautiful and decorative, but the other side functions nicely as a conventional cutting board.
5. Authentic Whiskey Barrel is Unique Bartop Decor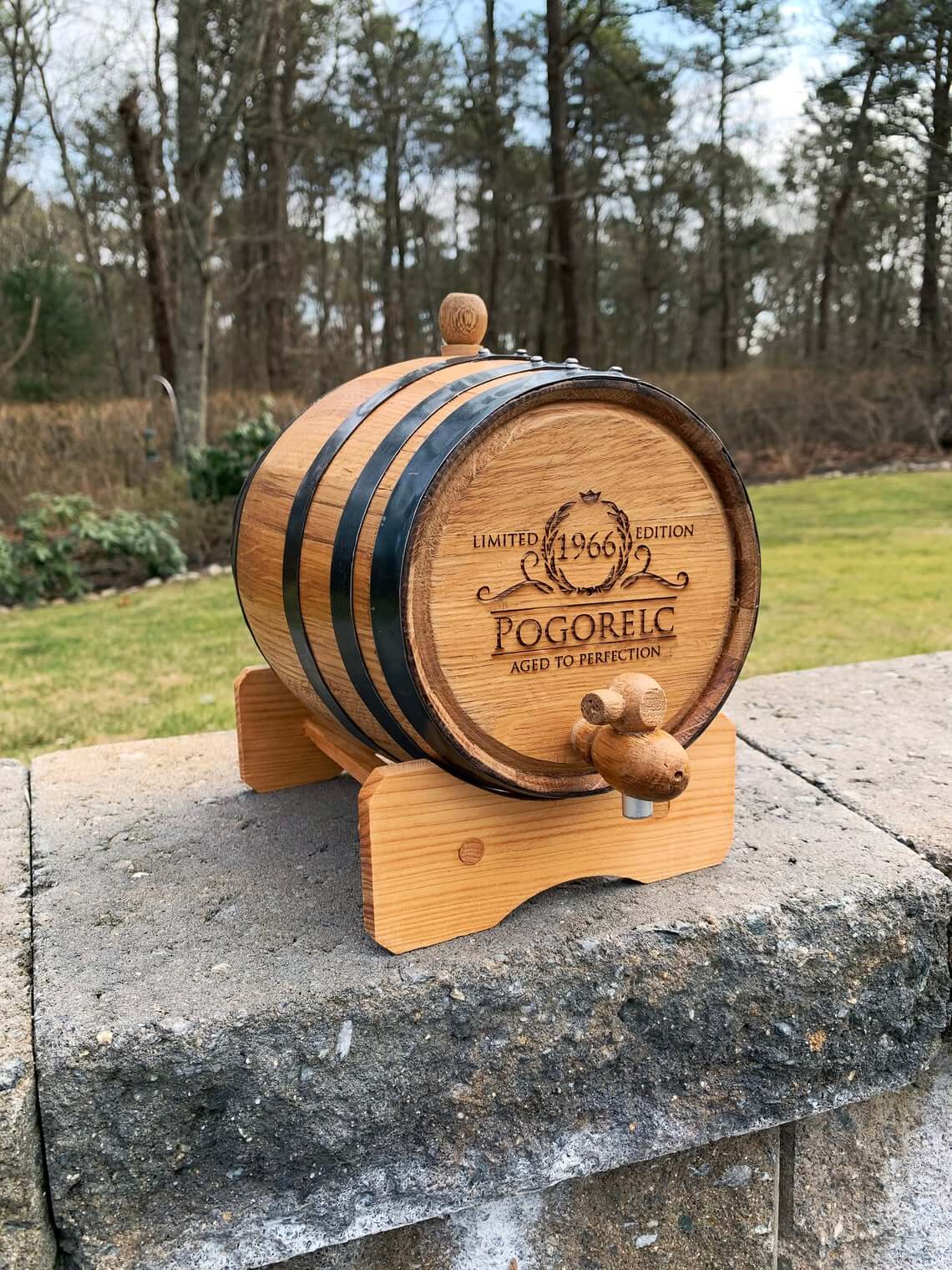 Are you thinking of buying dad a tie again? This personalized oak whiskey barrel is a fantastic gift idea for dad. Superb craftsmanship is evident in these hand-made barrels. Due to the nature of oak and the hand-crafting, each whiskey barrel will look somewhat unique. A personalized whiskey barrel also seems like a fun and unique gift for your groomsmen. This regal barrel will stand proudly on any bartop while your favorite whiskey is aged to perfection. The time-honored tradition of aging whiskey has never been more attractive.
6. Custom Welcome Mat Decorates Doorway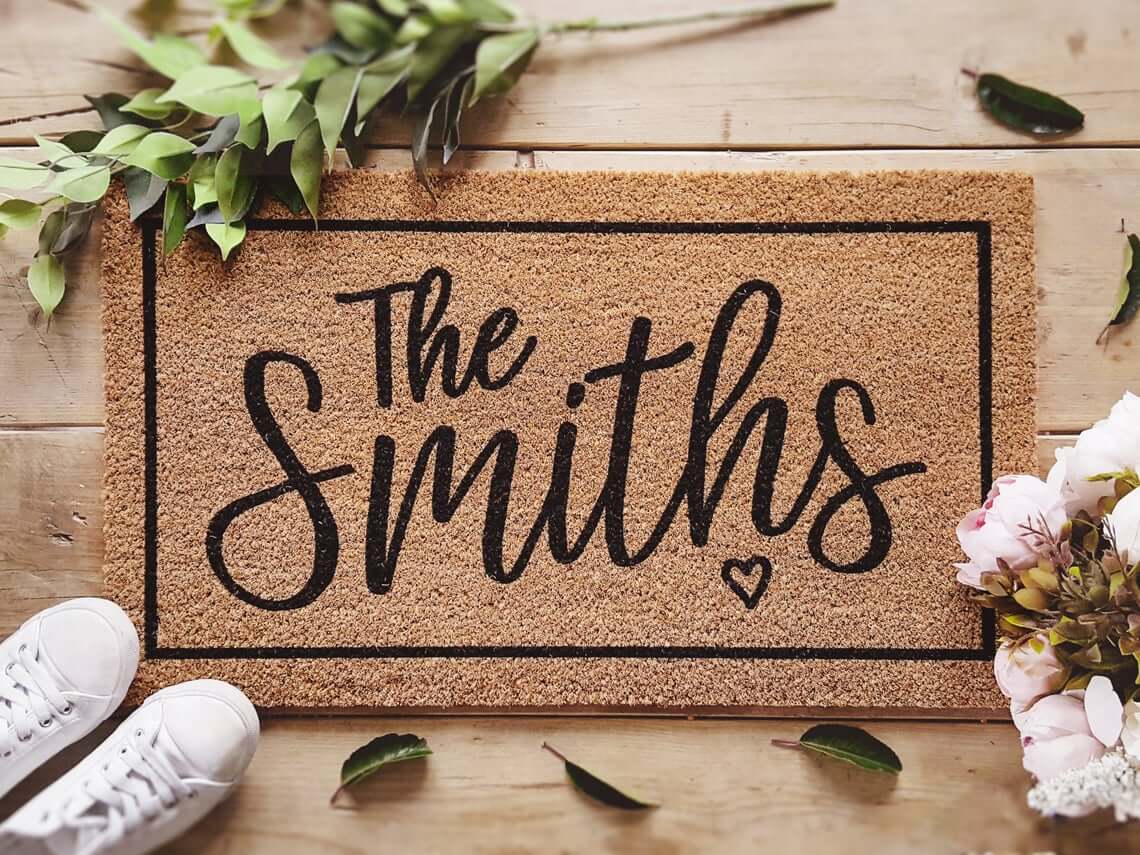 Housewarming gifts are fun to shop for. You are sure to receive many compliments on this custom family welcome mat. UV light affixes ink into hardy coconut fibers to achieve a stunningly crisp look on this environmentally conscience doormat. Every home deserves a welcome mat, which makes this a great idea for a housewarming gift. The personalization will let your friends know that time and consideration was put into this gift choice. Better yet, every time they walk in the door they will be reminded of the lovely friends that they have, which is a gift in itself.
7. Rustic Key Holder for Entryway Decor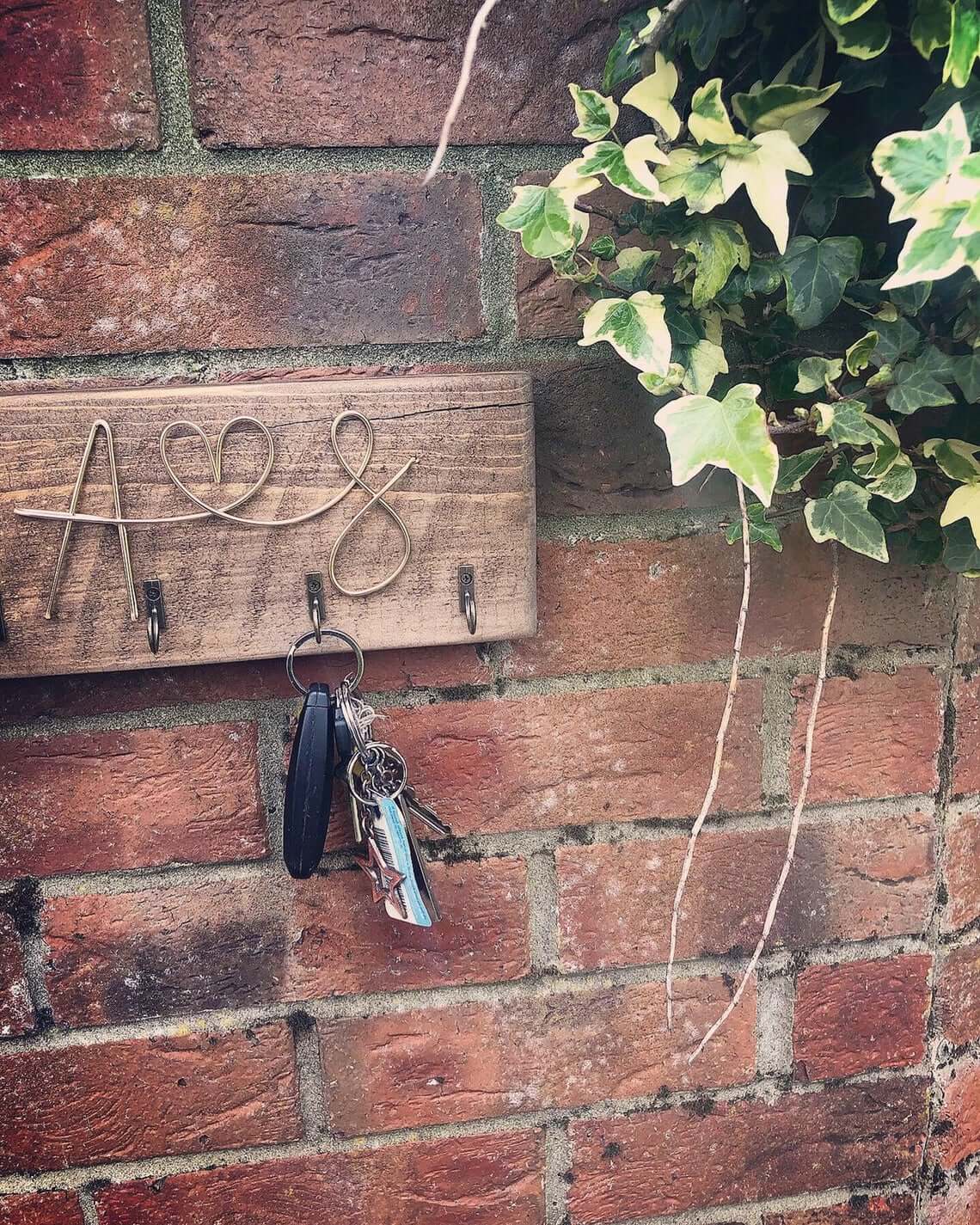 The best personalized home decor gift ideas are both fun and functional. Your friends will never misplace their keys again with this cool housewarming gift. This decorative key holder is lovingly made with reclaimed wood and rustic hooks. The wire is carefully fashioned into your choice of initials, giving a personal touch to this beautifully rendered key holder. Your friends won't be able to wait to proudly display their new key hook in the entryway. This key hook is so charming you may need one for yourself as well.
8. Ornate Dream Catcher for Door Decoration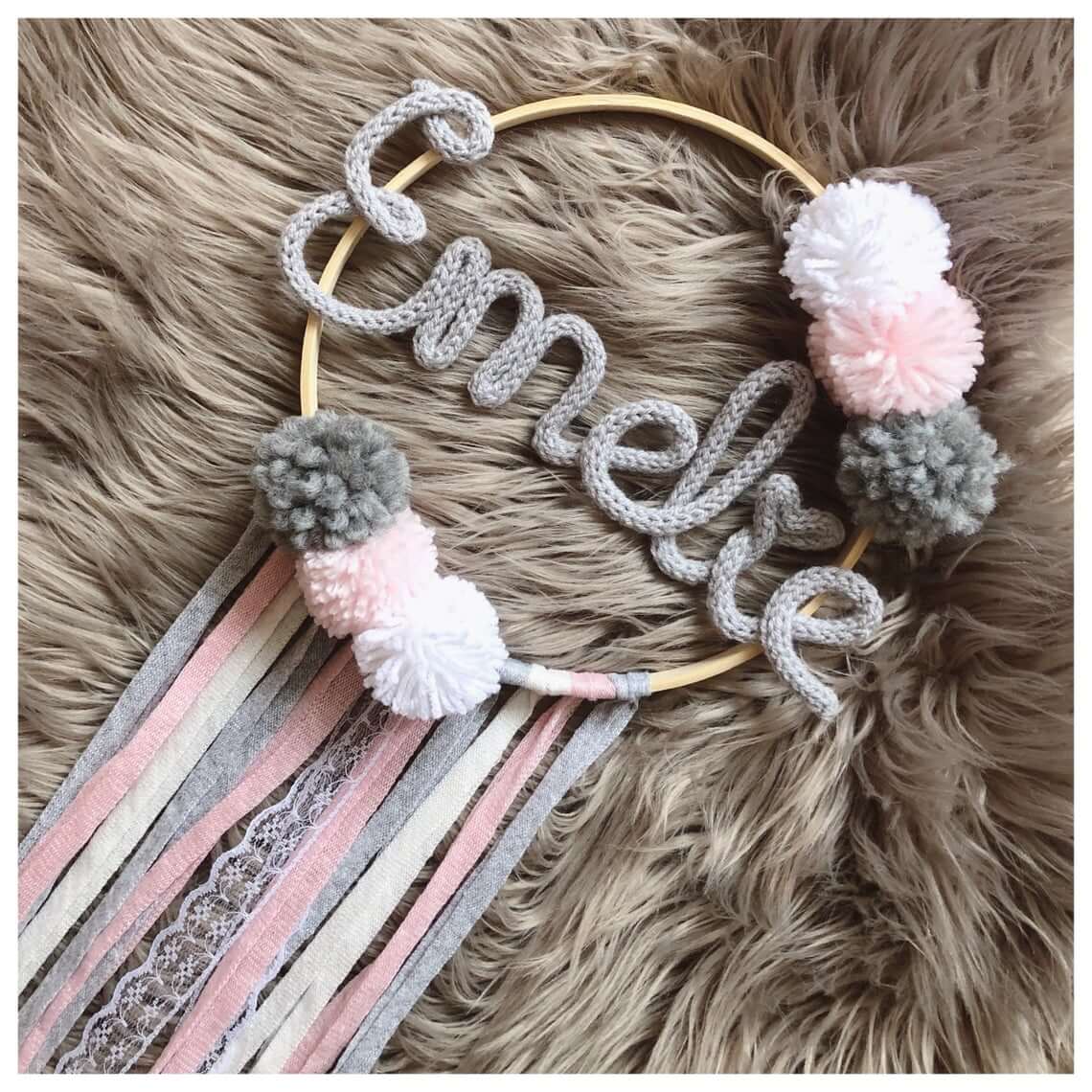 Choosing the right birthday gift for teenagers in your life is always hard. Finding a gift they will like seems to be an impossible task. A personalized dream catcher is a great way to decorate a bedroom door. Turn an otherwise plain door into something to admire. Stylish wool is carefully fashioned around an embroidery frame to create this beautiful piece of home decor. This chic dream catcher comes in all variety of colors and combinations to be able to fit the personality of any recipient. Your loved one will feel special with their very own personalized dream catcher hanging on their door or wall.
9. Custom Home Print for Mantle Decoration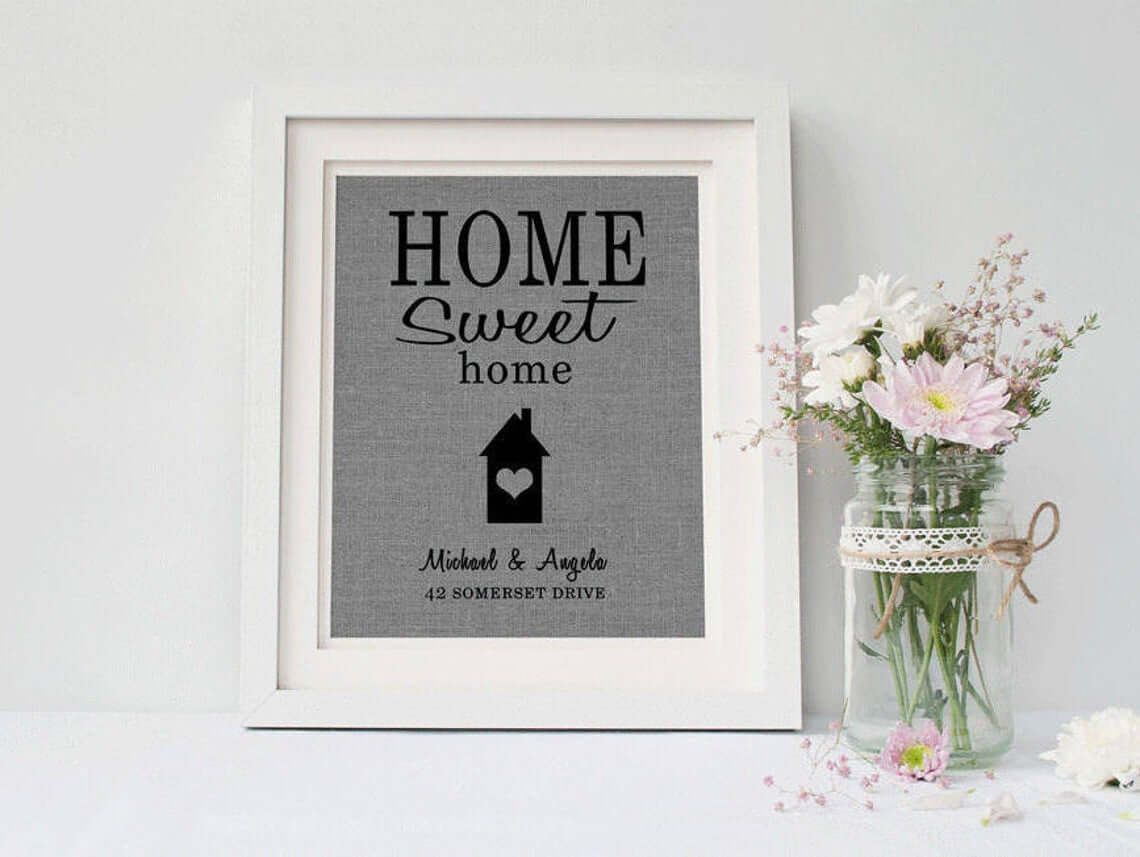 This personalized home sweet home print is an awesome idea for home decoration. It comes in a variety of fabrics and designs, which ensures that there is a choice that fits every home. Traditionally, different materials are appropriate for anniversary gifts based on the number of years celebrated. The cotton print is a good option for a 2-year anniversary keepsake. The Linen print is well-suited for a 4-year anniversary gift. This decorative print would be a nice idea for a housewarming as well. You have the option to have the print shipped framed, which makes it ready to sit on the mantle or to be hung on a wall and enjoyed.
10. Handmade Custom Mug for the New Homeowner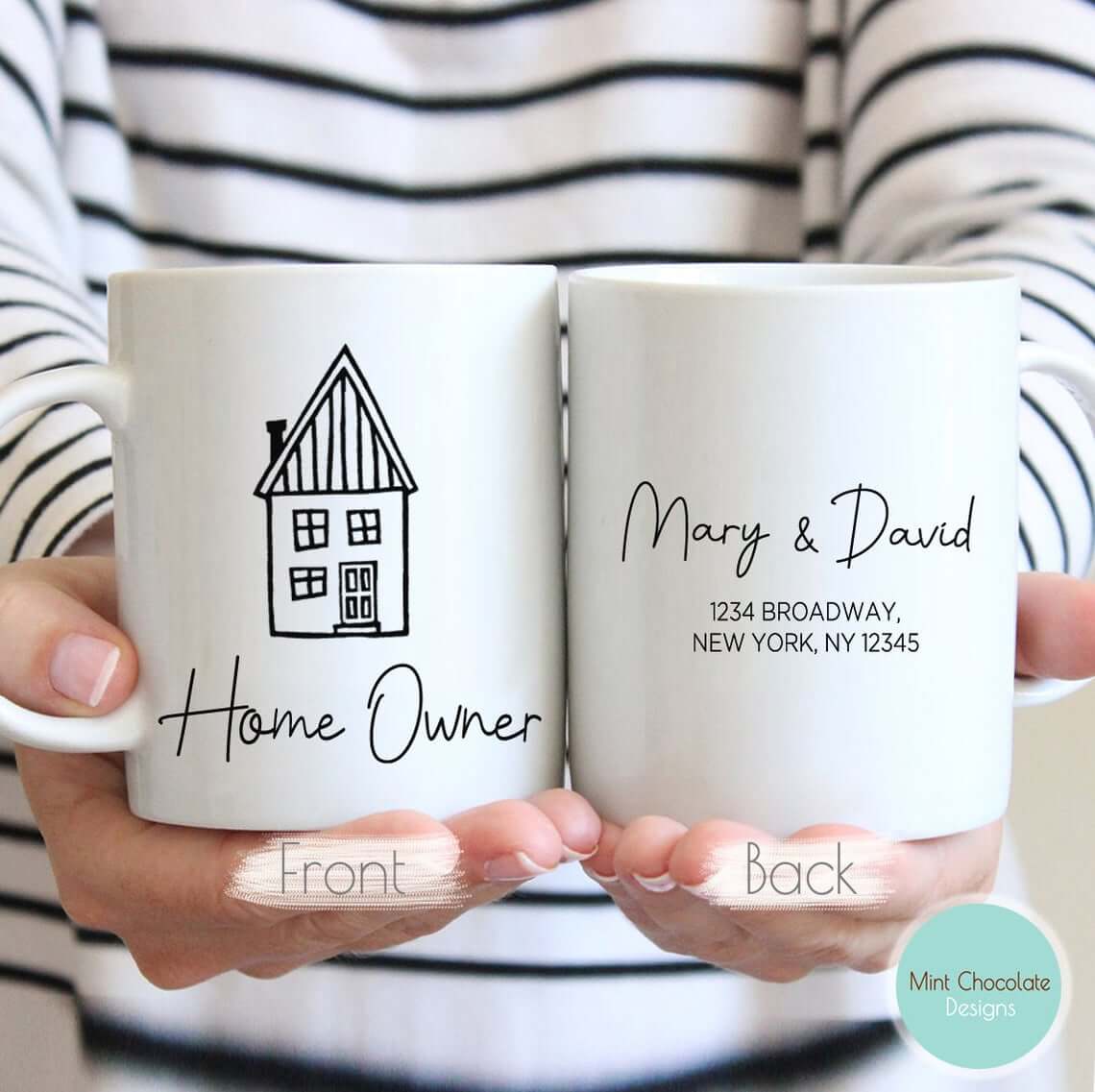 Moving into a new home is an arduous task. A nice hot cup of coffee is an excellent way to recharge while moving in. That is why all new home-owners will appreciate this lovely personalized mug. As a real estate agent, you want to leave your customers with positive feelings. These handmade custom mugs are brilliant closing or housewarming gifts. These personalized mugs help the reality of being a new homeowner to really sink in. These popular mugs are not just decorative, they are microwave and dishwasher safe, and FDA approved. The design is not vinyl, so it will not peel or fade over time.
11. Countrified Bottle Opener for Backyard Decor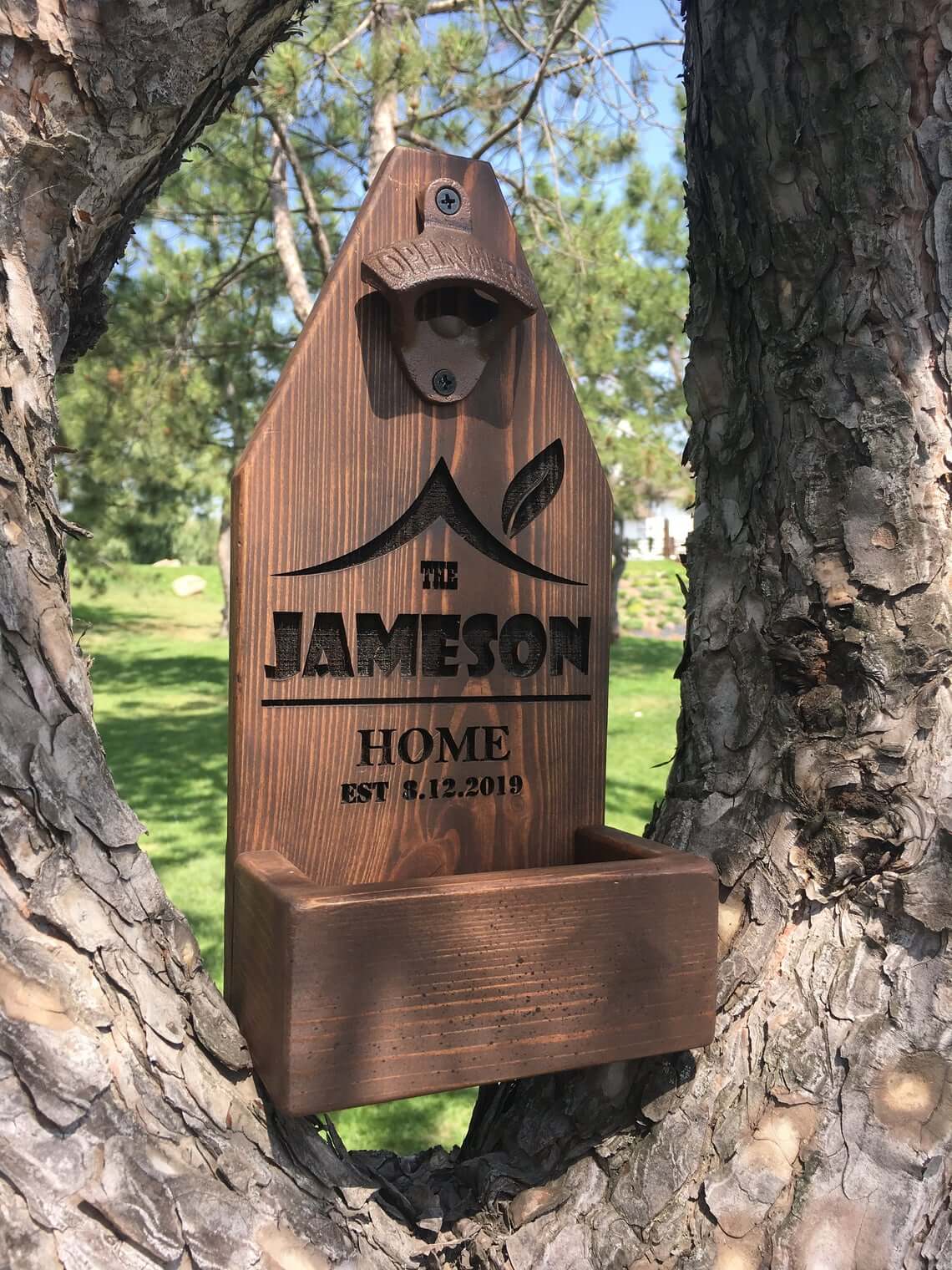 Is picking out a fabulous groomsman gift-getting you down? No further looking is required. This personalized bottle opener and cap catcher is a fun idea for a groomsman gift. Gorgeously hand-crafted and made from eco-friendly materials, both you and the recipient can feel good about this gift for years to come. While it can be mounted on a wall, it will stand just fine on any flat surface. This would be very cute hanging from a backyard tree. Excellent addition to any backyard barbeque area, this rustic-looking personalized bottle opener with cap catcher will be useful and charming.
12. Commemorative Ornament for Holiday Decoration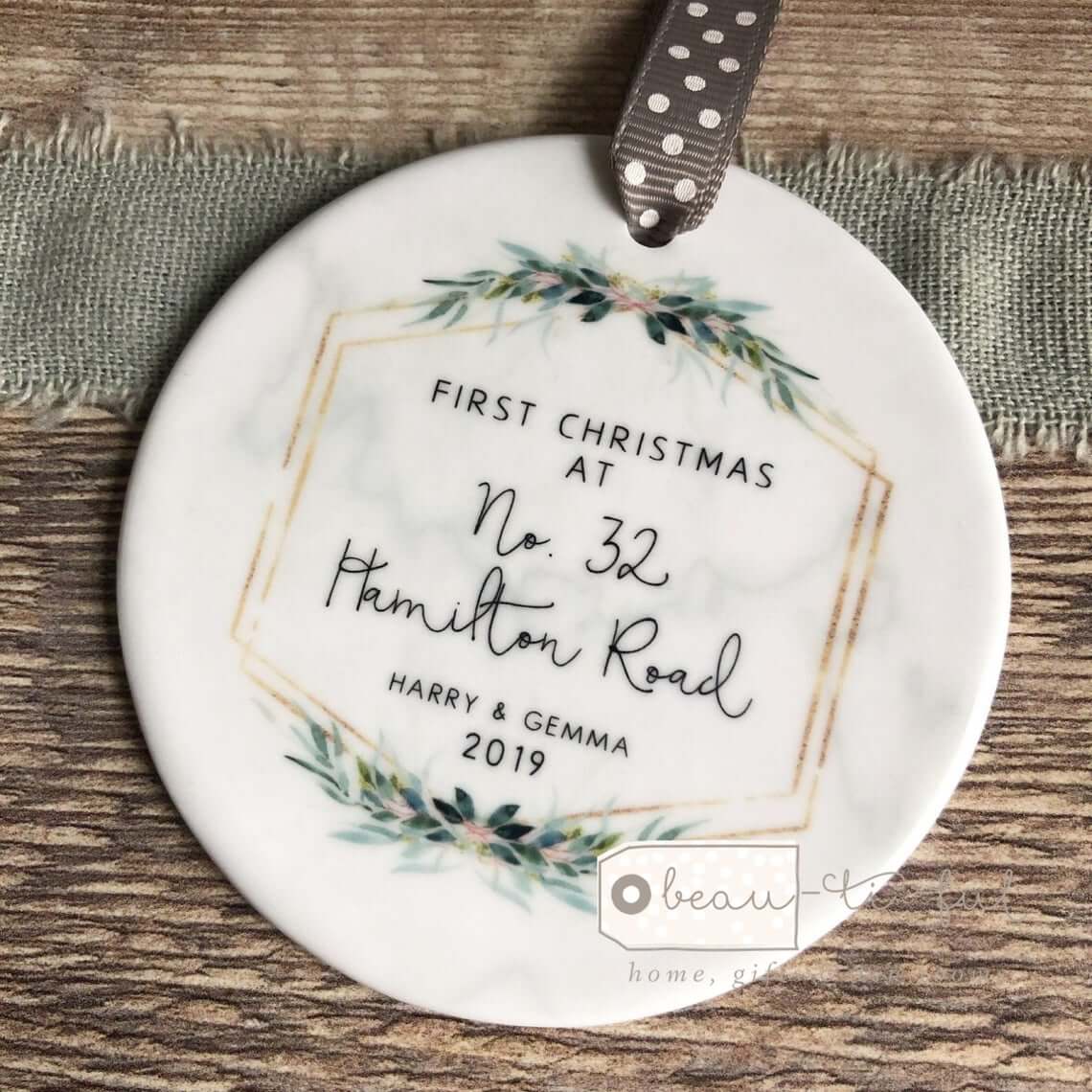 Christmas is the most festive time of the year. The botanical design on this carefully hand-crafted ceramic ornament is quite festive. Celebrating your first Christmas in a new home is always a noteworthy event. This high-quality personalized ornament is the perfect way to dorn your Christmas tree this year, and for all the years to follow. Consider this custom-made ornament as a thoughtful gift for loved ones. After all, once you see it for yourself, you won't be able to stop yourself from ordering this beautiful ornament for everyone on your Christmas list.
13. Fabulous Lead Holder for Doorway Decor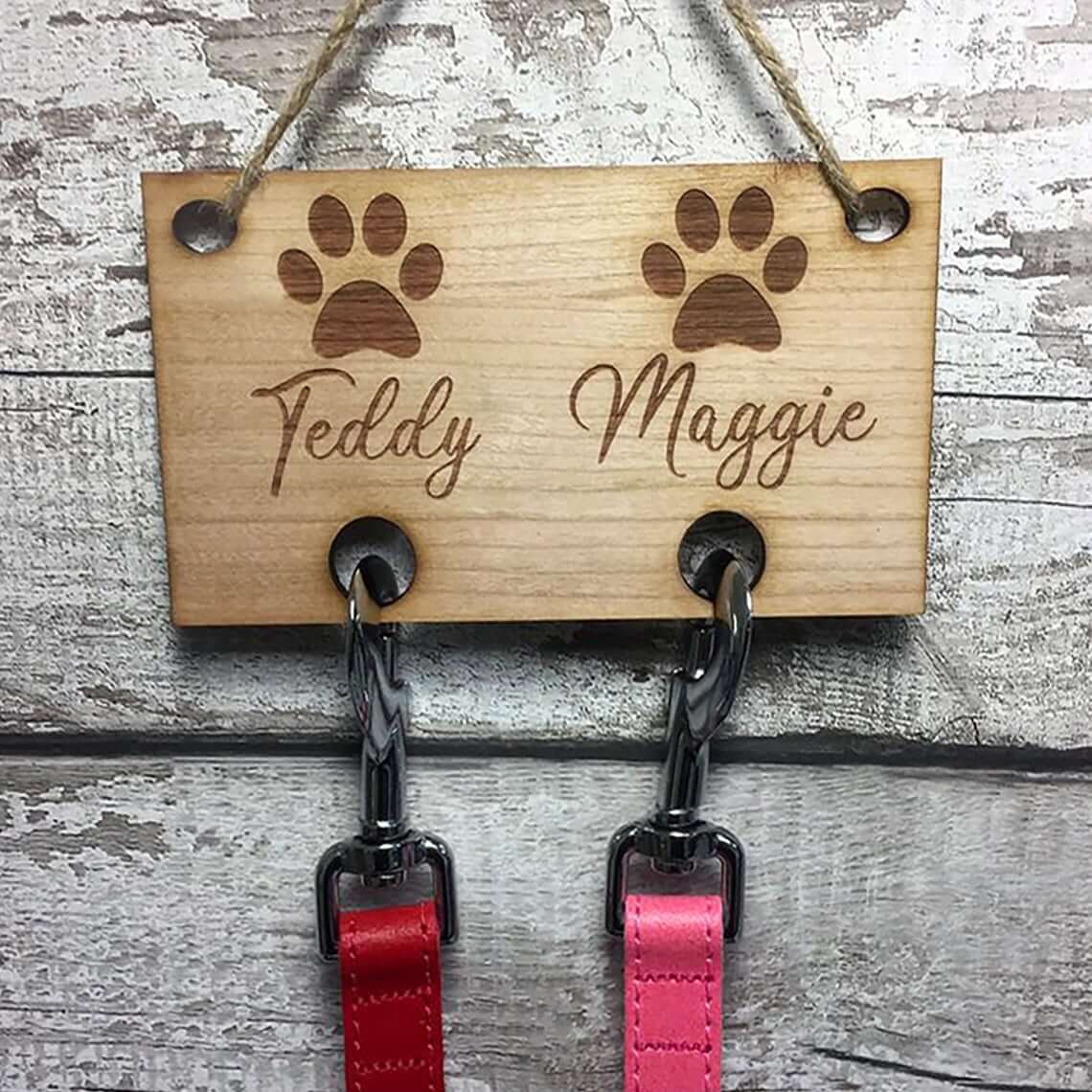 Do you fumble around looking for a leash when it's time to take Spot for a walk? An engraved wooden leash hook is a brilliant idea for any dog owner. An awesome idea for a housewarming gift. Dogs need a welcome into their new home as much as their owners do. This personalized dog lead holder will find a home in the entryway, where it will be handy and decorative. The personalized engraving is made on an attractive cherrywood veneer and is guaranteed to last. The hanging twine adds to the rustic feel of this item, which fits nicely into any dog owner's home.
14. Terrific Location Map for Mantle Decoration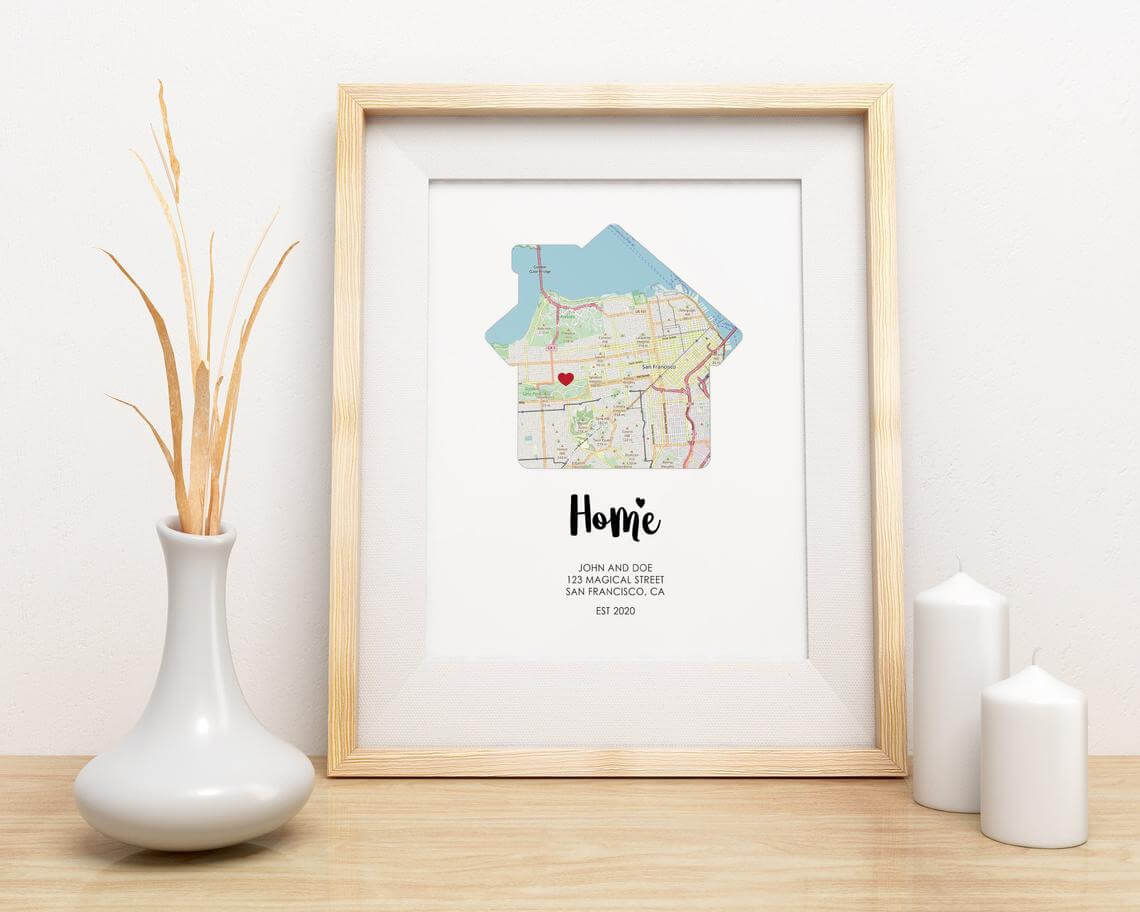 A personalized location map is such an awesome idea for home decoration for yourself or to give as a gift. This printable PDF is easy and fast to download. Real estate agents will find this personalized location map to be a unique closing gift. This custom map cut-out will act as a conversation piece, and happy homeowners will be pleased to share their positive home-buying experiences. Homeowners are sure to proudly display their map in a place of prominence for all to enjoy.
15. Rustic Photo Rendering for Office Decor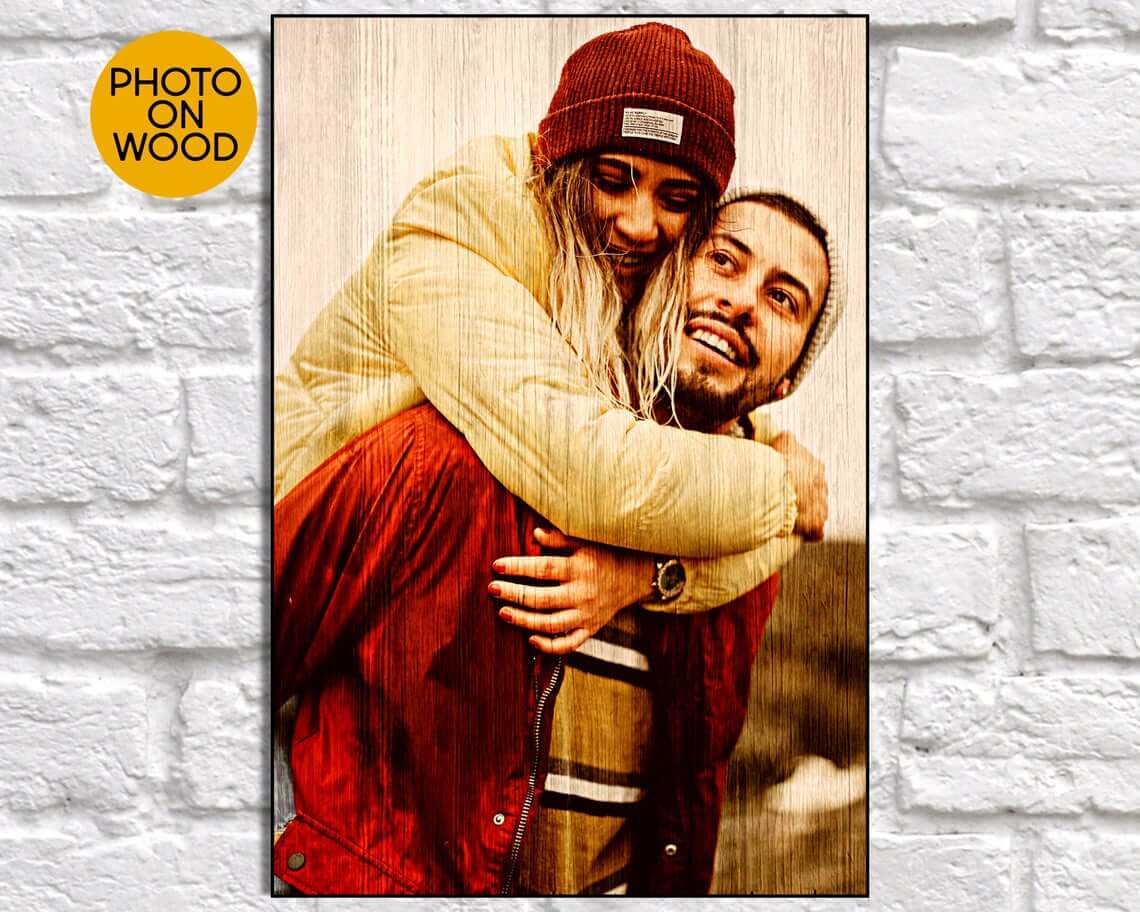 Are you stuck trying to find the perfect gift for an anniversary? This beautifully rendered photograph printed onto a European birch plywood tablet is the answer. The quality will exceed the expectations of even the most discerning of recipients. Traditionally, the 5th anniversary is represented by wood. The rustic look of the picture will lend itself nicely to a den or office space, and serve as a reminder that you give the coolest and most thoughtful gifts.
16. Impressive World Map for Livingroom Decoration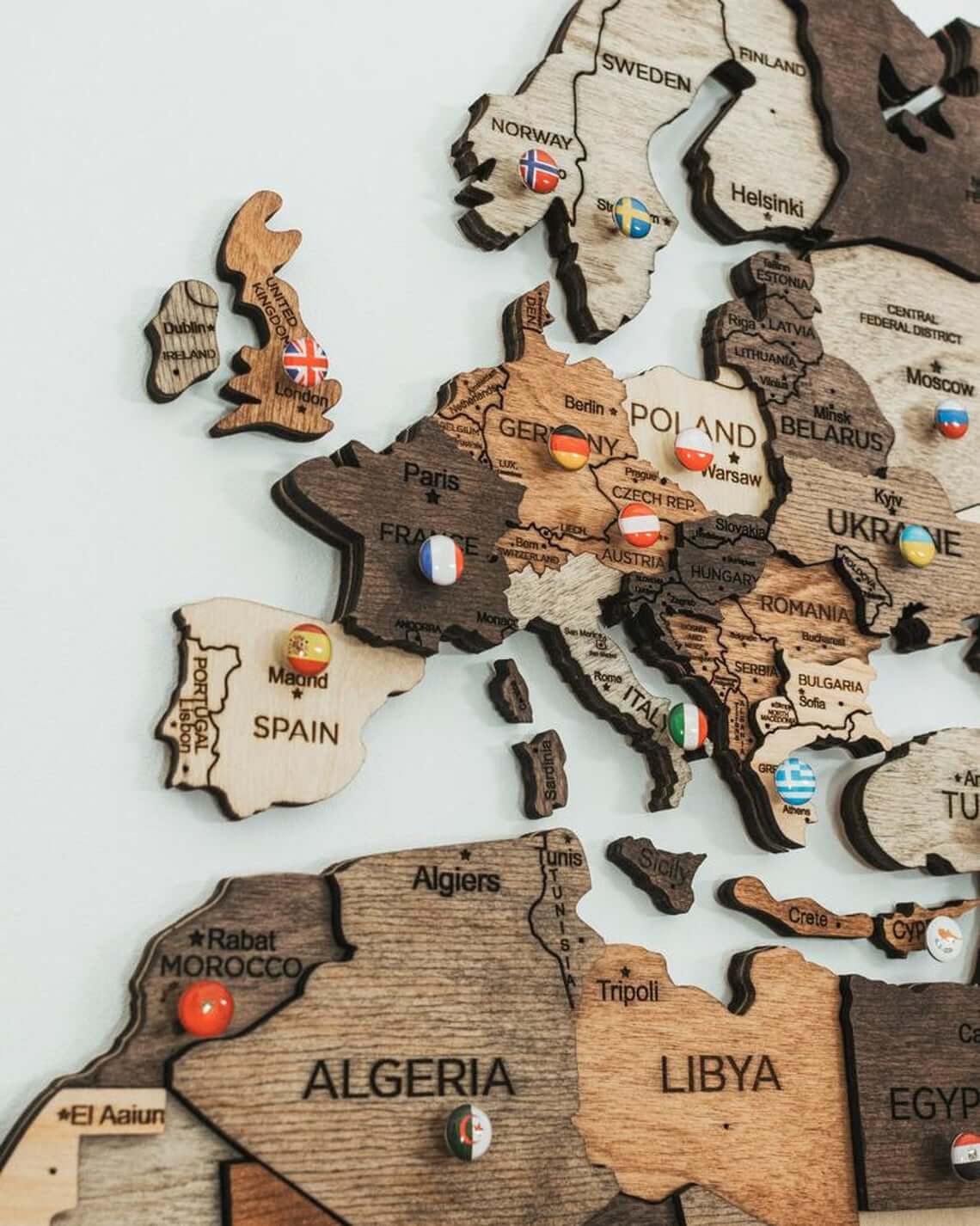 Quality craftsmanship shines through on this stunning wooden world map. This eco-friendly wall map will serve as a reminder of all the places that you've been, or you can dream about the places you have yet to see. As a 5-year anniversary gift, this birch map is absolutely fitting. Admirers may stare for hours, and be motivated to travel. Prominently displayed in any room, this travel map will add richness and texture. You will enjoy many travel-centric conversations with your friends as they appreciate this lovely home decoration.
17. Whimsical Candle Holders for Livingroom Decor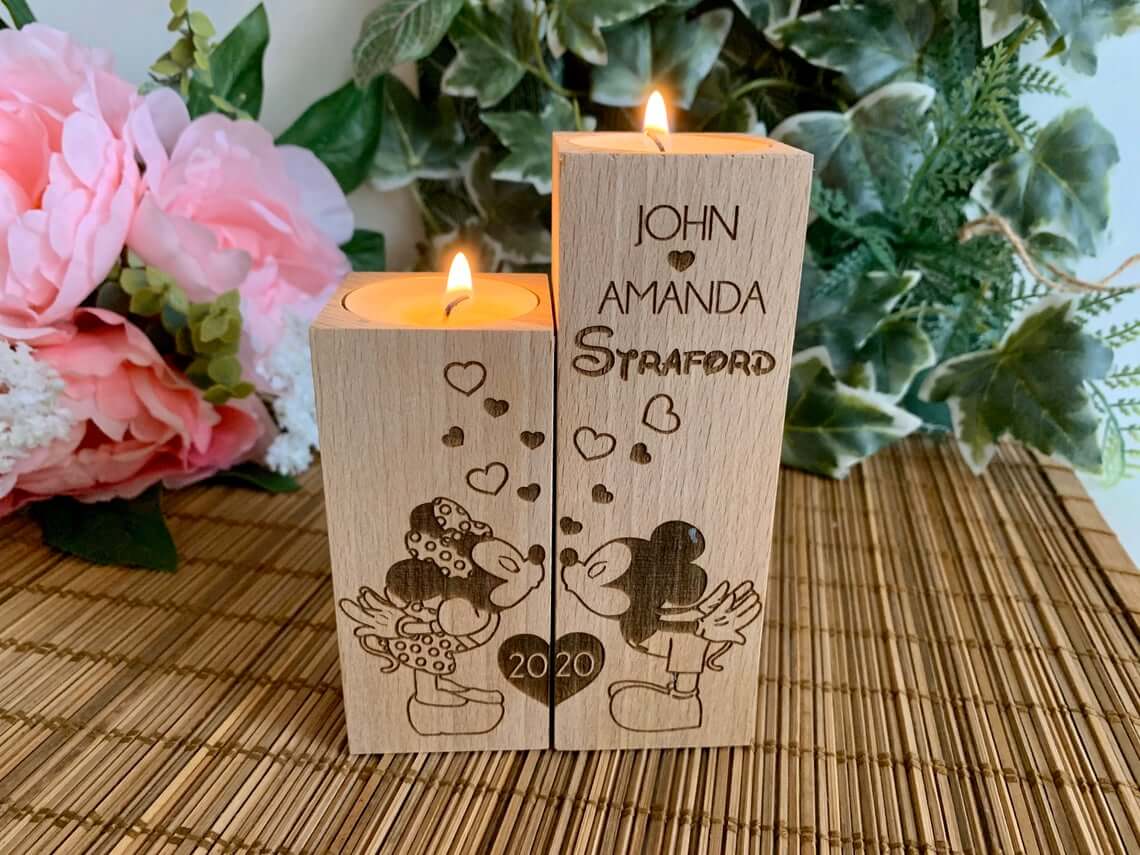 For many years, Mickey and Minnie mouse have been bringing smiles to the faces of children and adults alike. These customized wooden candle holders look great standing together but look just as cool placed apart. The engraving is high-quality and distinctive. This item is perfect as a gift for newlyweds or to celebrate an anniversary. These personalized candle holders are an outstanding gift idea for anyone who appreciates the whimsical nature of Disney characters. The candle holders come with candles ready to create the perfect ambiance in your home and light up your life.
18. Personalized Name Sign for Entryway Decor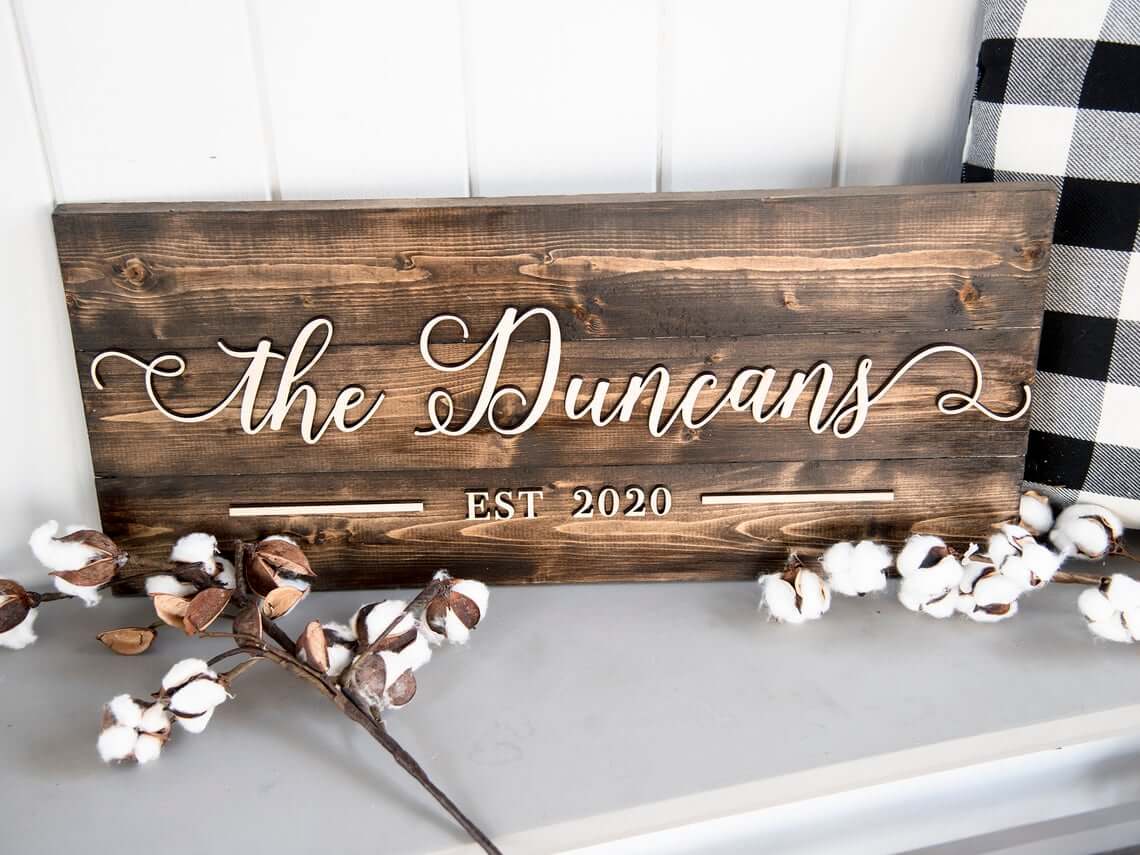 It can be tough making sure you get the right gifts at Christmas time. A personalized family name sign is an essential piece of home decoration. The natural wood lettering against a backdrop of stained wood creates a stunning visual effect. This custom birchwood sign is perfect for Christmas gifts for the whole family. Everyone will be pleased with the high-quality of this placard. The sign comes in your choice of stains for the background and in three different sizes, which will make this remarkable sign a good fit for any entry space.
19. Cozy Pillow for Home Decoration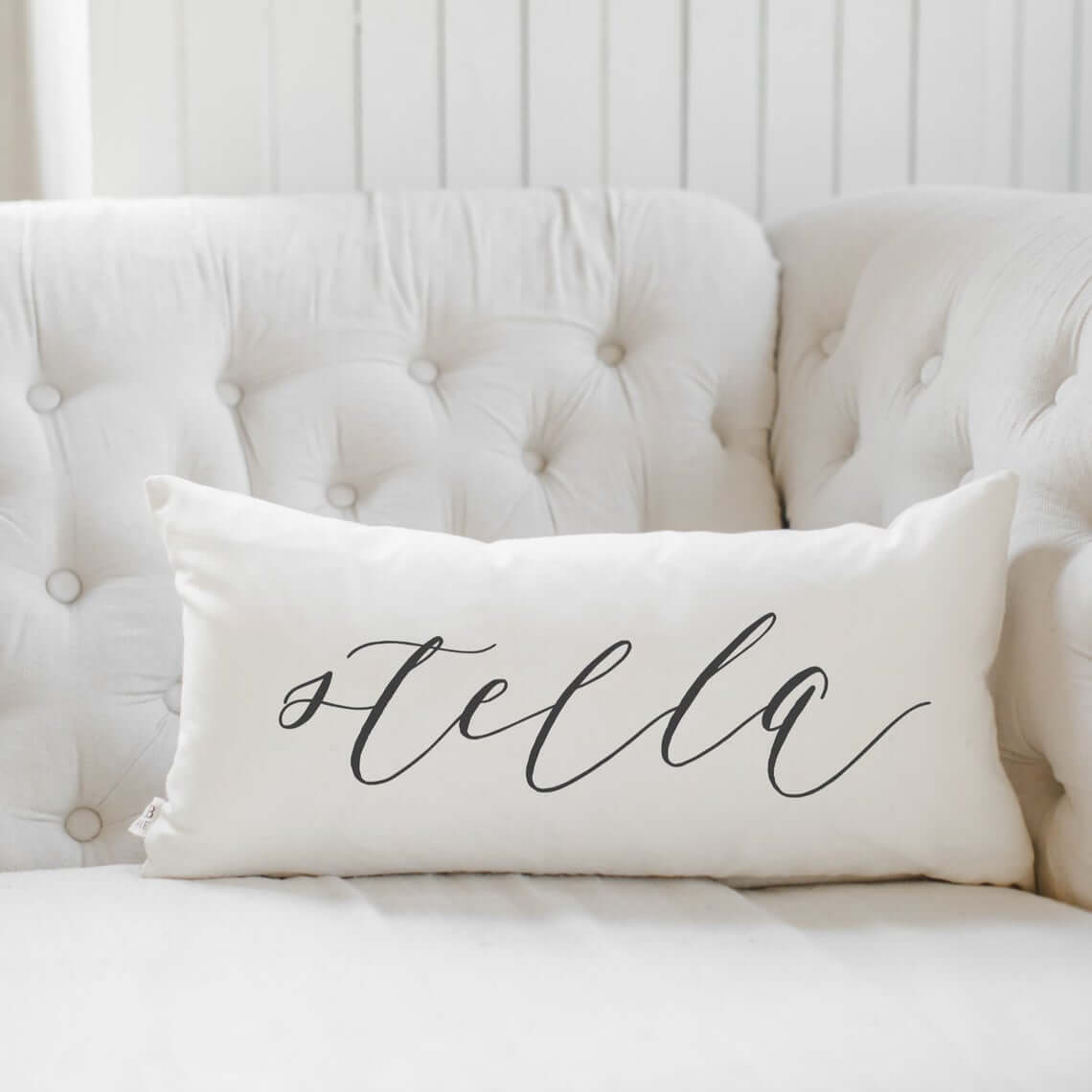 This comfortable lumbar pillow is handmade and comes with your personalization printed directly into the fabric. A thoughtful gift for the expectant mother, this pillow is intended to help facilitate cuddle time with those we love. The calligraphy is available in a variety of colors to match your expectations. Jauntily tossed onto a couch or bed, this pillow will be inviting to anyone who happens to gaze upon it. The pillow covers have an invisible zipper closure to maintain the elegant design and provide a way to easily slip in any insert you desire.
20. Classy Wine Butler for Kitchen Decor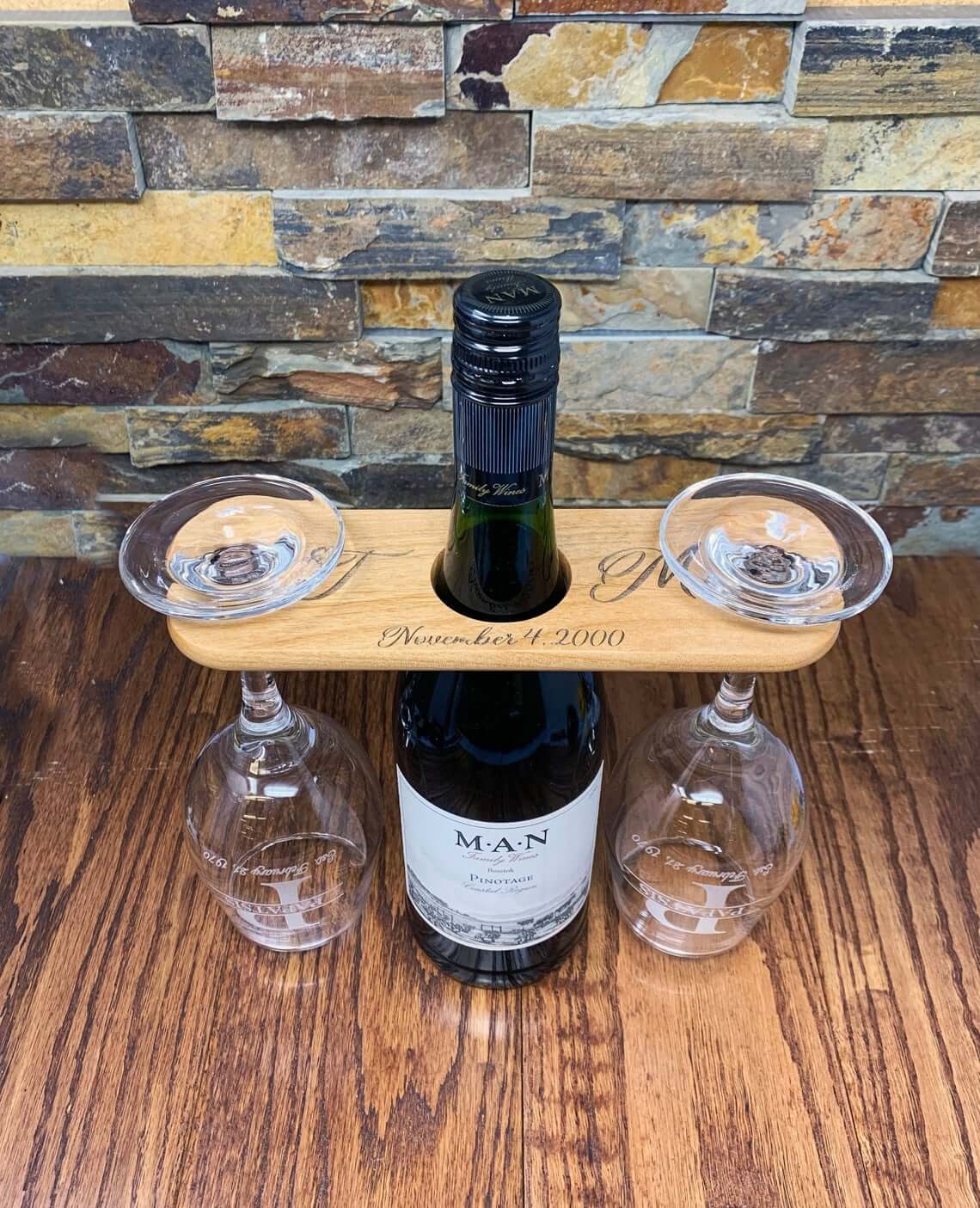 This personalized wine glass caddy is a terrific gift idea for mother's day, father's day, or any day. Hand-crafted with your choice of alder or walnut wood, this fashionable wine butler will spruce up any counter space. The wood is carefully stained and varnished to last a long time. The homespun burlap pouch it comes with is convenient as a gift bag. Drinking a well-deserved glass of wine after a long day of work isn't a requirement to enjoy the subtle hint of class this custom wine caddy provides as a decoration in your dining area.
21. Custom Clay Ornament for Home Decoration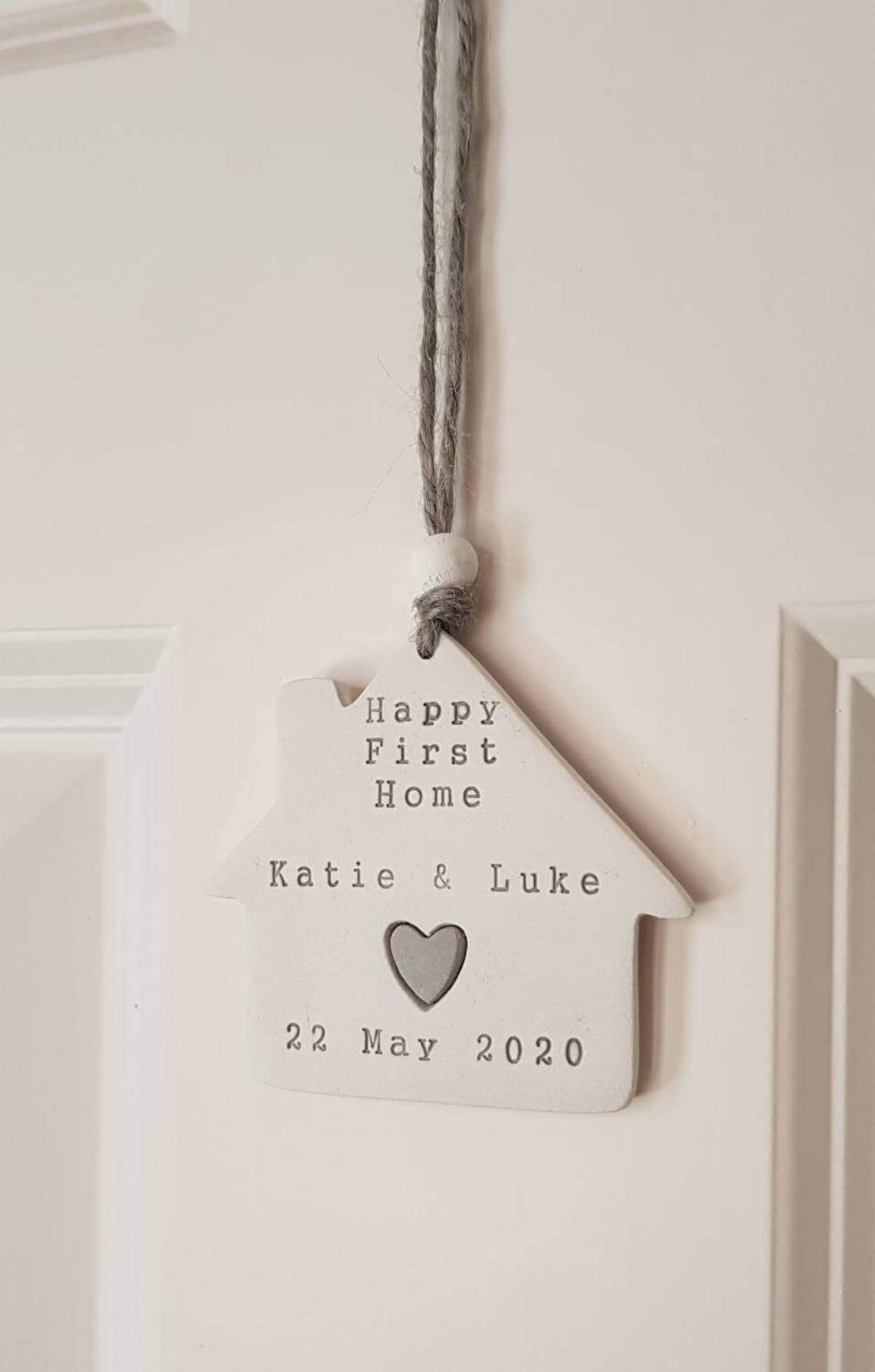 Your mother will know that she raised you well when she opens her gift this Mother's Day. This personalized clay home decoration is a unique gift idea meant to convey how much you care. Each ornament is lovingly made with the finest natural clay available. The handcrafted decoration is then carefully hand cut and your personalized message gracefully applied. Non-toxic acrylic paint is used to finish the product. The twine and hand-painted bead are a lovely touch. As a treat to yourself or a loved one, this special ornament will be a reminder to every one of the impacts specific moments have on our lives.
22. Brilliant Lantern for Office Decor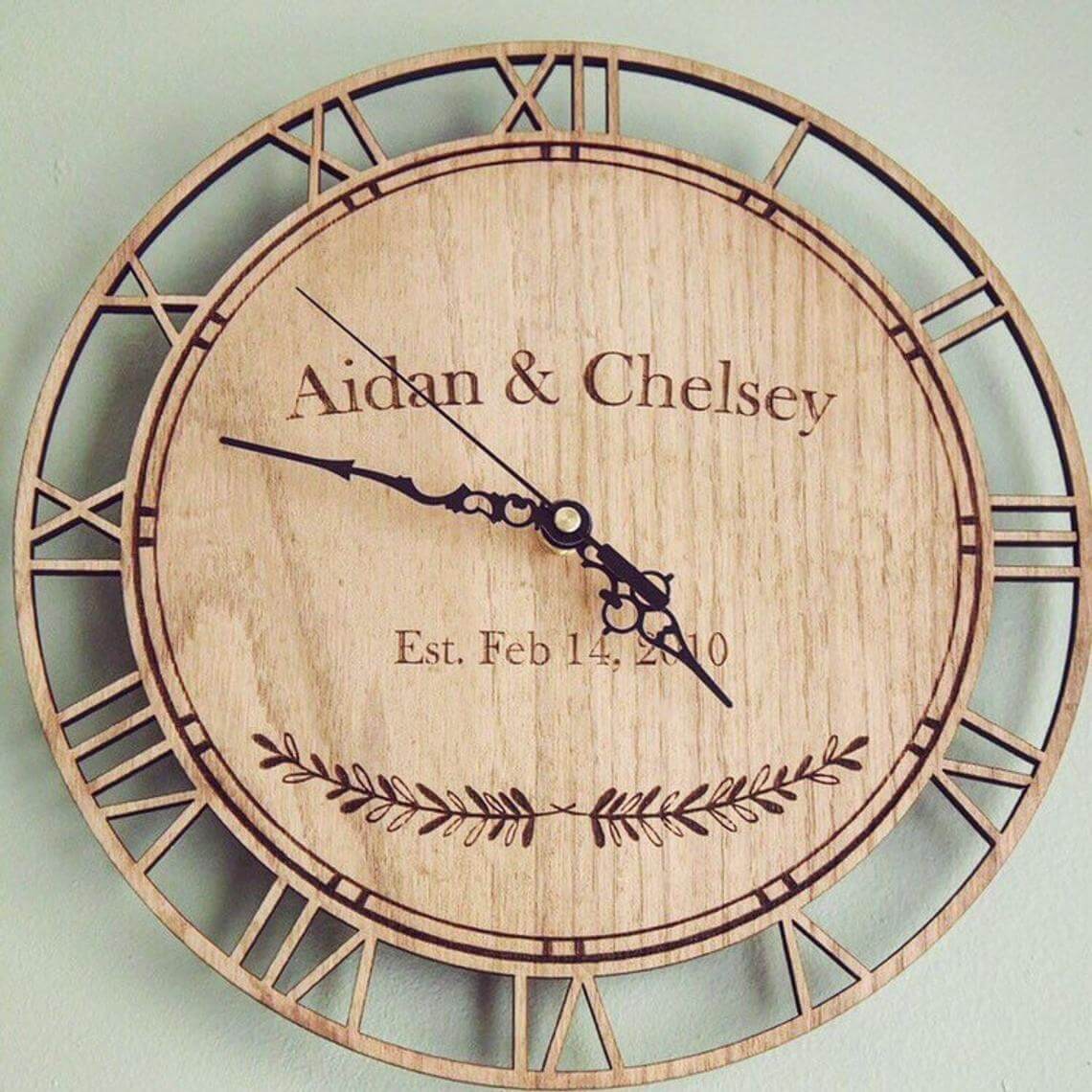 Your father is sure to be impressed when he open his Father's Day gift this year. The rustic look of the black diamond finish on this finely-crafted lantern will convey sophistication in any room from which it is hung. This handmade lantern comes with customization on the glass, making it a terrific gift meant to commemorate any particular occasion. The lantern is battery-powered and can be switched on and off from a convenient switch located on the base of the item. The realistic flickering mimics the satisfying effect of a natural fire. The practical hoop makes the customizable lantern easy to hang wherever you desire.
23. Pleasant Scented Candle for Home Decor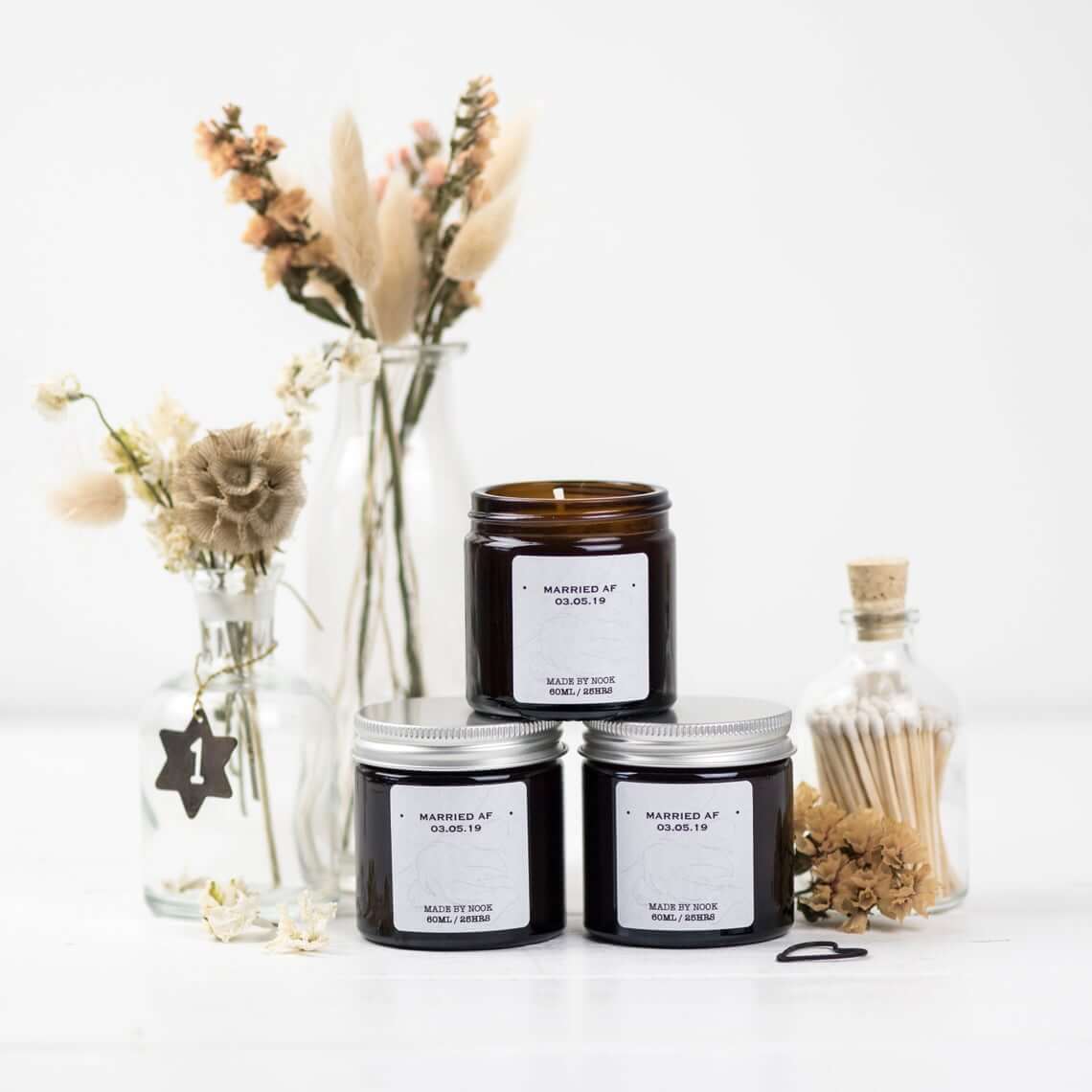 This lovely scented candle is an awesome idea for a customized housewarming gift. Select from any of our delicious scent choices to ensure the candle will be well-suited to the recipient. As a real estate agent, this personalized candle seems like an excellent closing gift. Everyone wants their home to smell nice, and you want the new homeowner to be reminded of your assistance in their purchase. Handmade with soy wax, these candles fill the room with their glorious scent in no time. The new homeowner is sure to receive many compliments from this simple hand-crafted candle.
24. Unique Night Sky Picture for Nursery Decor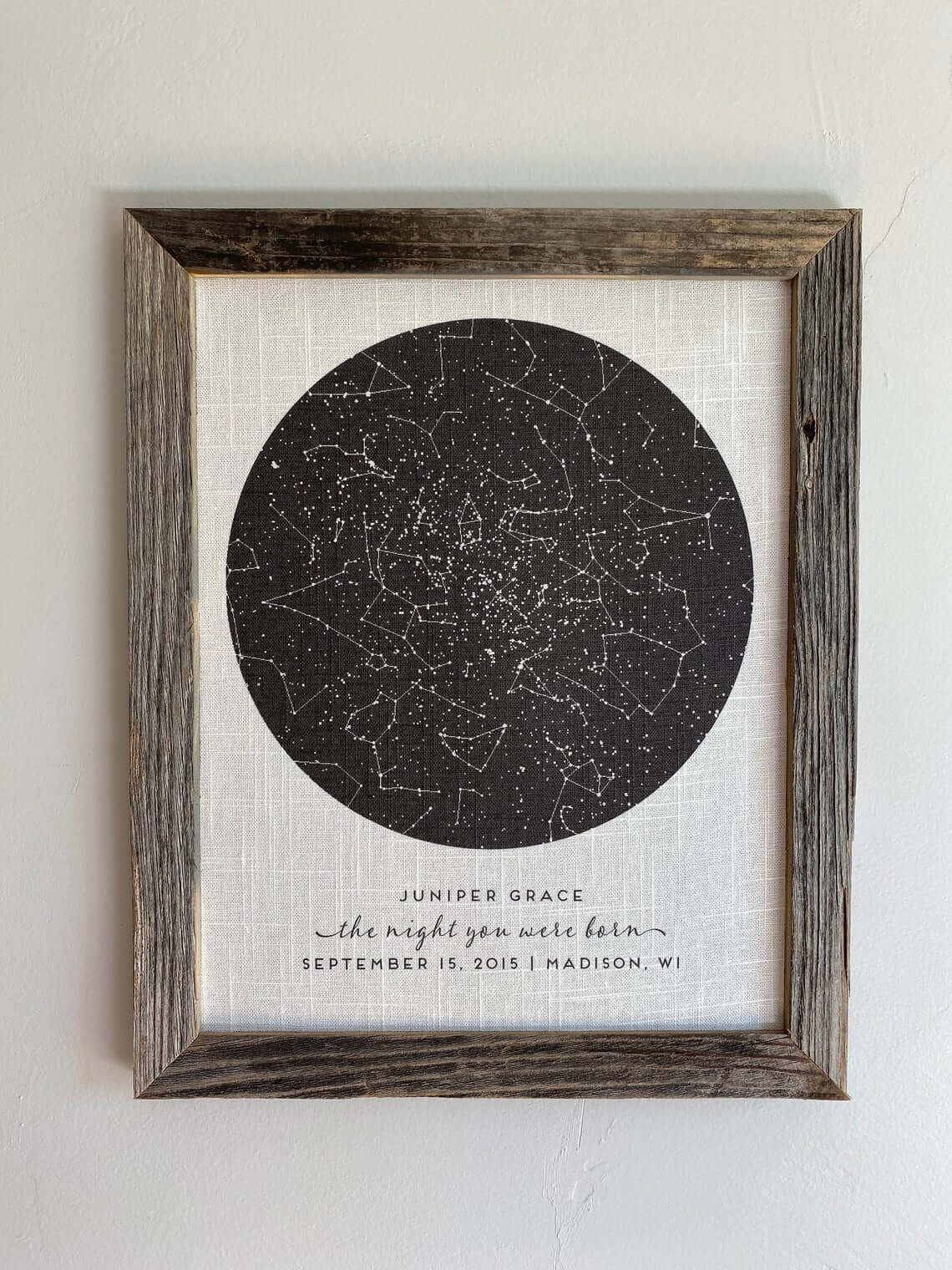 This gift idea is so unique that no one will have ever thought of it. A picture of the night sky at the exact moment baby was born is an interesting and unique baby gift. This heirloom-quality print of the night sky is plotted on your choice of sustainably sourced linen or cotton. The glazed backing prevents any fraying of the material and helps to keep the impression intact. Beautifully framed and ready to hang, this customized print of constellations will be a much-welcomed addition to any nursery. Meant to last for years to come, this print will always signify how much you care about your loved ones.
25. Rustic Burlap Print for Home Decor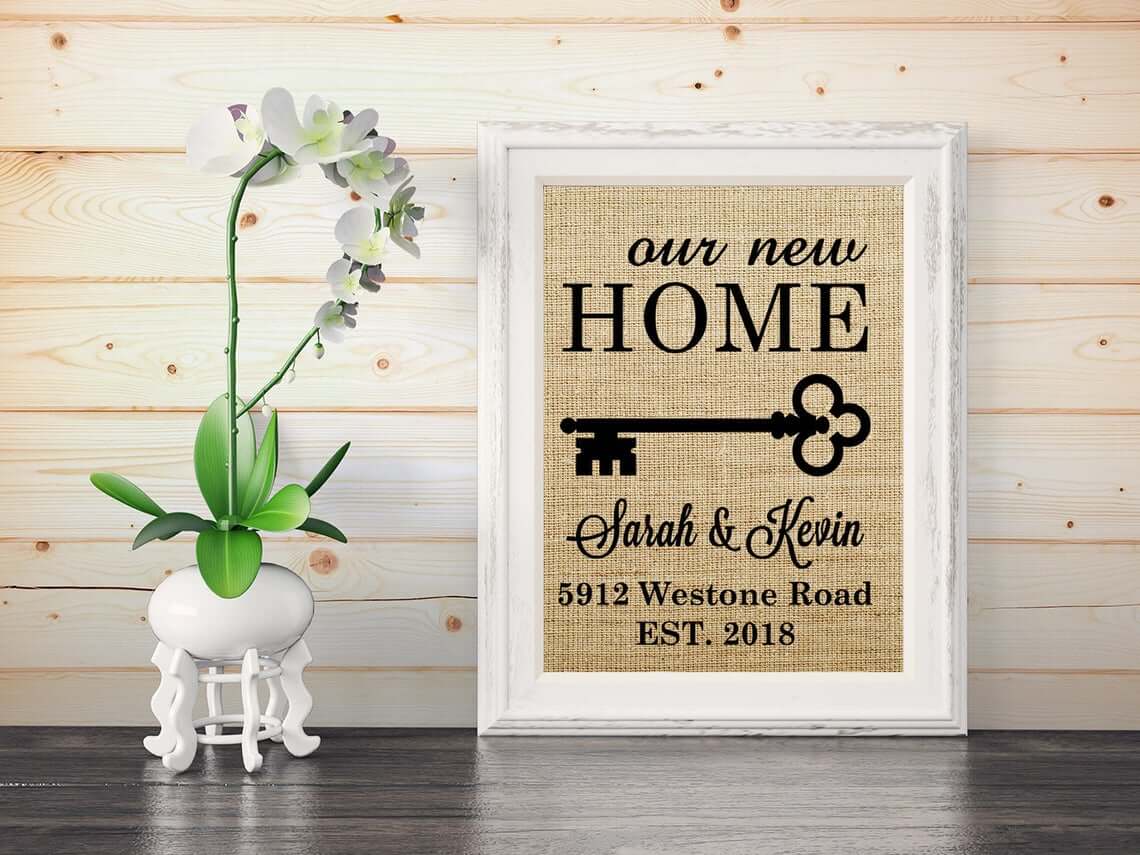 This personalized new home sign is full of personality and made to order. The versatility of burlap is highlighted in this handmade and carefully customized sign. Purchasing a new home is a momentous event. As a real estate agent, this personalized new home print is a magnificent closing gift. When visiting the home later, you will be overjoyed to find this gorgeous print prominently displayed in the entryway. Home decor with a rustic feel is very popular these days. A hand-crafted burlap print will be a welcome gift at any housewarming.
26. Personalized Trinket Dish for Entryway Decoration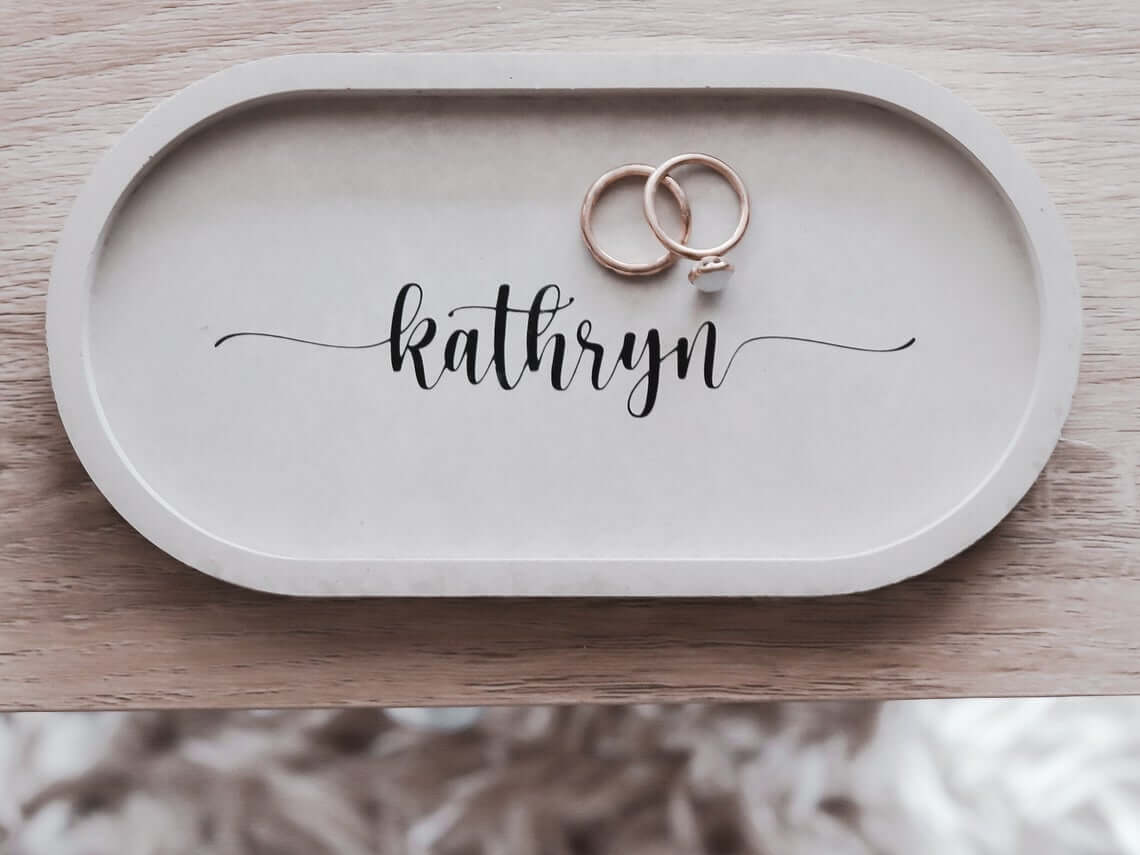 Your more conservative friends need gifts that fit their character. The commitment to high-quality is immediately evident with this personalized concrete trinket dish. The minimalist design effortlessly takes into account the economy of space. The carefully rendered calligraphy adds a personal touch to this dish, making it a great gift for any occasion. Perfect for holding keys or other small items, this dish is useful and decorative. This special gift will remind the beneficiary of your excellent gift selection skills.
27. Lovely Pet Photo Frame for Home Decoration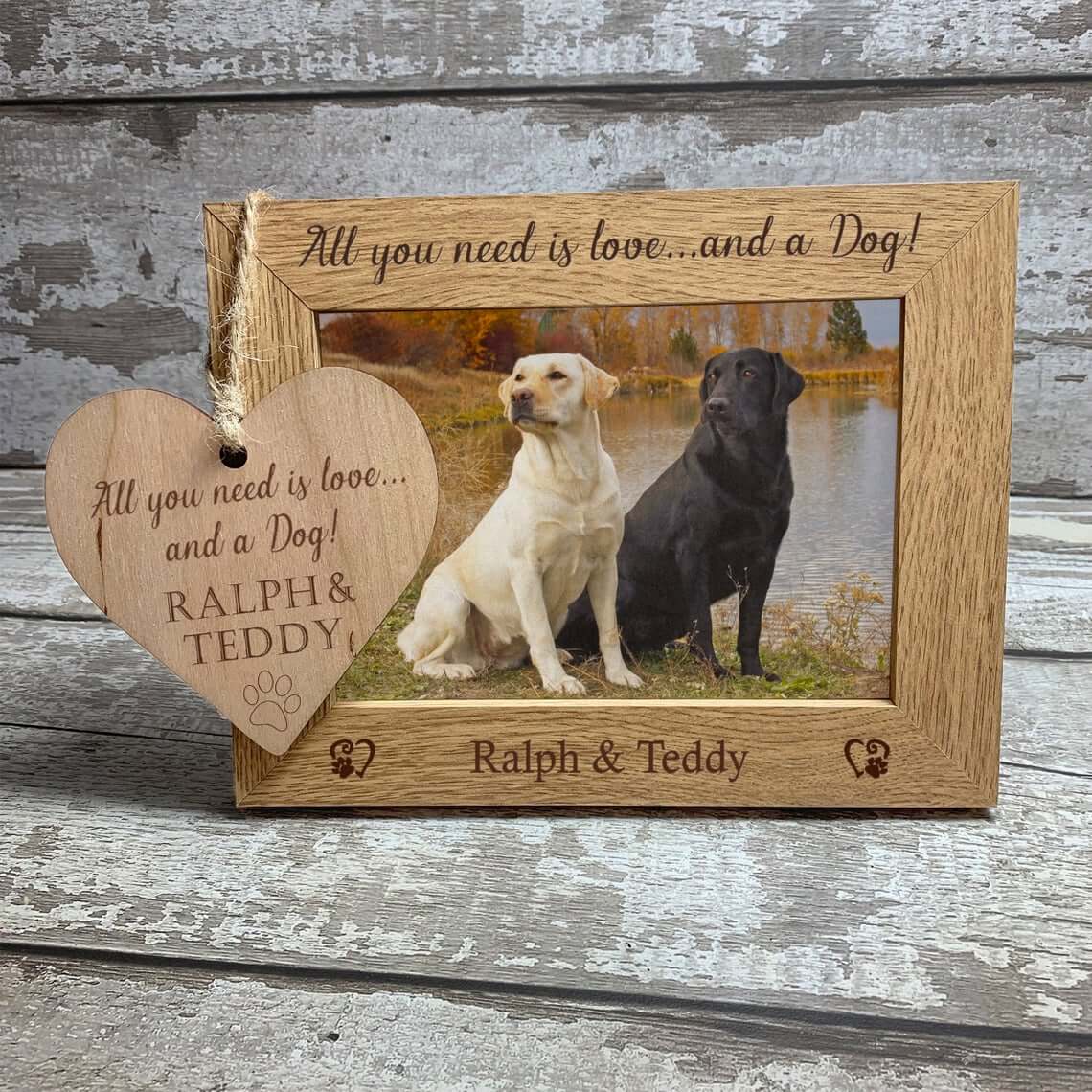 Commemorate the day Spot found his forever-home in style. This personalized pet photo frame and heart plaque is an outstanding gift for the dog lover in your life. The handmade frame comes in your choice of portrait or landscape style. The hanging heart plaque comes ready-to-go with twine included. This gorgeous picture frame and heart ornament make a lovely gift for all occasions and are a crucial part of what makes a house a home. Pet owners will love the opportunity to celebrate their pets, and this gift fulfills that desire wonderfully.
28. Custom Nameplate Puzzle for Girls Room Decor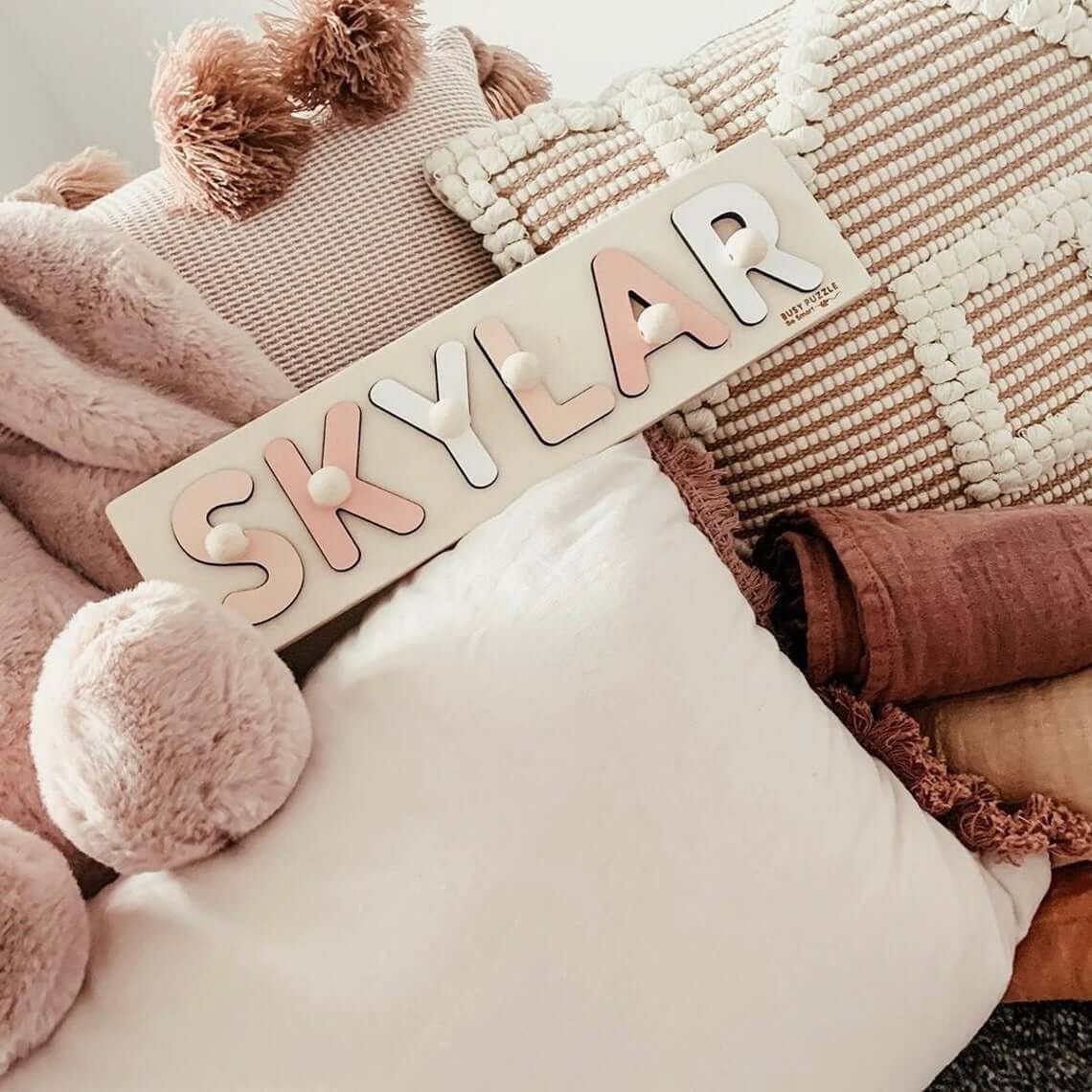 A personalized pink and white nameplate puzzle is a marvelous gift for the little one in your life. This educational placard will be well-received as both a learning tool and a fantastic piece of home decor. The large pegs are perfectly sized for little hands to grab. Manipulating the custom block lettering will improve fine motor skills while teaching the child their very own name. After the little one has mastered the puzzle and moved on, you can affix the puzzle to the wall as a lovely piece of home decor that holds special meaning.
29. Colorful 3D Sound Wave for Livingroom Decoration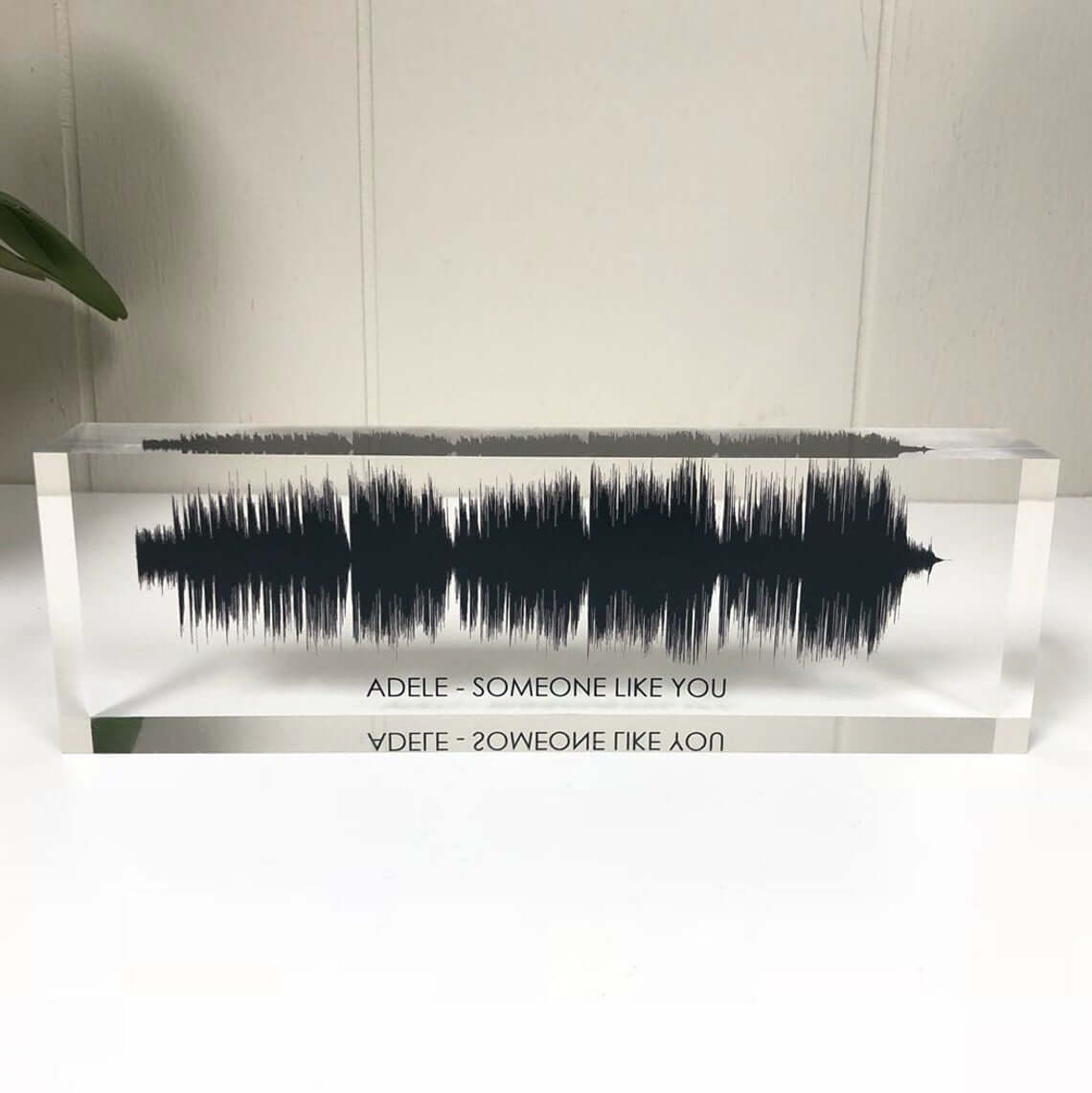 This fantastic birthday gift is easy to choose, and exciting to buy. Personalized sound wave art is delightful and interactive. A unique playback barcode is added to a clear acrylic glass block to produce a phenomenal effect. Use your smartphone camera to capture the barcode and listen while the personalized recording plays out. Any recording or video will do, but a favorite song is a popular choice for this 3D sound wave gift. Choose from a large variety of colors to make your sound wave art truly yours. There is no limit to the length of the recording you choose. The quality of sound is stunning.
29 of the Best Personalized Home Decor Gift Ideas for Every Occasion
After browsing this list, you are undoubtedly filled with inspiration. All of these cool gifts deserve a home – you just know it! Figuring out which items go where is half the fun. Bear in mind that the suggested uses for items are merely a starting point for you to work from. The sky's the limit when it comes to home decoration. Create your own boundaries and rules for decorating. What you want and where you want it is how it should be. Get those creative juices flowing and brainstorm. Do you think that an attractive entryway sign would look fantastic in your bathroom? Put it there. Do you think that a fabulous gift idea meant for a couple is well-suited to your single cousin? Give it to her. Do you want special customization that isn't listed in the parameters? Is there a color you prefer, but doesn't appear to be a choice? Send the seller an email.
These lovely folks are easy to work with and eager to do their best to accommodate your request. Different color schemes, shapes, and sizes are often available. The bottom line here is that you need to be happy with the look and quality of your purchase. Take your time to be sure you are getting what you want. If your product arrives torn, smudged, or broken in some way, ask for a replacement. Don't just let it go.
Customer satisfaction is a major concern for these sellers. A considerable quantity of 5-star ratings is reflective of that fact. All of them want you to walk away blissfully happy and to tell everyone you know exactly how pleased you are with their products and customer service. Well-armed and on your way, your home decor is sure to turn heads. Your friends and family will all appreciate the time and effort spent picking out their sensational gifts.