The best pineapple kitchen decor ideas will give any home a sweet and charming makeover. Pineapple is one of the easiest and most versatile themes to use when it comes to decorating your kitchen. It suits the overall vibe of the room in the first place like the most fruit-based decor. Besides that, pineapple simply has a lovely look with a unique and unforgettable shape. The most trouble you will run into is finding out what type of pineapple accessories you want in your kitchen.
17 Cool Pineapple Decor to Add Sweetness to Your Kitchen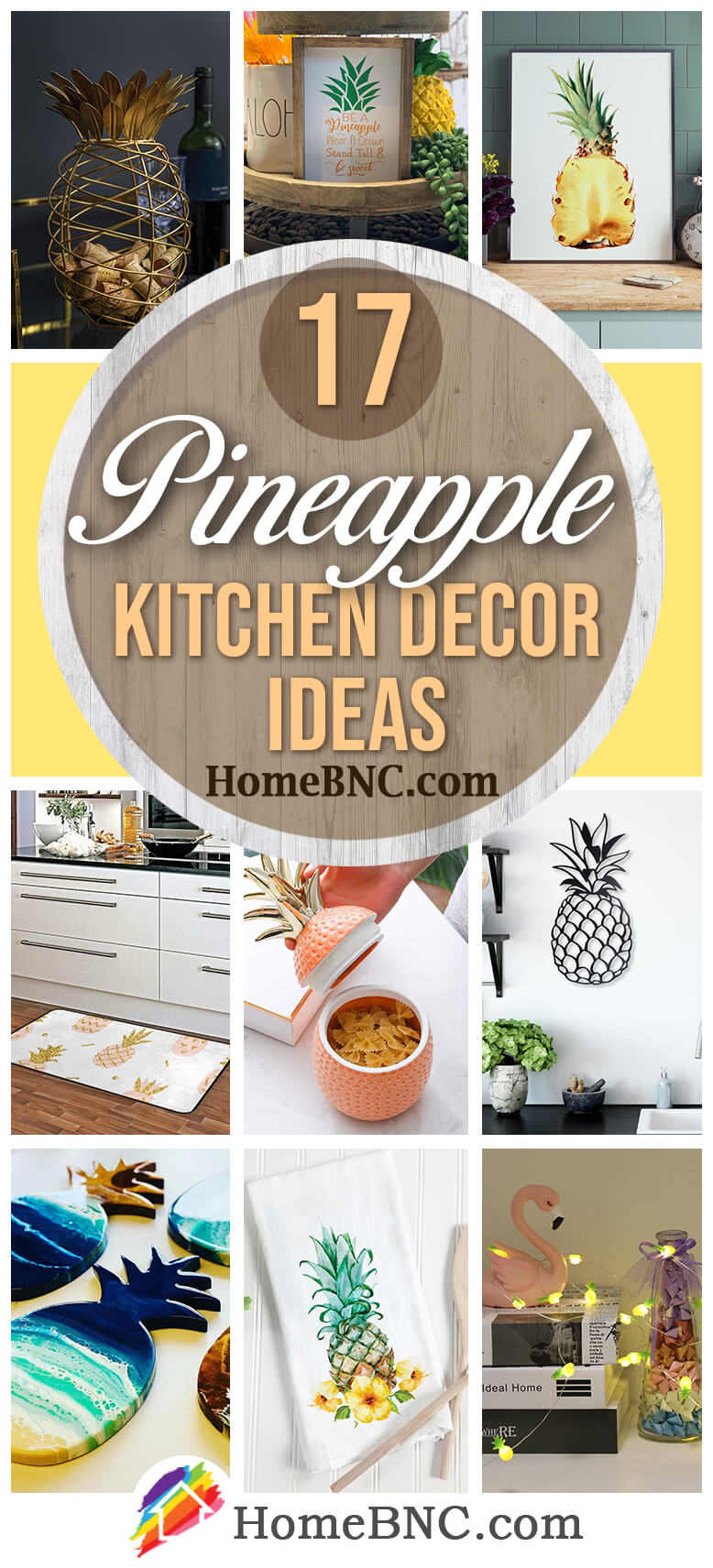 There are numerous accessories to choose from in this case. You can start at your sink, finding a cute pineapple-shaped soap dispenser or towel to hang. Or perhaps you want to fill up the empty wall space in your kitchen? That area is perfect for some wall art or even a pineapple-themed clock if you can find one. A wall-mounted wine rack can especially elevate the feel of the room. Also, did you know that there are pineapple kitchen accessories like bowls? The possibilities are plentiful when pineapple is your guide.
Another big question to weigh is whether or not you want to admire the overall shape of the pineapple or the color as well. Some pineapple decor lacks any sort of color, opting for a bold outline of the shape to leave an impression. Of course, there are many options that proudly show off that bold yellow coloring instead. Both can work out well in your kitchen depending on what style or a more specific theme you want to showcase.
Now that we understand just how adaptive pineapple is, it's time to get to work with your kitchen. If you still need help, our list of the best pineapple kitchen decor ideas should give you a strong start.
1. Set of 3 Pineapple Canvas Art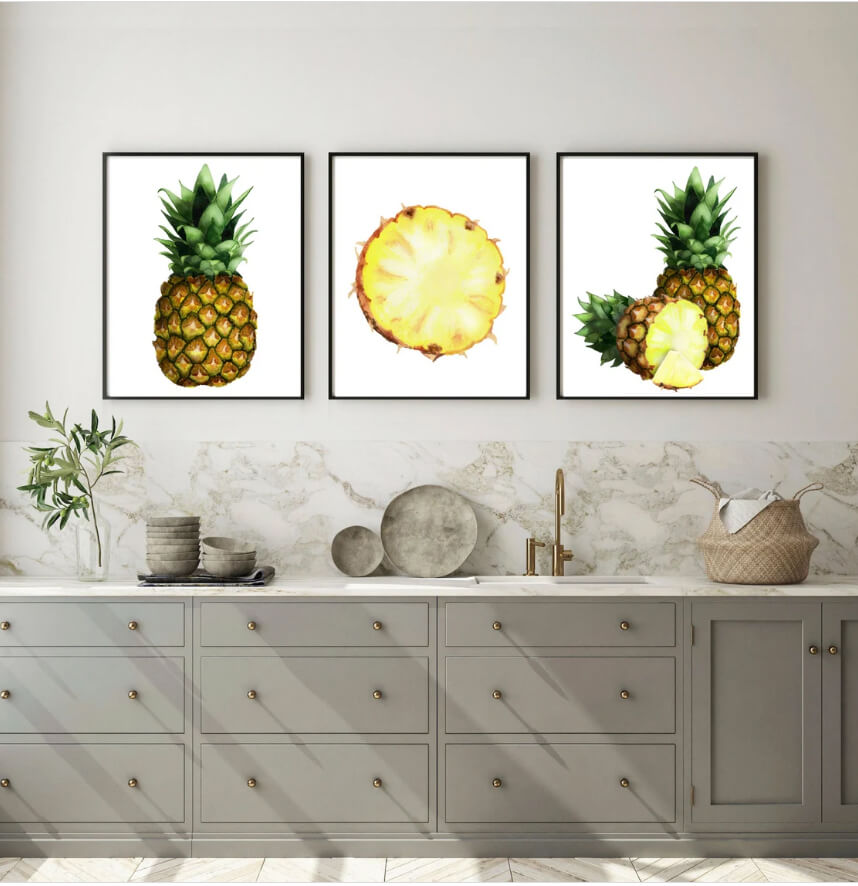 Wonderfully fitting into a farmhouse-style kitchen, this canvas pineapple art is simply exceptional. Realism is a focus here with the vivid coloring, excellent shading and contrast, and good use of white space for the background so that the pineapples are highlighted. Each piece demonstrates a different look at a pineapple too, giving this a sense of flow and movement so your eye moves from one end to the other when you hang these pieces side-by-side. These come in various sizes so that you can better fit them with your specific decor. Besides that, you can choose to have it framed, unframed, or have the canvas arrive ready to hang. If you want it framed, you can then select either black, white, or walnut.
2. Pineapple Shaped Bowls and Tray Set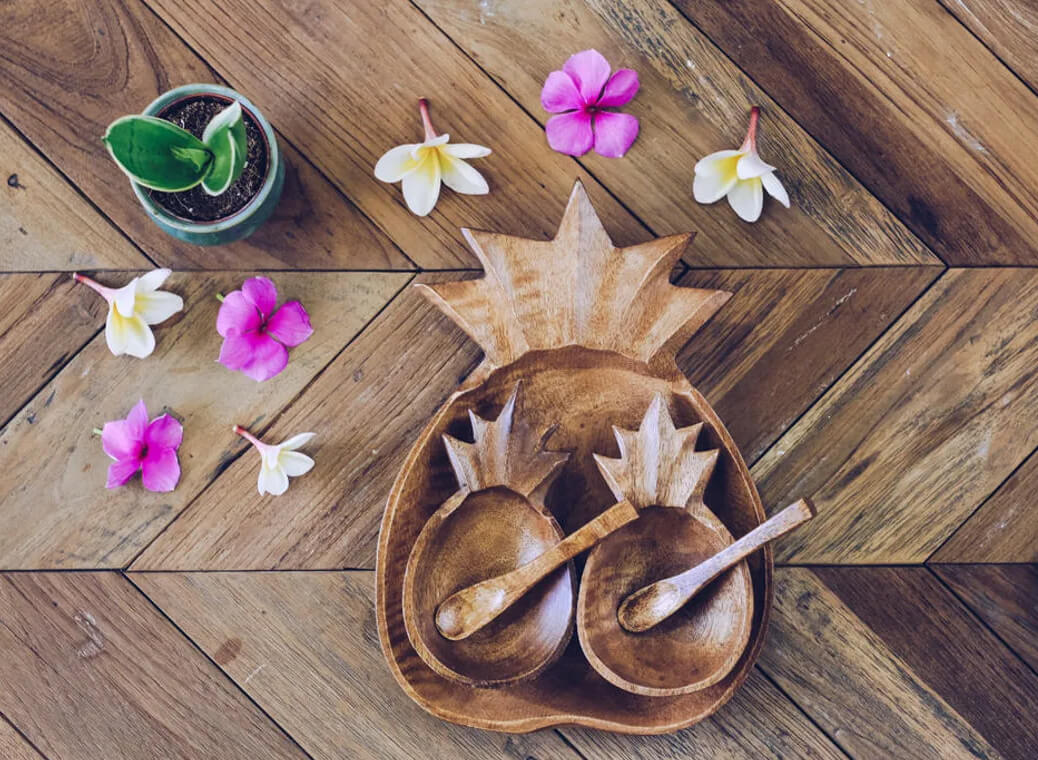 Ready for your next spring or summer party, these pineapple-shaped bowls and accompanying tray will get any guests excited. Handmade from acacia wood, these hold a general outline of a pineapple. In all, it is a set of five as you'll receive two bowls, two spoons, and a larger serving tray. It's clear that these can work as a nice addition to a party. However, they are ideal for everyday use as functional pineapple accessories. Use the tray to store some candies or nuts in your kitchen. Or you can just use the bowls to have something more fun to eat out of.
3. Tropical Apanda Metal Pineapple Wall Art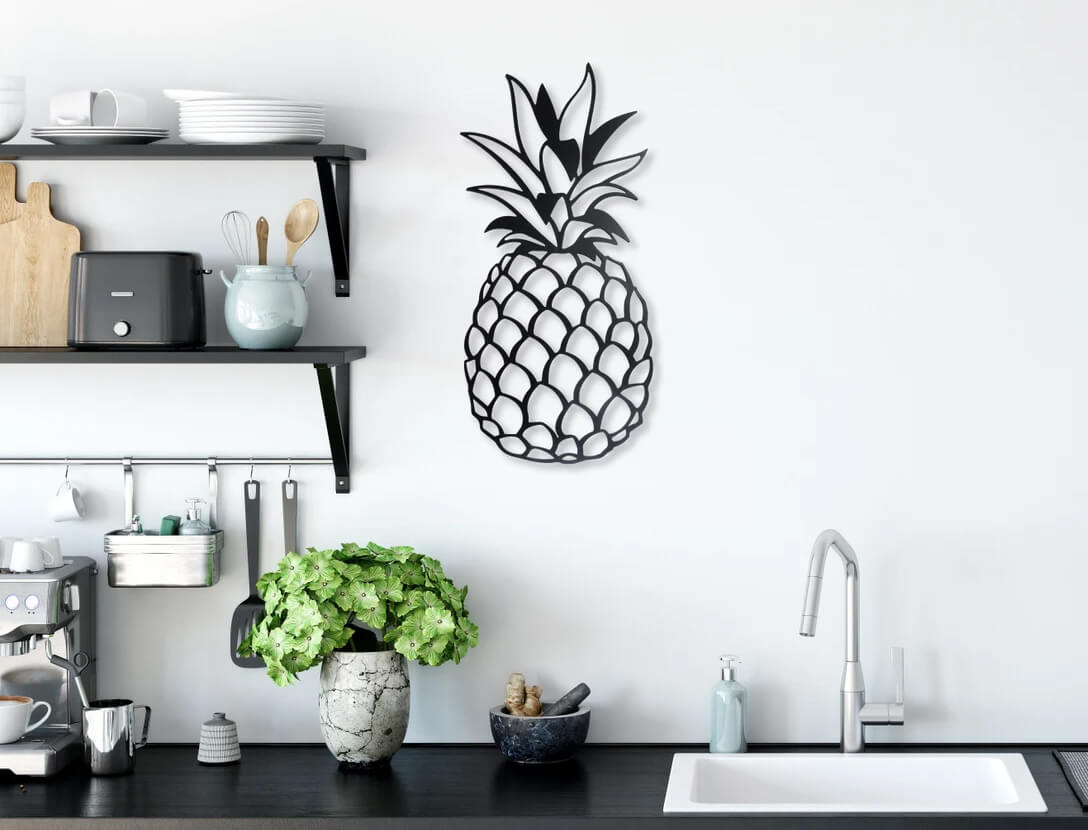 This metal hanging wall art adds a rustic look to any kitchen. The pineapple is well-designed with a more realistic approach. There is even some contrast added to it, giving it more depth. It is certainly an interesting way to show off how much you love pineapples, especially as this allows you to set them up on the wall along with any other decorative items whether they are colorful or not. You get all the gear you need to mount it on the wall too. So, you can start your decorating journey right out of the box.
4. Tropical Hibiscus Pineapple Theme Tea Towels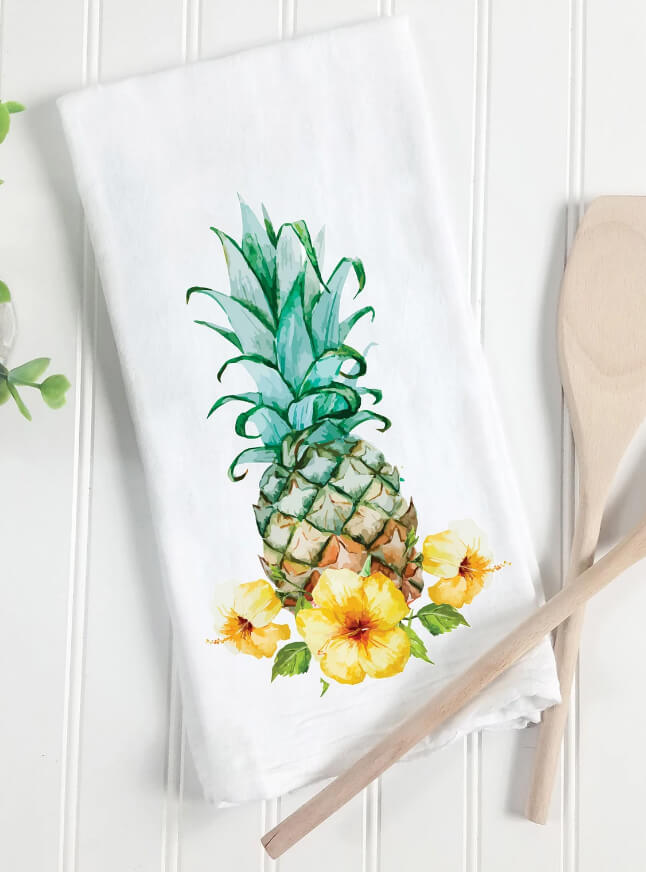 Tea towels are an excellent way to quickly dress up a kitchen. They're always within sight for decorative purposes, and they are useful on the daily. These particular towels are a good way to either start or add to your pineapple-themed kitchen. The pineapple design itself is bold and eye-catching with a lovely watercolor-like look. Meanwhile, the colorful flowers elevate it, cementing the tropical feel of the towels. Standing against a white background, you can easily tie these into your other decor. You can choose from either the classic mission style towel or select the flour sack towel. This can give you even more versatility so that these towels will seamlessly blend in with any other decor in your kitchen. Alongside that, there are two different flower colors to pick from, or you can go with both.
5. Adorable Ceramic Pineapple Centerpiece Storage Jar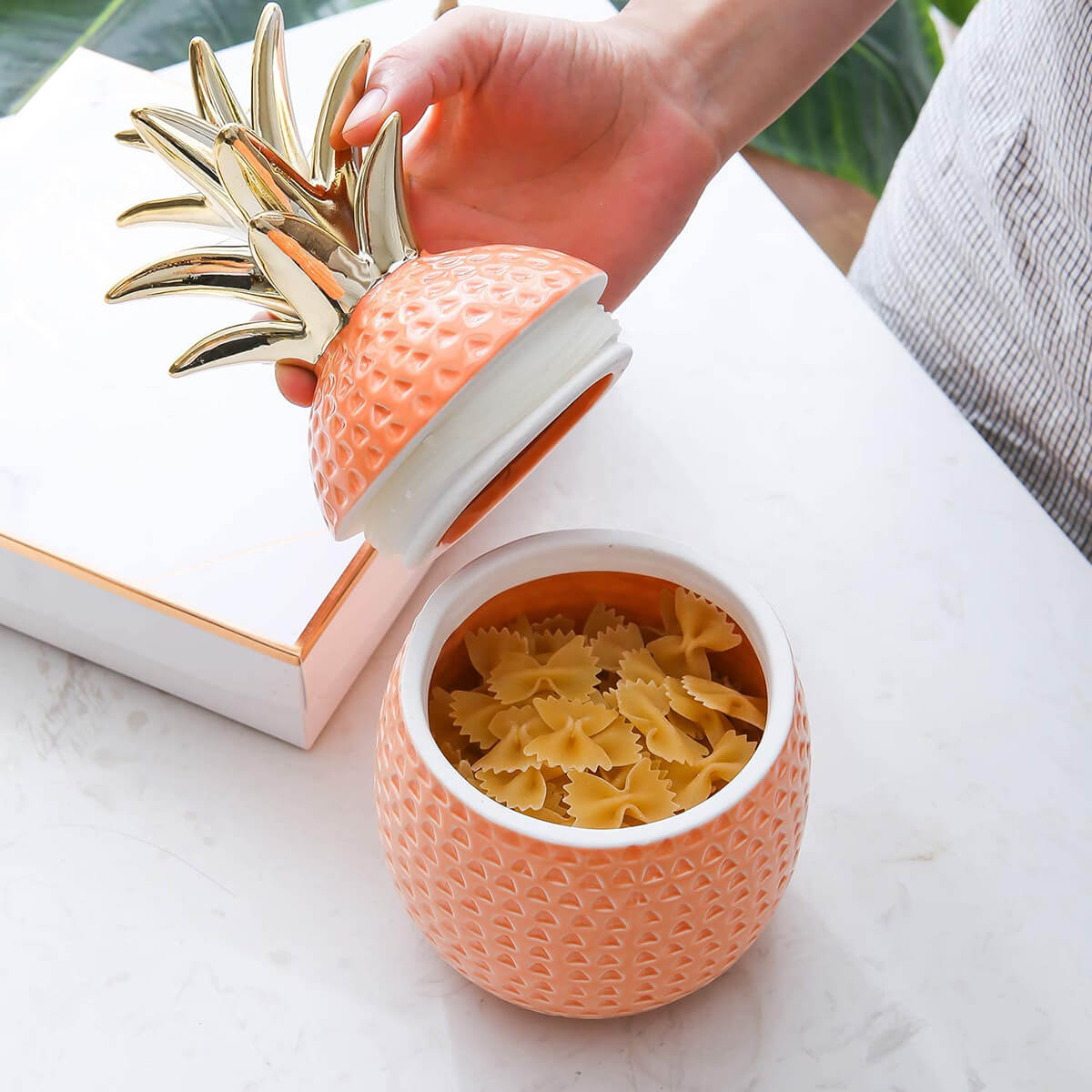 This pineapple ceramic piece has a sweet look about it. It is made in a nice warm color that is lively and appealing, and the golden top gives it a hint of elegance to fit a kitchen with a more modern theme. Best of all, you can use this ceramic jar for just about anything. Do you have a cute, small kitchen table in need of sprucing up? Well, this pineapple can serve as a fun centerpiece as it doesn't take up much room. Or maybe you want a more interesting way to store things in your kitchen like pasta, rice, etc.? As it is a container, the pineapple can work out well with that too. You'll never run out of uses in your kitchen with functional decor like this.
6. "Be a Pineapple" Wall Art Sign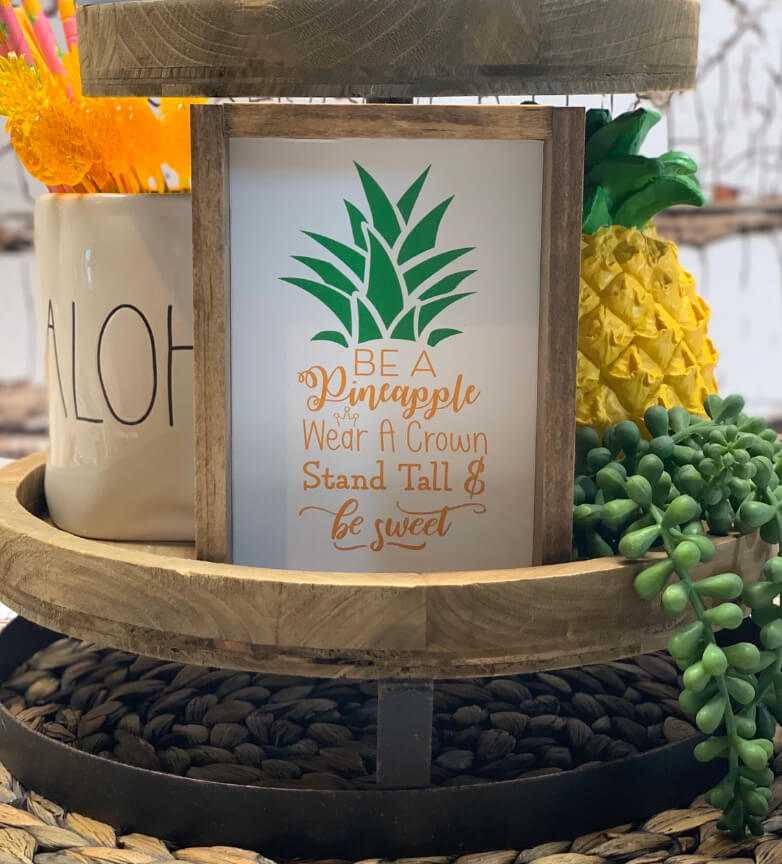 Who doesn't love cute sayings with their wall art? This pineapple one is both adorable and motivational, an excellent combination to hang up in your kitchen for all to see. There isn't exactly a standard pineapple on the artwork. Rather, the charming words form the outline of the pineapple. The "crown" remains though, and it has a nice artistic look about it. The colors of pineapple are represented well here too. It's easy for your eye to travel throughout this entire wall art, admiring each individual part. More so, the use of different fonts is a good way to keep attention so that you can focus on the saying. You can get this cute piece on its own or along with a wooden frame.
7. Pineapple LED Micro String Lights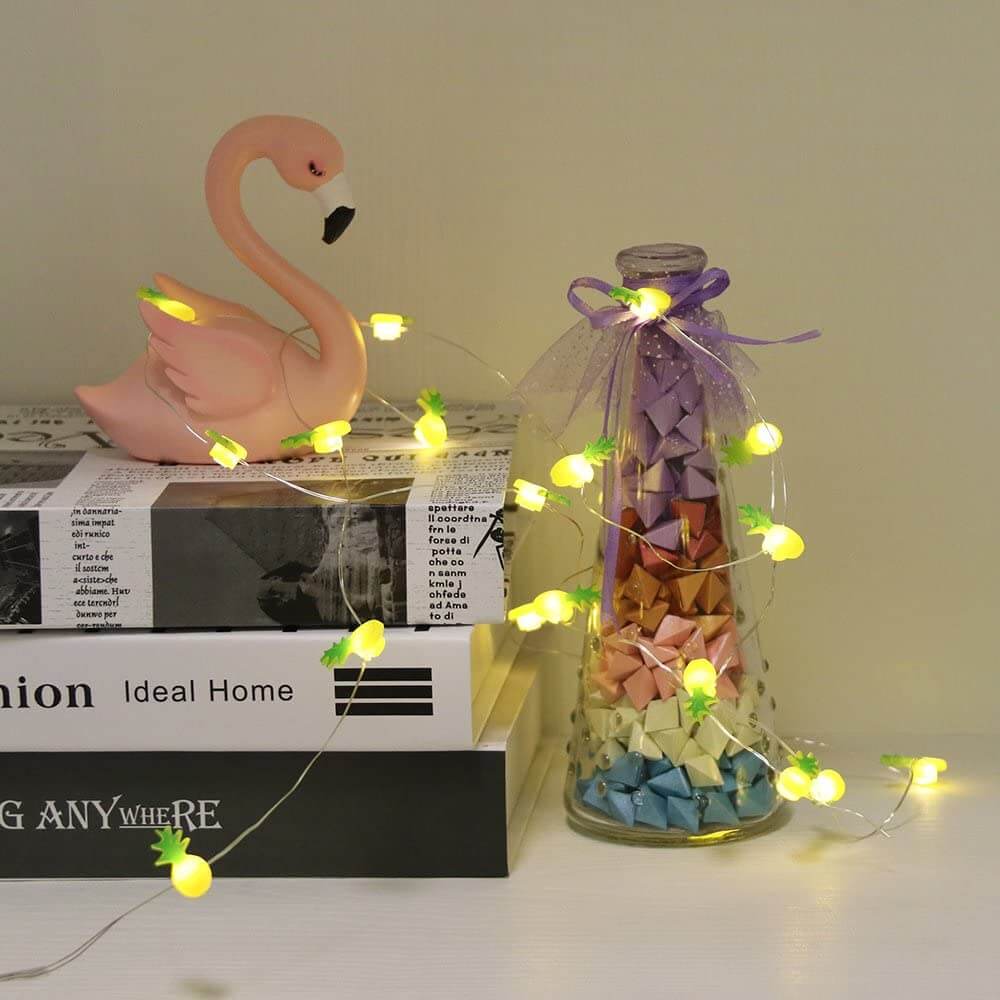 When you are looking to add some pineapple decorations to your kitchen, consider focusing on the lighting. String lights are a great way to create a certain ambiance in the room. Thankfully, there are pineapple-shaped LED string lights. They are micro, so they are even cuter to admire and can hang to capture attention without completely overtaking the rest of your decor. Plus, their small size makes them easier to hang up in different areas around your kitchen, allowing the lights to work well in rooms of various sizes. Also, their design is distinctive enough that they serve as decorations whether you turn the lights on or leave them off.
8. Vintage Pineapple Wall Art Print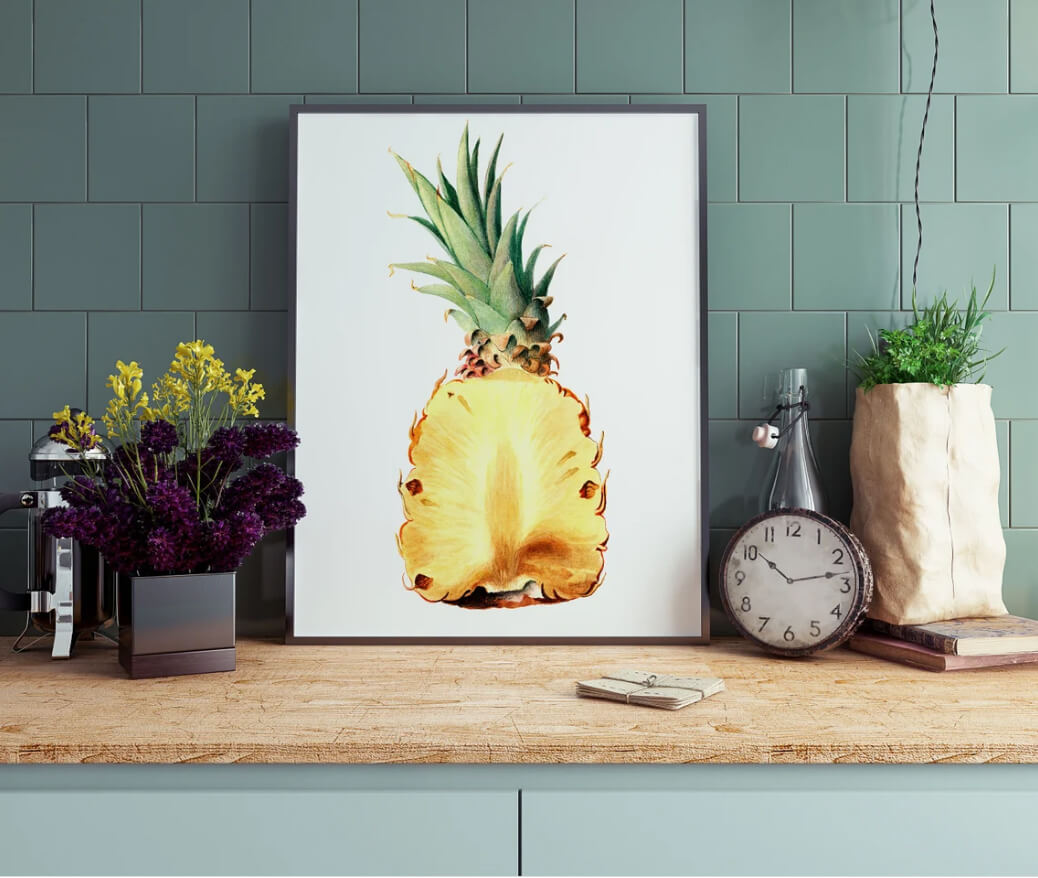 This pineapple wall art has an attractive retro appeal. It is realistic and shows the gorgeous yellow inside of the pineapple. By doing so, the piece becomes something that can effortlessly add some brightness to your kitchen walls. It has a minimalistic approach too that lets it work well in a contemporary space too. Best of all, you can print this out. It's designed to print in numerous sizes. This way, you can fit it in your choice of frame, printing out a piece of art that is larger or smaller to work with the wall space you have.
9. Novelty Pineapple Salt and Pepper Shakers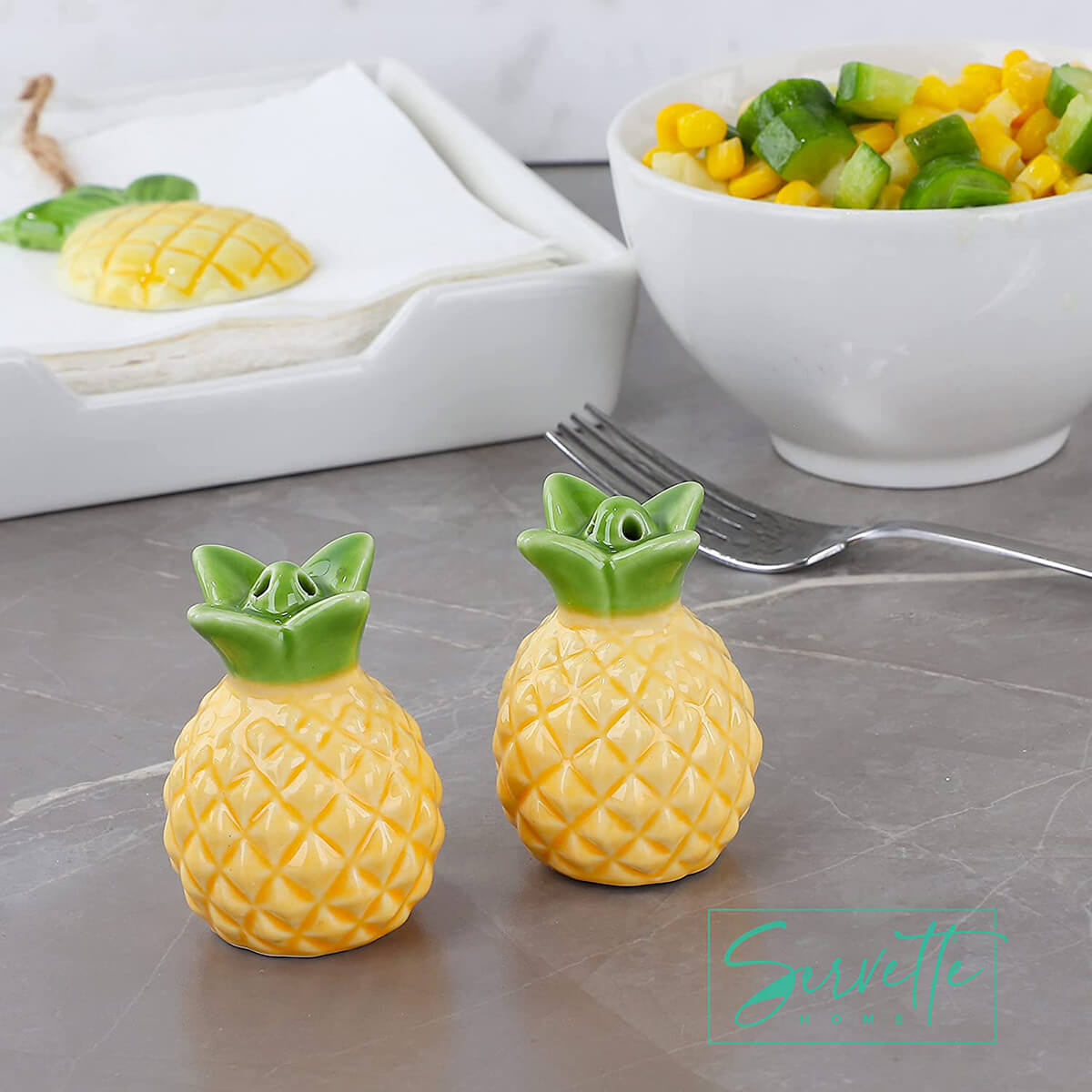 These ceramic little salt and pepper shakers are an adorable addition to any kitchen with a pineapple theme. The natural design of the pineapple makes them easy to hold besides simply being cute to look at. Even the holes are strategically placed for easier use. Although these pineapple accessories can bring out some more color in your kitchen, you can even save these for use at a party. Any decor for a spring or summertime bash can benefit from these sitting out. Or even if you just want to host a BBQ and need some other distinctive decorations outside, these pineapple salt and pepper shakers will do the job well.
10. Rustic Metal Pineapple Wall Art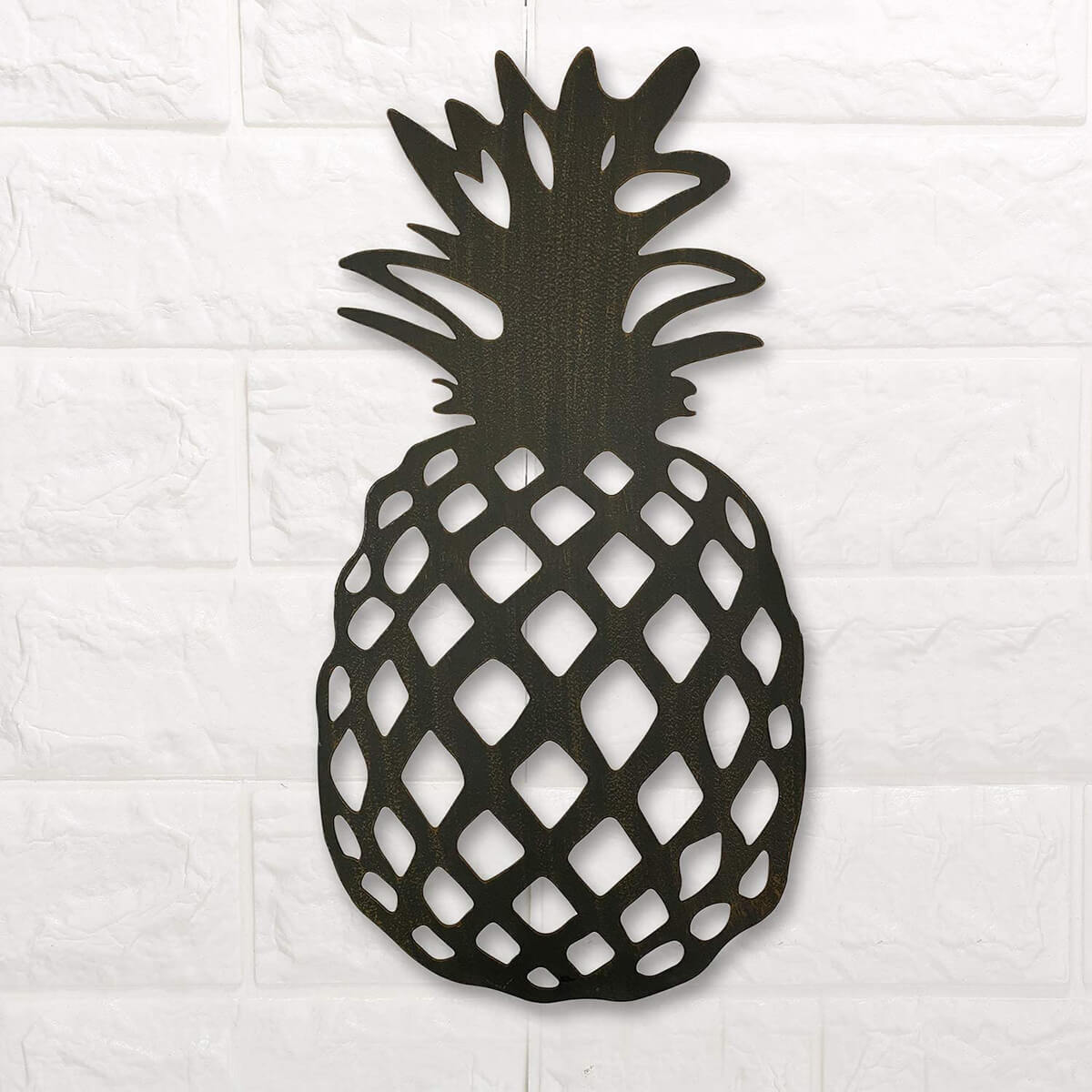 This rustic metal wall art is certainly a different approach to decorating with pineapple. There is no color here. Instead, the metal speaks for itself with the bold, dark outline of the pineapple instead. The piece has some rustic tones to it as well thanks to the slightly weathered look you'll notice upon closer inspection. Although it stands out among other brighter pineapple accessories, this one does so in such a powerful, yet understated, way. It blends right in with any other rustic decor you have around the kitchen too. Just imagine you have an industrial-themed wall-mounted wine rack in your kitchen. With this pineapple wall art hanging next to it, this area of your kitchen becomes the talk of all your guests.
11. Coastal Pineapple Theme Resin Wall Art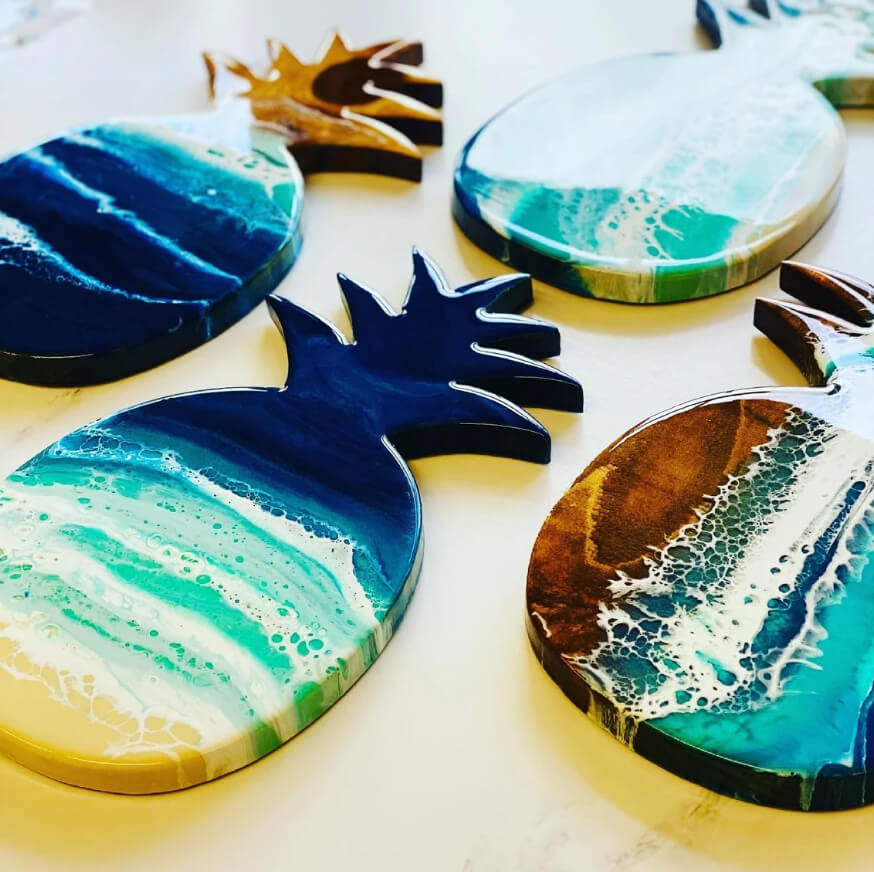 A surefire way to transport yourself to an island getaway through your home's decor is to blend coastal with pineapple-themed decorations. This resin wall art features gorgeous coloring, the multicolored approach giving off the appearance of a stunning beach and ocean with flowing waves. The shape of the pineapple merely pulls it all together. Available in two sizes, each piece is handmade. So, you can receive items with some natural variations, all allowing these distinctive looks. There is even an option for customization, so these can make for wonderful gifts to the pineapple lover in your life. Hang these in any kitchen with a nautical theme to add a more tropical touch to the setup.
12. Cool Pineapple Shaped Wine Cork Collector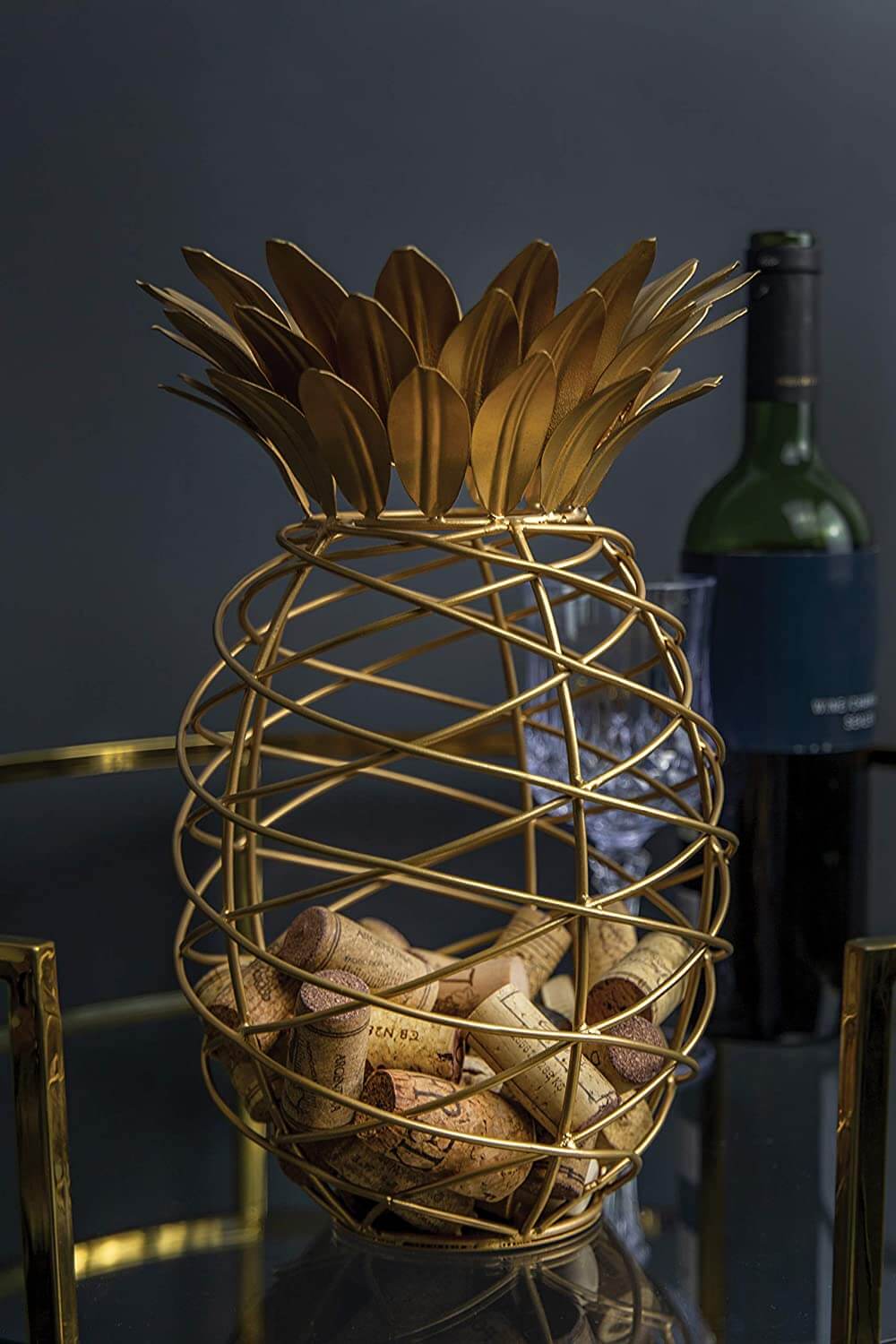 Many people collect wine corks. Any cork can hold significance, so if you do decide to collect them, why not place them into something worth looking at? This wine cork collector in the shape of pineapple is such a great item to add near your wall-mounted wine rack. It is completely golden in color, adding a pleasing aesthetic touch to something that otherwise would just look plain and basic. You can clearly see all your wine corks this way. So, what you decide to save isn't just treasured for your memory, but also a good talking point for anyone that visits. Also, since this is made from metal wire, the corks stay in place well too. This way, there's no risk of you losing any of your precious mementos.
13. Beautiful Tropical Pineapple Kitchen Rug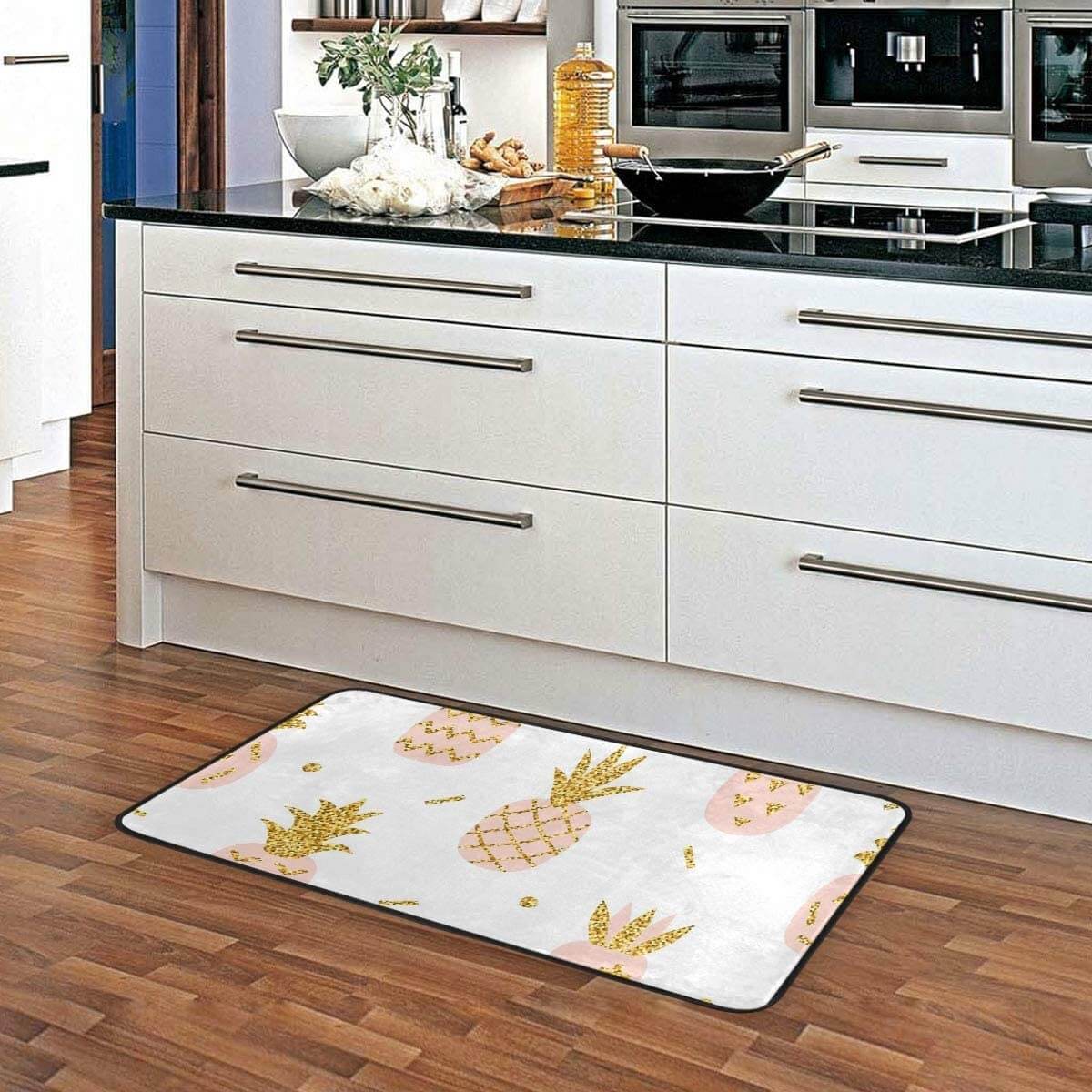 A mat in your kitchen is not just helpful, but it can also serve as an easy way to add some decor to the room. Why not opt for a pineapple-themed rug to fit in with your overall style? On looks alone, the rug boldly stands out. The tropical pineapple theme is granted an extra layer of style thanks to the gold glitter design. This helps the rug look more like a fashion statement than anything else. Besides its appearance, the rug feels good to stand on. It's designed soft and comfortable, making it easy to lay down, walk across, and even maintain through frequent foot traffic. There is even safety found with this sweet pineapple decor thanks to the added rubber-like backing that makes it non-slip.
14. Unique Metal Pineapple Wall Art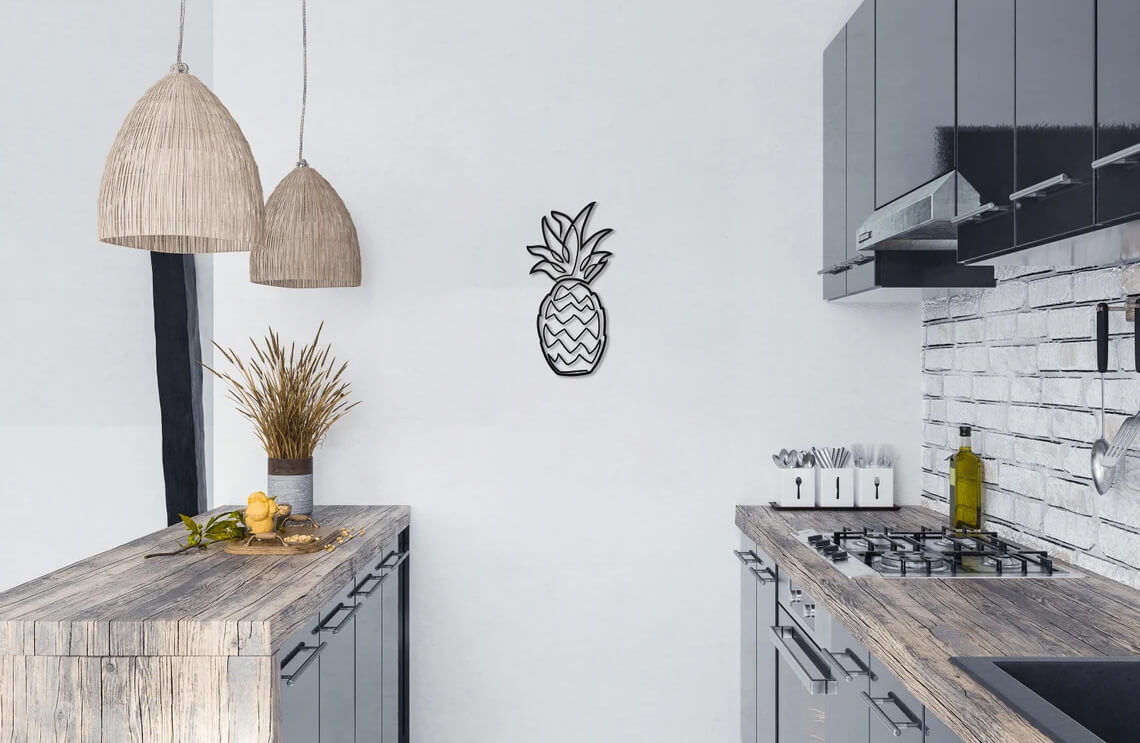 A fun way to decorate with pineapple and fit it in with an industrial or modern decor plan is with metal art. The pineapple design itself is intriguing with a more intricate style compared to how the fruit typically looks. This gives it more flair and substance, letting you decorate with pineapple in mind in a different and exciting way. The wall art makes for a cool kitchen sign like if you hung it near a table, the sink, or even above the entryway into the kitchen. Thanks to the black-coated metal design, the art can work with any color scheme you have going on in the room. It is made in a single size, and it comes ready to hang.
15. Pack of 3 Pineapple Magnets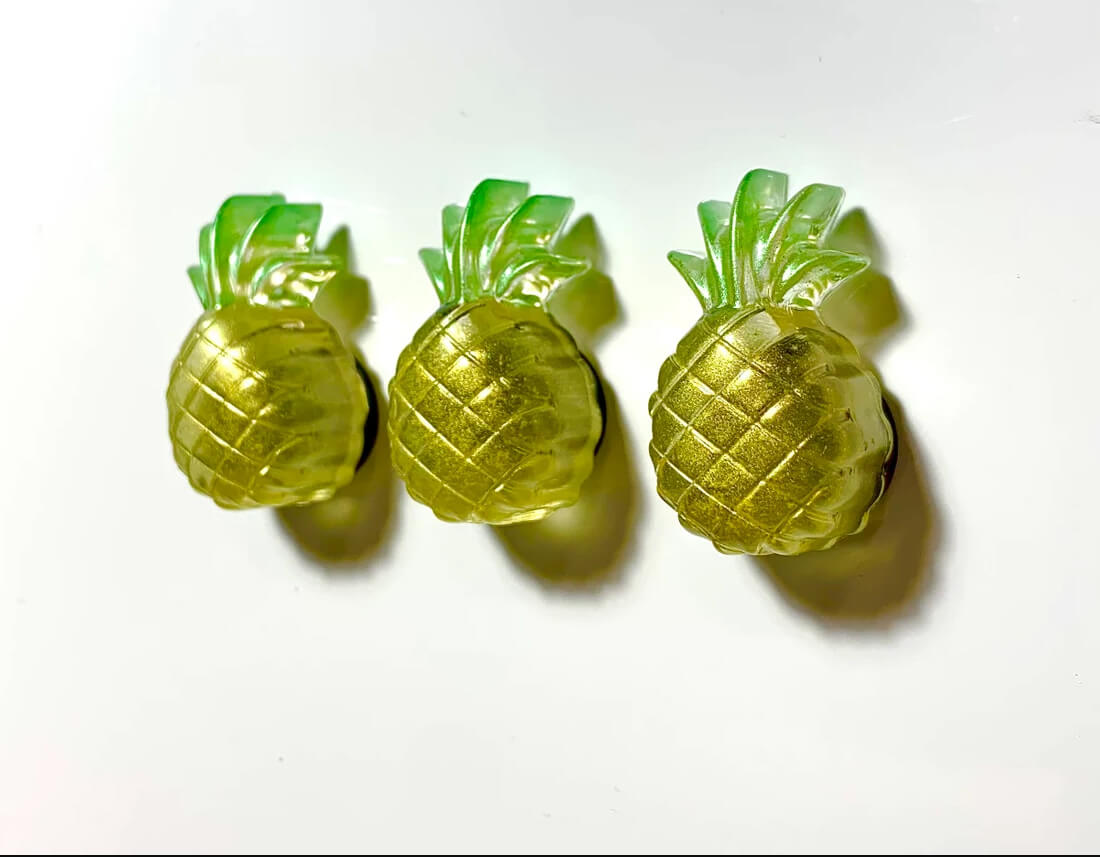 Sometimes, figuring out how to decorate with pineapple is as simple as looking at your refrigerator. It's the one place everyone visits at some point throughout the day. So, why not turn it into a decorative piece? These little pineapple magnets are an excellent way to bring some life and more color to your kitchen. The coloring is bright, vivid, and simply stunning to look at. Use them on their own to spruce up a bare refrigerator, or make them more functional to support any important papers (or artistic masterpieces from kids) with some style. They are tiny enough that you can add plenty of them to the fridge without it looking overcrowded.
16. 3-Piece Tropical Pink Pineapple Wall Art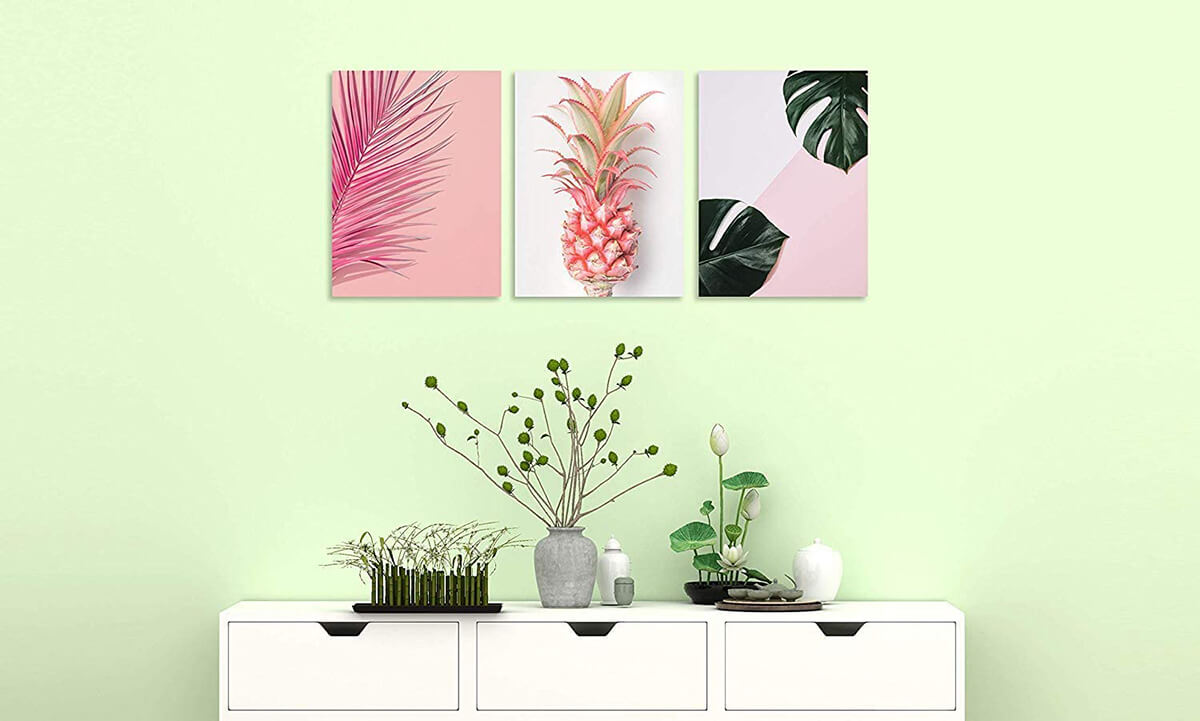 Who said pineapple decorations only had to be yellow? If you like the color pink more, or maybe your kitchen is already leaning toward that color, then you should check out this tropical paradise wall art. This 3-piece canvas art successfully fills up any empty wall space in your kitchen. The pink theme works well too, adding effective pops of color with lovely contrast in each art piece. There is a relaxing tropical vibe given from all this too. So that way, you can quickly transport yourself to that beach you always wished to visit without leaving your home simply by basking in your newfound kitchen decor. Additionally, opting for this style of pineapple makes the artwork really stand out and immediately grabs attention.
17. Pineapple Botanical Vintage Wall Art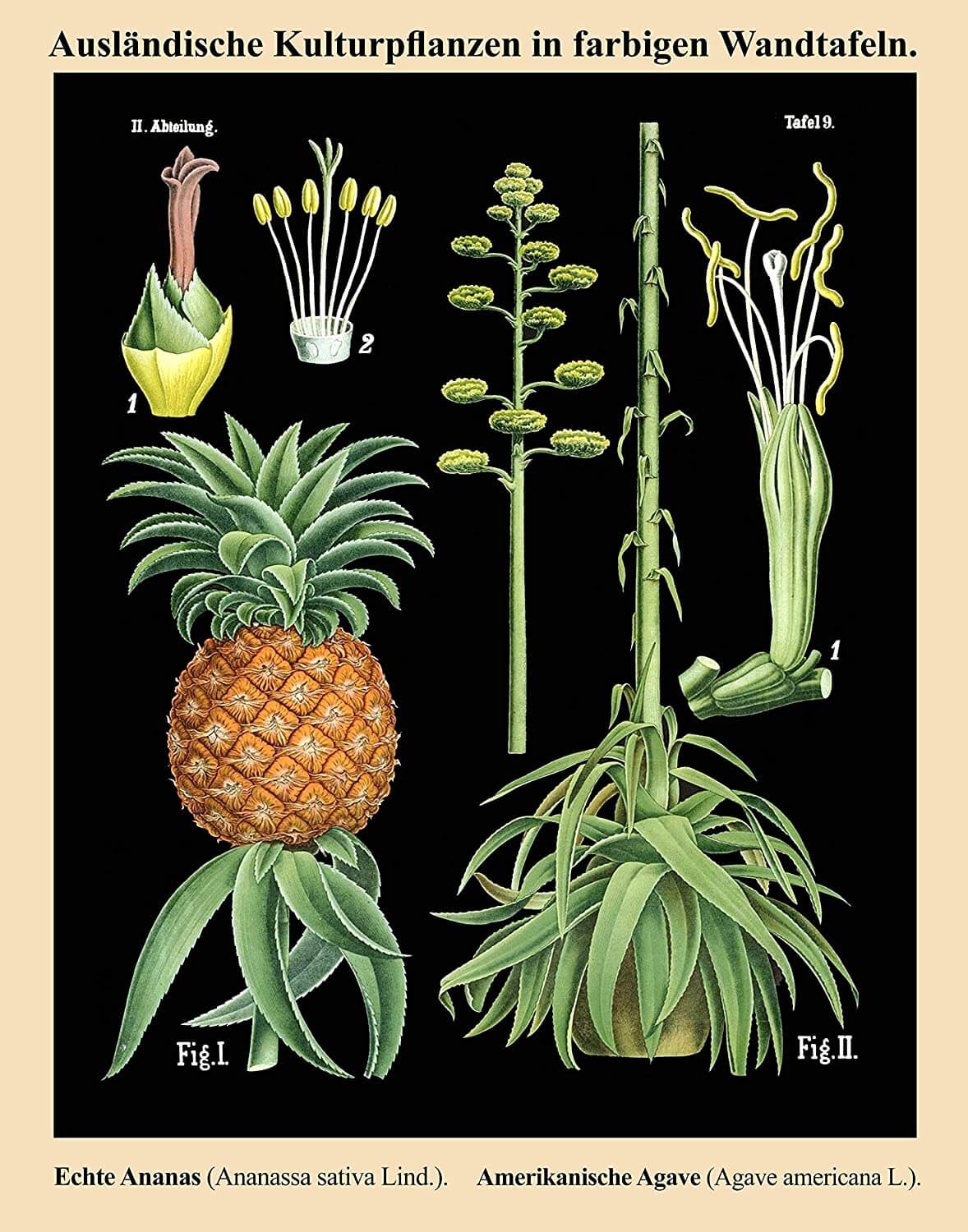 A vintage kitchen deserves vintage artwork to decorate the wall with. This pineapple botanical piece will get things done nicely. The old-school look to this artwork really leans into any retro theme you have going on with your kitchen decor. Also, the color is not just vibrant, but this comes with a lifetime fade resistance guarantee. This way, you know this wall art will remain in your life for a long time and continue to elevate your kitchen decor. The print is even handmade so that you know you are receiving something that is more unique than other pineapple artwork, especially if you hang this up alongside other accessories.
Best Pineapple Kitchen Decor Ideas to Brighten Up the Space
Out of all the fruits you can use as a theme to decorate your kitchen with, pineapple is favored by many. There are numerous places you can take it, and it is remarkably easy to find kitchen decor that uses it. This is true whether you want something to put on your tables, your counters, for use at your sink, or simply to hang and admire on the wall. There is pineapple decor meant for you in any of these scenarios.
Maybe you want more color in your kitchen? Or perhaps pineapple is the perfect way to blend with a theme you already have? Or maybe the shape is all you care about whether it is in color or not? The versatility is there. Another wonderful thing about pineapple is that it is fitting for bringing in the season. This works out well in both springtime and summertime. Once the sun is out and shining, you'll feel like you can pull a bit of that life and warmth into your house with any of the best pineapple kitchen decor ideas.