You have probably decorated every room in your house beautifully, but did you forget about the kitchen? This post has 36 fun kitchen wall decor ideas that will make the space more than just a place to whip up a meal. Whether your style is vintage, shabby chic, bright and colorful, or modern, these ideas will help give your kitchen a pop of personality!
45+ Gorgeous Kitchen Wall Decor Ideas to Give Your Kitchen a Pop Of Personality

Gotta have that morning joe? Check out our space-saving solutions for a coffee bar. Honor a loved one by framing one of their famous recipes with our recipe card projects. Set the mood for food with a unique wall sign like our "eat," "bakery," and "kitchen" art ideas. This list also has lots of kitchen wall decor ideas that double as space-savers.
If your kitchen is small but mighty, check out the hanging herb garden and produce basket projects! Tired of hearing the dreaded "what's for dinner?" question from your family? Try one of our fun and functional wall menu DIYs. Store your favorite bottles of wine in style with one of our easy to make wine rack projects.
Keep reading to learn more about all 45+ awesome kitchen wall decor ideas!
1. Wood Cutting Board "Eat" Art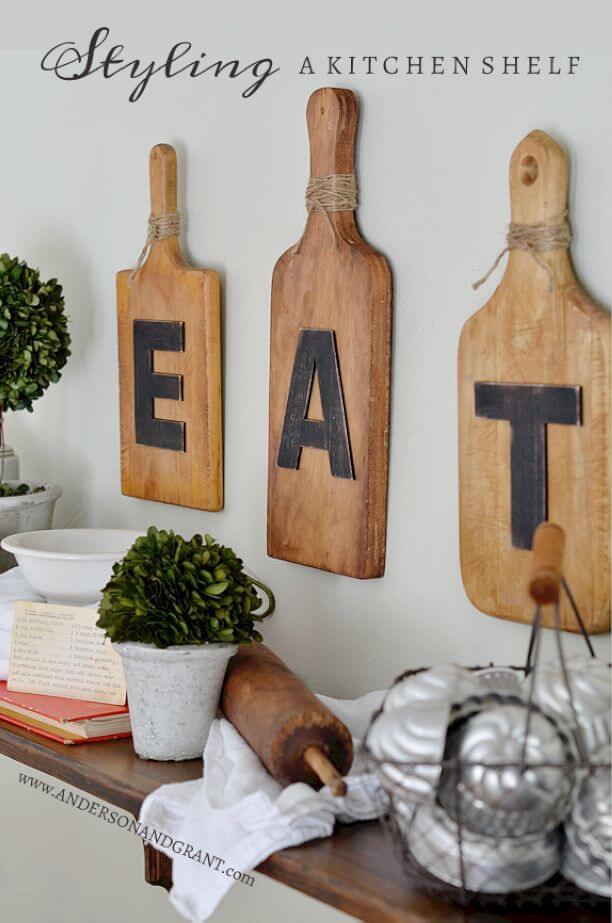 Accent your dinning room entrance with a phrase we have all come to know and love. The utilization of old cutting boards brings reference to meal time: a feast to commence the end of another day. The treated wood lettering meshes with the tattered style of the boards. It brings out the "work" that goes into the preparation of a meal.
2. Food, Family, Love Prayer Sign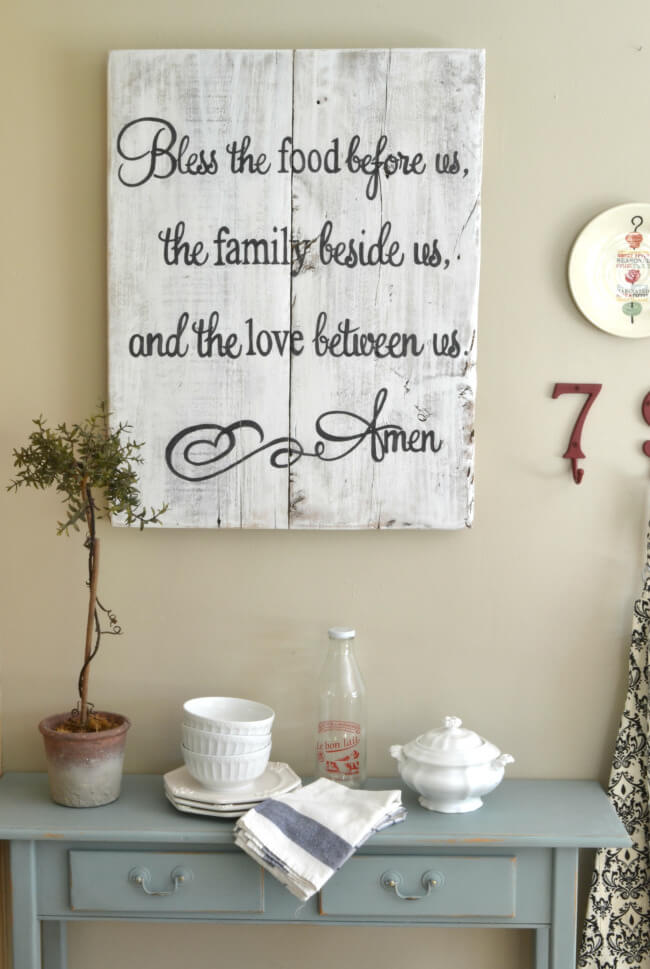 Prepare for the meal-time blessing with this timeless canvas piece. Embrace the upcoming meal with a touch of phrasing that calls for reflection and brings out your inner compassions. This timely piece can also be created with wood stylings, tailoring your dinning space to a place of blessing before meals.
3. DIY Metal Letter Kitchen Sign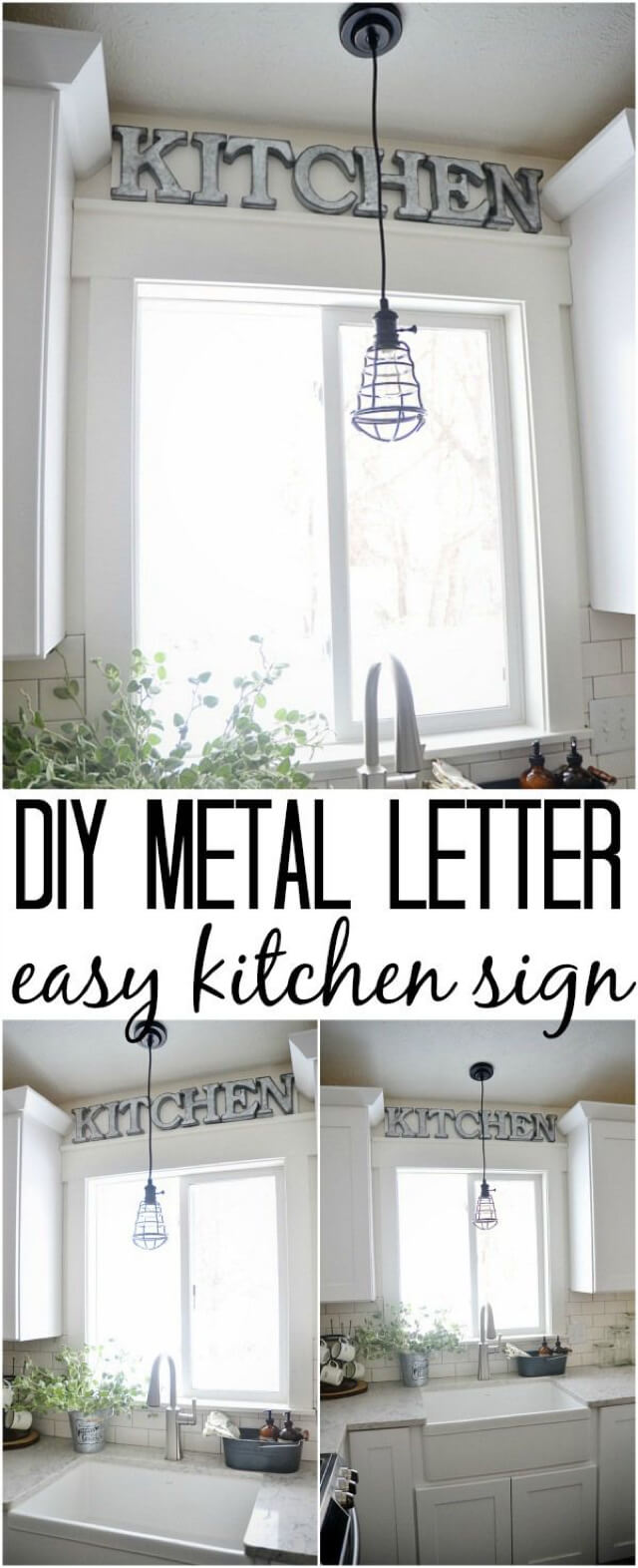 Introduce your kitchen workplace via a timeless metal piece. Back the lettering with painted corkboard or hardwood to give the letters the shine and appeal they deserve. Adding a texture to the lettering gives the kitchen a rustic look. Polish to make this element shine above your workplace.
4. Rolling Pin and Recipe Card Display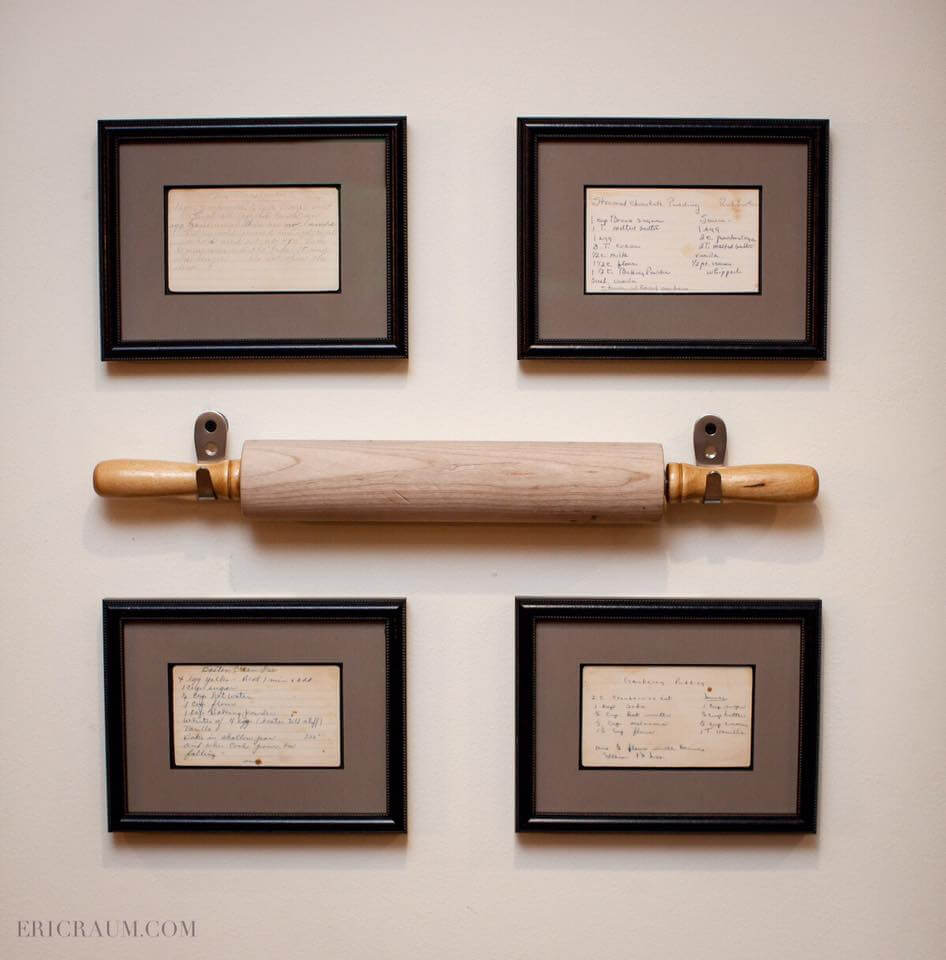 Reveal the secret ingredients that have been passed on through generations through this excellent display. The framing brings precedence to these elements of cooking that have thrived on for centuries. Adding the tattered rolling pin ties the piece to many instances of hard work and determination of perfecting a craft.
5. Weekly Menu Recipe Card Board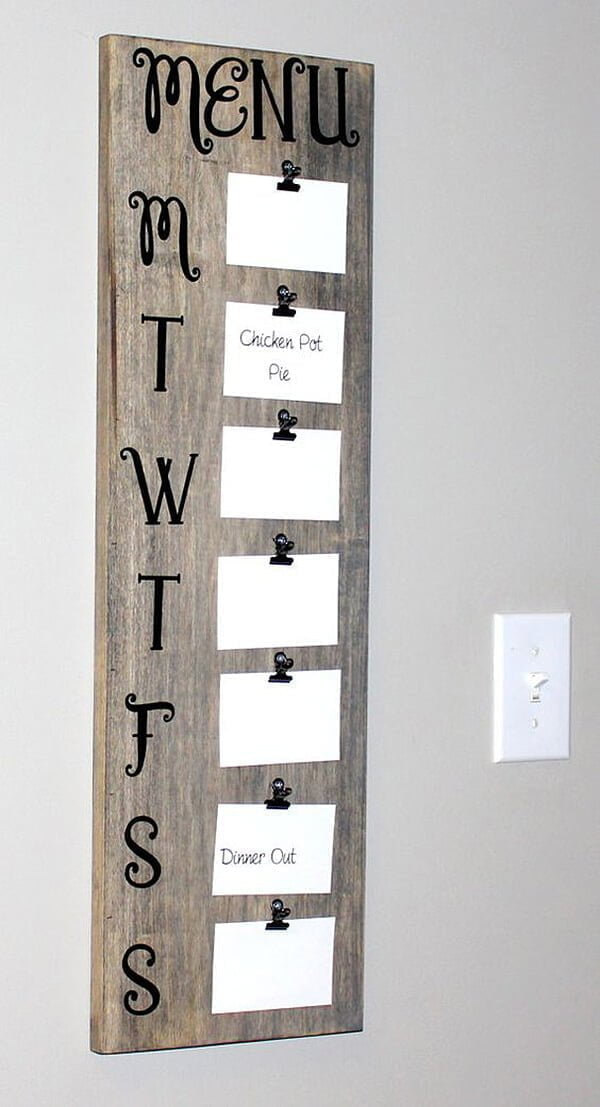 Set the weekly eating schedule via this hardwood creating. Add stylish lettering to make each day of the week stand out. Metal clips help create an ease of replacement and allow you to shift these options with ease. This piece helps bring out the importance of meal preparation and excites the individuals of the household as they anticipate their favorite dishes.
6. DIY Small Space Kitchen Herb Garden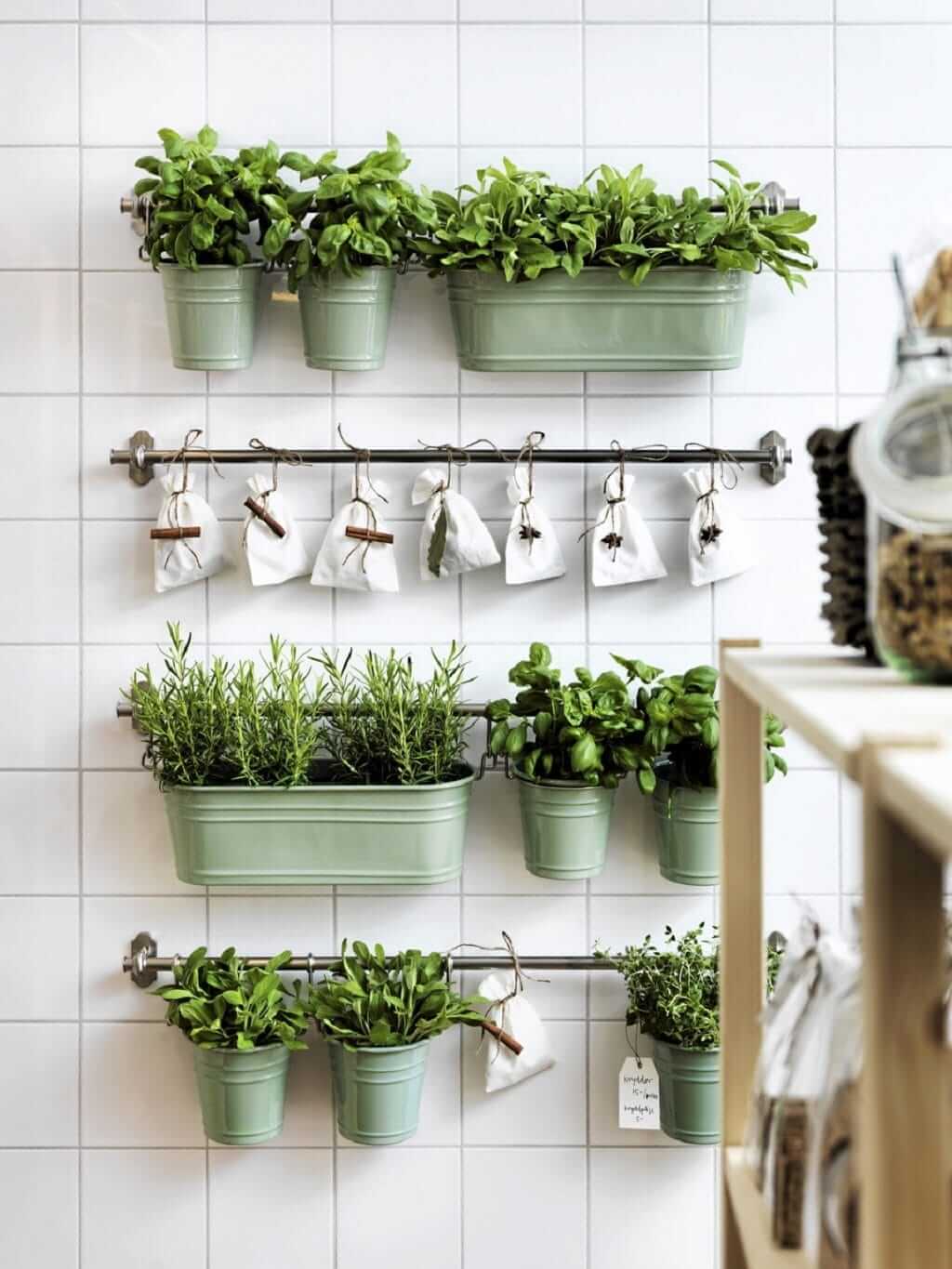 Transform old and tattered shower rods or curtain rods into a preservation space for your herbs and spices. This transformation gives purpose to these older elements, bringing a livelihood of fresh ingredients and aromas into the kitchen. This piece also helps to lighten up your space and can infuse the airwaves will hints of what's to come.
7. Hanging Produce Baskets With Sign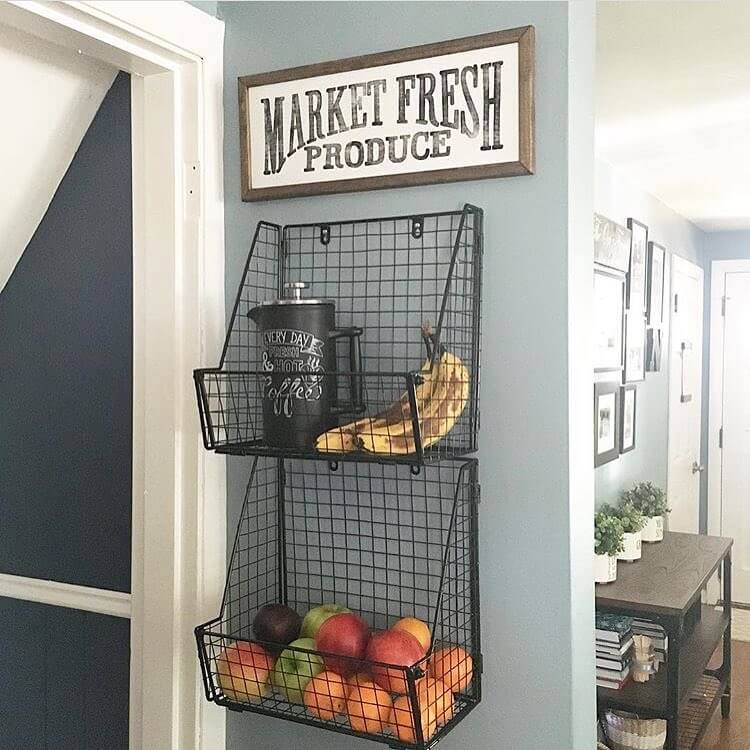 Locker or bike baskets make for great wall hangers. These baskets keep fresh produce, fruits, and veggies free of contaminants. The sign helps open an internal marketplace that brings the farmer's market to the comfort of the home. Fading the lettering on the sign gives the space a classical look that is sure to turn heads from young to old.
8. Framed Vintage Silverware Art Project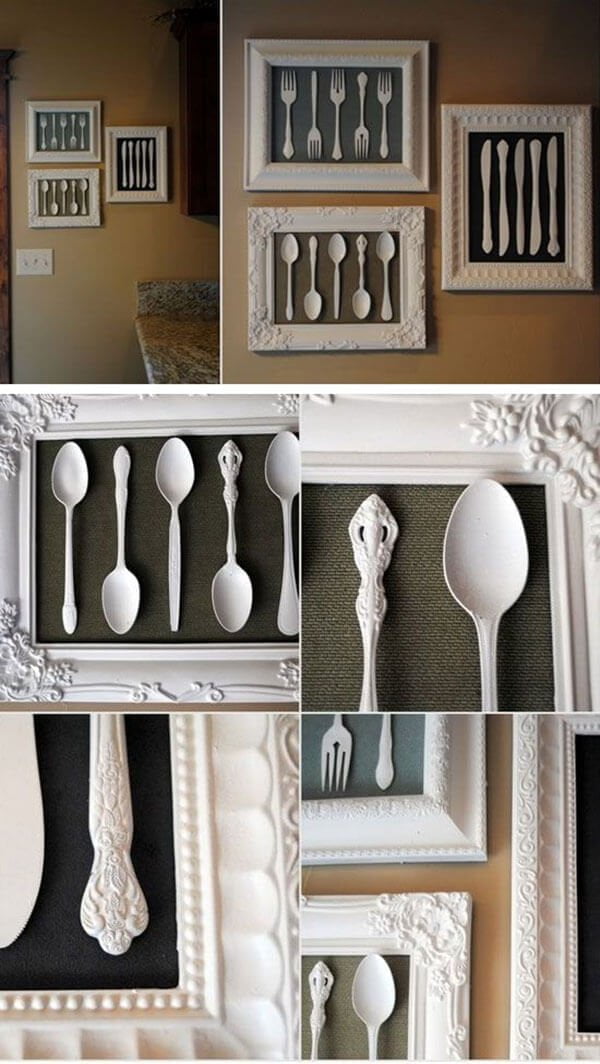 Matting your endeared silverware and utensils is a great way to show appreciation for meals. Border these pieces will color combinations that suit the tones of the utensils. The black background helps these elements pop off the surface, creating visual appeal from close-up and at a distance.
9. Wood and Binder Clip Art Boards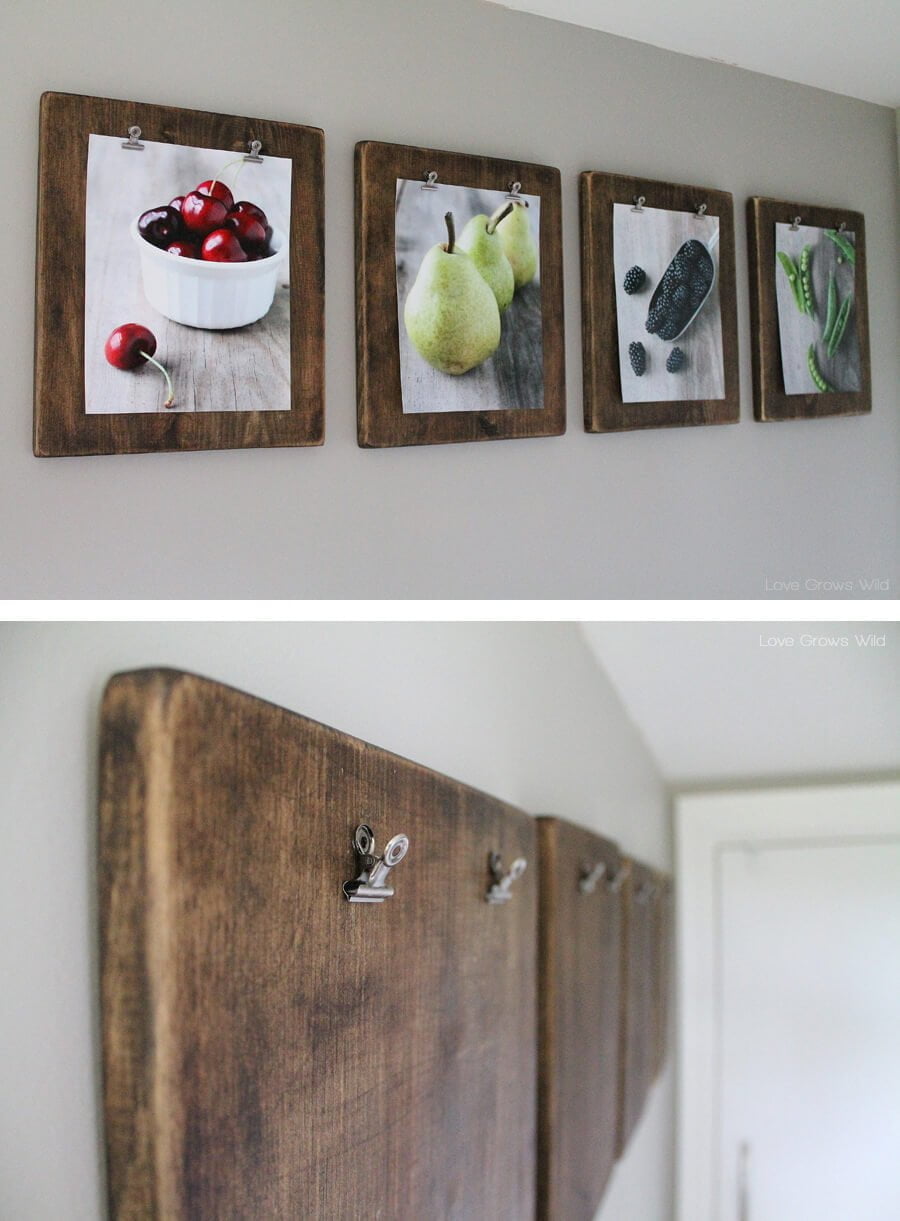 Photography goes best with a stylish background. Treated hardwood that shows wear helps to make imagery pop. This creates an appeal to the visual appeal of fresh foods and colorful imagery. The clips provide an ever-changing canvas that can be updated on a seasonal or weekly basis.
10. DIY Coffee and Tea Bar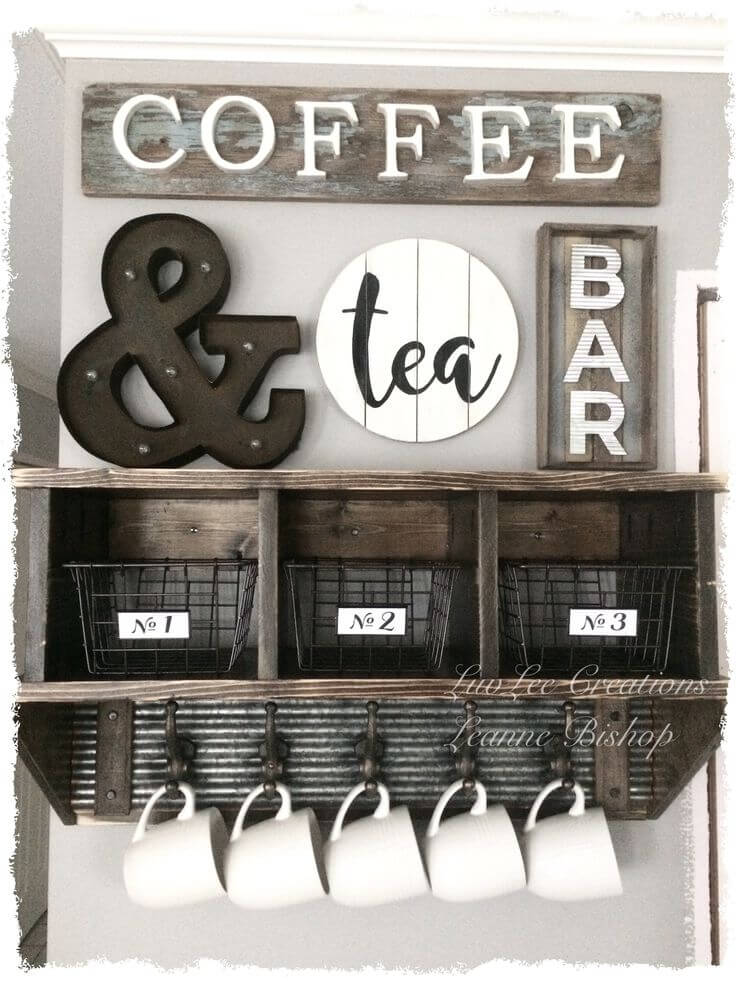 The function of a wall cabinet and coat rack combination can create for that morning greeting of a Cup of jo. Seed your ingredient inclusions will deep toned baskets. Faded wood or old metallic siding gives coffee that rustic nature it was born to host. Title your location with metal or wood lettering, treating with screws, rusted metals, or other working materials.
11. DIY Wood Pallet Wine Rack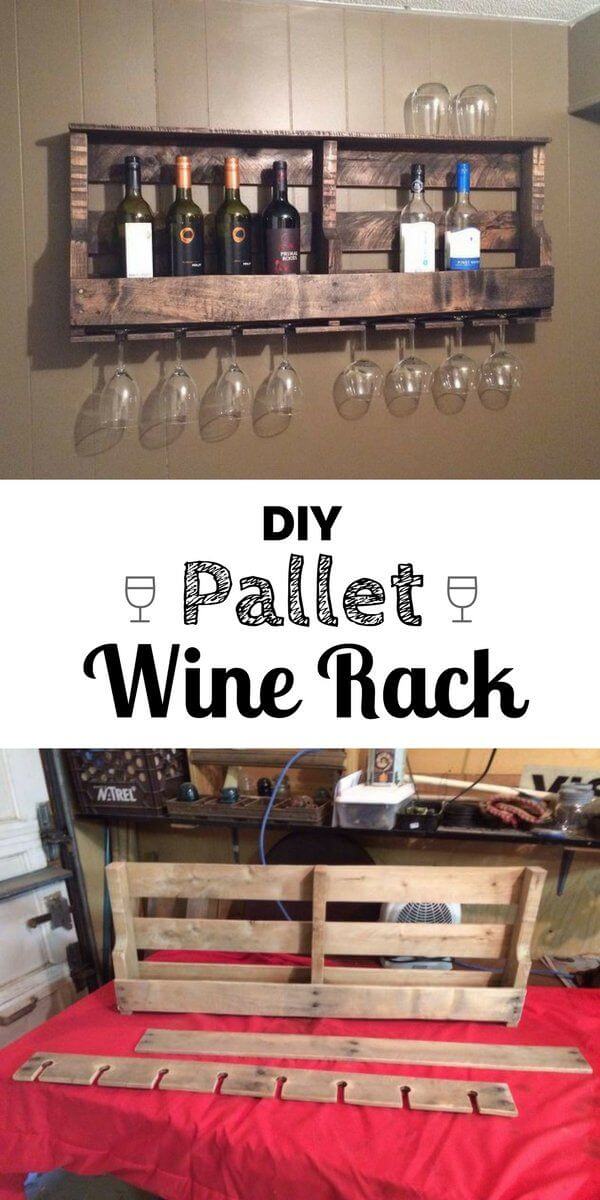 Pallets can double as a simplistic option for a homemade wine cellar. The rough wood can be treated with a coating to bring out the divots and grooves that the wood hosts. Spacing allows for easily removal, creating an ease of access to your beverage of choice. Just like good wine takes proper aging, so does the detailing of this classical piece.
12. Easy Feed Sack Kitchen Curtains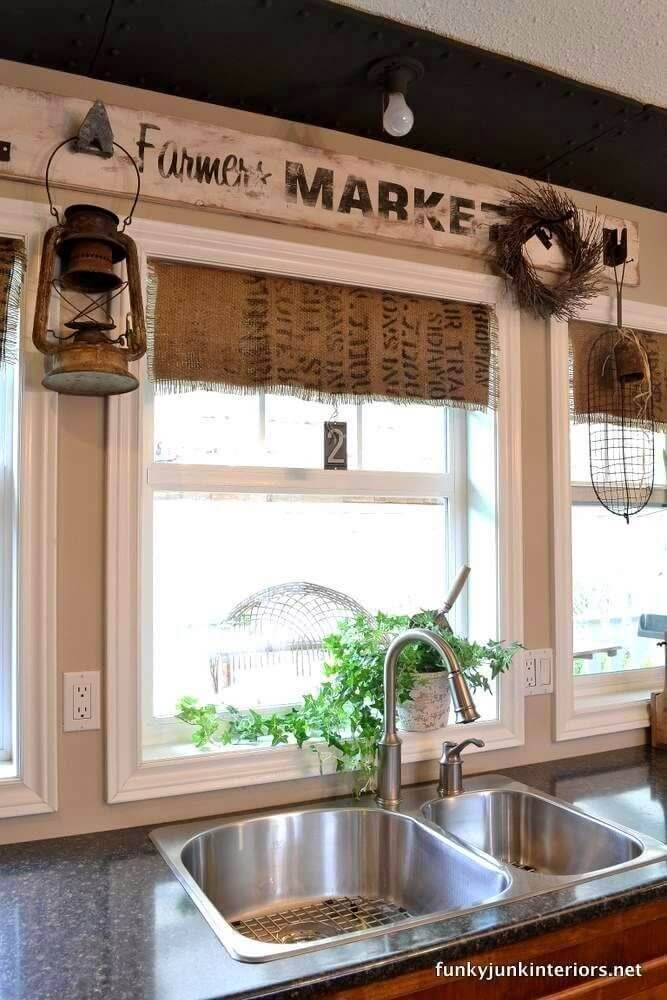 Old feed sacks make for a fitting element in the kitchen curtain space. The weavings of these materials help to create a strengthened shield against the rays of the sun, emitting shallow tones of light to brighten your kitchen space. They also bring a vintage look to any modern kitchen, helping you to mesh your layout with elements of new and old.
13. Rustic Clock and Plant Display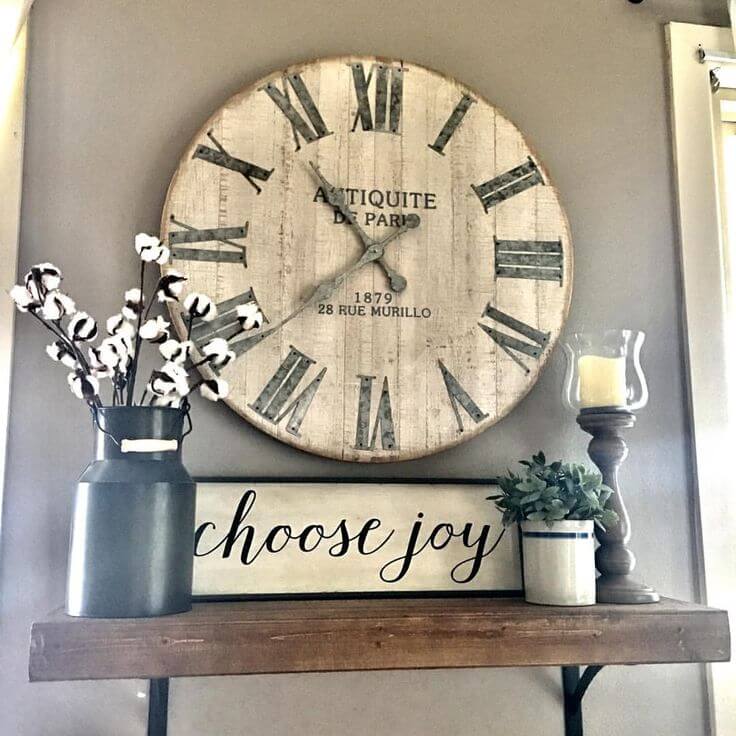 Adhere to the tame offering of an antique wood clock to mesh to the modern advancements of the kitchen space. This rustic display introduces glimpses into the past and is brought to life via the inclusion of the plant holdings. Treat your entry walls to a timeless style that suits any color scheme.
14. Kitchen Wall Butcher Paper Dinner Menu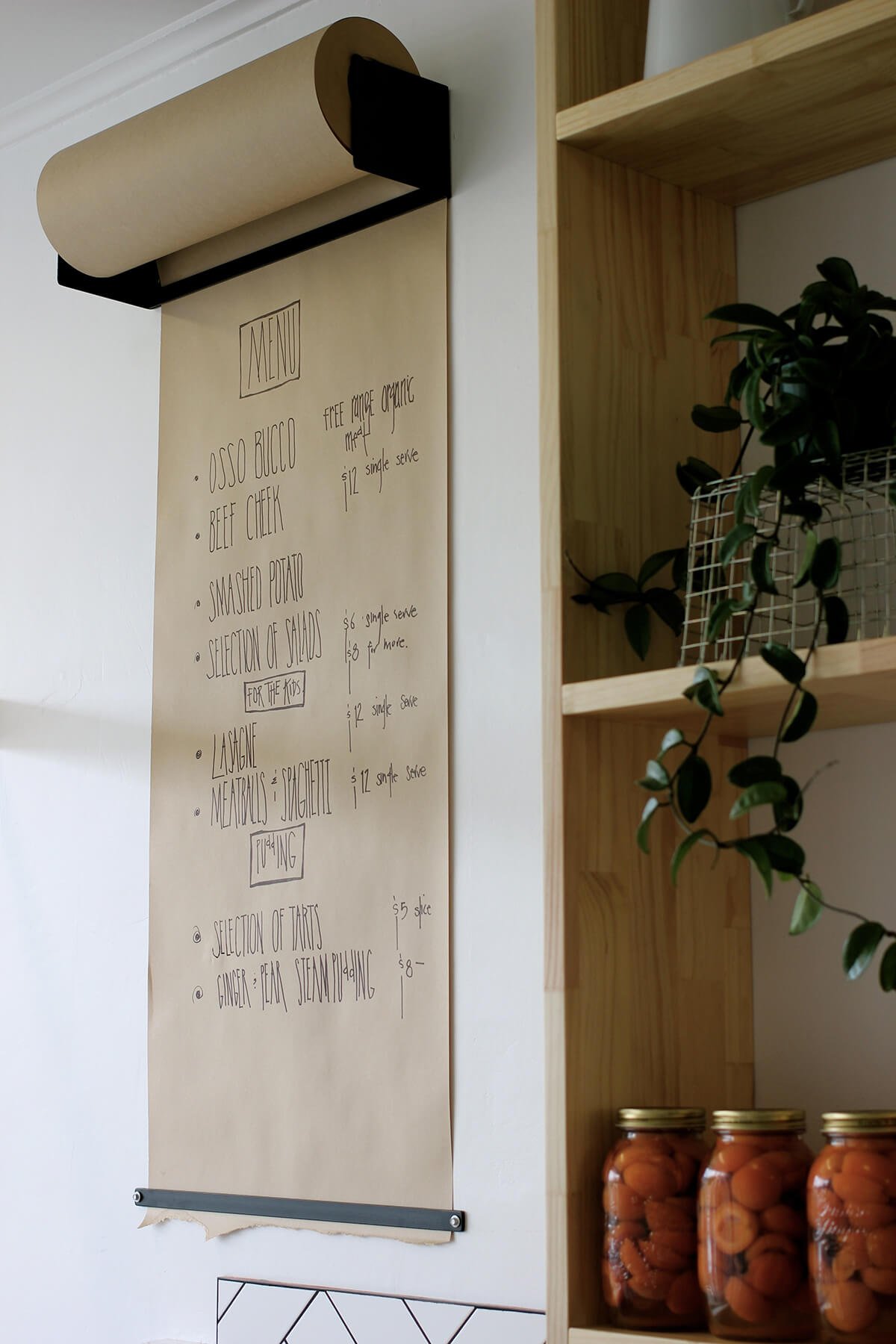 Roll out the nightly menu in style with this butcher paper menu. This endless option hosts simple replacement and keeps it simplistic for dinner guests. Drape down an entire wall to ensure you don't miss any of the important inclusions in tonight's dinner plans.
15. "Eat" Vintage Metal Wall Sign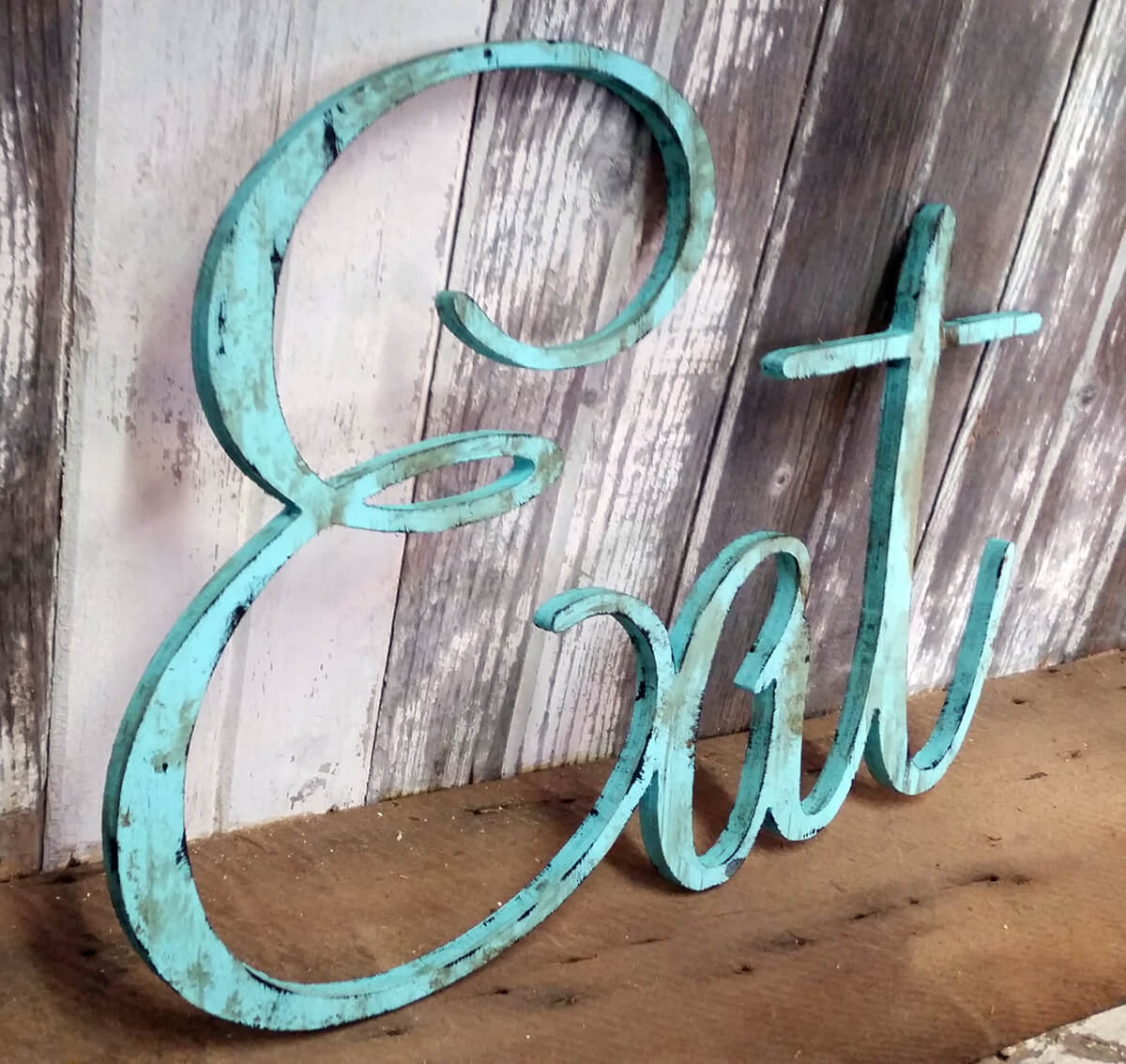 Rod iron make for a great shaping tool. Spelling out the dinner call in a rustic manner keeps you guests in-the-know of the determination that went into the preparation. The styling of the lettering can also offer a high-end look for low-end pricing.
16. Farmhouse Kitchen Gallery Wall Inspiration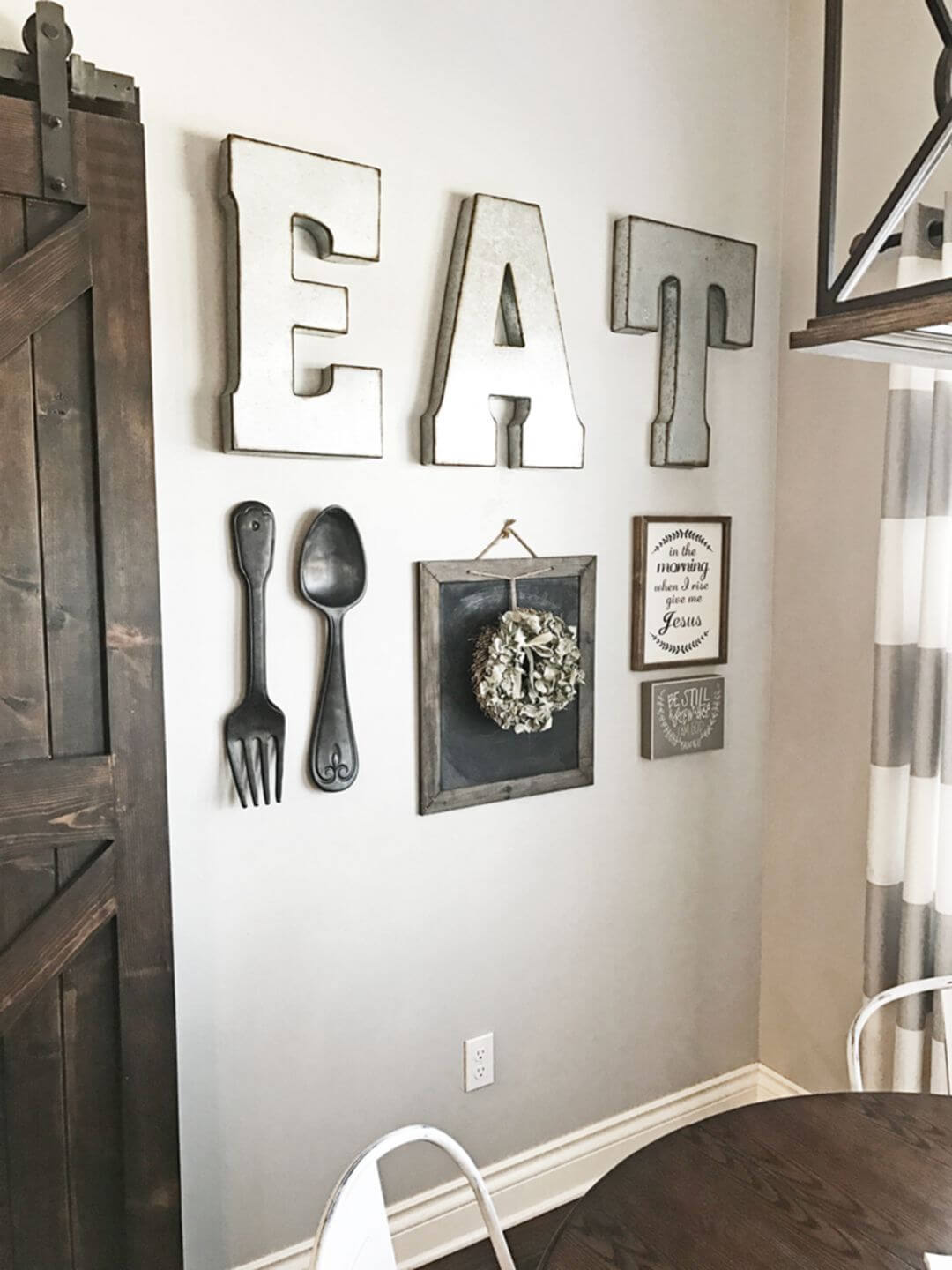 Transform your wall into a display and homage to meal-time with this preserved piece. Bring reverence to the act, the items used, and the people that made it possible. This combination piece helps call attention to all the important factors that go into meal preparation and removes the materialistic view on meal-time.
17. DIY Faux Produce Shadow Boxes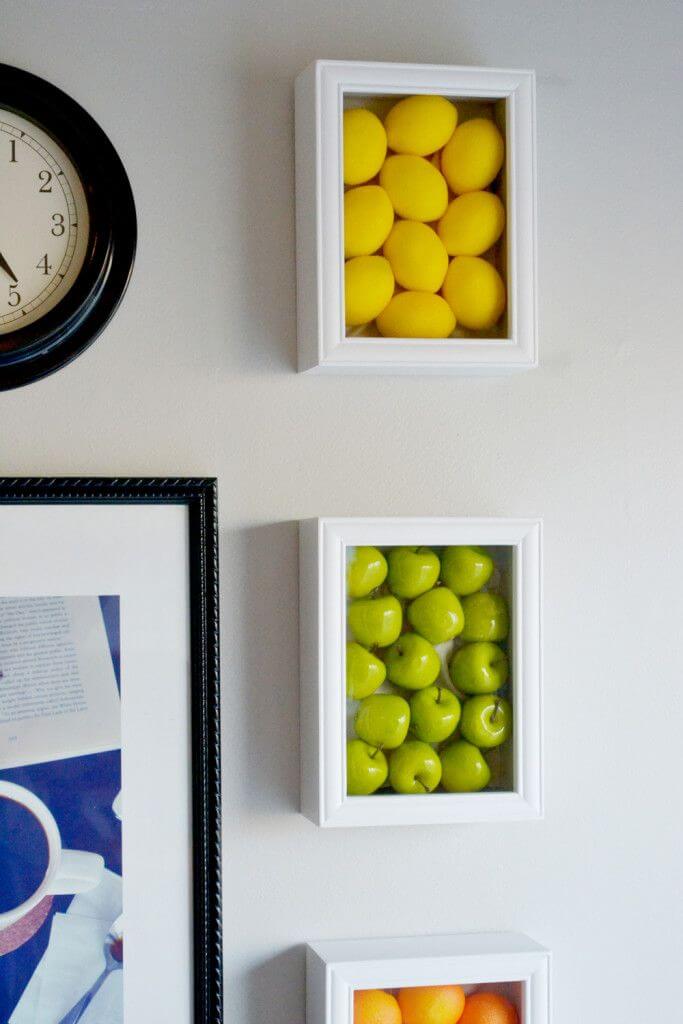 Shadow boxes are a great preservation piece for adding a 3D element to your kitchen. These boxes extend from the surface, allowing for a full view at all angles. Add plastic fruits and veggies to spruce up the flavor being offered in your kitchen. Removeable tops makes changes and additions an ease for the user.
18. Cheeky "Today's Menu" Kitchen Wall Art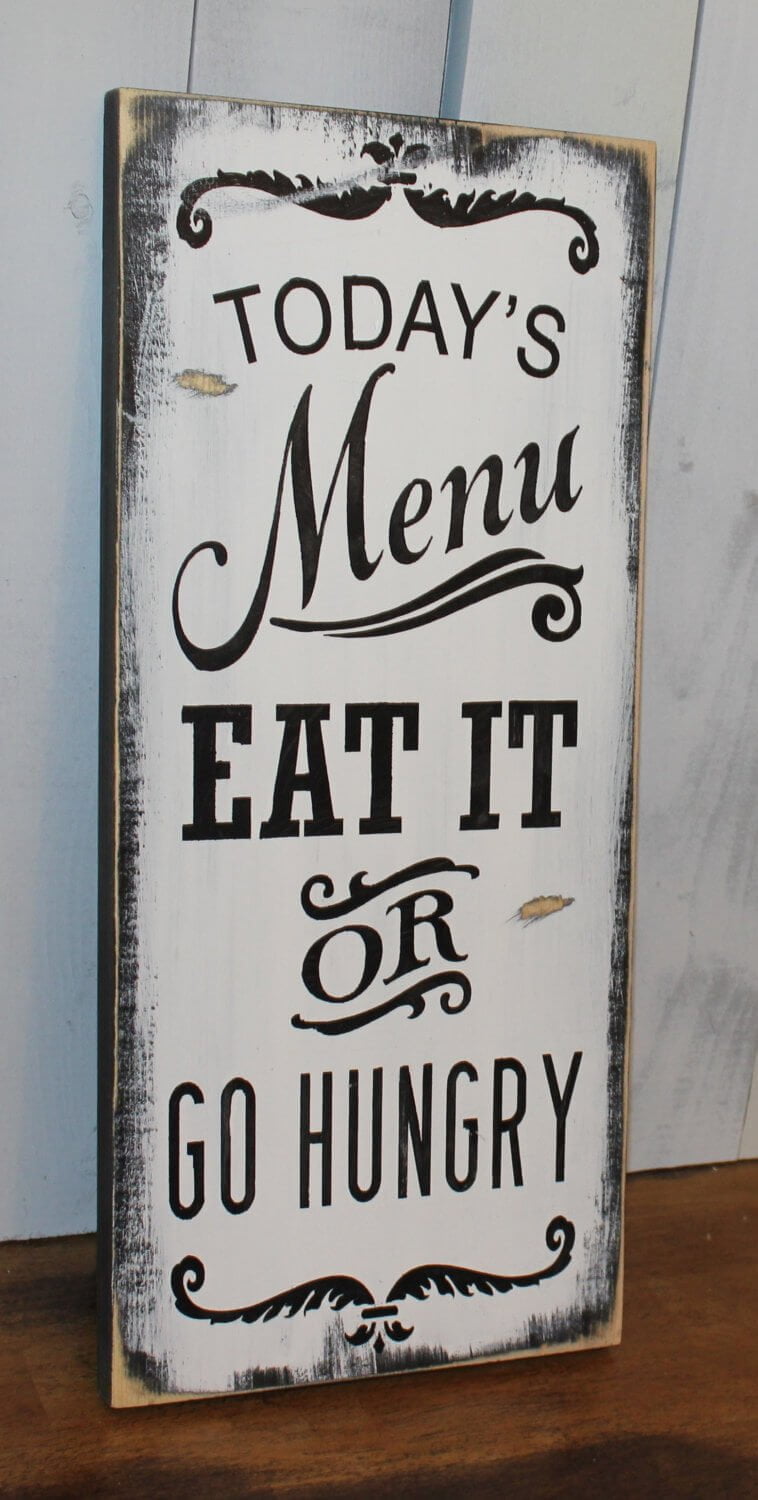 Using the "no bull" approach on your guests can be a useful tactic. Remind your visitors of the process and offer them the compliments of the chef in this subtle piece. Burned edges and additional paint can make your lettering pop and it calls attention to the phrase.
19. Rustic Wood Board Wine Rack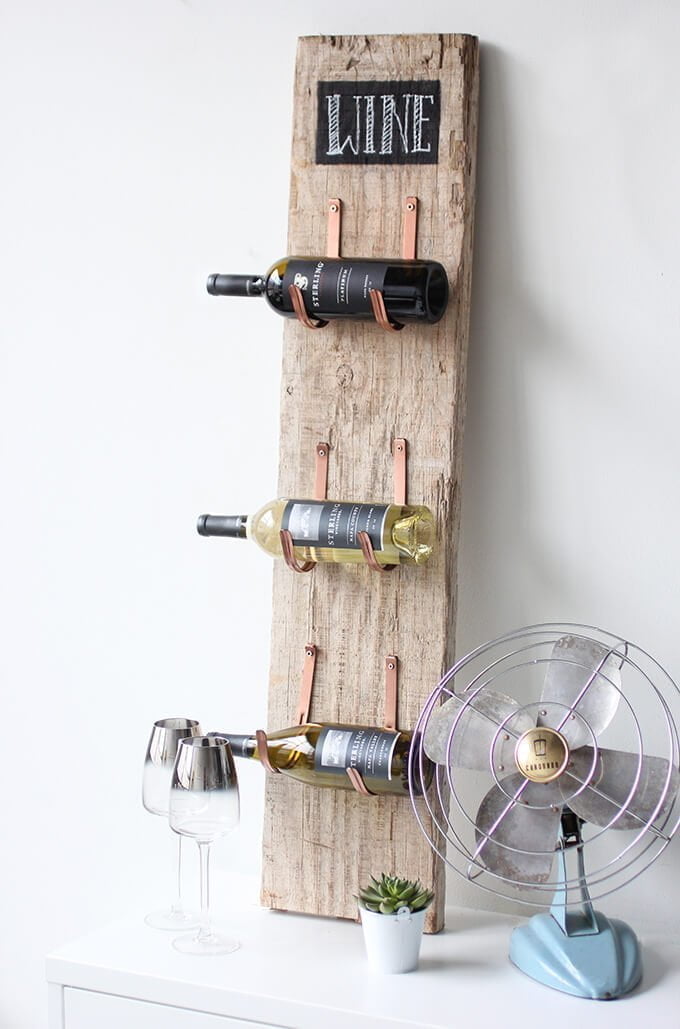 Coat hooks and hardwood meet in this fashionable wine display. Simplicity is the name of the game with this piece. Reduced lettering keeps this piece as a straight-forward choice to your beverage options.
20. Wood Board Pot Hanging Rack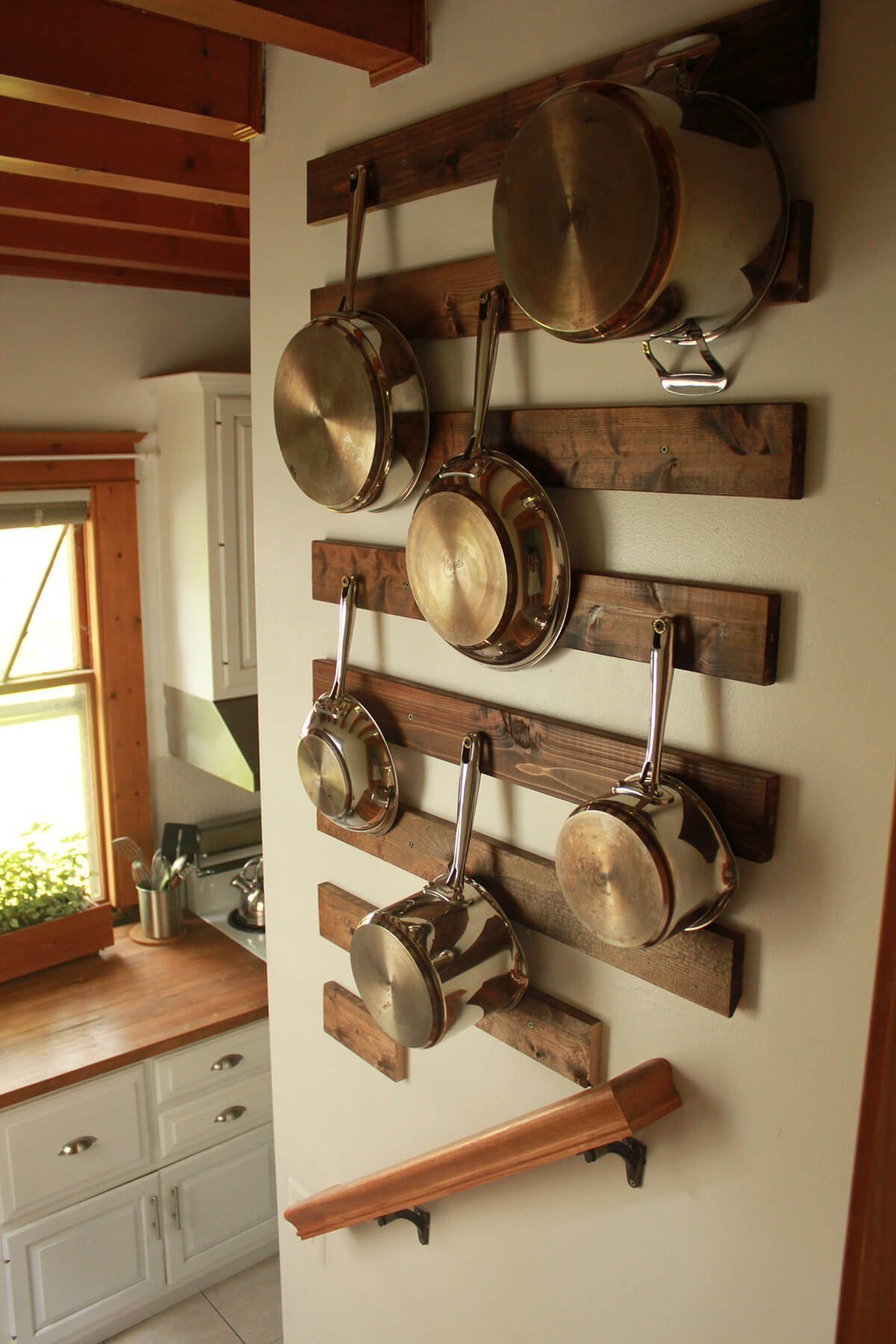 Cutting wood boards and cascading them upon your wall has never been so easy. Add a light treatment to the wood to bring out a deeper color or to showcase the grooves. Small nails help to hold the pots and the strategic nail placement can provide unique patterning designs.
21. DIY Chalkboard Dinner Menu Project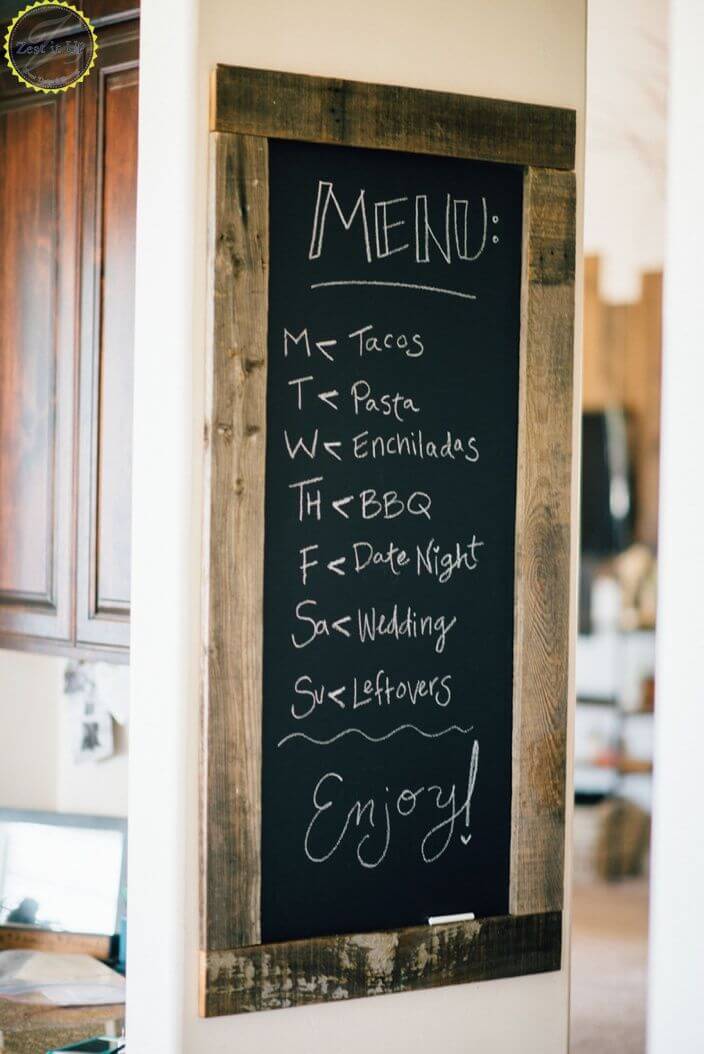 Keep your workplace a productive place with the ever-changing chalkboard menu. Display the daily special with a little extra attention to detail. Offer weekly advances into what's cooking in the kitchen. This hardwood border calls attention to the white-on-black wording, keeping it visually appealing for your guests.
22. Indoor Planter Box Herb Garden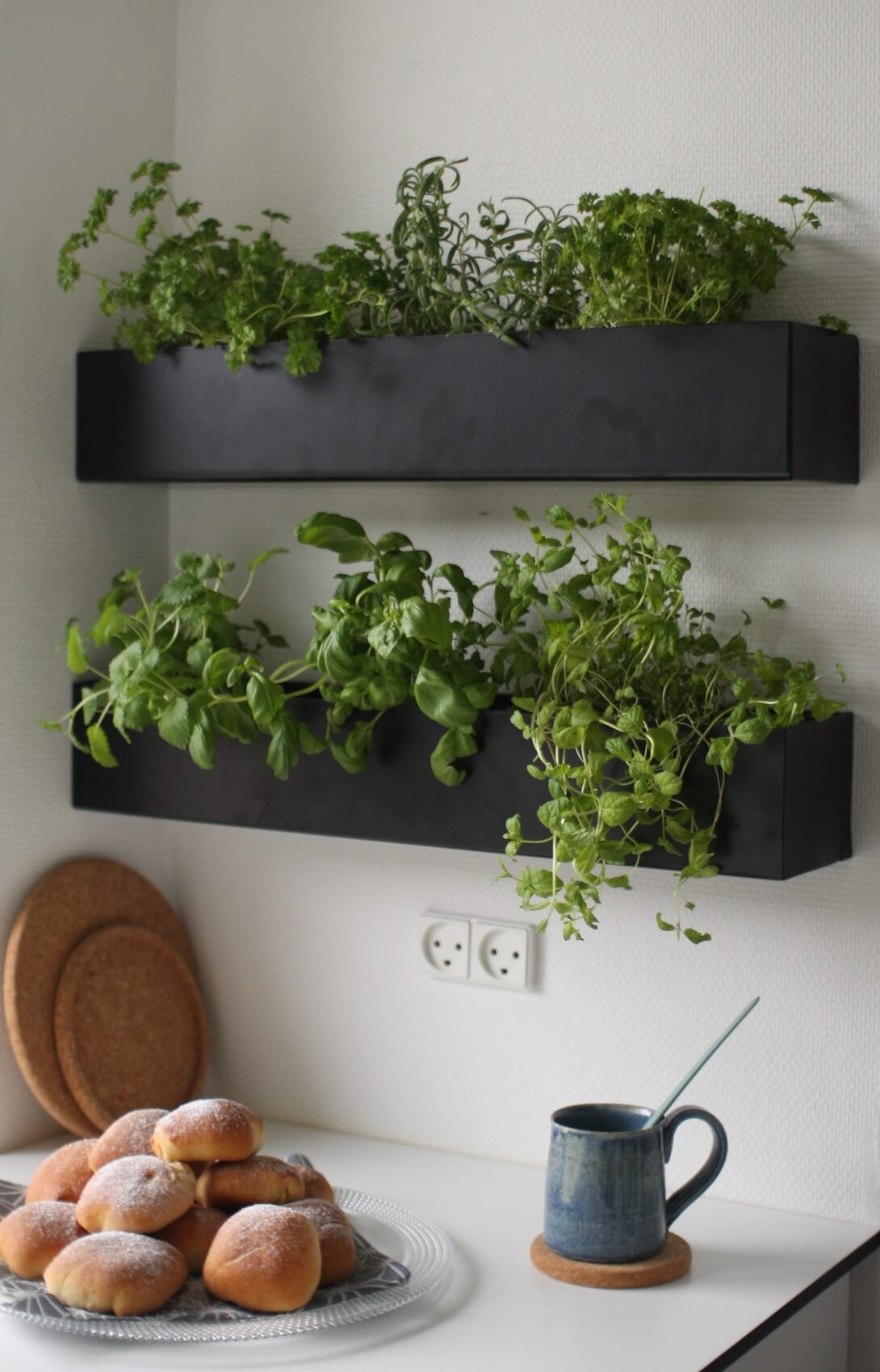 Square boxes can also be fastened to the wall to hoist plants and herbs. A small botanical garden greets your kitchen with a lively element that infuses colors and aromas into the air. Water simply and grow herbs to include in your secret recipes.
23. DIY Wall Mounted Produce Baskets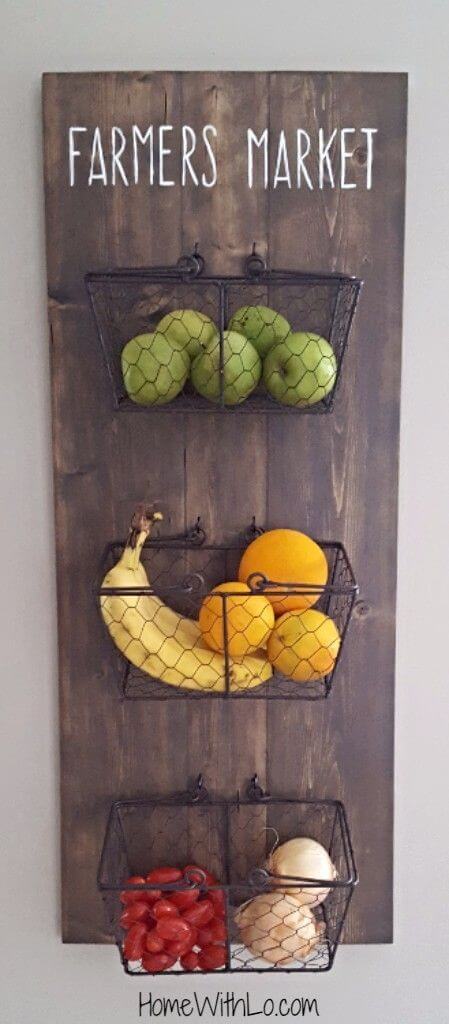 Chicken wire baskets offer a fresh market of goods to your kitchen. It brings an on-the-go element for keeping users refreshed through achievement of daily vitamin levels. Dark wood treatment gives it that farmer's market feel. These contrasts also help the vibrant colors of fruits and vegetables pop-out from this display.
24. Shabby Chic Coffee Mug Rack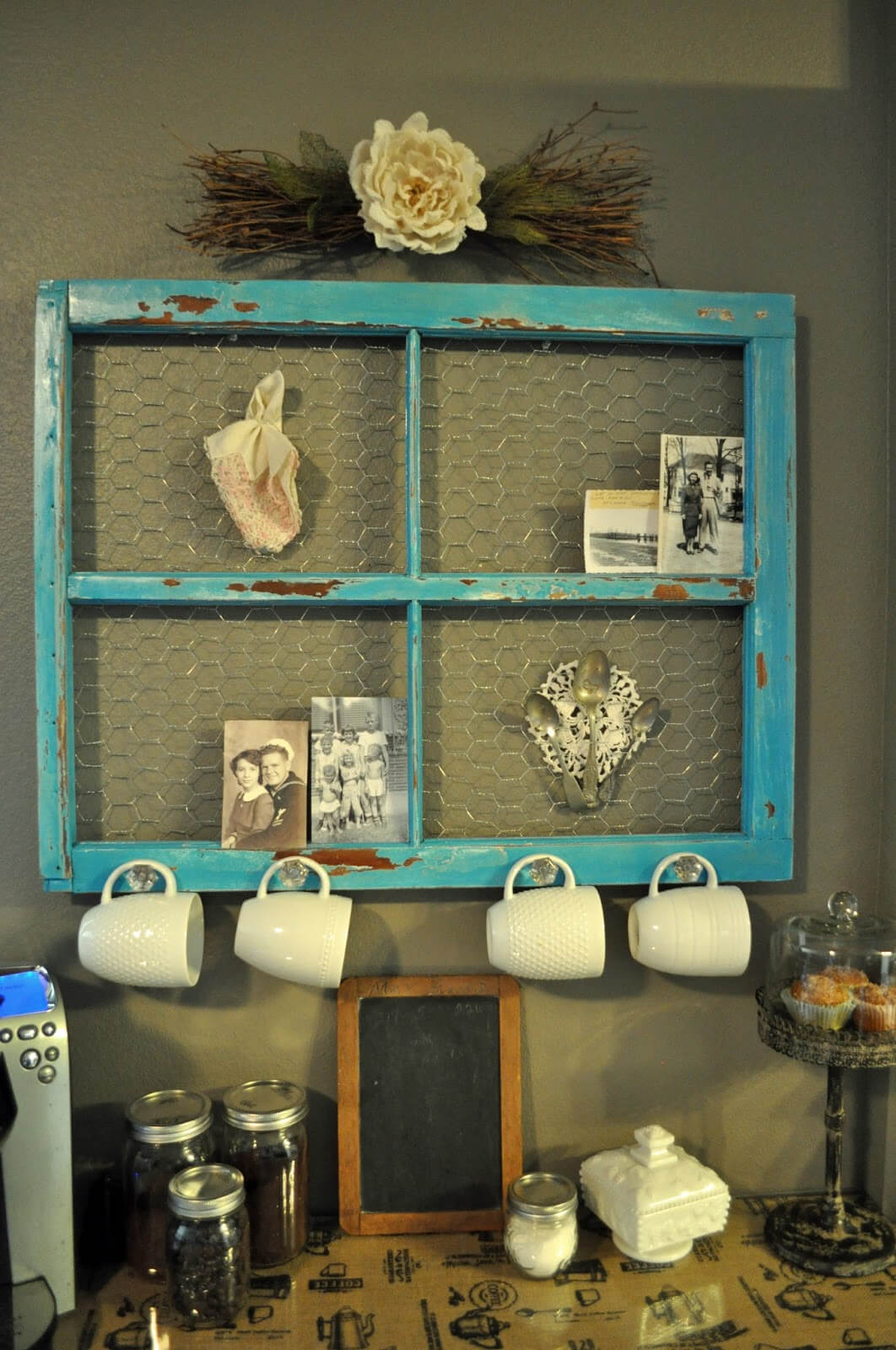 A wood border with a chicken wire background creates for an ever-changing canvas of elements of the past and present. Display your favorite photographs, kitchen antiques, or other such trinkets. The hooks are added to keep your mugs hanging flush and angled to the proper degree.
25. Giant Wooden "Eat" Kitchen Sign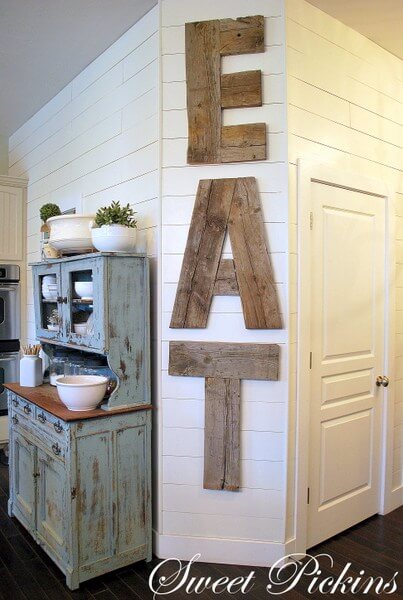 Large letter displays are also good for a kitchen attention getter. This large display features older hardwood that has been roughed up in the past. It offers a glimpse into the past while catering to the natural setting of a modern kitchen space.
26. Rustic Farmhouse Kitchen Shelf Display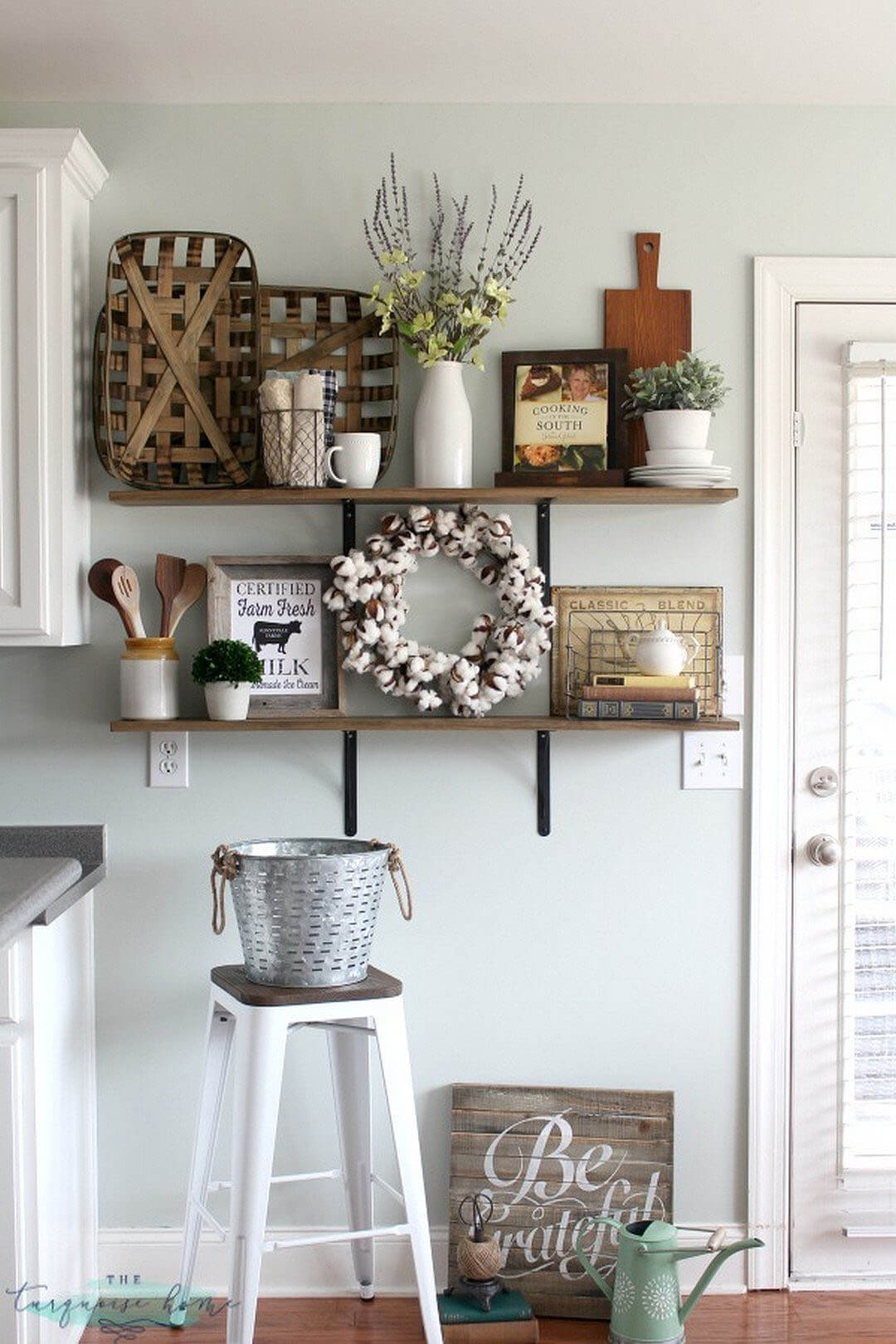 Shelving via plank boards is also a simple improvement that will set nicely in any kitchen. Wall shelving brackets provide a sturdy hold to this hefty hardwood. Option for larger brackets to host a larger shelf space. This multi-purpose shelving unit makes for a solid hold for any kitchen elements.
27. Apron Hooks and Kitchen Organizer Shelf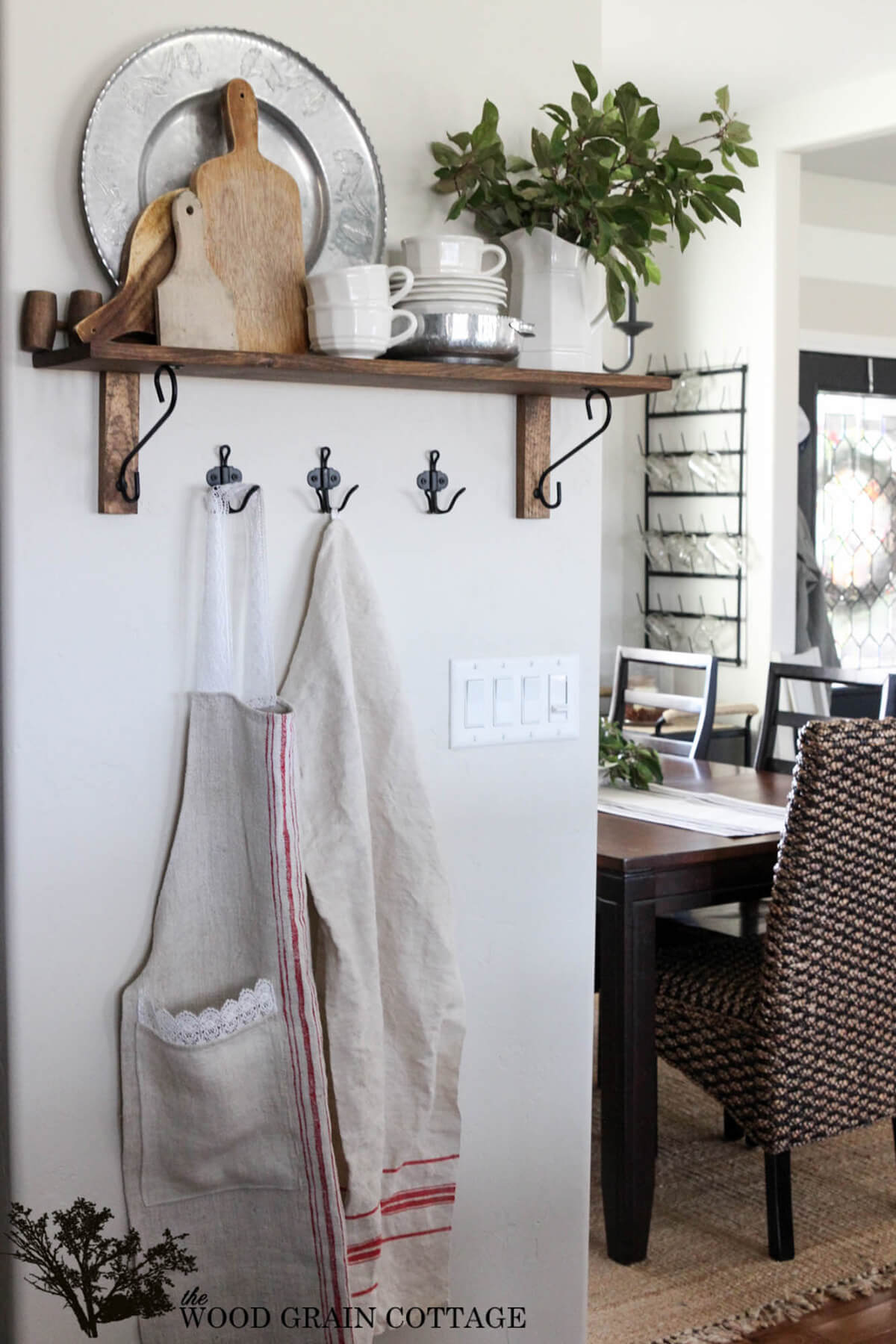 Take a differing approach to the modern coat rack through the creation of your own apron holders and shelving unit. The separation of materials creates for a visual appeal and reduces the cluttered look coat hooks often possess. Widening the spacing helps draw attention to the crafts that whip up the magic that happens in the kitchen.
28. Vintage Super Market Wall Sign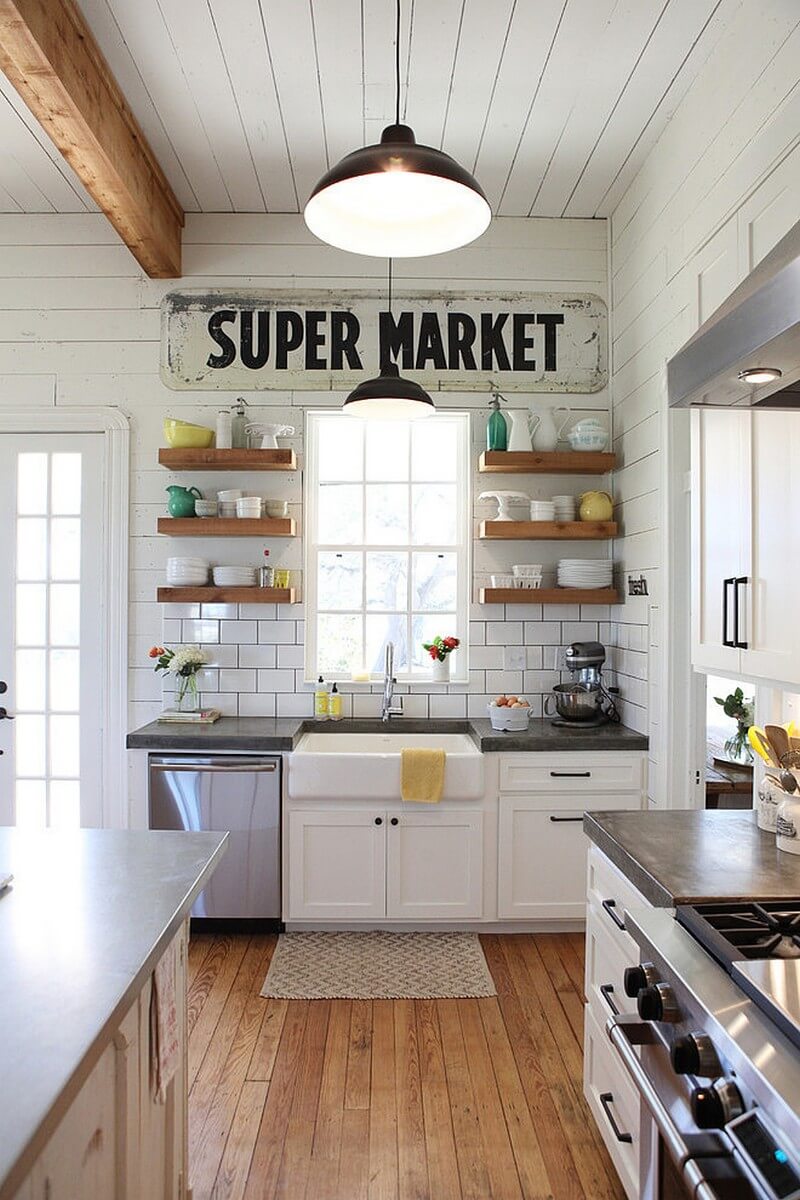 An old metal sign makes for a great blank canvas of use. Apply a thin paint to keep the rustic look of the metal shinning through in the background. Utilize stickered lettering to start the display, followed by small cuts and paint blotches to give it that throwback feel. This signage adds touches of classical appeal to any kitchen platform.
29. Fork, Spoon, and Knife Negative Space Art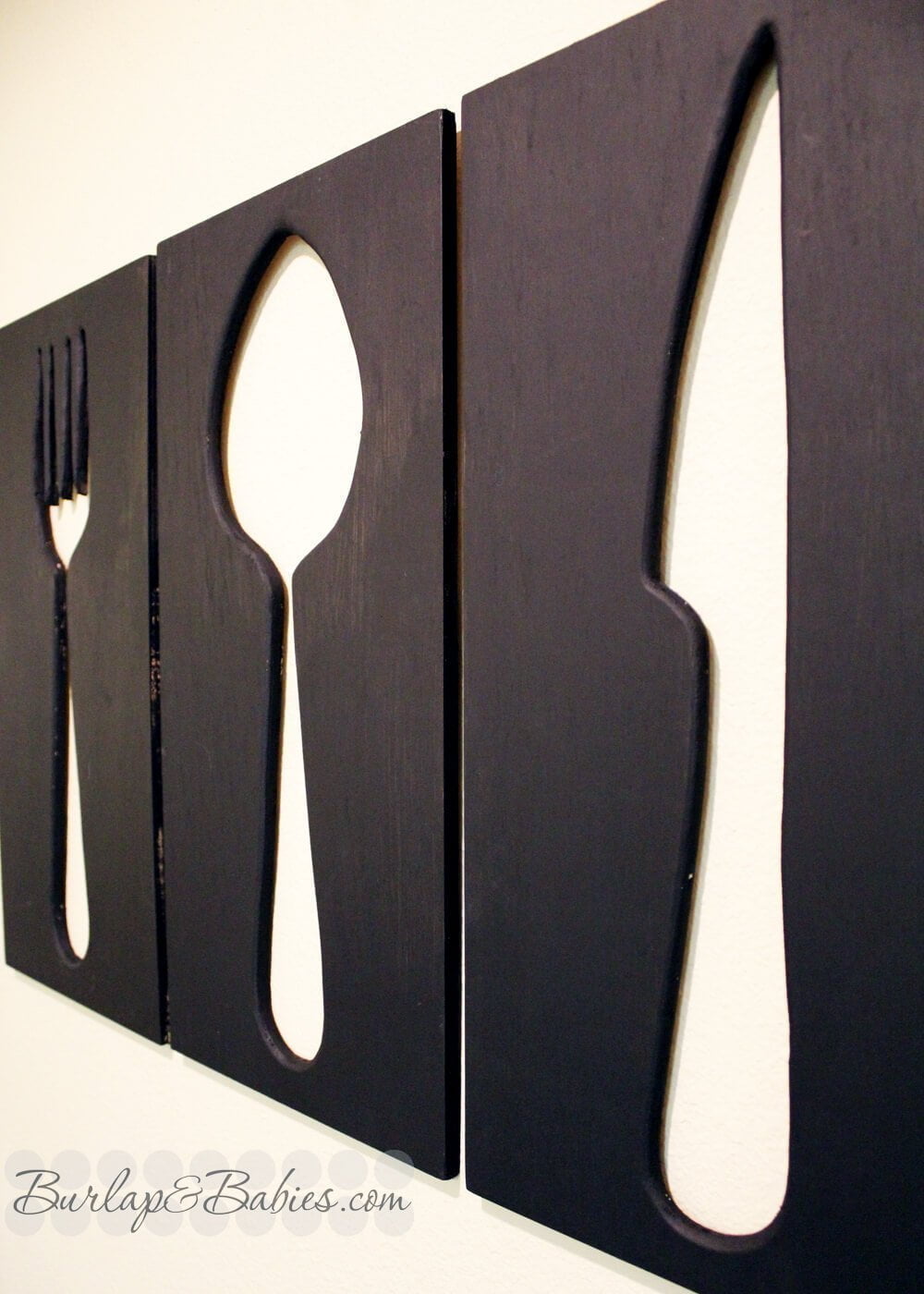 Creative wood cutting can also find its proper space in the kitchen through these frame-like, shadowing masterpieces. Shaping the utensils helps shape the force of achievement the utensils provide users with each and every meal.
30. Rustic Kitchen Plant and Utensil Display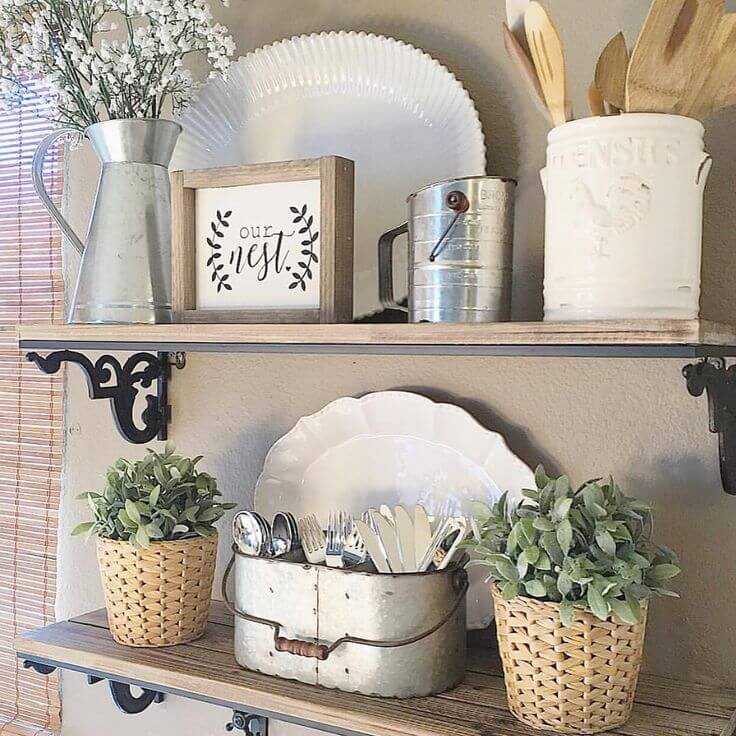 Patterned steel brackets also make for great shelving hosts. The design of the steel brings importance to both the holding of the shelf and the elements that it is to host. Using a two-color scheme helps make this piece pop on the wall.
31. Cheap and Easy DIY Arched Chalkboard

To add elegance at a small price, utilize this arched chalkboard display. This menu helps call attention to important meal inclusions and keeps guests in anticipation of the offerings to come from the kitchen.
32. Wood Pallet and Cotton Art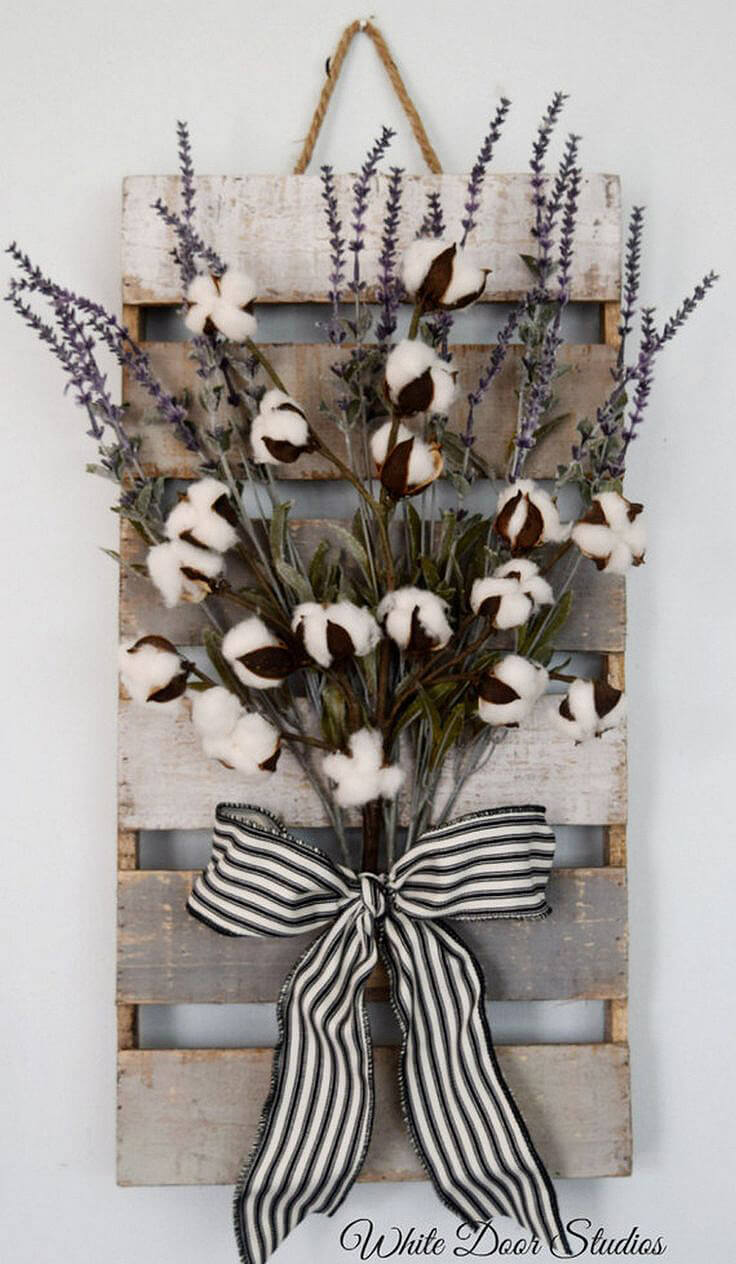 Combine cut pallets with flowering displays to give your kitchen a theme of elegance. The backdrop provides the work component, while the display meshes with this element to create peace and serenity. This classical option makes for an optimal fit in any kitchen.
34. Vintage Bakery Kitchen Wall Sign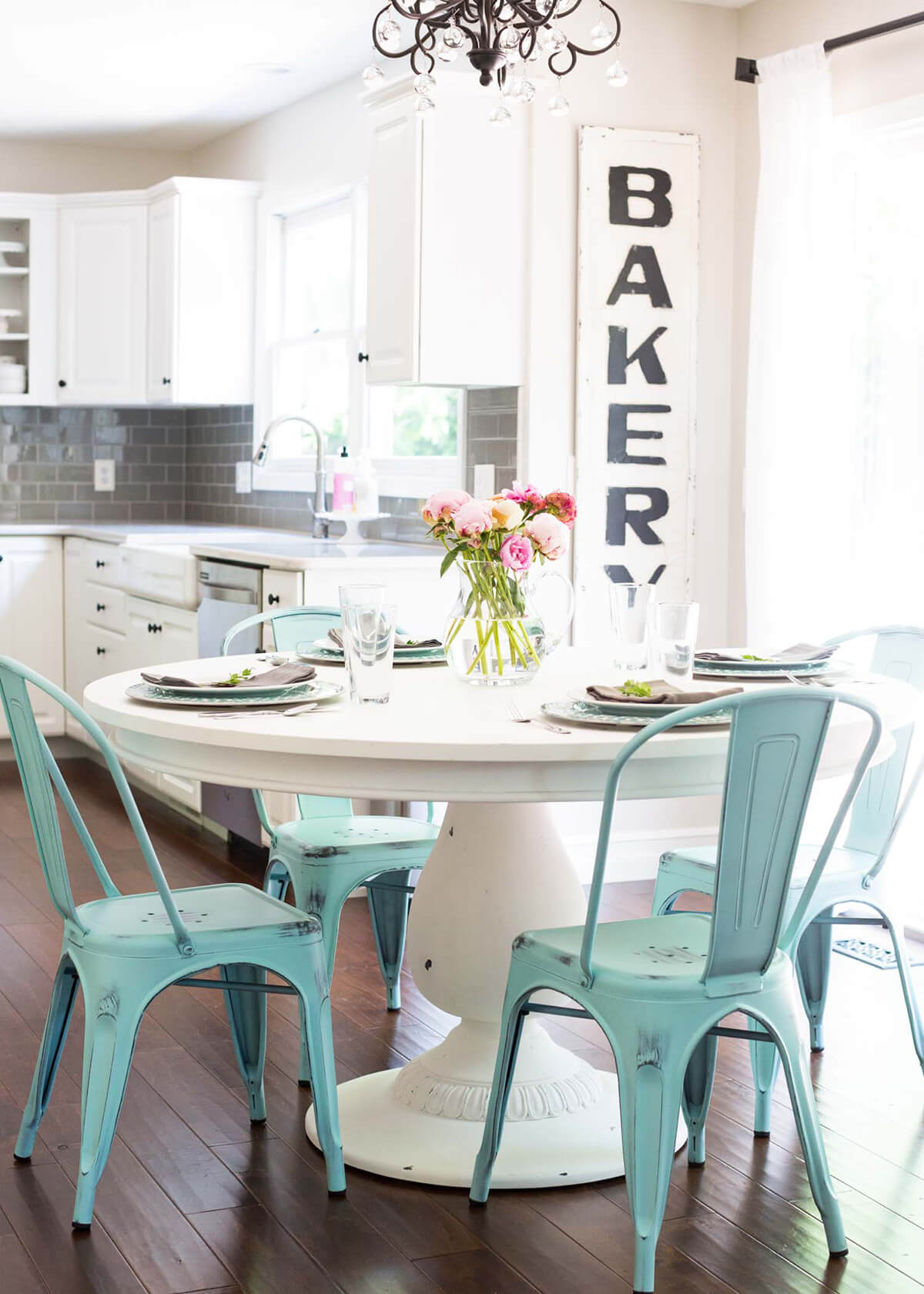 Creating columned wall art is also a fashion that fits the smaller width areas. Cascading the letters in descending order draws attention to the entire space. This helps tie up areas of your kitchen that lack coverage and can fit into tight spaces.
35. Framed Kitchen Gadget Wall Art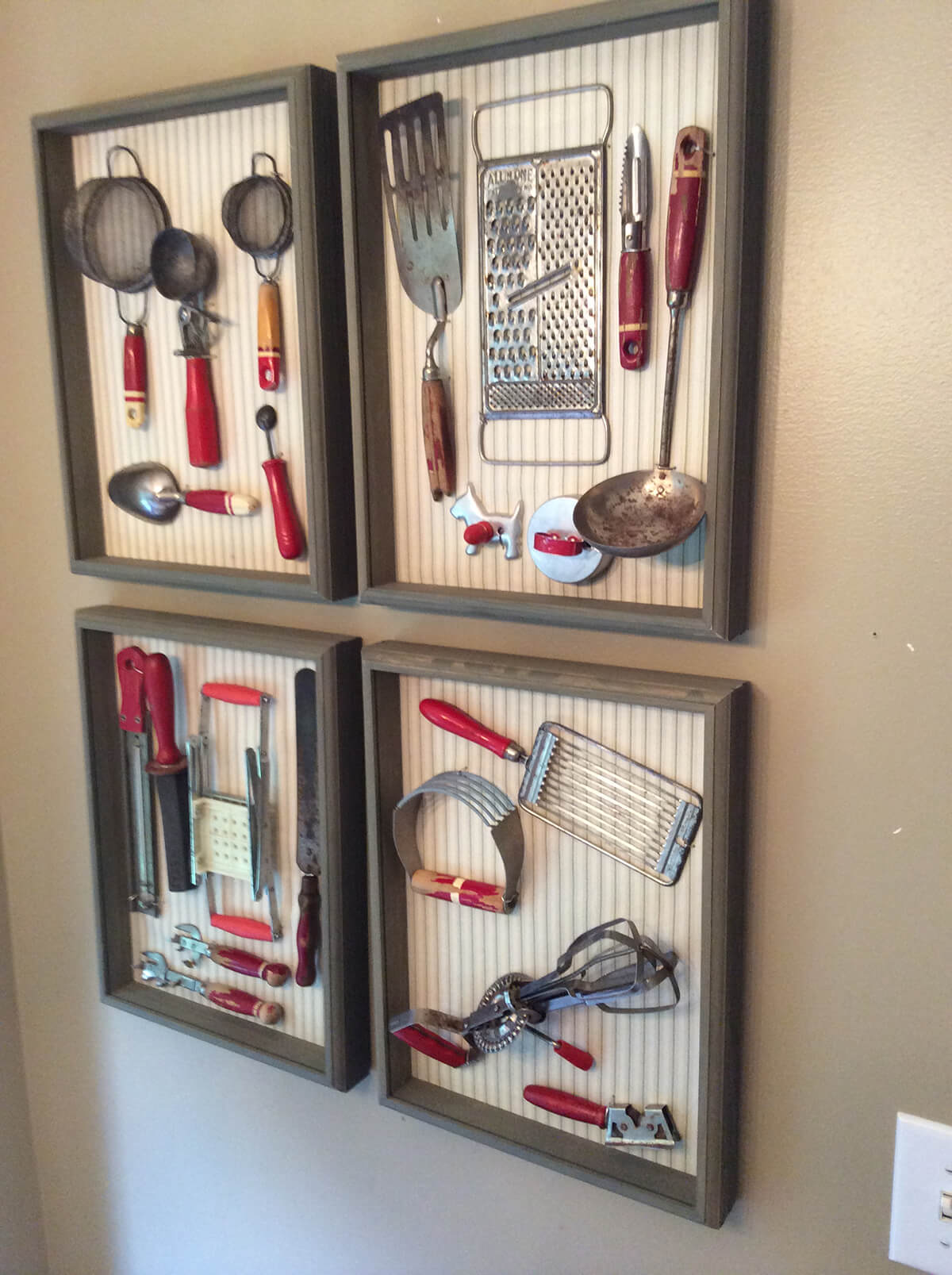 Museum-like open frames make for great placement holders for the tools of your trade. These 3D creations help to combine elements into the proper setting, with compliments and counters to your key kitchen contributors. This is a nice touch for those looking to make their gadgetry stand out amongst the larger appliances.
36. DIY Small Space Coffee Station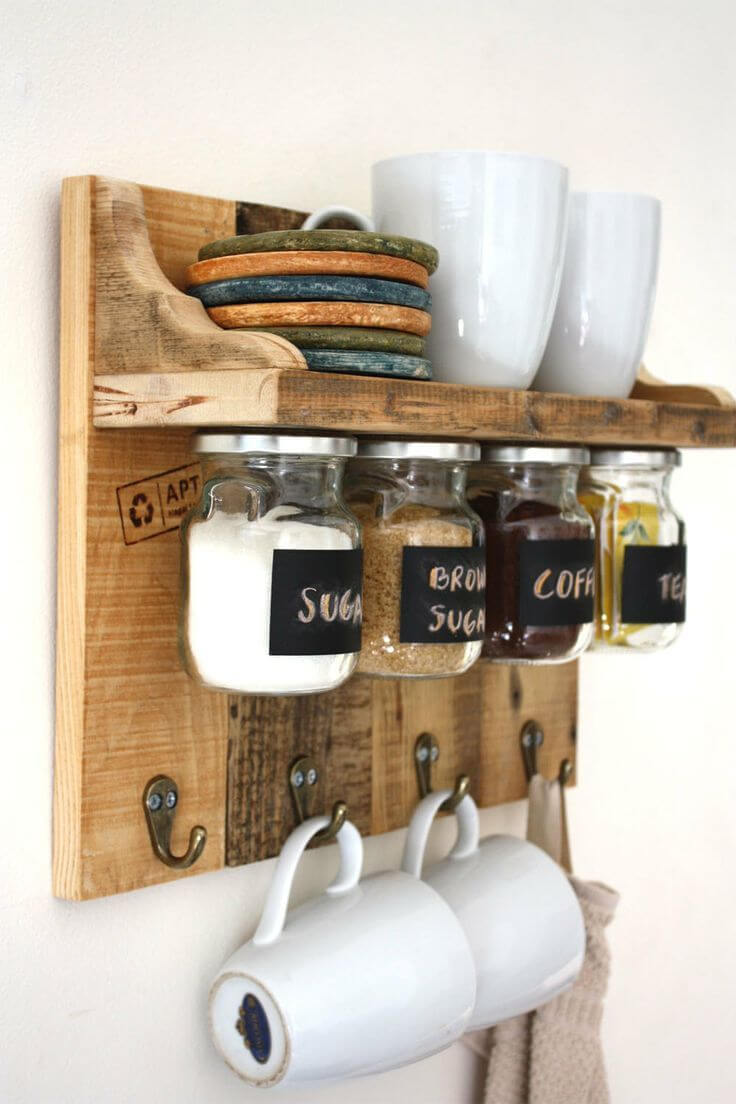 Cutting 2 by 4's into halves creates for a strong backing. Layer these pieces side-by-side to produce a background that can alter the color configurations. Add hooks and a small shelf to produce a mini coffee bar. The contrast in wood types can create for a treated look without having to apply additional coatings or sealants.
37. Rustic and Seasoned with Love Kitchen Sign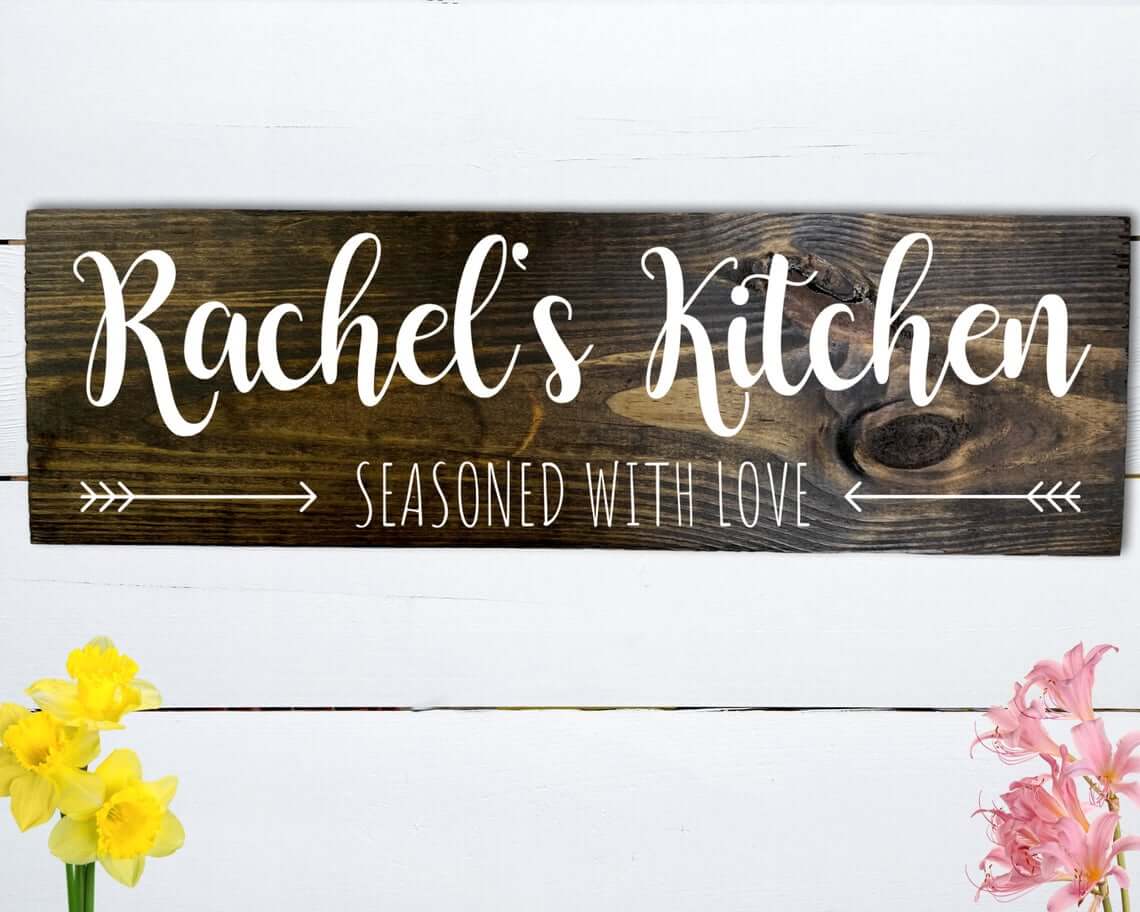 Every kitchen needs a sign to proudly display its name just like a famous restaurant. Make it personal by incorporating the lady of the house's name so she can enjoy her countless hours spent in this room more than ever before!
38. Contemporary and Black Kitchen Rolling Pin Sign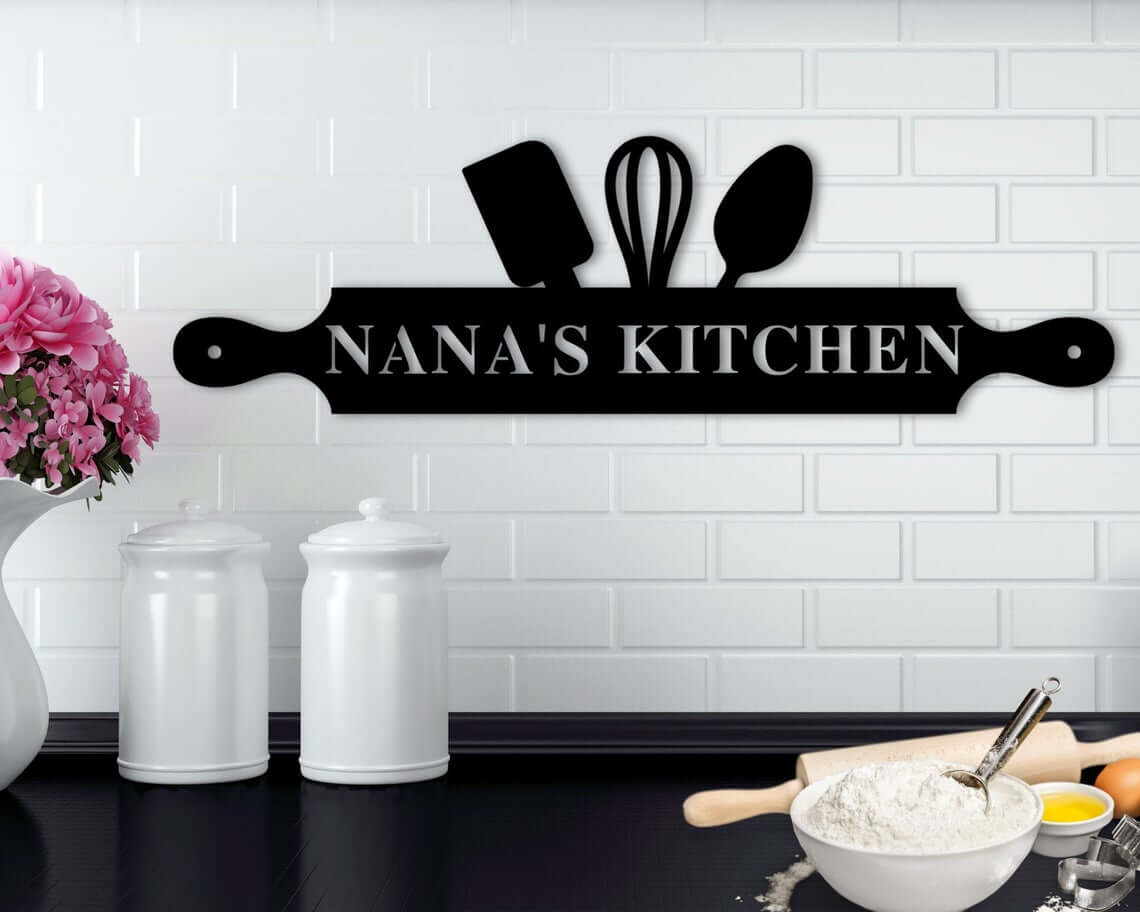 Who says kitchen signs are only for farmhouse decor? This modern black rolling pin-shaped sign features stenciled lettering to pay homage to the master of the kitchen. A few utensils extend from the top and give it a little more flavor to spice up your kitchen walls!
39. Love Served Daily Vinyl Kitchen Sign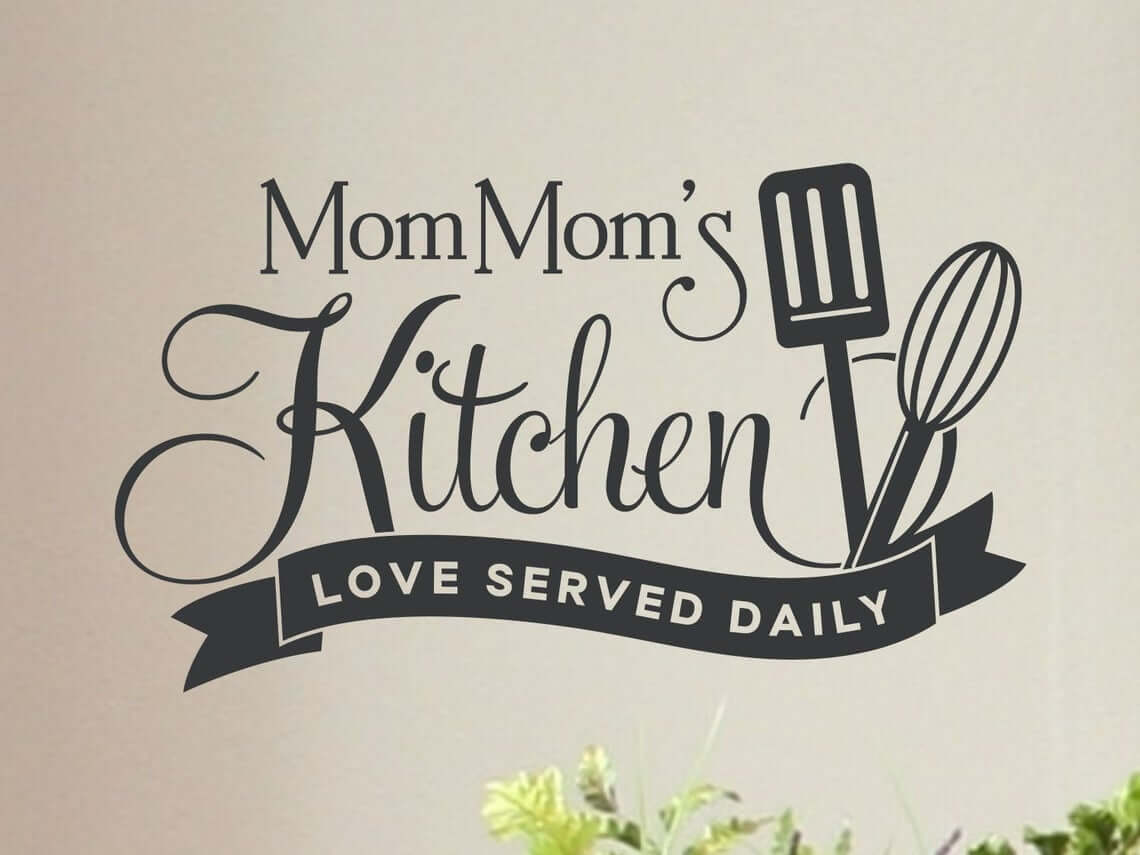 No hardware is needed to decorate your kitchen walls with this easy-to-use vinyl wall art. Its simplicity and beauty stamp the scene with love and whimsy as Mom stirs up some favorite family recipes handed down over the years.
40. White and Wood Meal Time Blessings Sign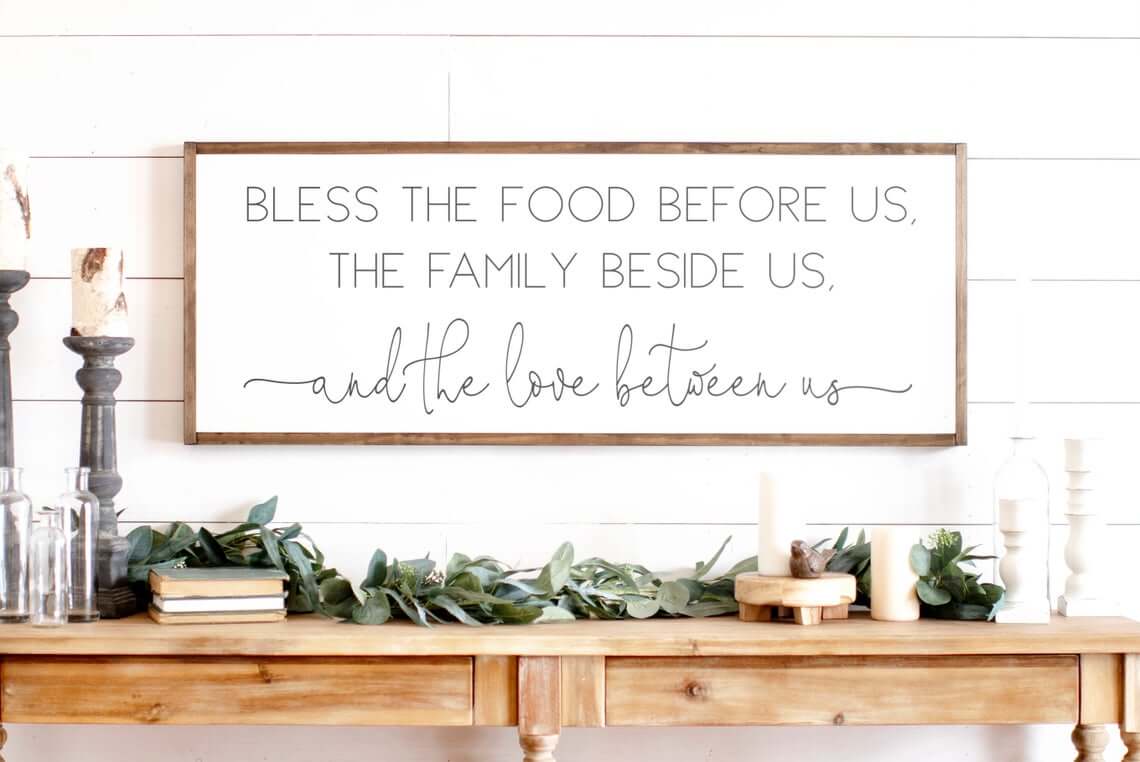 The perfect prayer for any occasion, this mealtime blessings sign is a perfect addition to your kitchen or dining room space. It upholds your core values while enhancing the room's decor with a gentle white and wooden design. Place it above your buffet or entryway to make a bold statement.
41. Matte Black Oversized Utensils Wall Art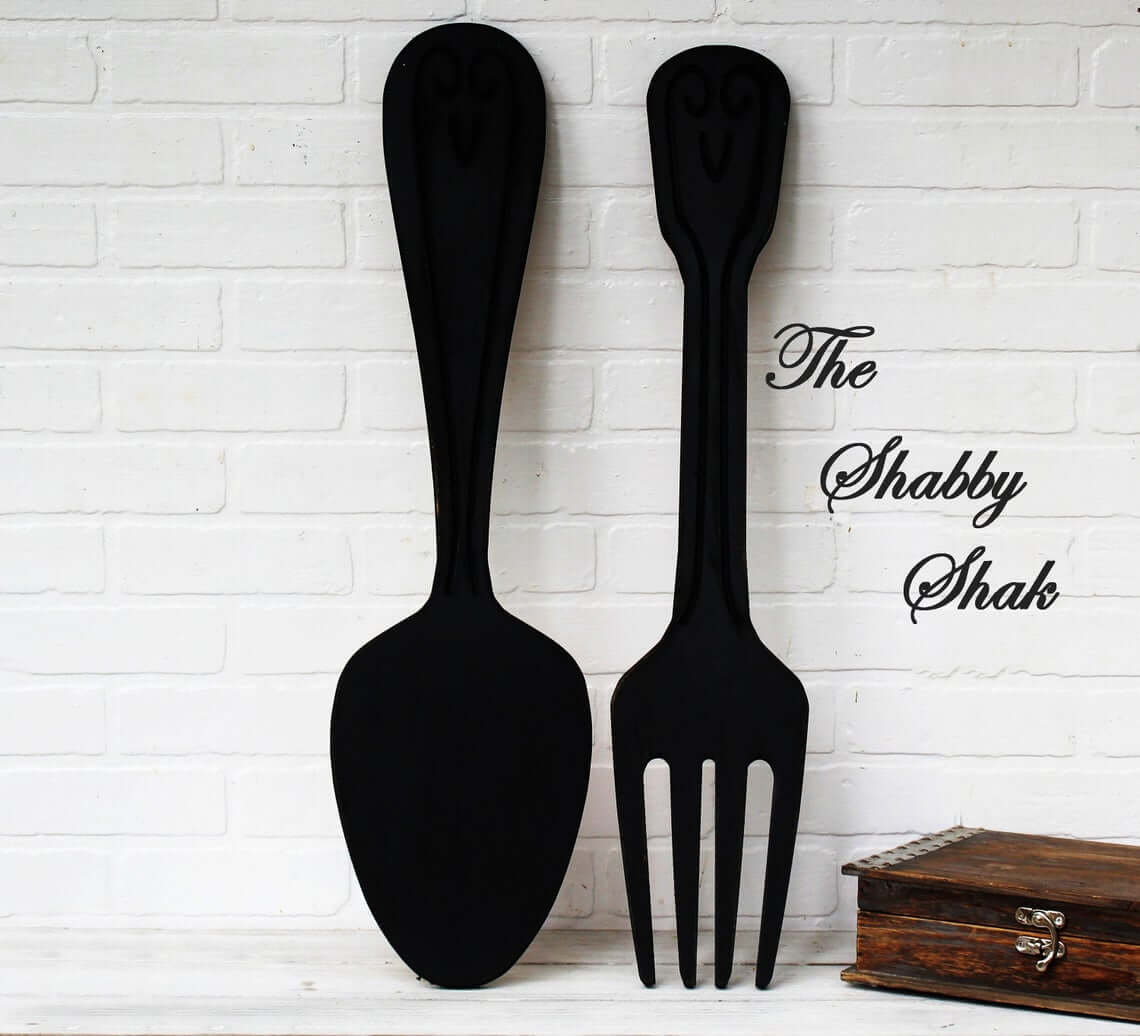 Stir up the fun in the kitchen with this cute pair of oversized utensils. This larger-than-life set of fork and spoon are the perfect pair for accentuating the decor in the eating space of your home.
42. Scripted Secret Ingredient Kitchen Wall Art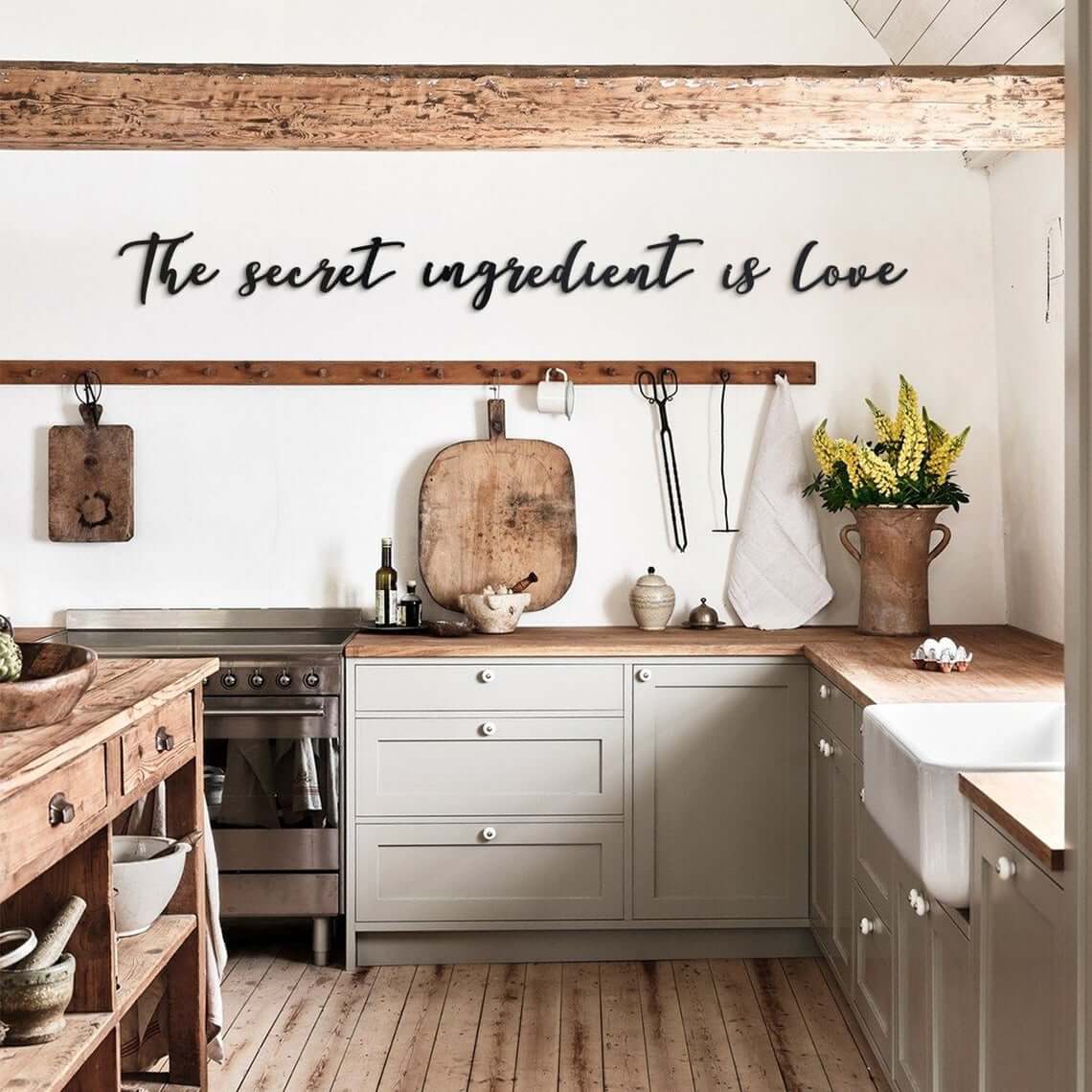 The writing's on the wall in terms of discovering the long lost secret ingredient in all of mom's most loved dishes. Love is poured into every meal and spelled out across the wall in this warm and cozy kitchen.
43. Gather Round Personalized Kitchen Sign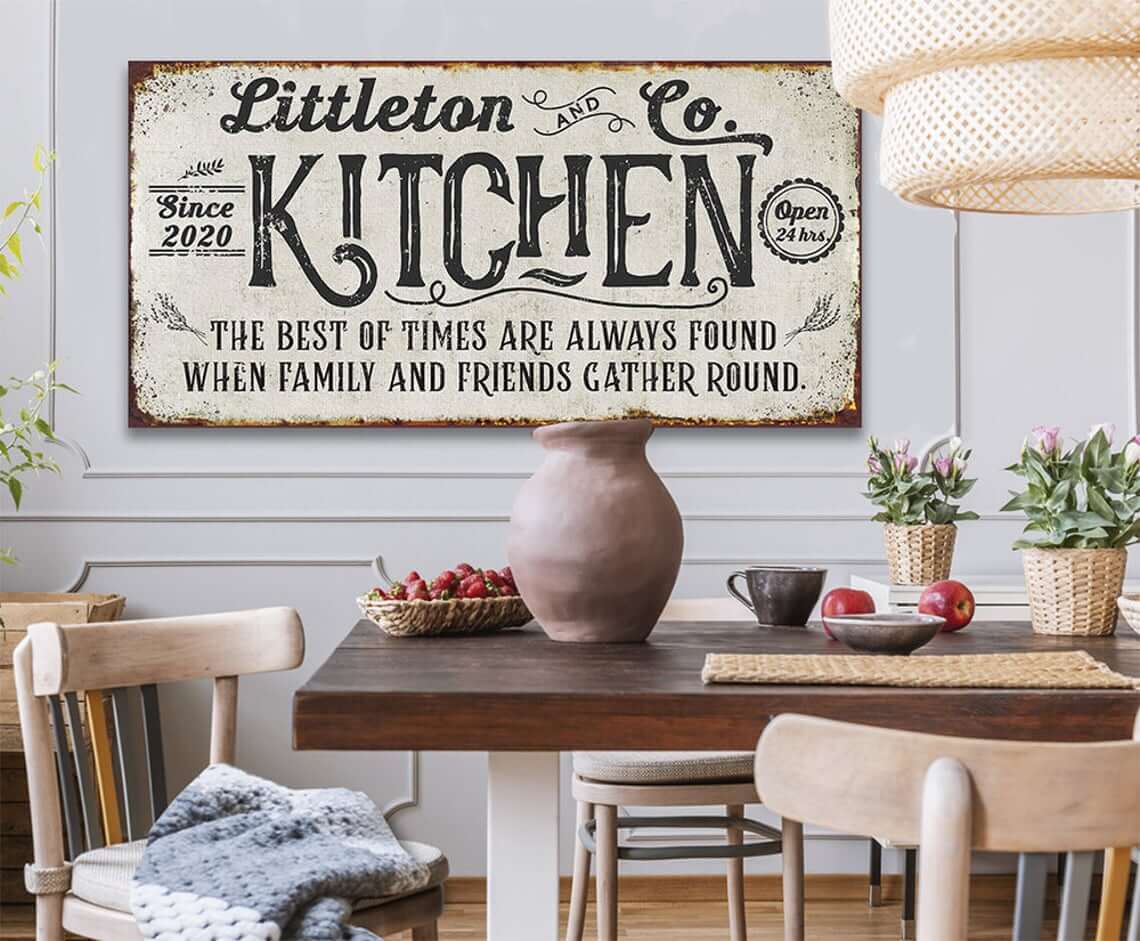 Enjoy more of the best of times with this sentimental kitchen sign. Encourage more entertaining of family and friends as you showcase your kitchen and personal philosophy on the walls of your home. This large piece makes a phenomenal gift for a newly wedded couple to hang in their new home.
44. Fun Sayings Black and White Square Signs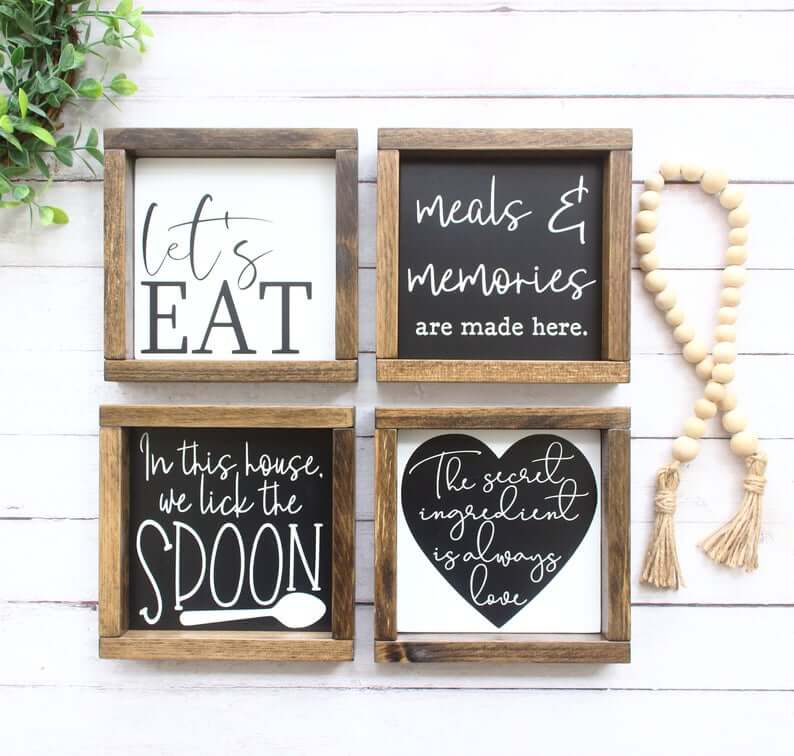 Filled with sentiment and smiles is how you'll find this set of four square signs. Arranged together or placed individually around the room, the fun sayings written on these square signs are just what you need to turn a frown upside down at your dinner table.
45. Scripted Bon Appetit Kitchen Wall Art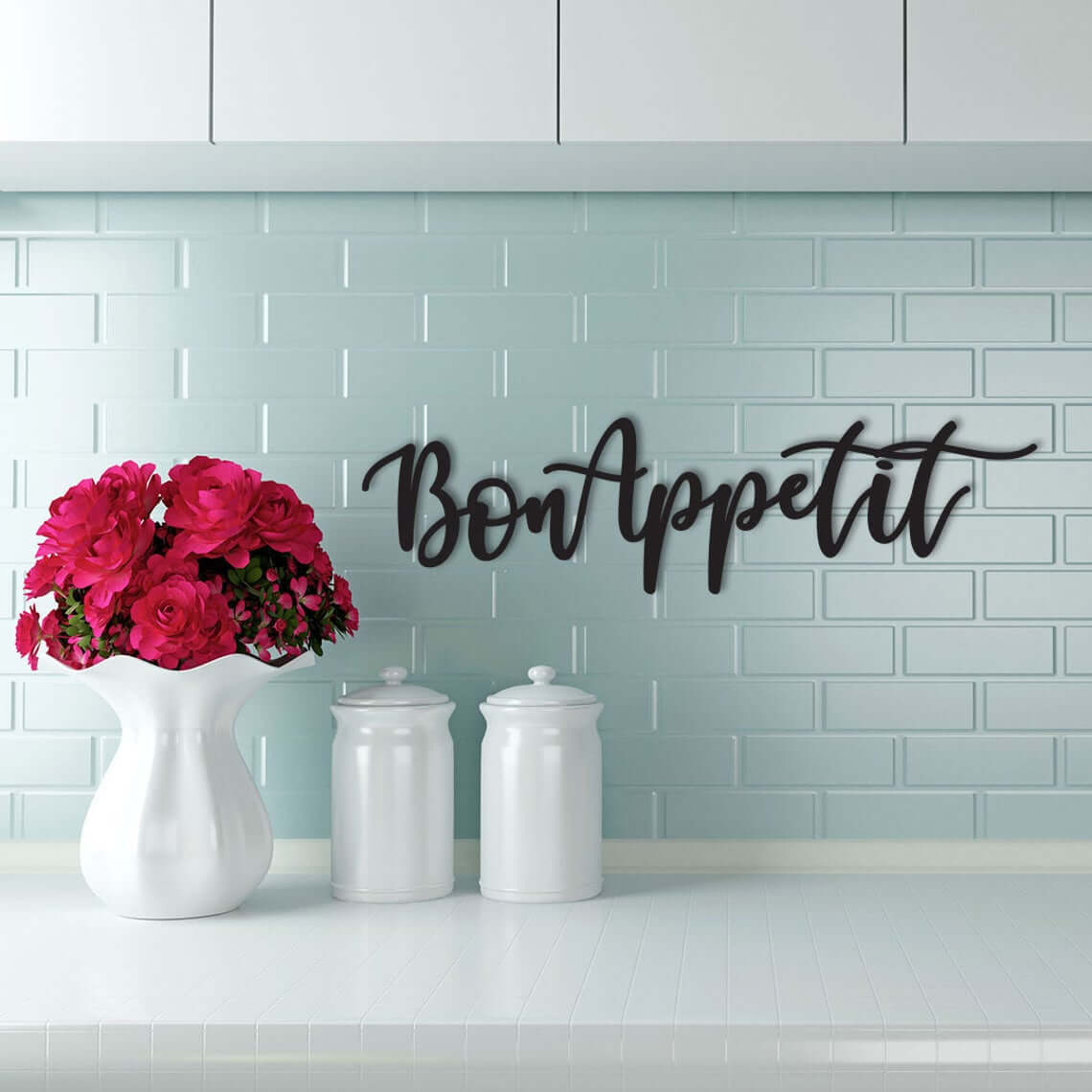 Created in modern and classic black, this Bon Appetit sign is the perfect addition to your kitchen! Its beautiful script coupled with its unparalleled food phrase makes it an appetizing choice for gifting to your favorite family or friendly cook. Mounted on the wall, it adds some zest to your overall kitchen design.
46. Vinyl Lettering Coffee Bar Styled Kitchen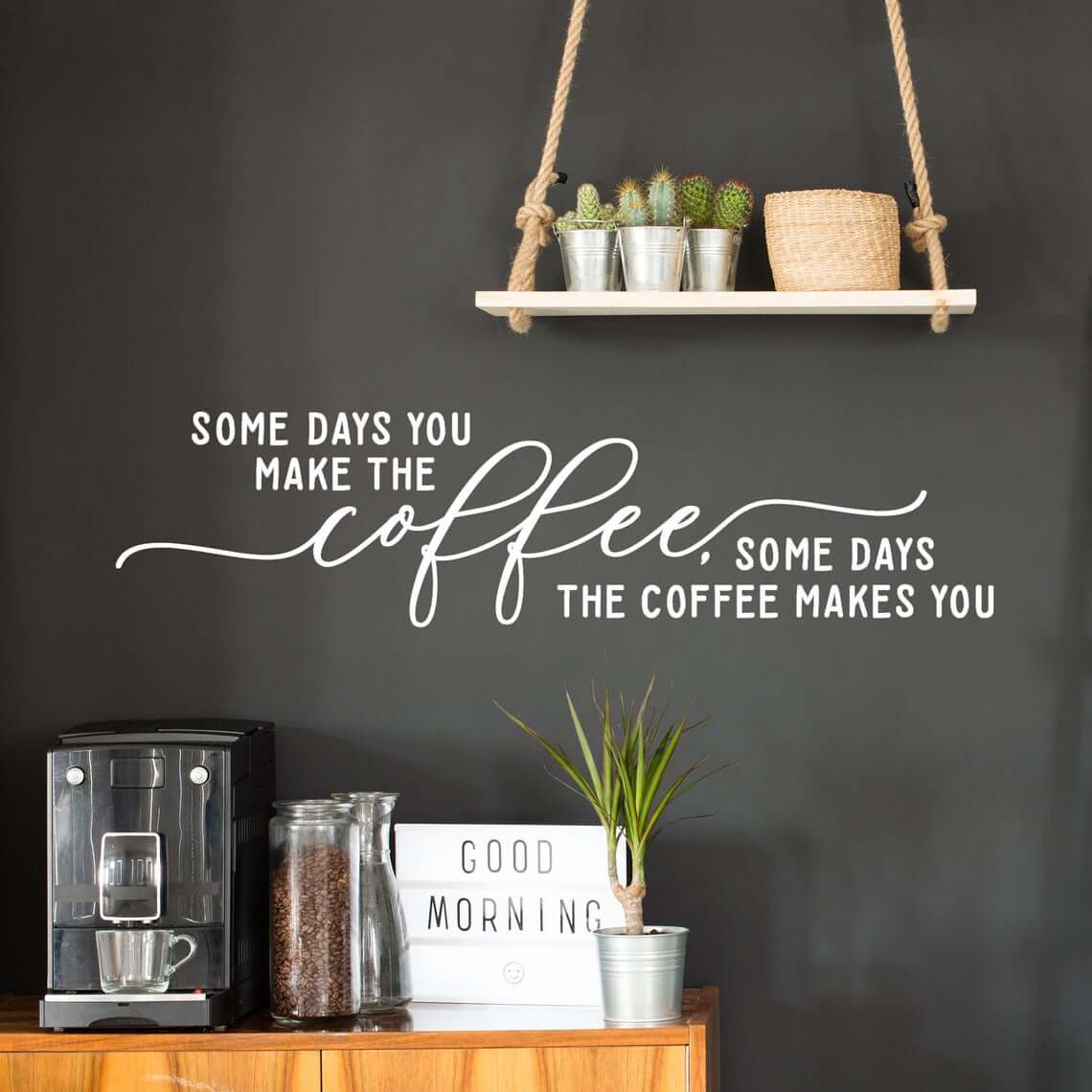 Create that cozy nook in your kitchen where all of your morning aromas will brew and ignite your home. Your coffee bar will be complete when you incorporate this fun saying in white vinyl lettering to identify your home cafe in the kitchen.
47. Meals and Memories Made Here Kitchen Sign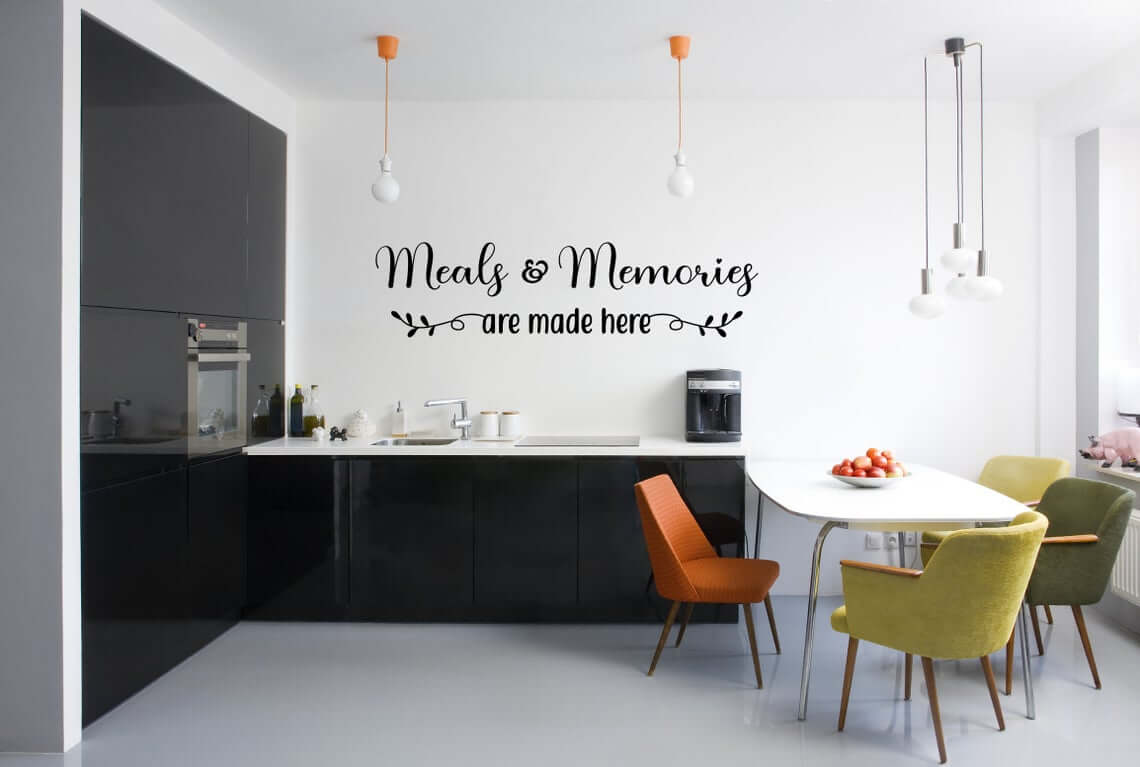 Your minimalistic and classic kitchen can always use a simple update and this vinyl sign is the way to go! It's large enough to make its point while keeping a low profile in your simplistic, mid-century modern design.
48. Fun Farm and Garden Kitchen Signs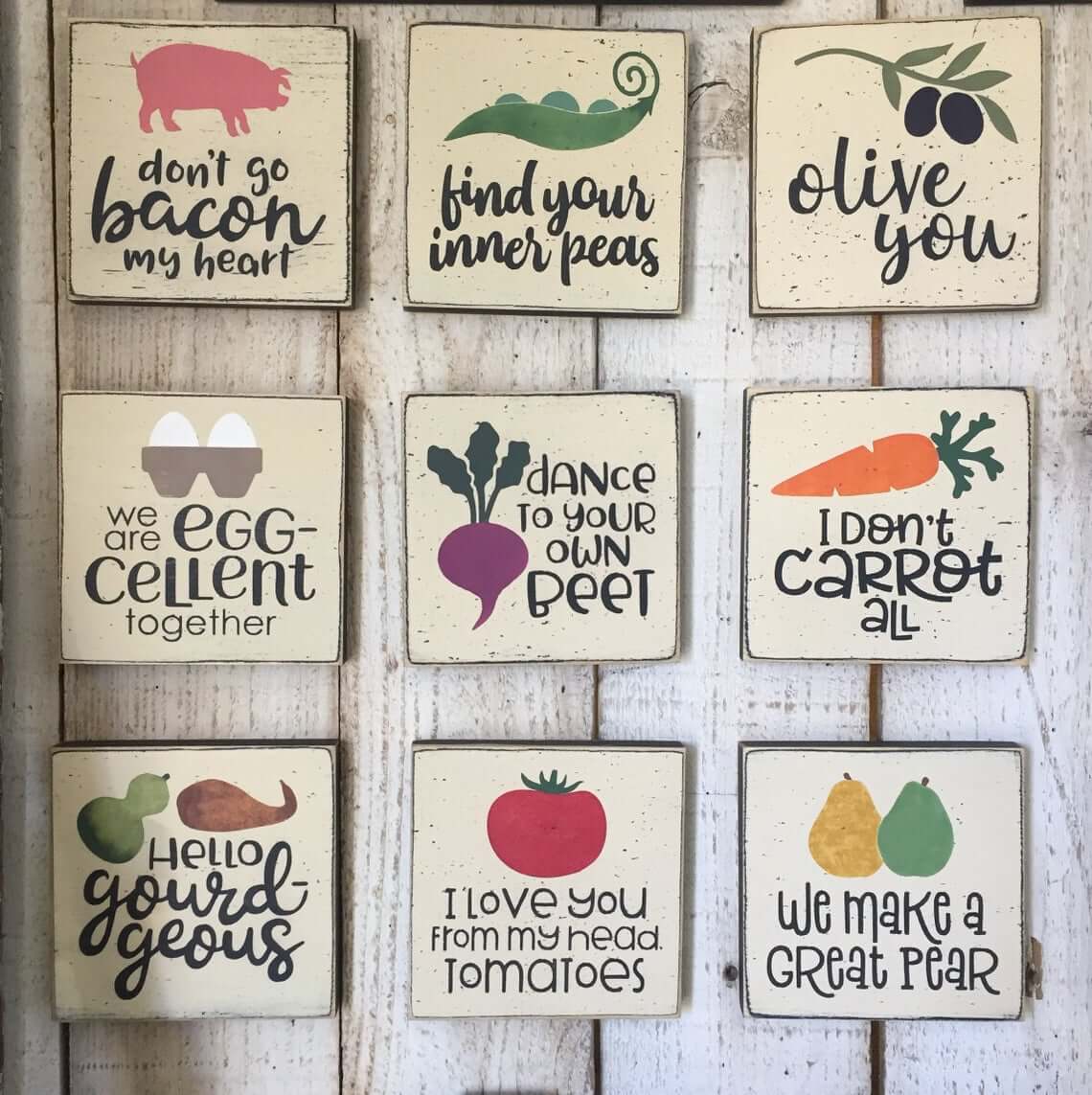 This cute collection of garden and farm-inspired play on words is a wonderful choice for your farmhouse kitchen wall. Gather them in a complete look for a dramatic effect, or spread them throughout on each wall to tie the entire room together. You'll find your "inner pees" as you enjoy these fun and friendly garden wall art pieces.
49. Marvelous and Modern Matte Black Homemade Sign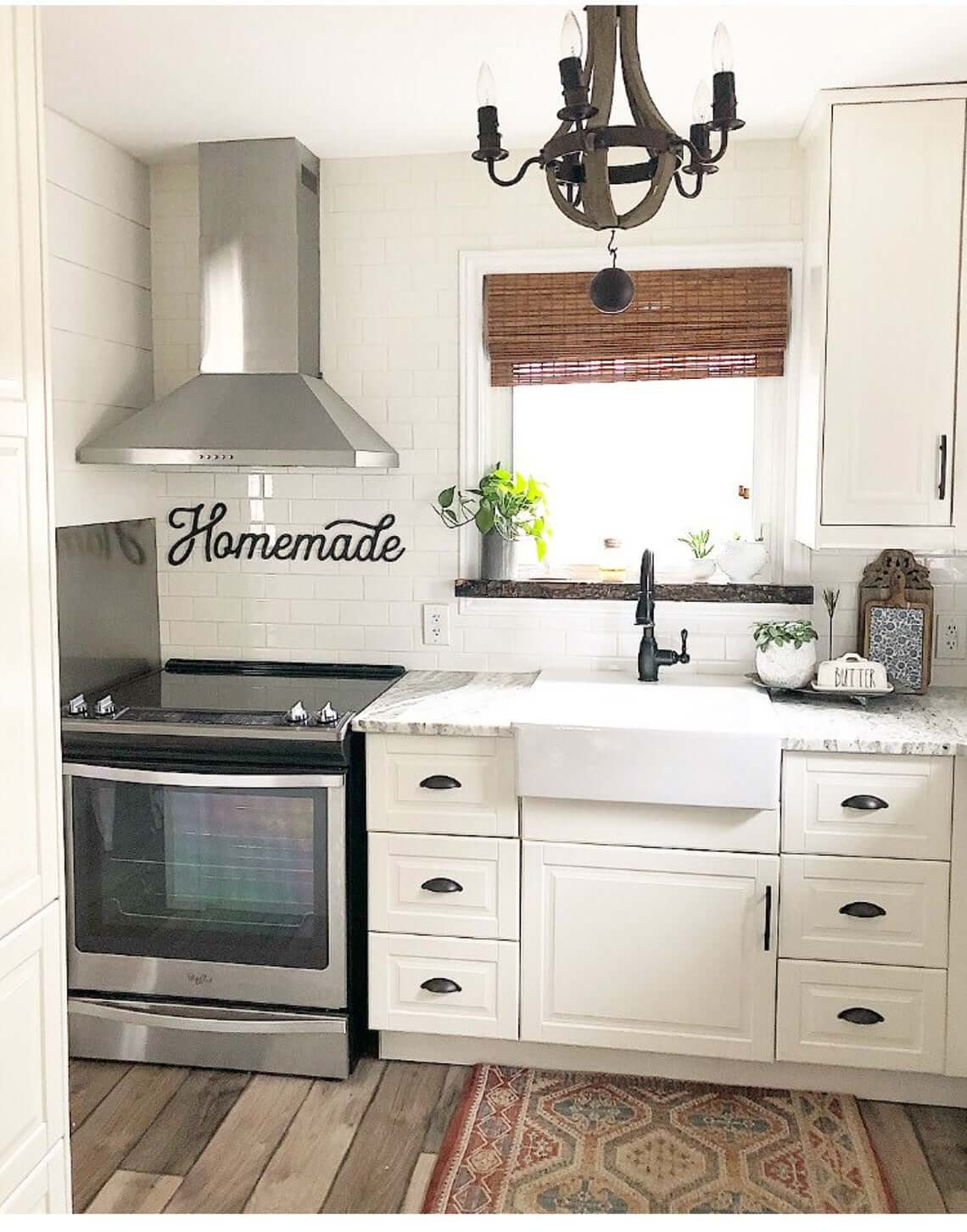 When all you need is a simple touch to make your house feel like a home, hang this "homemade" sign in the comfort of your kitchen. Just like the warm comfort you enjoy from your favorite homemade dish, your home's gathering place will indulge in its own serenity of homemade goodness featuring this matte black sign.
50. Seasoned with Love Farmhouse Kitchen Sign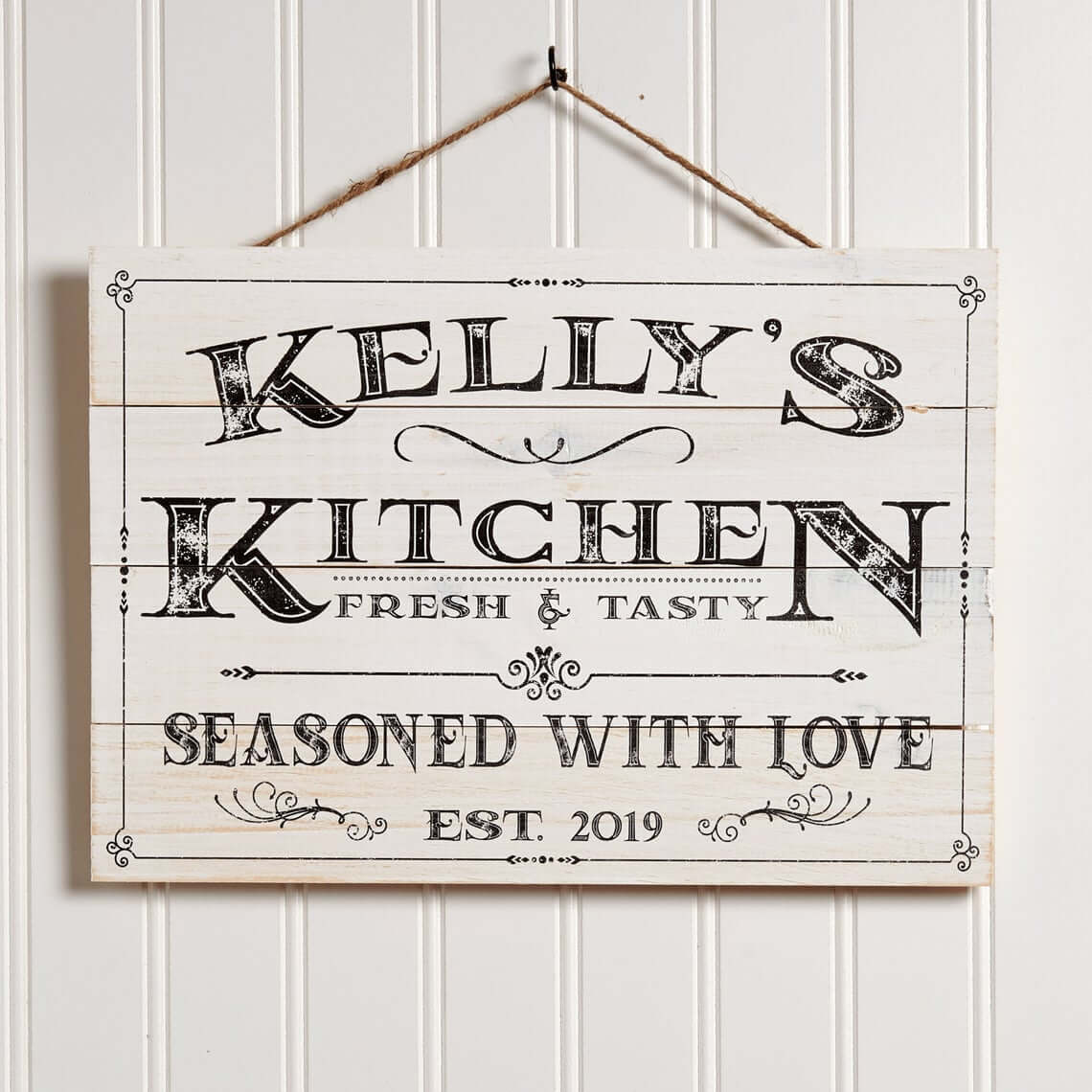 Gift this beauty to your friend who just tied the knot and is embarking on her new adventures in the kitchen as a wife. Boldly displaying her kitchen's name, this cute sign shows the year the two became one and features classic black and white styling to maintain its modern farmhouse appeal.
51. Sweet Seeds of Watermelon Decorative Kitchen Poster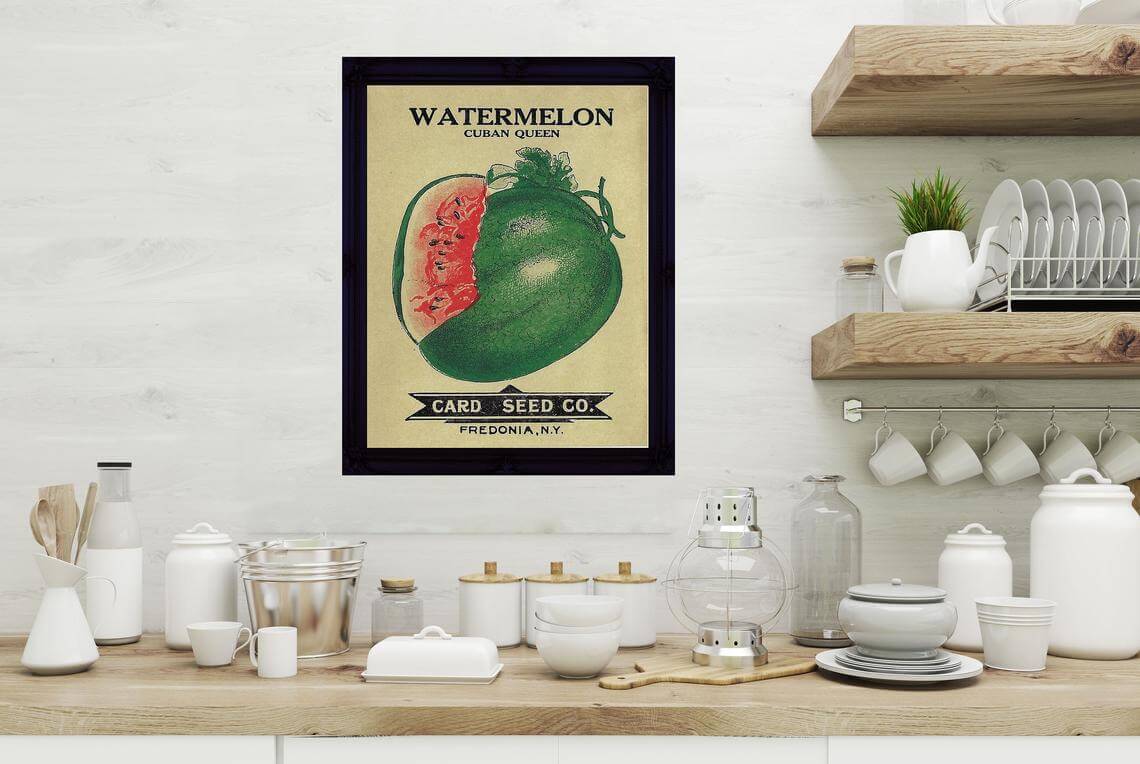 Bring some of the garden's goodness indoors even during the cooler months with this unique watermelon seeds packet poster. Framed in a plain black trim, this poster is a perfect pick for bringing the sweetness of this summer staple into your home all year round.
52. Vintage Looking Black and White Market Sign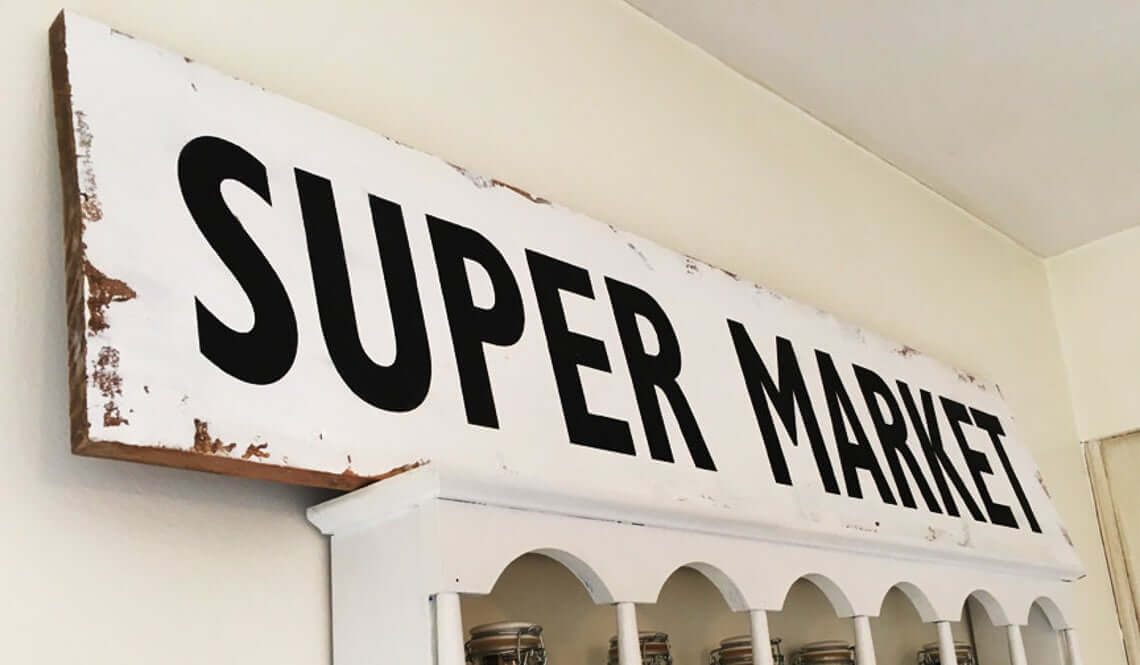 This is a fun oblong black and white sign showcasing classic lettering to display the word "supermarket." Prop it up on top of your cabinets or rest it on the kitchen counter to achieve the look you want. It would be perfectly at home hanging above your pantry where all of your grocery staples reside.
53. Classic Black Gather Sign for the Home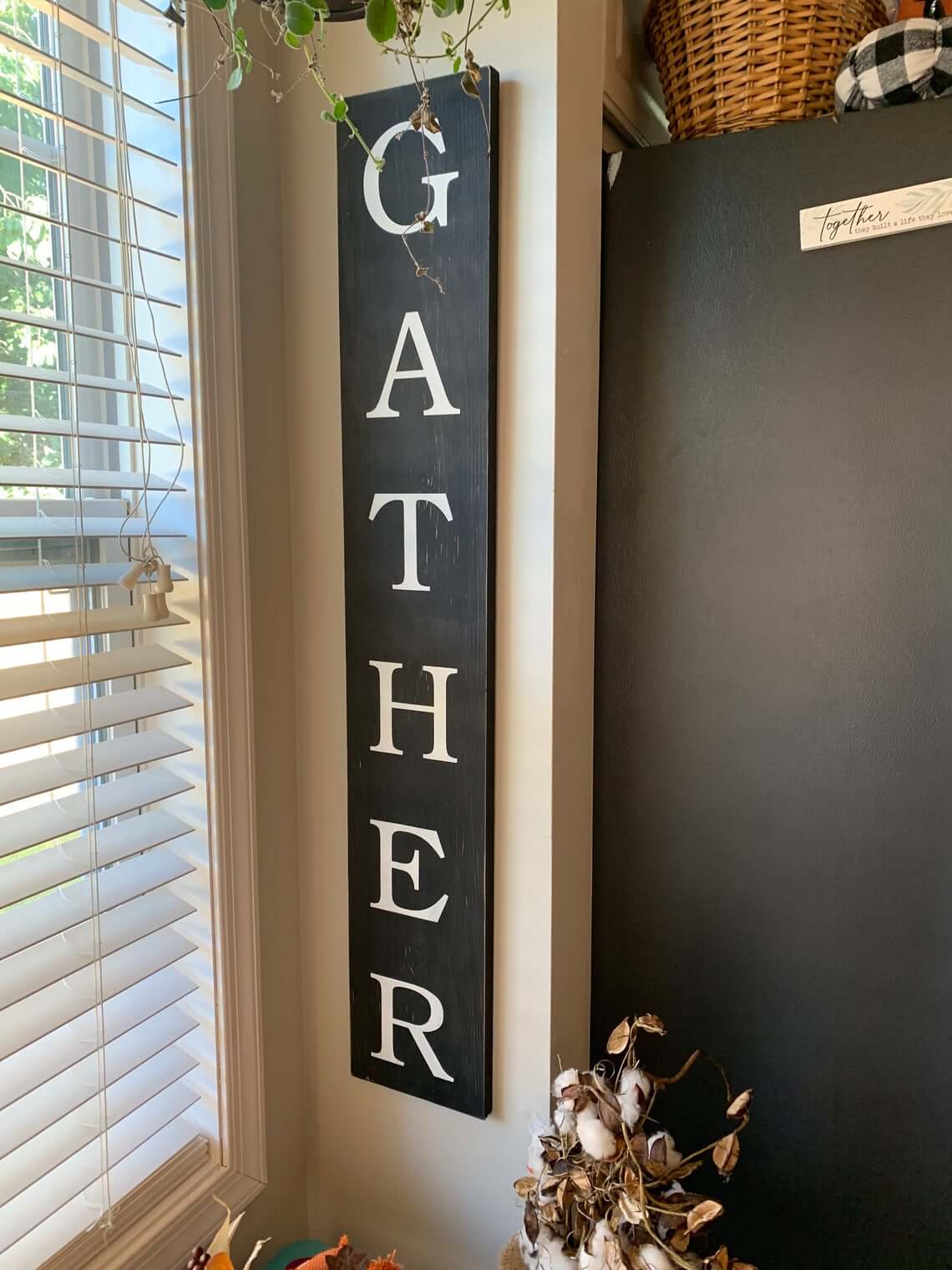 Seated in the corner you can find this eye-pleasing and super simple "gather" sign that offers a refreshing respite for all of your guests. Indulge in the comfort of your own home as you enjoy entertaining your family and friends at low-key get-togethers this year.
54. Black and White Wood Trimmed Kitchen Sign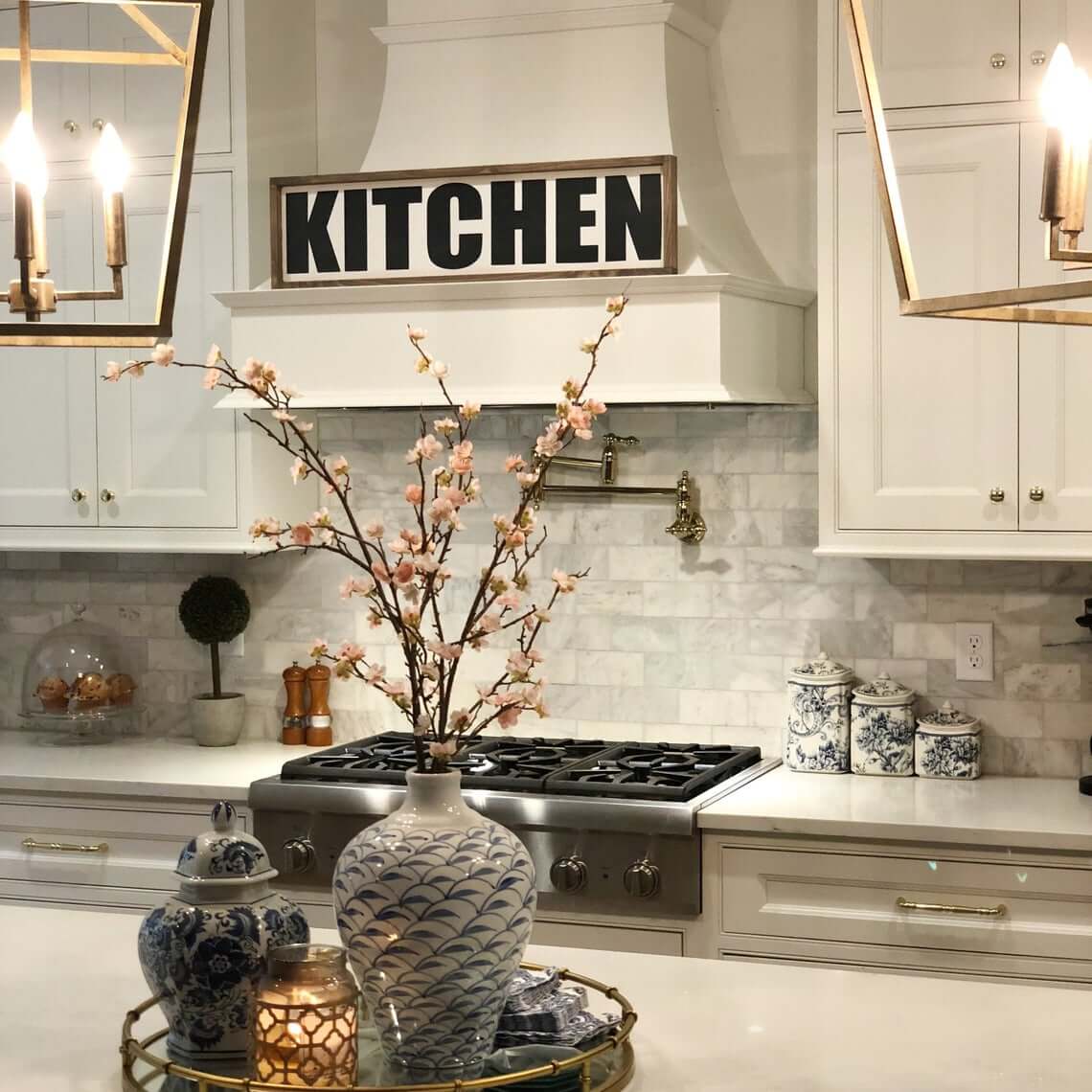 Simple and right to the point, this kitchen sign cuts right to the chase. It's a great choice for almost any decor and is an ideal choice for gifting to anyone on your list. A new homeowner will love finding a place to admire this sign in his/her new cooking center.
55. Metal Tile Flourishing Tree Kitchen Artwork
Think beyond the mere kitchen backsplash and check out this amazing and gorgeous tree crafted in brushed metal tiles. The unique design is exquisite and certain to make a bold statement in your decor. Place it above the range for a dramatic focal point. Its sheen finish accompanies your stainless steel appliances beautifully.
56. Eat and Be Happy Sign Trio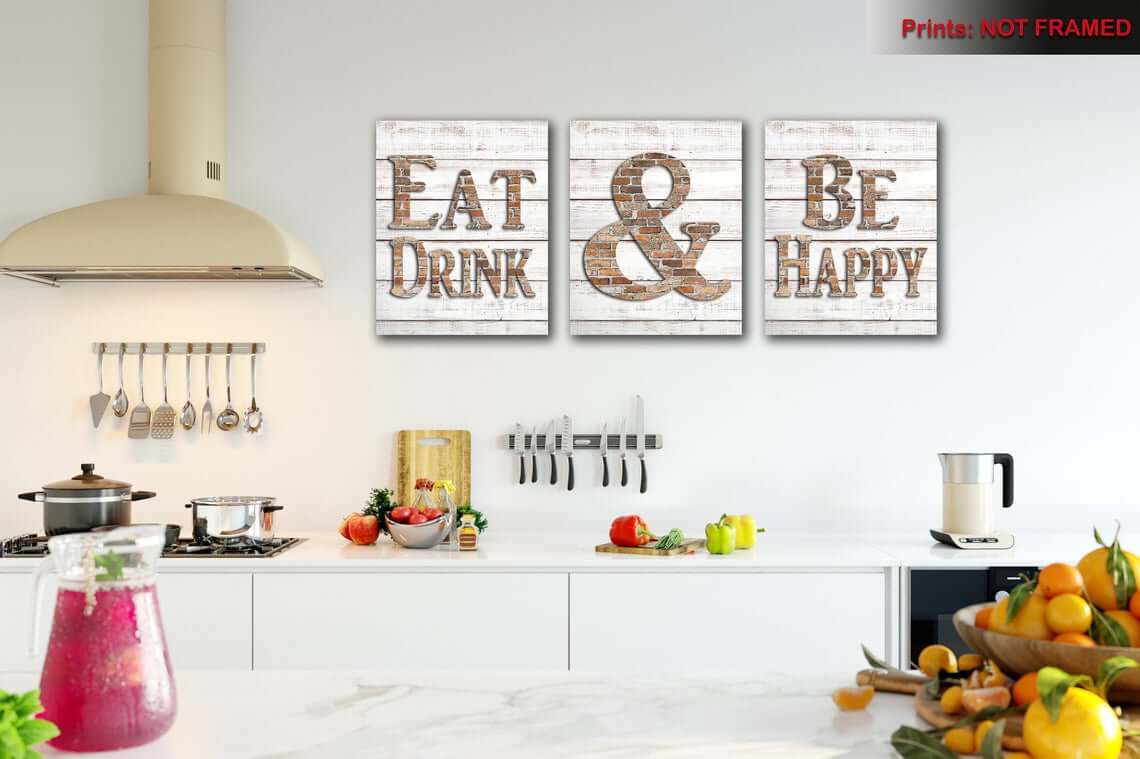 Hang this trio of signs in your kitchen as a friendly reminder to eat, drink, and be happy. This fun phrase is a welcomed addition to almost any decor. It would be a superb door prize for a wine tasting gathering or a creative sip and paint party.
57. Black Matte Circular Bless this Kitchen Sign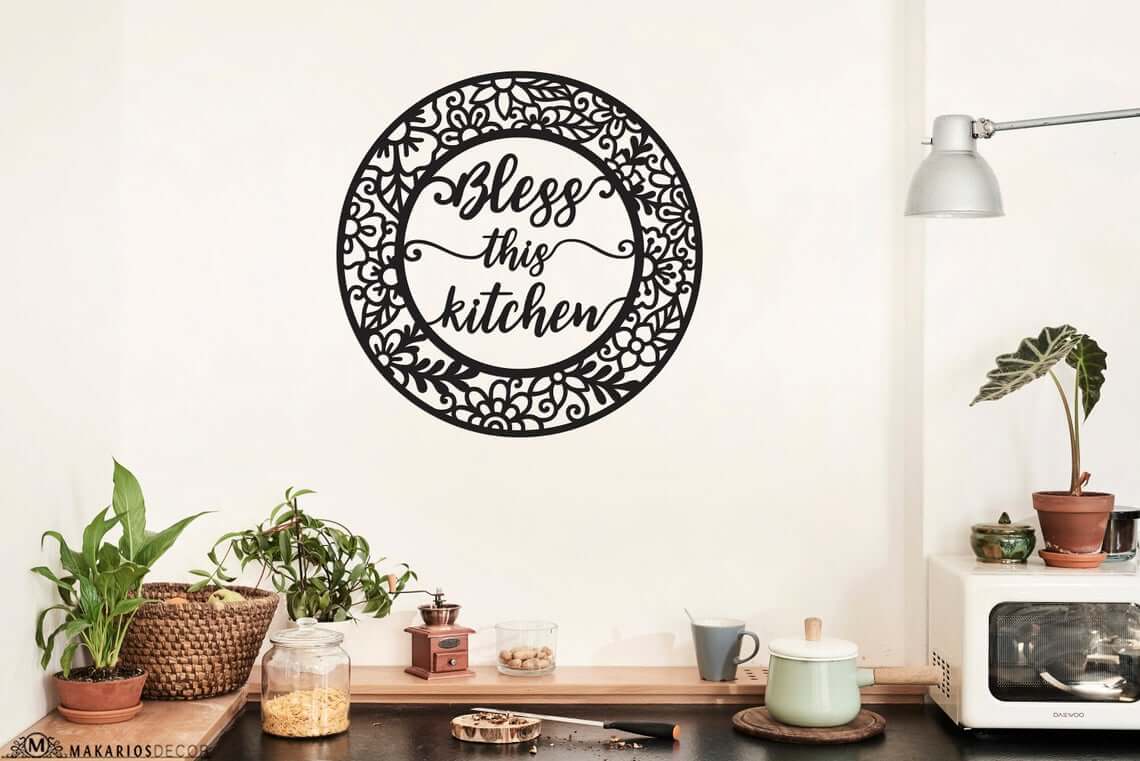 Up your design game by incorporating some elements that round out your look in a new way. Instead of the square and rectangular signs, consider this circular kitchen sign finished in simple matte black. The style is timeless and makes a gorgeous extra detail in your kitchen.
58. Pop Culture Puns Kitchen Sign Decor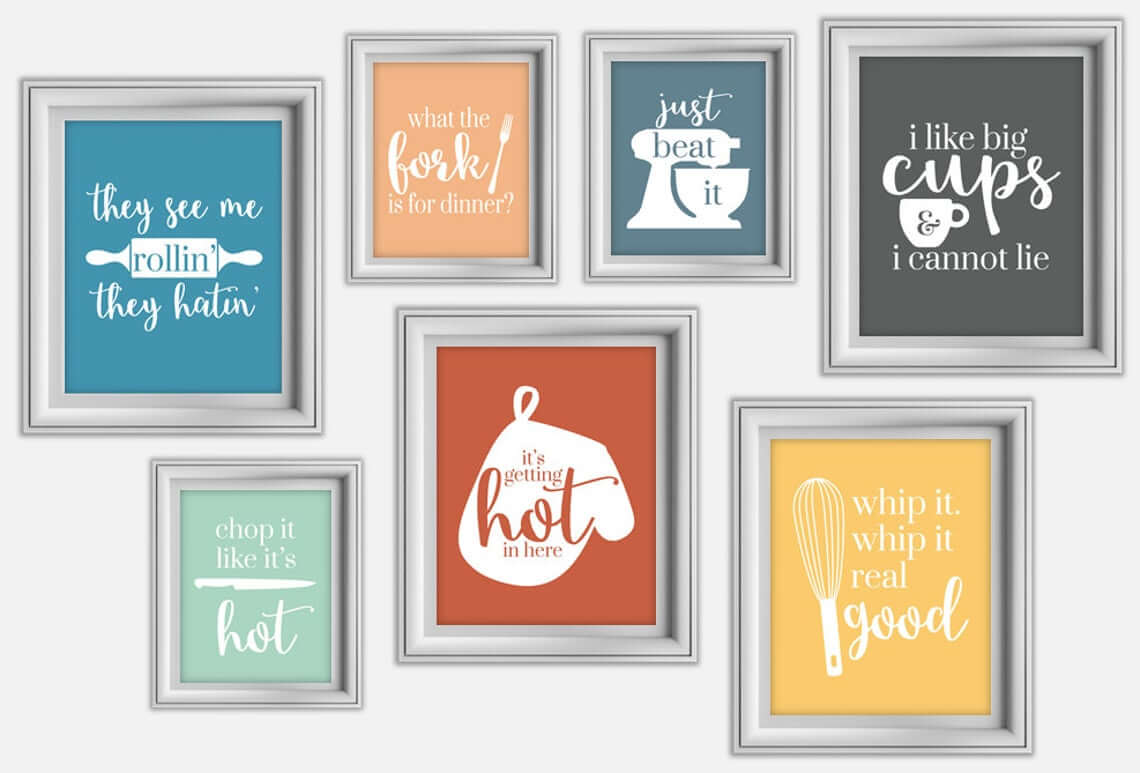 Keep the humor alive and well even in your kitchen decor! This set features a slew of funny puns that are sure to tickle the funny bones of all pop culture enthusiasts in your circle of family and friends. Make baking a little more fun with these quirky and cheerful wall art signs.
59. Happiness is Homemade Farmhouse Kitchen Sign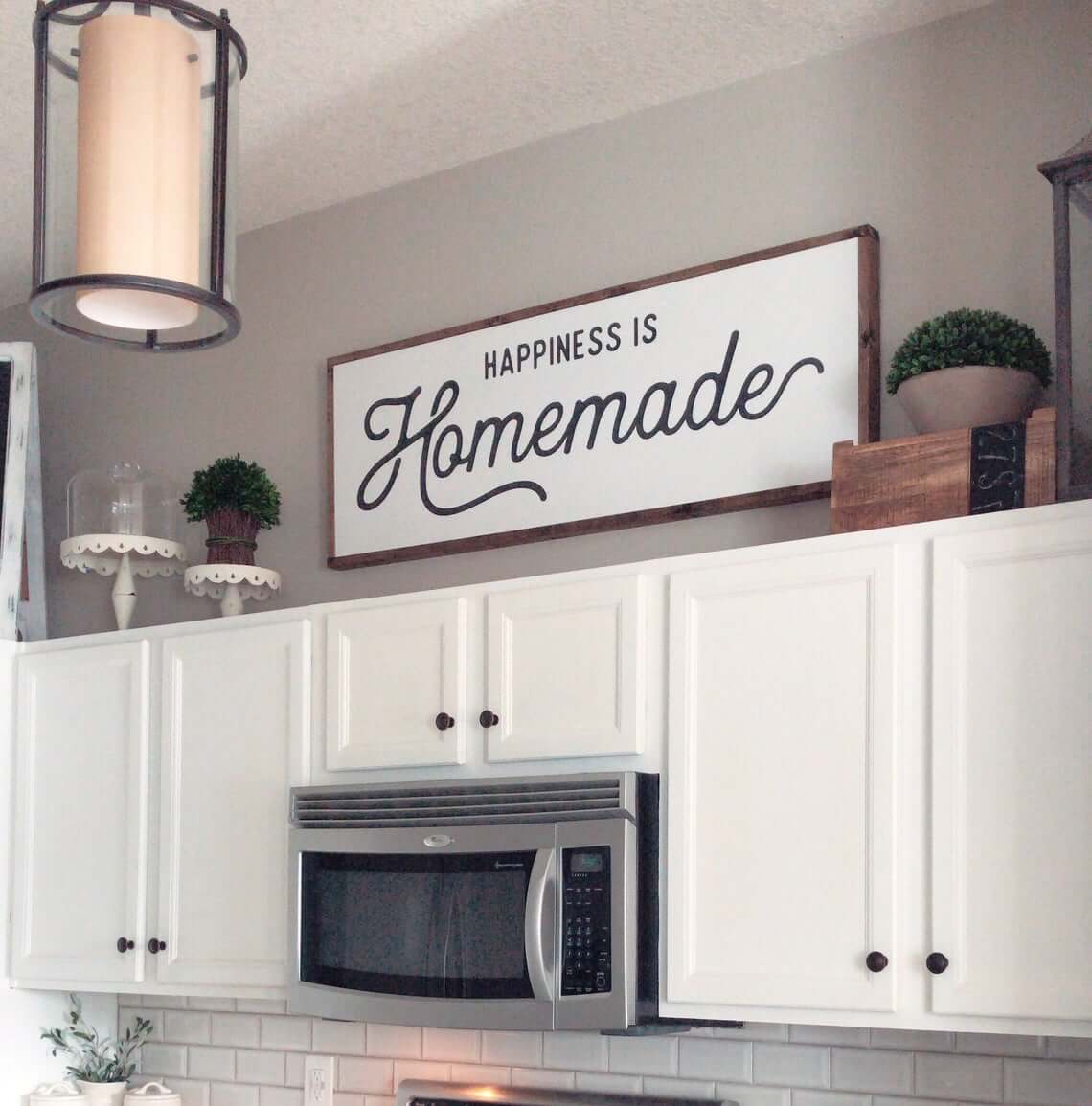 This oblong white sign is trimmed with a thin, rustic wooden frame to give it an appealing modern farmhouse look. Its simplistic design makes the message really stand out as it proclaims, "happiness is homemade." On top of your cabinets or resting on your buffet, this white sign is understated, but not overlooked.
60. Shiny Copper Pennies EAT Kitchen Sign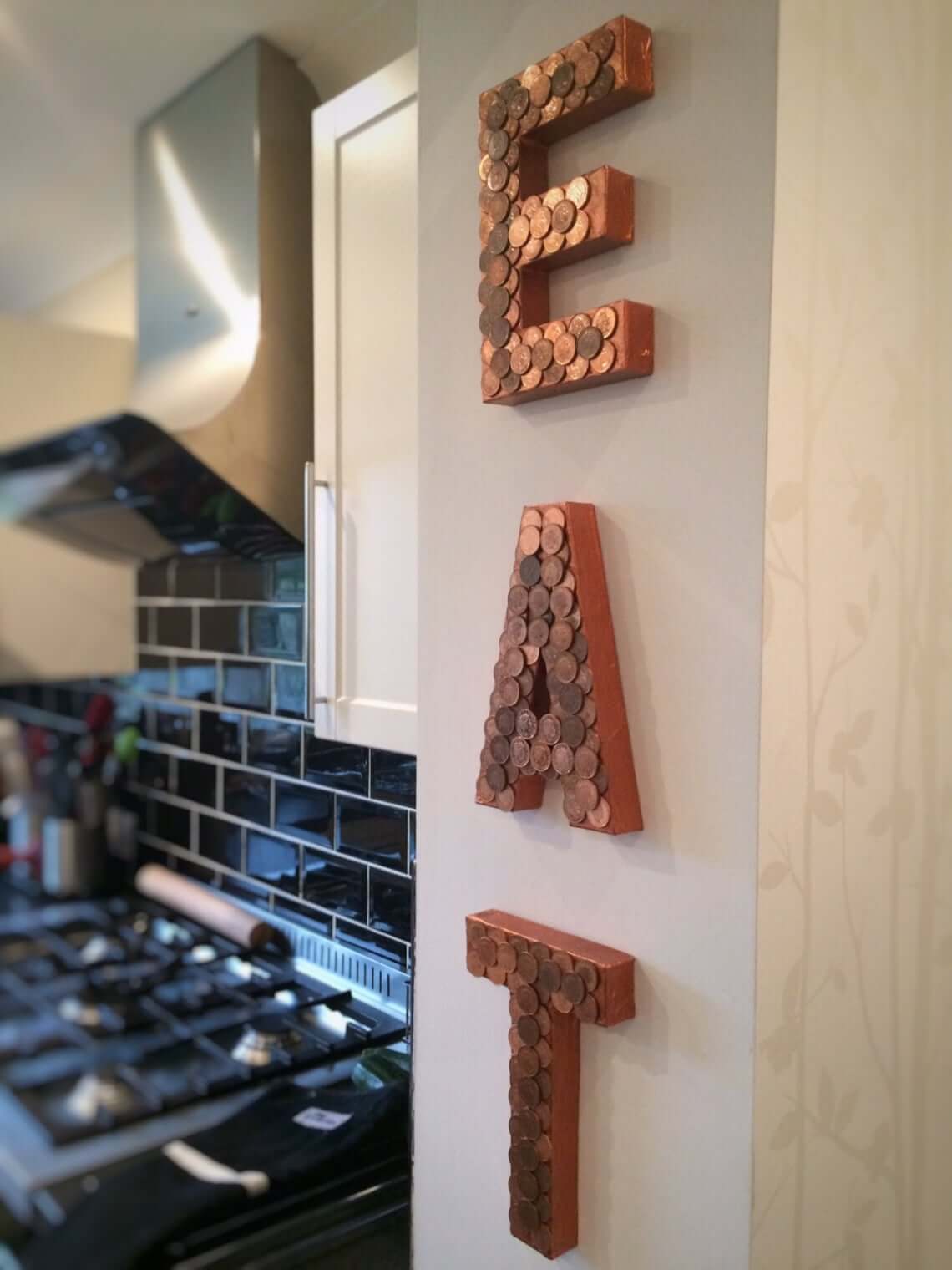 Spell it out for all those hungry bellies! Add some style and shine in your kitchen with this spectacular copper trio of letters that spell out everyone's favorite thing to do- eat! The carefully placed pennies add both character and charm to the overall beauty of this set.
61. Southern Hospitality Kitchen Vinyl Lettering Sign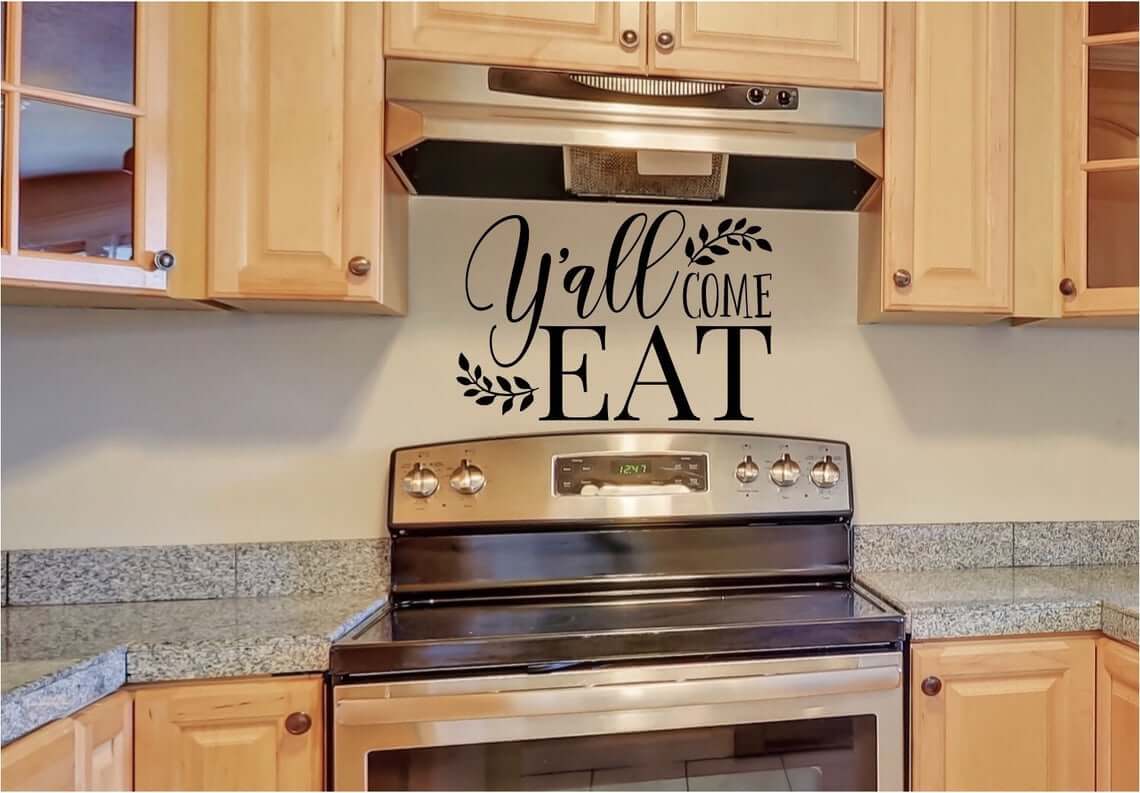 Give a nod to that southern hospitality with a little flair of your own with this black vinyl letter sign calling everyone to the table. Everyone will gather round for a second helping of hearty goodness in the comfort of this warm and inviting kitchen.
62. What's for Dinner Kitchen Hub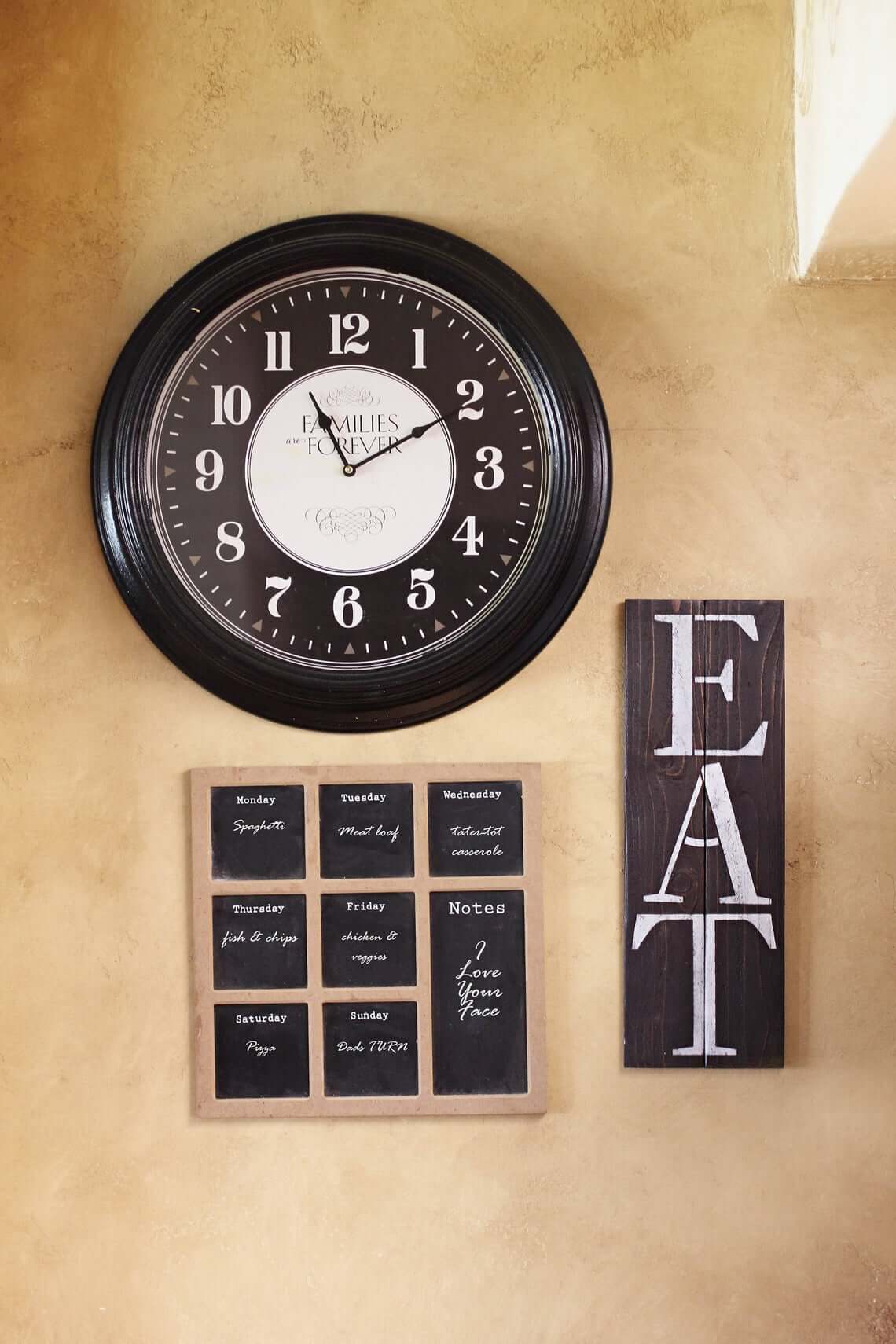 Take the mystery out of meal planning with this chalkboard kitchen hub that easily organizes and shares your mealtime plans with the entire family. Arranged with a cute clock and a fun kitchen sign, this mealtime hub eliminates the question of, "Hey, Mom! What's for dinner?"
63. Farmhouse Beef Diagram Kitchen Sign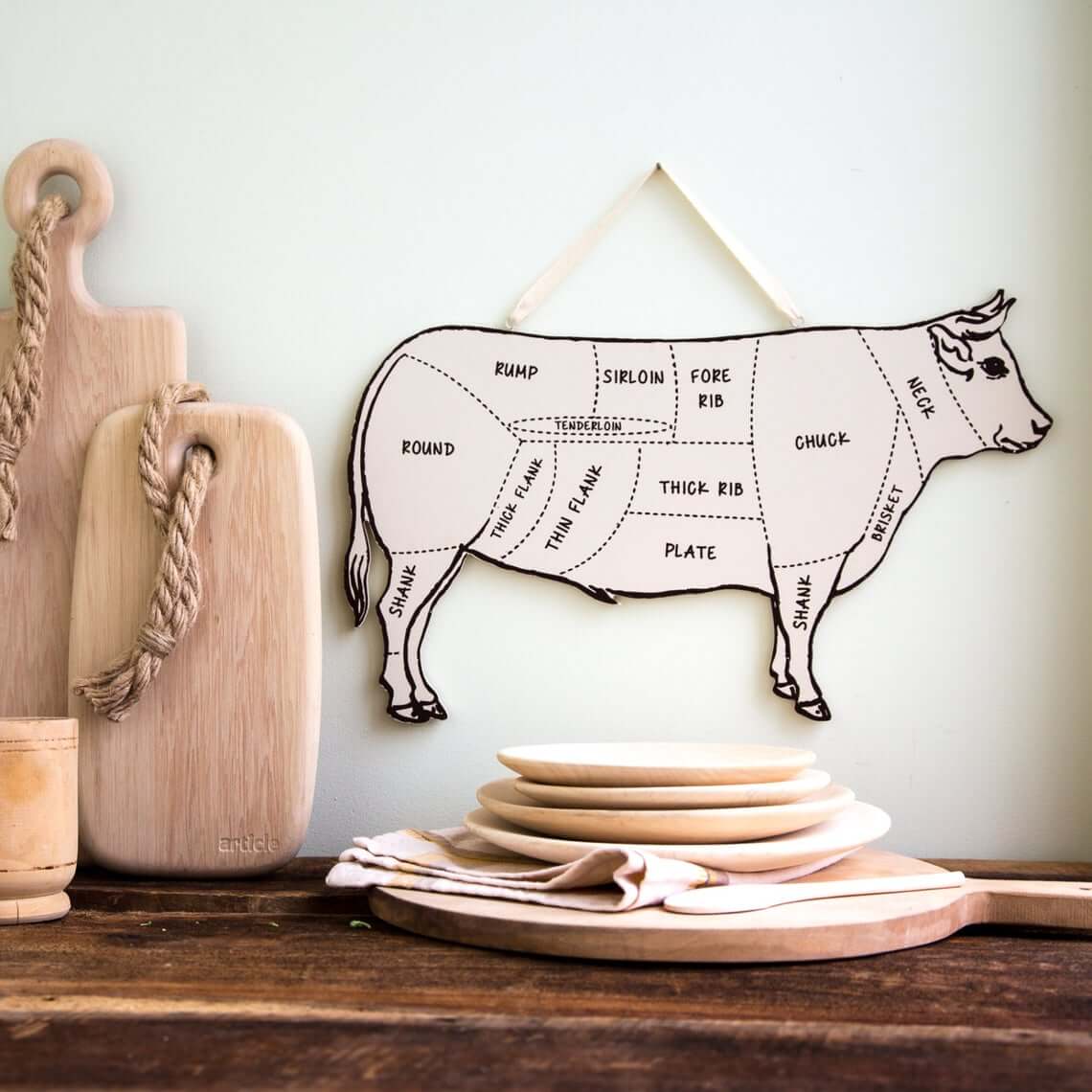 Here's a piece of wall art that brings your decorating sense and livestock knowledge together. This white diagram of the cuts of beef adds a unique perspective for your mealtime gatherings. Any farmer or 4-H member will enjoy eating alongside this country chic kitchen sign.
64. Pretty Scripted White Bible Scripture Kitchen Sign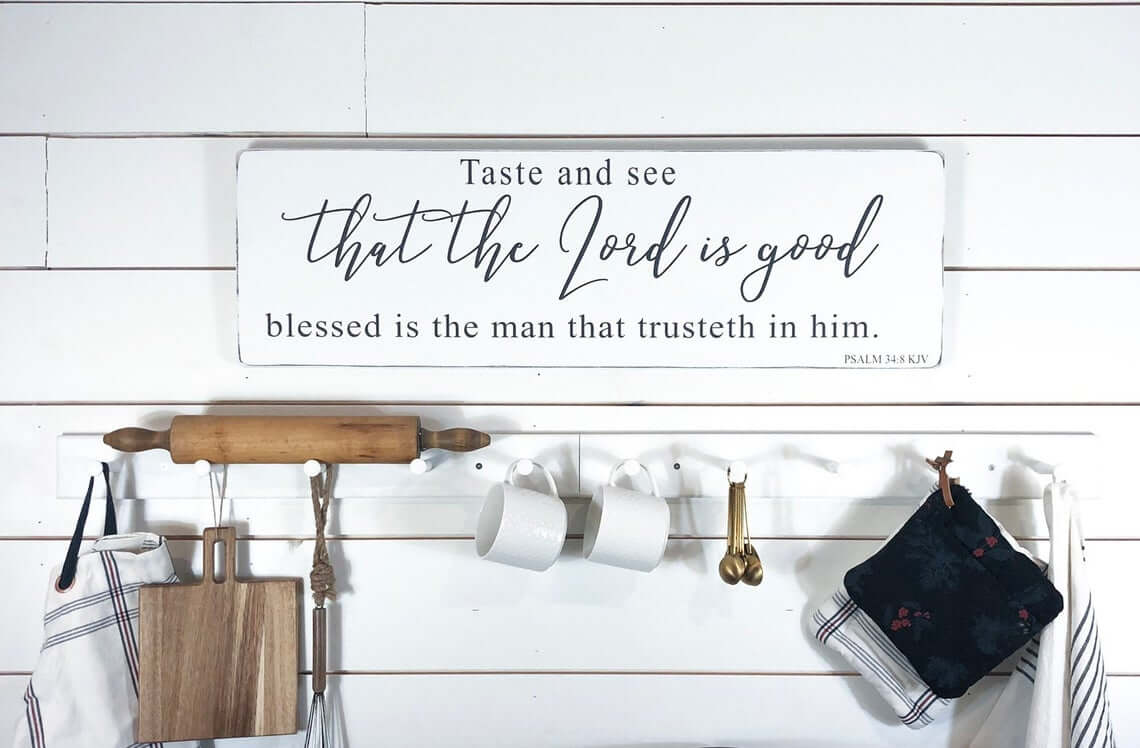 Add a part of your daily devotion to your kitchen decor. This pretty white sign showcases a beautifully scripted Bible verse reminding us of our blessings provided by trusting in the Lord.
65. Vintage and Antique Apothecary Interior Design Sign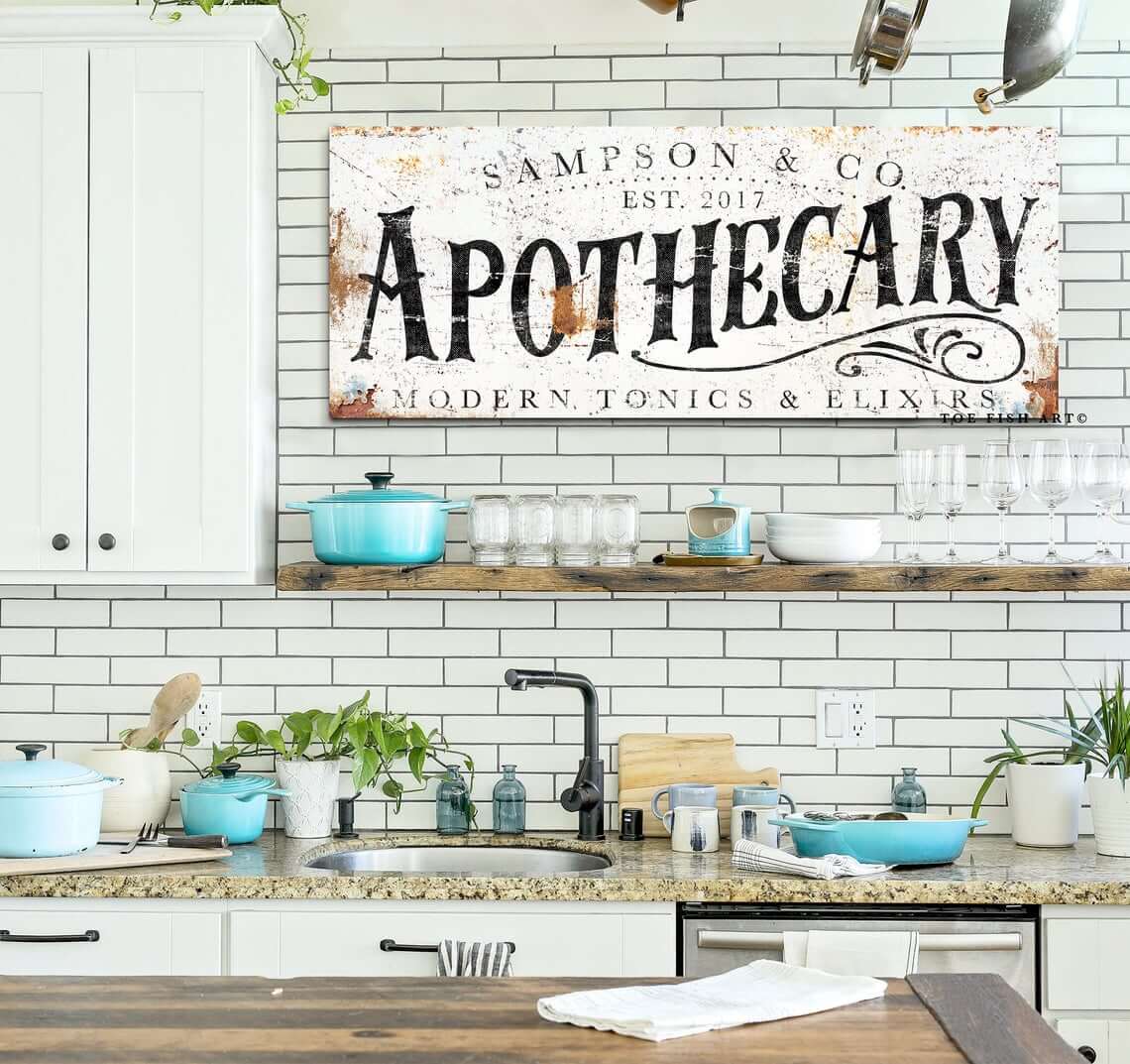 What a wonderful way to combine a personalized item with an antique lover's style. This charming and vintage-looking apothecary sign signifies the year of a couple's nuptials while also delivering a one-of-a-kind piece of home decor.
Choose Rustic Wall Decor Ideas to Make Your Home Warm and Inviting