22. Artful Flowers and Bright Pillows Make for a Warm Welcome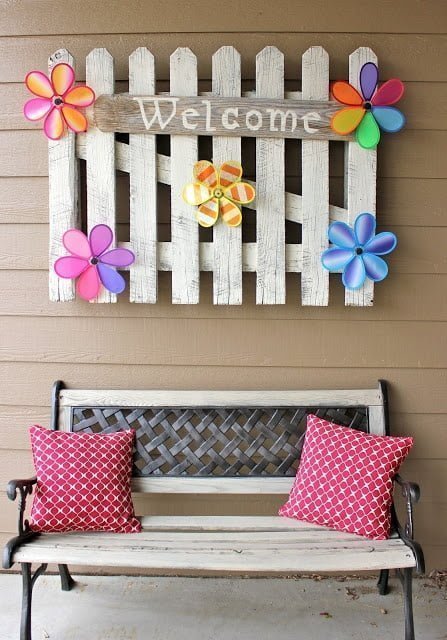 While most porch decorating ideas focus on making outdoor spaces extensions of the indoors, sometimes it's nice to focus on outdoor elements. This porch design makes use of lawn elements as its basis. A picket-fence gate makes a joyful wall hanging when decorated with windblown whirligigs shaped like bright flowers and a hand lettered welcome sign. Below, a cushioned bench creates an inviting place to sit and stay a while. Keep in mind that hanging heavy elements from exterior walls can damage your siding if done improperly, so make sure your wall hangings are securely anchored using proper hardware.
23. Subtle Porch Decorations Here Tell The Tale, Beautifully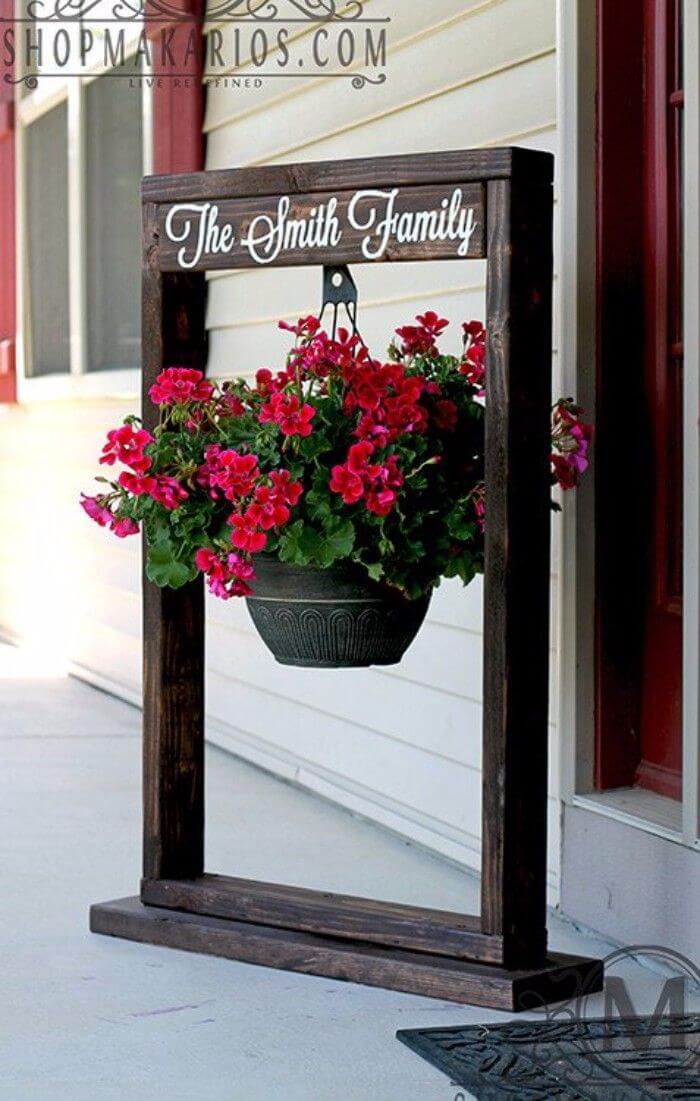 With elegant brick and stonework to contend with, your porch decor should be suitably refined, but not overly formal. Planters are always a good way to go, especially greenery-based versions focused on the textures and colors of foliage rather than bright floral arrangements. Classic ivy planters look best when hanging, to show off the trailing vines, but it can be a challenge to install brackets into brick and and stone walls. This hanging planter avoids the problem by using a simple frame stand. The dark stained wood and decorative knob give it an heirloom feel to match the design of the house.
24. Bright Reds and Blues Make for a Gorgeous Floral Setting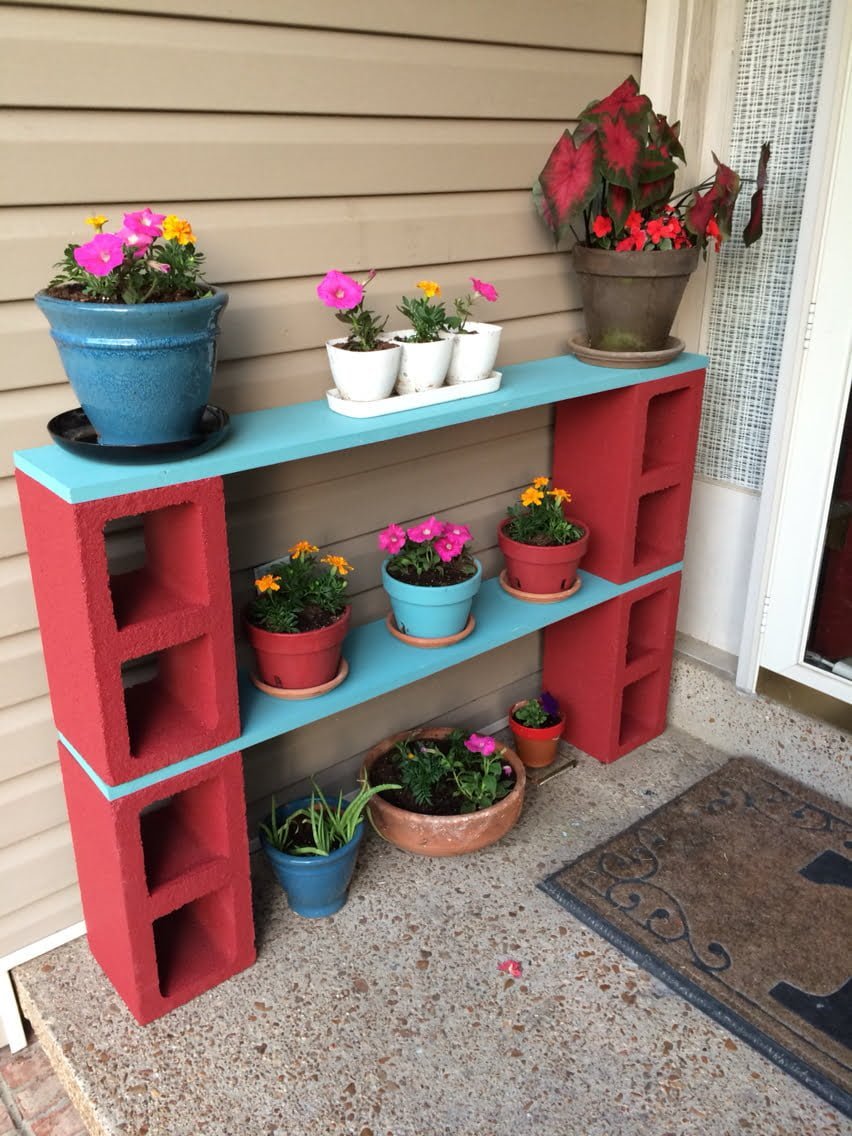 If your collection of planters is starting to take over the porch, coral them with simple shelves made of cinder blocks and planks. For a modern pop of color, paint both blocks and planks in bold shades that contrast with one another. Bright vincas, coleus, and begonias in a variety of mismatched containers round out the colorful display that'll kick your porch decorating up a notch. Avoid stacking these shelves more than two high; since they're not anchored, heavy falling cinder blocks could be a hazard with taller arrangements.
25. A Dark Blue Door Provides a Wonderful Contrast to a Green Planter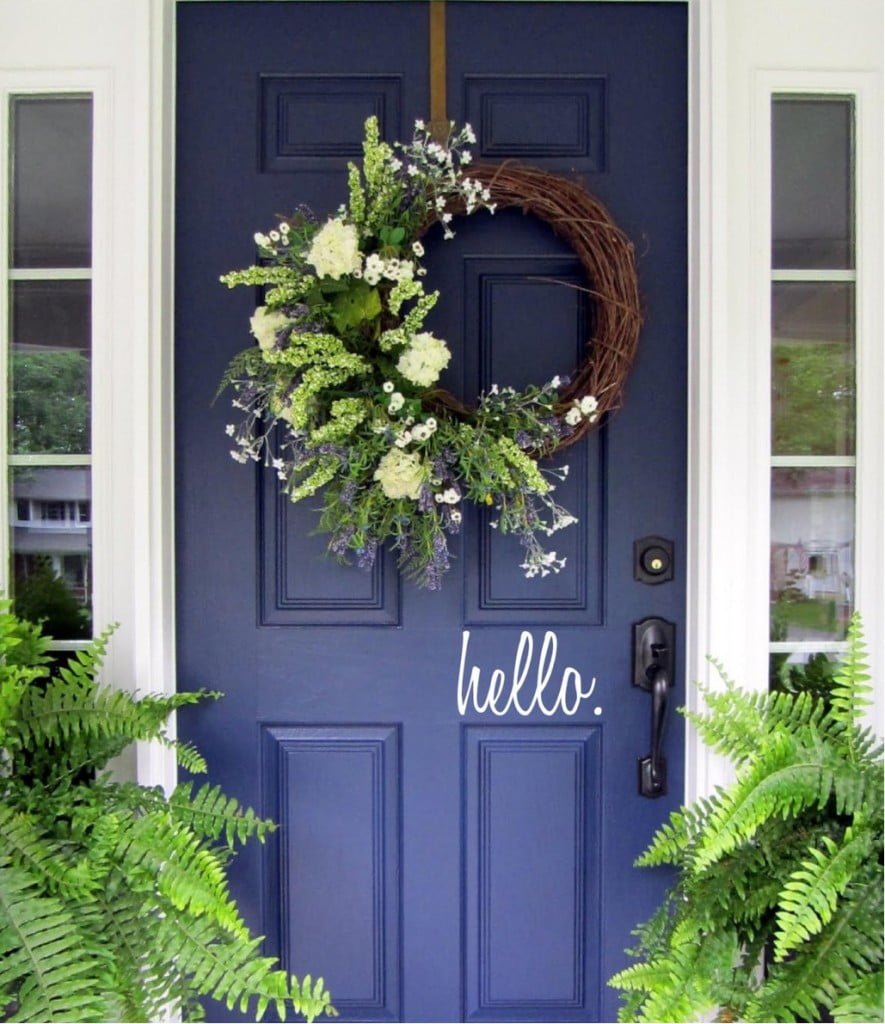 Boston ferns are the perfect plant for covered porches. The diffuse light of these spaces is exactly what they require to grow and thrive. Beyond watering, they require very little in the way of care and maintenance, and yet their elegant cascading fronds always manage to look manicured and well-tended. Use tall urns or planters for ferns to showcase their draping growth habit, or hang them beneath the overhang of the roof. Paired with a gorgeous floral wreath on the front door, you'll find yourself spending more time on the porch just to enjoy them!
26. A Cozy Hammock Welcomes and Offers Ease and Relaxation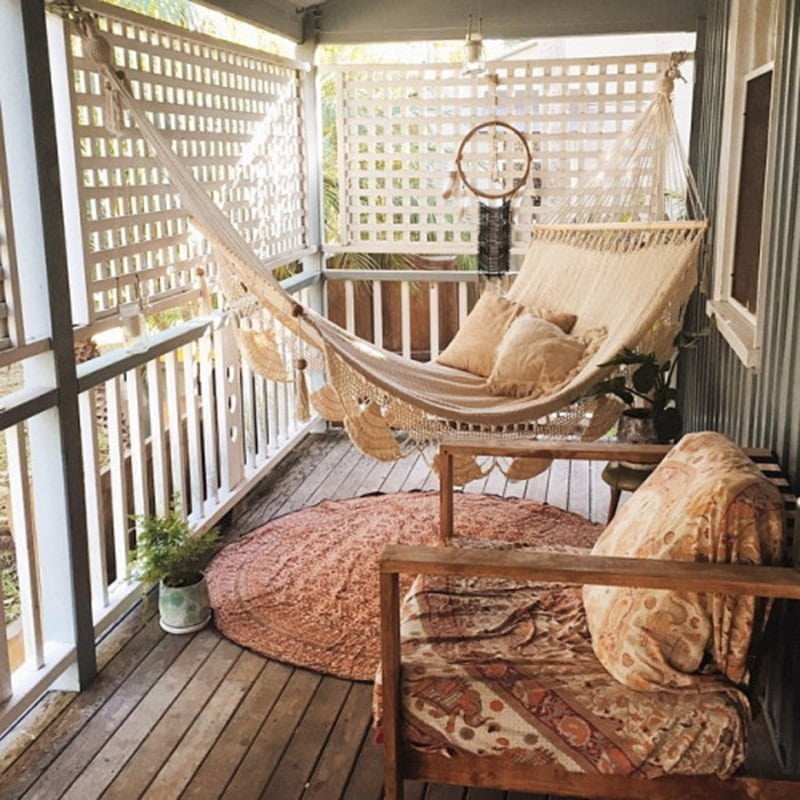 Porch decorating just got boho-chic with this luxurious retreat. Lattice provides privacy and shade while a fringed hammock makes for a great place to relax and unwind after a long and stressful day. Make sure it's properly anchored to sturdy walls or posts. A vintage circular area rugs adds to the exotic feel of the space, as do the bold printed fabrics wrapped around the chair cushions for an extra pop of color. To bring a little life into the space, add mismatched planters filled with shade-loving plants, then prepare to relax in your own personal oasis.
27. White Wicker With Bright Pillows are Perfect in This Cape Cod Style Setting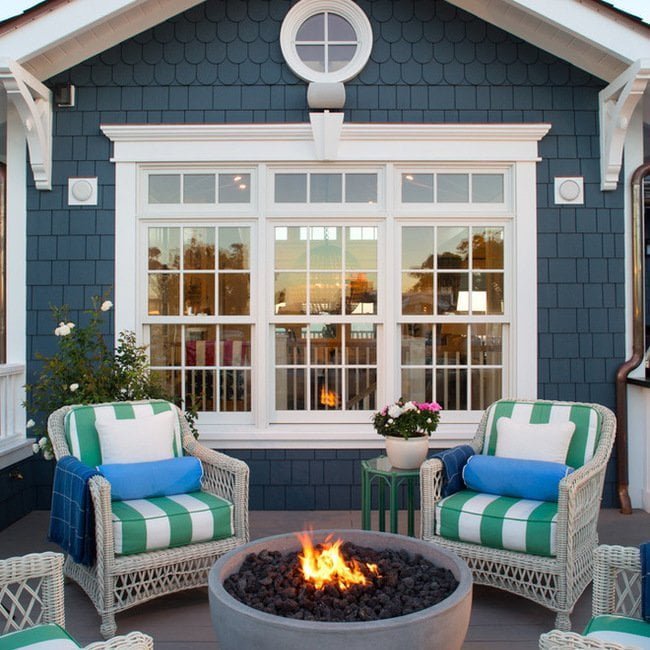 When it comes to porch decoration ideas, the fire feature has to be one of the best. What better way to enjoy an evening with your friends or family than gathered around the fire, enjoying drinks or toasting marshmallows. This beachy design makes excellent use of a cozy space to create a seating area with cushy padded chairs, color coordinated side tables, and, of course, a central gas-powered fire feature in a concrete urn. If you have gas lines in your home, you can have a feature like this installed to run directly from them; otherwise, refillable propane canisters are an easy alternative.
28. White Planters and a Wood Rocker Let the Red Door Pop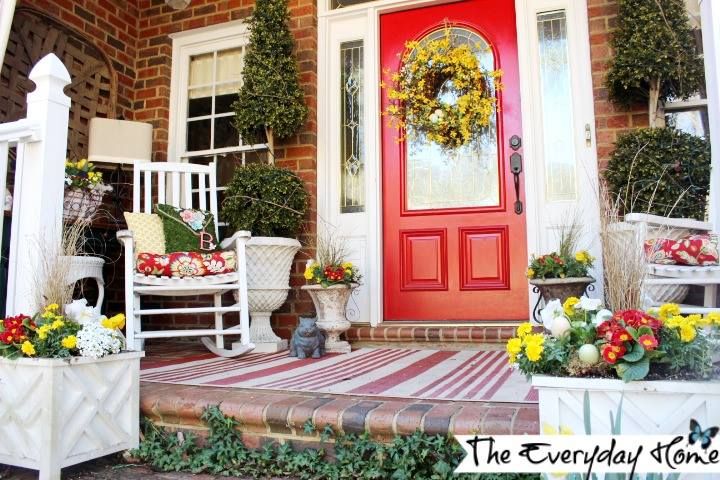 Who says you can't make bold use of color in your porch decorating? This unusual combination of deep evergreen, bold firetruck red, and sunny yellow is eye-catching and charming. Drawing on the colors of the house itself, most of the brightness in this porch decor actually comes from plantings: white urns and boxes showcase blooms in white, yellow, and red, while a forsythia wreath on the door echoes the overall color scheme. A white rocking chair provides seating, while the cushions, of course, tie in with the quirky and unique design aesthetic.
29. Blue Pillows Perfectly Coordinate With a Cool Blue Door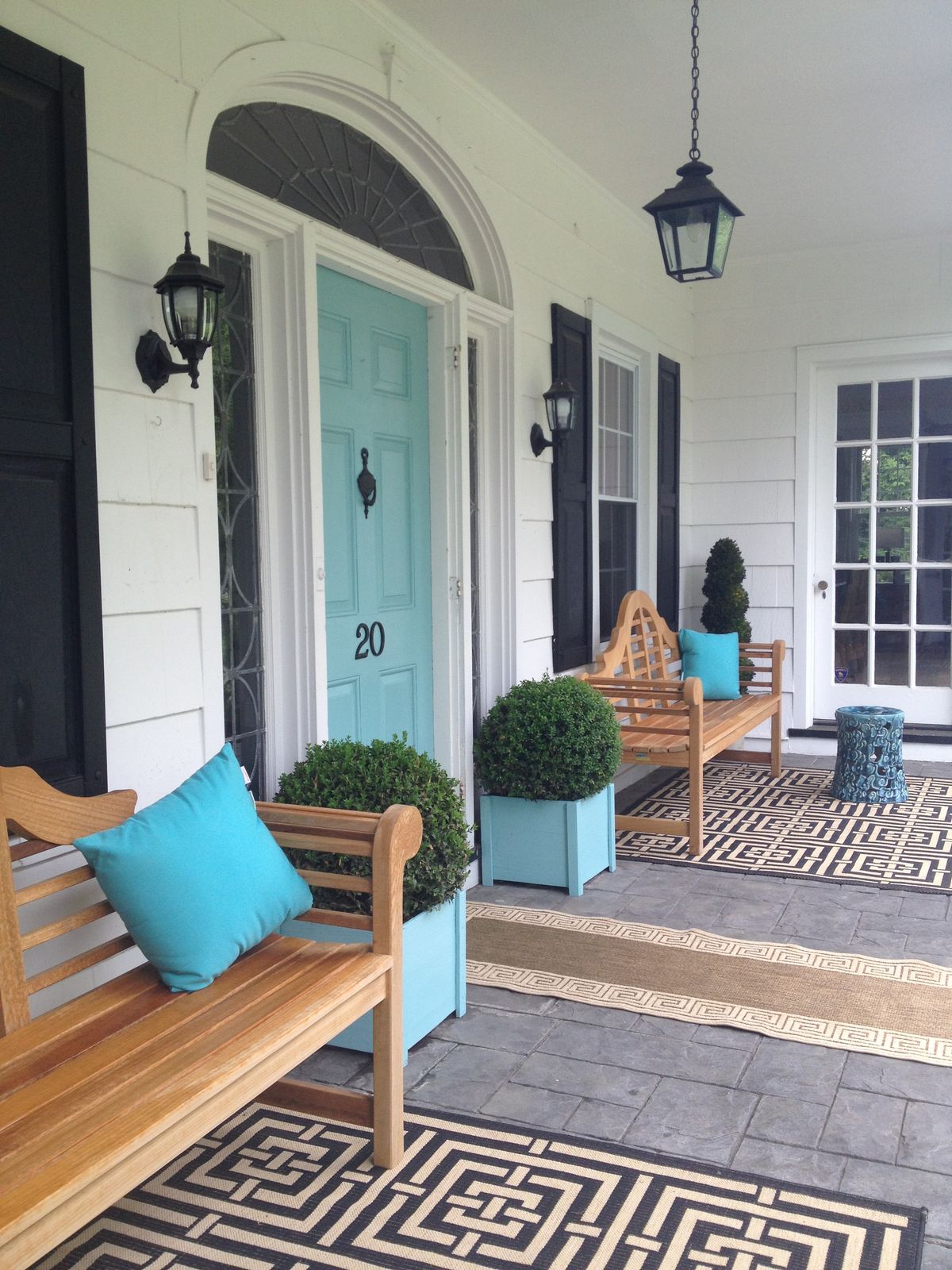 If you're looking for minimalist porch decoration ideas with simplistic elegance, this design fits the bill! Perfect for ocean- or lake-side porch designs, this porch decor draws on its design inspiration from the color of the front door. The design rests on a navy and turquoise color scheme with sandy accents in the form of raw wood benches and patterned area rugs, all of which plays well with the clean lines and black and white colors of the house itself. The planters keep it simple with geometric evergreen topiaries that add interest without overwhelming the look.
30. Vivid Red, White and Blue Makes a Wonderfully Patriotic Statement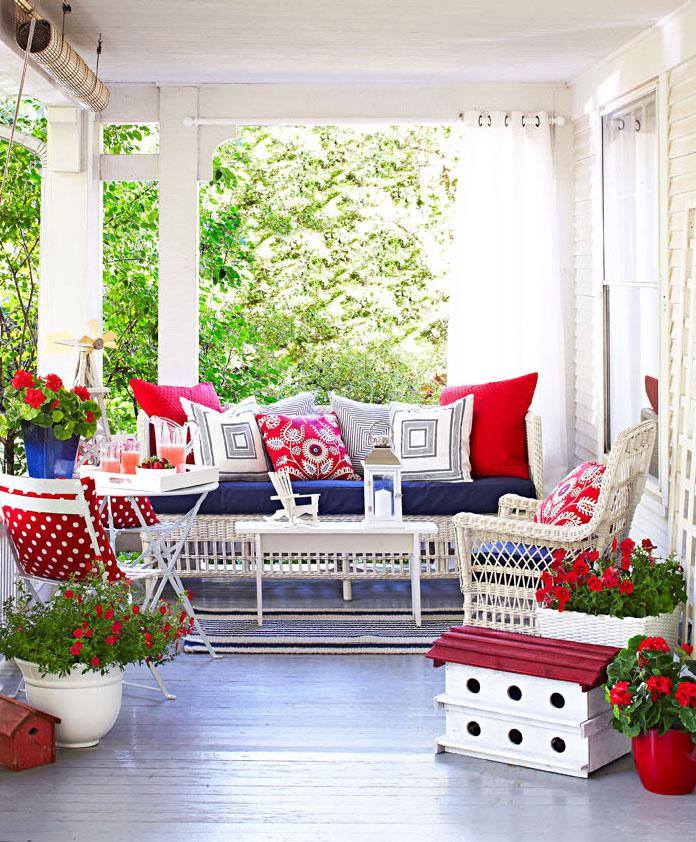 Red, white, and blue are a classic color combination for the summer, harkening back to the days sailor dresses and festive bunting at the town ice-cream social. There's nothing old-fashioned about this porch decorating scheme, however. Bold geometric prints add modern flair to sofa and chair cushions that frame a comfortable conversation space. Monochromatic white furniture lets the accessories be the stars of the show, highlighting the bold colors of geraniums and begonias in brightly colored planters, and birdhouses add a touch of summery whimsy.
30 Unforgettable Porch Designs
Whether you're making over a deck for entertaining, creating a green oasis filled with plants and flowers, or just looking to welcome friends and family to your humble abode, porch decorating is the way to do it. Remember to draw on your existing features for inspiration. If you love the color of your front door, or have a favorite set of patio furniture, make them the anchor point in your design and build from there, choosing accessories and decorations to coordinate.
Play with lighting by adding strands of bistro-style porch lights or clusters of lanterns. Don't be afraid to bring traditionally indoor elements, like rugs and drapery, into your outdoor designs. Keep function in mind as well. If you love to entertain, make sure there's plenty of seating and table space for your get-togethers. If you're trying to create a private space to relax and unwind, use lattices or drapery to keep prying eyes from your sanctuary. With so many different porch designs out there, it can be a challenge to find the exact porch decoration ideas that suit your style, budget, and space, but with these top thirty ideas to work from, you're sure to find a design that's uniquely you.