Halloween is just around the corner and it's time to think about decorating both the inside and outside of your home. If your creative juices aren't flowing yet, or you're procrastinating about coming up with your own Halloween decorations, the end of October will be here before you know it, so time's a-wastin'. You don't want to get caught empty handed on the big night, so prepare now and get ready to fill your Halloween candy bag full of decorations for this and every Halloween to come.
Pumpkins Gone Smashing Mad

What Makes Halloween?
One easy and fun way to get on the Halloween decoration bandwagon is to focus on what makes Halloween the holiday that it is. Some of the first thoughts that come to mind include the standard fare of the kick-off to autumn and the terrifying, yet not so scary one-night fun, which might include a little mischief. Another thing that comes to mind are costumed kids either happily partying or walking their home neighborhoods in hopes of filling their trick-or-treat bags with candy. Last, but not least, are pumpkin decorations, which are the highlight of Halloween and make it what it is.
Transitioning
Halloween is a transition from the diversions of summer to the festivities of fall,and pumpkin decorations are a big part of what creates the passage to a happy Halloween. Pumpkin carvings, skeletons, ghosts, goblins, ghouls, witches, vampires, black cats, spiders, spider webs, bats, cemetery headstones, creepy crawlies and other amorphous figures and creatures are the big part of the decorative fun that launches Halloween.
Pumpkin Carvings
Logical and natural types of decorations that are popular around Halloween, like pumpkin carvings, and other pumpkin decorations, can make fall projects fun, wholesome and inventive for the whole family. There is nothing more exciting than a specific pumpkin carving idea put to the test and finished before Halloween eve. Almost anyone can come up with their favorite pumpkin carvings from the past, and they probably have their own personal pumpkin carving idea to add to the mix.
Ideas for the Taking and Making
There are hundreds of ideas for pumpkin decorations for the taking and making, and those showcased here can stir the juices of anyone ready for a kick-start to Halloween decorative fun. A Halloween pumpkin can take on any representation, disguise, style or design whether carved, painted, stamped, dipped, decoupaged, crackled, sequined, glittered, beaded, corded, stenciled, lettered, fabric wrapped, stacked or planted like a topiary.
Inspiration
Take a look at some of the pumpkin decorations examples presented here and get inspired to create your own pumpkin mania this fall season. Halloween is a holiday unto itself and pumpkins play a big part in unique decorative design schemes for the fall season. Allow yourself a head start and utilize some pumpkin decoration ideas that set your pumpkins apart from all the others in the pumpkin patch.
1. Black Magic Minis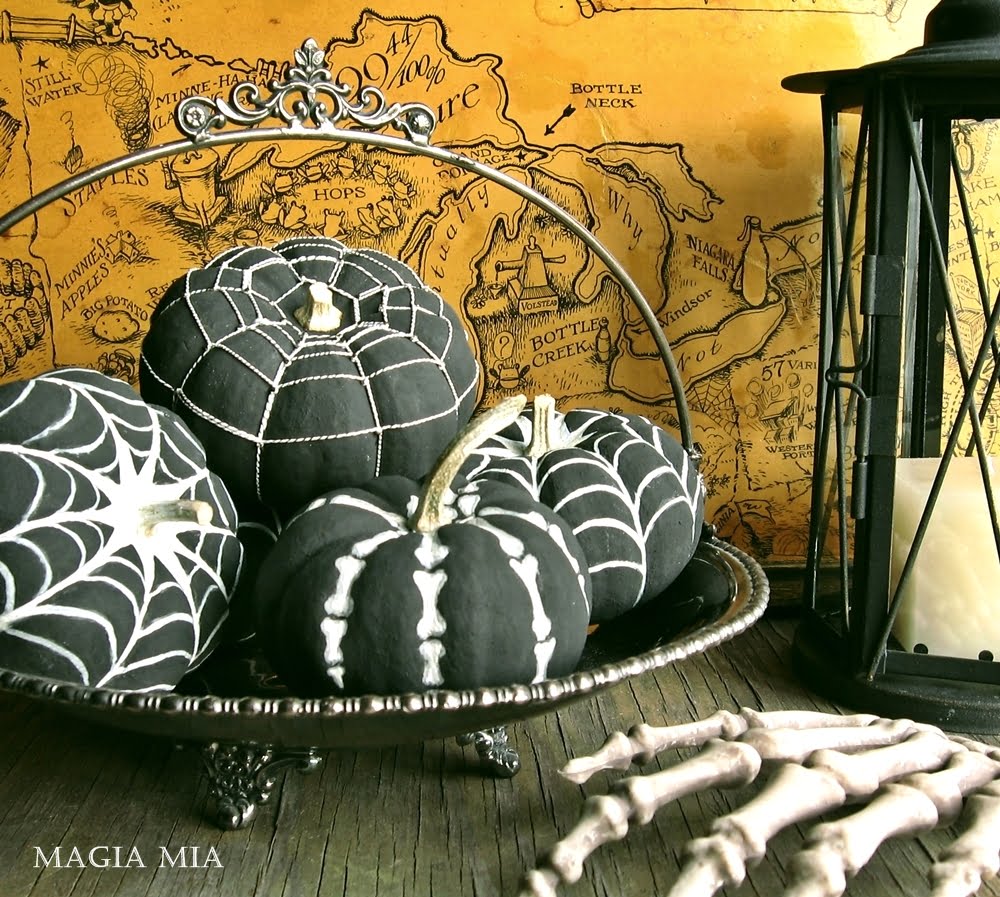 A mini sized pumpkin is easy to work with and a couple of coats of black paint on a white pumpkin can bring out a mini's features, especially when glow-in-the dark paint is used as a highlighter to create an inspired spider web etching or skeletal part. Silver elastic cording also brings a distinctive metallic appearance to a mini pumpkin, especially when it follows the outline of the pumpkin ribs and covers the pumpkin sections like a spider web. Simply place the cording around strategically placed pins and continue with the winding and stretching process to tie off the cord and complete the web.
2. Punch a Hole Pumpkin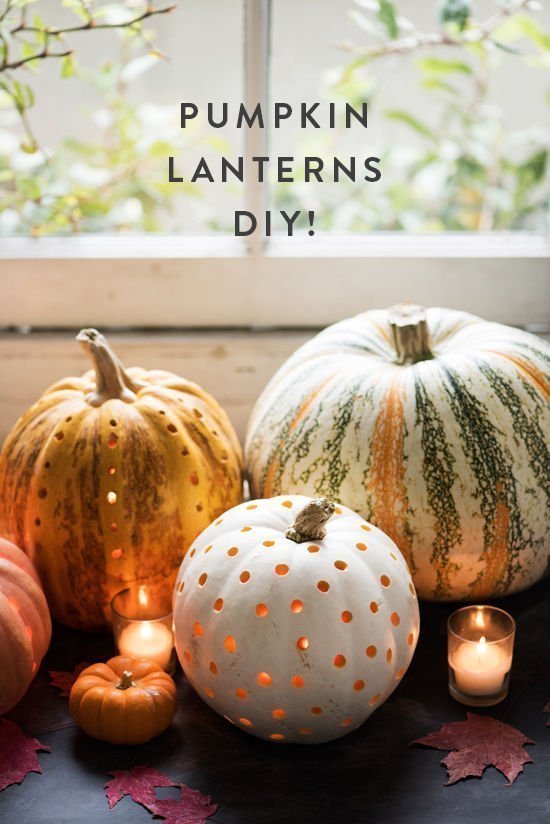 Halloween pumpkins with lantern-like openings are not only attractive but perfect for lighting an indoor or outdoor entryway for Halloween. They bring a welcoming and homey feel to a foyer table, porch or deck area that all trick-or-treaters and Halloween guests appreciate. The lanterns are similar in appearance to their popular ceramic counterparts, and this pumpkin makes a good substitute. The project involves cutting and removing the bottom portion of the pumpkin, cleaning out the inside, and drilling holes for the passage of light. The placement of a lighted or battery operated candle underneath the pumpkin brings on an immediate lantern-light effect.
4. Bat Crazy Cat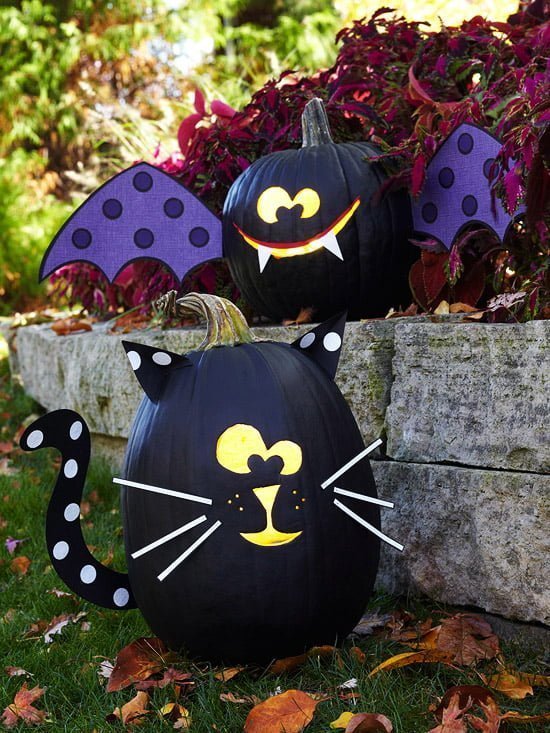 These crazy bat and cat decorative pumpkins are fun for children (and craft loving adults) to decorate. It's an easy project that entails simply painting two pumpkins with flat black paint, creating your own bat and cat pattern pieces, or downloading them free from a Halloween crafting site for kids. These two would make a great centerpiece for a Halloween party. Just use card stock or heavy craft paper in dark, wild, or traditional Halloween colors to create the animal features and accents. Let kids use their imaginations with this goofy pair.
5. Salt Laden Pumpkin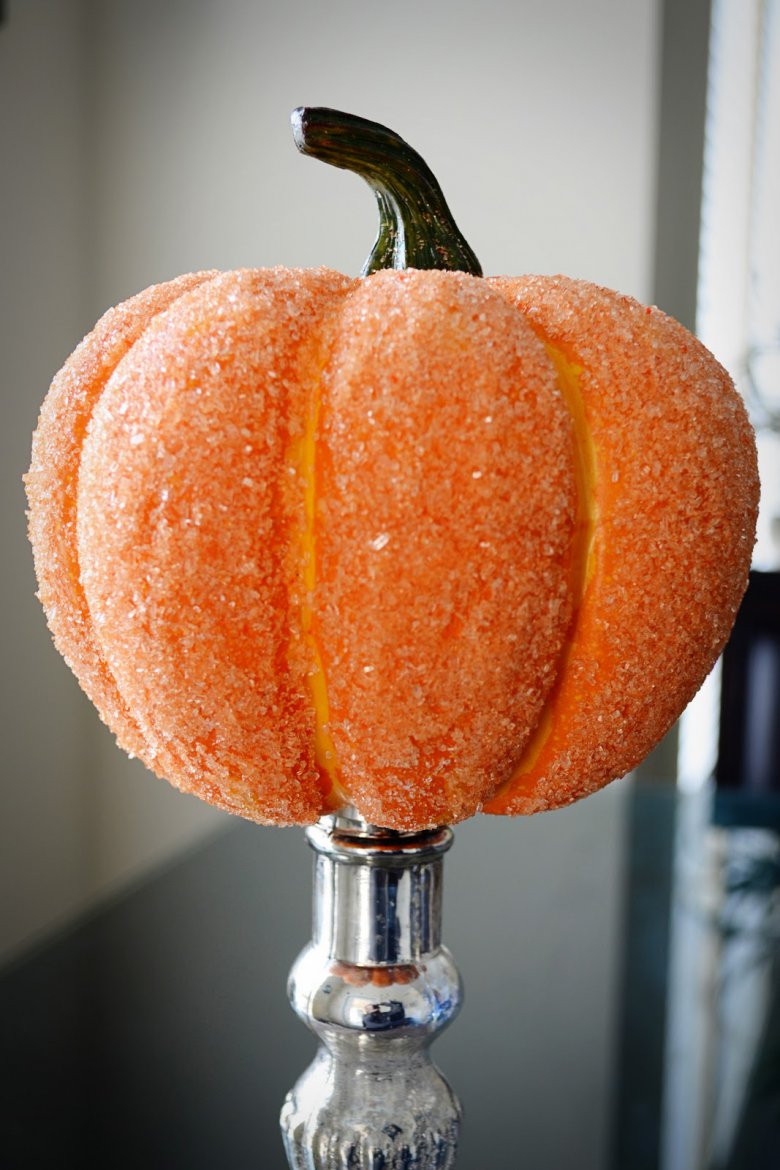 This beautiful and pristine pumpkin is considered a Russian house ornament design that is easily made with a Halloween pumpkin, glue, sea salt or even Epsom salts. A smaller pumpkin would look stunning placed on a silver candlestick or if larger pumpkin were used, it could be placed on an ornamental cake stand, tray, table or shelf. Simply cover the pumpkin (section by section) with white glue, or any other glue that adheres to fruits and vegetables, and carefully spoon the salt crystals onto the glue. Allow the glue to dry and get ready for a frosted Halloween display beyond your imagination.
6. Crayon Melt and Drip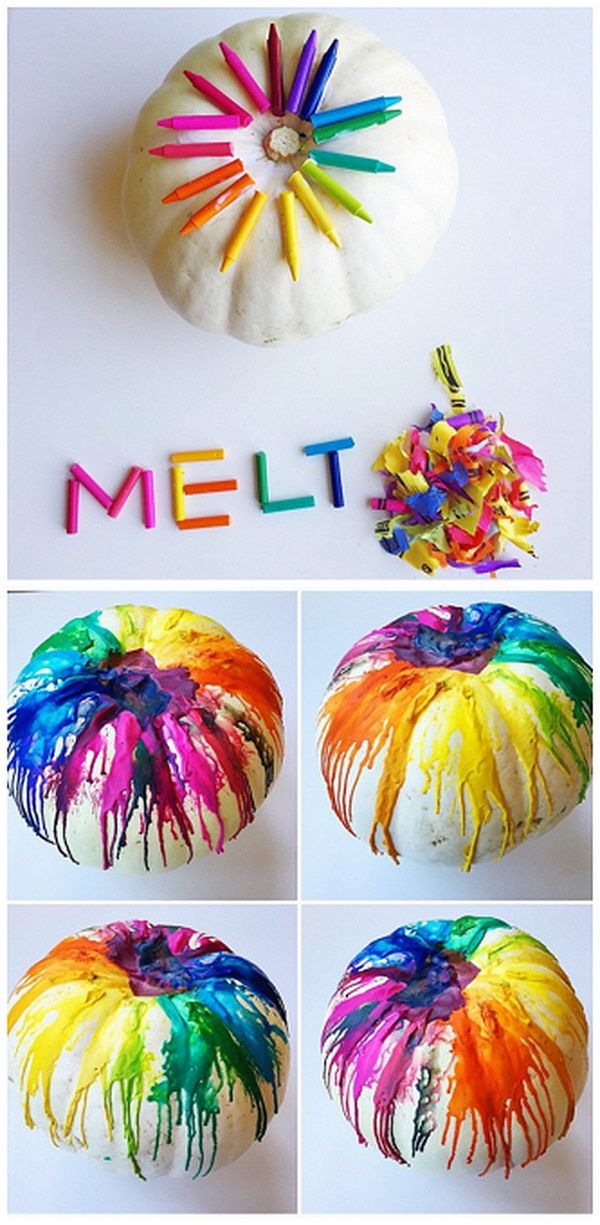 Melting crayons on pumpkins is an enjoyable, quick and easy way to decorate a Halloween pumpkin, and depending on the crayon combinations, a whole kaleidoscope of colors can be created with a simple blast of heat. Simply gather the crayon colors together that you like (about 8 of them) peel off the wrappers, and cut the crayons in half. Use tacky glue to attach the crayon pieces to the top area of the pumpkin. Allow the glue to dry and once ready, proceed to melt the crayons with a hair dryer. Direct the heat towards the melted crayons in the direction you want them to drip.
7. Toothy Dracs and Winged Friend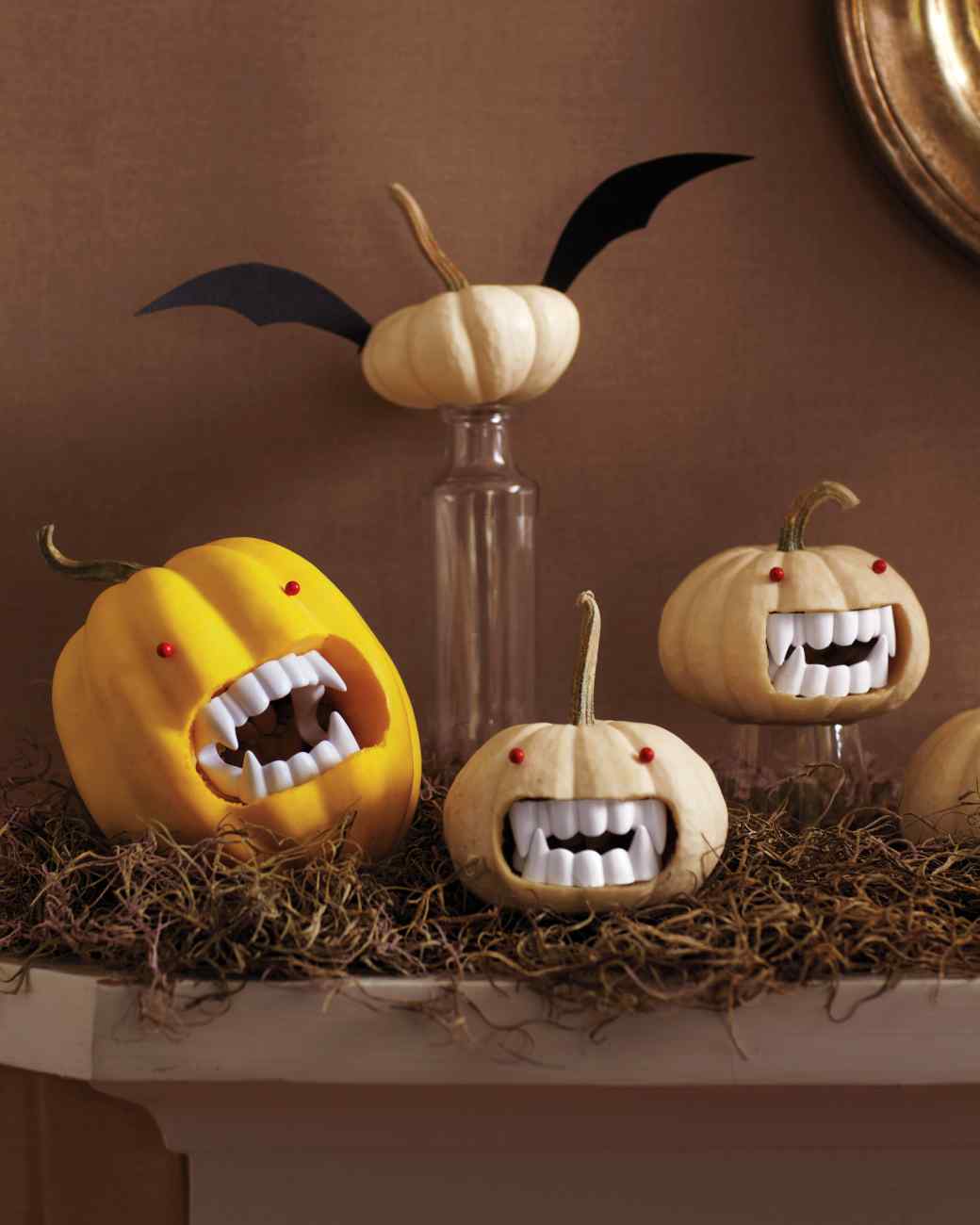 This trio of toothy vampire-like pumpkins and their lone bat winged pumpkin friend make a great grouping for a foyer table, mantel, or niche display. Their evil red pushpin eyes and plastic vampire teeth can accompany Dracula on any journey to Transylvania. Use a printed template for the mouth area and trace it on three small white pumpkins. The smaller the pumpkin, the larger the teeth will appear. A thumbtack can be used to trace the mouth template, and the leftover pieces can be removed with a small saw blade. Insert and wedge the vampire teeth into the openings, and push the eyes into the right places. For the bat winged pumpkin, print or draw a wing template and trace it onto a piece of construction paper and cut it out. Attach the folded ends of the wings (about a ¼ inch) and attach the folded areas of the wings to the last pumpkin using hot glue.
8. Stacks of Glitter'n BOO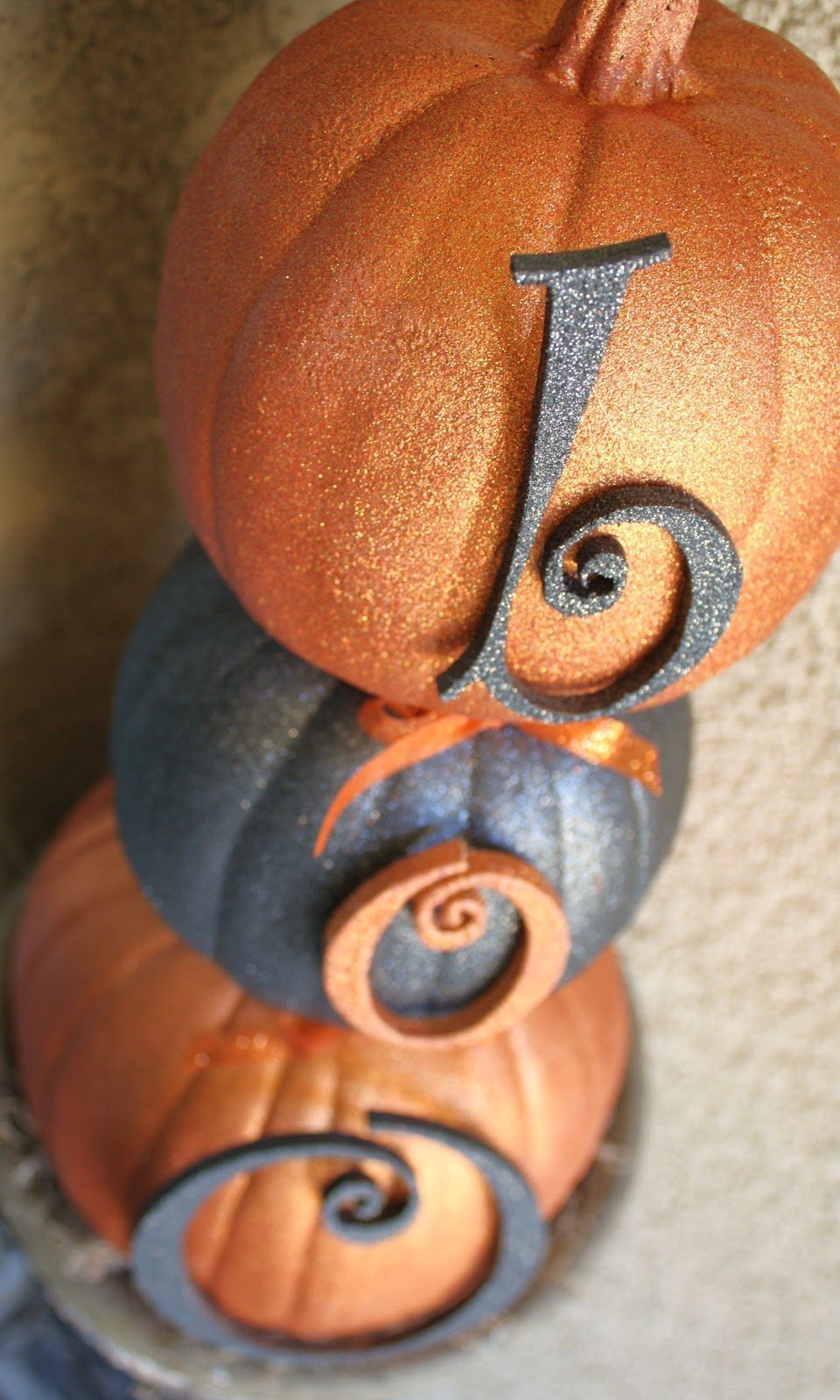 A stack of Halloween pumpkins can quickly advance to the look of topiary with an added planter or decorative container that gives extra height to the pumpkins and creates a focal point for a front porch, deck, or entry. This project is best achieved with three foam pumpkins, spray glitter blast paint in Halloween colors, and wooden letters B, O, and O. Remove the stems from two of the pumpkins and spray paint all three in the desired color combinations. Spray the letters as well in the coordinating glitter colors. Once the paint has dried, hot glue the pumpkins together with the stemmed pumpkin on the top. Next, hot glue the letters in place. To cover any glue globs between the second and third pumpkin, tie an iridescent orange ribbon around the sections that meet.
9. Halloween Minions Pumpkin Style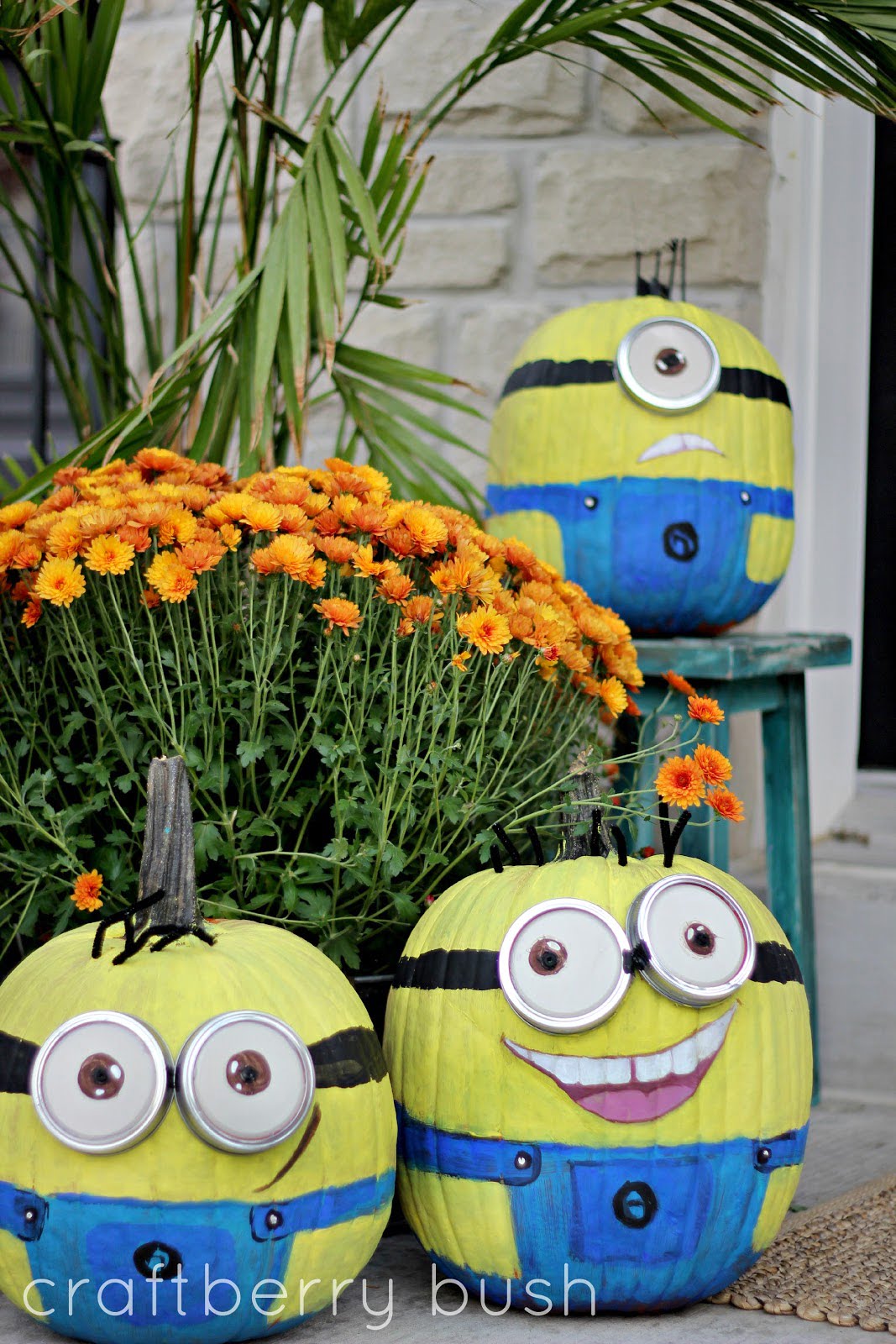 The minion characters from the animated movie Despicable Me make cute Halloween pumpkin characters for kids, and they can be used for not only Halloween parties but birthday fests and other planned activities for children. Kids love movie characters and can easily help put these minion pumpkins together with the right instructions and adult supervision. Just start with some yellow paint and a few pumpkins. The pumpkins may need several layers of paint, so let each one dry before applying another. The minion costume, eye attachments and other materials can be purchased or found through online sources. Apply the outfit with glue or adhesive backed tape. For the hair pieces, use black pipe cleaners and hand drill or carve narrow holes in the top of the pumpkin. Insert the pipe cleaners in place and bend them for the right effect.
10. Pixie Dust My Pumpkin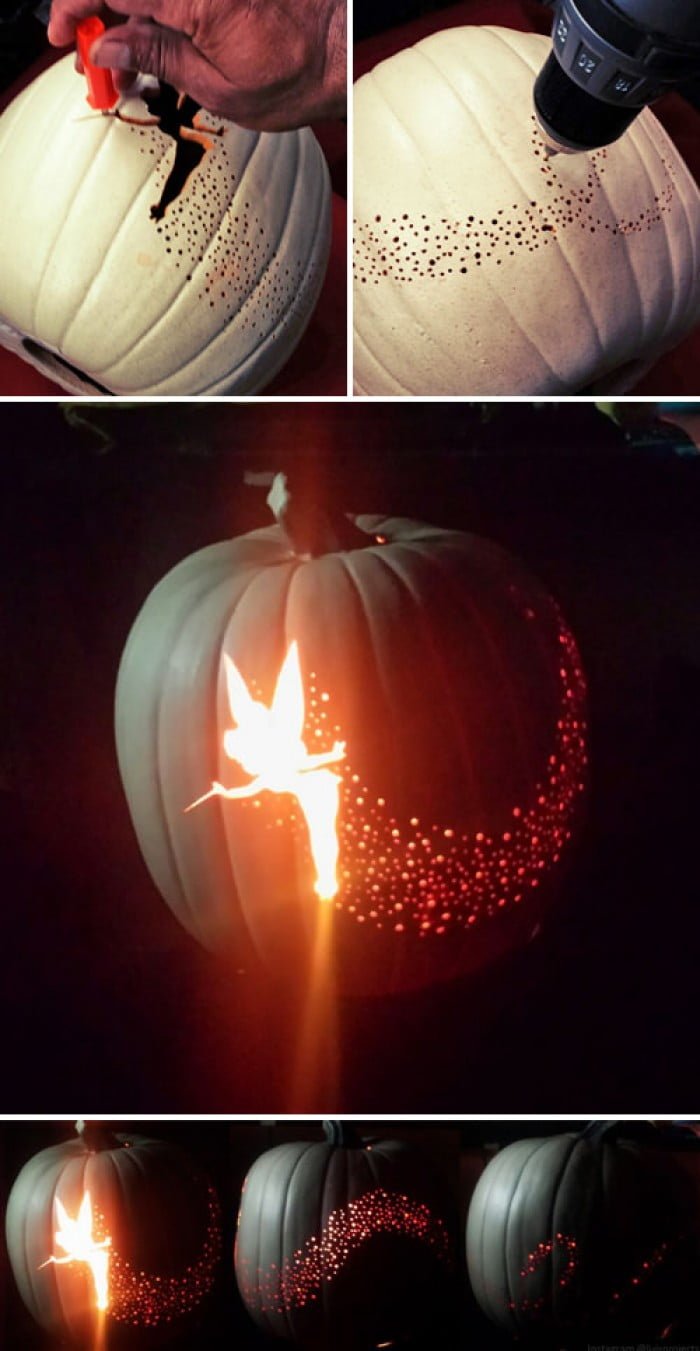 What's not to love about this beloved Disney cartoon character? Tinker Bell in silhouette can instantaneously change the face of a pumpkin and bring magic to life. This clever pumpkin decoration idea is a favorite of kids and adults alike. Use an artificial pumpkin for this project and find a Tinker Bell image online. Print the image and affix it to the pumpkin. Push pin into the print and outline it until it is complete. Take a carving tool or hot knife and remove the inside of the image until the outline is distinct. The pixie dust trail is done in the same fashion. Place a small light bulb or battery operated candle inside the pumpkin to see Tinker Bell in all her splendor.
11. Wide-eyed and Mummified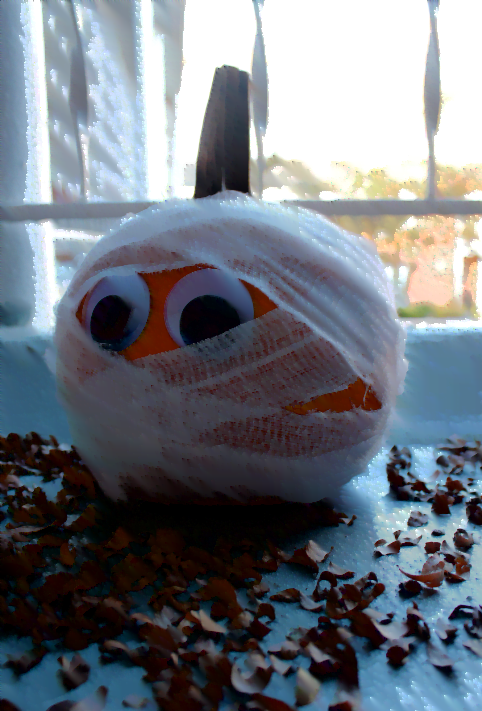 A mummy can be terrifying especially if he is pacing around ready to bring on the mummy curse, but this cute pumpkin mummy is bandaged and ready to make its Halloween debut, along with its other Halloween friends like Frankenstein, Dracula, Godzilla, the Wolf man and a host of other scary companions. This group of famous monsters would make a perfect combination for any pumpkin fest. This mummy pumpkin is easy to make and requires just a few simple steps to complete its look. A roll of white gauze bandaging, some imaginative wrapping, glue, and fake plastic eyes are all it takes to complete this easy design. Pumpkin decorations are incomplete without a mummy in your midst.
12. Glitzy Bling Pumpkin

Bling effects utilized with pumpkin decorations bring texture, increased fullness, and glamour to an everyday pumpkin. With the use of iridescent, metallic, and crystal beading, a pumpkin can be transformed like Cinderella's coach. A simple string of choice beads either in one color or different bead types can be easily wrapped around a pumpkin in a circular fashion. Apply a thin layer of craft glue on each section of the pumpkin area to be wrapped and affix the bead length to the glued section. Continue wrapping the beading around until it reaches the top of the stem area.
13. Neon Witch in Waiting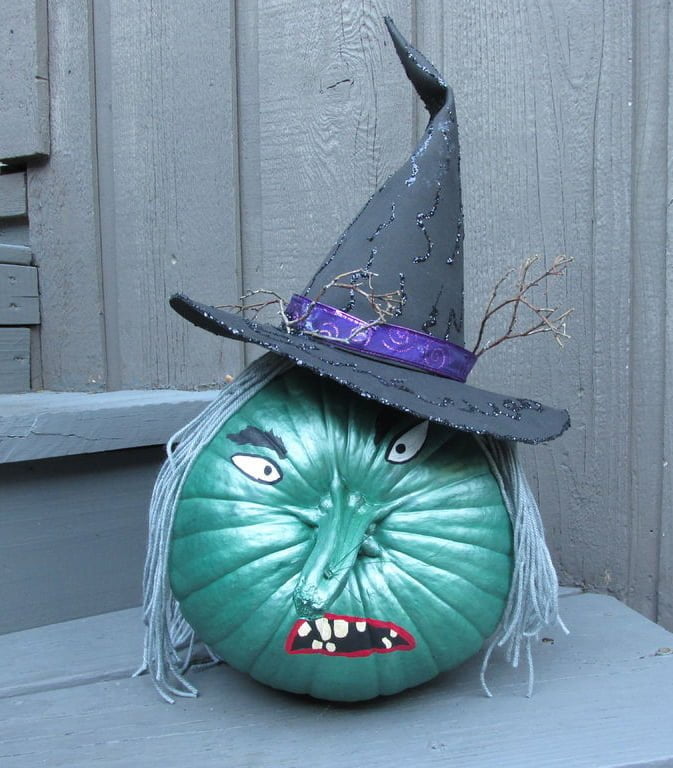 Just when you think a witch couldn't get any uglier along comes one that appears on the stem side of a pumpkin. Her long stemmed nose, misplaced eyes, and missing teeth are scary enough, but the metallic look of the acrylic paint brings on a putrid appearance that emphasizes all her hideous features. This entire pumpkin project takes a coat or two of acrylic paint mixtures, the proverbial pointed black hat, scraggly yarn hair, and contorted facial cutouts all glued in place. She is bound to scare even the most courageous of trick-or-treaters, but they will soon be on their way if she happens to cross their paths.
14. Ribs of Sequins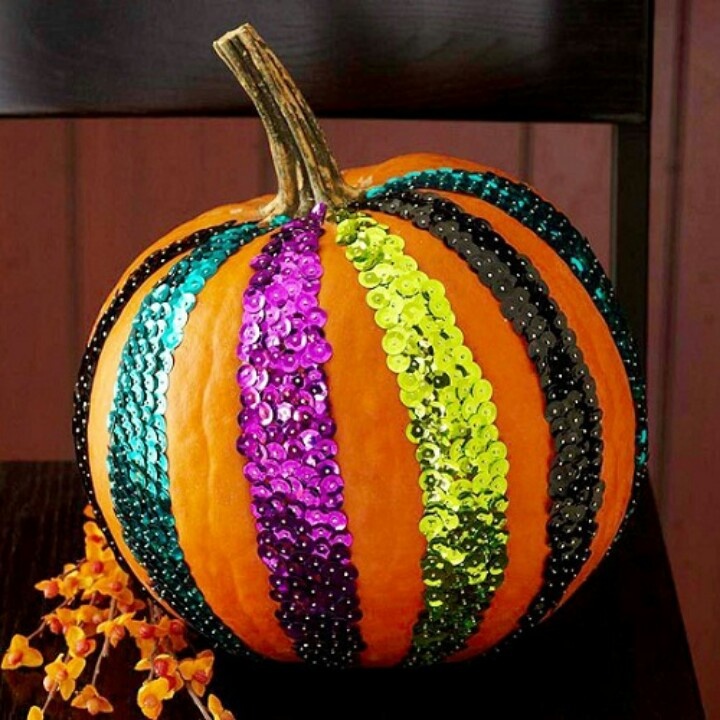 Sequins spell glitz and glamour and the simple placement of bands of sequins in the rib sections of a pumpkin can make it stand apart from other decorative pumpkins. Just the right colors and combinations of sequins can create a number of different designs. Use either pins, sequin pins or craft glue to place a single band of sequins that follow along the up and down ribs of the pumpkin. In order to form a solid band of sequins overlap each application until the desired width or thickness is achieved. The sequin bands can be alternated with brighter, carnival like colors as pictured or more traditional Halloween colors.
More pumpkin decoration ideas on the next page…