Halloween is just around the corner and it's time to think about decorating both the inside and outside of your home. If your creative juices aren't flowing yet, or you're procrastinating about coming up with your own Halloween decorations, the end of October will be here before you know it, so time's a-wastin'. You don't want to get caught empty handed on the big night, so prepare now and get ready to fill your Halloween candy bag full of decorations for this and every Halloween to come.
Pumpkins Gone Smashing Mad

What Makes Halloween?
One easy and fun way to get on the Halloween decoration bandwagon is to focus on what makes Halloween the holiday that it is. Some of the first thoughts that come to mind include the standard fare of the kick-off to autumn and the terrifying, yet not so scary one-night fun, which might include a little mischief. Another thing that comes to mind are costumed kids either happily partying or walking their home neighborhoods in hopes of filling their trick-or-treat bags with candy. Last, but not least, are pumpkin decorations, which are the highlight of Halloween and make it what it is.
Transitioning
Halloween is a transition from the diversions of summer to the festivities of fall,and pumpkin decorations are a big part of what creates the passage to a happy Halloween. Pumpkin carvings, skeletons, ghosts, goblins, ghouls, witches, vampires, black cats, spiders, spider webs, bats, cemetery headstones, creepy crawlies and other amorphous figures and creatures are the big part of the decorative fun that launches Halloween.
Pumpkin Carvings
Logical and natural types of decorations that are popular around Halloween, like pumpkin carvings, and other pumpkin decorations, can make fall projects fun, wholesome and inventive for the whole family. There is nothing more exciting than a specific pumpkin carving idea put to the test and finished before Halloween eve. Almost anyone can come up with their favorite pumpkin carvings from the past, and they probably have their own personal pumpkin carving idea to add to the mix.
Ideas for the Taking and Making
There are hundreds of ideas for pumpkin decorations for the taking and making, and those showcased here can stir the juices of anyone ready for a kick-start to Halloween decorative fun. A Halloween pumpkin can take on any representation, disguise, style or design whether carved, painted, stamped, dipped, decoupaged, crackled, sequined, glittered, beaded, corded, stenciled, lettered, fabric wrapped, stacked or planted like a topiary.
Inspiration
Take a look at some of the pumpkin decorations examples presented here and get inspired to create your own pumpkin mania this fall season. Halloween is a holiday unto itself and pumpkins play a big part in unique decorative design schemes for the fall season. Allow yourself a head start and utilize some pumpkin decoration ideas that set your pumpkins apart from all the others in the pumpkin patch.
1. Black Magic Minis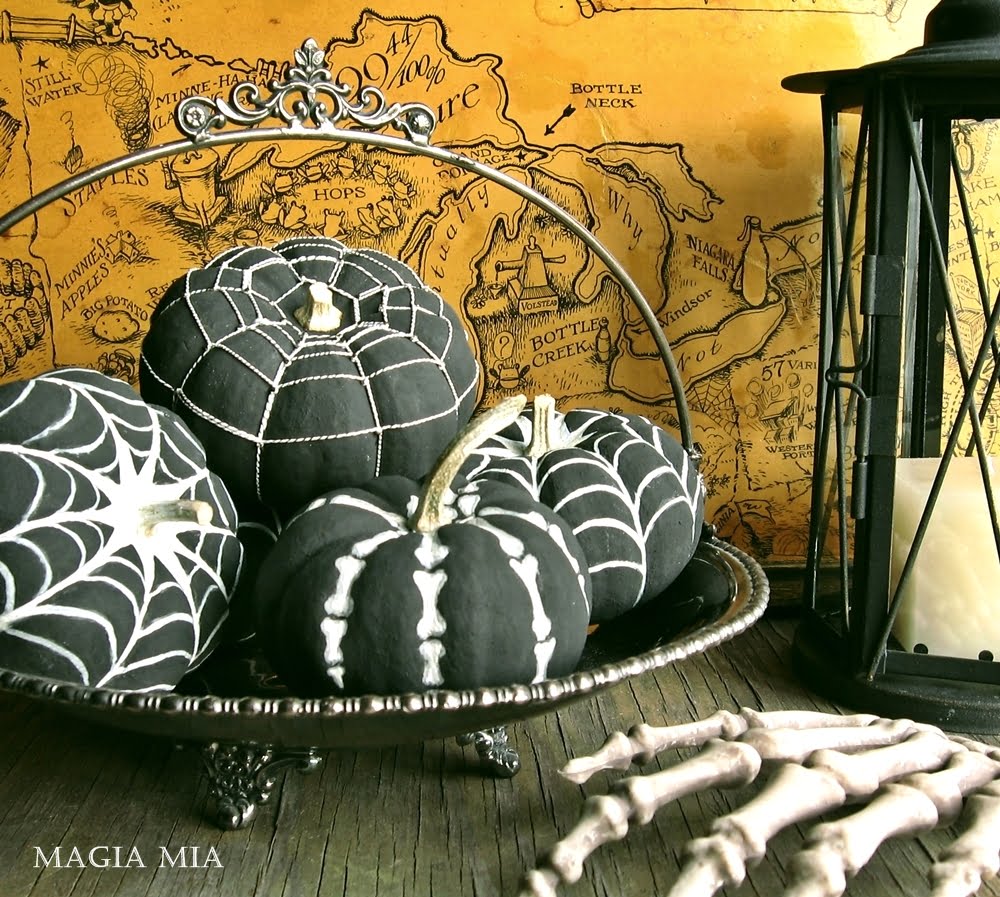 A mini sized pumpkin is easy to work with and a couple of coats of black paint on a white pumpkin can bring out a mini's features, especially when glow-in-the dark paint is used as a highlighter to create an inspired spider web etching or skeletal part. Silver elastic cording also brings a distinctive metallic appearance to a mini pumpkin, especially when it follows the outline of the pumpkin ribs and covers the pumpkin sections like a spider web. Simply place the cording around strategically placed pins and continue with the winding and stretching process to tie off the cord and complete the web.
2. Punch a Hole Pumpkin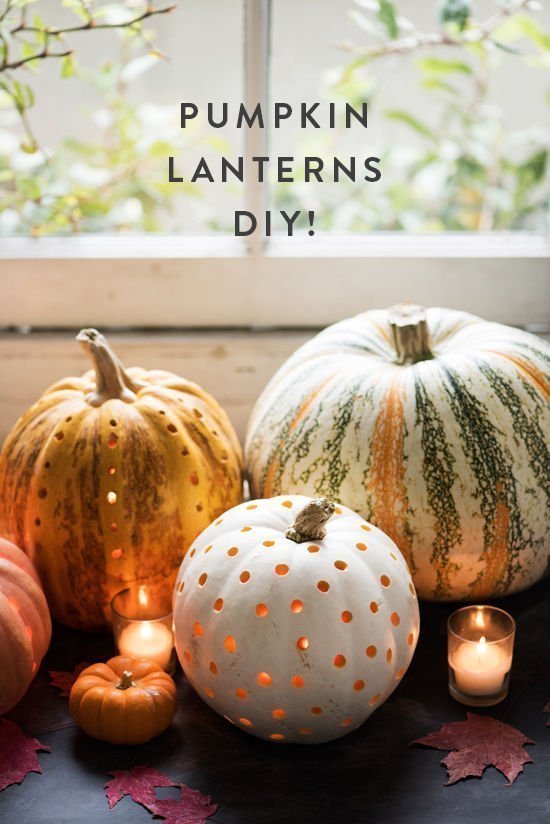 Source: The original source is not available anymore.
Halloween pumpkins with lantern-like openings are not only attractive but perfect for lighting an indoor or outdoor entryway for Halloween. They bring a welcoming and homey feel to a foyer table, porch or deck area that all trick-or-treaters and Halloween guests appreciate. The lanterns are similar in appearance to their popular ceramic counterparts, and this pumpkin makes a good substitute. The project involves cutting and removing the bottom portion of the pumpkin, cleaning out the inside, and drilling holes for the passage of light. The placement of a lighted or battery operated candle underneath the pumpkin brings on an immediate lantern-light effect.
4. Bat Crazy Cat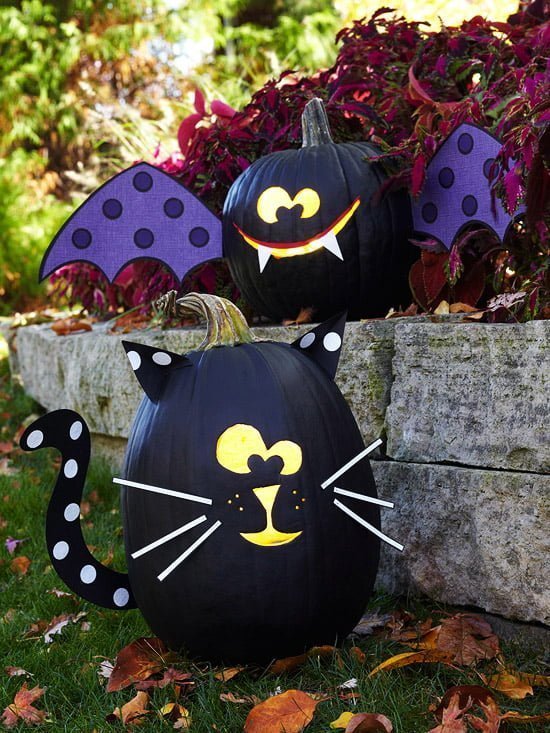 These crazy bat and cat decorative pumpkins are fun for children (and craft loving adults) to decorate. It's an easy project that entails simply painting two pumpkins with flat black paint, creating your own bat and cat pattern pieces, or downloading them free from a Halloween crafting site for kids. These two would make a great centerpiece for a Halloween party. Just use card stock or heavy craft paper in dark, wild, or traditional Halloween colors to create the animal features and accents. Let kids use their imaginations with this goofy pair.
5. Salt Laden Pumpkin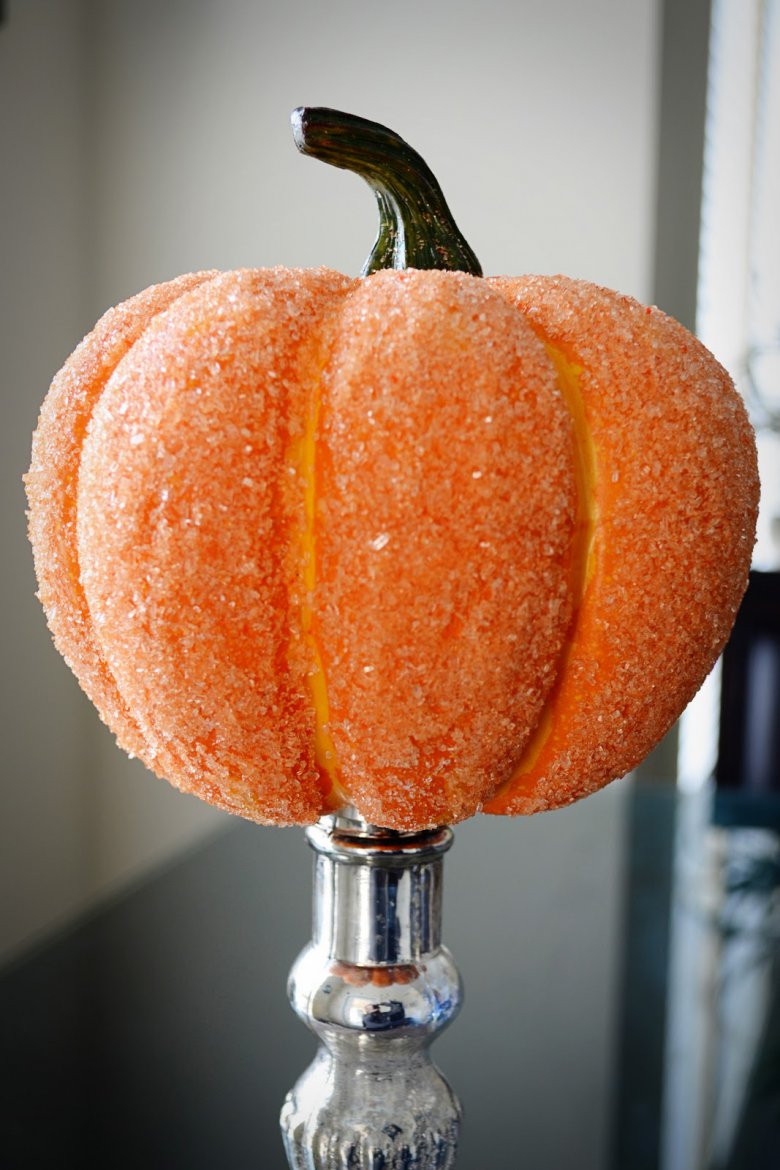 This beautiful and pristine pumpkin is considered a Russian house ornament design that is easily made with a Halloween pumpkin, glue, sea salt or even Epsom salts. A smaller pumpkin would look stunning placed on a silver candlestick or if larger pumpkin were used, it could be placed on an ornamental cake stand, tray, table or shelf. Simply cover the pumpkin (section by section) with white glue, or any other glue that adheres to fruits and vegetables, and carefully spoon the salt crystals onto the glue. Allow the glue to dry and get ready for a frosted Halloween display beyond your imagination.
6. Crayon Melt and Drip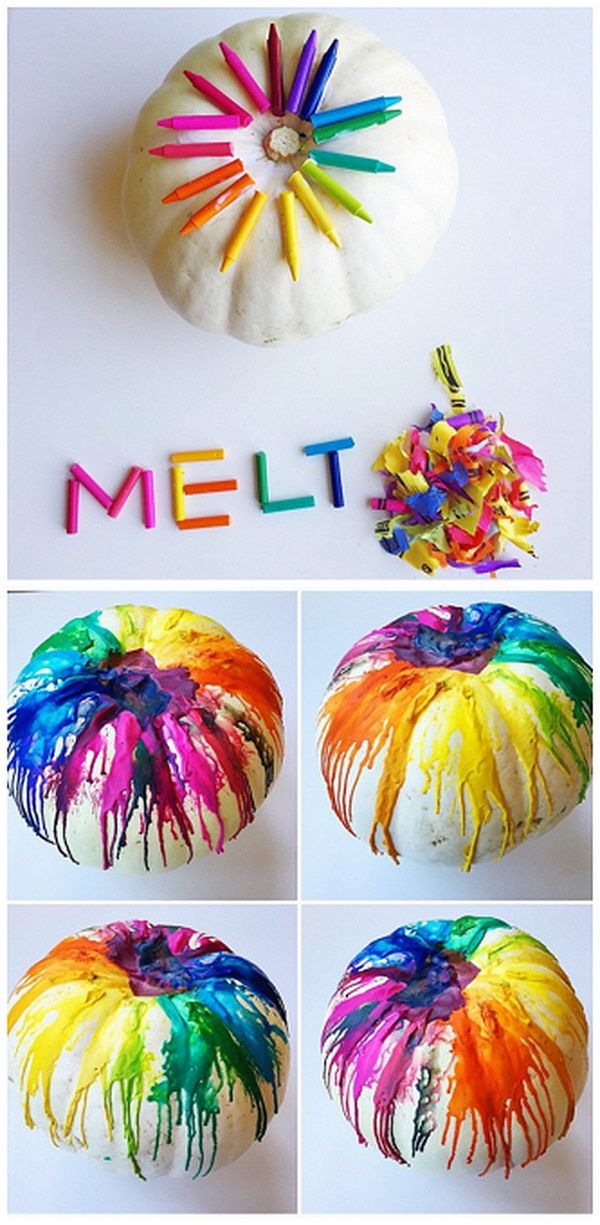 Melting crayons on pumpkins is an enjoyable, quick and easy way to decorate a Halloween pumpkin, and depending on the crayon combinations, a whole kaleidoscope of colors can be created with a simple blast of heat. Simply gather the crayon colors together that you like (about 8 of them) peel off the wrappers, and cut the crayons in half. Use tacky glue to attach the crayon pieces to the top area of the pumpkin. Allow the glue to dry and once ready, proceed to melt the crayons with a hair dryer. Direct the heat towards the melted crayons in the direction you want them to drip.
7. Toothy Dracs and Winged Friend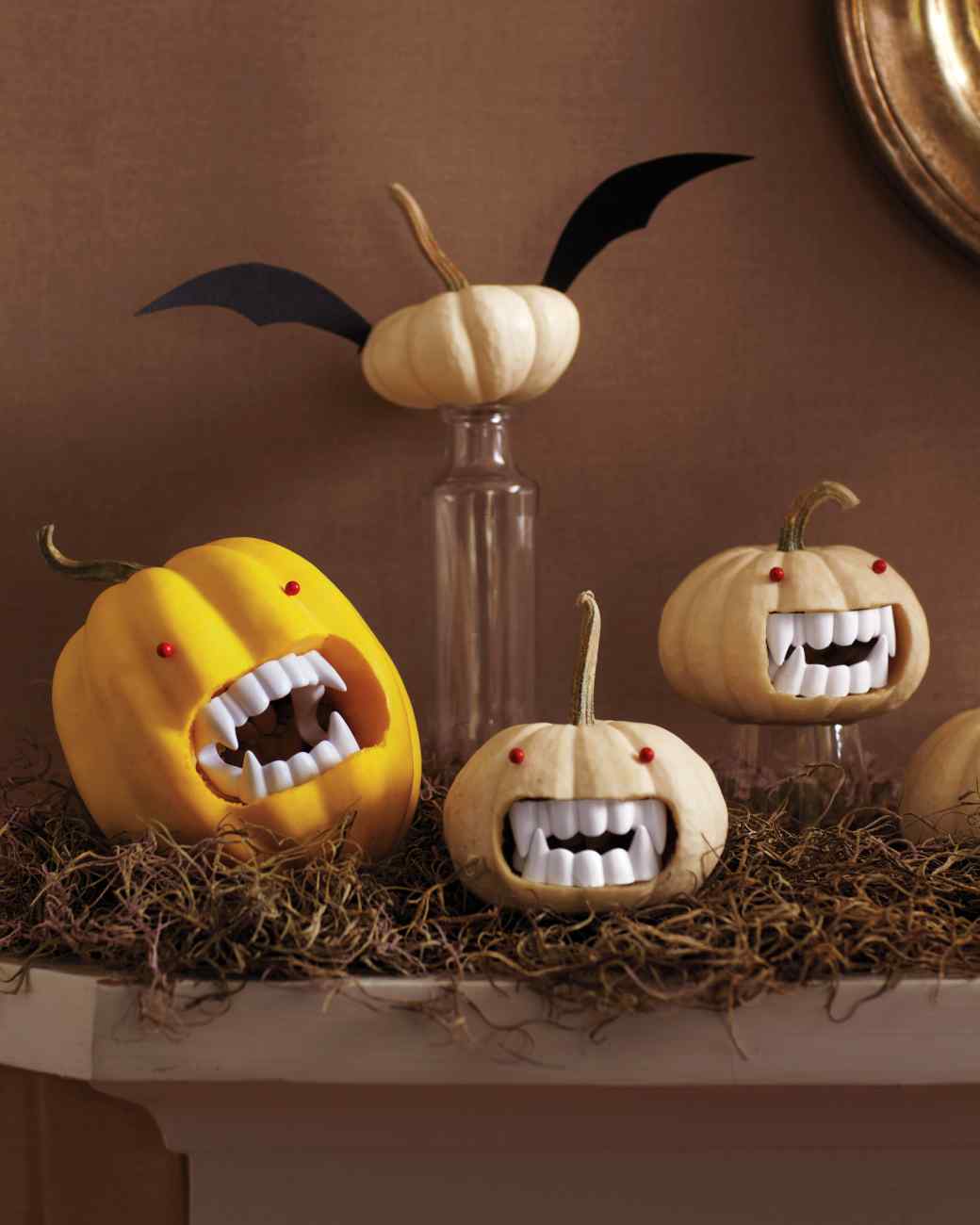 This trio of toothy vampire-like pumpkins and their lone bat winged pumpkin friend make a great grouping for a foyer table, mantel, or niche display. Their evil red pushpin eyes and plastic vampire teeth can accompany Dracula on any journey to Transylvania. Use a printed template for the mouth area and trace it on three small white pumpkins. The smaller the pumpkin, the larger the teeth will appear. A thumbtack can be used to trace the mouth template, and the leftover pieces can be removed with a small saw blade. Insert and wedge the vampire teeth into the openings, and push the eyes into the right places. For the bat winged pumpkin, print or draw a wing template and trace it onto a piece of construction paper and cut it out. Attach the folded ends of the wings (about a ¼ inch) and attach the folded areas of the wings to the last pumpkin using hot glue.
8. Stacks of Glitter'n BOO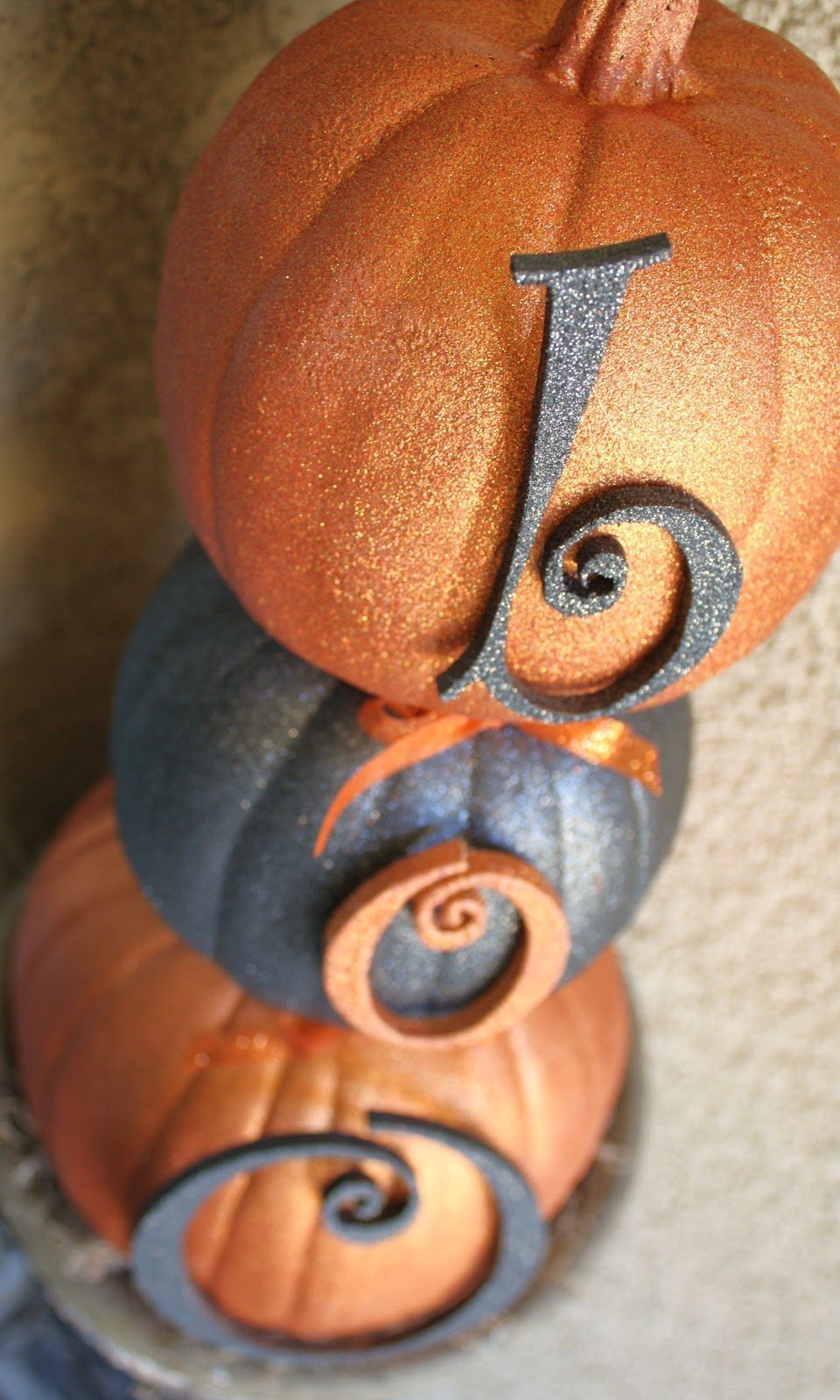 A stack of Halloween pumpkins can quickly advance to the look of topiary with an added planter or decorative container that gives extra height to the pumpkins and creates a focal point for a front porch, deck, or entry. This project is best achieved with three foam pumpkins, spray glitter blast paint in Halloween colors, and wooden letters B, O, and O. Remove the stems from two of the pumpkins and spray paint all three in the desired color combinations. Spray the letters as well in the coordinating glitter colors. Once the paint has dried, hot glue the pumpkins together with the stemmed pumpkin on the top. Next, hot glue the letters in place. To cover any glue globs between the second and third pumpkin, tie an iridescent orange ribbon around the sections that meet.
9. Halloween Minions Pumpkin Style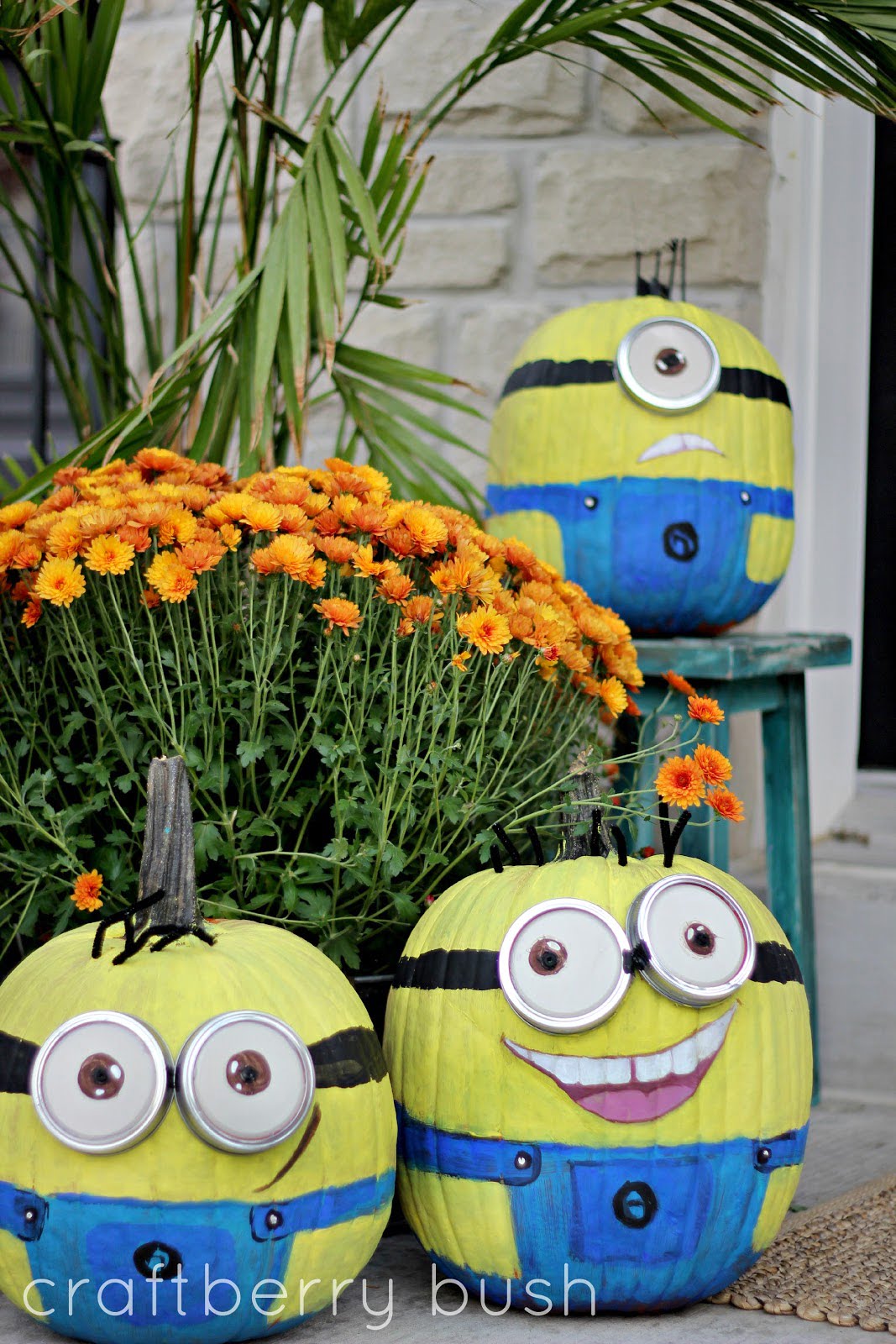 The minion characters from the animated movie Despicable Me make cute Halloween pumpkin characters for kids, and they can be used for not only Halloween parties but birthday fests and other planned activities for children. Kids love movie characters and can easily help put these minion pumpkins together with the right instructions and adult supervision. Just start with some yellow paint and a few pumpkins. The pumpkins may need several layers of paint, so let each one dry before applying another. The minion costume, eye attachments and other materials can be purchased or found through online sources. Apply the outfit with glue or adhesive backed tape. For the hair pieces, use black pipe cleaners and hand drill or carve narrow holes in the top of the pumpkin. Insert the pipe cleaners in place and bend them for the right effect.
10. Pixie Dust My Pumpkin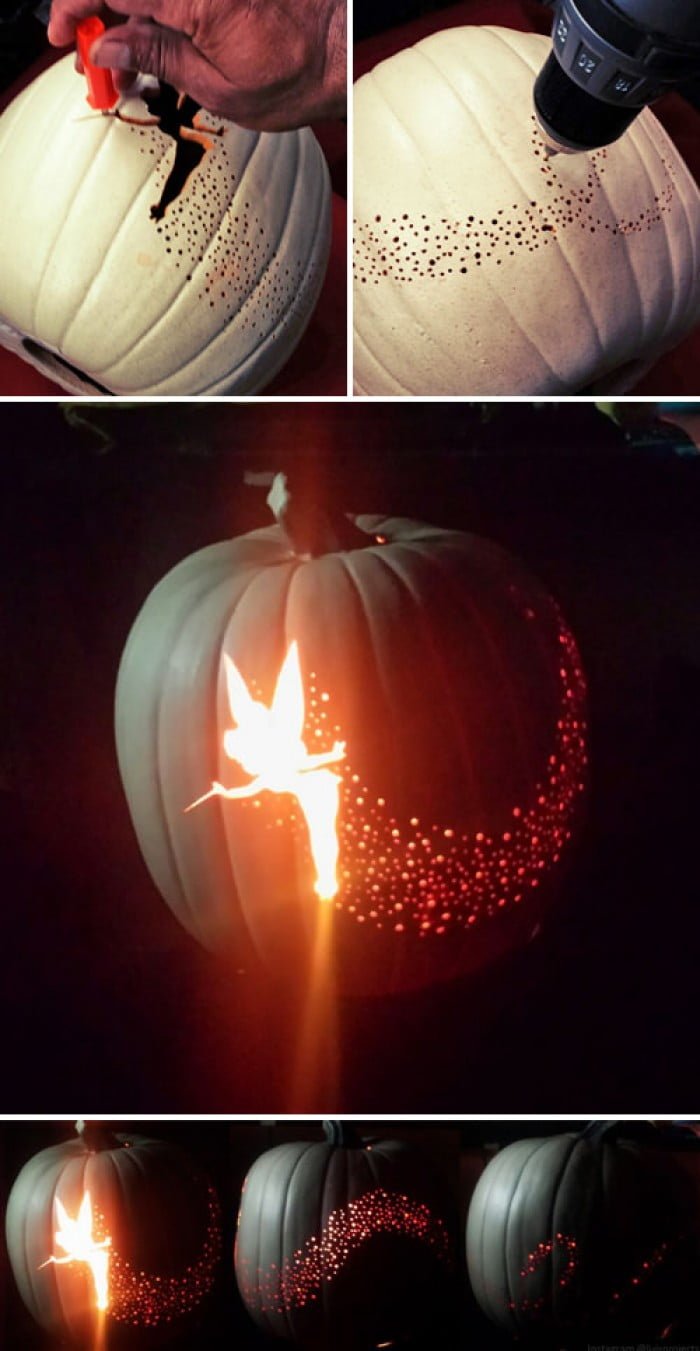 What's not to love about this beloved Disney cartoon character? Tinker Bell in silhouette can instantaneously change the face of a pumpkin and bring magic to life. This clever pumpkin decoration idea is a favorite of kids and adults alike. Use an artificial pumpkin for this project and find a Tinker Bell image online. Print the image and affix it to the pumpkin. Push pin into the print and outline it until it is complete. Take a carving tool or hot knife and remove the inside of the image until the outline is distinct. The pixie dust trail is done in the same fashion. Place a small light bulb or battery operated candle inside the pumpkin to see Tinker Bell in all her splendor.
11. Wide-eyed and Mummified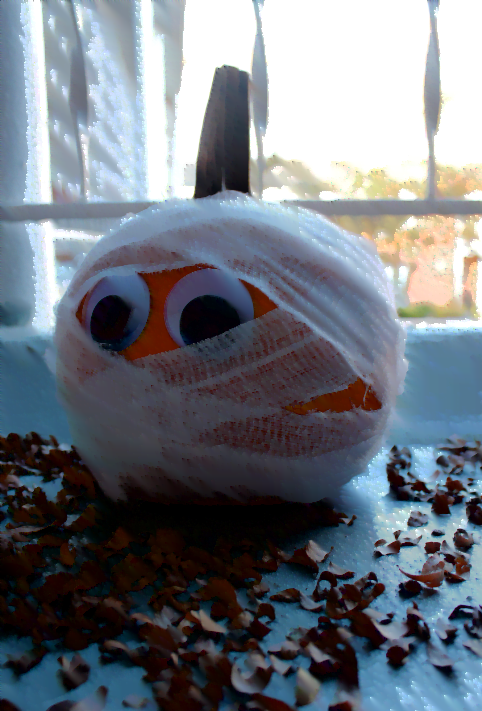 Source: The original source is not available anymore.
A mummy can be terrifying especially if he is pacing around ready to bring on the mummy curse, but this cute pumpkin mummy is bandaged and ready to make its Halloween debut, along with its other Halloween friends like Frankenstein, Dracula, Godzilla, the Wolf man and a host of other scary companions. This group of famous monsters would make a perfect combination for any pumpkin fest. This mummy pumpkin is easy to make and requires just a few simple steps to complete its look. A roll of white gauze bandaging, some imaginative wrapping, glue, and fake plastic eyes are all it takes to complete this easy design. Pumpkin decorations are incomplete without a mummy in your midst.
12. Glitzy Bling Pumpkin

Source: swelldesigner.blogspot.com
Bling effects utilized with pumpkin decorations bring texture, increased fullness, and glamour to an everyday pumpkin. With the use of iridescent, metallic, and crystal beading, a pumpkin can be transformed like Cinderella's coach. A simple string of choice beads either in one color or different bead types can be easily wrapped around a pumpkin in a circular fashion. Apply a thin layer of craft glue on each section of the pumpkin area to be wrapped and affix the bead length to the glued section. Continue wrapping the beading around until it reaches the top of the stem area.
13. Neon Witch in Waiting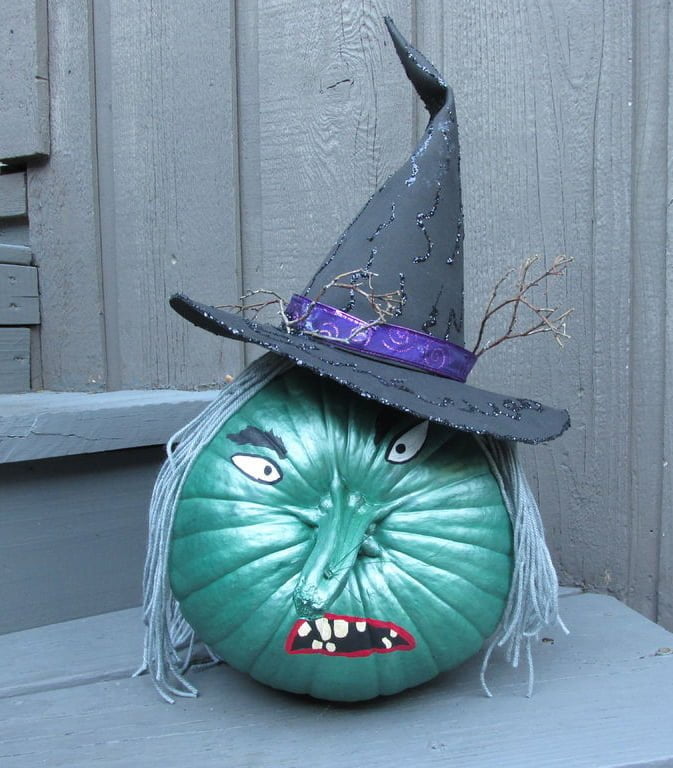 Just when you think a witch couldn't get any uglier along comes one that appears on the stem side of a pumpkin. Her long stemmed nose, misplaced eyes, and missing teeth are scary enough, but the metallic look of the acrylic paint brings on a putrid appearance that emphasizes all her hideous features. This entire pumpkin project takes a coat or two of acrylic paint mixtures, the proverbial pointed black hat, scraggly yarn hair, and contorted facial cutouts all glued in place. She is bound to scare even the most courageous of trick-or-treaters, but they will soon be on their way if she happens to cross their paths.
14. Ribs of Sequins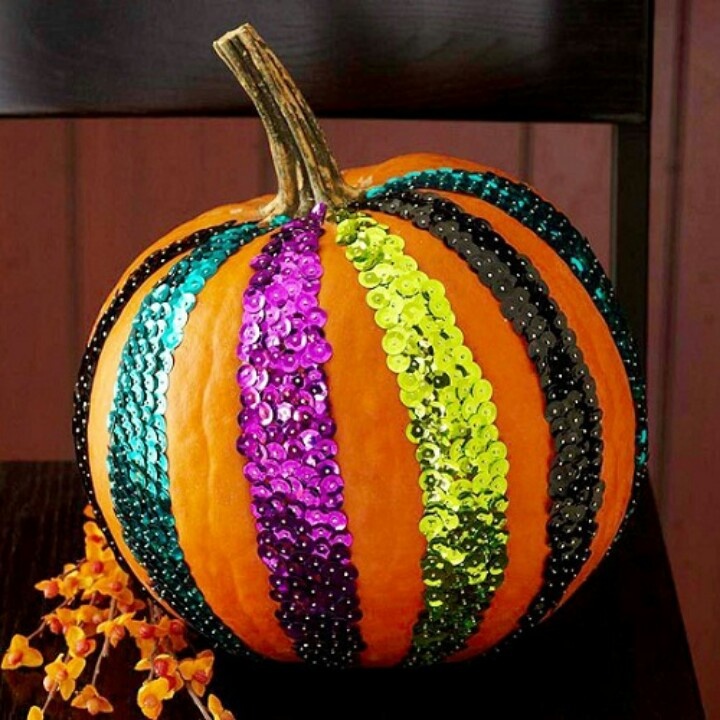 Sequins spell glitz and glamour and the simple placement of bands of sequins in the rib sections of a pumpkin can make it stand apart from other decorative pumpkins. Just the right colors and combinations of sequins can create a number of different designs. Use either pins, sequin pins or craft glue to place a single band of sequins that follow along the up and down ribs of the pumpkin. In order to form a solid band of sequins overlap each application until the desired width or thickness is achieved. The sequin bands can be alternated with brighter, carnival like colors as pictured or more traditional Halloween colors.
15. Petals and Vines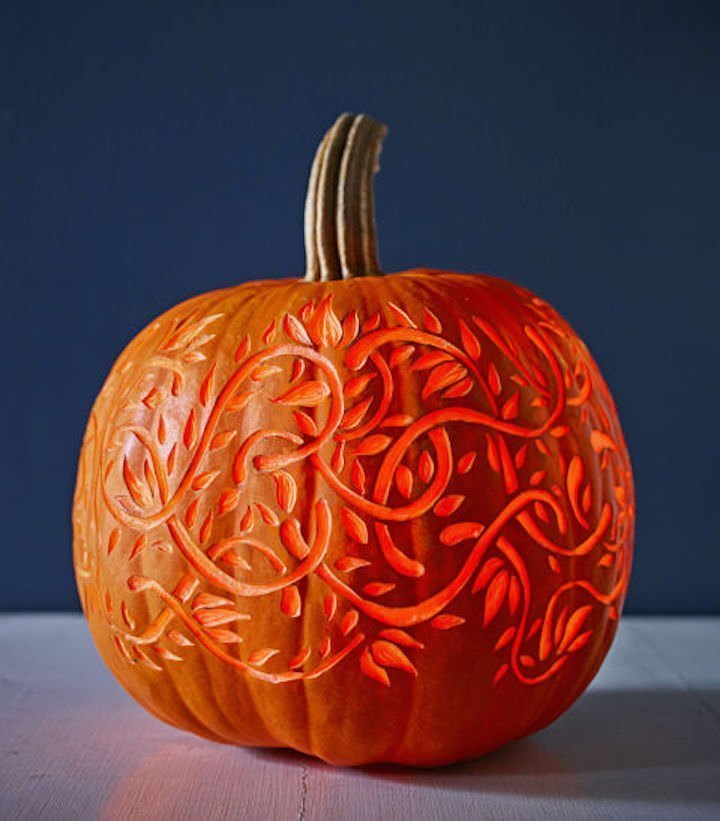 Pumpkin carvings can be lighthearted and whimsical like this design. It stirs memories of early autumn days. You can picture falling leaves and petals, entangled vines and stems, which appear to drift along on a breeze and continue on in another direction. The glowing three dimensional impressions with this Halloween pumpkin are achieved through carving the very top layer of the pumpkin but not piercing completely through it. Either draw by hand or utilize stencils to transfer the petals and vines directly to the pumpkin. Once you are ready to carve out the traced or drawn areas, utilize kitchen and tile tools such as a lemon zester, linoleum cutter or clay loop to gently lift away the layers.
16. Pumpkin Tree Entry Topiary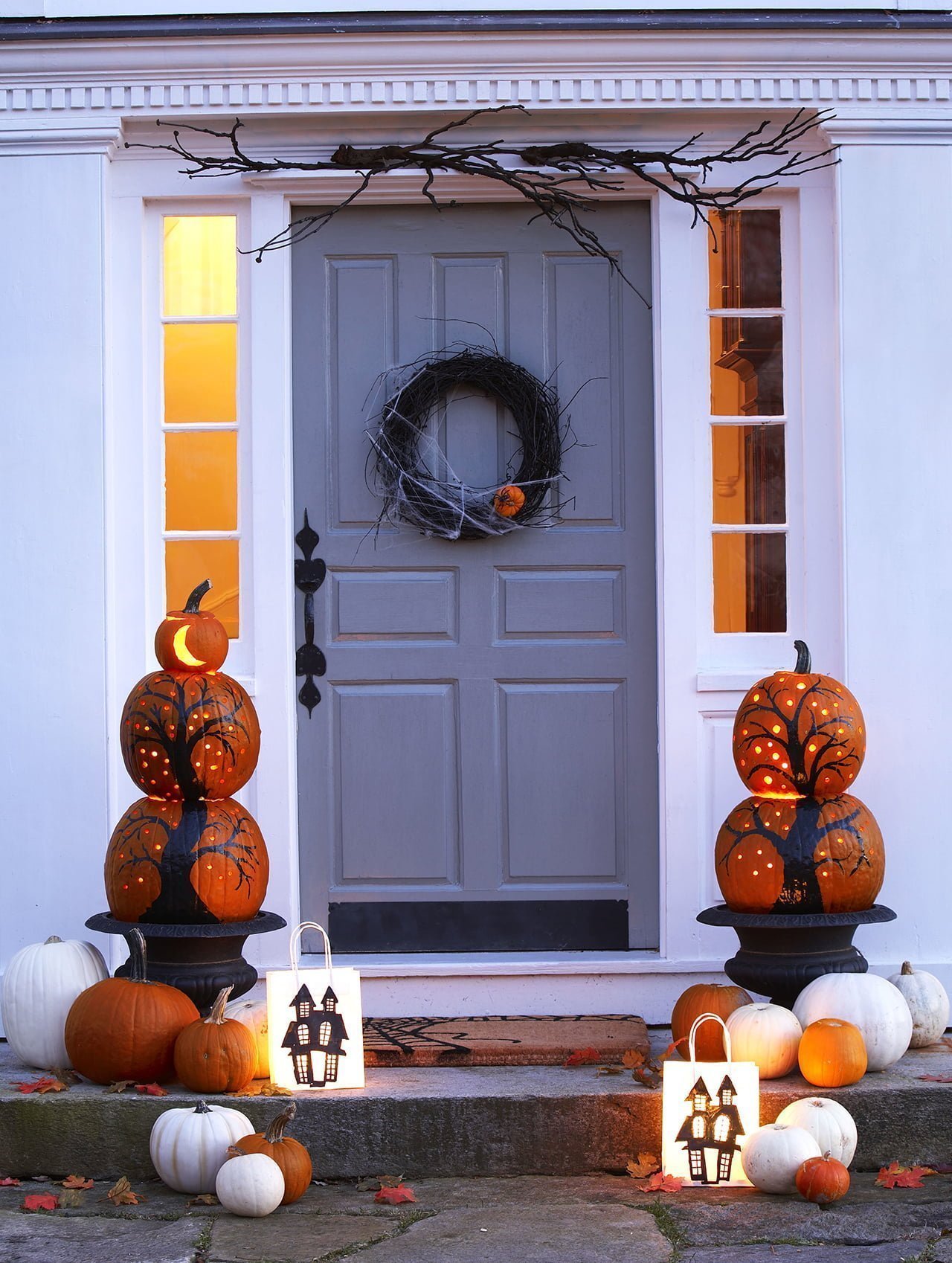 Pumpkin Tree topiaries really can light the way for trick-or-treaters on a dark Halloween night, and when they are placed in planters, they can frame an entryway to stairs or the sides of a front door for a finished and balanced look. The process with these pumpkins is uncomplicated and requires a little hand sketching or painting of a gnarled tree onto a stack of two large-sized pumpkins. Remove the stem and top part of the pumpkins where they meet to achieve a flat surface for painting and placement. Punch or drill holes throughout the pumpkins to achieve a starlit night effect. Add a mini pumpkin with a lighted moon as a finishing topper.
17. Silver, Gold, and Black Stack Scare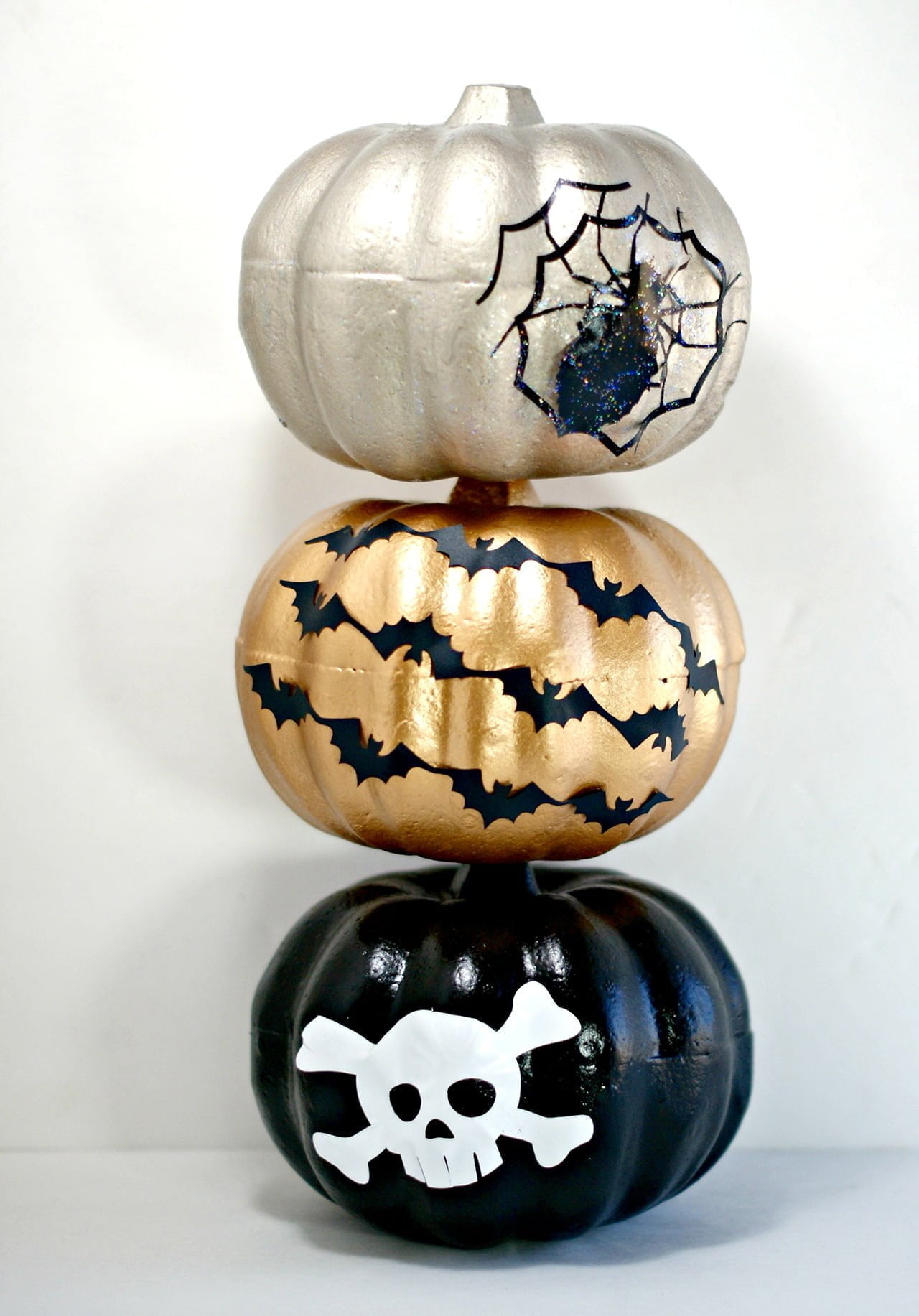 This scary, metallic pumpkin stack/topiary is a bold presentation of silver, gold and black from top to bottom, and the added Halloween creature features emphasize and highlight the metal paint and Halloween emblems. Foam pumpkins make this craft project easy to complete. Spray two coats of paint on each pumpkin. Once the paint has dried, cut out the skull, bats and spider from stenciled vinyl pieces or purchase precut adhesive-backed vinyl Halloween stick-ons. If there are issues with the adherence of the vinyl pieces, use Mod Podge to affix the cutouts to the pumpkins. Utilize a narrow dowel or skewer to connect the three pumpkins.
19. Pumpkin Bouquet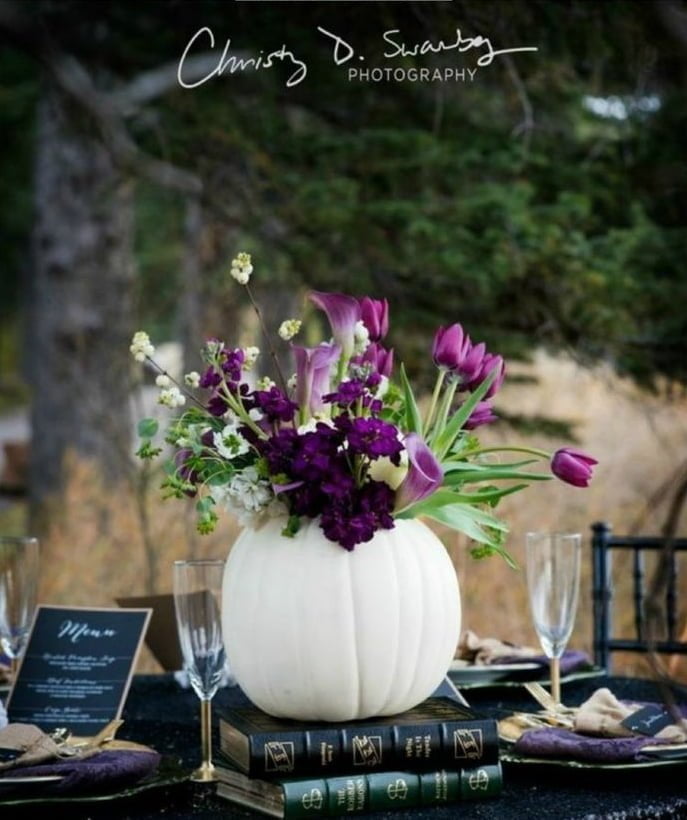 Source: The original source is not available anymore.
No Halloween party or cozy get-together is complete without a fresh bouquet centerpiece, and a white pumpkin hollowed out and ready to receive lovely lilac and purple flowers and foliage is the perfect accent to any buffet, table or entryway. A flower display brings a calming presence to a Halloween gathering, as it is a perfect accent piece in contrast to other more funky and traditional Halloween decorations. Cut off the top of the pumpkin and remove the inner seeds and fibers. Once cleaned and dried, insert a vase-like glass through the pumpkin opening. Arrange the flowers accordingly and fill the glass with water to keep the flowers fresh as long as possible.
20. Kitties in a Gourd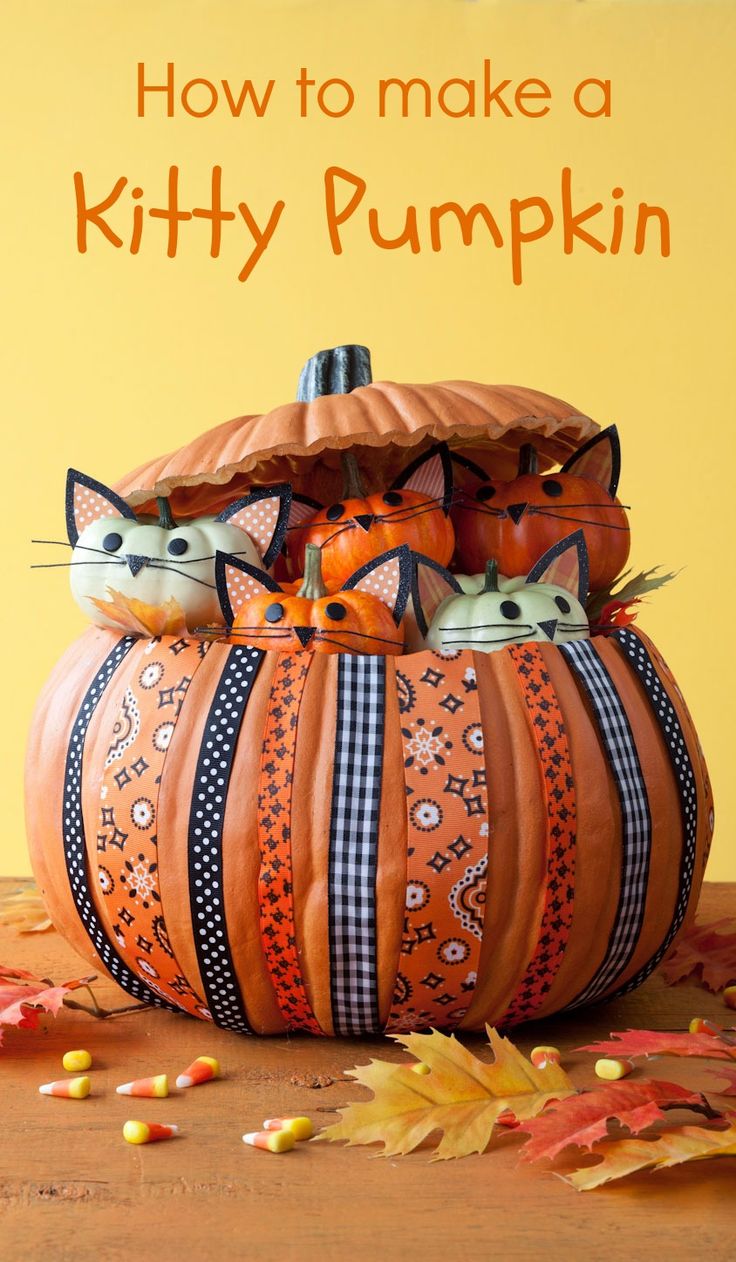 Source: The original source is not available anymore.
Pumpkin kitties placed within a larger pumpkin make a full and loving bundle of Halloween fun, and cat lovers will be enthralled with these kittens in a pumpkin design. It creates a cute and inviting display for trick-or-treaters and cat aficionados alike. Just purchase a medium sized hollow pumpkin at a craft store as well as three to five smaller pumpkins and proceed to remove the top portion of the larger pumpkin with a knife to make room for the smaller pumpkins. Line the hollow pumpkin with fall foliage to fill the area for placement of the smaller "kitten" pumpkins. Decorate the smaller pumpkins with black foam ears, black cord whiskers and use a black marker to draw eyes and noses. Insert narrow wood skewers or dowels in the smaller pumpkins and place them within the fall leaves.
21. Harlequin, Stripes and Dots Stack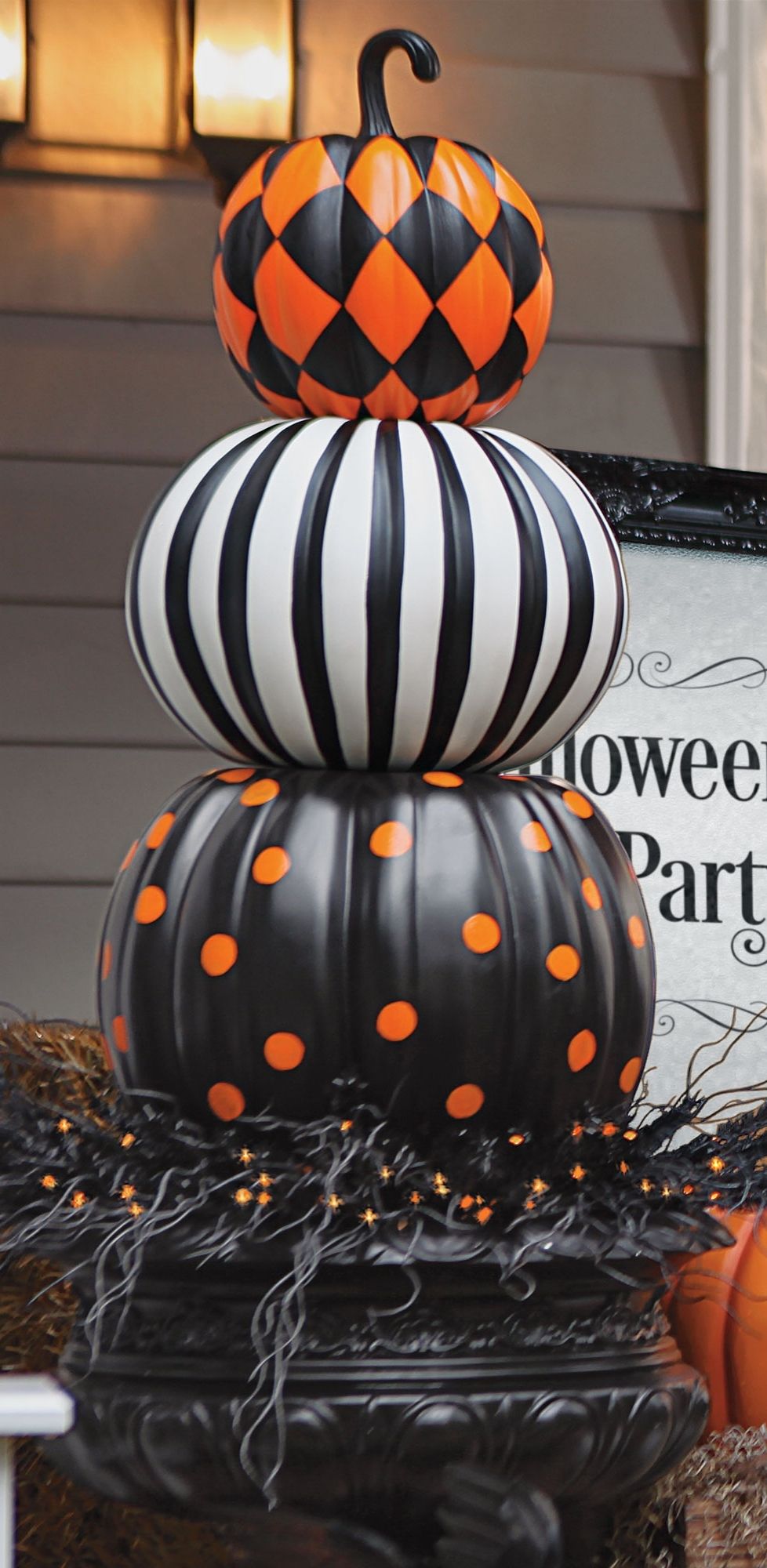 Patterned, stacked pumpkins are a quick way to create height, depth, contrast and ambiance to a Halloween setting, and they can be displayed anywhere to make a design statement, whether on a front porch, deck or entryway. Just place them in a resin planter for anchoring, extra height and a high-end look. This designer grouping of resin and weather resistant pumpkins is patterned with harlequin, stripes and polka dots in traditional Halloween colors, and it's constructed for easy assemblage, care and future use of resin, styrene and fiberglass. A similar topiary could be hand crafted using the same resin pumpkins, pattern choices, paint colors, planters and pip-berry planter filler.
22. Bats in Flight Pumpkin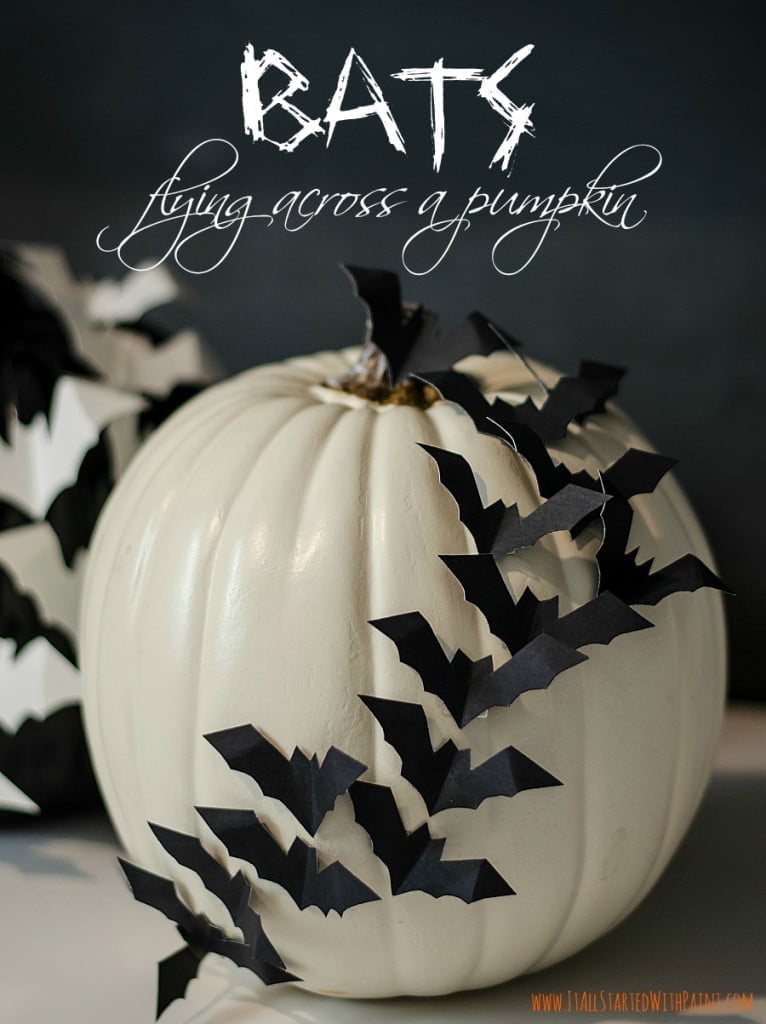 Bat cutouts in a flowing representation are the perfect addition to a white resin, ceramic or natural white pumpkin. The bats attached to the pumpkin simultaneously create an airborne and textural effect. They are even more noticeable when they are placed in a spider web display with other pumpkins. The bats are easily made with black poster board and a bat pattern, which can usually be found free on most any Halloween crafting site. Trace the pattern on a fold of the poster board to save cutting time, plus the bats will have more of a dimensional and finished look fashioned this way. The final look is bold yet serene and would make a perfect centerpiece for a Halloween party table.
23. Illuminated Haunted House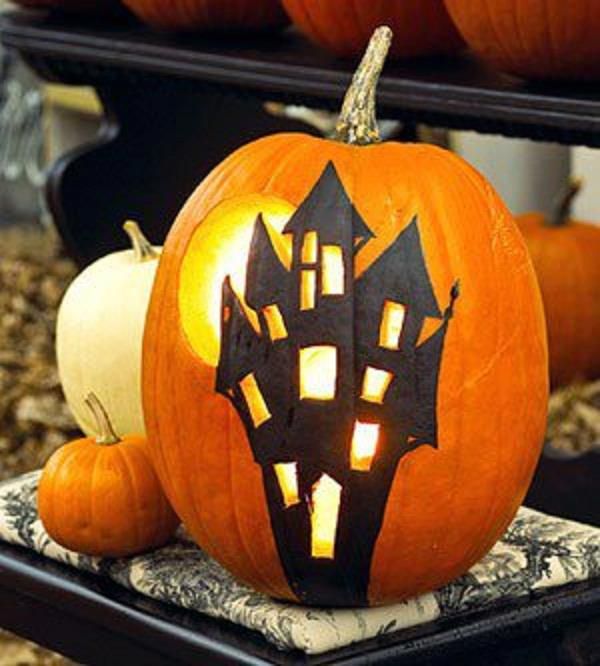 A haunted house is a perfect pumpkin carving idea, and the haunted scene can be easily displayed on the front of a pumpkin with the right kind of stencil and black paint. The design can be tied into a haunted house party theme and coordinated with Halloween table decorations, tableware and other party items. Find an online template or a copy of a haunted house from a craft book and print it out and transfer it to the front of the pumpkin and paint it black. Cut out the windows with a chisel and carve a moon in the background. Illuminate the open areas with a battery operated candle or other lighting. Pumpkin carvings like this one make a haunted house display come to life with light.
24. Caterpillar Pumpkin Stretch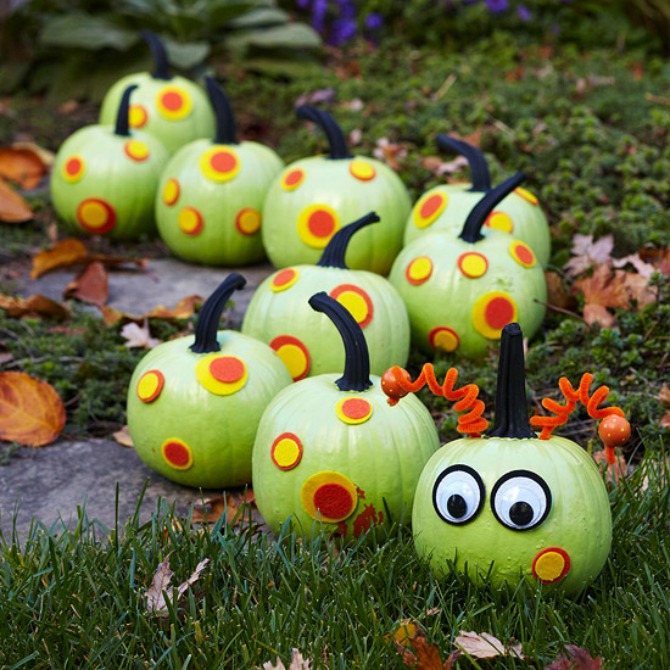 Caterpillars can be cute when they are transformed to butterflies and pumpkins, and the right sized pumpkins can help create the perfect caterpillar characterization. Kids will love this easy to assemble insect pumpkin. Use smaller pumpkins painted in just the right color of green and apply colorful adhesive backed felt circles to complete the decorative body. Place googly or jiggly eyes on the front pumpkin and insert colorful pipe cleaners on the head area for antennae. Display the pumpkins in a squiggly or S pattern shape on a front yard area, porch or deck. Another cute idea is the placement of the display on a long picnic table for an outside Halloween party for kids.
25. Ghostly Welcome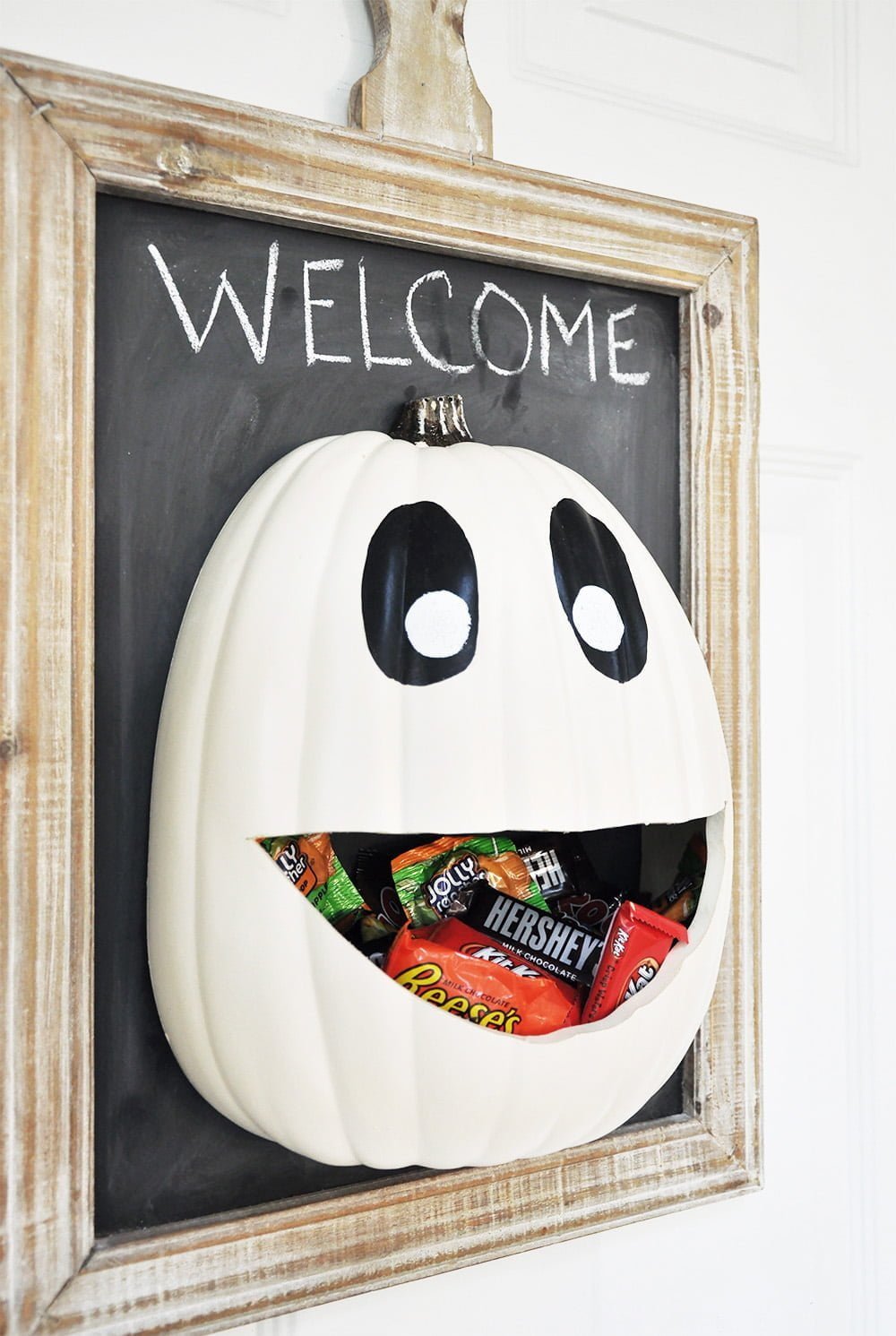 A welcoming chalkboard is the perfect framework for this candy door hanger. A white half pumpkin with ghostly characteristics as well as an open and happy expression gives Halloween party guests and trick-or-treaters an easy way to retrieve candy, plus read a welcoming message. This fun to assemble pumpkin decoration idea is great for those who have to be away from their home on Halloween night. Kids can simply take a piece of candy and be on their way to their next destination. Local craft stores have the necessary materials and cutting tools, which entails cutting out the middle to bottom half of the pumpkin for the smiling candy receptacle, painting the black and white eyes, and affixing the pumpkin half to the board with screws.
26. Ribbons and Speckles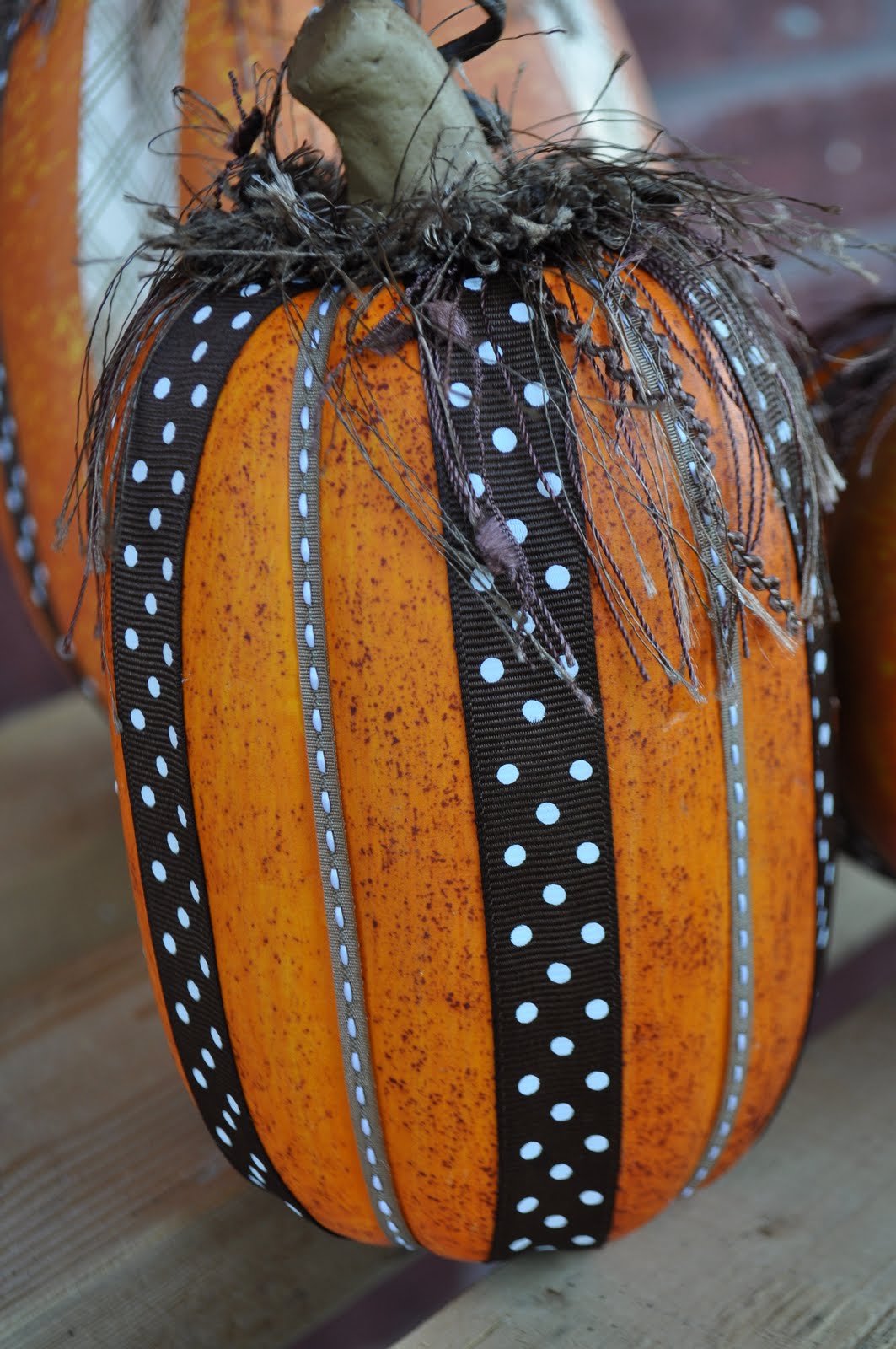 Ribbons and a feather-like stem topper are best used with an elongated type of pumpkin. The ribbons showcase the pumpkin's length, plus the wider and narrower ribbons give the pumpkin a fuller appearance and add texture and focus to the design. The feathered look around the area of the stem draws attention to the top of the pumpkin and adds a touch of glamour as well. It is an easy project that entails finding a taller pumpkin, different patterns and widths of ribbons and feather-like filler. The pumpkin stem is painted with a contrasting ribbon color, and the body of the pumpkin is speckled with black paint accents. Draw the ribbon from the bottom up to the top of the pumpkin and affix with craft glue. Fill in with the topper material.
27. Electrically Charged Buggies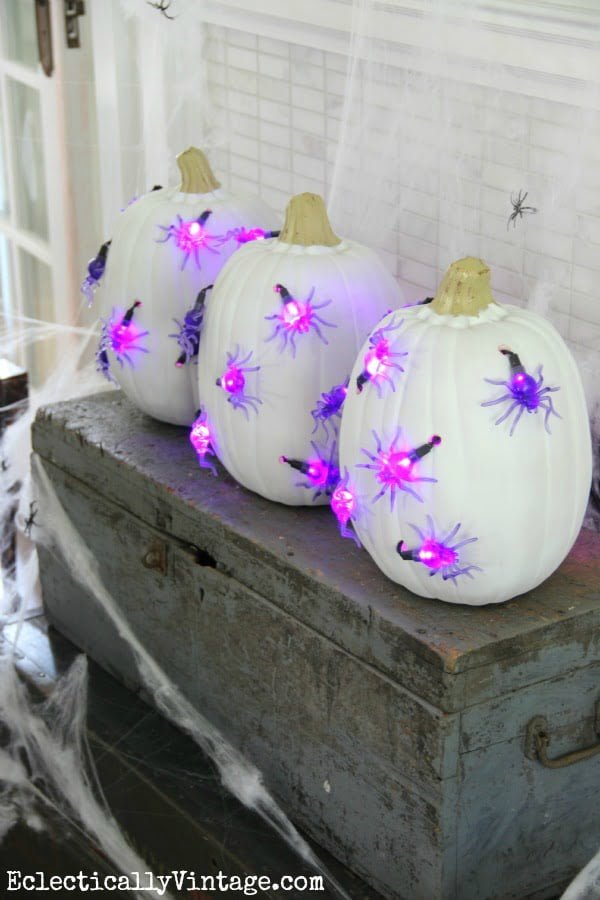 Bugs, spiders and other creepy crawlies fit in nicely with pumpkin decorations and when they are electrically charged and raring to make their home in a trio of pumpkins, watch out for the sparks to fly. Once they have found a place to call home, there is no telling what will happen with this colony of arachnids. To create the pumpkin trio, spray paint foam pumpkins in white. Then, drill holes to fit the light tips into the pumpkins. Cut an opening in the back of the pumpkins that is large enough to accommodate the string of spider lights. Take off the spiders from the light strings and insert the lights through the drilled holes. Finally, reattach the spiders to the lights and place double sided tape or sticky dots onto the back of the spiders and place them onto the pumpkins so they lay level. Plug into an outlet and watch those spiders illuminate their pumpkin homes.
28. Crown Jewels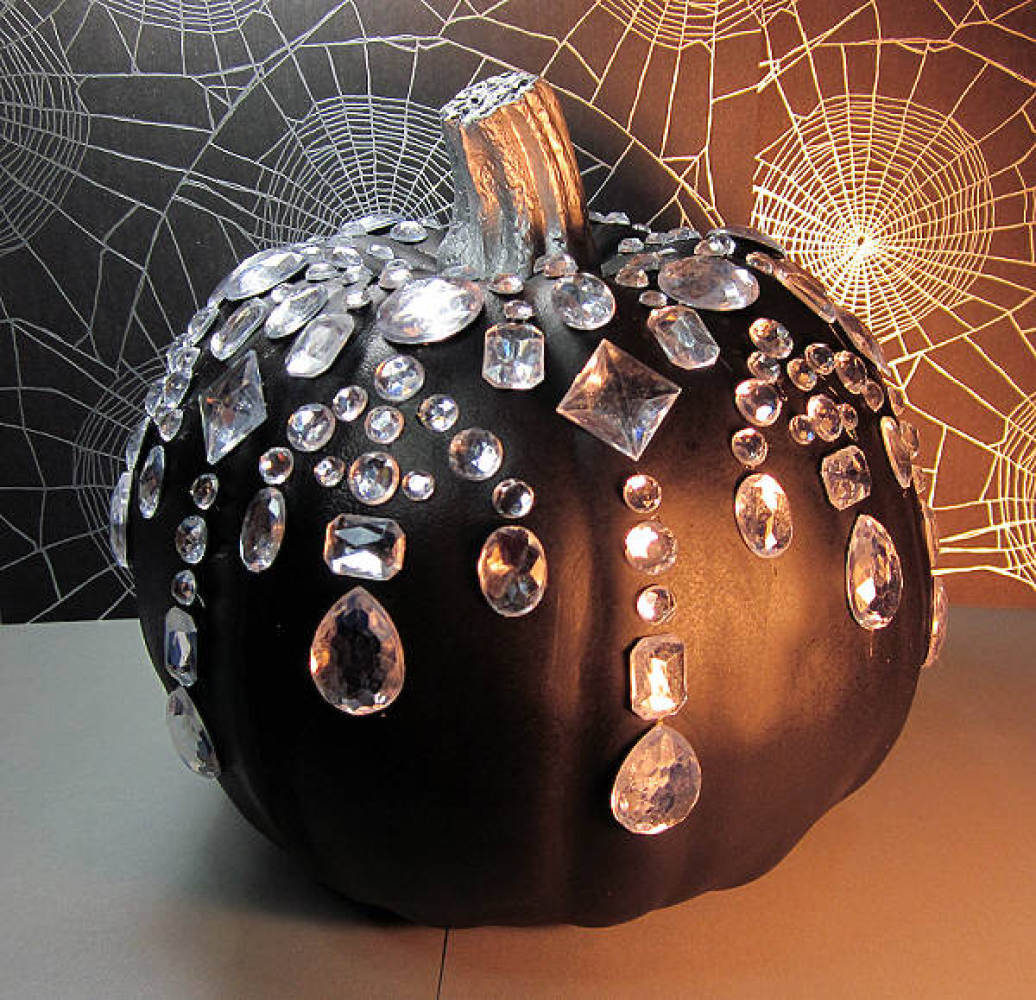 Source: The original source is not available anymore.
Using crystal-like jewels with this elaborate pumpkin decoration idea brings on thoughts of dripping jewels and sophisticated bling. The design is both regal and elegant and can be duplicated with a faux or real pumpkin, though a faux pumpkin would last longer and provide continued years of use. The deep metallic paint effect with jewel-like colors brings the pumpkin into focus, and the addition of another metallic paint color to the stem provides contrast. Several coats of metallic paint may be required to achieve intensity but once dried, the pumpkin is ready for the application of the bling. The jewels are the piece de resistance with this pumpkin, and they can be utilized with adhesive backed bling or glued on with hot glue for the finishing touch.
29. All Dressed Up in Tulle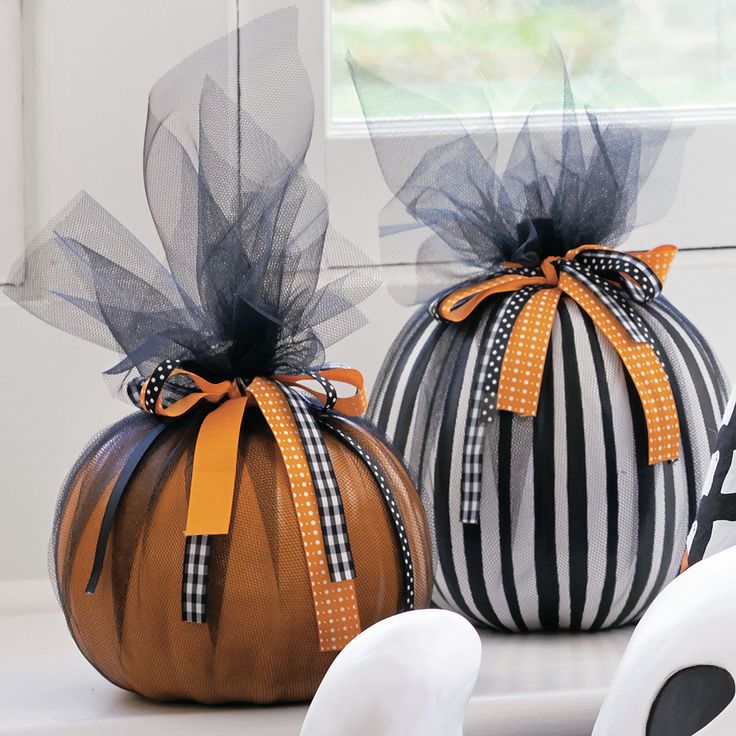 Tulle, ribbon and a little bow tying can take a pumpkin decoration idea to another level. Simple tulle netting and Halloween colored ribbons entwined in one another and tied around the stem section of a pumpkin can complete a wrapped package look in a matter of seconds. Utilize either real or foam pumpkins, though foam pumpkins do make a longer lasting decoration. Tulle can be purchased at most fabric and craft outlets as can patterned and printed ribbons that add texture and touches of accent colors. Buy enough tulle to cover one or two pumpkin forms with sufficient fabric left over to go beyond the stem and bring height to the finished look once the ribbon has been tied.
30. Thumbtack My Pumpkin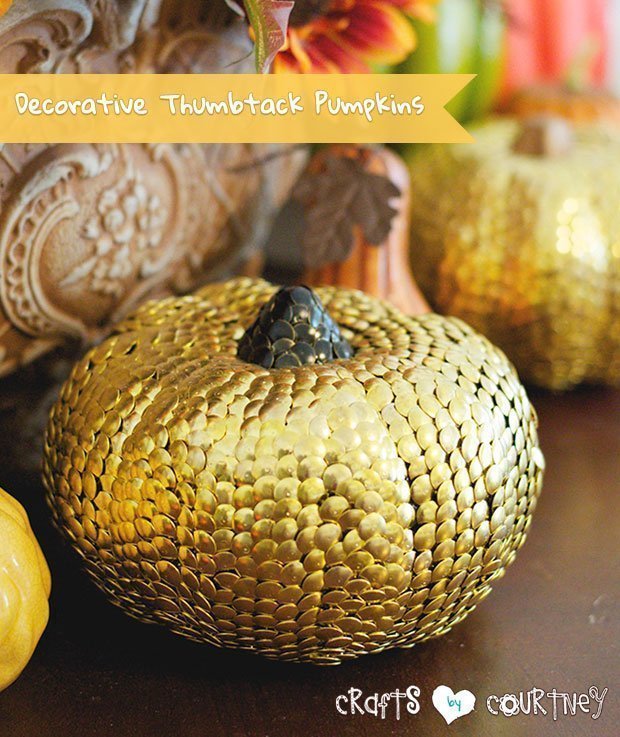 Thumbtacks are making the rounds these days with pumpkin decorations and they certainly bring an industrial yet regal look to any gourd out there. The thumbtacks are available at craft and dollar stores, and styrofoam pumpkins can be found in the same places. Purchase at least three boxes of thumbtacks as most average sized pumpkins will require about two and a half boxes to finish the look. In addition to gold thumbtacks, also pick up a box of darker colored thumbtacks for the stems. Simply place the tacks in a circular motion starting with top of the pumpkin and stem area. Continue circling around the pumpkin pushing in the thumbtacks until reaching the bottom.
31. Criss Crossing the Web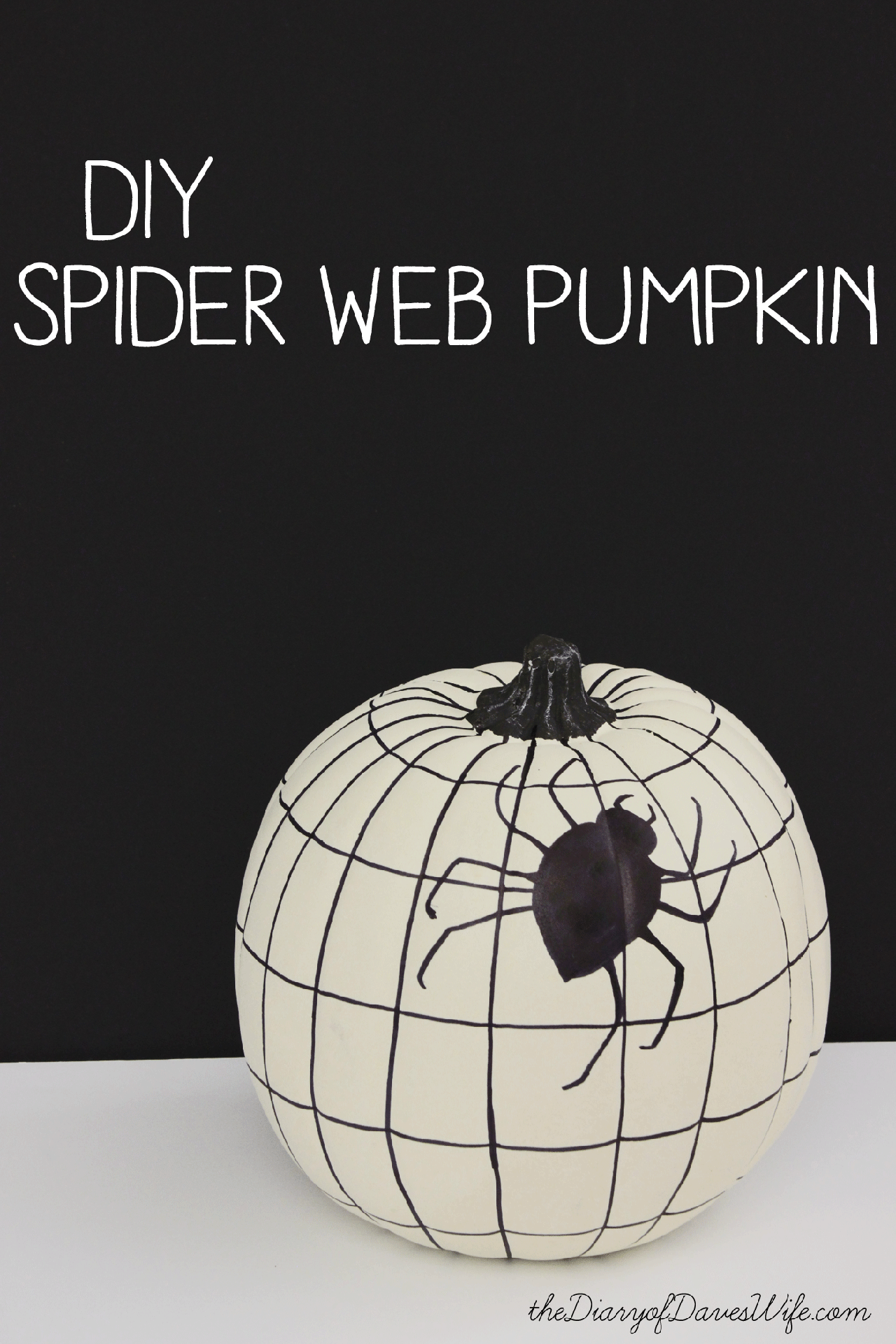 Drawing lines with a magic marker or sharpie is a quick crafting task and the same process can be applied just as easily to a white foam or hollow pumpkin. The look is plain and simple but has a punch to it, particularly when a large spider is added to the picture. It takes just a few minutes to draw vertical lines in the pumpkin grooves and then switch and draw horizontal or circular lines around the pumpkin to complete the look of a spider web. Complete the project with a free hand drawing of a spider or find a spider pattern and trace it on the pumpkin. Paint the spider with flat black paint or a shiny paint for an eye catching Halloween motif.
32. Dual Personality – Inner Face Outer Face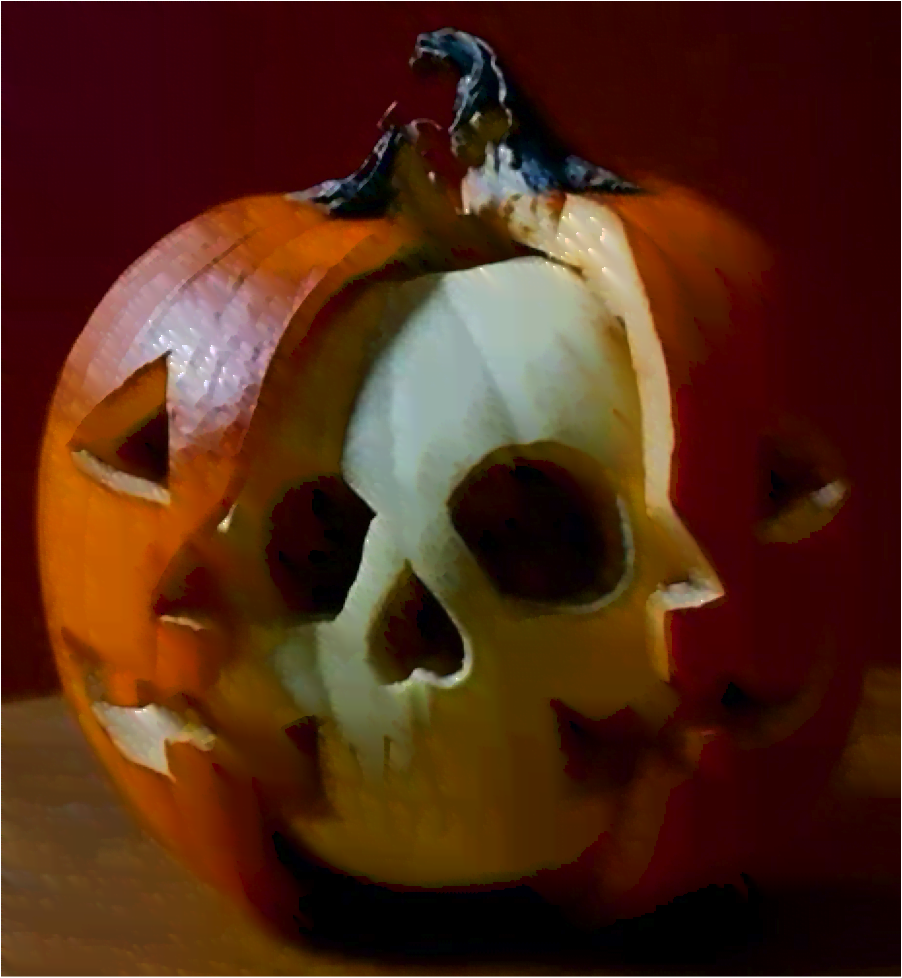 With this pumpkin decoration idea, an inner and outer pumpkin have been joined together to conger up scary thoughts, and this Halloween pumpkin creation portrays just that with its dual personality appearance. There are two sets of pumpkin carvings that require both an outer orange pumpkin that is split wide open to accommodate a white inner pumpkin that has been transformed into a terrifying skull with wide hollow eyes and a mouthful of clenched teeth. The evil skull outdid the brave pumpkin with this duo. Orange and white faux hollow pumpkins are easily carved with a craft knife blade and the two are attached together with crafting or hot glue.
33. Abundant Color Mini's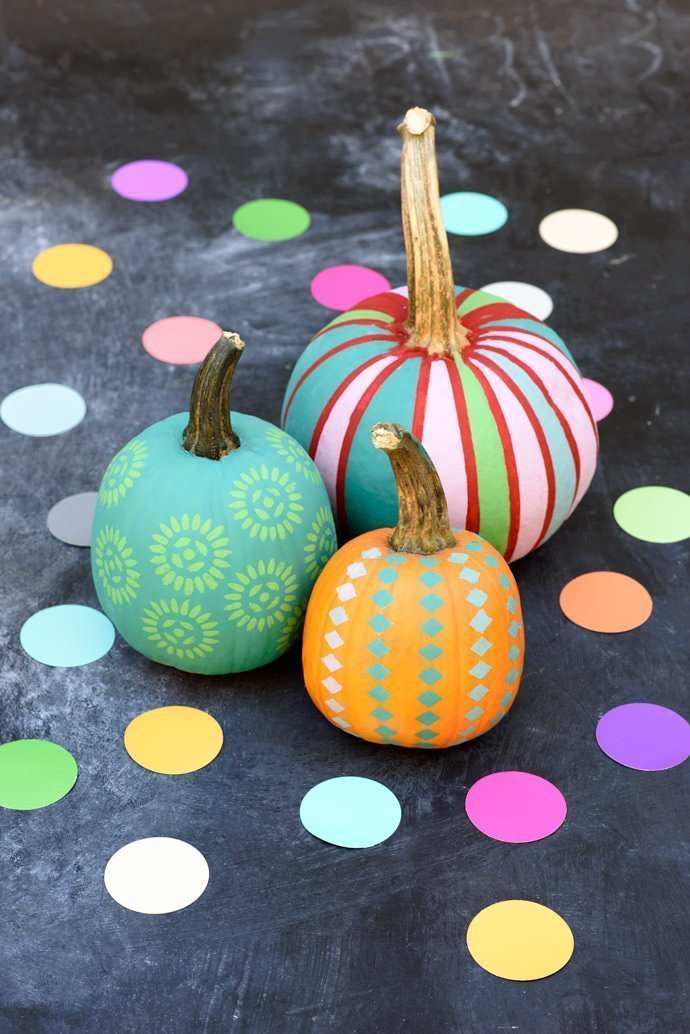 Mini pumpkins not only handle well, but they are easy to paint and make perfect Halloween pumpkin gifts. The bright colors and patterns used to enhance these minis provide a bright, fresh and playful look that makes them irresistible. Use chalk paint and stencils to get the results seen in the pictured pumpkins as the paint holds fast to most anything and doesn't require prepping or priming. Stencils or free hand painting with sponge brushes, daubers and other paint brushes adds to the dimension of the pumpkins, and once the paint is dried, stenciled or free-hand designs can be added.
34. Beaded Bling Swirl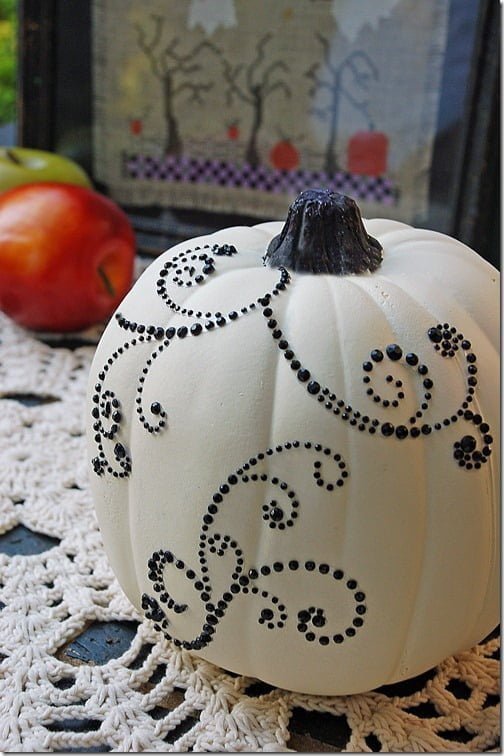 What a quick, fun and almost effortless way to create a one-of-a-kind yet elegantly simple pumpkin. A faux white pumpkin can be instantaneously transformed with just a few black jewel stickers that take a white pumpkin up a notch or two from the back closet shelf to the front foyer. Simply affix the black jewel flourishes in the desired pattern on the pumpkin and you're good to go. Various other swirls and similar patterns and designs are available, which can easily be used on the same type of pumpkin as well as provide the same type of embellishment.
35. Trick or Treat Ombre Twist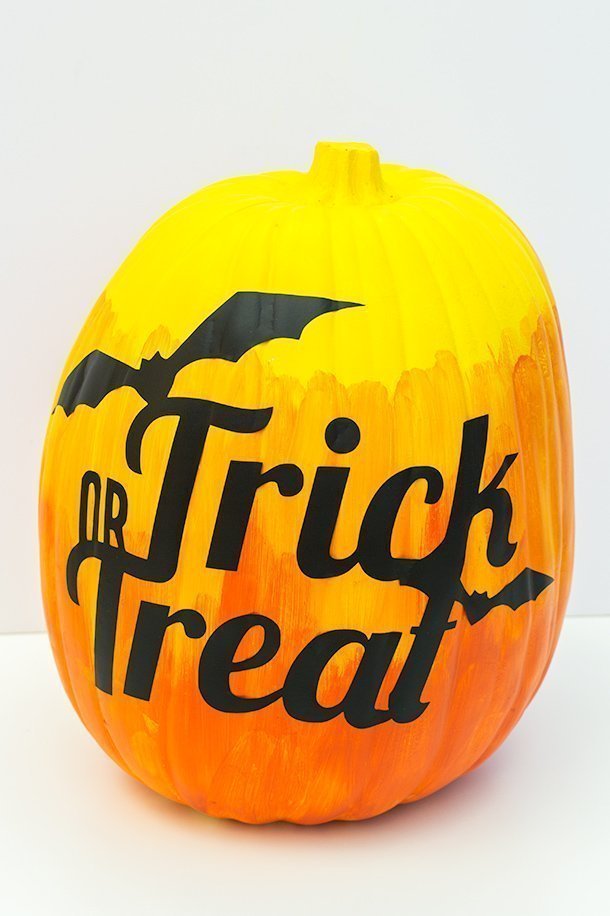 The trick with this pumpkin decoration idea is its subtle ombre paint presentation and the bold lettering that immediately sends the message that Halloween is here. The paint process begins with a white faux pumpkin and progresses with the use of three similar colors of craft paint to create the ombre look. Initiate the paint process by painting the lightest of the three colors on the upper part of the pumpkin. While the upper part is still wet, paint the medium shade paint color on the mid section of the pumpkin. Finally, move on to the bottom of the pumpkin and use the darkest color for that portion. Finish by brushing over the painted sections to blend the colors. Let the paint completely dry before applying the lettering. Cut out the Trick or Treat lettering from a stencil or use adhesive-backed lettering that is ready for application.
36. Polka Dot Bouquet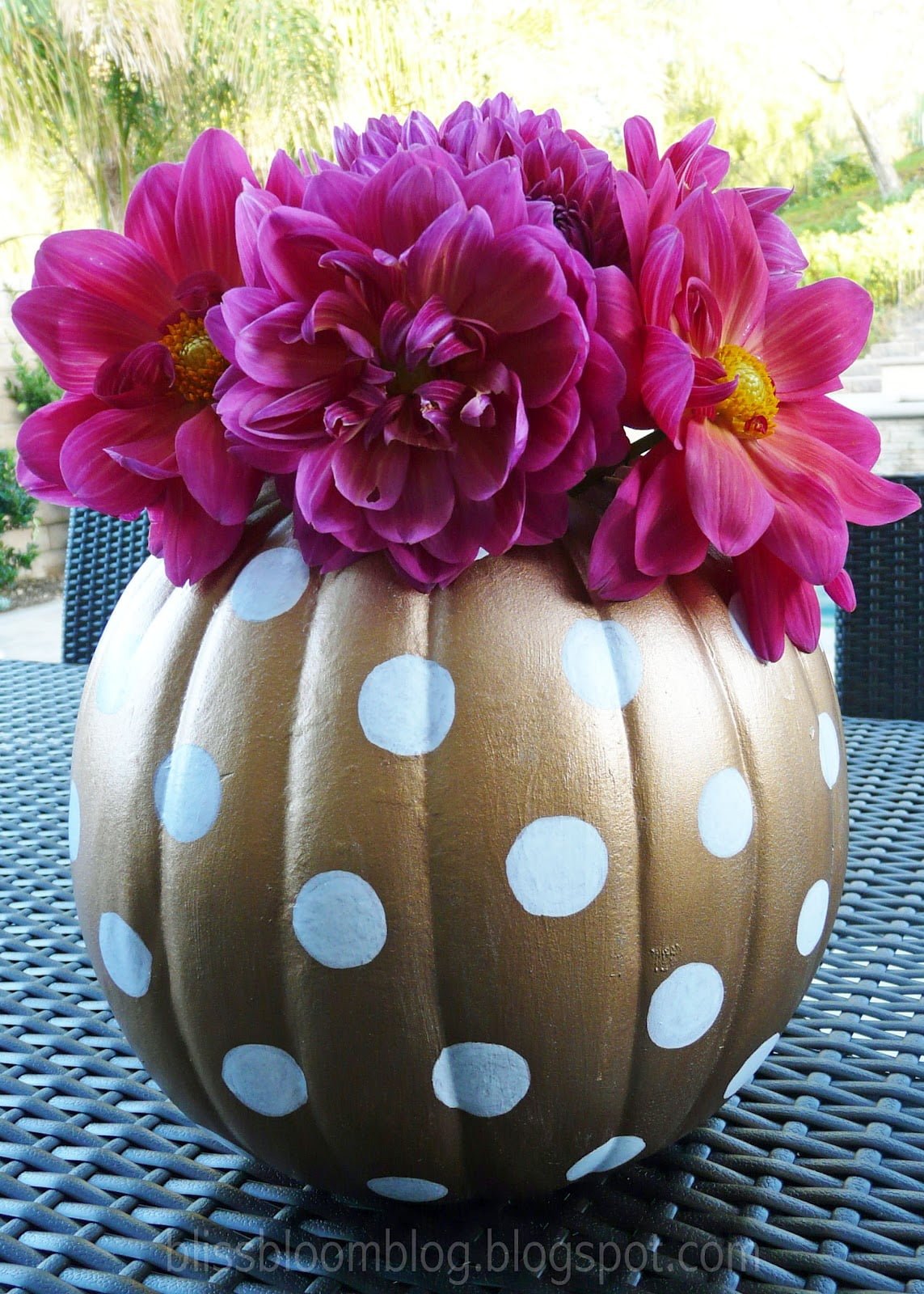 A pretty polka dot pumpkin vase is the perfect addition to a Halloween decoration inventory. Its decorative look is bright, cheerful and adds to the beauty of fall flower arrangements, dried weeds, leaves, short stemmed Halloween decorations and much more. It also makes a perfect centerpiece for parties and can serve as an accessory accent piece for shelves, niches, vanities, end tables and other areas of a home. Use gold acrylic metallic paint to cover a white faux craft pumpkin. Remove the stem and top layer for an opening before painting. Apply enough coats for sufficient coverage. Once dried, use a white paint pen to add polka dots to the pumpkin. Let the dots dry and reapply until the necessary coverage is reached. Add a vase insert for use with fresh flowers.
37. Pumpkin Votive Glow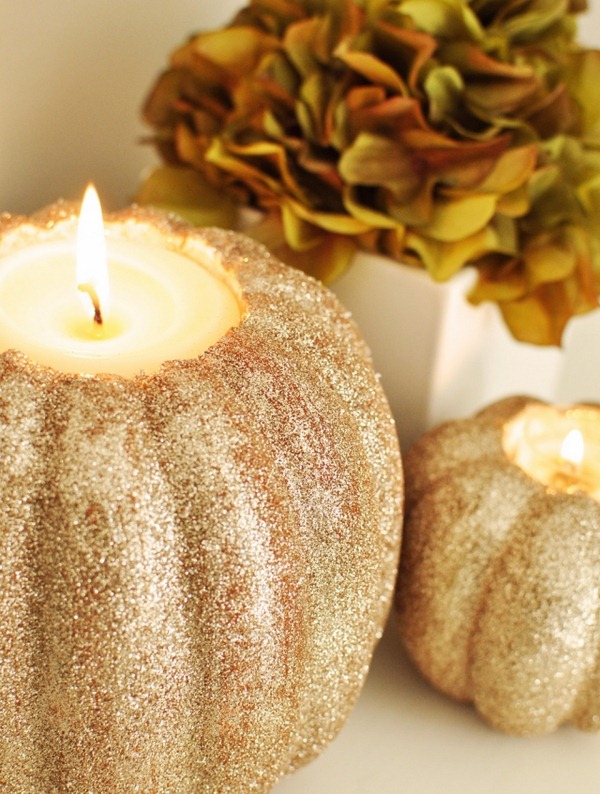 Votive candles illuminate table place settings, sideboards, nightstands, niches and other small spaces. When they are dipped in gold glitter, they provide a soft glow that brings warmth and joy to a holiday setting. They are useful not only on Halloween but for any winter holiday where glimmer and glisten add ambiance to a gathering. Use small styrofoam pumpkins for this project and determine the size of the opening for the votive candles chosen for use. Drill out the center of the pumpkin to the required candle depth and remove any excess foam with a knife. After the hole is cut, cover the outside of the pumpkin in craft glue. Take the gold glitter and generously sprinkle it on the pumpkin and let it dry. Use a shot of hairspray on the finished product to prevent glitter flaking.
38. Halloween Medley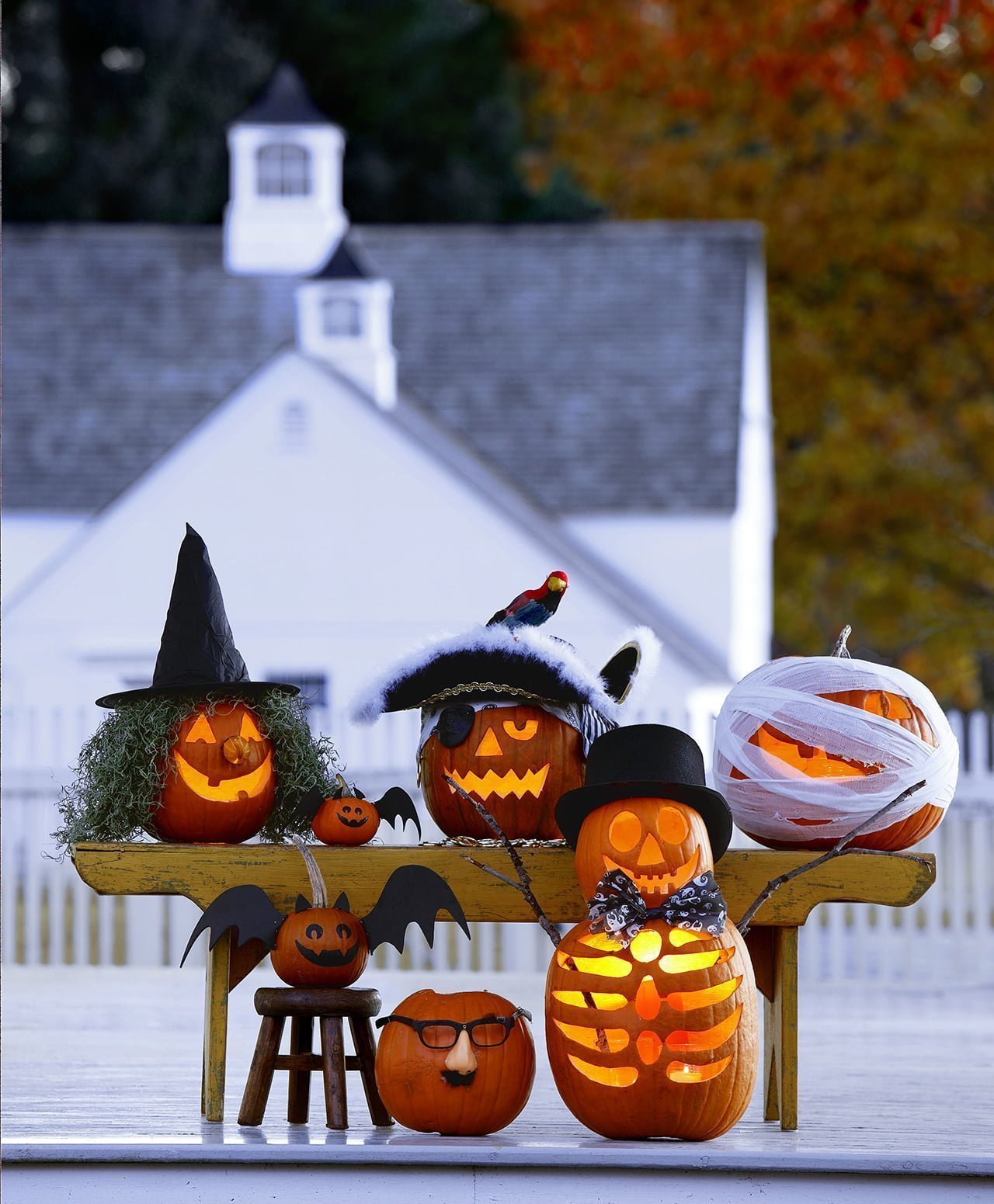 The Halloween crew pictured here are ready to crash any Halloween gathering and make their presence known. They are serious partiers. The variety of this group is well balanced and adds diversity, height, depth, texture and whimsy to a Halloween mantle, party table, front porch or yard area. Use pumpkins in varying sizes, real or faux, and gather up an assortment of costume pieces and accessories to complete the look of the group. Use your handy craft knife and your pumpkin carving expertise to create expressions for a few in the group, and find the right facial features for the others. A snowman, pumpkin person, pirate, bat, witch, and mummy are all welcome Halloween guests.
39. Address my Pumpkin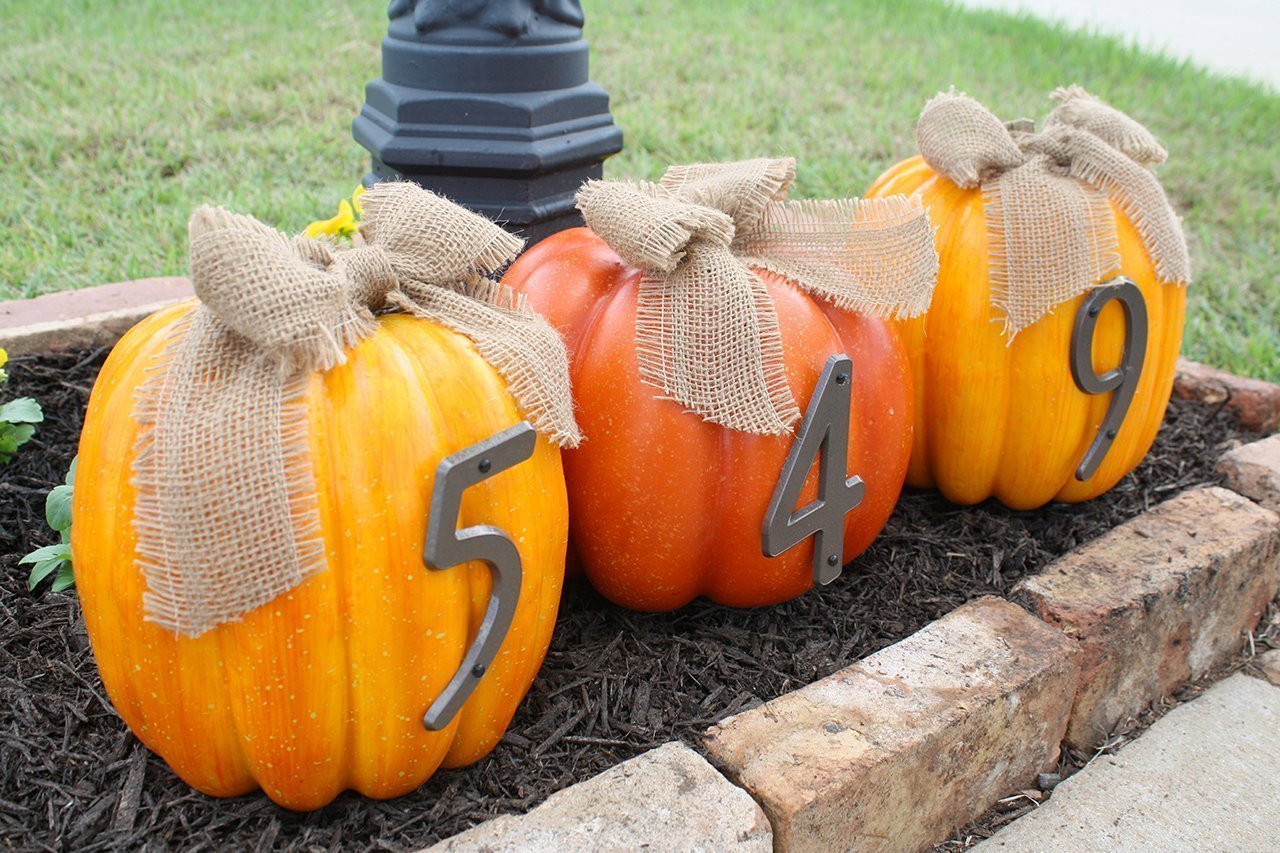 Personalizing an address is great for party goers and trick-or-treaters and using pumpkins as an address backdrop is a practical and decorative idea for both Halloween and Thanksgiving. Even the mailman and package delivery services will appreciate the effort. The project is a simple one and is just a matter of gathering together the pumpkins and other materials to complete the look. Real pumpkins are more stable, particularly when the weather is bad, but heavier or stuffed faux pumpkins can be used as well. All that is needed are three large pumpkins, wooden or metal numbers, some burlap for bows and a little glue. Affix the house numbers with glue or screws that penetrate the pumpkins and tie the burlap around the stem areas. Voila, a personalized pumpkin address label is ready for placement on a curb or front stoop.
40. Snail 'in Pumpkin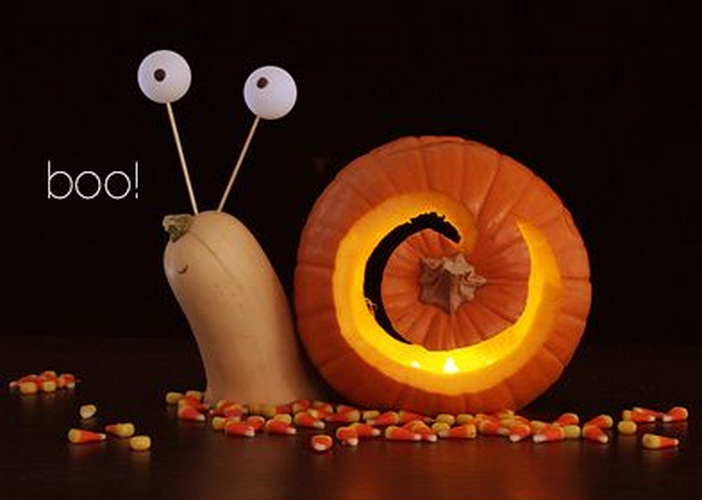 Source: The original source is not available anymore.
Kids love unusual and slimy critters like snails, and one that has a lighted pumpkin shell is even more interesting. It's a fun project for kids and looks great in a garden or yard area on Halloween and beyond. The project is simple and requires some spiral pumpkin carving on the top of the pumpkin with a piece chopped off the side of the pumpkin to keep it upright. Use the top of a butternut squash for the snail's head and add wooden skewers to mount and glue the ping-pong balls for eyes. Use a black marker to fill in the eyes and make a mouth. To light the pumpkin area, add a tea candle in the spiral of the pumpkin.
41. Pumpkin Lady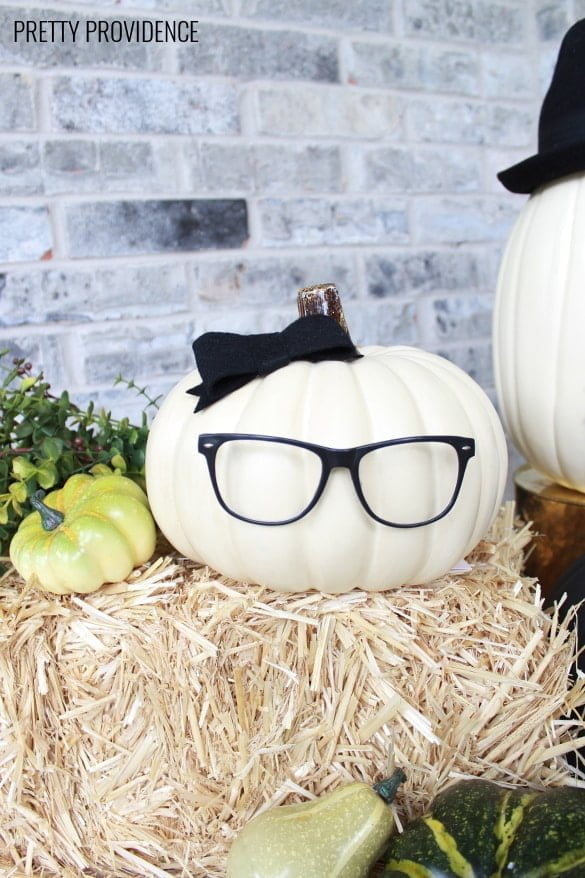 No carve pumpkin people is a cute way to represent family members, friends, co-workers, executives, and others in the form of a simple white or cream pumpkin that contains some added accessories to identify just who is who. The black and white look is a popular pumpkin decoration idea and is a quick and easy way to assemble decorative pumpkins for a family oriented Halloween party. Just gather the number of craft pumpkins needed, some black felt, scissors, glue and a selection of accessories like hats, wigs, glasses, and flowers. Make mustaches, eyes, ears, noses, bows, and other facial features and accessories from the black felt. Simply cut them out and hot glue them directly on the pumpkins.
42. Wire and Sequin my Web
Source: The original source is not available anymore.
Wire and sequins are great companions for making spider webs on pumpkins. They're just enough of an accent to bring a natural look to pumpkins of any size and are a quick and easy way to decorate for Halloween without a lot of investment in time and energy. Purchase a pumpkin and begin with a mark at the pumpkin's center. Draw six small dots that come out from the center of the mark. Anchor the marked areas with small brads and proceed to weave wire in and out to make a crisscross star-like pattern. Complete the pattern by adding black wire completely around the outer edge of the web. Use sequins to and wire pieces to create the body part of the spider and its eight legs.
43. Bat' Tin a Thousand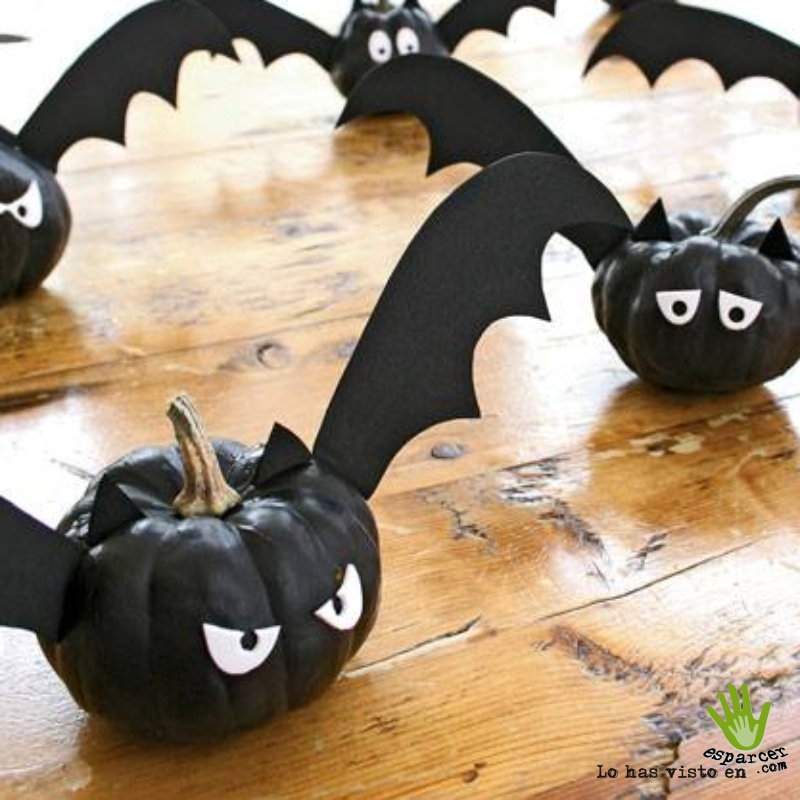 Source: esparcer.com
These eerie looking bats seem harmless but don't let their size fool you. They are ferocious and raring to take a thousand Halloween flights just to scare roaming trick-or-treaters on Halloween. Mini pumpkins are just the right size for these vampire-like creatures. They are painted with black paint and make up the body of the bat. Vinyl cutouts, adhesive-backed cut outs or black tag board can be used for the wings and ears. Use a bat wing and ear pattern or draw your own and transfer them to the tag board. Cut them out and attach them to the pumpkins with hot glue. The bat's eyes can be made from patterns as well and colored in with a magic marker.
44. Buttons, Bows and BOO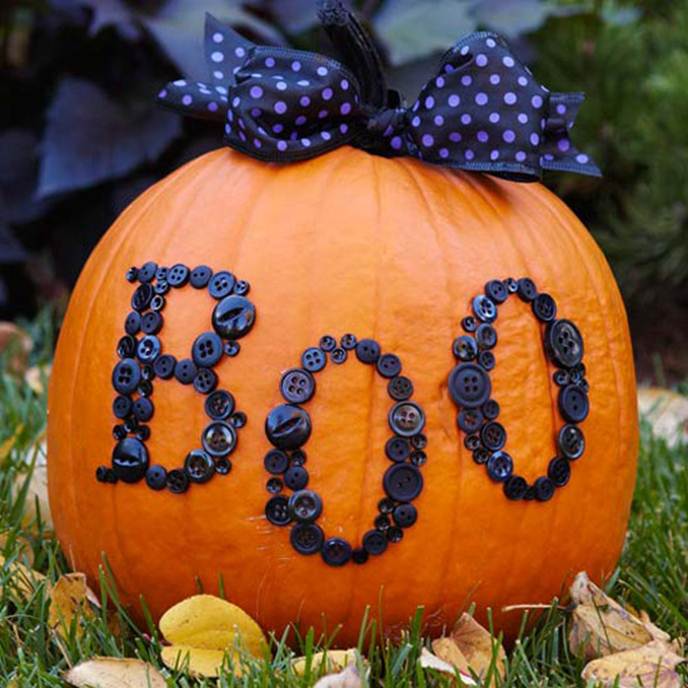 An old fashioned buttons and bows design highlights this cute pumpkin, and the word BOO makes it an official Halloween original. Find a big enough pumpkin to spread out the various sizes of black buttons and spell out the word BOO. Either use a large letter stencil or print out letters from a downloadable letter pattern. Cut the letters out and place them on the pumpkin and trace around them with a pencil. Once transferred, fill in the individual letters with the buttons and secure them with a hot glue gun. Use black paint on the pumpkin stem and let it dry. Finally, tie a black polka dot wired ribbon in a bow around the pumpkin stem to complete this buttons and bow pumpkin masterpiece.
45. Crazy Pumpkin Plant Trio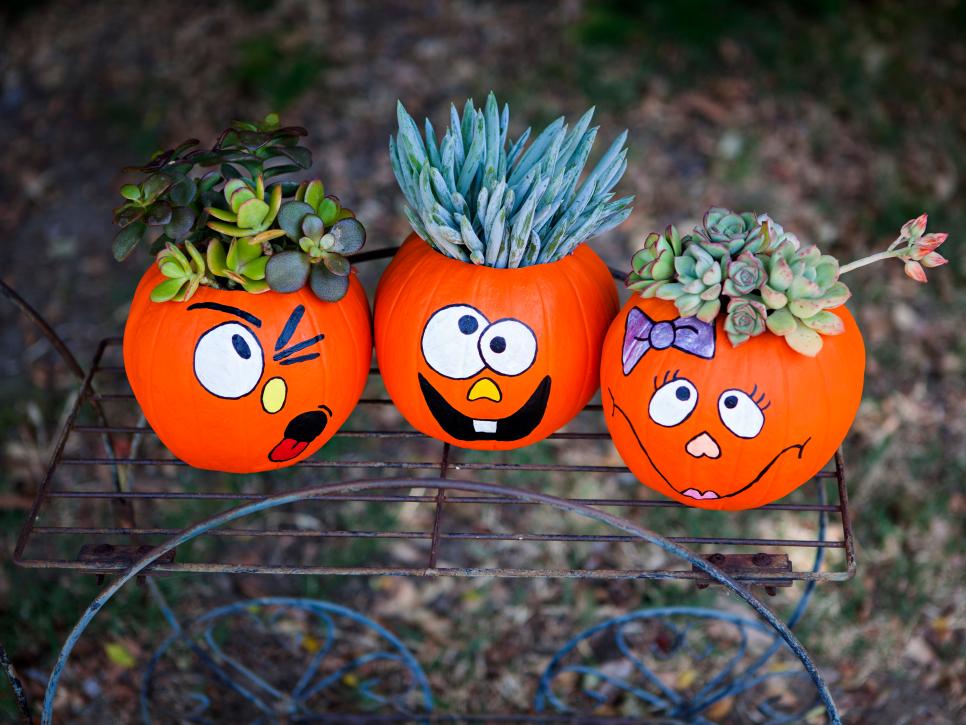 This goofy trio has a lot to offer the plant world as they can hold succulent plants and have punky pumpkin hairstyles at the same time. Take three small pumpkins and remove their stem and top portion. Clean out the three and make three small holes in the bottom for water drainage and to prevent the plant roots from damage and rotting. Use craft paint to create silly or scary faces with these three goofball plant holders. Add dirt to the empty pumpkin shells and plant the succulents of your choice and watch them grow.
46. Lollipop Monster Pumpkins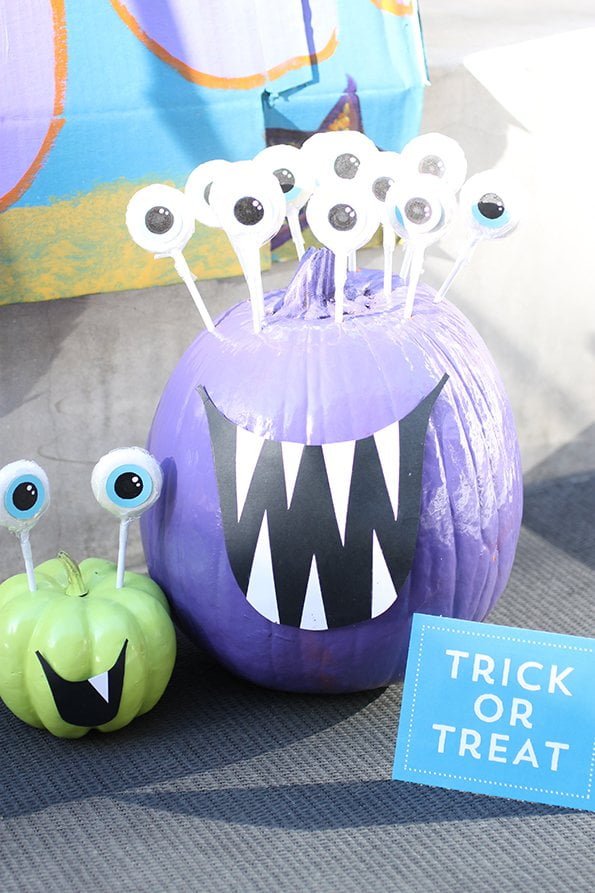 Lollipops are a simple and easy way to create stalk eyes for a pumpkin project. Along with their fang-like teeth, these two monster neon-colored pumpkins are a perfect pumpkin decoration idea. Not only do their eyes and teeth create a scary but friendly mood, but their wild colors bring a playful feeling to a party atmosphere. Both of these pumpkins are ready to make their centerpiece debut at any Halloween party for kids. All you need to create both pumpkins is some colored construction paper, paint pens, neon colored spray paint, a wood skewer for making holes for the lollipop eyes and enough white lollipops to complete the eye sets on each pumpkin.
47. Wrapped in Lace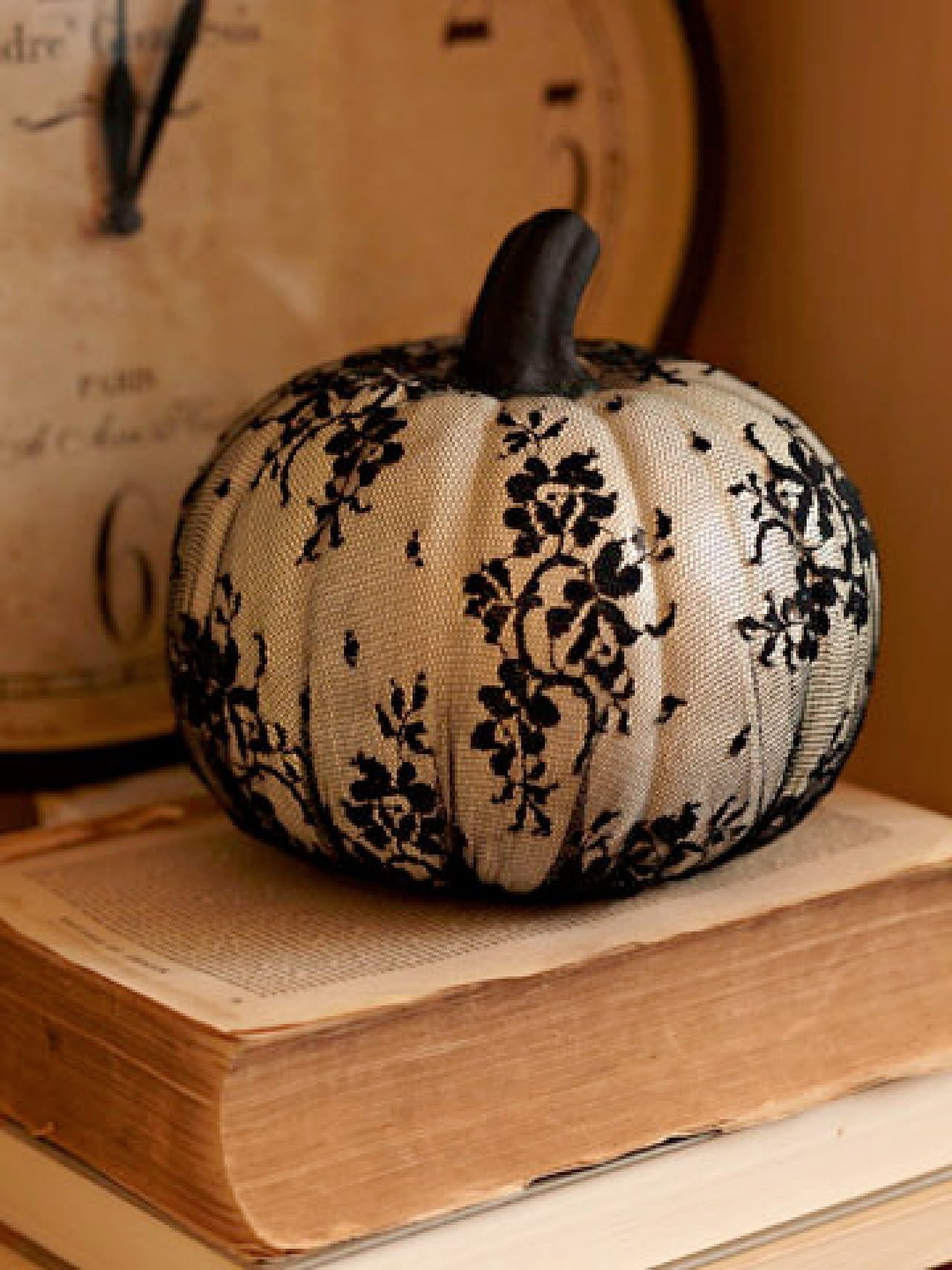 Lace can instantly transform almost any pumpkin from plain to fanciful in one wrapping, and it is a simple process with embroidered lace fabric. Depending on whether the pumpkin is white, orange or a painted color, any lace selection will provide an elegant see-though effect. Purchase enough fabric to cover the top of a medium to large pumpkin, gather the fabric at the bottom, and locate the stem opening. Mark the stem opening and then cut a circle for the stem with scissors and lay the fabric over the stem area. Once again, gather the lace to the bottom of the pumpkin, cut away any excess fabric and secure the placement of the lace with stitching or fabric glue.
48. Split Mummy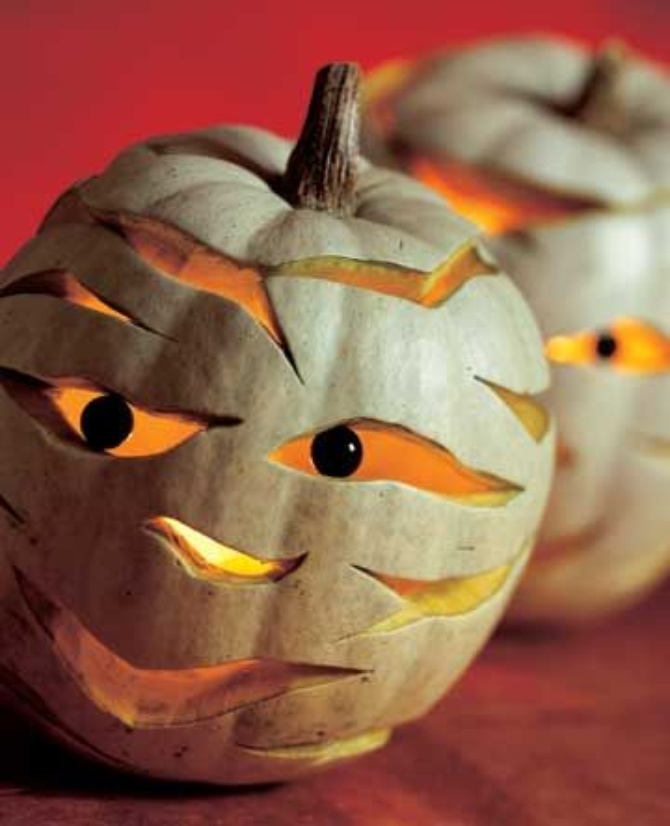 Source: The original source is not available anymore.
What would Halloween be without a monster-like mummy pumpkin staring you down with its piercing eyes? This realistic mummy takes some carving technique with the numerous slits, but the picture is a good model for the necessary areas that require cuts. The more vital slits are for the eyes, nose and mouth. The other slits are around the pumpkin and on the lid edges. Use a regular sized natural white pumpkin, cut off its top portion, scoop out its innards and clean and dry the inside and the lid. In order to insert the black marble eyes, use two flat toothpicks and place the toothpicks into each eye opening at the right depth. Glue the marbles to the toothpick ends with an adhesive made for glass and allow the areas to thoroughly dry. For an even scarier effect, use a candle within the pumpkin to light the mummy's face.
49. Pumpkin Baubles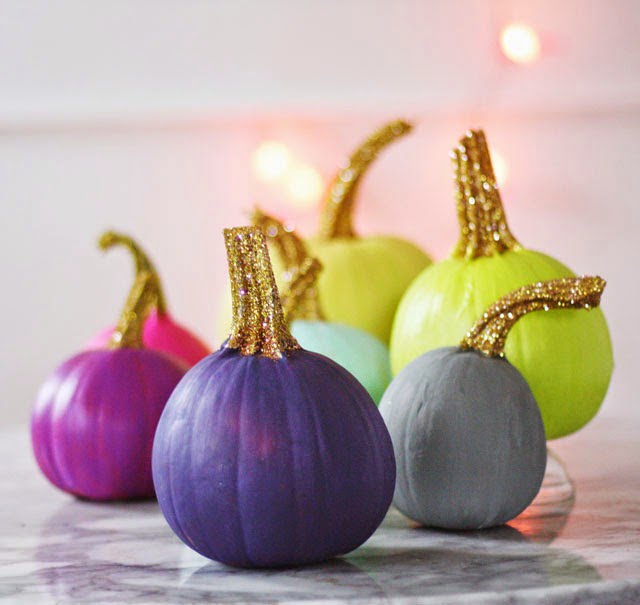 Pumpkins, real or faux, can be painted to reflect most any kind of design look. This pumpkin decoration idea brings holiday tree balls and baubles to mind. They are actually well suited for any seasonal festivity, which includes Halloween. They can be placed in baskets or on trays, lined on shelves, used as a centerpiece or just situated in strategic areas of a house or outside area. They are easily made with small pumpkins with long stems and an assortment of paint colors. Paint the pumpkins up to the stem and allow them to dry. Once dried, apply an ample amount of white tacky glue to the stem. Sprinkle the stems with glitter and allow them to dry. Brush away any excess glitter with a dry sponge.
50. Eye Candy Sweet Skull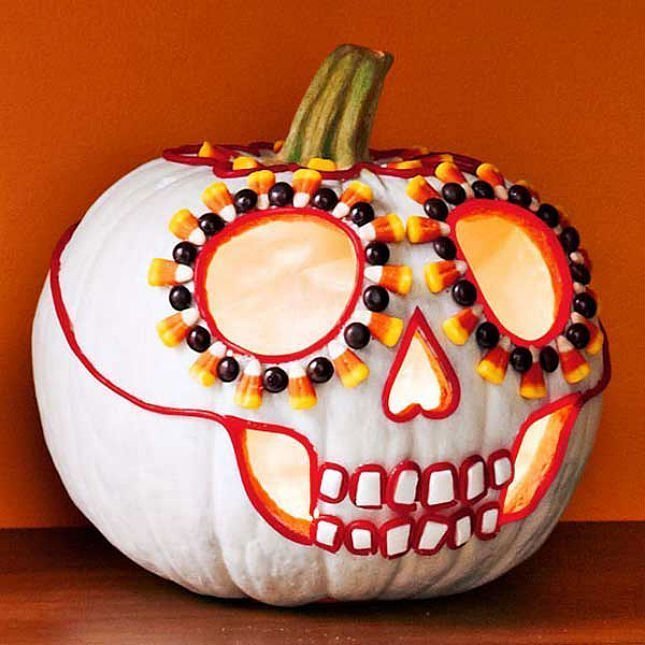 The Mexican tradition of Dia de los Muertos (Day of the Dead) is an inspired holiday that remembers those who have departed the earth. The use of sugar skulls is part of that tradition and a pumpkin replica is easy to duplicate. These sugary skulls are colorful and unusual additions to a Halloween themed party or for decorative additions to a front porch or deck, particularly when they are illuminated. This skull is made from a white pumpkin and is a fairly easy pumpkin carving idea for almost anyone. Carve out the eyes, heart-shaped nose and chiseled cheeks and remove any pumpkin debris. Use special craft glue to apply the candy. Corn candy and M&Ms are placed around the eyes, and red licorice is used to outline the area. Square gum pieces in white are utilized for the teeth.
Plan, Relax and Enjoy
With the hundreds, and perhaps thousands, of decorating ideas out there for pumpkins, it is easy to get overwhelmed with what's available. The pumpkin decorations presented here are an overview of what can be done with pumpkins. The choices are many but can be narrowed by category, personal taste, and degree of difficulty as well as limitations with time. Carvings with natural pumpkins can be tedious, but the outcomes are usually one-of-a kind showpieces, but they take time, energy and focus. Other pumpkin decorations come together quickly, especially with the kinds of materials, tools and supplies available to crafters. With time constraints on almost everyone today, creating and making pumpkin decorations doesn't have to be a pressure filled or expensive activity. Set enough time aside for a project. Start slowly; select an idea; or come up with your own, and by all means, involve your children. Simply have fun. That's what Halloween decorating is all about. Happy Halloween to all you pumpkin people!