15. Petals and Vines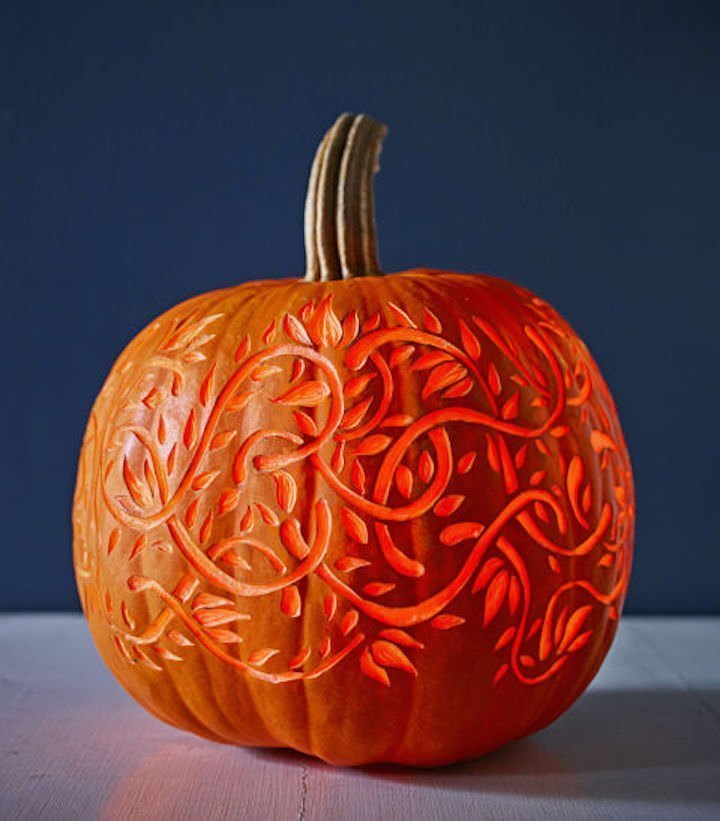 Pumpkin carvings can be lighthearted and whimsical like this design. It stirs memories of early autumn days. You can picture falling leaves and petals, entangled vines and stems, which appear to drift along on a breeze and continue on in another direction. The glowing three dimensional impressions with this Halloween pumpkin are achieved through carving the very top layer of the pumpkin but not piercing completely through it. Either draw by hand or utilize stencils to transfer the petals and vines directly to the pumpkin. Once you are ready to carve out the traced or drawn areas, utilize kitchen and tile tools such as a lemon zester, linoleum cutter or clay loop to gently lift away the layers.
16. Pumpkin Tree Entry Topiary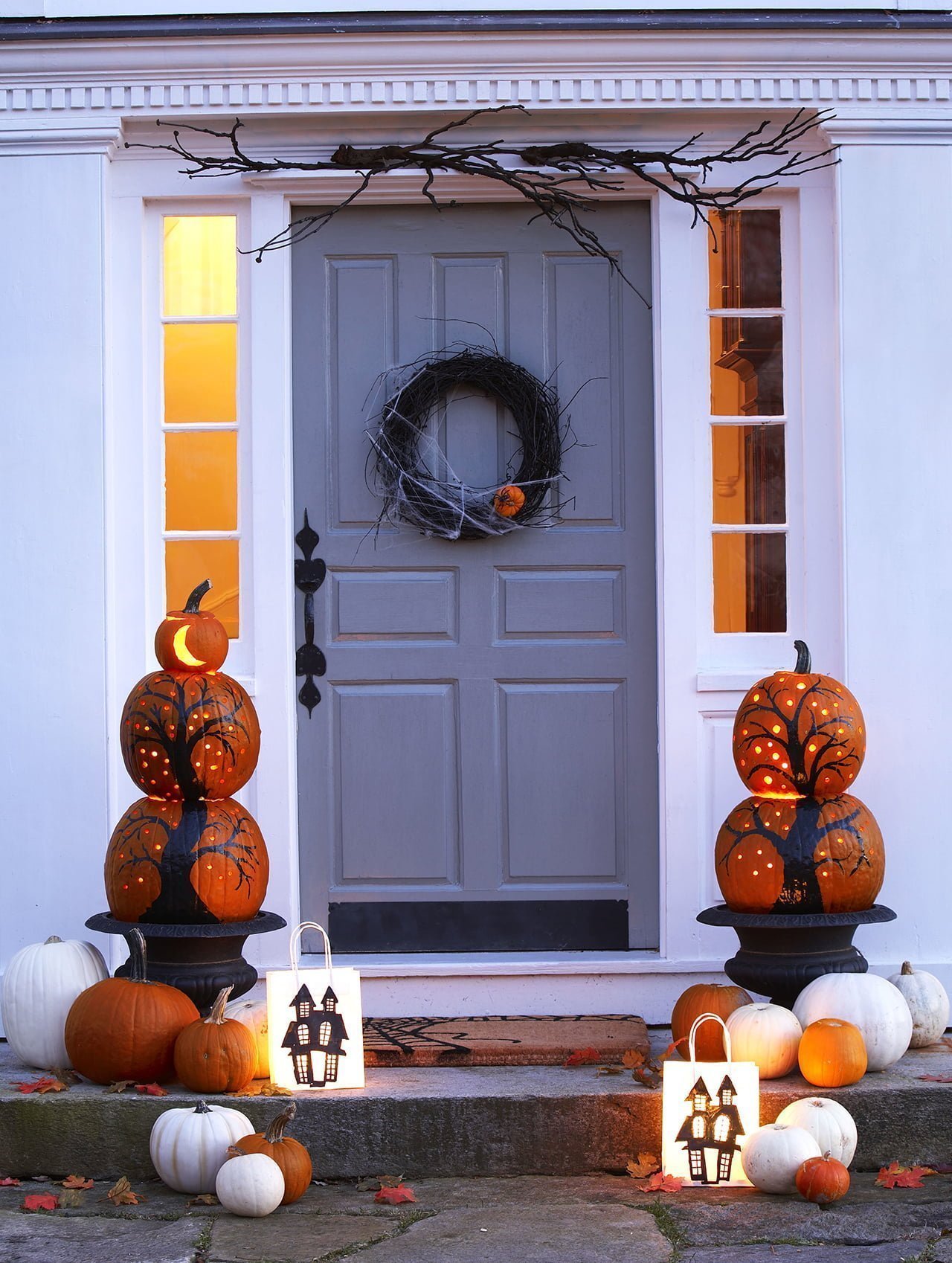 Pumpkin Tree topiaries really can light the way for trick-or-treaters on a dark Halloween night, and when they are placed in planters, they can frame an entryway to stairs or the sides of a front door for a finished and balanced look. The process with these pumpkins is uncomplicated and requires a little hand sketching or painting of a gnarled tree onto a stack of two large-sized pumpkins. Remove the stem and top part of the pumpkins where they meet to achieve a flat surface for painting and placement. Punch or drill holes throughout the pumpkins to achieve a starlit night effect. Add a mini pumpkin with a lighted moon as a finishing topper.
17. Silver, Gold, and Black Stack Scare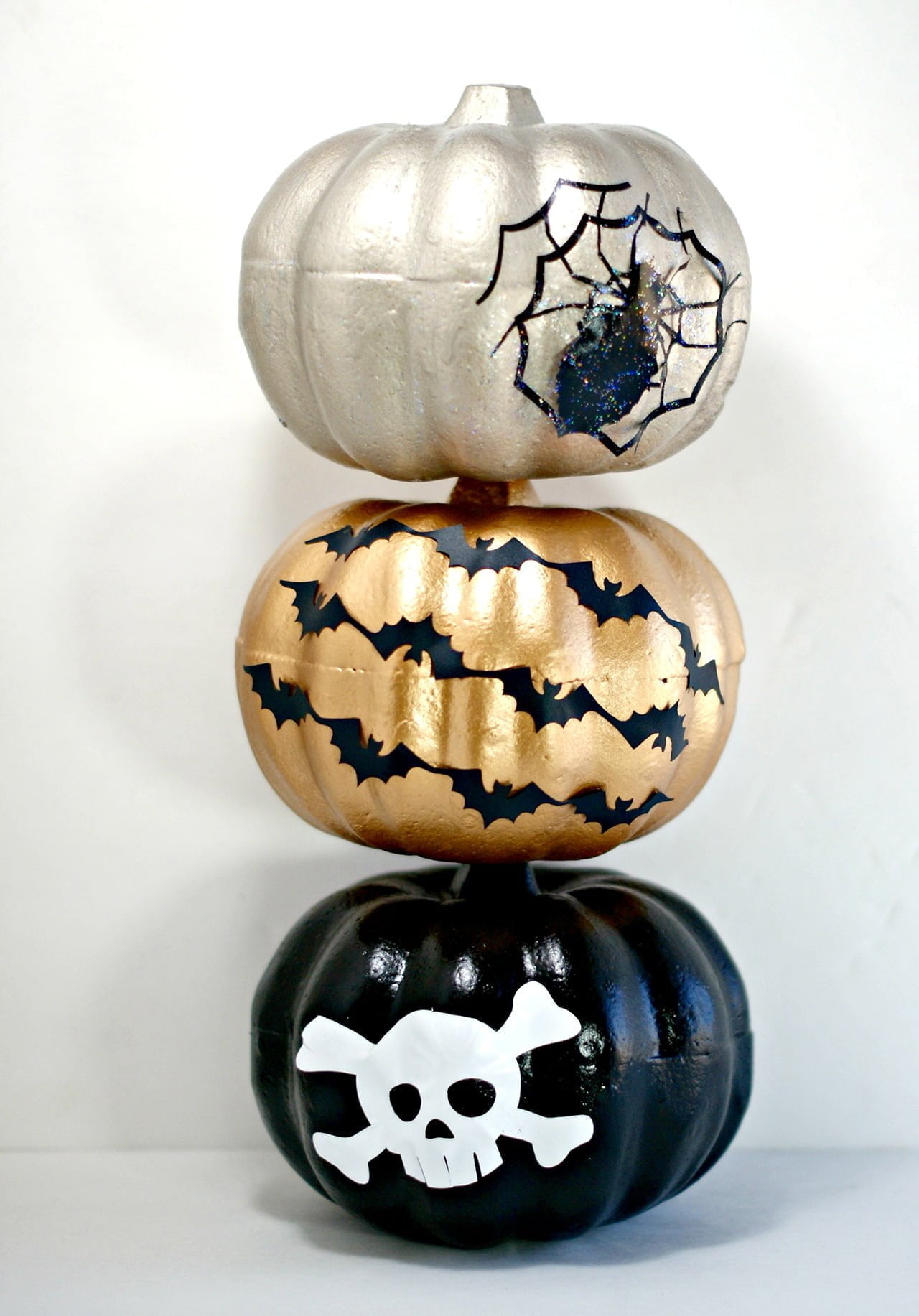 This scary, metallic pumpkin stack/topiary is a bold presentation of silver, gold and black from top to bottom, and the added Halloween creature features emphasize and highlight the metal paint and Halloween emblems. Foam pumpkins make this craft project easy to complete. Spray two coats of paint on each pumpkin. Once the paint has dried, cut out the skull, bats and spider from stenciled vinyl pieces or purchase precut adhesive-backed vinyl Halloween stick-ons. If there are issues with the adherence of the vinyl pieces, use Mod Podge to affix the cutouts to the pumpkins. Utilize a narrow dowel or skewer to connect the three pumpkins.
19. Pumpkin Bouquet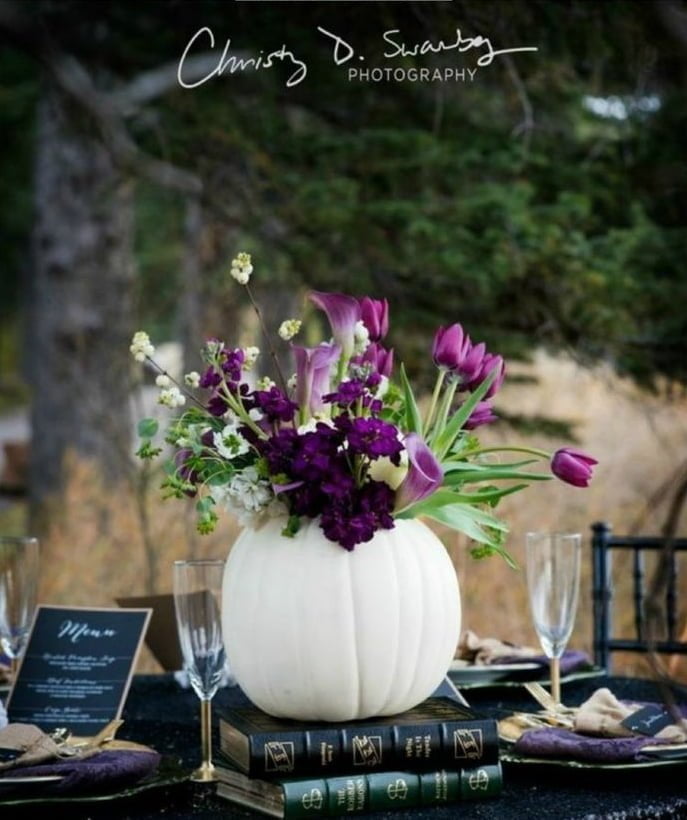 No Halloween party or cozy get-together is complete without a fresh bouquet centerpiece, and a white pumpkin hollowed out and ready to receive lovely lilac and purple flowers and foliage is the perfect accent to any buffet, table or entryway. A flower display brings a calming presence to a Halloween gathering, as it is a perfect accent piece in contrast to other more funky and traditional Halloween decorations. Cut off the top of the pumpkin and remove the inner seeds and fibers. Once cleaned and dried, insert a vase-like glass through the pumpkin opening. Arrange the flowers accordingly and fill the glass with water to keep the flowers fresh as long as possible.
20. Kitties in a Gourd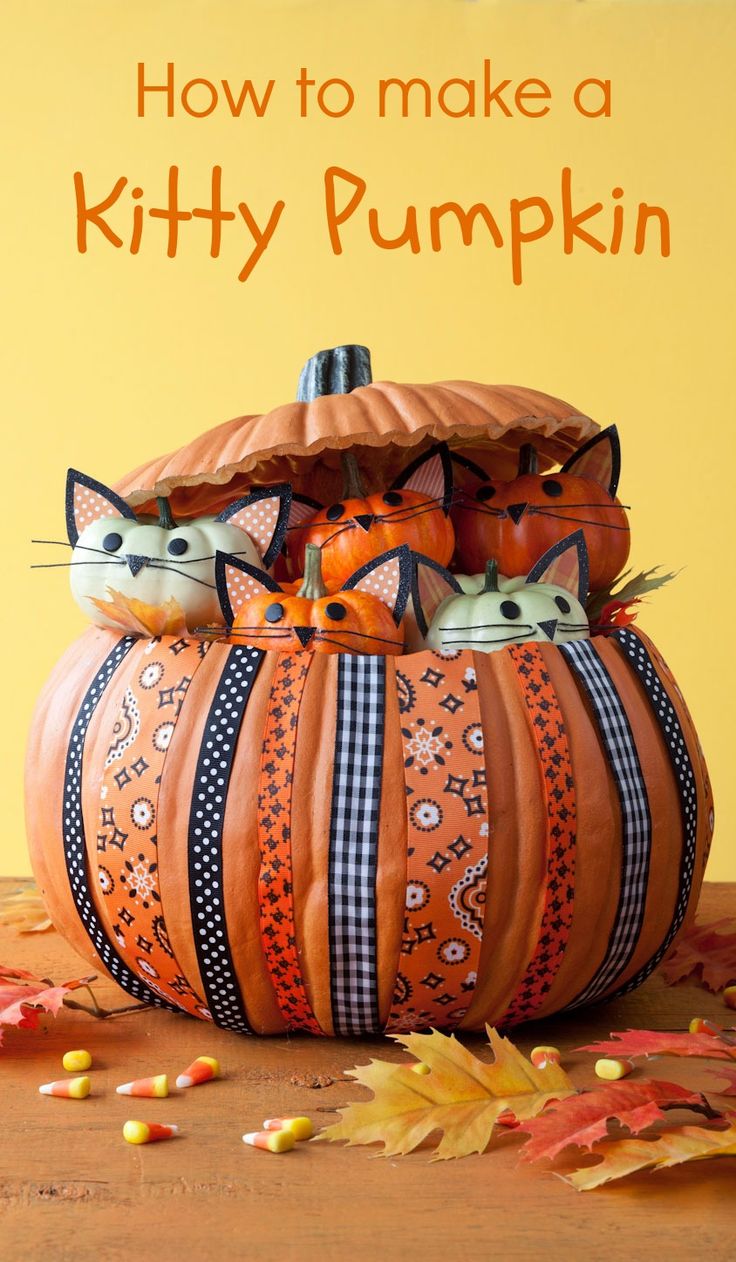 Pumpkin kitties placed within a larger pumpkin make a full and loving bundle of Halloween fun, and cat lovers will be enthralled with these kittens in a pumpkin design. It creates a cute and inviting display for trick-or-treaters and cat aficionados alike. Just purchase a medium sized hollow pumpkin at a craft store as well as three to five smaller pumpkins and proceed to remove the top portion of the larger pumpkin with a knife to make room for the smaller pumpkins. Line the hollow pumpkin with fall foliage to fill the area for placement of the smaller "kitten" pumpkins. Decorate the smaller pumpkins with black foam ears, black cord whiskers and use a black marker to draw eyes and noses. Insert narrow wood skewers or dowels in the smaller pumpkins and place them within the fall leaves.
21. Harlequin, Stripes and Dots Stack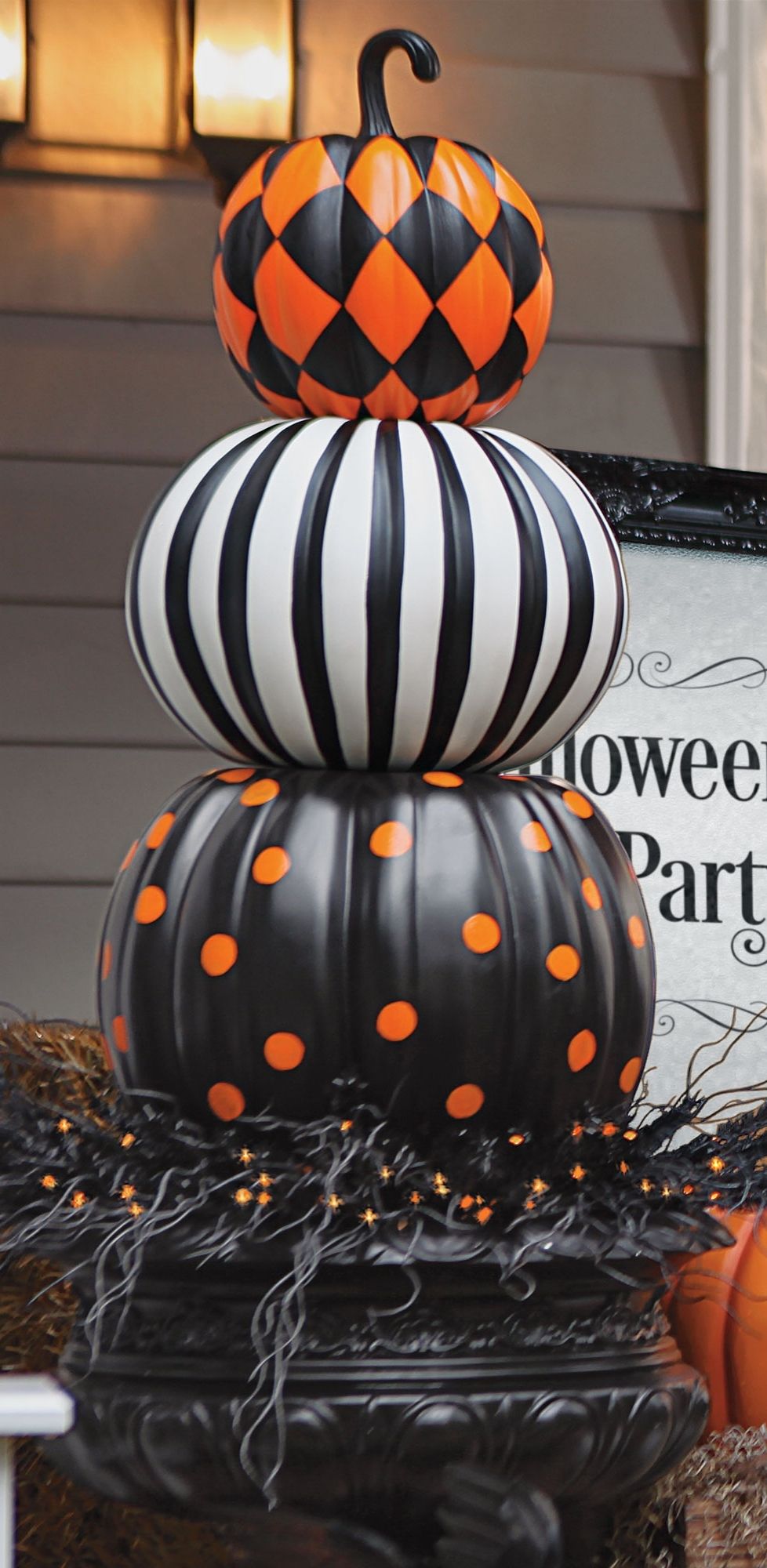 Patterned, stacked pumpkins are a quick way to create height, depth, contrast and ambiance to a Halloween setting, and they can be displayed anywhere to make a design statement, whether on a front porch, deck or entryway. Just place them in a resin planter for anchoring, extra height and a high-end look. This designer grouping of resin and weather resistant pumpkins is patterned with harlequin, stripes and polka dots in traditional Halloween colors, and it's constructed for easy assemblage, care and future use of resin, styrene and fiberglass. A similar topiary could be hand crafted using the same resin pumpkins, pattern choices, paint colors, planters and pip-berry planter filler.
22. Bats in Flight Pumpkin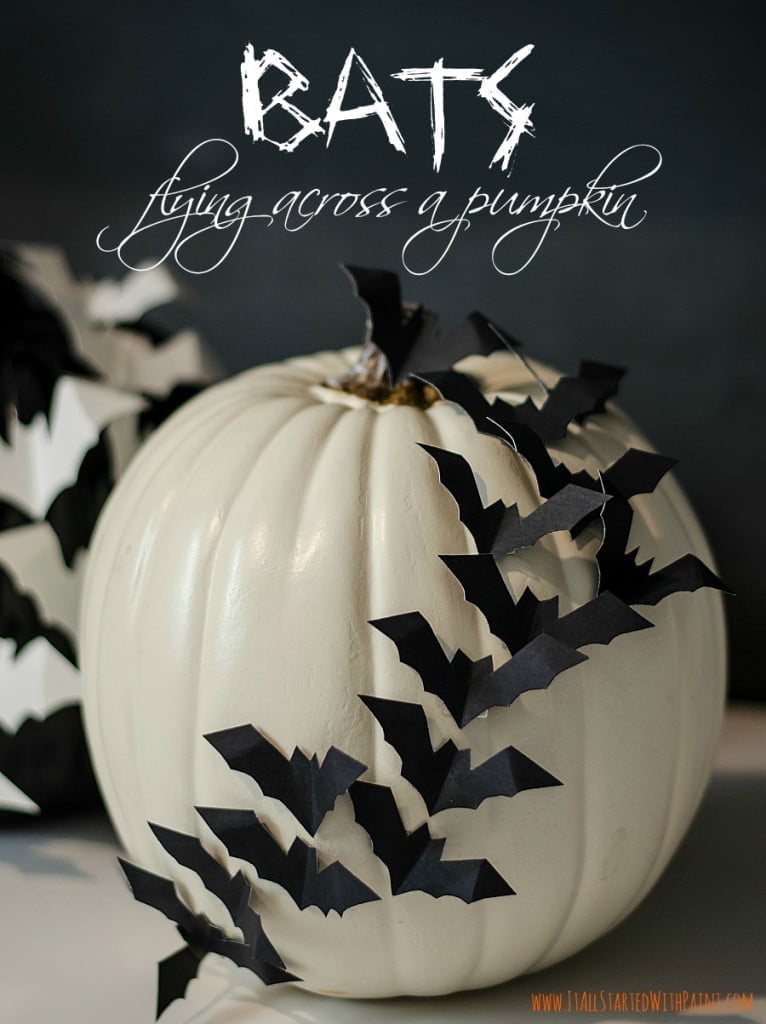 Bat cutouts in a flowing representation are the perfect addition to a white resin, ceramic or natural white pumpkin. The bats attached to the pumpkin simultaneously create an airborne and textural effect. They are even more noticeable when they are placed in a spider web display with other pumpkins. The bats are easily made with black poster board and a bat pattern, which can usually be found free on most any Halloween crafting site. Trace the pattern on a fold of the poster board to save cutting time, plus the bats will have more of a dimensional and finished look fashioned this way. The final look is bold yet serene and would make a perfect centerpiece for a Halloween party table.
23. Illuminated Haunted House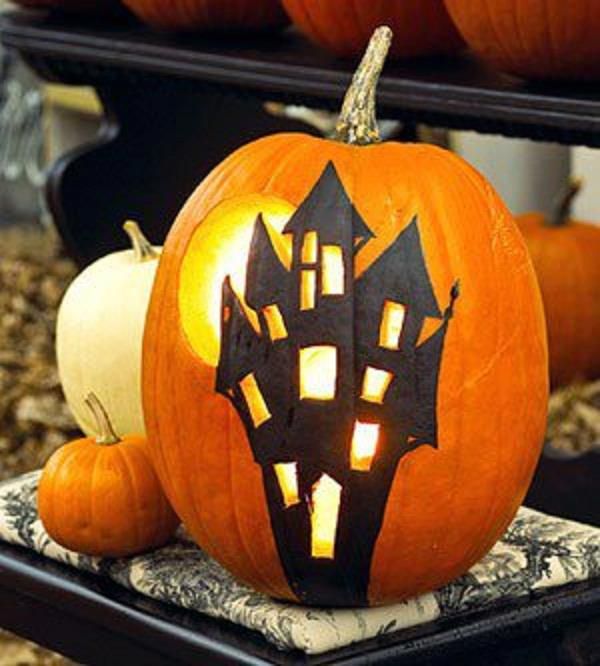 A haunted house is a perfect pumpkin carving idea, and the haunted scene can be easily displayed on the front of a pumpkin with the right kind of stencil and black paint. The design can be tied into a haunted house party theme and coordinated with Halloween table decorations, tableware and other party items. Find an online template or a copy of a haunted house from a craft book and print it out and transfer it to the front of the pumpkin and paint it black. Cut out the windows with a chisel and carve a moon in the background. Illuminate the open areas with a battery operated candle or other lighting. Pumpkin carvings like this one make a haunted house display come to life with light.
More pumpkin carving ideas on the next page…