The classic holiday colors are nice and all, but with the best purple Christmas decorations, you can breathe new life and style into your seasonal decor.
28 Beautiful Purple Christmas Decor to Spruce Up the Holidays

There is something that is simply appealing about purple as a color when it comes time for the holidays. Whether you aim for lighter or darker tones, purple gives off a modern, winter-like feel that can be classy as well as vintage. The color manages to invoke a variety of feelings depending on the tone and how you use it. It can be filled with passion, fun, and excitement. Something even better about the color is that you can easily blend it with some common Christmas colors such as gold and silver, giving those of you that still want to stand on tradition something to fall back to.
Now that you know purple is a viable color option when it comes to decorating for the holidays, it is time to start considering what type of purple Christmas decor you want to fill your home with and where you wish to set everything up. A great place to start is the Christmas tree. There are numerous ways you can implement purple within a tree from the ornaments to colorful LED lights. This can make a tree, whether you use a green or white one, stand out even more.
If you want to focus on the rest of your house, you can adorn various garlands that feature purple as the main color or even decorate the living room with some holiday throw pillows with a purple theme. This can blend the rest of your home's decorations with seasonal decorations.
There are numerous ways you can use purple to elevate your holiday decor. However, finding out where to start can be daunting. So, we discovered some of the best purple Christmas decorations that should help you better express yourself and build a more unique, festive holiday in your home.
1. Colorful Purple Decorative Tree Ornaments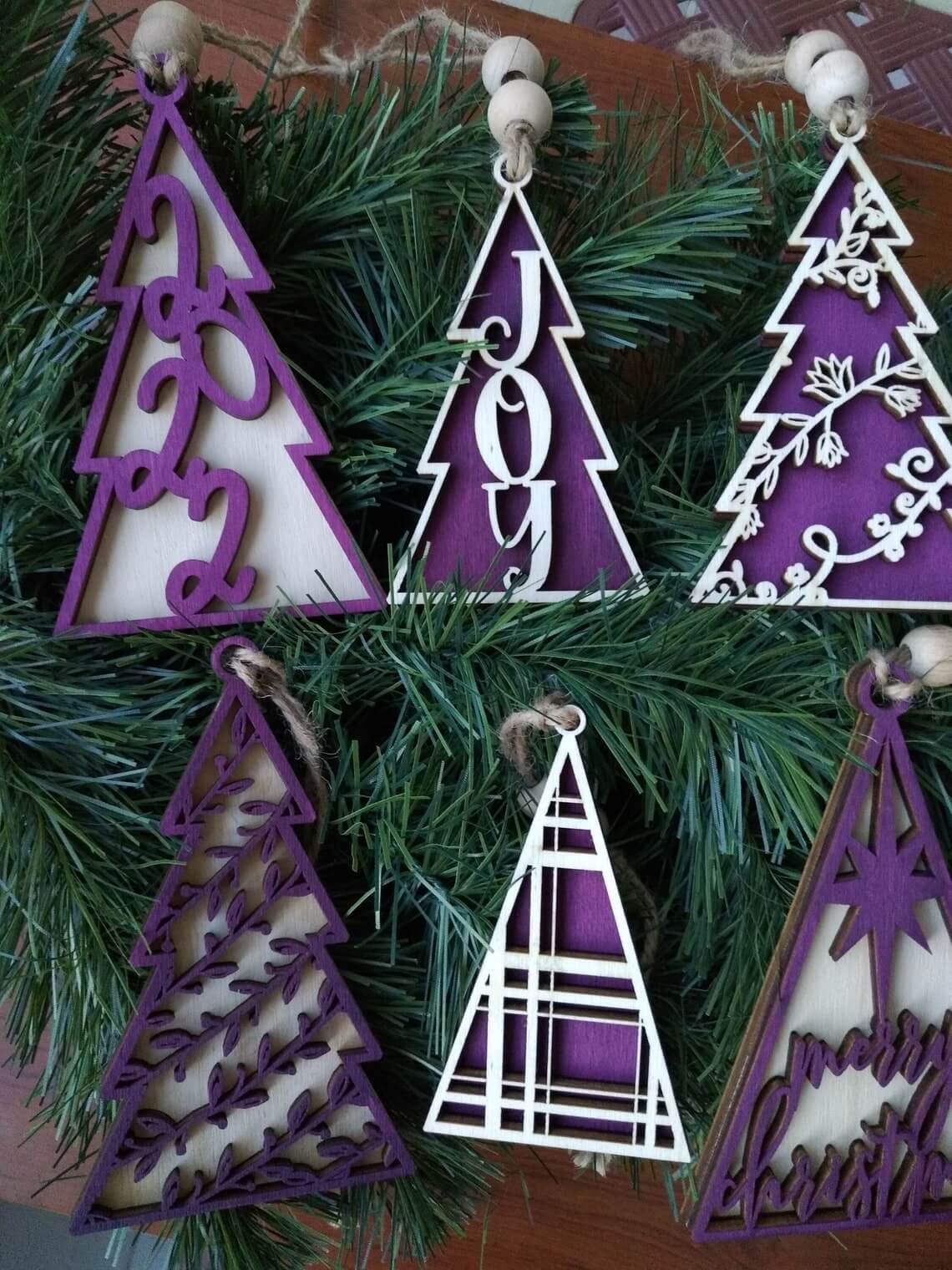 Bring in the holidays with these fun decorative tree-shaped ornaments. In this set of six, each ornament has its own style and design within the Christmas tree shape. They all also use the purple coloring in an effective way while still standing out. Some have written words inside while others feature detailed patterns. With the accent coloring on some of them, the trees will look great when used among silver decorations. Besides that, these even have 12 wooden beads for hanging. They give the ornaments a slightly outdoor-like feel that makes them come across as even more festive.
2. Christmas Glitter Poinsettia Decorative Flowers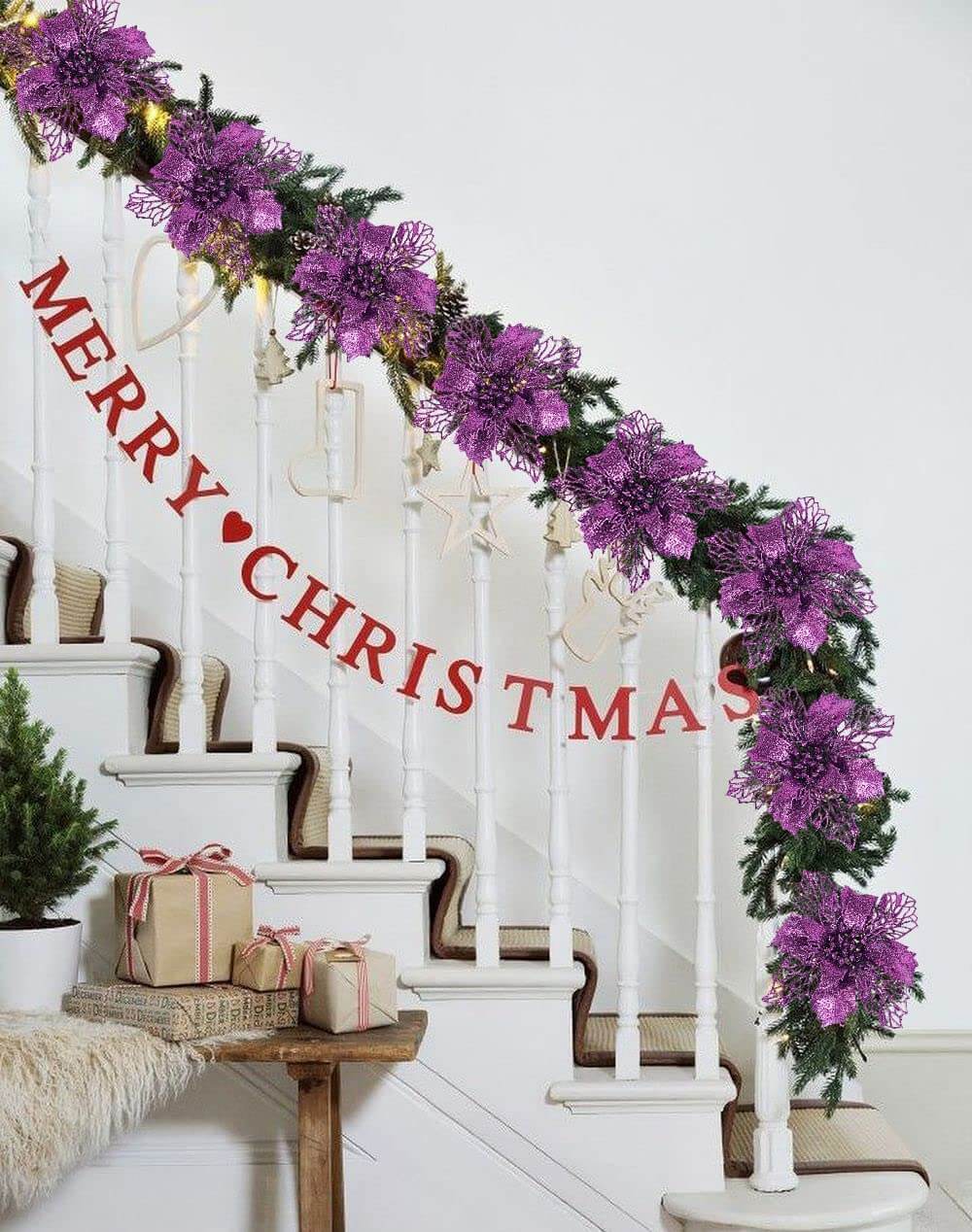 These purple decorations are able to effortlessly elevate the traditional poinsettia design found everywhere during the holidays. These faux flowers have a strong purple coloring that makes them stand out. Meanwhile, they also feature some sparkles throughout so that they shine at every glance. These make them look especially well when used around Christmas lighting. You can apply these to a tree or even use them to fill up your holiday wreath so that everyone knows what to expect among your decorations before they come into your home.
3. Purple and Gold Shimmering Garland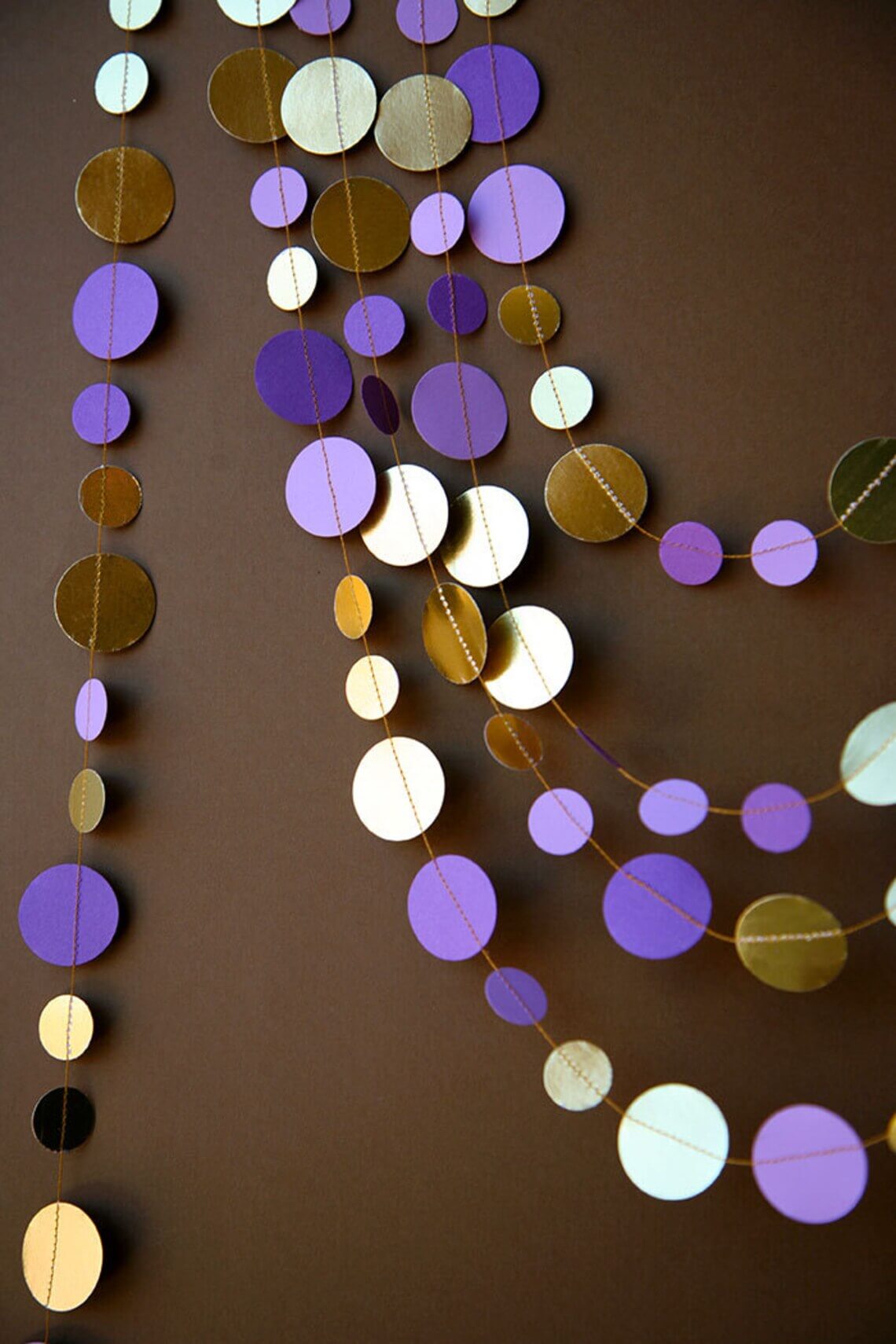 Purple is that one color that is able to easily blend in with the more stylish Christmas colors of silver and gold. In this case, it works with gold. The paper garland is available in four different lengths so that you can choose the one to best suit your specific decorations. The way this is made creates a lovely sense of movement as the circles are different sizes at times. Also, the purple and gold coloring are spaced apart rather well so that they all blend. This can look well hanging up just about anywhere too from the tree to around a table, making this a good choice not just for season-long decorations but also for those festive holiday parties.
4. Sea Team Glittering Christmas Ball Ornaments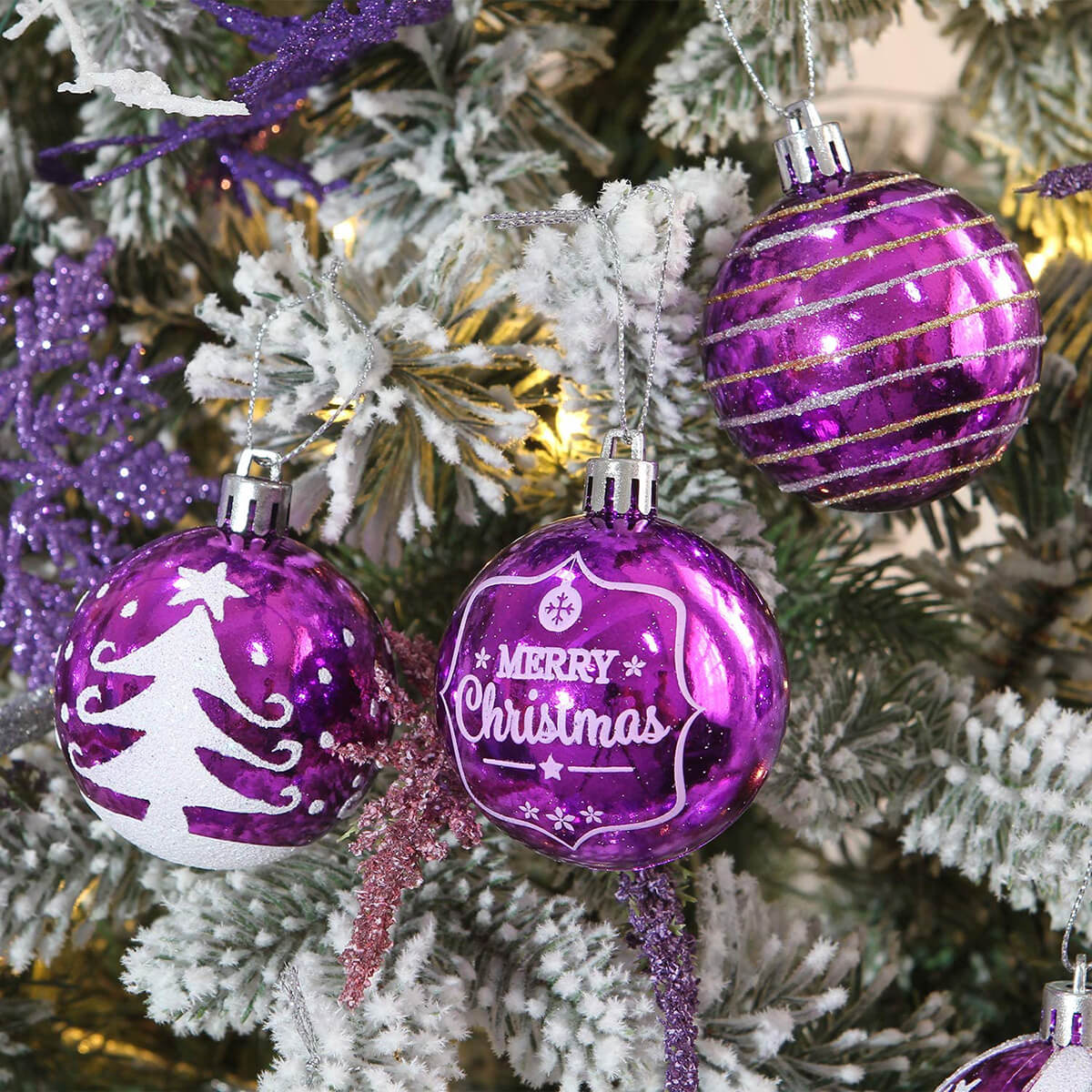 These glittering Christmas ball ornaments will bring a healthy breath of life to your Christmas decor. They are bright without being too overwhelming. They have various designs as well that help them further stand out. Another appealing quality about these purple ornaments is that there is also silver coloring throughout. This way, you can hang them up along with other silver ornaments to create a lovely design that is both traditional and modern at the same time, leaving you with a tree that everyone will talk about.
5. Artiflr Red Berries Christmas Tree Decoration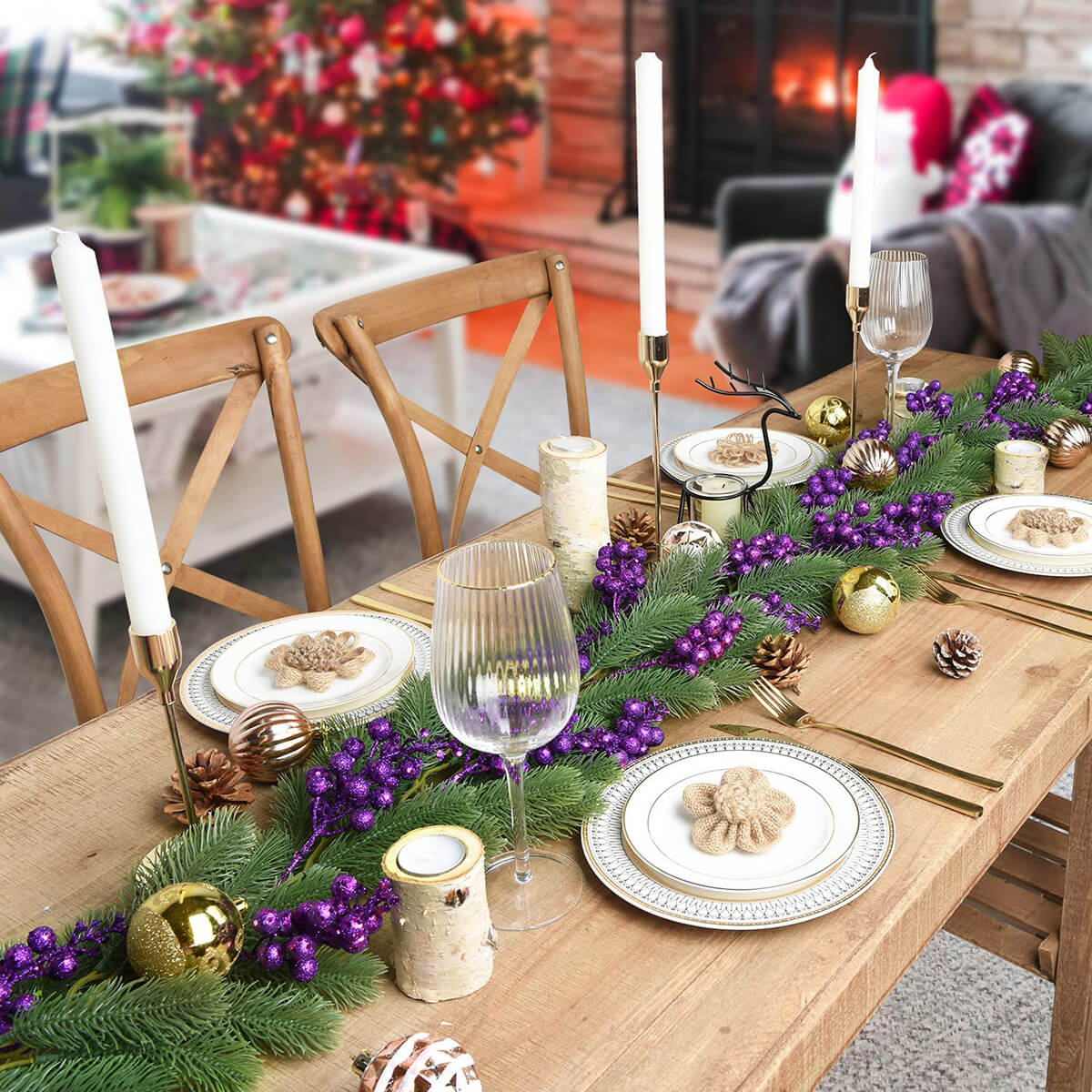 Whether for your Christmas tree or for your wreath, these red berries are an ideal addition. This comes with 14 berry stems, and each of the stems boasts 15 berries that glitter and gleam under the light. These are lovely to add to a variety of holiday decorations around your home if you don't want to stick with the wreath and tree. It works along with garland or even if you want to spruce up some Christmas stockings and gifts. With their design, you can bend them slightly so that they can better fit in with however you decide to use them.
6. Holiday Tree Light Lantern Decorations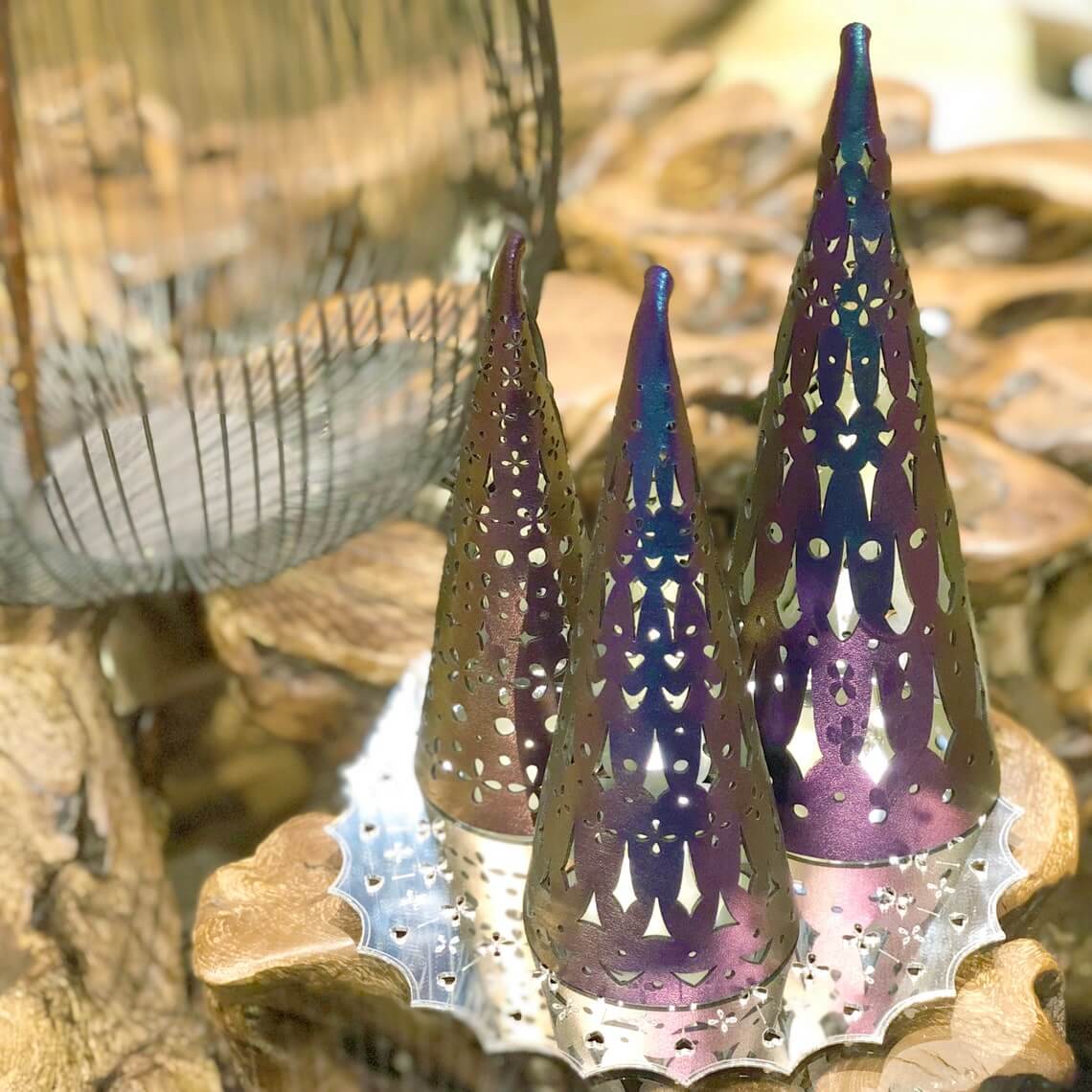 A pleasant way to fill your home with purple decorations this holiday is to focus on the tables. Whether you're decorating a console table or a coffee table, these tree light decorations are sure to brighten up the room. These handmade mini "trees" have gorgeous designs etched into them with a pleasing metallic purple coloring applied. During the day, it's easy to admire them. When night comes, the tea light allows them to shine, even more, leaving incredible shadows and lights around thanks to the designs. You get a set of three with these, and they are each a different size so you can set them up in various ways.
7. Purple Ceramic Christmas Holiday Ornament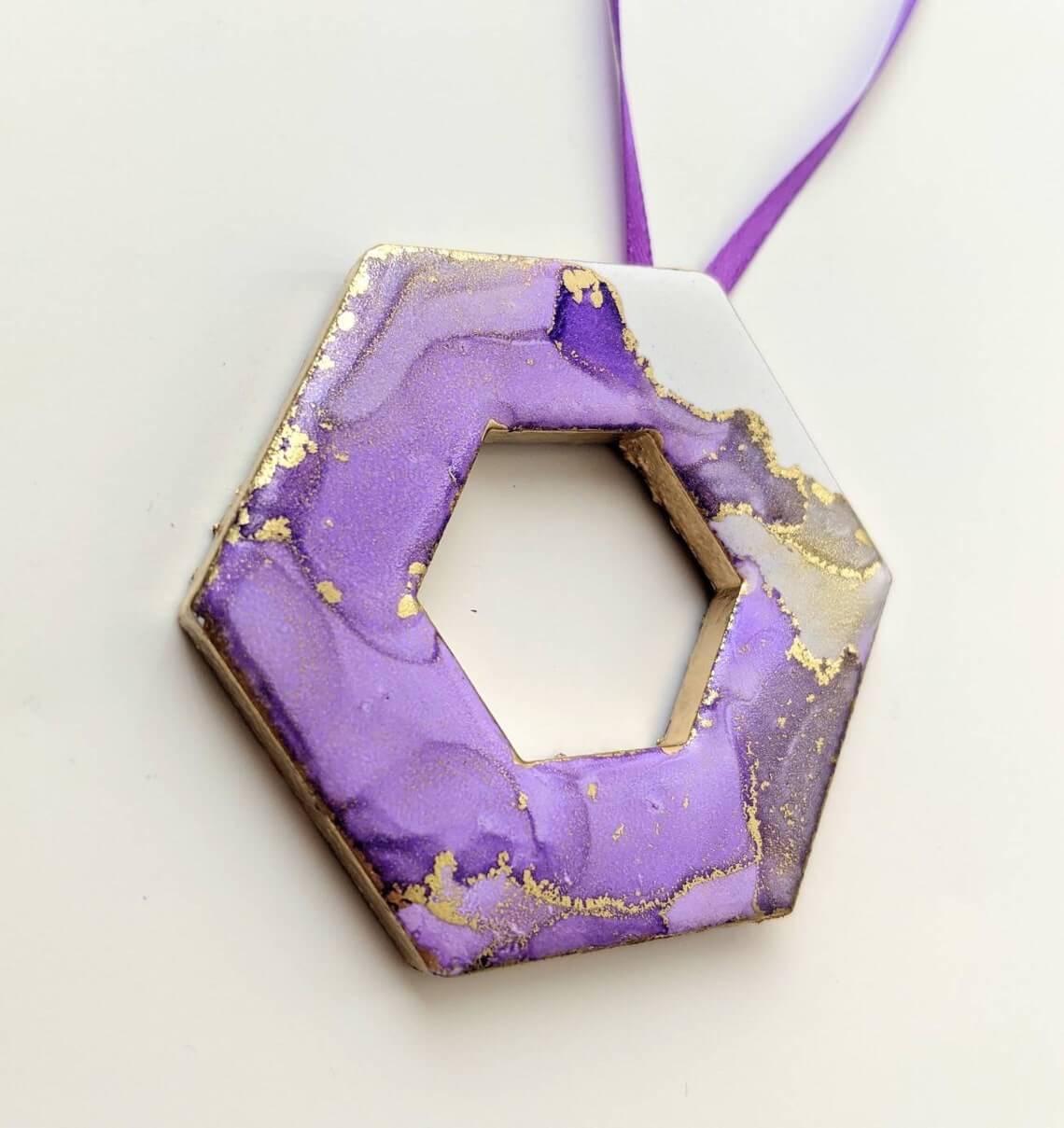 Made from ceramic tiles, this holiday ornament will get everyone talking when they see it adorning your tree, hanging by a window, or even decorating a wreath. The purple coloring is gorgeous as it isn't one solid color. Instead, there are lovely darker swirls found in the color. Besides that, this handmade geometric-like ornament features flecks of gold throughout. It further breaks up the color well, creating a stand-out ornament that you can pair with other gold or even silver decorations. This makes for a nice spin on tradition while still having some old-fashioned holiday themes work as accent coloring. So that there's no worry with how you hang this, it's made with a ribbon loop.
8. Golden Bird Purple Flowers Ornament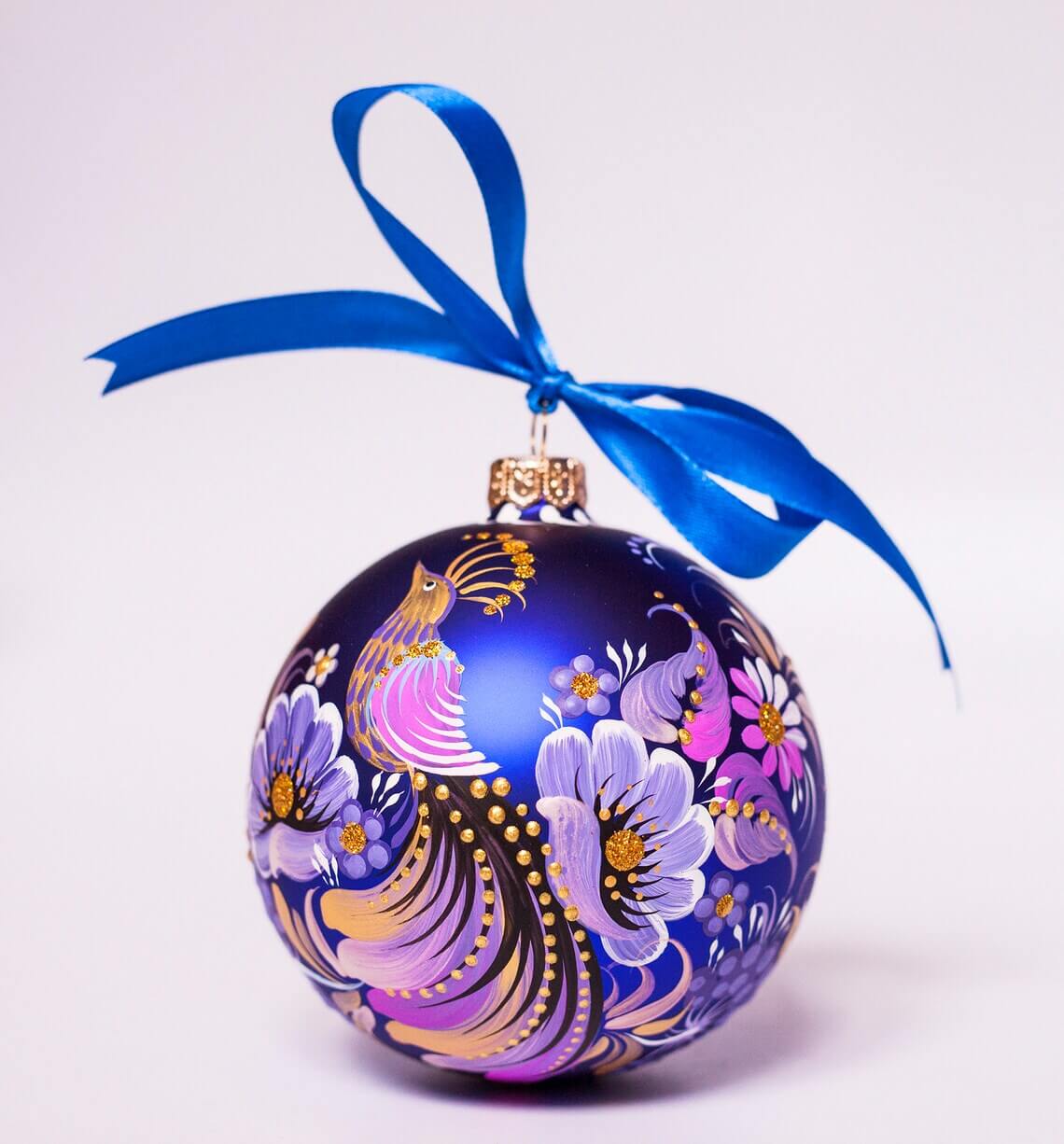 When you want something that is completely distinctive and stands out, this golden bird purple flower ornament is the right choice. It has a lovely artistic flair to it that makes it absolutely beautiful to add to your Christmas tree. There are numerous colors within, not just purple, so this ornament won't look out of place if you decide to use it alongside other types of Christmas decorations. At the same time, this can look great when given as a gift to others rather than just used for holiday decorations inside your own home.
9. Shatterproof Purple Christmas Ball Ornaments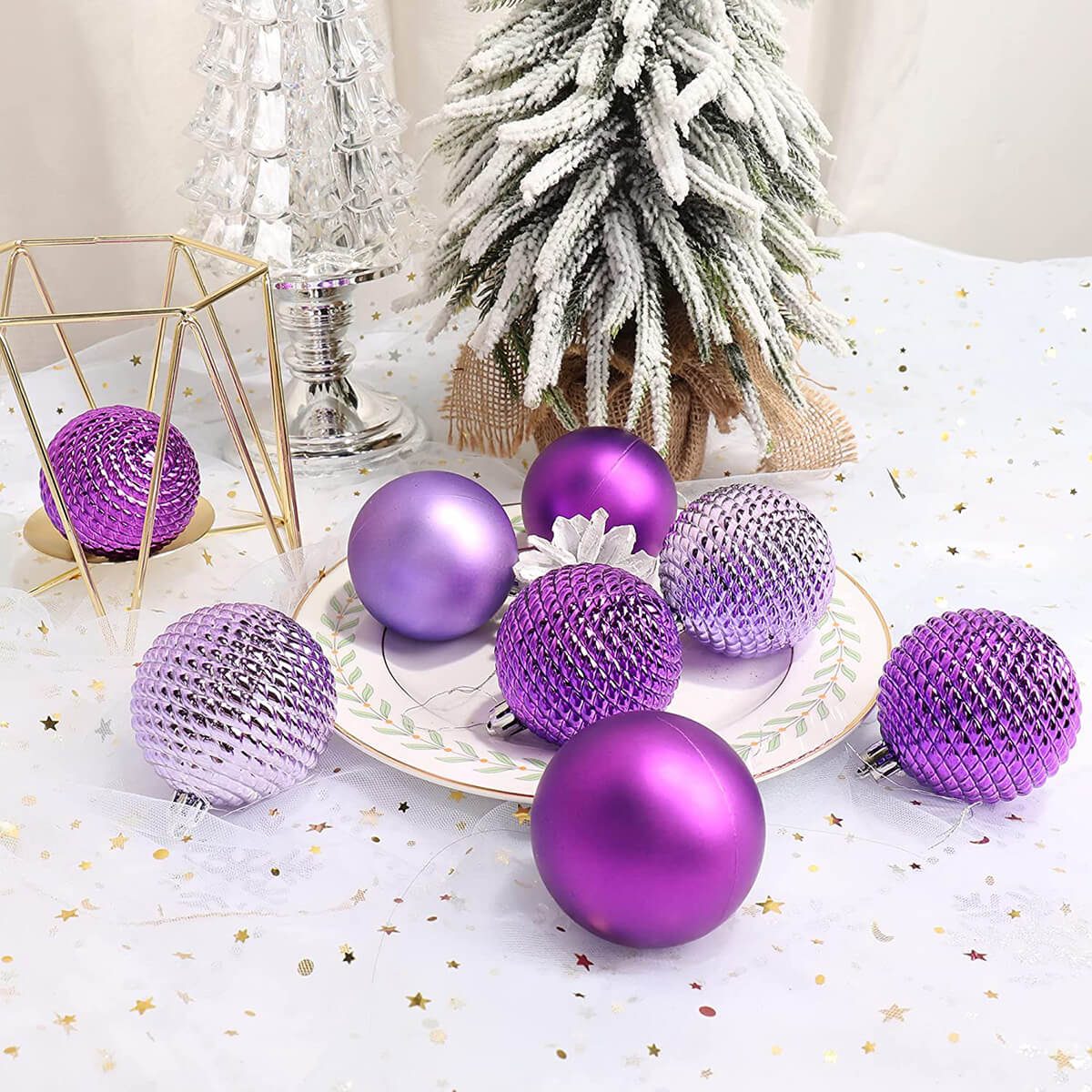 Pack up your Christmas tree with these incredible Christmas ball ornaments. Available in purple color, these ornaments feature a traditional design while maintaining a non-traditional coloring pattern. They are beautiful and large in size to make an obvious impact on your holiday decorations. There are some slight differences in the coloring too so that each ornament better stands apart from one another. You get an incredible 32 pieces to work with as well so that you can create a personalized tree.
10. CaliTime Throw Pillow Purple Cases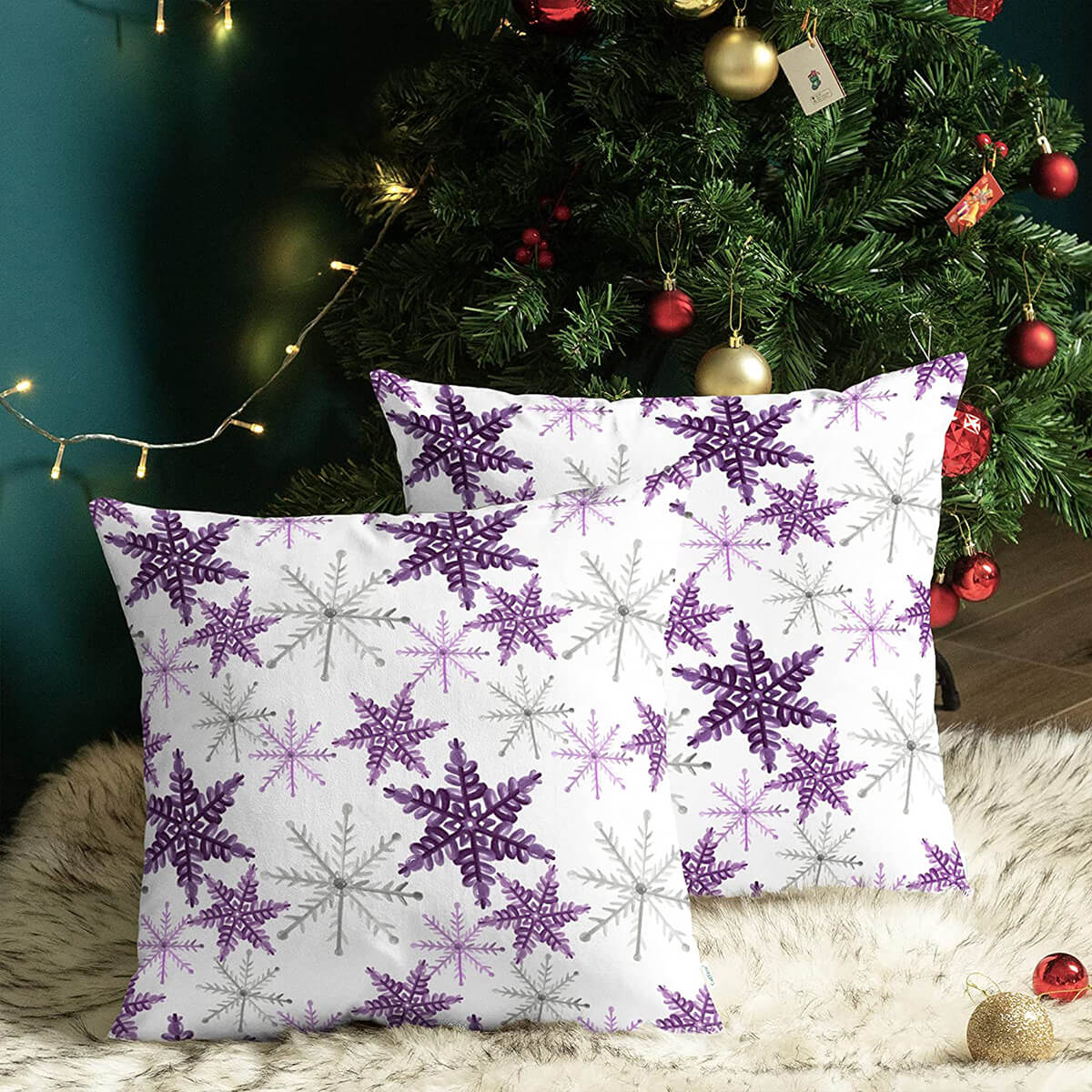 These throw pillow cases are fitting for when you want to change up your holiday decorations without getting new pillows each time. Purple isn't the main color here though. Instead, these pillowcases feature a white background with purple accents. The purple accents are incredible though as they are snowflakes. They are various shades of purple too as well as some being silver in color instead. This allows the pillows you use the cases with to blend into the rest of your decorations with ease while still standing out at the same time.
11. Customized Alcohol Ink Christmas Baubles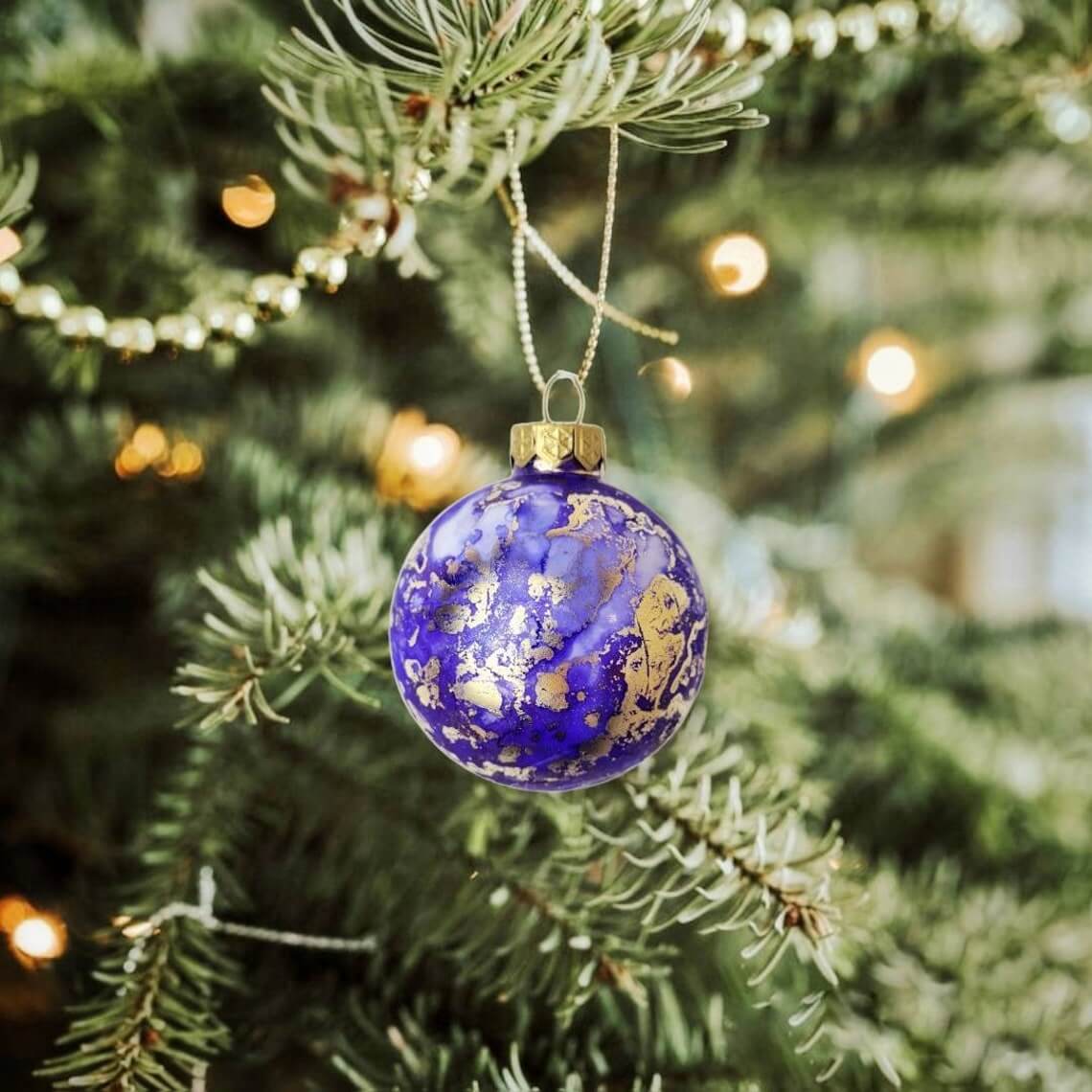 These Christmas baubles take something that is more traditional and add an updated, fresh spin thanks to how the coloring is applied. They are made to order in your color of choice, so you can easily get purple ornaments just in time to decorate your tree. There is a metallic look to these as well, and even though they are painted, the gold behind the coloring stands out still. It is an effortless way for you to capture the holiday spirit with traditional coloring and still have something like purple to offset everything, transforming your tree into something more modern and sophisticated.
12. Vintage Purple Christmas Ornament Decor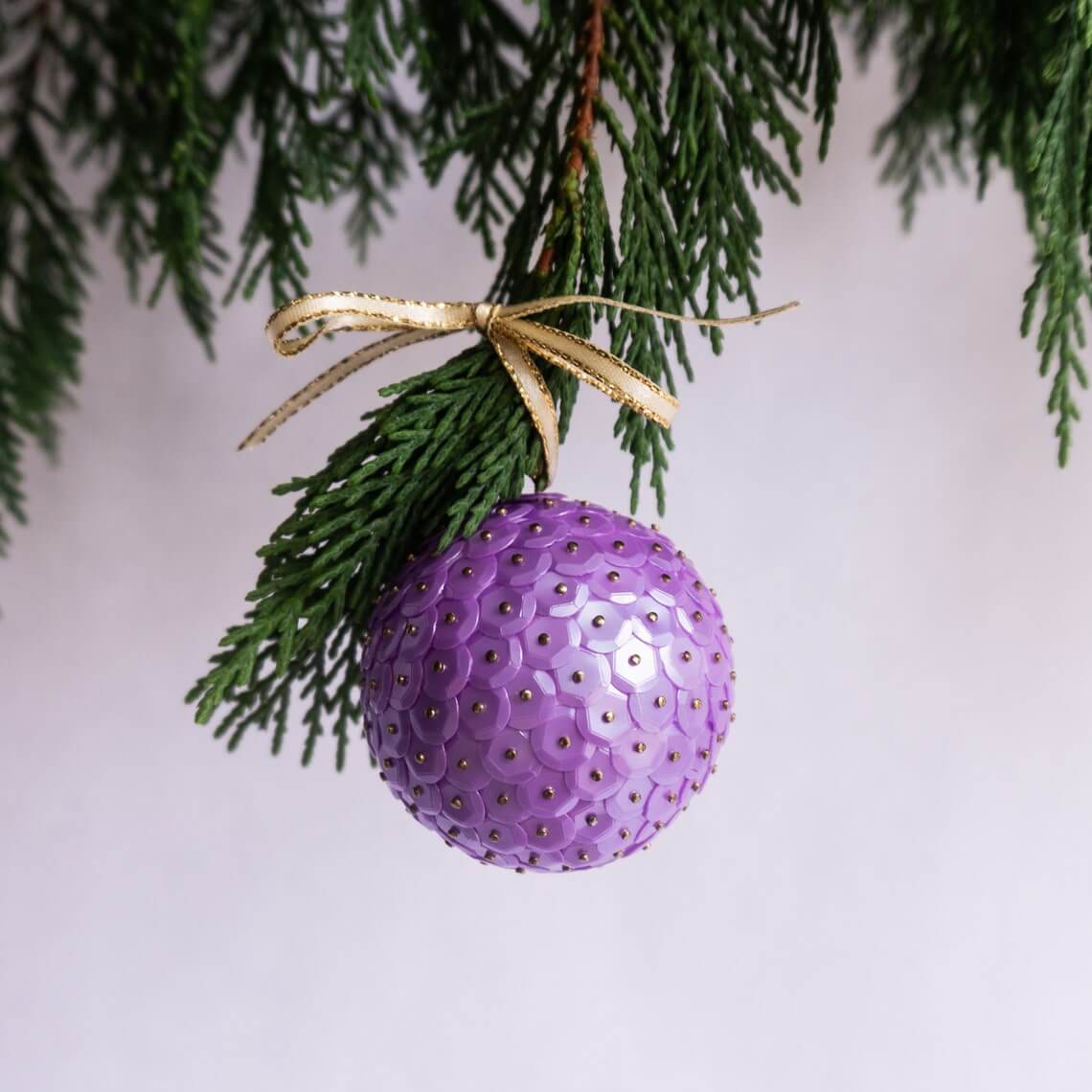 Lavender is such a pleasing color to admire around the holidays, and when used with a vintage ornament, the color is that much more outstanding. This ornament starts out traditional, but it is elevated with the satin sequin and gold pins applied. They leave the ornament with a finish that will allow it to stand out among your other ornaments. As far as purple Christmas tree decorations go, this one is perfectly fitting for a contemporary themed home. The gold pins will help you combine this with gold Christmas decorations as well if you'd like to mix and match your colors.
13. Kuppn Artificial Purple Glitter Poinsettia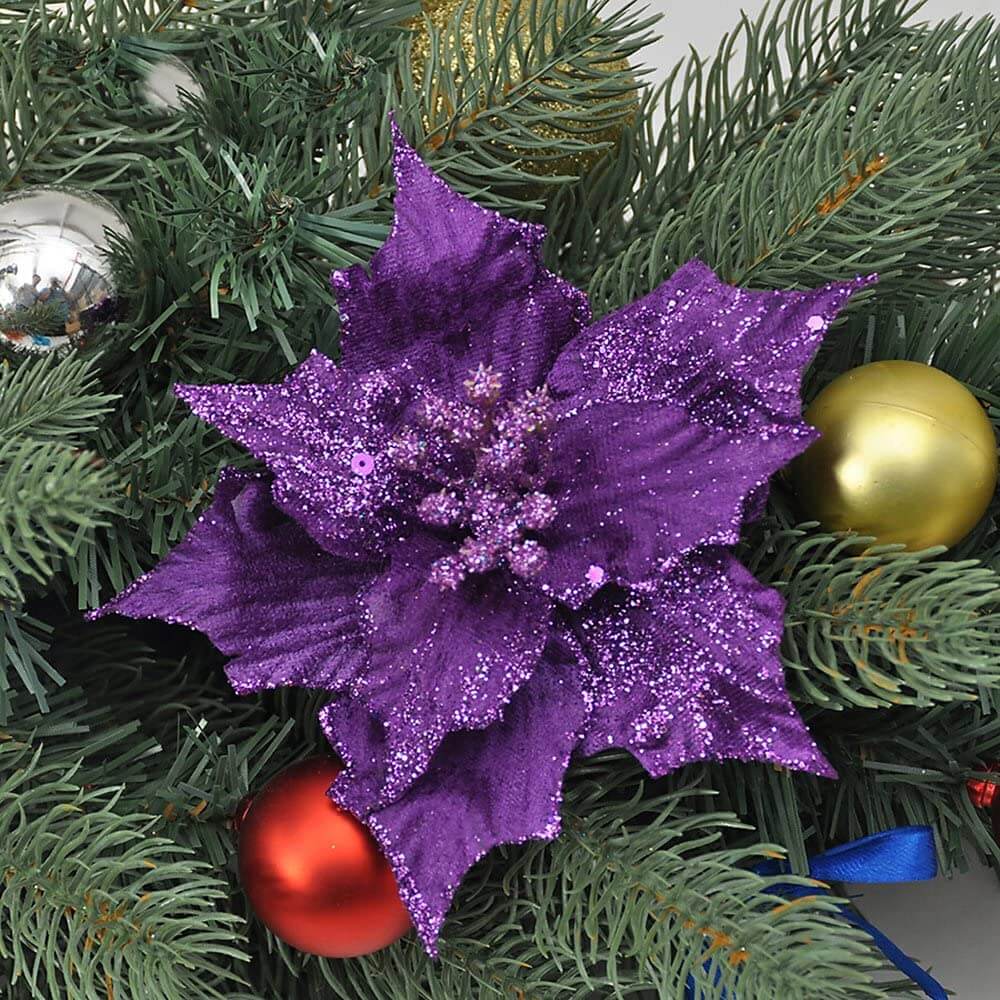 Poinsettias are always gorgeous to use, and they are traditional when it comes to Christmas decorations. By going for a purple-colored one, you are able to put a twist on this tradition. The purple coloring is bold and readily captures attention. Meanwhile, there are sparkles throughout to give it a bit of a glow. This is a 20 pack as well so that you have plenty to use to decorate with whether you are creating a Christmas scene around your home or simply filling up your tree with these beautiful faux flowers.
14. Shiny Purple Hand Blown Glass Ornaments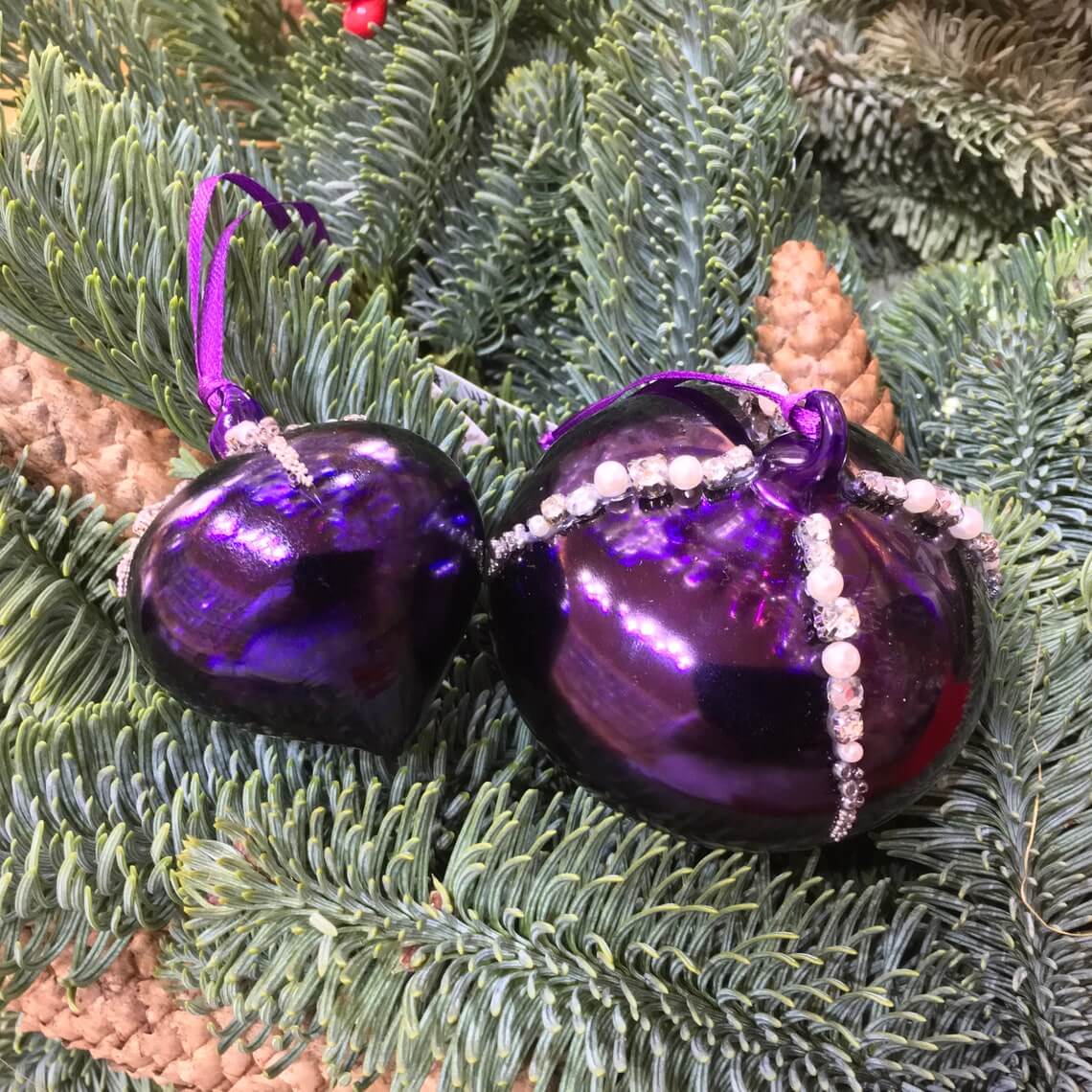 These festive hand-blown glass Christmas decorations add a welcoming splash of color to the holidays. They manage to be both simple and attractive at the same time. The ornaments have a traditional shape you'll find with other Christmas tree hangings, but the purple truly shines, illuminating more once you set up the lights on the tree. Even the diamante jewels, silver beading, and pearls that are applied to the top of the ornaments gleam. It will make you eager to light up the tree for all to see just how well your purple Christmas decor truly sparkles. If you don't want to use a hook, these come with a matching purple ribbon for hanging.
15. KI Store 36 Christmas Balls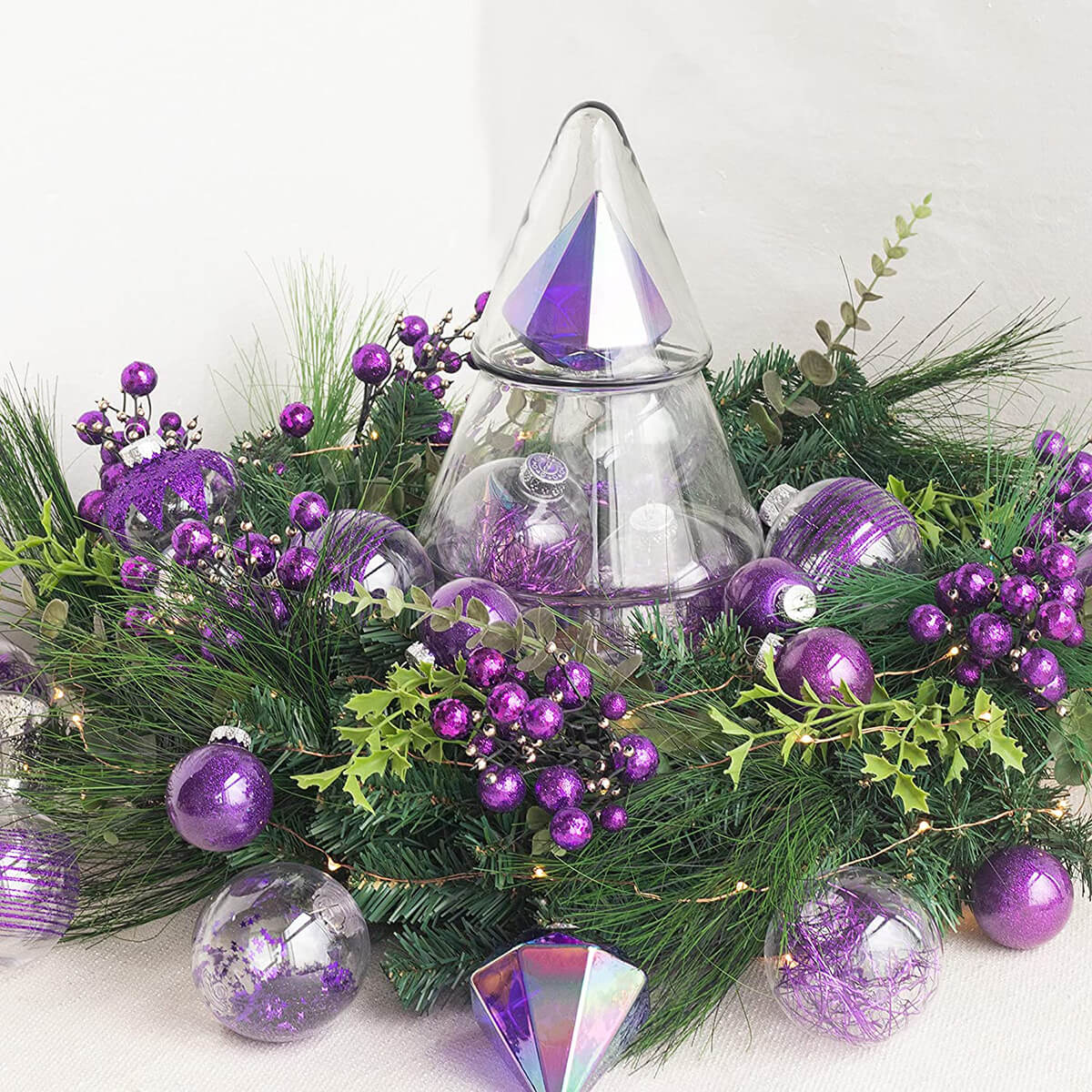 With these Christmas balls, you can create a purple paradise right inside your home. There are 36 pieces all together so that you can fill up an average tree with ease. These ornaments are of various sizes and shapes too with some traditional pieces as well as some unique pieces. The purple stands out with ease, and there are some lightly colored ones with silver weaved in between too so that you can add these ornaments alongside other holiday decorations like silver ornaments. This leaves you with both traditional decorations as well as more stylish ones.
16. Slideep Purple Christmas Tinsel Garland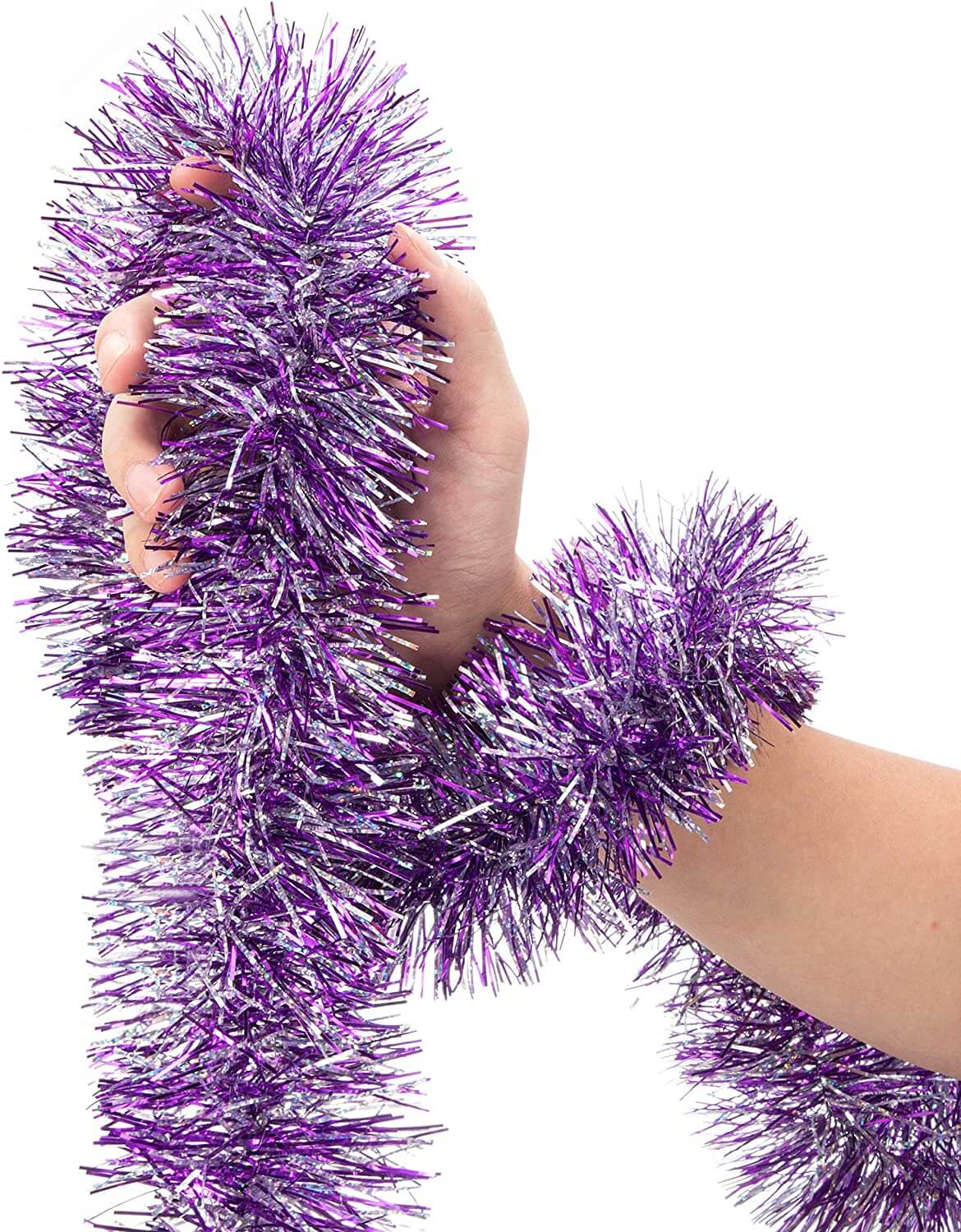 As far as Christmas decorations go, the garland is a staple. It is so simple to use as well as being rather versatile in where you can use it. You can string up garland over a fireplace mantle, down the stair banisters, over archways, and of course, along the Christmas tree. This is a two-pack as well so that you have more than enough to use. It's 18ft long as well, providing you with ample amount to fully cover a tree if you wish. The purple coloring looks beautiful here as well as it glimmers with flecks of silver.
17. Aubergine Purple Hand Blown Glass Decorations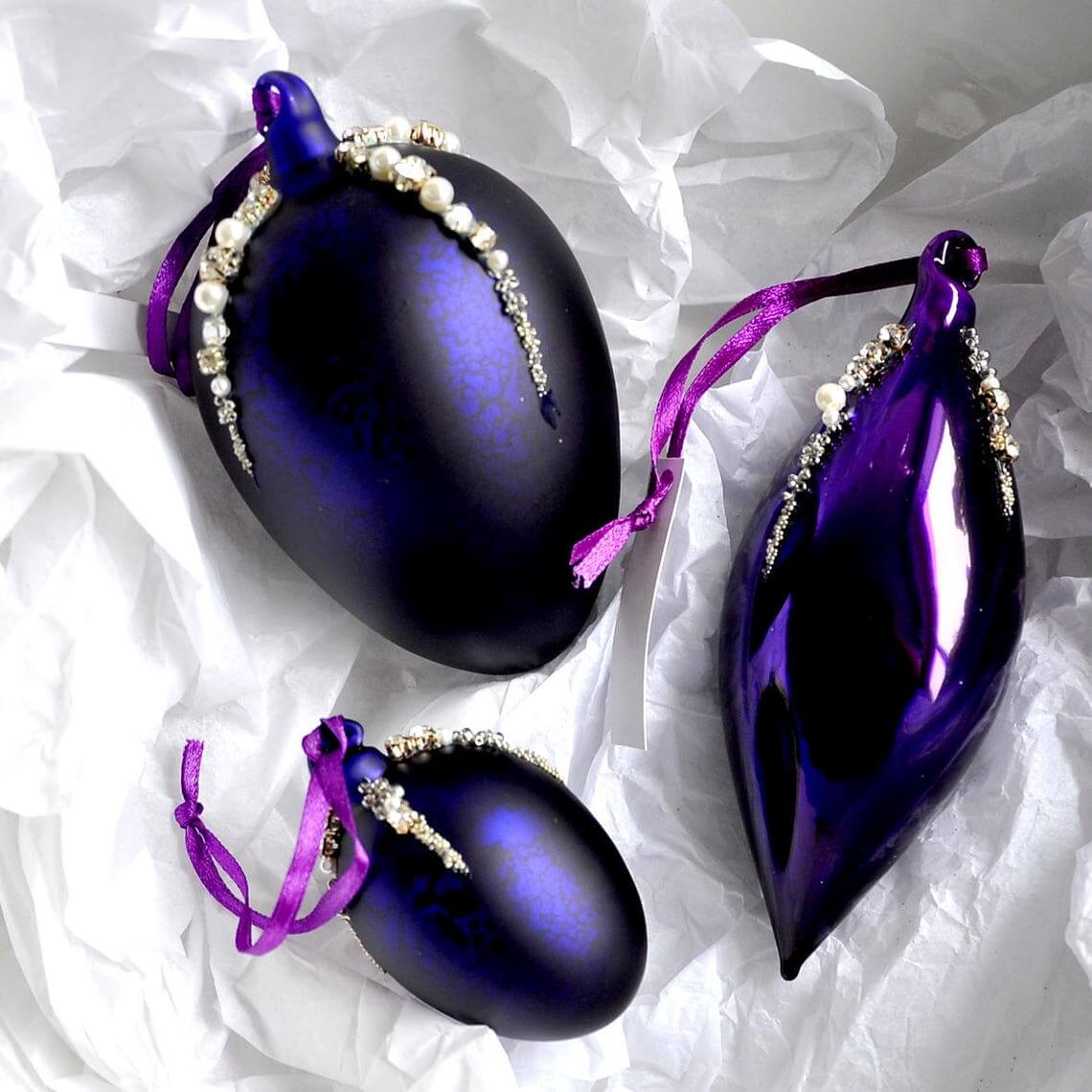 With these hand-blown glass decorations, you can add something truly beautiful and magical to your holiday decor. These egg-shaped items can work well when you're in need of purple Christmas tree decorations. They are each a different size, and two of them have a matte purple coloring. Meanwhile, the other one features a shiny purple instead. All three of them have hand-decorated silver beading and diamante jewels applied to the top. These make for such stunning ornaments that can easily give your tree more personality. With the shape of the decorations, they can even work well in a more contemporary decor set.
18. Twinkle Star 33Ft Purple LED String Lights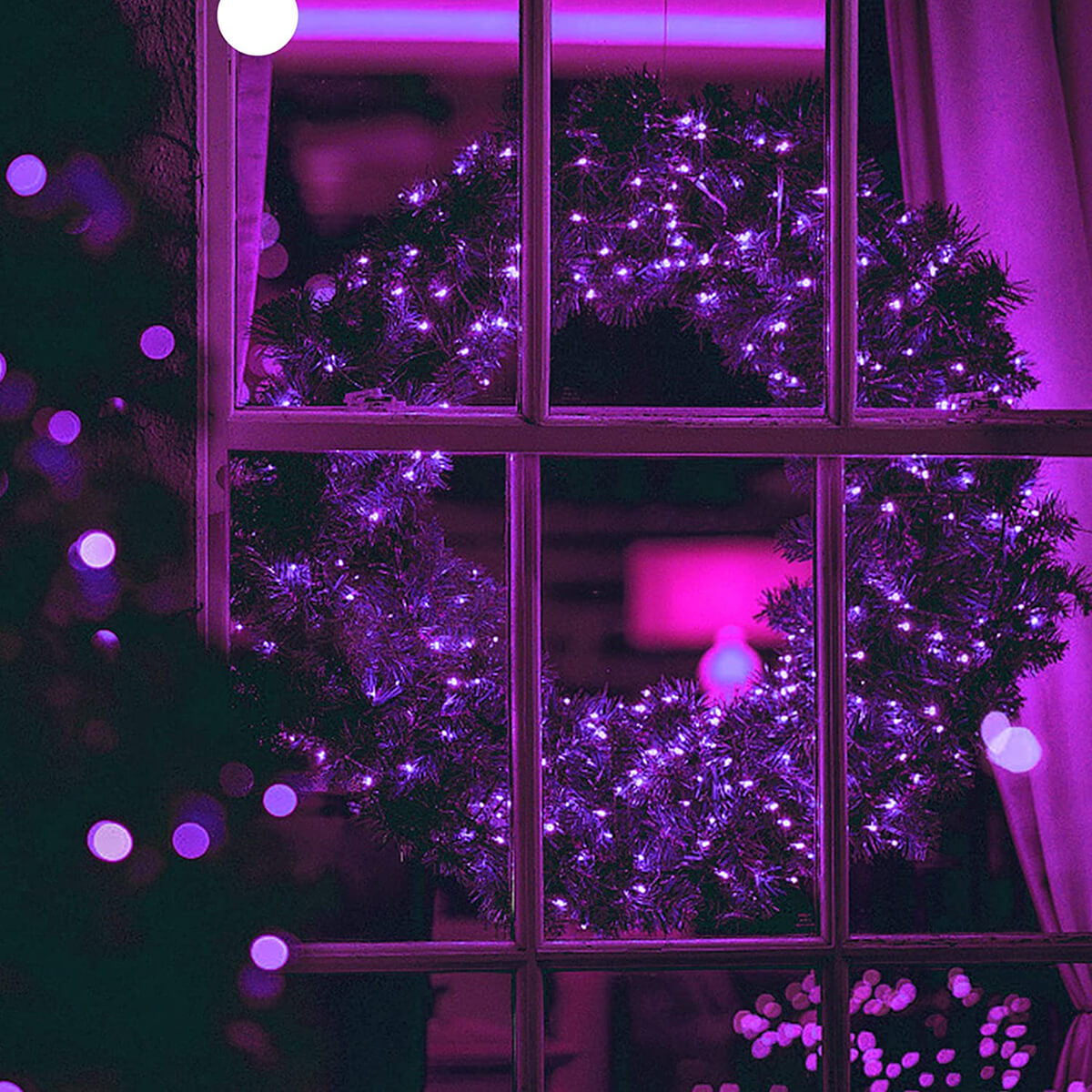 Purple Christmas tree decorations are not complete without the right lighting to go along with everything. There are 100 LED string lights with this, paving the way for you to effortlessly fill up your tree with gorgeous mood lighting. There are eight functions too so that you can have them emitting light however you wish from staying on steady, to slowly fade and even a twinkle setting. Simply press a button and change them as you wish. If you don't want to use them on your tree, you can also use them to decorate your home. These are designed for indoor and outdoor use.
19. Hanging Resin Purple Snowflake Decoration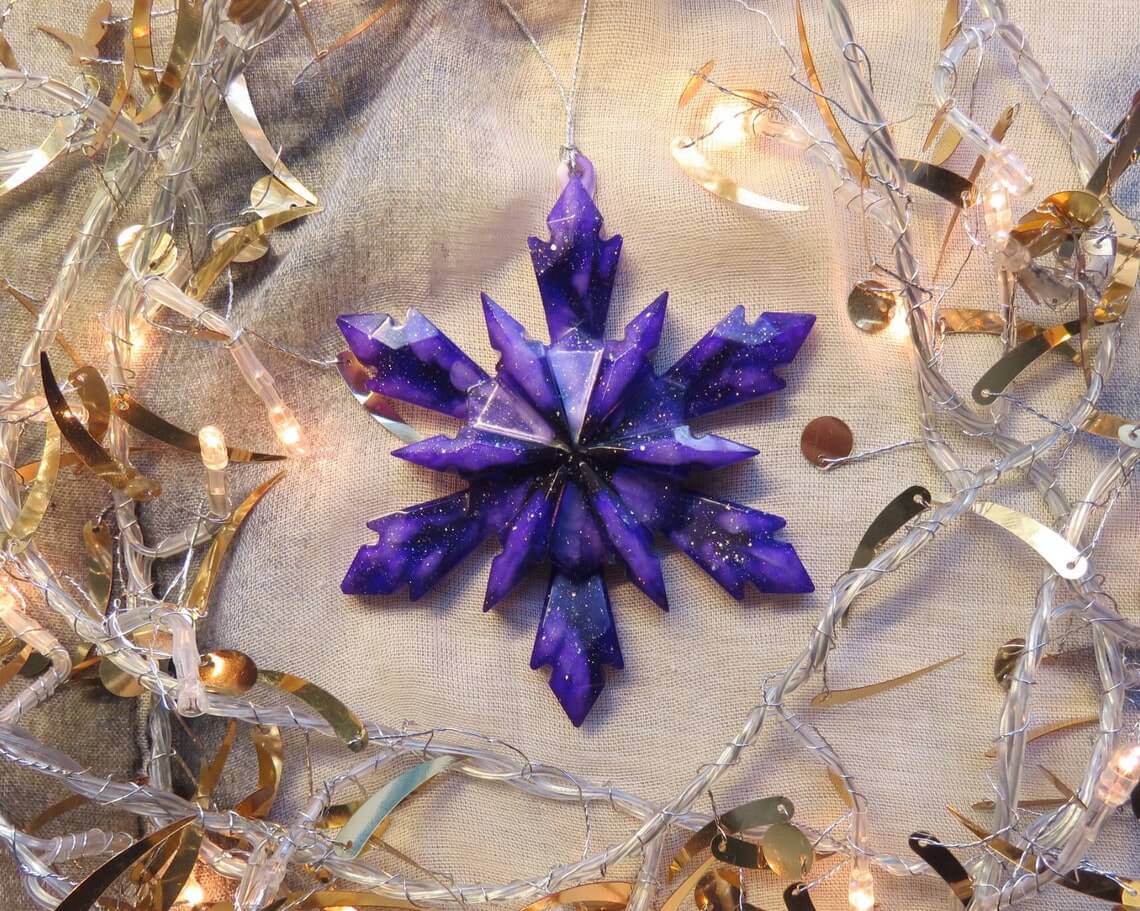 Out of everything that represents the holiday season, snowflakes always stand out due to their intricate and unique designs. This purple snowflake decoration has a beautiful geometric pattern that works well with the overall darker coloring applied. There are awesome sparkling flecks throughout the snowflake too. This can help cement the winter theme. At the same time, it also has a space-like appearance. It can create an exceptional, otherworldly look that further lets your holiday decorations have a more personalized touch. A cool thing about this snowflake is that it can work for various purposes such as hanging on a wall or a tree.
20. Purple Christmas Ball Ornament Decorations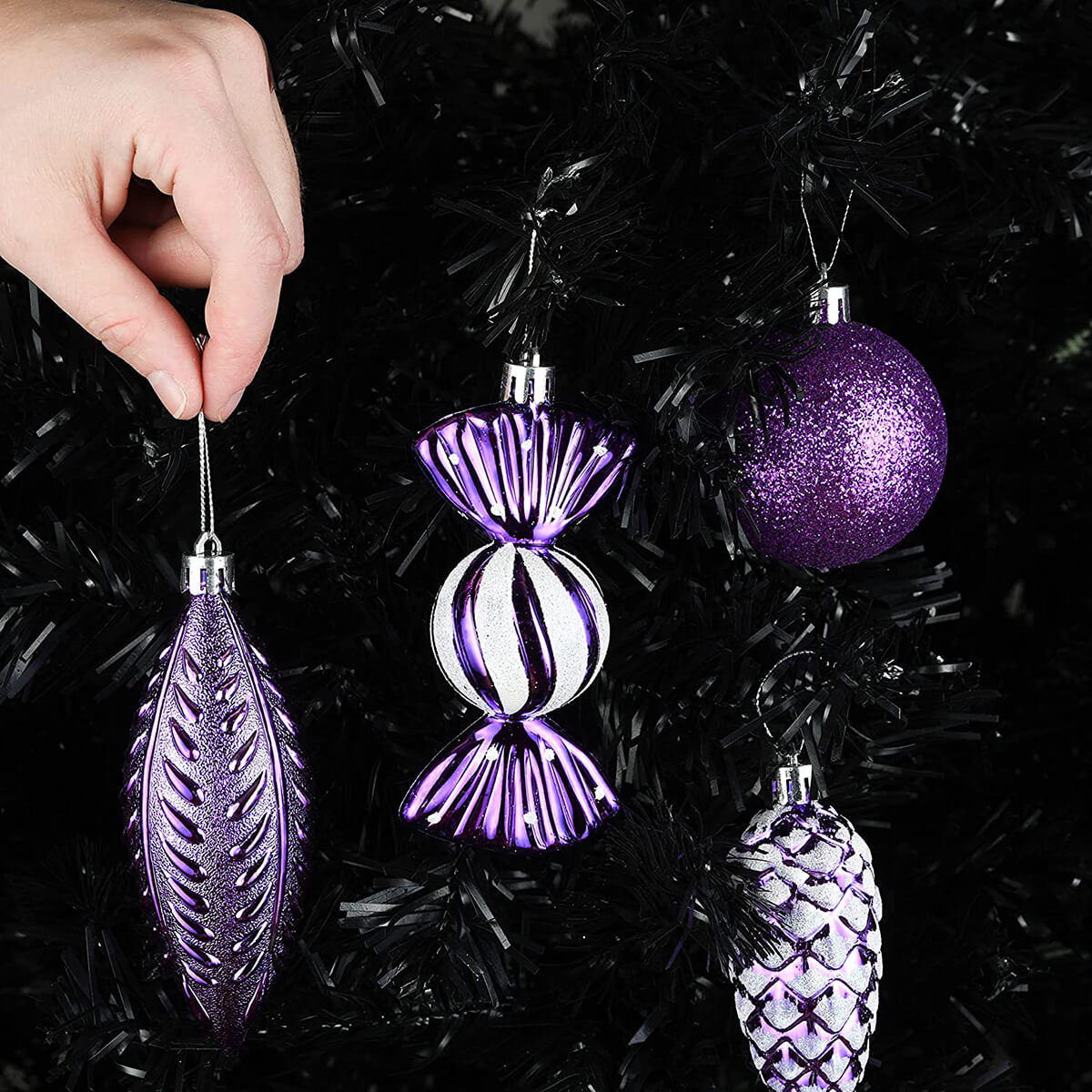 Get ready for the holidays with these stunning Christmas ornaments. This set includes 24 ornaments in all. There are various designs as well throughout this awesome purple set as well as different types of coloring. Some are matte, others are simple solid purples, while even more feature a glittering aspect so that they shine under the lighting. You can even find them in various shapes and sizes too, allowing your Christmas tree set to stand out. These can work well when you add them with other types of ornaments too like silver considering some of the lighter colored ornaments.
21. Yuboo Purple Christmas Tree Skirt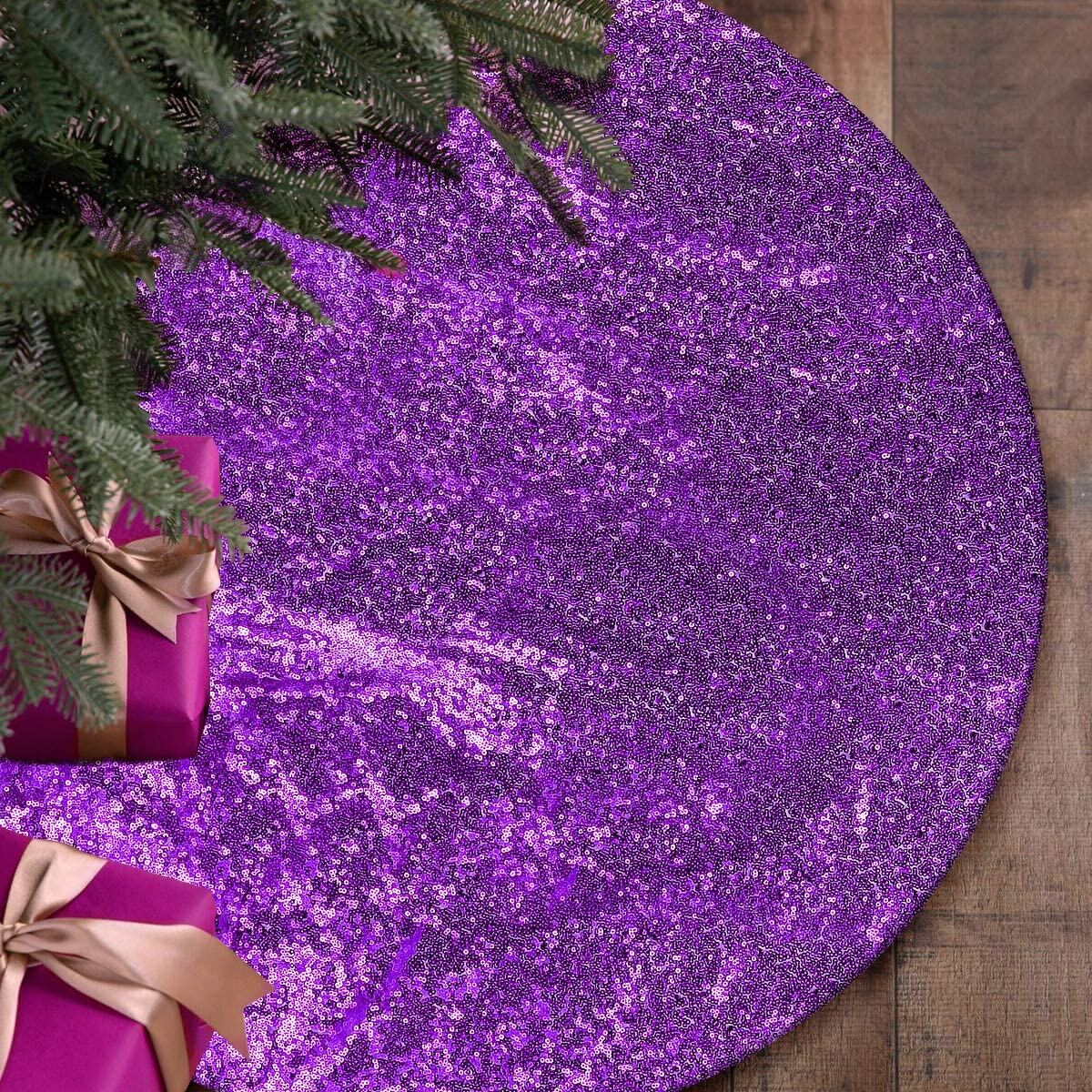 Cement your Christmas tree decorations with a purple flair by adding this incredible tree skirt to the ensemble. The material features remarkable round sequins. These metallic sequins manage to reflect light rather well. Because of this, they can sparkle with ease much like the glittering snow. This makes for a wonderful focal point to your holiday decorations as it comes across as modern and romantic, and it truly shines at night when the only thing lighting up the room and the skirt are the tree lights.
22. Rhinestone Purple Christmas Ornament Decorations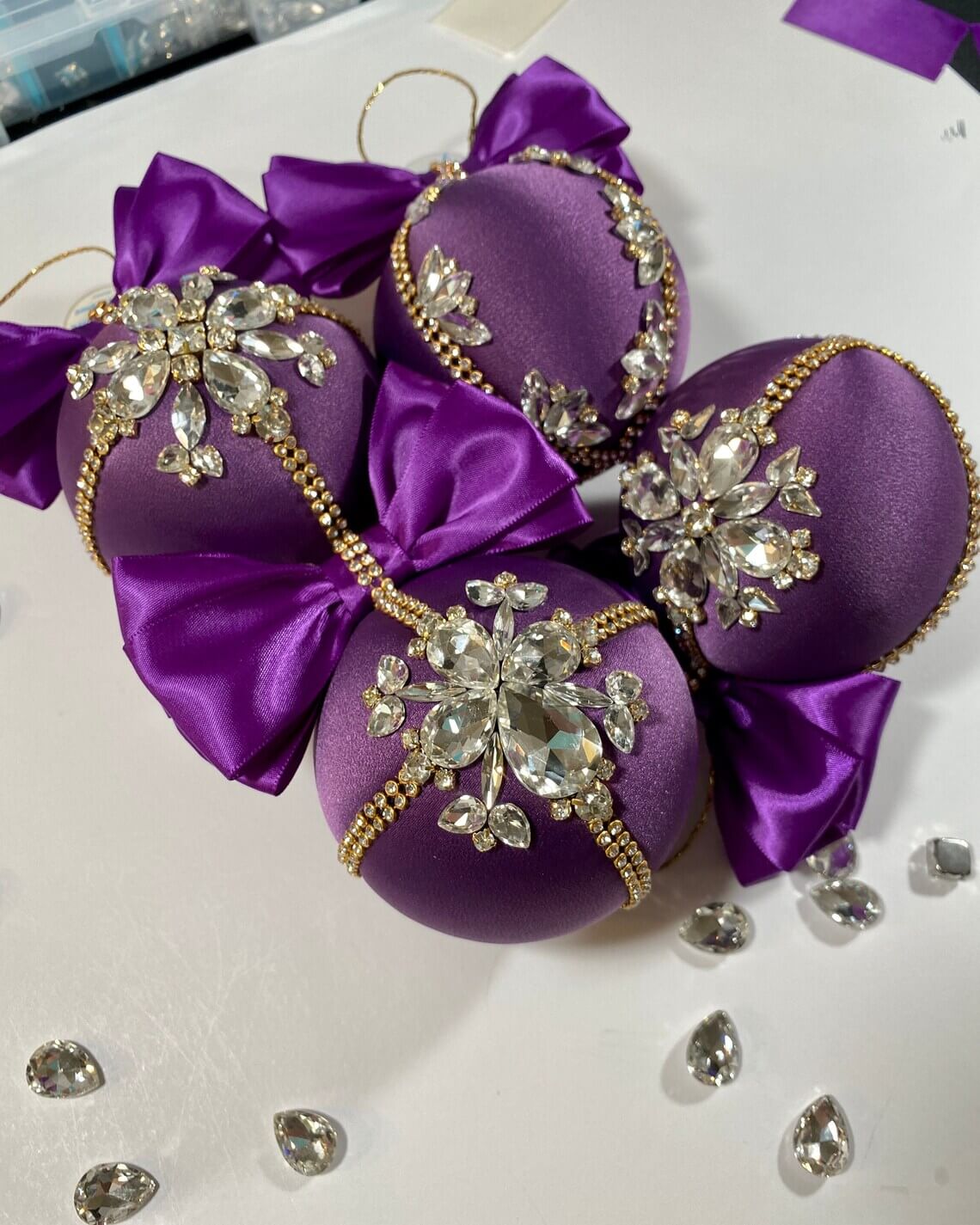 With these rhinestone Christmas ornament decorations, you can add some loud flair to your holiday decorations. These look expensive without actually being expensive, leaving you with decorations that are appealing alongside other silver or gold holiday decorations. It is a great take on blending the traditional with the new as you are left with something bold, attractive, and chic to hang up on your tree. Feel free to purchase just a single ball as a gift or opt for numerous ones to decorate your tree with.
23. Purple Ceramic Christmas Ornament Set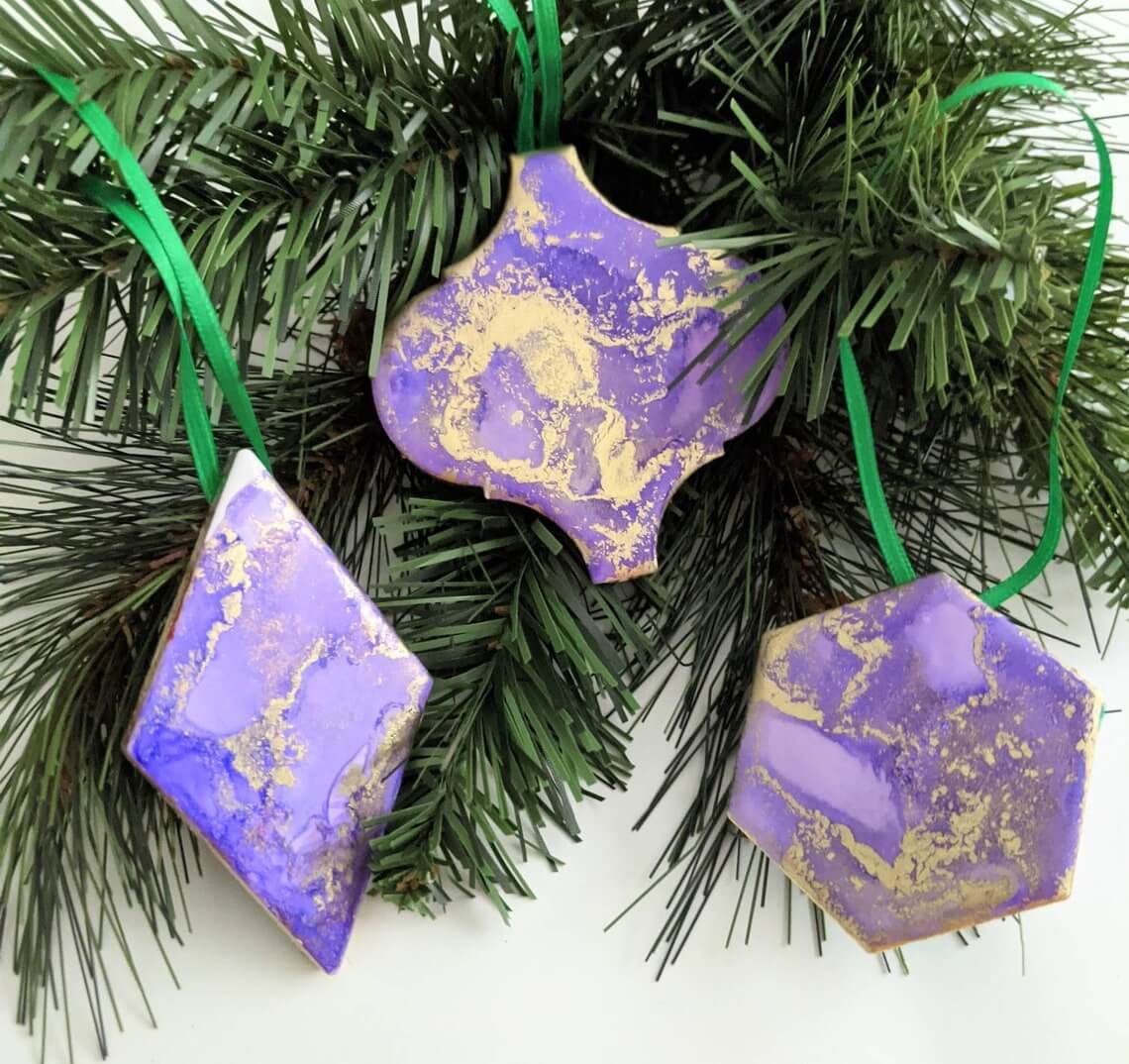 These small purple ceramic ornaments can add a cute and colorful touch to your holiday decorations. Available in a set of three, these all have their own shape to further their individuality. They also each have a gold background with purple painted on top. This provides the ornaments with such an attractive pattern that is more artistic than anything. With the gold meshed in with the purple, you can easily add these ornaments to your gold holiday decor so that you can still have a touch of a traditional theme to go along with your modern decorations.
24. Cool Aubergine Paper Honeycomb Ball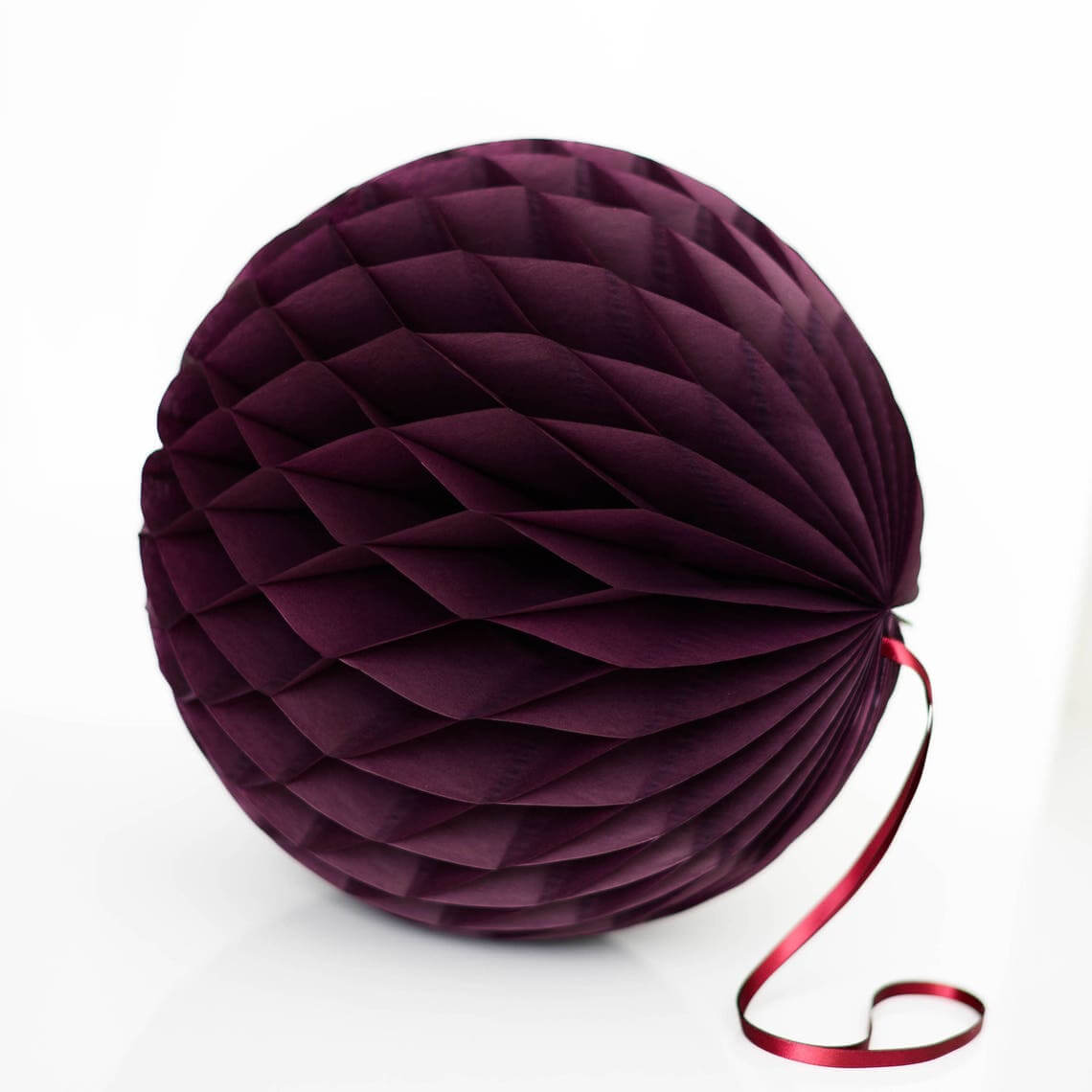 This handmade tissue paper honeycomb ball is certainly distinctive as far as purple decorations go. With its matching ribbon loop, you can easily hang this up anywhere in your home. It can add an interesting touch when hung in the hallway, various entryways, and throughout your living room around where the Christmas tree is. The honeycomb design really helps the color pop, making it an instant attention-grabber. This comes in a variety of sizes as well. With this setup, you can get the right size for your decorating needs or even mix and match to create a sense of flow with your decor.
25. Queen's designer Purple Christmas Decorative Pillow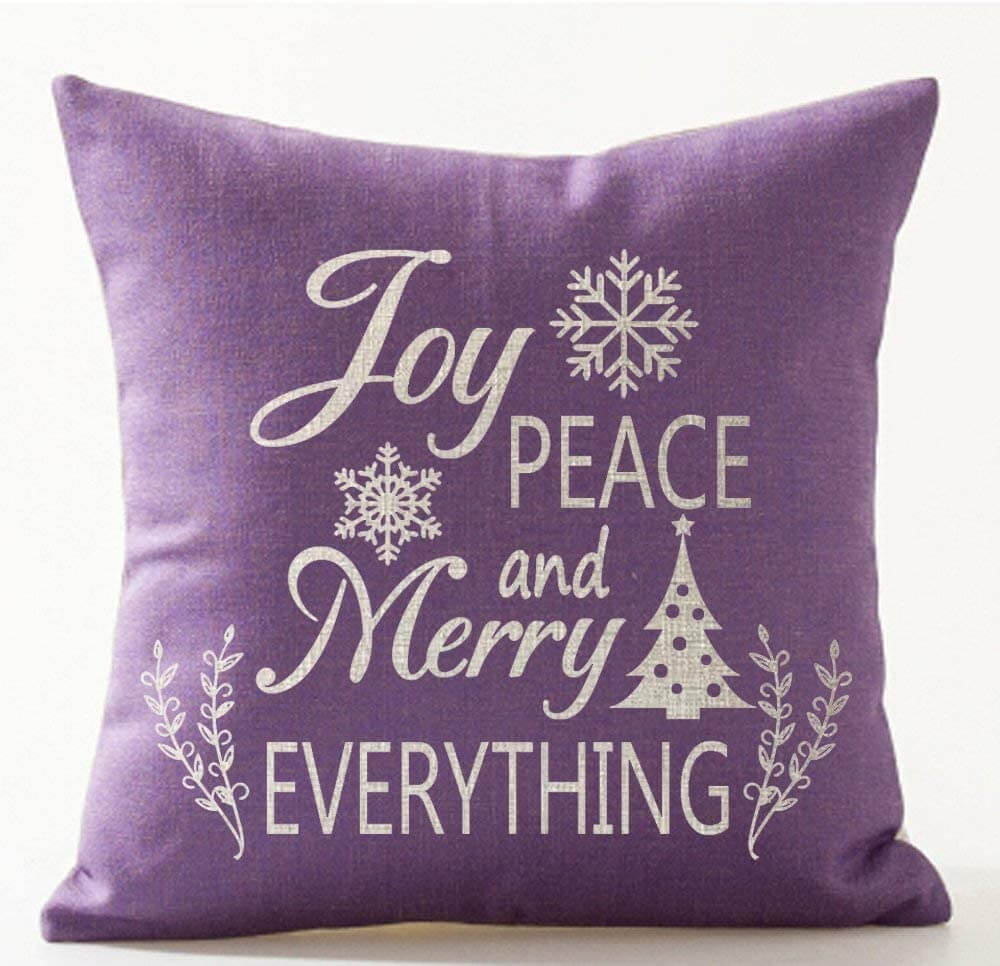 Made from 100% cotton, these decorative throw pillows are among the best purple Christmas decorations to add to your home. They look like any other throw pillows at first, but the written words sing joy for the holidays. The writing is bold as are the gorgeous snowflake designs on each pillow. They will look well sitting on the couch in a family room, especially if you have additional purple decorations lying around from on the Christmas tree to everywhere else in your home. It is a good way to make a change for the holidays away from the traditional.
26. Gorgeous Pastel Purple Christmas Bulbs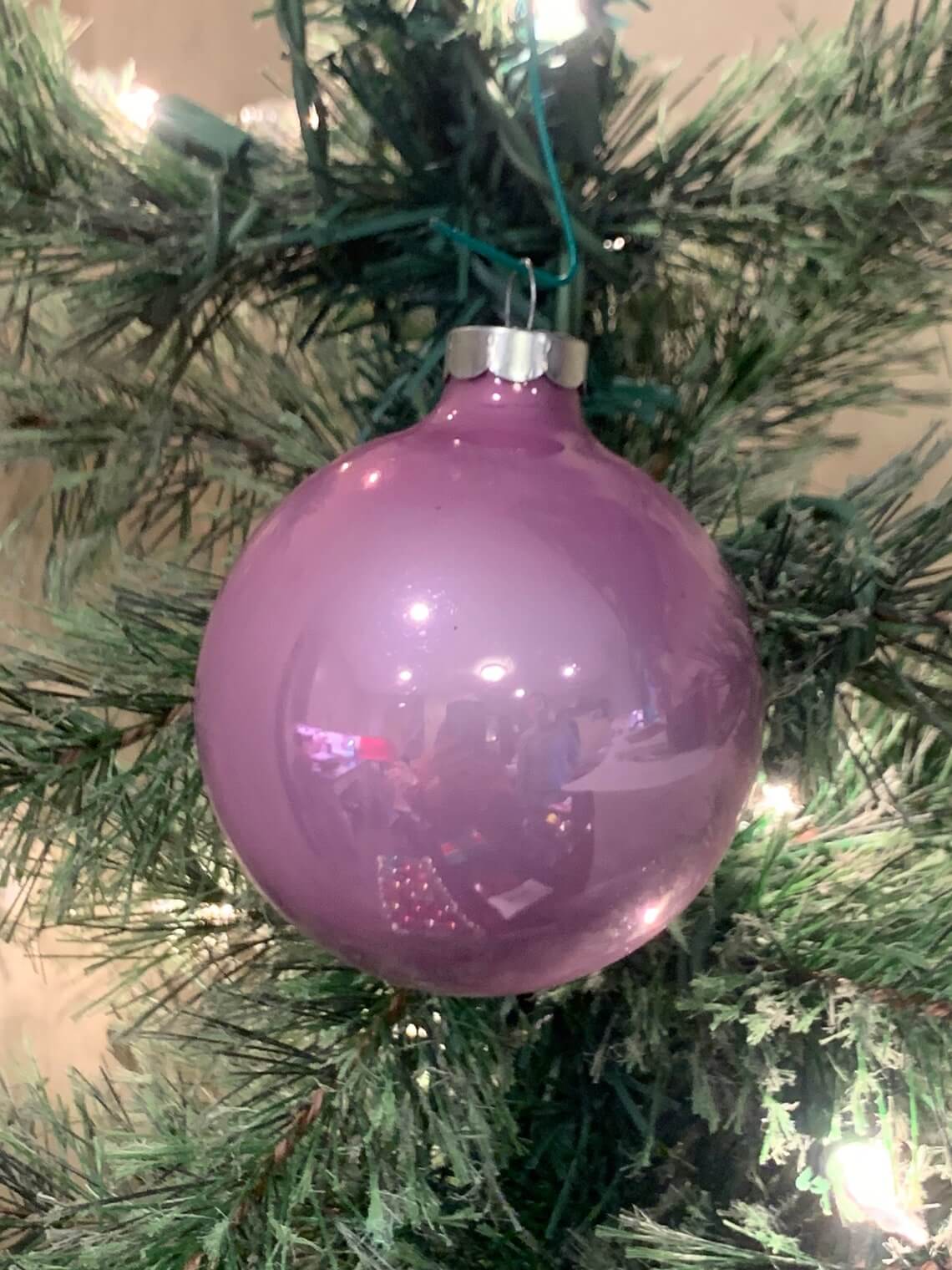 These pastel purple Christmas bulbs are the perfect choice to brighten up your tree this holiday season. The use of distinctive pastel coloring makes the bulbs stand out with ease. They have a vintage feel to them as well while still focusing on non-traditional coloring. These can work out well on a tree filled with other purple decorations that are lighter and darker. Meanwhile, the pastel purple can even look well if you want to combine this with traditional Christmas colors like silver. There are 10 of these in the box, giving you plenty to work with to show off your personality. If you don't want to hang these on a tree, they can even work out well when used to decorate other areas of the house like a wreath.
27. Purple Miracle Bead Icicle Tree Ornament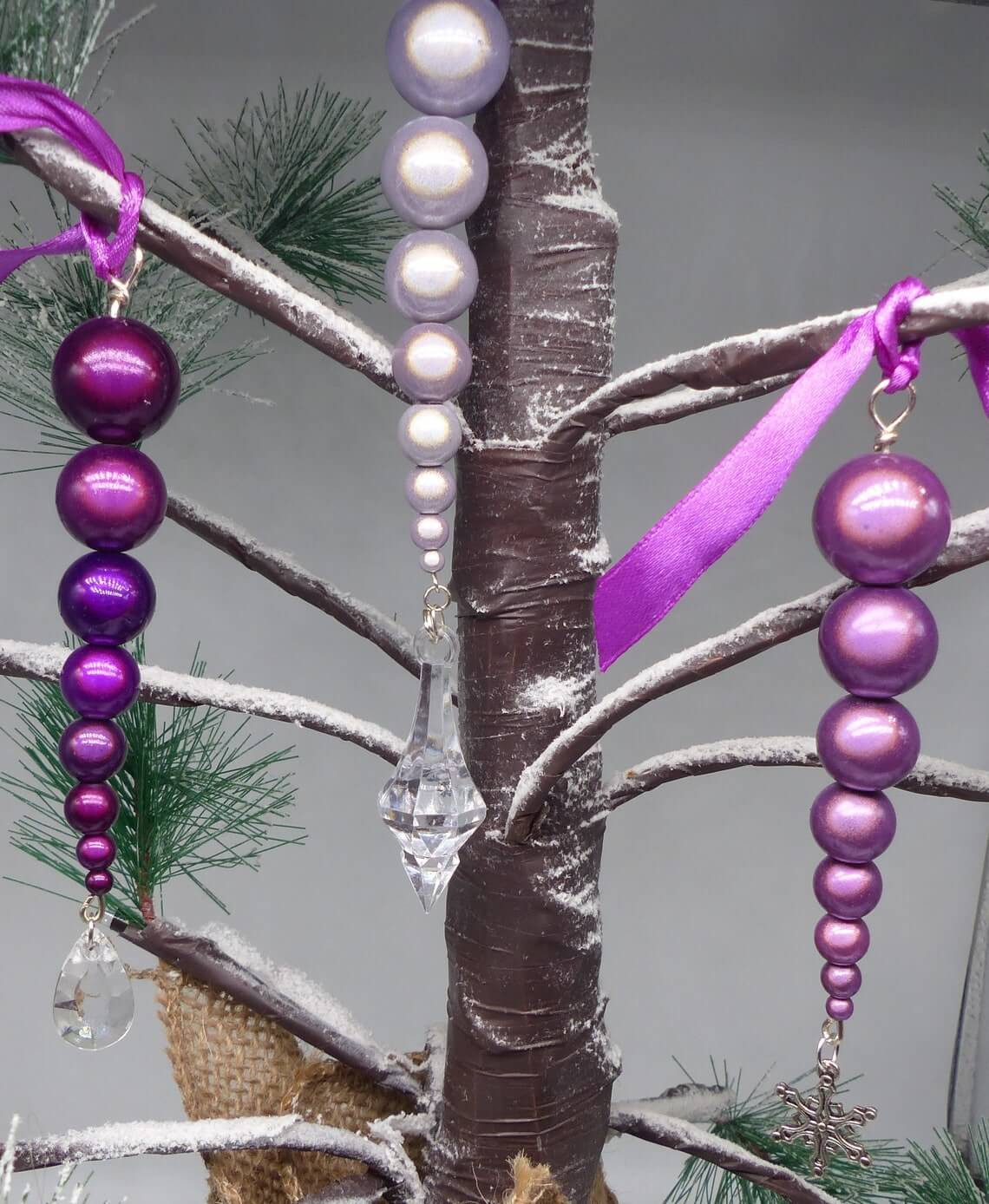 Putting a twist on an icicle decoration is always fun to do, and these purple ornaments manage to handle just that. At first glance, they are a bit peculiar. They are rounded icicles with the orbs growing smaller the further down they travel. These are finished off with an incredible acrylic crystal pendant or a silver snowflake. They offer up a more contemporary approach to icicle hanging decorations. The ornaments are all reflective too, allowing them to shine and gleam no matter how you look at them, more so once you fire up the lights around them. They are made in a dark purple, a light purple, and a mauve color.
28. Blown Glass Purple Swan Christmas Ornament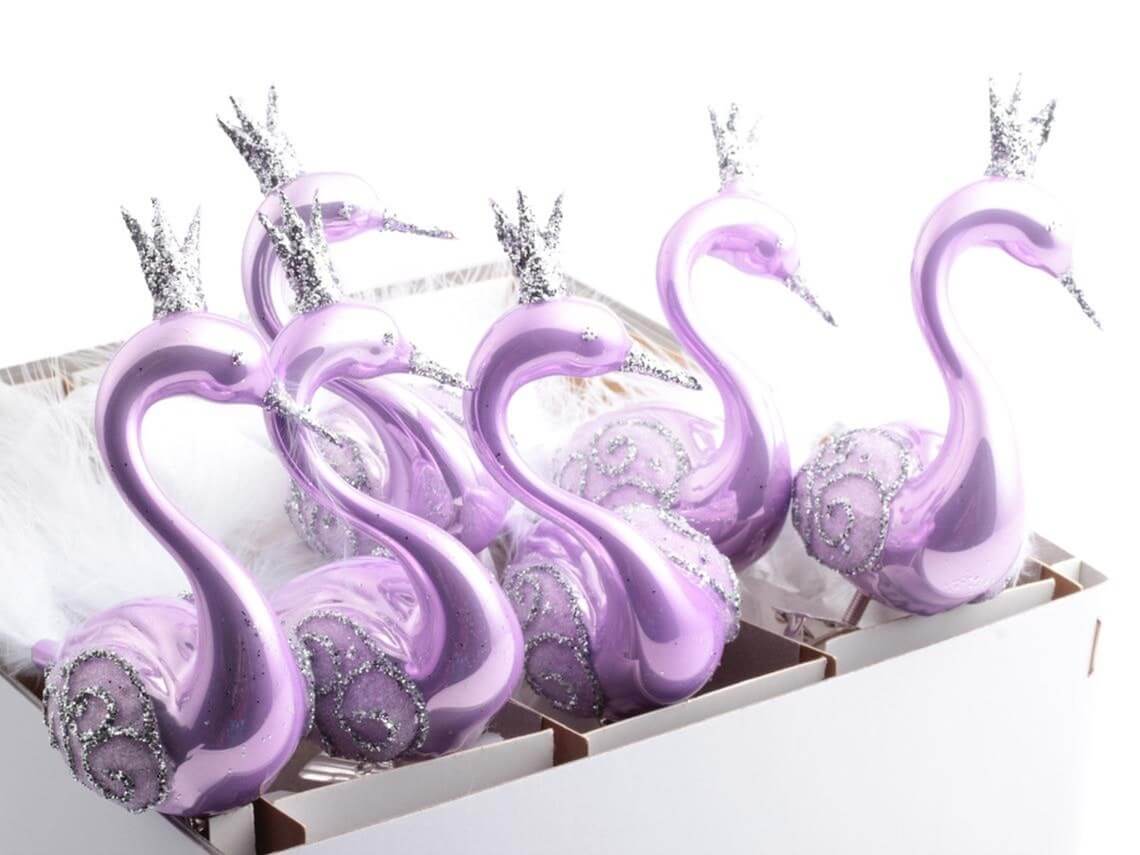 When you are looking for decorations that are more elegant, this purple glass-blown swan fits the bill. The swan features an appealing pale purple coloring that helps them shine under the light. There are incredible silver detailing throughout that further enhance the swan's sophisticated look. Of course, there are light feathers on the tail to further nail down the appearance of the swan. As these are all handmade, no two swans will be the same. You can just get one or you can go for a set of six if you want to fill up your tree or table with swan decorations.
28 Stunning Purple Christmas Decor Ideas to Experiment with this Season
With the holiday season fast approaching, it's normal to want to change up the decorations from the traditional red and green or gold and silver, and purple is the perfect color to choose. It can be both soft and bold depending on the tone of the color, making your decorations leave a lasting impression. This also works when you want to add more distinctive coloring to your setup or perhaps blend in with a style you already have around your home. No matter your reasonings, purple is a beautiful and versatile theme to work with.
Thanks to its versatility, you can use it for some incredible purple Christmas decor items all around the home from the living room to the tree. You can discover festive items to hang on the walls or tree, gorgeous throw pillows to lounge with on the couch, or even incredible covers for tea lights to add some unique mood lighting to the room. There are many possibilities to explore, and we hope that our list of some of the best purple Christmas decorations helps you on your way.