To liven up your home, you may need some of the best rainbow home decor ideas as they will help you thoroughly transform your space.
Decorating with rainbow as a theme isn't exactly a new thing, but it is something that never seems to go out of style. Rainbow is an easy way to add some more color to any room. They blend well with different colors you already have in the room, and it is simple enough to find this style with several types of decorative items. There is plenty of wall art, wallpaper, and hanging decorative items that feature this styling of colors.
29 Incredible Rainbow Home Decor Ideas that will Elevate Your Home's Style

Another wonderful thing about using a rainbow theme when decorating your home is that it is suitable for use in various rooms throughout the house. You can add something with rainbow coloring to your living room just as well as you can add it to a child's bedroom or playroom. It is also a pleasing way to add some more joy to a nursery while paving the way for babies to start recognizing different colors.
With how simple it can be to decorate using the rainbow as a theme, it is just as easy to find yourself at a loss on where to actually start your decorative journey. If you feel you're stuck in any way, then you can check out our list of some of the best rainbow home decor ideas that will help you begin brightening up your home and showing off your happy and freestyle.
1. Awesome Homemade Rainbow Wall Decoration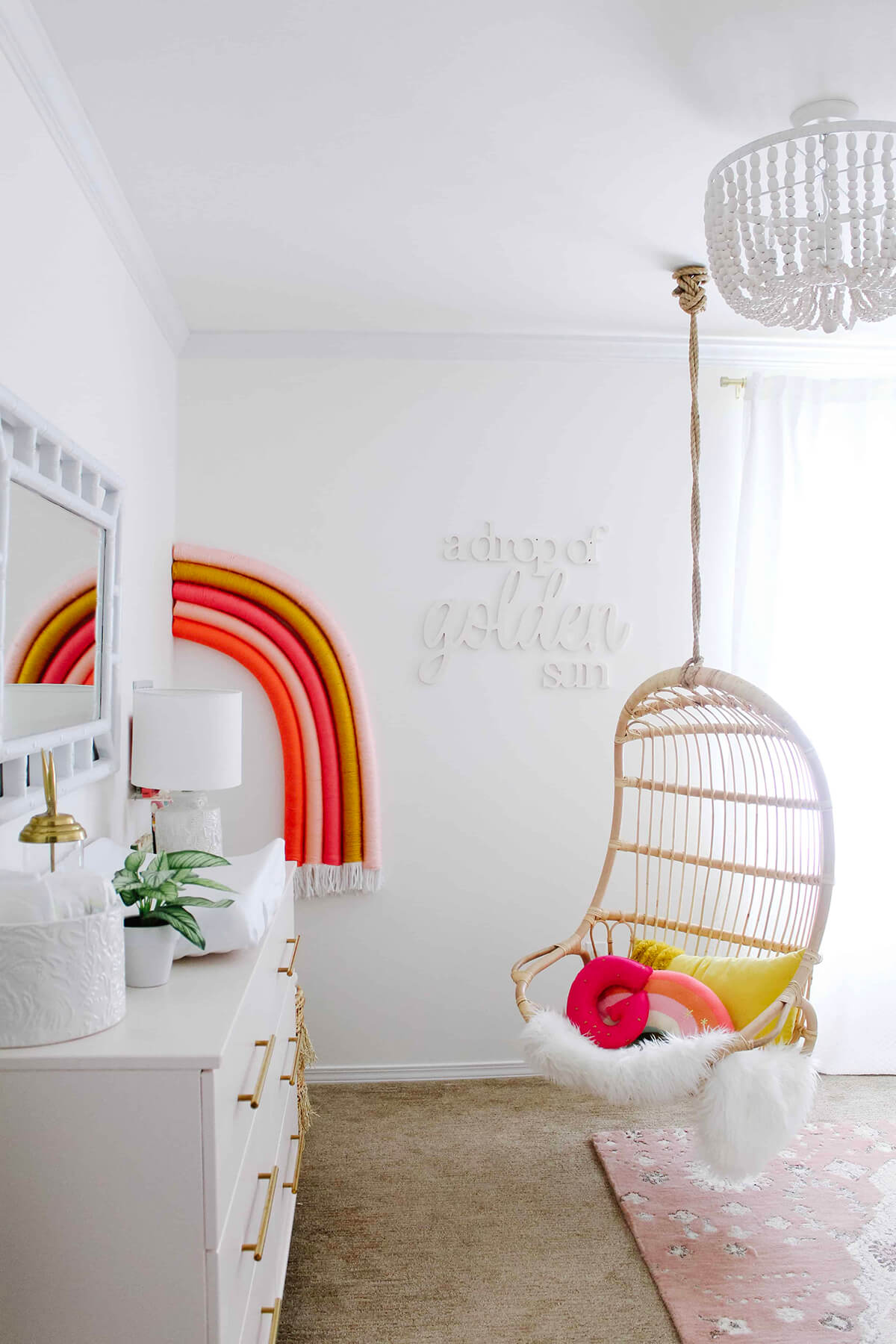 For those of you looking for large-scale decor ideas with rainbow color, this rainbow wall design works well. Pool noodles and yarn go a long way into creating a beautiful and interesting rainbow that is the perfect shape. You have a lot of options to go down to when building your wall decoration. It's easy to focus on the entire rainbow, using several different colors in your design. Or you can merely focus on a handful of similar colors such as shades of purple, red, green, blue, and more. The yarn hanging at the end adds such a wonderful touch to the rest of the rainbow.
2. Fun Rainbow Rice Centerpiece Design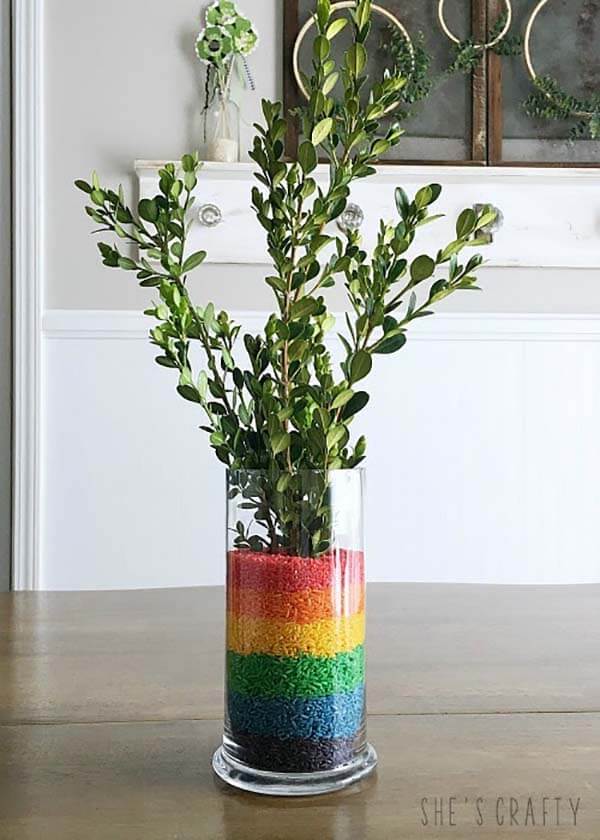 If you have a clear vase or jar, it can work as a great starting point for your rainbow decorations. Once the rice is dyed in whatever rainbow colors you'd like, they will look just about flawless once you layer them into the vase. This looks absolutely lovely standing on its own, but it can still work out well if you place something else inside the vase such as faux greenery or flowers. This merely adds to the pops of color, creating a centerpiece that is attention-grabbing and will be the talk at any get-together you have.
3. Unique Rainbow Painted Stairs Design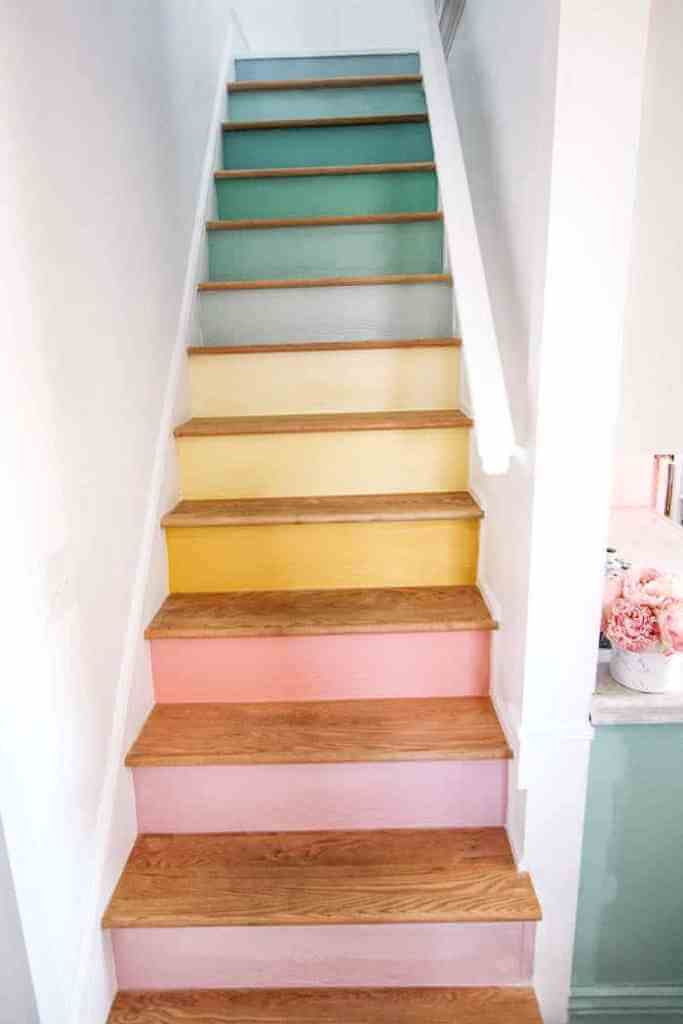 A distinctive way to add some rainbow coloring to your home's decor is to focus on an area some may not even think about: the staircase. Decorating the stairs themselves is an ideal way to leave a lasting impression on guests and constantly leave you feeling happy each time you go up and down the stairs. You're free to go in any direction with this one, allowing you to truly stretch your creative juices using your favorite colors from the rainbow to create an environment that flows effortlessly from top to bottom and vice versa.
4. Adorable Rainbow Pom Poms Mirror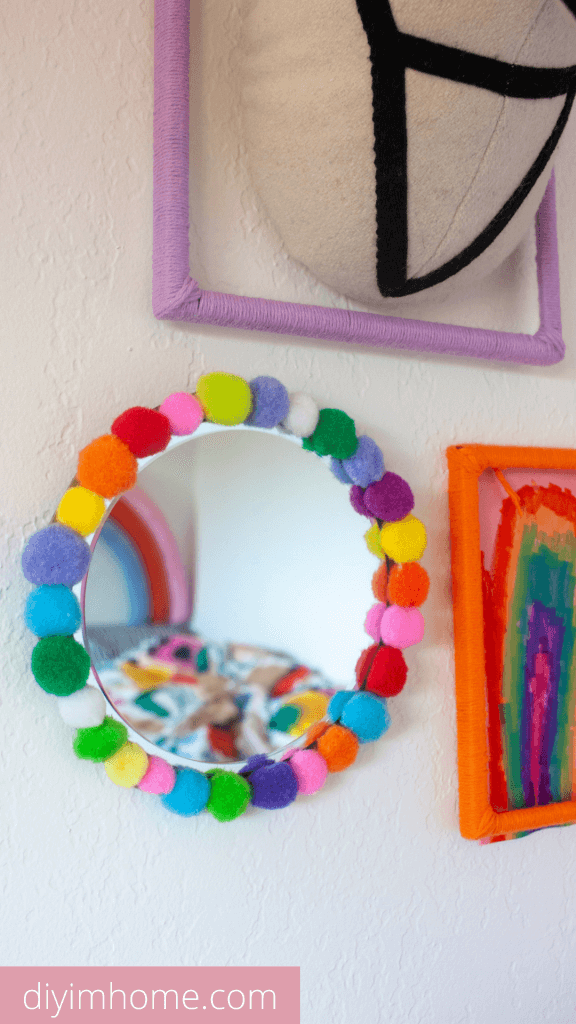 Pom poms are a cute way to make some rainbow decorations considering how easy they are to use. They work well for numerous things, but they can look especially adorable when used to adorn a mirror. This works out for any shape, but they seem especially fitting for circular mirrors. It's a nice way to elevate the style in a child's room too, giving kids something that is simply cool and fun to admire. This can look well on the wall too when surrounded by other wall art or pictures children have made, allowing their room to feel more personalized and vibrant.
5. Creative Homemade Rainbow Wreath Decor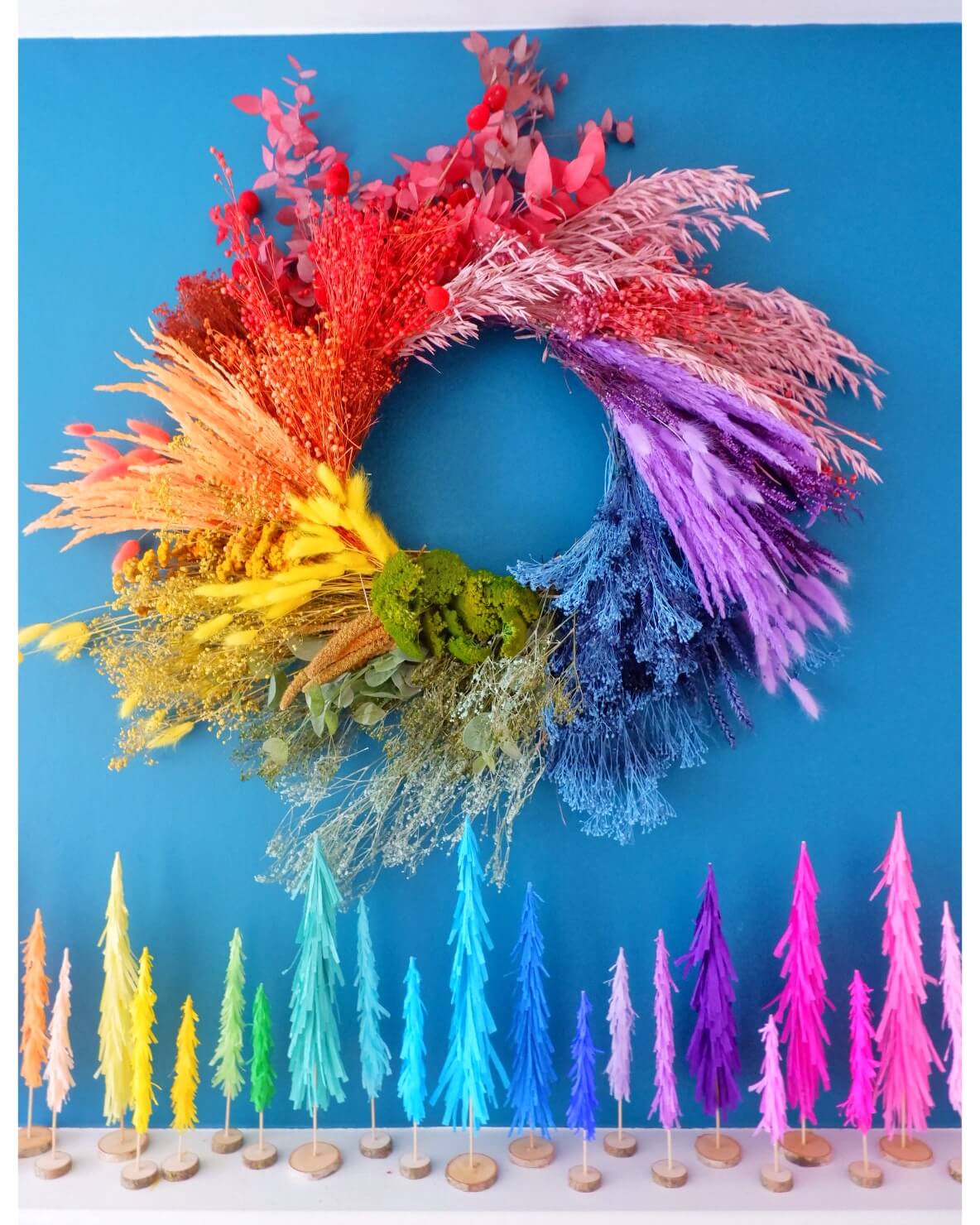 Wreaths are always a nice option to use when coming up with decorating ideas, so they fit just about perfect when you want to incorporate some rainbow coloring. Using flowers that are dried and preserved gives you an opportunity to explore a bit more with some distinctive materials. Also, this lets you use a variety of different types of flowers too so that your decoration stands out even more. It's such an interesting way to lighten up a room and add some more life to any wall you hang it upon. This can even look just as good on various doors throughout the home too so that you always see a splash of color anywhere you go.
6. Exciting Rainbow Designed Living Room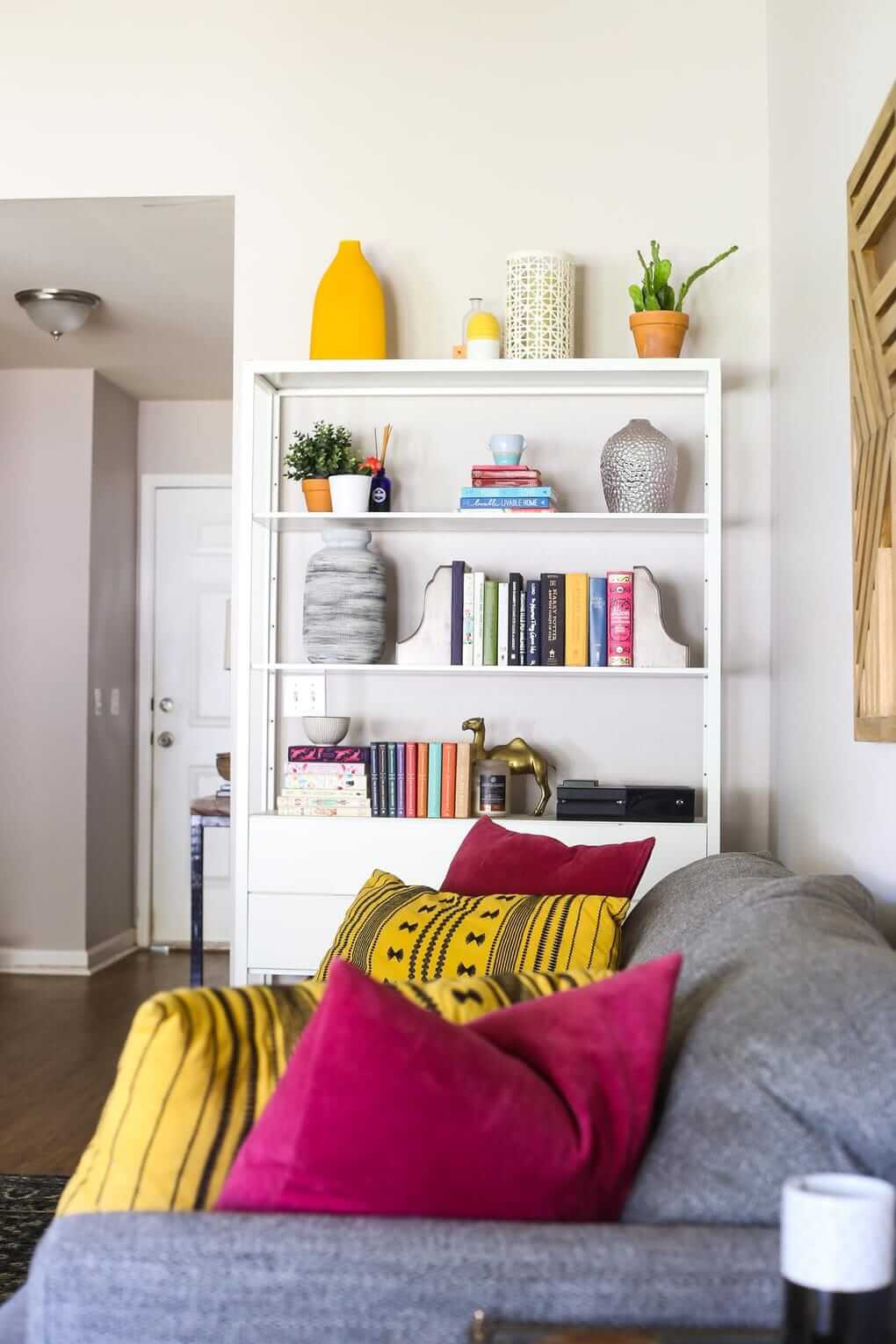 Do you have a bookshelf in your living room just begging for some extra color? There are ways to go about this without having to paint anything or build anything yourself. Rather, you can buy the right items and place them in such a way that you can have far more distinctive rainbow house decor. Various decorative items go a long way as do the books themselves if you decide to set them up according to color. It doesn't end with the bookshelf though. You can stretch your designs out throughout the room, adding in some colorful throw pillows for the couch, for instance.
7. Bright and Bold Modern Color Bedroom Transformation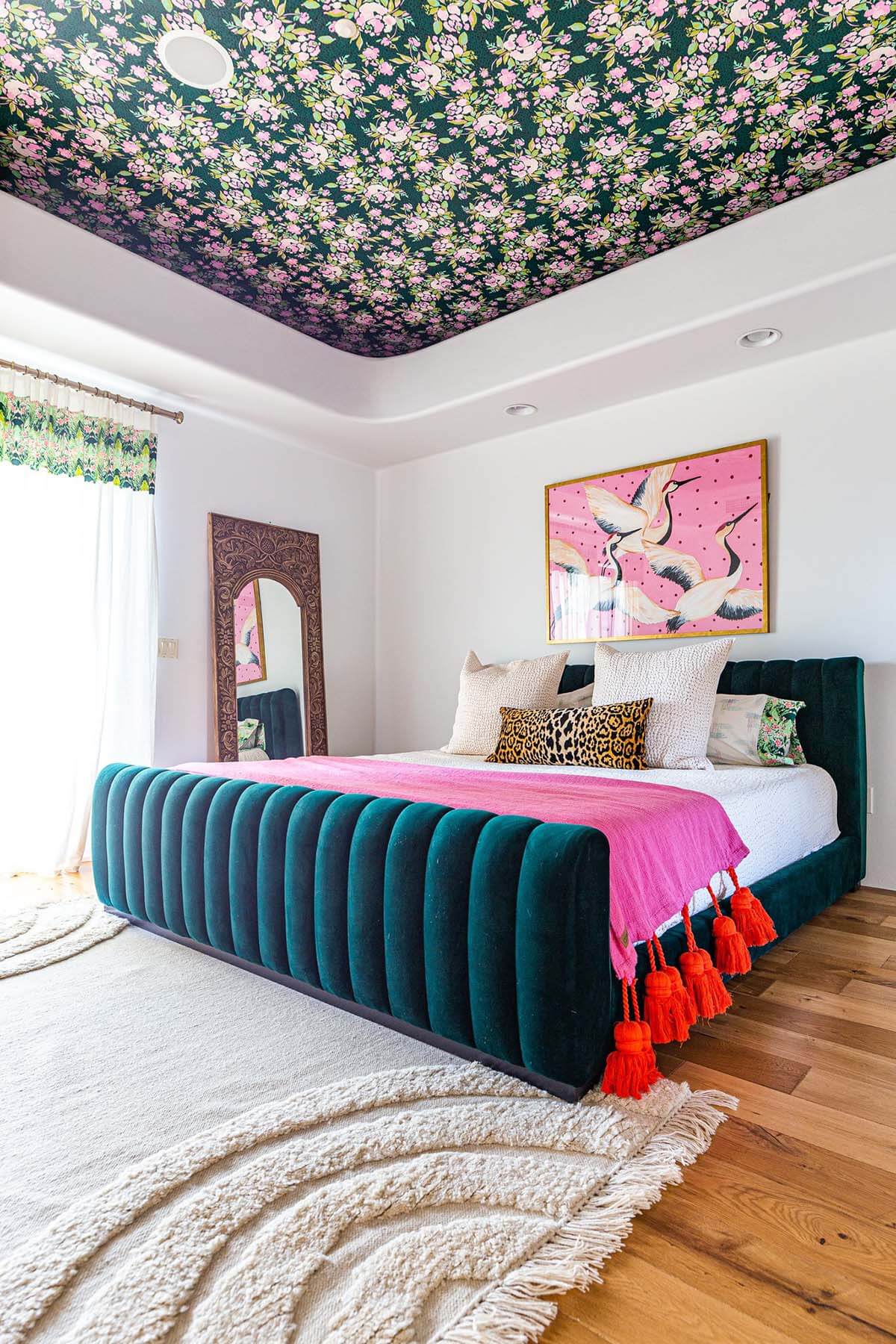 Forgo those neutral and bland oatmeal-hued bedrooms and bring yours to life with some bright and bold colors. Begin with the bed and bedding, since this zone tends to be the focal point of the room. A nice upholstered bed frame in rich and elegant velvet adds a luxurious texture to your choice of color! Next, you'll be inclined to continue the color love with a vibrant duvet or comforter to top it off. Of course, a patterned wallpaper to cover the ceiling makes a bold statement too. Tie it all together with some window coverings and wall art to make your bedroom a modern marvel of design.
8. Rainbow Serving Tray with Handles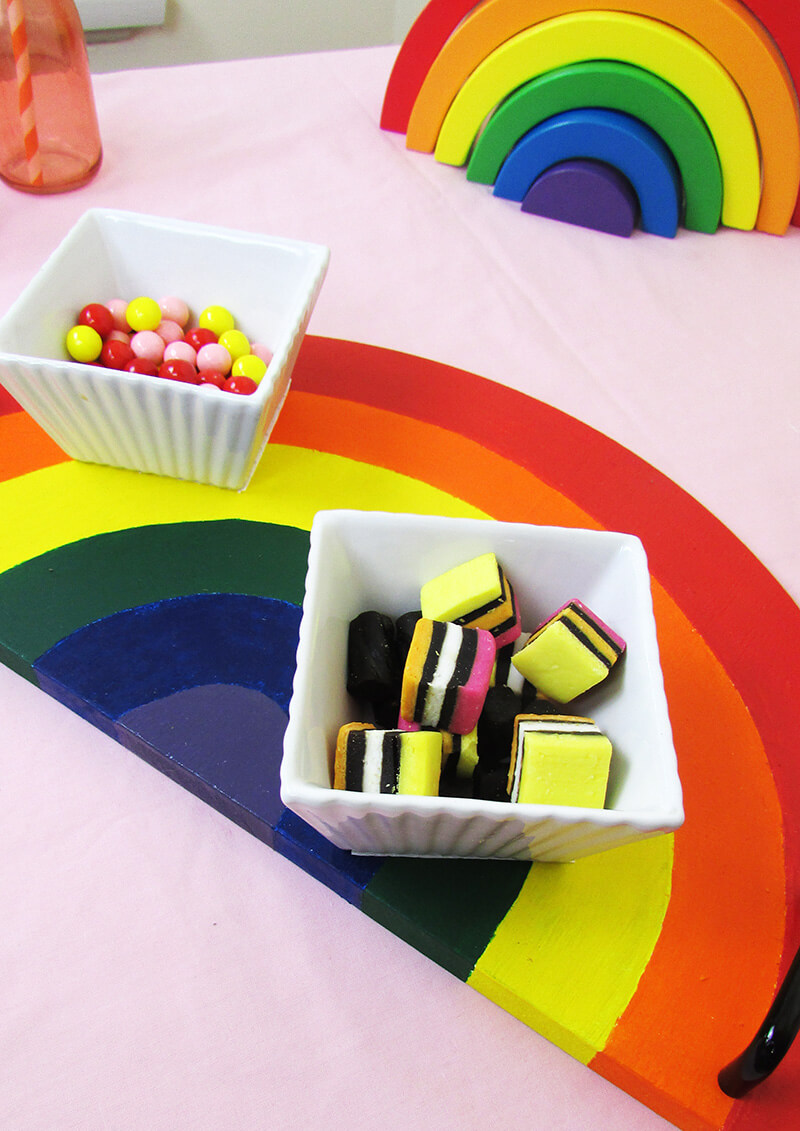 Not only does this serving tray come with handles to make it a breeze to carry, but it also shows a bright primary-colored rainbow that adds a nice decorative charm as a tabletop accessory. Place this in the kid's playroom at the activity table. It looks nice in the kitchen as a tray for serving after-school snacks or light snacks at a party. For everyday and practical use, it can be your tv dinner companion if eating on the couch is more your style. Either way, this rainbow serving tray will add a lot of color and style to your home in a useful way.
9. Great Handmade Rainbow Doormat Design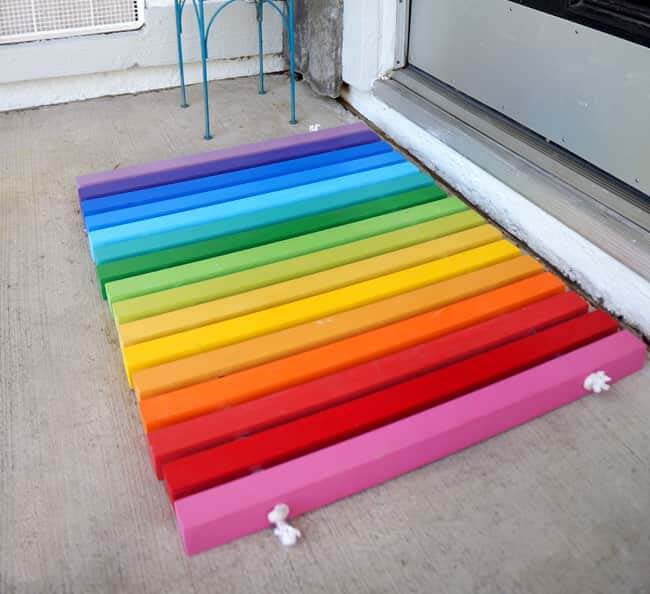 You can create a simple, yet standout, a doormat that is filled with color. Depending on how large you want it, you can easily use several beautiful rainbow colors, making a doormat that readily allows your eyes to travel and take in the full sight. As it's made from wood, it has nice reliability about it too so that you can whip this out season after season. It blends perfectly in the springtime, but it can be fitting throughout the year. This is a super cute way to breathe some life into your outdoor setting, more so if you don't have that many decorations adorning your front porch.
10. Colorful Abstract Removable Wallpaper Mural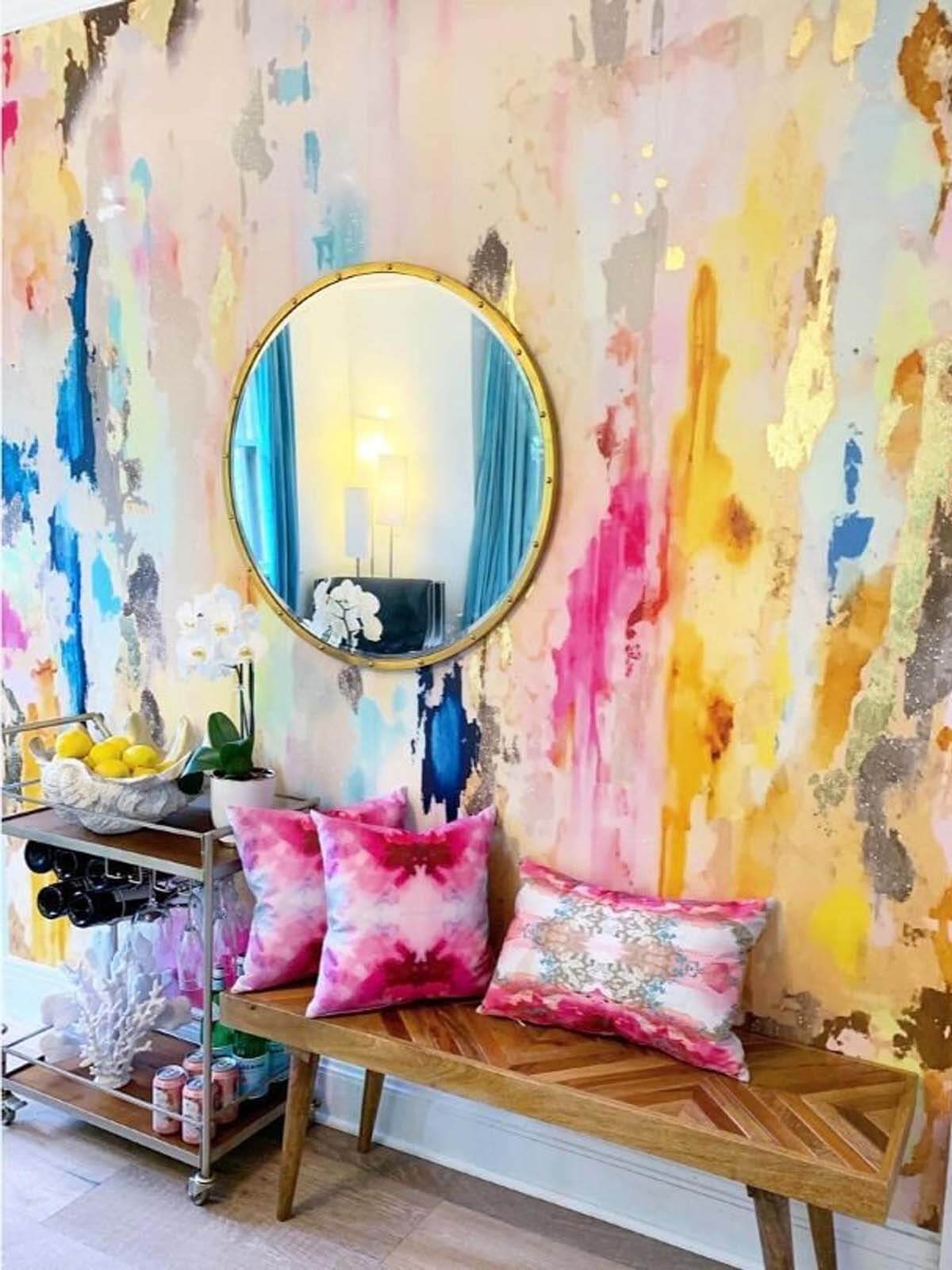 If you are looking for some rainbow house decor that takes up some room, then this wallpaper mural is the perfect choice for you. There are three sizes to choose from, each of them wide enough that there's no way anyone can miss this colorful design. This has such a stunning abstract design to it too that leaves you with art that is unique and works well alongside various decor. It can even simply serve a room well, as an accent wall, leaving more brightness in an otherwise standard space. You can get this wallpaper in either a pre-pasted or a peel-and-stick style.
11. Perfect Blend of Orange and Yellow Sofa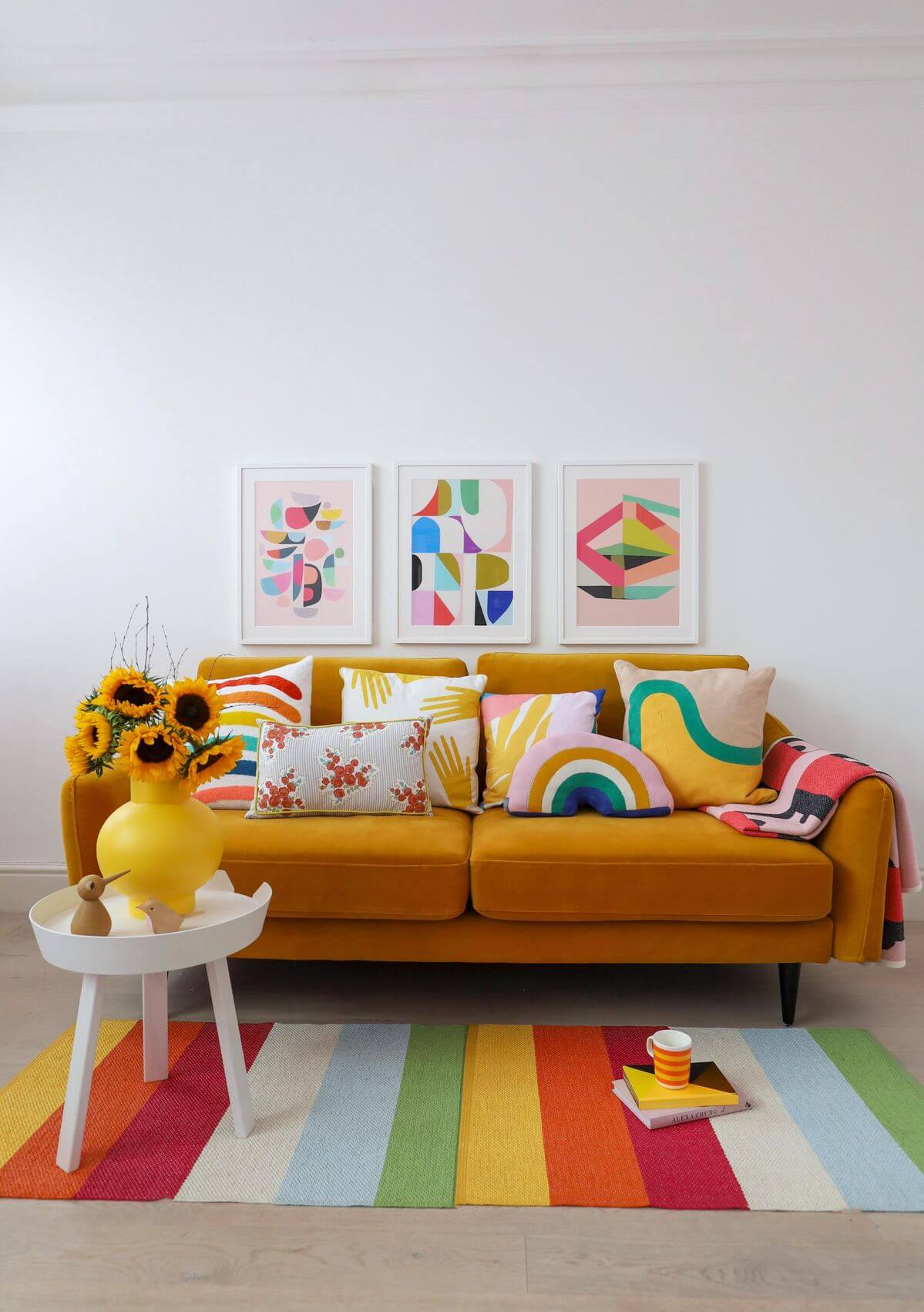 Say hooray to this designer-loving turmeric-colored velvet sofa. As a large piece of furniture in your room, featuring this warm citrus blend gives a "wow factor" feel almost instantly. Such a bold and interesting color used on a large piece of furniture is always a good choice for achieving a designer look in your home. Nearly every color looks amazing when paired as an accent with this terrific turmeric hue. It's the perfect blend of lemon and orange resulting in a citrus sensation for the design world. And even if lots of colors aren't your thing, you can always take it down a notch by surrounding this sofa with creamy neutrals.
12. Handcrafted Rainbow Colored Chenille Pom Pom Duvet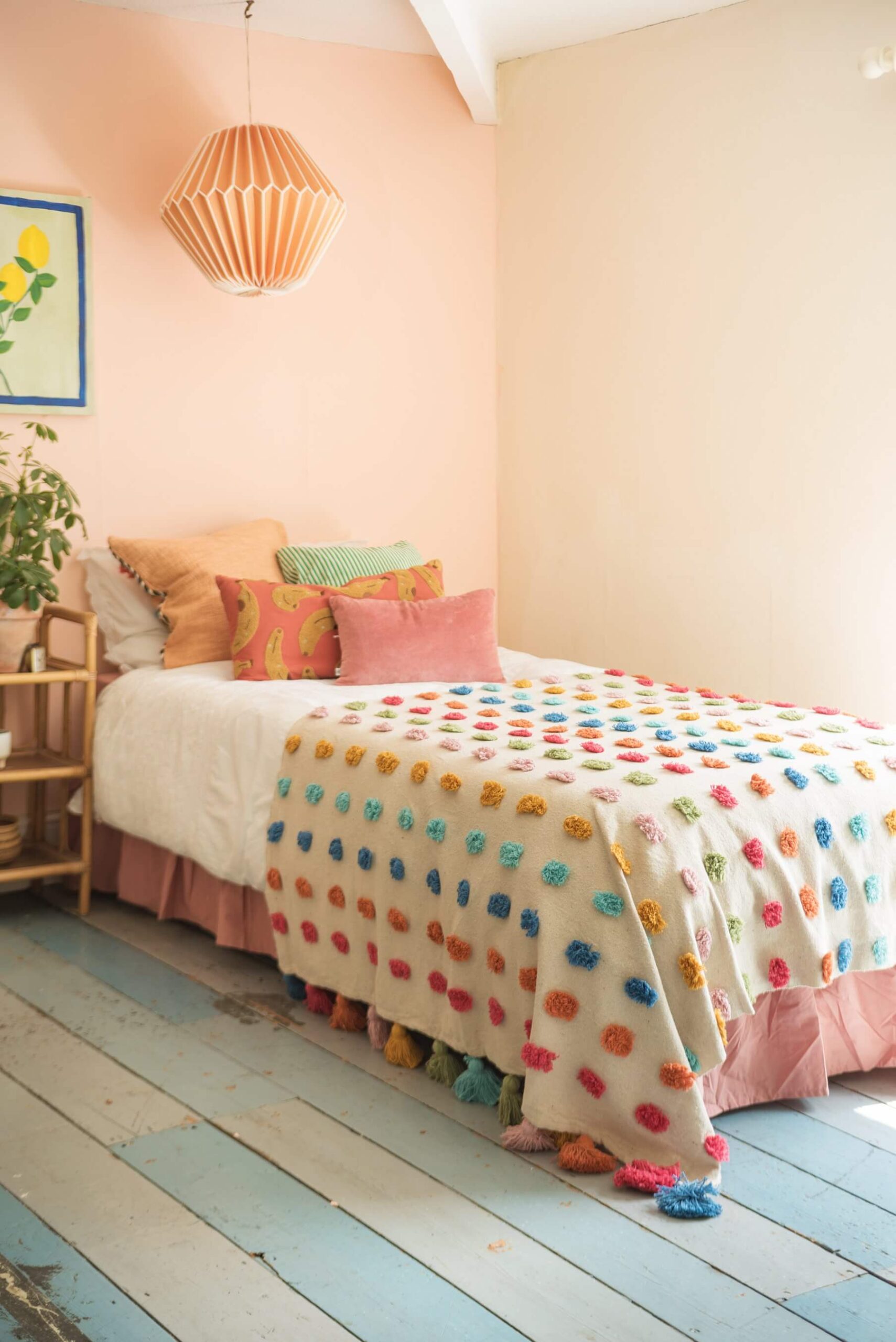 Give your bed a new look with this soft and simple pom-pom bed blanket. With a neutral creamy background, each row of muted pom poms works to create a visually appealing color pattern display. Along the edges, more texture and style are evident in the tassels that perfectly align and coordinate with the pom-poms. Feature this amazing bed cover in a guest room for a warm welcome and vintage feel. Or place it in the teen's room to create the perfect transitional look for that special time between childhood and adulthood.
13. Colors of the Rainbow Book Slip Covers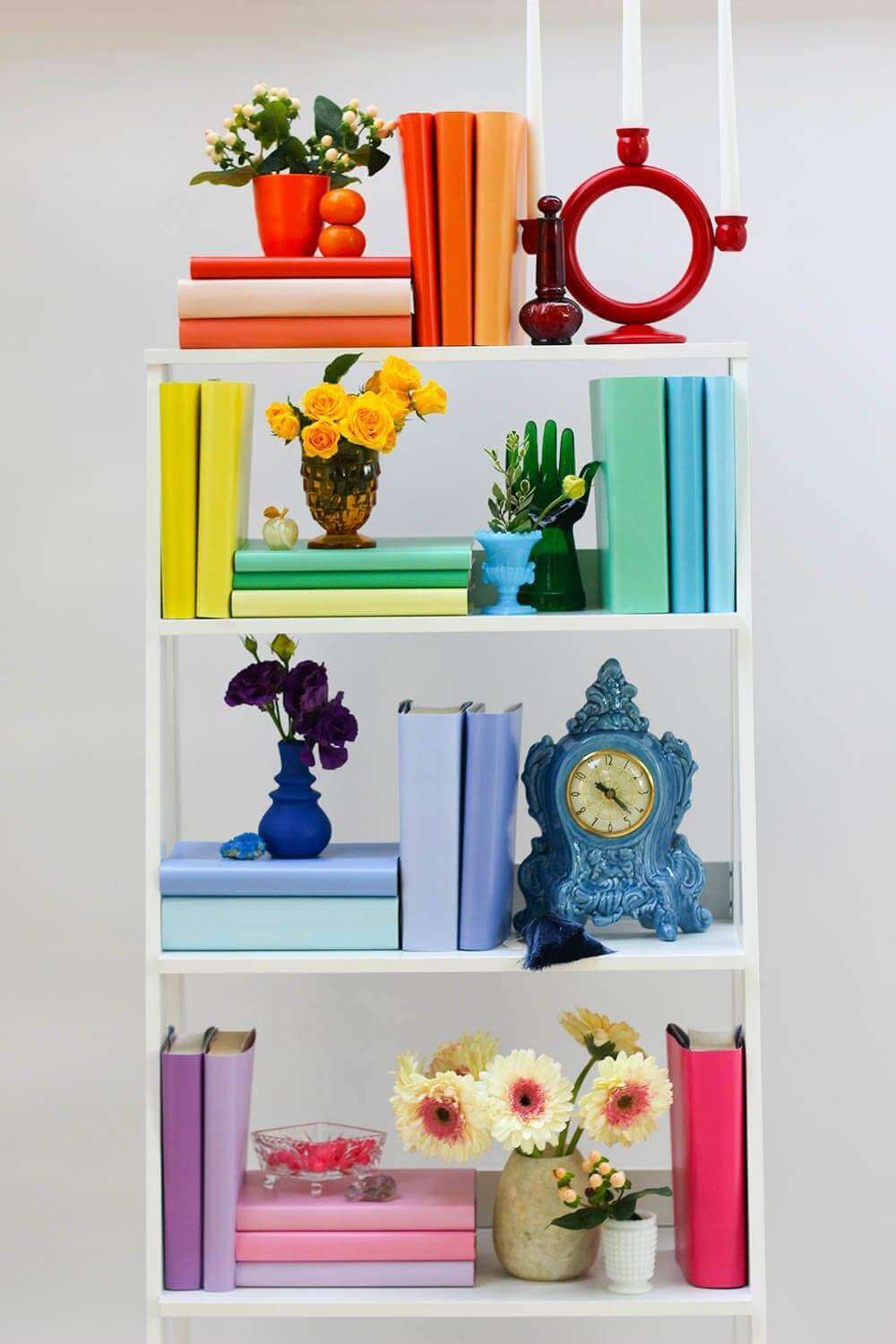 Add some pizazz with plenty of colors to your design with these eye-popping colors of the rainbow book covers. Your decorative display maintains its aesthetic appearance by utilizing the crisp and clean style afforded by these covers. Now you can keep your books handy while decorating a bookshelf with a color-coordinated palette. Organize your display by the pattern of the colors of the rainbow to achieve this interesting and gorgeous arrangement. From red to violet and all the colors in between, you'll love the fresh look your bookshelf boasts with the inclusion of these book covers.
14. Vibrant Candy Stripes Area Rug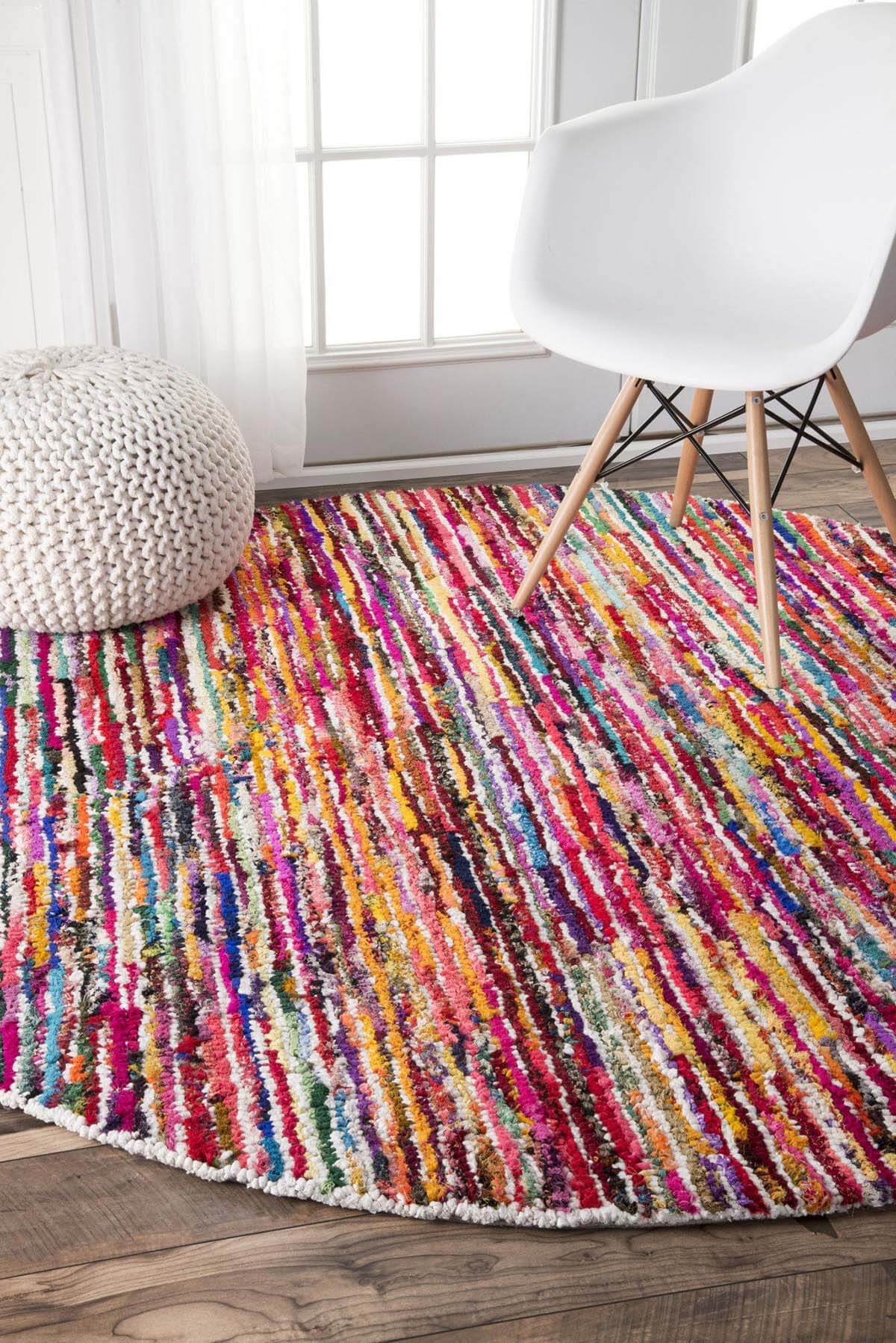 This candy stripe area rug is one of the best rainbow home decor ideas when you want to make a bold statement in a room. The colors are so vibrant and easily stand out in any room you place them in. This cotton area rug is available in two sizes as well so that you can get the right one to suit your decorating needs. Another cool thing about this rug is that it blends so well with various styles. It can look just as good when you use it in a farmhouse-like environment as it would in a modern home or a bohemian-styled room.
15. Exciting Rainbow Alphabet Wall Stickers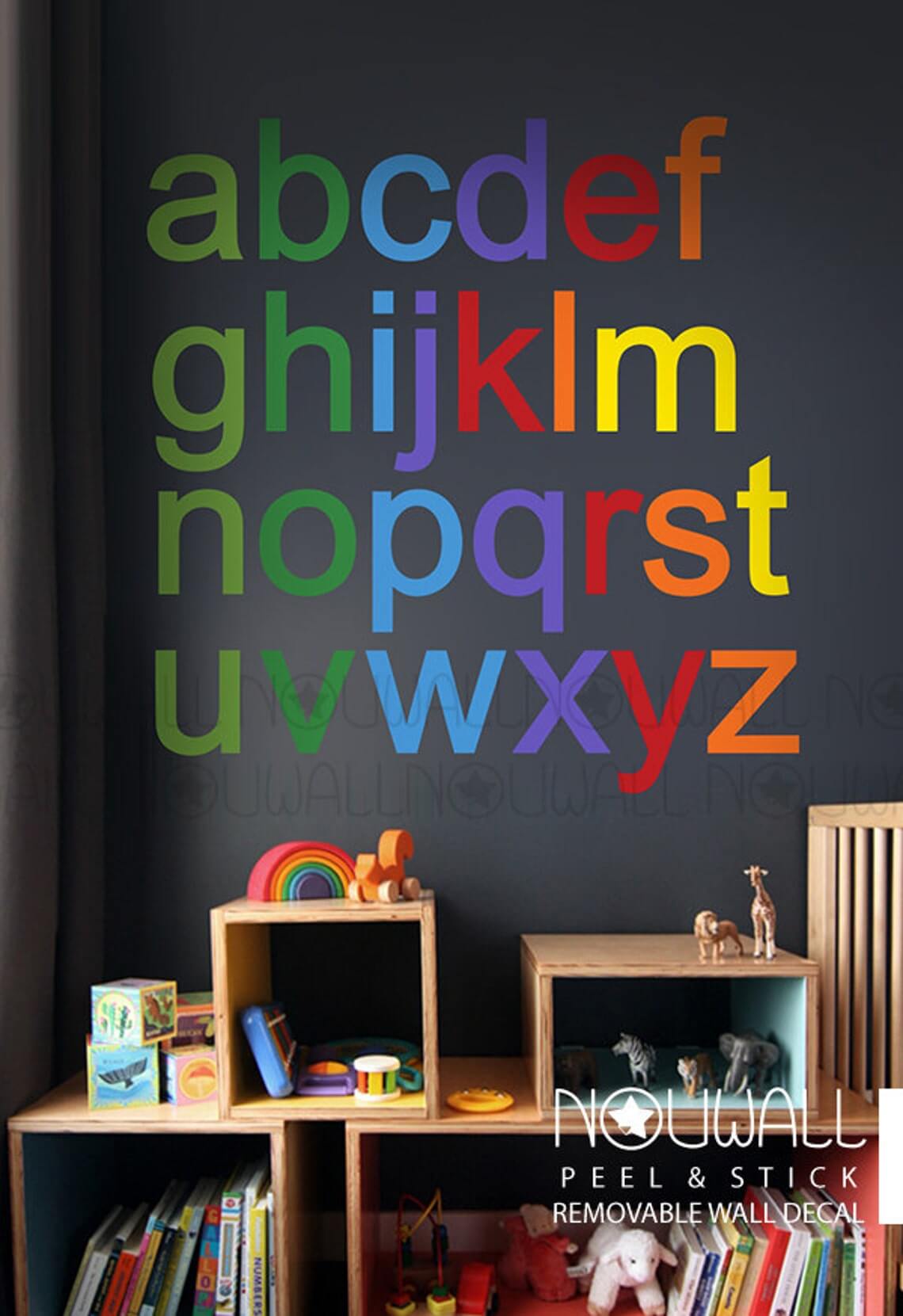 Ready to show off the alphabet for a child's room in a more fun way? Then try out these cool rainbow alphabet wall sticker decals. They come in two different sizes, and the coloring on these letters is bold enough to leave a lasting impression. These can even look well when placed in a nursery to add some new colors for your baby to admire and learn. Also, they are made to be removable so you can take them down as you see fit. You can go for the rainbow colors, or you can always send in a request to personalize the colors used to connect even more with the room's decor.
16. Colorful Abstract Door Cover Wrap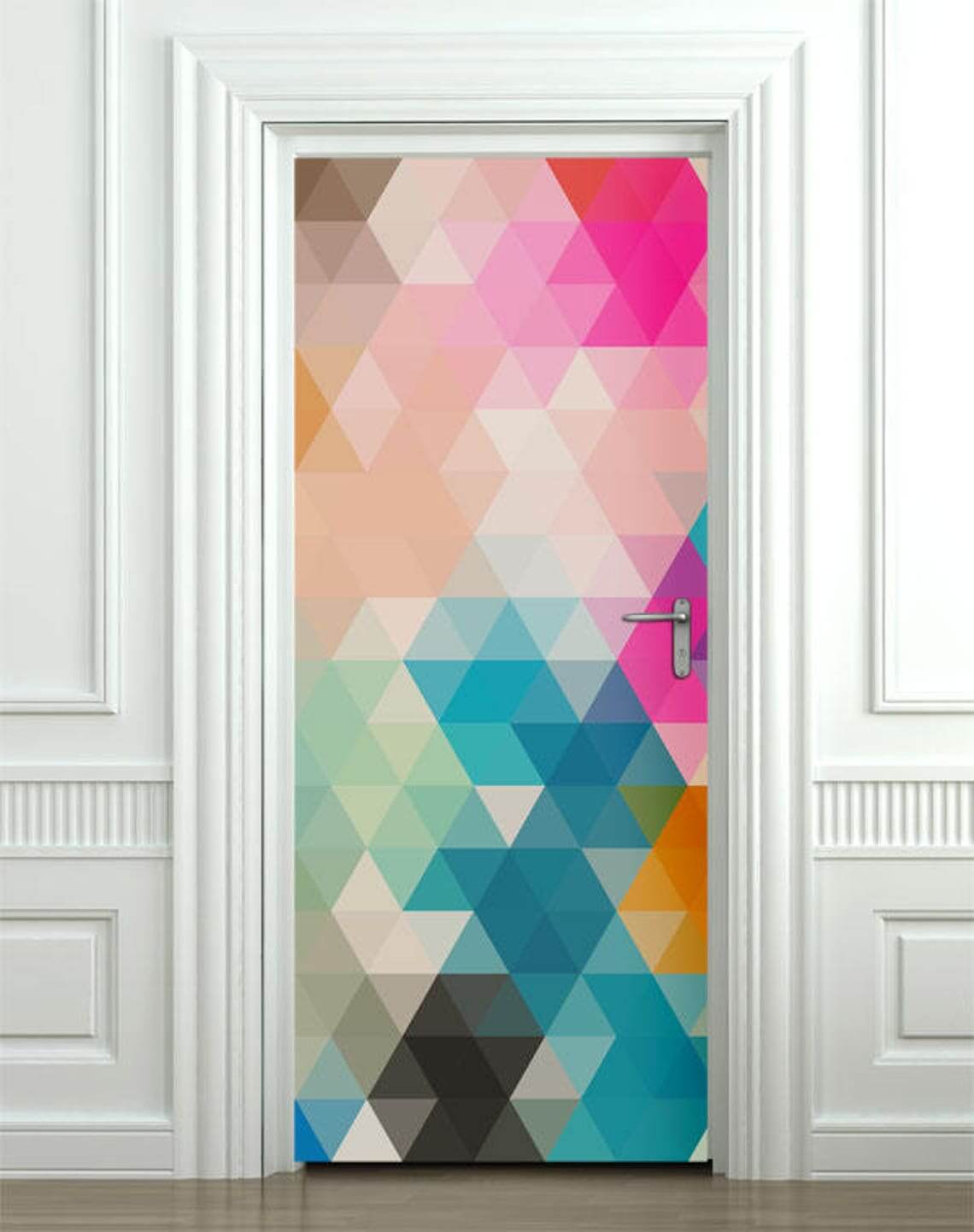 No longer do your doors have to be so plain. With this door cover wrap, you can bring the rainbow style to any room without actually placing anything in the room. There are numerous shades of colors throughout this decal. With the abstract, geometric design, everything stands out that much more. It provides the space with such an interesting setup that is easy to use thanks to the peel and stick design. If you don't want to use it on a door, then you can always stick this on furniture such as a dresser as it will work out just the same.
17. Rainbow Ribbon Hanging Mobile Design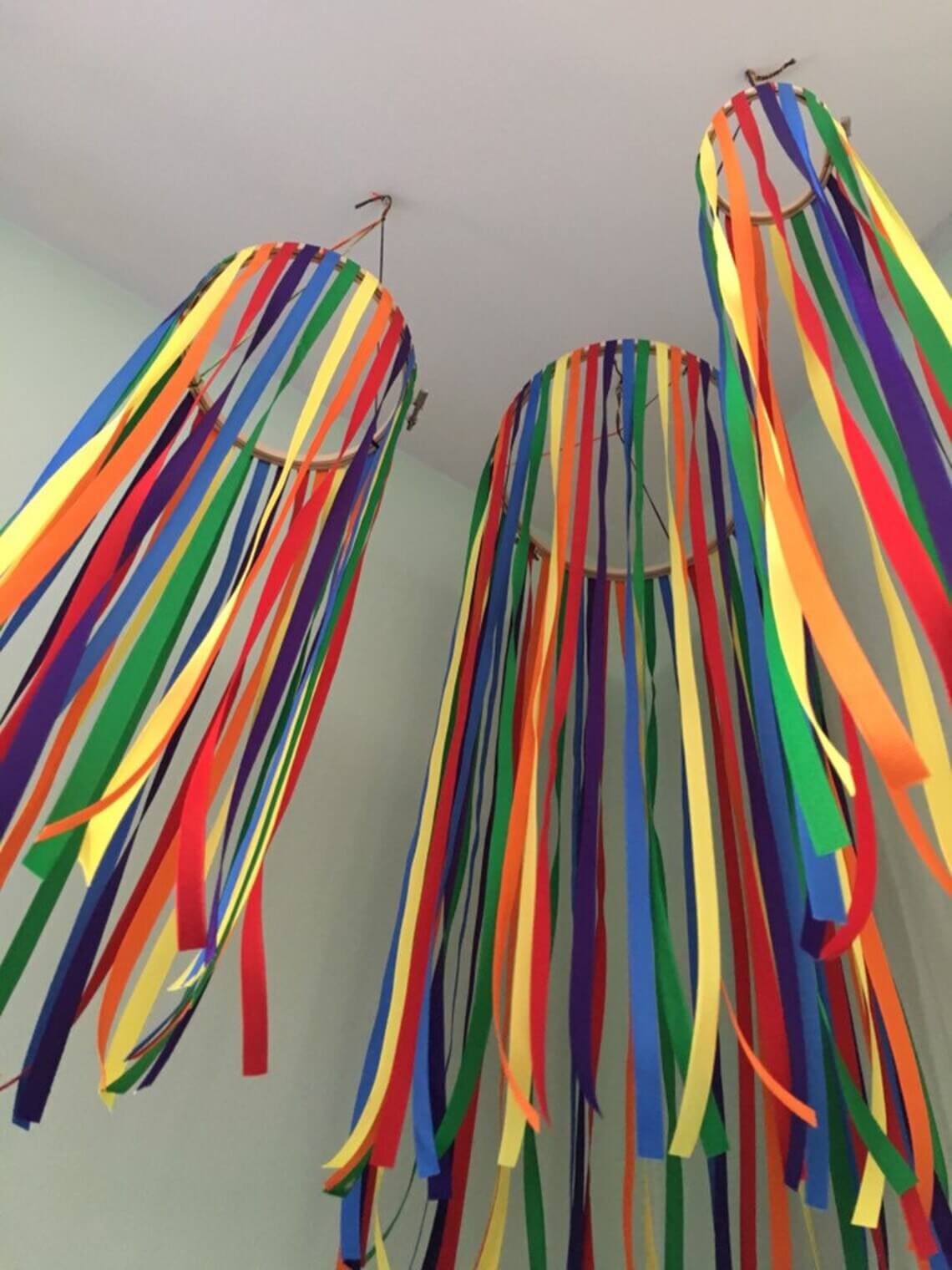 For those of you eager to live under a rainbow, this hanging mobile may be the next best option. It is simple yet bold thanks to the lively colors of the ribbons. This is a set of three with each one featuring an embroidery hoop of a different diameter. It is a good way to create a decorative environment that flows thanks to the size differences. These rainbow ribbons aren't just pleasing to the eye when they hang in place, they offer some unique decorative options if you hang them in the vicinity of a window when a breeze rolls through and they billow easily in the wind.
18. Fun Rainbow Knitted Word Design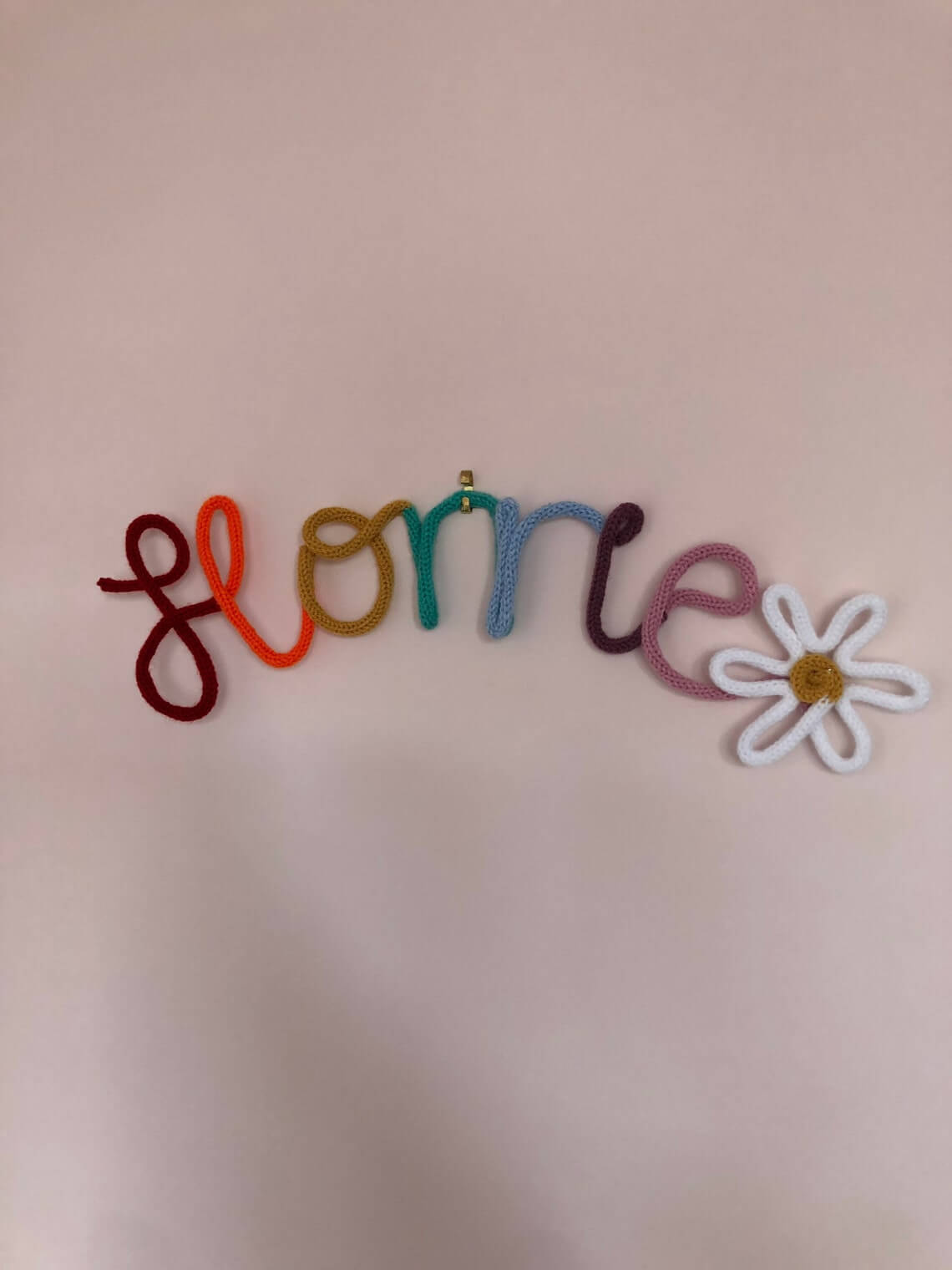 Such a distinctive way to personalize decorations is with this fun rainbow knitted word. You can choose a minimum of four to more than nine letters, giving you space to personalize this word as much as possible. This makes for a fitting decoration for just about anyone, but it is remarkable when used for children's rooms and nurseries. You can even opt to have a shape of some sort added to the end like a heart or a star for that extra bit of personality. It is a lovely statement piece that you can customize further with specific color designs.
19. Colorful Rainbow Art Wall Print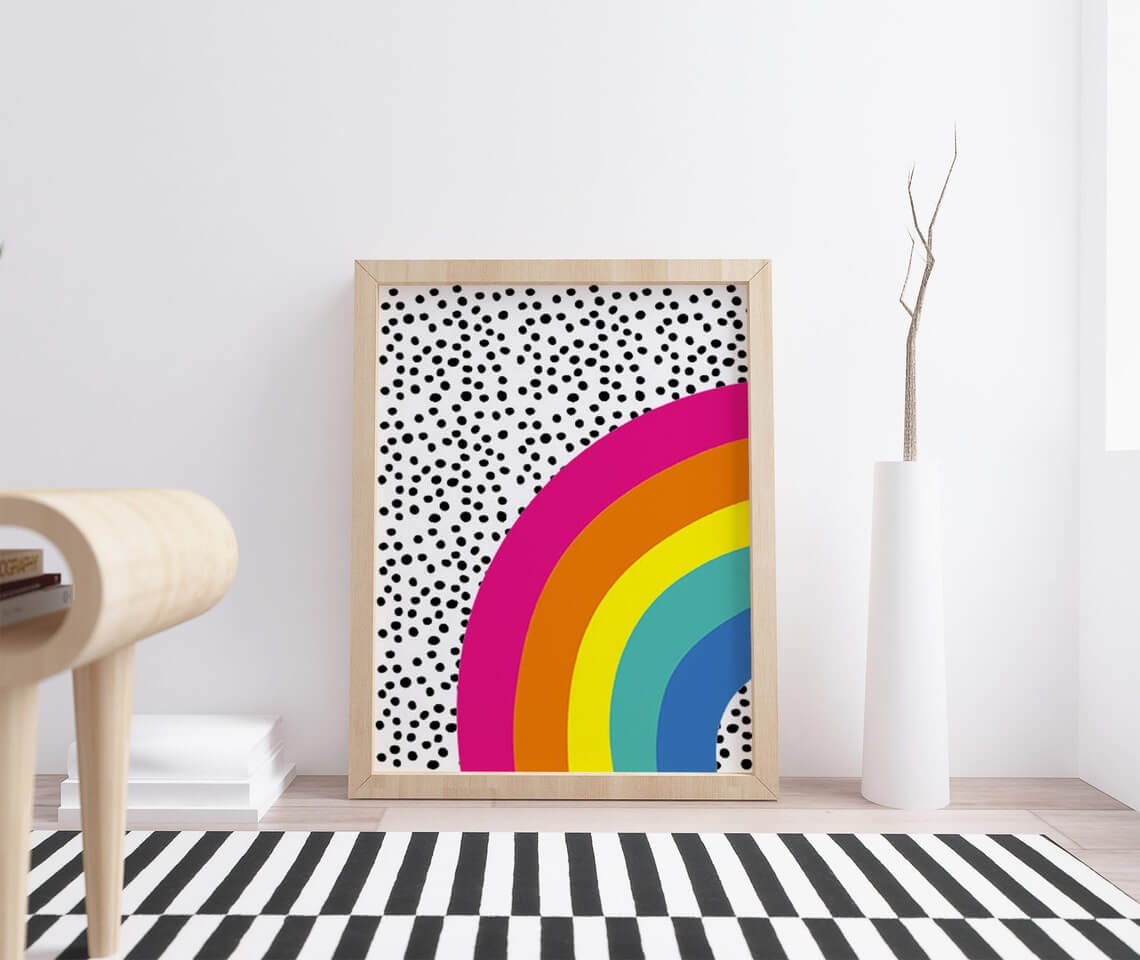 Some of the best rainbow home decor ideas focus on simplicity as in the case of this eye-catching wall print. This doesn't show a full rainbow, but what you get is large enough to easily remain the focal point of the print. The colors are bold, and they are able to stand out even more thanks to the black and white background. Even the dotted pattern helps elevate the rainbow stripes further. Available in multiple sizes, this is a fun wall print to hang up in various areas around the home whether for yourself or for a children's area such as a bedroom, playroom, or even a nursery.
20. Oversized Personalized Rainbow Name Plaque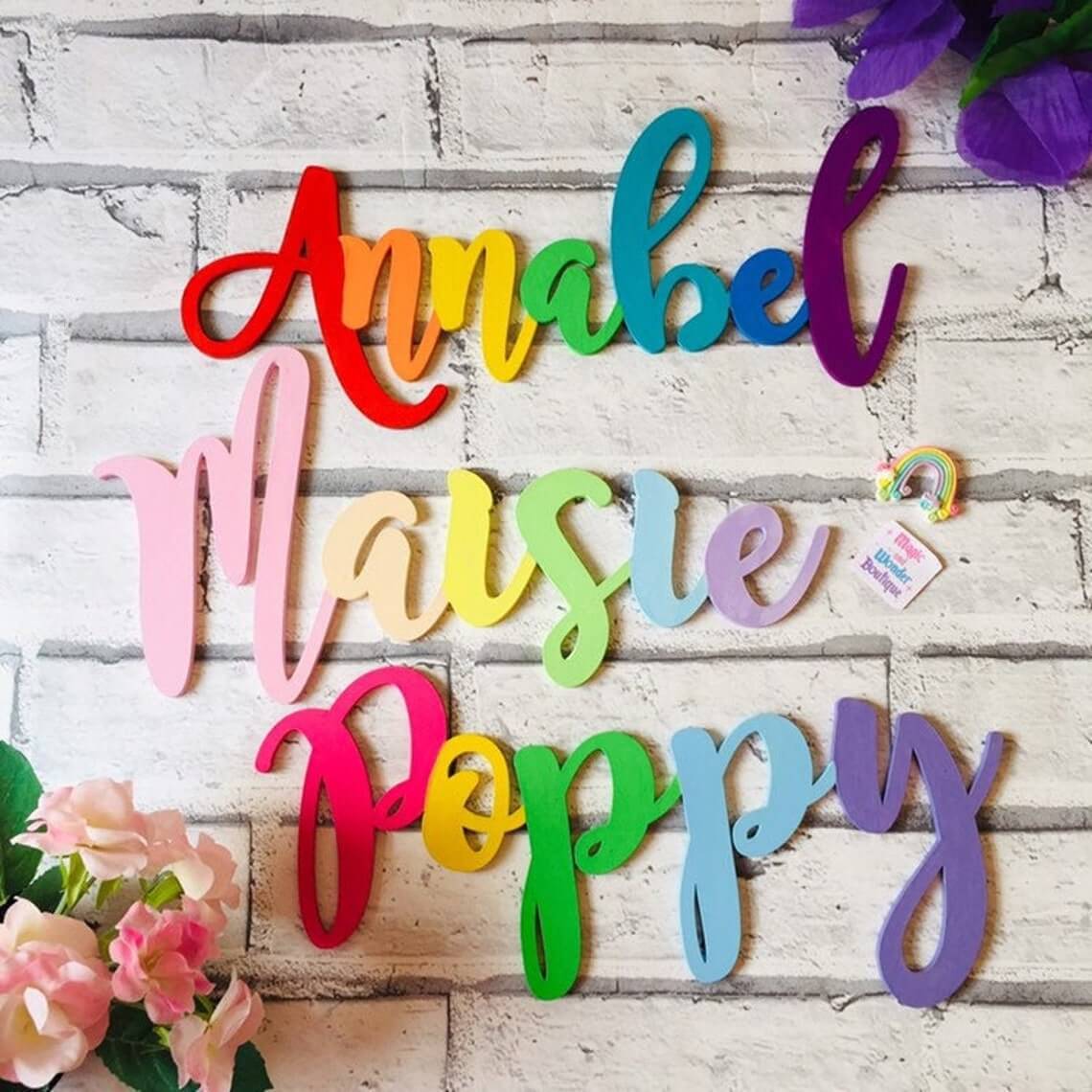 When it comes to decor ideas with rainbow color, going the route of a personalized name plaque is a good approach when you want to brighten up a space with your winning personality. This is made in an ideal size to stand out on any wall you place it on so there is no chance of this falling into the background. There are three different rainbow color schemes that you can choose from as well, giving you a chance to still connect this name plaque with the decorative style you already have in the room. It makes for a cute gift for a child or a lovely way to show off your baby's name in a nursery.
21. Minimalistic Rainbow Stained Glass Suncatcher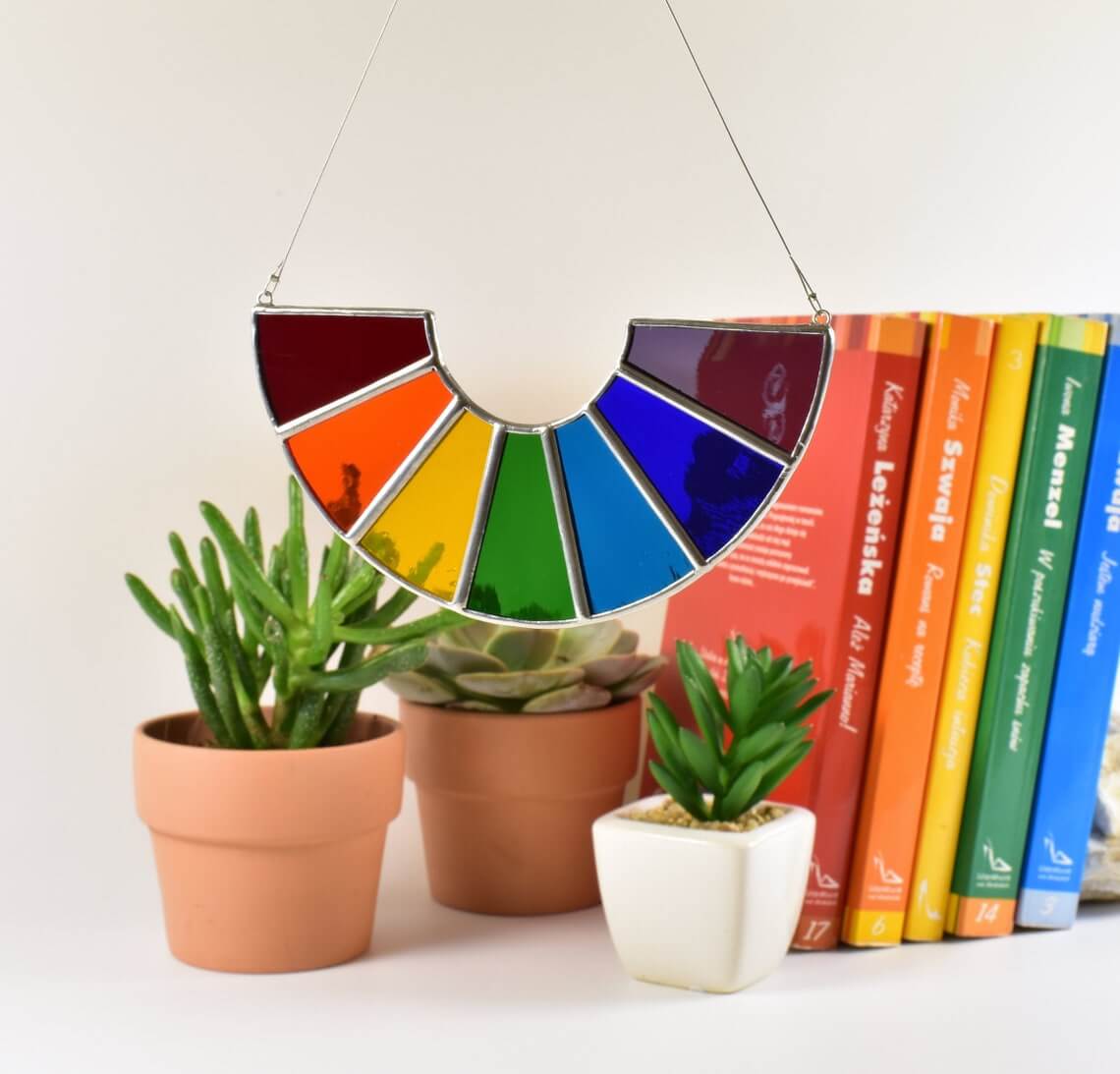 For the minimalistic approach to rainbow house decor, this simple stained glass suncatcher is a nice route to go down. With the high-quality stained glass used, the colors instantly pop, looking even livelier and more appealing once the light hits it. This vibrant piece can work out just about anywhere you hang it that has some natural lighting such as a living room, kitchen, or even a bedroom. The fun doesn't just stop indoors though. Feel free to adorn the outside of your home with this suncatcher too, hanging this up around the porch or garden area to show off your personality before anyone ever enters your home.
22. Rainbow Heart Jeweled Box Frame Art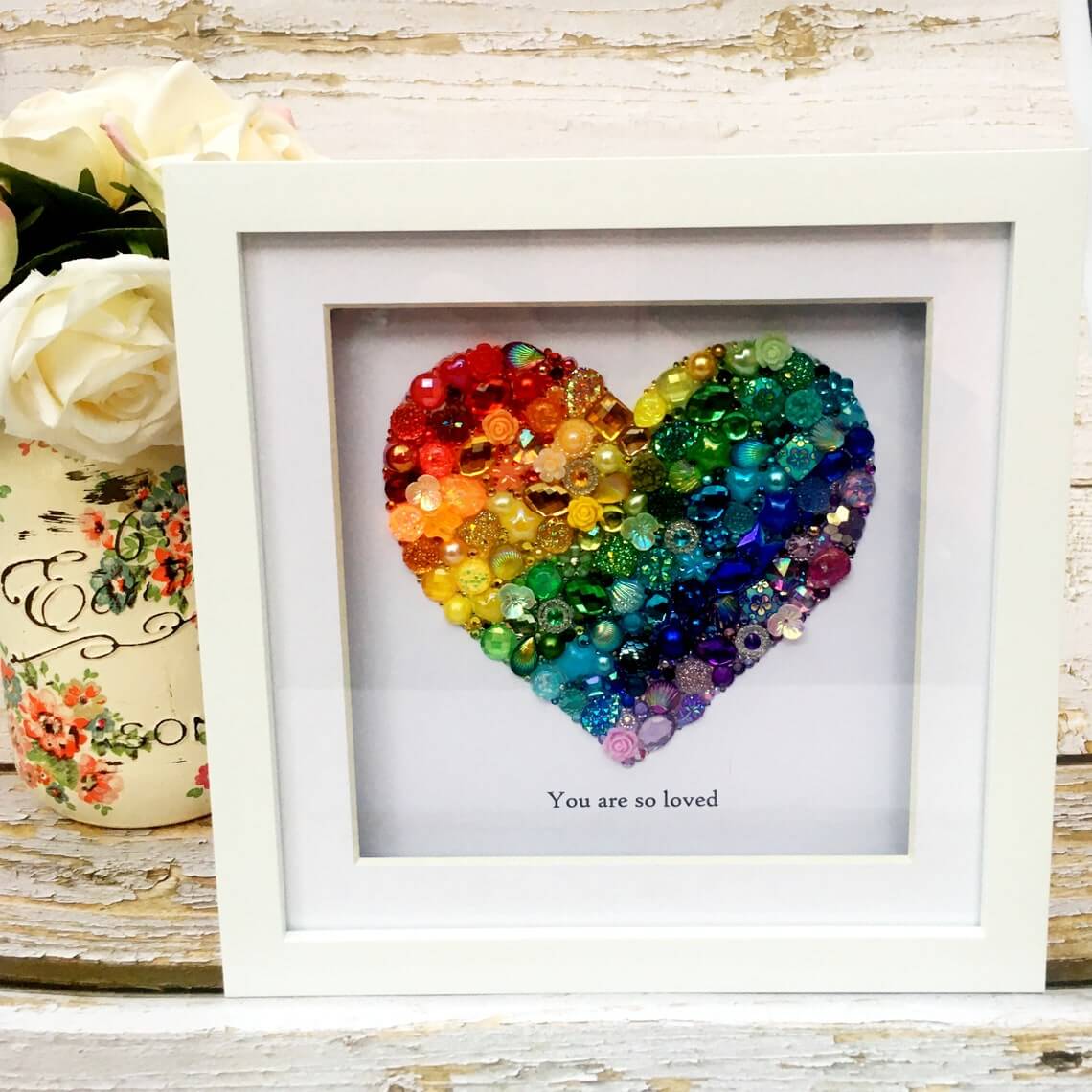 Rainbow coloring is lovely, more so when the colors sparkle like they do with this jeweled handmade art. It is designed in the shape of a beautiful heart that simply works well with the color pattern at hand. All of this is further elevated thanks to the use of the box frame. It adds a good deal of depth to everything. You can choose from a few different frame colors as well to better blend this with your particular style. Besides that, you are able to personalize this with a saying of your choice or you can always go with the original cute saying of "You are so loved".
23. Hanging Rainbow Heart Suncatcher Decor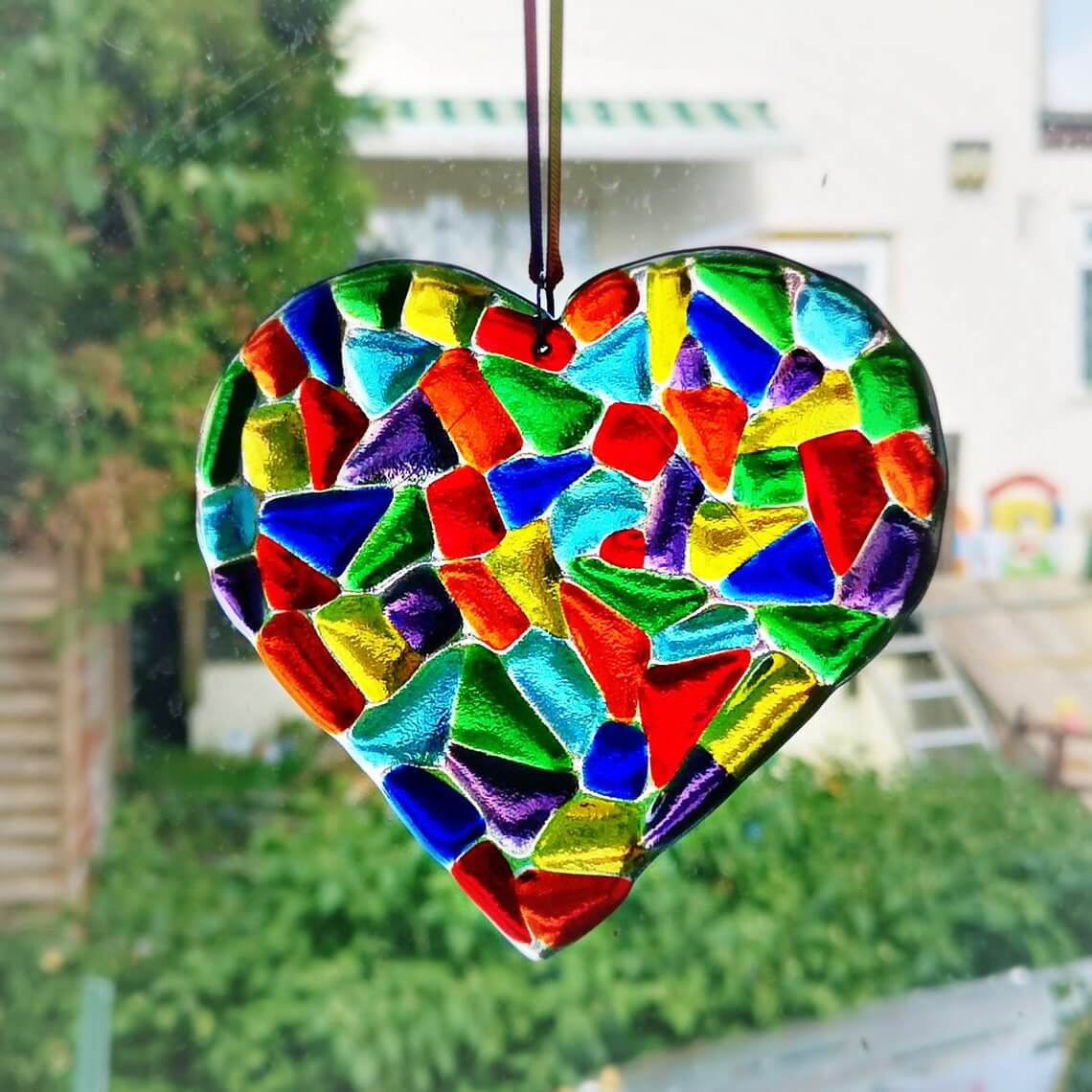 This large rainbow fused glass suncatcher features beautiful geometric patterns throughout that stand out more tanks to the multi-colored design. It looks perfect hung near a window, but it can also serve well throughout the home as a stylish option. Furthermore, thanks to it being made from fused glass, it won't fade in direct sunlight, allowing you to leave it outdoors. This glass also helps it retain its texture whenever the light catches it so that it always looks eye-catching at any angle that you admire the heart from.
24. Rainbow Glass Bridge Candle Holder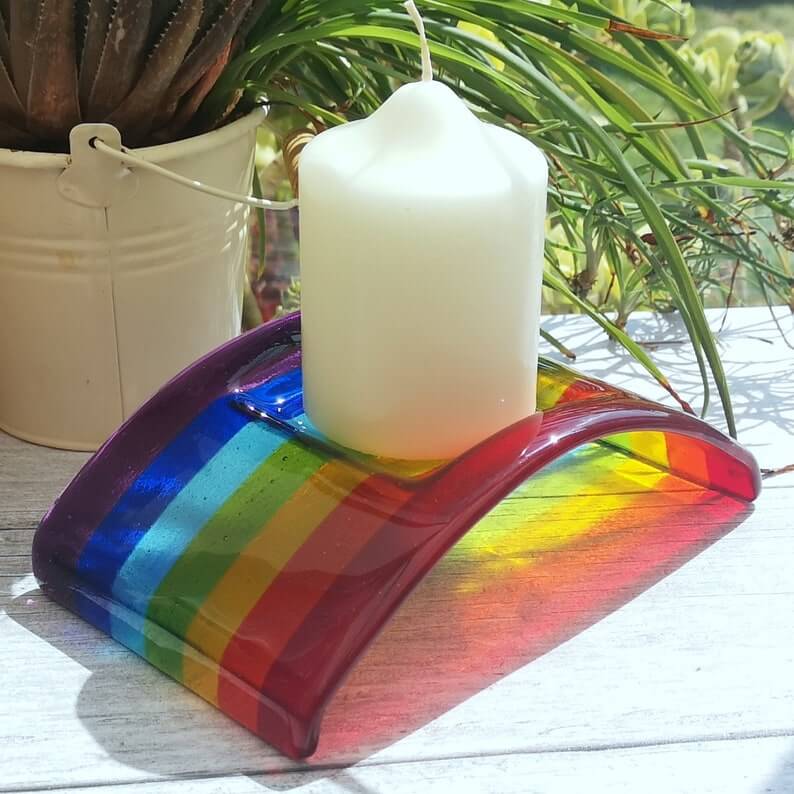 Some decor ideas with rainbow color come in a small, yet mighty, scale. This is true in the case of candle holders. Some are so common that we sometimes forget how much of an impact they can leave on a space. This rainbow glass candle holder is exciting on a minimalistic scale, especially as its curved design allows it to effortlessly look like a bridge. The glass shines too when used under a light source, even the flickering of candle flames is enough to allow this to glow. You can get either a single large candle holder or a four-styled candle holder.
25. Colorful Half Circles Rainbow Wall Hanging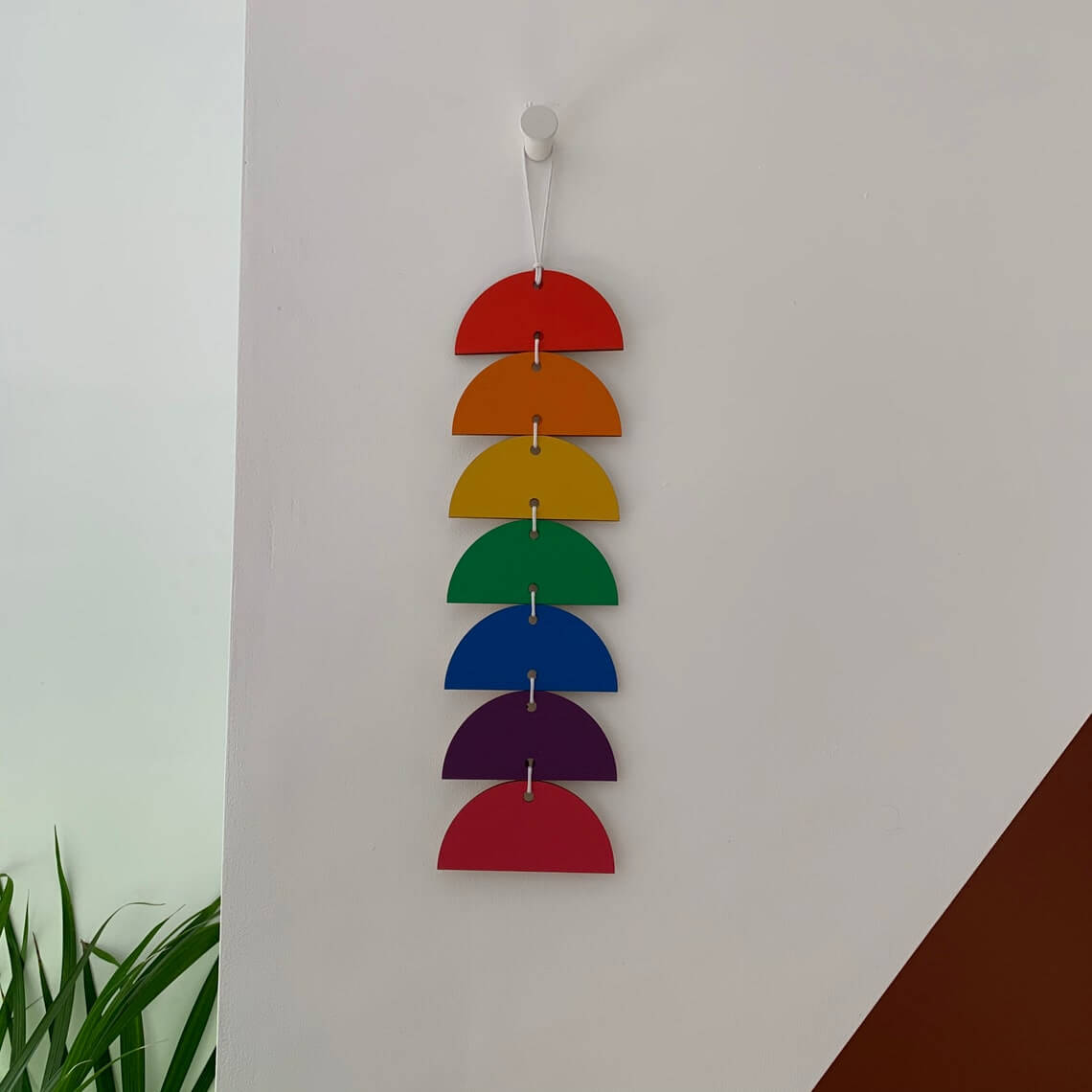 When you seek a more artistic approach to decorating, this wall hanging serves that purpose. Patterned with half-circles, and it's a 7-tiered design. It's simple yet effective, allowing this to blend well with different decorative styles such as within a Scandinavian setting. There is a nice geometric pattern to these that contributes to the artistic, contemporary approach as well. You can choose four different rainbow patterns too, leaving you room to either go the traditional route or aim for something that is more distinctive to your style such as pastel rainbow colors.
26. Simple Rainbow Tassel Garland Design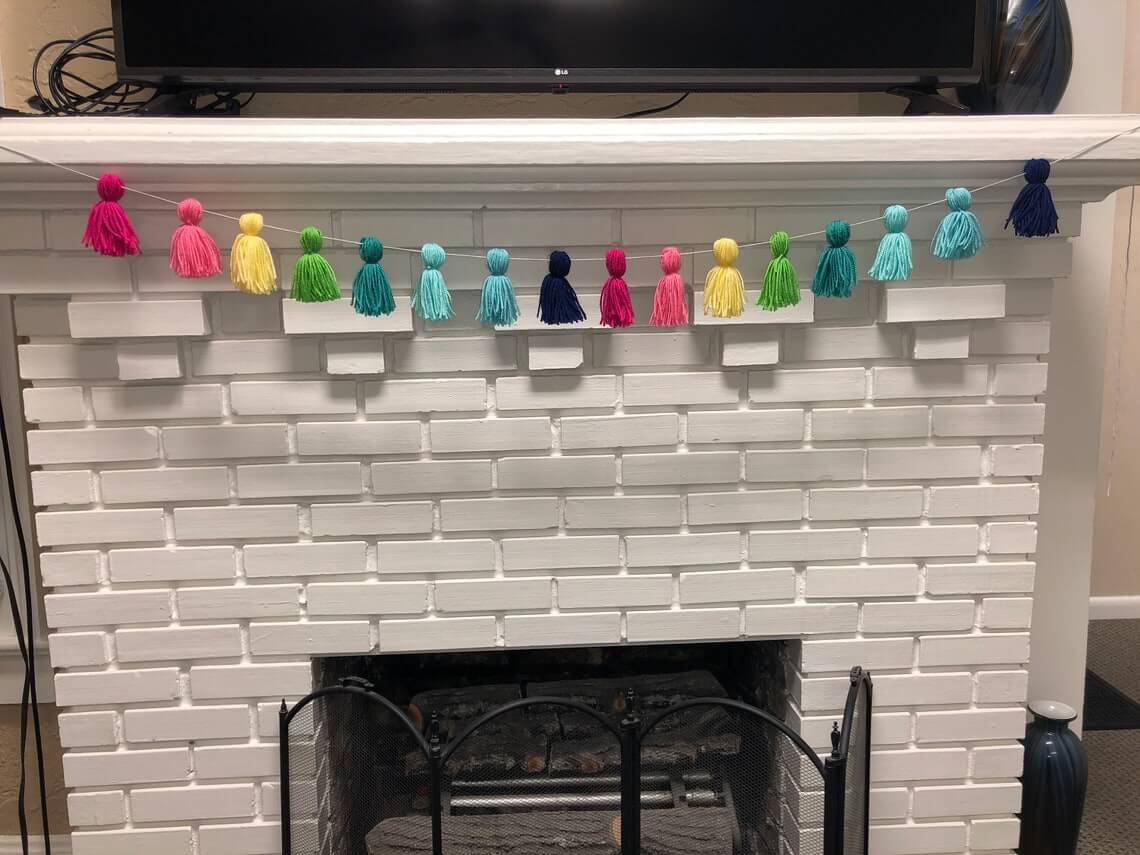 Spruce up any room or create that perfect vibe for a party with this beautiful rainbow tassel garland. These have such nice coloring to them that helps them attract attention no matter where you decide to hang them up. These tassels don't come fixed to the string either. This way, you can adjust them as you see fit, moving them as far away or as close together to suit your specific design needs. Also, the garland itself stretches out to 10 feet long, providing you with more than enough to make this a standout decorative piece.
27. Henri Matisse Colorful Cutout Rainbow Rug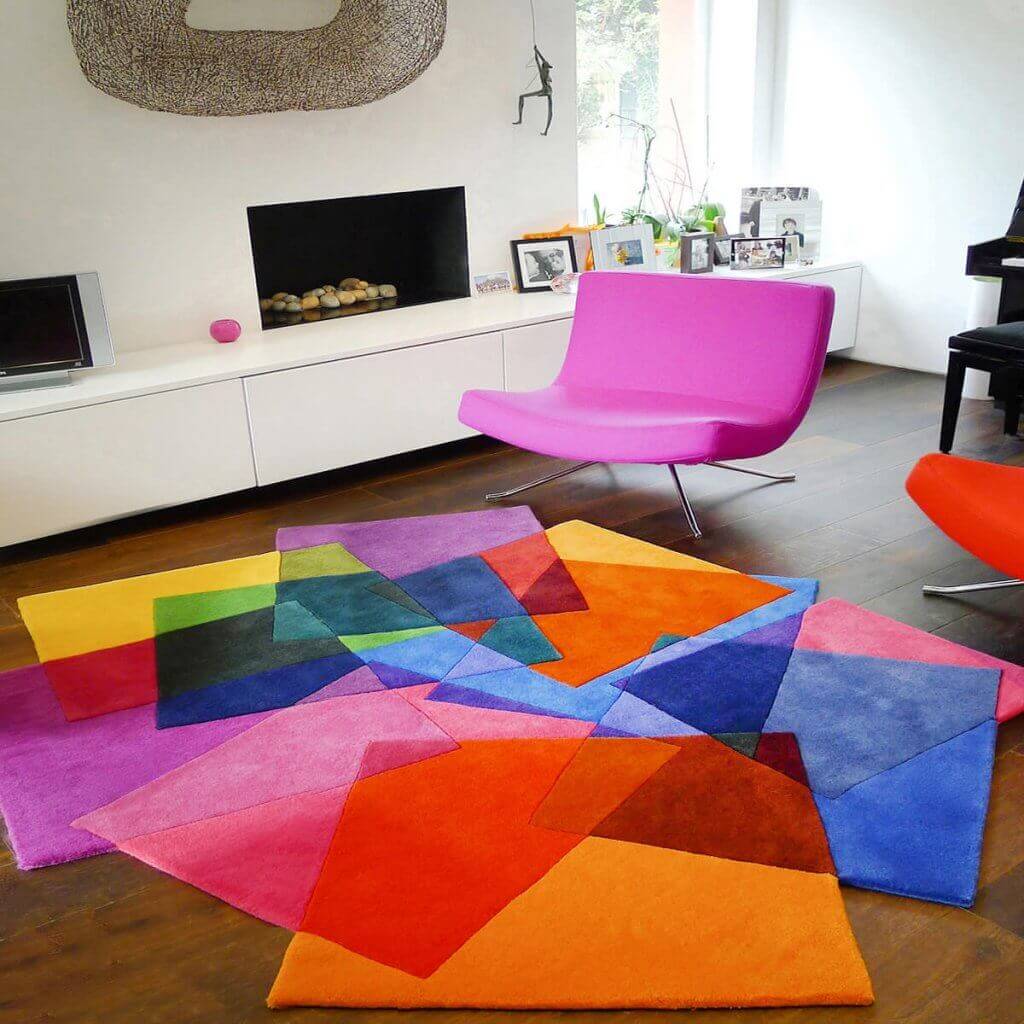 Art enthusiasts across the world will take delight in this rendition of the iconic paper cutouts brought to life by renowned artist Henri Matisse. The overlapping and ingenious geometric infusion of colors is an artistic masterpiece in itself that's now captured in rug form. Instantly transform any room into an explosion of colorful design. The bold and bright colors obviously appeal to kids making this rug a clear choice for a kid's space; however, the artistic and luxurious design makes it a top choice in a modern living room as well.
28. Happy Little and Soft Rainbow Bath Mat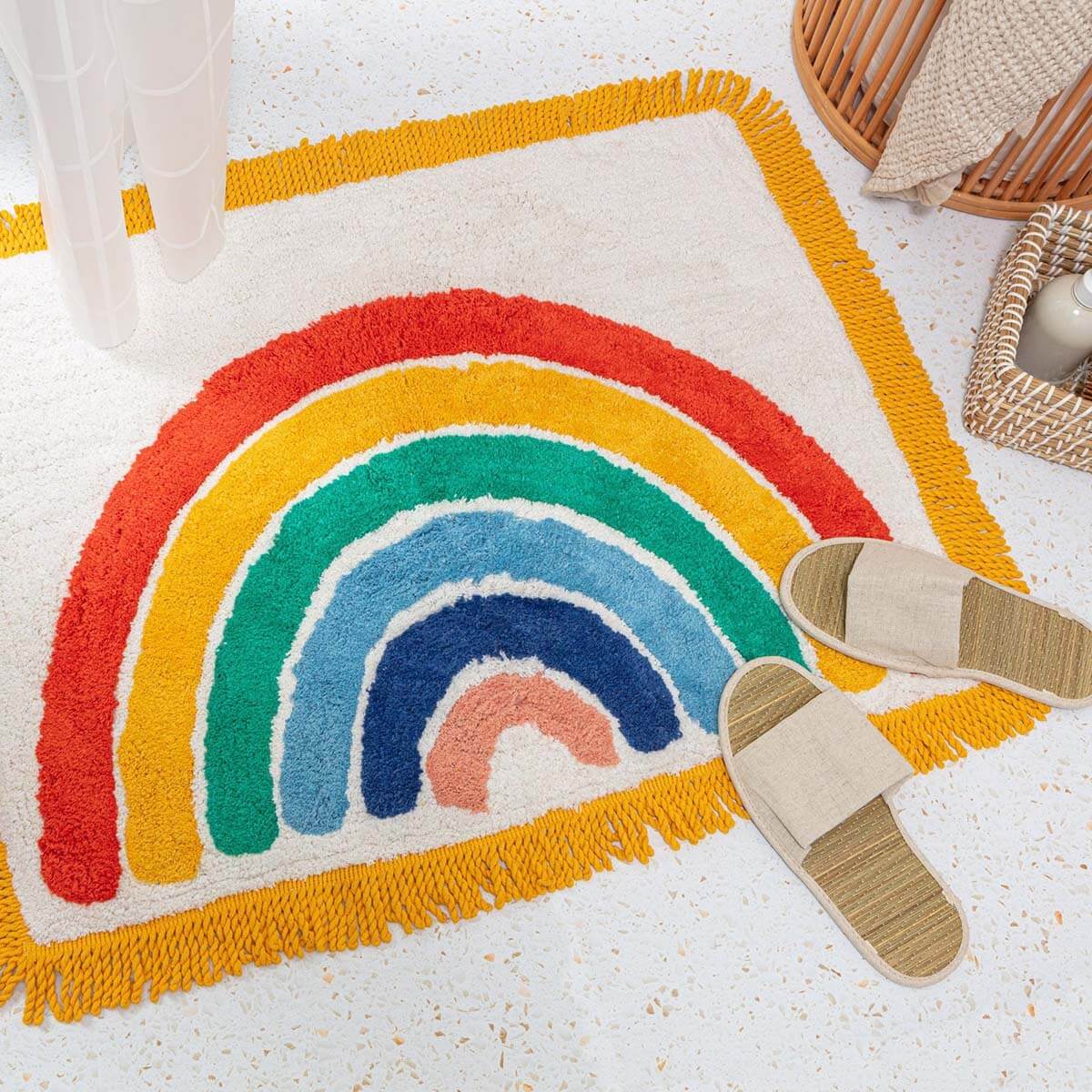 Your toes will adore the super-soft comfort of these tufted cotton piles that make up this colorful rainbow bath mat. Not only will this bath mat provide the absorbency you need as your feet leave the shower, but you'll also love the look of such a stylish element as part of your bathroom decor. There's an almost-vintage look and feel to its design which gives an additional element of fun and nostalgia to the room. And just because it's a bath mat doesn't mean it can't leave the bathroom. Any child would adore adding this bright rainbow into his/her room like a colorful accent rug to provide a splash of color and style.
29. Dining Chair with Rainbow Stick Inserts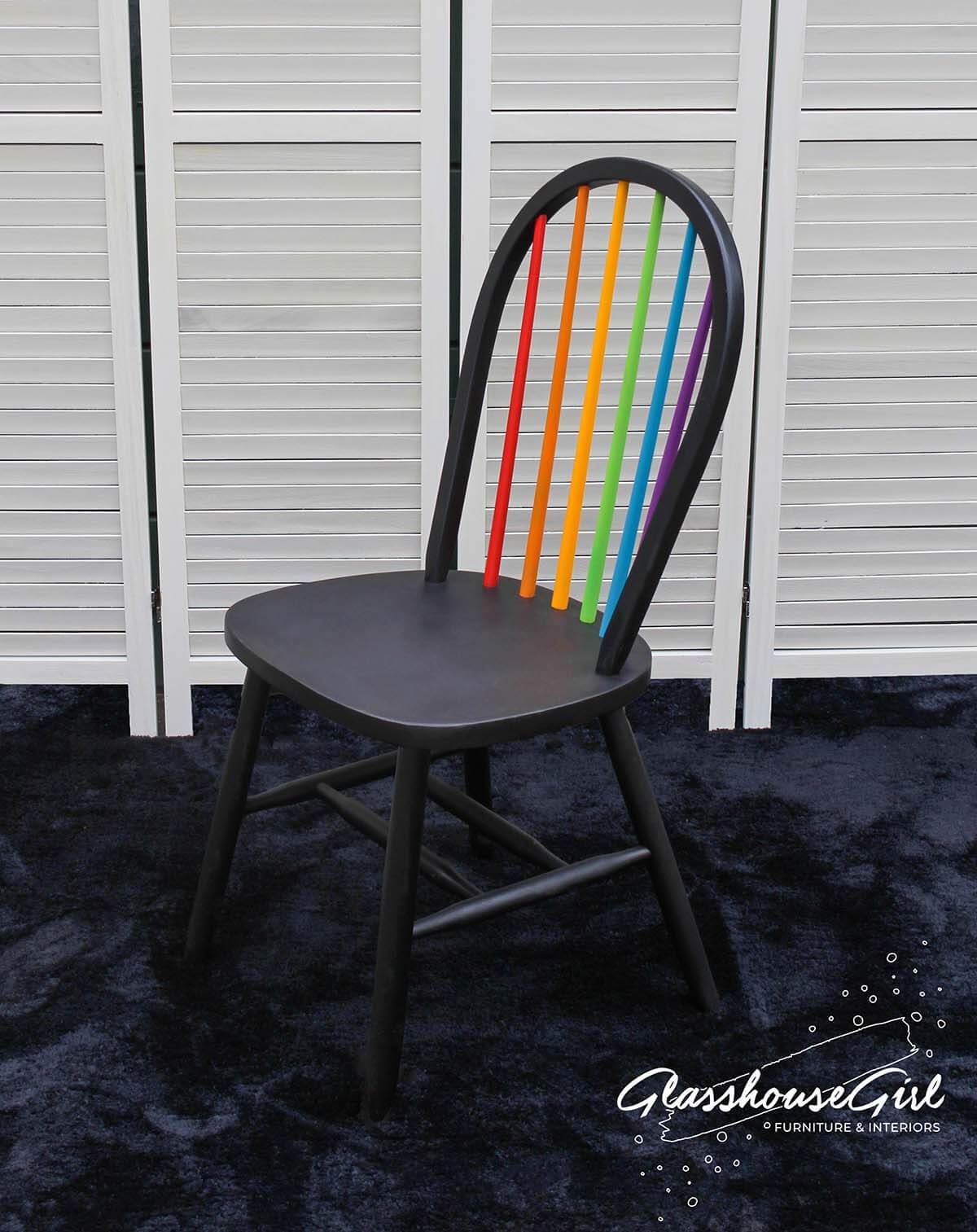 Take a traditional dining chair to the next level with this modern twist. Each chair has been given a fresh and modern update with a bold color design. First, the base is painted a neutral black with a matte finish. For each spindle, a bright layer of the rainbow comes alive. With each stick or spindle a different color, they assemble beside one another and unite as a rainbow display. Surrounded by the black outline of the remaining portions of the chair, this modern dining chair is a real work of art and offers a lot of colors to brighten up your room.
29 of the Most Beautiful Rainbow Home Decor Ideas to Show Off Your Personality
Whenever you want an easy way to add some color and life to any room decorations, rainbow-styled decorations are a great way to do so. Typically, these colors are bold and attractive enough to attract anyone's attention. This also isn't a style that is solely suited for a child's room or a nursery. Although they look wonderful in those types of settings, they can also look appealing in any room throughout the home depending on the type of decorations you use. From wall art to garland, there are numerous ways you can go about using the rainbow as a theme.
Rainbow is also a fun way to add color in an otherwise colorless room too if you are going for a minimalistic route. They look just as powerful in a room filled with color as well. It is a versatile theme that is suitable for just about any home looking to create an environment filled with happiness and life. If you ever need help with decor ideas with rainbow color, then we hope that our list will give you a good idea on where to start.