The timeless fashion of wood is due to its beauty and durability. House and furniture designers have always used wood in all its splendid grains and textures to decorate and embellish. Today with the push to recycle, designers hunt for old wood found in bygone barns or textile mills and use it to fashion something old into something new. You will love all the possibilities you see here for what is called reclaimed wood.
32 Charming Ways to Add Reclaimed Wood to Your Kitchen

The kitchen is a wonderful place to introduce the richness that wood brings to a highly used area of the house. Finished wood inside a house often lends a country air. The antique metal fixtures hanging from a wood beam are reminiscent of an old mill. When the entire wall is paneled in rich wooden timber the feel is one of olden days like you see in the log cabin kitchen corner. The kitchen table, of course is the centerpiece for most kitchens.
In this gallery of reclaimed wood you can see a collection of styles for the kitchen table. If you are one for straight lines and little embellishments, the walnut table with built-in shelves might suit you. The sturdy table made with knotted wood planks would be welcome in any country-styled home. The symmetry of the table and floors of harmony in cherry wood grain would work nicely for a colonial-styled kitchen.
Using reclaimed wood for ceilings, walls, floors, and cabinetry can revitalize your kitchen. Wood provides a striking contrast to any paint color. Find wood you can use to decorate and define a place. Use it to create an inset ceiling or a picture wall. Hide your ventilators in handsome wood panels. These ideas are just the beginning of the limitless possibilities of wood.
1. Kitchen Island with Sink and Barn-Style Base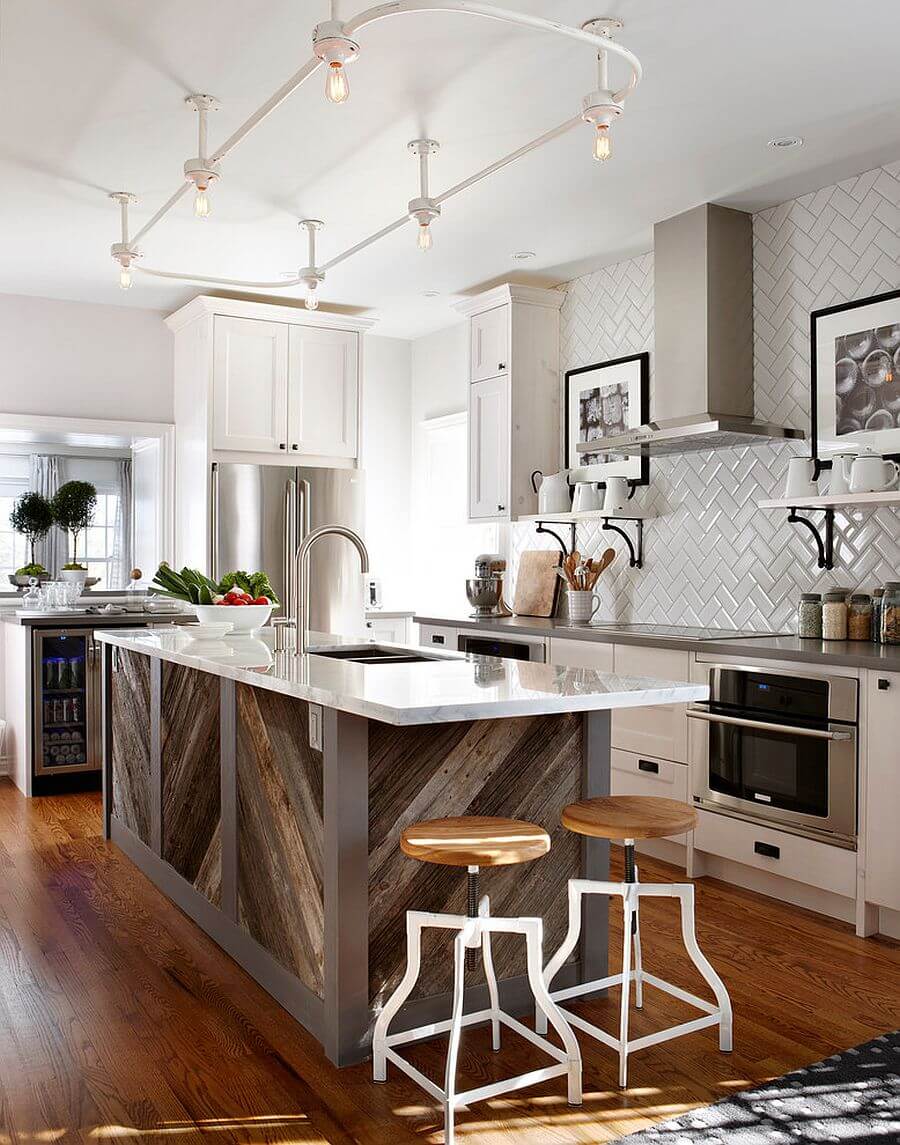 2. Wood Kitchen Vent above Polished Gray Brick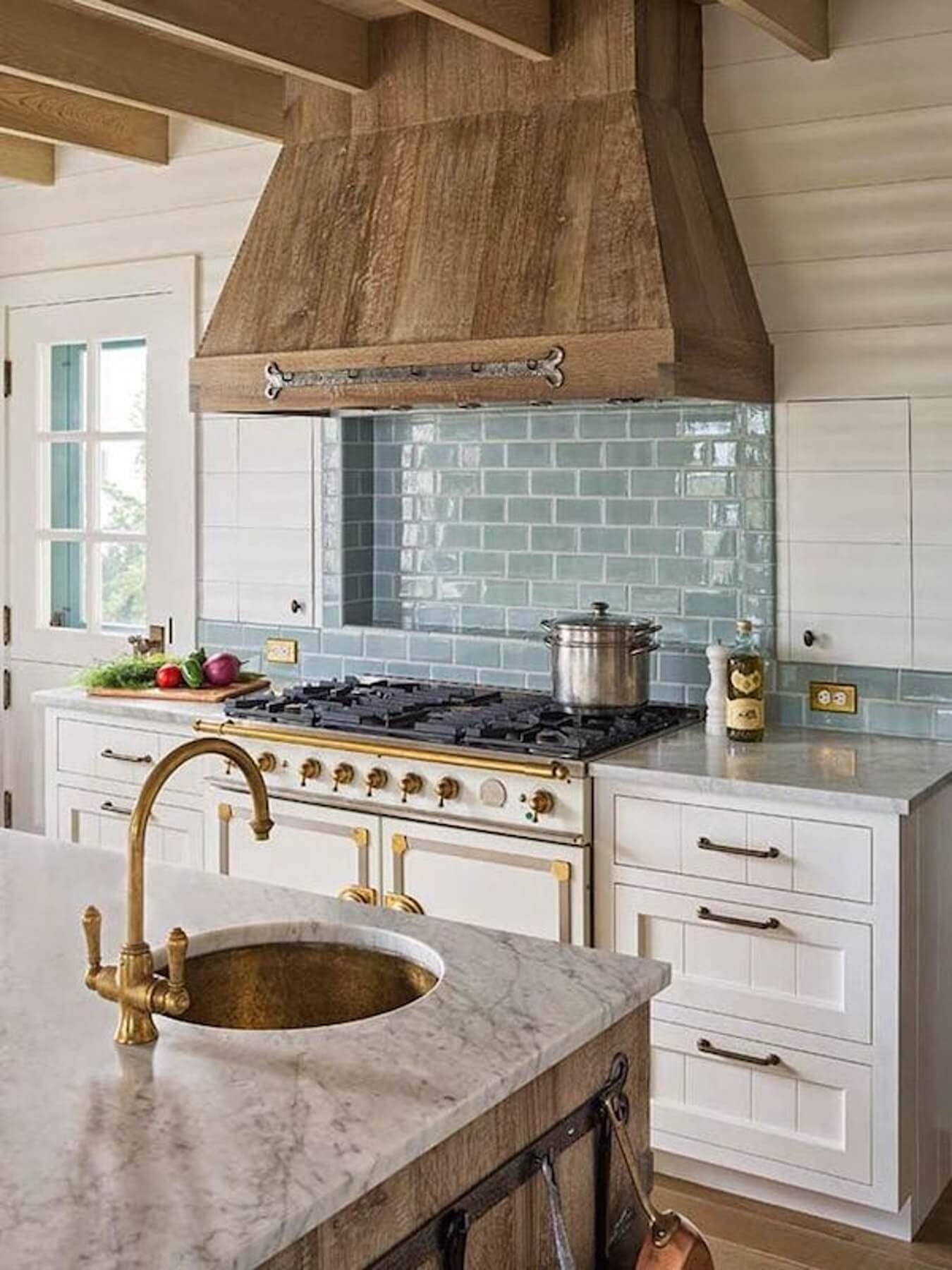 3. Recessed Backboard of Dark Calico Wood Slats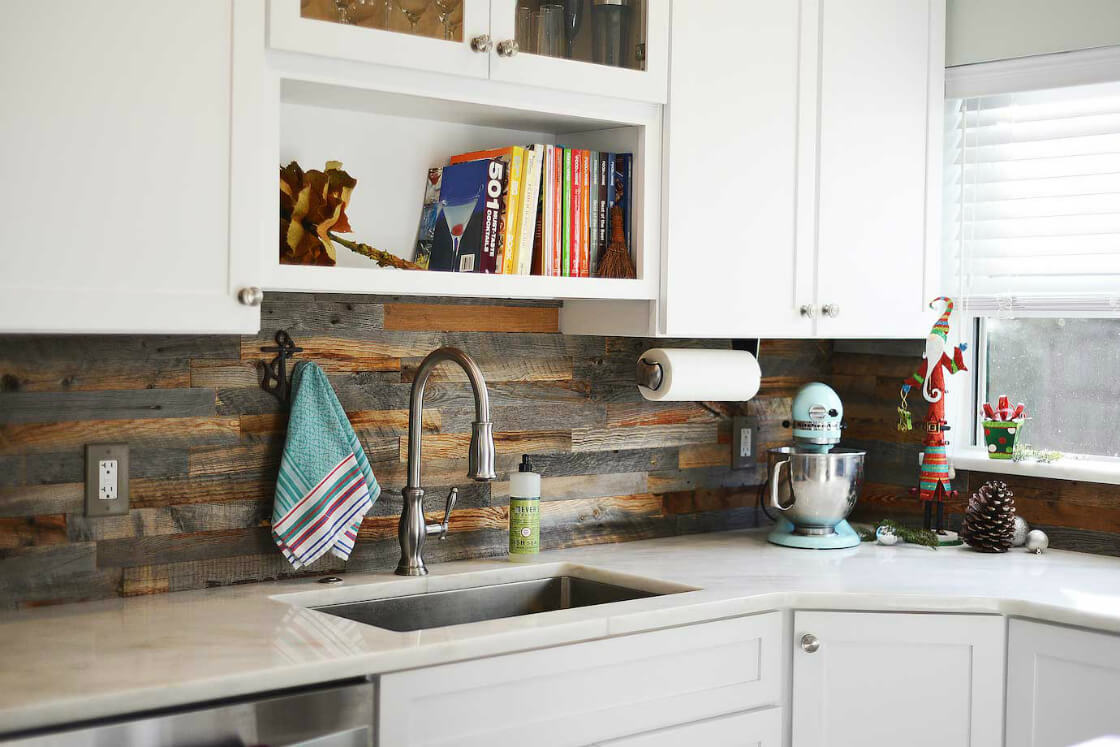 4. Picture Wall of Mixed Wood in Above Stove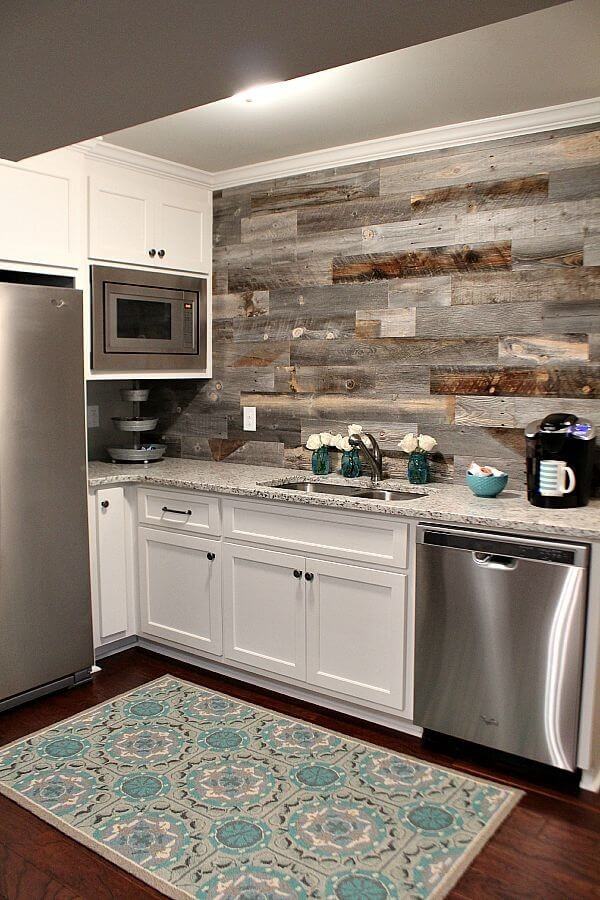 5. Letters in Lumber on the Wall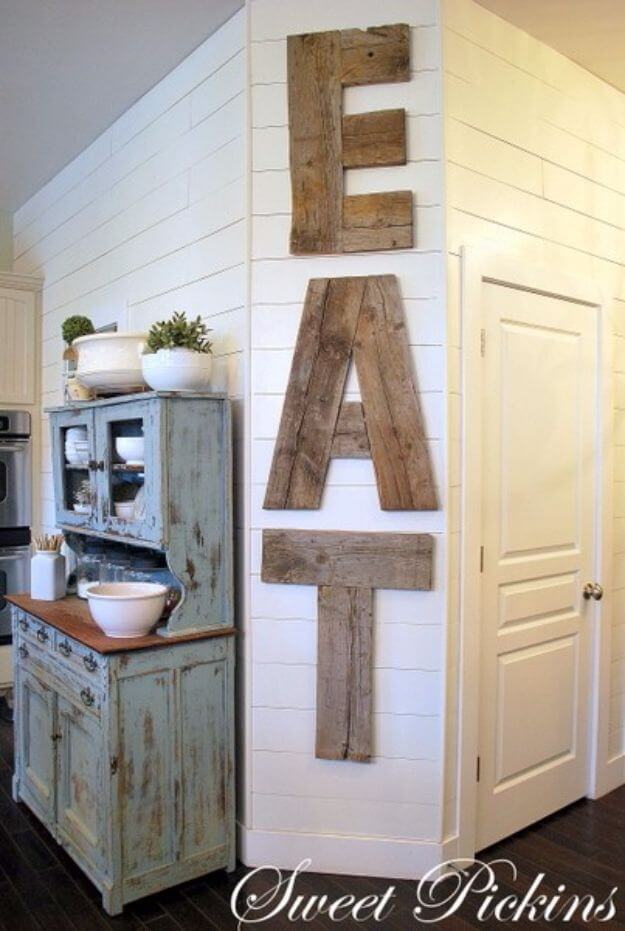 6. Walnut Table with Built-in Shelves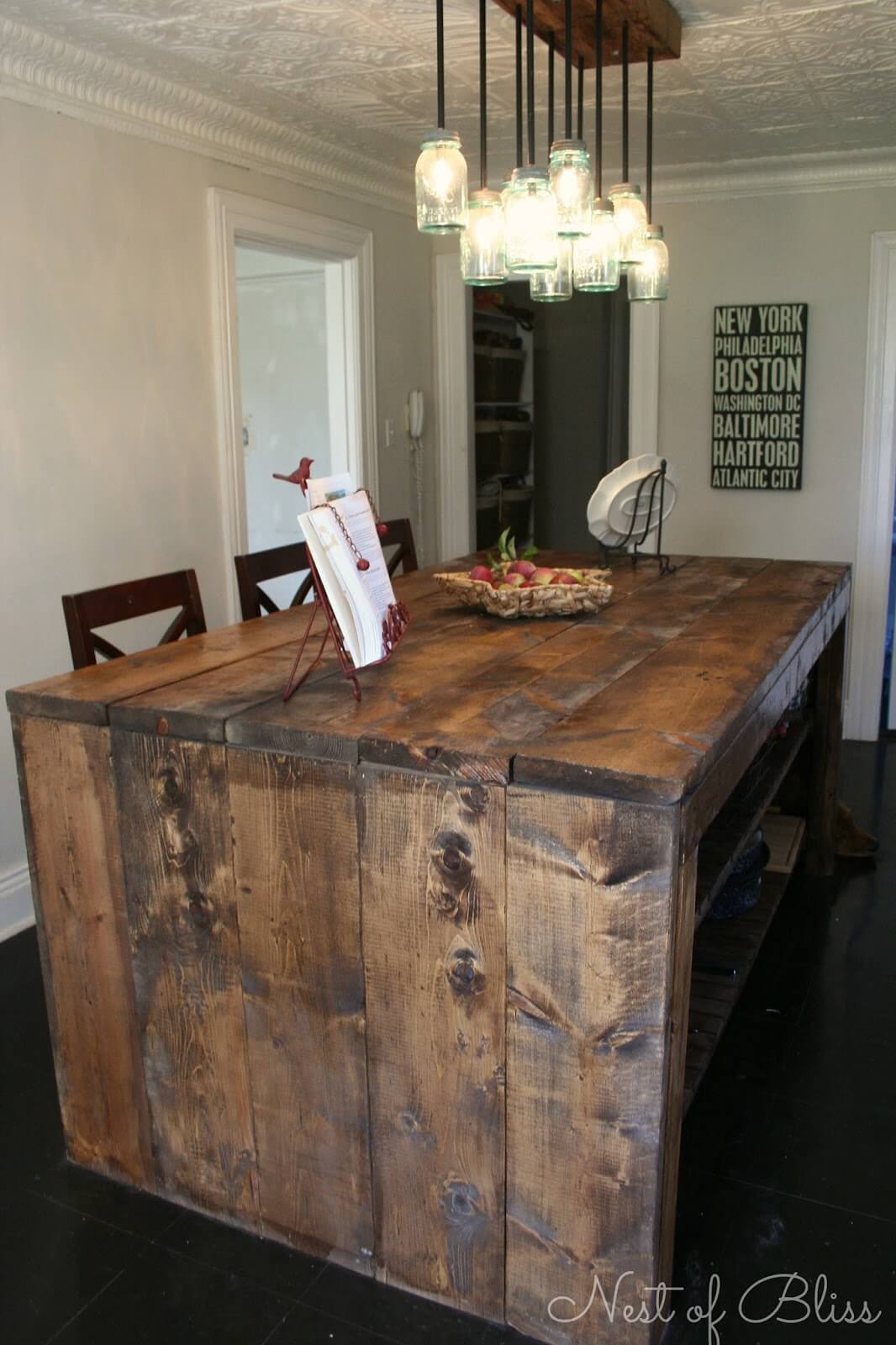 7. Tableware on Open Wood Shelving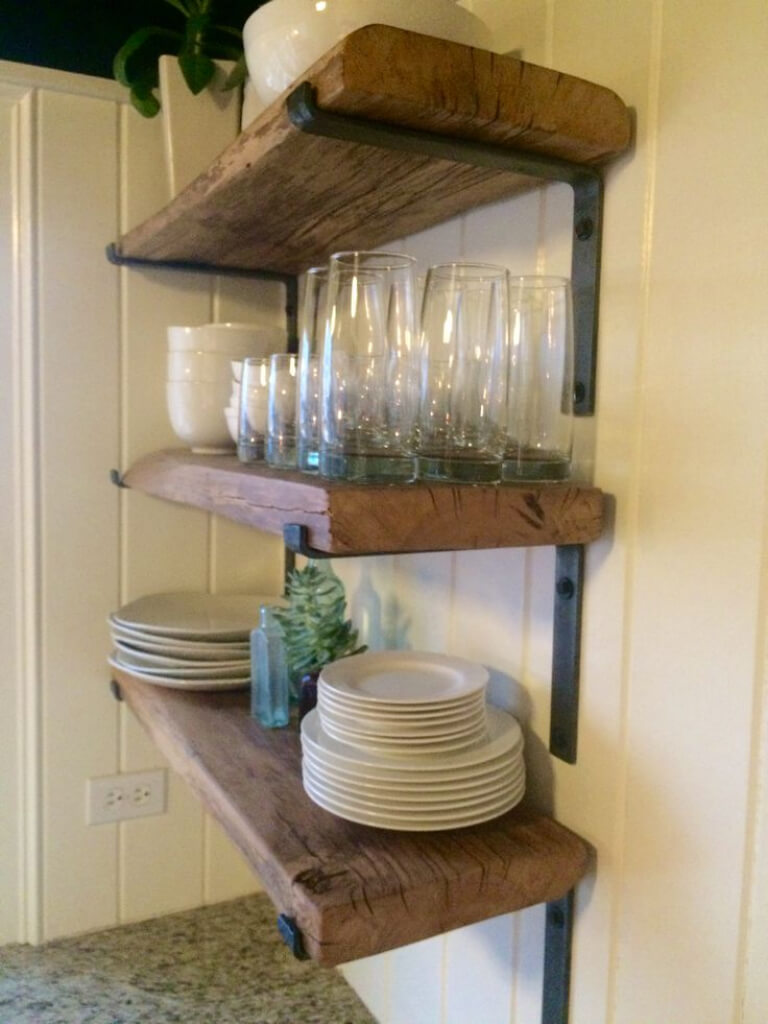 8. Wood Stove-top Back in Chevron Design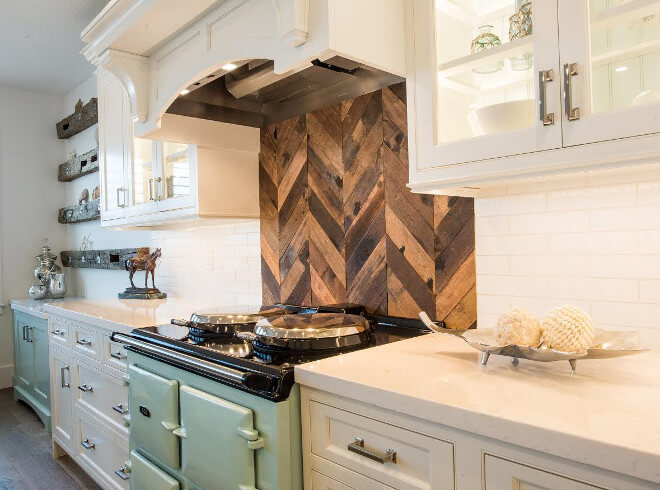 9. Wood Butcher Block and Bar Table Combo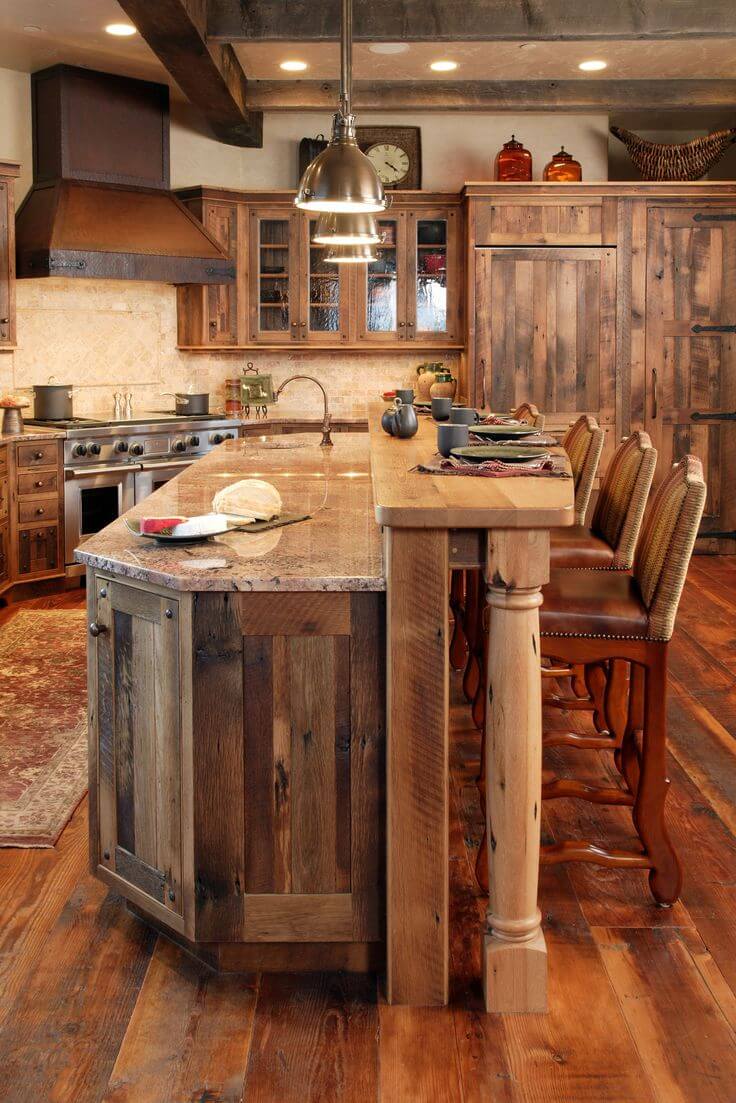 10. Antique Metal Fixtures Hanging from Timber Beam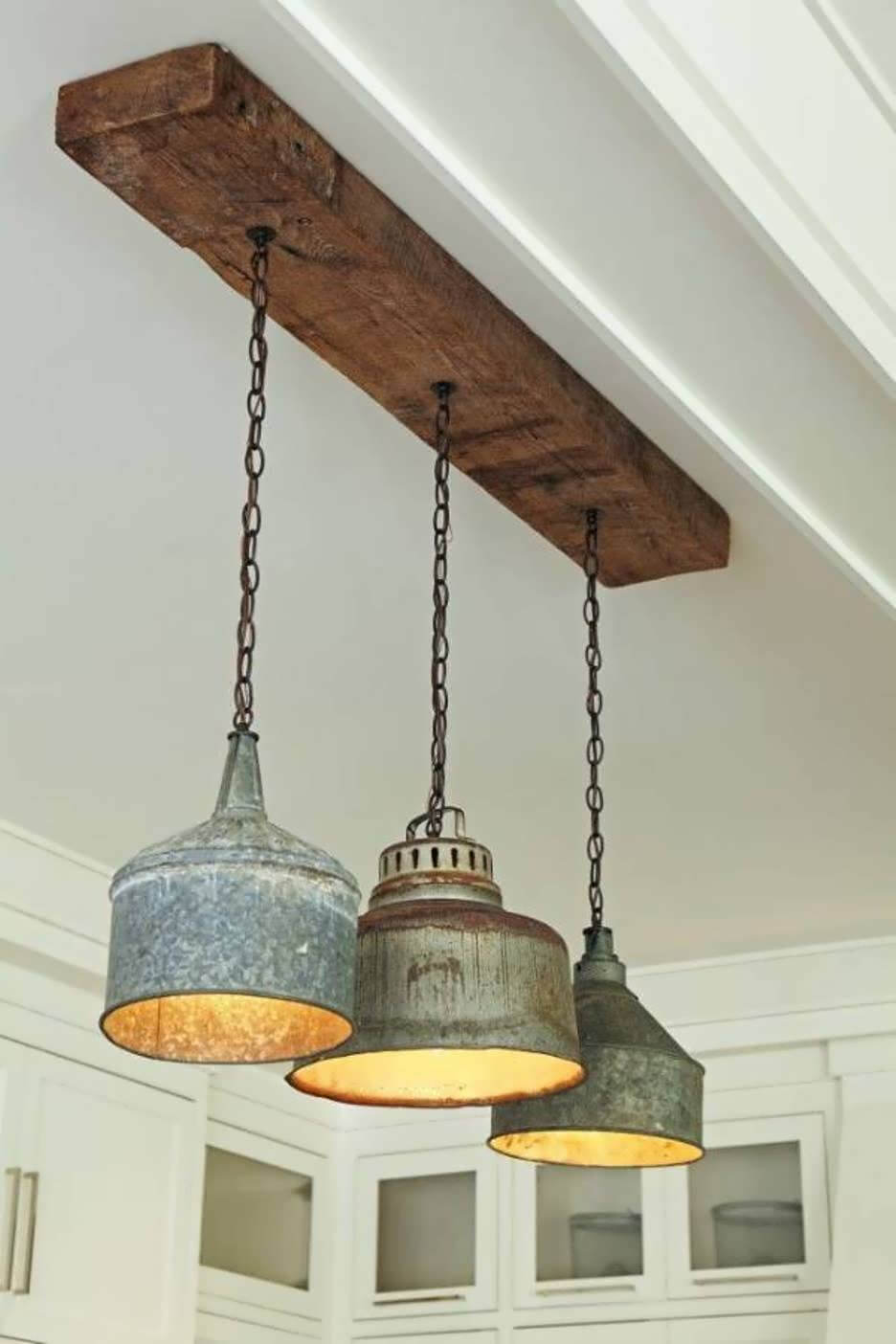 11. Wall-to-Ceiling–Continuous Calico Wood Paneling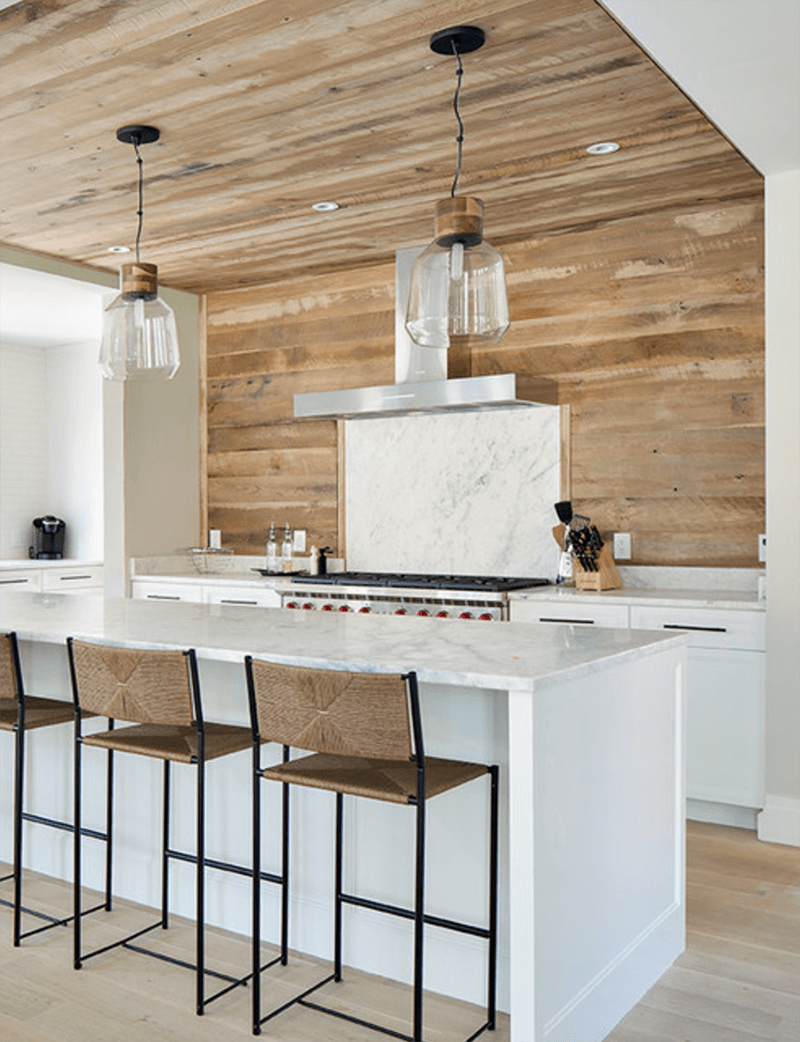 12. Natural Wood Beam Frames Stove Wall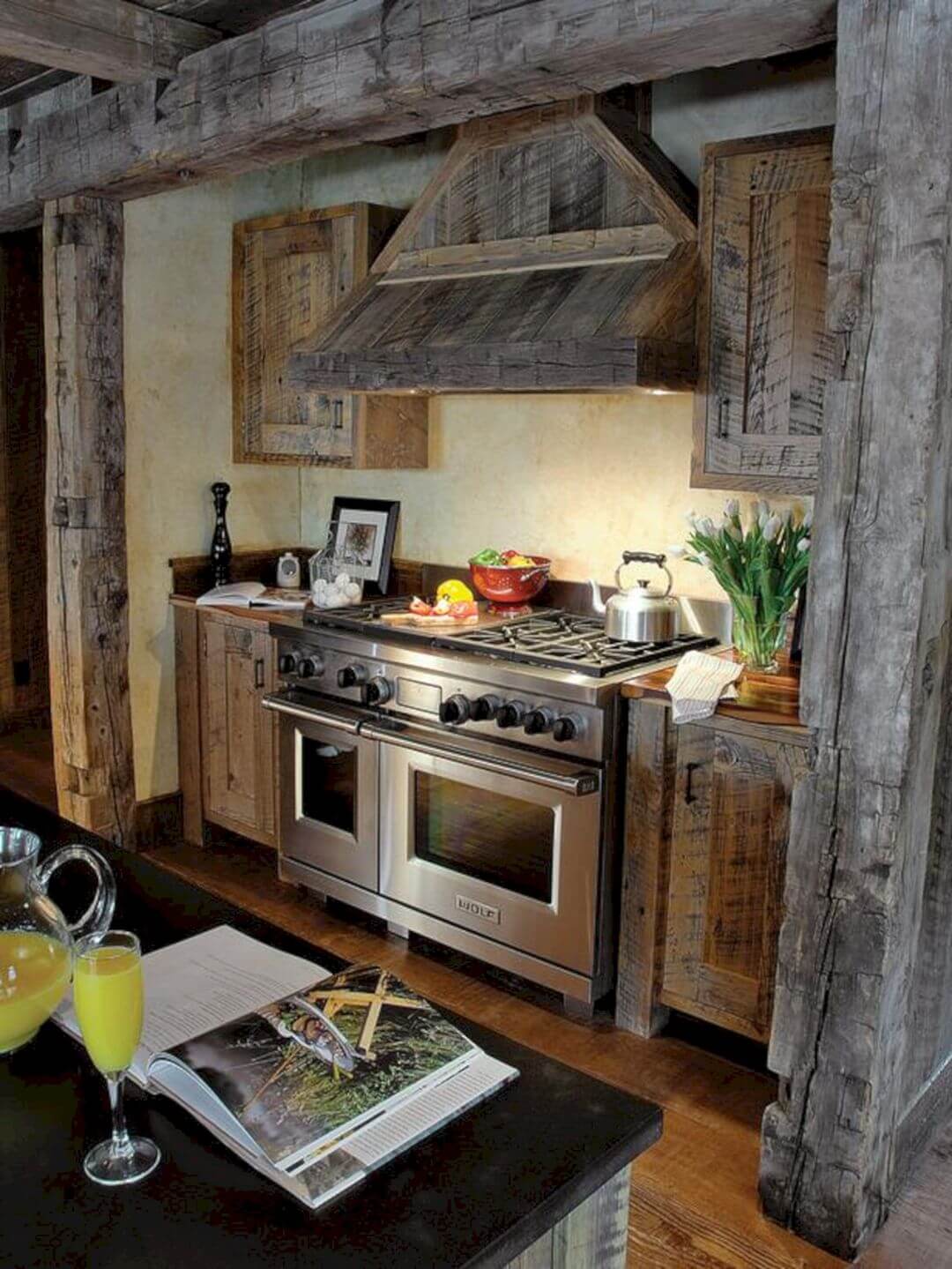 13. Pristine Kitchen Counters Backed by Wood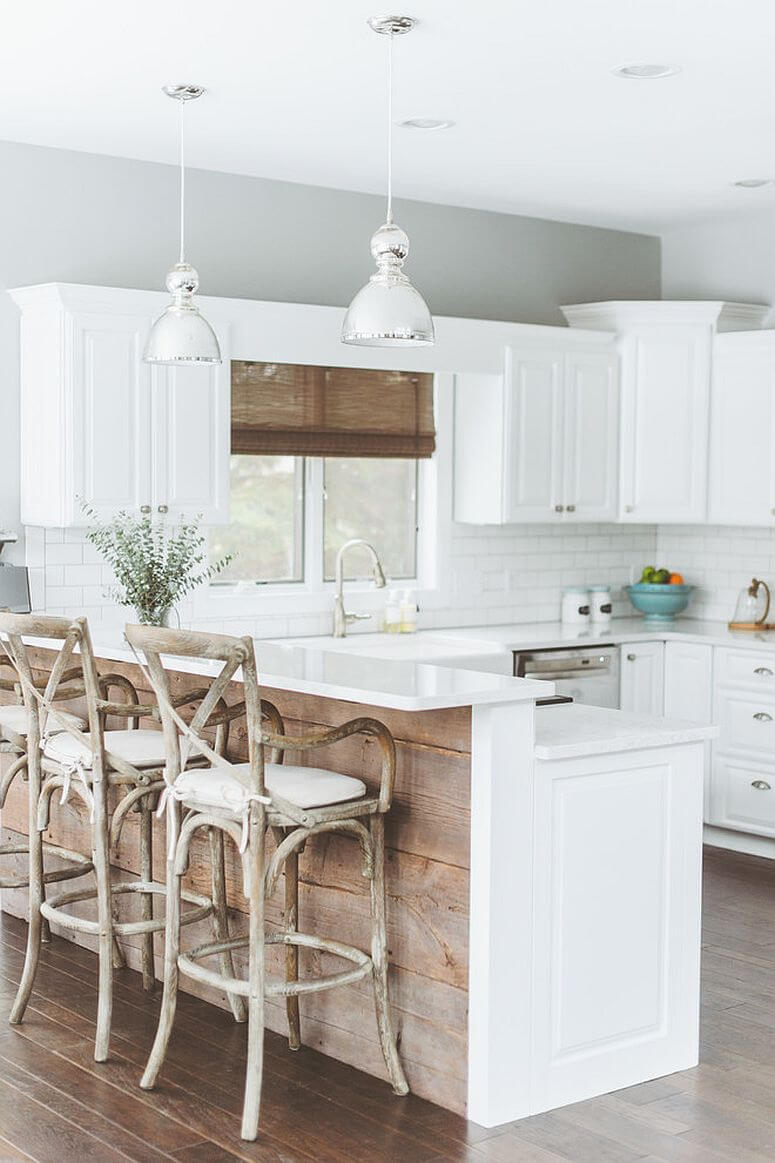 14. Harmony in Cherry Wood Grain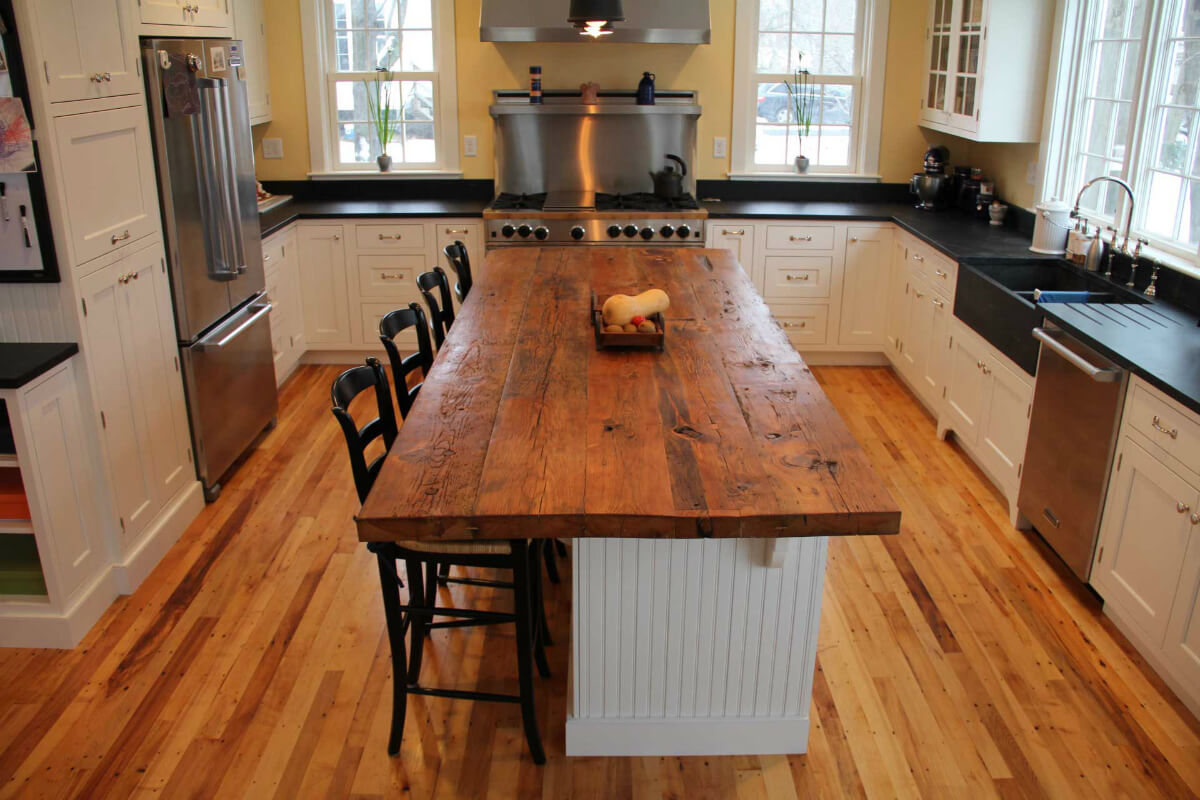 15. Shellacked Wood Runs Down the Kitchen Counter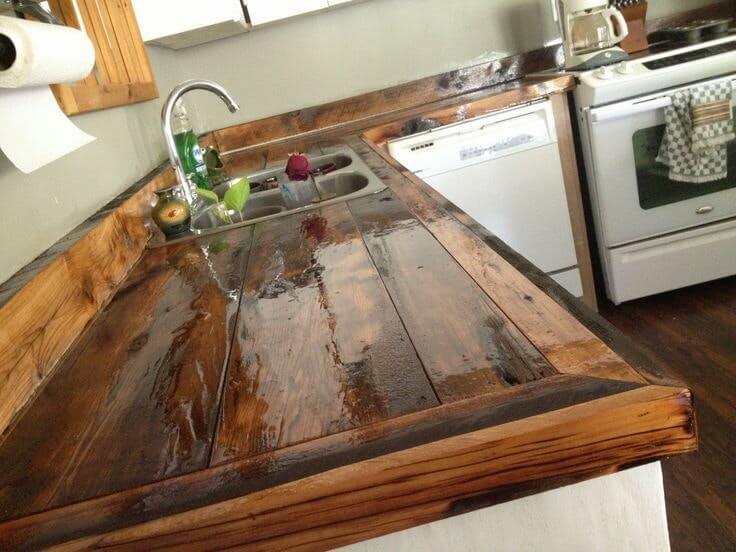 16. Multi-use Butcher Block in Walnut Finish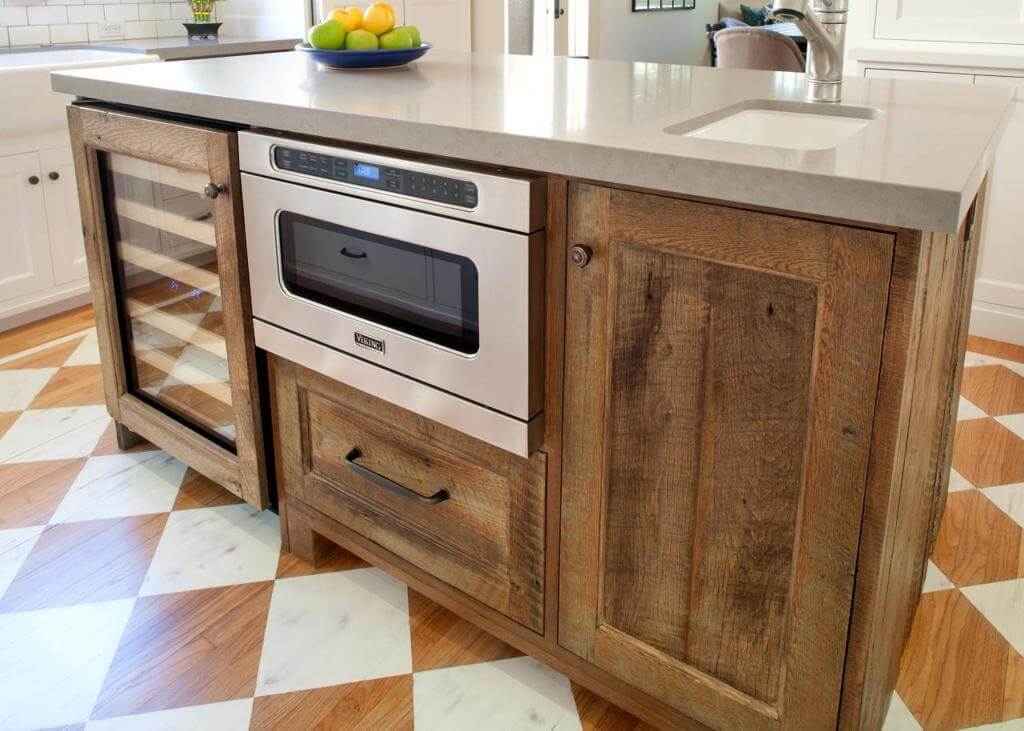 17. From Rafters to Flood – Wood All Over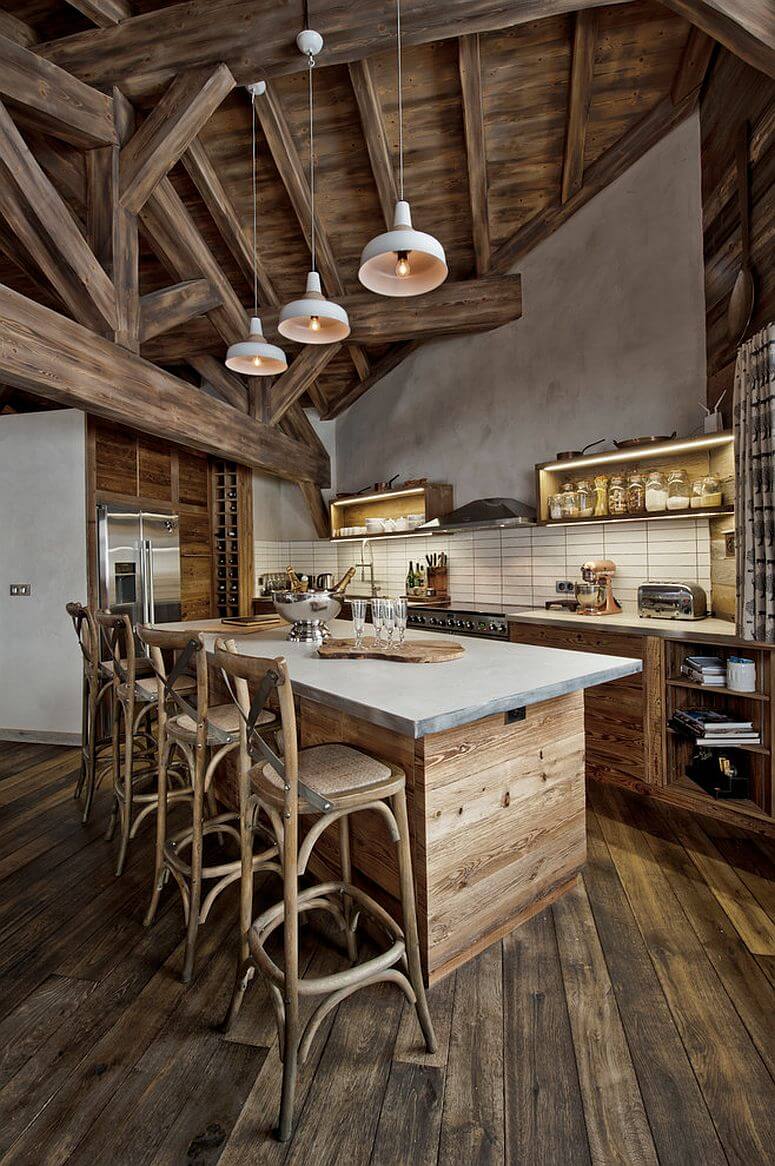 18. Recessed Lighting Warms Wood and Room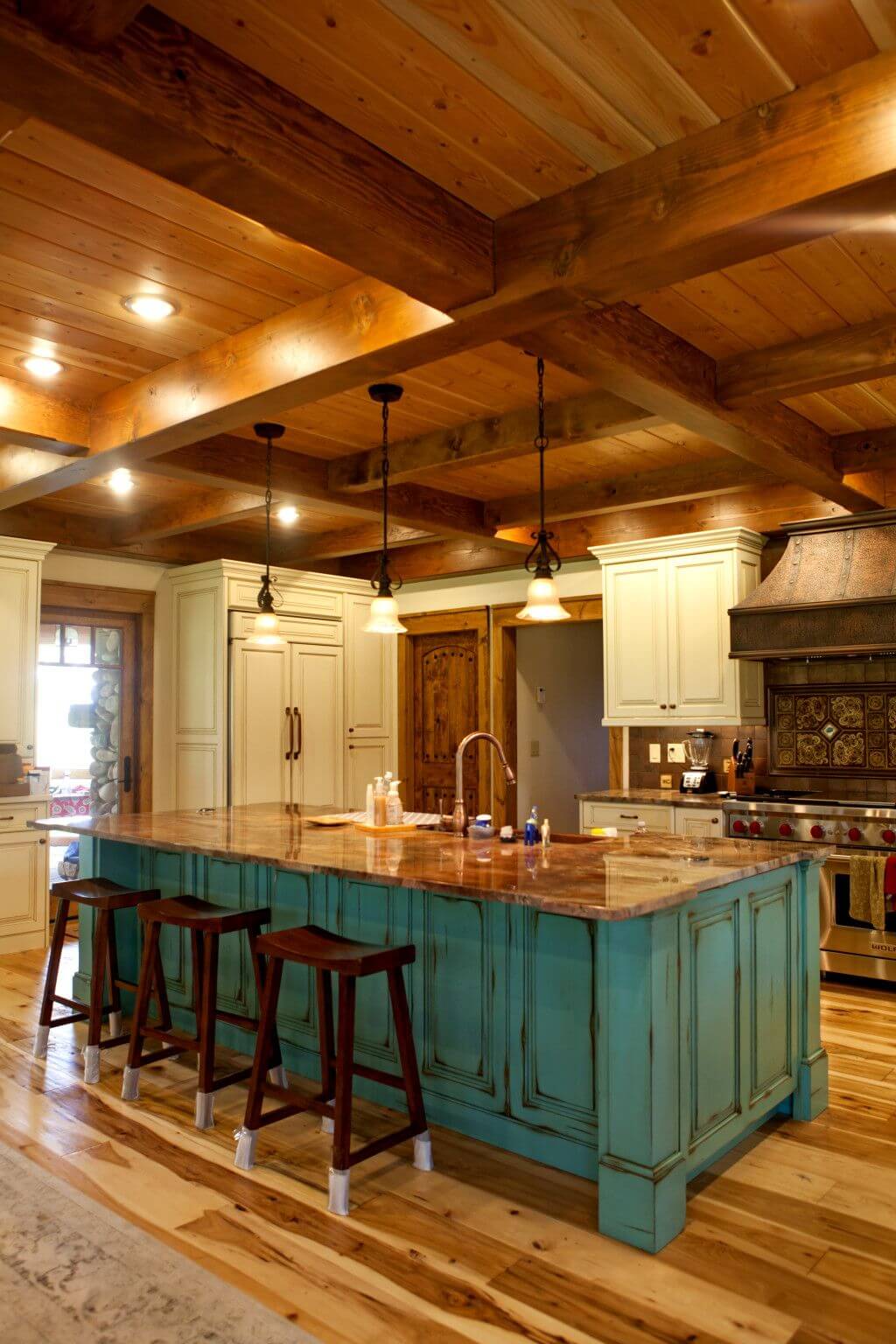 19. Farm Table in Rugged Lumber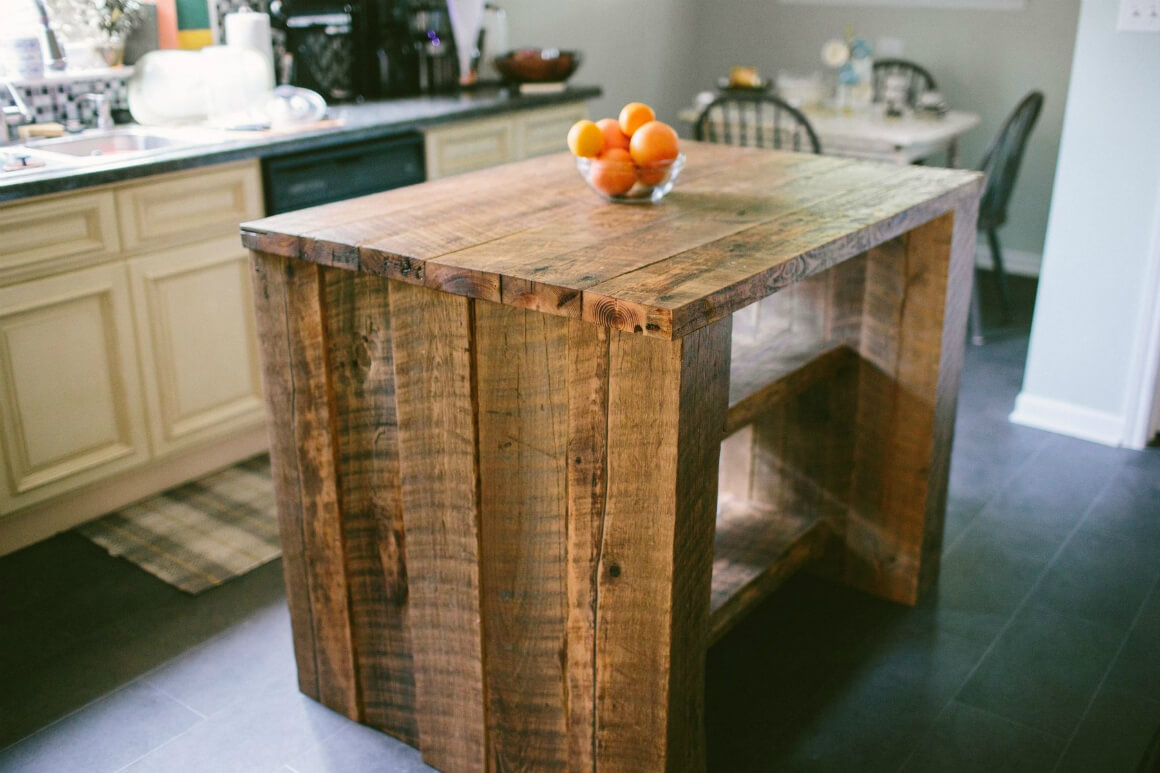 20. White Distressed Wood Sign Defines a Place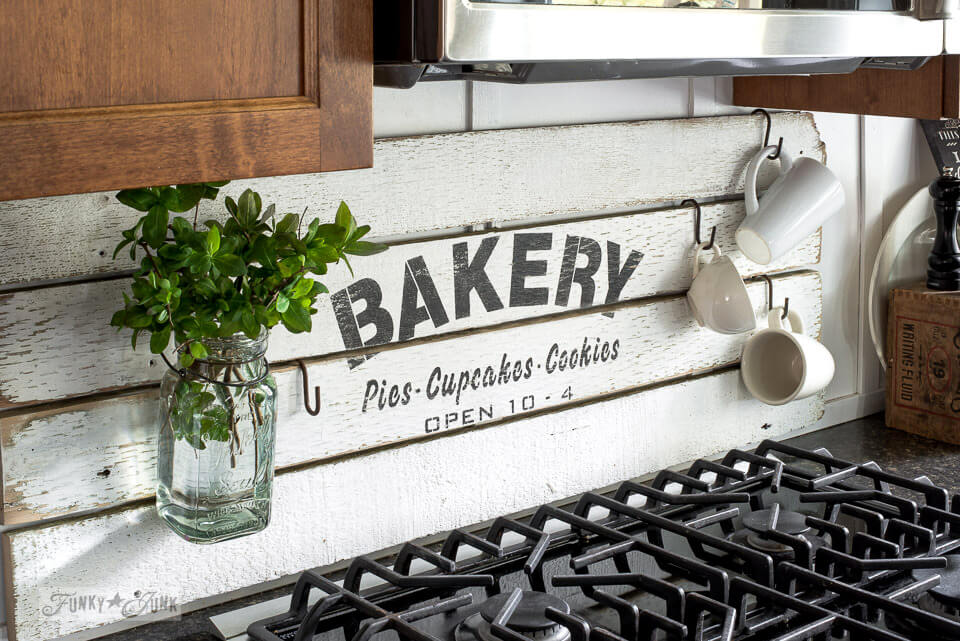 21. Wood Paneling Reaches the Rafters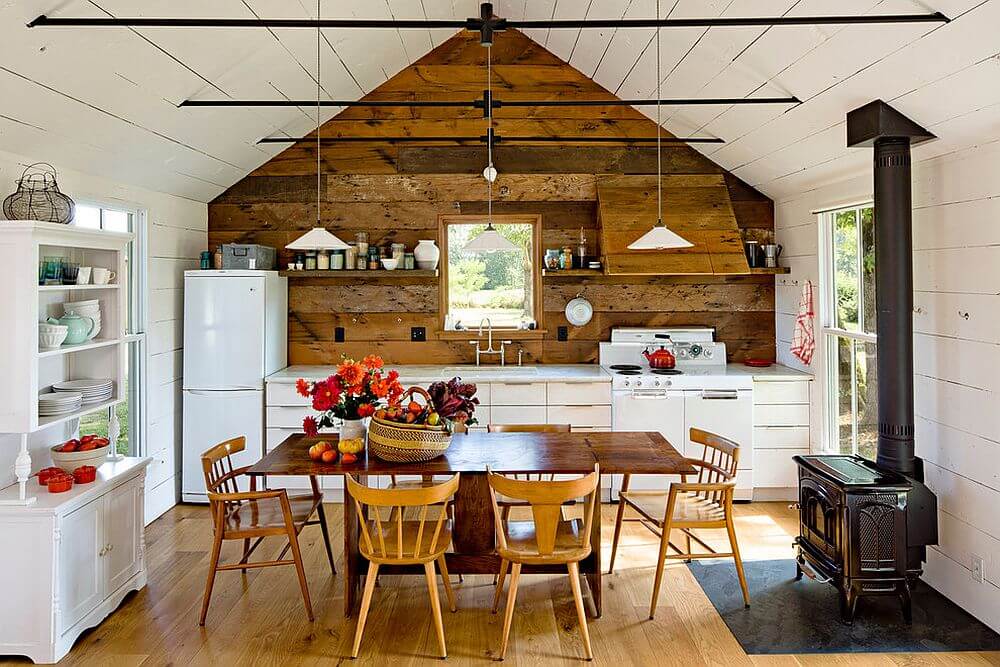 22. Ventilator Striped in Wood and White Trim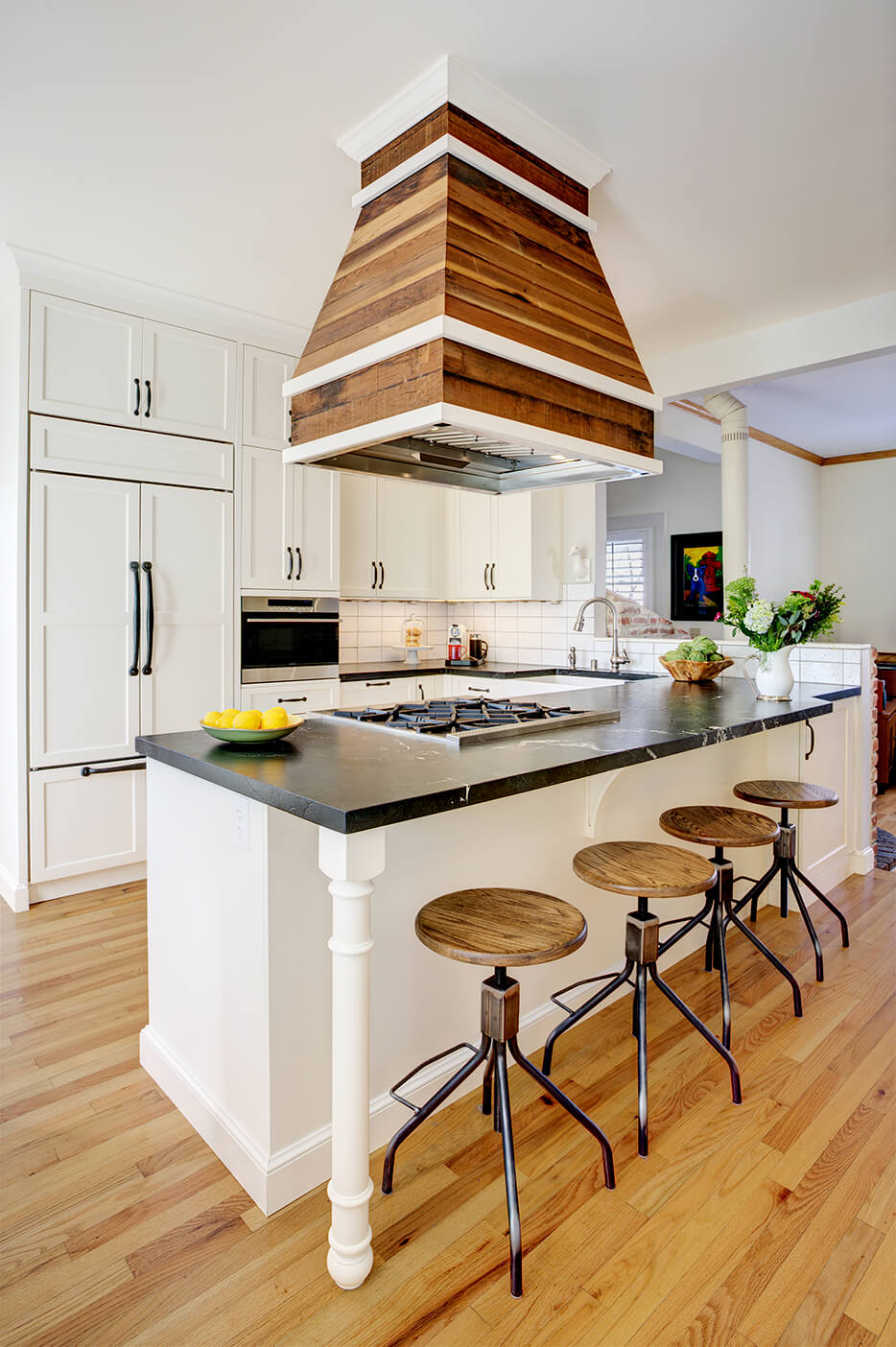 23. Sturdy Table Made with Knotted Wood Planks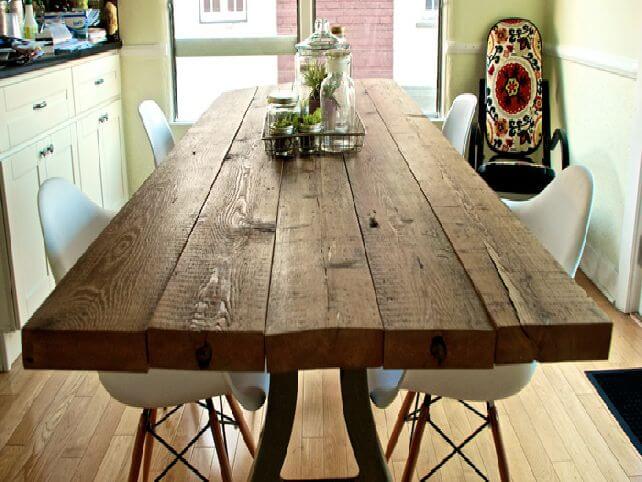 24. Logwood Cabin Kitchen Corner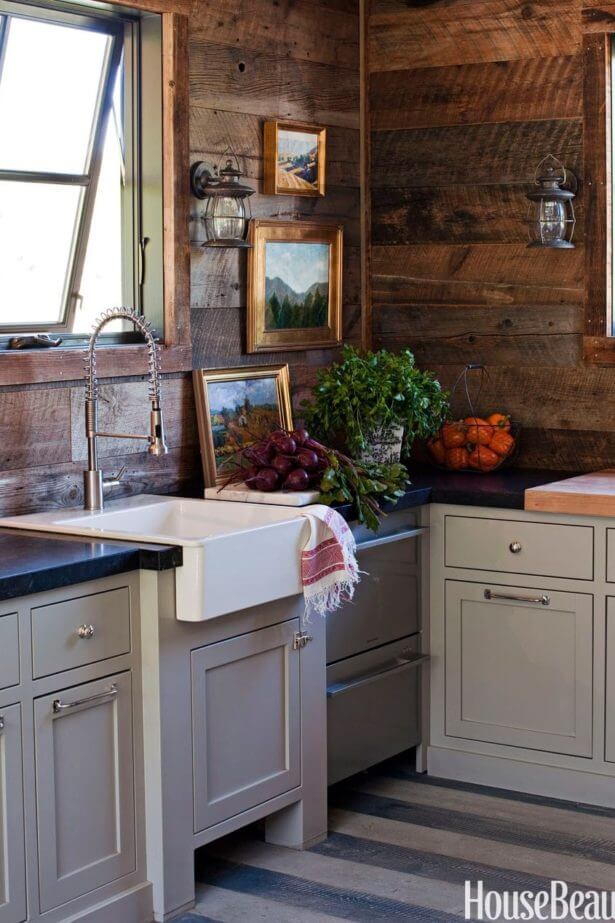 25. Black Bar Stools Against Timbered Bar Table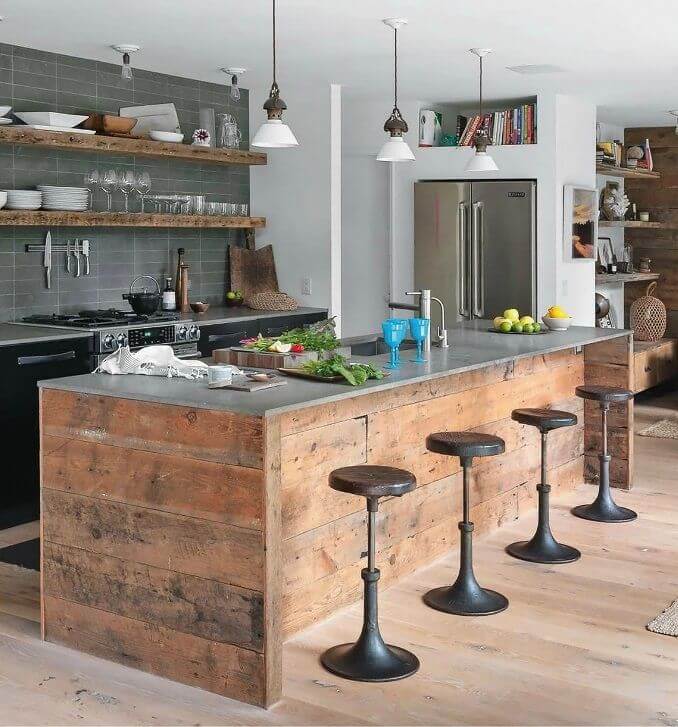 26. Brown Marble Accents Kitchen in Walnut Wood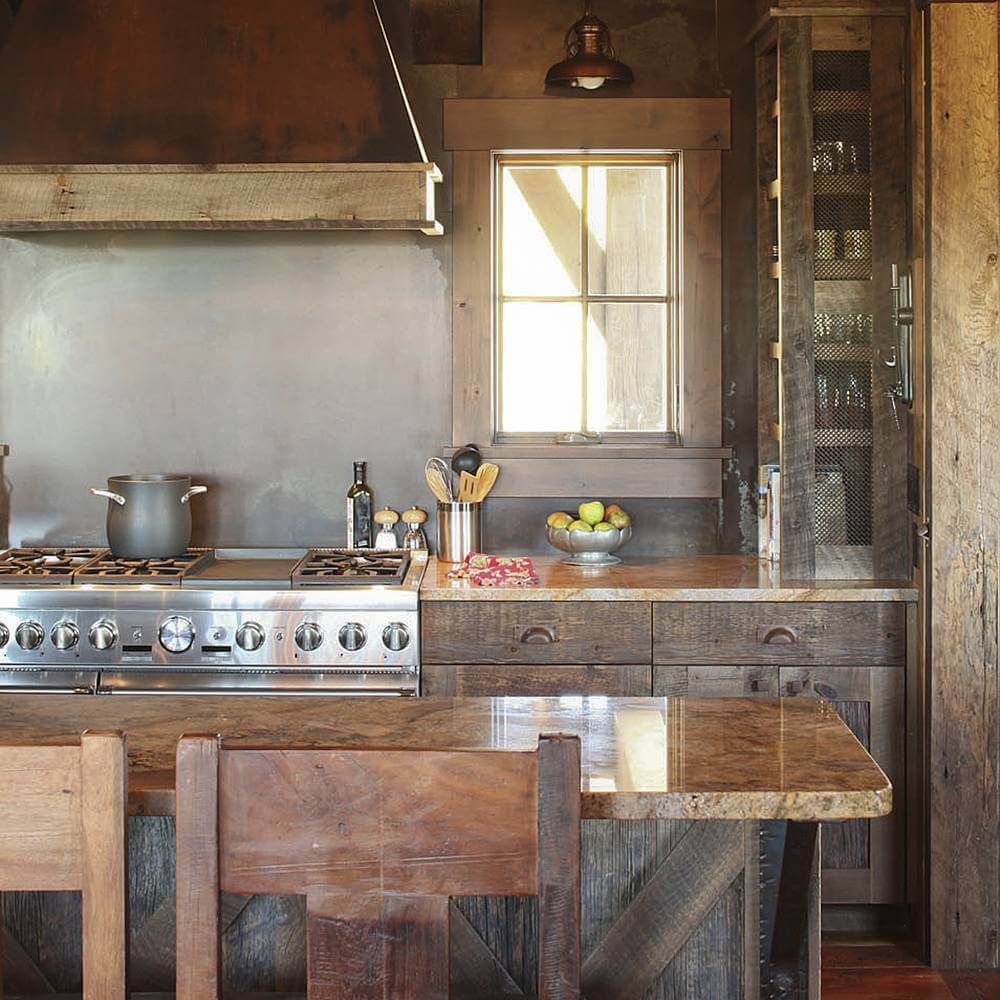 27. Dark Wood Ceiling Inset Contrasts White Kitchen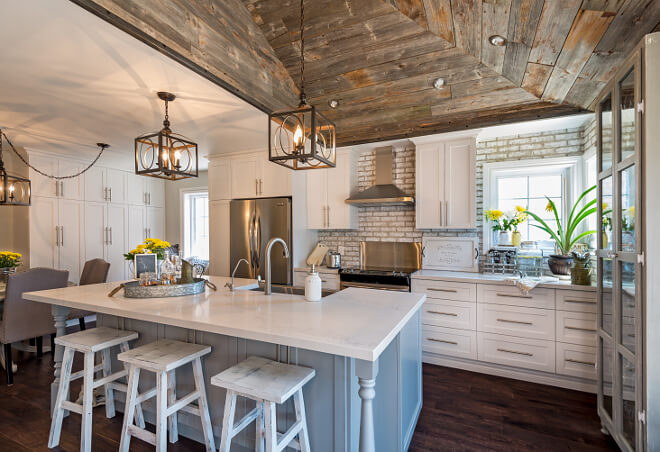 28. Sage Green Cabinetry with Honey Brown Wood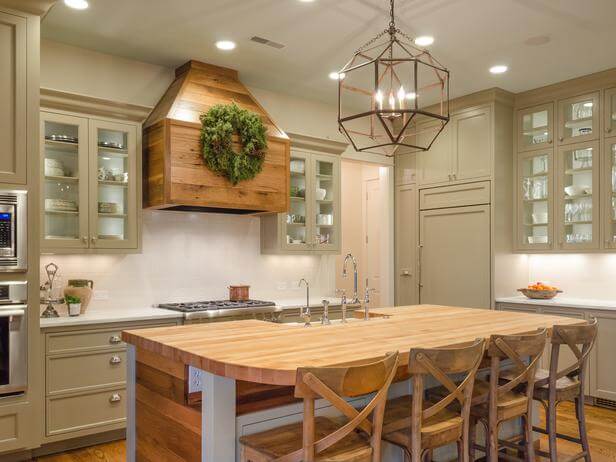 29. Three Wood Shelves in Corner Nook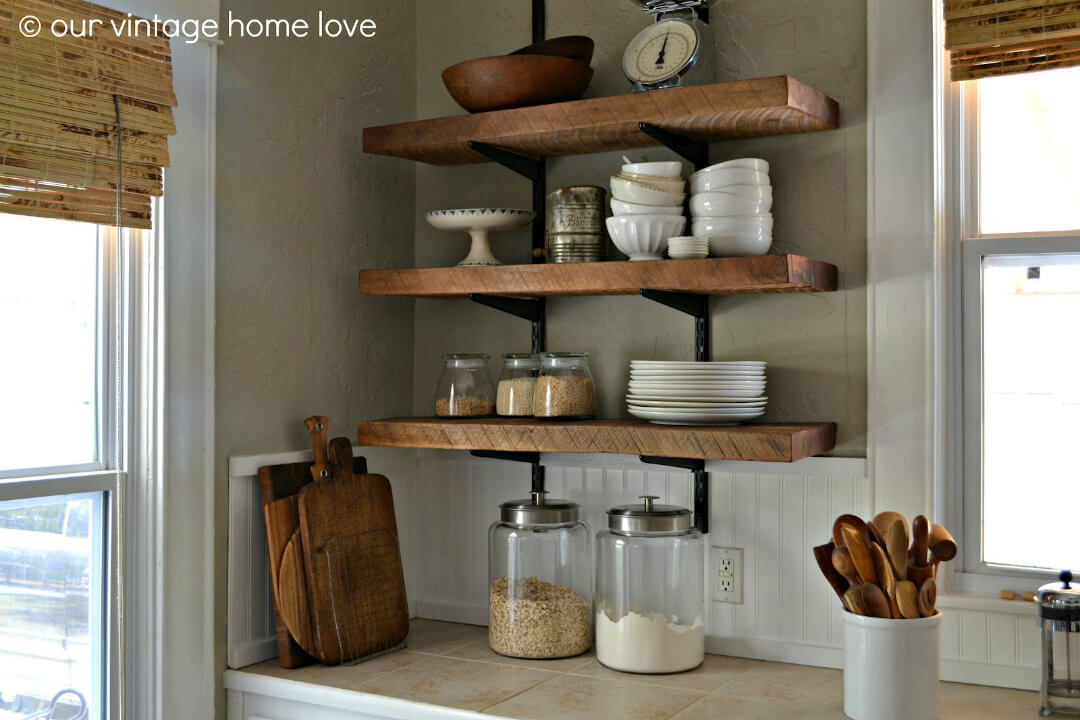 30. Three Windows Framed in Lofty Wood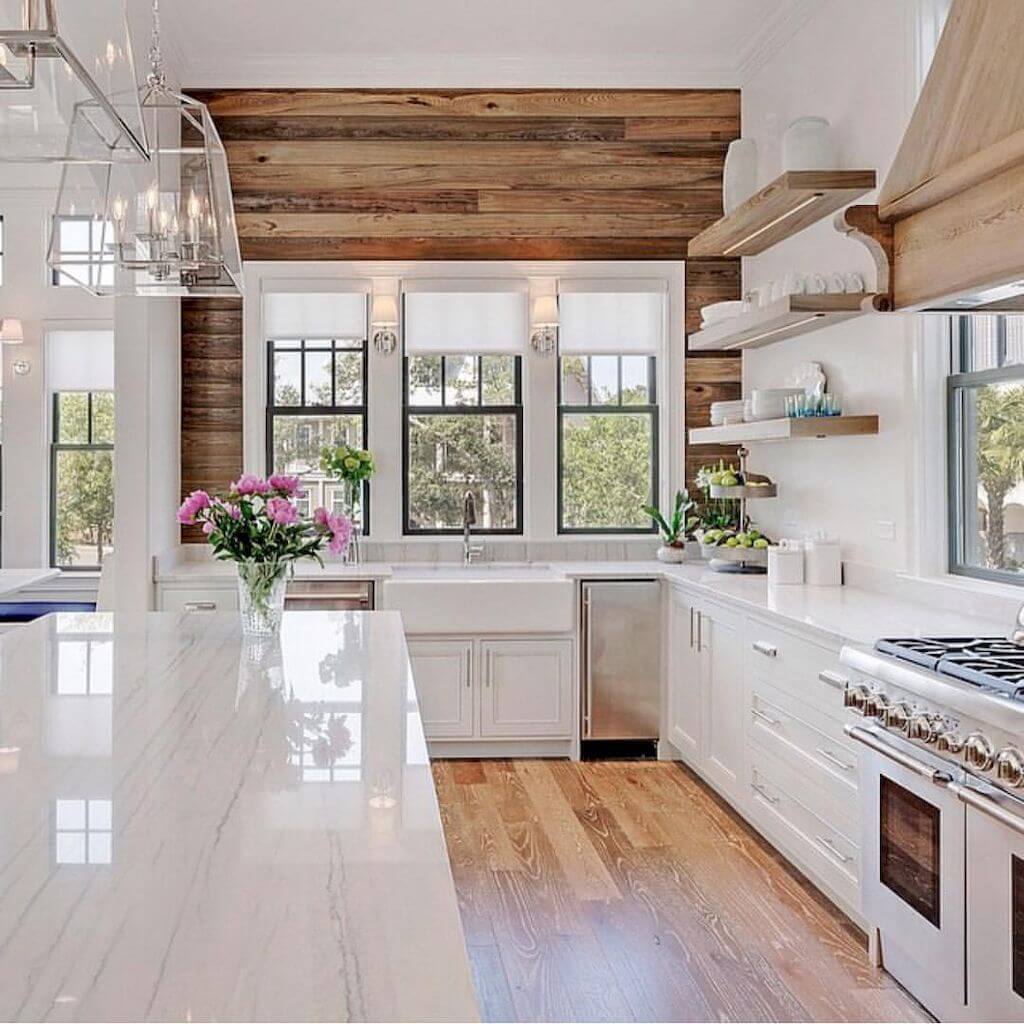 31. Distressed Reclaimed Wood Cabinetry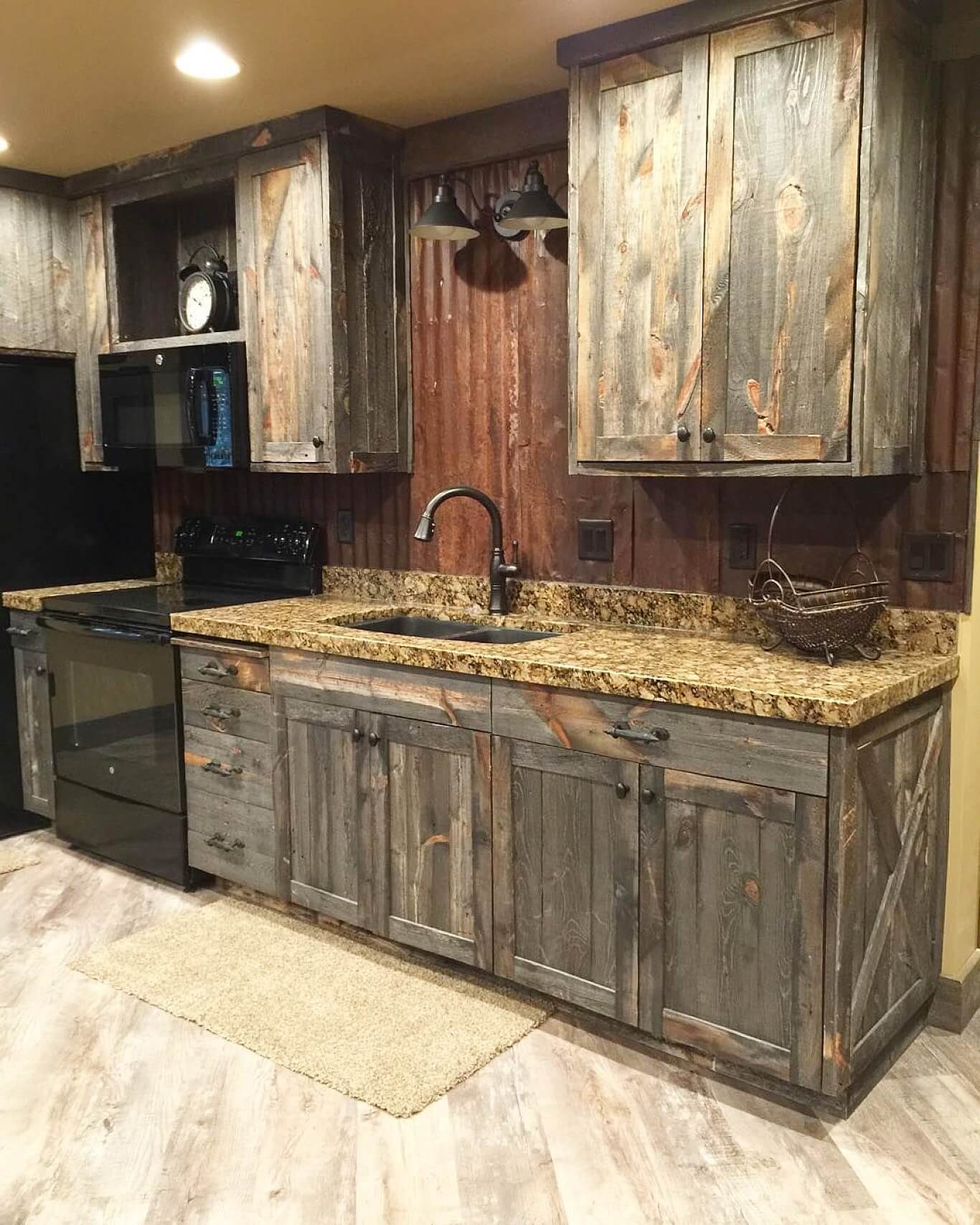 32. Knotted Wood Sink Counter Top