Decorating for Christmas is one of the best parts of the holiday season. It brings a festive feel to your home and gets you and your guests into the Christmas mood. If you are bored with the same old holiday decorations you can buy at the store, though, try your hand at some of our rustic DIY Christmas decor projects!
45+ Fabulous Rustic DIY Christmas Decor Ideas to Bring Some Christmas Spirit to Any Room in Your Home

Looking for some unique ornaments? We have some you canm make yourself from twine or even mason jar lids! To bring some Christmas spirit to any room in your home, we have DIY wall art and signs anyone can make. Make even the smallest spaces festive with one of our mini Christmas tree ideas made from paper, wood, twine, or felt. Need a garland to deck out your tree, staircase, or fireplace mantle? We have some cheery DIYs that put the store-bought garlands to shame!
This list of rustic DIY Christmas decor projects not only features fun indoor pieces, but also some to put outside on your porch or yard. Wreaths, wooden decorations, and pine tree planters are the perfect way to greet family and friends when they visit for the holidays! Keep reading to learn more about all 45+ rustic DIY Christmas decor ideas!
1. Fabric Scrap Flannel Wrapped DIY Christmas Trees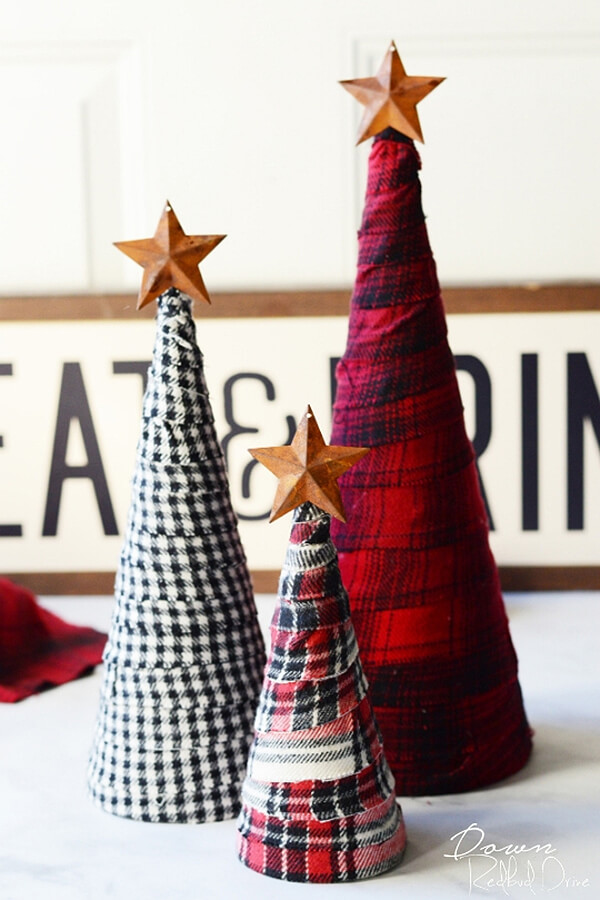 Choose plain cardboard or foam cone and grab that leftover plaid material to create some of the season's cutest decorative accent pieces this Christmas. Display them in a trio or alone to infuse some Christmas cheer into every room of your home. Tie them into your existing decor by selecting fabric colors that coordinate with your space or make a bold statement by choosing traditional Christmas reds and greens.
2. Crafty Clause Shabby Chic Farmhouse Santa Head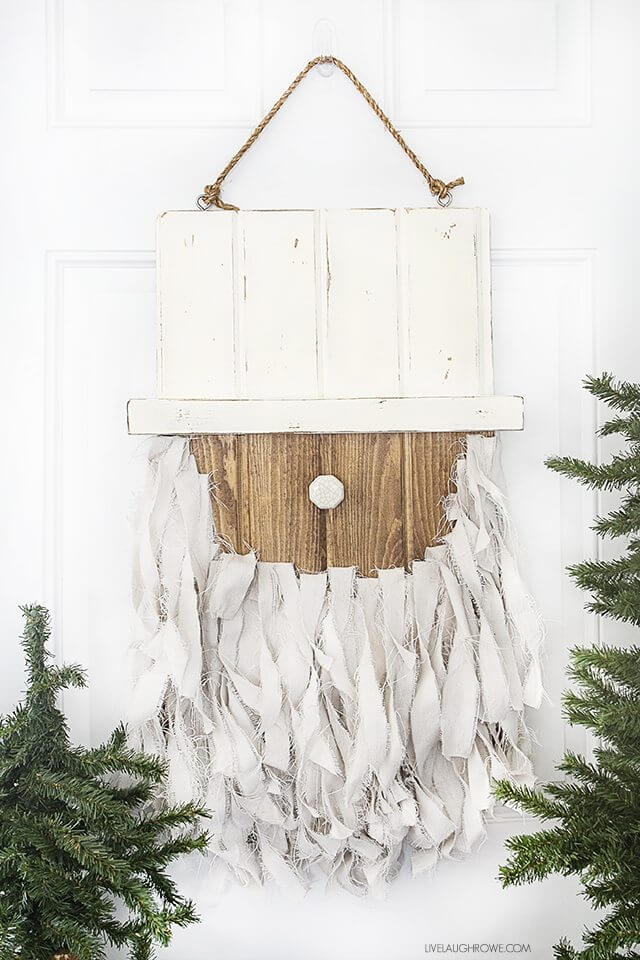 Repurpose some leftover wood flooring pieces to create this unique and adorable rustic farmhouse Santa Clause head. The neutral tones look amazing with the modern farmhouse design and the fabric strips add awesome texture as the jolly old man's beard. Grab your gals and enjoy a fun DIY Night this weekend!
3. Charming Yarn Christmas Tree with a Bow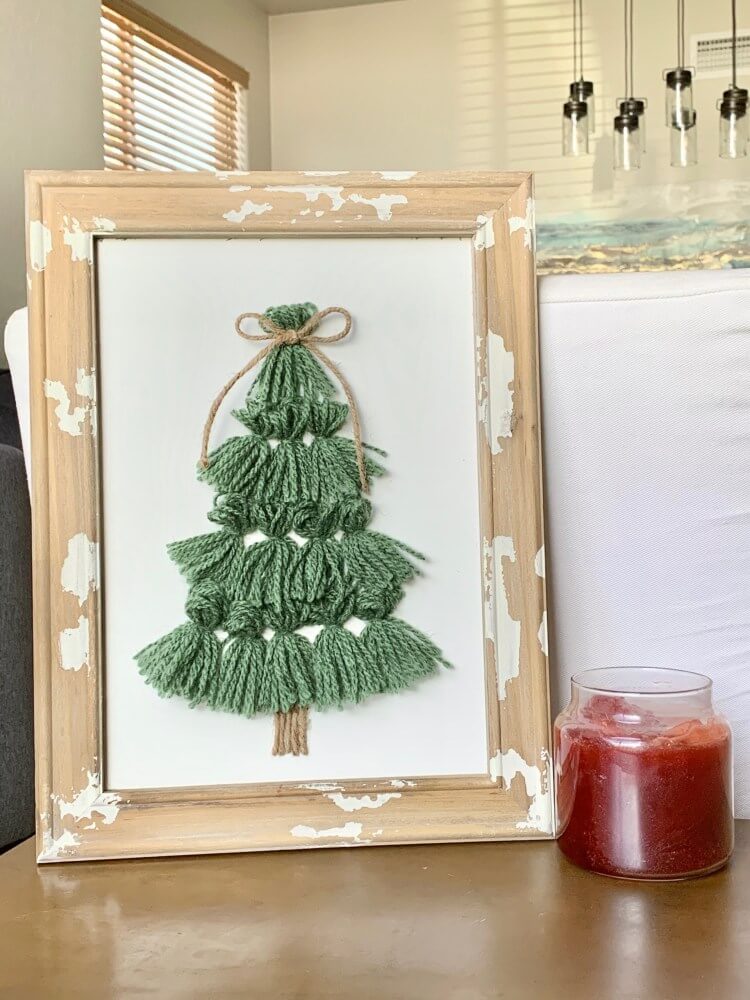 Cheap and charming collide in this cute Christmas tree that's a fun addition to your winter decor. Green strands are gathered together and create mini branches that are collectively positioned in quaint rows. Tied with a burlap strand bow, this simple decoration is just as simple to make. It's a piece that works in almost any décor to give a feeling of home to your holidays.
4. Warm Winter Wooden Christmas Tree Tiered Shelf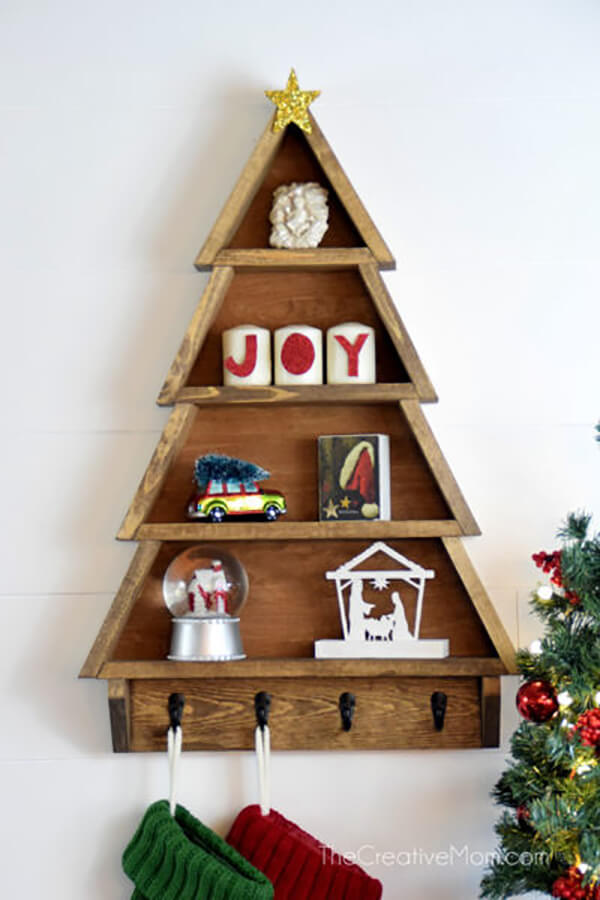 What an incredible way to display some of your favorite Christmas trinkets you've collected over the years or treasured family heirlooms that have been lovingly passed down. This wooden tiered shelf is shaped like the decoration of the season to add a festive touch to your display with stocking hooks intact. Fill it up and hang those socks to create a central hub for all of your favorite Christmas items.
5. Pretty Pallet Christmas Tree with Lights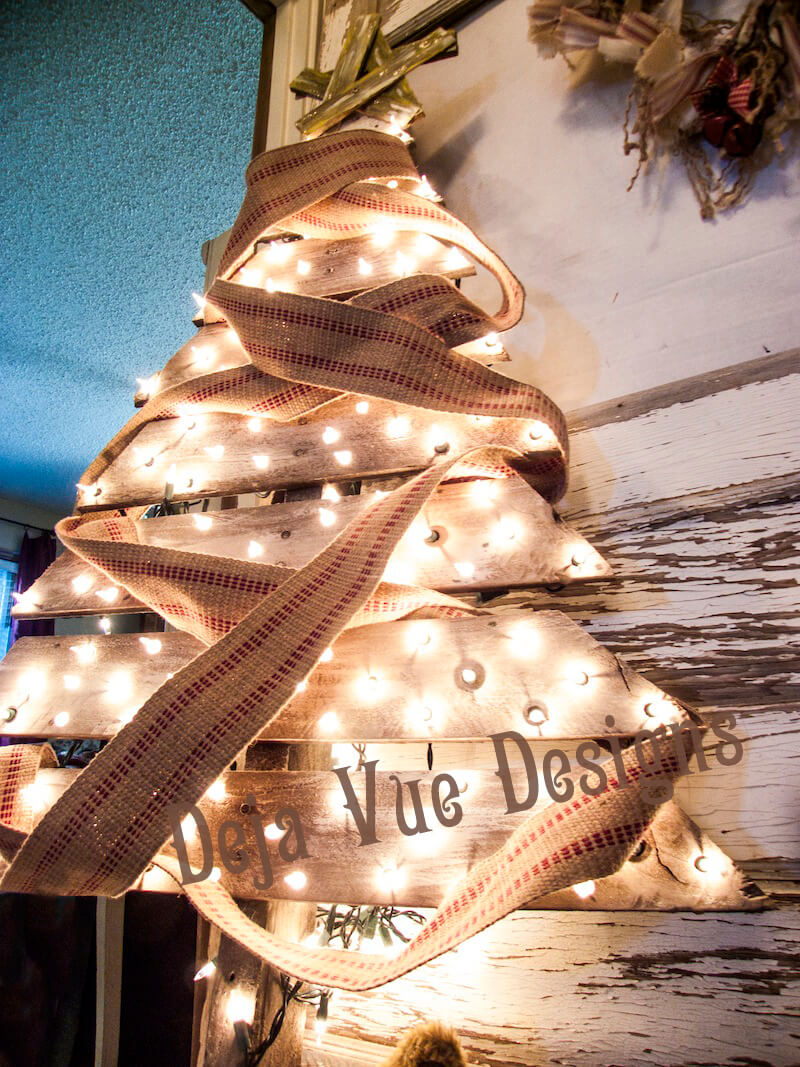 Another way to repurpose a used pallet is into a quirky Christmas tree to hang on your wall. Wrap it in a gorgeous red and gold ribbon and complete it with a set of twinkling lights. This easy and cheap DIY tree adds more holiday glow to your winter wonderland.
6. Ho Ho Ho Holiday Decor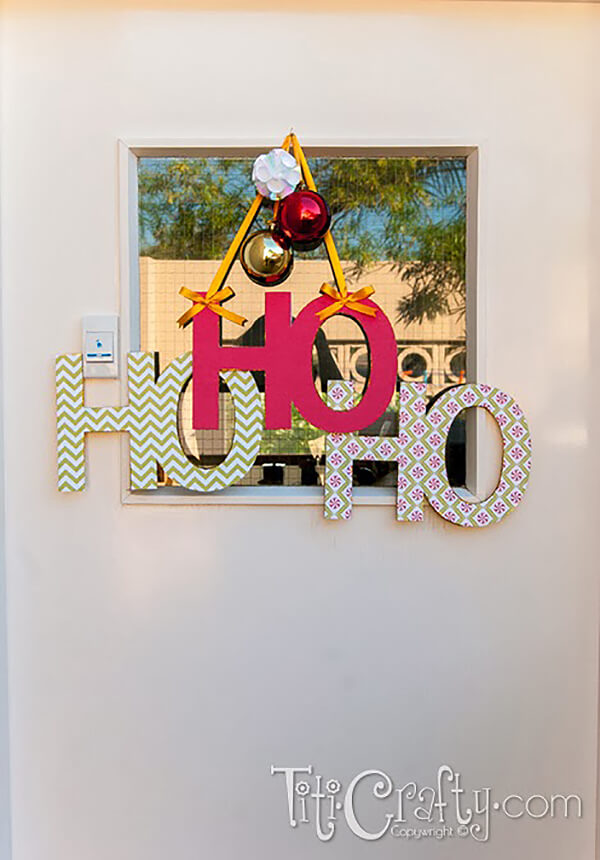 This trio makes a fun and festive hanger for your front door that's customizable with your favorite material and a little decoupage. Hang it alone or add it to an oversized wreath to get the look you crave. You may also use it as an over-sized decoration for a Christmas tree in your home.
7. Countdown to Christmas with Broadway Lights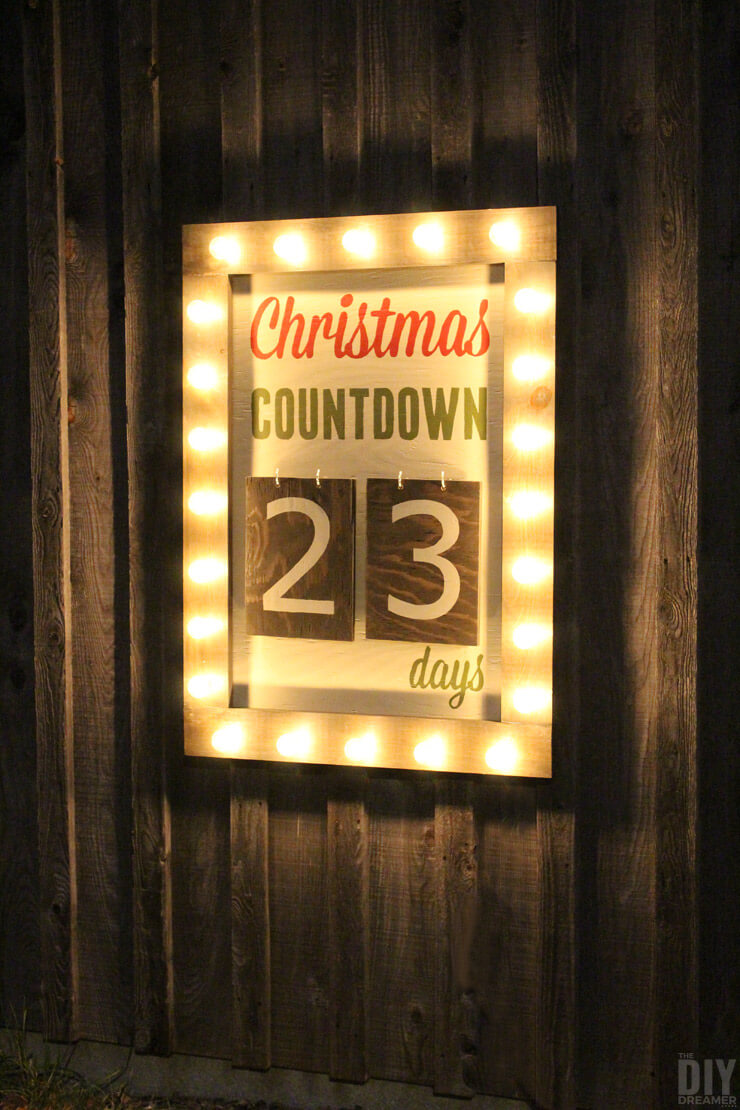 Create a Christmas countdown to light up the biggest night of the year. Trimmed with round Broadway-inspired lights, this wooden countdown is the perfect way to kick off the holiday season. It makes a welcomed gift for a special neighbor or teacher too.
8. Miniature Gingerbread Village with Tea Light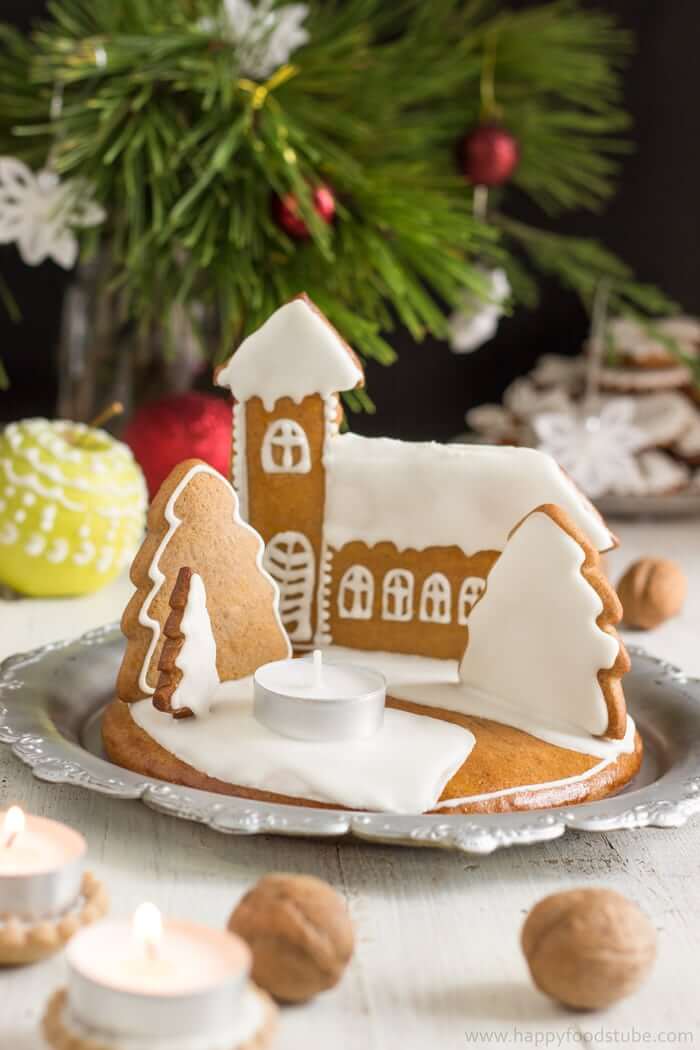 The kid at heart will delight in this grown-up version of the traditional gingerbread house. Adding a tea light to the setting makes a warm ambiance for your unique centerpiece idea. It would also work on a side table as an accent to a full-on Christmas display.
9. Bring on the Joy Home Entrance Sign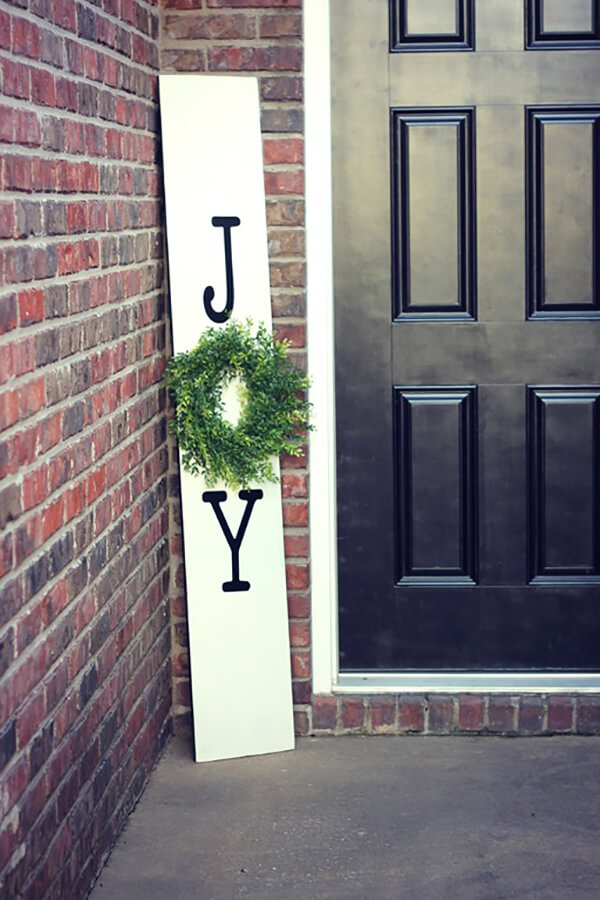 This large sign screams joy to all who enter. With a wreath used to form the "o", adding a little greenery has never been easier. Such creation can easily be double-sided with "home" printed on the back. Now you're ready to sing "Joy to the World" or bestow a friendly identifier on your porch.
10. Put the Merry in Merry Christmas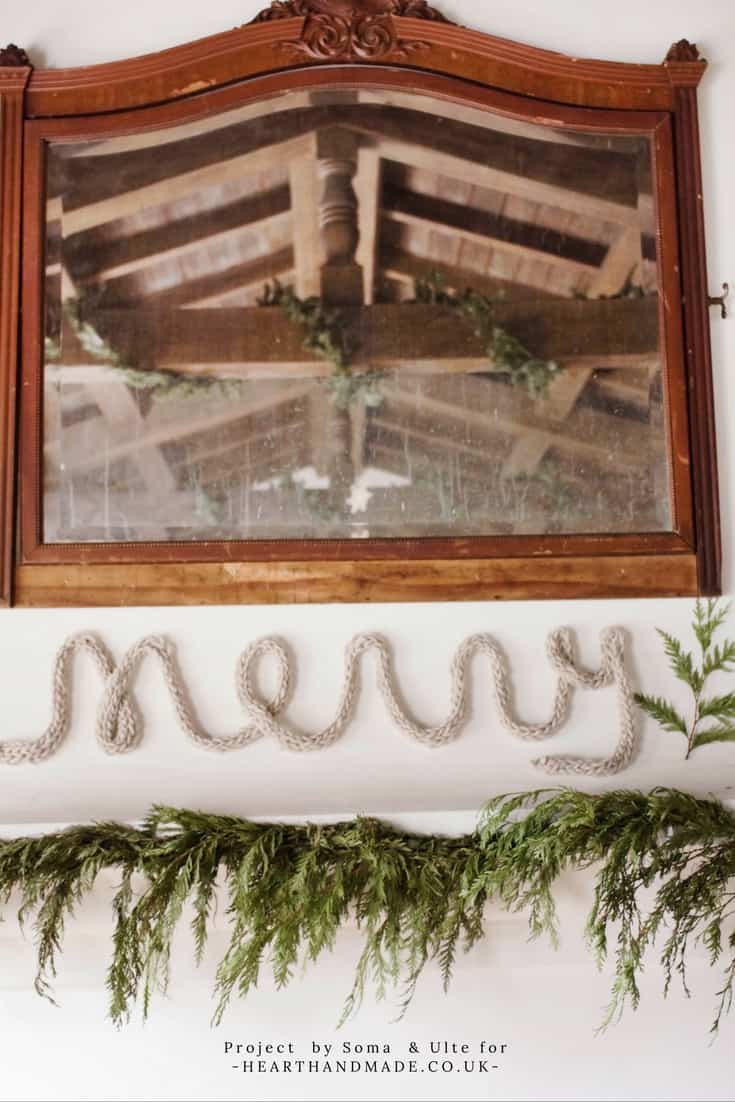 Bring an old string back to life as you form it into a script "Merry" to wish everyone a wonderful holiday season this year. Place it across your mantel or add it to the tree to bring some texture and charm into your Christmas gatherings.
11. Star of the Season Cut Out Sign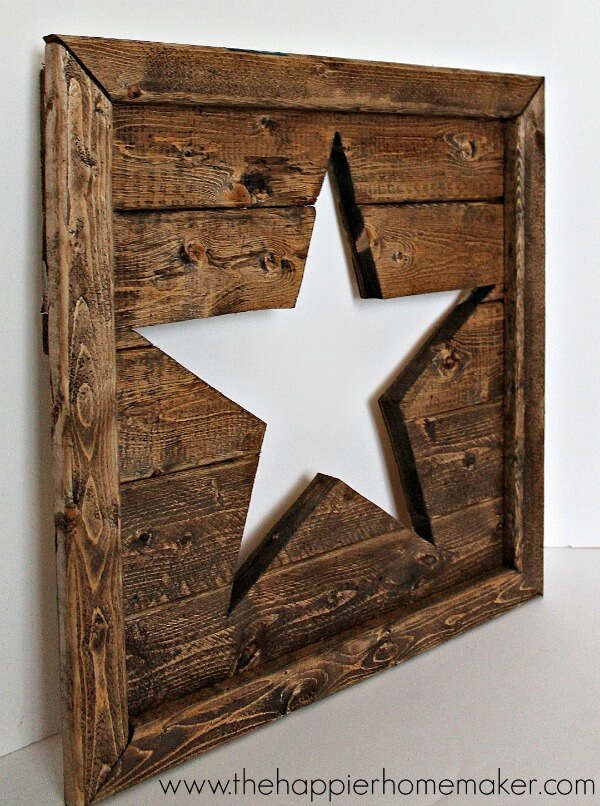 Add some unique and rustic wall art to your home this winter with this warm brown wooden masterpiece. The cutout star shape is a perfect way to guide guests as you celebrate Christmas. You may choose to add a piece of plaid fabric behind the star for added texture and a pop of color too.
12. Vintage Card Catalog Style Christmas Countdown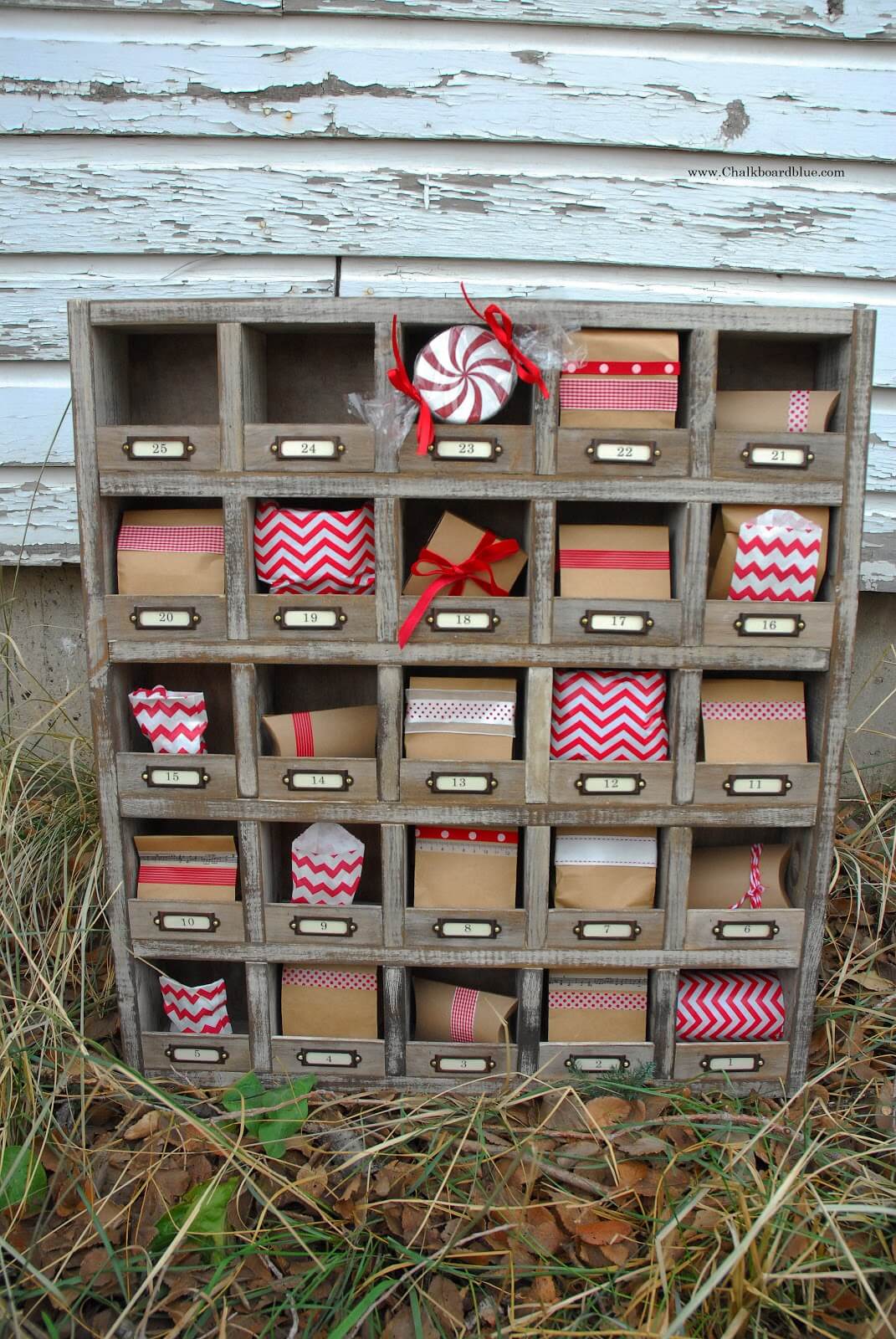 Everyone needs a special way to count down the days until Christmas. It helps when there is a small gift to unwrap each day along the way too. Every member of the family will delight in this big and unique vintage version crafted in a retro library card catalog style. Each day features a box large enough to hold a bag filled with goodies for all to enjoy. Make your countdown even more exciting with this stylish piece.
13. Wood Slat Decorative Christmas Tree Wall Art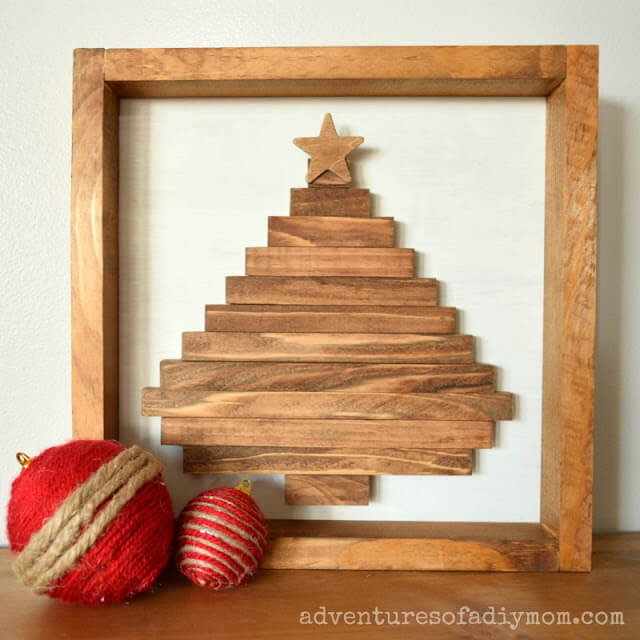 Set amid a white background, the gorgeous grains in these wooden slats add character and charm to this Christmas tree wall art. It's just the right size to hang in nearly any room of your home and it makes a great gift as well for those office and family passing parties.
14. Holiday Decorative Ribbon Wrapped Candles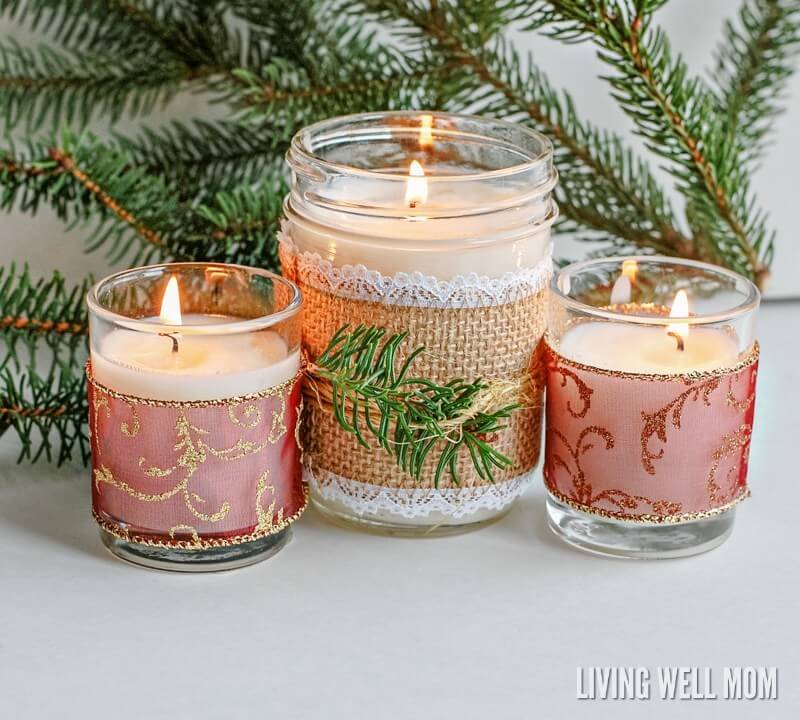 Any candle in a glass jar can effortlessly upgrade with your choice of festive holiday ribbon. From sheer red with streams of gold to rustic burlap, you can wrap your candle in holiday cheer. This would be the perfect holiday party activity for those not-so-talented painters to enjoy. Grab the girls and host a fun candle decorating night to kick off the Christmas season!
15. Rustic Wagon Wheel Christmas Melody Wreath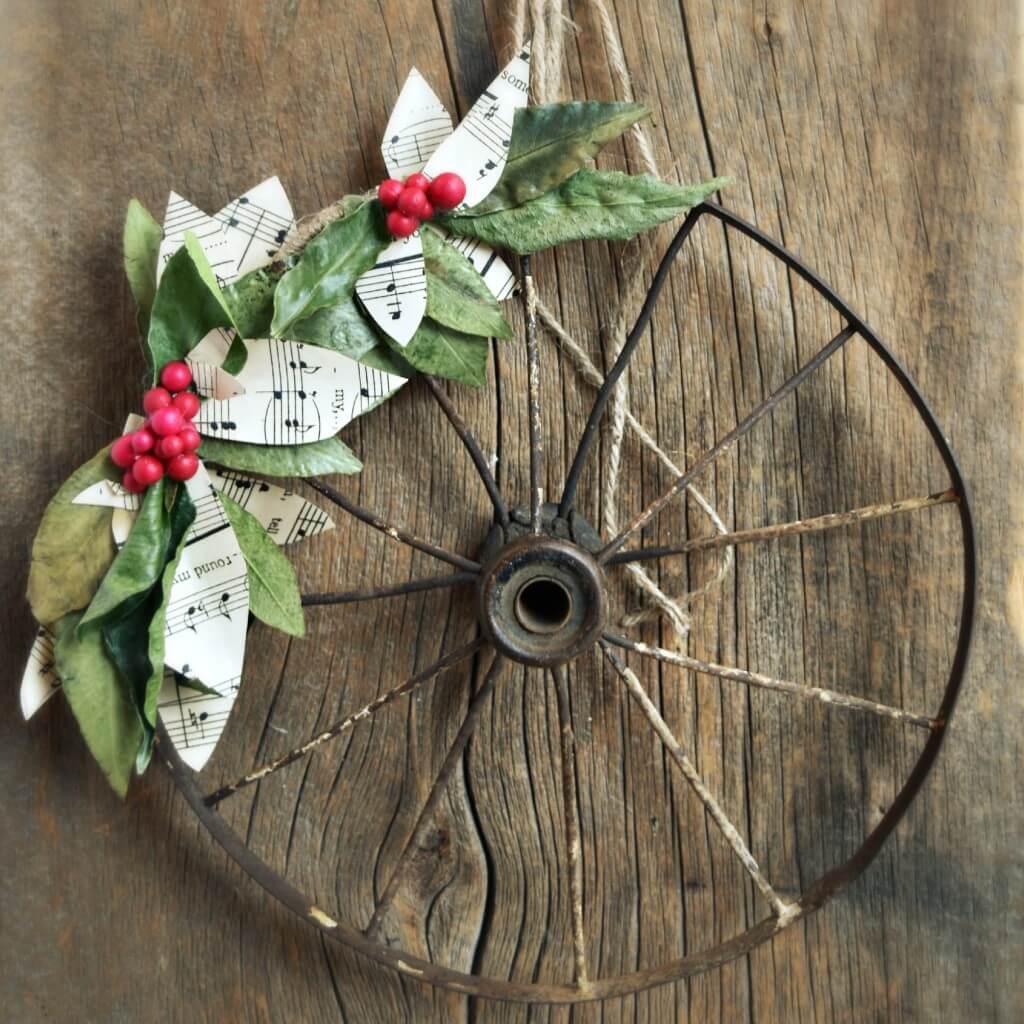 Repurpose an old, worn-out wagon wheel into a new festive wreath this year. Make it personal for the music lover by incorporating a crafty flower full of petals created from sheet music. A touch of greenery and a few sprigs of red berries is all you'll need to complete this look. It's a great look for Christmas on the farm or spent at the cabin.
16. Festive Felt and Buttons Holly Wreath Pillow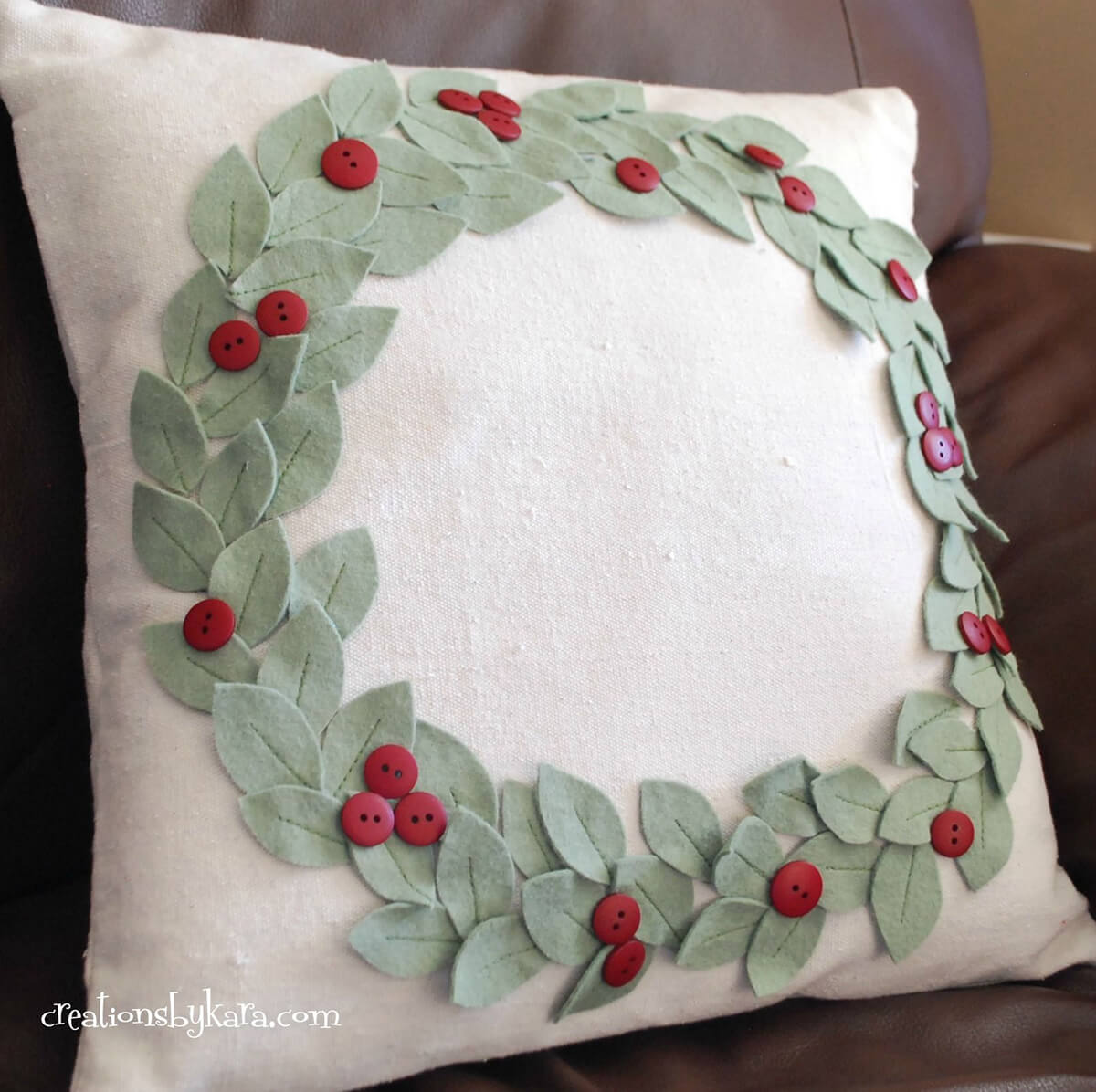 Tossing a holiday accent pillow has to be the quickest way to add a little Christmas magic to your room. Here, a plain white pillow comes to life with an appliqued felt wreath filled with red button berries. It looks amazing alone on a chair or alongside a collection of holiday pillows nestled on your couch.
17. Buffalo Check Ribbon Holiday Tree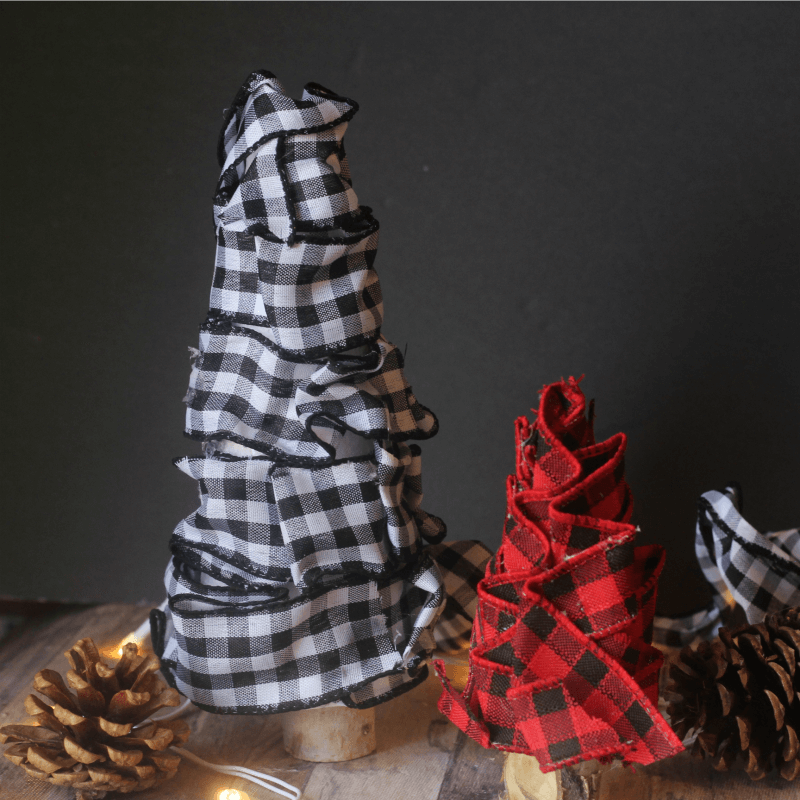 Here is a quick and easy DIY project for all of you Christmas decorators. Glue a small wooden stump to the bottom of a foam cone to secure the trunk of your tree. Then you are ready to find your favorite buffalo check ribbon to gather and glue as you trim your tree. Arrange them as a set or place an individual at each place setting for enhanced holiday cheer.
18. Scrabble Letter Holiday Word Ornaments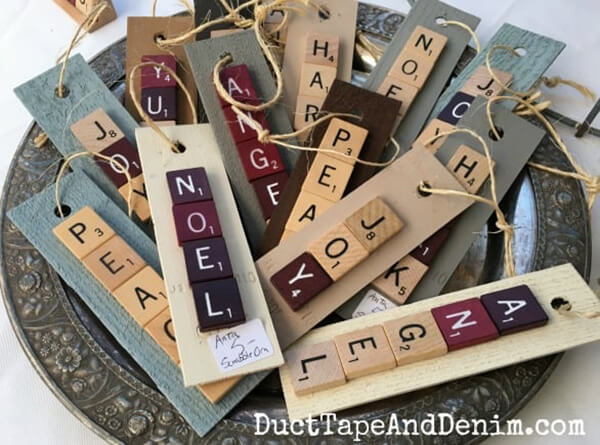 These quirky and fun holiday word ornaments look great on a tree but also work as interesting gift tag accessories. Find your peace or joy or whatever word speaks to you this time of year and include it in your Christmas decor. These ornaments would also be perfect resting around the bottom of your wine glasses as you set the table for your holiday dinner.
19. Remember His Presence is the Reason Sign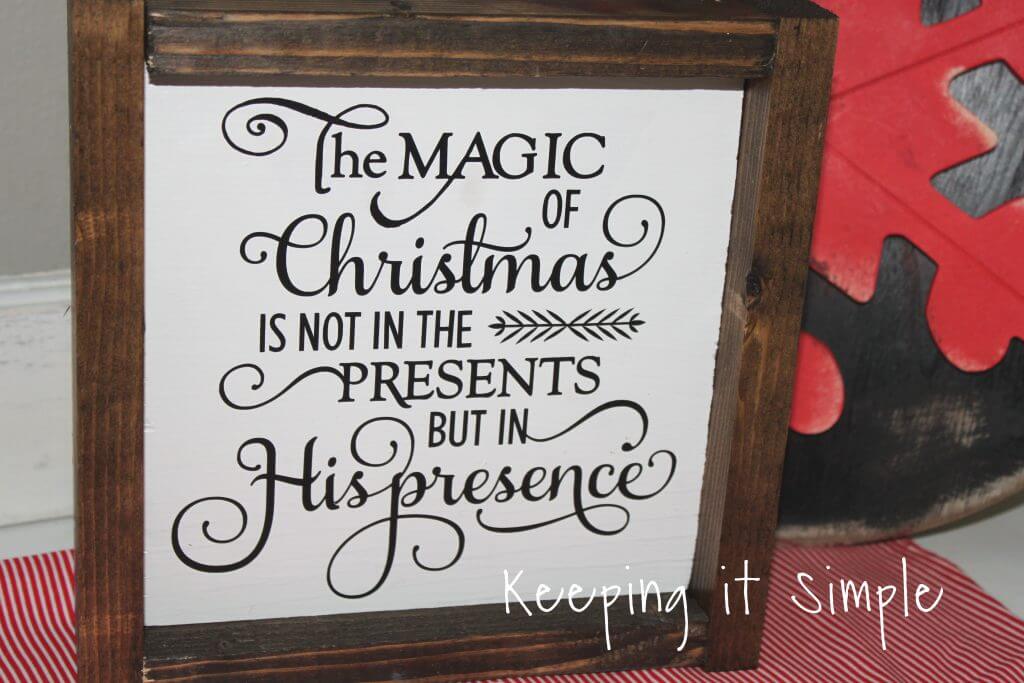 Set a gentle reminder where everyone can see with this simple sign. Created in classic black and white, the friendly reminder of where the real magic of Christmas comes is beautifully written on this sign. Place it amid your entryway or in a prominent place in your guest bath so everyone visiting is sure to catch a glimpse and reset their mind.
20. Spectacular String Art Snowflake on Wood Sign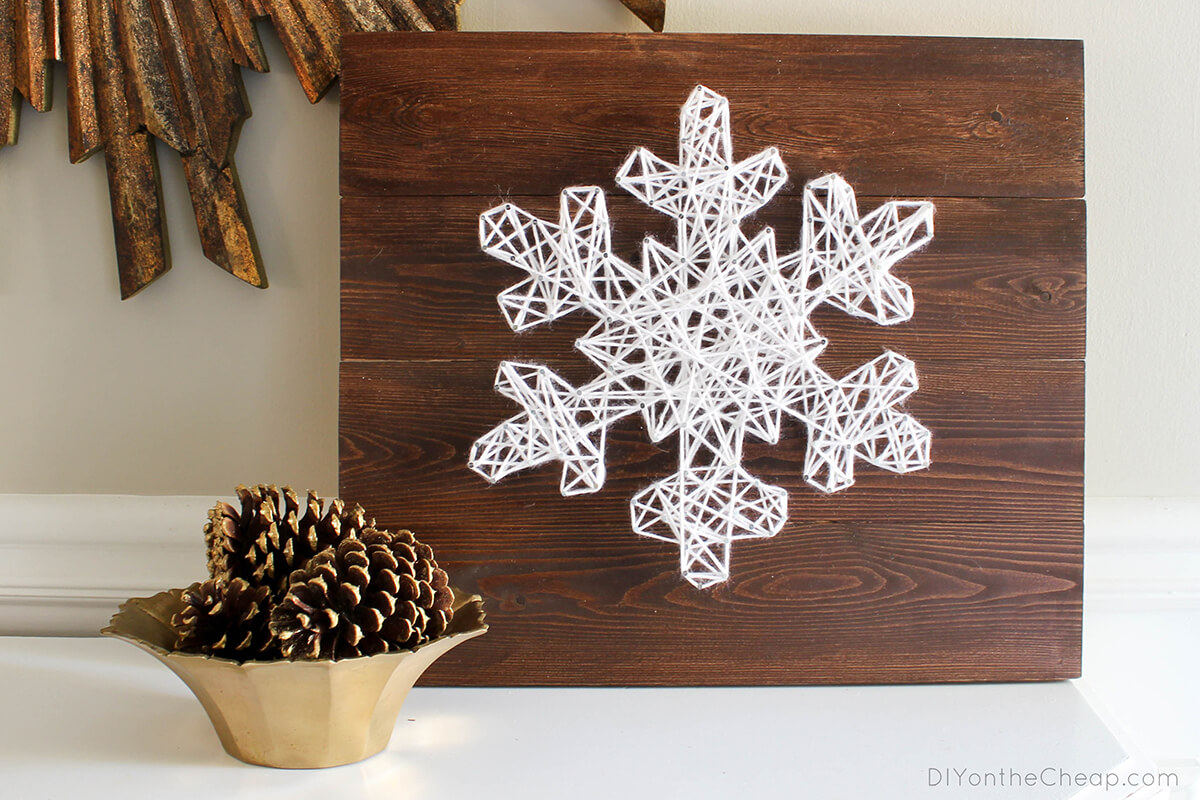 The deep and rich wood makes for the perfect background to this bright white snowflake. The texture and detail of the string art come to life as they nearly jump off the board. It's a cute and fun sign that can be used the entire season of winter and not just during the holidays.
21. The Modern Minimalist Cardboard Joy Sign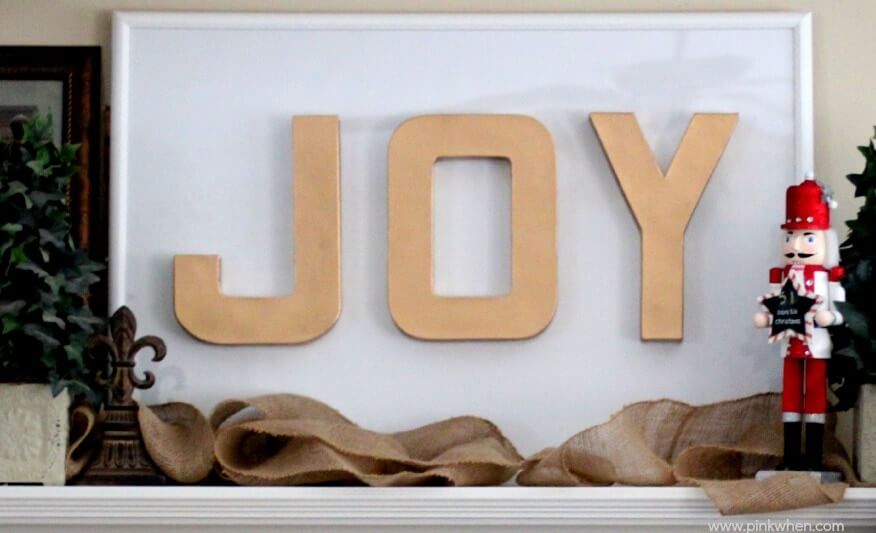 Short, sweet, and simple is the best way to describe this minimalistic joy sign. From the use of plain cardboard letters to the simple white background, this modern look is perfect for adding some youthful decor into the mix. Place this sign within your buffet of food to add some young and simple flair to your feast.
22. Pretty Pinecone and Rustic Greenery Spray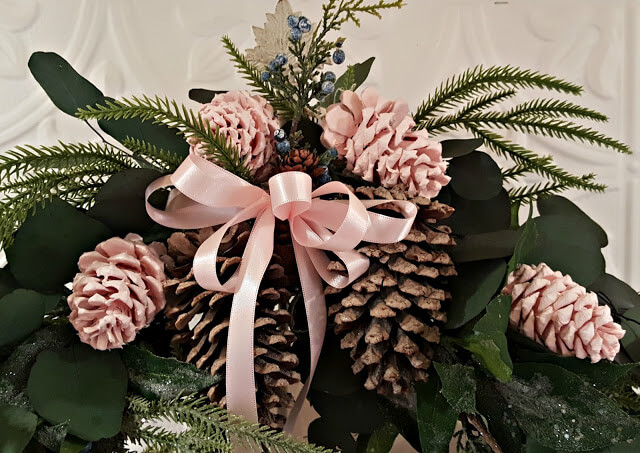 Tie it with a delicate ribbon and you've finished off this rustic and pretty pinecone spray. It's a perfect way to add some of nature without going overboard with the power of flowers. Wrap it around a large hurricane vase for a lavish and handsome centerpiece idea.
23. Dots and Stripes Holiday Green Trees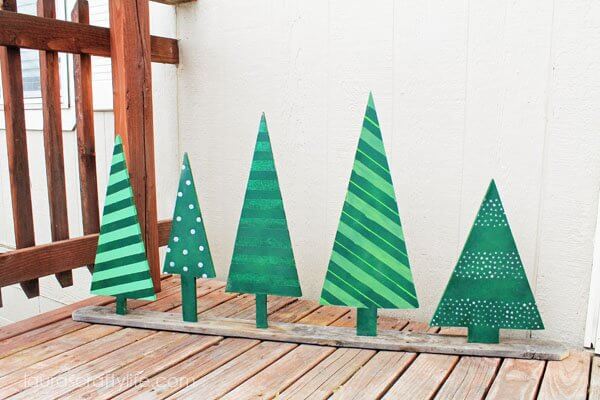 Don't be green with envy this Christmas! Add some of the festive hues into your home with this series of five evergreen trees varying in shades of green and pretty patterns. What a nice addition to your mantel resting above as you hang your stockings for jolly 'ole Saint Nick to fill. Another merry way to display this mini forest is along your windowsill.
24. Clever Clothespin Snowflake Christmas Tree Decoration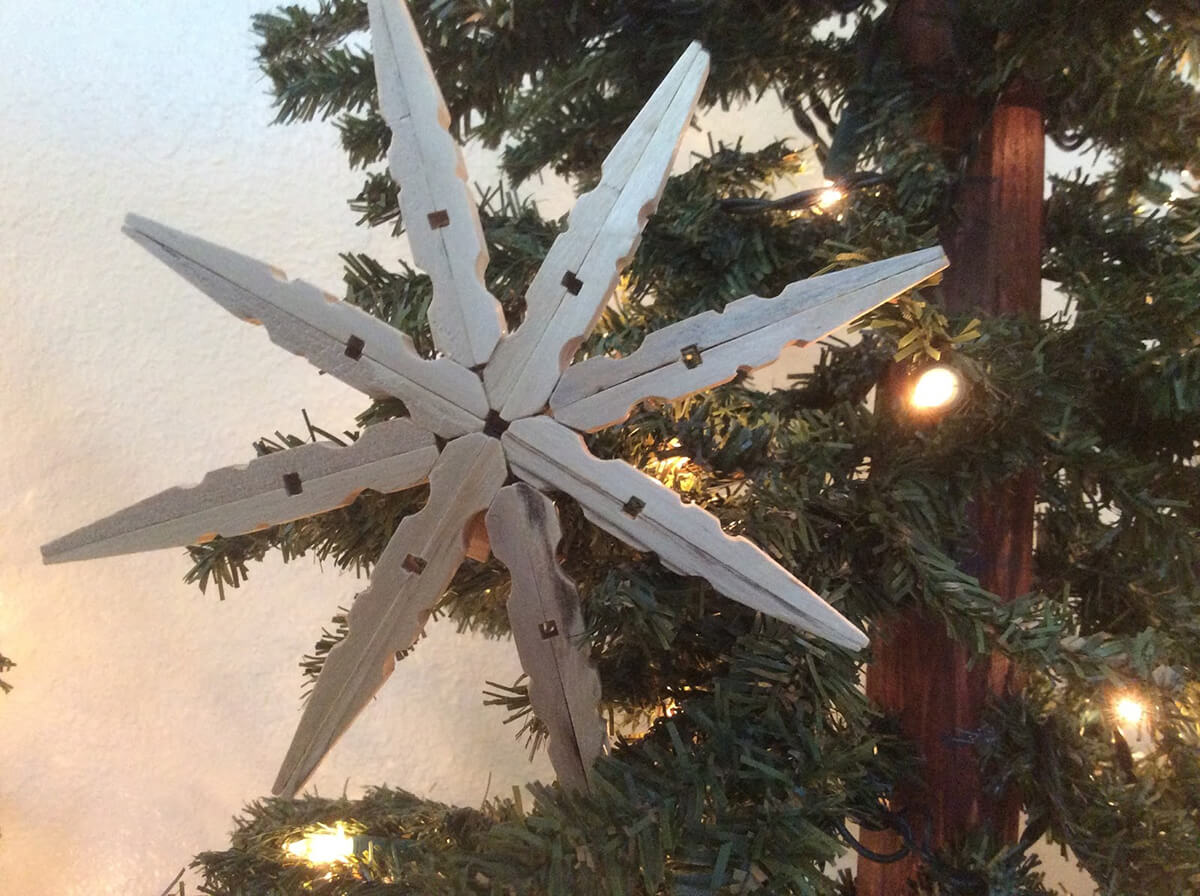 Who says your Christmas tree decorations need to be small? The sky is the limit when it comes to these stunning and rustic snowflakes. Fashioned from wooden clothespins, their designs are truly one-of-a-kind. Place them on your tree, rest them on your mantel, or fasten them to your curtains for some added festive fun. You could even paint these in pretty reds and greens or use some glittery silver or gold to take their holiday hype up to another level!
25. There's Gnome Place Like Home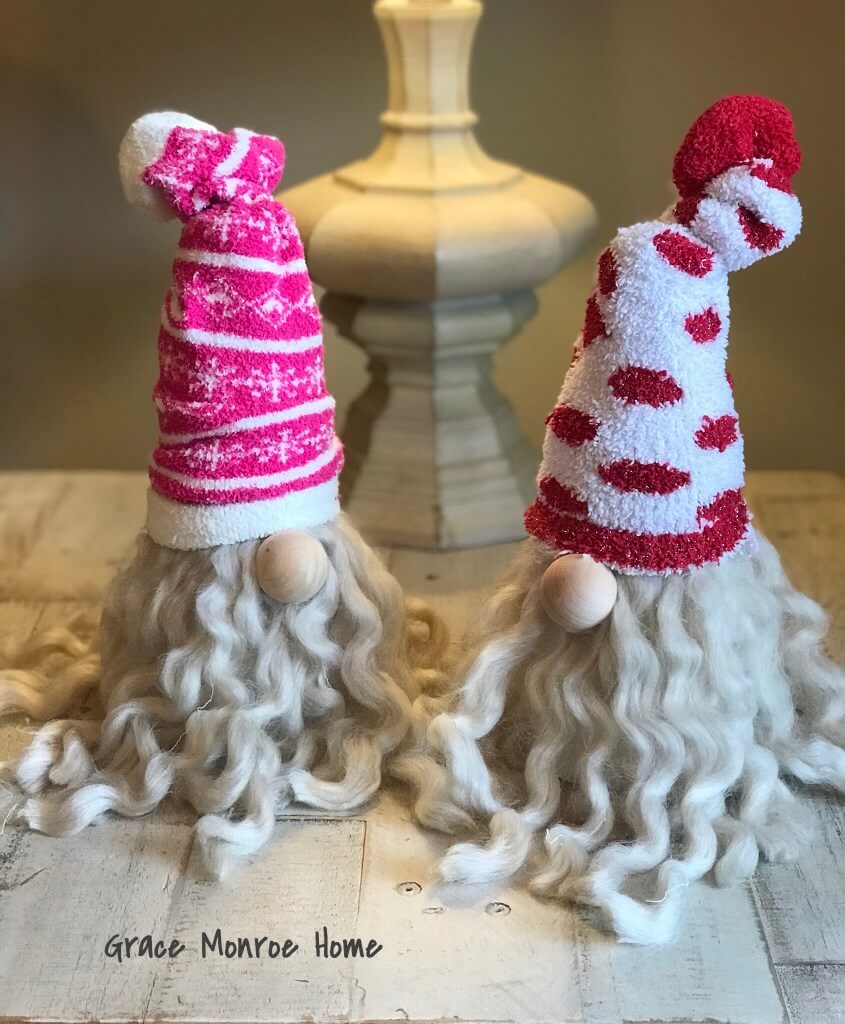 Celebrate the season with these cute little garden friends that have taken over as the "it" mascot of the year! These festive Santa gnomes are a perfect addition to your Christmas decorating scene and are super simple to make! With all of the cozy, fuzzy winter socks, you can customize your Santa gnome so he is as unique as you are! Kids will delight in these cute creatures. Maybe you can create a tradition of your own with this fun gnome that mimics that famous elf who magically moves throughout your house. Play a game where your kids can find the gnome and take turns hiding him. Gift one to your friends and neighbors and save some to stuff into those stockings too!
26. Christmas Eve Cookie Tray for Santa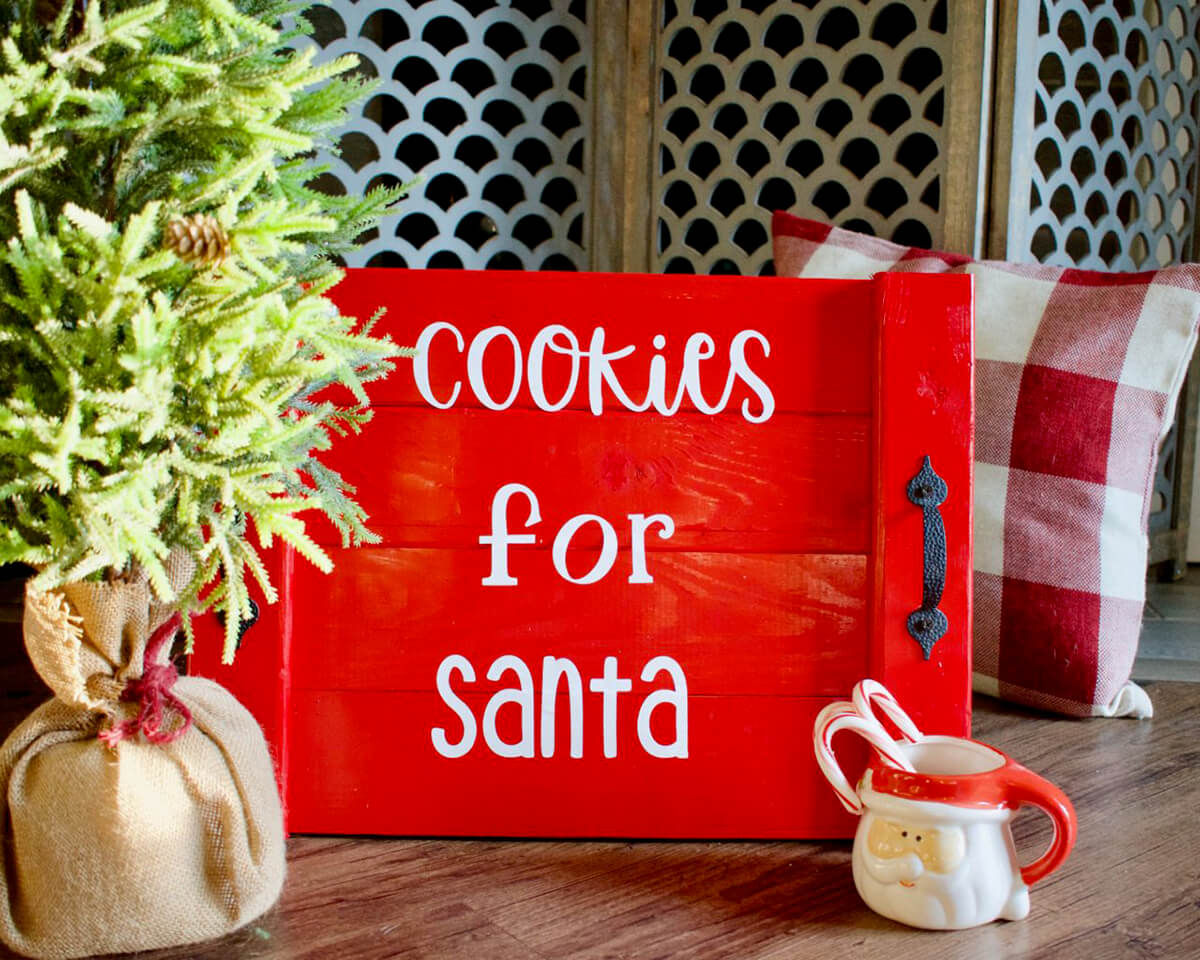 This year give Santa the midnight snack he deserves by serving him up a tray full of cookies! Forget the small plate of the past and upgrade to this cute and bright red cookie tray that's crafted in the Christmas spirit! Made with handles, it's easy to carry from the kitchen to the tree. The glossy red makes it the most festive way to thank this jolly old elf for stuffing your stocking every year!
27. Rustic Small Christmas Tree in a Basket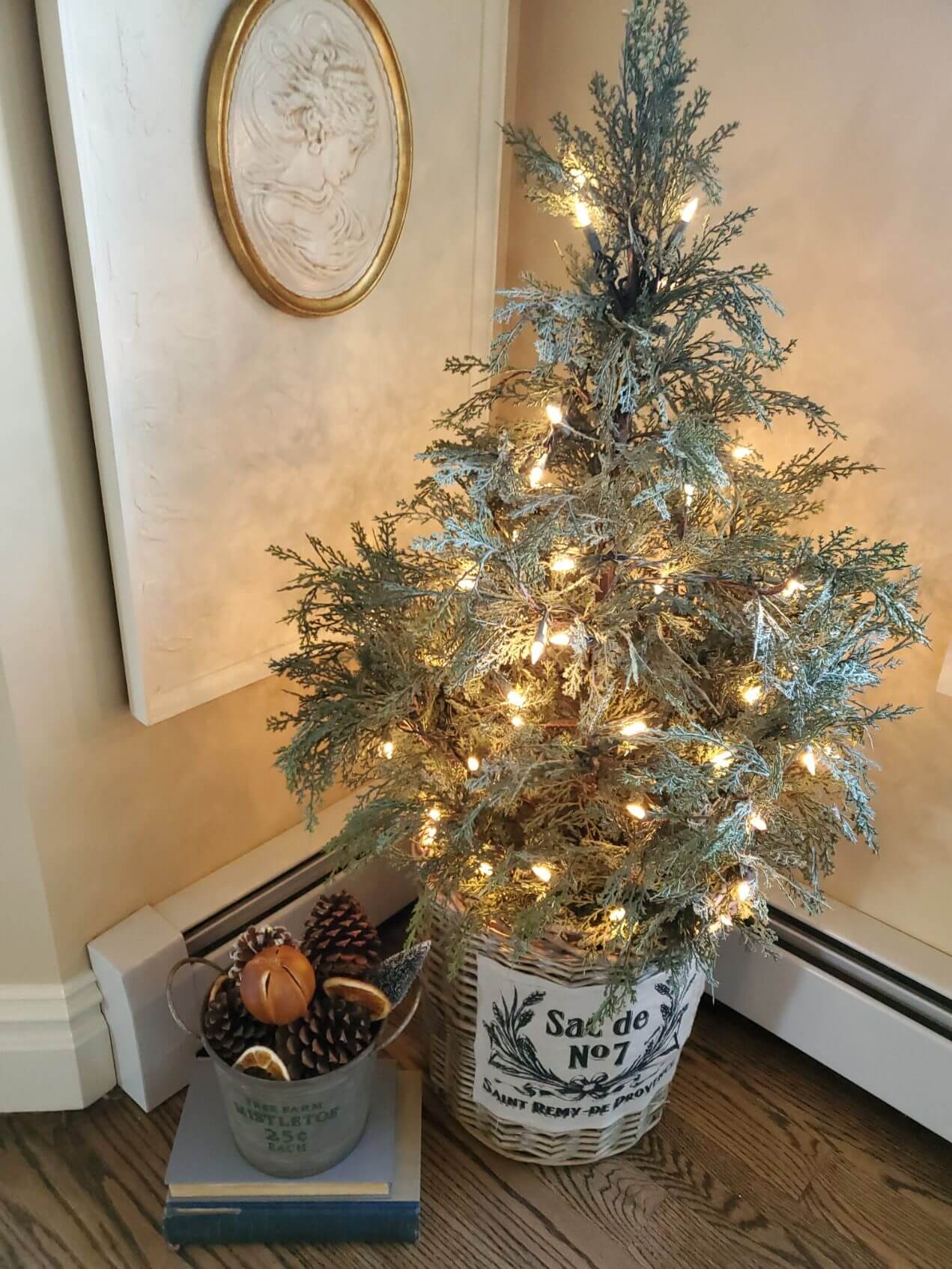 Cozy up a corner in your home with the warm glow of this small-sized Christmas tree. Housed in a basket with a cute burlap design, it's sure to bring some added Christmas spirit into your home for the holidays. Sitting on the porch would be another perfect place to set this beauty for an extra flair of curb appeal.
28. DIY "Joy" Wreath Wooden Sign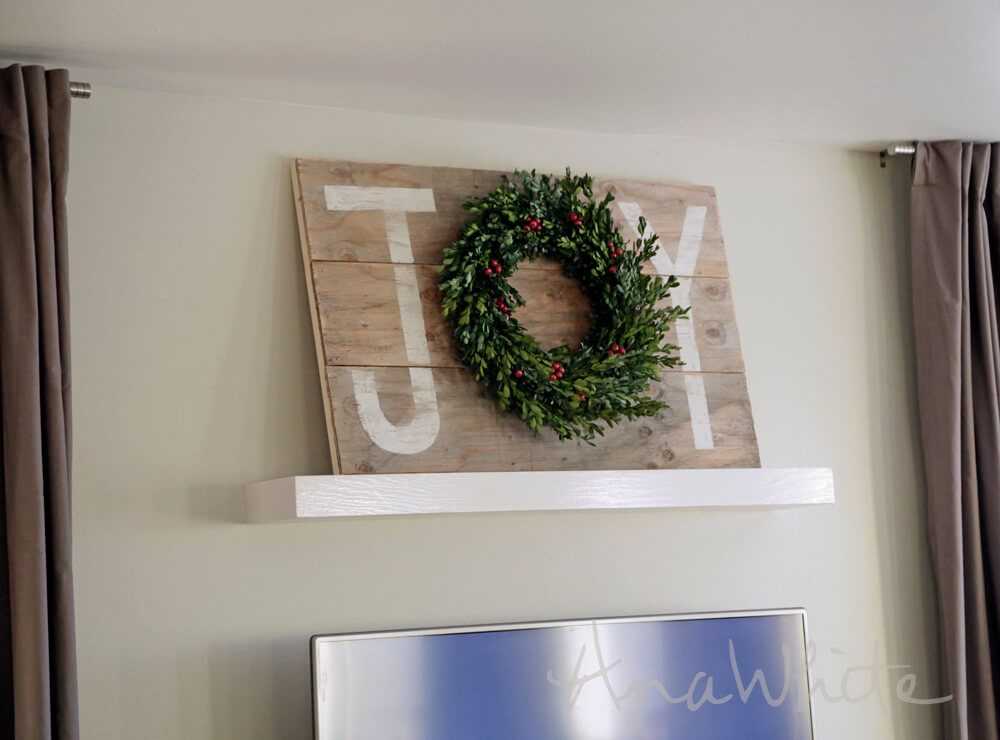 29. Wood Christmas Tree Advent Calendar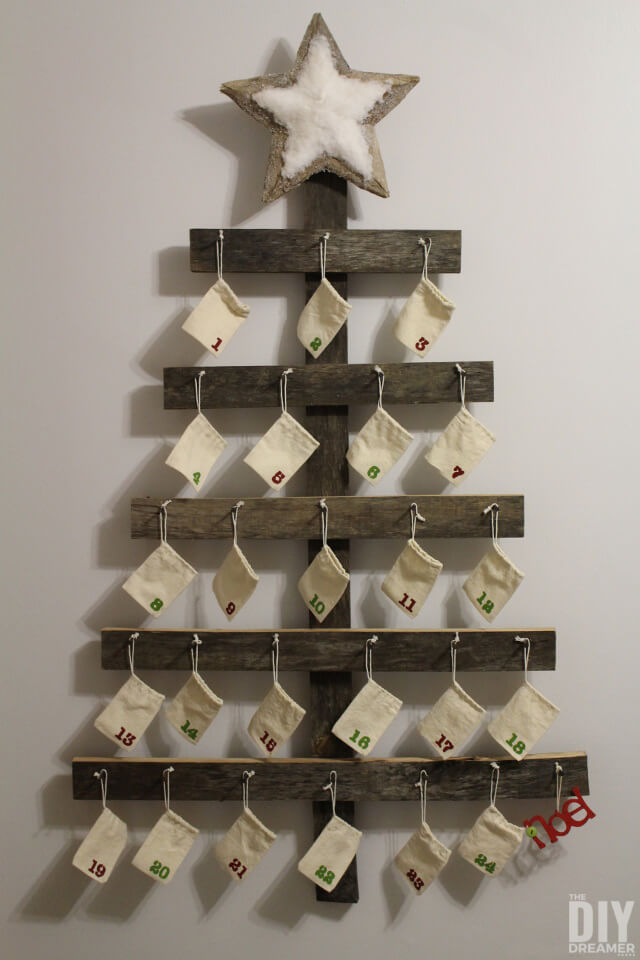 30. Light Up Religious Christmas Sign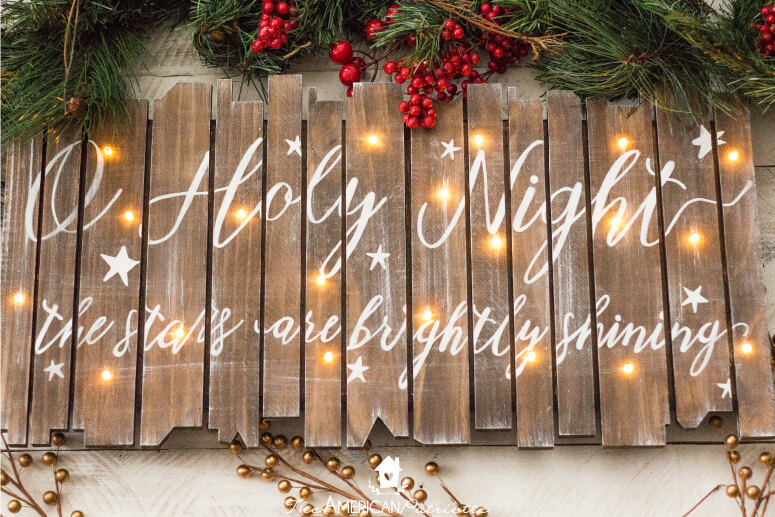 31. DIY Twine Ball Christmas Ornaments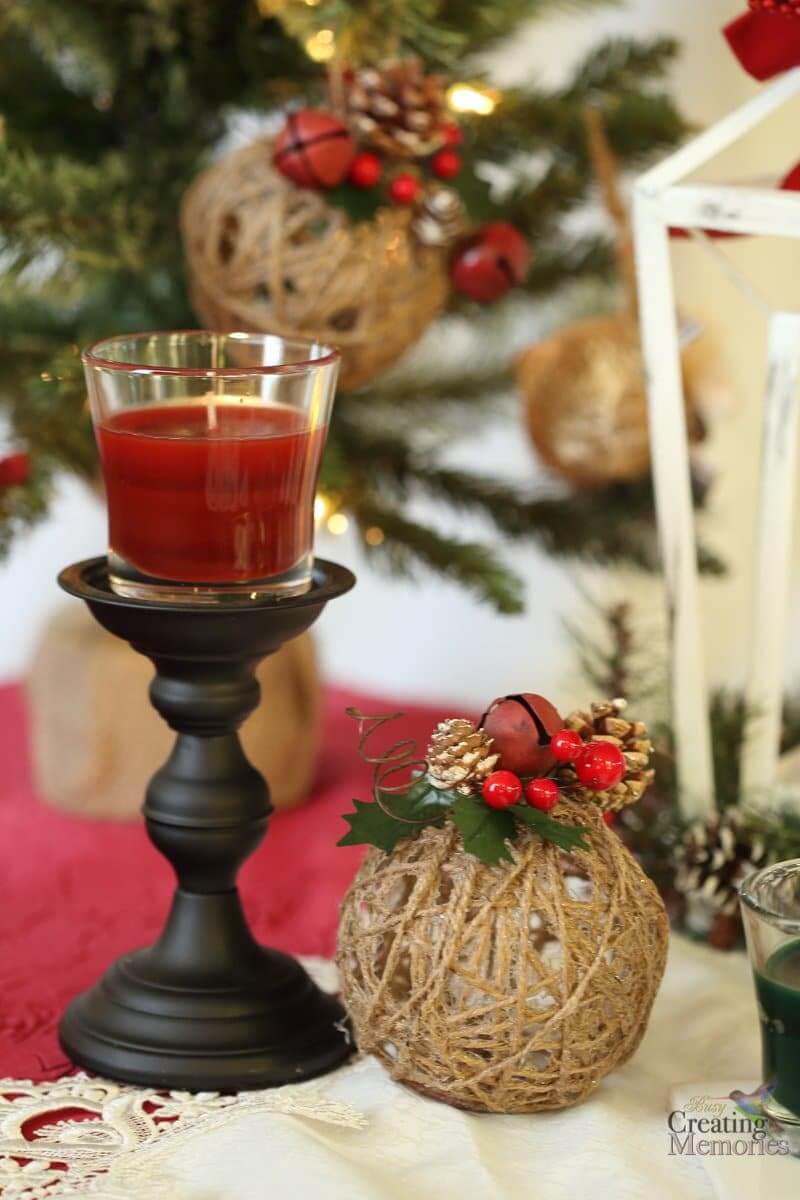 32. Criss-Cross Twine Mini Christmas Trees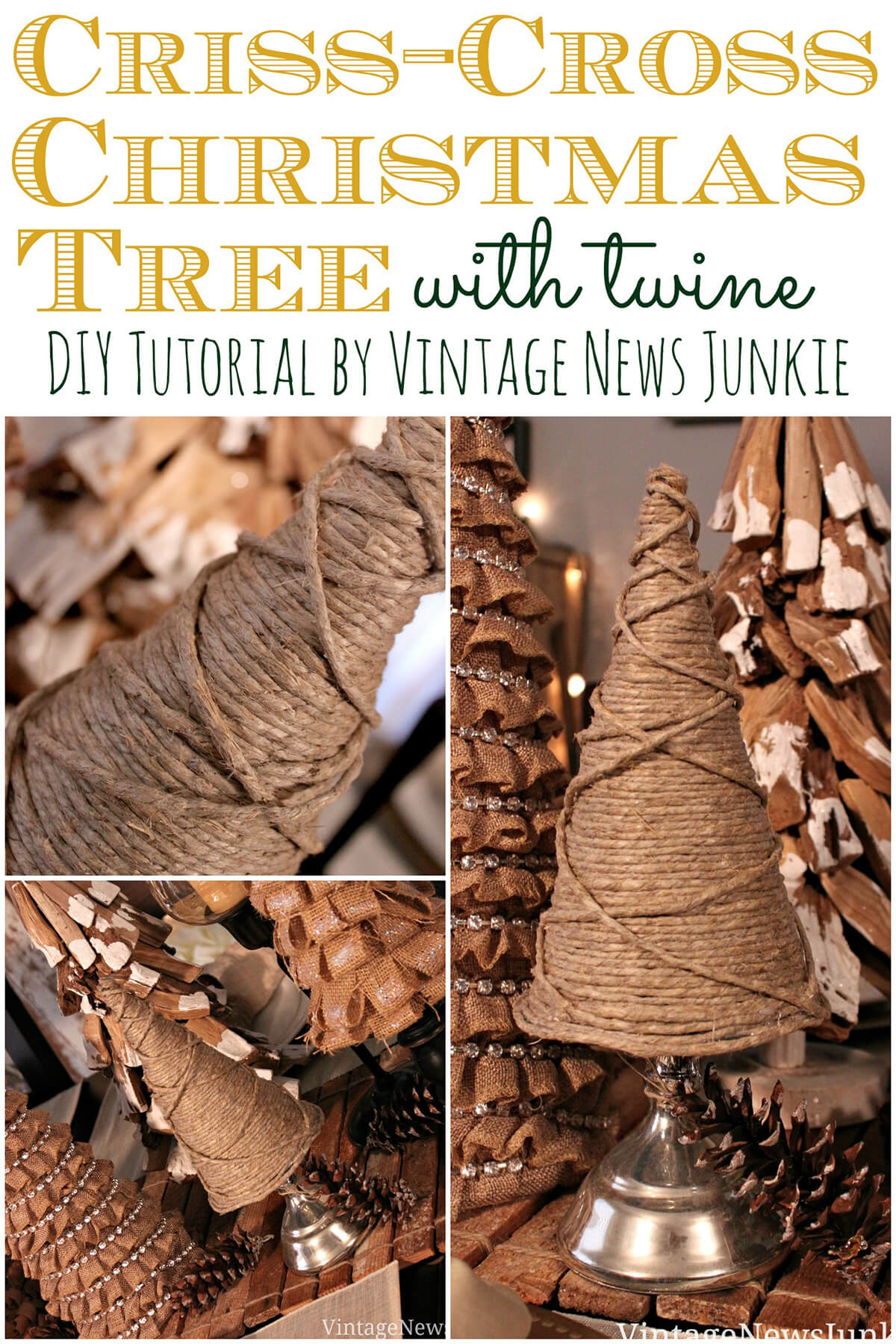 33. Rustic Log Centerpiece With Candles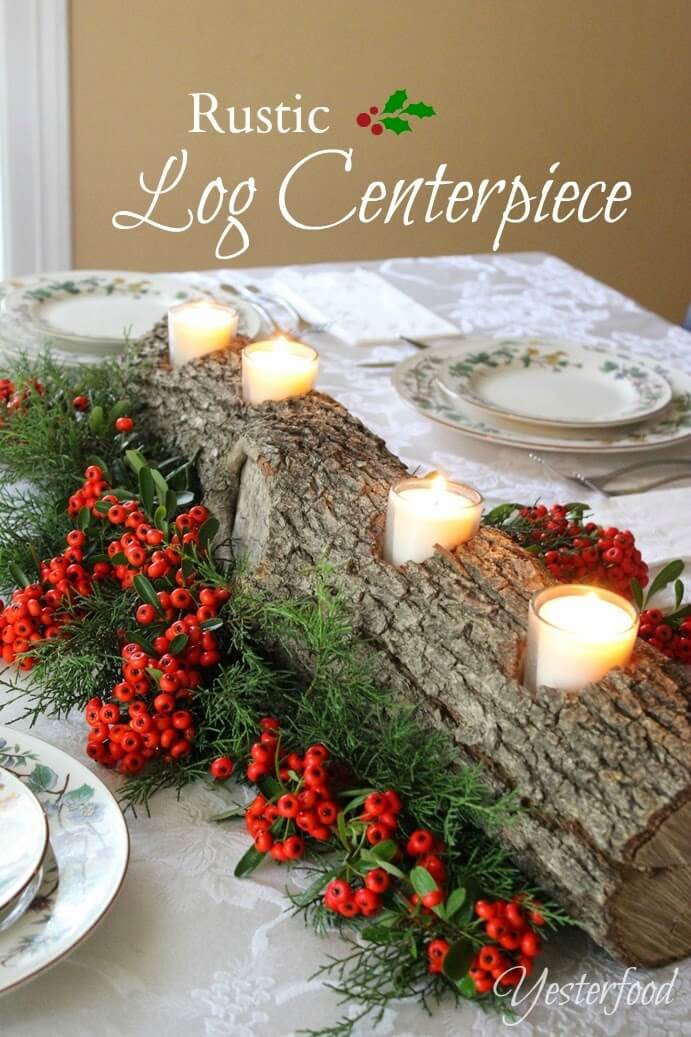 34. Rustic Pine Cone Winter Wreath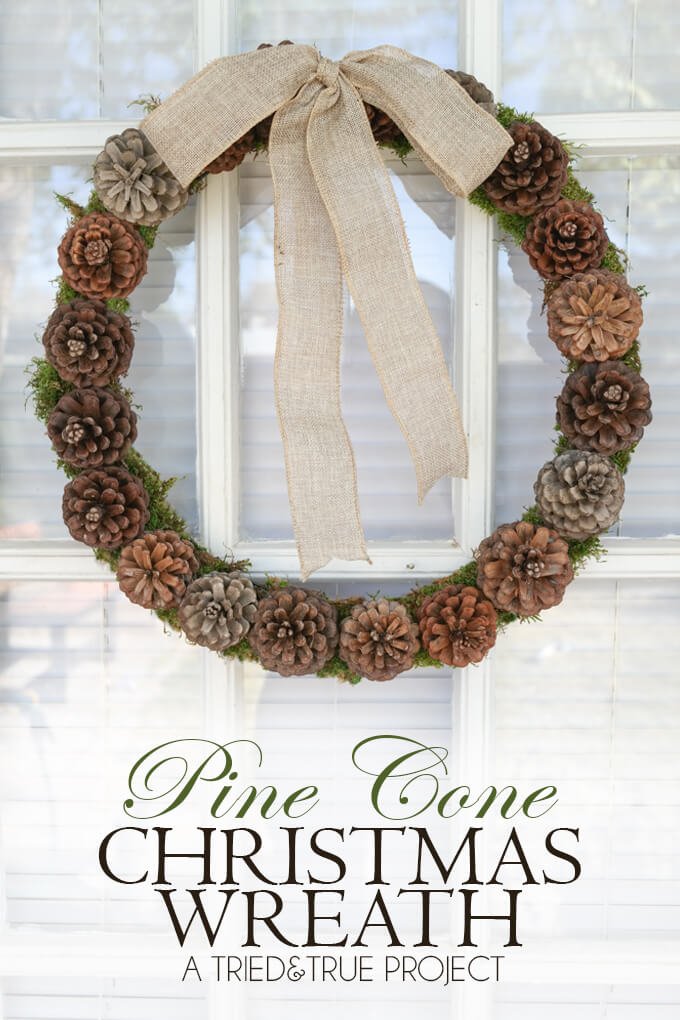 35. Upcycled Wooden Crate Christmas Project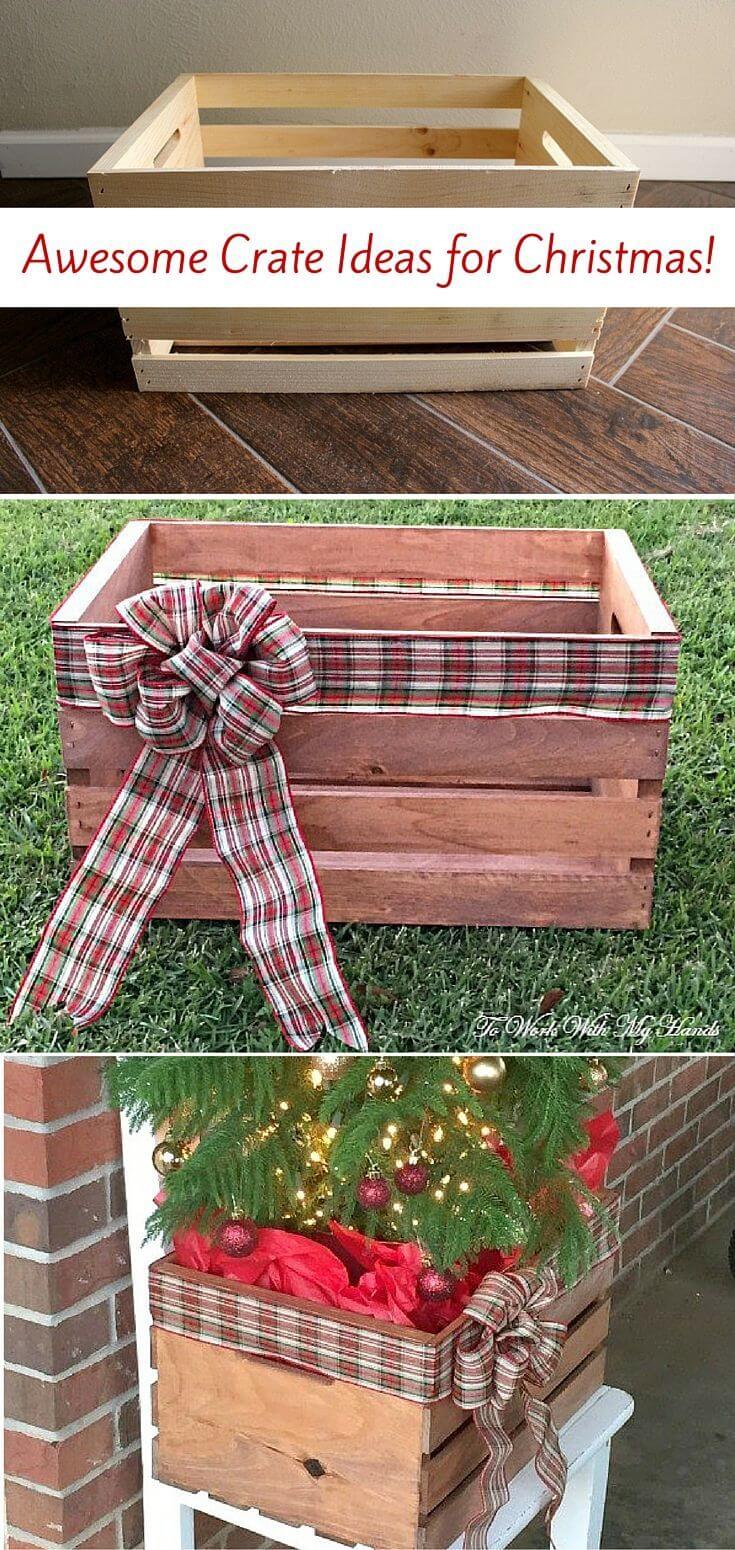 36. "Let It Snow" Wall Art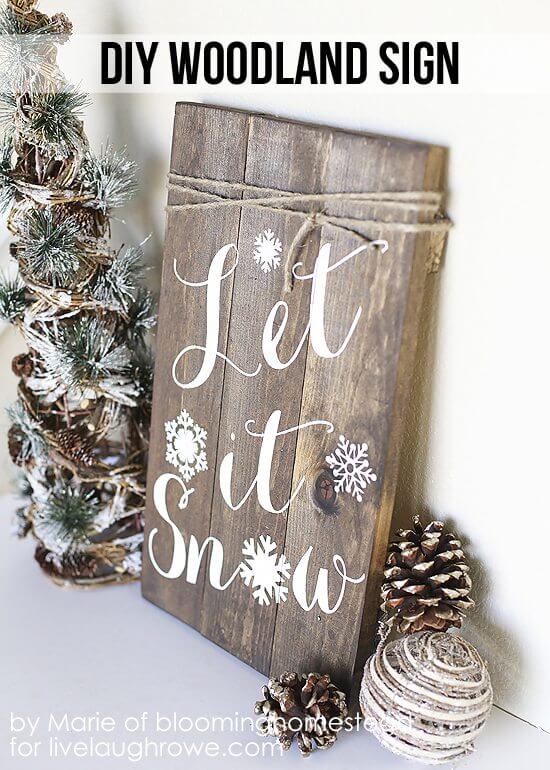 37 DIY Faux Bay Leaf Garland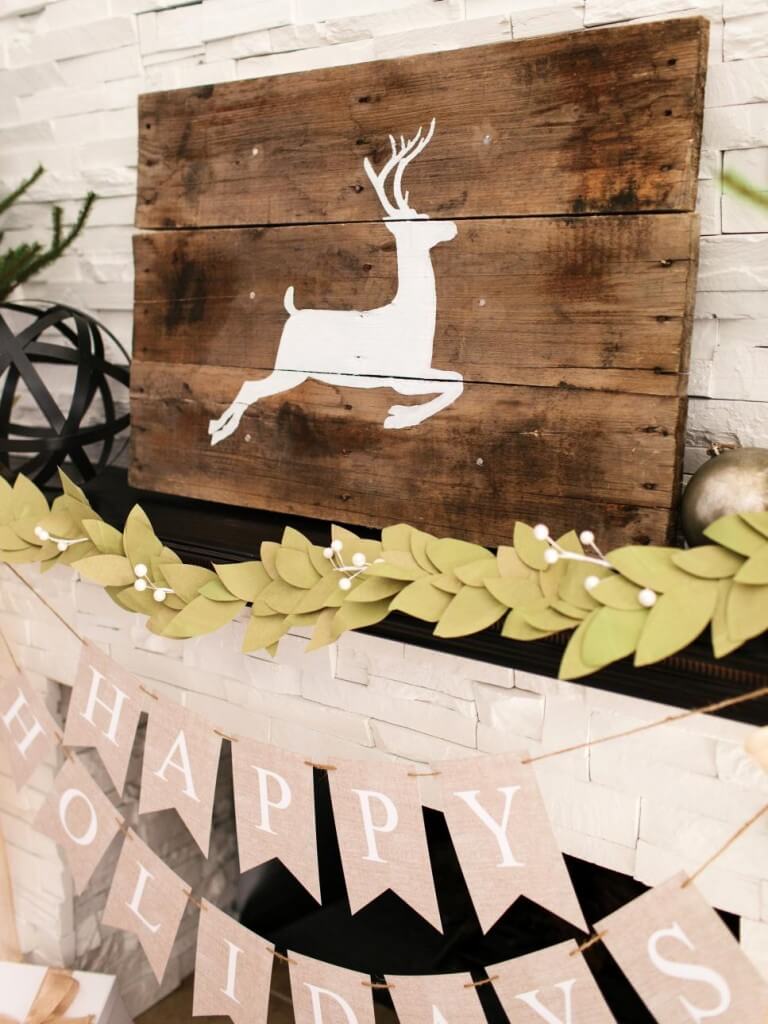 38. Easy Snowy Mason Jar Idea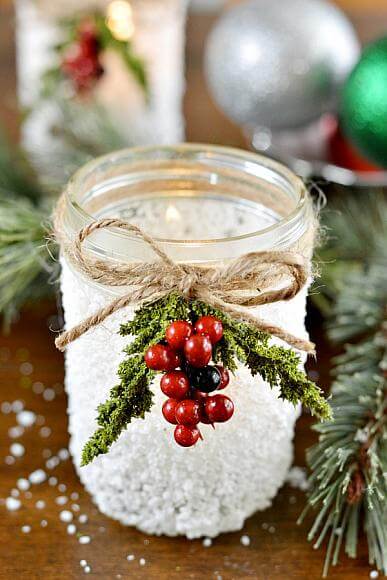 39. Rustic Birch Log Candle Holders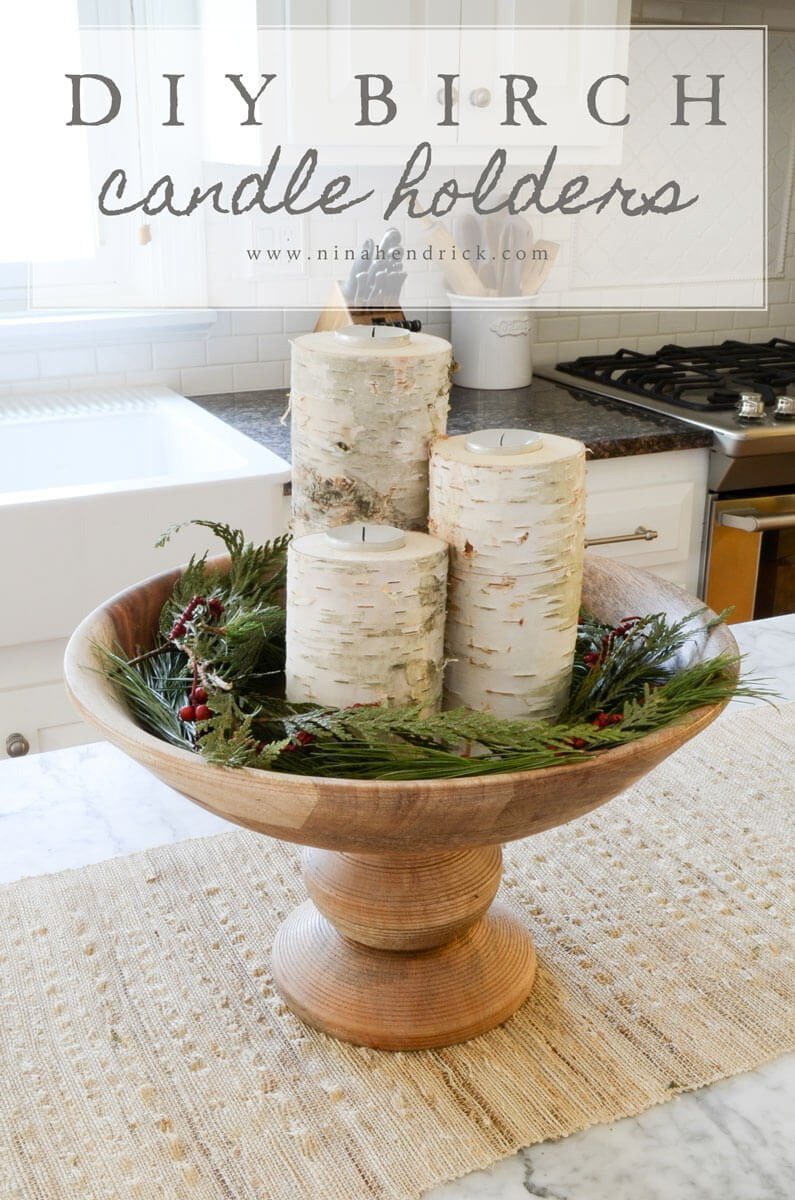 40. Upcycled Vintage Ruler Christmas Tree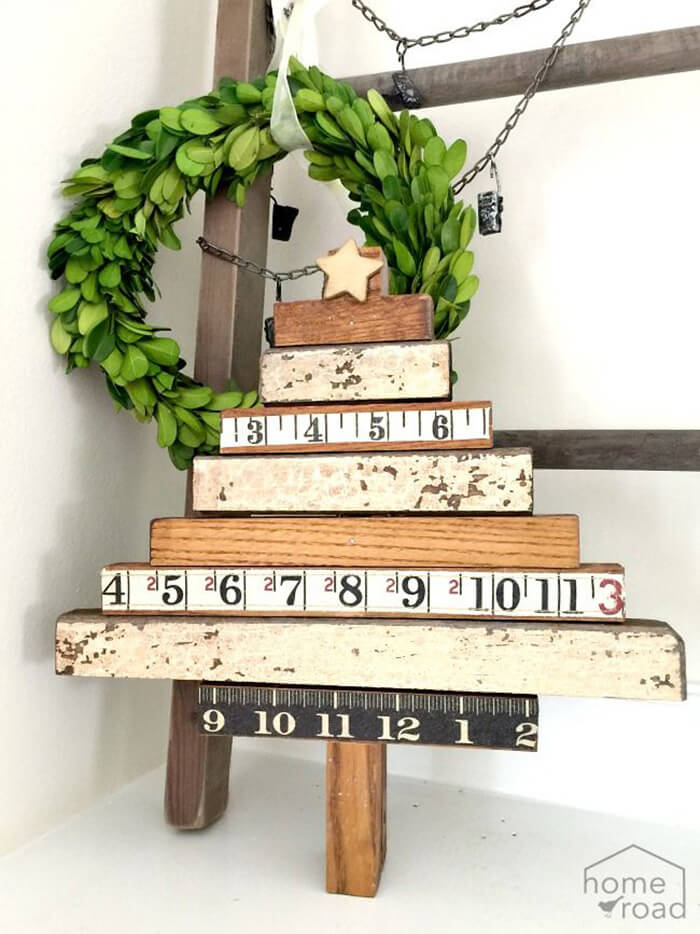 41. DIY Mini Paper Christmas Tree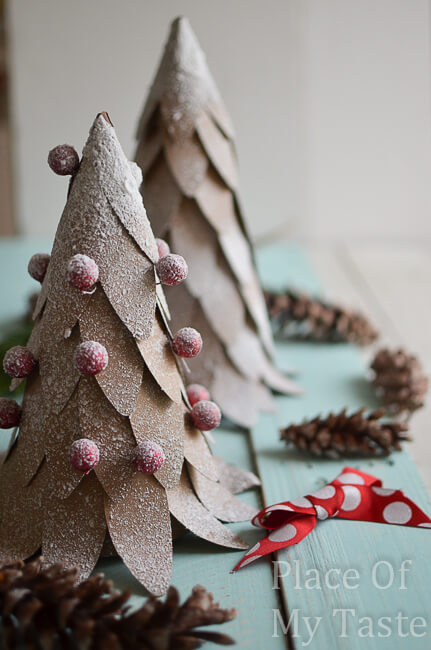 42. Mason Jar Lid Christmas Ornaments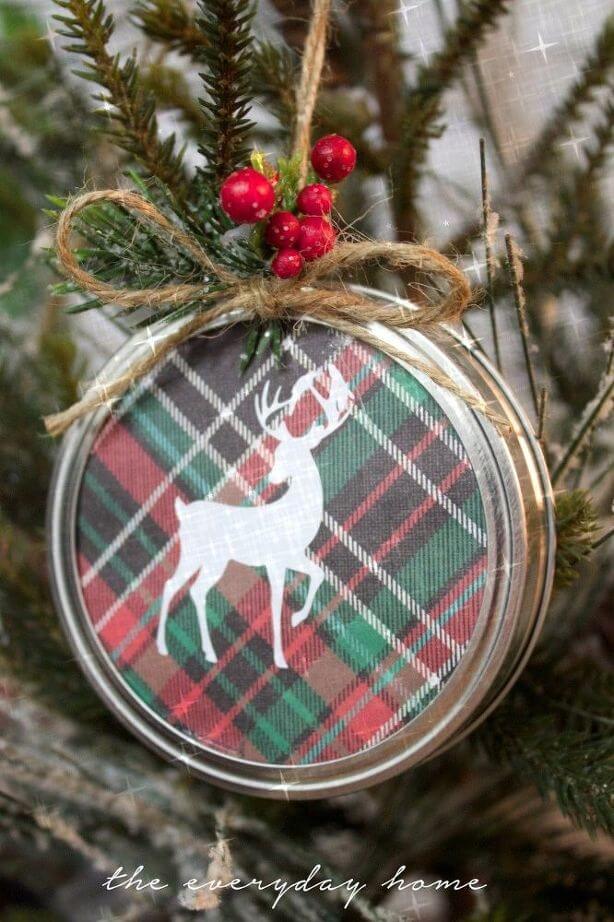 43. Ribbon Star Wooden Wall Art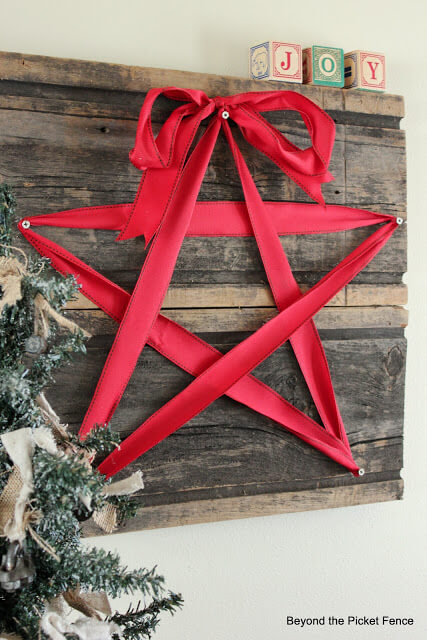 44. Vintage Sleigh Christmas Shelf Display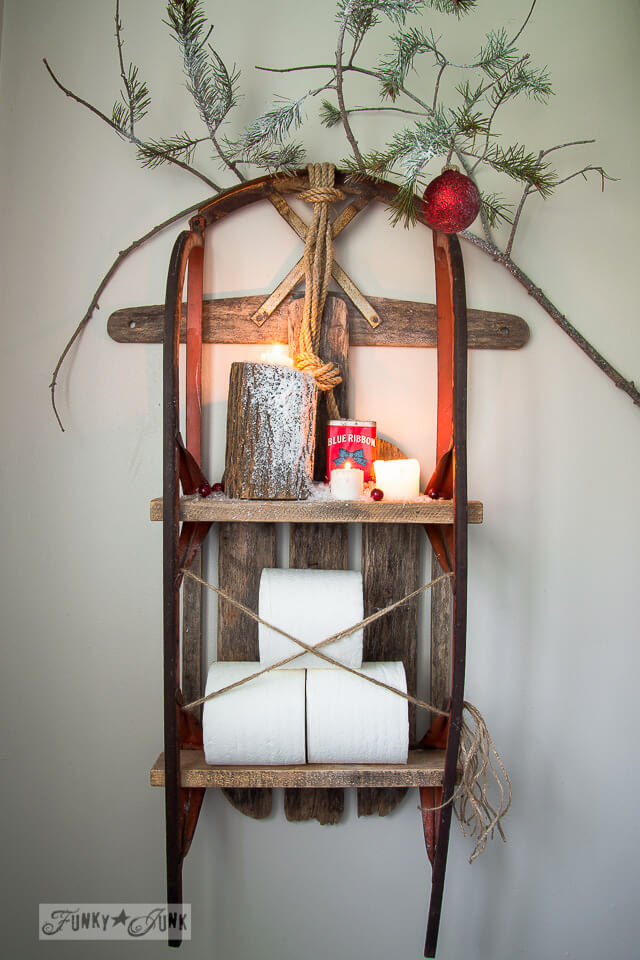 45. DIY "Merry Christmas" Wall Sign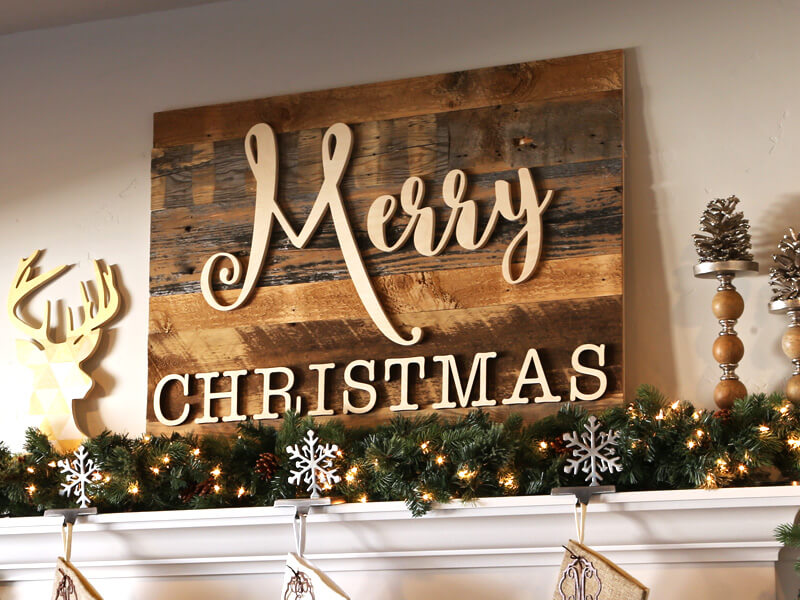 46. DIY Pine Cone Kissing Ball

47. Mirror Art With Christmas Message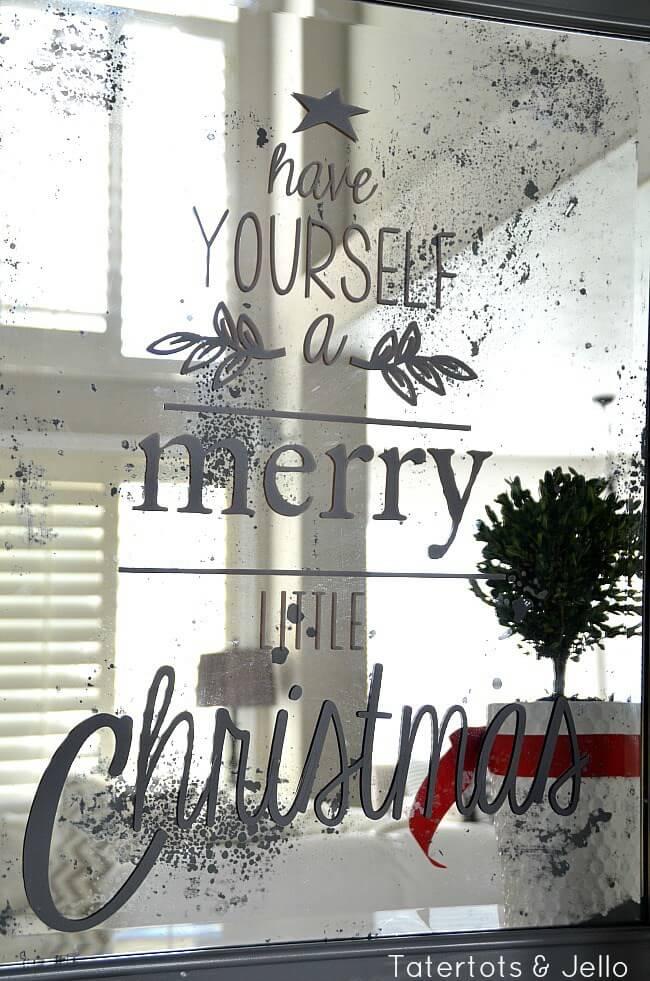 48. "O Holy Night" Framed Art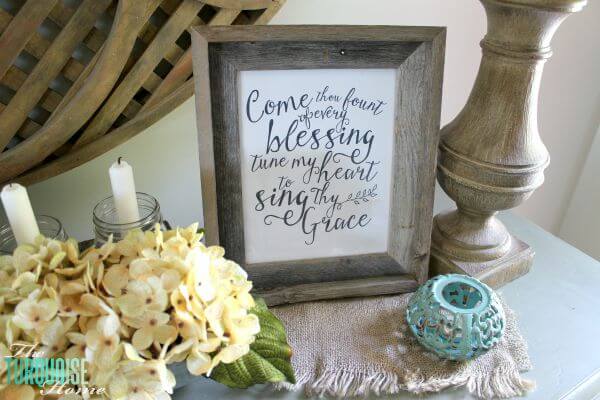 49. DIY Wooden Patchwork Stars Project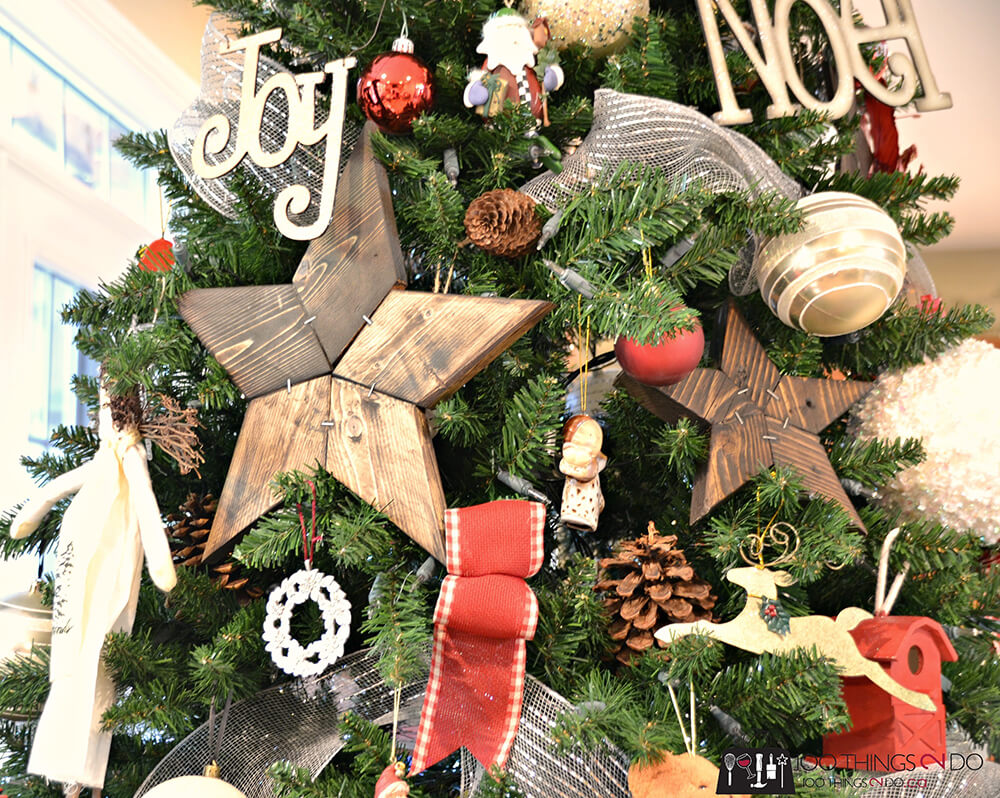 50. Easy Lighted Burlap Christmas Garland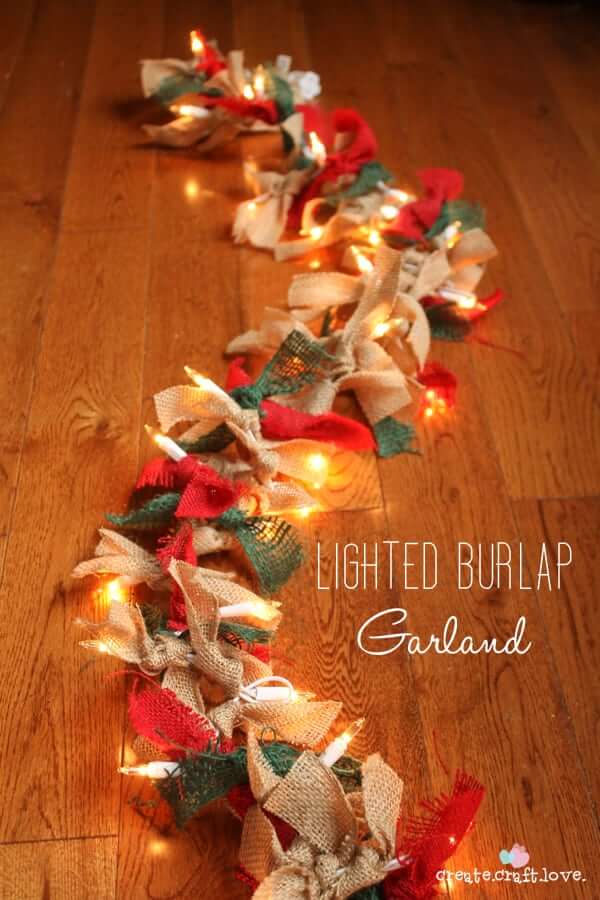 51. Wooden Christmas Tree With Hardware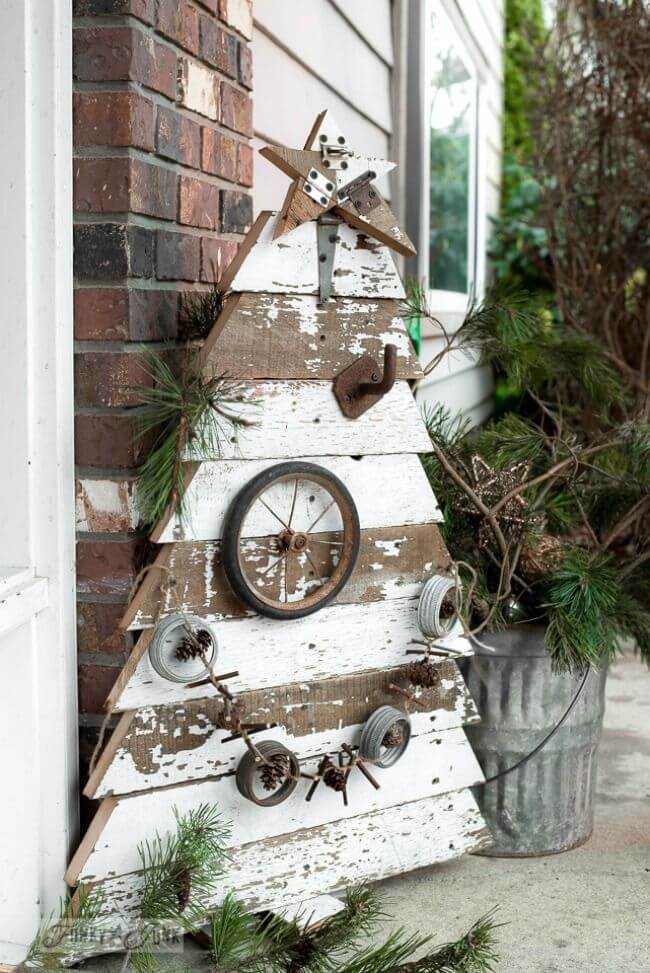 52. DIY Christmas Clock Advent Calendar
53. Rustic Wooden Christmas Tree Decoration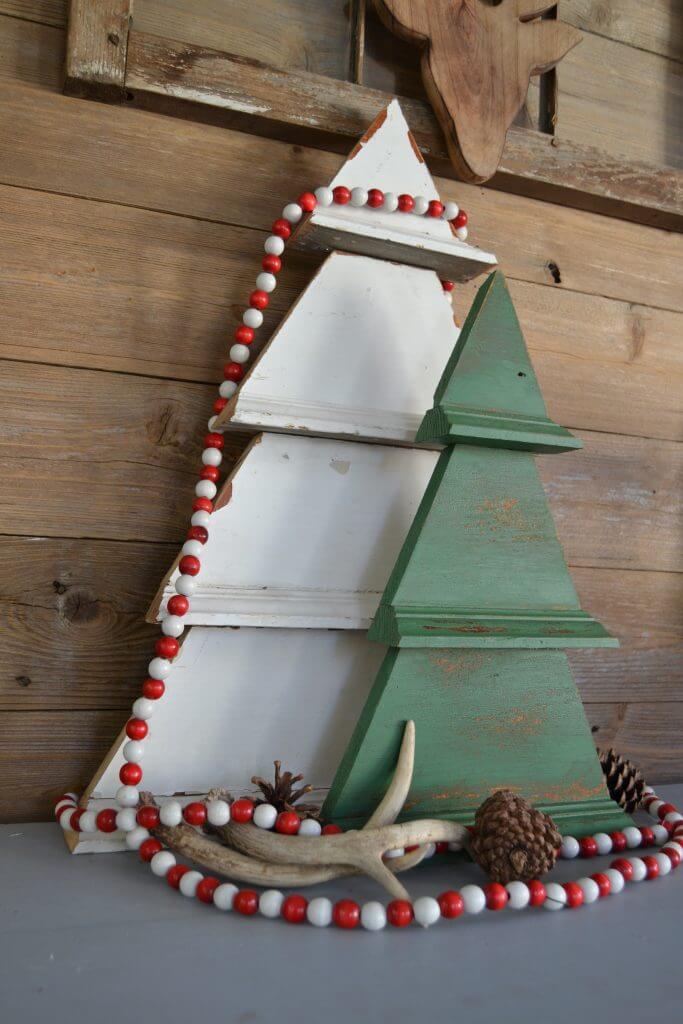 Our Favorite Christmas Decorations to Buy on Amazon