One way to add a touch of the old world into the new is by adding rustic farmhouse milk can decor to your home furnishings. These classic staples of farm life have found a new purpose as amazing pieces of home decor. They are extremely versatile, are easy to paint and manipulate, and make the perfect size for any room. They are also quite sturdy as they were once industrially functional, so you don't have to worry about them falling apart or being damaged, even with outdoor use.
24 Farmhouse Milk Can Decor Ideas that are Super Charming

If you like, you can find plenty of rustic farmhouse milk can decor online at shops such as Etsy; however, if you have your own specific milk can decorating ideas, you can often DIY these projects without much trouble. These 24 ideas are a great place to start and will serve as great inspiration for your home. With such a variety of options, you may even come across something you love that you never would have thought of on your own. You will be amazed at how much variety and creativity can do into a decor addition as simple as a milk can. The possibilities are surprisingly vast.
As you window shop through this list, have fun and keep in mind your home, style, and space. Ultimately, you won't be happy unless it fits with your decor, so find a piece you love and then think about how to seamlessly incorporate it in your own home. The nice thing about milk cans, of course, is that they are easy to move, modify, or even scrap if the original idea doesn't work out. As always, be sure to have fun and enjoy the experience. Home decorating should never be a chore and with styles you love and a healthy amount of options you are certain to find joy in your new favorite milk can decor.
1. Simple and Classic Outdoor Milk Can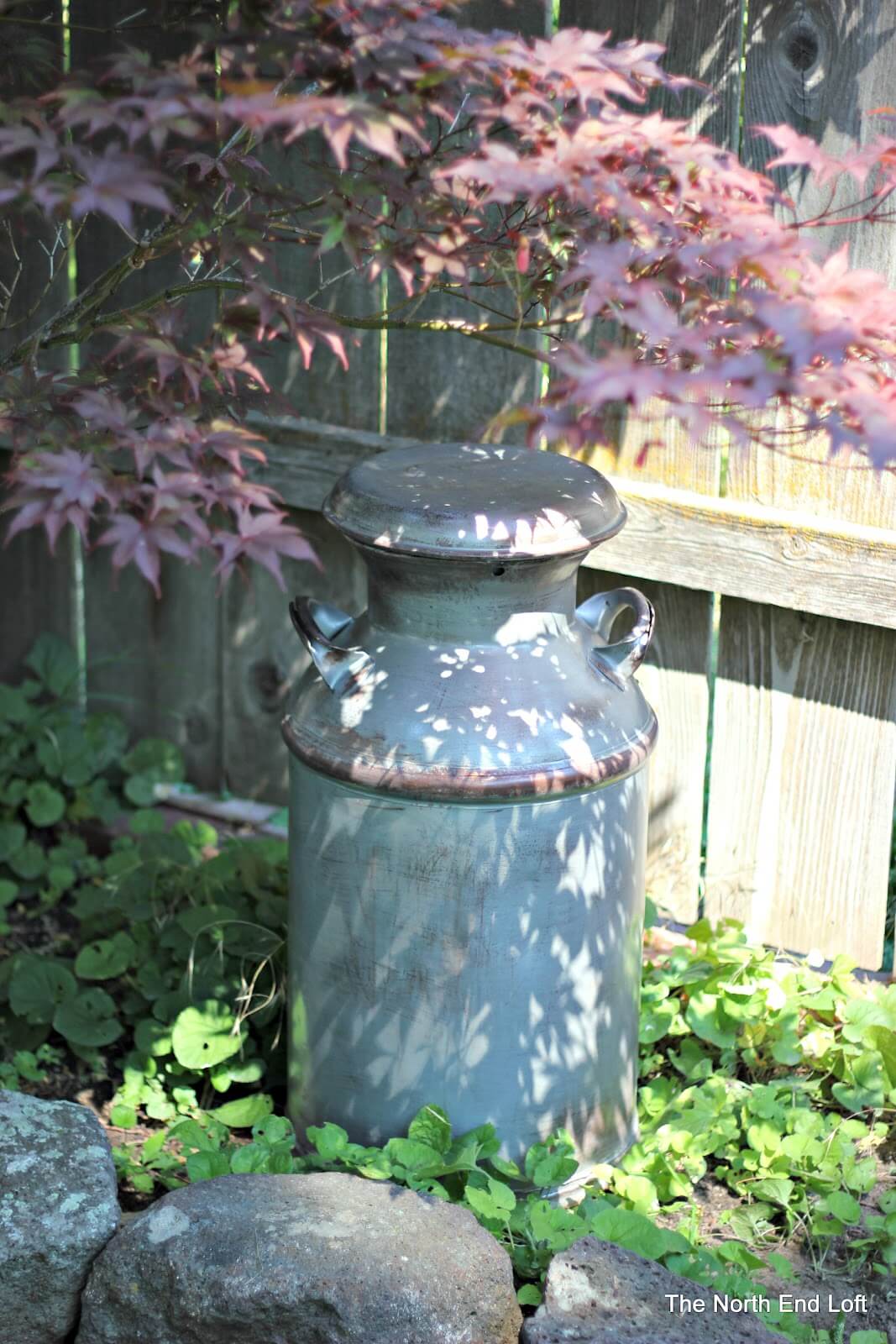 Sometimes the best milk can ideas don't stray far from the original look and stick with a good thing when they see it. A classic metal or stone milk can often has a rustic and elegant charm that you don't want to lose. This option keeps the integrity of the original milk can intact and simply ensures that the coloring has a weathered but clean and classic look for its place in a beautiful garden landscape. When you go for this style, you can choose to paint and refinish the can or leave it as is for a simple and definitive milk can look.
2. The Boldest and Best Red Table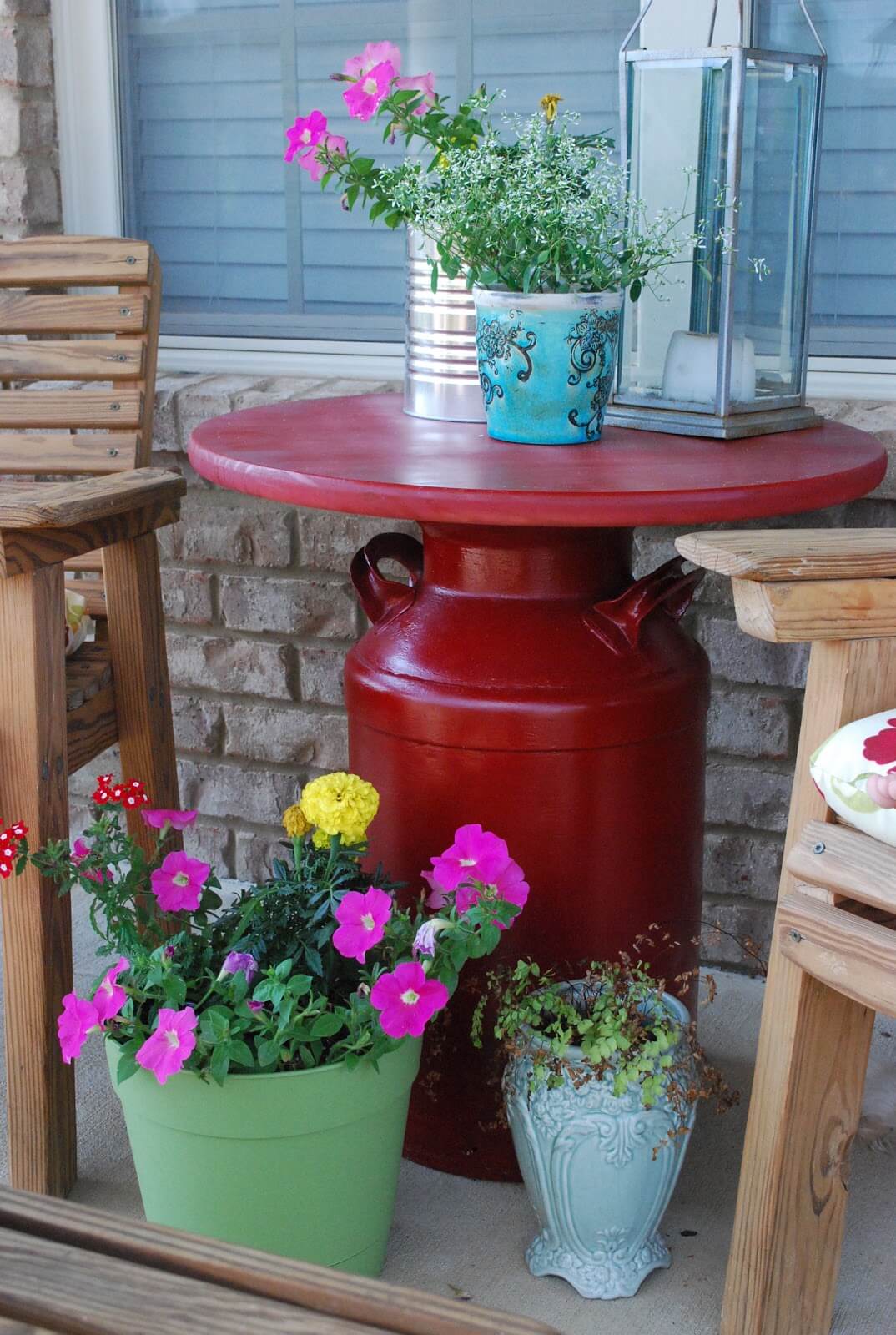 This perfect outdoor patio table looks so perfect exactly as it is, you almost wouldn't notice that it is made from a simple rounded piece of wood and a beautiful tall old milk can. The solid red coloring gives the whole table a cohesive and singular look while the milk can base still translates an air of personality and farm living hominess. Picture yourself sitting around this beautiful table for an evening snack, a glass of sweet tea, and some fabulous conversation. You can decide how large or small to make the round top to accommodate whatever sized group is most appropriate for your home.
3. Petite Milk Can Holiday Centerpieces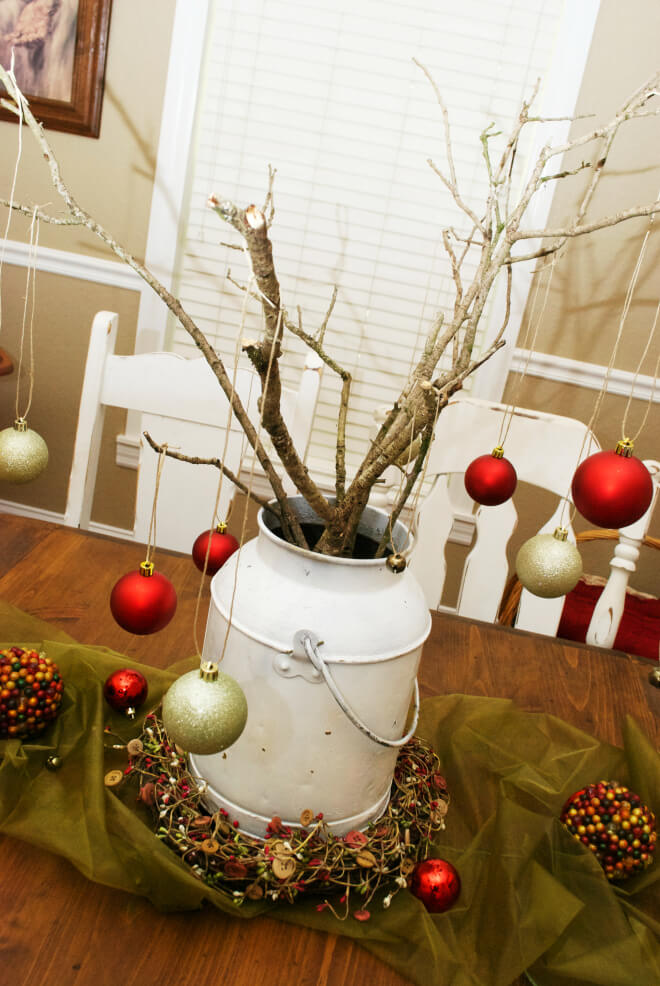 Not all old milk cans are large and tall. There are petite option that make the perfect base for any tabletop centerpiece. This option takes a simple can, paints it with a classic farmhouse white, and then adds twigs, ornaments, and a beautiful runner for a look that is ready for any holiday party. To accomplish this look, you simply need an eye for creativity and a tree in the backyard that you can steal a few twigs from. With just a little revamping, this centerpiece would work for other family holidays or as a year-round option.
4. Personalized Adorable Milk Can Flower Planter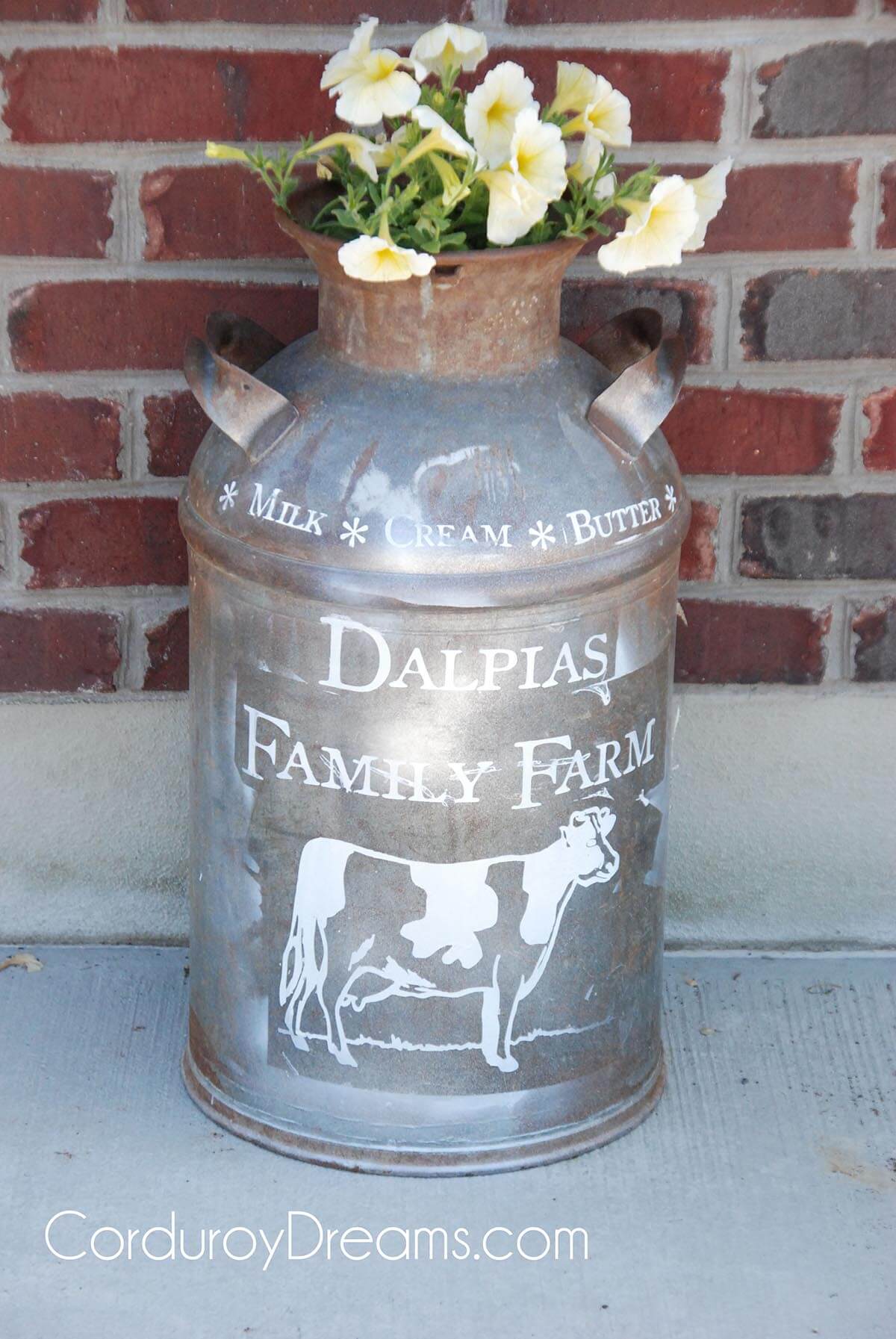 Adding a personalized touch to your home decor is a simple way to create unique and personalized items at a minimal cost. This milk can incorporates a family name into a stencil that goes perfectly with the milk can theme. It even includes a big, beautiful, lovely cow in case there are any questions about what this piece originally was used for. Now, however, it maintains the dairy history but has an updated use as a planter for some of your favorite posies. The juxtaposition of the hard metal can and soft delicate flowers creates an appealing and friendly look.
5. Fun and Creative Desk Lamp Idea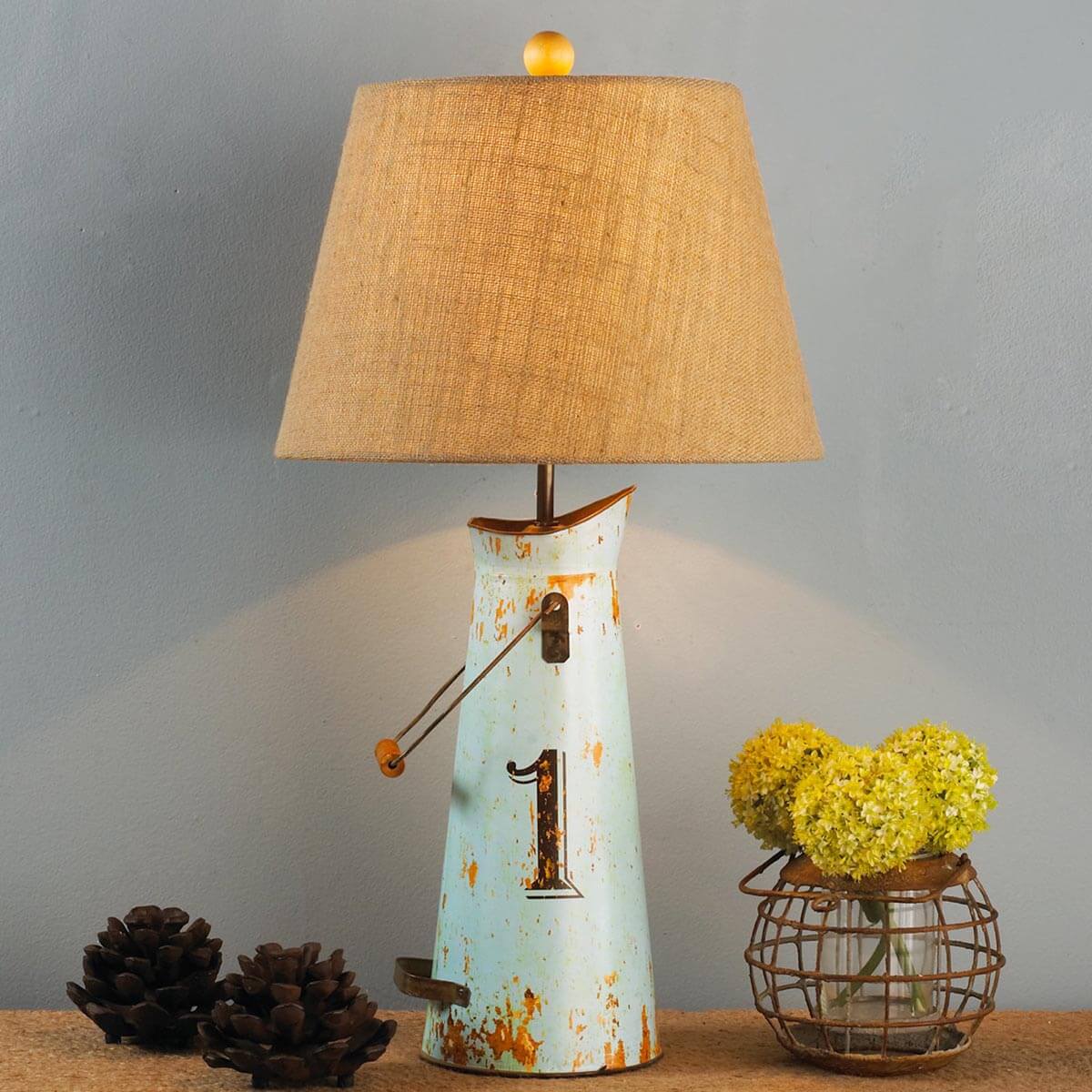 Rustic farmhouse milk can decor works for many home elements both big and small. Take for example this beautiful lamp. It incorporates this long slender milk canister to create a look that is modern in its rustic appeal. A clean and solid lampshade brings out some of the yellow and brown tones in the rusty spots on the iron, and the light itself makes the faint, almost blue color of the can stand out. Be sure to consider your color choices when painting and distressing your can and also when choosing your lampshade and bulb brightness.
6. Outdoor House Numbers Painted Milk Can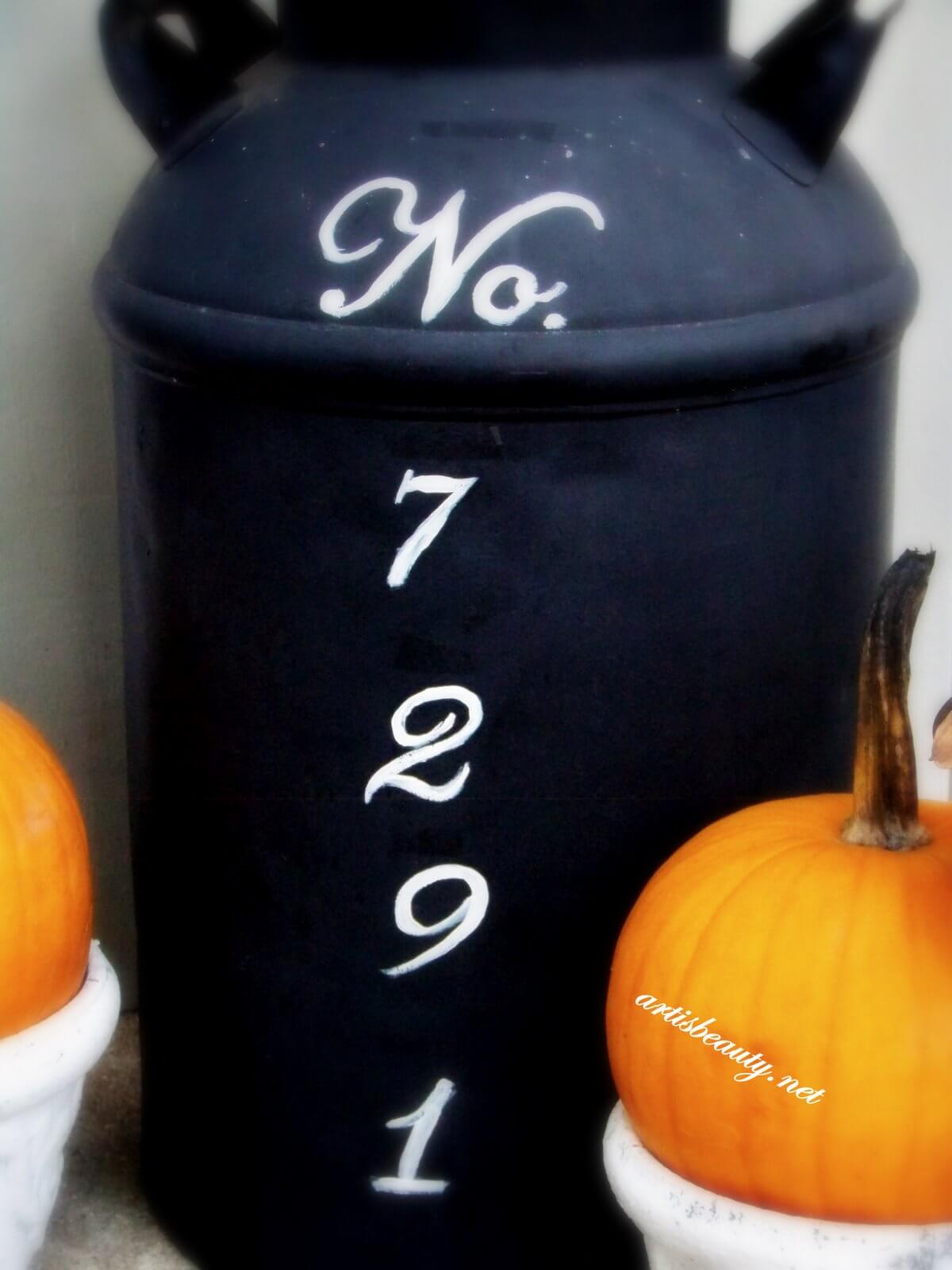 Home decoration is never as easy as when you have something as beautiful as a classic old milk can to make your own. If you are able to, ask around before purchasing an old can; you never know what people may be able to toss! It is also always worth checking at flea markets for classic pieces such as this. Once you have your hands on a great jug, feel free to paint it however you like. Then, decorate it with a lovely saying or, as in this case, your home address for a practical and pretty way to let friends know they've made it to the right house.
7. Perfect Milk Can Christmas Tree Stand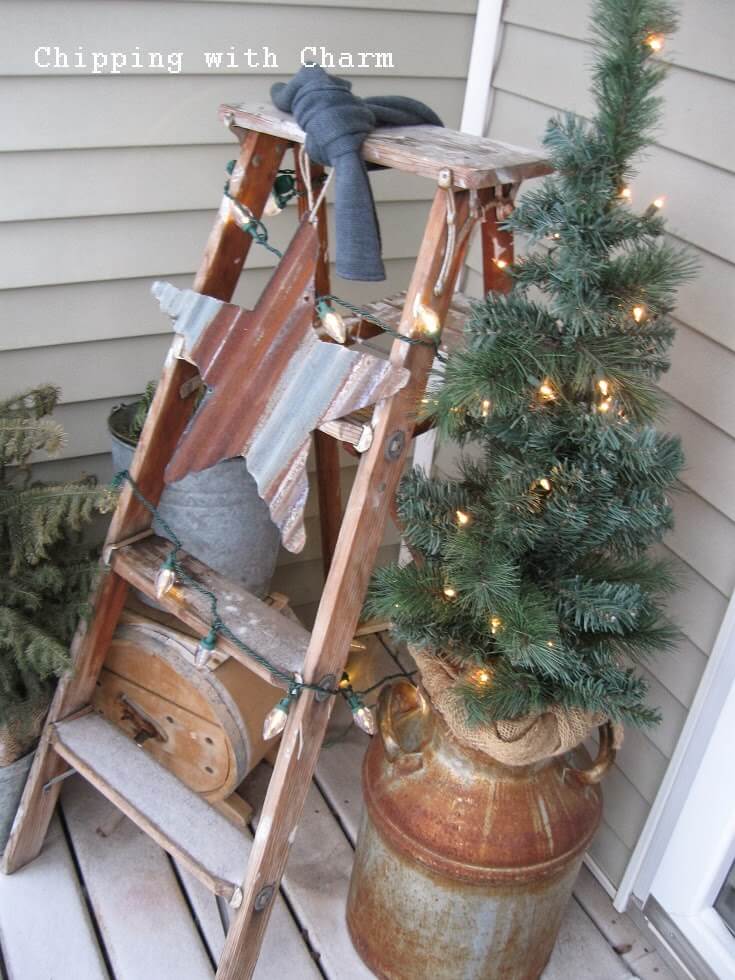 There are so many good milk can ideas for the holidays. A milk can is a reminder of olden days of farmhouses and warm family gatherings, which in turn are reminiscent of happy hearths and Christmas celebrations. This option creates a beautiful base for a classic and simple Christmas tree, making for a rustic and charming feel. This is a fantastic option if you have a mini tree that you would like displayed at a more standard height but would rather not simply place on a table. The burlap at the base of the tree creates a smooth transition from the pines to the can.
8. Beautiful and Rustic Sunflower Plant Holder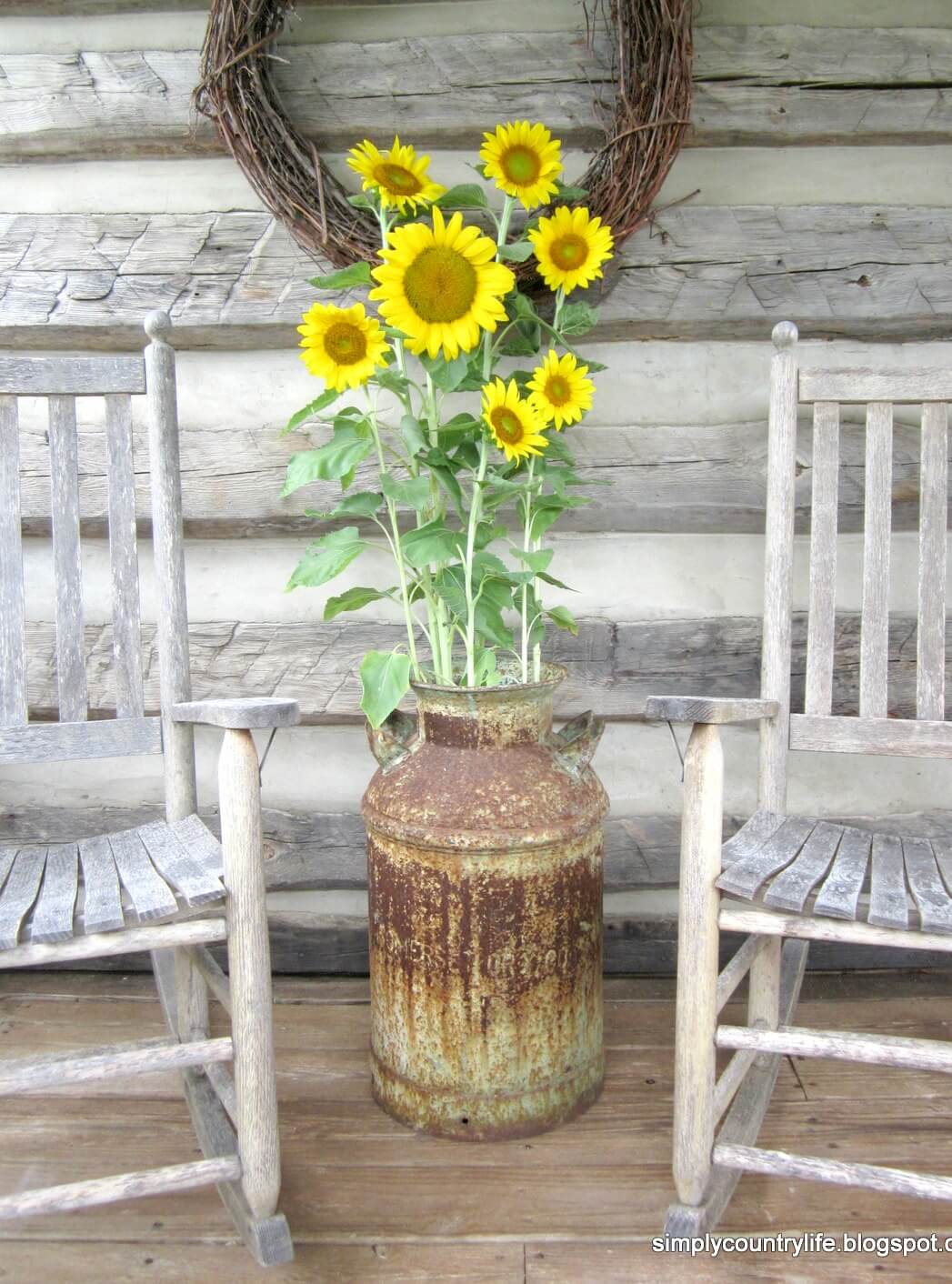 Milk can decorating ideas that incorporate additional classic farmhouse looks tend to work very well. The natural pairing seen here of bright harvest sunflowers and a rusted vintage milk can creates an amazing overall look. This design would look great all year round but especially exudes an autumnal feel. With this, you can easily incorporate tall and thin faux sunflowers, but if you are able to grow fresh ones, that always adds an extra special touch. Place this on the porch for a bright and fun addition or in the garden to create some contrast among the greenery.
9. Beautiful Classic Clean Iron Milk Can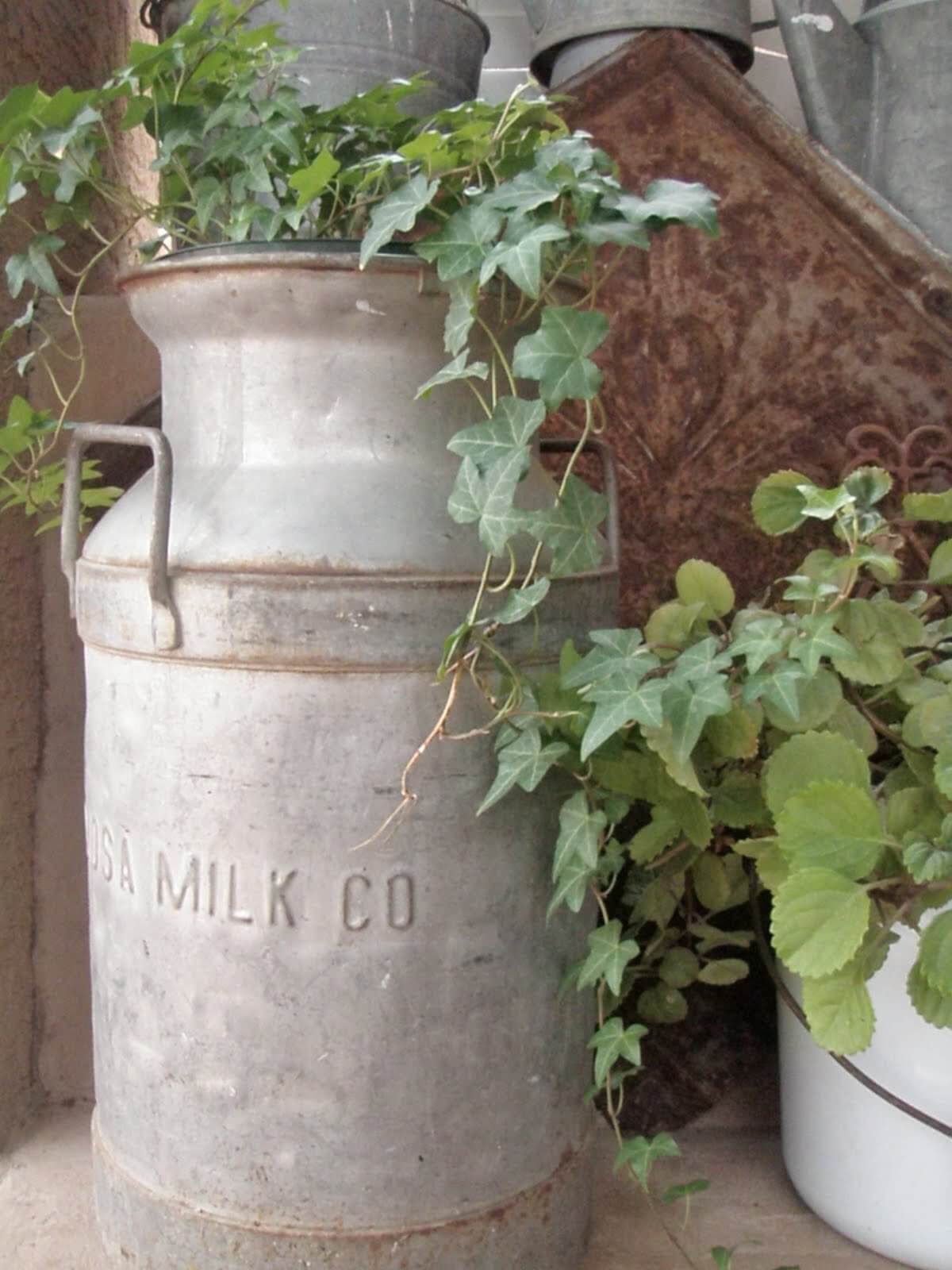 This style of rustic farmhouse milk can decor takes a clean iron can and creates a beautiful decorative holder for a cascading house plant. This awesome idea works so well with a milk can like this since it is just the right height for the plant to have room to grow and hang over the edges. You can create a whole garden of these with different sized cans or have just one as a sort of accent piece in your kitchen or on the patio. Just be sure to get the right sized pot that will fit snuggly and hide just inside the top of the can.
10. Poolside Rustic Farmhouse End Table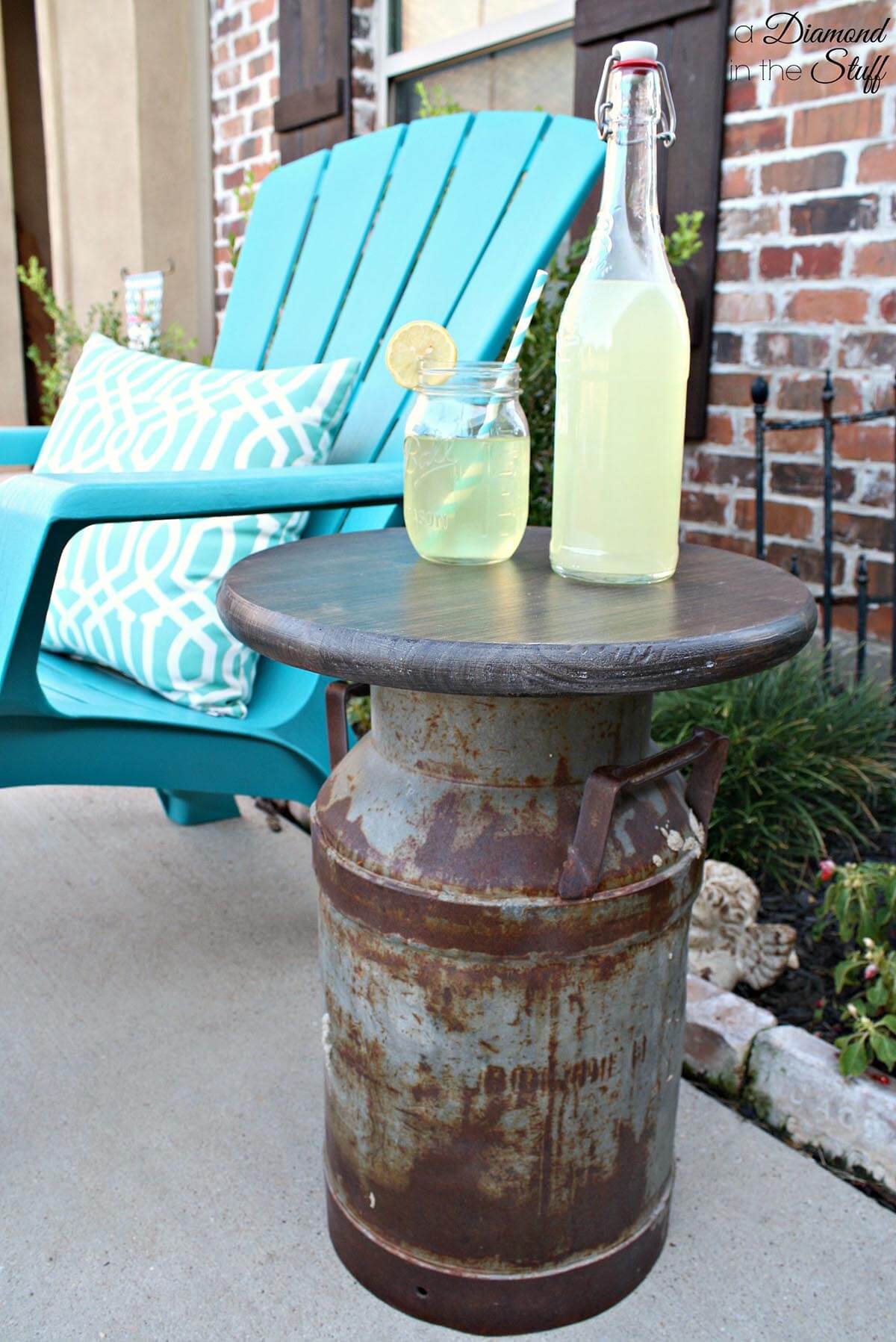 If you are looking for a cool and unique place to keep your drinks while you play outside, this table is a no-brainer. If your home features any elements of farmhouse decor, which most do these days, you should be able to seamlessly incorporate this rustic table into your outdoor decor. You simply need to find a milk can that is at the right height for you, sand and paint a rounded piece of wood, and then securely attach the two so that you don't have to worry about your lemonade toppling over with any wobble.
11. Beautiful Antique-Style Milk Can Lamp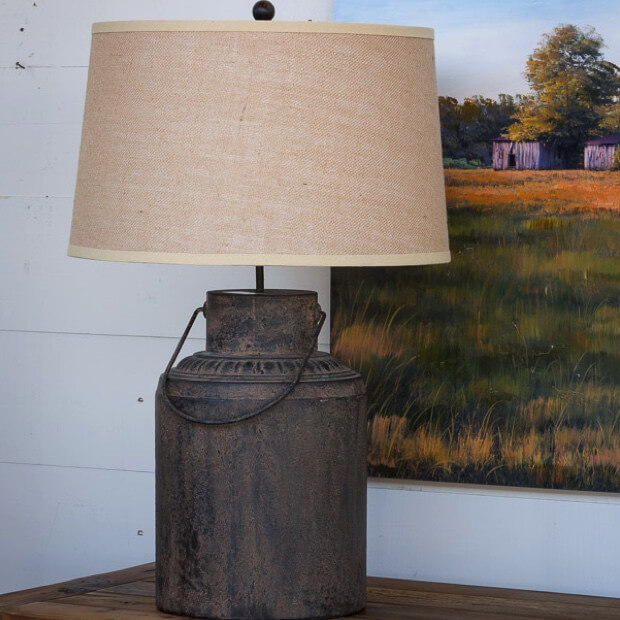 If you find the right milk can, it can be a great addition to your living space decor. This one has a particularly classic and antique vibe, helping it to perfectly balance the fine line between rustic and chic. The natural state of this piece has been kept intact so that you can realize its age, but it has certainly been cleaned up so that at first you may not realize its past life. A simple shade is best for this look so that the base can shine. Be sure to choose a shade that is wider than your base to keep a balanced look.
12. Perfectly Distressed Old Milk Cans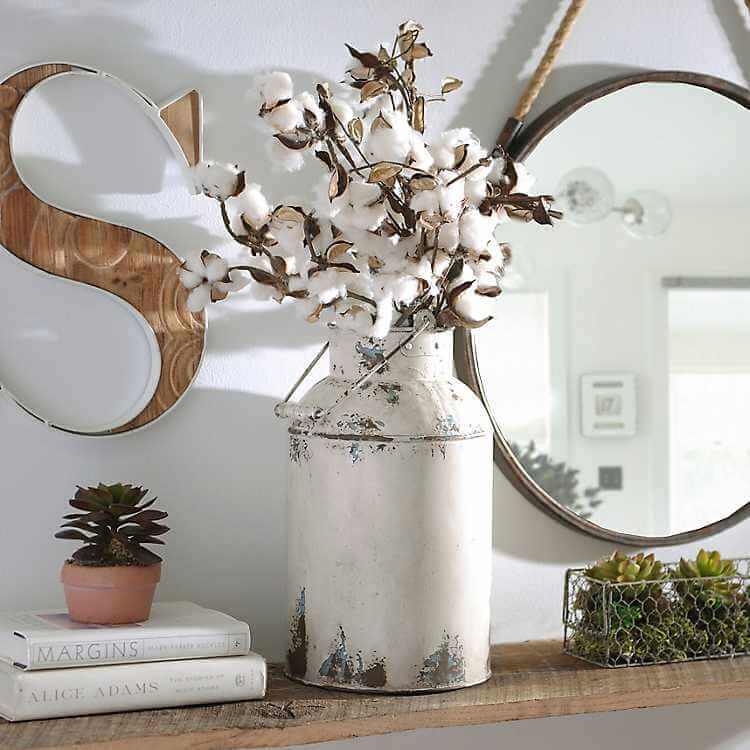 If you are looking for the perfect vase that says farmhouse chic without being overpowering, this milk can is a great option. It is understated in that it doesn't demand attention, but it is elegant in its simplicity and will be appreciated and enjoyed by anyone. You can fill this beautiful jug with fresh flowers or fall foliage for an ever-changing look or consider getting faux sunflowers or cotton to keep the farm-style aesthetic consistent all year round. You could even leave it empty at times to showcase how lovely it is just on its own.
13. Wide-Bottomed Milk Can Bouquet Holder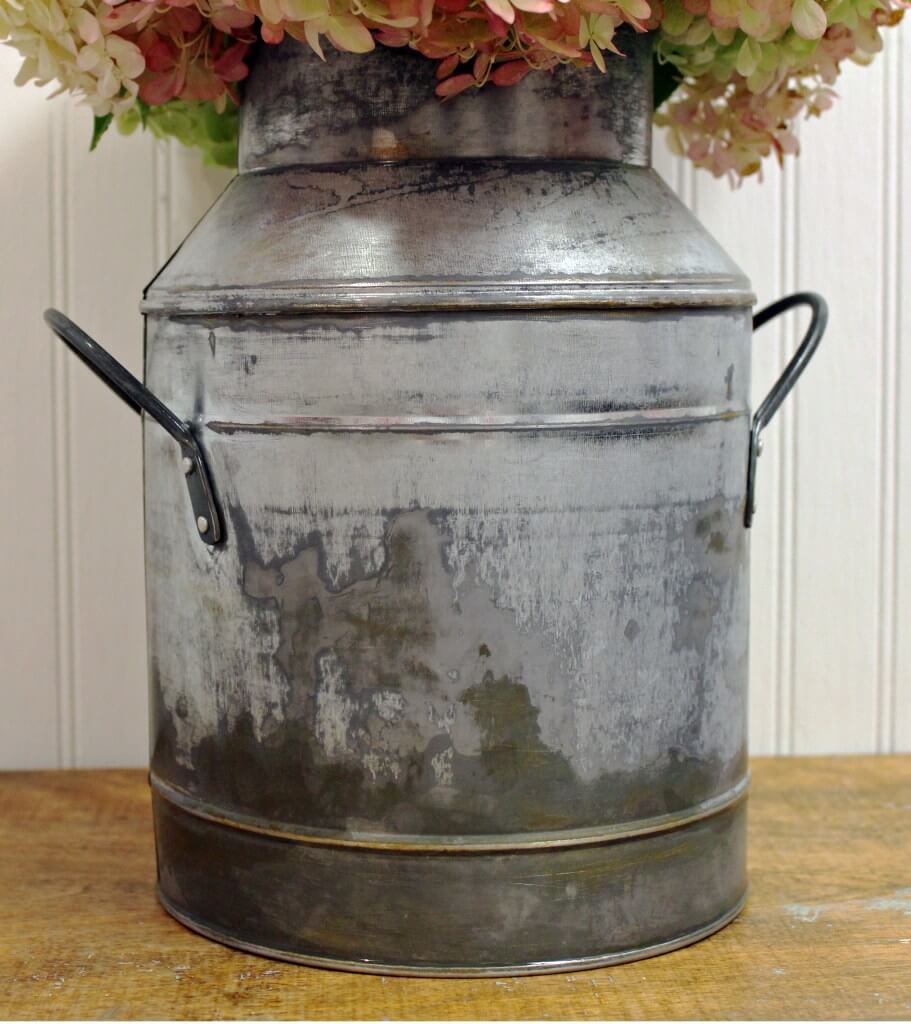 This cute option is one of the best and simplest ways to use a milk can. Whether your can is wide and short like this one or more slender and tall, you can always use it as a base for a beautiful bouquet of seasonal flowers or foliage. If your can isn't too big, you can even set it on the table to create a lovely farmhouse-style centerpiece. If it is taller, consider using it in a hallway or outside the front door as a friendly way to greet guests. It will look lovely no matter where it goes.
14. Practical Repurposed Kitchen Milk Can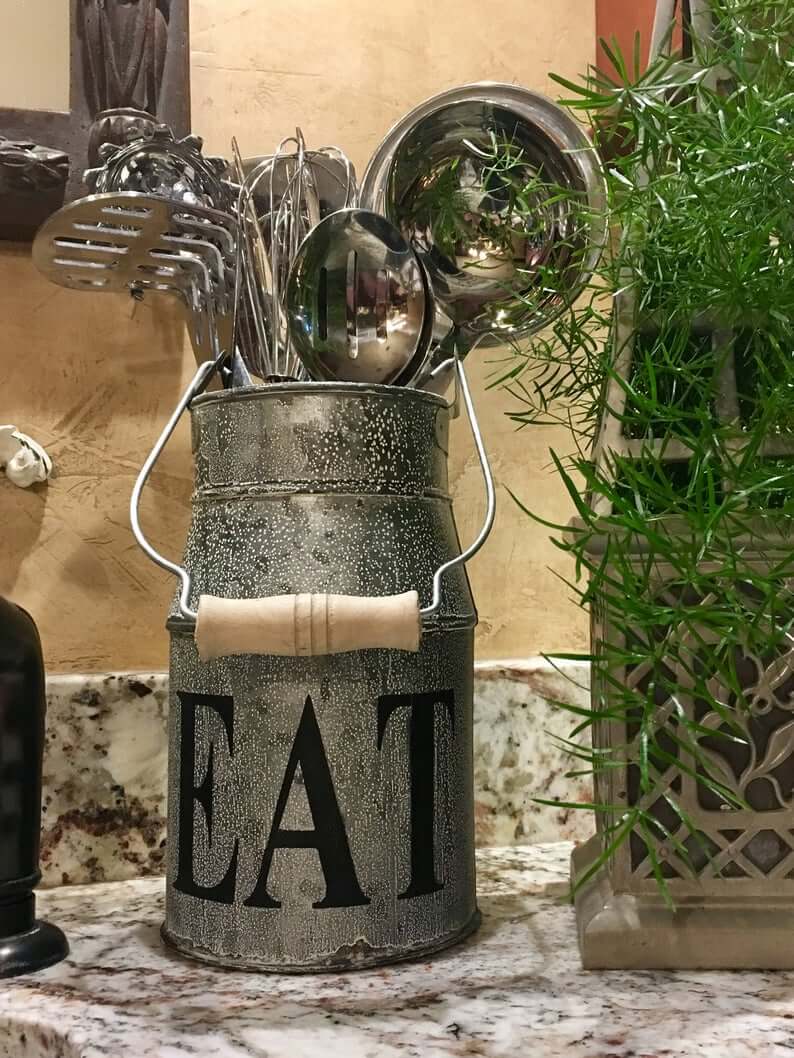 Just because its days of carting milk from the dairy are long done doesn't mean that this canister needs to become purely decorative. This option gives new life to an old milk can by using it as a pretty and practical holder for all your tall kitchen utensils. If you have a Cricut or can pick up a few letter stickers at your local craft store, you can add a fun and fitting word across the bottom of your can. When being used in the kitchen, of course, "eat" is always an appropriate option, but you can also go for something more thoughtful like "together" or "home."
15. Petite Milk Jug as a Centerpiece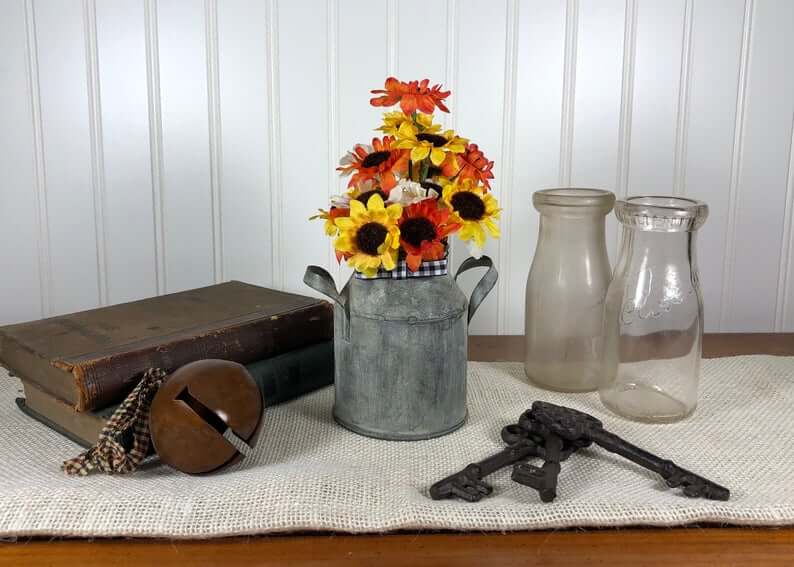 Rustic farmhouse milk can decor is not only good for homes on a day-to-day basis but can also be easily incorporated into the decor of special events. This piece, for instance, would make a very good wedding celebration centerpiece. You would simply need to find as many milk cans as you have tables, and then you can fill them with the beautiful colors of whatever season you are hosting your event in. Fall colors tend to go well with the rustic farmhouse look; however, bright springtime wildflowers also look lovely. Add ribbon or burlap for an extra touch.
16. Seamless Milk Can Home Decoration Idea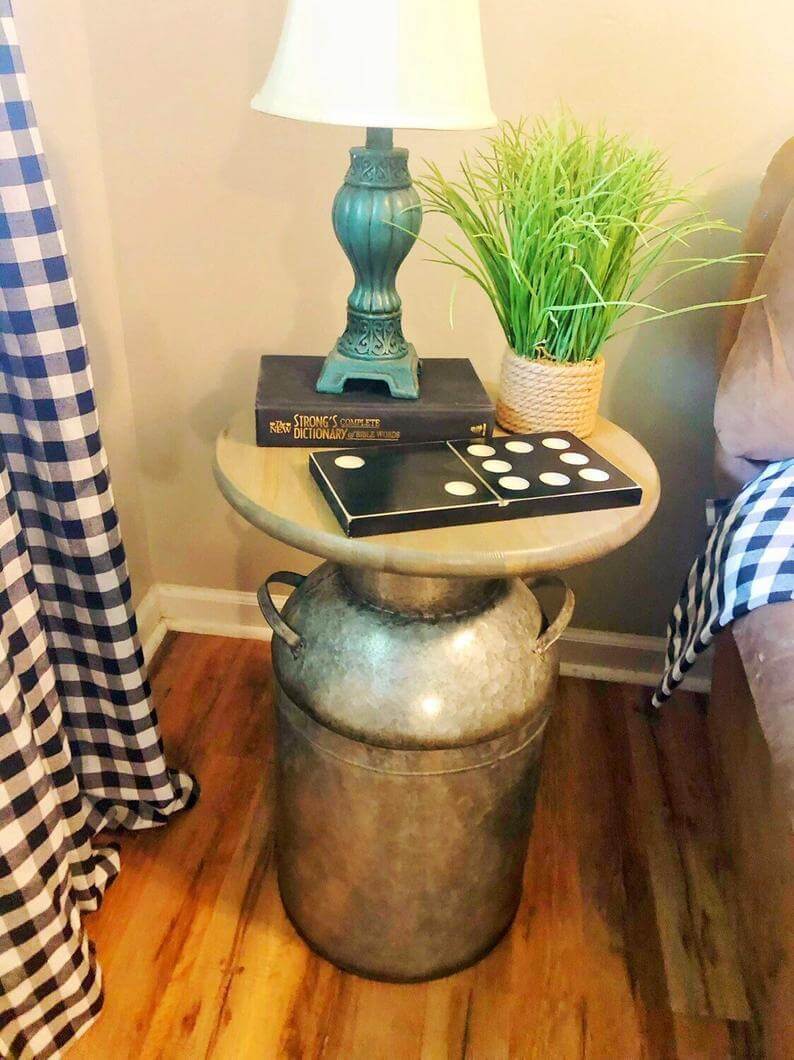 This milk can table works so well in the home that you may not even notice at first what you are looking at. It seems to fit in so well with the light table top and the hardwood floors that no one would question its place in your living room. To achieve this look, be sure to consider the colors of your walls and floor when picking your table top, and keep the color of the milk can light or dark to match as well. Finding the perfect milk can may be the trickiest bit, but once you do, you will be so happy with your new upcycled table.
17. Awesome Idea for French Farmhouse Home Decor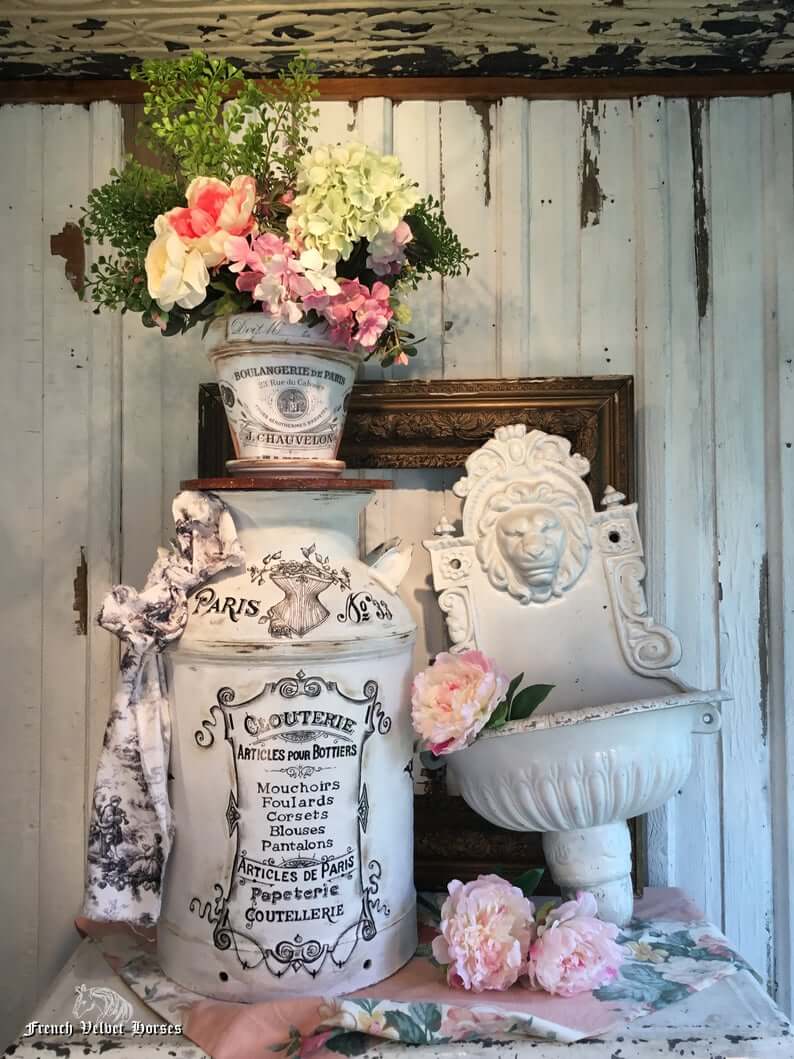 Not all milk jugs are reminiscent of the dairy farms of America. This particular piece goes for a more Parisian vibe and takes the rustic almost out of the equation entirely, making it totally chic instead. This design is sold on Etsy and is painstakingly hand-painted with glossy black letters to create a beautiful and unique look every time. Pair this with other classically feminine decor such as peonies, pinks, and other French-inspired pieces to put together a romantic and delicate decorative look. The wood top is additional, so you can either order one or create a beautiful topper of your own.
18. Rustic Farmhouse Milk Can Decor as Spoon Holder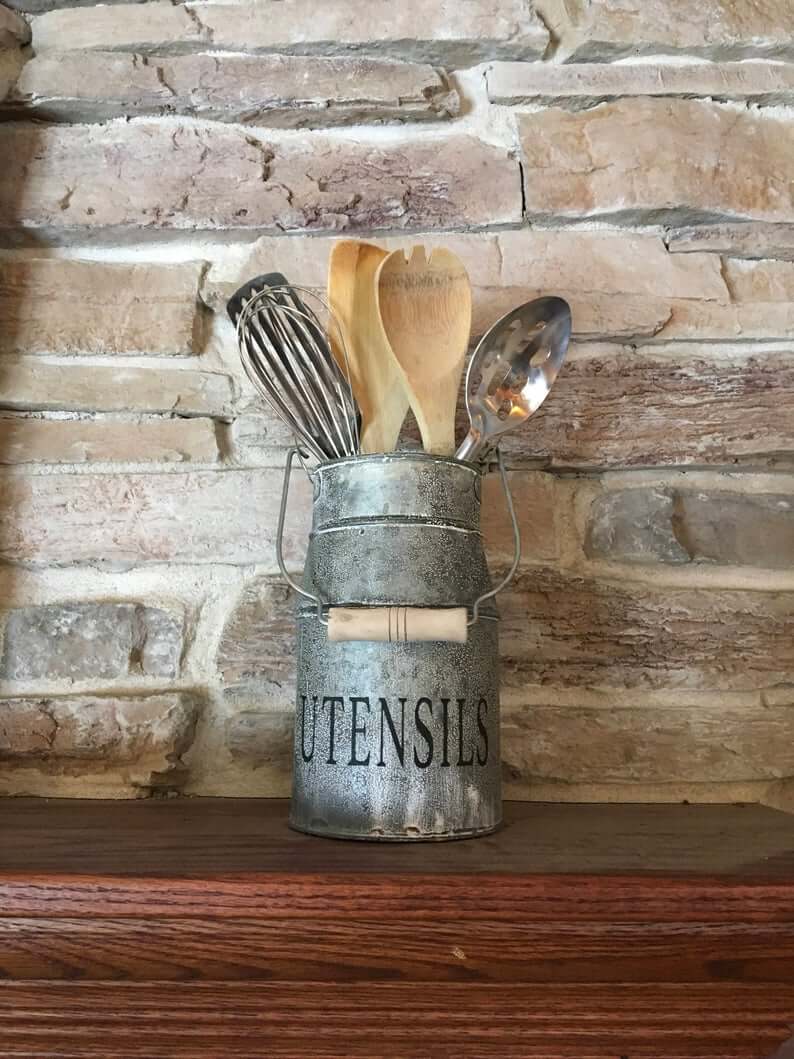 Kitchen clutter is one of the plagues of the modern household. With a spoon for this and a whisk for that, the "bare necessities" of the kitchen can quickly add up to a great accumulation of stuff. With this simple repurposing of the milk can, you can store those must-have countertop spoons, spatulas, and whisks in one easy-access, fashionably rustic, and just plain cute container. The block lettering to label the contents "utensils" is not needed per se, but it does add that general store feel, as if you picked things up at the country market in town. Add a burlap bow for an extra country touch.
19. Graphically Printed Paired Metal Containers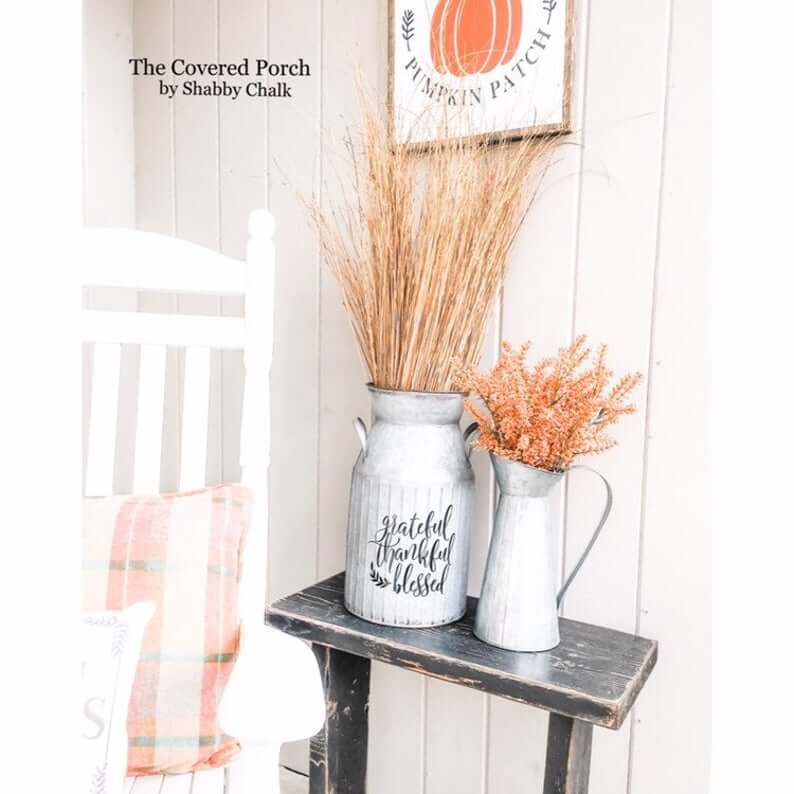 Sometimes the best things come in twos. This unique look is perfect for an end or hall table that needs a little sprucing up. Just find two old milk jugs or pitchers that either have a similar look or that you can paint to match. Then, if you choose, add graphic text or design to one or the other for a homey feel and a warm welcoming touch. Fill each jar with seasonally appropriate foliage, doing your best to keep it matching but not exactly the same. If you have a small table, leave it at that. If it is a longer space, add a few family photos or other farmhouse decorative elements.
20. Lovely Seasonal Milk Can Decorative Piece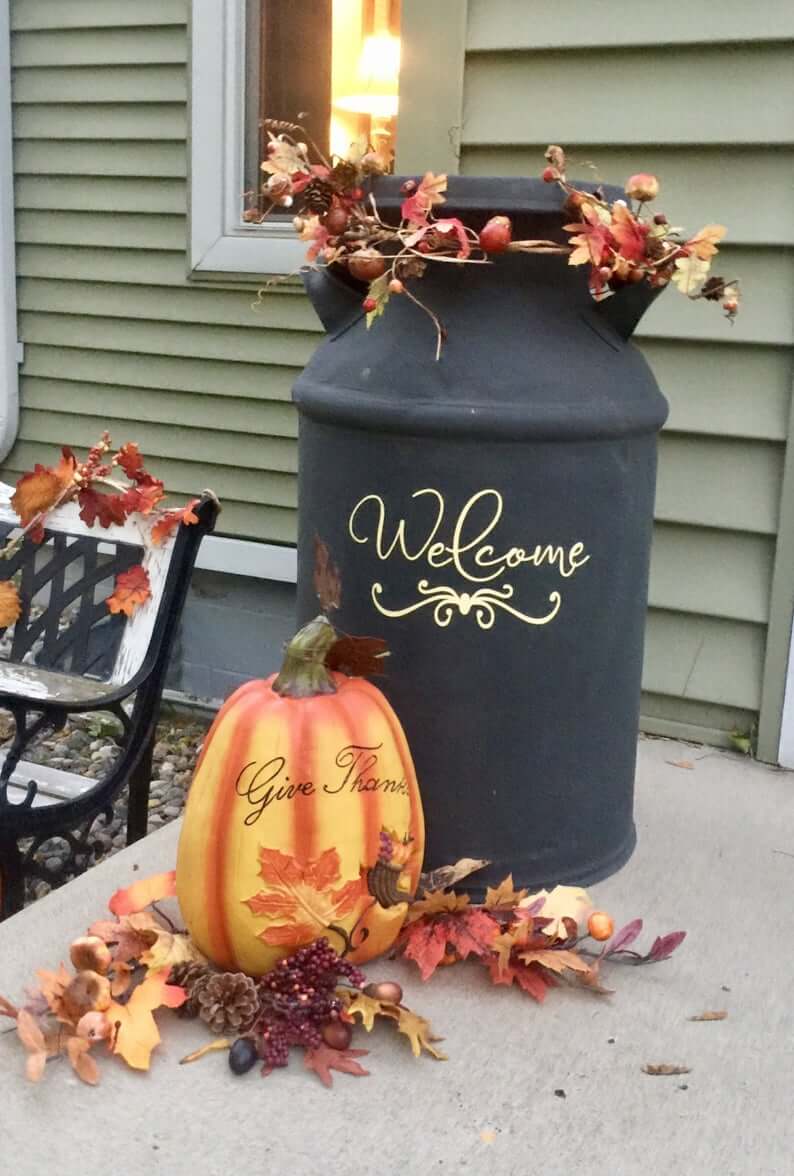 Home decoration with old milk cans can be accomplished in all different colors, shapes, and sizes. You can also redecorate your milk can seasonally to maintain a fresh look and give yourself a fun quarterly project to look forward to. As for this look, it simply screams fall. The can has been painted a flat matte black with a simple "welcome" to adorn the outside. A few sprigs of fall foliage help to brighten the look while a perfectly paired pumpkin sits at its base for a cute and festive porch decor idea. Spruce up your can up with whatever colors and decor you like.
21. Beautiful Burlap and Wicker-Inspired Lamp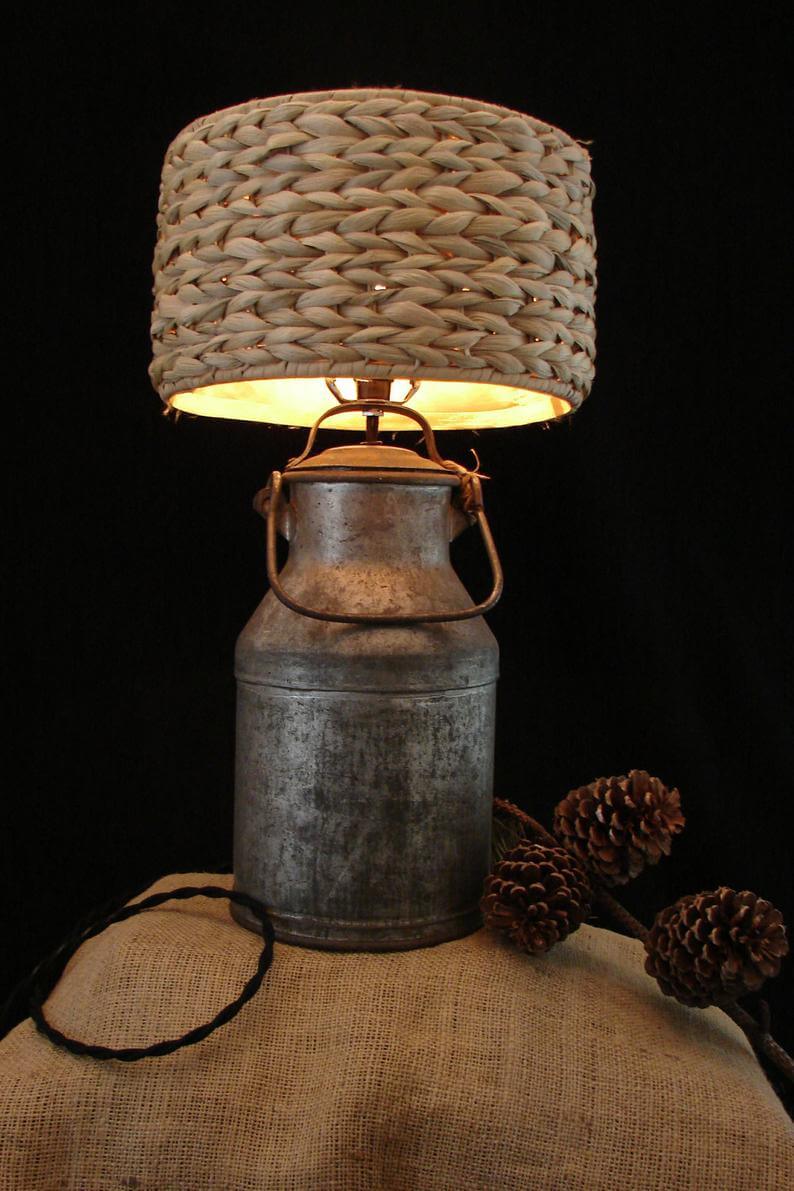 Milk can ideas that incorporate other rustic-inspired elements can create the most perfect farmhouse decor. Everything about this lamp speaks to the old days of milk maids and handwoven baskets. Even the setting for this decor stands out with its beautiful burlap pillow and cozy large pinecones. This look would be right at home in a warm winter cabin or in your modern farmhouse-style home. It will look great on an end table, and it can also work nicely in a bedroom with a twin on opposite sides of a large wooden poster bed. Chose a soft bulb to keep the look relaxed.
22. Pretty Painted Milk Can Porch Decor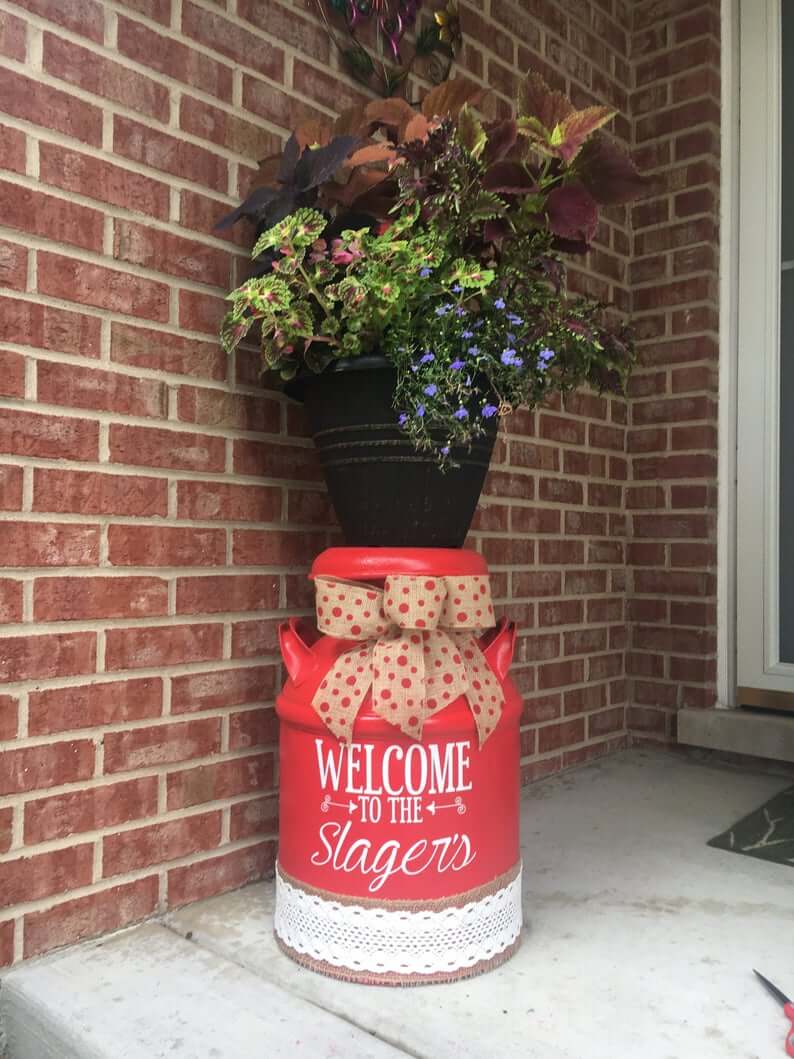 Not all rustic farmhouse milk can decor has to look as though it just came off the farm. If you want to update your milk can for a more modern and less rustic look, you can add a coat of bright paint, a few decorative bows, and a simple and sweet saying. This look still has a taste of the vintage but with a totally updated style, making it fun, playful, and creative. Add colors that pop and try to incorporate bows that tie the look together. If you are using it inside, bring in colors from your interior decor for a cohesive style.
23. Pretty White-as-Milk Monogramed Can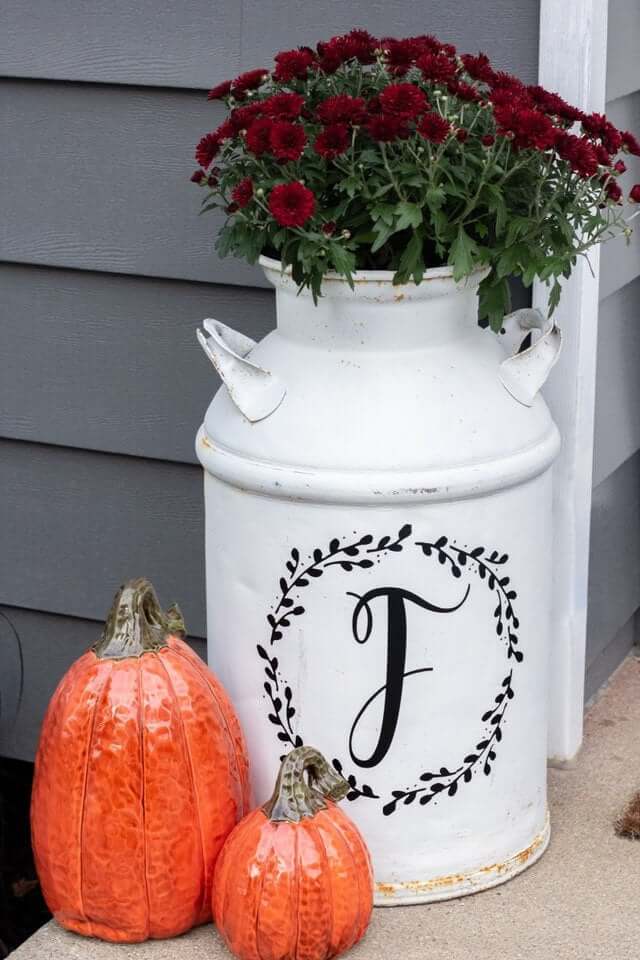 Milk can decorating ideas often meld the worlds of rustic and chic to create something classy that still feels relaxed and homey. This is a great example of a perfect marriage of the two styles. It maintains the integrity of the milk can with some distressing and a little rust peeking through, but then it brings it into the modern chic realm with some lovely stencil work and a pretty monogram. The milk-white color also harkens to its original purpose while the deep red flowers atop add a pop of color and spirit to the overall look.
24. Steel Galvanized Milk Can Vase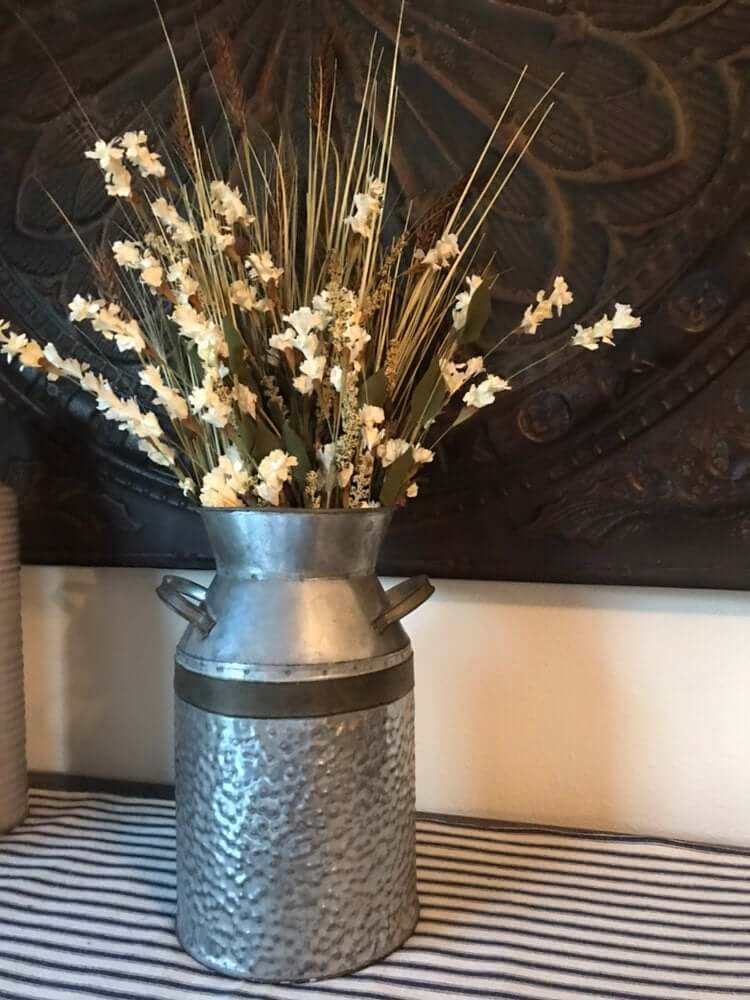 One cool idea that you can try with milk cans at home is to simply replace a few existing glass vases with them. You can mix and match different shapes, sizes, and styles for a varied yet cohesive look, or you can simply use just one and make it a stand-alone piece. This is a beautiful example of a galvanized can that has been adorned with sprigs of beautiful faux flowers and straw to appear as though life is bursting out of the can itself. You can stick with classic white sprigs or add a few soft colors to give it a fun and personalized touch.
24 Rustic Farmhouse Milk Can Decor Ideas that will be Your New Favorite Piece
Rustic farmhouse milk can decor makes for a super cool and modern look while bringing in that taste of the vintage. It is so fun to take an awesome idea and run with it to create a look that is all your own. Whether you purchase your milk can on Etsy or find it in the back corner of the old barn, there are always ways to make it your own and create something special for your home. In fact, even if you purchase from an online store, you can still add your own flair. Consider adorning with ribbon, stuffing with seasonal sprigs, or painting with something special like your family name or simply a label that suits the can's intended use.
Milk cans can also make a great decorative gift, so if you have friends or family you know are going for a farmhouse feel, consider one of these beautiful options for their next special occasion. You can personalize each one to your heart's content as they can easily be painted. Have fun with all the possibilities and use your imagination. With the right decorative touch and the right place in your or your friend's home, these milk can decor ideas will serve a functional and aesthetic purpose and remind you of simpler days gone by.
Our Favorite Farmhouse Baskets and Bins to buy on Amazon