Whether you have just moved into a new home, or you are looking at refreshing the style of your old decor, redecorating can be a lot of fun but is sometimes a huge endeavor. Scrolling through images of picture-perfect facades can leave anyone feeling inspired, or at the very least, green with envy. If you have been sulkily looking at magazine covers and wishing your front door looked that good, it might be time for an update.
23 Rustic Veranda Decor Ideas to Make Your Home the Cutest in Town

Why invest all that time and effort though? The answer is simple. A good looking front face for your home will make it look and feel like a million bucks. Boosting curb appeal is good for the value of your home, which makes redecorating worth the investment of time and money. If you think you might sell your home in the next few years or sooner, it is also a great time for a makeover.
Sprucing up the front of your home does not just add material value though. Having a front veranda that is beautiful and cozy adds intangible value too. When your front veranda looks good, you and your family will spend more time on it. Not to mention that every entry through your front door will feel a little more special. When guests come over, they will rave about your veranda. Plus, you will have so many special memories of time spent with friends in a lovely and cozy part of your home.
Getting the look you want does not have to be some colossal job either. Styling your front veranda in a classic, cozy, rustic style can be done by any homeowner. A bit of shopping, a bit of repurposing, and some clever ideas are enough to take your front veranda from bland and boring to inviting a beautiful. To help you get started, we put together this list of 23 rustic veranda decor ideas that will totally transform your home.
1. Double the Doormats for Double the Charm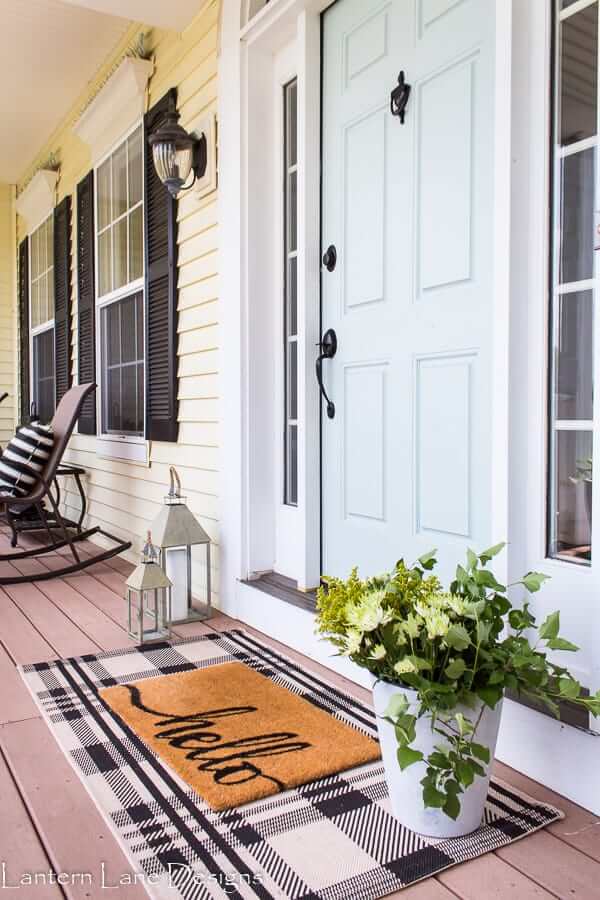 Just like in a living room, doubling up on doormats can really give your front veranda a little extra charm. Layering two doormats can also give you the opportunity to play with combinations of texture, pattern, and color. This example is great because the black text matches the pattern of the bottom rug, but the rough palmyra contrasts well with the low pile material below. If black does not seem like the right color for you, try this idea with colors that work better for your decor. This would also look great with a rusty red or deep green contrasting doormat.
2. Hanging Planters to Freshen Things Up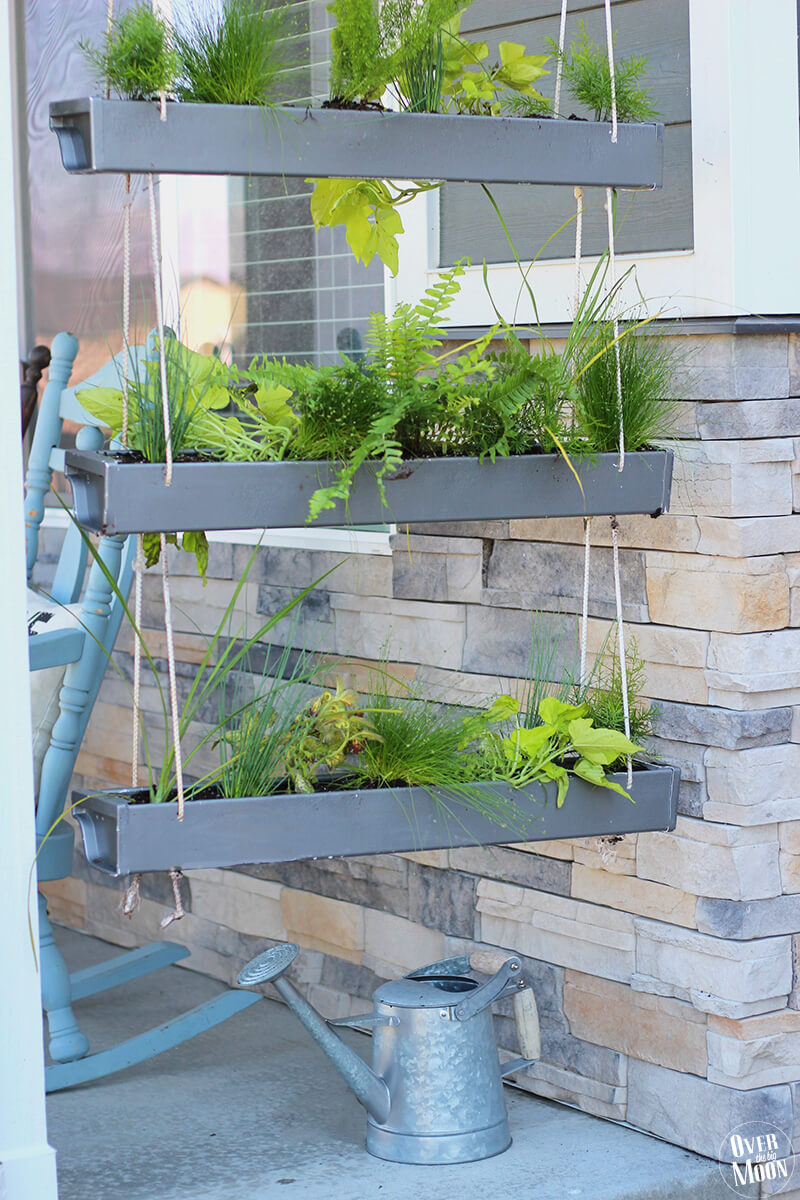 Most homes have some kind of planters around somewhere, but having a stack of hanging planters is a neat way to reinvent an old standard. These long and narrow planters are great because they divide up the space of the veranda, the same way a bookshelf might in your home. Hanging them parallel to a wall creates a backdrop that you could place a side table in front of. Alternatively, you could hang them at the end of a veranda that is not fully enclosed for a little bit of extra privacy. Try planting bug repellent herbs like mint, chives, or basil for a hanging garden that is beautiful, useful, and smells great.
3. Hit the Thrift Shop for Unique Pieces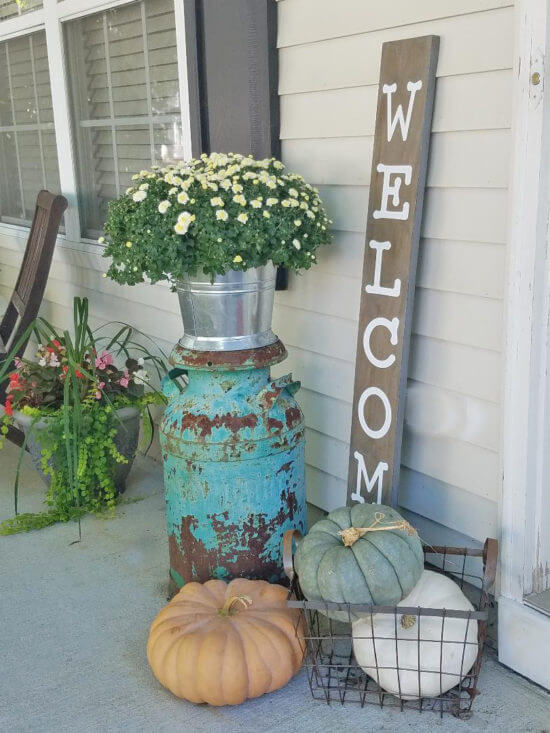 Making your home one of a kind can be really affordable if you look for unusual pieces to add to the look. Picking up items that you might not think of as "front veranda decor" can give you a little flexibility and cuts costs. Check out your local thrift shop for inspiration. This wire basket and antique milk tin both seem like they could be straight out of the pages of a magazine, but you might be able to find something similar close to home. Aim for items that give that feeling of a cute farmhouse. Former farm and garden tools, functional items like baskets and brooms that have outlived their usefulness, and old home pieces like windows and doors are all great finds.
4. Hanging Chalkboard Art from Repurposed Wood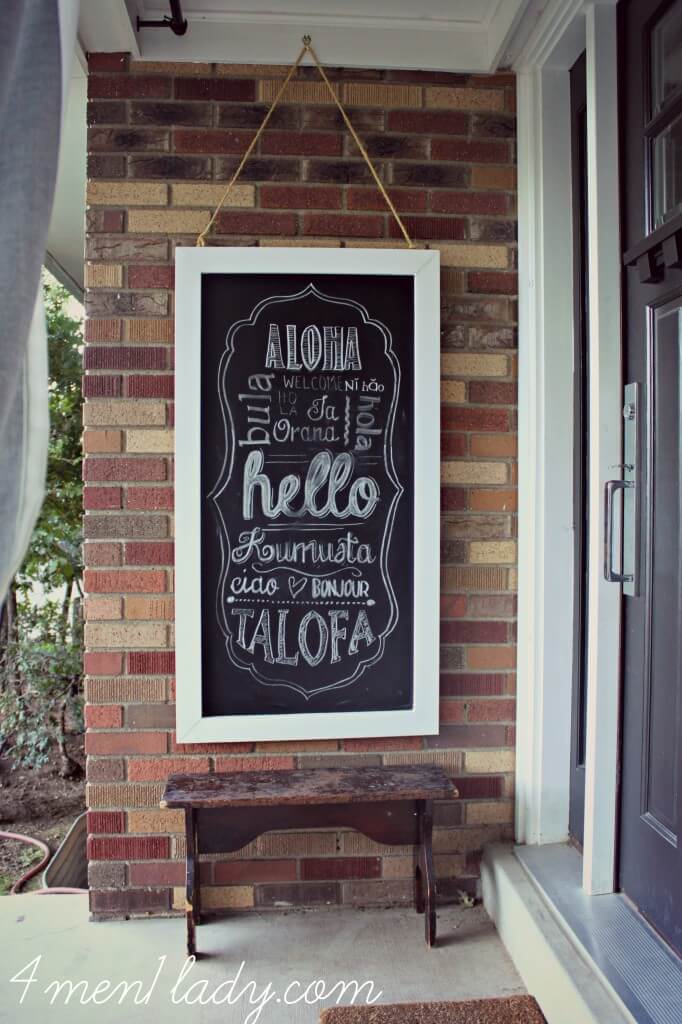 This hanging chalkboard is just delightful. Making this yourself could be as easy as finding an old window or wood panel and applying some chalkboard paint, eye hooks, and rope. If you have a steady hand, you could design your own custom contents with an uplifting or fun message. (Scripture, book quotes and lines from favorite movies are all great too. Whatever floats your boat!) This example is clean and pretty, but if you want to bump up the rustic mood of your veranda you could also distress the trim and or use repurposed wood to finish the edges. Customizing the paint job is also a nifty way to make this piece more suited to your front veranda dreams.
5. Add a Cozy Corner Vignette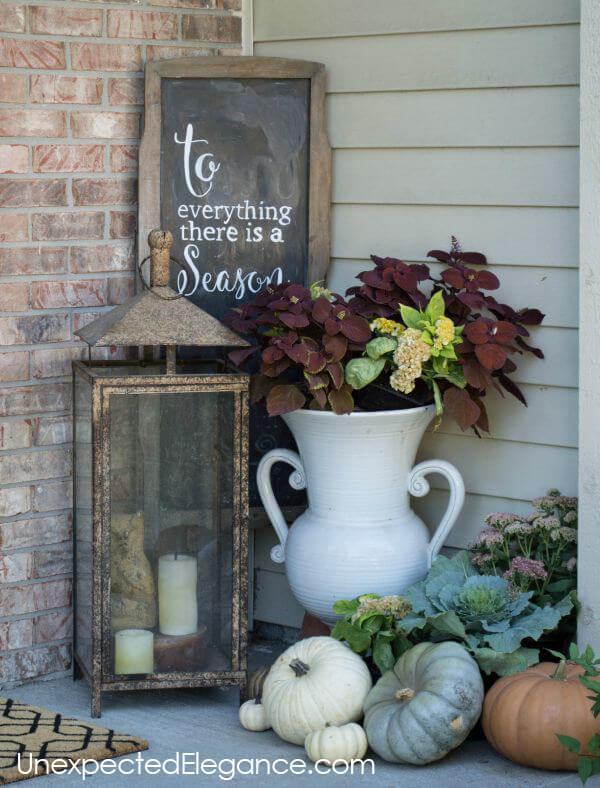 Corners are a great place to max out your decorating options. Little touches in the corners of your veranda visually fill up empty space and make things feel a little cozier. If you have a small veranda, do not shy away from filling up corners. Decorating the space smartly can actually make it seem a little roomier. Since decorated corners do not require a lot of items to fill, you can also swap out the decor seasonally without a ton of work. Trade-in potted plants or gourds, which are great for the autumn and cool seasons. Pieces like lanterns, signs, pots, and sculptures look great year-round which makes maintenance even easier. Try shopping in your own home and garden for things that you can trade-in and out to add a bit of variety. Just make sure items are relatively weather-resistant and waterproof, or look good as they become weather distressed.
6. Using Items in Unexpected Places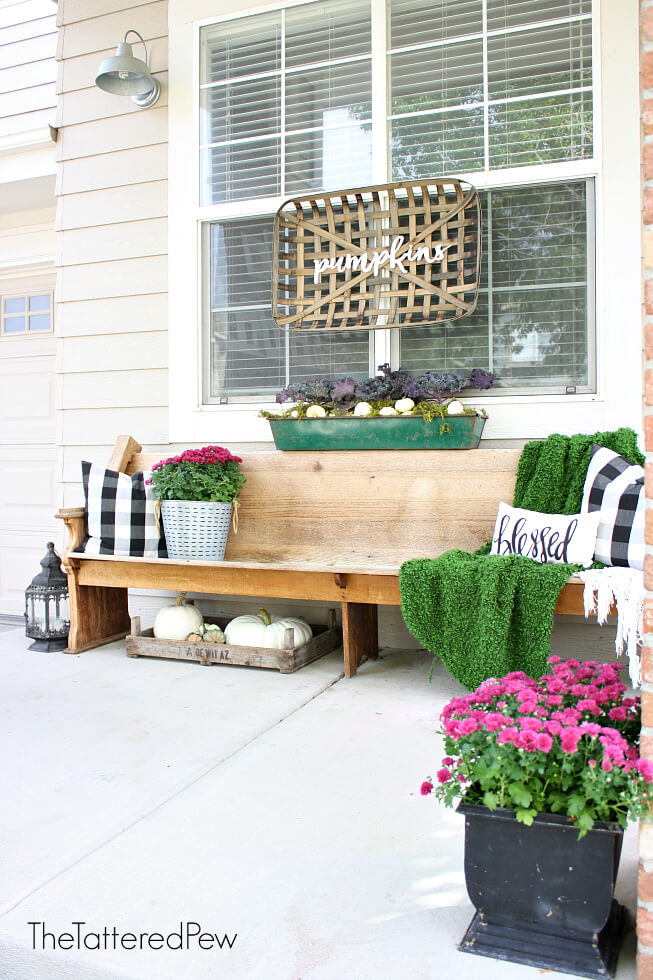 Do you have pieces that you absolutely adore, but can't find a home for? Spend a little time thinking of how you can use them in ways and places that you normally would not find them. Turning baskets vertically for wall accents or, as we see here, a sign is a fun way to get a little extra life out of your decor. Try turning over other items too, like using old-school galvanized buckets as a side table or rake heads as a rack for small items. If you have a bunch of small items, see if you can find an old shadow box of type cabinet to display them in. If you don't mind a little extra shopping, you can also buy pieces to use in fun and different ways. For example, a large feeding or watering trough from your local farm store could work as a coffee table if turned upside down or with a top added. Scavenging your home and local farm supply store are great ways to find unique and affordable pieces.
7. Matching Accents to House Hardware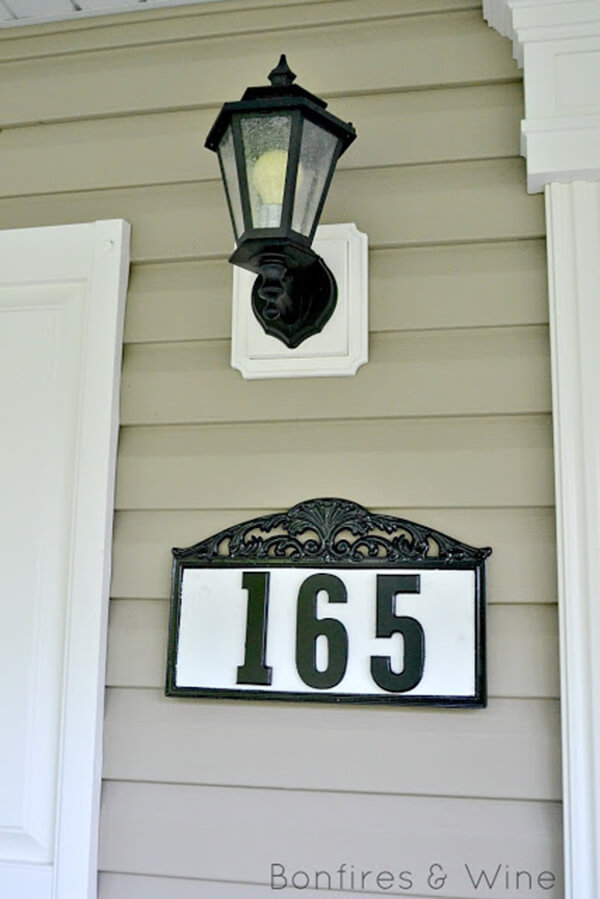 You probably have a verandalight for practical reasons, but that does not mean it can't match the other accents and practical parts of your veranda. This matching house number and veranda light look so classic together, but you could match the finishes of several different things like your door handles, hinges, and window trim. Here we see sleek shiny black, which can be a great accent to all the rustic pieces on your veranda. Modern touches of hardware, lights, and signs bring contemporary freshness to the look. Contrasting is a great way to add visual interest to space. Get creative with it!
8. Filling Up Small veranda Spaces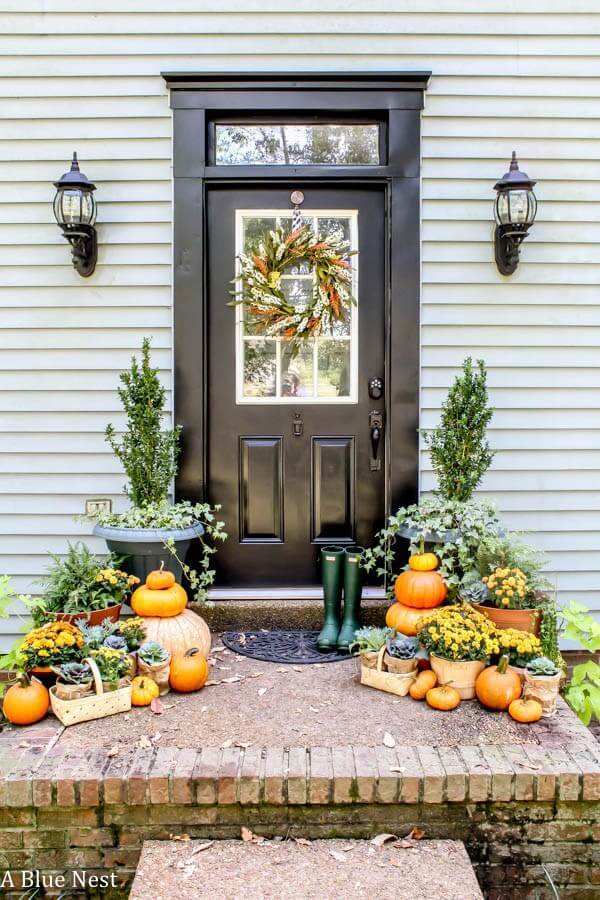 If you do not have a huge veranda, you can still make the most of it to create a beautiful look for the front of your home. For smaller spaces, consider the scale of objects. Stacks of small pumpkins, as we see here, paired with size-appropriate items like little topiaries and dainty pots of chrysanthemums work together to make the veranda seem well decorated without being either crowded or sparse. Even with all the decor, there is still space to drop items like gardening boots or gloves if you do not want to track a muddy mess inside. You can also use plant pots and gourds to disguise functional but less pretty objects like boot brushes or utilities.
9. The Comfort of Indoors, Outside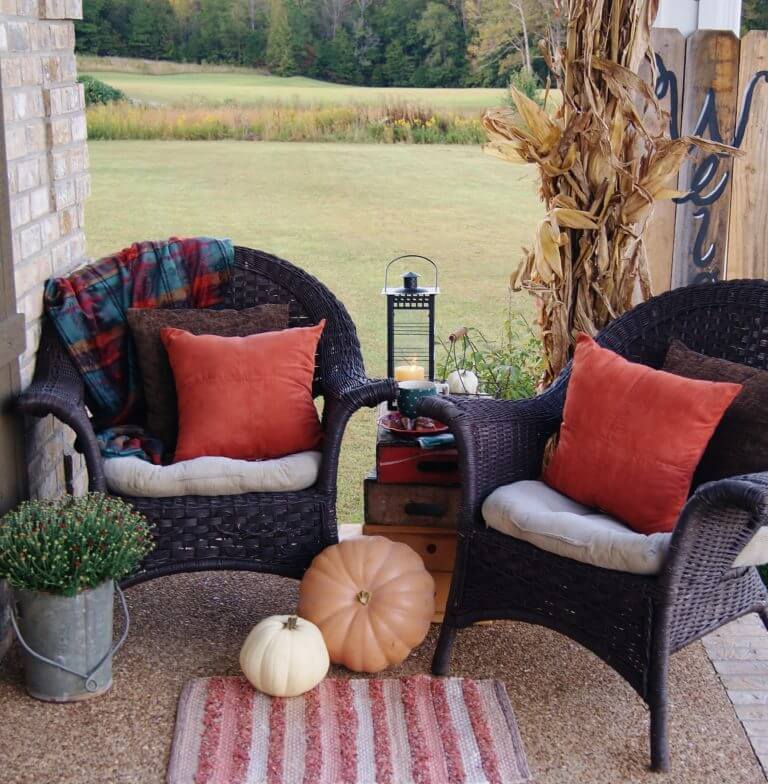 If you do have the room for larger items like chairs you can use them to create a living space on the veranda that rivals what is inside your home. Choosing weather-resistant wicker makes maintenance easy. Pair comfy cushions, warm blankets, and soft rugs to make seating more comfortable. Picking out a select few cushions and blankets makes it easier to bring things inside when the weather takes a turn without compromising on comfort during cooler months. Light a candle in a lantern or hurricane glass for a little extra ambiance. Adding comfy items will transform your veranda from being a decorative space to a functional one that folks will want to spend time in.
10. Creatively Arranged Plants and Shutters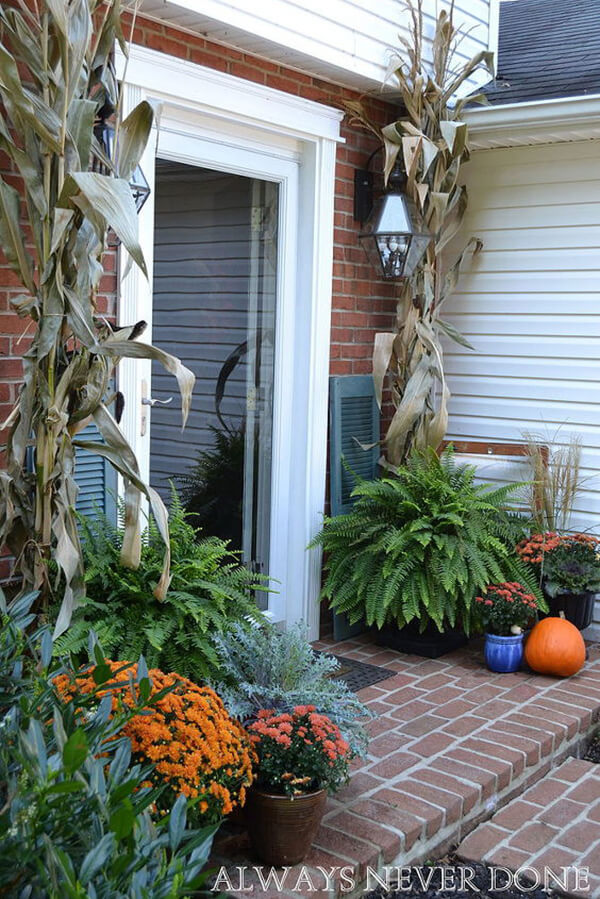 We have already mentioned potted plants a few times, but it really is hard to beat their flexibility. Keeping around low maintenance plants like ferns and mums is a great way to bring a little green to your space, particularly if you do not have much room for a garden otherwise. Other loose items like old shutters, windows, and doors provide texture behind the plants that make the veranda feel less like the plant section of the local hardware store and more like a happily lived-in home. Bonus points if your shutters are repurposed or recycled. Recycling items makes nature happy and makes your home look chic at the same time.
11. Giving Plants a Cuddly Wrap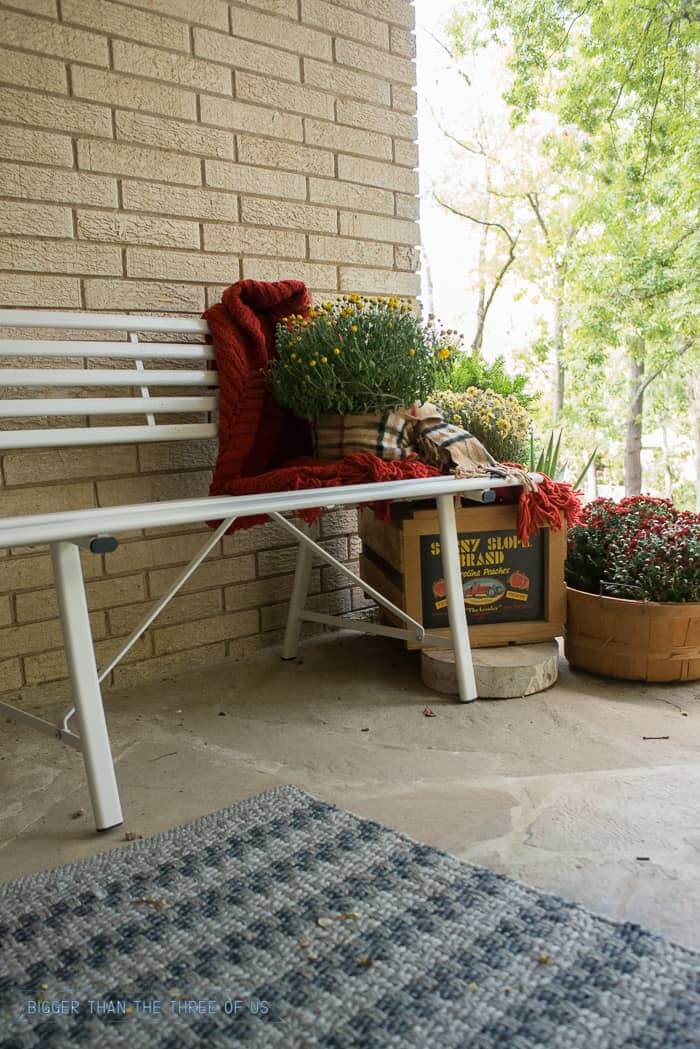 Adding texture and softness to your home is always a great choice. If you have old scarves that you would not mind donating to your plants, you can make snuggly wraps for the pots of your plants. Part of what makes this such a fun idea is that you can really incorporate your sense of style. The example here shows a buff beige and black plaid next to a deep red scarf, but the options are limitless. Try matching (or contrasting) colors with the flowers you potted. The texture is also easy here since you could go for a chunky knit or even felt.
12. Custom Ordered Farm Style Details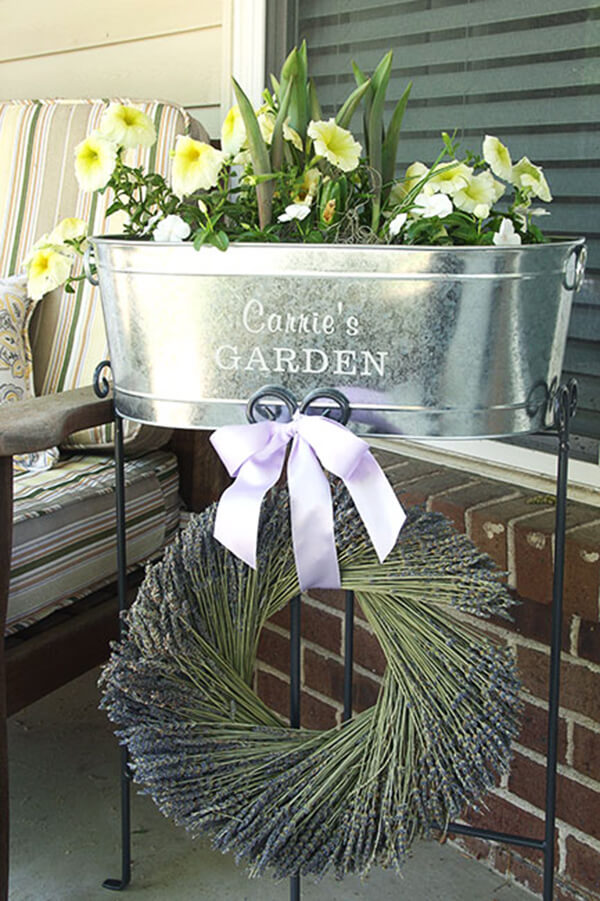 So many vendors offer custom etching services these days, and you can get just about anything you like etched or engraved into a number of objects. Get your own name engraved for a cute touch, or get one planter for each of your children. Once you have your customized planter, fill it up with each child's favorite plants for foliage that everyone will love. Etching into items like this galvanized bucket also gives a little extra farm style inspiration to your space.
13. Decorate with Foraged Bits and Pieces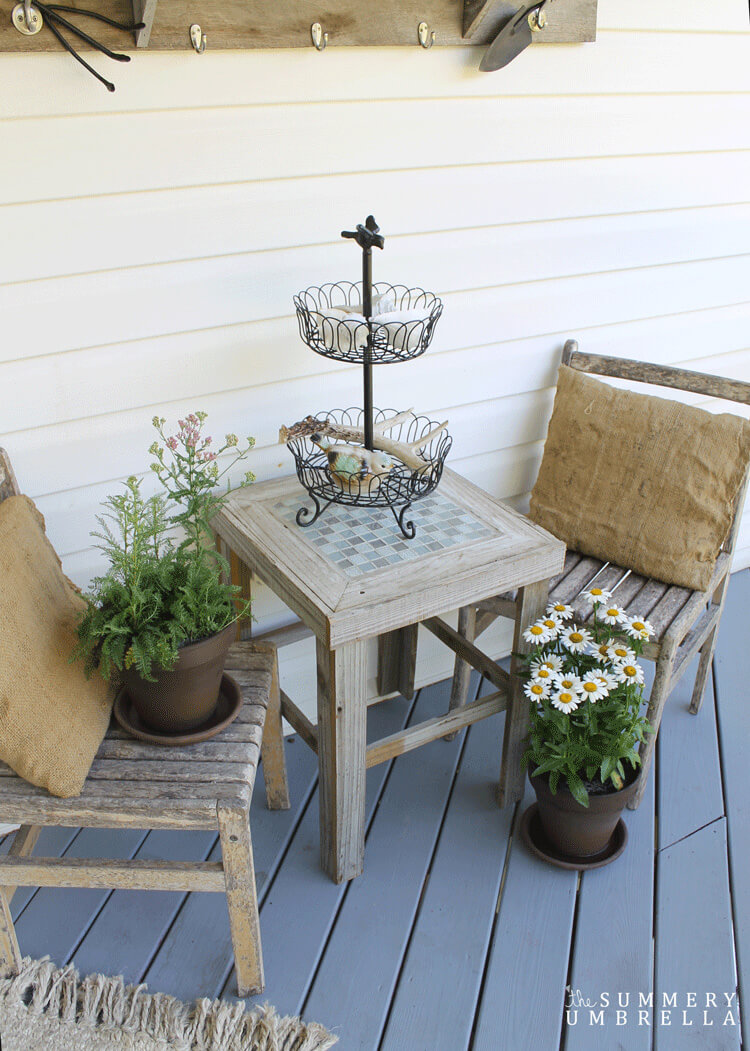 Let Mother Nature do the shopping for you. Using objects found around the property near your home adds local flavor that just can't be replicated. The next time you go out to work in the garden, keep an eye out for pretty or unusual things that catch your eye. Shiny or smooth stones, feathers, bones (as long as you clean them,) and deer antlers give a sense of the rustic and connect your home to the land around it. These tiny tokens look great next to weathered wood and simple decorations. Nothing is quite as rustic as items that are found and appreciated for their raw beauty.
14. Wreaths Made of Things Other Than Flowers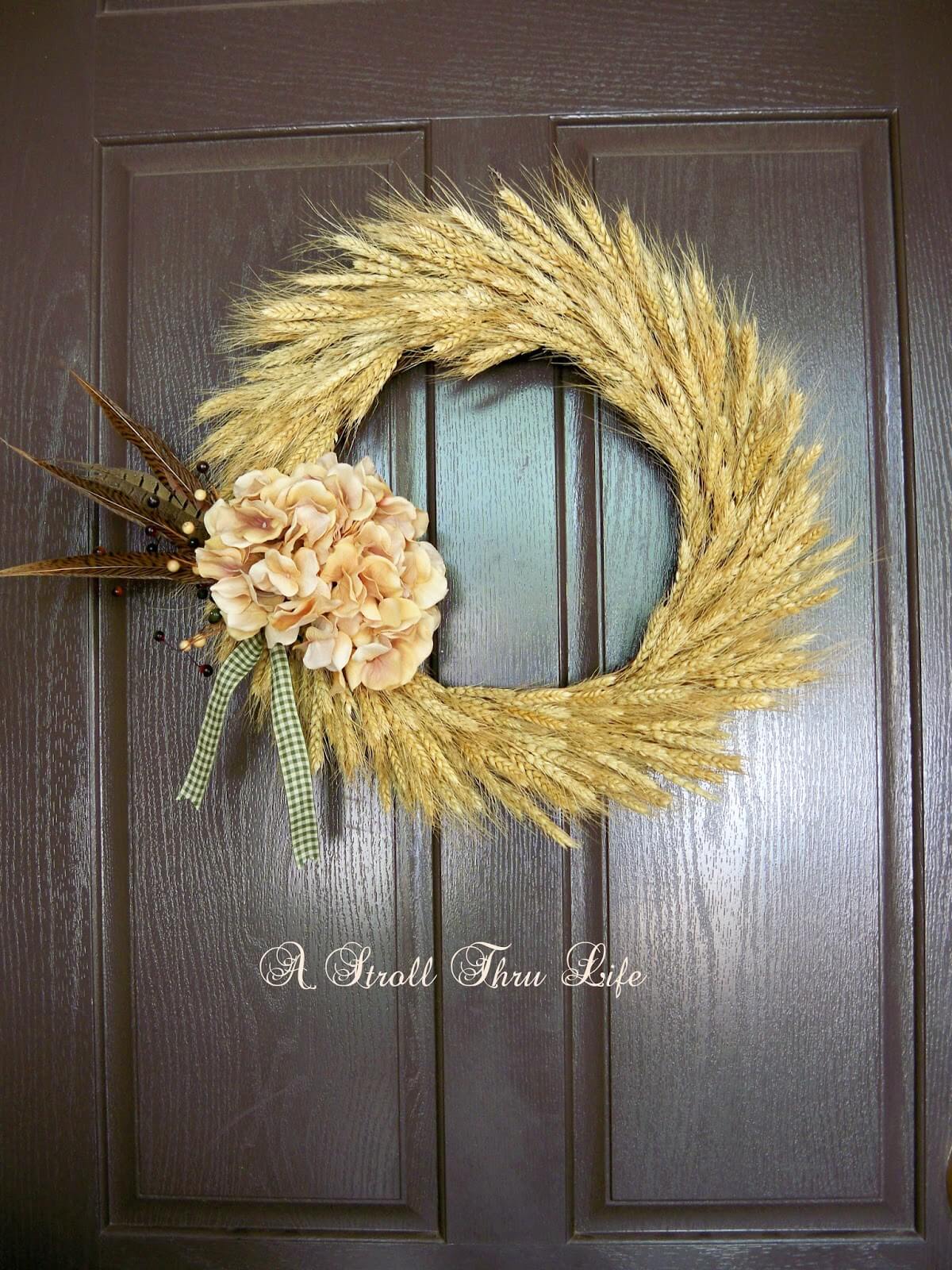 A wreath on the door can really tie together your veranda, but all flower wreaths can be a little tired sometimes. Instead, try this neat new take on an old classic. Making a wreath from something like wheat really elevates the idea. This could also look great with other foliage that is grown in your areas like corn or sorghum. Finish it off with sweet and charming accents like dusty colored flowers ribbons, or feathers to soften the look. Decorating your front door is a great way to connect the outside to the inside as well, so look for things indoors that you could incorporate into the wreath.
15. Decorate Twigs and Branches with Little Hearts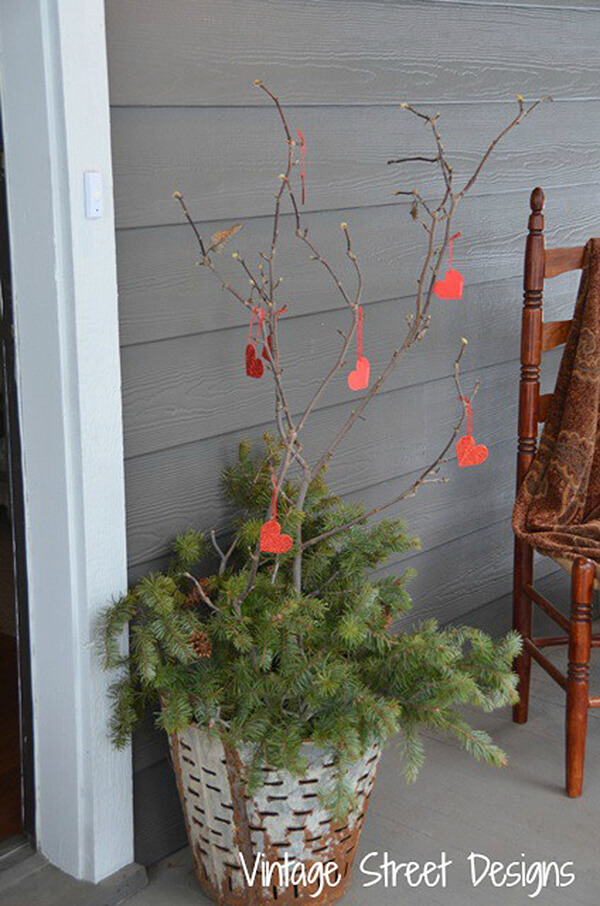 Nothing tells guests that your home is full of love like tiny, adorable red hearts. Decorating bare foliage in the cool months is a great way to keep beloved plants around, but still making sure your veranda looks cute and inviting. You could even swap the hearts out the season by season for relevant decorations like tiny pumpkins in autumn, snowflakes in winter, and tiny chicks or eggs in the spring before the plant blooms again. It is the perfect idea for keeping things lively and makes an affordable addition to existing decor.
16. Reclaimed Barn Wood Flower Art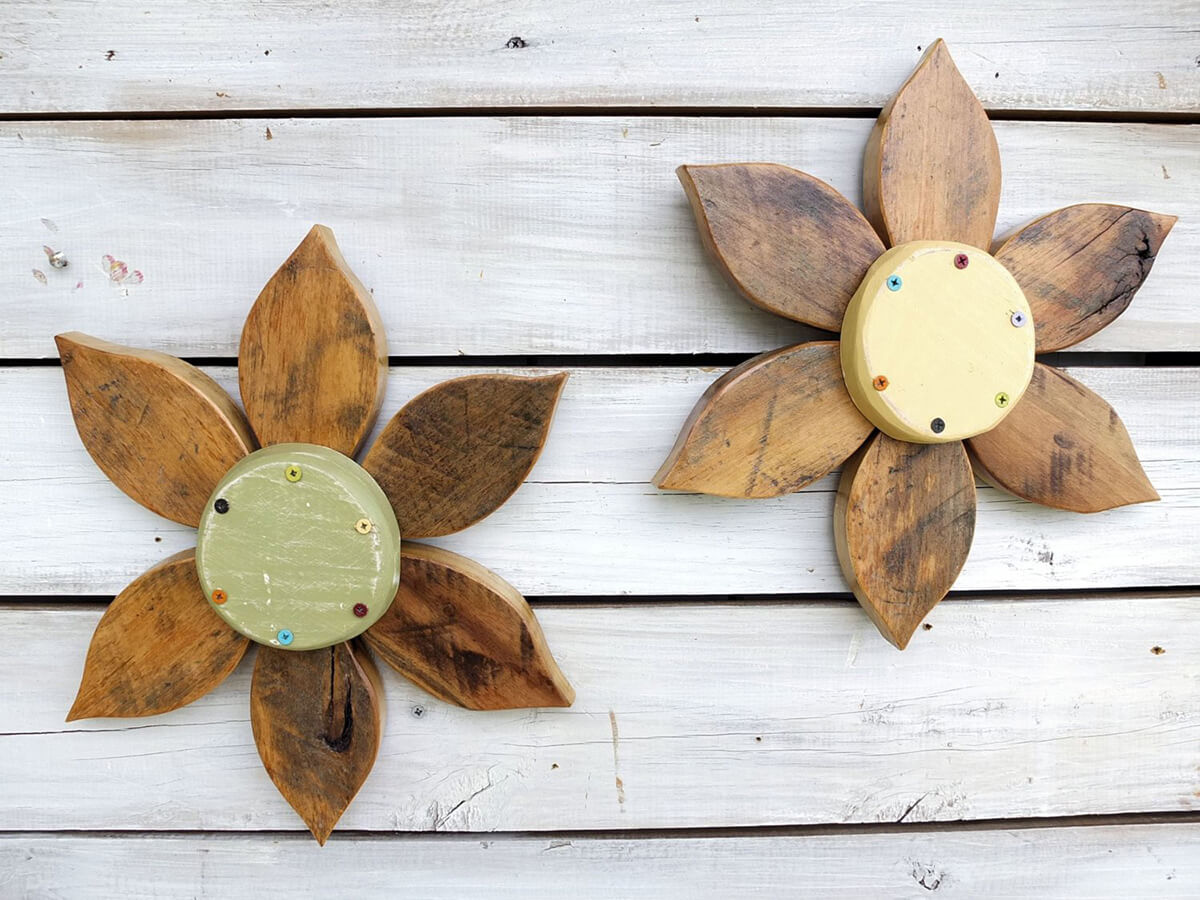 These reclaimed barn wood flower pieces are just so sweet. They can be ordered with a different color at the center and you can also choose whether you would like the wooden petals to be distressed or not. The multicolored center screws are a touch that makes the piece more interesting. These are simply adorable on their own, but you could also stencil your house number onto the center to make a totally unique piece that is also very memorable. If you ever decide to move them from your veranda they would also be great on the side of a garden shed, garage, or barn. But honestly, would you ever want to move them off your veranda? They are just so darn cute!
17. Stay a While Vinyl Decal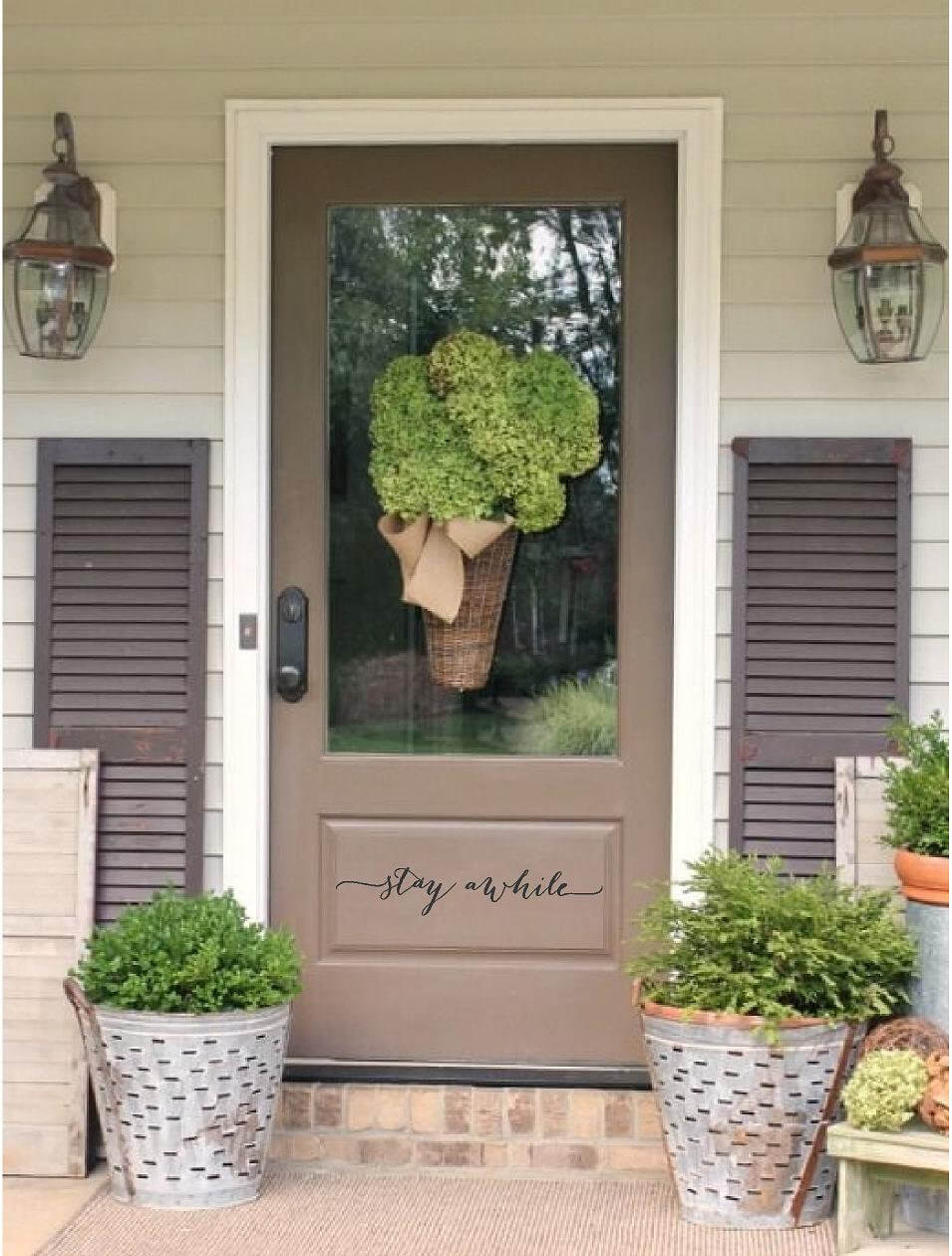 This gorgeous scrolling cursive decal could honestly go on any smooth surface since it is made from vinyl and would be very easy to apply. It would be great along the lintel (the top part) of your door frame, or even horizontally. The coolest part of this decal is that when you look at it up close, it has an ever-so-slightly jagged edge. This gives the impression that it was written with an inky fountain pen and soaked up in an old crispy paper. The coziness and intimacy of the invitation are lovely for any home. It also comes in a variety of colors, which means it could be as bold or subtle as you like, depending on whether you go for matching or contrasting colors.
18. Reclaimed Wood Washboard veranda Sign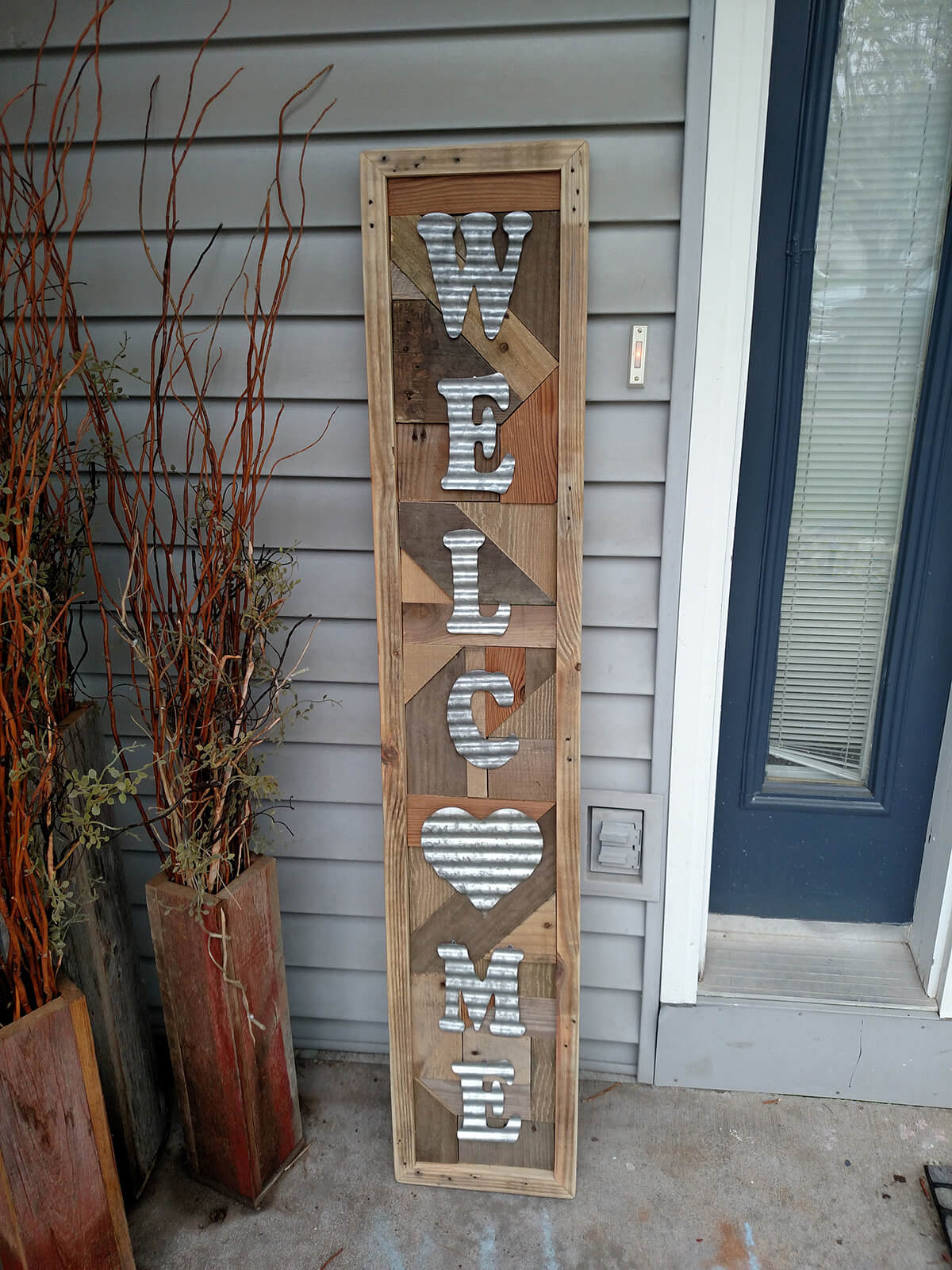 Picking pieces that have several different types of wood and wood finishes can help tie together the other pieces on your veranda. This adorable sign features a puzzle-like combination of reclaimed wood pieces that would be great to make mixed and matched furniture feel intentional and homey. The cute lettering on this sign is also great. The ruffled tin is reminiscent of washboard or the tin roofing used in so many barns and outbuildings. This piece definitely seems like something that could last a long time.
19. Black Painted Wooden veranda Sign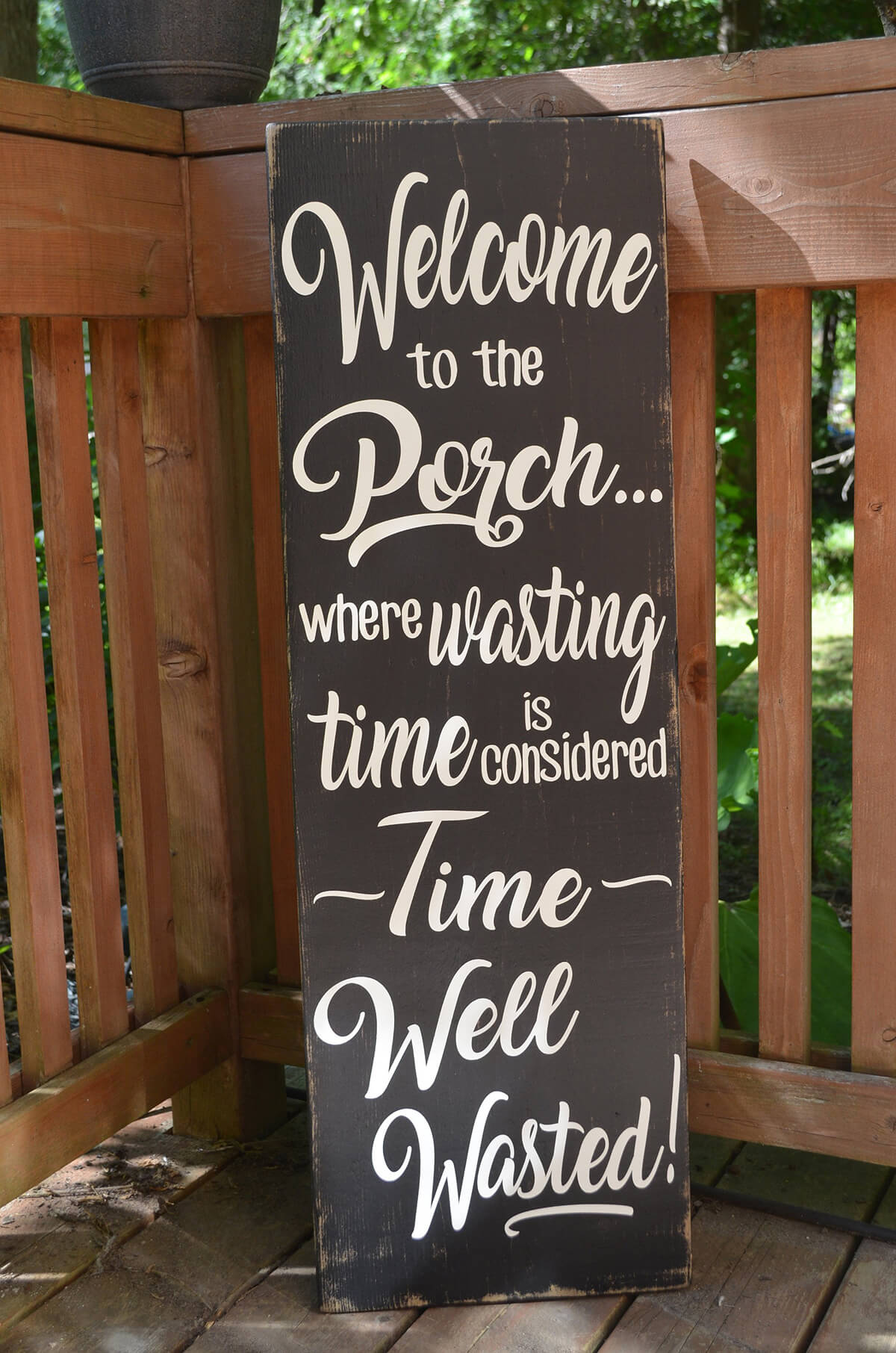 The cheeky humor of this sign is just awesome and would be a great way to really send a message about what your veranda is for. Made from 1-inch solid rough pine, this thing is not going to blow off your veranda easily on windy days. The black and white make it easy to match with decor items you probably already have on your veranda or around your home. (This sign would look so great with that scarf wrapped planter from earlier!) The distressing along the edges is beautiful and lets the pine peek through, which is a great touch. Bounce lettering makes this piece look playful, without being too silly. If you are looking for rustic veranda decor ideas that are both fun and pretty, this would be a great addition to your home.
20. Cedar and Rope veranda Bed Swing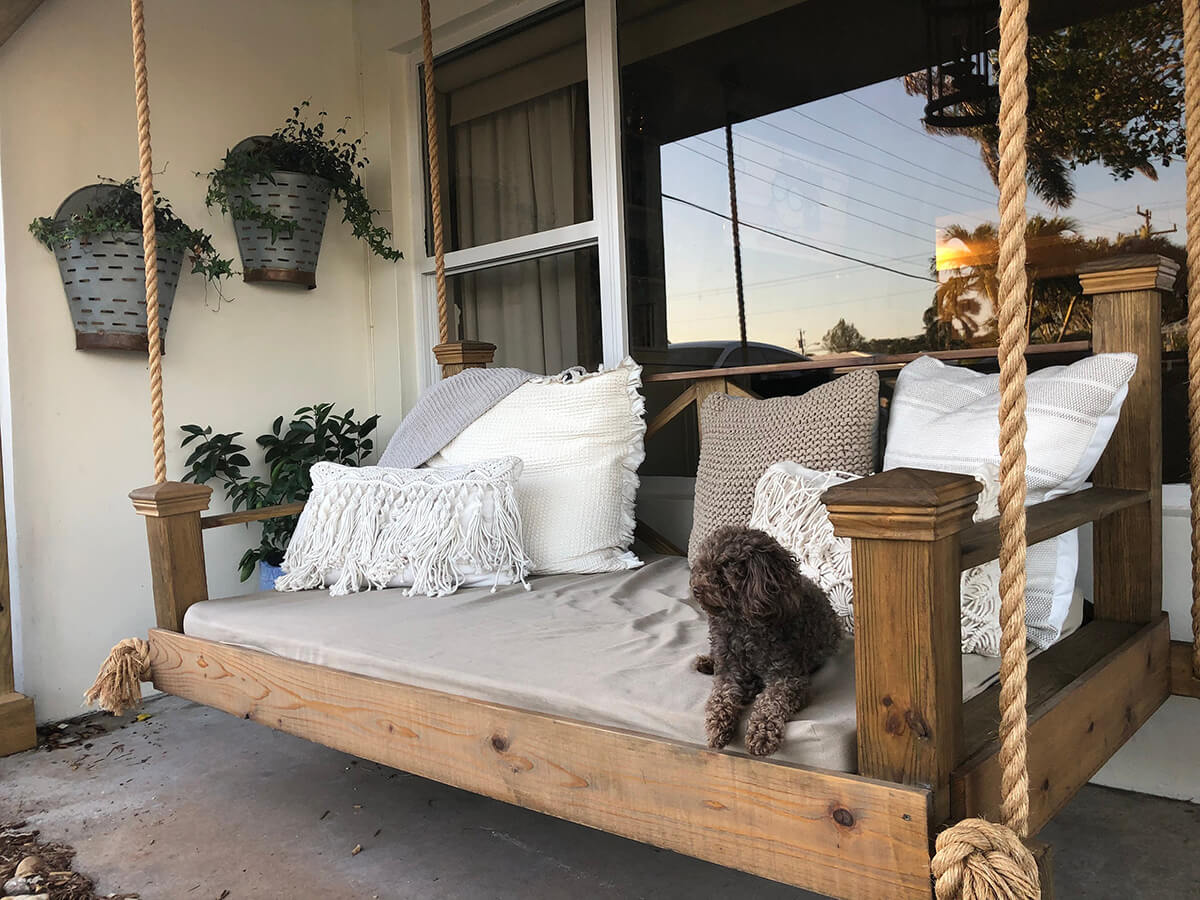 Getting the family to go out onto the veranda is not as easy if there is no cozy spot to curl up in. This day bed swing is a great solution. It would probably be a lot more comfortable than something like a hammock since it a real mattress goes in it. Not to mention, it would be much easier to get in and out of. With the right pillows, this will be every family member's favorite spot to curl up and read a book or just sit together and drink some ice-cold lemonade in the summertime. Made from cedar wood and manila rope, the swing bed is lovely and durable, and it will likely look even better as it ages. The best part of this swing is that it looks so comfy that you could use it indoors, but it is tough enough to endure the weather outside.
21. Handmade and Lightweight Country Welcome Sign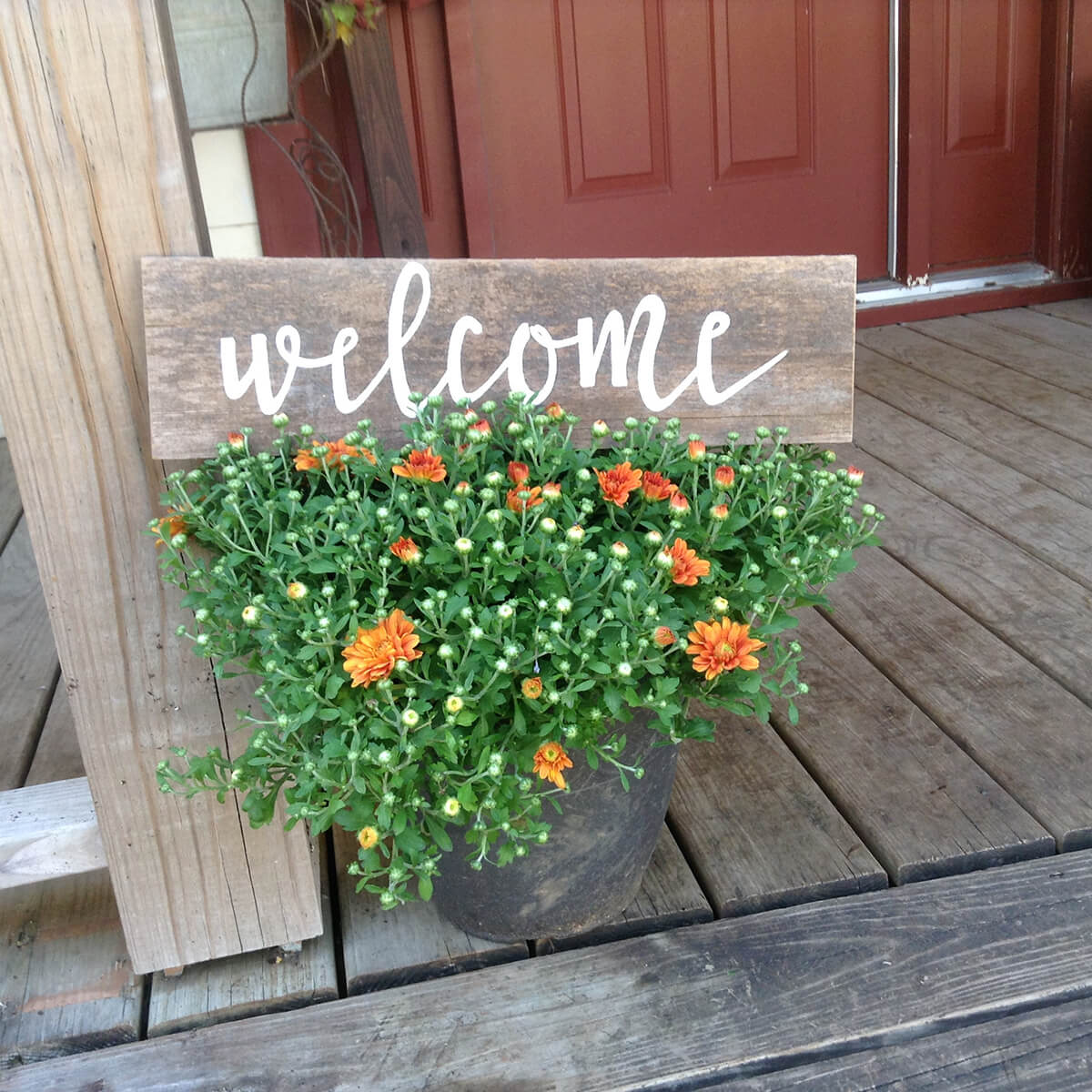 You have already heard how much a sign can do for your veranda, but it is great to pick something that can multitask if you need it to. This sign can be requested with a variety of hangers attached to the back, and it is just the right size to go wherever you need it. It is small enough to attach to a wreath (which would look awesome) but it is also large enough to grace your front door or veranda on its own. The aged salvaged wood of this piece looks stunning, and it has a clear coat to keep it protected from the elements.
22. Tall Reclaimed Wood Floor Vases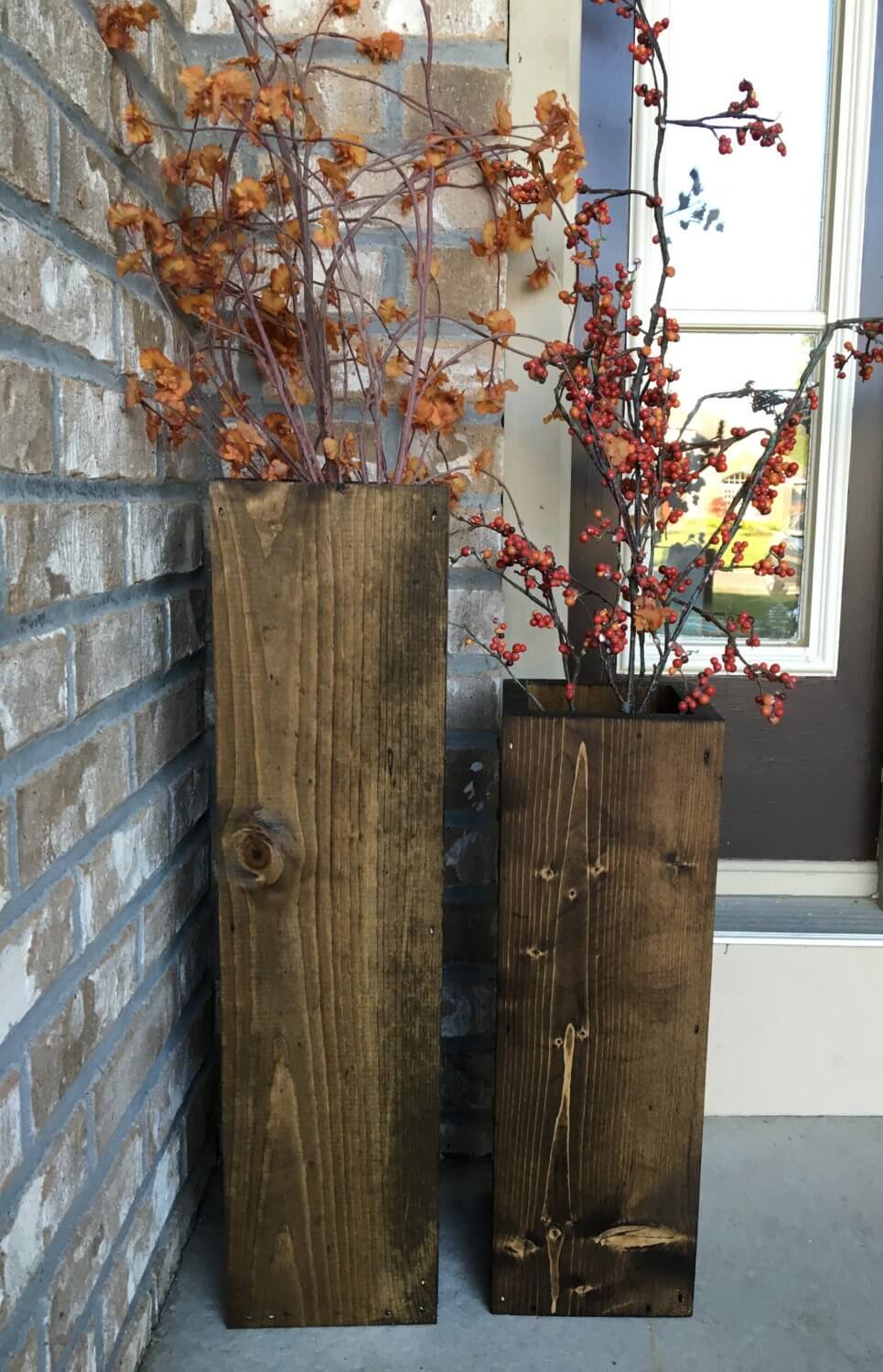 Adding vases is a wonderful (and very easy) way to fill a corner that is feeling a little empty and unloved. Pop of a couple of the fellows in a corner, fill with whatever you like and call it a day. When buying vases, it is a great idea to look for something featuring warm wood, but a design that feels rustic without being unpolished. The geometric shape of these planters combined with the cozy farmhouse feeling of reclaimed barn wood material is really nice. It is really convenient that you can trade-in and out things to fill the vases with. In the spring, you can add clippings of budding branches from dogwood, willow, tulip poplar, or aspen depending on what is available. In the fall, you could add branches with golden leaves, or shocks of corn stalks. In the winter you can still throw in items like pine or evergreen branches or dry branches of other trees and add tiny decorations, like the hearts seen before.
23. Customizable Family Name Front veranda Sign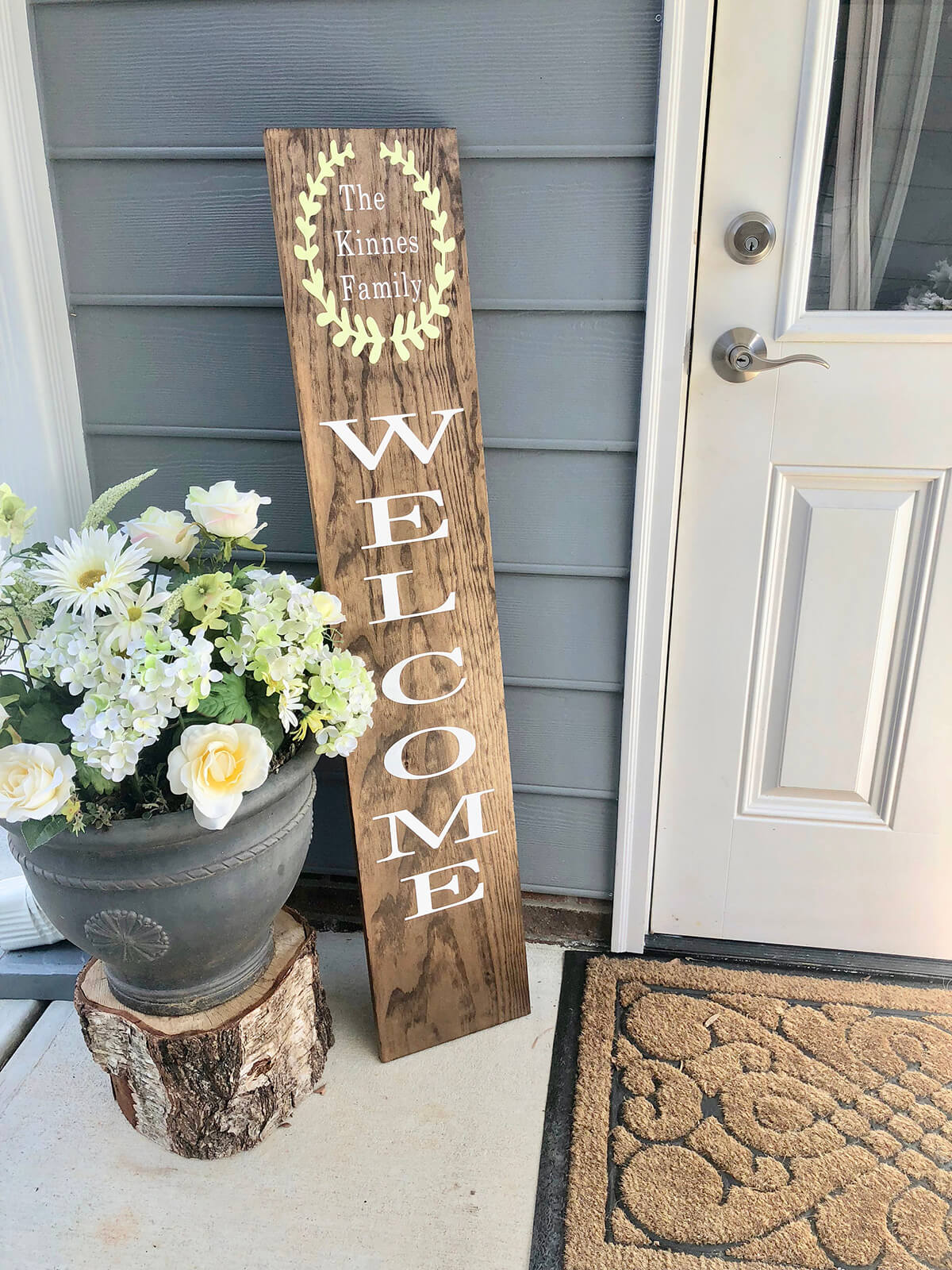 If saying hello is not enough, you can also have a sign customized with your family name. This sign is fully customizable, with nine different colors of stain to choose from. If you are less of a mix and match kind of person and more of a match and match decorator, this sign could be the ticket for you. The heavy serif of the font used in the sign is a nice touch, making it feel a little more early American than a lot of the bouncy script that is out there. When it comes time to add your family name, you can use up to 256 letters, which is great if you are one of those folks who always seems to run out of characters for these things.
Redecorating your front veranda in a rustic country styled does not have to be a hassle. Here there are so many ideas that could work for your front veranda. Feel free to use these and modify them to work for your space. Whether your front veranda is great big or teeny tiny, you can make it feel a little more like an extension of your home. If you are still feeling a little overwhelmed at the idea of redecorating, just remember these three tips. Reclaimed and recycled wood is great to make your space seem casual and inviting but still put together. Unusual farm-inspired items bring rustic charm and can be found either in thrift stores or online. Lastly, comfortable seating is the key to getting family and friends out on the veranda for some relaxation. Look for pieces that are comfortable enough to use indoors, but tough enough to stay outdoors. Once you have an outdoor space that rivals the ones inside, you are sure to start making memories on the veranda with loved ones.
Our Favorite Front Door Flower Pots to buy on Amazon