Although the smallest room in the house, the bathroom contains most of your life essentials, especially in the morning, and the best bathroom organizers are a necessity to help you store and find everything. Since the room is small, bathroom storage ideas must make clever use of all of the available space. Products that use wall space instead of counter space are one solution. Another solution is products that provide vertical storage, allowing the full use of under vanity storage and other usually unused spaces in the bathroom. Drawers, bins, and shelves that pull out allow you to store items deep in the vanity and other areas but still have easy access to the items in the back. Products that allow you to hang things not only on the walls and sides of the vanity but also on the back of the bathroom, medicine cabinet, and vanity doors add more organized storage to your bathroom.
25 Time-Saving Bathroom Organizers to Speed Up Morning Routines

Finding places, such as above the toilet or beside the vanity to add more cupboards, even shallow cupboards, is also another way to provide additional small bathroom storage. Any bathroom organizer that can be set on the vanity, the toilet tank, or the edge of the tub will help keep things neater and more compact, providing more countertop space.
We have searched for the best selling bathroom organizer product for a variety of bathroom storage needs and compiled a collection of 25 items that use one or more of the ideas listed. We have included a description of each product and explained why each one is a best selling bathroom organizer product. We also provide you with ideas and tips that might make the products more useful and allow you to personalize them for yourself, your family, and your decorating style. Browse through these products and choose the ones that will help you solve your small bathroom storage issues.
1. Like Having a Shower Butler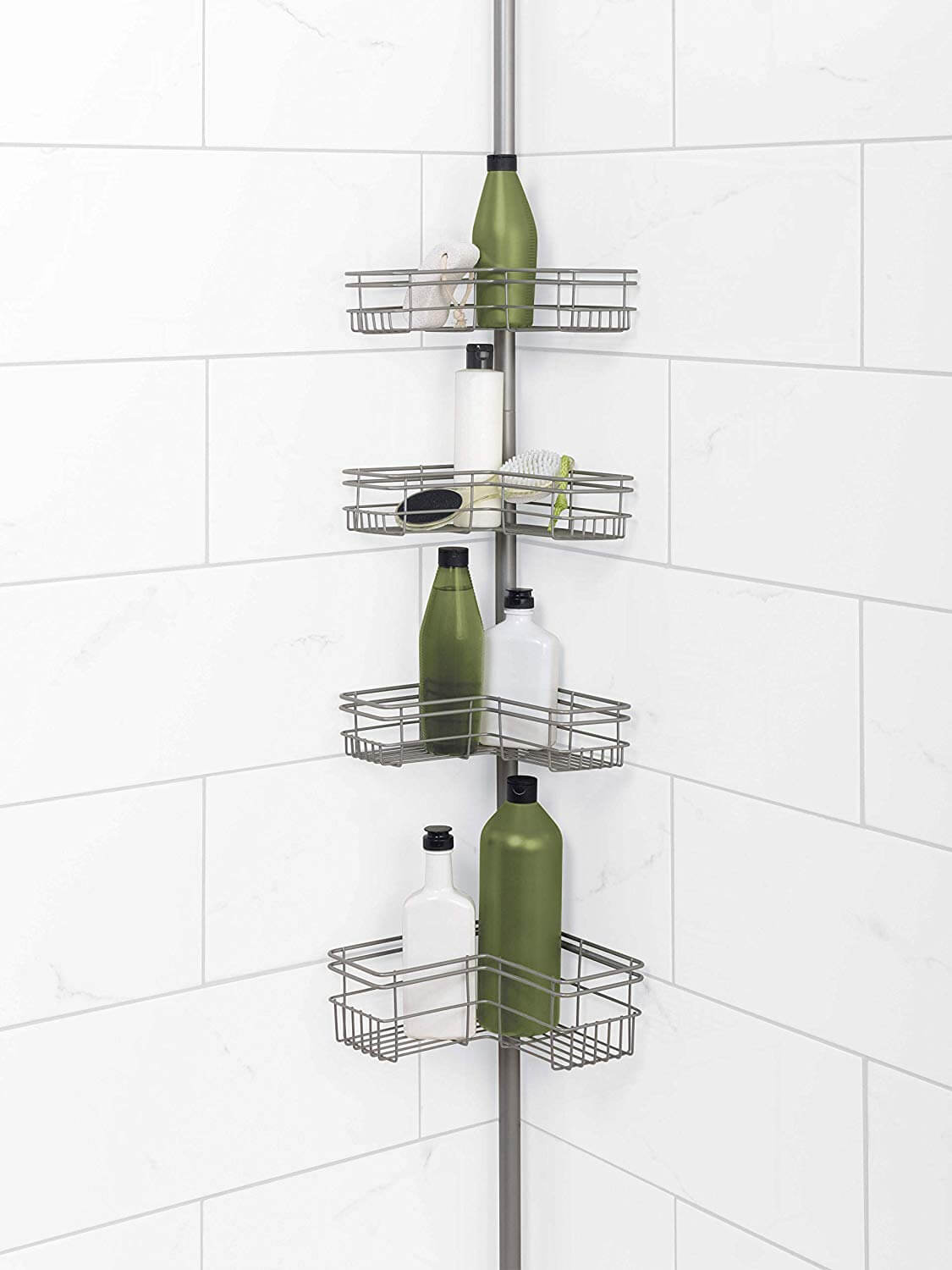 Made with rust-resistant satin nickel, this shower caddy stands in the corner of your shower holding your shampoo and all your other shower essentials at ready. With four L-shaped bins that are centered to prevent the caddy from becoming unbalanced and tipping, this caddy is held in place by a spring tension rod that runs from floor to ceiling. If your ceiling is lower than 91.5″, you can shorten one of the poles. If your ceiling is higher than 97″, you can get an extension pole. The bottom bin is deeper to hold larger bottles. You will never have to step out of the shower to get something you need again.
2. Hanging Shower Caddy Offers Great Design Ideas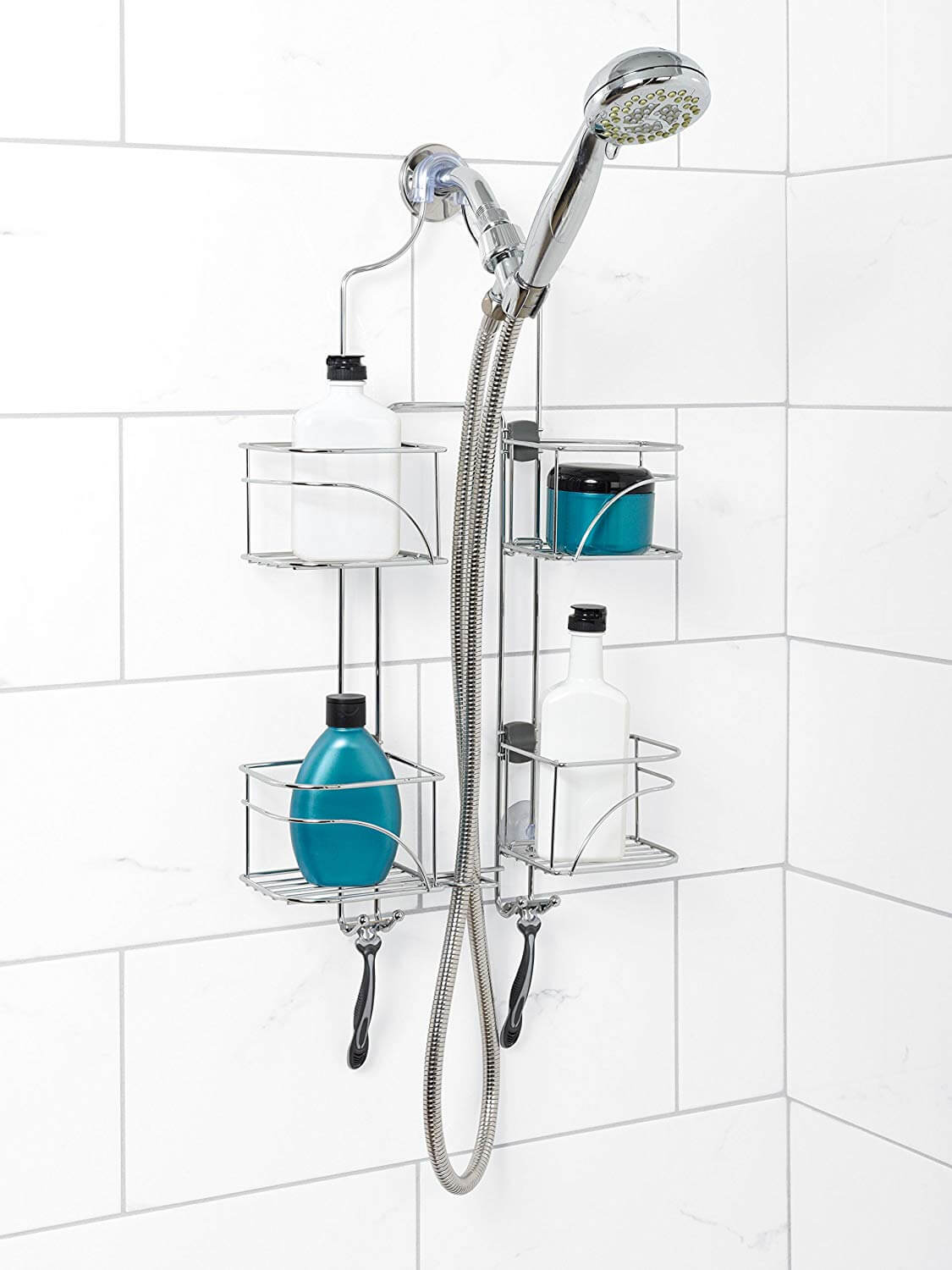 This hanging shower caddy incorporates some special design ideas that contribute to its being a best selling bathroom organizer product. It hangs over the showerhead and has a non-slip collar to hold it in place. It also use suction cups to hold it to the shower wall. The four bins slide to the side for easier access to bottles and to make room for a shower hose. The caddy has hooks for hanging items, including two hooks on each of the bottom bins for razors. It's made of rust-resistant chrome. You can keep all your shower necessities easily accessible with this shower caddy.
3. Over-the-door Hanging Pocket Storage Caddy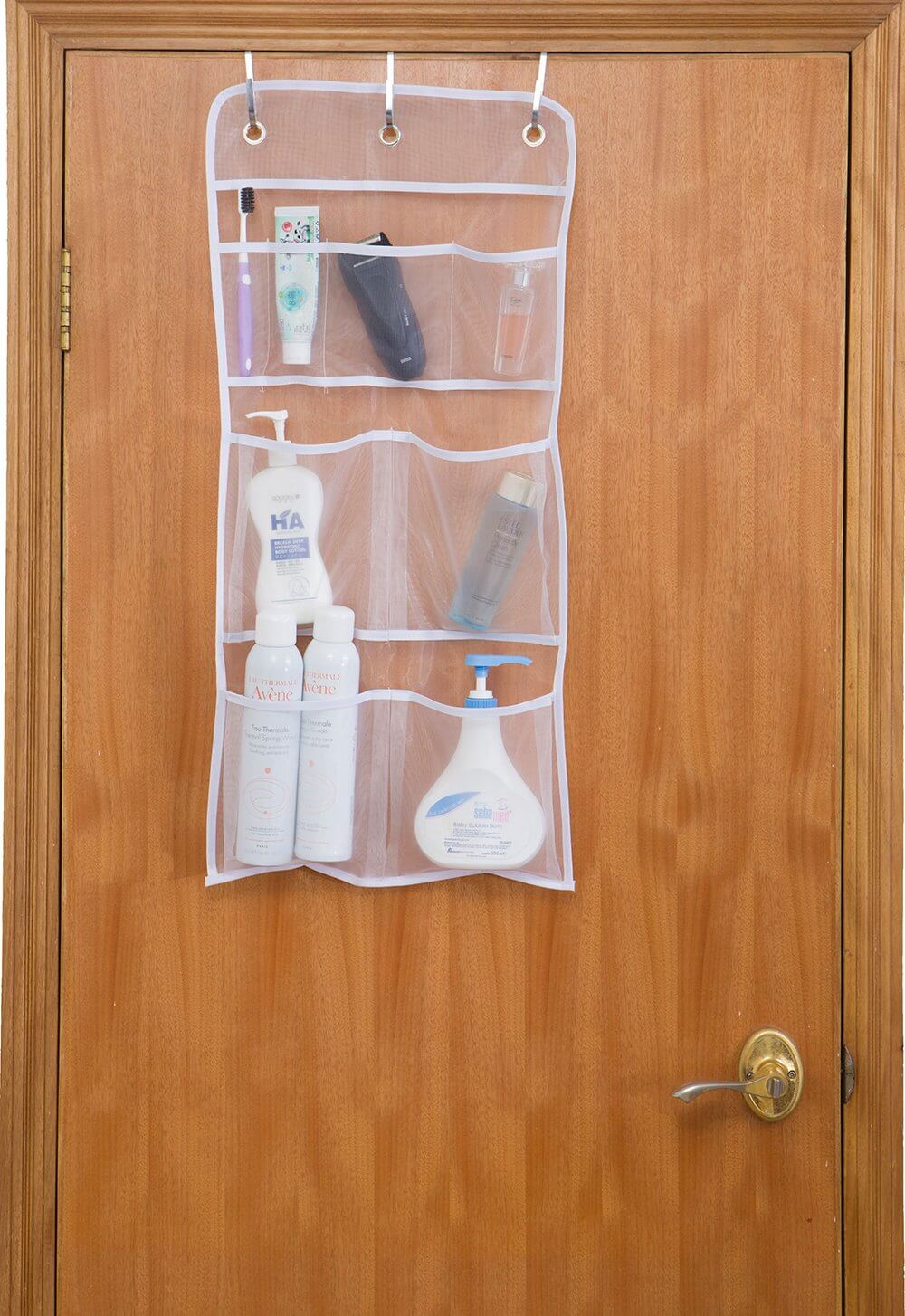 This seven pocket over-the-door hanging storage caddy is hidden from view but cleverly increases small bathroom storage. This nylon mesh caddy has four large pockets, four smaller pockets, and wipes clean. The larger pockets can hold a 34-ounce shampoo bottle. The metal grommets are rustproof, and the over-the-door hooks are included. However, instead of using the over-the-door hooks included, you can hang this caddy inside your shower curtain liner using the shower curtain hooks. This caddy is not only great for the master bathroom or your main bathroom but would also be good for a guest bathroom or a dorm room.
4. Extra-wide Wire Mesh Shower Caddy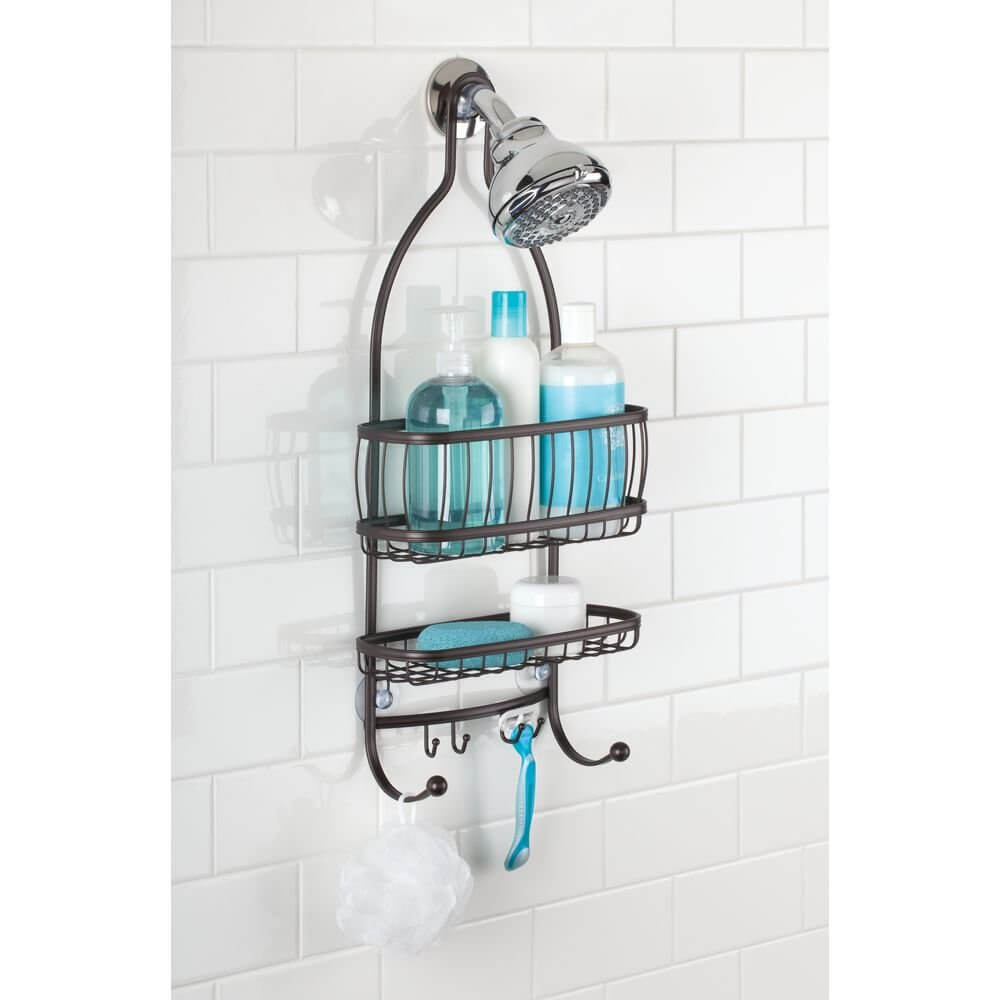 This 10″ wide x 4″ deep x 22″ high, bronze, wire mesh shower caddy has an upper deep bin for bottles and a shallower bin for soap, sponge, or loofah. The upper bin is placed low enough to allow the caddy to hang over the shower head and still provide easy access to shampoo and other bottles. There are hooks at the bottom where you can hang washcloths, razors, and other shower essentials. The wire mesh bins allow water to drain. This bathroom organizer shower caddy can hold up to 10 pounds, and the bronze finish is rust-resistant.
5. Hair Dryer and Styling Tools Bathroom Organizer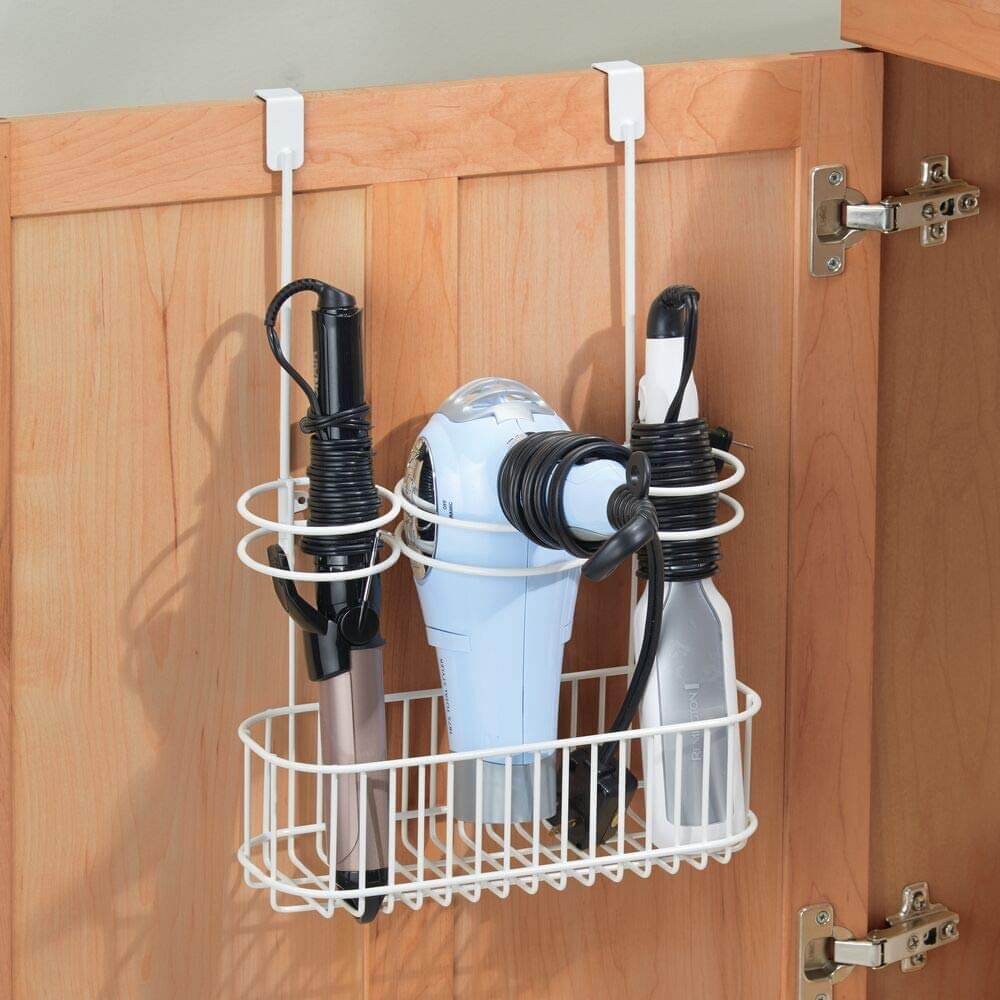 The hardest things to find a way to store in the bathroom are hair dryers and curling irons. With a bin at the bottom to keep your appliances from dropping and three ringed supports that hold them in a vertical position, this bathroom storage caddy can be hung over the back of a vanity door and will keep your hair care appliances under control. One ringed support is larger to accommodate a hair dryer. Combs, brushes, and other hair care accessories can be laid in the bottom bin. Since it is made of rust-resistant steel wire, you can put your styling tools in it while they are still hot. The caddy fits over up to 0.75″ thick vanity doors and measures 10.6″ wide x 5″ deep x 10″ high.
6. Hair Care Tools Bathroom Storage Caddy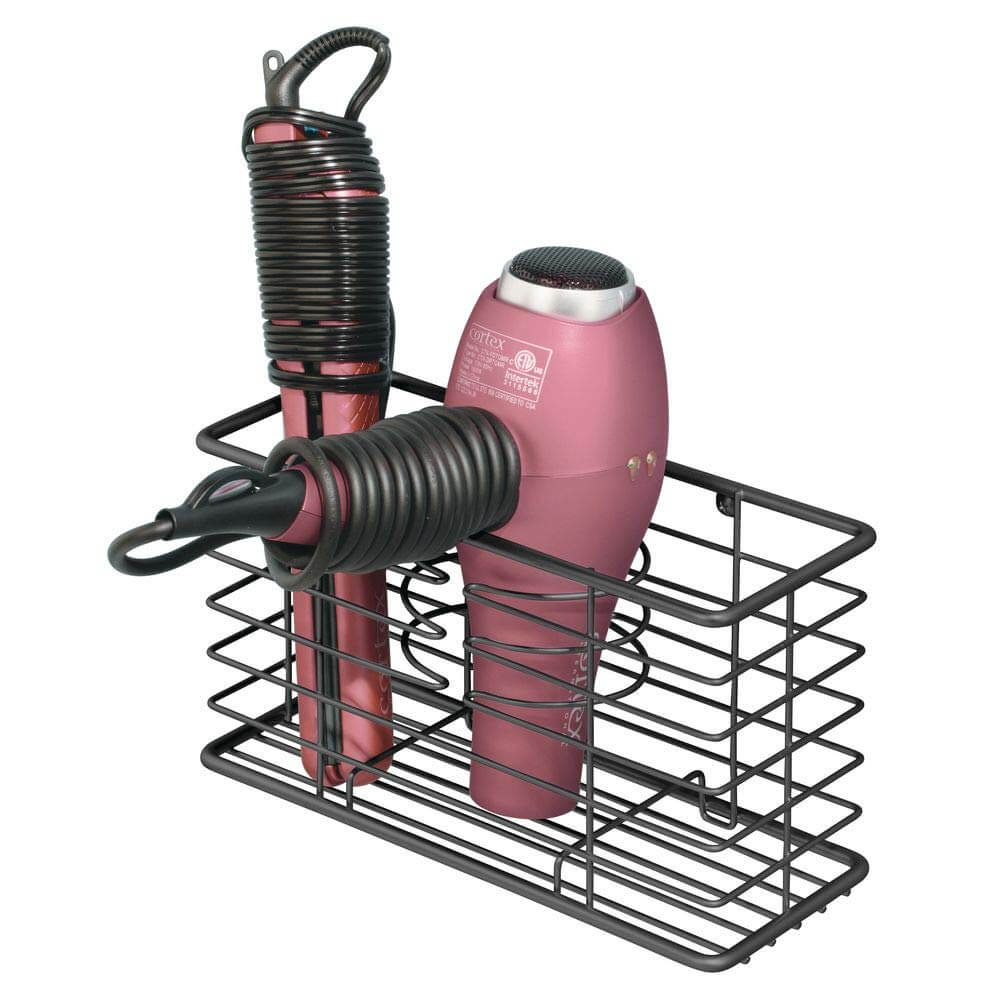 Measuring 4″ deep x 10.2″ wide x 5.8″ high, this hair styling tools small bathroom storage caddy is large enough to hold your hair dryer and curling iron. It has ringed supports in the center that will hold a hair dryer. Your curling iron and brushes can fit on either side. This wall or door-mounted caddy is made with steel wires so hot appliances can be stored in it safely. Mounting hardware is included. However, if you mount it on the back of the vanity door, be sure that the screws you use are short enough not to protrude through the door.
7. Hair Styling Tool Holster Caddy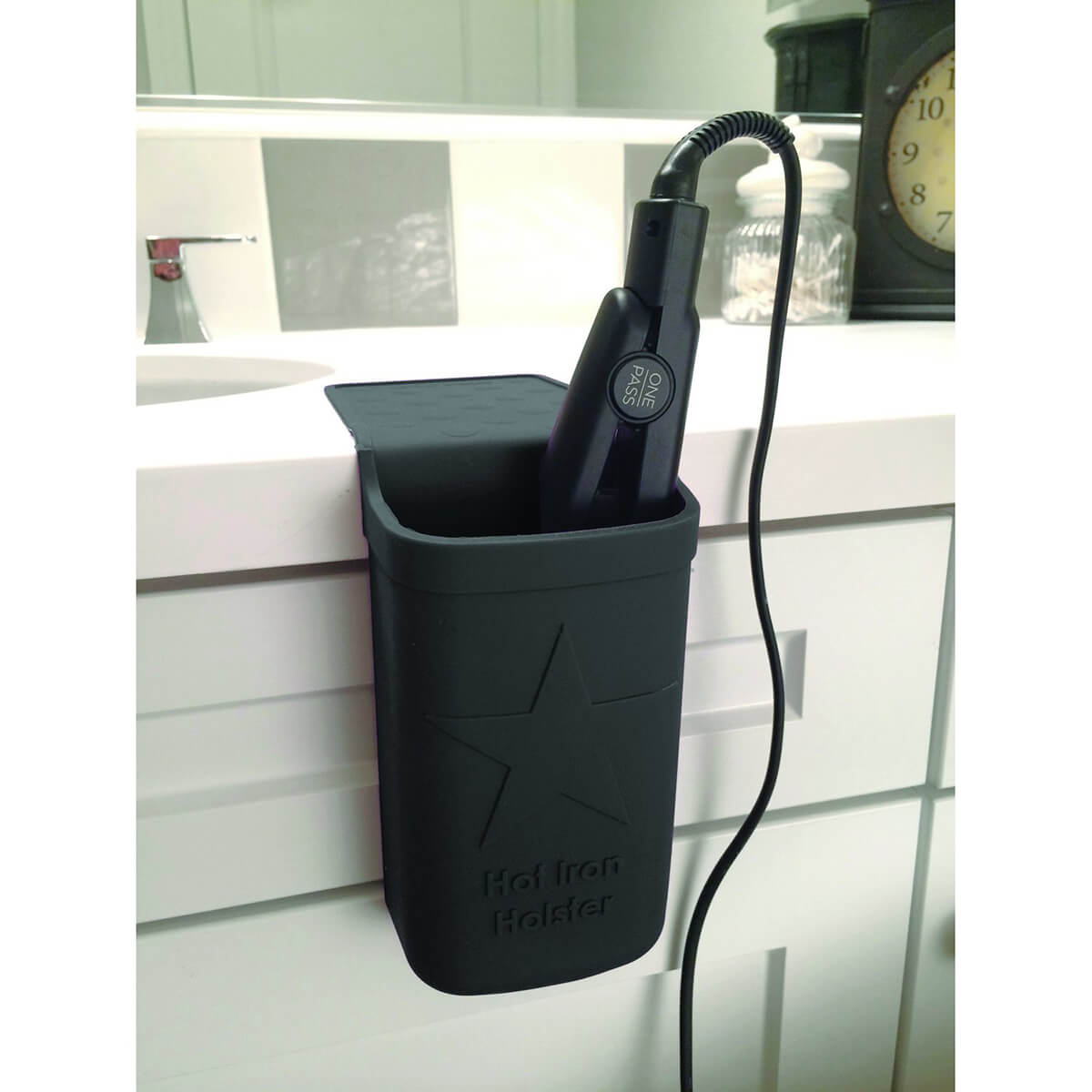 This hair styling tool bathroom organizer offers a holster design that adheres to your vanity top so that you can conveniently drop your curling iron or hair dryer in it as you are styling your hair. Since it is made of heat-resistant silicone, you can put your hair care appliances in it even when they are hot. As long as your vanity top is non-porous, clean, dry, and free from dust or built-up, the holster will adhere to it. This hair care tool bathroom storage caddy measures 2.8″ deep x 4.5″ wide x 7.5″ high and can be repositioned easily.
8. Compact Wood Bathroom Storage Cabinet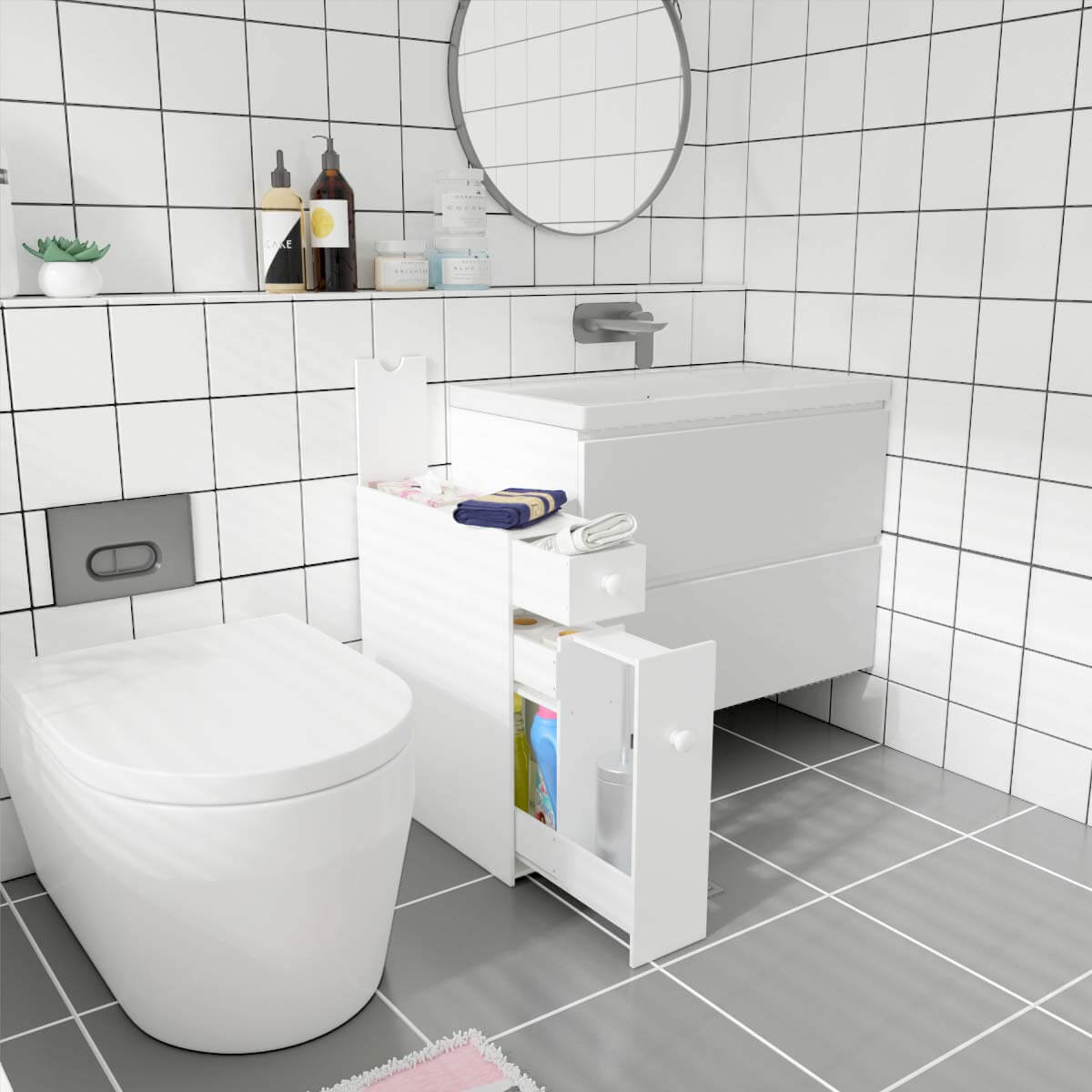 This small bathroom storage cabinet comes in two sizes measuring 19″ long X 6.5″ wide X 23″ high or 20″ long x 6″ wide x 28.5″ high. However, it is designed to hold a lot by using vertical space. It has a storage box with a hinged lid on the top in the back, a drawer that goes halfway back, and a pull-out shelf unit underneath to provide easy access to items in the back. It is portable and easy to assemble or disassemble. The white wood and basic design of this cabinet will help it coordinate with most décor, and at 18 pounds, it can be easily be moved and used in other rooms.
9. Plastic Countertop Bathroom Storage Bins with Handles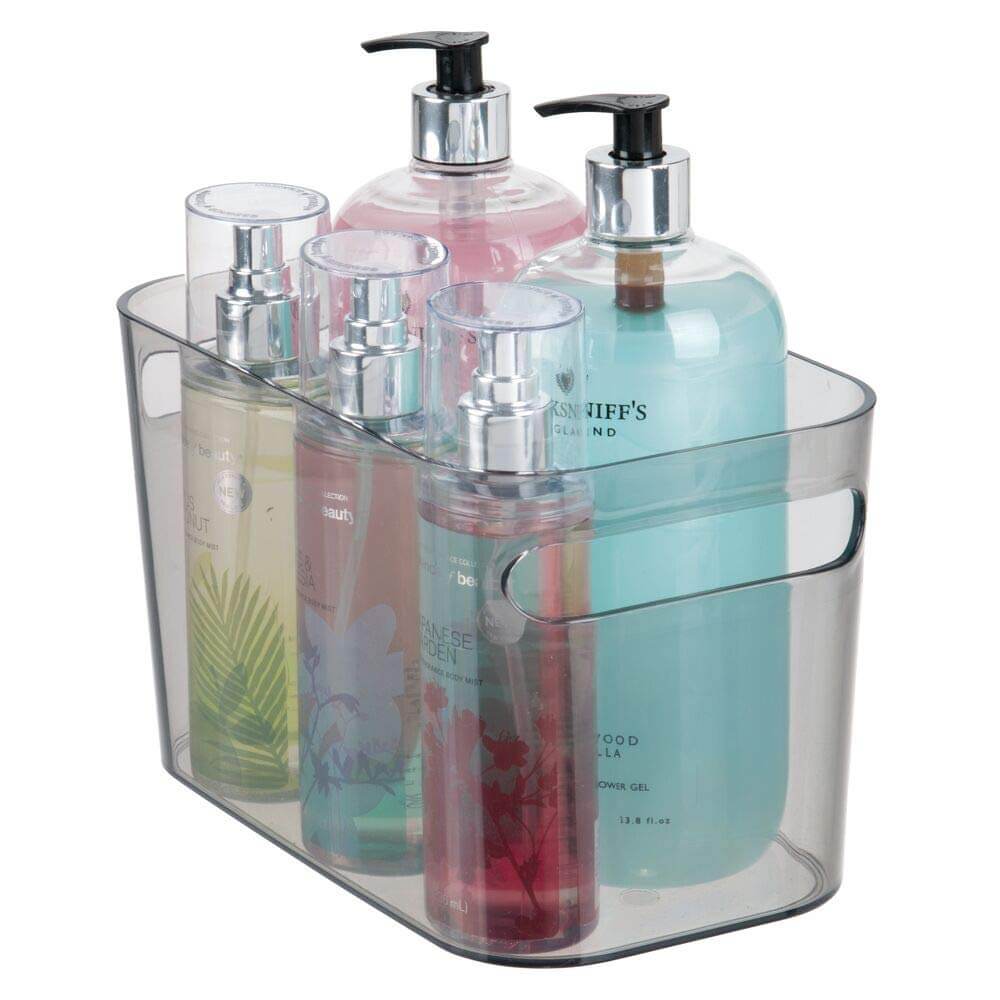 Measuring 10″ wide x 6″ deep x 6″ high, these bins provide a great bathroom organizer solution. They can be placed on the vanity top, toilet tank, or on a shelf to help hold and organize cans, bottles, rolled towels, extra toilet paper, and other bathroom essentials. Since they have handles, they can be placed under the vanity and be lifted out when you need the contents. If you would like to make them more decorative, you can paint, stencil, or add stickers to them. Made of chlorine-free and BPA-free plastic, they can be cleaned with mild soap and water.
10. Two-tiered Hair Styling Tool Best Bathroom Organizer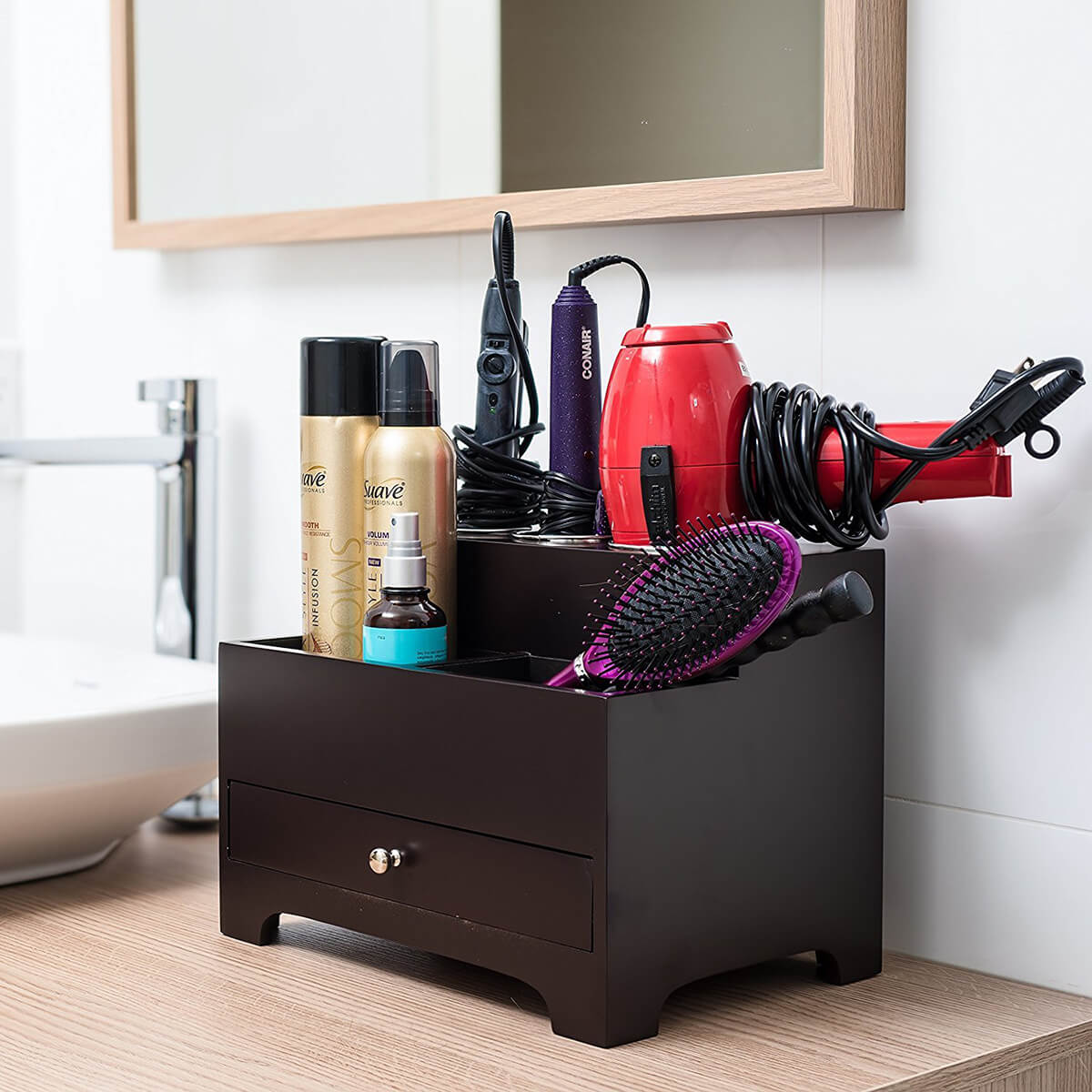 This two-tiered counter top organizer is a best selling bathroom organizer product because it provides storage for three hair styling tools, bottles or cans of hair care products, and a drawer for small items. The top tier has three holes to hold your styling tools including one large enough to hold your hair dryer. The holes are lined so that you can insert your tools even when they are hot. The lower tier is divided into two sections and will hold bottles or cans that you need for your morning routine. The drawer can hold small items such as makeup brushes and hair clips.
11. Clear Small Bathroom Storage Bin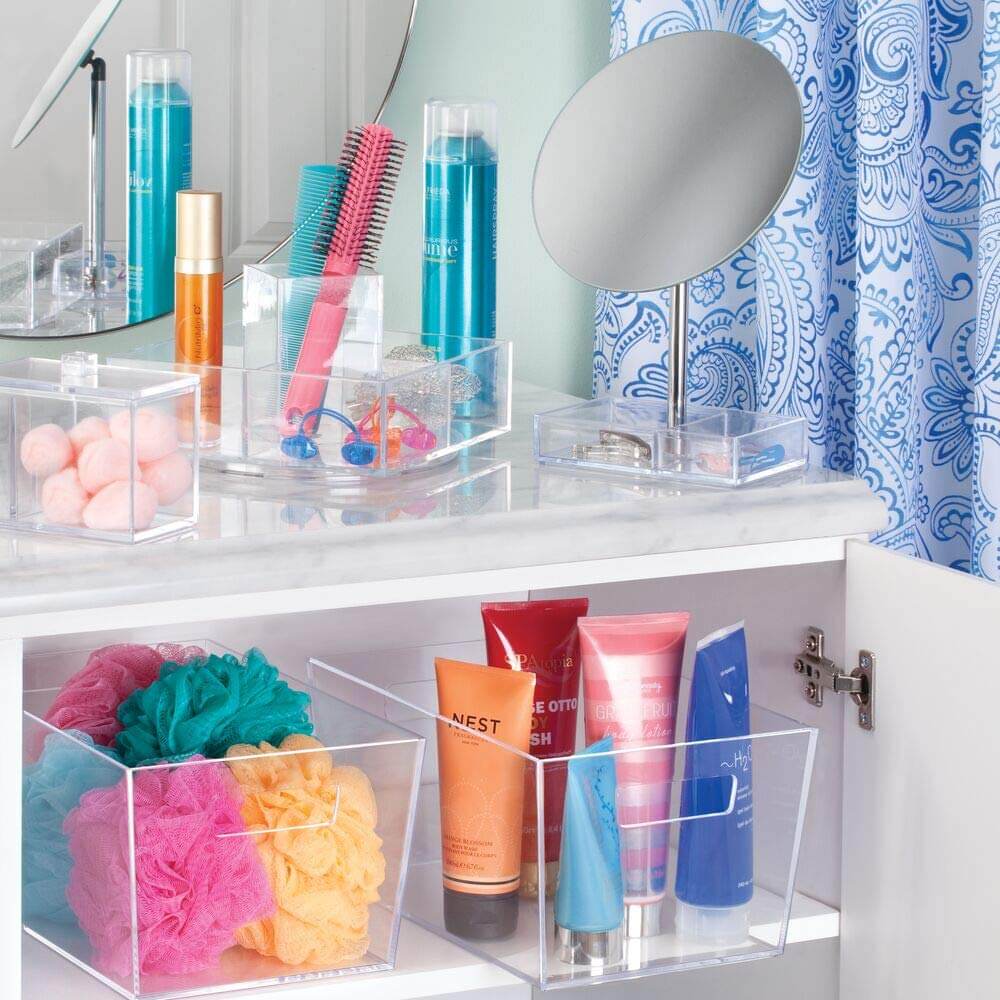 Measuring 12″ long x 8″ wide x 6″ high, this bathroom organizer is made with chlorine-free and BPA-free plastic and can be cleaned with mild soap and water. These plastic storage bins can be used for storing a large variety of items, are inexpensive, and can be purchased as singles or in multi-packs of two or four. With the convenient handles, they can be set on the counter top, the toilet tank, under the vanity, or on a shelf and then moved to the vanity when you are ready to use them. If you want to decorate them, you can paint, stencil, or apply stickers to them.
12. Cute Apothecary-style Cotton Swab Dispenser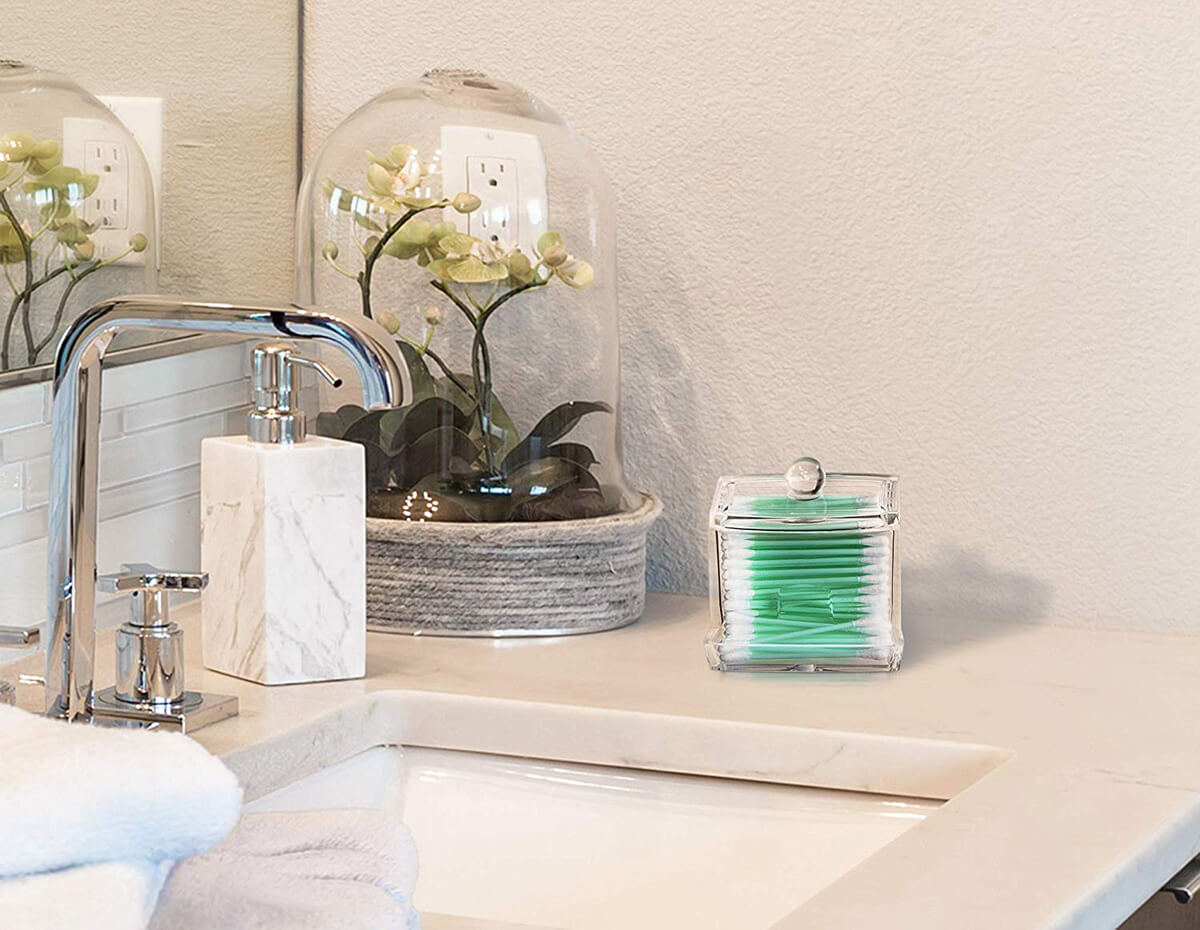 Measuring 3.5″ long X 2.75″ wide X 2.9″ high, this cotton swab dispenser will hold up to 100 cotton swabs compactly, keeping them clean and under control. It can also be used for cotton balls, bobby pins, toothpicks, bath beads, and any other similar small items. The lid with the apothecary-style knob handle lifts off for easy filling and easy access to the contents. The apothecary-styling coordinates with country, farmhouse, or shabby chic decor. It is made of acrylic so it will not break and can be wiped clean.
13. Six-tiered Vertical Wall-mounted Towel Butler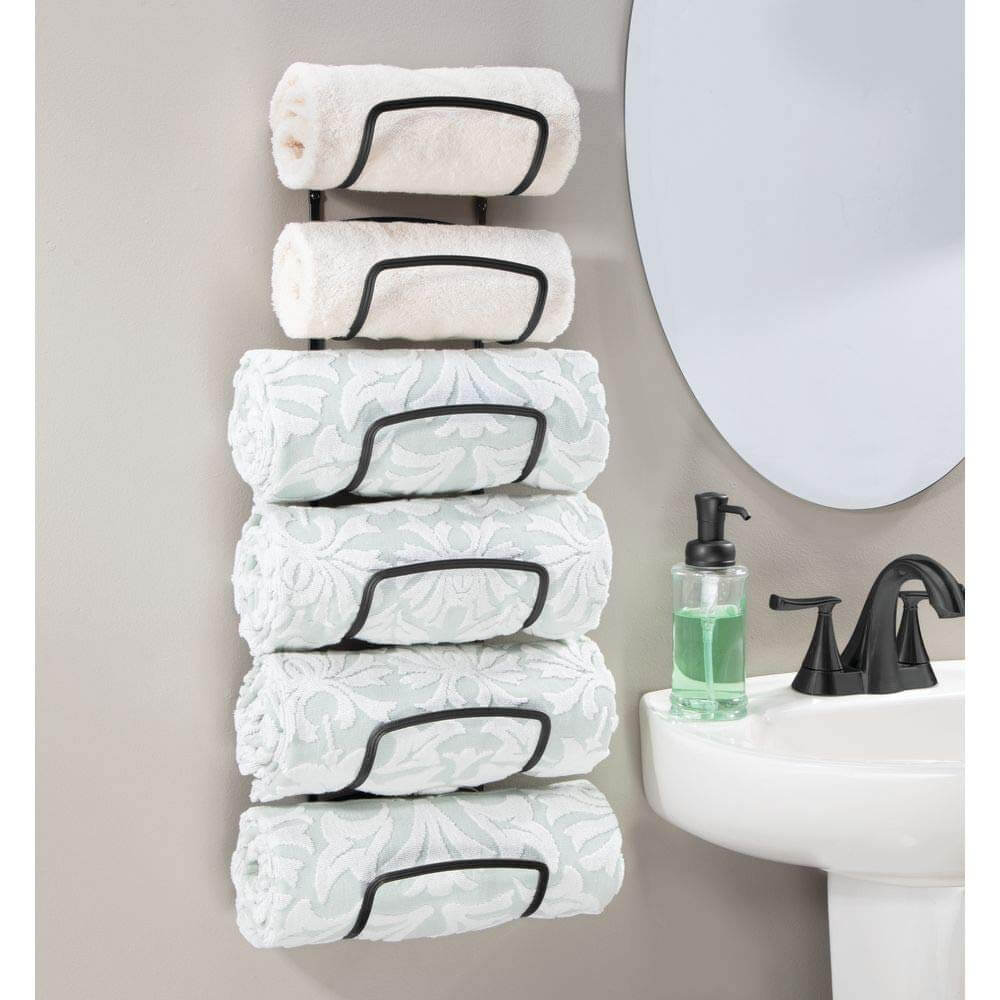 This six-tiered towel holder is a best selling bathroom organizer product. Great for a guest bathroom or the main bathroom. No more hearing someone yell that they need a towel or wet hands marring the finish on a cupboard. It is also a great way to increase small bathroom storage space. The metal finish coordinates with any décor style. You could also get one for the kitchen to hold wine bottles. Made of rust-resistant steel and measuring 6.9″ x 5.6″ x 29.9″, this towel holder will hold any size rolled towel and wipes clean. It requires some assembly and includes mounting hardware.
14. Six-Shelf Vertical Bathroom Organizer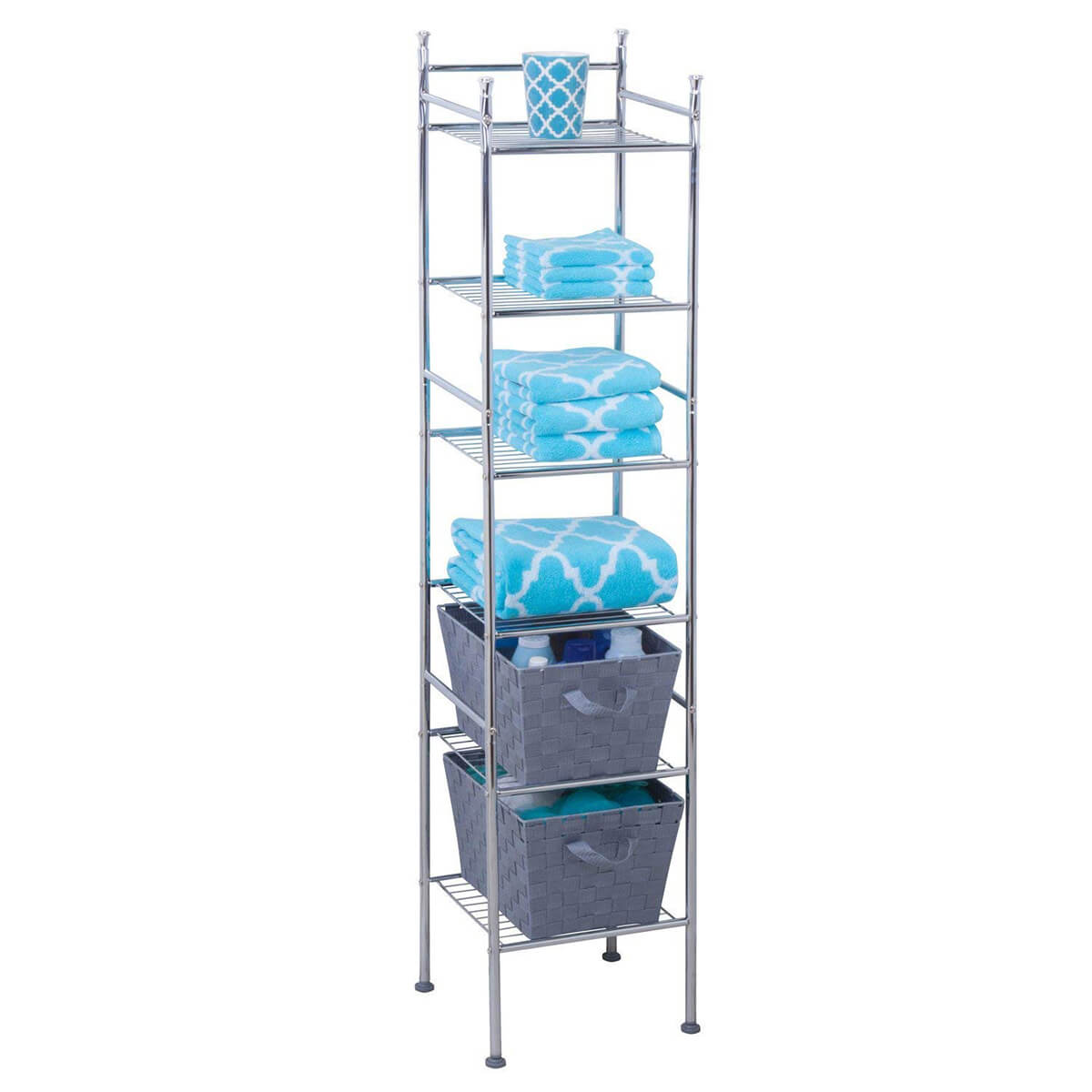 This six-shelf storage tower is a best selling bathroom organizer product because it measures a floor-space-saving 12.6″ deep x 11″ wide x 60″ high and uses vertical space for storage. It can be used for towels, toiletries, and other bathroom essentials. For better organizing and a more decorative look, the shelving will hold medium baskets. The chrome finish will coordinate with any décor. This tower shelf was designed to include feet that will not scratch your floor. All the extra storage space provided by the six-shelf storage tower shows why it is a best bathroom organizer.
15. Two-tiered Double-T Hand Towel Rack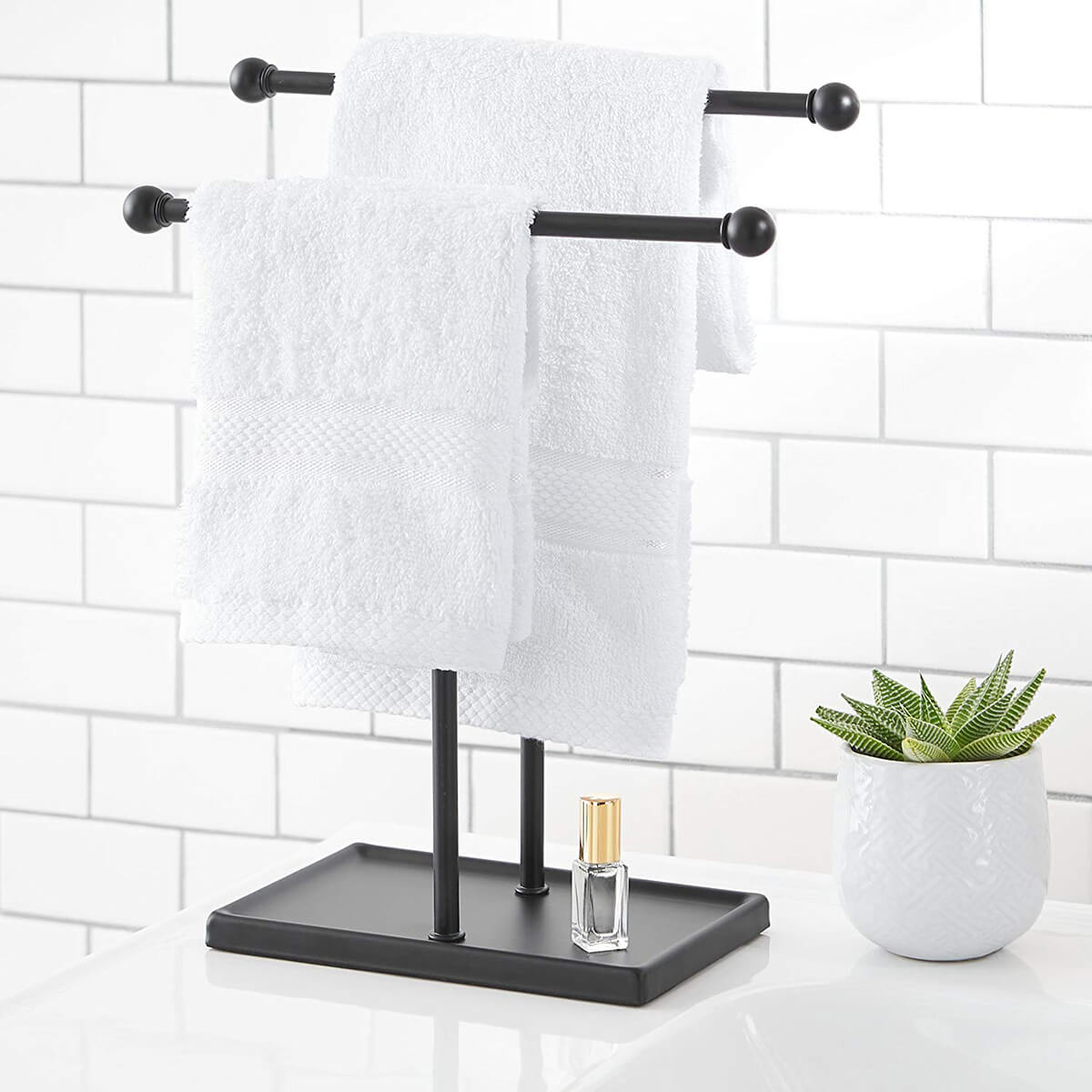 Measuring 4.75″ deep x 11″ wide x 13.25″ high, this double-T, two-tiered, metal hand towel holder takes very little space on your vanity and is a best selling bathroom organizer product. Since it is two-tiered, the towel in the back is easily accessible. The ceramic rimmed base can hold short bottles and be a space to lay small items such as jewelry and brushes. The base provides stability to the towel rack, preventing it from tipping. The towel rack comes fully assembled and can be easily wiped clean. This towel rack also could be used in the bedroom to hang and organize necklaces and bracelets.
16. Compact Family Dental Center Organizer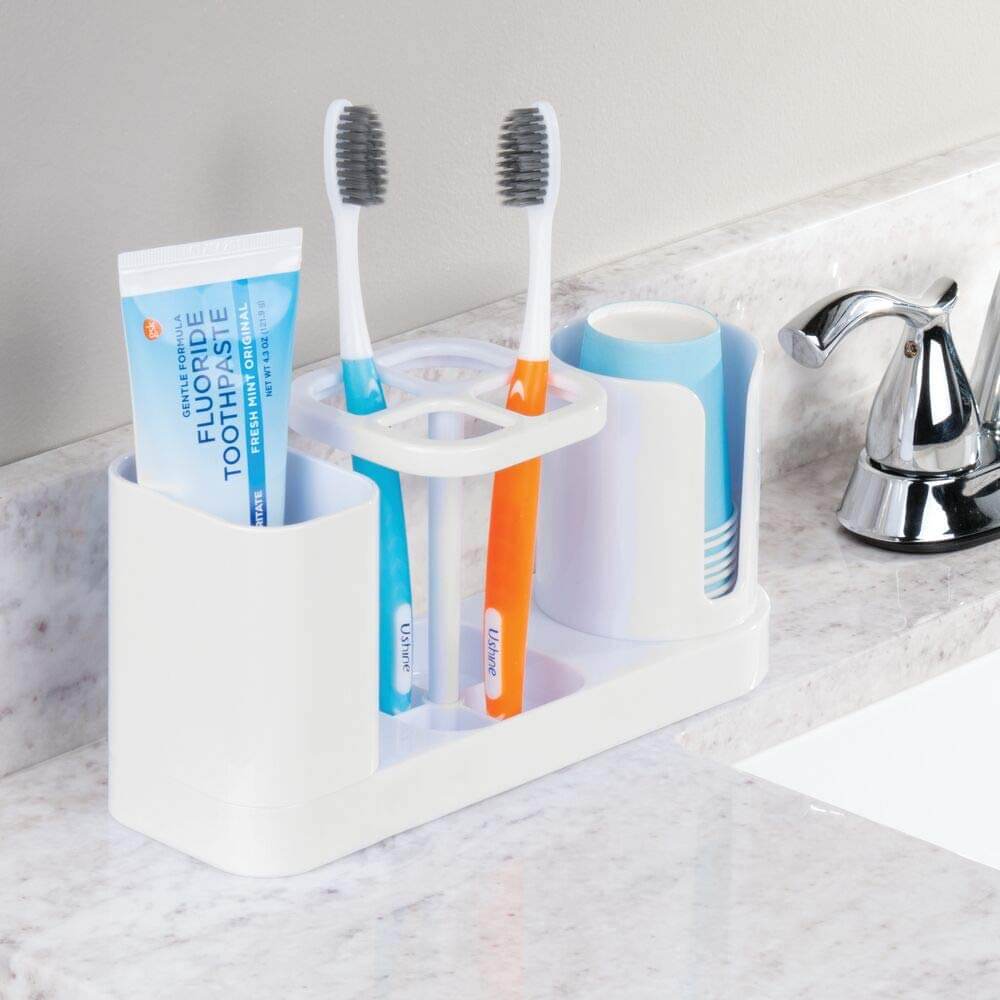 This dental center measures 3″ deep x 9.1″ long x 4.3″ high and is the best bathroom organizer for your family's dental care needs. The large cup on the left can hold a tube of toothpaste or an electric toothbrush. There is room for four regular toothbrushes in the center section. On the right side, there is room for a stack of 3-ounce cups. This dental center can be placed on the vanity, on a shelf, or in the medicine cabinet. A second organizer could be used for cosmetics. The cup on the left could hold lipstick, mascara, and eye liner. The center section could hold makeup brushes, and the cup holder could be used for cotton balls. The dental center uses chlorine-free and BPA-free plastic and can be wiped clean with mild soap and water.
17. Wall-mounted Steel Mesh Small Bathroom Storage Bins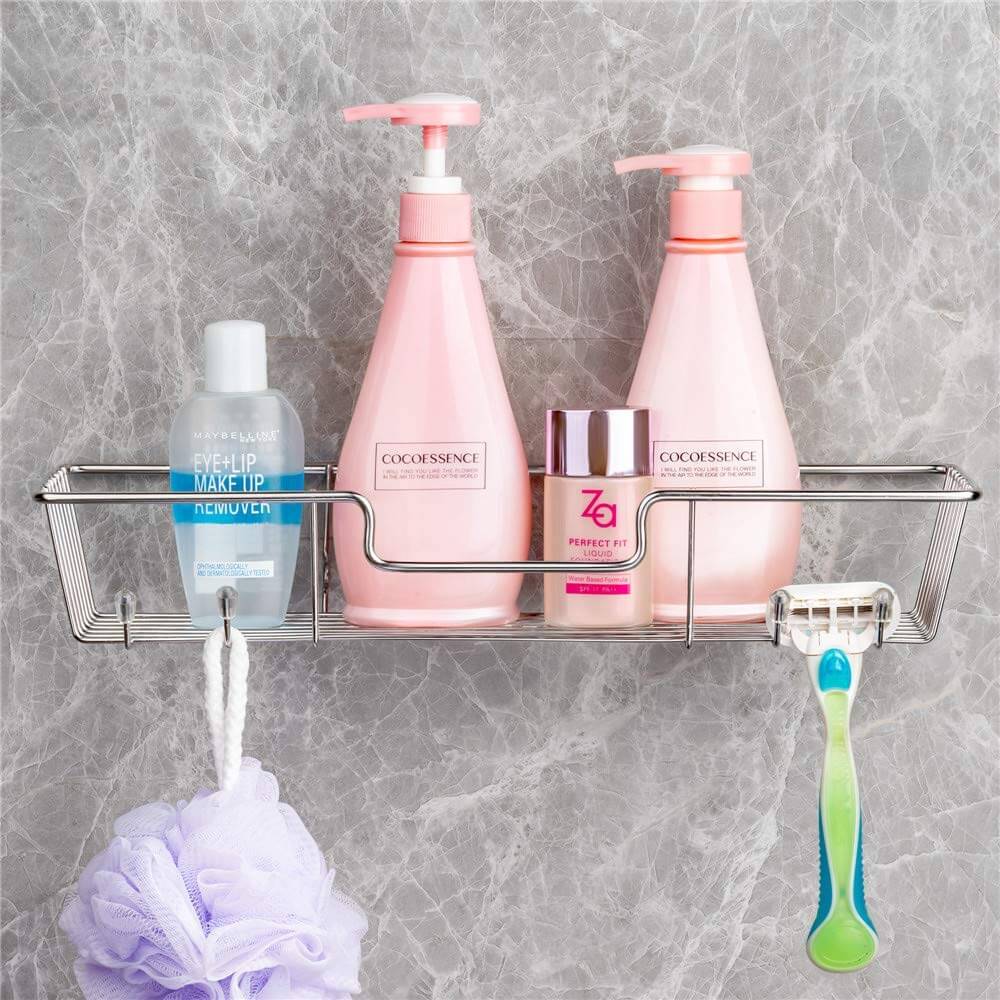 These rust-proof stainless steel wire bathroom organizer caddies with hooks for hanging razors or other items measure 15″ long × 4-1/2″ deep × 2-1/4″ high. Available in a two-pack or a single 17″ long caddy, they are mounted on any clean, non-porous surface in your bathroom. Place the adhesive strip on the wall where you want them, attach the suction cups to the strip, and hang the basket. You can move them without damaging your walls, but you will need a new adhesive strip. A corner caddy, a soap dish, and an across-the-tub caddy are also available.
18. Humorous Wooden Toilet Tank Top Bathroom Organizer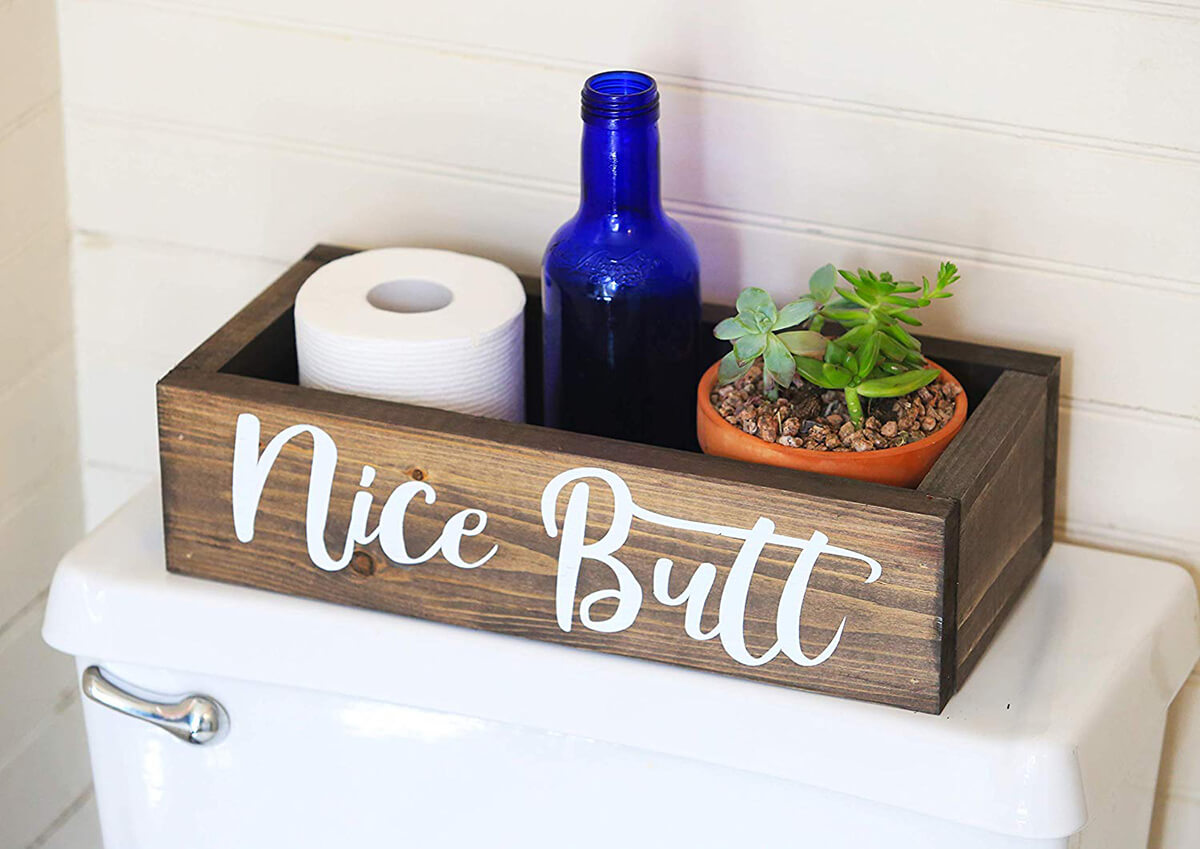 Measuring 15.5″ long x 6″ deep x 4″ high, this wooden crate fits any standard toilet tank top. It can prevent essentials such as toilet paper and decorative items from falling off the toilet tank. The wood crate is rustic, so it coordinates with country, farmhouse, shabby chic, and coastal decor. The words "Nice Butt" are hand painted in white. If you prefer the crate with no text, you can turn the text to the wall, or you can paint your own text or design on the opposite side of the crate. The crate is also available in distressed white with the text in black.
19. Footlocker-style Small Bathroom Storage Cabinet
This small 4.4-pound, 6″ wide x 6.7″ deep x 31.5″ high cabinet is a best selling bathroom organizer product. It offers two shelves for storage that are hidden behind a door. On top is a box with a slot that holds a roll of toilet paper. The toilet paper can feed out through the slot. Replacing the toilet paper can be done by lifting the hinged lid on top. You also can use this space for more storage. The cabinet is made of a non-MDF, eco-friendly wood and plastic combination. It is BPA-free, formaldehyde-free, fire-retardant, moisture-proof, and waterproof. The cabinet requires assembly and painting.
20. Three-tiered Stadium-style Counter Top Bathroom Storage Rack
This three-tiered counter top stadium-style rack measures 10.25″ x 9.25″ x 4″ and is made of durable, clear plastic. The bottom of the bins are ribbed to keep items from sliding. This rack can sit on the vanity top, the toilet tank, or on a shelf. The three-tiered design makes it easier to access items. It prevents clutter and helps organize the items that you use the most, such as makeup, nail polish, brushes, hair accessories, and tweezers. It is inexpensive enough that you might want to get more than one and use them in the bedroom and the kitchen.
21. Multi-use Cotton Bathroom Storage Basket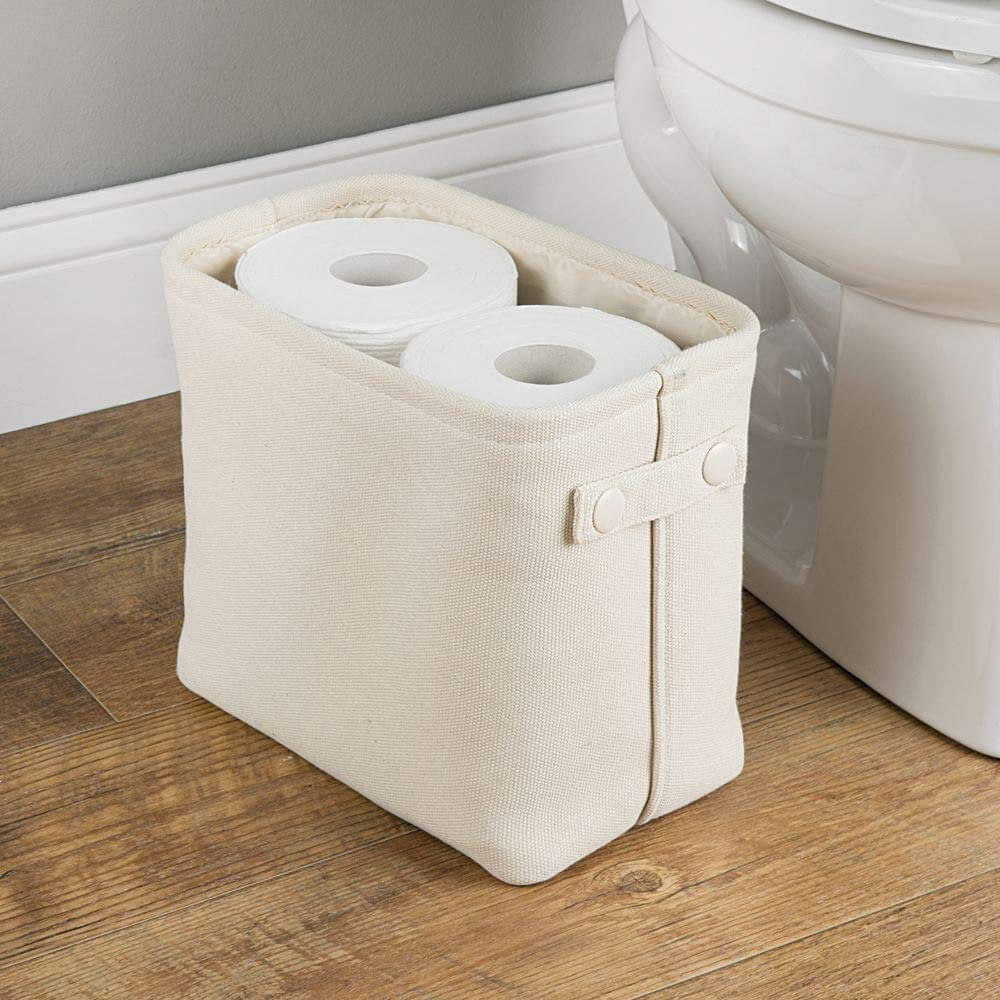 Measuring 10.5″ deep x 6.5″ wide x 9″ high, this bathroom storage basket is made of cotton with an easy-to-wipe-clean, coated interior. It has two handles for easy portability. The reinforced steel top provides stability. You can use this basket for rolled towels, bottles, toilet paper, or as a wastebasket. It is inexpensive, can be bought in a single or double pack, and is available in four colors so that you can use it as part of your décor. The basket coordinates with any style and also can be used to organize children's room, craft rooms, and closets.
22. Expandable Bath Time Organizer and Storage Basket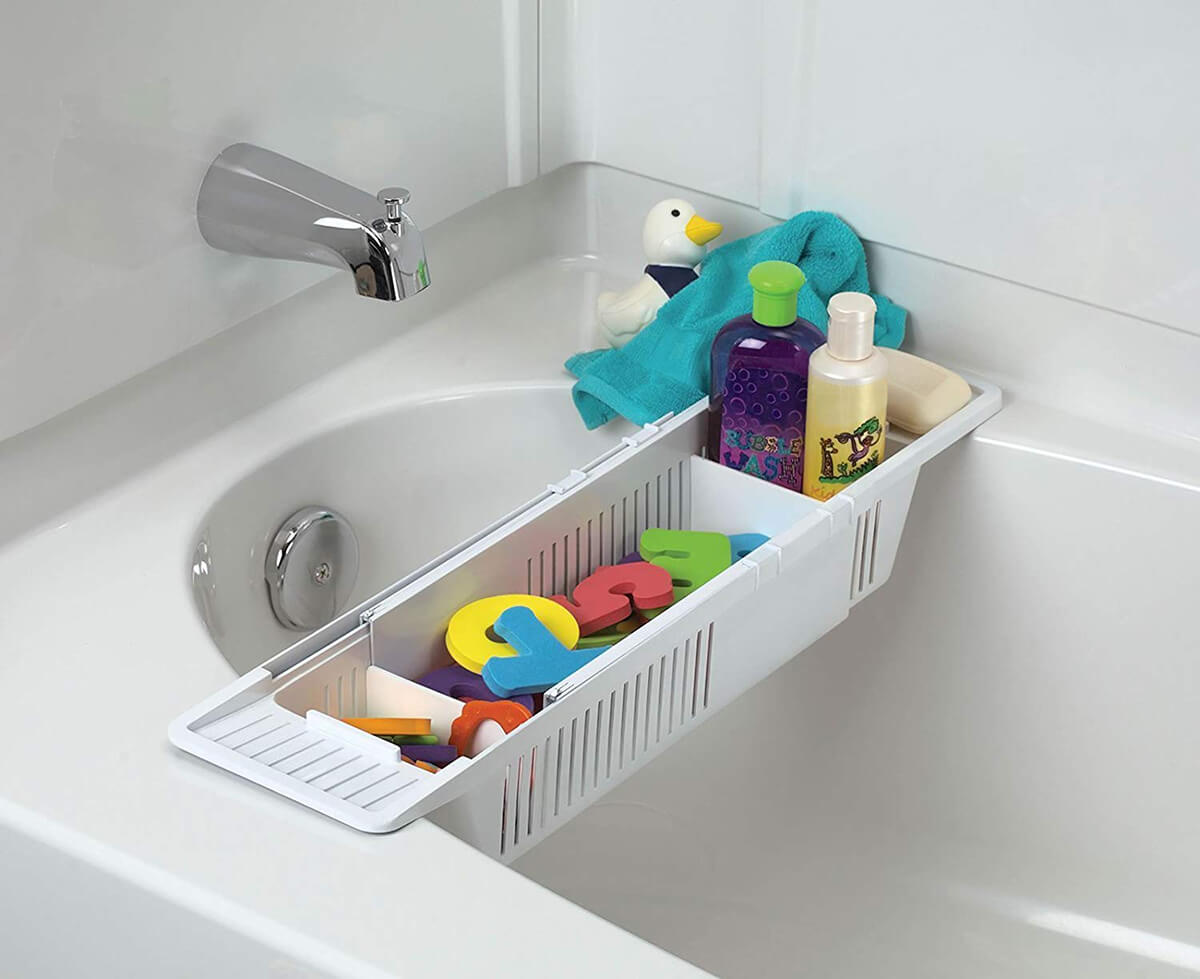 This plastic bath time organizer measures 5.1″ x 6.4″ x 18.9″ but will expand to fit across any tub. It is inexpensive enough that you could provide one for each member of the family so that they can leave their personal items in it ready for bath time. It has a movable divide to help you organize your bath time essentials. This provides the opportunity to put toys on one side and bath care items on the other side for children. The basket has slotted bottom and sides to help the contents dry quickly. You can just rinse it or wipe it clean.
23. Two-tiered Bamboo Multi-functional Organizing Caddy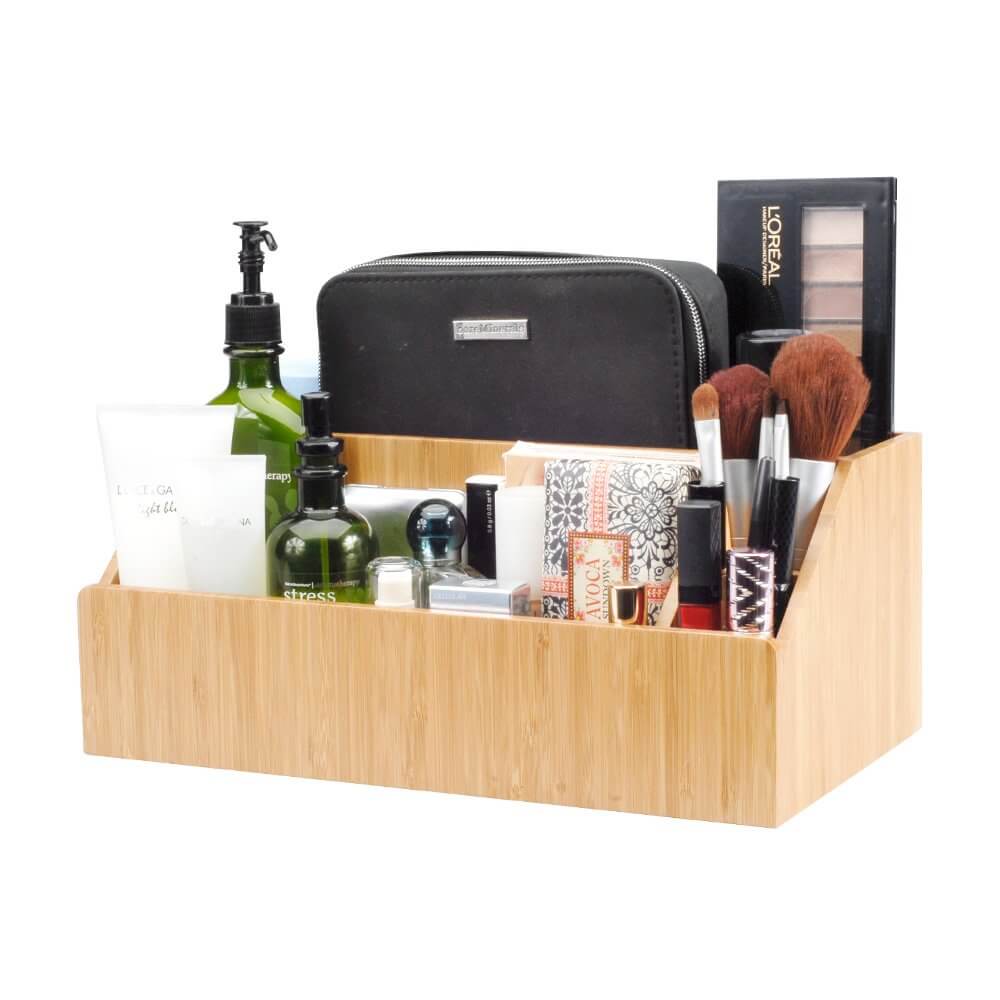 This two-tiered storage caddy has three sections and measures 12.75″ x 7″ x 5.25″. The rear tier is tall enough to hold taller bottles and hair care appliances and offers a cut out section for cords. The front tier is divided into three sections. The longer section will hold a variety of items. The shorter section is divided into two sections. The one in the back will hold toothpaste or taller makeup brushes. The shorter section in the front can be used for makeup pencils. This caddy would also be great for organizing your coffee table, desk, or most used kitchen utensils. This could be the best bathroom organizer for the vanity top, the medicine cabinet, or a shelf.
24. Clear Plastic Stackable Small Bathroom Storage Bins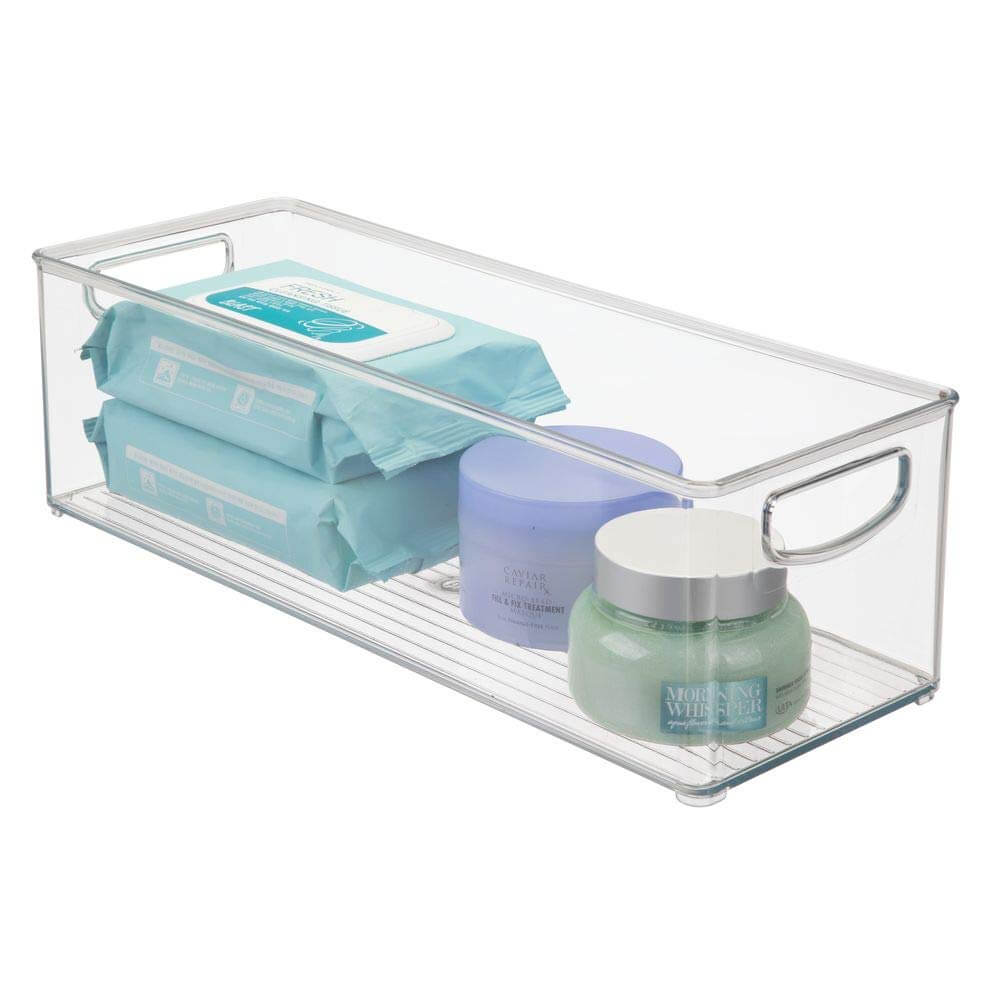 These plastic storage bins are a best selling bathroom organizer product. They measure 16″ x 6″ x 5″ high and are made of chlorine-free, BPA-free, shatter-resistant plastic. The clear plastic allows for easy visibility of the contents, and the handles make them easily portable. They are inexpensive and can be purchased in packs of 1, 2, 4, or 8 so that you can dedicate one bin for specific products. The bins have non-skid feet and can be easily cleaned with soap and water. You could actually find these storage bins useful throughout the house, and since they are food-safe, they can even be used in the kitchen.
25. Black Metallic Vanity Tray for Disposable Towels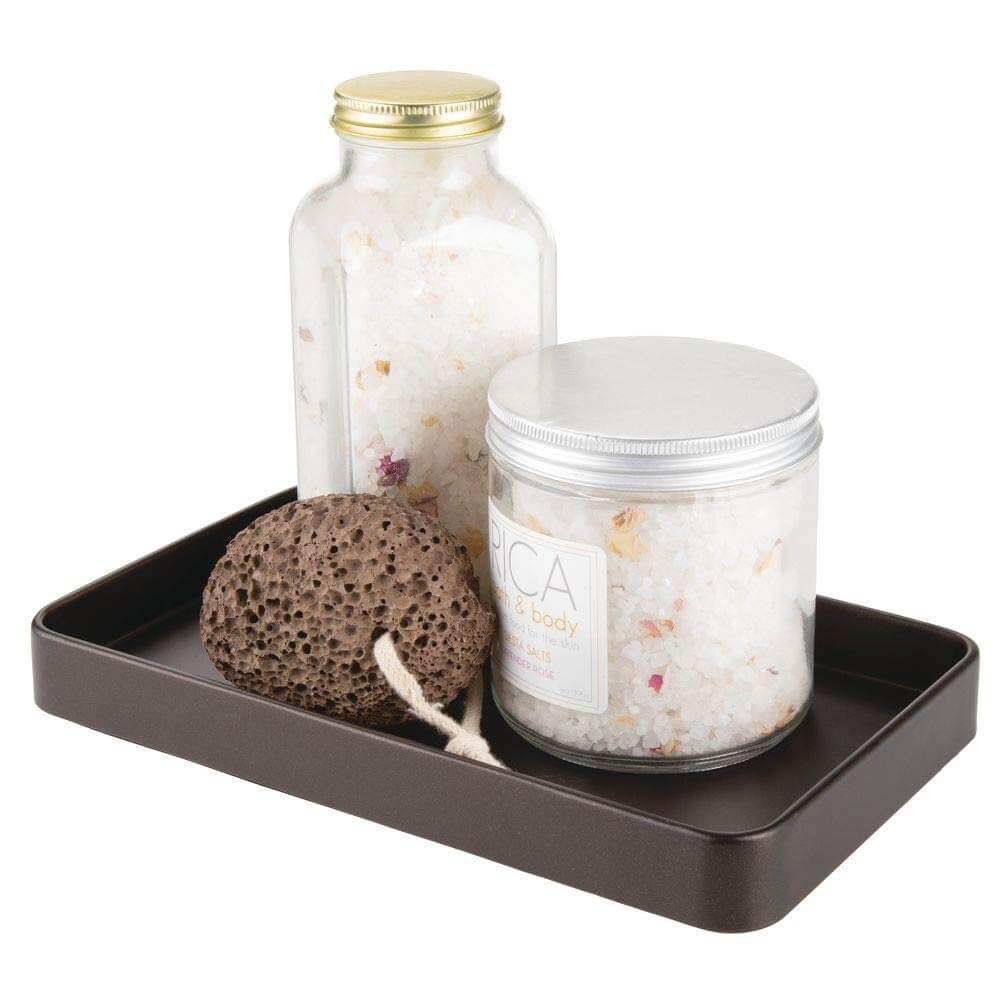 This vanity tray is a best selling bathroom organizer product. It measures 9.6″ x 5.6″ x 1.1″, which is a good size to hold hygienic, disposable paper guest towels. The tray keeps the towels neatly stacked and dry. It is made of rust-resistant steel, has a non-skid base, and easily wipes clean using a damp cloth. Inexpensive and available in a single or double pack, this tray also can be used as a bathroom organizer or an accent tray. Use it to hold toiletries in the bedroom or bathroom for yourself or guests or use it to hold candles and other decorative items throughout the house. You can even paint a design or add a decal to it.
25 De-cluttering Organizers that can Tame any Bathroom
The 25 bathroom storage products that we have reviewed provide you with a variety of solutions to help you organize, straighten, create more storage, and make your bathroom more efficient to use. You can probably use a variety of these products to make your bathroom more functional and visually appealing. You probably have already picked products that you like, but browse through the products again to consider if a different product might work better in your bathroom. You should consider not only the features of each product but also how the product will work with the features in your bathroom. One product may be superior in providing a solution for a specific storage issue, but it may not work in your bathroom.
When you are done not only comparing the products but also considering how they will work in your bathroom, you should have a plan for making your bathroom work and look the best for you and your family.