When looking for the best selling organizer products for the bedroom, you'll want to focus on cutting the clutter, streamlining your space and creating a serene atmosphere in your bedroom. With majority of your day being spent in your bedroom, it's important that this is a space you are comfortable in and enjoy being in. Keeping your bedroom organized will not only clear your mind and keep you sane, but a clean, organized room will also allow you to free up the time that was previously spent cleaning towards other tasks and hobbies.
25 Best Selling Organizer Products for a Complete Bedroom Transformation

Your closet space is the heart of a well-kept bedroom. To optimize the functionality and aesthetics of this space you'll want to do a complete wardrobe cleanse getting rid of anything that doesn't fit or that you haven't worn in the past few months. Finding organizer products for the closet is a good idea and essential for a tidy, well-kept closet.
In your bedroom, the easiest way to add organization and functionality to this space is to keep it both tidy and inviting. You want your essentials visible and easy to reach while still maximizing the hidden spaces within your room for extra storage space. A few ways to do this is to utilize the space under your bed using organizational products like cubbies, baskets or bags. Incorporate shelving for anything from books to lamps or your favorite framed portrait.
It's all in the details when it comes to a clean, organized bedroom. From wall shelves to jewelry storage, every detail makes a big impact on the efficiency and beauty of your space. Whether you are doing a complete room makeover or just looking for a few storage hacks, you can rest easy knowing we've got you covered. Here are 25 of the best-selling organizer products on Amazon that will have your bedroom looking and feeling beautiful and refreshed.
1. Stackable 6-Cube Wooden Storage System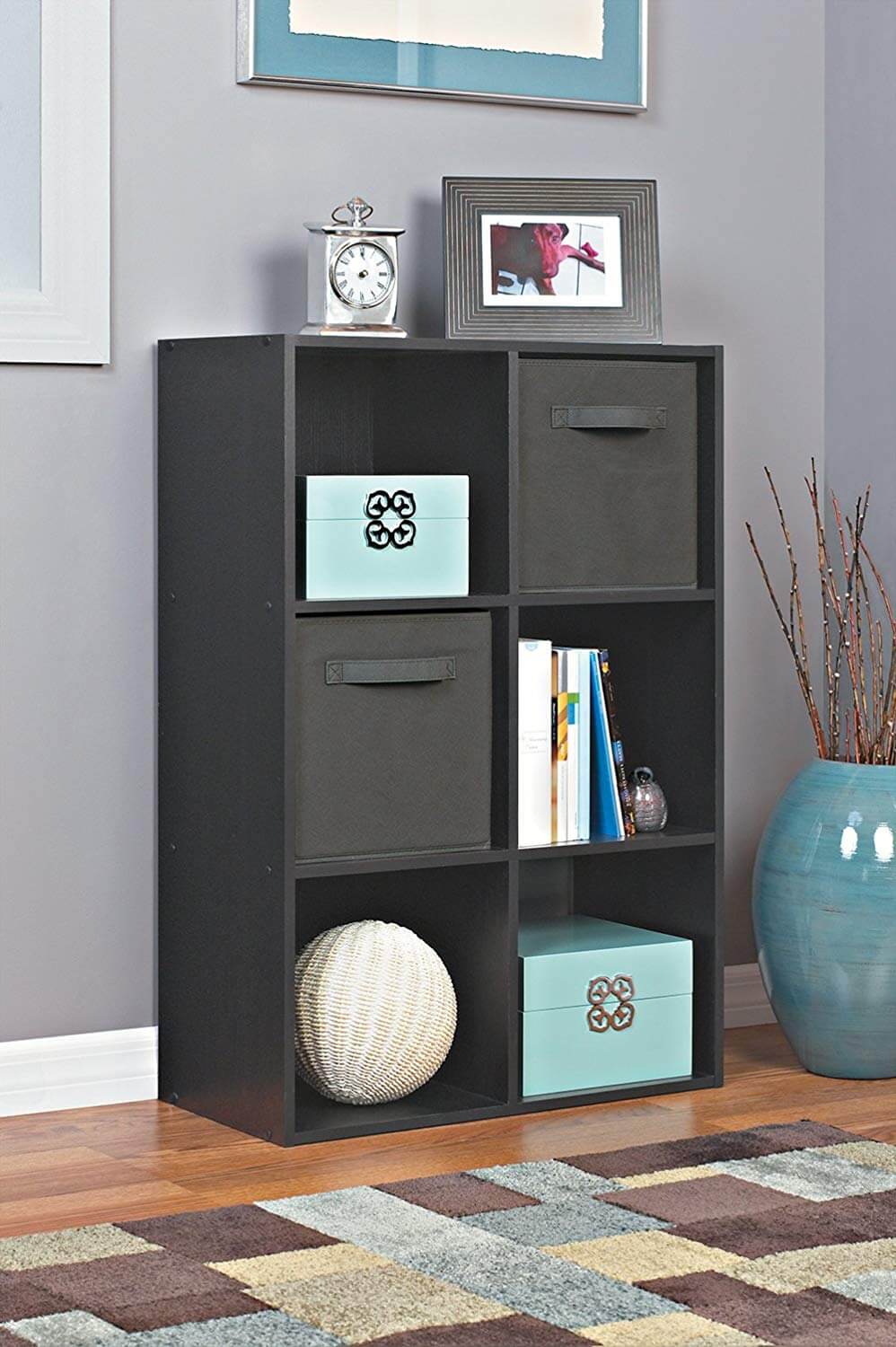 This stackable storage system is great for easy organization in the bedroom. Stand this 6-cube wooden shelf upright vertically or horizontally to fit any space. You can also insert cubbies or baskets into each cube for a chic way to personalize your room, not to mention hide your items. This storage unit includes all of the essential pieces to organize your space. Choose from four different sizing options in five beautiful finishes that will match your bedroom perfectly. It's the most perfect and convenient option for holding all of your hobbies, supplies, media and more. It definitely has the ability to transform your bedroom.
2. Best Selling Organizer Product for Bedroom Closet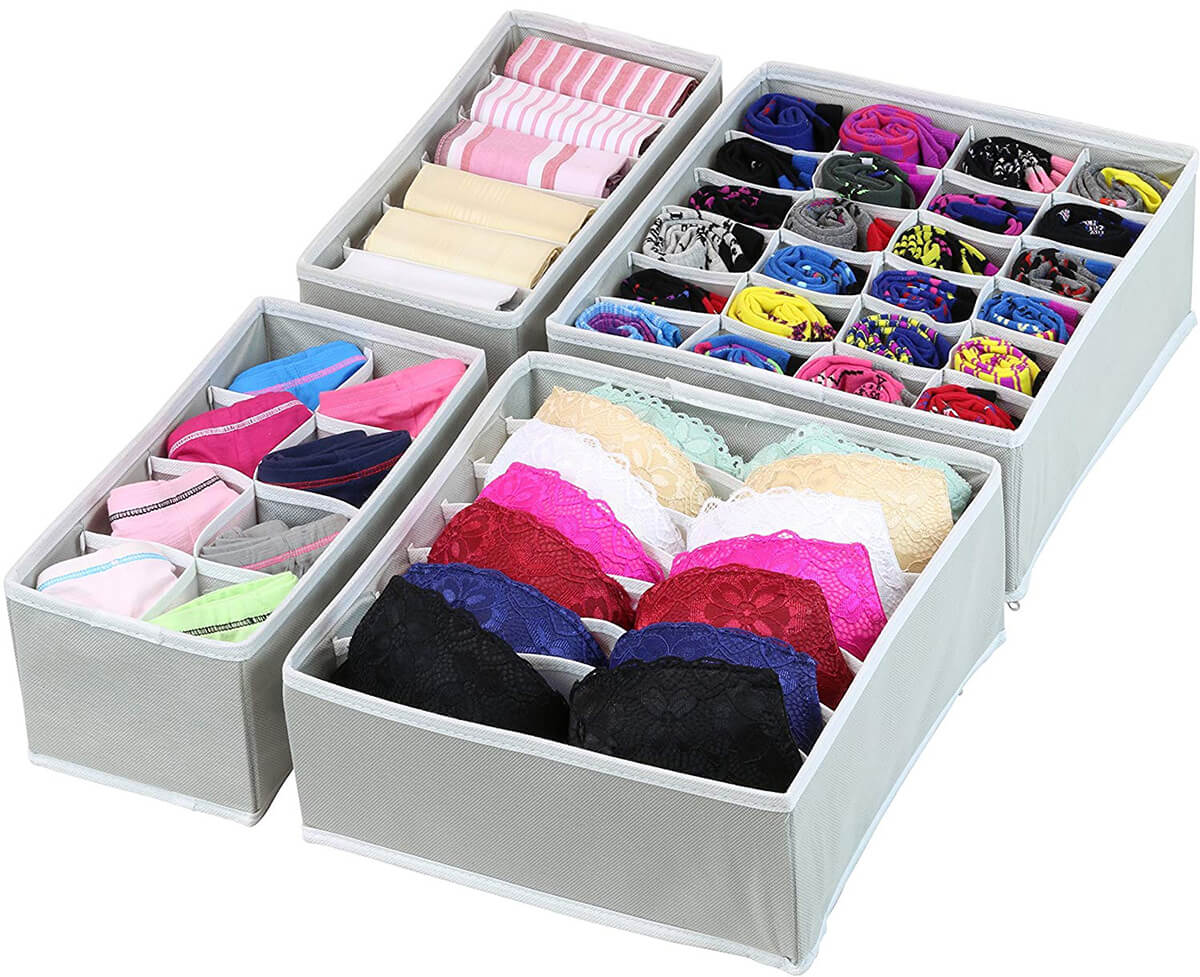 Looking for a nice way to organize your sock and underwear drawer? This clever closet organization divider features 4 drawer dividers: one with six cells for scarves or ties, one divider with eight cells for underwear, one seven cell divider for bras and a twenty-four cell bin for socks. It's made from non-woven fabric and mold-proof. You can also order it in gray, beige, pink or brown to fit your personal style and preference. This drawer organizer is the perfect way to organize your clothing so that you can easily and quickly find the things you are looking for without the hassle.
3. The Perfect Jewelry Organizer for Any Room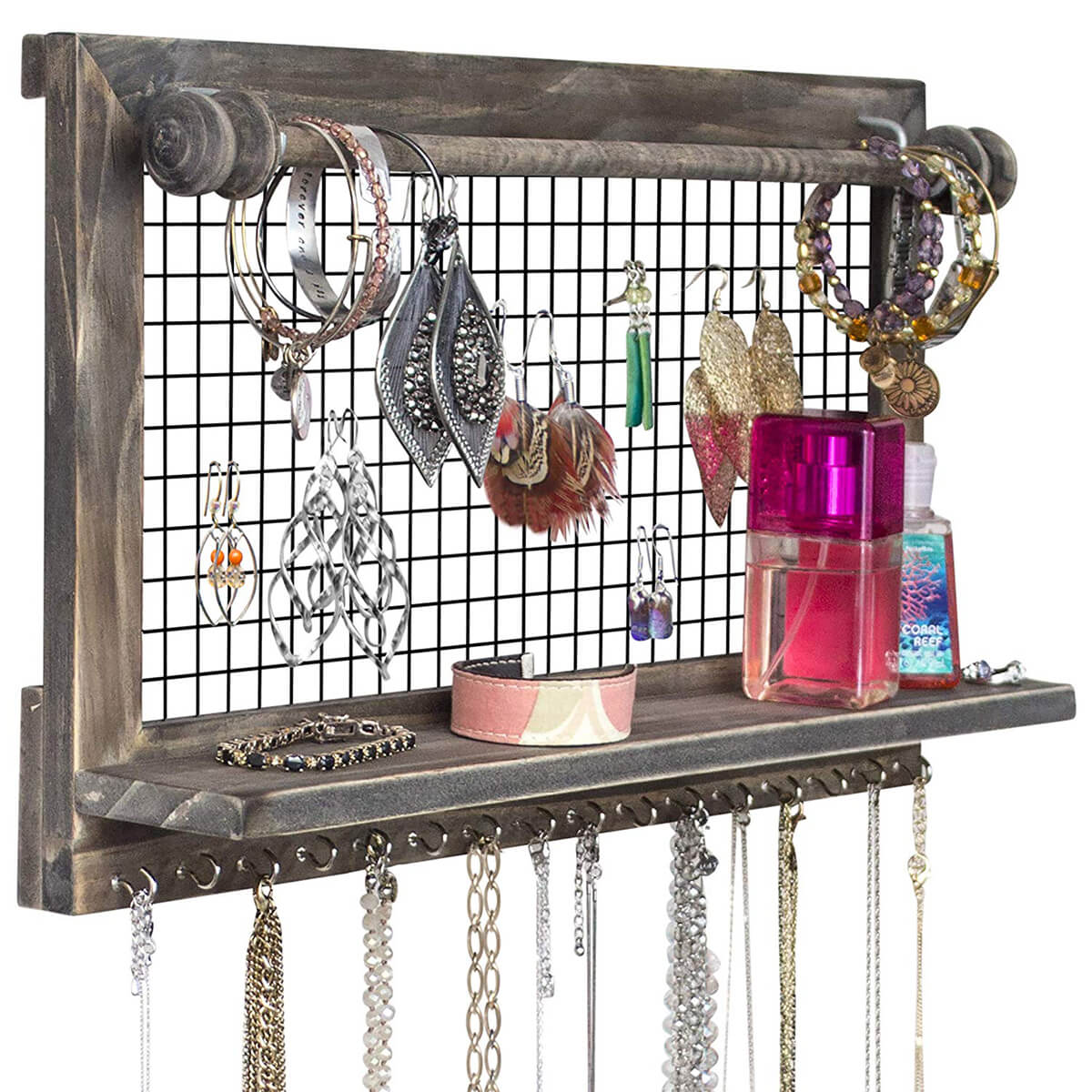 Keep your rings, necklaces, bracelets and earrings all in neat order with this rustic jewelry organizer. This organizer is mounted to the wall and features a rod for holding bracelets, a metal back wire for dangle earrings, a shelf that's deep enough to hold a small bowl for stud earrings, rings and other accessories as well as a bottom row of hooks for necklaces. This is the perfect jewelry holder for any room with its rustic, chic design and quality crafted detailing. It's also easy to install and comes with a one year warranty. Grab your accessories and get ready to be fashionably organized.
4. Foldable Storage Organizer with Large Clear Window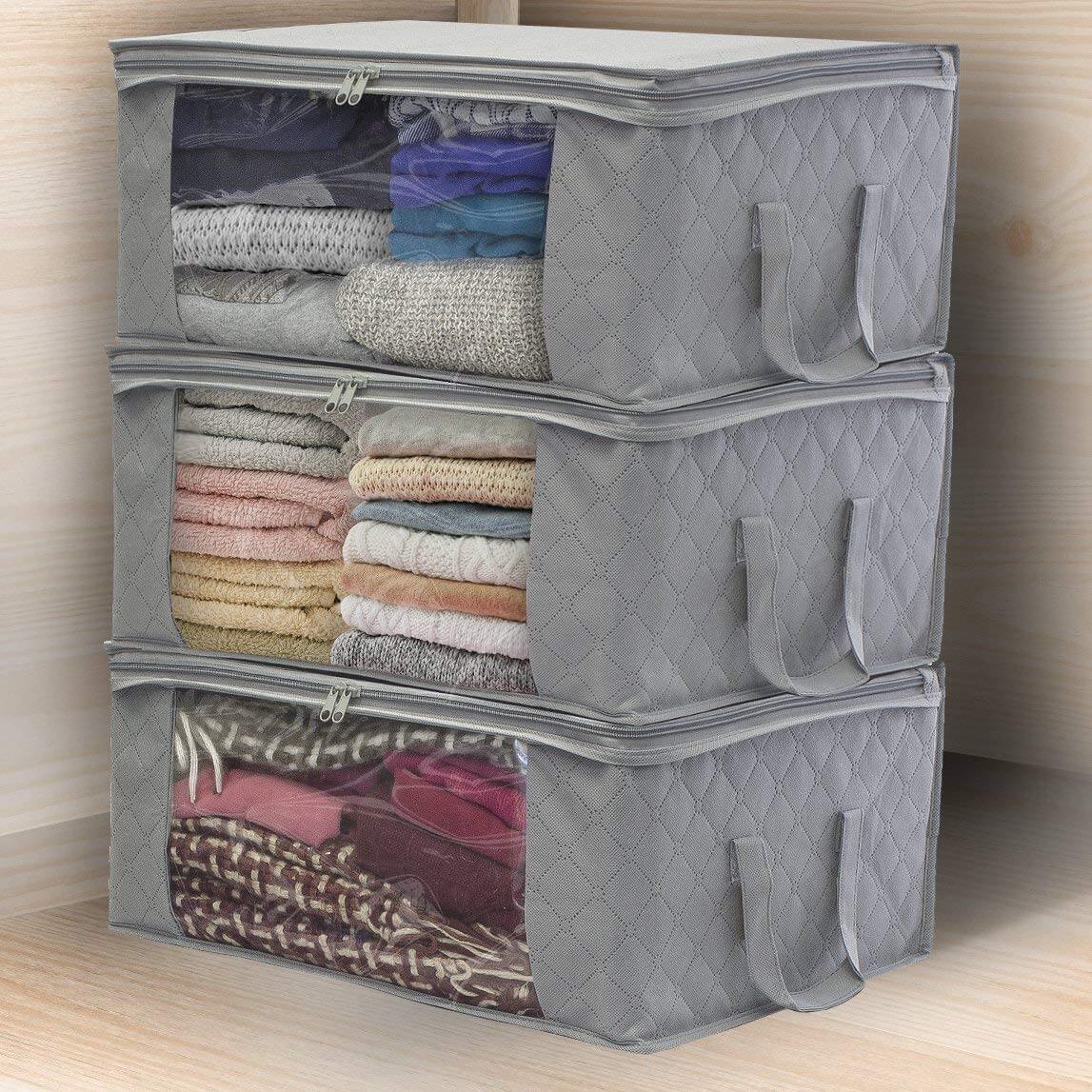 This foldable fabric organizer is great for storing clothes, blankets, linens and more. It features three divided sections all with a clear window view for easy accessibility. Use this fabric organizer to store holiday decorations, toys, photos, baby clothes and anything else you aren't using at the moment. It conveniently has a lightweight, portable build with carry handles and a zipper closure to protect against dust, pests, smell or water damage. Now you can easily transport your belongings from place to place between seasons and when traveling or moving as needed. You can also store these storage bags under the bed so they aren't visible.
5. Cloth, Foldable Storage Cubes for Design and Functionality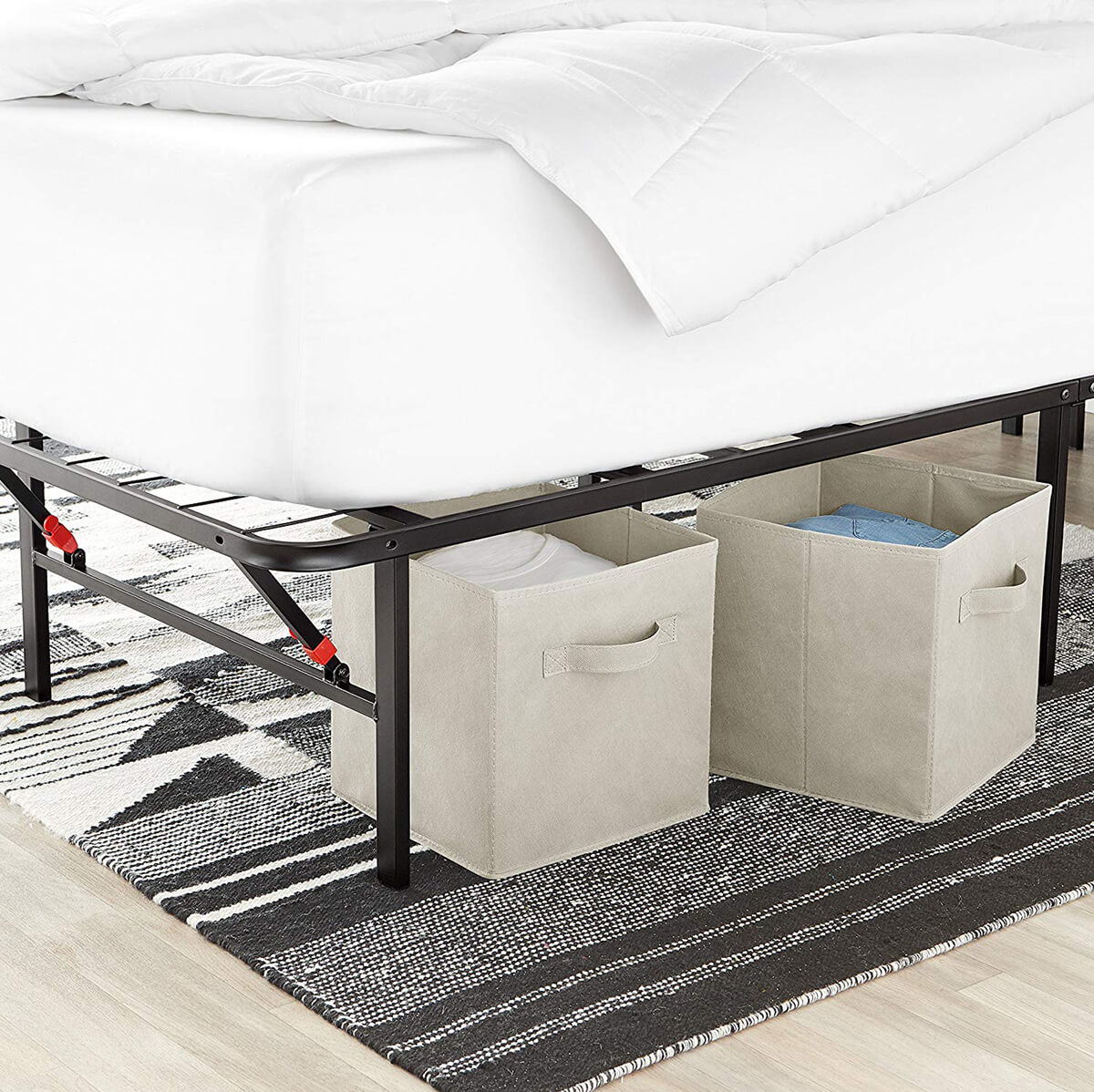 Clean up the clutter in your bedroom with the help of these six foldable storage cubes. These versatile open-top cubes showcase an organized appearance with a functional design. They're perfect for the bedroom, closet, kid's room or office. Included are six storage cubes with each cube measuring approximately 11 by 10.5 by 10.5 inches providing ample space for storing your everyday personal belongings in. They also feature a pull-out handle that can serve as a drawer for easy access. Choose from beige, grey, black, brown, navy or red. Use them in your existing built-in wall shelving or with the stackable wooden storage system mentioned earlier.
6. Vertical Sturdy Storage Tower for Bedroom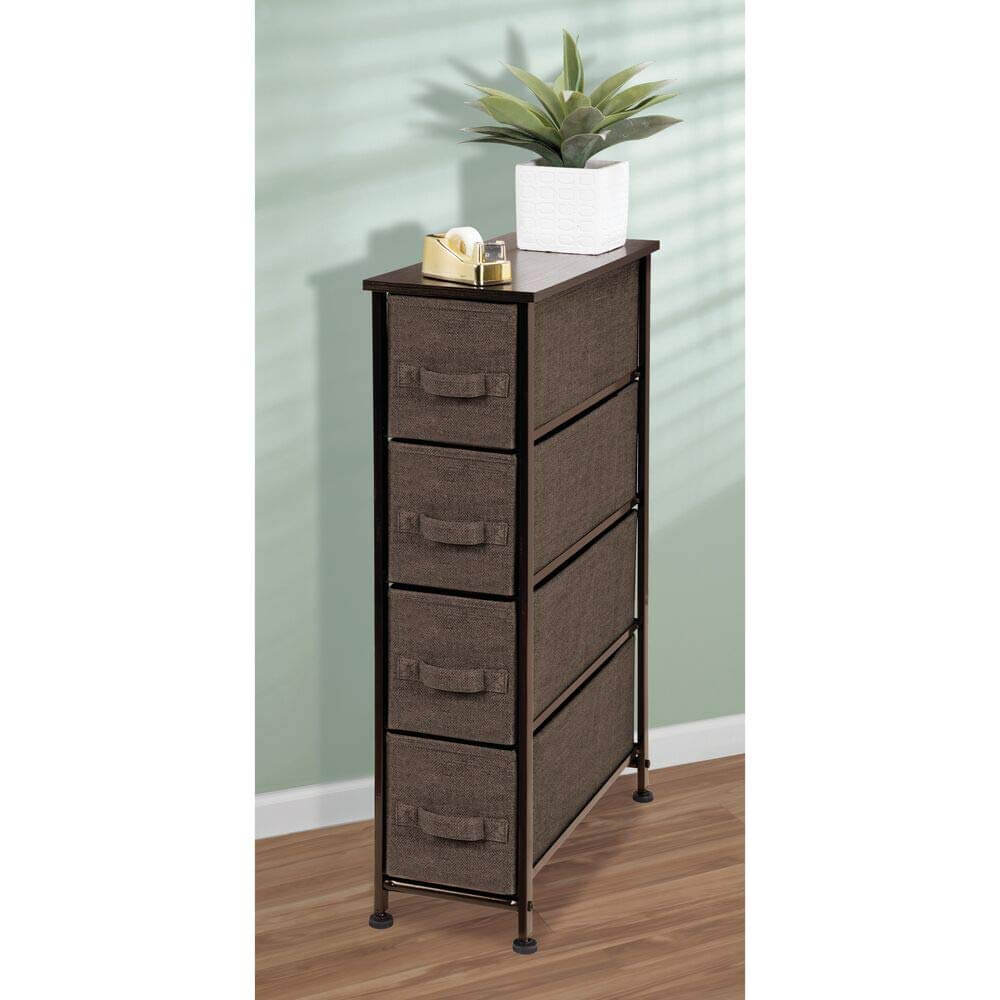 Organizing products don't have to be dull and boring in appearance. This stylish, smart storage system features 4 removable drawers to keep your clutter under control. Store your clothing and accessories in one convenient place. Use the drawers for undergarments, workout gear, leggings and more. The sleek, vertical design will fit any area of your bedroom beautifully. It's also lightweight even with a metal frame and has a wooden top for lamps, books, décor and more. This is such a functional and versatile storage system for your bedroom. Choose from charcoal, grey and linen colorways to fit your bedroom aesthetics perfectly.
7. Stainless Steel Pants Hanger for Closet Organization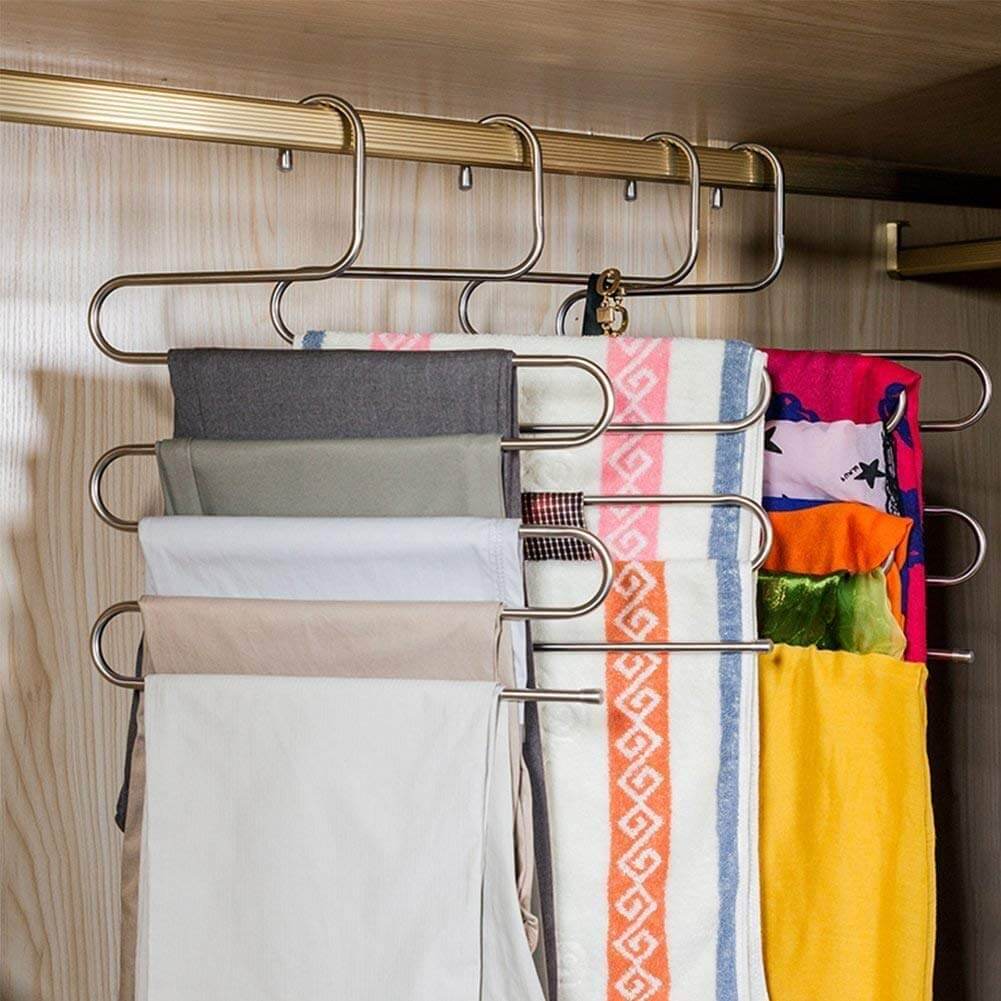 Part of having your bedroom organized also means having an organized closet. This durable, rust-resistant stainless steel hanger unit protects your pants and clothes from scratches and creases. It features a smooth S-shape that can hold five pairs of pants providing a space saving, tidy way to hang your clothing. Use it for pants, belts, ties, scarfs and more. This will be your new closet lifesaver keeping your clothing nice and orderly. You'll receive three of these s-shaped hangers which are enough to maximize your closet space effectively. Have a master bathroom? You can also use these space saving hangers to hold your towels or bring all of your clothing in for quick and easy changing.
8. Jumbo Stackable Bedding Storage Container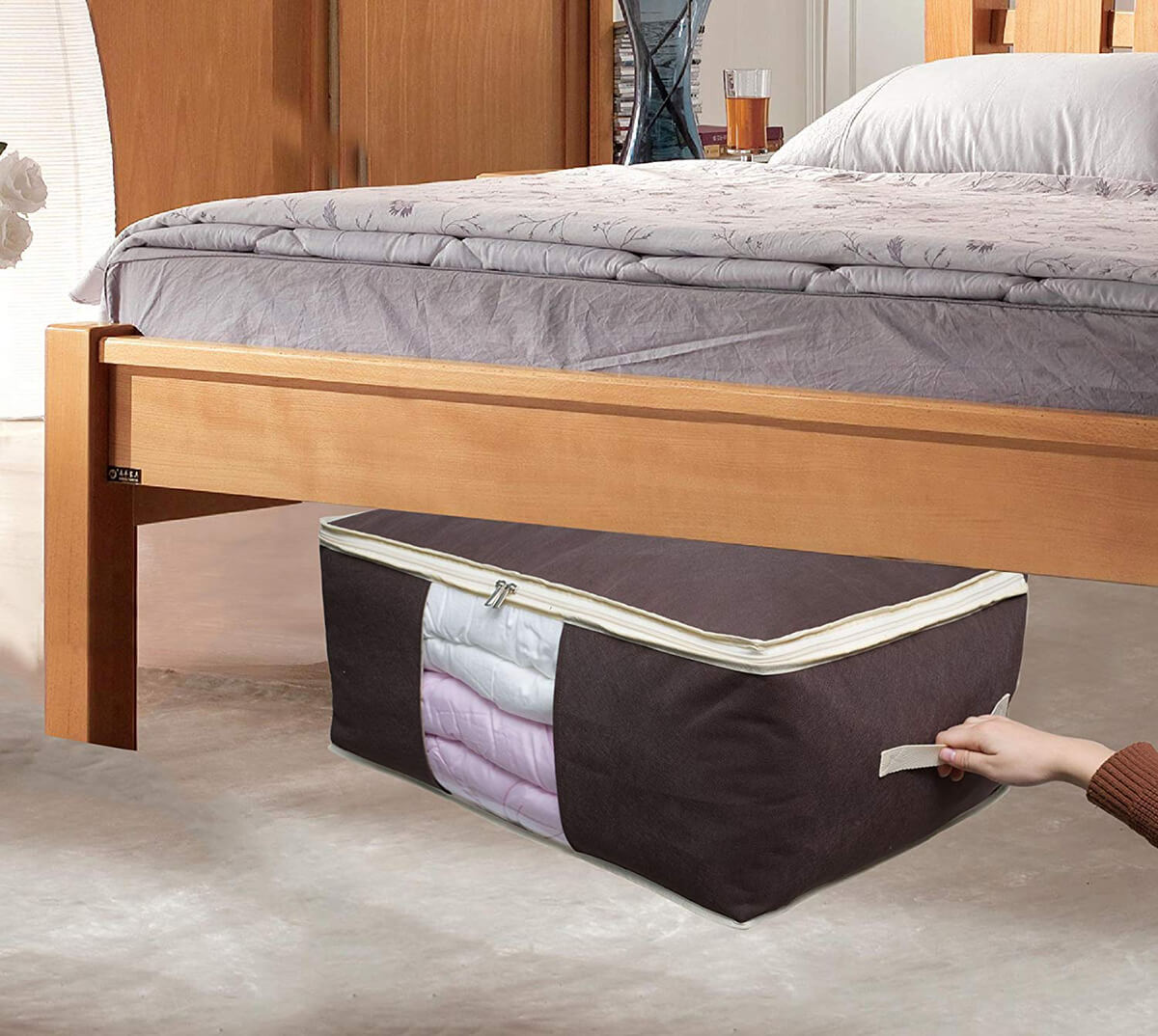 Tidy up your bedroom with these stackable bedding organizers. They come in a 2 pack with soft, anti-mold fabric that's breathable to keep things fresh. You can easily store about 2 king sized quilts or 4 blankets into one storage bin. Each container size is approximately 23 inches long, 17 inches wide and 11 inches tall. It also features a clear PVC window for easy viewing and accessibility. The stackable containers also have reinforced handles on each side for easy lifting or stacking. They have heavy duty double zippers to create a nice seal for storing those off season clothes, bedding, towels and more.
9. Portable Wardrobe Bedroom Armoire Organizer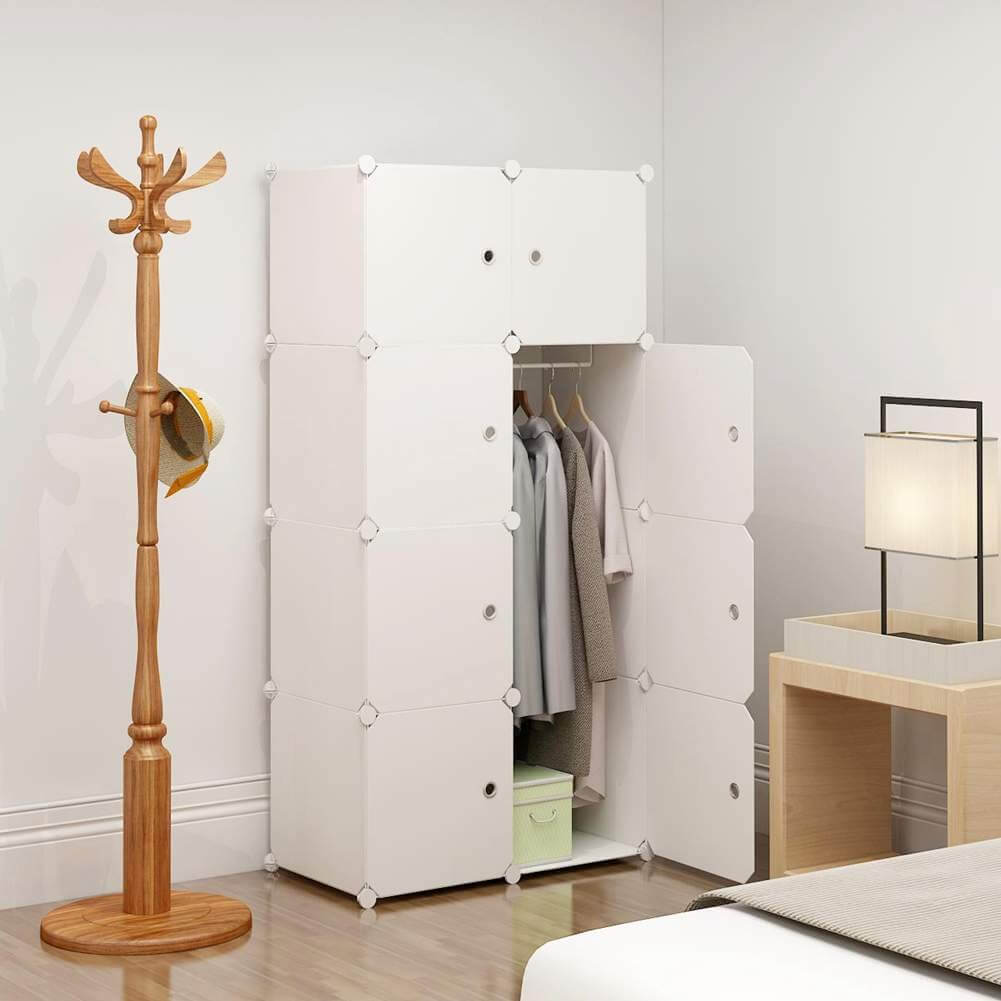 If you don't have a closet in your bedroom or space is limited, this creative cabinet design may be just what you need. This portable armoire features two hanging sections, six storage cubes and shelving. This cabinet is made of resin panels with multi-angle ABS connectors that easily attach to each other for easy installation. This smart design allows you to customize your structure into different shapes for different spaces. Use this all-in-one wardrobe organizer to hang your jackets and dresses while you store your undergarments, bottoms, shoes and accessories in the connecting bins. This sturdy armoire has a steel frame that supports up to 26 pounds on each shelf to satisfy all of your storage needs.
10. Bedside Rotating Media Caddy for Organization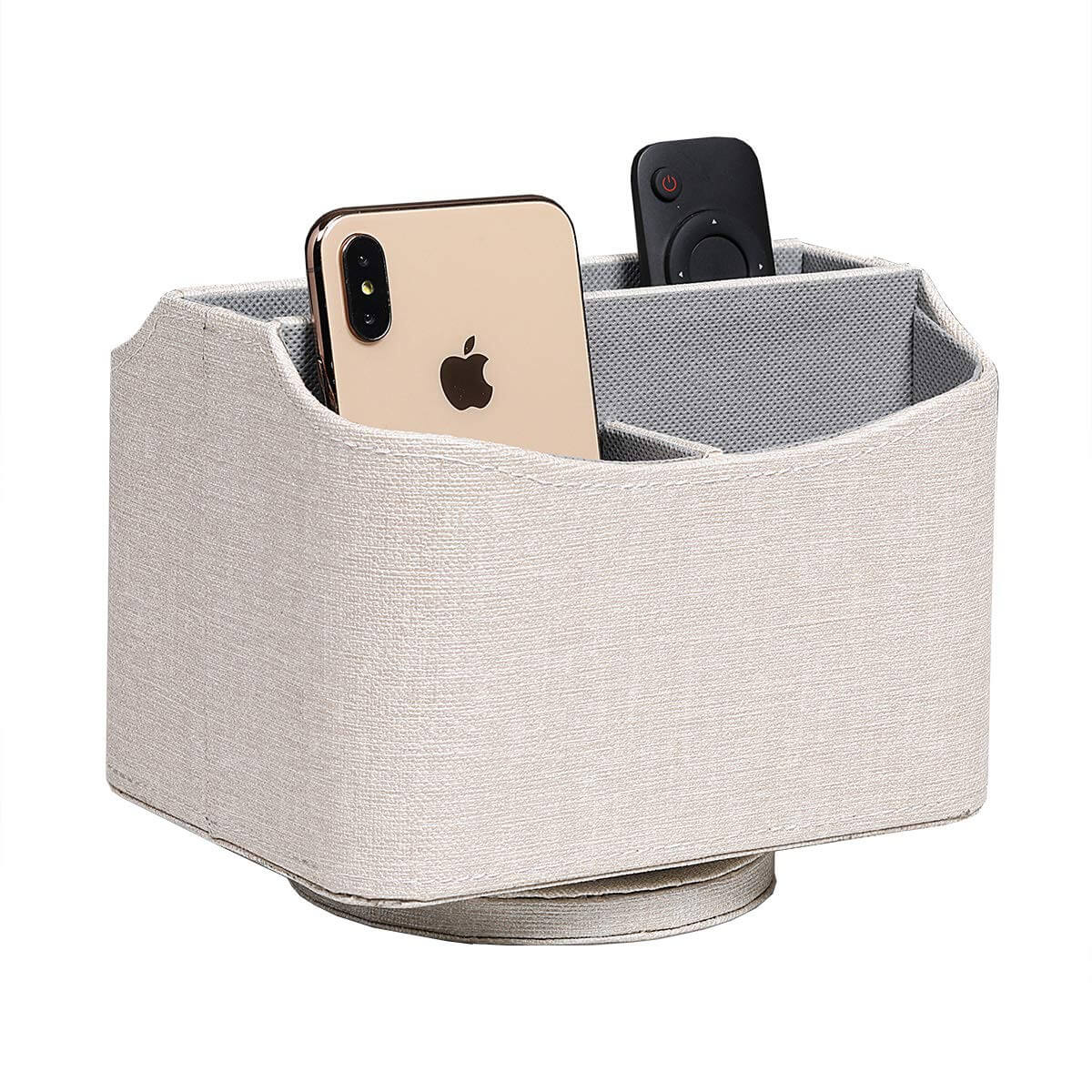 This sleek and stylish faux leather organizer features 5 compartments that can be used to house the remote control, office supplies, magazines or any other media device. It has a swiveling base which allows you to access everything with ease. It easily can fit on a desk or end table without taking up too much space. You can also get this rotating caddy in stylish designs like an elegant crocodile pattern or faux leather with grommet and studded detailing. It's a great organizer for your bedroom that not only provides functionality but also looks appealing. Keep everything you need within hands reach with this bedside rotating organizer.
11. Large Cotton Rope Basket with Handles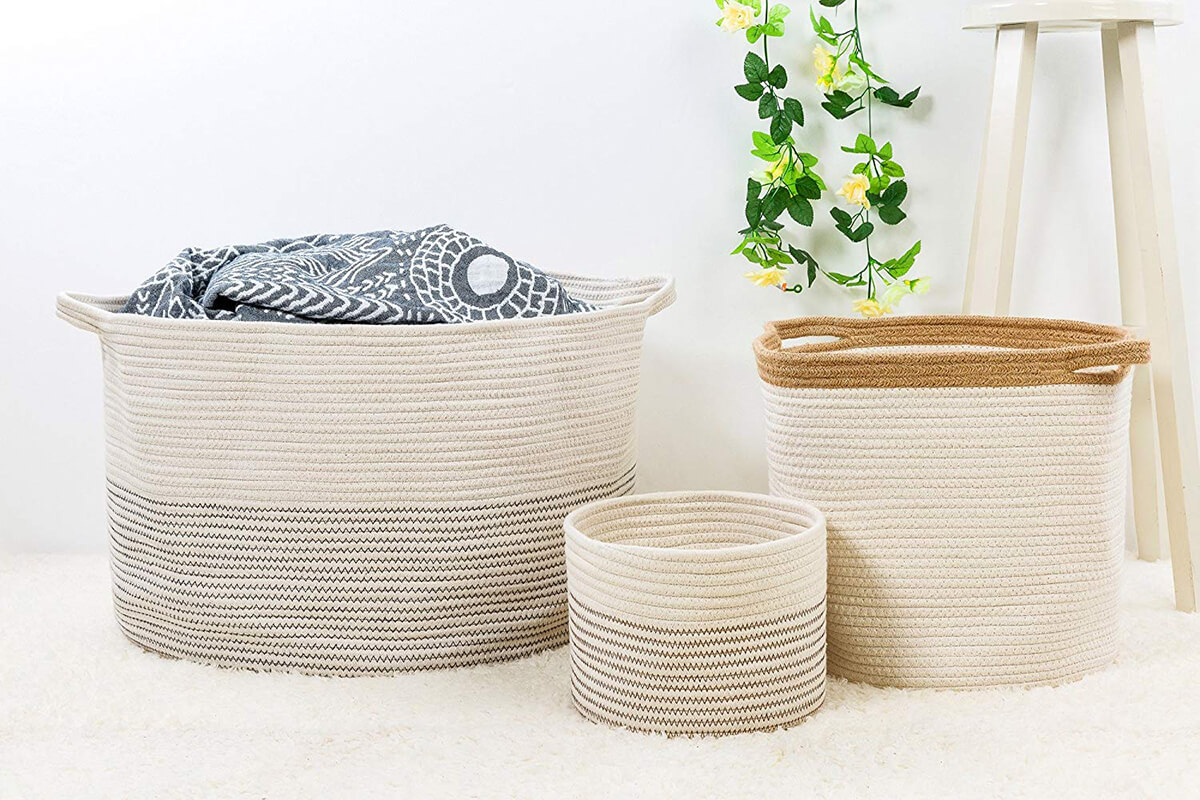 Want a chic basket that fits in with your home décor and also provides storage and organization? This 100% cotton woven thread rope basket is perfect for storing pillows, blankets, cushions and comforters. It is also large enough to store toys, games, supplies, clothes and more. It has a handle design that makes it easier to move and a soft sturdy exterior that can stand on its own. Place this gorgeous storage basket in the corner of your bedroom, by a chair, next to the bed or beside the dresser. You could even use it as a chic laundry basket. The neutral color and design of this basket will become a stylish décor feature in your bedroom.
12. Modular Shelving for Bedroom Storage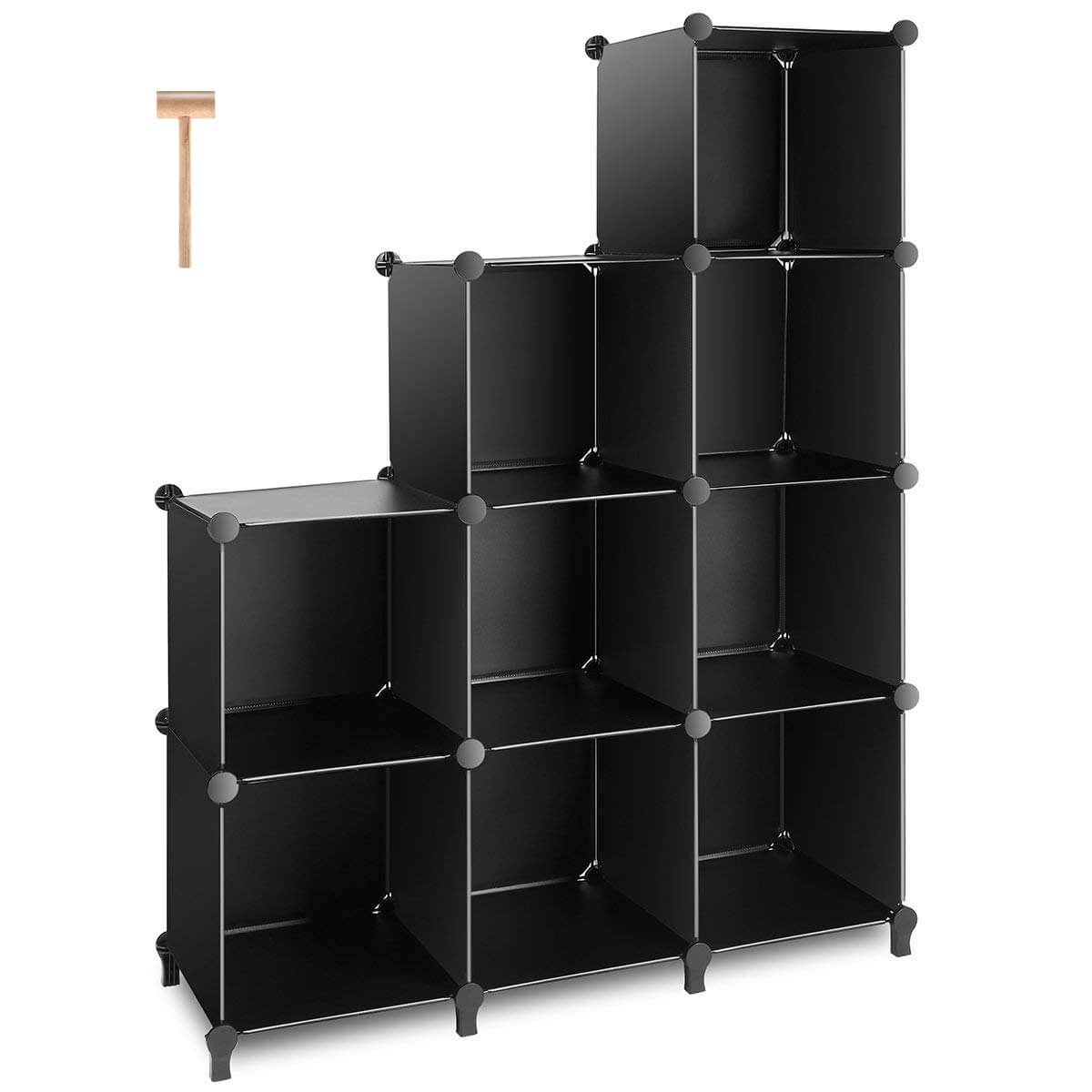 This versatile storage system can store all of your items from books, clothes, toys, artwork, décor and more. This system can be built into a variety of shapes to meet your needs. There are 9 cubes included with this system and can be adjusted to fit limited spaces. This modular shelving system is easy to assemble and disassemble which makes it a convenient storage unit to fit a variety of purposes. Add your own storage cubbies for a trendy look that also provides hidden storage. This space saving bedroom storage system would be an excellent way to store your books, picture frames, alarm clock and clothes all in one.
13. Wall Mounted Organizer Product for Bedroom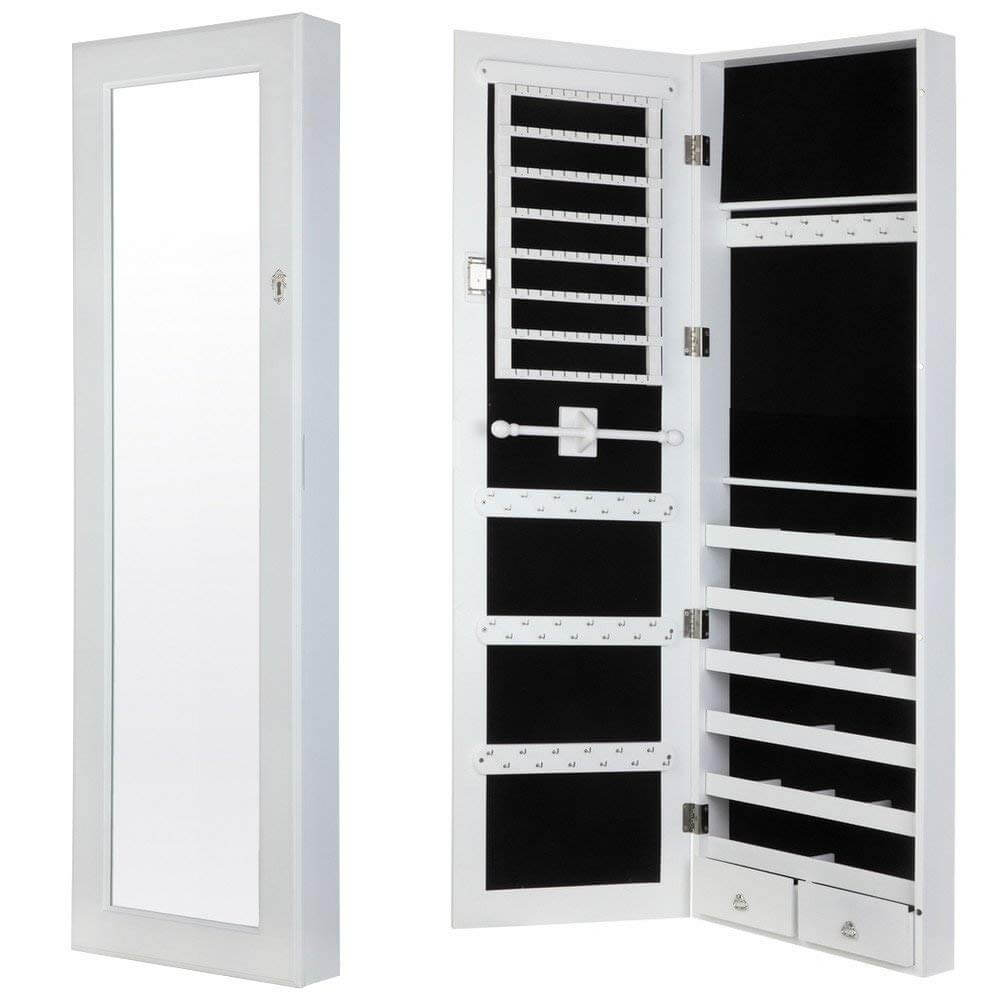 Do you have a ton of jewelry that you just can't seem to get rid of? Now you can organize all of your jewelry easily with this chic modern wall-mounted or over the door cabinet. This cabinet organizer holds up to 80 rings, 60 pairs of earrings, as well as 48 hooks for necklaces, bracelets and more. There's even built-in shelving that's perfect for perfume, watches, glasses, scarves or any other accessory you may own. It has an easy to clean surface with chic chrome plated metal hardware. This cabinet measures 47 x 15 x 3.5 inches with a mirror on the exterior door. This would be a great fixture to have in your bedroom or bathroom.
14. Stackable Organizing Tray for Jewelry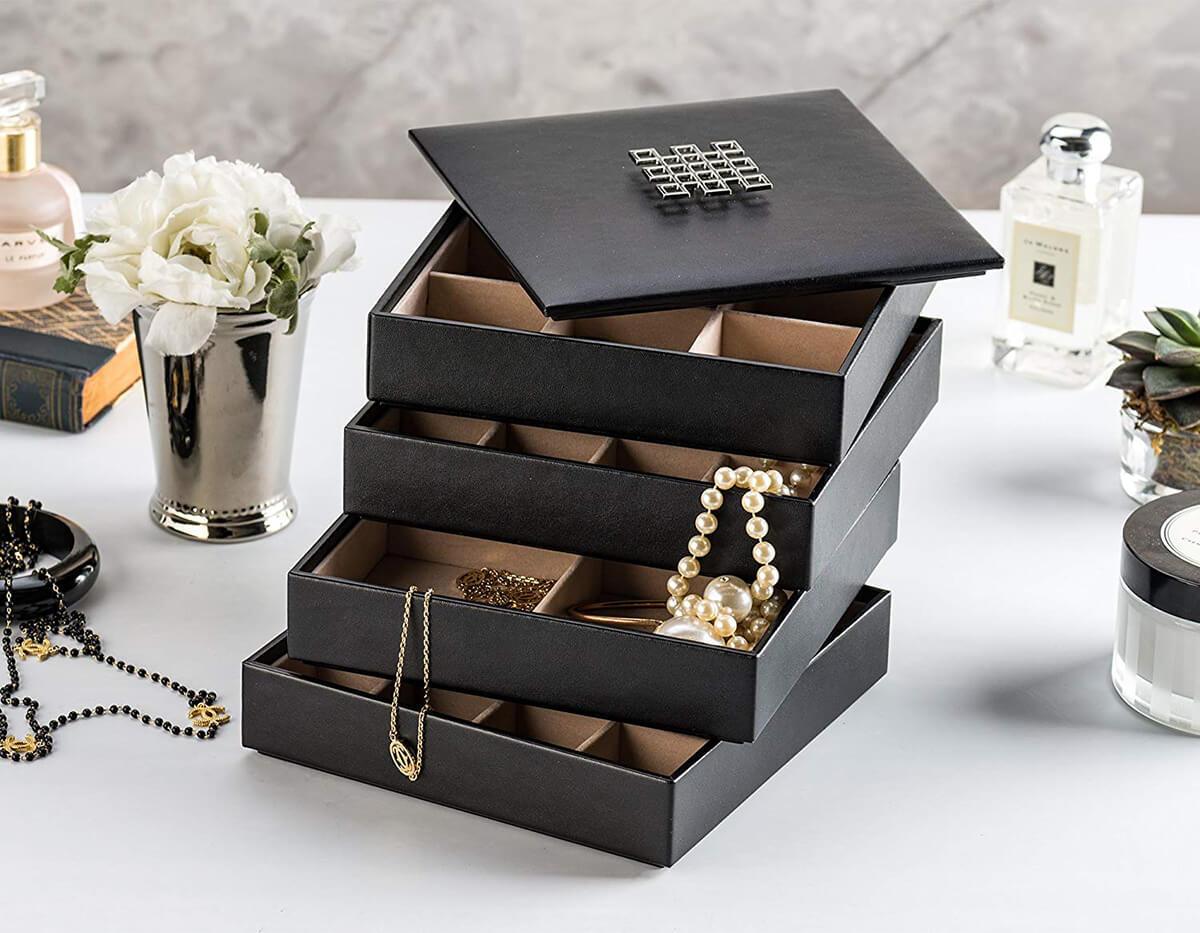 Featuring 45 compartments that can easily store 2 to 3 pairs of small jewelry, this stackable tray is a trendy way to store your accessories in. These trays boast a unique and beautiful design that's convenient for storing jewelry. Unlike traditional jewelry storage systems, this one includes a lid that can easily be opened and closed keeping your jewelry free from dust. The exterior of each box features smooth faux leather with stitching detail. The inside is covered with a soft velvet fabric to protect your jewelry from scratches. This jewelry tray has such a modern yet sophisticated look that will double as décor right on top of your bedroom dresser.
15. Over the Door Hanging Organizer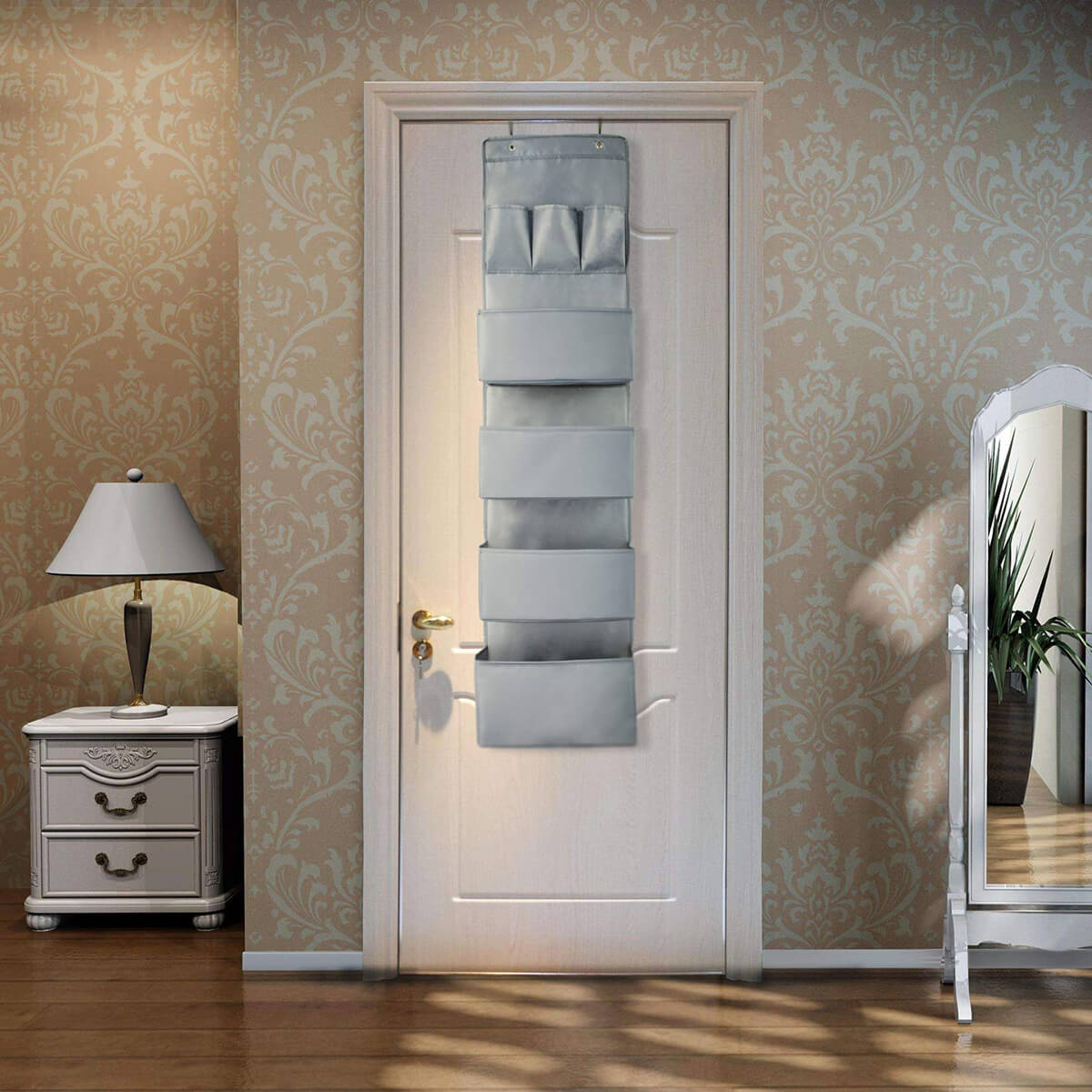 There are so many ways to utilize an over the door hanging organizer. Place it over your bedroom door, closet door or bathroom door. This high-quality oxford cloth organizer features durable metal hooks with 3 mini pockets on top and 4 larger pockets underneath. There's plenty of room to store items of all sizes. It could fit clothing, accessories, toys, shoes, towels, toiletries and more. The organizer itself is 52 inches long and 13 inches wide making it a great space saving solution for organizing all of your belongings. It also has a collapsible design that's super easy to assemble and disassemble when you don't need it or are using it when traveling.
16. Trendy Vertical Storage Tower with Pull-Out Bins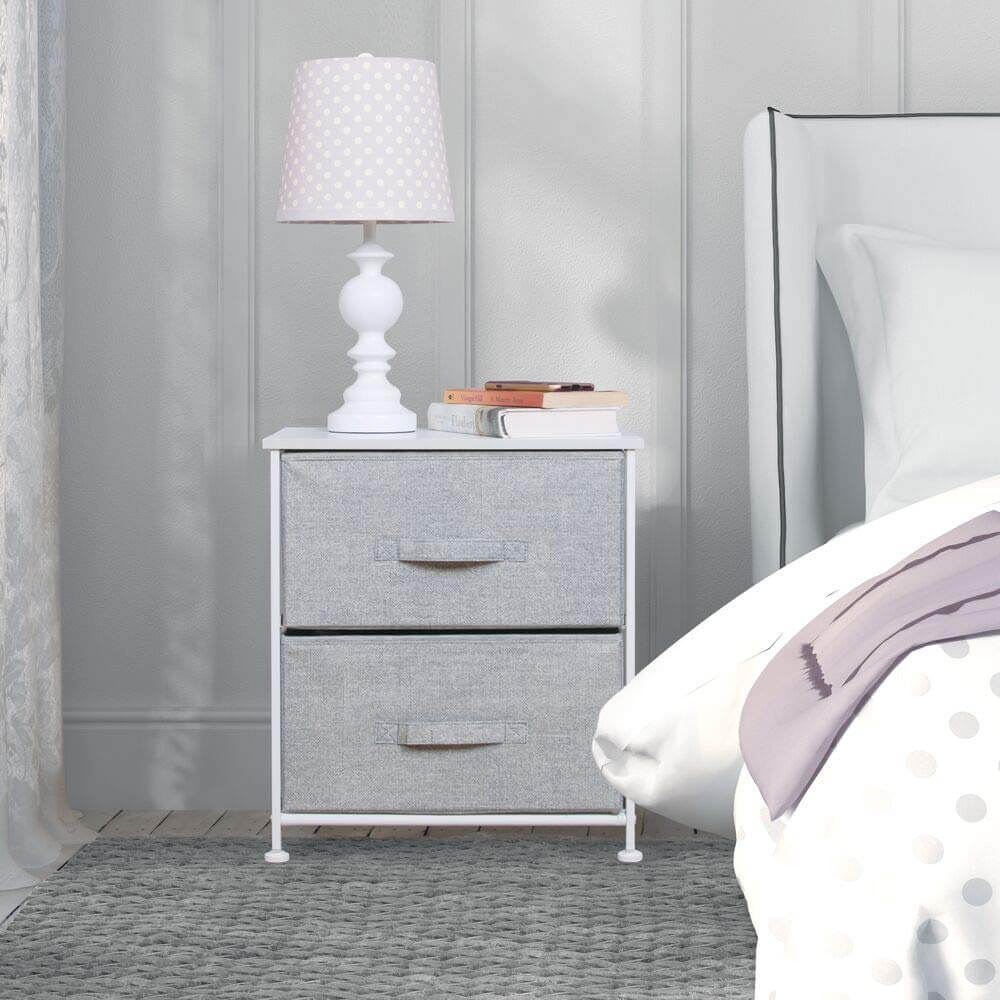 Place this vertical storage system next to your bed and use it as a night stand and drawer. It can serve as an accent table and can help clear the clutter by organizing your things into these convenient fabric drawers with handles. It's perfect for storing your phone, journal, books, glasses and more. This slim, lightweight tower is designed with a sturdy steel frame and wood top for a lamp or décor. This unit has such a functional and versatile design that makes organization easy in any room of the home. It also has a textured print that's available in linen, espresso, grey or charcoal colors.
17. 59 Inch Portable Closet Organizer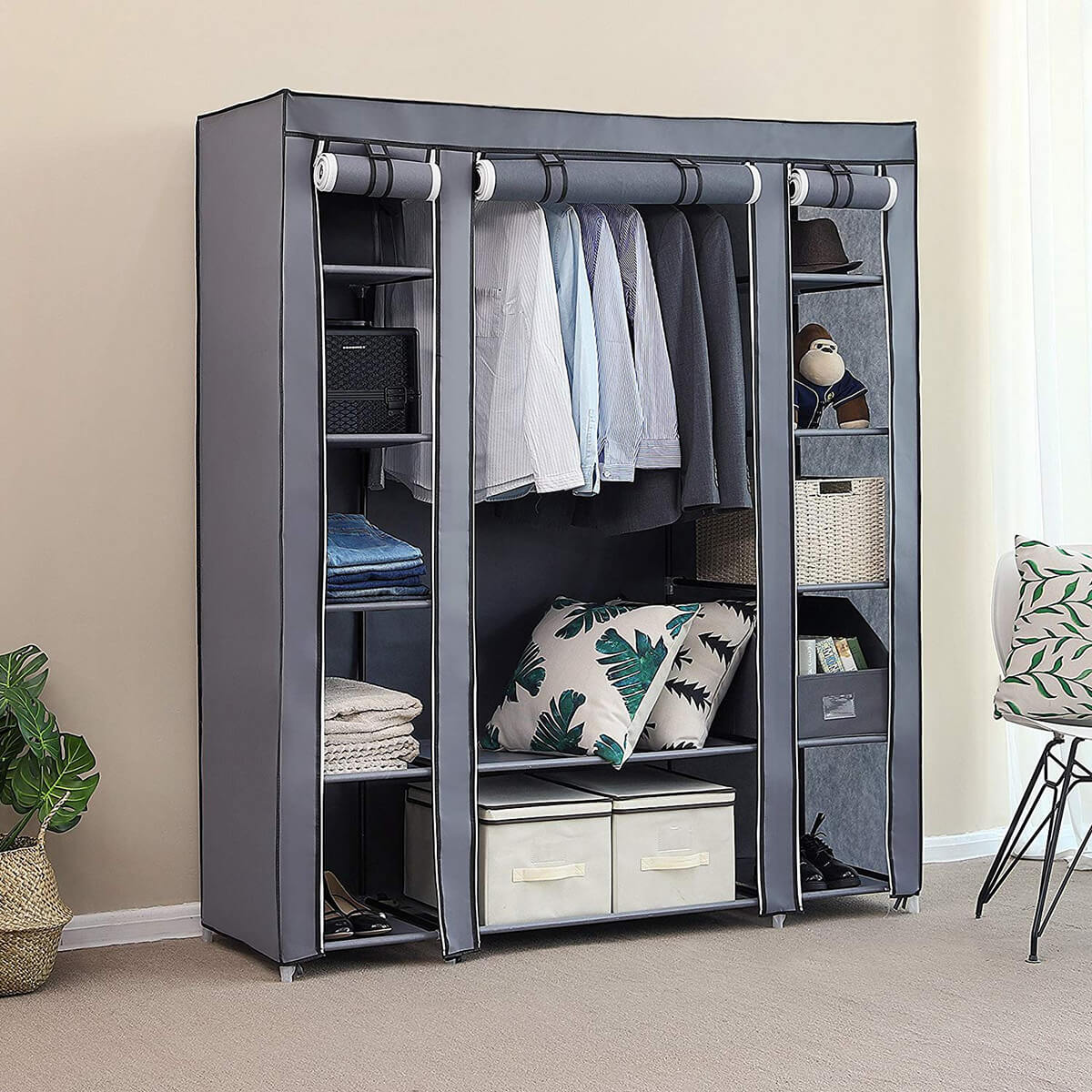 This is one popular bedroom storage system if you don't have much closet space. This easy to assemble, strong and durable storage system comes with clear installation instructions, steel tube and plastic connectors with a movable hanging rod and storage shelves. The 12 storage shelves provide ample space for organizing your bedroom closet. The storage cubes are made from non-woven fabric covers that are waterproof to meet all of your long term needs. This storage solution also features a zippered dustproof cover to keep dust and pests away. The fabric is easy to clean for a super fresh organizational system for your bedroom.
18. Foldable Fabric Storage Bins with Handles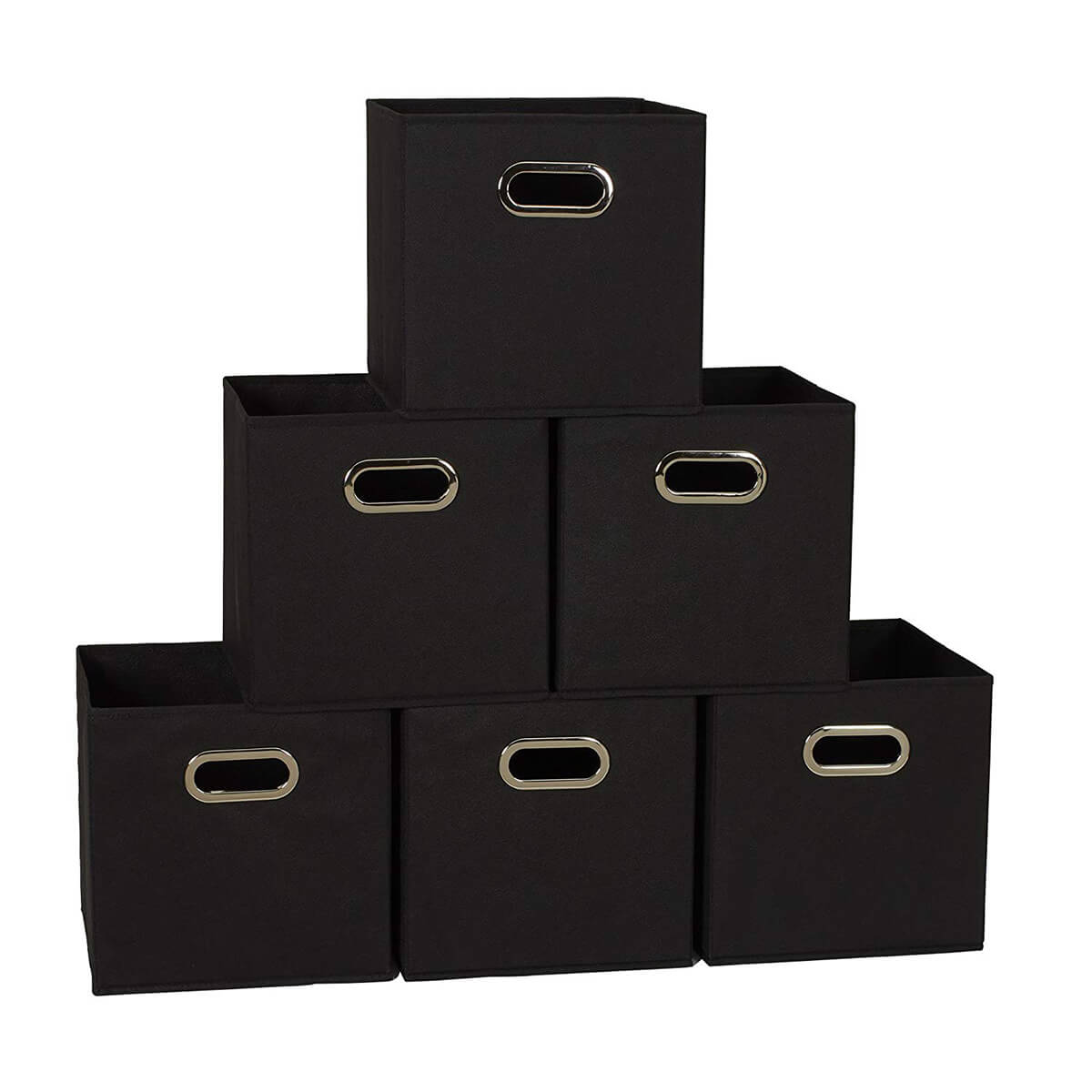 Storage products come in a variety of shapes and sizes. The new organization trend seen everywhere are these collapsible cubby storage baskets. They easily fold flat when not in use and pop up with sturdy fiberboard siding to use for storing items inside. This is such an easy and efficient way to organize toys, blankets, shoes, books and more. The six included cubes fit most popular cubed storage systems. The bins are lightweight and can hold up to 15-20 pounds. Spot clean your new foldable storage bins as needed for easy cleaning. They're available in a variety of colors to fit your own bedroom style and personality.
19. Storage Basket with Durable Cotton Handles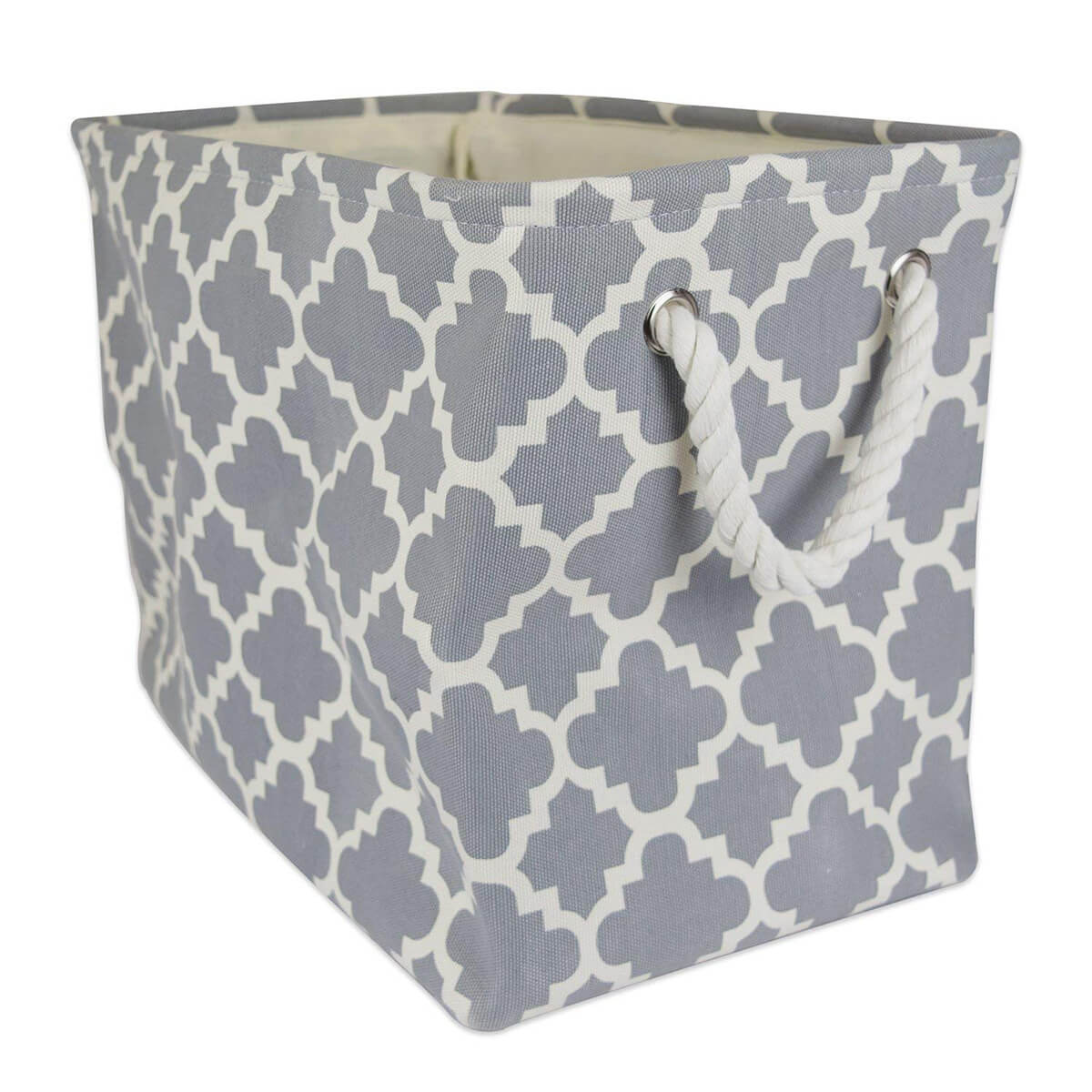 Stylish for any environment, these cotton handled storage baskets are the perfect addition to any nursery, home office, hobby room or bedroom. These bins are available in an assortment of designs and colors to fit any décor style. You can simply collapse the bin as well when you aren't using it for compact storing. If you're struggling to find the perfect place for knick knacks, office supplies, magazines and more these storage cubes are the perfect organizational solution for you. Tuck them neatly into an existing cubed shelving unit or placed nicely onto a shelf or dresser. The organizational possibilities are endless with these trendy baskets.
20. Stylish Smart Storage System with 4 Drawers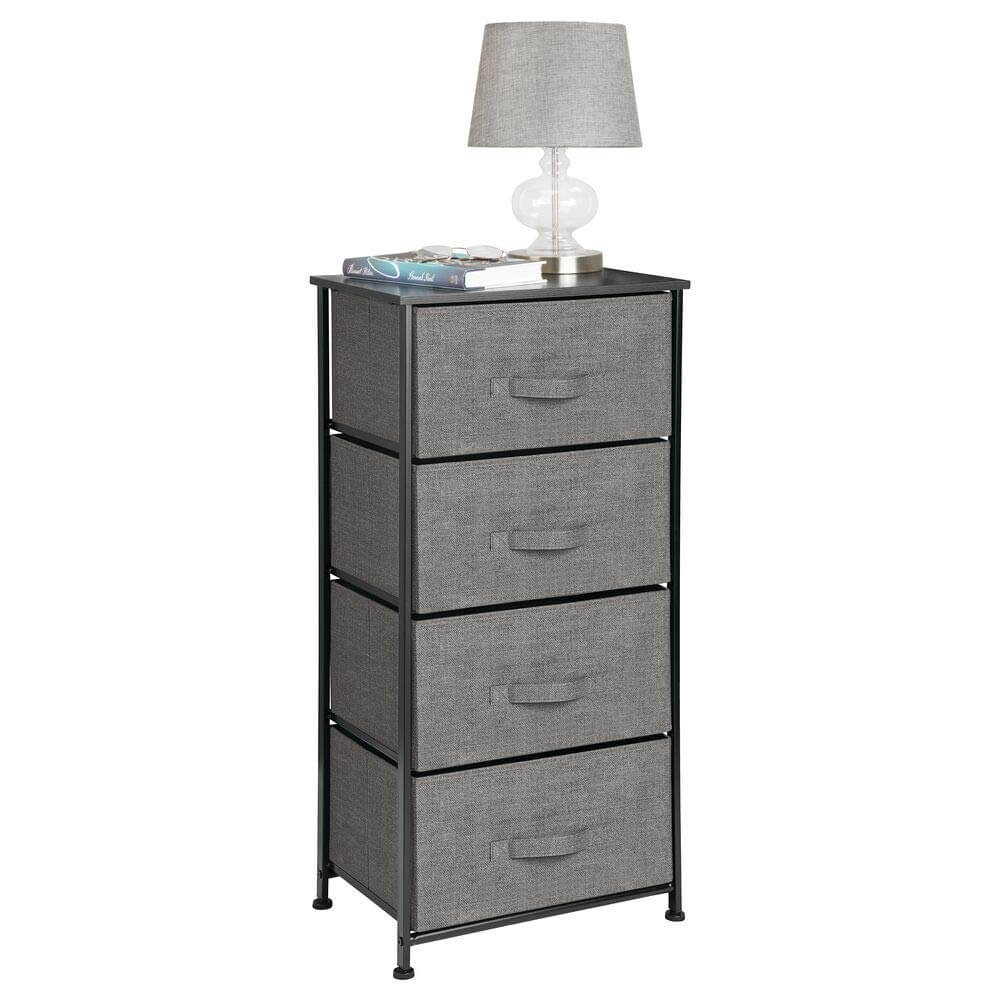 If you're looking for a trendy solution for your clothes other than the traditional dresser we always see, this unique vertical dresser may be just be what you're looking for. This 4 drawer chest features removable drawers that can be used in or out of the closet to help with clutter. It's a convenient place to organize all of your clothing from your workout gear and everyday wear to your work clothes and linens. The slim fit design and not only provides plenty of storage space, but also is a safe saving fixture to fit easily in any location throughout your home. It also comes complete with a wood top that serves as a hard purpose for placing lamps, books, glasses and more.
21. Linen Fabric Ottoman for Bedroom Storage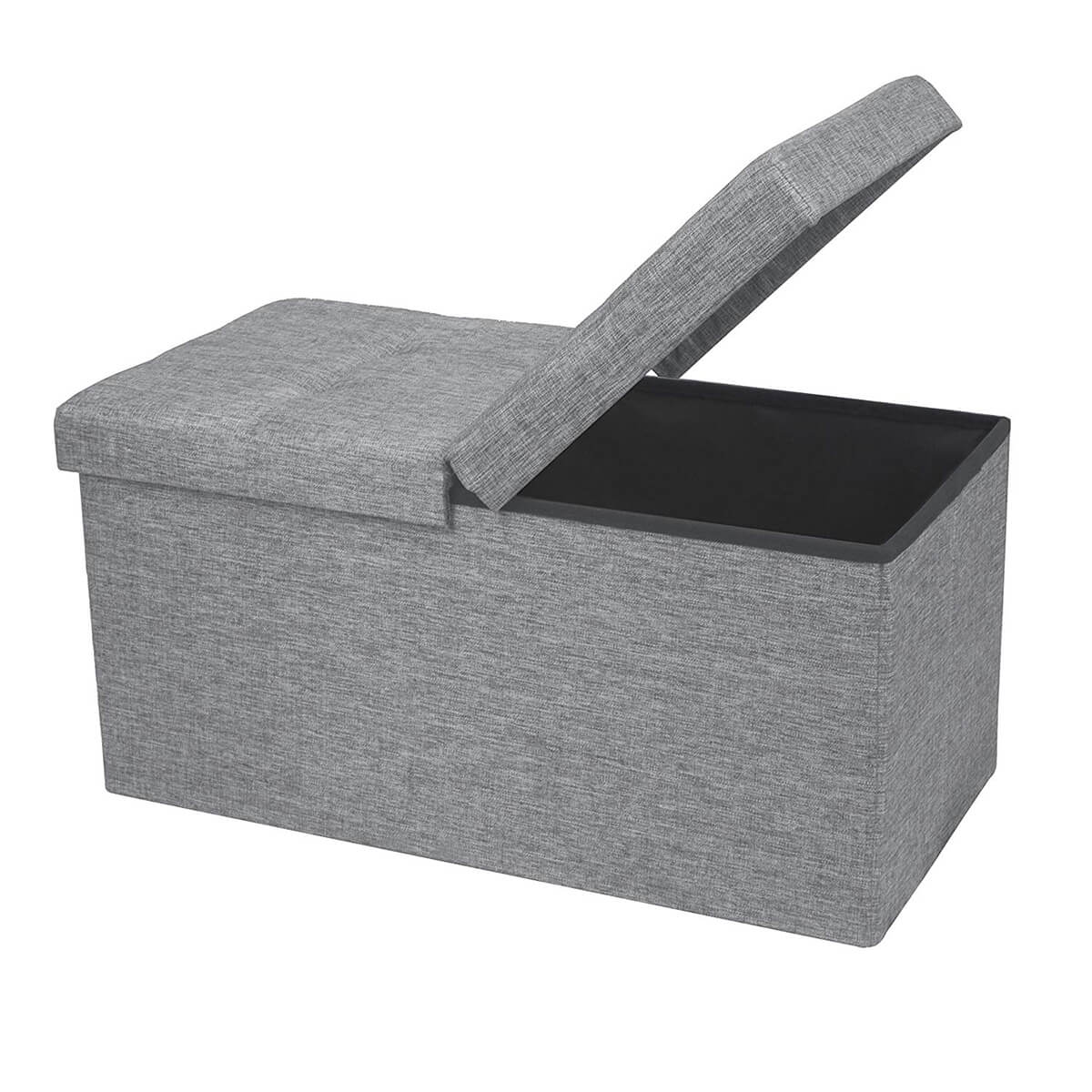 The versatility of this ottoman is incredible. It features comfort foam padding for comfortable seating along with a sturdy base for stability. The top features a lid that swings open on either side for easy accessibility. This storage ottoman is easy to set up and easy to fold away. It can serve as a hidden storage room for those random items you just can't seem to get rid of. Having not only extra seating like this bench provides, but also added storage space to your bedroom is essential and a clever way to make the most of your space. It's also available in a light grey, dark grey and brown to fit your bedroom's color palette.
22. Bedside Shelf for Flat Base Beds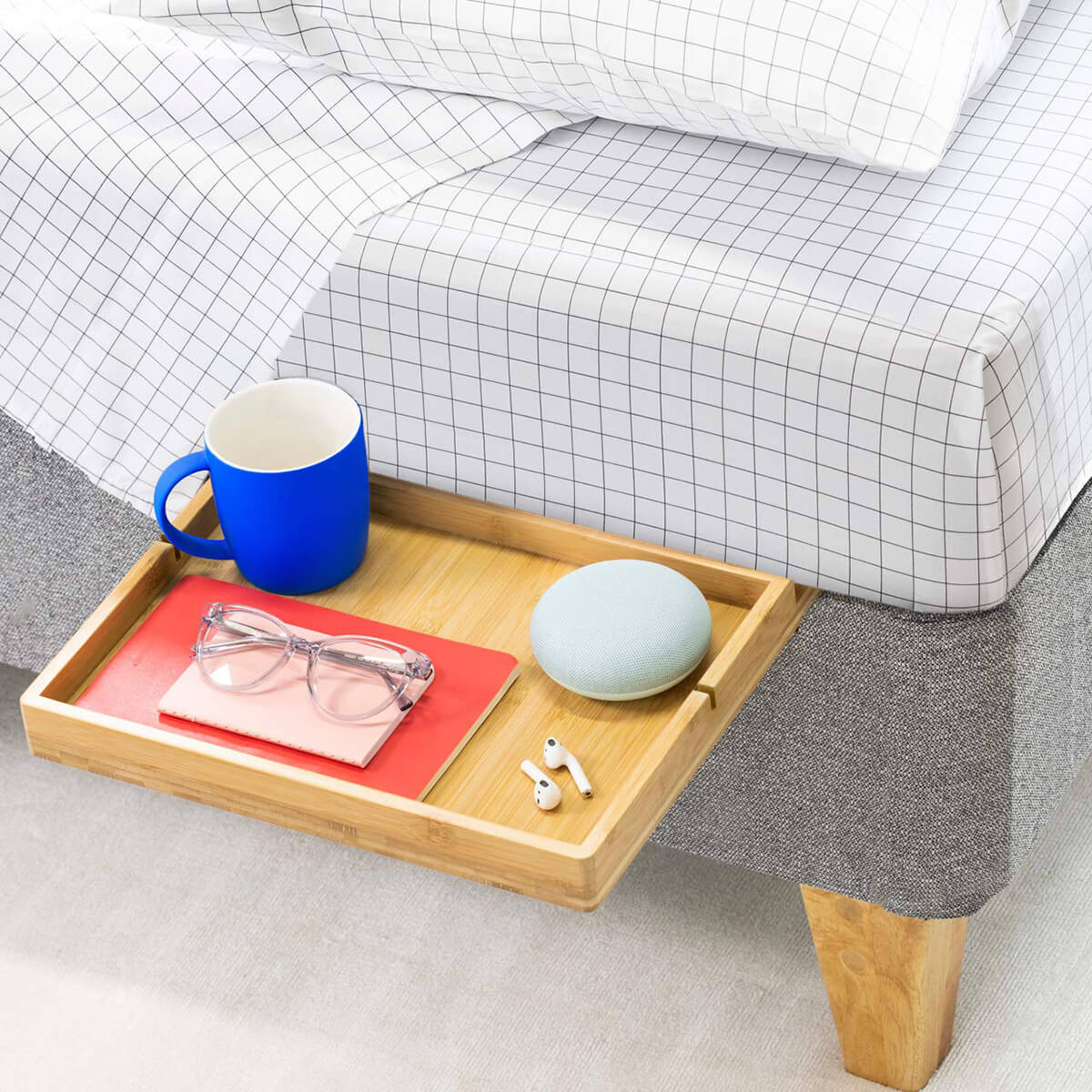 Ready to see an incredible creation? This genius bedside shelf simply slides under the mattress for easy installation. It can safely hold up to 15 pounds and no tools are required for setup. This beautiful shelf was crafted by hand using ecofriendly bamboo. Use this innovative shelf to hold your tablet, remote control, drink and more all within arm's reach. Free yourself from the clutter starting with where we start and end our day. Instead of clunky furniture in your bedroom, opt for this minimalist organizational product to not only save money on big ticket furniture but also to provide optimal space saving solutions for your bedroom.
23. A Foot Stool Organizer Product for Bedroom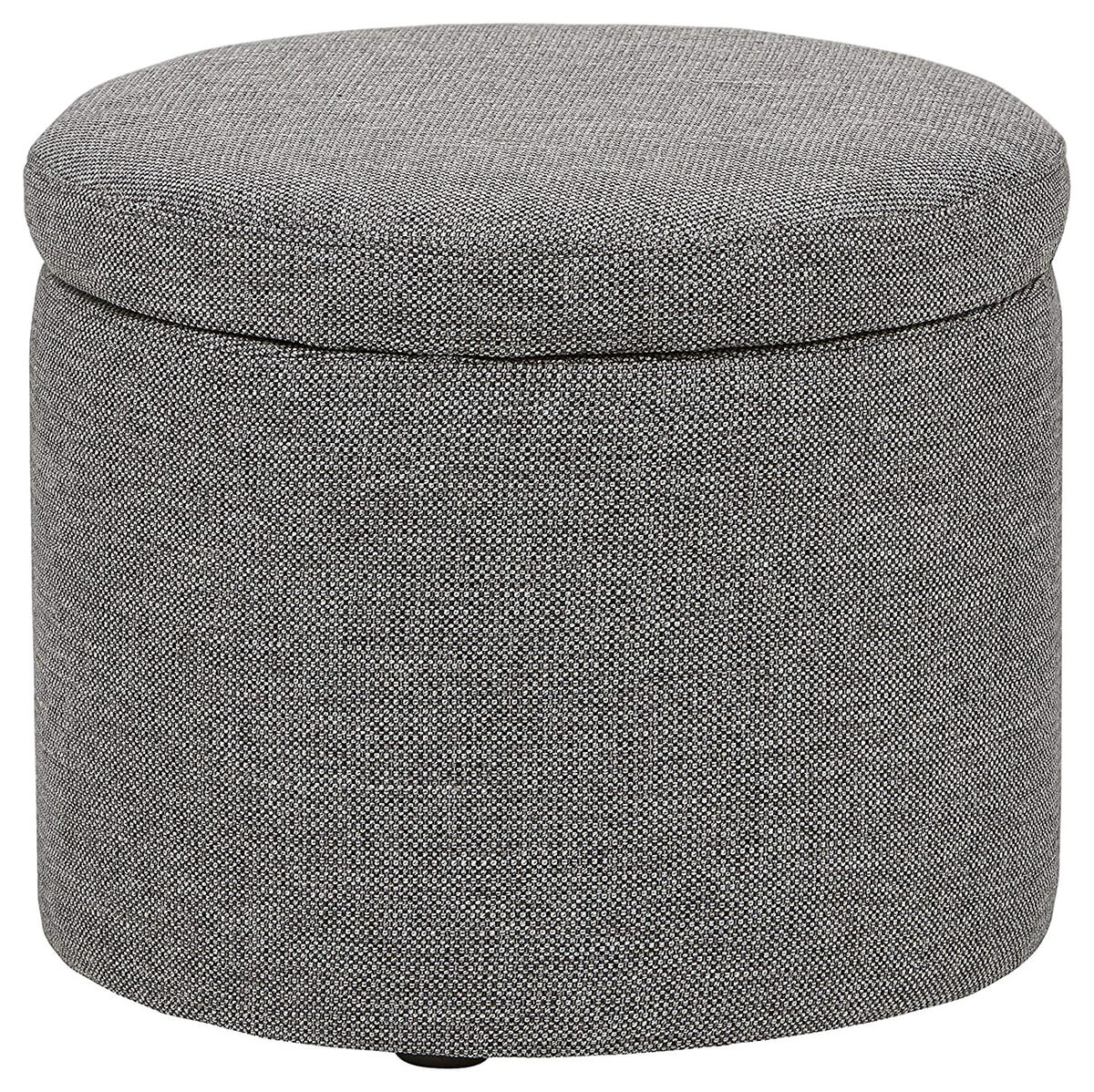 What better way to organize your bedroom space than with a system that provides both storage space and utility. This ottoman pouf if a footstool, storage space, extra seat for company and an end table! How amazing would it be to have this all-in-one modern ottoman. It's perfect for any room where storage is needed and is easy to assemble by just attaching the four legs. This modern pouf comes in three different fabric colors: grey storm (light grey), caviar (dark grey) and denim. It measures 19.7 inches wide, 19.7 inches in diameter and 16.5 inches in height. It's a simple multi-use piece of furniture to own for total organization.
24. Heavy Duty Bedside Shelf Perfect for Laptop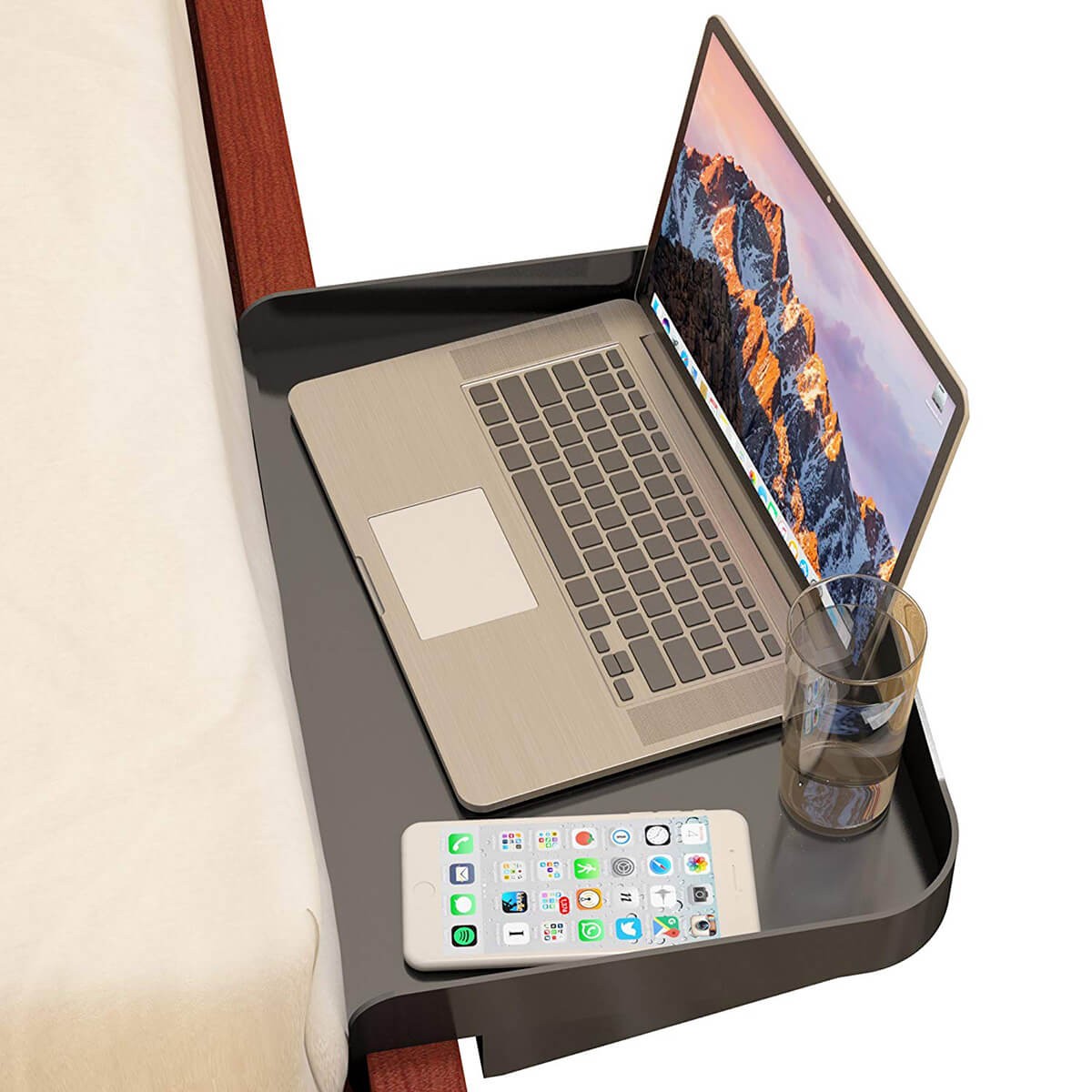 Replace your nightstand with this unique bedside shelf. It's perfect for bunk beds, loft beds or flat bed frames. No need to climb down your loft bed to reach your everyday belongings. Now you can access your laptop, cell phone, alarm clock, drinks and more with this bedside shelf that conveniently attaches to your bed frame. It's a much cheaper, sturdier and more reliable shelf than the traditional night stand. This bedside shelf has a three clamp design that's guaranteed to be safe and sturdy on furniture. It also can be easily stored elsewhere when not in use.
25. Under Bed Storage Bag with Zipper Closure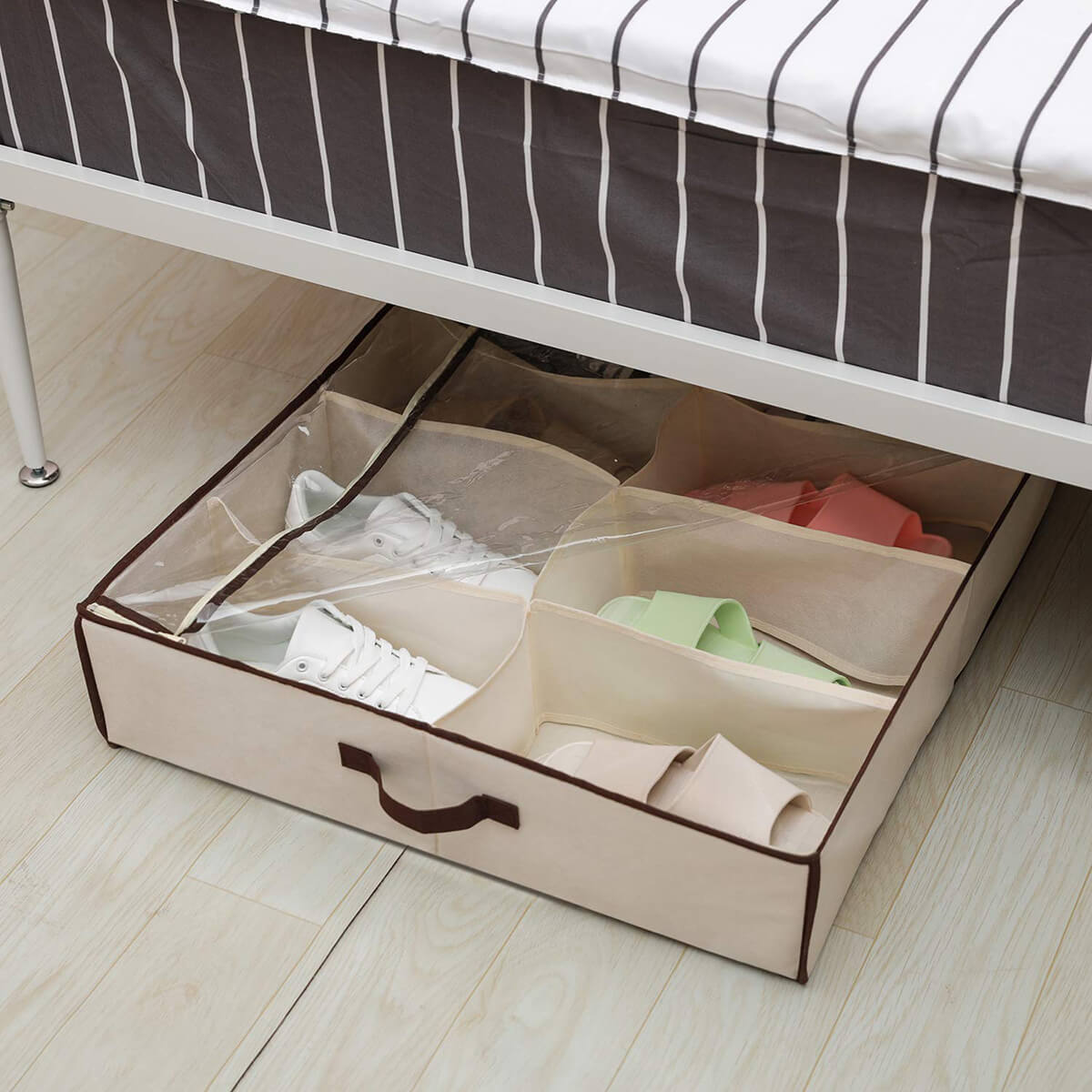 Looking for a clever way to store your shoes out of sight, but yet still easily accessible? Or are you simply tired of seeing shoes all over your room? This breathable and durable fabric bed shoe organizer is the perfect solution. Featuring high density non-woven fabric with a transparent PVC cover for visibility, this under the bed shoe organizer can conveniently keep your shoes nice and neat inside the bag. The clear zipper cover keeps your shoes dust-free and free of moisture. Store your shoes under your bed for a perfectly organized, perfectly stored and safe bag. This shoe compartment storage bag is available in both beige and grey.
25 of the Best Selling Organizer Products for Neat and Tidy Bedroom
The thought of organizing your bedroom may sound like a daunting task, but once you start the process, you'll instantly see results and feel so much better. Some of the most serene bedrooms have several things in common, but the most important is a calming bedroom that's uncluttered. Disorganization is like the enemy of relaxation. It can be difficult falling asleep with chaos surrounding you. Since the bedroom is the last thing you see at night and the first thing you wake up to in the morning, shouldn't it be a space that provides tranquility? With these top selling organizational products for the bedroom, you can now enjoy your bedroom on a whole new level.