Coming up with great shower storage ideas is essential for a tidy and relaxing bathroom. And at the end of a long day, enjoying a nice hot relaxing shower is such a treat. You don't want to be tripping over shampoo and body wash bottles when getting in and out, potentially falling and ruining the calming sensation of the warm water on your back. Finding a storage solution is vital.
26 of the Best Shower Storage Ideas to Decrease the Clutter

These 26 bathroom storage ideas will free your floor and tub space up to create a clutter-free area that is perfect for a soothing shower. As with many areas of life, the less cluttered, the more relaxing and freer we feel. If you don't feel like bathing is a relaxing activity, take a look around your shower as it is and see if there is clutter causing you stress. If you realize that this description fits your home, get to work selecting an option from this list for the best way to store items in shower.
Another great reason to stay organized in the shower is that it helps keep everything in its proper place. If you realize your expensive salon shampoo is running out quicker than it ought to, maybe your partner is just grabbing the closest bottle out of convenience, not realizing that he is washing his hair with your expensive product. These shower storage ideas bring order and regularity to your shower that will help avoid any confusion, giving each person a designated space for shower accessories.
Have fun finding just the right shower storage idea for your home. You have so many options! Just be mindful of material when choosing something that is for sure going to be getting wet. Get inspired by this list, and look forward to the days of a clutter-free shower.
1. Elegant and Minimalistic Wall Caddy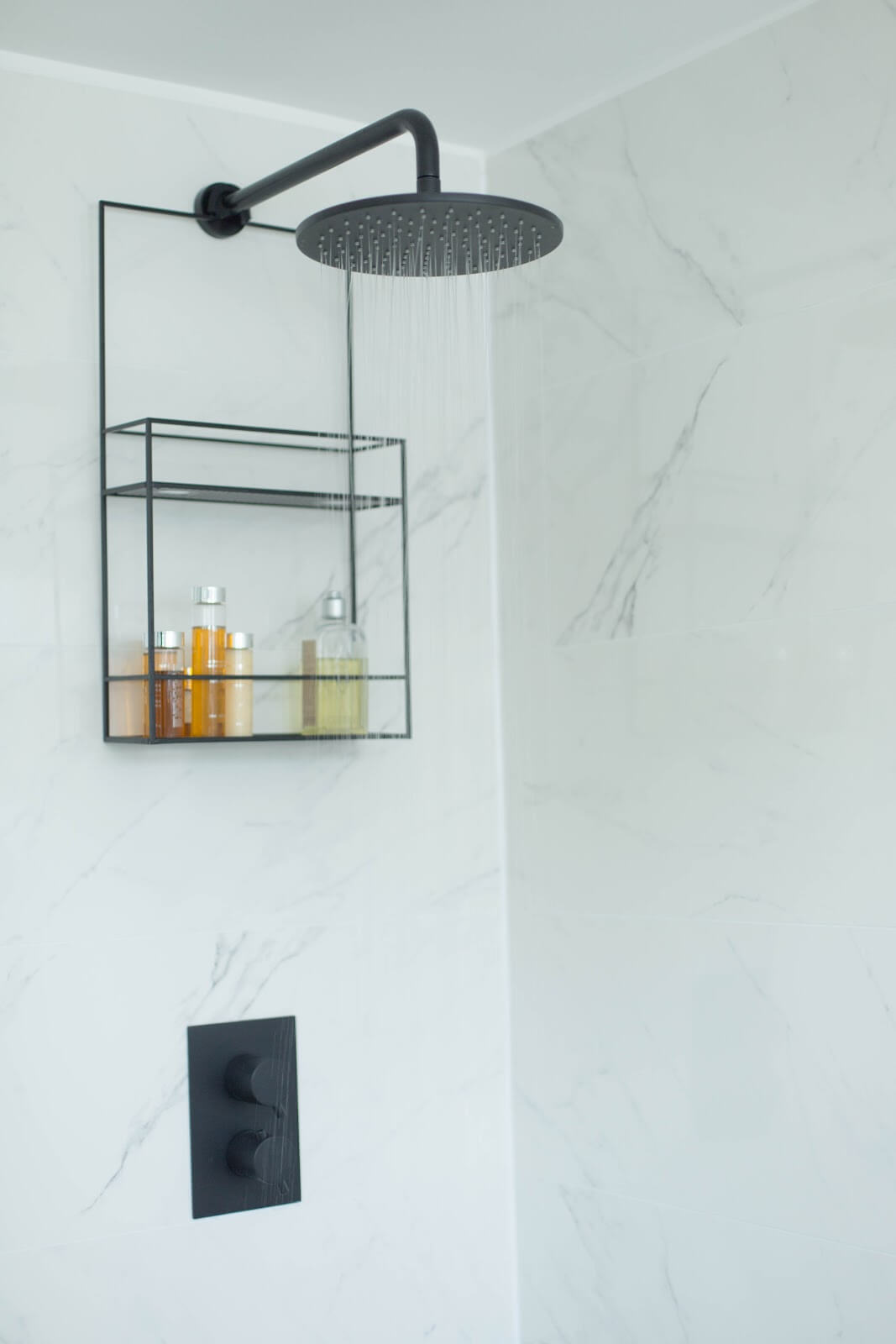 This simple hanging shower rack does its job without any frills or fuss. The singular clean black lines look elegant and won't attract any dirt, mold, or shower grime. Although it looks fairly small and the space that it takes up is not large, there are two full shelves to hold all of your shower essentials and keep them separated and organized. Choose this look if you have a modern home with a fairly basic shower and smooth walls. It pairs perfectly with other black shower accents, but it could also work fine in a shower with silver nobs and shower head.
2. Smart Space-Saving Corner Shelves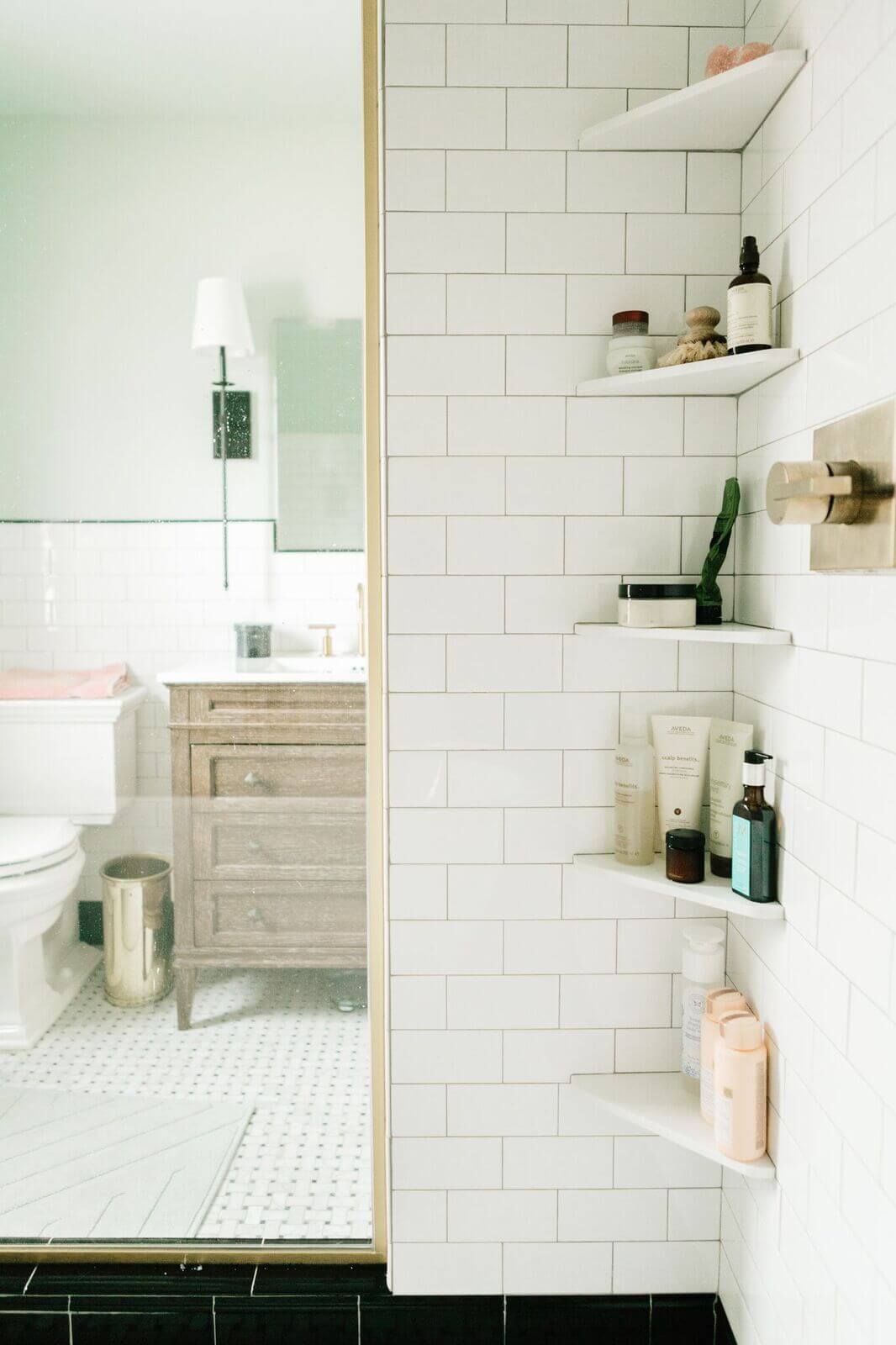 If you have a shower that allows you to utilize corner space, do it. You will be so happy to have all the additional storage without losing much of your shower space. This option works best for those who have stand-alone showers rather than the tub/shower combo. You can match the shelves to the wall of the shower and can stack as many as you choose in the corner for a large amount of storage space. Corner shelves are the best way to store items in shower, just be sure to wipe them down regularly so mildew doesn't form.
3. Simple and Easy Wire Rack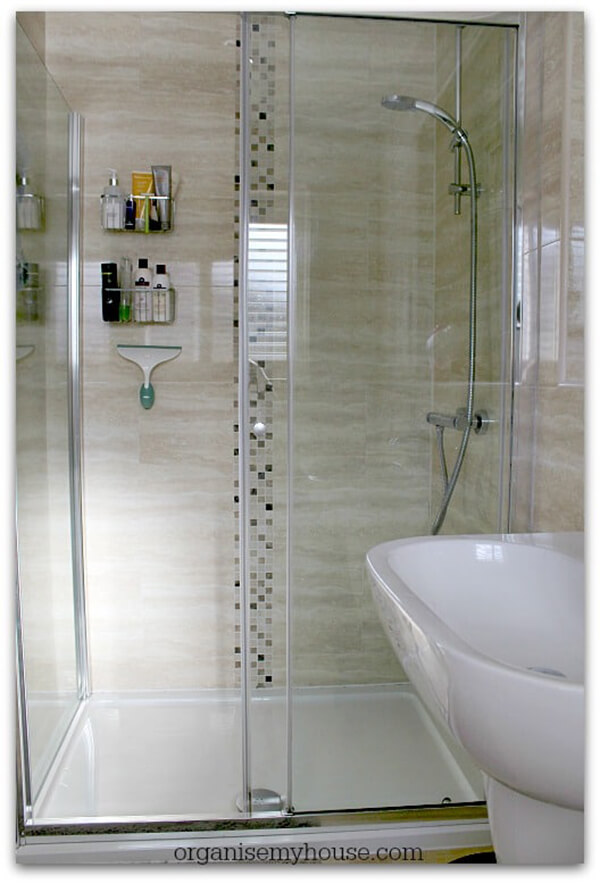 Bathroom storage ideas don't have to be Pinterest-worthy or super cute; they mostly need to be functional. This idea is not novel or especially attractive, but it is highly functional and will help to keep your shower looking great. These small wire racks attach to the walls to allow however much storage you like. If you only need one caddy, that's fine, but if you want four, you can add them in. Also, another great idea when thinking of taking care of your shower is adding a squeegee if you happen to have glass doors and walls.
4. Hanging Mesh Bathroom and Shower Organizer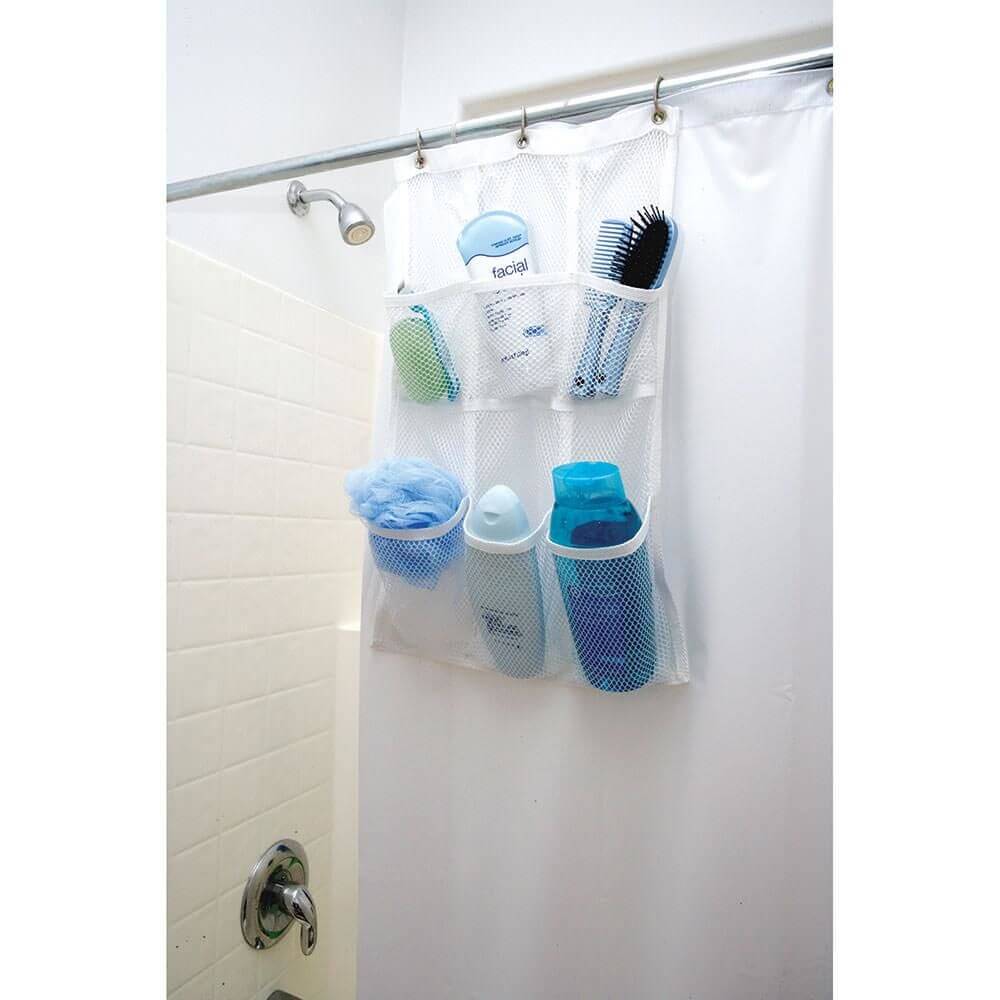 If you have a curtain instead of a door on your shower, you should consider this out-of-the-way hanging mesh caddy. You can place it either inside the curtain or, if you want to hold items beyond what you would just be using inside the shower, on the outside. With six pockets, you can store everything from soaps to shampoos to loofas. Anything that would normally end up on the floor of the tub can easily be plopped into one of the convenient caddy slots. Since it hangs from the same hooks as your curtain, it is simple to install and takes up virtually no additional space.
5. Soap and Shampoo Dispenser Holder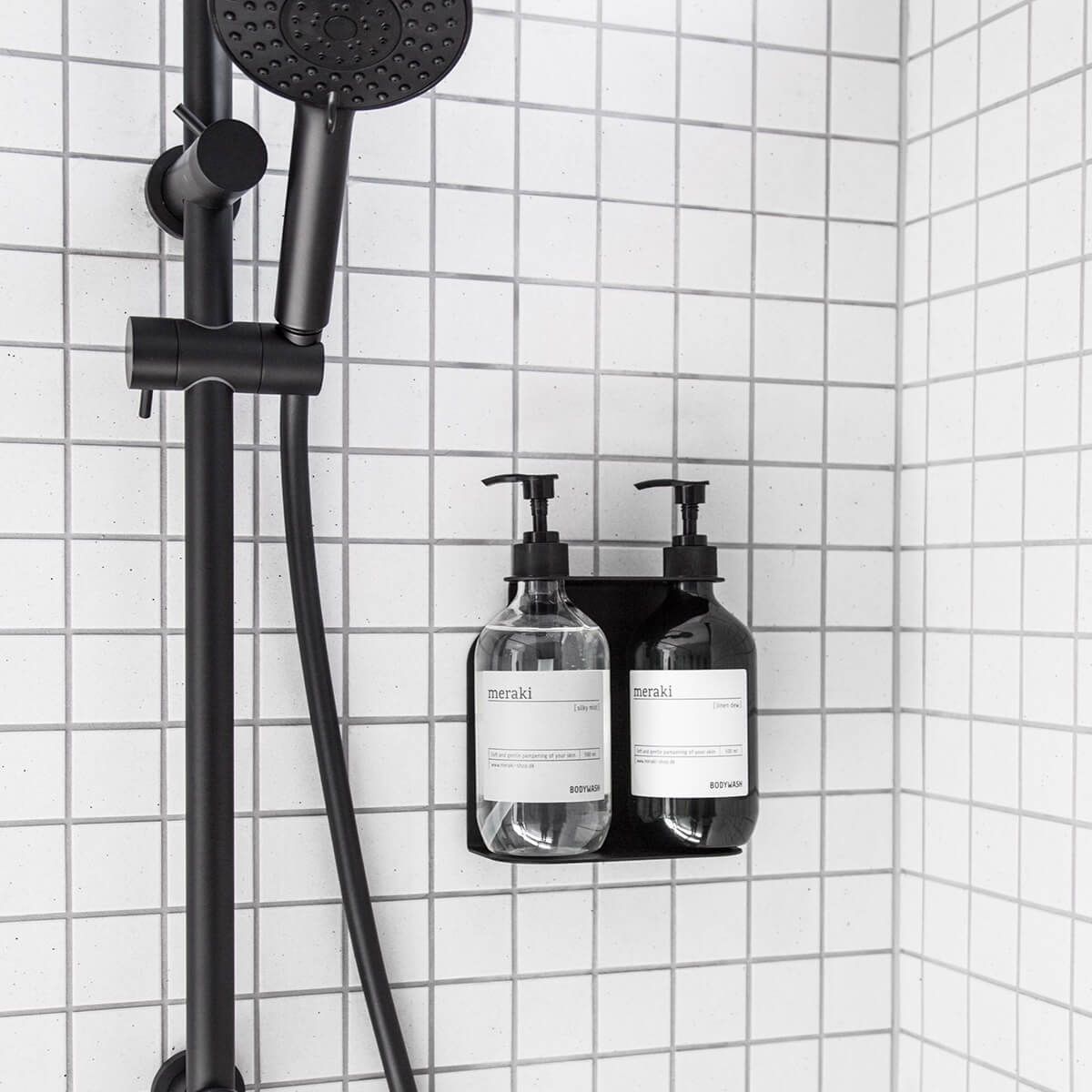 One fun part about staying at hotels is using their luxurious showers. This set up, with your most used soaps conveniently situated at the perfect height, is taken right from the books of the best hotels and resorts. They know that keeping things simple and easy-to-use is important, and besides, helping to eliminate clutter is always appreciated. You can adopt this in your own home with this simple holder. Just be sure to get the right size for some pump bottles you have and will want to reuse. You can fill these with body wash and shampoo or stick to the traditional shampoo and conditioner option.
6. Space-Saving Shower Storage Idea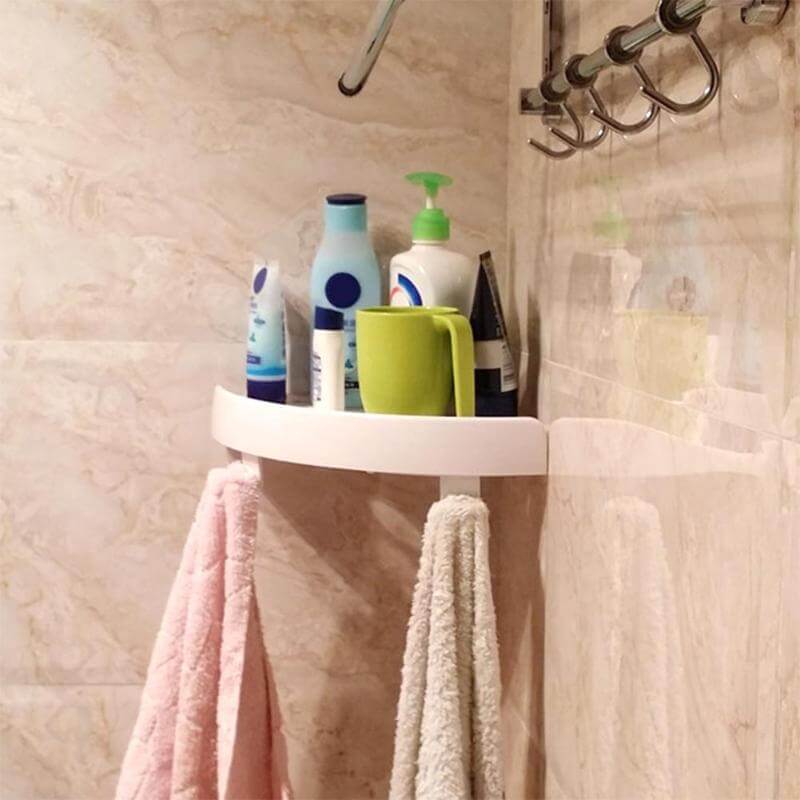 This plastic corner shower storage shelf is one of the simplest, fastest, and cheapest options when it comes to shower storage. You don't have to screw or nail anything in; you simply suction the shelf to the wall. One of the best features of this shelf is that it offers two hanging hooks for face or body towels. If you want to keep this in the shower, you can hang your loofa or small wash towel from it. Or, if you keep it just outside the shower or in a dry spot, you can hang your bath towels, too.
7. Black Wire Caddy with Hanging Hooks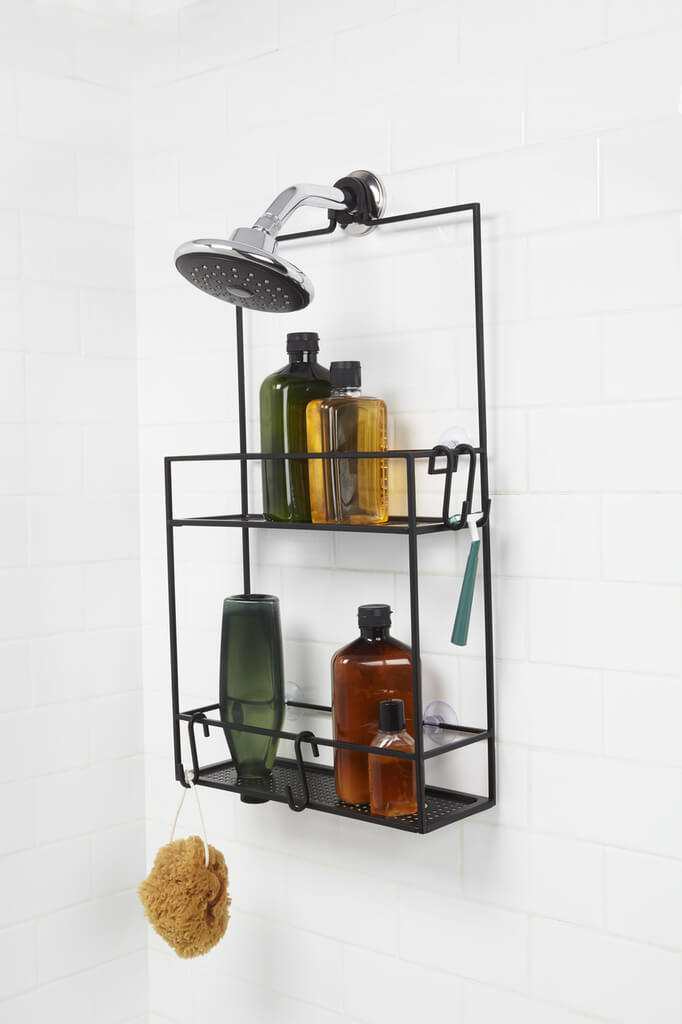 This simply designed black wire caddy has two flat shelves for convenient storage along with three movable hooks from which you can hang razors, loofas, towels, or other bathroom accessories. The caddy is secured both at the top by hooking over the pipe of your shower head and on the wall using suction cups to ensure that it does not fall or sway. If you are looking for a quick solution that looks nice and works well, this is a good choice for you. Don't forget that the hooks are movable if you want to keep your razor high above the reach of little hands.
8. White Plastic Hanging Shower Baskets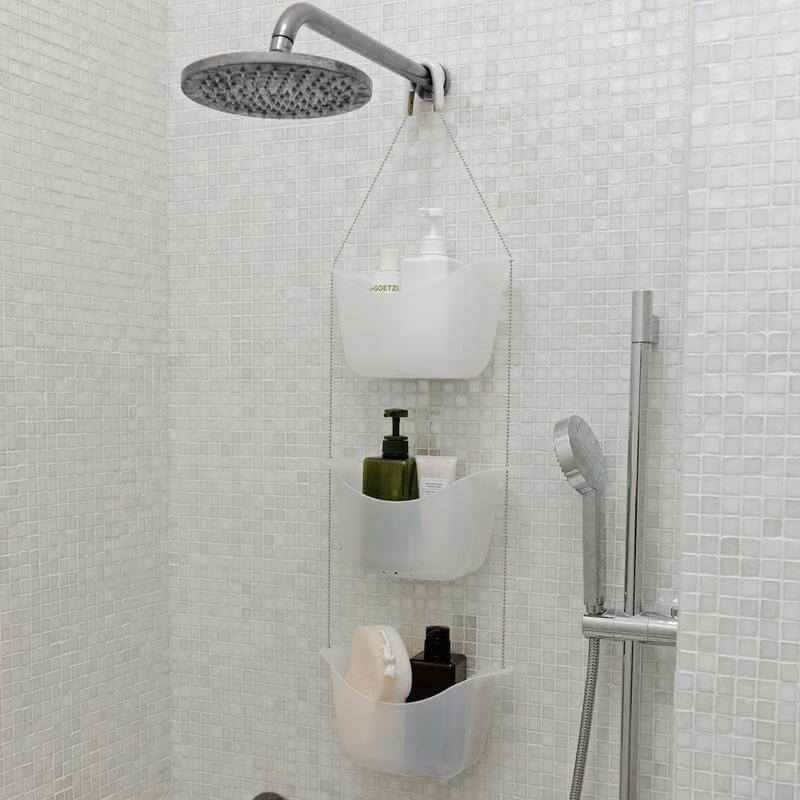 Hanging from a long, beaded metal chain, these opaque plastic baskets have a charm to them and a freshness that is appropriate for the shower. With three large buckets, this is a great option if you have a lot of shower accessories or are sharing a single shower among many people. The whole unit simply hangs from the shower head, which makes it easy to use and requires no installation. If your shower is lightly colored, it will blend right in, and if you happen to have a shower with dark tiling, it will provide a cool contrast.
9. White Suctioned Tray with Single Rack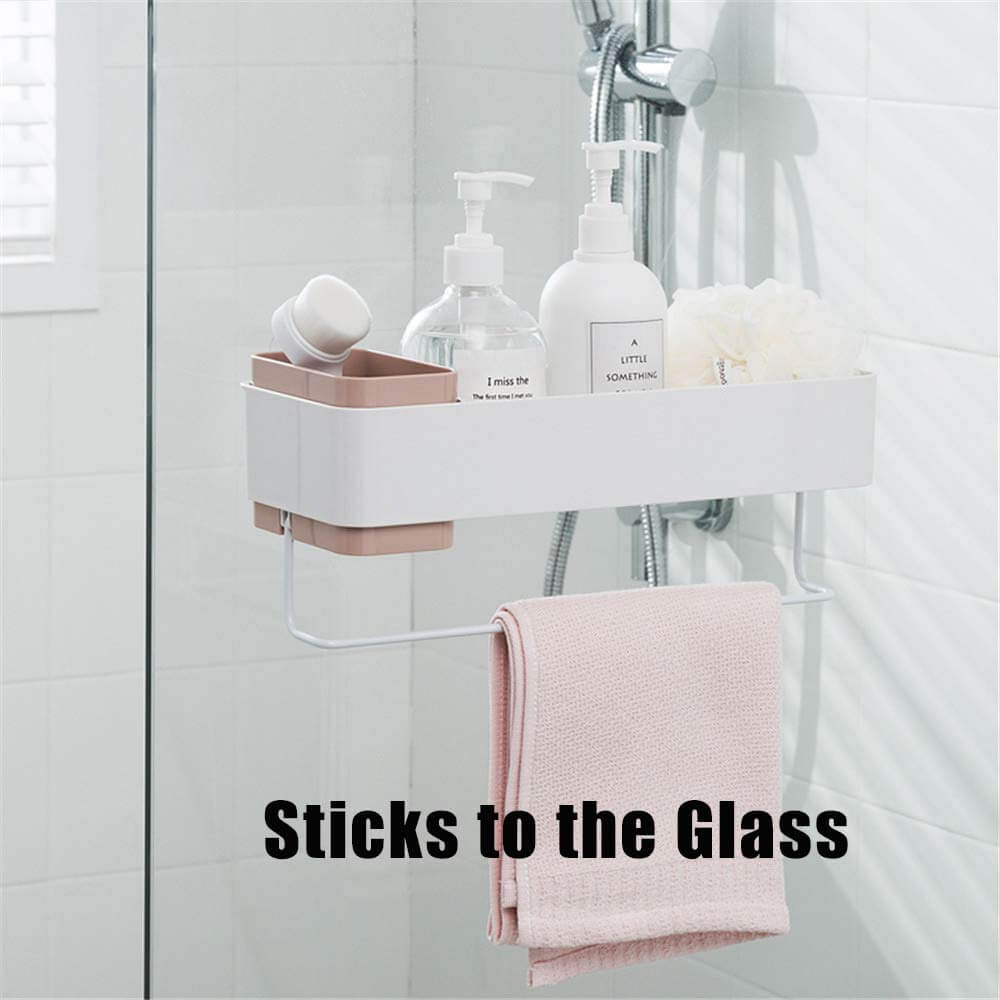 This white tray looks beautiful stuck to the glass of your shower door or mirror. It can hold a whole row of items and even offers space below for a single towel. The fact that it sticks to a reflective surface makes it so fun since it ends up looking larger than it is. It offers a cup on one end for this and that, as well as a single shelf for bottles and loofas. The white coloring will go well with nearly any bathroom, and its simplicity will keep it from drawing more attention than it needs.
10. Classic Metal Shelves Shower Storage Idea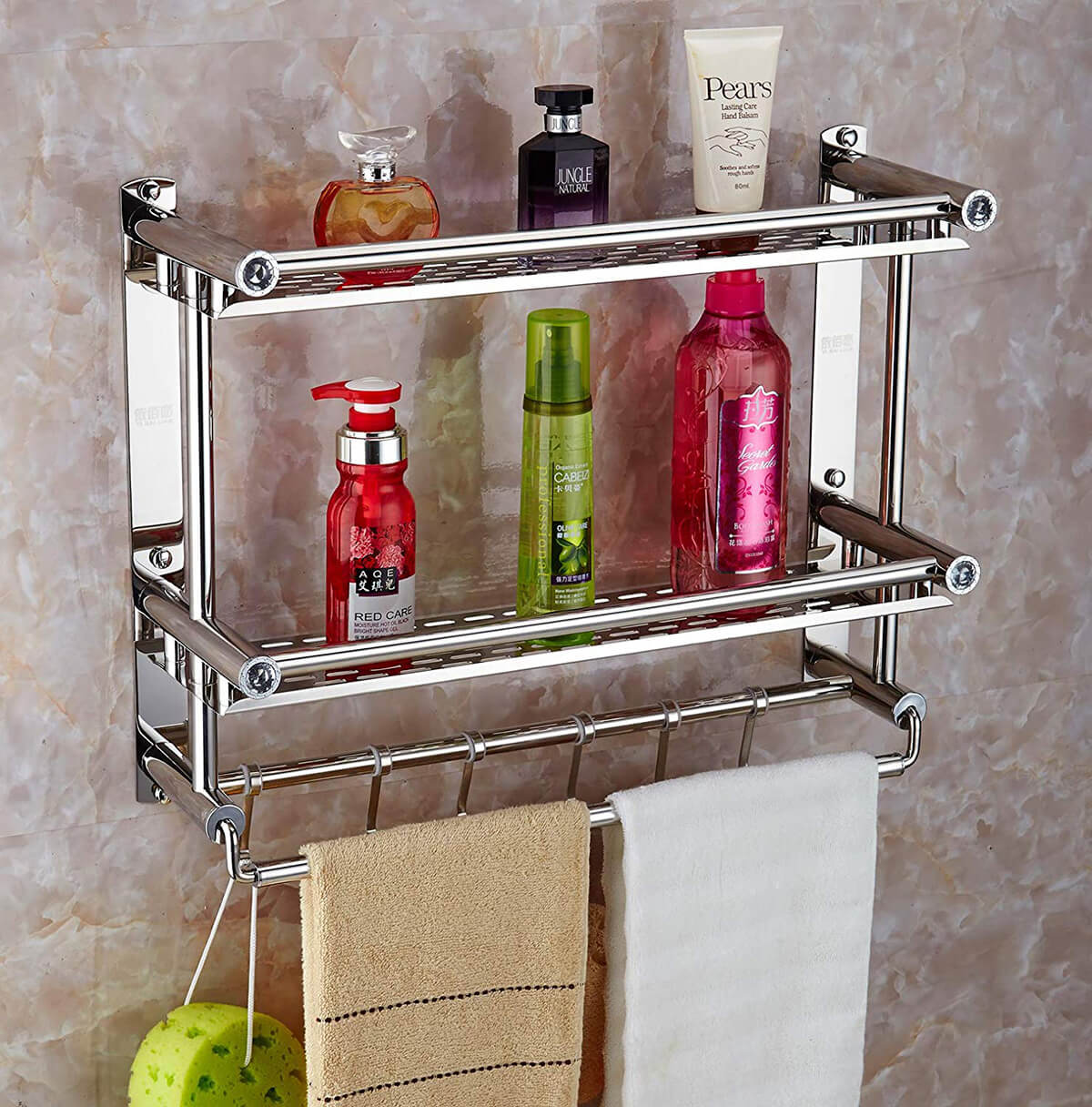 There is something so familiar about this unit. Either you have had one yourself or you have seen one in someone's home. This metal rack goes with everything and is easy to clean and care for. It features ample storage for you and your partner's shower items, plus a bar to hang towels and loofas from. It is mounted into the wall so you will not have to worry about it falling off, and you can place it wherever in your bathroom is most convenient for you. It is not ornate, but it is reliable.
11. Four-Shelf Shower Corner Organizer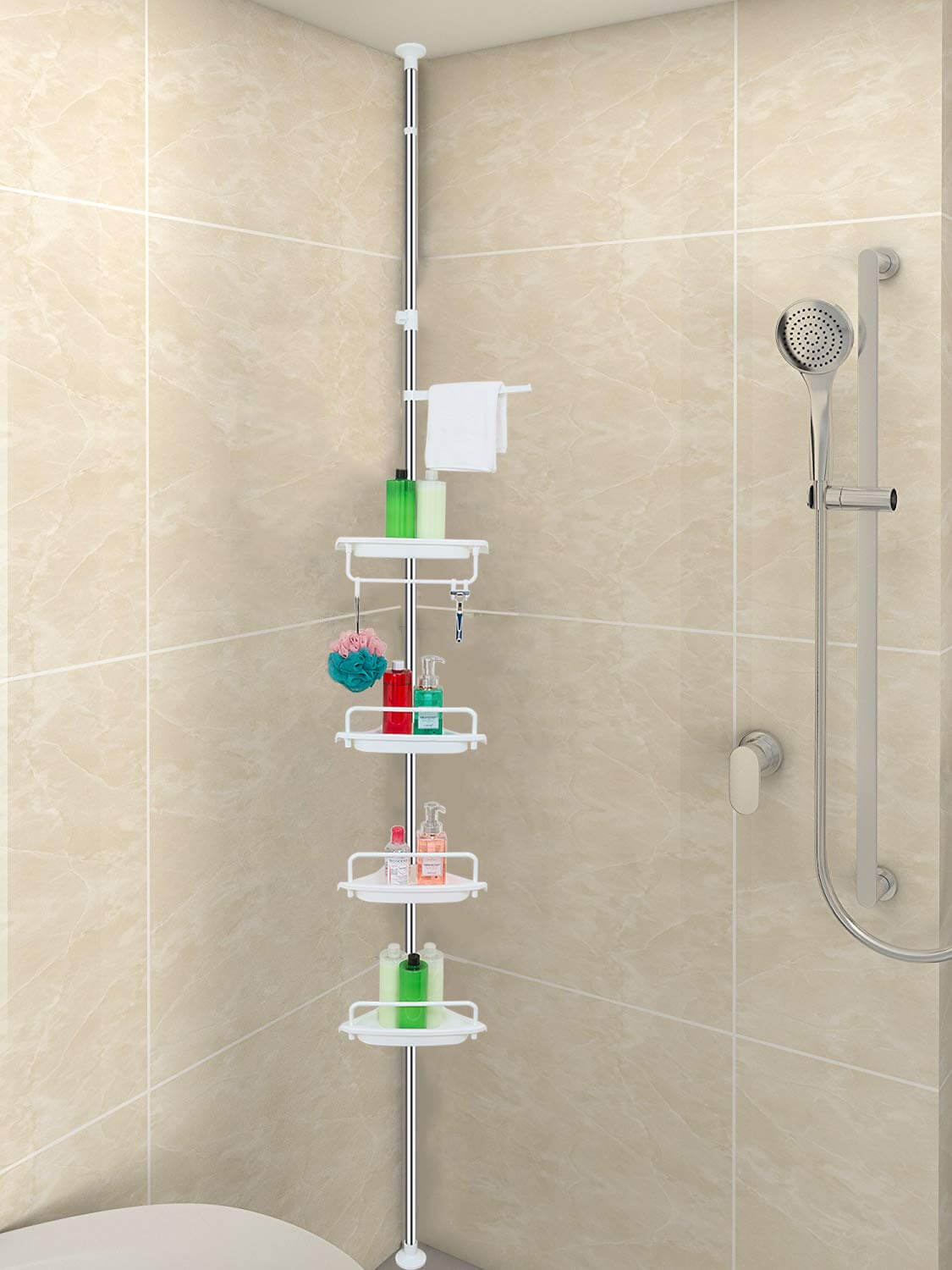 If you are looking for unique bathroom storage ideas that do not require any extra hardware, this cool tension rod corner unit is a good choice. With four adjustable shelves and a single towel rack, you can put everything you need and more in the shower with you. There are options for how to set the shelves and rod. This option will only work well in a stand-alone shower where the floor and ceiling are both level. Be sure to invite a tall friend over to help you get it installed just how you want it.
12. Super Unique and Cool Bottle Holder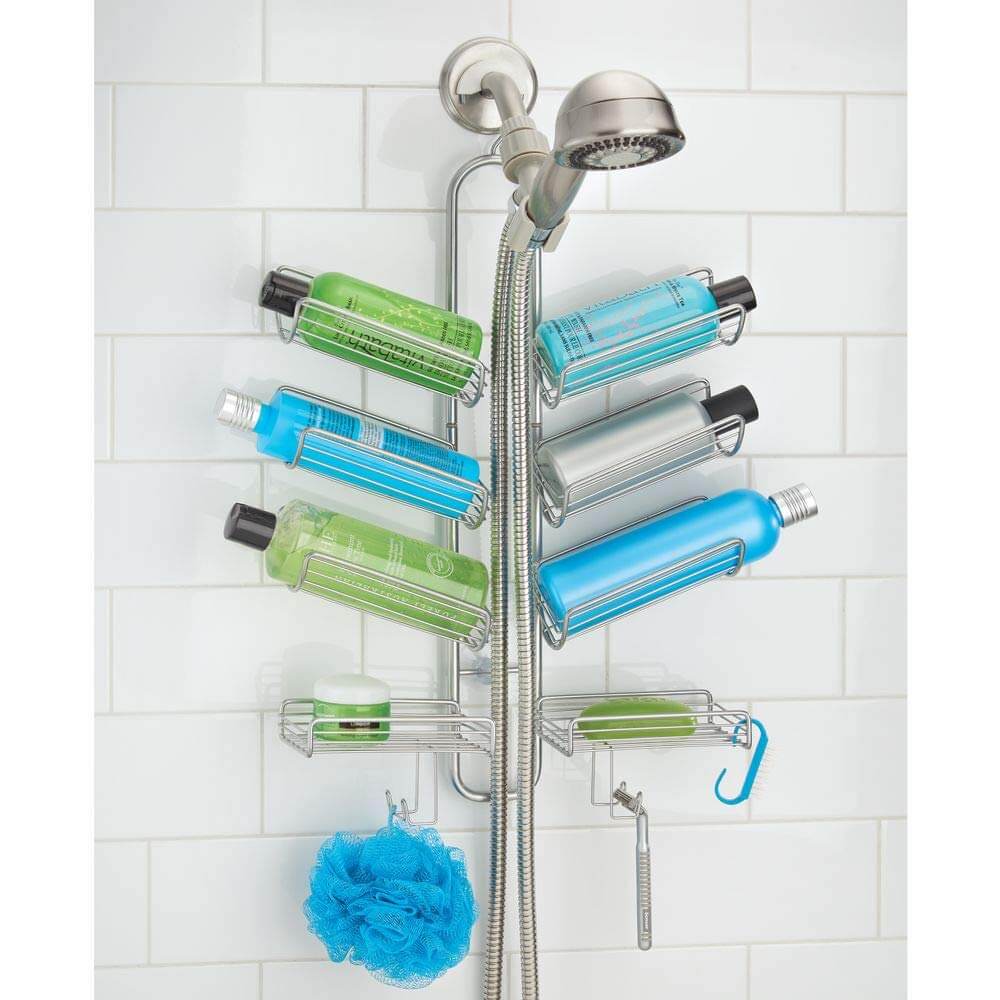 This cool holder fits over your showerhead and has space for six bottles, two shelves for soaps or rubs, and a few hanging options for razors, loofas, and towels. If you have a metal shower head, this unit will look like it has always been part of the hardware. It fits in seamlessly, and for holding so much, it takes up a fairly small amount of space. It also places your bottles out of the direct spray of the water, keeping them cleaner and easier to handle. Bonus points if you have cool-looking bottles: it becomes almost an artistic display!
13. Simple and Compact Plastic Corner Shelf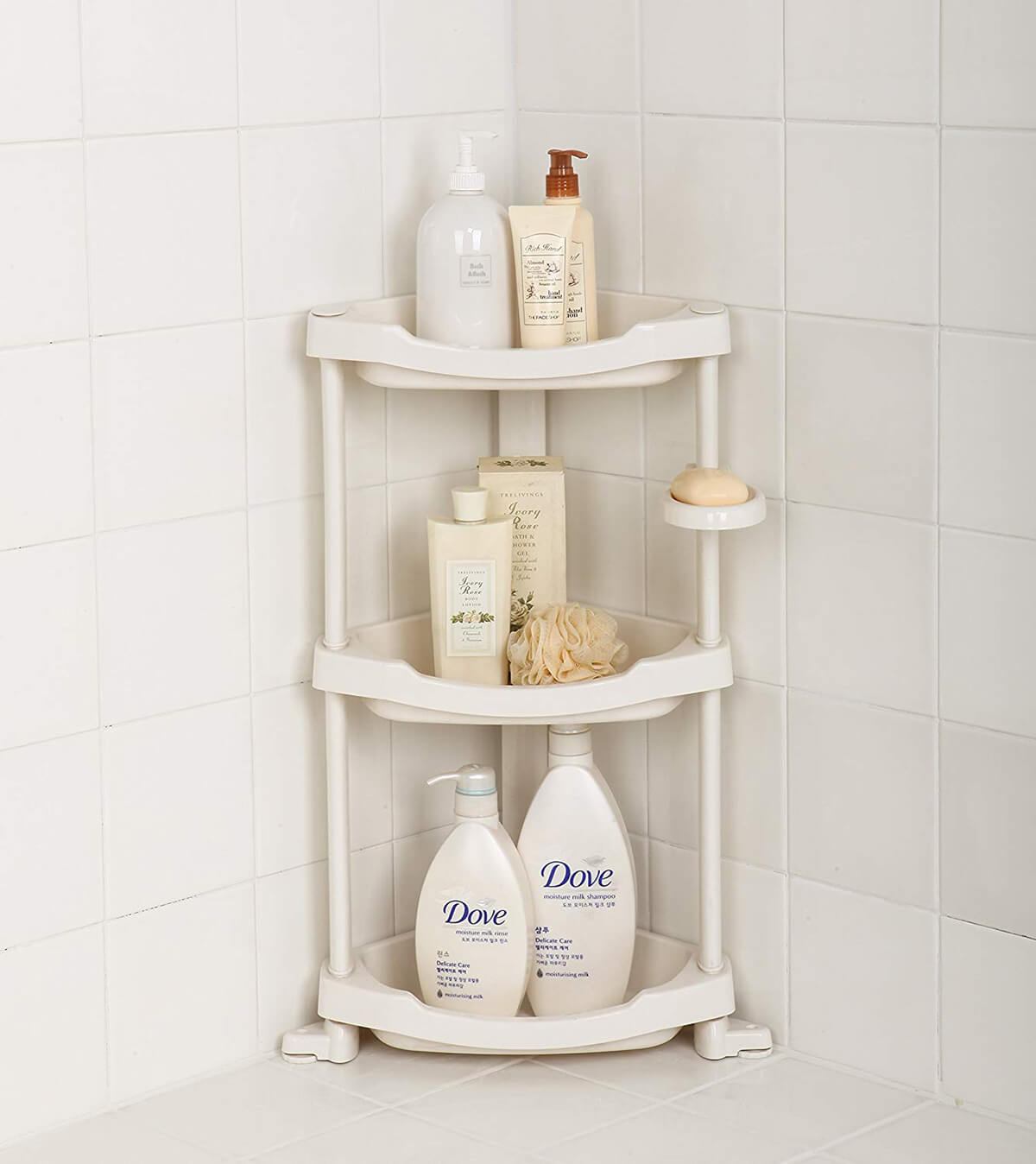 Plastic is great for the shower since it is easy to clean, doesn't get moldy, and isn't damaged by frequent washing. This cool corner unit is great for a larger shower with a flat floor and goes well with white or cream colors. It offers three slightly sunken shelves so that your slippery soap bottles aren't constantly falling over the edges. It also has a cute little tray just for bar soap. Be sure to put your favorite must-use products on top for easy access and save the special stuff on the bottom shelves to reach for only when you need it.
14. Sturdy Suctioned or Drilled Shower Storage Idea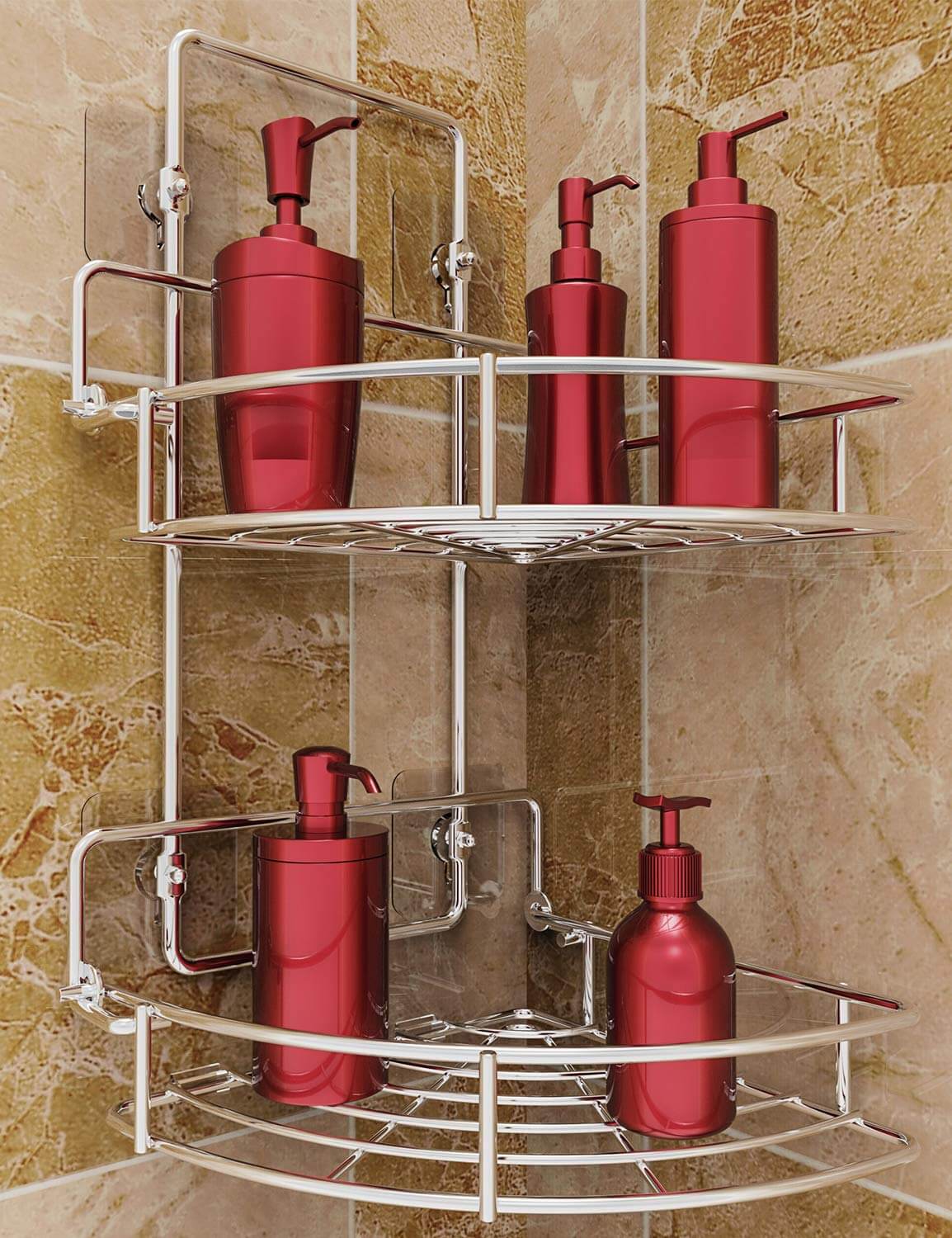 Sometimes you see something that hangs just from suction cups and you think that there is no way it could hold all your stuff. This shelf is not that kind of unit. With four extra-wide squared adhesive panels, you can attach it to a smooth surface. However, if you have textured walls or you want to go for the most secure option, you can drill the shelf in place. Made of stainless steel, these shelves are tough, durable, and easy to clean. This shelf can hold up to 11 pounds, which should be plenty for your various soaps, shampoos, and other shower accessories.
15. Beautiful Country Chic Small Bathroom Storage Unit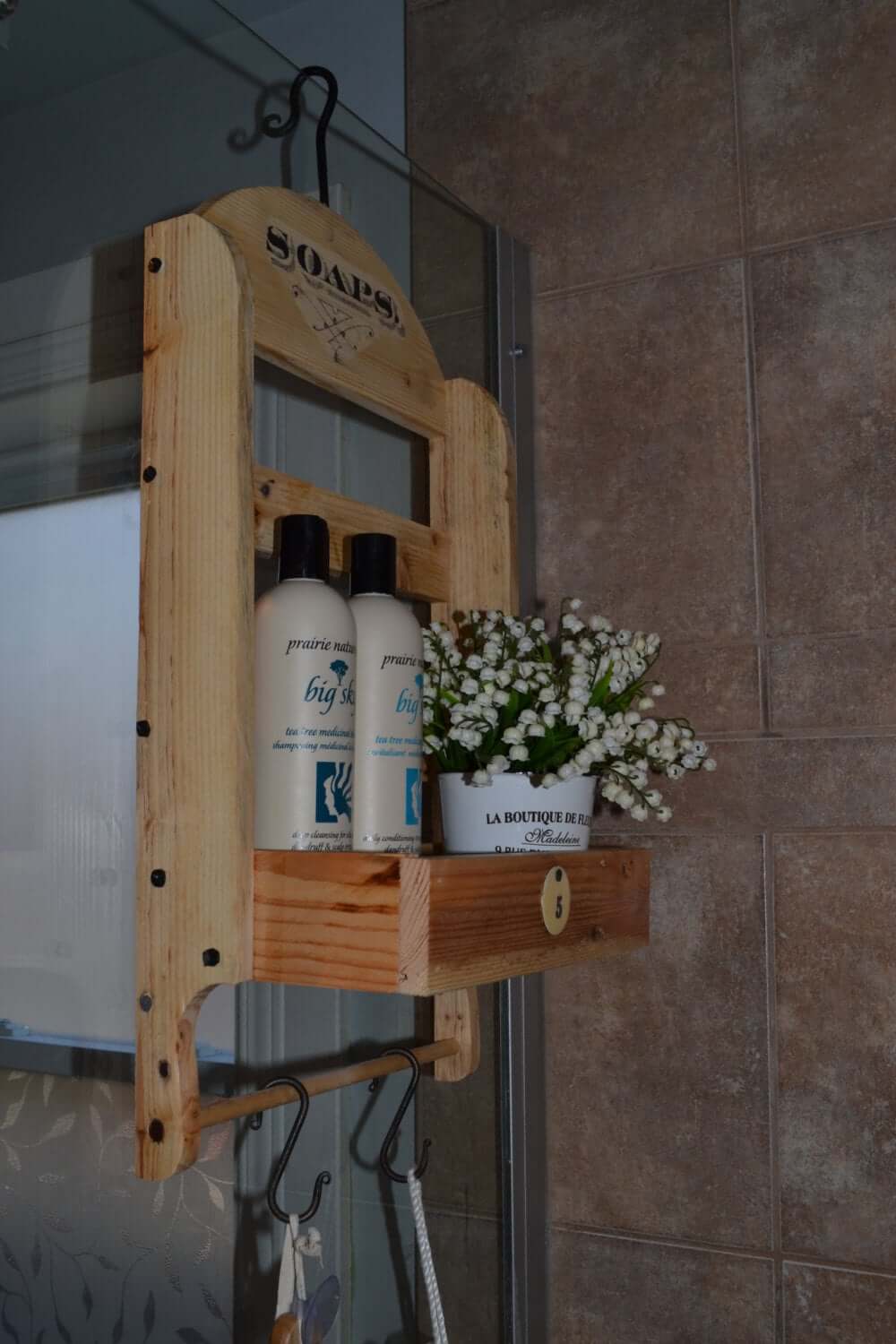 If your home, and particularly your bathroom, have a country or rustic vibe, you should opt for this adorable wooden shower caddy. Sitting just under your showerhead, it should mostly avoid getting too soaked and is finished with a protective layer to keep it safe. It is made from upcycled pallets and has cute decorative "Soaps" lettering along the top in addition to a single shelf and iron hanging hooks. This makes a great decorative shower caddy and would also be a welcome housewarming gift. The caddy can be custom sized if you have a strong preference.
16. Gorgeous Corner Teak Wood Bath Table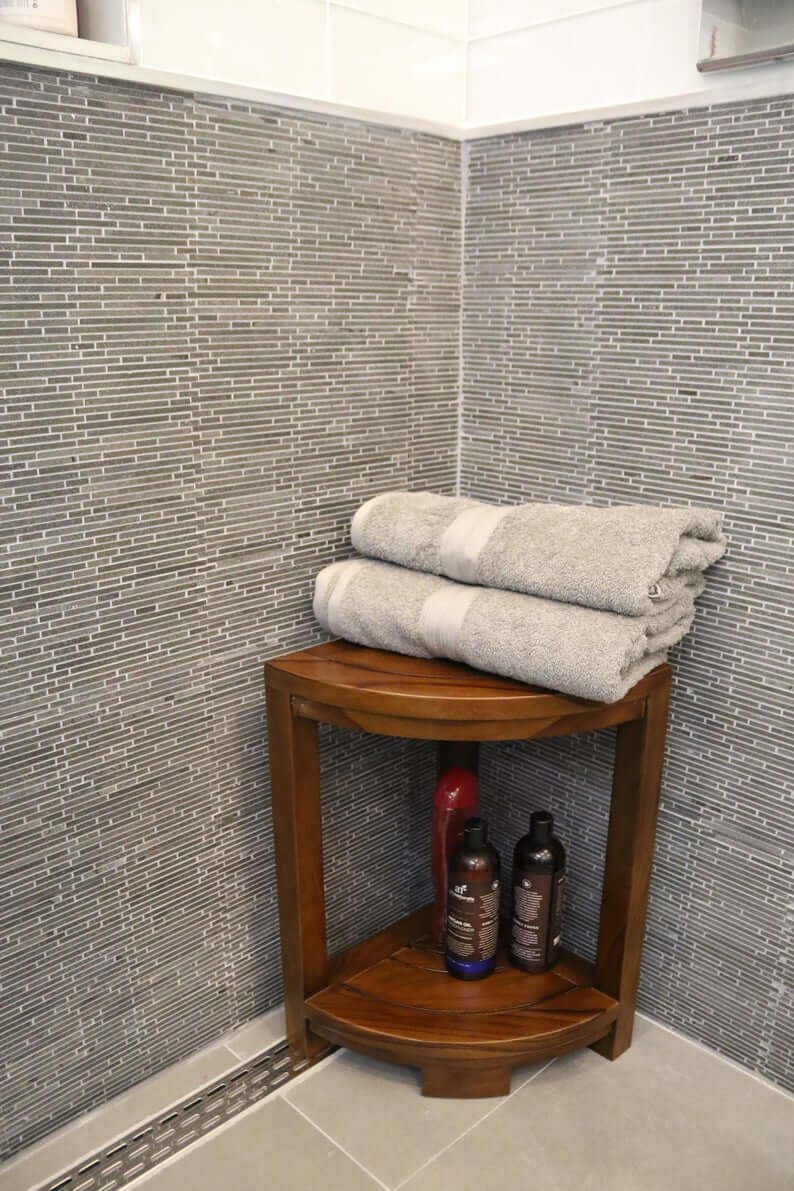 If you have a home full of beautiful furniture and take pride in maintaining a sophisticated look, your bathroom should be beautiful, too. This solid teak table comes fully assembled and is naturally water resistant, making it a perfect option for your bathroom or shower. If your shower is large enough, you can use it to hold towels. Or, if it will be getting misted, just use it for your shampoos and soaps. This piece is built to last, and though it is slightly more expensive than many options, it is very high quality. You won't regret purchasing this lovely table.
17. Shower Wall Organizing Hooks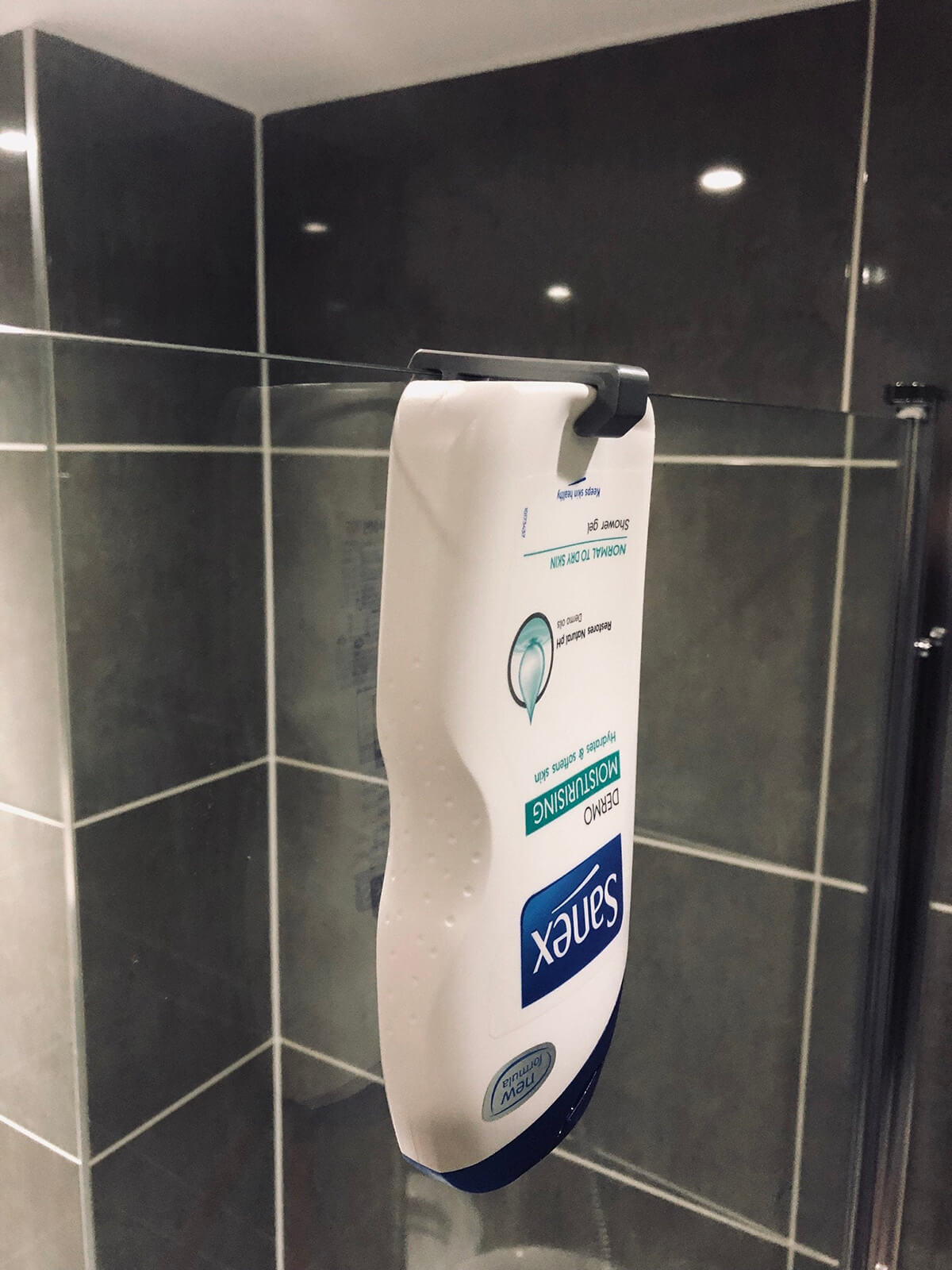 This super small bathroom storage idea is so simple and genius, you will wonder why you didn't think of it yourself. These hooks are made of plastic, come in silver and white, and are offered in multiple sizes to fit all your favorite products. You can either provide the shop with the dimensions or simply the brand of your favorites, and they will do the work. This is a cheap and efficient way to quickly get all the clutter off the floor of the shower. It has the added benefit of keeping all your shampoo or shower gel at the top of your bottle.
18. Corner Shelf That Blends Right In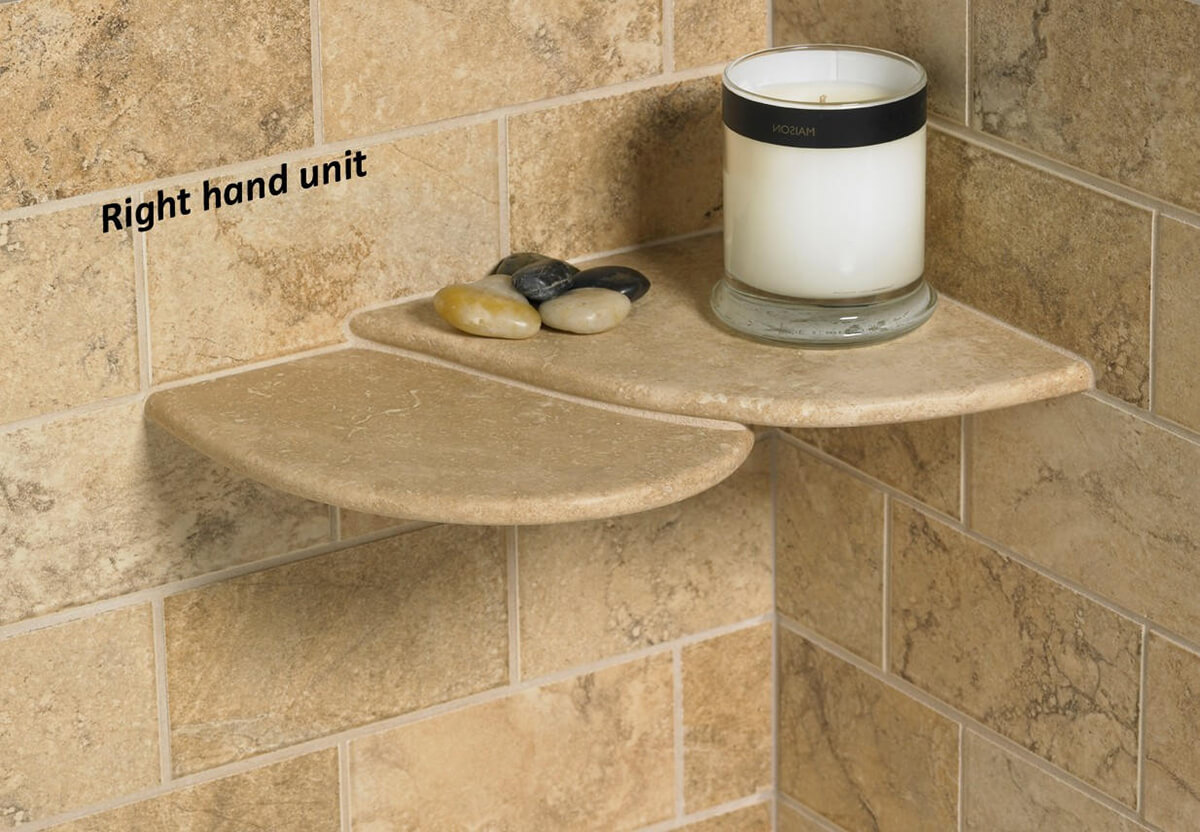 The best way to store items in shower is to make it look as though the storage unit has been there all along. This small unit is built to match the tile on your walls so that it would appear to have been manufactured with the original shower. It can be crafted to be used on the right or left side of the shower or, if you want even more space, you can get both. This beautiful surface is good for holding bath items but, as shown, is also great for bathroom accessories, décor, and accents.
19. Cool Tiered Stainless Steel Shower Basket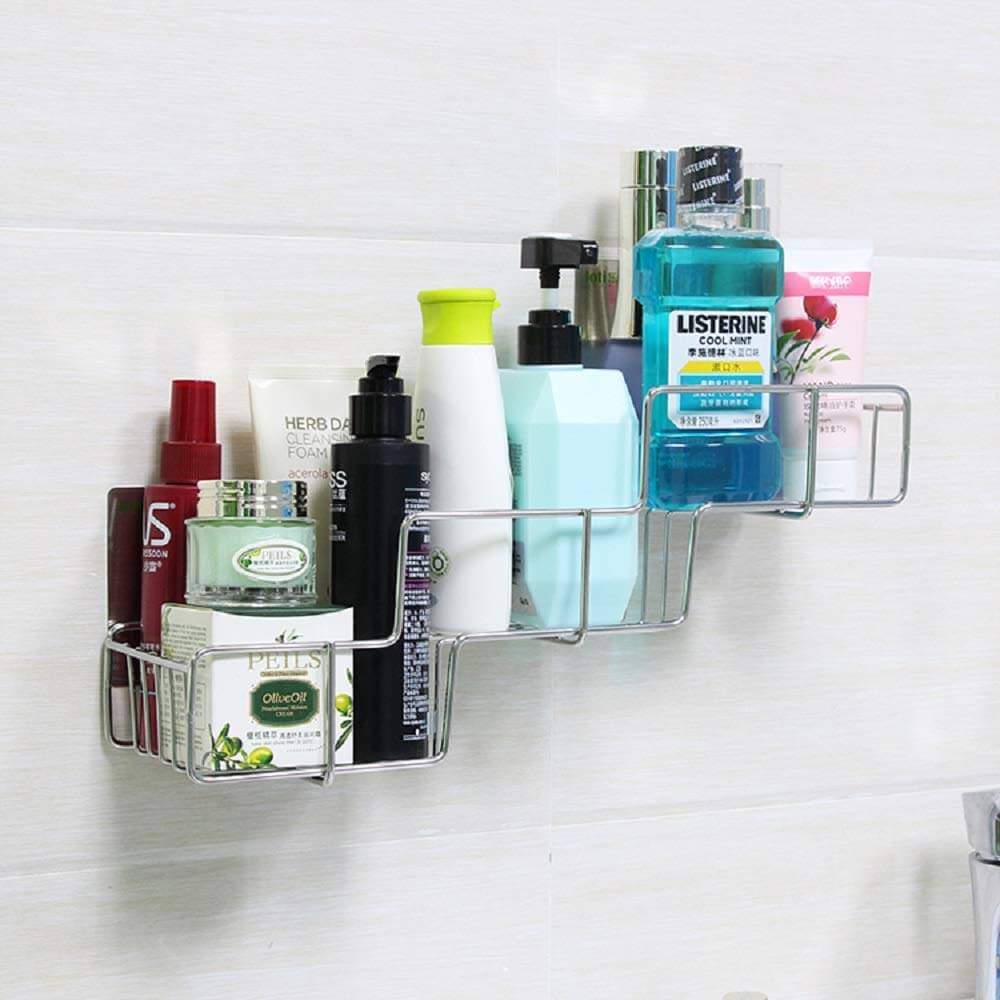 Using super strong stickers, this cool bathroom piece attaches to your wall for all your shower storage needs. Featuring three levels that almost look like steps, you should have ample room for everything you need. If you find that you do need additional space, you could easily extend the stairs by adding another unit next to this one. This unit will help you save space, and look super cool doing it. Its unique design looks good either in the shower or just on the bathroom wall. You decide where you could most use the storage.
20. Easy-to-Install Mesh Hanger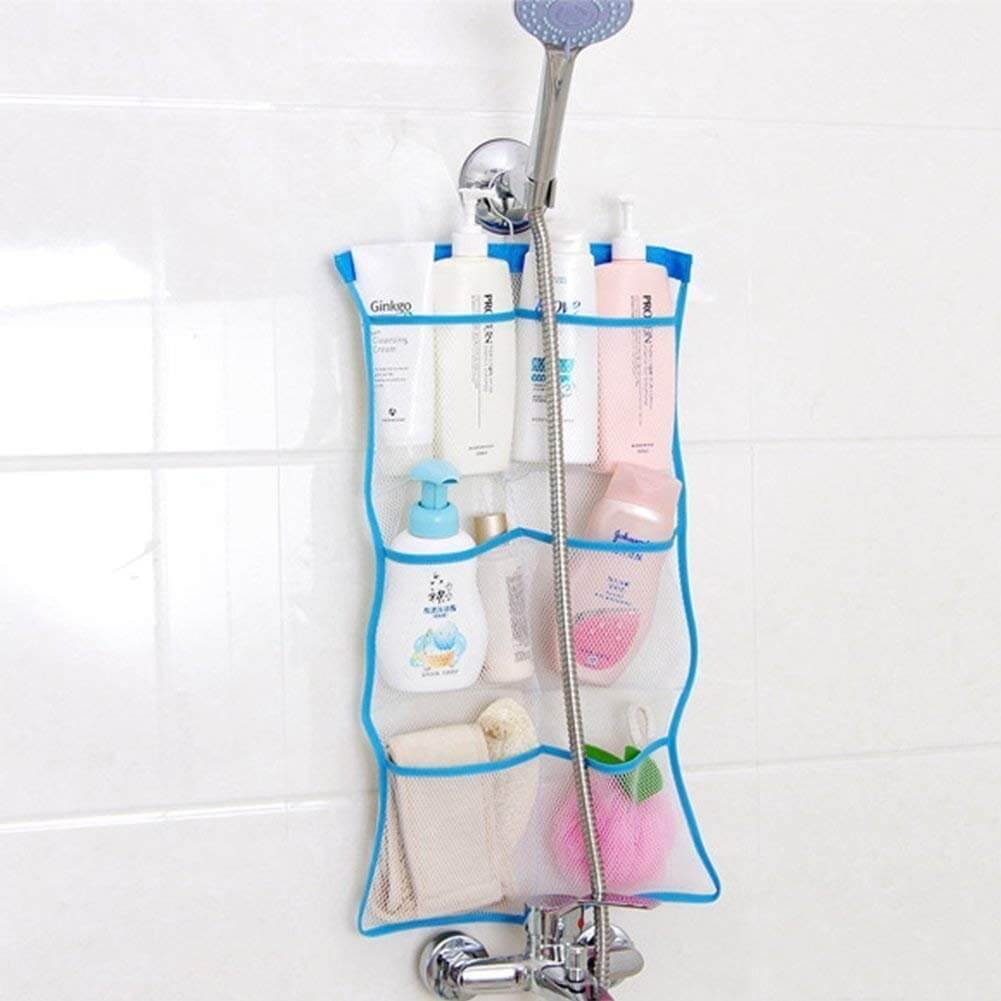 If you are looking for an effective, inexpensive, and easy way to store your shower supplies, a mesh hanger may be the right option for you. Although they aren't particularly attractive or fancy, they get the job done well and have great draining and drying abilities, leaving less room for mildew and grime. This option includes six separate pockets, making it perfect for a large family or someone who enjoys having a whole spa in their shower. The unit hangs close to the wall under the showerhead, which keeps your floor and the edges of your tub totally clear for a more relaxing bathing experience.
21. Beautiful Shower Storage Idea for Your Bathroom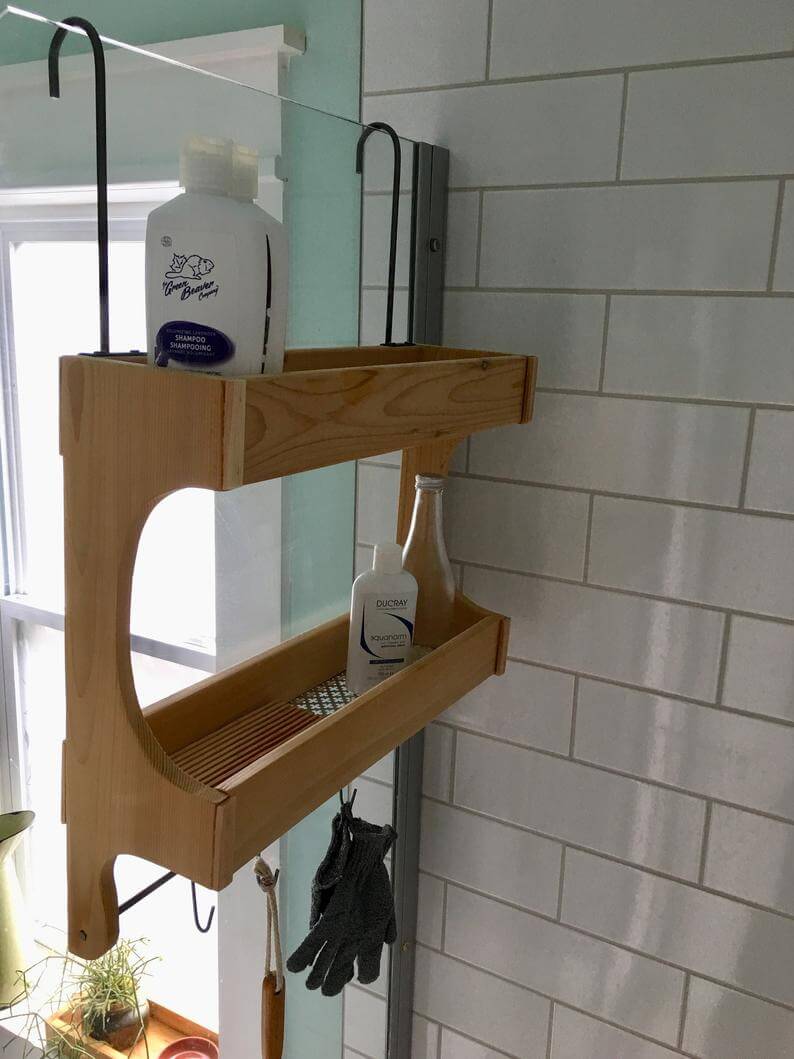 This shower caddy looks as though it came from a relaxing spa. There is something so calming and natural about light wooden shelves, and the curves and design of this caddy only add to its authentic appeal. Hanging by custom-made steel hooks that are protected by beeswax, you don't have to worry about it falling. The caddy is made from cedar, which has a natural resistance to moisture, so you will not need to give your shelves more than a gentle wipe-down to keep them looking good. This unit will really elevate any shower and give your bathroom more aesthetic appeal.
22. Smooth Silicone Bathroom Storage Holder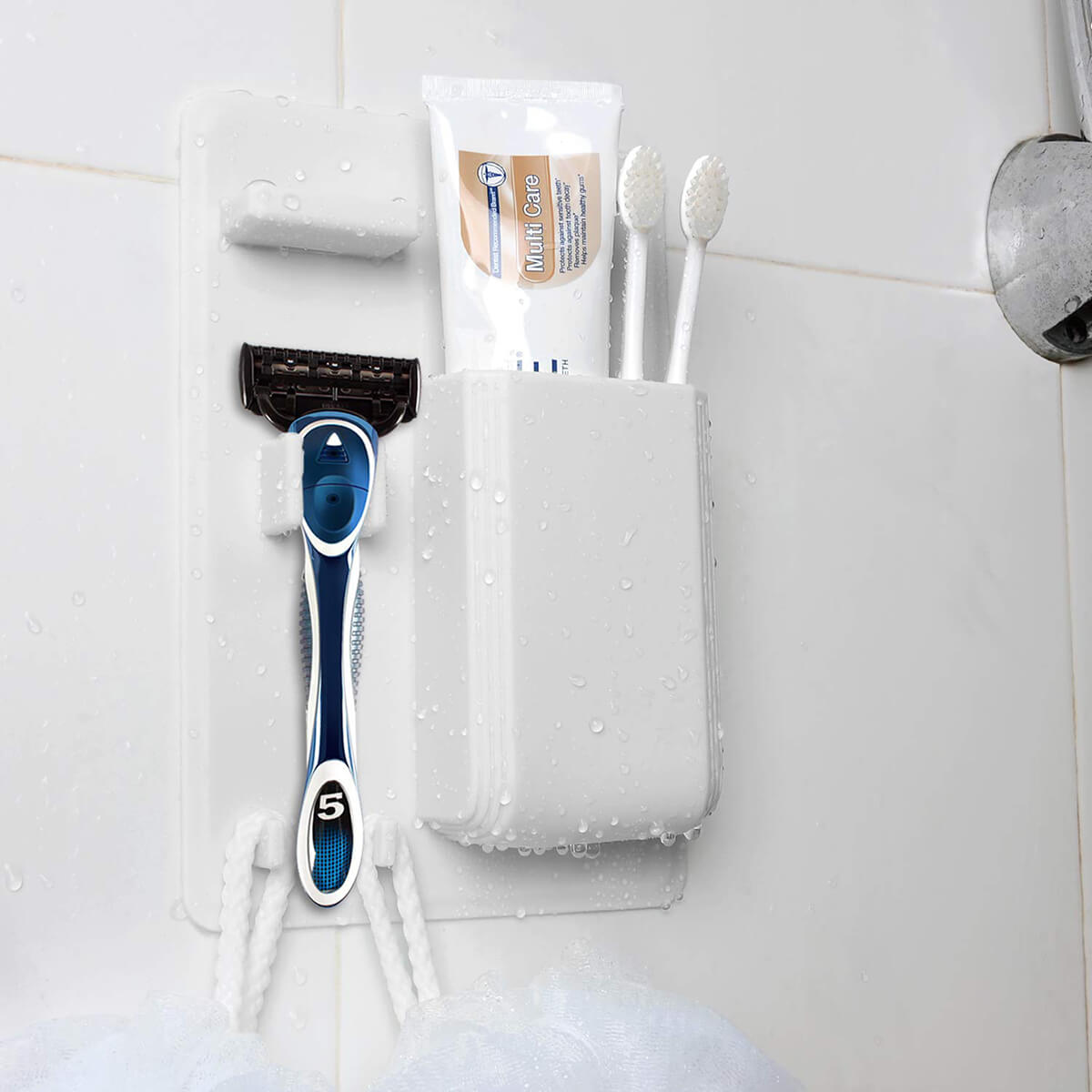 If you are looking for a small and almost invisible bathroom storage holder, this silicone option may be the way to go. It is very unassuming, simply playing its part perfectly. It can hold your toothbrushes, facewash, razor, or toothpaste. It doesn't have a lot of room, so don't choose this unless you have a specific job for it in mind or unless you keep a very minimalistic bathroom. This option is available in white, black, or tiffany blue to best match your décor. This is a great way to ensure that those small toiletries don't simply get lost in the bottom of a big caddy.
23. Over-the-Door Multi-Basket Caddy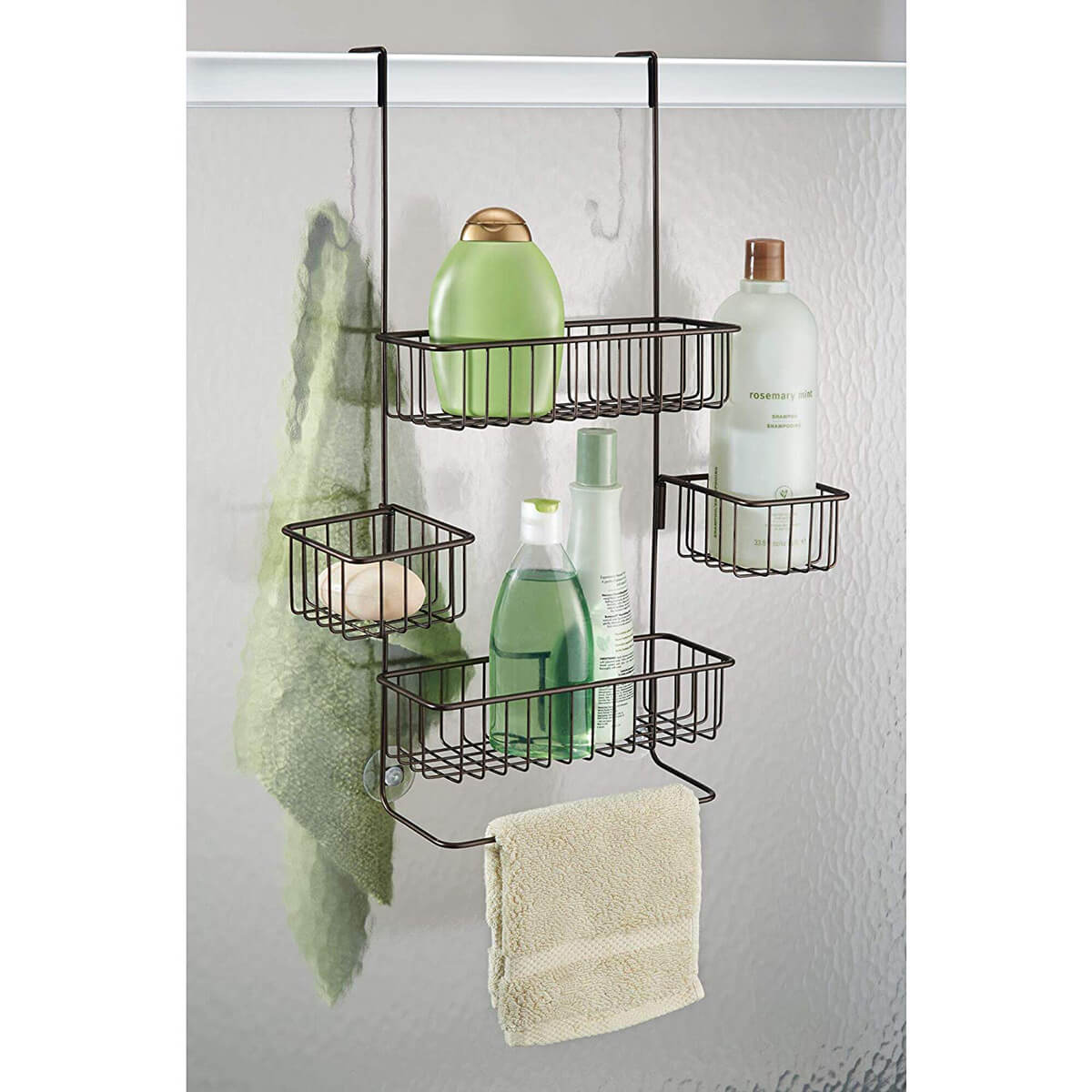 This caddy hangs over a shower or bathroom door and features four different trays that set at three levels for a varied look and an easy-to-use storage option. The small square side baskets give the whole unit a well-balanced and almost adorable look, while the longer baskets can effectively hold all your toiletries. The bar at the bottom helps you keep track of your favorite washcloth, and the suction cups near the base help hold the unit against the door to prevent banging and spills. The end of the over-door hooks are curved for perfect out-of-shower towel storage.
24. Quirky and Clever Shower Curtain Storage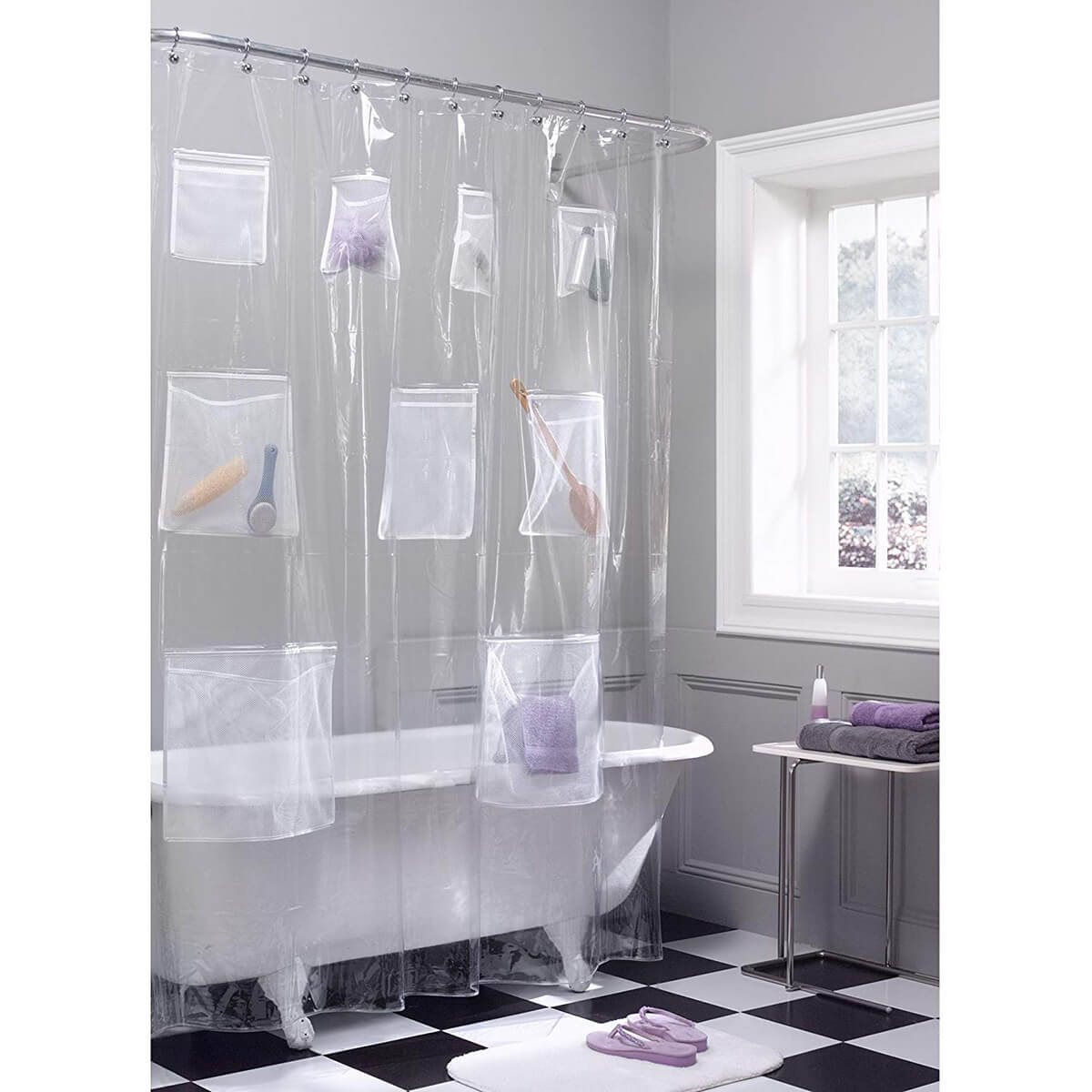 What better place to store your shower essentials than on the curtain? It will be there anyway, and with this option you can simply turn it into a bathroom two-in-one. The clear mesh pockets help you keep track of everything, and with multiple sizes, it should be easy to find storage for everything. This is a great option for families or houses with a lot of people sharing a shower, since there are so many pockets. Each pocket can hold about a pound and the only care it needs is an occasional wipe down. This is a fun shower storage idea.
25. Magnetic Small Bathroom Storage Solution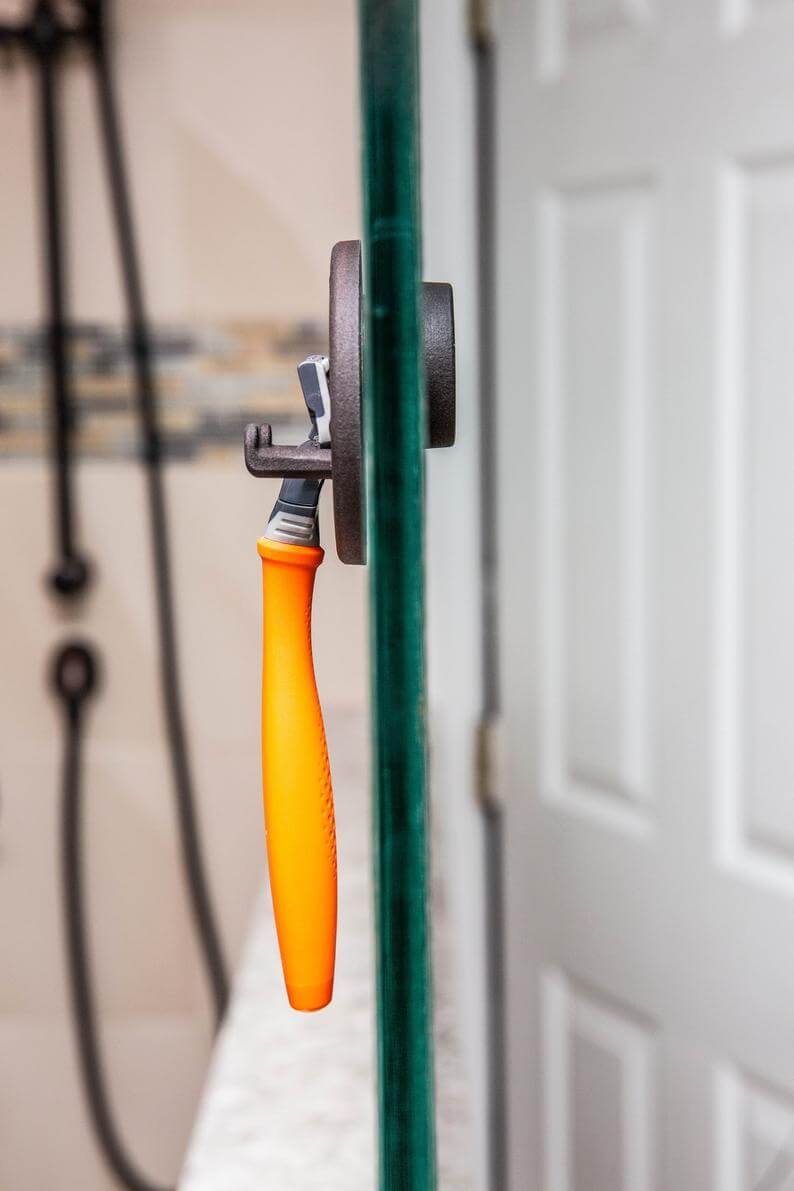 It may not look like much, but keeping your razor in an easy-to-access spot where it isn't going to fall and slice your foot open is an important shower feature. This magnetic hook uses two powerful magnets to hold your razor in place on any glass shower door. You can now keep your razor high out of toddler's reach and always know exactly where it is. Not only is this piece functional, but it is also very attractive. If you don't use a razor, you could also use this for anything that hangs from a string like a loofa or back washer.
26. Two-Pack of Stainless Steel Wire Rack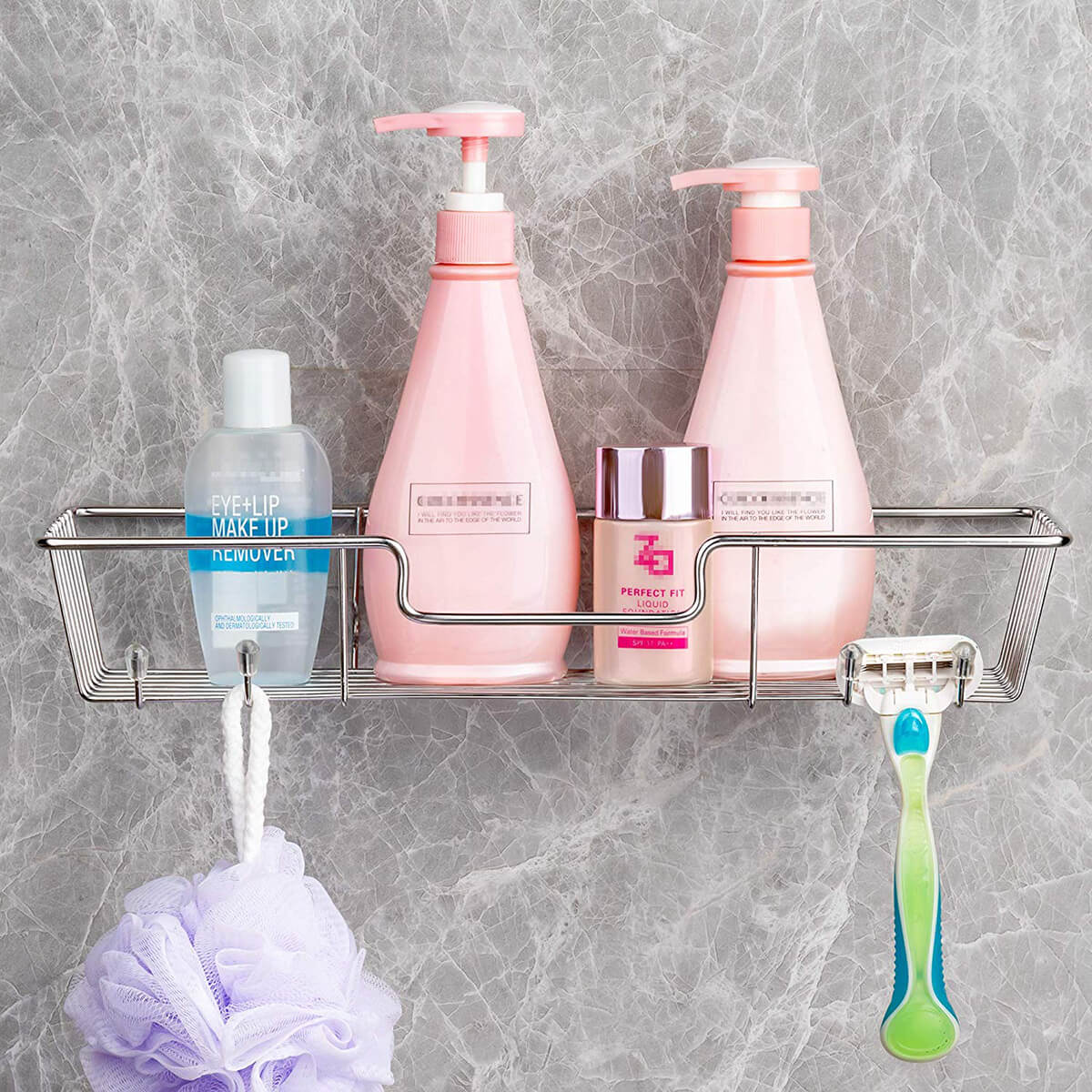 Have you ever had that experience where your various bottles of shampoo, conditioner, pre-conditioner, body wash, post-wash, post-post-wash, and so on just can't fit on the shower rack any longer? There comes a point when something just has to go. Or, if you are thinking along the lines of this sweet package deal from Amazon, there comes a point when you wise up to the fact that one shower caddy isn't going to cut it. What's better than a stainless steel wire rack with suction hooks? That's right — two stainless steel wire racks with suction hooks! Go big or go conditioner-less.
26 Easy and Neat Shower Storage Ideas for your Bathroom
The blessing and the curse of modern living is our abundance of stuff. Our accumulation of things is great — hey, there are lots of fabulous things out there — but it can affect the livability of home spaces, introducing clutter in nearly all parts of the house. And no, not even the sacred space of the shower, where cleanliness, relaxation, and rejuvenation are the mots du jour, is immune from the curse of clutter.
Don't fret, though. You don't have to hire Marie Kondo to clean up your conditioners, soaps, razors, loofas, and scrubs. You just have to find the right system — and, of course, the right gear. If you just need some bigger buckets to dump your things into, you've got options for that. If you need more storage space but want to stay on theme with your décor, you've got options for that. If you share a bathroom with several others who all have their own shower accessories, you've got options for that. In short, there is a shower storage idea for just about every home and bathroom space you could think of. The shower should be a temple of cleanliness, not a tower of chaos. Find the right storage solution for you, and enjoy the added peace of mind.
Our Favorite Farmhouse Storage Items to buy on Amazon