Even if your small apartment feels cramped, there's no reason to let it cramp your style! We've all seen those tiny homes or compact apartments that somehow manage to feel open and inviting. You, too, can have a living room that feels more cozy than cramped.
20 Fresh Small Apartment Living Room Design and Decor Ideas to Make the Most of Your Space

Making a small space feel spacious is all about choosing the right colors and textures, and arranging your furniture strategically. All you need are a few shrewd interior decoration moves to create the appearance of more space.
Commit to a light or dark color palette to give your small space depth and visually open up the room. Skip the mini-blinds or short drapes and go for floor-to-ceiling curtains instead. Just as wearing vertical lines slim and elongate the body, tall drapes give the appearance of high ceilings and more vertical space. Use rugs to define each area in the room. Also, try using large artwork on the wall instead of small pieces. It seems counter-intuitive but it actually works! One big statement piece will give a more airy feel and cut down clutter.
Speaking of clutter, nothing makes a small space feel smaller like having it packed with stuff. If you have a small living room, then make the most of incognito storage. Coffee tables, ottomans, and even couches can double as storage space. Choose furnishings that let you sneakily store your odds and ends out of site. It will make a huge difference in how your living room looks.
1. Darling Definition with Bookshelves and Rugs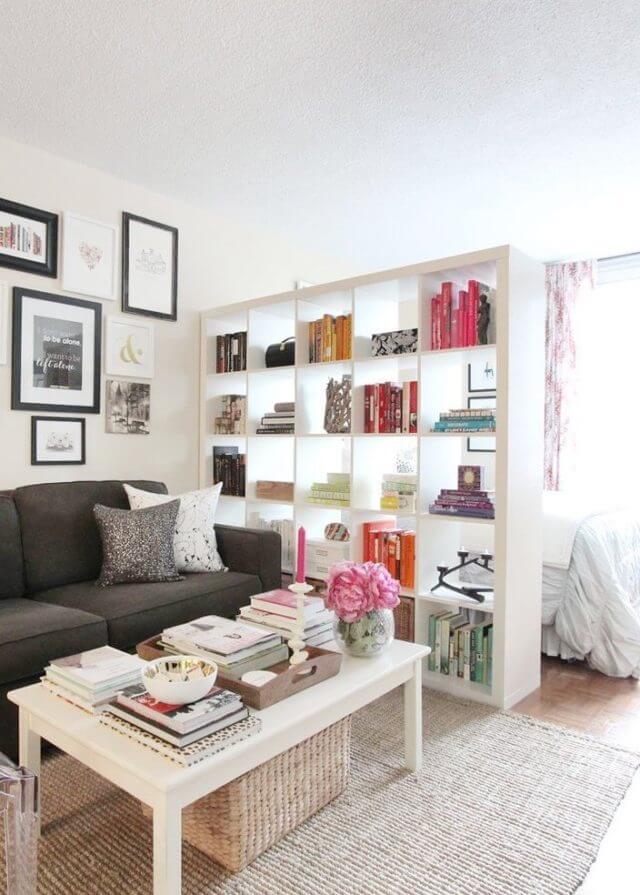 It can be a challenge to create the feeling of a bedroom in studio apartments or dorms. A large, well-placed bookshelf can act as a sort of temporary wall to separate your living space from your sleeping space. The rug in the "living room" adds extra definition to complete the effect.
2. Light and Airy Color Scheme with Textures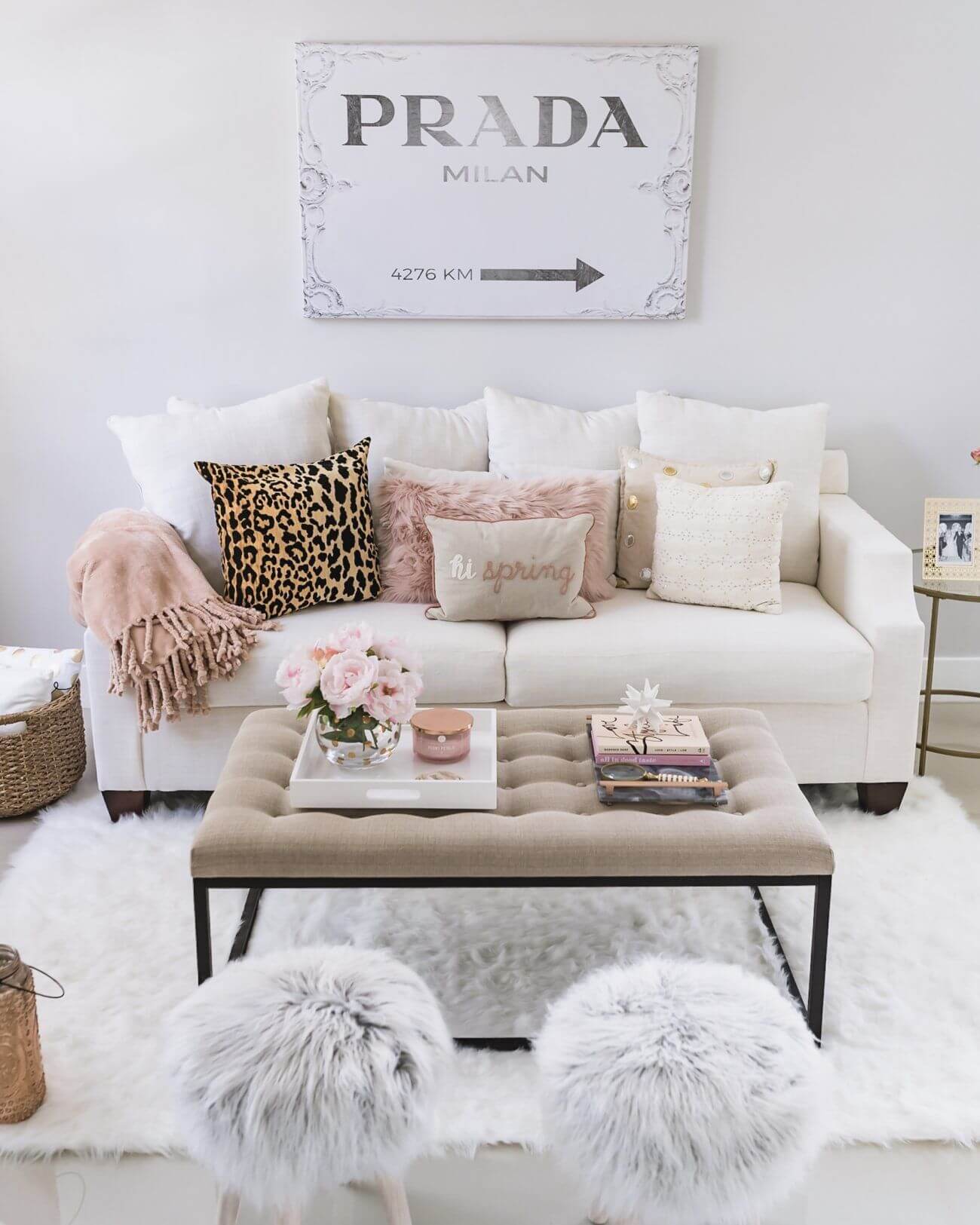 You can keep a monochromatic color palette interesting by adding in plenty of textures. Using white on white with the walls, couch, rug, and flooring gives this room more light and space. The combination of cozy surfaces with a splash of blush and canvas brown add some dimension as well. The large artwork completes the look!
3. Nature Inspired Organic Design with Airy Curtains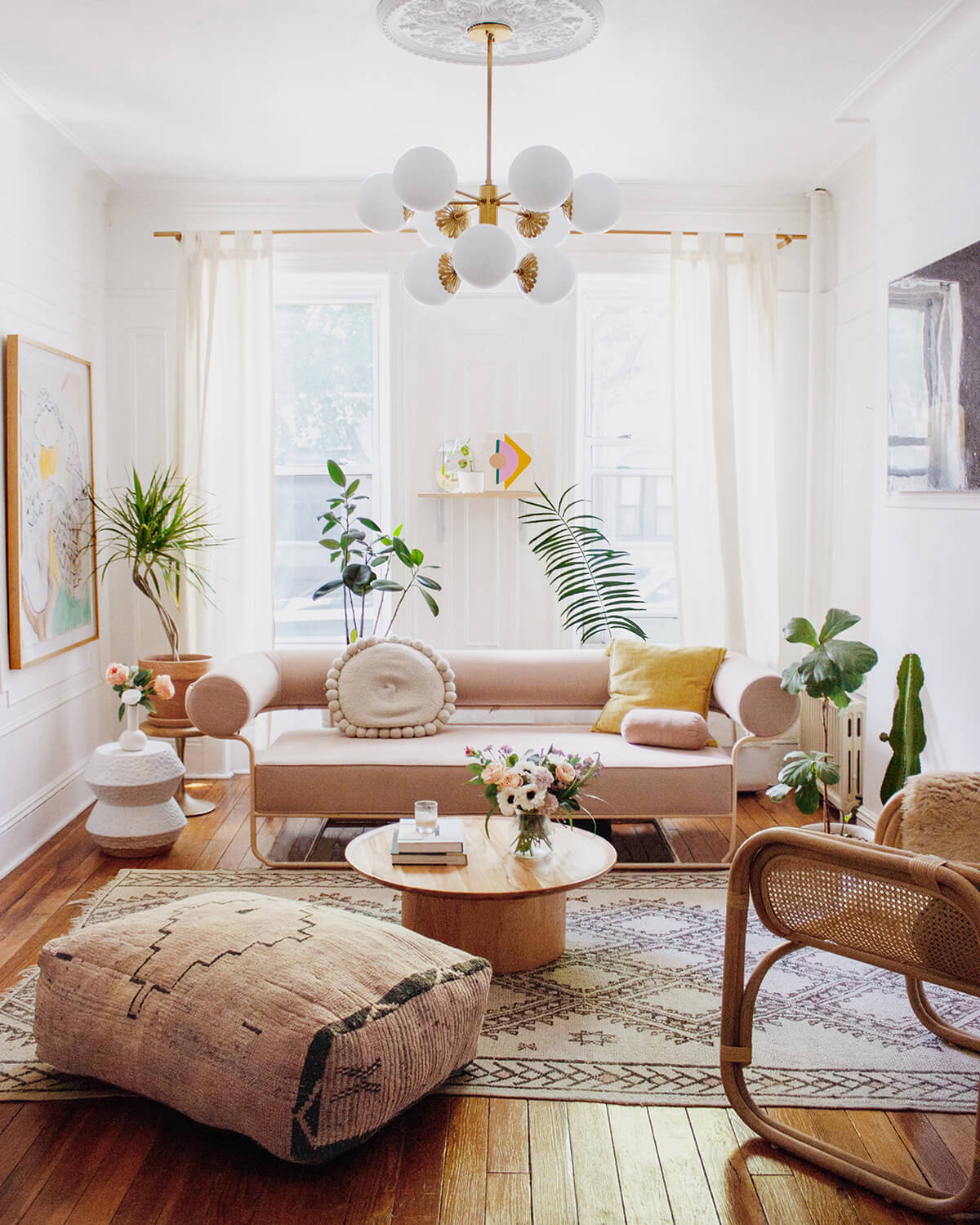 Simple, minimalist neutrals are a shoo-in for creating space and depth in a small apartment. Use textures and patterns like this rug and ottoman to create visual interest without cluttering up the space. The sheer white floor-to-ceiling curtains let in plenty of light and create a fresh, airy feel.
4. Chic and Eclectic Color Without Clutter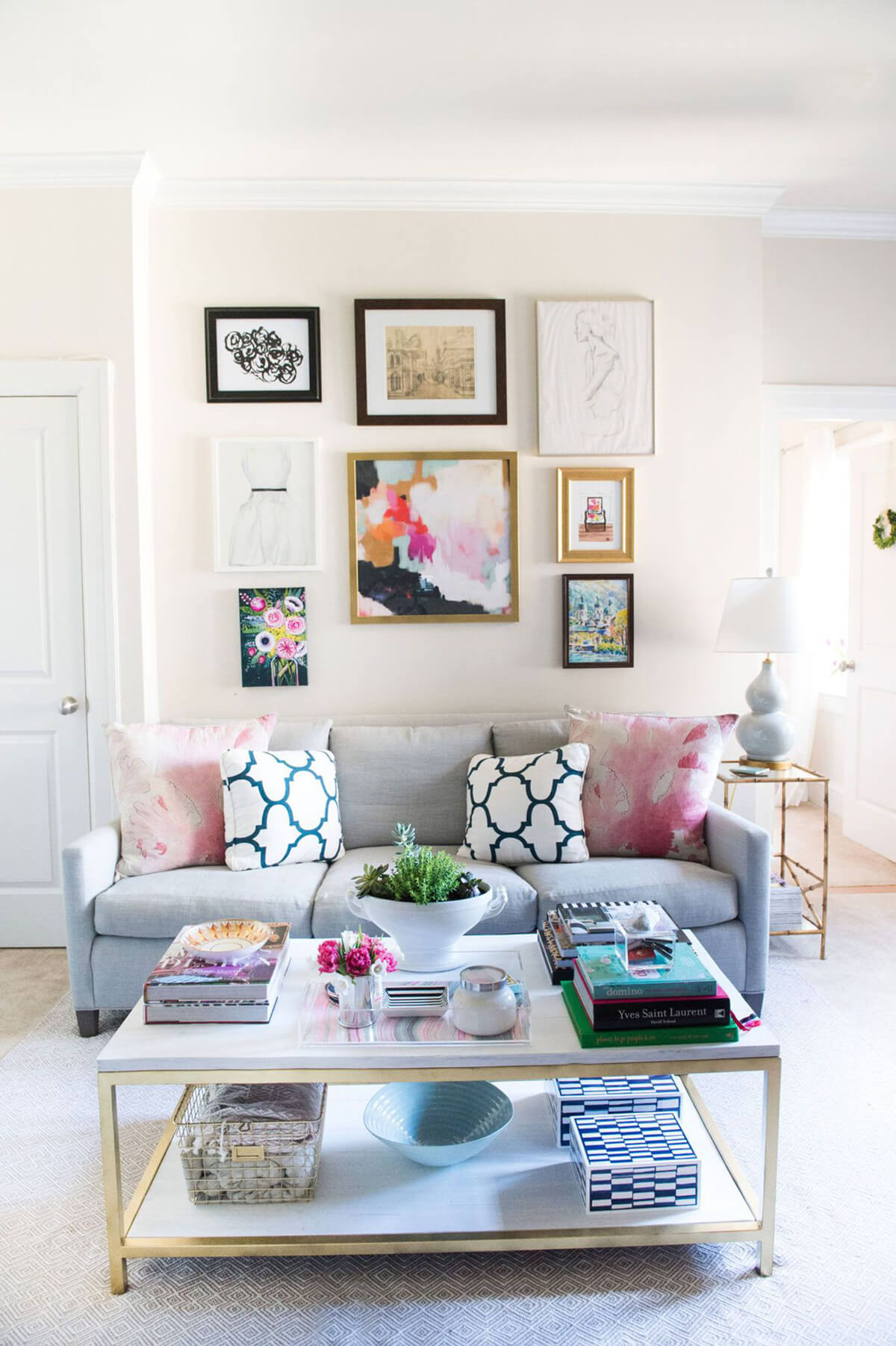 You don't have to sacrifice color to maximize your small living space. This beautiful arrangement is proof that, as long as you use it wisely, you can make color work. The trick is using pops of color against a light, neutral background. The walls, couch, area rug, and even the coffee table provide a simple canvas where you can add patterns and colors in the form of pillows, artwork, and keepsakes.
5. Pretty in Pink (and Pineapples)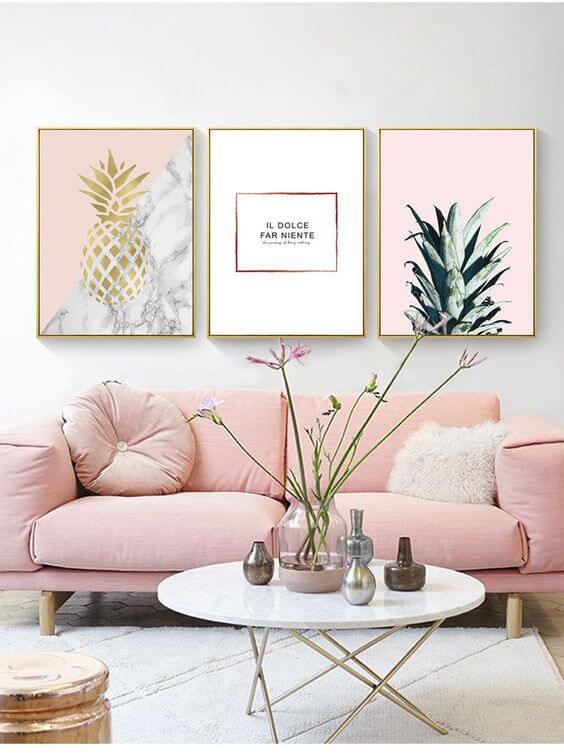 Did you know that the pineapple is a symbol of hospitality? What better way to say "welcome" to every guest that enters your home? Using a handful of complimentary neutrals – white, blush, and gold in this case – is a great strategy. Three pieces of art that go together are called a triptych and are a great way to create balance and symmetry in your small space.
6. Cozy and Inviting with a Corner Couch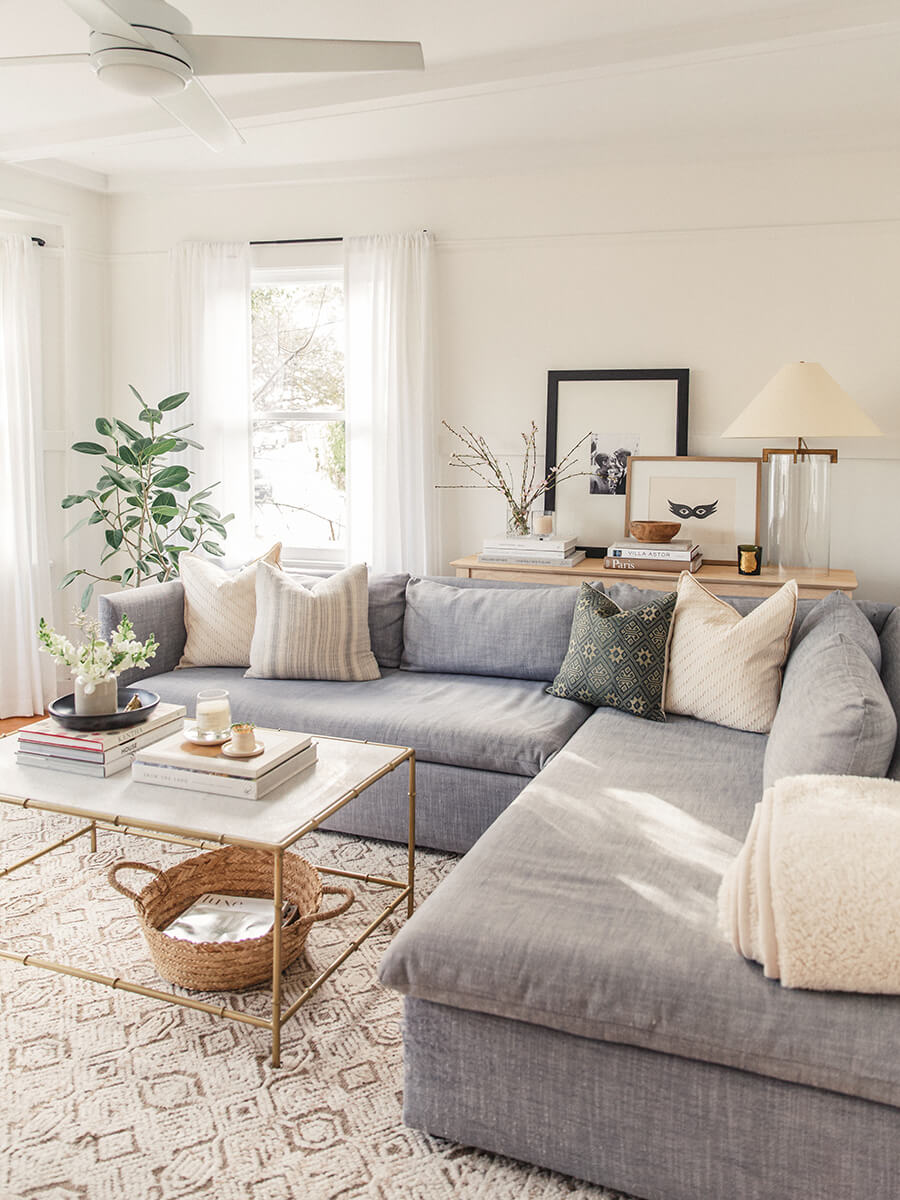 Do you love to lounge? Consider a corner couch. Instead of multiple chairs and tables, one corner couch defines the area while maximizing seating space. The throw pillows, rug, and simple golden bamboo-trimmed coffee table add texture. And don't overlook those gauzy floor-to-ceiling drapes! It's a tried and true strategy to create light and space in your room.
7. The Perfect Ensemble for Long, Skinny Rooms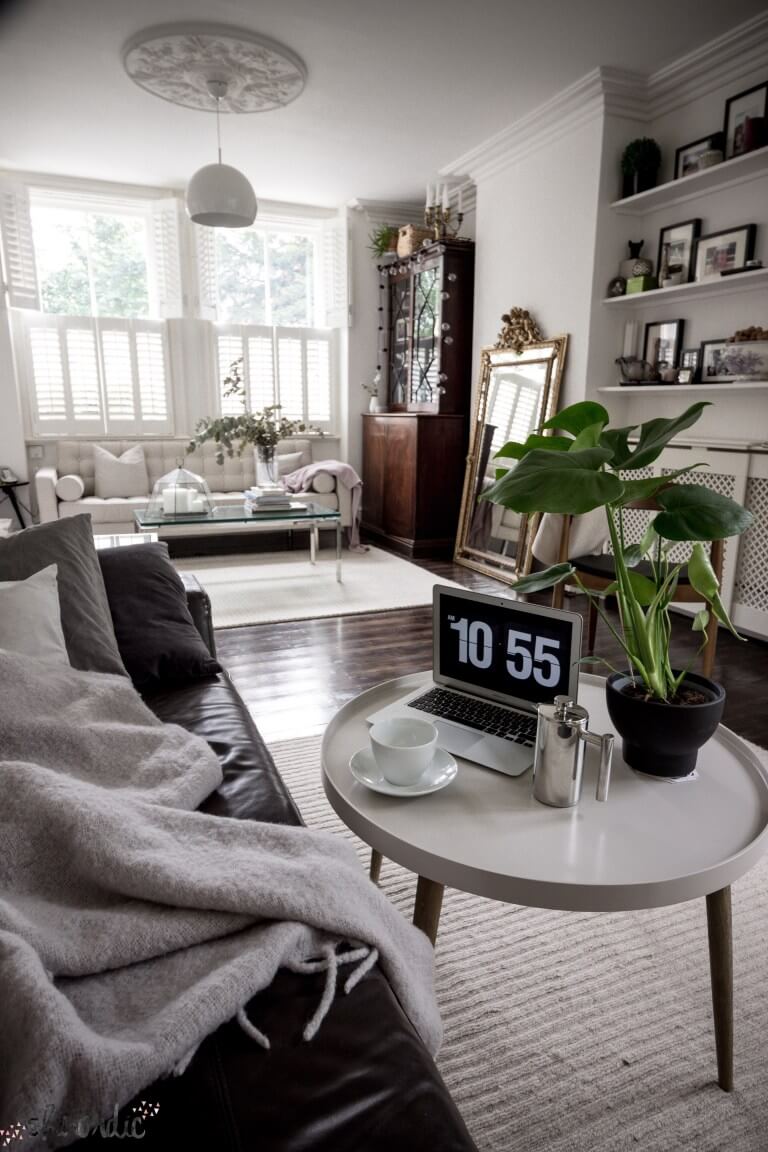 Odd-shaped rooms can be a bit of a challenge, so think outside the box! Who says all your seating has to be in one place? Define each area with a rug and create a unique little nook in each section of the room. Mirrors like the framed antique one you see here can also create an optical illusion of a room being bigger than it is.
8. Make Use of Lamps, Light, and Mirrors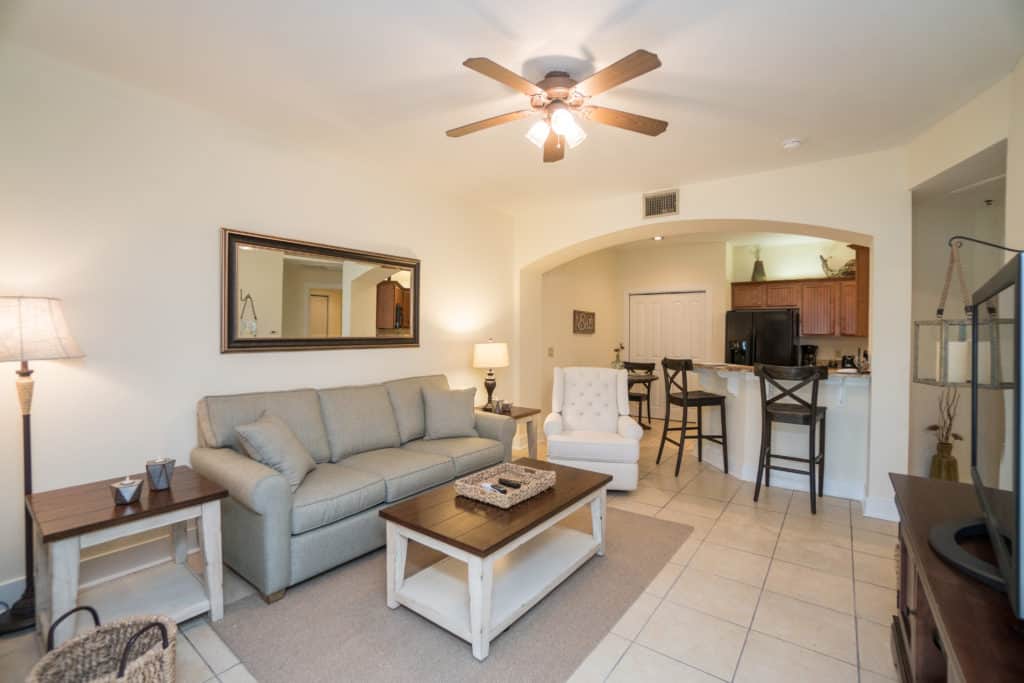 Sometimes light from above creates dark shadows in the corners of a room that can make it feel smaller. This is especially true if your living room doesn't get much natural light. Enter: Lamps! Use a floor lamp and/or a table lamp to add a soft glow to the darker corners of your room and watch the entire space open up.
9. Crisp Linen and White with Organic Decor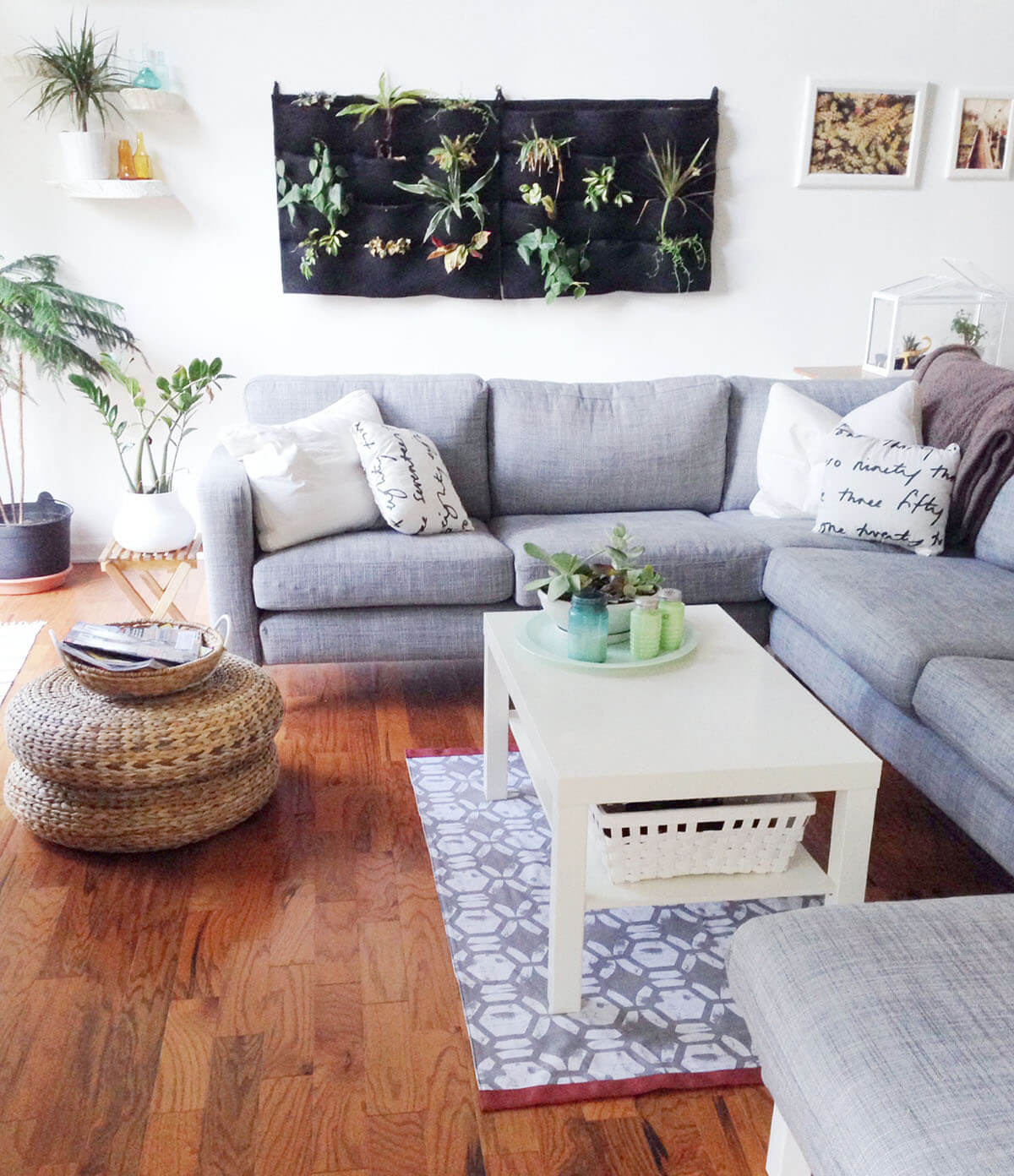 Can't afford original artwork? How about a plant instead? This charming living space is proof positive that you can substitute plants for art. Greenery goes especially well with beautiful wooden floors. Try a combination of floor plants, potted plants on floating shelves, and even a collection of air plants or succulents in a hanging planter on the wall.
10. Classic, Beige, but Never Boring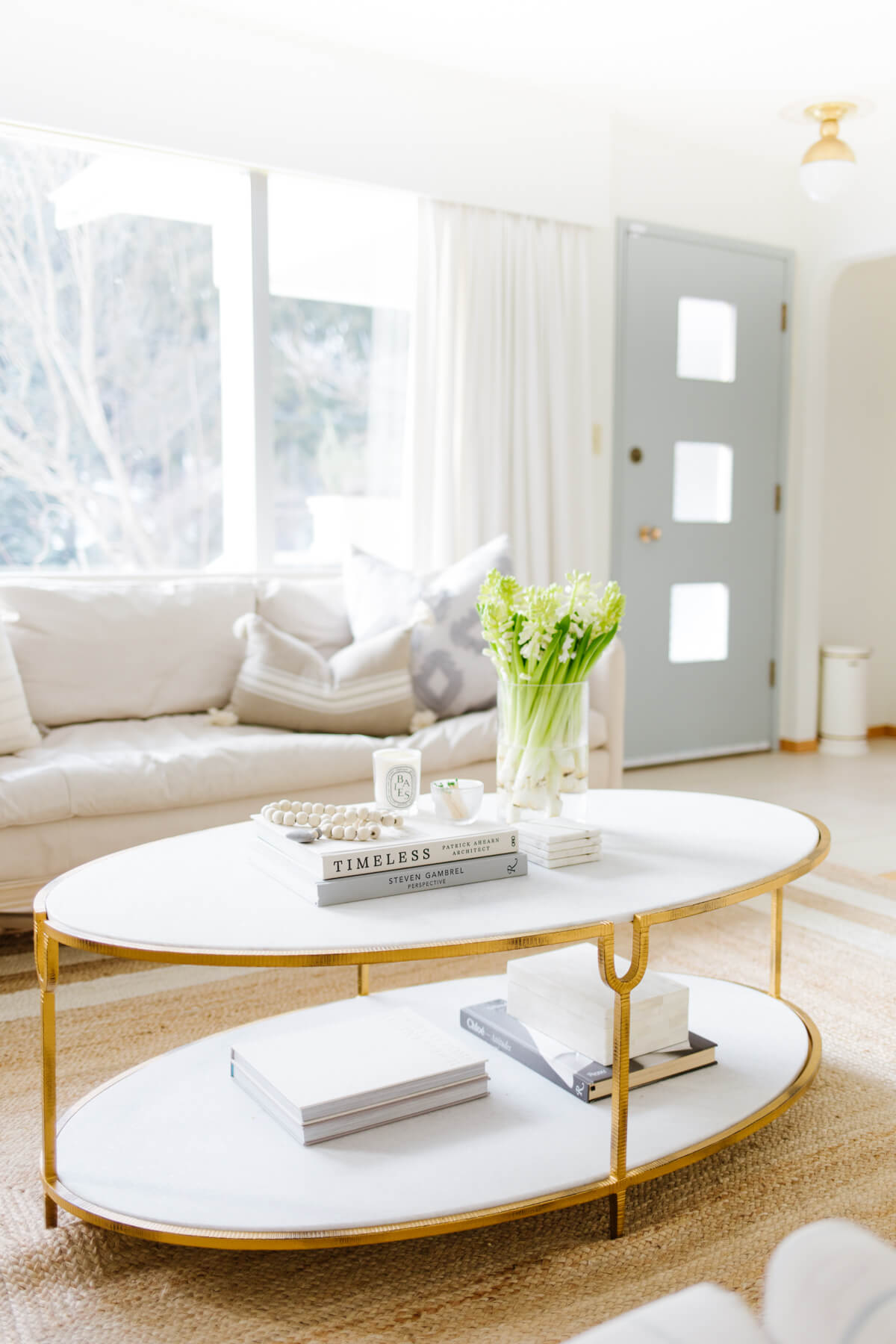 There is something timeless about crisp white and soft beige with metallic trim that will never go out of style. If you are fortunate enough to have great big windows like this, then let them take center stage in your living room. Keep the rest of the decor simple and chic with a beige palette and gold accents.
11. Perfect Mini Entertainment Center Nook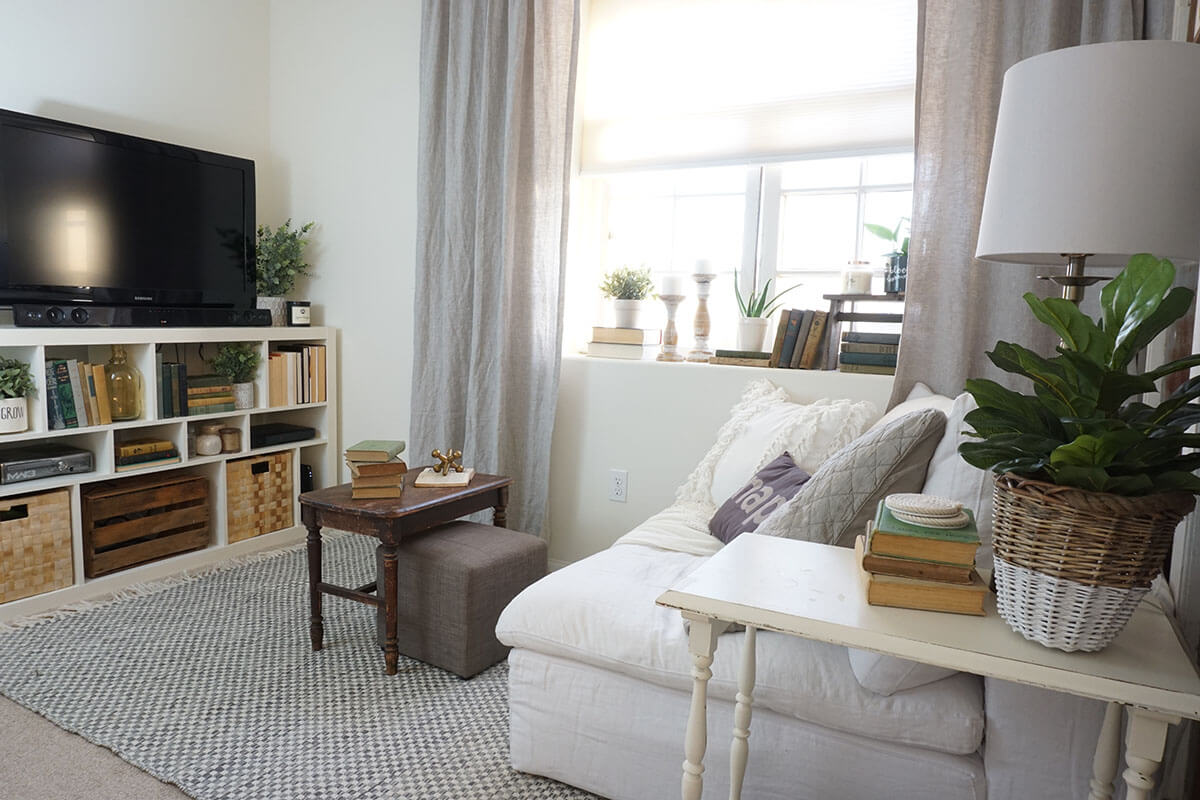 Use up every last drop of space to make your living room functional and attractive. The short end of a sectional sofa is the perfect solution to add a couch to a tiny corner. The side table here gives it an edge so it feels complete. A shelving unit with open cubicles makes a perfect TV stand/storage combo to stay organized while not taking up too much room.
12. Beautiful Simplicity with a Coastal Flair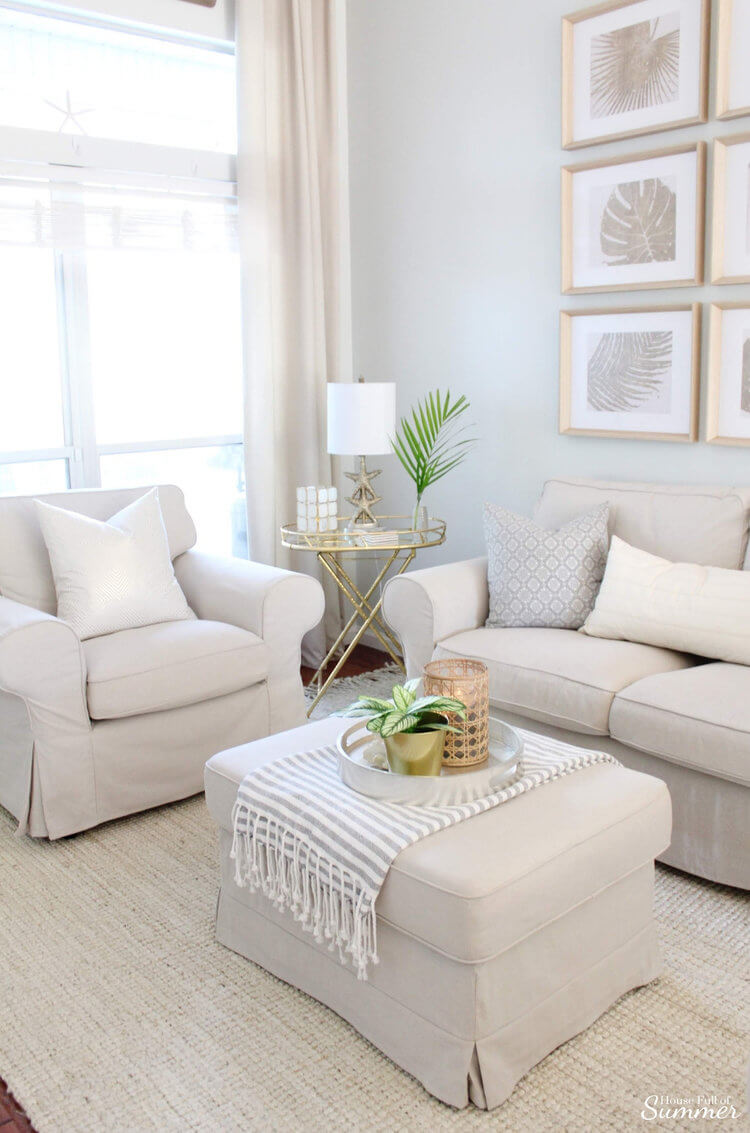 This room is using every trick in the small apartment handbook to create a "big" feeling. It uses a neutral color scheme in light shades of sand. It has floor-to-ceiling curtains. It defines the space and adds texture with a cozy matching area rug. It has an ottoman doubling as a coffee table. Last but not least, it uses a vertical collection of matching framed artwork to complete the look.
13. Industrial Minimalist Living Room/Bedroom Combo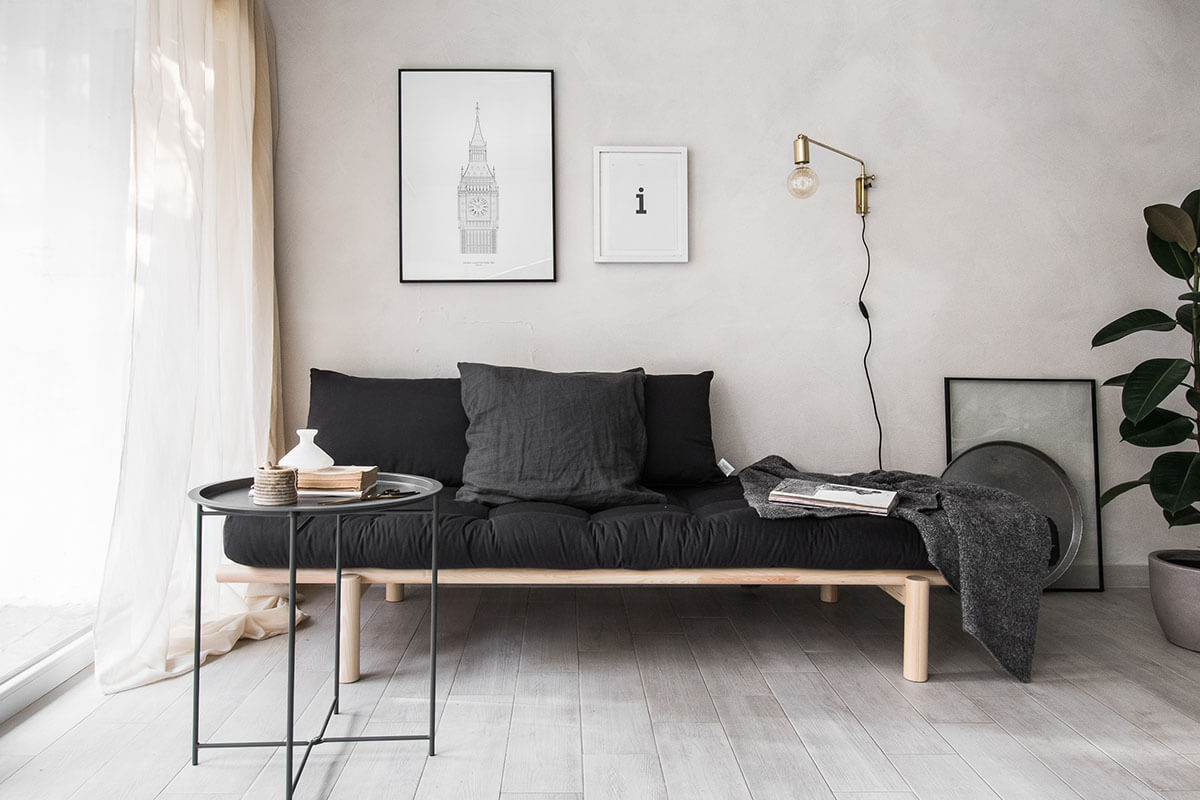 Ah, the humble futon. It lets you go from couch to platform bed with the swivel of a hinge, transforming your living room into a guest bedroom in a matter of seconds. Talk about maximizing your space. If you've ever wondered whether this type of multi-purpose furniture can be stylish, just look at this arrangement. It's all the proof you need!
14. Cozy Hearth and Reading Chair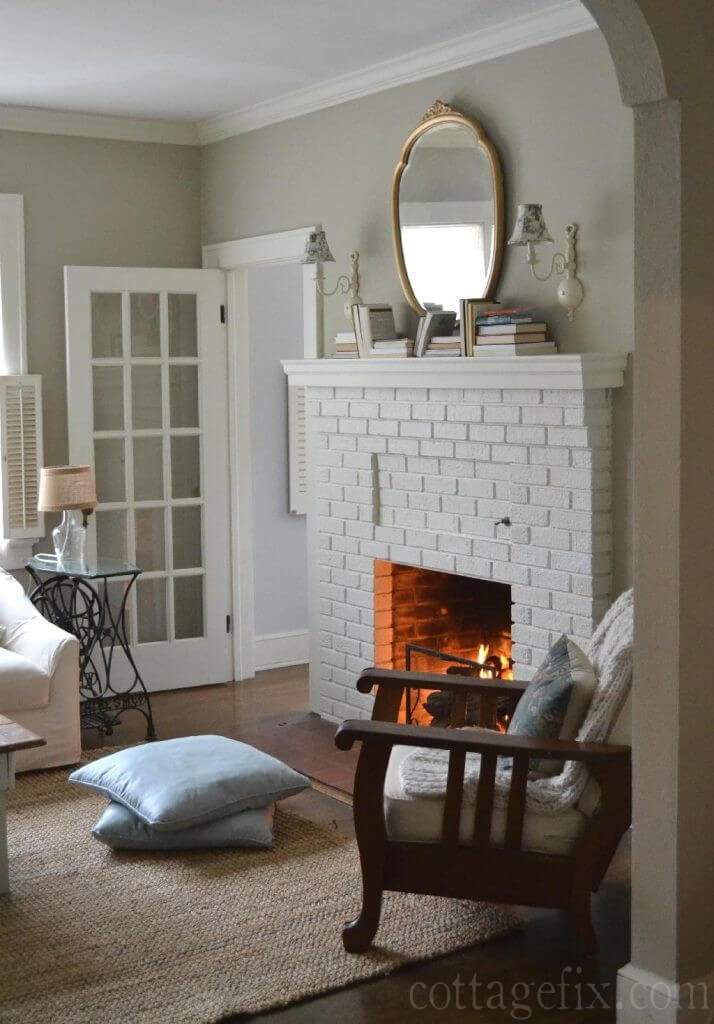 If your compact living room comes complete with a compact fireplace then you should take full advantage! Lay out a nice rug and plant a comfy chair next to the fireplace. You can use the mantel as a bookshelf or to display art. Don't want to build a fire? Try arranging several pillar candles in the firebox instead.
15. "His and Hers" Text Art with Simple, Modern Decor
Black and white is a classic color palette that will stand the test of time. This adorable arrangement makes use of a neutral background and adds pops of geometric contrast with black and white art, printed throw pillows, and a patterned rug. The mod tables are nested to create dimension while taking up minimal space. Who wouldn't want to come home to this living room?
16. Perfectly Balanced Warm, Textured Native Print Neutrals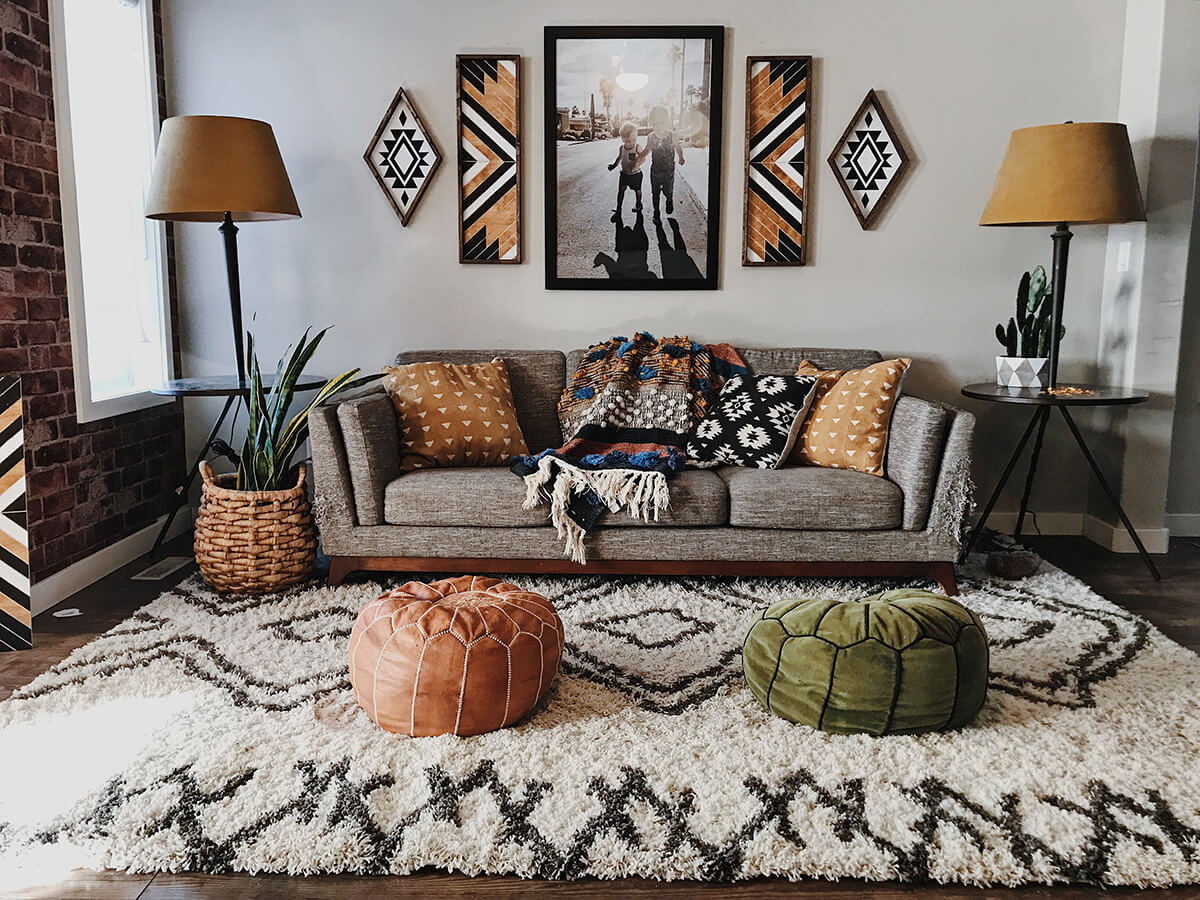 This design only uses 3 or 4 colors to achieve an incredibly rich, textured result. The balanced artwork, matching side tables with lamps, and simple couch create beautiful symmetry that allows for mix and match patterns. Every element stays within the same 3-4 color palette which allows for multiple patterns and textures without seeming busy. The result is cozy and super chic.
17. Nature Inspired: Black, White, Green, and Wood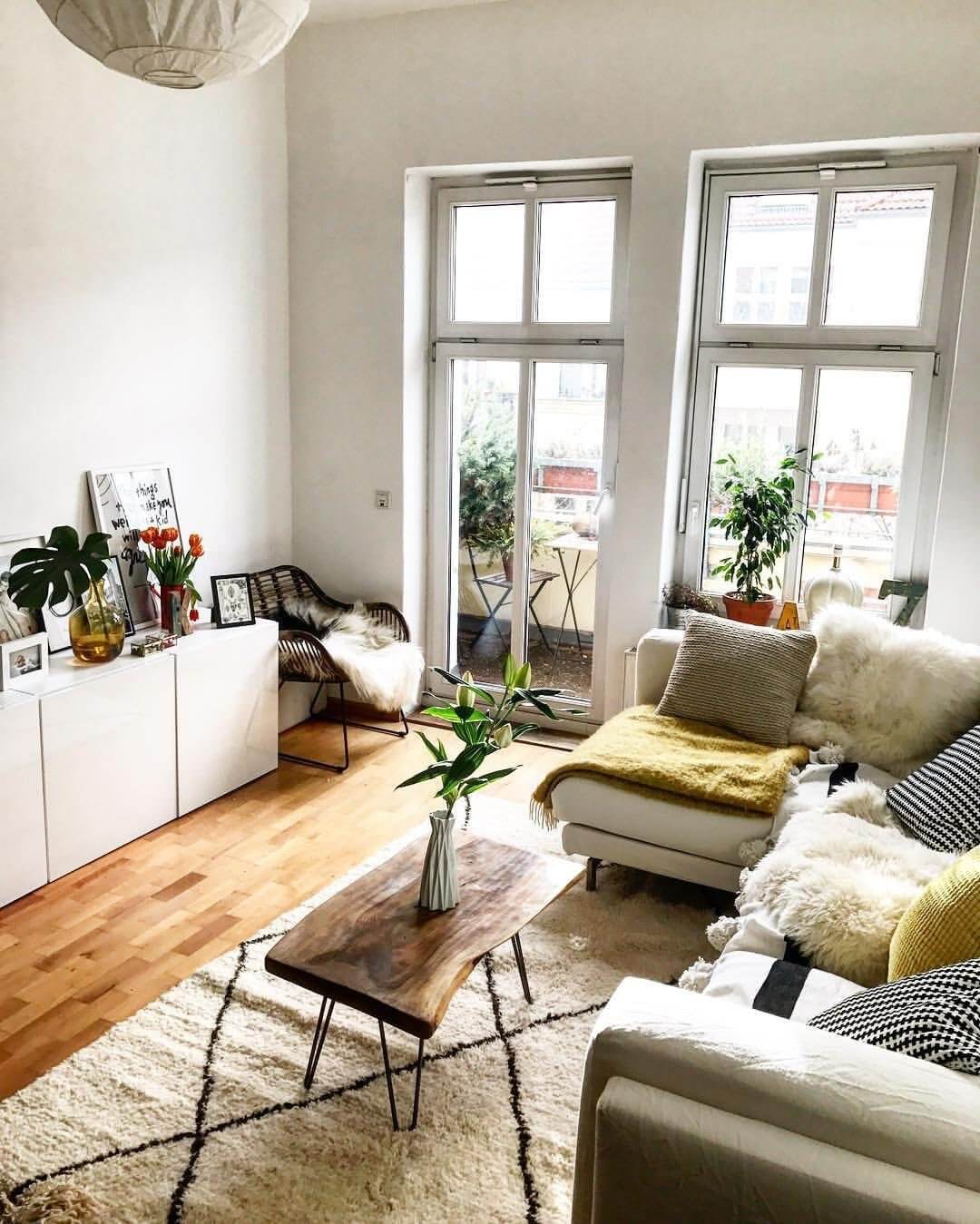 Nature will never steer you wrong when it comes to decor. Just take a look at this beautiful blend of simple white, textured black, soft green and natural wood. It all goes together flawlessly. Instead of pops of color, turn to pops of texture to keep a simple color scheme interesting.
18. Open Floorplan Definition in Chic Grayscale
For many apartment dwellers, the kitchen and living room are practically one and the same. You can use pattern changes and furniture to create separation between the two. This layout keeps everything in the black-and-white spectrum but uses a playfully patterned area rug and a transition from stark white to grayscale decor to define the living room from the dining area.
19. Artful Wooden Tables and Floor Lamp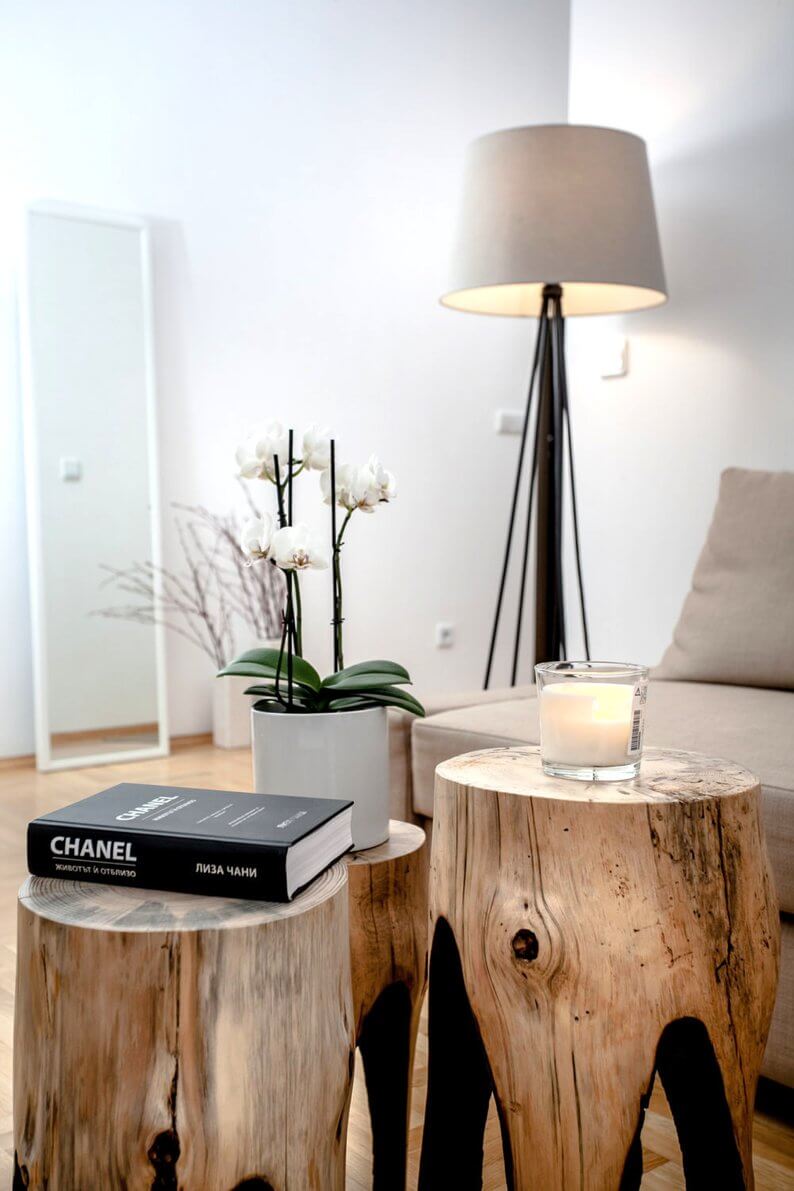 Did you know that art doesn't have to hang on a wall? With a collection of gorgeous wooden tables like these to grace your floor, you can forget about the hammer and nails. A simple book, candle, and plant completes the chic ensemble along with a floor lamp with a linen shade to cast a warm light on the seating space.
20. Simple Statement Art with Neutral Furniture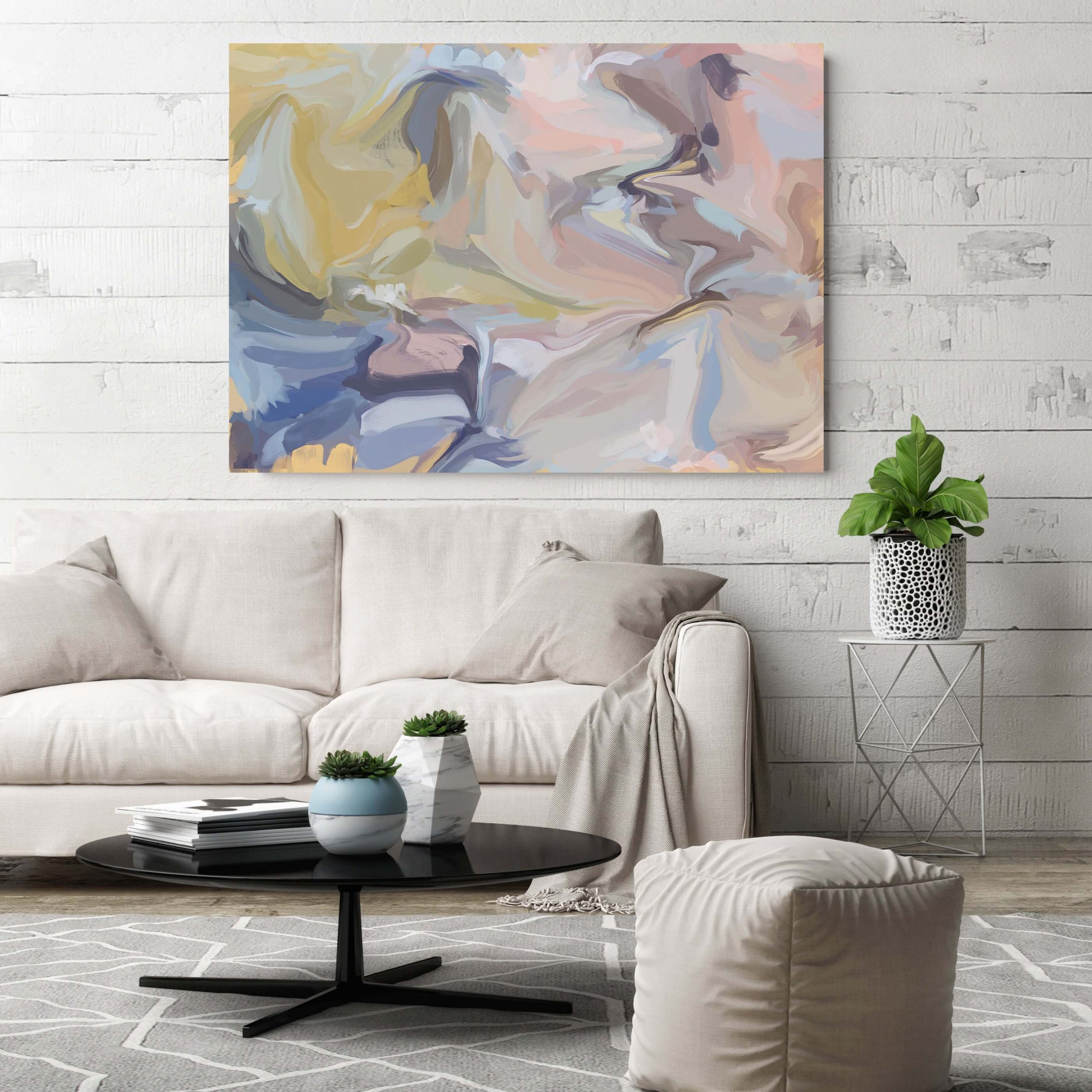 One big, interesting piece of art is all you need to fill the wall in a small space. You can keep everything else neutral – beige, even – and still have a beautiful and inviting room. Various textures like different fabrics and ceramics in the same neutral color along with one contrasting piece like this basic table will add depth while maintaining the flow of the space.
Our Favorite Farmhouse Decorations to buy on Amazon