It's possible to adapt the newest living room trends to a small space. Having a smaller living room doesn't mean that everything you own has to be crammed into a tiny room. These living rooms maximize space by keeping extra clutter out of sight.
25+ Novel Small Living Room Design and Decor Ideas that Aren't Cramped

One popular strategy to make the room feel bigger is to decorate the room in shades of white and beige with an interesting rug. Some of these living rooms have geometric rugs while others have soft, fluffy shag carpet. A mix of patterns and textures keeps small living rooms from being boring.
Another way to make a room look larger is to hang the curtains up near the ceiling. This gives the room a sense of light and airiness. The window itself creates a feeling of space in the room and brings the outside in.
To decorate your small living room, it is best to have an overarching color theme. Light colors work better than dark colors. A neutral background means that you can choose accessories of any color palette to brighten the space. Bright cushions and throws are popular. Artwork and wall shelves enliven a small space by drawing attention up higher.
Take a look at our gallery and try some of these small living room ideas for yourself. They will help your smaller room feel larger and bring a stylish update to your living space.
1. Light Colors Make the Room Look Larger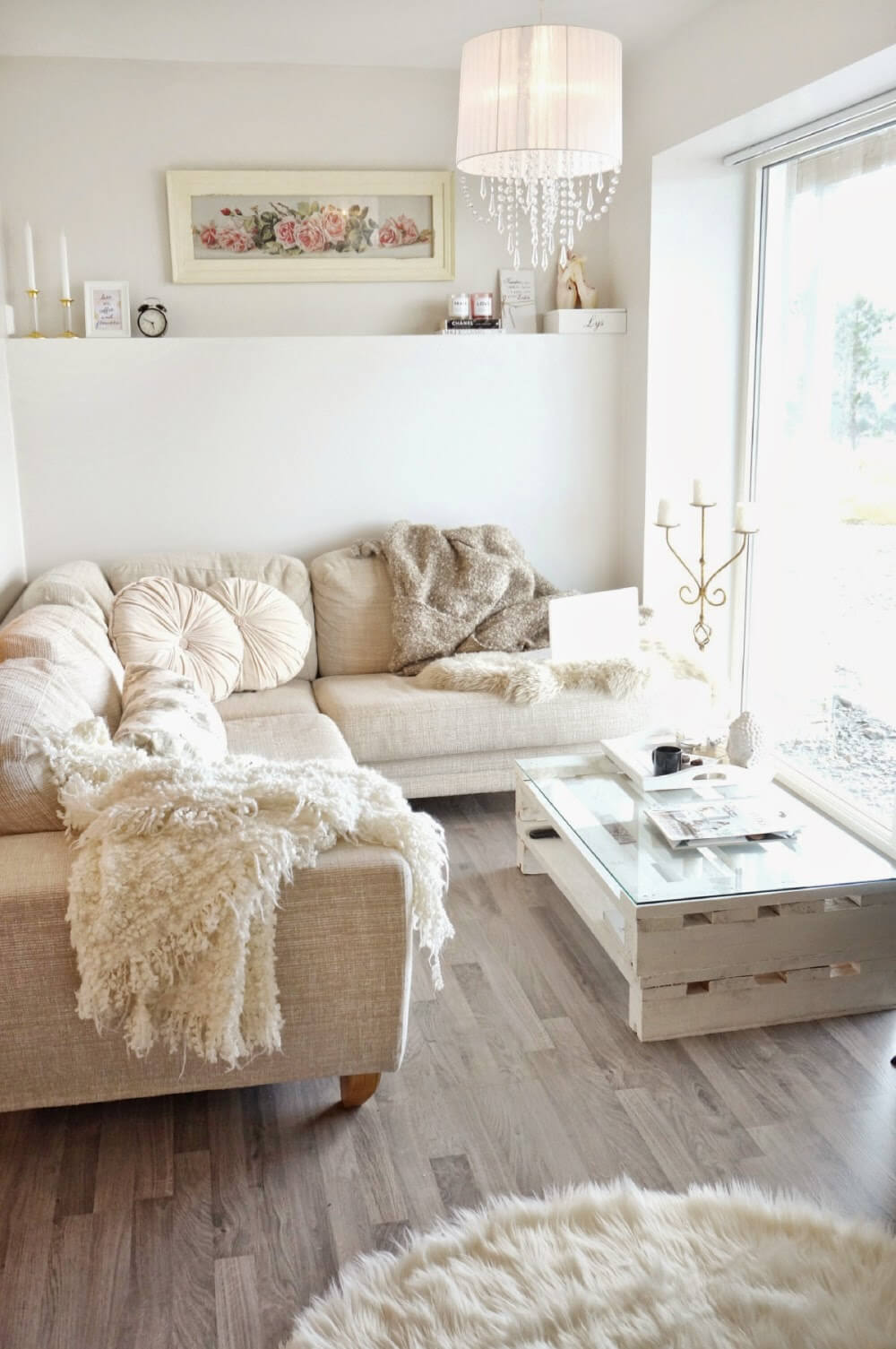 One of the fastest ways to help a small room feel spacious is to select a light color palette. Layers of tantalizing textures keep the subdued palette interesting and keep this living room from feeling sterile.
2. Gray Chaise Sofa with Plump Cushions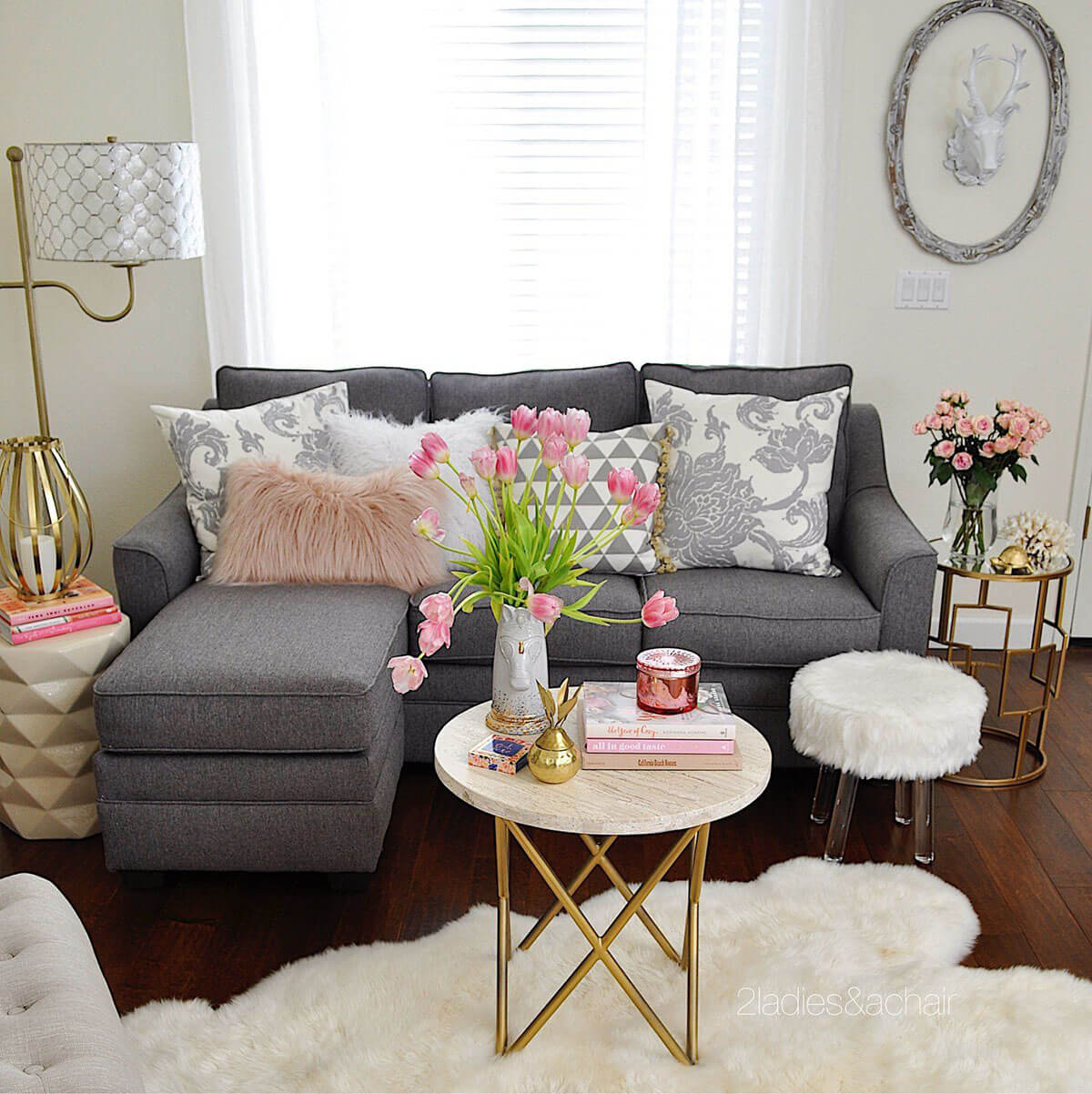 Of course, you do not need to swathe your space in snowy whites – try experimenting with gray, blush, and gold for a welcoming look. A furry white rug keeps this room bright and breaks up the dark hardwood floor.
3. Contemporary and Stylish Living Room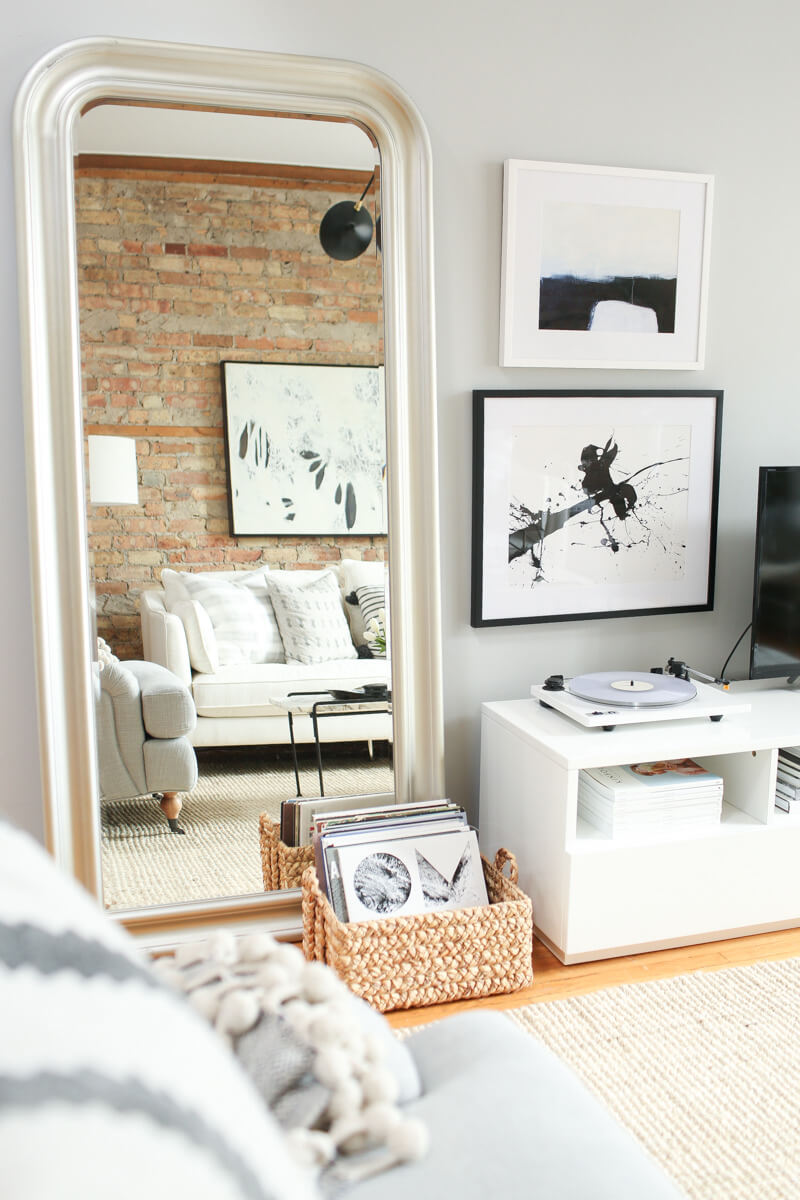 For a suave living space, follow the example shown here and pair soothing grays with exposed brickwork and rattan texture. Contemporary artwork, black fixtures, and blocky furniture combine to create a decidedly modern tone.
4. Floor to Ceiling Windows Make it Airy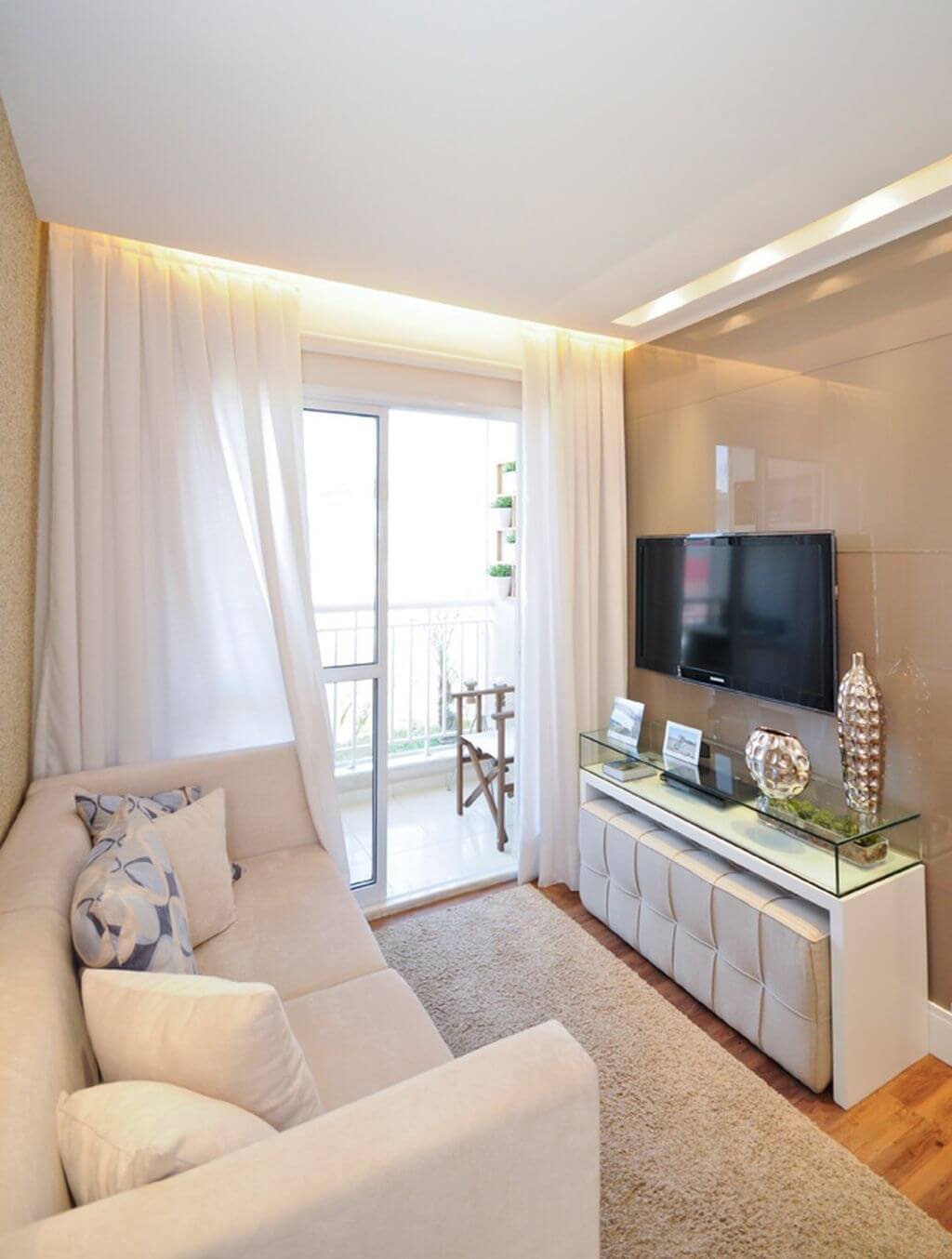 Natural light is one of the best ways to maximize limited space. A glossy wall reflects that light back into the room while a comfortable sofa and thick carpet develop an inviting ambiance. This example also prioritizes narrow-profiled furniture.
5. Fluffy White Accents Lighten the Room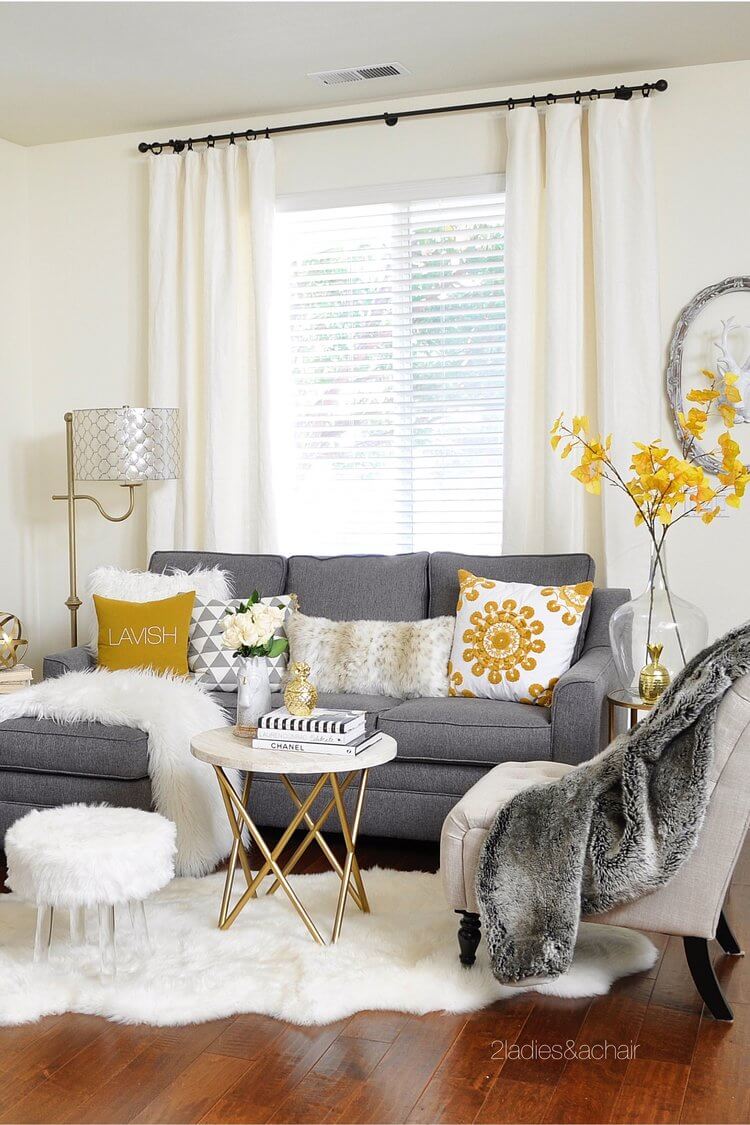 Second only to color, texture is one of the integral elements of creating an inviting family room. A variety of faux fur colors and patterns is a great first step to a space you will want to sink into.
6. Calming Blue Sofa and Geometric Rug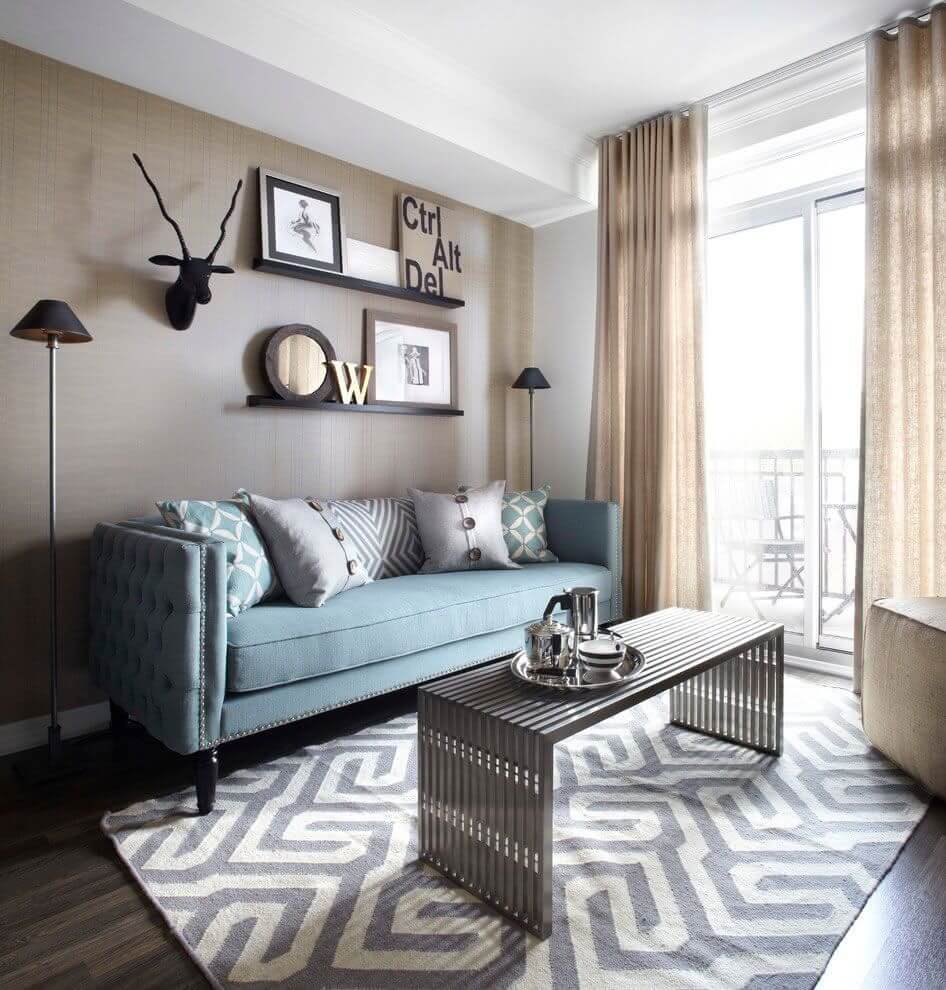 From the symmetrical rug to the wall art inspired by a moment's pause, every component in this living room is designed to help you relax. A tufted sofa in cool blue soothes while warm beiges add an inviting ambiance.
7. Extra Seating Tucked Away Under the TV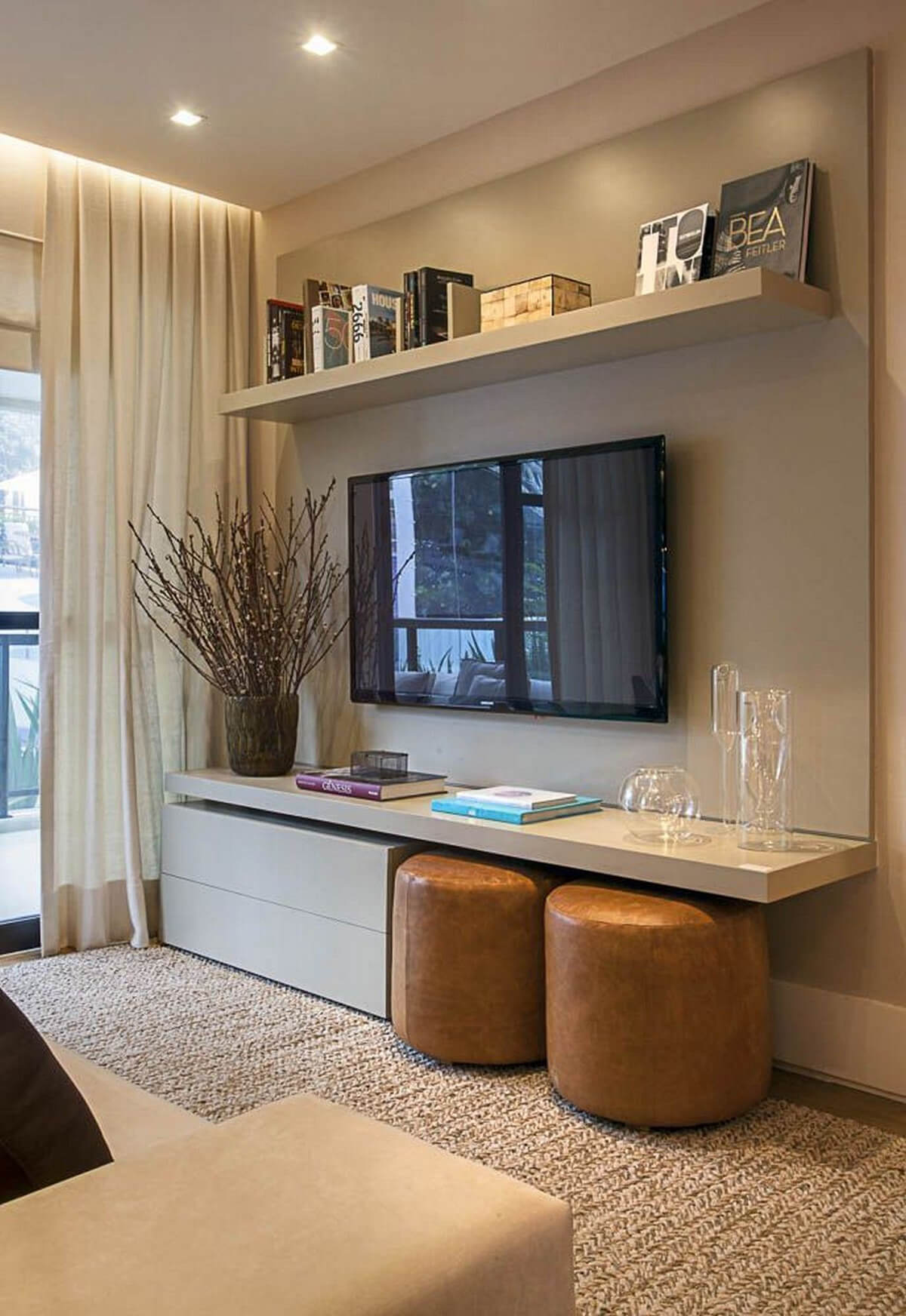 Unused seating takes up so much space unnecessarily. As shown here, sliding seating under other furniture is the perfect way to solve this problem. If you plan to store chairs under your wall mounted tv, choose low-profile silhouettes.
8. Farmhouse Style Small Living Room Decor Idea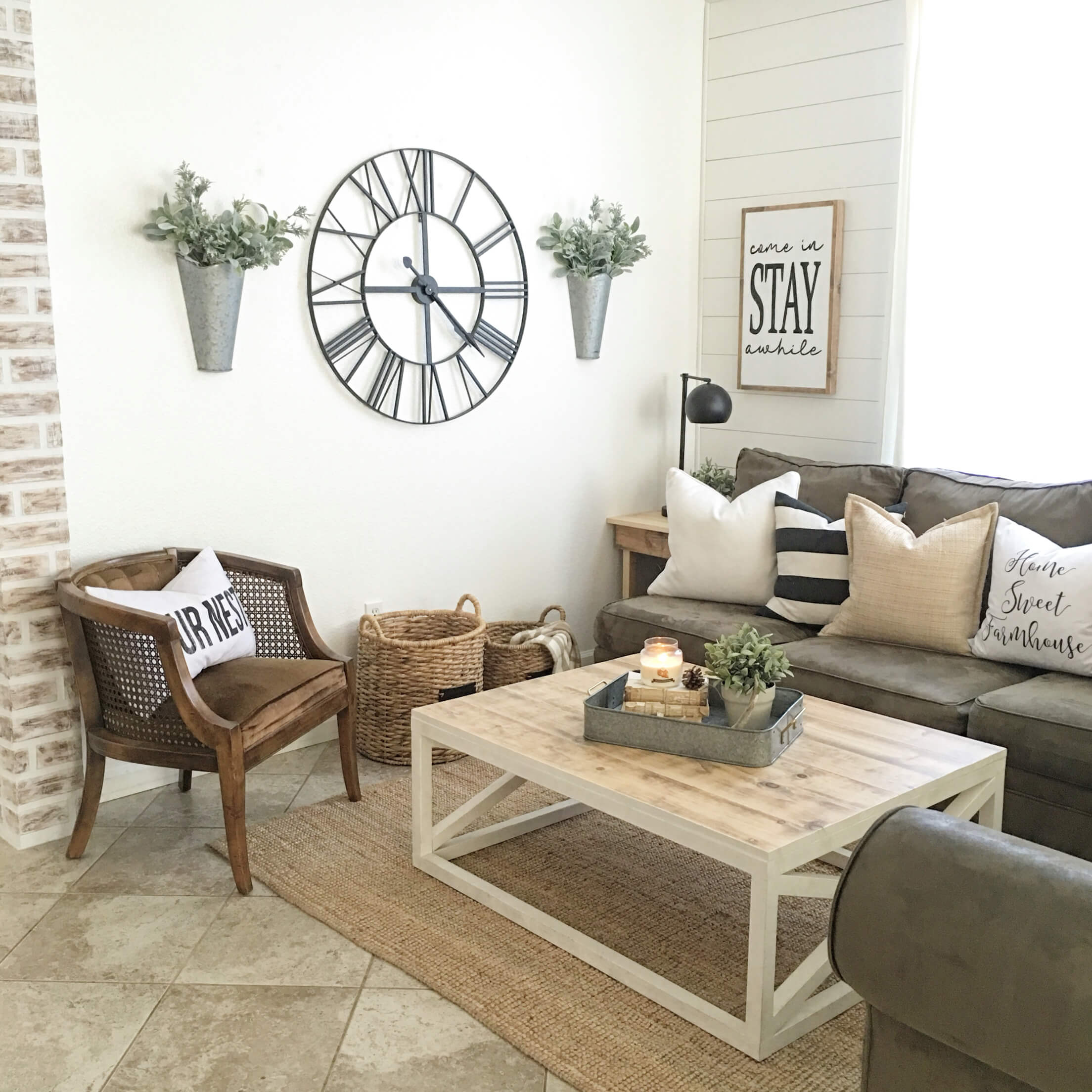 Filled with warm hues and natural textures, this small farmhouse-style living room is incredibly inviting. A large-scale Roman-numeral clock and plenty of comfortable pillow-laden seating help the space feel much bigger than it actually is.
9. White on White with Patterned Curtains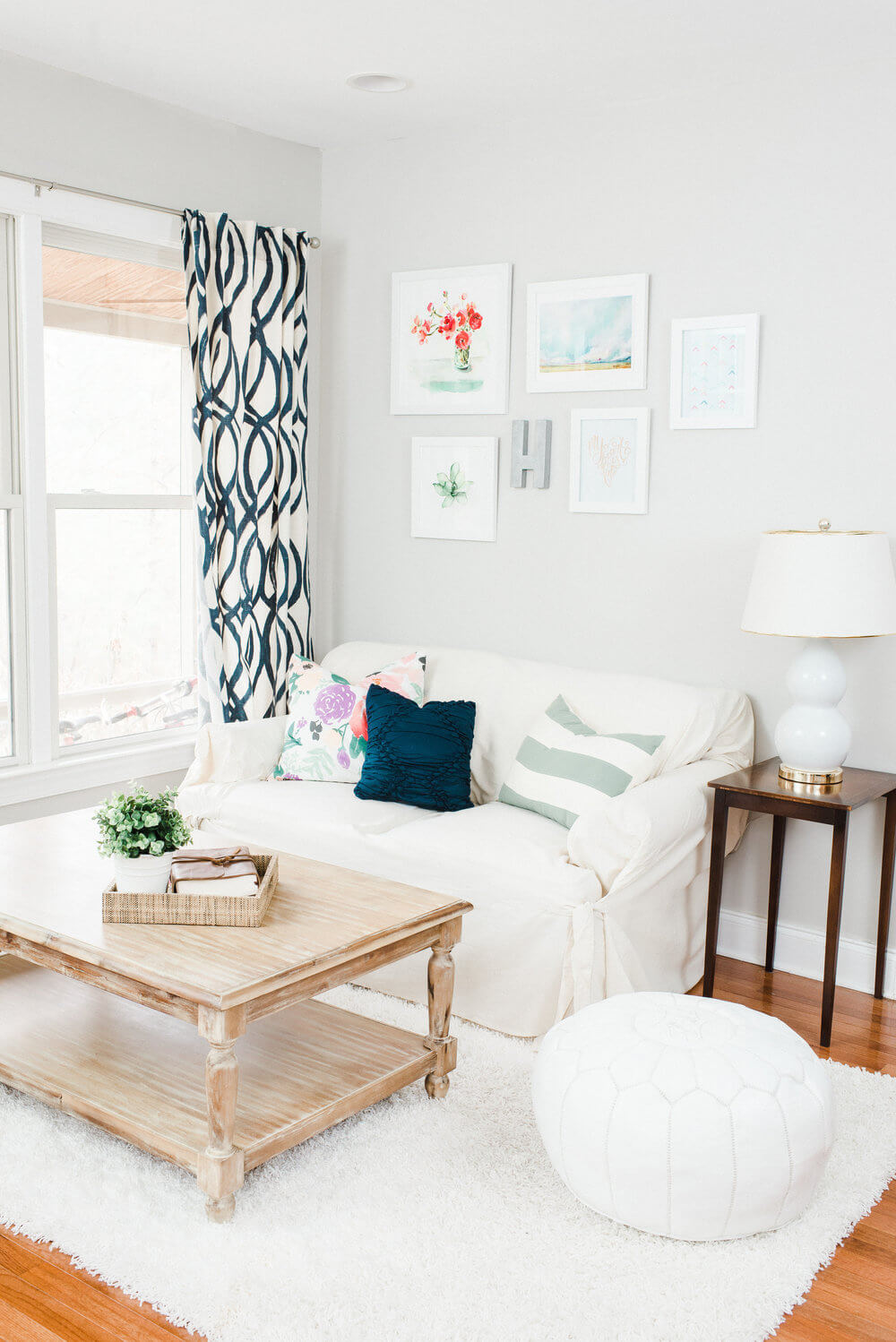 Using white-on-white in a space might seem like a bold design decision, but this strategy actually puts more emphasis on the design's colorful accents. Because white reflects light, it helps maximize any natural light available in a small space.
10. Inviting Farmhouse Living Room with Buffalo Plaid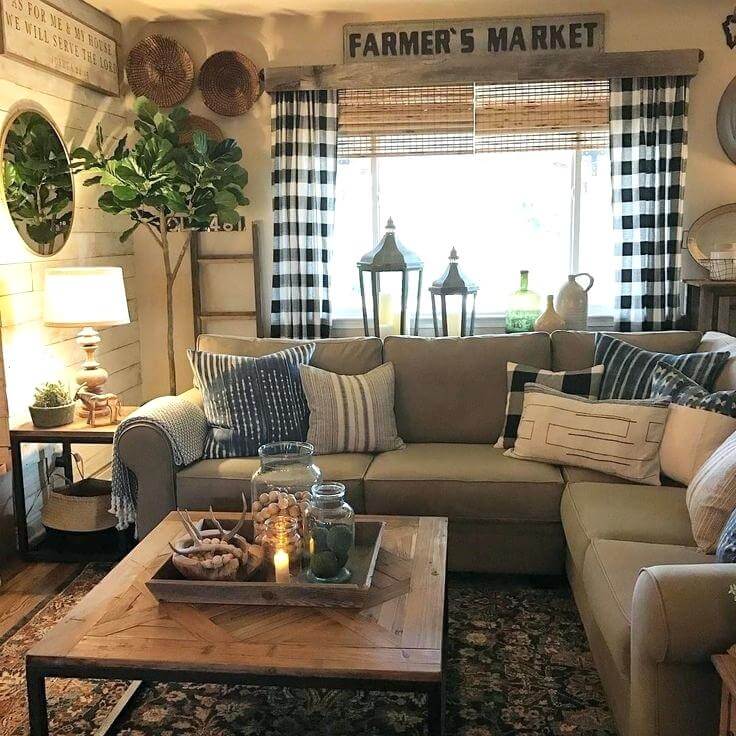 By using darker-hued neutrals in the rug, pillows, and curtains, this living room nook feels like the perfect place to cuddle up and get cozy. Buffalo plaid, lettered signs, and an antler accent cultivates a farmhouse ambiance.
11. Mirrored Coffee Table Reflects the Space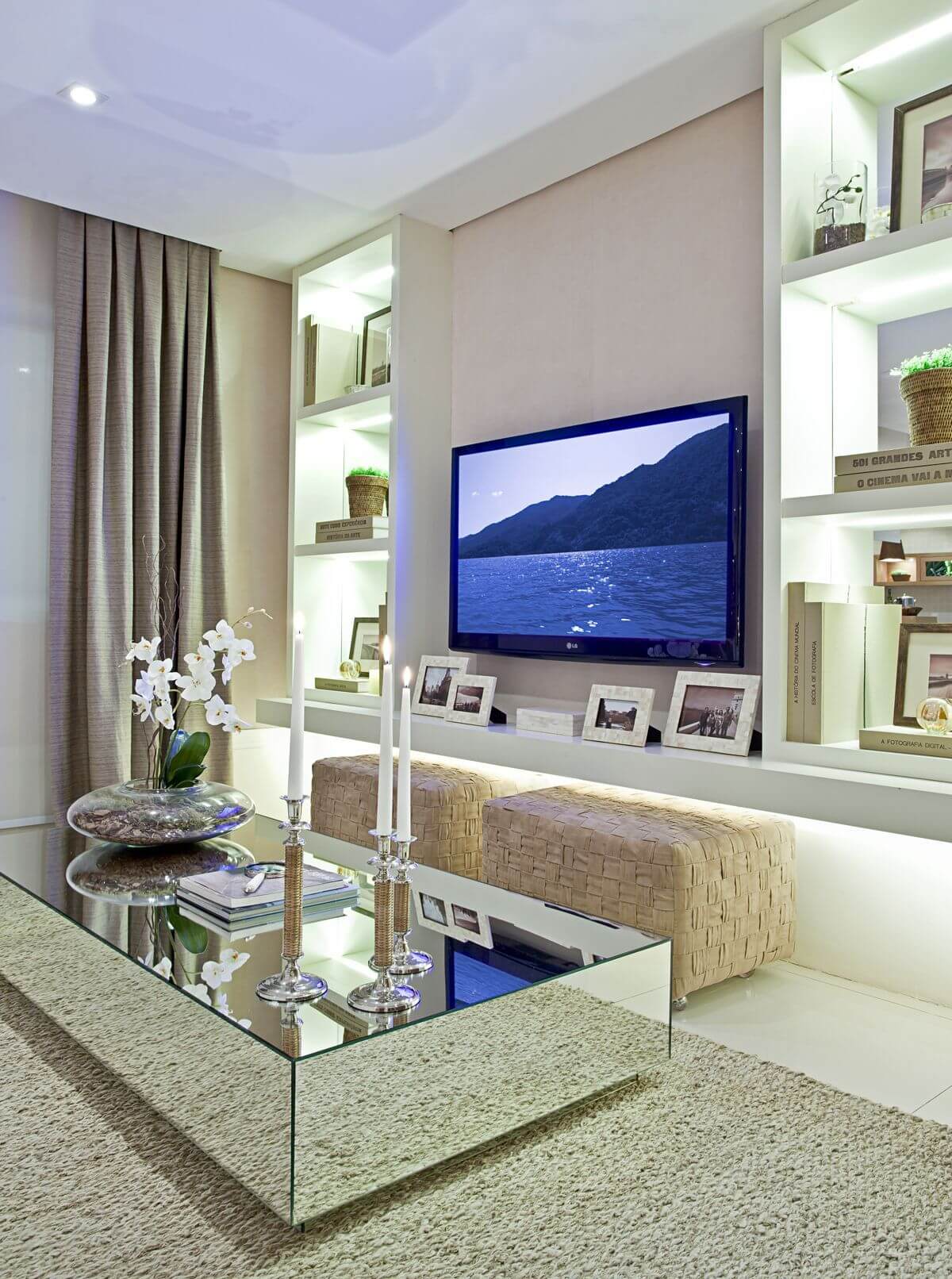 Because lighting is key in helping a small room seem larger, one of the best decorating ideas is to use mirrors. By covering a coffee table with mirrors, you can take this strategy to the next level.
12. White Sofa with Colorful Cushions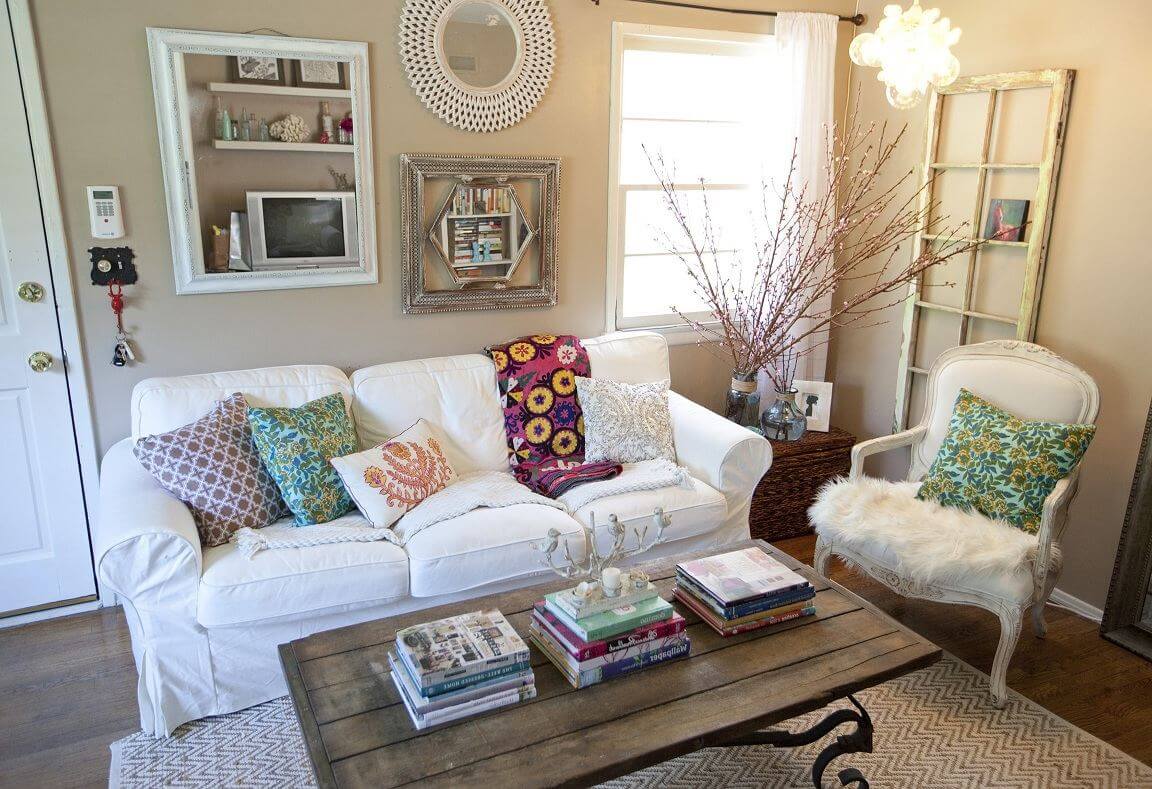 Artfully assembling a collection of colorful cushions is a fantastic way to invite color into a small space. Because the sofa is white, the patterned pillows shown here do not compete for the spotlight.
13. Wall Ledges with Framed Art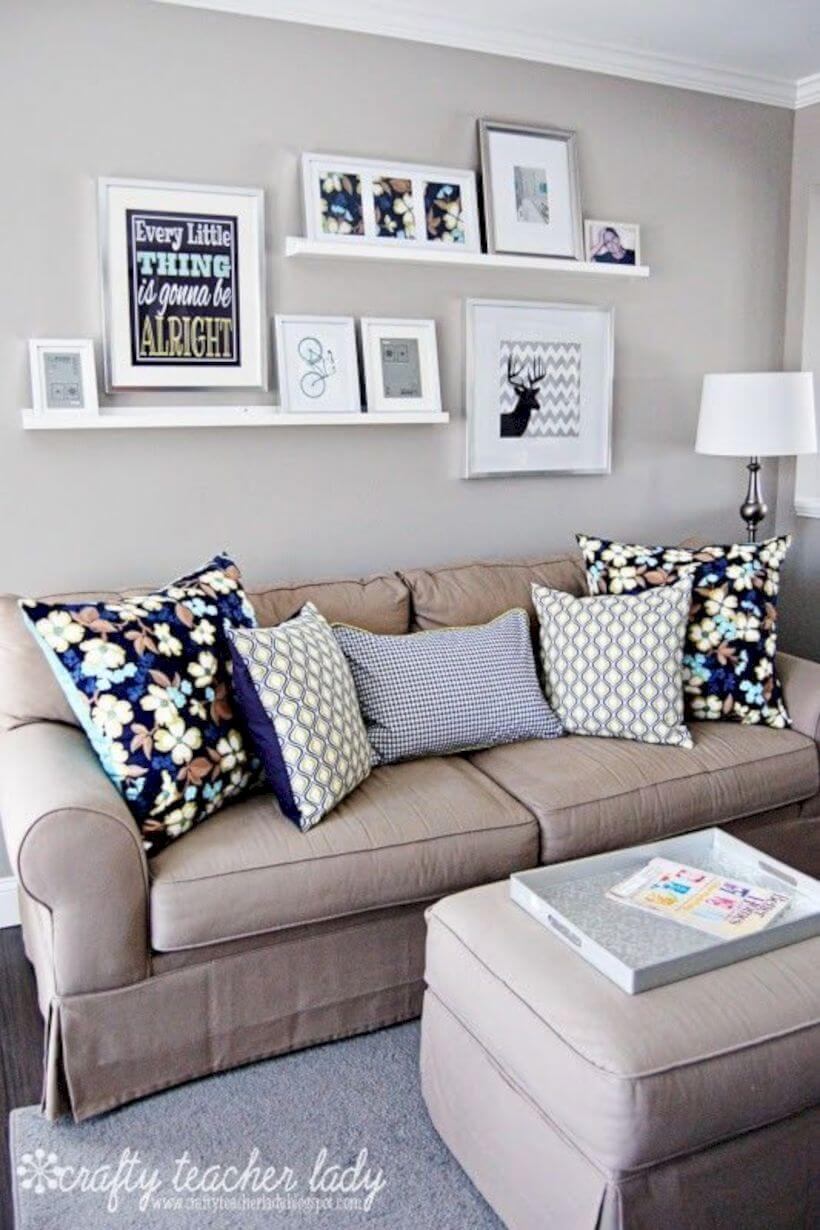 Just because space is limited does not mean that you cannot display your favorite wall art. Low-profile shelves do not take up too much valuable space but are able to display a rotating collection of artwork and small seasonal decor.
14. Beautiful and Restful Room in Blue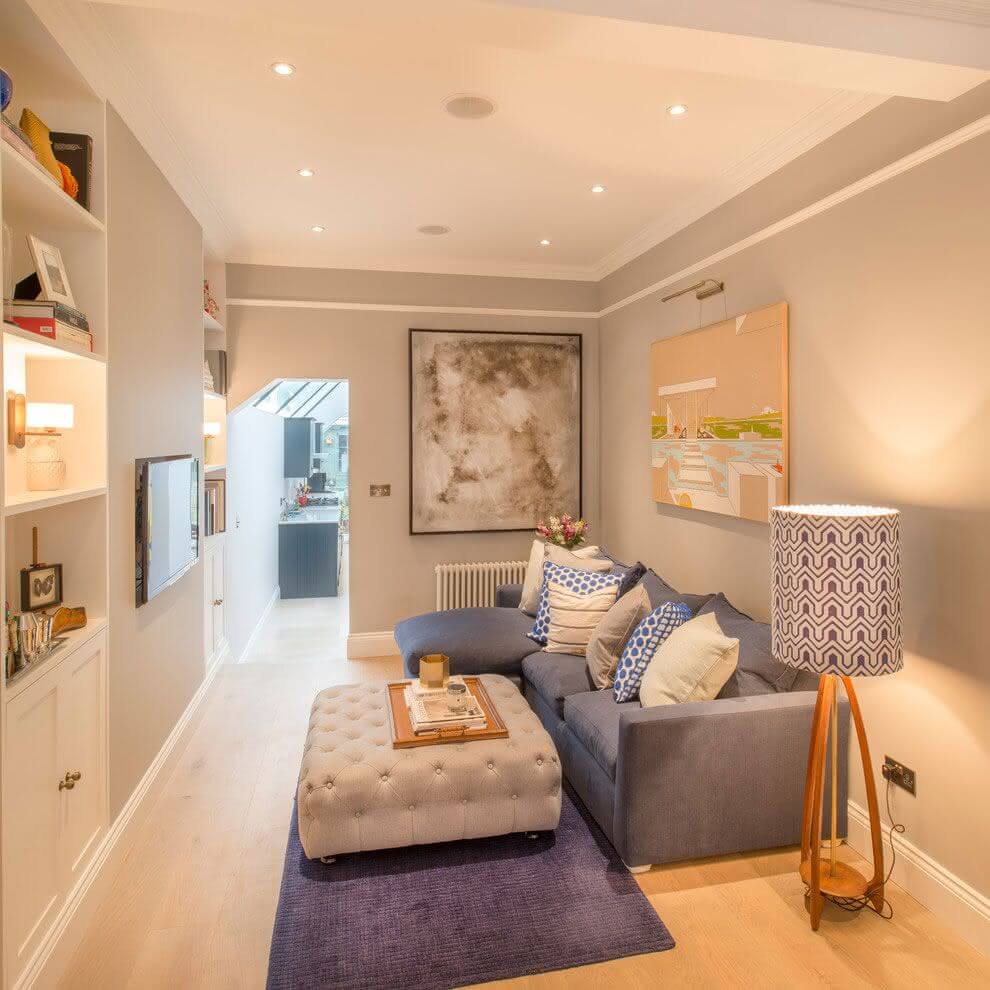 Even though this living room is little more than a wide hallway, an abundance of lighting helps this relaxing retreat feel expansive. Cool blues and purples fill the space with colors designed to help you unwind.
15. Sky Blue Sofa with Bold Striped Rug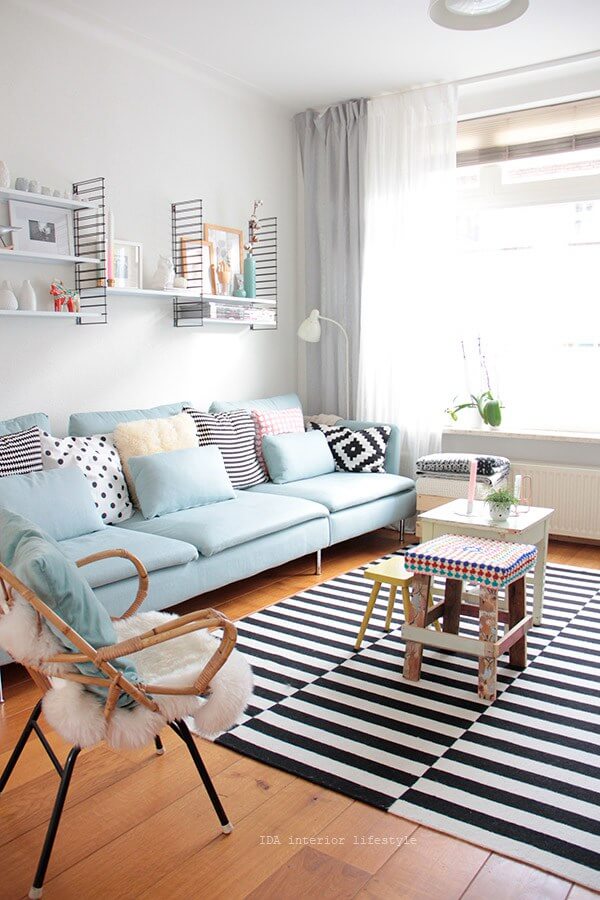 Audacious geometry can elevate a small family room into a sought-after place to relax. When paired with soft colors like blush pink or sky blue, the high-contrast patterns feel playful and friendly.
16. Cozy Farmhouse Style Living Space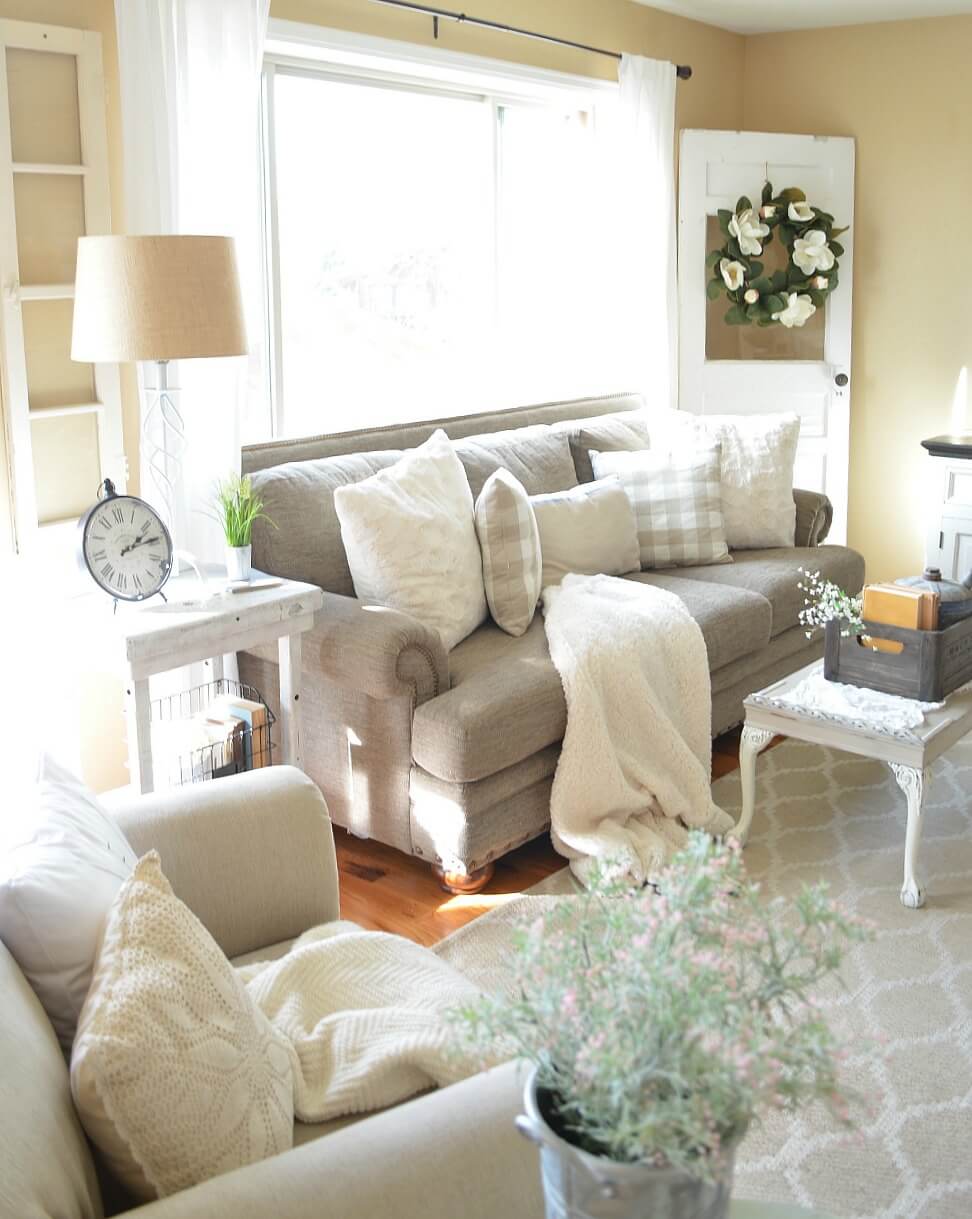 Once you have decided on your palette and furniture, what is the best way to create a room that feels like a comfortable place to land? One answer is to fill it with soft textures, fuzzy blankets, and floral décor.
17. Sectional with Yellow Cushions that Pop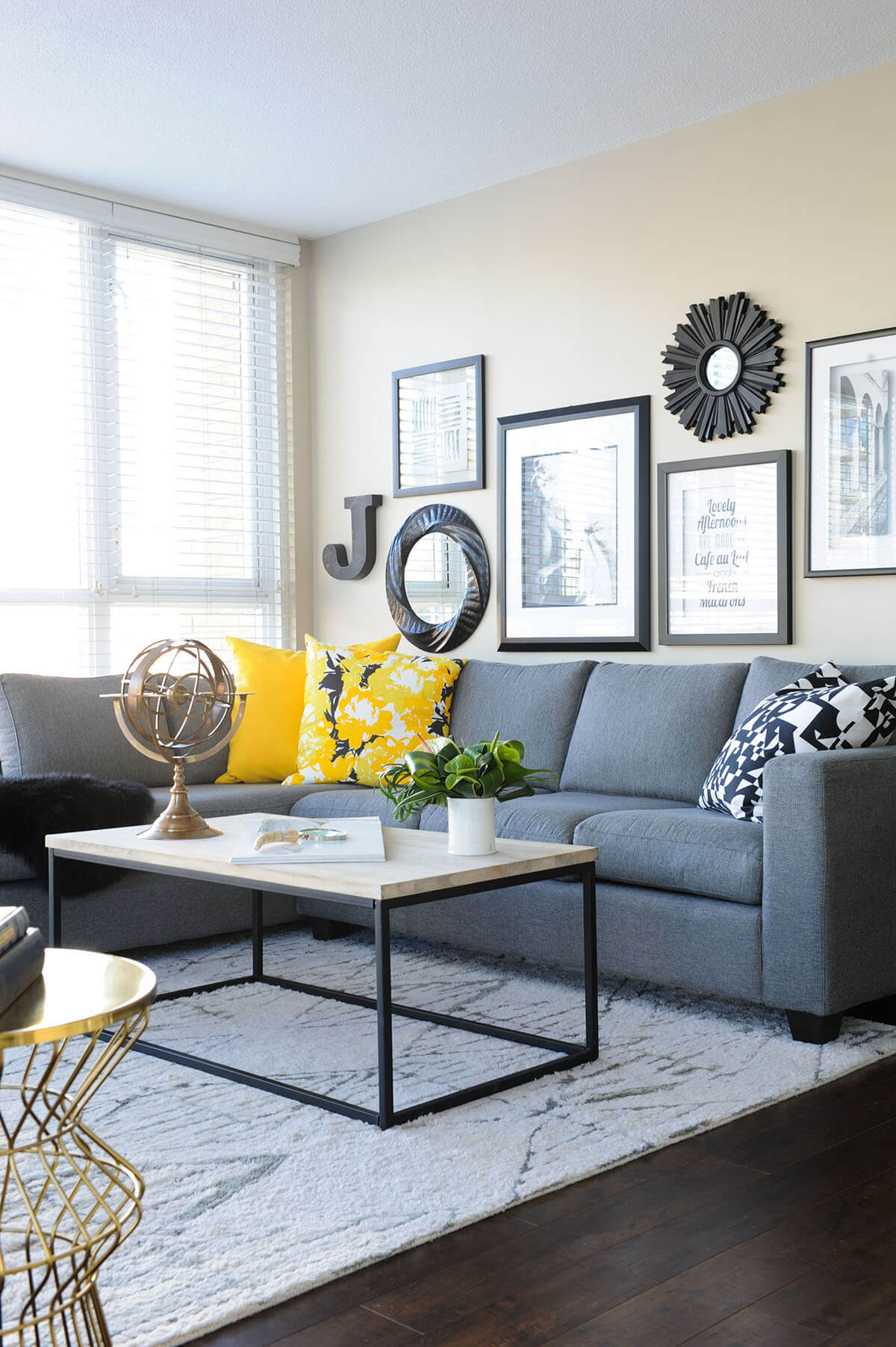 One of the best decorating ideas to keep ready in your interior decorating toolbelt is color placement. Sophisticated gray, black, and beige tones may contribute gravitas, but the vibrant pillows exude joyful exuberance as well as a cheerful focal point.
18. White and Beige Small Living Room Design Idea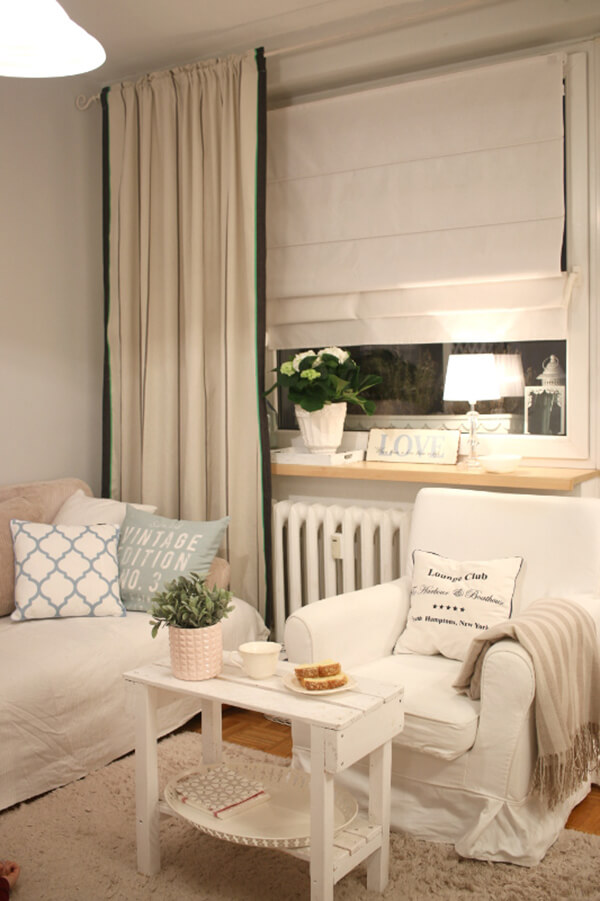 Jazzing up a beige and white living room with muted colors like blue and blush is a fantastic way to keep a neutral-dominated room from being boring. Rich green foliage from two small plants counterbalances all the light colors.
19. Wide Chaise for a Restful Nap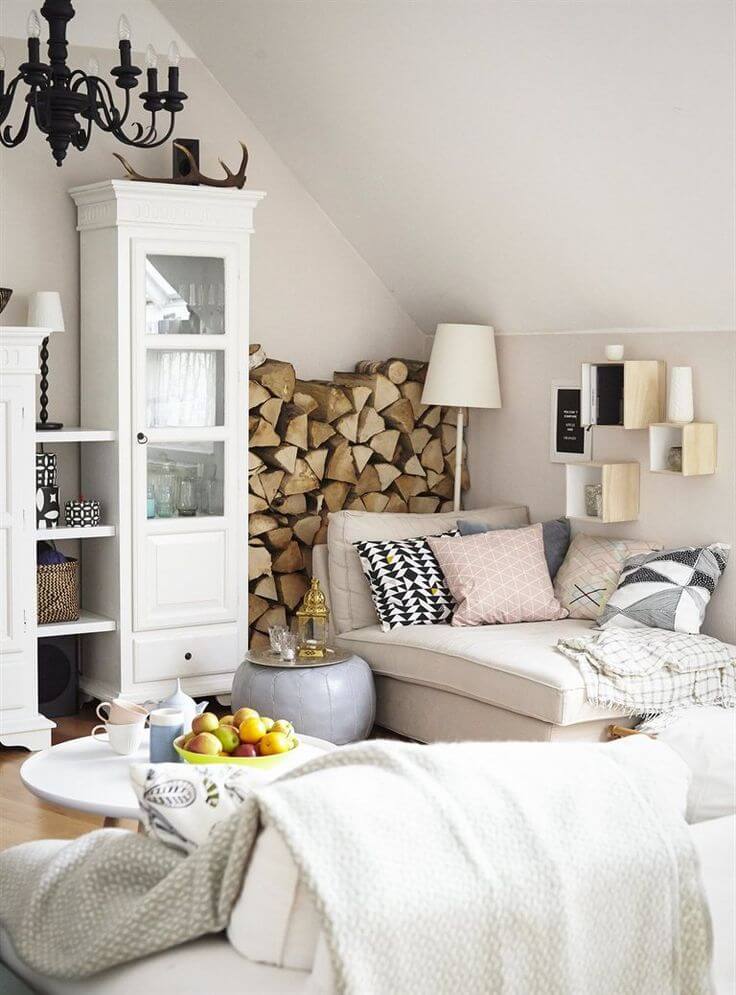 When designing with limited space, it is important for every design element to be functional. From a chaise lounge ideal for napping to the stacked firewood waiting for the wood-burning stove, everything in this room was chosen for a purpose.
20. Serene Small Living Room Decor Idea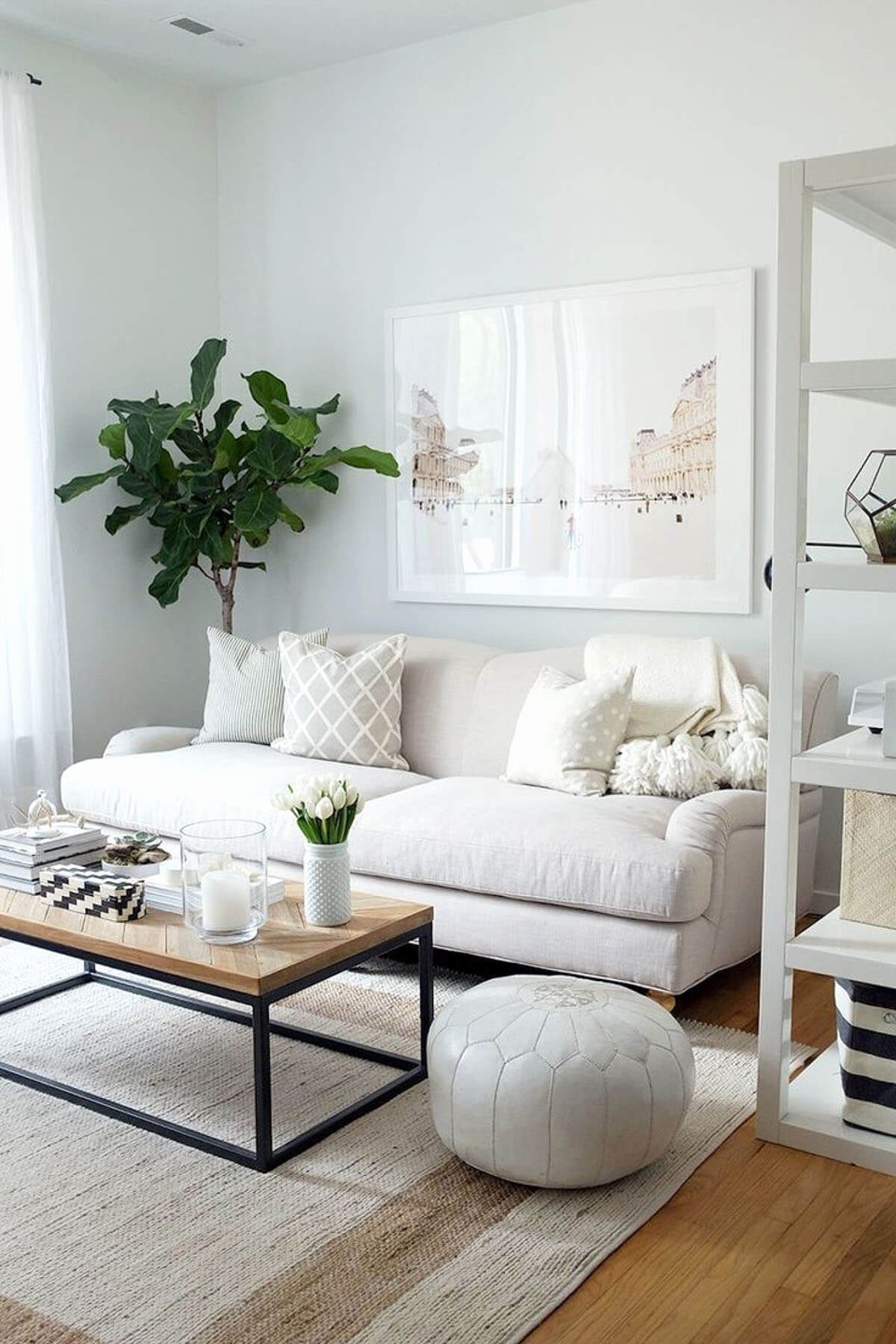 Snowy whites, soft beiges, and luxurious greens define this living room as the perfect place to decompress. Although the colors are restrained, there are plenty of textures and subdued patterns to hold one's interest.
21. Comfortable Seating Group with Small Tables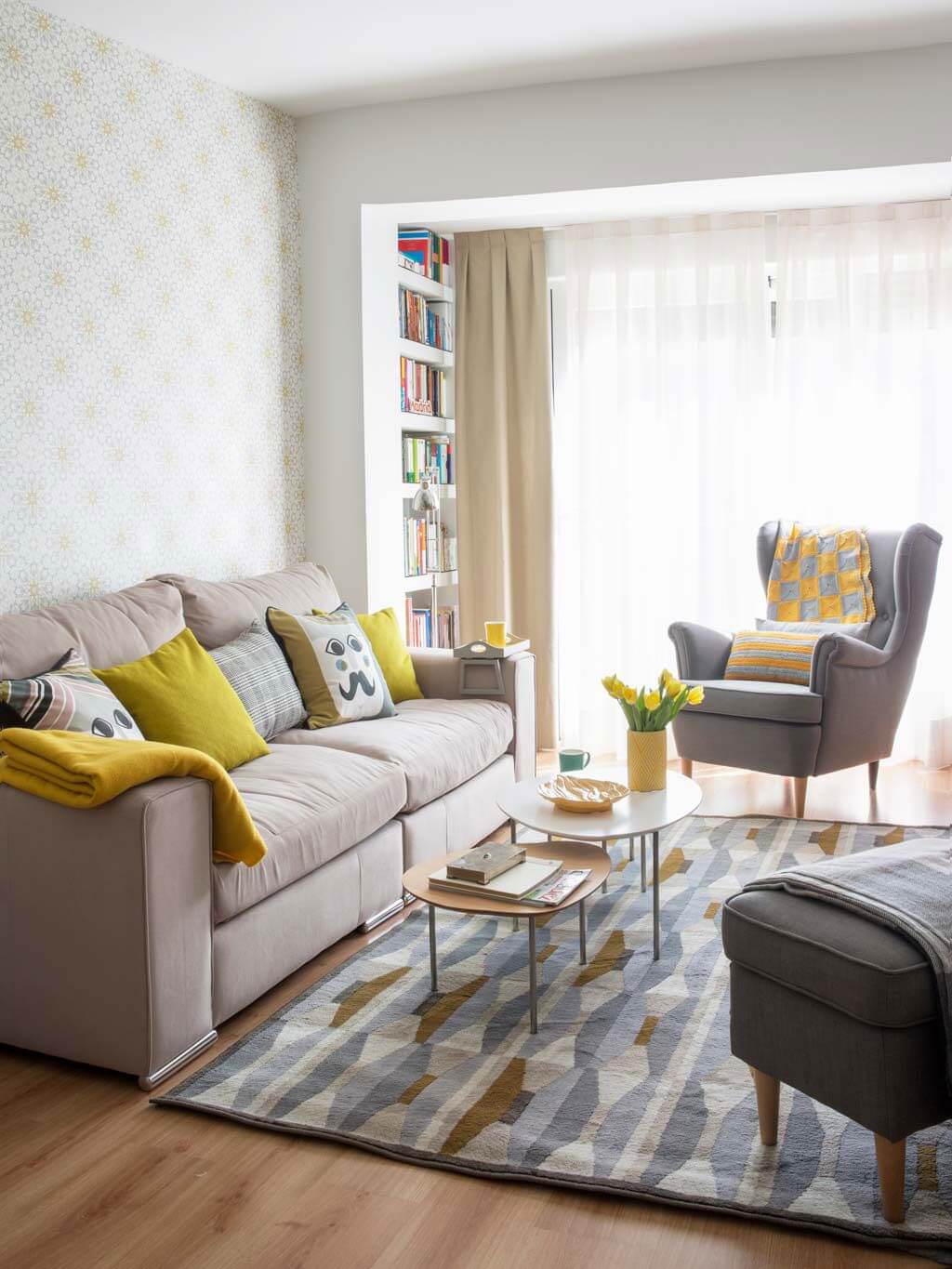 Playful pillows accented in bright yellow cultivate a casual ambiance in this relaxing seating area. Instead of a single hulking coffee table, these two small coffee tables offer the illusion of a larger space. They are also easy to move.
22. Beautiful Room with Bold Style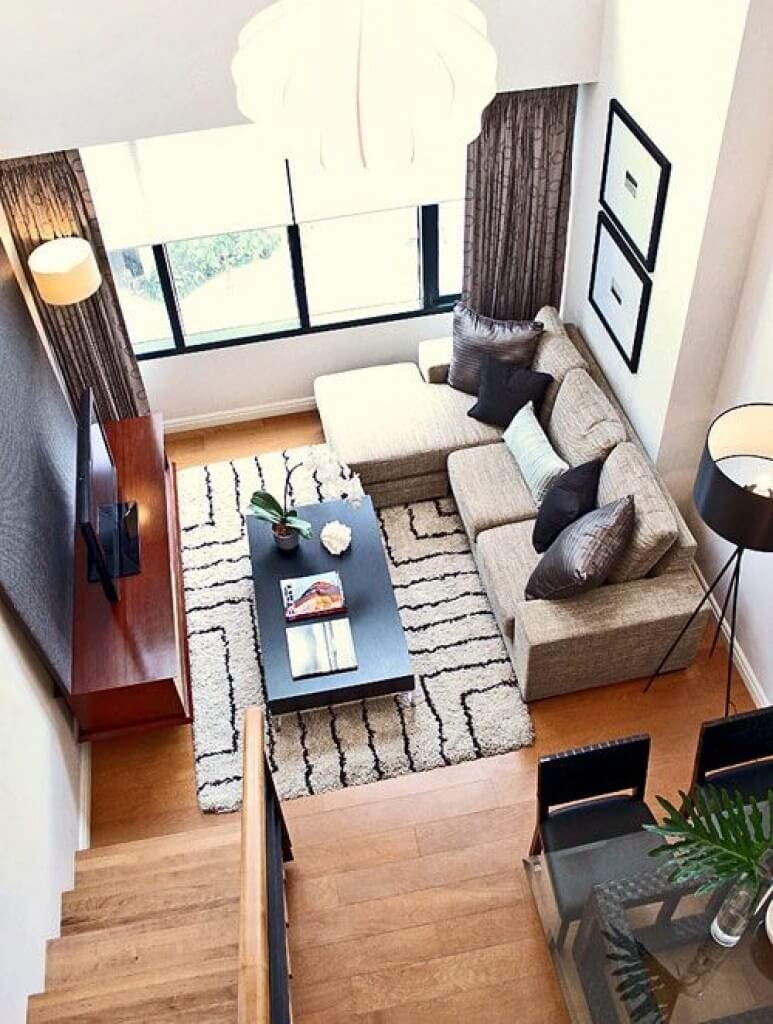 Because this seating area is located at the foot of a staircase, it should look good from all possible perspectives including the upper floor. A large-scale area rug and intriguing palette are the perfect way to make that happen.
23. Black, White, and Gray Arrangement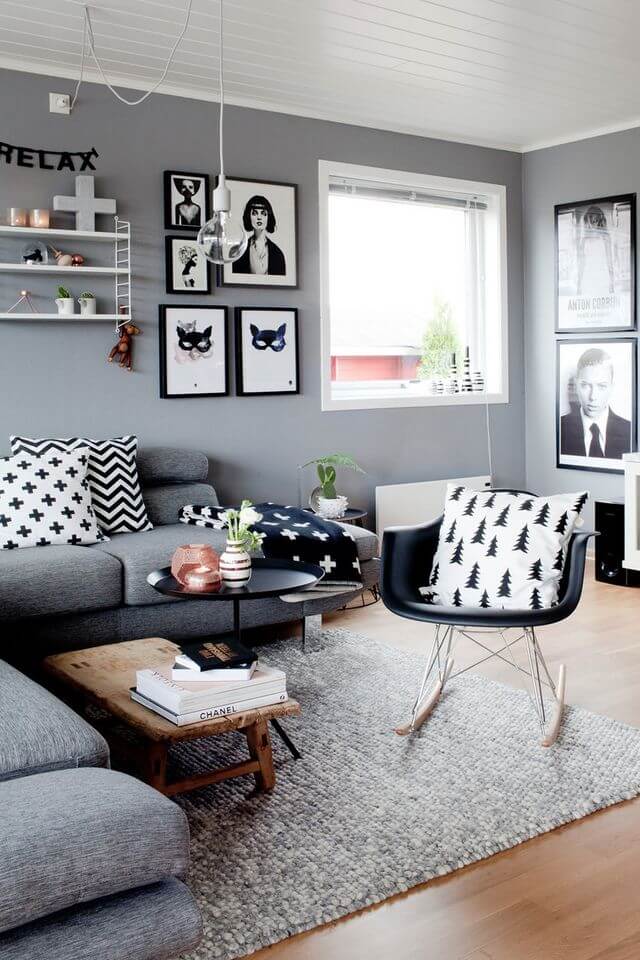 Shades of gray imbue this space with soothing energy while graphic prints and boldly-patterned pillows offer a focal point. Notice how the hardwood floors and a natural wood coffee table cut through the gray to provide a connection with nature.
24. Contemporary Room with Wall Art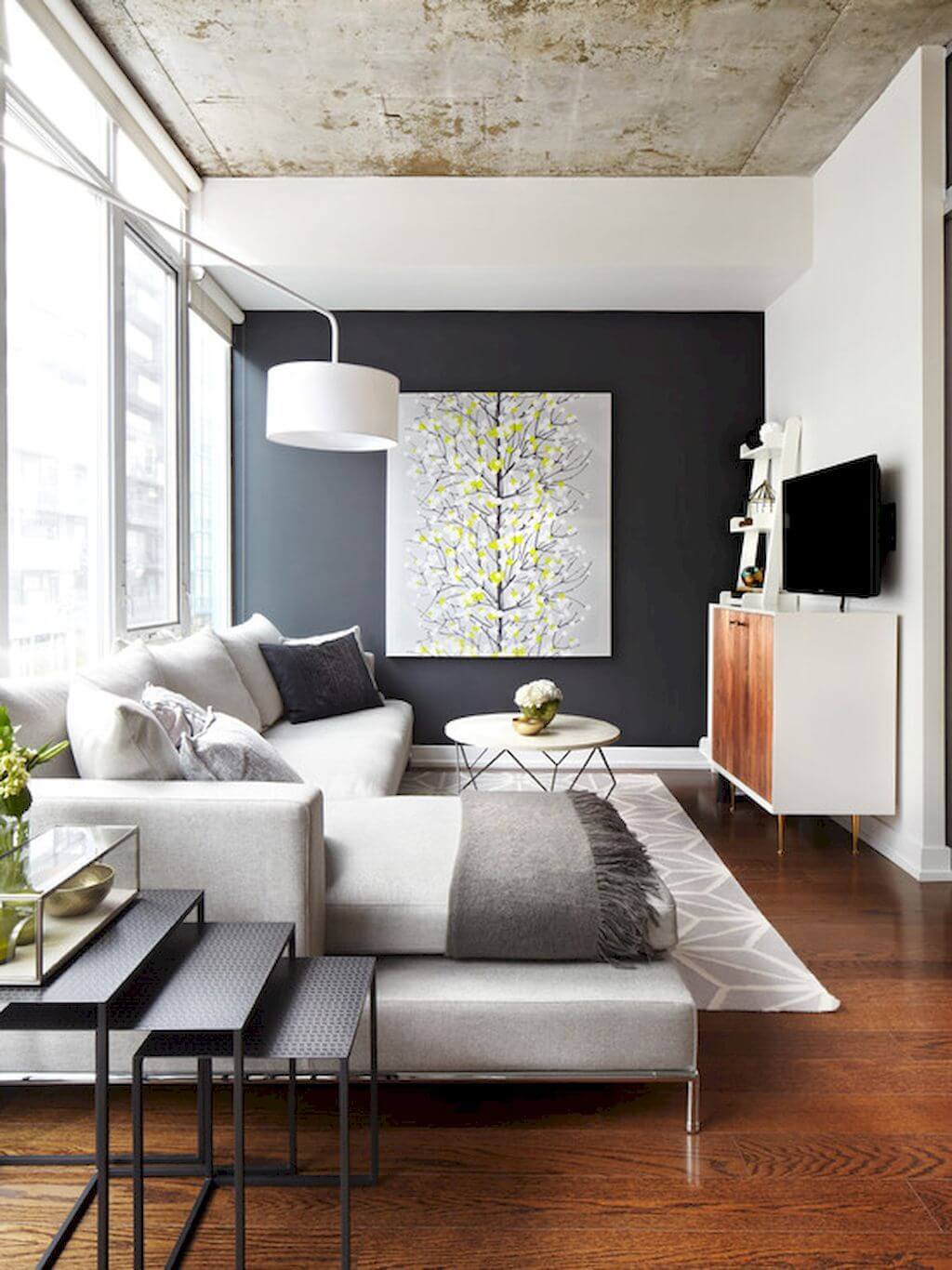 Geometry is the focus of this sophisticated small-scale living room. From the light-colored sleek-lined sofa to the black terraced console table, this space is all about geometric contrasts. The greenery and nature-inspired artwork soften the space.
25. A Window into the Kitchen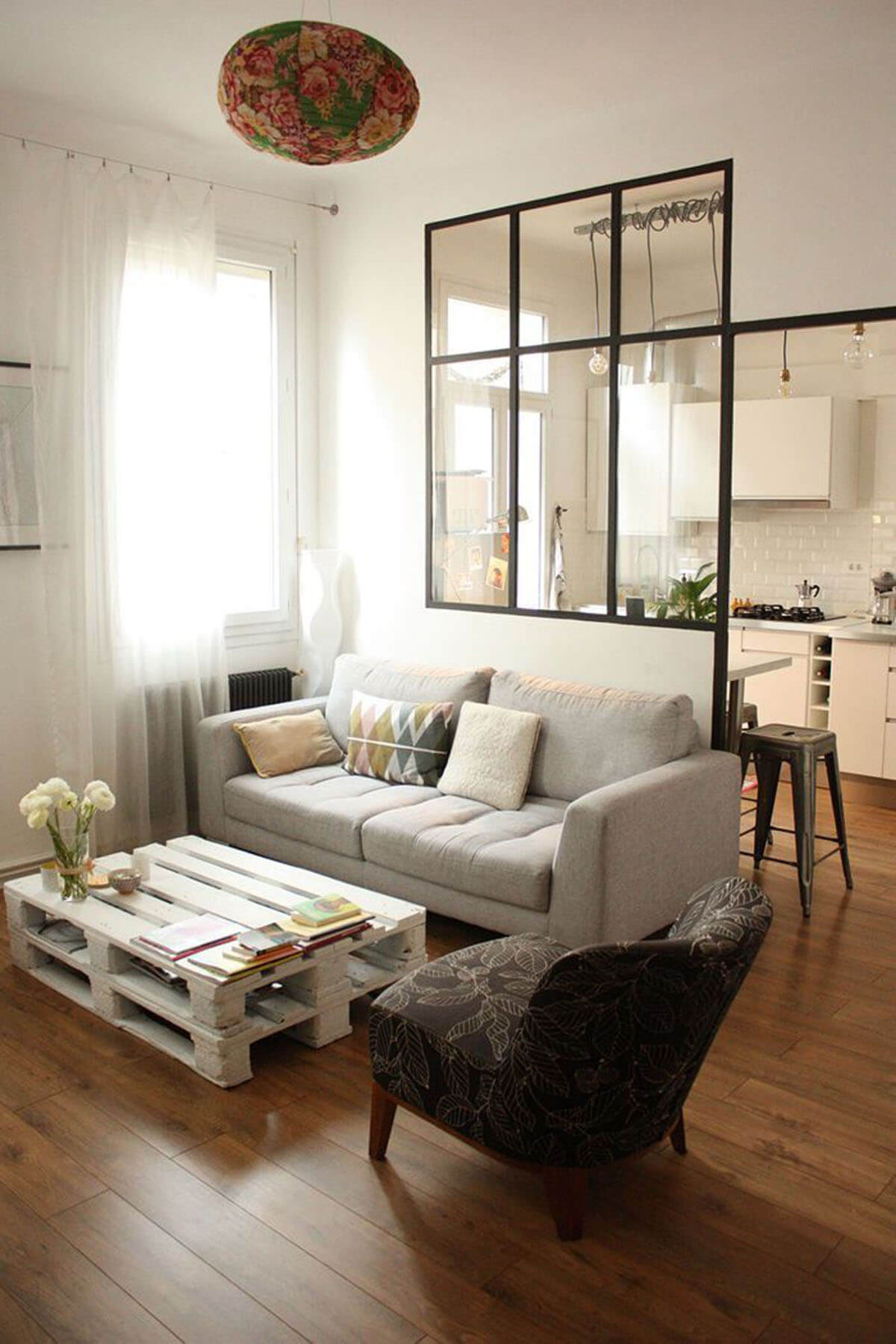 Replacing an interior wall with a window is one of the easiest ways to make both rooms feel bigger. When paired with cream-colored decor, the black window frames exude modern chic. A vintage-inspired pendant offers the perfect balance.
26. Cozy Overstuffed Sectional with Inviting Cushions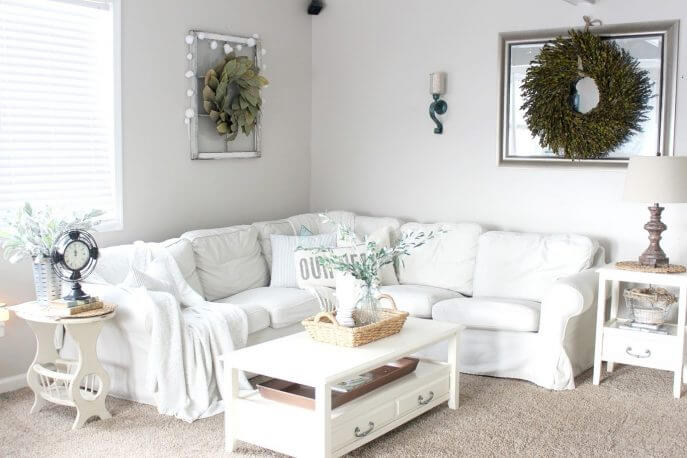 One of the most important aspects of a seating area is how comfortable it appears to be. With cozy cushions and a fuzzy blanket, this alabaster sectional looks custom-made for relaxation. This strategy can be used with any aesthetic.
27. Comfortable White, Gray, and Black Room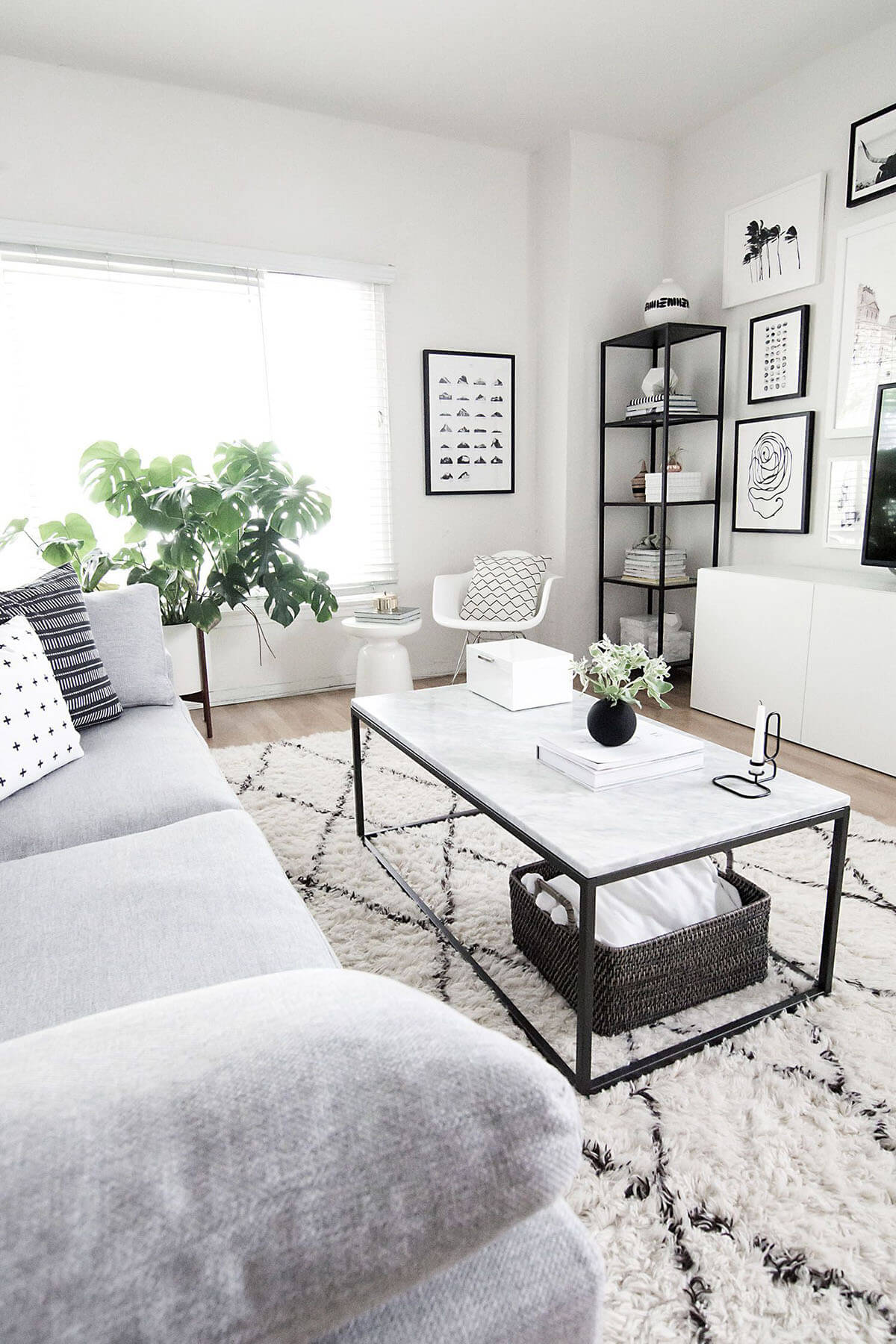 High-contrast black and white develop drama in this luxurious living room. A marble-topped coffee table exudes opulence while the graphic prints and pillows deliver a more casual ambiance. Greenery provides a few pops of lush color.
28. Elegant Room with Basket Accents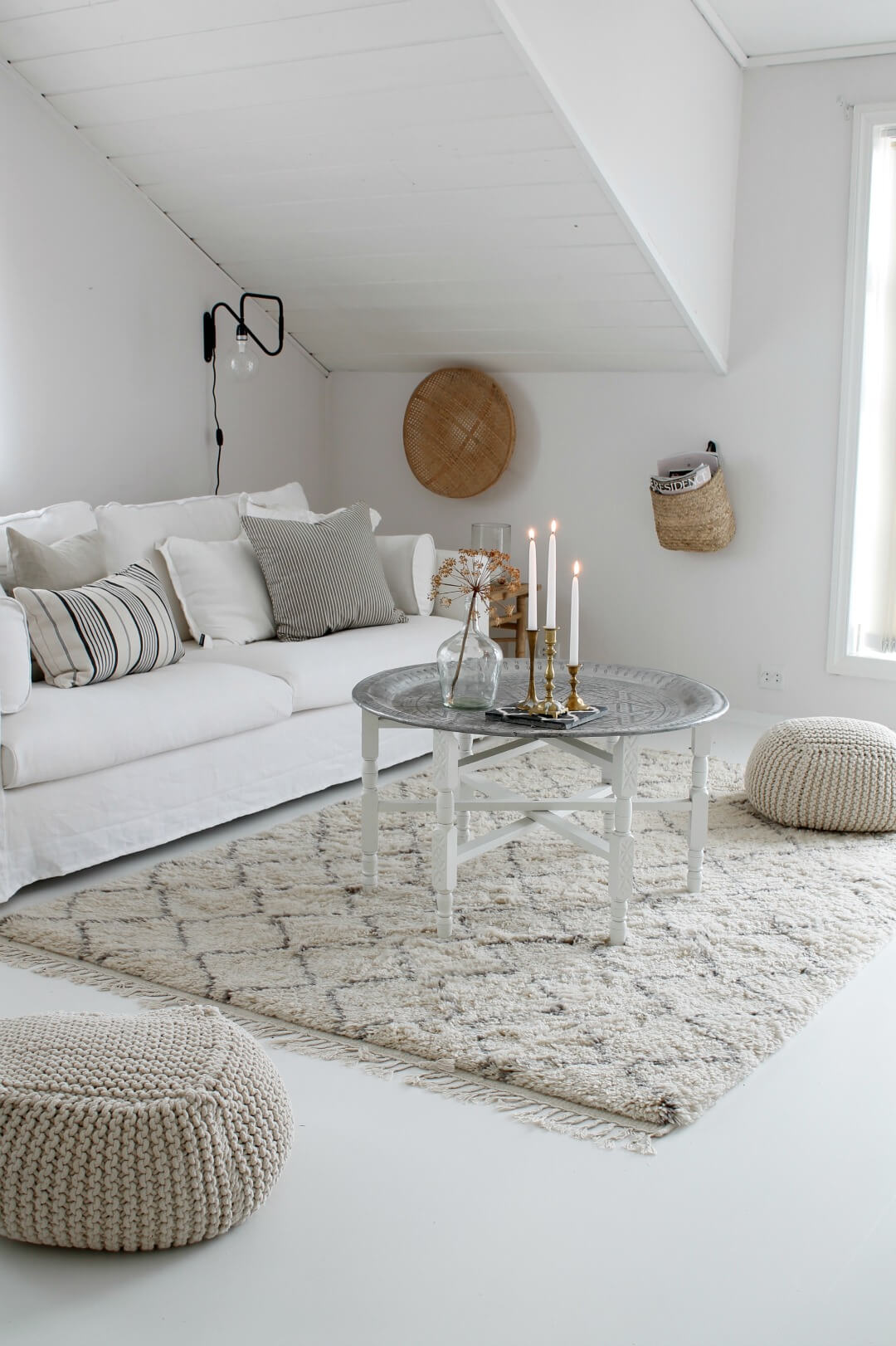 To develop a spacious atmosphere, try mixing low-profile pouf-style seating with a more traditional sofa. Although most of this space is bright white, the basket wall art pairs perfectly with the candlesticks to establish a warm ambiance.
29. Fun and Friendly Living Room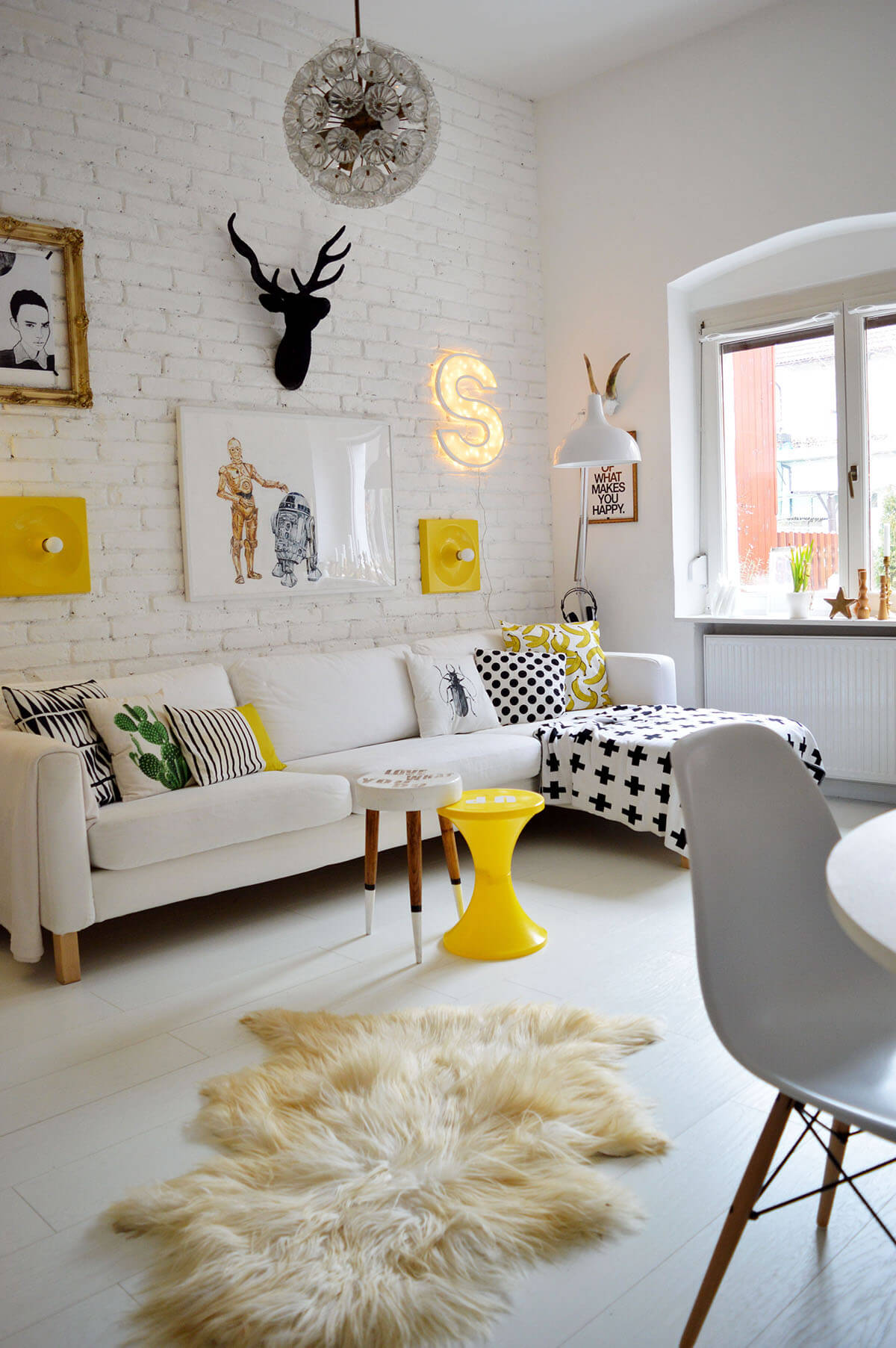 Showcasing a playfully eclectic collection of wall art, pillows, and lighting, this living room looks like a fun place to spend time relaxing. Sleek modern tables contrast in the best way with the exposed brickwork and faux fur rug.
30. Tall Curtains Bring Height to the Room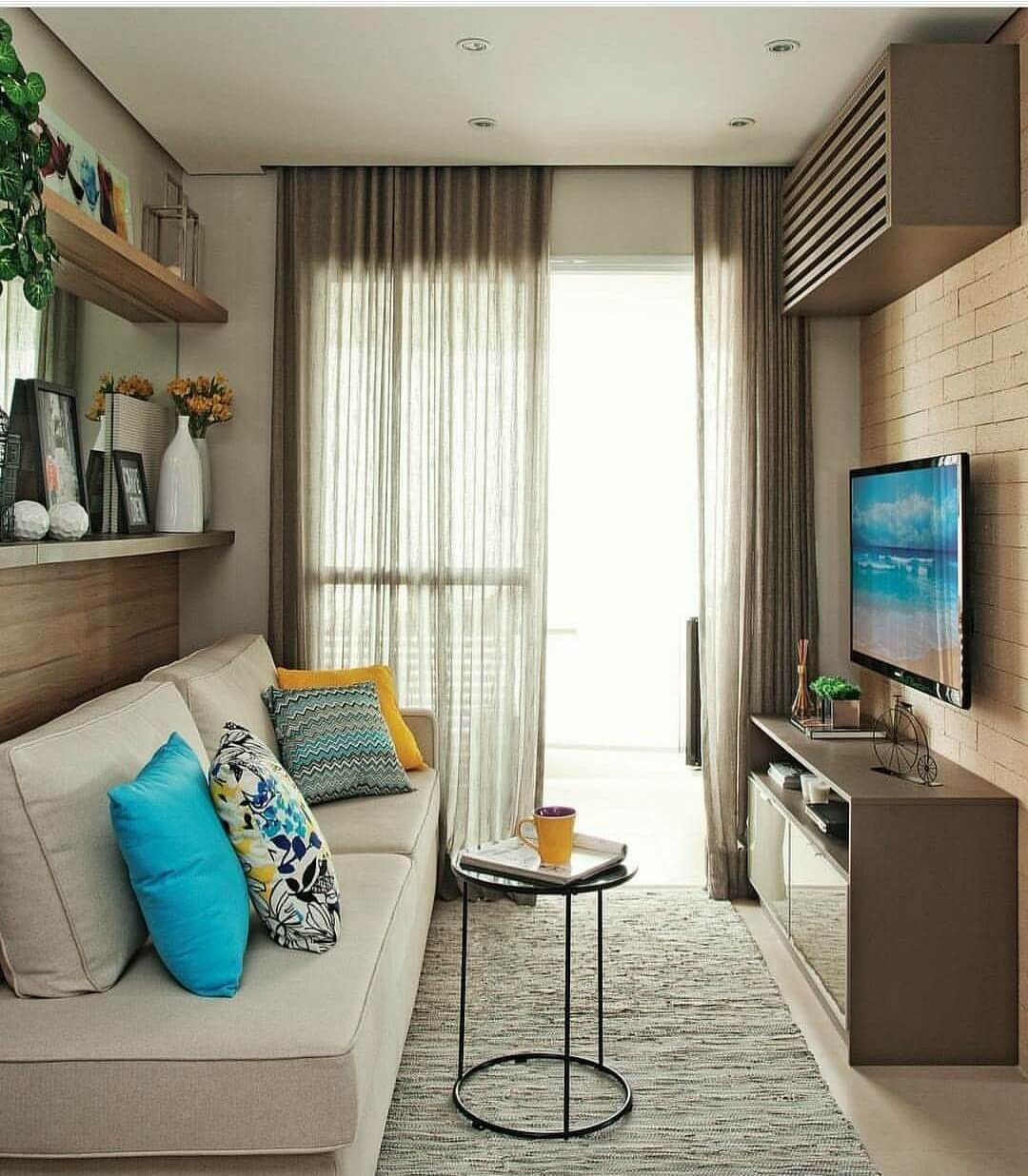 Room height is an important tool in any designer's arsenal as it can help a small room feel taller and less constrictive. In this example, floor-to-ceiling curtains and a double row of floating shelves help to build this illusion.
31. Unique Mount for the TV Stand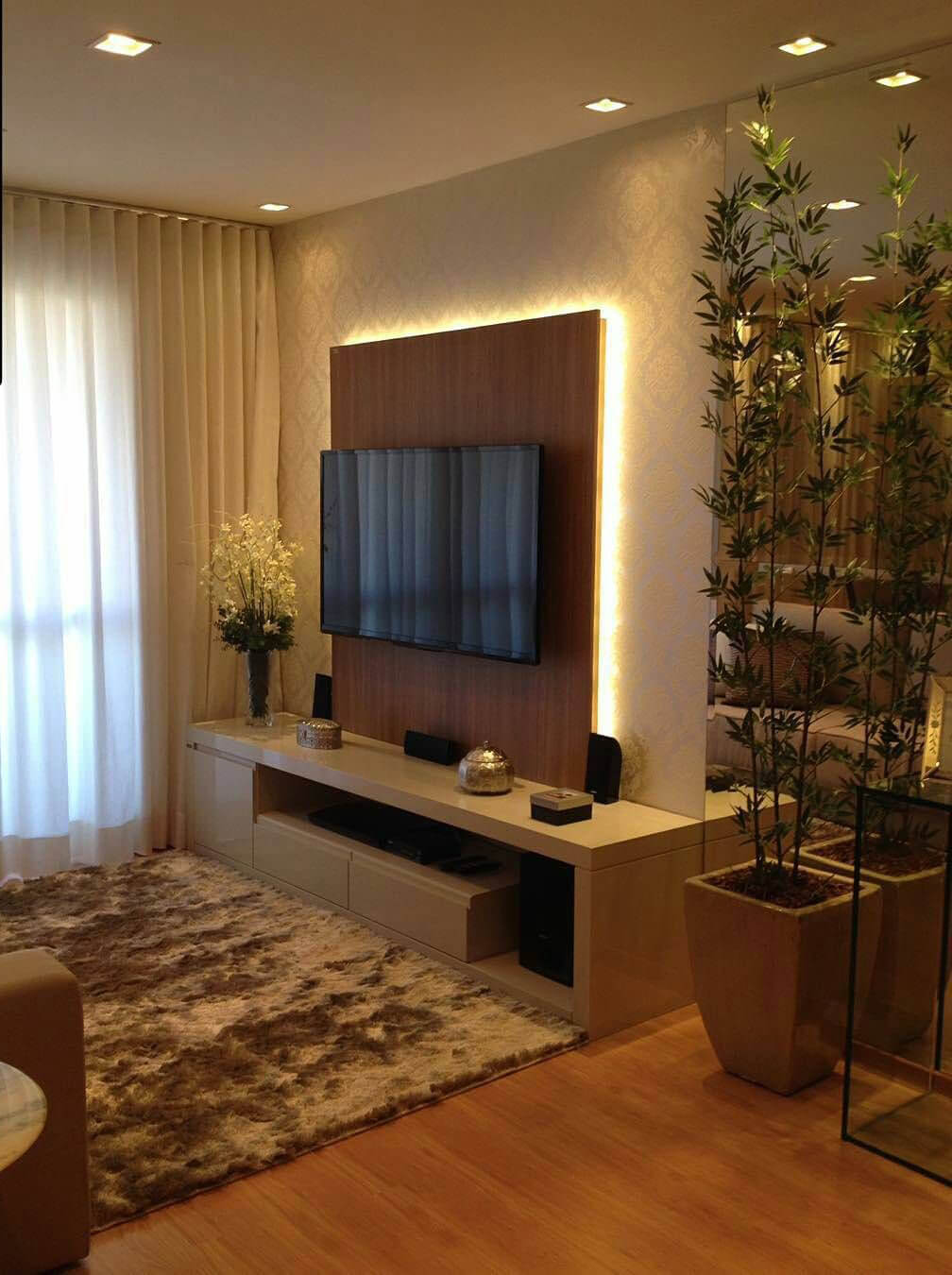 If your seating area doubles as a home theater, why not emphasize the wall mounted tv with an indirectly-lit panel? While the television panel may be modern, a subtly damask-patterned wallpaper provides elegance while a faux fur rug contributes coziness.