In many homes, the living room is where families and their guests go to kick back and relax after a long day. In many homes, this room is also where the television, computer and other knickknacks come together and choke the space. This is even truer in a small living room, which fills up after putting just a few pieces of furniture inside. Because of this, many people think that having a larger space is better but that isn't always true. The secret to making a small living room look good is to take advantage of the living space you already have.
Tiny furniture isn't a must, but there's also no need to fill the space with a giant couch or table. Try to resist the temptation to fill up the space when you don't need to. This will just make you and your guests feel like you're being crowded out. Design elements like shelving, hidden storage, accent lighting and a solid color scheme also go a long way in making a small space seem larger. These 50 small living room ideas will give you some new ideas the next time you feel your own space needs an upgrade.
Check Out the Best 50 Living Room Designs for Small Spaces for the Year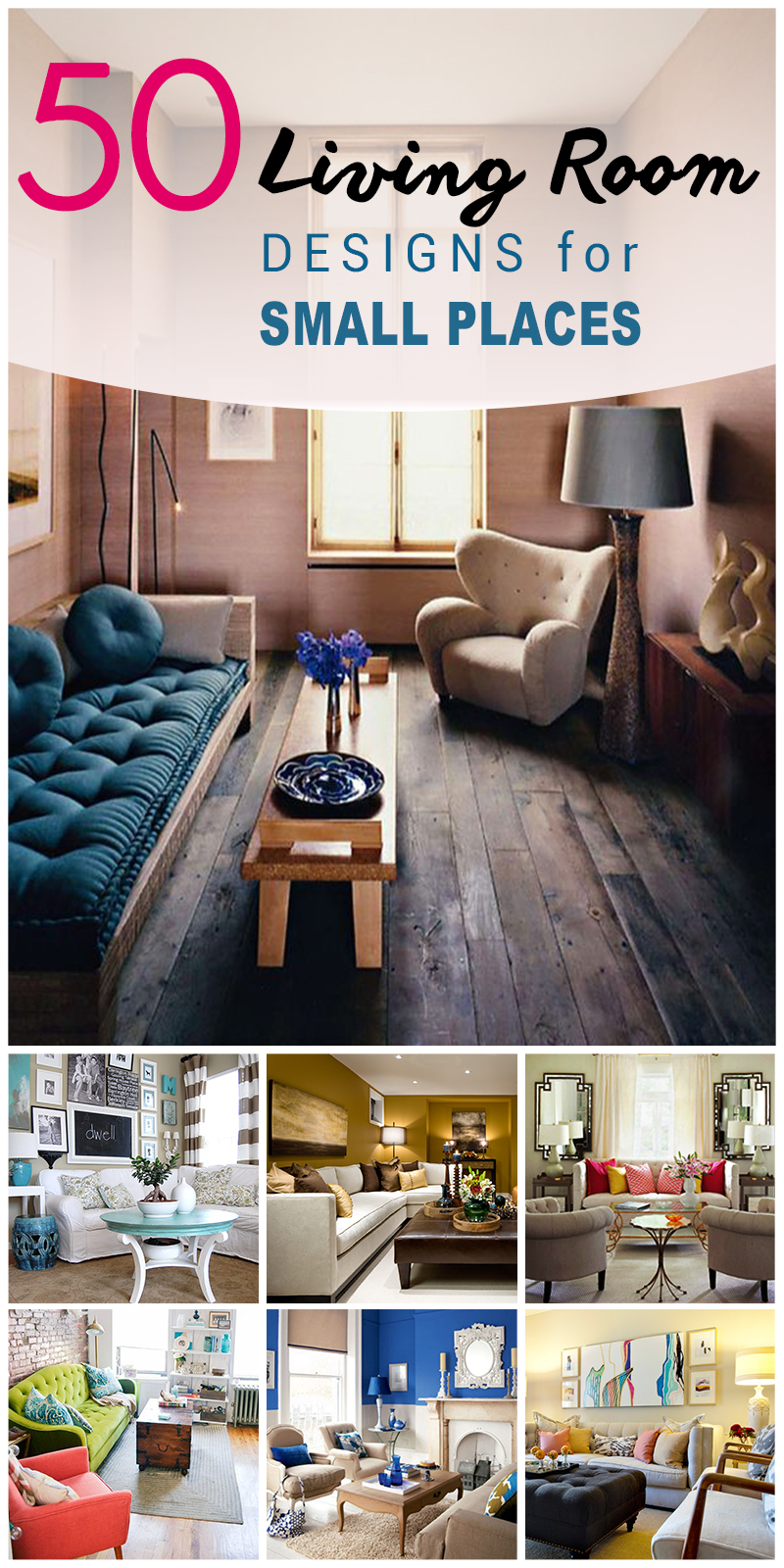 1. Eclectic Elegance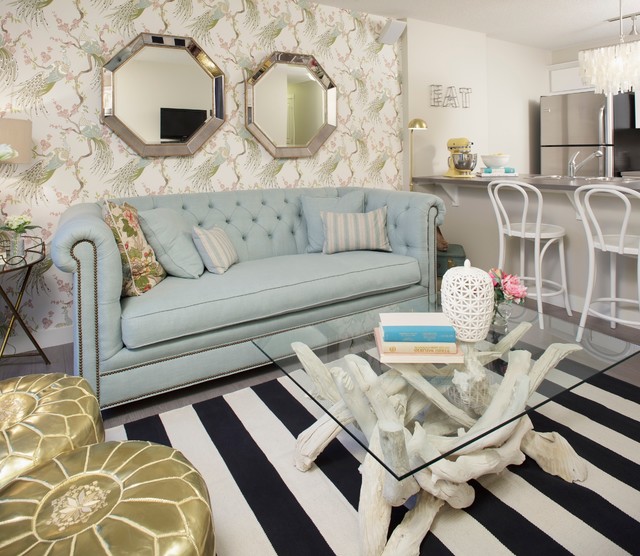 This little beauty highlights how each piece in a space can be wildly different yet still be harmonious. Visual interest is abundant in this small living room interior, from the golden leather ottomans to the glass and driftwood coffee table. On the wall behind the sofa, the chinoserie wallpaper and golden mirrors work together to give the room a touch of flash without overstating their presence and drowning the sofa out. Each piece is like a unique cast member in a stage play or television show. Every piece in this room is small, but each piece still has immense personality.
2. Earthly Pleasures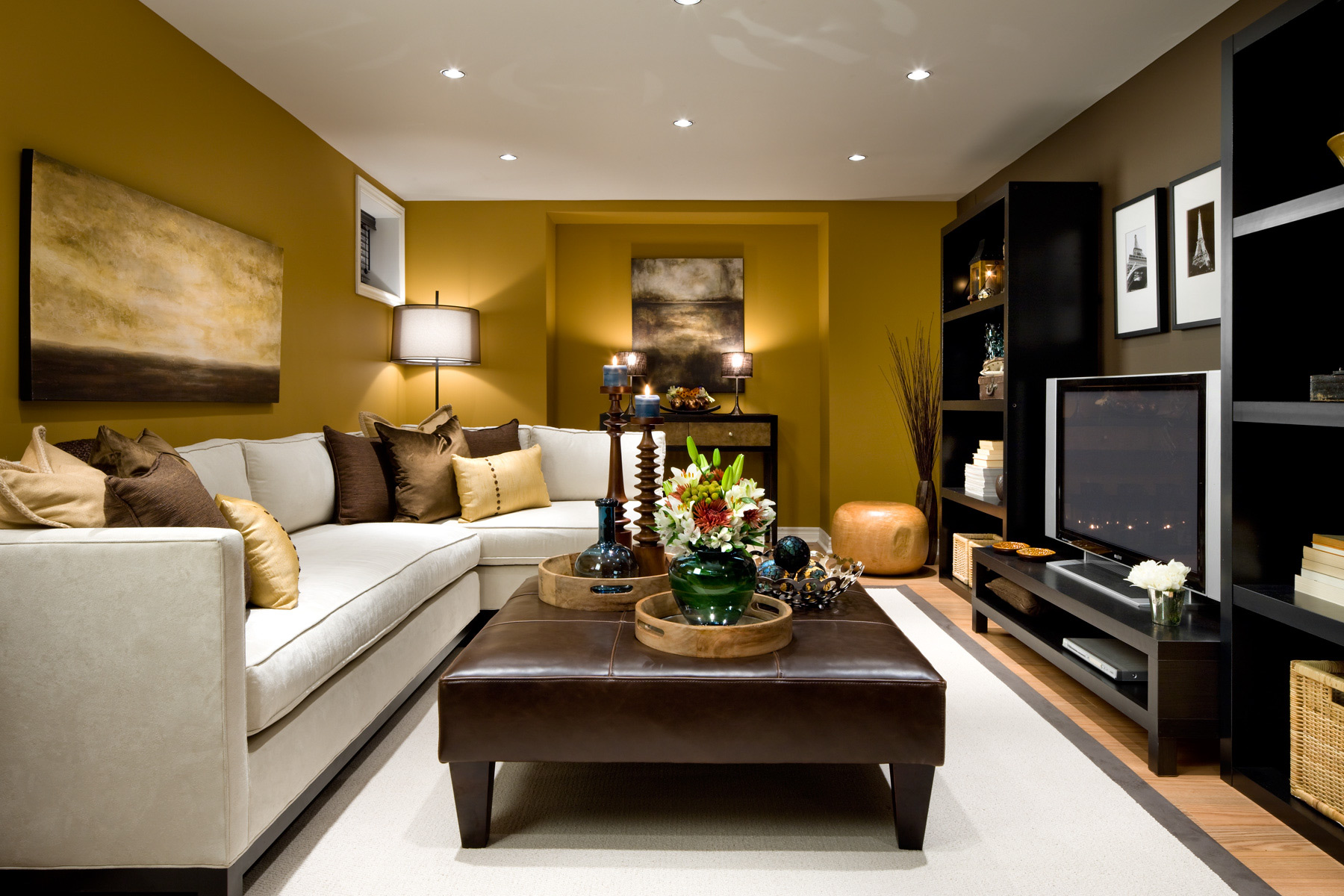 Source: The original source is not available anymore.
This room has a money-saving secret in its design. Can you spot it? If your eyes went to the rug, then you're right. The rug is actually a piece of broadloom and can actually save you quite a bit of pocket change if you are designing on a budget. Unlike most ordinary carpets, you can also cut have the broadloom cut to a specific size, meaning you can fill oddly-shaped spaces you wouldn't have been able to otherwise. Best of all, your guests likely won't notice the difference at first glance, meaning it can be your little home decor secret.
3. Recreational Activities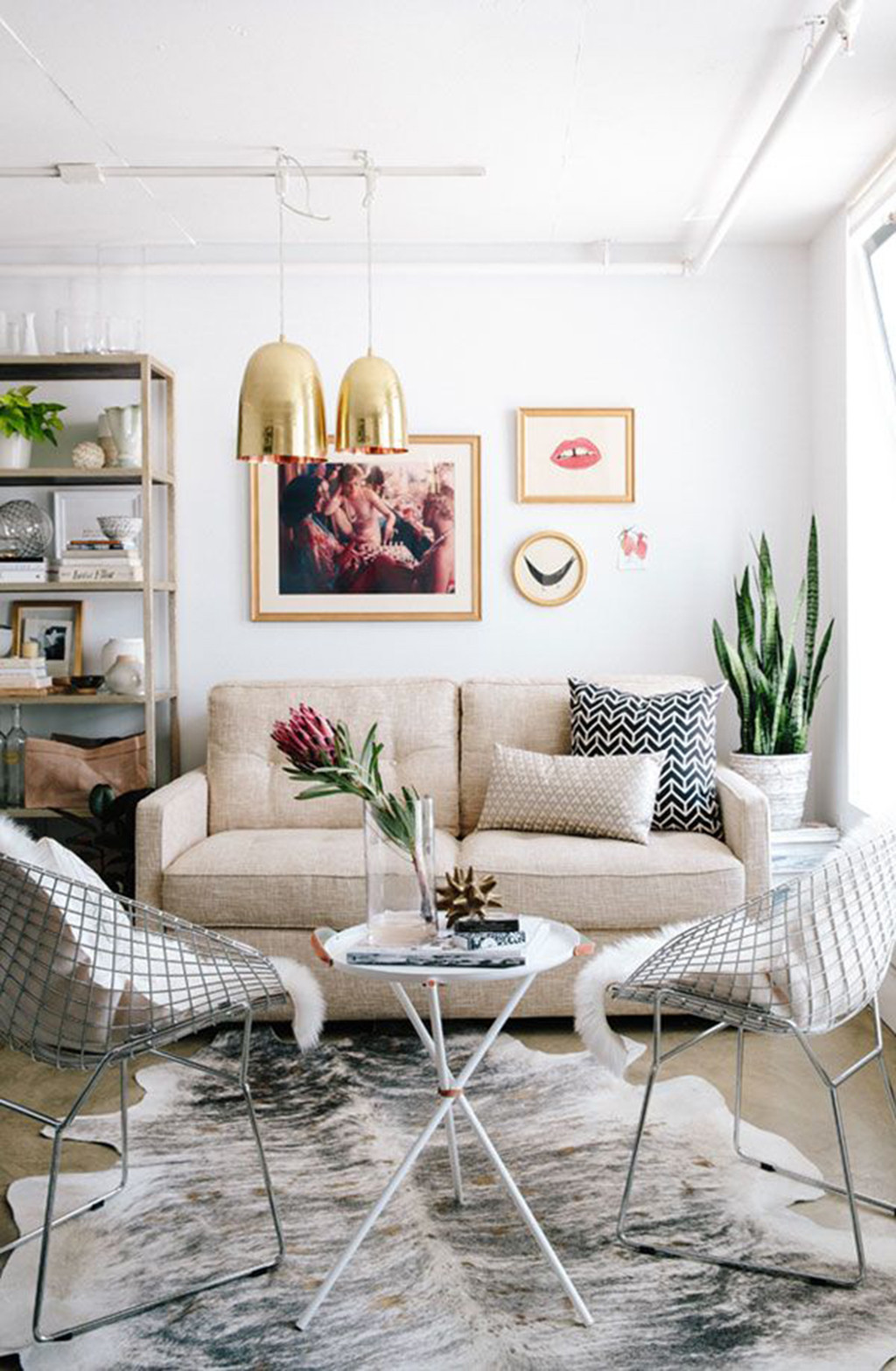 Source: The original source is not available anymore.
Have you ever seen a room in a magazine that was just so stunning that you had to have it in your own home? While you may not be able to recreate it perfectly, decorating a small living room doesn't have to break the bank. Print the picture out, take it with you to your favorite furniture stores and have a little fun trying to match each piece. You probably won't find perfect matches, but similar pieces you do find will feel much more personal and make the final space much cozier. For visual interest, try some thrift store finds.
4. Monochrome with Color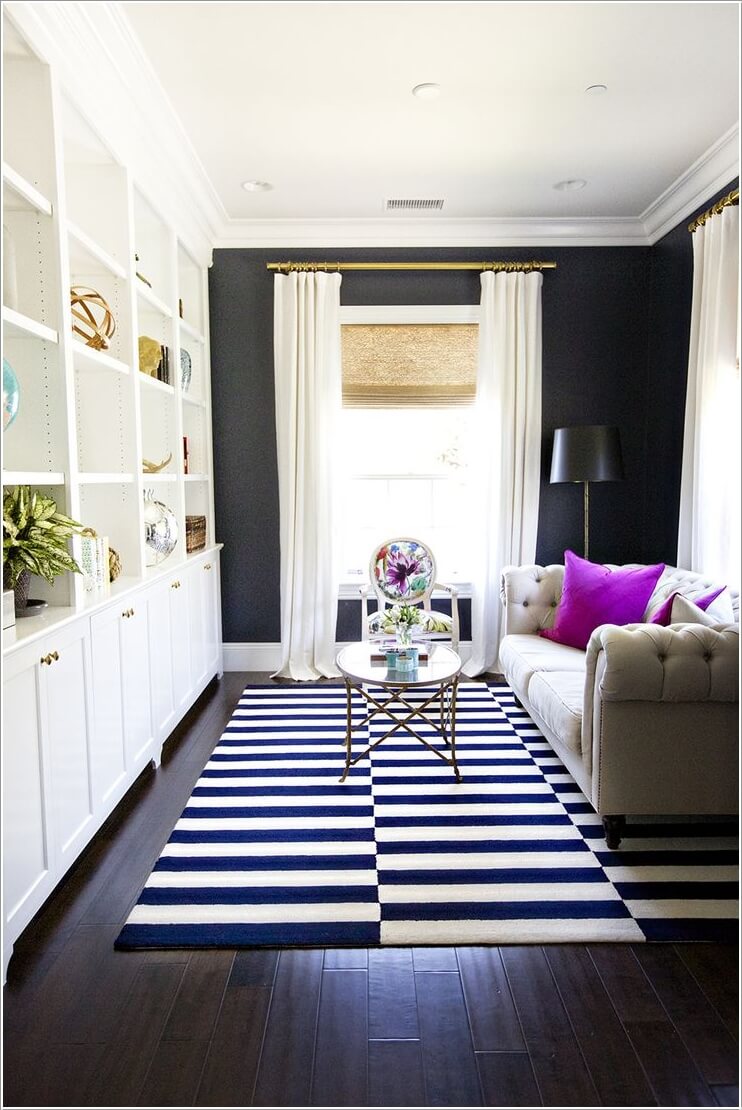 Source: The original source is not available anymore.
If you just want to spice up a dull space, that one visual oddity can make all the difference. This is especially true in a small living room since there normally isn't much to look at. The rug in this room is a great example because it breaks up the plainness and uniformity the room otherwise has. It also accomplishes this without being overly intrusive. It also forces you to look down at the floor, then up at everything else in the room, ensuring you see every bit of the room's contents. The right accent pieces make all the difference.
5. The Fine Line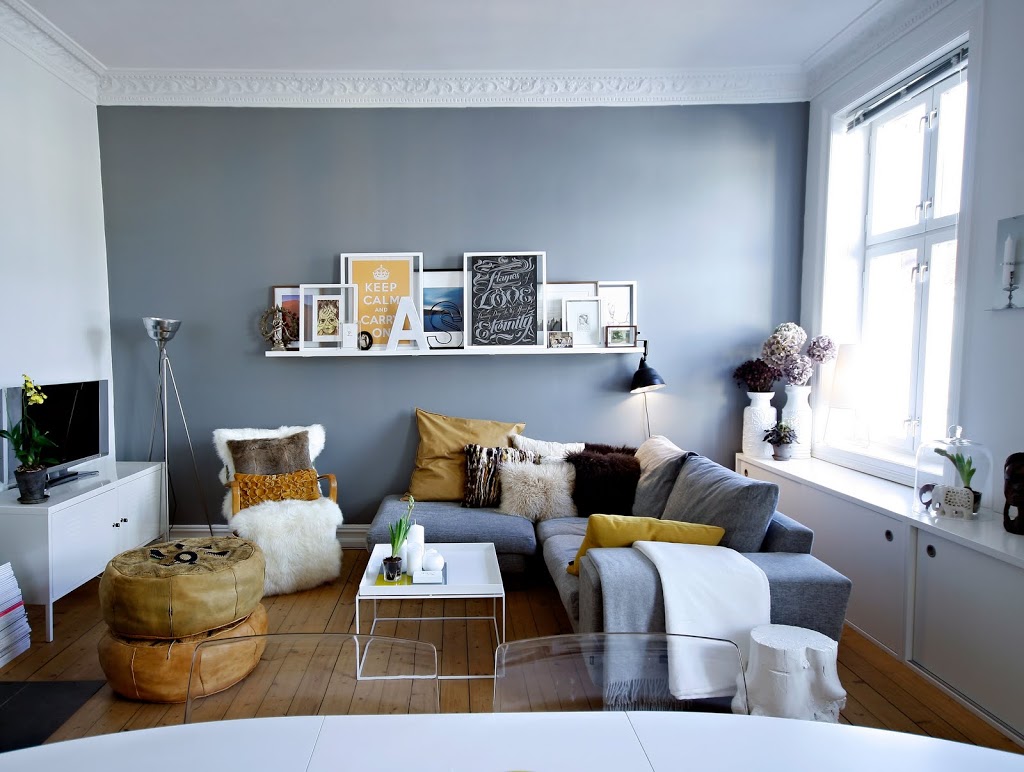 This next room illustrates why decorating a small living room is tricky. When you want to make a room stand out but are unsure how to do so, you may think of adding some visual interest pieces like pictures or pottery. In a small space like this one, however, there is a very fine line between making your space look lived-in and making your space look messy. This room walks that line spectacularly with an array of shapes, sizes and colors that make it look like someone lives here already. Make sure each piece has a purpose and a function.
6. A Marriage of Styles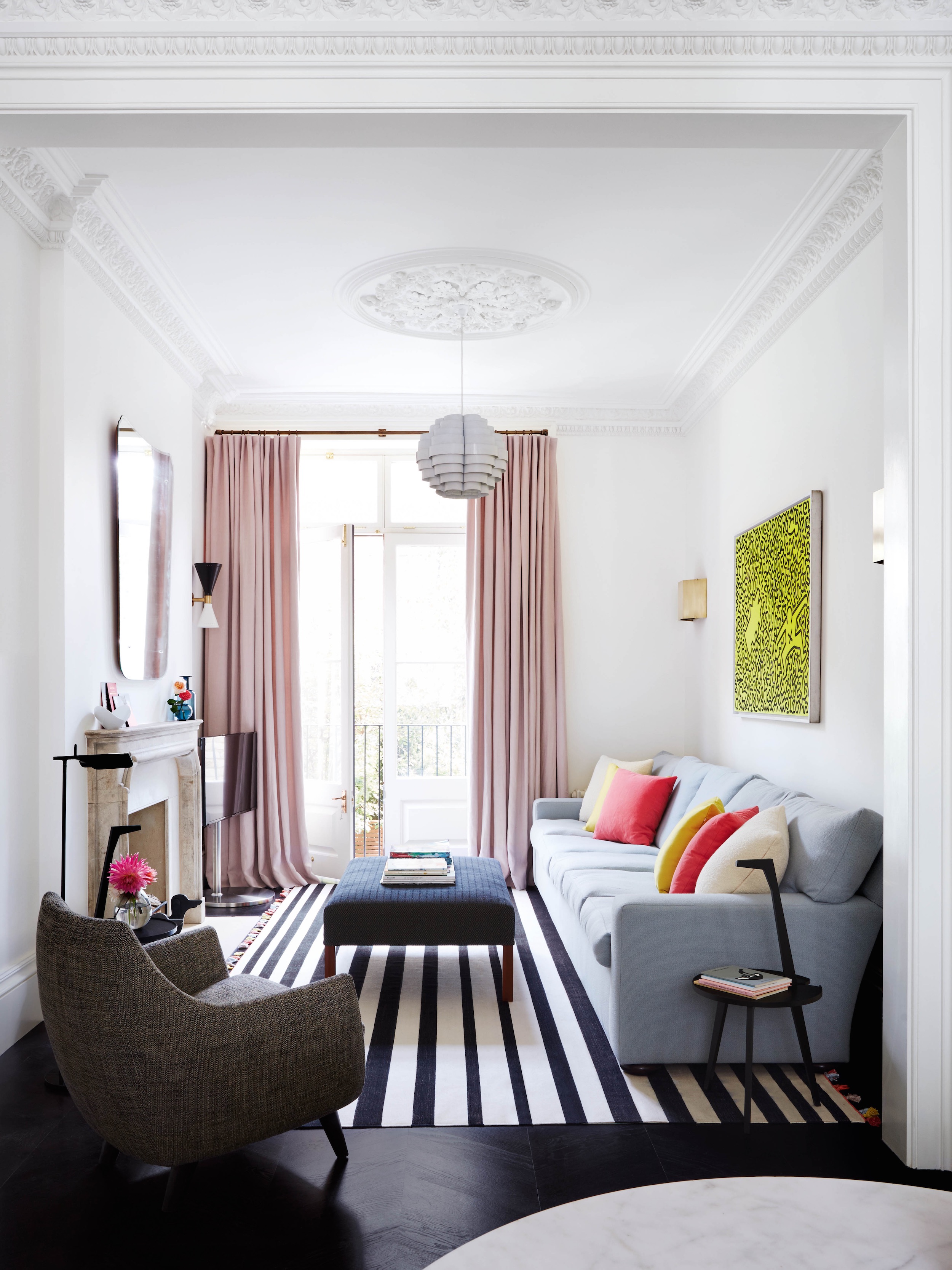 What do you do when you don't agree with your spouse on what to do with a space? This is a very common problem that just leads to hurt feelings and an empty wallet. Rather than try to push your style over theirs, figure out what elements each of you likes and incorporate both of your tastes into the room. This small living room design is a marriage of masculine and feminine with an exceptional mix of bold lines and pastel accents. The ceiling light is also a perfect representation of the two merged styles, being both geometrical and curvaceous.
7. Wooden Wonder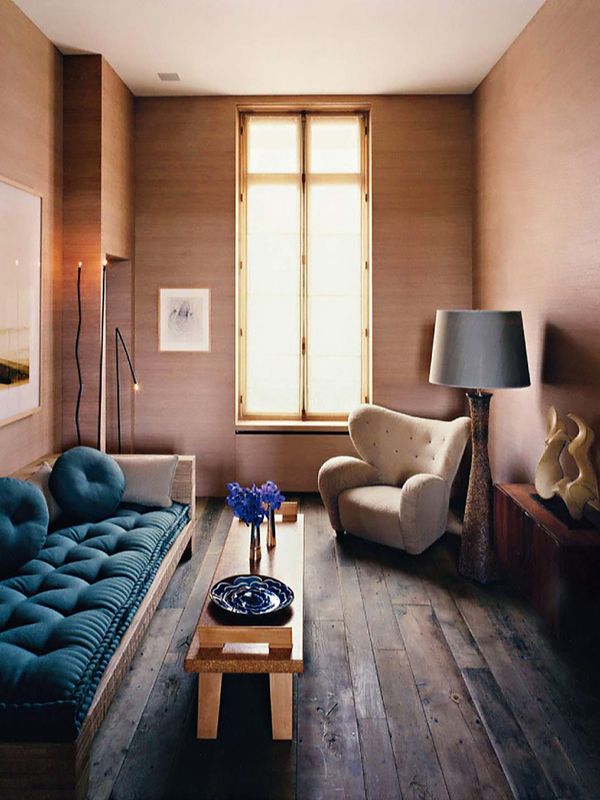 Source: The original source is not available anymore.
Whether you are working with a small living room or a large living room, balance makes all the difference in the world. This room proves that you don't need outrageous shapes or colors to create a beautiful space. The untreated dark oak floorboards and the earthy color scheme come together to provide an elegant balance of light, shapes, textures and colors. Nothing in this room aggressively screams, "Look at me!" but the room also has just enough visual interest to command your attention. If a room like this does not give you several small living room design ideas, nothing will.
8. New York Shorty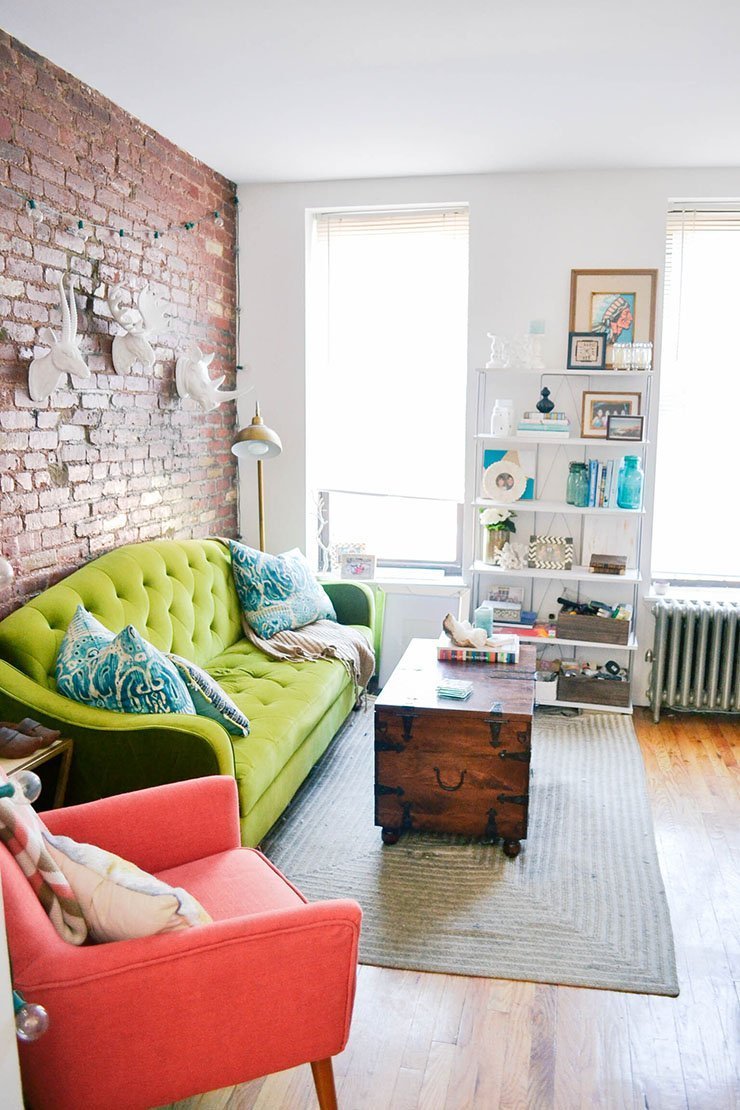 Decorating a small living room is one thing, but decorating a small New York living room is a task and a half. This tiny abode is an exceptional study in taking advantage of what you have. The exposed brick wall, wood floors and tall, sunny windows were already there when this designer showed up. The only thing it was missing was color, and this darling space is the result. This space is all about contrast with the plain white animal busts on the brick wall and the colorful sofa and armchair complementing the earth tones of the floor and wall.
9. Sunlight and Shadow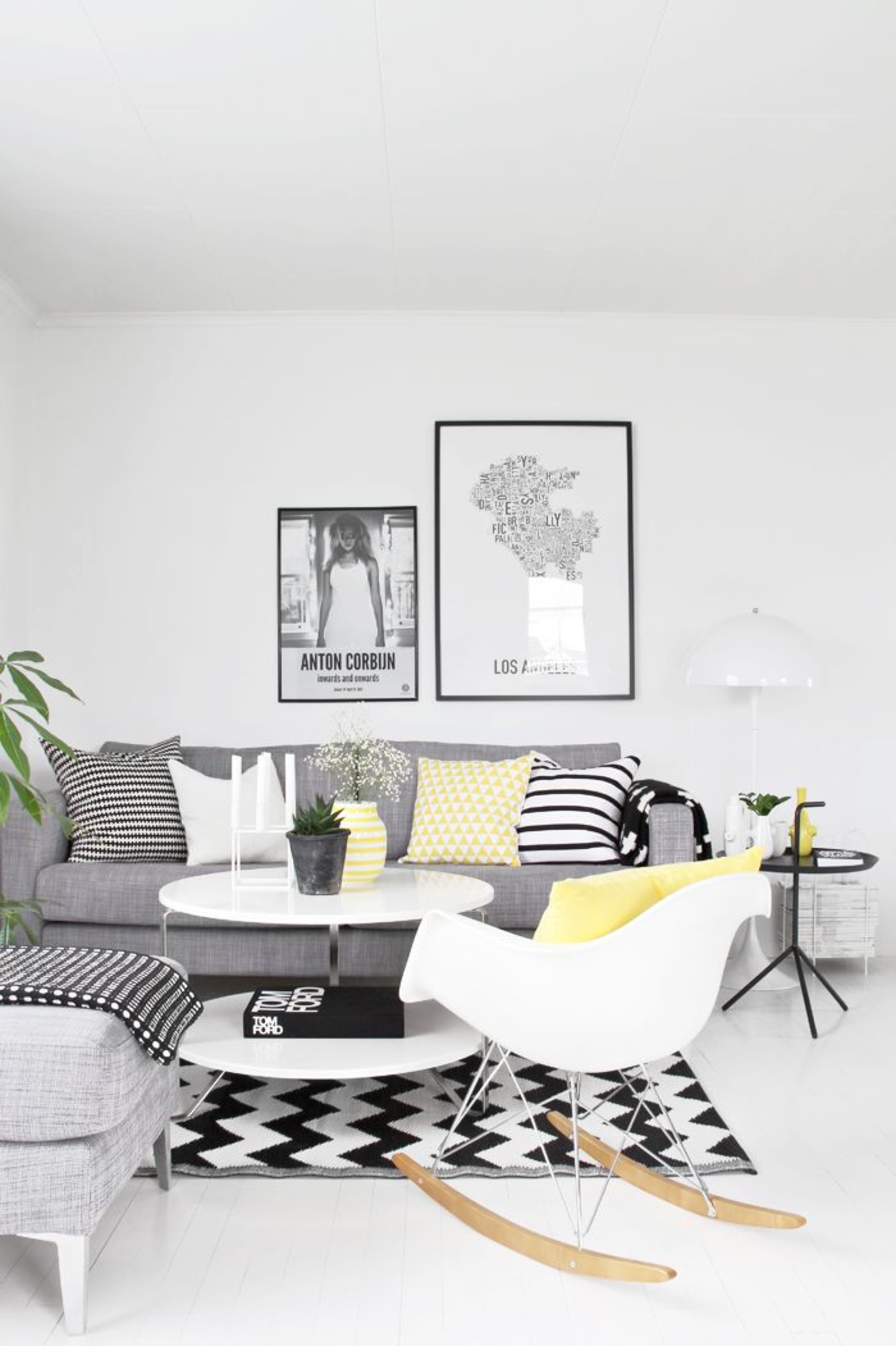 Source: The original source is not available anymore.
This space demonstrates why color choice has such a large impact on a room. It shows that sometimes, achieving a stellar small living room design is as simple as using black and white. Using black, white and grey as your primary colors and adding a pop of color here and there would be a dramatic departure from the norm. The eye is drawn to color by nature, so it can be used to draw attention to specific areas of the room or it can be placed all over the room to provide a concise tour of the room in moments.
10. Mirror, Mirror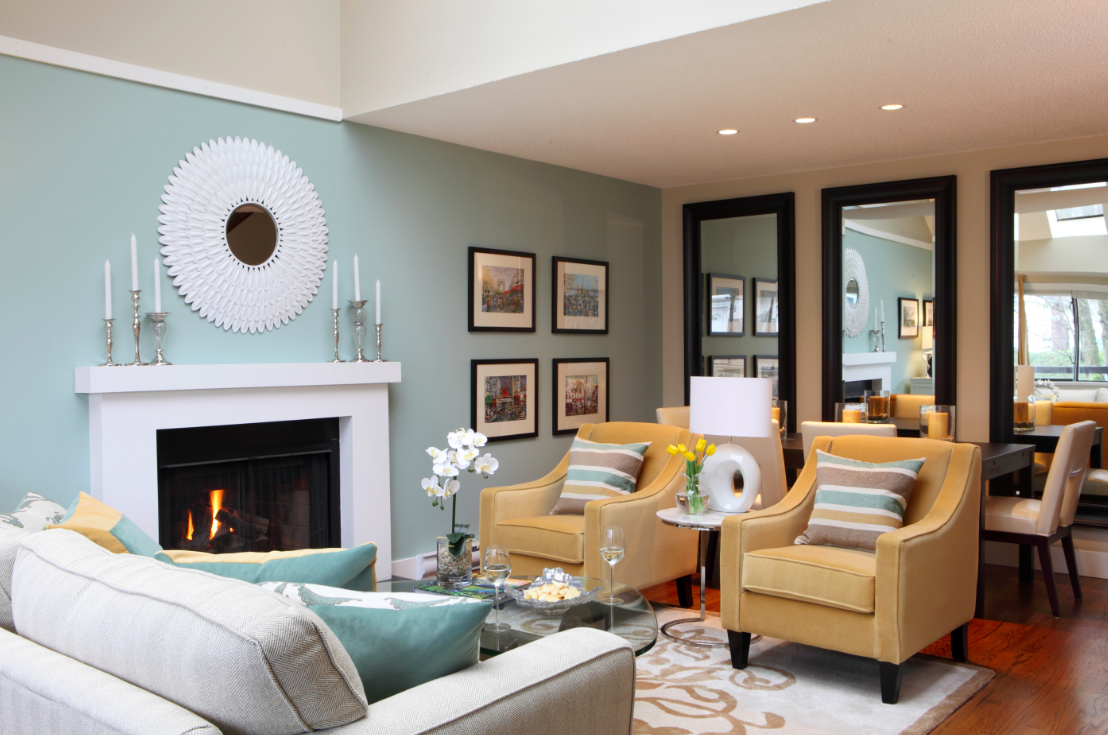 When you have to work with a room with an awkward shape, implementing the small living room designs that you love becomes a major challenge. It may not look like it, but this room had some incredible design challenges, including a cramped dining area. To remedy this, the designer decided to hang some mirrors in the dining area. Not only does the space look larger, but it also transforms the way the dining area looks. By putting the chairs on one side and the mirrors on the other, the dining area doesn't look nearly as small as it truly is.
11. Seabird's Nest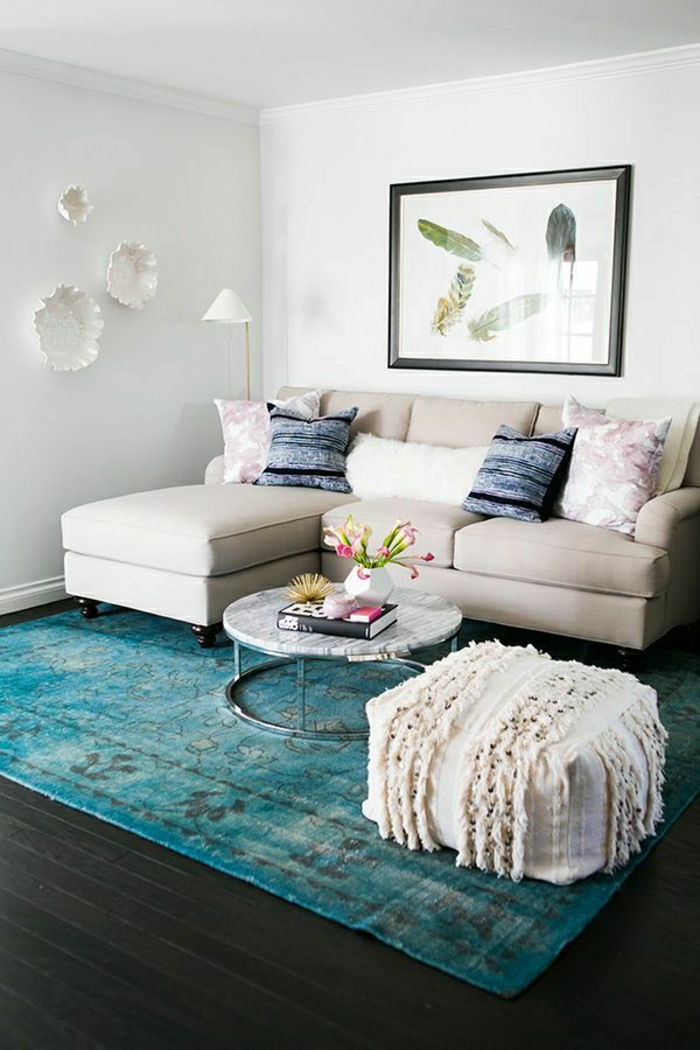 This cozy little space shows how small living room decor can quickly become an art form given the right pieces. In this room's case, the abstract white sculptures on one wall and the feather painting on the other would probably point to an oceanic theme, but when you get to the blue area rug and notice the flowers, you begin to wonder if the room really is following a specific theme. Without those pieces of living room wall art, the room would look stale and a bit generic, which shows how even one piece can transform a room's look in unexpected ways.
12. From Warsaw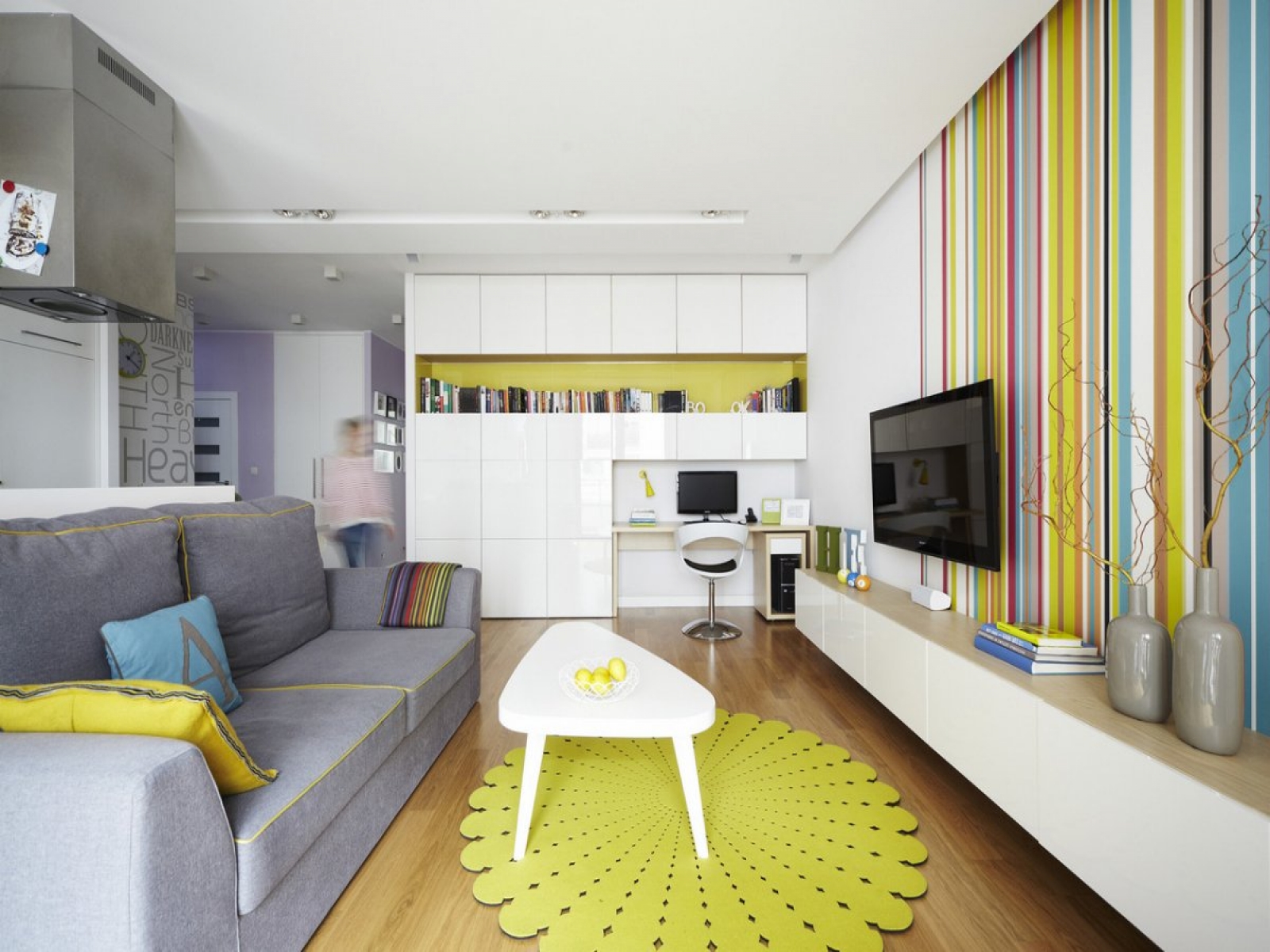 Source: The original source is not available anymore.
When it comes to a small living room organization is crucial. This tiny Warsaw home's living room is no bigger than your average trailer and includes the dining area and bedroom, meaning space is at a premium. This is why the accent wall in this room uses vertical stripes: to make it look taller. Not a single piece in this room is without purpose, from the shelf the television sits on to the small office niche at the end of the room. For instance, the track lighting in the ceiling replaces bulky floor lamps that would take up valuable space.
13. A Thousand Words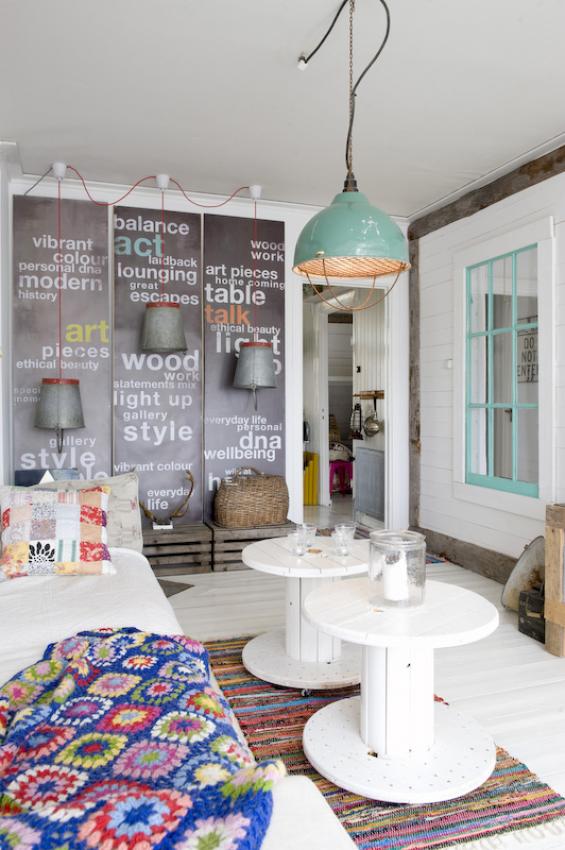 Source: The original source is not available anymore.
Interior design for small living room is all about balancing and contrasts, which this next home has plenty of. This home, described by the designer as "Scandinavian Rustic," further shows how one element can change a room dramatically. This room possesses a wealth of 2D and 3D elements as well as polygonal and round elements. The eye-catching wall art literally defines how the space should feel, while the long and narrow sofa coupled with the two spool-like tables take advantage of the limited dimensions. The phrase "opposites attract" appear to be this room's motto and it adheres to it well.
14. Urban Jungle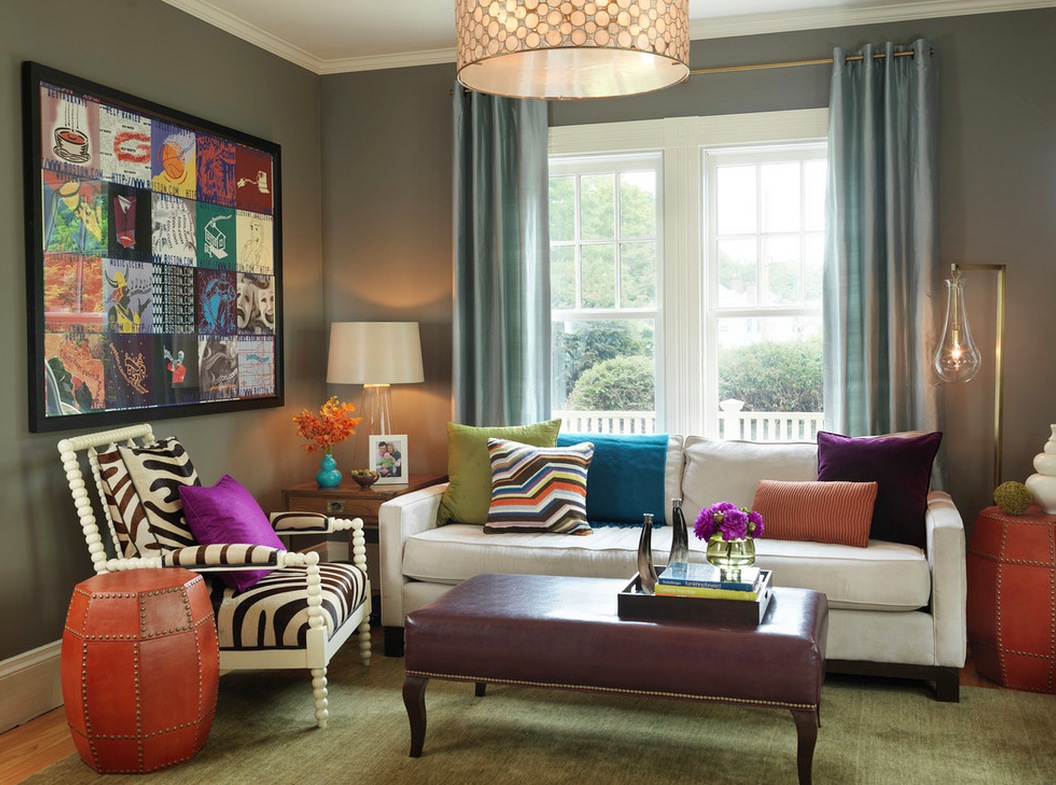 Source: The original source is not available anymore.
In home design, one practice that novice designers avoid is mixing and matching patterns or textures. Many beginning designers stick with a uniform and consistent look in order to play it safe. While that isn't necessarily bad, this room shows how rewarding it can be to get creative and take a few risks. Leather, glass, metal, wood and even water join forces with lovely neutral tones, zebra print, jagged stripes and a spectacular art piece to create a small living room sure to get guests talking. There is so much going on in this room, but it isn't overwhelming, either.
15. Grayscale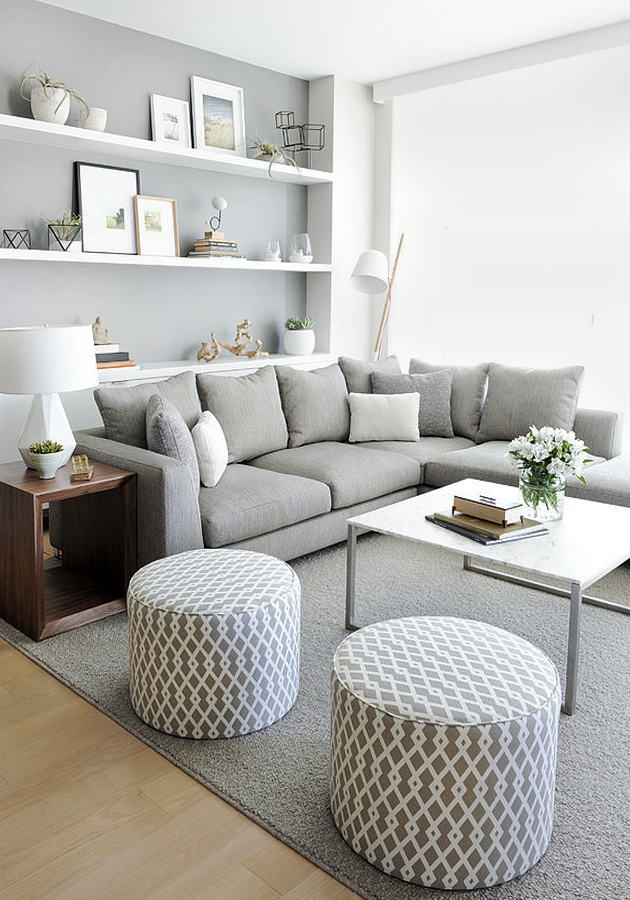 Source: The original source is not available anymore.
We've already discussed how black and white can yield some amazing results, but what about grey? Since grey is often dismissed as a "depressing" color, designers usually avoid it in their small living room designs in favor of livelier colors. As you can see in this cheerful Vancouver home, however, a soft and gentle color palette transforms that depressing grey into an elegant silver. The result is a relaxing, warm and welcoming space that isn't harsh on the eyes. The white makes the room brighter without being blinding, while the neutral wooden accents add a sense of familiarity and warmth.
16. Cozy Teahouse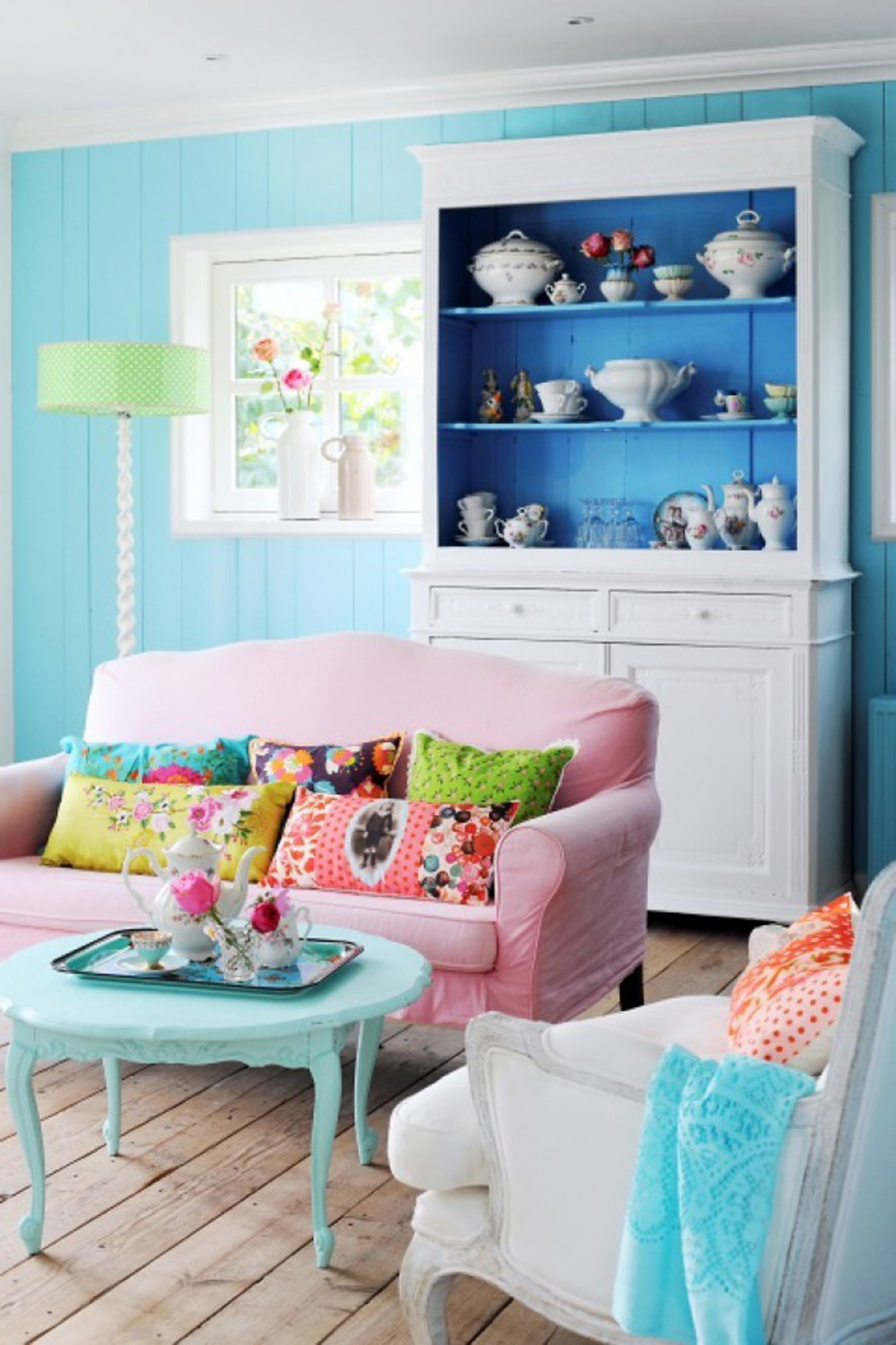 Source: The original source is not available anymore.
Everything about this next home is just plain fun. Just look at it! The moment you see it, you can't help but smile from ear to ear. This is the impact that color has on home decor, and is also why using colors that reflect both the space and its personality are vital. What keeps the colors from being overwhelming to the eye is the fact that not everything is in color. This is thanks to the white pieces in the room. While small living room organization is important, so is going outside the norm and just discovering what works.
17. Beauty in Collaboration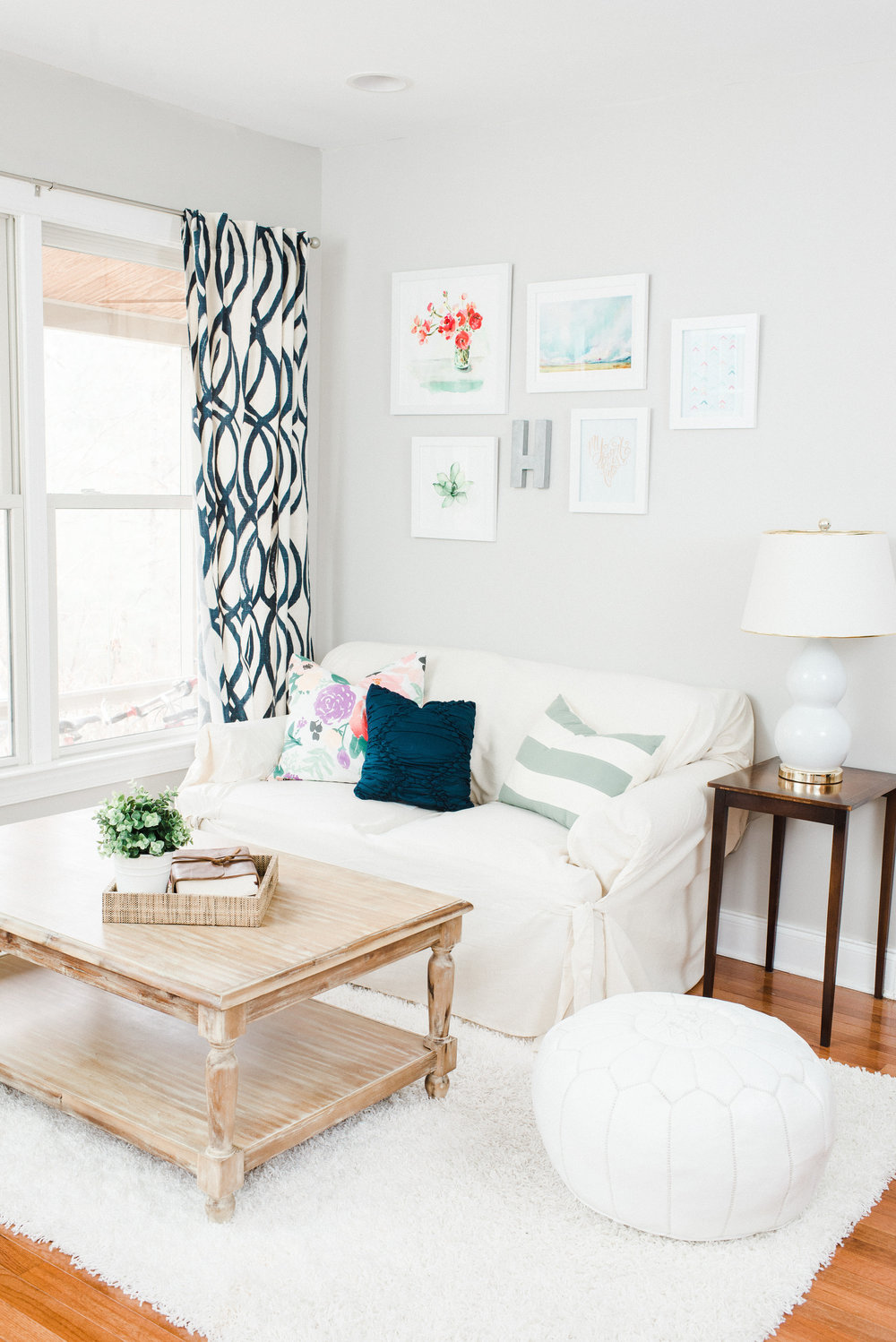 If you get the feeling you've seen this room before, you are probably correct; this room was featured on Glitter Guide, one of the internet's premier home, beauty and design blogs. Professional designers Michaela Noelle and Lauren Hooker turned to their online followers to help them design this lovely space, launching a home design experiment with wonderful results. This just goes to show that collaboration isn't a bad thing. If you don't have a precise plan in mind, a little guidance from friends and family members may give you the inspiration you need to nail down a design or theme.
18. Sandalwood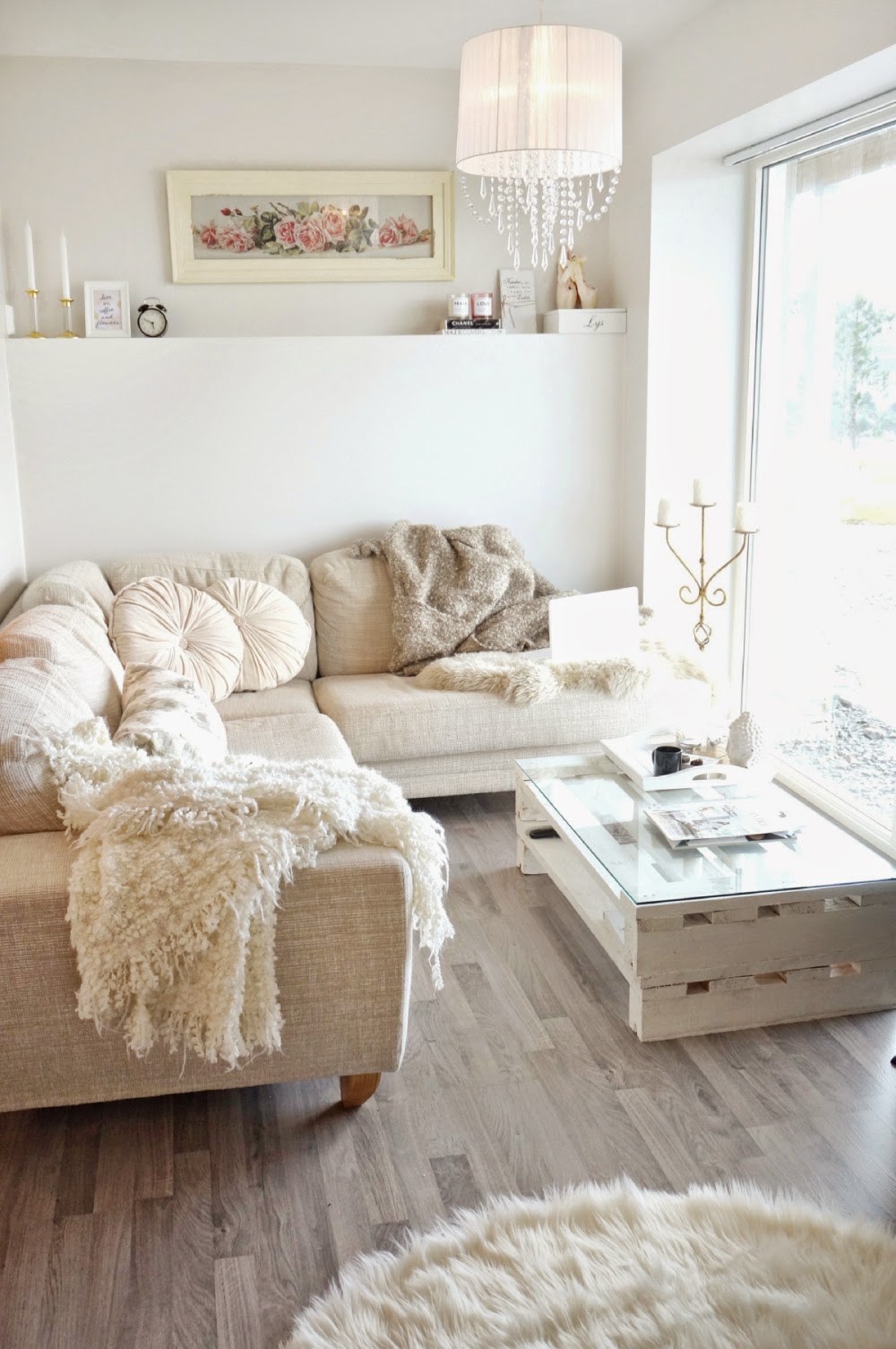 This lovely small living room interior demonstrates the versatility of neutral tones and shows off how they can be just as bright and happy as other colors. The fur accents throughout the room keep the room from looking sterile and welcome guests as they enter. Even though the space is rather sunny, the neutral tones still make it look like a quiet little hideaway. This room also strikes a balance between round angles and sharp angles, making sure that neither one will overpower the other. This pleasant room embodies what home design should aspire to be: comforting, welcoming and fun.
19. Personalization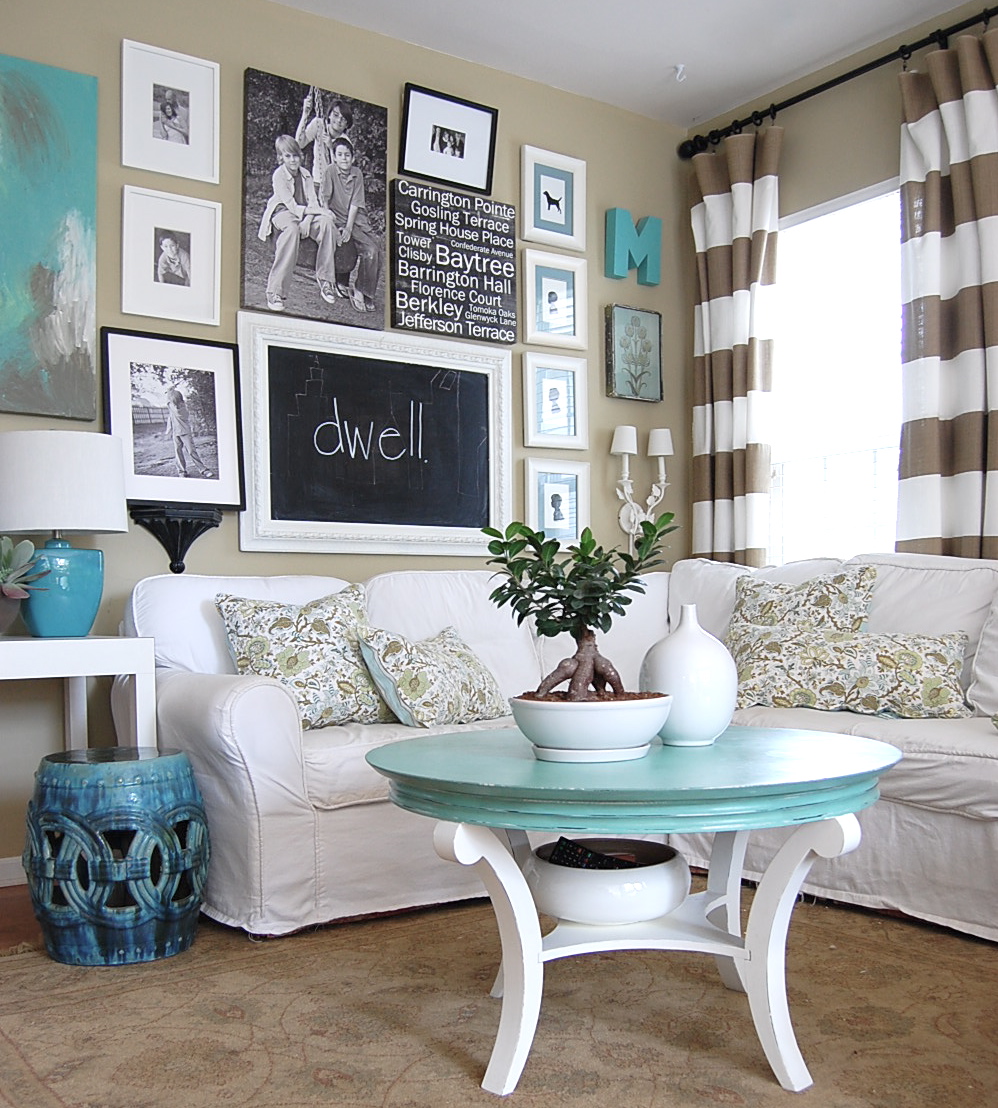 Source: The original source is not available anymore.
There is nothing wrong with making interior design for small living room personal. It adds a unique character and charm exclusive to your home and makes it feel as though your living room really is yours. Incorporating family pictures, framed personal items and unique mementos into your design can make it all the more impactful. Just look at the black and white photos on the wall in this room. Another striking element in this room is the various street names on the wall. If that's too personal for you, you could instead use cities you have lived in or visited.
20. Mellow Luxury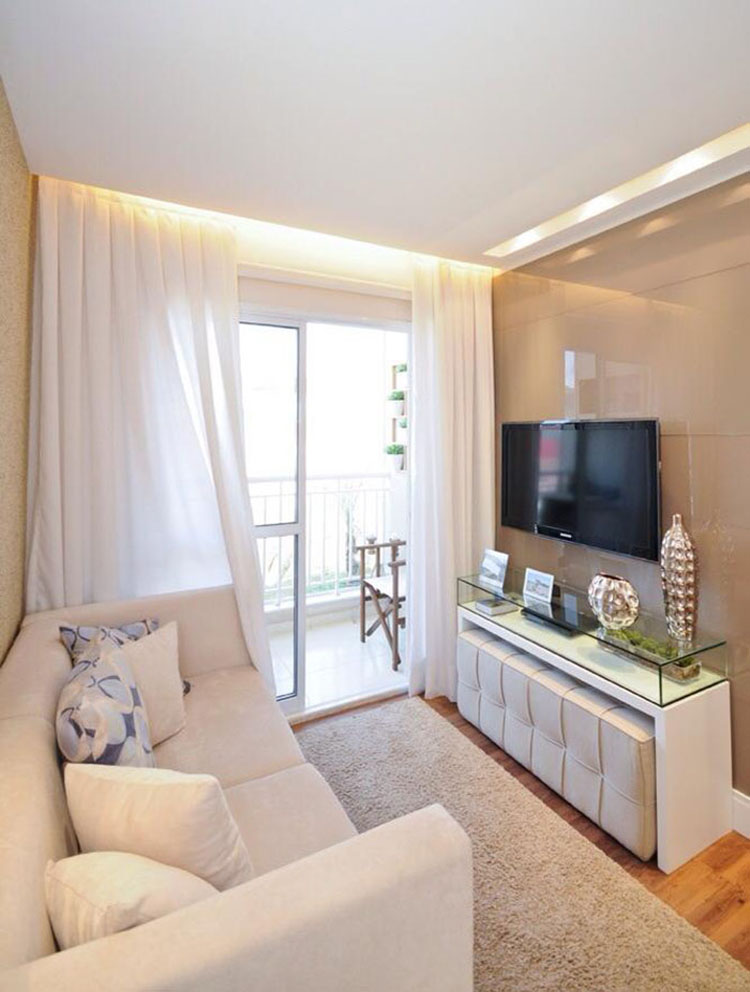 Source: The original source is not available anymore.
This small living room interior is a joy to behold. The strategic lighting paired with the room's neutral tones is a stunning combination. They somehow turn the muted brown and tan room colors into stunning shades of copper and gold, adding a luxurious air. A surprising design choice is the tiled wall behind the television. It may seem out of place at first, but the tiles act as pseudo mirrors, reflecting the room's lighting and faintly reflecting its contents, making the space seem larger. Overall, this small living room design gets quite creative without straying very far from the basics.
21. Singaporean Retreat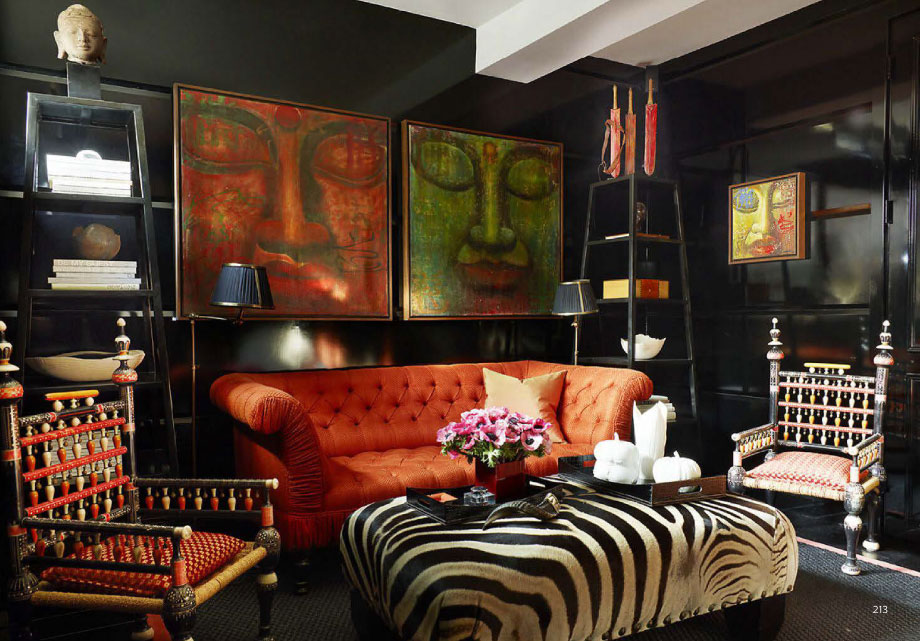 Zebra print, orange velvet and glossy black walls probably does not embody the direction most people would go in as far as their own small living room ideas. In this case, however, it works tremendously well. The vibrant multicolored paintings and the towering obelisk bookshelves help set the room's dramatic yet imperial mood as do the exquisitely crafted wooden chairs. Even with the pitch black walls, the room still manages to be quite bright. A memorable room design like this one is perfect for those who like to leave a lasting impression on their guests long after they have left.
22. All-important Lighting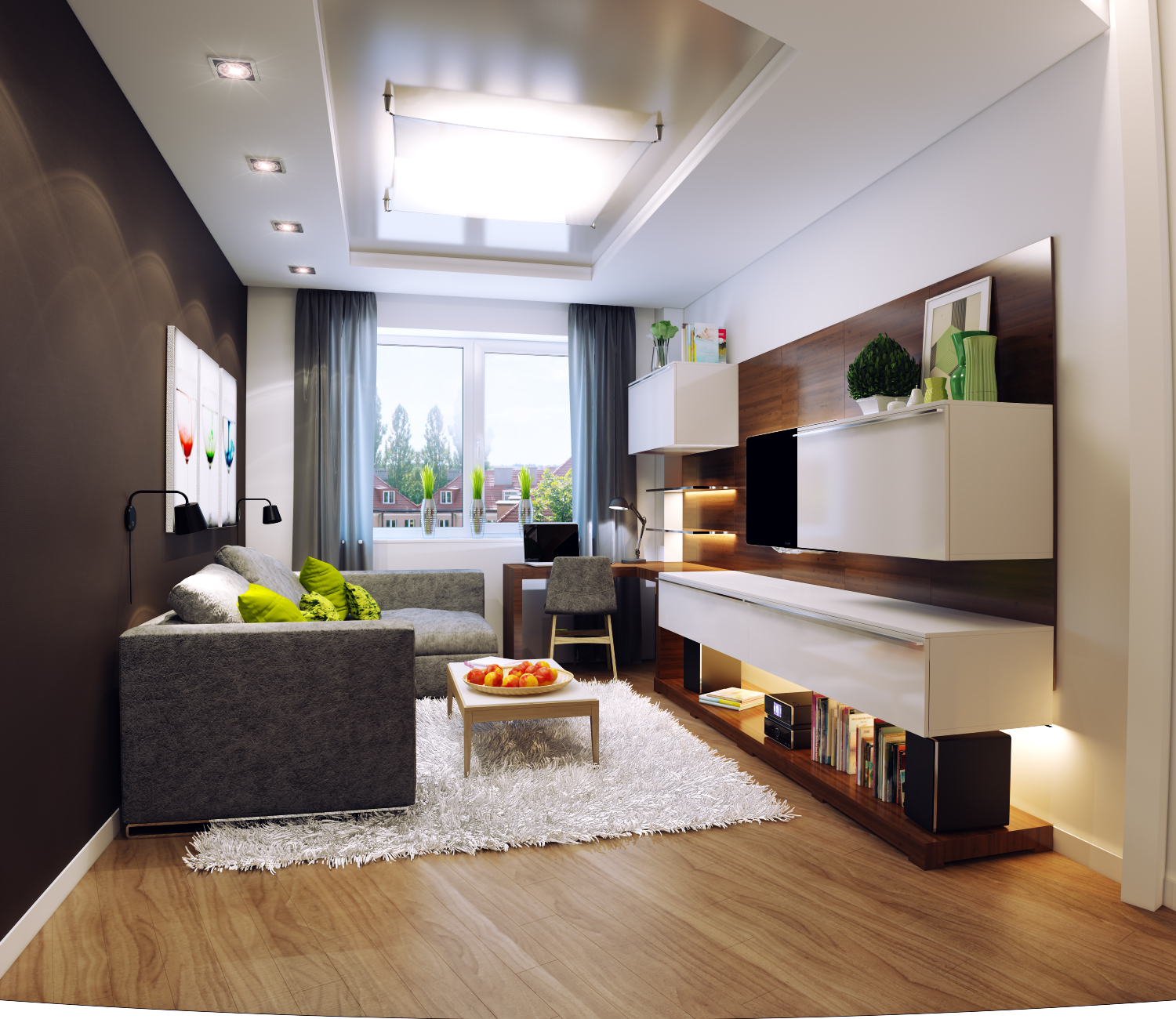 Source: The original source is not available anymore.
This room is an excellent example of what good lighting can do to a space. In the "Ingenious Living Room Ideas for Small Spaces" category is this little number, which is sure to light up your life. To keep all of the lighting in check, the room features a matte black wall and a lovely wooden wall across from it. These darker colors absorb some of the light, keeping the plethora of lights from blinding you. The textures in the room manipulate the light to their advantage, providing their own unique visual interest. This room is probably amazing at night.
23. Pretty Pink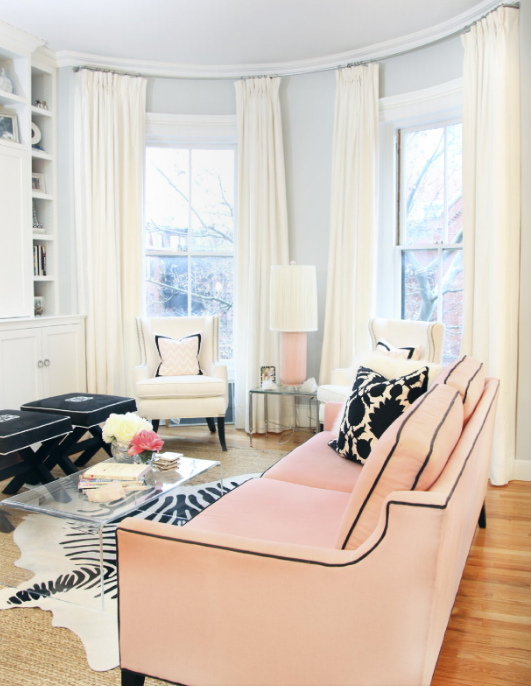 Source: The original source is not available anymore.
It's probably one of the oldest home decor clichés in existence: women want everything in pink. As this cozy little room shows, pink isn't an evil color in contemporary design and, if used in moderation, can still yield some lovely results. In this room's case, the plentiful sunlight coming from the tall and stately windows give the room's pink furniture a lighter pastel hue, lessening its hold over the room's overall color scheme. Using your favorite color is fine in moderation, just as long as you balance it out with other colors. Your eyes and your guests will thank you.
24. Contemporary African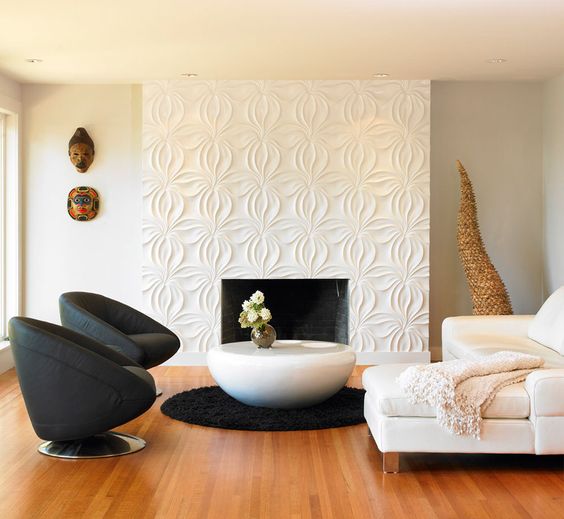 This next room is a parade of small living room design ideas and shows that paint color isn't the only thing to consider as far as looks go. This room is balanced incredibly well. The smoothness of the leather seating and semicircle table contrasts the roughness of the shag rug, the fireplace, the blanket and the tall ornament in the background. Old and new also come together in this room through the combination of contemporary furnishings and traditional masks on the left side of the wall. Even lighting is represented in this room with light and shadow working in exquisite harmony.
25. Fourth Wall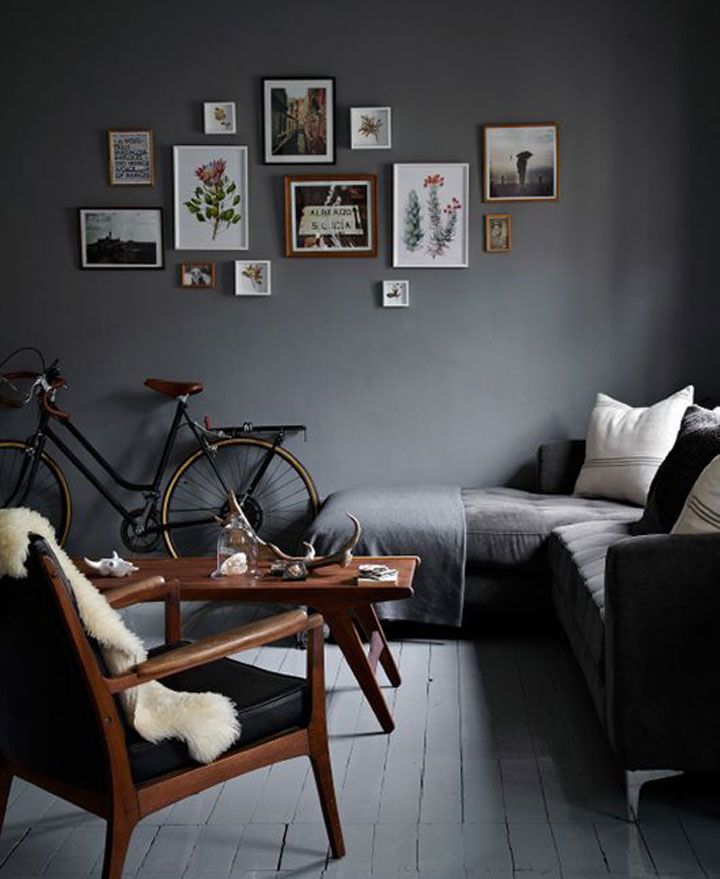 Source: The original source is not available anymore.
This is one of those small living room designs that uses one simple trick to pull off an amazing look. This room is actually lying to you. Although it looks like all the room's walls are painted black, the reality is that only one is. Paired with the floorboards and the furniture, this room is like a little black dress: elegant, sleek and classic. The designer suggests that if you want to replicate this look in your own home to paint whatever wall has a window on it black and paint the rest white to preserve the room's natural lighting.
26. Study in Symmetry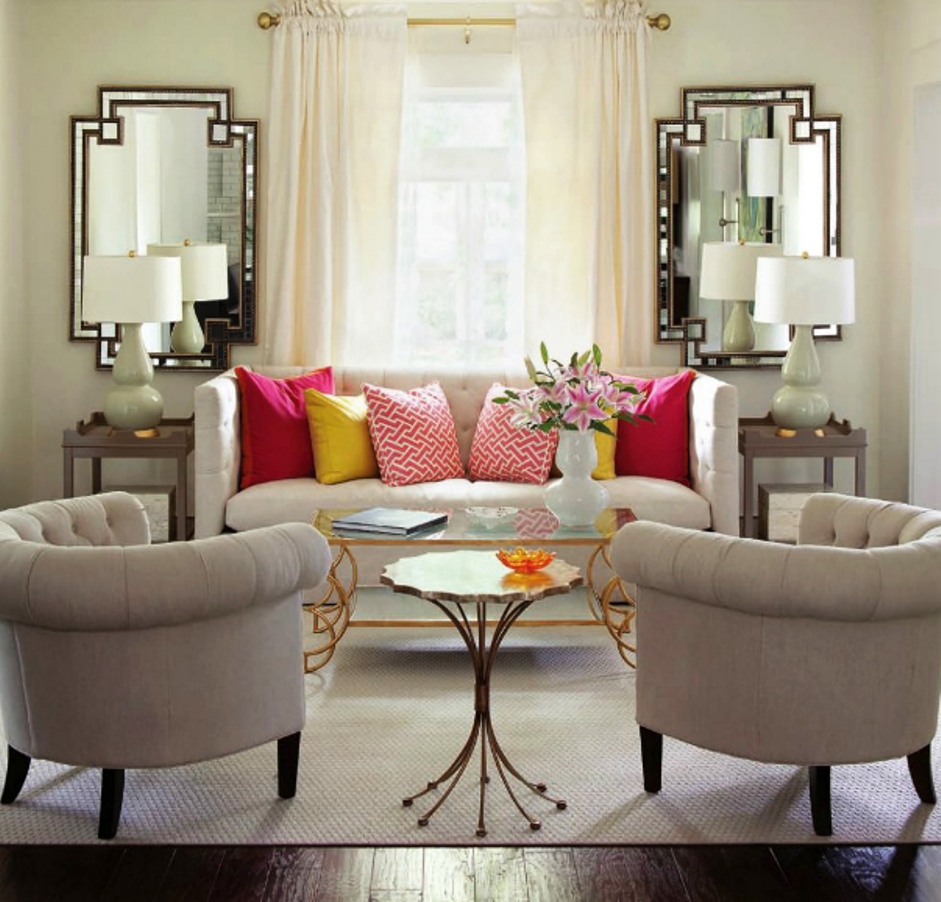 Source: The original source is not available anymore.
If you were to take the decorations off the tables, cut this room in half and put it up against a mirror, you probably wouldn't be able to tell the difference. Symmetry is a common design theme, but this room takes it to a completely different level. The mirrors on the wall only enhance the symmetry as well, making it appear as though the rest of the house is equally symmetrical. Even the throw pillows are symmetrical in this space. This is where small living room organization and attention to detail make this room elegant without being formulaic or bland.
27. Lonely to Cozy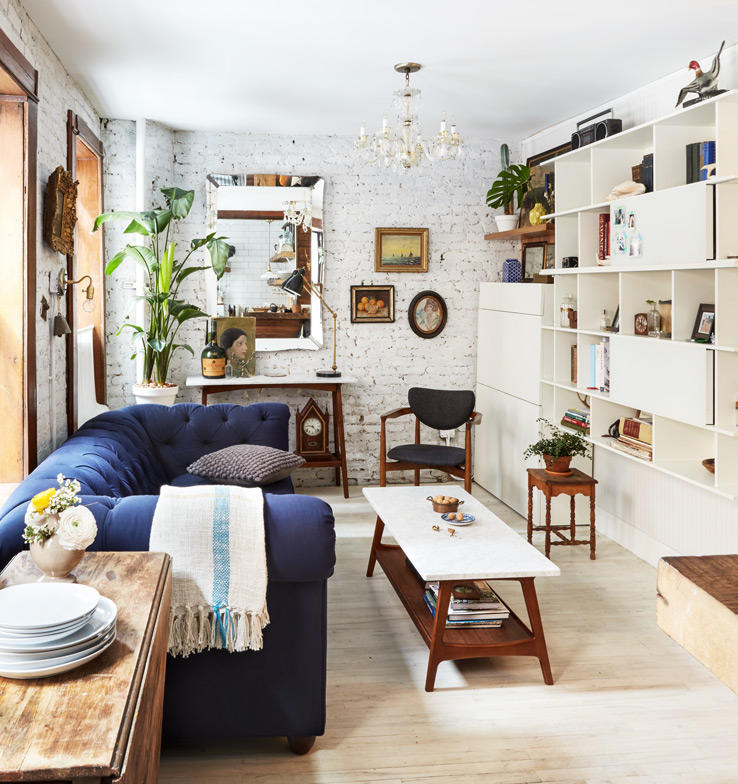 At 175 square feet, this Hungarian living room is as small as it gets. Thanks to the shelving, mirrors, plush sofa and massive windows, however, this small living room doesn't seem nearly so small. Throw in some fashionable and functional vintage pieces and you have a small room with a big personality. The rectangular table on the left in the foreground actually folds out to seat six people, somehow taking advantage of the room's size constraints. The shelving unit is positioned such that the coffee table fits underneath it, giving the homeowner a space for the morning yoga they love.
28. Minimalistic Finery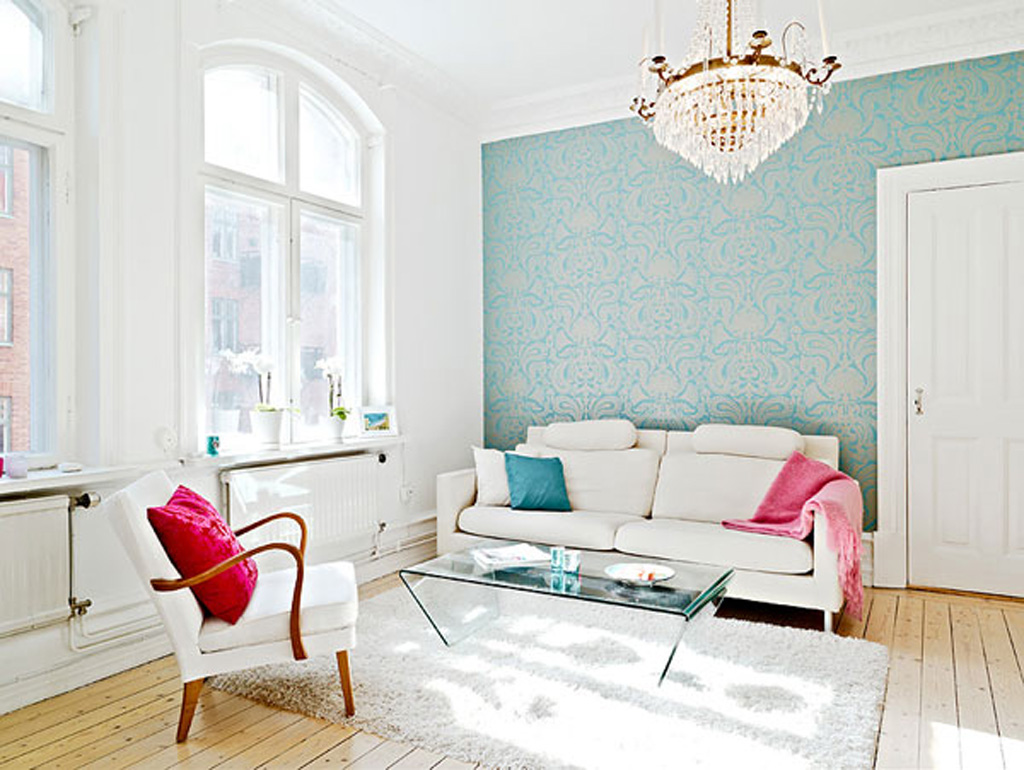 This interior design for small living room was so striking, it is available for download as a cell phone wallpaper. This minimal space is big on personality and visual interest. While white is prevalent in this room, it doesn't dominate. The two-tone blue wallpaper, the stunning glass coffee table and the ornate chandelier give the space a touch of class. There is also a healthy variety of textures at work, from the rough shag rug to the soft, plush throw pillows. Even the natural lighting is kept under control thanks to the teamwork of the accent wall and the flooring.
29. Cat Nap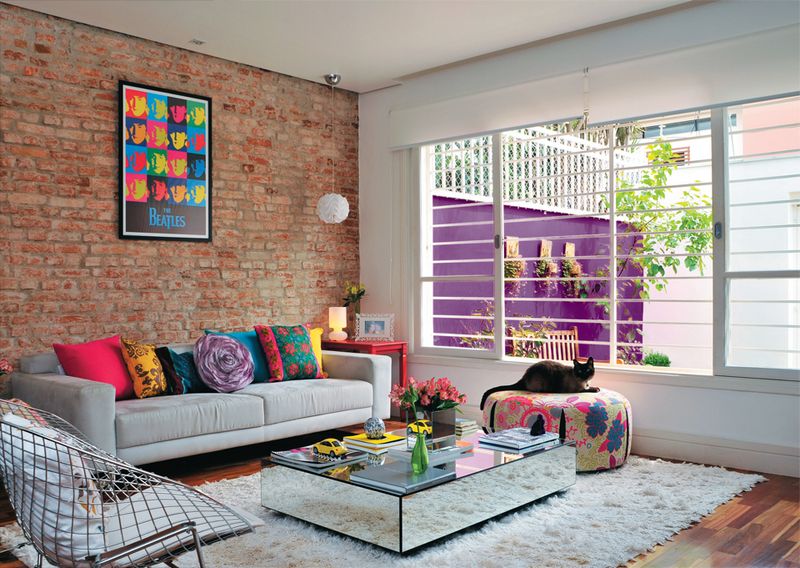 This Brazilian beauty is filled with a plethora of clever small living room design ideas. This bright and colorful room sits adjacent to a sort of outdoor courtyard, incorporating its plant life into the room's design despite the fact the plants aren't in the room itself. It also does this by utilizing an impressive mirrored coffee table for lighting. There is an abundance of natural lighting during the day, so all you need to illuminate the room is redirect that light. The bold color palette also takes full advantage of the room's lighting, creating a happy space perfect for gatherings.
30. Levitation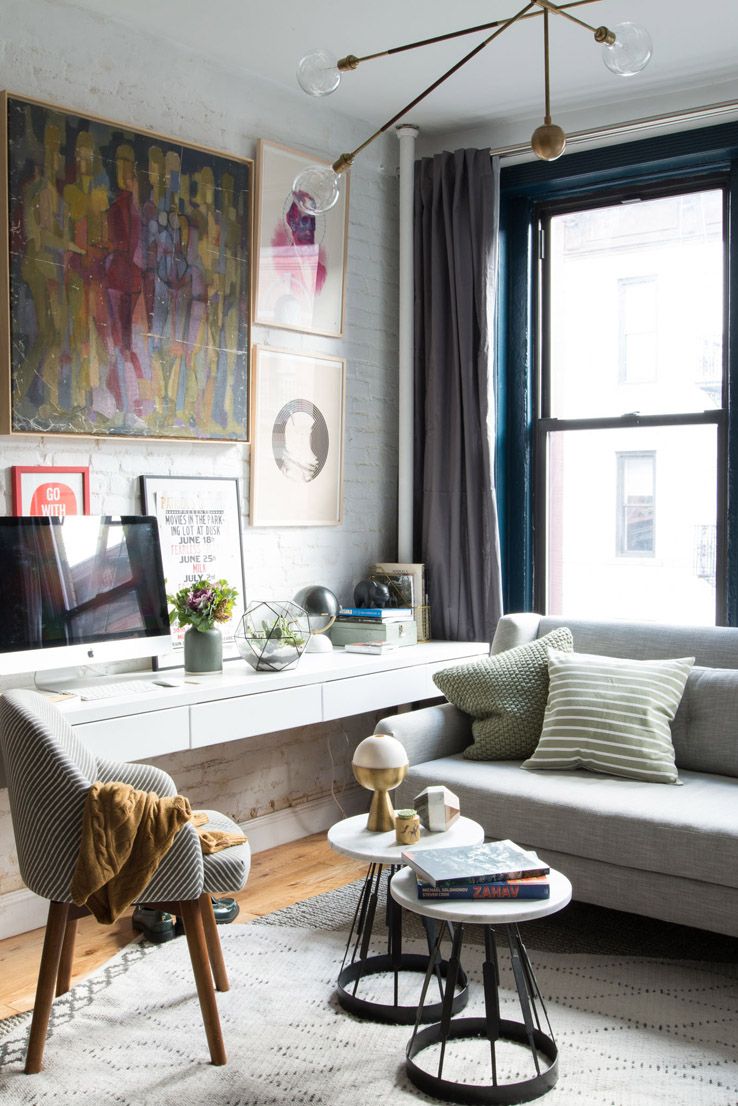 Source: The original source is not available anymore.
One of the advantages of small living room decor is that designers have no choice but to think outside the box and this home is a perfect example. The wall-mounted console has multiple purposes in one, including as a generous display space and a computer desk. Mounting the desk on the wall means plenty space for storage underneath, fewer cords to worry about and no furniture legs to worry about breaking. The workspace is oversized, so you won't use all of it. This means you can place decorations, important books or anything else you may need on the same surface.
31. Seaside Chic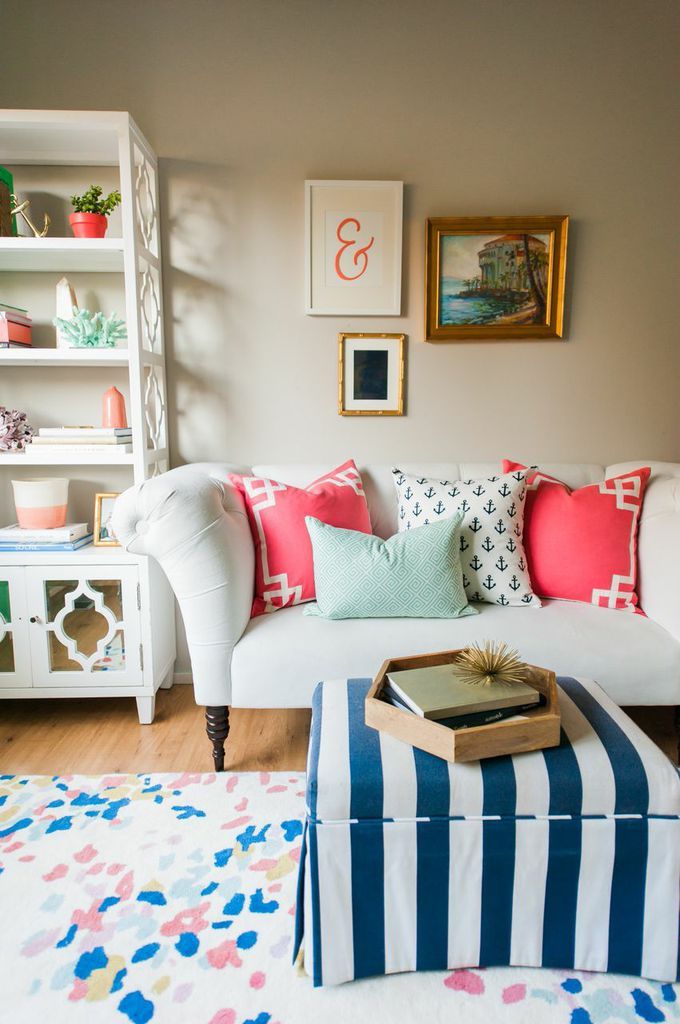 If you have a more eccentric style in small living room decor, this next room is for you. Designer Caitlin Wilson demonstrates how eclectic can be classy with this bright and oceanic living room. Navy blues, seafoam greens and coral pinks unify the nautical theme without breaking out the pirate flags and peg legs. The wood flooring makes the space look like it belongs on a ship deck rather than making you feel like you want to walk the plank. Finally, the rug looks like flower petals floating on the ocean's surface, adhering to the theme in a unique way.
32. For Guests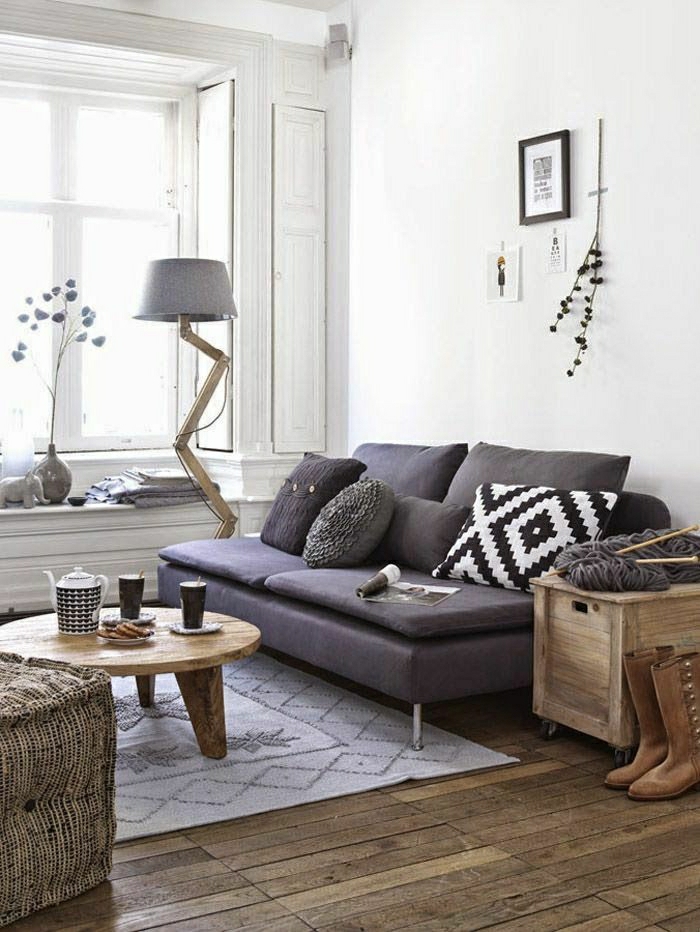 Sofa beds probably aren't all that common in interior designs, but in living room designs for small spaces, they may become a necessity. This one in particular helps to contribute a stylish and modern feel to this room, as does the jagged floor lamp. This room also displays an excellent mix of textures and colors, cementing the sofa bed's place in the room. If you find yourself having guests sleep over, a sofa bed is just what you need in a small home, without a guest bedroom. Would you have known this was a sofa bed if it wasn't mentioned?
33. Pastel Garden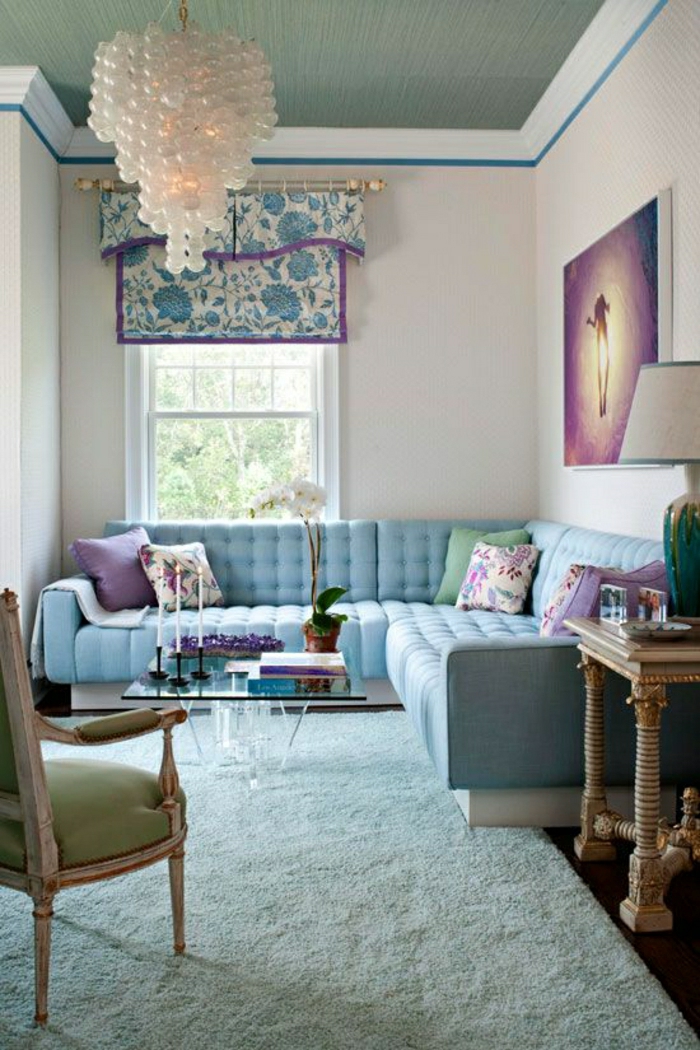 Source: The original source is not available anymore.
Small living room decor that does color this well is always a treat to see. With an array of elegant pastel colors and a neutral wall to tie it all together, this room is nothing short of spectacular. Everything in this room is soft and plush as well; no one would blame you for napping on the sofa or even the carpet. Of particular note is the completely transparent coffee table, which produces a fascinating effect. You know that it's there, but it is so discreet that you almost miss it entirely, even after looking at the room multiple times.
34. Smart Luxury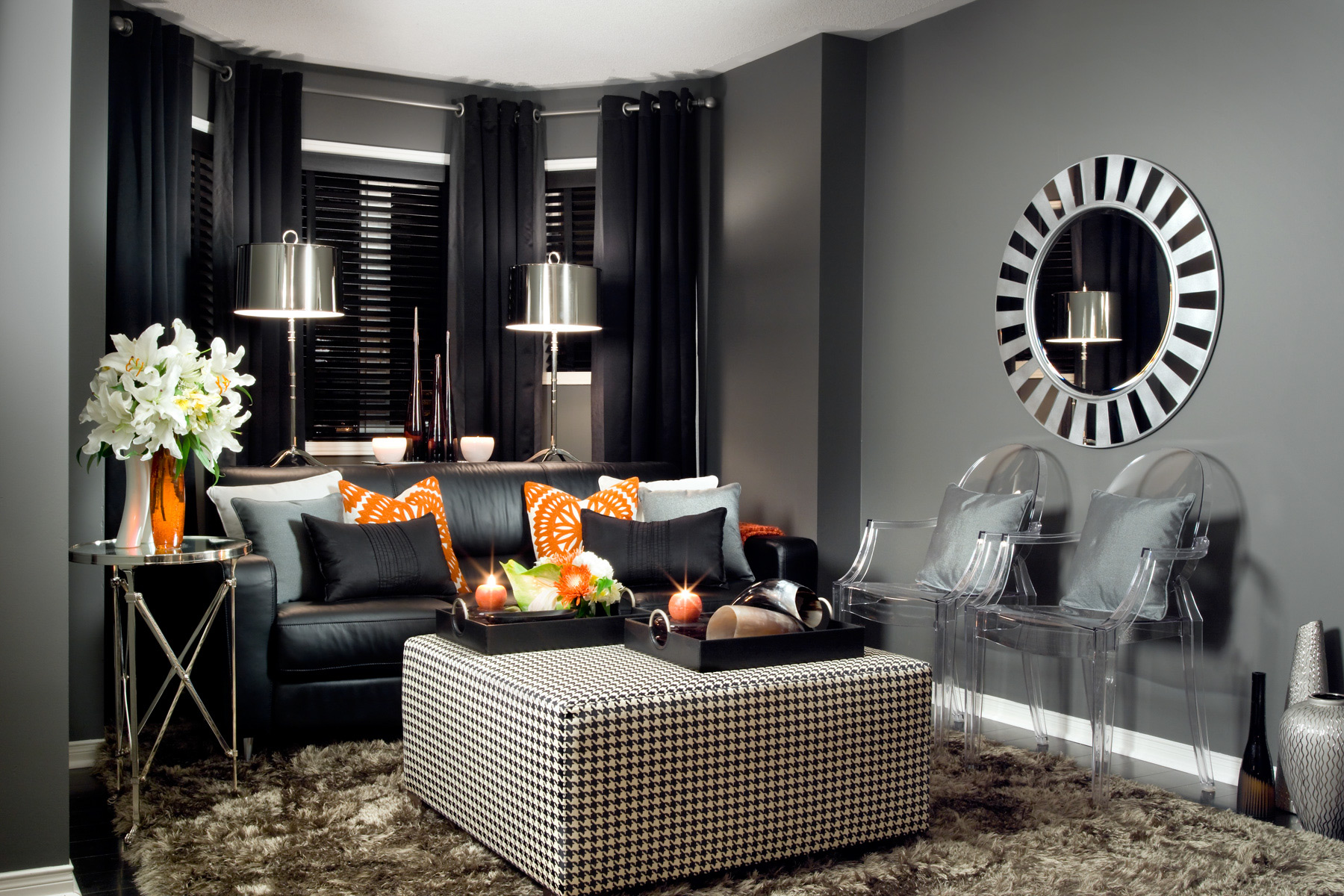 Source: The original source is not available anymore.
Small living room ideas that let you splurge a bit are always a good thing, right? That's exactly what the designer of this room did. They splurged on one high-quality piece they truly loved and then went frugal on everything else and the result is incredible. The trick to making this idea work is to invest in a piece that will be used often and is built to last, like a solid sofa or a set of tough chairs. Spending an exorbitant amount of money on a fragile piece, like a mirror or a vase, is wasteful and unnecessary anyway.
35. Seasonal Chic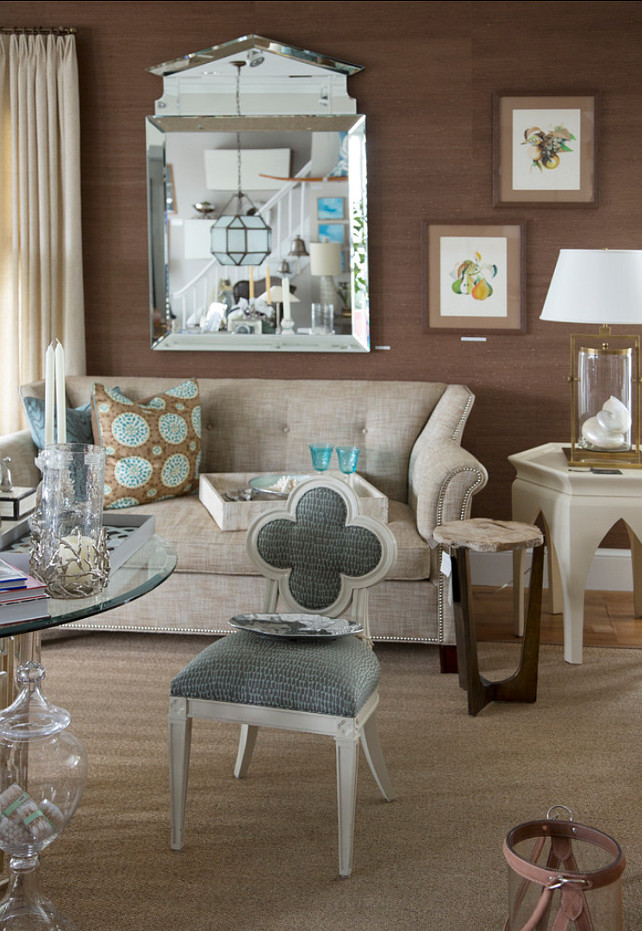 Nothing says it's autumn like cooler weather, changing leaves and eating pumpkin pie. This next small living room brings that same autumnal cheer into the home with glimpses of the autumn landscape. This room's dark brown and neutral palette mirror the late autumn landscape, while the hints of blue warn of winter's chill. The room's textures also mimic the autumn leaves, ranging from wood and leather to metal and fabric. Drawing inspiration from what is around you is a common technique that can branch out into so many interpretations that it always gives you a new direction to work with.
36. Exciting Minimalism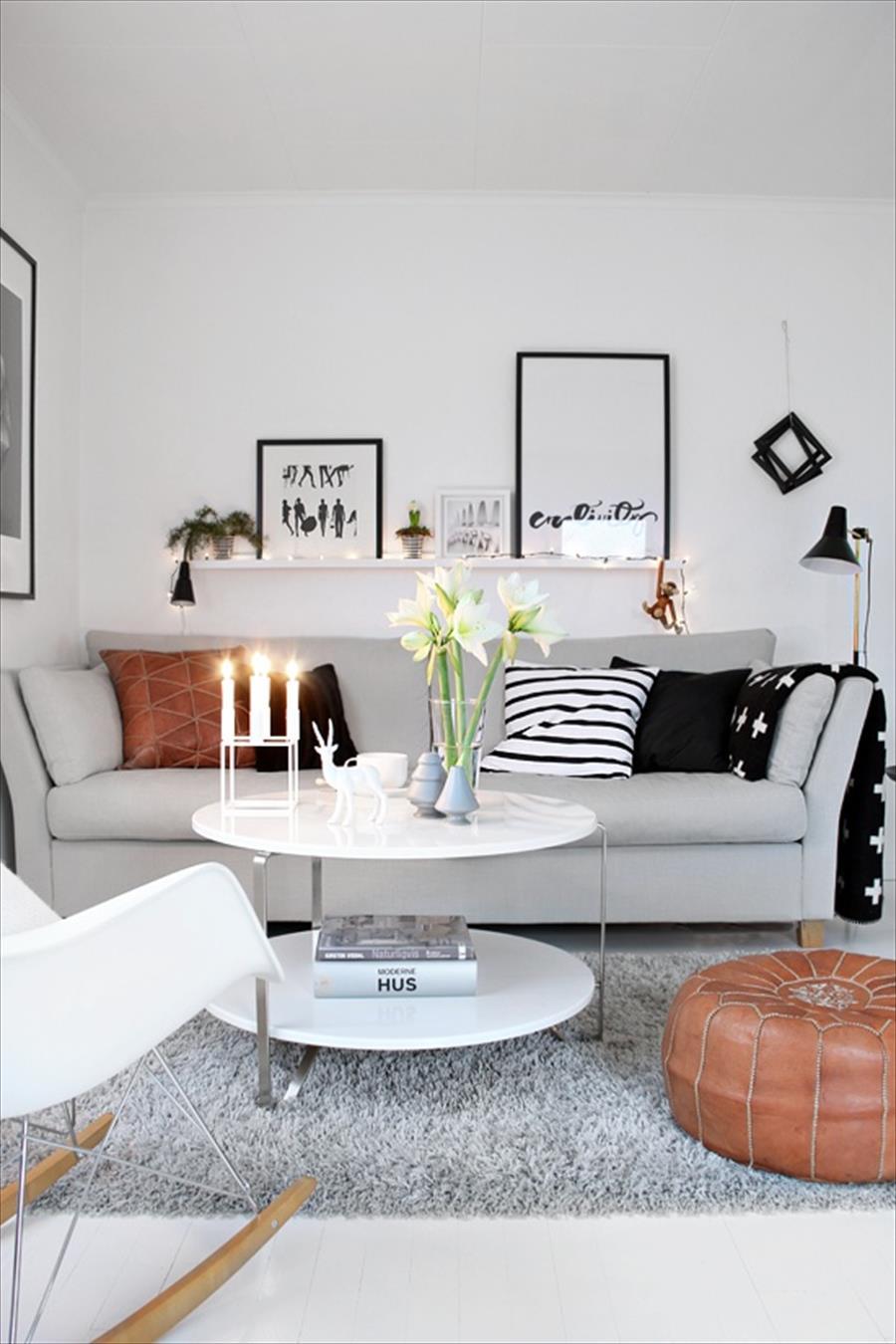 If you are worried about going monochromatic because of how dull it can seem, you'll like one of these next small living room ideas. Those who aren't into wildly varying colors will want to try just adding shades of brown instead. It subtly adds just the right amount of visual interest without making itself stand out too much. Another subtle touch is the green from the white flowers' stems and the soft golden light from the candles. Although they're both white, they also come with natural colors that don't look forced. Try these techniques if you don't want over-the-top color.
37. Gentlemanly Monochrome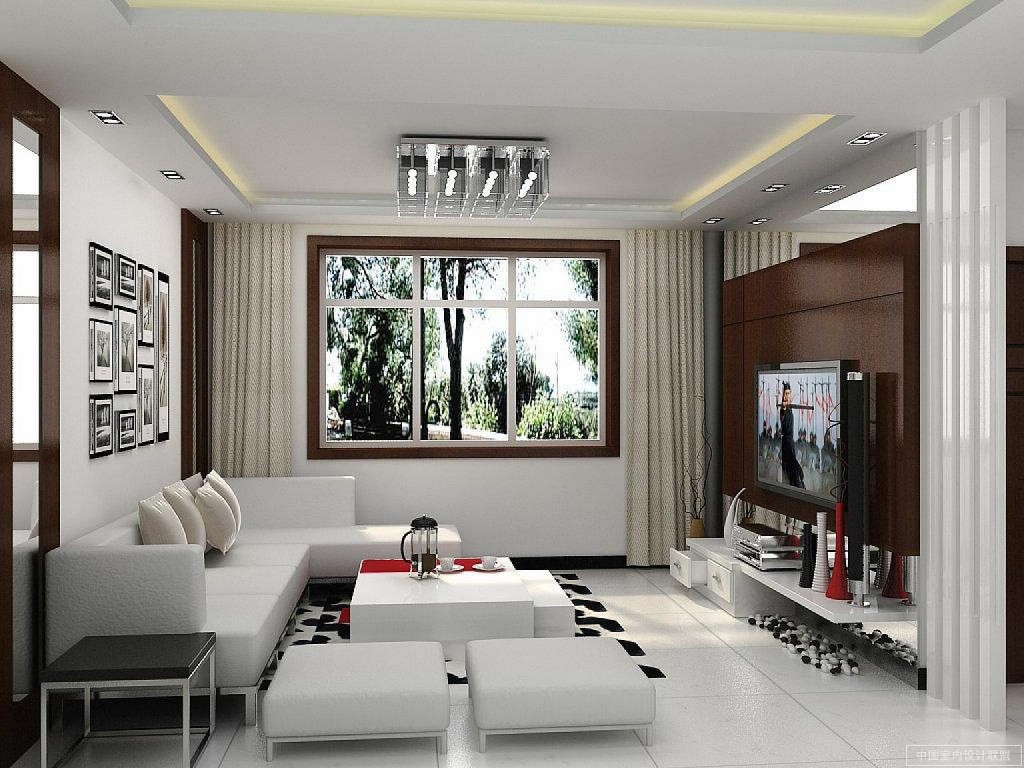 Source: The original source is not available anymore.
This room shows how living room ideas for small spaces can both suit your room's style to your own and can follow a theme subtly. Take note of the colors for a moment: black, white, red and dark brown from the wood. They call to mind the mental image of a gentleman with a suit, cane and tie welcoming you into their home for coffee, don't you think? The straight edges and lines lend to this room's masculinity, as does the sophisticated and modern ceiling lighting. The fact you can picture the space's owner in your mind's eye is phenomenal.
38. Standout Color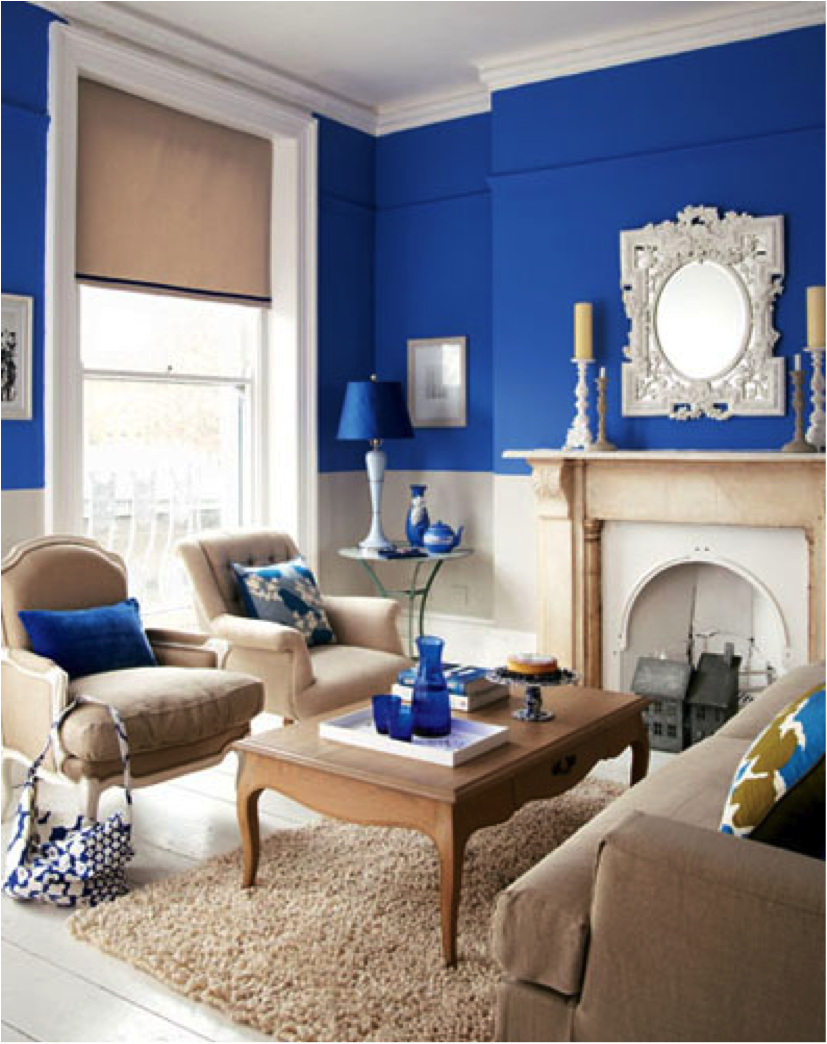 It probably doesn't even need to be said. The blue in this small living room design catches your eye the moment you see it and in this room, it is stunning. Blue has many functions in interior design, like making a room look taller and bringing a sense of calm to the space. While blue is usually used with white, this room's use of it with tan and light brown is actually quite charming. None of the earth tones really competes with the dark blue everywhere else in the room, giving it a chance to stand out and be memorable.
39. Pillow Fight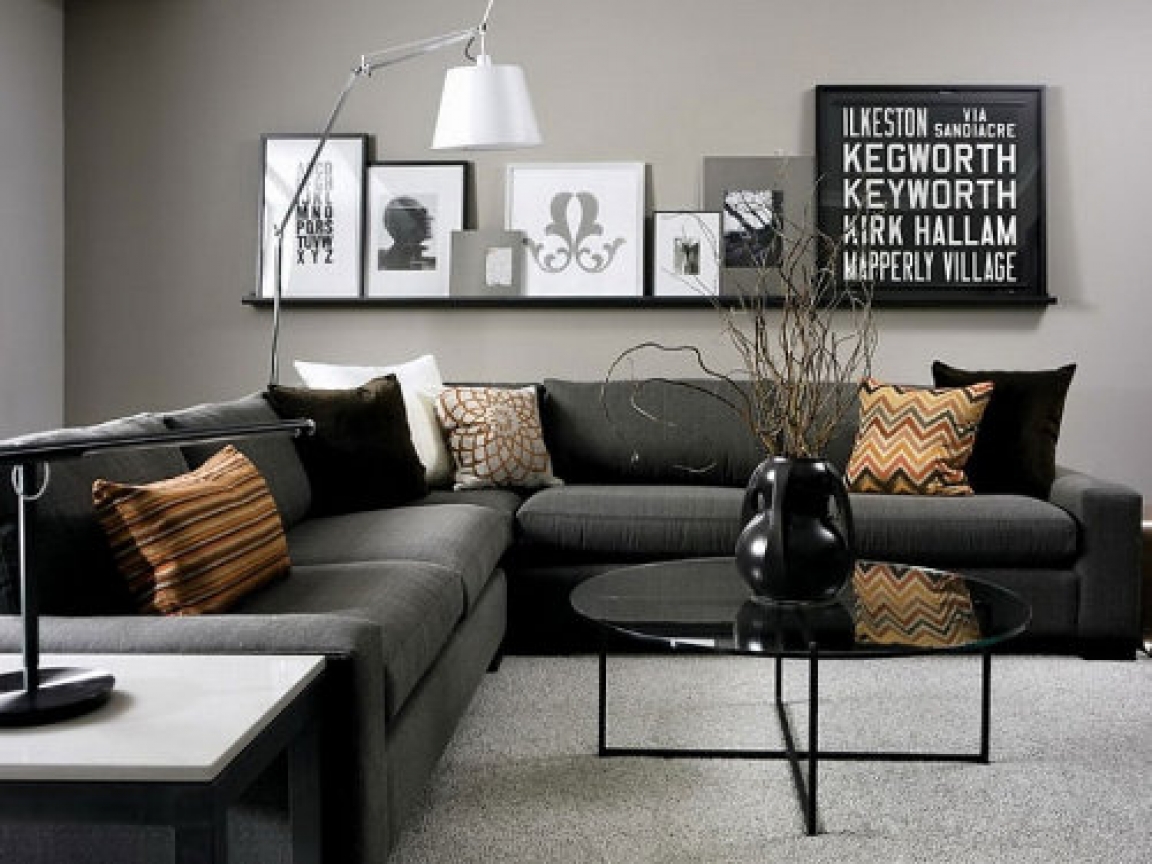 To provide pops of color without using up a lot of space, small living room decor often relies on mixing and matching pillows. They're small, they're fun and they can easily be changed if needed. If you change out the pillows you have on your couch, here are a few tips to keep in mind when choosing new pillows. First, use colors that complement your space, as in the room seen here. Second, less can be more, especially on a smaller sofa. Finally, opt for square or rectangular pillows over round ones and don't use oversized pillows on small sofas.
40. Spacious Eclectic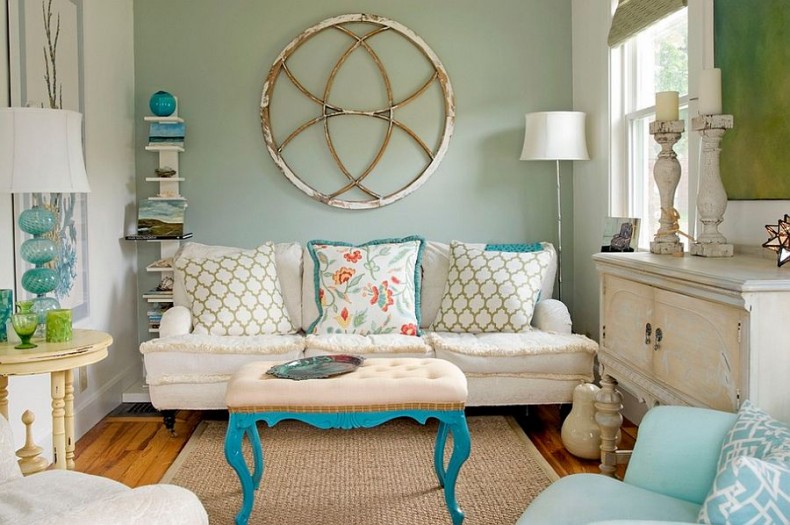 Source: The original source is not available anymore.
This eclectic space showcases the unique challenges in decorating a small living room. Novice designers are tempted to just stuff their space with any number of furnishings and trinkets just to fill space in the name of having an eclectic style. However, this room proves that "eclectic" is not synonymous with "hoarder" as most seem to believe. This room is bright and still rather spacious despite its small size, and the variety of colors, textures, patterns and shapes found here are plentiful and simply delightful. The color scheme is also well balanced, mixing shades of blue with neutral shades flawlessly.
41. Modern Traditional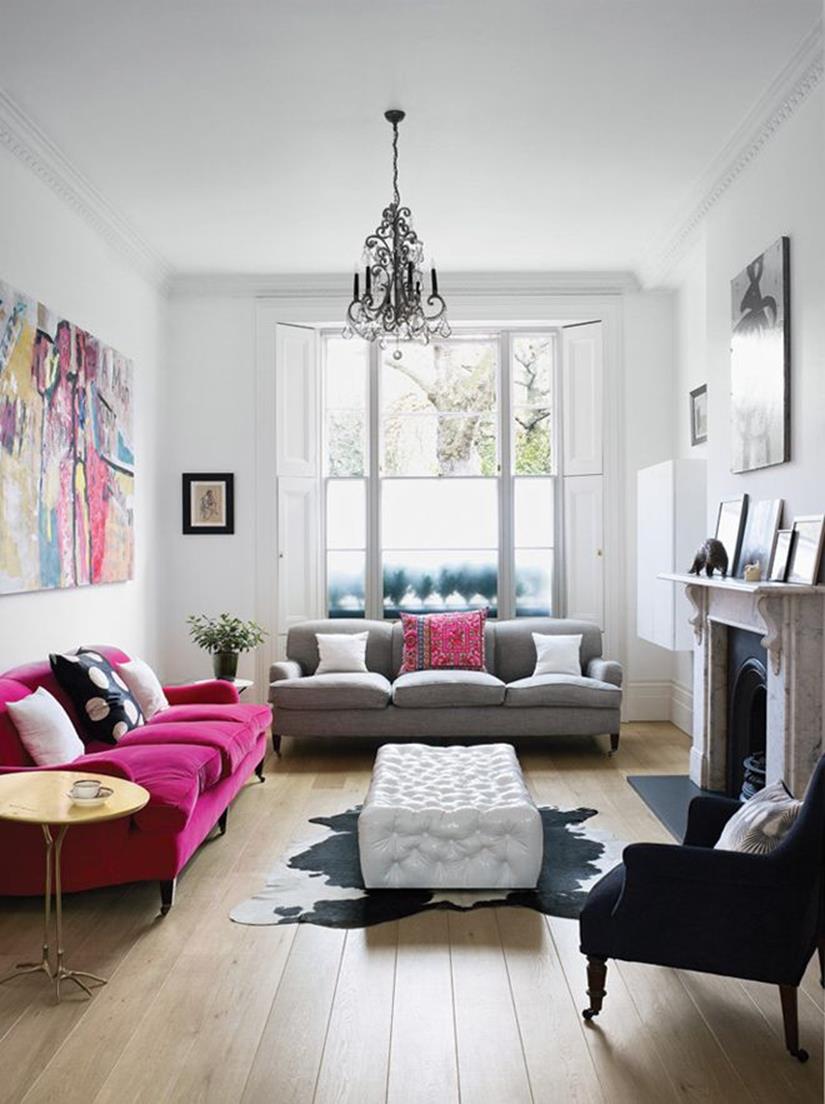 Source: The original source is not available anymore.
The eclectic style is one of the trickiest to master in home design. This is because of how difficult it can be to make something cohesive out of a mix of seemingly random elements. Taking a design that incorporates family photos, souvenirs from trips you went on, that cute vase you saw on sale last week and a fuchsia sofa usually doesn't go well. Yet, this is pretty much what this room has accomplished. The key to pulling off an eclectic look is to take into account the room's accessories just as much as the rest of the room's furnishings.
42. Expressive Colors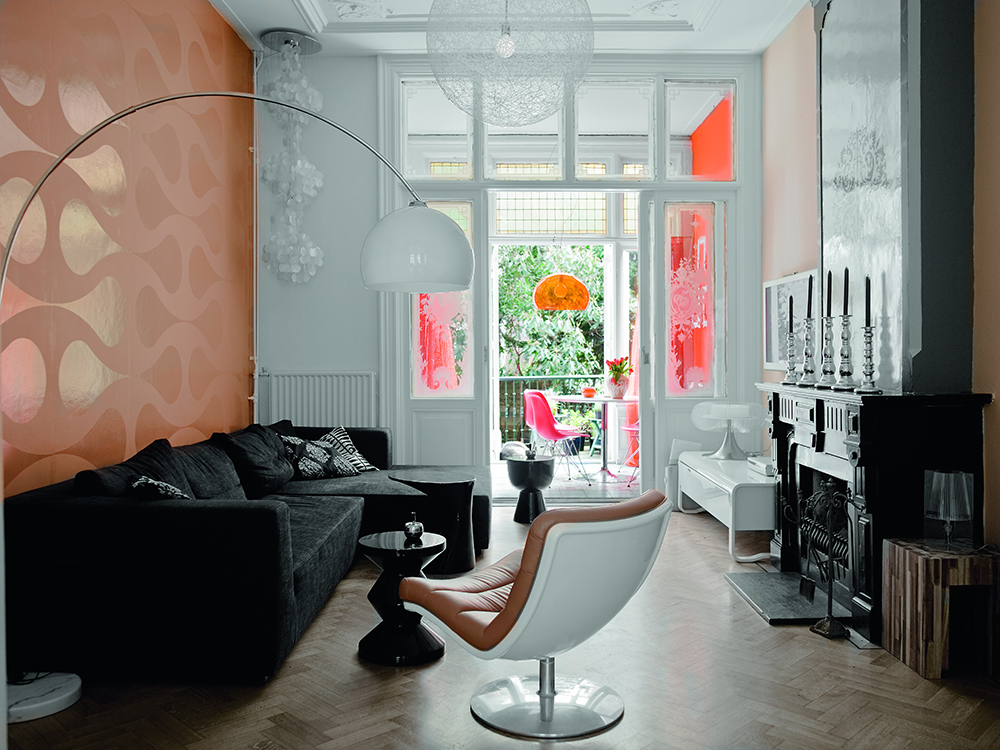 Color is a crucial element in home decor, and the home of Danish couple Reinier and Nirvana is no exception. Color can be an indicator of your personality, and people with particular personalities gravitate toward certain colors on their own. For example, outgoing people like Nirvana tend to use brighter colors like orange, while intellectual people like Reinier often prefer blue. This is why home designers incorporate seemingly odd combinations of colors into their designs: to articulate the multifaceted personalities of their clients. Merging your family's color preferences can be tricky, but the result will be more than worth it.
43. Sophisticated Color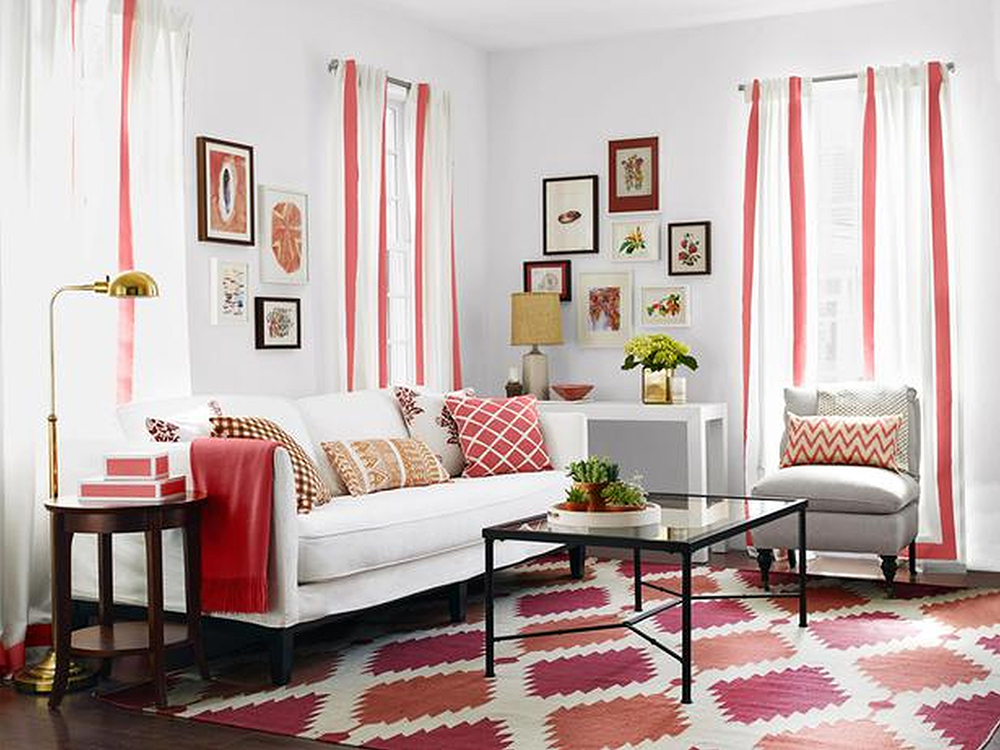 Source: The original source is not available anymore.
This colorful and modern small living room interior is another shining example of why color choice is important. Not only is it contemporary and sleek, but it's also feminine and down to earth, which is a set of descriptors you rarely see at work in one room. Orange and pink is not usually a positive combination of colors but in this case, they work surprisingly well together. The white furniture and walls complement the room's natural lighting as well, adding to the bright and happy atmosphere. Even the patterns at work are lovely, with some of them mimicking the carpeting.
44. Modern Familiarity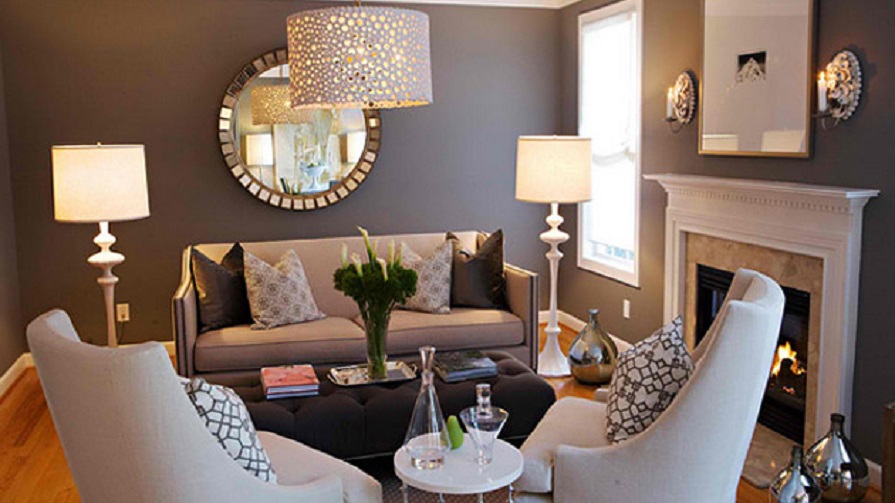 Source: The original source is not available anymore.
This room proves that living room designs for small spaces don't necessarily have to conform to a specific style. While this living room could be considered modern, its design is far from being futuristic or minimalist as with most modern designs. Bucking the trends can sometimes be a good thing, as it could result in an inviting little space like this one. This is an especially worthwhile practice if you're not a fan of the eclectic look but still want to try something new. Having a room that looks the same as everyone else's defeats the purpose of interior design.
45. Cherry Cordial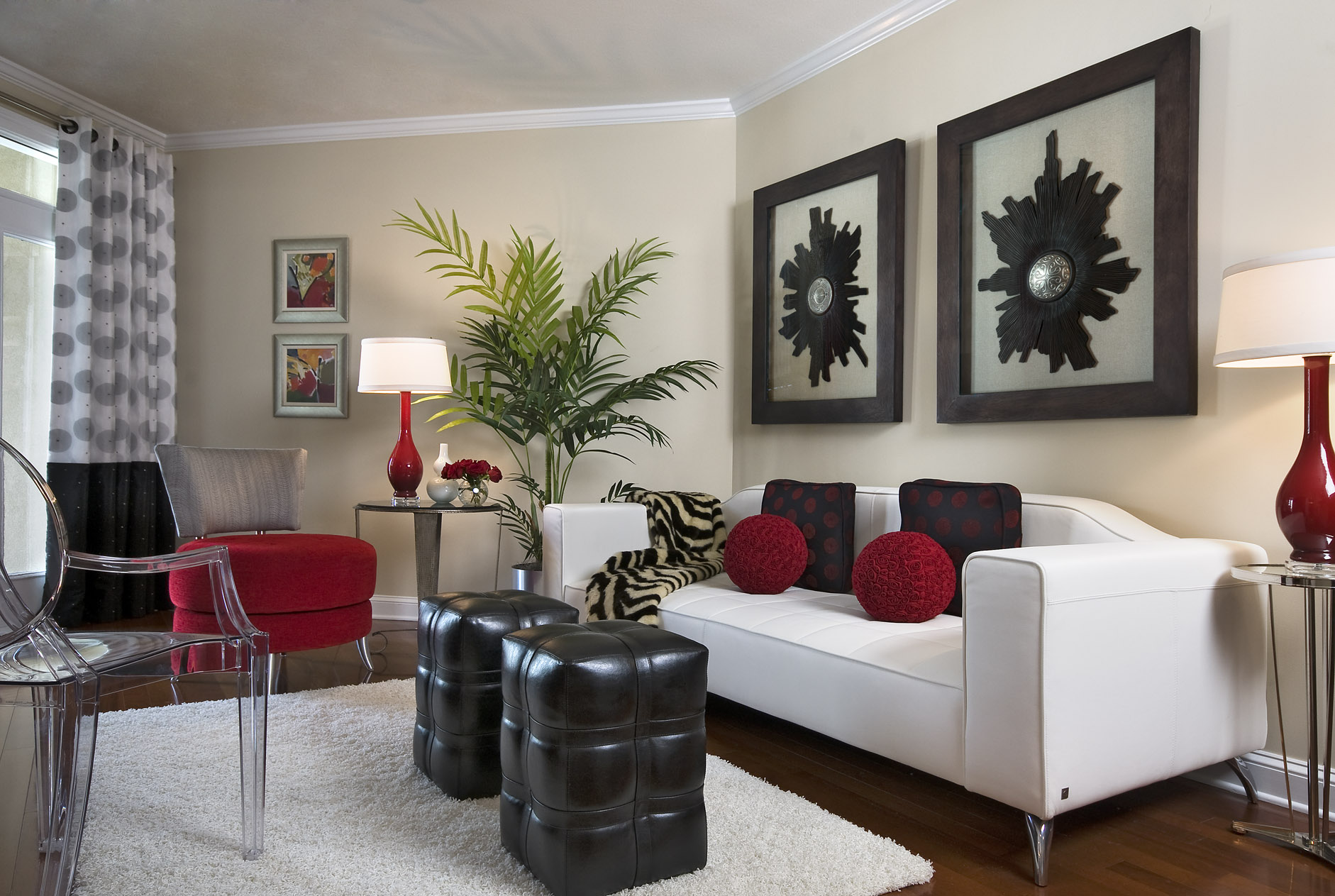 Source: The original source is not available anymore.
Here is another modern beauty that makes excellent use of its open and airy layout and gentle innate lighting. One look at this room demonstrates why small living room organization is crucial to any design. In this room's case, pay attention to the seating; everything is available without being forced. The ottomans and chairs are both small and manageable enough that they can be rearranged any which way without any fuss. Each piece feels distinct without being in the way. Even the houseplant in the rear is tucked away such that it still has presence but doesn't crowd anything out.
46. Textures Matter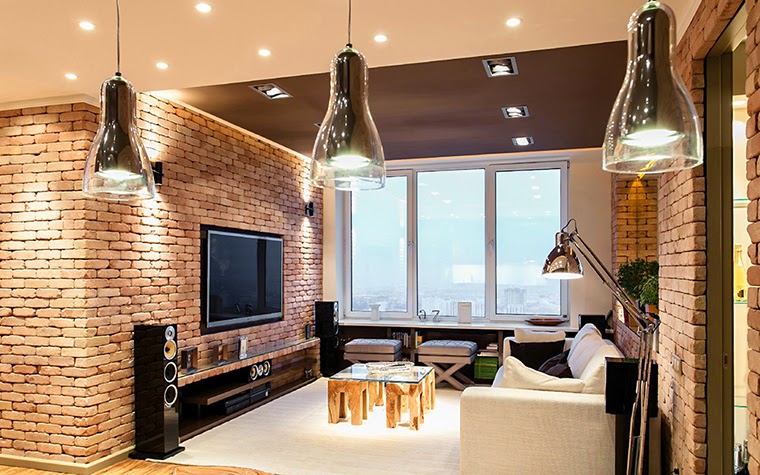 Source: The original source is not available anymore.
Textures can be just as beautiful as colors in small living room designs and this room is a shining example of why that is. The room makes such brilliant use of texture that you feel as though you could reach out and touch the brick walls. The coffee table is an exquisite marriage of rough and smooth, featuring hewn wood legs and a smooth glass top. The room's lighting only enhances the appeal of the textures, nestling little flecks of light and shadow in every nook and cranny throughout the room. This room truly is a feast for the eyes.
47. Mellow Yellow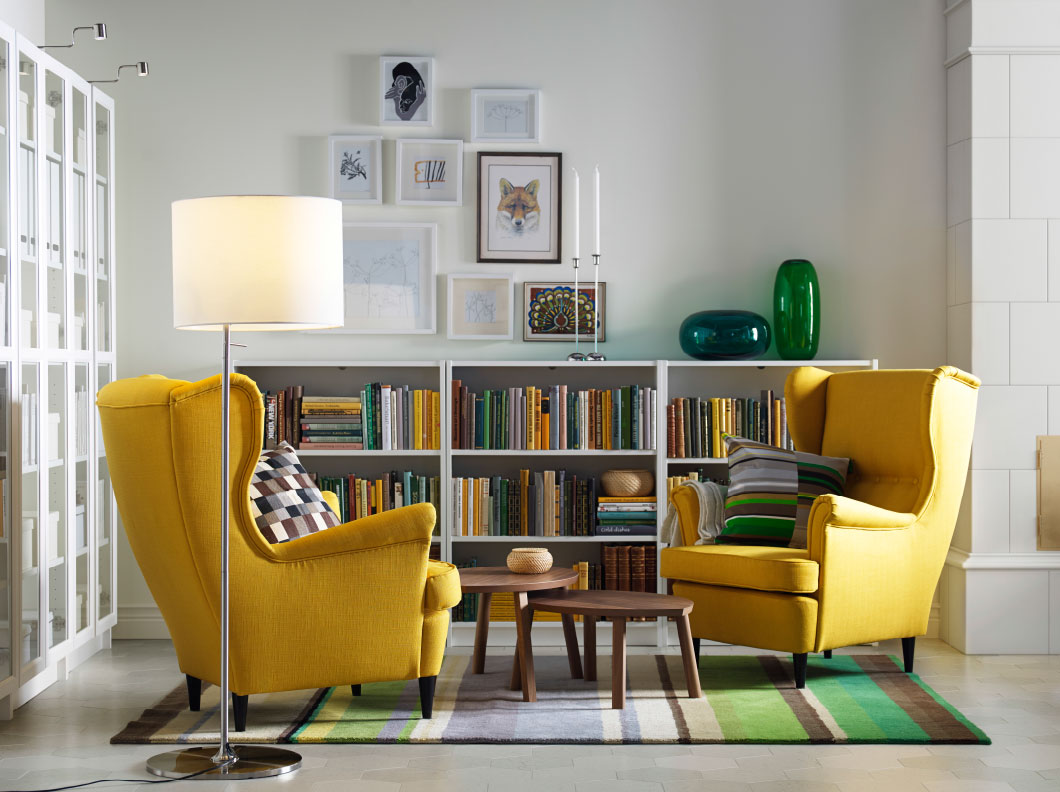 When all you need is a good reading place, nothing beats a small living room like this one. This room serves its purpose well, with plenty of natural lighting for daytime reading and a sleek and simple lamp for nighttime reading. While yellow may seem invasive to some people, this particular shade is actually rather mellow and comforting. The shelving unit on the left also features small and out of the way lighting to help find a particular book at night without lighting up the whole room. When designing your own space, always keep that space's main purpose in mind.
48. Strategic Design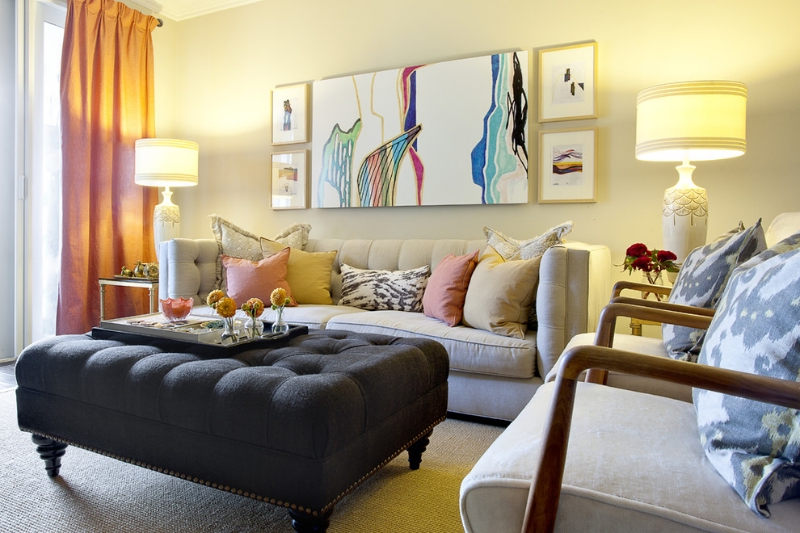 Source: The original source is not available anymore.
The designer of this next space had a vast array of small living room ideas in mind when they created this room. One technique used in this room is that the room's sofas and chairs are arranged in in a "P" shape to promote interaction with guests. Another design element used in this room is to keep chairs and sofas facing toward a door rather than away. The reason for this is actually quite fascinating. Guests would actually feel less safe in the room if they couldn't see a way out, even though they wouldn't realize that they felt so.
49. Weathered Bliss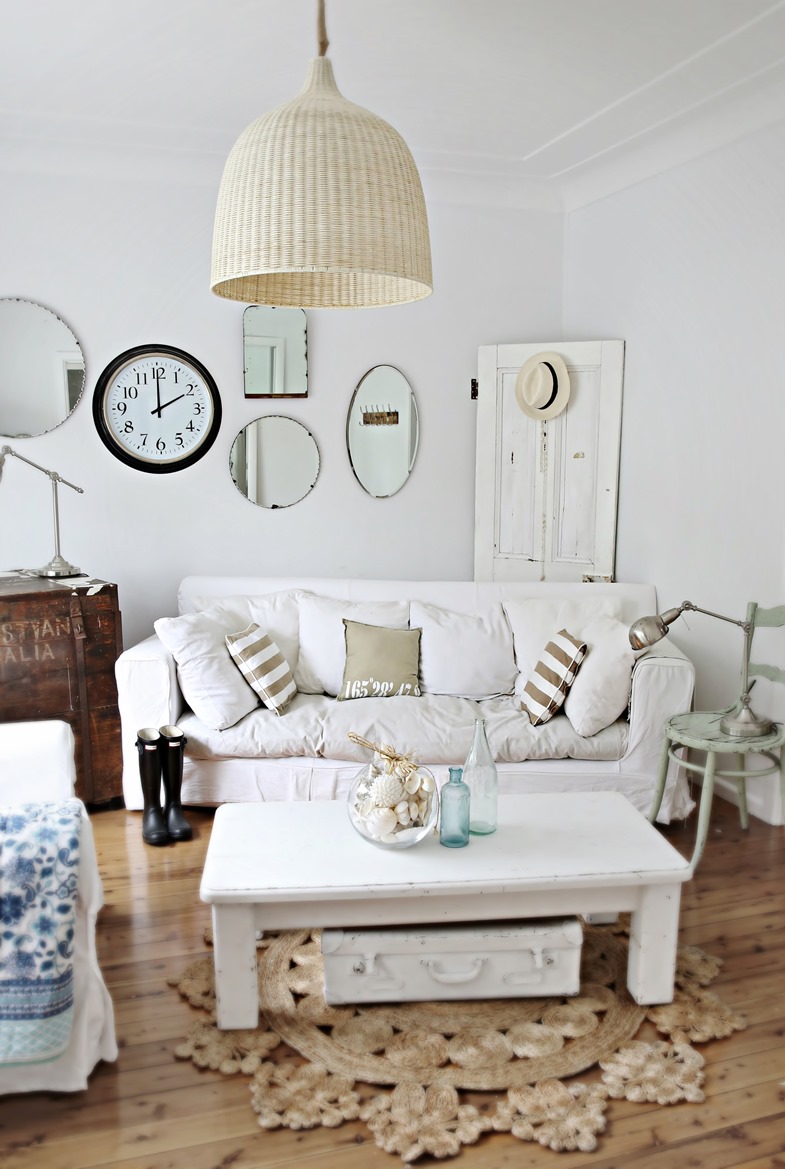 Source: The original source is not available anymore.
This charming seaside abode proves that interior design for small living room does not have to be expensive to look amazing. Pulling together garage sale finds, an item or two from Ikea and some vintage accents, this room's designer takes full advantage of what is available to her. What is truly appealing about this space is that each piece has its own story to tell. This lends it tremendous personal depth while still having practicality. While a variety of textures may be missing in this space, the character and lived-in quality of the space more than makes up for it.
50. Mustard Seed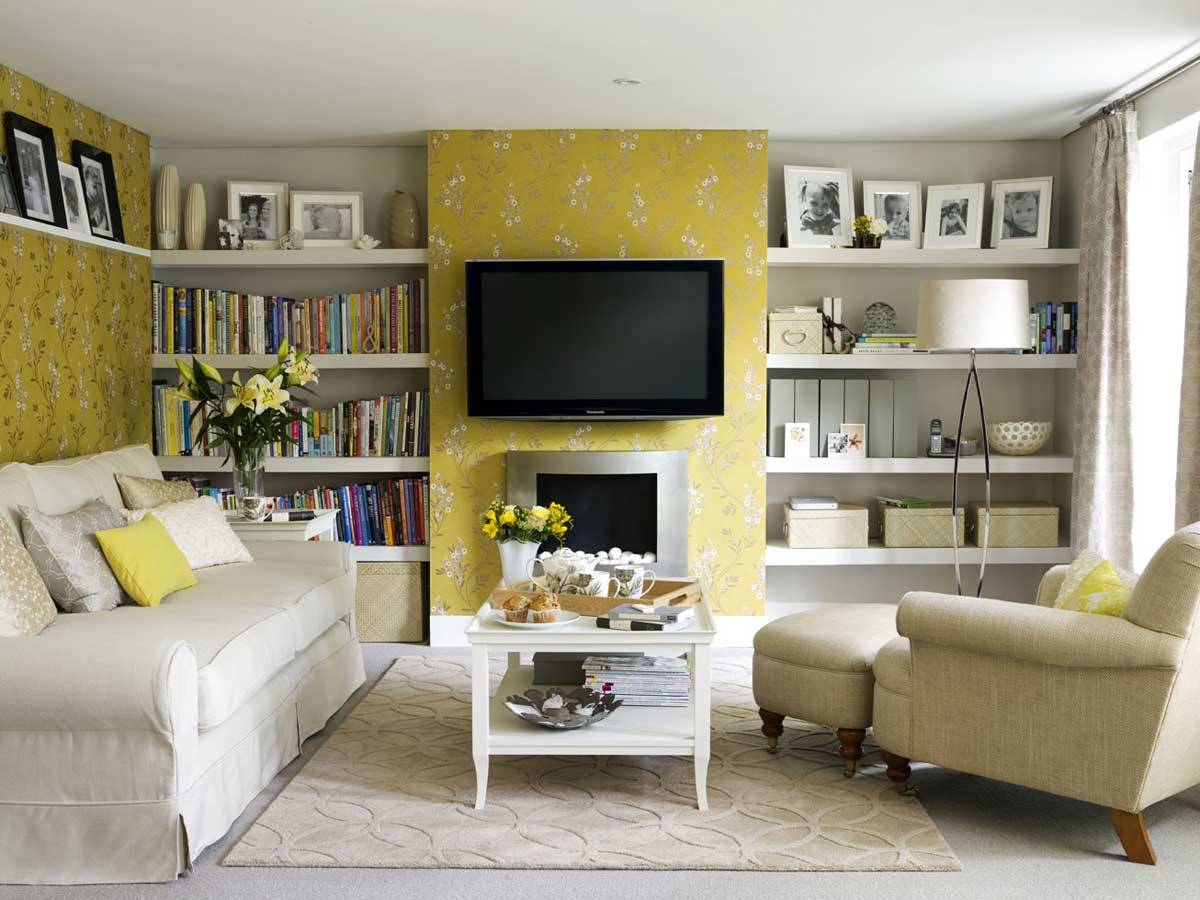 Source: The original source is not available anymore.
In the last of our living room ideas for small spaces, we have this bright and unique room. This welcoming little space makes you feel right at home the moment you step inside. Family photos are proudly displayed at the very top of the shelving, while the television and fireplace stand ready to entertain guests. The charming wall color also enhances the room's abundant natural lighting, which focuses its attention on the creamy white sofa adorned with a variety of fun and colorful pillows. This fanciful room embodies what a home should always aspire to be: comfortable, welcoming and personal.
As this list of living rooms shows, your space is what you make of it. With a little design know-how, some personal touches and a bit of common sense, living room designs for small spaces can look warm and inviting. The right furniture makes a difference, too. You don't have to suffer with tiny and uncomfortable furniture. Don't be afraid to get creative and experiment, as it could yield some wonderful results. You only know if you try.
50 Living Room Ideas for Small Spaces
However you choose to design your living room, don't forget its main purpose. It is where your family gathers to relax, it is a place to entertain guests, and it is a sanctuary at the end of a long day. Let your room represent who you and your family are and the rest of the living room's design will fall into place. As long as you balance the colors, lighting, textures, sizes and shapes at work, your own room will look spectacular. All it takes is the right color scheme or the right visual interest piece to take a room from bland to mind-blowing. No matter what, keep this advice in mind when designing your own small living space: be yourself.