Indulge in the relaxing tranquility of a spa day in the comfort of your own home with the best spa bathroom decor ideas. Just picturing yourself surrounded by the comforts and conveniences of a real spa can lead to levels of relaxation some only dream of. Imagine if you could create the same solitude at home. Decorating your bathroom with spa-inspired pieces can do just that.
25 Fantastic Spa Bathroom Decor Ideas to Create Your New Getaway Spot

Consider some simple and useful storage solutions that mimic spa decor. From traditional apothecary jars to those created from mason jars, you'll be able to easily blend your choice into your home's existing decor. Keeping all of your small bathroom essentials in one place makes organization a breeze and it's more fun to go through your beauty routine when everything is within reach. Lids allow for a more polished look too. Choose clear or matte black for the cool finish you love.
Wall decor is another featured spot to infuse some spa-inspired touches. Wall art from canvases to vinyl decals can make the most of any sized space. Maybe you tend to be the life of the party. Why not add some of your humor into the bathroom? With quirky sayings that easily apply to the wall, your funny bone will come to life as all your guests answer when nature calls. Soaking in a warm bubble bath is perhaps one of the go-to routines for de-stressing. So be sure to brighten up your tub space with some of the best spa bathroom decor ideas. For starters, you can't go wrong with a candle. Not only will the scent take your mind to another place, but the soft glow will relax your shoulders as you sink into the comfort of your personal oasis.
And while you're in the relaxing comfort of the tub, be sure to continue that organizational bounty with a bath tray for all of your goodies. Everything you need will be at your fingertips when you utilize the convenient catch-all caddy for all of your bath time necessities. It always feels good to be home, but bringing a spa-like setting into your master bathroom can make it feel even better. From the comfort of lounging in your pajamas with the sweet scent of fresh lotion, you'll unwind in perfect peace at home when you choose to make your own bathroom a spa of your very own!
1. Faux Potted Plants in Bronze Colored Can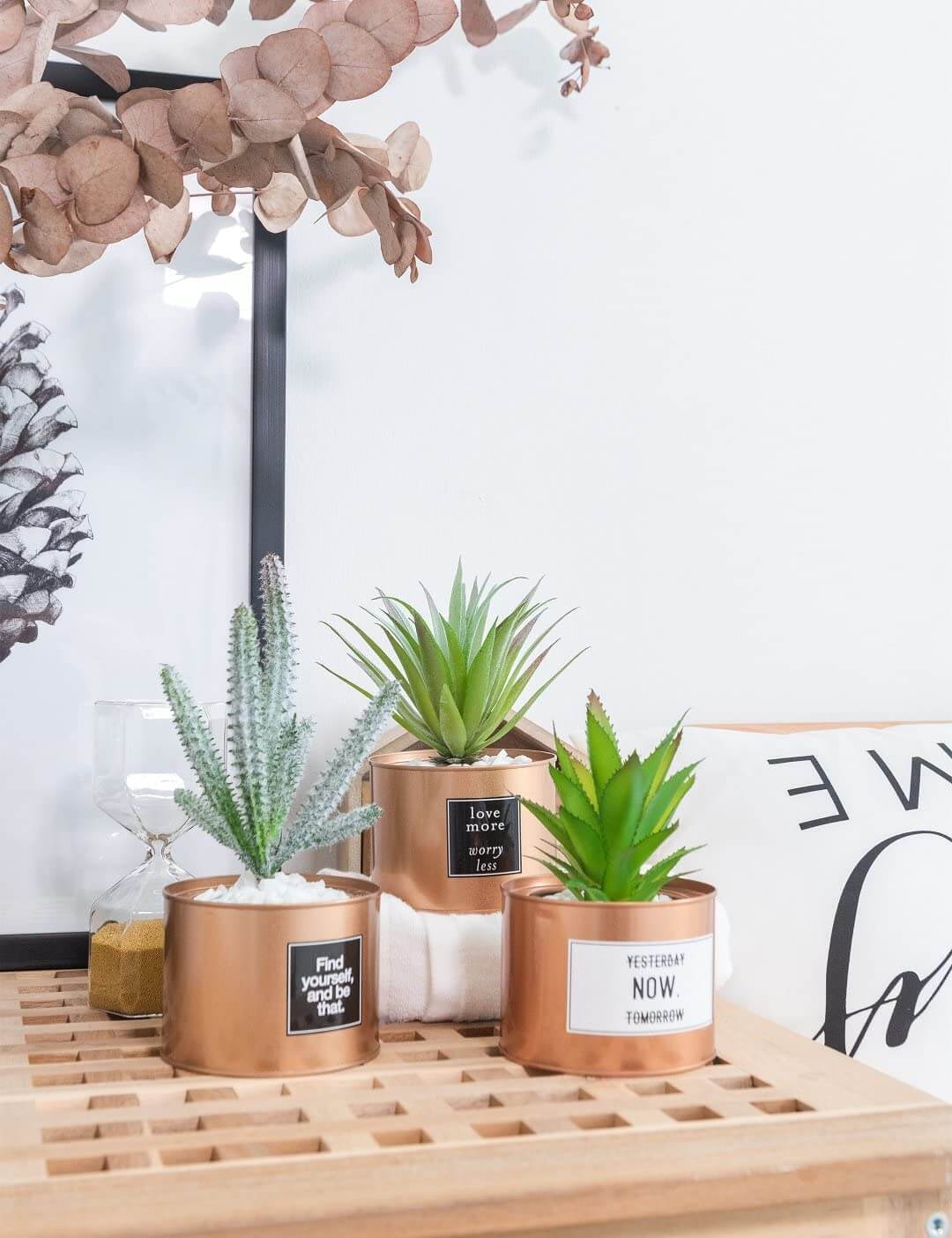 You won't find bathroom decor like this in everyone else's homes so add a unique spa-inspired set of faux plants to yours. This trio makes a nice accent to your clean-lined home spa. With a variety of faux plants, there's no need to worry about watering or getting enough sunlight. Each one comes in a gorgeous bronze-colored pot that further adds a decorative touch with its metallic sheen. Arrange these as a collective grouping on the ledge of your large jetted tub or place them on a shelf on the wall. The side features a short inspirational phrase to include some mental health support as well.
2. Fresh Figs and Vetiver Soy Spa Candle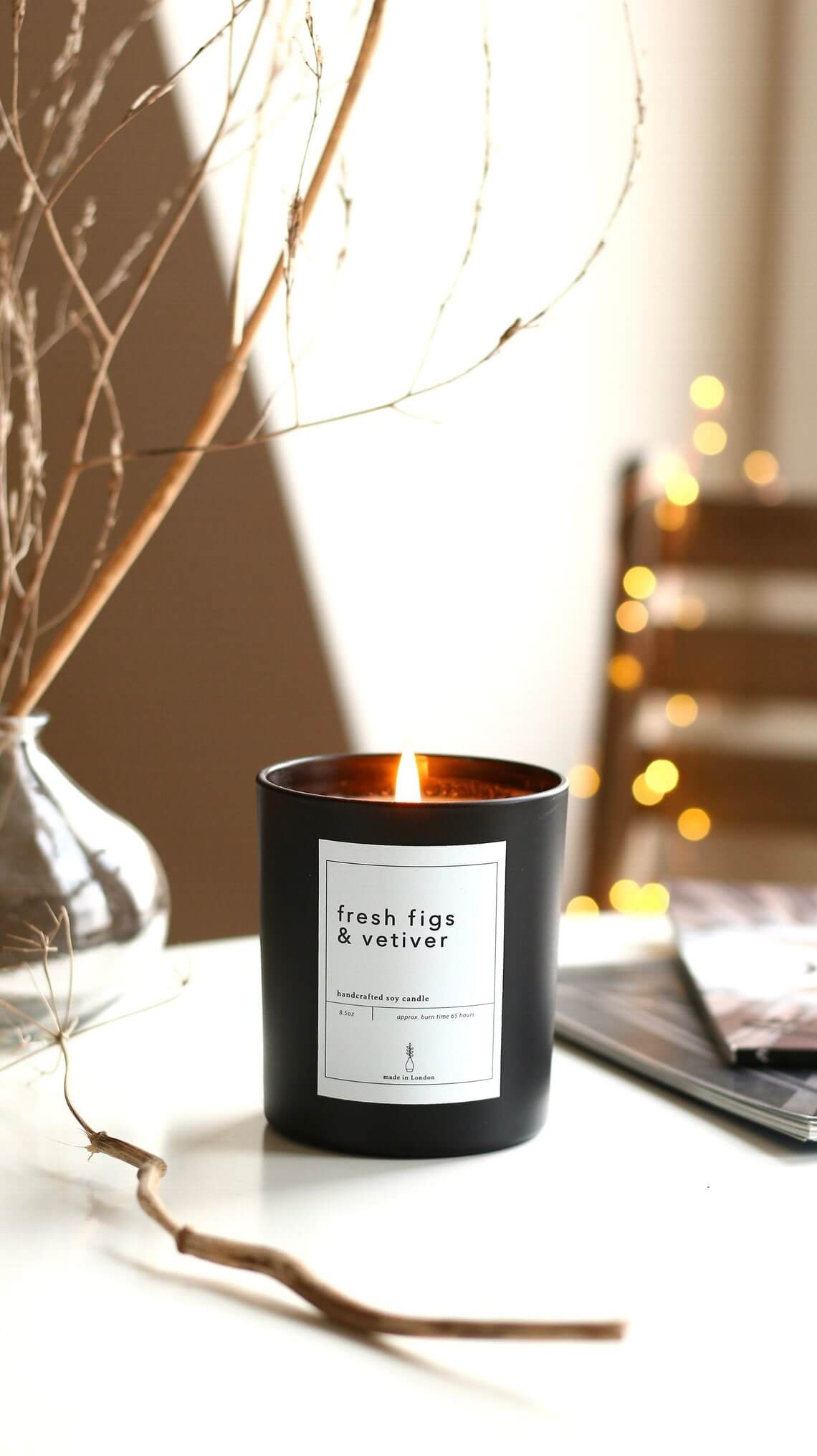 One of the best ways to begin unwinding is with a nice warm bath and a scented burning candle. Keep it low-key and comforting with a soy candle, like fresh figs and vetiver. There's just something about the flicker of that tiny flame along with the tantalizing scent spreading throughout the room that makes restful relaxation a little easier to achieve. Sit this spa-loving candle on the side of your tub where you can keep it a little closer as you embark on your soaking adventure. Bathtime never felt so good as when you include your favorite candle next to you.
3. Beautiful French Country Blue Linen Towels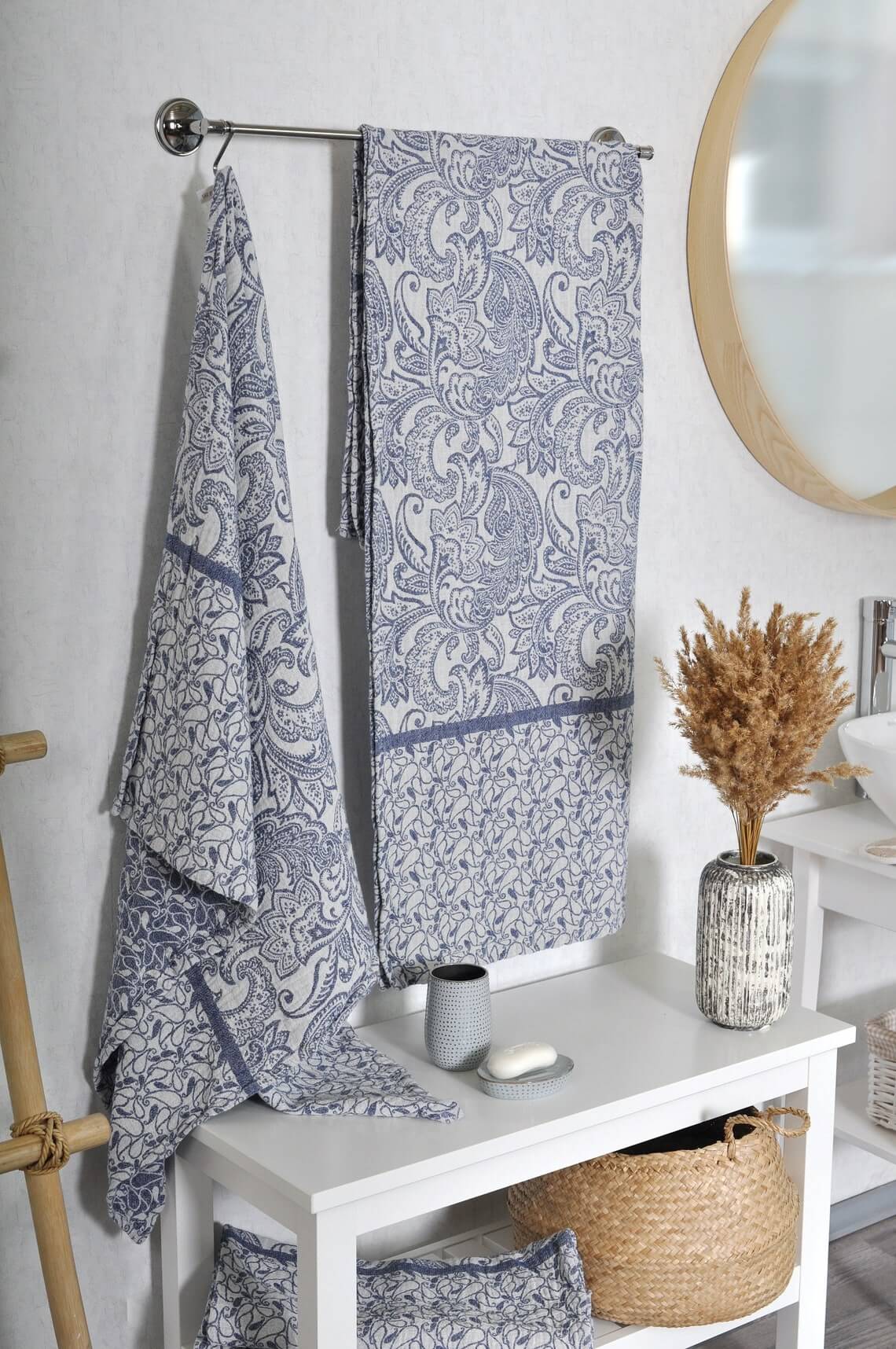 Echoing the blue of the sea, these linen towels feature a stunning paisley motif that speaks of French country design. Hanging these on the towel bar of your bath will make any guest feel like they're at a charming bed and breakfast. They also add a great splash of color into your traditionally neutral bathroom decor. Keep their look fresh by using them as only decorative pieces or reserve them for special guests only. The material of linen provides more of a realistic spa atmosphere and is useful with its superior absorbency qualities. Keep a spare pair on hand so any unexpected guests will feel extra welcomed in your home.
4. Take a Seat Laser Cut Bath Sign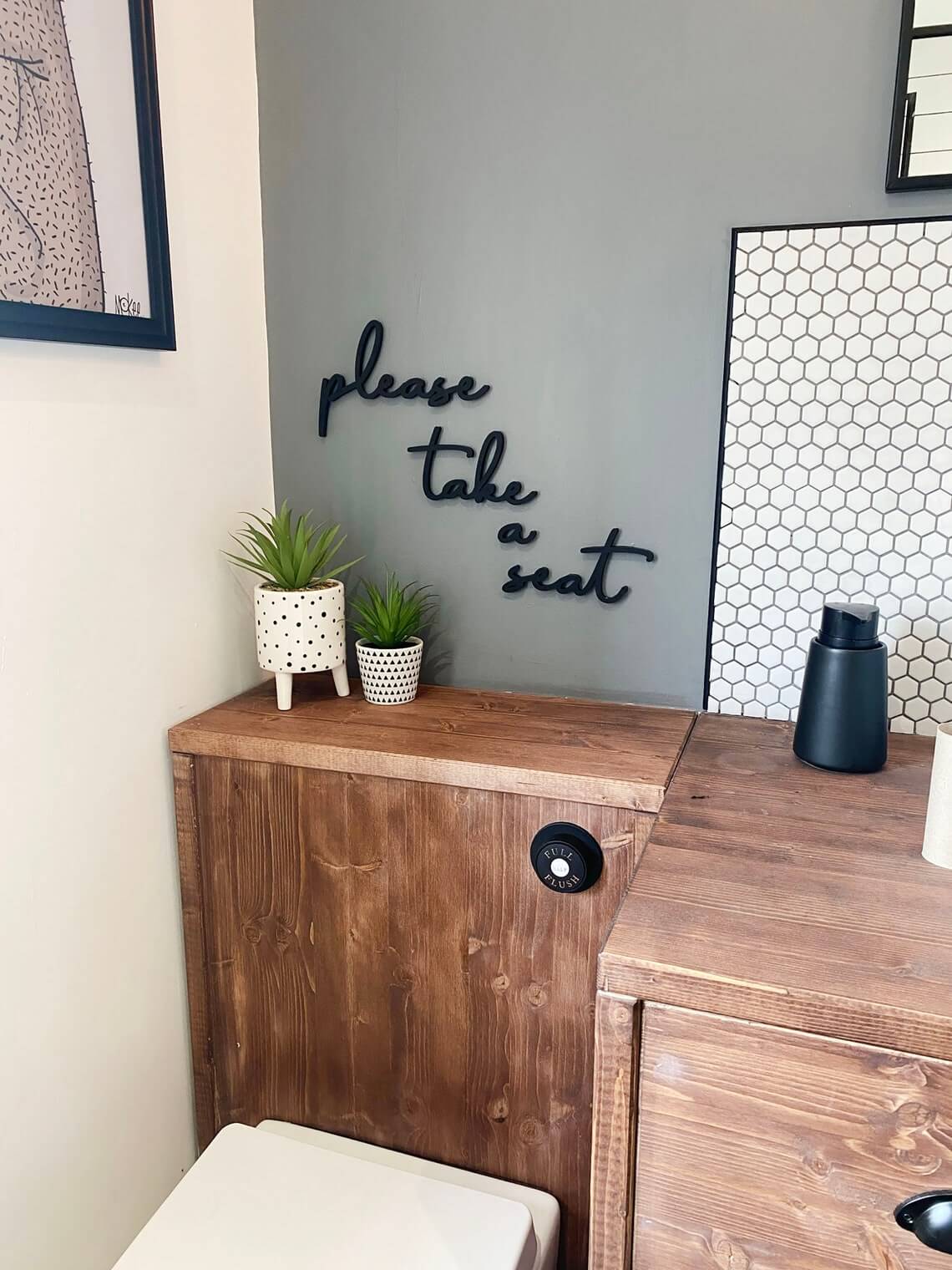 Perfectly scripted by a laser with a crisp black finish, this phrase is a fun choice for your bathroom. Hang it near the toilet as warm and friendly play-on-words for your bathroom space. The script features a pretty font that makes a nice addition to your spa-inspired retreat. Your modern black and white color palette are the ideal decoration for this fun bath sign. Feature it in your guest bathroom as part of your neutral color palette design. Both modern and farmhouse decor will work well with this fun laser-cut phase.
5. Bathroom Block Rustic Spa Decor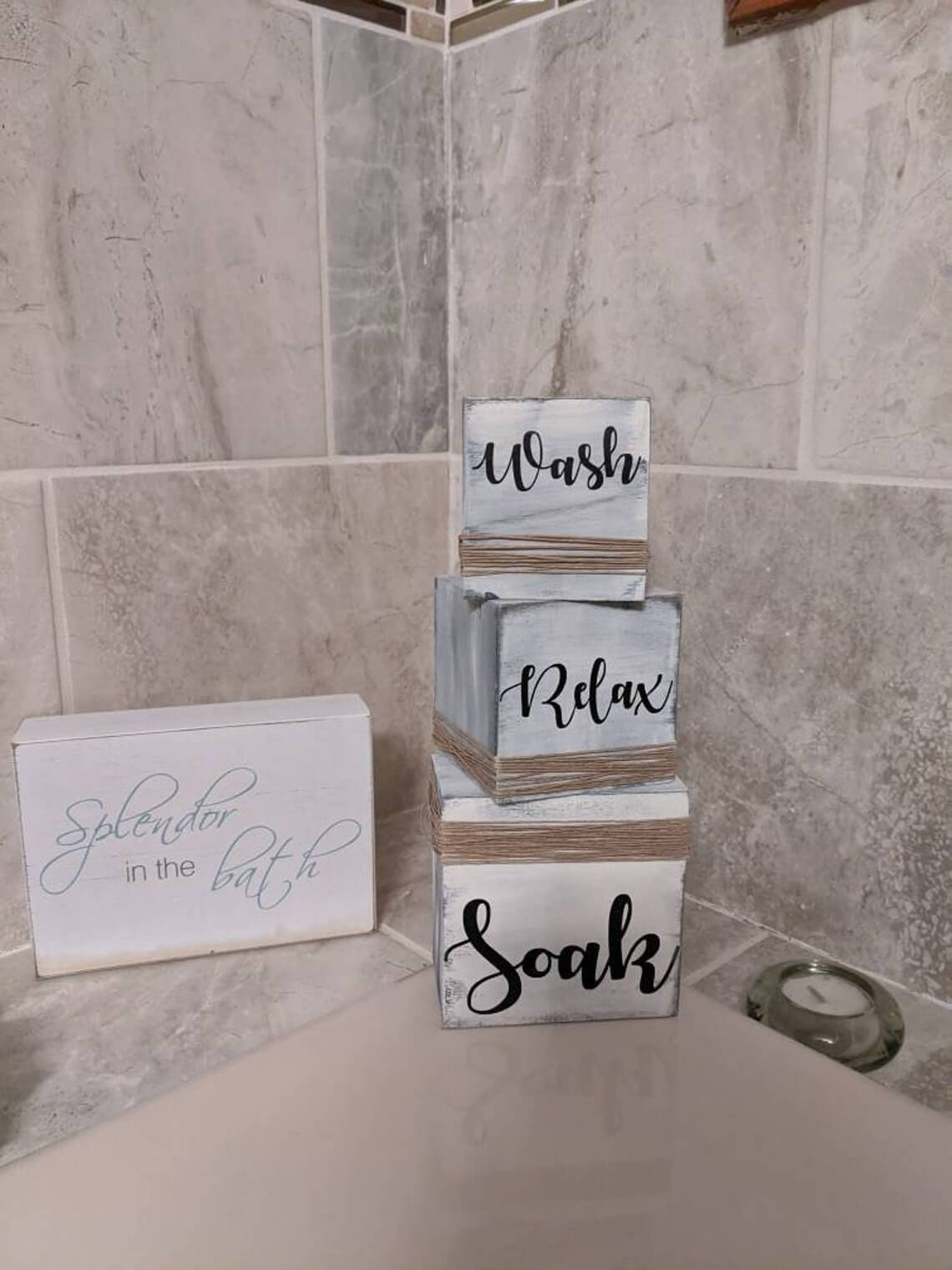 This set of three wooden blocks is enhanced with some simple distressing and an accent of twine at the bottom. Also noted are the focal words printed on each one to highlight specific bathroom duties. Focus on the benefits and beauty of a nice warm bath with "wash, relax, soak" represented. Their stacking ability makes them a fabulous choice for sprucing up a small corner of your bathroom. Stack them near the sink or in the corner on top of the tub so they are easy to see. Featuring a distressed and worn finish, the rustic twine combines to show off a less-frilly spa reality that feels right at home.
6. Circular Concrete Candle Spa Tray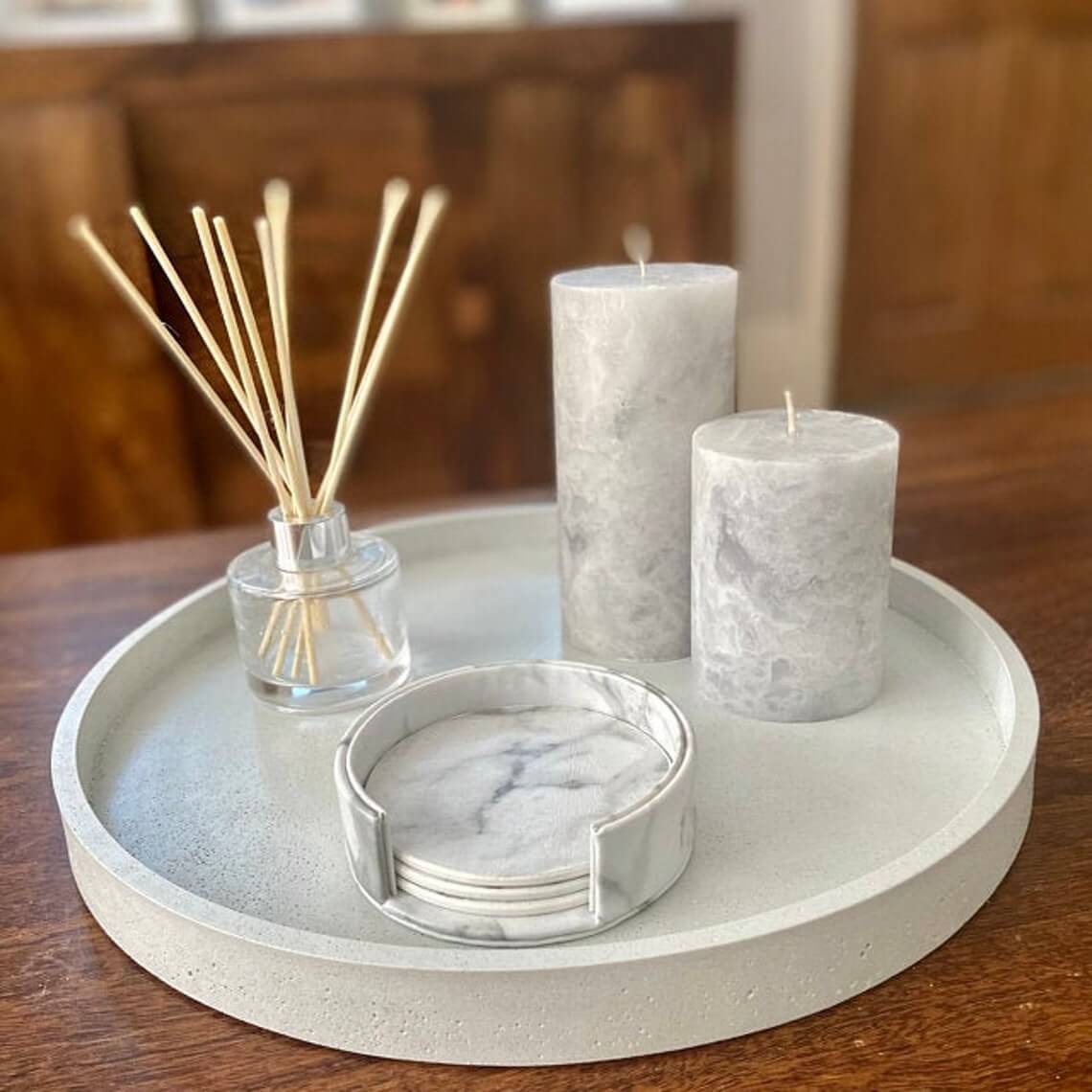 Group your candles altogether in one handy place with this modern contemporary concrete tray. The circular design adds a nice change-of-pace from all traditional squared items while the use of concrete as the material makes it feel new and modern. Keeping all of your candles corralled in one place makes setting the scene easy when it comes to candle lighting as they are all in one location. Include a small vase filled with fresh flowers for the perfect look and presentation. This tray easily moves from sink to tub without skipping a beat. Indulge in your personal spa retreat with this concrete candle tray by your side.
7. Luxury Spa Bamboo Bath Tray Organizer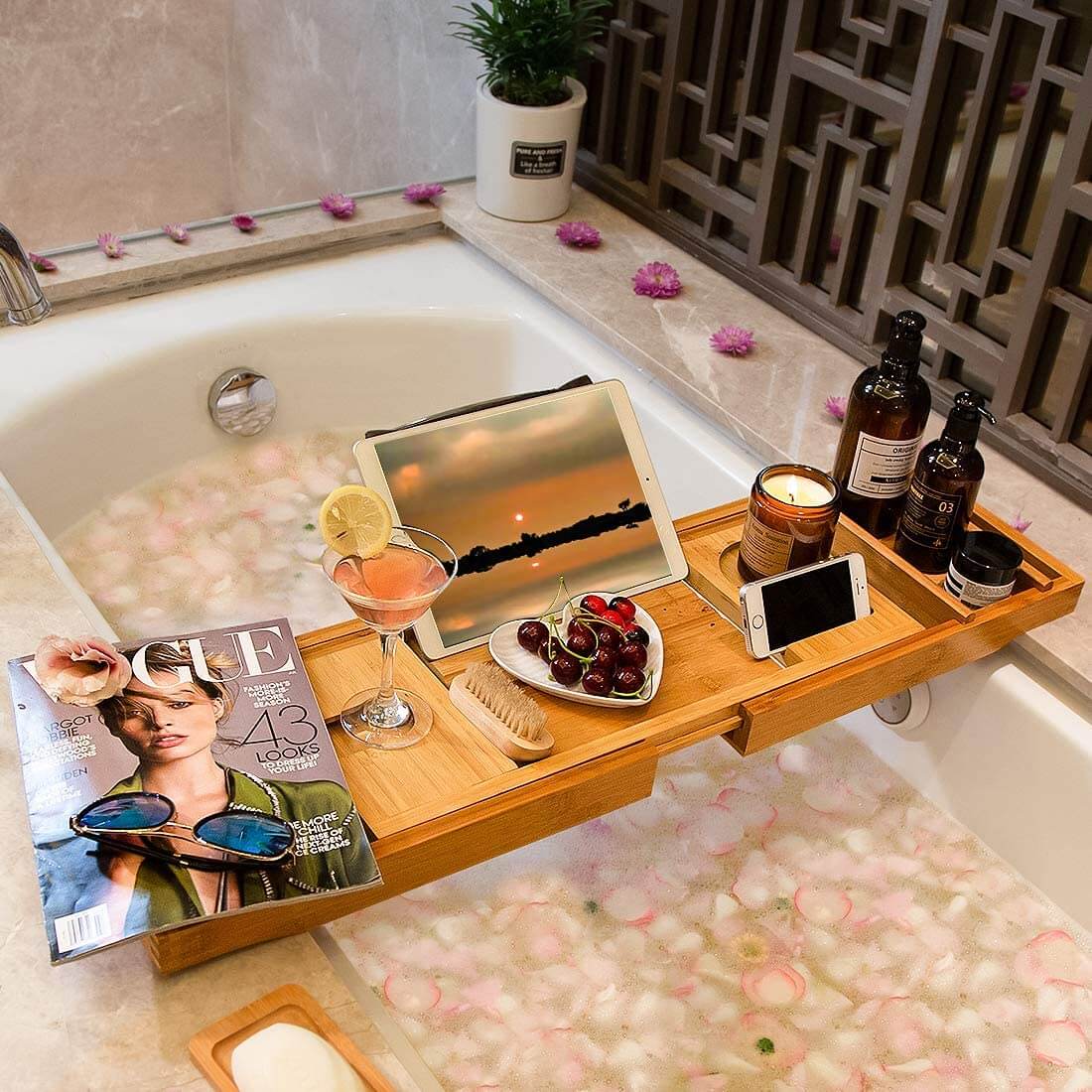 Be prepared for the perfect bath by supplying yourself with everything you need to unwind conveniently located in your bamboo bath caddy. With an adjustable construction, this bath caddy tray stretches across the tub to present you with all of your essentials right where you need them. You'll even have a nook for your tablet if you choose to catch up on your favorite show. Don't forget some reading material and a scented candle to make the most of your bath time indulgence.
8. Laser Cut Wooden "And Relax" Spa Bathroom Sign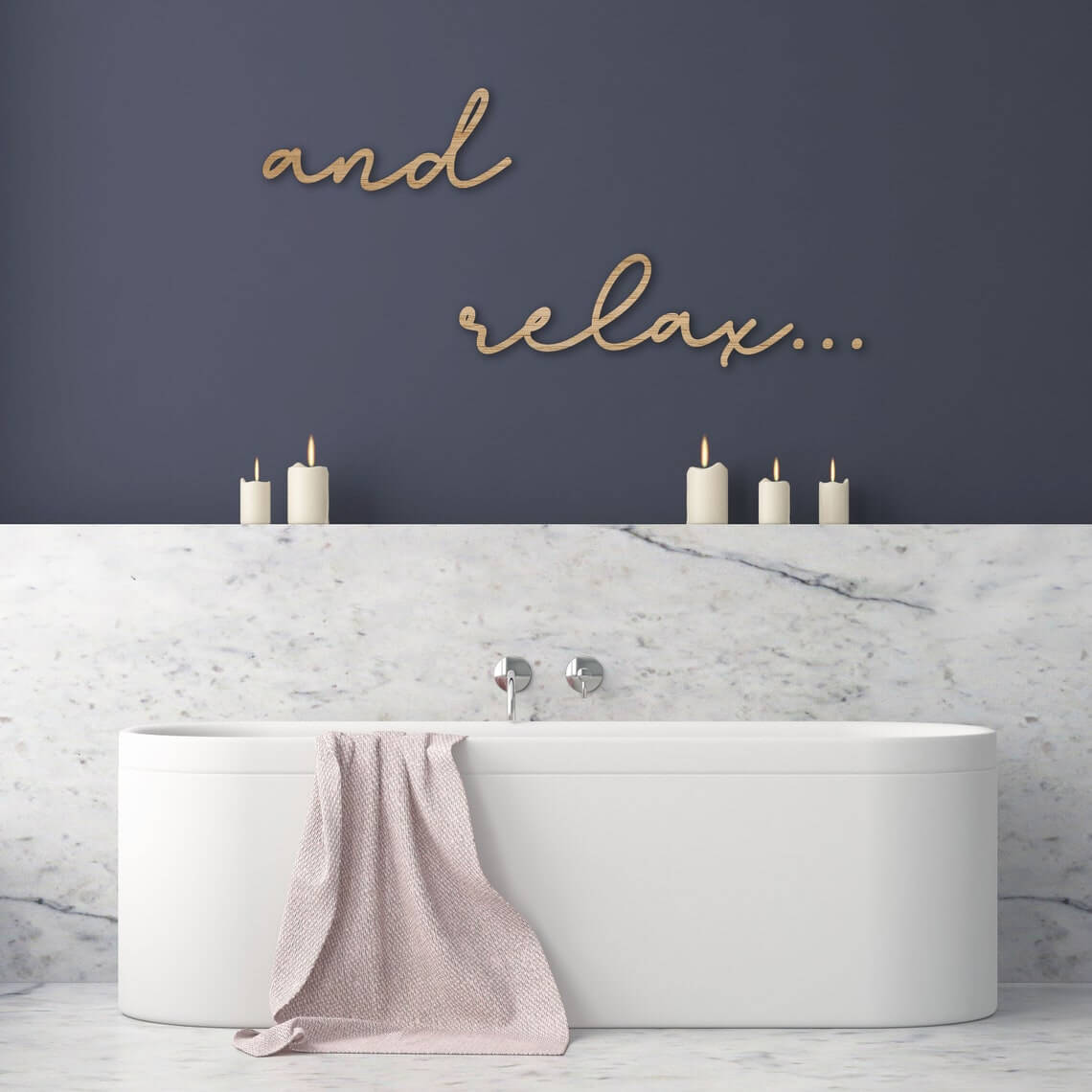 Perfectly etched laser cut letters are customizing the design world and including them in your bathroom decor makes a top choice in spa bathroom design ideas. At the end of a long day and a long to-do list, it's important to take time to recover. This "and relax" sign helps do just that! It provides a visual reminder to take a deep breath and relax when the day is through. Taking this small moment of relaxation makes all the difference in leading a balanced and healthy life. A new year is a great time to remind ourselves to do this each and every day.
9. Botanical Eucalyptus Modern Relax Spa Sign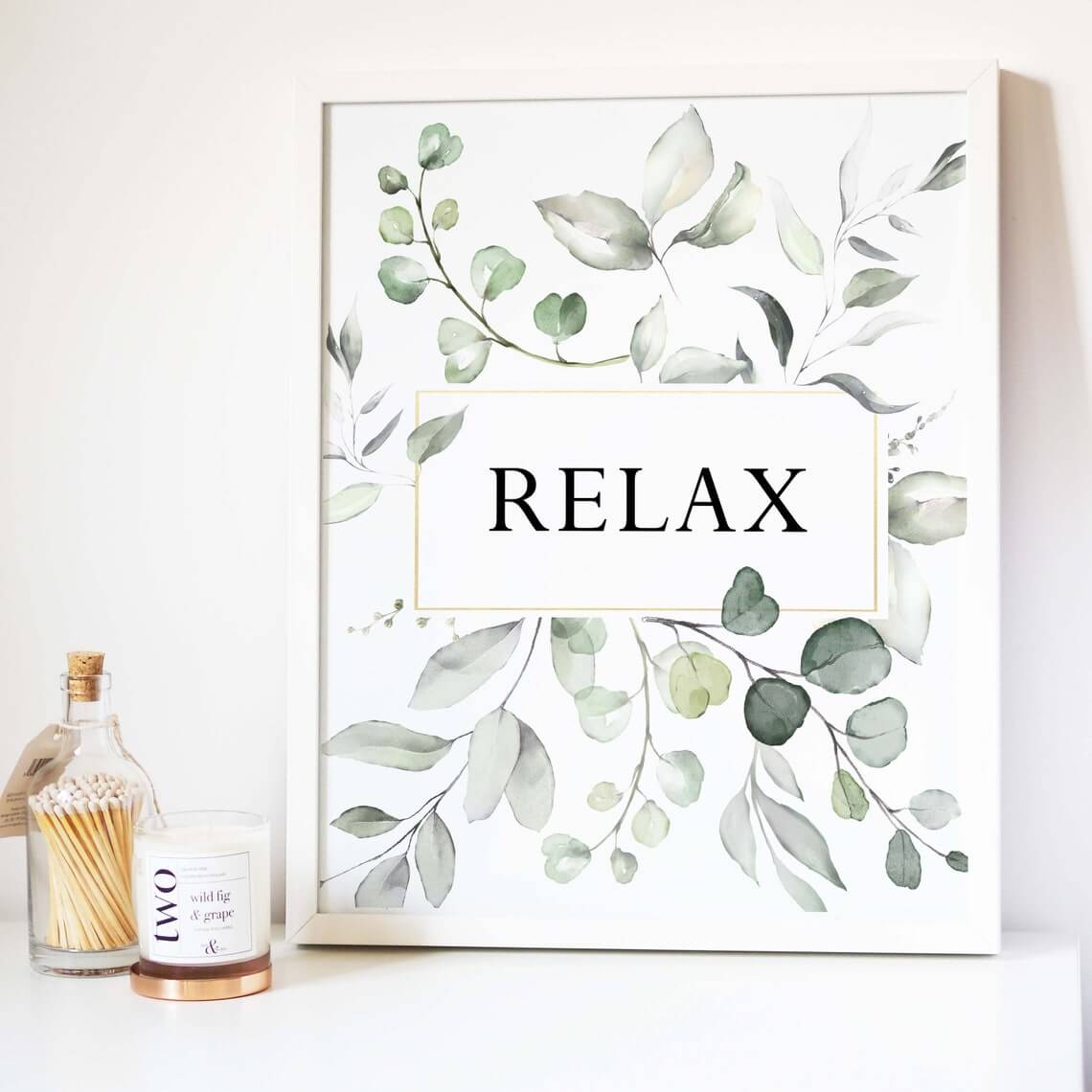 Your neutral home decor will be delighted to add this botanical beauty into the mix. Featuring a simple "relax" in the center, the sign shows swirls of eucalyptus for a beautiful botanical display. Feature it near a white ceramic vase holding a few twigs of fresh eucalyptus for a uniform design. The scent of this greenery will open your sinuses and clear your mind for more meaningful relaxation to occur. Be sure to have some scented soaps to accompany this green goddess for an overall low-key spa experience.
10. Wood and Black Vintage Relax Sign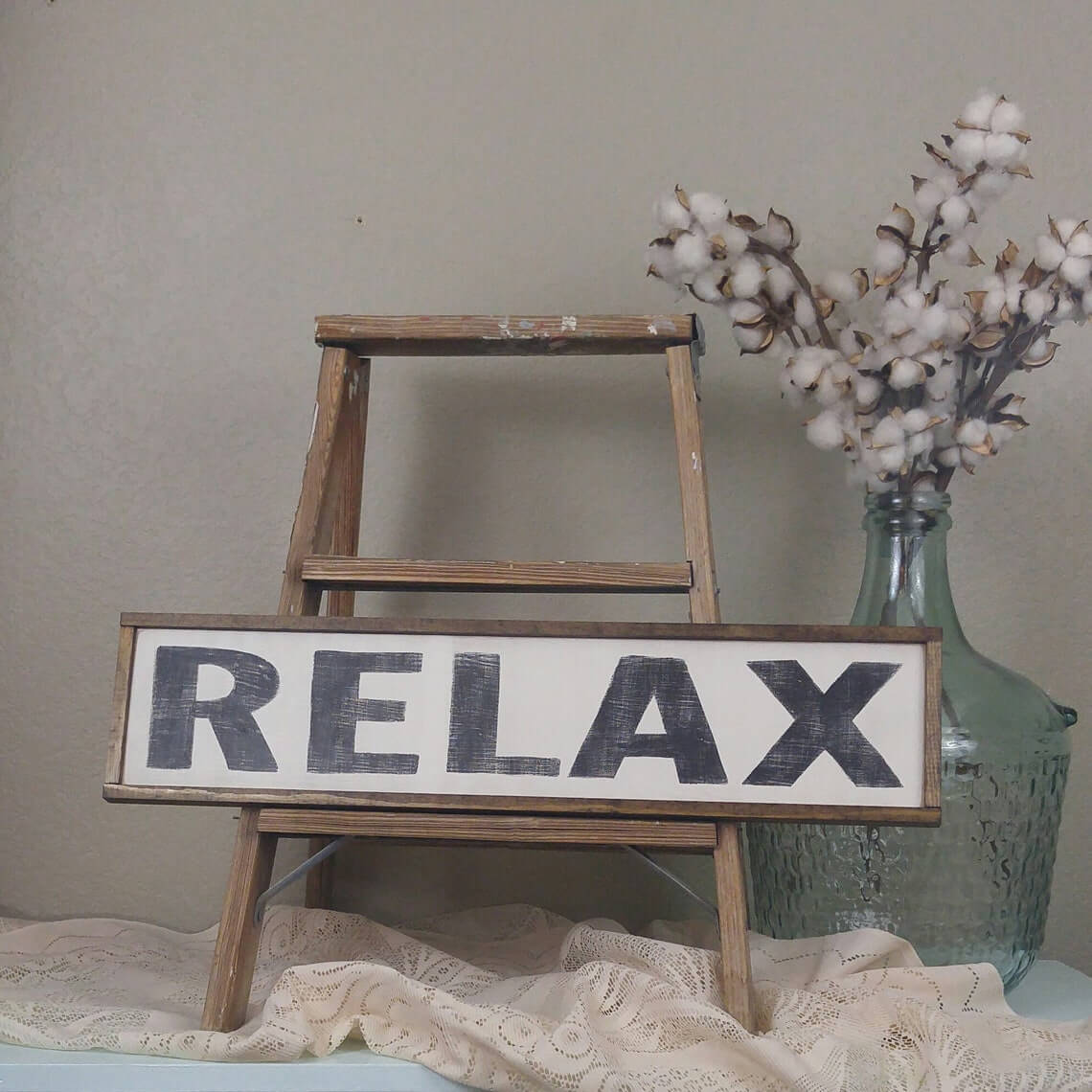 With some simple distressing, this wooden relax sign shows off a vintage vibe. The black lettering gets right to the point of the sign. Incorporate this into your home's existing decor with the intention of additional comfort in the near future. Hang it on the wall or use it in a tabletop display with a basket of rolled towels. The distressed finish is a good choice for shabby chic decor and is industrial loft-friendly as well.
11. Gorgeous Green Plant Leaves Bath Mat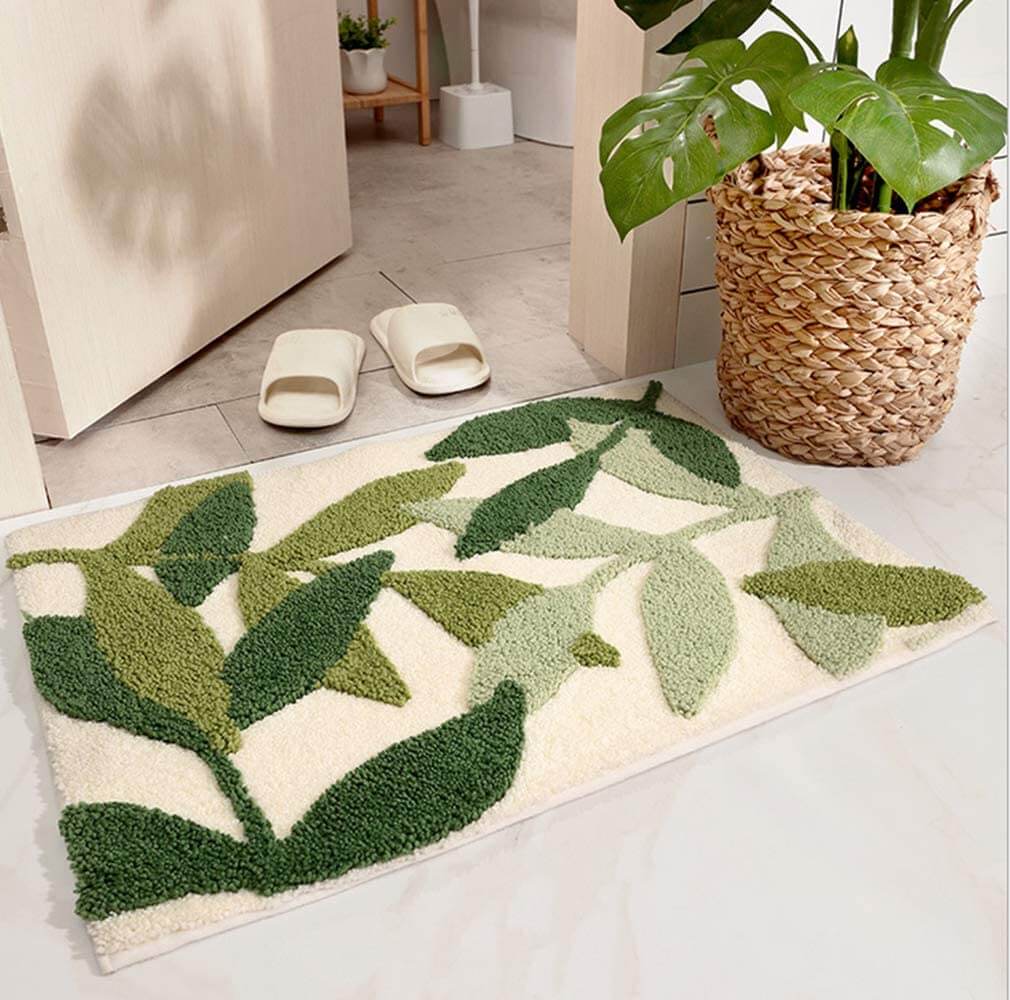 Step out of the shower in style with this leafy green bath mat. Using a collection of shades of green to create the plant leaves, the result is a beautiful motif for a spa-loving bathroom. A bath mat is one of a few essential spa bathroom decorations every home needs. Don't settle for a boring and bland bath mat when you can enjoy this pretty plant style. It will highlight all of your houseplants and tie the entire look and feel of your spa bathroom together quite nicely.
12. Vintage Victorian Shabby Chic Relax Sign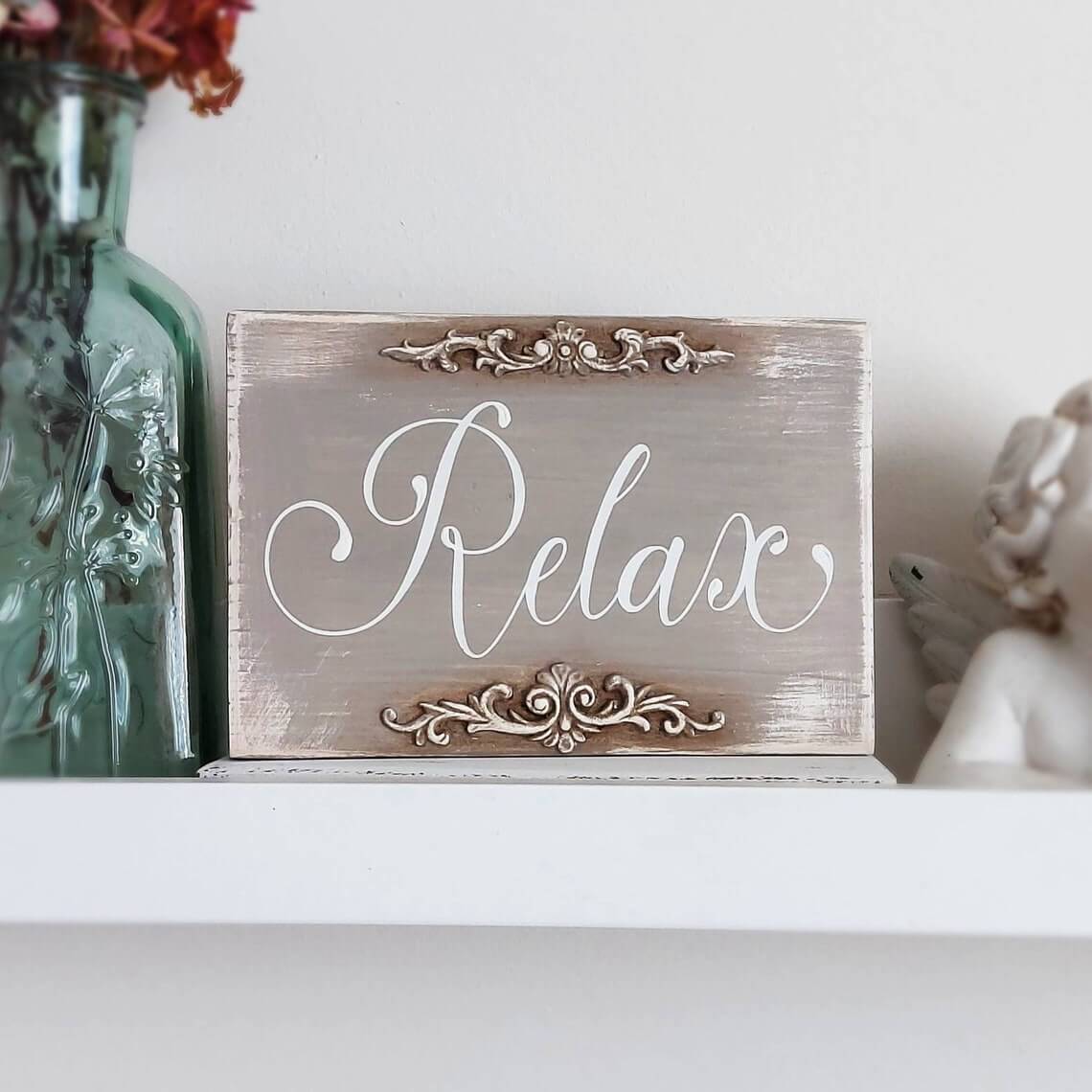 Add a touch of whimsy to your home spa with this vintage Victorian wooden "relax" sign. This small and stout chunk of wood is a simple addition to nearly any ledge or small tabletop space in your bath. Rest it on a small windowsill, place it near the sink, or leave it on the tub ledge for everyone to see. The decorative scroll design adds a unique touch while keeping the focus on relaxing. Grab a gift bag and fill it up with some nice scented lotions and soaps for a complete gift.
13. Glass Wood Rock Candle Tray for Bath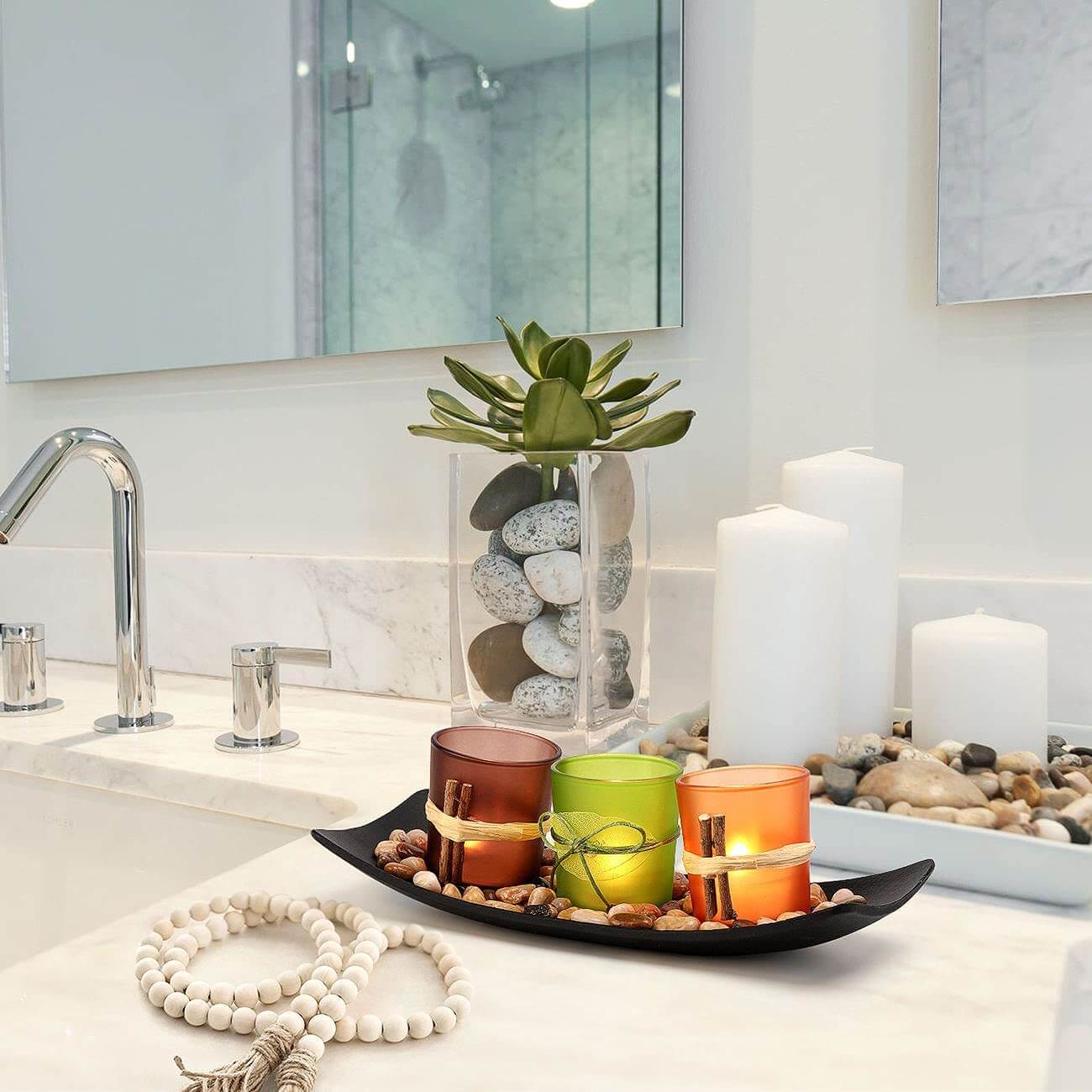 Bring some natural elements into your personal bathroom for a spa-like setting. This trio of votive holders is created in earth tones to provide a little splash of color. Around the bottom of each holder, you'll find a collection of river rocks to add more beauty and style. Each holder is also tied with a string and holds a decorative piece like wood to add even more texture and fun. Place this on the counter near the faucet and light some candles to create a peaceful ambiance in your bathroom.
14. Beautiful Scripted Trio of Relaxing Bath Signs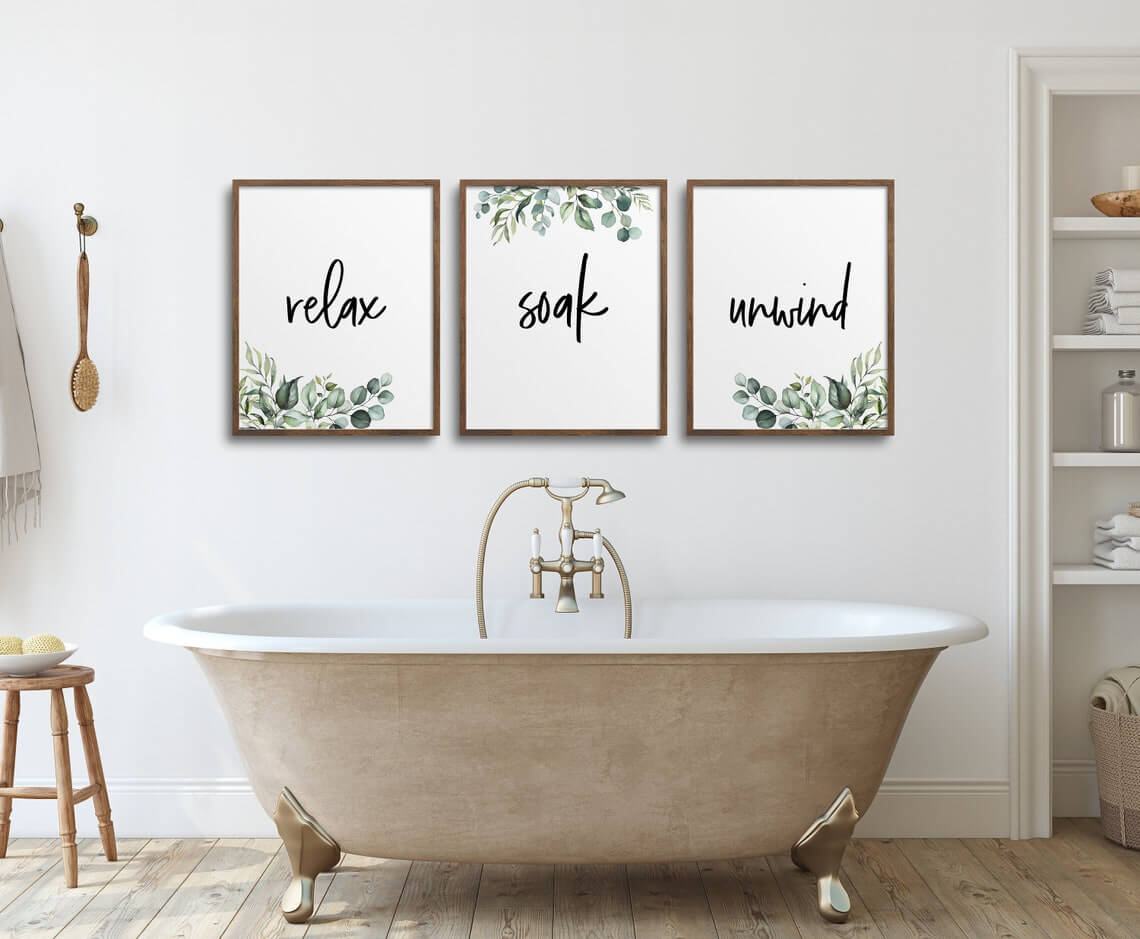 Stay on the farmhouse design trend with this trio of relaxing spa bath signs. Each sign includes a one-word mantra for channeling inner peace as well as a nice sprig of watercolor greenery. The multiple green hues in the painted leaves add a special touch to the overall beauty of these spa bathroom design ideas. This set of three farmhouse bath signs is the perfect size and proportion for accenting the generous space above the bathtub in your master bathroom.
15. Beautiful Bamboo Bath Tray Spa Bathroom Decor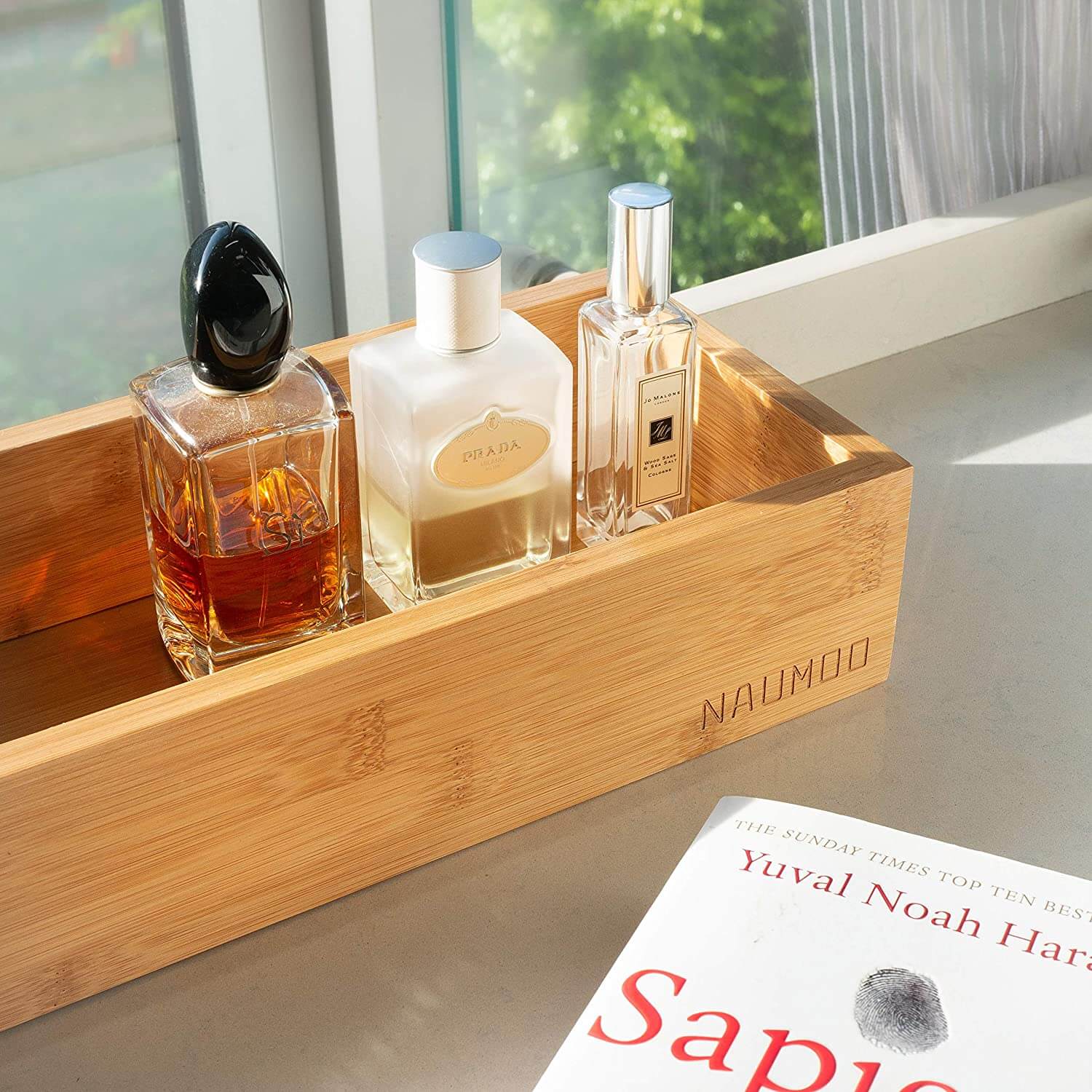 Whether you're slipping into a warm bubble bath to destress from a long day or simply enjoy the look of an organized counter, you'll be able to feature this bamboo bath tray in your spa-inspired bathroom. Crafted in sustainable bamboo, this tray takes up little room while providing some storage for your bath essentials. Roll up some towels for guests or keep all of your salts, scrubs, and soaps within reach. You may choose to set this on the back of your toilet as well where it will make a splendid storage spot for extra rolls of toilet paper. Fill up a tray with your favorite spa items and give it as a gift for a family member or friend.
16. Watercolor Relax Refresh Recharge Spa Bath Decor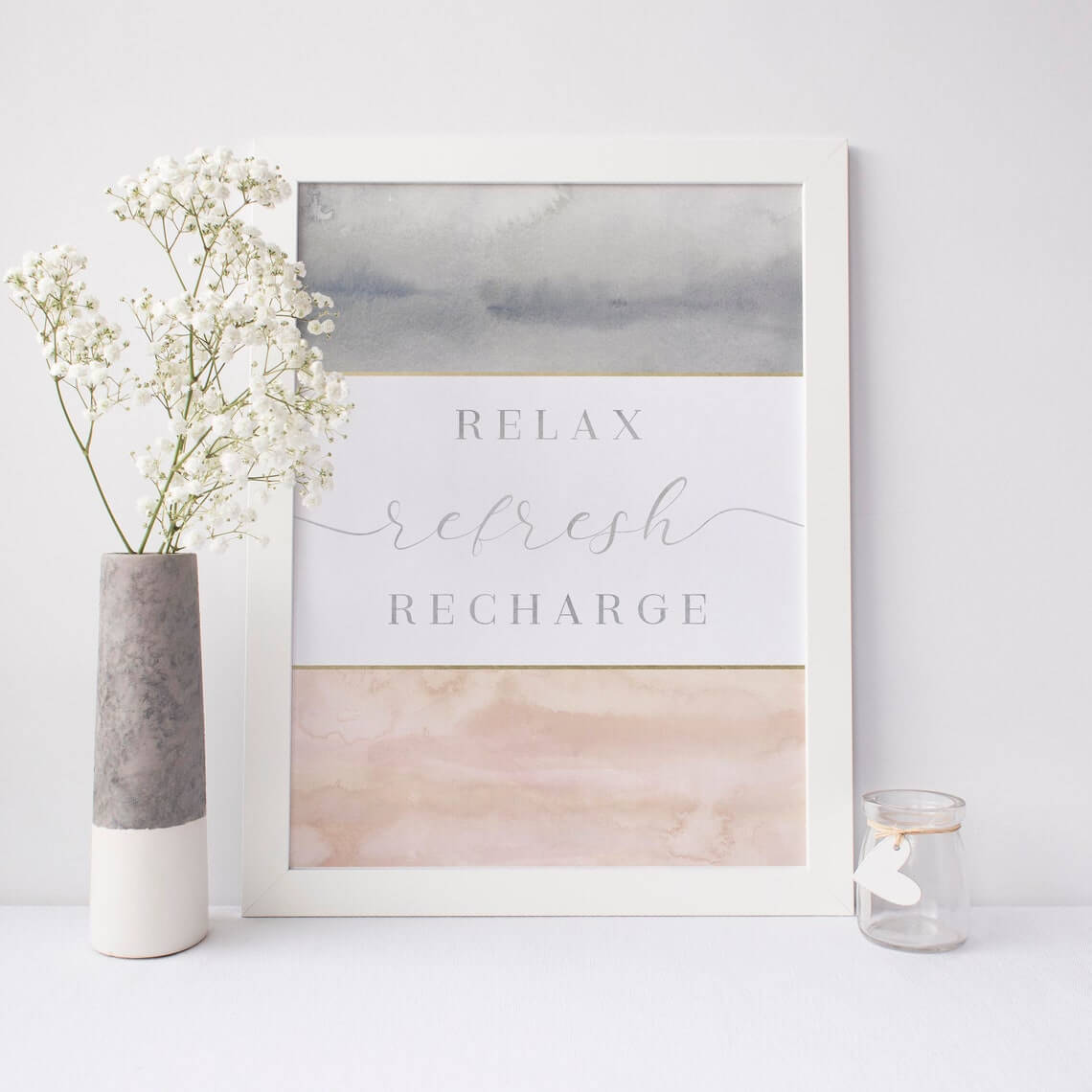 Allow the soft and serene watercolors in this spa-inspired bath decor to take you to another world. With pretty blush and cool gray tones bordering the words, these are some spa bathroom design ideas that get your focus where it needs to be. Focus on relaxing, refreshing, and recharging yourself to reset your mind, body, and soul for a new year. The cool colors in this watercolor sign pair perfectly with modern decor and really pop on all-white wall space. With subtle gold accents, you can easily blend this sign into your existing decor. Don't forget some plush washcloths in coordinating watercolor tones to tie it all together.
17. Mason Jar Apothecary Bathroom Jars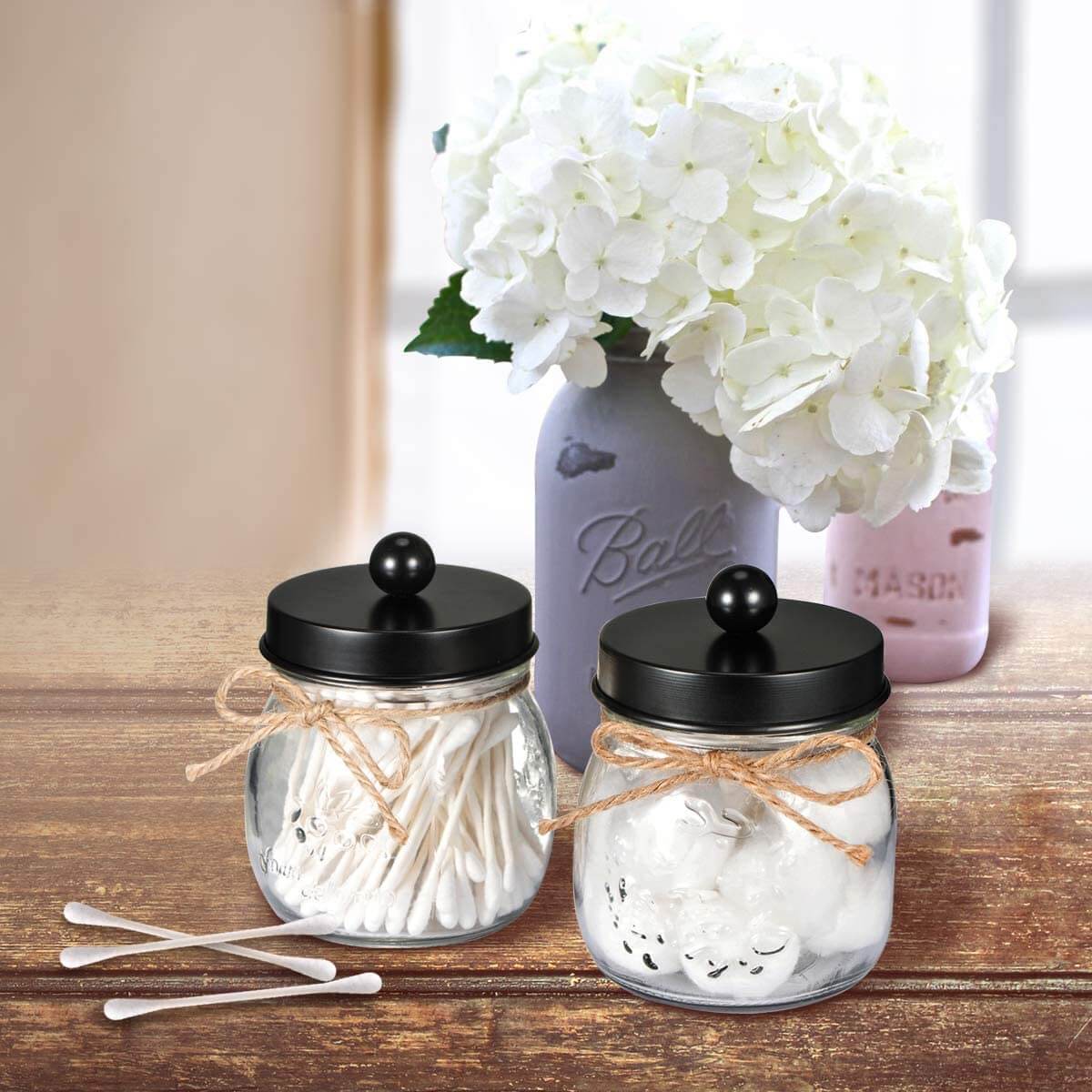 Keep your counters clutter-free with these amazing organizational jars. Apothecary-style jars are always a great choice for adding to a bathroom. They offer extra storage and give style at the same time. Featuring a matte black lid, this set gives a modern edge to their design. To add a modern farmhouse touch, a nice twine ribbon is tied in a bow to get the job done. This set will blend in easily with existing mason jar decorations you already have in your home.
18. Coastal Canvas Four Piece Wall Art Set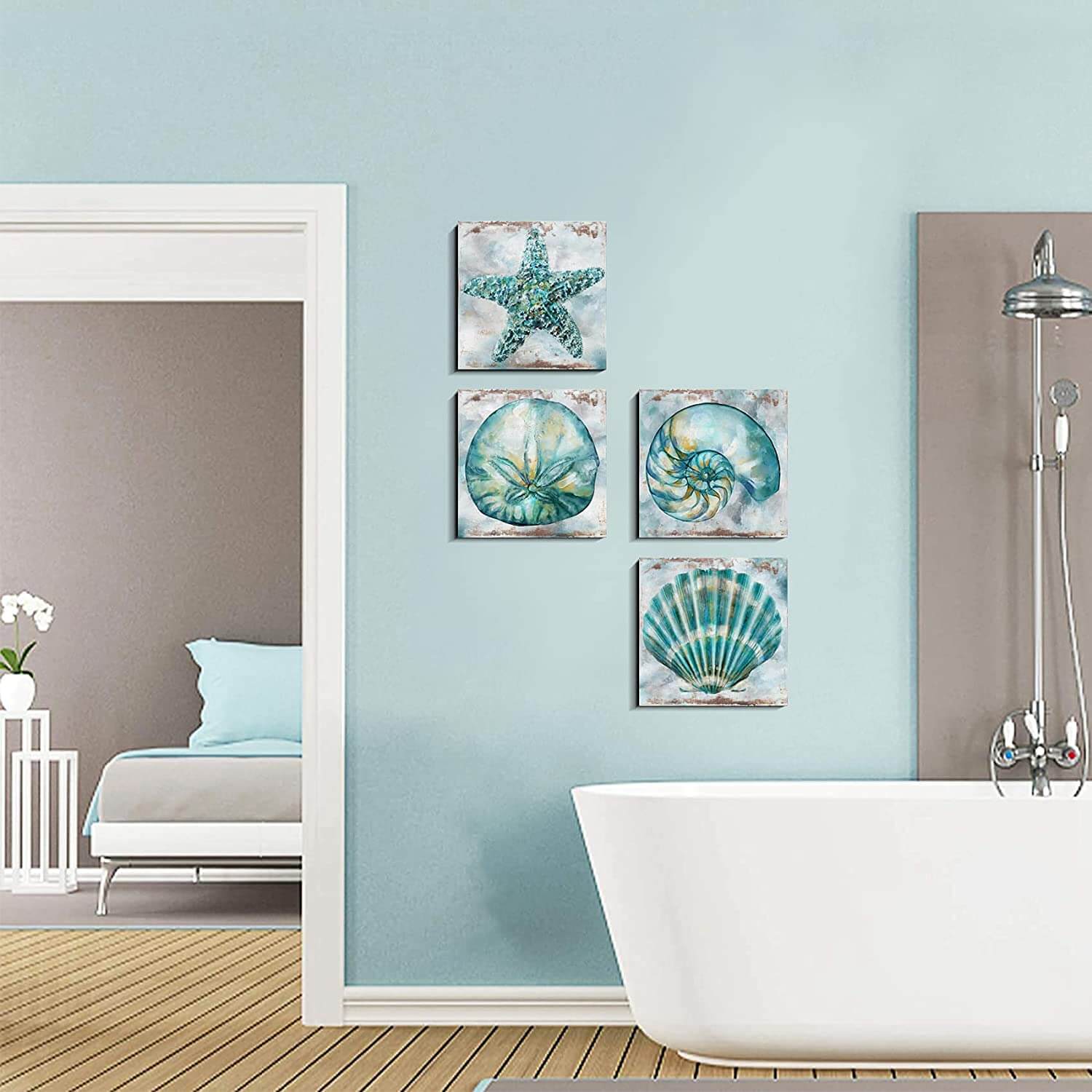 Unwind like you're at the beach with these coastal canvas shell wall art prints in your spa-loving bathroom. The cool turquoise tones of the shell paintings help the love of sand and sea come alive in your home. Most people go to the beach for a break from the monotony of everyday life and to get a break from work so it makes sense a beach-inspired scene would help in creating a pleasant and peaceful atmosphere at home. Arrange this grouping of four on the large wall space in your bathroom and continue the beautiful blue-green color scheme in decorative hand towels, soaps, and candles throughout your personal home spa bathroom.
19. Relax and Unwind Farmhouse Bathroom Sign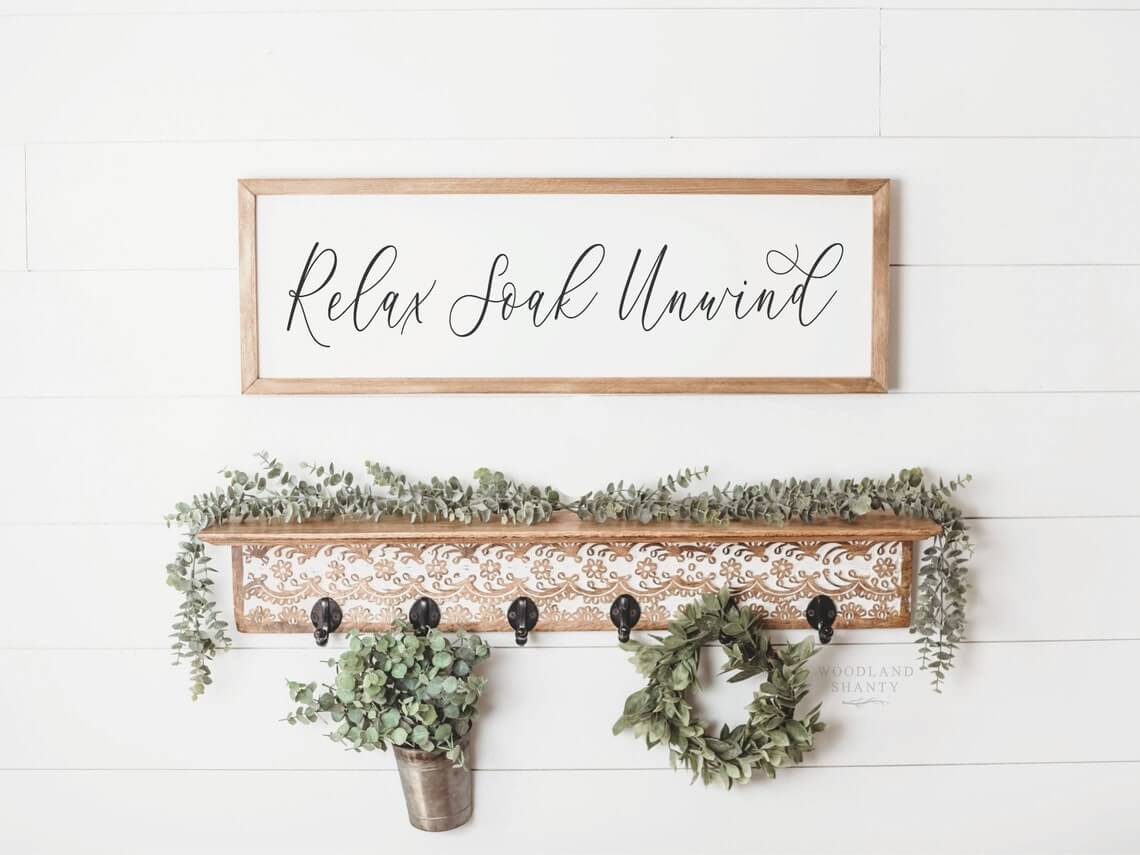 Relax in your at-home retreat with this farmhouse sign. Your master bath quickly becomes a place to unwind as you take inspiration from these spa bathroom decorations. Hang this sign above your jetted tub for an hour of pure immersion and relaxation. Featuring a thin, natural wood frame, this sign has the simplicity loved by all farmhouse design enthusiasts with its pretty script writing. Include this as part of a spa-themed gift package with some bath bombs, loofa, and a scented candle. At home, nothing takes away stress quite like a long soak in the tub.
20. Spa Bathroom Organization Essential Apothecary Jars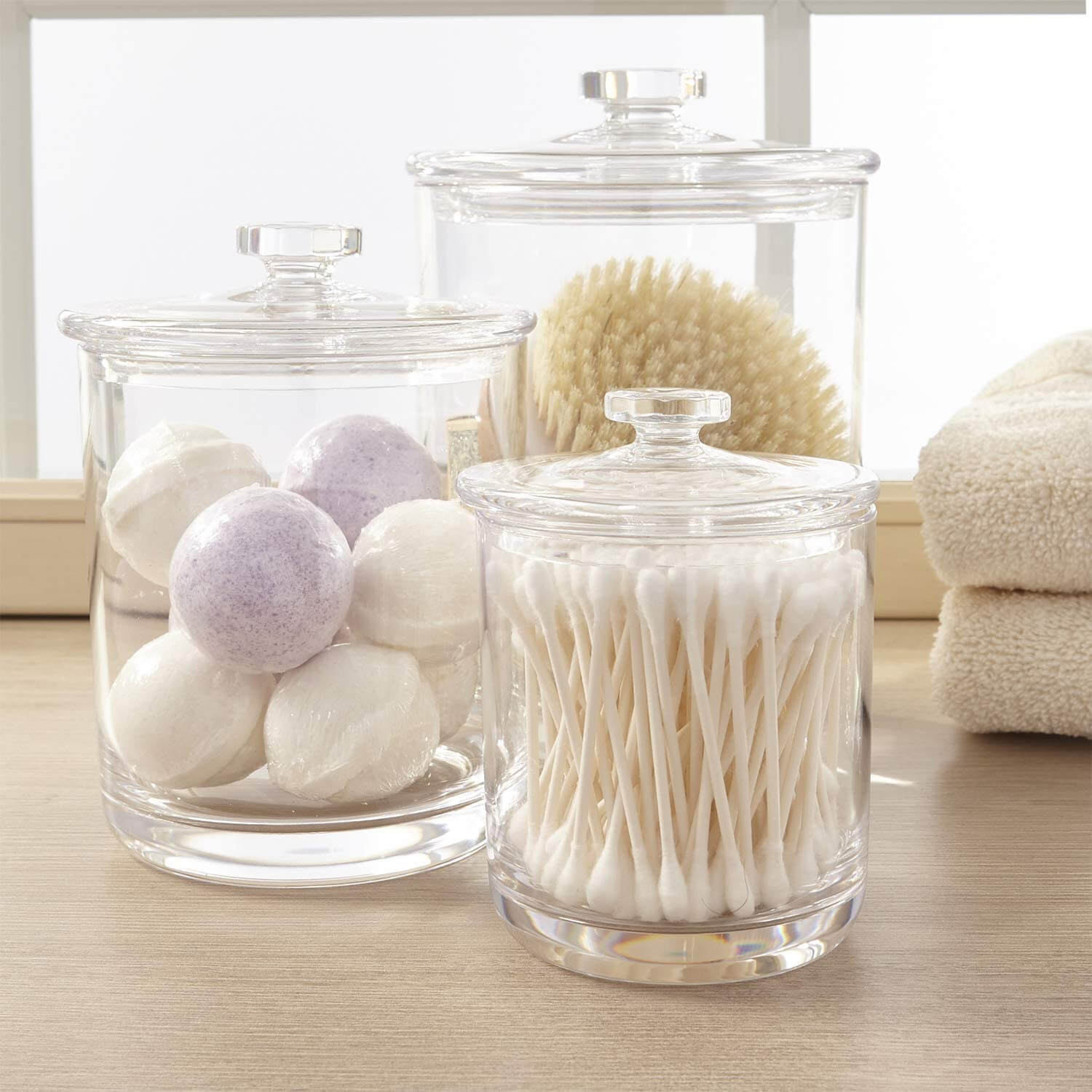 Keep all your everyday beauty supplies within reach in a neat and tidy manner with this set of clear plastic apothecary jars. Complete with lids, your cotton balls and swabs will be easily seen and easy to grab. Displaying your essentials in convenient jars like these simple storage solutions is a great way to clean up your countertop and create the spa-like setting of your dreams. There is just something about removing clutter that encourages our minds to relax and what better place to unwind than in the personal spa of your home?
21. Spa Bathroom Refresh Relax Recharge Sign Trio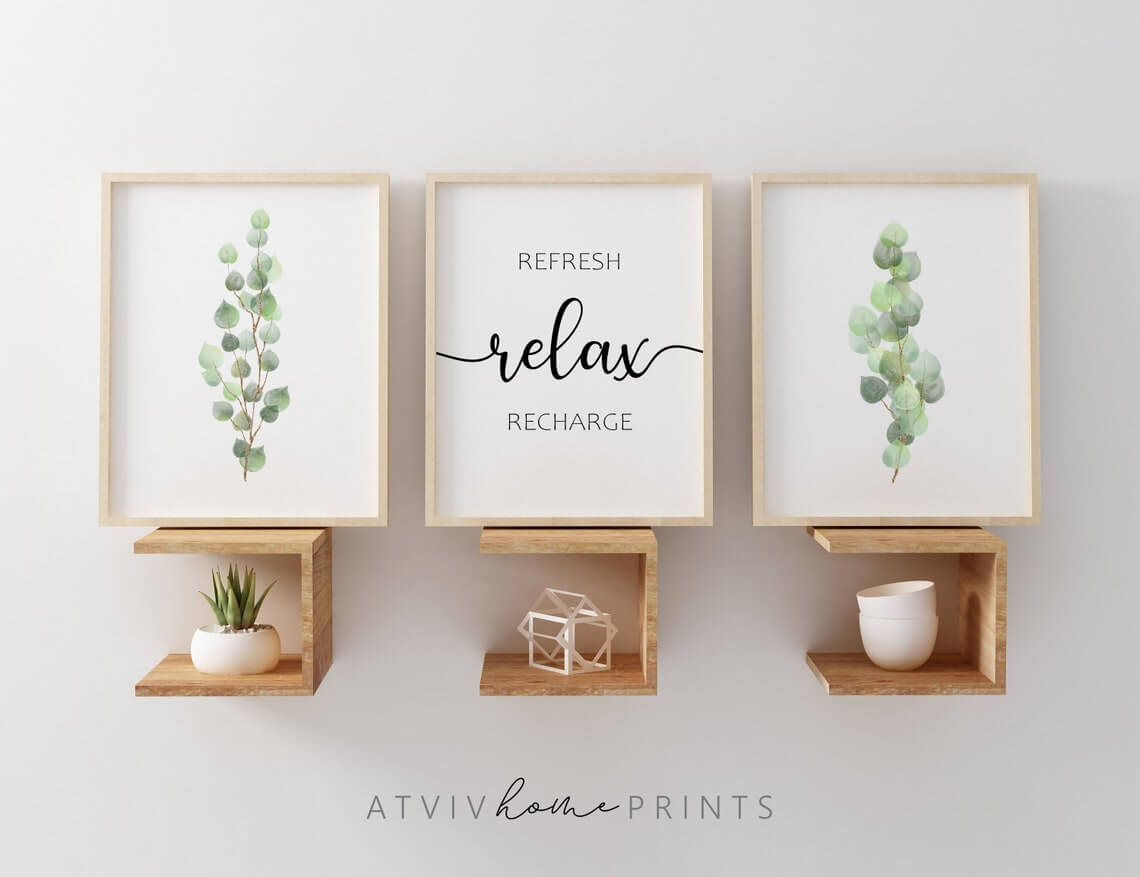 If you're looking to add some spa-themed decorations to your bath, this trio is for you! Featuring two watercolor green leaf signs that accompany the central sign, your focus will easily remain on the three-word mantra- "refresh, relax, and recharge." Find your inner peace at the end of a long day and sink into tranquility in the comfort of your own home. You'll appreciate the money and time saved by having a place to rejuvenate yourself at your own home. Display this trio horizontally on the main wall space above your jetted tub or go vertical by the shower.
22. Relax Refresh Renew Spa Vinyl Wall Decals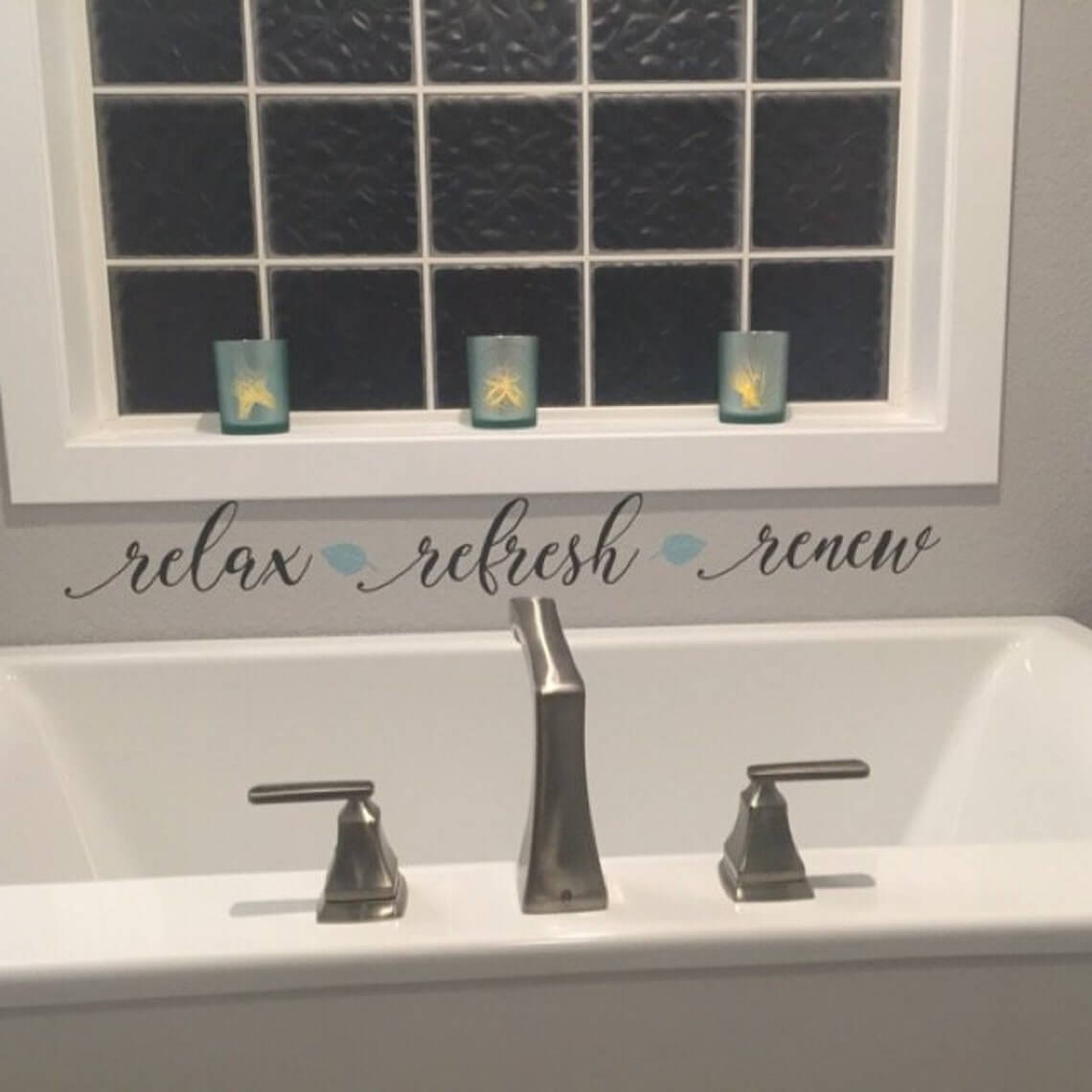 Easy to apply and remove, these spa bathroom decorations are a fast and simple update to your home's relaxation retreat. At the end of a long day or week, it's comforting to come home and unwind in your personal pool of pleasure in a deep-soaking bath. Stick these decals around your oversized tub and line some candles and flowers around the rim for a complete personal retreat. If you prefer the steam of a good shower, these vinyl decals can be stuck above the shower stall too.
23. Round Plump Faux Grass Plant Decor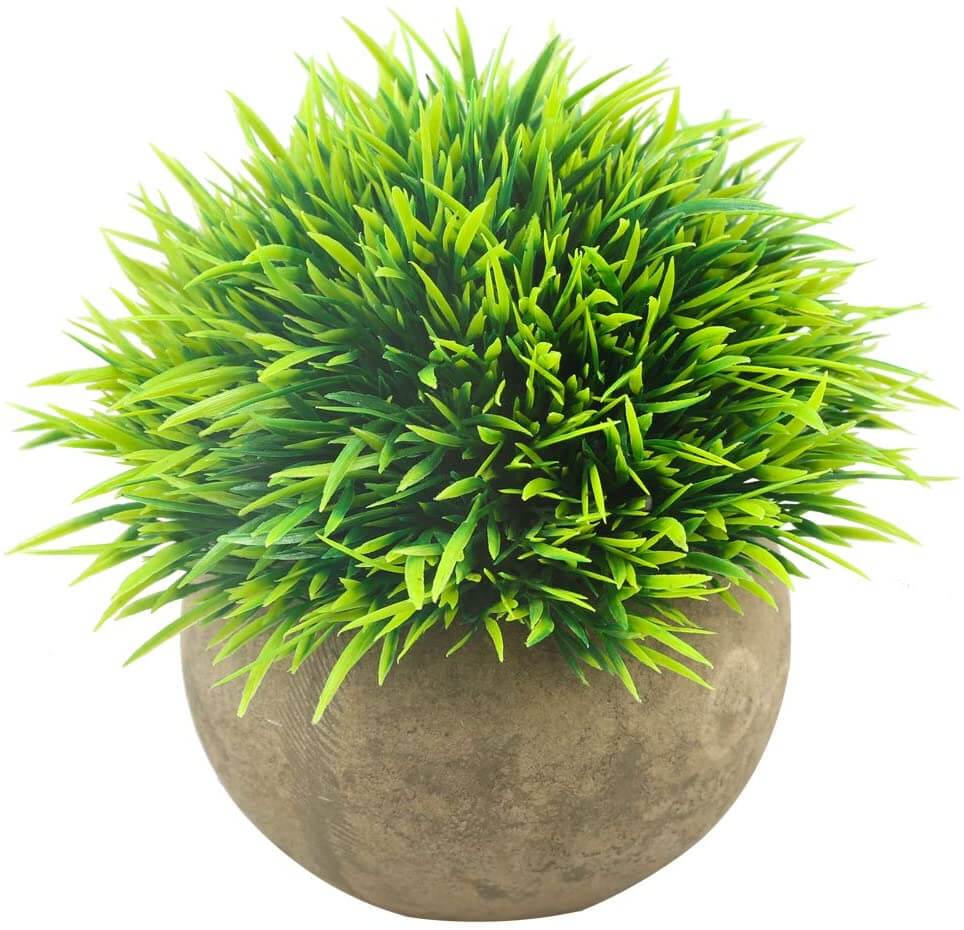 Add some interest and low-maintenance beauty to your bath with a faux grass plant. This plump ball of grass adds a bold burst of green into your bath giving it the pop of color it craves. Situated in a gray concrete-looking basin, you'll have a piece of stylish decor for almost any design preference. Place this in a corner for a nice bath accent or add it to a larger grouping of faux potted plants. A small shelf on the wall makes a great ledge for this green grass to call home too.
24. Quirky Bathroom Quotes Wall Vinyl Stickers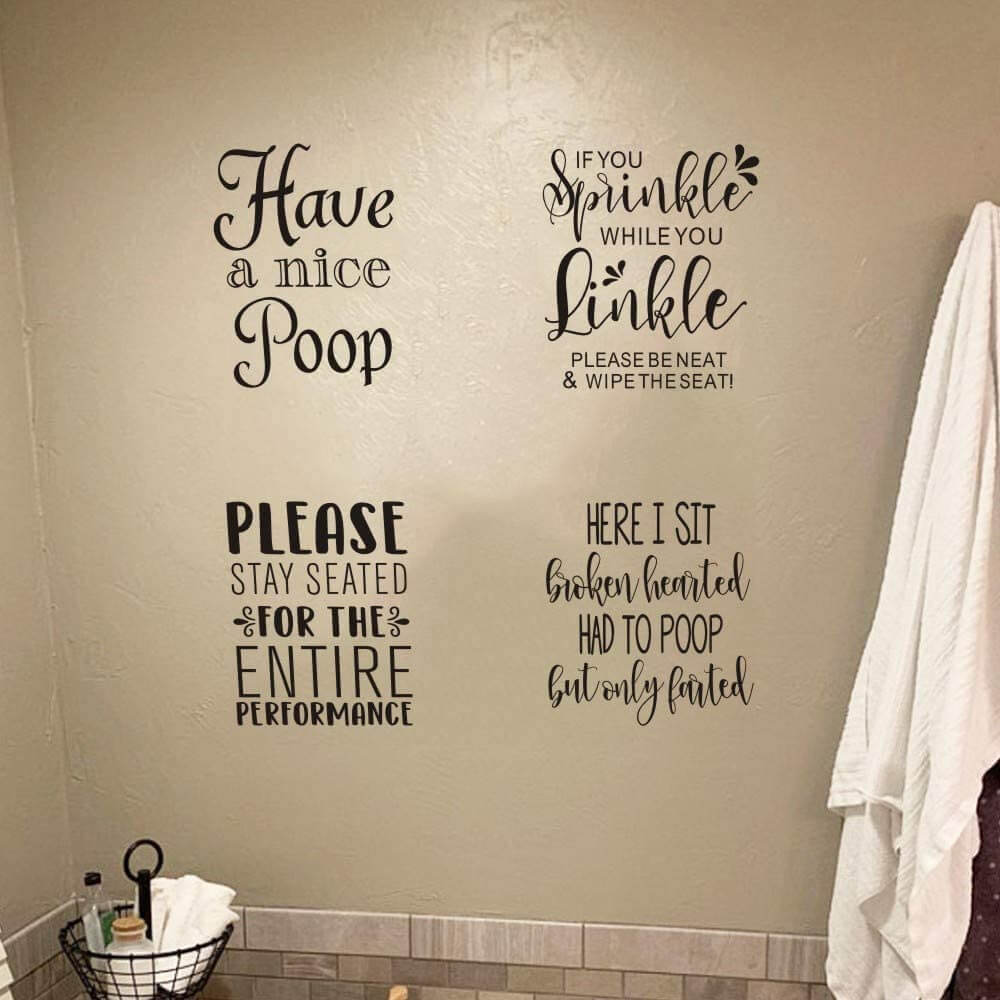 Add some fun to your guests' bathroom experience with these fun potty humor quotes. Four phrases are sure to please any pottymouth that enters your restroom. Simple sayings are a quick way to add some style to the small and quaint bathroom space of your hallway half bath or guest bathroom. Using black vinyl wall decals, removing and switching up the look is easy too. Arrange them together on one wall or spread them out on each wall for a cool look.
25. Inspirational Words Polished Pebbles Spa Stones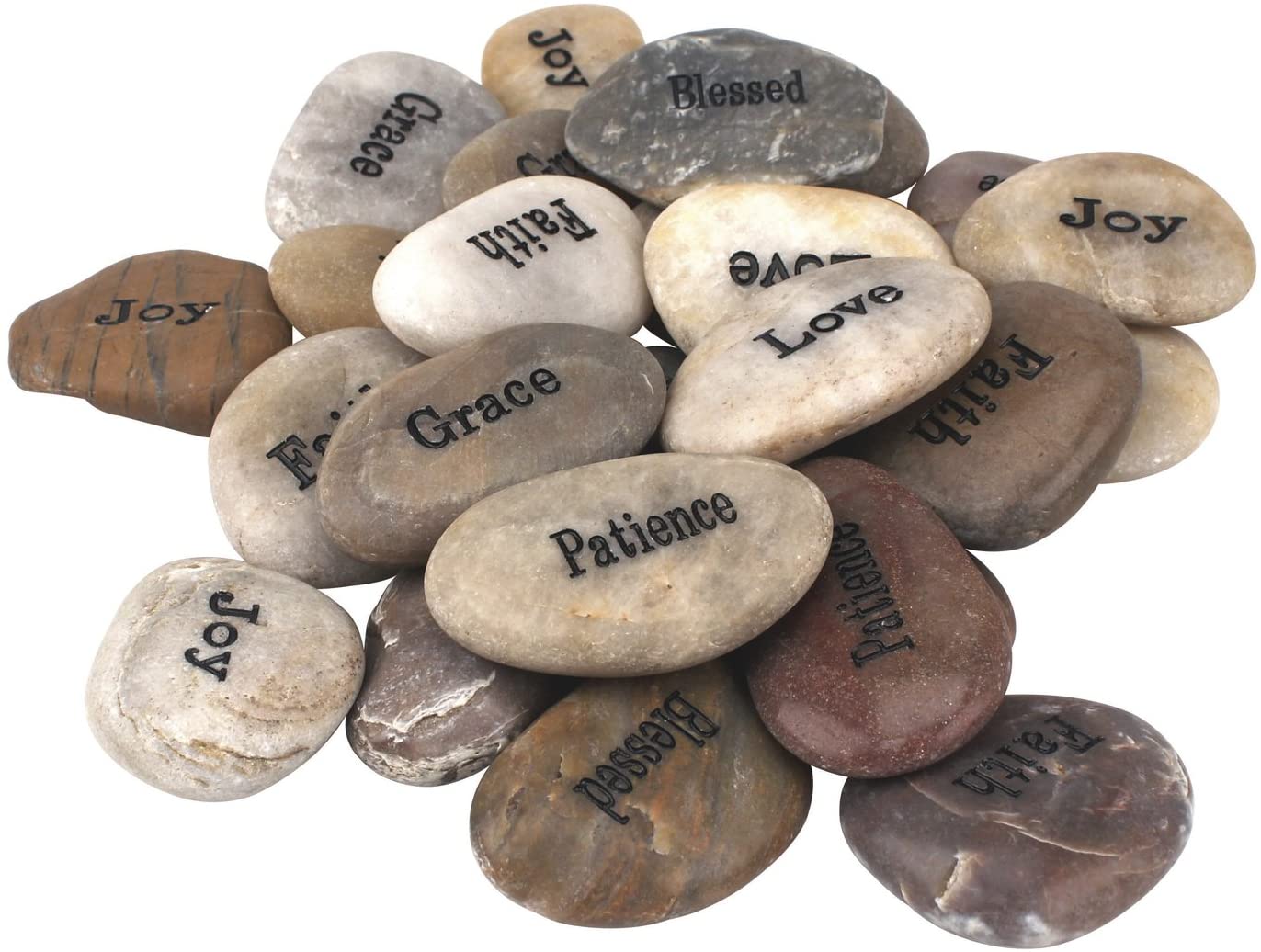 Enjoy the deeply relaxing comfort of a spa visit at home by incorporating some spa essentials into your home's bathroom decor. To begin, grab some of the pieces you love most from your favorite spa day, like stones, for a warm massage. This set features polished pebbles with inspirational words carved in each one. Gather them all together in a decorative tray or basket. Choose one to feature as the focus word of your day to encourage more productive and positive thoughts. A few of these make a wonderful addition to a spa-themed gift basket for a friend too.
Take Relaxation to the Next Level with these 25 Spa Bathroom Decor Ideas
No matter if your kids are driving you crazy or your boss won't get off your back, you can take comfort in knowing you have a special sanctuary to restore your inner peace.
From inspirational river rocks to a soft and serene bath mat, you can create the spa of your dreams with a few personal touches. You can even enjoy the calming effect of nature without a green thumb courtesy of all of the enormous options in faux flowers. Plump and perfect faux grass makes a dramatic green pop of color in your all-white bathroom space.
Reminders to relax from farmhouse signs to laser-cut phrases easily accent your wall quite nicely. A favorite scented candle is a must-have item for any calming and comforting space. And a tiered water feature is a great option for a wow factor in terms of recharging yourself.
At the end of a long day or week, it's nice to be able to unwind and recharge at home. Creating a personal spa atmosphere in your own bathroom makes this a little easier. Relax, refresh, and rejuvenate for optimal health. Your inner zen will thank you for achieving this newfound level of rest and peace.