The best spray paint furniture ideas mean that you can refresh your space quickly and affordably. Whether you have a new acquisition or are looking for a way to upgrade furniture you already have, spray painting is a way to create a completely unique article of furniture that adds to any room's atmosphere. You can use spray paint to help furniture stand out as a dramatic focal point or to help a piece better blend with the rest of your space.
19 of the Best Spray Paint Furniture Ideas to Bring Your Space Together

One of the more seductive aspects of spray painting furniture is that it does not require time-consuming brushwork. Because there is no brushwork involved, your finished furniture will not have any telltale brushstrokes. Another advantage to revamping furniture with spray paint is how smooth it can be. Depending on your project, it might take a little sanding but will result in an object that is a delight to touch.
Because spray paint can be used on a variety of surfaces, you can give nearly any furniture decor an instant facelift. However, it is important to read the label on your chosen spray paint and follow all the directions. Most spray paints can be used on wood, plastic, metal, and ceramic surfaces. Spray paints that are not a two-in-one primer may require an additional coat of primer to make sure that the spray paint sticks to the desired surface. Once your project is spray painted, you may want to consider adding a layer of wax, varnish, or polyurethane to seal that beautiful color inside.
Spray paint does something almost magical — it allows you to see what an object could be instead of what it is now. With a little creativity applied, spray paint can make unattractive or outdated furniture chic. Amazingly, spray paint is easy to use and offers a relatively low price tag. The question now is how much furniture you will rescue from the landfill to create unique home decor pieces.
1. Super Smooth Glamorous Chair Refresh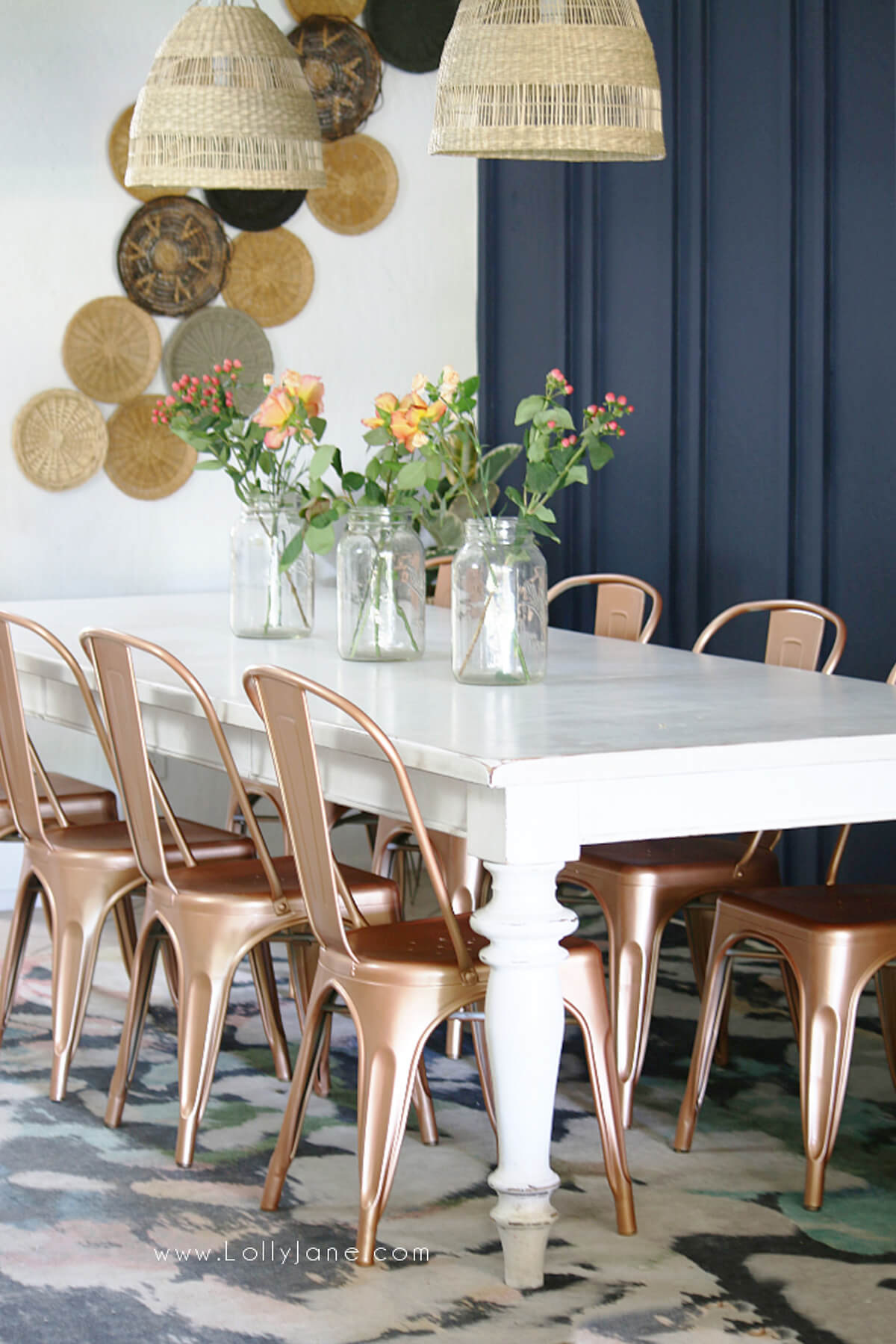 Spray-painting wood is one thing, but spray-painting metal furniture might take a little more courage. The strategy here is a mixture of sanding, priming, and painting to achieve a super smooth finish. Best of all, depending on which spray paint you choose, this project can be completed in a single afternoon. Painting furniture entirely with a metallic-like rose gold pictured here is fantastic for adding some glamor to a space. If you do not love the metallic in your decor, you can always sand it down a little and start the process again with a new non-metallic color.
2. Spray paint table ideas: Revitalized Hardware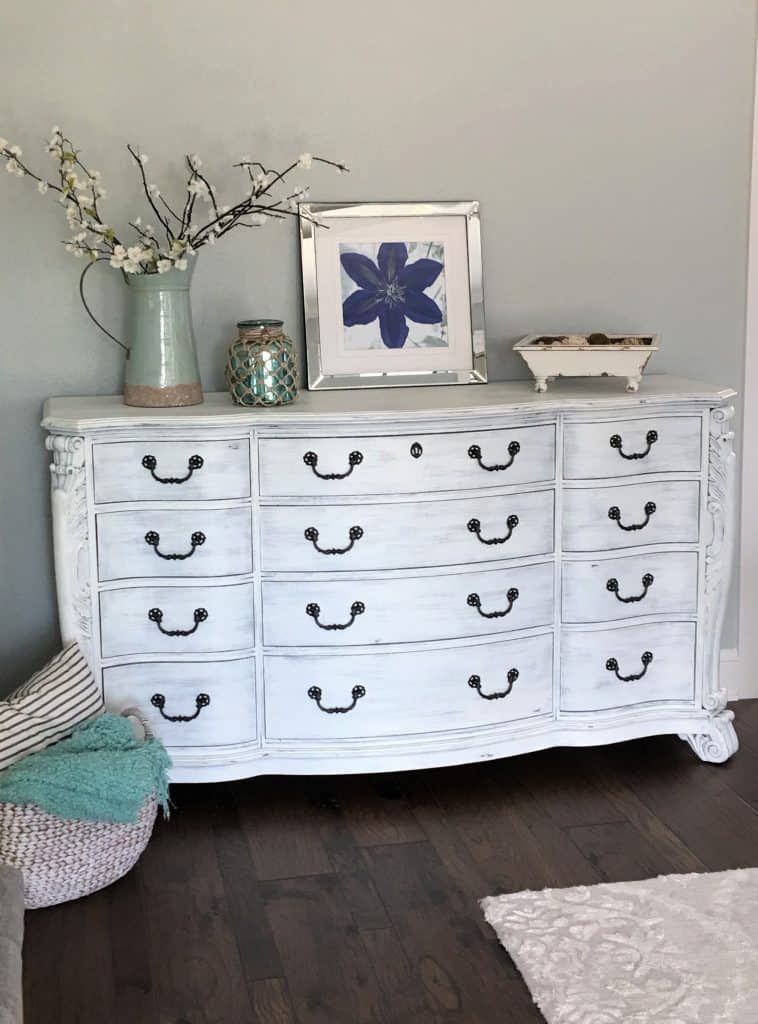 Spray paint may be able to achieve a wide variety of effects, but, sometimes, you just need a brush to get the right look. However, spray paint makes updating hardware really easy. After you have gone to the effort of refinishing furniture like the whitewashed dresser in this image, the last thing you want to do is embark on another time-consuming project refinishing hardware. This tutorial gives some quick tricks to help your hardware spraying be a success. Even if you are not refinishing furniture, updating hardware with spray paint is an excellent way to make old furniture decor new.
3. Gold Leaf Coffee Table Upgrade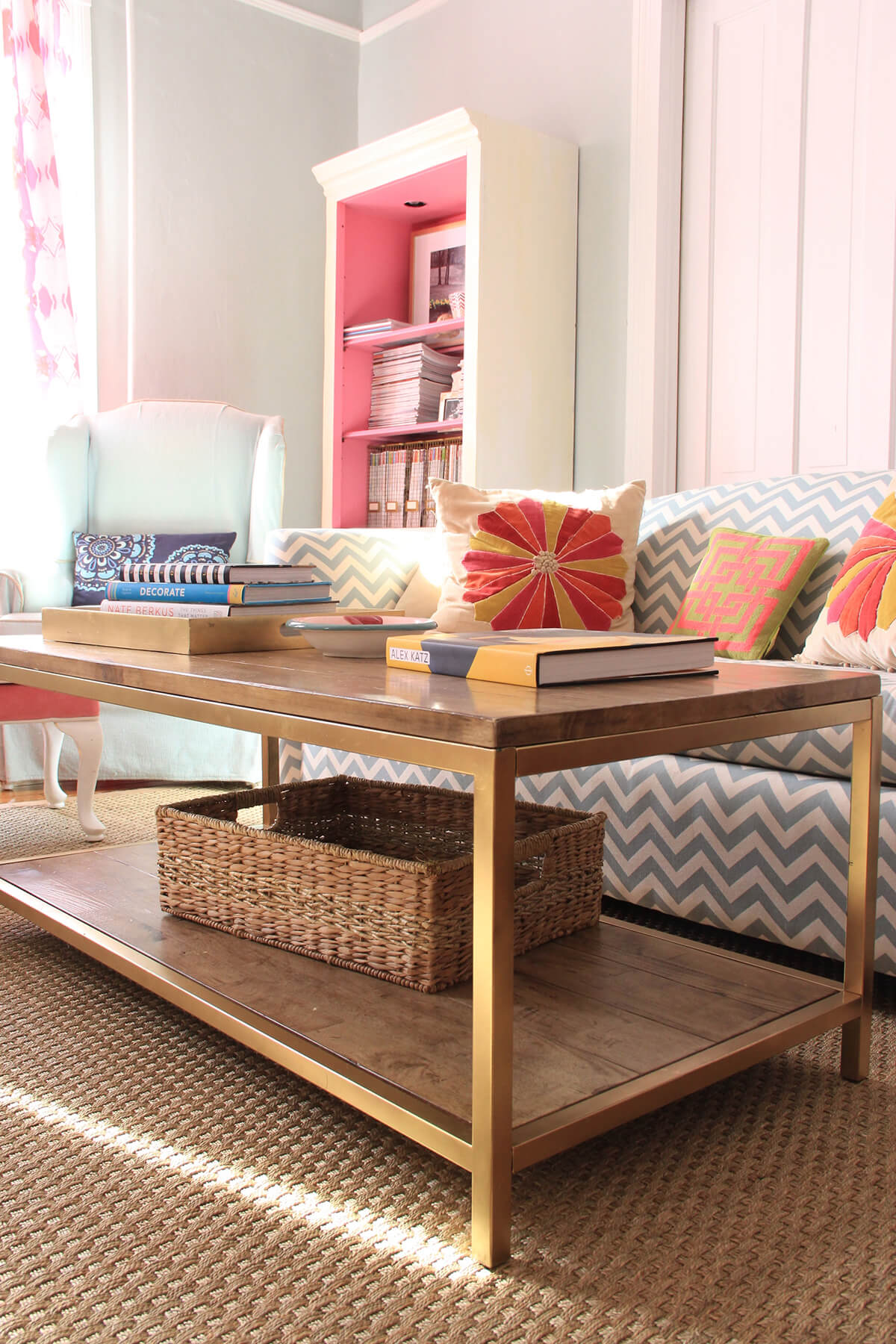 Giving black furniture a gold makeover can make your space seem bigger as well as imbue your furniture with an opulent ambiance. Although gold gives this table the royal treatment, you can use your favorite metallic to get the look you want. Using cool metallic silver is perfect for modern spaces. Copper or rose gold would imbue your space with some serious glamorous vibes. The key is using gold paint that is not too reflective — notice how this example showcases gold that shimmers instead of shines. Of course, if a mirror-like finish is right for your space, go for it!
4. Marbling Spray Paint for a Unique Finish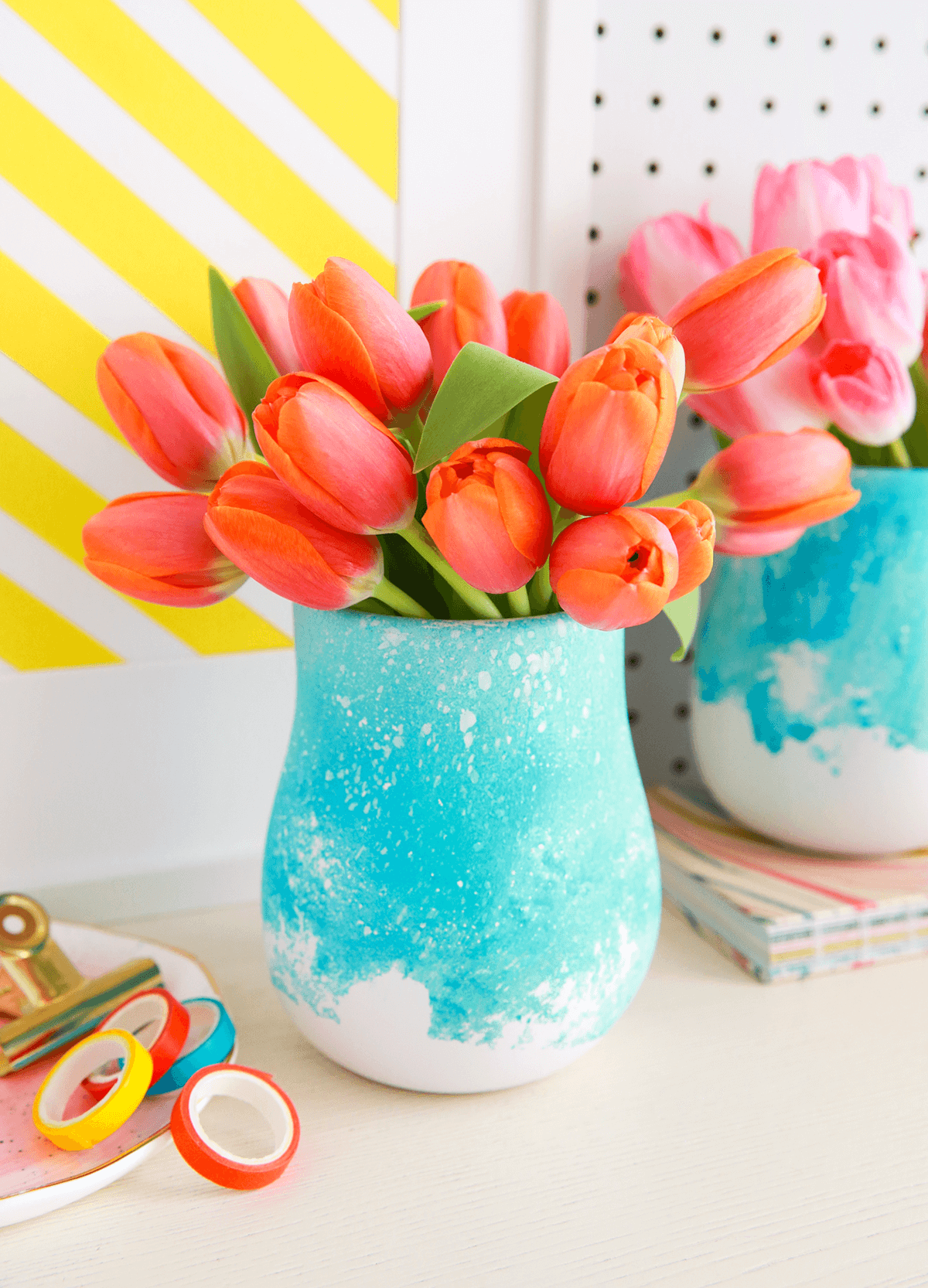 Instead of spraying paint directly on an object, this technique involves spraying paint on water and then dipping your object. Because it does involve dipping, it works best with easy-to-maneuver small objects. Although it might take a little trial and error to master, this technique results in a gorgeous finish that is absolutely worth the effort. To take this technique to the next level, you can try spraying two colors at the same time. If you do not want the original finish on your suitably small object to show through, you can always prime and spray paint it white before trying this method.
5. Dramatic Dimension with Glazed Chalk Paint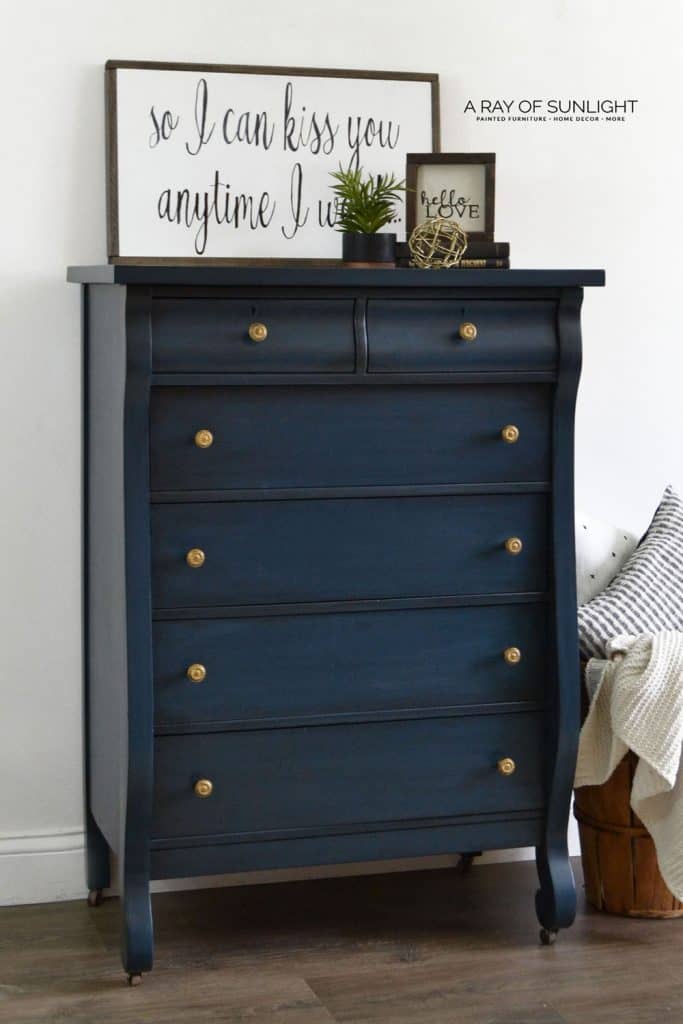 Yes, you read that right. This tutorial uses both chalk paint and glaze. Because chalk paint usually soaks up the glaze, you will need to apply a few coats of polyurethane between the chalk paint and the glaze. The second coat of glaze in the corners and edges adds some dimension that really draws the eye. Beyond the sophisticated glazing, using this method also results in furniture that is silky smooth to the touch. You can use this technique to add a magical ambiance to any color of chalk paint. Experiment with different glazes and paint colors to discover the perfect combination for your furniture decor.
6. Distressed Chair with Blue Feet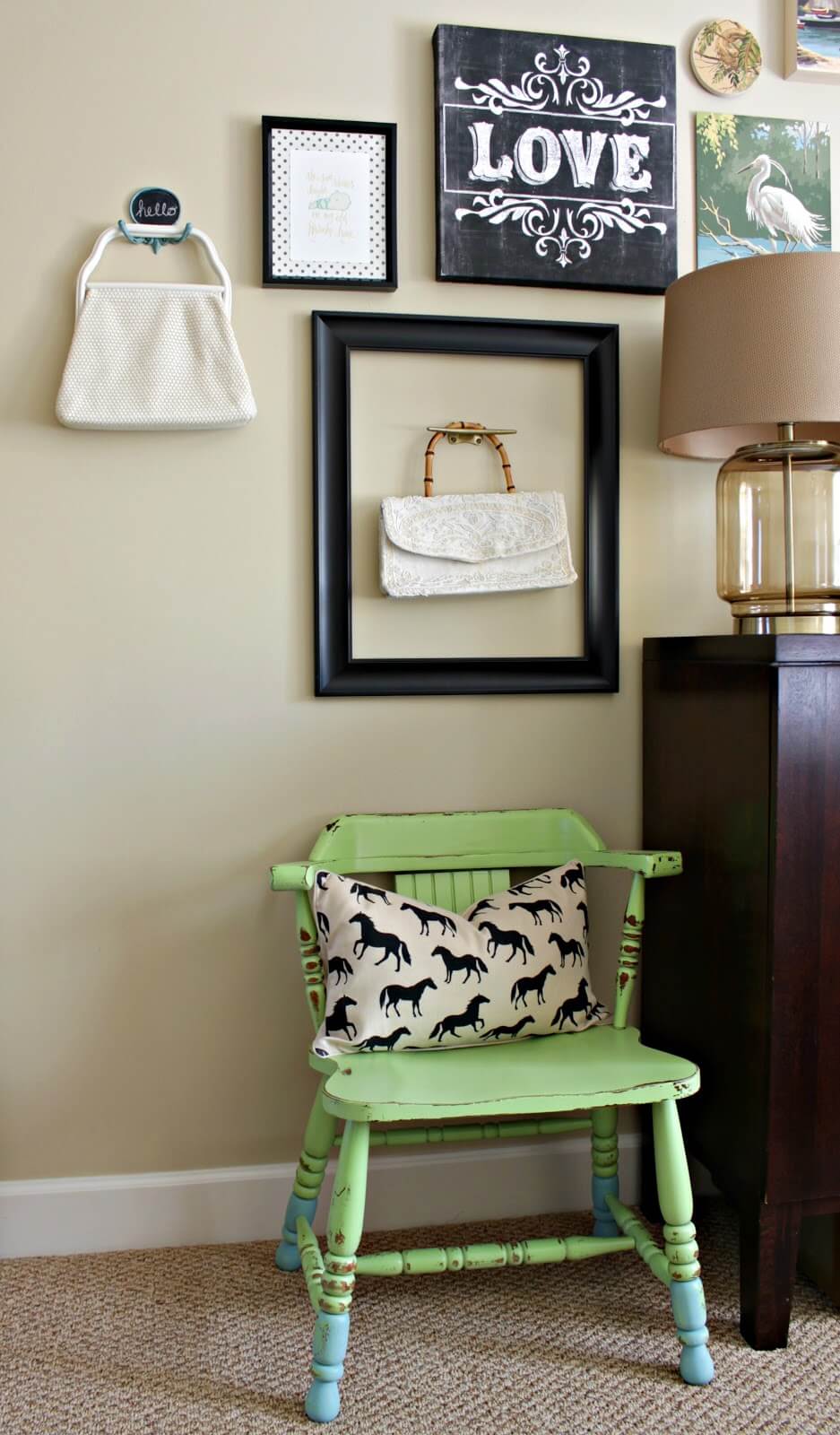 Pick your favorite color of satin-finished paint, and you can create your own version of this distressed gem. Chalk paint on the feet gives some two-tone flair to the funky lines on this fun chair. To get that delicious chipped paint look, give your primary paint a little attention with some sandpaper. If the pastel color palette is not your style, imagine this chair in an intense earth tone with metallic feet. Provided the wood is in good enough condition, you could give an energizing Bohemian pop to your piece by just giving your chair colored feet.
7. Distressed Blue Desk with Antique Vibes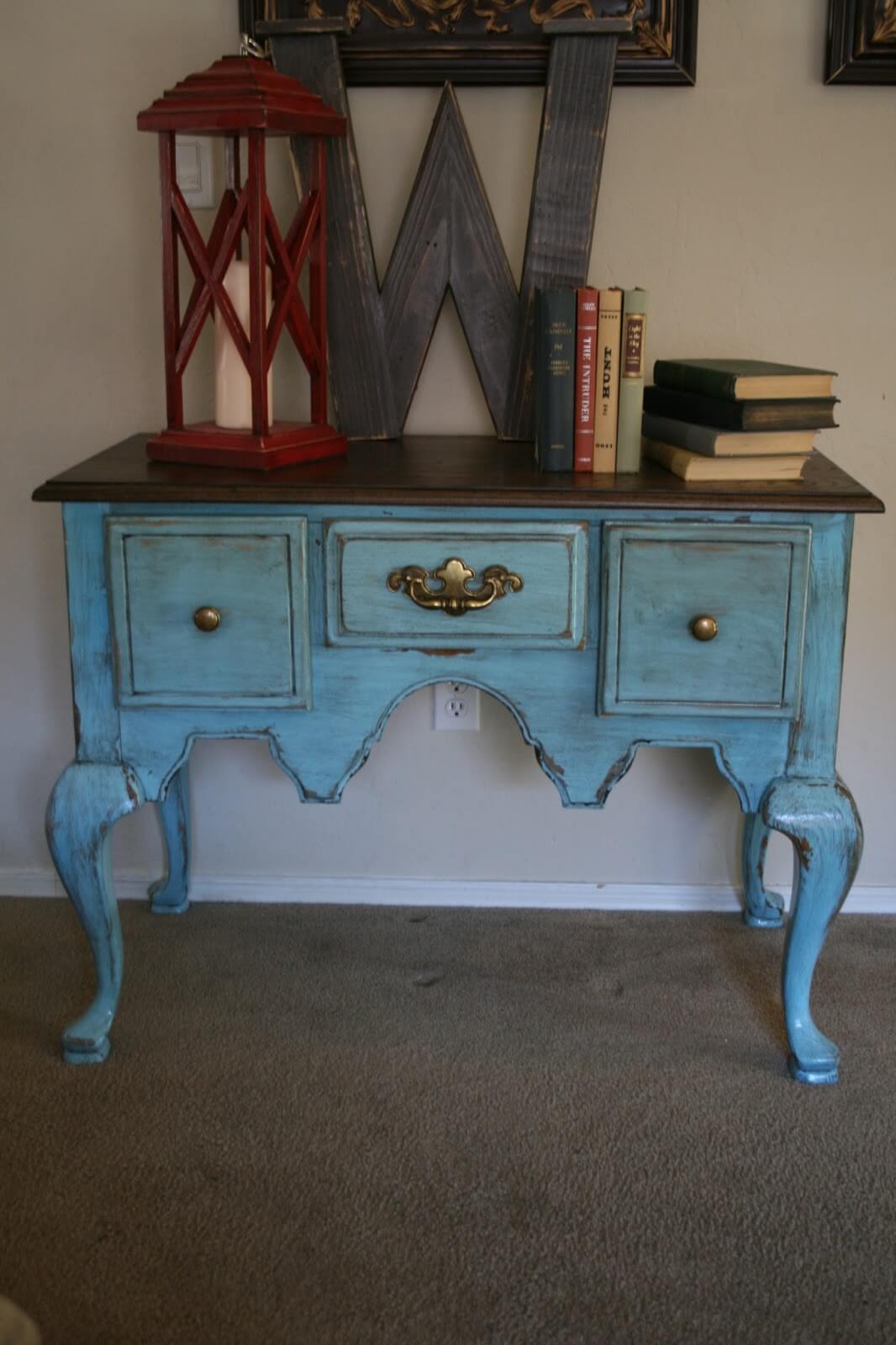 Antique brass hardware, fun blue paint, and a refinished top breathe fresh life into this outdated desk, one of the best spray paint table ideas. To enhance the illusion of an authentic antique, the paint is not distressed all over the desk. Instead, the grain only shows through in high-traffic areas. The key to this spray paint rescue was, surprisingly, petroleum jelly. Although the first coat looked nearly disastrous, the second coat of spray paint evens the lookout to give it the perfect finish. After some attention with sandpaper, a few coats of glaze, and a layer of protective finish, this restored desk is ready for display.
8. Spray Painted Antique Piece: Hardware & All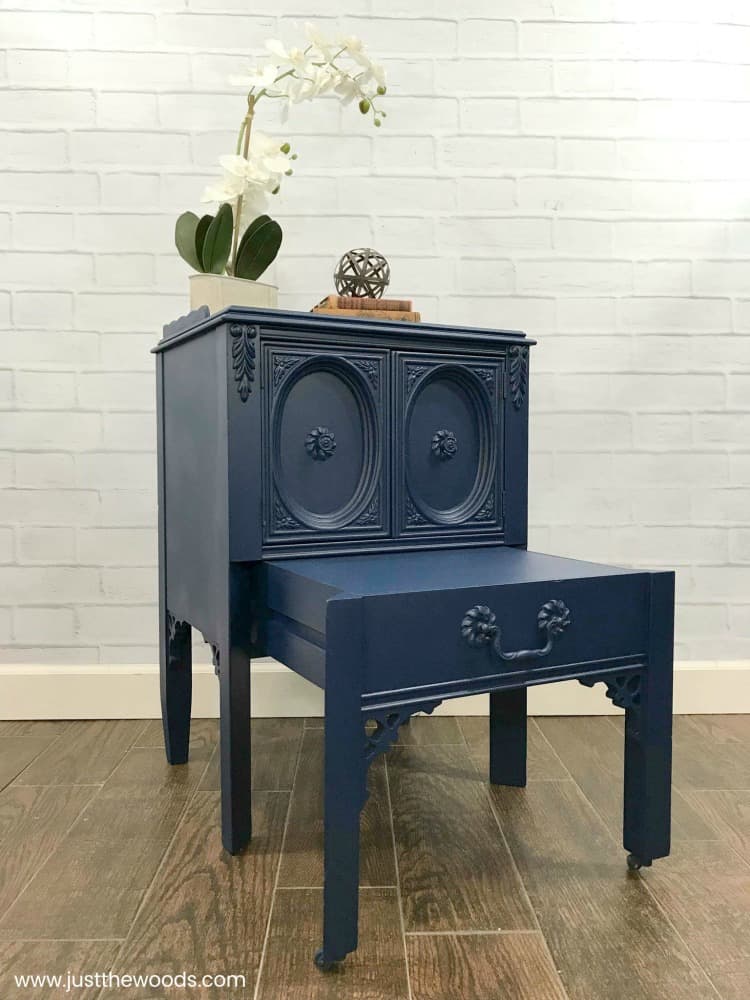 What are the best spray paint dresser ideas when you will be using a paint sprayer instead of pre-packaged spray paint canisters? Although paint sprayers are an investment, they can achieve a flawless coat of paint and are easy to use. Even this devilishly detailed antique piece can live anew after a few coats of sprayed paint. While this image shows hardware given the same blue treatment, you could use a different finish to achieve some contrast and dimension. Because this furniture includes a portion that slides out, you will also need to apply some lubricant to the moving parts.
9. Spray Painted Nursery Changing Table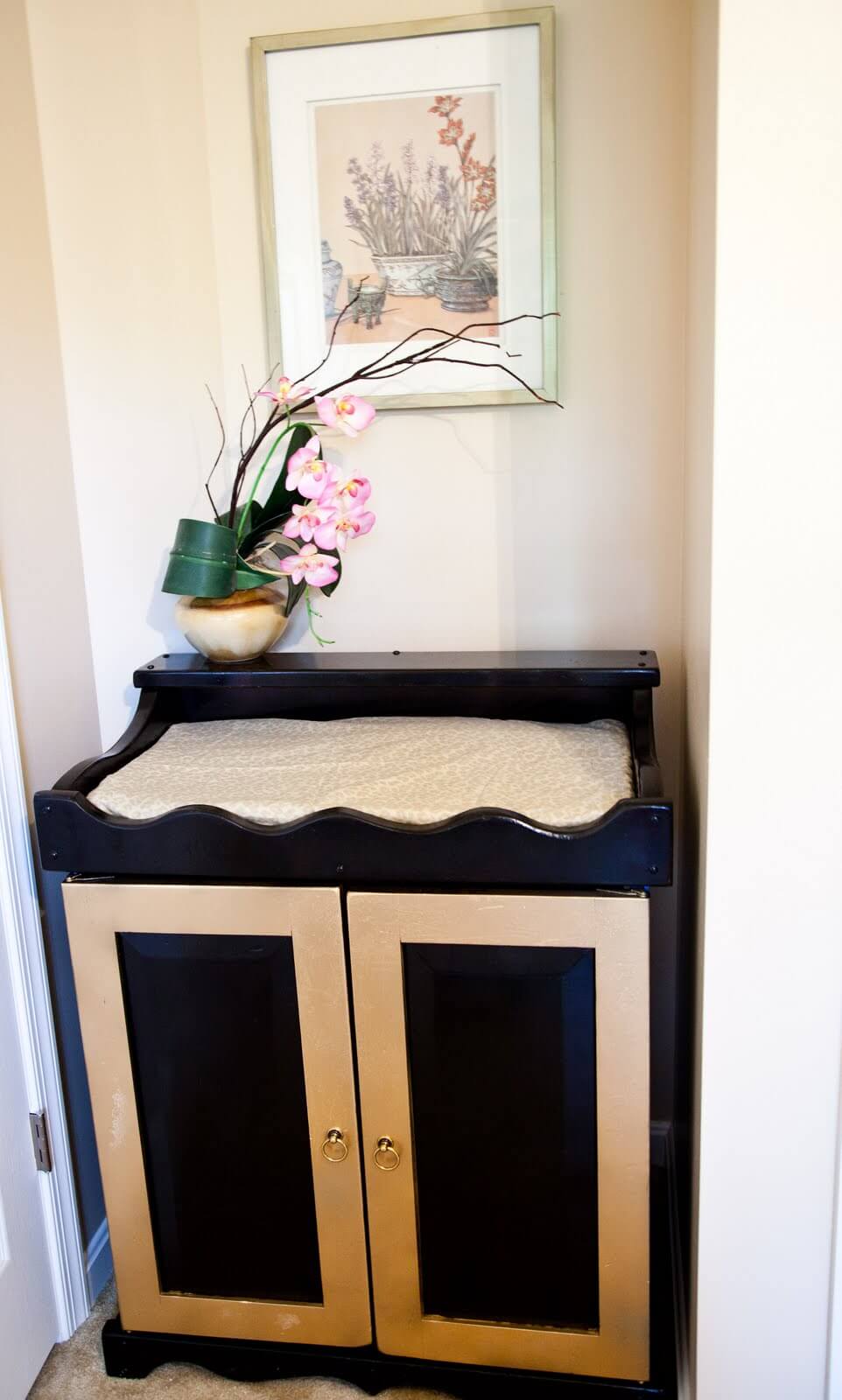 Repurpose a piece of wood furniture into the perfect changing table for your newborn's nursery with a thick changing pad and a can of spray paint. You'll love the modern vibe created from the use of black spray paint to add a new touch to a traditional piece. Spray paint is easy to use and allows you to customize old, outdated furniture into pieces you'll treasure for years to come!
10. Chic Blush & Gold Nightstand Makeover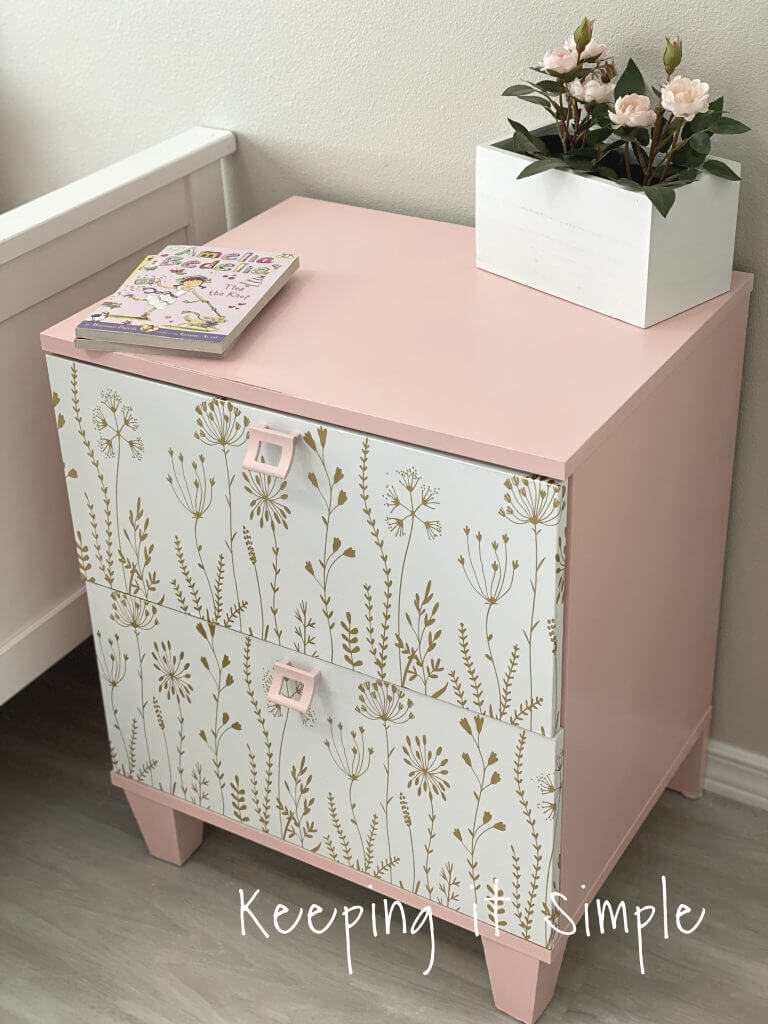 By combining wallpaper and spray paint, this tutorial illustrates how to create elegance from the ordinary. If you have access to vinyl and a vinyl cutter, you can even create your own wallpaper for a truly unique piece of furniture. With endless wallpaper options, this is one of the best spray paint dresser ideas to make customized décor. If you live in a rental or an apartment where you cannot make modifications, this is an excellent way to incorporate cute wallpaper patterns. Beyond nightstands, you can use this strategy to upgrade dressers, console tables, desks, and any furniture with drawers.
11. Updated Vintage Spray Paint Furniture Idea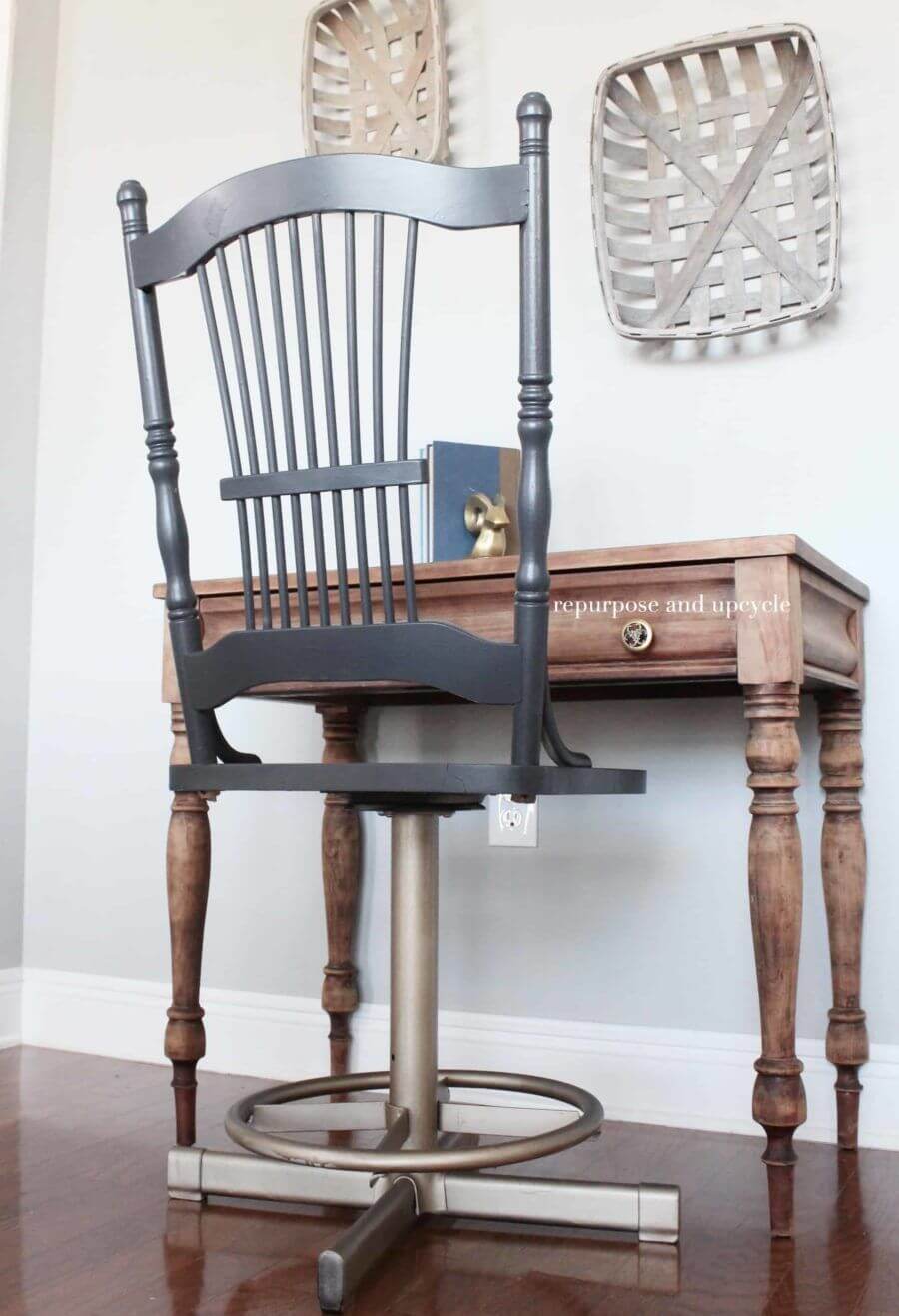 Luckily, spray-painting furniture is not limited to one color per project. In this case, the vintage-inspired portion of the chair receives a traditional dark blue color while the more modern portion is spray-painted a metallic gold. The marriage of dark blue and shimmering gold results in a nearly regal effect. Pairing a rich color with a metallic is a great way not only to make your furniture unique but also to bring vintage pieces into your modern-day decor. Two colors in one project also make it easier to tie the piece of furniture into your space's existing color palette.
12. Spray Painted Buffet with a Satin Finish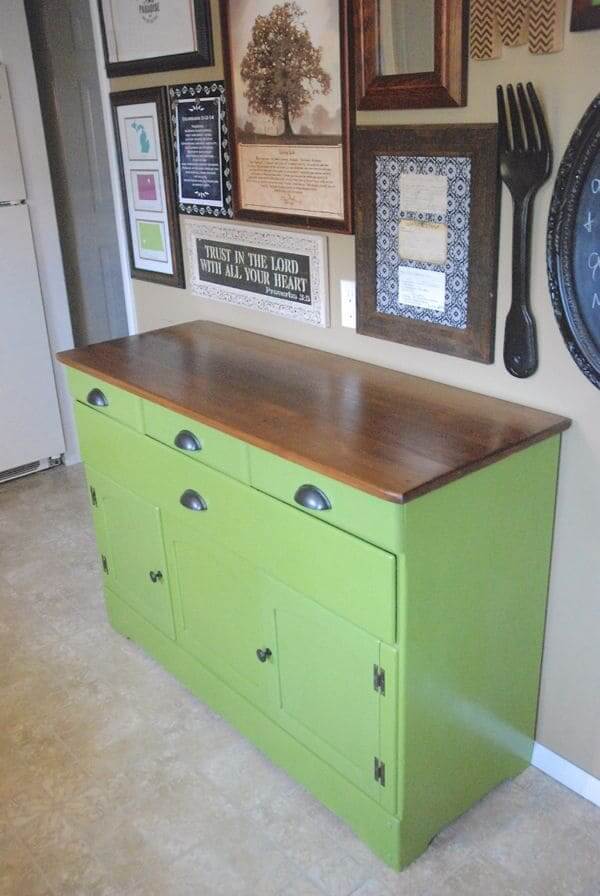 Perfect for creating a cohesive kitchen, this buffet table spray paint furniture idea is ideal for spaces that are often used to entertain. Using the same hardware as the cabinets is a fantastic way to tie your project into the rest of the room. Two cans of satin-finish paint give it a professional appearance while achieving an energizing burst of color. The best part about this project is that buffet tables provide ample storage and can be customized to fit any room. Do not be afraid to mix and match open cubbies with drawers and cabinets to fit your needs.
13. Dabble with Drama: Glamorous Gold Focal Point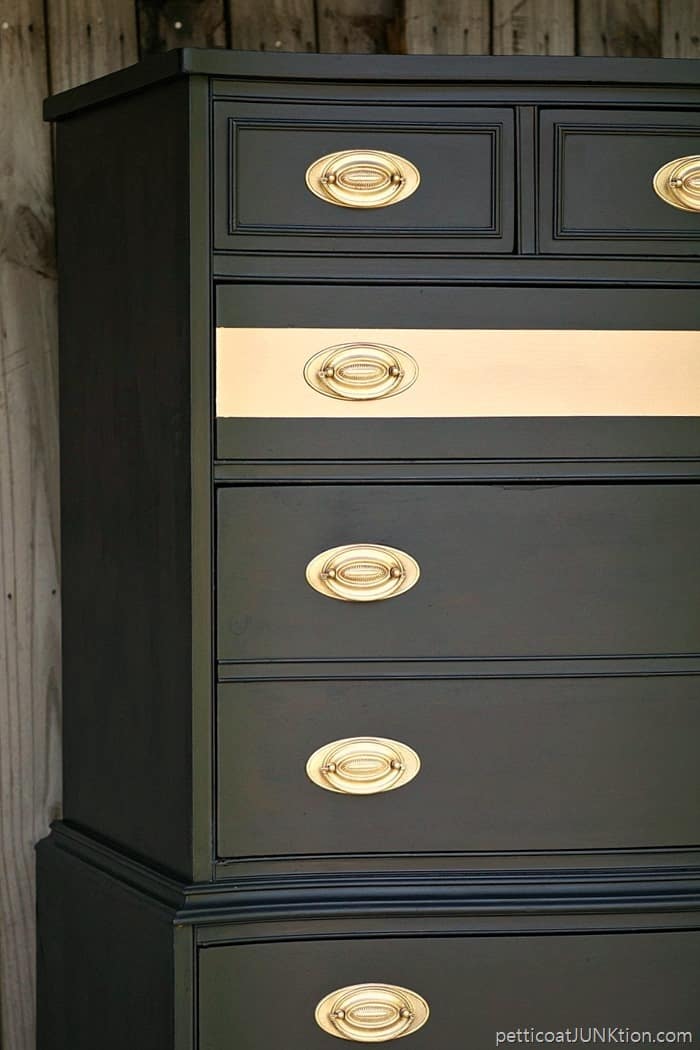 An easy way to dial up the drama and make everyday furniture stand out is to apply a single metallic stripe. While this example uses gold, you could use any metallic or contrasting color to give your pedestrian furniture a facelift. Using this technique adds bold, energizing lines to stimulate a space. Although more challenging to create, you can harness psychology and spray paint a vertical stripe or several to make your room seem bigger and better organized. Vertical lines add balance to a space while horizontal lines add refinement — only you know which is right for your space.
14. Stylish Home Office Spray Painted File Cabinet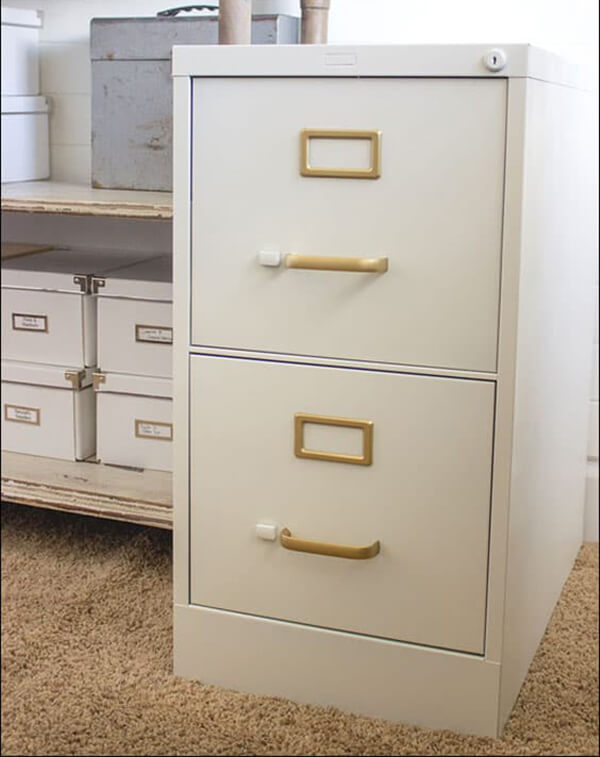 Having a space set aside for working from home does not mean that it has to look like a dreary office. Spray-painting a file cabinet is one of the best spray paint furniture ideas to add character to your home office without breaking the bank. A file cabinet is a surprisingly useful article of furniture because it can contain anything from craft supplies to kitchen utensils. Depending on which paint color you choose, you can create a file-cabinet focal point or an elegant storage solution. If you do not like the hardware color, remember that you can customize that, too.
15. Easy Spray Paint Wicker Refresh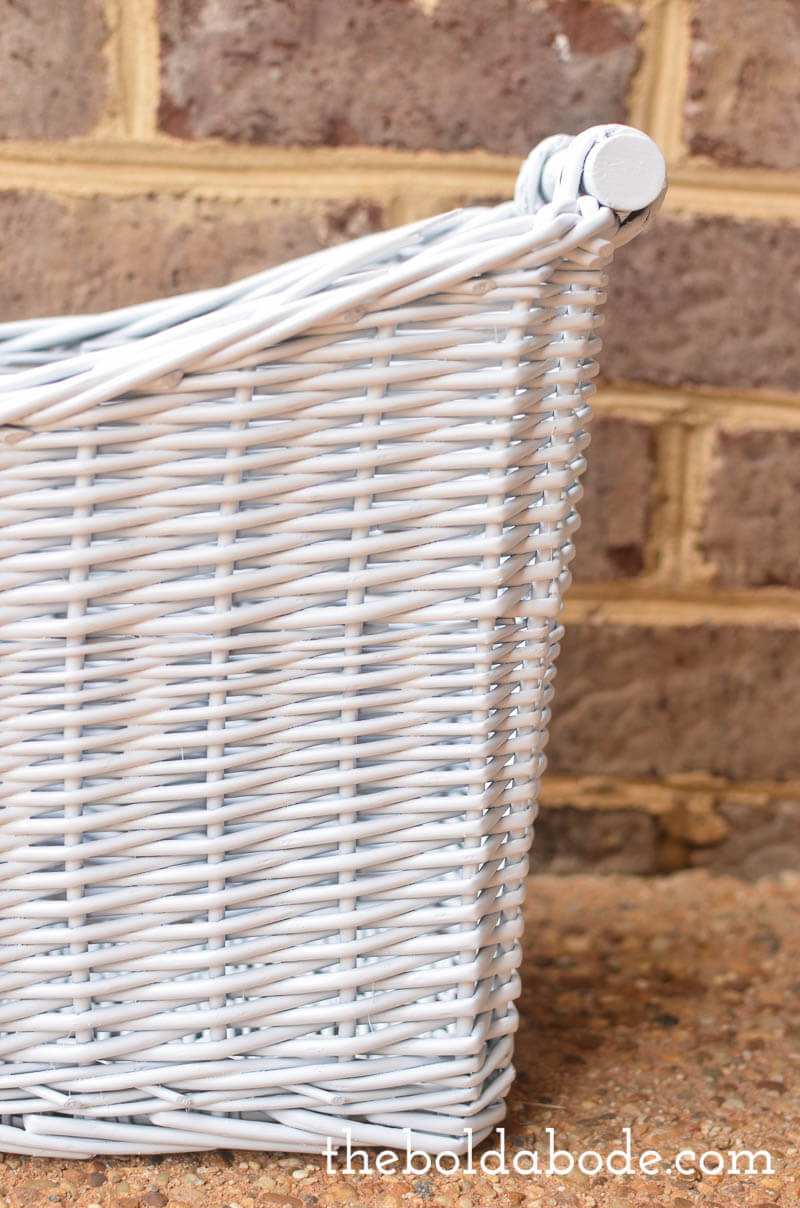 Because they are versatile and add dimension to a space, wicker baskets are an integrated storage solution. Picking a spray paint that includes primer is absolutely essential to get the paint to adhere. Congratulations — you can now transform any wicker decor into either an exhilarating pop of color or a subtle touch to enhance the ambiance. Although the example in this image is a basket, this technique would work for larger wicker furniture decor as well. Energizing wicker with a new coat of color is one of the best spray paint furniture ideas because it adds character to a space.
16. Perfectly Pristine Chalk Paint Project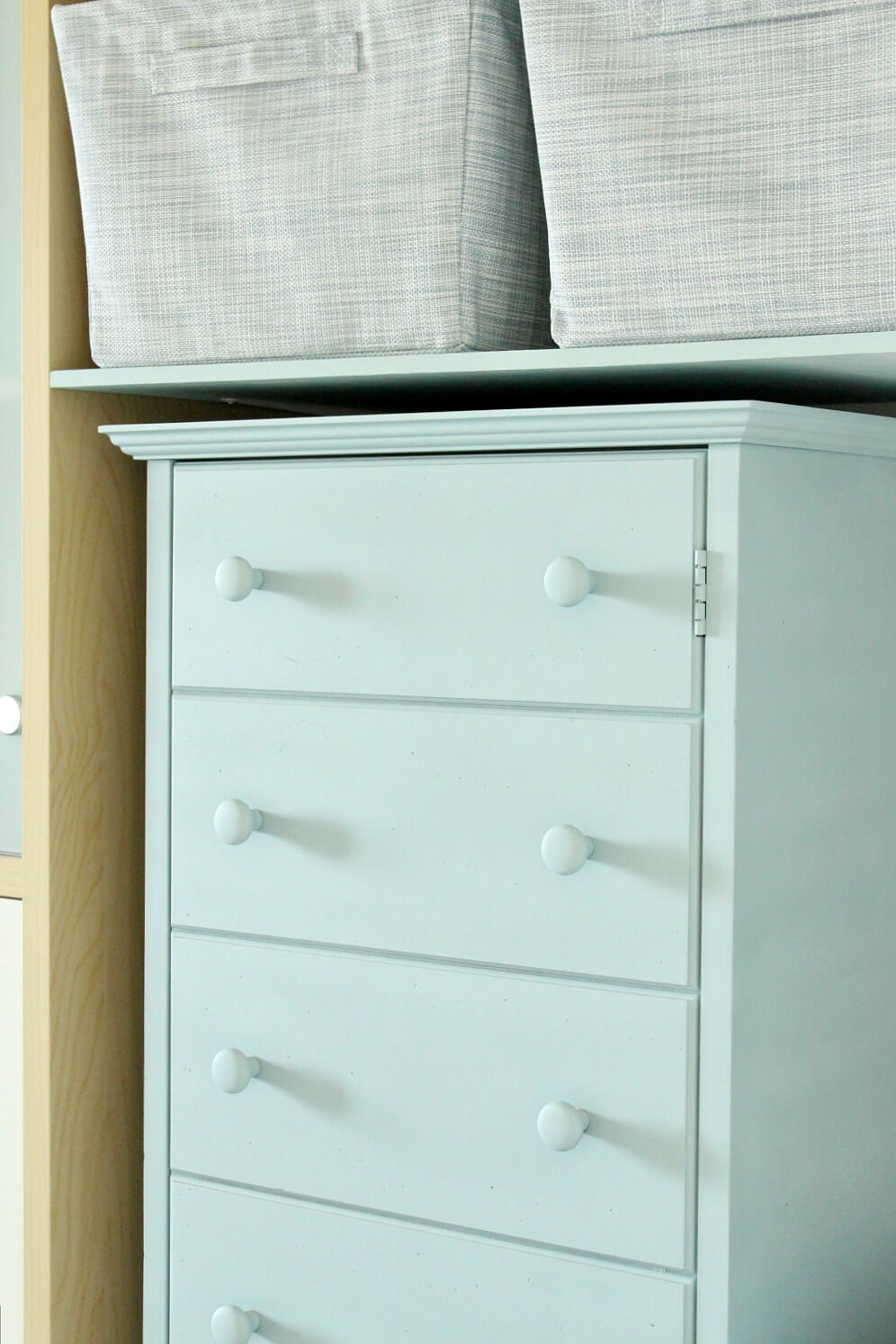 Sometimes, spray-painting a piece of furniture hardware and all is the only way to rescue it such that it fits in your decor. Because this dresser received the 100% spray-painted treatment, there was no fiddling with hardware. After three coats of chalk paint, it is ready for display. Whether you choose cool blues or energizing oranges, a chalk paint project can be as pristine or as distressed as you make it. However, if you are planning a project for furniture that is handled often, you may want to add a protective sealant or wax after the paint is dry.
17. Affordable Spray Paint Window Shutters Project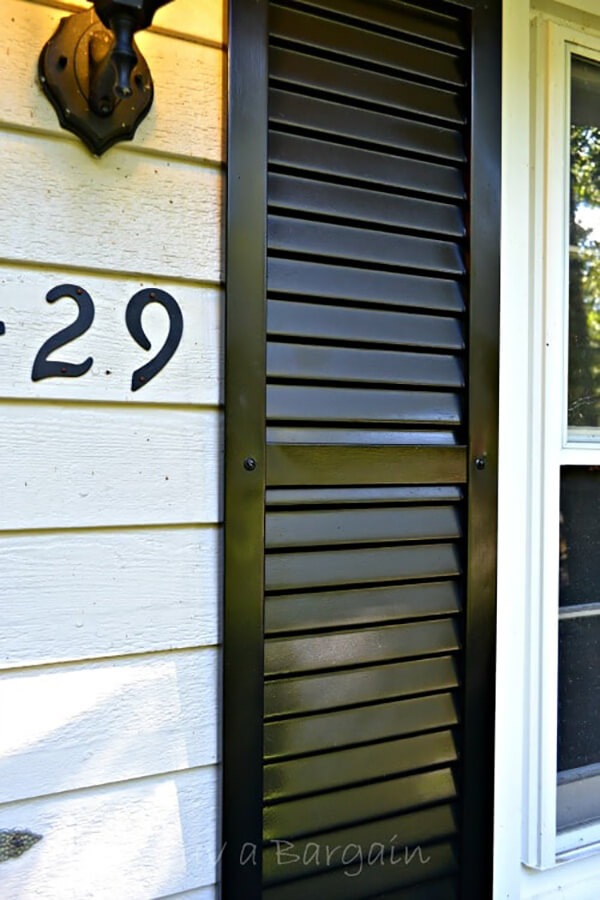 Although an underestimated element of a home's exterior, refreshing the shutters is a very budget-friendly way to revive your house. As long as your shutters are still functional, a few cans of spray paint are significantly cheaper than new shutters. After the shutters are removed, it is actually an incredibly short and easy project. To save time, this tutorial recommends using spray paint that includes primer. Pick a semi-gloss spray paint color to contrast with your home exterior and get cracking! If you have old window shutters, this is a great project to prepare them for a new craft.
18. Statement Piece Spray Paint Furniture Idea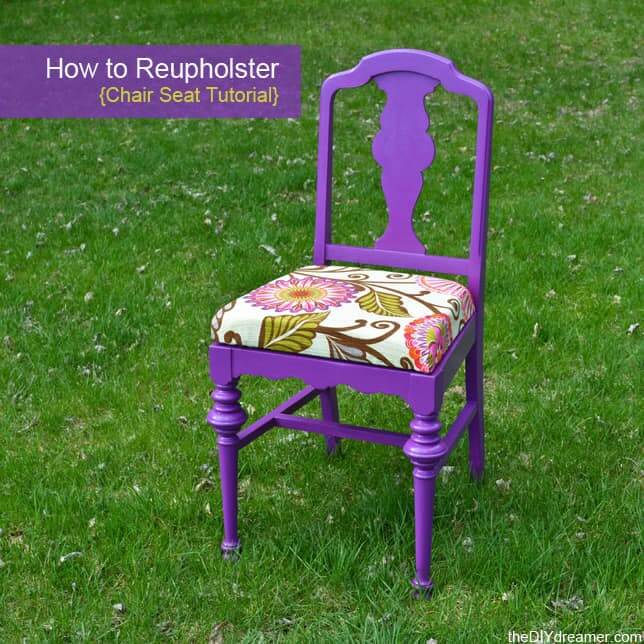 Sometimes, you want to showcase a piece of furniture and help it achieve focal point status. When your furniture decor wants to stand out instead of blending in the background, three coats of high-gloss spray paint might be the answer. Glossy royal purple in this image draws the eye, but you can use any color you desire. Deciding on a fabric that coordinates with your chosen color is almost as fun as picking the paint. Because it retains the vintage silhouette, this chair still exudes character and charm. However, with the new cushion, it is far more comfortable to sit in after this makeover.
19. Upgrade Your Frames with Fresh Color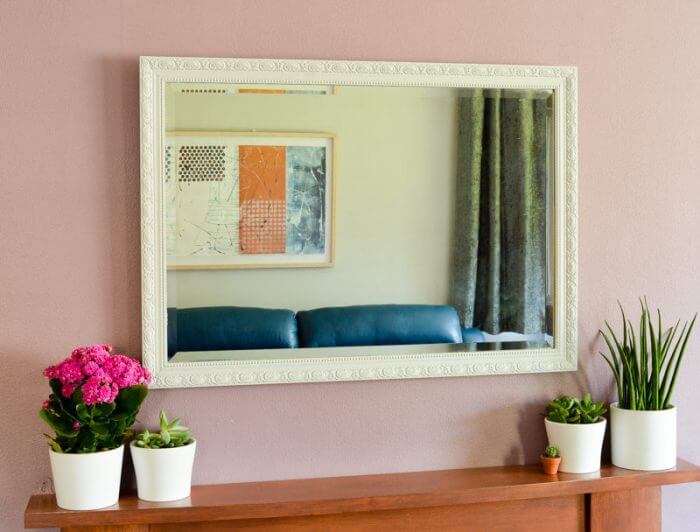 Because they make rooms feel bigger and brighter, mirrors are a must-have in your home decor arsenal. If you are willing to put a little time and effort in, you can transform a mirror with a cringe-inducing frame to a trendy statement piece. The best part about this project is that the frame's intricate texture and charming character still comes through — just without the outdated brass. You can use this technique on picture frames as well. When other renovation projects are not compatible with your budget, this is a quick and inexpensive way to give your space a facelift.
19 Ways to Use the Best Spray Furniture Ideas to Create Stylish Masterpieces
When you redecorate a space, finding affordable furniture to fit your furnishings can be a challenge. However, outdated or well-worn furniture is usually easy to find but might not fit in your decor. Applying some of the spray paint table ideas in this list can solve this problem as well as give you control over exactly what color your furniture decor is. Whether you need a console table to blend in or a chair to stand out, spray-painting can help make decorating dreams come true.
Harnessing your creativity to refinish and refresh furniture is an adventure. You can decide whether your projects will look pristine and new or distressed and antique. Is easy-to-apply chalk paint right for your project? Maybe a metallic or a bold color to make your piece a focal point is exactly what you need. Applying a little sandpaper to a perfect coat of paint can allow the original surface to show through and imbues your project with charming character. Although it takes some extra time, glaze can add new dimensions to otherwise flat colors. The best spray paint dresser ideas are ones that are compatible with your project and will help bring your vision into reality.