The best spring and Easter sign ideas will simply enhance your own personal style. Whether you prefer simple and understated or bright and bold, we have fabulous options here for you. There are many signs that are rustic and perfect for your farmhouse decor. There are also minimalistic pieces that have a simple elegance. You will also find some that are made from mixed media with swirling embellishments and lots of colors. There is something for everyone. Take a look at all of the beautiful choices that we have chosen to showcase and then use the information below to help you decide what will look best in your home.
31 Creative Spring and Easter Signs to Enhance Your Home Decor for the Season

Here are some things to think about to help you choose your new spring and Easter signs. Before choosing your home decorations, think about your everyday style. Do you prefer understated or bold decor? Do you have a specific style such as country or Victorian? Maybe you like a little bit of everything and have an eclectic style. Once you know your style, choose a spring or Easter sign that is similar in style. This way it will enhance the beautiful decorating that you have already done in your home rather than clash with it.
You will also want to think about the space that you want to decorate. Is there room for a large wall sign? If so, then choose from the larger signs that come ready to hang. Do you only have some nooks and crannies on shelves to display a sign? There are many cute, little signs that can be tucked in around a potted flower or sit in front of a row of books on a shelf. Do you want it to be indoors or outdoors? Many of the signs listed here have been sealed so that they can be displayed outside safely. Be sure to choose the right sign for your space, and it will surely look fantastic.
1. Easter Tag Shaped Wooden Signs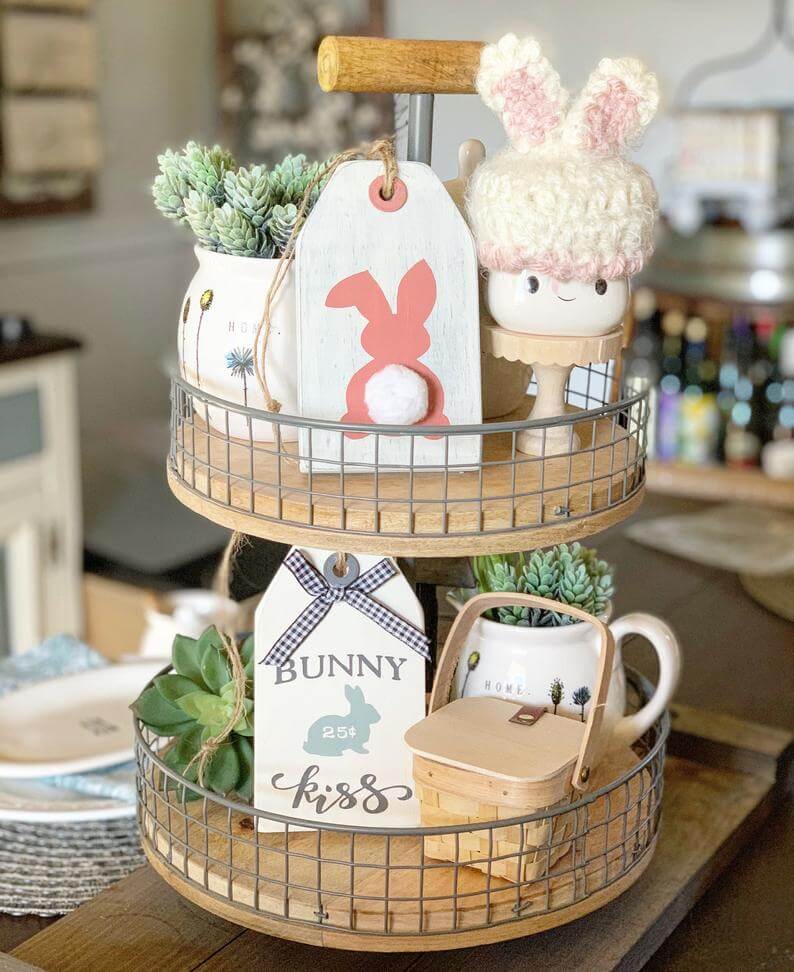 These stylish signs make an awesome addition to your farm decor. They are handmade from pine wood and are available in five different designs. You can choose from several different rabbit pictures or from two different sayings which are painted in shades of sage, off-white, pink and gray. Each tag is adorned with twine that can also be used as a hanger. Hang one from a doorknob, tuck one into a wreath or add one to the base of your Easter floral arrangement. While they can be purchased individually, you can save money by purchasing them as a set.
2. Bunny-Shaped "Hello Spring" Easter Sign Decoration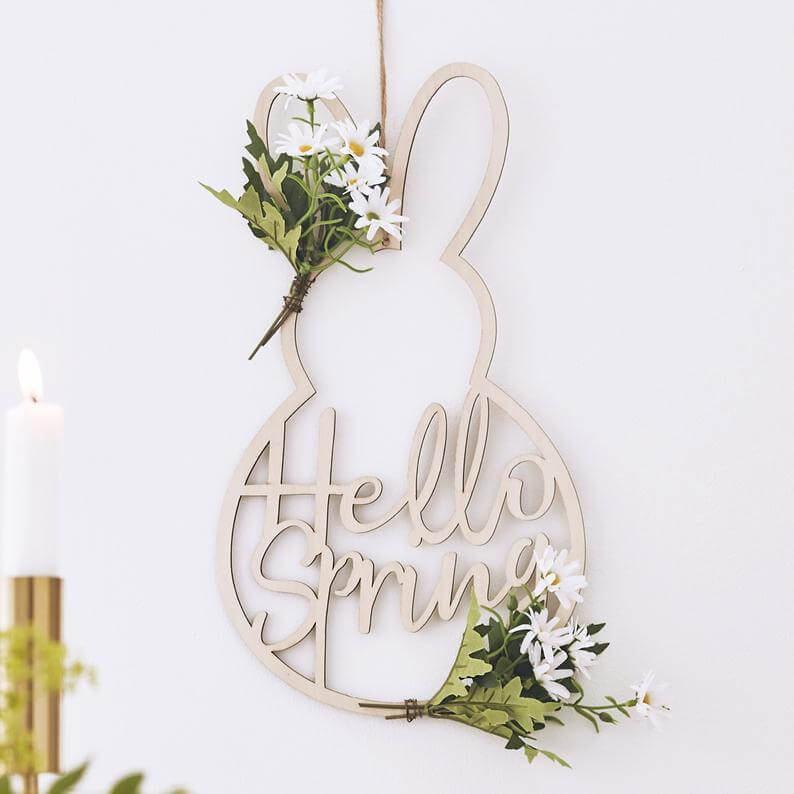 This adorable sign is a wooden cut-out in the shape of a bunny. The words "Hello Spring" are carved in wood as well and sit in the lower part of the bunny. As you may expect, there are some beautiful flowers adorning the sign as well. There is a small bunch in the upper left and another in the lower right, creating just the right balance. The wood is left natural and the artificial flowers are white daises. This sign is simple, yet elegant. With a minimalistic approach to decorating, this is one of our best spring sign ideas.
3. Handmade "Welcome Peeps" Wooden Sign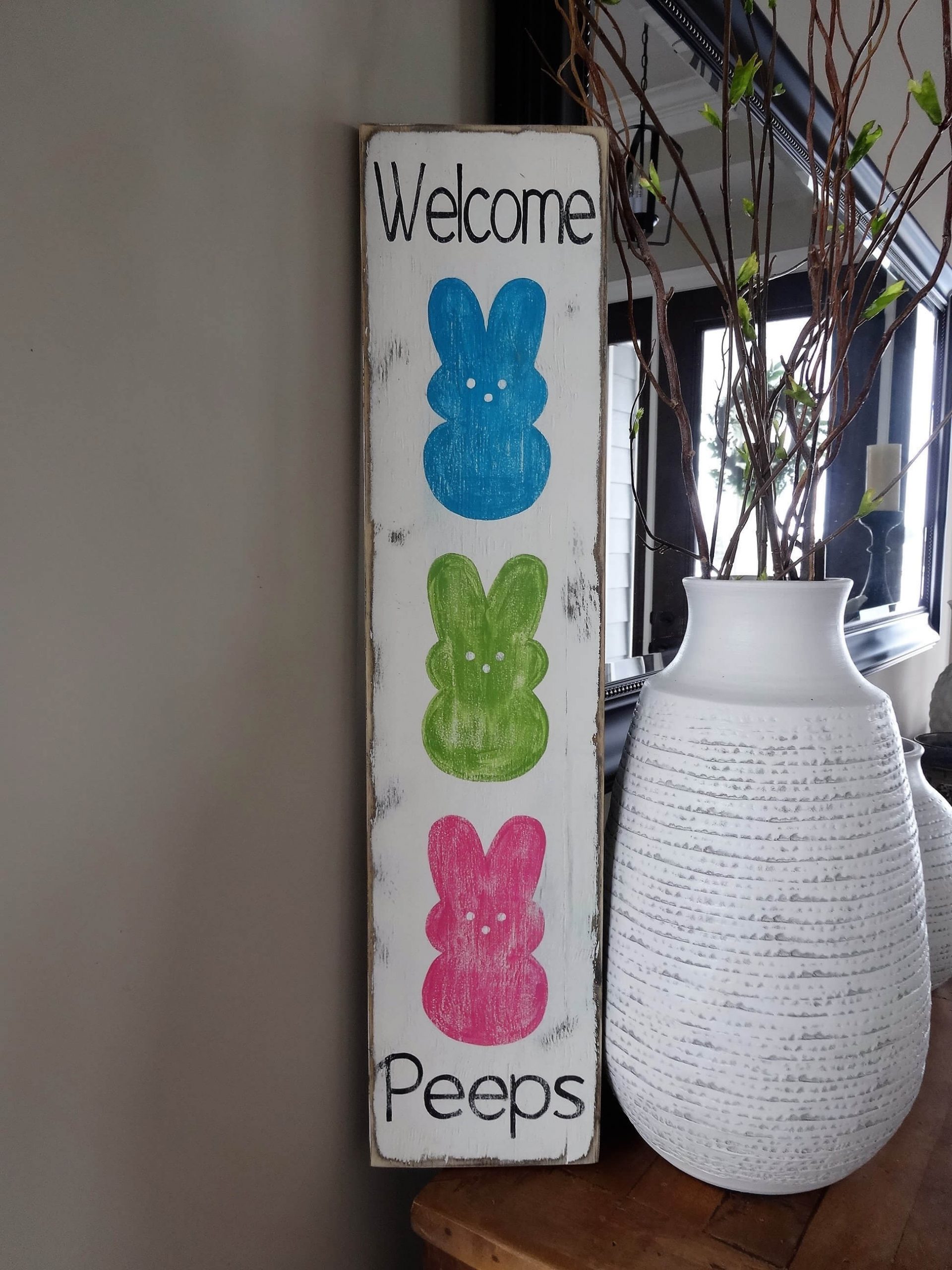 Using a favorite Easter treat makes this one of the best Easter sign ideas you will ever find. Three peeps designed to look like the popular marshmallow Easter treats adorn this handmade sign. This vertical sign would look great on a door and can be used indoors or outdoors since it has a polyurethane finish. The word "welcome" appears at the top of the sign. There are three peeps in the middle. The word "peeps" appears at the bottom. The peeps are shown in blue, green and pink. If you would like different colors, simply let the artist know and she will gladly use other colors.
4. Wooden Carrot Easter Sign Decoration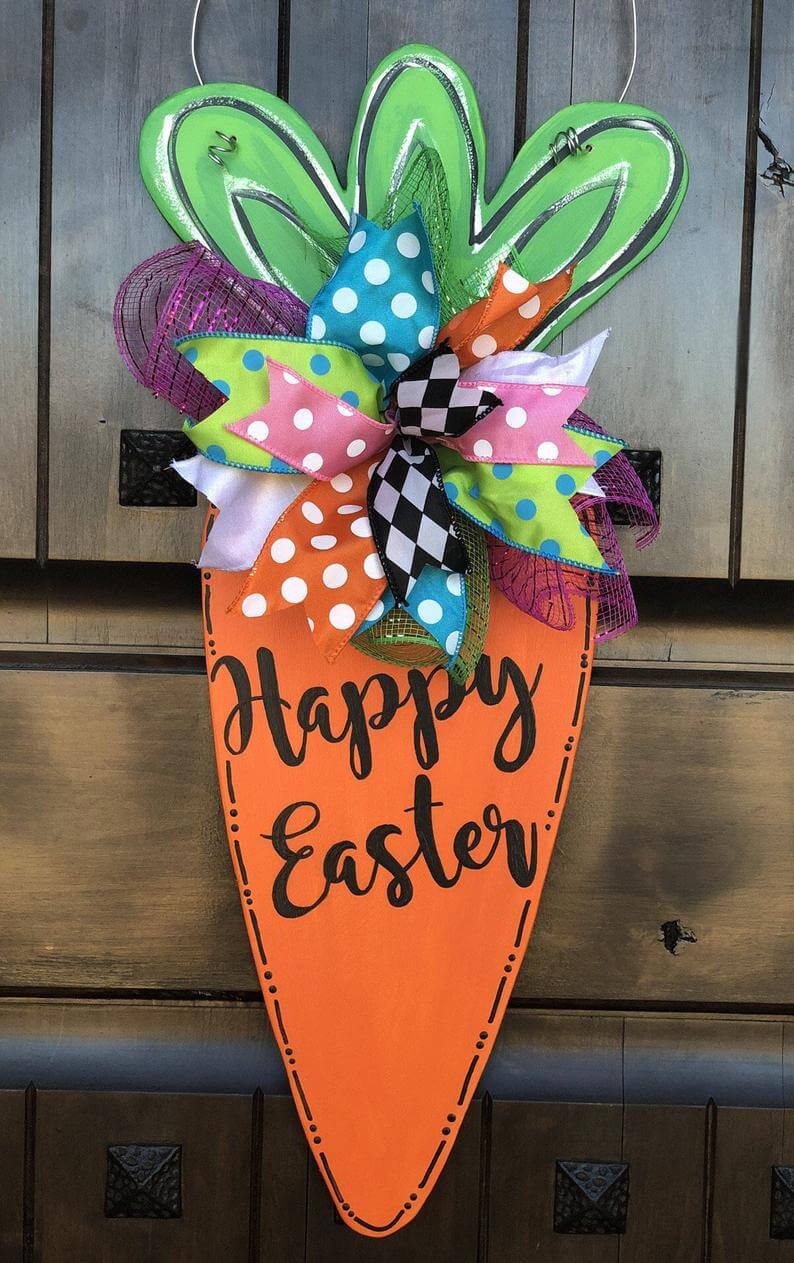 If you need a break from the traditional bunny-themed Easter decorations, then you will love this awesome idea. It is a carrot-shaped sign that is handmade from plywood, sanded down and painted. This vibrant orange carrot has a green top, black outlining, white highlighting and the words "Happy Easter" in black. Then for some added pizzazz, an array of colorful ribbons in multiple colors with polka dots and checkers are added to a beautiful mesh ribbon bow. This unique sign practically screams fun and unique. The bright and cheery colors are very welcoming and will bring smiles into your home.
5. Country Style Decor Welcome Bunny Pattern Packet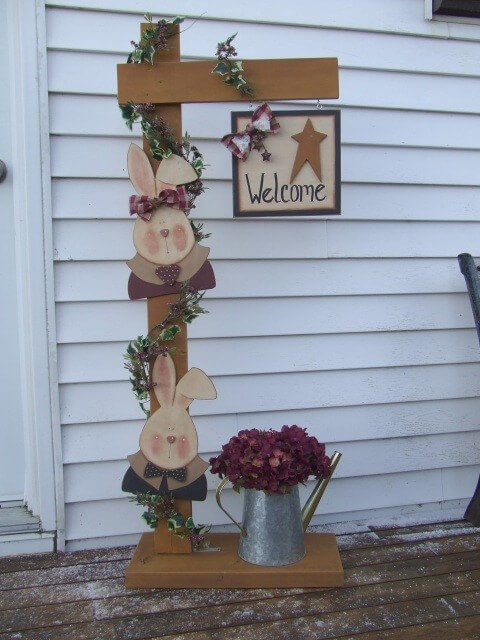 This pattern gives directions for making this unique wooden post that holds a welcome sign on the top and has space to put a potted plant or flowers on the bottom. The pattern includes the directions for the post as well as the welcome sign and two cutout bunnies. There is a boy bunny and a girl bunny, decorated in country style. You can choose to follow the pattern exactly or add your own artistic flair by choosing different colors, ribbons and flowers. Three photos are included with the pattern to show you how to cut and assemble your bunny post.
6. Colorful Welcome Spring Digital Download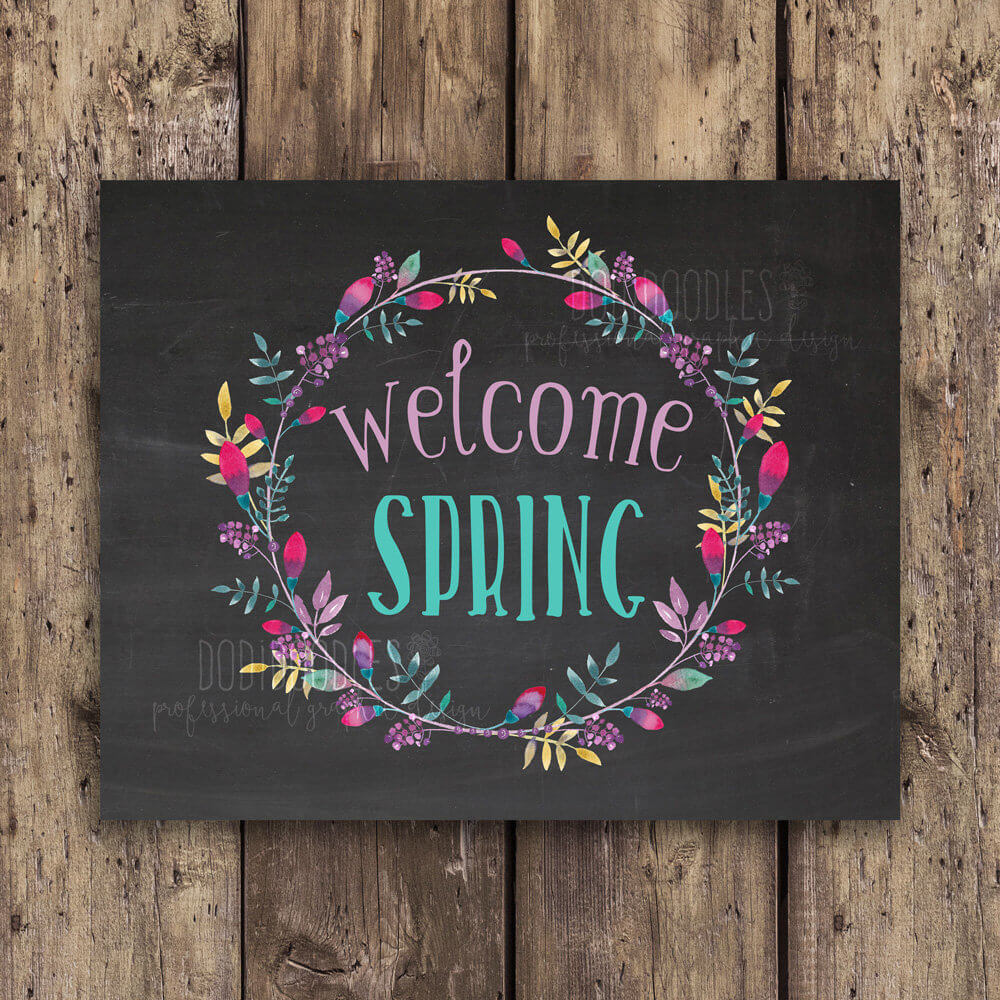 /a>
Some of the best spring sign ideas come in digital downloads so that you can create and customize your own decorations. This is a cool way to make your own item without having to start completely from scratch. This 8X10 download includes a beautiful watercolor wreath in shades of pink, purple, green and yellow. The word "welcome" is in lavender and the word "spring" is in sage green. You can print your sign at home using a high quality paper. You can also print it at an office supply store. Then frame it or apply it to a wooden sign.
7. Reclaimed Wood Look Bunny with Buffalo Check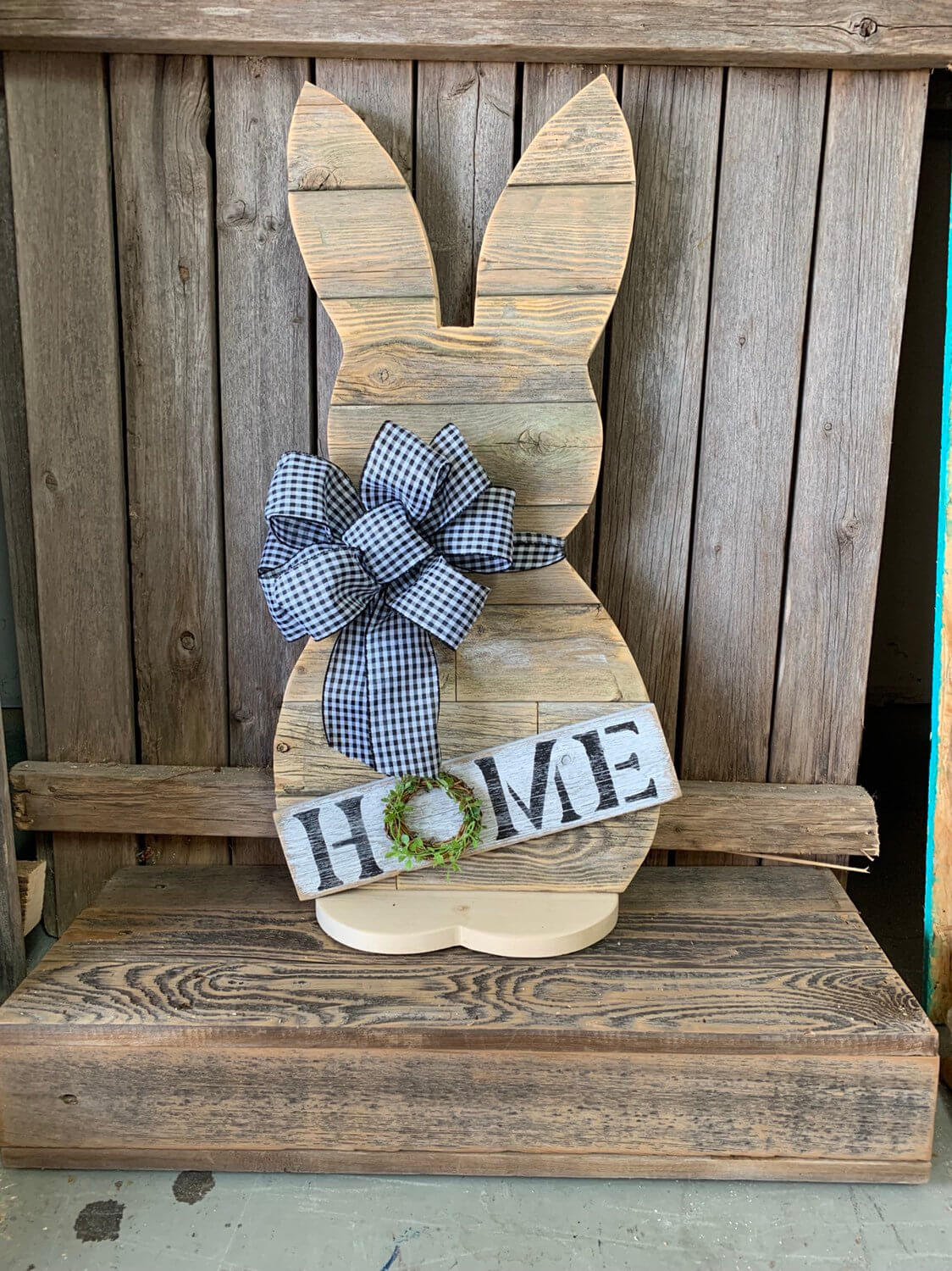 With a snazzy black and white buffalo check bow, this Easter bunny is ready to take on his Easter duties. The sign is made of a cut-out of a bunny. If you like the look of reclaimed barn wood or ship lap, then this bunny is for you. Along with his gorgeous bow, he has a smaller sign across the front that has "home" stenciled on it. A small wreath is attached to take the place of the letter "o". He stands on the ground for easy displaying. This also makes him easy to move if you decide you would prefer in another room.
8. Personalized Primitive Spring Sign Decor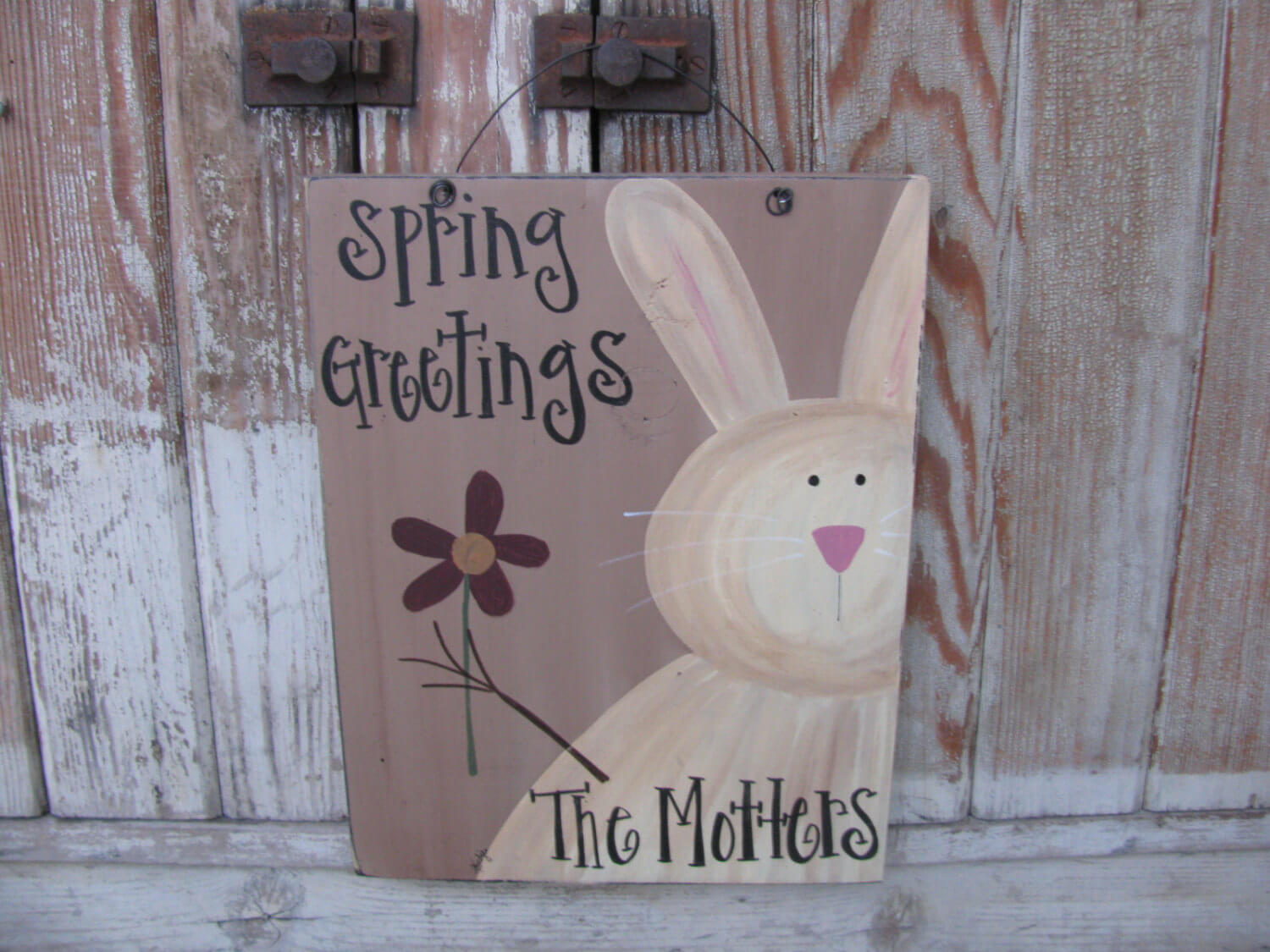 This hand painted wooden sign is adorned with a cute, country bunny. The bunny is understated so that the words on the sign pop. The sign has "Spring Greetings" painted at the top, with space at the bottom to personalize it with a family name. There is also a lovely flower painted just below the greeting that the bunny is holding. You have a choice of a saw-tooth hanger or a metal hanger. The metal hanger is meant to be seen by bowing above the sign and adds to the primitive style of the piece. The piece is sealed so it can also be used outdoors.
9. Rustic "Spring Has Sprung" Home Decoration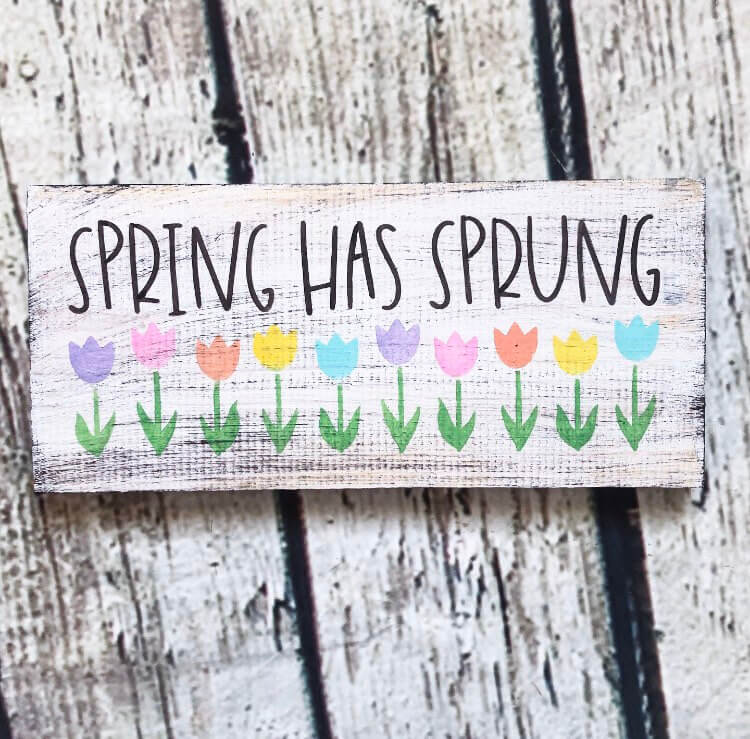 White-washed wood shows off a modern, yet rustic look, on this cool hand-painted sign. Each piece of wood holds its own beauty with knots and lines, which are enhanced by the whitewash. One of the most recognized flowers of the season is tulips, and you will find them proudly painted the whole way across the bottom of this beautiful sign. The tulips are shown in an array of pastel colors with the saying "Spring Has Sprung" painted in black. If you would like the colors or the saying customized, the artist will work with you to design exactly what you are looking for.
10. Framed "Hello Spring" Wooden Art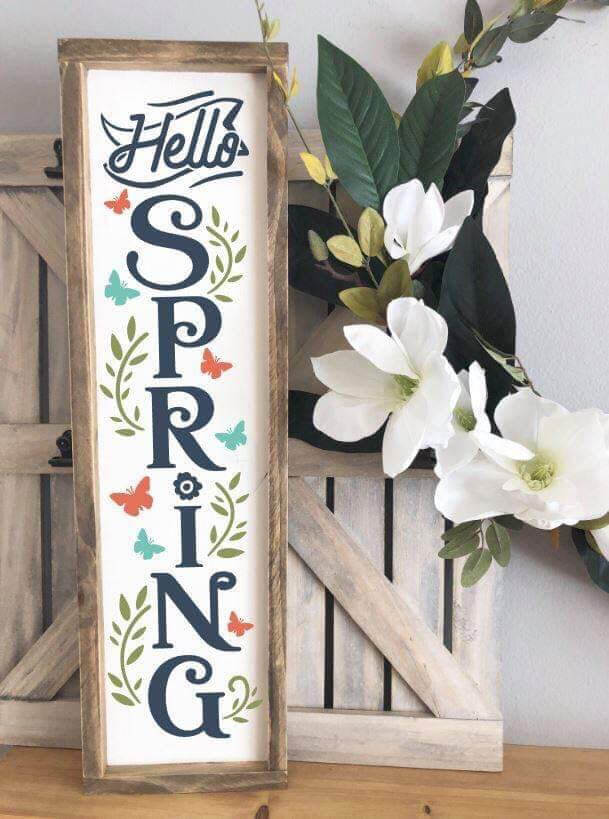 Adding framing to this sign makes it one of the best Easter sign ideas you will find. The frame is constructed of natural wood, showing off its natural beauty. This keeps the sign looking current with that bit of rustic charm. The background of the sign is painted white and is adorned in vines and butterflies in beautiful colors of the season. The words "Hello Spring" are done in fancy fonts to look lively and fun. The sign stands just over two feet tall making it the perfect home decoration for any door and one of our best spring sign ideas.
11. The Potting Shed Wooden Plaque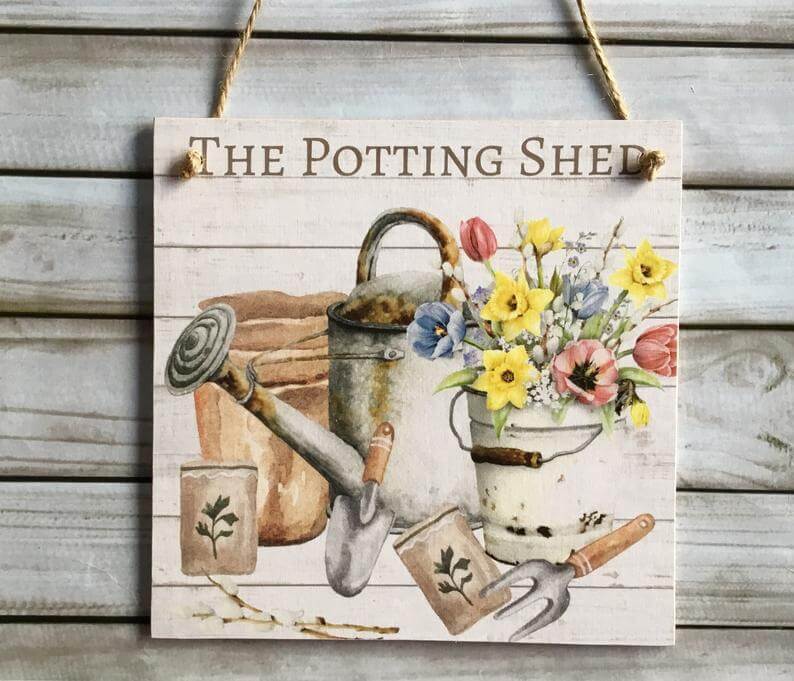 This gorgeous plaque has a decoupage design of a rustic garden scene. The plaque is designed from birch wood and is made to look like ship lap. There is a watering can, some gardening tools, seed packets and a beautiful bouquet of flowers in pastel colors on top of white-wash look background. The top of the sign bears the phrase "The Potting Shed". Any gardener would love to display this sign to show their love of gardening. It comes with twine to use for hanging, which gives an awesome rustic look. Holes are pre-drilled, ready for you to add the twine.
12. Buffalo Check Bunny Sign and 3-D Carrots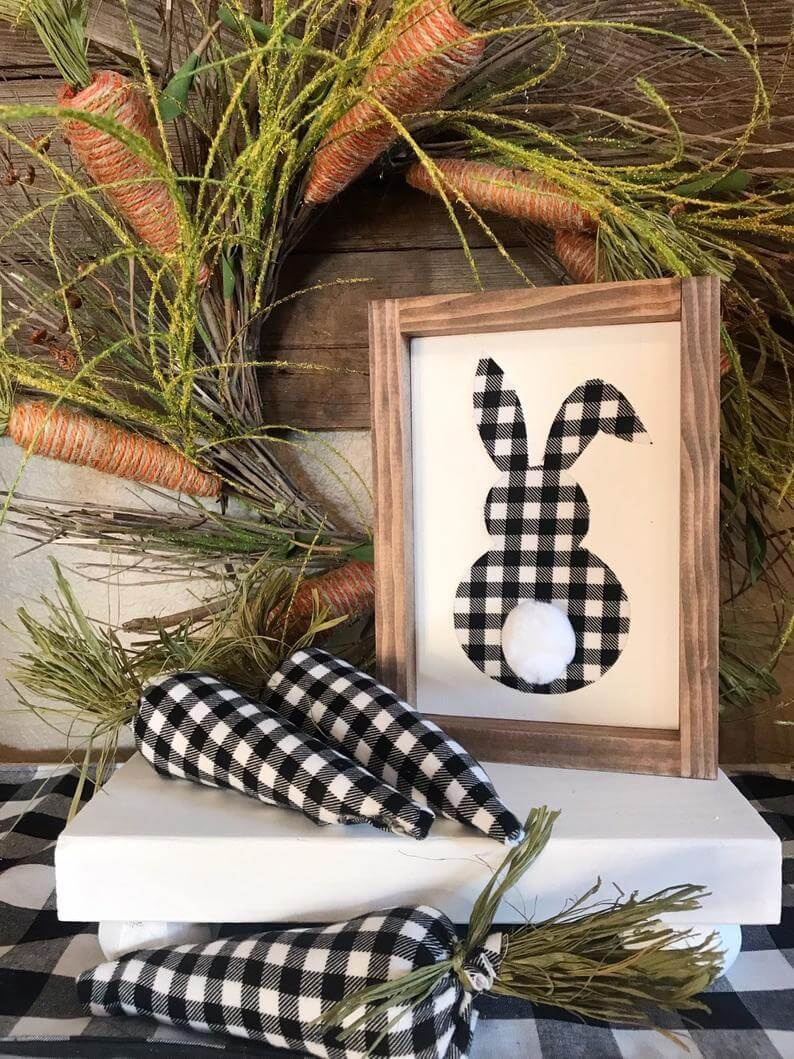 The best Easter sign ideas sometimes come in an amazing set. This one comes with a sign and some accessories. This sign has a black and white buffalo check bunny with a fluffy cotton tail on a white background. It is framed out in natural wood, adding a warm yet rustic charm. Included in this set is a set of three stuffed carrots. They are made of black and white buffalo check fabric, sewn and stuffed. Green raffia is added to the tops for a fun farmhouse looking carrot. This set would look great on any table for Easter.
13. Wooden Spring Themed Sign in Dark Walnut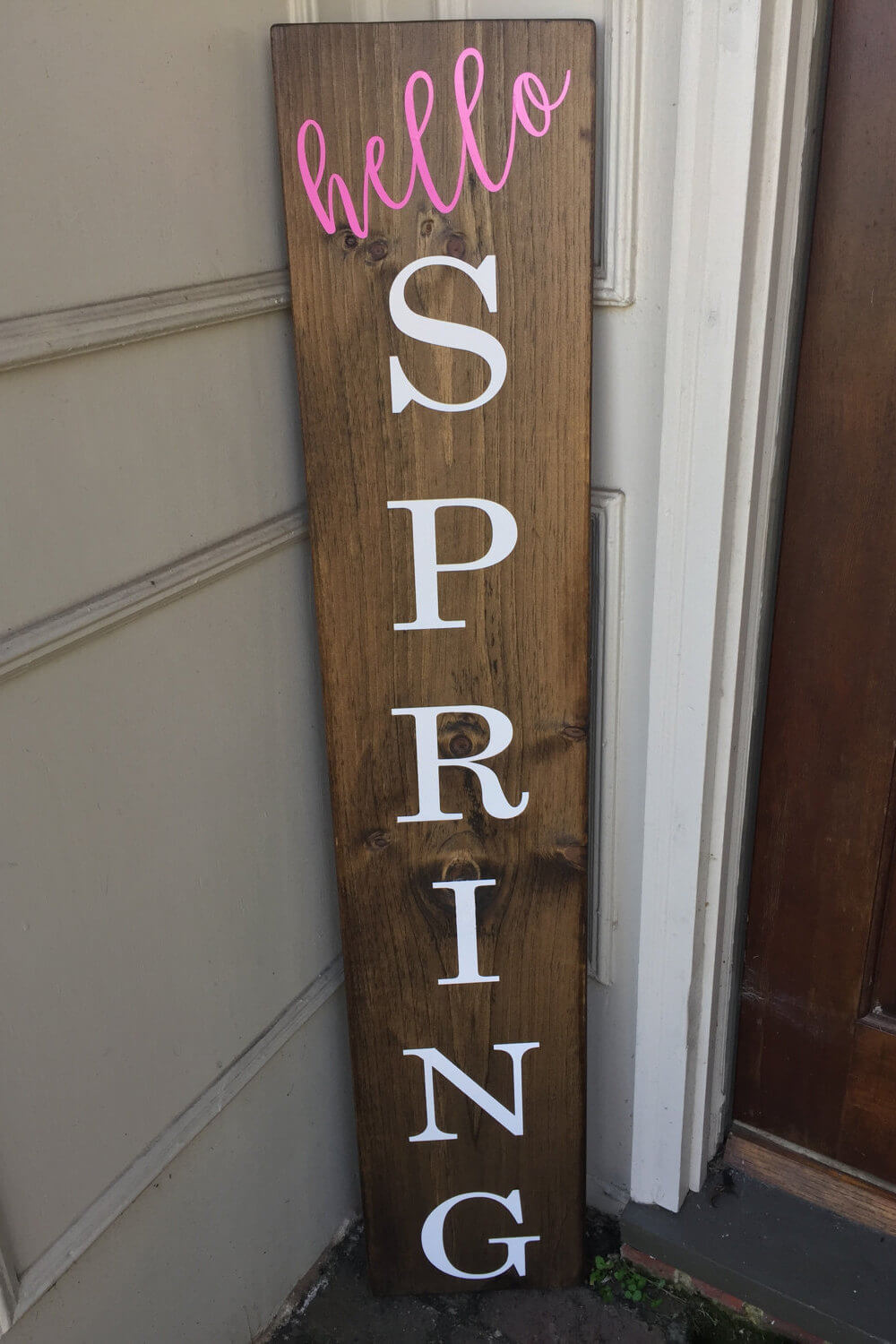 This pretty spring sign decor stands four feet tall. It is awesome for an entry way or alongside a door. The word "hello" is written across the top, and the word "spring" is written vertically over the rest of the sign. If you order this listing as is, the word "hello" will be in sunflower yellow. The word "spring" will be in white. If you are interested in having the colors the same as the picture, contact the artist and they will take care of your request. Also contact the seller if you would like to add on a hanger.
14. "Hello Spring" Sign Decor Digital Download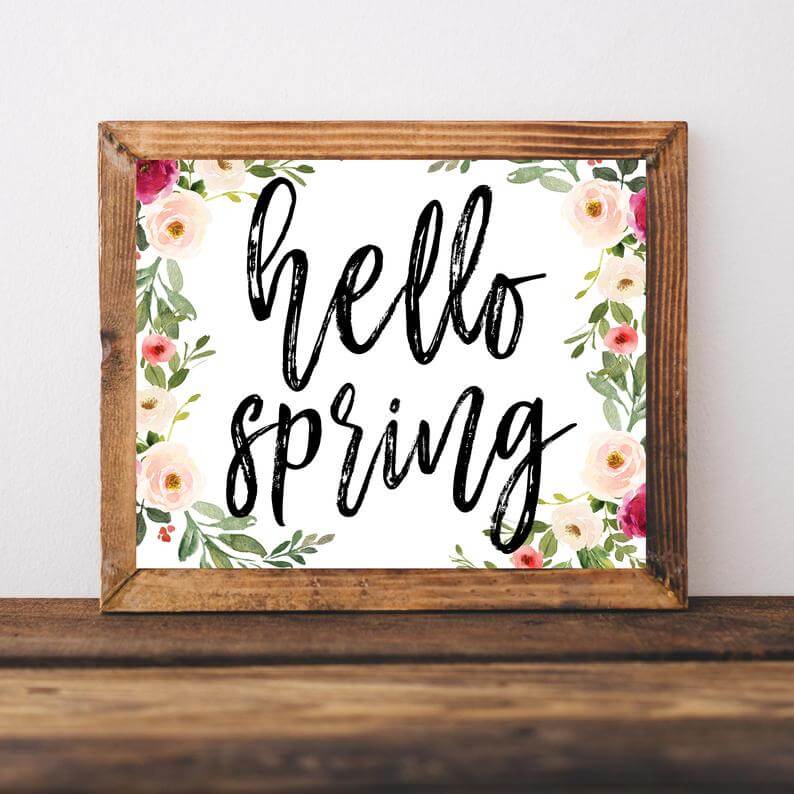 Another one of the best spring sign ideas comes as a digital download. These are super easy to use. Simply purchase the design, download it and print it. Many office supply stores have printing services if you are unable to print it at home. This 8X10 design comes with the phrase "Hello Spring" in black on the middle of the print, one word above the other. The edges have a floral design that purposefully extends beyond the page. The colors are pink, blush and green. These may vary according to your printer settings. Choose the background color by the paper you print on.
15. Decorated Wooden Letter Cutouts to Spell "Spring"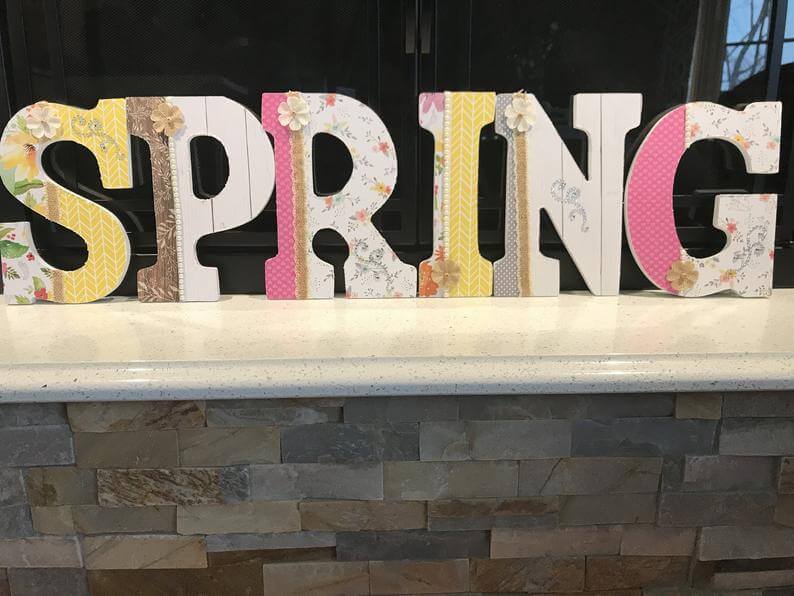 Each of these beautifully decorated letters stands nine inches tall. They are separate pieces and stand on their own, but there is a hole drilled in the back for hanging if you prefer to hang them. The listing is for the word "spring" but other custom orders can be placed as well. Each letter is decoupage with patterned papers. They are also decorated with an array of embellishments such as beads, ribbons, paper flowers, gems or rick-rack. These would look great on a mantle, sofa table or a side board. Add them to your spring sign decor for a cute, new look.
16. Hand-Scrolled Wooden Easter Egg Sign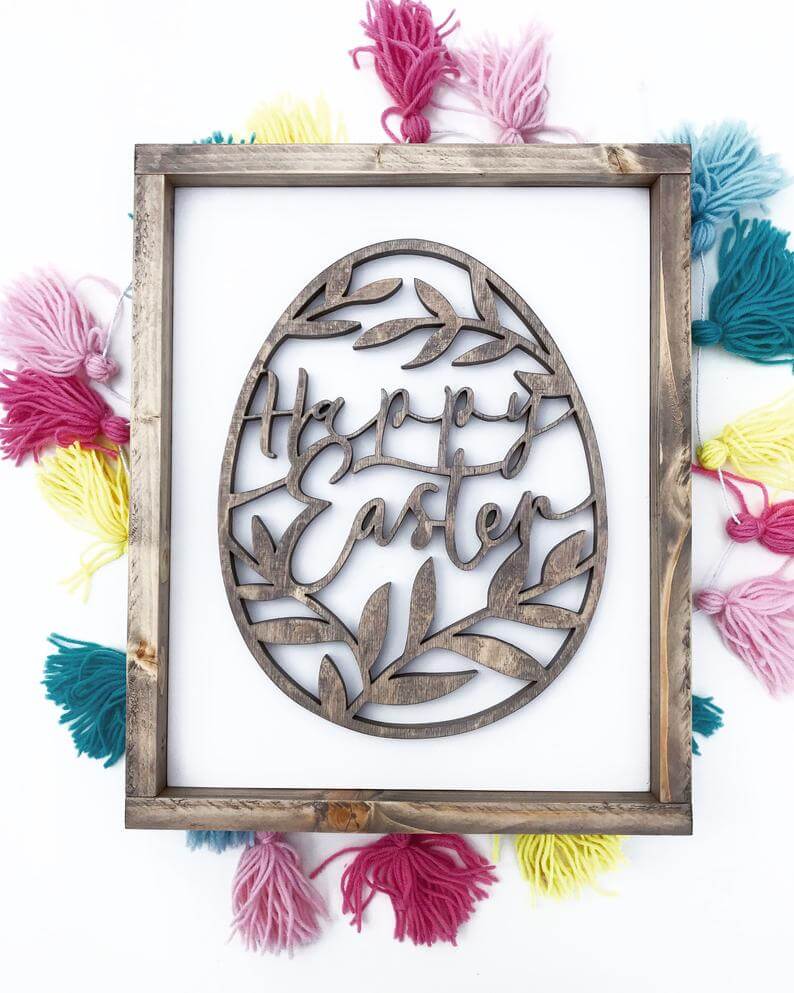 The hand-scrolled work on this sign makes it one of the best Easter sign ideas we have seen. The words "Happy Easter" mingle with vines inside of an egg shape. It is stained after it is hand-scrolled. Then it is attached to a framed white backing. The stain on the frame matches the stain on the egg. It is simply beautiful. Without a lot of color, it meets minimalistic design standards while showcasing the beauty of the wood. The sign has a saw tooth hook on the back so that it is suitable for hanging upon arrival.
17. Simply Stated Wooden Spring Sign Decor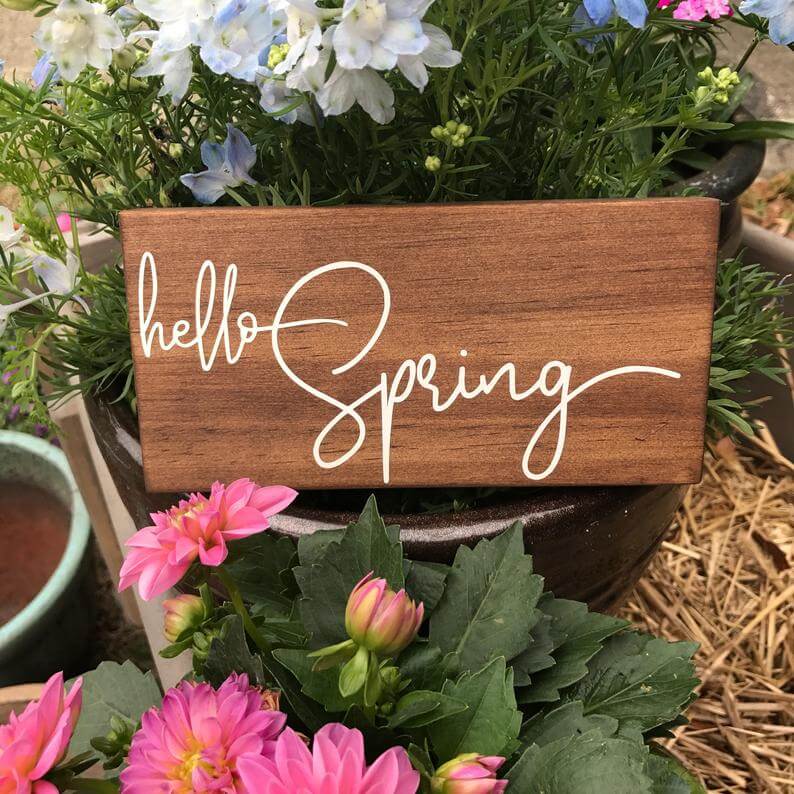 This wooden sign captures the beauty of simplicity with its minimalistic style. It is smaller sign at 3.5X7 inches, and that makes it perfect to tuck in to any of your seasonal tablescape. Add it to a potted flower, to an Easter basket, to a silk flower arrangement or attach it to a wreath. There are so many options with this cute little sign. The sign is made of solid pine, and you have a choice of 4 different stains. The words "Hello Spring" are cut out of off-white vinyl and applied to the sign under two coats of polyurethane.
18. Bunny Kisses and Easter Wishes Wooden Sign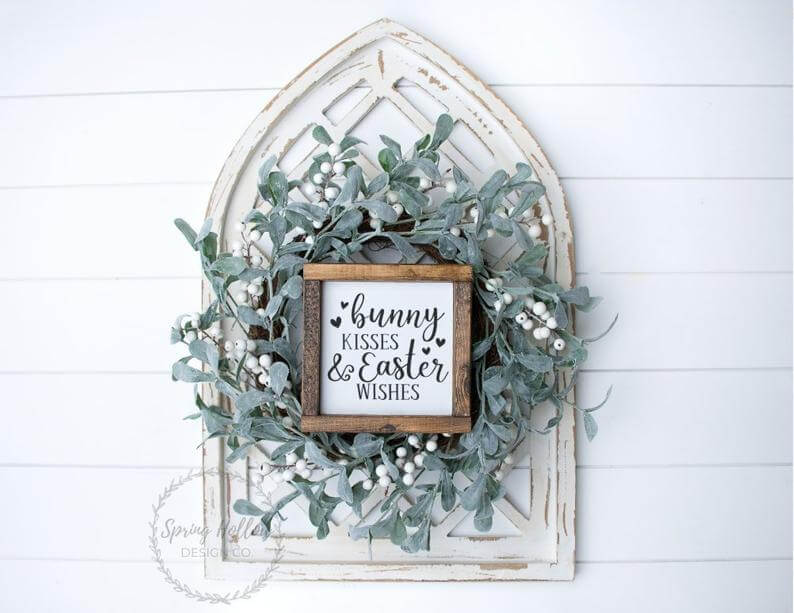 This handmade sign is just six by six inches, which makes it great for nestling in with your seasonal decorations. The background is white and the words are stenciled on with black. It says "bunny kisses and Easter wishes" along with some hearts. The use of different fonts makes this a fun design that is pleasing to the eye. The sign is framed out in solid birch stained wood. It is made to stand on its own, not to be hung. This is perfect for using in tiered tray centerpieces as or for simply setting on a shelf.
19. Metal Sign with Flowers and Bird House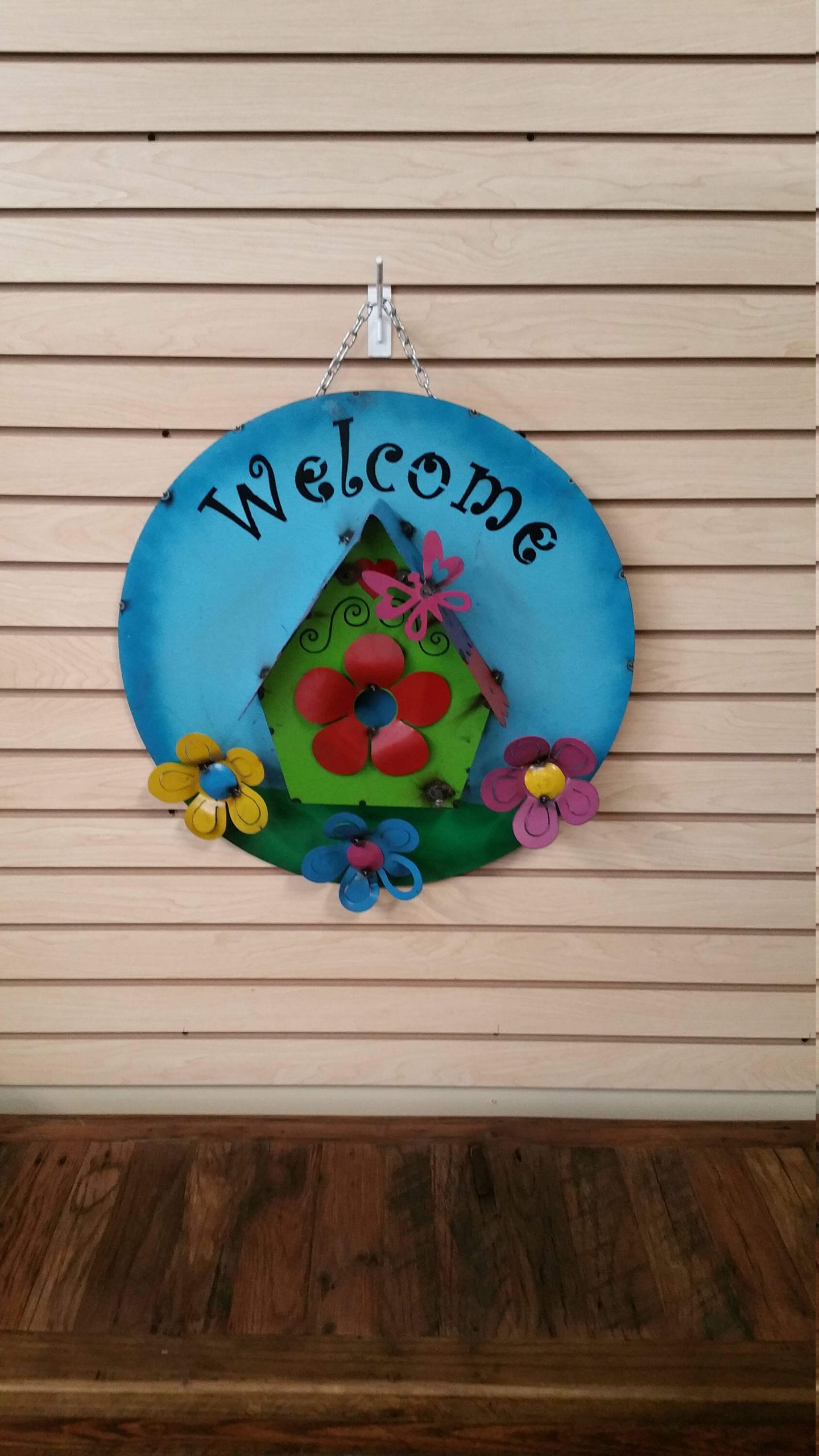 This home decoration is perfect for indoors or outdoors. It is made of metal and is weatherproofed. This adorable eighteen inch blue circle represents the sky. A colorful birdhouse sits in the middle of the picture with a flower in the center. There is a butterfly that looks like it just landed on the roof. It says "welcome" across the top. There are also colorful flowers all along the bottom. It is cheery, bright and fun. Anyone who enjoys the outdoors is sure to love this sign for sure, and it would look fantastic in a garden or on a fence.
20. Cottontail Station Delivery Service Wooden Easter Sign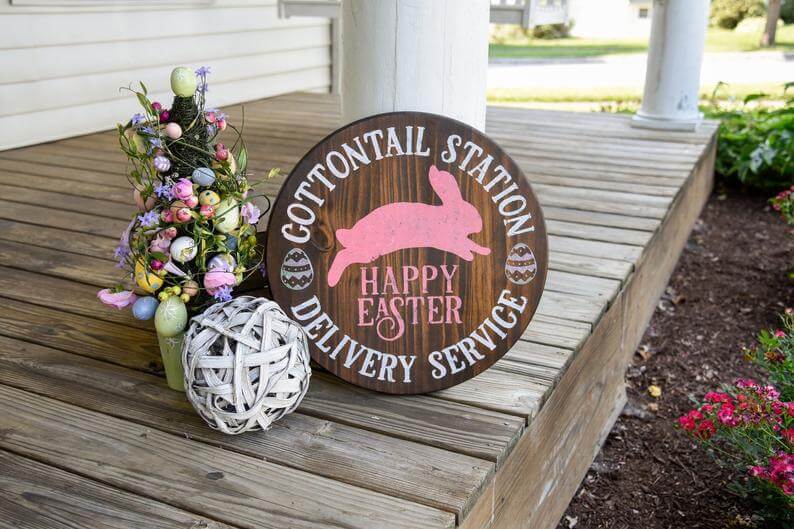 This is one of the best Easter sign ideas in our collection because it is truly unique. This seventeen inch circle is stained in dark brown. Then the words "Cottontail Station" are painted in white following the curve of the top half, while the words "Delivery Service" are painted in white the same way along the bottom. Separating the two phrases are purple Easter eggs. The middle shows a pink Easter bunny hopping over the words "Happy Easter". The sign is embellished with some pink glitter as well. This sign is sealed and can be used outside. It would look great on a porch or a front door.
21. Bright and Cheerful "Be Hoppy" Sign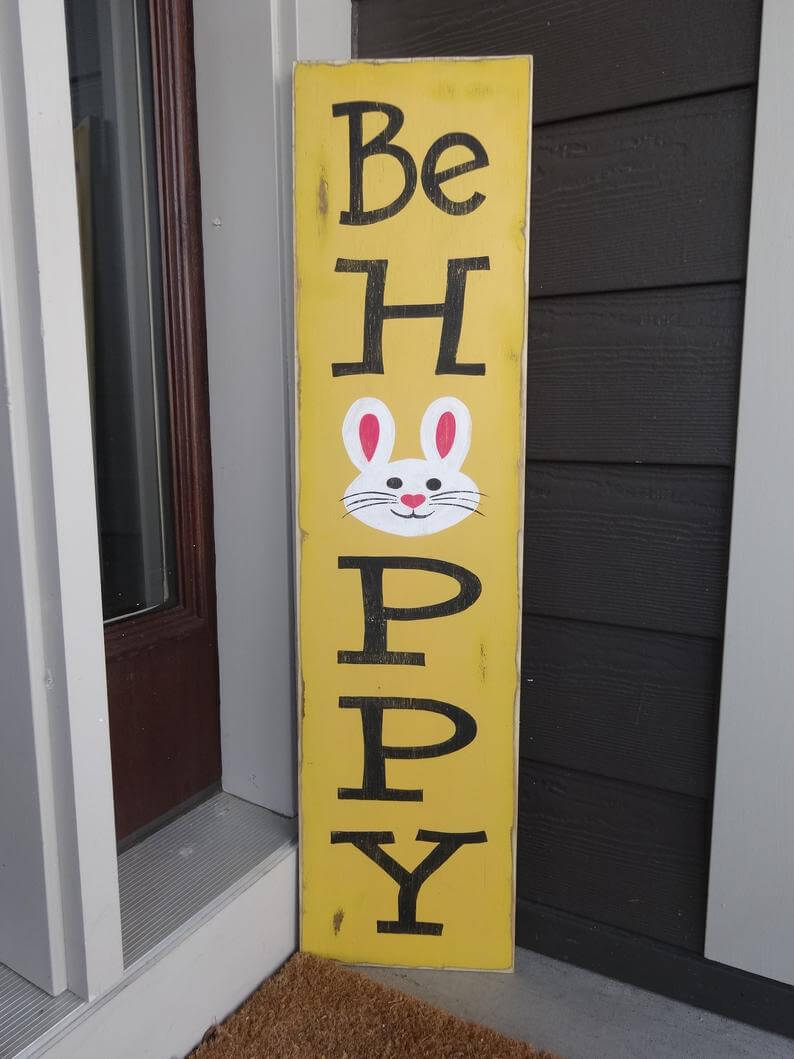 This Easter sign decoration is one of the happiest signs yet. It is a vertical sign boasting the phrase "Be Hoppy". The artist had the awesome idea to replace the letter o with a bunny face, and it truly made the sign adorable. The sign stands forty inches tall and ten inches wide and can be used indoors or outdoors. The background of the sign is stained on the front and the back and then yellow paint is applied to the front. It is then sanded down to look distressed. The words are in black and the bunny is white with pink ears and nose.
22. Best Spring Sign Ideas in Bloom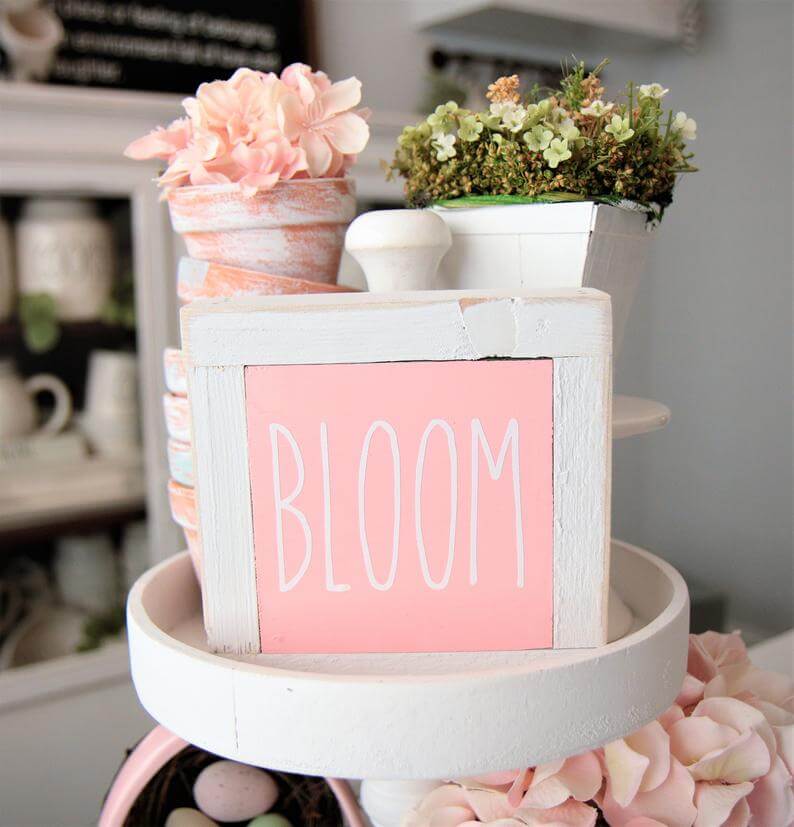 This cute sign may be tiny at six by six inches, but it certainly packs a big design punch. Simply stated, the word "bloom" appears on the sign. The frame and "bloom" are painted in white on a pink background. It is then sealed to protect it. Spring brings about lots of blooms, so why not add this sign to a flower pot or place it in a garden? It can also be tucked in around flowers on a tablescape or nestled in beside a canister on your kitchen counter. The options are nearly endless with the adorable sign.
23. Reclaimed Pallet Wood "Hello Spring" Sign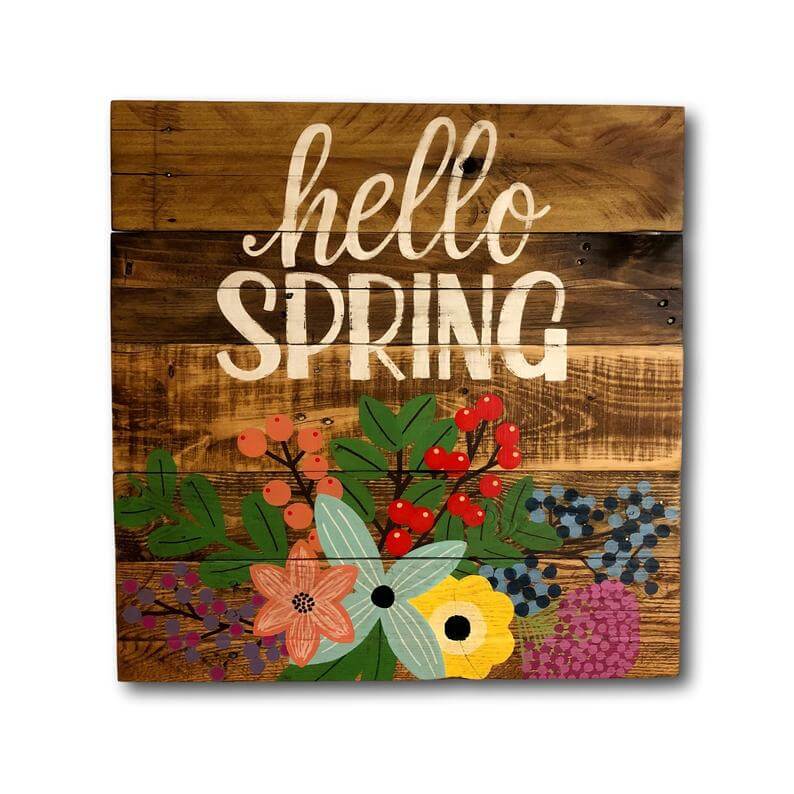 Available in dark or natural wood, this beautiful sign is made of reclaimed pallet wood for a rustic farmhouse feel. The top of the sign has the phrase "hello spring" painted across the top in off-white. Below that is a gorgeous hand-painted bouquet of flowers and berries. This sign is super colorful and is sure to bring a smile to all of your guests. This sign is available in twelve by twelve, sixteen by sixteen, or twenty-four by twenty-four. These large sizes are perfect for hanging and a wire comes attached to make it ready to hang upon arrival.
24. Spring Sign Decor Welcome Spring Banner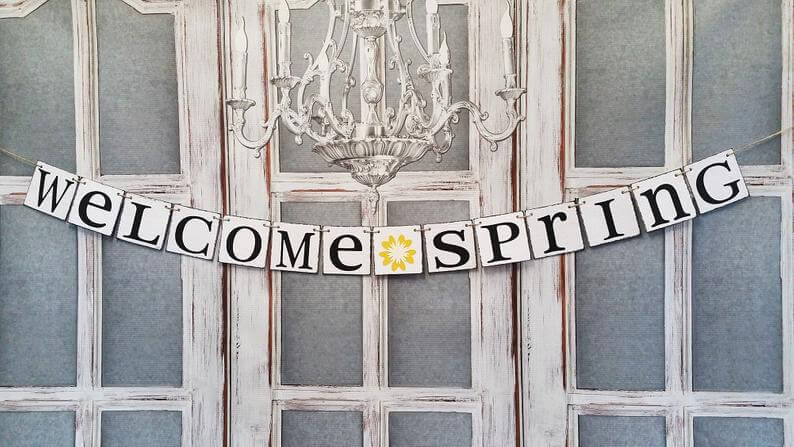 This unique banner is made of four by four inch chipboard squares. The edges of each square are distressed. It is fifty-six inches long, so it makes a statement in any room. This listing is for black letters on a white background. One letter on each square spells out the phrase "Welcome Spring". The words are separated with one square that has a beautiful yellow flower. The colors and the phrase can be customized upon request. The squares are strung together with twine for a gorgeous rustic look. Ribbon can be used in place of the twine for a softer look.
25. "Oh Hello Spring" Digital Download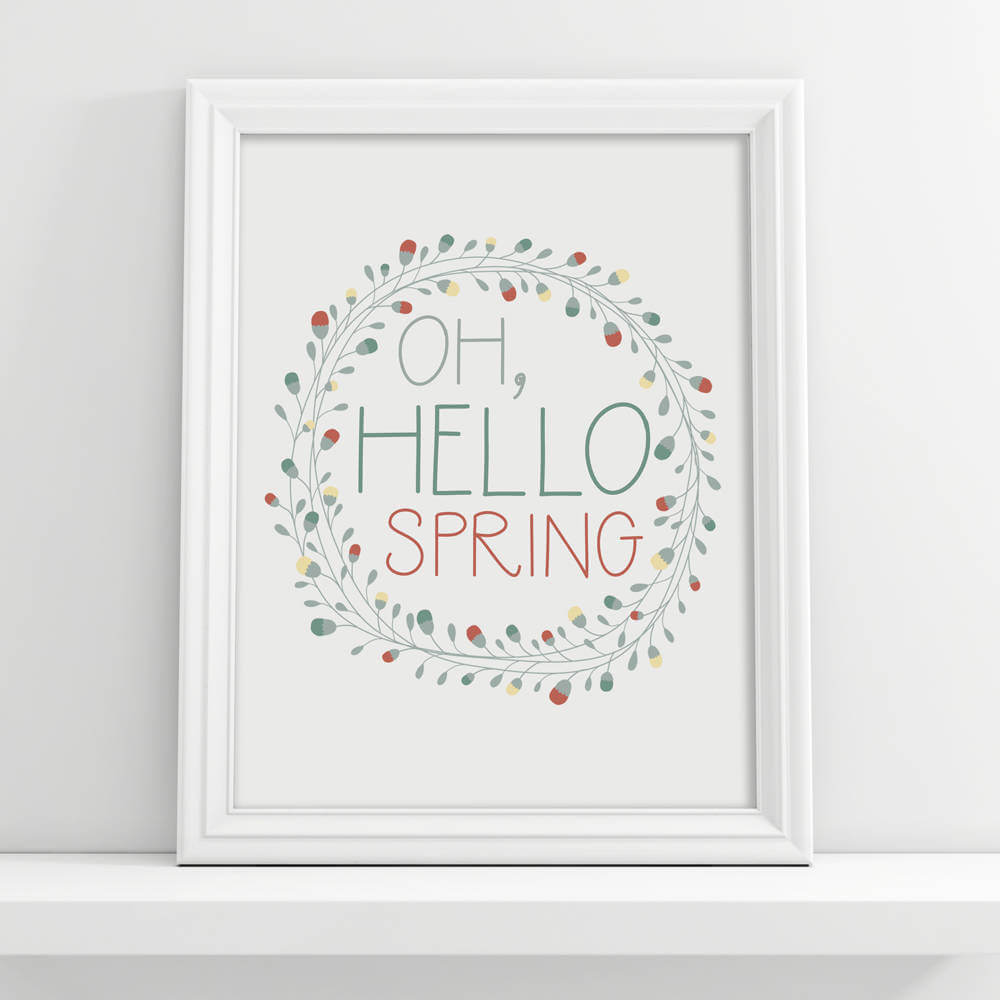 Here is a totally cute digital download for you to print. Simply purchase, print and frame. Be sure to choose a high quality cardstock for printing. Many local office supply stores are able to print for you if you prefer a professional grade quality. If you do not want to frame your printable, then perhaps you would like to decoupage it onto a wooden sign. This download is of a green wreath with yellow, green and red-orange buds. The phrase "Oh, Hello Spring" is painted in the center in matching shades of green red-orange. The background color will be the color of the paper you choose.
26. Colorful "Hello Spring" Rustic Wooden Sign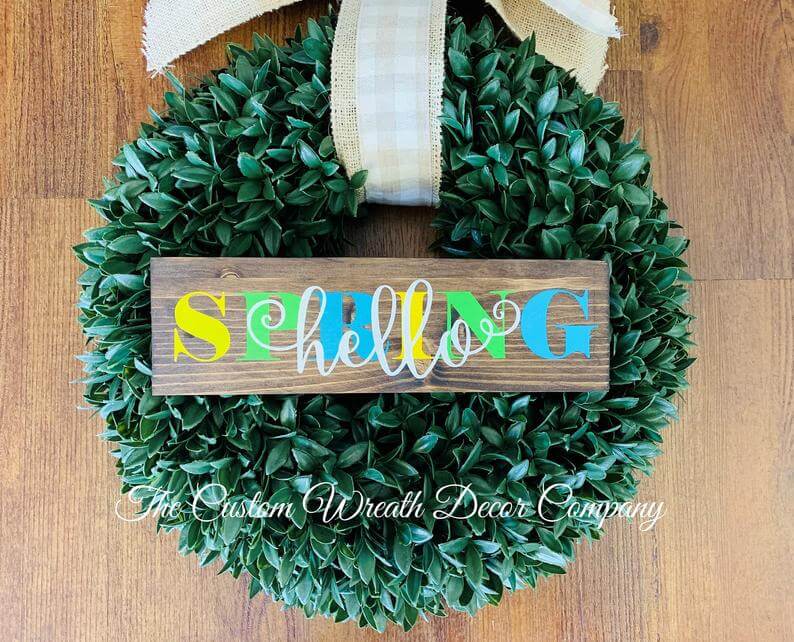 This sign is totally cool with the word "hello" written over top of the word "spring". Using different colors and different fonts really makes the sign pop. It is twelve inches long and three and a half inches tall, making it perfect for adding to any wreath. It also makes a great shelf sitter or a fantastic addition to tiered tray display. It is sure to be noticed with its bright colors of daffodil, turquoise and lime on a dark brown stained wood. White is used to make the word "hello" appear to jump off of the sign. It is perfect for farmhouse or rustic decor.
27. Mixed Media Farmhouse Spring Decor Sign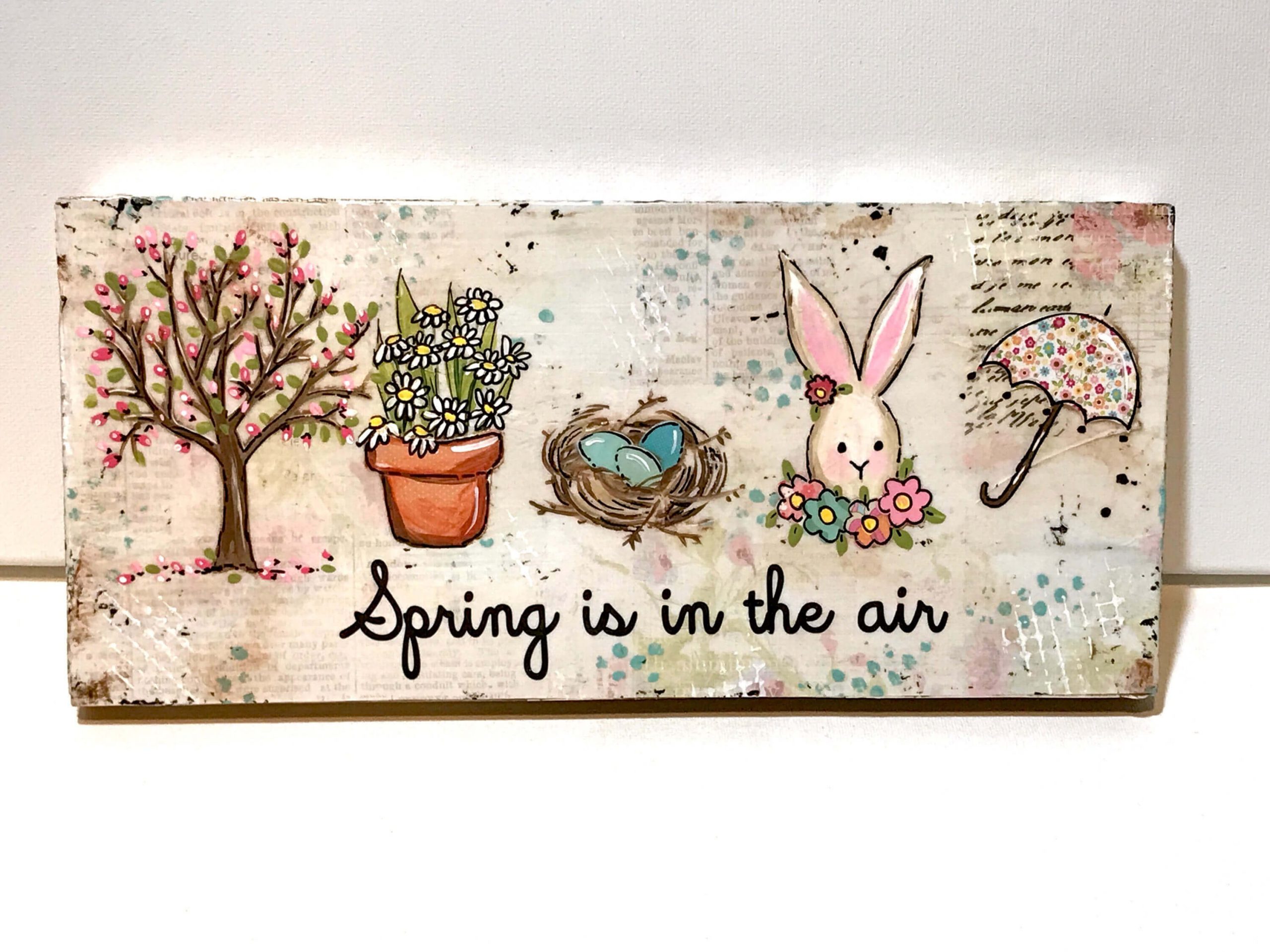 This unique sign is a cool example of mixed media art. The artist used printouts of poems, sheet music, paint, paper, fabric, string and wood to create this amazing home decoration. At twelve inches wide and five and half inches tall, this sign can easily enhance any decor. It can be tucked in around a flower arrangement or just set on the mantle as a stand-alone piece. This sign boasts the phrase "Spring is in the Air" and has all of the signs of spring that we love. There is a flowering tree, a pot of flowers, a nest of blue eggs, an Easter bunny and an umbrella.
28. Farmhouse Style Framed Bunny and Chick Signs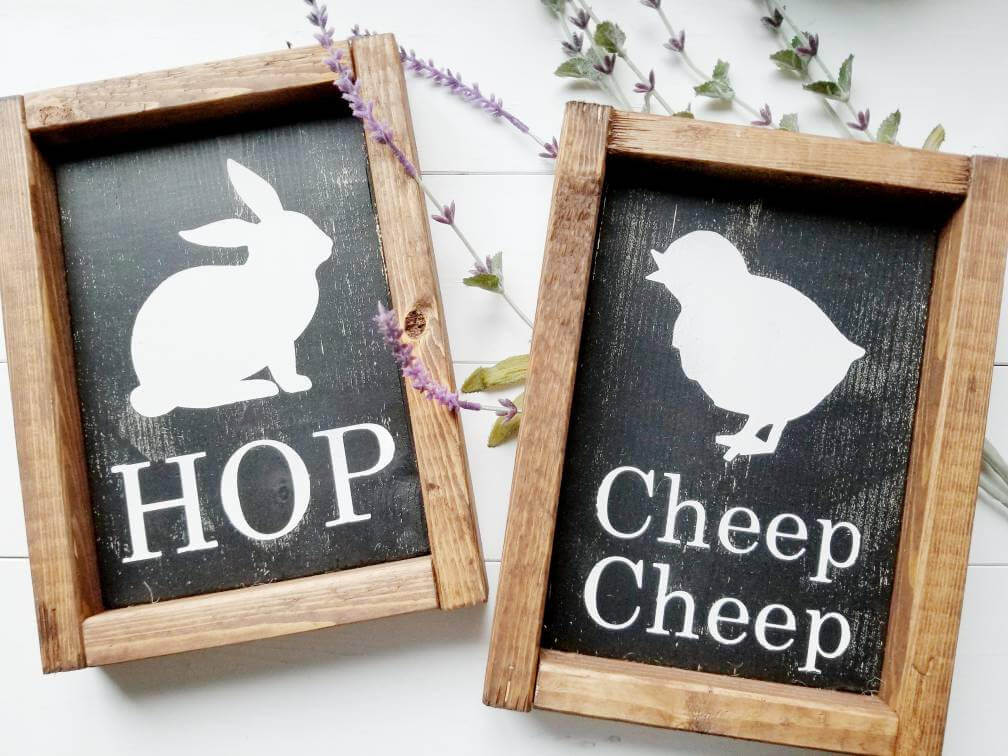 This listing is for two signs. The pair includes a bunny with the word "hop" as well as a chick with the words "cheep cheep". Each stands at nine and a half inches tall and is seven inches wide. They are shown with a black background with an off-white picture and words. If you prefer an off-white background with a black picture and words, then contact the seller and they will work with you. Each is also framed out in wood stained in dark walnut. These make wonderful shelf sitters and are small enough to add to any room.
29. Word Block Easter Sign Decoration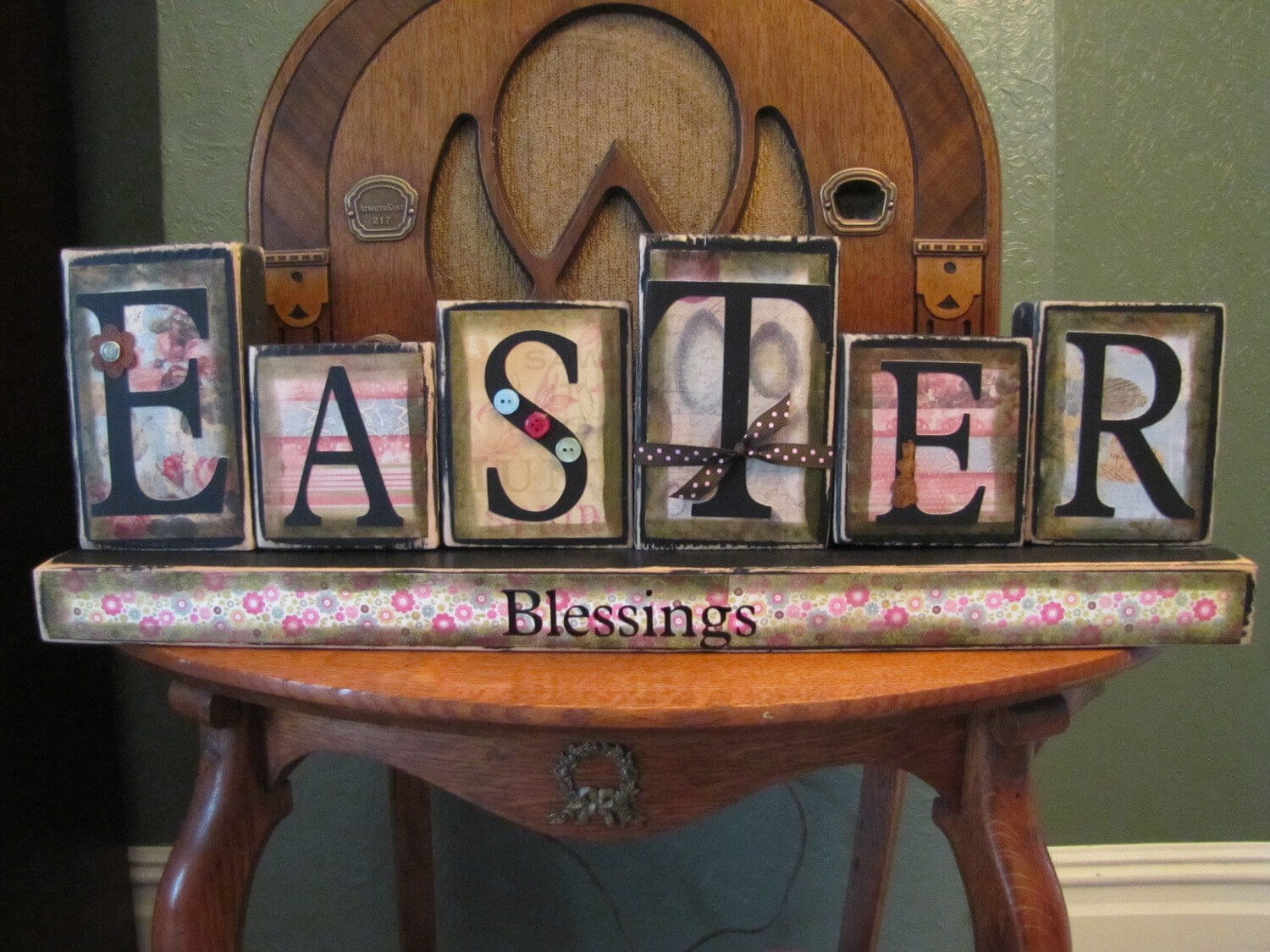 This mixed media sign is truly unique! There is a block for each of the letters in the word "Easter". Those six blocks sit upon a long block with the word "Blessings" on it. The blocks are comprised of wood, scrapbook paper, and paint. They also add delightful embellishments such as ribbon, a rusty rabbit, buttons and brads for an extra rustic touch. This decoration is sure to be turn heads and let your guests know that sending Easter blessings is important to you. It is also exactly what you want to enhance your rustic or farmhouse decor.
30. Laser-Cut Birch Wood Spring Wreath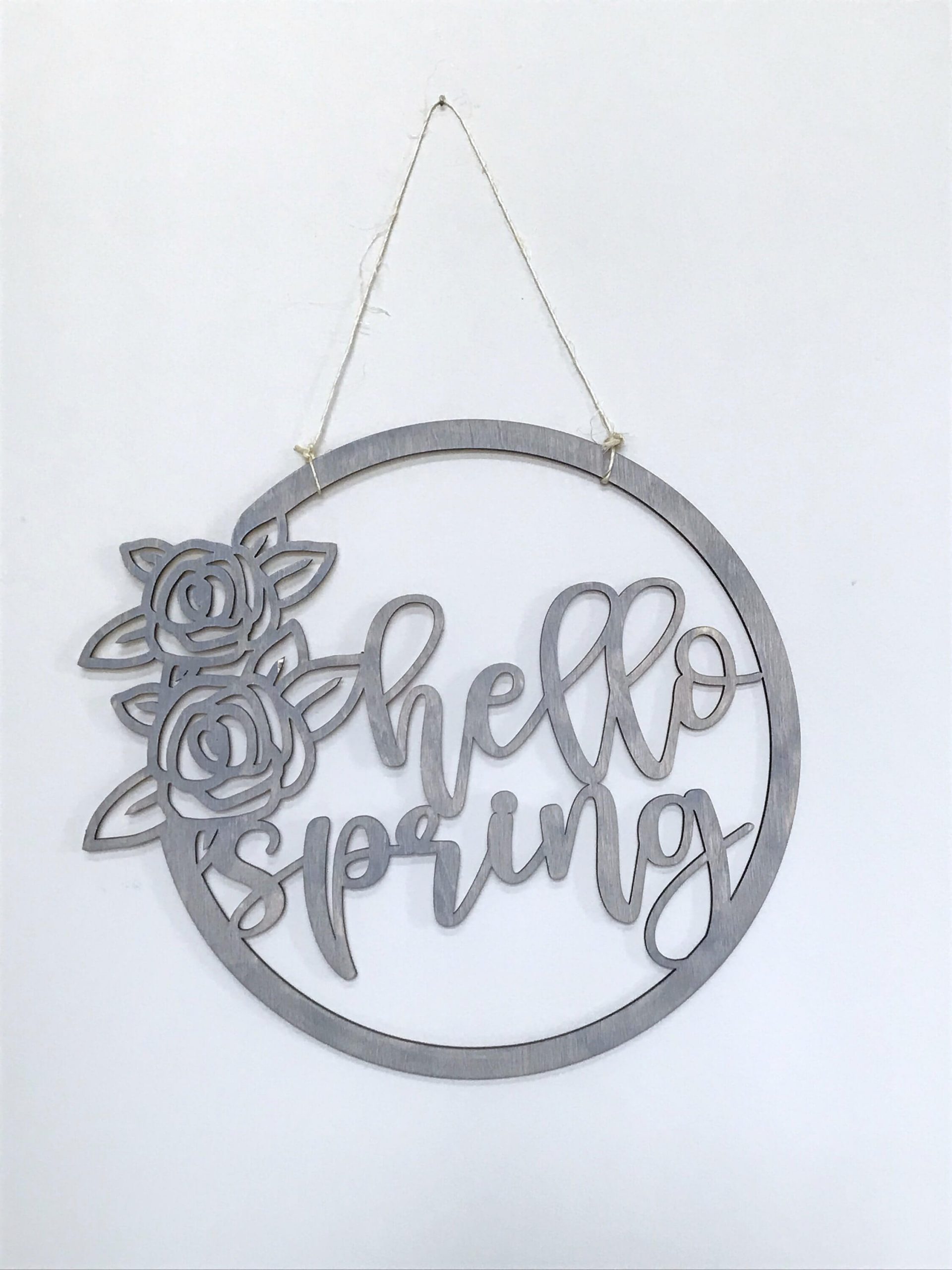 This gorgeous sixteen inch wreath is modern, sleek and stylish. It has a very versatile look, however, and would also look great with farmhouse decor. A simple circle with some flowers on the left and the words "hello spring" in the center is all this wreath needs. The birch wood is a beautiful shade of gray to match any color scheme you are already using. The laser-cut wood is fragile, so it is recommended that you open it with care. Then display inside your home as this is not sealed for the outdoor elements. It would look great on a door or as part of your gallery wall.
31. Reclaimed Wood Spring Nail Art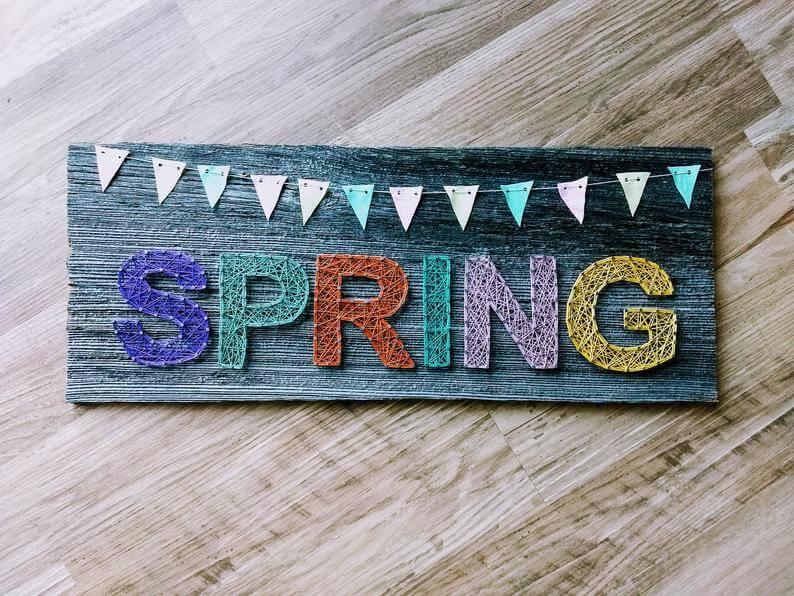 This unique sign is made from old barn wood. Nails are used to create the outline of the letters in the word "spring". Then string is used back and forth between the nails, creating a web of sorts. This adds color to the otherwise empty space. Each letter is done in a different color of string. A small pendant banner decorates the top of the sign. The pendants are made out of small pieces of fabric in beautiful pastel colors. This sign is twenty-three inches long and nine inches high, making it perfect to hang on the wall. It has a great rustic look for your farmhouse decor.
31 Pretty Spring and Easter Signs to Add Personality to Your Home
All of these wonderful Easter and spring sign ideas are sure to get you excited to decorate your home. With so many cool ideas to choose from, your mind is likely bursting with creative ideas of how to transform your space. Take some time to narrow your choices by what style works best with the decor you already have. Then decide what type of sign would work best in that space. Maybe one of the digital downloads would be just right for you so that you can do some customizing. You can choose any color paper to print them on, so that allows you to get the perfect match for your style. Then choose a frame that enhances the print, and you have a wonderful new home decoration.
Use inspiration that you have gained looking through these examples and choose some to go together. Many of these signs fall into the same category of decor, so mixing and matching them would look great. The best spring sign ideas and the best Easter sign ideas have all made this list. We hope that you have found many that you love so that you can incorporate these awesome ideas into your own style.
Choose Rustic Wall Decor Ideas to Make Your Home Warm and Inviting