Spring centerpieces combine the fresh blooms of the season with attractive vases and baskets. Whether you have store-bought flowers on hand or blossoms from your own garden, you will be able to find a unique idea in this slideshow.
50+ Fresh Spring Centerpiece Ideas to Give Your Table a Charming Look for the Whole Season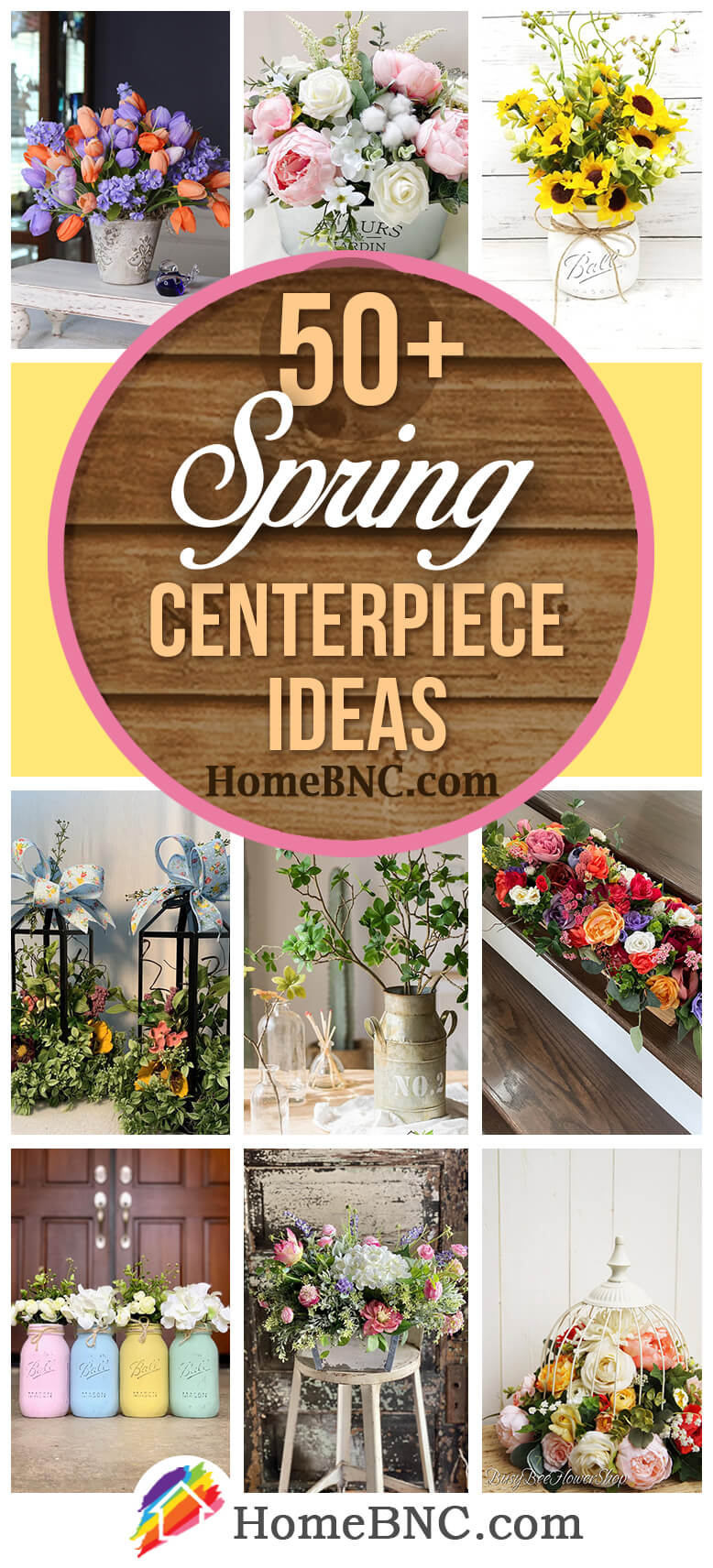 Many of these centerpieces take advantage of different kinds of containers for flowers and for the vases themselves. From watering cans to handmade twig and straw vase covers, these ideas use a lot of imagination.
Using a reclaimed kitchen drawer or low-sided box to contain the vases is a popular concept. Some of these boxes are hand- or vinyl-lettered with inspirational words like "Love" and "Gather". These boxes could also be decorated with family names or favorite quotes.
Some of these designs have embellishments like artificial birds, eggs, and butterflies. These ideas are cute and would appeal to children. One truly original option combines a clear glass vase with a bunch of bright orange carrots and flowers.
Mason jars are another popular trend. Whether painted or left as is, mason jars can provide a country touch to your centerpiece. One original idea involves two mason jars tied to each other with twine.
Whatever your crafting level, you will find the perfect centerpiece for your spring table. Delight your guests with the beauty of the season.
1. Spring Centerpiece Ideas with Drawers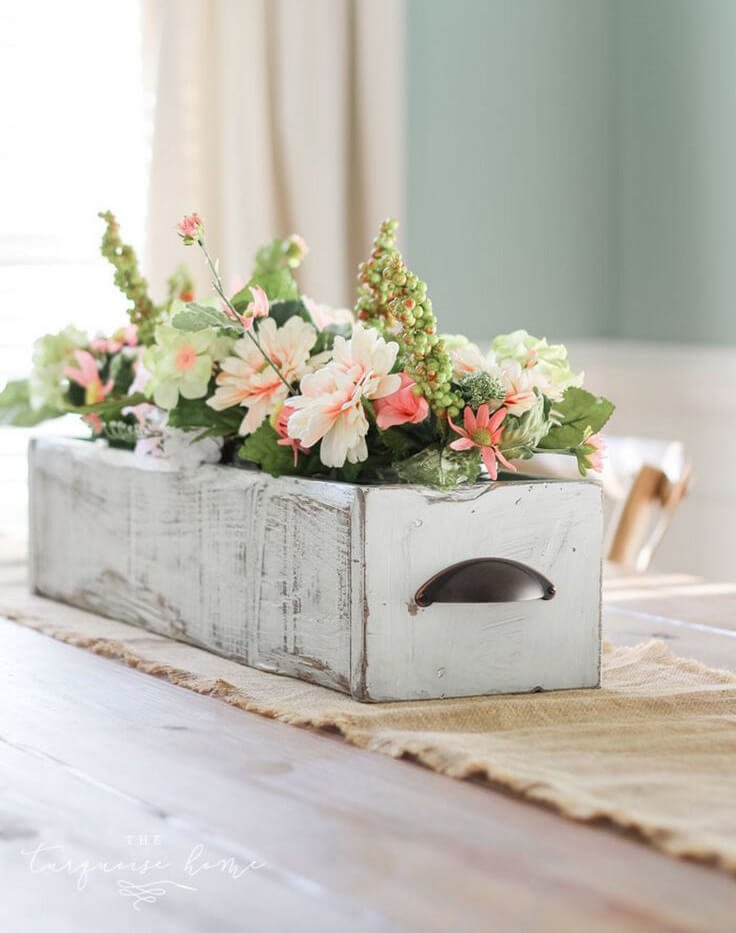 If there are old drawers lying around without cabinets, they can be repurposed into flower holders. This drawer with its cup pull has been white washed and filled with delicate flowers with ruffly pink petals. They are set off by bright green foliage and spikes of buds just about to burst into bloom.
2. A Rainbow of Tulips in Vases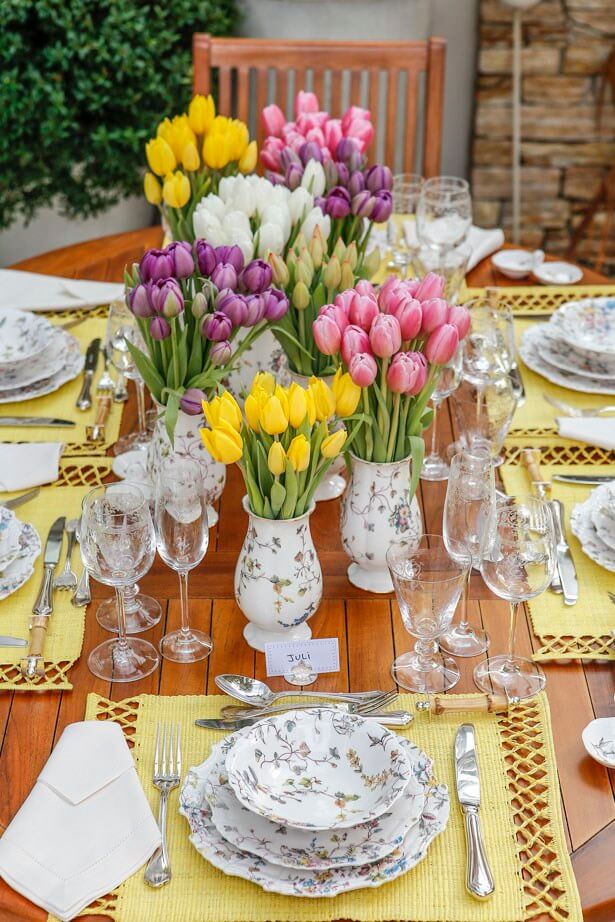 One of the more charming centerpiece ideas is to fill porcelain heirloom vases with multicolored tulips and set them right down the center of the table. This gives the table the atmosphere of an entire field of tulips in shades of gold, purple, pink and white.
3. Mini Daffodils in Watering Cans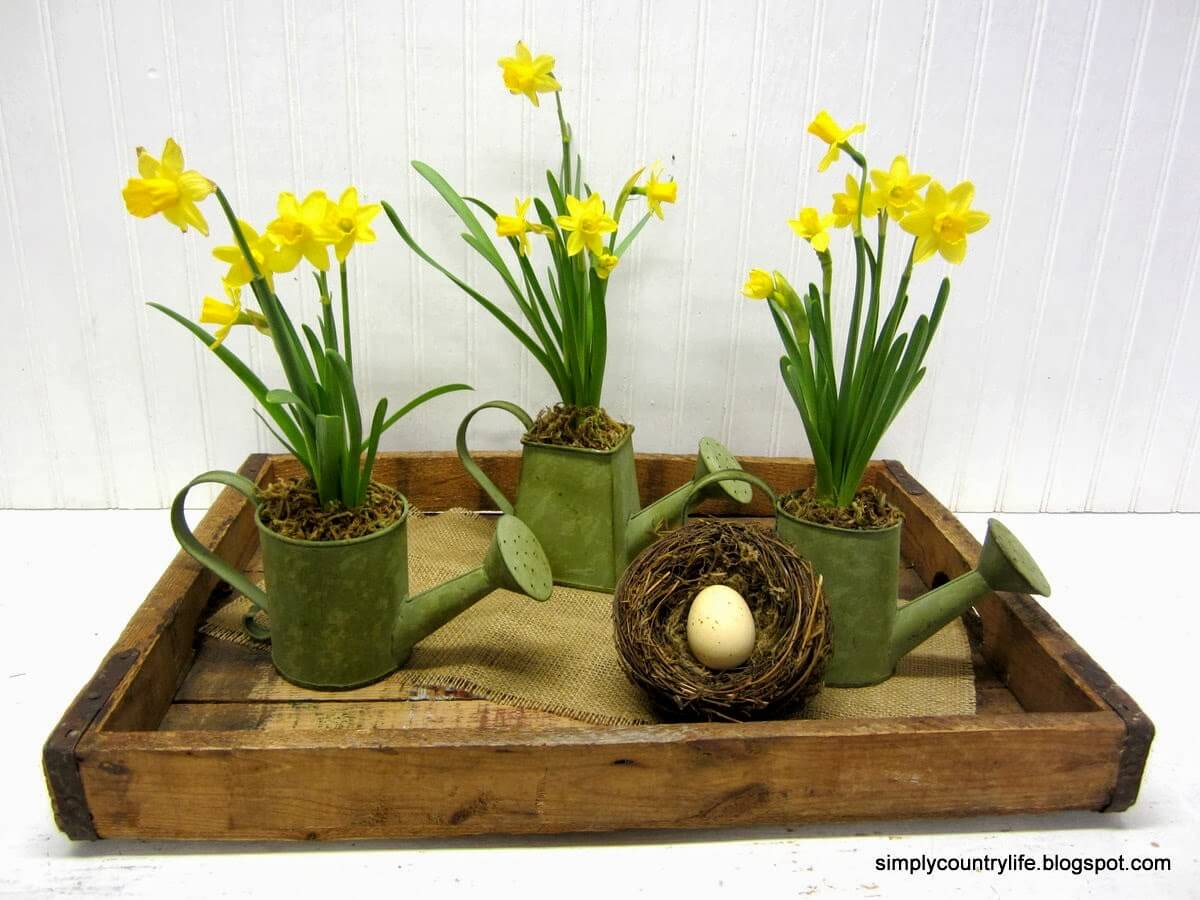 In another of the good centerpiece ideas, daffodils are not only placed in old fashioned watering cans but can actually sprout from them. It's best to put daffodil bulbs into potting soil in the early winter for a spring blossoming. In this case, the arrangements are grouped in an old wooden tray with a bird's nest with a single egg.
4. Rich Pink Blooms with Eggs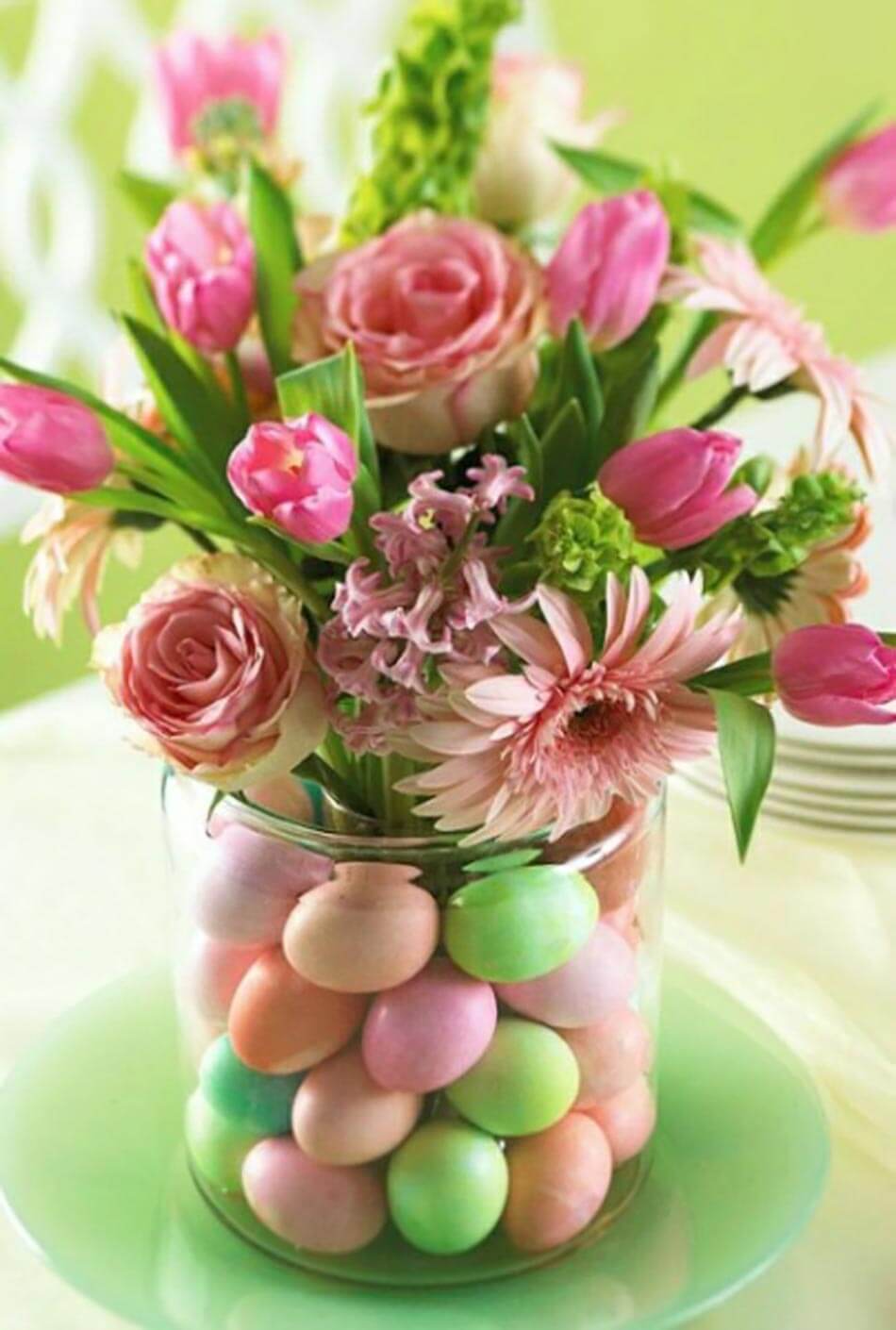 Continuing with the egg theme, this arrangement uses multicolored eggs as anchors for a glass vase of pink daises, pink tulips, pink roses and lavender-pink lilac. The pink of the flowers is complemented by the fresh green of the leaves and a few judiciously placed spikes of bells of Ireland.
5. Bold Silk Flowers in Painted Pots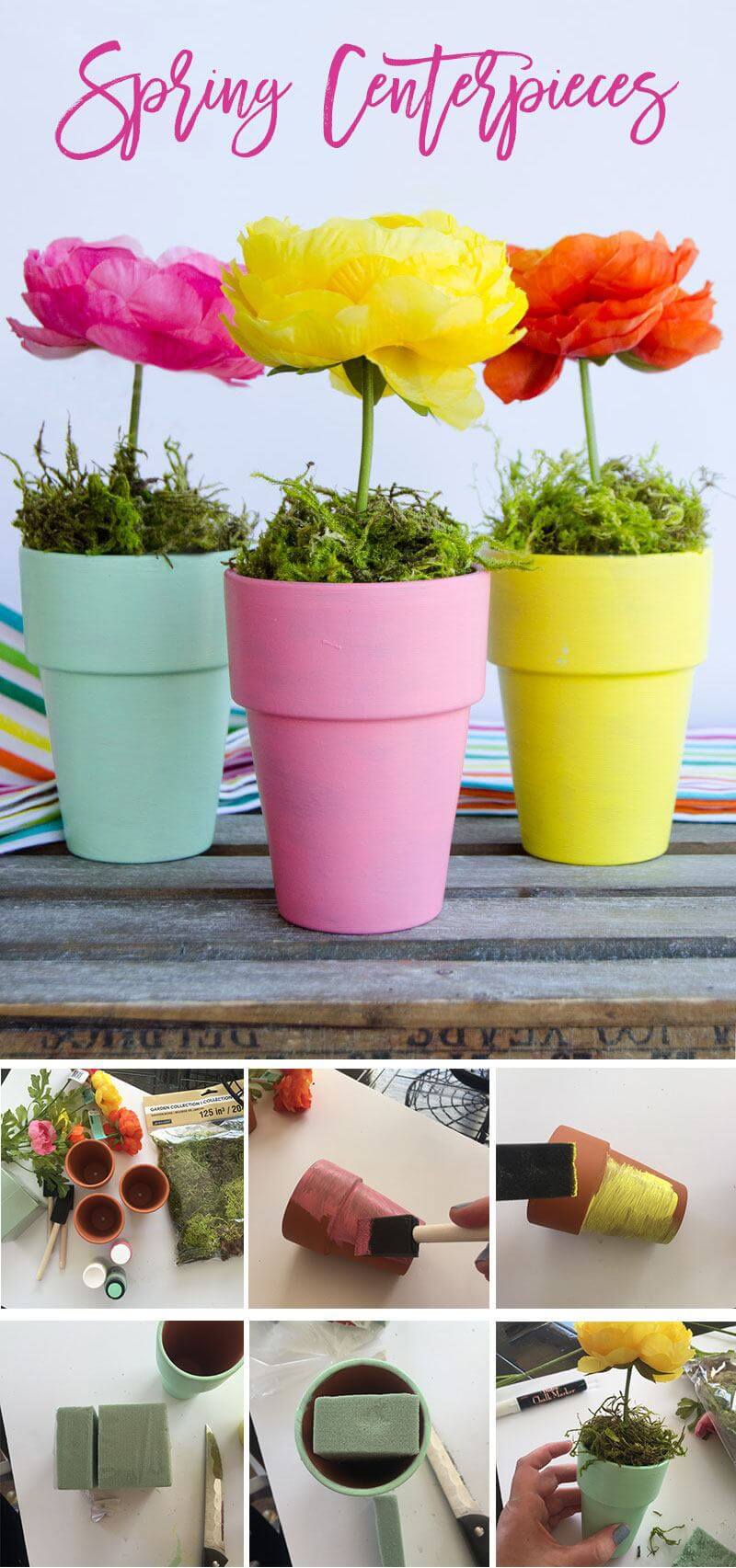 Flowers don't have to be real to contribute to lovely centerpiece ideas. One of the better centerpiece ideas is to place silk flowers in pastel colored pots. In this case, magenta, yellow and red silk poppies have been placed in blue, pink and yellow pots. Spaghnum moss not only hides the anchoring florist's foam but gives texture to the display.
6. Grass Planters with Lovely Butterflies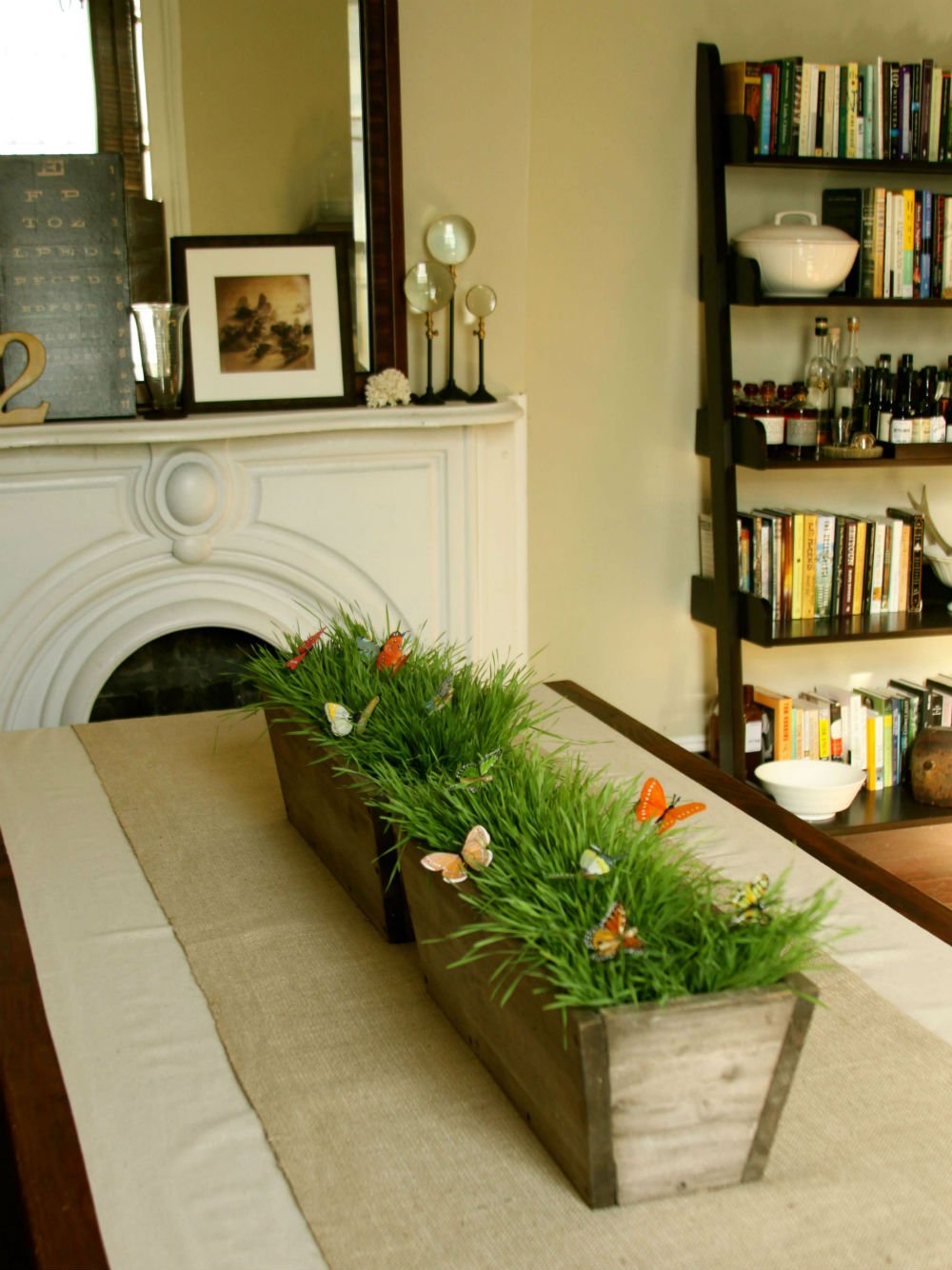 Centerpiece ideas can be very simple. In this arrangement, grass has been arranged in wooden planters and sprinkled here and there with paper butterflies in realistic, butterfly-like colors. The grass can be artificial, but real grass is easy to grow in a planter. Attach the butterflies to florist's pins and simply stick them here and there among the grass.
7. Flowers in a Teacup Under Glass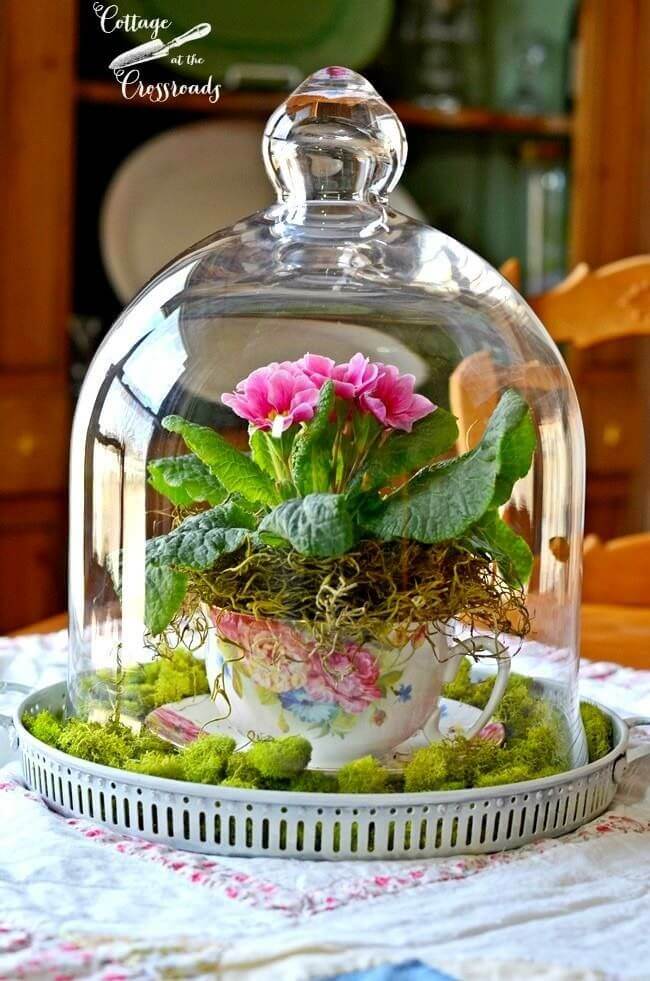 Victorians knew the value and beauty of having flowers under glass cloches. In this display, pink gloxinias and sphagnum moss have been arranged in an old-fashioned porcelain teacup on its saucer and placed on a tray. Then, the whole thing is covered with the glass cloche. Balls of light green moss soften the bottom of the tray.
9. Tulips in a Grass Basket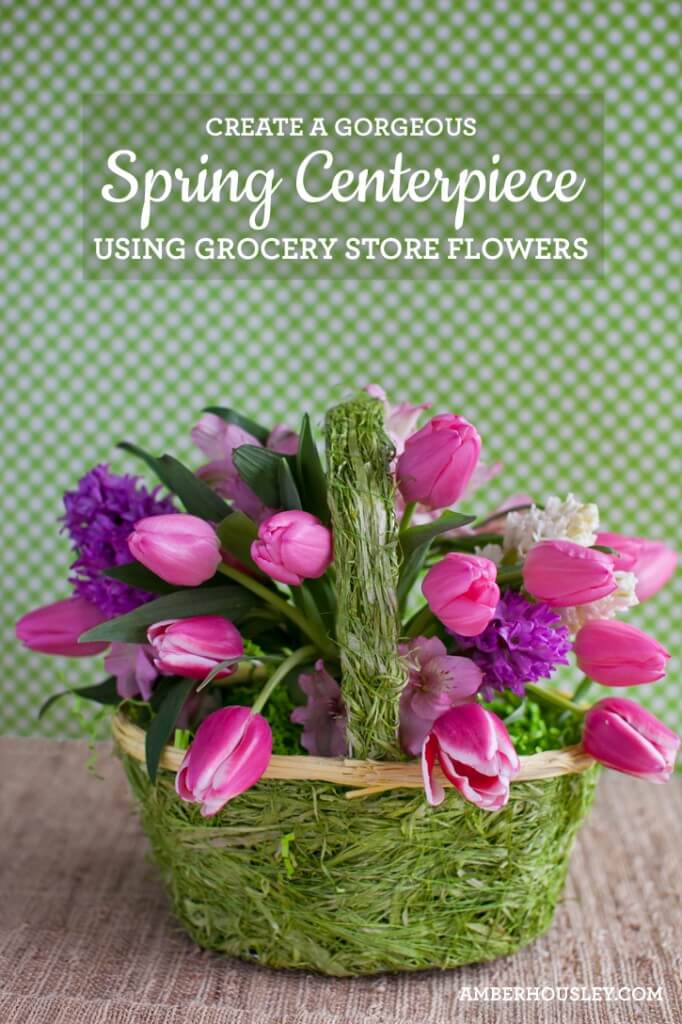 Another of the centerpiece ideas is to gather warm colored tulips in a basket that's covered with grass. Artificial grass may be best because it retains its color over a long time and allows the basket to be reused. This arrangement can't help but remind the viewer of Easter. The hot pink tulips are joined by purple and white hyacinths and the pink and purple flowers of azaleas.
10. Upcycled Cupcake Display with Pearls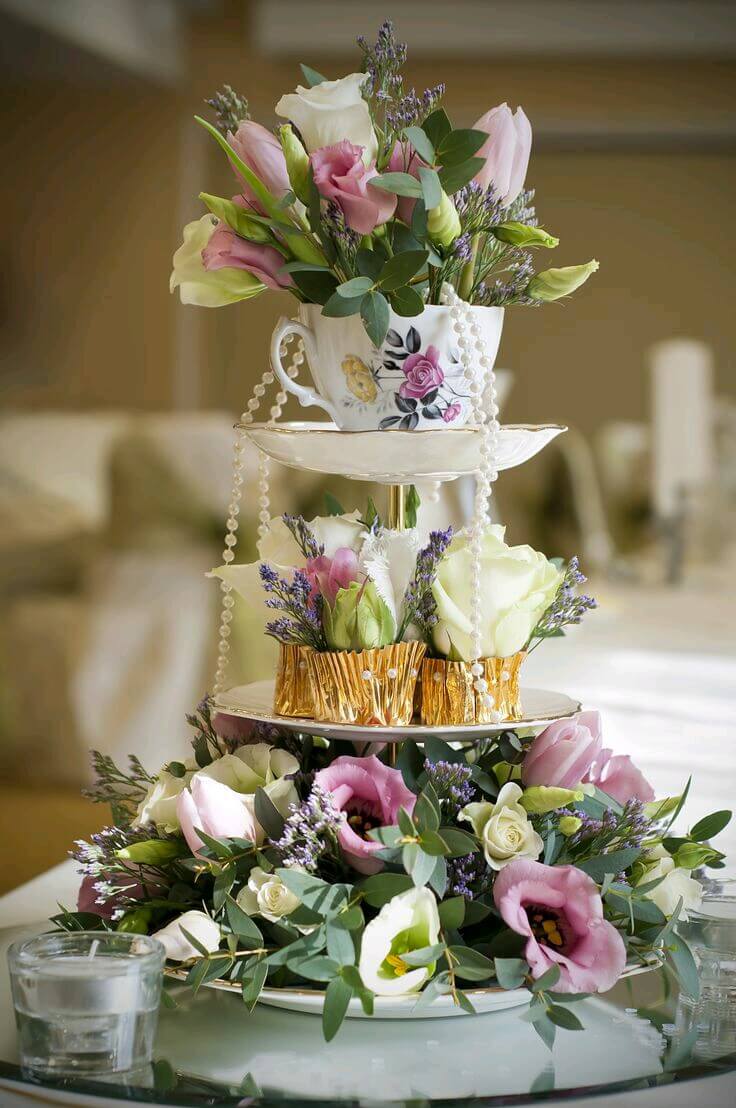 One of the more grand centerpiece ideas is this tiered display on trays originally made to display cupcakes. The bottom is filled with white and mauve roses and lisanthus with sprays of lavender. The middle platter has single blossoms and lavender sprays in gold cupcake papers, while the top platter holds a teacup filled with roses, lavender and tulips. All of the tiers are connected with strings of pearls.
11. Whimsical Carrot Base Flower Arrangement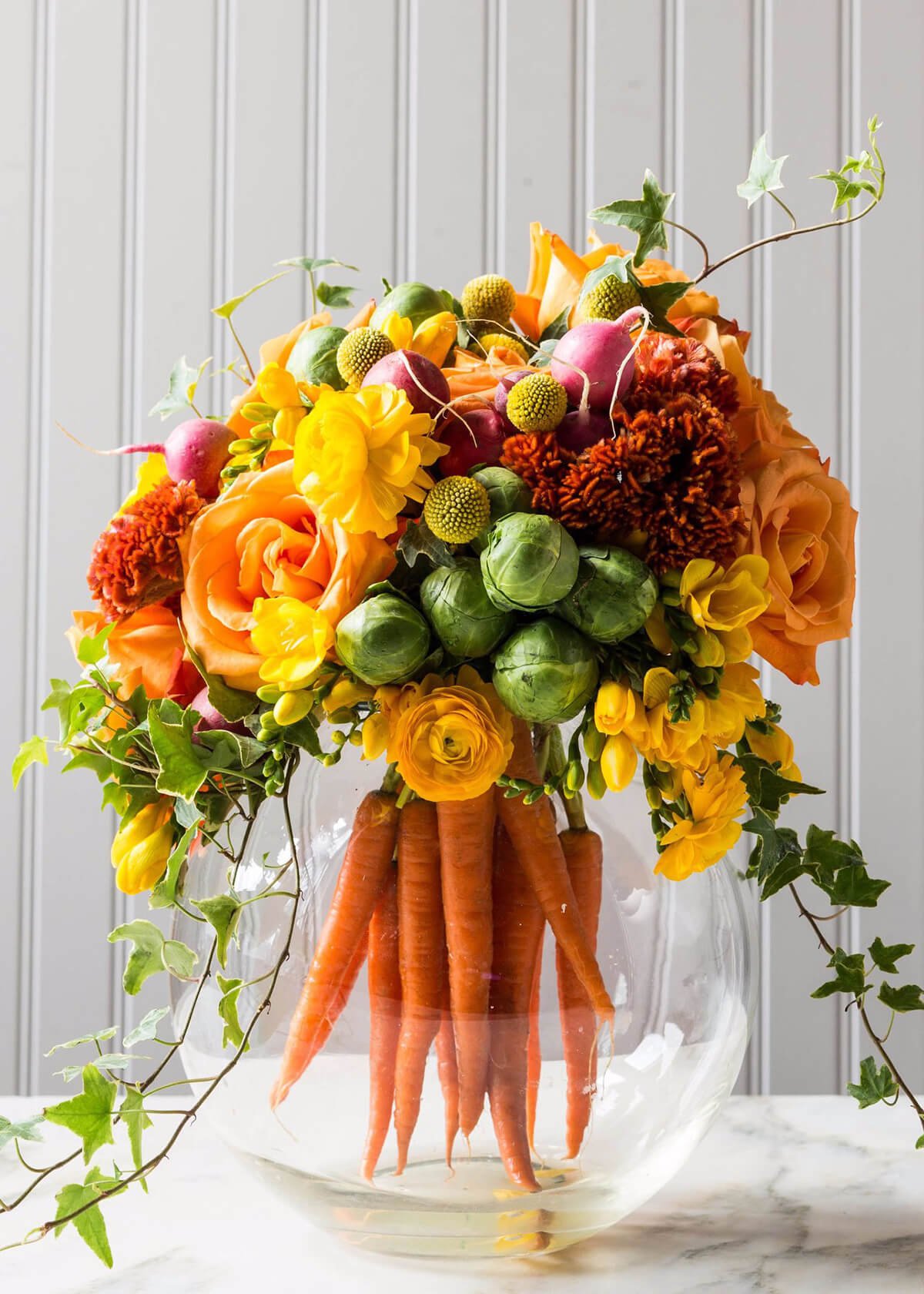 Just because it's spring doesn't mean centerpiece ideas can't be somewhat autumnal. This display brings the oranges, golds and reds of autumn and indeed, the orange flowers are tied to a bouquet of carrots that can be seen through the large, round glass vase. Don't be afraid to use vegetables in a centerpiece. Besides the carrots, this arrangement hold a whimsical bunch of Brussels sprouts.
12. Geometric Vase with Forsythia Branches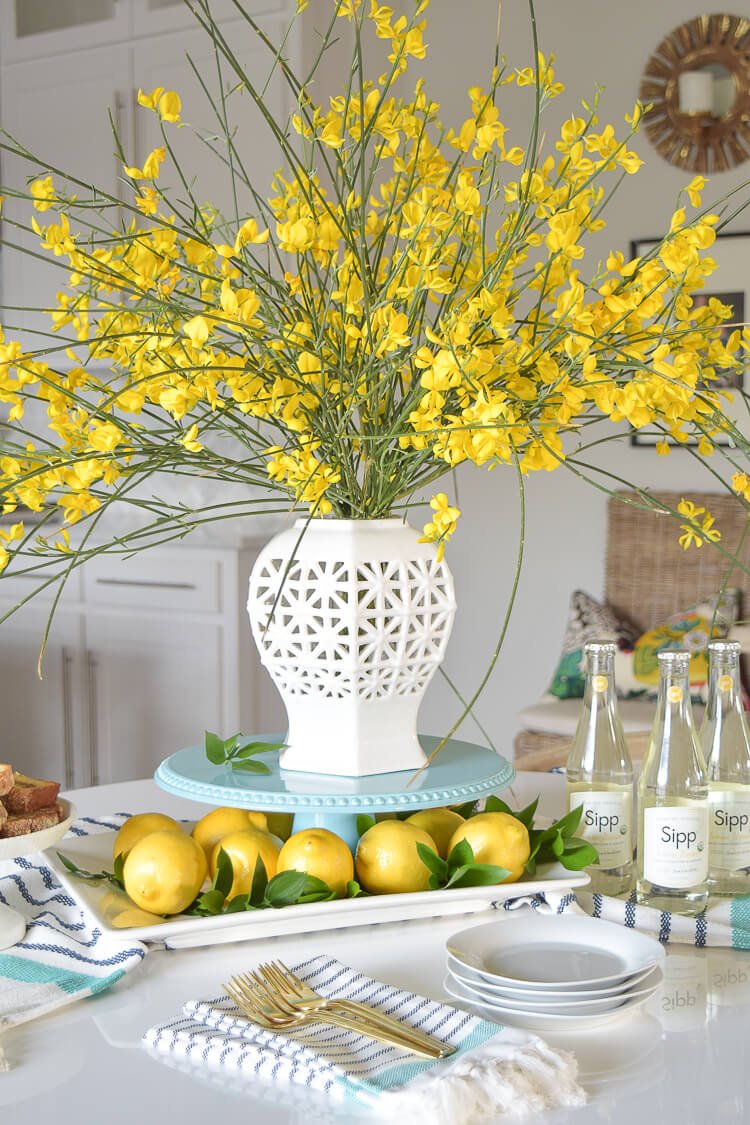 Some gardeners come to think that the abundant golden blossoms of forsythia are too much, but this arrangement is just right. The golden blossoms are simply arranged in a vase with a geometrical design, and the vase itself is placed on a blue cake platter on another platter filled with lemons still attached to their leaves.
13. White Multi-Level Pitchers with Chrysanthemums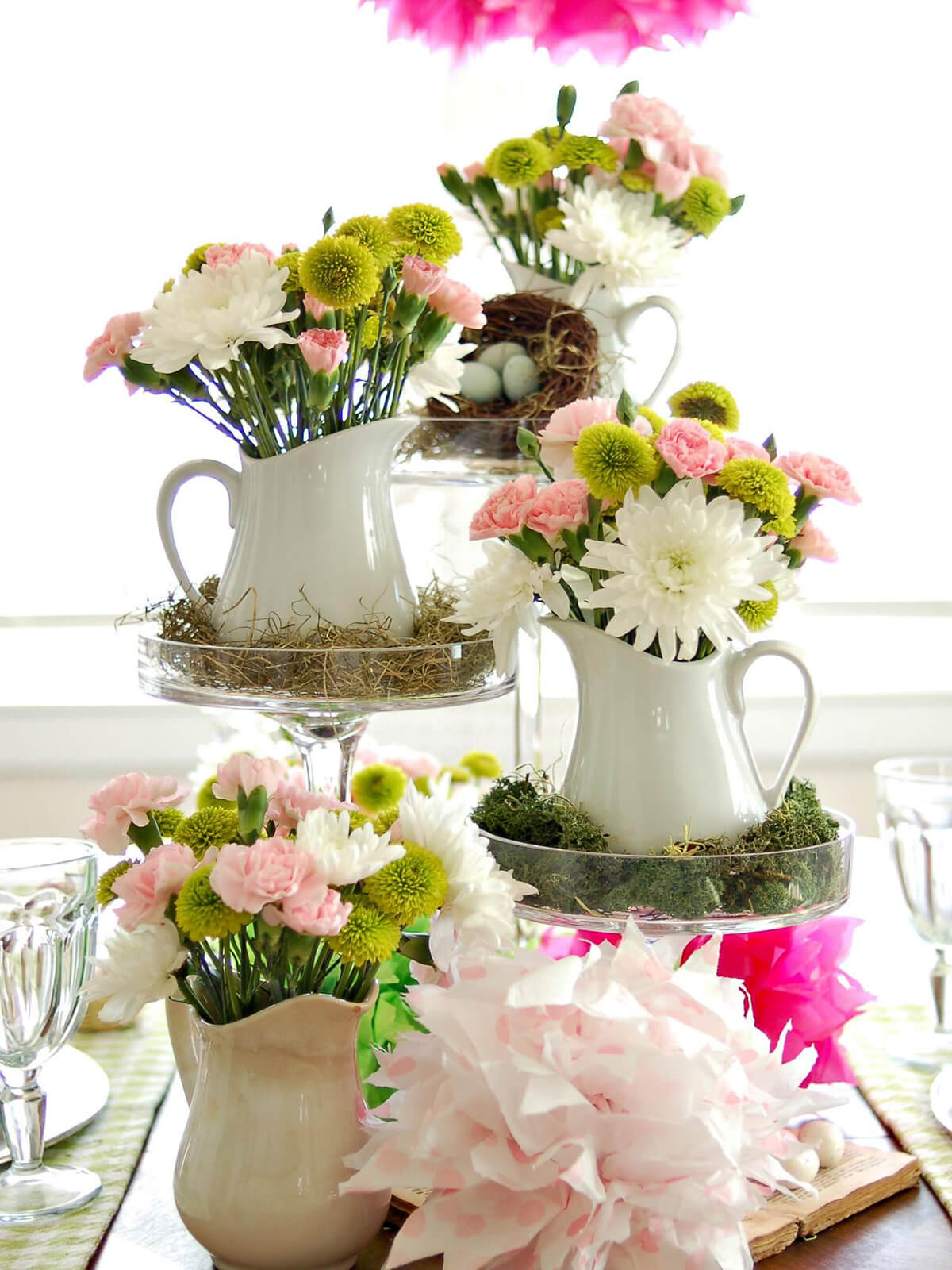 Varying the levels of the display is one of the more creative centerpiece ideas. In this design, white ceramic pitchers are filled with different types of chrysanthemums and carnations. The pitchers themselves are arranged on footed glass trays of different heights and accompanied by moss. A bird's nest adorns the top tray.
14. Spring Centerpiece Ideas with Twigs and Twine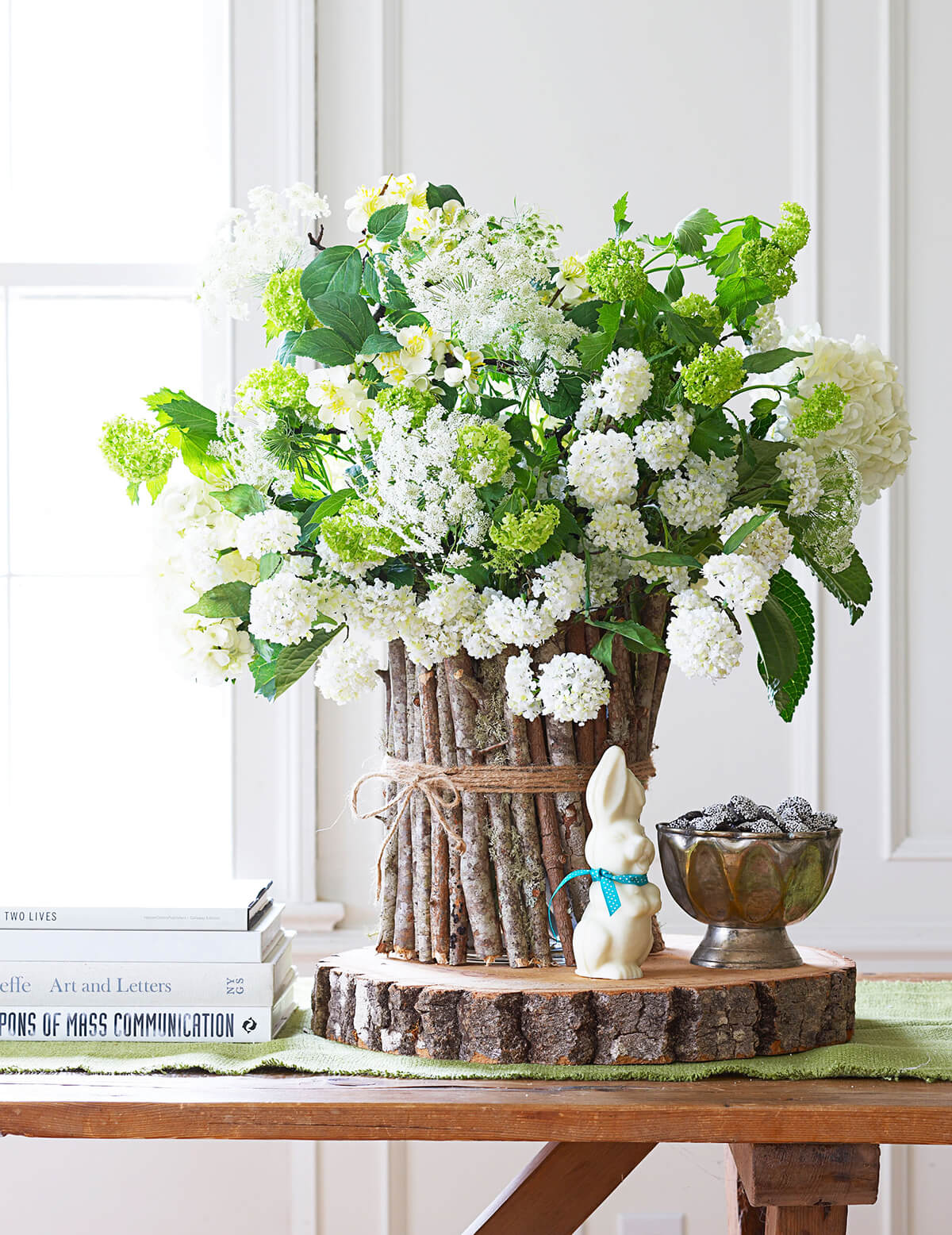 The designer of this arrangement used twigs held together with twine to hide the container that holds masses of viburnum flowers and their leaves. Placing the arrangement on slab of a tree stump and placing an Easter bunny and a pewter bowl of nonpareils beside it proclaims that it's springtime for sure.
15. Simple Cherry Blossoms in a Mason Jar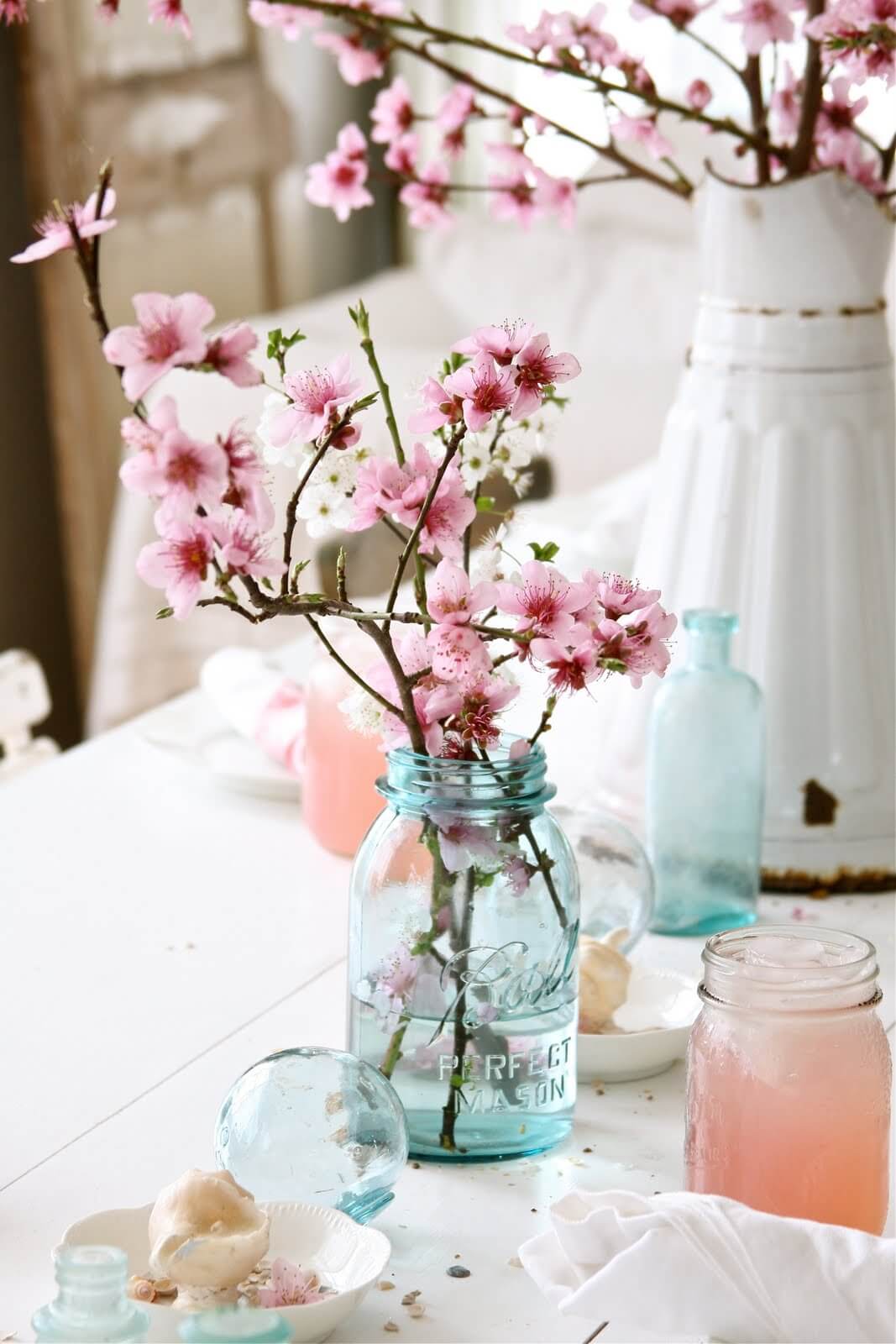 Here is another of the simpler centerpiece ideas. Go outside and snip a few branches full of cherry blossoms, and put them in blue-tinted mason jars. That is all. Of course, a person will need permission to gather the branches if the tree isn't theirs, and they should bring a bucket of water to put the branches into immediately after they're cut.
16. Pails with Adorable Birds and Nests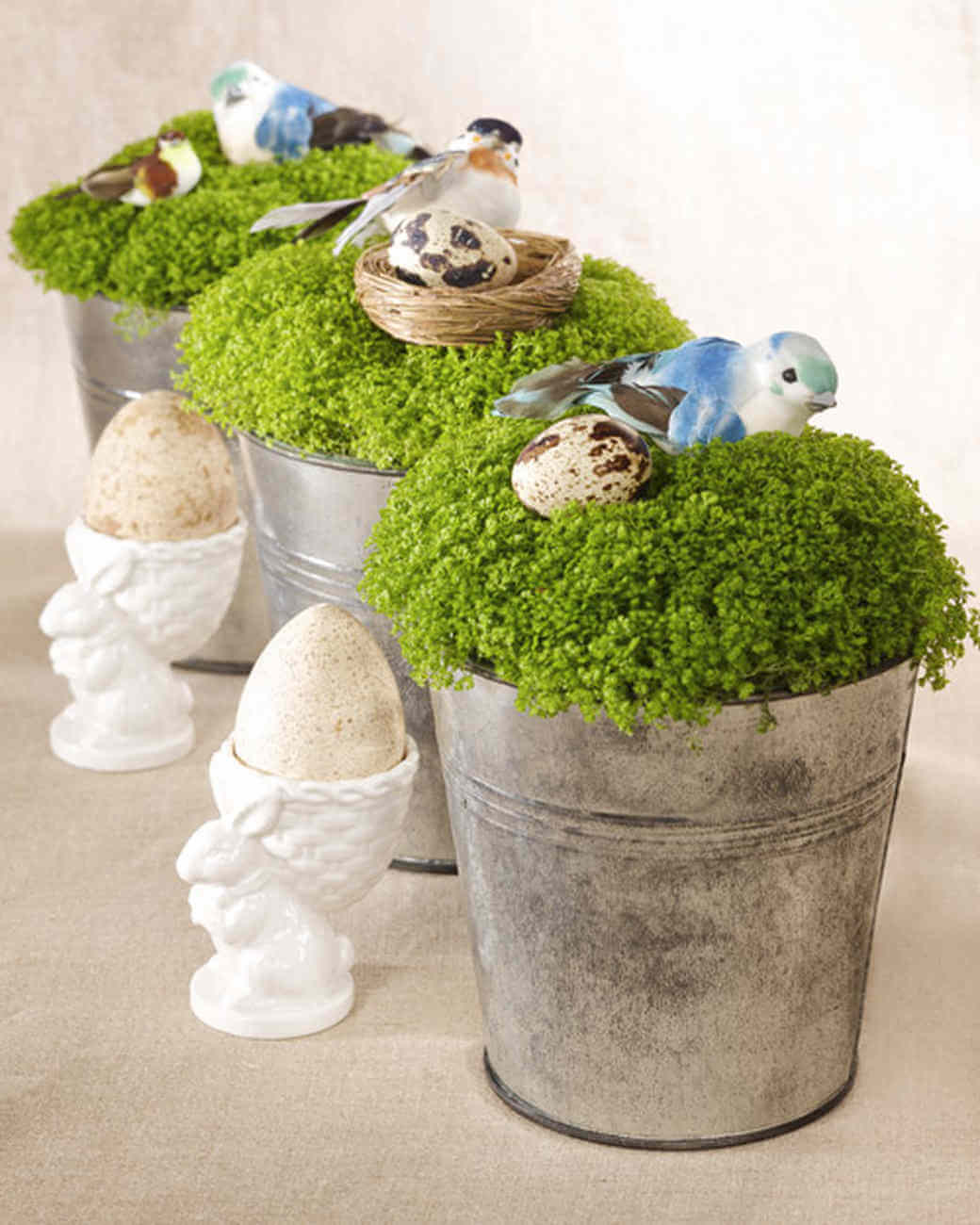 In this arrangement, three buckets of galvanized metal are filled with baby's tears, a hanging plant with tiny green leaves. Tiny birds with tiny nests, eggs or a chick are nestled into the greenery. The birds have realistic feathers and coloring, and the eggs just might be made of chocolate and cocoa.
17. Cutout Vellum Daisies in a Metal Box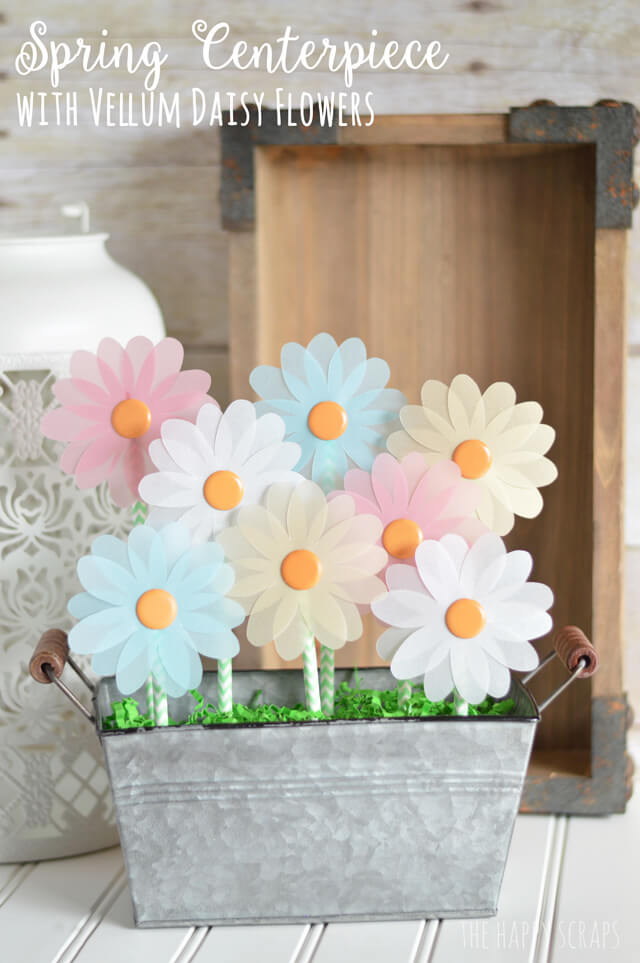 Centerpiece ideas can involve the whole family to bring to fruition. In this playful decoration, daisies are cut out of different colored vellum and stuck in a metal basket with grass-green packing paper. The orange centers of the daisies look to be made of old identical buttons, and their stems are playful, fat blue and white straws.
18. A Reclaimed Drawer with River Stones and Flowers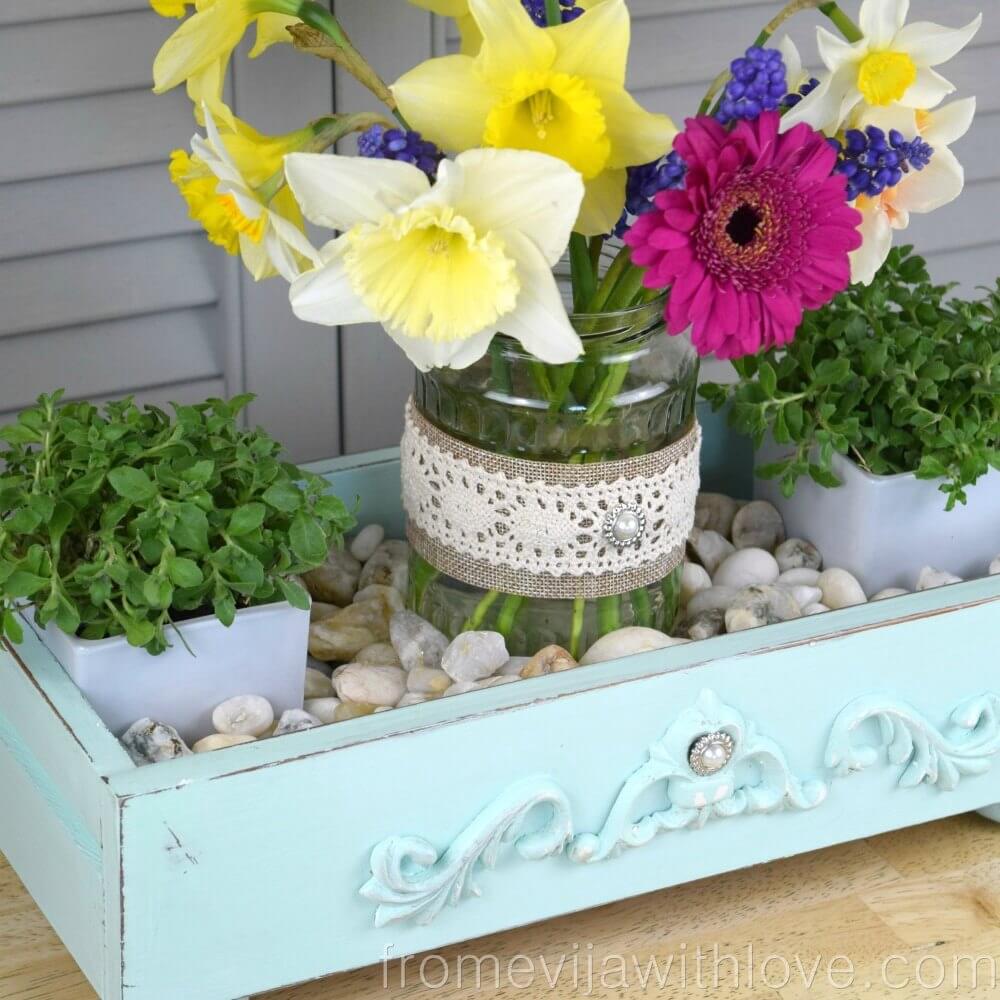 Another reclaimed drawer has been painted baby blue and filled with river rocks. Ceramic containers of plants have been nestled into the rocks on either side of a simple glass jar full of white and yellow daffodils, magenta gerbera daisies and grape hyacinth. The jar's simplicity has been enlivened by a band made of paper lace decorated with a button of faux pearl and sequins.
19. High Pedestal Bowl with Mixed Flowers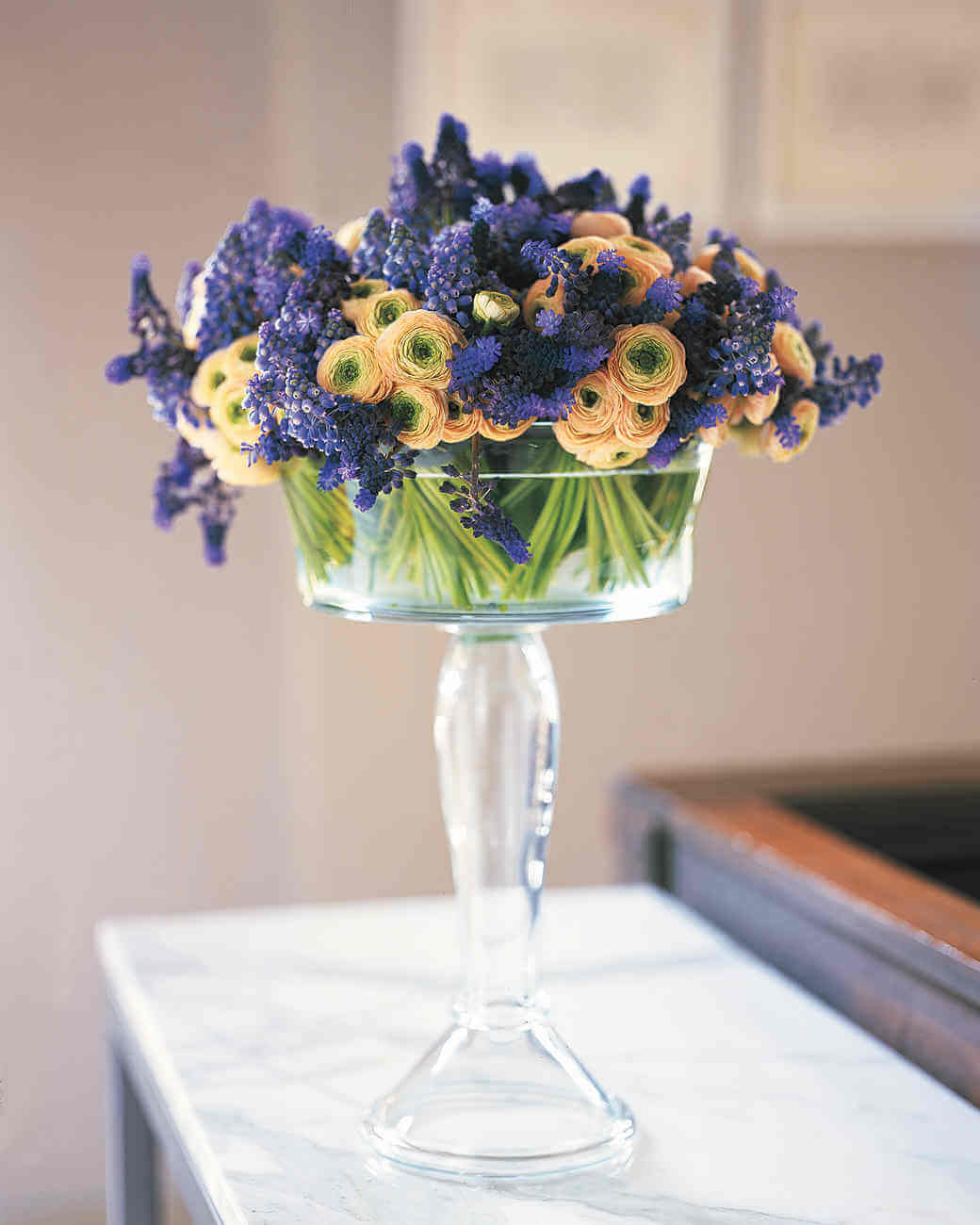 Designers of centerpieces shouldn't be nervous of mixing flowers or materials of certain colors with flowers or materials of colors on the opposite side of the color wheel. In this case, purple-blue grape yacht is mixed with small blossoms of orange ranunculus with green centers. The tidy, bright green stems of both flowers can be seen in the clear glass of the pedestal bowl.
20. Lampshade Basket with Vibrant Pink Blossoms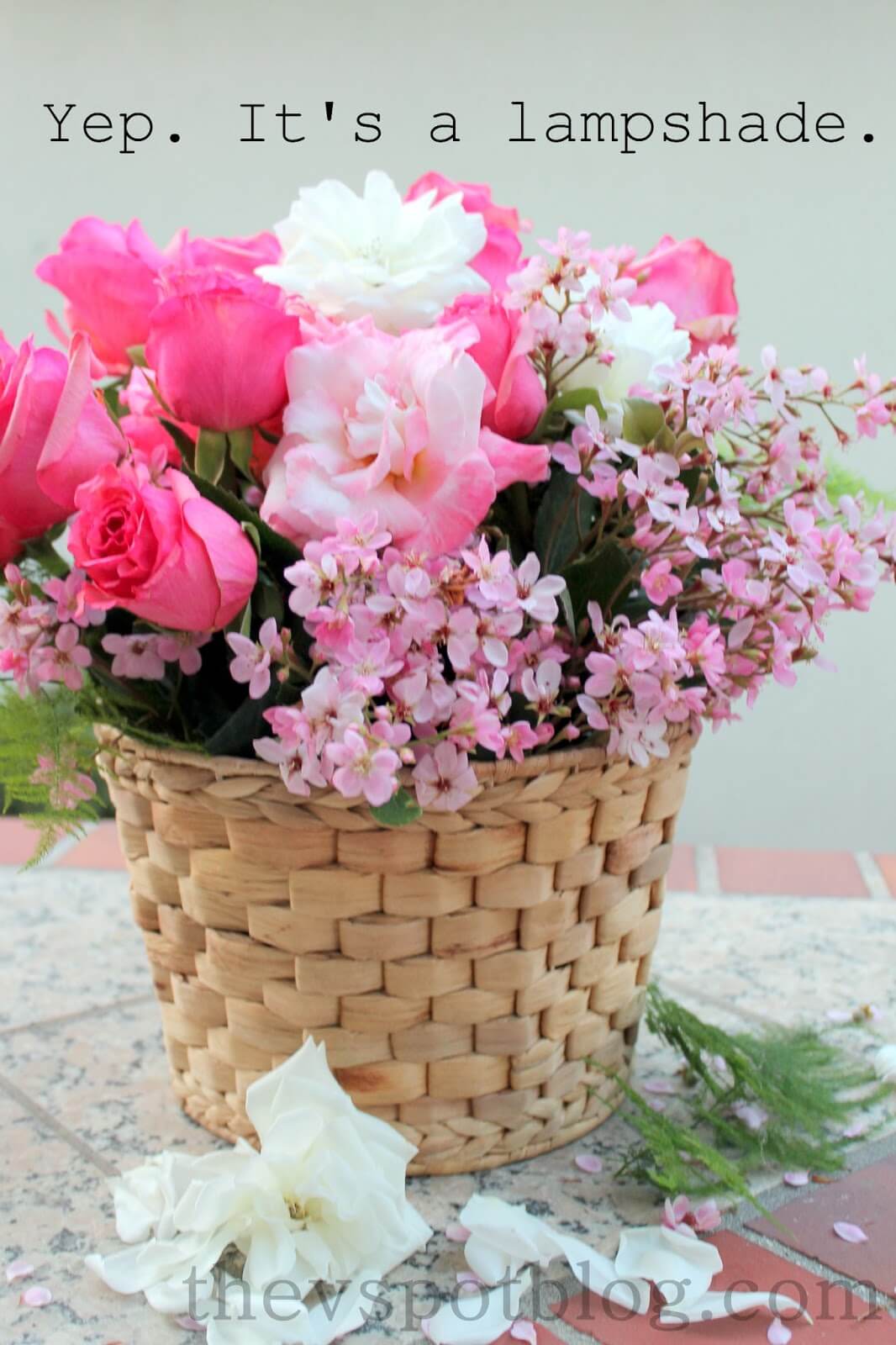 This arrangement simply bursts with great, blowzy rose blossoms in white and pink coupled with cheerful masses of pink phlox. These colors are one of the centerpiece ideas that let everyone know spring has arrived. The outside container may or may not be an upside down lampshade, but it has an interesting pattern of what seems like woven willow wood.
21. Straw Vase with Ferns and Tulips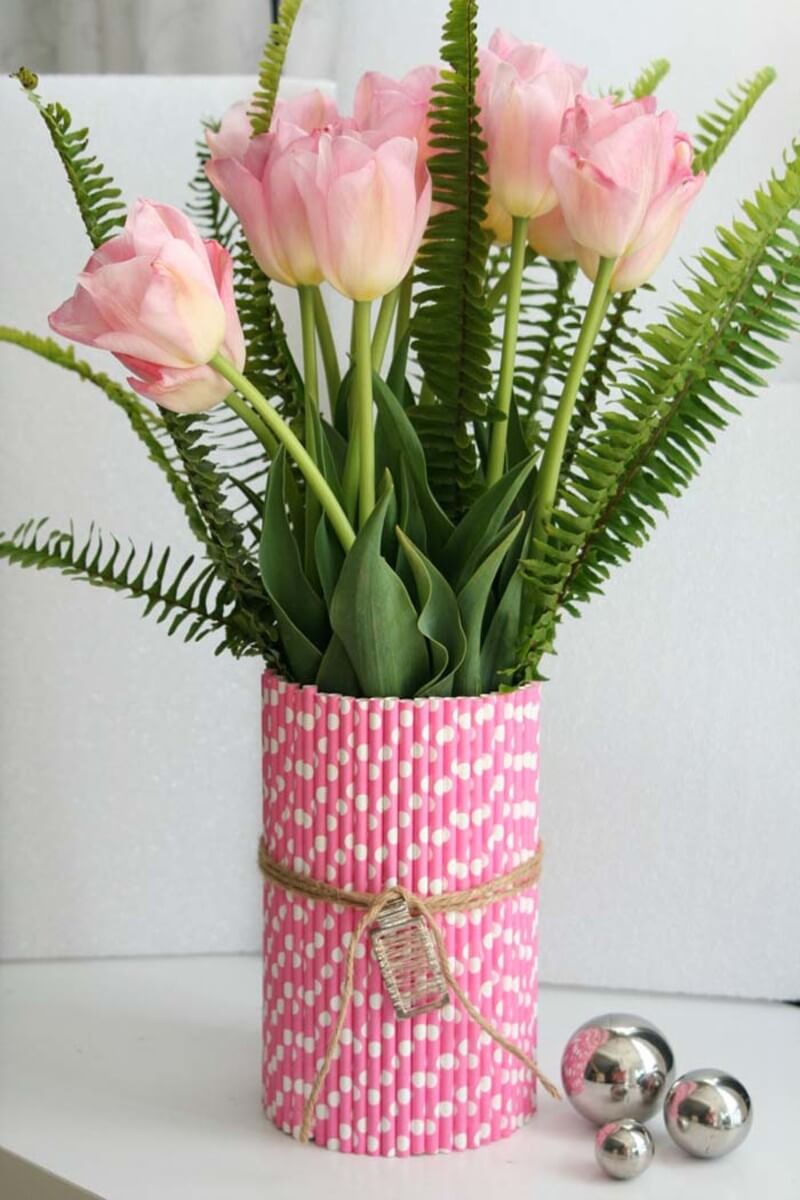 Centerpiece ideas can incorporate materials that no one has considered before. In this case, the container is made of pink and white straws held together with raffia. The flowers are pink double tulips and fronds of Boston fern. Boston fern, a favorite houseplant since Victorian times, may be a plant not usually thought of for spring arrangements.
22. Country Milk Pan and Mason Jars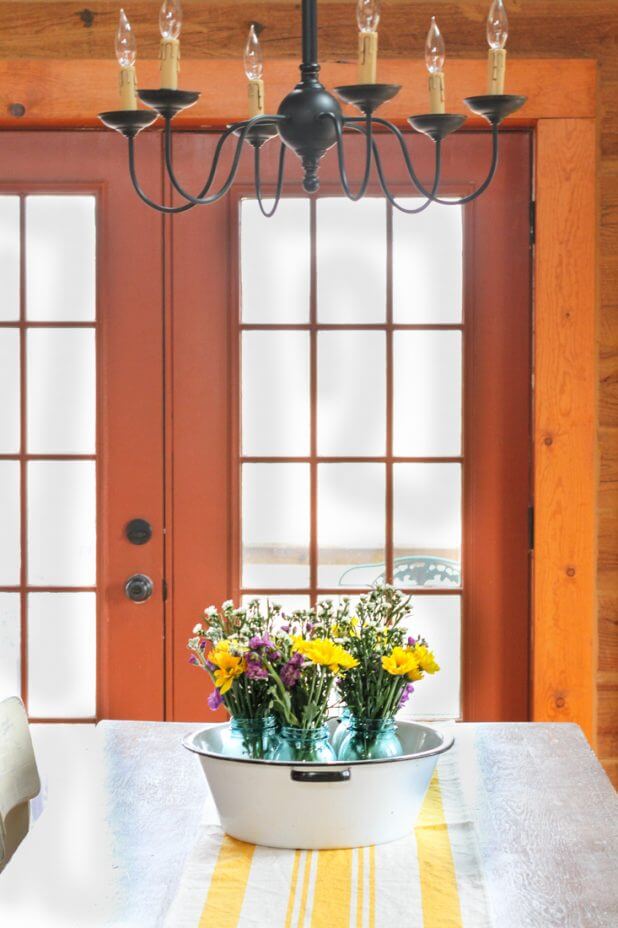 Mason jars are good for so many things, including floral arrangements. In this display, mason jars made of dreamily blue tinted glass are grouped in a simple metal basin and filled with wildflowers. The yellow and white runner on the table reflects the yellow of the buttercups and the white of the basin.
23. Lettered Drawer with White Mason Jars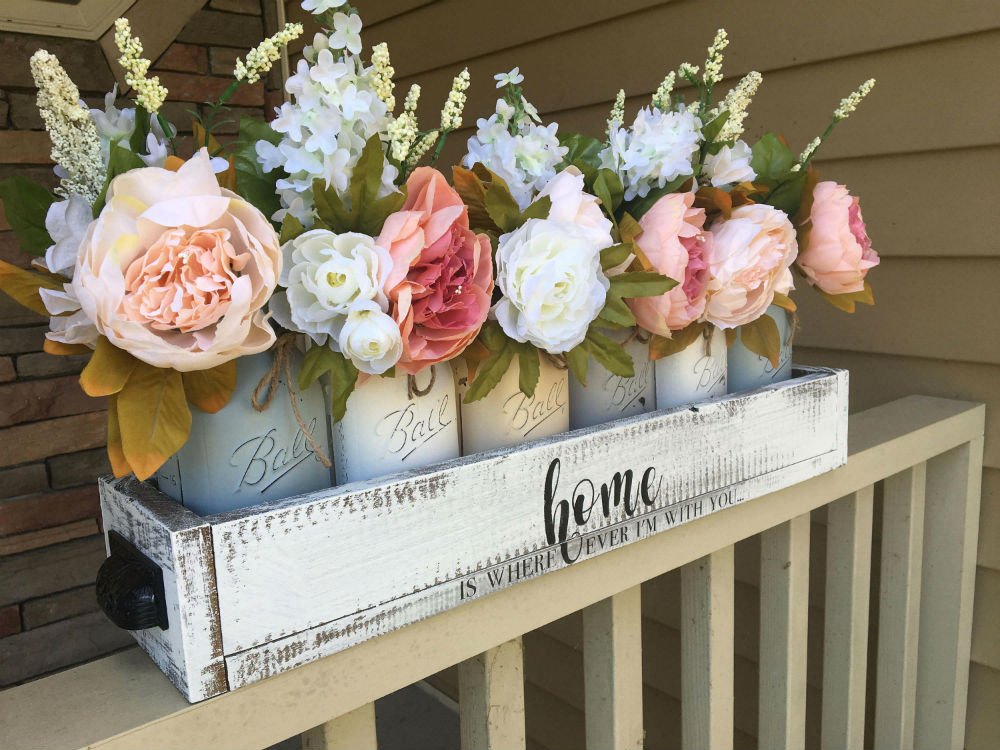 This very long, lettered drawer is filled with white mason jars that are in turn filled with huge white and salmon colored peony blossoms, white stephanotis and cream colored butterfly bush. Long enough to take up much of the top rail of the porch balustrade, it makes for a gloriously welcoming display.
24. Unique Spring Centerpiece Ideas with Daffodils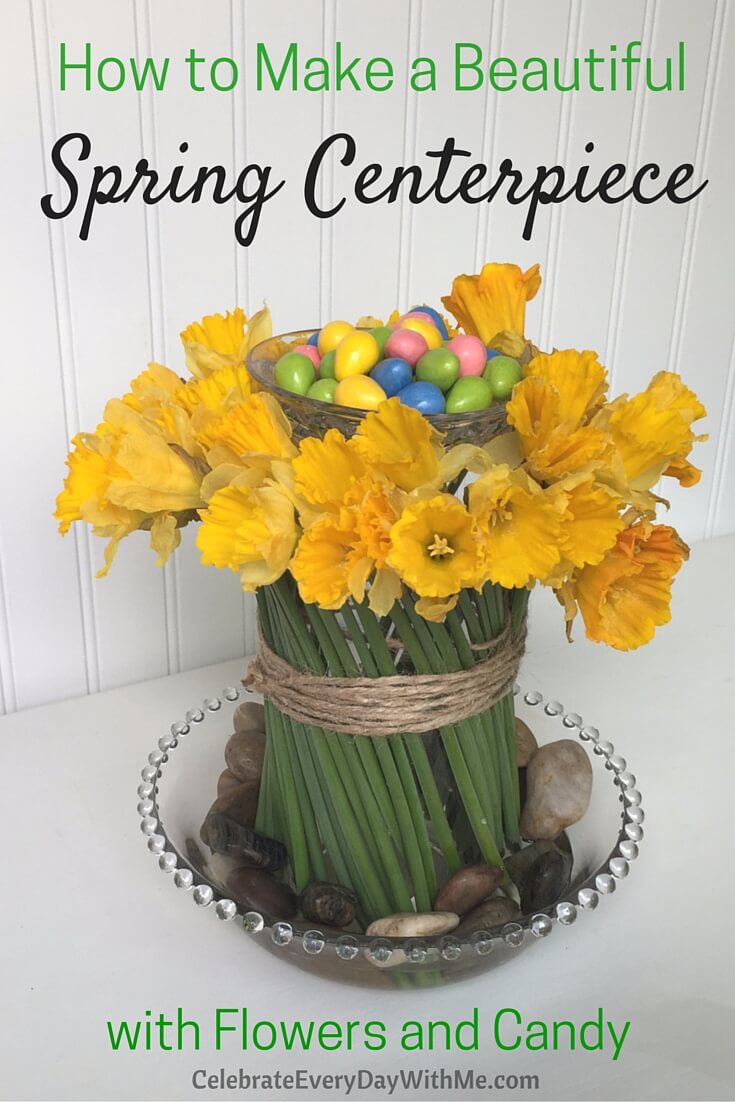 This centerpiece uses the flowers themselves as part of the container. In this arrangement, frilly daffodils are wrapped around the outside of the container and held together with twine. They are anchored in a glass bowl with river rocks that are watered to keep the flowers fresh. At the top is a bowl of candy eggs.
25. Mason Jars in an Unpainted Drawer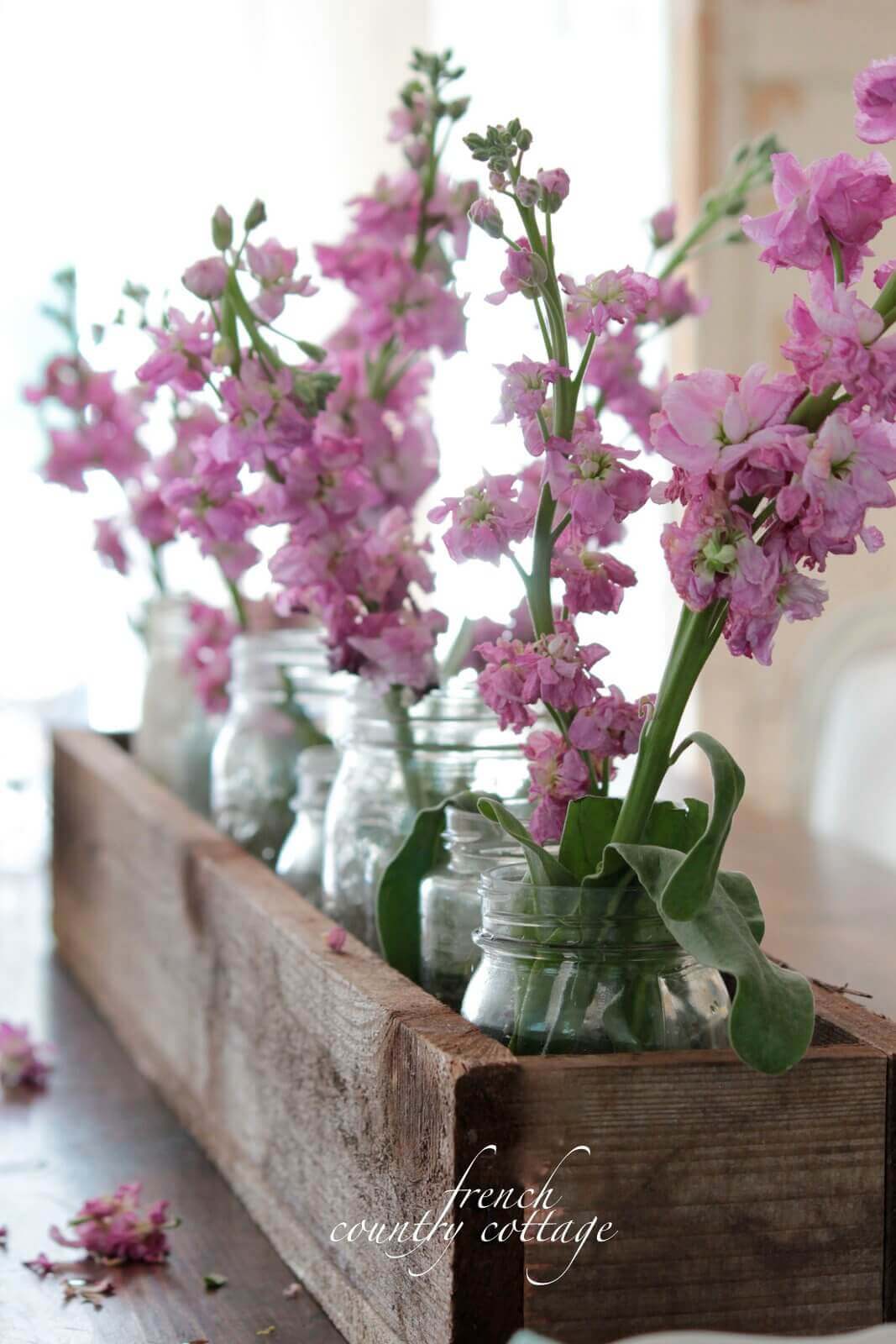 In this simple arrangement, a long, rough-hewn unpainted drawer holds plain Mason jars. The Mason jars, which are different heights, hold pink snapdragons. Snapdragons come in a variety of colors and are easy to grow in the garden. This is a lovely arrangement to place on a rustic table in a dining room that gets lots of sunlight.
26. Vintage Handled Box with Boxwood Sprigs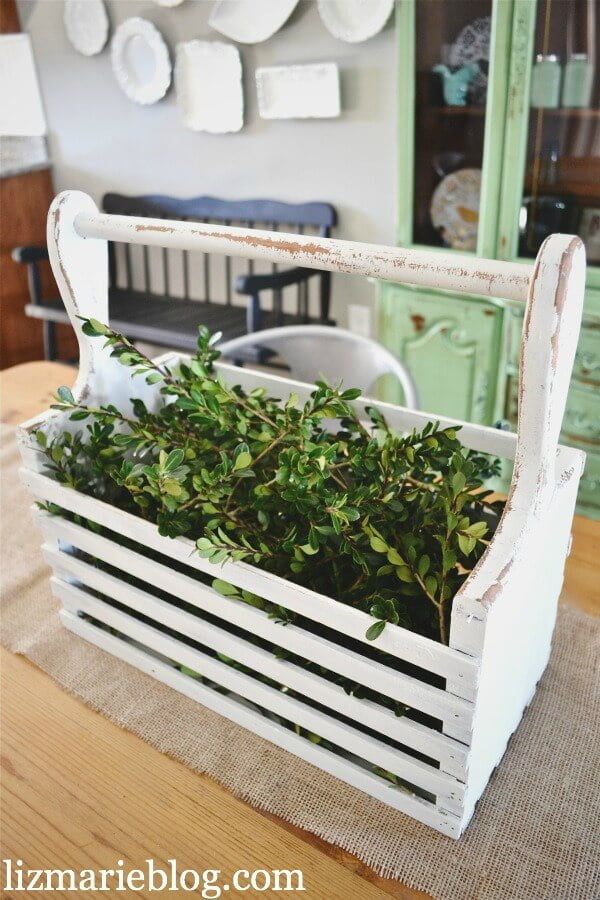 Another of the centerpiece ideas is to put leftover things to use. In this arrangement, an old, white-painted wooden tool box has been filled with boxwood branches. These branches could have easily been what was left over from a morning of trimming the boxwood hedge. Why throw them out?
27. Two Mason Jars Tied Together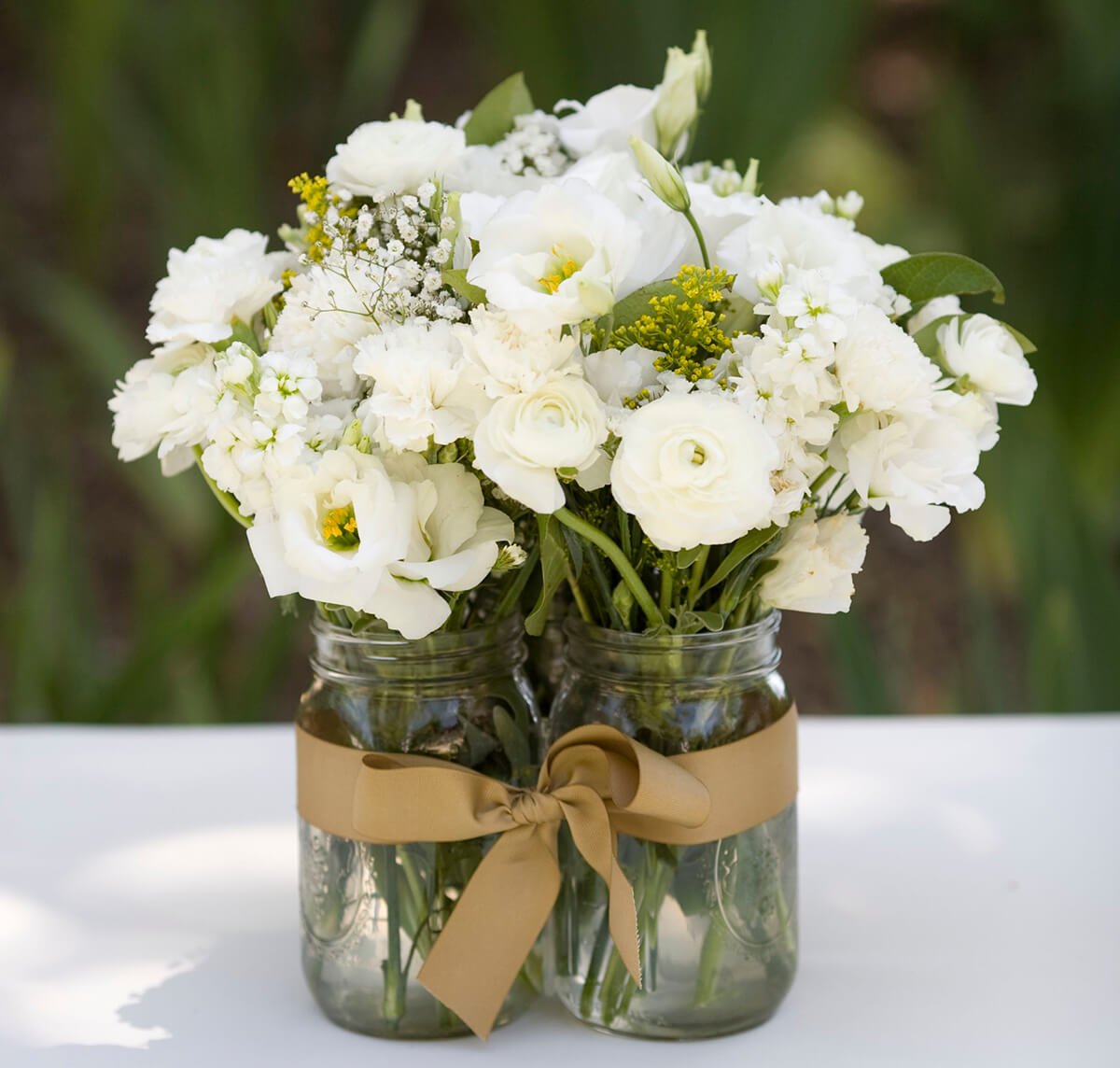 Tying two mason jars together is another of the great centerpiece ideas. The plain jars are held together with a brown grosgrain ribbon tied into a bow. The masses of white flowers, including roses, gypsophila and stephanotis are so abundant that they seem to merge. Their fragrance is equally stunning.
28. Grass Tray with Mini Hyacinths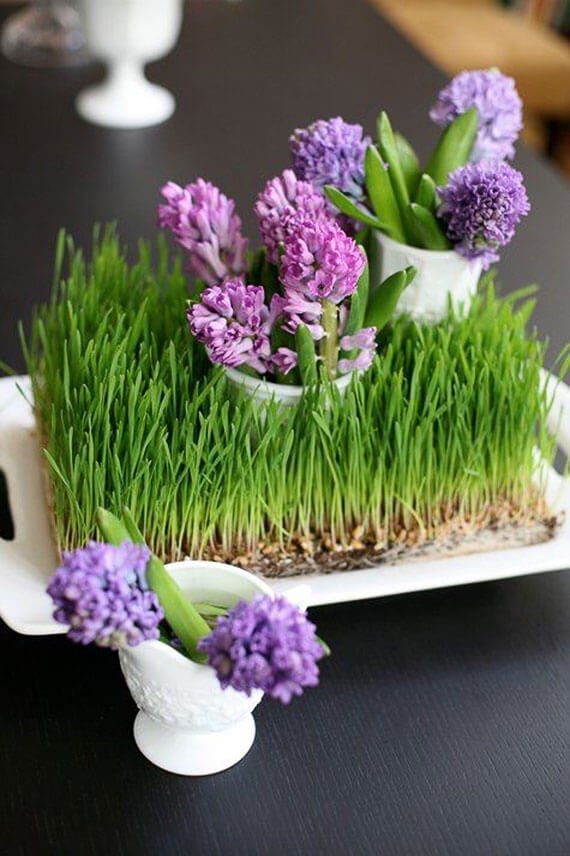 In this clever arrangement grass has been allowed to grow on a tray. Within them are little cups filled with mini-hyacinths in shades of violet and pink-violet. Beside the main arrangement the designer has placed a tiny porcelain cup filled with more purple hyacinth flowers and their sword-shaped leaves.
29. Spring Centerpiece Ideas with Lumber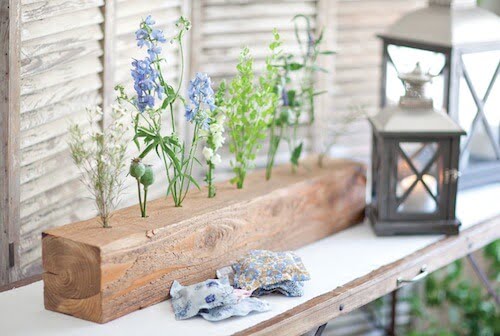 Here is one of the most creative of the centerpiece ideas. The designer has drilled holes in a simple, thick piece of lumber and simply stuck sprigs of flowers and herbs in each hole. They include blue delphinium and even two poppy pods. The delicacy and soft colors of the flowers contrast beautifully with the solidity and brown grain of the wood.
30. Elegant China Display with Silver Tray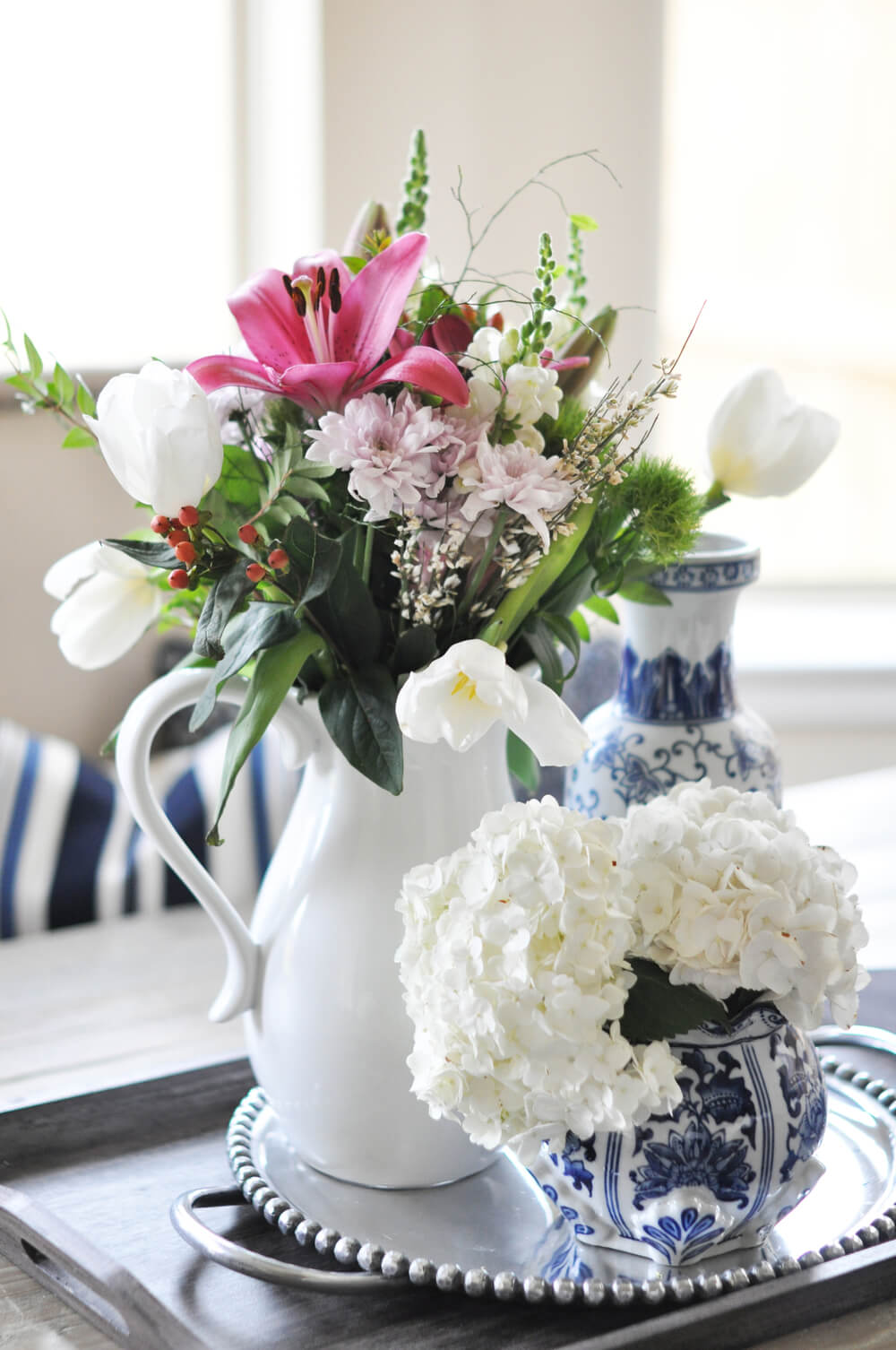 Don't be afraid to break out some of the good silver for a flower arrangement. This lovely silver tray holds blue and white Chinese porcelain vessels, one of which is a bowl full of snow white hydrangeas. A plain but elegant white pitcher holds a collection of flowers including pink lilies, white tulips and even red berries and moss.
31. "Love" Box with Old-Fashioned Flowers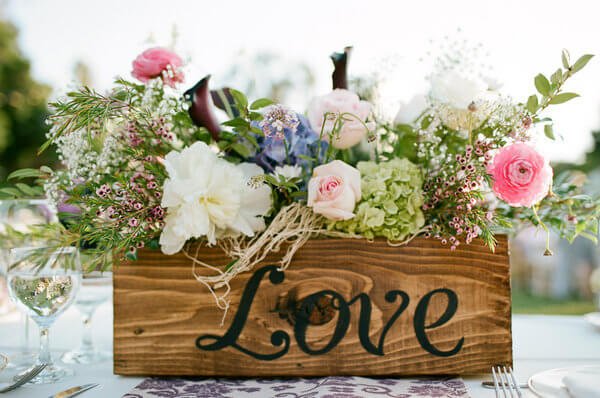 Of course, a box with the word "Love" on it is perfect for holding flowers. These carefully arranged flowers include roses, peonies, rosemary and gypsophila. The flowers are arranged in a way that their colors do not quite let the eye rest on one flower alone but force it to take in the whole spectrum.
32. Unique Flowers in a Berry Box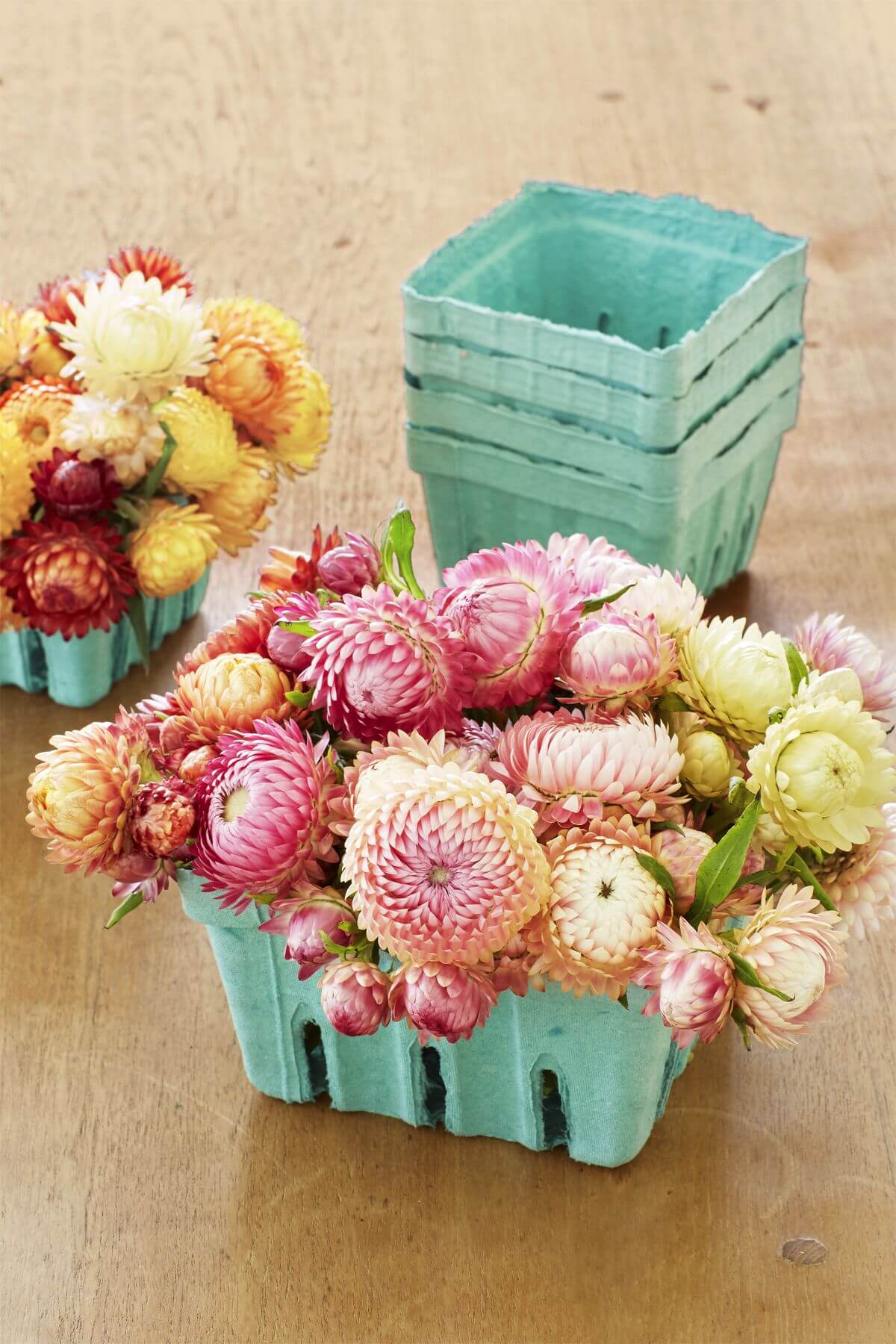 Ever wonder what to do with those berry boxes once the blueberries or strawberries are gone? Use them for containers. In this case, two of the boxes have been used to hold bright pink, gold, pale yellow and orange strawflowers. The flowerheads are in various sizes and various stages of opening.
33. Peonies and Roses in Mason Jars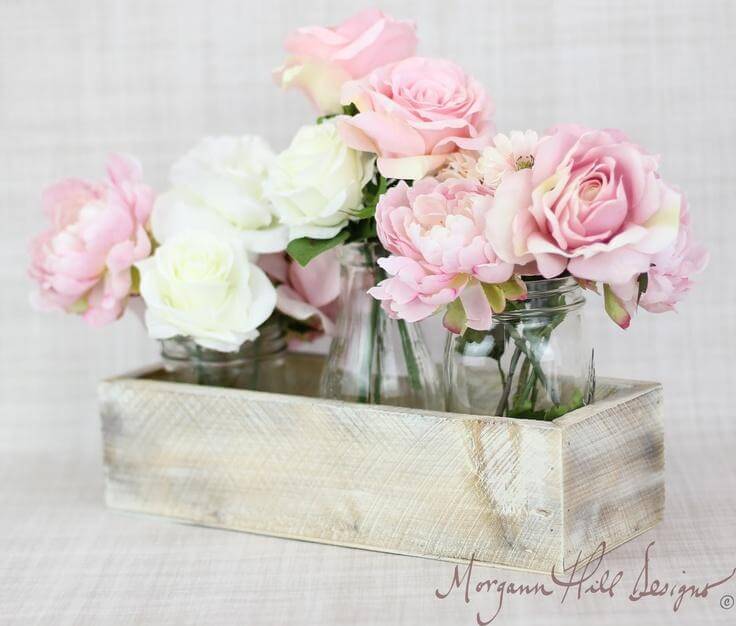 Few things are more beautiful that simply putting fully opened peonies and roses in plain old mason jars and putting them in an old recycled drawer or wooden box. These blossoms are objects a viewer wants to linger forever. But since they can't, they're great subjects for photographing or painting.
34. Doily Embellished Mason Jar Vases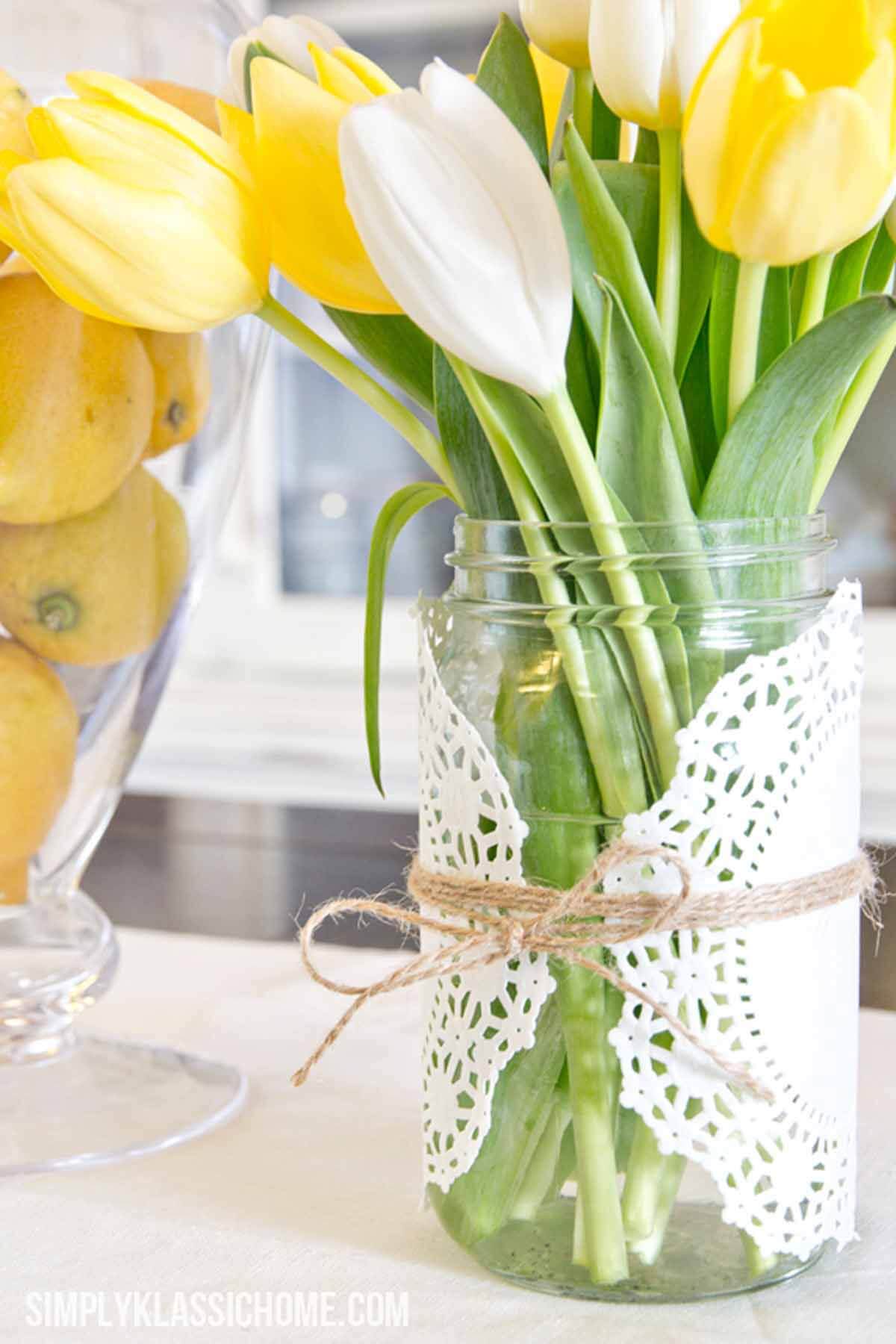 In another of the more innovative centerpiece ideas, the plain mason jar full of just opened tulips is wrapped with a doily that's secured with raffia twine. The delicate paper lace echoes the white tulips that the jar holds. A nearby jar full of lemons echoes the bright springtime color of the yellow tulips.
35. Muted Color Blossoms in a Vintage Box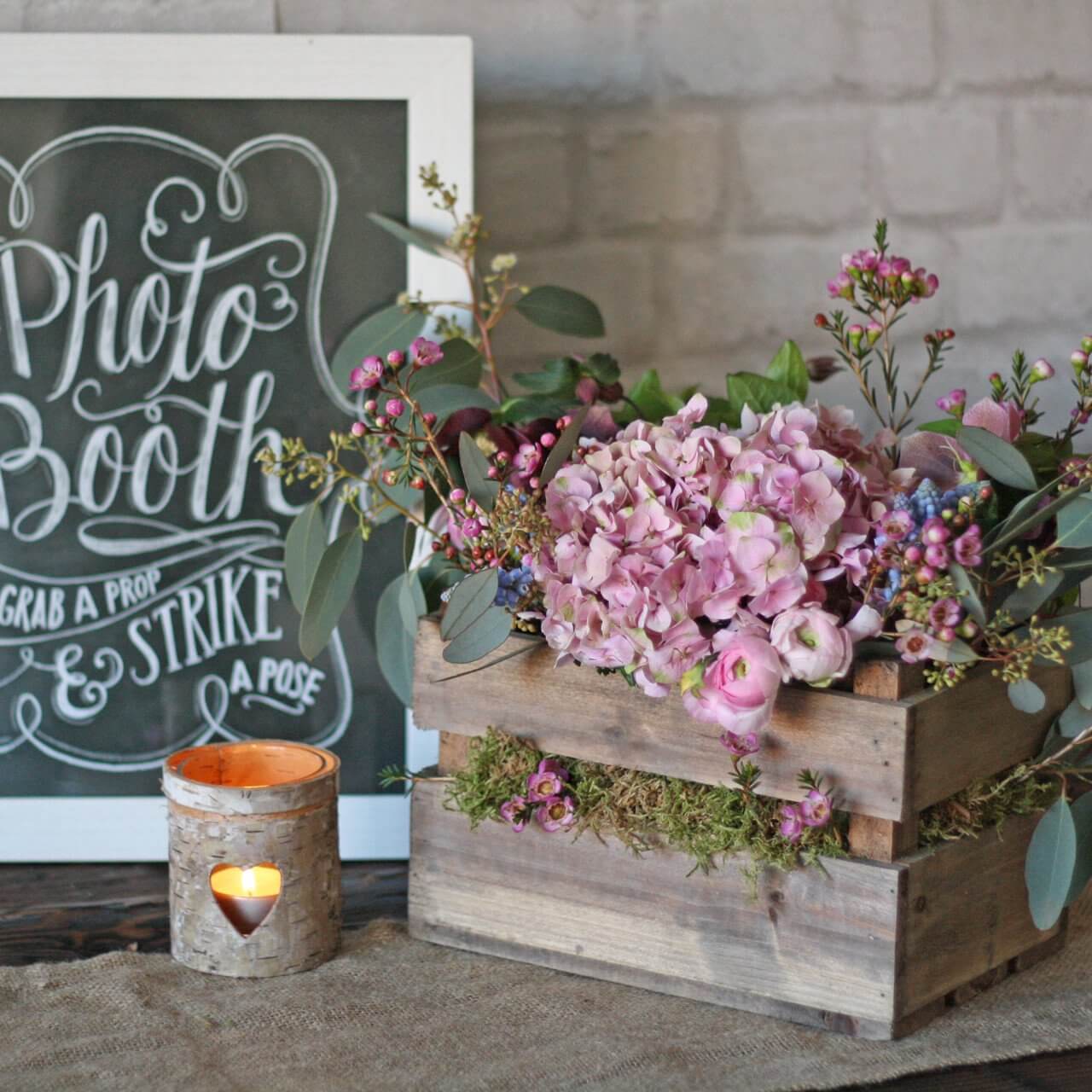 This old crate has been filled with sphagnum moss and flowers in muted pinks with tiny pops of purple-blue. The pinks belong to old shrub roses, hydrangeas and pinks, while the little spots of purple come from the grape hyacinth. Spilling gray green oval leaves help to balance the muted, pastel colors of the blossoms.
36. Birch Bark Vases with Peach Flowers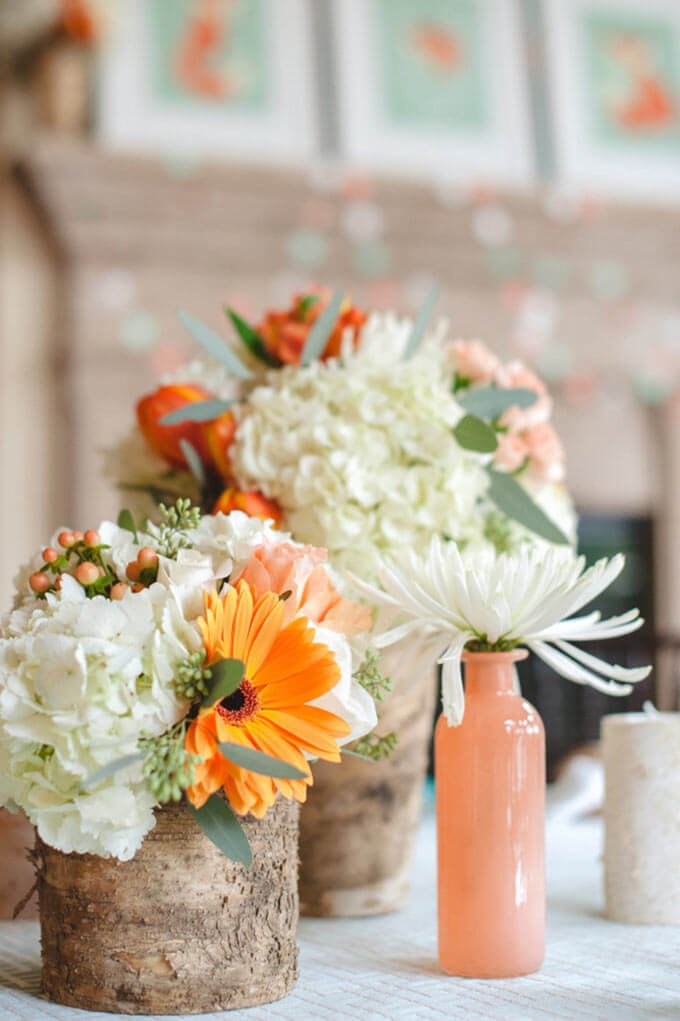 Birchbark wrapped around a container gives it a look that is both rustic and elegant. In this case, two birchbark containers hold orange gerbera daisies and their buds along with white hyacinth flowers. However, in a sort of reversal, a single white ray flower blossoms from a simple, peach colored ceramic vase.
37. White Mason Jars in a Lettered Box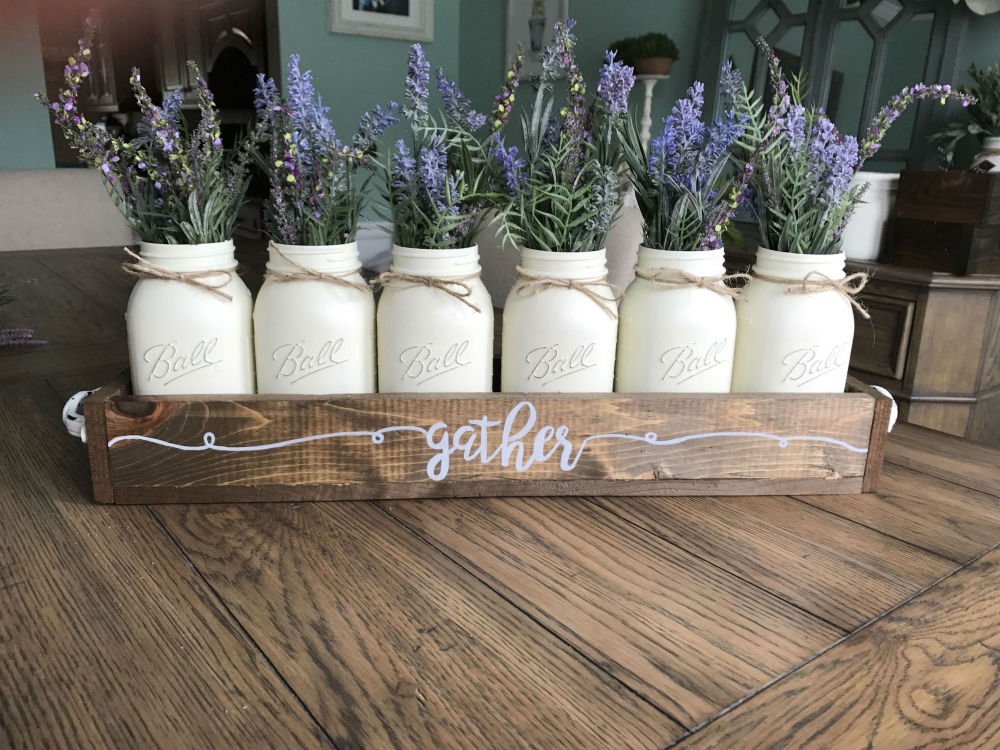 Here are more white painted mason jars lined up in a repurposed, lettered box. The white of the jars contrasts with stalks of purple-blue delphiniums and plumes of feathery, dark green foliage. This arrangement would make a memorable centerpiece in the middle of an old fashioned country table.
38. French Flower Garden Springtime Centerpiece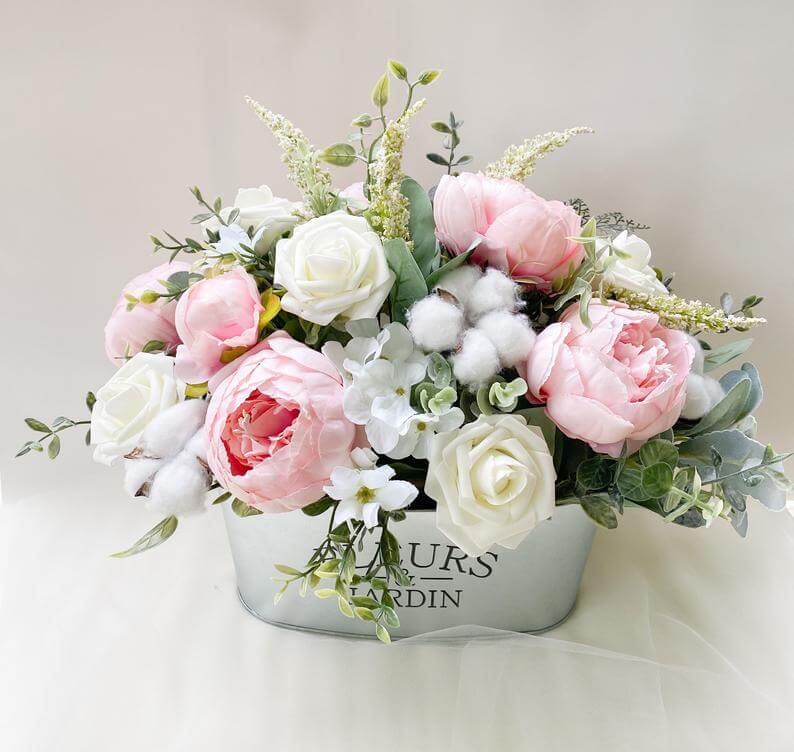 Set the stage for a grand spring dinner with this springtime centerpiece that's overflowing with beautiful peonies and roses in white and pale pink and even includes a few pieces of fluffy cotton. The tin container features French writing and grounds the flower garden display that's a perfect choice for your family's Easter celebration.
39. Black and White Plaid with Lemon Jars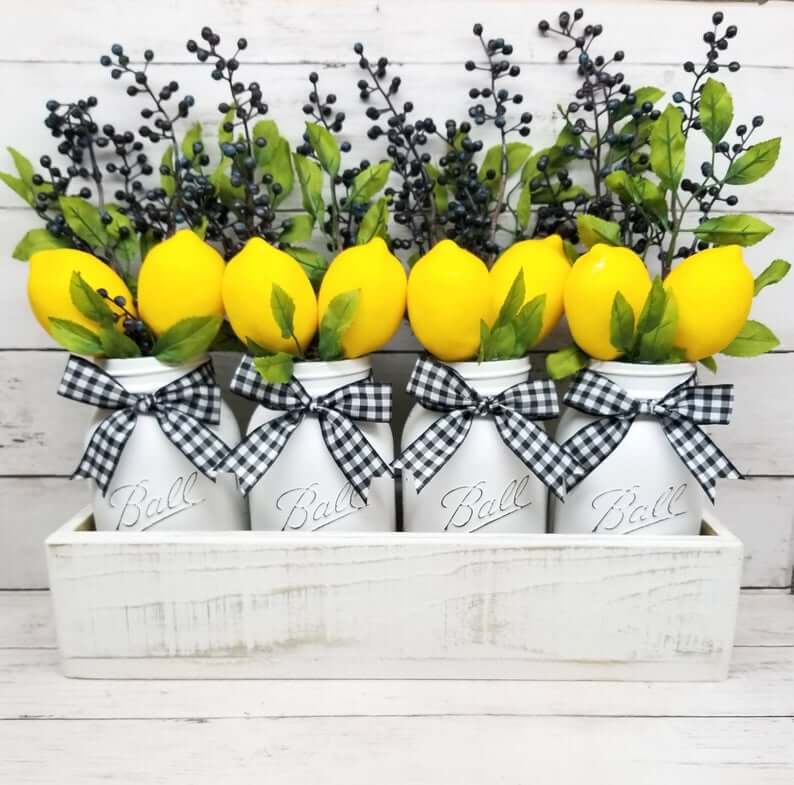 These cute and charming mason jars are painted white to give them a finished look to make your centerpiece set look a little more polished. Tied with a black and white ribbon, the jars are set off with the striking sour fruits that show off their vibrant yellow peels. The mix of black and white with this bold yellow creates a dramatic look that can stand alone as a single jar or looks even better grouped in this wooden crate for a more powerful statement.
40. Pint Sized Jar with Small Sunflowers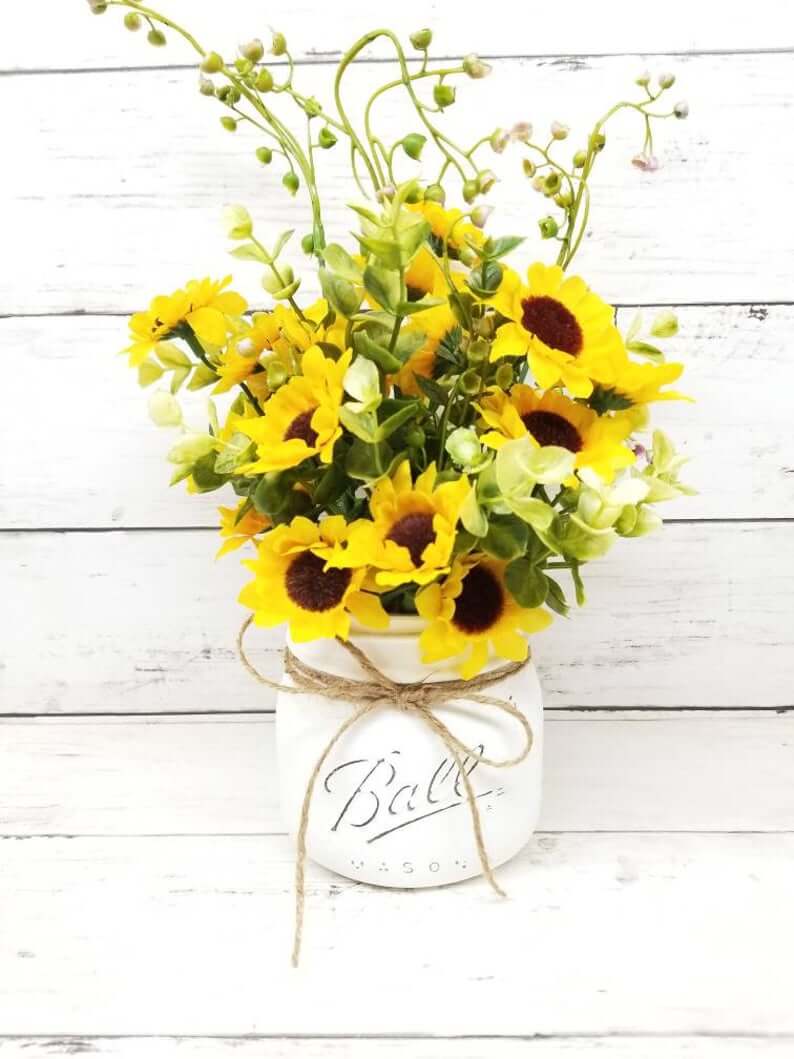 What a cute way to transform a pint-sized mason jar into a real work of art as a unique flower vase. The inside of the mason jar has been painted white to give it a modern farmhouse feel and is delicately trimmed with a jute string ribbon. Bursting from within, the gorgeous arrangement of small sunflowers and sprigs of greenery create a breathtaking centerpiece for a spring or summer wedding or even for a graduation party.
41. Lavender and Coral Graceful Flower Centerpiece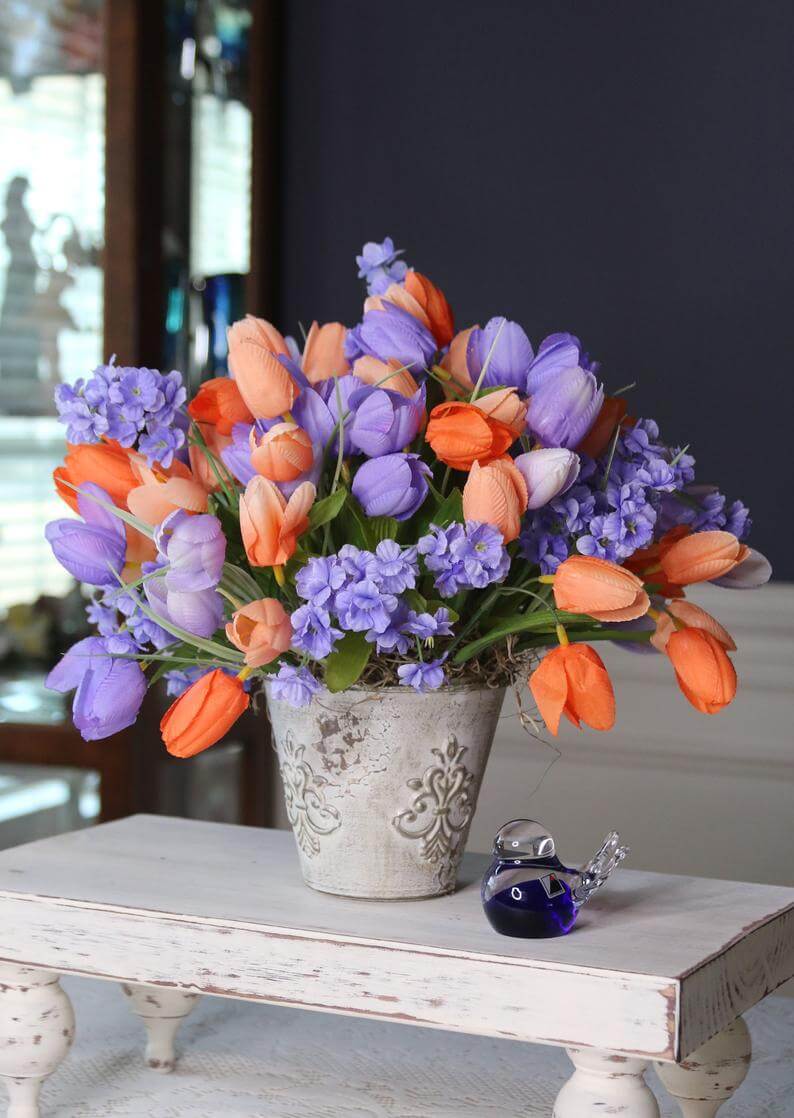 Full and lush is how you'll find the abundance of flowers in this centerpiece featuring a contrasting combination of colors in an orangey coral paired with a purply lavender. This color combination is a change of pace from the traditional pinks and yellows making it a much-welcomed centerpiece to adorn your dining table all spring long.
42. Pretty and Full of Texture Mason Jars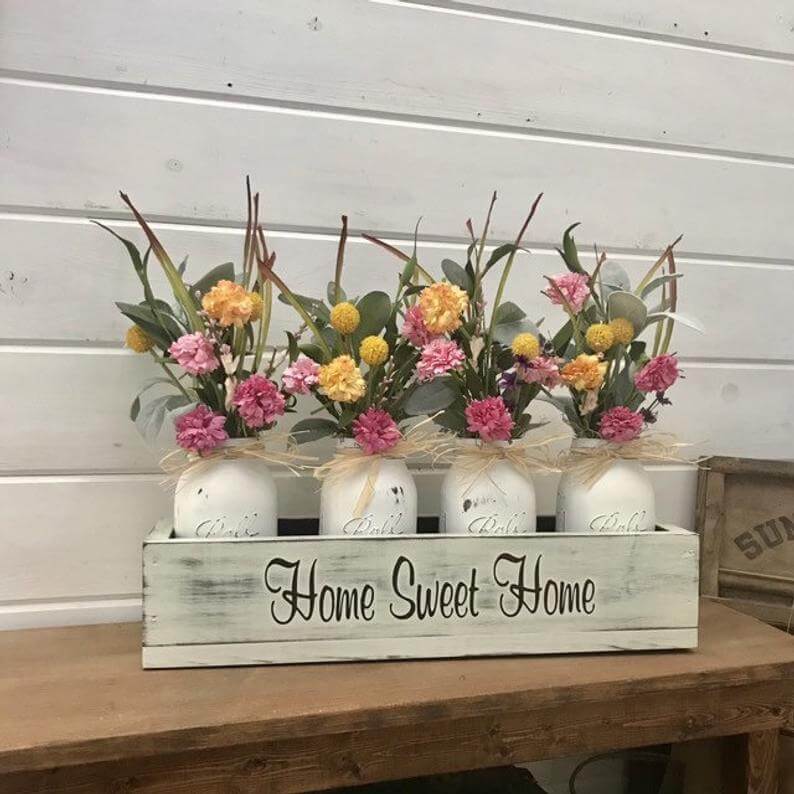 Here is another spin on the mason jar vase craze. These painted jars hold a very pretty collection of mixed flowers to showcase a variety of textures and tones. The dominant colors shining through are purply pinks mixed with golden yellows. Featuring greenery ranging in height, the flowers in these bouquets are just the right size and design to be featured at a home-cooked dinner or a bridal shower event.
43. There's No Place Like Home Flower Box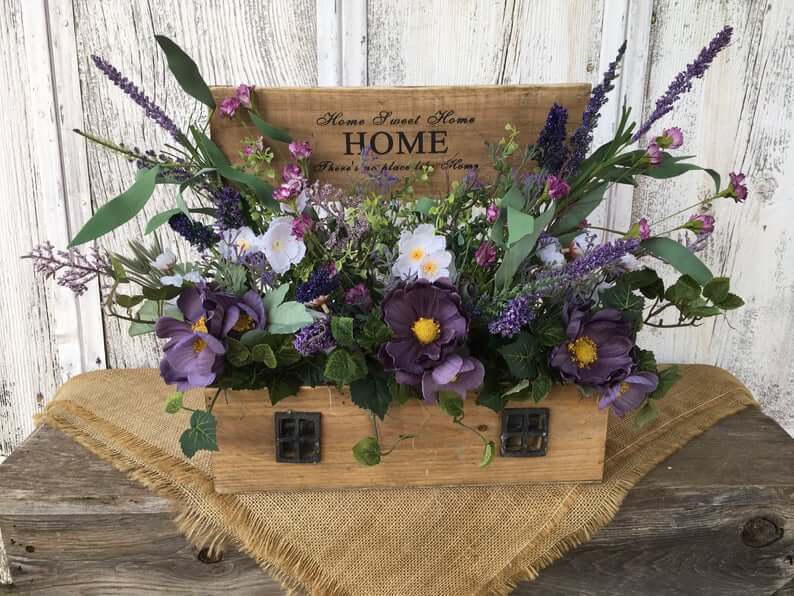 Fill up a wooden box with your favorite flowers to serve as a unique funeral flower sentiment. After calling hours, the grieving family will envision placing this beautiful arrangement in their home to remember their loved one's legacy. It would also be an original way to send a gift of thanks to a friend that differs from traditional flowers in a vase.
44. Lantern Bouquets with Spring Time Ribbon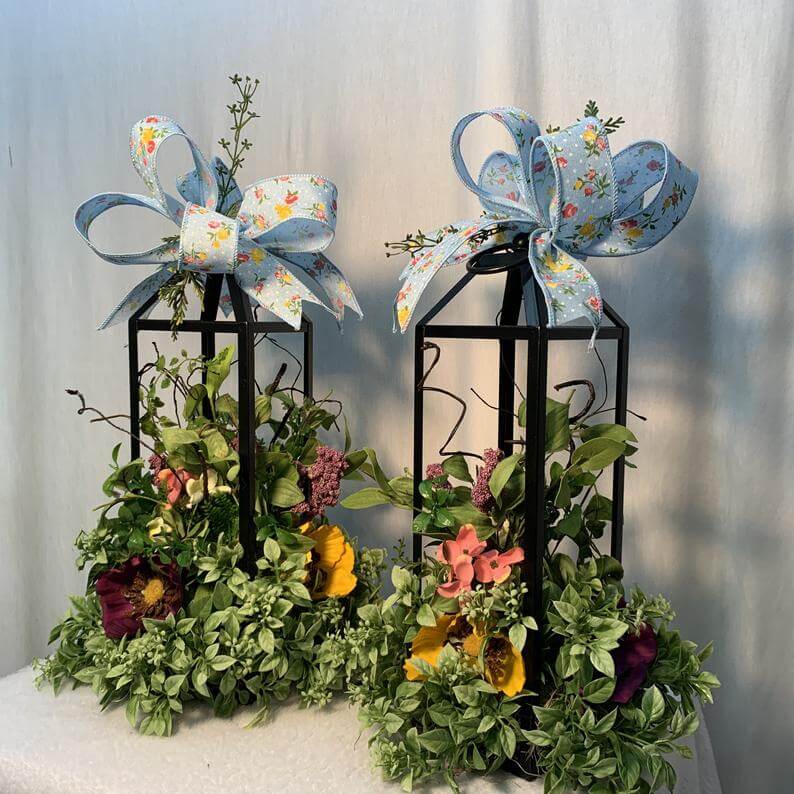 Stay on-trend with the lantern love in home decorating by adding this flower-filled beauty to your stylish scene. The choice of spring loving flowers are snuggly nestled within the lantern and gently extend through the matte black framing to add interest and style to the design. At the top, the pastel blue ribbon showcases spring flowers in pinks and yellows to further enhance its seasonal appeal. Place one at your entryway or on the nightstand of your guest bedroom.
45. Spring Flower Ring Candle Accessory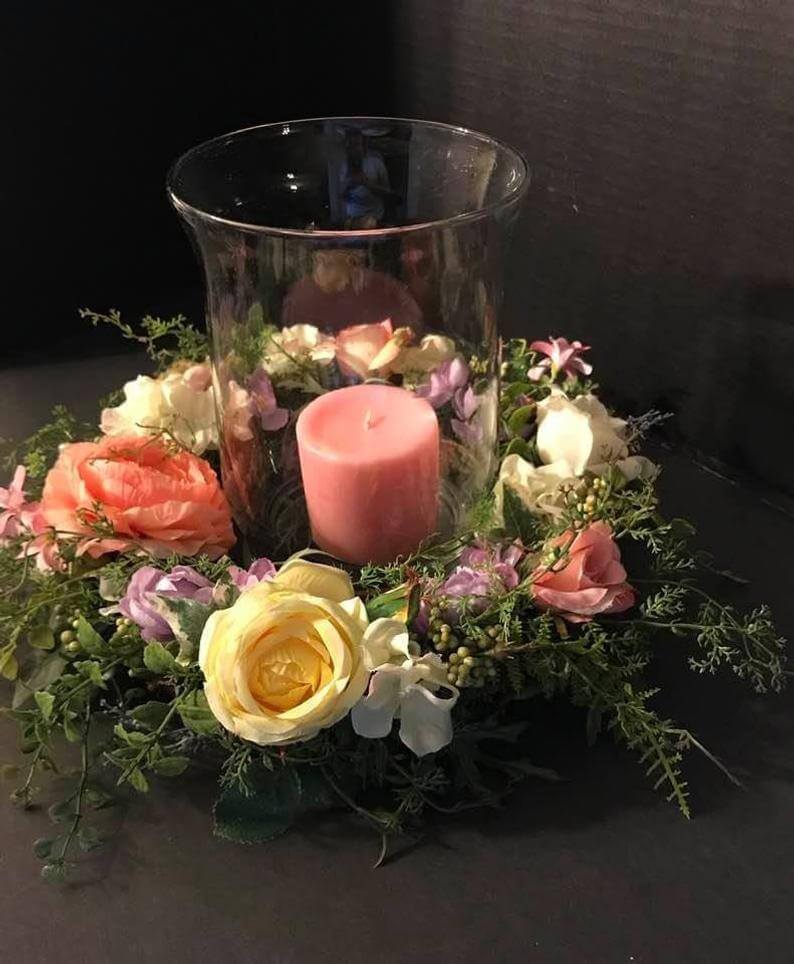 Let the warm glow of a candle illuminate your special day and keep it lively by wrapping this pretty ring of flowers around the bottom. All of the delicate springtime flowers enhance the beauty of this glow with their pastel and muted hues. You can use this dainty centerpiece as part of your baptism celebration, bridal shower, baby sprinkle, or a retirement party for a close friend.
46. Watering Can Filled Flower Arrangement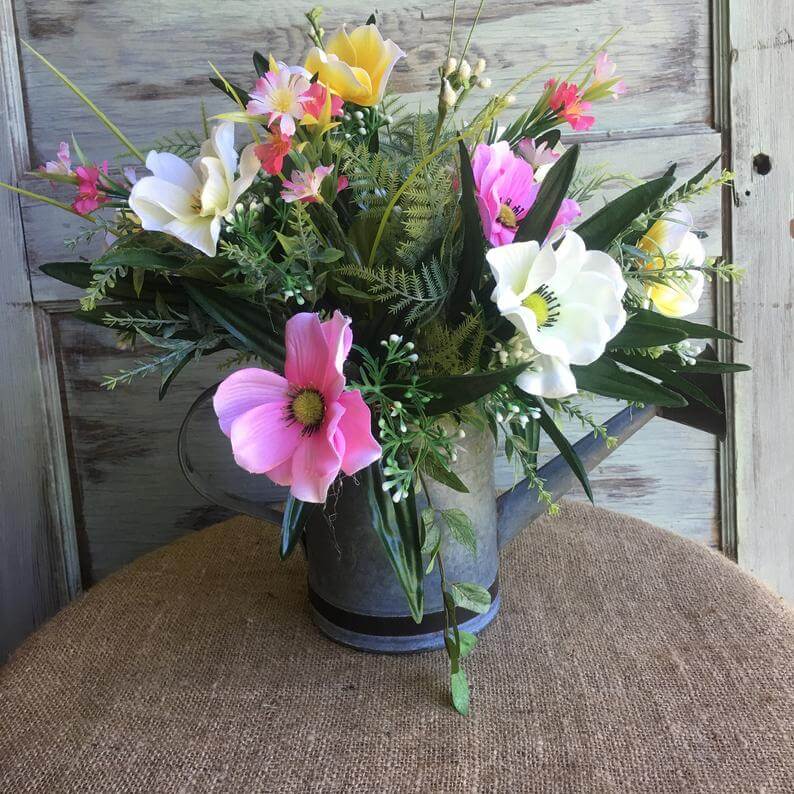 Think beyond the glass vase and consider using some everyday items to hold your collection of pretty petal friends. Any garden-lover will delight in this spin on a vase as well as the arrangement of gorgeous flowers it holds. Gift this to a friend for a birthday, retirement recognition, or funeral remembrance. As the sun sets, this gorgeous flower collection looks great resting inside a metal watering can as a fun and flourishing decorative element on your kitchen island.
47. Small Metal Vintage Toolbox Flower Display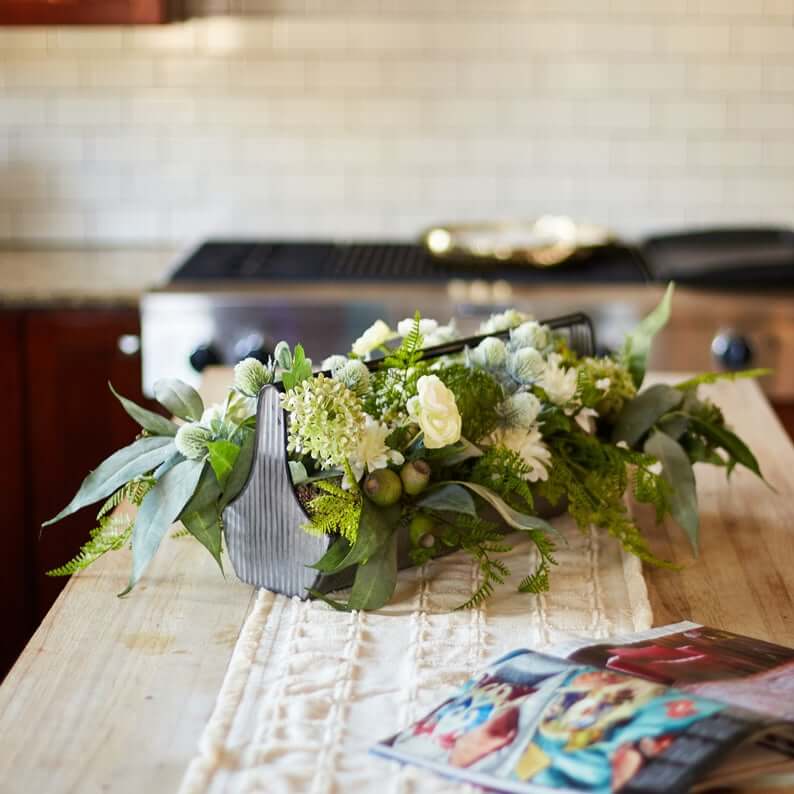 Make your dining room feel right at home with this modern farmhouse-inspired centerpiece. It's the perfect touch to add for spring with its overflowing greenery and white flowers. Line it down the middle of the table for everyone to see. The metal vintage toolbox delivers an unexpected look and appreciation to your family's eating experience.
48. Chirping Birds Spring Topiary Ceramic Plant Pot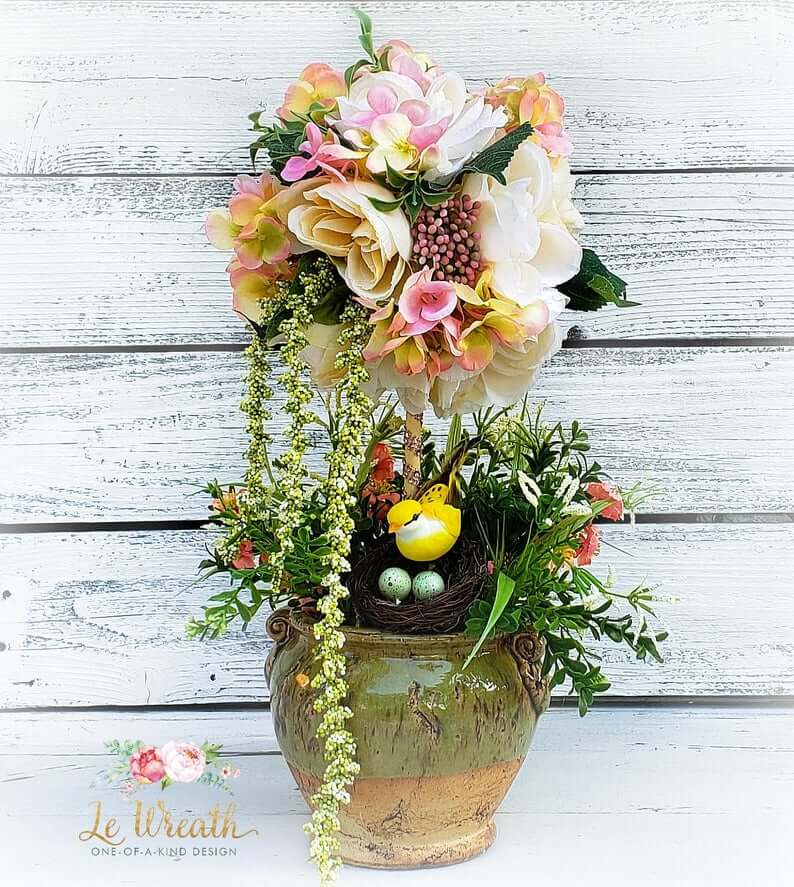 There is no better sound to signal spring than the chirping of birds each morning. Bring a note of this cheerful ode into your home with this charming topiary centerpiece. It's a perfect choice for placing in the middle of your Easter dinner party. The plump ball of flowers creates a stylish mound as the topiary focal point with cascading foliage that flows to the brim of the planter.
49. Steel Pitcher Elegant Eucalyptus Floral Centerpiece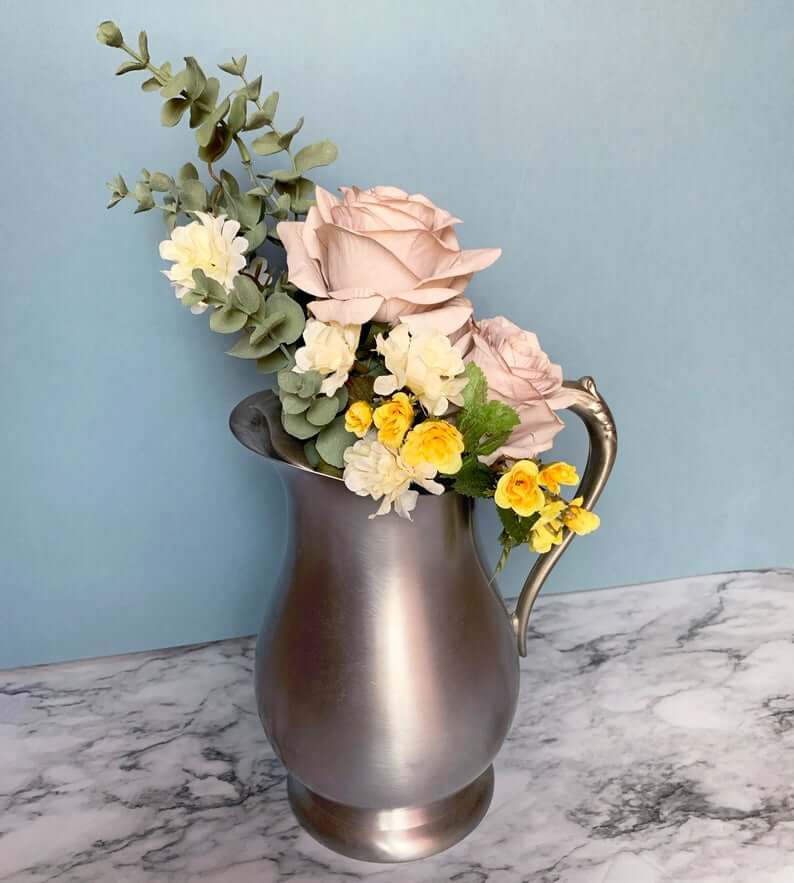 Elegance and grace are evident in the structure and design of this luxurious and tasteful centerpiece. It makes a wonderful gift for your hostess as it can be set as a distinct spring decor addition in nearly any room of her home. The muted tones in the blush pink rose petals and green eucalyptus along with the cheerful, buttery yellow makes this a gorgeous piece for your dinner party scene.
50. Beautiful Bird Set of Nests on Pedestals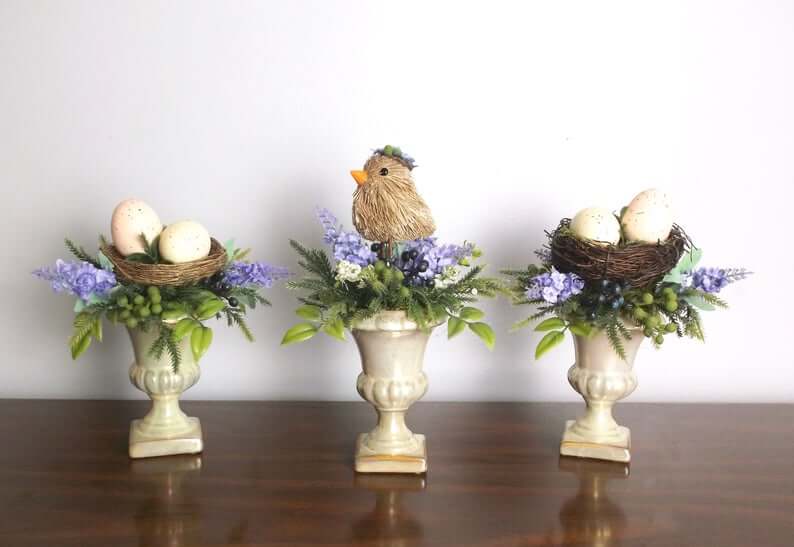 This terrific trio features a matching set of pedestals that are the foundation for a beautiful bird display. Two cozy nests, along with a charming little bird complete the look. The eggs lying in the nests add the perfect detail to make this set filled with charm. Arrange them along the center of your table for a peaceful and lovely centerpiece or perch them across your mantel to add some spring flair to your living room.
51. Decorative Mossy and Pastel Easter Basket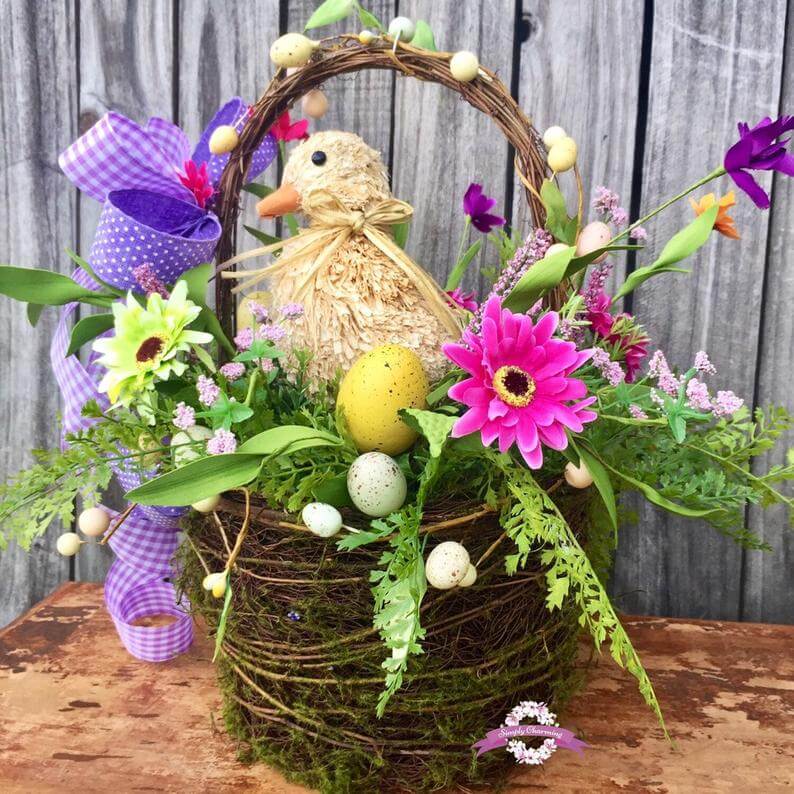 Nature meets style in this lovely and colorful moss-covered grapevine Easter basket. It's a charming way to mix some natural elements with decorative ribbons and faux flowers. Nestled in the center, an adorable duck is peeking out. Everyone will love this cute and fun Easter basket that makes a great centerpiece idea. Its use of nearly every color in the rainbow helps to brighten the scene for spring.
52. Full of Flower Buds Stuffed Birdcage Cloches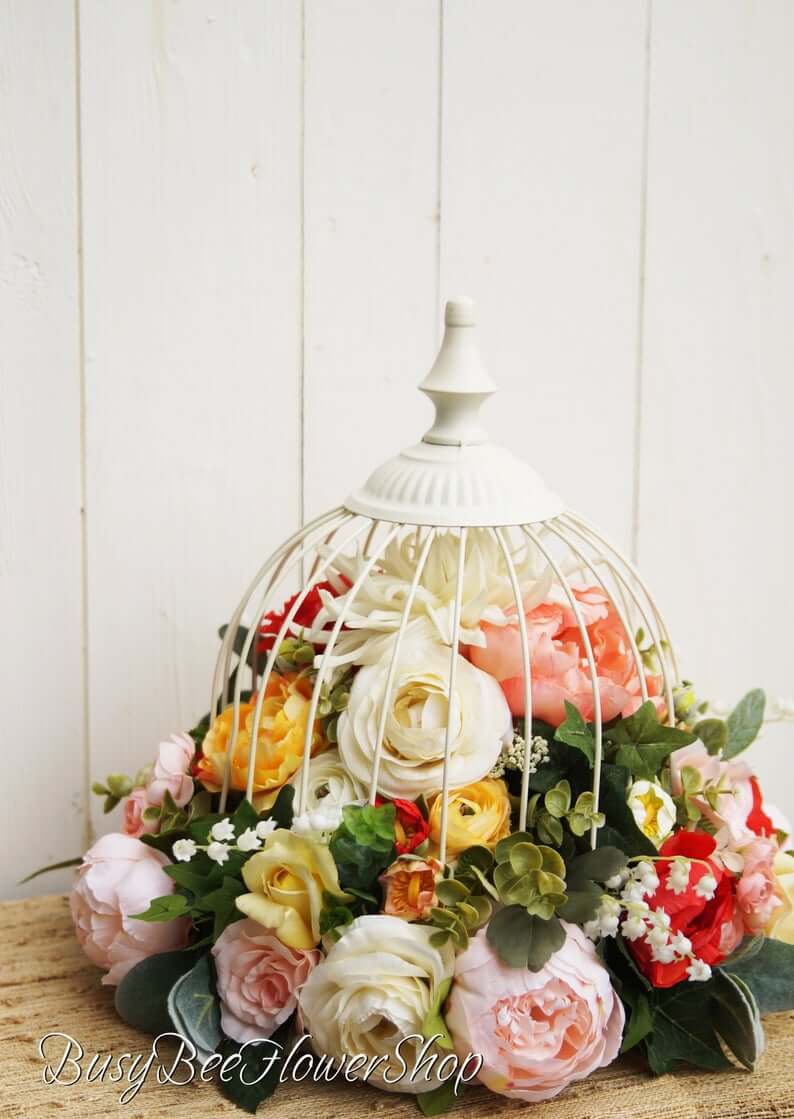 Wire birdcage cloches are a terrific choice for housing your favorite budding beauties into one collective space. The variety in the hues of their lively oranges and pinks are perfectly complimented with the interspersed greenery and touches of bright yellow. Placing one on every guest table to decorate a wedding reception would be a strikingly elegant touch.
53. Woodland Wonderland Mossy Log Floral Arrangement
Combine your love of the great outdoors with your interior design in this stunning woodland wonderland arrangement. The flowers seem right at home as they are snuggled up within the confinements of this mossy log. Place it in the center of your table to enhance your springtime dining experience or lay it upon your mantel for some added charm in your main living space.
54. Overstuffed Floral Wooden Window Box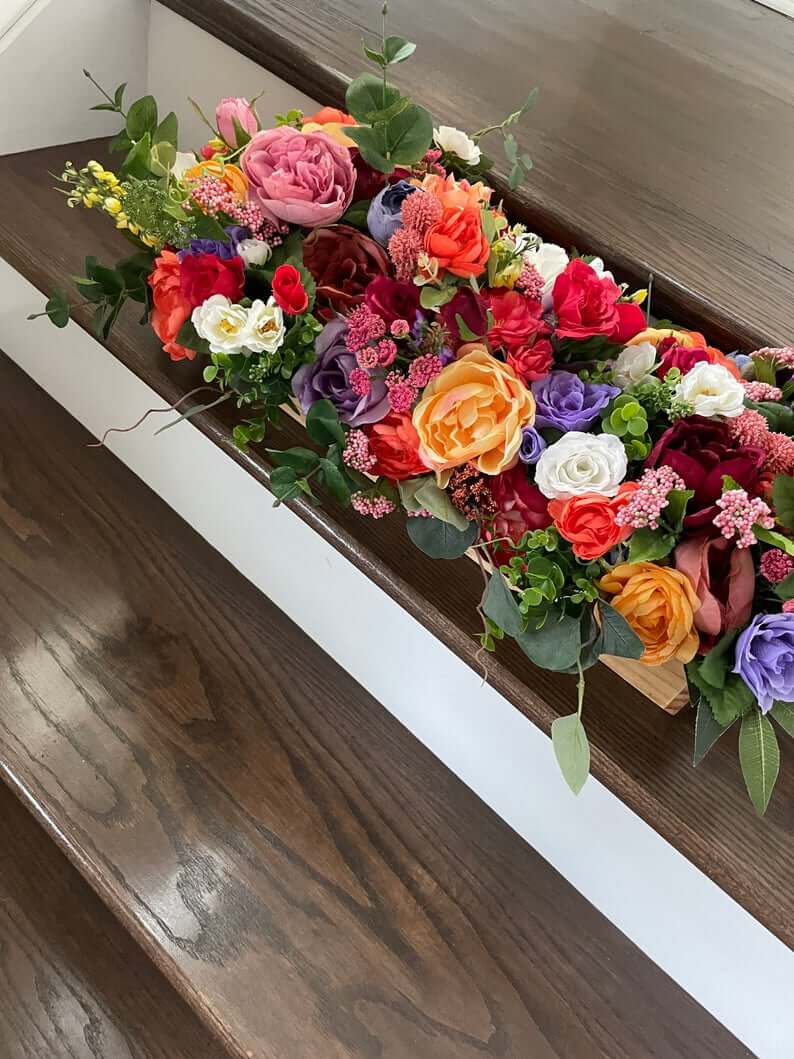 Who says window boxes are only for adorning the outside of your home? Bring this classic staple inside where it can go from the dining room to mantel seamlessly. Its slim design may even make it an option for lining the inside of your windowsill, especially in your kitchen above your sink. All of the gorgeous colors will bring any room alive and make spring emerge within the interior of your home.
55. Miniature Milk Can Floral Vase Centerpiece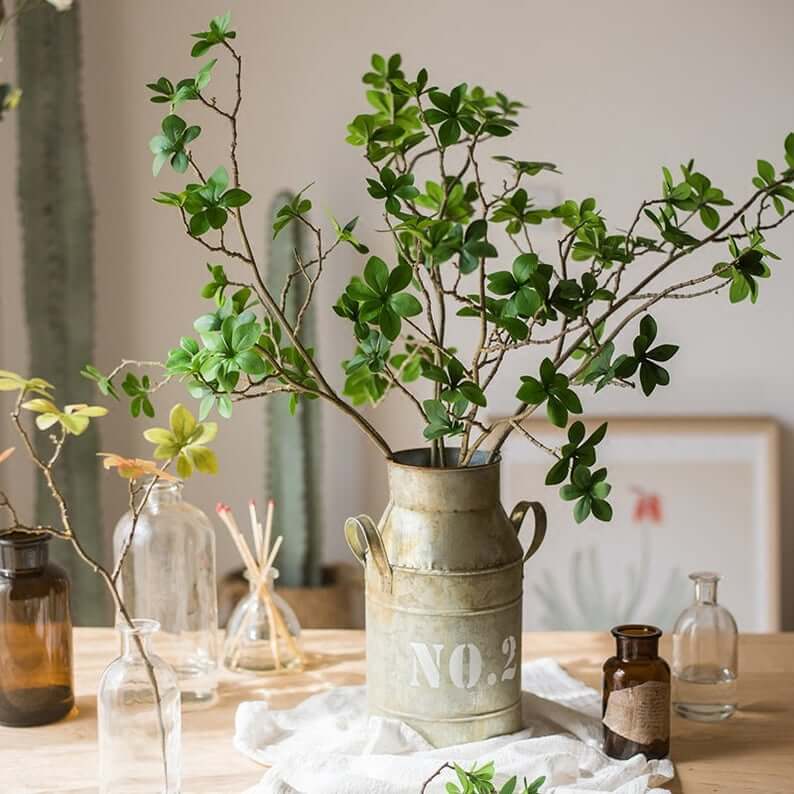 Add some character and charm into your dining experience with this miniature metal milk can that creates a fun and unique vase for your flowers. Your modern farmhouse style will enjoy the addition of this piece as it secures the look. Fill it with a few sprigs of your favorite greenery or spring flowers to add that touch of the season into your home.
56. Live Life in Full Bloom Spring Centerpiece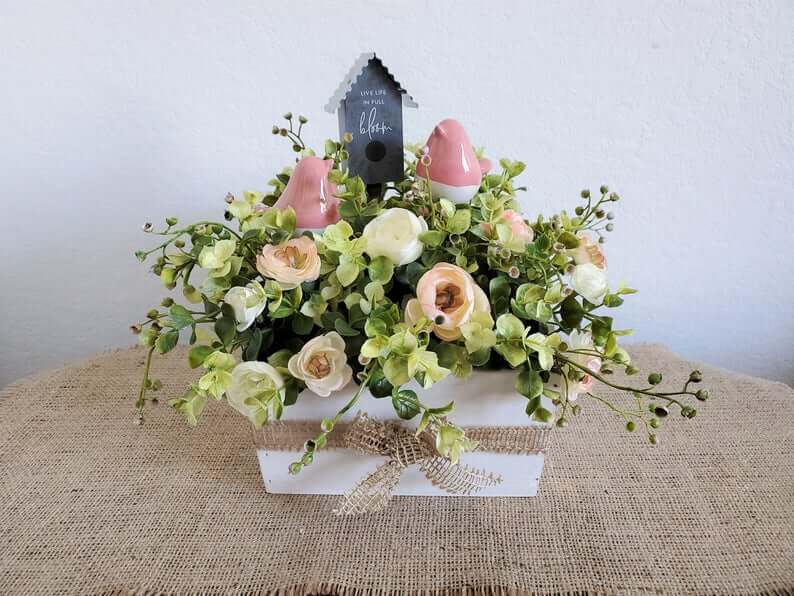 A pair of sweet ceramic birds along with their quaint house is nestled within this delicate and pretty floral arrangement. Incorporate it into your Easter tablescape this spring for extra style and grace. It makes a nice anniversary gift or friendly gesture for giving to a friend. The tied burlap bow completes the look to make it appealing for both traditional and farmhouse decor alike.
57. Rustic and Graceful Peony Bloom Small Arrangement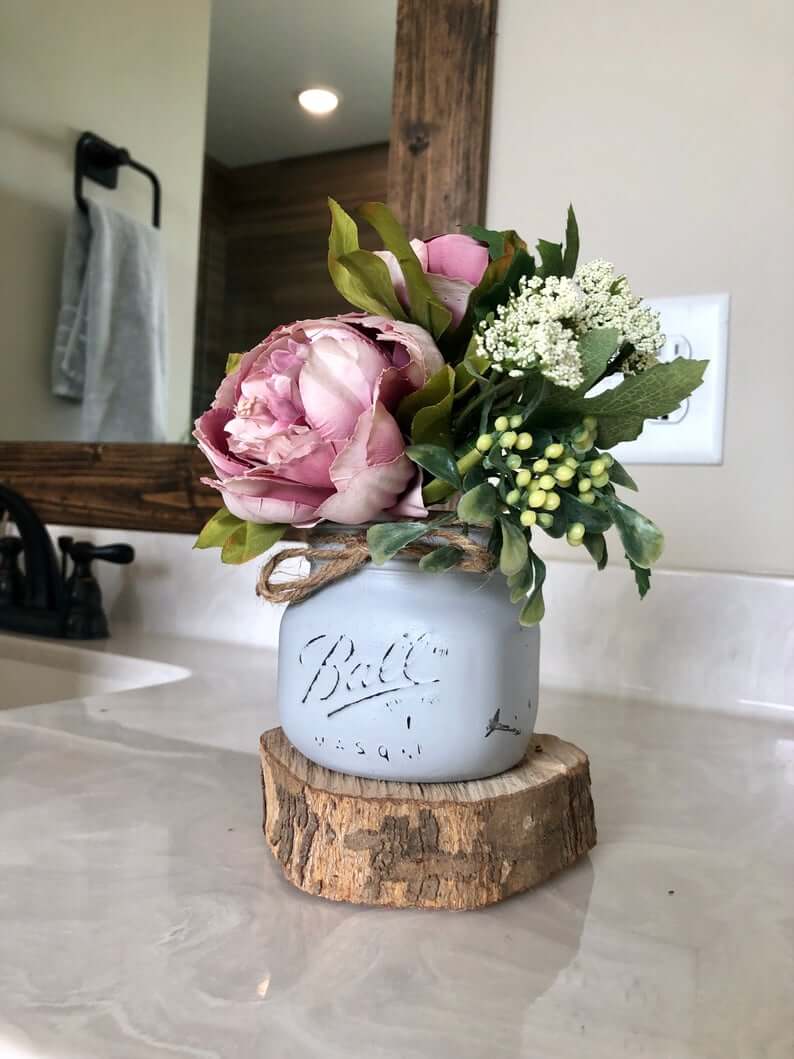 Check out the point where rustic design collides with elegant grace in this quaint and darling peony bloom arrangement. Set upon a rustic wooden round, this small mason jar holds a breathtaking peony bouquet that's a stellar idea for dressing all of your social gatherings this spring. It's perfect whether you are hosting a bridal shower, wedding reception, retirement celebration, or a special social event.
58. Wooden Initial Box Planter Stand Centerpiece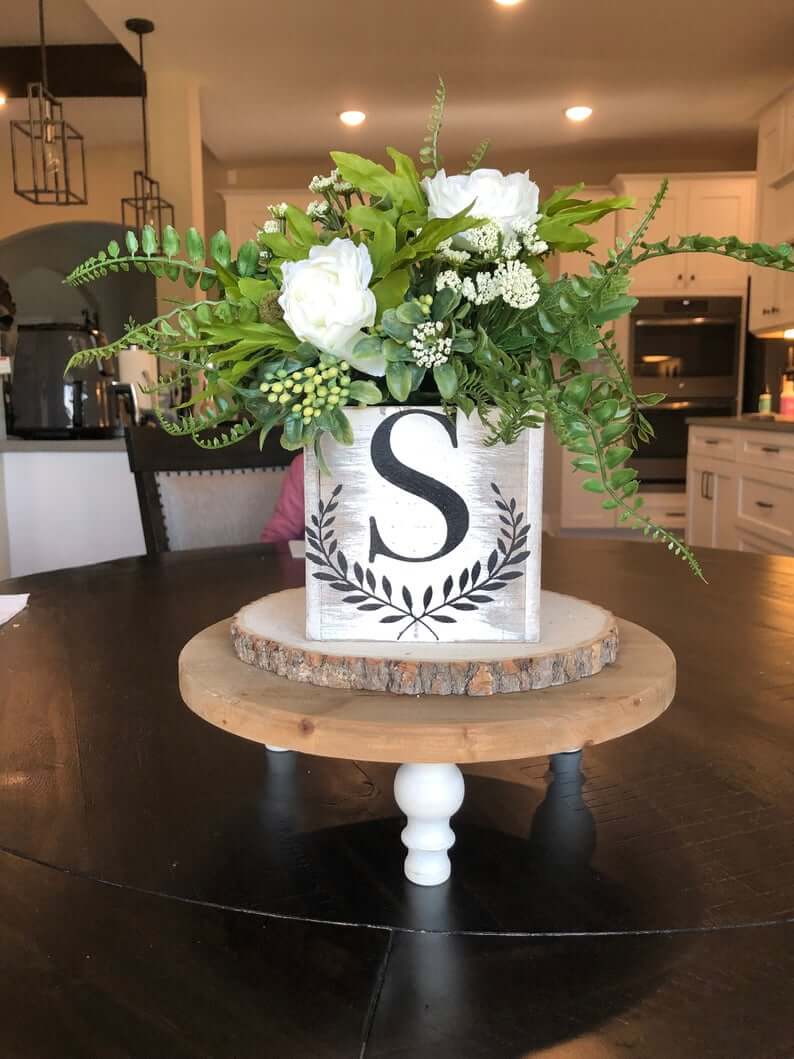 This multi-leveled beauty features your family's initial front and center as a picturesque way of decorating the table for a family dinner. With a distressed finish framing the letter, the overall look and feel of the design capture an element of rustic elegance that's perfect for your table!
59. Pastel Easter Colored Painted Mason Jar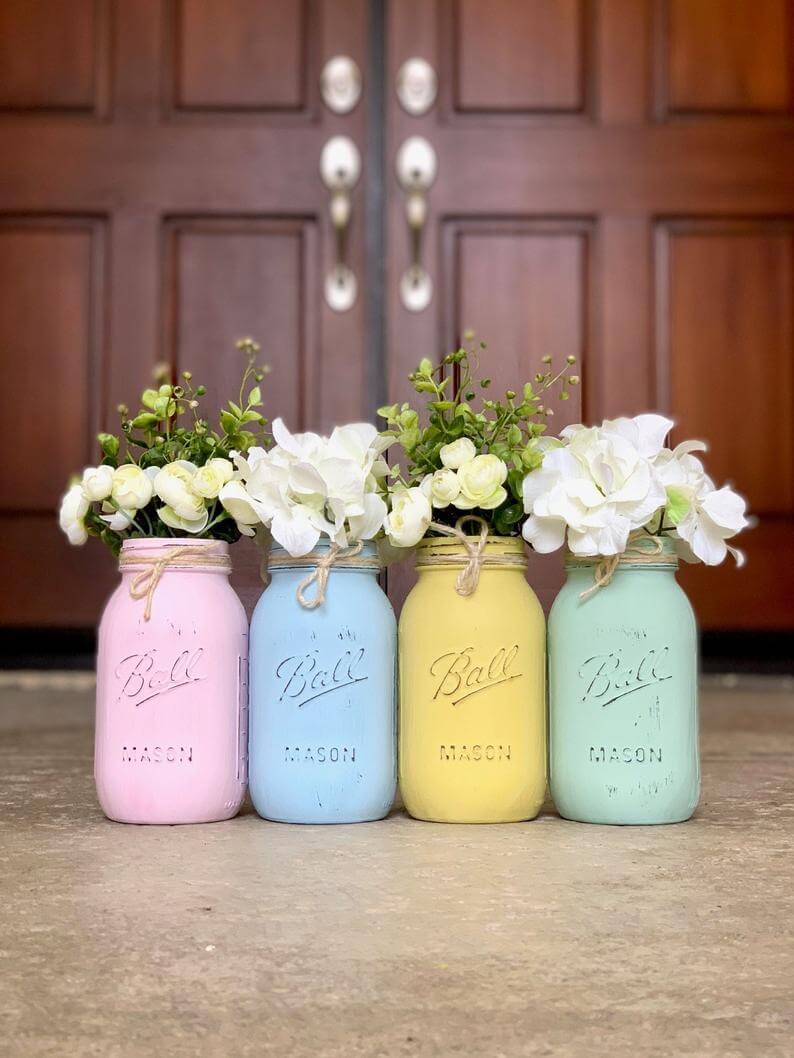 Create lots of pastel pizazz in your home with these painted mason jars. The lighter hues of these colors are iconic for spring. Arrange them together in a group of four or place them individually around your home for more style.
60. Sweet and Simple Wood Flower Box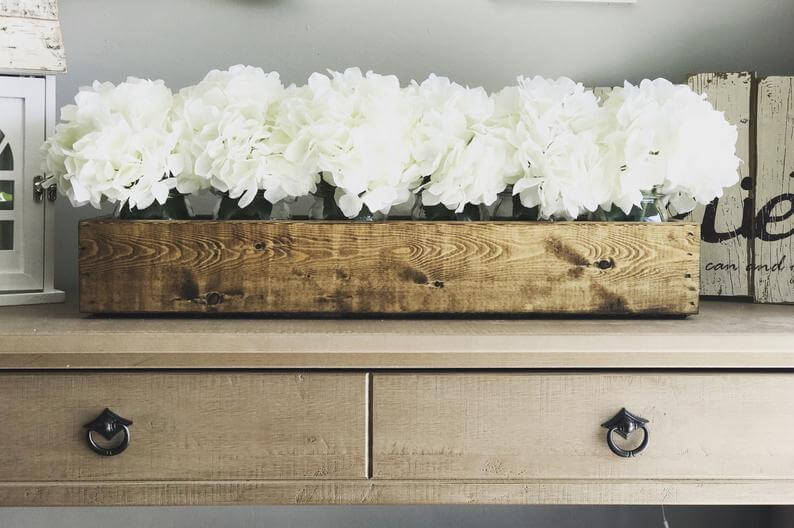 Show off the gorgeous grains in this wooden flower box with just a simple arrangement of white bouquets inside. This box looks perfect all year and is just the right size to adorn your credenza, entryway side table, or desk in the home office.
61. Distressed White Wooden Lantern Centerpiece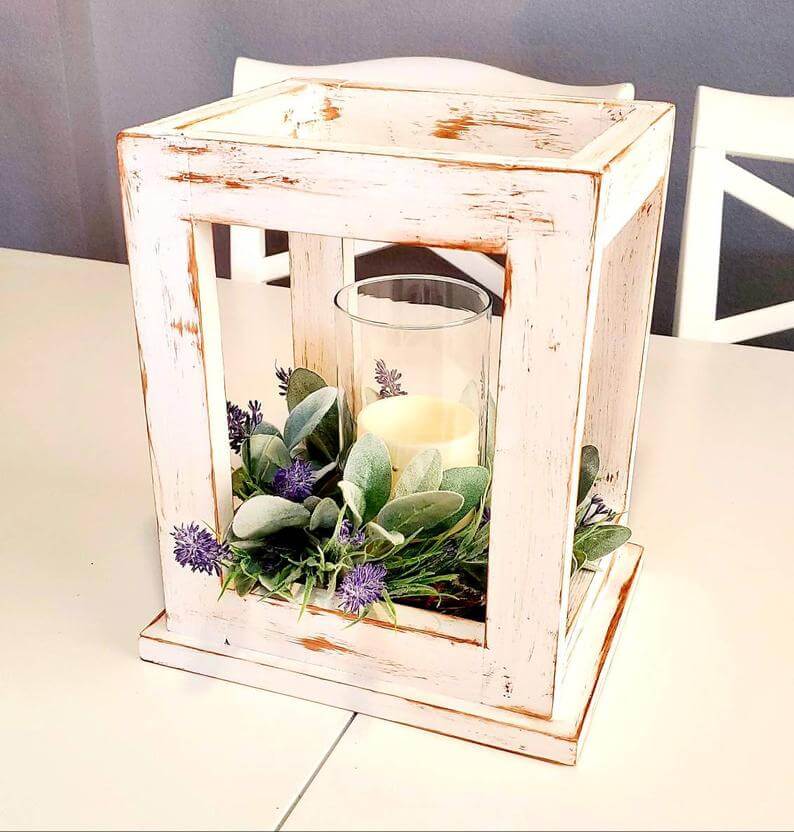 A spin from the traditional black lantern winds its way into the chic design of this distressed white wooden version. A lovely spring wedding would be the ideal placement for this centerpiece as it would blend right into the decorations on the table of the wedding party.
63. Short and Squared Large Bouquet Centerpiece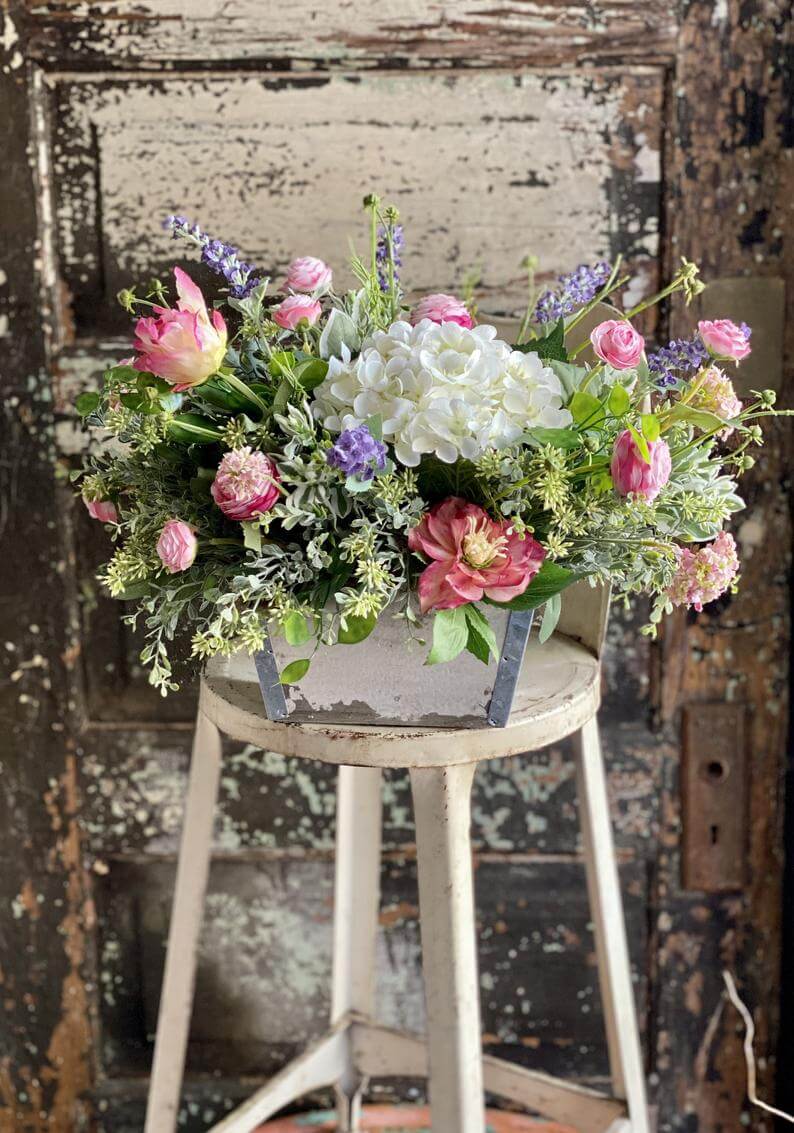 With vibrant springtime greens accompanied by feminine pinks and purples, this short based centerpiece offers big bursts of color for your Easter dinner on Sunday. It's a low-key design with its squared-off sides making it easy to pass the favorite casseroles and juicy ham around the table.
64. Painted and Twinkle Light-Filled Mason Jars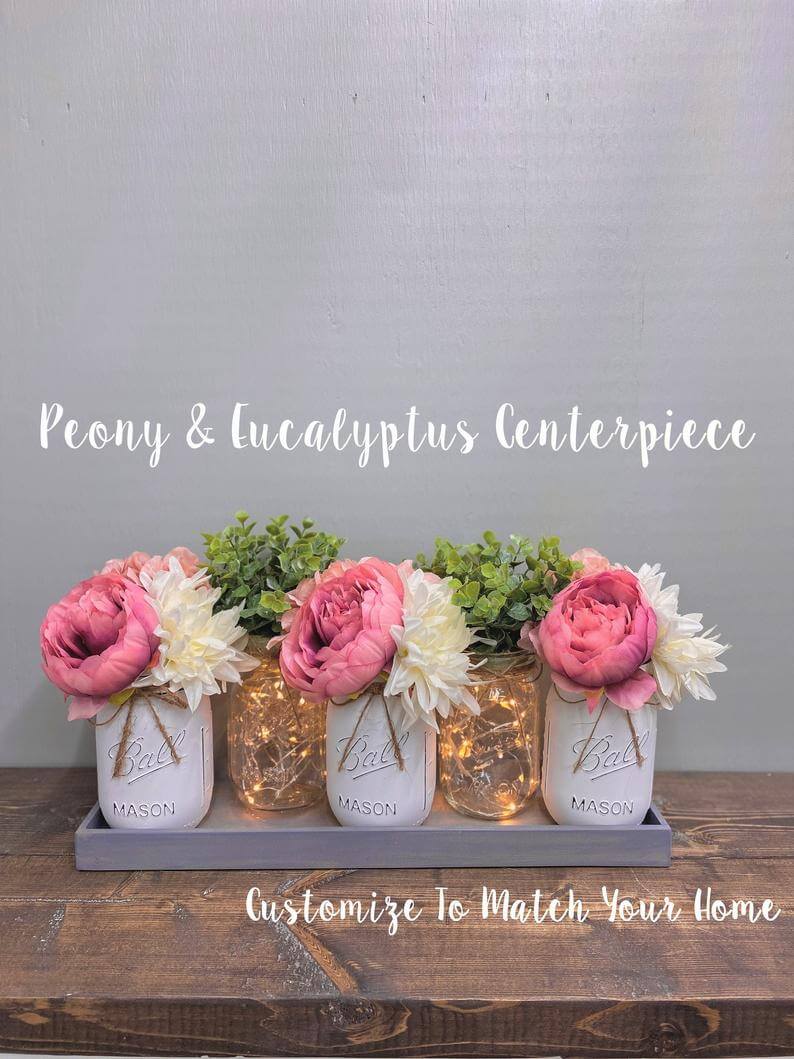 Mix and match your mason jars to achieve this amazing look! By combining painted jars with ones filled with twinkle lights, you add ambiance and a personal touch to your centerpiece design. The eucalyptus and peonies are just icing on the cake in this dynamic floral display.
65. Greenery and Purple Hyacinth Serene Duck Centerpiece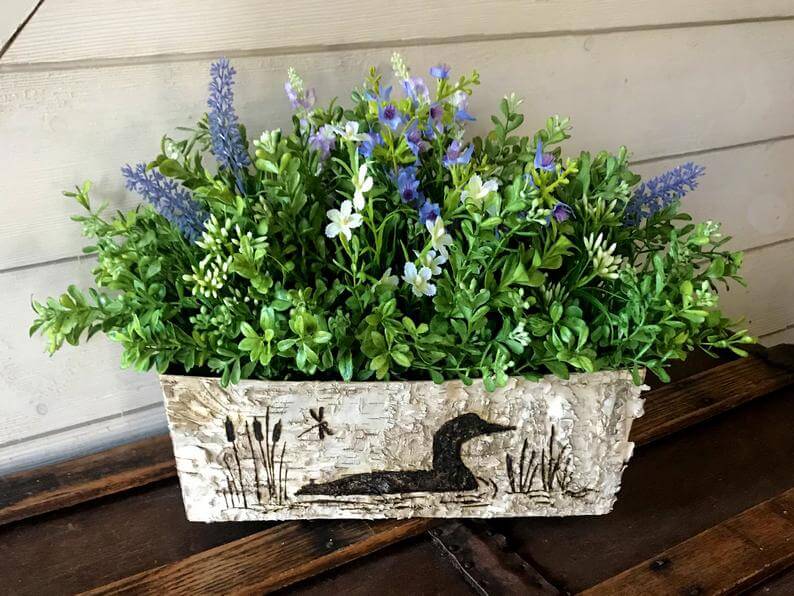 The tranquility of a duck gliding across a still pond is the focus of this sprouting springtime centerpiece. Overflowing with greenery and many pieces of lovely purple hyacinth stems, this centerpiece is a nice choice for a lakeside cabin or the bedside table in your guest room.
66. Splendid Six Sunflowers Filled Wooden Box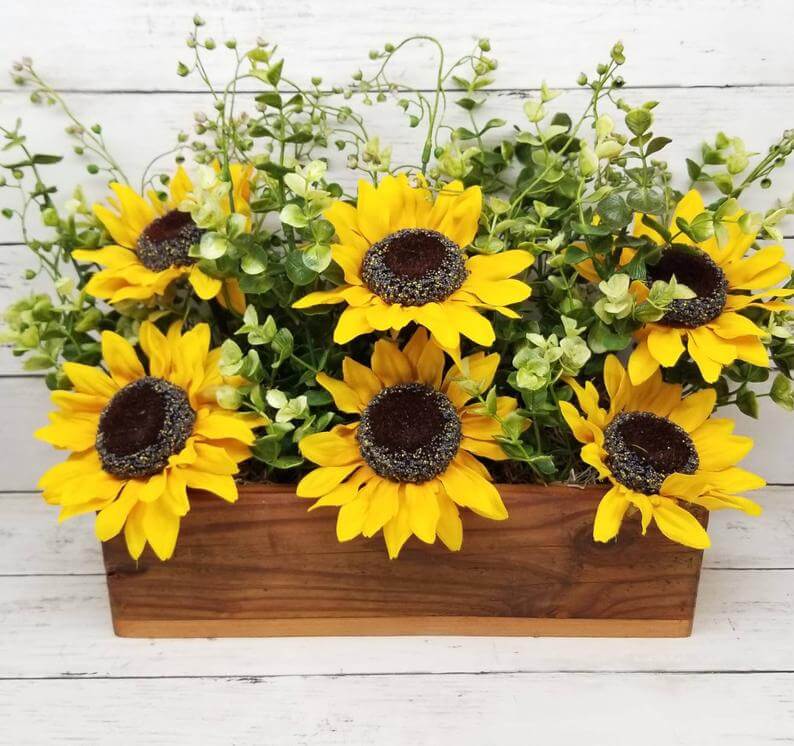 Sunflowers need little accessorizing and that's why this set of six is set within a simple and plain wooden box. The lovely golden yellow petals are sure to brighten your home after a long winter's rest.
67. Easter Egg Hued Berry Vine Candle Wrap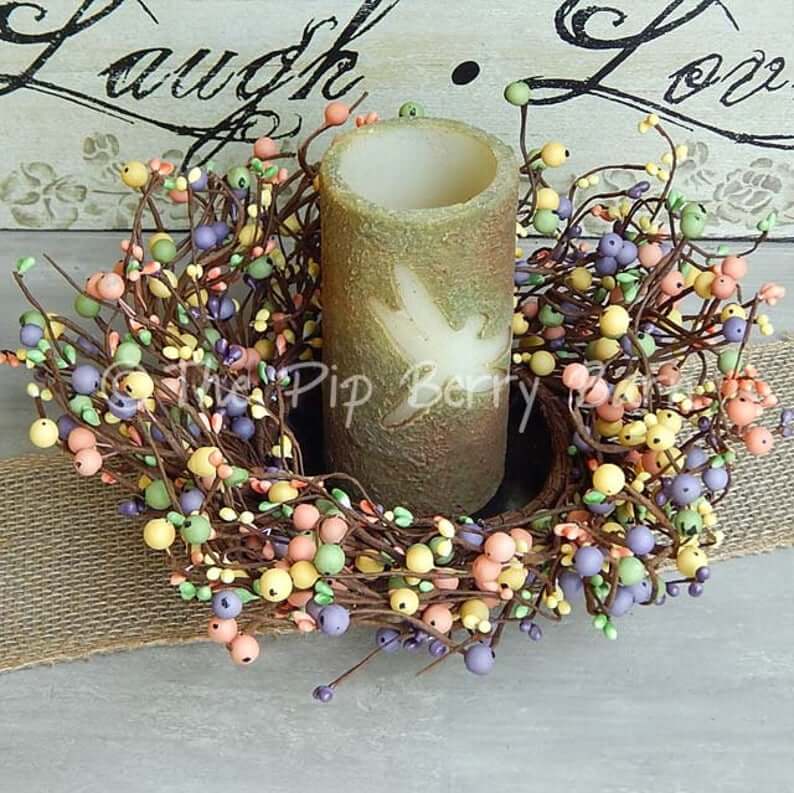 Add a little life to your candles even when they aren't lit with this colorful berry vine wrap. Featuring colors reminiscent of Easter eggs, this wrap brings a big splash of color onto the scene without adding any flowers to the mix.
68. Simple Pink and Peat Moss Crate Basket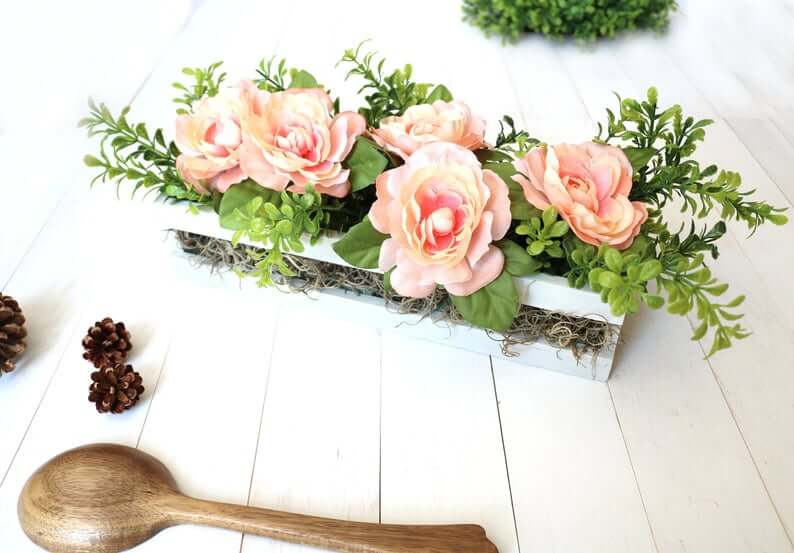 Here's a simple centerpiece that features a warm blush pink amid a lot of greenery inside a white open slat crate basket. This design is small enough to use on multiple tables around reception and even fits perfectly around the serving table to add some ambiance to the food.

Our Favorite Front Door Flower Pots to buy on Amazon