The spring season brings with it a sense of renewal and rebirth, it's the time of year when we push out the old things and bring in new ideas to brighten and uplift us and the smell of flowers blooming in the springtime is a cool way to become inspired to implement the best spring dollar store decor ideas.
21 Dollar Store Spring Decor Ideas You'll Adore this Season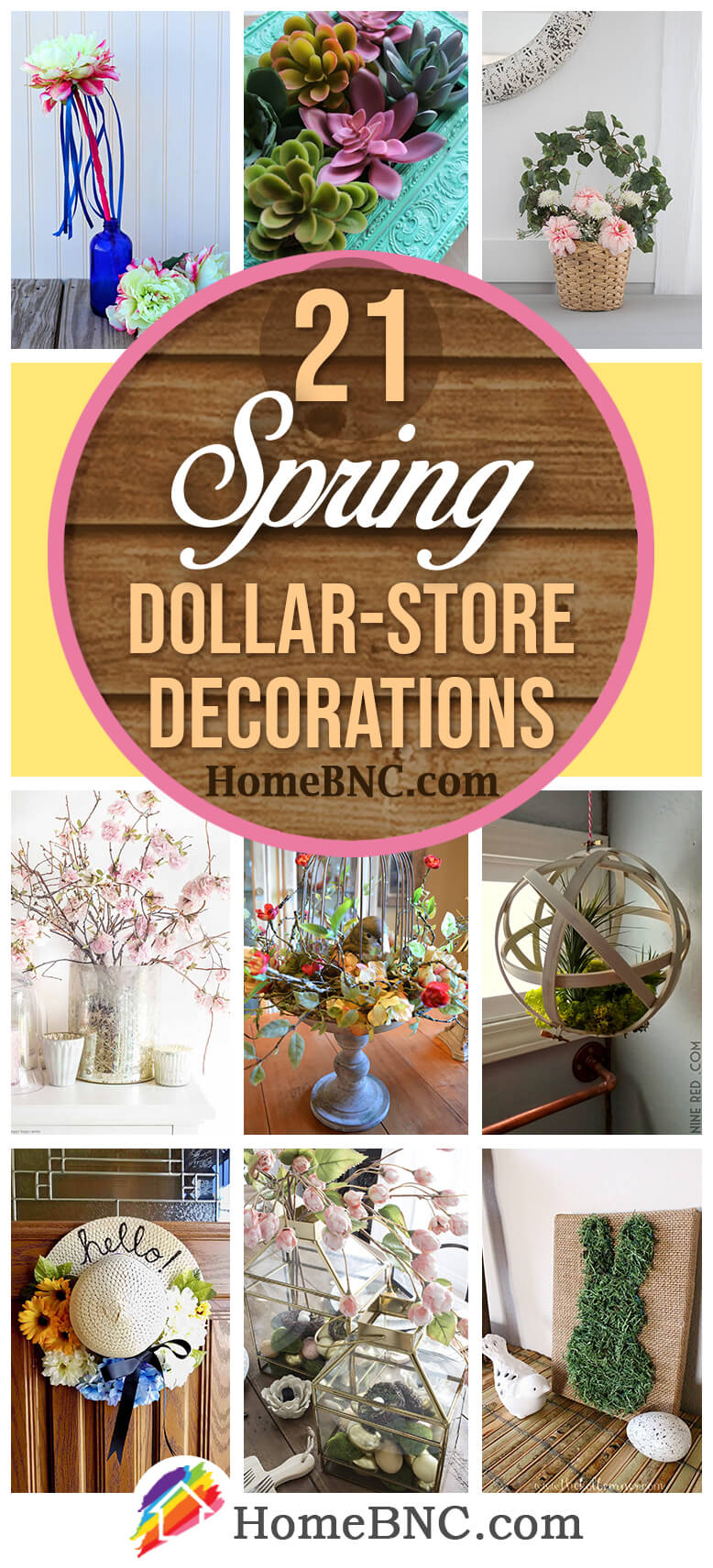 The season of spring brings with it flowers blooming, birds chirping and more daylight. There is a joyful anticipation that comes with the transition from winter to spring. With all of these wonderful benefits that spring has to offer, why not celebrate it with craft ideas that are reminiscent of the spring season. When we think of decorating, we often think there is a large price tag associated with such a project. Nothing could be further from the truth. There are great ways to introduce spring elements into any home decor. What's even better, it doesn't have to break your budget. You don't have to hire a design consultant or do an extensive search to find an awesome idea that helps you welcome in the spring season.
Some unique home decorations can be found at your local dollar store. You can find dollar store craft ideas that fit your budget and achieve your goal of introducing spring elements into your home's decor. A simple floral arrangement on the nightstand of your bedroom is an excellent way to wake up every day to springtime. For the kitchen decor, you can purchase items from the dollar store to make a beautiful wreath for the favorite corner of your kitchen. You can work wonders with a styrofoam ball, a hot glue gun and green felt to make a beautifully inspired topiary. No matter your style or budget, you're able to find the best spring dollar store decor ideas for a fabulous DIY project.
1. Encased Ball of Springtime Greenery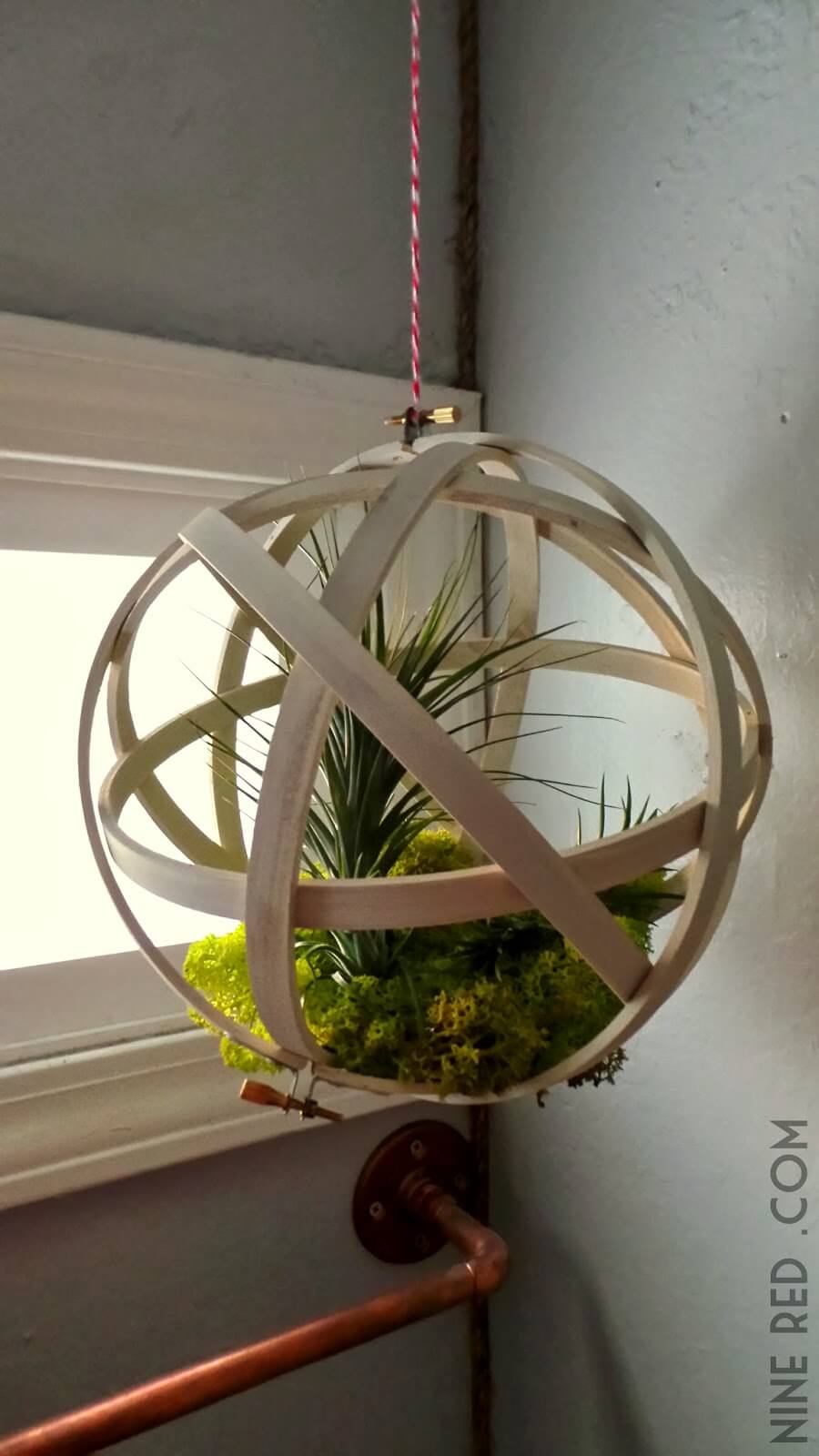 There's not a better way to incorporate spring than to add a splash of greenery to your interior decor. By combining different shades of green and a touch of yellow flowers, this springtime decorating element can incorporate a unique aspect to induce a sense of nostalgia for spring. This DIY design is simple and effortless. If you ever get bored with the greenery, you can incorporate different flowers within the arrangement to introduce a lively and whimsical touch for this unique design element. For an extra added touch, purchasing butterflies or ladybugs at the dollar store and attaching them to the perimeter of this lively ball would be the perfect design addition.
2. Beautifully Appointed Springtime Colorful Tray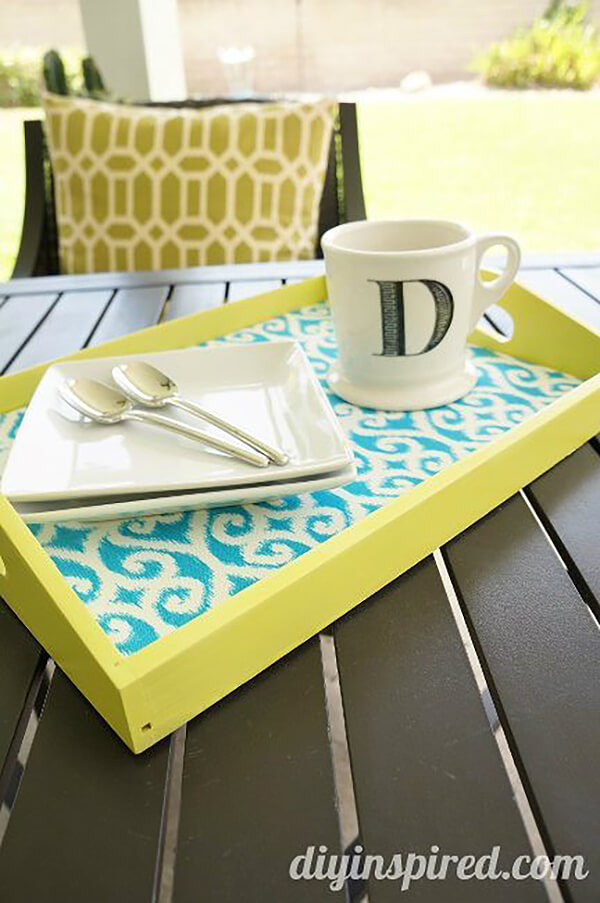 What a great way to start the day. A beautiful tray in the perfect shade of a canary yellow accented with an ocean blue and white tabled handkerchief. Anyone of these design elements can be found at the dollar store. With a little artistic expression and a lot of talent, you can create a custom made coffee mug that is your go.to favored every morning. With eating utensils and china to complement this beautifully designed tray, you're able to create the ultimate morning time experience. Can you imagine breakfast in bed with this beautiful design element? The most appropriate phrase to describe this combination is "super cute".
3. A Labor of Love with Lavender Shades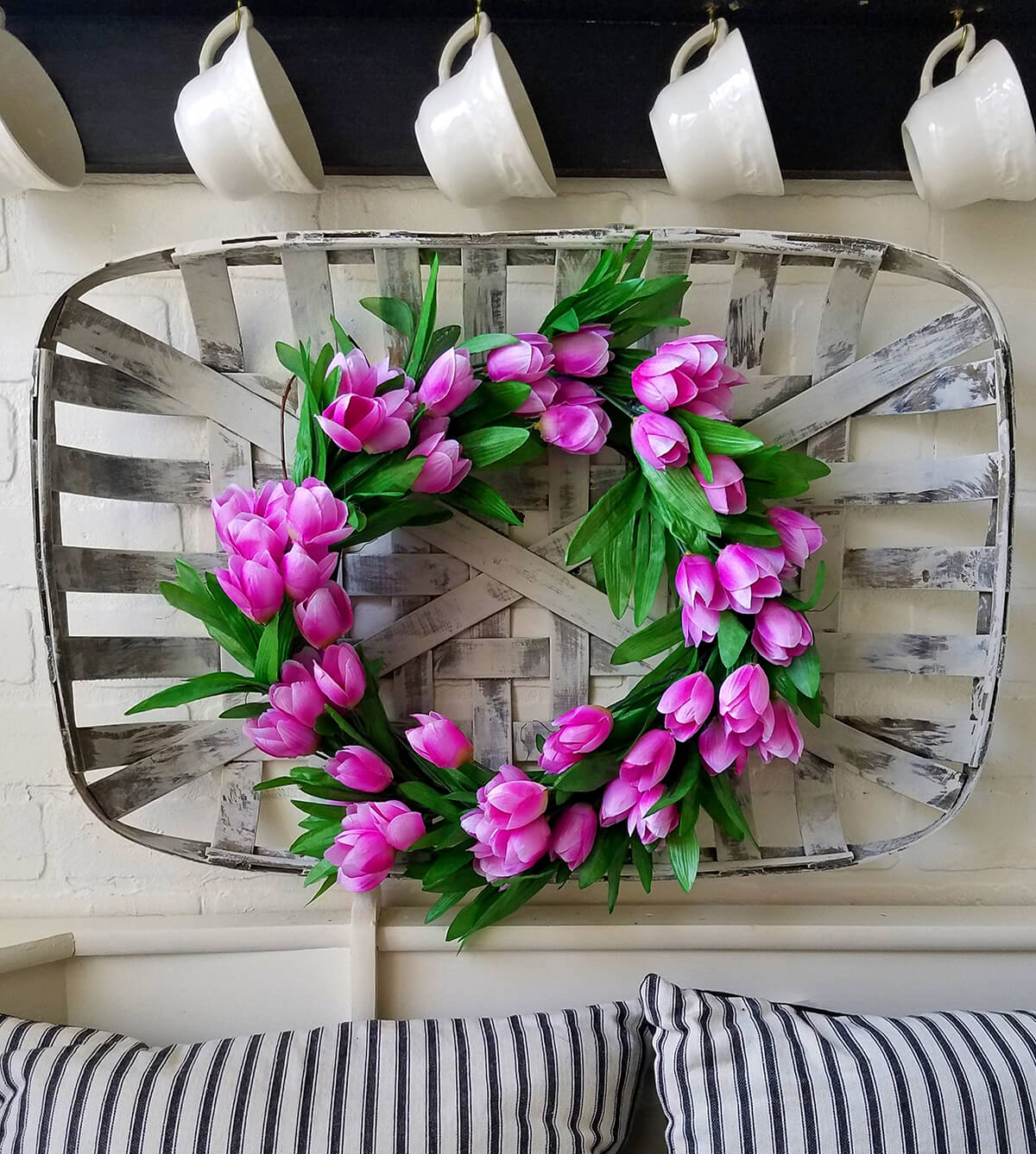 Imagine this beautifully crafted design element adorning the walls of your kitchen. Every meal would be a special treat with this wonderfully designed feature. By combining bunches of these lusciously lavender tulips, you're able to create a design feature that is sure to be your room's focal point. By affixing this flower wreath to a basket painted in distressed white shades, you have successfully added an over the top pop of interest. At the very least, this dollar store craft idea could be an interesting conversation piece. Not only would this interesting wreath add a focal point for the kitchen, but it would also pair well in your home's foyer area.
4. Beautiful Succulents Without the Maintenance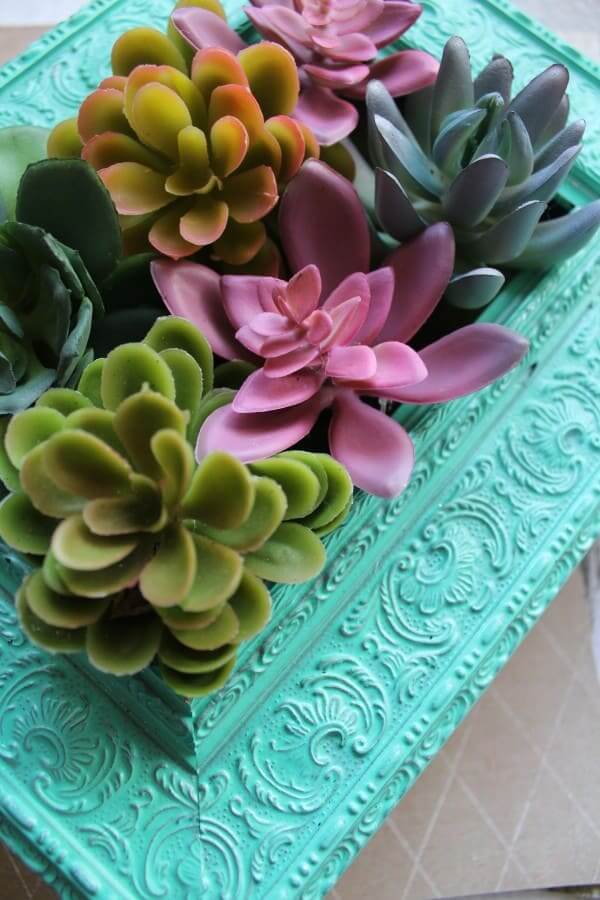 If you have a green thumb, a great way to invoke a sense of springtime is with live succulents. If, however, you are on America's Most Wanted list for succulent homicide, you may want to stick with lifelike plants that can still invoke a sense of springtime. Now, how easy was that? Combining these beautiful succulents with a two-tiered picture frame, allows you to implement an awesome design idea. By adhering two multiple sized and ornately designed frames together, you can create a home for your succulents. Adding a splash of color can only enhance the beauty of this well-appointed flower box set.
5. The Springtime Tantalizing Tulip Trio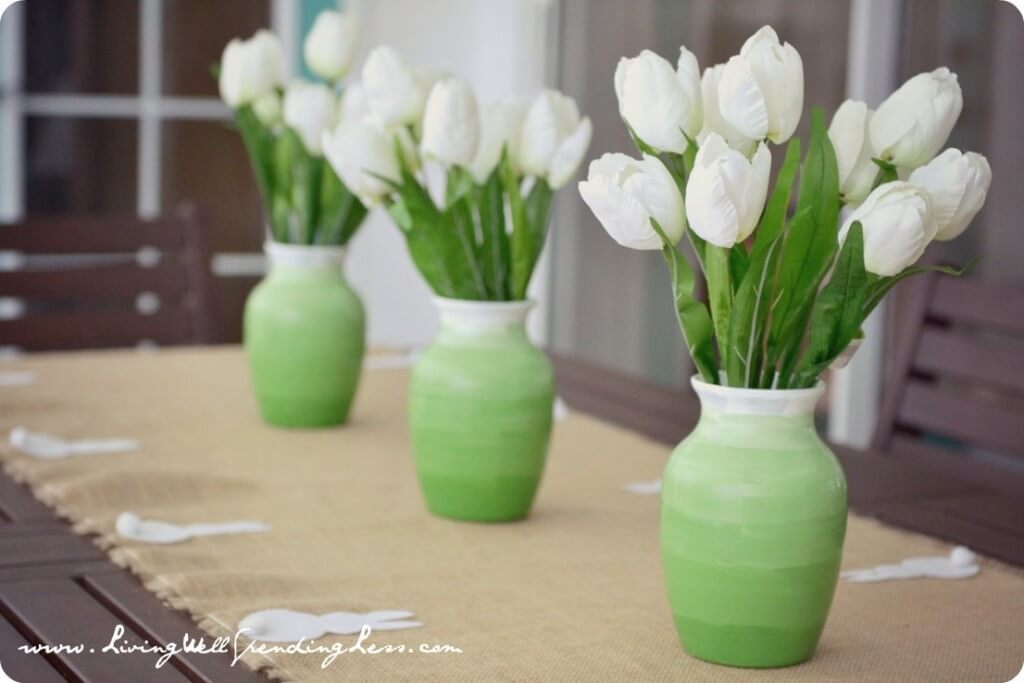 There's power in numbers. The number 3 is known to invoke a sense of humor, satisfaction and is often more satisfying than other numbers. So why not have three beautifully designed vases filled with an arrangement of a tantalizing tulip trio. You can find these quaint vases at your local dollar store and with a little bit of paint and a lot of imagination, you can create a beautiful table setting that is befitting the company of all invited guests. Evenly spacing these tulip filled vases will create a charming and elegant experience for any meal of the day. Whether you're inviting guests over for a meal or you simply want to adorn your table with beautiful flower arrangements, this set is sure to add an element of springtime charm.
6. Top It Off with Topiaries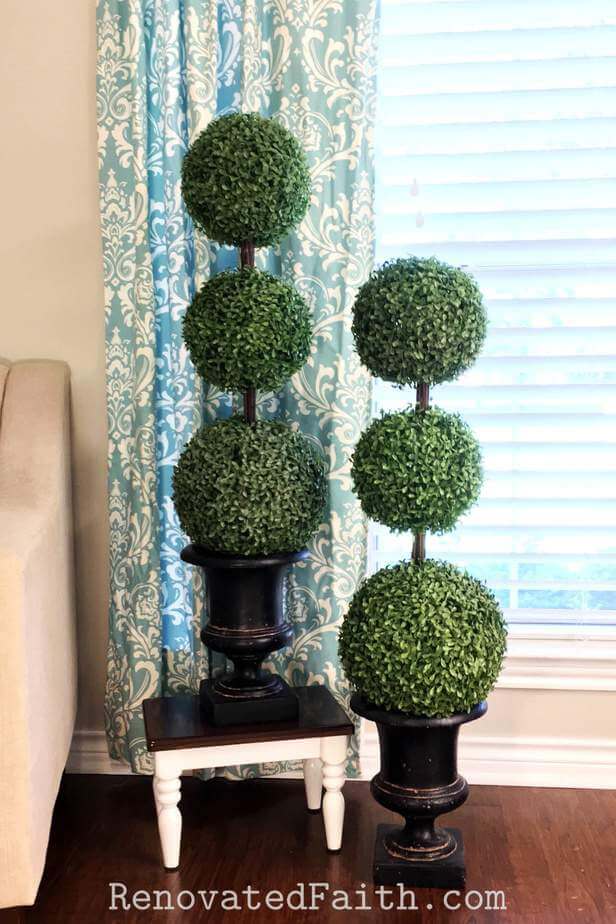 Home decoration has just found its new meaning with top.of.the.line topiaries. By combining styrofoam balls in multiple sizes, a glue gun, and some greenery, you are on your way to creating a topiary of epic proportions. You can find these items at the dollar store and create a beautiful design element that will fit within your home's decor and your budget. Topiaries are appropriate for all seasons of the year. By pairing them with poinsettias and adding a few red ribbons, you can create a look befitting a Christmas theme. For springtime, however, you're able to create an elegant and simple topiary that can be placed in your living room, bedroom or even a unique design feature in the bathroom.
7. Colorful Candy and Sweet Tulips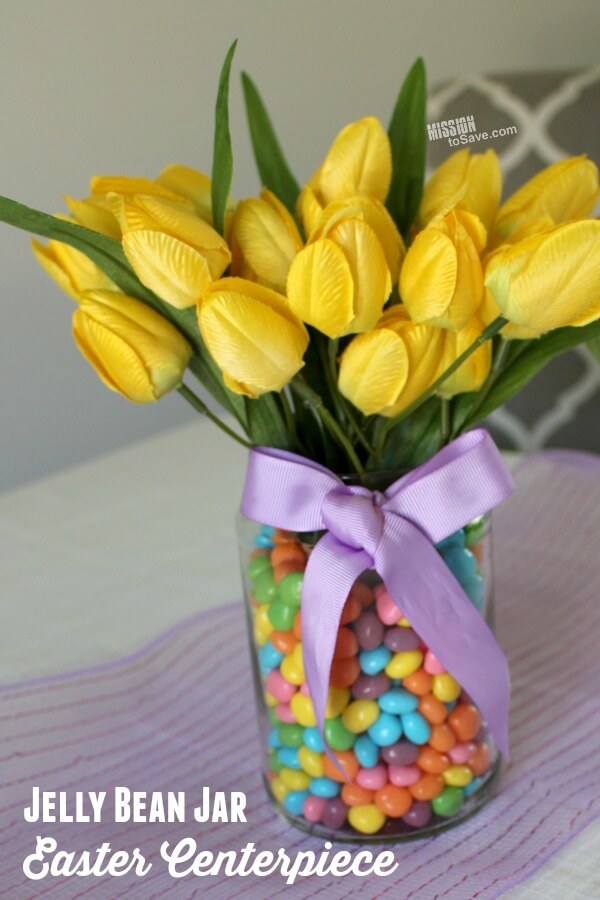 The best spring dollar store decor ideas have just arrived. Who knew combining tulips and jillybeans would create such an eye-catching and cheerful element. This unique and heartfelt idea is great for an Easter gathering or everyday home decorations. This awesome idea combines food and flowers to create a whimsical and cheerful feature appropriate for a backyard Easter BBQ or adorning the breakfast nook of your kitchen. The colorful elements of this design are created with a simple glass vase filled with colorful jelly beans. By topping it off with vivid yellow tulips and accenting it with a lovely lavender bow, you can invoke a sense of springtime with colorful candy and sweet tulips.
8. Red and White Peonies with Blue Ribbons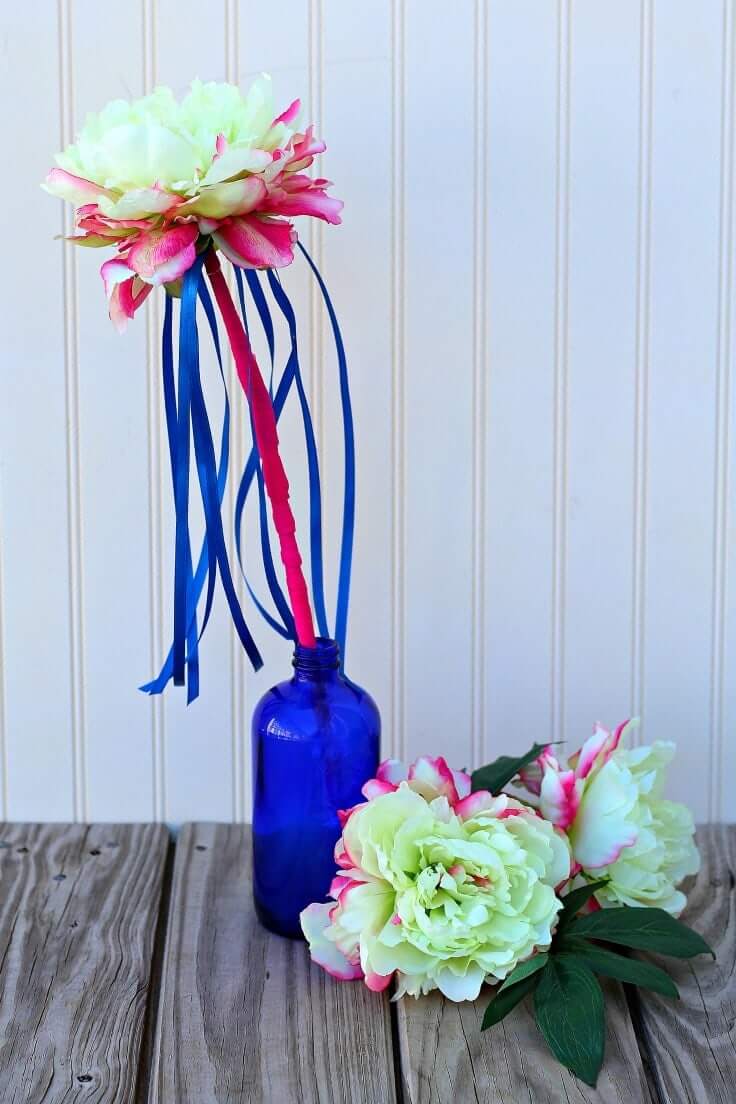 There's nothing like a patriotic theme for the season of spring. The flare of white peonies with a red trim are the perfect patriotic decor for your kitchen counter. The blue ribbon blowing in the flowing spring winds create a feel of freshness that is reminiscent of love and laughter. Dollar store craft ideas like this are perfect for blending the rustic elements of nature with the elegant features of the delicate peony flower. With simple red and blue ribbons and a cute blue glass jar, you are able to create a look that blends good old American patriotism with the elegance of springtime.
9. A Trail of Springtime Ivys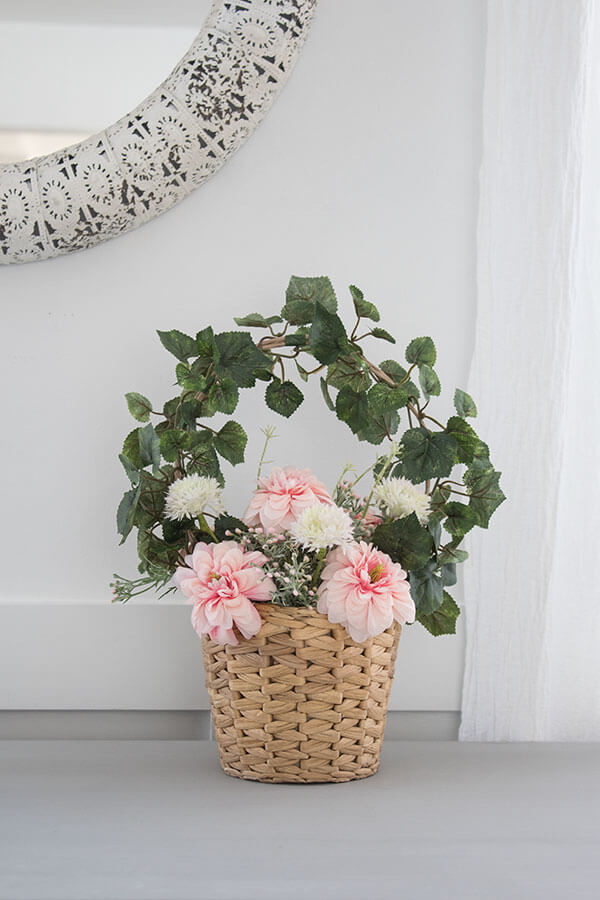 The beautiful combination of flowers and ivys is an excellent way to usher in the spring season. This evergreen plant represents affection and love and is often found in wedding decor. By combining the pink flowers and ivy vines, you can create a reminiscent feel of love and affection that is appropriate for ushering in the fresh season of spring. The basket ties all of the elements of this arrangement together to create a country feel, while the small touches of baby's breath add a lasting symbol of love and is an excellent representation of purity. Displaying this arrangement at a family dinner is a wonderful way to show love and affection to family and friends.
10. Colorful and Fun Finials For Spring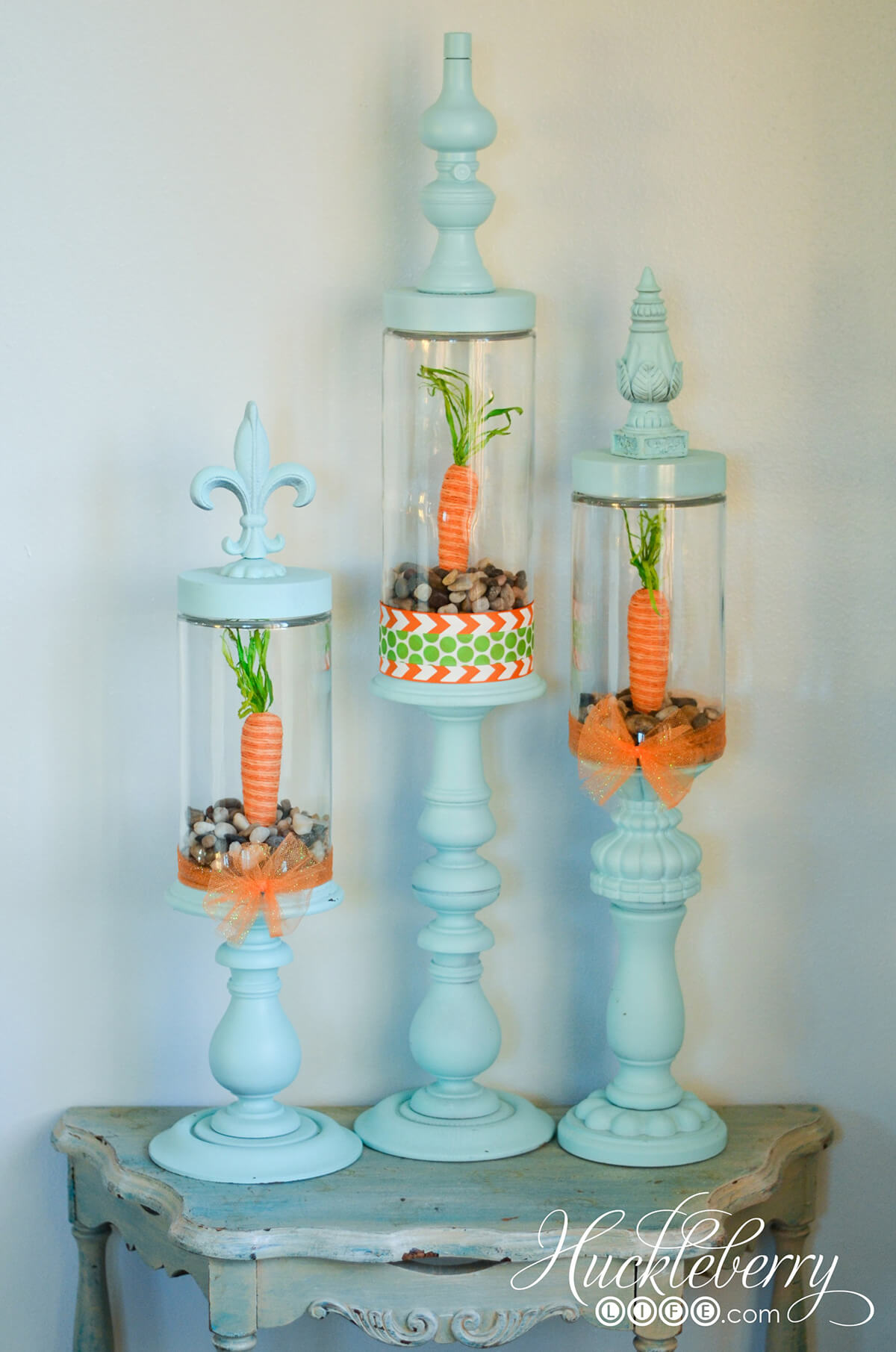 These finials topped decor pieces inspire the best spring dollar store decor ideas for creative springtime decorating. These uniquely designed pieces incorporate a tropical feel by combining the exotic colors of coral and aqua. The rustic paint finish of the statues introduces a homie and country feel that's appropriate for any kitchen, living room or bathroom space. The river rocks add an element of nature that ties the entire design feature together. These beautifully designed statues can also be placed on the exterior of the home and accented with small ivory candles to give it a pop of Interest.
11. Easter Hops in With Color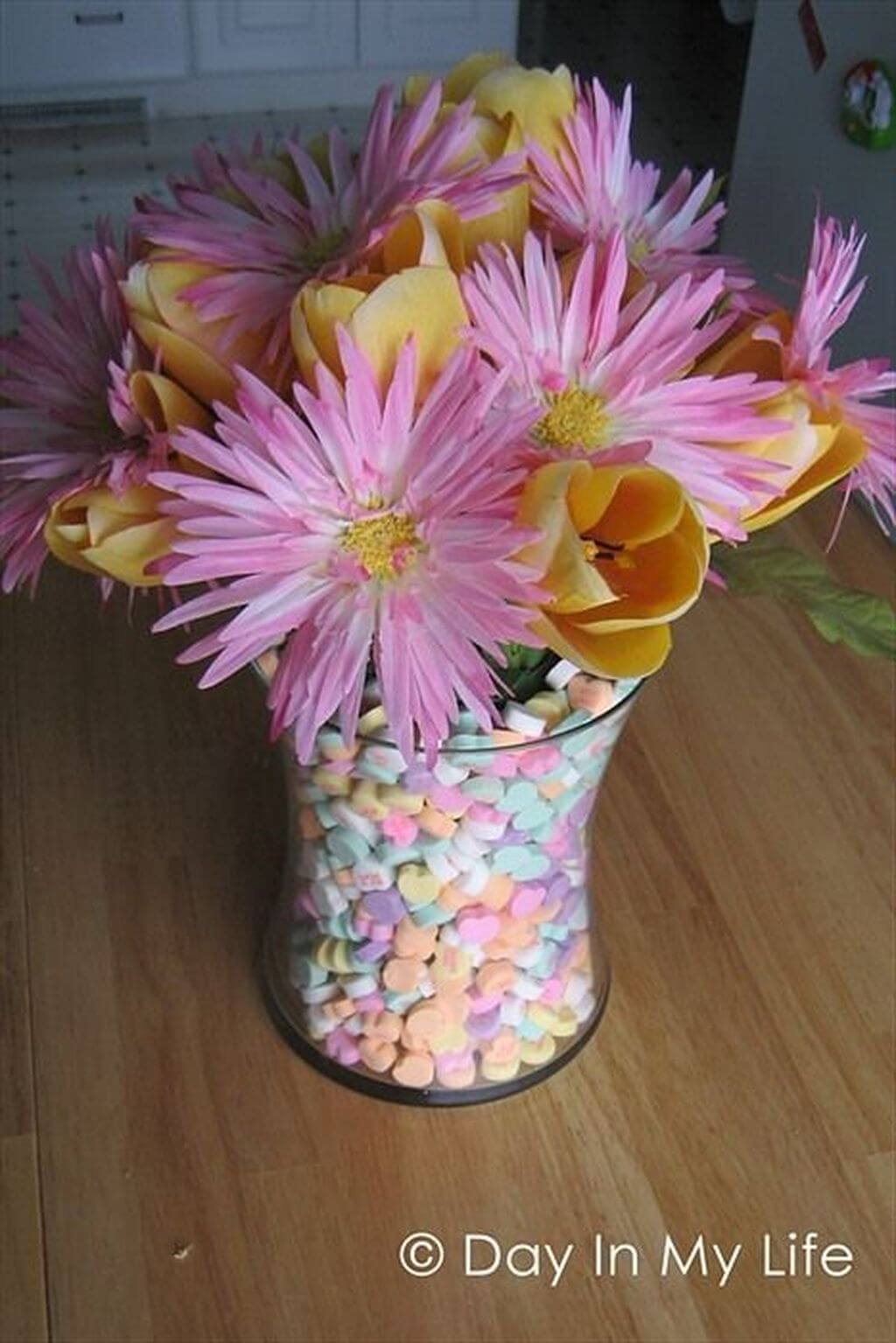 This canary yellow and lavender floral combination invokes a sense of spring and makes you anxious for Easter to hop right in. By combining candy and the pastel colors of flowers, you can create a centerpiece arrangement that could eloquently adorn any Easter dinner table. Combining floral elements with sweet treats is a cool way to implement dollar store craft ideas. This floral arrangement can last far beyond the Easter holiday season. You can display this pastel-colored arrangement in your kitchen next to a basket of Easter eggs or next to a basket of freshly baked bread. What a way to invoke a feeling of nostalgia during the Easter holiday season.
12. A Nice Take on Cherry Blossoms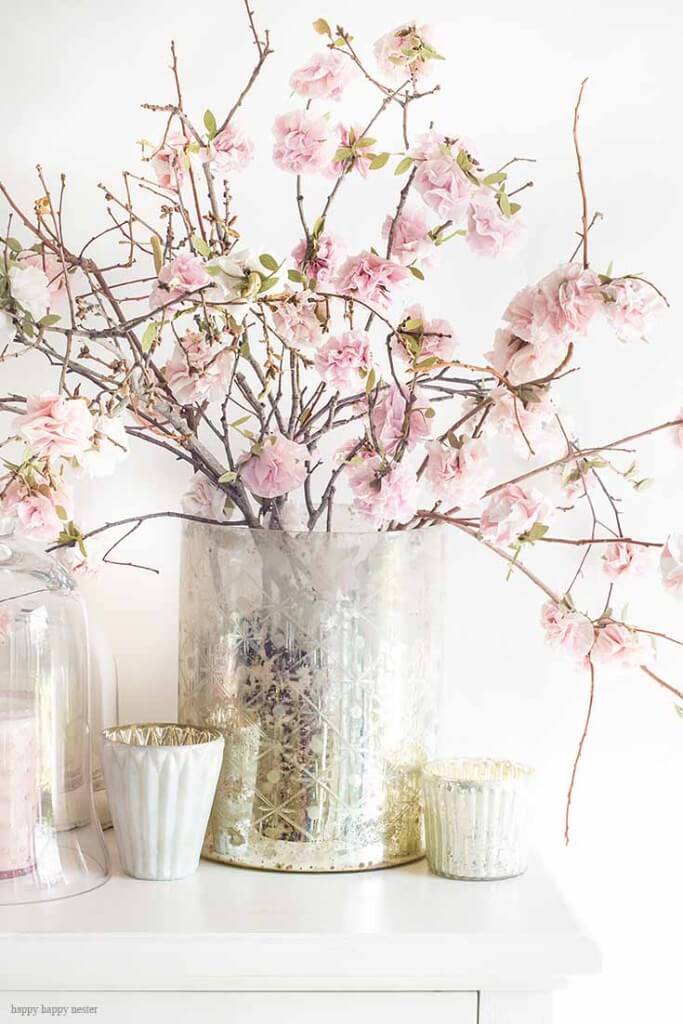 The over the top element of this arrangement makes a bold and stately decor piece that can be used in a country-themed bathroom or displayed in the center of a country kitchen table made of reclaimed wood. The rustic elements of the vines combined with the polished finish of the vase create an eclectic blend of country elegance for all to enjoy. For an alfresco experience, this country yet elegant arrangement can be displayed on the front porch to say to your friends and neighbors "come on in and make yourself at home". This arrangement would also be a nicely appointed feature when added to the foyer area of your home.
13. Here Comes Peter Cottontail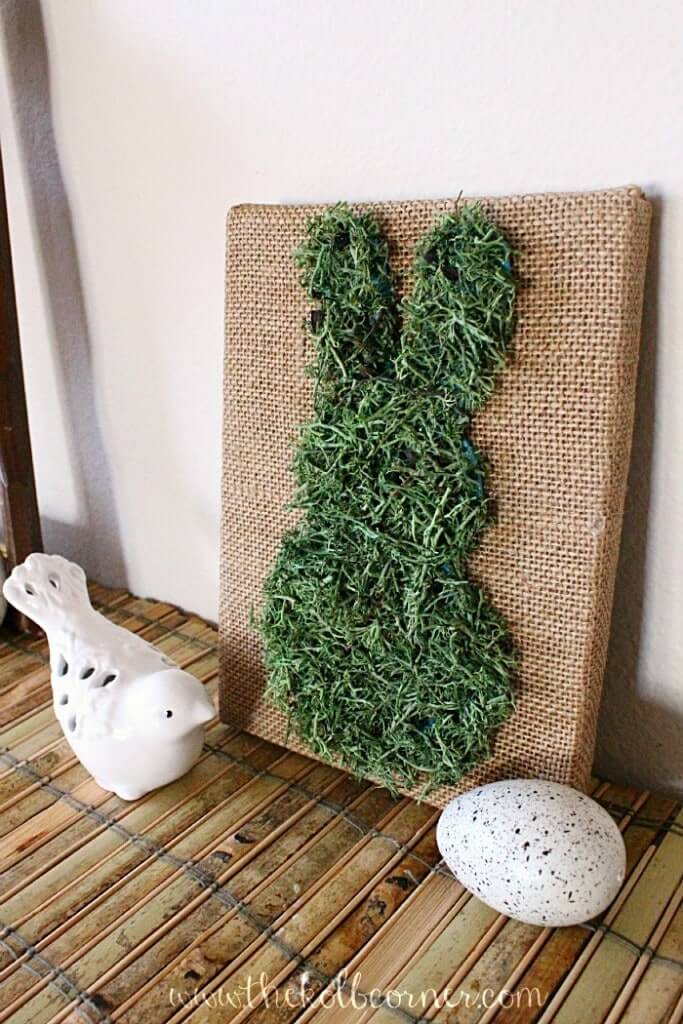 There are two words to describe this wonderful decor element, simply cute. With a raffia backboard embellished with a delightfully adorable bunny made from felt grass material, this DIY project is sure to usher and the Easter holiday season. Using a glue gun and artistic creativity, you're able to create a bunny-shaped decor piece that kids and adults would love. You could add a touch of pastel colors by embellishing this artistic piece with two eyes and a belly button using jelly beans or small flowers. Displaying this design feature in the home's family room is a perfectly appropriate way to bring together holiday tradition, family, laughter, and love.
14. Welcome, Make Yourself at Home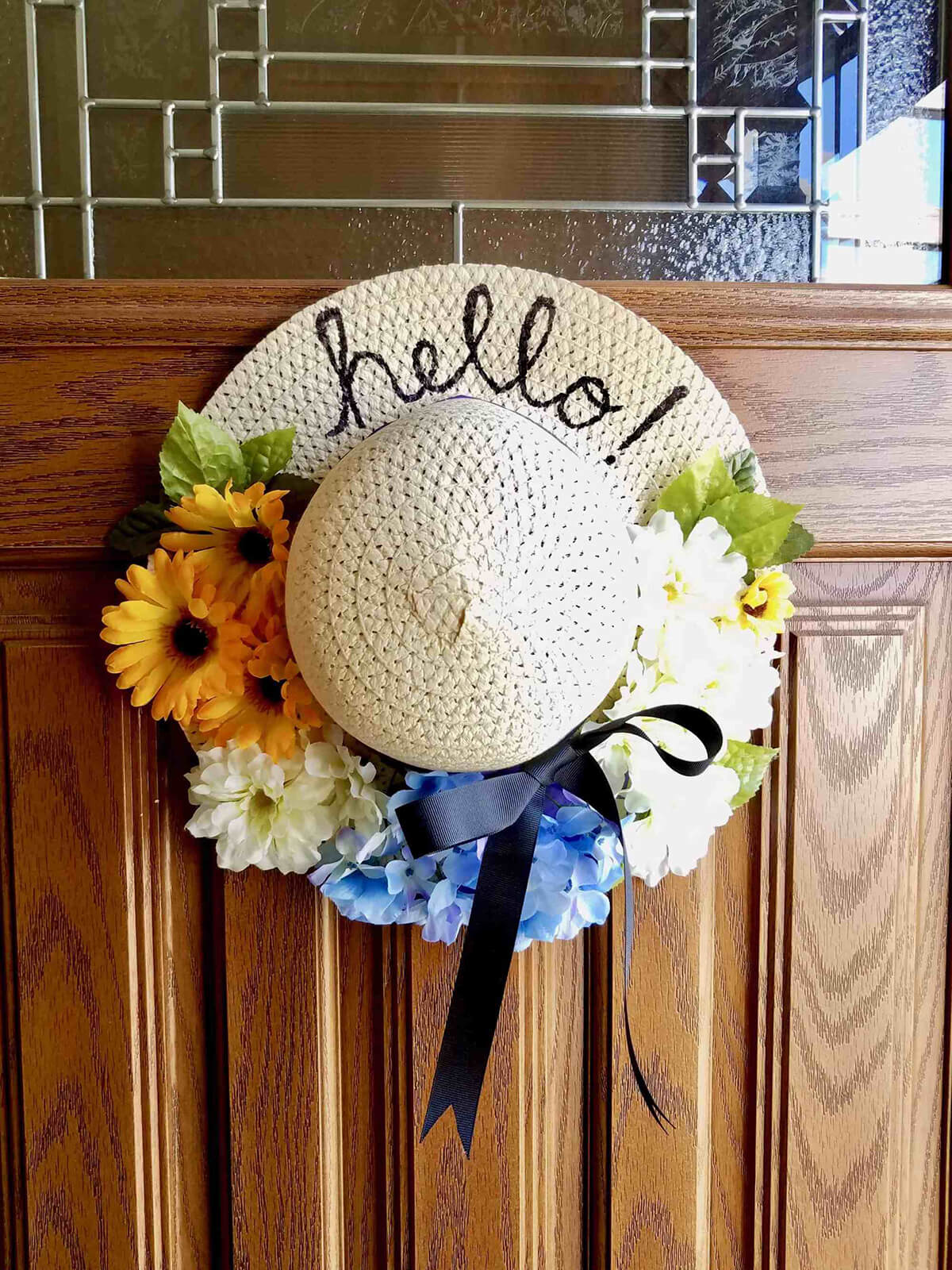 Displaying a door wreath made from a basic hat is an excellent way to display the best spring dollar store decor ideas. Welcoming family and friends starts at the front door. What better way to say welcome than to display this creative and beautiful hat adorned with springtime flowers. Finishing this DIY masterpiece with a blue ribbon adds a special touch of rustic and country charm that won't soon be forgotten. The colorful elements of this unique door wreath invoke inviting elements to encourage family and friends to swing by for a cup of coffee or a spot of tea.
15. Elegant Floral Bird Cage Design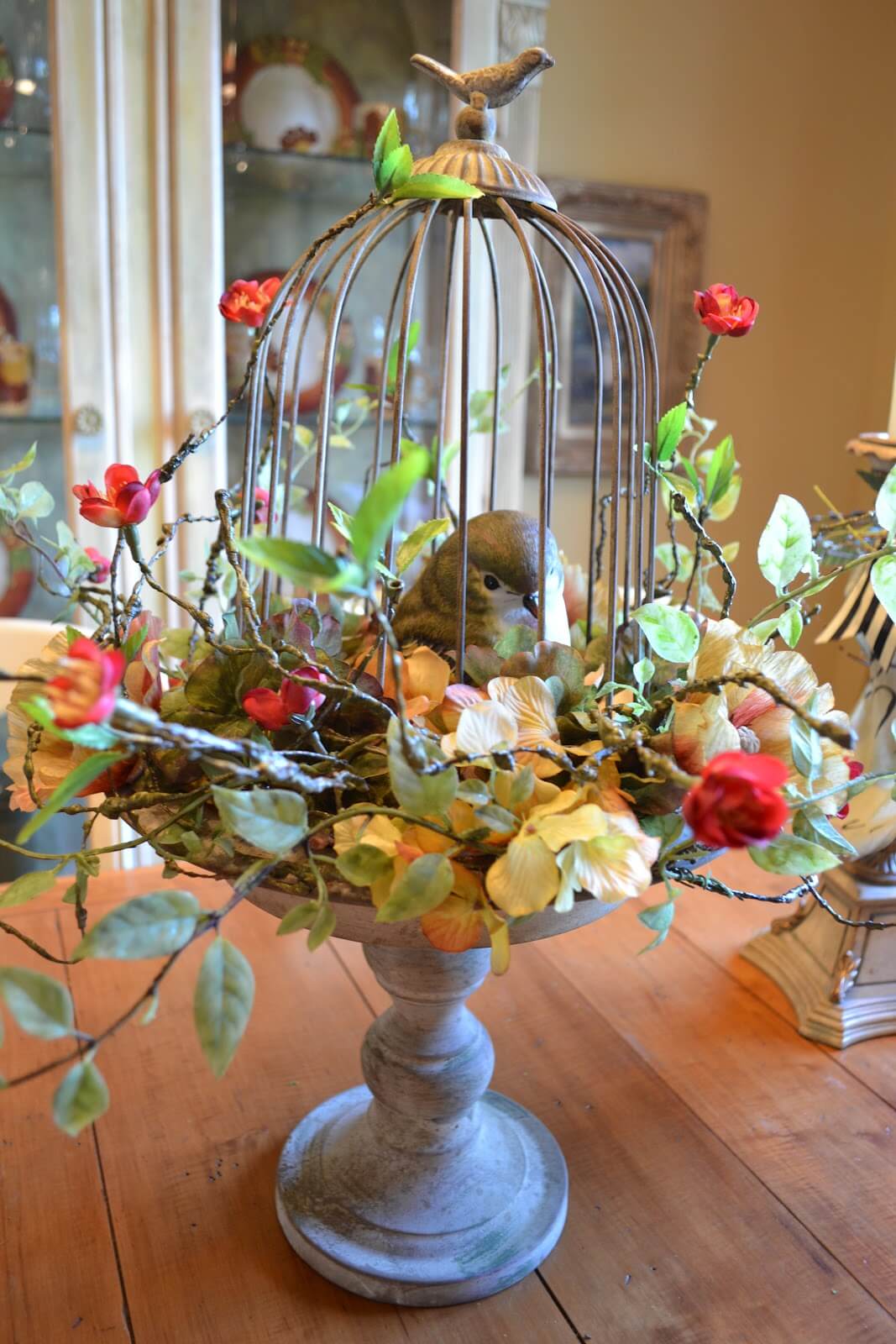 This elegant and eye.catching birdcage is adorned with Viney flowers that wind around the perimeter of a distress painted base. This DIY design element invokes rustic country charm with delightfully floral elegance. Topped with a bird finial, this uniquely designed birdcage is sure to catch the eyes of family, friends and loved ones. It can be placed in the center of a country dining table as a centerpiece or displayed on the perimeter of a kitchen on the countertop next to the cookie jar. Because of the flexibility of this beautifully designed showpiece, you're able to display it in the family room or as a stately trinket on your fireplace mantel.
16. Upside Down Trash Turned to Treasure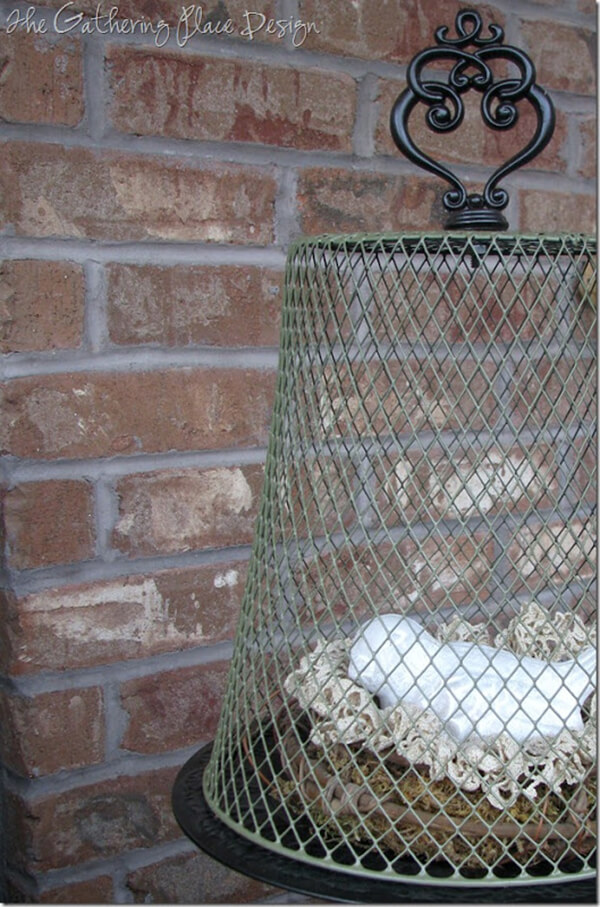 This decor element is simply a trash can turned upside down. What a neat way to turn an average ordinary item into a beautiful decorative element. You can create your own birdcage with this wiry trash can by affixing it to a base of your choice and filling it with a bird's nest and a styrofoam bird. To finish it off, you could add an ornately designed finial to add interest and elegance to this unique design peace. By placing this finished masterpiece at the entrance of your home, you are sure to create conversation and interest every time visitors come a.calling.
17. Warm The Heart and Soothe The Soul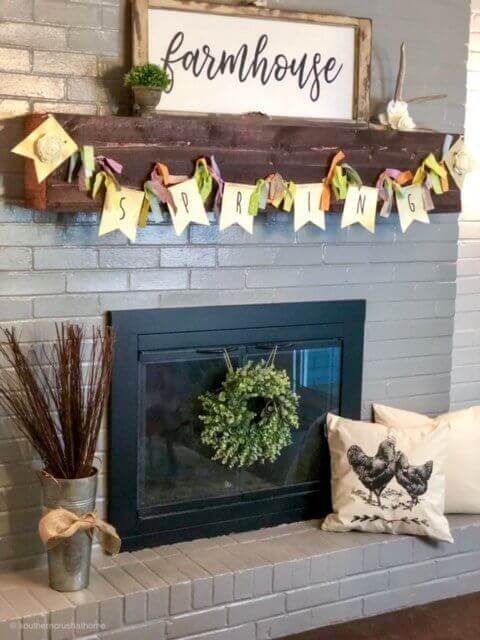 This design combination introduces the spring season literally and figuratively. With a beautifully assembled wreath made from items at the dollar store, this combination incorporates springtime with the warm elements of the fireplace. The word spring displayed above the fireplace literally ushers in the spring season by virtue of the word. These design elements can be found at the dollar store and assembled with love and creativity to make way for this special season. The rustic charm of this combination is sure to be aesthetically pleasing for family members and friends as they gather around to reminisce on winter memories.
18. Rustic Yet Elegant Wall Sconces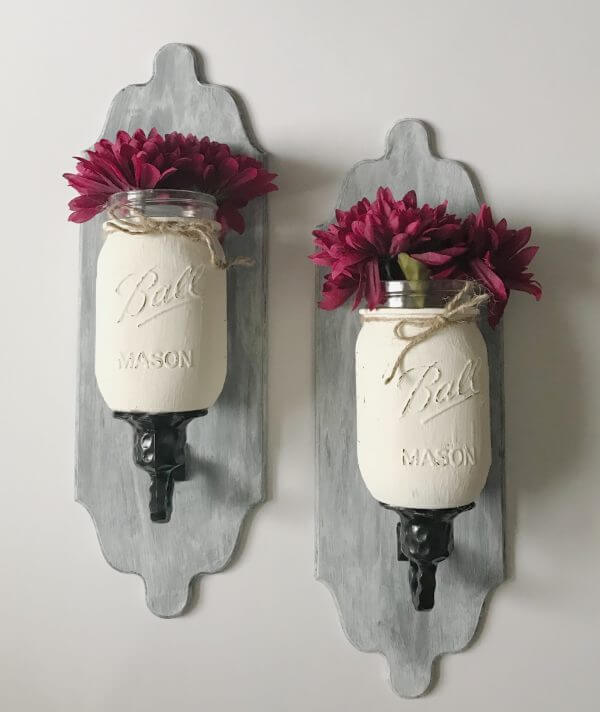 This quaint combination of mason jars, rustic painted wood, and elegant flowers create the perfect wall sconces to adorn any wall in any room. The sconces can be assembled using a hot glue gun and affixing the painted mason jars to a base. Topping them off with beautiful flowers create the ultimate finished wall sconce. The rustic paint finish of the wooden plaques adds a dimension of charm and creativity for this finished product. Due to the flexibility of these wall sconces, you're able to change out your flower selection anytime you choose. To finish it off, a raffia bow has been tied to the rim of the mason jars to accentuate the rustic charm.
19. For The Love of Flowers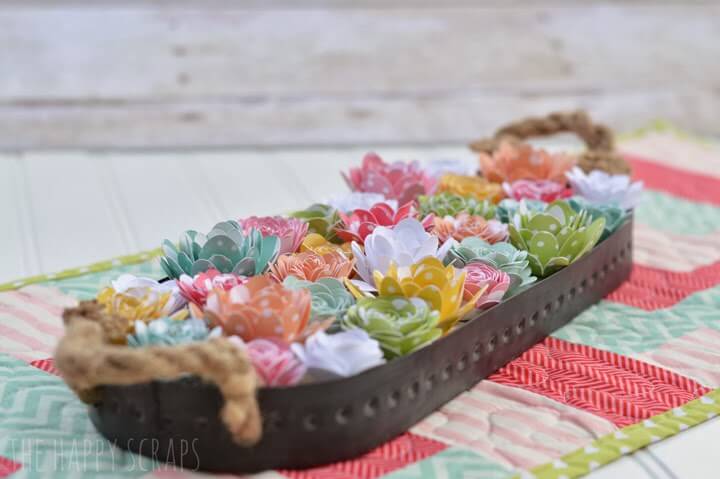 These mock polka-dotted flowers are an excellent way to introduce color, whimsy, and charm to any table centerpiece. By gluing these flower buds to a styrofoam base and placing them inside of a metal tray, you've successfully created a uniquely designed element that you can't find anywhere else. By using dollar store pieces, you are sure to stay within budget while displaying a thoughtfully made tray of flowers. Attaching rope handles to both ends of the metal tray accentuates the rustic charm of this flower tray. Anchoring the tray with a table mat adds a pop of color and interest for the overall design.
20. Adding Elegance to Elegance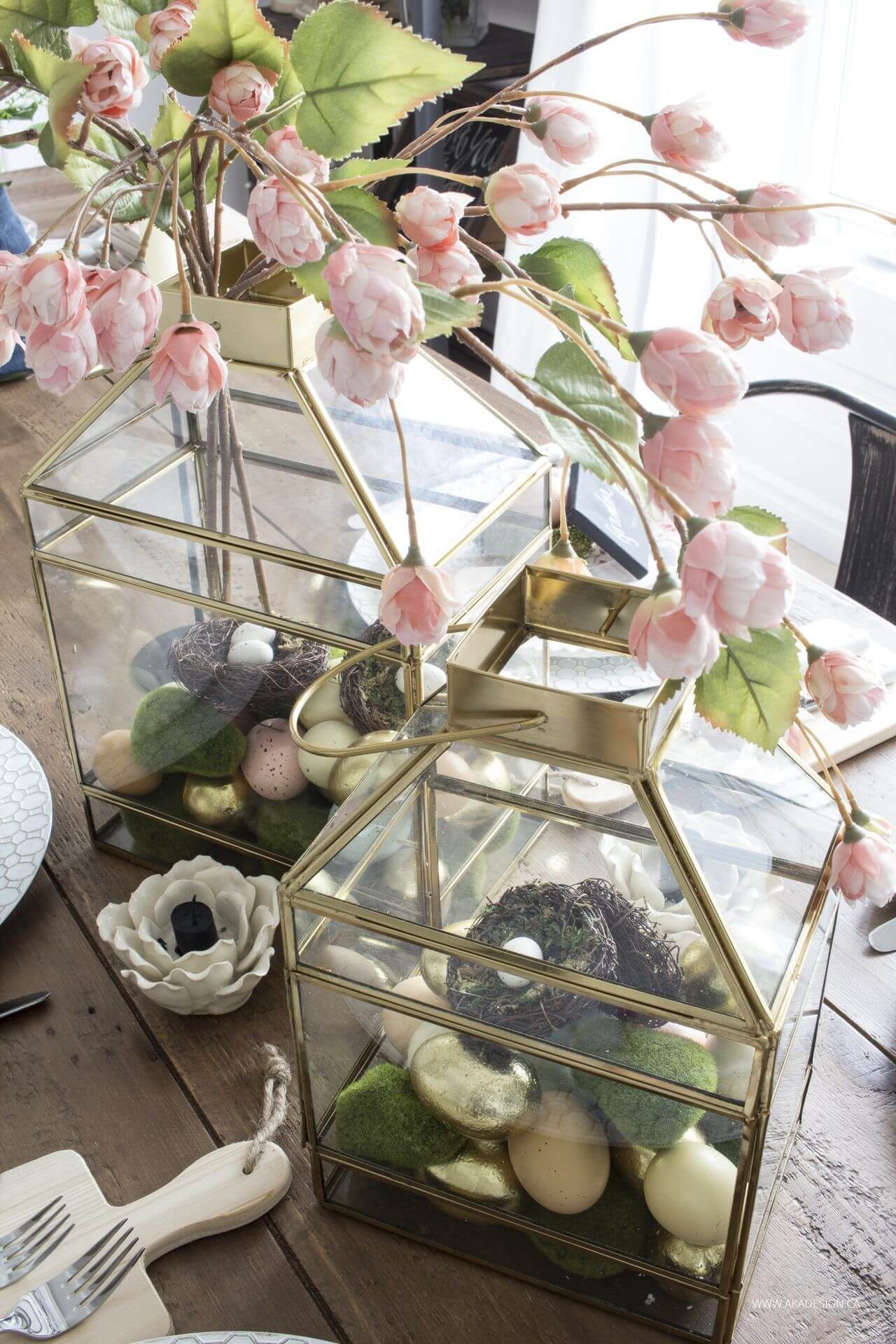 Introducing elegant pink flowers to a design feature that is already graced with a polished finish, is an excellent way to create an over.the.top springtime look. Incorporating Viney flowers that flow over the top of the candle lanterns adds a sense of flair and drama to this design element. Since the candle lanterns are different heights, this adds a new dimension to the overall theme. By filling the lanterns with robin's eggs and birds nests, you have created a design element befitting the spring season. Accentuating the overall design theme with evenly placed candles only adds more dimensions of elegance, charm and springtime love.
21. Floating Flowers For Spring Fever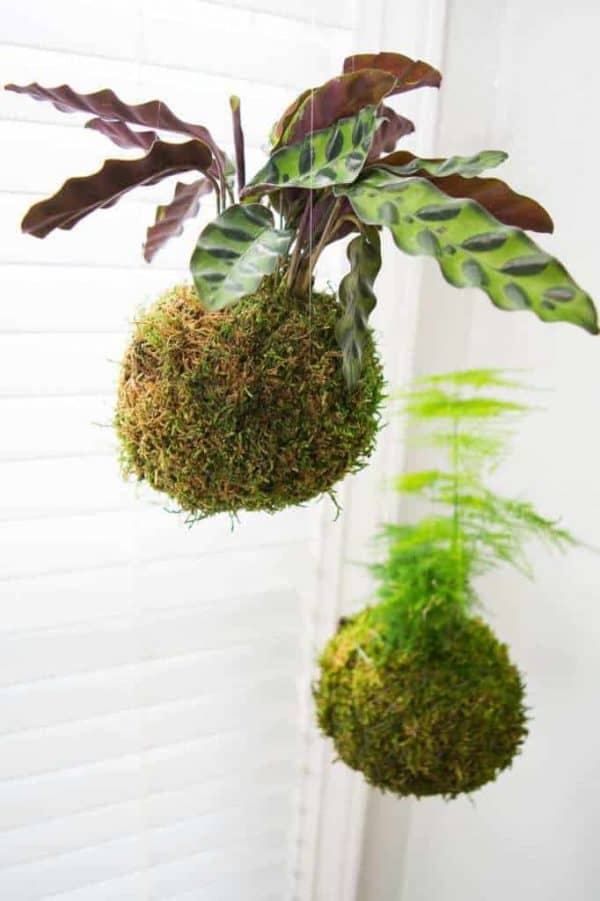 Hanging flowers are the ideal way to surround yourself with life, nature, and wellness. This design element is a different take on hanging flowers. By affixing moss to a styrofoam ball using a glue gun, you're able to create a beautiful canvas for a uniquely assembled floral arrangement. With these hanging moss balls, you're able to incorporate more greenery to invoke the elements of nature. To incorporate color, you could simply substitute the greenery with flower buds that are reminiscent of springtime. Whichever method you choose, you are sure to get compliments for this uniquely designed floral arrangement.
21 Dollar Store Spring Decor Ideas to Spruce Up Your Home on a Budget this Season
Everything you need to invoke the sense of springtime in your home can be found at your local dollar store. The only limit is your imagination. The dollar store has a multitude of products and items that can be combined to create beautifully decorated items that you can showcase in your home. Make no mistake about it, a hot glue gun can be your best friend when it comes to assembling these springtime items. All the items you need to create masterpieces are there for the taking at the dollar store.
For some, there's a stigma that dollar store items are cheap and poorly made. For others, who are wiser, they know better. Dollar stores have a wealth of treasures that can be used to create some fabulous springtime decor pieces. These products can range from flower buds and glass vases to jelly beans and mason jars. Regardless of what you use, you're able to create and design springtime decorative pieces on a dollar store budget. With a lot of imagination and creativity, you can create decorative elements that are eye-catching and stir up interesting conversations. There's no limit to the types of decorative ideas you can implement just by visiting your local dollar store.
Our Favorite Outdoor Decor Pots and Planters to buy on Amazon