Wreaths for your door probably make you think of Thanksgiving or Christmas. However, a bright, colorful wreath can make your home welcome spring as soon as the fresh shoots start springing up out of the ground. The wreaths below work perfectly as inspiration for planning your next creation. Do you like dark, cold colors intertwined around polka-dot ribbon? Do you enjoy the luscious rainbow colors of sprigs of berries? Does your favorite spring wreath have the soft scent of a meadow?
38 Lovely Spring Wreath Ideas to Make Your Door More Colorful

Examples of these wreaths are bold and colorful, not to mention they encompass the design creativity of a few dozen original artists. As you browse our wreath ideas below, remember to combine your love for the wreath with what looks great for your home. Something may look great, but not speak to you. And, something may feel great to you, but it looks horrible on your particular door. These ideas are meant to inspire dramatic color change in your home decor.
1. Cherry Blossoms and Bramble Vines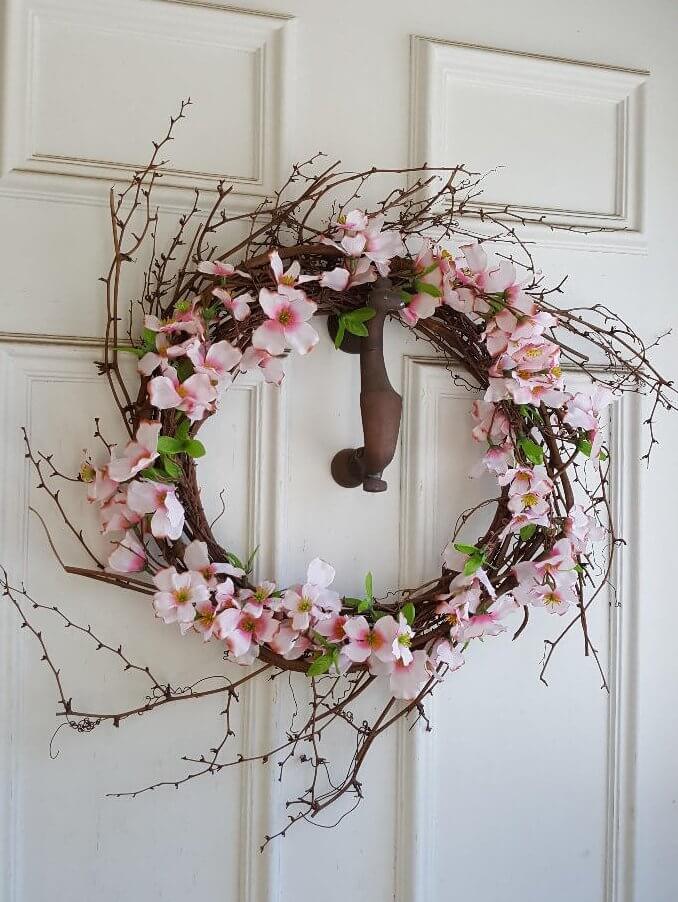 This wreath conjures up memories of the cherry trees in Washington, D.C. shedding their pink blossoms and covering the ground in soft, pink snow. The bramble vine details of this wreath are amazing and really complement the soft, feminine glory of the fresh spring leaves and pink petals.
2. Bucket of Abundant and Colorful Flowers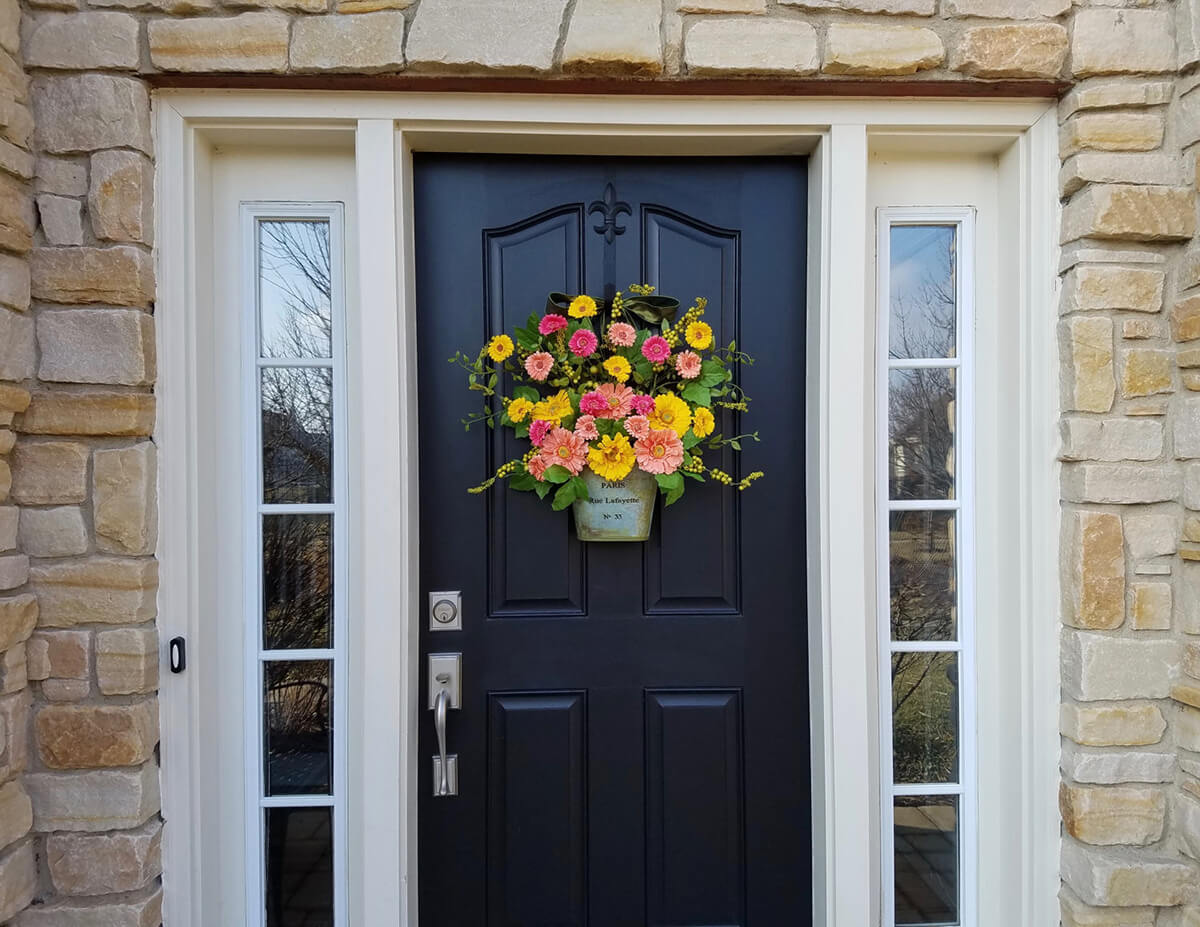 Not only does this piece look great against the dark navy door, but the flowers have been layered and filled out so that it is very abundant in color without being too bulky. The aged bucket detail gives it a quaint feeling.
3. "Hello Spring" Pretty Peony Bush
This abundant wreath, full of pink, rose, and white peonies, has a burlap ribbon, green foliage, and a large, scrolled "Hello Spring" text. The overhanging flowers and the build-up on the side balance out the scrolled font on the lower right corner. This keeps the whole wreath from being too bulky and it highlights the scrolled font.
4. Pale Spring Wreath Ideas from Etsy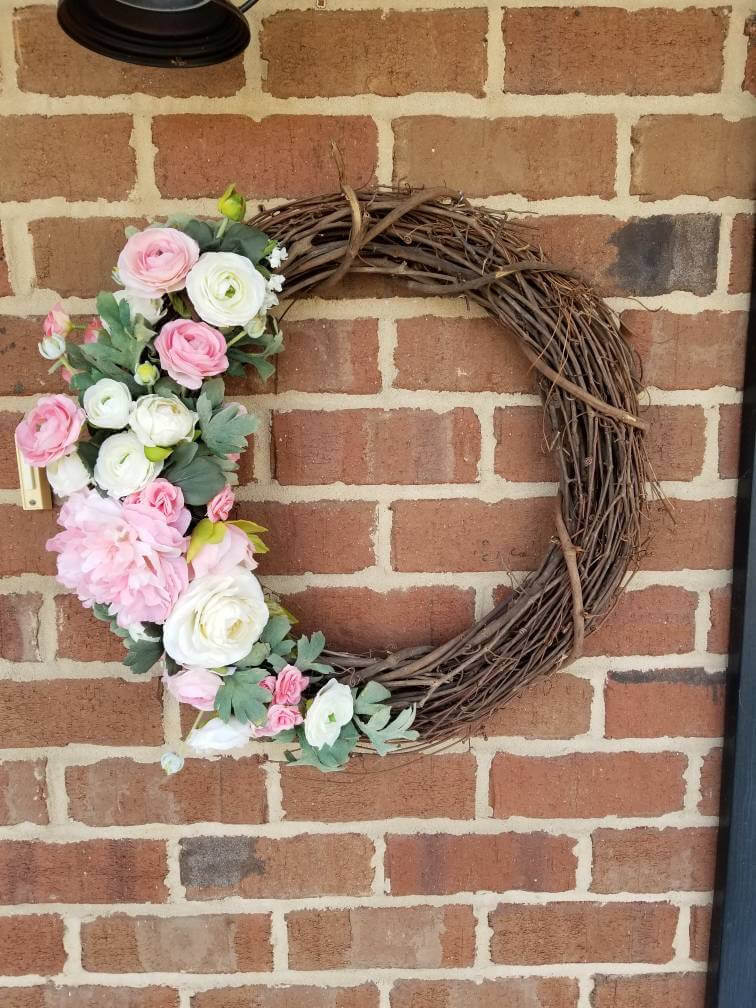 The brambly wreath makes the perfect background for this grouping of flowers, roses, peonies, and carnations, which create a frozen, ice cream pink display off to the side. This makes the wreath feminine without being overbearing in its quality. Discreet and elegant.
5. Centered Bouquet Welcome Blackboard Sign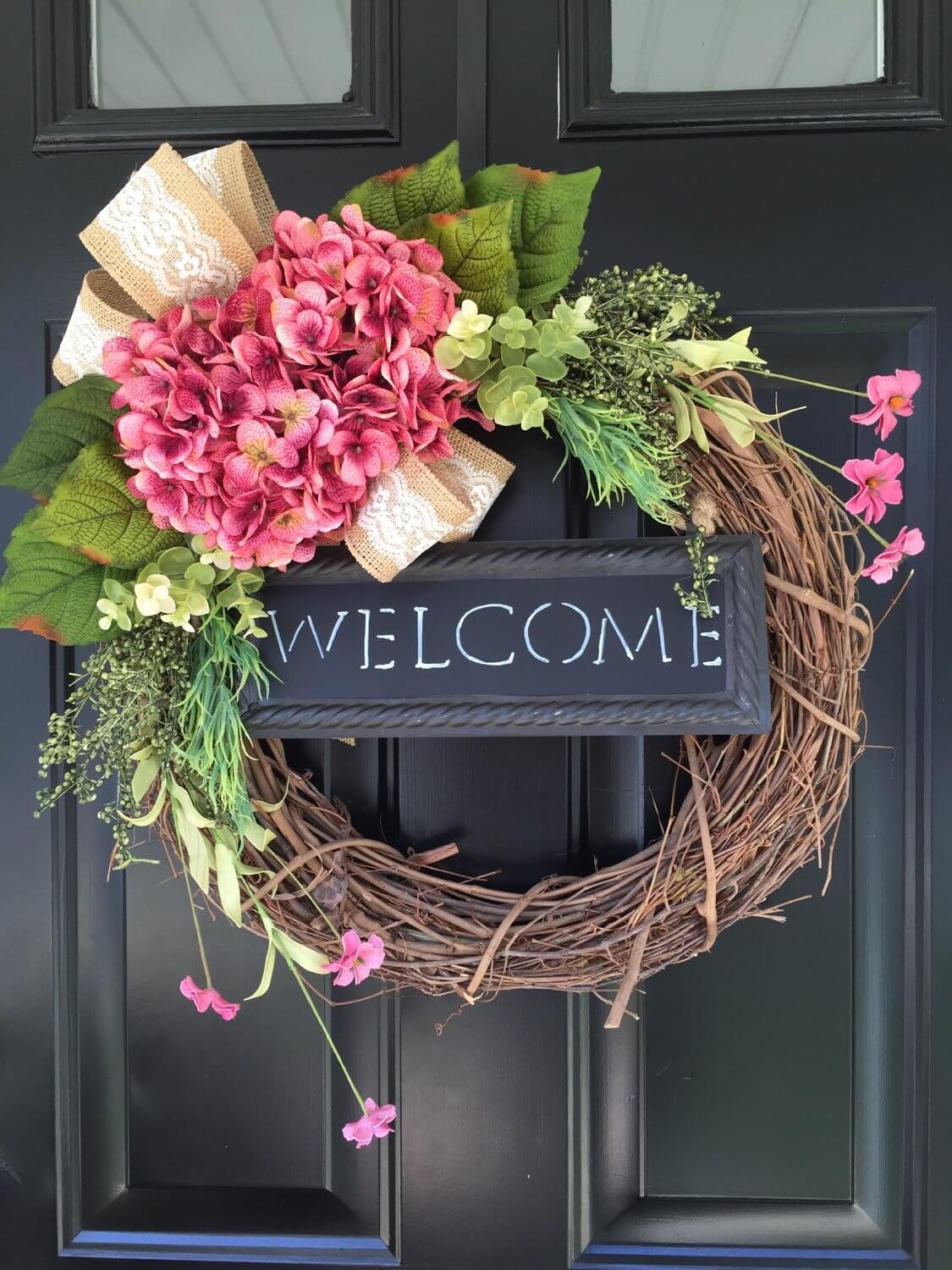 You can set up a "Welcome" sign or a blackboard sign with your family's name in the center of your brambly wreath. The layers of leaves and vines with sprigs of green are attached first, the ribbons second, and the bouquet of flowers last. Little sprigs of pink flowers extend the pink motif beyond the bouquet.
6. Pink-Rose, Burlap-Ribbon, Cotton Ball Wreath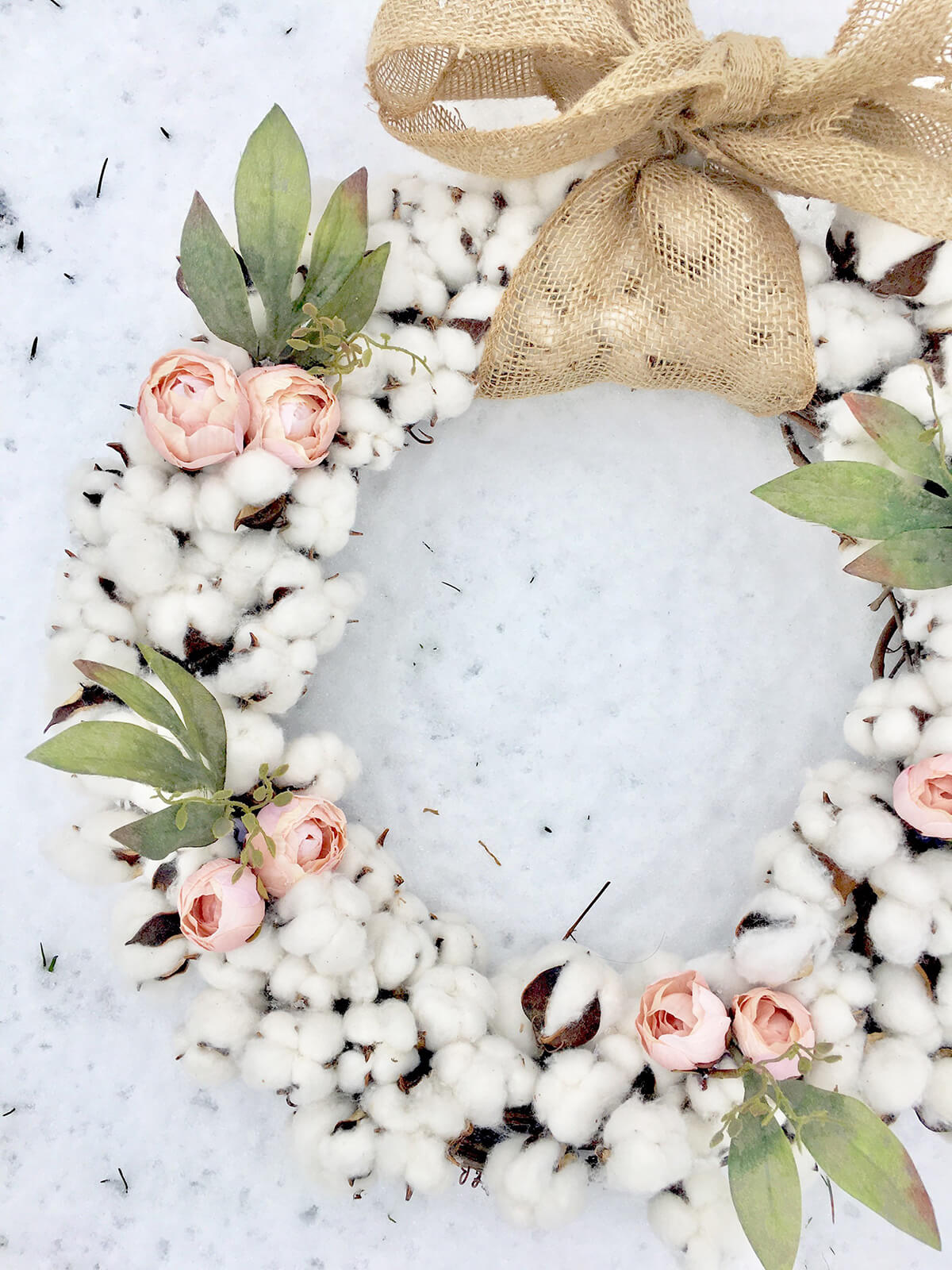 This wreath is festooned on all sides with fluffy white cotton balls as if picked straight from a cotton plant. The cotton heads are put in different positions to really show that they are straight from the cotton plant. Green leaves are added intermittently and pink roses are overlaid on top of these. This is a great wreath for South and Southwest regions who value cotton fields and beautiful plantations.
7. Fruit Spring Wreath Ideas from Etsy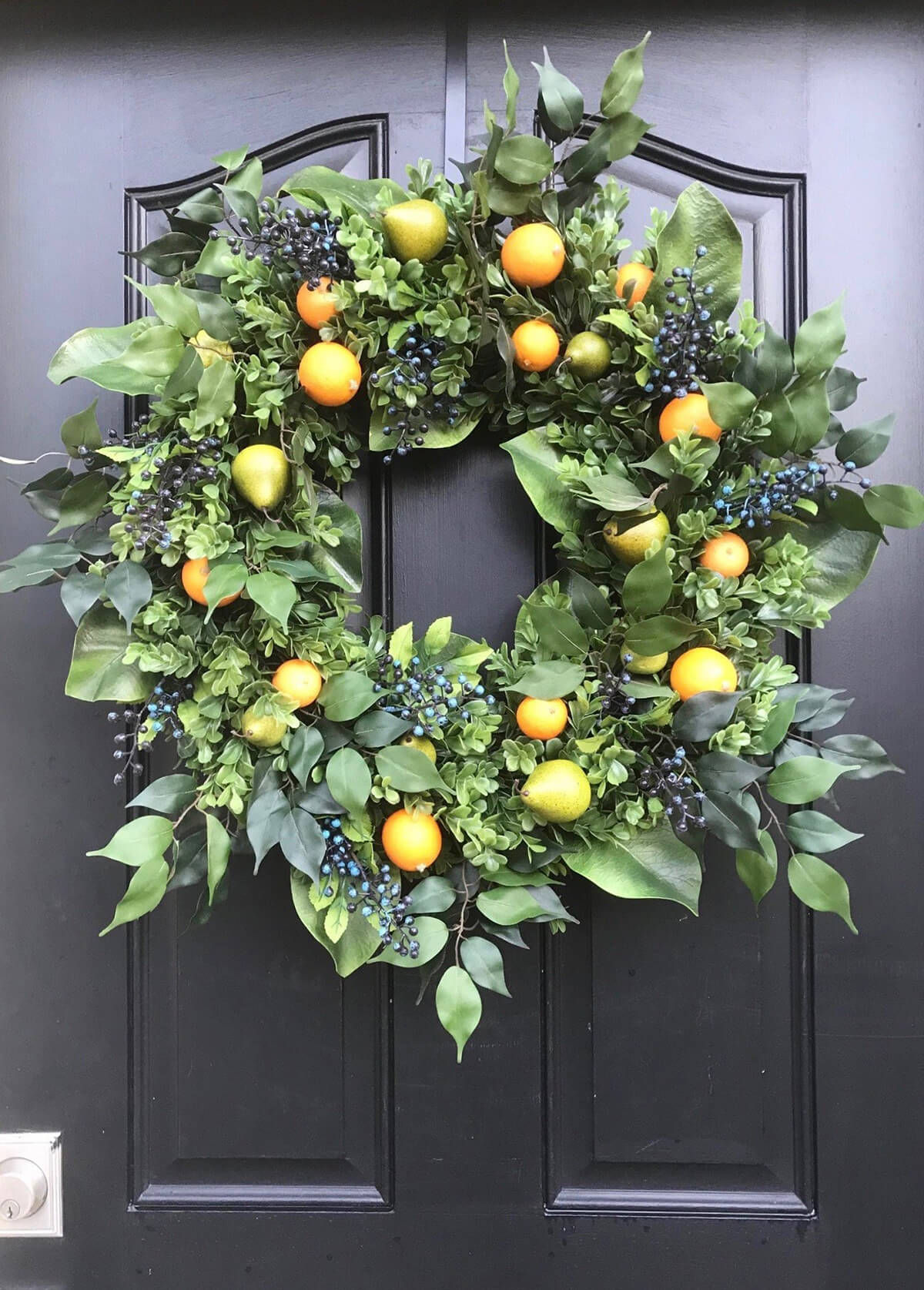 This is a beautifully abundant wreath overflowing with large, cool dark green leaves. Among these leaves, sprigs of blueberries have been ornamented all the way around. The green pears and the navel oranges all the way around superimpose on top of the leaves and blueberries. The entire display is rich and wealthy and has beautifully matching colors. This is the perfect wreath for a dark blue door and a light blue house.
8. Luscious Rose and Orange Peonies and Leaves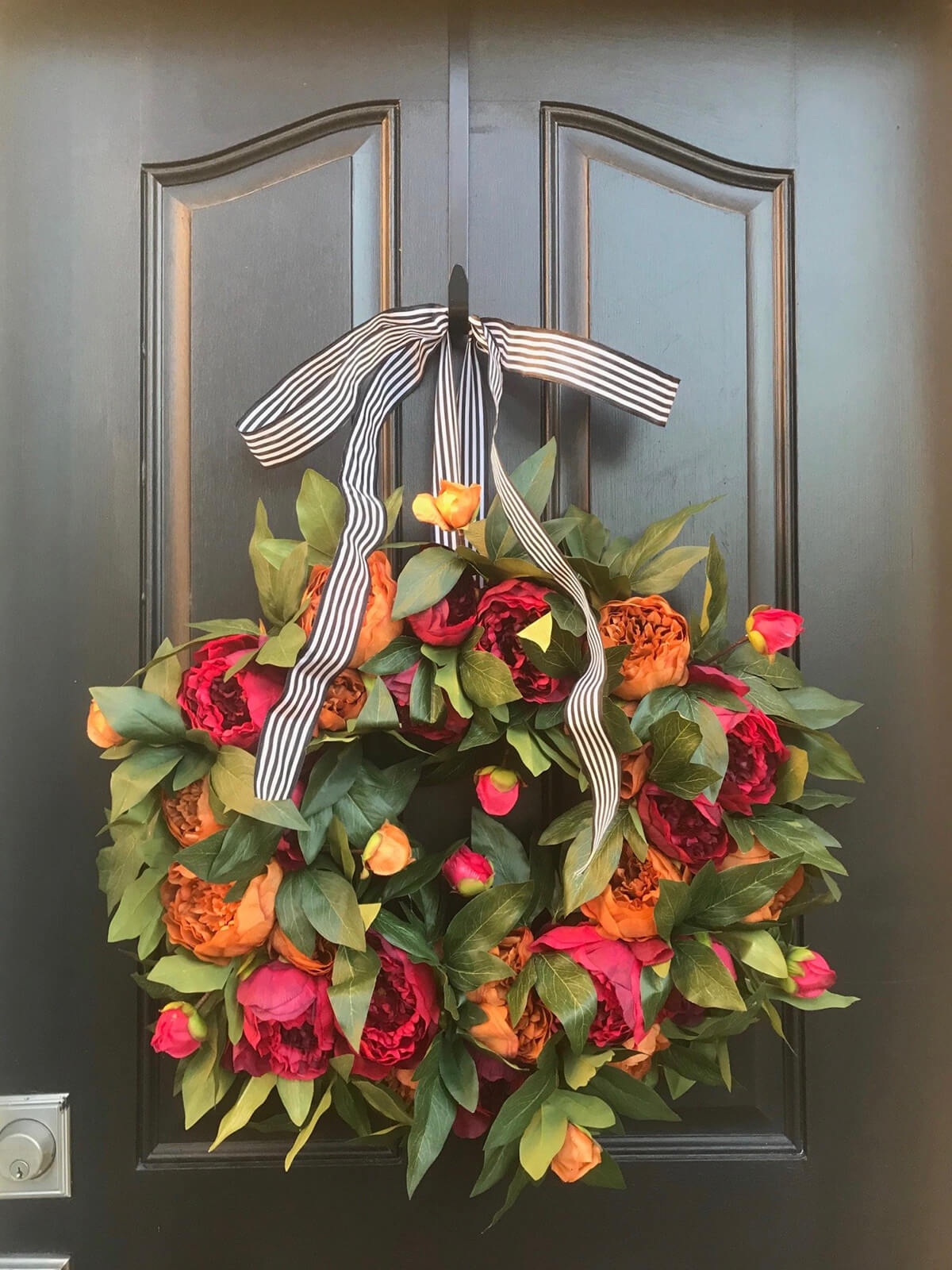 This wreath is not made with flat leaves. It has been constructed so that many large, light green and dark green leaves are attached to the wreath in a way that they bush out in all directions, giving a deeply luscious feel. This luscious pattern is continued with the rich, rose and orange colored peonies deeply embedded among the leaves.
9. Candy Heart Droplets and Pearls Wreath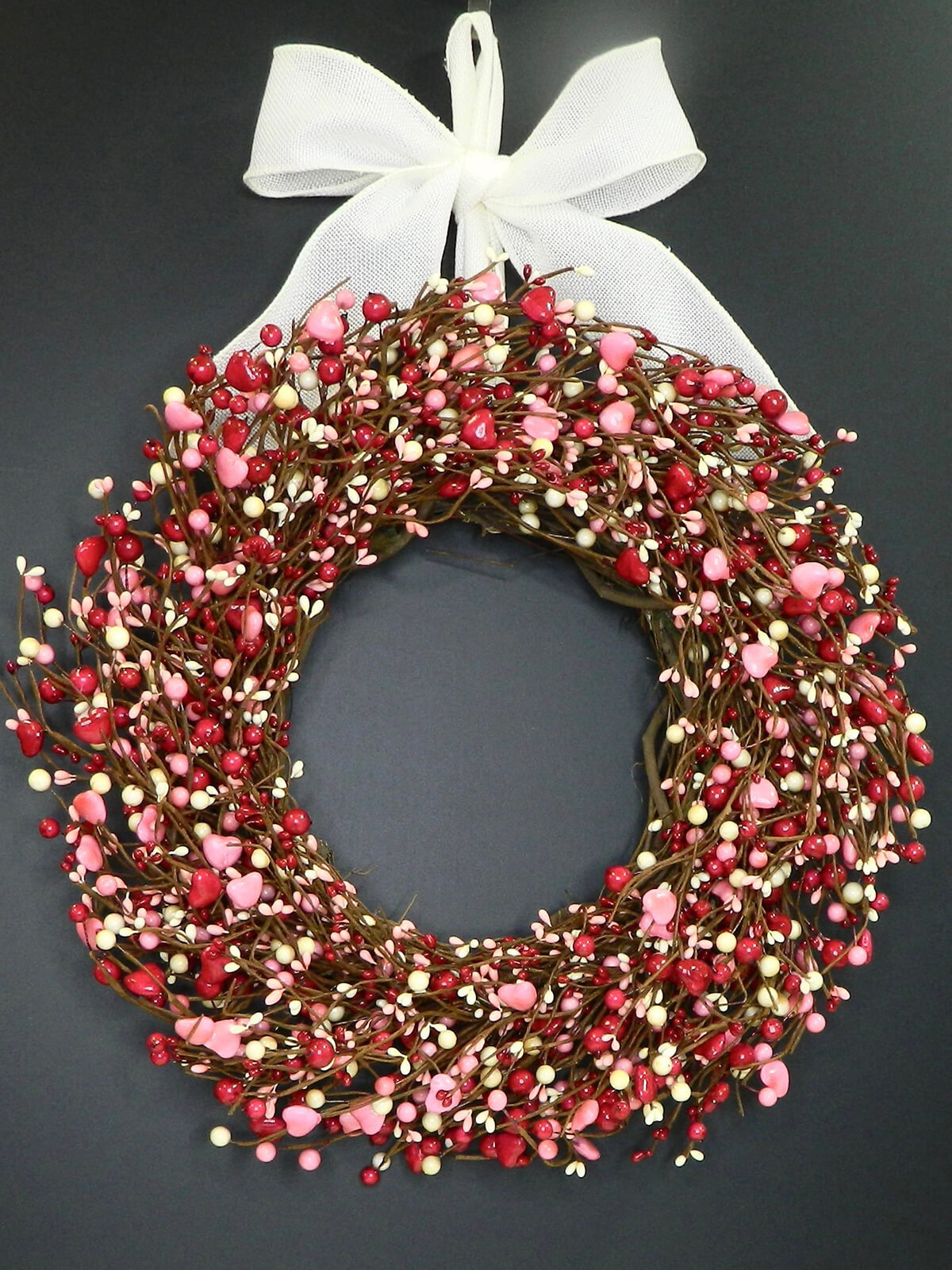 This wreath has a mono-pattern all the way through. A succulent brown brambly pattern all the way through, complete with tips of red, pink, white, and cream hearts and droplets, all which look a lot like candy hearts. The massive interweaving of these droplets looks good enough to eat. The wreath almost looks like it is made of chocolate.
10. Basket Spring Wreath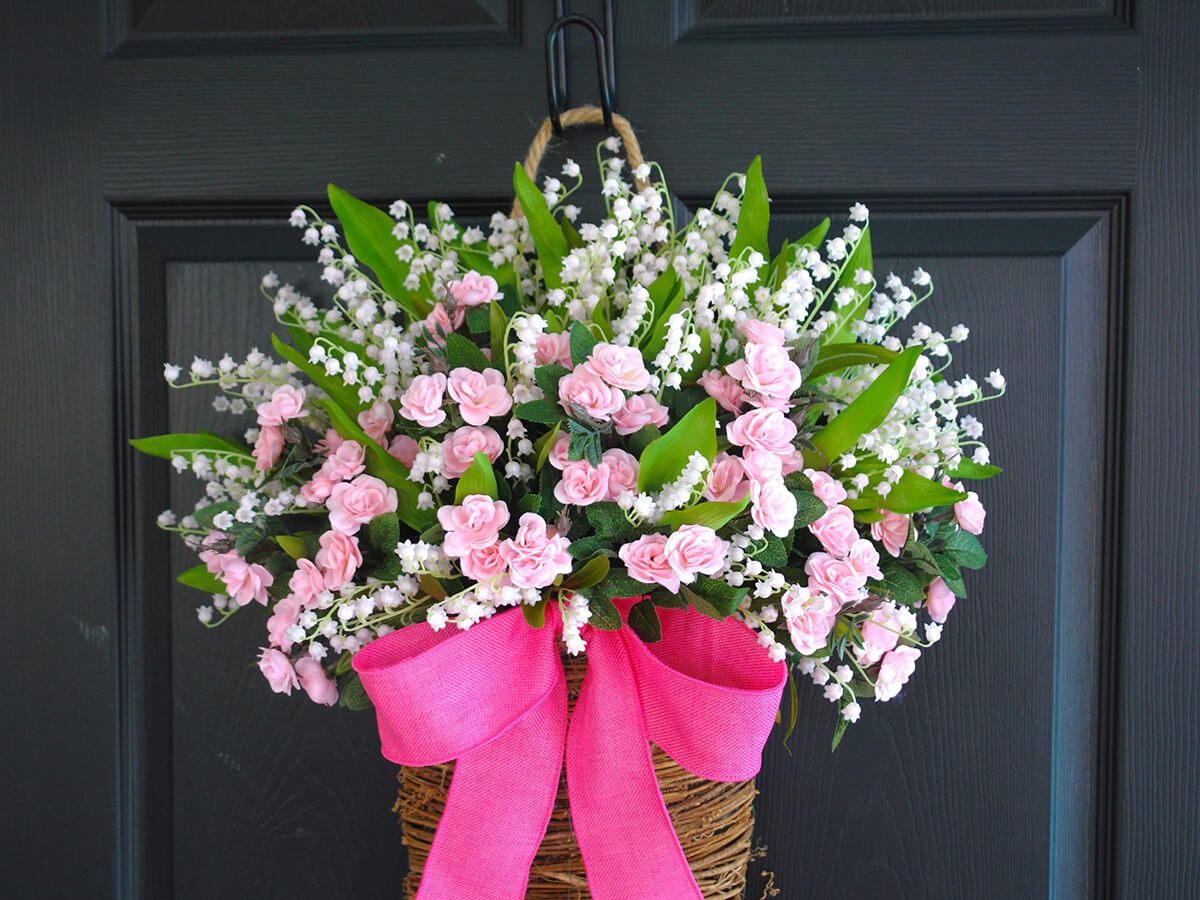 This is the ultimate feminine wreath. The basket is made of golden twigs and the flowers are a domed display of small pink roses interspersed with pure white baby's breath flowers. The pink in the roses is emphasized with the rose of the large, deep rose ribbon.
11. Blue Tulips and Bold Font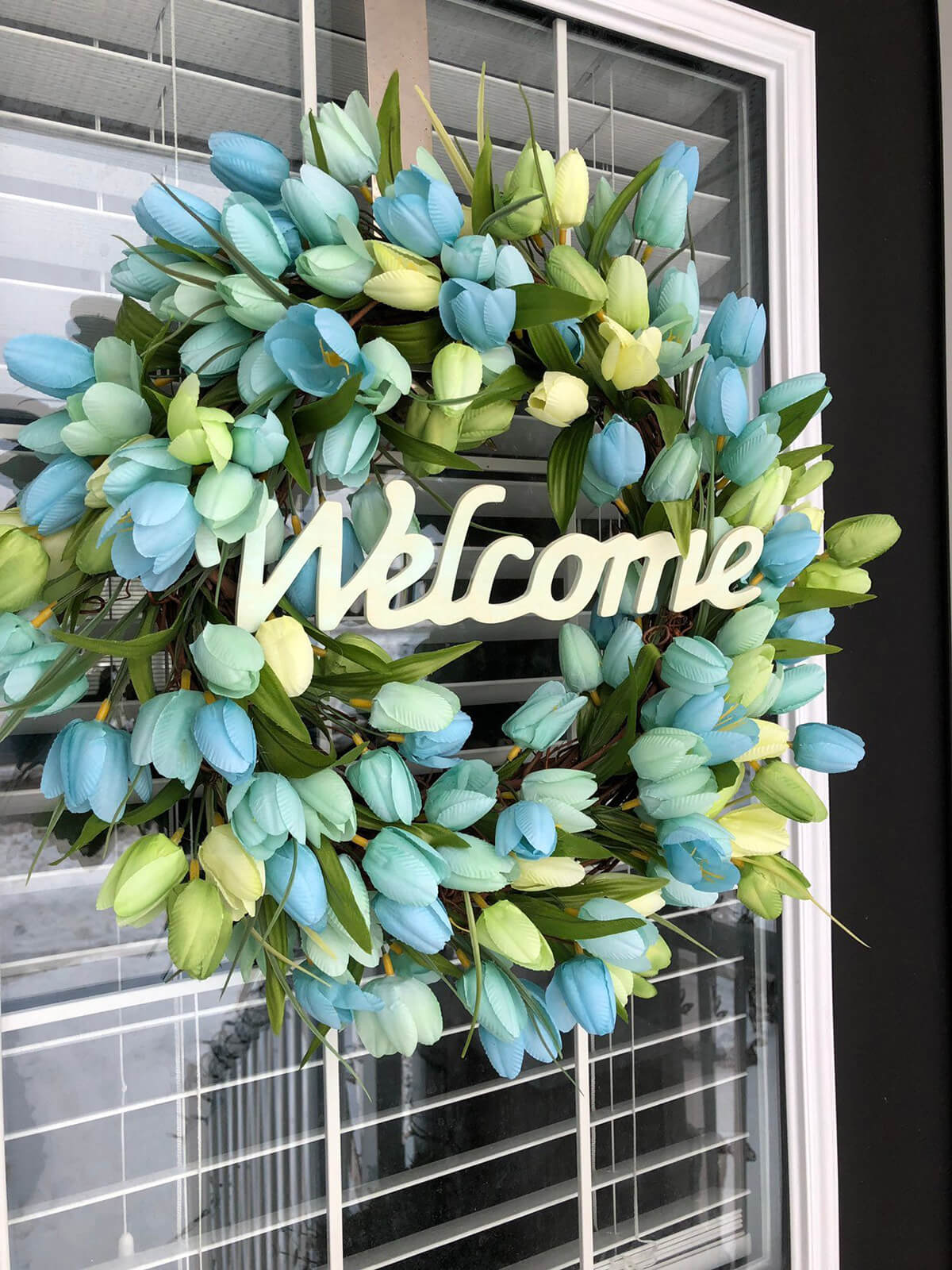 This wreath is unusual. The coloring is a pre-dyed look of blue tulips which are arranged in an overwhelmingly full display. The cool blue and yellow tones emphasize the Welcome text attached in the middle.
12. Golden Wildflowers Ready for Spring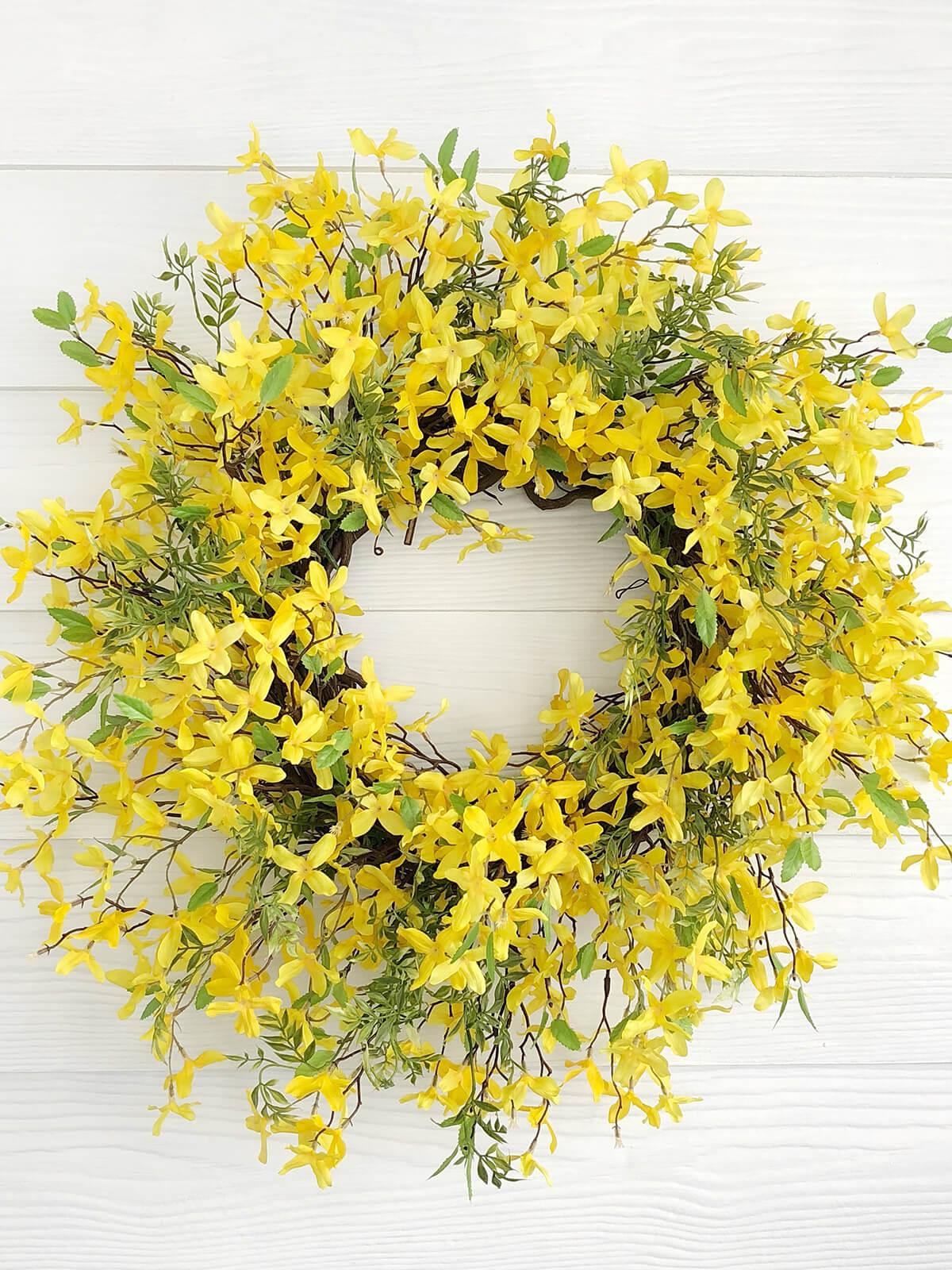 This wreath is first decorated with small branches of green leaves. Then, over top of this, full displays of pale yellow flowers are spread out and made to fill out the air around the wreath. The entire thing reminds you of a field of yellow wildflowers. Another great thing about this wreath is that it inspires people to decorate in monotone. Not everyone understands how too much complexity can overpower a decorating style. This piece reminds us all that a single color can have a big impact.
13. Basic Rose Elegant, Minimalist Circlet
This piece is a simple dual circle bramble vine with an abundant display of full red roses in the lower lefthand corner. Leaves and complementary colors of small cream roses and purple ferns are displayed among them to emphasize the deep, cool rose color. This is a wonderful example of minimalist design being the most powerful of all. It takes very little effort to make this spring wreath circlet the most elegant piece of your doorway.
14. Pink Fern Flowers and Icy Pink Roses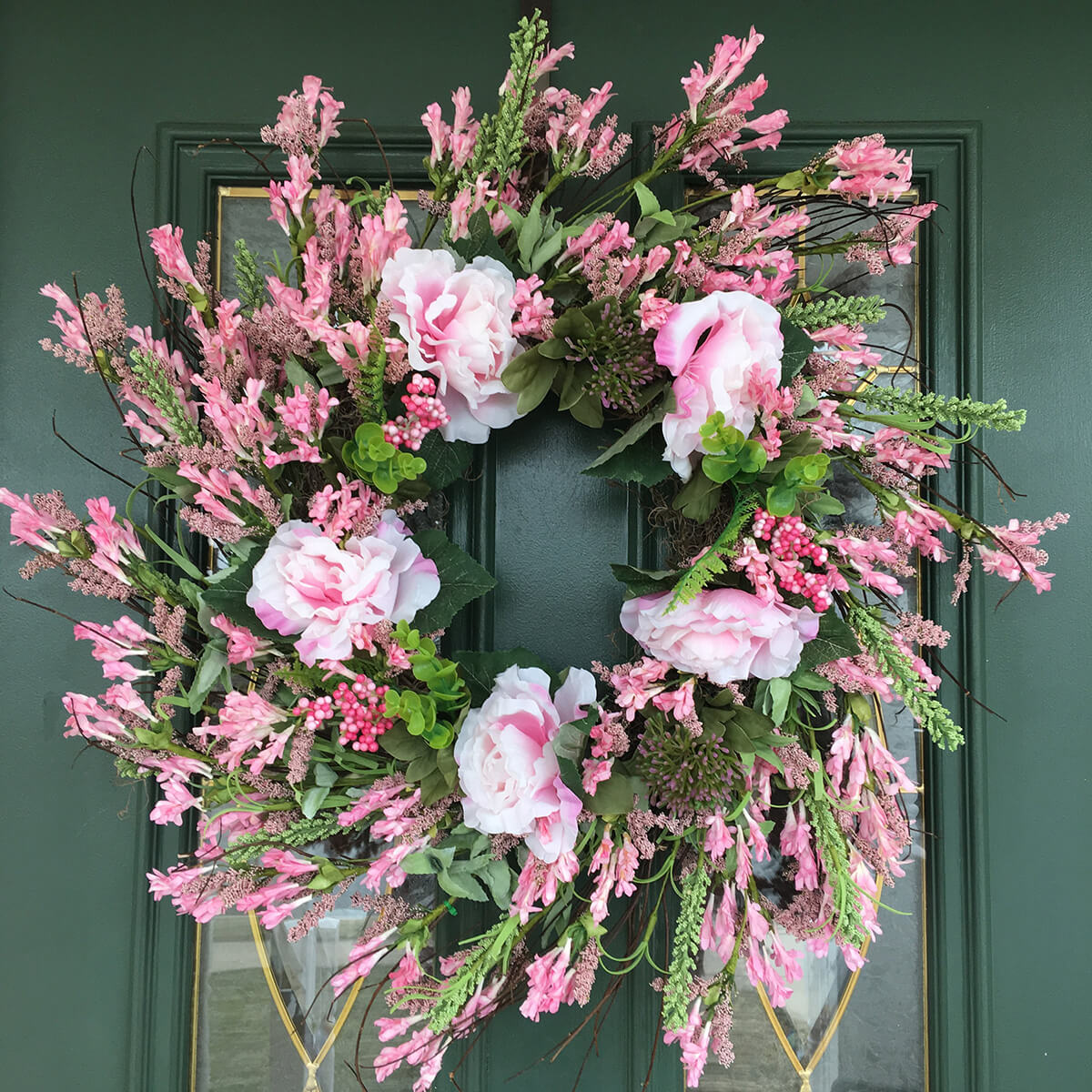 Shades of pale pink come off of this wreath in feathery clouds. The feathery pink flowers have been stuck into this wreath to give a very full, fluffy appearance. The colors are emphasized and the feathery appearance is stabilized with a few, key placements of large, icy pink roses.
15. Interesting Spiky Variegated Red Flowers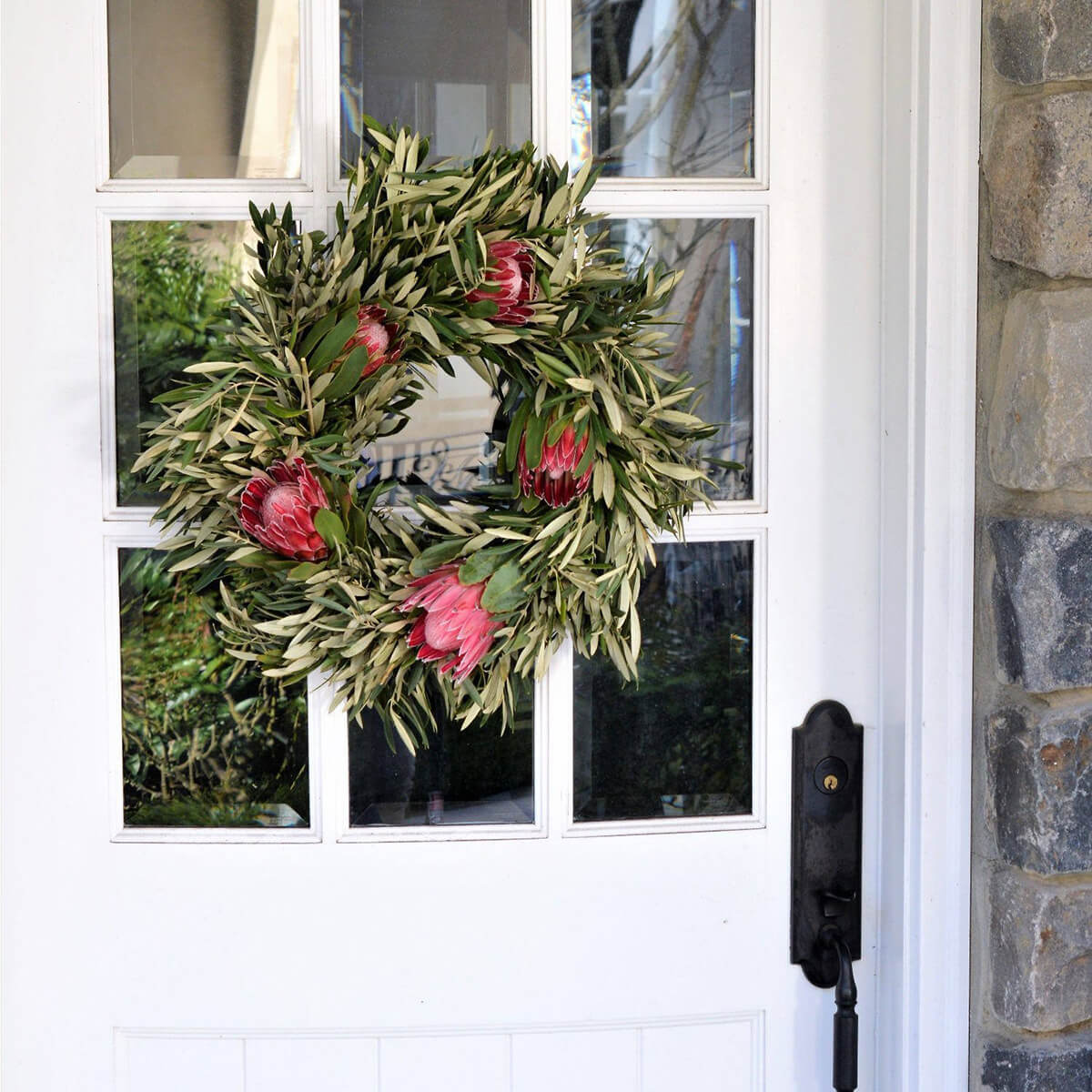 The variegated green leaves in this piece emphasize the spiky petals in the red, cup-shaped flowers. This is an unusual type of leaf to put in a wreath because it is very fern-like and spiky in flavor. However, it does emphasize the pointy flowers. A spiky design is a welcome balance for a home with soft, adobe curves or a bland, monotone background. It creates interest and enlivens your door.
16. Cool Plaid Sunshine and Picnic Wreath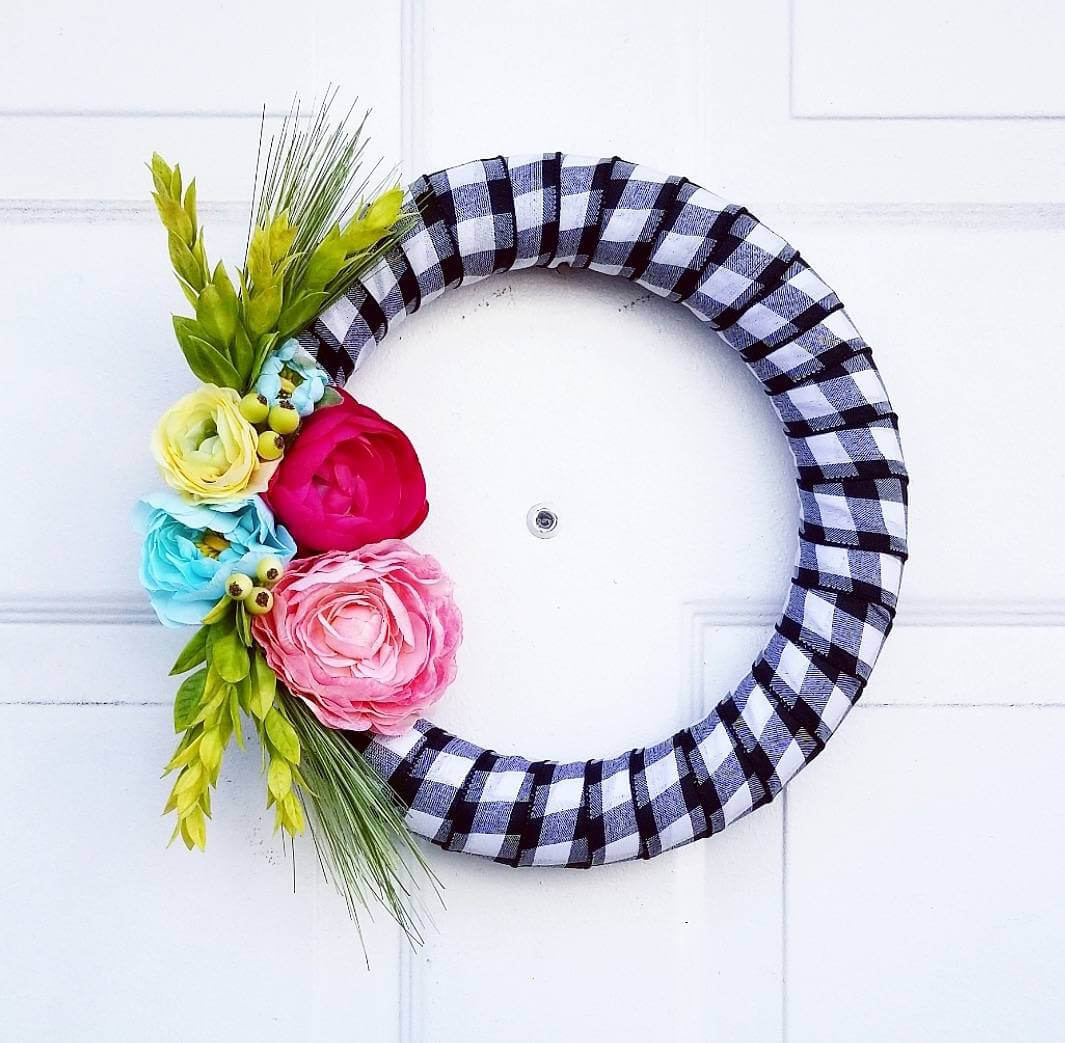 The cool shades of this deep blue plaid wreath remind you of spring picnic on soft, cool, green grass. It is the perfect complement to a family of homesteaders or a homeschooling entrepreneur. The peonies on the side, complete with abundance stalks of green wheat, show this wreath to be ideal for both spring and autumn.
17. Brightly Colored Gerbera Daisy Splendor
The brightly colored Gerbera Daisies on this wreath make it look spring-ready and autumn-ready. One side is filled out more and shows the biggest daisies in full spectacle. The other side is meant to balance with a small collection. This is a great wreath to design in your favorite colors. Gerbera daisies are perfect to combine and create a wide array of seasonal wreaths for your door. Reds and golds for autumn, reds with greens for winter, and so on.
18. Llama Love and Beribboned Bliss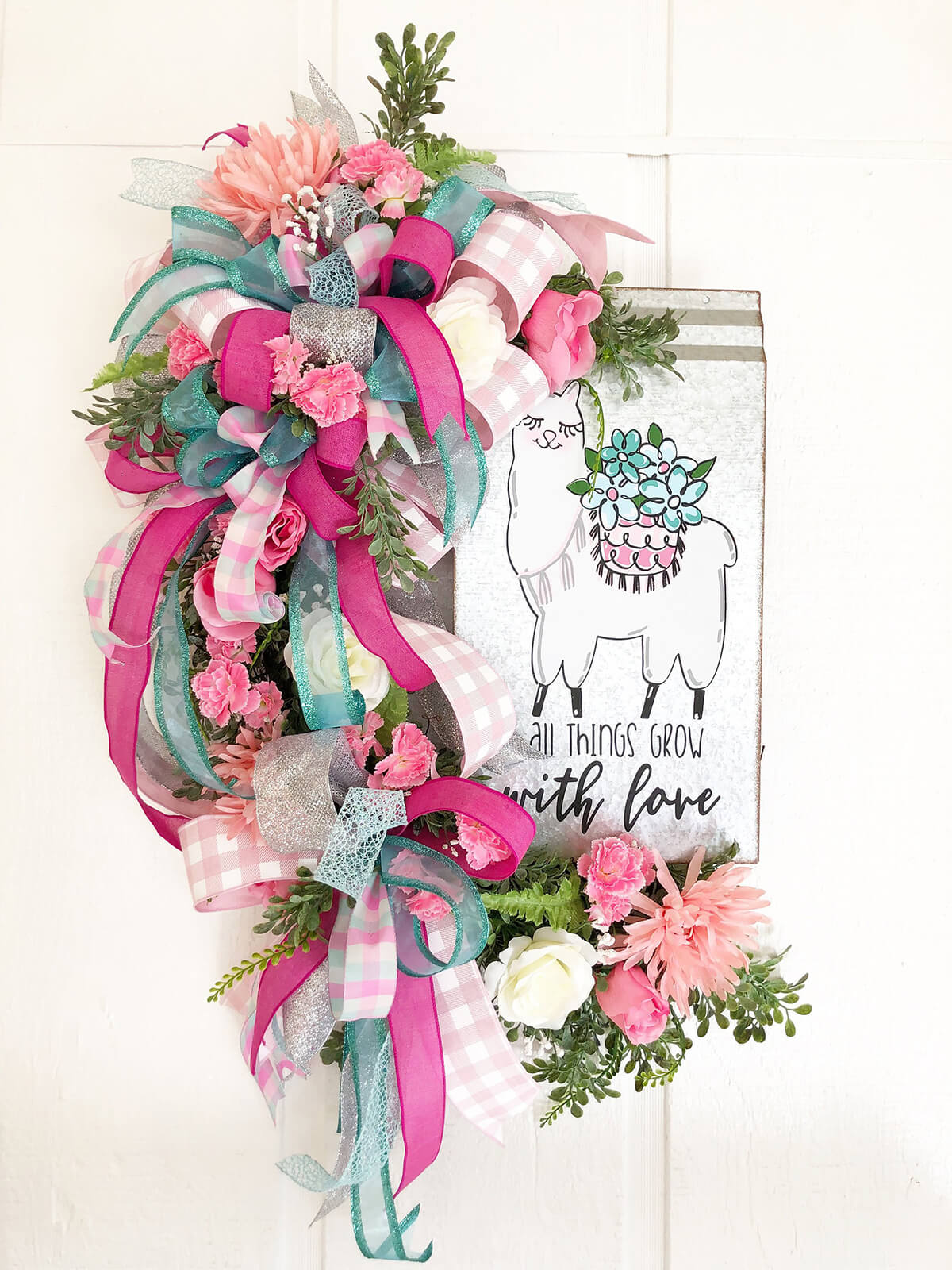 This healthy display of love is complete with a llama (or alpaca) sign of growing with love and a beribboned spectacle everywhere else. The pink and blue ribbons are complemented heavily with pink and white roses, adding to the feminine and motherly glory of this wreath. If you have a favorite animal, you can display them up here, as well!
19. Feathery and Feminine Pink Fern Heart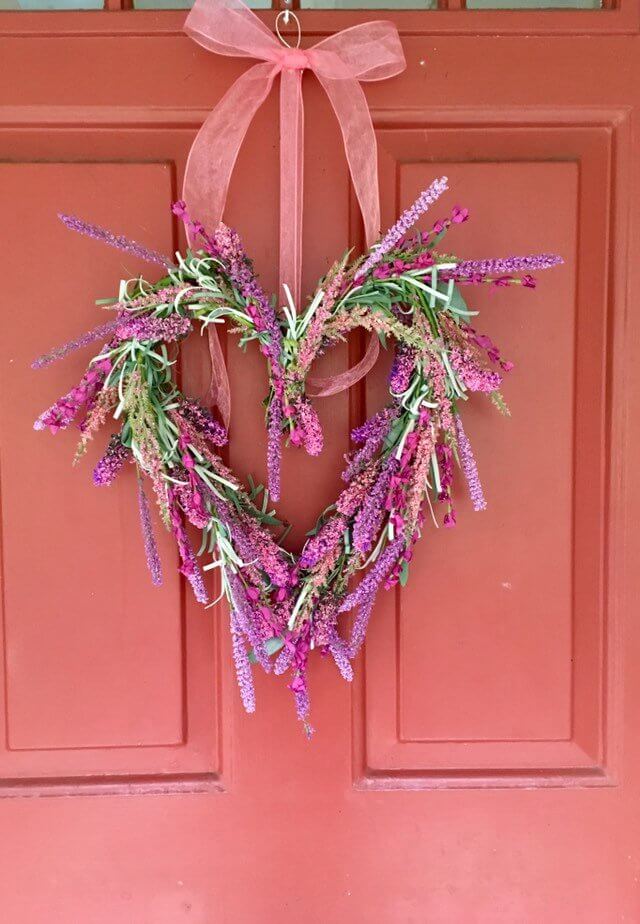 A lovely see-through pink ribbon holds this heart wreath up. The heart is entirely constructed of fuzzy pink stem flowers. The beautiful pink, purple and white flowers are allowed to extend beyond the heart form and create an overhang effect. It is delightful and charming. This instills womanly power and girly bliss on the front of your door.
20. Rose Ribbons and Pink Roses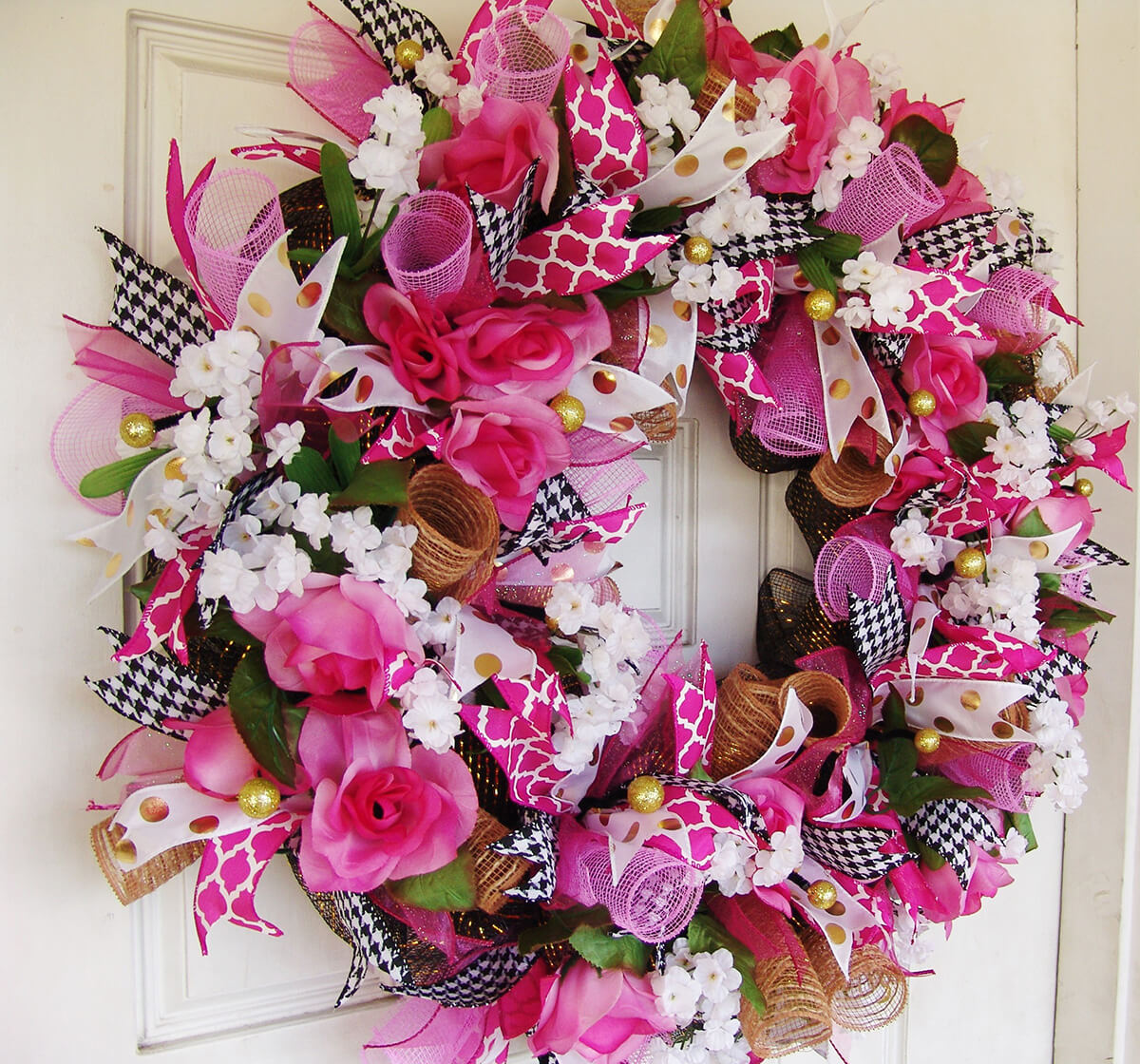 This fully and robust wreath is filled with beautiful rose and pink goodness. There are some brown burlap touches to fill in empty spaces but, otherwise, the entire wreath is filled with white and pink roses, peonies tulips. Different patterns of rose-color and pink ribbons are interspersed throughout with a few touches of black and white checkered ribbon to add some extra class.
21. Green Tones Pinecone and Leaf Wreath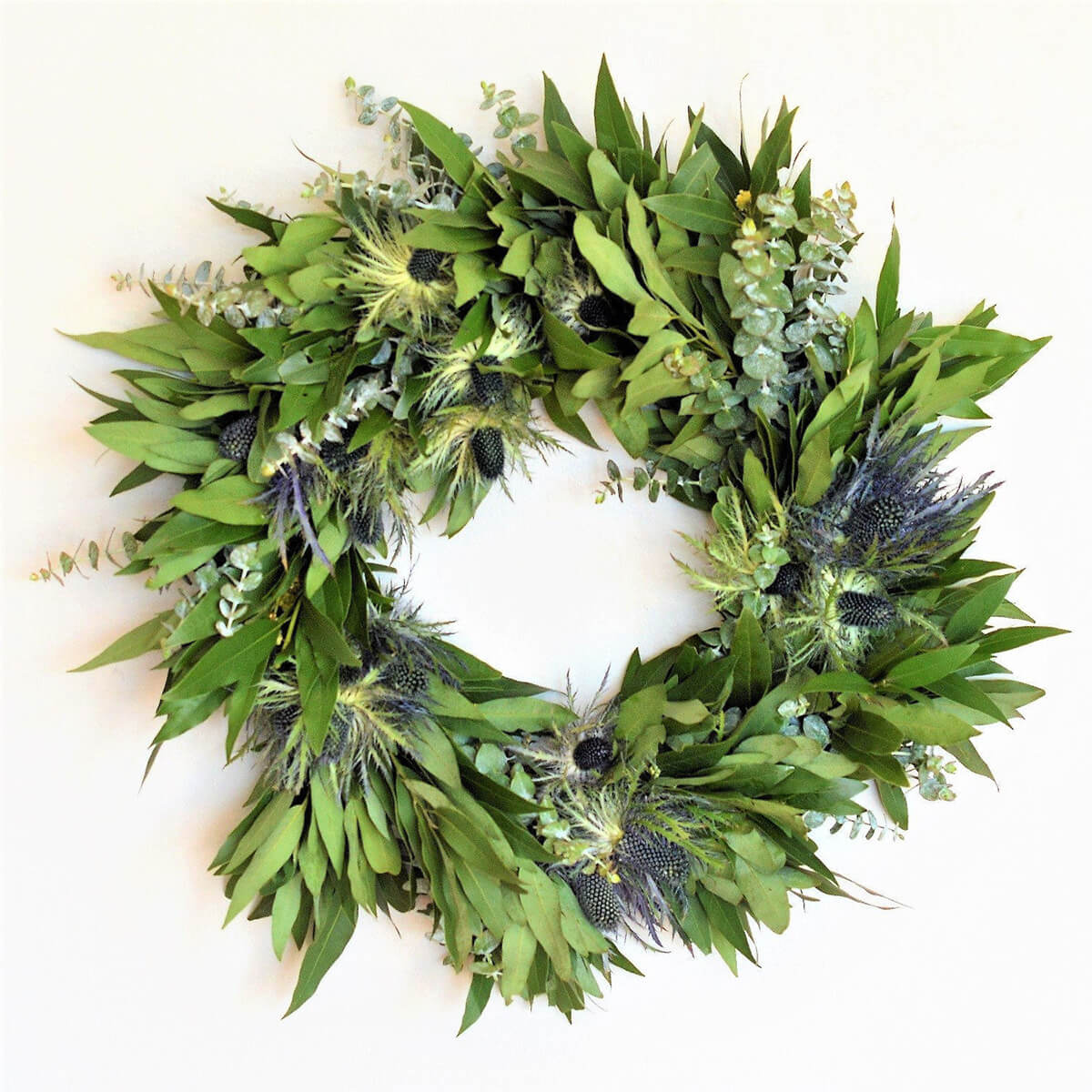 This is the perfect wreath to use in the hot summertime. It has huge, lush leaves, little green ferns, decorative greenery, and little black pinecones ornamenting this lush green piece for your door. This would be a perfect complement for a hot, sunny desert home. The full green bouquet is also a great alternative to taking down Christmas decorations every January. You can simply leave it up all year round and it looks great forever.
22. Perfect Little World Metal Window Wreath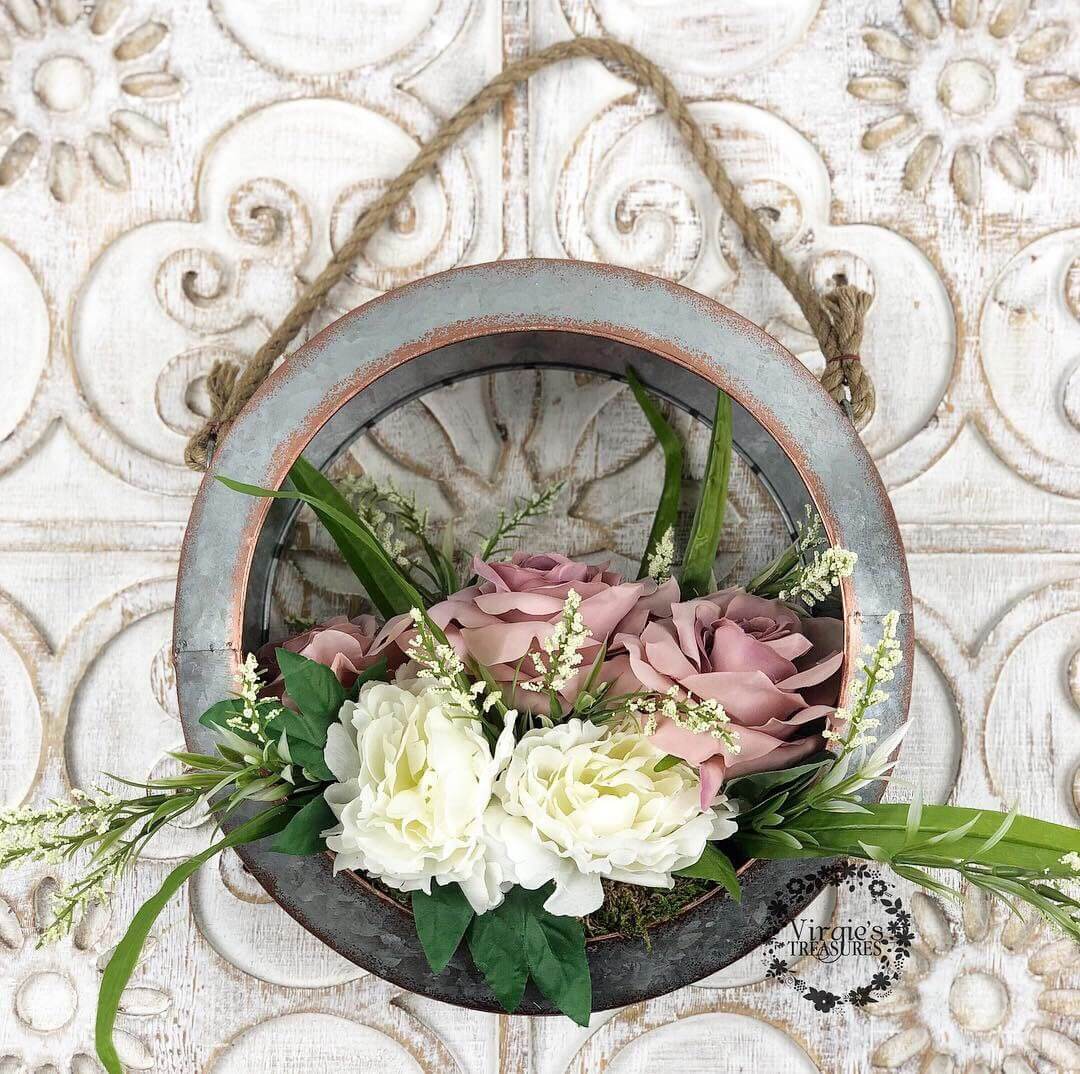 This quaint, antique ring can be hooked up to a rustic rope to hang from your front door, from your wall, and even from a window top! Wherever you put it, the possibilities inside are endless. This one shows a perfect setting of roses, baby's breath, and fern leaves to hold inside the metal ring. However, you can put anything you want, including living fruit and berries! You can even set a little mini scene into this metal ring, thus creating a tiny village, garden, or fairy home for your guests to see when they arrive!
23. Bright Pops and Splashes of Color
This is the perfect wreath for both spring and summer. The bright pops of color, the blues, red, and yellows, are magnificent in this light, airy display. The white twigs contrast starkly with the fresh green color of the foliage. The fanned-out display is quite attractive and very bold.
24. Bay Leaves and Pink Baby's Breath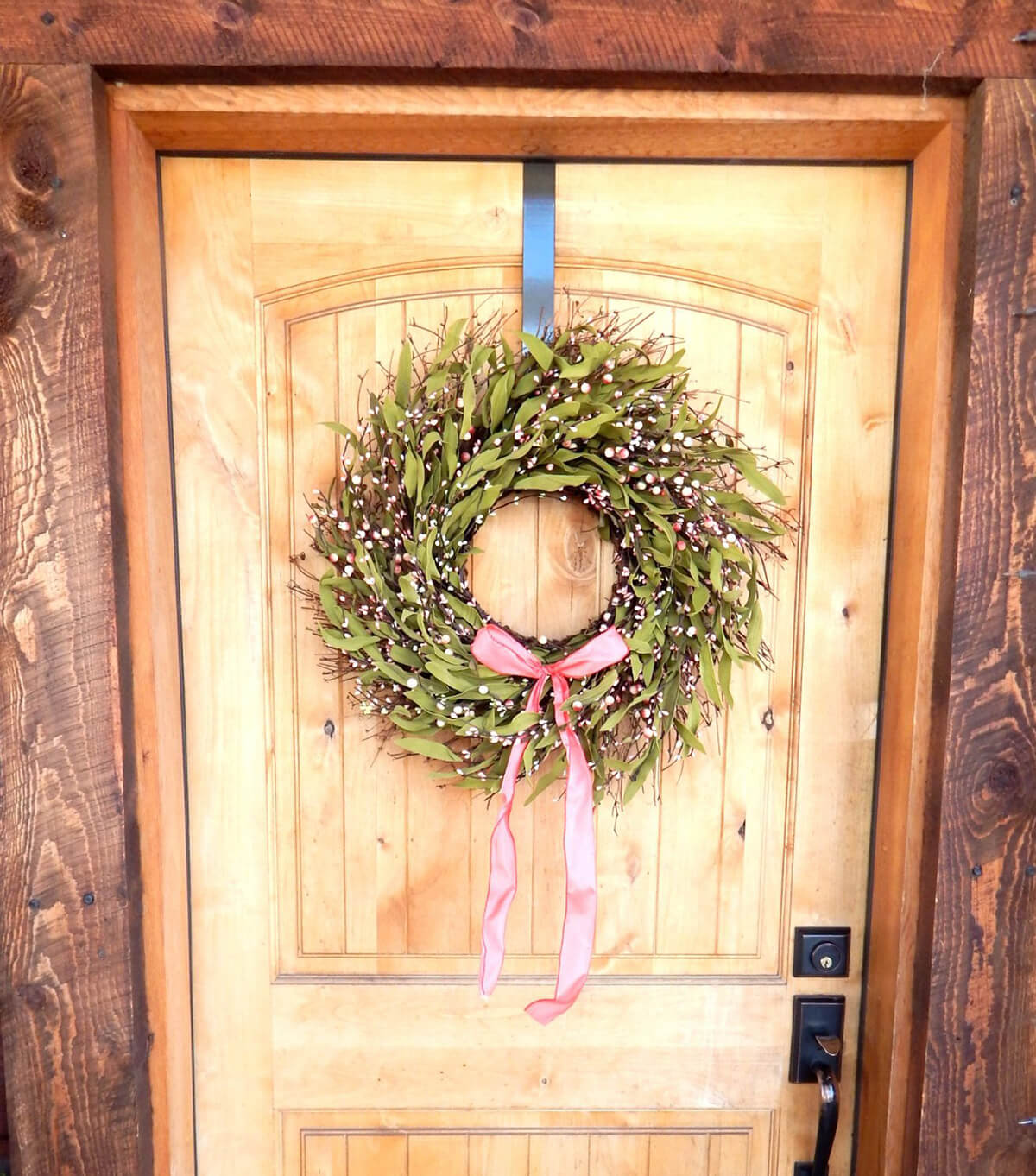 This piece is perfect for an understated appearance. Not too bold and not too dressy, it has just the right amount of subtlety for a quiet, spring lady. The bay leaves add a matte, light green dullness to make it understated and the pink-tinted baby's breath make it softly feminine while being demure and humble.
25. Floral and Nostalgic Seasonal Change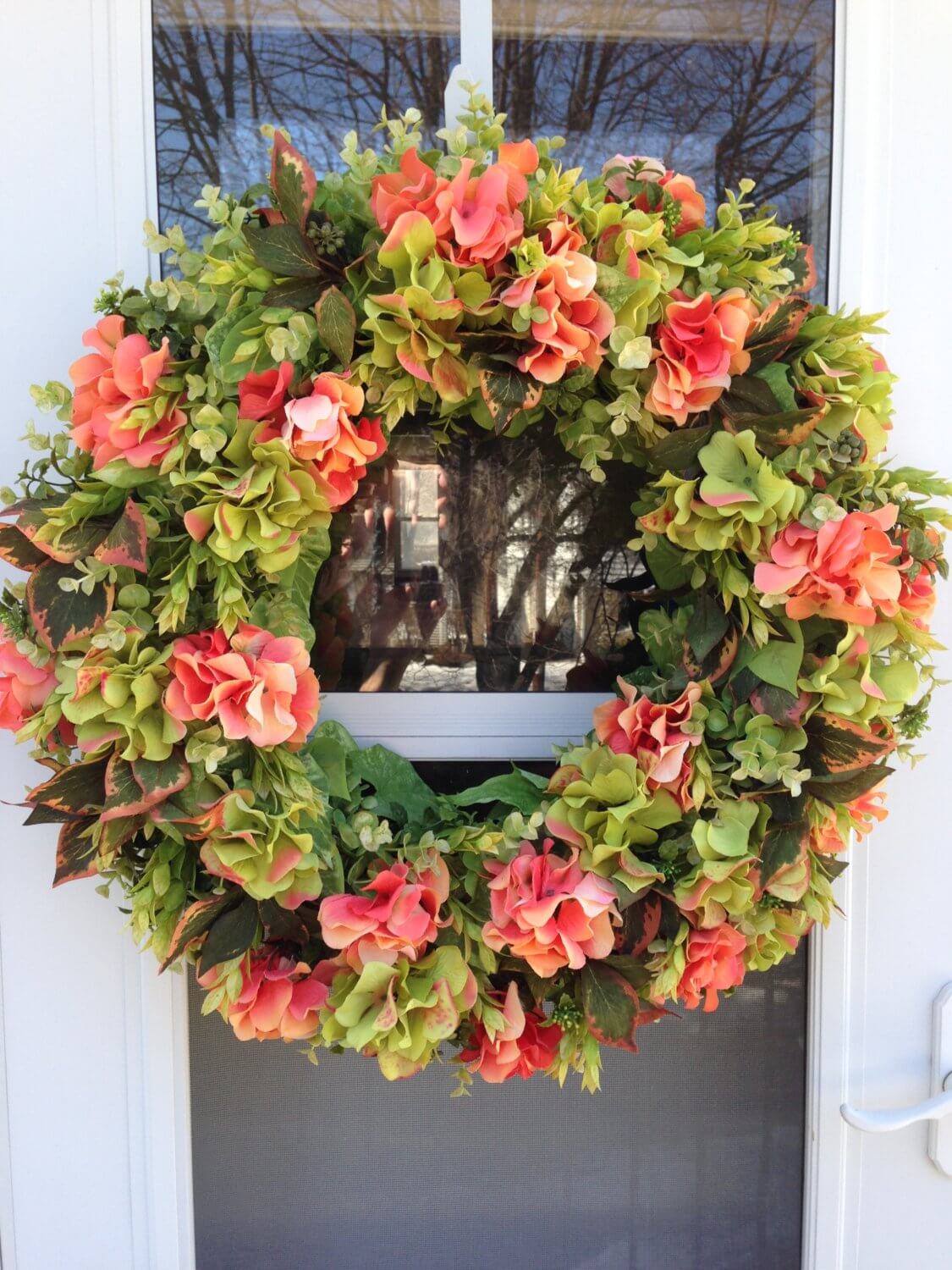 This autumnal wreath is just as fresh and bold popping in the spring. The beautiful petals curl around like golden and red leaves (making it autumnal) and the bright colors look fresh with the pale green foliage, making it perfect for spring and bright wildflowers in the fields. This is a very nostalgic wreath.
26. Fuzzy Basket of Bright Tulips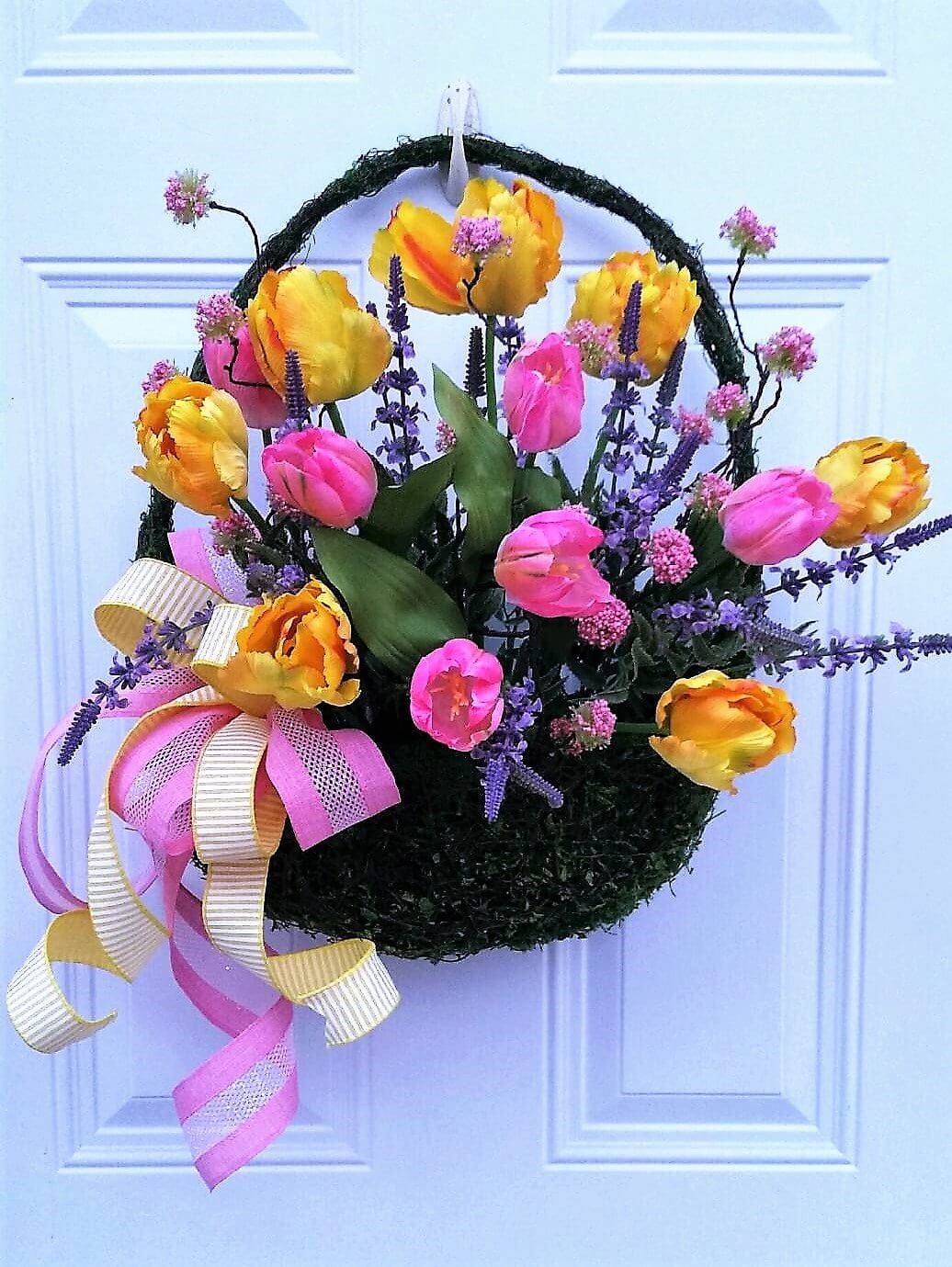 This stunning fuzzy basket of dark green material holds a full array of brightly colored tulips, purple pussy willow flowers, and neon pink and yellow ribbons. This is a fantastic bouquet of flowers to put up for Easter and for all spring long.
27. Grasses, White Crocuses, and Pink Roses
This smooth wood and bramble wreath is the perfect decoration for showcasing a couple of sheaves of long green grass. White crocuses are highlighted against the grass sheaves and the pink and white roses and peonies are gathered in the middle for some serious class in decorating.
28. Pastel and Brown Spring Burlap Ribbons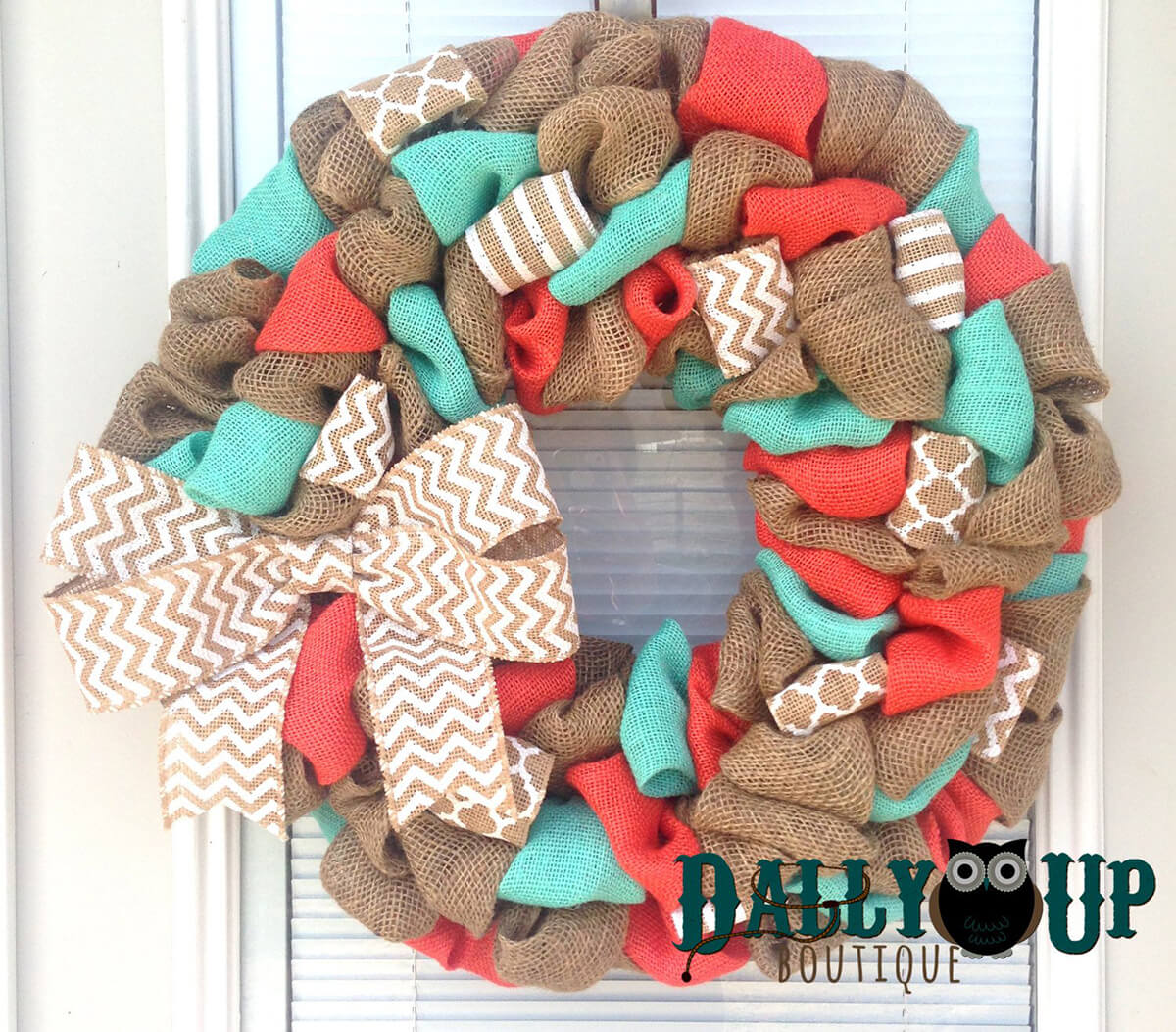 This wreath is bold and beautiful (not to mention touchable!) and you can use any colors you like. This particular one is made by tying knots in the ribbon every six inches or so and then scrunching them up against each other, making the burlap balloon out. This one is the easiest pieces to make. You can use bright colors against the brown, like this one is made, or choose your own colors.
29. Pink and Purple Peony Heaven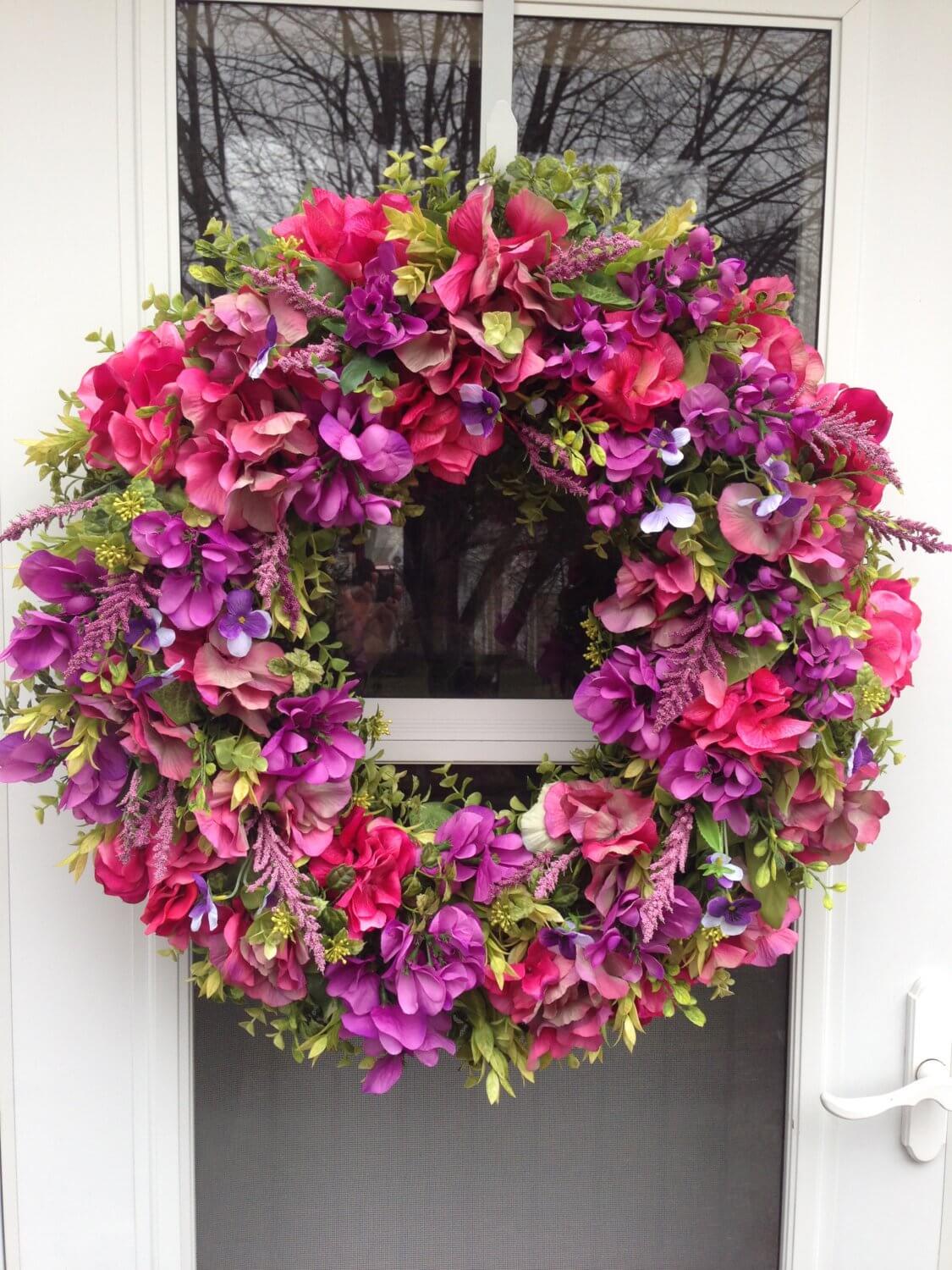 This wreath is completely covered in pale green leaves and brilliant displays of pink, rose, and purple colored peony blossoms. Smaller variations of the leaves and flowers can be added to make this even more interesting. This version has all of these features already incorporated into it.
30. Pink and Green Cool-Toned Wreath
This wreath is perfect for a window or door which needs cool, fresh tones of color. The dark green, round leaves blend nicely with the cool, brown-toned wood. The large, icy tones of the pale pink flowers are accented by rose-colored accent flowers. The overall pink and green theme is tied together with a pink and green bow.
31. Irish Laddies and Lassies Moss Wreath
Do you love Scotland and/or Ireland? This wreath is perfect for you. Large volumes of mossy details cover this piece, with beautiful white butterflies showing how soft and safe it is. The whole thing is tied together with a checkerboard wire bow made from pale, Irish green wire. It is fit for bonny Scotland or any Irish lad or lass.
32. Spanish Rose Desert Succulent Wreath
The leaves of this particular wreath are swollen and smooth, like those of a succulent. To continue the desert theme, you also have orange-red Spanish roses decorating the outside. This is perfect for either a desert-dweller or someone in a cold, stormy mountain scene who wants to remember drier, hotter areas.
33. Blue and White Daisy Happiness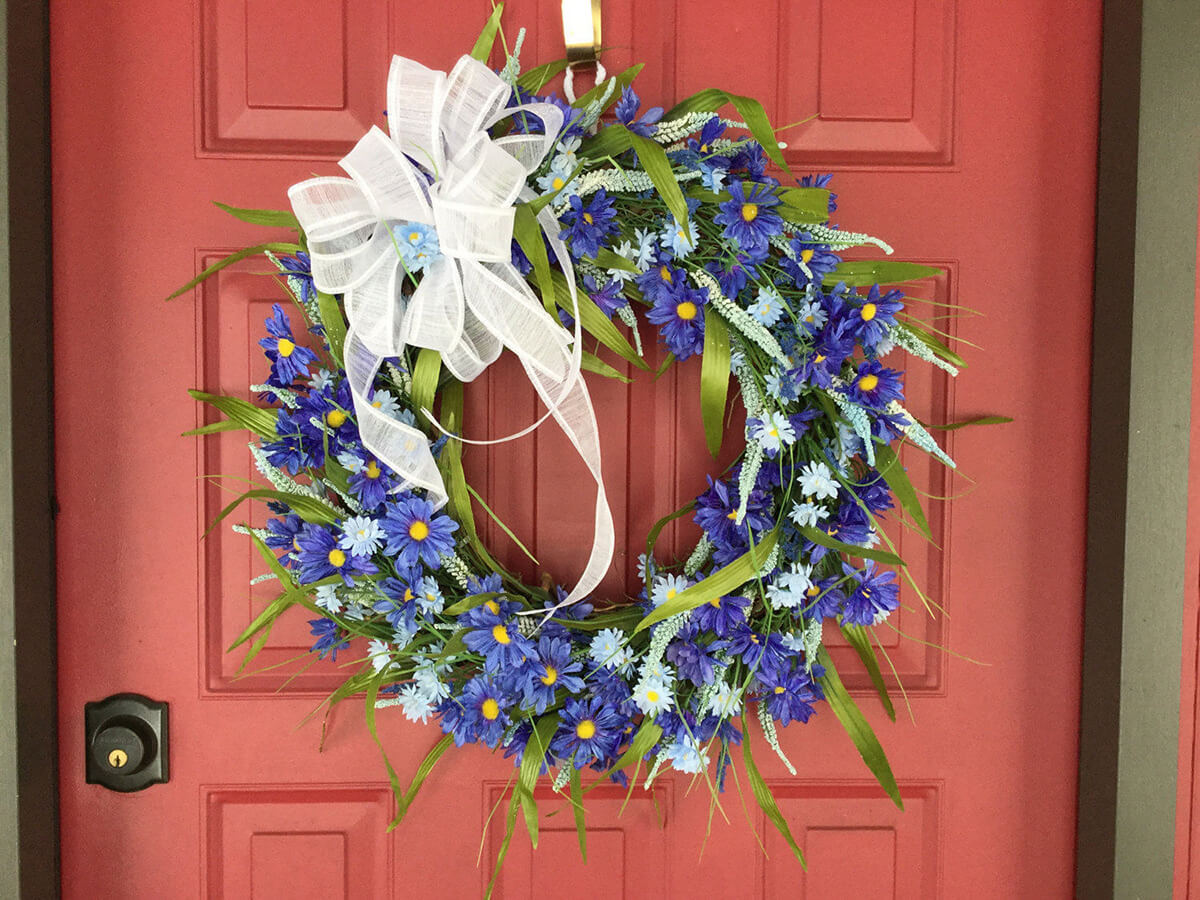 This is such a fun wreath. This is perfect for a spring morning, people who love bluebells, and fun, cute, little cottages. The blue and white daisy theme is fresh, summery and cool. The colors are pleasing to the senses. And the soft, flowy white ribbon emphasizes the purity of the bouquet. The only accent it needs are those long, green grass blades which are intertwining the happy flowers.
34. Quaint and Old-Fashioned Bird's Nest Platter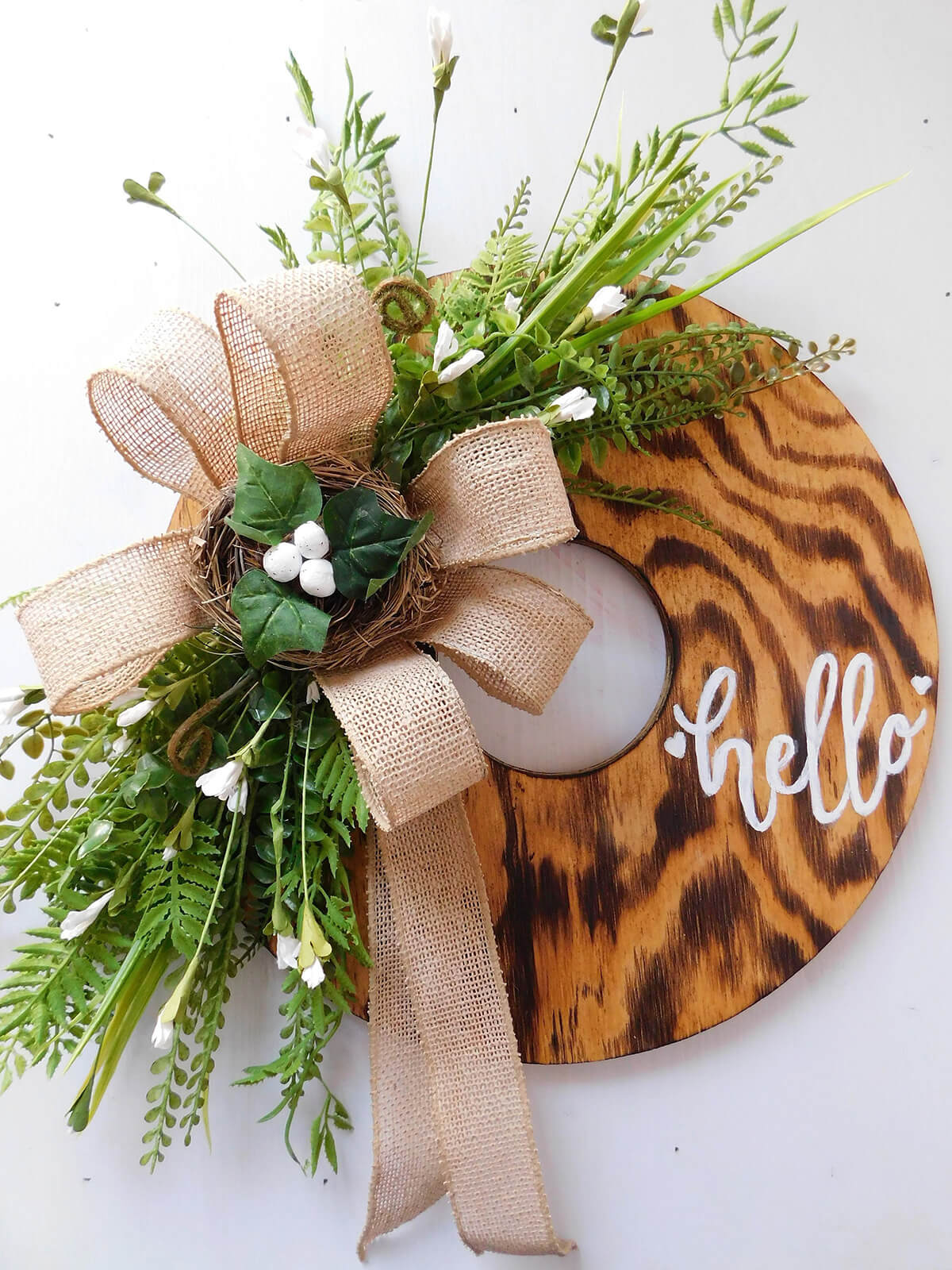 This wooden circle is striped, weathered, and golden, making it the perfect wreath form to attach a few, key decorations. The sheaves of grass and wildflowers give off the feeling of having just been gathered by your daughter. The brown burlap bow safely cradles a pure bird's next with perfectly white eggs. Could anything be more country or idyllic in the world?
35. Cut and Folded Pastel Fringe Fluff
This beautiful pastel piece is created with multiple knots and gluings of craft ribbon. The knot-and-scrunch method is used, but with an added twist. Many scrunches are knotted and pushed down. After that, each one is glued. Then, all the scrunches are cut at an angle to create this lovely pastel effect that is right for Easter.
36. Outrageously Bold Color and Accents
This fun, outgoing wreath is created with a standard bramble form. Then, different types of leaves are grouped on top. Next, a bold display of rainbow flowers is arranged all the way around your flower side. Lastly, a brightly colored bow and more sprigs to fill in spaces create extra texture and interest. The bold colors and rainbow display are breathtaking and succinct in their arrangement.
37. Moss and Pinecone Bird's Nest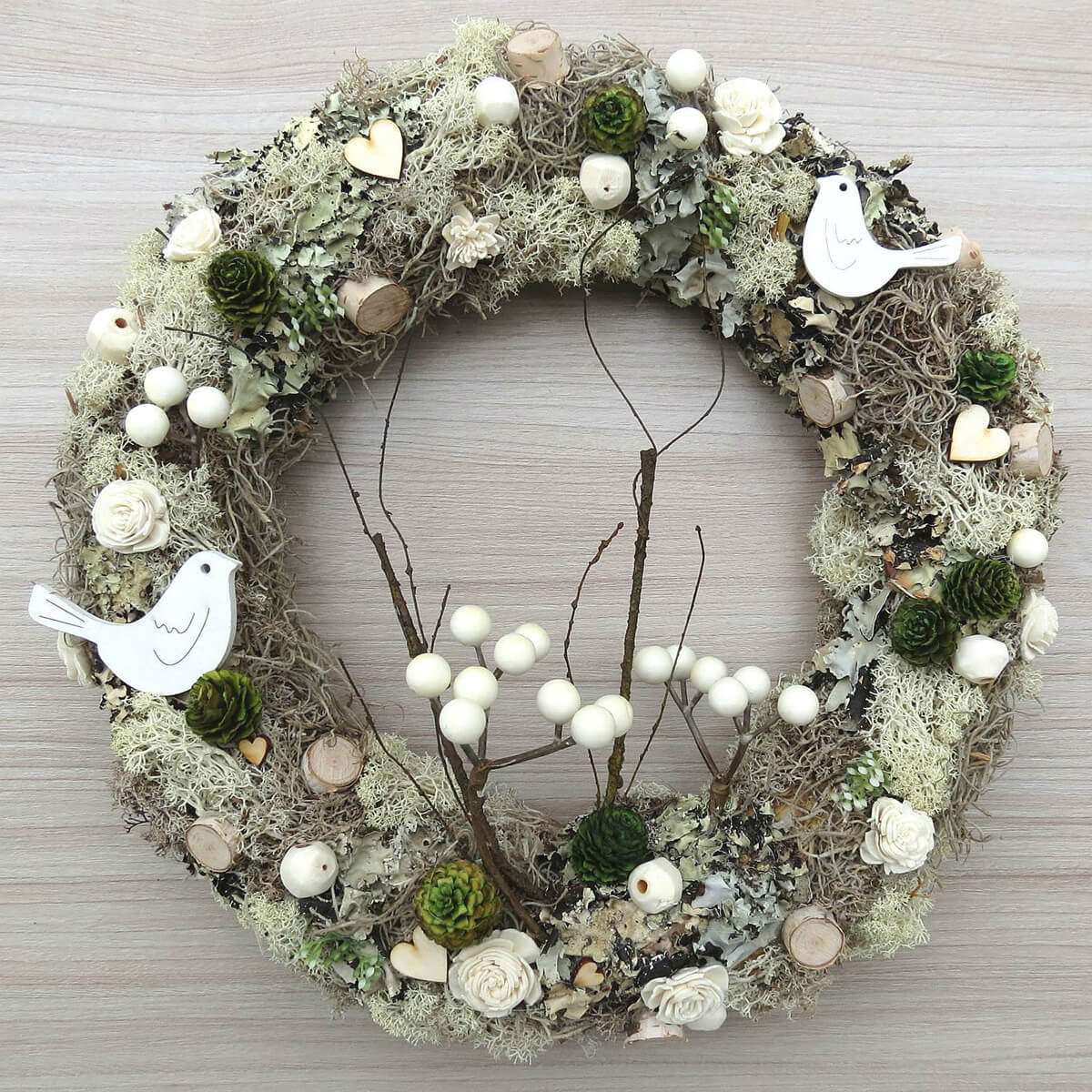 This soft, lightly textured piece has a bird's nest feel and design to it. First, white painted moss and leaves are arranged all the way around it. Then, large, faux pearls and small, white roses are added to continue the pale theme. Green dyed pinecones are added for extra color punch. Finally, the two branches with faux pearls on the tips like white holly berries finish it off. Classy, demure, and interesting.
38. Initial Letter and Elegant Style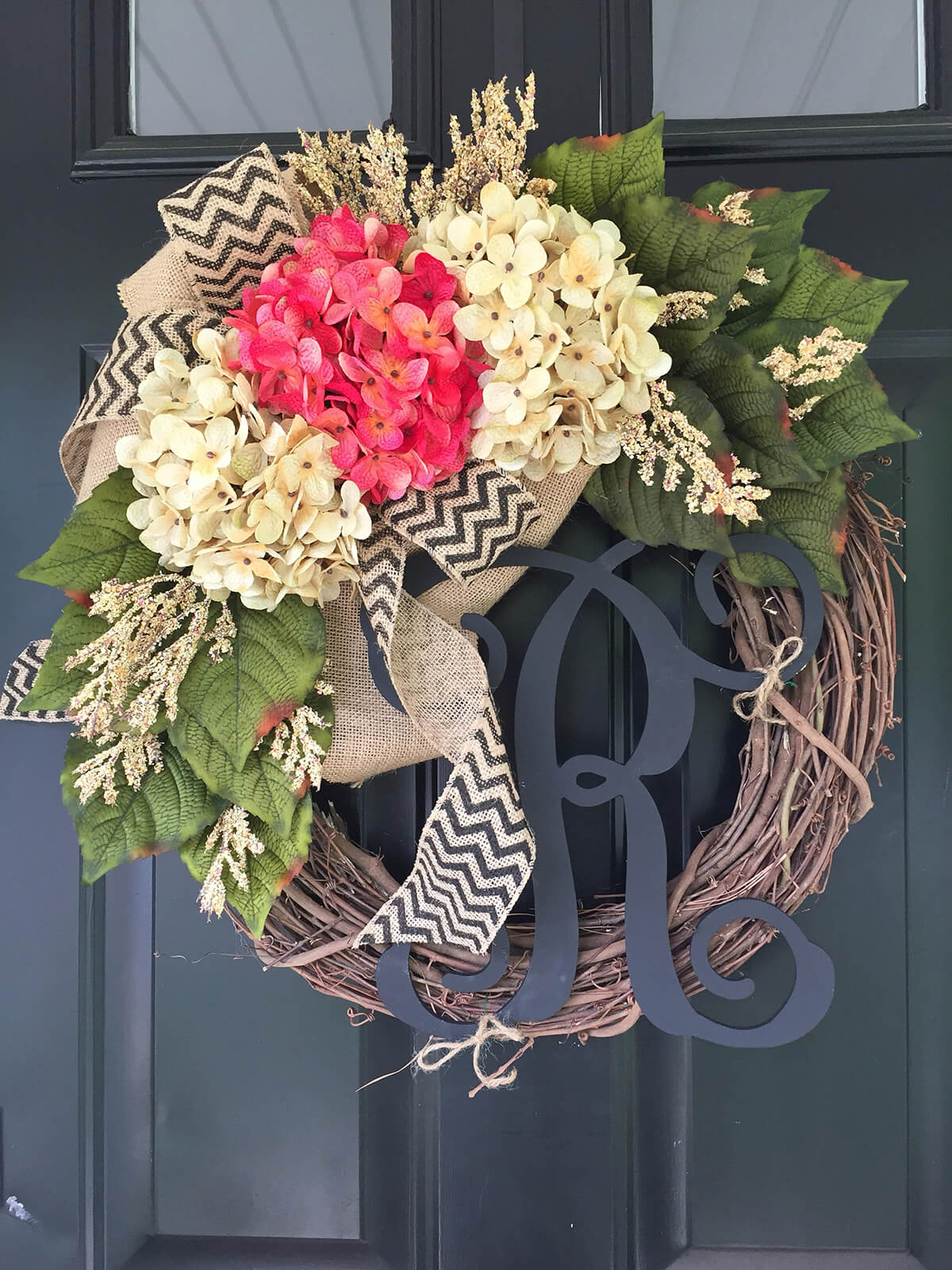 This final wreath is stunning in its formation and arrangement. First, large, classic leaves are arranged on either side of the central display. Variegated ribbons curl around the wreath in various directions to add a soft nest for the flowers. A centered display of colorful blossoms fills the very middle. To top it all off, a scrolled initial letter is attached to the wreath with bramble wire, which creates a stunning effect.
We love to look at fine artistry, not because it is so exquisite that it holds our attention forever, but because great art inspires us all to be better and bolder creators in the world around us. A spring wreath can be any style you like: just remember to always make it your own unique piece.
We hope you loved these stunning pieces and will use many of them to inspire your own creations. The craftsmanship and elegance of good design make us all feel fantastic. This is not to even mention how elegantly it welcomes guests into our warm and cozy homes.