Are you eager to organize your living space with some of the best storage basket ideas of 2020? While there are so many other storage options available to organize your belongings, baskets are by far the most practical. They're generally less expensive, easy to move around, and with so many sizes, colors, and designs they'll fit nearly any space you put them.
Storage baskets are so versatile. If you get tired of your living room basket, swap it with your bedroom storage bin for a breath of fresh air. Talk about ingenuity at it's finest. No matter where you place your storage containers – in cubbies, on shelves, under tables – they are the perfect way to store items while also adding charm to your home décor.
25 of the Best Storage Basket Ideas for Efficient Home Organization

If you've ever tried to organize your bedroom, bathroom, home office or kids' playroom, you've probably realized that you need some sort of storage container to keep your things stored together and clutter-free. Organizing your bathroom? Place baskets on shelves to display towels or underneath your sink to store toilet paper and cleaning supplies. Organizing your bedroom? You can use baskets to store laundry, blankets, books, and more. There are so many other cool ways to use baskets like for firewood storage, under-counter organization, pantry items, and so forth.
Baskets add a tidy look to your space and come in handy when you want to hide things out of sight in a clean and organized way. They're not only stylish but also add warmth and texture to a room. With so many options, it can be tricky finding the best storage basket ideas that fit each room's purpose while also fitting each room's style and décor. So, to save you time I've put together a list of some of the best storage basket ideas on Amazon that will fit any room of your home.
1. Rectangular Collapsible 3-Pack Storage Basket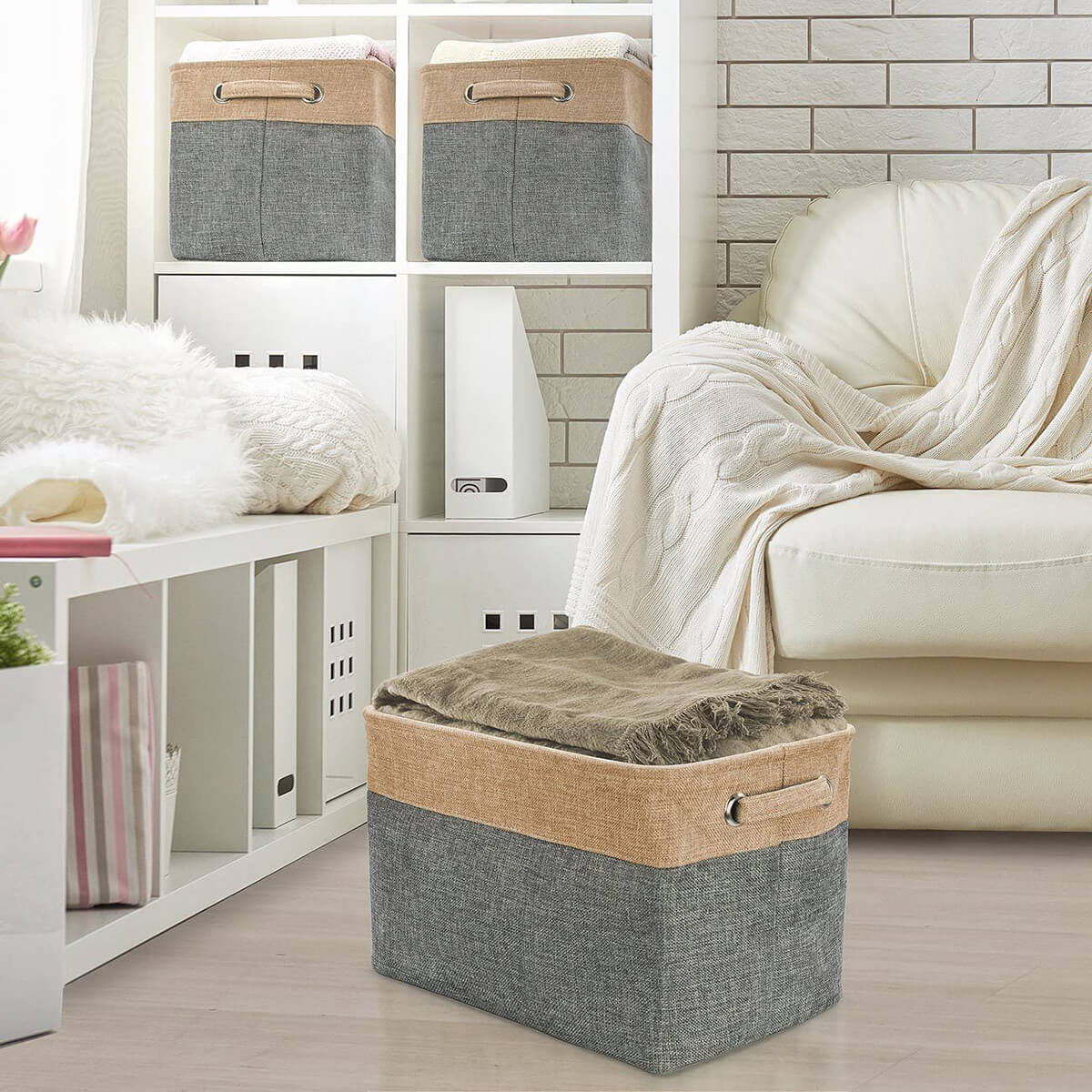 Now you can have a place for everything, with everything in its place. These collapsible storage baskets provide an attractive, lightweight solution for all your storage needs. These large rectangular baskets are great for storing toys, books, board games, clothes, seasonal items, and more. The grey and tan colorway make them stylish space savers for any room in the home. They're made of cotton and jute fabric with a linen-lined interior. They are easy to clean with just a dry or damp cloth. The wonderful thing about these baskets is that they can collapse flat for easy storage when not in use and feature built-in sturdy handles for easy carrying.
2. A Cute Cubed Storage Container for Kids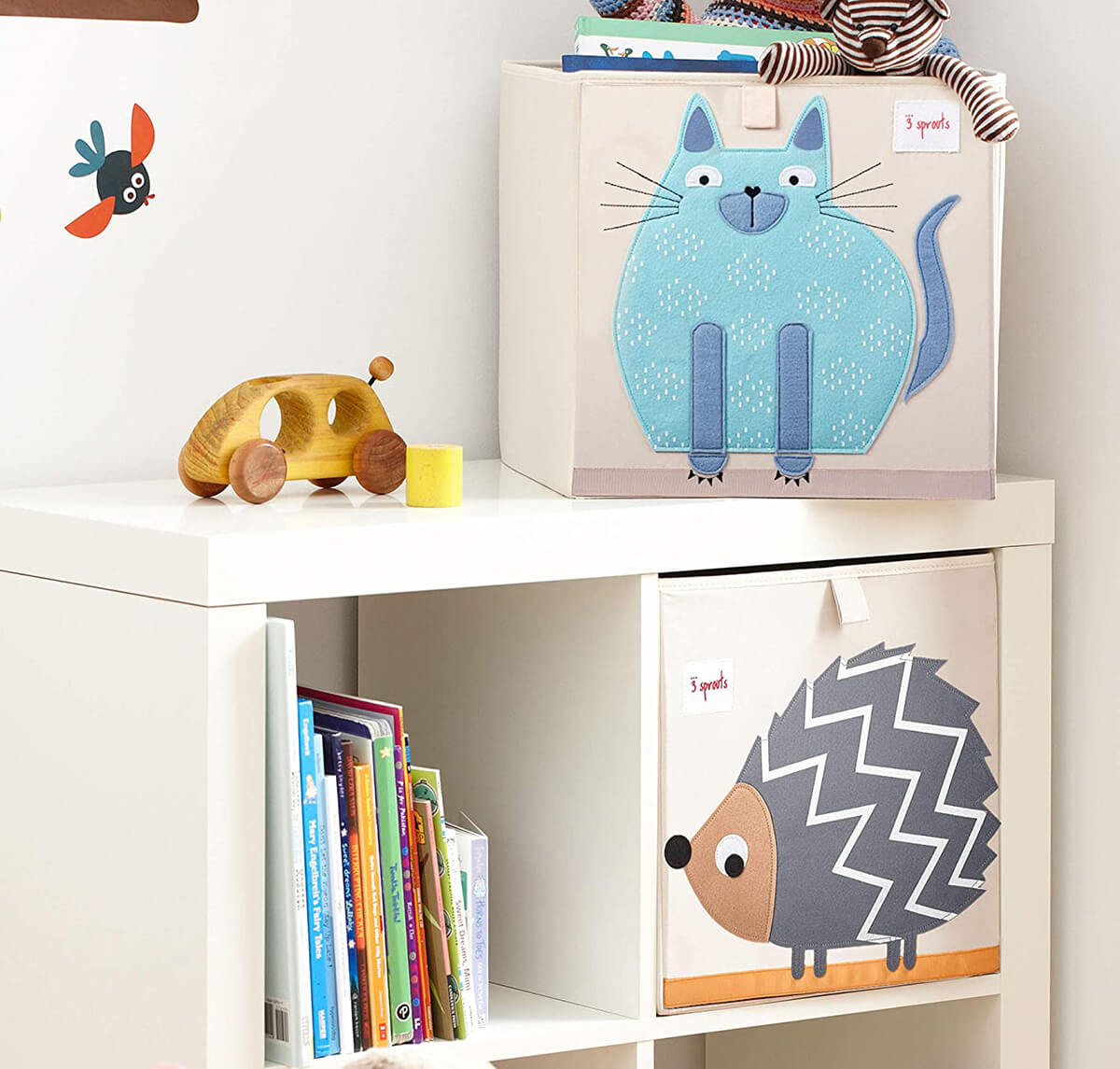 Make storing unboring with these adorable canvas storage boxes. The 3 Sprout storage box is the perfect organization tool for your child's bedroom or play area. They are made to fit almost any cubby hold shelving unit with reinforced cardboard sides for added durability. These storage containers are made of a cloth canvas with cute felt animal characters on the front. Choose from a safari, woodland, under the sea, or farm theme to fit the decor of your child's room perfectly. When not in use, simply fold them down flat and pop them back up when you need them again.
3. 2-Pack Foldable Fabric Small Storage Solution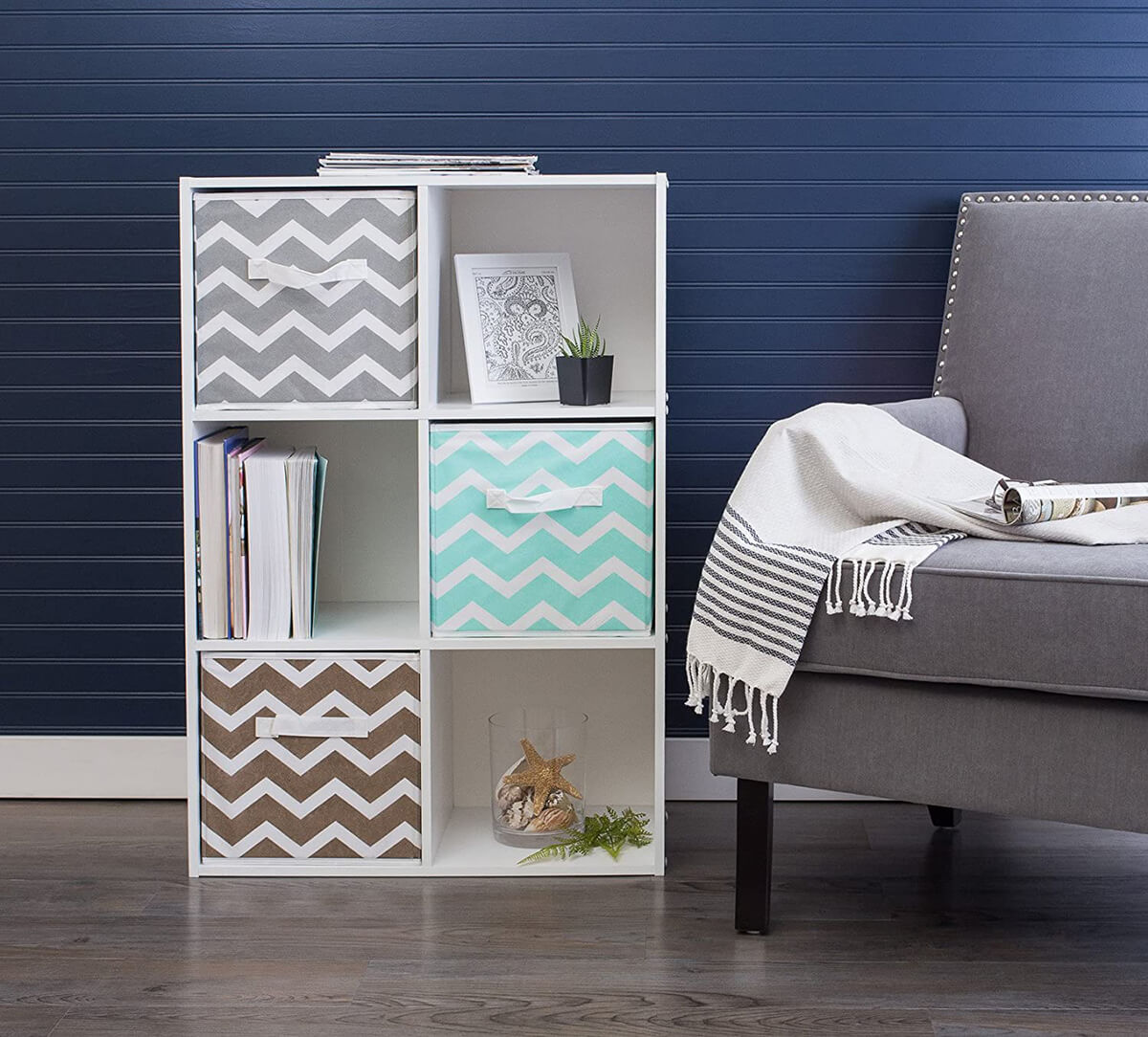 Keep your playroom, bedroom, and other areas of your home organized with these colorful folding storage bins. These stylish bins are the perfect size for most cube organizers and will add a splash of color to any room. Use them to store your knick-knacks, craft supplies, magazines, children's toys, and more. These baskets feature sturdy construction with cardboard sides and a removable bottom to give shape, add structure, and provide durability. They also fold flat when not in use. There are plenty of design options to choose from that will spice up your space in an instant.
4. Bone Dry Rectangular Toy and Accessory Storage Bin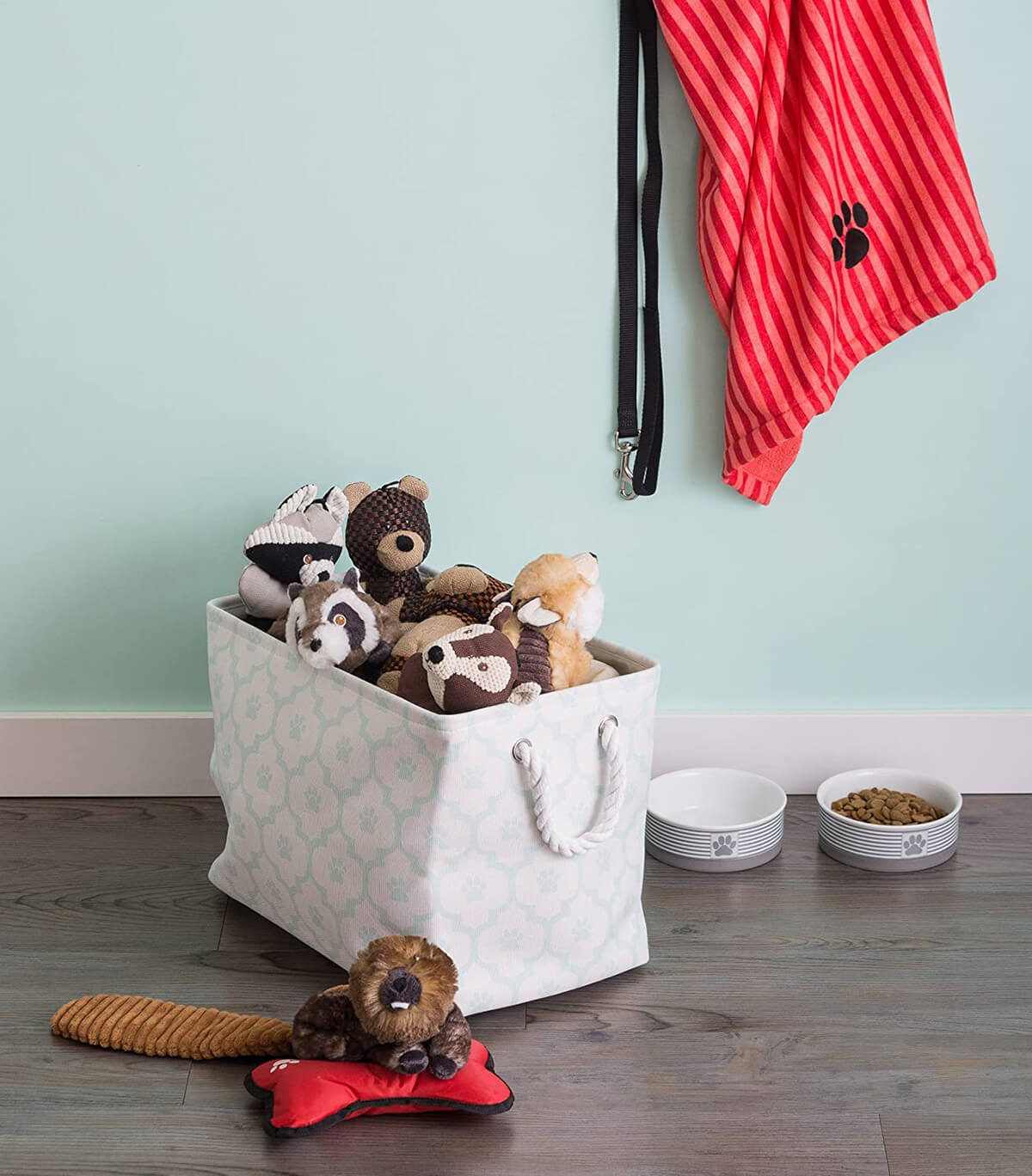 Cute and stylish for any environment, this basket makes a lovely decorative piece for your home. It features a refreshing paw print design and subtle texture with convenient handles making it easy and comfortable to transport or move when needed. Store dog treats, collars, leashes, toys, and other pet necessities inside. Having a set storage basket for your pet is an awesome idea to keep all your pet essentials in one place for easy accessibility. This basket can be easily cleaned with a damp wet cloth or sponge and holds approximately 20 pounds.
5. Household Essentials Barrel Storage Tub with Lid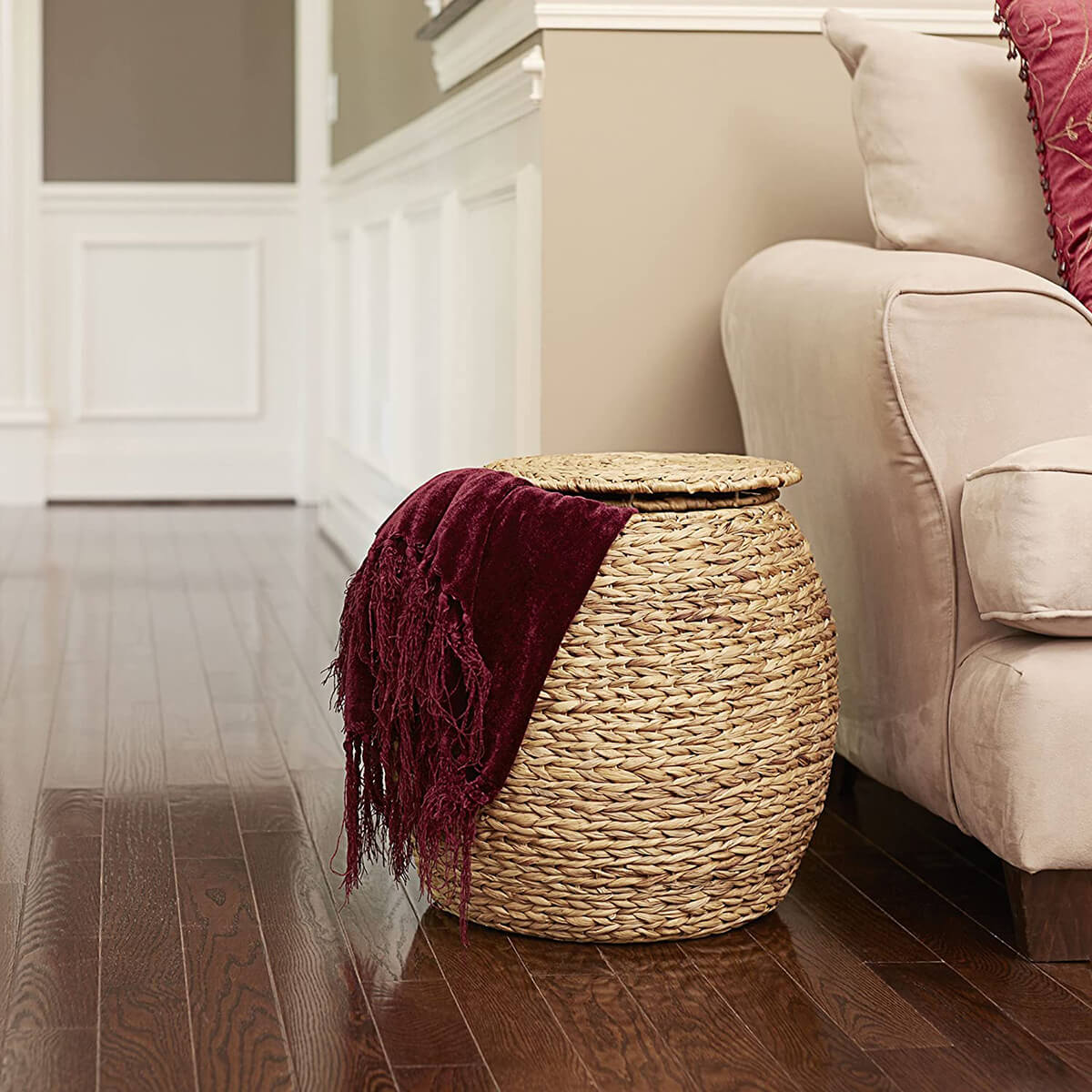 This charming woven water hyacinth storage basket features a large braided weave wicker design with curved sides and a removable lid. It's natural and organic style fits well with most decors and would work wonderfully in living rooms, offices, bedrooms, or even on the porch. This beautiful handmade basket can even be used as a seat which makes it such a unique and versatile must-have piece for your home. Its metal frame structure supports the basket's shape over time and can also support weight when used as a seat. This lovely wicker basket is the perfect blend of storage and furniture for a stylish look that's completely you.
6. Sleek Woven Storage Organizer with Handles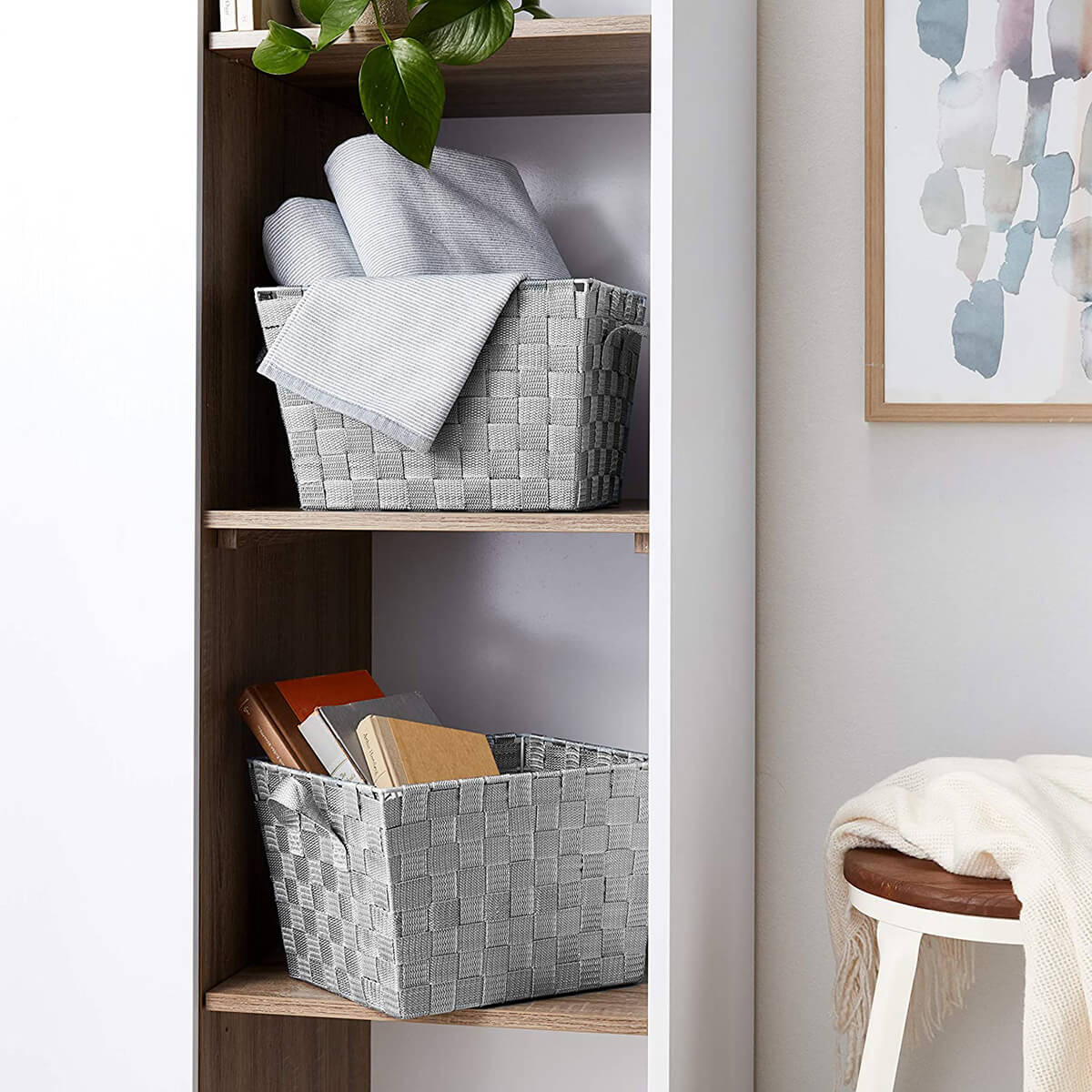 These portable woven baskets can easily transform a family room, closet, or bathroom with cleverly organized clothing, toiletries, linens, and more. Simply place the items that are a constant clutter in your space into these baskets and tuck them away on a shelf, desktop, or even inside drawers. The 3 bins included are lightweight, sturdy, and feature handles with a removable lid. The baskets can be stacked or displayed individually for all your space-saving needs. These decorative baskets are an excellent way to create functionality in the home. The possibilities are endless with this storage set.
7. 3-Pack Fabric Bins for Closet Organization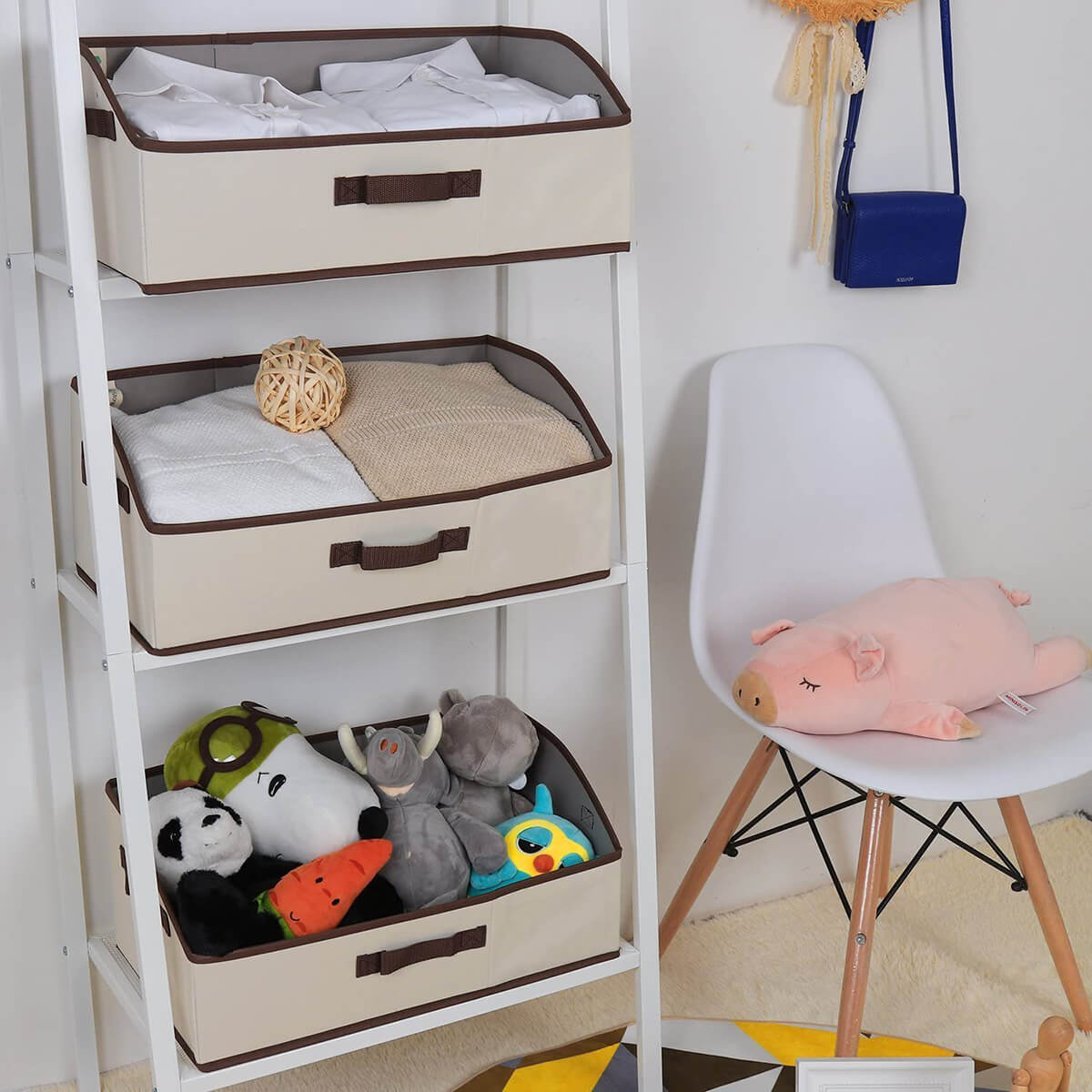 Looking for the perfect bins for the closet organization? These trapezoid fabric bins provide a clear view of what's inside and are perfect for towels, clothing, toys, books, office supplies, and more. These storage bins are made from a polyester canvas material with handles on all three sides making them easy to pull out when needed. The bins have a unique and thoughtful design with the front side shorter than the back providing a clear view of what's inside. Stack them up or set them side by side for a convenient storage solution for all your closet organizing needs.
8. Slide Under Wire Shelf Basket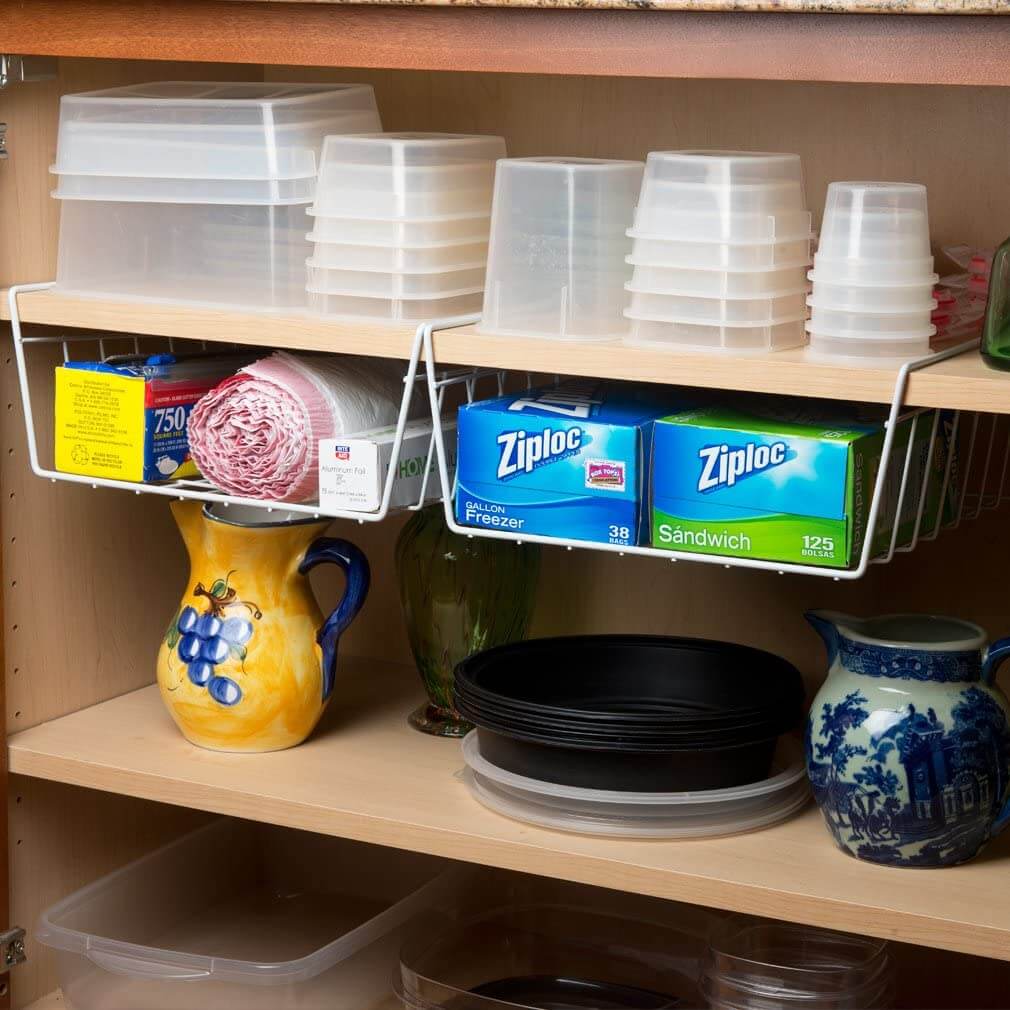 Add extra storage space in seconds with these 2 under shelf wire baskets. They're great for storing sandwich bags, foil, food, dishes, cleaning supplies, and more. These baskets are easy to install simply by sliding them onto an existing shelf with no hardware needed. The rubber tips on the arms help to prevent scuffing and movement when loading and unloading items. These wire shelves can be repeatedly moved for optimal storage without damage to your existing shelves. Their grid pattern design is lightweight, sleek, and sturdy with each one holding up to 10 pounds of weight without bending or breaking.
9. 6-Pack Collapsible Fabric Storage Cubes with Handles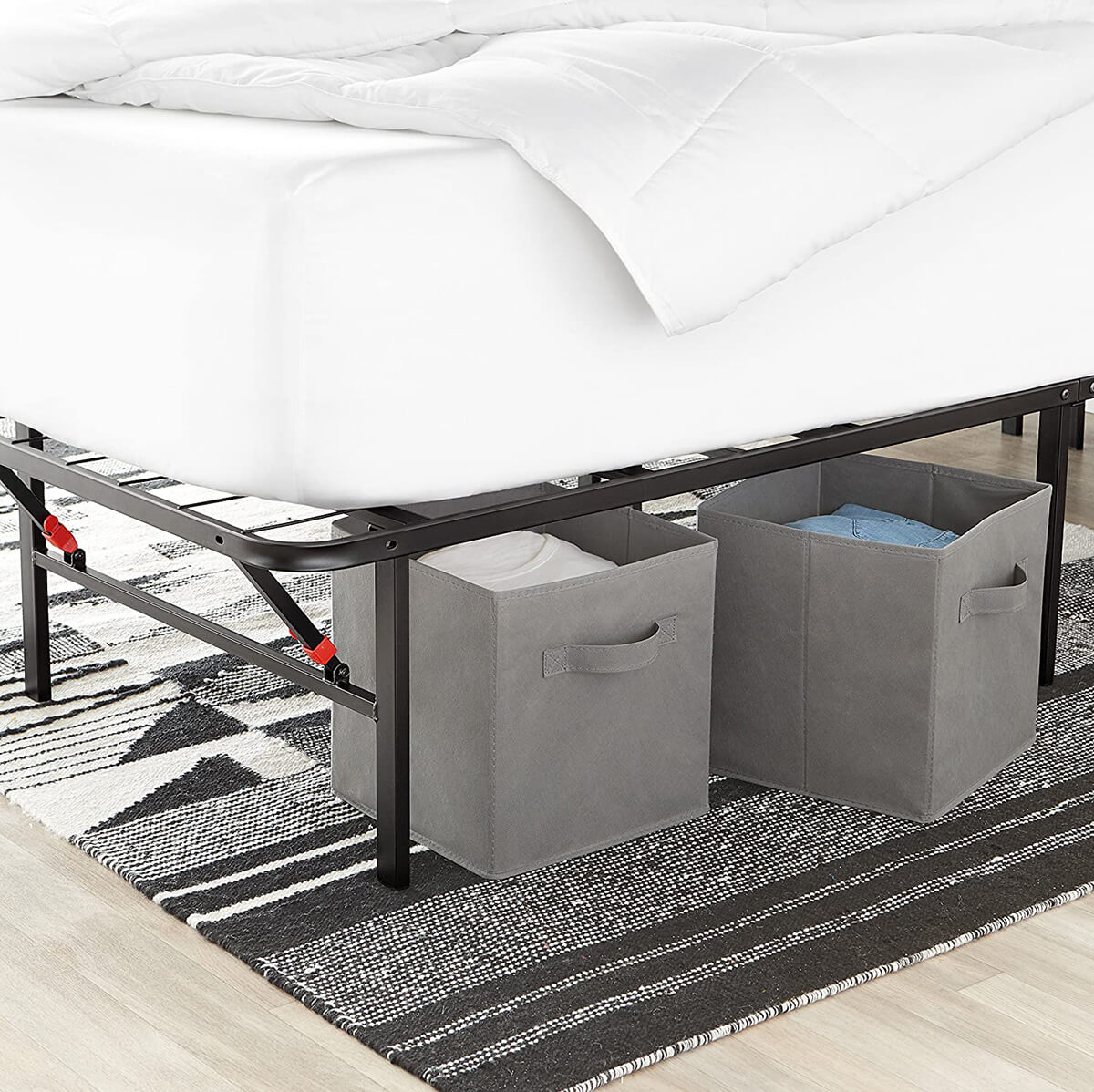 These functional open-top bins can be used as storage baskets or drawers when used with a cube organizer. They feature a lightweight, easy to carry, collapsible design and are made with a durable, breathable soft fabric. These soft-to-the-touch bins provide a gentle yet reliable space for organizing a variety of items. Store anything from clothes, stuffed animals, toys, linens, or hobby supplies. This 6-piece set offers a clean, smooth, and stylish aesthetic for seamless organizing around the home or office. When not in use, simply fold down the cube and store away easily without compromising additional space.
10. 5 Quart Stack and Pull Storage Boxes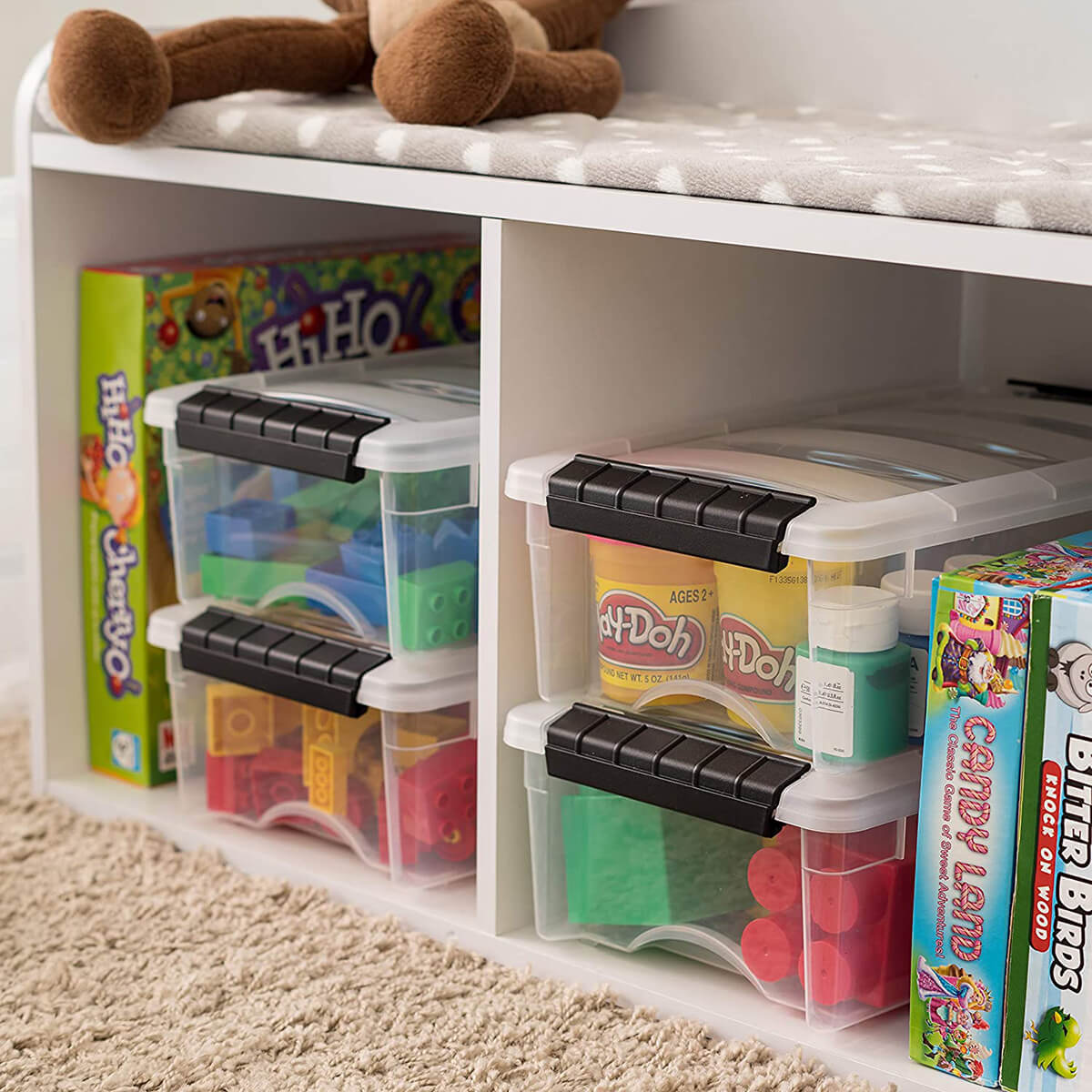 Make the most of limited space with these stackable storage boxes. This 10-pack organizational system features a unique, molded pull handle for easy slide-out removal and built-in buckle latches that snap into place keeping your belongings safe and secure. Each stack and pull box measures 14 inches in length, 8 inches in width, and stands 4 ½ inches tall. Store shoes, craft or office supplies, clothing, and other essentials neatly and efficiently. Stack multiple boxes on top of each other for a customed modular storage solution for everyday living. Those who purchased these stack and pull storage boxes love the snap lid feature and the overall quality of the bins.
11. 12-Pack Sterilite 6 Quart Clear Storage Boxes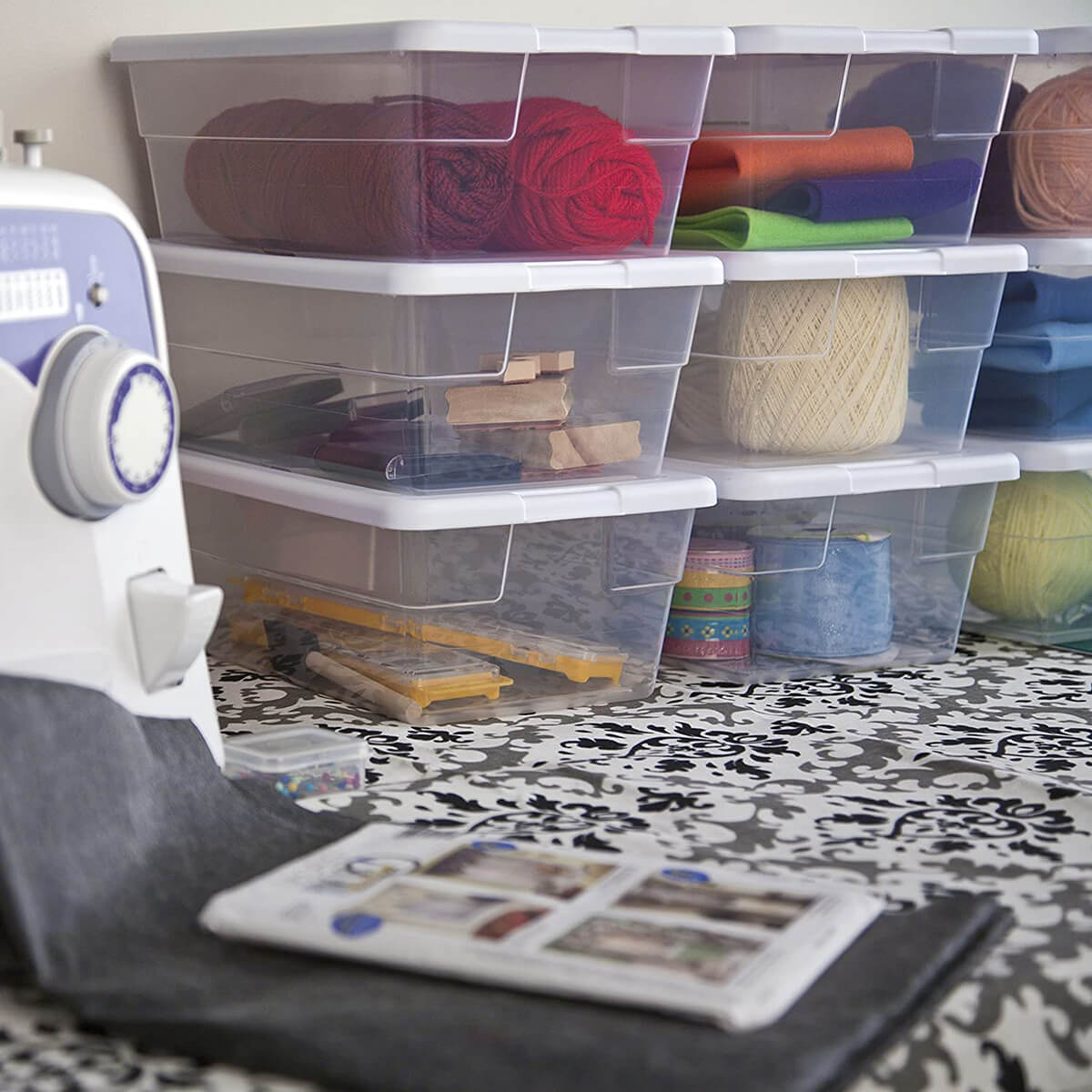 Get organized with this 12-pack of clear storage boxes. These are ideal for a variety of household storage needs and are sure to help make your living spaces neat and tidy. The clear base allows you to easily see what's inside at a quick glance and the opaque lid snaps firmly to keep the items inside contained and secure. Stack the containers on top of each other for a vertical storage solution while also saving space. These clear storage boxes are ideal for sorting shoes, accessories, crafts, and other items around the home. They would also make great holiday and tool storage boxes in the garage.
12. Vintage Chicken Wire Baskets with Removable Liner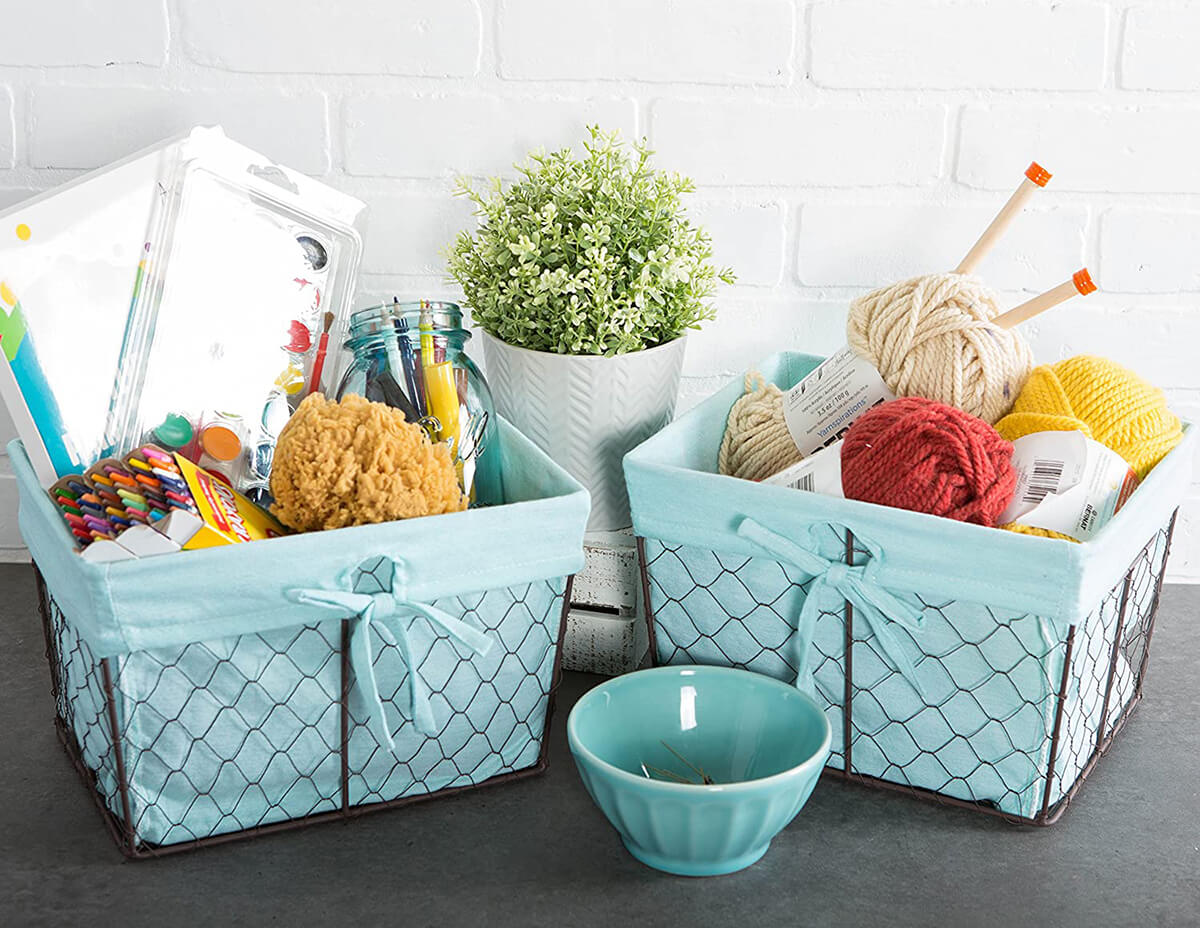 This beautiful 2-piece set of vintage chicken wire baskets offers a versatile storage option for the kitchen, pantry, bathroom, laundry room, nursery, and more. They feature a poly-cotton blend fabric liner that's machine washable and constructed to maintain its shape when placed inside the baskets. The baskets are food safe so you can use them in the kitchen or pantry to fill with fruits, vegetables, baking supplies, and more. These metal baskets come in 7 different colors to fit your own unique home décor style. With a removable liner, you can have two looks in one for a versatile basket with a variety of uses.
13. Gourmet Basics 3-Tier Metal Market Basket Stand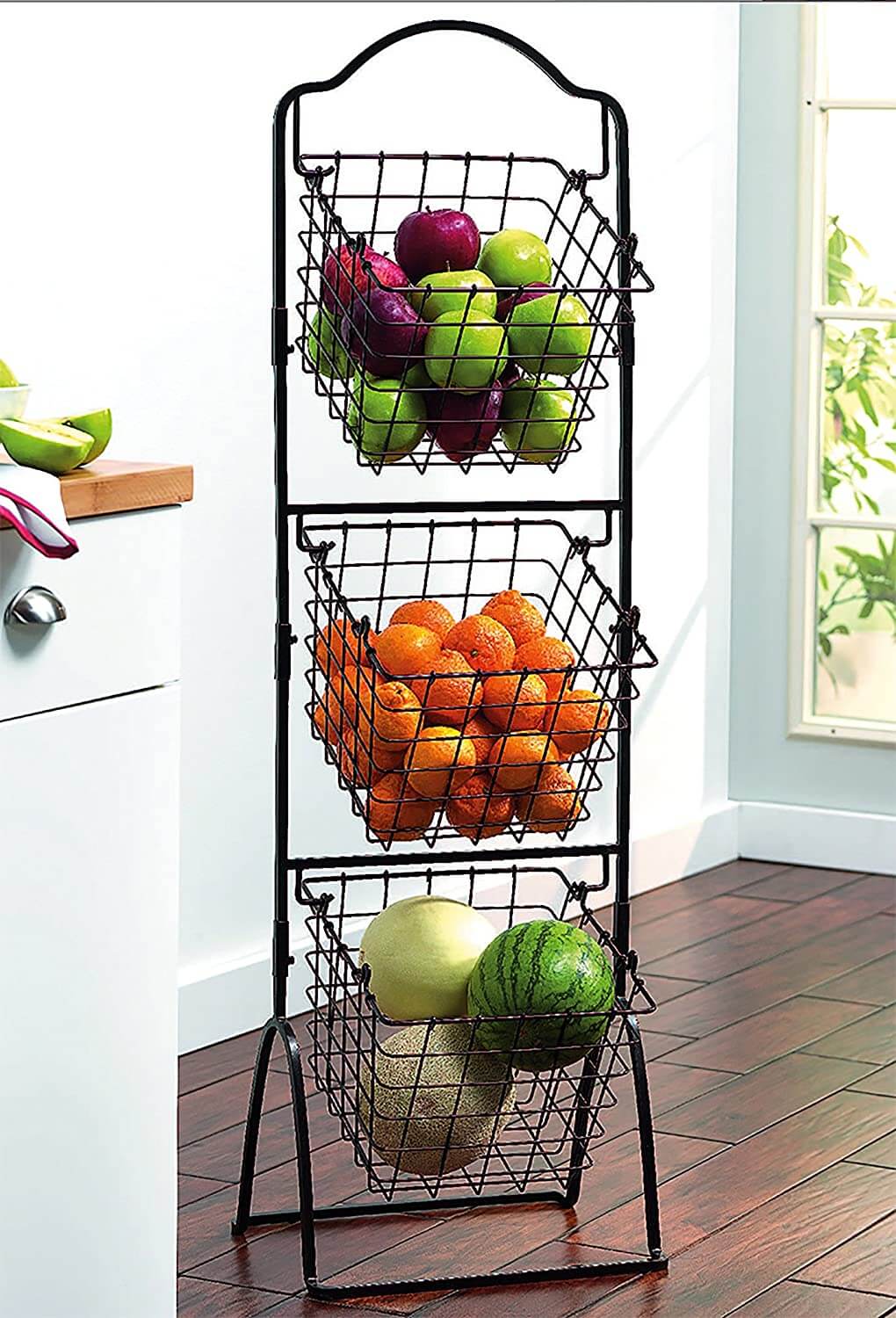 This floor standing tiered basket takes home storage to the next level quite literally. Now you can help minimize the clutter and maximize space in any room of your home with this basket stand. These wire baskets can even be used separately to keep things contained in the open or tucked away in a cabinet or closet. Each basket measures 11 inches high and 11 inches long and is great for storing or displaying food, linens, toiletries, baby items and so much more. With this basket stand's unique design, you can even use it to hold flowering plants on your porch or patio.
14. Wooden Decorative Storage Container with Linen Insert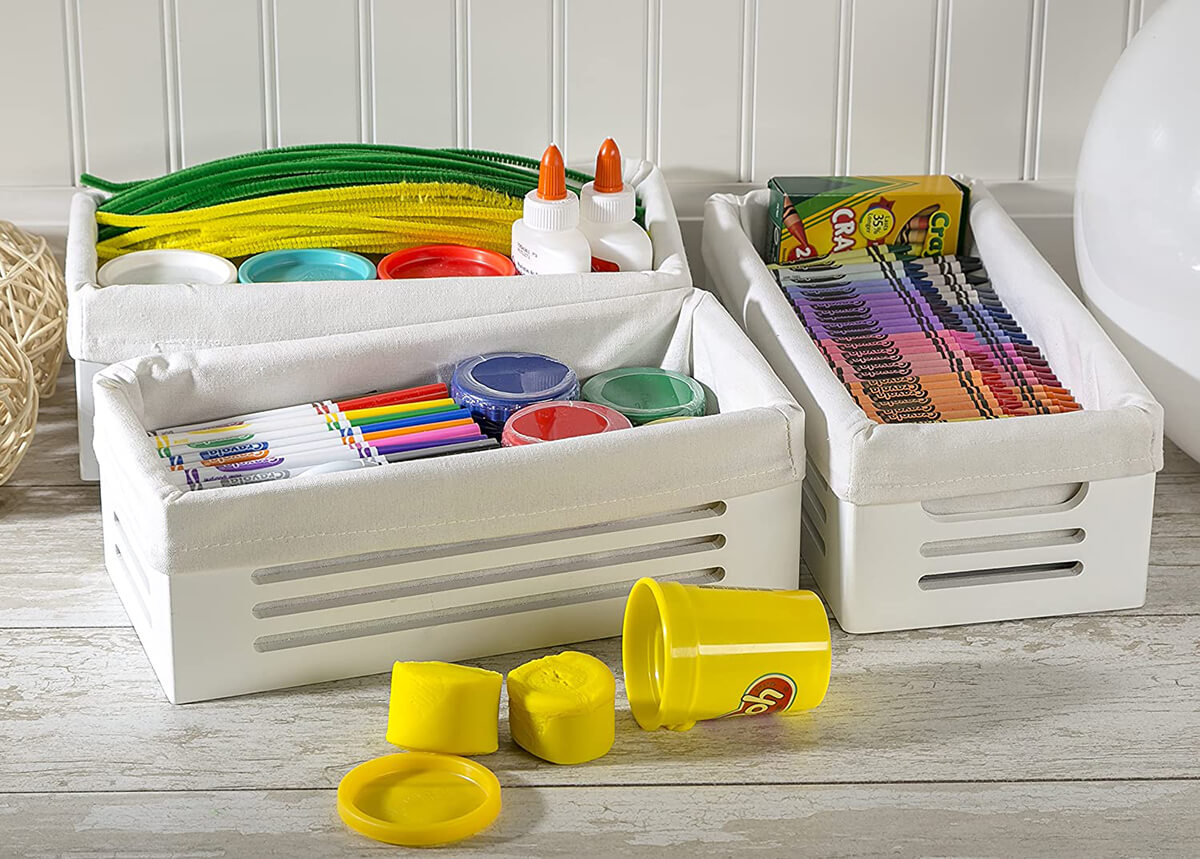 Wooden crates are all the craze when it comes to in-home storage solutions. These decorative storage boxes are available in four sizes and features built-in handle holes making it easy to grab the bin and go. Each bin includes a soft removable linen lining that's moisture-resistant to prevent mold development if used for storing food or bathroom supplies. Use the bins for storing baby and diaper essentials, toiletries, pantry items, and more. These decorative wooden organizers will look good in any room of the home with their natural wooden exterior and white fabric interior.
15. Rustic Farmhouse Kitchen Storage Basket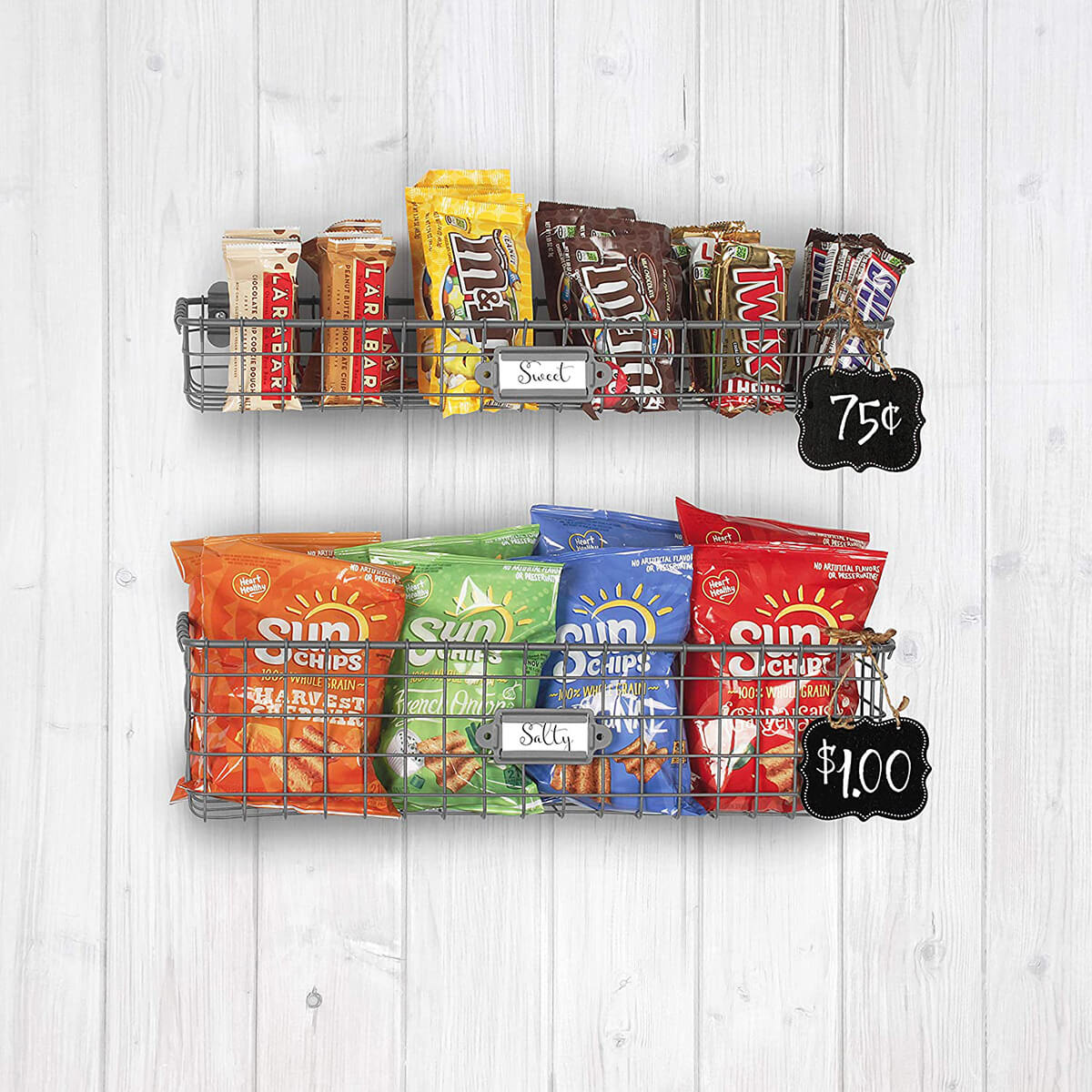 If rustic farmhouse is your home décor theme, then you'll love this vintage style wired storage basket. Use these bins for organizing your kitchen, pantry, bathroom, office, entryway, or closet. They'll work in any room of the home and can hold a variety of items without bending or buckling due to added weight. This vintage-style basket adds character without looking outdated and doubles as a décor statement piece. This basket can also be personalized with a label plate included. Let your family members know what's inside by labeling the nameplate so everyone knows what's inside.
16. Sterilite 12 Gallon Industrial Tote with Hinged Lid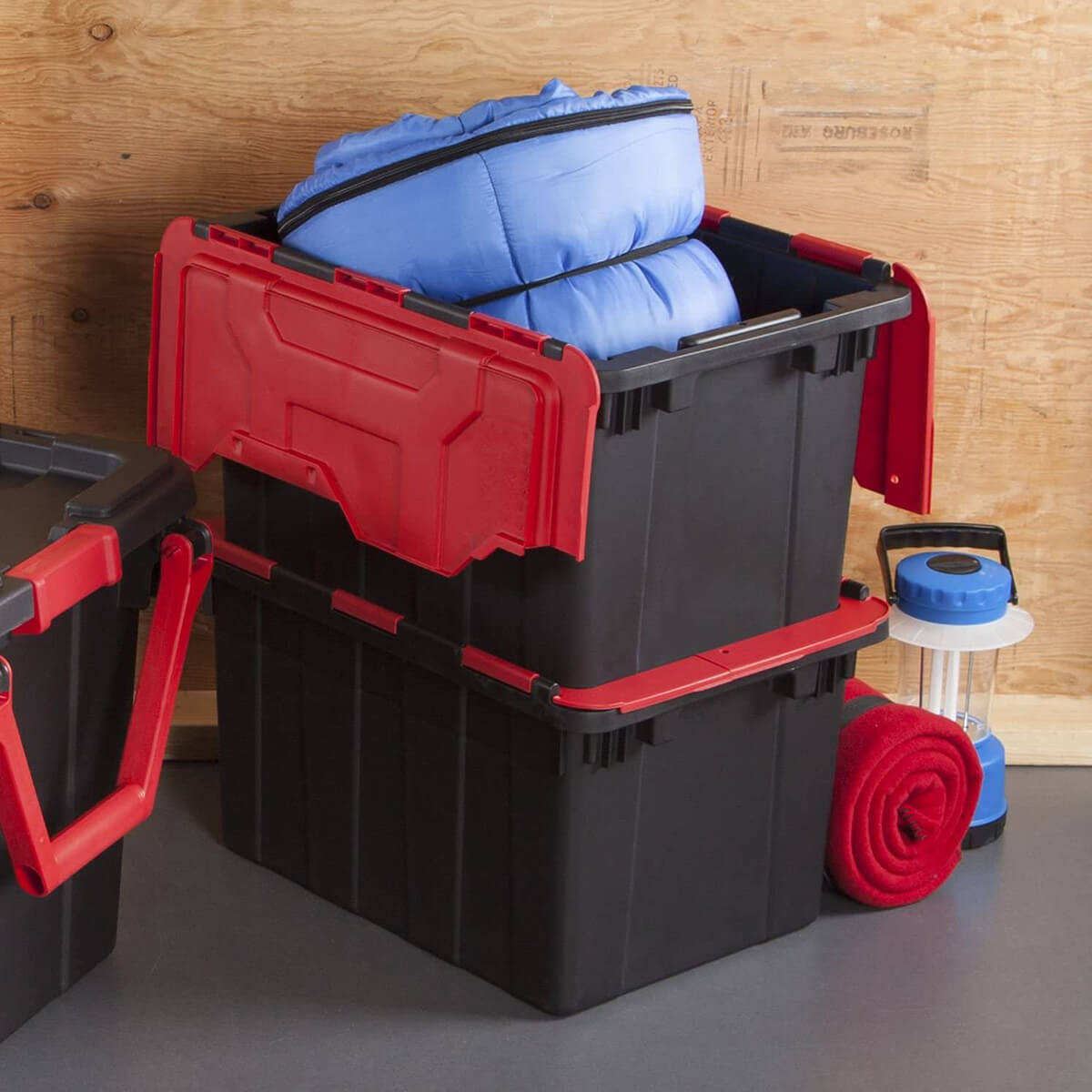 Bring order to your basement, attic, or garage with these industrial size totes. These 12-gallon totes feature a sleek black exterior with a red hinged lid for easy access. Store your items in confidence knowing the contents inside will stay protected. The recessed lids also provide secure stacking which is great for areas where you may be tight on space. These totes also feature integrated, contoured handles for comfortable grip and transportation. This ideal all-purpose tote will not only serve all your storage needs but also conveniently store lawn supplies, camping equipment and come in handy if you ever plan to move.
17. Whitmor Rattique Blue 3-Pack Storage Set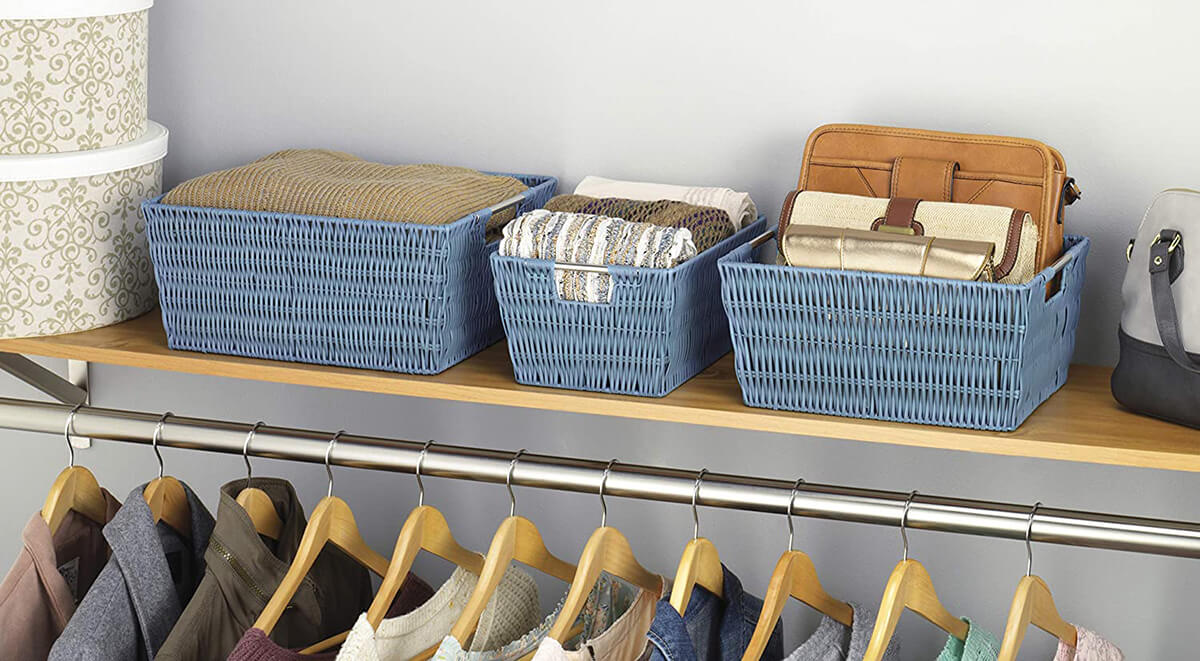 Storing your clothing, bath and beauty products, toys and other household items has never been more convenient than with these storage cubes. This 3-pack storage set is the perfect size to tuck away in closets, cubes, and shelves and will have your space organized quickly and efficiently. These containers feature a durable metal frame with handwoven polyethylene plastic strapping. They have built-in stainless-steel handles for easy transport and added durability. They are easy to care for by simply wiping clean with a damp cloth. With five color options to choose from, you are sure to find a set that fits your home decoration style.
18. Vintage Wall-Mounted Wire Basket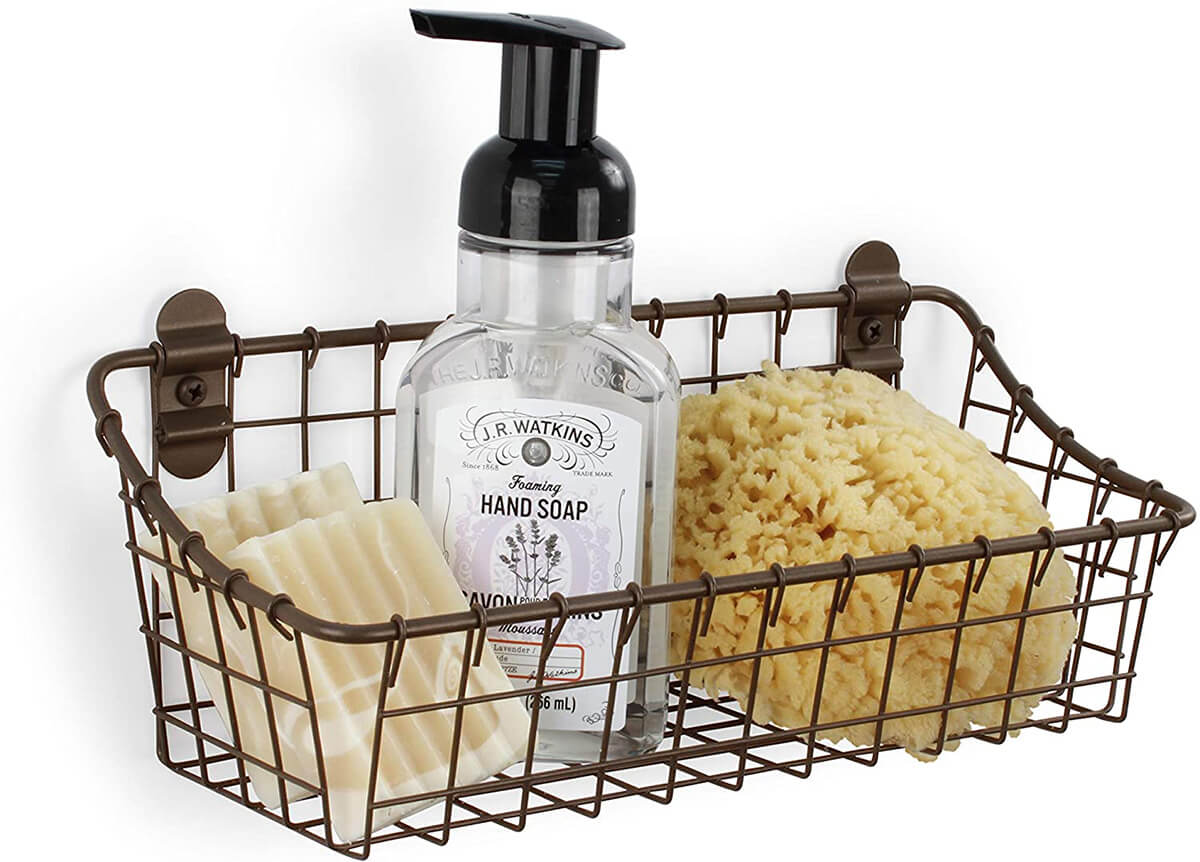 Spruce up your organization and home decoration style with this multi-functional vintage-inspired storage basket. This basket is great for the kitchen, laundry room, bathroom, craft room, and anywhere else you need storage solutions. This wall-mounted wire basket doubles as décor for a streamlined and stylish organizational system. The built-in brackets on the basket are designed for easy mounting with all the hardware included. The open and easy-reach basket design allows you to easily view everything inside. The front end of this basket is slightly lower than the back to make it easy to grab what you need quickly and easily.
19. Stylish Woven Water Hyacinth Magazine Storage Basket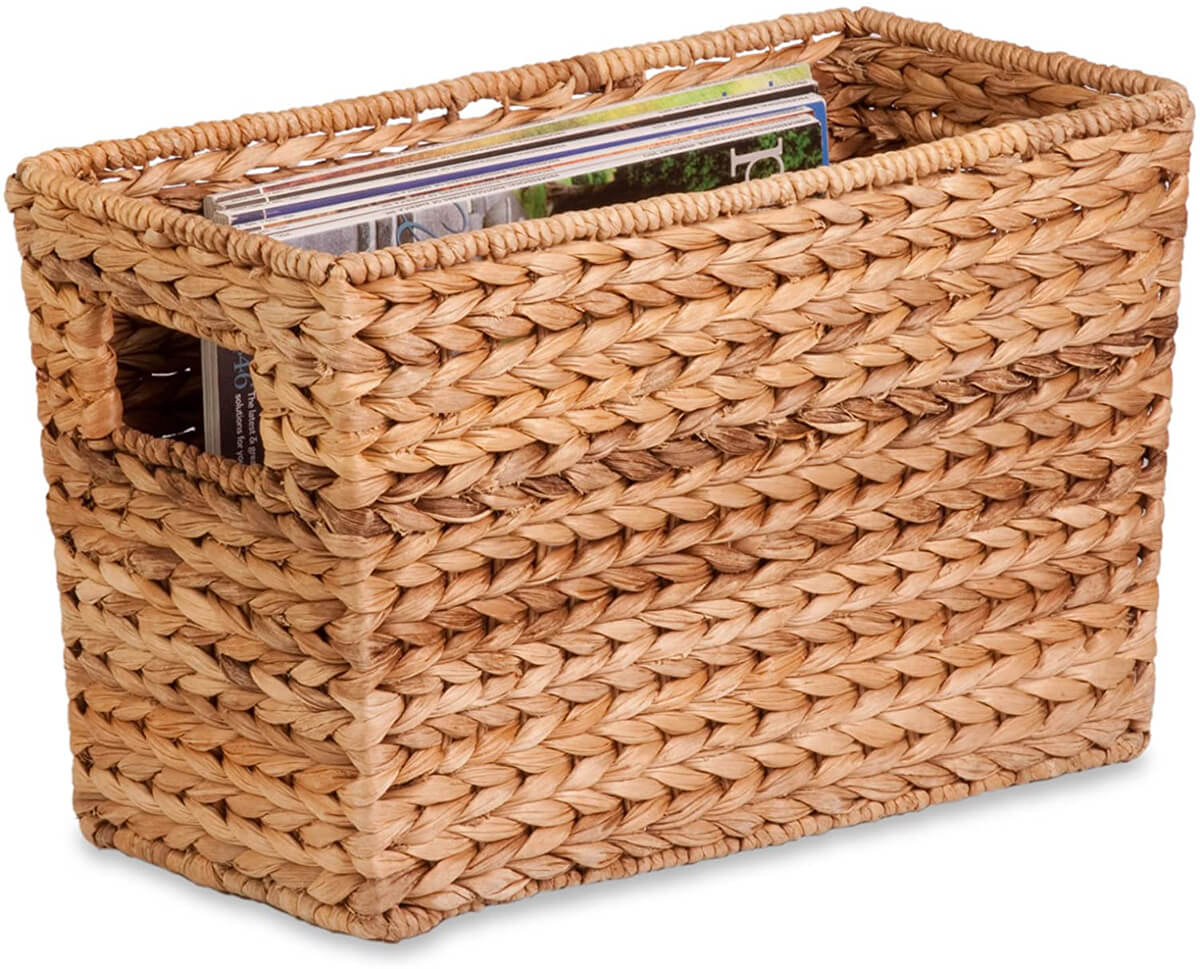 Conveniently store all your books and magazines in this super stylish and trendy woven basket. This gorgeous basket is made from a natural water hyacinth material with easy-grip handles and a durable iron frame. Its sturdy construction will not scuff or scratch tables either which is a great feature if you'll be placing it on a desk or tabletop. Its rectangular shape allows it to fit in narrow spaces, making it suitable for bathroom or bedroom reading material. Some people have even used this basket by their sofa to store their television remotes, notebooks, glasses, and tissues. Add natural aesthetics to your space with this rectangular woven basket.
20. Whitmor Rattique 3-Part Storage Container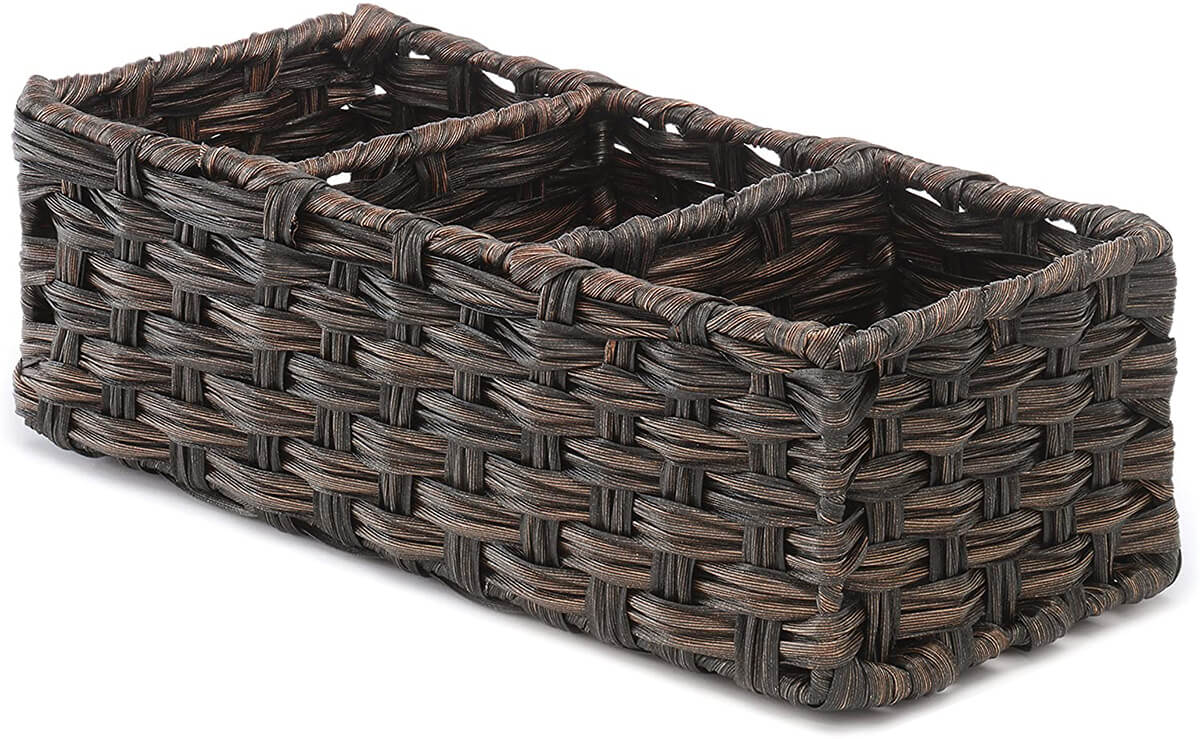 Whitmor has been bringing organization to homes for over 70 years. This 3-section split rattique tank topper was made with the organization as its top priority. This basket looks like a split rattan but is actually made of a durable and easy-to-clean woven plastic. It's constructed using a sturdy wire metal frame for added durability and is easy to clean by wiping down with a damp cloth. The 3-part design of this basket allows you to organize multiple items in one convenient place. Now you can attractively contain life's little essentials with this beautiful basket.
21. 2-Tier Countertop Fruit Basket in Chrome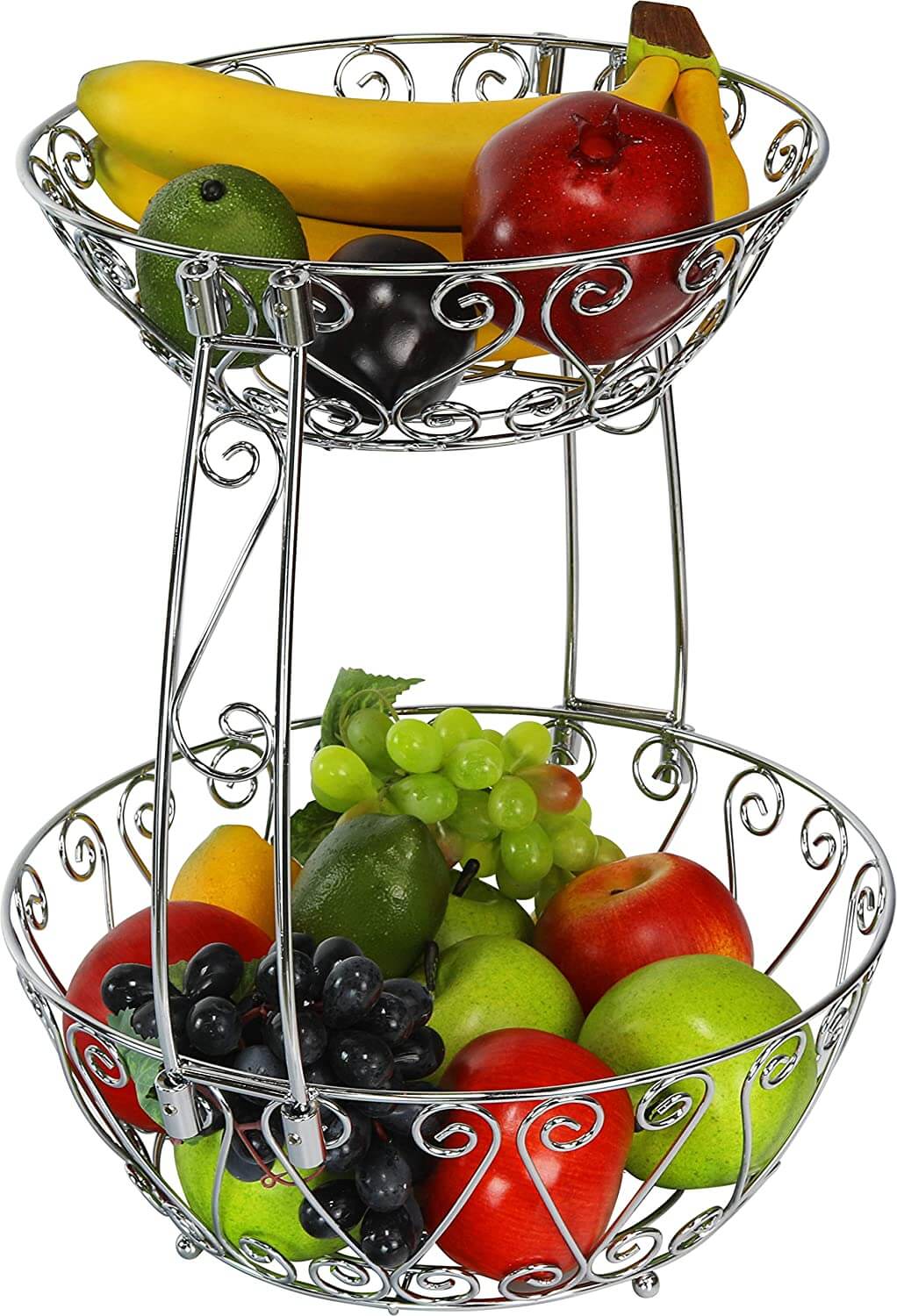 This 2-tier fruit bowl features an elegant and simple design with a chrome finish that will add style and flair to your kitchen. Use these basket bowls to hold various sized fruits like apples, oranges, bananas, and more. This fruit stand also includes a banana hook that's easy to install when you have fresh bananas on hand. The basket is easy to put together and comes with everything you need. Each wire basket bowl is large enough to hold several medium-sized fruits without bending or losing shape. This fruit stand would make the perfect addition to your kitchen countertops or office lunchroom.
22. Large Cotton Storage Bin with Handles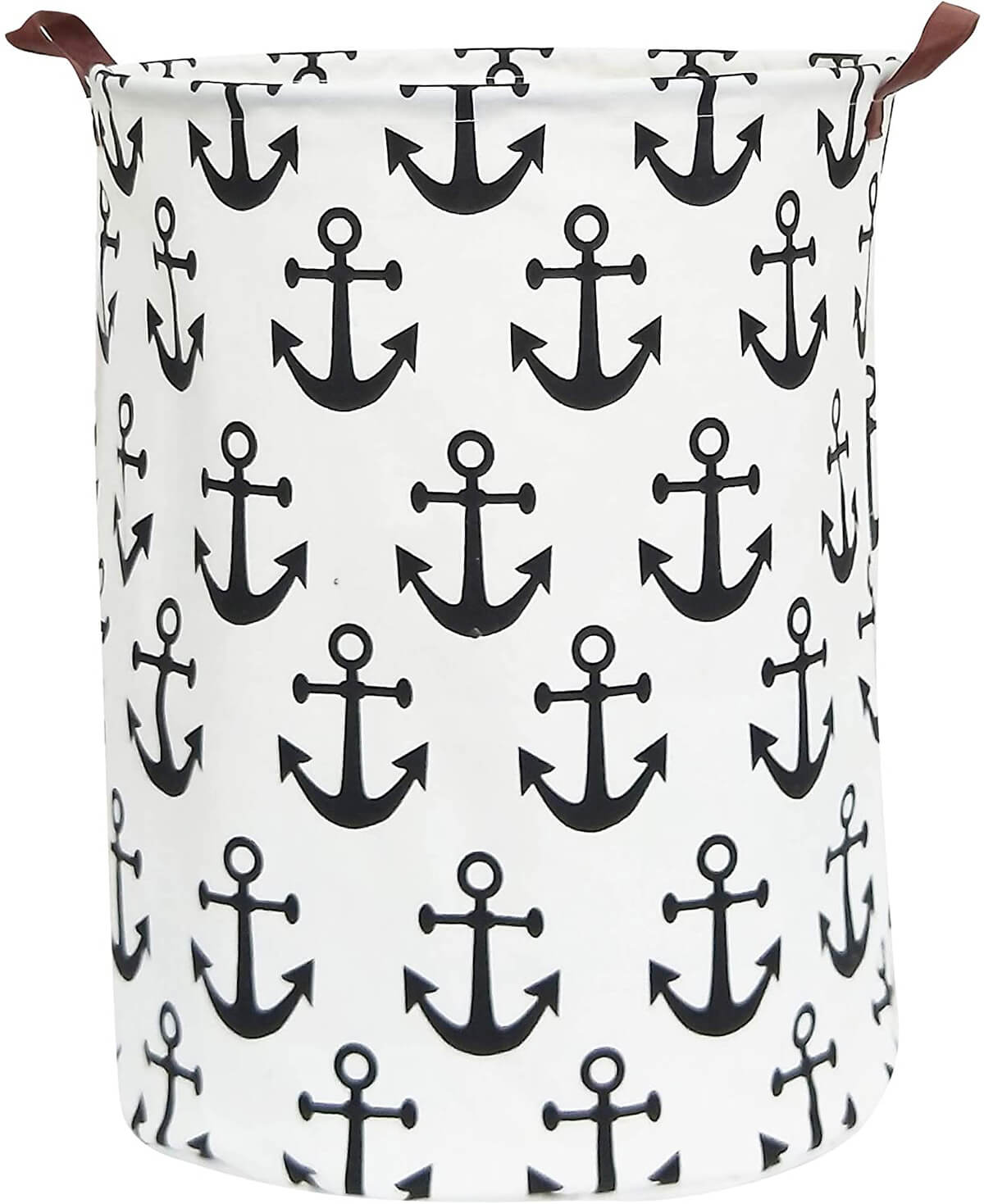 Add character and personality to your home with this large storage basket. Available in over 30 cool prints and colors, this storage basket is perfect for a nursery, housing toys, stuffed animals, or as a laundry hamper. It's made of natural cotton and linen material with a waterproof lining. It's also equipped with two leather handles on each side making it easy to move, convenient, and functional. This basket holds a large capacity and is also collapsible so it can be folded when not in use. People are raving about these bins versatility and are using it for everything from laundry and blanket storage to even housing items when moving.
23. 6-Pack Foldable Cloth Storage Cubes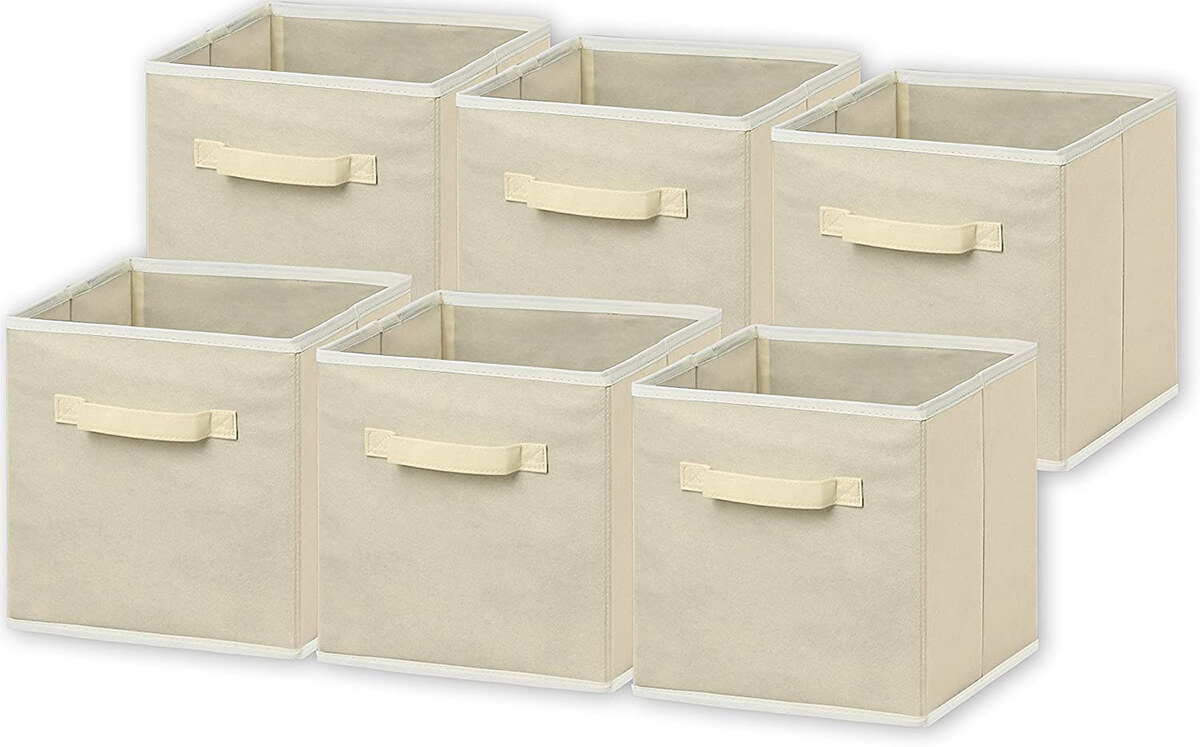 These lightweight, foldable cloth storage cubes are an awesome idea for home organization. They come in a pack of 6 and are available in a variety of colors to fit your home decoration. When not in use, you can easily collapse the bins to save on space. Each bin includes 5 heavy cardboard inserts for each side and bottom for added sturdiness and durability. Each bin also features a fabric drawer handle for easy access. Use the bins on shelving or inside a cubed organizer to store your kids' toys, office supplies, clothing, bathroom essentials, and more.
24. Folding Plastic Stackable Utility Crates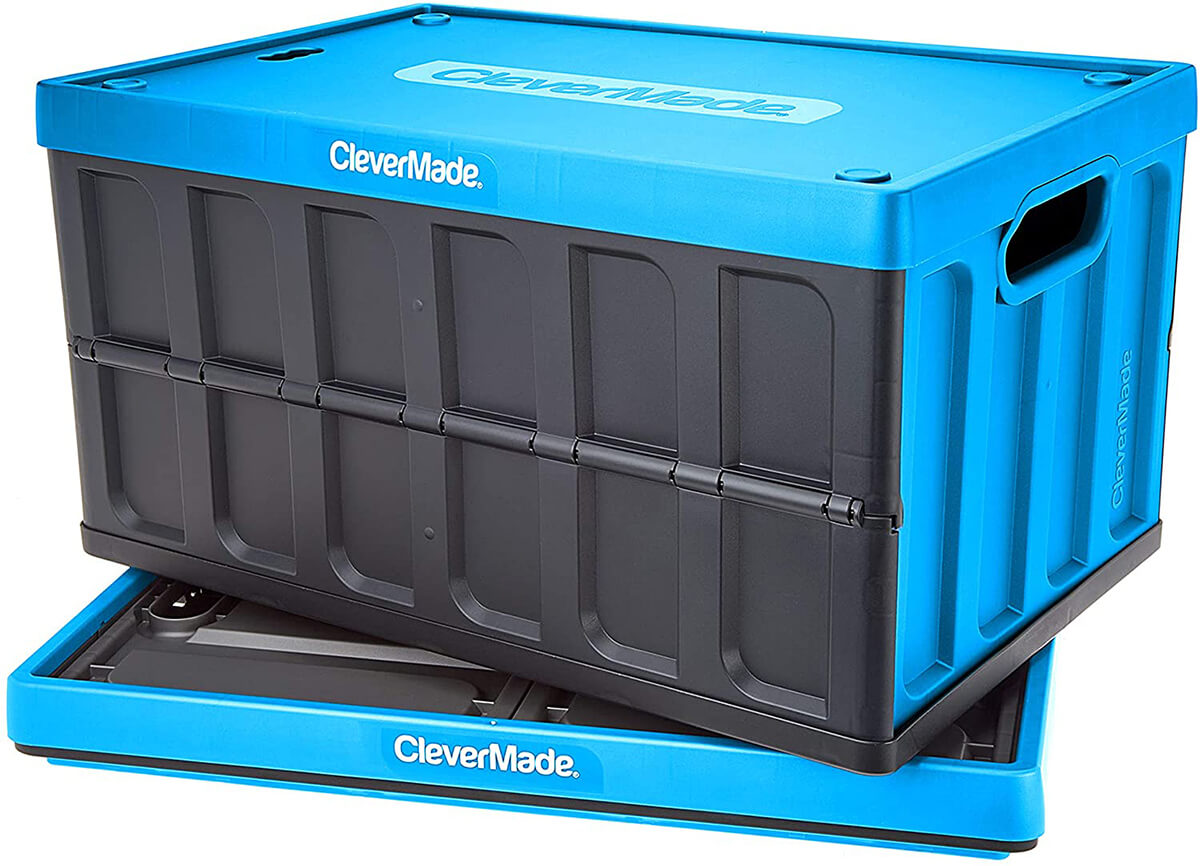 Clevercrates are designed for exceptional durability. These all-purpose utility crates will exceed all your storage expectations. They feature a comfortable ergonomic side grip for handles to make lifting a breeze and can hold a maximum load capacity of 100 pounds. These crates are stackable both when collapsed and when opened through an interlocking nesting system. The lid can also be secured on the bottom or top of the crate for added functionality and versatility. Use them in your garage for tools and sports gear, on your patio for gardening tools, in your car for groceries, or at your business for all your storage needs.
25. Stackable Plastic Organizer Storage Bins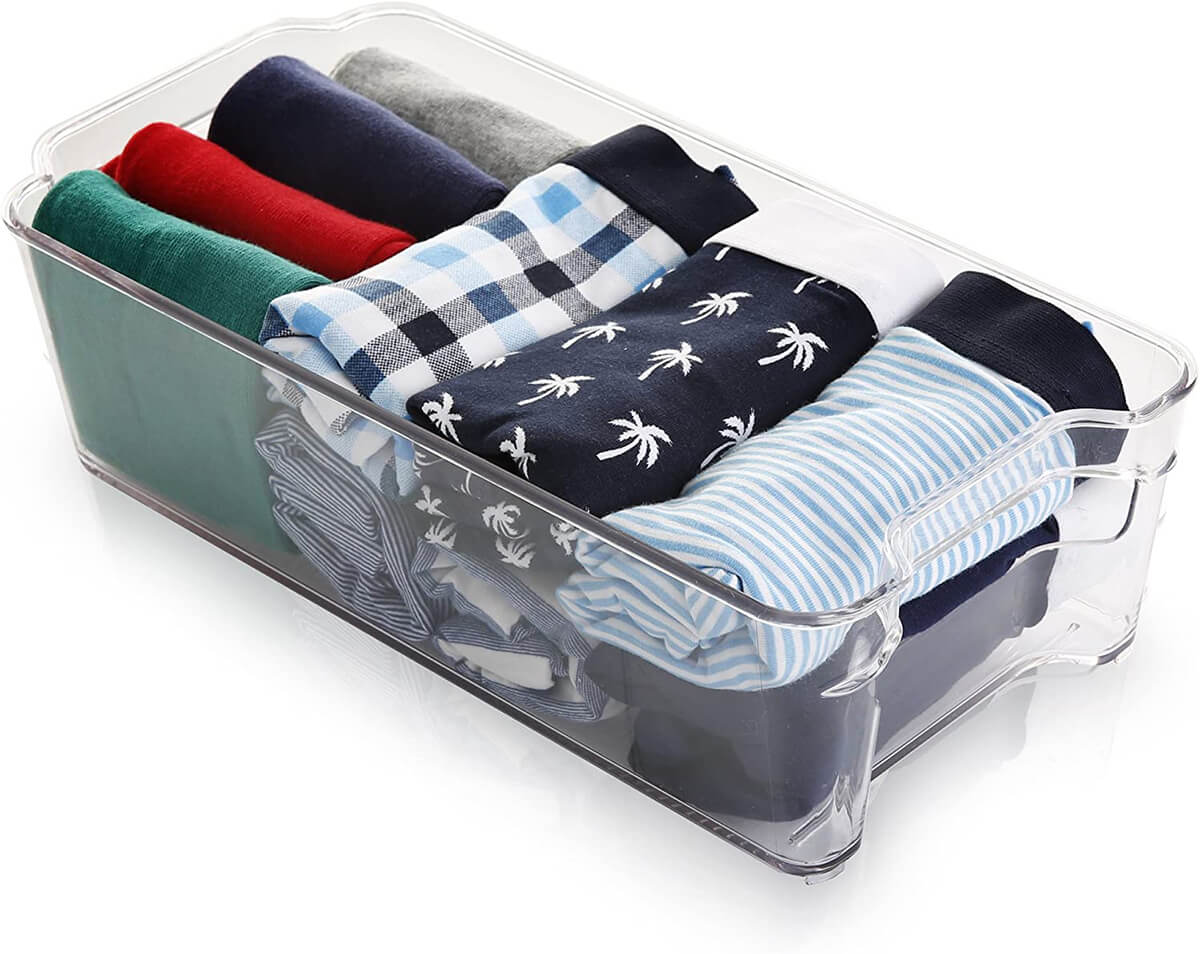 Tight on space? These stackable storage tubs are designed for a variety of uses with a sleek style to maximize your storage space. They're great for storing dry goods, canned goods, and snacks in the pantry or for storing food packets, cheese, meat, and drinks in the refrigerator. They are made of lightweight, durable, and clear shatter-resistant plastic and are available in 4 sizes. These organizers also feature built-in handles making stacking and transporting a breeze. They're the perfect size that will meet and exceed all your storage needs in any room of the home.
25 Storage Basket Ideas that will Get Your Home in Order in no Time
Baskets are a clever home decoration solution that you can never have too many of. They're sturdy, durable, provide plenty of storage solutions, and are simply stunning no matter where you place them. Baskets can be made of plastic, wire, wood, natural fibers, canvas, and various other materials. They come in a variety of colors, shapes, and sizes and can have lids or handles as well for easy transportation.
Add a few baskets in your living room for an easy place to store throw blankets, pillows, and even books when you need the extra space. If you have open shelving, add baskets to make your shelves look organized, uniformed, and clutter-free. If you have a smaller bedroom or you're tight on space, use baskets for under-the-bed storage. You can stash your seasonal clothing, shoes, collectibles, and other belongings easily underneath your bed to keep them out of sight, yet still have the option to pull them out when you need to access your stored items. Baskets are wonderful tools as well when it comes to tidying up. If you have young children with lots of toys, baskets are an easy and efficient way to clean up quickly and tuck in the corner when you have company.
Now that you have great ways to use your baskets along with a list of the best storage basket ideas on Amazon, you're on your way to having that neat, organized, and stylish space you've been dreaming about. Happy Organizing!
Our Favorite Rustic Chic Decorations to buy on Amazon