To make going to work or school at home a bit more exciting, your house can benefit from some of the best study room design ideas to breathe more life into the area.
It is easy to overlook the study area when you are decorating your home. Many people commonly go the most simplistic or straightforward route by adding a chair, desk, and perhaps something on the wall that tends to be more functional rather than stylish. This may be because no one wants so many distractions lying around, and this is true whether the study room is used for work purposes or if it is used for schooling.
18 Standout Study Room Decor Ideas for Your Next Makeover Project

Even so, there are still several cool ways for you to add some decorations without making the room too overbearing to get anything done. Rather than go for a standard desk, focus on how many drawers you want or how much surface space is available for you to add smaller trinkets or decor on. You can even hang stuff on the walls from artwork, to pictures of family and friends. If you wish, you can also go for functional decor that provides something you can use like a corkboard.
Greenery is another good choice to add some more color to the room. Otherwise, you can focus on brightening up space through the furniture choices by choosing lighter-colored chairs or opting for decorative lighting.
If you feel like you have no clue where to start, you can check out some of these study room decor ideas to get a head-start on your next home project
1. Cool Modernized Double Workspace Setup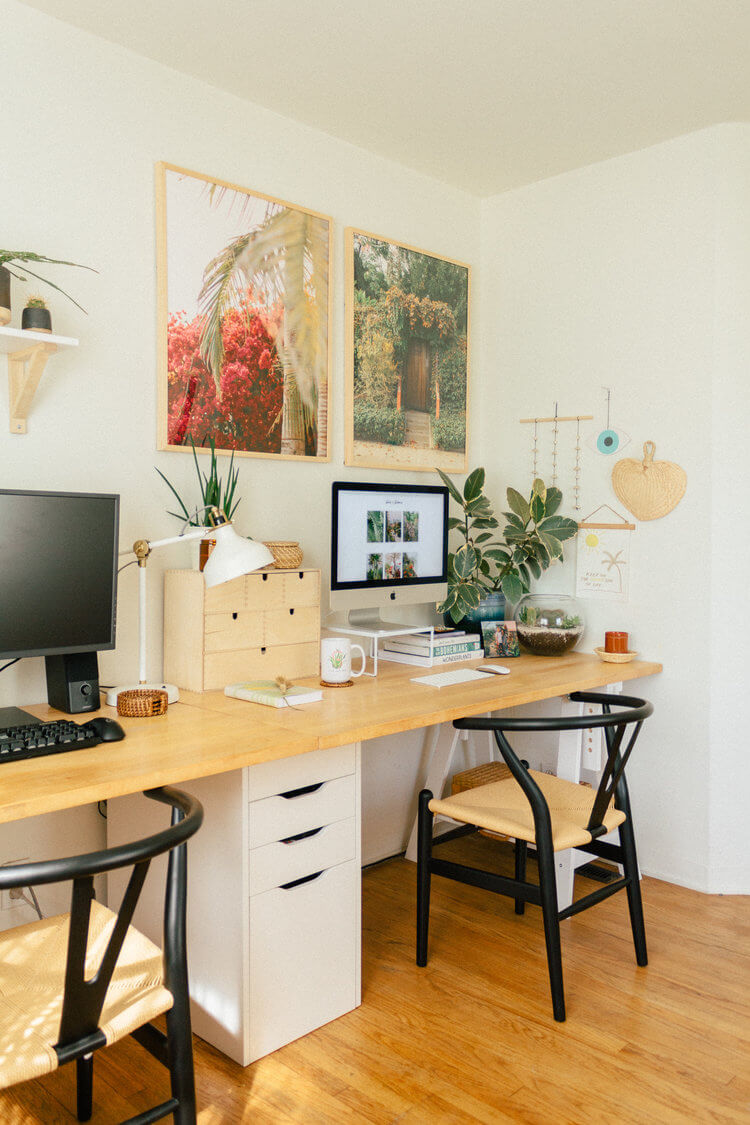 When more than one person in the house needs to work, it helps to have a two-person desk as they tend to offer a design that is sleek and more attractive. It is also an awesome idea when you need a space-saving option. This way, you have plenty of room to set up a workspace and still add some decorations from books to potted plants and flowers. Don't forget the walls in this scenario. If they're white, then they offer a wonderful space to add some colorful framed artwork or pictures. You can even consider some floating shelves to provide additional decor or room for necessary items.
2. Rustic and Modern Blend Office Room Decor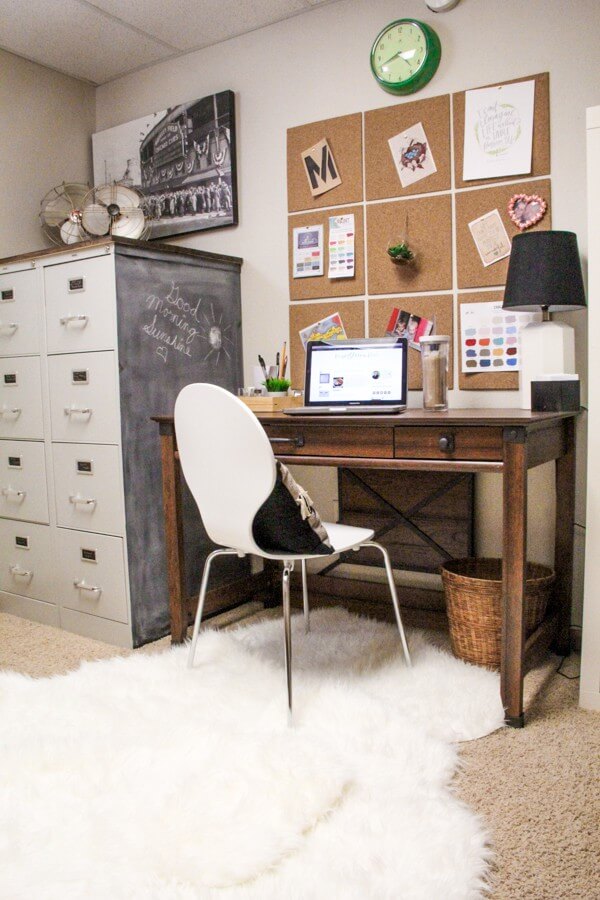 There is no need to sacrifice one style for the other when you can just as easily blend two different ones into a seamless piece. If you need to keep a lot of files, you can still use those typically bland-looking filing cabinets and give them a refresher with a chalkboard on the side. It is a contemporary touch while also being useful since you can add messages as you see fit. Meanwhile, the workspace can stick to the rustic theme for the desk, but you can always go for a stylish chair or even add a decorative rug underneath if you have hardwood floors.
3. Perfect Small Space Study Area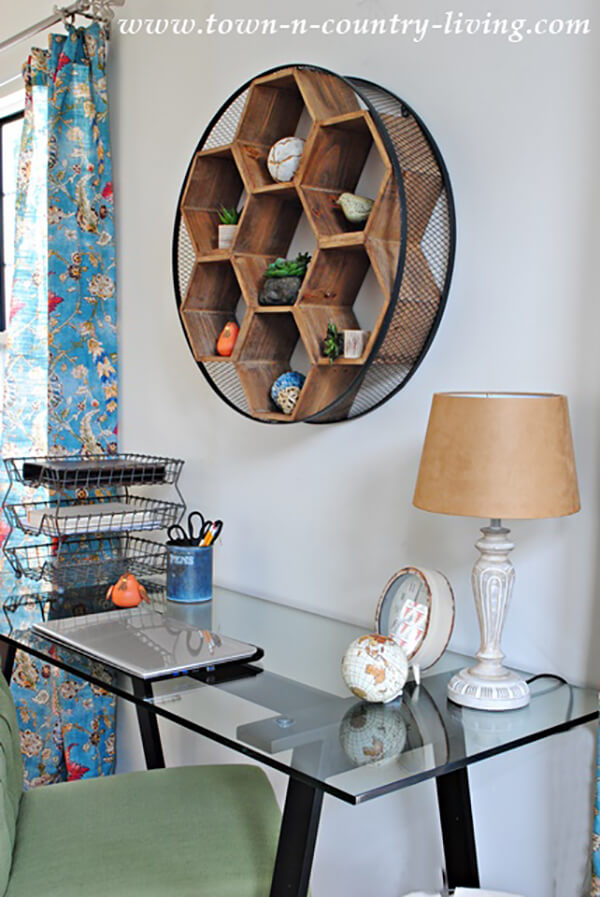 Not everyone has the means to devote an entire room to an office. If that is the case, then you can easily create a study space within another room if you have a section available that is in desperate need of being filled. You can find a fun desk to match the theme of the room so the study area won't stand out too much. If the office space is just for you, then you don't need anything too wide or long. Nonetheless, you still have enough room to place smaller decor items like a stylish lamp or something to store your supplies in.
4. Spacious and Bright L-Shaped Office Desk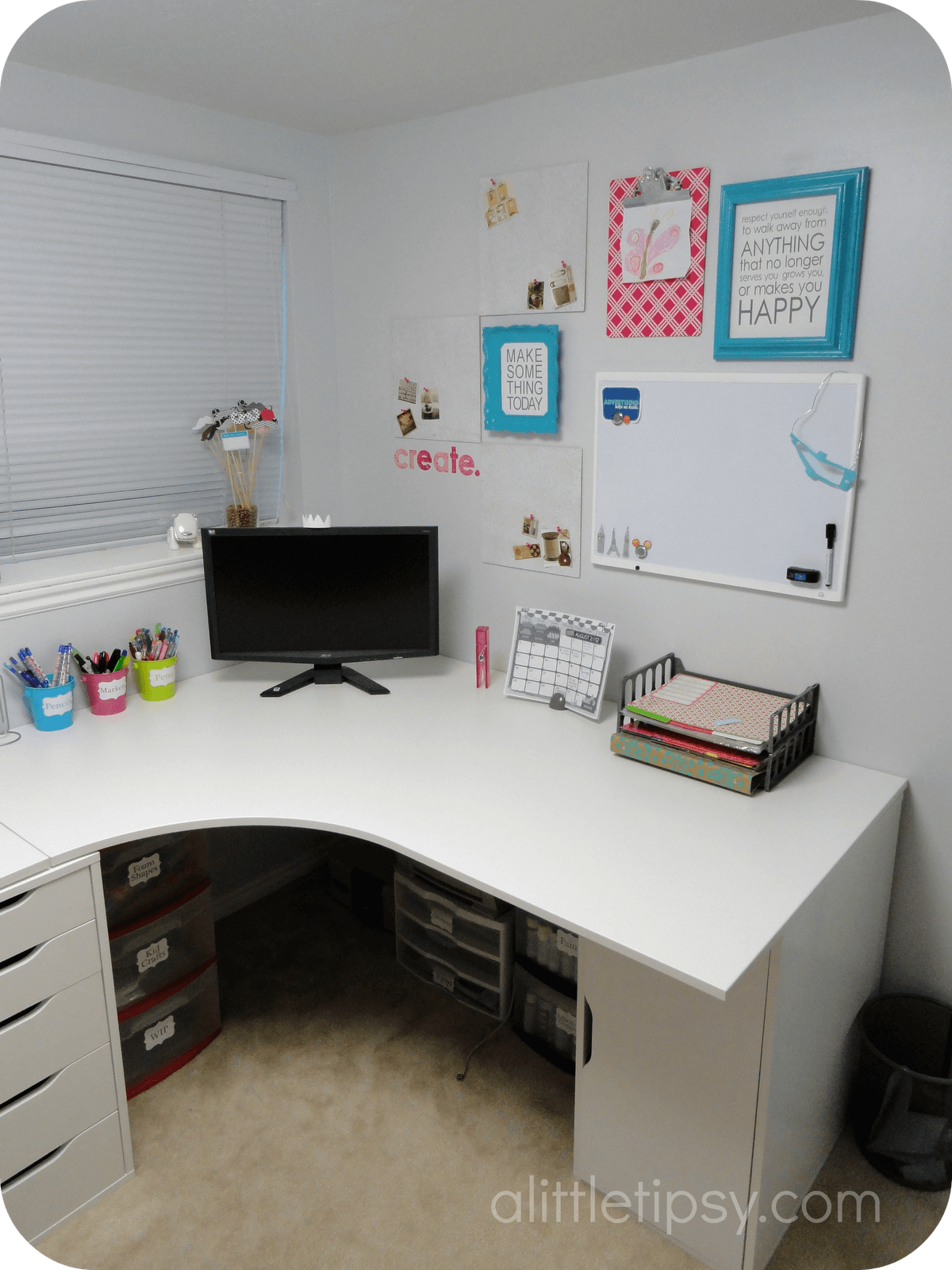 A wonderful way to make use of space is to focus on using an L-shaped desk. These desks are an awesome idea to make a room appear more open and roomy. Also, it gives you enough space to fill up the desk with other computer monitors if you need to or additional office supplies from printers to scanners and anything else you need. You can also make use of two different walls to hang up other decorative items like framed sayings, paintings, etc., or you can use it for functional gear like a dry erase board. If you can't find an L-shaped desk, you can always create one using two different items.
5. Sleek Golden Themed Study Area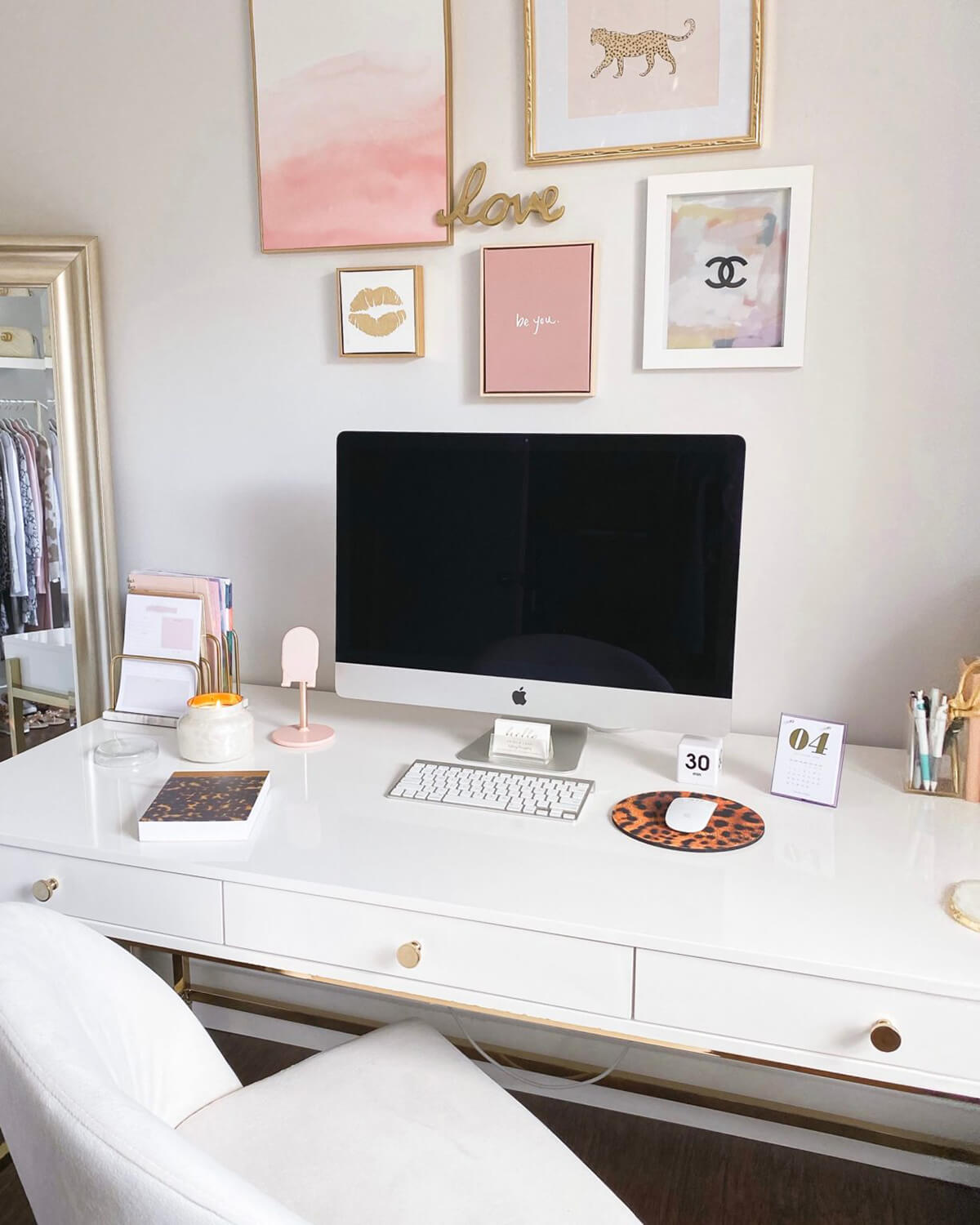 This is one of the best study room design ideas for a contemporary setting that utilizes gold in a great way. You don't have to let it overwhelm anything either. Using gold-colored frames for pictures or artwork is a simple way to invite the color into the room. You can also find or make a gold-trimmed desk with the main color being white as it allows the gold to make more of a statement. Even the chair can match if you wish by having similar colored hardware. White and gold in particular work well together in lightening up a room.
6. Contemporary Study Room Storage Solution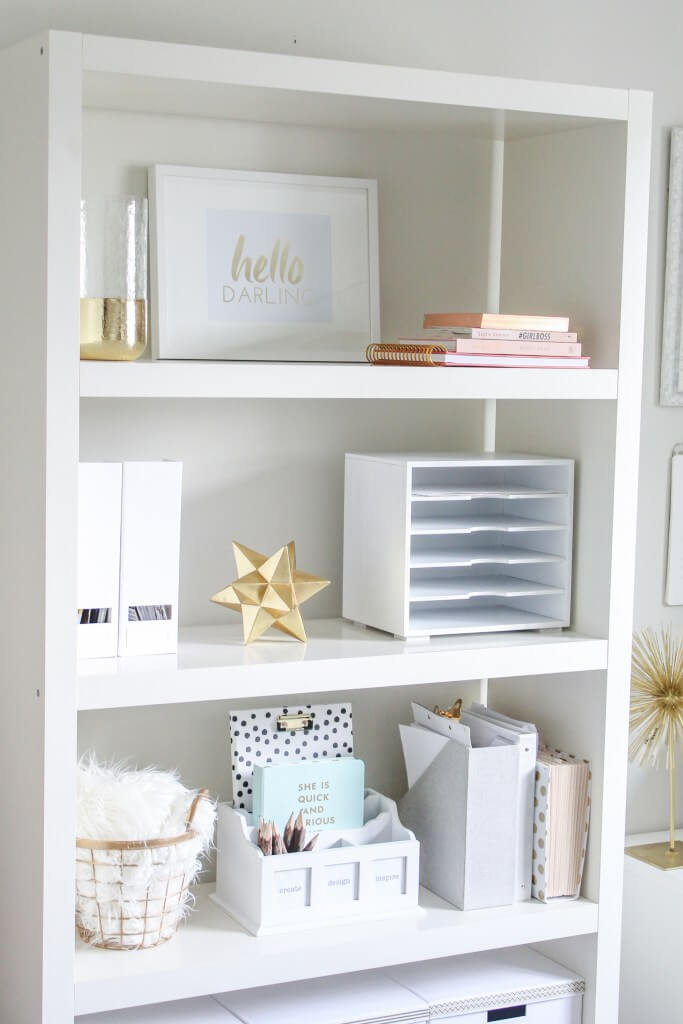 Not all study room decor has to focus purely on the desk set up. It is important to remember that storage space is just as vital no matter what you are using the room for. If you have a solid white desk, consider using a similar colored bookshelf-like item. You don't even have to use it for all of your storage items either. If you want to, you can always use any extra empty shelves for decorative items that still fit into the theme of the room. You can even consider shelving with an open-back design if you have a white-painted wall as it still helps the item blend into the environment.
7. Unique Stylized Filing Box System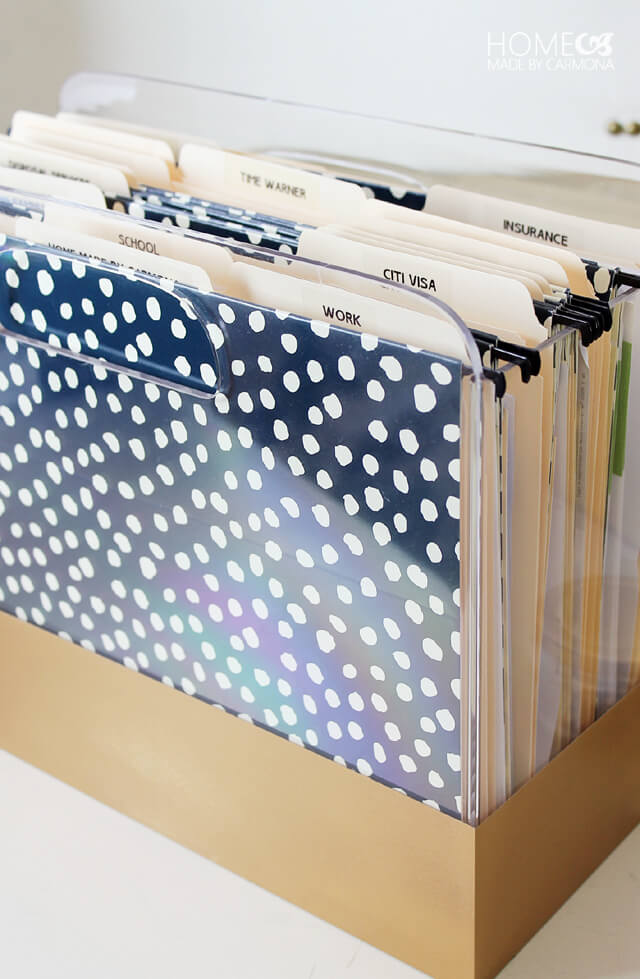 Who said that filing away items had to look boring? You can liven up your paperwork storage with a fun, stylish box. It does not even cost much money either. All that is needed is a basic file box, some paint, decorative paper, and file folders. You can paint the box however you'd like. Using painter's tape can help you create an interesting design. Also, the paper can easily add color to an otherwise see-through box. In the end, you are able to successfully store all of your vital paperwork while still keeping a cool design fitting for the room's decor.
8. Fun and Bright Organizational Office Area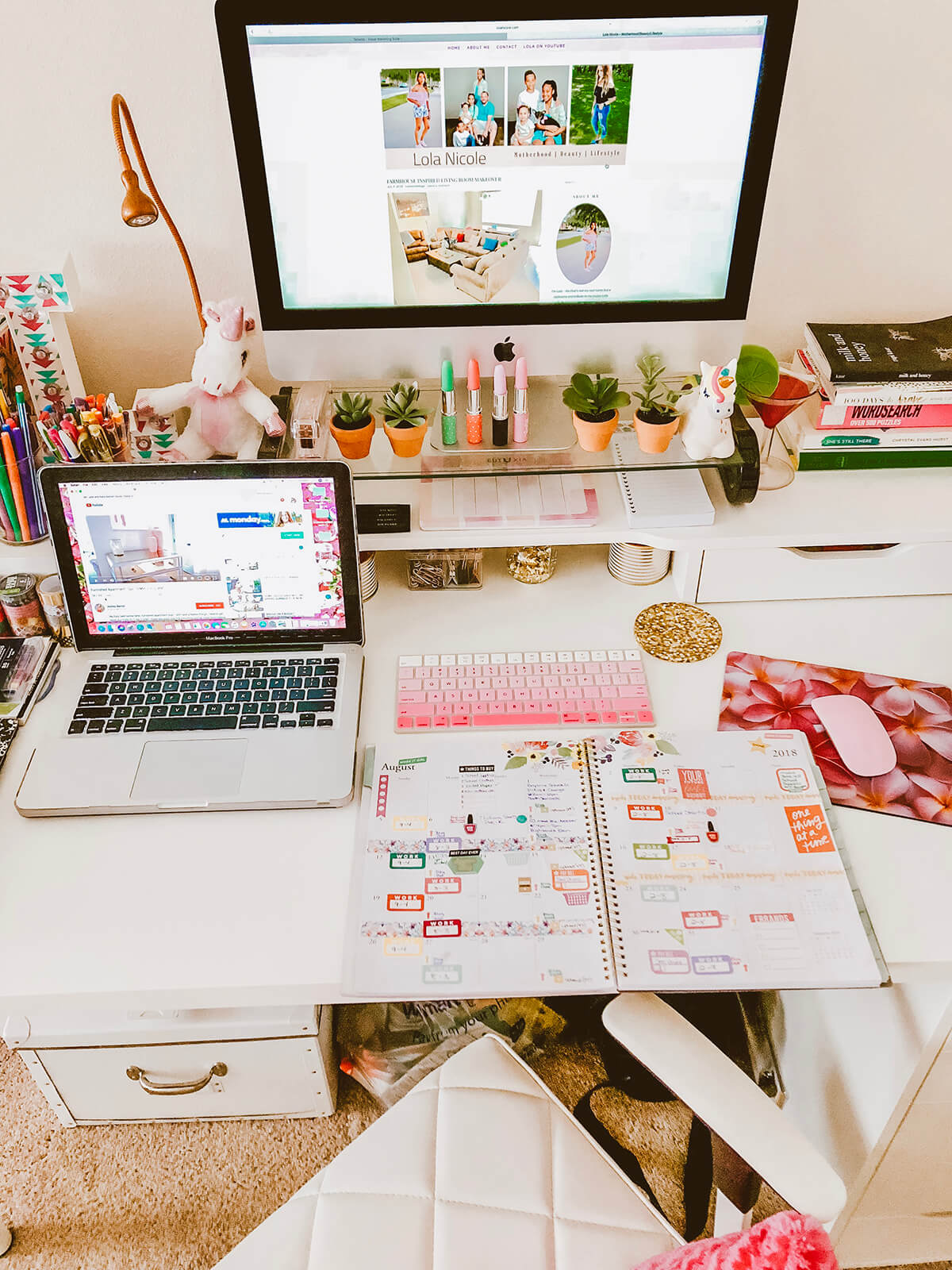 If organizing for everyone in your family (or even just yourself) is a priority, then you need as much room as possible to do this without overwhelming yourself. Having good desk space is the number one solution, but this is even better done if you have multiple levels on your desk. Not only does this help to hold a computer monitor, but it is an awesome idea for stashing other important items so that they are always right within reach. It also gives you room for decorating with smaller items like trinkets or tiny potted greenery. Additionally, it's a great space for useful items like holders for writing tools.
9. Cute and Simple Multifunctional Desk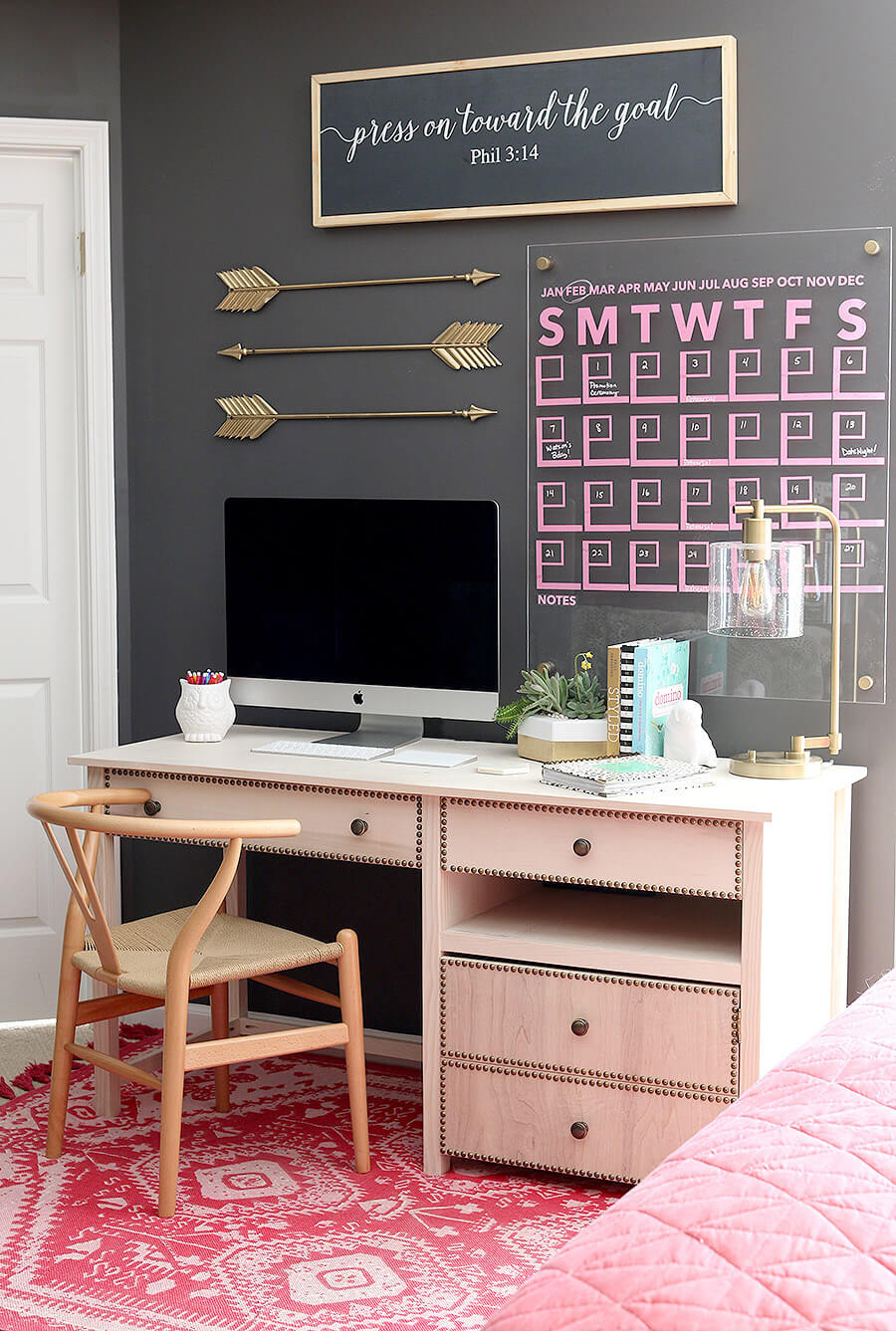 Among the best study room design ideas is finding a multifunctional desk that doesn't involve having shelves on top of the desk to use. Instead, focus on the drawers in this situation. Drawer space allows you to toss in what you need so that you can immediately reach for it. Not only that but if you have a larger drawer on the bottom, you can use it as a cabinet to hide away a printer. This is perfect as it keeps a bulky or otherwise non-appealing printer out of sight so it does not interfere with the overall decor you have planned out. All that is seen instead is a gorgeous and bright-looking desk that is well-organized and not off-put by a printer that doesn't match the color scheme.
10. Teal Cage Lamp with Edison Bulb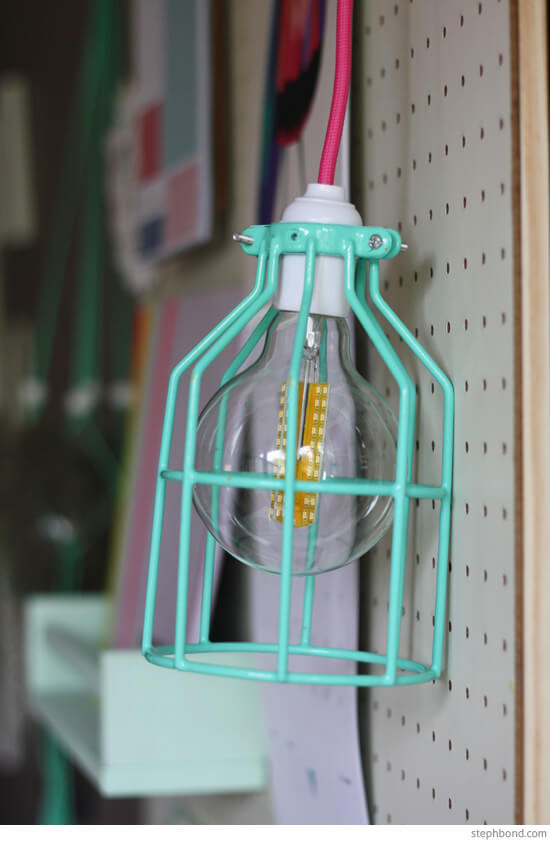 Set up a fun and useful workstation for your favorite student and let this open cage light lead the way. With a smooth teal finish, this industrial-chic lamp adds function and fun to your study space. Wrapped around an Edison-style bulb, this light shines style and charm onto your desktop duties. It would be adored by any pre-teen through the college-age girl as it easily blends into her eclectic and modern interior design. It would even be a great addition to a tool room for the girl who likes to tinker with science and inventions.
11. White and Wonderful Home Work Room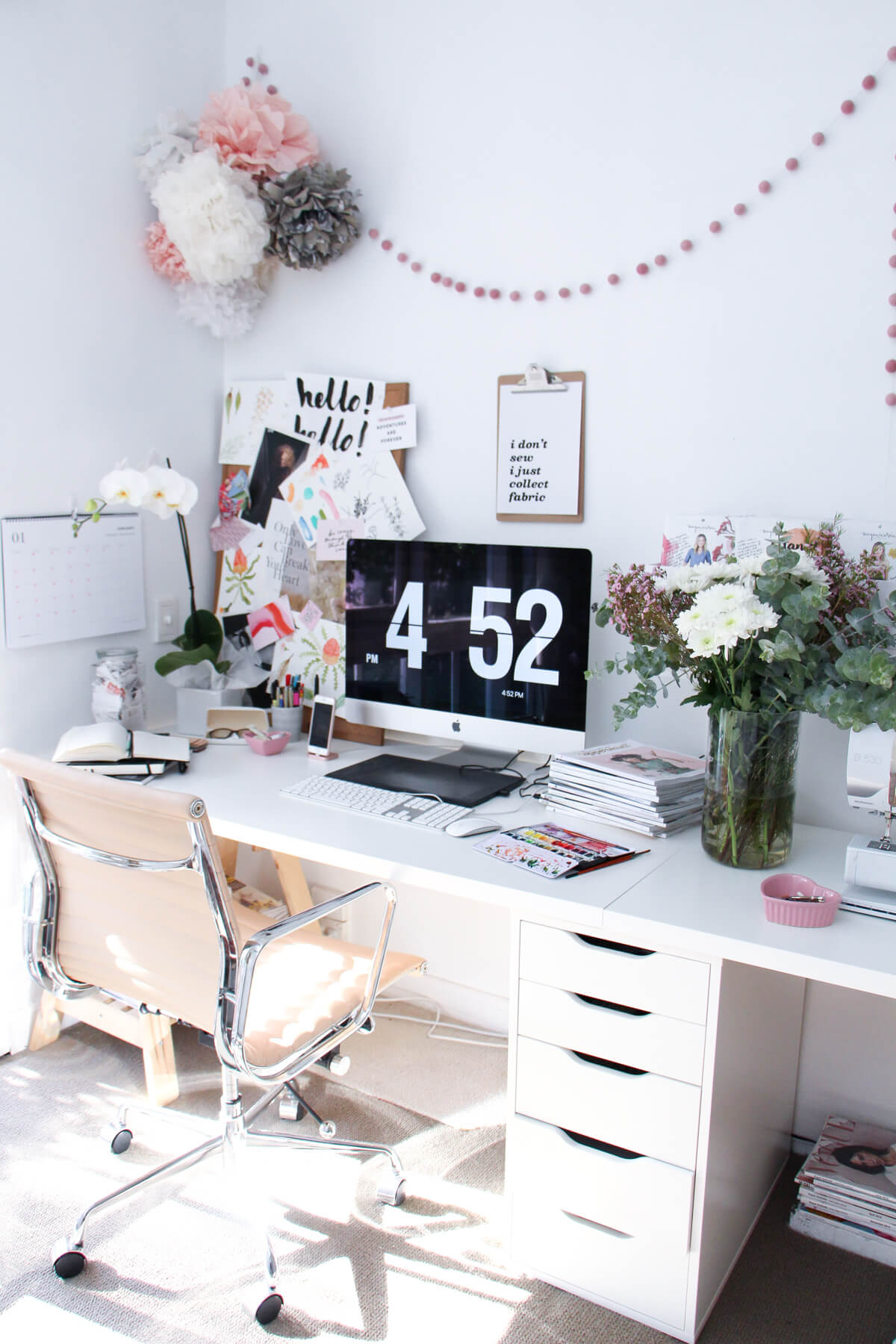 Create an escape for your inner creativity to discover with this wonderful, white workroom. Now that we're spending more time than ever at home, why not make a designated room for all of your projects to call home. That old spare bedroom or kids' playroom just got repurposed as your go-to work hub. Keep it personal with some pinned pictures on a corkboard and a glass of fresh-cut flowers. With a slim and stylish white desk to the pretty pom-pom garland hanging above, you'll enjoy spending extra hours in this cheerful and clean space while completing your projects.
12. Super Hip and Ultra Chic Study Station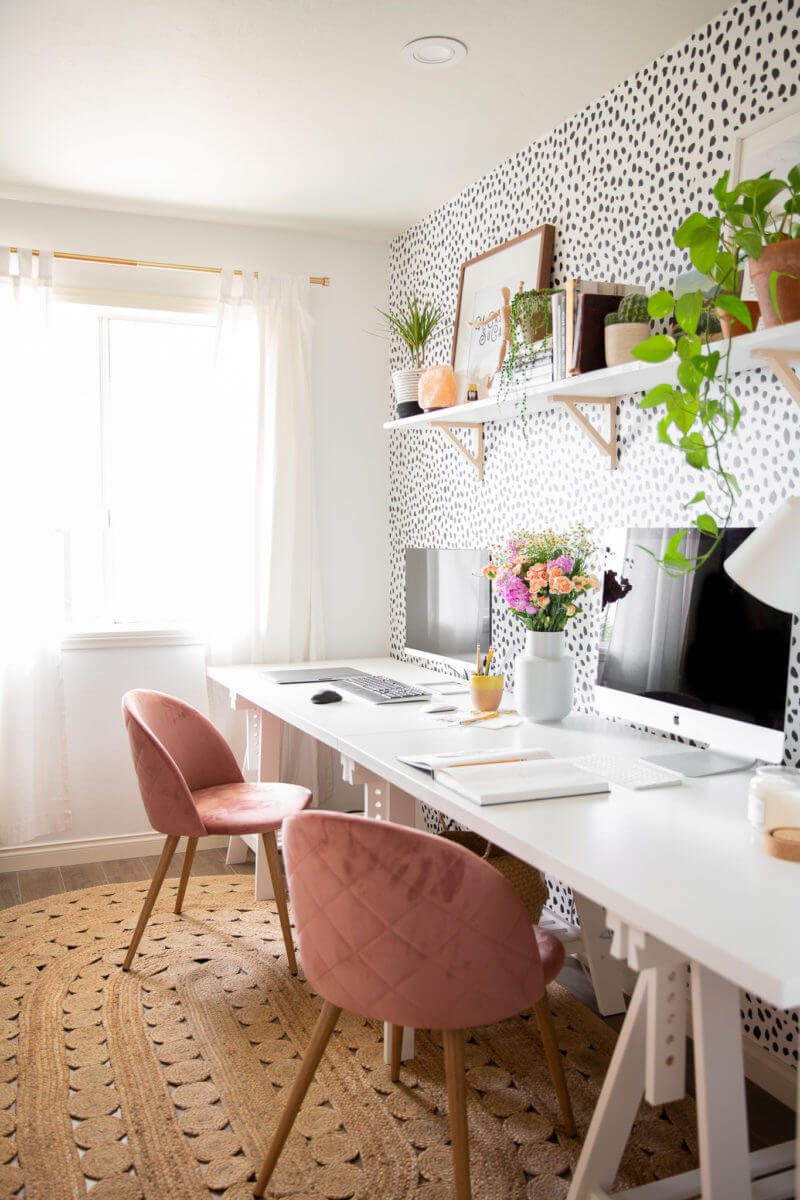 What modern femme fatale wouldn't adore working in this super stylish study station? The custom look of the black and white wallpaper provides the perfect backdrop for grounding this contemporary look. With plenty of desk space crafted from a slim and sleek whiteboard, your time spent researching and writing will look luxurious. Overhead, the pretty shelf of plants and books adds interest and class by assisting in the creation of this chic study space. Make the most of your interior space by filling a blank wall with this modern study hub to meet the demands of school and work.
13. Blu Monaco Rose Gold Desk Organizer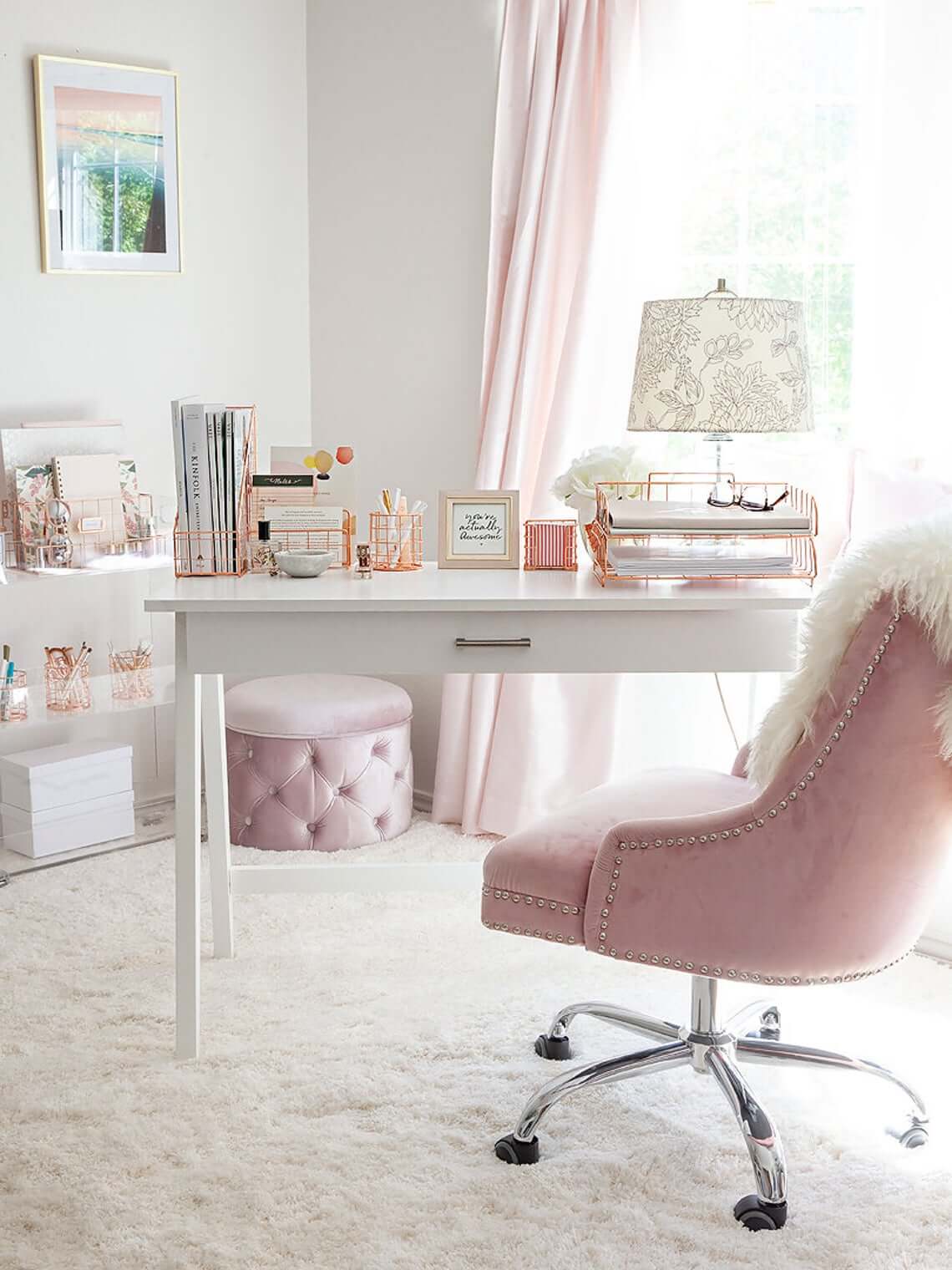 Rose gold is always an attractive color, and in this case, it serves as the top study space ideas that make organizing look appealing. In fact, it merely transforms an otherwise simplistic stackable inbox tray and helps it stand out more. It is two-tier in design so that you have ample room to slide the paperwork you need inside whether it is important documents or simply blank paper that you need for work. This is made from high-quality steel as well so that you are sure it is built to last and can withstand frequent use over time without you worrying about replacing it any time soon.
14. Amazing Geometric Wooden Desk Organizer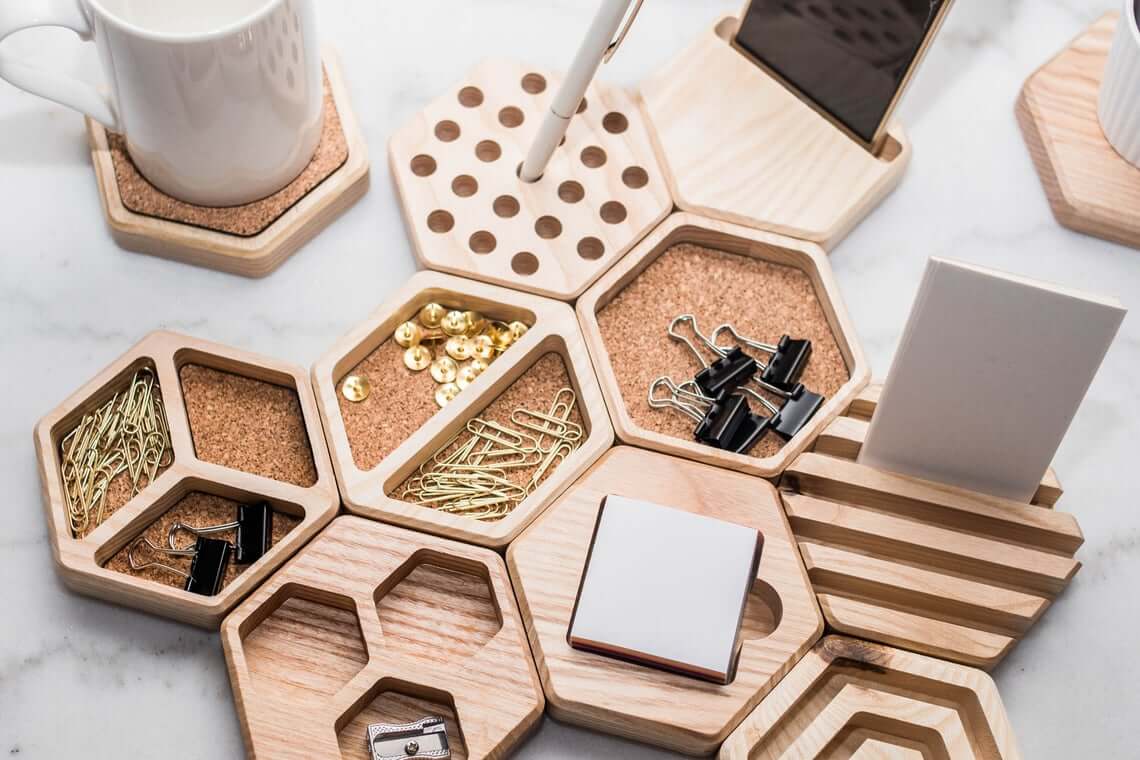 You can elevate the way you store smaller items in your study space with this cool wooden desk organizer. This comes in an attention-grabbing geometric pattern that is both stylish and functional. All of the shapes offer room to store versatile items. For instance, you can drop paper clips, tacks, etc. inside certain compartments. Meanwhile, you can also use another area to slip note cards inside. You may even find a spot to slide in your smartphone so that it is within sight and reach if needed. You can select to have this made with fabric, corks, or wood inside, and they are sold individually or in various sets as needed.
15. Blu Monaco 5-Piece Pink Organizer Set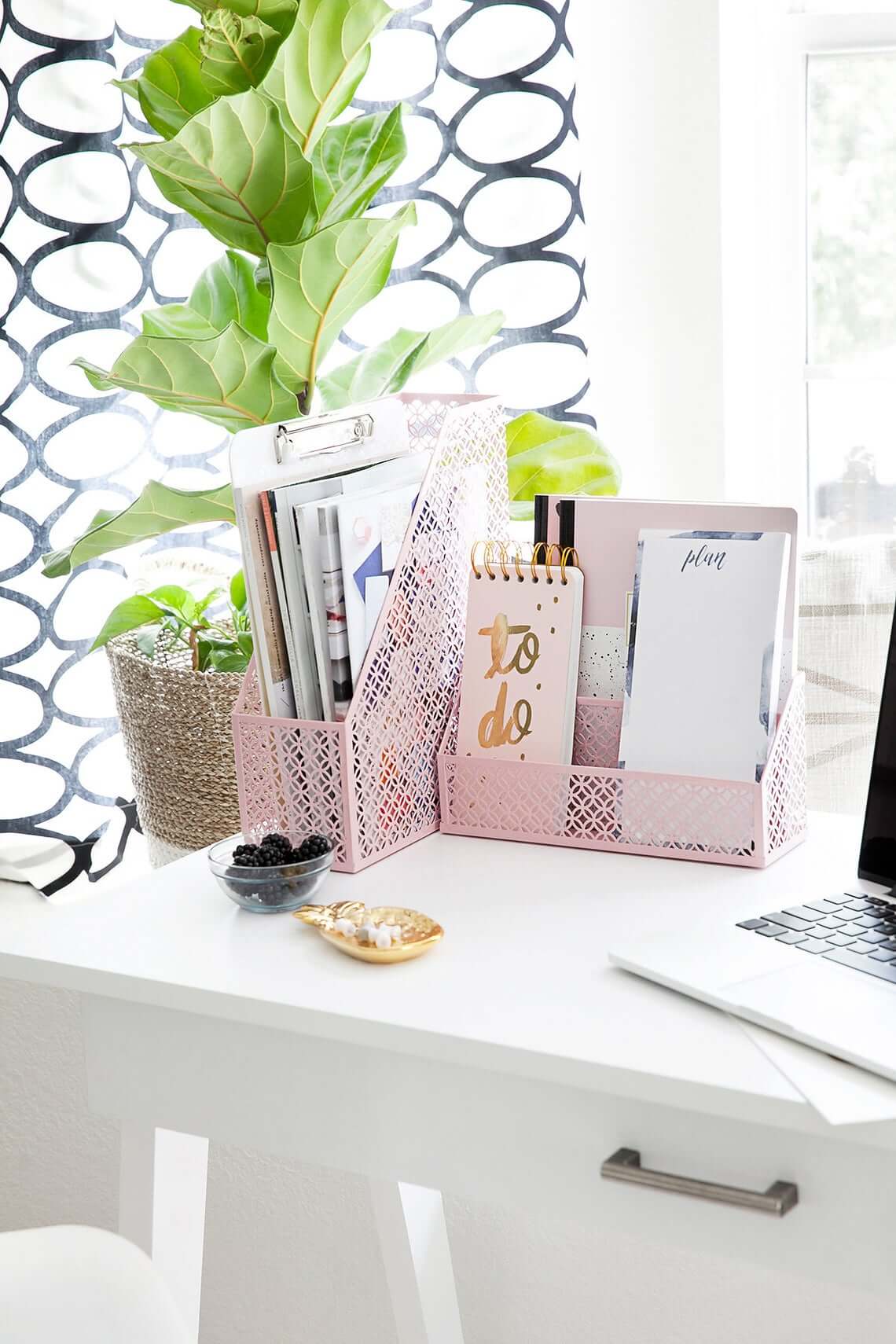 Don't just settle on organizing one specific area in your office space. Instead, some of the best study room ideas stem from finding a place for all of your necessary office items. This set comes with five unique metal mesh pieces all in a bright pink color. There is a paper tray, a mail organizer, pen cup, a magazine holder, and even a sticky note holder. With such a vast array of items, your desk can come together in no time. If you don't want to use it for your desk, feel free to stash some of these items in other places in your study room such as on a bookshelf, side table, etc.
16. Rose Gold Desk Organizer with Drawer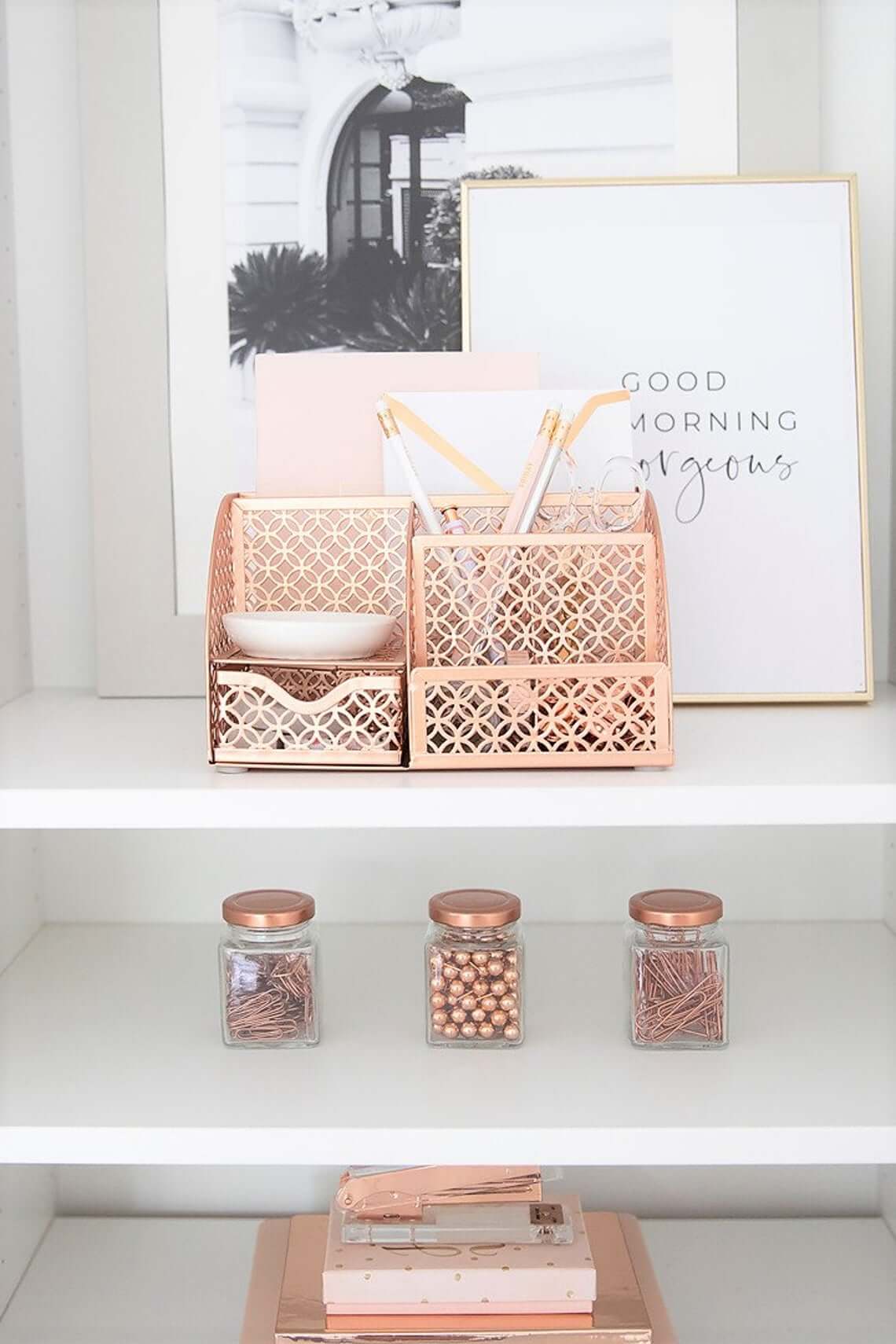 This is such a unique way to add organization to your desk that enhances an otherwise simple item. The metal mesh has an incredible pattern that instantly allows it to stand out. There are also enough sections for you to stash numerous small items like pencils, scissors, or anything else in your office that you don't have space for. A fun element about this organizer that helps it make more of an impact is the drawer. There is a single cute drawer for additional small items.
17. "You Can Do Hard Things" Art Print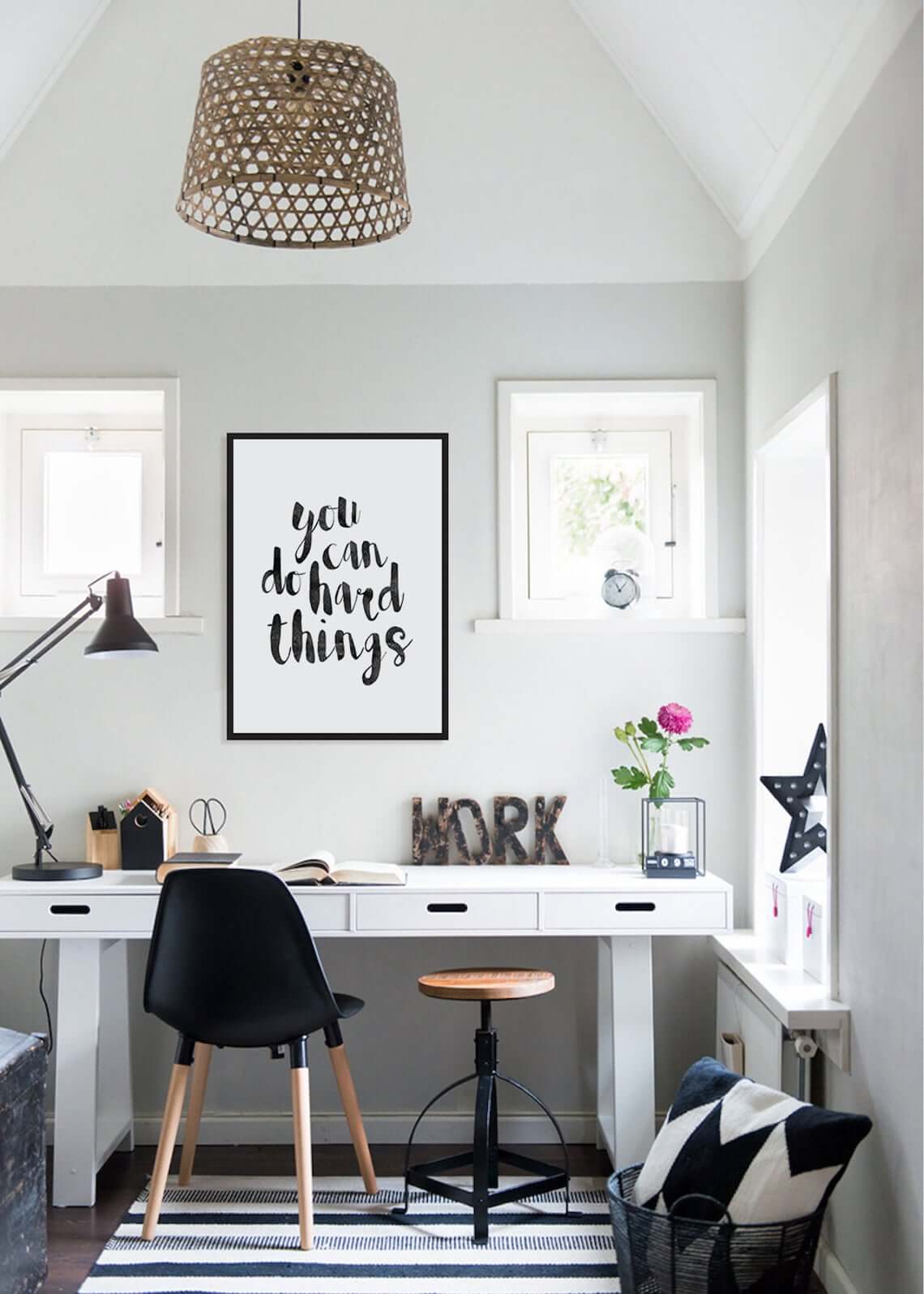 In many cases, it helps to have some inspiration around the office to keep you in the mood to work, organize, or do schooling. Sometimes things can get harder, so it's important to remind yourself to keep going. A great way to do that is with this amazing art print. It is done in an intricate typography design that is bold and appealing. As this is a downloadable file, you can add it to any frame of your choosing to hang it up above your desk or anywhere else in the office.
18. Fold Down Space Saving Study Desk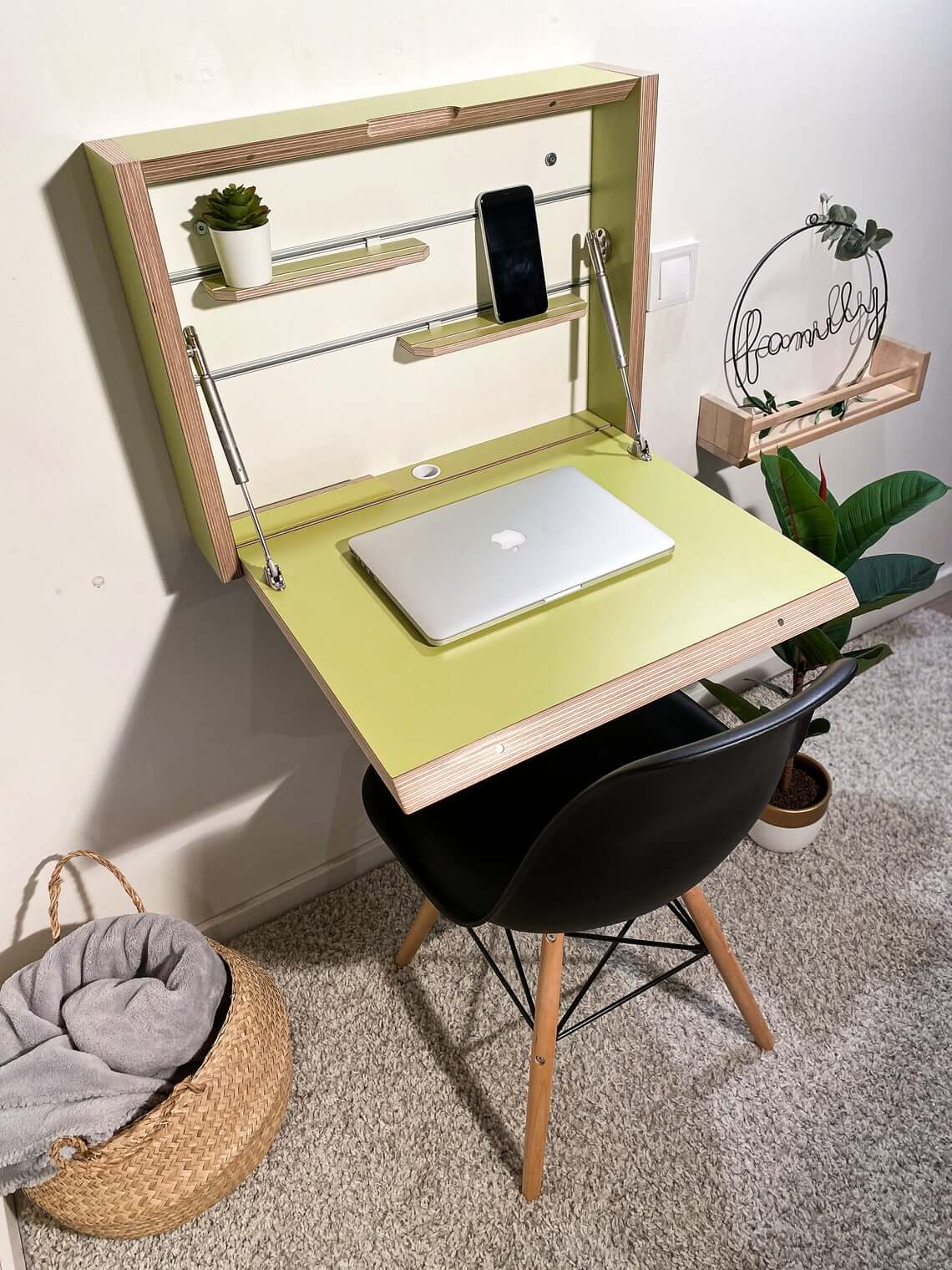 For those of you in need of space-saving furniture, look no further than this amazing fold-down study desk. It is a floating-like desk that stays out of the way when you don't need it and folds down effortlessly and securely when you do. This comes in numerous colors so you can find one to best suit your room's style. There are also several customizable options such as adding in some shelves, taking out shelves, having a magnetic board, or even throwing in some LED lighting.
18 Best Ideas to Add Personality to Your Study Room
A study room does not have to be bland or cold. There are many ways, both little and big, that you can spruce the area up a bit and show off some of your personality. You can transform an entire room from head to toe, or you can merely add a bit of extra life to an abandoned space in your living room, bedroom, etc. Some of the best study room design ideas in the above list are versatile enough to work however you need them to.
Another fun thing about adding some decor to your study area is that you can better help it match up with the rest of the theme in your home. Whether you boast a modern style, you lean more into the farmhouse or vintage direction, or any other theme, you can easily add similar decorations to the study room. This way, it does not stand out in the worst of ways, and instead, it readily blends into the overall environment of your home.
So, feel free to read more about our listed study space ideas. We hope that they can spark some interest and trigger your creativity so that you can create a unique area that makes work or school a bit more fun.