42. Skyscrapers In The Sun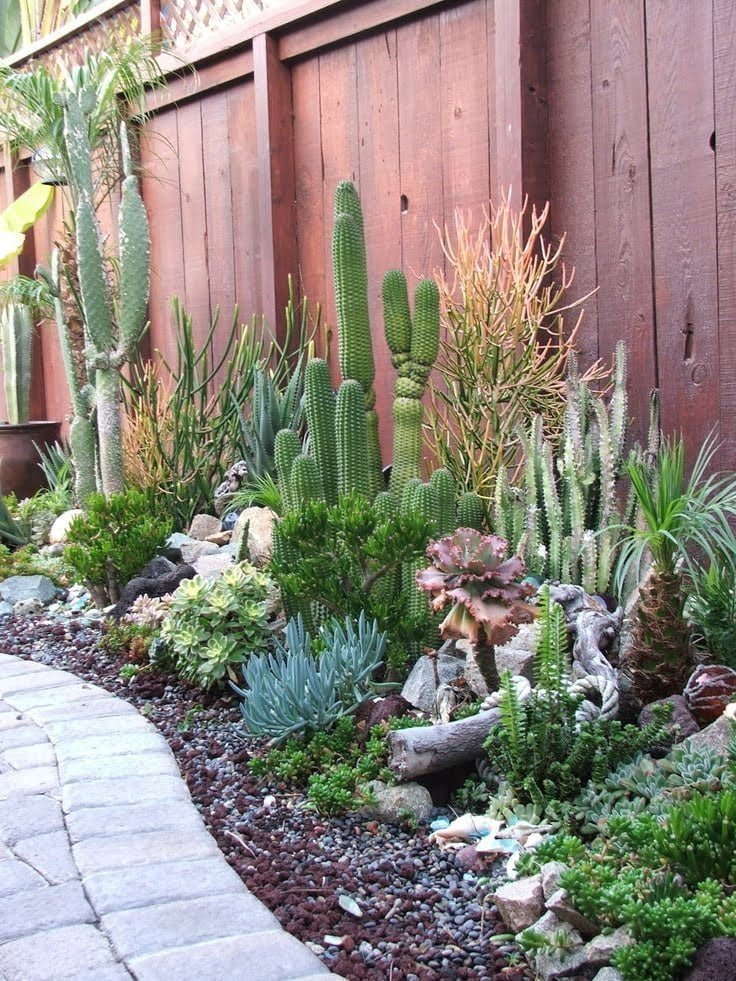 Here's one display for those of you who simply must have a desert-like theme on your home or business property. With high-rising spiny cacti, a huge rock backdrop, surrounding succulent designs and a few palm-like leaf plants such as arecas, you'll find that designing a succulent garden is easier than you thought. This is one setting that's just right for a side walkway or front way too. The best part of all is how little water you'll use in choosing these skyscrapers in the sun. Just choose the appropriate ground cover as a border from your stepping stones and garden space, and you'll be all set!
43. Boots On The Ground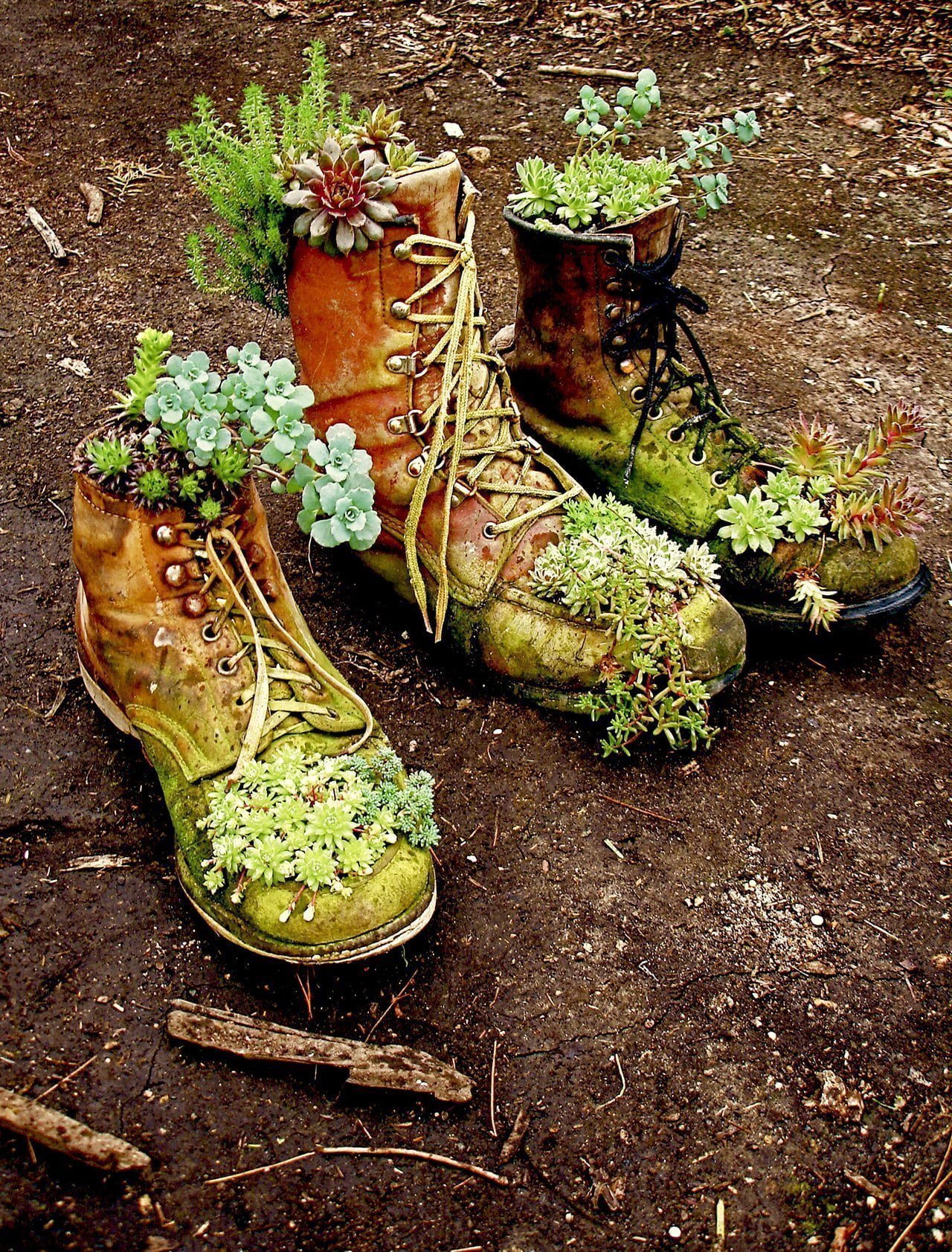 Three old walking shoes or marching boots are all you'll need for this particular design. Stuff with soil, your preferred succulent plant and you'll have a perfect conversation piece for your next garden club tea. This display presentation runs itself because it doesn't need too much maintenance–if any at all. Be sure to select succulent cuttings or starting succulents that will snugly fit into your boots or shoes. If you paint the boots beforehand with a bronze-like finish, you may give it an entirely different effect. Simply leave the boots in any space in your garden, and be prepared for the surprised comments.
44. Rack Against A Wall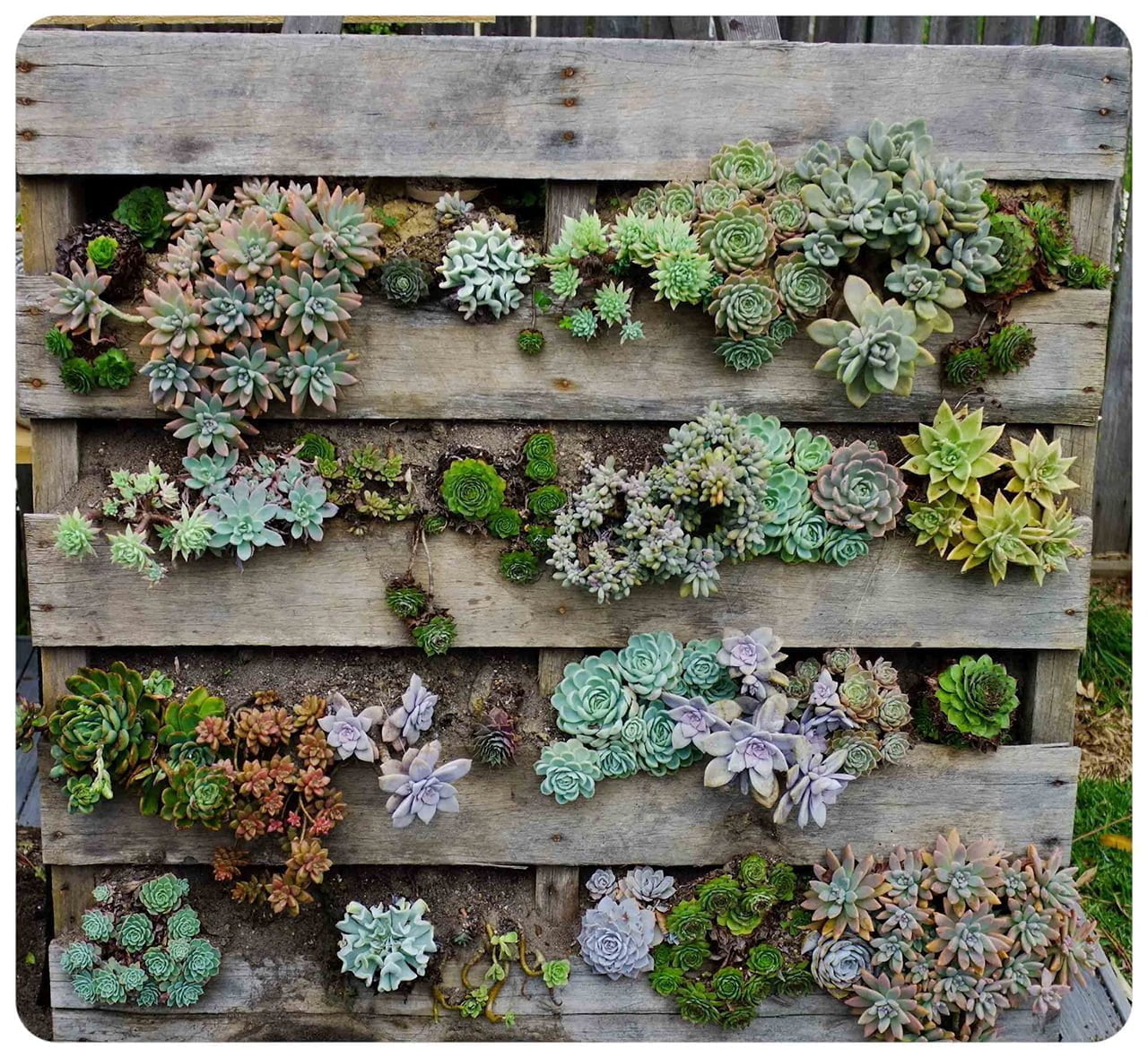 If you have an old piece of wooden pallet in your yard, don't throw it out. It could form the perfect backdrop to help decorate a plain ugly wall or plain wood fence in your back or front yard. Holding it up vertically, line with either wax paper or aluminum paper if need be. Now fill with cactus-formulated soil, and hang it up against the wall or fence. Decorate away with your preferred succulent choices, and you have a unique, rustic style decor or accessory for your garden space.
45. Your Hole-In-The-Wall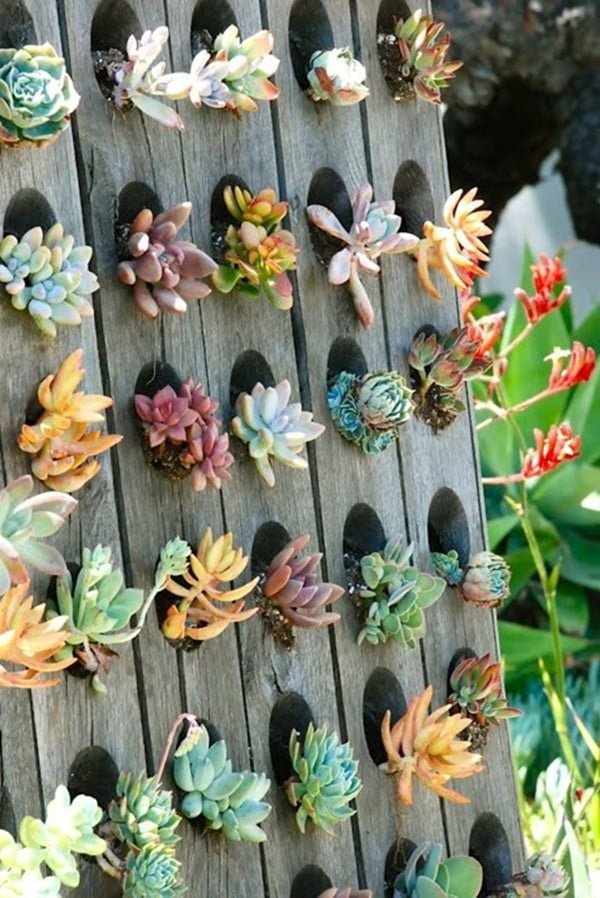 Continuing with our vertical garden designs, wooden pallets that have previously held wine bottles make an outstanding wall design when planted with various plants of various coloring; moreover, the end result will be a virtual rainbow display. Simply fill in the hole openings with potting soil specially formulated for cactus plants, and you'll have an endurable decor for that place in your yard that you'd rather cover up as aesthetically as possible. You'll need to know how large will your planting selection grow so choose wisely.
46. Vertical Madness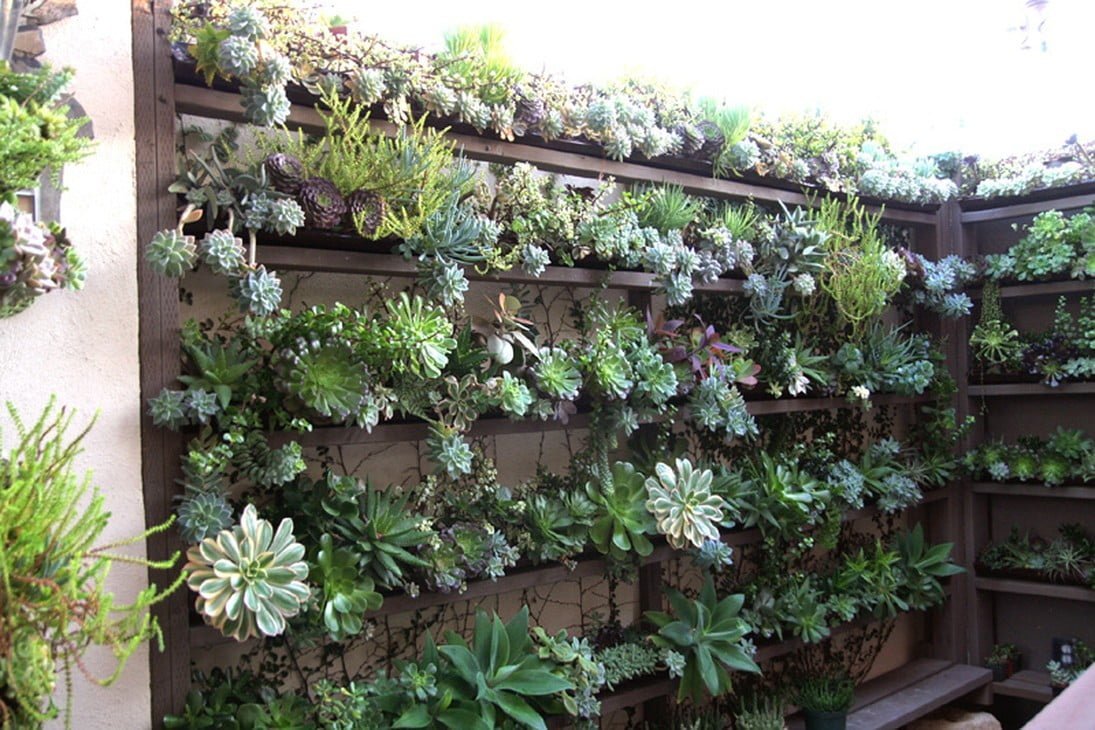 Regardless of what the neighbors may say, intelligently using your old wooden fence as a nursery of sorts is the way to go for many homeowners and apartment dwellers. Lining from top to bottom, all you need is plenty of wood or metal shelves, plastic containers such as you'd find in a garden supply center and any imaginable succulent species you can get your hands on. Not only will this arrangement look inviting, it'll also save you space for starting other succulent cuttings and other plants as well.
47. A Mid-Summer Night's Dream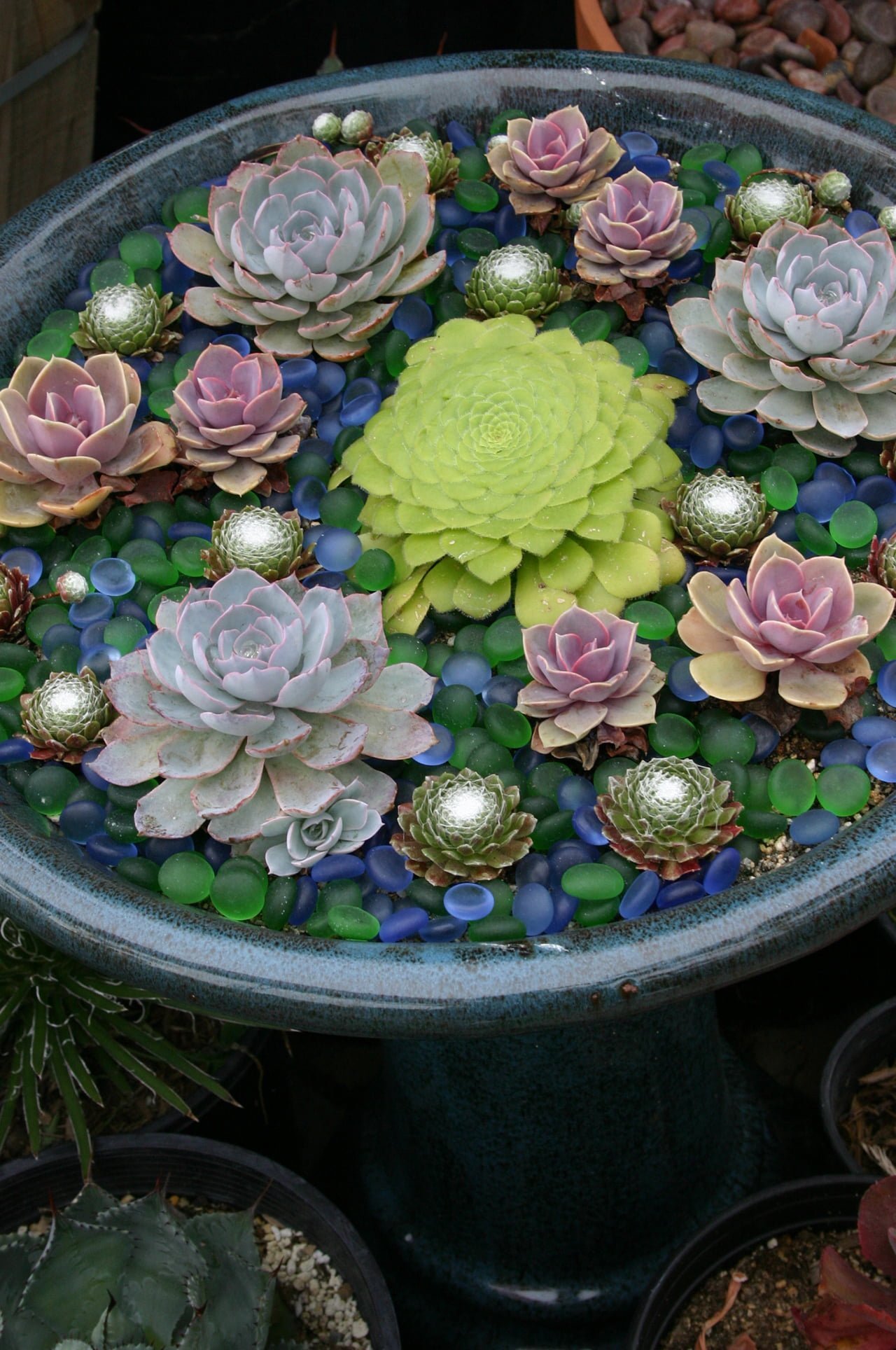 Actually, you can use this succulent garden arrangement not only during the warmer months but during winter as well. Using an old fountain dish or birdbath dish, you may or may not decide to use solar-infused energy lights to give this piece an enchanting feel and mood. Otherwise, you may also opt to place large pearls in the flowery succulent petal buds and choose a blue-based color scheme in selecting your plants. Another delightful effect results from filling in the empty spaces with frosted marbles.
48. My Uncontained Rainbow Container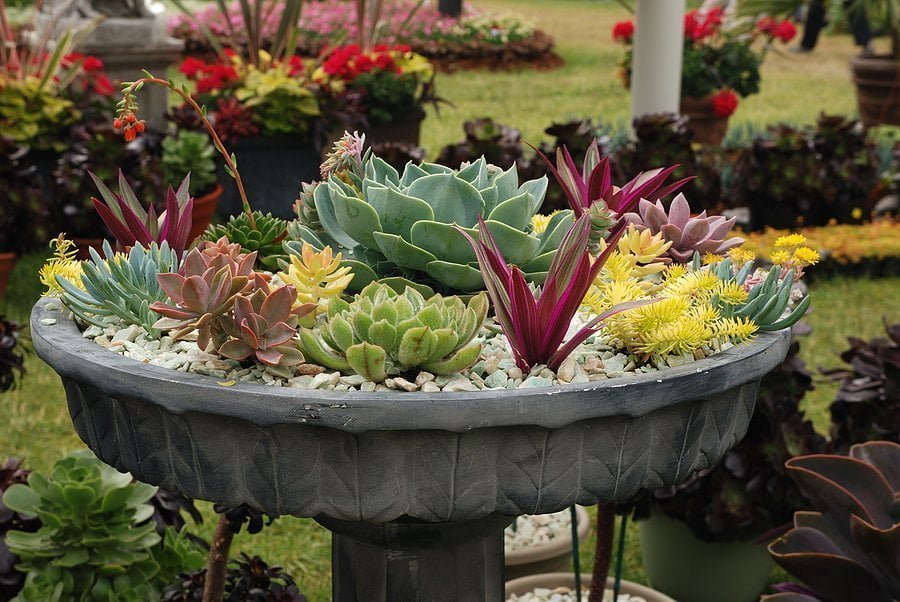 As a centerpiece, this container within another container, your garden, serves its purpose well in whatever place you put it in. On a pedestal, on a picnic table or in a corner by itself, this display piece will draw all eyes to it, especially if used as a fountain dish on a pedestal. Being lined with soil, and using gravel stones as a ground cover of sorts, your succulent collection is bound to last longer than you ever imagined. Really let your imagination go by choosing various colors in your pattern and watering sparingly during the winter months.
49. Out-Of-The Box Garden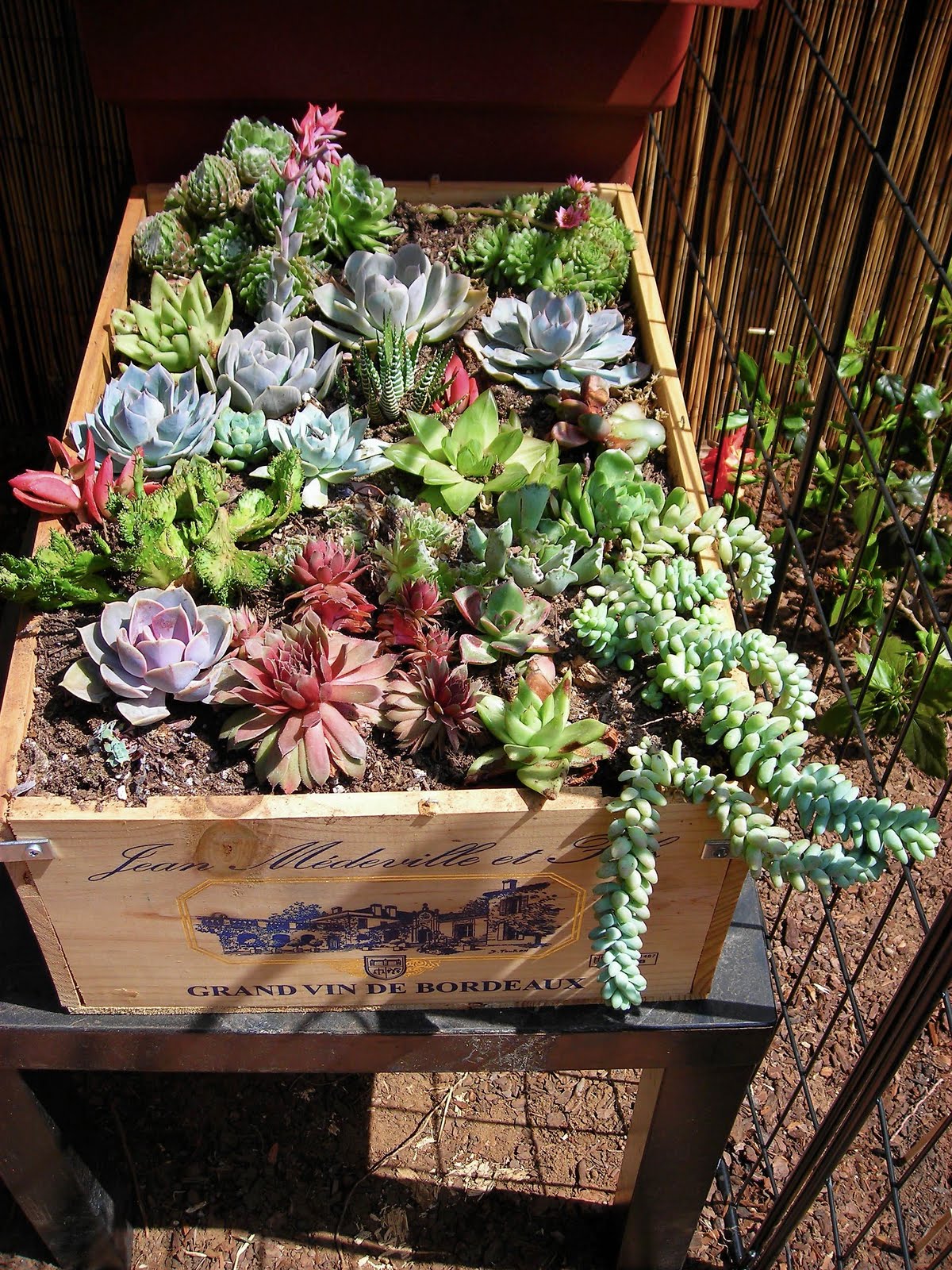 An old or new wooden crate that's been abandoned and discarded by someone can be easily converted into one master garden. Preferably using cactus potting soil, simply line the bottom of the crate with sheets of aluminum paper or old newspapers. Then, filling with the specially formulated soil, plant to your heart's content whatever variety, color or size succulent plant you desire. Not everything inside your box crate has to be a succulent, any plant will do really. This design is excellent for placing on a table, as a garden bed or arranging several of these outside on your garden grounds.
50. Your Faux-Mount Rushmore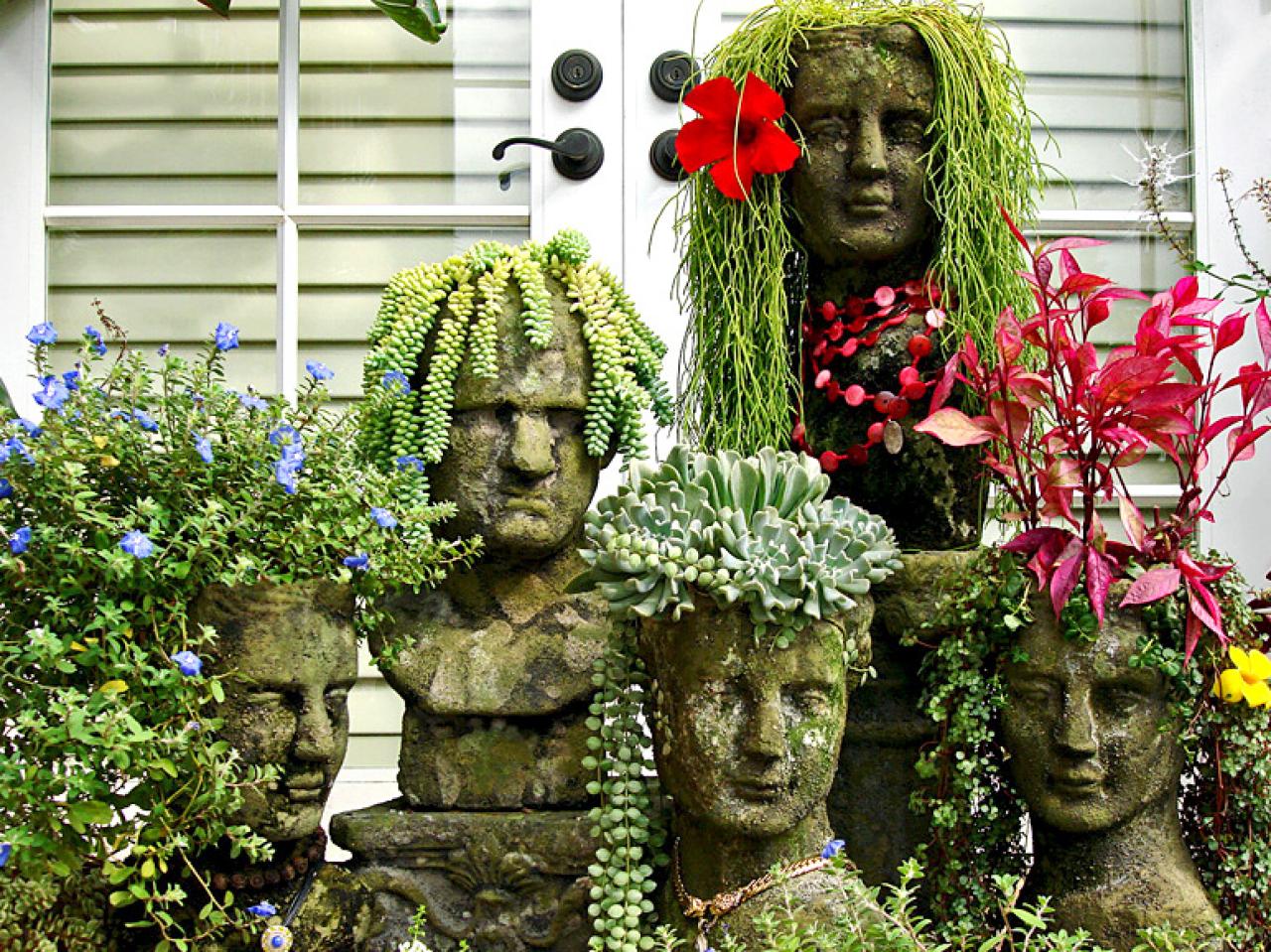 Almost everyone has one, two or more personalities that they admire the most. Which are yours? Is it a former President of the United States? Perhaps a sports celebrity or motion picture star? Whomever it may be, you can easily fashion a clay and moss mixture made in your most celebrated person's image. Now, depending on your likes and dislikes, plant your favorite succulent plants in the mixture and exhibit on the top of the head; you'll easily have a distinctive conversation piece if there ever was one. Place the figures on a flat garden bed, and listen for the comments of those who view your faux-Mount Rushmore display.
Succulent Gardens: Latest Trends in Outdoor Garden Arrangements
Actually, a succulent is so well suited for dry climates and accompanying high temperatures that they've become the norm for regions that experience little rainfall. Many people today commonly call them the "camel" of the botanical world as they so readily thrive in coastal regions that have short rainy seasons.
If you're a career woman, or even a stay-at-home mom with little time to waste during the day, think succulent! They take little effort to grow, and use up little water. Moreover, since they are drought-resistant and have such a grand variety of colors, shapes and sizes, they are the plant of choice for people everywhere.
As they are easily contained in garden beds, planters, vertical gardens and especially in containers of any kind, their growing popularity has now put them on the same level as miniature fairy gardens. Sizes can vary from small rosettes to up to three feet in height. Coming in eye-catching flowery shapes, other varieties of the succulent species can grow to a height resembling a small tree. Which ever size buyers select, there is a size, shape and color best suited for you.