The season is in, and it's time to start decorating your home with the best summer tiered tray decor. It is common to turn to tiered trays when decorating thanks to how versatile they are. You can use them time and time again to set up for different seasons and themes. Additionally, you can use them in various around the home from the kitchen to the living room as well as for setting up party decorations. No matter what it's for or where you put it, we have discovered dozens of ideas that will help get you on your way.
23 Best Summer Tiered Tray Décor Ideas to Bring a Burst of Color into Your Home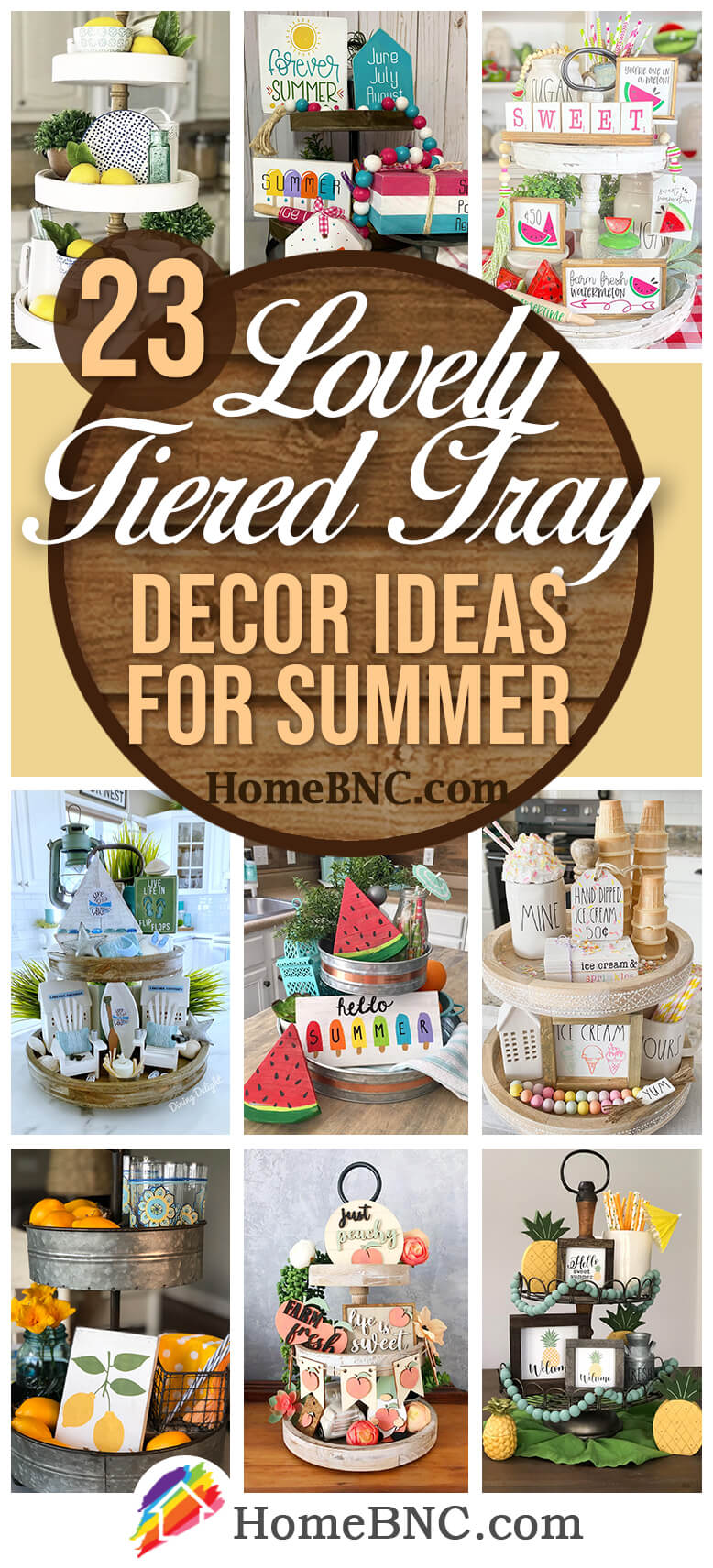 If you don't know where to begin, think about the current theme in your home. Are you using the tiered tray to add to decorations you already have? Then you have an easier and seamless way to go about this. Think about all the fruit you see in the summertime and consider finding decorative items to match them. Also, summer is about having fun outdoors. You can always go for a pool-centric setup with flip-flops as a theme. Even a coastal style will work out for summer seeing as it uses plenty of beach-inspired artwork.
Once you know what you want to do, it's time to start thinking about how you are going to do it. Tiered trays offer levels of space you can use with the only limitation being how many tiers you have and the size of them. Adding larger items like lemons (real or fake) and even some pitchers can work to anchor a tiered setup. Or you can consider using various sizes of signs that fit the summer theme.
To ensure you have some options, we discovered a healthy variety of the best summer tiered tray decor ideas to help you determine what works best for your specific decorating needs.
1. Coastal Summer Tiered Tray Decoration Setup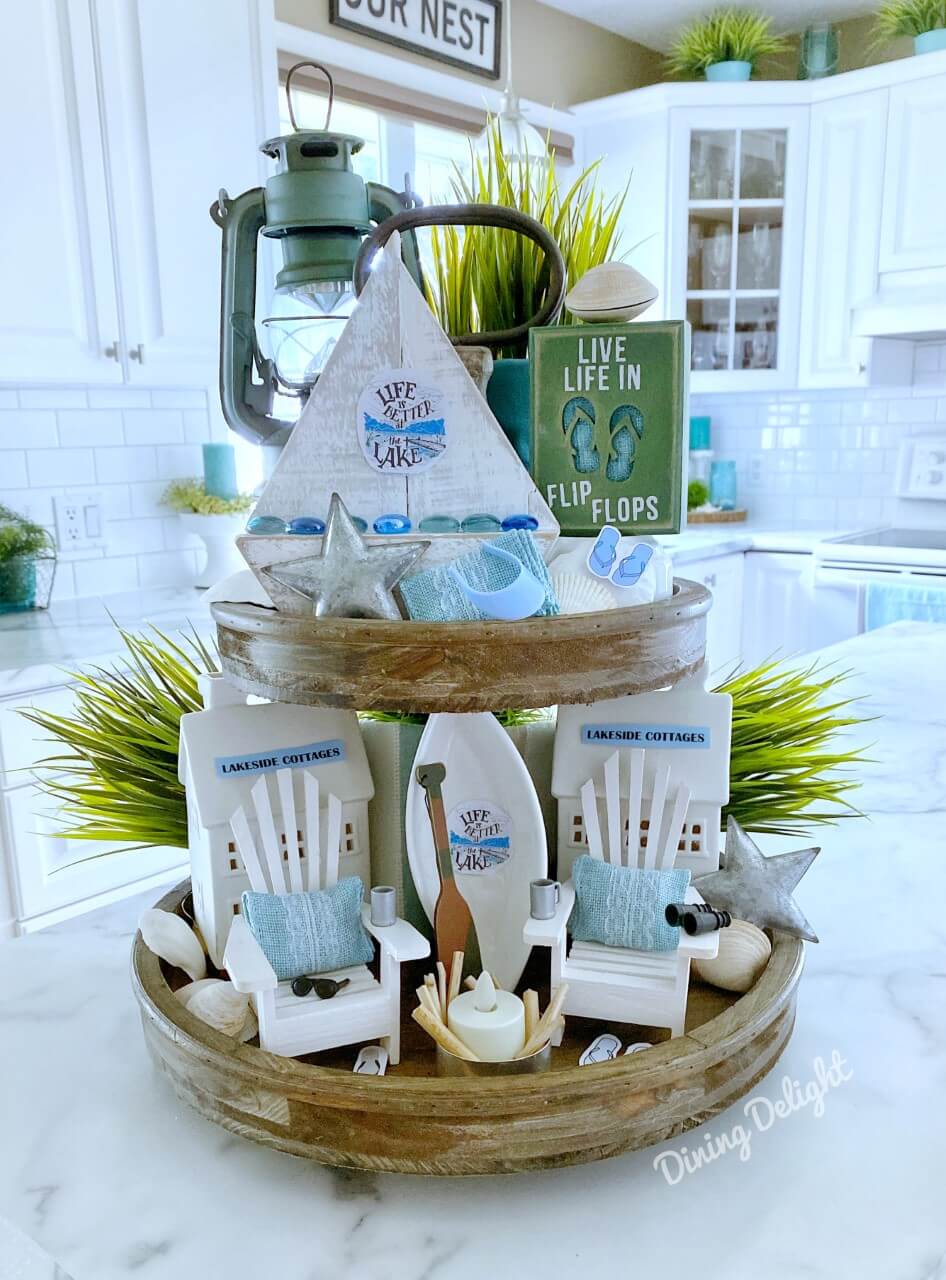 Reminisce about the ocean and fun times at the beach with this beautiful coastal theme summer-tiered tray. The wooden trays have a wonderful rural-like feel to them that ties in with the beach style you're aiming for with this piece. To further cement that theme, consider adding some color to the tiered trays. Light blues and whites work well at sticking with the coastal style. There's also enough freedom here to throw in some cute, smaller decorative items that make you think about spending time at the beach. This is the perfect way to bring summer into your home or to your next party.
2. Solid Wood Three-Tiered Rustic Tray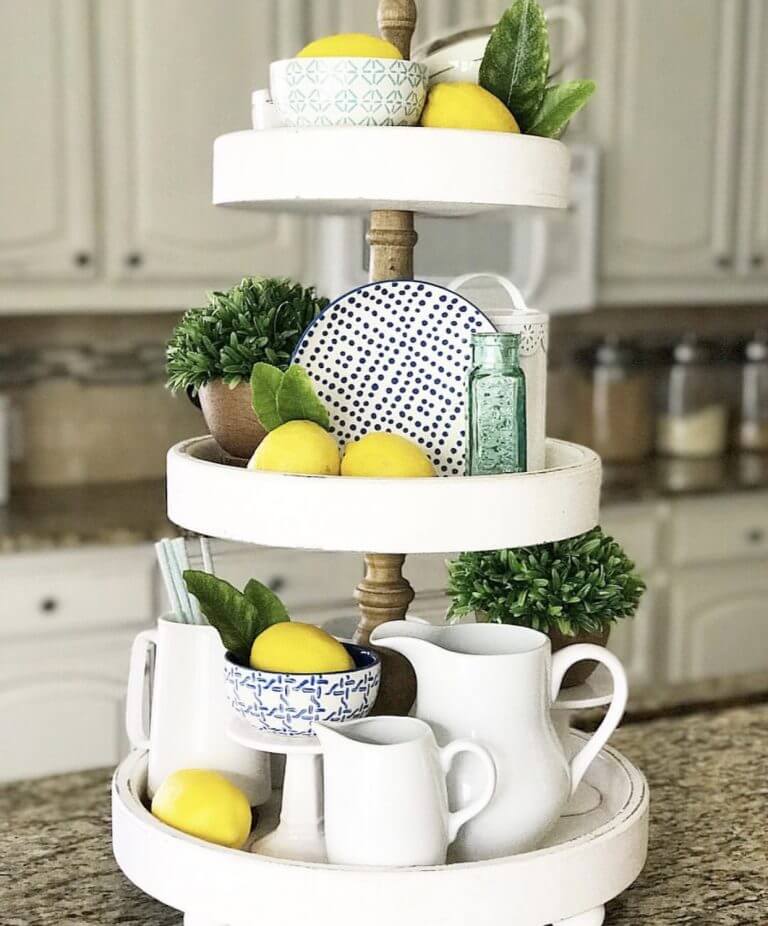 If you have a nice vintage-like tiered tray but no idea what to do with it, it's always a good idea to start at the bottom and work your way up. This one, in particular, is an excellent choice to bring out for the kitchen or dining room when summer rolls around. Begin your base with something heavier to anchor it all together, and if you're going with a kitchen theme, this can be anything such as glasses or pitchers. From there, simply add some summer-like qualities to the tray like beautiful bright lemons. They easily liven up the decorative piece by giving it a pop of color.
3. Simple Patriotic Summer Tiered Tray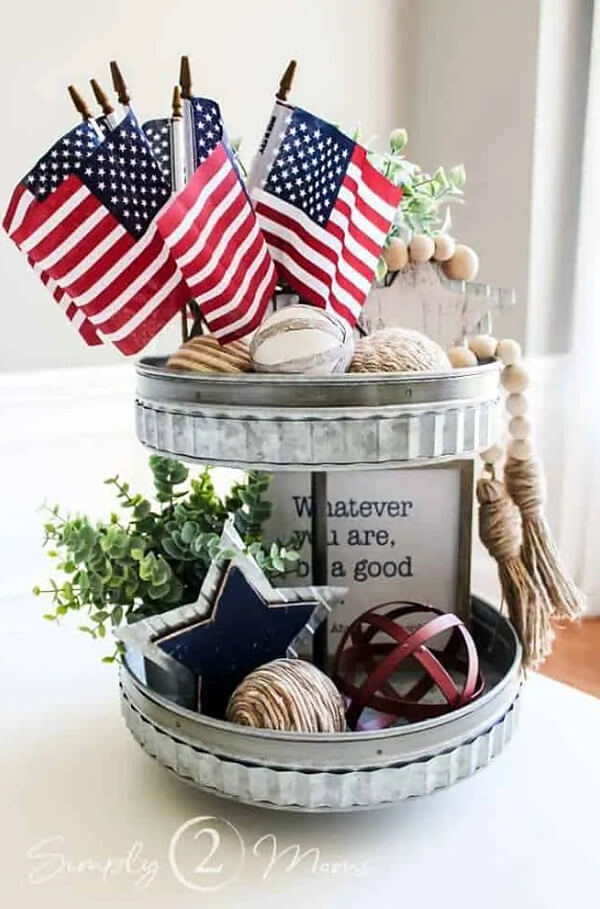 With this summer-tiered tray setup, you can decorate in time for both the season and show off your patriotic spirit in a minimalistic way. Two tiers give you enough room to add in some gorgeous items that will look great at a Fourth of July party or a Memorial Day bash. At the same time, this tiered tray won't look out of place if simply used for decoration around your home instead. The metal trays add a balance to the entire setup too so you aren't completely limited with what you can add to them.
4. Country House Theme Lemon Tiered Tray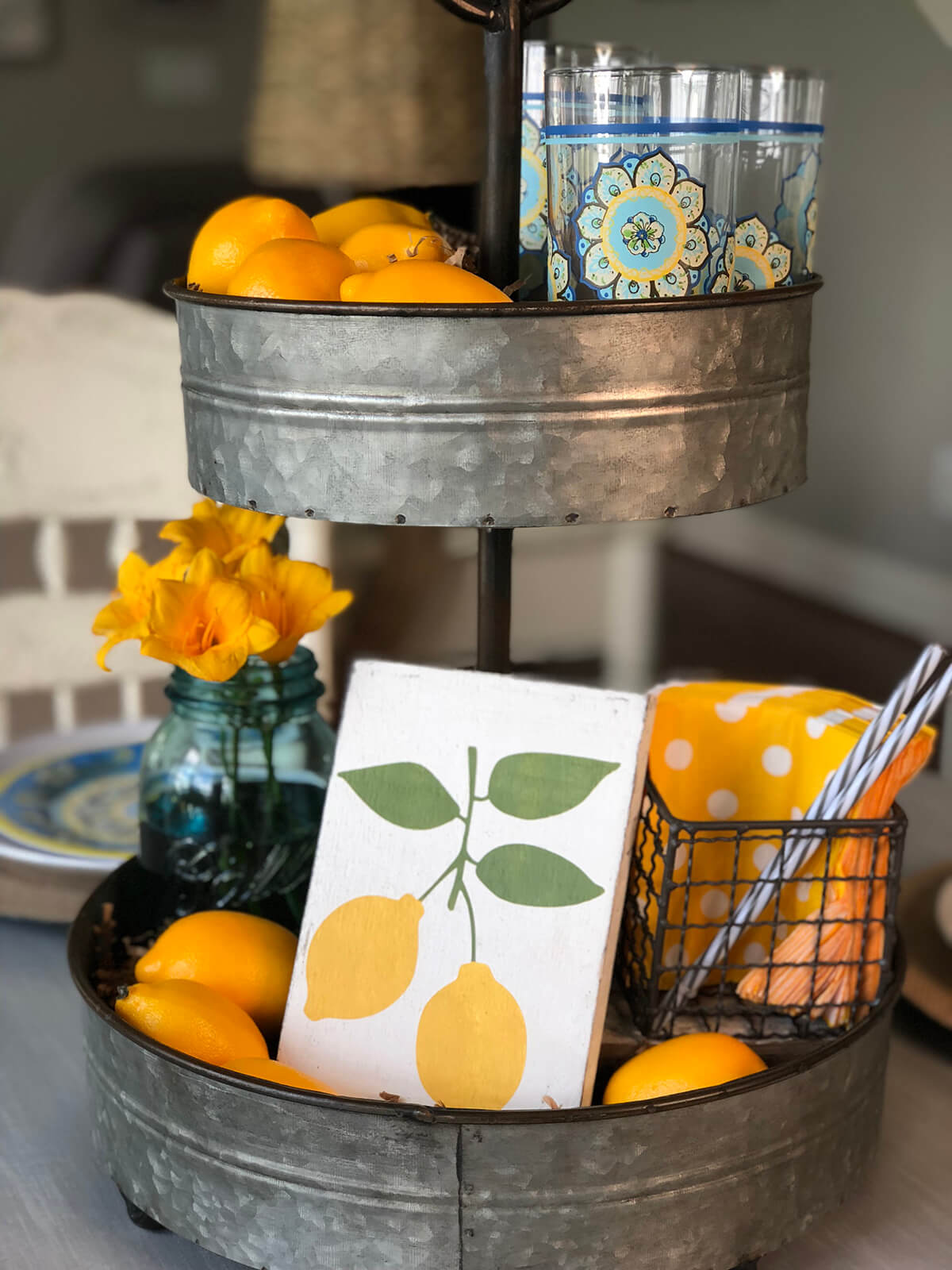 Nothing shows how ready you are to cool down for the summer than with this incredible lemon and lemonade-themed tiered tray. Just two tiers are all you need to complete this standout décor. The thick metal trays offer just enough of a rustic feel fitting for summer. Feel free to add in some real lemons or simply use decorative lemons. Either way, you can get the point across and add lively color to any room you put this in. If you go for the lemonade theme with napkins, straws, and glasses, then this works perfectly well in the kitchen.
5. Rural St. Patrick's Day Summer Tiered Tray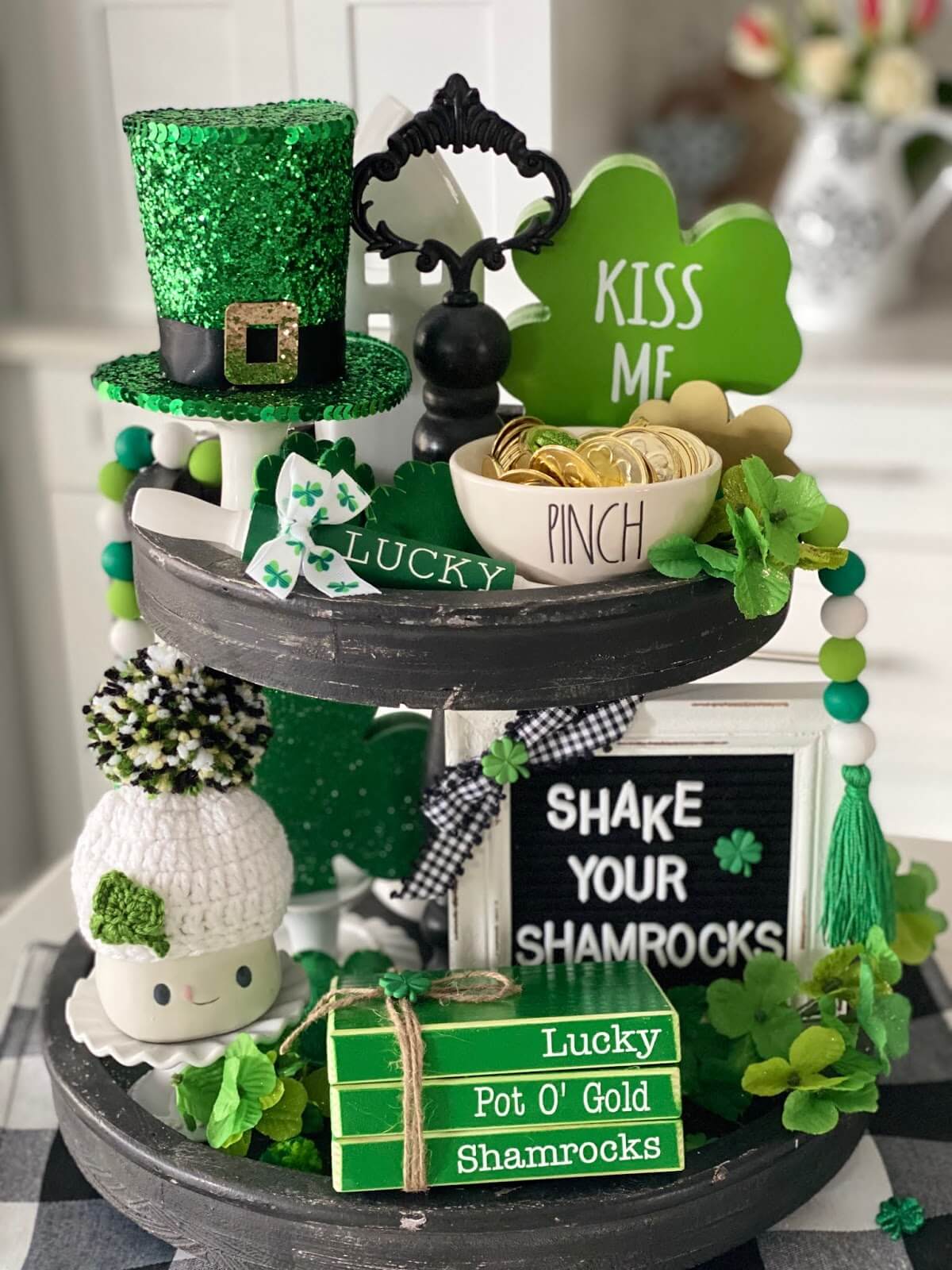 Although it takes place in Spring, this St. Patrick's Day tray can work just as well in the summer. With the bright green coloring, it gives your decorations some lovely vibrancy that allows them to instantly stand out among anything else you may have around it. It can work as a good centerpiece for a side table or a dining room table. This is even a lovely piece of decorative item to place at the corner in your kitchen, drawing attention from anyone who enters. The trays have good vintage vibes to them as well.
6. Rustic Memorial Day Tiered Summer Tray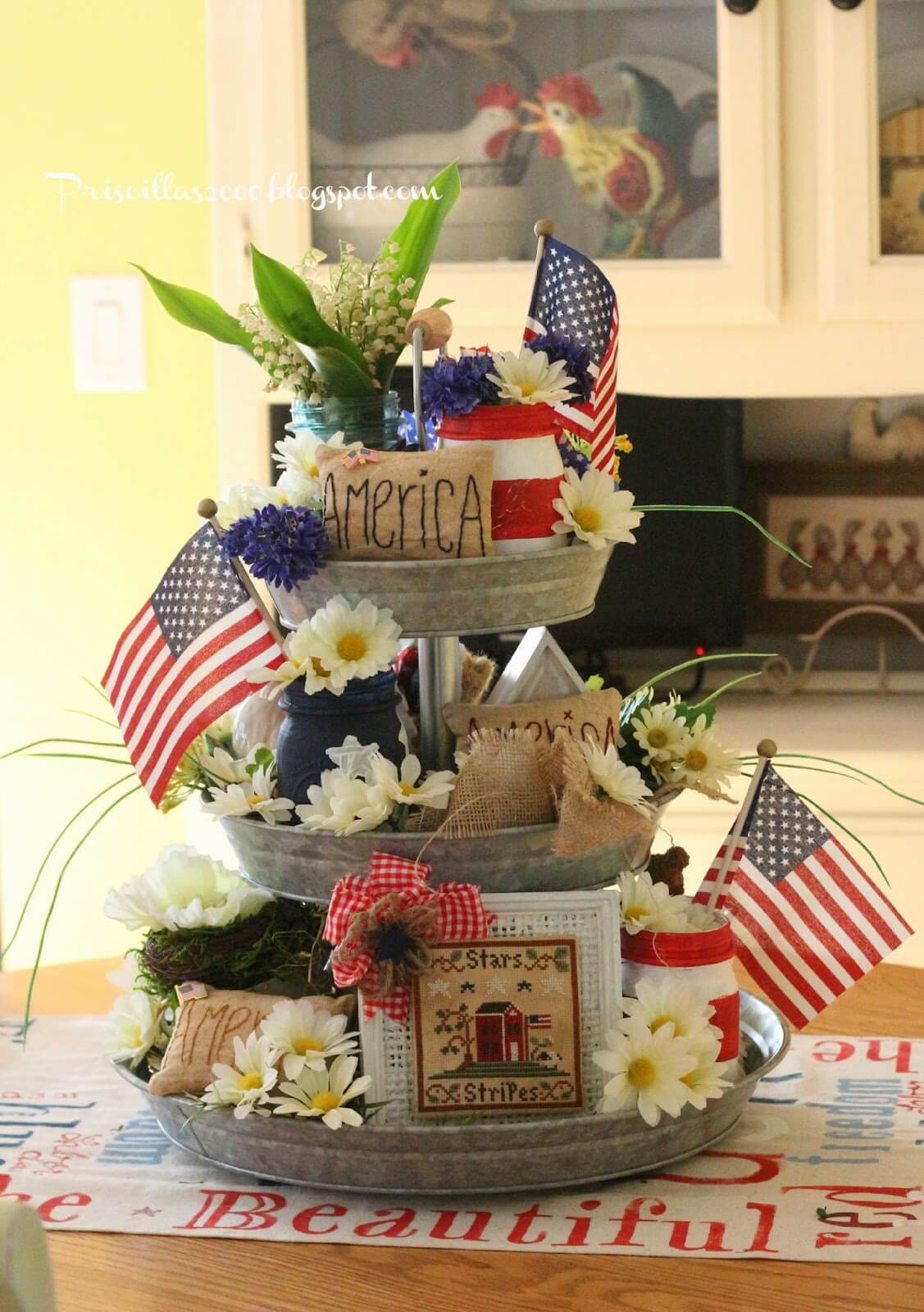 What better way to decorate for Memorial Day than with this down-home-styled tiered tray? The galvanized steel trays are great at illustrating the theme at hand, making this tray suitable for indoor and outdoor use. Going with the three-tiered layout also gives you more than enough room to add plenty of decorations to show off your patriotism. Toss in some flags, some mason jars, and even some summer flowers to highlight the season. The possibilities are near endless. And another useful aspect about this décor is that it's versatile in the sense that you can use it season after season.
7. Whimsical Budget-Friendly Tiered Summer Tray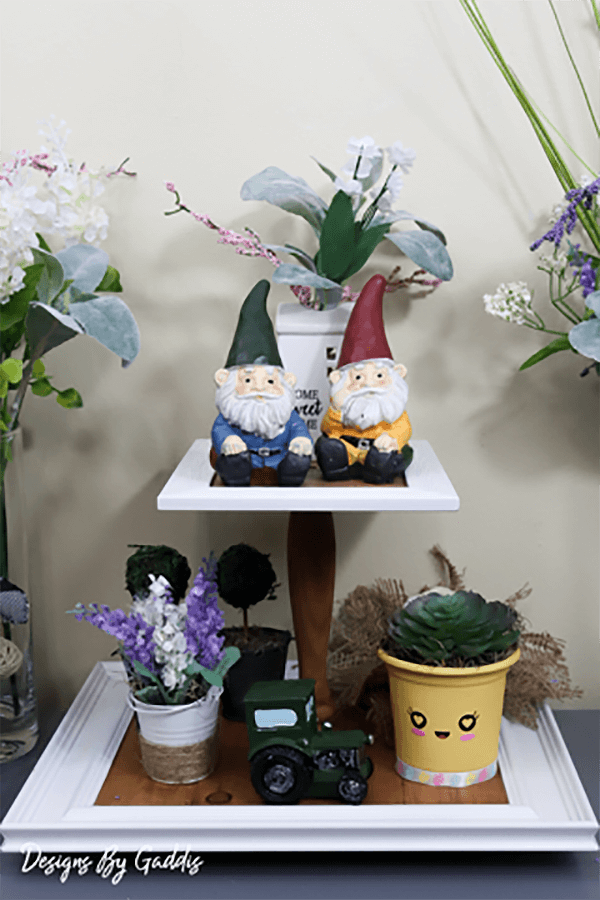 You can find everything you need to create a quirky tiered tray for the summer right at your local dollar store. Picture frames are perfect items to repurpose as, depending on the size you get, they give you enough room to add numerous decorations to the finished product. You're also free to give them a new paint job to better fit a specific theme. It is a lovely project that doesn't require too many extra items to complete, and the results leave you with something that looks completely store-bought rather than made in the comfort of your home.
8. Galvanized Steel and Wood DIY "Garden Party" Tray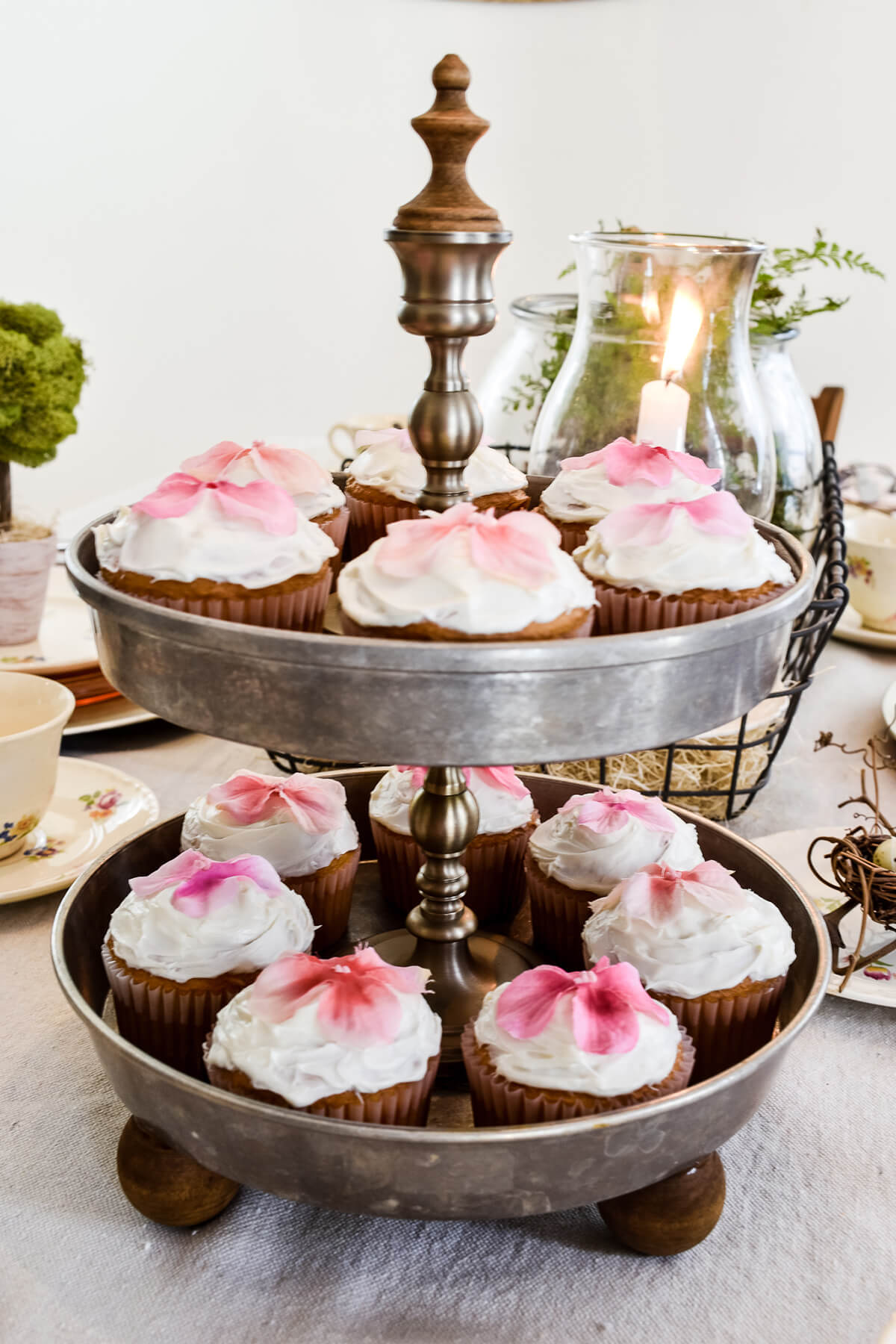 Combining modern and traditional elements, this tiered tray has a regal feel, as though you've been invited to a British garden party. No one would ever guess that the decorative touches are made from candlesticks and finials! This is the perfect serving tray for parties, offering lots of storage but small enough to leave you plenty of room on the table for your place settings. Using cake pans as trays, the high sides also help keep your treats from falling off if you need to move this from the counter to the table. When you're not hosting an event, stock this up with candles, flowers or other decorative accents to spruce up your entryway or countertop.
9. Patriotic Aged Wood Tiered Tray with Metal Handle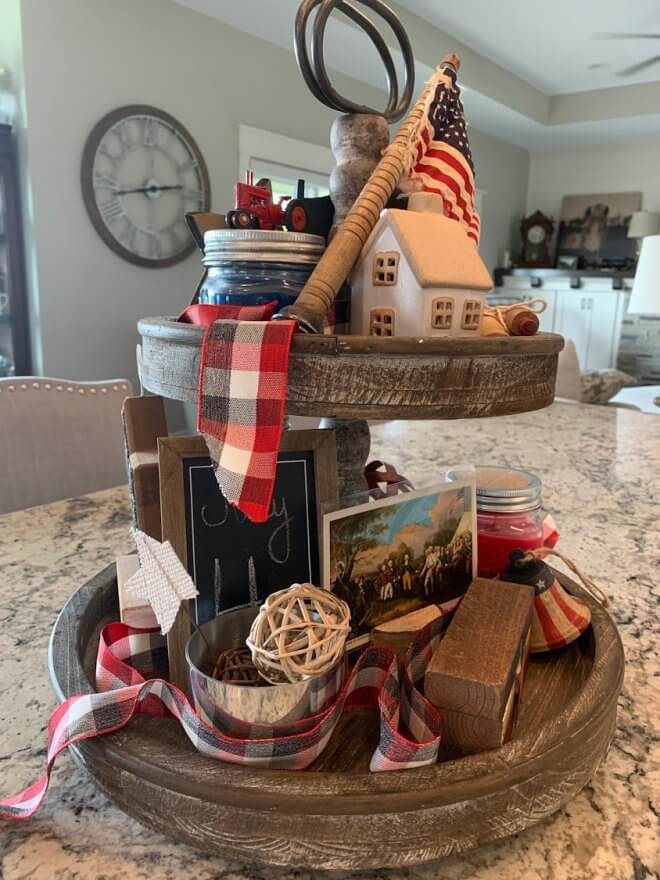 This tiered tray display screams rustic Americana. We can almost smell apple pie candles just by looking at it! The chalkboard is a great touch to the overall design, adding a personal touch that can change with the seasons or even act as a message board for family members. Again, this display succeeds with its mix of textures and shapes, joined together with the red, white and blue theme but also with wood accents that tie the tray into the overall look. The use of ribbon is also a great way to tie pieces together, draping over the edge to spice up the top ledge.
10. Rustic Farmhouse DIY Tiered Tray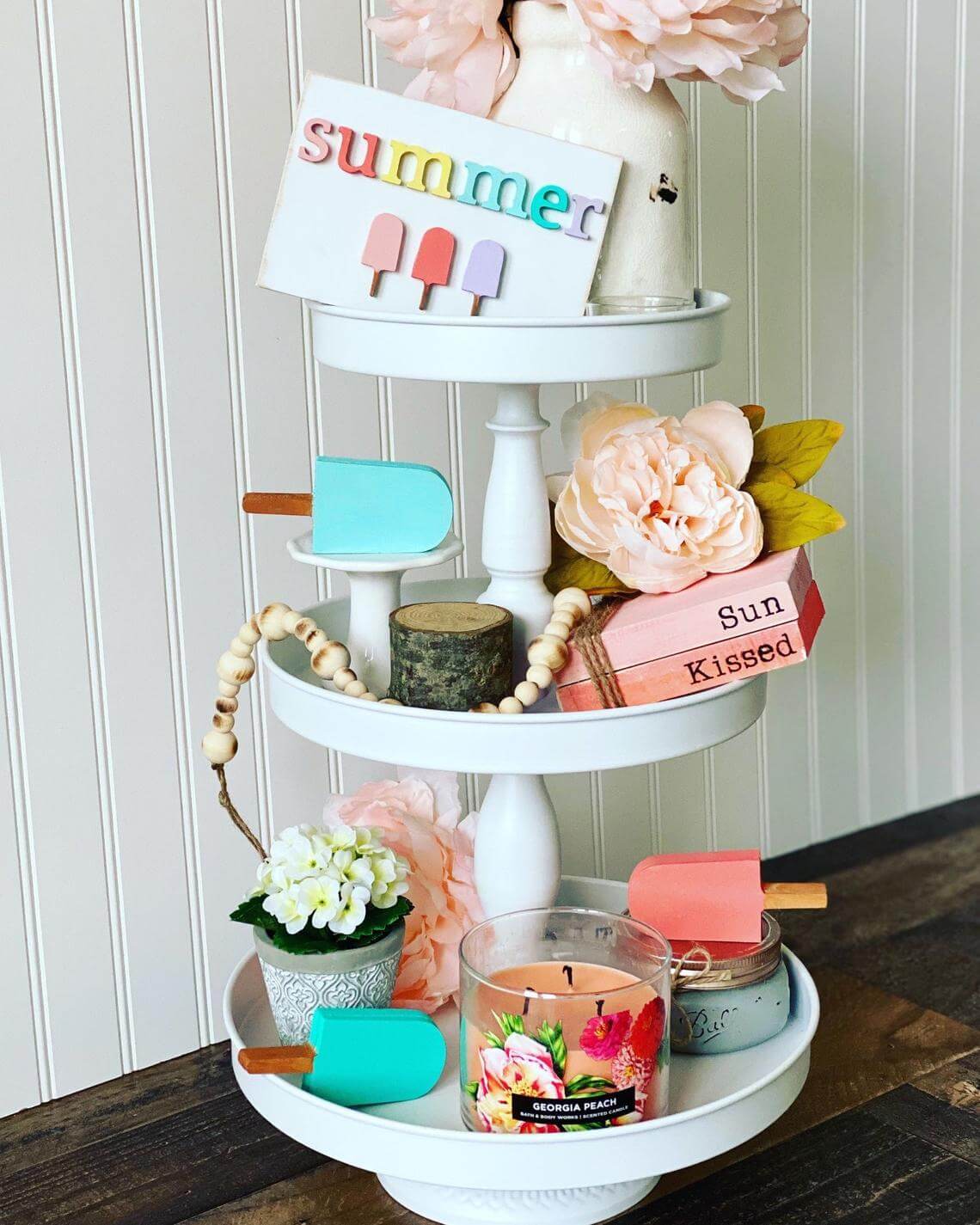 Varying shapes and textures make this tiered tray an eye-catching accent piece. Using old decor (in this case a picture frame and basket), you can upcycle what you already have and infuse your personality by experimenting with different items from around your home. Cheryl from Down Sprigg Lane crafted her levels with a combination of wooden candle holders and a furniture leg that can be cut to size for the look you love. She also chose to lightly distress her painted tray with sandpaper to get a weathered, farmhouse look. The beauty of this craft is that you can make it whatever you want! Using all wood, metal accents or even multi-colored paint, you can get the perfect piece for your style.
11. Forever Summer Tiered Tray Bundle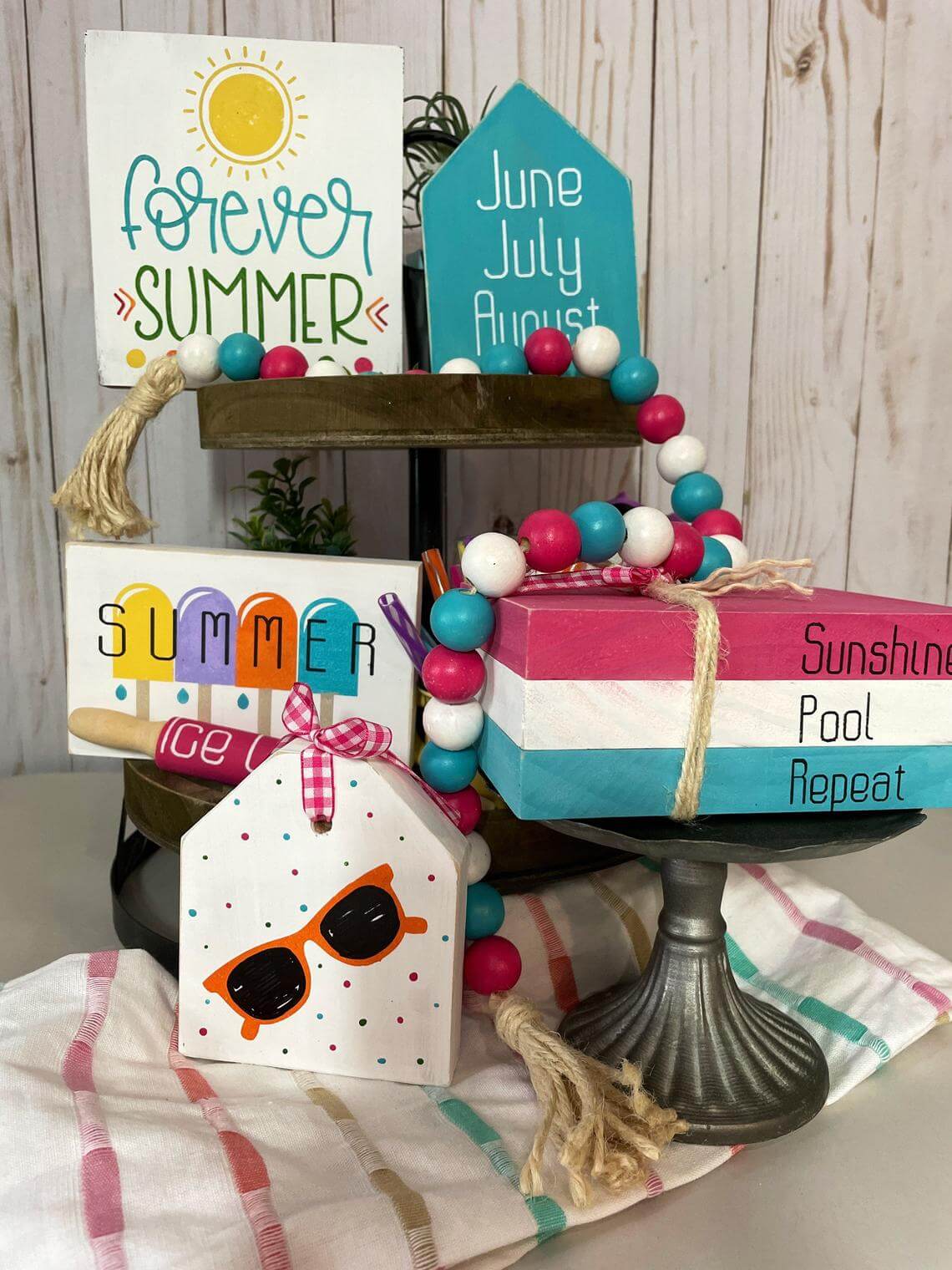 Add a nice summer feel to your cottage-style decorations with this cute tiered tray bundle. This piece gives you the option to get numerous different summer items to add to the trays. All of these unique signs stand out on their own. That's why you can buy them individually or you can get them in a bundle and thoroughly decorate the tray. These signs also balance different colors well to stick with the theme, and they flow perfectly so guests can take in the entire tray one piece at a time.
12. Watermelon Theme Tiered Tray Decorative Set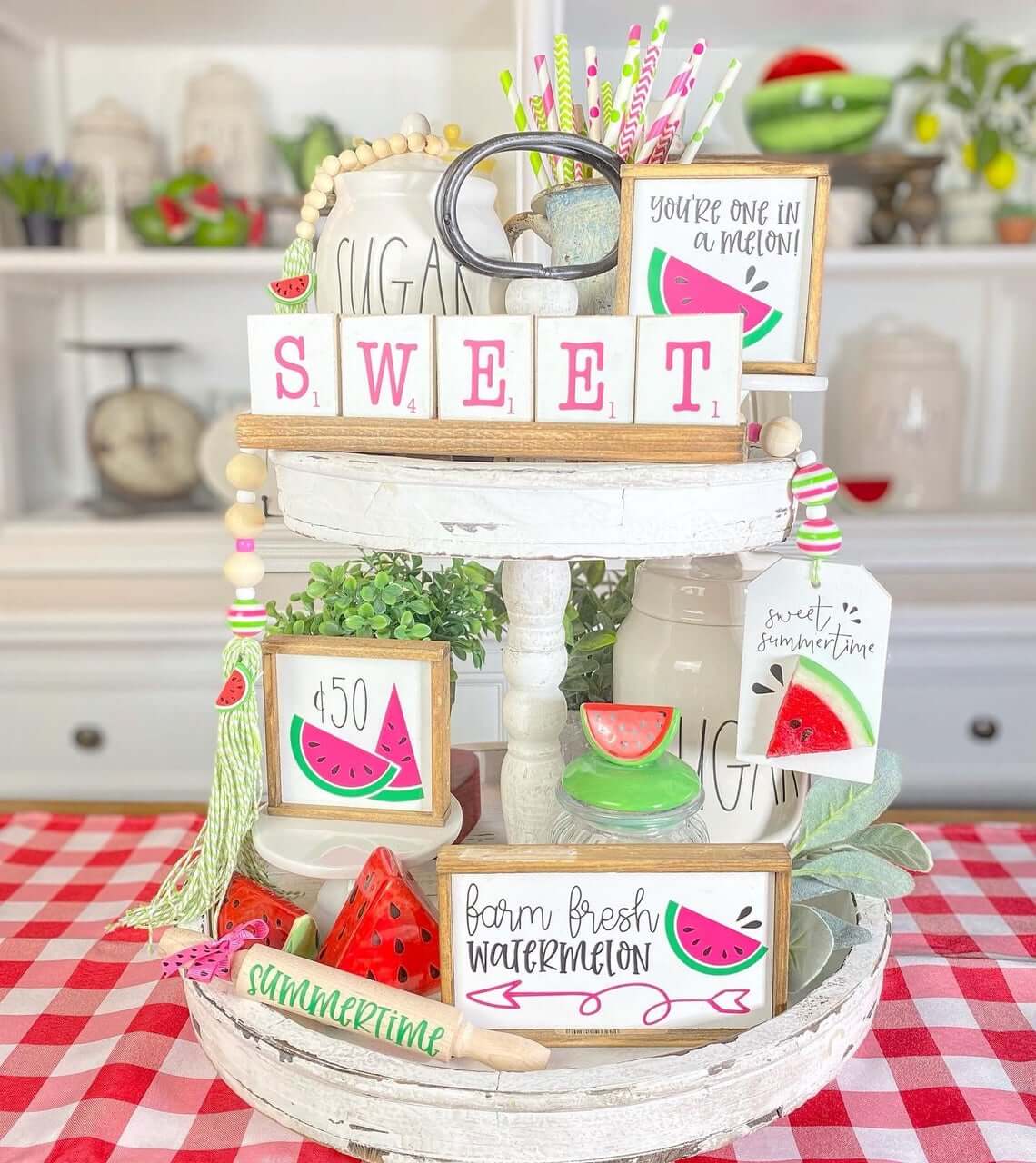 If you have your tiered tray ready to go, then add these items to bring summer firmly into your home. There are several mini signs to choose from. All of them have a watermelon theme that is just right for the summertime. Besides the signage, there are also fun garland pieces that you can string along with your tiered tray. Buy these piece by piece if you only need a few signs, or consider getting the entire collection to fill up your entire tier. Either route you take will leave you with beautiful summer-themed decorations to set your room apart.
13. Mini Summer Wooden Stamped Books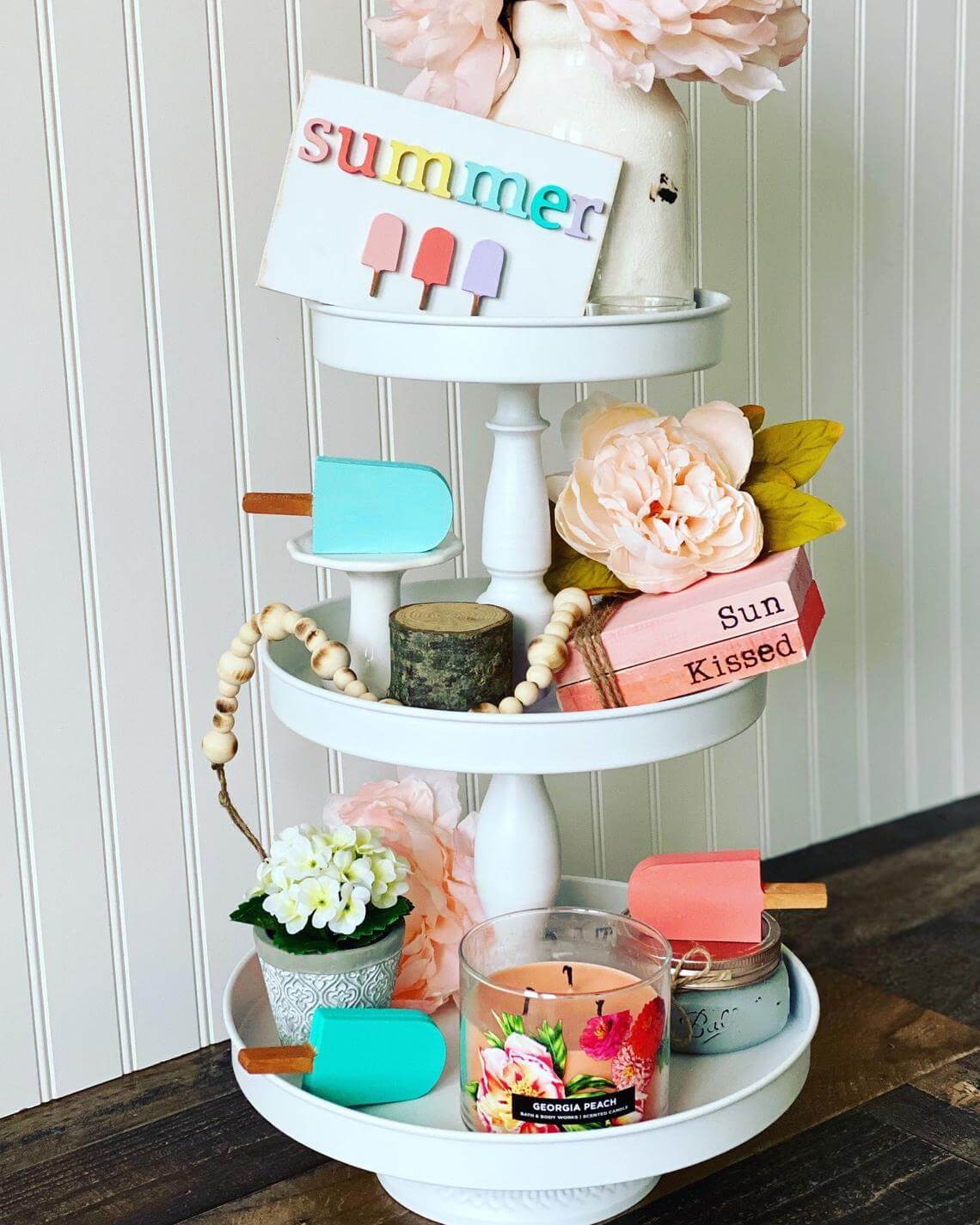 Sometimes your tiered tray needs a strong anchor or other large pieces to tie everything together. With these wooden faux books, you can help your tiered tray to stand out in all the right ways. You can select from four different finishes to best match whatever specific color style you are aiming for. They also have a great distressed style applied that makes them look a bit more rustic. A pair of books are stacked and wrapped together with twine to further nail down the theme and make the piece look a bit more beach-like as well.
14. Stamped Books Summer Tray Décor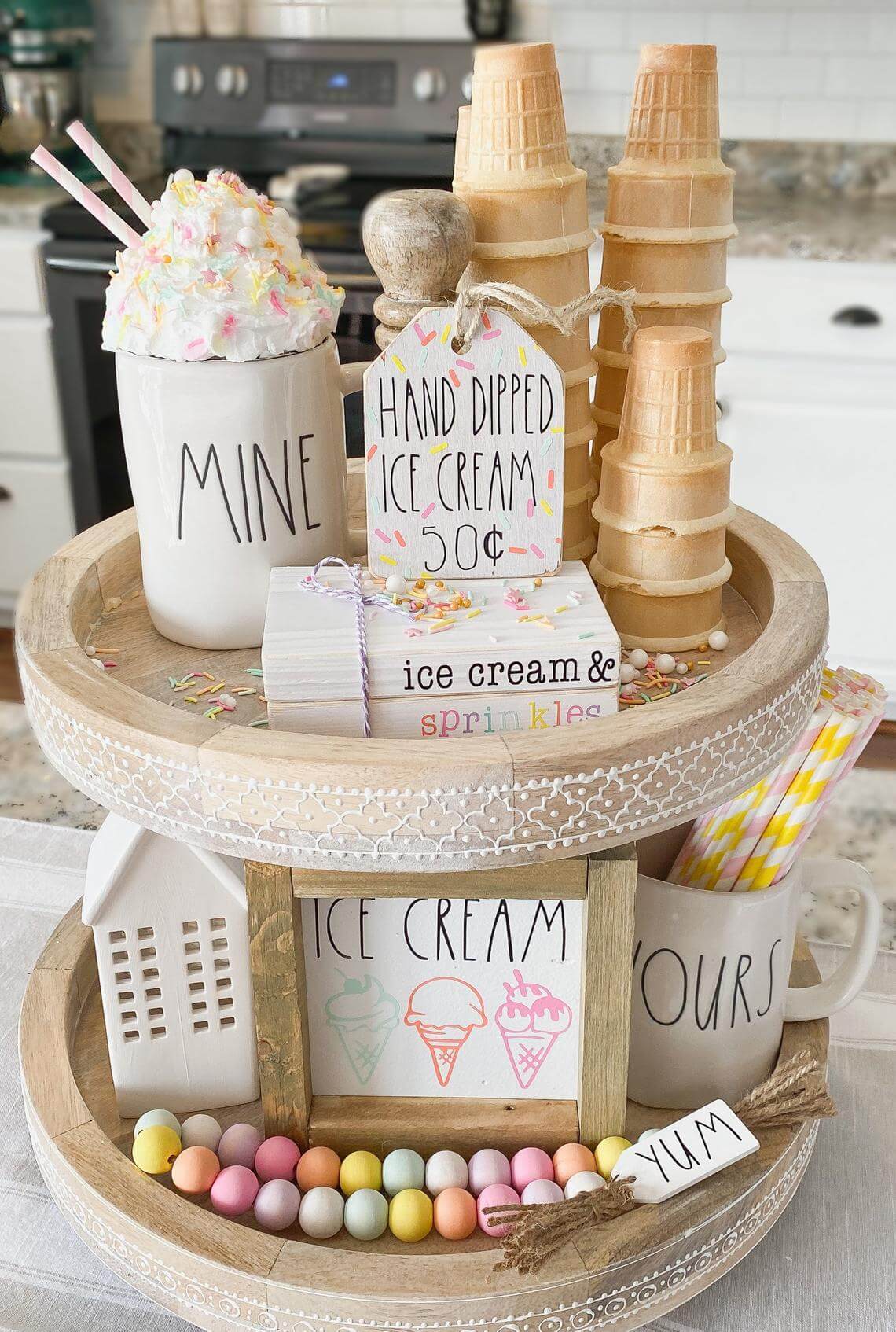 As far as tiered tray decor ideas go, these stamped books are a great choice to liven things up. Handmade from cut pieces of wood, these faux books look the real deal. The bold stamped lettering helps these books stand out, and it balances the black-colored font with the rainbow colors well enough to bring the entire piece together. Of course, the decorative sprinkles on top of the books further allow this splendid piece to have a unique feel. When you use this to add some décor to your tiered tray, there is no denying that you are ready for fun in the sun.
15. Unique Summer Pool Tier Tray Set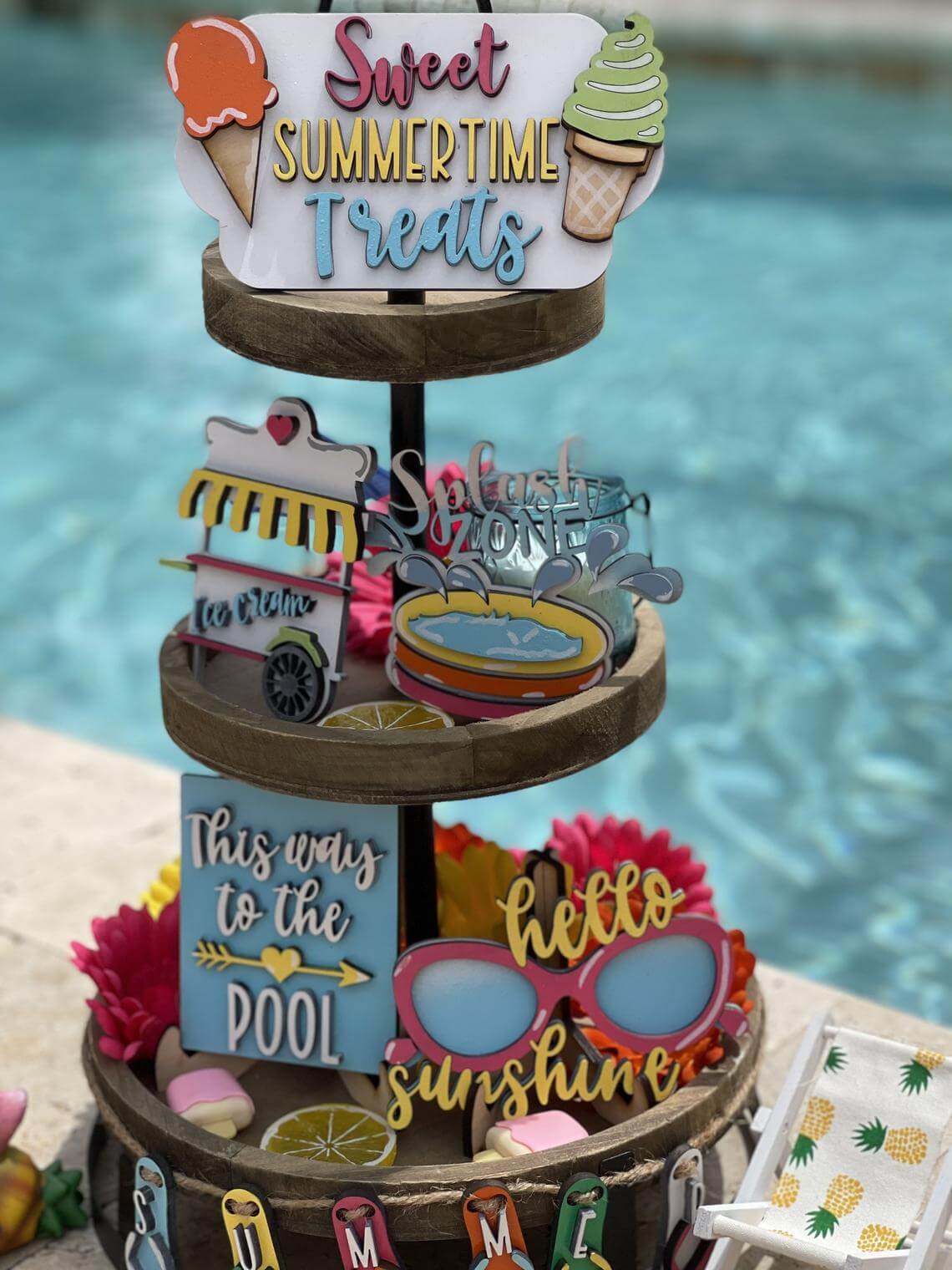 Start your pool party off right this summer with these cute signs fitting for a tiered tray. Everything is minimalistic, but they are perfect to set the seasonal vibe. There are several different decorations to purchase. There is the cool pair of sunglasses, the incredible ice cream cart, and great summertime treat signage. The sandal banner hangs well too on any layer of your tiered tray. Set these up for your next party to leave a memorable impression on all your guests.
16. Summer Farmhouse Style Tiered Tray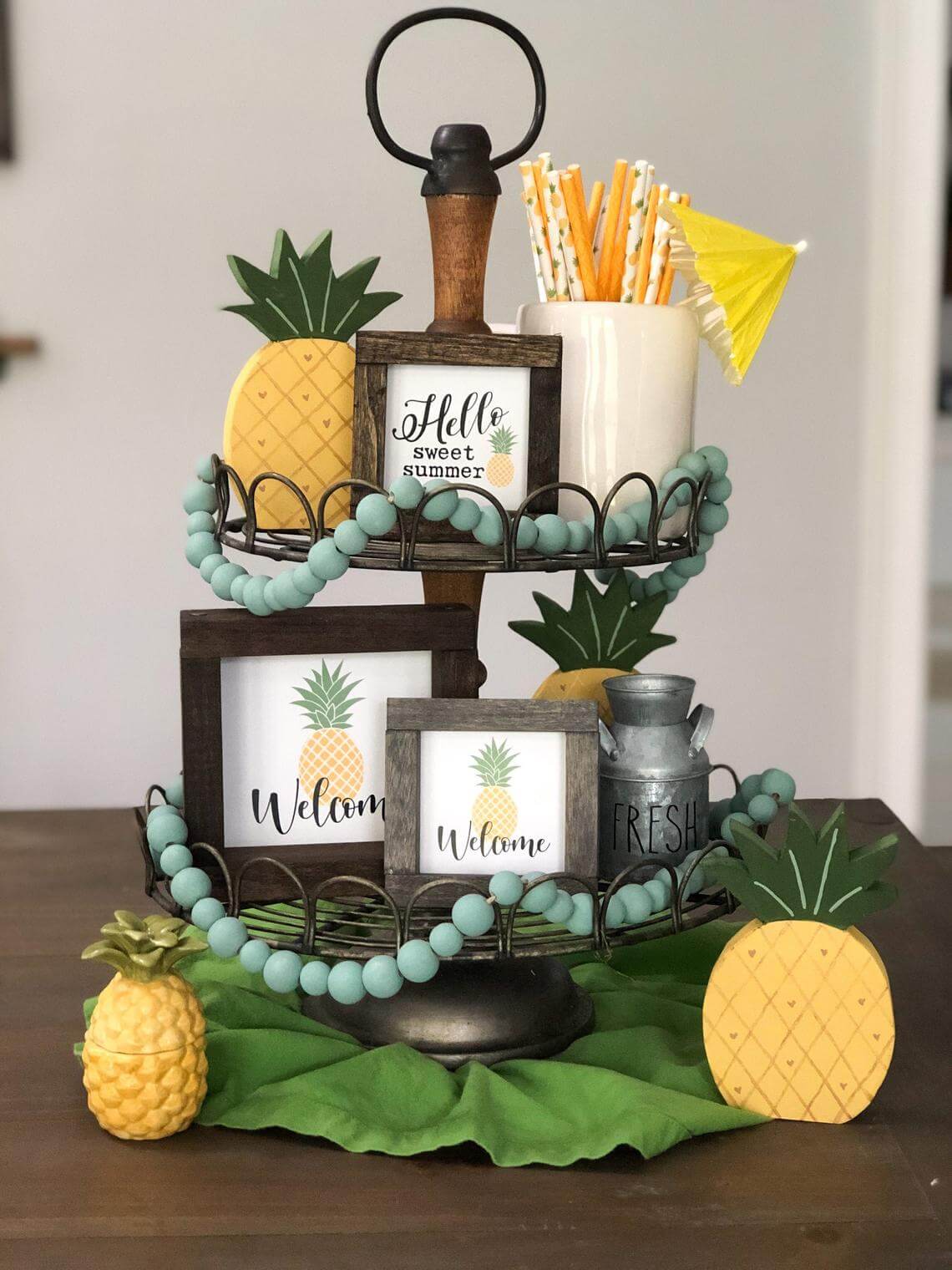 Check out this farmhouse theme tray! There are three frame styles to choose from: black, gray elm, or walnut. They each come in three different sizes too so you can get the right one for your decorative needs. From there, you can pick out which sign you want. There's the "welcome" sign and the "hello" summer sign. Both have a cute pineapple drawing on them too, giving the signs just the right amount of color. They're simple enough that you can easily add some other summer decorations to the tray to bring the set altogether.
17. Peach Themed Summer Tiered Tray Décor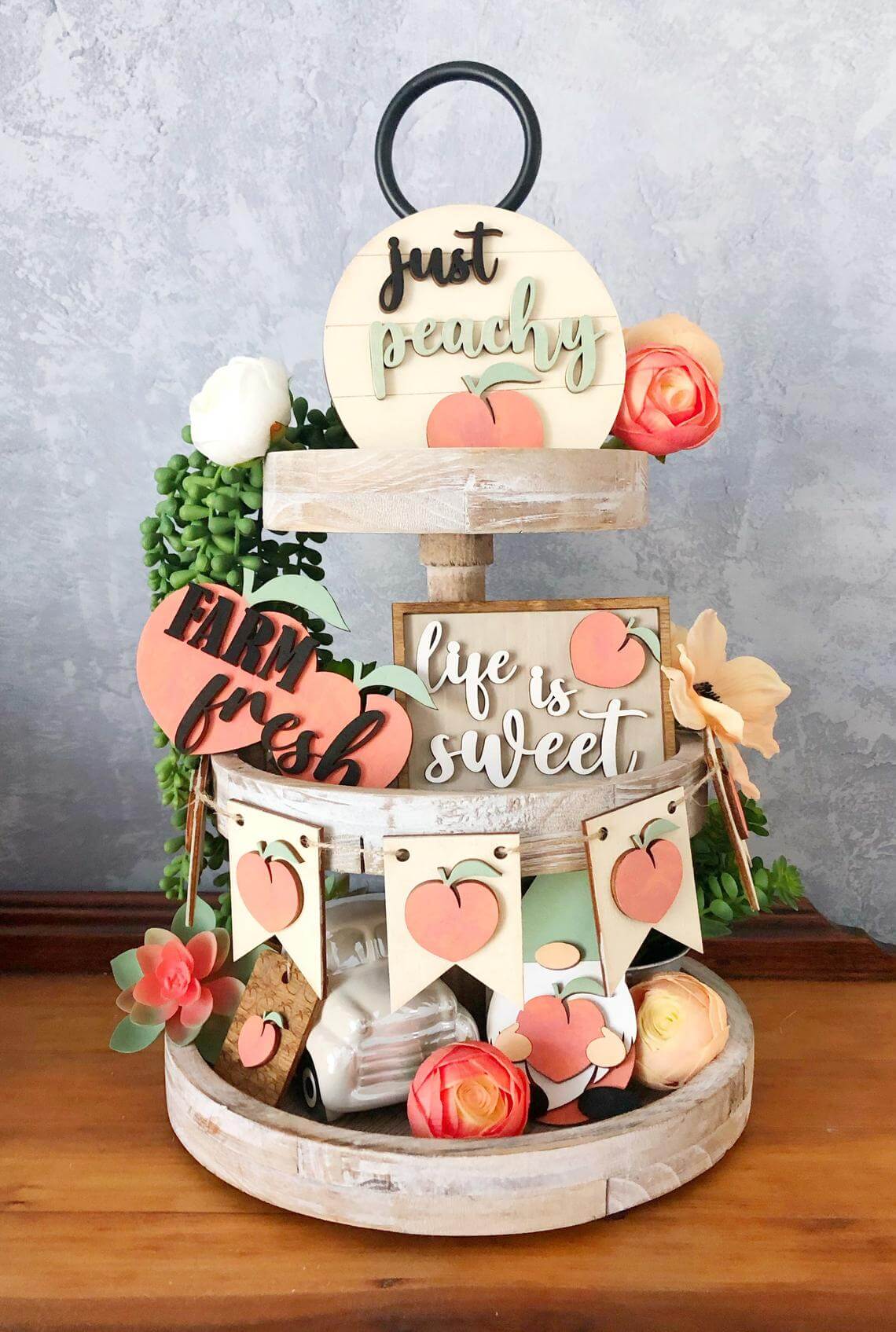 For smaller tiered trays, you need some mini decorative items that work to fill them up without overwhelming them. If this is the case, these peach-themed items are exactly what you're looking for. Six pieces in all, this works for creating something absolutely adorable and colorful, fitting for the season. These handmade items include mini signs, banner signs with peaches on them, and even a cute gnome holding a peach. They are all made from reliable wood, and some of them even have some distress applied, giving the pieces some fun texture that helps each one stand out.
18. Lemon Tiered Tray Summer Décor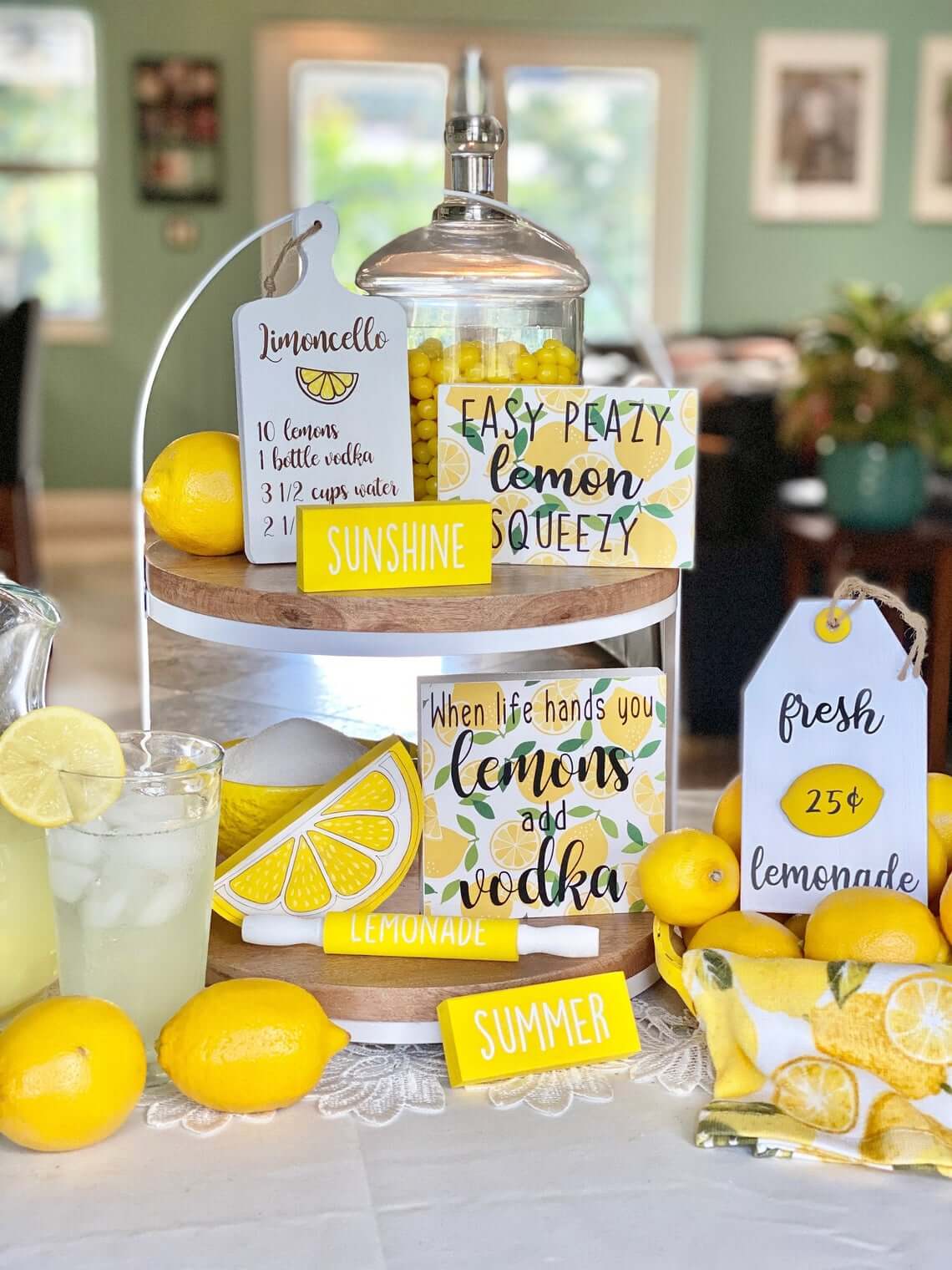 Lemons are such a time-honored staple that many people think of when talking about summer. It's because lemonade is so refreshing and cool that using lemons for decorating brings forth those lovely laidback feelings. You can easily do that with this setup. There's a sweet fresh lemonade sign, an adorable mini rolling pin, a recipe board, and even a lemon wedge. This set also includes some signage with lemon-themed artwork in the background. Everything is crafted from wood as well as hand-painted. They are all sold individually too so you can get as many as you need to add to your summer tiered tray.
19. Mix and Match Strawberry Tray Décor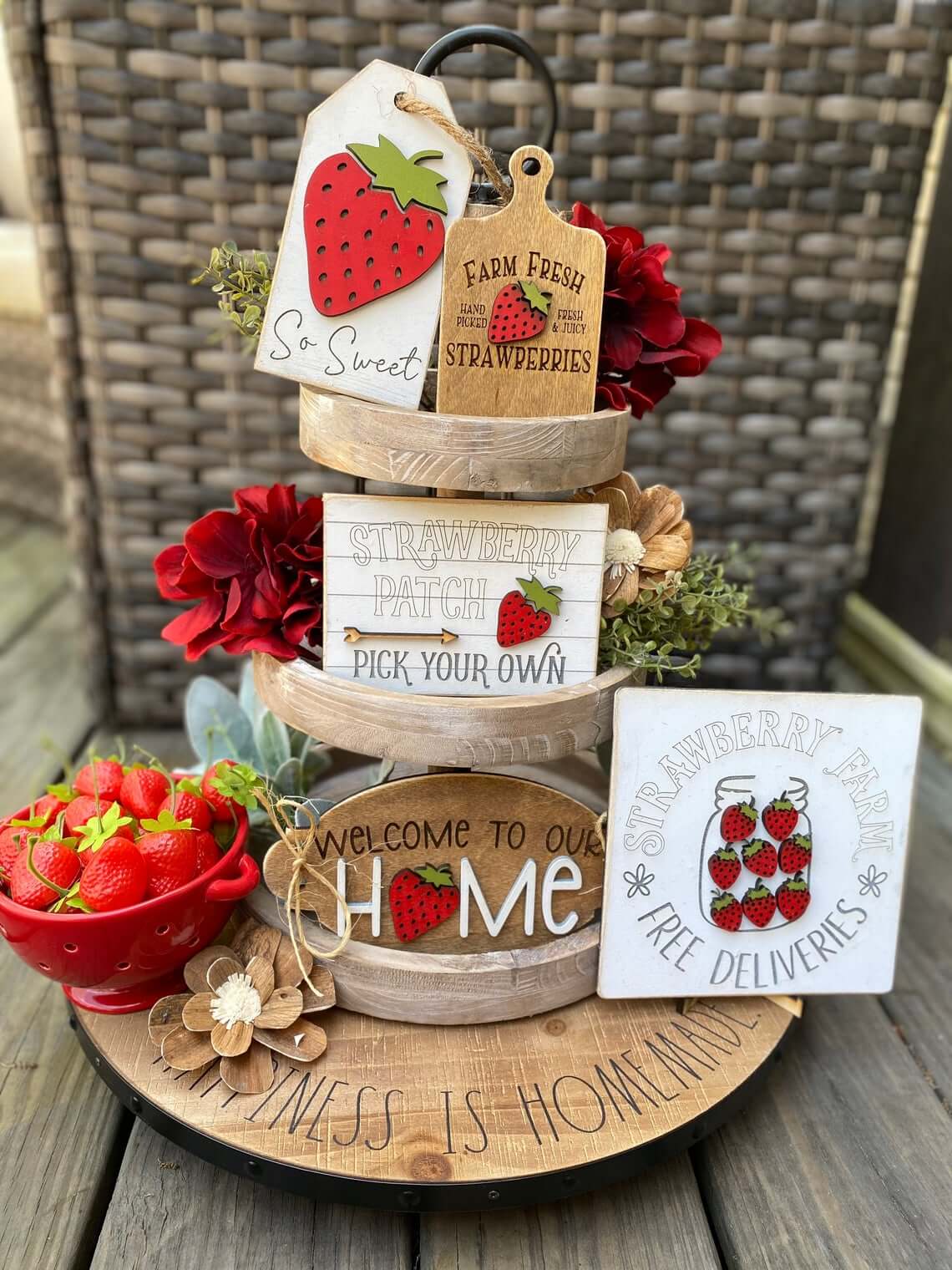 If you feel like your summer tiered tray decoration is lacking that burst of color, then why not try these strawberry-themed decorative items? Strawberries are the perfect fruit to bring in those summer vibes, and this set offers a wonderful selection of items to put on your next tiered tray design. There is an adorable tag with a large strawberry art piece on it, a welcome sign, and other small signage that all have a strawberry theme. This totals out to five pieces in all to choose from to add some lovely accent pieces to compliment your tiered tray this summer.
20. Handmade Wooden Summer Tiered Tray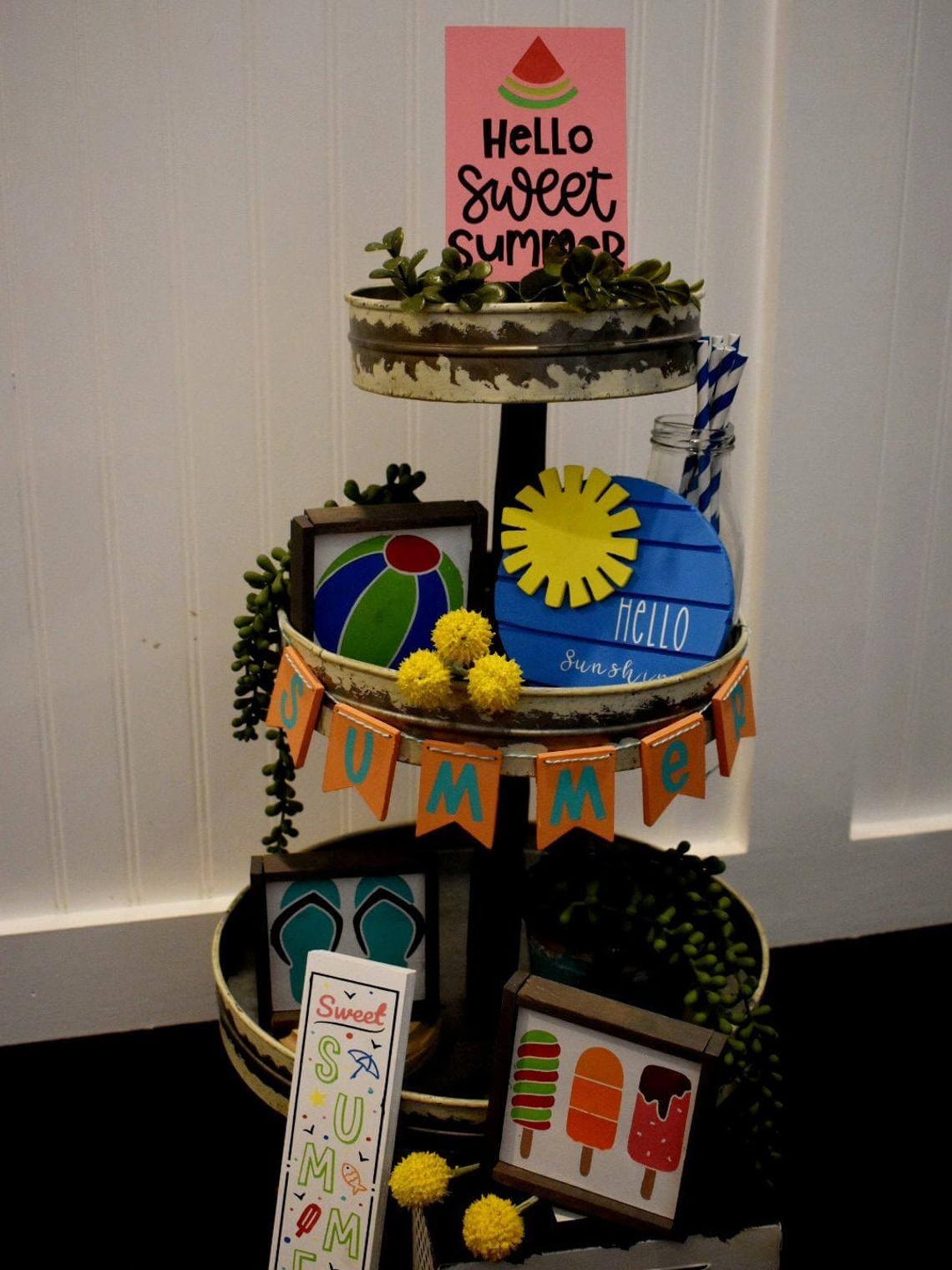 This summer tiered tray decoration is stunning enough to be displayed just about anywhere in your home or for a fun outdoor party with friends and family. There are several different cool items to display along the rustic tiers. This cute setup features some nice greenery that helps bring all the other summer items together. The small and adorable signs all have different sayings as well, leaving you with many different ways that you can set this tiered tray up.
21. Summer Tiered Tray Sign Bundle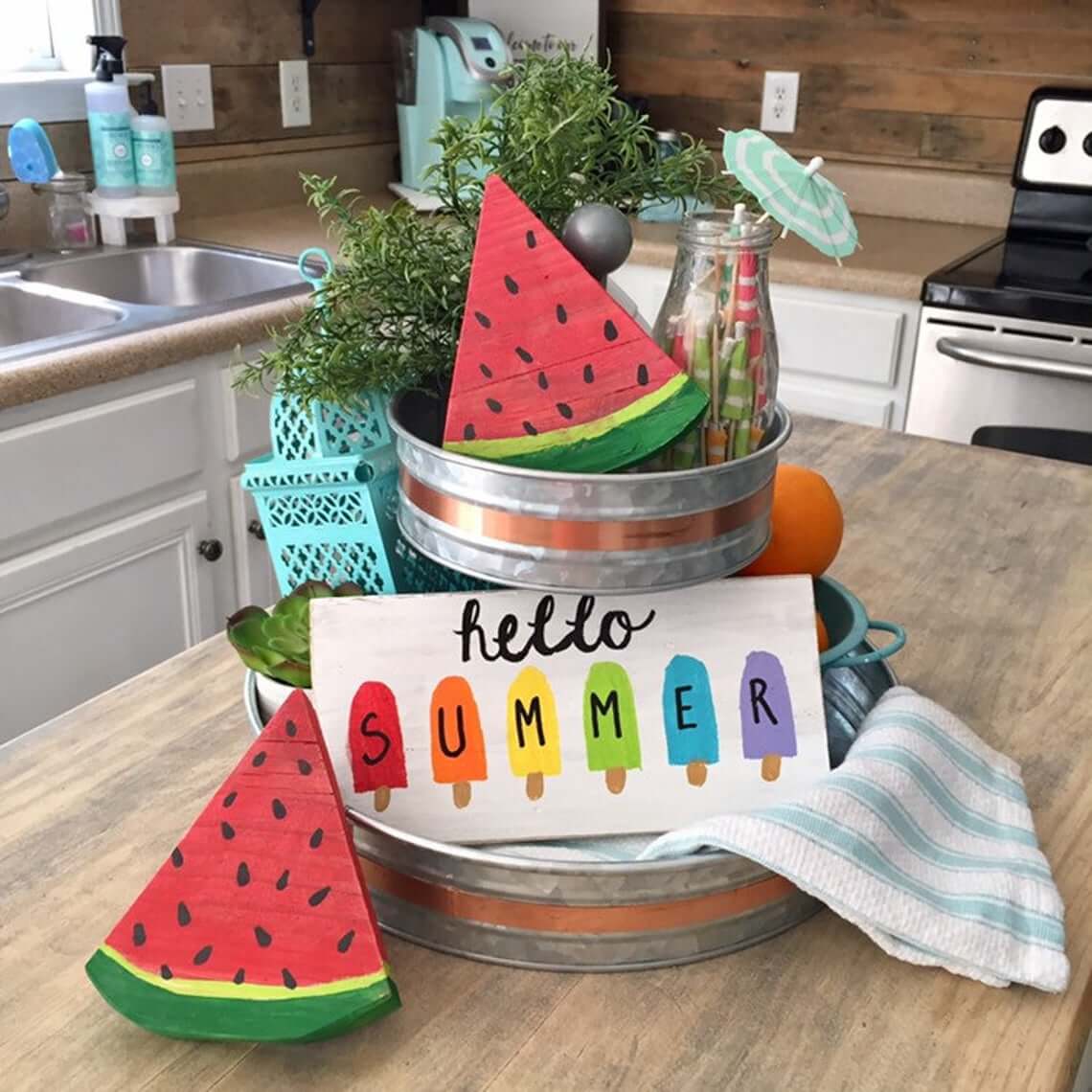 Bring in the warm season with this gorgeous and vivid sign bundle. This comes with two large watermelon slices that add all the color you need to highlight the summer theme. Meanwhile, this also includes a cute "hello summer" popsicle sign. Between the color choices and the pleasant popsicle artwork, these will be wonderful additions to any tiered tray set that you have. These can work exceptionally well if used for decoration at an outdoor barbeque or pool party. Also, for those of you interested in eco-friendly décor, these are made from reclaimed wood.
22. High Rise White Three-Tiered Tray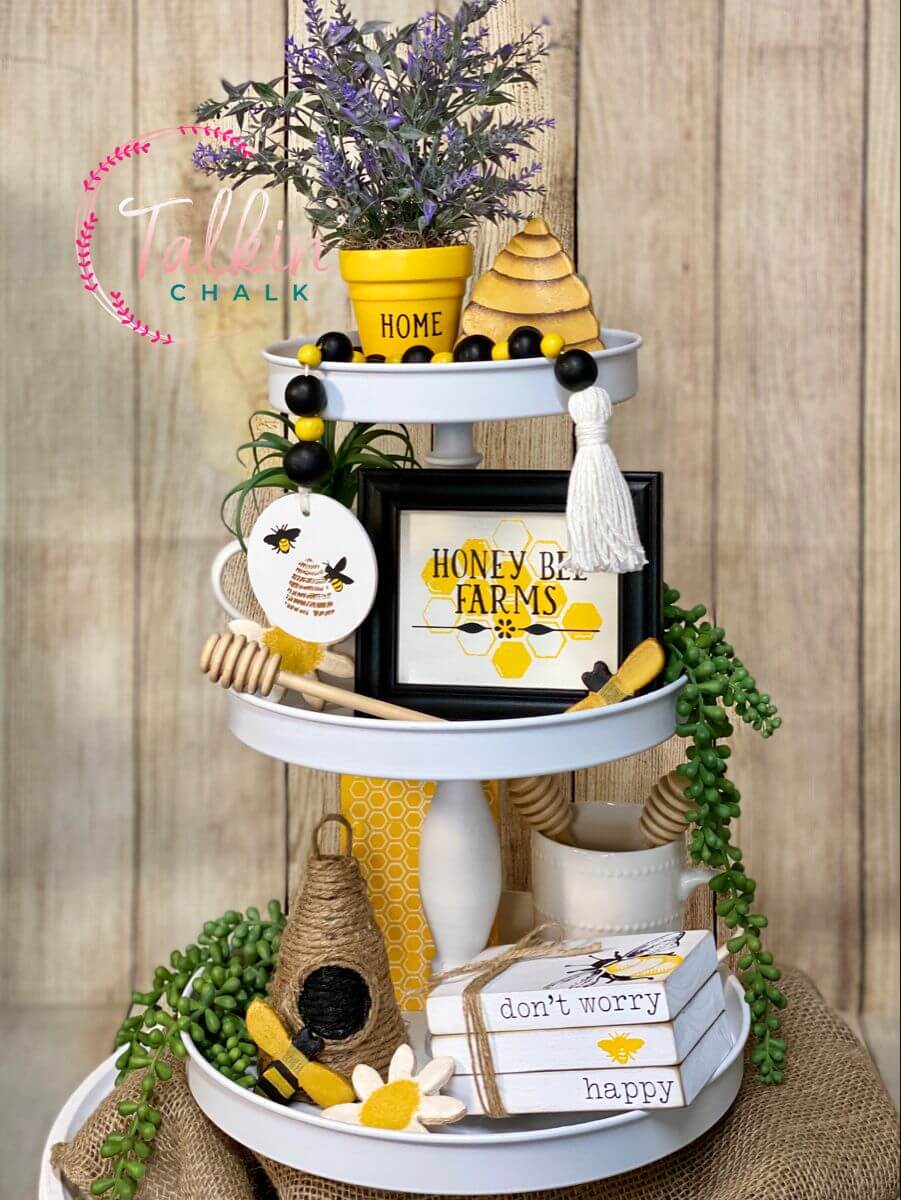 With three wide-spaced levels, this small tiered tray doesn't take up much space but still offers all the room you need for your favorite decorations. In stark white, other colors pop against this background, lending the spotlight to your seasonal decor and favorite accessories. The plain background also lends the perfect canvas for planters of colorful flowers and fresh kitchen herbs. If you're using your tray as a catch-all for keys and other small items, the rimmed trays ensure that nothing slips away while partially hiding any clutter that may accumulate.
23. Fresh Lemon Themed Rustic Tiered Tray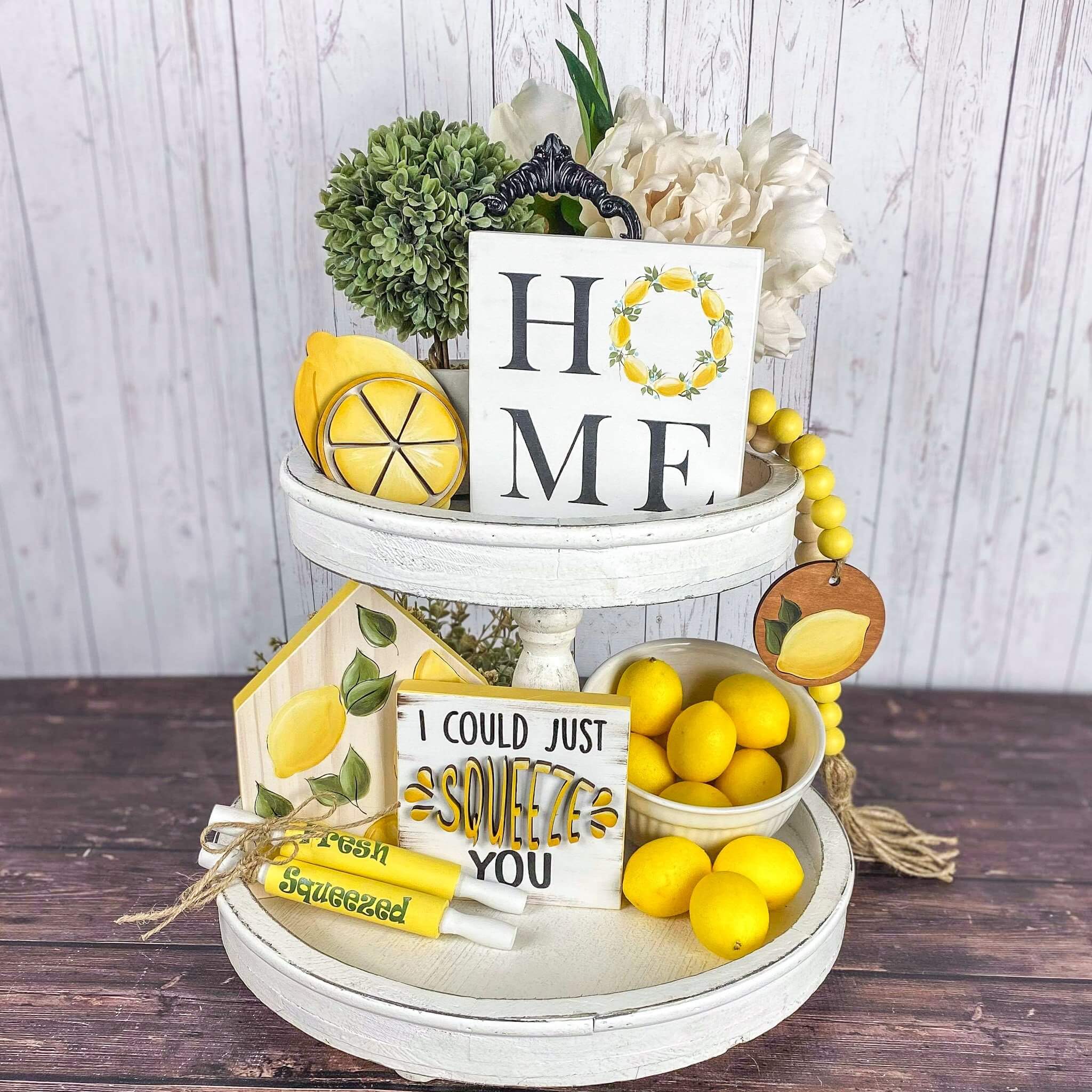 On the fence when it comes to determining how to decorate your own tiered tray? Taking a weathered white tray, this theme is perfect for spring and summer or, in your kitchen, it works all year round! A decorative finial on the top tray gives the perfect resting place for a small sign. Rounded out with a lemon theme, the pieces on the tray vary in size, shape and type to create an intriguing visual. Integrating pieces of the same color palette (the greens, whites and yellows) each item is unlike the others while carrying a natural theme throughout the display. This also sports yellow wooden beads (the trend is back!) showing these really are an all-purpose decoration.
23 Best Summer Tiered Tray Decor Items and Ideas for Your Next Party
When the summer season rolls around, it's time to do away with the spring decorations and move onto décor that is more fitting for the theme at hand. A great way for you to do this is by using a tiered tray. Tiered trays are wonderful tools to add several decorative items in a single place without things looking too busy or distracting. They come in multiple levels so you can choose just how many are effective at managing the setup you wish to create. What the tiered tray is made of also makes a difference. Metal trays and wooden trays can give off different vibes, so it's important to note just what you're looking for.
As far as decorations, there are many tiered tray decor ideas that will prepare your home or party for the season. Fruit is an obvious choice, which is why we included several different ideas that include fruit from strawberries to lemons. If you are ever concerned about what to do, think of common items you see in the summer months and go from there. Be sure to remember to include color in your decorative pieces. Color is another common element of summer, and the brighter the better as it's all about having fun under the sun. We hope our selections of the best summer tiered tray decor have inspired you in your latest home decoration journey.