It's time to shake off the winter doldrums and brighten your front door with a summer wreath. A summer wreath will welcome your guests in a cheerful way while providing a lovely accent to your home décor.
45+ Pretty Summer Wreath Ideas to Welcome Your Guests with Style

Not all of these wreaths take the traditional form. Some are made on wagon wheels or straw hats. Being creative with your wreath base is a great way to let your personal style shine through. One especially creative wreath combines large sunflower blossoms to make a pineapple. Another standout idea makes an ice cream cone out of carnation blooms and a hanging wall planter.
Nautical themes are popular for summertime wreaths. Wrapped in rope or accented with starfish, these wreaths bring a touch of the sea to your front door. For a nautical wreath, you can go as simple as a rope wrapped base with a few seashells added, or you can go all out and create a display with a sailboat.
These awesome summer wreath ideas will bring color and cheer to your home while displaying your creativity for everyone to see. Having a summer wreath on your door will brighten everyone's spirits. Try any one of these ideas and you'll receive lots of compliments.
1. Cheerful Bright Wagon Wheel Wreath with Flowers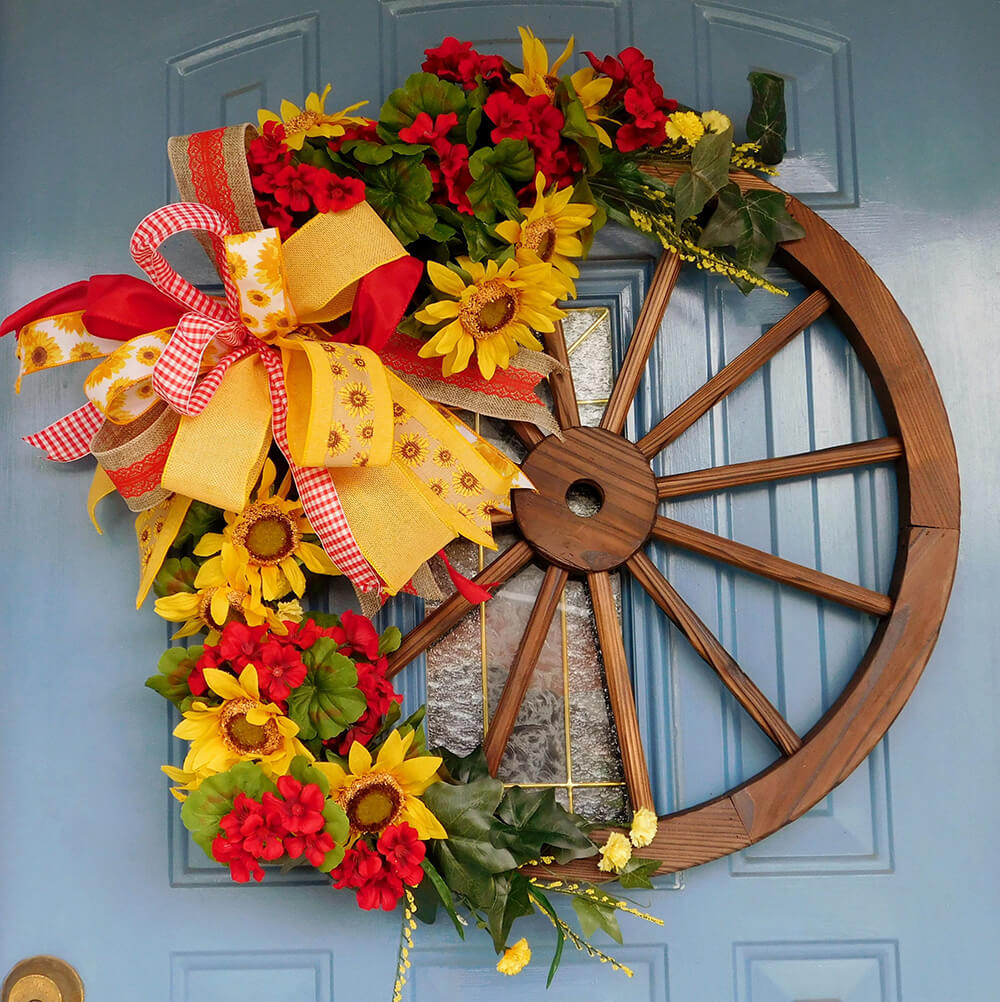 Create more unique summer wreaths by using something completely different like this wagon wheel. The beautiful wood stands out on its own, while the bright, multi-color flowers breathe that seasonal vibe into the wreath. Plus, the floral setup is limited to one side, a design choice that helps all aspects flow together.
2. Cute Wreath in Shades of Watermelon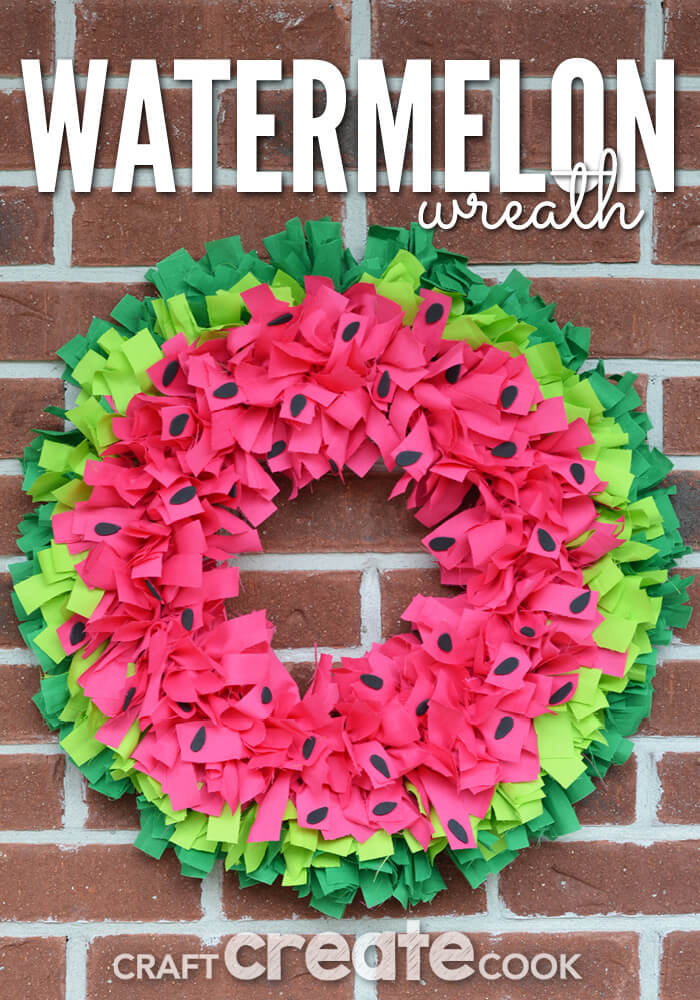 This adorable wreath is fitting when you want to move away from your usual floral design. Plus, it leans heavily into another popular summer theme: watermelon. This cute crafting project is a fun one to involve the kids in too, and you're left with an adorable wreath fitting for fruit-themed decorations.
3. Funny Ice Cream Cone Wreath with Carnations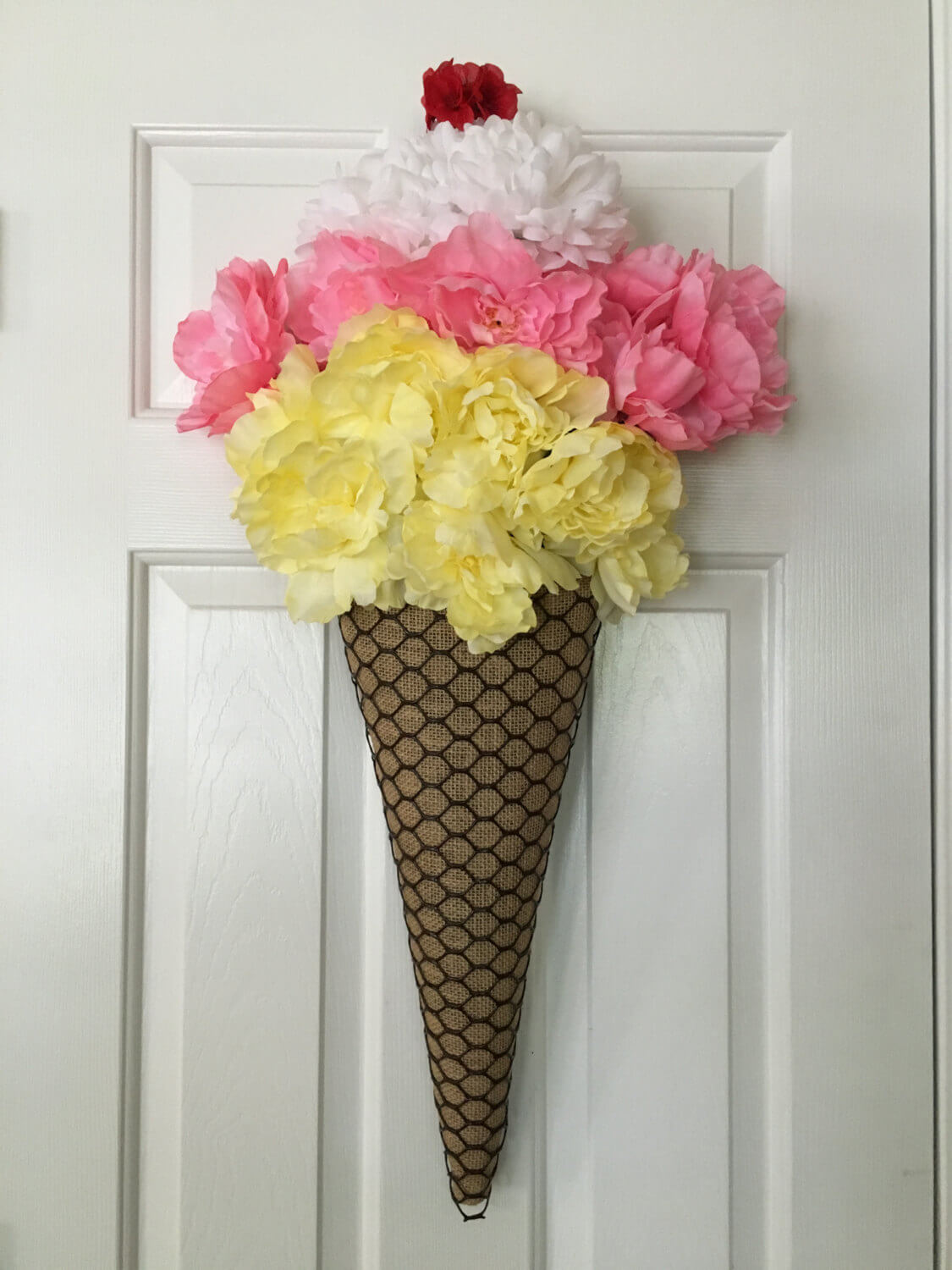 Some of the best summer wreaths play into a lighthearted theme, and this 24-inch wreath shaped like an ice cream cone achieves that and more. It's cute, funny, and can instantly attract attention. The multi-colored flowers add a hint of elegance to the wreath while giving the illusion of ice cream scoops.
4. Muted Summer Wreath with Hydrangeas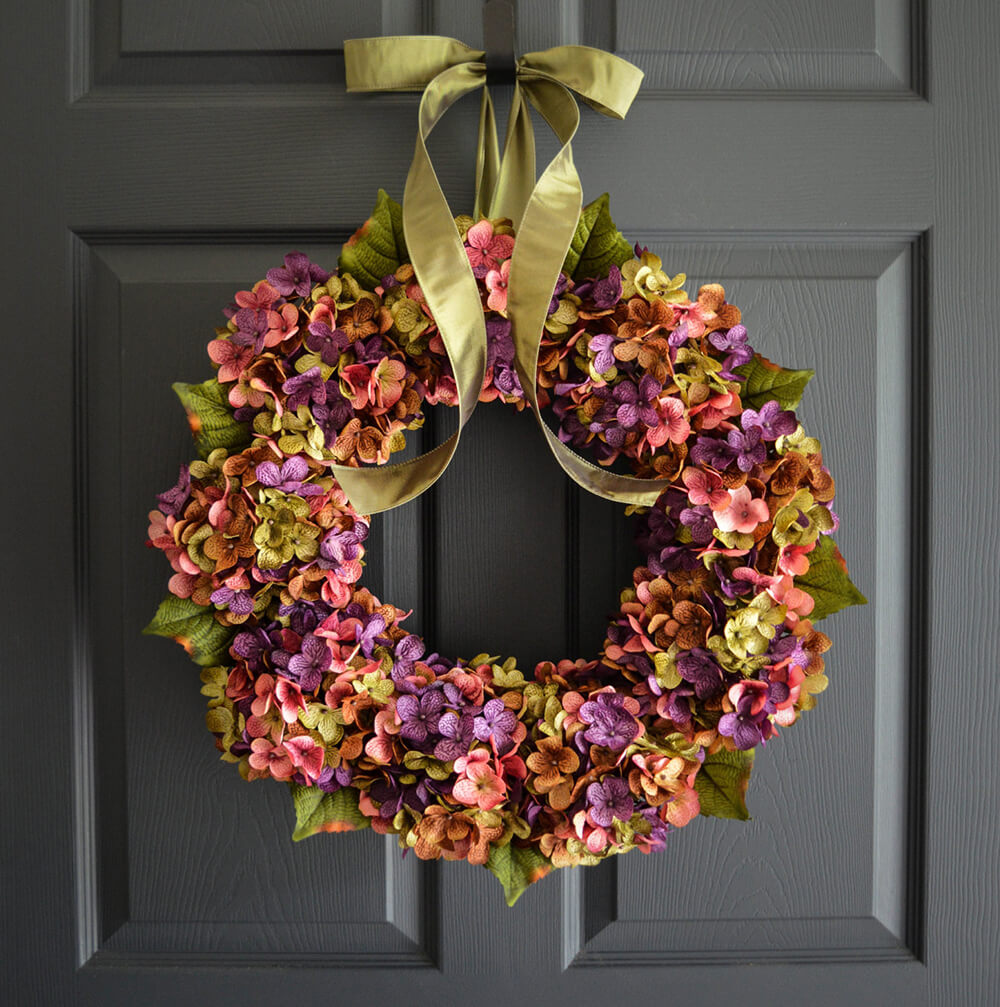 Not all colored wreaths have to be bright to make a statement. Take this wreath made with hydrangeas, for instance. There are several colors used, but they're more muted and darker instead. Even so, there's a vibrant look about them. It leaves you with a summer wreath that's unique and modern.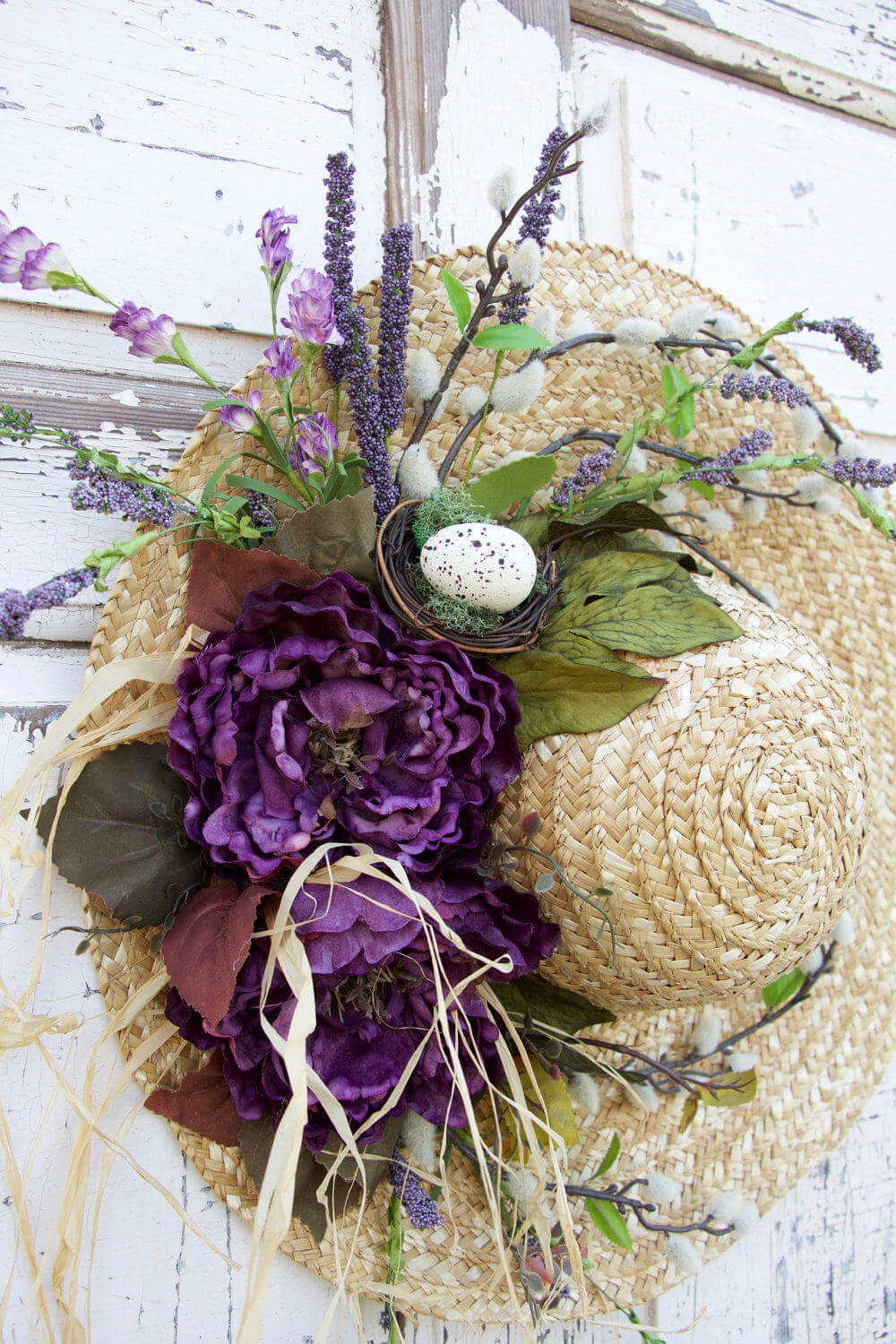 A more distinctive way to create a flower wreath is using a base not many would think of. This straw hat is an excellent example of that. This transforms a traditional wreath into something that is instead a blend of rural and modern. The darker flower colors stand out well against the lightness of the straw hat, urging your eye to immediately be drawn in.
6. Beautiful Growing Succulents on a Wreath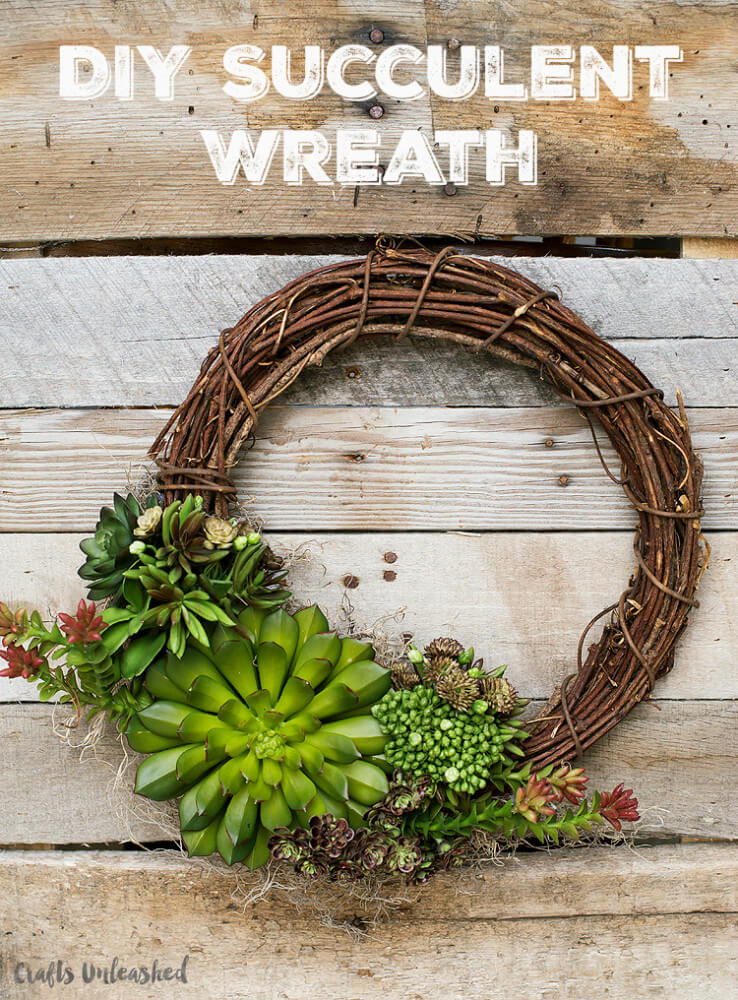 Instead of traditional flowers, consider using succulents on your summer wreath. Succulents come in various shapes, sizes, and colors. This can allow you room to make a creative wreath with something new to gleam at every turn. Balancing out with a large succulent that has smaller ones scattered around build up the cohesiveness of the wreath.
7. Flower Garden Wreath with Butterflies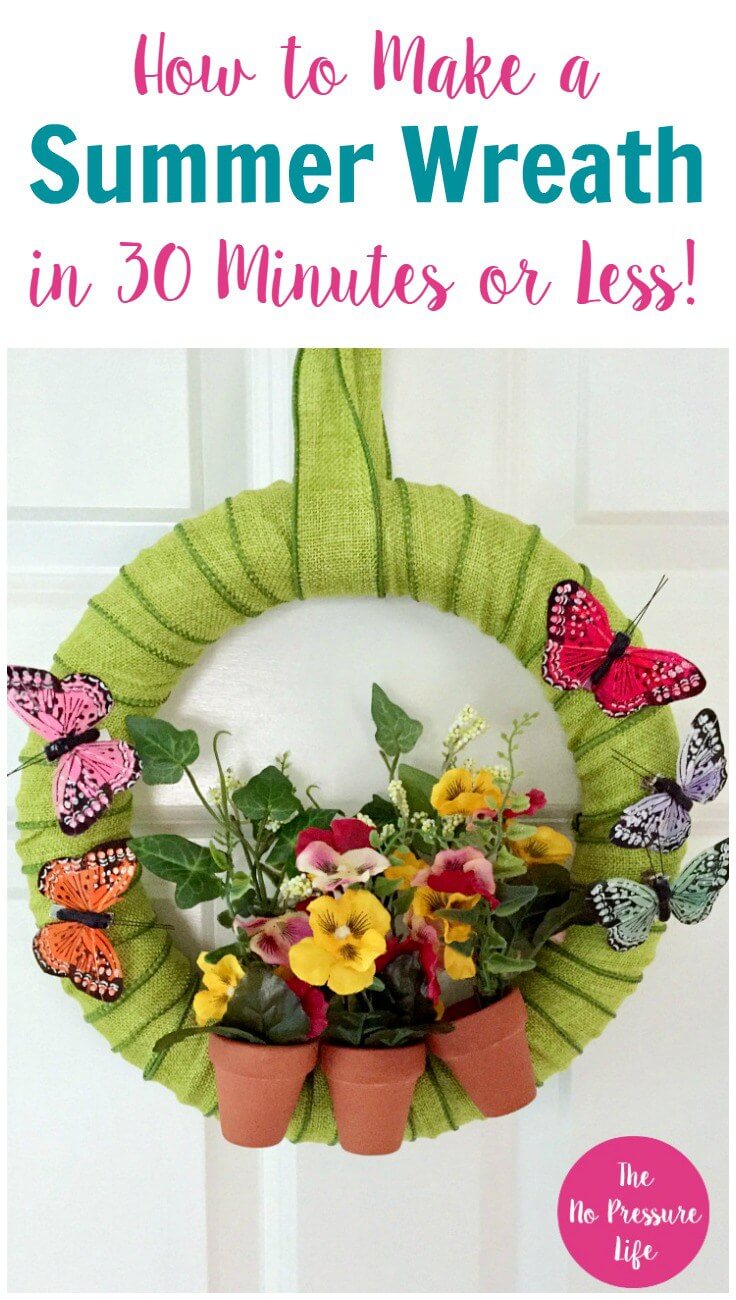 Indulge yourself in summer themes by decorating with a beautiful butterfly garden wreath. The bright green works as the perfect base for the colorful butterflies adorning it. The potted flowers further add an artistic flair to the wreath, bringing in even more colors to make the wreath pop.
8. Sunny Wreath with Lemons and Leaves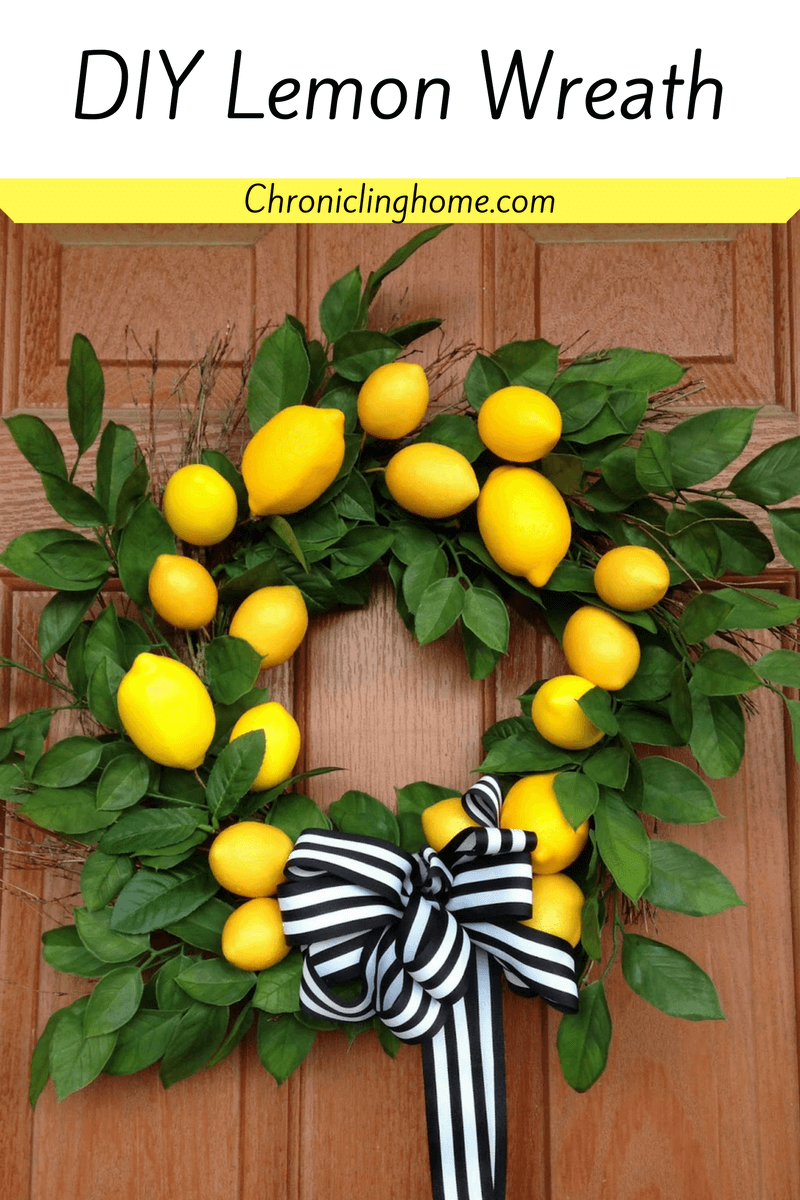 Nothing says summer like lemons. So, why not bring them to your front door with this incredible wreath? It is almost as if you've transformed a lemon tree into something to hang up instead of a plant. The greens and yellow flowers balance each other perfectly. Meanwhile, the bow serves as a cute finishing touch.
9. Make Your Own Nautical Wreath with Rope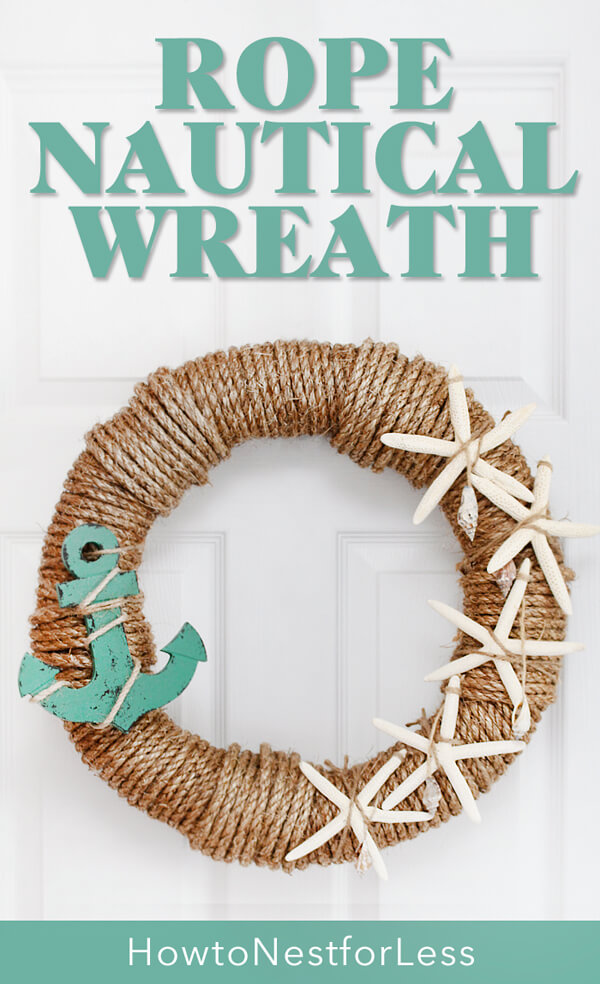 Some summer wreaths transfer you to a new place as with this gorgeous nautical-themed wreath. The rope supports the seashell garland expertly. You can make your home feel like you're on a relaxing tropical beach for the summer. Also, it pairs well with any other coastal-like décor you have.
10. Summer Wreath Idea with Geraniums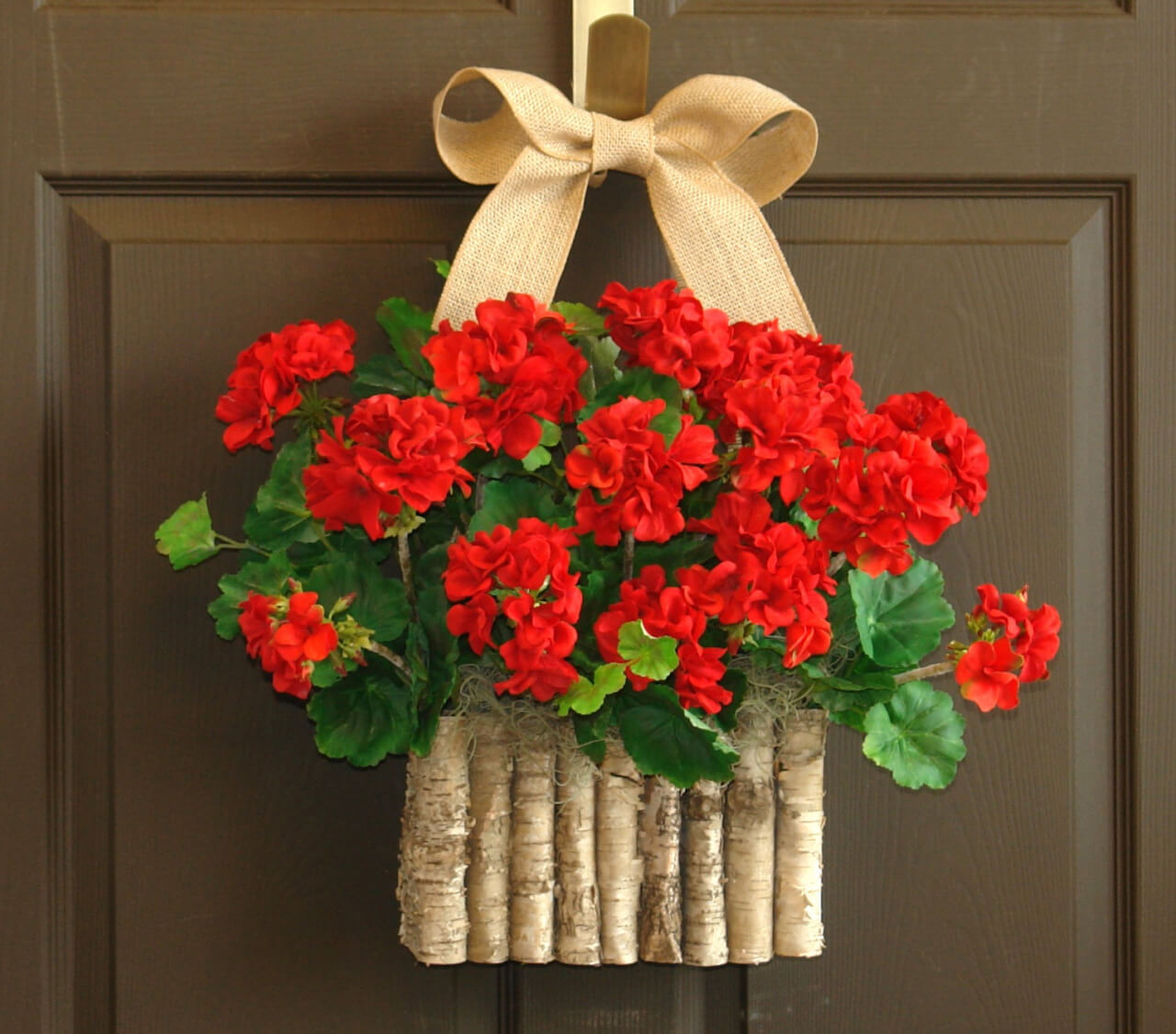 Looking for something more rustic to decorate your front door with this summer? The wooden containers sell the rural vibe of this wreath. Meanwhile, the geraniums add a lovely deal of color that stands in contrast with the other muted tones on this makeshift wreath. The burlap bow adds more to the rustic side of things too.
11. Sunflowers Make This Oversized Pineapple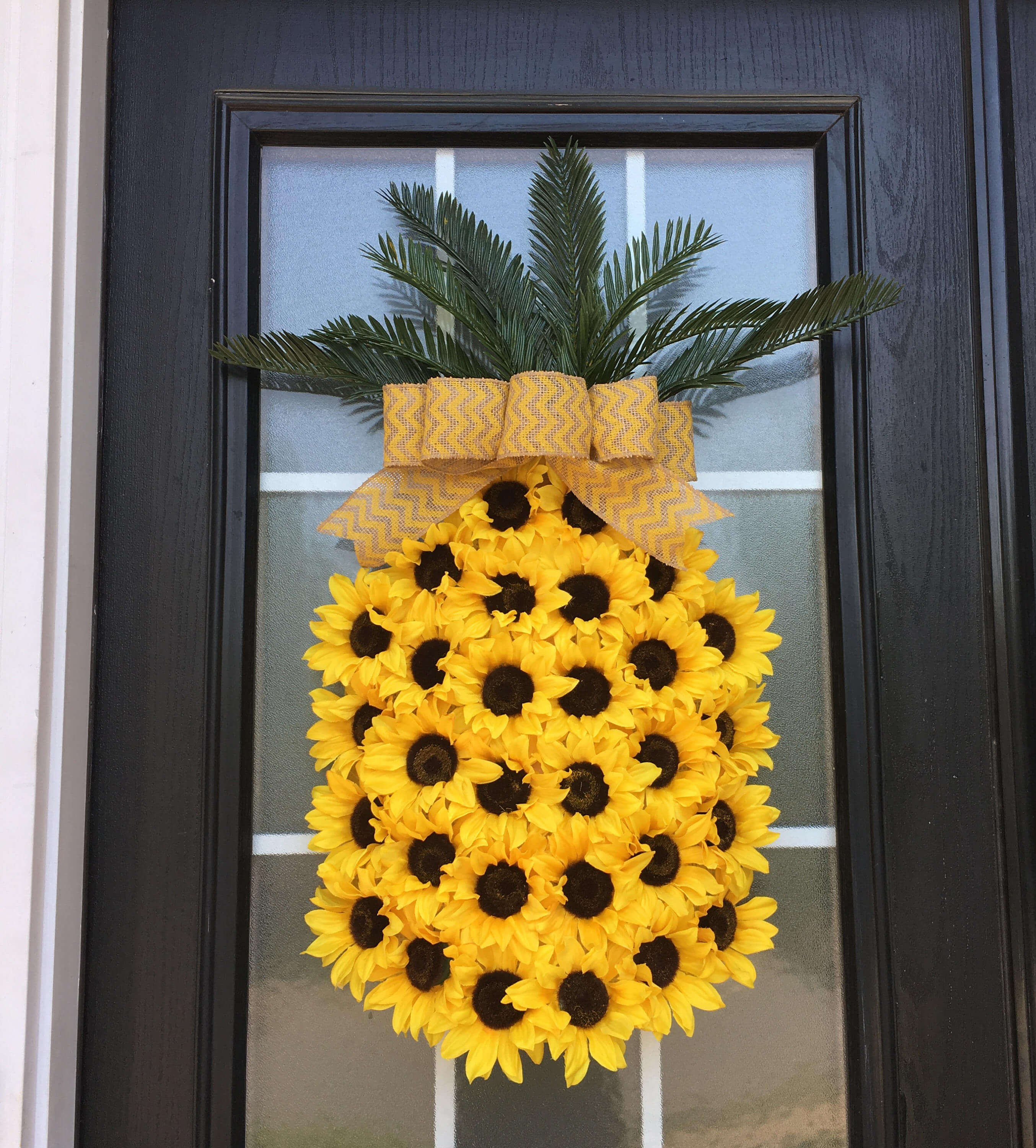 Pairing different summer themes is a great way to make beautiful summer wreaths. This 30-inch wreath is the perfect example as it utilizes sunflowers in an incredible way to make the outline of a pineapple. You have your fruit theme nailed down, and you get a sunflower wreath out of it too. This can even work well as an island-themed wreath.
12. Two Wreaths with a Tropical Flair

Floral wreaths may be traditional, but you can still make them look compelling and distinctive based on the flowers you use. This multicolored setup makes for a great tropical theme whether you opt to cover the entire wreath or merely a section of it.
13. Rose Wreath with a Cheery Message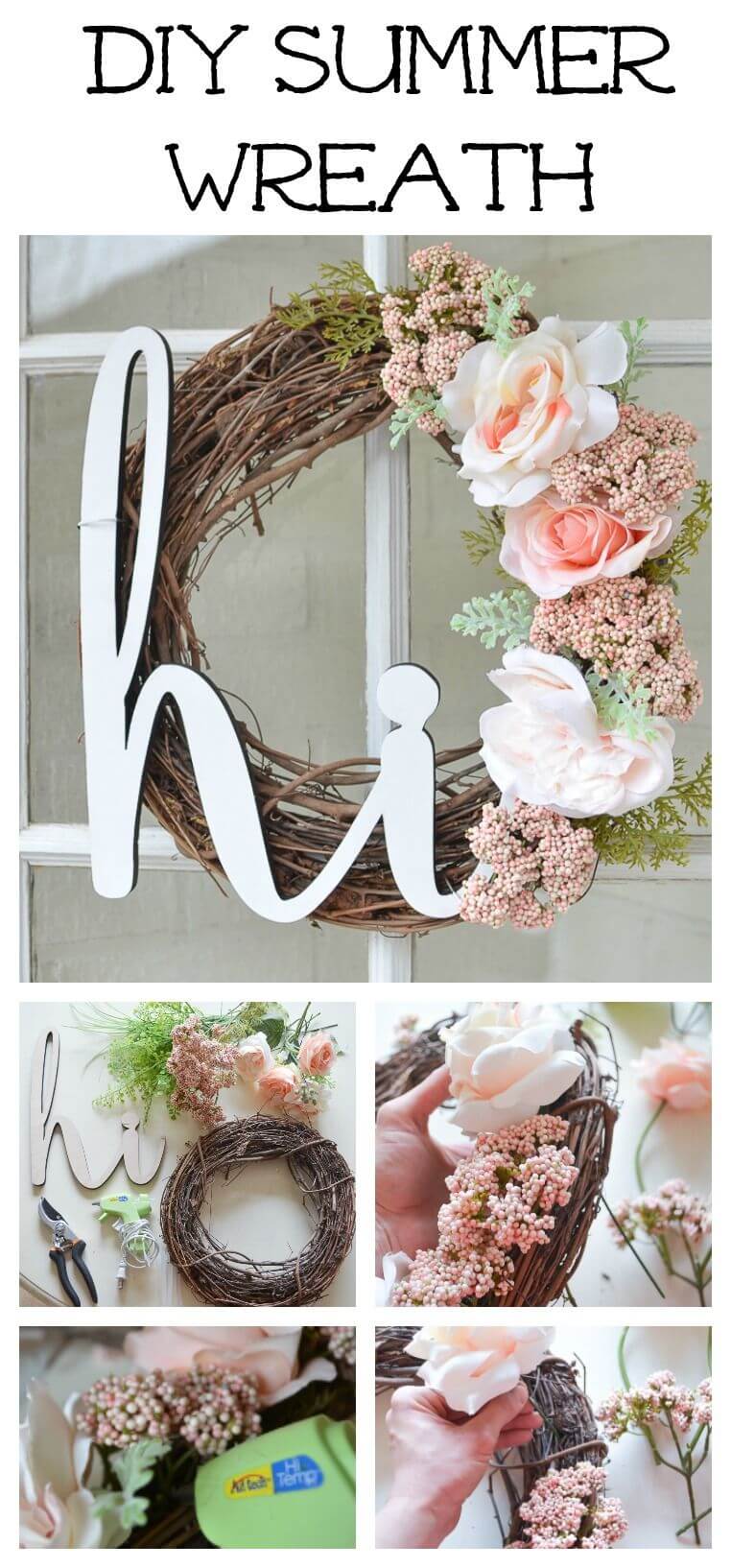 A wreath doesn't have to just use flowers on it. Instead, you can combine a floral look with some cool lettering, creating a stunning wreath that can only elevate your décor. There's a woodland-like feel to this wreath too that helps set it apart from your standard summer-themed wreath.
14. Bountiful Seashell Wreath for your Door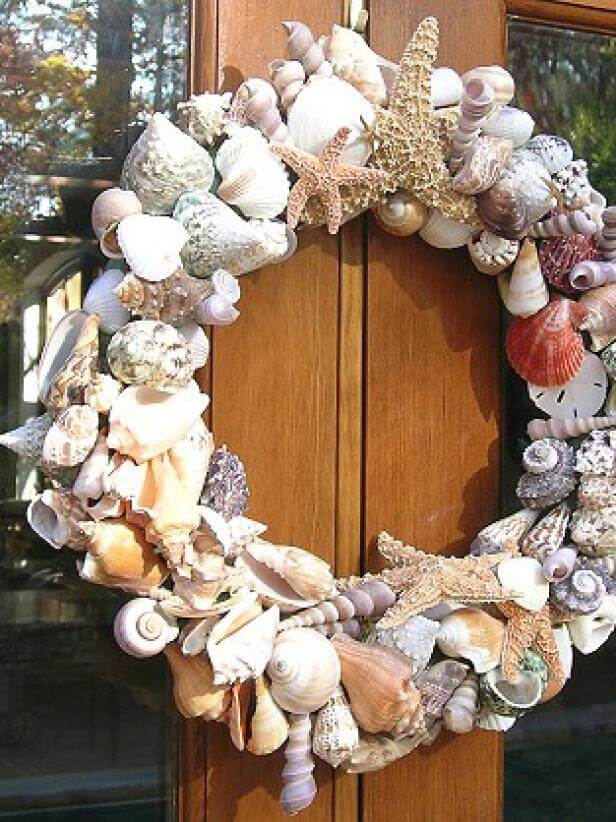 Have fond memories of the beach or always wanted to visit one? Well, this way you can envision your summer is filled with beach time with this seashell wreath. It's filled with several different kinds of seashells too, giving your wreath more of a 3D look that isn't static. This makes for the perfect decorative item to hang all summer long.
15. Driftwood Twig Wreath for a Nautical Touch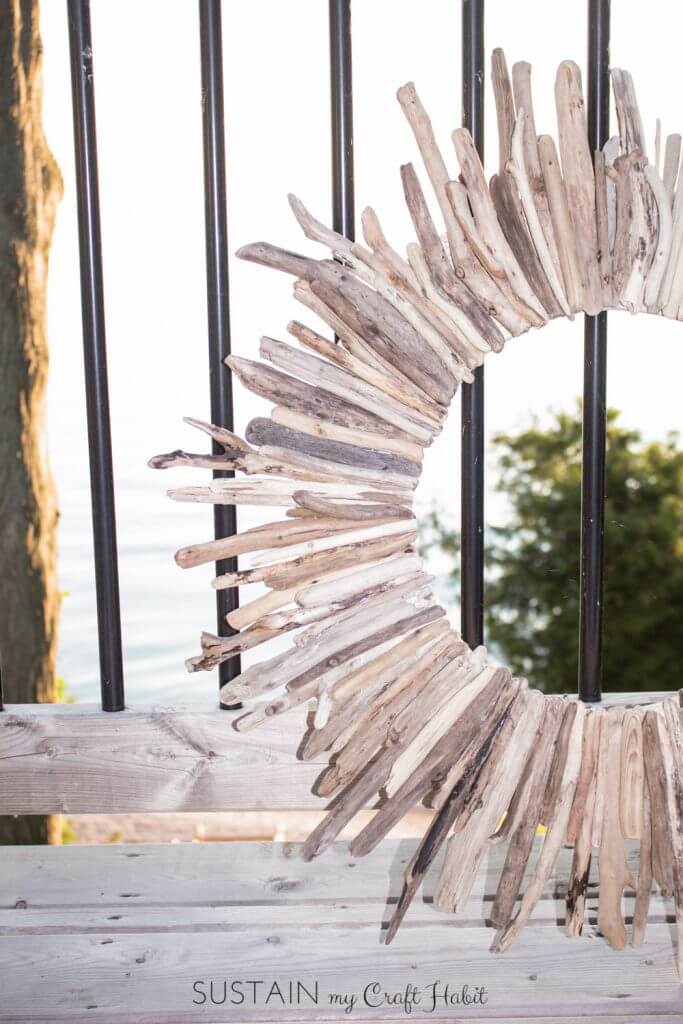 Do away with the floral wreaths and exchange them with this cool nautical wreath. It's made with nothing but driftwood twigs. This seems simple and exotic all at once. The wood makes you think of the outdoors, of being near the beach, which is perfect for the summer season.
16. Cascading Hydrangea Blossoms and a Burlap Bow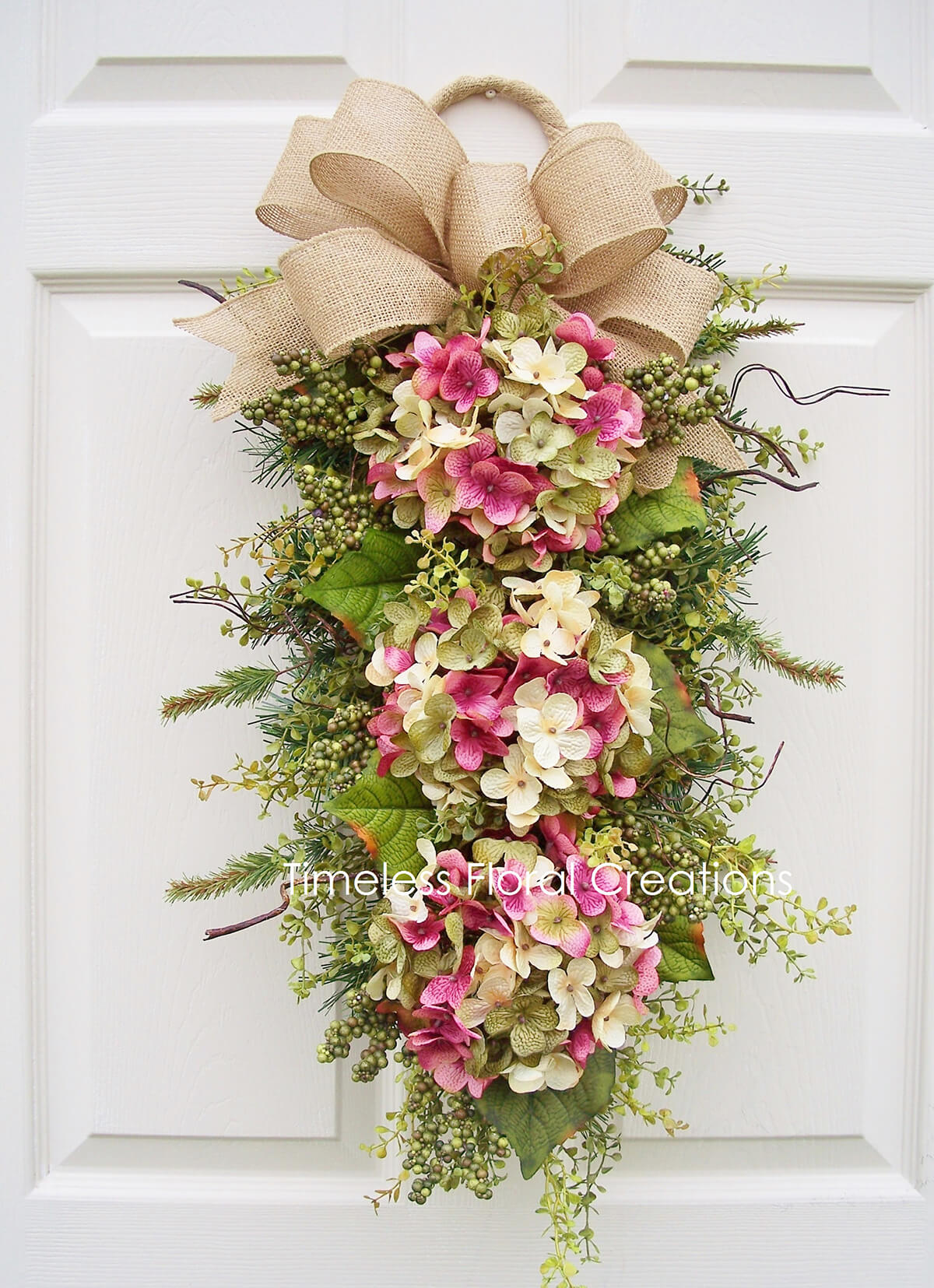 Not all summer wreaths have to be circular. Instead, you can create a sweet vertical wreath. The greenery is stunning whether you use faux flowers or dried flowers. They look as though they are hanging freely from a vine, giving your door an outdoorsy theme and feel.
17. Ocean Themed Wreath with a Sailboat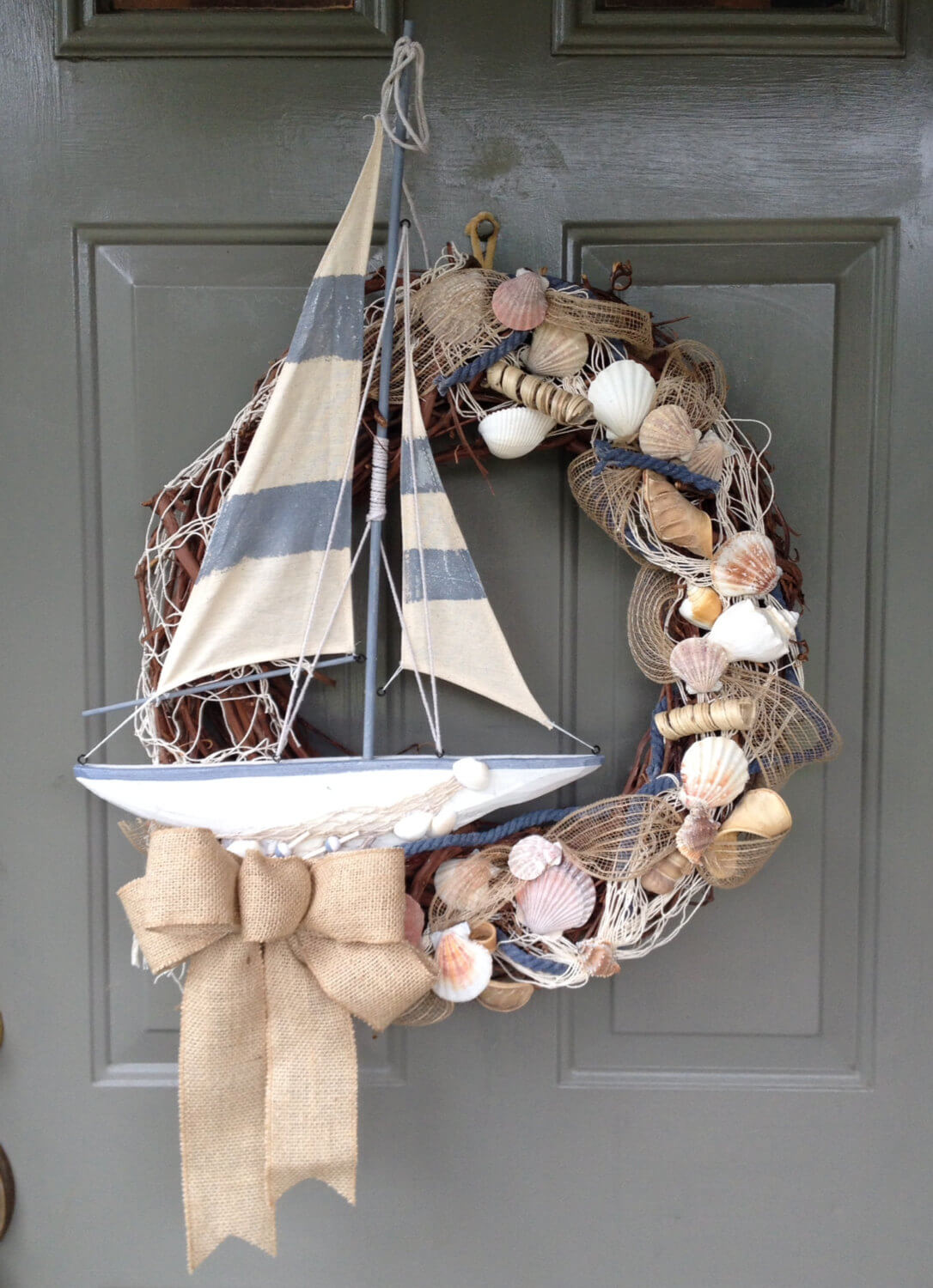 Head to the ocean with this charming nautical wreath. The seashells appear as though they're caught in fishing nets, while the sailboat speaks for itself. Even the use of burlap helps to liven up this wreath, giving it a sense of movement and freedom you'd find out on the sea.
18. Simple Hydrangea Wreath for your Mirror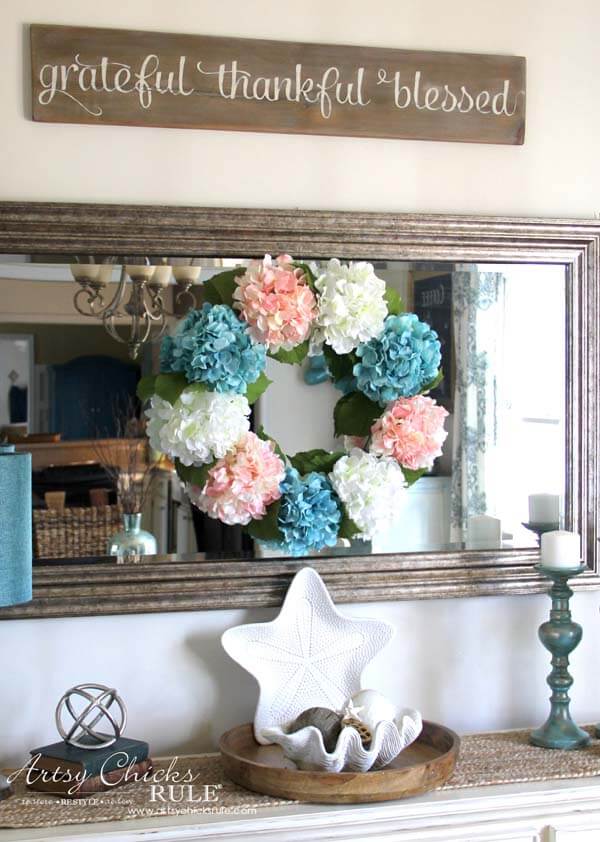 Not all wreaths have to go to your front door. Instead, you can create a compelling wreath used for a mirror, livening up your home with the summer theme. It's simple, yet effective. This beautiful wreath can add some color to your home with ease while providing you with some cool wall decorations.
19. Glossy Magnolia Leaves Make a Pretty Wreath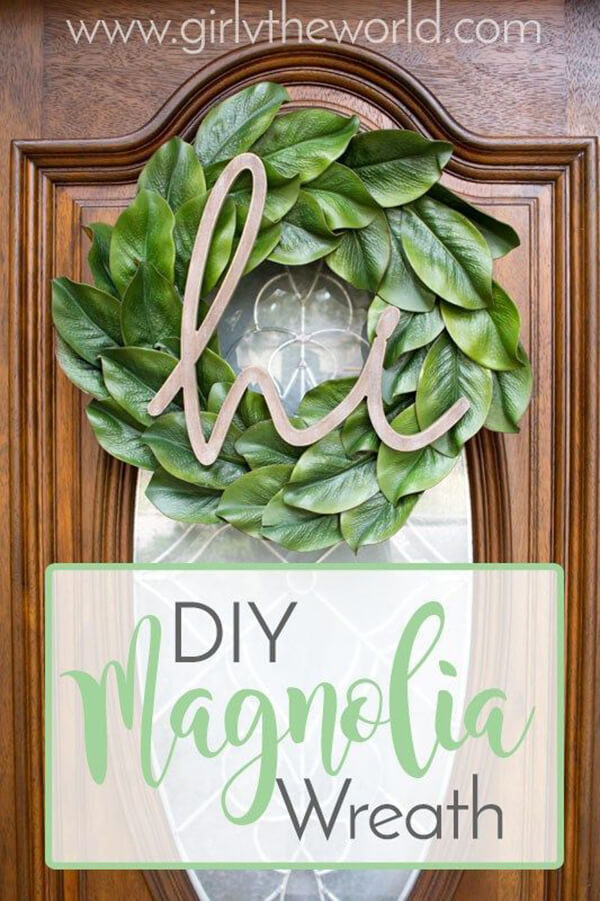 This magnolia wreath is simple and looks absolutely lovely hung up. The green is beautiful, and although it's all one color, there's enough contrast among the leaves that it doesn't look basic. There's a gloss to them that helps them gleam in the daylight, which is all you can ask for from some of the best summer wreaths.
20. Strawberries and Blossoms on a Wreath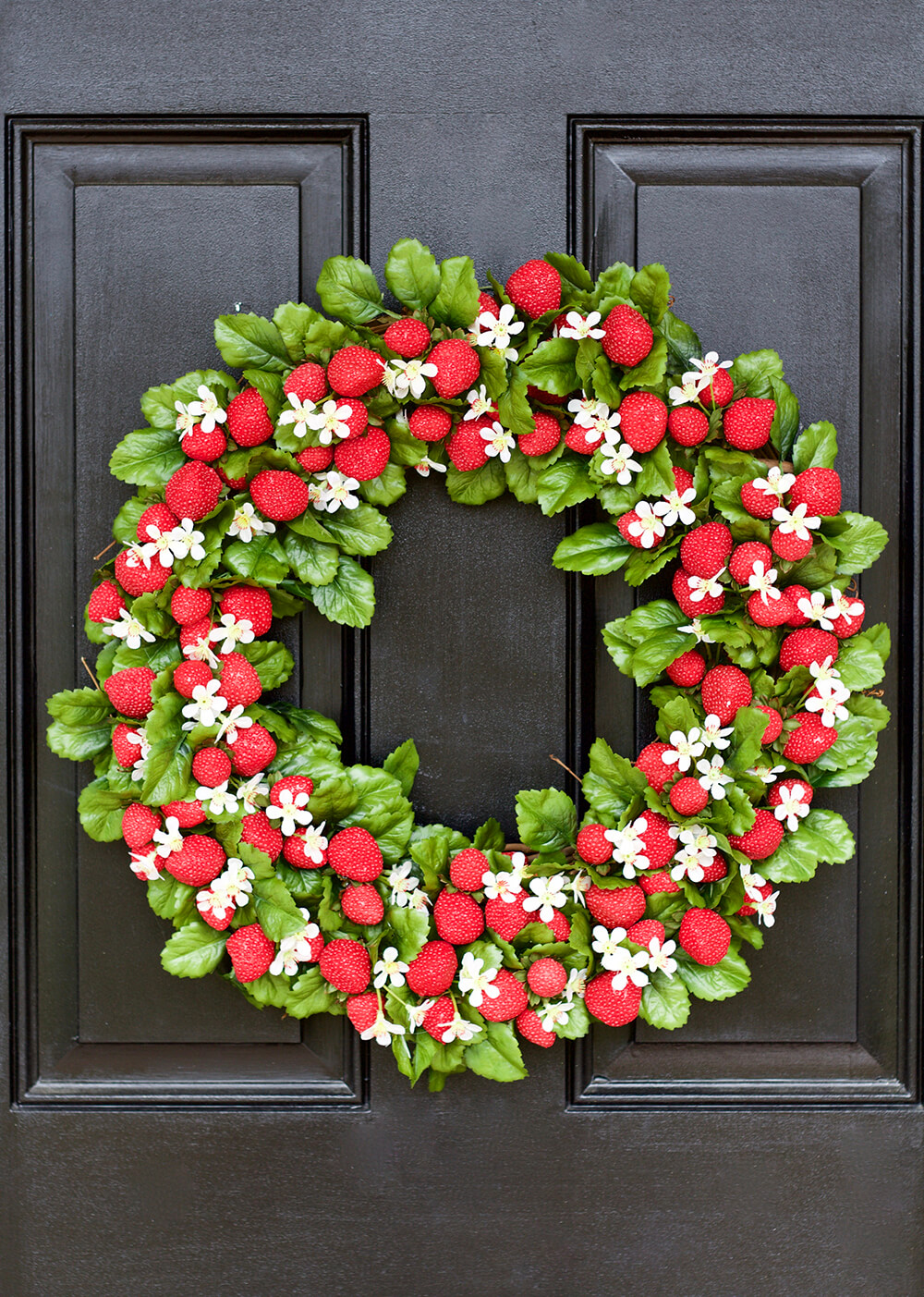 Strawberries are another fruit that just screams summer. They're vibrant, their bright red color boldly standing out. They make for great wreath features too as they serve to contrast the standard green found in most wreaths. The tiny blossoms are an excellent touch, providing this wreath with even more personality.
23. Beige and White Wreath with a Hello Sign

Sometimes, you need something bold on your front door in the summertime. This 22-inch wreath is a perfect choice then. It balances beige and white well, while the "hello" lettering adds more life to it. The burlap and the branches of the wreath itself give this awesome wreath a rustic and natural feel.
24. Make a Pineapple with Plastic Spoons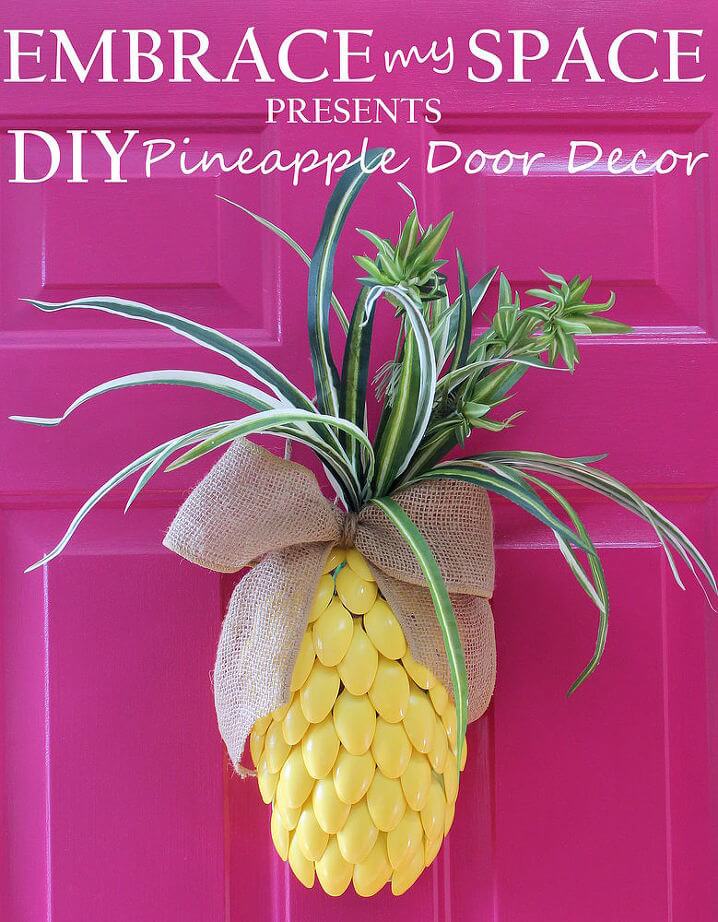 Want a uniquely colorful wreath? Then you should consider this pineapple wreath made of plastic spoons. Some burlap and some faux greenery go a long way into helping this resemble the delicious fruit. It's a unique way to approach decorating with fruit for your summer wreaths, and it's one that is sure to capture attention.
25. Add Warmth to Your Door with a Bright Azalea Wreath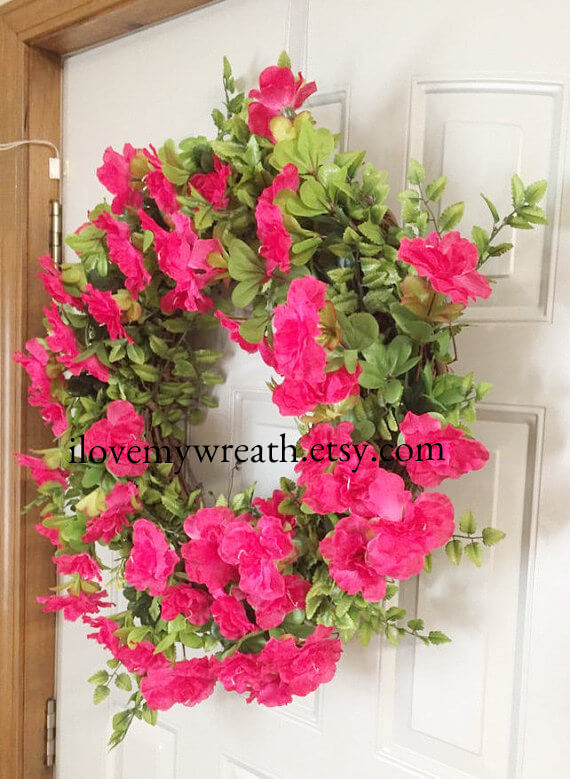 Go for something loud this summer with your front door wreath and create a beautiful hanging piece with bright azaleas. The colors stand out against the greenery, and this works well whether you have a dark or light-colored door to hang it on. No one will think you're not ready for the summer season.
26. Seaside Wreath with Shells and Wrapped Globes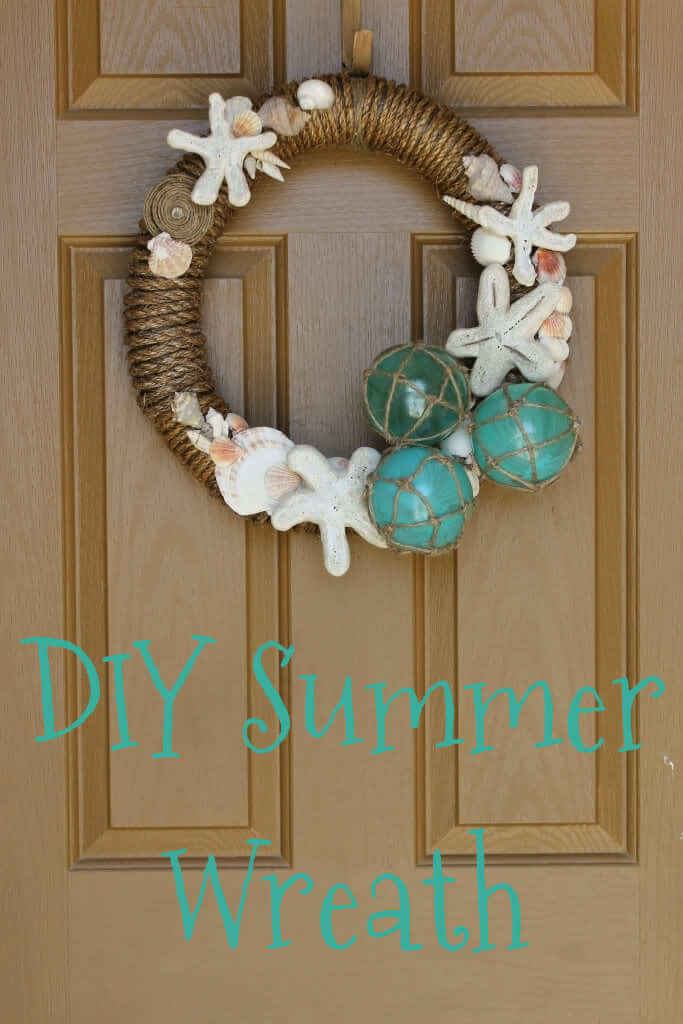 Sometimes less is more, and in this case, this minimalistic approach makes for a beautiful wreath. It leans into the seaside theme what with the thick rope base and the scattered shells. The wrapped globes add an extra layer of color to the piece to bring it all together.
27. Tropical Style with a Banana Leaf Wreath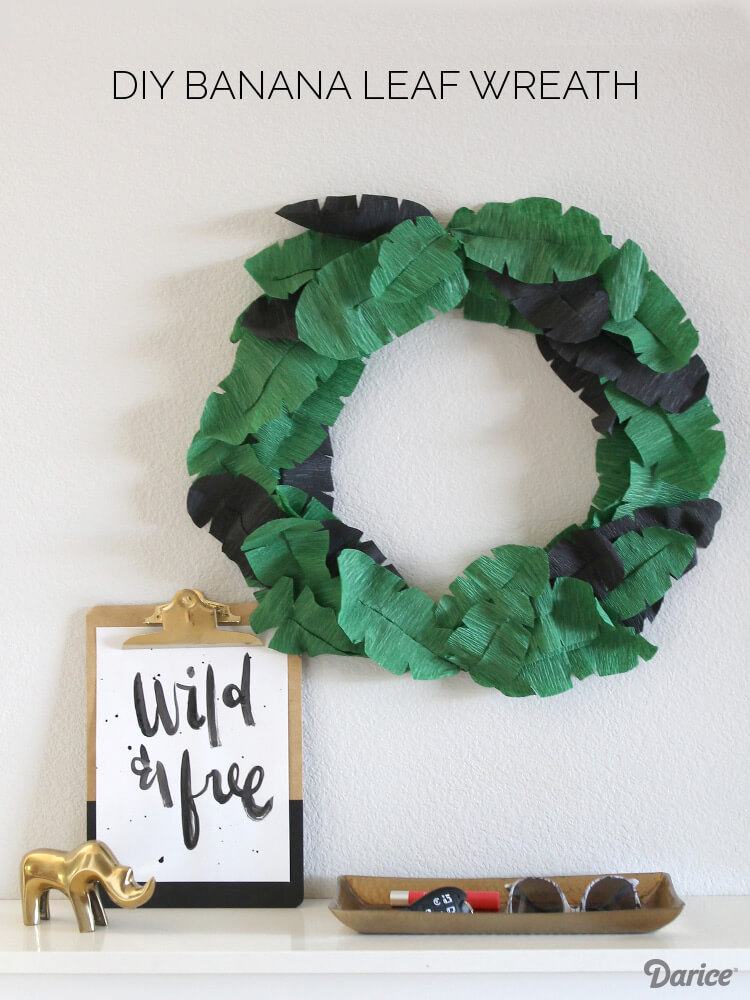 Head to the tropics with your summer wreaths by creating one made of faux banana leaves. The shape of the leaves helps build on the contrast throughout, more so aided by the use of both lighter and darker leaves. It's an interesting way to bring in the summer.
28. Lavender Wreath with a Bow and Greeting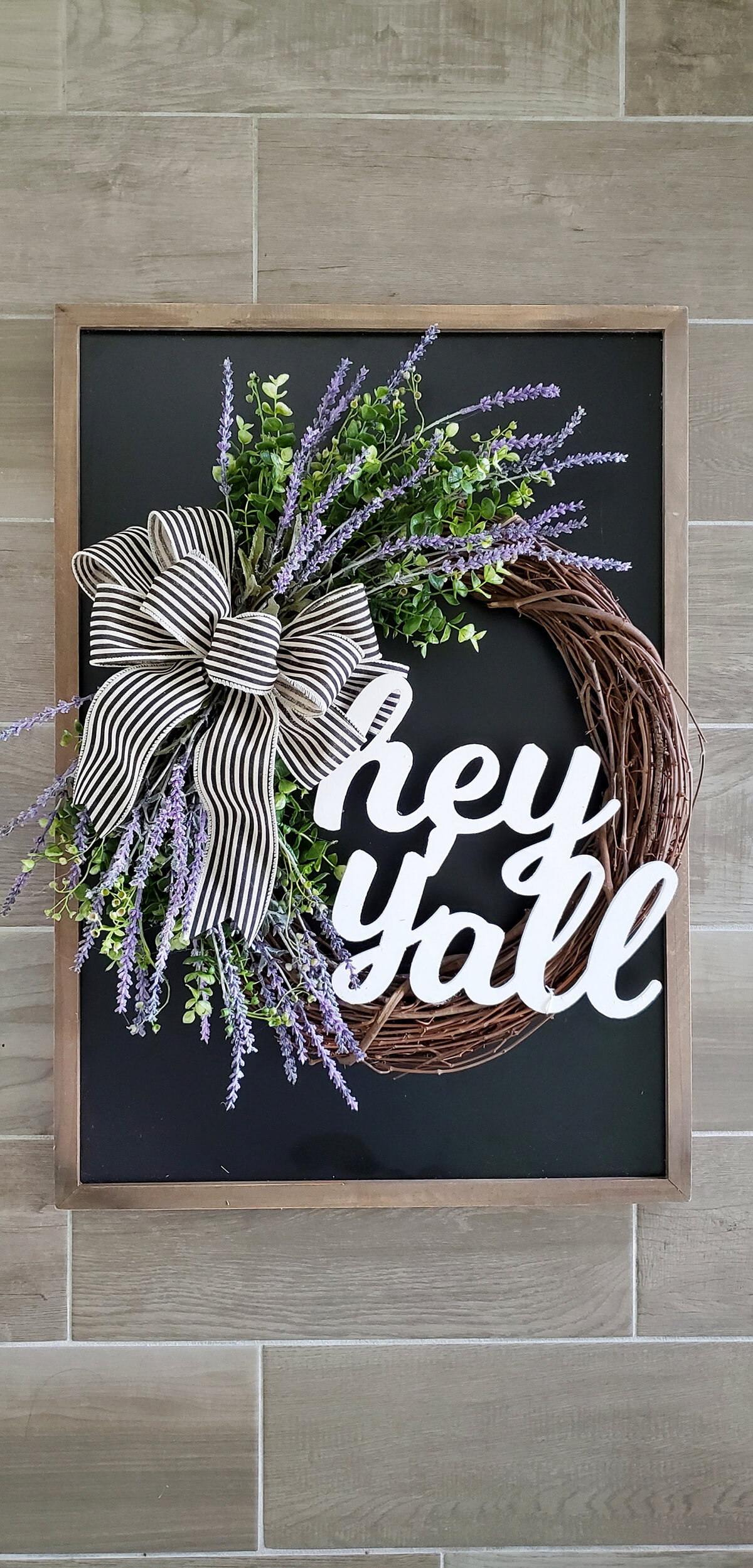 Greet anyone who comes to your front door with this cute wreath. The branches work well at bringing in that outdoor vibe, while the greenery is paired expertly with the lavender. What really helps pull it all together is the cool sign in the center, greeting anyone who visits.
29. Summer Wreath Idea with Pineapples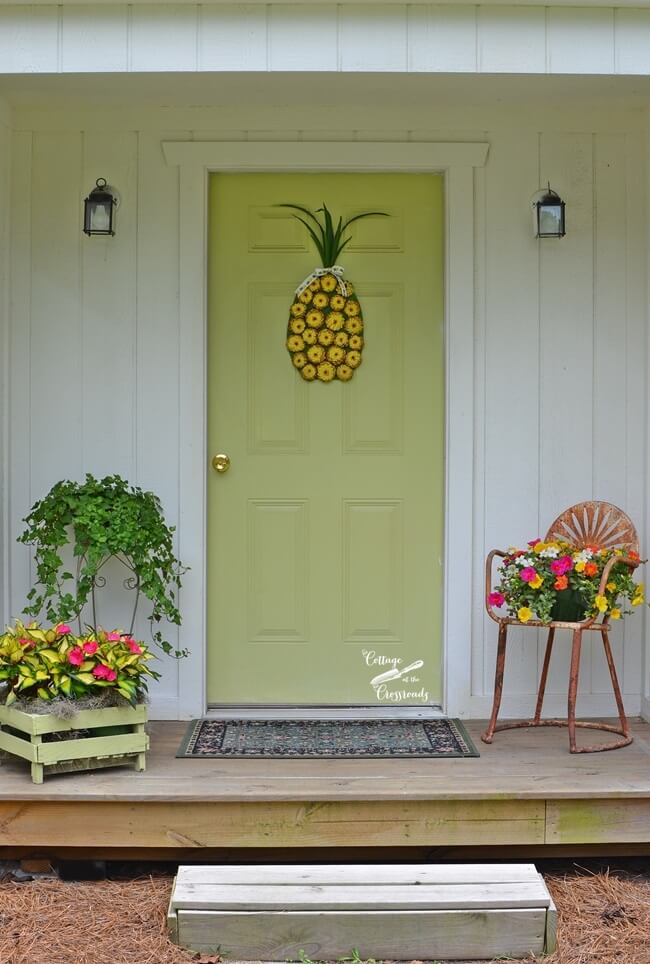 Who would have thought that some of the best summer wreaths would be made from pinecones? Not just any pinecones though. These ones are painted and set up in a way to resemble a pineapple. They look incredible against the green board, and from a distance, no one would be the wiser that you don't have an actual pineapple as a wreath.
30. Understated Peony Wreath with Whitewashed Wood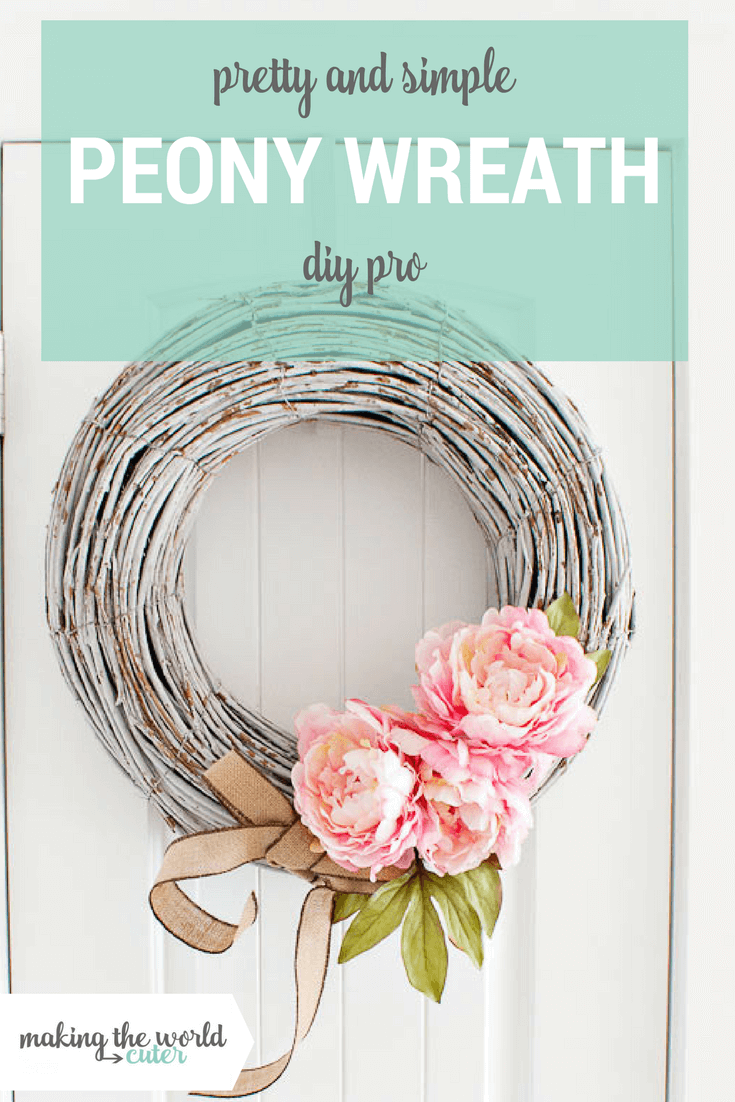 Do you appreciate the minimalistic approach to decorating? Then you will love this twig wreath design. The white wreath is vibrant enough, and the peony adds a gorgeous splash of color. Other than the small leaves and the burlap, that's all you need to create this contemporary-like wreath.
31. Gorgeous Hydrangea Wreath for a Fantastic First Impression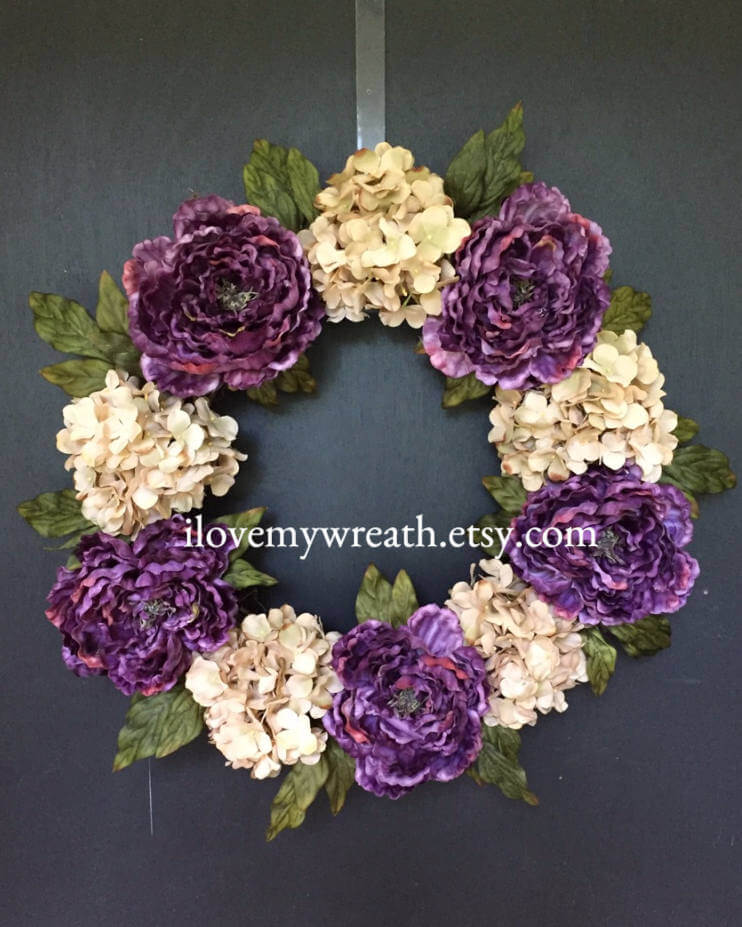 Make a lasting impact on guests with this stunning hydrangea wreath. These hydrangeas almost resemble dried flowers, but they still have so much life within them that allows them to stand out so well. The mixture of colors is appealing too with the bold, darker purples contrasting with the lighter white flowers.
32. Old Fashioned Hanging Flower Basket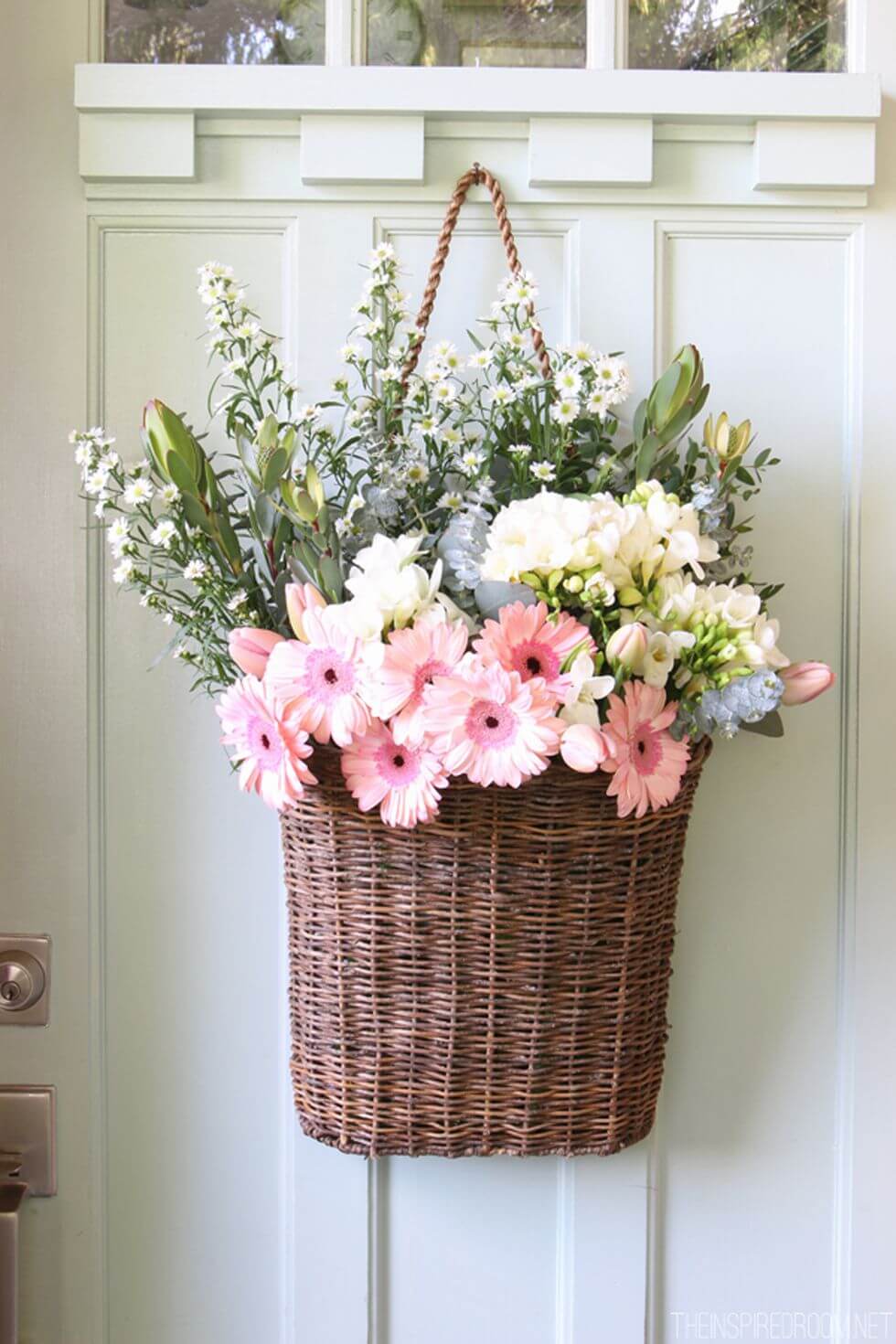 Forget your 20-inch wreath made in the traditional circular shape, and instead, opt for something more distinctive. This takes a whimsical approach with a lovely rural feel to it. The hanging basket is deep, and the variety of flowers poking out on top gives this take on a wreath that carefree appearance.
33. Grapevine Butterfly and Daisies Make for an Unforgettable Summer Wreath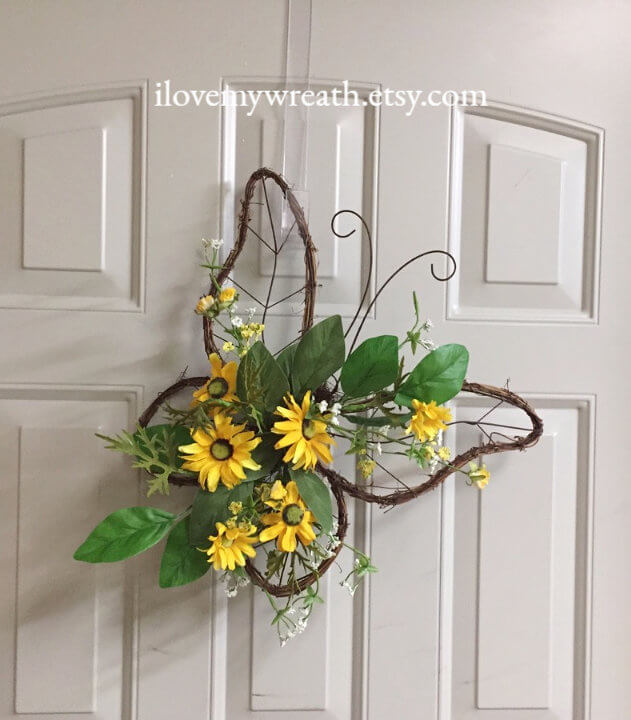 Create a stunning wreath that will take anyone's breath away at first glance using a butterfly theme. The wreath itself is shaped like a butterfly, and this certainly looks as though it'll fly away at any second. Meanwhile, the daisies are vibrant and gorgeous, leaving you with almost a boho-like theme.
34. Summer Garden Party Floral Wreath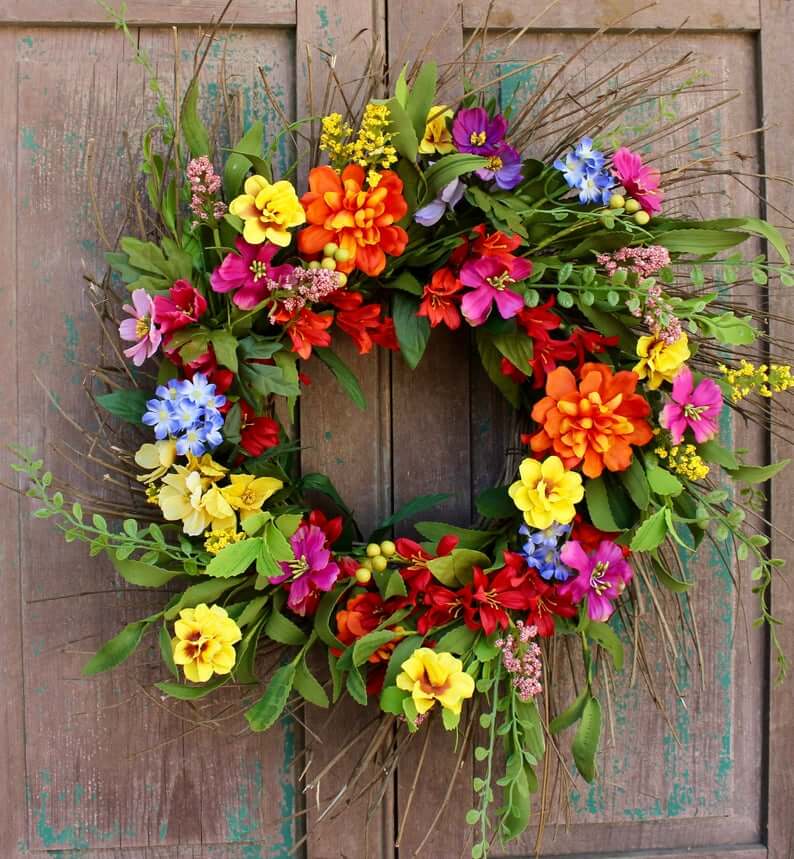 A great way to bring some life to your front door is with this gorgeous faux foliage wreath. Adorn on a natural twig, this utilizes numerous bright and vibrant colors. They are varied in size, and along with how they're laid out on the wreath, each of them can capture attention, compelling anyone to stop and stare. Each color of the faux flowers easily brings forth feelings of summer.
35. Lambs Ear and Peony Wreath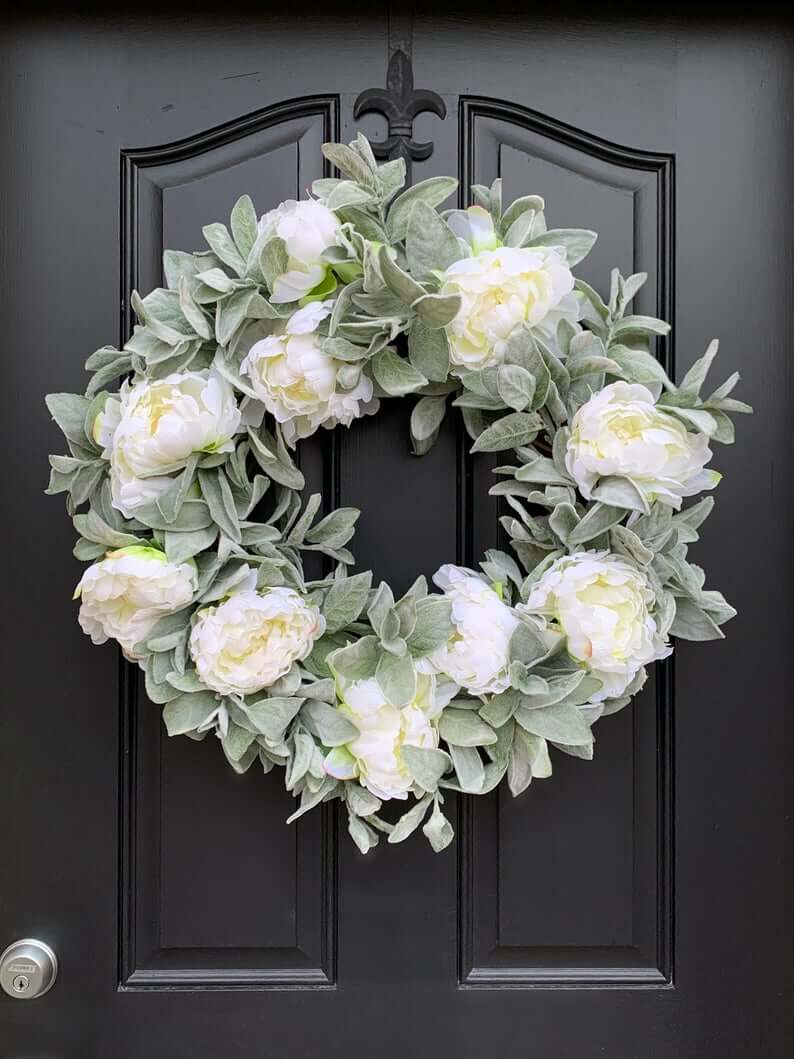 This wreath blends simplicity with elegance, making it a worthwhile decorative piece for both indoor and outdoor use. It makes good use of soft, faux lambs ear that are seamlessly tucked around white peonies. This wreath also has a shabby chic sort of vibe, making it fitting for a modern home as well as around farmhouse-themed décor.
36. Rural Sunflower Front Door Wreath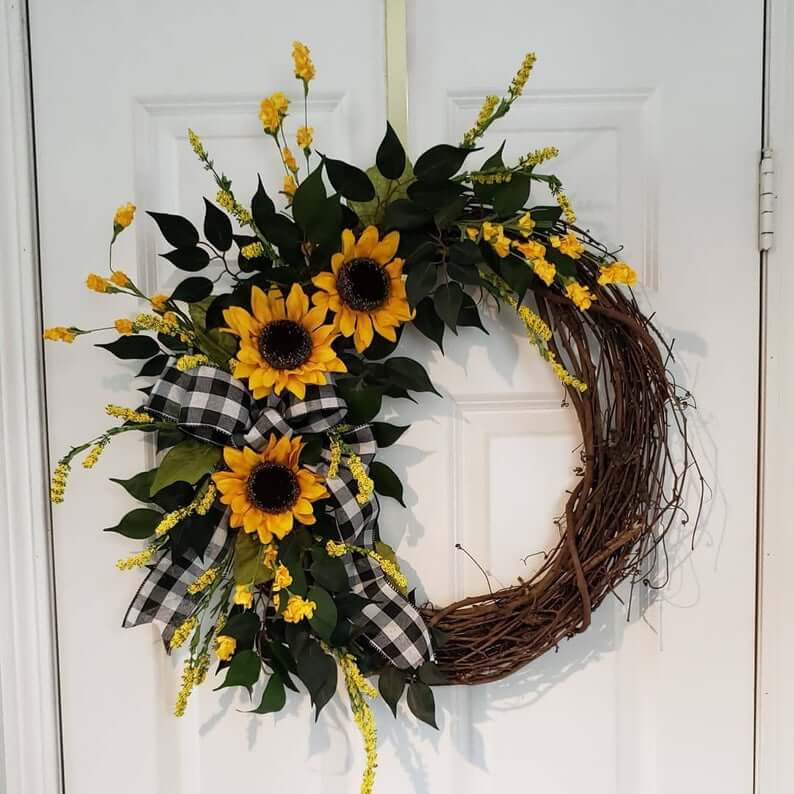 Perfect for the summer season, this wreath expertly uses bright faux sunflowers to lighten up your décor. They fill up only a portion of the wreath and use additional greenery and a large-sized bow to round everything out. The rest of the wreath showing the natural grapevine material gives the whole piece a pleasant rural feel.
37. Mixed Eucalyptus and English Lavender Wreath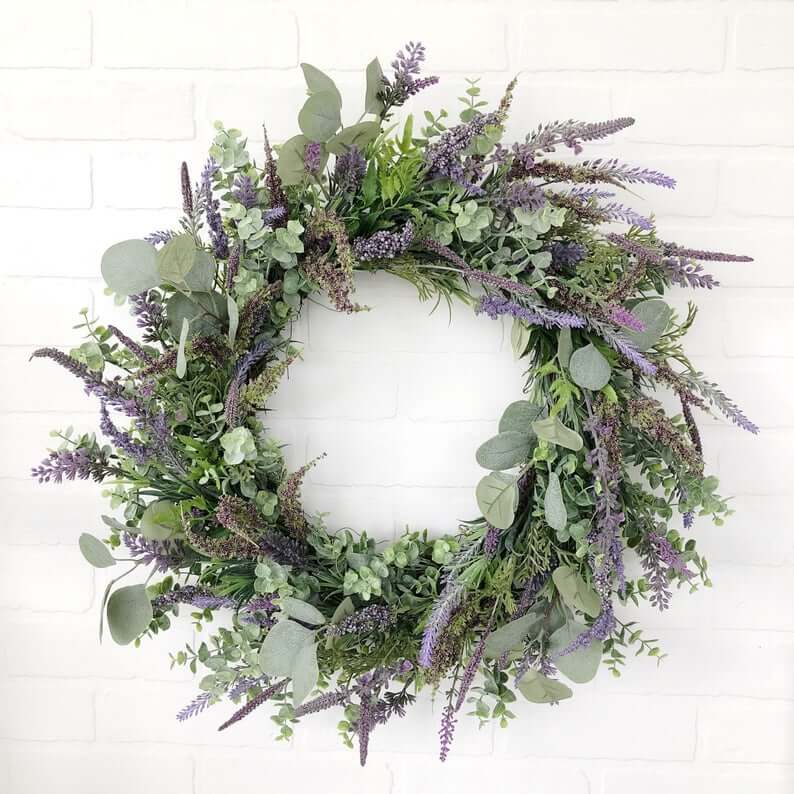 Sometimes, you want to find a wreath that's great for multiple seasons, and this one does just that. It mixes summer and spring, providing some nice texture to your home. This combines English lavender and eucalyptus to create a gentle color pattern. Although it can work indoors or outdoors, the wildflowers can be a great touch to bring a little bit of the outdoors to your interior décor.
38. Beautiful Flower Berry Summer Wreath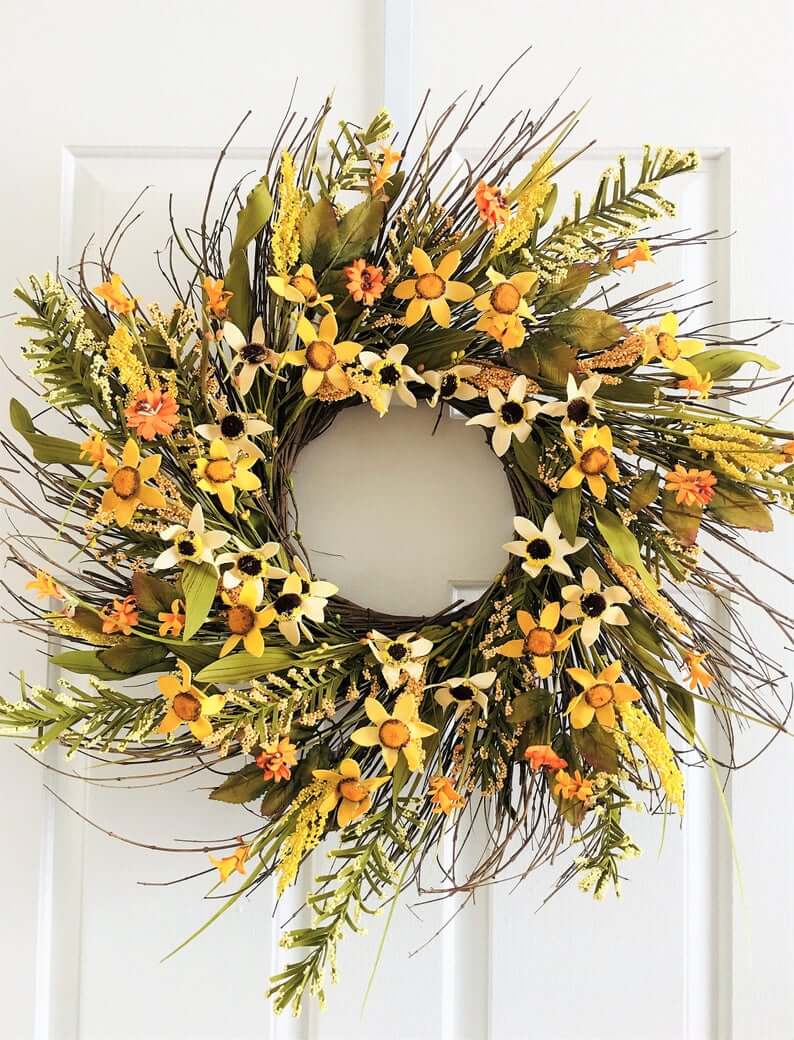 With this wreath, you can show off autumn colors while sticking to a summer theme. It features stunningly bright faux floral throughout that are similar colors to make it cohesive, but there are enough subtle differences throughout that the individual flowers, berries, and leaves stand out. The overall design flows as well, creating a sense of movement when you look at it.
39. Large Rustic Wreath with Welcome Sign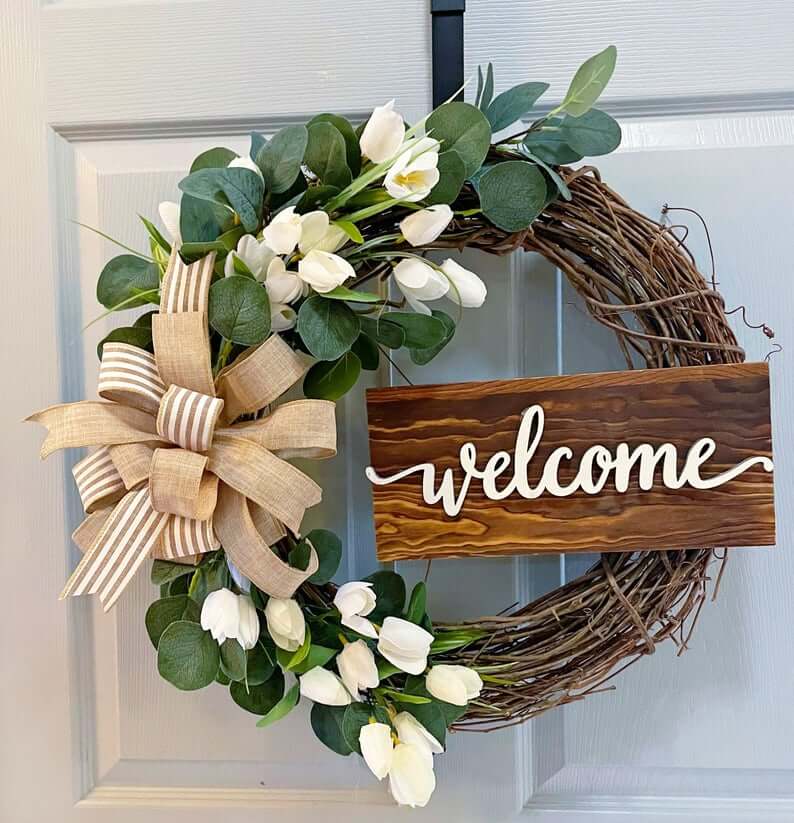 If you need a wreath to stand all on its own, then check out this large-sized rustic summer wreath. This grapevine wreath takes a softer approach with its colors, using gentle tulips and eucalyptus. An oversized designer burlap bow pulls the piece together. Also, you get a free handmade "welcome" sign to add to the wreath if you wish or hang it separately. It may even have a nice lavender smell due to it being dried with natural lavender flowers.
40. Multi-Colored Daisy Basket Summer Wreath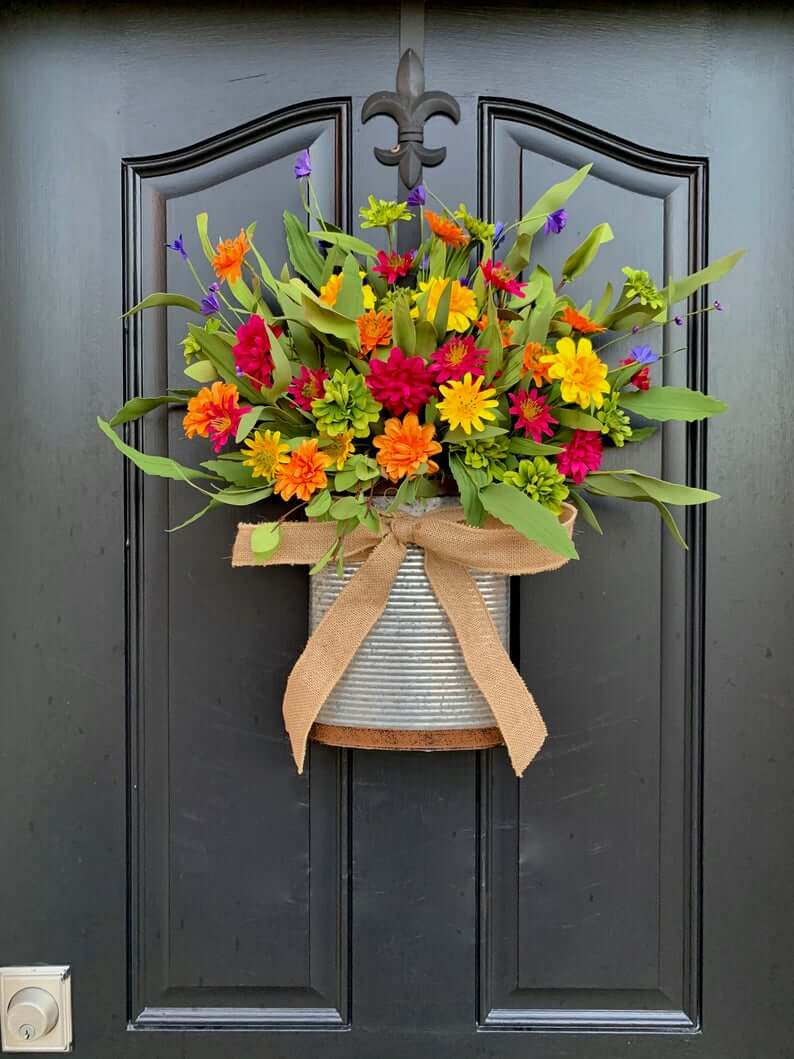 Take a unique approach to add a wreath to your door or wall with this cute daisy basket. This features beautiful flowers, multiple colors of them, to brighten up any area it's used in. All of the faux flowers sit in a metal basket that is adorned with a burlap bow. When paired with the flowers, this can easily serve to enhance a farmhouse-styled home.
41. Lush Wildflower and Lavender Wreath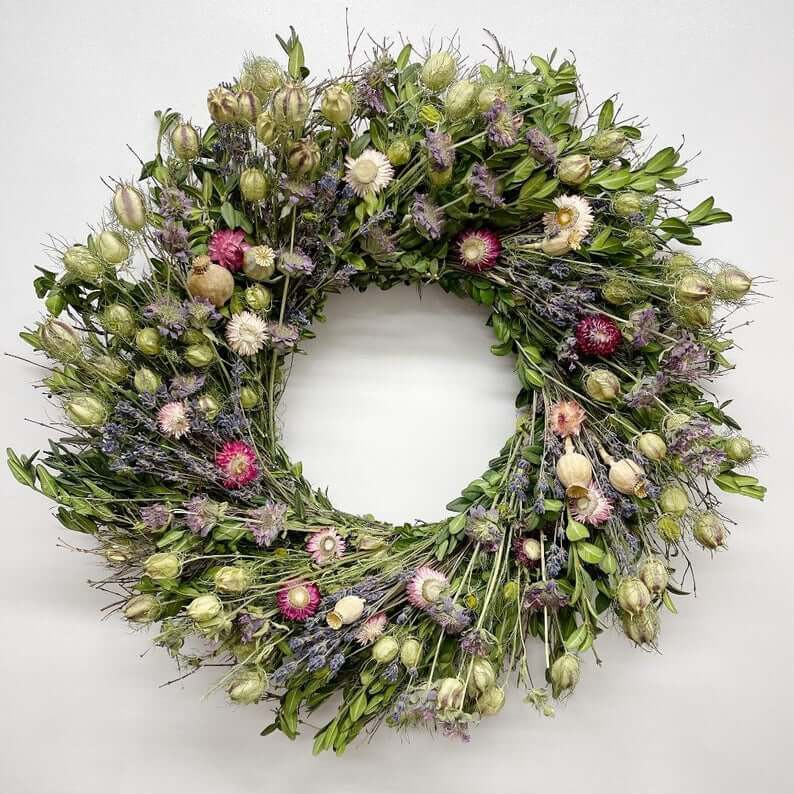 Anyone who loves wildflowers can find joy in this beautifully filled wreath. Hang it up just in time for summer, and it can accent any other décor you may have on your door or walls. This is colorful without being too much, using a healthy blend of different flowers and plenty of greenery throughout. This makes it a good size to hang anywhere indoors or outdoors.
42. Gorgeous Magnolia Leaf Door Wreath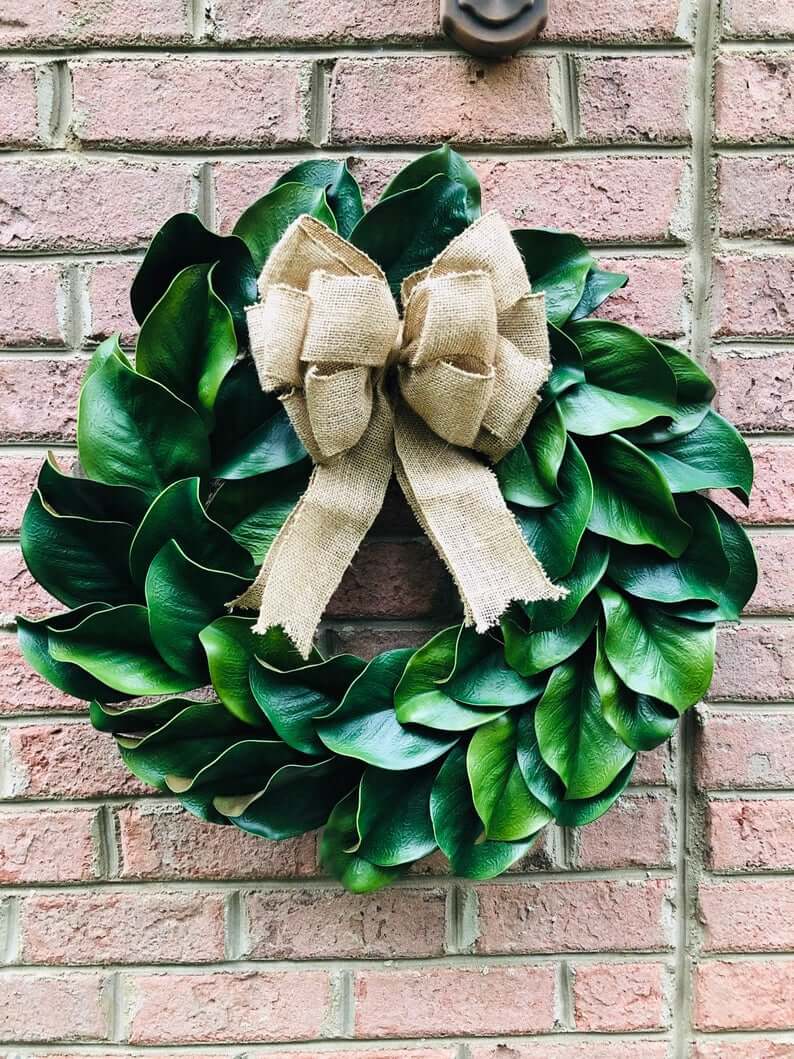 Ideal for those of you who seek something simpler yet still appealing to hang up, this stunning wreath provides a natural look to any décor. The faux magnolia leaves are large and full of life, the green popping out effortlessly to give some color to the area it hangs at. It does feature a nice burlap bow tied to the front, but you can choose to get it without the homemade bow.
43. Red Geranium Flower Wreath with Monogram Letter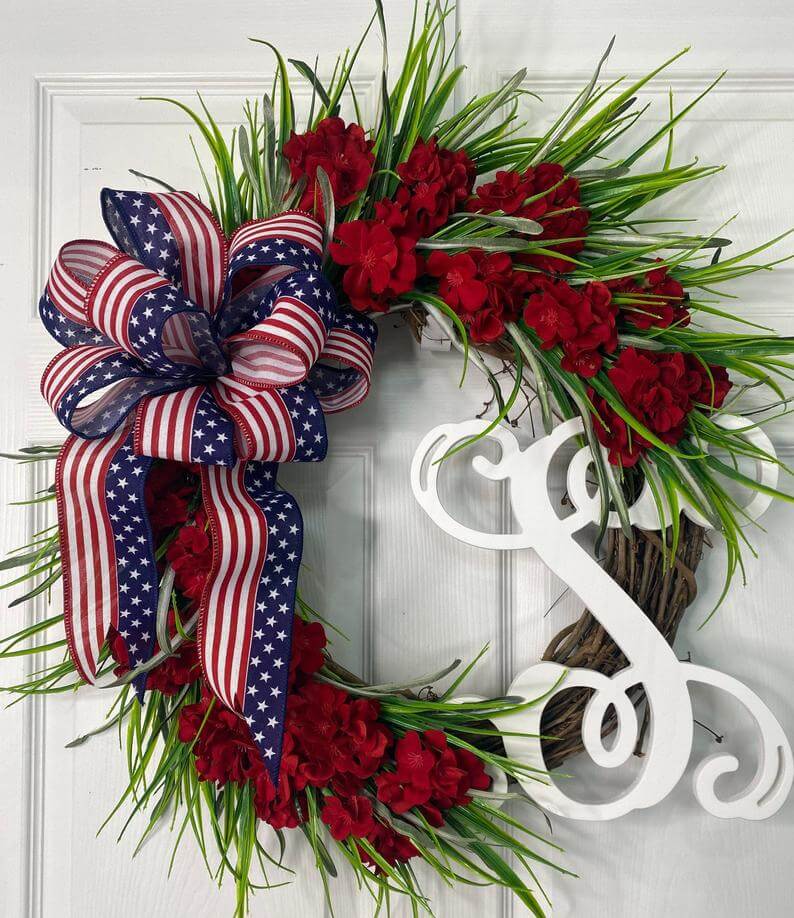 A distinctive piece to hang up inside or outside your home, this wreath features large geranium flowers, the red color standing out well against the greenery stems. There are a few ways you can customize this wreath too. You can get it with a flag ribbon bow, a bow in red and white checkers, a black and white checkered bow, or a natural burlap bow. Also, you can choose to have a monogram letter with it as well.
44. Incredible By the Sea Wreath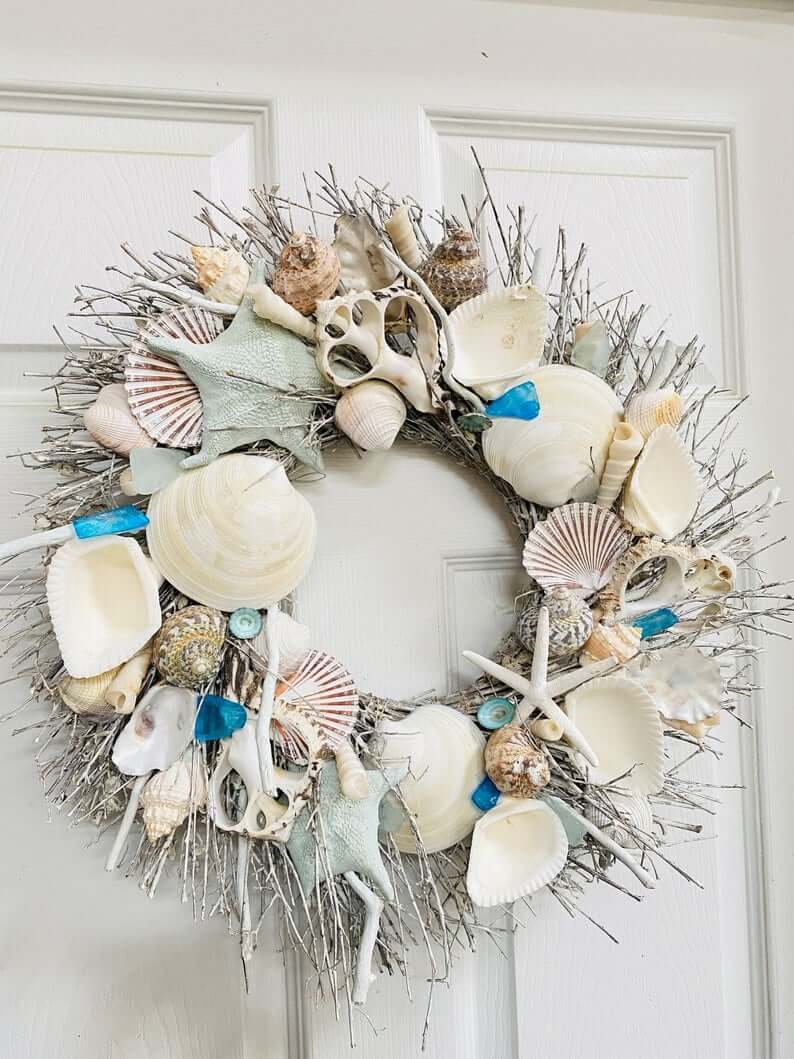 Whether you have a coastal theme or a bohemian theme you wish to match, this By the Sea wreath can be a perfect choice. Handmade on a birch base, this is suitable for use indoors and outdoors, so you're free to combine this with your other décor with ease. It features sustainable seashells, starfish, clams, sea glass, and even driftwood.
45. "Hello Summer" Bright Wreath Kit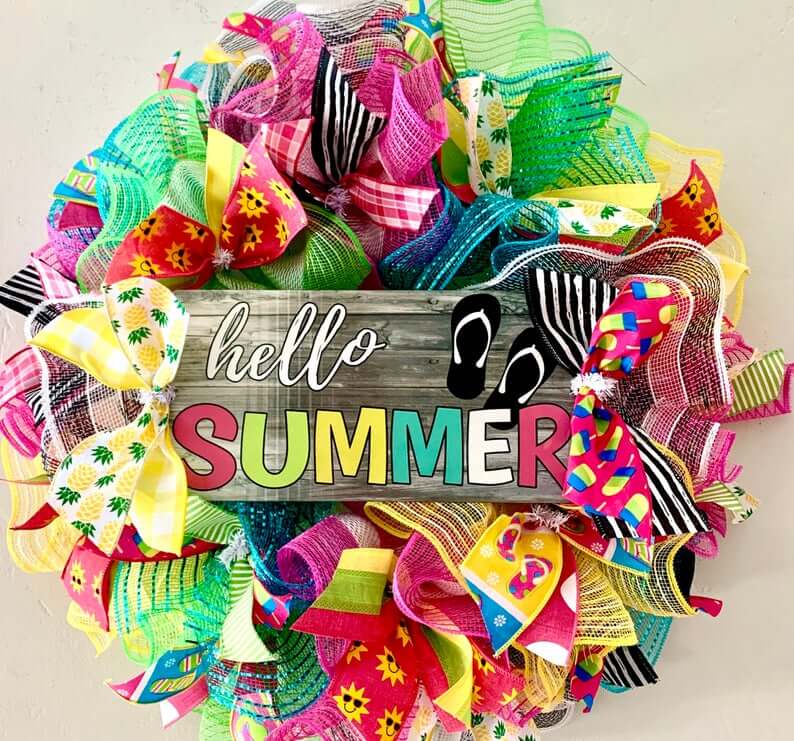 For creative individuals, this kit gives you the opportunity to put a wreath together yourself. It features incredibly bright and lively ribbon and mesh materials that work together to give off those pleasant summer vibes. The result of this will also feature a lovely "hello summer" sign in the center that is further complemented with artwork of flip-flops.
46. Pink Hydrangea Farmhouse Summer Wreath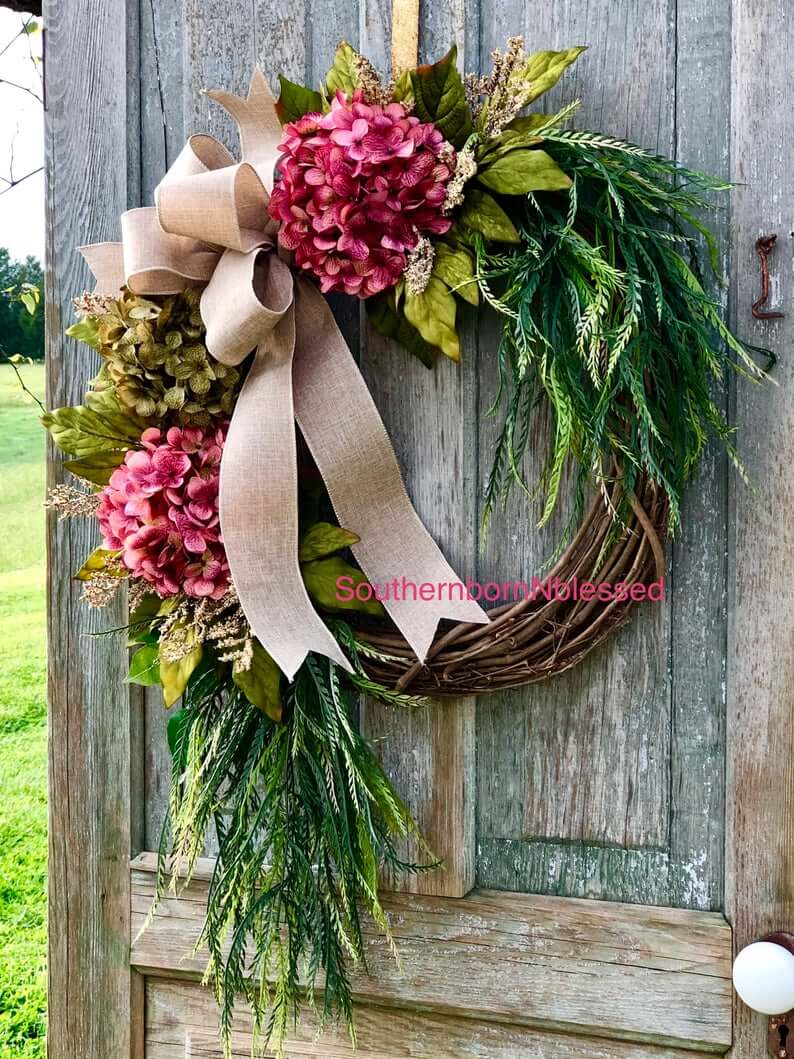 With this beautiful wreath, you can customize it according to your home's personal style. It is a charming country-style piece befitting a farmhouse home. There are several different primary colors you can choose from as well as numerous secondary colors, leaving you with something that best matches the décor you may already have hanging up. The wreath also comes with amazing greenery and a large burlap bow that blends well with the floral arrangement.
47. Daisy Wagon Wheel Country Wreath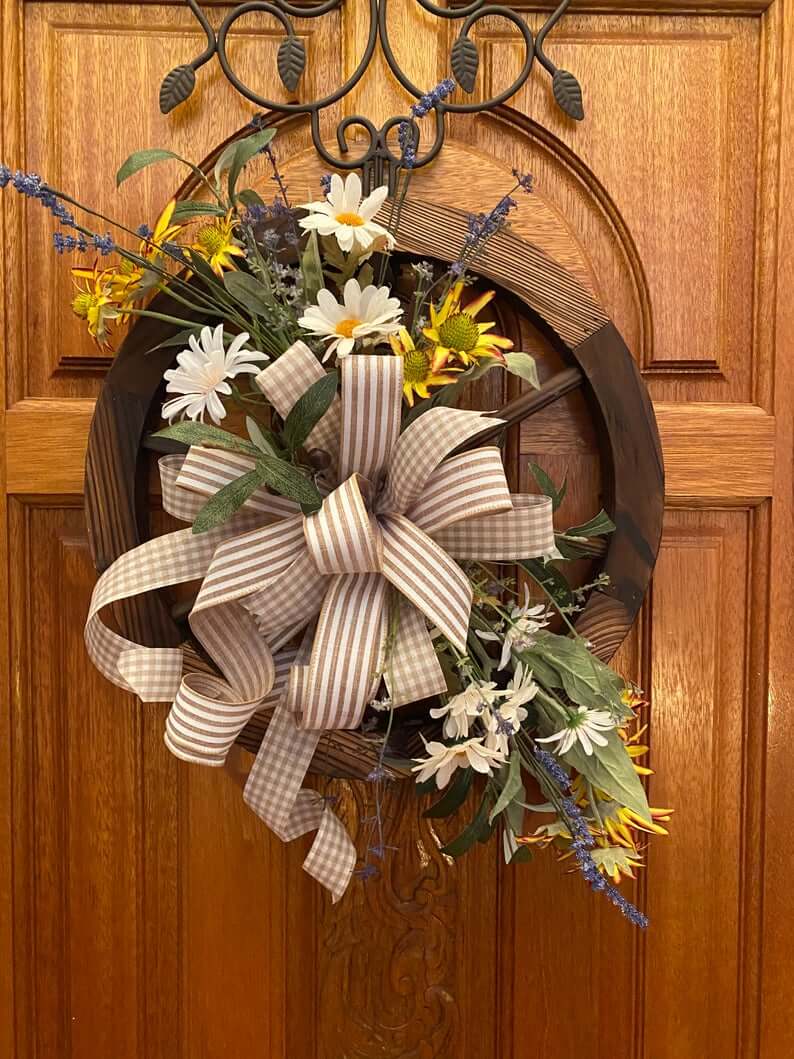 Nothing says farmhouse style than this cool wagon wheel. It makes good use of the wooden wheel to serve as the base for the wreath that features a blend of different greenery that all fit into the summer theme. There are bright yellow sunflowers, purple lavender, and cream daises. Also, there's a large burlap and beige gingham decorative ribbon in the center. It can work great in any room around or outside your home, especially in a country kitchen.
48. Watermelon Theme Burlap Colored Wreath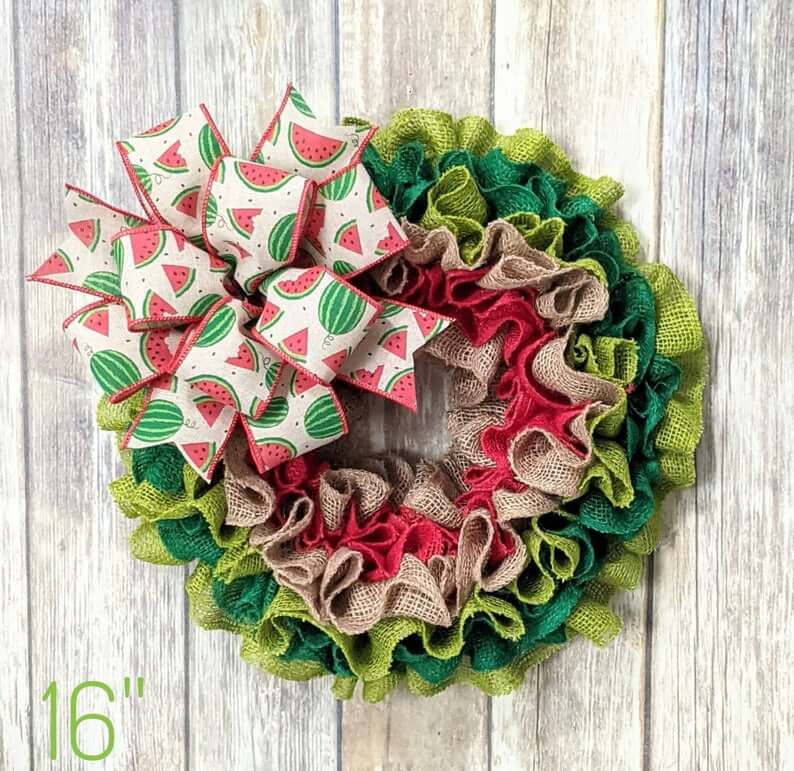 You don't need actual floral, faux or real, for a summer wreath. This burlap wreath does the job all the same and in more of a unique way. You can let all your guests know that you're ready for summer when you hang this up. There's a great blend of the natural burlap color as well as red, lime green, and emerald green. To top it all off, this has a cute bow with watermelons all over.
49. Vivid Ice Cream Theme Welcome Wreath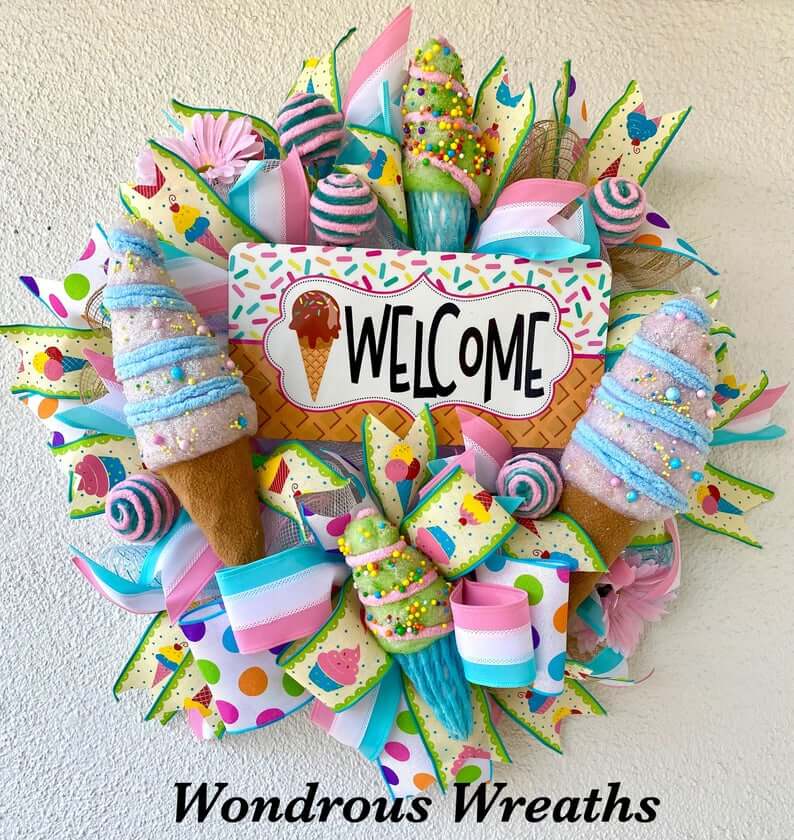 Going for a distinctive approach, this wreath heavily features ice cream as its theme, which is a perfect choice when decorating for the summer season. It is large, bold, and colorful. There are fuzzy ice cream cones and pink balls as well as a few bright flowers. To continue with the theme at hand, there are also ice cream and cupcake ribbons, rounding out this adorable piece. Finally, this ends with an adorable "welcome" sign in the center with a drawn ice cream cone next to the word.
50. Summer Garden Hat Flower Wreath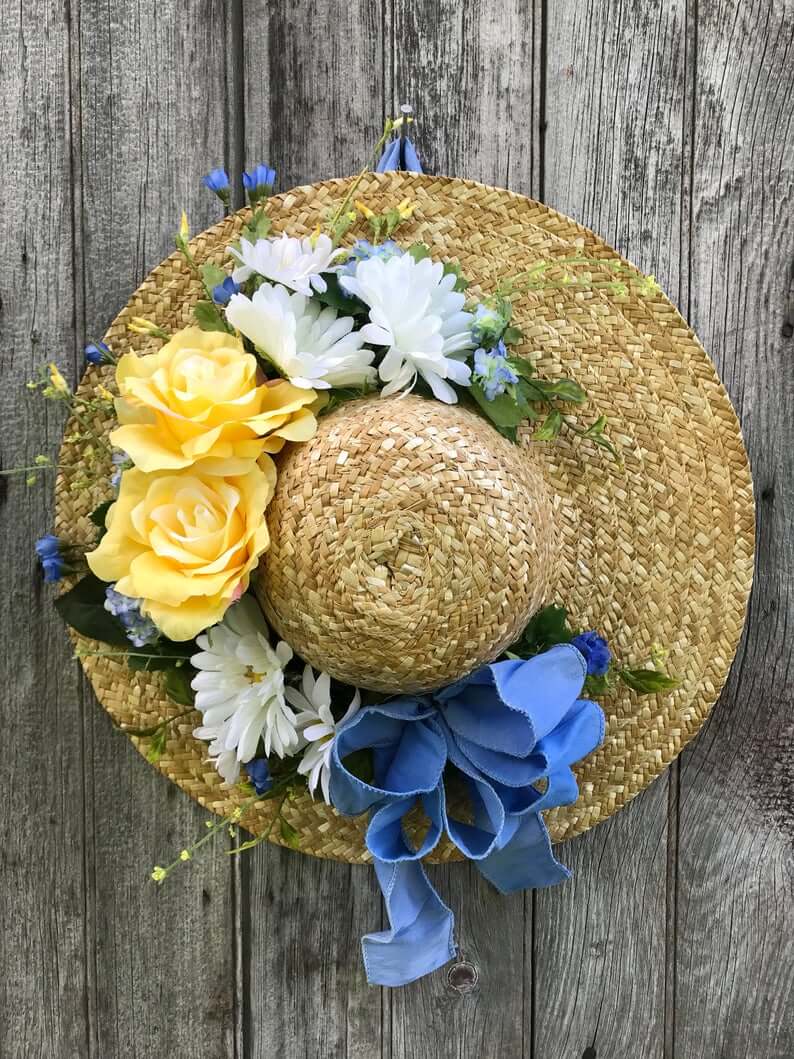 A garden that is always a reminiscence of a fun and productive time outdoors when the sun is bright, but it can also work perfectly when used as a base for a wreath. Simple to hang, this comes in two different sizes. You can also get it with a ribbon in the color of your choice: light yellow, yellow, blue, or bright yellow linen. Also, although it comes with the yellow and white flowers pictured, you can request different flowers to make the piece more unique for your home's décor, freeing you to have something truly unique.
51. Wood Bead Succulent Floral Wreath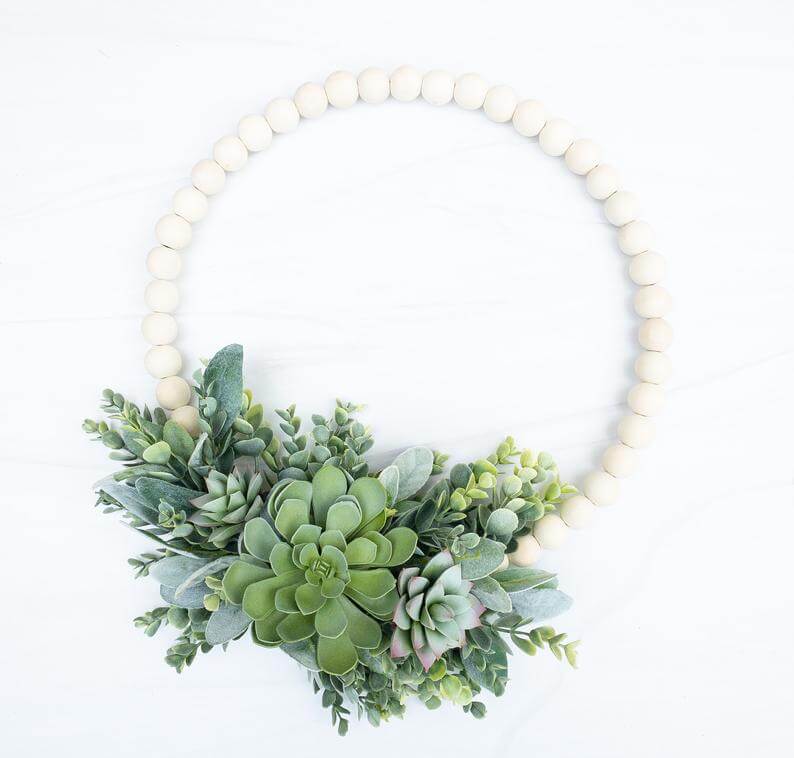 Made from round wood beads, this wreath is another exceptional choice to use something different for your summer decorations. It is great for a minimalistic style as it adds plenty of texture without taking over your other décor too much if you place it with something else on your walls or doors. Other than getting this in three different sizes, you can also select from various finishes. This comes with just greenery, or you can get it with white flowers, sunflowers, or succulents.
52. Colorful Butterfly Burlap Summer Wreath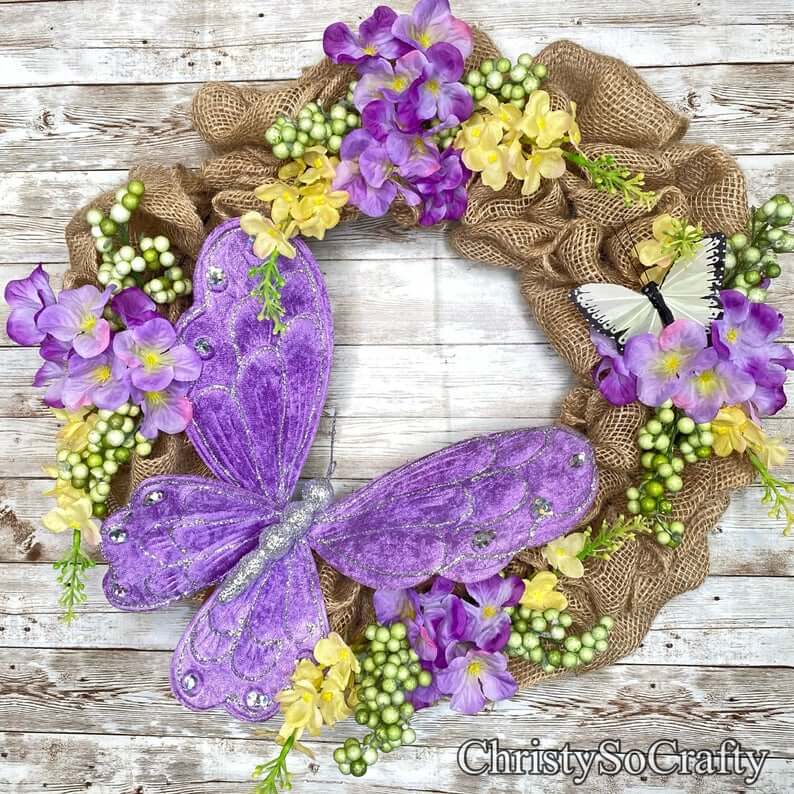 This homemade wreath is designed in a way to fit with just about any style you have while maintaining its summer feel. The base of this is a wonderful burlap material, and its natural beige tone works well off the colorful faux flowers and greenery. Also, there is a wonderful large-sized purple butterfly as well as a smaller insect that adds more life to the wreath.
53. Pineapple Ribbon Door Hanger Wreath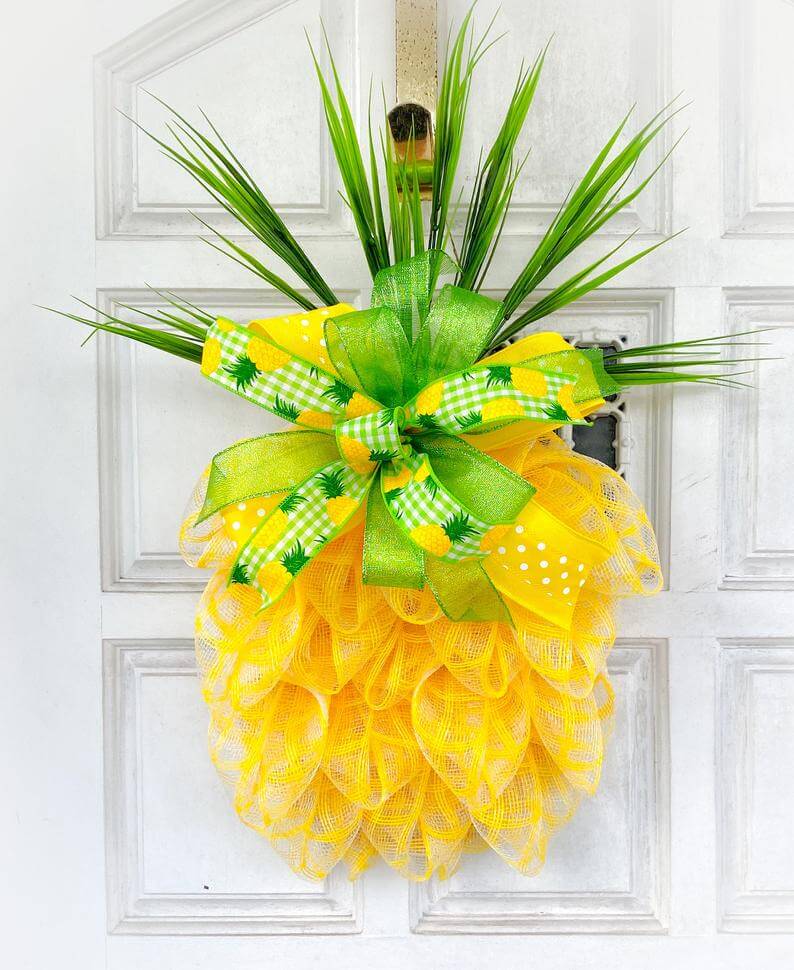 Pineapple is a perfect symbol to represent cool and relaxed summer vibes. It uses different colored ribbons to effectively create a "pineapple" that you can hang in different places throughout your home. This can work for décor all season long or you can use it for a summer-themed party. Additionally, this cute pineapple ribbon arrangement comes in multiple color styles: yellow, aqua, gold, yellow and white, yellow checkered, and green.
54. Herbal Faux and Reserved Lemon Wreath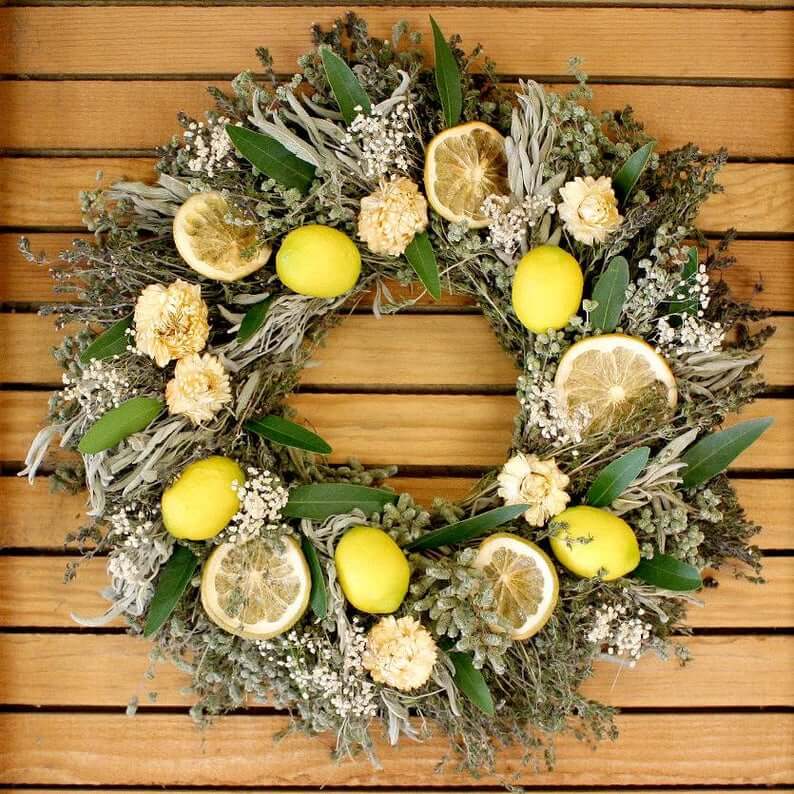 A beautiful addition to any home, this wreath features a pleasant combination of various herbs and lemons. There are faux whole lemons all around to add much-appreciated brightness to the piece. Meanwhile, there are reserved lemon slices as well that provide the wreath with a different sort of look as well as some texture.
55. Nautical Rope Coastal Style Wreath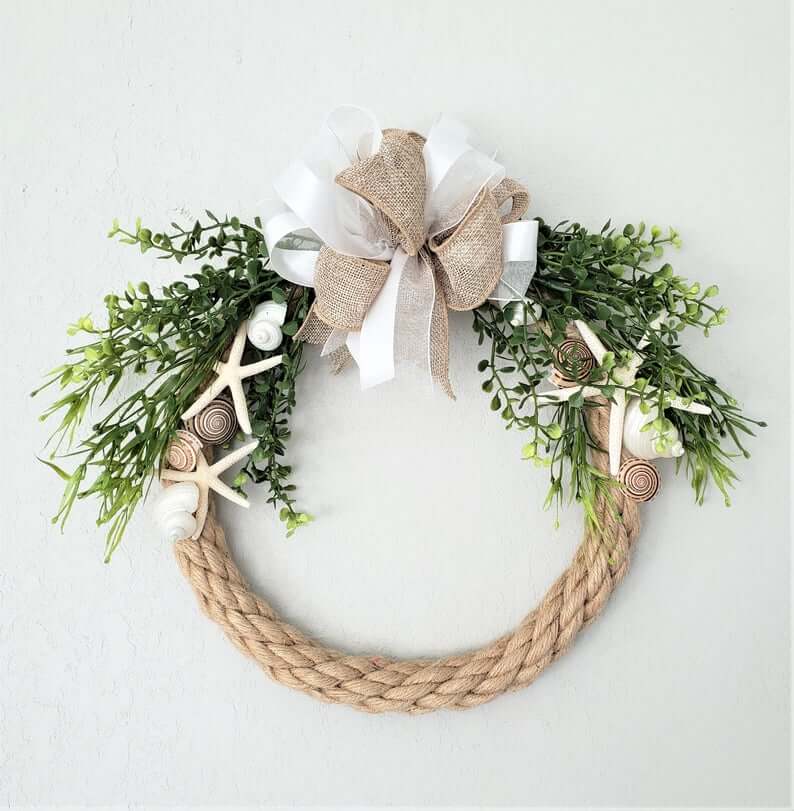 When you want to keep summer around all the time, you can go for this beach-themed wreath. It features a nautical rope as its base, and the bottom remains empty while the top of the wreath is filled with incredible greenery as well as shells and starfish. There is even pretty jute and white tuxedo organza bow that serves as the centerpiece.
56. Driftwood Wreath with Sea Glass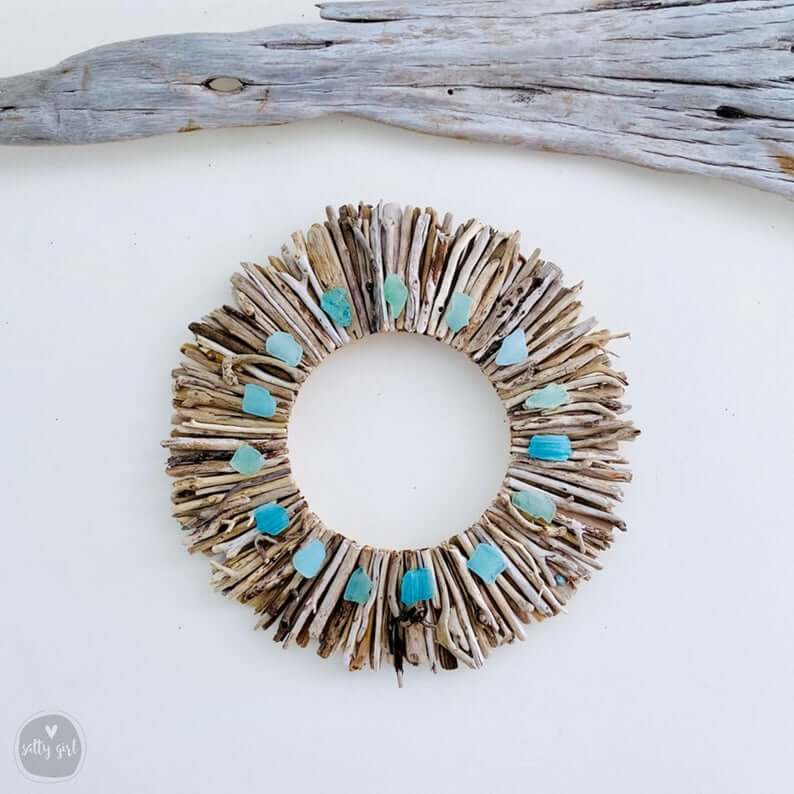 Another great way to bring the beach to your home is with this coastal-themed driftwood wreath. It can offer a serene feeling to any room you hang it in with its uniformed design and the aqua and seafoam sea glass accents throughout. Available in three different sizes, you can choose to have this hanging with a wire hanger or with a fishing rope.