Teacup mini gardens add a bit of enchantment anywhere in your home. Made from readily available items, they are quick and easy projects that will bring you years of enjoyment with little maintenance. Use any of these great teacup mini garden ideas to create an interesting and fun décor item.
50+ Enchanting Teacup Mini Garden Ideas to Brighten any Space

What you will need:
A teacup; More than one if you would like to create a larger garden area
Soil, Decorative pebbles, or aquarium rocks
Small pebbles or rocks for drainage
Mini accessories
Figurines
Plants: Succulents, Cactus, Moss, and smaller Grasses work well
Chipped or mismatched teacups are perfect for this project. If you don't have any unused teacups on hand, try a flea market, dollar store, or thrift shop. Toy and hobby stores often have dollhouse and model train accessories that fit well in teacup gardens.
To bring any of these ideas to life, drill a small hole in the bottom of your teacup. Adding some pebbles before the soil will aid in drainage for your plants. Decorate your teacups with accessories and plant varieties. You can use one example or a combination of elements in these delightful teacup mini garden ideas. Create one or several for a charming arrangement.
1. Loveable Llama Teacup Succulent Mini Planter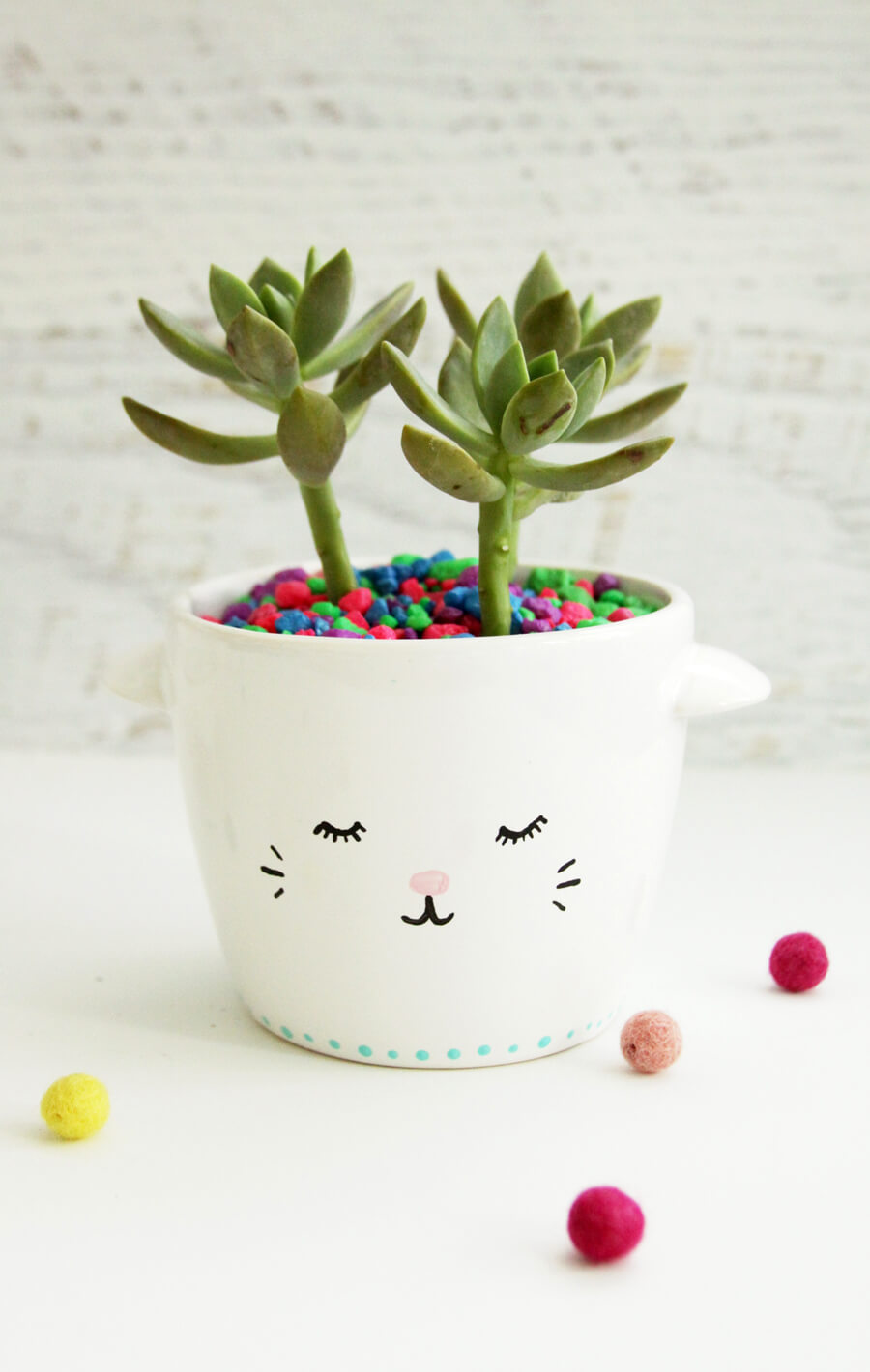 One of the trendiest creatures for young and old alike becomes the muse for this miniature teacup garden idea. Plant one or two succulents in this planter and embellish the look with some brightly colored decorative rocks. The result is a cute critter to set in your windowsill or place in your miniature outdoor garden area.
2. Climb on Up for Tea Time Set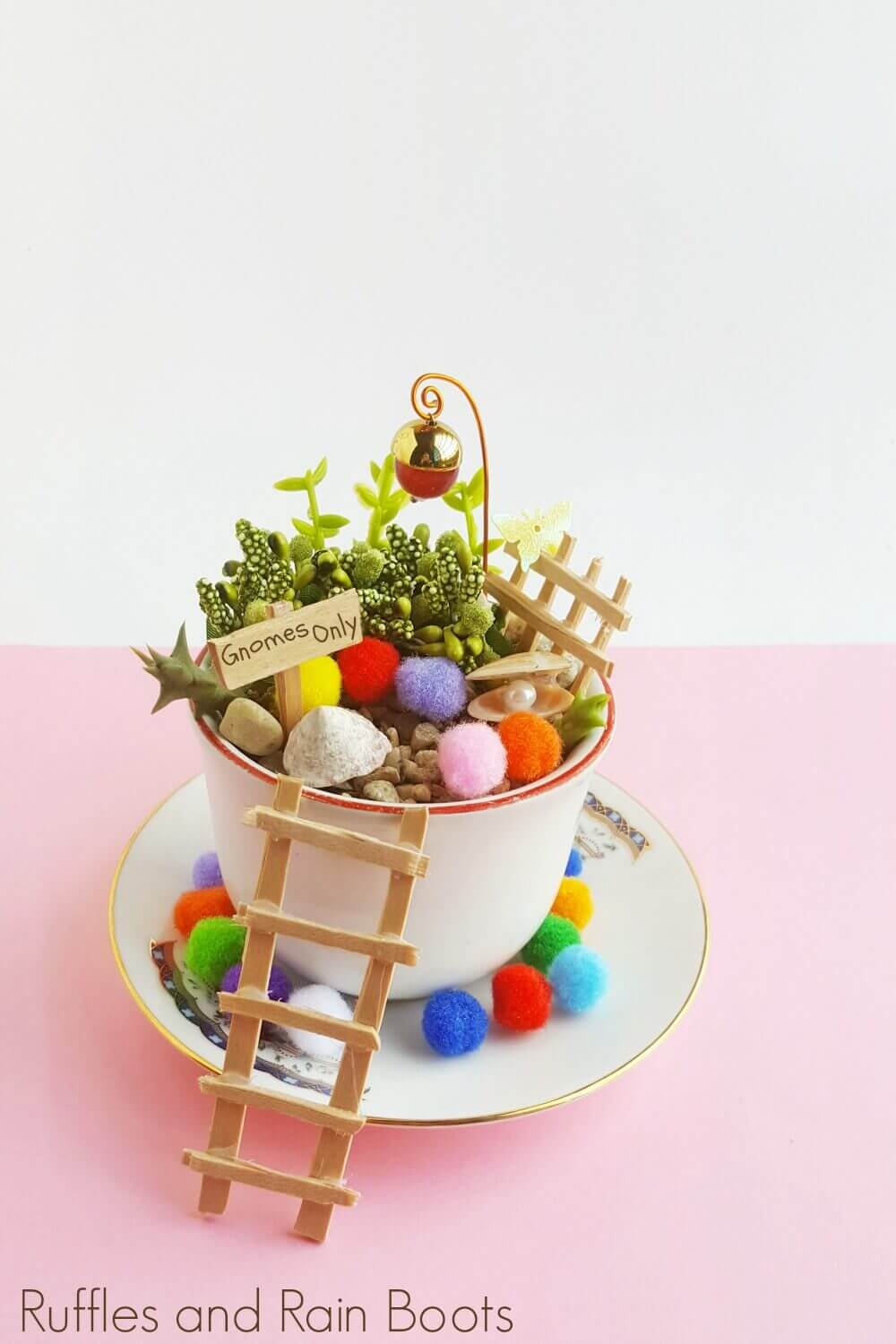 This charming teacup and saucer set is the perfect place to welcome all of your garden gnome friends. With a miniature ladder to lead them up to this teacup haven, your mini garden groupies will enjoy this quaint space. Filled with brightly colored pom-poms and a host of succulents nestled in some pebbles, this tea time set would be a welcomed addition to your porch side table.
3. Miniature Fairy Garden Teacup and Saucer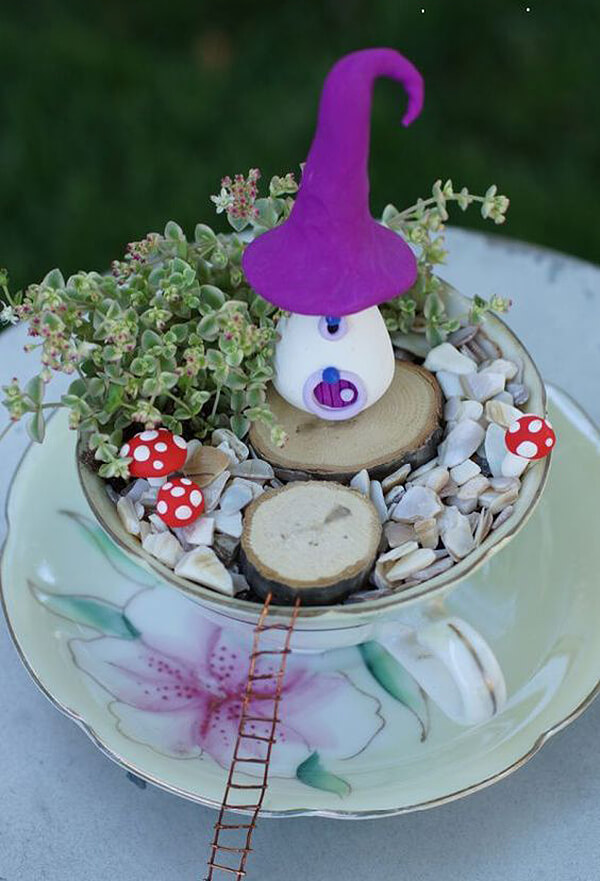 How cute is this purple toadstool humble abode that's just the right size for your fairy friends? Wood circles lead the way to form the perfect path from the ladder to the front door. Surrounded by some gravel and a small forest of plants on one side, this charming cottage is the perfect fit for your teacup and saucer set to incorporate into your fairy garden display.
4. Victorian and Gold Trimmed Teacup Mini Garden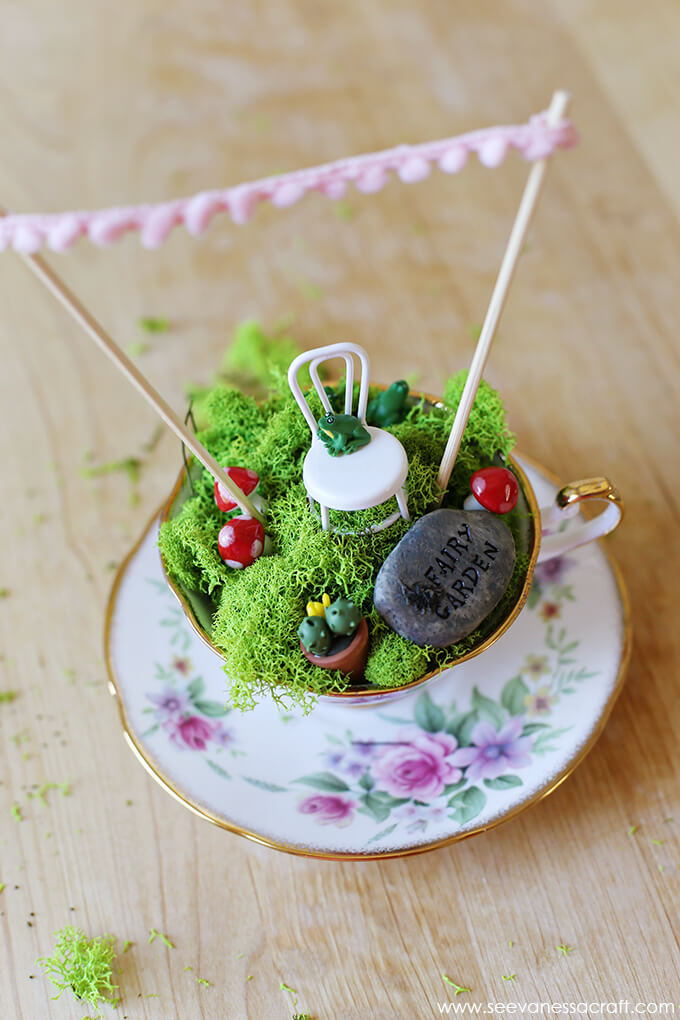 Wondering what to do with that sole piece of Victorian tea set you've discovered? Repurpose it into an extremely fun fairy and frog paradise! The beautiful pink floral motif accented with the gold trim around the saucer and cup makes it a gorgeous way to display a HOPPening hangout for a tiny frog and fluttering fairy. Spreading a moss blanket across will add an ideal flooring for this fun, miniature teacup garden.
5. Ferny Frond Secret Door Gnome Garden Cup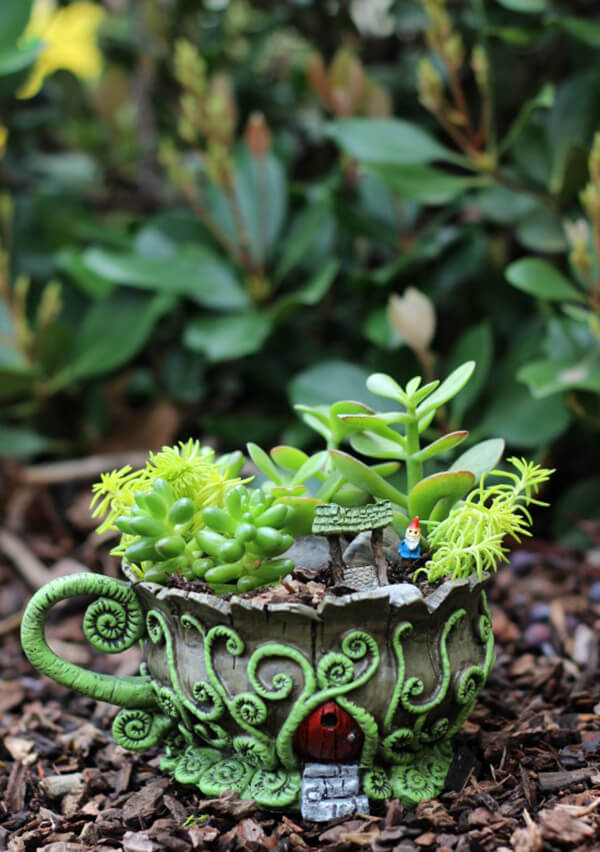 With curled fern fronds sprawling the sides of this cup, your garden gnome buddy will feel like he's living in a miniature forest of his own. The one side reveals a tiny, hidden red door that leads to worlds unknown. Plant your gnome buddy next to a small wishing well to keep his dreams alive. Seclude him in this teacup by lining the remaining space with lively green succulents to complete this miniature secret destination.
6. Blue and White Victorian Teacup Garden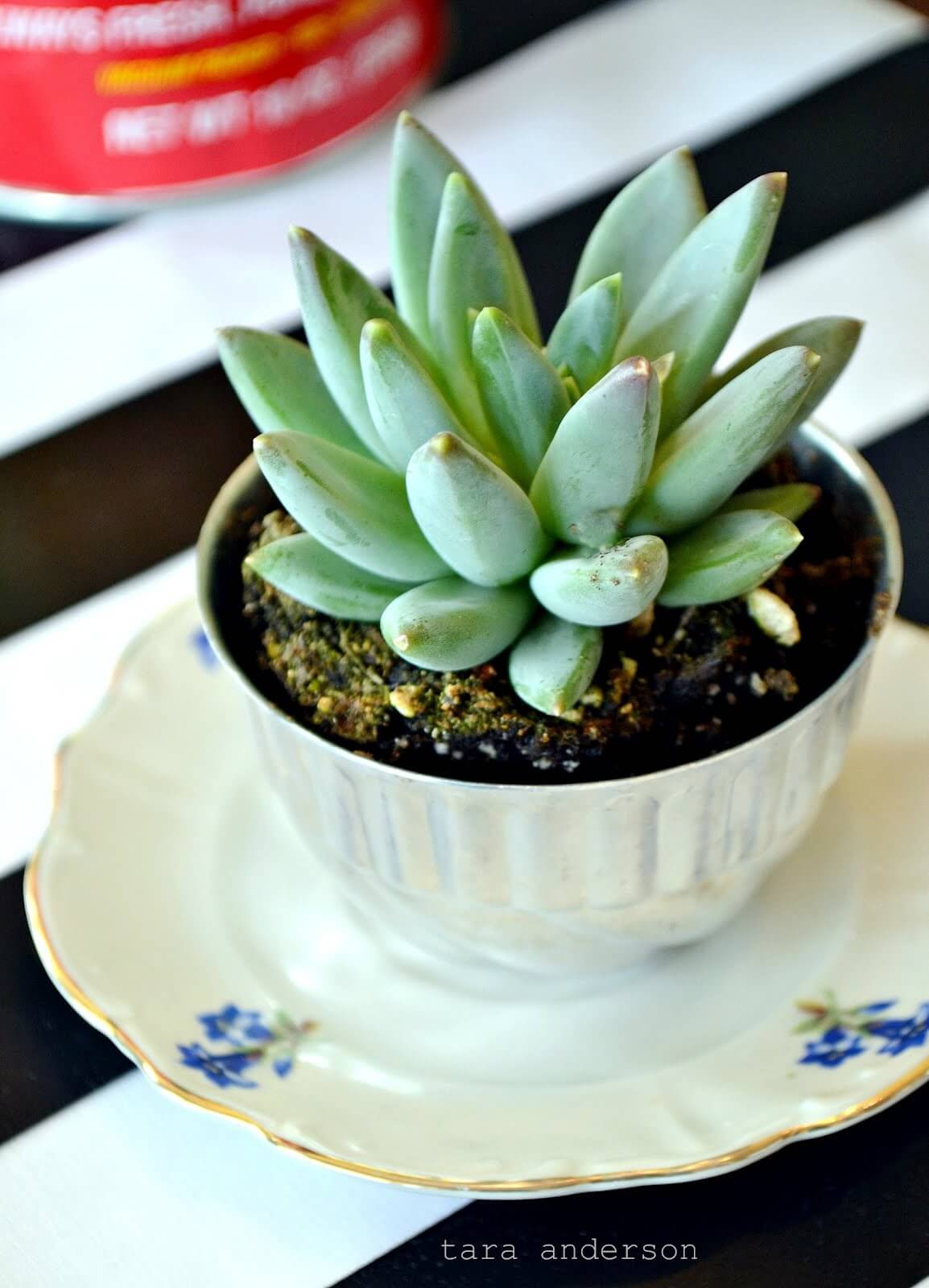 This classic color combination of rich blue and timeless white makes this a unique and breathtaking Victorian teacup garden idea. Simplicity is the name of the game and the elegant small blue flowers on the design are echoed in the single succulent planted within the cup. This is an amazing way to let someone know you're thinking of them as an alternative to a traditional bouquet.
7. Timeless Teacup Rose Moss Garden Set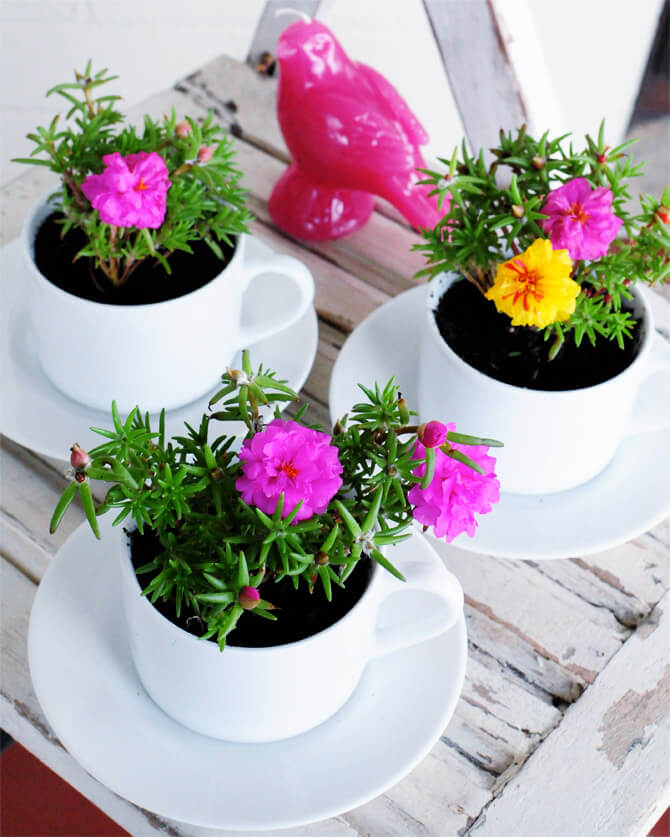 Make her wedding an unforgettable experience from start to finish by kicking off the bridal shower with these darling and simple teacup centerpieces. Each teacup comes in a standard style and neutral white patina making them perfect to take home for guests to use in their own personal spaces. Maybe the bridal party could gather and make this a fun DIY night for the bride. Place one on each table and use them to reward the door prize winners.
8. Sugar Bowl and Creamer Succulent Set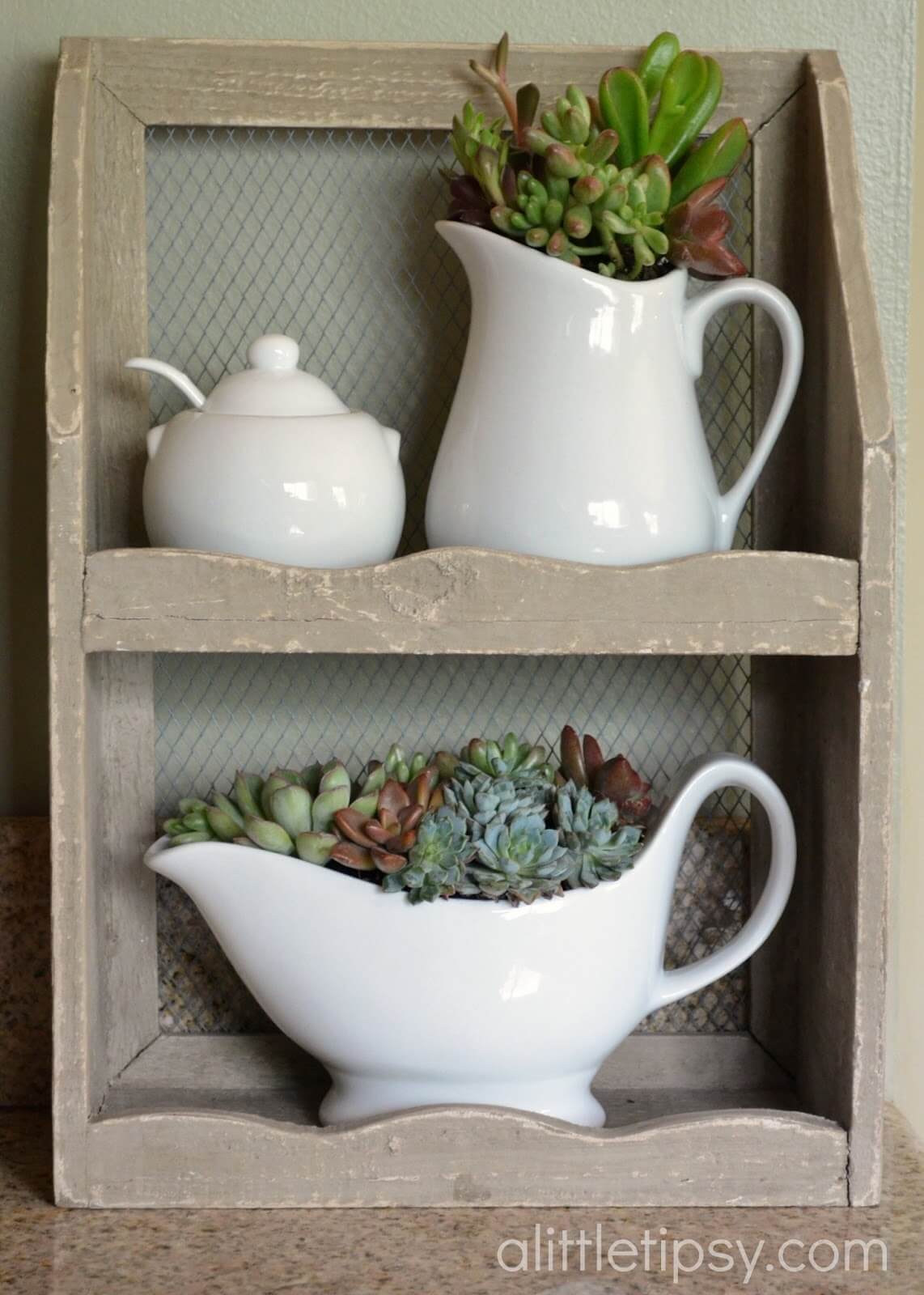 Your succulents will be the talk of the town in this sugar bowl and creamer set. Planting them in this charming set will give your kitchen a new and quirky easy update for merely some pocket change. Arrange them in the center of your kitchen island or next to your coffee station for plenty of presence. They look darling on a shelf as well. Arrange them collectively on a serving tray with some other teatime delicacies for even more fun.
9. Hieroglyphics Pottery Tea Set Miniature Garden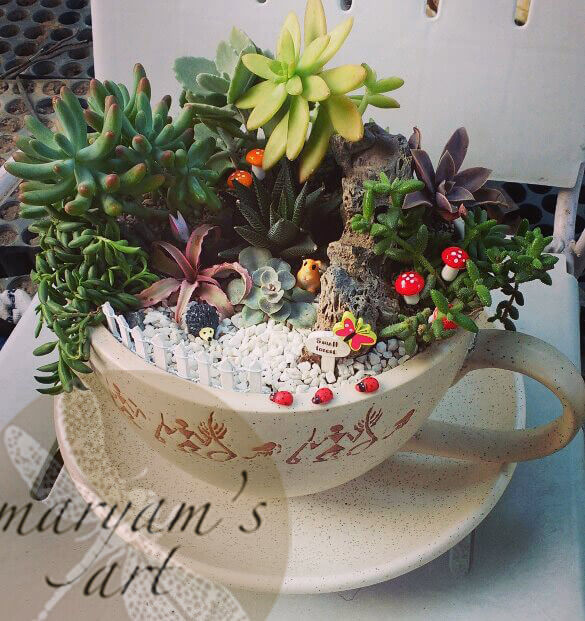 A wide variety of succulents look phenomenal housed within this ancient Egyptian-inspired teacup and saucer set. With contrasting white pebbles and rough larger rock, the waxy leaves and stems of these green goddesses get the attention they deserve in this magnificent miniature garden design. It makes the perfect gift for a teacher, co-worker, or neighbor.
10. Dainty and Delicate Floral Succulent Teacup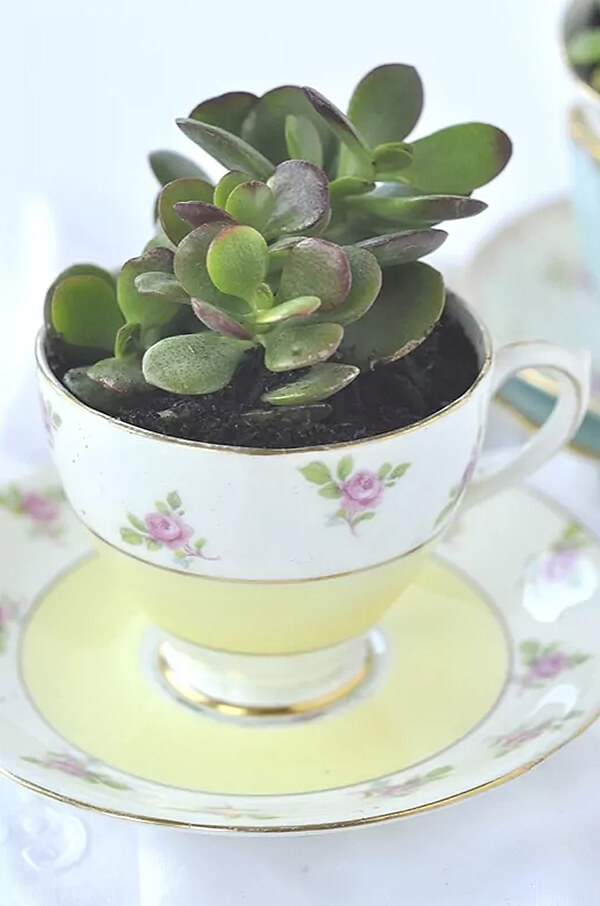 Combine a bit of the Earth's green goodness with some of the man's most delicate creations in this dainty teacup succulent holder. The thick and chubby waxy leaves of this succulent are a wonderful way to compliment the thin and fragile beauty of this teacup. A soft, buttery yellow illuminates the cup and adds a hint of warmth to this display. These would be adorable favors to use at a mother-daughter tea time social event.
11. A Cup o' Succulents Garden Goodness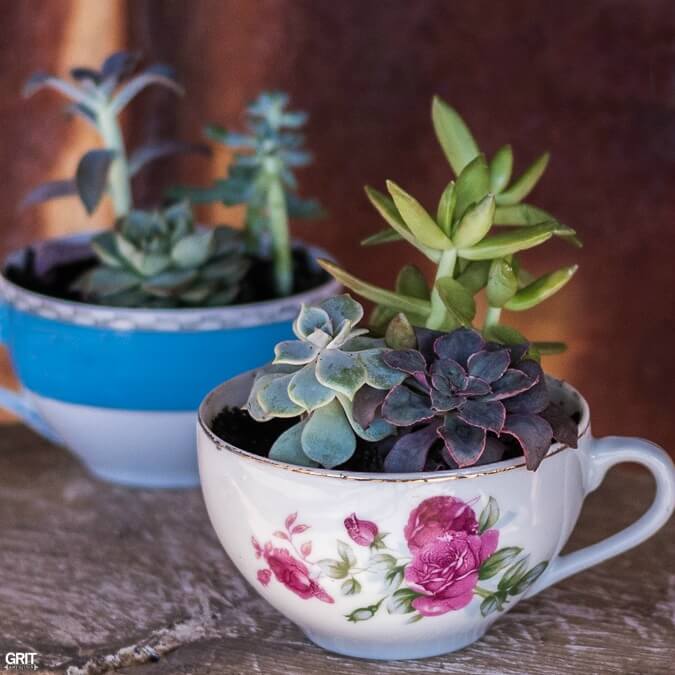 The best of both worlds collide when you mix your love of coffee with your passion for plants. Arrange a few of your most loved succulent friends into the basin of a coffee mug or teacup to create a new fusion of these two prime-time players. Your dining room will delight in this new creation. Or you could serve up this cup of goodness to an old friend over some freshly brewed coffee while you catch up for a monthly chat.
12. Old World Succulent and Pebbles Teacup Set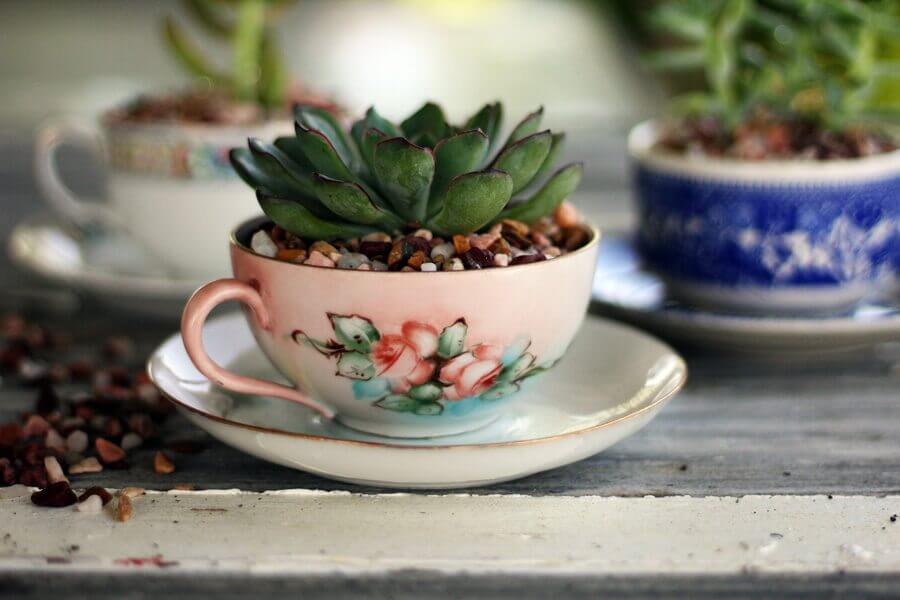 No need for a full-blown garden to quench your gardening thirst. Channel that green-thumbed energy into a pint-sized project where you incorporate a cherished succulent into a delicate teacup for an over-the-top garden design. Surrounded by tiny pebbles, the rich green of the waxy leaves explode with color as they are contrasted by the deep browns of the rocky bottom filler. Host a girl's night event where each lady can create her own with her choice of succulent, gravel color and cup design. She may even bring her own cup that's been passed down her family tree to give it a second chance at life.
13. Ladybug Teacup Garden Fairy Display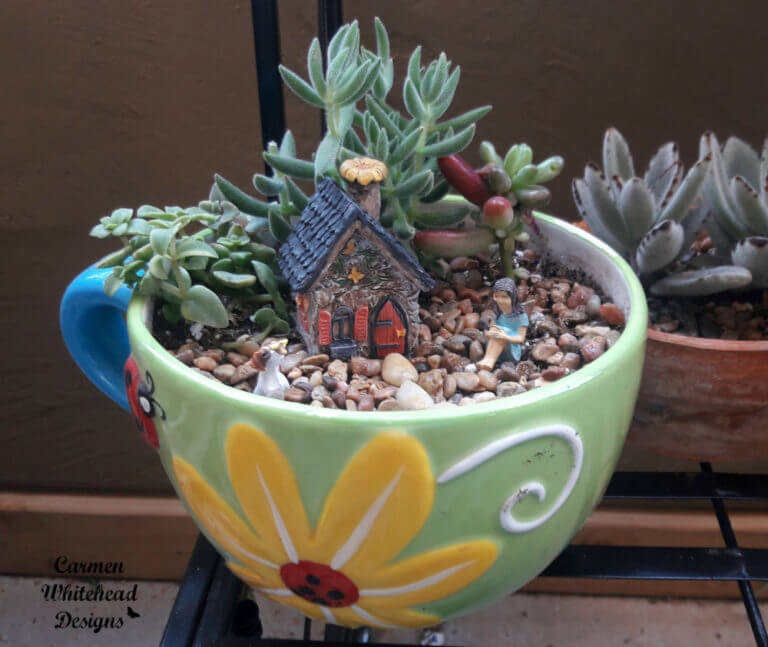 Nestled in this colorful ladybug teacup is a sweet little fairy with her house and pet fido. A row of gorgeous green succulents surrounds her home as she and her dog delight in the fresh air of the gravel front lawn. Sit this lively piece within your outdoor garden space for a pop of color and a touch of charm. It makes a great gift for the fairy garden collector as well.
14. Secret Door Succulent Fairy Garden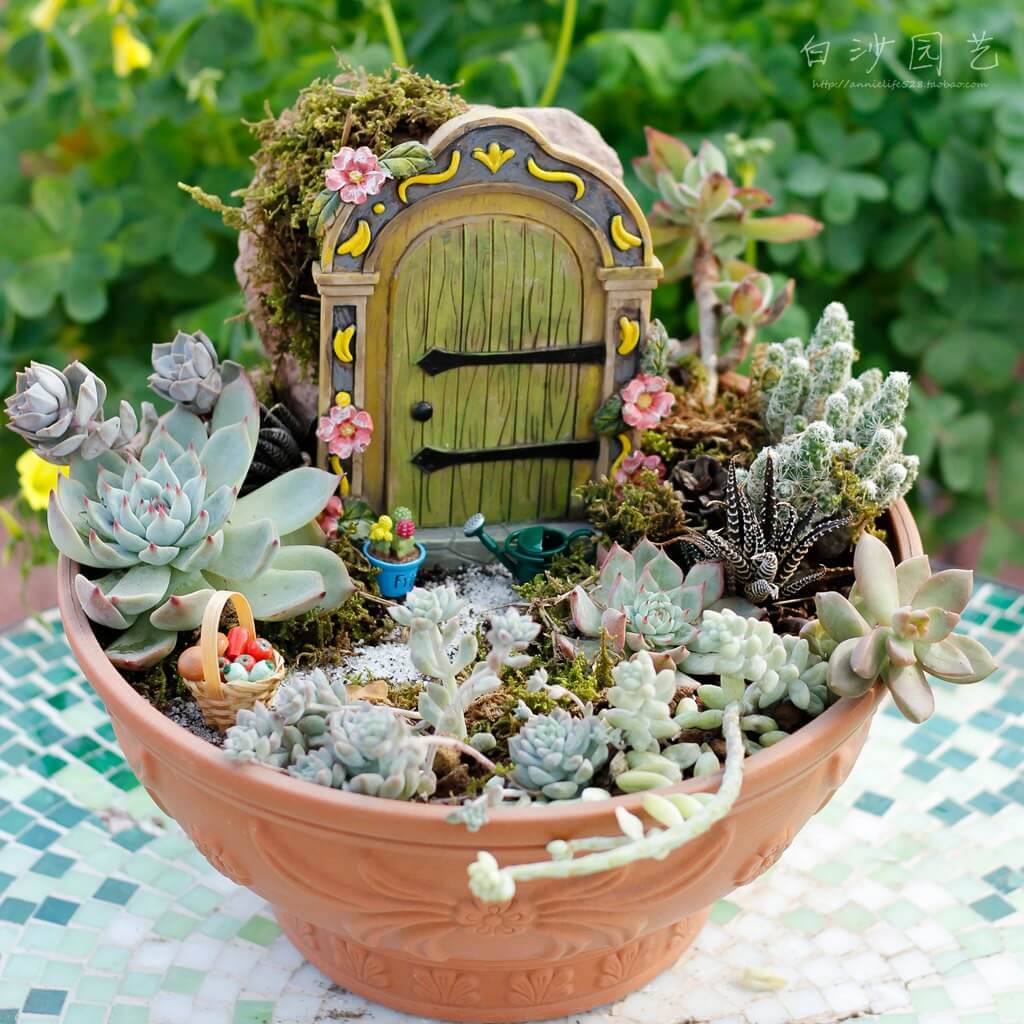 Enchanting describes this fairy garden that's filled to the brim with a wide variety of succulents. Bursting with life, this greenscape is charming on its own but is taken to another level with the inclusion of the secret door. Leading to worlds unknown, the fairies of your garden will relish their time spent in this beautiful display you've created especially for them.
15. Fuzzy Mushroom Decorative Teacup and Saucer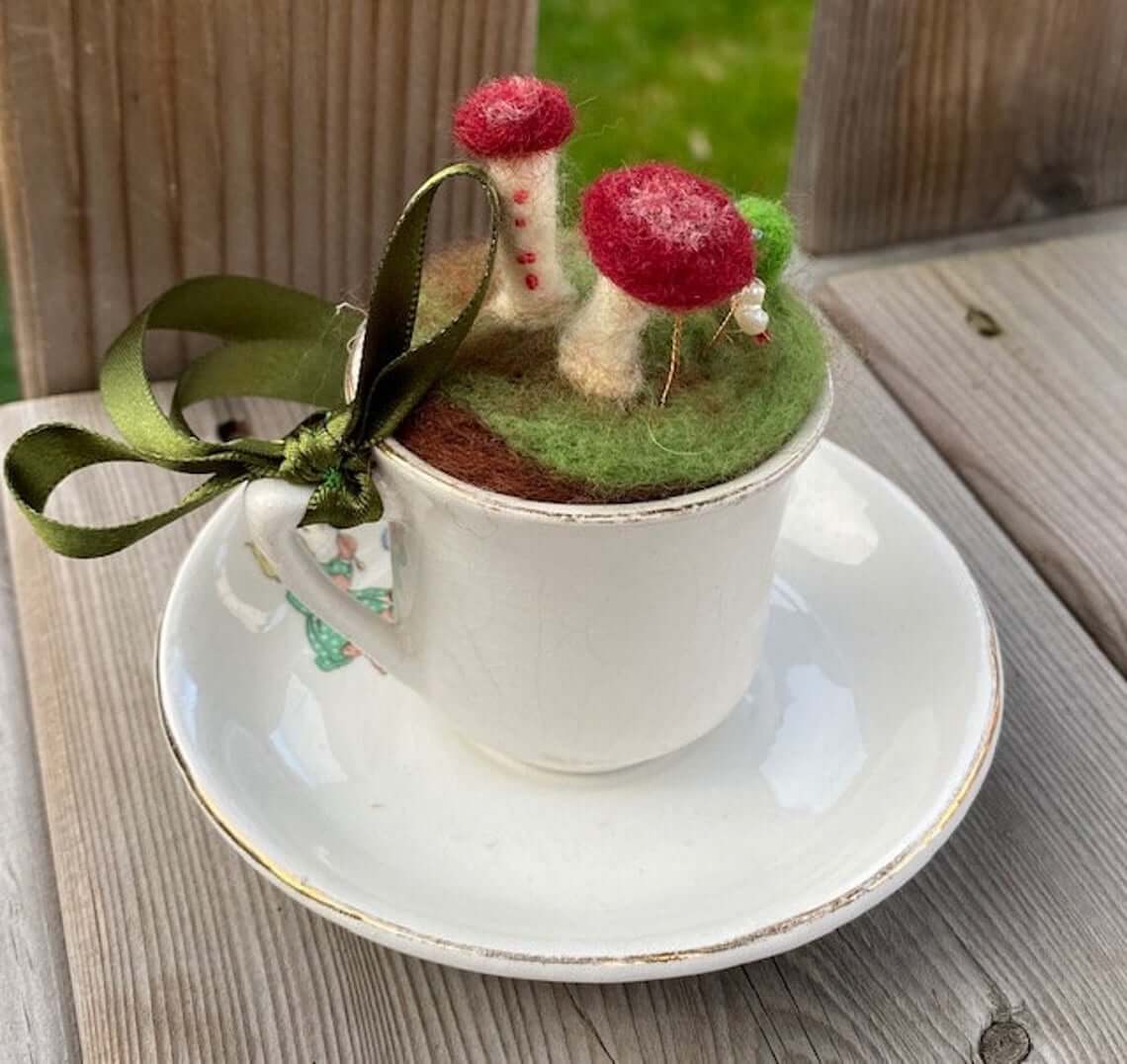 Add some textured character and charm into your back porch or garden scene with this fuzzy mushroom creation. The smooth and polished teacup and saucer contrast perfectly with the frayed texture of these sprouting spores. Add this to an existing fairy garden to serve as an extra piece of background in creating the fairy village of your dreams.
16. Rustic Victorian Teacup Miniature Garden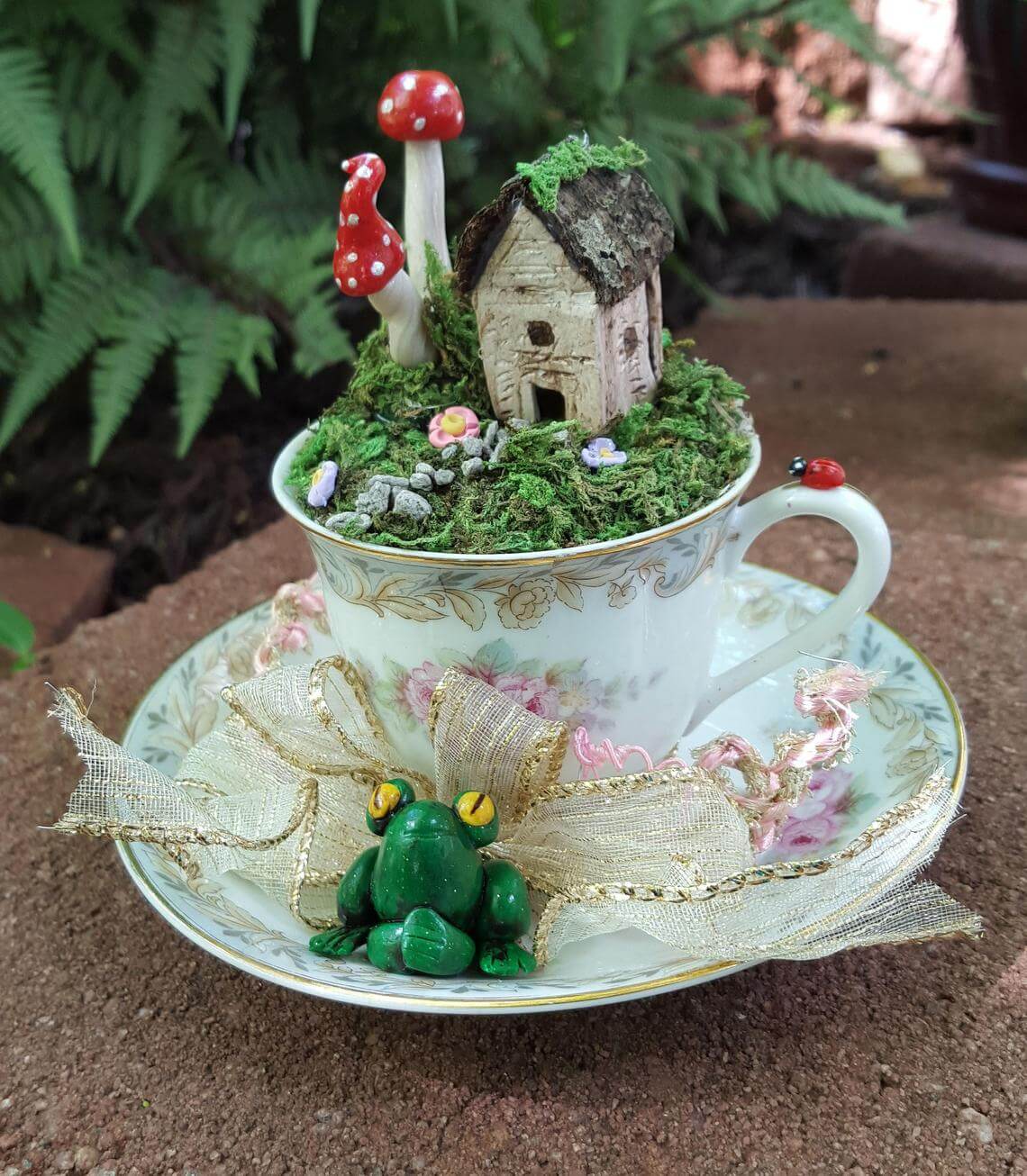 Toadstools, ladybugs, and frogs will frolic to this dainty and darling little teacup garden. Place it where everyone can enjoy its natural beauty. The mossy floor is echoed as it creeps across the rooftop of the quaint cottage. This is a wonderful addition to your already established fairy garden that resides in your backyard, or it can stand alone as a display on the side table of your porch.
17. Thinking Fairy Miniature Garden of Toadstools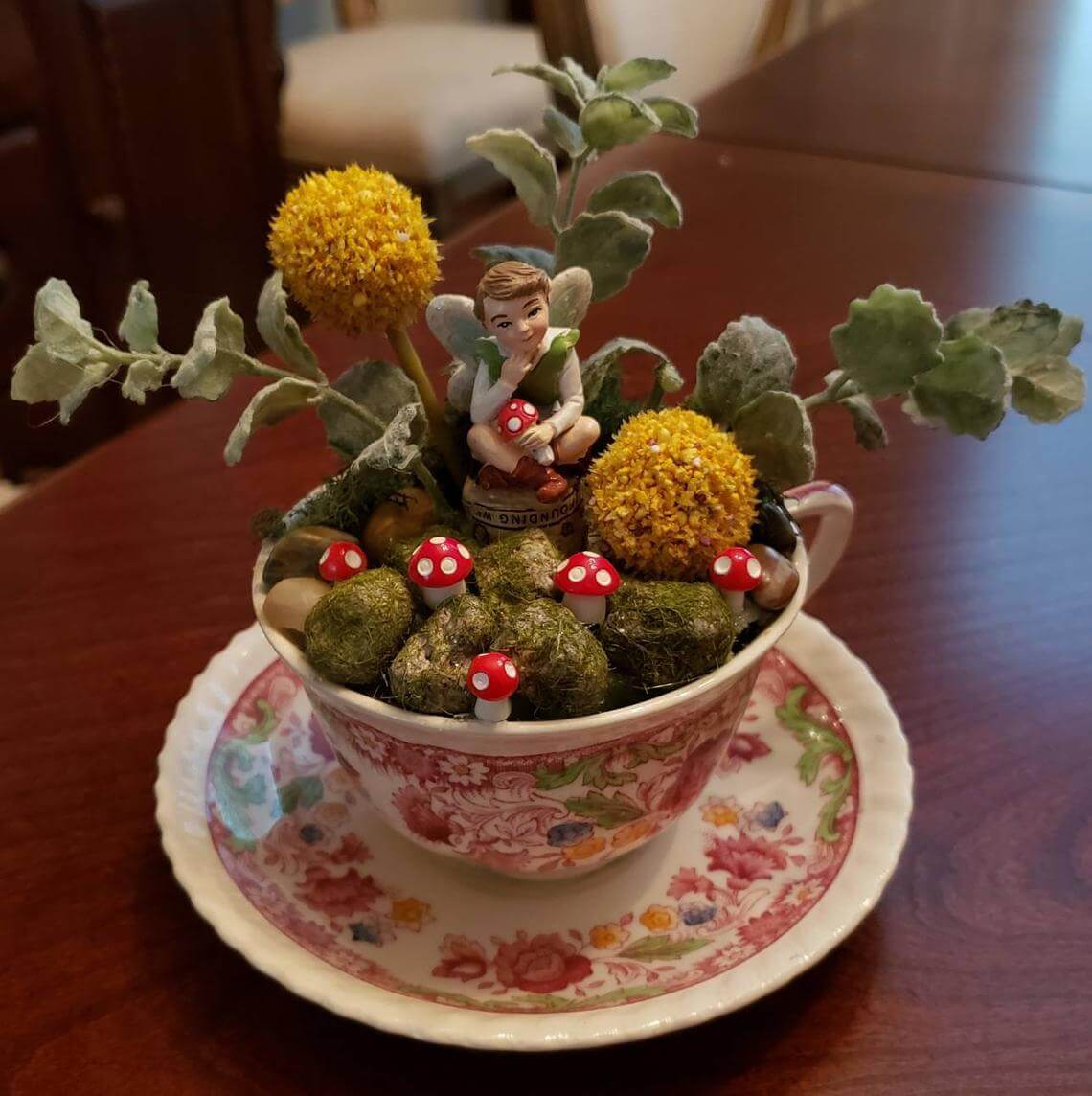 Feast your eyes upon this cute little fairy that's taking a break from the world to ponder her thoughts. As she gently holds a freshly picked toadstool, she's relaxed in a seated position to take in all the green goodness of her surroundings. With the addition of a few succulents, this arrangement is a fabulous look for a gorgeous teacup and saucer set to give it a new breath of fresh air in your porch decor.
18. Miniature Fairy and Snail Statue Teacup Garden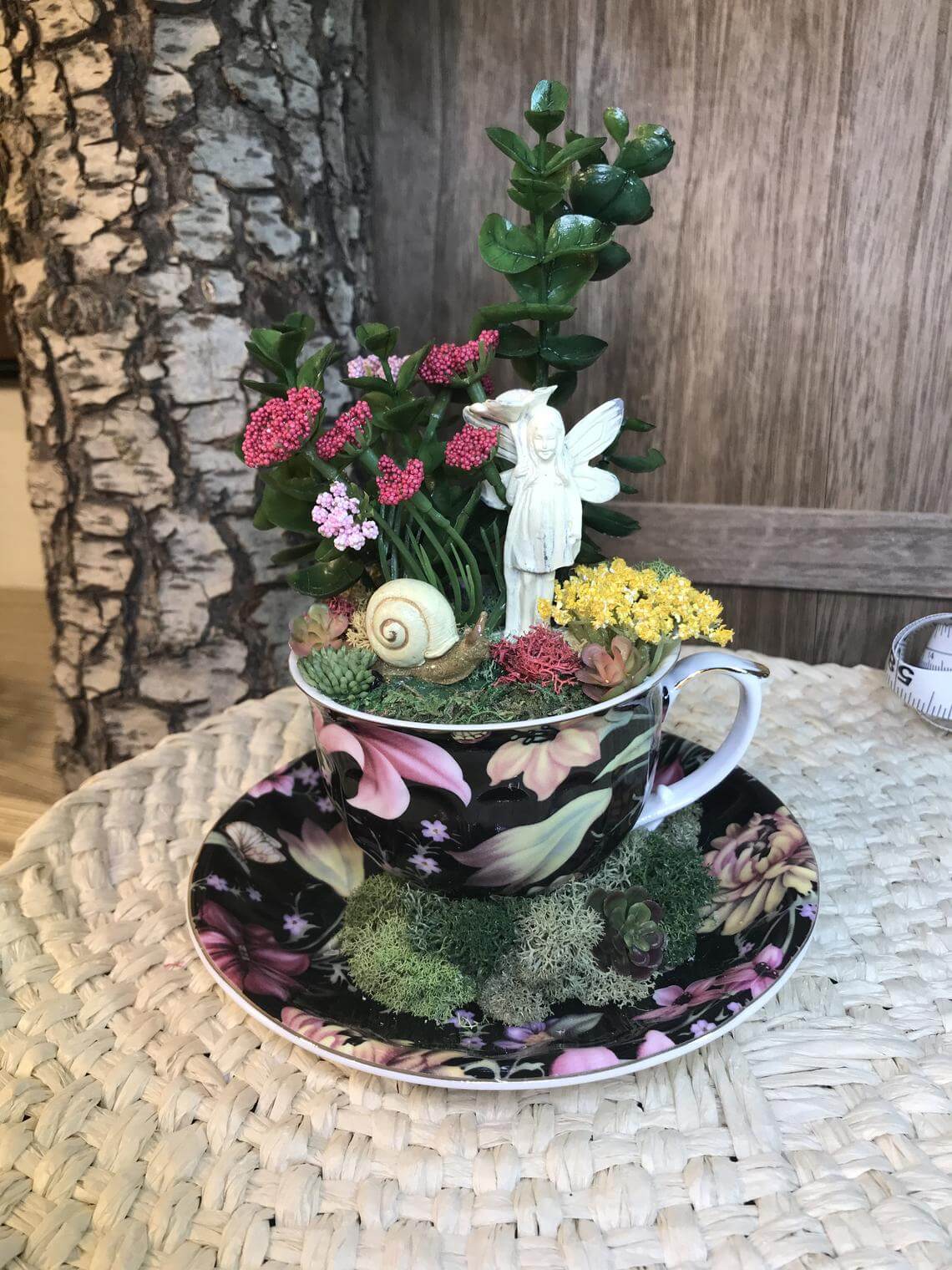 Clustered within a serene natural flowering habitat, you'll discover these miniature garden statues of a fairy and a snail in their favorite hang out. The lush greenery engulfs these tiny figures and makes the most of this pint-sized teacup garden scene. Trimming the overall look with some succulents and Spanish moss at the bottom of the cup takes the design to the next level. Present one of these pretty repurposed teacup and saucer sets to a neighbor or friend.
19. Vintage Traveler Botanical Teacup Garden Decoration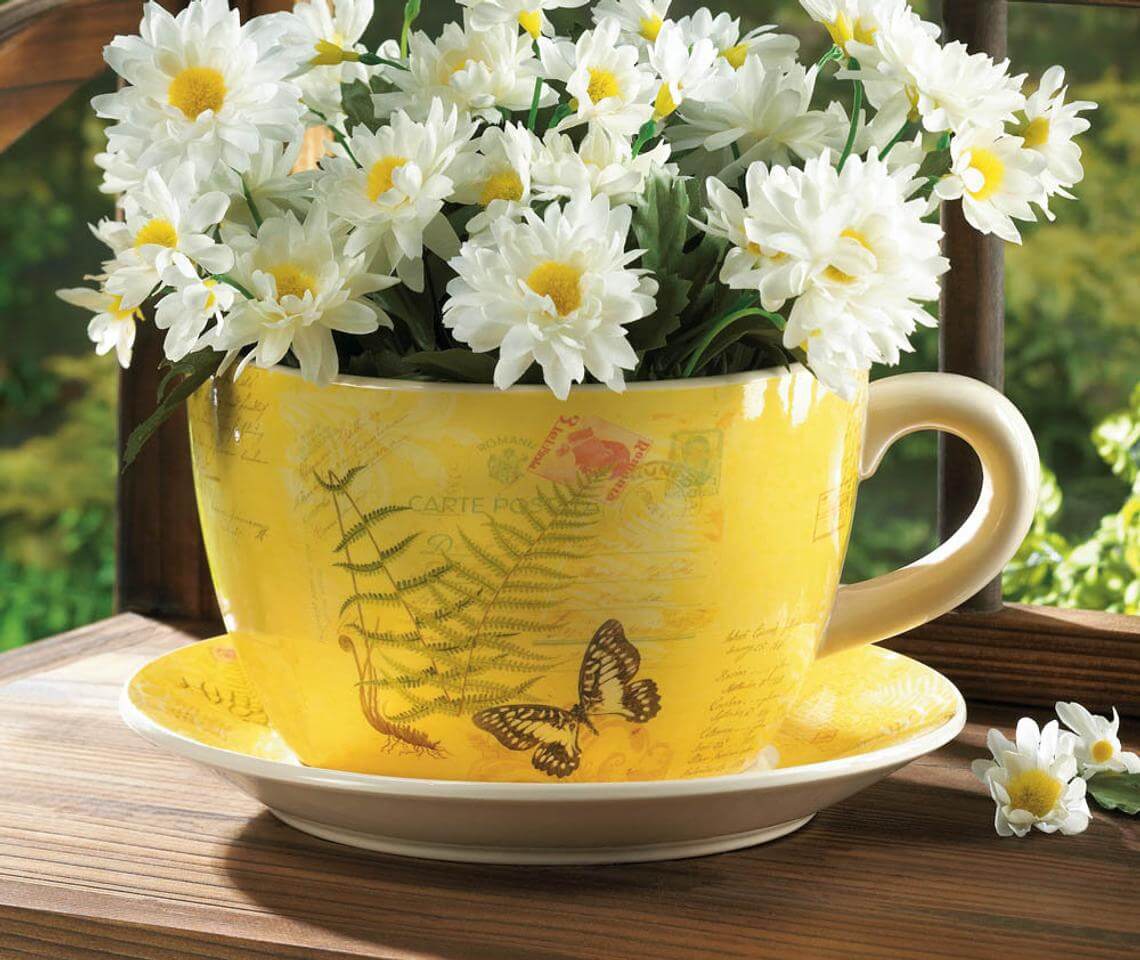 This warm and bright vivid yellow teacup lights up the room with its beauty and rich color. On the design side, the botanical motif creates a feeling of bringing a piece of nature into the comfort of your own home. Underneath, this teacup rests on a matching saucer that perfectly shines its luscious yellow hue into the room. Overflow the cup with your favorite chrysanthemums or daisies to tie in the sunny glow of this mini-masterpiece.
20. Multicolored Satin Roses Leading to Fairy Garden
Lights will guide you home and in this case, the satin roses will light your path to your secret fairy garden. Hidden among the beauty and grace of your garden, this miniature fairy garden sign will offer a helping hand in leading you to this fairy utopia. With a wide variety of satin ribbons that create the tiny rosebuds, this pathway to fairyland adds a burst of color to your backyard garden escape.
21. Gnome Teacup Bouquet Floral Arrangement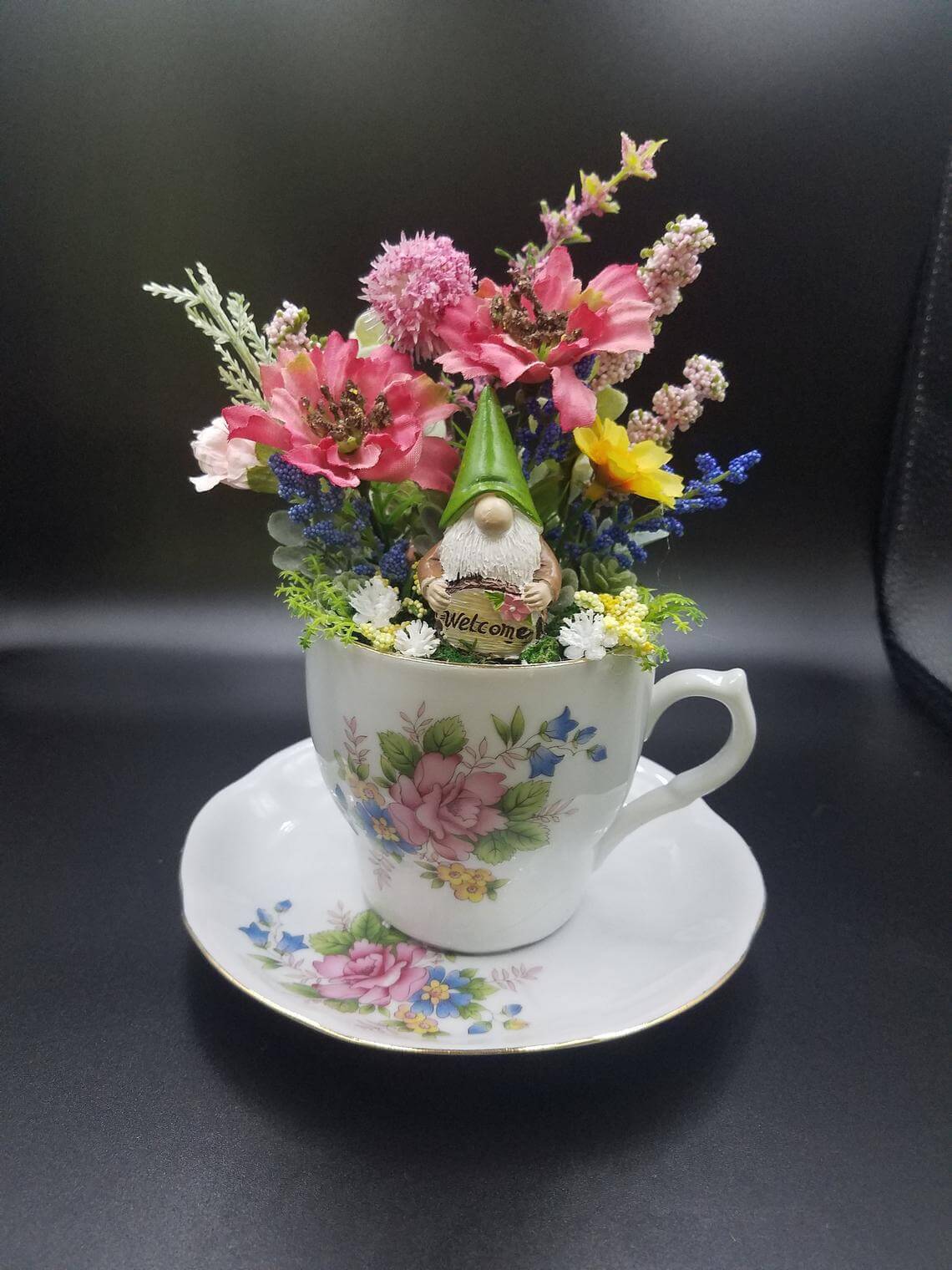 Welcome your friend home from the hospital or share the welcome of spring with them in this small flower display. The delicate nature of the teacup along with the sturdy structure of a garden gnome adds contrast and creates a character in this lovely floral arrangement. Your book club or garden club gang would get a kick out of receiving one of these teacup bouquets or perhaps they might even enjoy arranging a time to design one for themselves.
22. Vintage Victorian Teacup Planter Gift Idea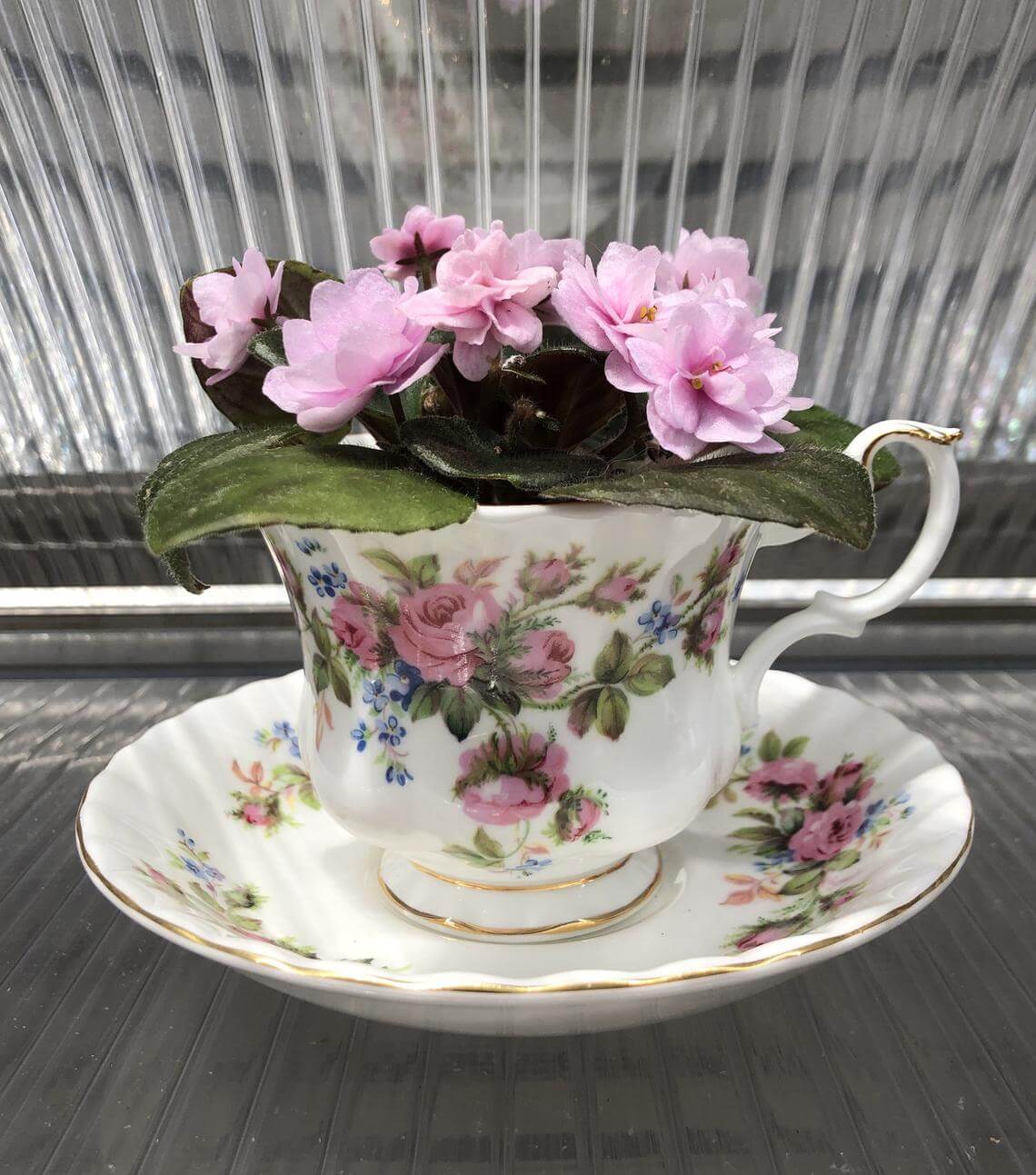 Surely that someone special in your life would be happily surprised to receive this vintage Victorian teacup filled with your choice of a pretty flower. It's an elegant, yet simple way to show you care as you give them a regal royal Albert moss rose in full bloom. Let the beauty of this creation express your love, gratitude, and/or thanks to the one you hold dear.
23. Fairy and Cat Mounds of Moss Garden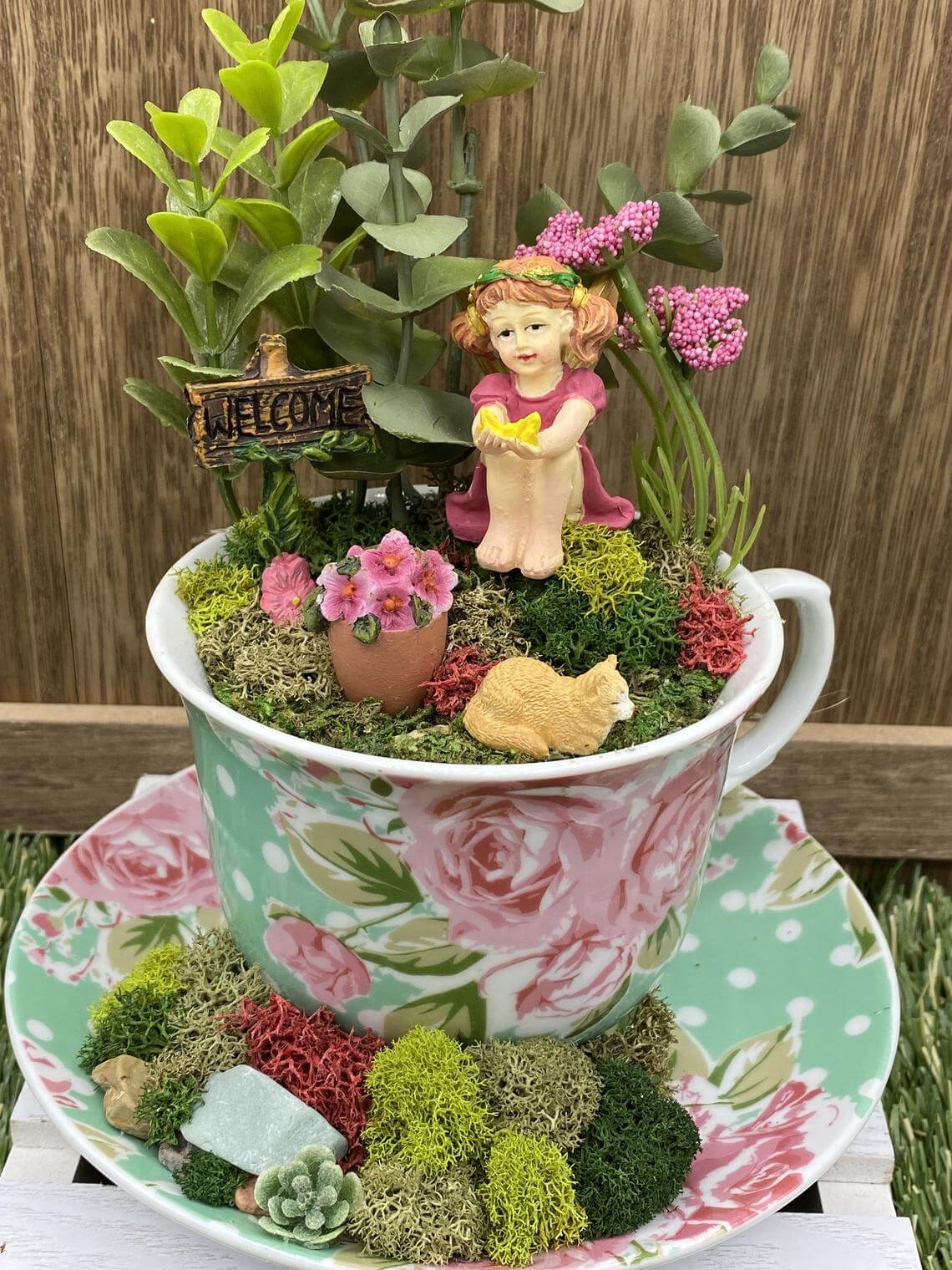 Create a new world with this mint green and pink teacup set. Featuring a tiny young fairy girl and her cat, they are poised to bring some whimsy and fun into your fairy garden scene. This adorable pig-tailed girl is welcoming you into her corner of the universe where peace is plentiful. Share this special creation to serve as a gentle reminder, with a mom whose daughter has just left the nest, that she'll always be her little girl.
24. Enchanted Forest Fairy Queen Teacup Garden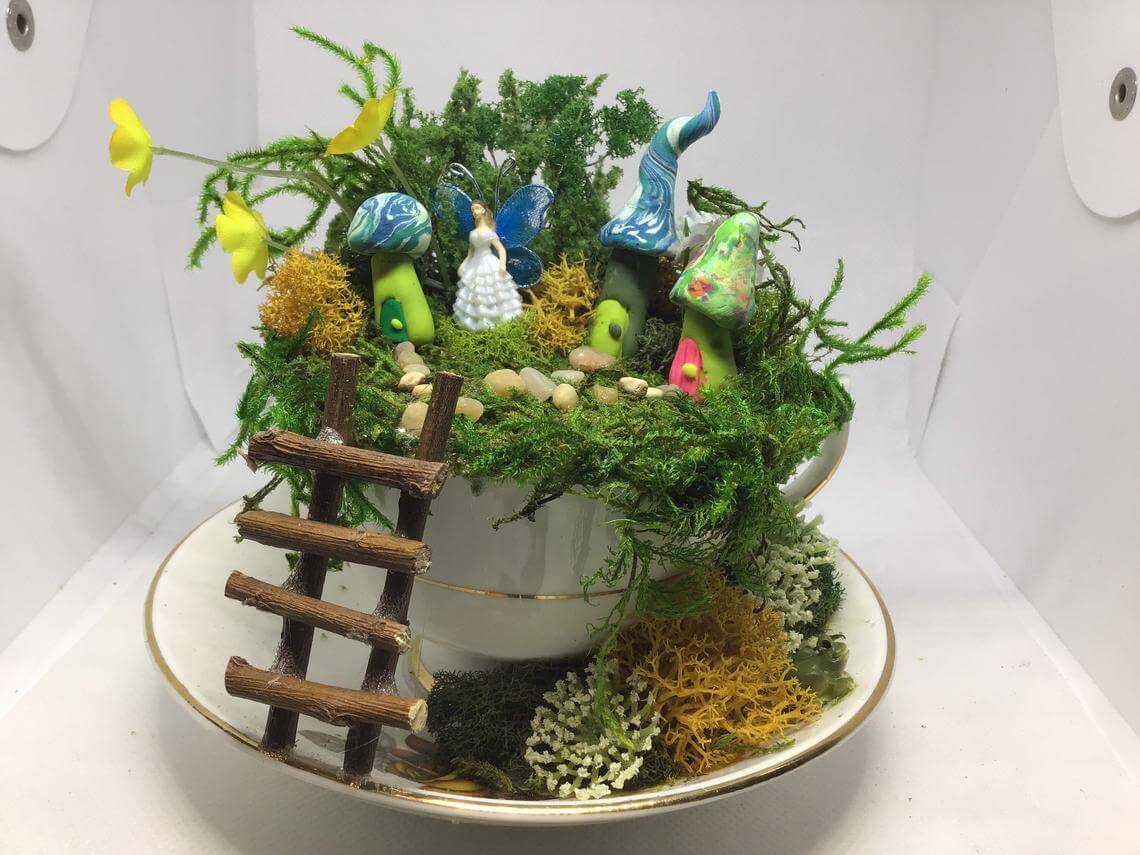 Let the lure of this white-clothed fairy queen lead you into mesmerizing tranquility in the comfort of your own backyard. This miniature enchanted forest unearths a new state-of-mind for all your guests to wash away their fears and alleviate their stresses. Design a village of these tiny teacups to serve as a fairy garden haven that's as unique as you are. The attention-to-detail in this design is gorgeous as the smooth pebbles form paths to each toadstool palace.
25. Pretty in Purple Royal Teacup Fairy Garden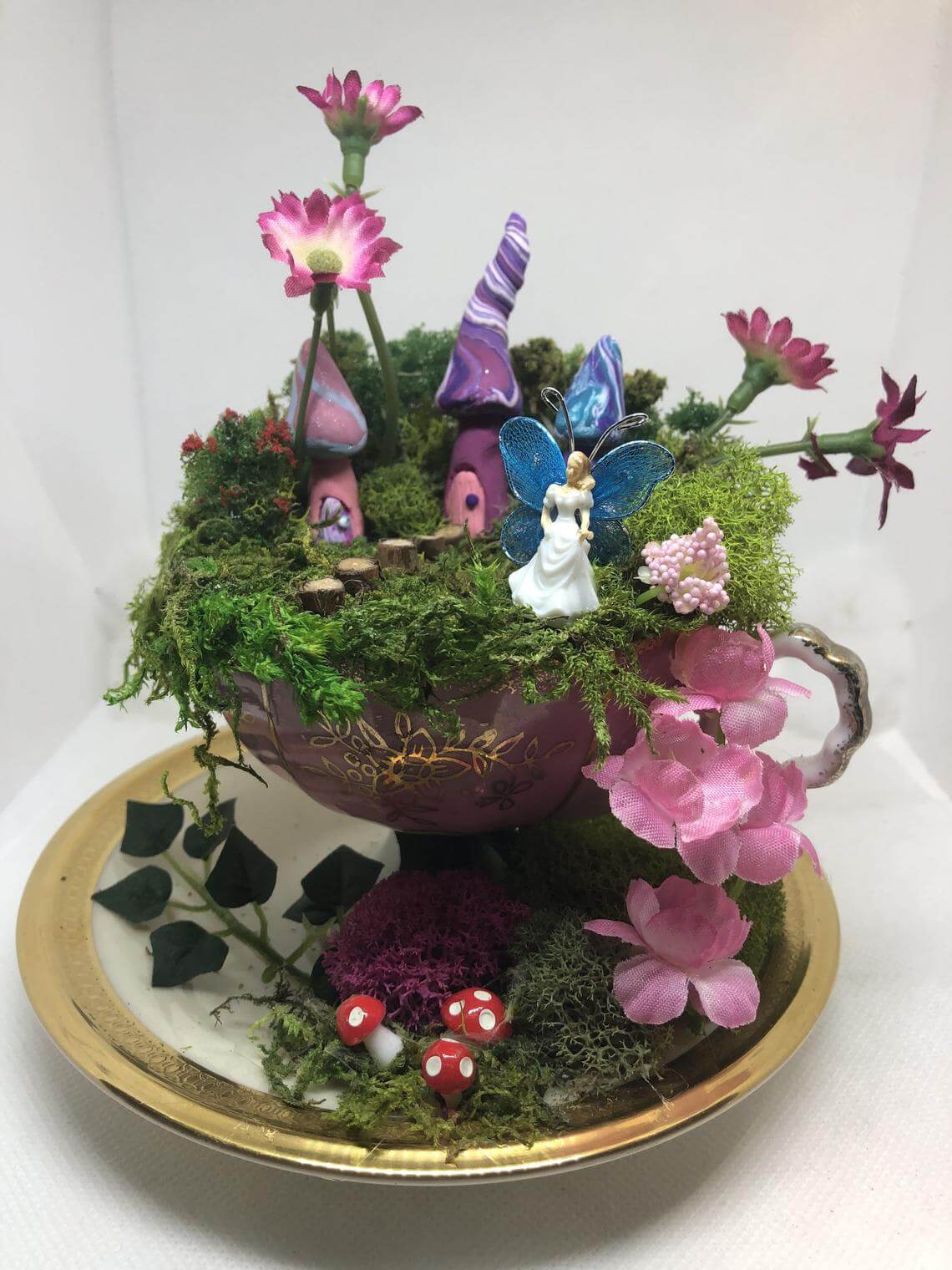 Let the queen of the family, the head matriarch, know her worth as you bestow her with this royal fairy queen teacup garden gift. She'll see the beauty and feel the appreciation for all she sacrifices for the entire family when she receives this purple teacup work of art. Allow it to serve as a symbol of her undaunting love as she overlooks the welfare and health of those she loves most.
26. China Teacup with Solitary Fairy Seat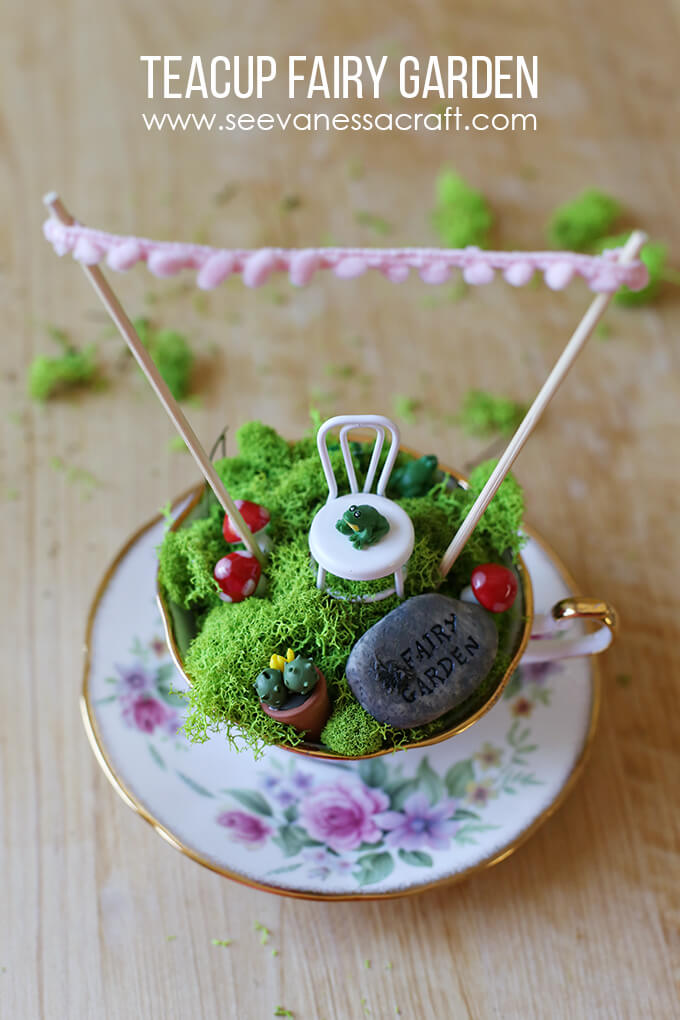 27. Welcoming Gnome Home with Flowers and Sign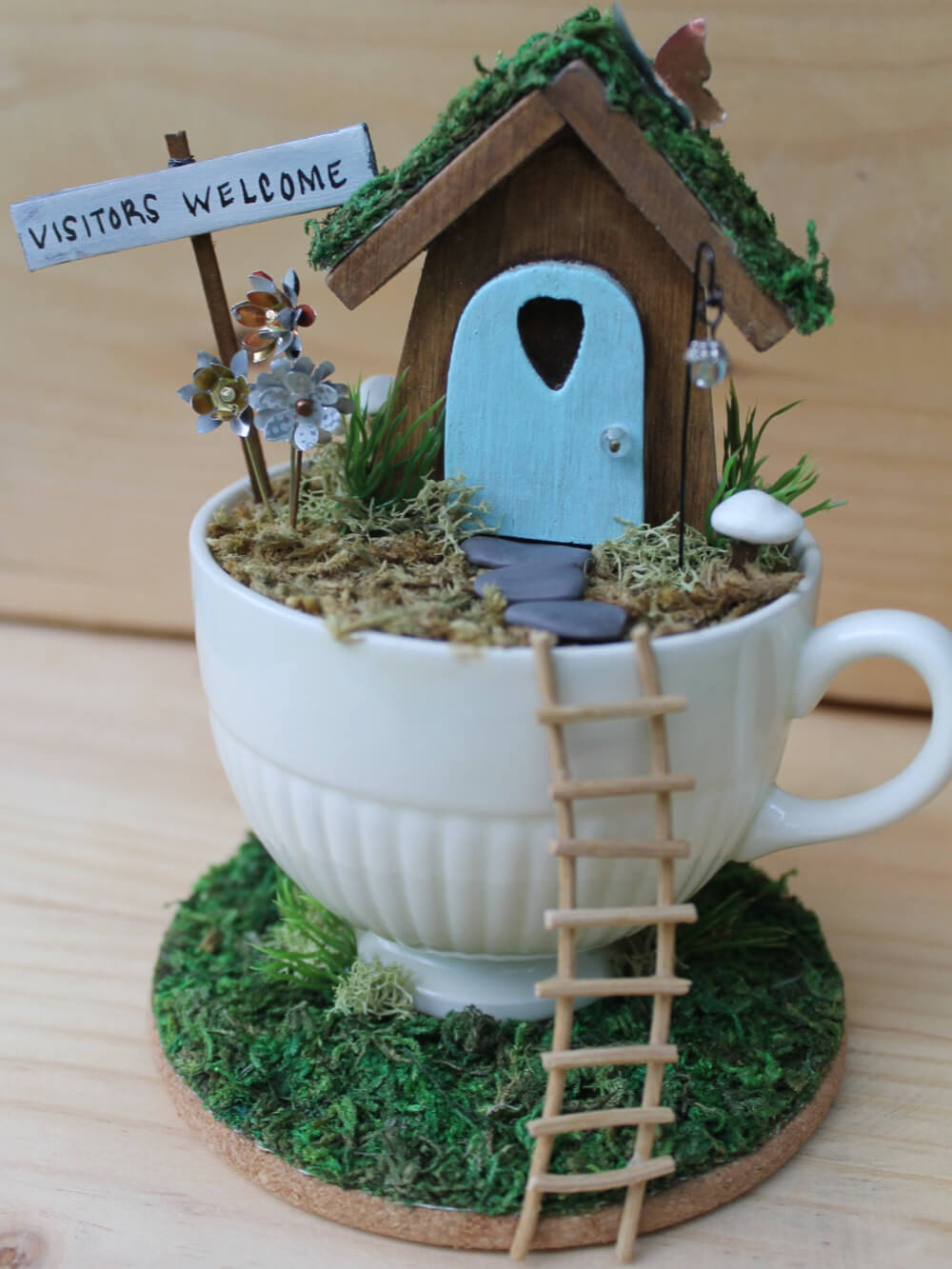 28. Fairy Party Place with Mini Patio Furniture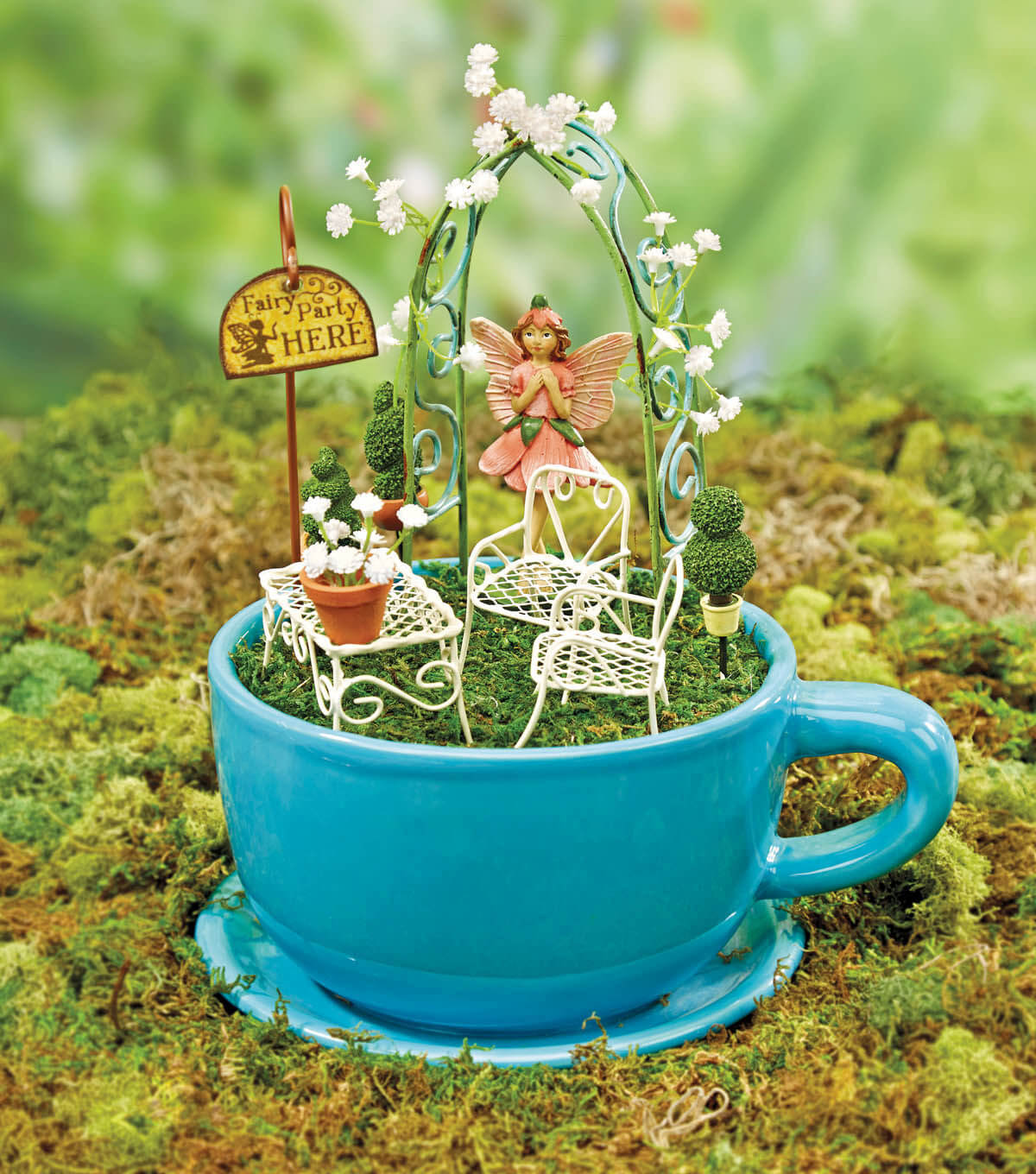 29. Succulents and Toadstools in Floral Ceramic Teacups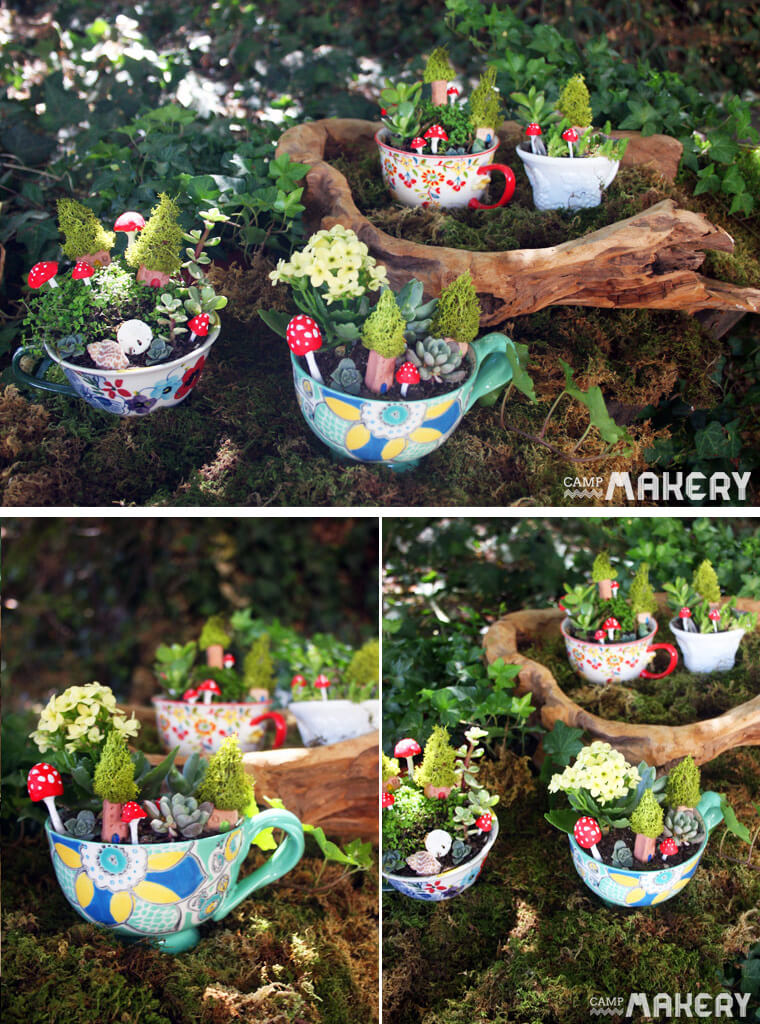 30. China Cups with Cacti and Decorative Stones
31. Tiny Tree and Pixie Patio with Birdbath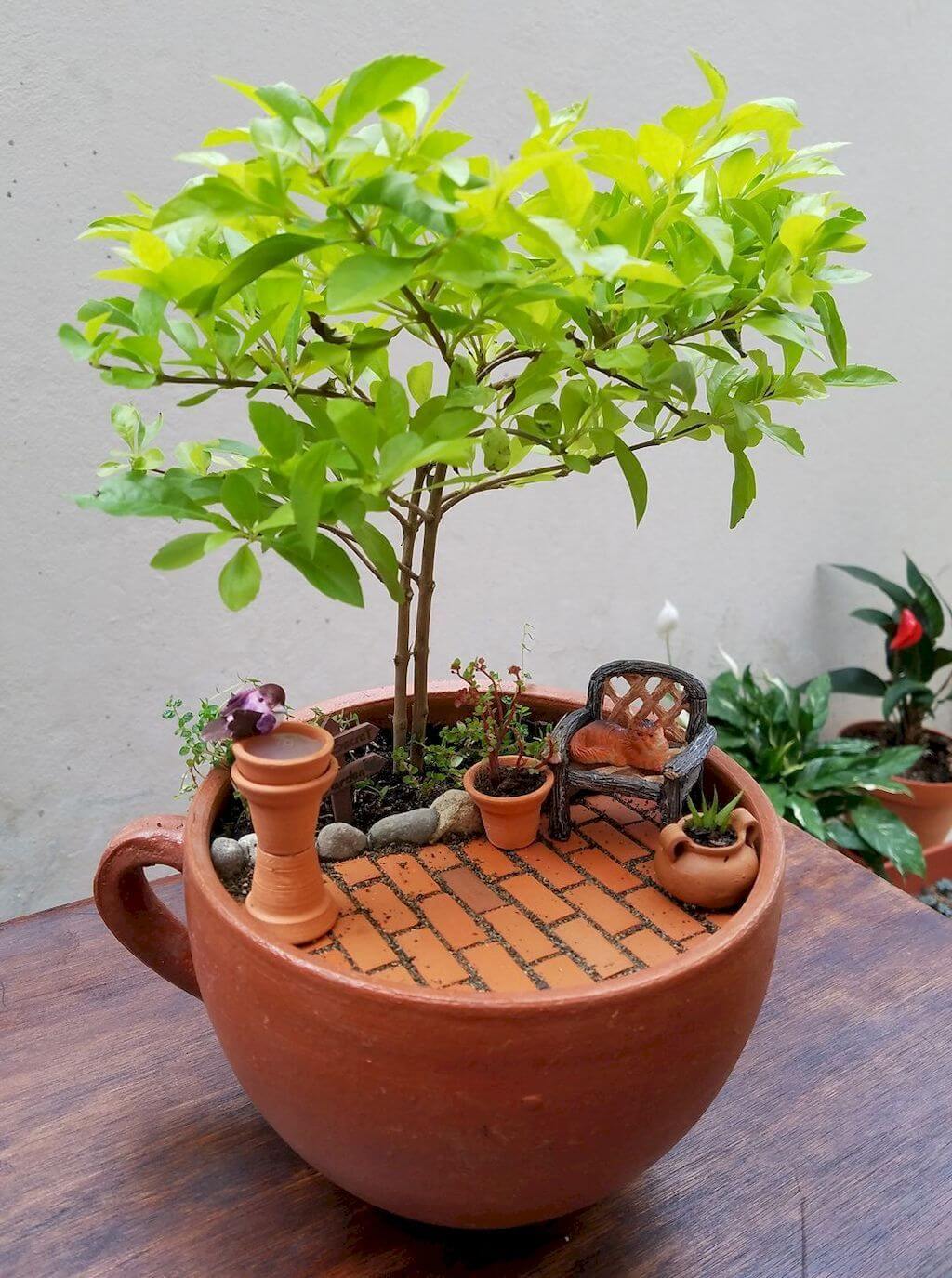 32. Silver Tray and Fairies Create Wonderland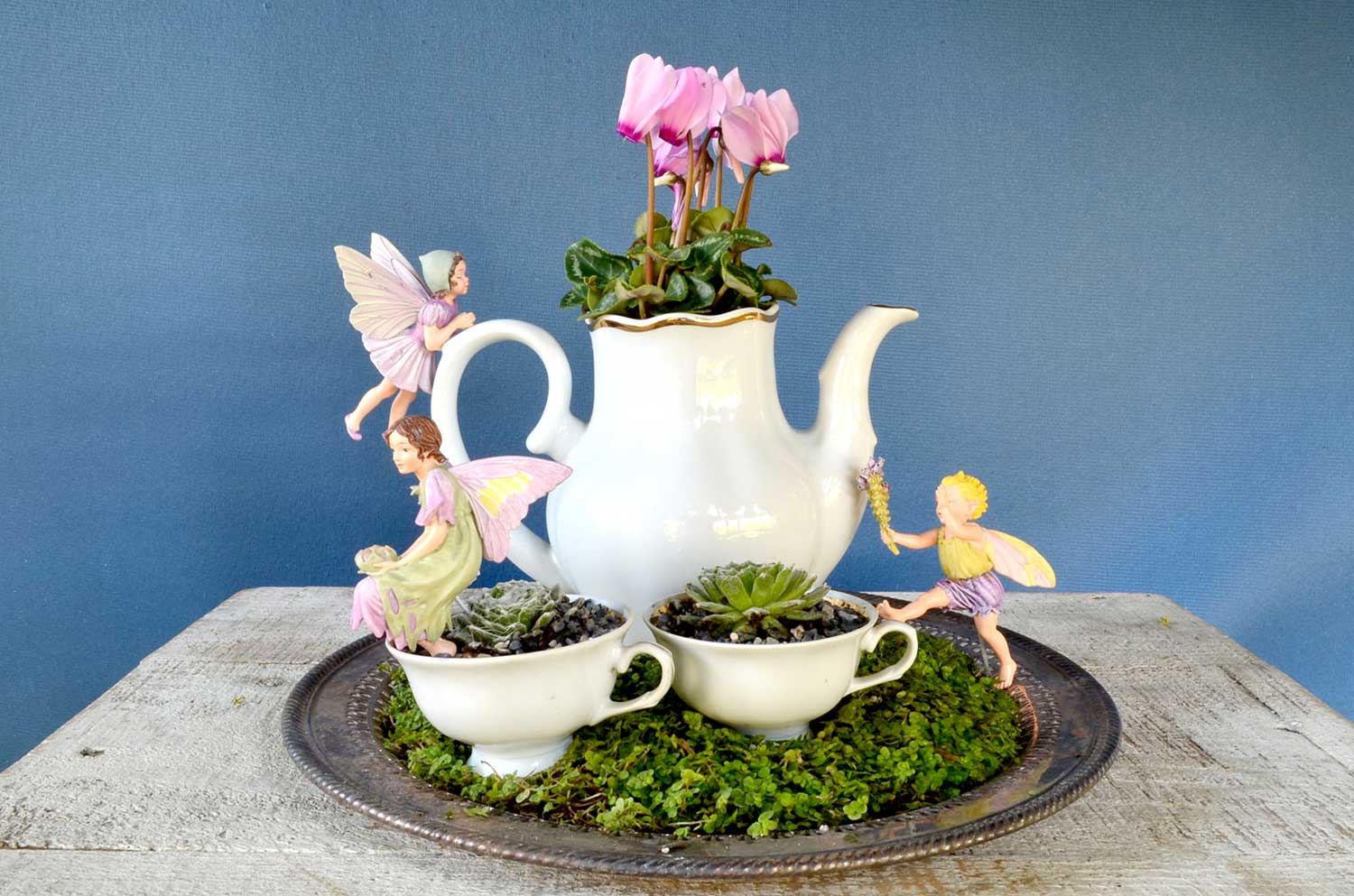 33. Tiny Flowers and Tree Offset Cozy Cottage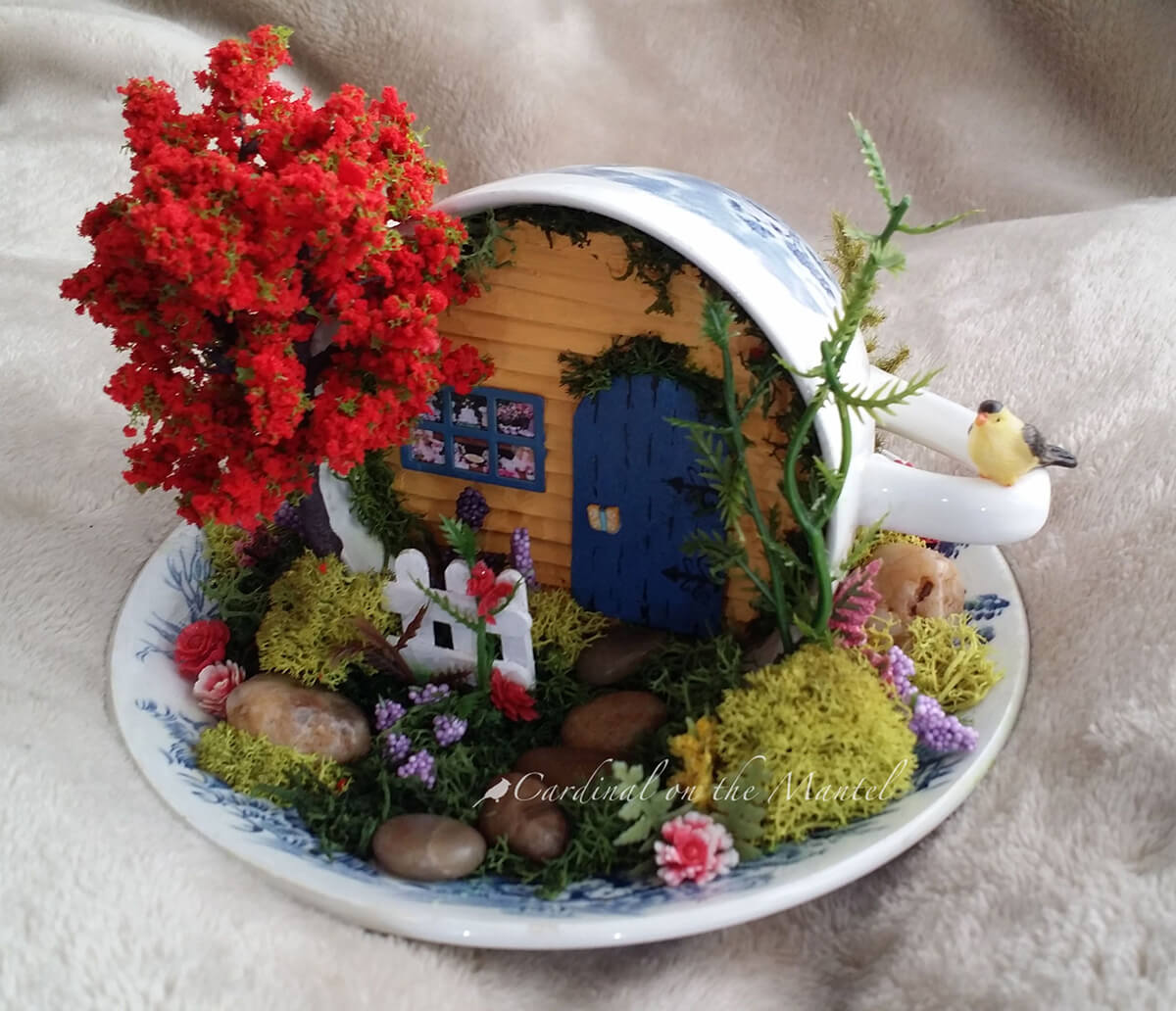 34. Elegant China Teacup with Blown Glass Terrarium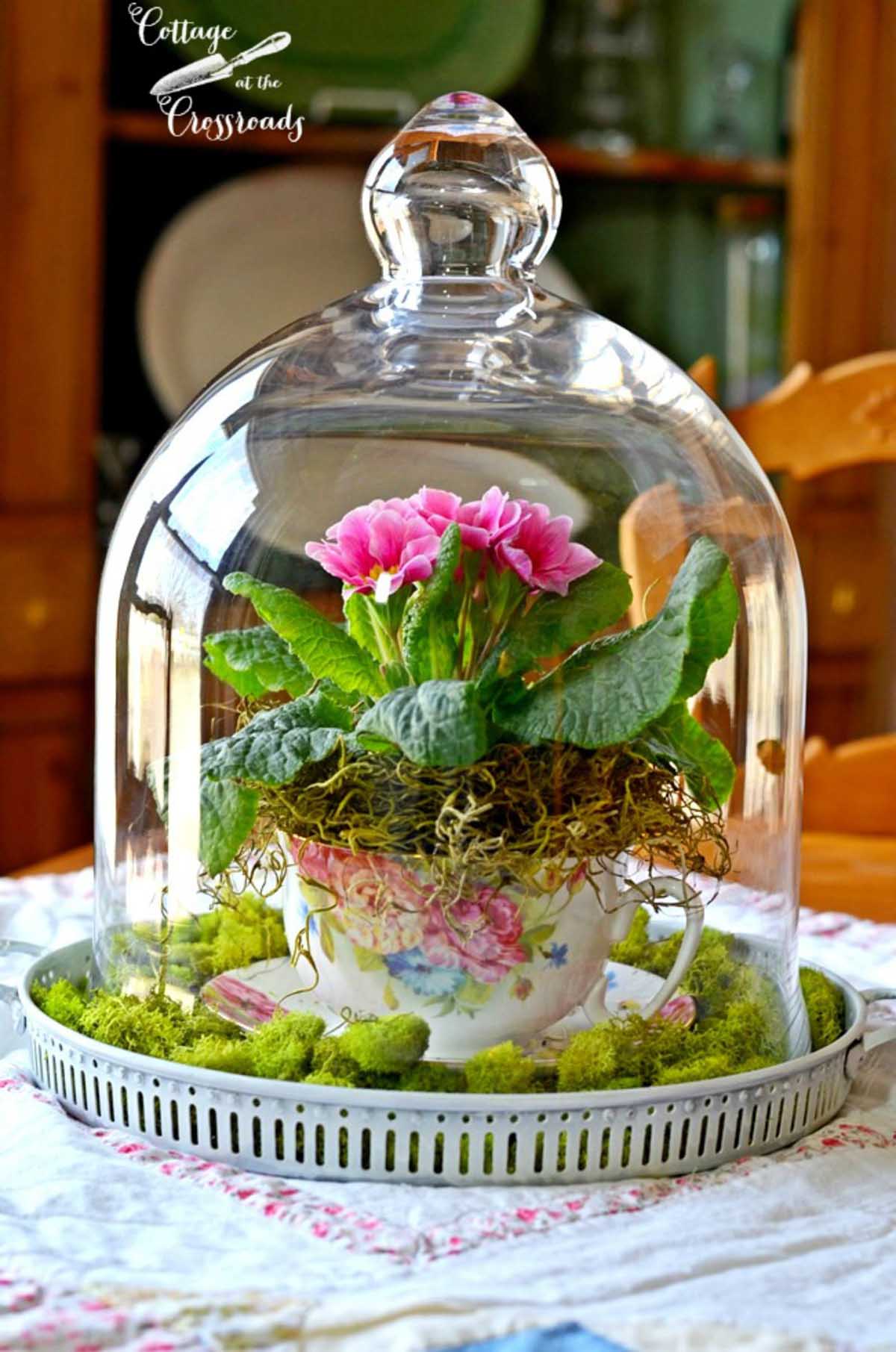 35. Garden Arch and Bistro Set for Fairies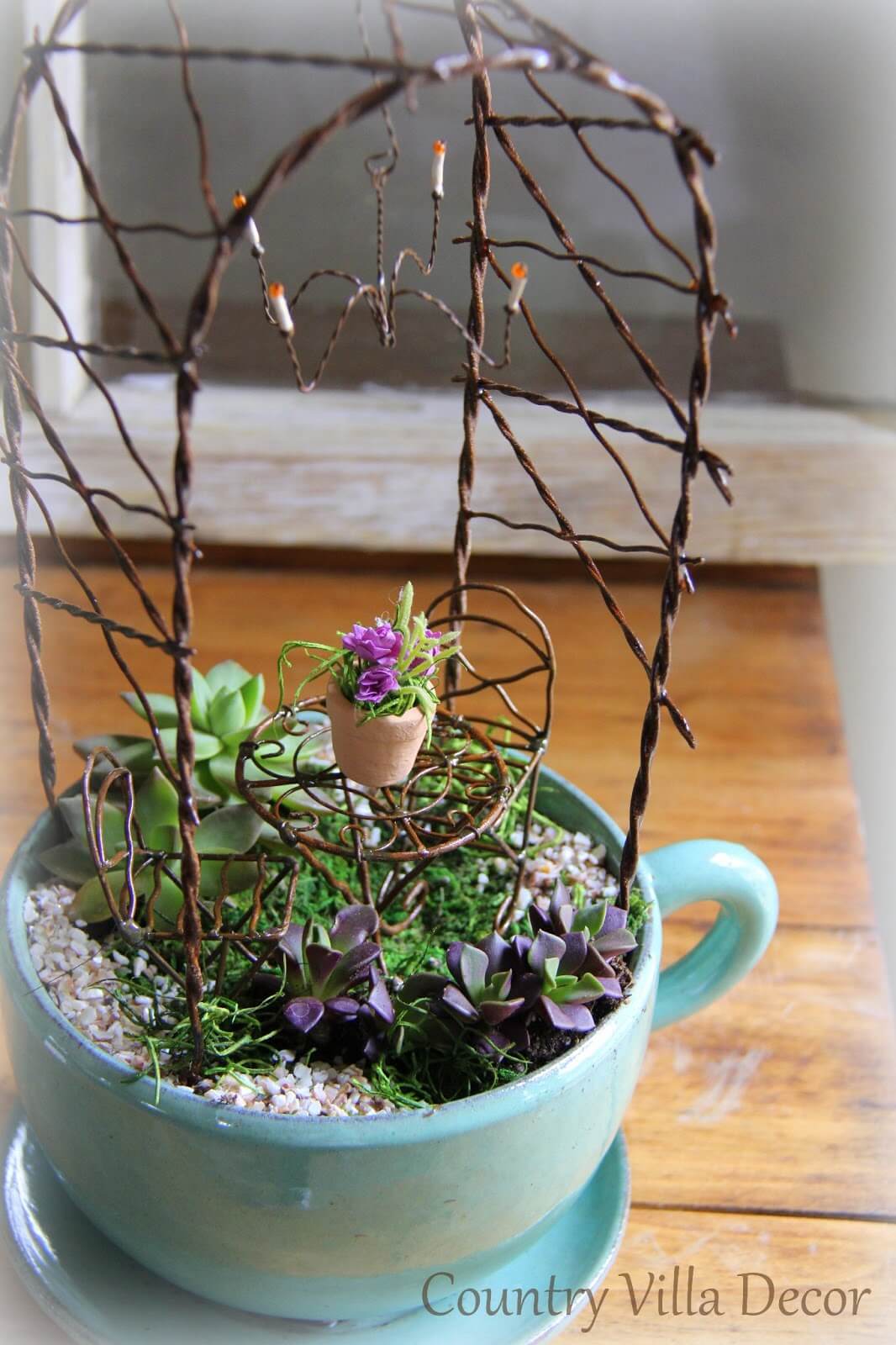 36. Deer and Sparkling Path Create Magical Setting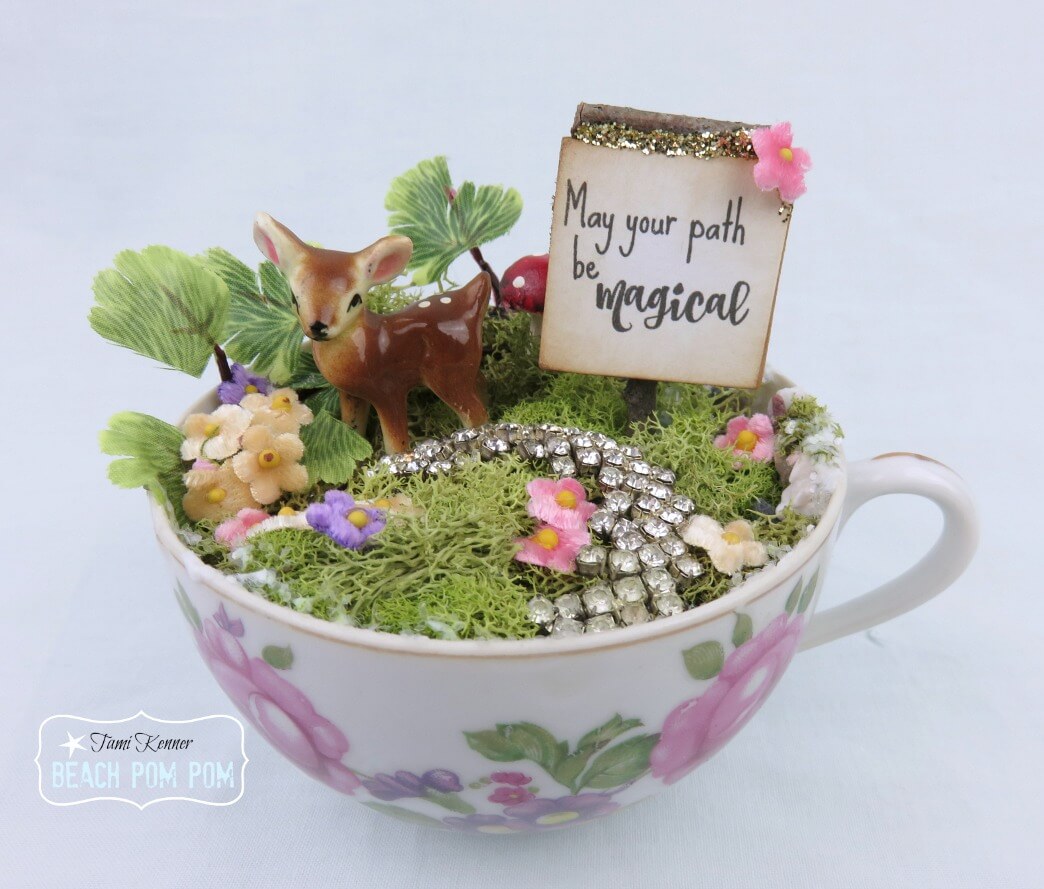 37. Succulent Fairy Garden Teacup Mini Garden Idea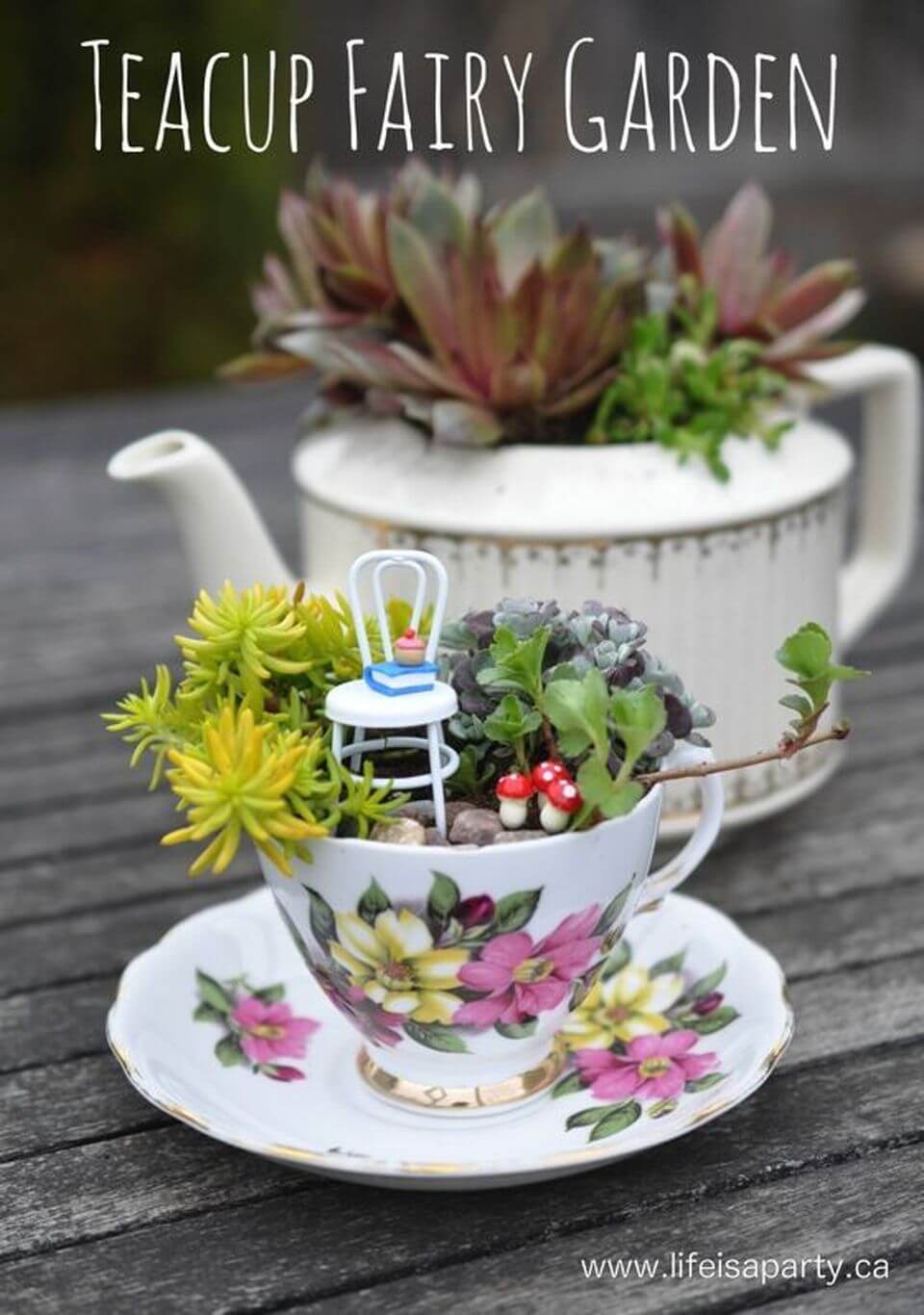 38. Cute Elf Home in Ladybug Teacup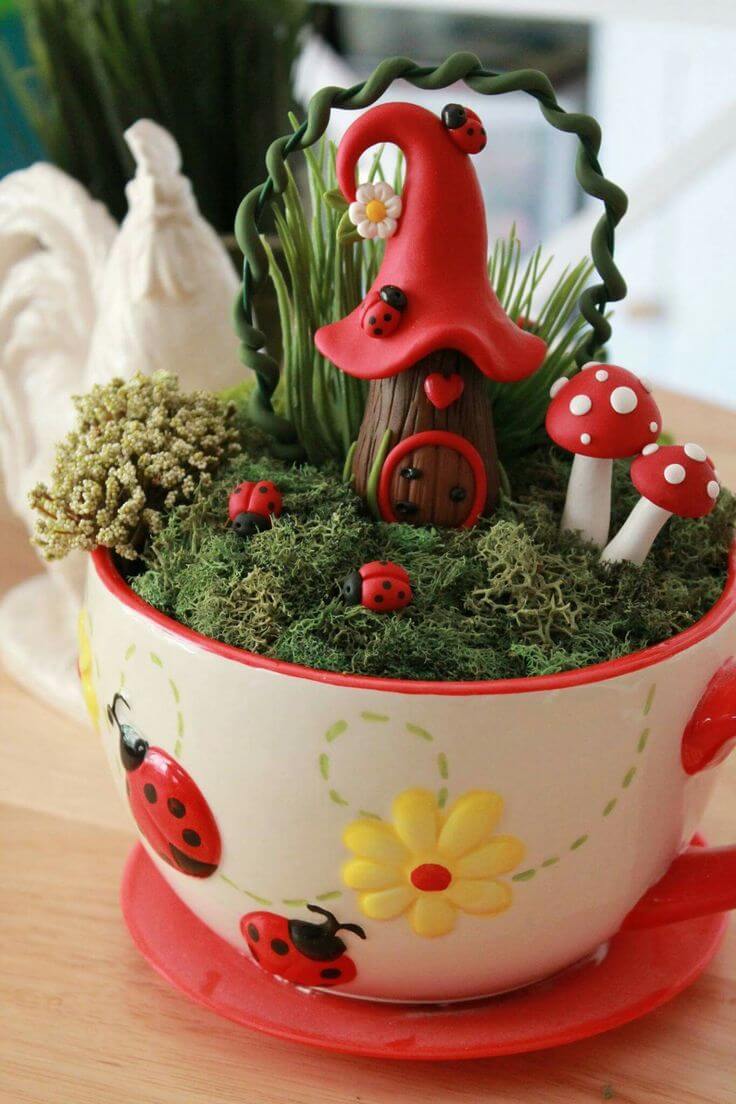 39. Gnomes Hanging Out in Teacup Gardens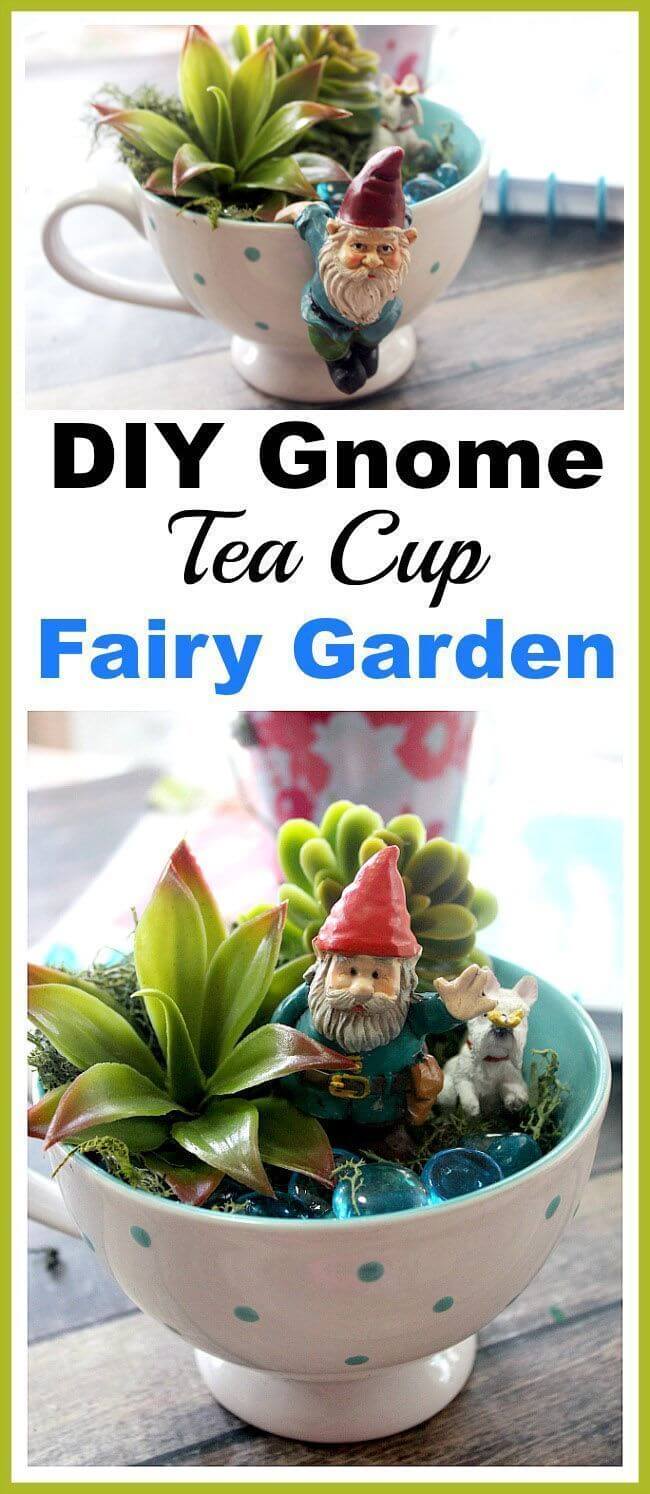 40. Welcome Sign Adorns Fairy Dream Woodland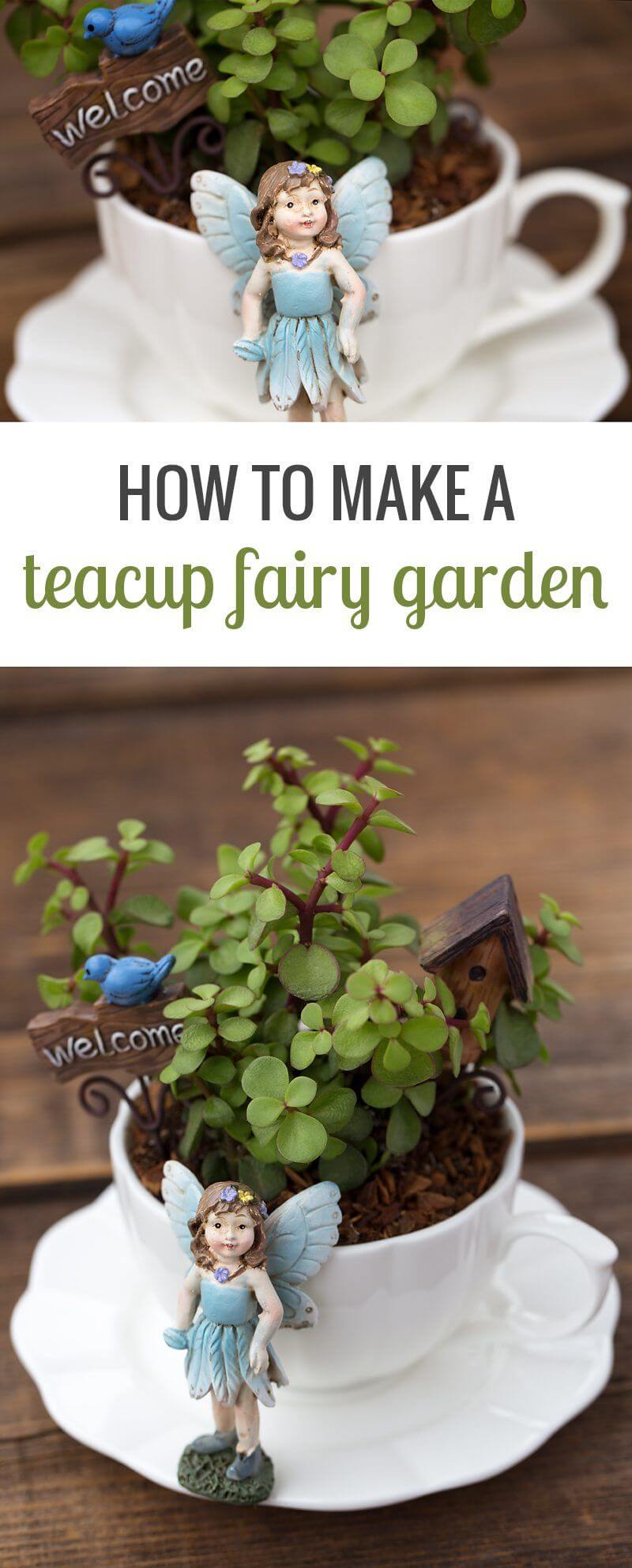 41. Plant Assortment Gives Variety to Matching Teacups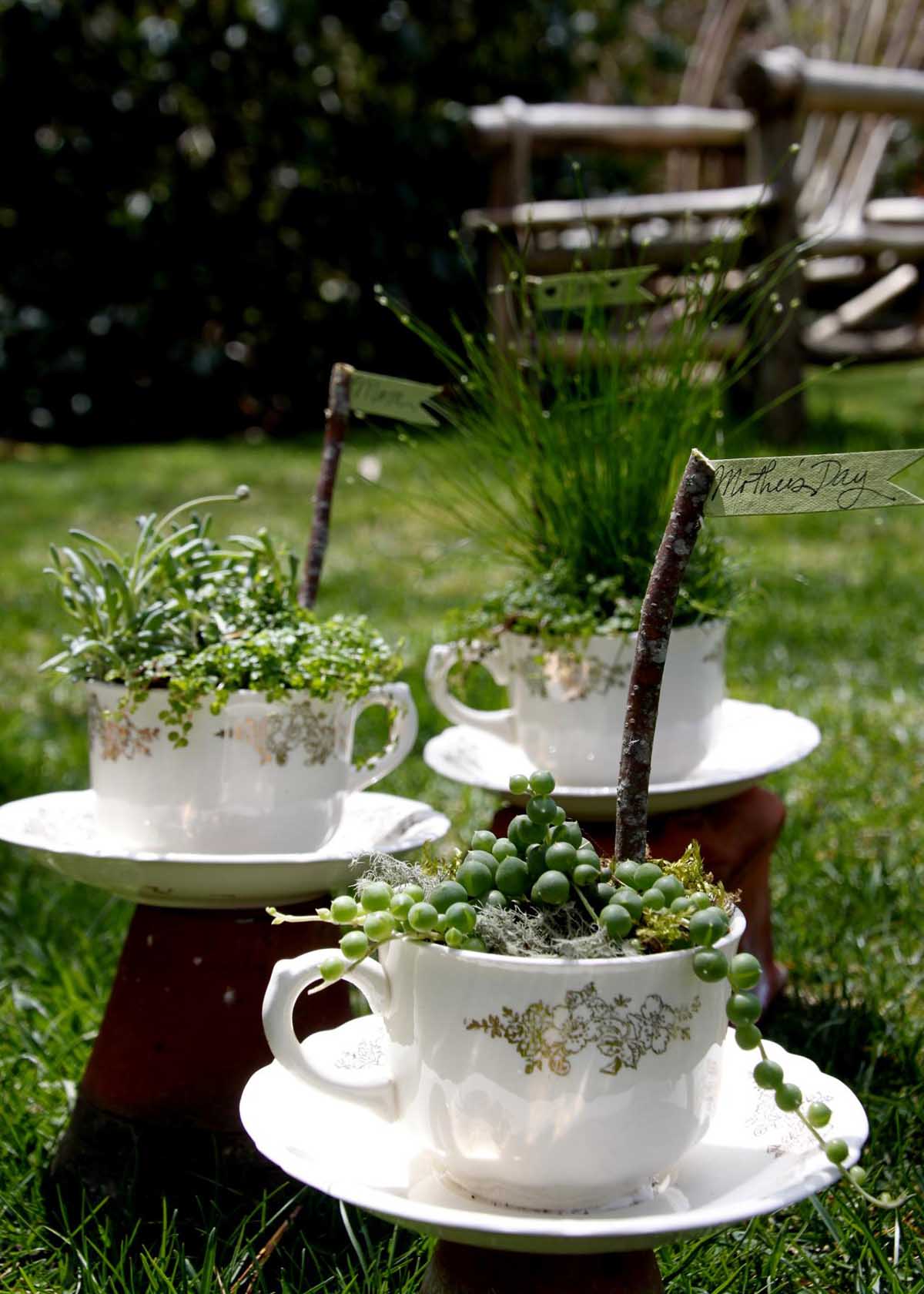 42. Mini Ladder Leading to Peaceful Garden Bench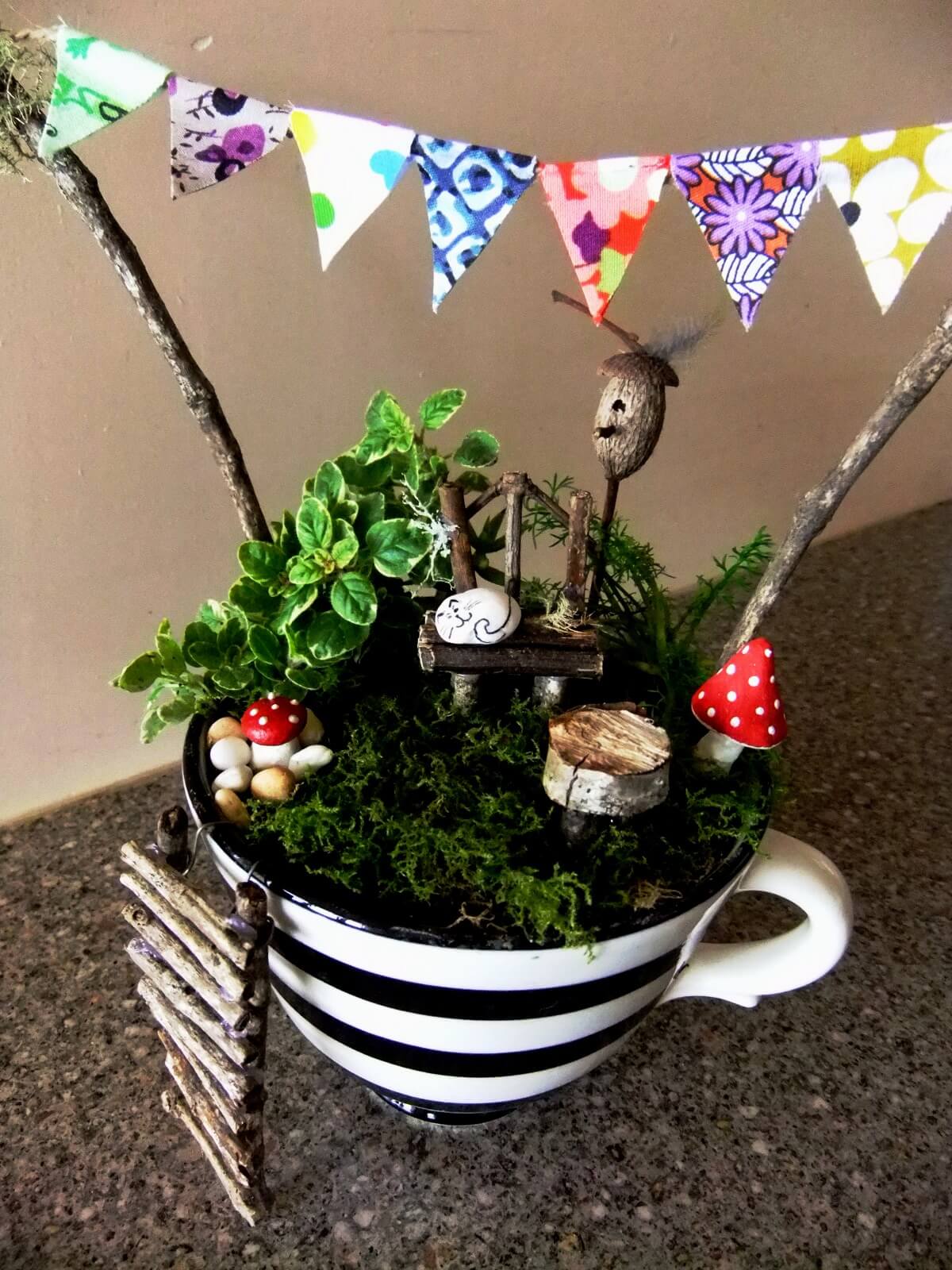 43. Cat and Bird on a Fairy-sized Bench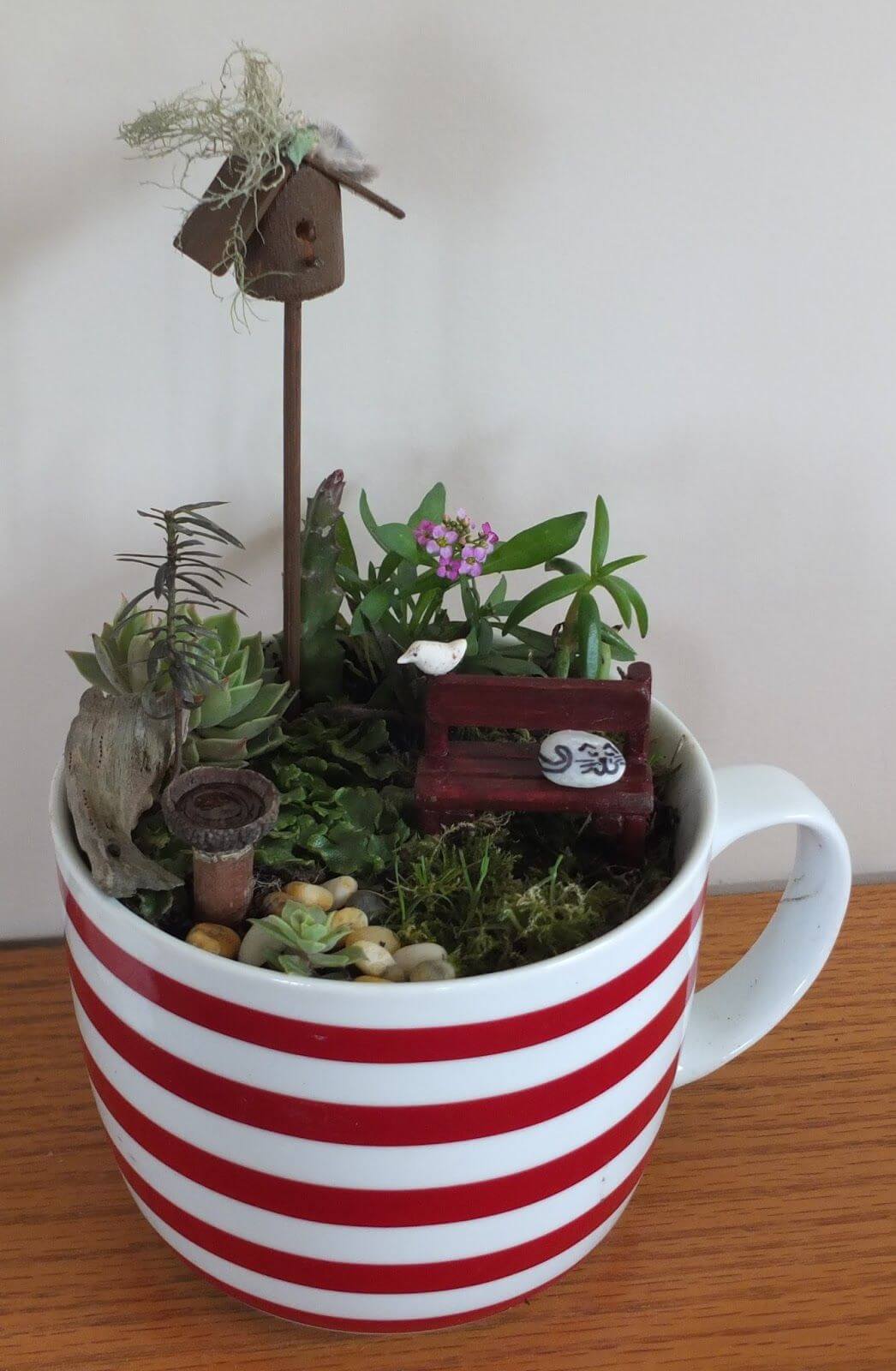 44. Quaint Small Village in Pixie Territory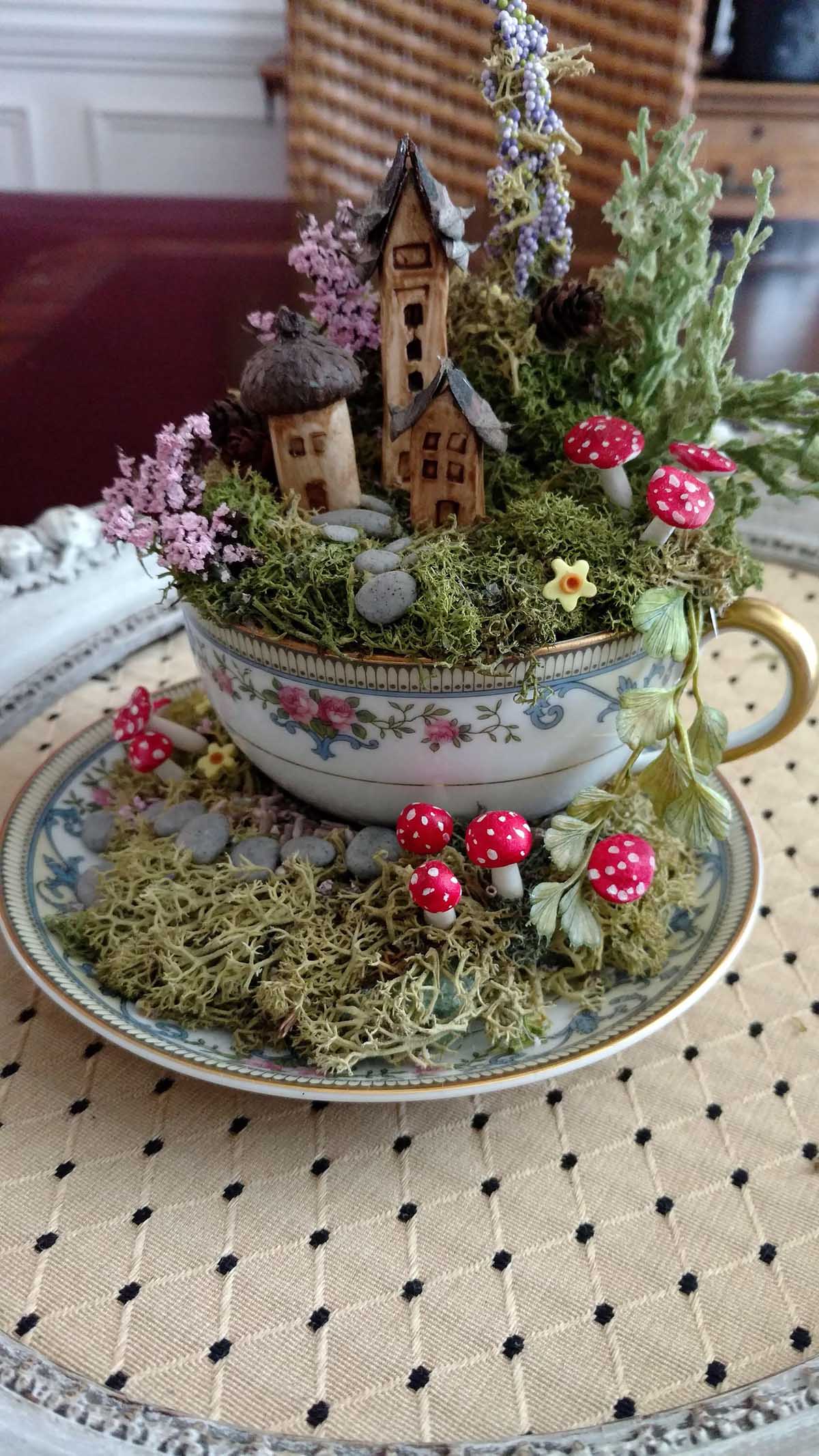 45. Plenty of Pink in this Adorable Setting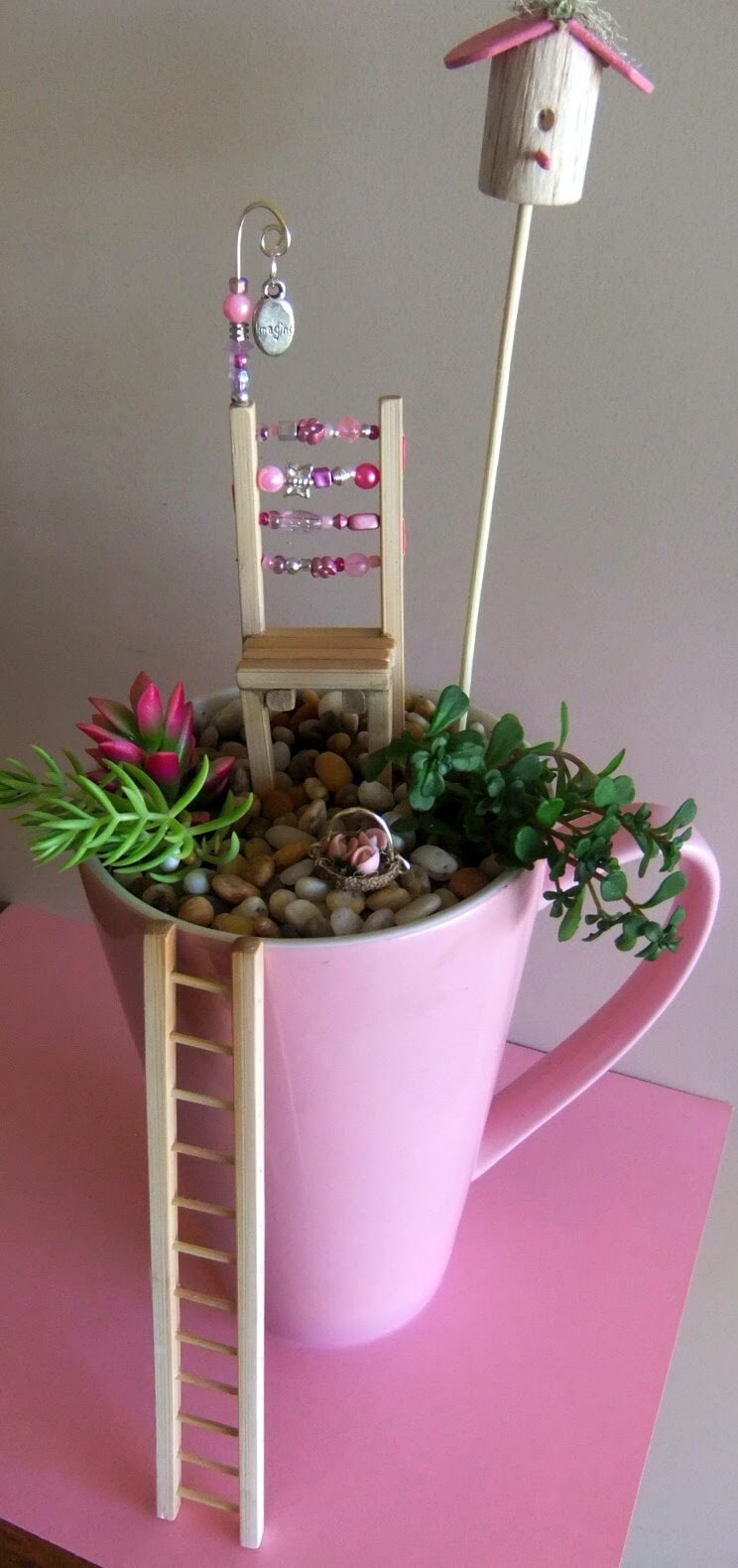 46. Adorable Button Walkway in Sewing Themed Garden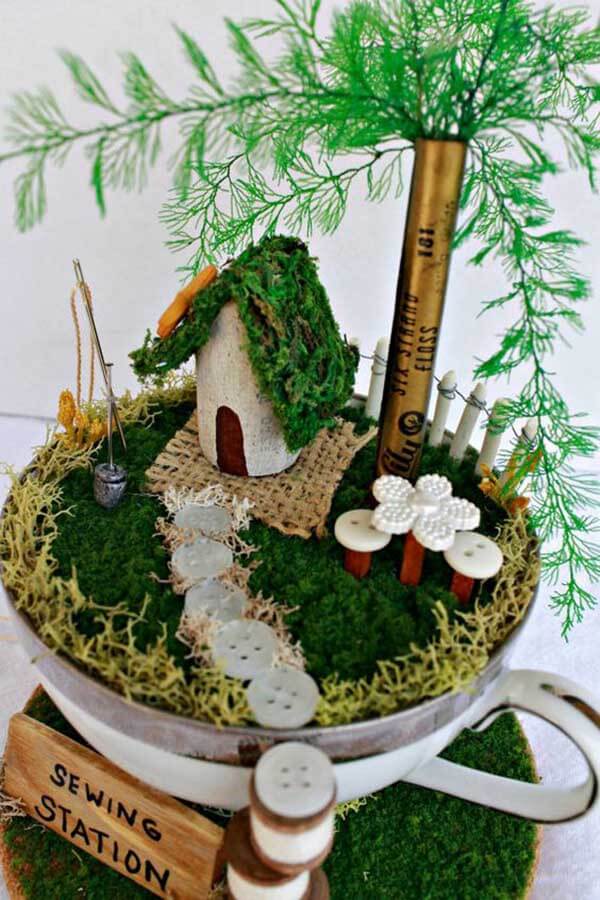 47. Toadstool Forest, Flower Garden, and Cabin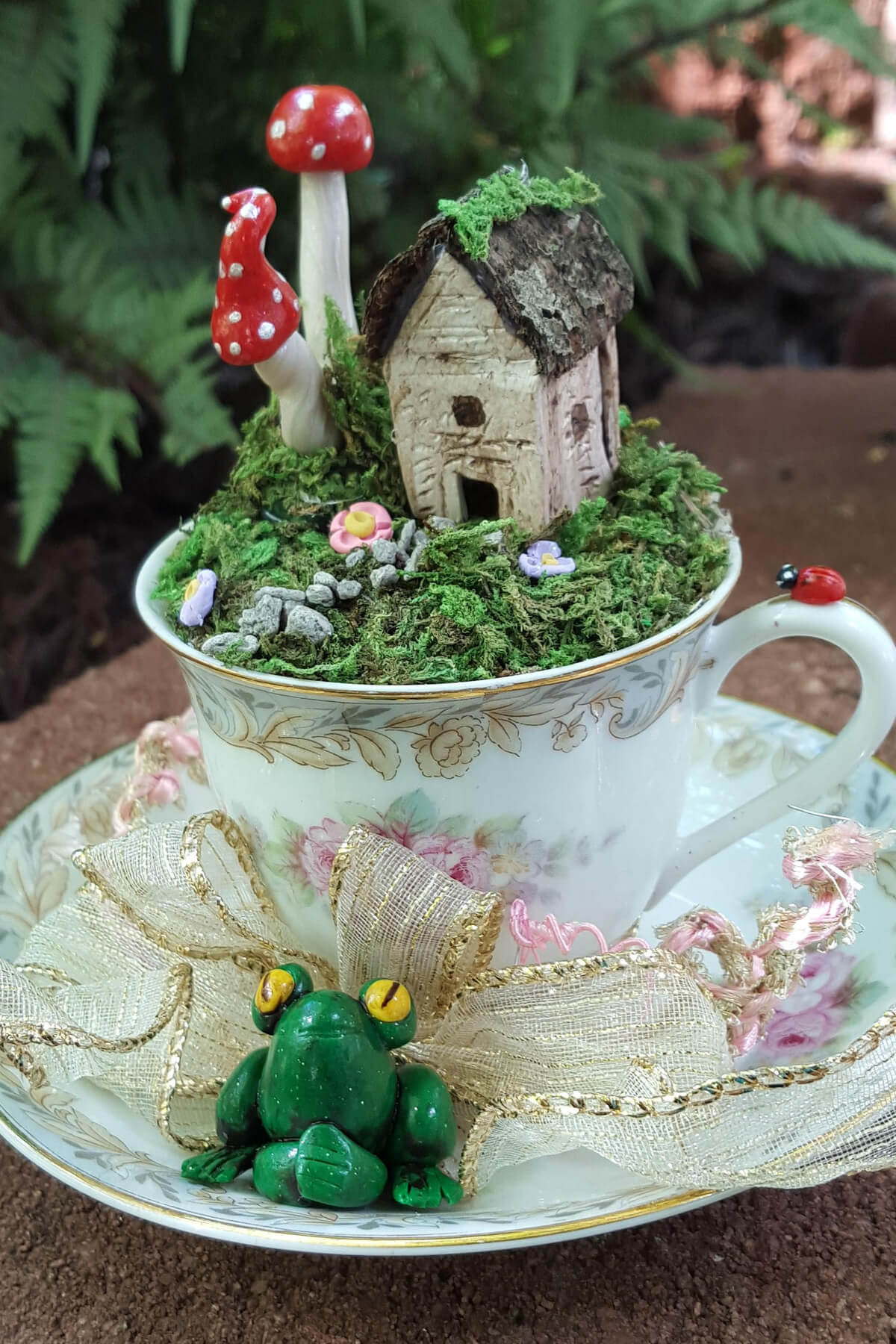 48. Interesting Mug with Blue Blooms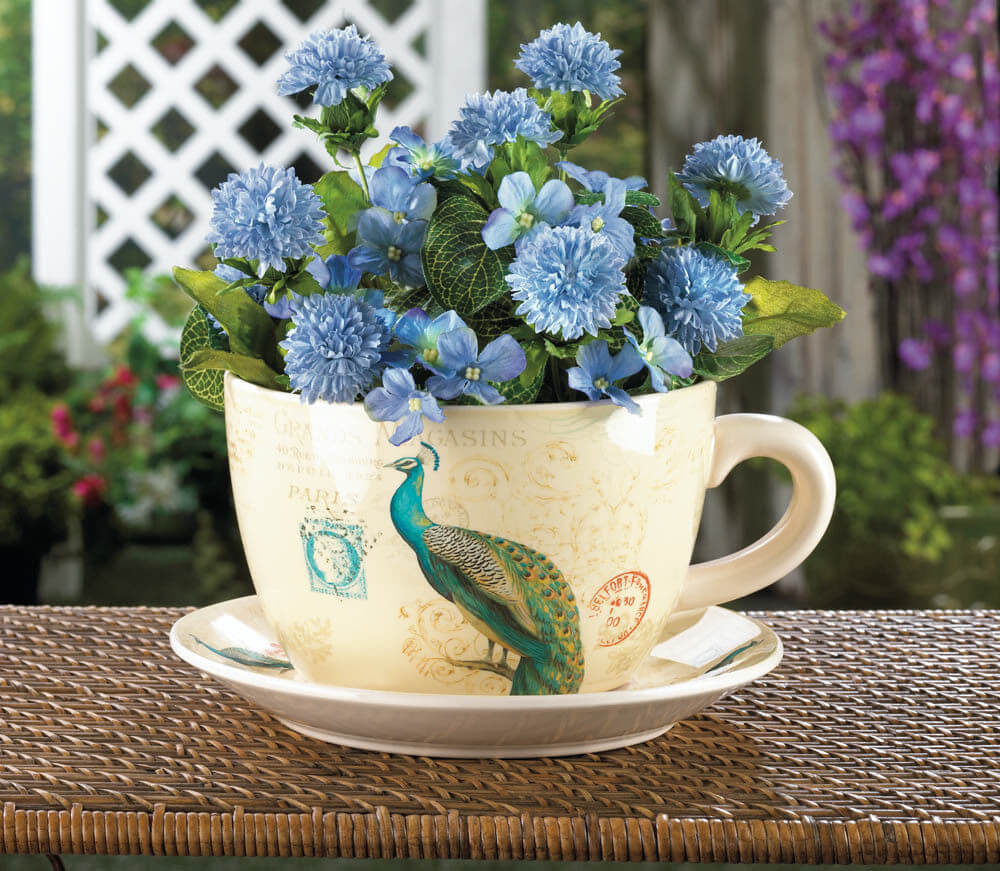 49. A Place to Rest when Gardening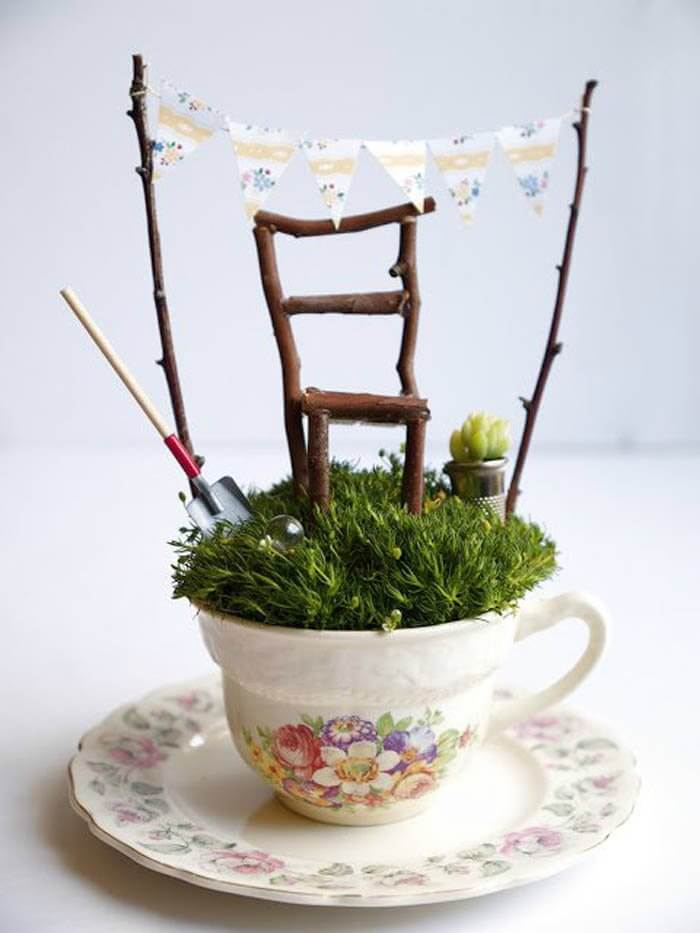 50. Books and Table Create Pixie Contentment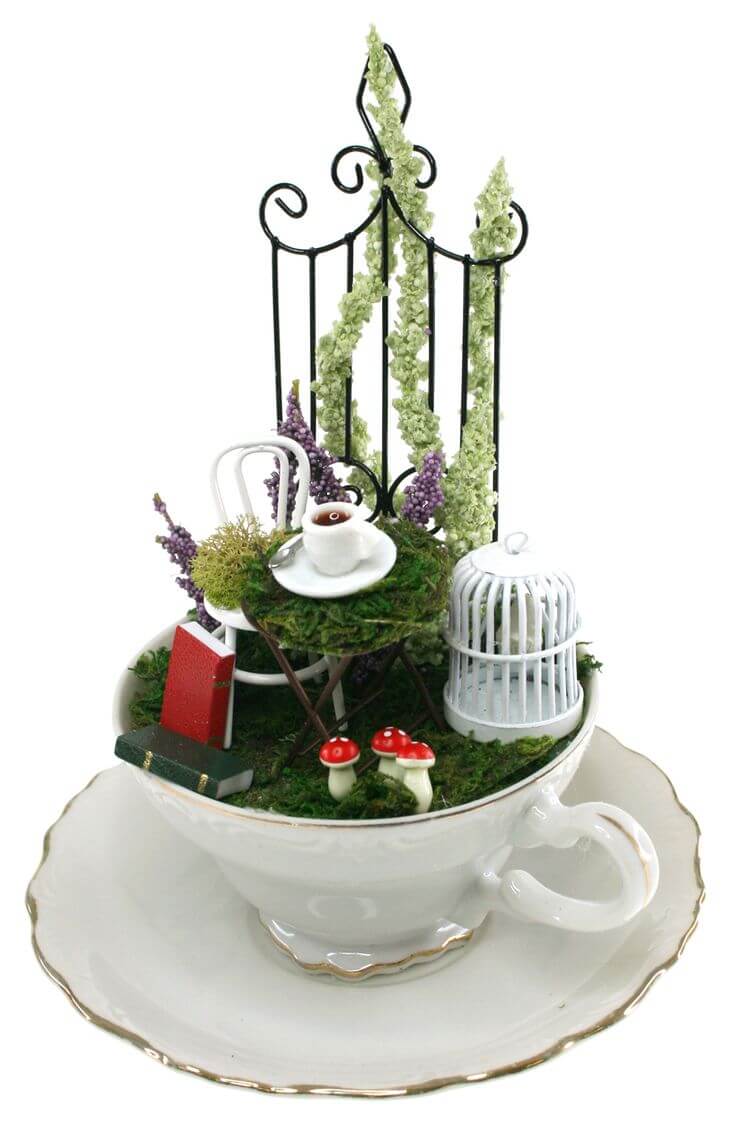 51. Coffee for Fairies under a Tree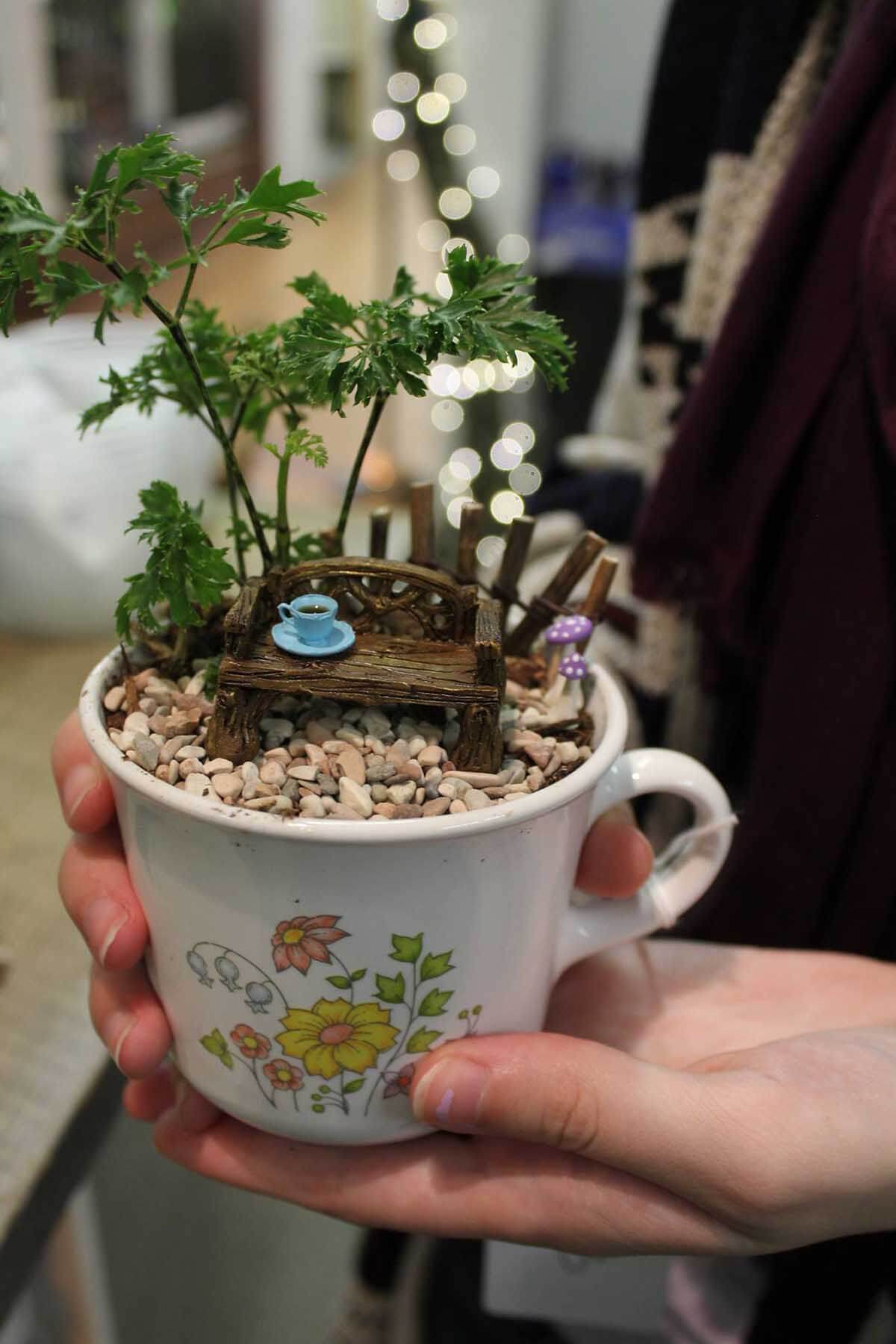 52. Roses Add Romance to Parisian Bistro Garden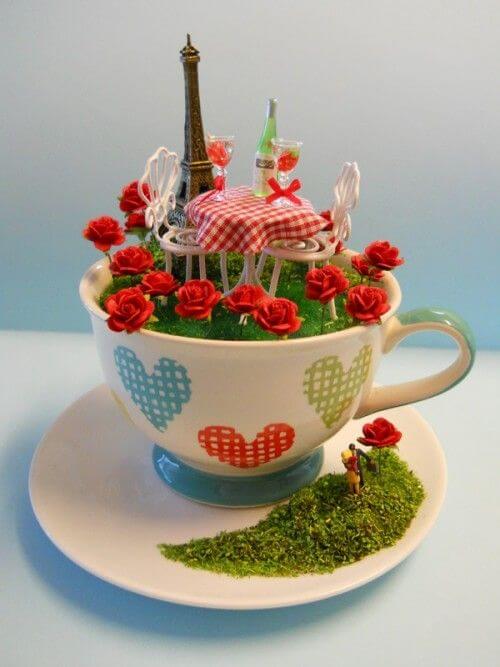 53. Mug with Gardening Tools, Cat, and Bench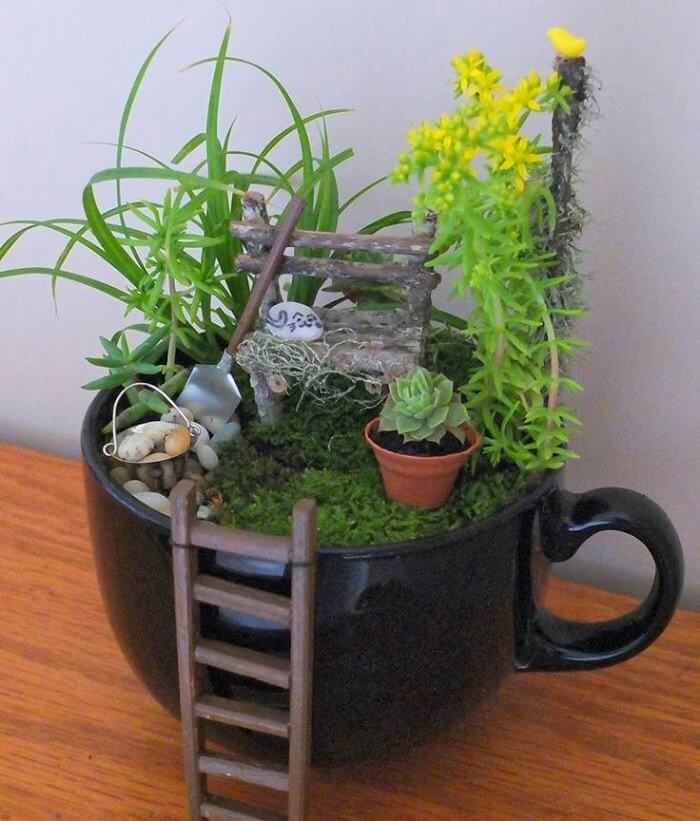 54. Small Blooming Plants Pop from Floral Teacup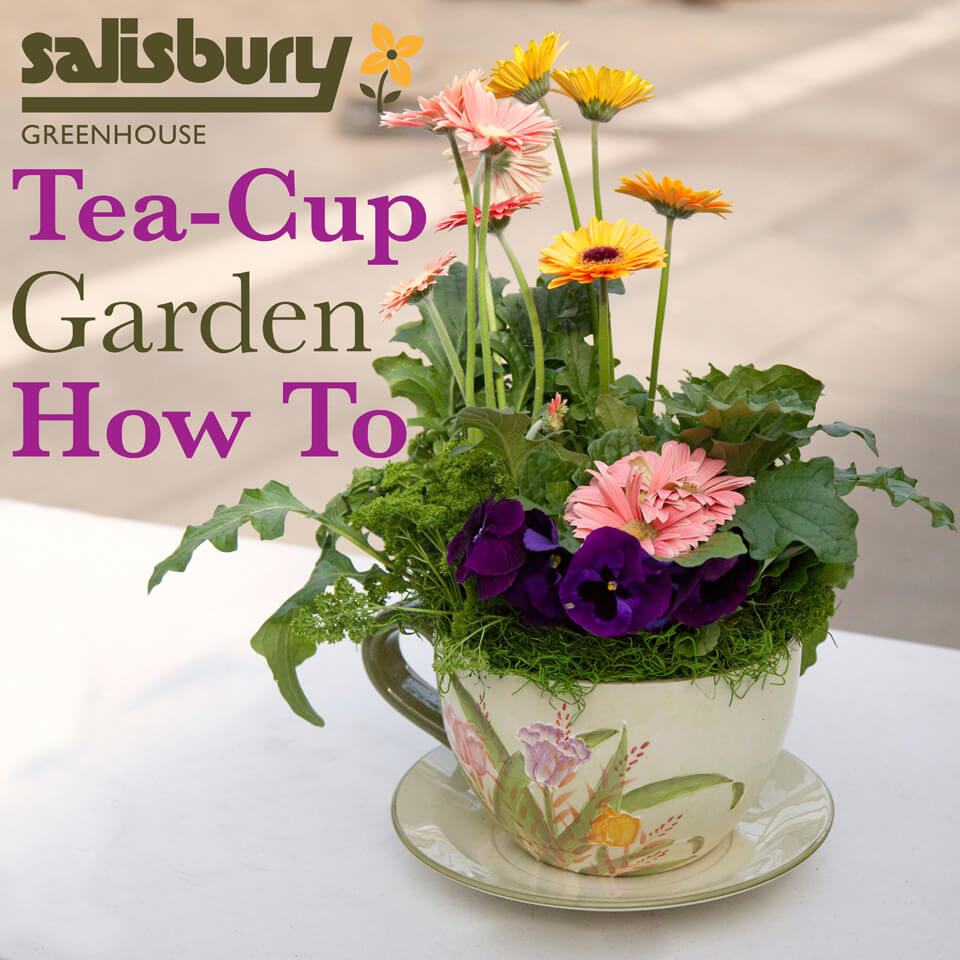 55. Mismatched Teacups and Tiny Succulents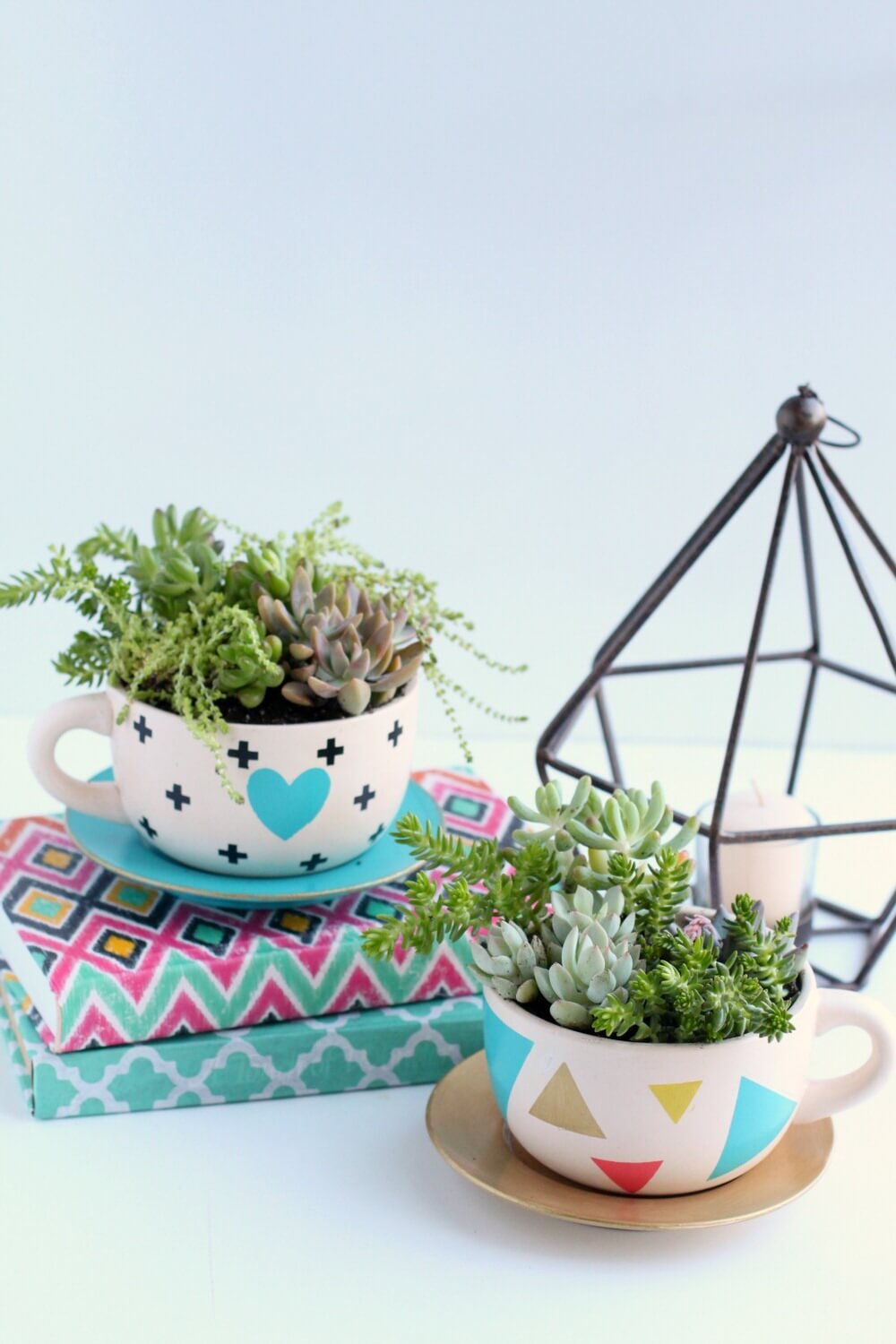 56. Blooming Teacup with a White Picket Fence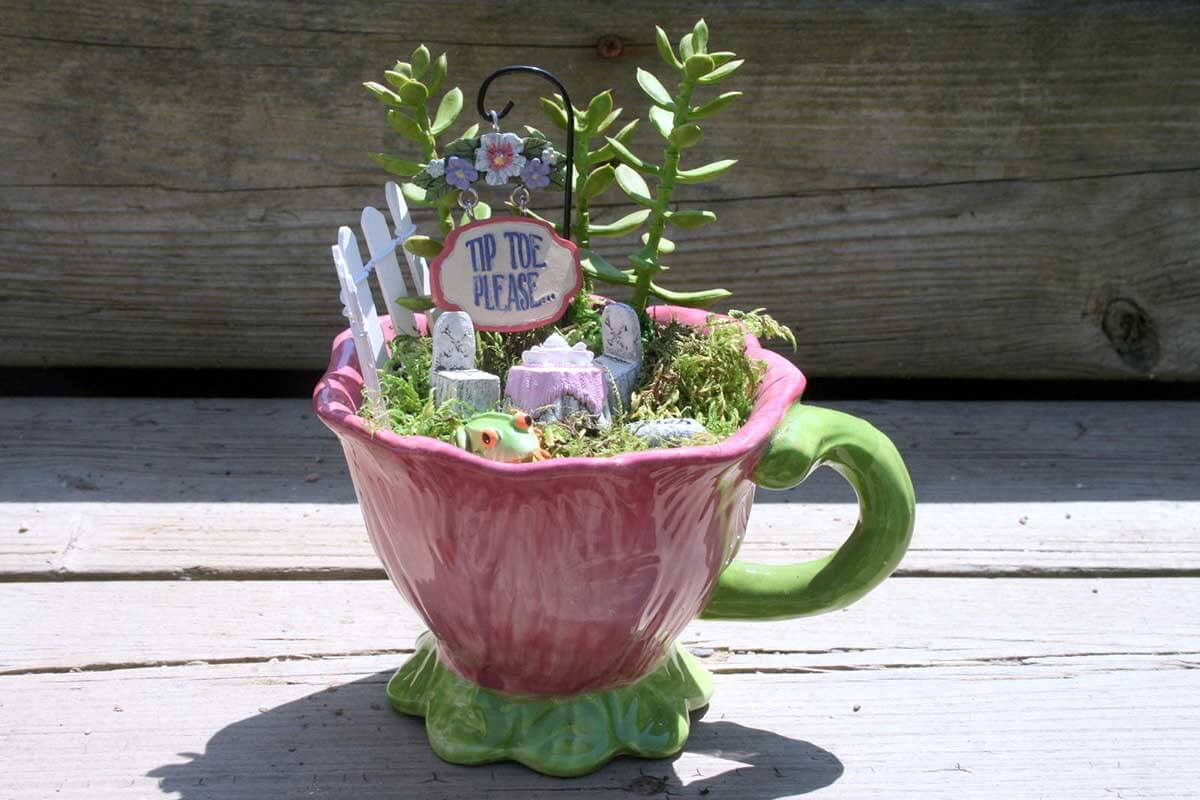 Our Favorite Outdoor Decor Pots and Planters to buy on Amazon