Every young girl dreams of a uniquely personal space to call her own, but nailing down a cohesive look for a teenage girl's bedroom can be an especially difficult endeavor. Maybe you've got a nearly-complete vision that's missing that one particular touch that will take your space from "great" to "wow", or maybe you've picked out an exceptional piece to design a room around and have totally blanked on what to pair with it. Whether you're looking for inspiration for a total room makeover or seeking that last detail to tie the room together, the list below has something for everyone. This carefully curated collection of teen girl room ideas is sure to tickle any teenage fancy; hopefully you'll find just what you're looking for to create a space the special girl in your life will love.
Bedroom Facelift: 50 Marvelous Designs Sure to Wow Any Teenage Girl

1. Fairy Drapes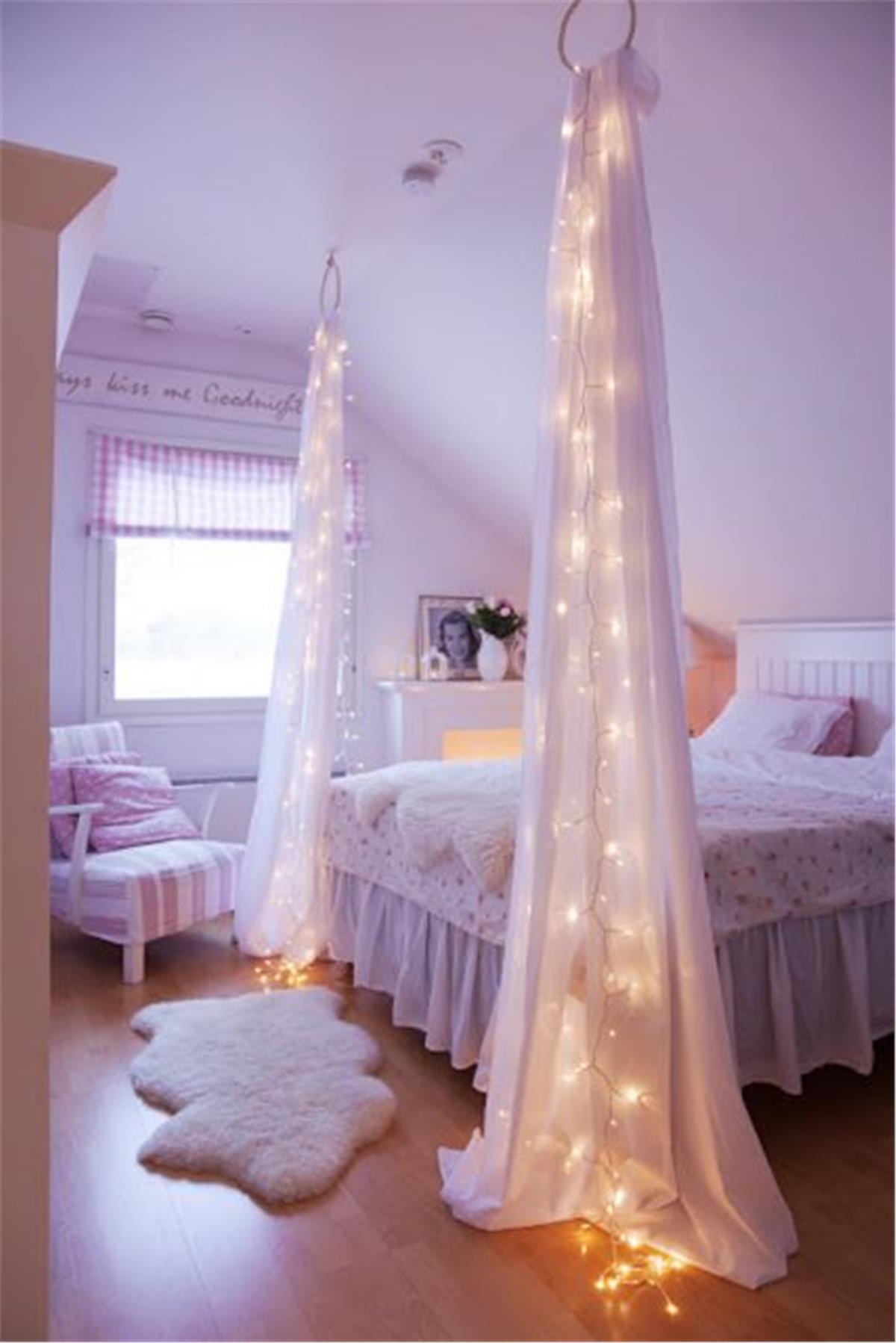 Source: The original source is not available anymore.
For a touch of magic in everyday life, look no further than fairy lights. Twined through sheer drapes, the tiny twinkling bulbs give a room an ethereal feel that's sure to delight. The delicate glow can help to brighten a space without feeling too intrusive, and the enchanted aesthetic pairs well with just about any design style that a typical floor or table lamp might overpower or feel incongruous in. In warm white, they'll provide a pleasant radiance that can transform a more austere room into a cheerful wonderland.
2. Floating Shelves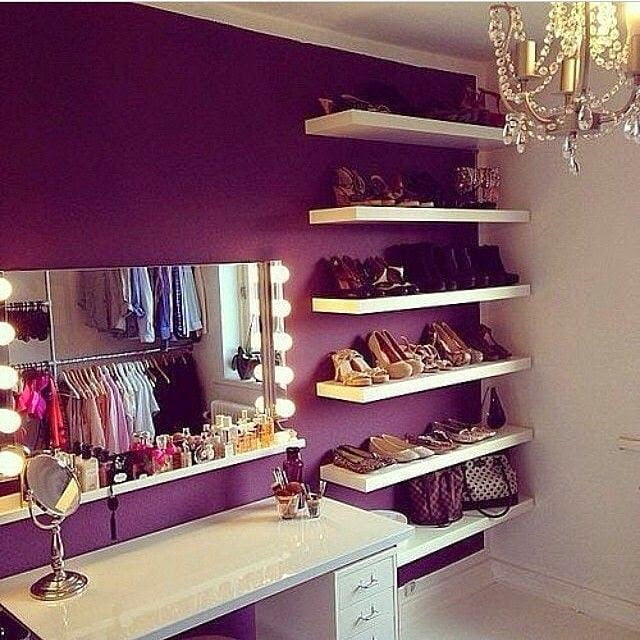 Source: The original source is not available anymore.
If you've ever stepped foot into the typical teenage girl's bedroom, you know that the floor generally becomes a wardrobe wasteland of apocalyptic proportions. Functional organization methods like closet organizers can help, but to truly encourage keeping tidy, try making storage a focal point. Shelves like these turn picking up shoes into a design element, making cleaning up that much more rewarding. This is exceptionally beneficial in a smaller room where every inch of storage space counts, as a bare wall doesn't provide much utility, and open shelving makes the area feel a bit larger than a looming wardrobe would.
3. Upcycle Old Doors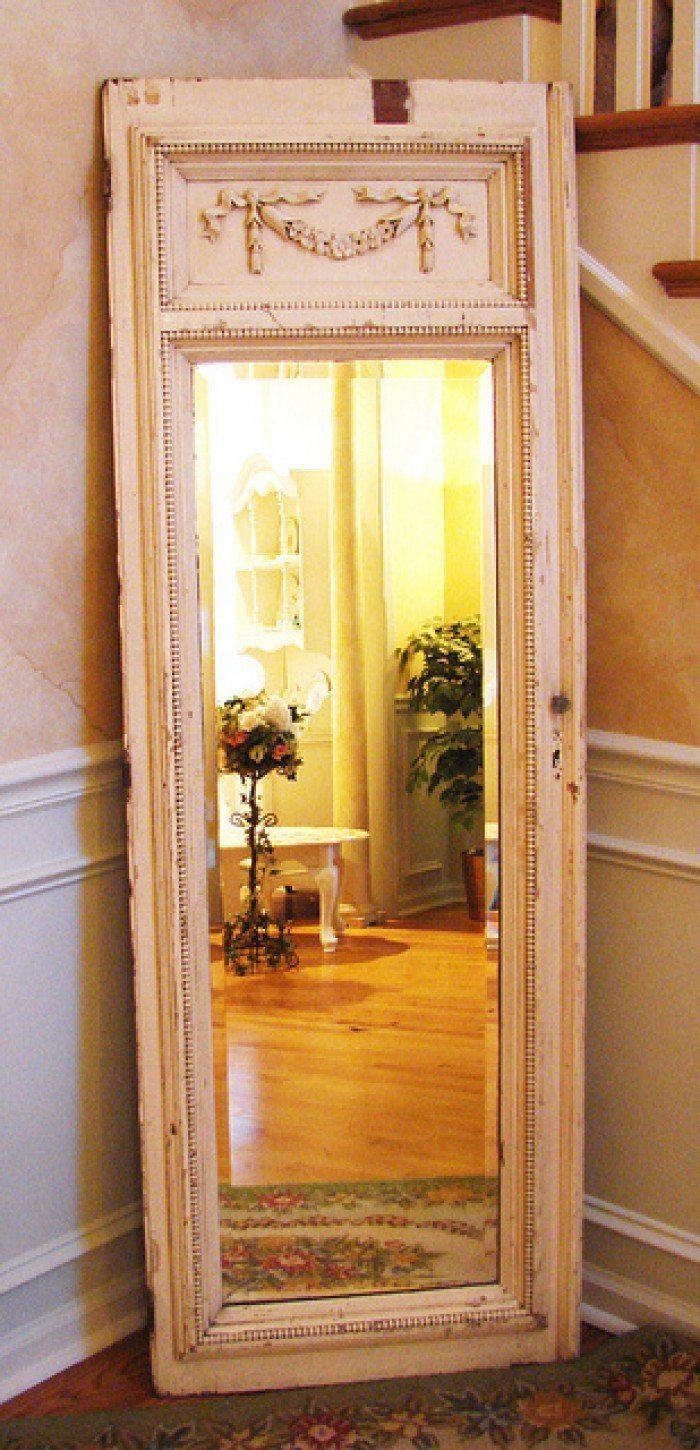 Source: The original source is not available anymore.
If you're after a particular style, finding a piece that fits perfectly with your ideal can be an epic struggle. In the case of this shabby chic mirror, one would have been hard-pressed to find something akin to this particular Renaissance design in the modern day. Rather than settle on a less desirable piece, this gorgeous mirror was hand-crafted from an old door, transformed into a mirror frame. Finding an old door to refurbish also grants the opportunity to create a one-of-a-kind piece, and will more than likely carry a much less hefty price tag than a similar antique or antique-inspired article.
4. Chunky Letters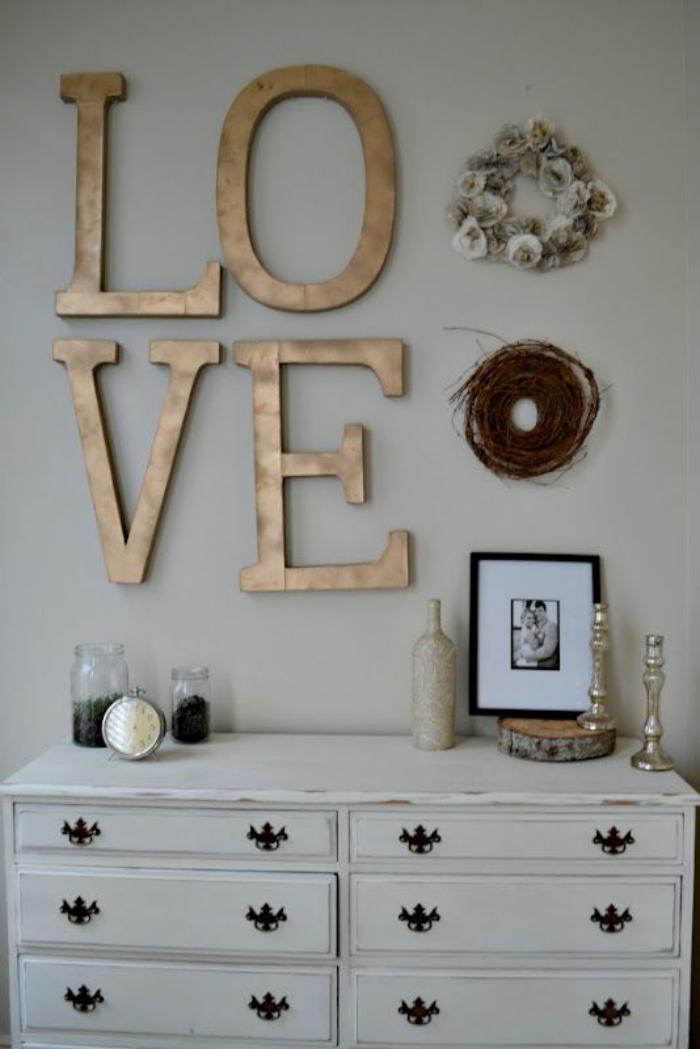 To create a (literal) statement piece, larger than life letters like these brilliant burnished brass creations immediately draw the eye. Paired with natural elements like a faux bird's nest and flower wreath, the juxtaposition of man-made metallics and earthy organics produces an interesting dynamic that's extremely pleasing to look at. Hung over a dresser, the curious clash of opposing aspects makes for a charming and attractive focal point. Top the dresser with more metallics and natural pieces, like this tree trunk stand and simple silver alarm clock, to further perpetuate the aesthetic.
5. Get a Little Vain(ity)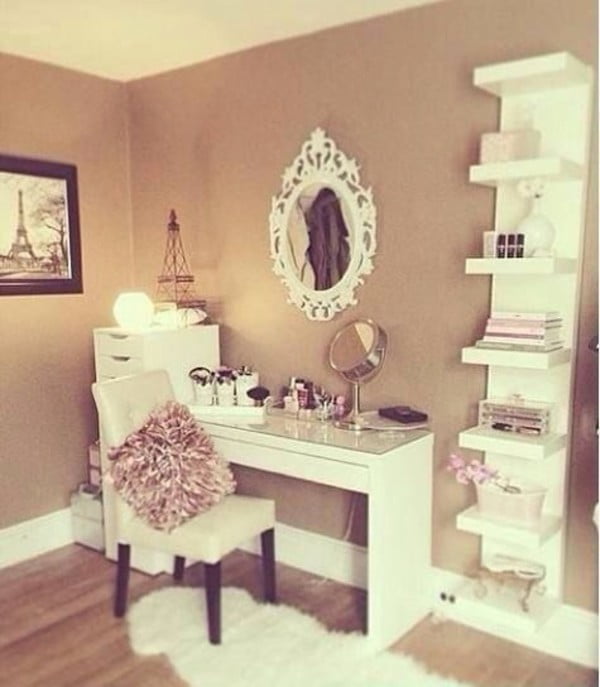 Source: The original source is not available anymore.
No teenage girl's bedroom is complete without a vanity. This design is elegant and gorgeous while still maintaining a modern and sophisticated air. The intricately wrought Victorian-style mirror sets the basis for the Parisian flair further expounded upon with the Eiffel Tower sculpture and artwork, but still pairs well with the sleek lines of the minimalist vanity and drawers. A stylish floating bookshelf adds further storage area without overpowering the space and provides an ideal spot to place delicate decor items to further the feminine appeal, like flower accents.
6. Organize Artistically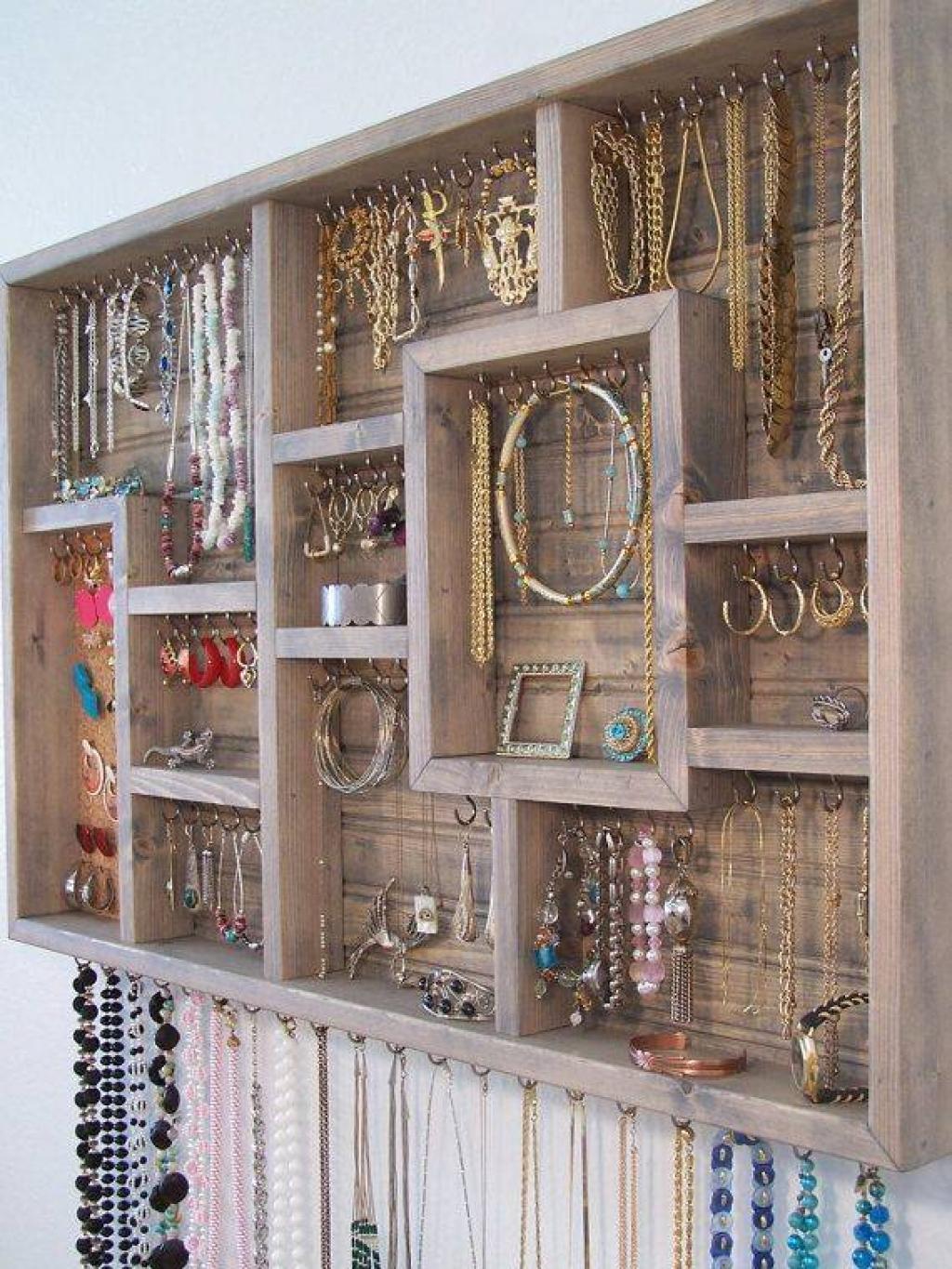 Source: The original source is not available anymore.
For the teenager who's built up a collection of accessories that can't be contained by a typical jewelry box, storage options can seem limited. Rather than stashing all your baubles away to turn into a tangled mess at the bottom of a drawer somewhere, take some inspiration from this piece and put them out on display. This organizer sells for a pretty penny on Etsy, but could easily be DIY-ed with scrap wood or pre-fabricated shelves and cup hooks. Cork backing in one section creates an easy solution for earrings, and longer necklaces that won't fit in the frame can be hung on hooks screwed into the bottom. The simplistic design can be personalized in a number of ways, though this rustic, natural wood choice would complement a number of different room designs.
7. Pops of Color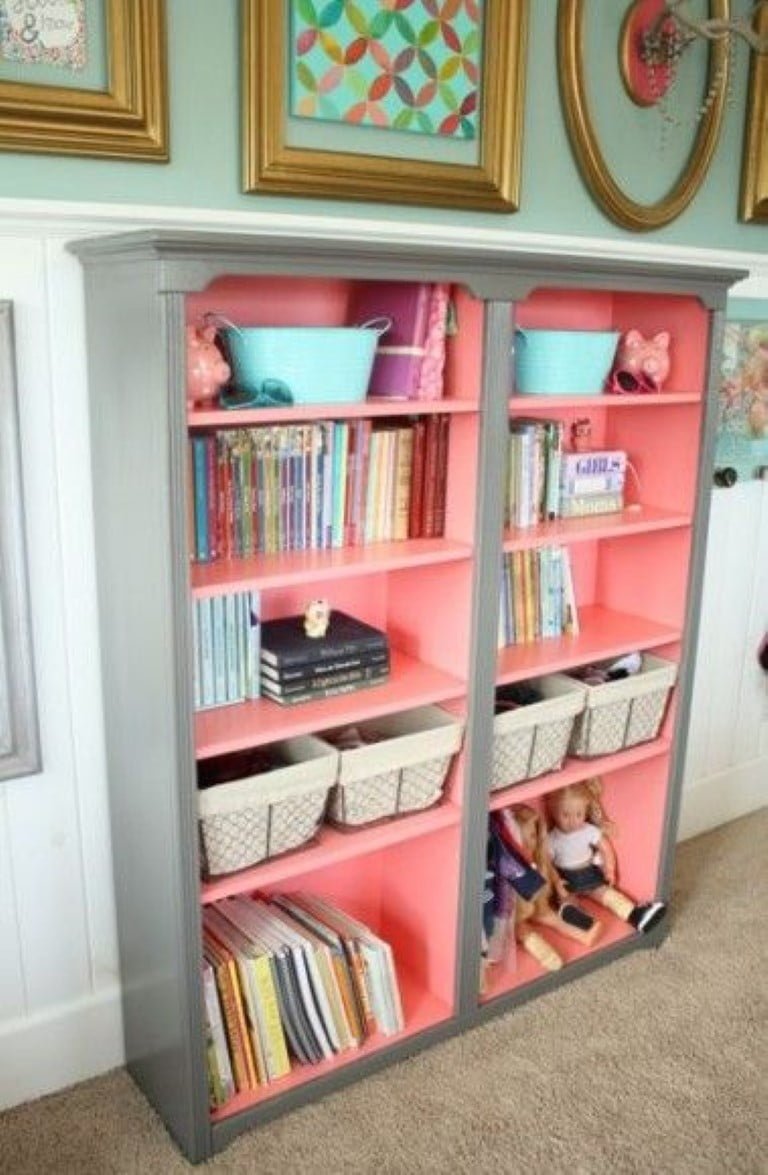 Accent colors are all the rage, but they don't just have to be on your walls. Bring the brightness to your furniture by painting the backs, shelves, or sides (or all of the above!) of bookcases a festive hue, like this fun and funky gray and pastel pink bookshelf. The same concept can be applied to a number of different pieces of furniture, like the drawers of dressers or the legs of desks. Feel free to go wild; there's no place better suited to be coated with color than a teenage girl's bedroom. Be bright and bold with your choices, or opt for more subtle and muted shades— either way, contrasting colors are a trendy and fashionable choice when it comes to teen girl room ideas.
9. Coordinate Colors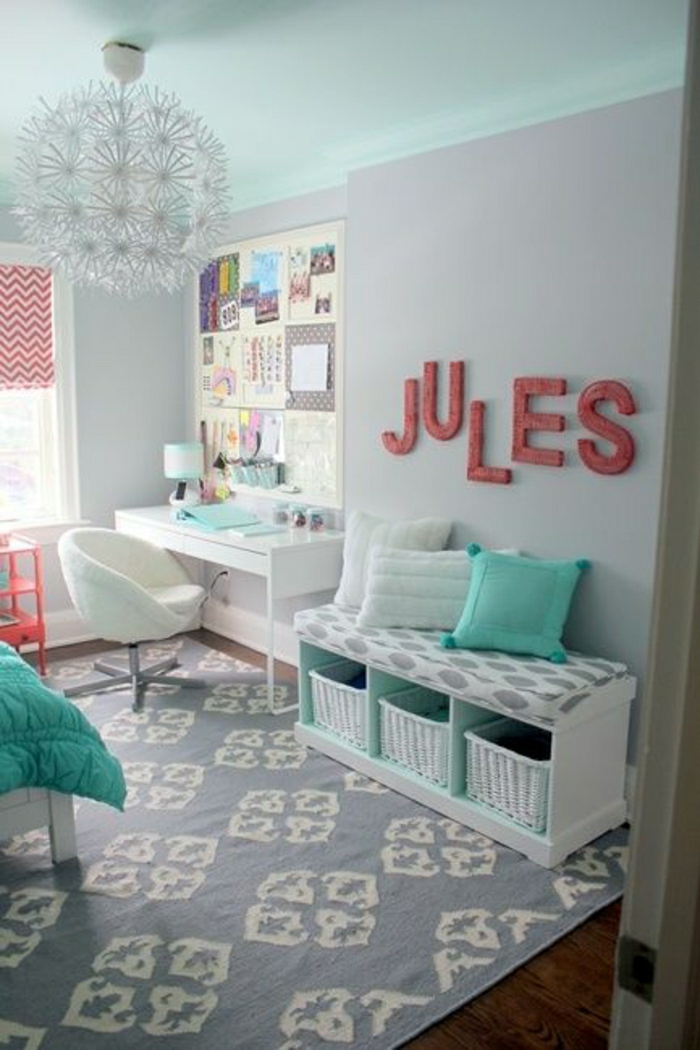 Source: The original source is not available anymore.
Different styles of furniture and fabrics find themselves part of a cohesive whole in this room thanks to the choice of colors. A gray rug over hardwood floors gives a homey, comfortable feel and, paired with the matching gray of the walls, creates a neutral base on which to build the rest of the space. The small nook is utilized to its fullest as study space with a framed corkboard that reaches almost the ceiling, providing organization opportunities and the ability to add personal touches in a way that doesn't feel cluttered. Complementary colors complete the ensemble, with teal and salmon accents abounding, even extending to the pale teal ceiling. A paper flower chandelier tops off the retro chic space, beautifully curated and sure to please any girl.
10. Dual Purpose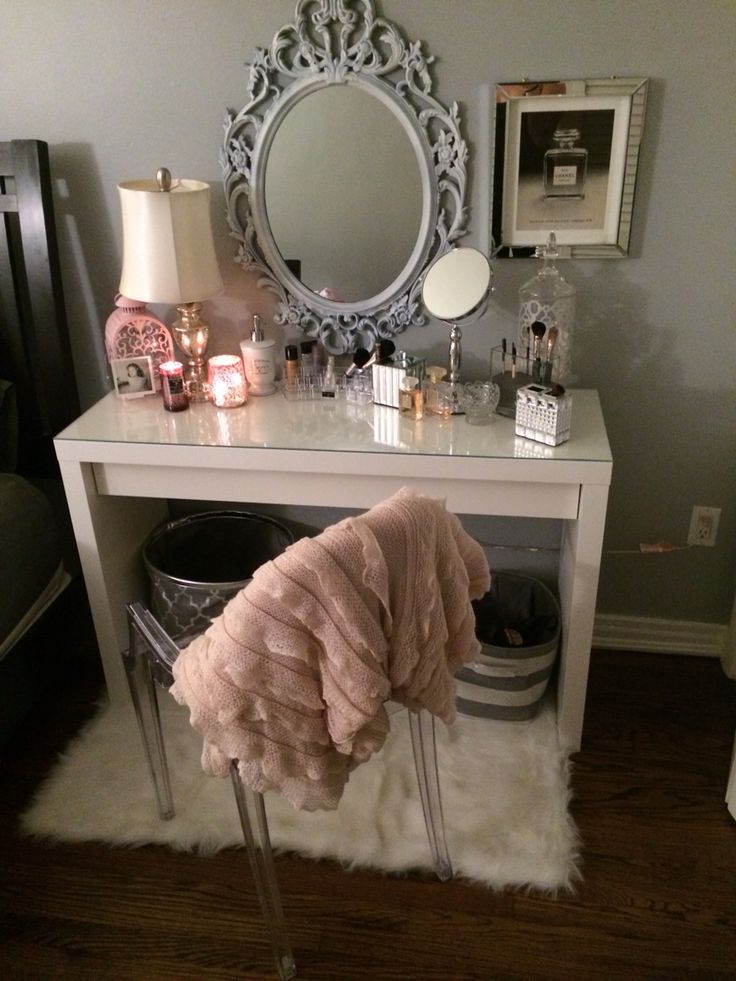 Source: The original source is not available anymore.
A mounted wall mirror and stowable fabric storage give this vanity a second use as a desk for homework or studying. This is a great choice for a teenage girl's bedroom, as having a separate desk and vanity cuts into valuable room real estate in all but the largest bedrooms. The fluffy fur rug makes the area more hospitable and creates clear definition of where the space begins and ends, turning it into one element of the whole room. A glass top makes for a modern look and pairs well with the clear chair, but also serves a second purpose as an easily cleanable surface for makeup messes or study snack spills.
11. Wear Your Heart On Your Walls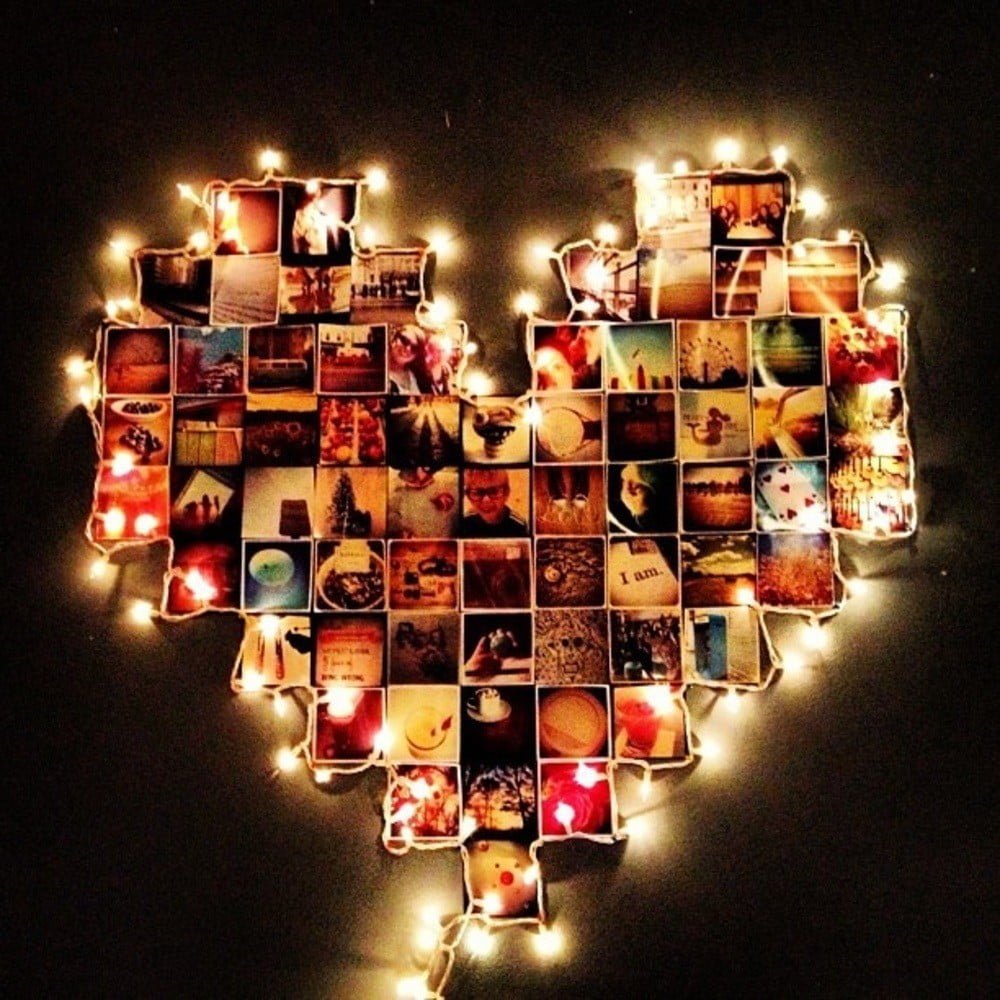 Source: The original source is not available anymore.
For the teenage photog, displaying favorite snaps is a source of pride that gives a space a singular uniqueness that can't be imitated. This sweet design can be incorporated into many teen girl room ideas and serve as a centerpiece of a space. Starting with a small heart and slowly building it up is a fun and meaningful project to share with friends and family, giving the artwork that much more sentimentality. When completed, make it even more of a focal point by "framing" it with icicle lights, realizing a tangible personification of the warm glow the photos' subjects evoke.
12. Honeycomb Accent Wall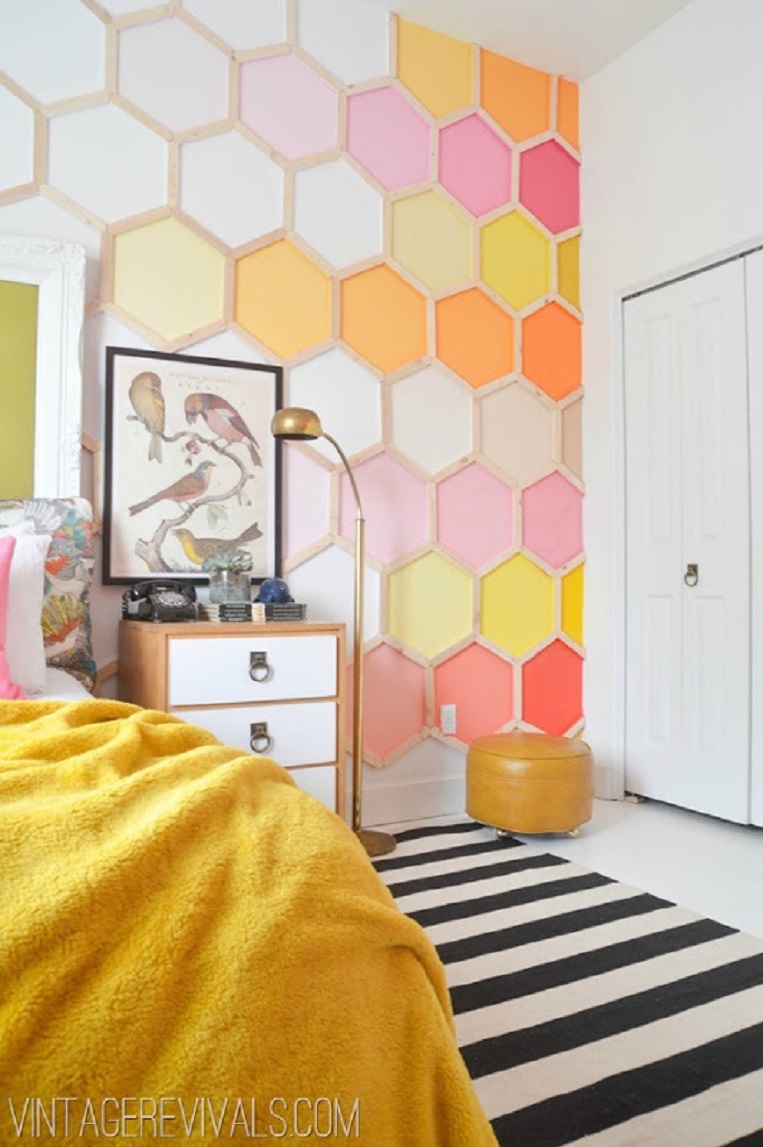 Bee a little eccentric with a wacky honeycomb themed wall. This unconventional design is perfect for a teen girl who wants room ideas that feature lots of colors. A ranging color palette might otherwise overwhelm a room, but done in a funky way like this, a bevy of colors is more quirky than overpowering. The progression along the color gradient from fully saturated to white contributes to this virtue, a technique easily replicated by mixing in increasing amounts of white paint as you move down the wall.
13. Office Space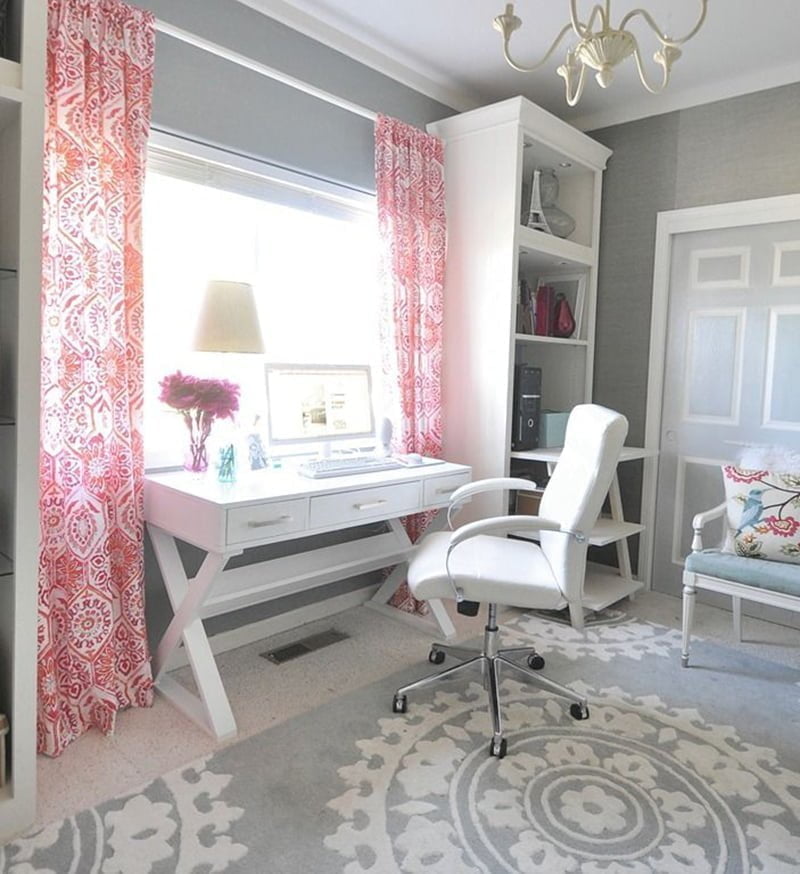 If you've got the square footage for it, aiding productivity can be as easy as including a dedicated workspace in the bedroom. This stylish set of bright whites with pops of pink and blue produces an air of driven focus, while still keeping a cheery, light-hearted vibe. Homework, studying, and research projects beware the powerhouse of teenage initiative that will settle in to pound out assignments at record speed in this gorgeous space. Bookshelves allow for storage of all the learning essentials, and a second, smaller pull-out desk makes it easy to swap between tasks. A comfy chair with fluffy pillows allows for brief respites in between hardcore study sessions.
14. Floral Art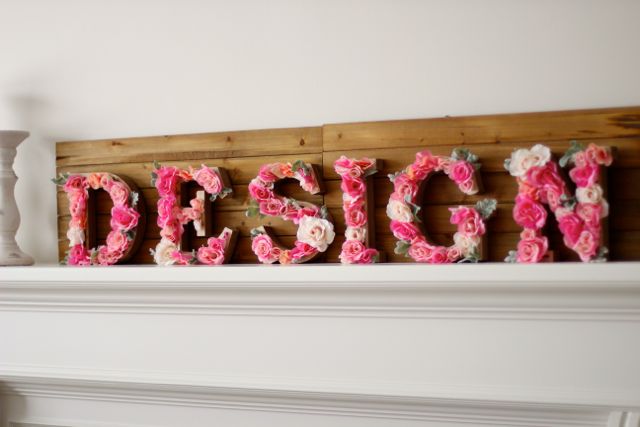 An effortless way to bring color into a stark room is through the addition of flower-based art pieces. These can be made very painlessly at home with scrap wood, plastic flowers, wood letters, and a hot glue gun, letting you take control of the types and colors of flowers employed in your unique piece. Easy to customize brings another positive aspect: making multiple words in different shades and hues makes it simple and straightforward to swap out depending on your mood, the season, or the closest holiday. In a space that's primarily made up of a neutral palette, these delicate and feminine designs bursting with life and color can drastically alter the feel of a room, bringing in a wealth of brightness and joy.
15. Rose Quartz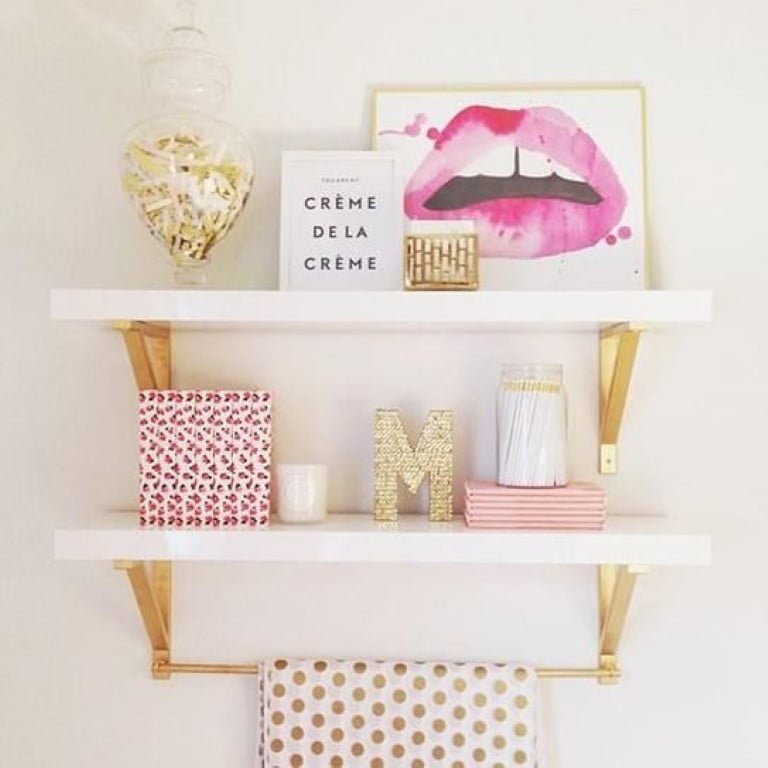 Half of the duo that makes up Pantone's Color of the Year, rose quartz is a warm, welcoming color that's also fabulously chic when paired with gold metallics. In this display, the pink touches make the collection of knickknacks look inviting and homey, contrasting with the luxury gold tends to exude. Taken in as a whole, the decor reads as homey but extravagant; intimate, but indulgent.
16. String Light Photos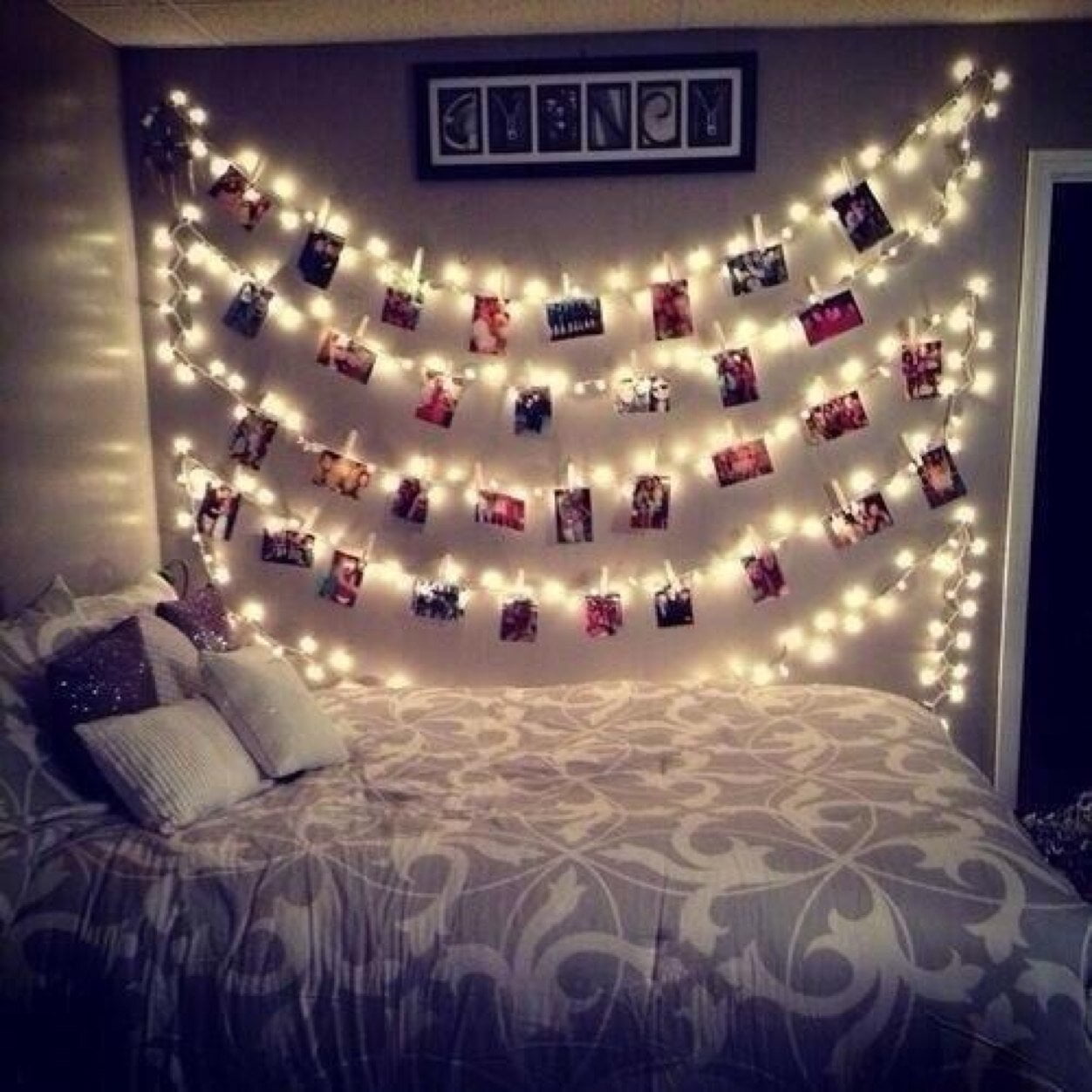 Source: The original source is not available anymore.
Since most of us aren't pinning up the washing anymore, clothespins have found a new function in the form of holding up photos. This particular rendition of clothesline photo hangers swaps the jute or twine for paper globe lights, creating a bright and lively eye-catching photo display that has the capability for constant evolution as you add to it over the years. The sweet and meaningful piece of artwork is a fantastic way to brighten up an otherwise dark corner of a room that has no space for a floor or table lamp as well, a trendy and useful choice. String lights have seen a surge in popularity, making for a great variety of styles with a fit for just about every aesthetic.
17. Flower Cascade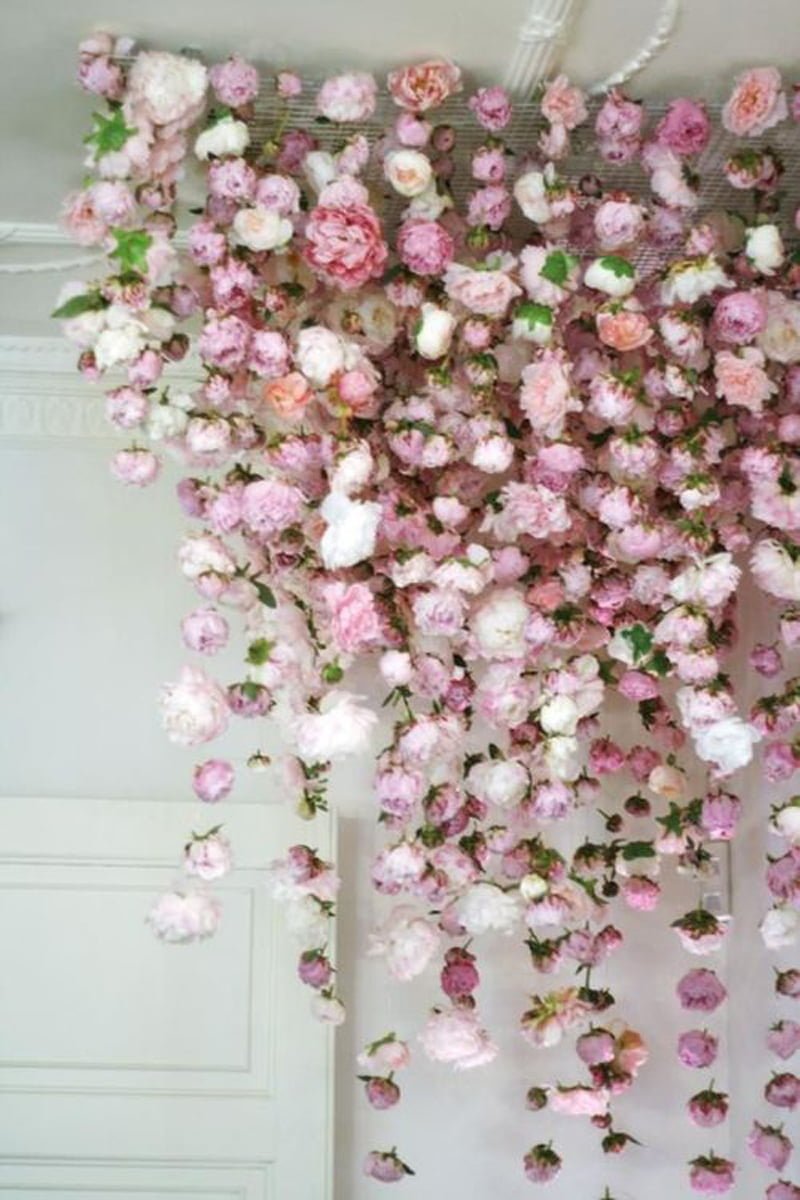 Source: The original source is not available anymore.
A waterfall of flowers certainly brings the ephemeral bliss of springtime indoors in a lasting way. This enchanting display is so delicate and otherworldly it's sure to draw constant compliments and inspire a feeling of stepping into a magical fantasy. Whether as a complement to sweet and dainty French Rustic decor or a contrasting softness to temper sharp, modern lines, a fabulous flower chandelier is a breathtaking addition to any teenage girl's bedroom design. The design is so uncomplicated to emulate that it could be recreated in any shape, size, color, and flower type, meaning for an easy match to a number of styles.
18. Clothesline Photo Frames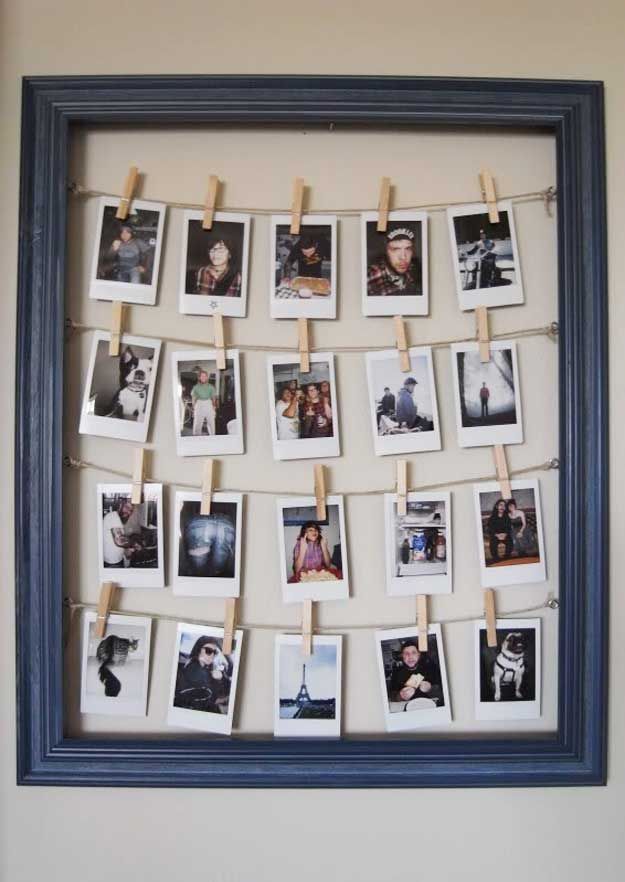 Source: The original source is not available anymore.
For a rustic yet clean way to display pictures, bringing the washing line indoors and putting a frame on it is all the rage. Naturally at home in a room with a shabby chic or country flair, this simple piece can be elevated in elegance by swapping the jute line for clear twine or fishing line, painted or metal clothespins, and metallic hooks. The options for customization are nearly endless, making this an inexhaustibly customizable option that can find a place in any room design.
19. Simple and Inspiring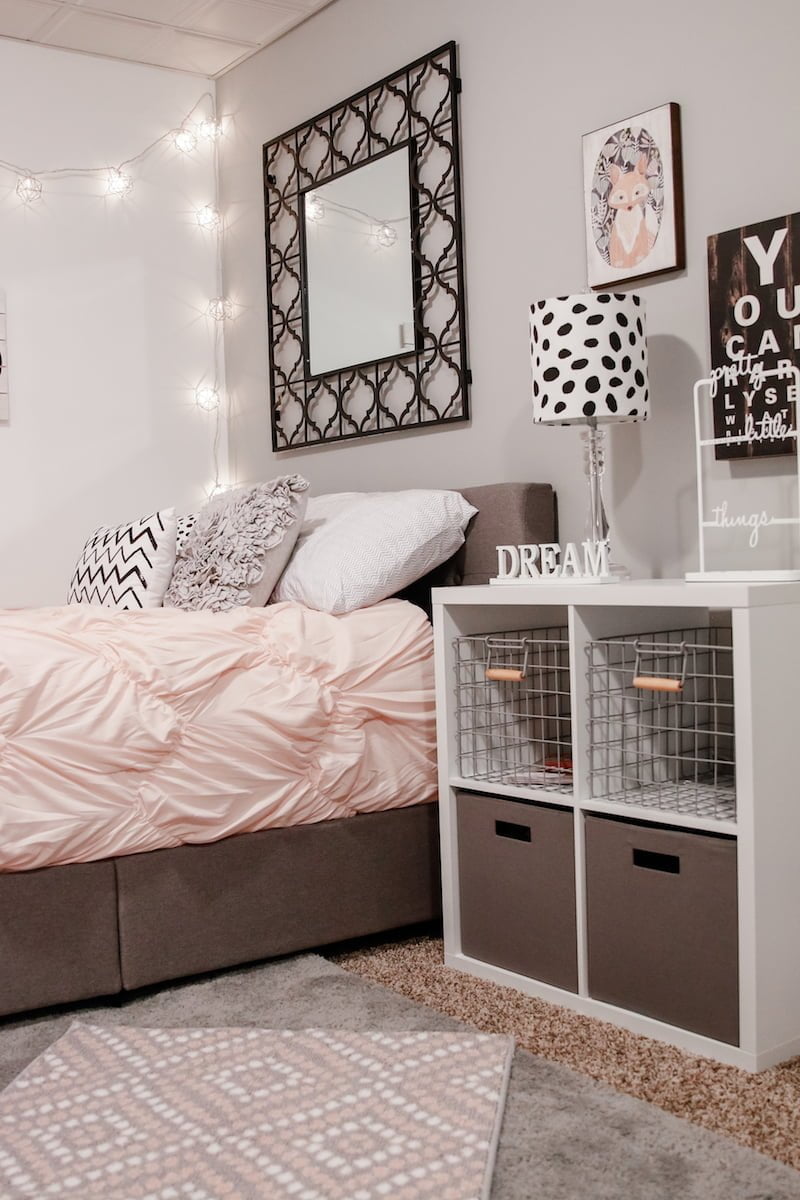 Girly doesn't necessarily need to mean ruffles and dolls, and for the more minimalist teen, elegant and classy can read just as feminine as frills and bows. This modern room is rife with geometric and animal prints, clean lines, warm colors, pretty little things, and a delicate touch to perfectly convey its feminine allure. Some princesses are more understated, and this space flawlessly evokes feelings of timeless royalty— like Princess Diana or Kate Middleton channeled into a brilliant and refined design.
20. Chalkboard Paint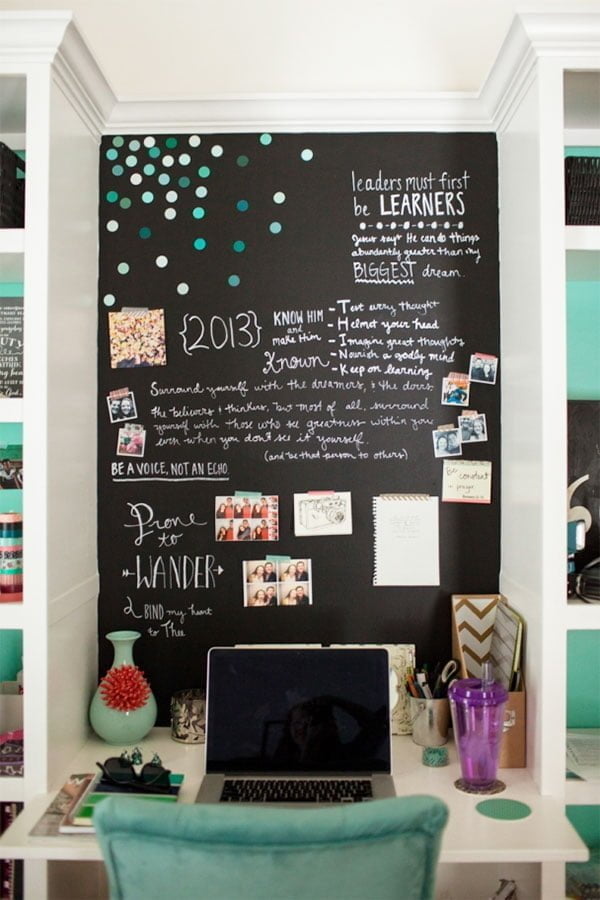 Source: The original source is not available anymore.
Designate a space where creativity can abound by coating the wall behind a desk with a layer of chalkboard paint. This makes dreaming up a work of art effortless, and when the spark hits, wiping away the last piece and creating something brand new takes minutes. For the not so artistically inclined, a chalkboard backing can be used to keep track of events or due dates, leave notes and reminders, or pen inspirational quotes for when life gets a little hectic. If painting a wall feels a little too permanent, a large corkboard can be painted and framed to get a similar effect without the need for a complete renovation if the idea loses its novelty.
21. Monograms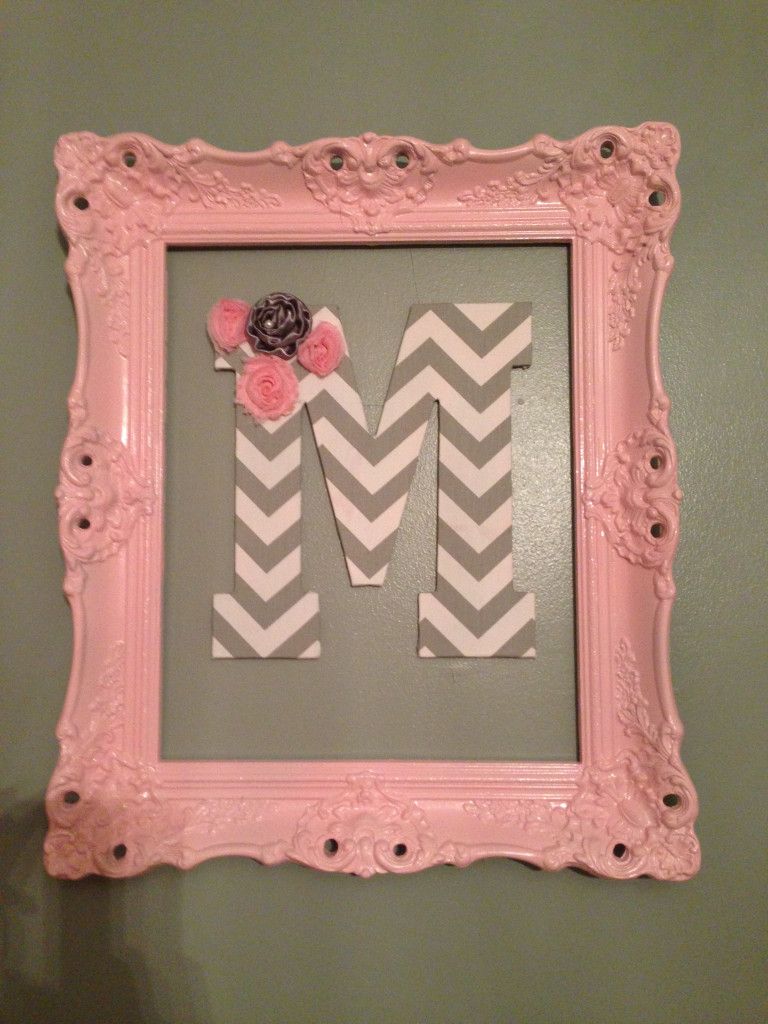 Source: The original source is not available anymore.
To make a room feel like "mine", decorate with the thing that is wholly yours: your name. An initial, a nickname, or the complete thing, any choice can be made to look amazing on a wall. Go simple with a plain wooden initial, or pile on the pizzazz by giving it a chevron design and a floral accent, upping the drama with a fancy matching frame. There's no end to the ways you can personalize plain letters: wrapping with yarn, gluing on shells, glitter, sequins, glass, a mirror mosaic, you name it.
22. Blue Diamonds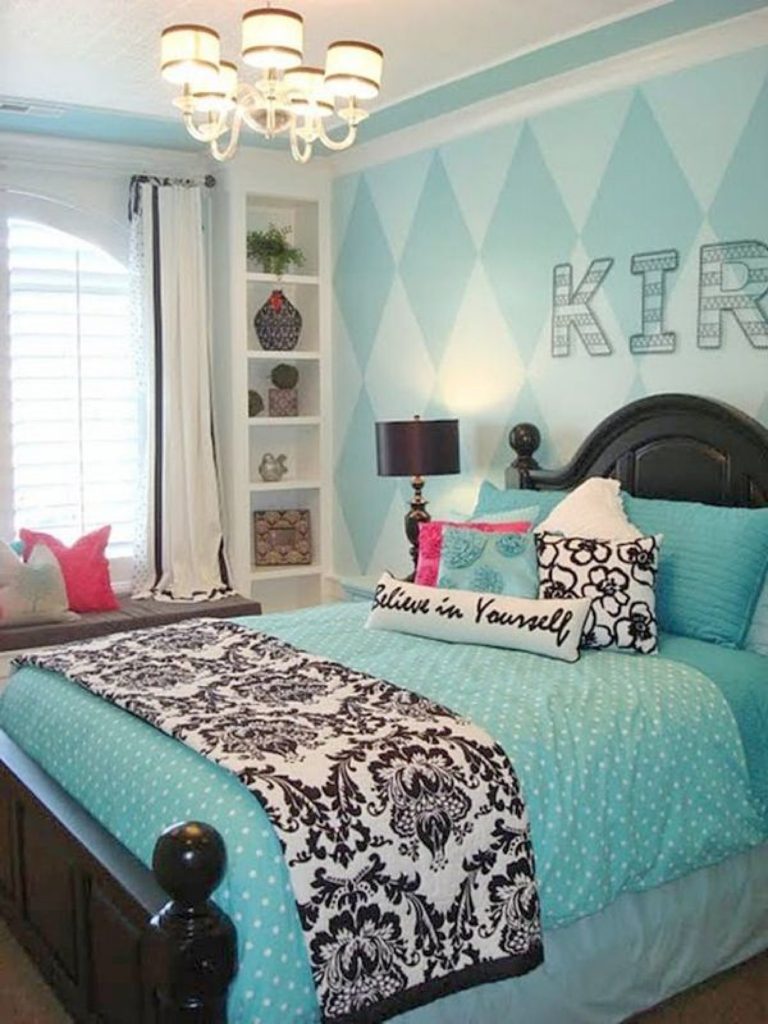 Source: The original source is not available anymore.
Not typical of teen girl room ideas, this design makes use of a mixture of girlish prints to turn the normally masculine blue into a serene feminine oasis. The choice of blue makes the room feel tranquil, while the pops of bright pinks add interest to an otherwise monochrome design. The mix and match of patterns creates many attractive focal points; every aspect of the space gets in on the fun with a diamond accent wall and exotic printed vases and picture frames. The inclusion of plants ties in a natural element, adding to the invoked feelings of calmness and making the space feel alive.
23. Ombré Art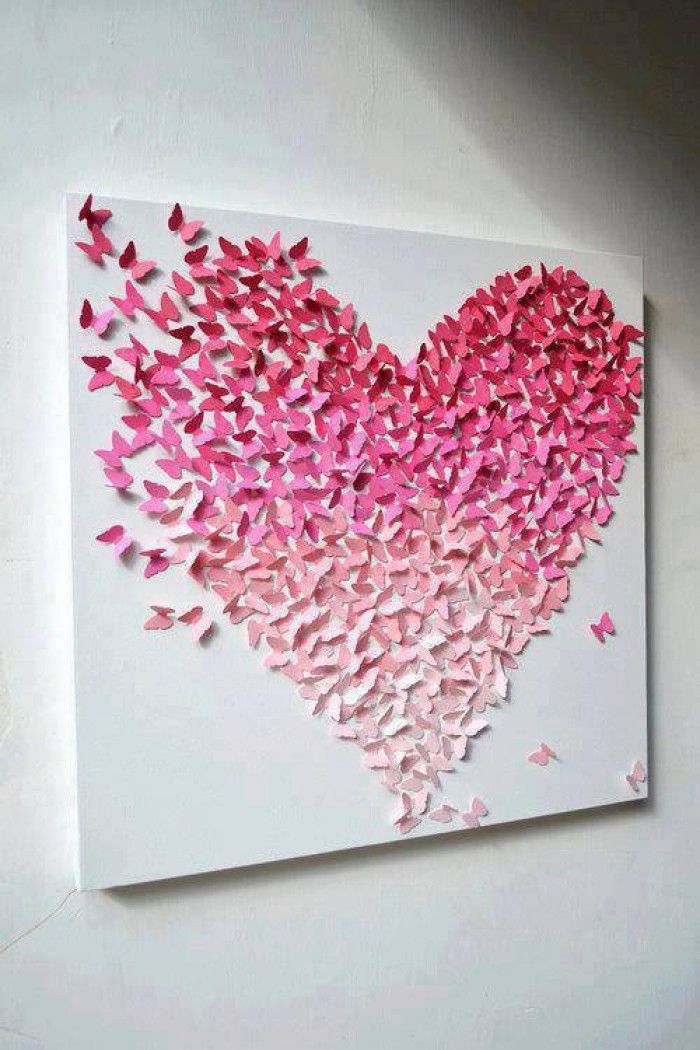 Source: The original source is not available anymore.
This delightful paper butterfly artwork capitalizes on the ombré trend that's held steady in its popularity over the past few years. The three dimensional design of the piece gives it an almost bewitching allure, as if the cloud of butterflies might become corporeal and take flight at any moment. Smooth gradient transitions are a wonderful way to incorporate many shades of color, making for a more exciting look than one flat hue. The artwork could be replicated at home, allowing for choice in color and shape, but the sweet symbolism of a heart full of butterflies will no doubt speak to the romantic in anyone.
24. Crafty Corner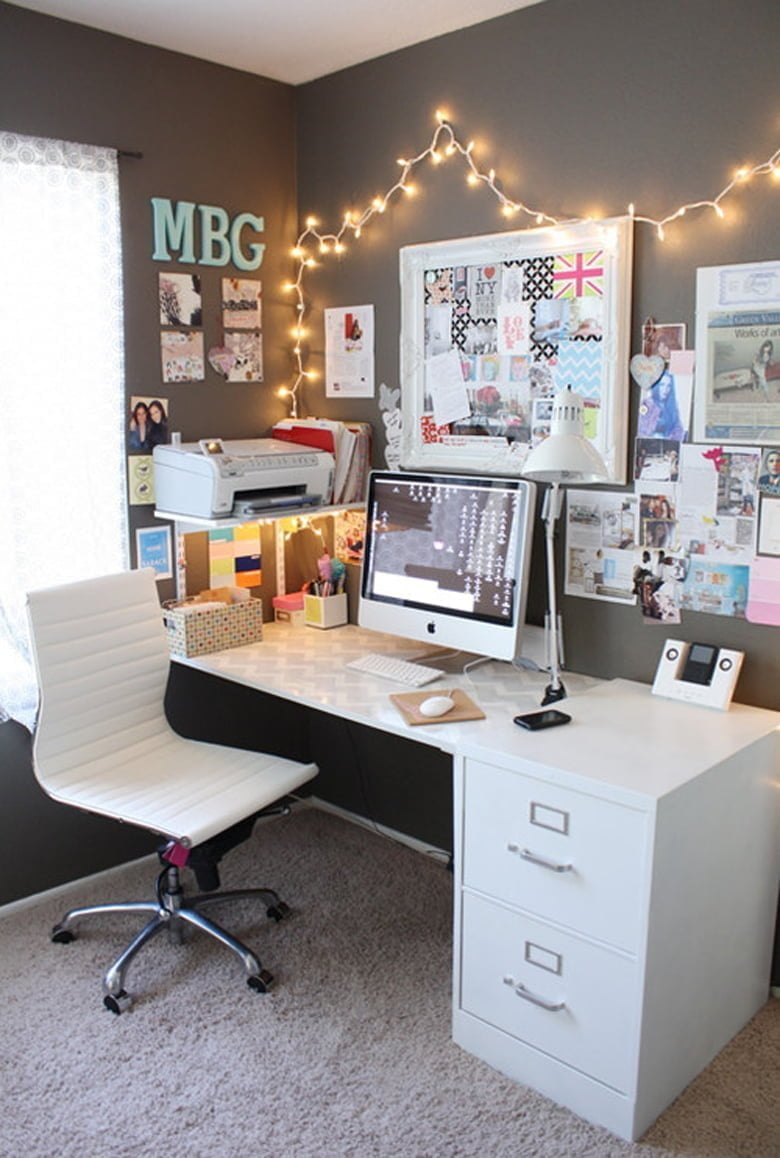 Making a creative space the center of attention in a bedroom isn't exactly typical, but this eclectic design's cluttered charm is hard to deny. Chock full of personal touches, this artsy area abounds with inspiration for crafty pursuits. Warm white icicle lights glow with a welcoming radiance, making the prospect of staying a spell extremely inviting. A side shelf clears up desk space by elevating the clunky necessities. The numerous knickknacks are kept from feeling messy by being popped into a frame, keeping them to a defined area so they don't take over the workspace. In the same vein, large drawers added to the desk keep contain any craft supplies, lowering the need for desktop organization methods to a few small items.
25. Stylish Storage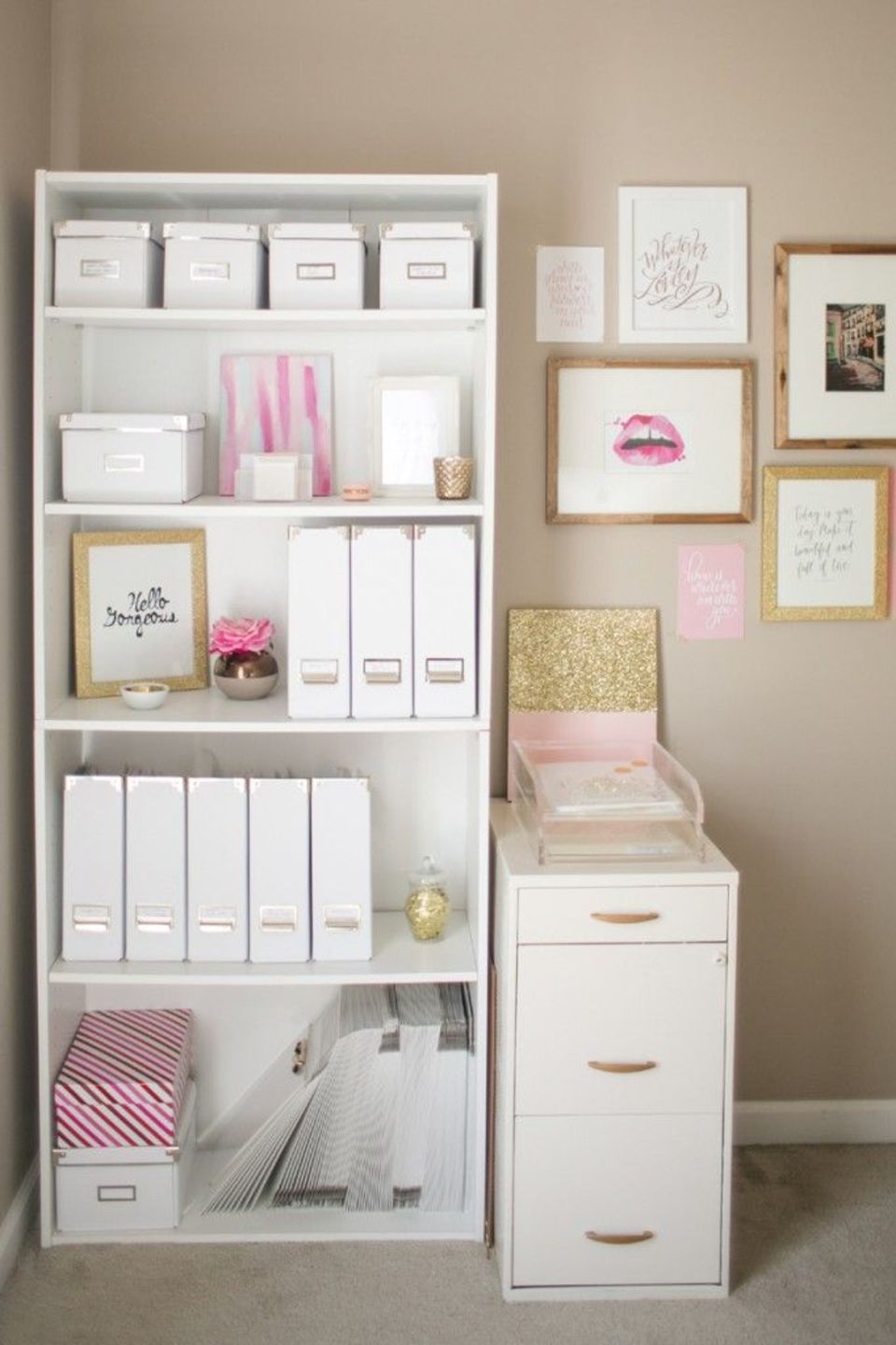 Source: The original source is not available anymore.
That fabulous combination of rose quartz and gold makes a second appearance, this time in the form of office-type organization. A teen girl with room ideas that includes a study area is going to be wanting for storage that reads as pretty, and this more than answers the call. Clean white storage boxes and filing solutions exude professional sleekness, given warmth by the gold accents. Touches of pink and natural wood further this, countering the stark whiteness and making the functional design more personable. Glittery gold toppings ensure it feels appropriately young and lively.
26. Metal Flower Lights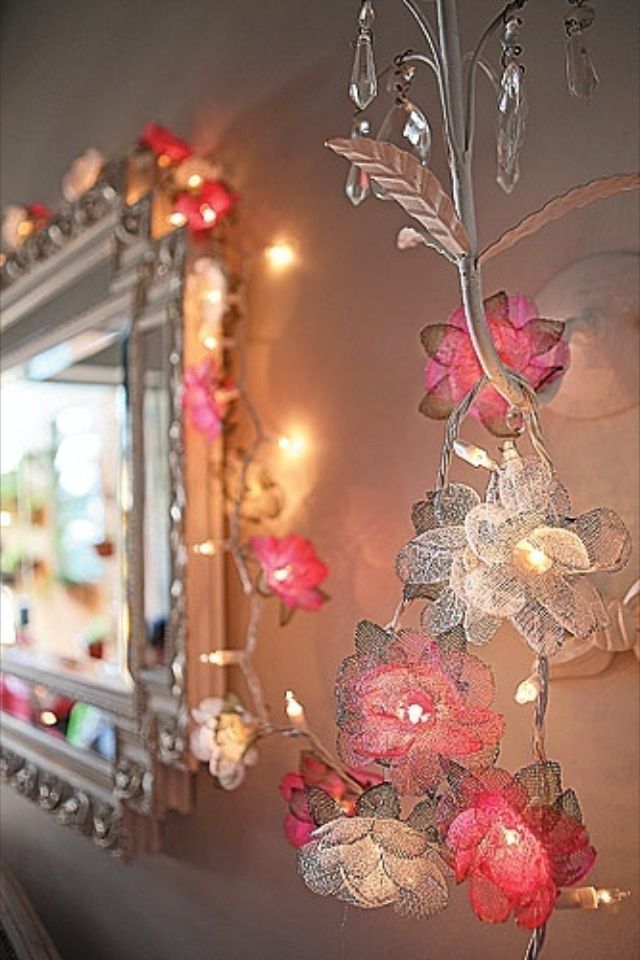 If you're looking for a way to draw attention to a particular spot or design element and need a soft, diffused light source, delicately wrought metal flower string lights are a tasteful and girly choice. Draped over floral wall decor and used to frame a mirror, you have a lovely and captivating focal point to base the rest of a room's design around. For a more dressed down use, the string lights are versatile enough that they can be utilized as an unassuming light in a space where a table or floor lamp isn't feasible, while still adding more oomph than plain icicle lights would.
27. White and Gold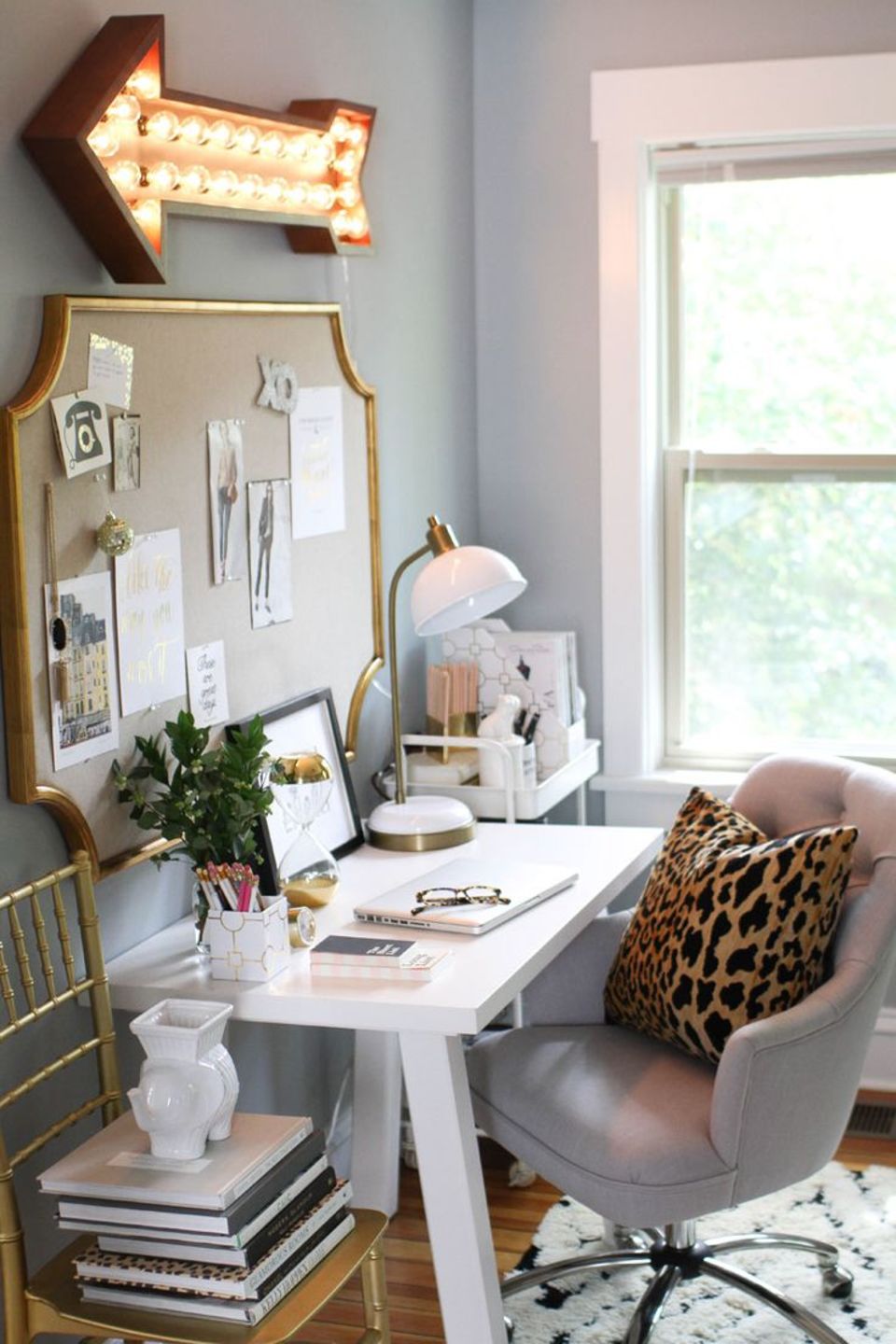 Source: The original source is not available anymore.
Timelessly elegant, white and gold in conjunction exude luxury while still managing to be understated. As the mood strikes, they can be further dressed up with splashes of color to be more in-your-face, or left simple and classy with smaller bright touches. This casually sumptuous office area design is a great neutral base that can grow with evolving taste; the current marquee arrow light strikes the perfect balance between mature and fun, fitting for a teen girl coming into her own. The addition of a gold-framed corkboard gives a large space to add personal bits and bobs without detracting from the artful sophistication of the uncluttered desk while still complementing the overall design.
28. Fun With Functional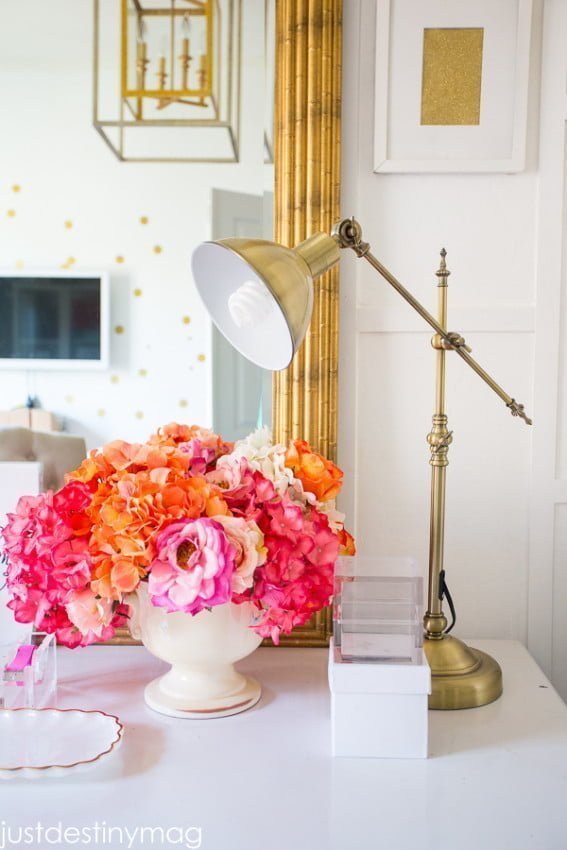 Dress up a desk with bright floral touches and make work feel a bit more like play. Pretty, inspiring surrounding will help keep feelings of drudgery at bay; a bright, fun workspace is sure to result in more feelings of happy productivity. An average desk lamp might feel stale and grim, but a metallic brushed gold desk lamp is cheery and warm. Vivid, colorful flowers are at once calming and energizing. Acrylic organizers add just a touch of ritz and allow for clear and concise organization that's easily readable for quick access to all your supplies.
29. Jewelry Wall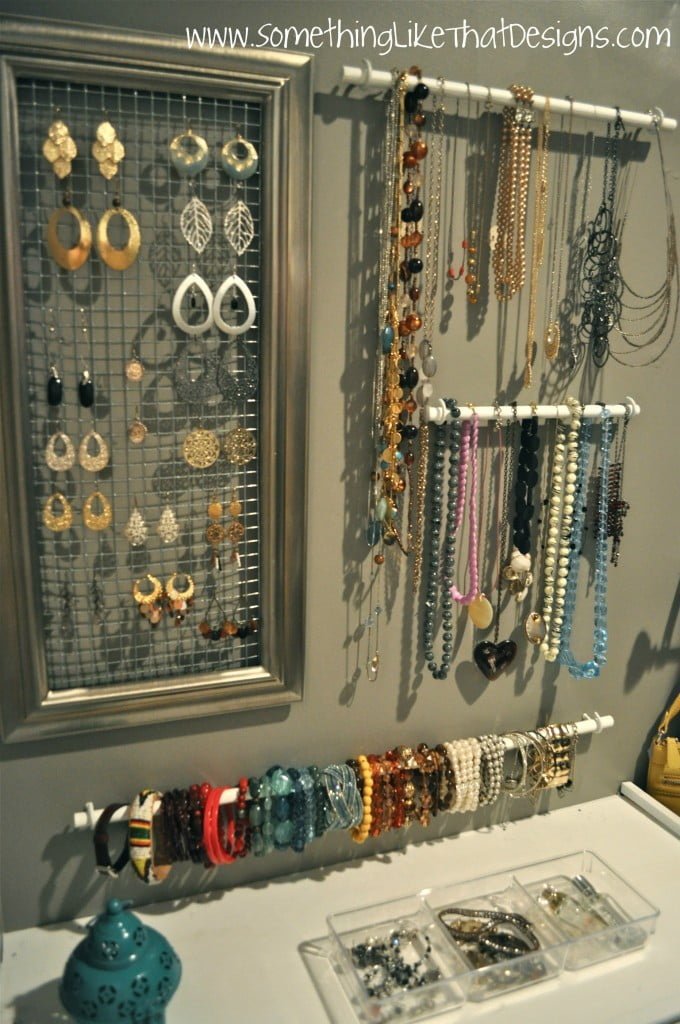 Source: The original source is not available anymore.
For a clean and compact way to make jewelry accessible and easy to find, consider setting up a jewelry rod. Set in cup hooks, dowel rods can be cut to any size necessary to fit nearly all of your accessories. For dangly earrings, a framed piece of chicken wire makes for the perfect organizer. Add a shelf and an acrylic organizer to contain any pieces that aren't quite at home on the other storage solutions and you have yourself a gorgeous and easy to use jewelry wall. The beauty of this design, aside from how great well-organized jewelry looks alone, is that you can add to it as the need arises. The brushed silver frame and white dowels can be painted any color to match your individual style, making this a great fit for many teen girl room ideas.
30. Built-in Combinations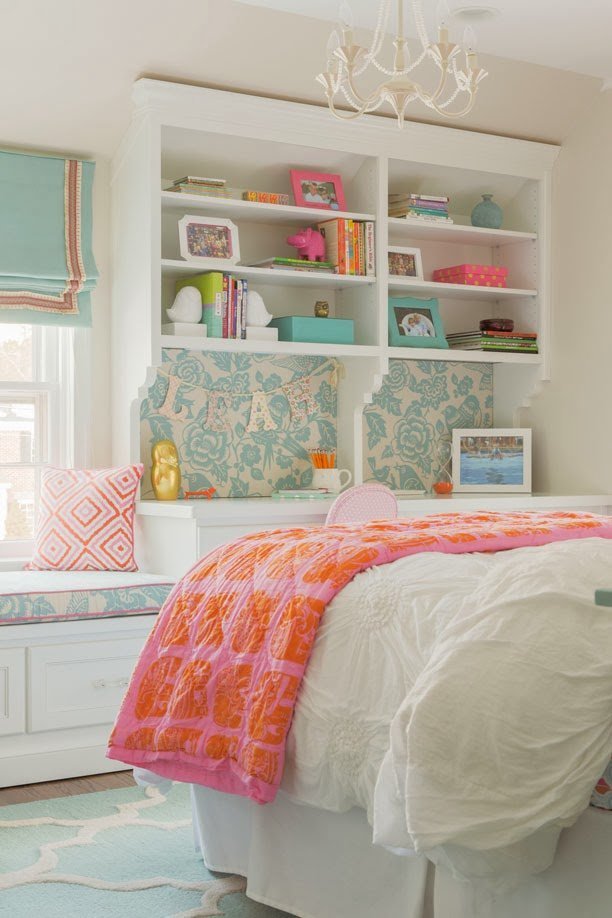 A great space saving solution to avoid a cramped bedroom is to construct custom-fit built-in alternatives to modular desks and armoires. This quaint white construction combines a bookshelf, desk, and window seat, sacrificing a bit of square footage for a clean and cohesive design that leaves tons of floor space and makes the space feel open and bright. The choice of solid white makes it easy to decorate with a bevy of bright colors, a pairing that is bold and invigorating. Another eye-catching addition comes in the form of wallpapering the back of the desk, a great way to incorporate lively prints in an unusual location.
31. Oversized Art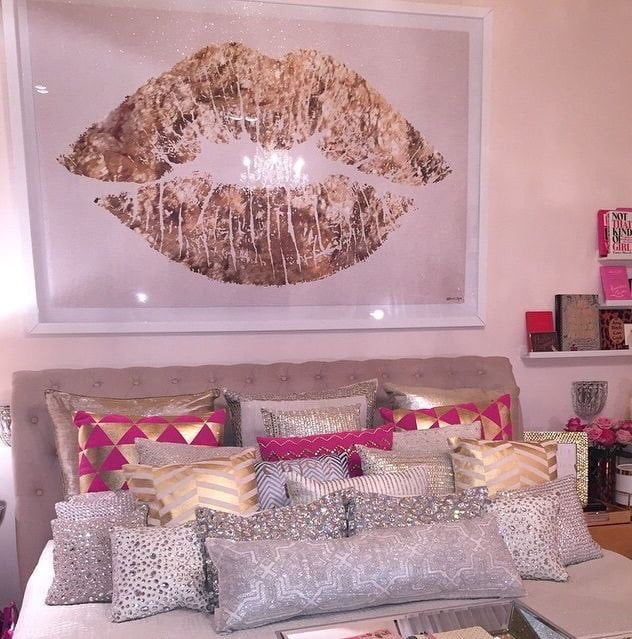 Source: The original source is not available anymore.
Capture the essence of your teenager's big and bold spirit with an art piece that demands attention. A short, unassuming headboard paired with a wall-filling metallic artwork draws the eye immediately and is very in vogue. Pile on the pillows in an assortment of patterns and neutral shades to cement the bed as a focal point, then glam it up with pops of pink and shiny metallics. You're left with a bed that looks extremely lush and glamorous, captivating to the eye and setting a trendy precedent for the rest of the room to be designed around.
32. Sweet and Refined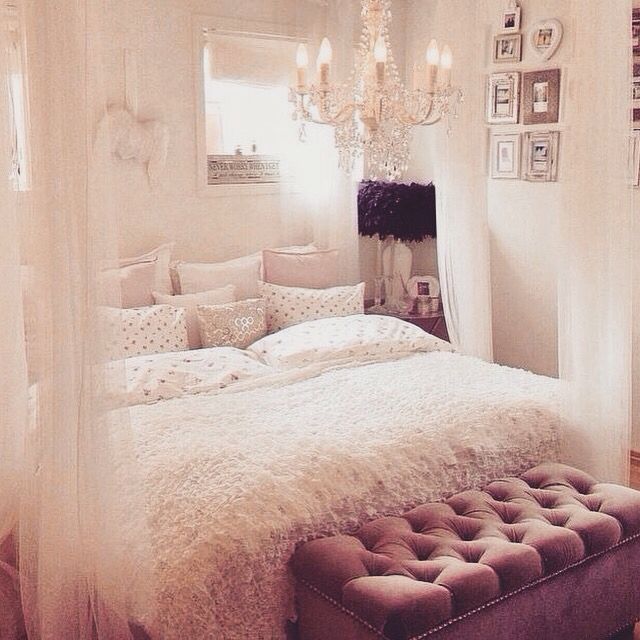 For the teen girl with room ideas that are more classically feminine, this design is sure to wow. A gentle, tasteful angelic theme pervades the space. Soft, flowy drapes surround the bed, turning it into a heavenly paradise. The mostly white color palette is made more warm and feminine with subtle pinks and creams, topped with a dusty rose settee. A feathery dark purple lamp shade brings a flair of drama, giving the space a modern touch without looking out of place. Angel wings hung above the bed perfectly convey the theme, while quaint picture frames in woods and whites bring this aesthetic back down to earth. A showy but not ostentatious crystal chandelier makes for a sublime light source, the icing on this celestial cake.
33. Geometric Photo Collages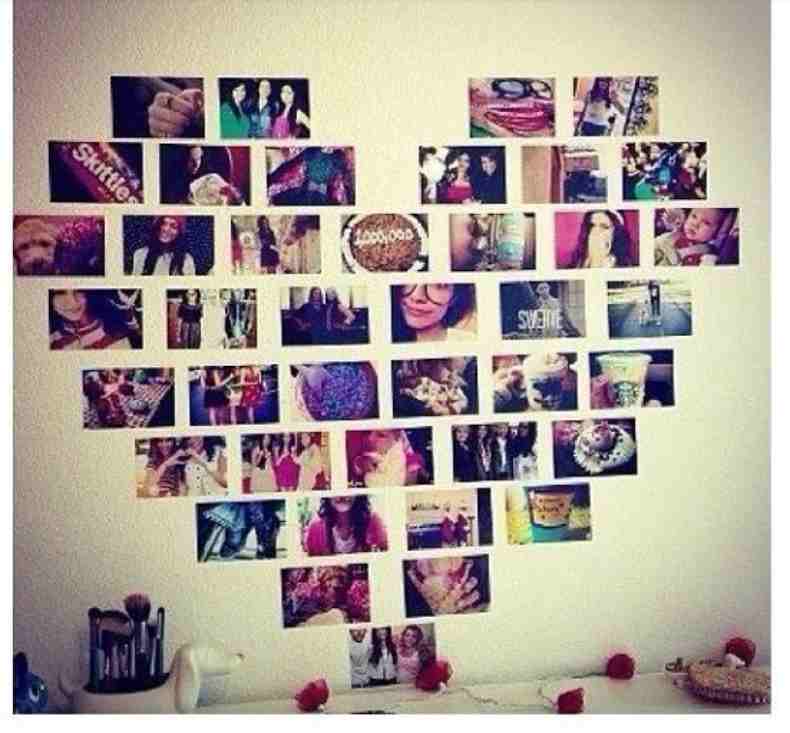 A quick and quirky way to display photos, collages are fun to put together and make for more interest than typical frames. Amp up the amusement by opting for an off-the-wall design for your pictures, like this cute pixelated heart shape. The world is your oyster and your creativity is your only limit in this endeavor; going with a stylistic element that's repeated through your space is never a bad choice. Other options you might want to consider: cats, shooting stars, UFOs, whales, etc.
34. Shabby and Floral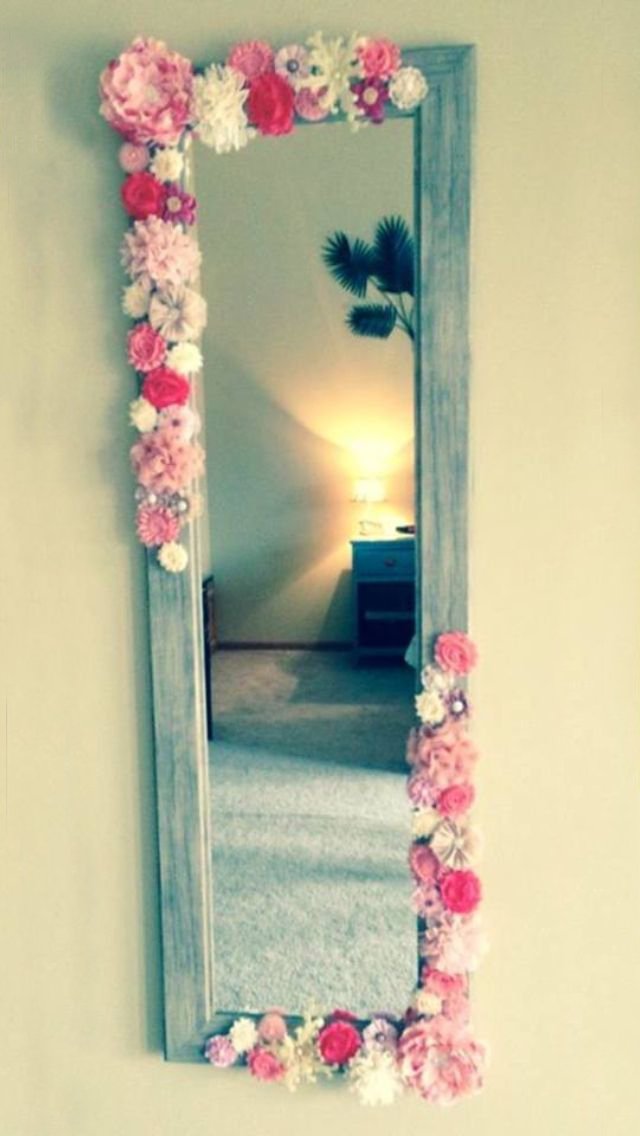 Source: The original source is not available anymore.
For anyone loving the shabby chic trend, this mirror is a must. The aged, washed out paint strikes just the right balance between antique and well-loved, giving the wood a well-worn appearance that makes it feel like an heirloom that's fashionable enough for the modern day. Springy floral accents elevate this simple, rustic design to feminine and bright, an addition that can be made to nearly any mirror with hot glue and fake flowers. Overall, the piece is simplistic and understated, making it a great fit in any aesthetic and providing a wonderful way to bring a bright, springtime feel to a room.
35. Bold Furniture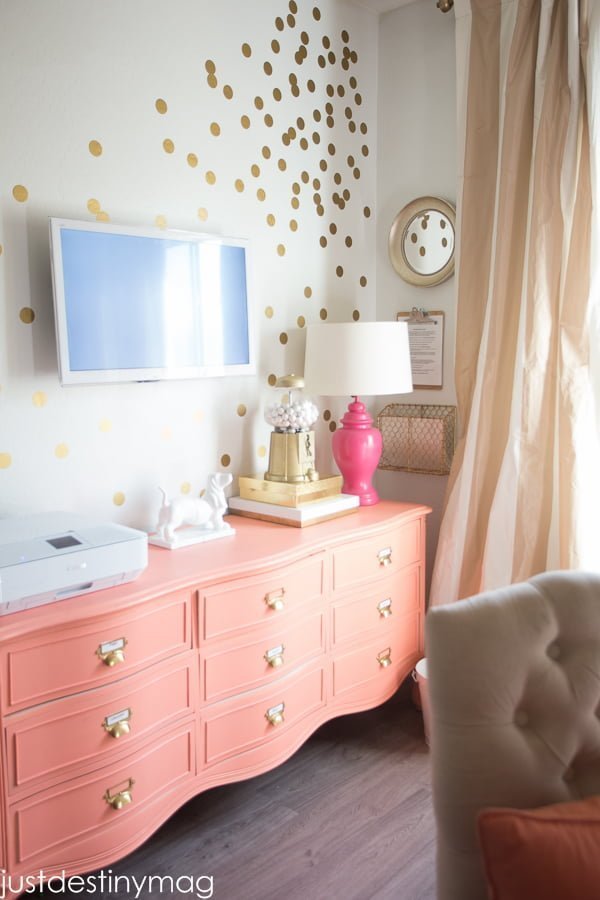 Neutral furniture might make a great base on which to build the rest of a room, but no one said furniture had to blend into the background. If you have a piece you love, call attention to it. This beautiful coral dresser is made into a focal point with gold polka dots beaming toward it like a spotlight. Further gold accents create a cohesive design, while a hot pink lamp helps to draw the eye in. Attention is turned from the TV screen by opting for a white model that blends well with the wall.
36. Clean Walls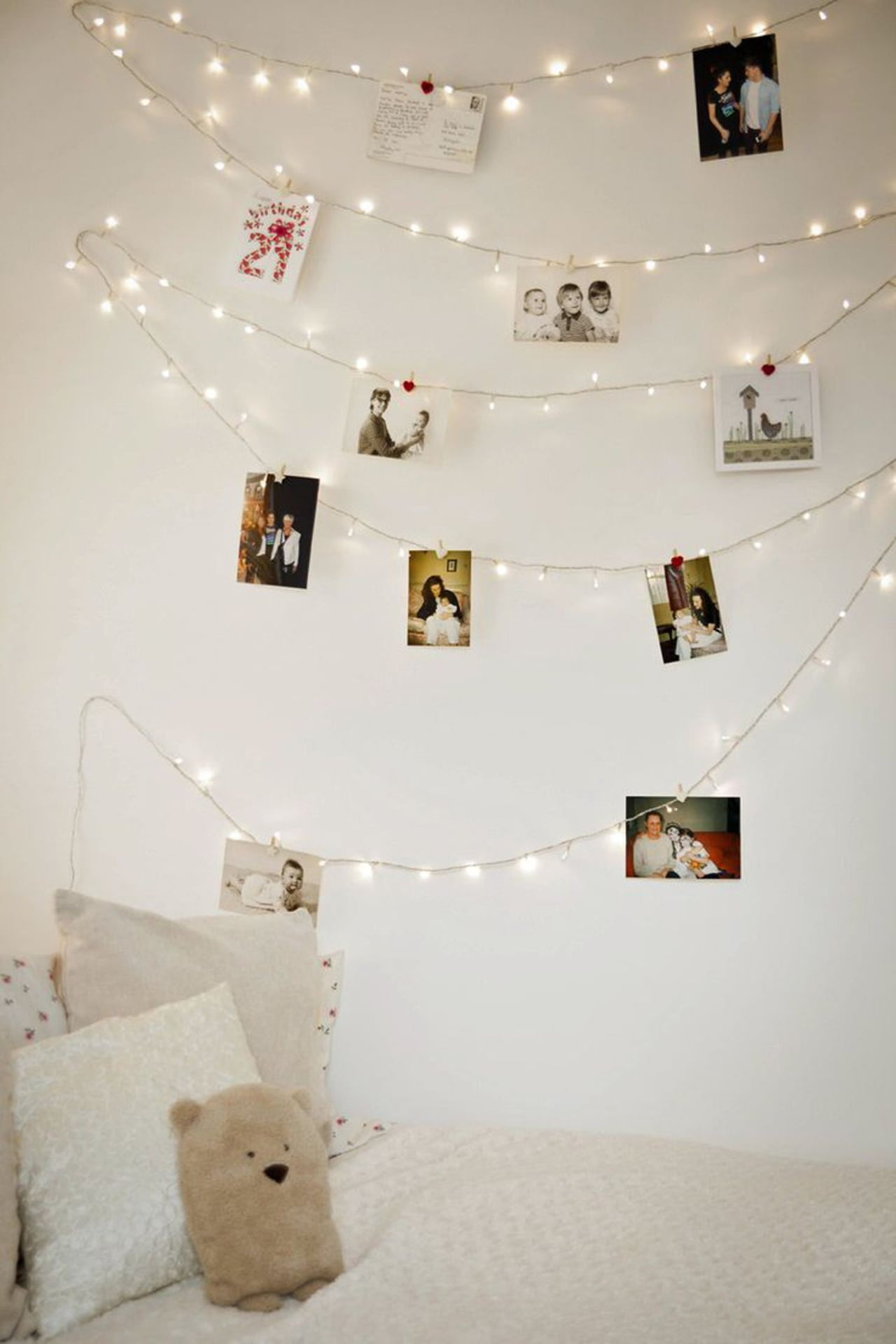 The subtle color palette employed in this space add to the perfect execution of these icicle photo strings. Keeping the colors plain and the walls undecorated means that the photos are the sole focus, making each individual picture pop in a way they couldn't if they were competing against other decor.
37. Box Shelves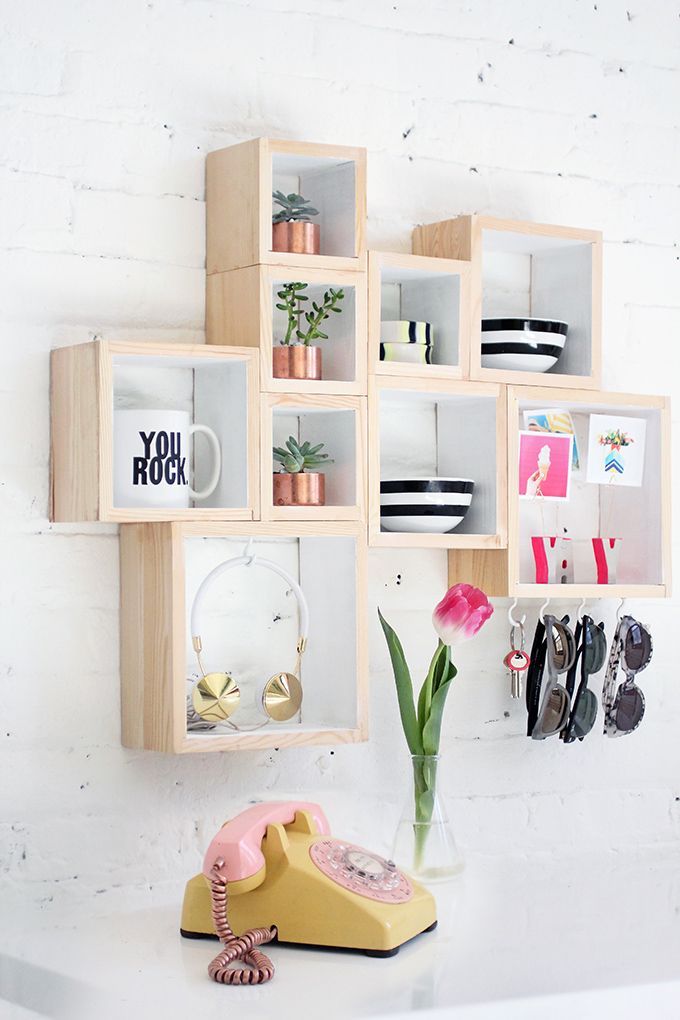 Dressing up plain storage keeps a room from feeling cluttered and makes your necessities read as if they're part of the design. These fun box shelves can be combined to make any zany geometric shape you dream up, and once they fill up, adding more into the mix is painless. They can be made even more useful with the addition of cup hooks to accommodate any dangly bits and pieces. This beech and white design is modern and plain enough to fit in any space, but can easily be refinished or painted to suit any style.
38. Write On The Walls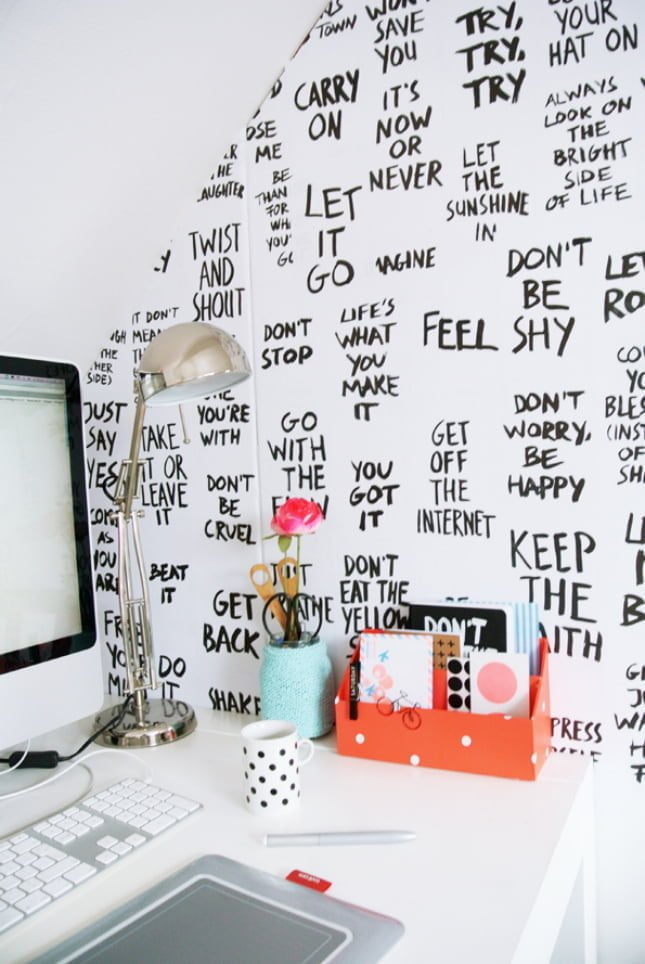 We've all had it drilled into our heads that crayons go on paper, not the walls, but that sentiment is long past. A fun new trend that incorporates that sense of childish mischievousness comes in the form of penning your favorite quotes on that sacred space. Go for one large, meaningful quote, or paper the walls in small tidbits of advice; whatever your fancy, you can do no wrong. If mixing fonts appeals to you, no need to rely on your own ability to recreate them free-hand— making up a stencil is as easy as printing out the words of your choice. This quote-saturated wall makes for an inspirational office space that helps keep your head in the game.
39. Make Up Frames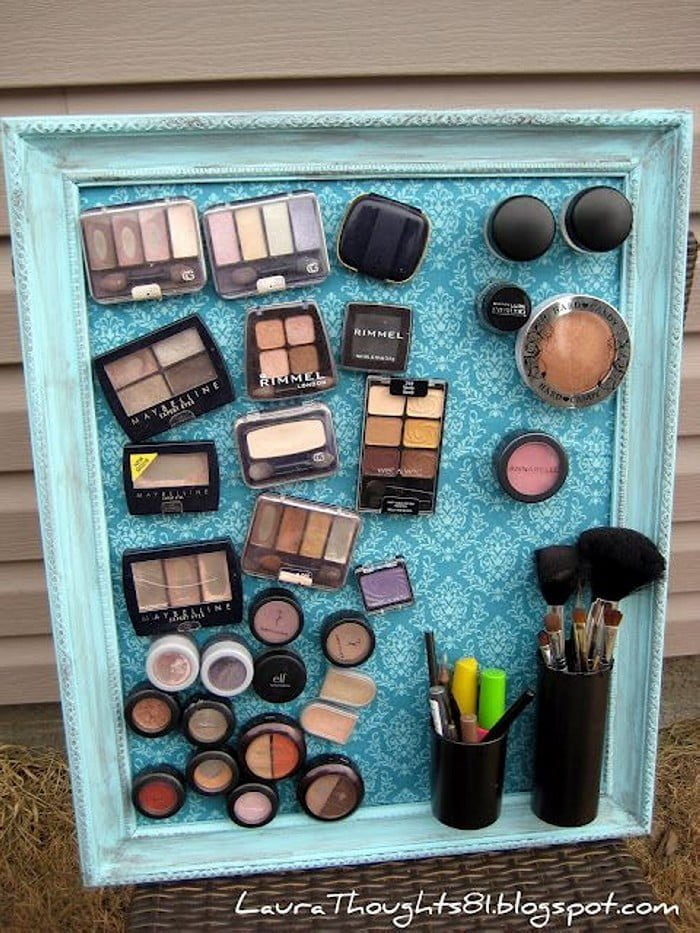 Another addition to the wall display trend, makeup isn't left out of being turned into a work of art. This easy to recreate design requires the mildly time-consuming process of hot gluing magnets to the backs of your makeup palettes, pans, and brush holders, but the payoff is a brilliant display that makes it easy to find whatever you're looking for. It's quick to make, needing only a frame and magnetic sheet that can be dressed up with spare fabric or scrapbook paper to match or accent colors and patterns found in your space.
40. Bedside Table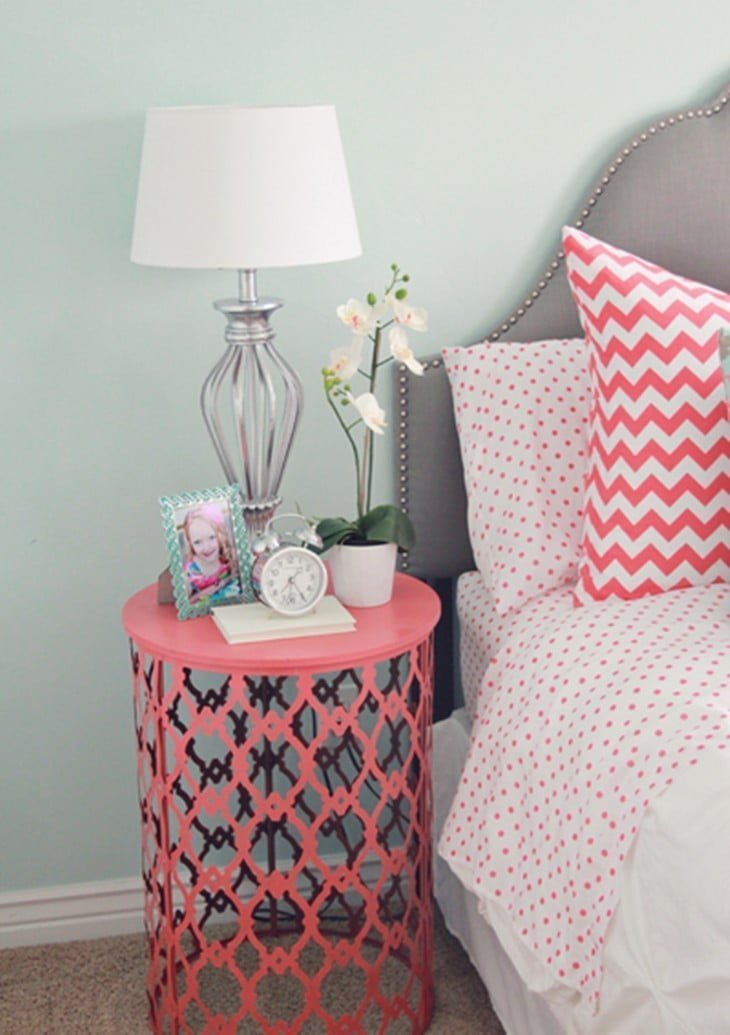 Often overlooked in teenage girl's bedrooms is the bedside table, a convenient spot to store anything you may want close at hand. In many teen rooms, the bed is pushed up against the wall, so only one table may be feasible— this choice makes the most of that by being vivacious and intricate. The best part: it's a repurposed waste basket. Given a coat of paint and flipped upside down, a waste bin can be utilized as bedside table that looks young and fresh, though it is lacking in drawer space. Still, this fashionable piece offers an easily accessible spot to stash a phone, alarm clock, or bedtime reading material.
41. Artsy Storage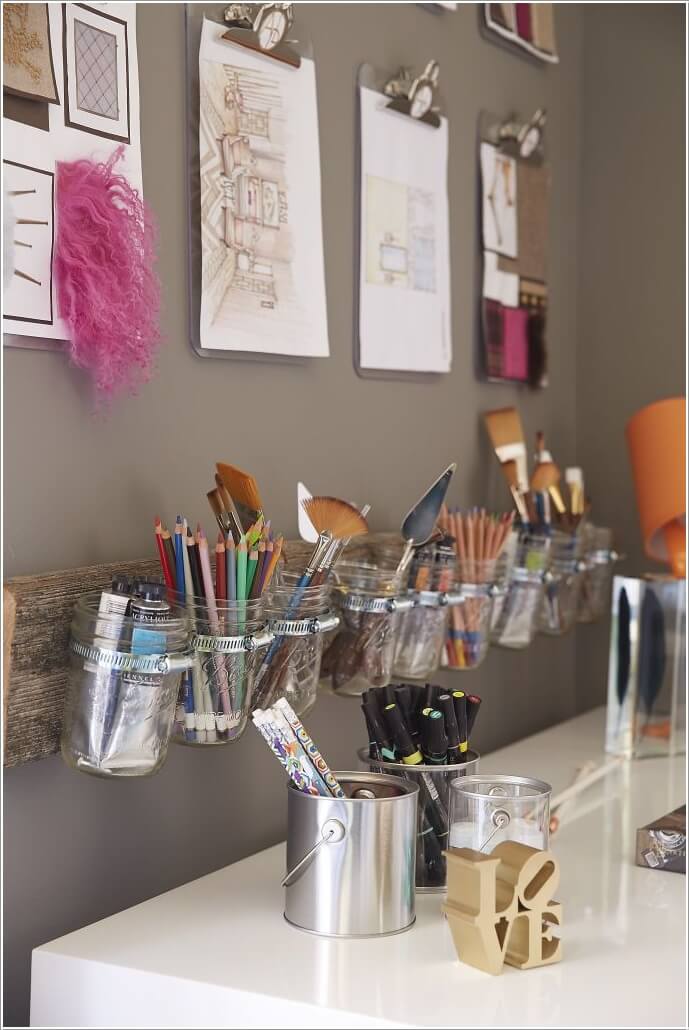 If you're wanting for storage space for craft supplies, once again, you can take to the walls. This inspired choice trades traditional frames for clipboards, which look amazing and makes it easy to constantly switch out and display new works of art. All the creative supplies are easily discernible and quick to grab in their trendy, country chic mason jar containers mounted to a piece of natural, unfinished wood that gives the otherwise clean and modern workspace a certain outdoorsy charm. The tame brown palette is complemented by a bold orange lamp that makes the space feel more fun and young.
42. Be Bright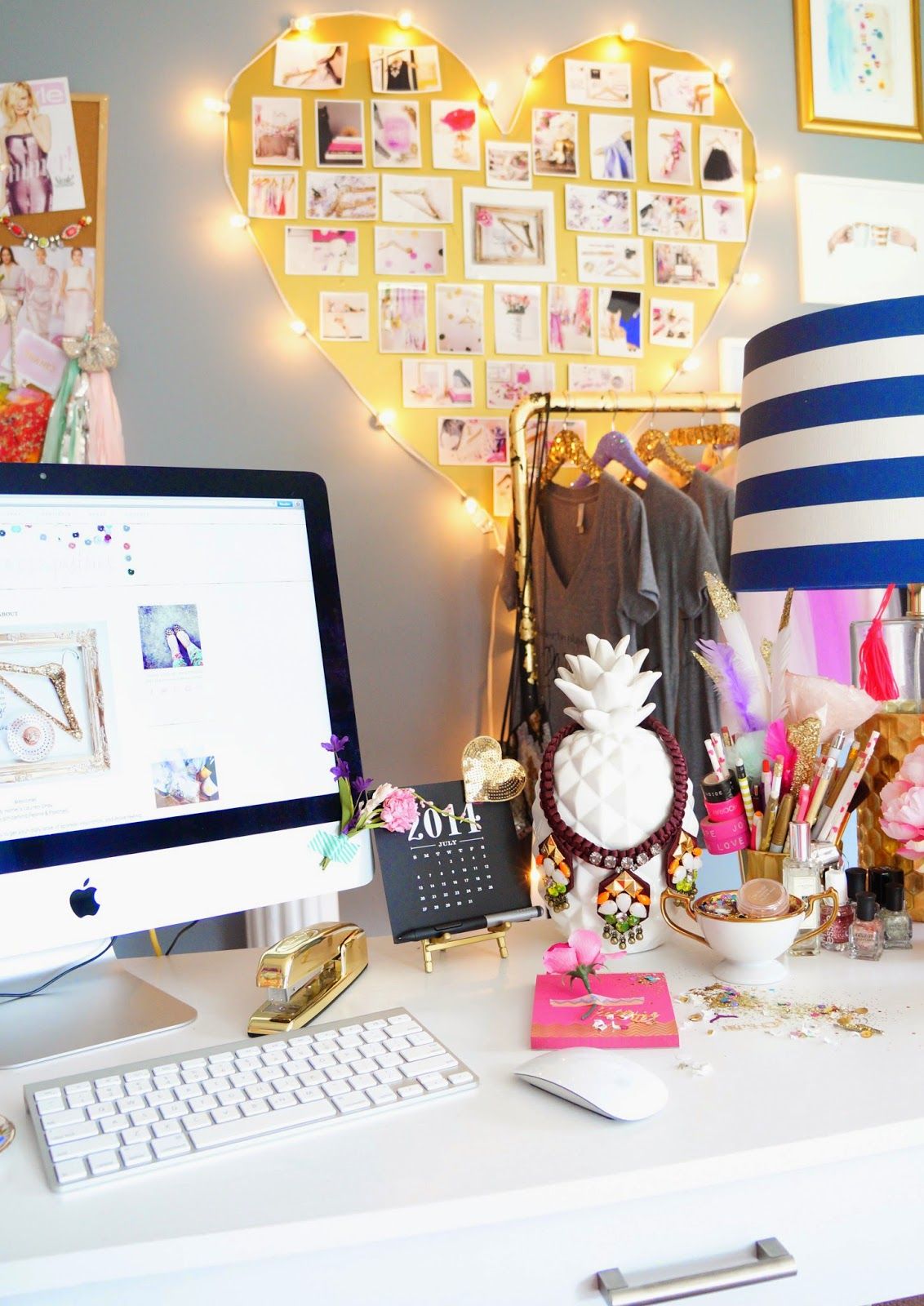 Bold and unabashed, this workspace setup is strikes a delicate balance between eclectic and obscene. Individually, the elements used only have one or two things in common, but they come together to form a vivacious and cohesive whole that's extremely fitting for a teenage girl. This space is not afraid to multitask, an attribute that's abundantly useful in smaller bedrooms where a vanity and desk might not be an option. Clever use of complementary colors blue and yellow makes for a fun and striking display of bright, vibrant choices that clash in the most enjoyable way.
43. Go Retro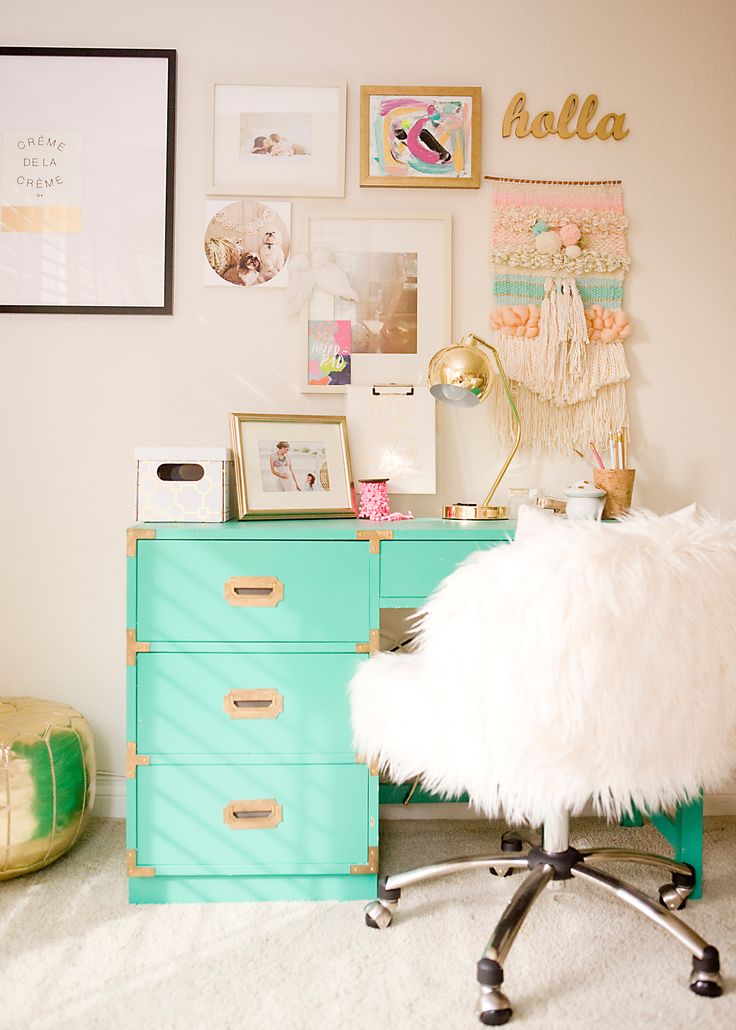 Source: The original source is not available anymore.
This vintage inspired work area combines retro and modern to make a uniquely fun space. The upcycled mid-century filing cabinet desk is a great statement piece that's bright and beautiful. A bulbous gold desk lamp feels very 1960's, pairing fabulously with the similar era desk. The silhouette of the chair goes hand in hand with these two pieces while also adding some 70's shag to the mix. Modern wall art keeps this design from looking too dated, though the abstract art and crochet hanging would be right at home in the 70's. A gold metallic pouf brings everything into the modern day, perfectly complementing the other gold accents.
44. Go Vertical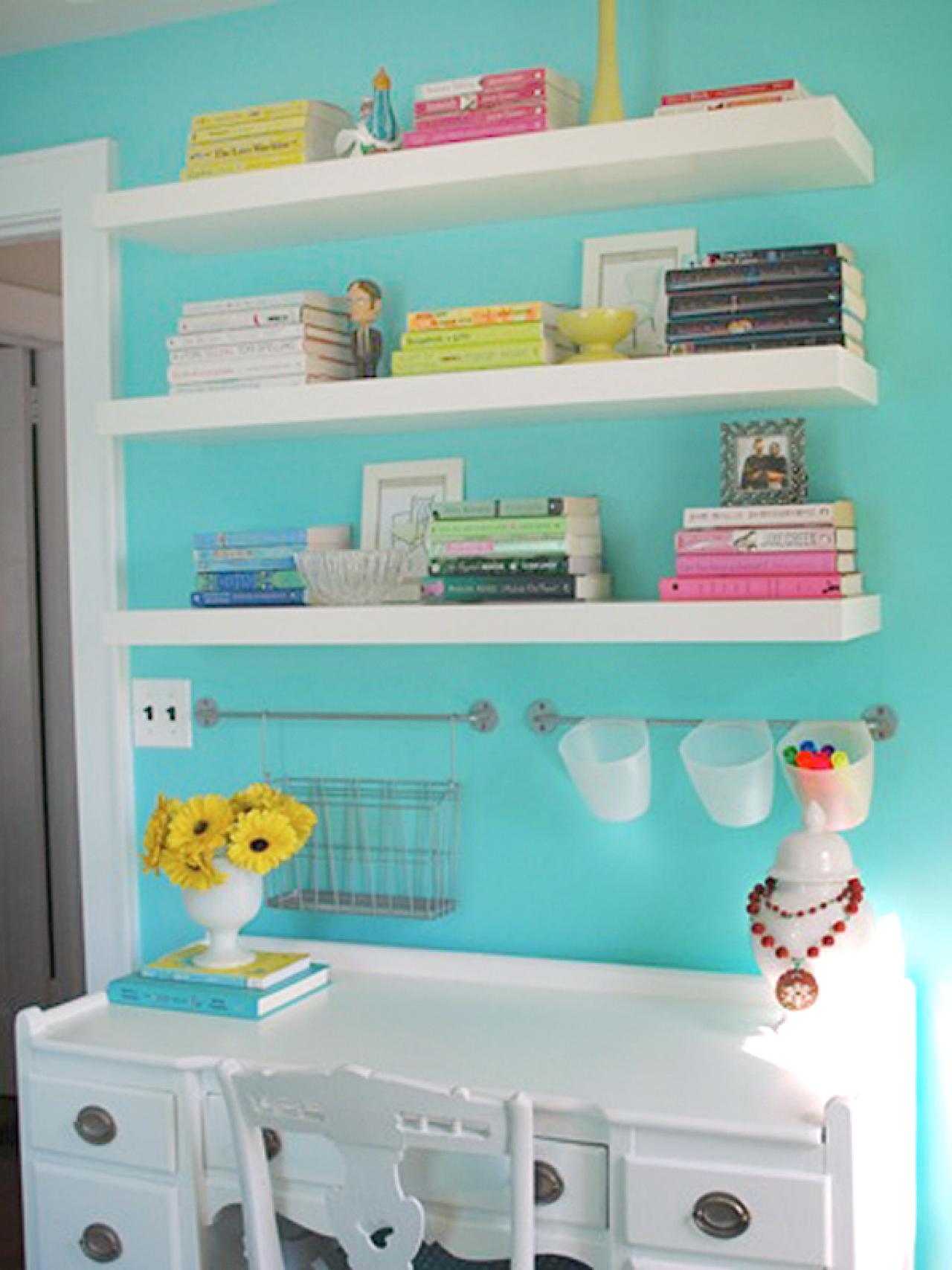 If you're wanting for space, making the most of wall real estate is a must. A towering behemoth of a combined desk and shelves can feel stuffy, counterproductive to giving the illusion of space in an otherwise small room. Going up makes the ceilings feel higher while also adding tons of storage space that would typically go to waste. Floating shelves provide more openness without sacrificing storage, adding an abundance of space for books and knickknacks. Curtain rods with hanging baskets give ample storage for smaller pieces that you might want near at hand. All of this adds up to a clean and uncluttered desk that further fosters the feel of openness.
45. Colorful Organization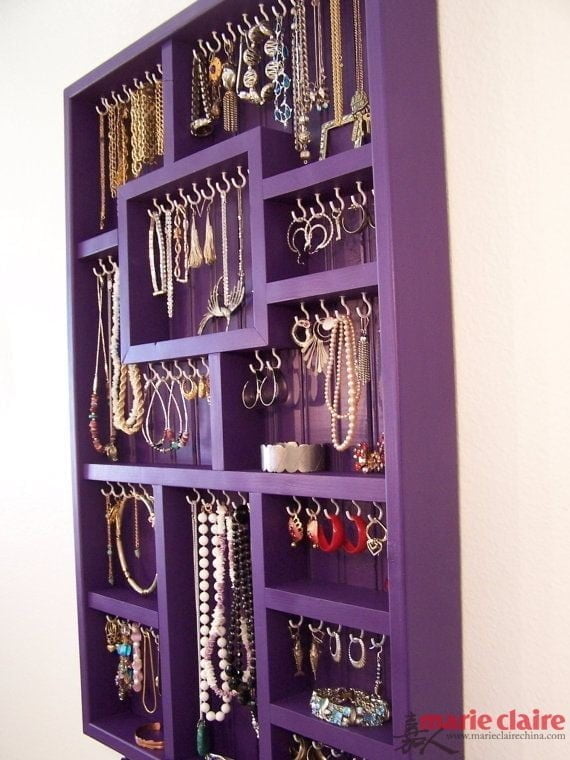 Source: The original source is not available anymore.
A slight remix on an earlier idea, this geometric shelf turned jewelry organizer swaps the natural wood stain for an energizing deep purple shade. This is a fun and young twist that makes it easy to incorporate bold hues in a slightly more unconventional way.
46. Shoot for Gold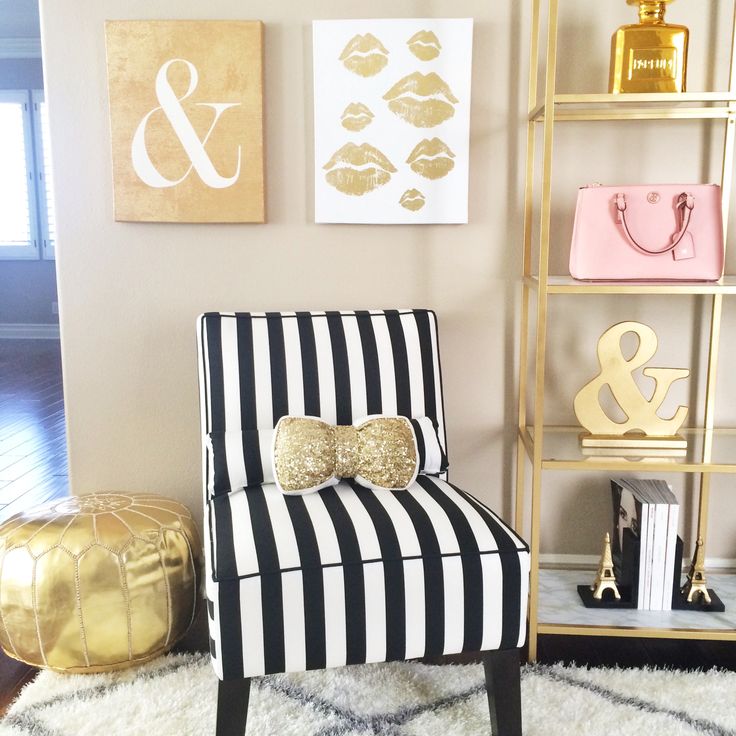 Source: The original source is not available anymore.
Gold is a rich and warm shade that is simultaneously inviting and extravagant. This space walks the line between glitzy and garish by paring down the gold with thick black and white stripes and a black and white geometric rug. The marble and glass combination shelf is a great addition to the swanky style, a perfect pairing to the gold accents it puts on display.
47. Musical Genius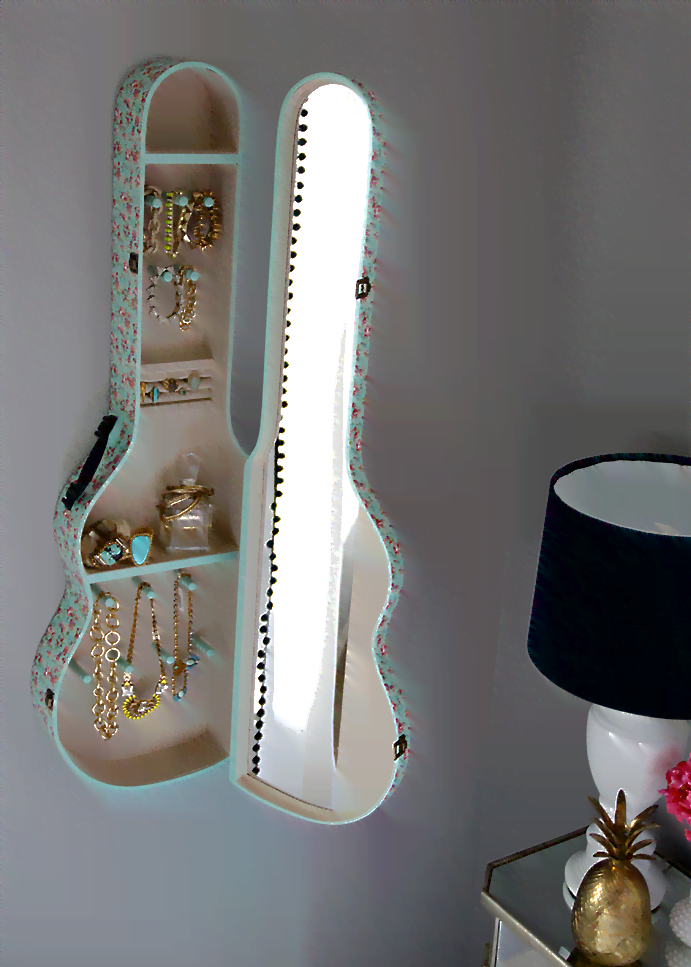 A brilliant method to add storage space and repurpose old cases, this ingenious jewelry display is an excellent way to show off your musical soul. A guitar case wouldn't typically come to mind as a good spot for stashing jewelry, but fitted with a specially cut mirror and shelves, an old, beat-up case can find new life hung up on a wall. Leave the appearance as-is for the sentimental value, or mix and match fabrics to give it a fresh facelift.
48. Geometric Pastels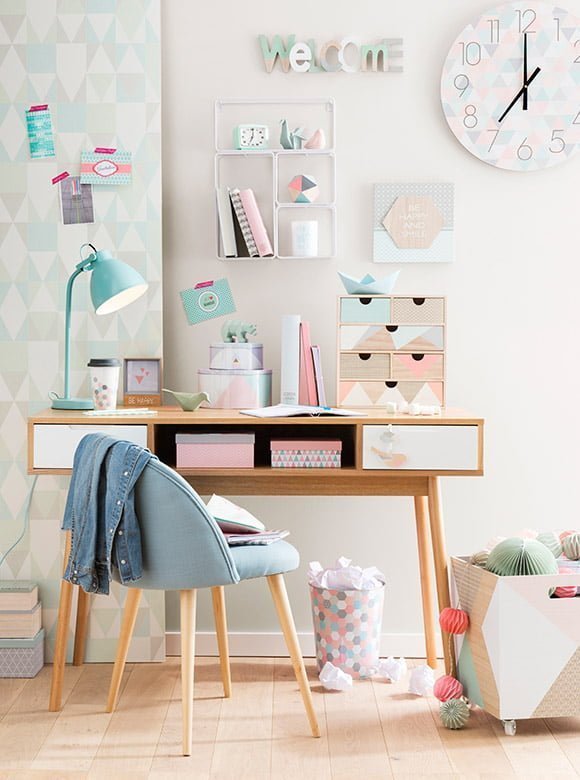 Source: The original source is not available anymore.
Modern lines inspired 60's style give this work space a vintage feel that pairs well with the geometric patterns running rampant through the design. The choice of pastel palette lends well to choosing a variety of colors without feeling too busy, an excellent choice for a teenage girl's bedroom. Pastel hues, though more tame, are plenty cheery and make the area feel airy and light. The utilization of wall and floor space turns the small area into more of a workhorse than relying solely on the desk, whose space is well-utilized to provide storage without sacrificing ample workspace.
49. String Art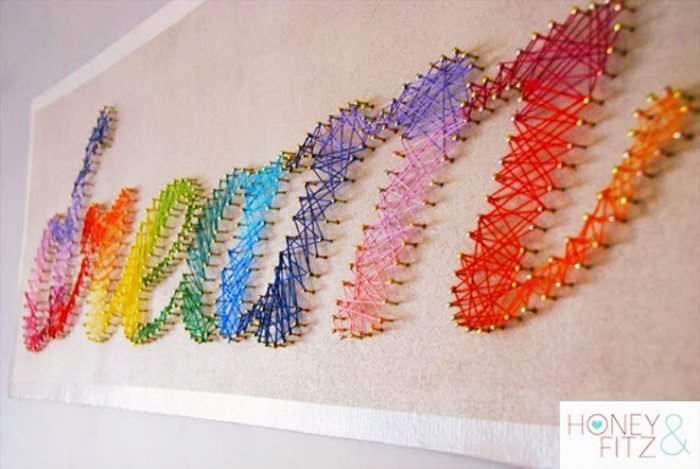 A very fun and zen project, string art is all the rage at the moment thanks to its endless customization options. This particular piece is very colorful and full, bringing a rainbow of vibrancy to a room, but you could choose a monochrome palette or a single color as befits your aesthetic. String art can also be done wrapping just the outline of a word rather than filling it in, or can be completed more sparsely than the densely packed design pictured.
50. Put a Bow On It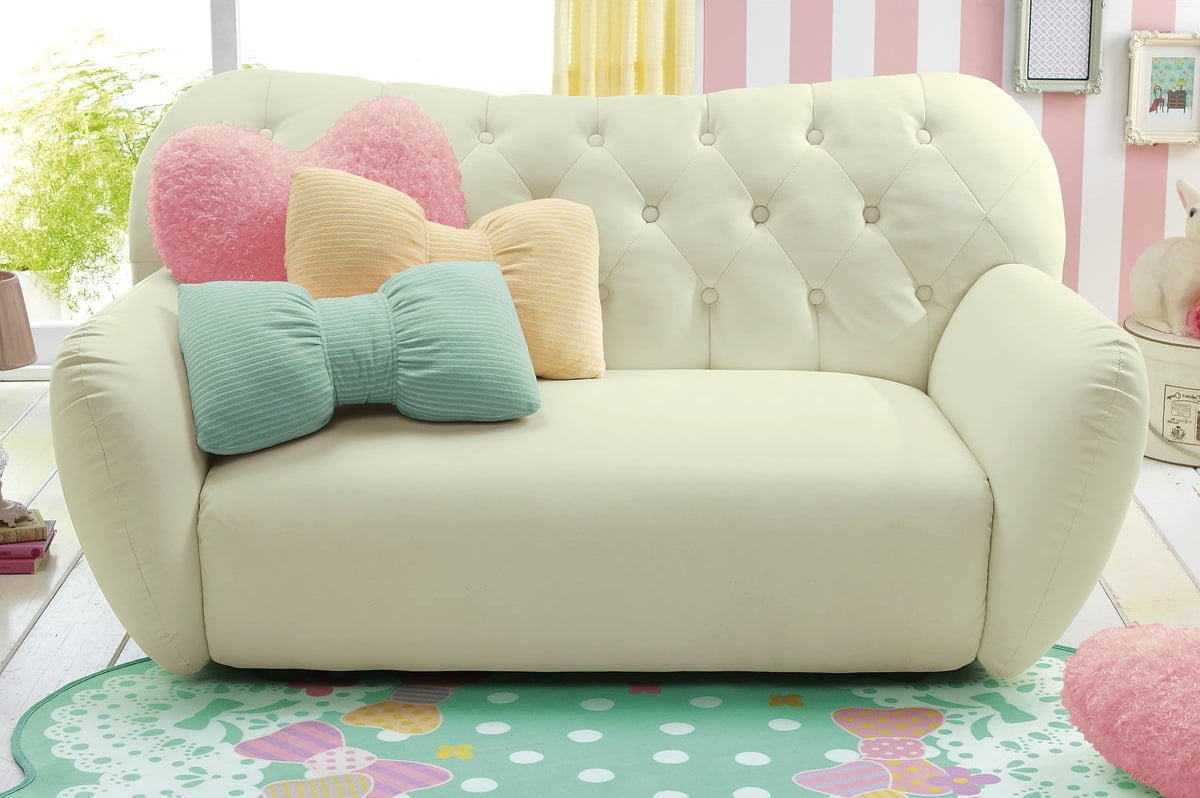 Ruffles and frills might feel too little girl-y included in teen girl room ideas, but bows can be made chic and fashion-forward when done right. Bow shaped pillows give this plush overstuffed sofa a candied sweetness and draw parallels to the bow-shaped silhouette of the back. Pastel pink striped walls give the room a feeling of walking into a sweets shop, complemented by patterned yellow curtains that add a sunny radiance. The polka dot and lace bow rug complete the ensemble in a way that's young without being childish.
50 Stunning Ideas for a Teen Girl's Bedroom
The quest for teen girl room ideas can be long and exhausting; hopefully, this list has provided you with the inspiration necessary to go out and create. Many of the ideas presented can be mixed and matched to form a unique style, granting your teenager her own personal oasis to retreat to and relax in whenever she likes. Any of these designs should help catapult you on your journey to a room your teenager can be proud to call her own.