15. Rose Quartz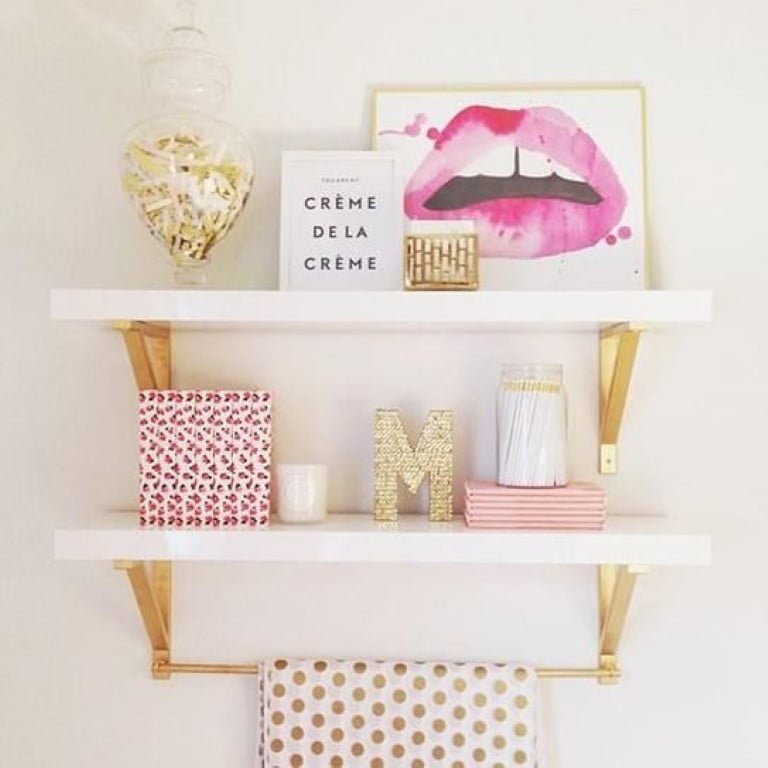 Half of the duo that makes up Pantone's Color of the Year, rose quartz is a warm, welcoming color that's also fabulously chic when paired with gold metallics. In this display, the pink touches make the collection of knickknacks look inviting and homey, contrasting with the luxury gold tends to exude. Taken in as a whole, the decor reads as homey but extravagant; intimate, but indulgent.
16. String Light Photos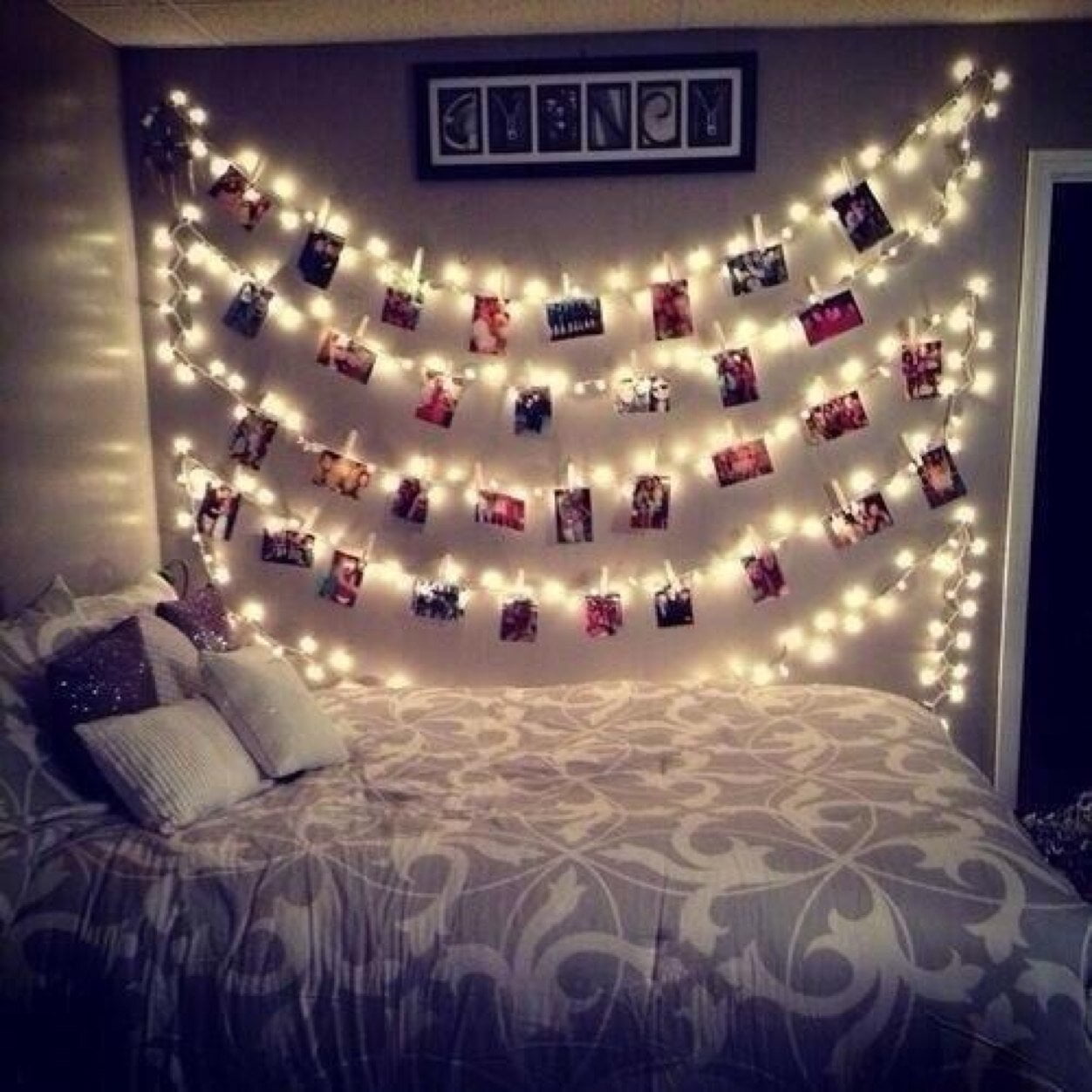 Since most of us aren't pinning up the washing anymore, clothespins have found a new function in the form of holding up photos. This particular rendition of clothesline photo hangers swaps the jute or twine for paper globe lights, creating a bright and lively eye-catching photo display that has the capability for constant evolution as you add to it over the years. The sweet and meaningful piece of artwork is a fantastic way to brighten up an otherwise dark corner of a room that has no space for a floor or table lamp as well, a trendy and useful choice. String lights have seen a surge in popularity, making for a great variety of styles with a fit for just about every aesthetic.
17. Flower Cascade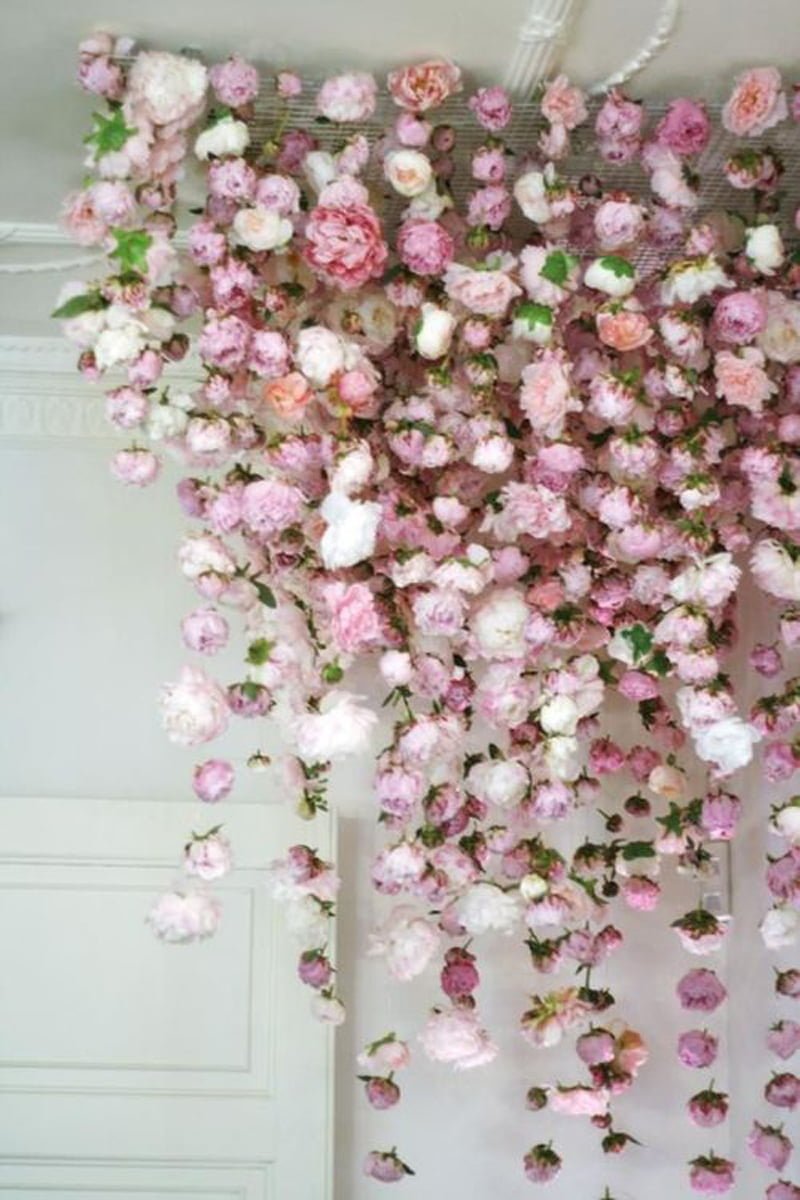 A waterfall of flowers certainly brings the ephemeral bliss of springtime indoors in a lasting way. This enchanting display is so delicate and otherworldly it's sure to draw constant compliments and inspire a feeling of stepping into a magical fantasy. Whether as a complement to sweet and dainty French Rustic decor or a contrasting softness to temper sharp, modern lines, a fabulous flower chandelier is a breathtaking addition to any teenage girl's bedroom design. The design is so uncomplicated to emulate that it could be recreated in any shape, size, color, and flower type, meaning for an easy match to a number of styles.
18. Clothesline Photo Frames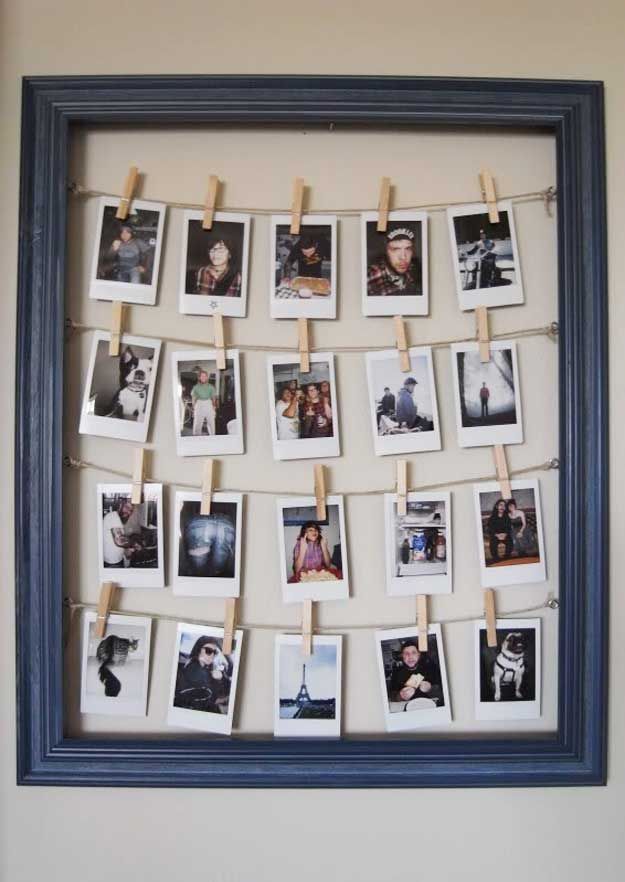 For a rustic yet clean way to display pictures, bringing the washing line indoors and putting a frame on it is all the rage. Naturally at home in a room with a shabby chic or country flair, this simple piece can be elevated in elegance by swapping the jute line for clear twine or fishing line, painted or metal clothespins, and metallic hooks. The options for customization are nearly endless, making this an inexhaustibly customizable option that can find a place in any room design.
19. Simple and Inspiring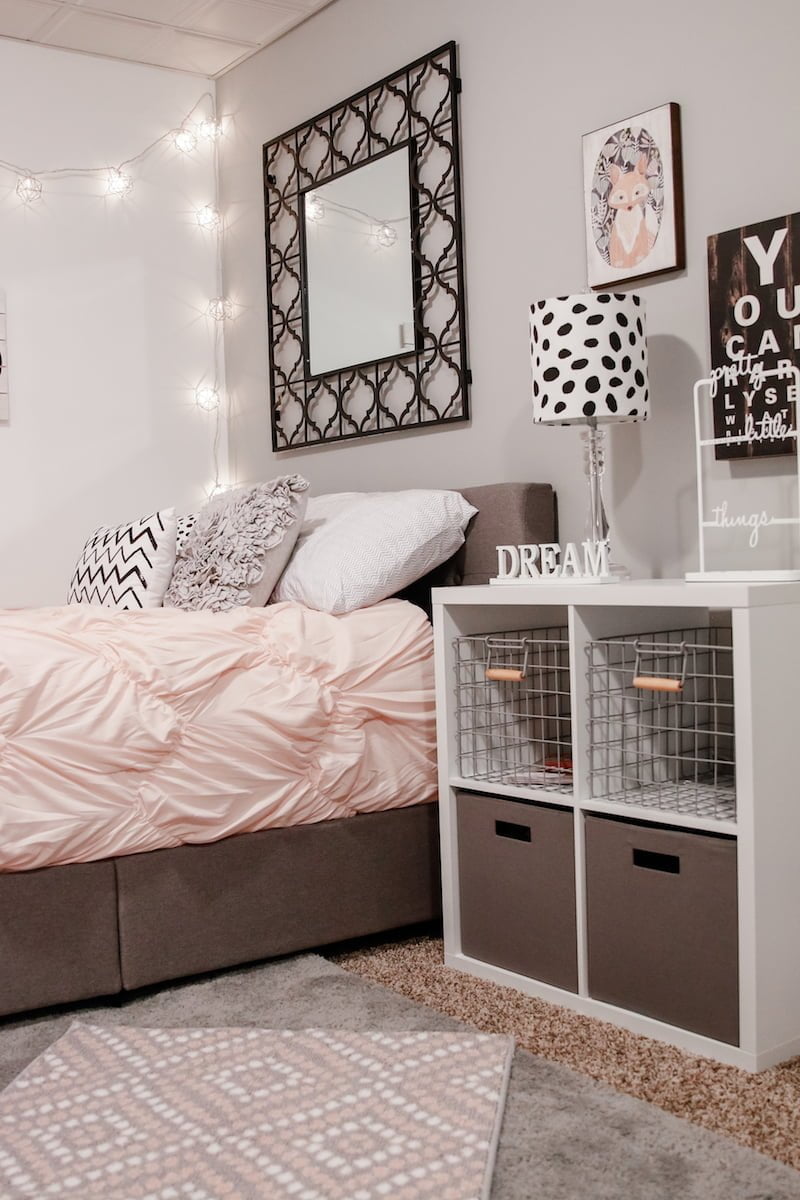 Girly doesn't necessarily need to mean ruffles and dolls, and for the more minimalist teen, elegant and classy can read just as feminine as frills and bows. This modern room is rife with geometric and animal prints, clean lines, warm colors, pretty little things, and a delicate touch to perfectly convey its feminine allure. Some princesses are more understated, and this space flawlessly evokes feelings of timeless royalty— like Princess Diana or Kate Middleton channeled into a brilliant and refined design.
20. Chalkboard Paint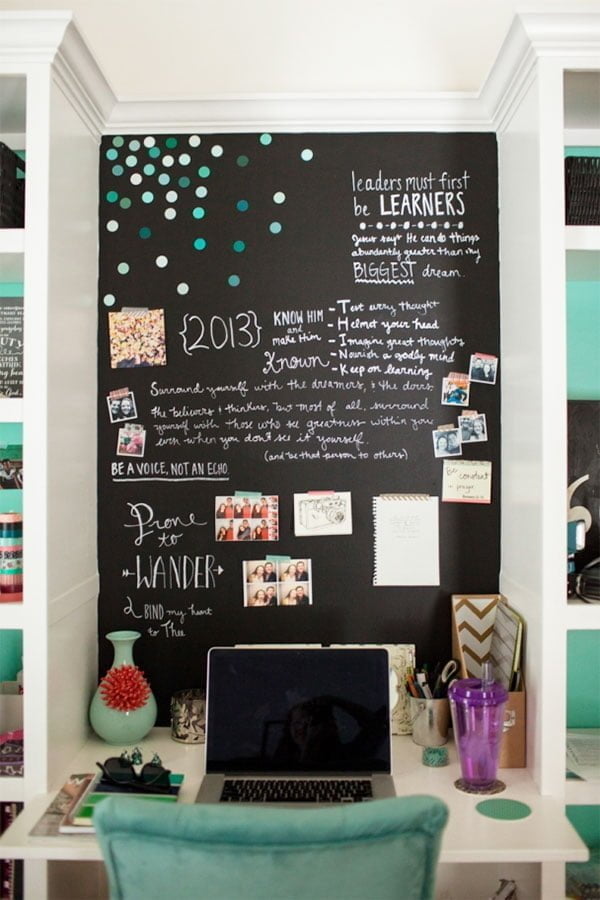 Designate a space where creativity can abound by coating the wall behind a desk with a layer of chalkboard paint. This makes dreaming up a work of art effortless, and when the spark hits, wiping away the last piece and creating something brand new takes minutes. For the not so artistically inclined, a chalkboard backing can be used to keep track of events or due dates, leave notes and reminders, or pen inspirational quotes for when life gets a little hectic. If painting a wall feels a little too permanent, a large corkboard can be painted and framed to get a similar effect without the need for a complete renovation if the idea loses its novelty.
21. Monograms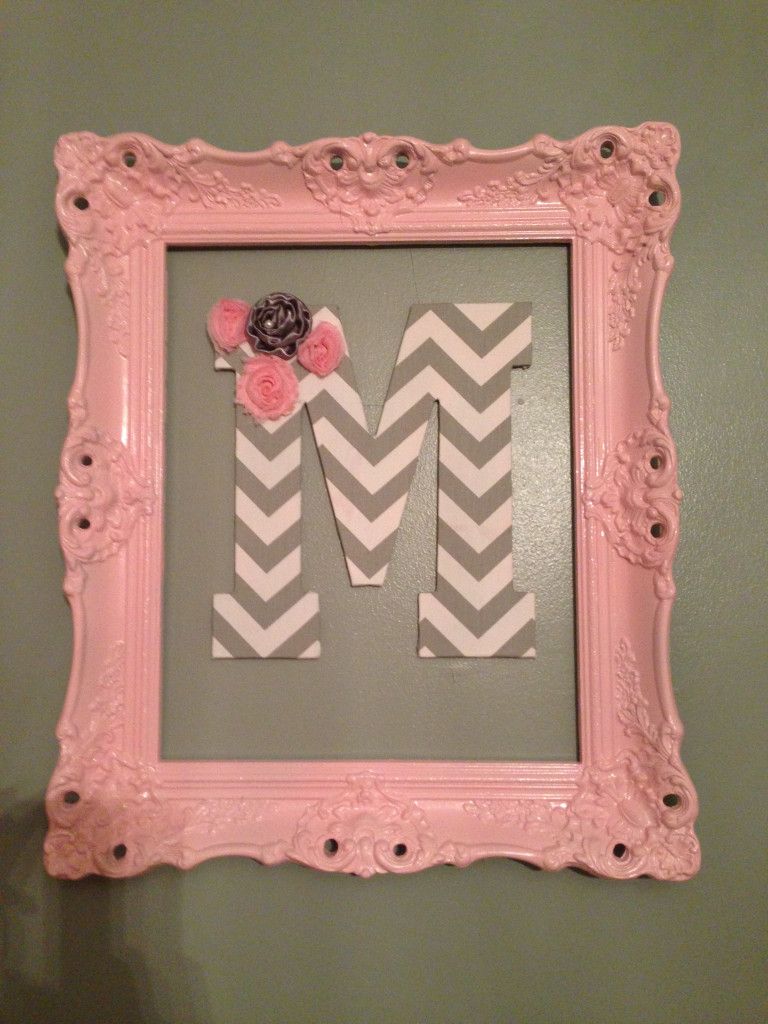 To make a room feel like "mine", decorate with the thing that is wholly yours: your name. An initial, a nickname, or the complete thing, any choice can be made to look amazing on a wall. Go simple with a plain wooden initial, or pile on the pizzazz by giving it a chevron design and a floral accent, upping the drama with a fancy matching frame. There's no end to the ways you can personalize plain letters: wrapping with yarn, gluing on shells, glitter, sequins, glass, a mirror mosaic, you name it.
22. Blue Diamonds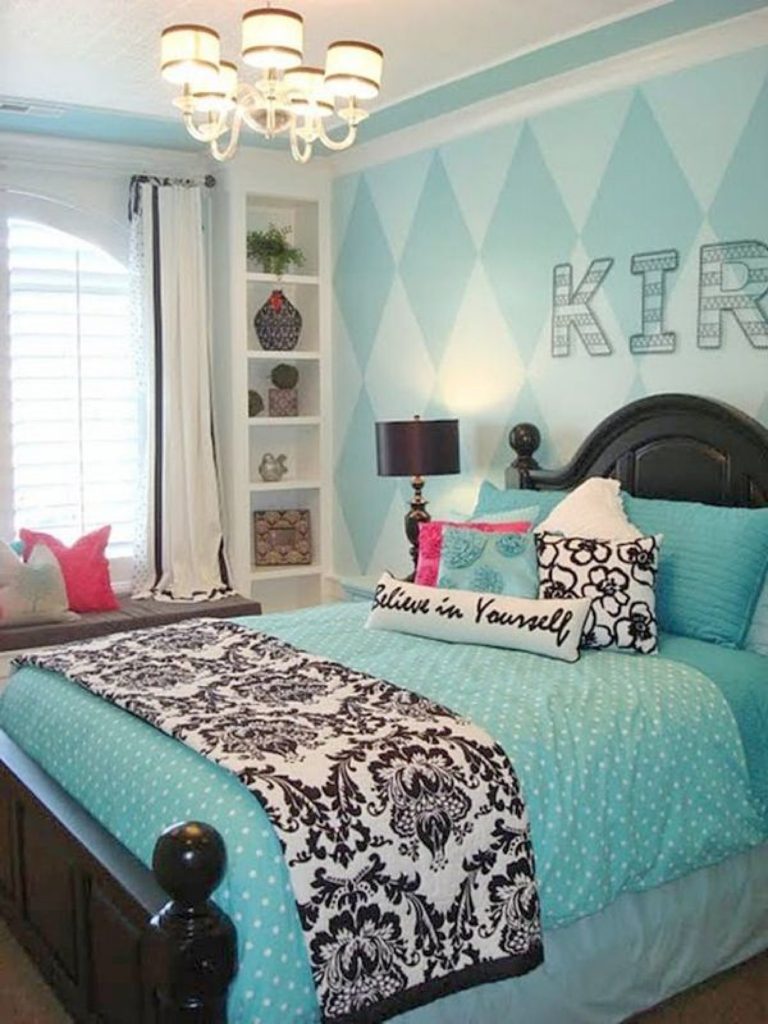 Not typical of teen girl room ideas, this design makes use of a mixture of girlish prints to turn the normally masculine blue into a serene feminine oasis. The choice of blue makes the room feel tranquil, while the pops of bright pinks add interest to an otherwise monochrome design. The mix and match of patterns creates many attractive focal points; every aspect of the space gets in on the fun with a diamond accent wall and exotic printed vases and picture frames. The inclusion of plants ties in a natural element, adding to the invoked feelings of calmness and making the space feel alive.
23. Ombré Art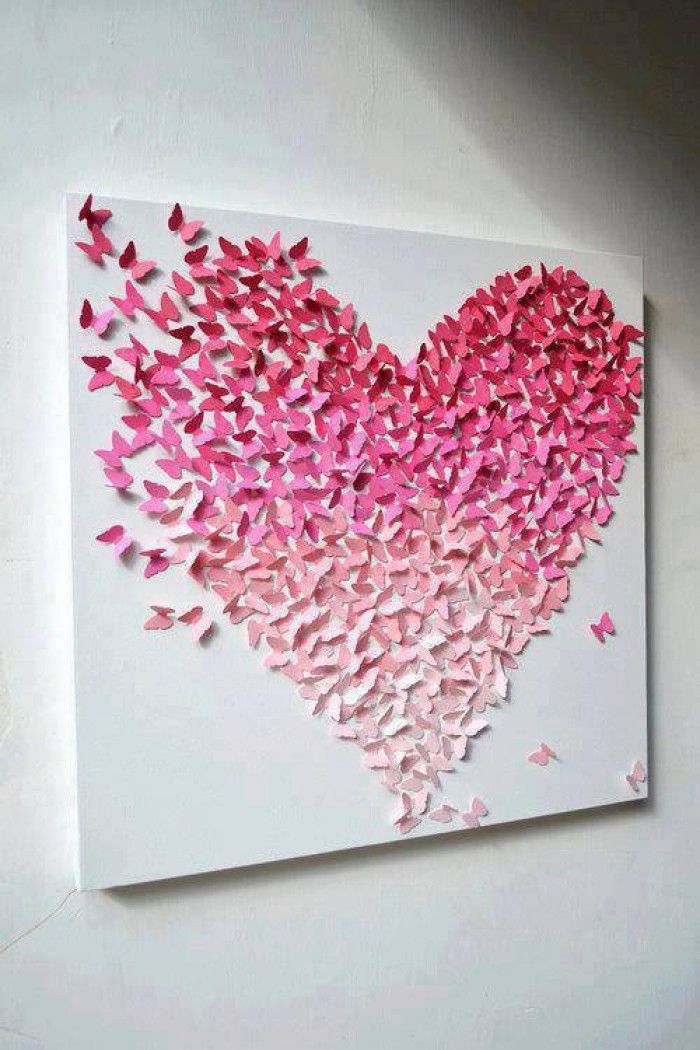 This delightful paper butterfly artwork capitalizes on the ombré trend that's held steady in its popularity over the past few years. The three dimensional design of the piece gives it an almost bewitching allure, as if the cloud of butterflies might become corporeal and take flight at any moment. Smooth gradient transitions are a wonderful way to incorporate many shades of color, making for a more exciting look than one flat hue. The artwork could be replicated at home, allowing for choice in color and shape, but the sweet symbolism of a heart full of butterflies will no doubt speak to the romantic in anyone.
More teen girl bedroom decoration ideas on the next page…