24. Personalised Toy Box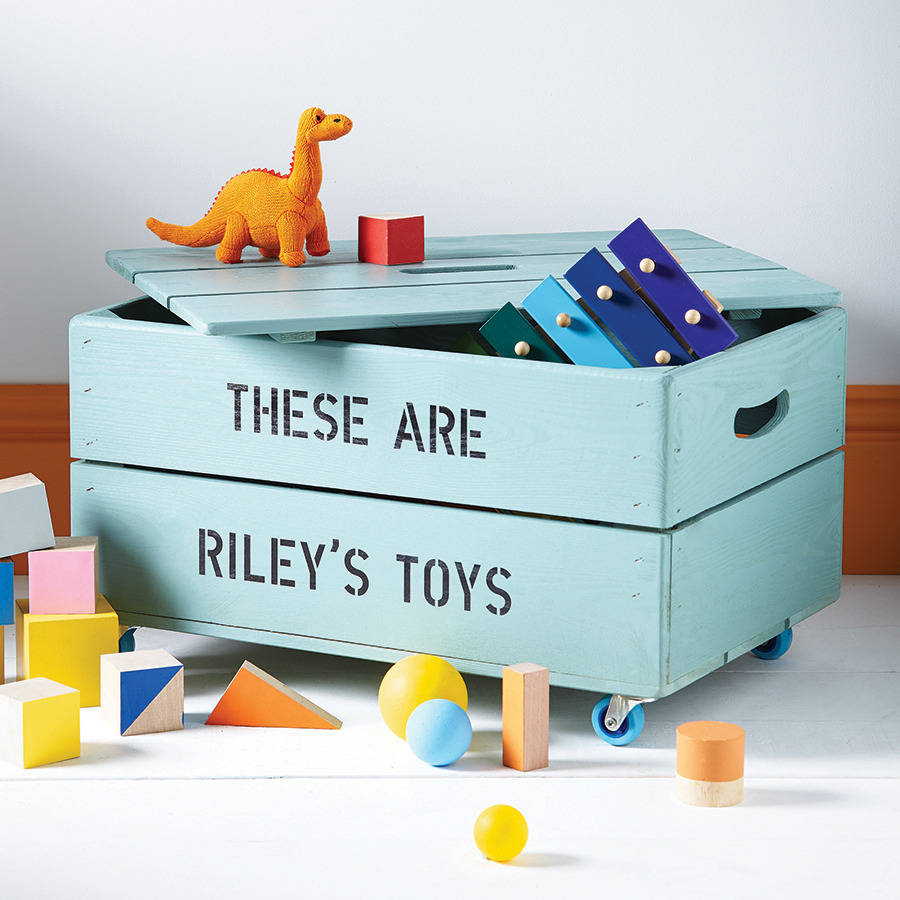 This cute toy box will let everyone know who's toys are inside. Purchase one kid's toy storage boes these for each of your children and it will be easy for them to put their toys away. The nice thing about this particular personalised toy box is that it's on wheels and has a small handle on the size. Once the box is full of toys, it can be hard to move it from place to place, but the wheels make this easy to do. You won't have to make a bigger mess taking all of the toys out if you simply want to rearrange the furniture.
25. Peg Board Perfection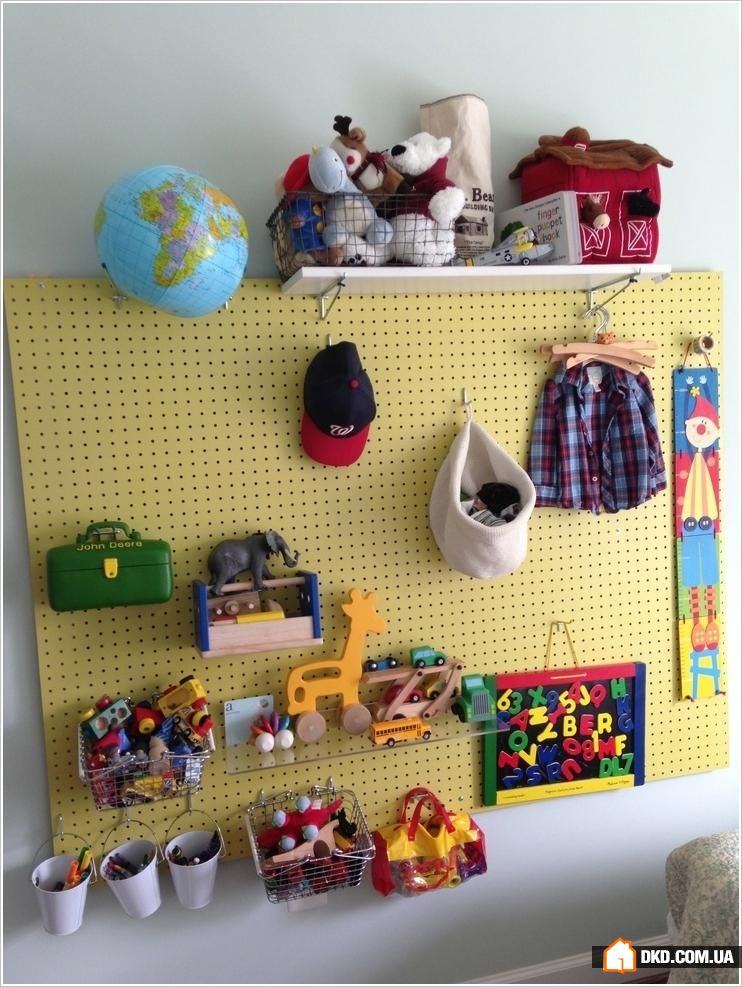 Peg boards like you see on the wall here have hundreds of holes, making storage a breeze. If you can hang it, you can fit it on this board. Hooks can go into any of those holes, so it's easy to move things around to accommodate things of different sizes. Use it to hang things like hats or clothes, and also smaller containers of toys. Note that this won't be able to hold up heavy items, so it's not the place to put blocks, but it can definitely hold smaller things like craft supplies.
26. Doll Clothes Closet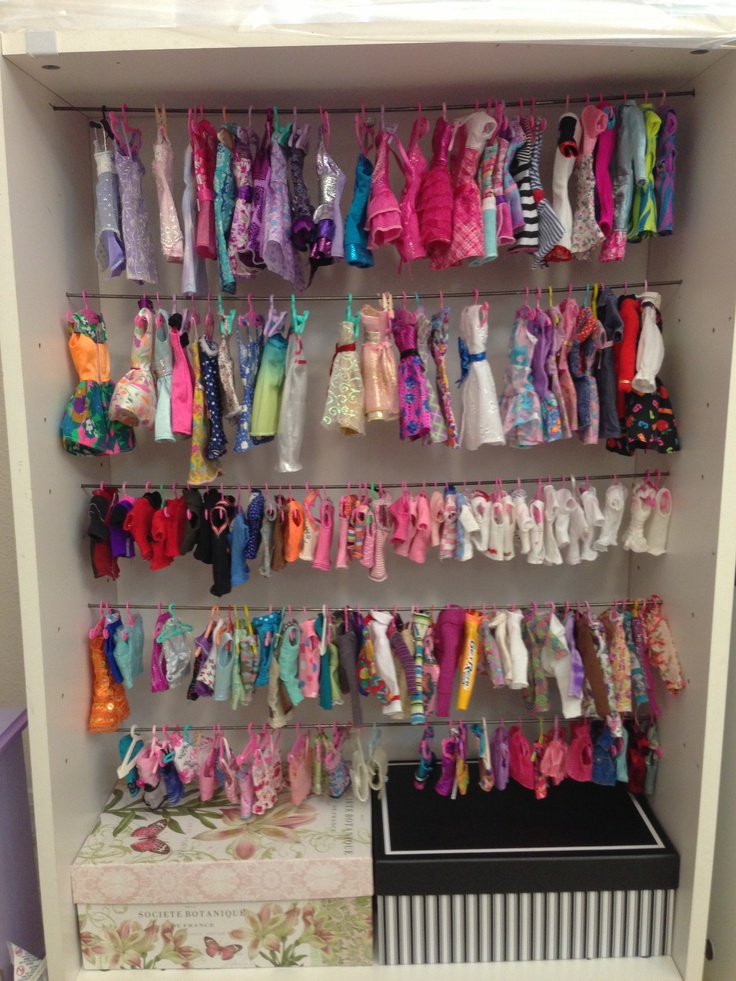 If your little one loves dressing up her dollies, you probably have a lot of doll clothes lying around. It's tempting to stuff them all into a shoe box, but this can make it difficult to find the clothes she wants. Instead, transform an old bookshelf into a doll clothes closet. Simply remove the shelves and put poles along the inside. Specially-purchased hangers will hang the doll clothes nicely, but clothespins can also do the trick, especially for things like pants. You can keep some of those shoe boxes on the bottom for the shoes and accessories.
27. Super Toy Box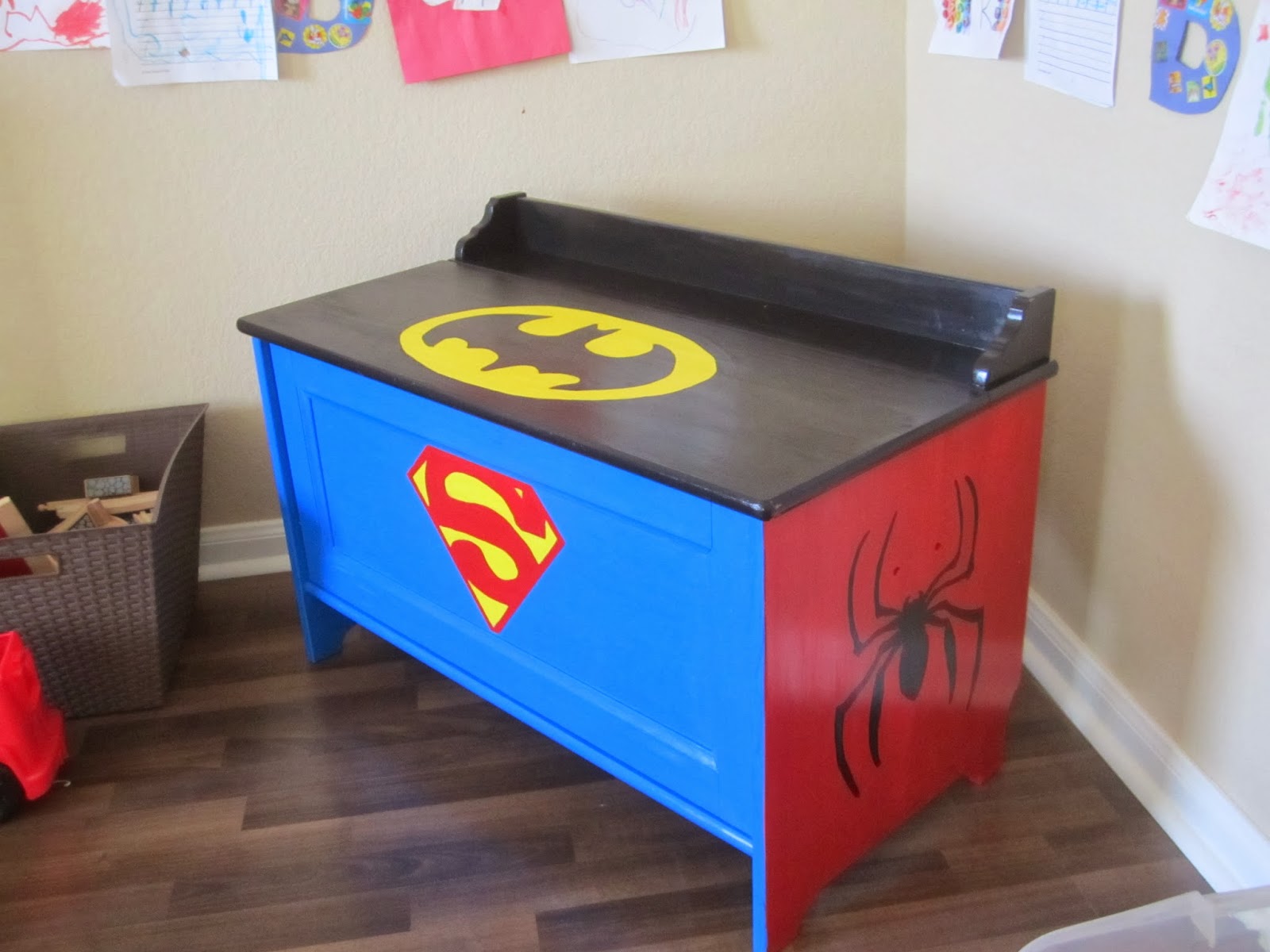 A personalised toy box doesn't necessarily have to include your child's name. Instead, have it painted with something that relates to his or her favorite character. For instance, this toy chest features designs that relate to Spiderman, Super Man and Bat Man, and the designs are easy enough to do on your own. Even a basic toy box that's been painted in her favorite colors or with a favorite animal could be a big hit. Any little thing that makes your child more excited about using the toy box is a good thing.
28. Built-Ins for Play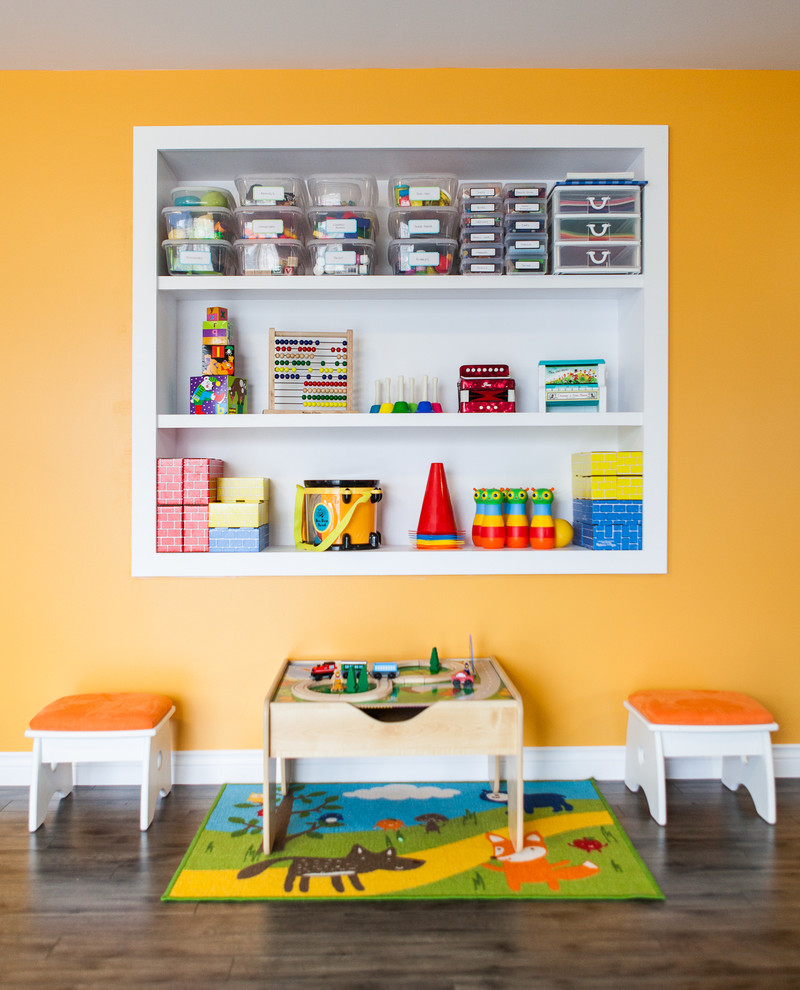 Many older homes have built-in shelving units that could work perfectly as kid's toy storage in your play room. For an interesting look that fits in with your home design, consider painting the shelves a color that contrasts with the walls. One of the benefits to using built-in shelving is that it's typically high up. This might mean that young children aren't able to help as much with the cleaning up, but it also means that they can only play with the toys you help them take down. Smaller plastic shelves placed on the built-ins help keep smaller toys organized.
29. Tables and Boxes for Fun and Storage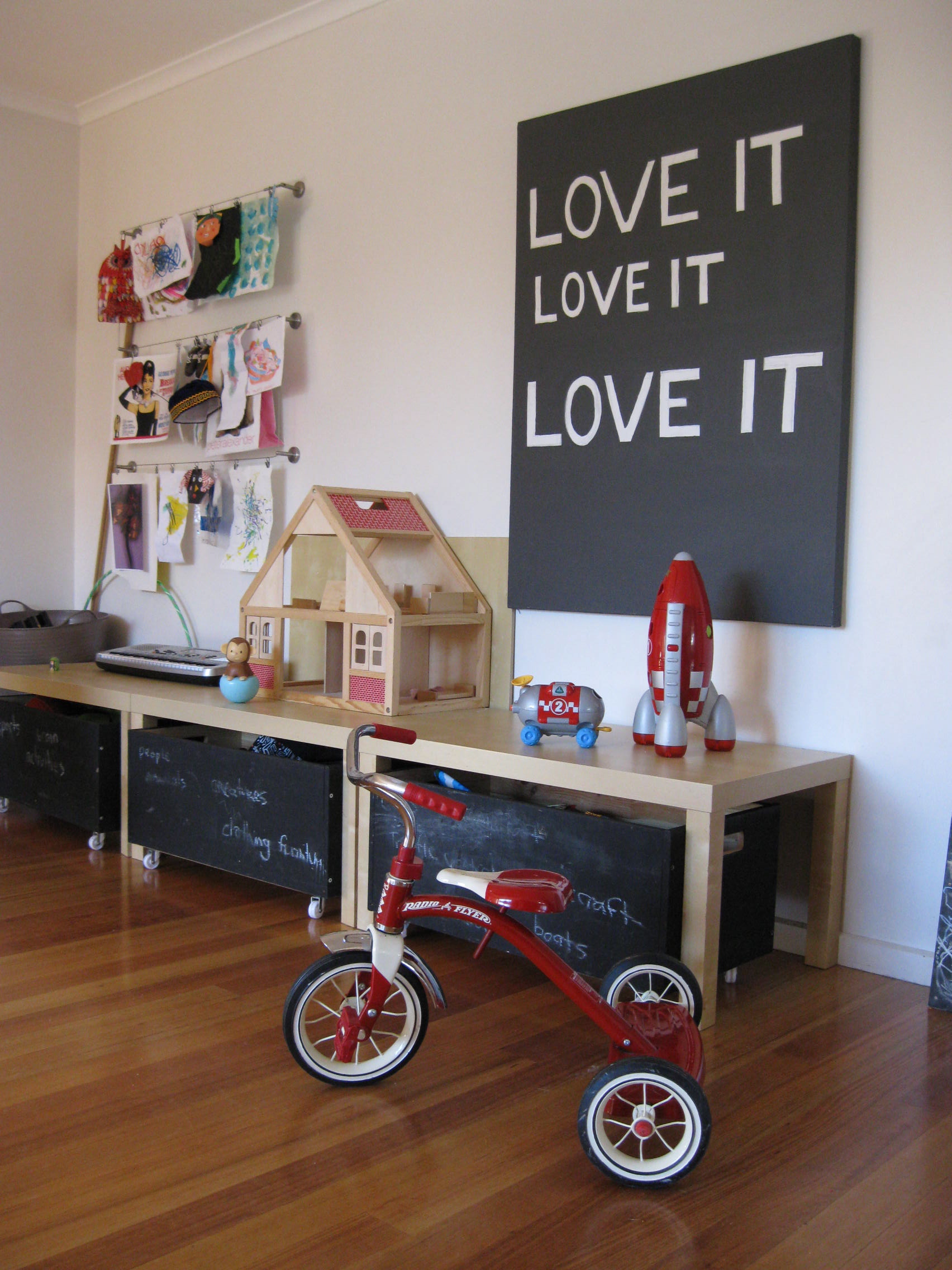 This is a fantastic DIY idea that can work well for just about any family looking for toy storage ideas. They've lined three low tables in a row, and these tables act as a place to store larger toys, but children can also use the table for play. The boxes were purchased separately and have been placed on wheels to easily slide in and out. Best of all, the boxes were painted with chalkboard paint, allowing children to unleash their creative side in a way that won't hurt your regular home décor.
30. Storage Buckets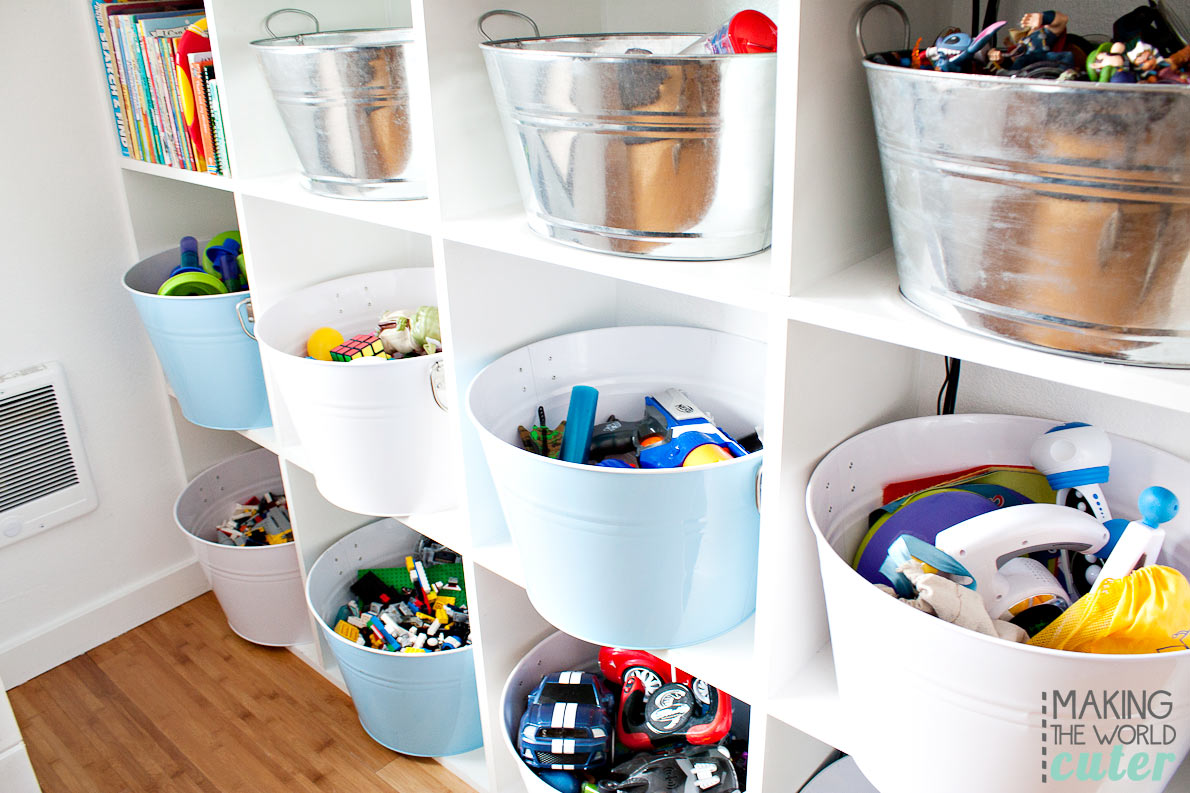 When making use of cube organizers, most people think of using the canvas boxes that are designed to fit in the cubes precisely. However, you needn't limit yourself to this idea for toy storage. Many other types of storage containers fit nicely in the cubes, as you see here with the metal buckets. You might also use baskets or smaller plastic containers that you could stack in the cube as a toy organizer. The downside to some of these looks is that you might be able to see some of the toys sticking out of the top, but most people find that this is a small price to pay for having a more unique look that fits in with their home design.
31. Milk Crate Bonanza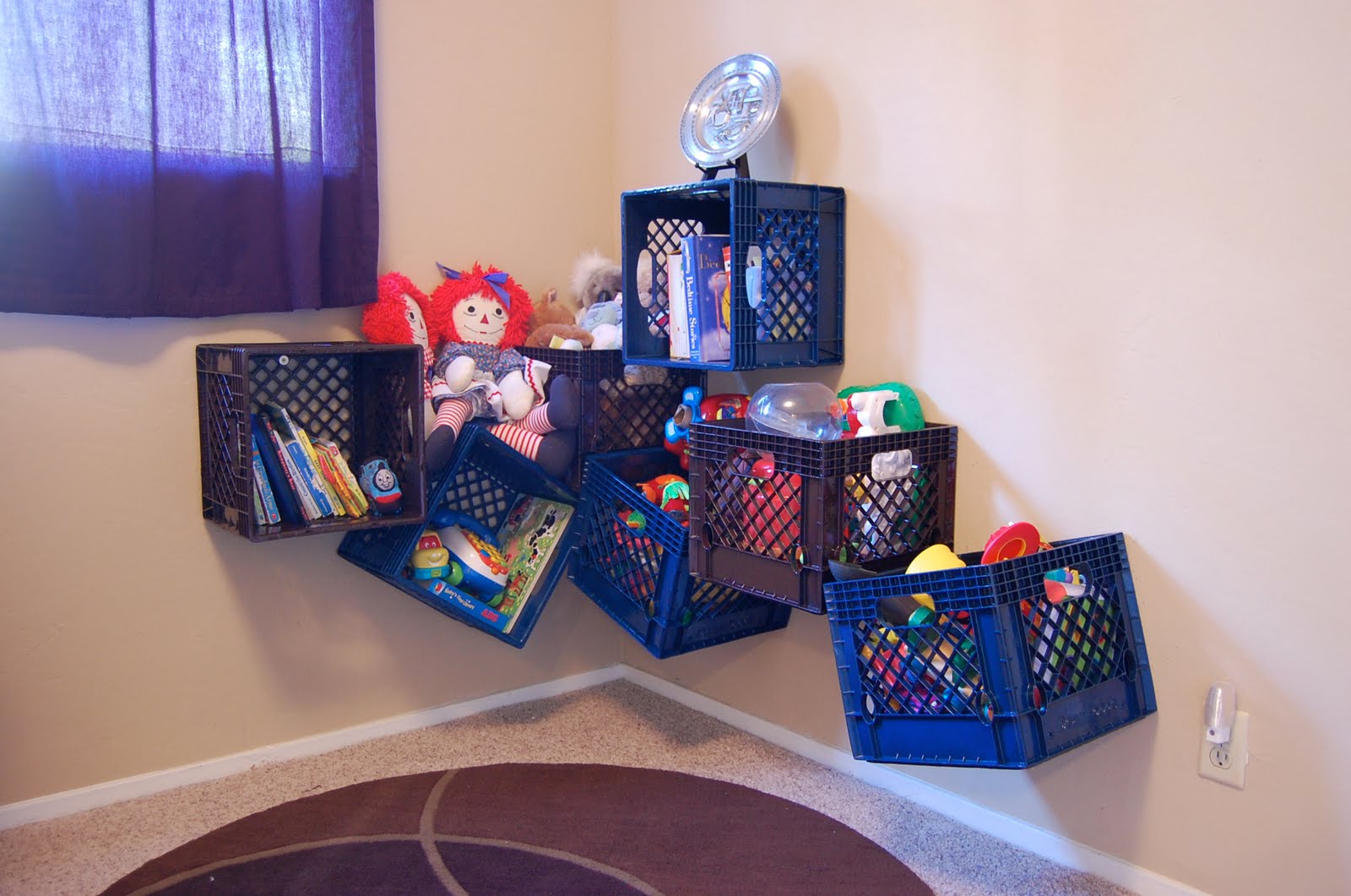 Many people have stacked milk crates for makeshift shelving in the days when they couldn't afford a traditional bookshelf. This idea makes that cool again. Rather than stacking them on the floor, it shows how you can mount them to the wall. What's especially interesting is the way they've mounted them at different angles to look like a jumble of crates. Some are mounted so that they could easily be used as a bookshelf while others are tilted more like a bucket to hold little things. Hanging at odd angles makes it even more unique.
32. Double-Duty Storage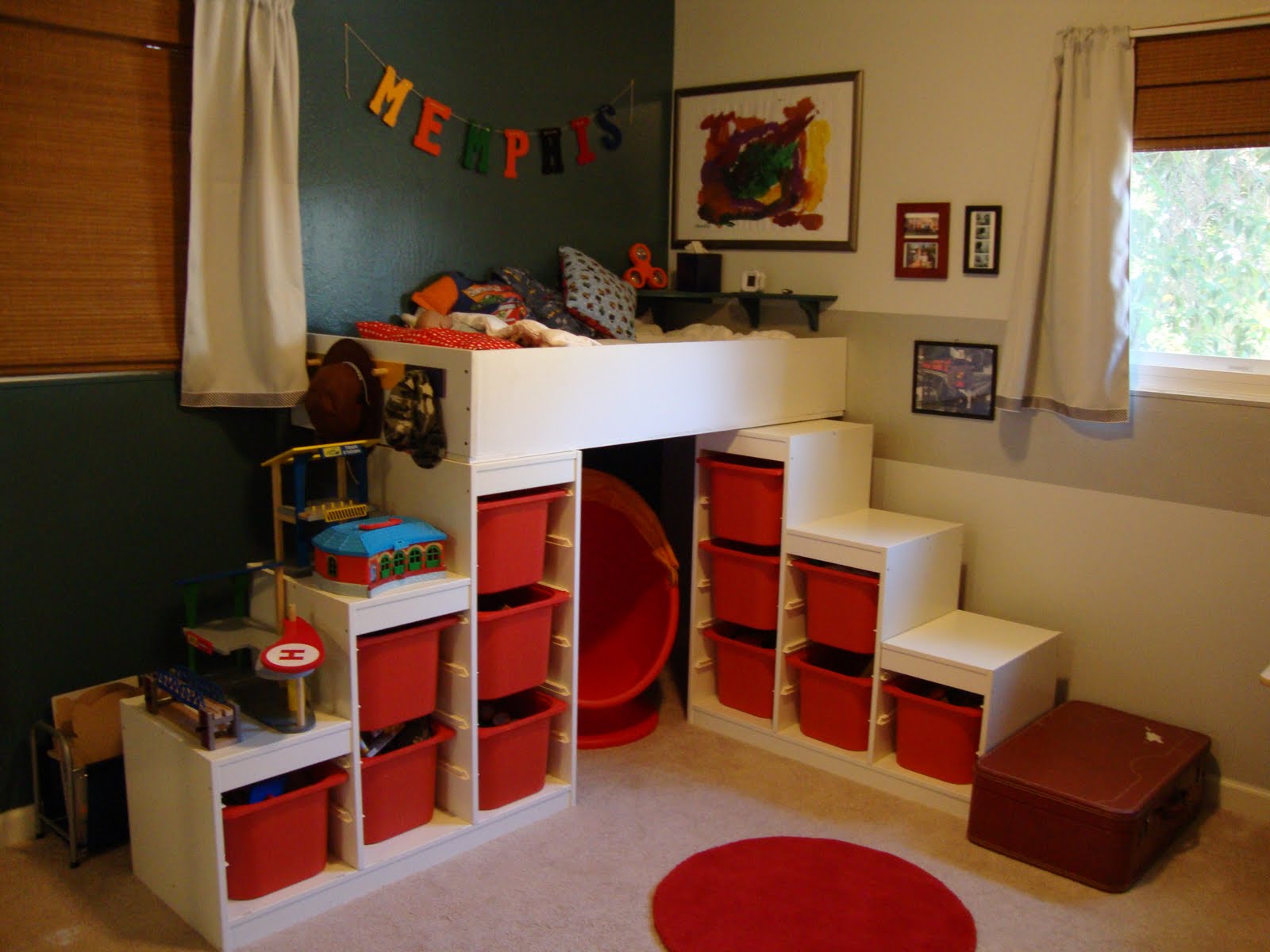 When it comes to toy storage ideas, sometimes you need something that serves more than one purpose. Loft beds are ideal in smaller spaces because they offer additional space underneath the bed. This family makes use of step-like shelving to prop the bed up. Toys are stored in the plastic buckets, and the child can use the "steps" to climb into bed. Note that the shelves are able to accommodate smaller storage containers as well, and that there's space to stash additional items behind one of the sets of stairs.
More toy storage decorations on the next page…