33. Unique Floating Shelves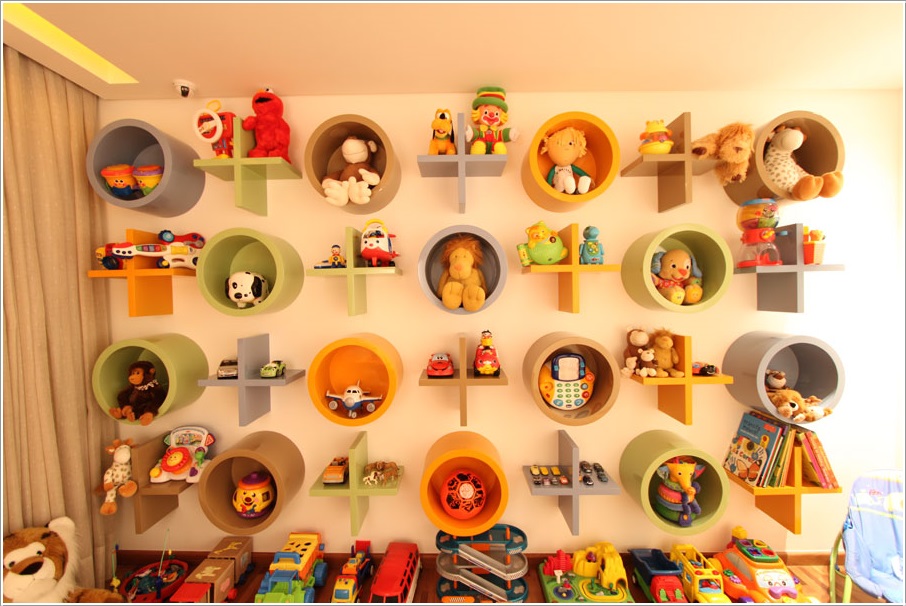 As you can see here, floating shelves don't have to be boring. They've painted O- and plus-shaped shelves in bright colors and hung them in a pattern on the wall. What really makes this idea work is that they've committed to covering up the entire wall. Note that each of these shelves doesn't hold a lot. That makes it ideal for younger children who have toys that don't have a lot of pieces. For instance, it works well for books, stuffed animals, or a few toy cars, but it wouldn't work well for LEGOs or doll accessories.
34. Toy Boxes for Grandma's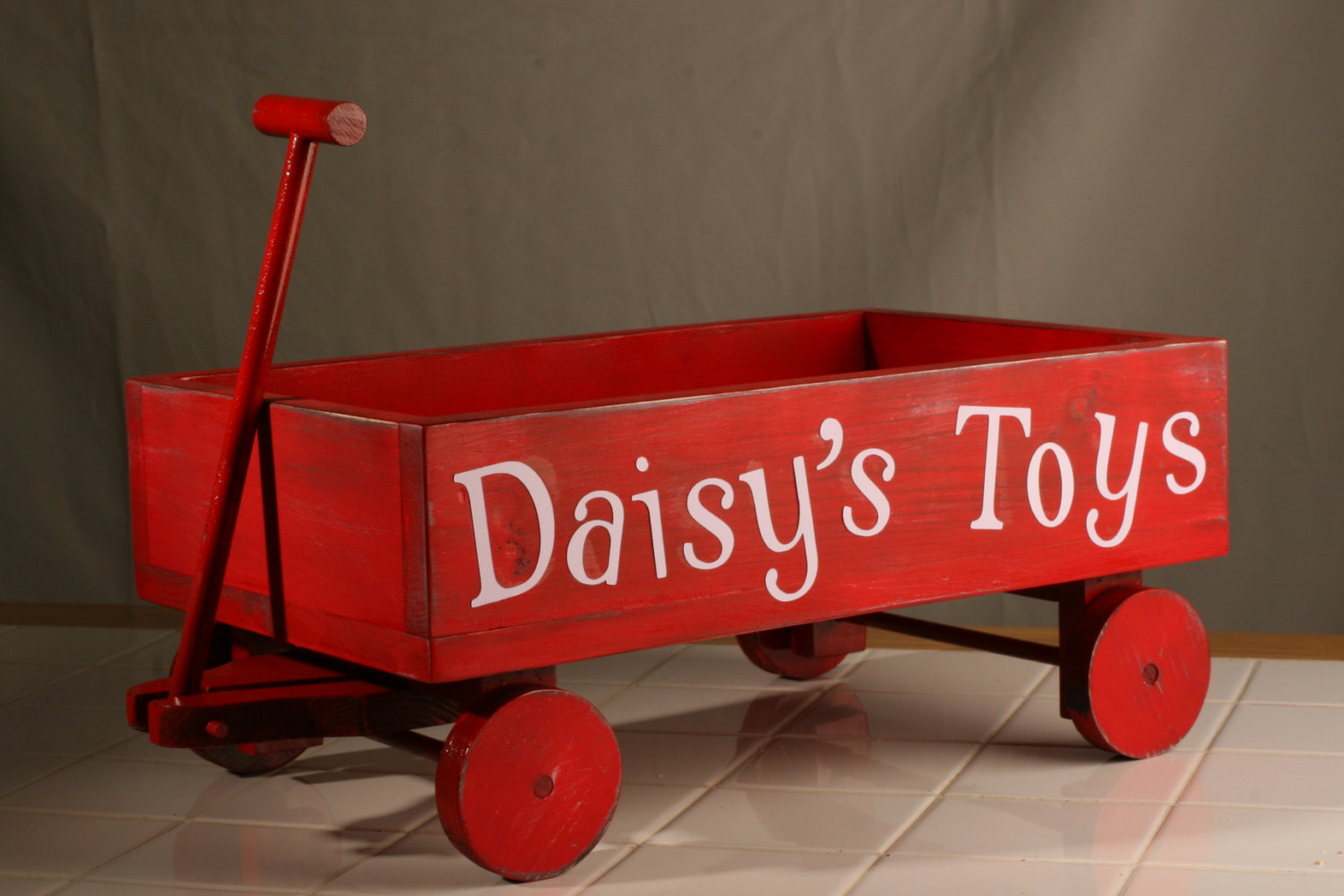 This personalised toy box is a clever way to upcycle an old wagon. Even if it doesn't work, it will look nice sitting in the corner of the living room or a garage. Since it's a fairly large piece that doesn't offer a lot of storage space relative to its size, it's probably not the best idea for homes that are overrun with toys. However, this would really work nicely at a grandparent's house, where the child only has a few favorite toys.
35. A Child's Work Bench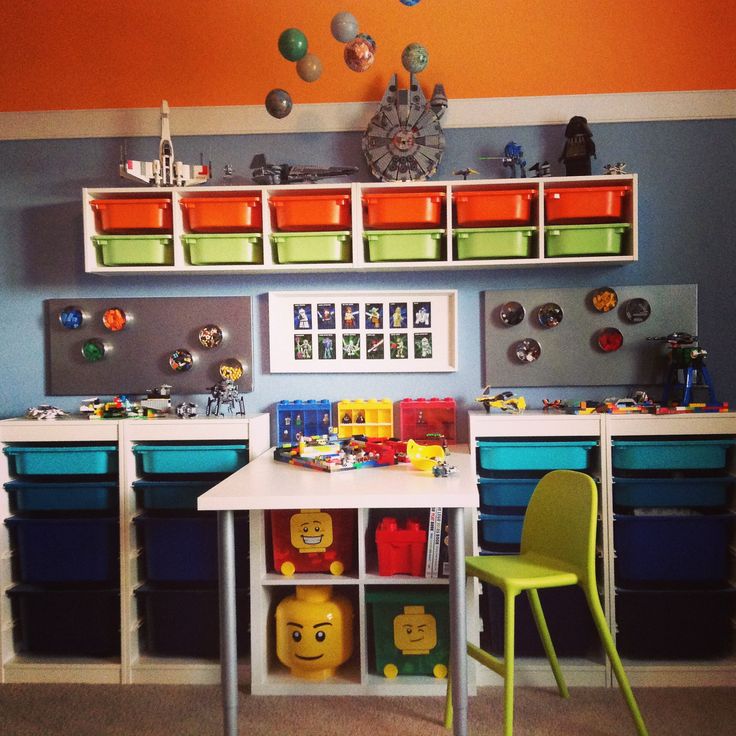 It's been said that play is a child's work, and this is readily apparent in this brilliant toy organizer. This particular picture is set up for LEGO use, with space to display models at the top, many bins for sorting LEGO pieces and a large table to work on. However, it could also work very well as a crafting space or a doll area if your child isn't that into LEGOs, and it can serve as the child's desk for homework. If you've been wondering what to do with the play room now that the children have outgrown it, you've found your idea.
36. Sailing Off to Play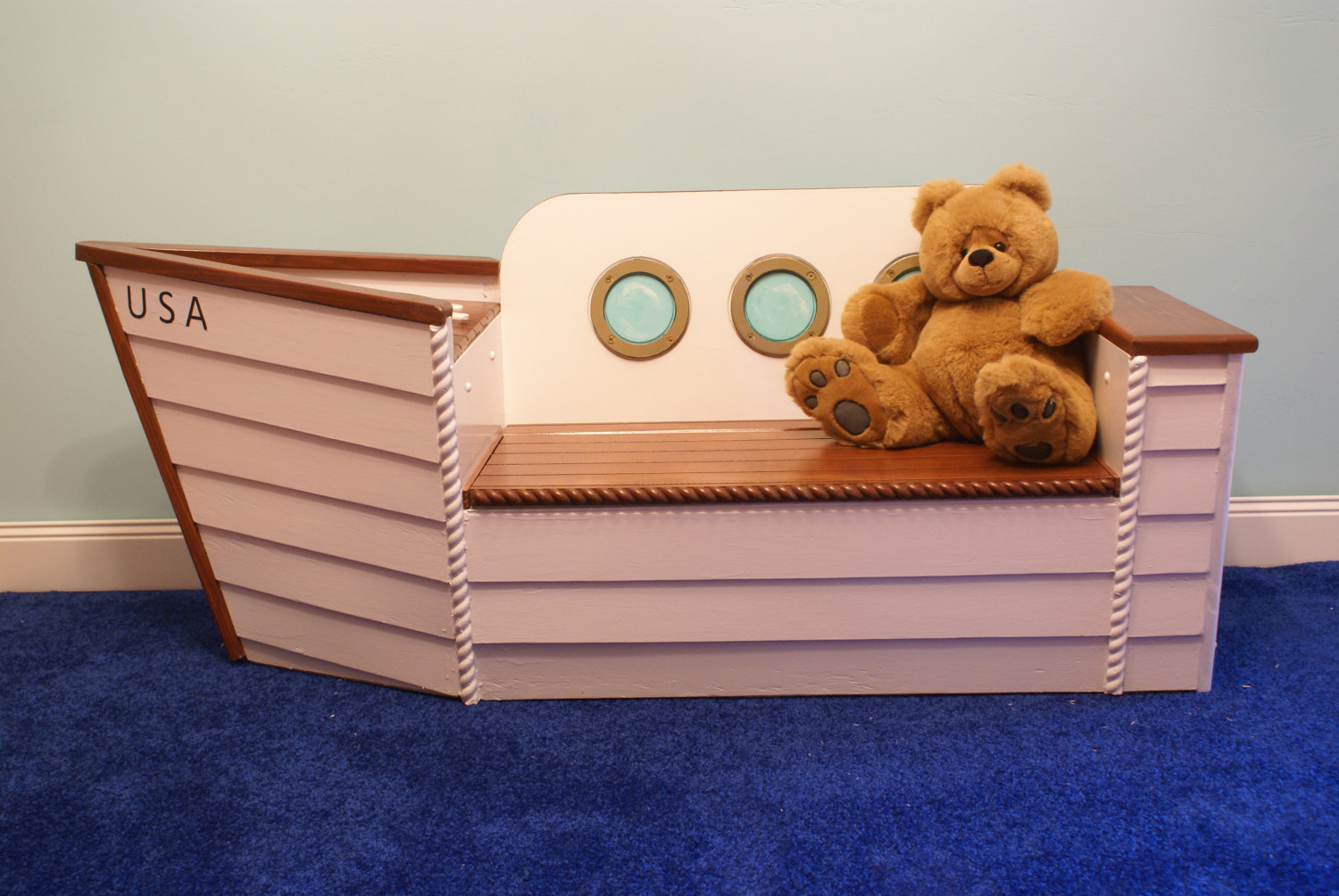 Shaped as a boat that your child can easily climb on, this toy box is classy enough to fit in with your home decor, but fun enough that your children will love it. Get ready for hours of pirate play. When it's time to clean up, simply lift the lid and have the children help load up their "booty". If you want to get really creative, you can occasionally swap out the toys that are stored in the box so that the kids are constantly finding new treasures inside.
37. Another Doll Closet Idea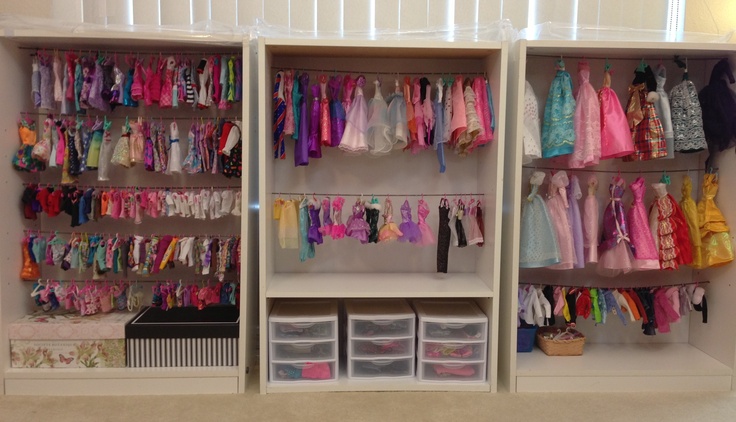 This idea is similar to the other idea we've shown about converting an old bookshelf into a doll's clothes closet, but it illustrates how versatile the idea is. In this image, the racks for hanging clothes have been hung further apart to accommodate the longer evening gown dresses and clothes for larger dolls. They've still used a shelf at the bottom to separate the other storage containers, which have small drawers for storing smaller items. These small drawers are definitely better than larger boxes for keeping small accessories organized. Don't have enough doll clothes to make this idea worth your while? Consider creating something similar for child-sized dress-up clothes.
38. Cube Storage Strikes Again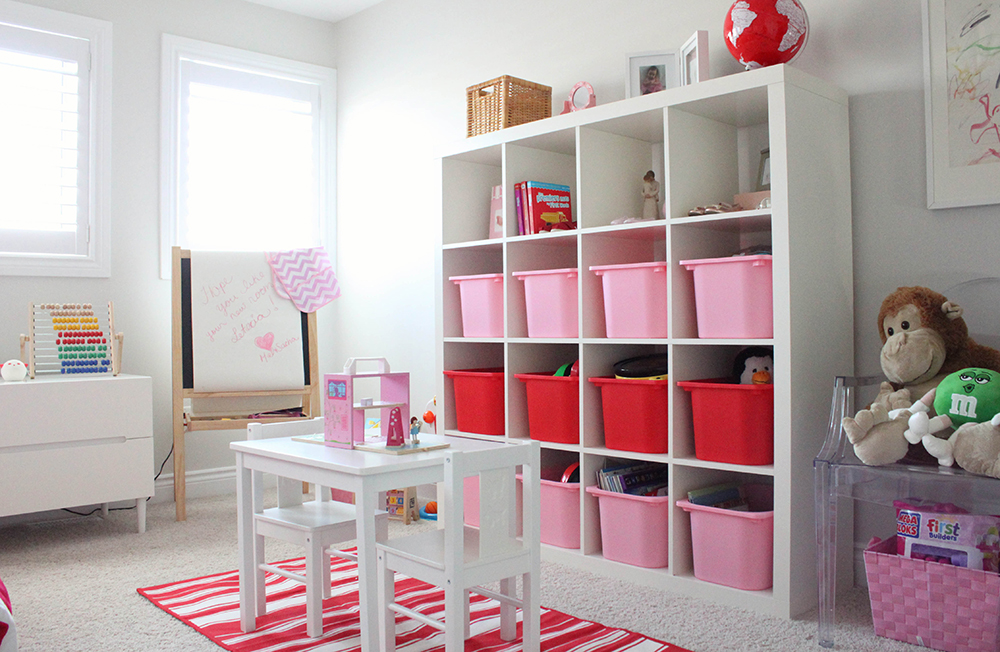 It's easy to see why everyone loves the cube storage units for storing kids' toys. Through using different types of containers, you can instantly make it fit in with any home decor. The pinks used here obviously make this perfect for a girl's room, but swap them out for blues or greens and they'll fit in any room. What's especially nice about this room here is how the toys all have a place along the wall and there's a clearly designated play space at the table. The child-sized table could be used for coloring, tea parties or building with blocks, yet it helps to contain the toys while playing.
39. Desk with Toy Storage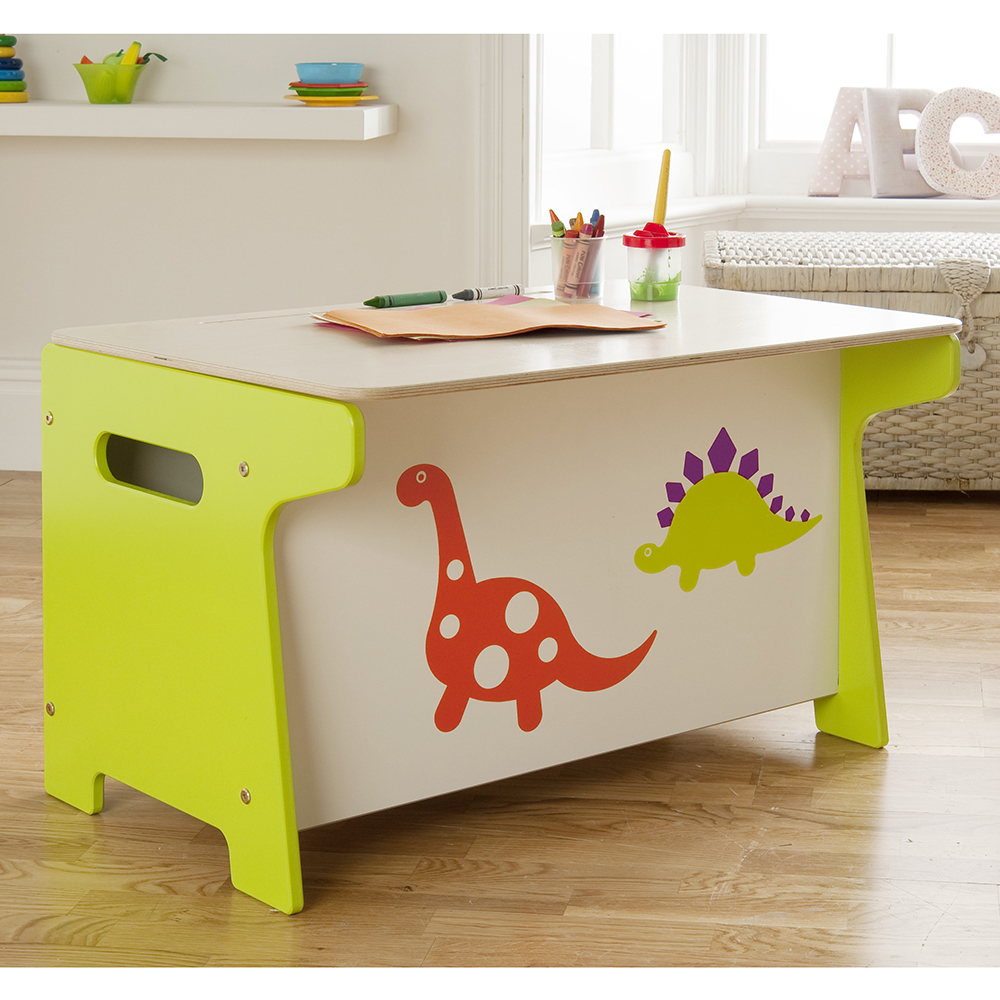 Most desks are designed to hold the types of things that a person might need when working at a desk – drawers for papers, pencils, and other such items. This child-sized desk is a little bit different. The top opens up into a regular toy chest, where your child can store balls, trucks, or dinosaurs. This is a much more practical use of a desk for a young child than other kids. It gives the storage you need with the convenience of having a separate space for art work or writing practice.
40. Toy Baskets in the Air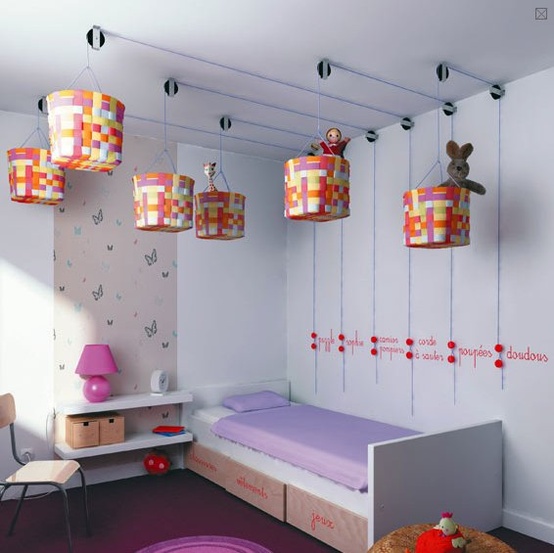 This toy organization idea is probably unlike anything you've ever seen. Making use of the space at the ceiling – which would normally go unused – a system of pulleys lifts baskets into the air. When the child wants to play with the toys, he simply loosens the ropes to let the basket come down to the ground. Markings on the wall help identify the toys in the baskets and show the proper placement for the rope for everyday storage. To make this work safely, fill the baskets with lighter toys and always be there to supervise when raising and lowering the baskets.
41. A Pyramid of Buckets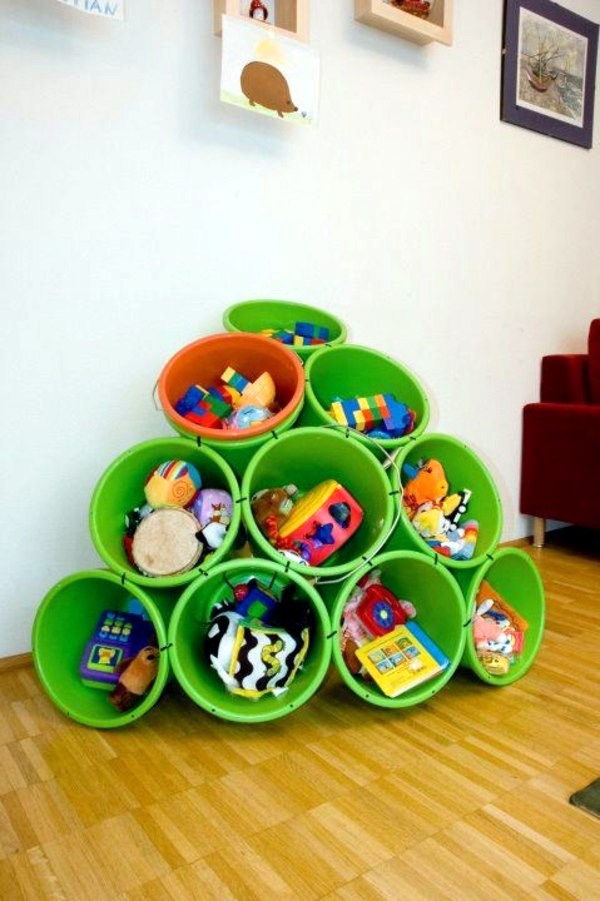 This toy organizer idea definitely has a unique look that might fit in with your home decor. The brightly colored buckets have small holes pre-drilled in the tops, and the person who did this used these holes to securely tie them together. One thing to be careful with if you use this idea is that the angle of the bucket can make it easier for items to fall out. You'll have to choose carefully which types of items you place in the buckets. If you want an easier way to take toys out for play, consider putting toys in separate buckets that you can just slip back in when play is done, as you'll see with the single orange bucket.
42. Simple Toy Organization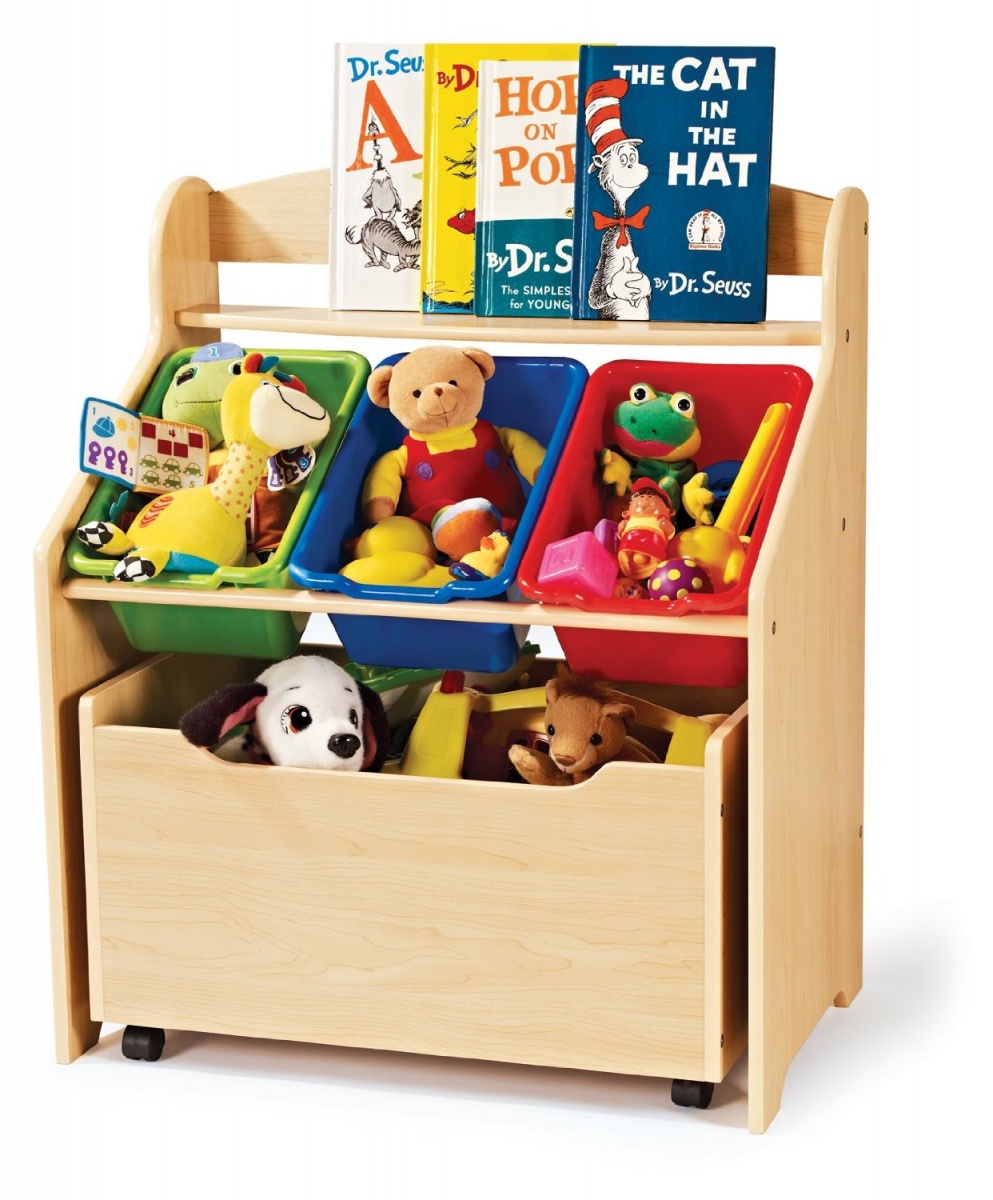 This toy chest might seem basic, but many times the basics are best. The large box at the bottom can be used for larger toys that need a place, while the smaller buckets are good for organizing small toys that your child can easily see. At the top, you can place books to encourage a love of reading. Wheels on the bottom box make it easy for your child to slide out to search for her favorite toys.
43. Craft Material Organization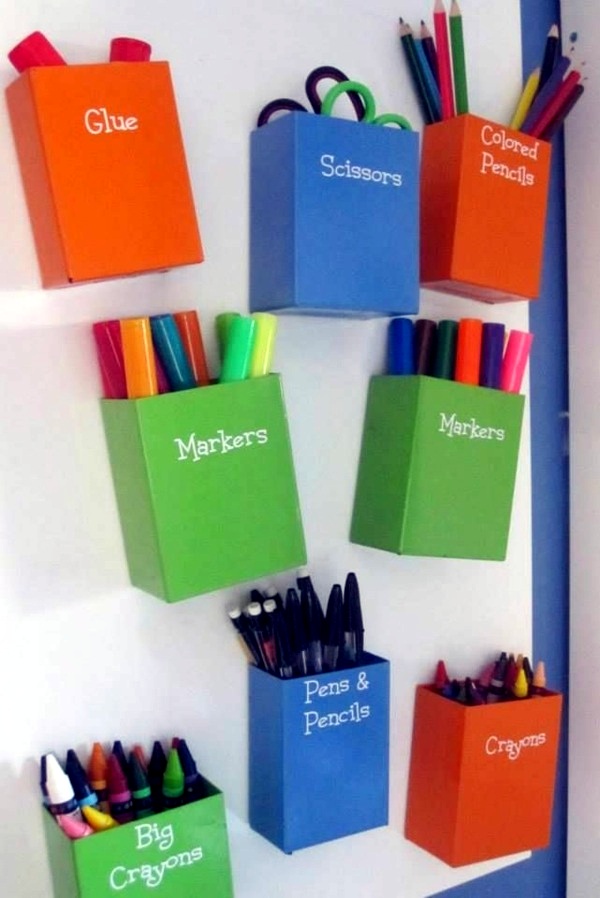 If you've got a little artist on your hands, you know how hard it can be to contain the creativity. Yet when your child knows exactly where to find the things he needs, he'll have an easier time creating. With this toy organization idea, you separate things out in these little boxes, which you can make from covering up old cereal or pasta boxes. With a magnet on the back, you can easily hang them up on the wall so that your child can take them down when he wants them.
44. Simple Bed Sling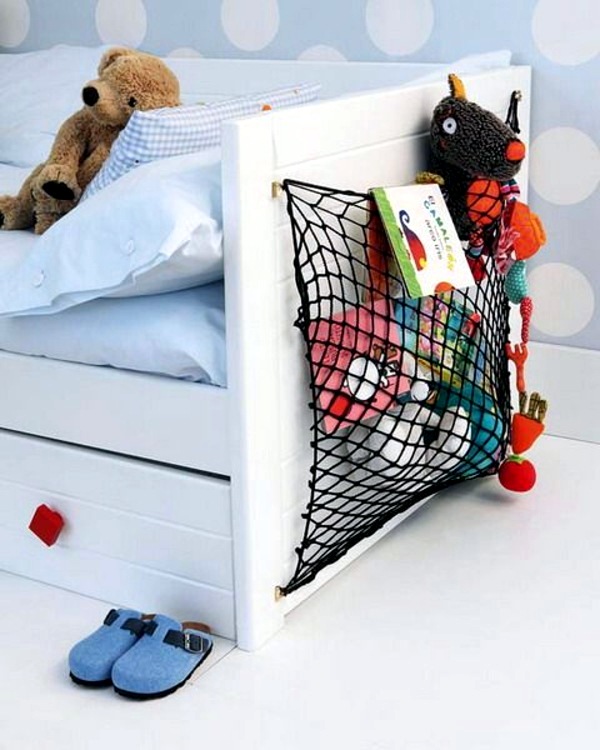 Attaching this simple sling to the end of your child's bed allows her to stash the little things she might need. She could put a favorite stuffed animal, the book she's reading, and an extra blanket. There might not be a lot of space here, but it's practical and it makes use of an area that would normally go unused. It's a great fit for those who might not have space for traditional bedside table.
44 Ideas for Keeping to Kids' Toys at Bay
The best toy organizer is one that fits in with your home design while still meeting your child's needs. Some families have enough space to have a dedicated toy room where toys can be highly organized. Other families have rooms that serve a dual purpose and might need a quick way to get toys out of sight before company comes over.
Remember that nothing is permanent and your child's needs will change over time. Babies and toddlers often have larger toys that can be hard to store, while older children have toys with many pieces that you need to contain in one place. As your child grows, make sure that the toy storage grows with them. Don't be afraid to reassess your needs.
As you get inspired by these toy organizer ideas, you'll also need to think about the practicality of them. Will your child use the idea once you've set it up? Does the idea require you to exert a lot of effort helping to keep things organized and are you willing to do that? Do you want something that your child will be able to do on his own or do you want something that is more obsessively organized?
No matter what your needs are, it simply takes a lot of thought to figure out the best way to organize your child's toys. Once you choose a design and set things up, following through keeps your home looking great all the time.