The bedroom is one of the coziest places of the home and one that should reflect who you are and your own personal style. A well-designed bedroom should be cozy, comfortable and incredibly functional. It should have everything that you need and look good at the same time. While that may seem like a lot of factors to take into consideration, they are incredibly easy to implement.
14 Trendy Bedroom Decor and Design Ideas Take Your Bedroom up a Notch

One of the best ways to figure out a good bedroom style is to take inspiration from well-designed bedrooms. If you are looking for a way to redo one, or multiple bedrooms in your home, you can take inspiration from a few of these designs. While you don't have to always copy the entire room, you can take a few elements from them and see how you can incorporate them into your room.
To make a task of finding trendy bedroom design and decor ideas easier, we have made a list of fourteen bedrooms that have been crafted to perfection. These rooms usually boast of well-designed layouts and have everything that you would need in your bedroom.
1. White Blossom Dorm Room Decor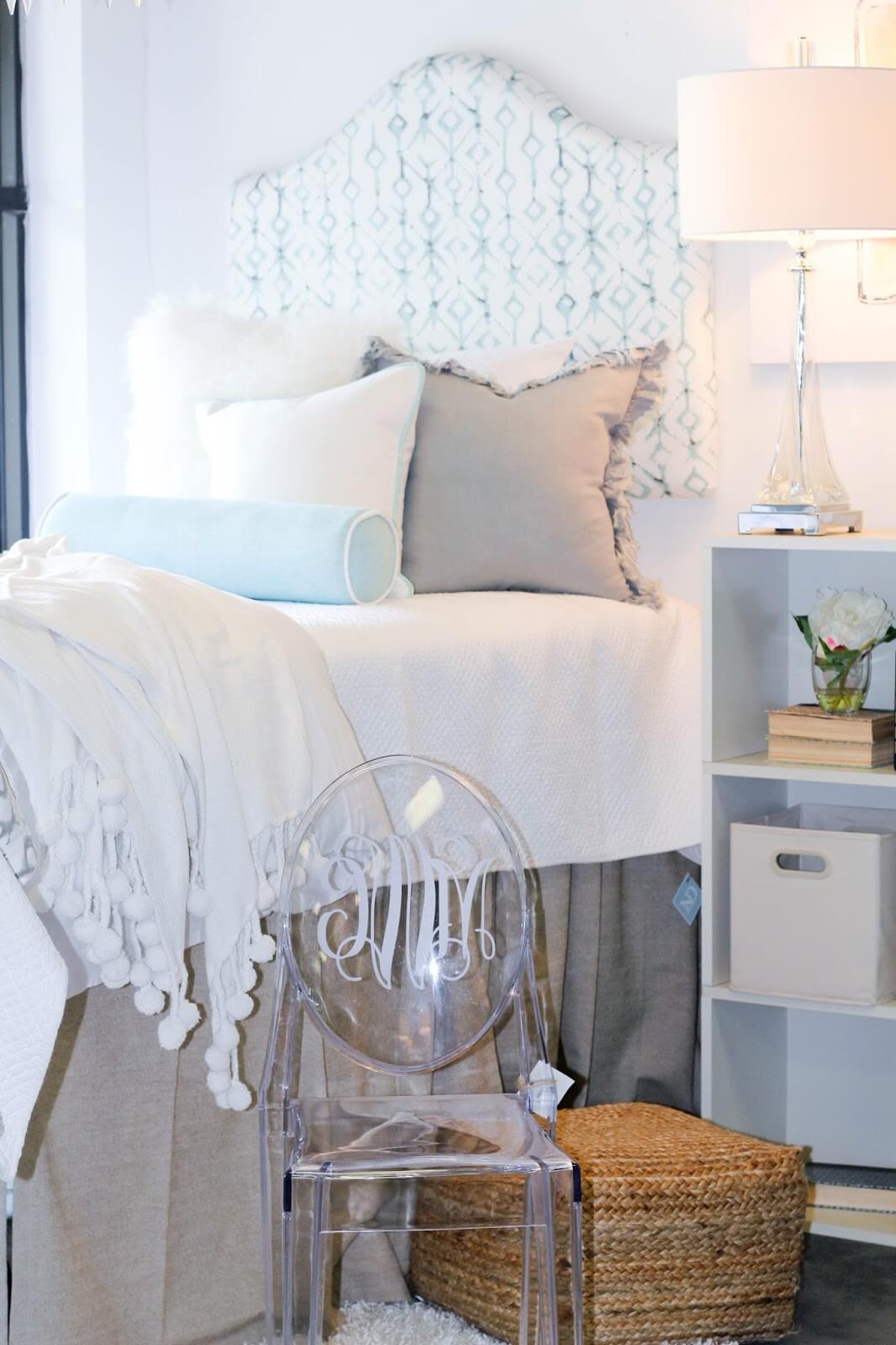 White is a beautiful color to work with when you are trying to find ideas. This bedroom is perfect for bedrooms with a single bed or a bedroom that has a smaller amount of space to work with. The subtle colors and patterns make the room look more interesting, and add a nice touch to it.
2. Nautical Themed Luxury Bedroom Decor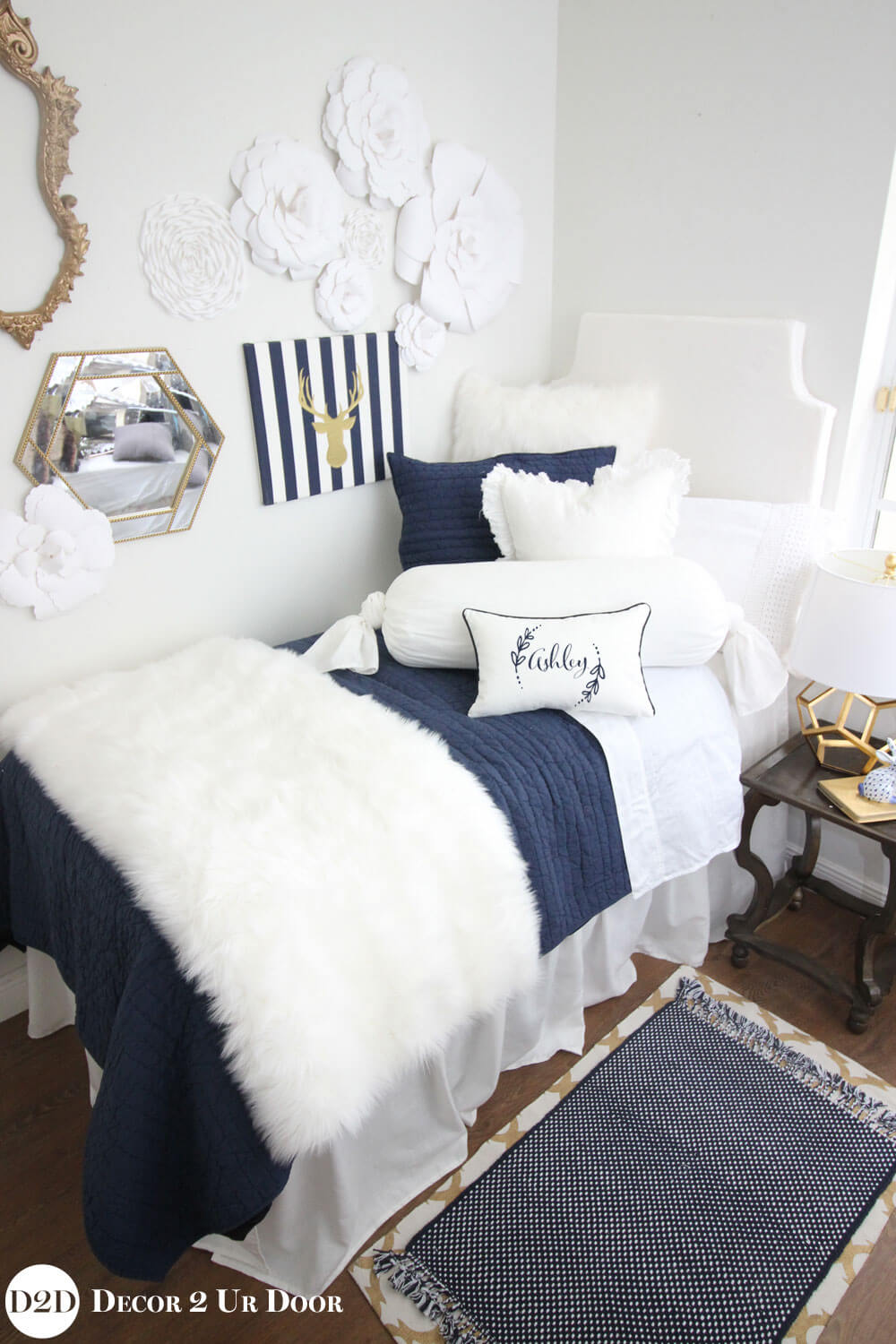 Nautical themed rooms always have a certain feel to them. This room uses a mix of navy blue, white and gold elements to make the room seem more put together. The decor is one thing to pay attention to in this room since it can make the room seem more complete as a whole.
3. The Western Bohemian Styled Bedroom Decor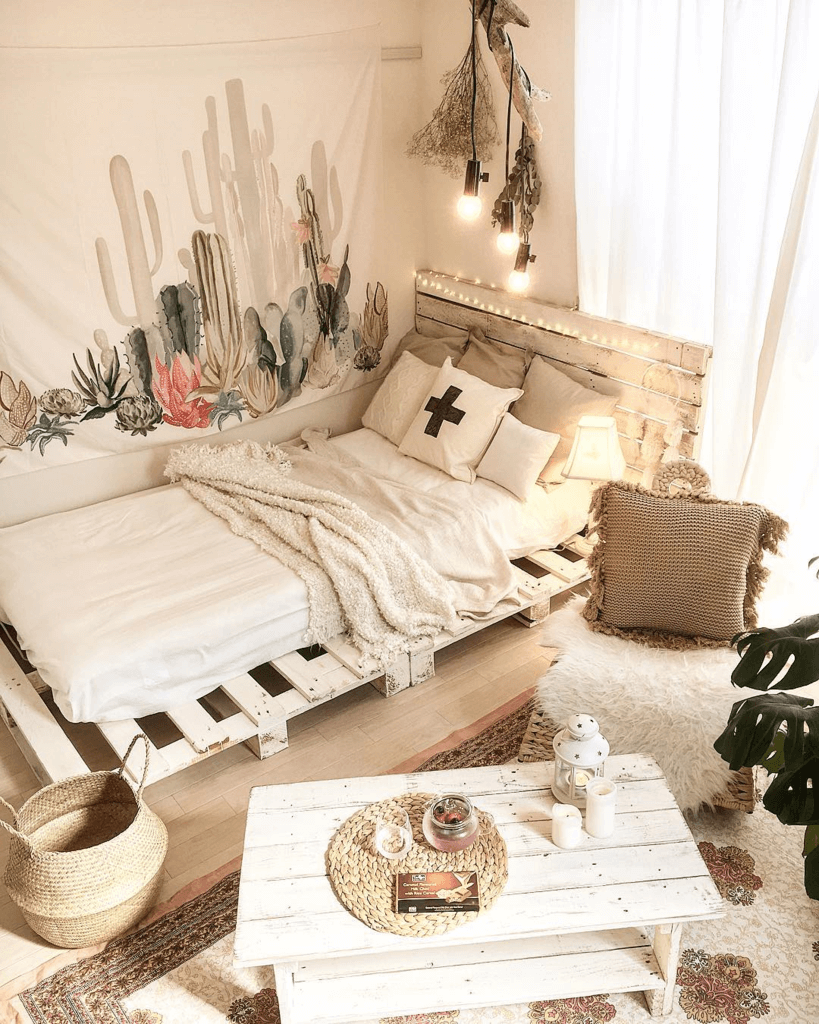 Bohemian is a style that is incredibly easy to replicate because of how versatile it can be. This room has white and cream elements and changes it up with different kinds of textures and decor. The lighting in this room is also unconventional, which is something that looks brilliant in this kind of room style.
4. Pretty N' French Styled Bedroom Decor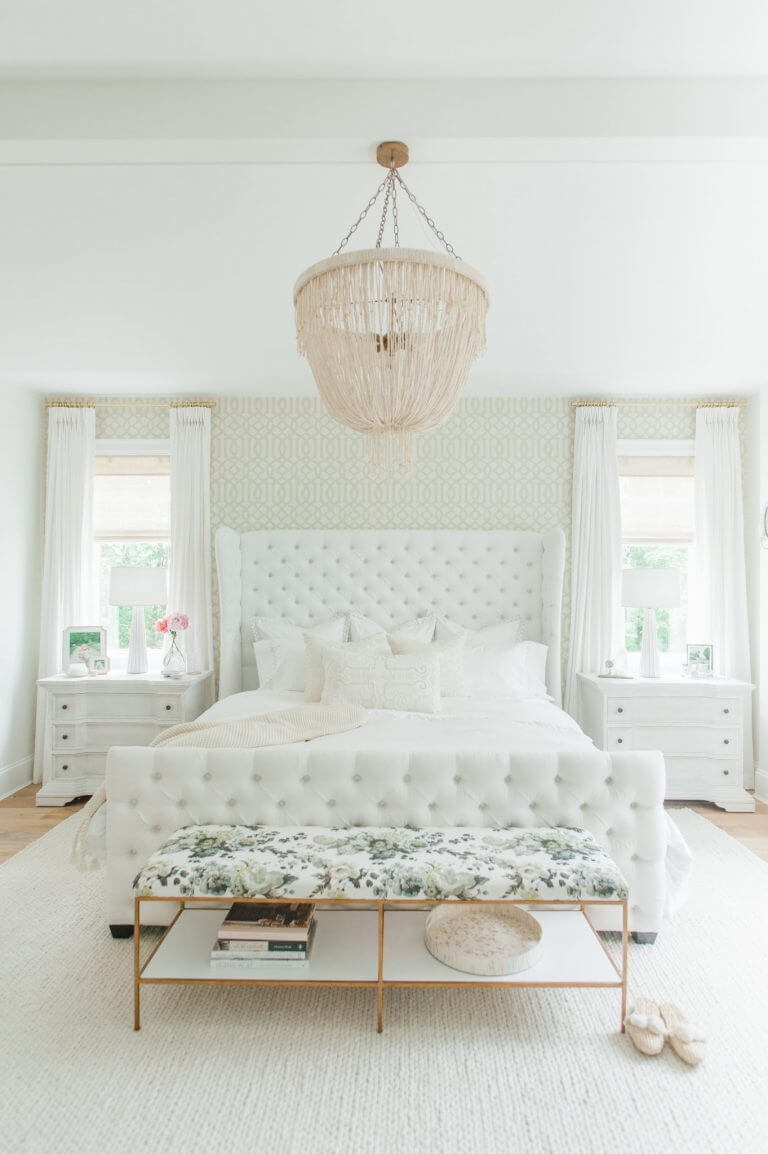 French styled bedrooms are known for having subtle pastel colors with gold or cream themes. This bedroom is something that looks straight out of a home decor magazine and is incredibly easy to replicate. The room uses matching white linens and a light pastel wall as the center of focus. The unconventional chandelier is also something that adds more depth to the room.
5. Simple Modern Luxury Bedroom Decor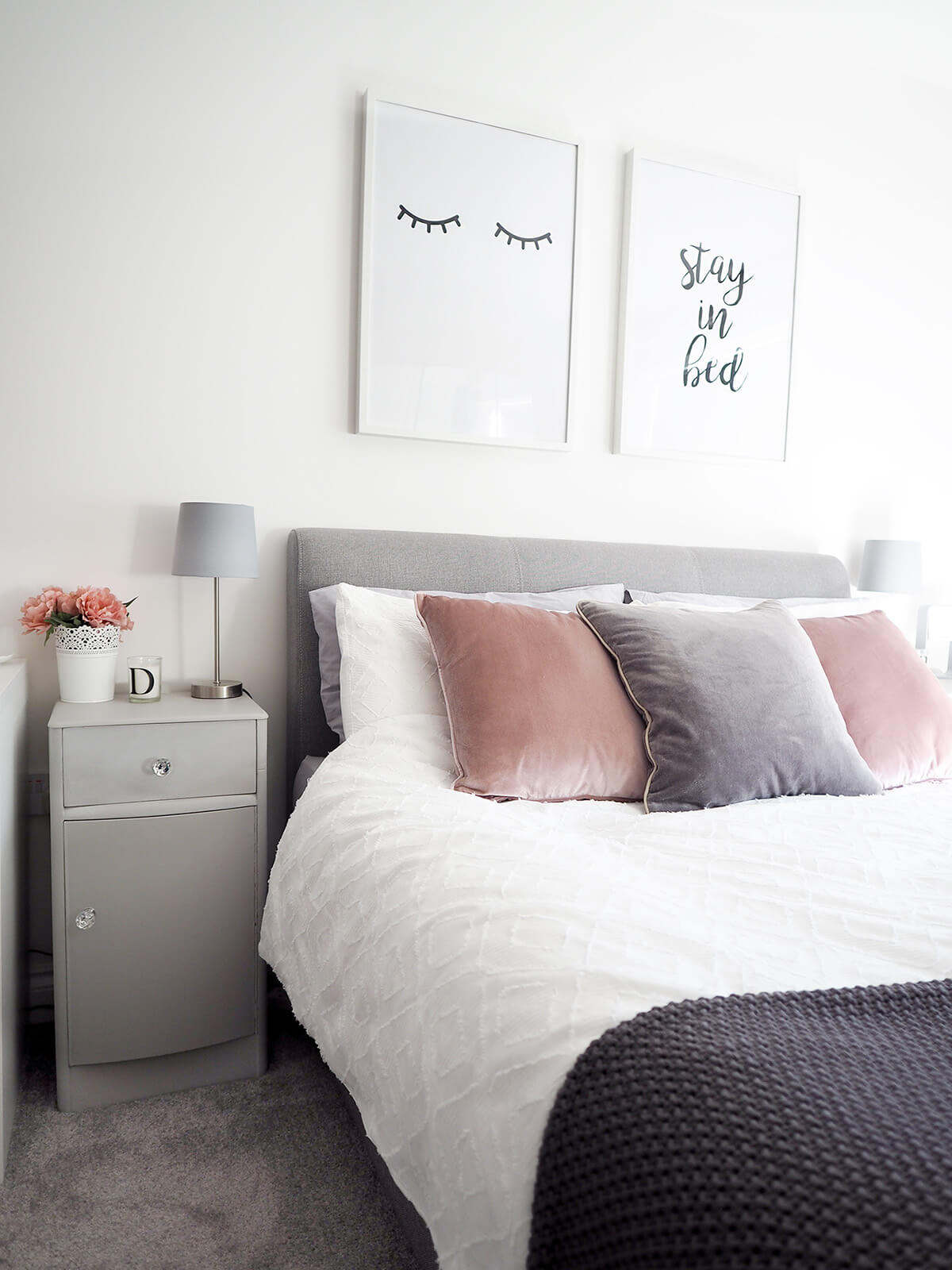 Velvet is a brilliant fabric to incorporate into a room because of the luxury feel that they give off. Greys and whites is a fantastic color combination to go in for when trying to incorporate the modern luxury look. Keeping things simple is key in this kind of a room. Subtle accents can also add some flair to this kind of a room.
6. Desert Queen Cozy Bedroom Decor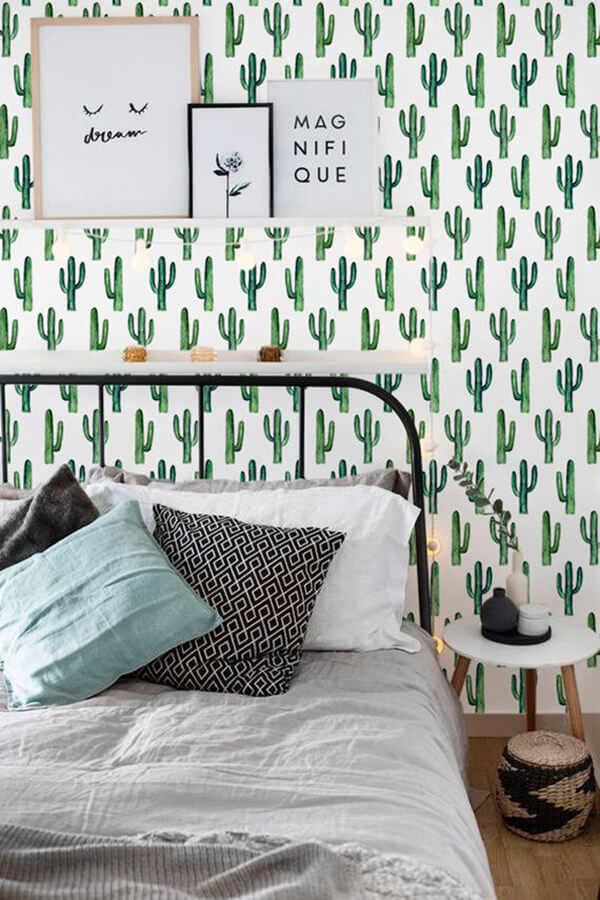 If you are on the lookout for trendy bedroom design and decor ideas, and only have a few parts of the room to work with, doing something eye-grabbing onto your walls is one of the easiest ways to do so. This particular room has a pattern that makes it the central focus of the room. This also adds more depth and works well with the rest of the room because of how versatile it is.
7. Pastel Chic Simple Bedroom Decor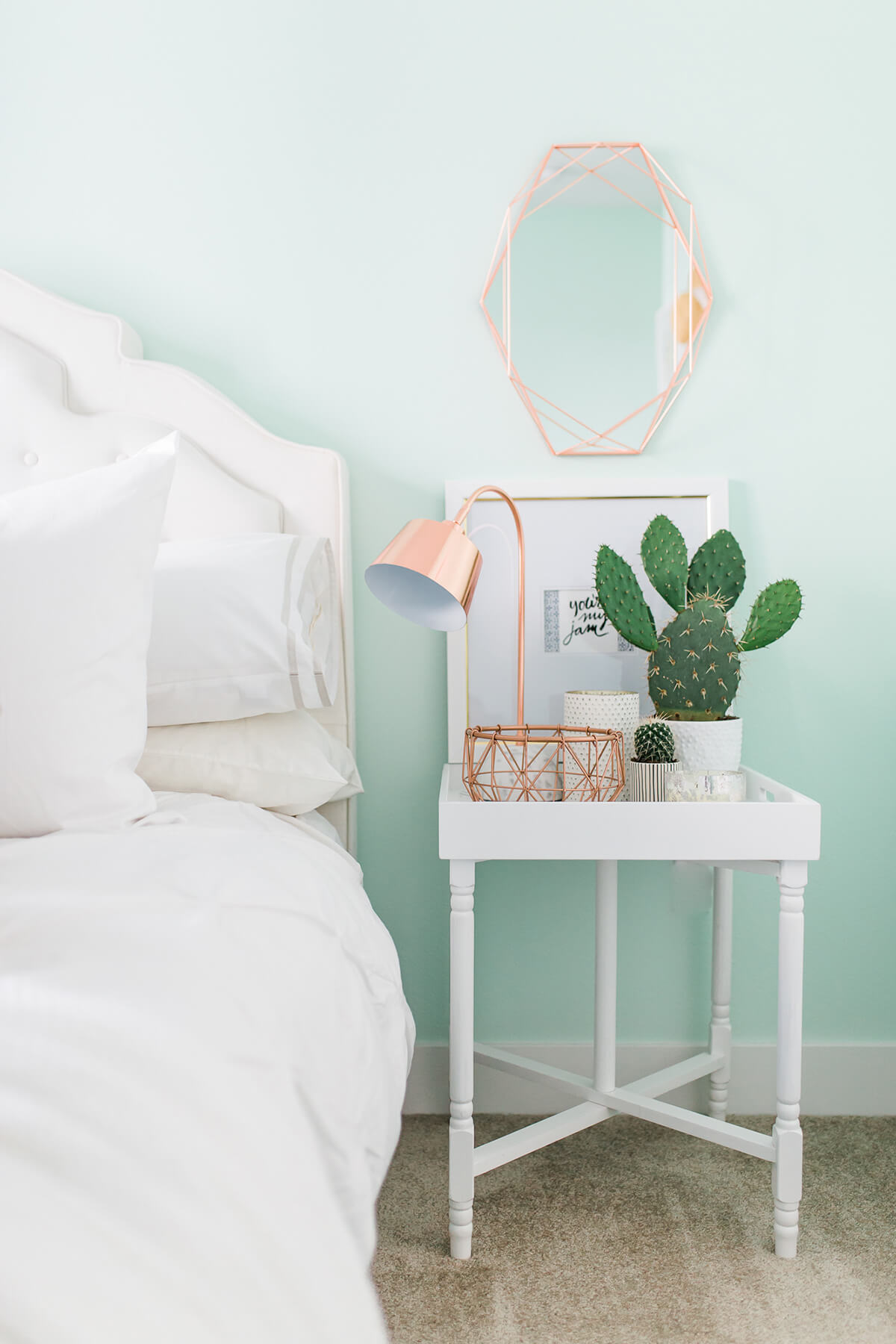 As the saying goes, less is more; and this room is the perfect example of that. The room has two subtle colors at play, which is green and white. The walls have an ombre texturing to add a subtle amount of flair to it. The rest of the room's decor is rose gold, which is a good color to complement the rest of the room.
8. Industrial Themed Modern Bedroom Decor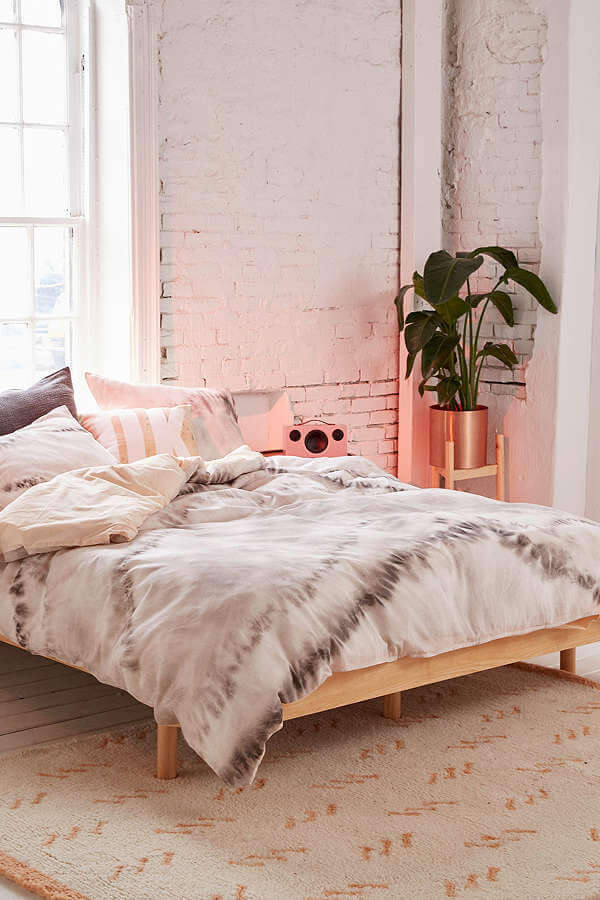 The industrial theme is something that is growing popular by the minute and looks great when paired up with the right kind of things. If you are looking for ideas, this is one that you can definitely go in for. The subtle colors blend in well with other, and the texturing on the walls and flooring gives it the added elements that it needs to work well.
9. Summer Lovin' Nautical Bedroom Decor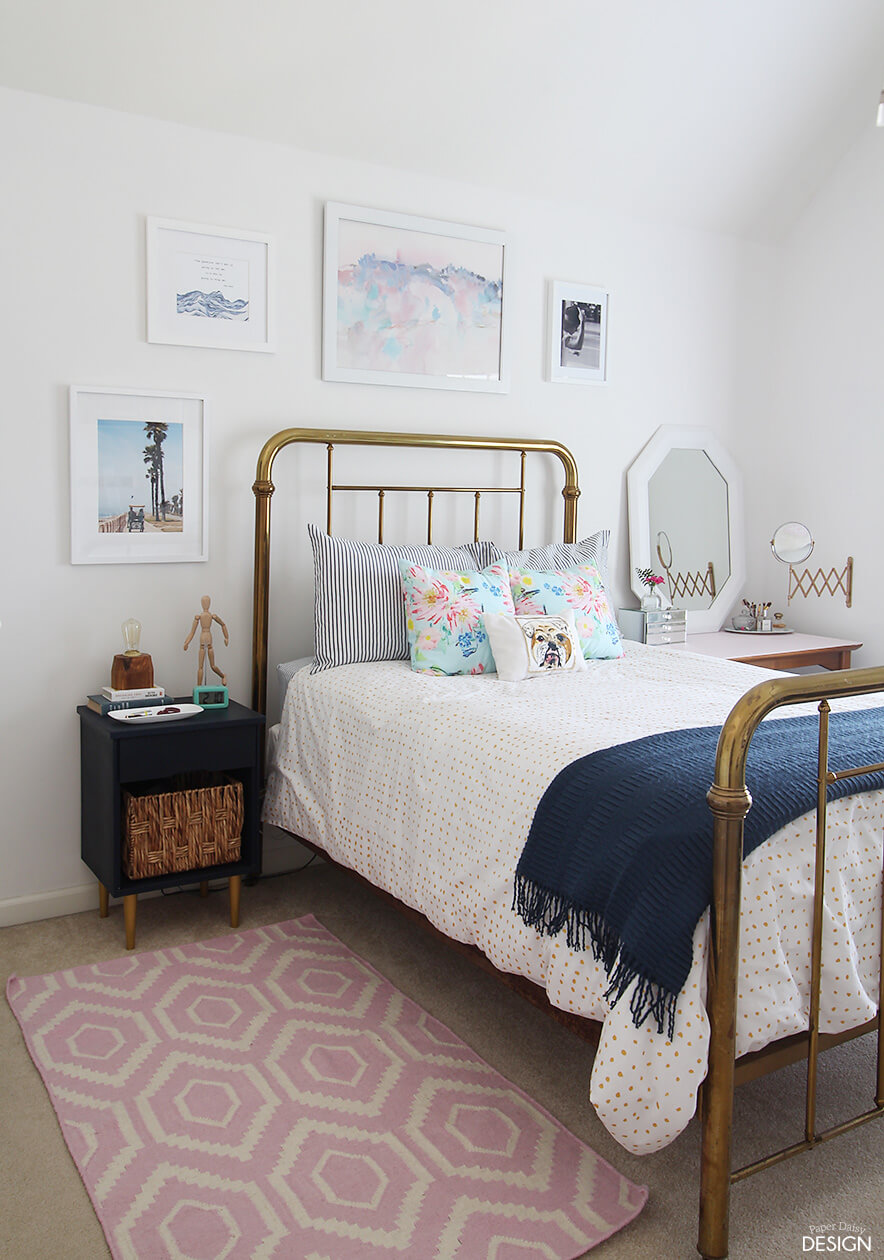 Another take on the nautical theme, this one, with more summery elements to compliment it. The white and blue against the gold are a brilliant combination and are incredibly easy to work with. The paintings on the wall are also ones that work well with the color scheme of the entire room. Complimenting that with patterned pillows that work around those colors is another way to give the room an updo.
10. Big, Bright And Colorful Bedroom Decor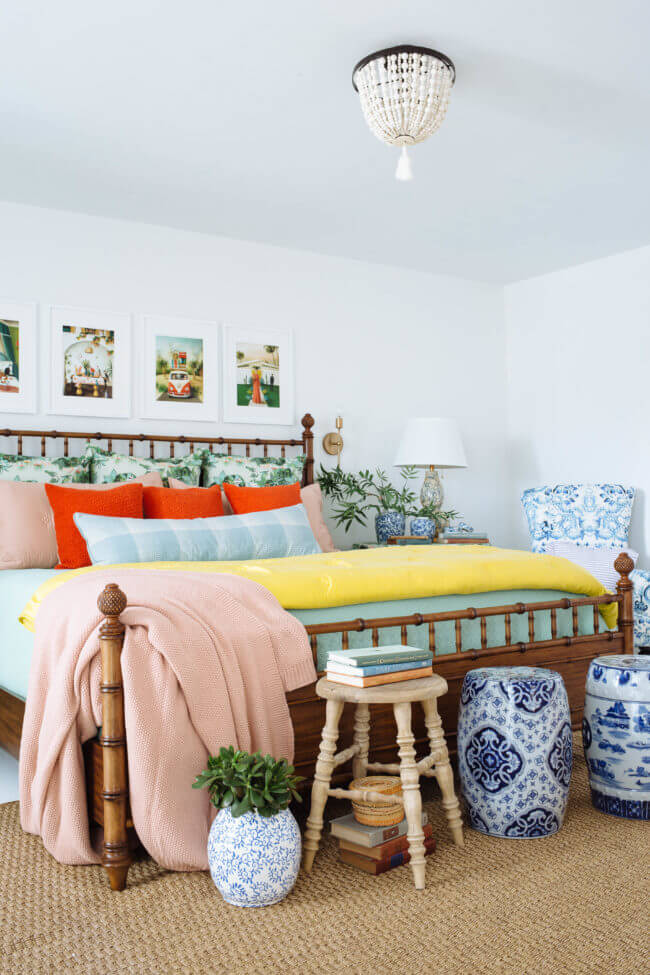 No one said that only subtle pastel colors are well for bedrooms, and if you are looking for trendy bedroom design and decor ideas that are as bright as your day, this is one option that you can go in for. The bedroom uses multiple colors that stand out, but are somewhat within the same color scheme. The bed, the paintings, and the accents all come together to create one beautiful and colorful room.
11. Pastel Geometric Themed Bedroom Decor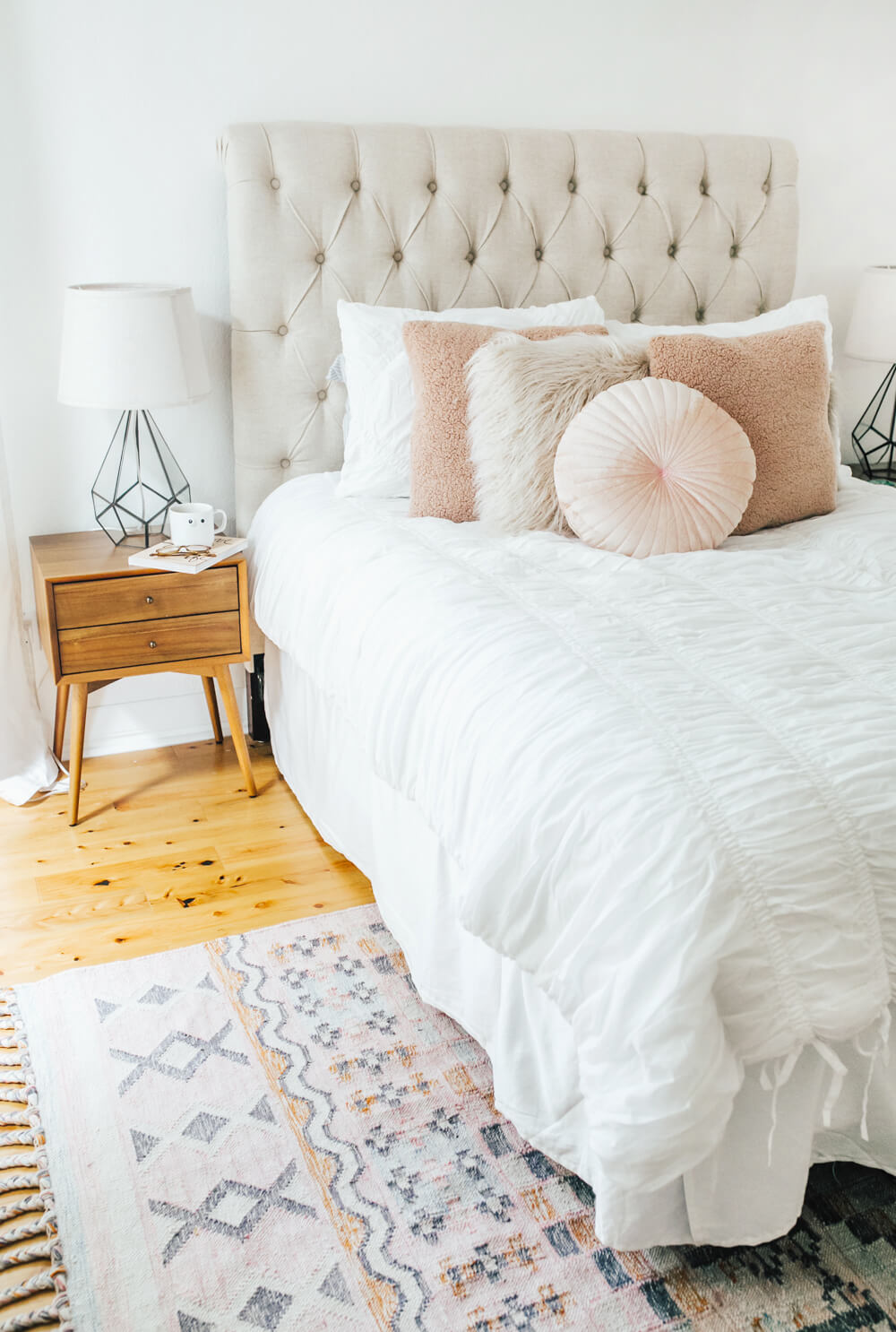 Taking a few matching accents and placing them is strategic parts of the room is one way to pull the theme of the room together. This room uses a mix of geometric prints and shapes in the accents, rug, and pillows to have one solid theme running through them. The colors are also coordinated with each other, and work well together.
12. Love N' Luxury Bedroom Decor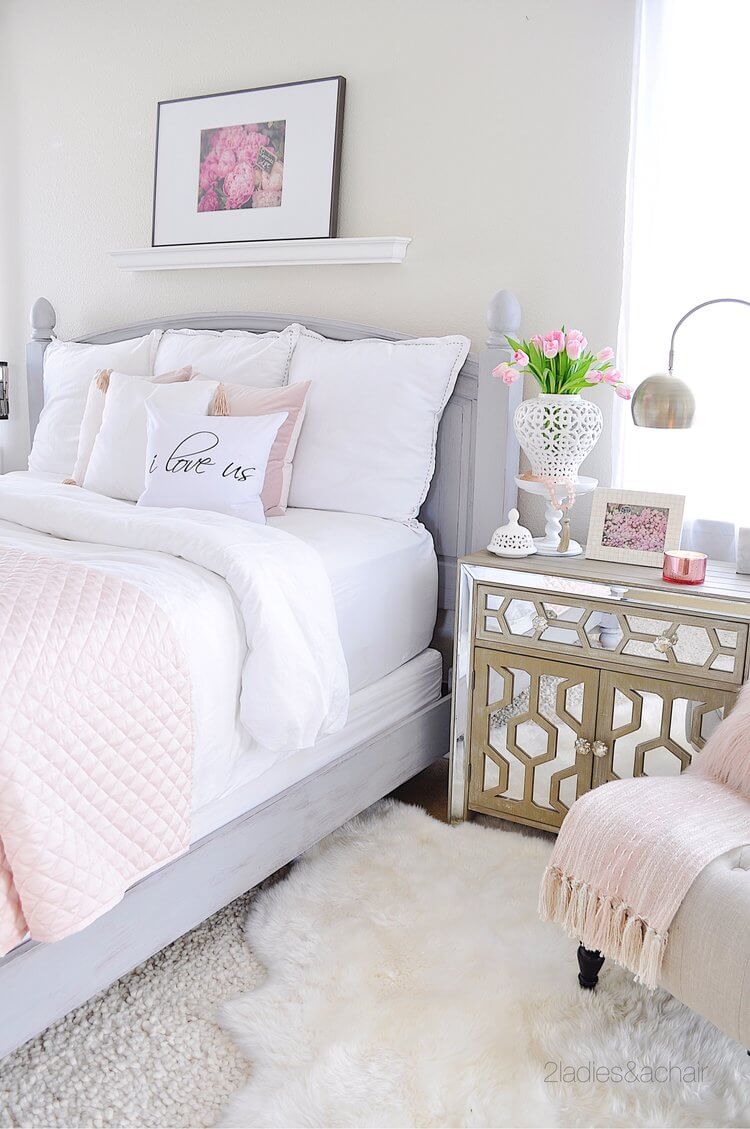 Pink is one of the prettiest colors to incorporate into a master bedroom, and when paired when grey and creams, can work incredibly well with each other. This particular room also uses a mix of different fabrics of the same color to make the different elements of the room stand out from each other. The room also does have neat accents that don't overwhelm any part of the room.
13. Eternal Sunshine Themed Bedroom Decor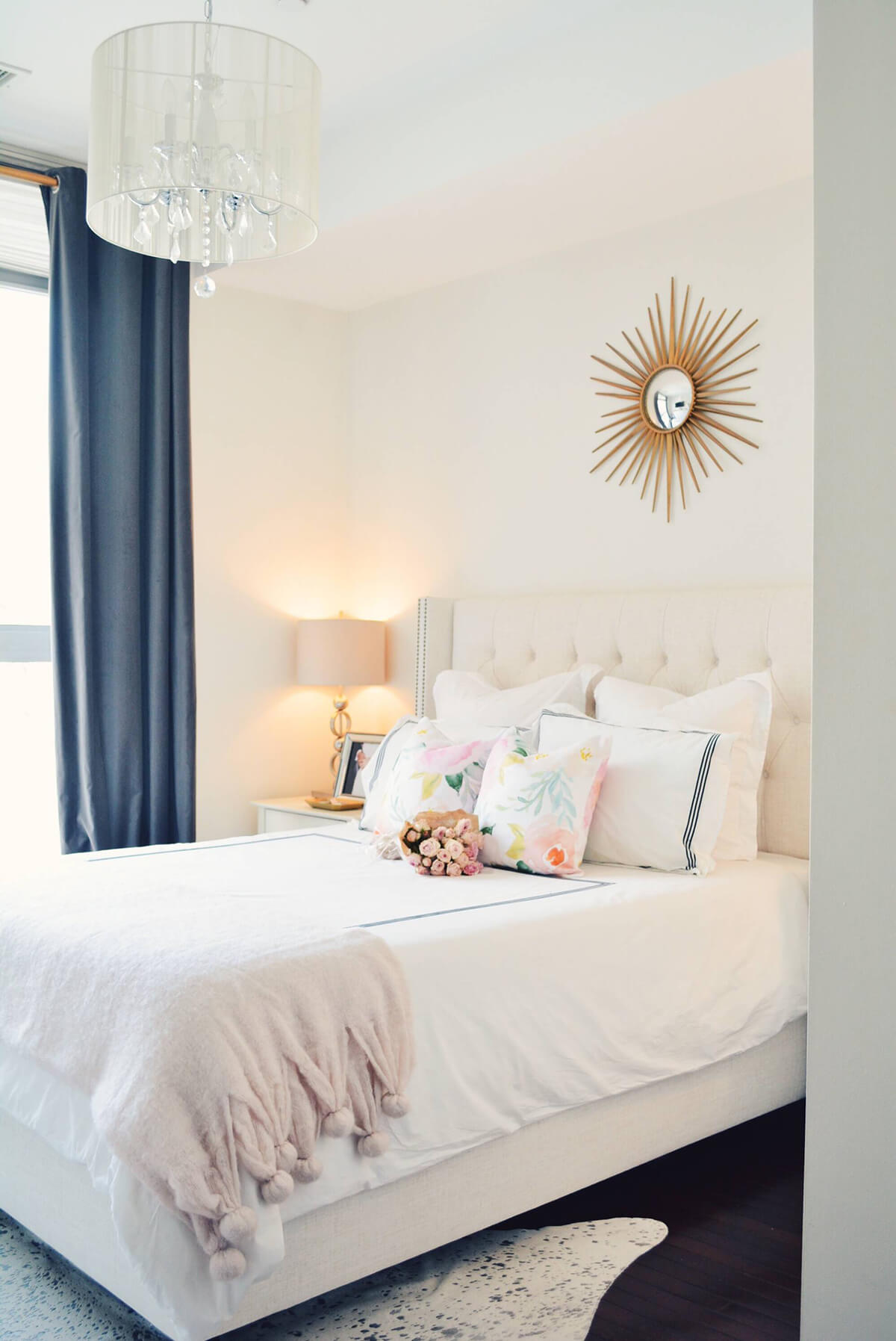 Bringing in a large amount of light can do wonders for a room, and a good way to work with this is by incorporating bigger windows and strategic lighting elements into the room. White is also a color that works well to reflect the light, which also gives the illusion of making the room seem bigger than it actually is.
14. The Pastel Heaven Bedroom Decor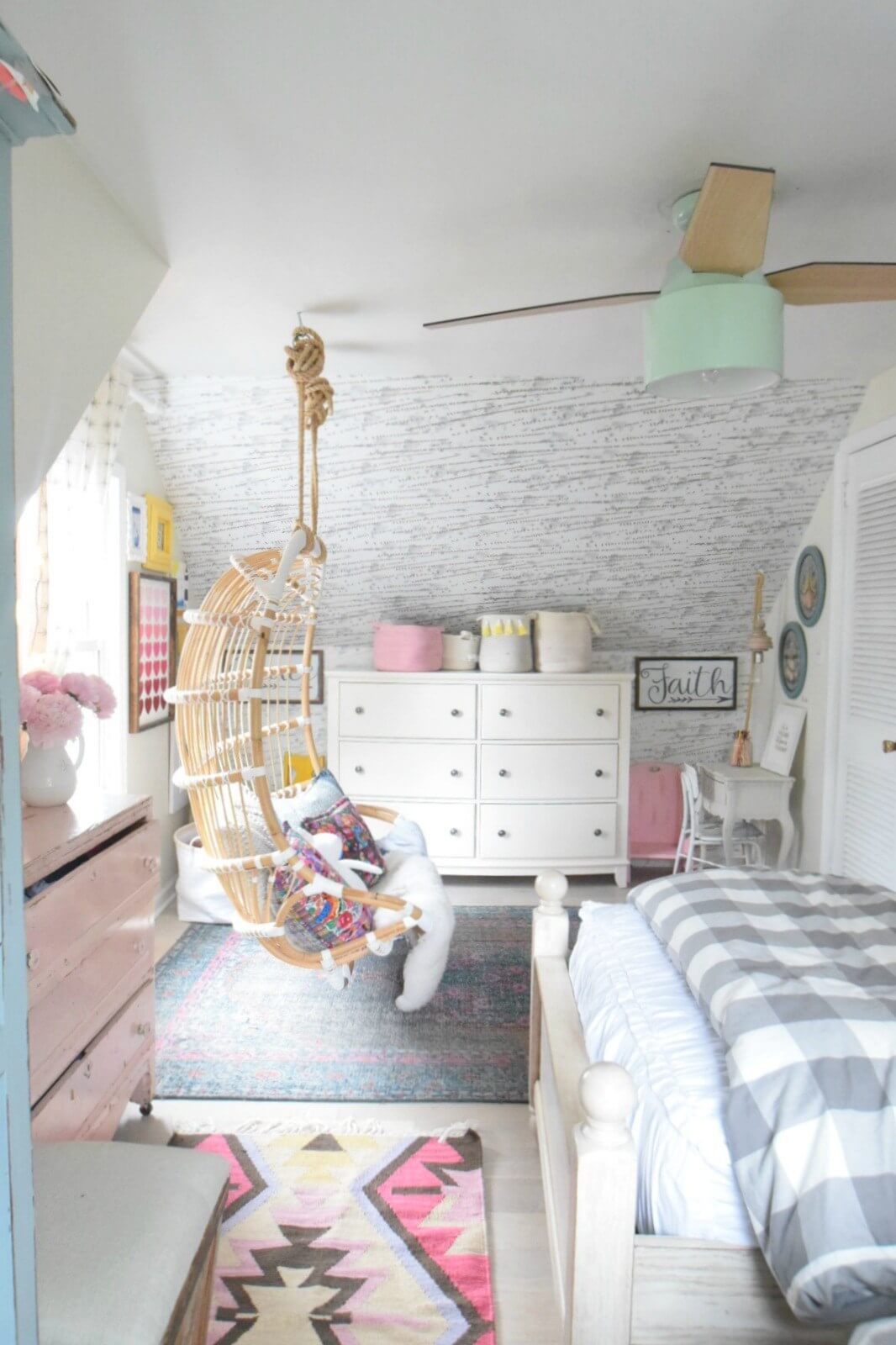 If you love pastel shades and are having trouble picking just one for your room, why not incorporate them all in subtle, yet beautiful ways. This room is a good example of how multiple colors can work well with each other without clashing.
Our Favorite Farmhouse Baskets and Bins to buy on Amazon