Gift-giving gets a lot easier with the best unique coffee mugs you'll find here! With a coffee shop popping up on seemingly every corner around the country, it's no wonder a mug makes the perfect gift! From national chains to local venues, grabbing your cup of java is an essential part of your day. Even if you prefer the company of your own kitchen, having a cozy cup becomes even more of a priority.
A Guide to the Coolest Coffee Mugs for Gift Giving

Perhaps you enjoy catching up with a good friend or sharing thoughts on a good book, if this sounds like you then keeping cool coffee mugs on hand is a necessity. Nothing warms the soul like a good cup of coffee enjoyed between friends. Honestly, no coffee bar is complete without a nice assortment of unique espresso cups and interesting coffee mugs.
Just like many choose to express their originality and personal style through clothing, your choice of the coffee mug also captures your unique personality. It may also indicate if you are an avid coffee consumer or simply a mere amateur. Think about it. Some mugs are traditional 8 ounces while others boast a bold 20 ounce or more filling capacity. Now that's a hefty reservoir for drinking some dark roast Colombian coffee!
And the inside isn't the only area that defines your personality. What you choose to have represented on the exterior of the mug speaks volumes about who you are as well. Whether it's supporting a local or global cause, showing off artistic creativity, or keeping it low-key with a simple color, your choice of coffee mug lets the world know a little bit more about the person you are and where your passions lie.
So, if you are looking to expand your personal mug collection or find the perfect one for a friend, check out this listing to uncover some of the best unique coffee mugs to meet your needs.
1. Adorable Tree Themed Coffee Mug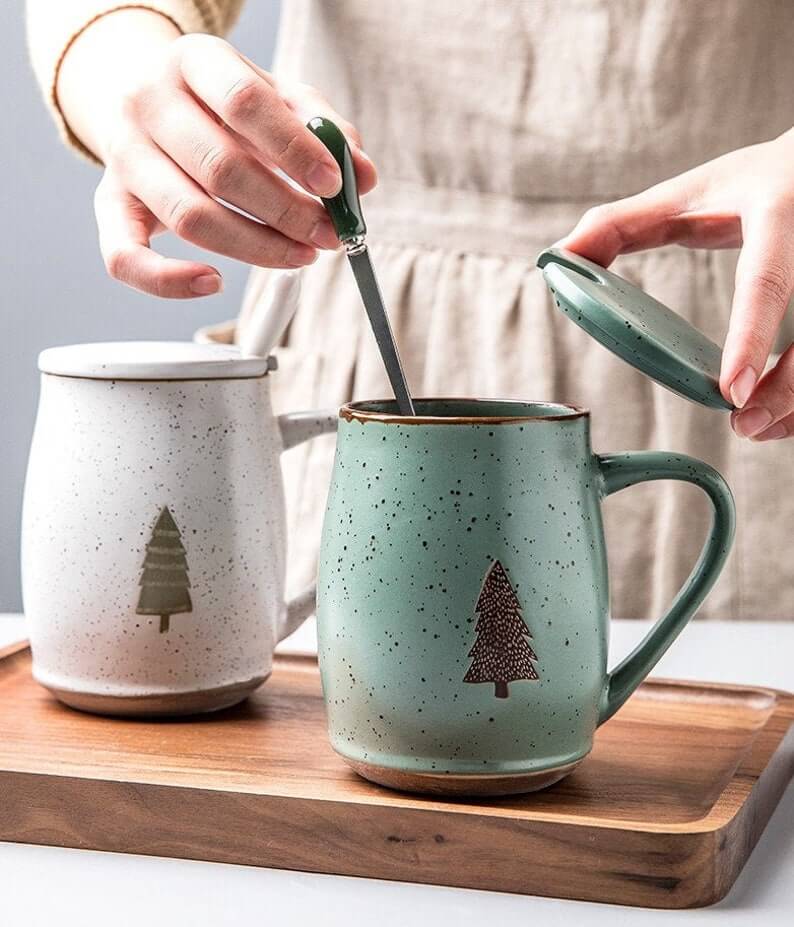 Some of the best unique coffee mugs take the simplest approach and enhance them so that they are more sophisticated and fun to set out to admire. This ceramic mug has a welcoming warmth to it that makes them fitting for use when it is time to cozy up with a warm cup of tea, coffee, or even hot chocolate. The hot chocolate is a good choice considering that this amazing mug comes along with a matching cover and spoon. You can select to have it made in either green or white, and both styles include the cute Christmas tree design on the front.
2. Customized Contemporary Style Coffee Mug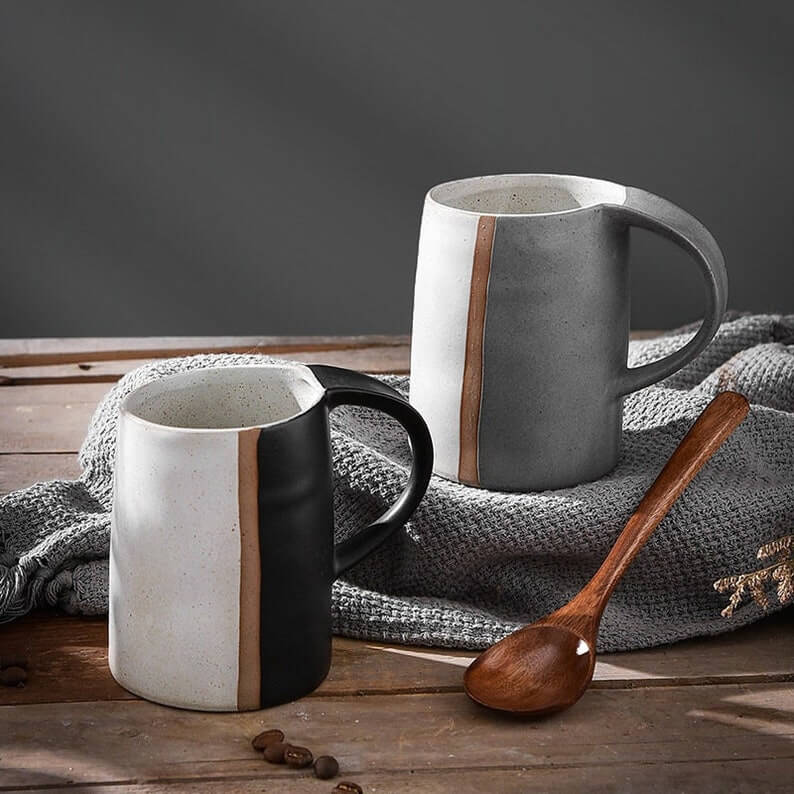 This stylish coffee mug is a fitting choice when you need something that will blend in with a contemporary styled home that has a slightly vintage touch to it. There is a slight slant to the top of the mug that allows it to have that much more personality. Also, the coloring choices allow this to demand and capture attention. The mug is split down the middle in terms of coloring with either side contrasting well with each other. The primary color can be either black or gray to better suit with your individual style.
3. Infuser and the Purrfect Tea Cup Set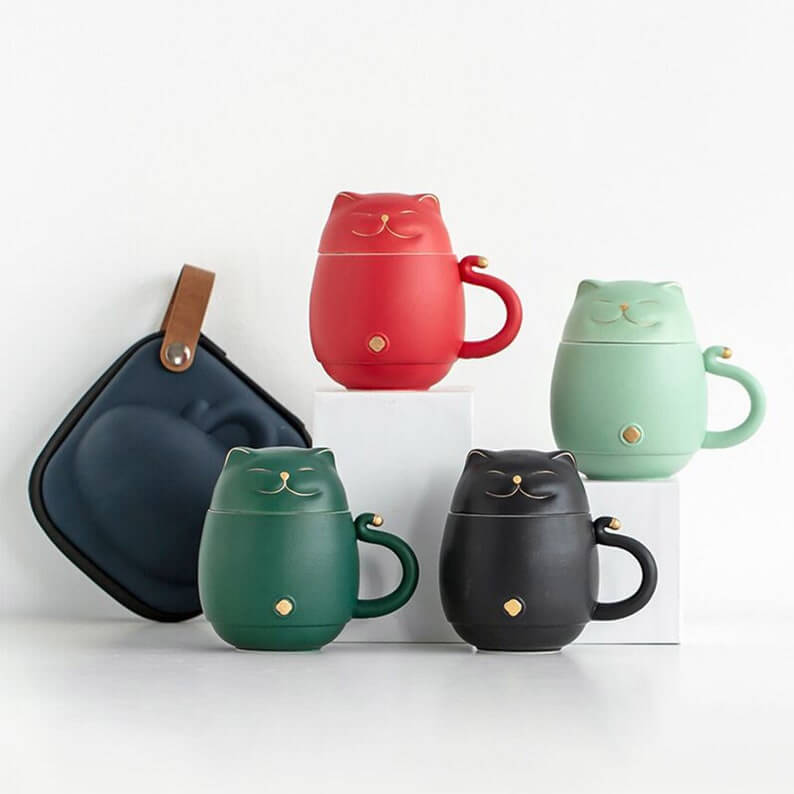 It's tea time so what better way to enjoy your warm steeping refreshment than with this adorable cat teacup and infuser set. Complete with a case, this makes a great gift and it is super simple to transport back-and-forth to the office so you'll always be prepared for your afternoon tea. Available in your choice of four lovely colors, the one you choose will feel right at home in your mug collection. Isn't it darling how the cat's tail curls up, blending into the cup as the handle? What a charming detail! This truly is the absolute perfect gift for the non-coffee drinking pal on any occasion.
4. Wild for Watermelon Charming Ceramic Coffee Mug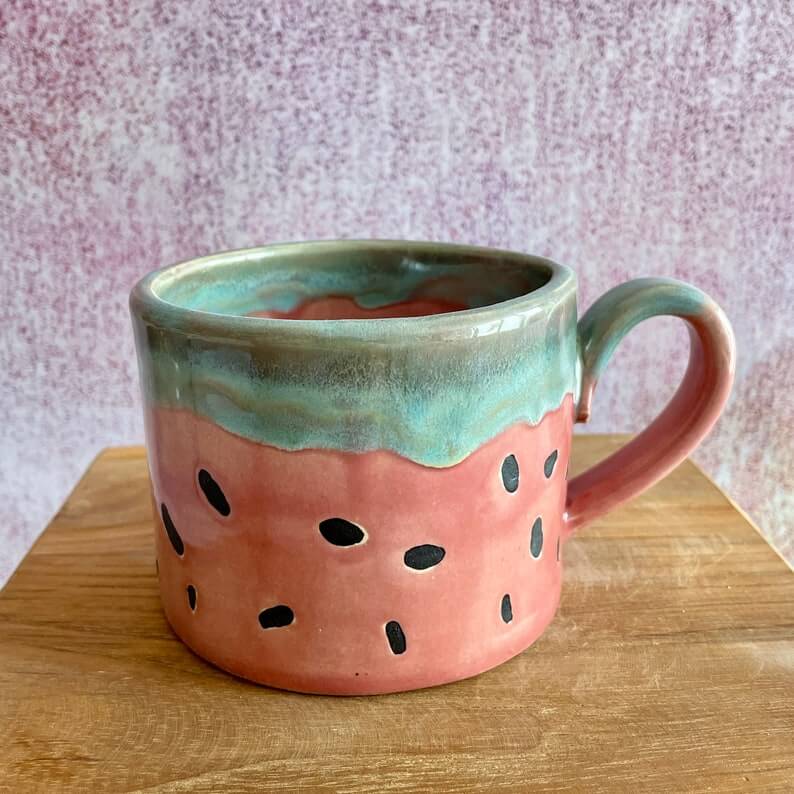 What's not to love about the delicate pink and turquoise glaze used in the creation of this interesting and unique coffee mug? The craftsmanship is evident throughout this original work of art. Even the bottom of the mug features a pretty detail from the artist herself. Hold on to summer all year long, when you sip your favorite warm beverage from this gorgeous handcrafted coffee mug. Anyone who loves watermelon, summertime, or one-of-a-kind items would delight in receiving this cool watermelon mug as a gift.
5. Novelty Christmas Ceramic Holiday Mug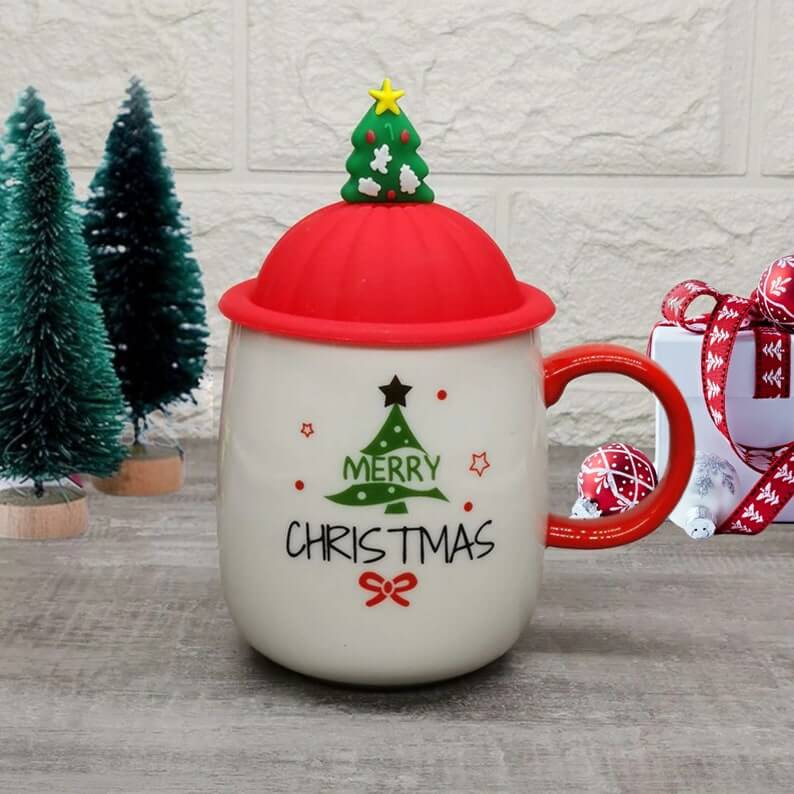 Add some fun and holiday cheer to the season with this cute novelty Christmas mug. It is a wonderful go-to choice when you want to sit back and relax by the fire (or TV) with friends and family. In fact, this can even make for a nice gift for kids to give them something that feels a bit more grown-up while still having that carefree vibe. There is a nice coloring style applied to this too, and you can choose from four different themes that all fit the merry holiday spirit. This even comes with a silicone lid and spoon with the lid always having an adorable mini-Christmas tree sitting on top.
6. Cute Owl Themed Coffee Mug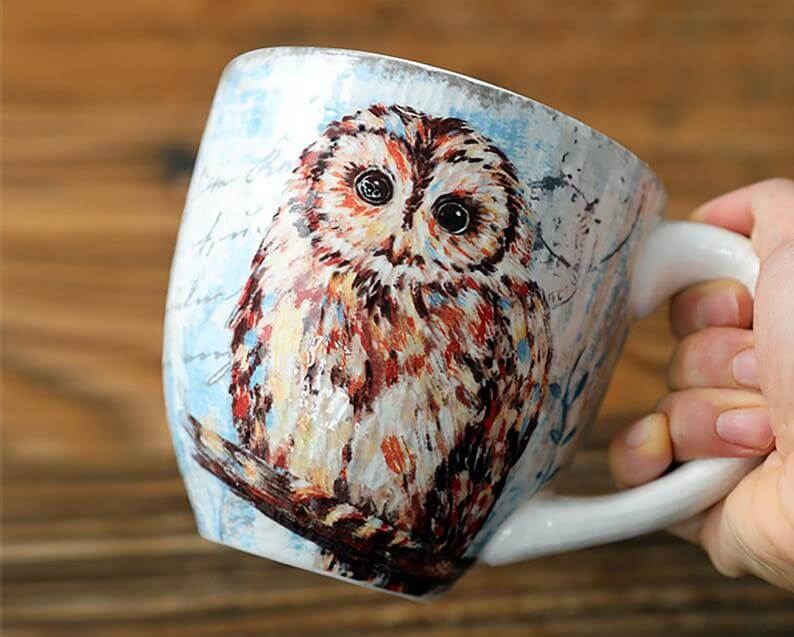 This stands with some of the best unique coffee mugs for animals and coffee lovers alike. The cup itself has a nice shape to it that allows it to blend with the rest of your mugs well. However, it is the outward design that helps this capture attention. There is an openness to the artwork applied, especially with the light background. This background helps the owl remain the focal point of the entire mug, giving it some refreshing bit of life that bird lovers will adore.
7. Handmade Hummingbird and Flowers Guatemalan Ceramic Mug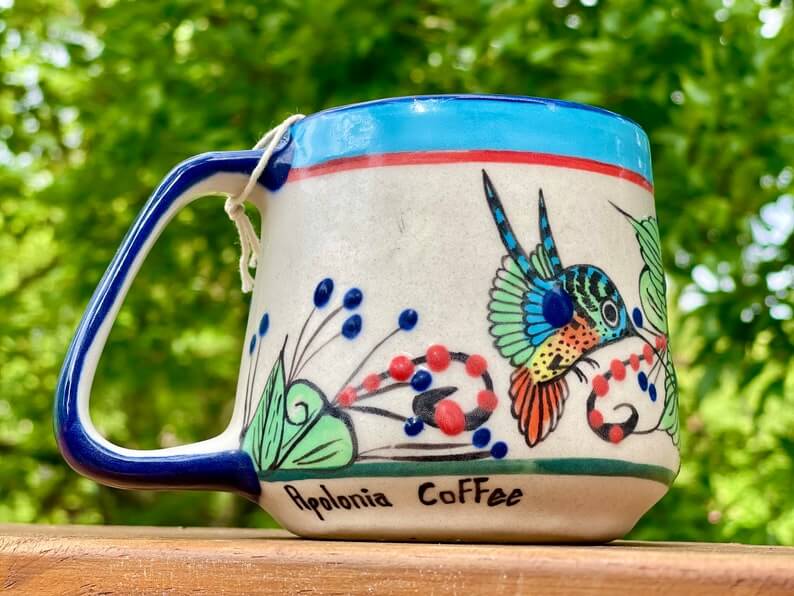 A true work of art, each of these handmade ceramic mugs is crafted in Guatemala featuring gorgeous details and designs. A colorful hummingbird finds the nectar he craves from a beautiful flower blossom as depicted on the design that wraps all the way around this gorgeous coffee mug. Perhaps you have a friend who loves to travel as much as she likes to drink coffee. If this is the case, this Guatemalan masterpiece is a great gift idea! The details are exquisite and the bold blues make this mug vibrant and beautiful. Fill it with a bag of ground coffee before sharing this special gift with a friend.
8. Handmade Aqua Theme Ceramic Coffee Mug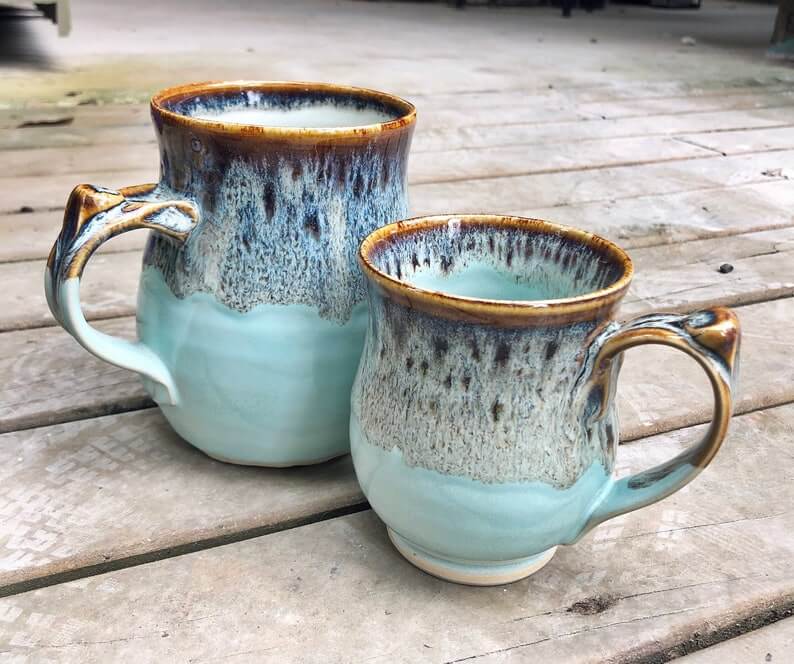 Do you need something to blend in with a more coastal kitchen theme? This aqua ceramic mug is a great choice. It provides your kitchen or coffee bar area with a nice bit of style that is not out of place if you have a surrounding beach-like design theme. The aqua coloring has a nice brightness to it while also having some good contrast to make it less static of a piece. There is also some beige thrown in which further helps with the coastal theme as it allows the mug to look as though it was painted like the beach and the waves.
9. Woodland Critter Ceramic Fox Mug with Lid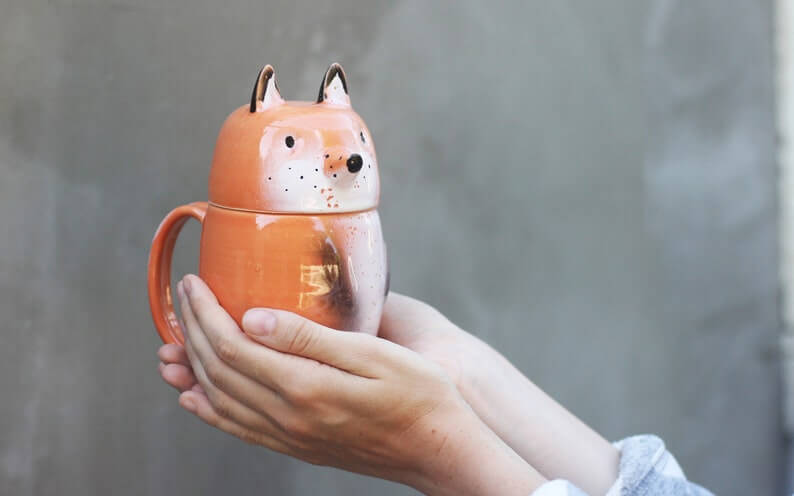 Available in your choice of 11 or 15 ounces, this adorable woodland critter makes drinking your morning cup of joe more fun! The feature of a lid allows convenience if taking it along in the car or using it as a decorative storage piece on your counter. Created is a soft orange hue, this ceramic mug will stand out in your mug line-up with its cuteness and charm! Assemble an entirely fox-themed gift basket complete with tea towels, calendar, and coffee/tea supplies for a wonderful and heartfelt gift!
10. Glow in the Dark Coffee Mug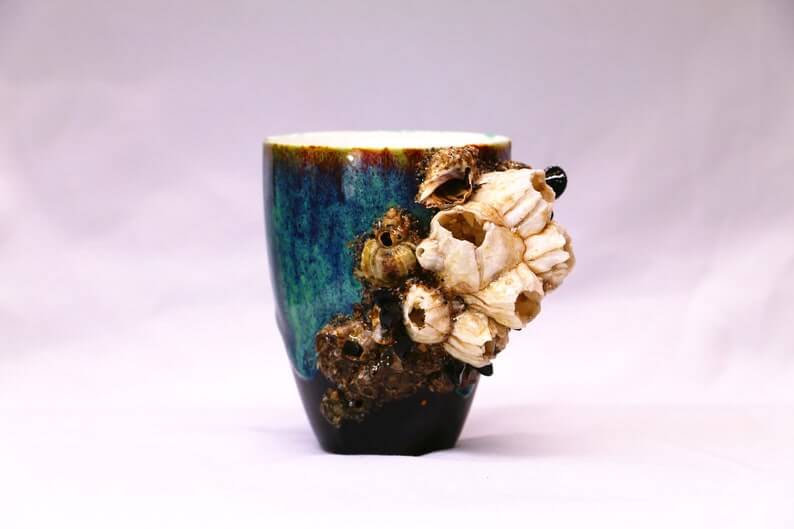 This glow-in-the-dark mug takes unique coffee mugs to a new level. It is a handmade mug that is fitting for those who adore all the mystery and beauty of the deep sea. This has such a breathtaking appearance that you may want to admire it more as a work of art rather than something to drink out of. There is an amazing glaze pattern that readily has this looking as though it was pulled from the ocean. This also has several different kinds of seashells artistically designed on one side of the mug that breathes fresh life into the mug.
11. Incredible Ceramic Handmade Coffee Mug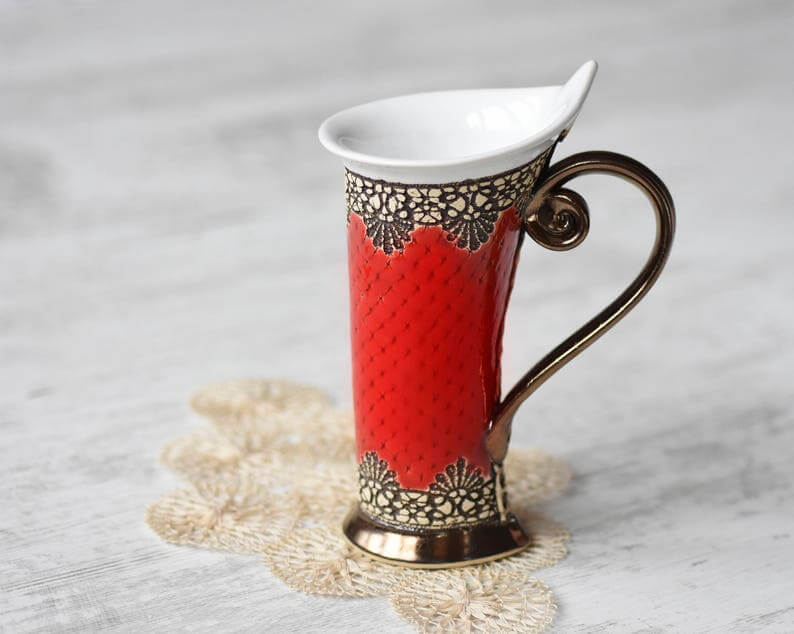 This sits well among the best handmade coffee mugs considering its incredible design. There are two different sizing options to choose from, but both have that distinctive style applied that makes you take a double look at it. It is tall and thin, making it fit well as far as unique espresso cups go. There is also a beautiful design to the mug that gives it a more fashionable look so that it is just as much decorative as it is useful. Even the handle boasts a lovely vintage swirl to it that will make you feel high-class just holding it.
12. The Great Wave Japanese Enamel Coffee Mug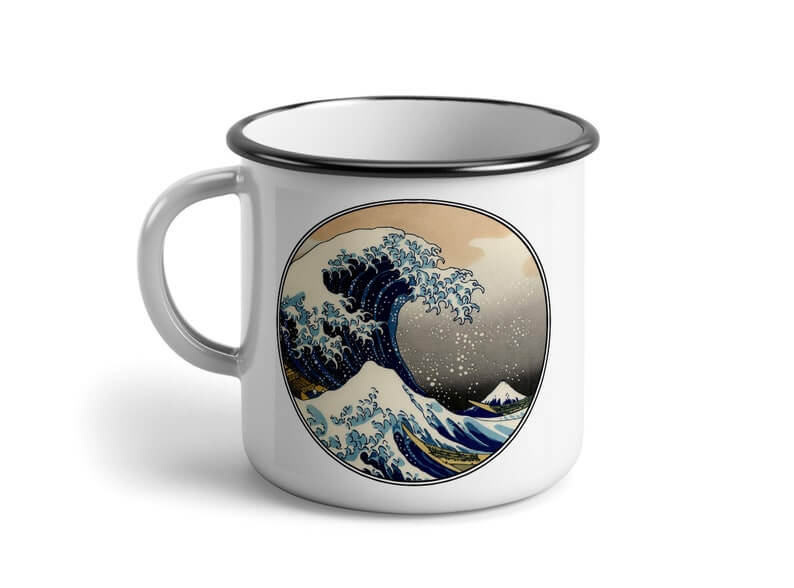 You can nearly feel the mist of the foam off of this iconic Japanese wave from the coast of Kanagawa. The artist's attention to detail in the spittle of the roaring waves is on-point and brings to life the majestic beauty of this natural work of art. Allow yourself to be transported to the sand and sea while you sip your coffee or tea and escape into the relaxing wonder of paradise. Any beach lover or mug collector will be thrilled to add this charming and unique piece to his or her personal collection. Even for the light drinker, it can be used as a desk organizer to keep all of your writing utensils within reach while looking amazing!
13. Bright Ceramic Handmade Pottery Mug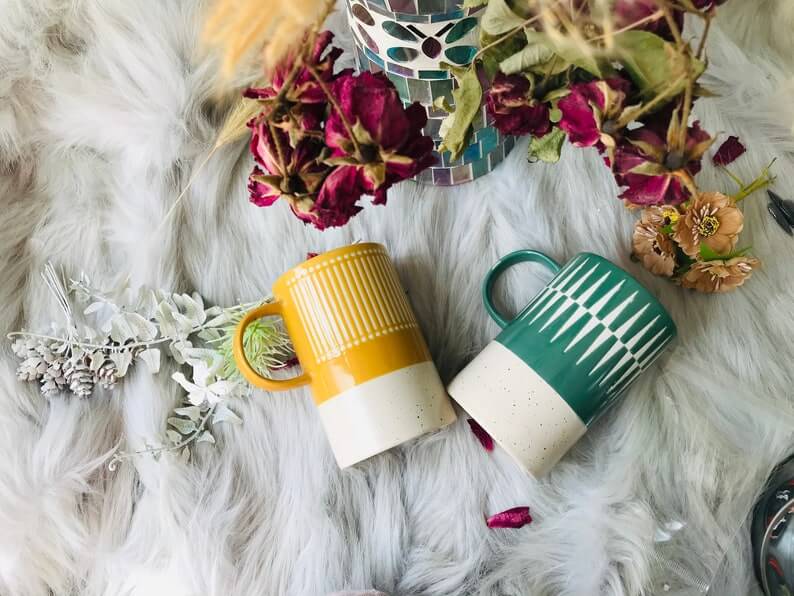 When you need something that will brighten up the kitchen, this handmade pottery mug makes for a lovely choice. It is one of the best unique coffee mugs that has a simple look that still manages to stand out with ease. There are geometric patterns found within the mug, and the top is always different from the bottom. This two-toned layout helps these mugs leave a lasting impression so that they are decorative as much as they are functional. The inside, however, is all a single color tone matching the top of the mug. You can select from either a warm yellow or a cool green color.
14. Set of 2 White Ceramic Mugs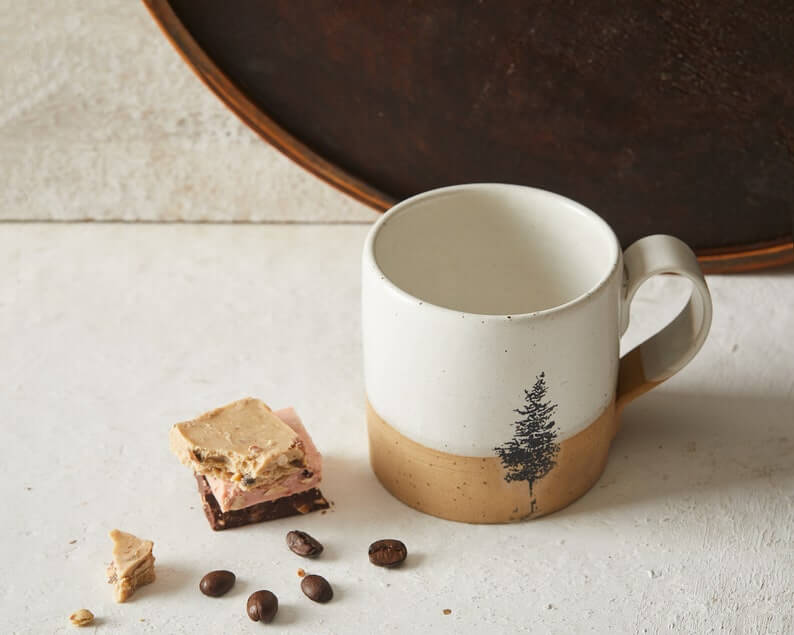 Looking for some cool coffee mugs that match with one another? These are a nice choice considering they both have a rustic, laidback appearance. They have a multi-color design pattern that helps them stand out so that they don't come across as overly simplistic. Instead, they boast this feeling of the outdoors, making them suitable choices for that rural or farmhouse-like home layout. They are a matching pair of mugs that you probably wouldn't mind leaving out as decoration as much as they are functional to drink out of. You have the option of choosing to have them come with or without the tree decals.
15. Modern Minimalist Black and White Ceramic Mug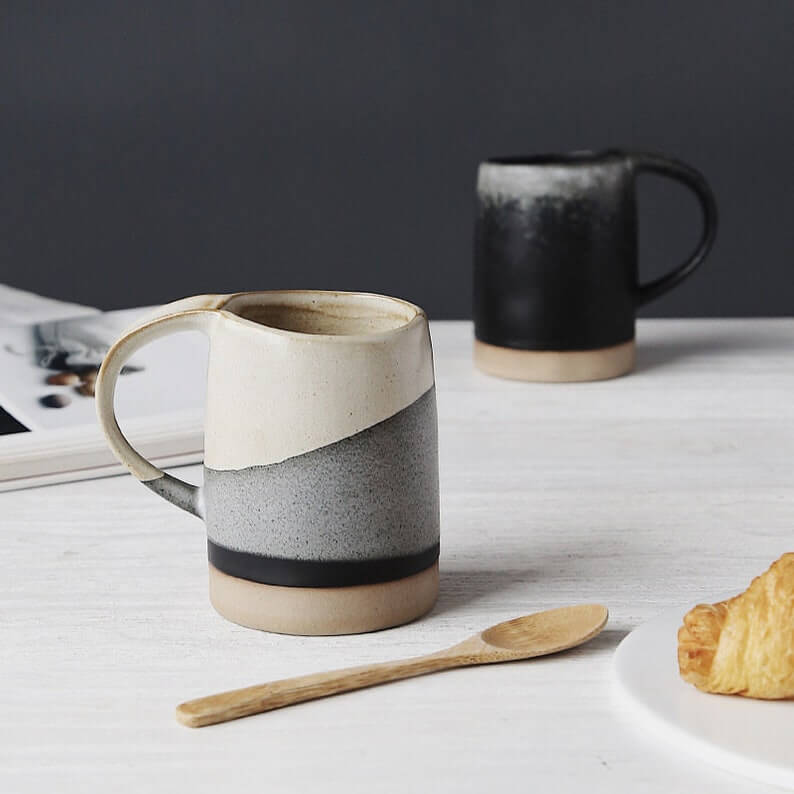 Modern and marvelous, this ceramic mug delivers function and style in a way that tugs on the heartstrings of the minimalist. Crafted in your choice of styles, the all black or white with black and gray, both represent the modern color palette quite nicely. Since they are handmade, no two are alike, further increasing their originality and charm. These stylish mug options are great to accessorize your new modern kitchen and make amazing gift ideas for those extra friends and neighbors on your list. The tan base sets off the rich color of the top of the mug giving it a more refined and sophisticated look.
16. Ceramic Starry Night Bold Blue Coffee Mug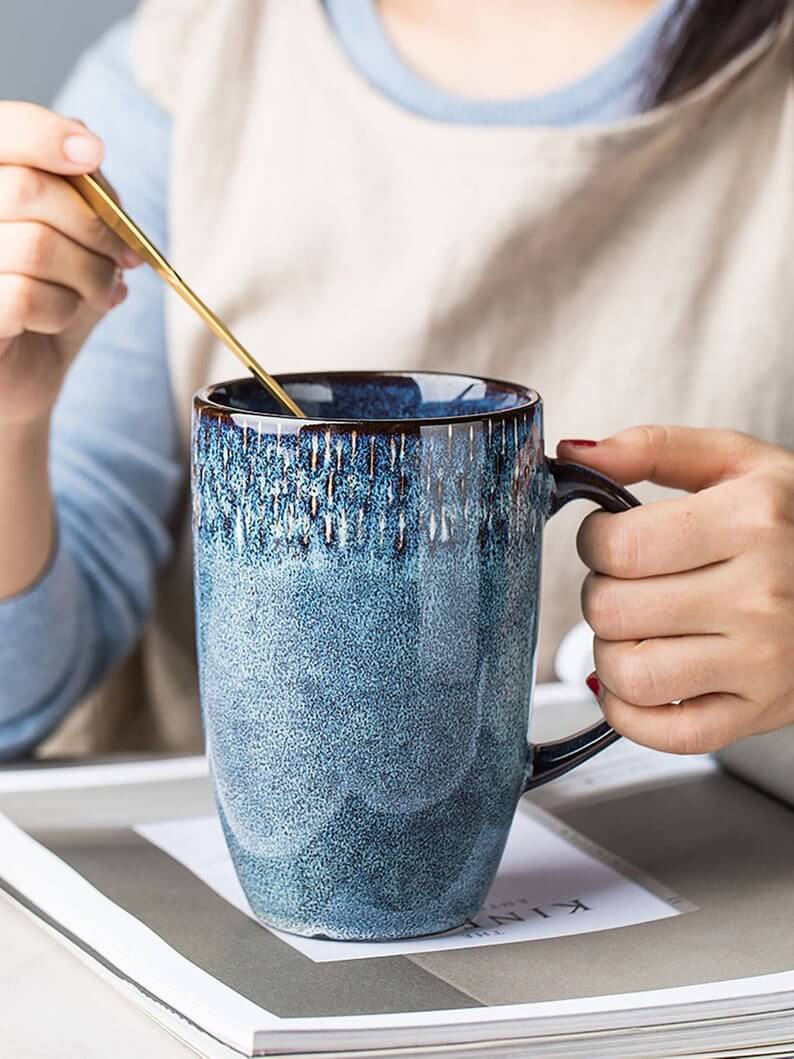 Capture a serene starry night as you hold a fresh cup of coffee to warm up your hands. This gorgeous ceramic creation shows off an indigo patina that resembles a clear star-filled sky everyone loves to see at night! With a sturdy handle, you'll enjoy sipping your 20 ounces of warm and steamy goodness in the comfort of your own home, car, or even at the office. Due to the unique creative process, each mug is unique and will display a slight variation in patina and color from the picture. Add a lid and spoon to complete the set. Place it in a basket with a bag of beans and a coffee grinder for a total gift package.
17. Warm and Vintage Ceramic Mug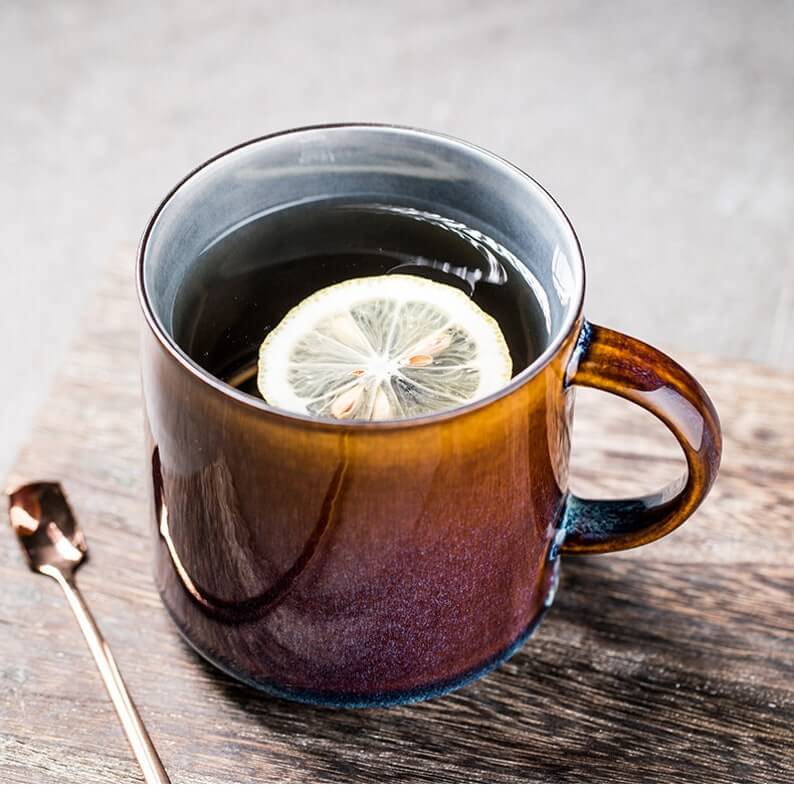 This beautiful coffee mug is anything but basic. It has a wonderful feeling of warmth, making this mug a perfect gift for a loved one who enjoys all things coffee. The ceramic glaze truly shines with this mug, making it feel and look smooth. There is also a nice gradual change in coloring with this mug too as it utilizes multiple colors, yet they are all blended in a way so that everything flows well together with ease. It leaves the coffee mug with a charming appearance that will make anyone smile when they grab it to use it.
18. Chinese Style Ceramic Tea Pot Cup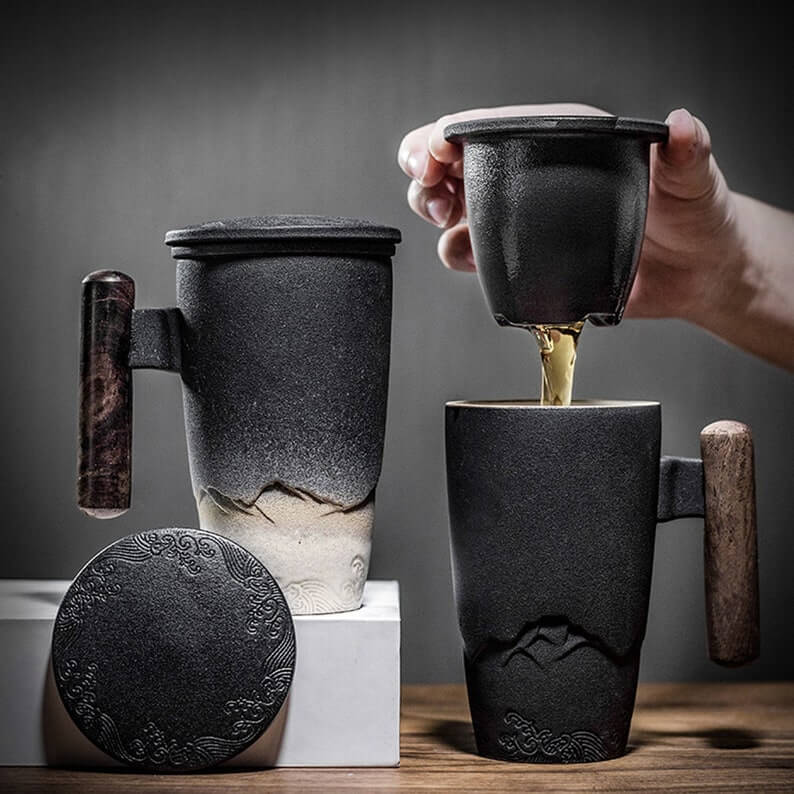 Here's your go-to system for steeping that perfect cup of tea no matter where you go. Not only is this teapot cup with a lid system stylish, but it's also practical beyond its years. Just check out how the lid works double duty as a coaster for the tea basket. Your loose leaves will be able to work their magic as they gently steep within the ceramic teacup mug. Additionally, the wooden handle makes holding easy and looks incredibly cool and modern too. Using this Chinese style of teapot, you'll have everything you need for your afternoon tea at the office or on your next business trip.
19. Purple Agate Crystal Gold and Gray Mugs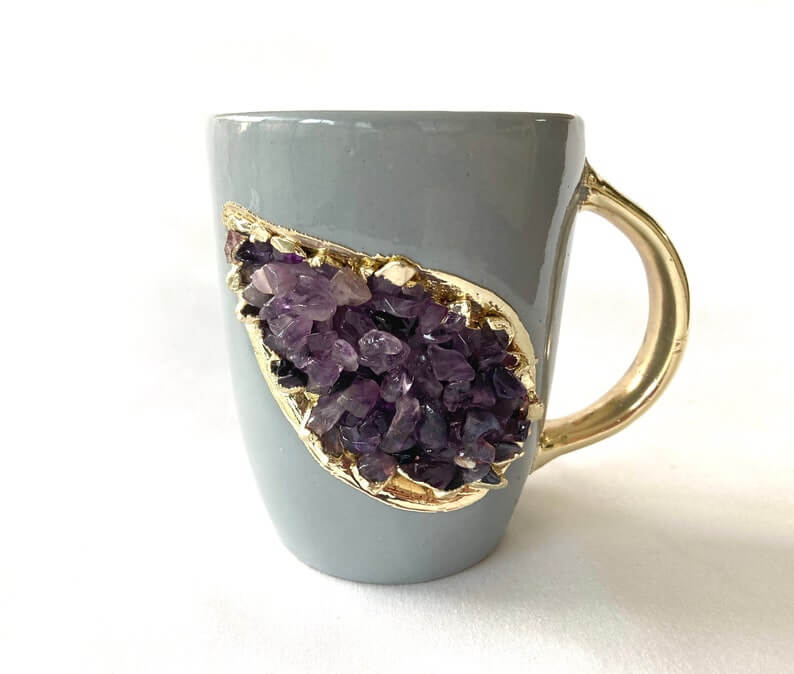 Cheers to the amazing amethyst-hued beauty of these purple agate crystals that create a one-of-a-kind mug set. This pair of mugs highlights this purple tone with a background of gray and gold that provides the perfect accent and backdrop for the crystal, star of the show, to shine. A set of two makes a great gift to welcome a new neighbor to the 'hood or a new set of parents into those sleep-deprived nights.
20. Cool Handmade Artisan Coffee Mug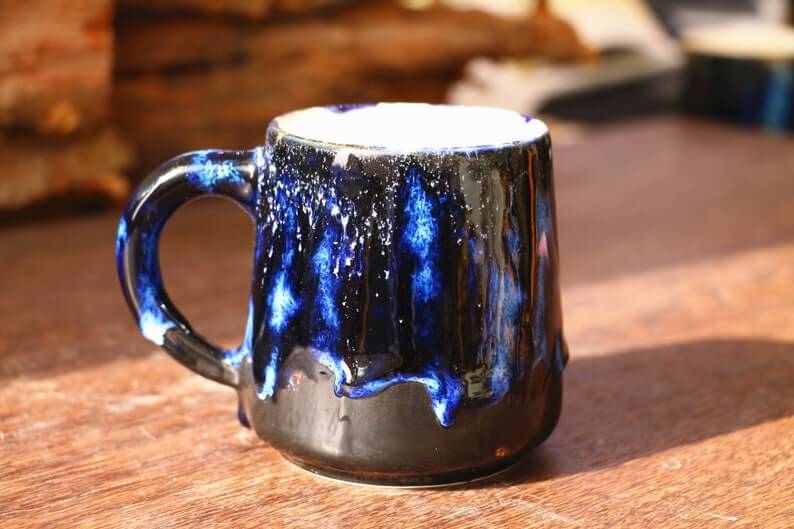 As far as cool coffee mugs go, this artisan one stands out among the crowd. This mug isn't just food-safe, but it's designed to be dishwasher and microwave safe too. Cleaning isn't a hassle either thanks to how smooth the glaze is. Besides being easy to use, the mug is simply awesome to look at and admire. Since it is all handmade, every mug has a distinctive look. Besides choosing from a variety of sizes, you can also pick whether you want the mug designed in a futuristic mysterious blue coloring or a cool, psychedelic green coloring style.
21. Handmade Medieval Hatchet Celtic Warrior Insulated Mug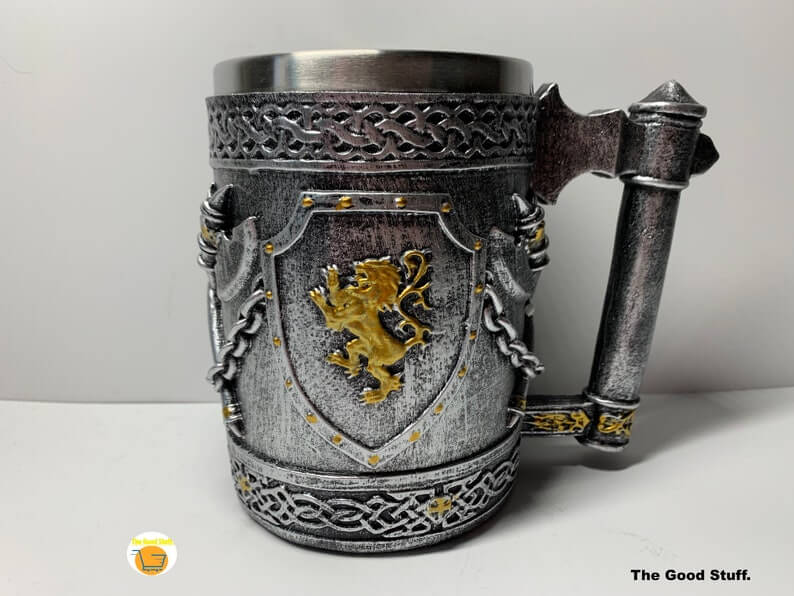 Enjoy the best of both worlds, specifically your choice of hot or cold beverages, with this medieval insulated resin mug. Whether you are downing a hearty lager or casually sipping a flavored coffee, this mug makes it easy and fun! The royal coat of armor and British crest are set in this stainless steel and resin creation to create a 3D effect in a stunning fashion. A set of these would be a wonderful way to toast during a medieval-inspired wedding reception. Perhaps keeping them for the bachelor party shenanigans would be more fun as they roast and toast the groom-to-be. Afterward, they make a splendid keepsake and thank you gift for all of the groomsmen to enjoy.
22. Cute Personalized Aunt Coffee Mugs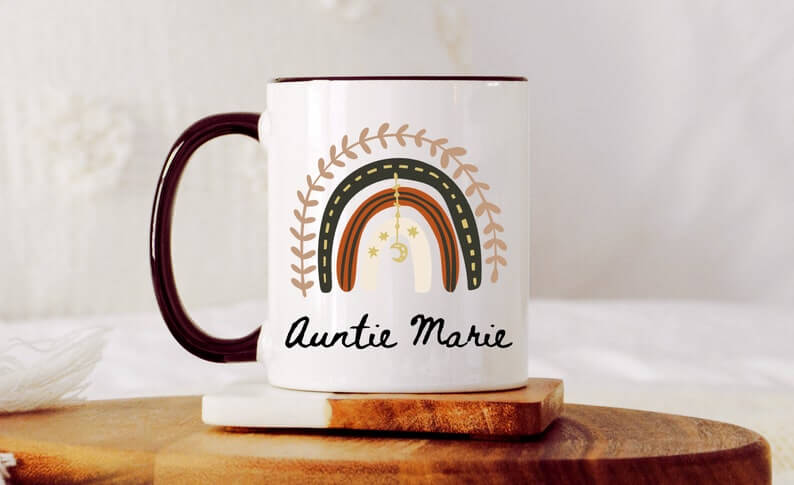 Do you have a favorite aunt or an amazing sister who needs to know just how wonderful of an aunt she is? Gifting her something like this personalized aunt mug is an amazing way to show your gratitude, especially if she is a coffee lover. It is a mug that is equal parts minimalistic and artistic. There is an adorable multi-colored rainbow painted on that uses warmer, darker colors instead of bright ones. They contrast well so that each color still stands out on its own. Also, you can choose from a black or white handle on the mug besides adding in your name of choice.
23. Fun Handmade Personalized Coffee Mug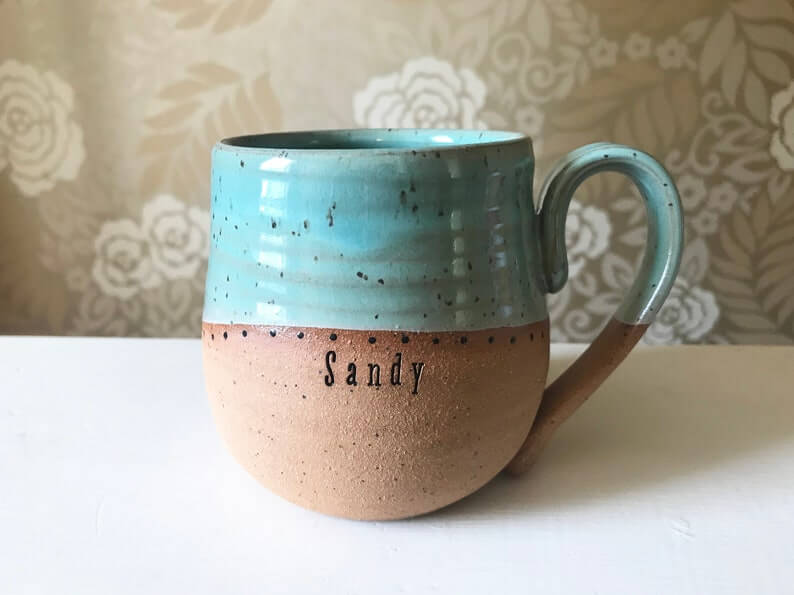 With this coffee mug, you can receive something that doesn't just fit in with your style, but also is completely yours. Each mug can handle up to 15 characters too, freeing many people up to get exactly the name they want on the mug. Choose from either a white or brown clay mug design as this is a two-toned style. So, the top portion will look different, giving this coffee mug such a pleasing aesthetic that makes it even more appealing alongside the personalized name portion. With the top glazed section, you can choose from four different options, further customizing this to fit in with your style.
24. Hand Painted Ceramic Coffee Mug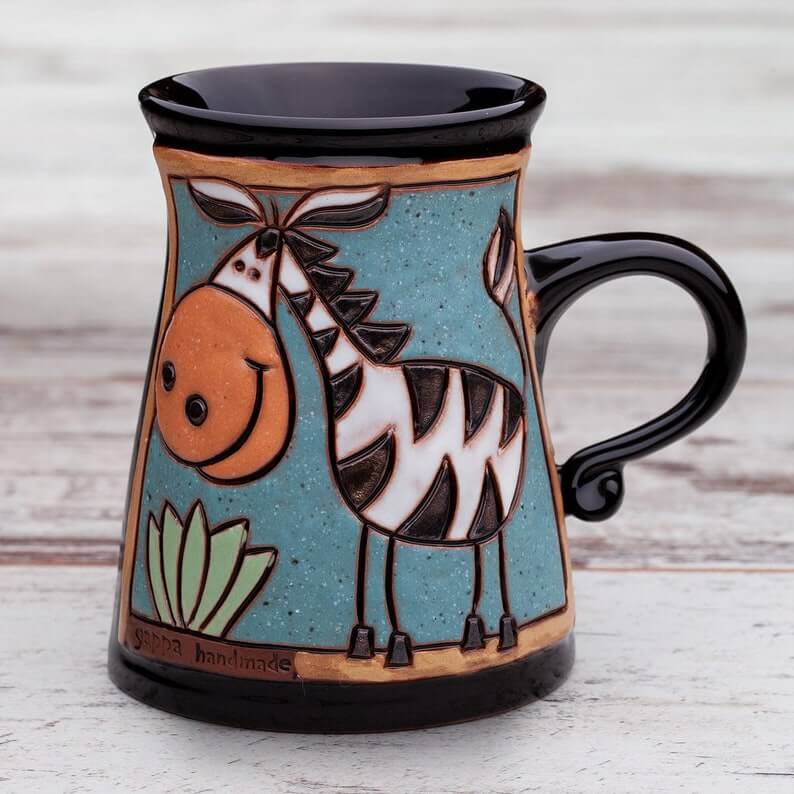 This ceramic mug has a great shape applied to it with its lovely oval-like design. One side is completely black, but the other side has such a cute design to it. The zebra is cartoon-like in appearance, making it especially fitting for children to use. However, it still has a mature design that allows this to fit in all the same in a more adult environment. Besides the looks of this mug, it has wonderful functionality. As it is made from ceramic material, it retains heat well, allowing this mug to not just hold its shape, but to keep warm liquids heated.
25. Macabre Purple Skull Coffee Mug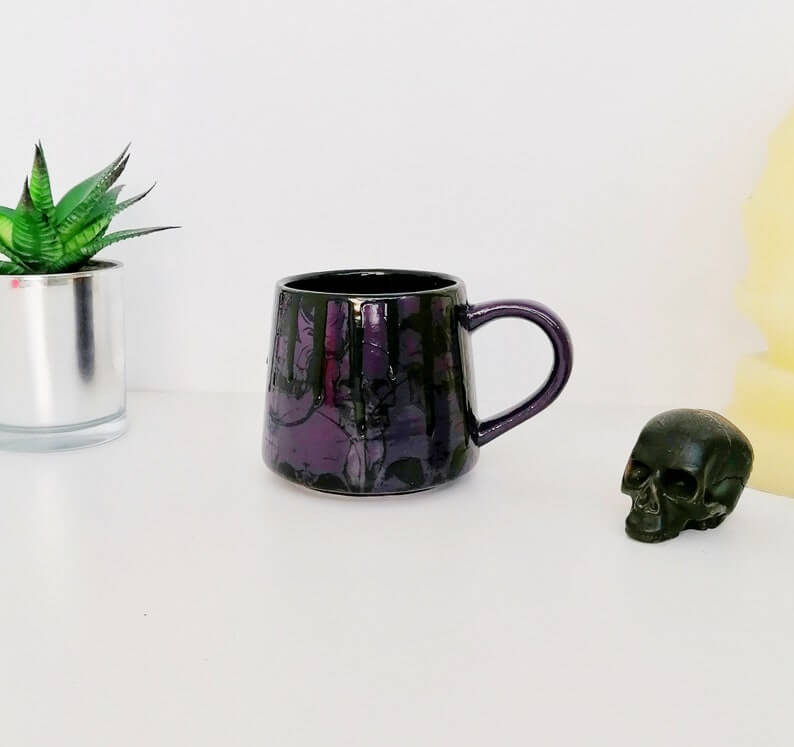 For those of you looking for unique espresso cups that have a darker slant to them, this purple skull mug should do the trick. It is a cool choice to fit in with that goth aesthetic while still having a nice bit of color thanks to the purple design. The skull designs grace the entire mug all around, varying in size and look too so that there is always something interesting to look at no matter what angle you approach this mug at. This also has an awesome black drip glaze that starts from the top. It falls in an awesome way that further nails down the overall dark and mysterious vibe this mug emits.
26. Amusing Red Shoe Walking Mug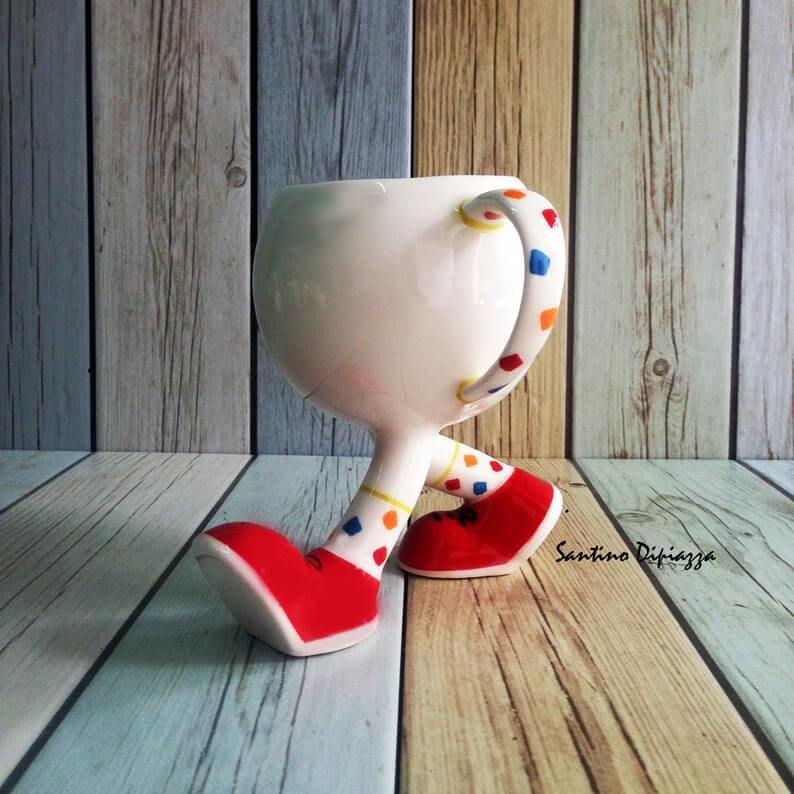 Nothing is quite as entertaining and fun as this unique red shoe walking mug. Available in a single size, this mug will easily become a favorite choice in your home, so much so that guests may clamor to use it once they see it. It is perfectly designed so that it really looks as though it is planning to walk away and you just so happened to stop it mid-motion. The coloring choices further help this stand out. White is predominately used throughout, but there are accent colors down the handle as well as the bold red coloring of the shoes that simply work well together.
Your Guide to the Best Unique Coffee Mugs
No matter what your preference may be, beverages are more popular now than ever! From unique espresso cups to cool coffee mugs, you'll be the talk of the town with your stylish cup collection.
For all of those avid coffee lovers, there's never been a better time to find the ideal ceramic mug showcasing a dark sky full of stars or a vividly colored hummingbird from Guatemala. And if you prefer the taste of tea, there are options for tea drinkers that even include a filtering system for complete on-the-go tea-making possibilities!
If your hobby is accumulating mugs, there is no doubt one of the handcrafted ceramic foxes, cats, watermelon, or agate crystal designs would be a very welcomed addition to your collection. Even selecting one of these to keep at the office will make identifying your cup a much speedier endeavor!
Whether gifting to a friend or keeping for yourself, these handcrafted mugs are a wonderful choice and will bring some personality into your next coffee date!