Your shelves don't have to be boring. DIY shelves let you express personality and flex your design skills by turning normal household objects into an amazing display.
The keys to a great shelf are concept, placement, and stability. Shelves need to be out of the way so that they don't get bumped around, but still somewhere that you can admire your clever design. Many of these shelving ideas turn previously unusable spaces into convenient and accessible storage.
19 DIY Shelves that are Both Elegant and Functional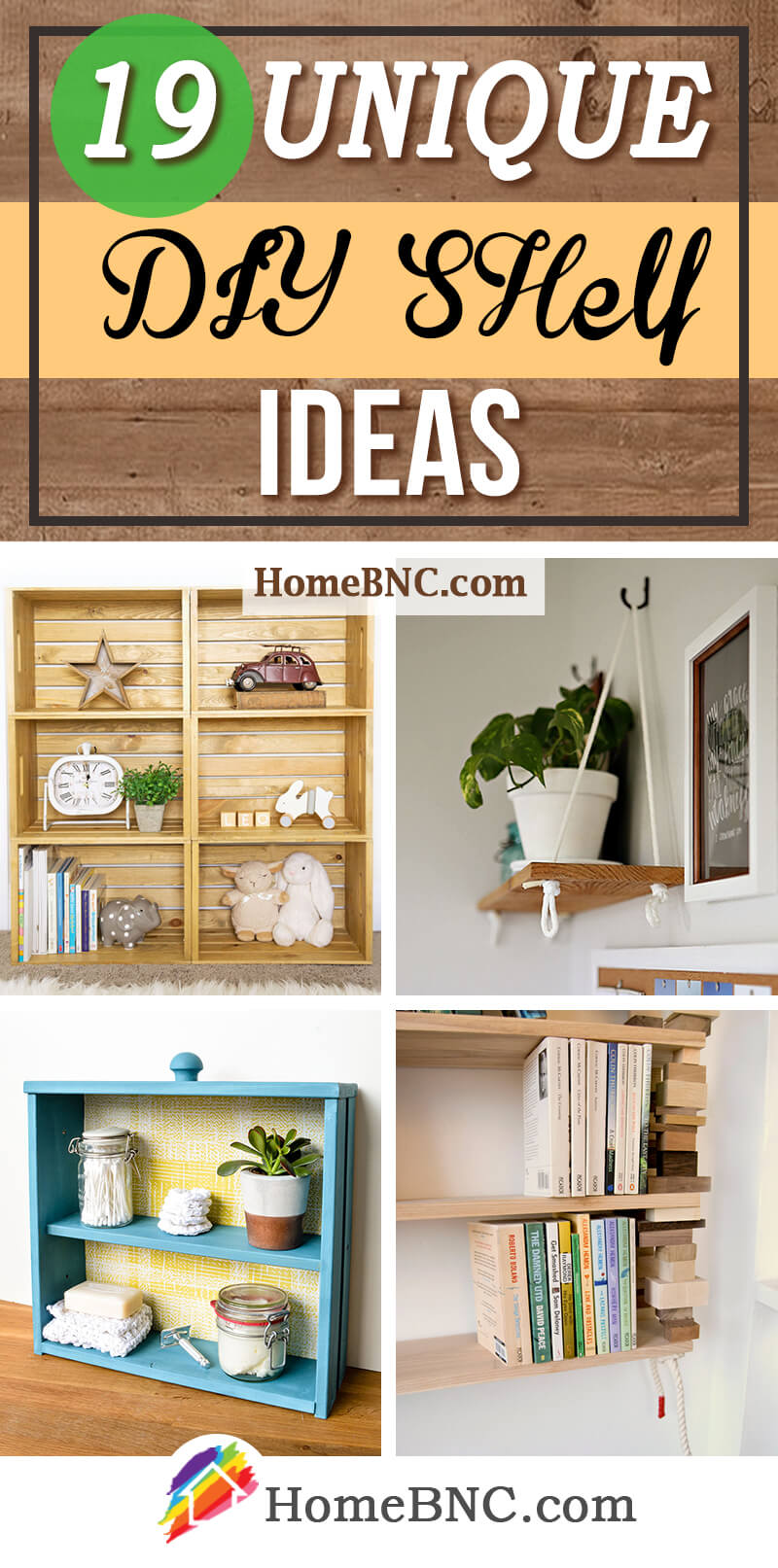 A shelf is only as good as the things you put on it. Use a combination of family photos, treasured souvenirs, and well-tended plants to create a truly gorgeous display. Place meaningful books alongside decorative figurines to really showcase your personality. Take advantage of natural colors to get a design that truly pops.
Floating shelves look like they're suspended in mid-air. These shelves really highlight the items placed on them. Box shelves and hanging shelves create a similar effect with a few unique features of their own. Consider adding lights above or below the shelves to draw even more attention to your design.
Whichever shelves you choose to go with, make sure you hang them well. The last thing you want is to finish your display only to have everything come crashing down.
1. Adorable Half Circle DIY Shelves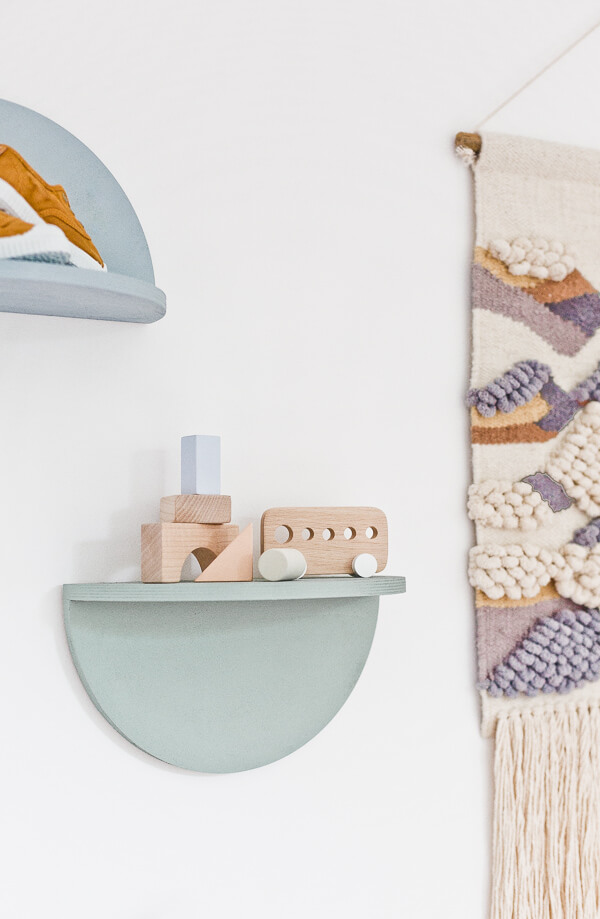 Cute, sweet, and simple, these round shapes and pastel colors are a lovely choice for a nursery. These shelves combine two painted wooden half circles to create an extremely adorable floating display. Notice that one accent is placed below the shelf, while the other is placed above the shelf to highlight a display item.
2. Chain Suspended Wooden Kitchen Shelves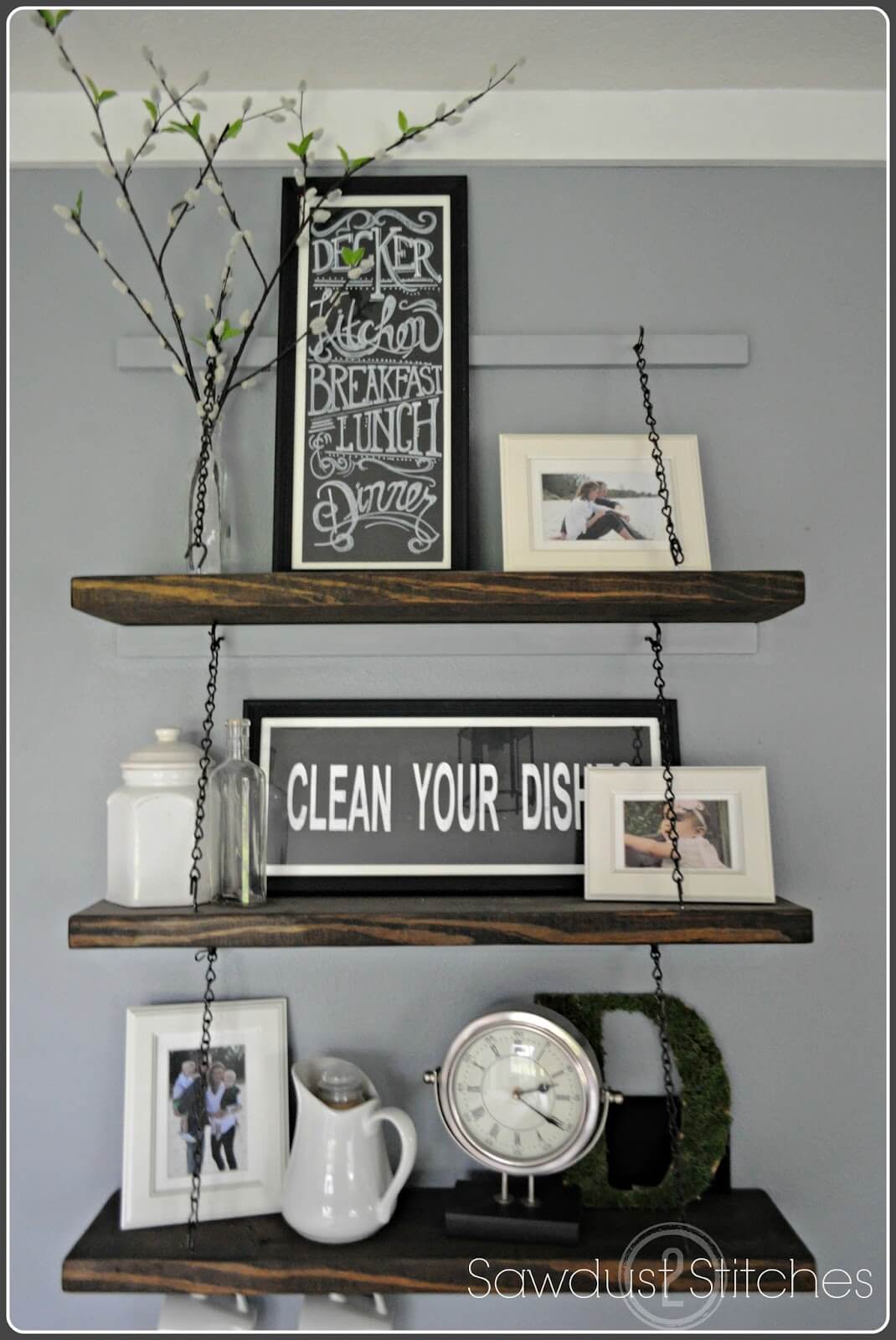 These chains really hold everything together. Stained wooden planks serve as simple shelves in this comforting family display. White picture frames and decorative dishware stand out against the dark wood and metal to create a simple yet charming scene. A few white hooks are placed at the bottom of the shelves, perfect for hanging pot holders, mugs, or other kitchen essentials.
3. Simple Hanging Industrial Metal Shelves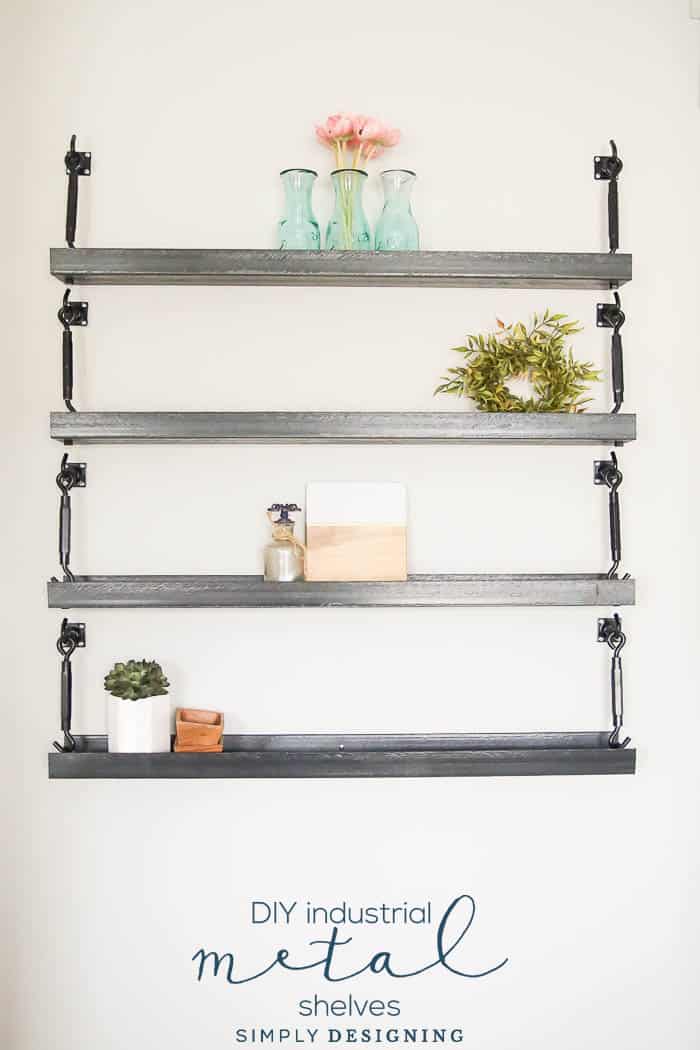 There's something delightfully chic about the combination of industrial elements with soft home designs. This set of metal shelves contrasts perfectly with a vase of spring flowers. Use thin shelves like these to store small, decorative items that will add personality and charm to any room. Make use of empty white space to draw attention to specific items.
4. Bold Hallway Storage Shelving Ideas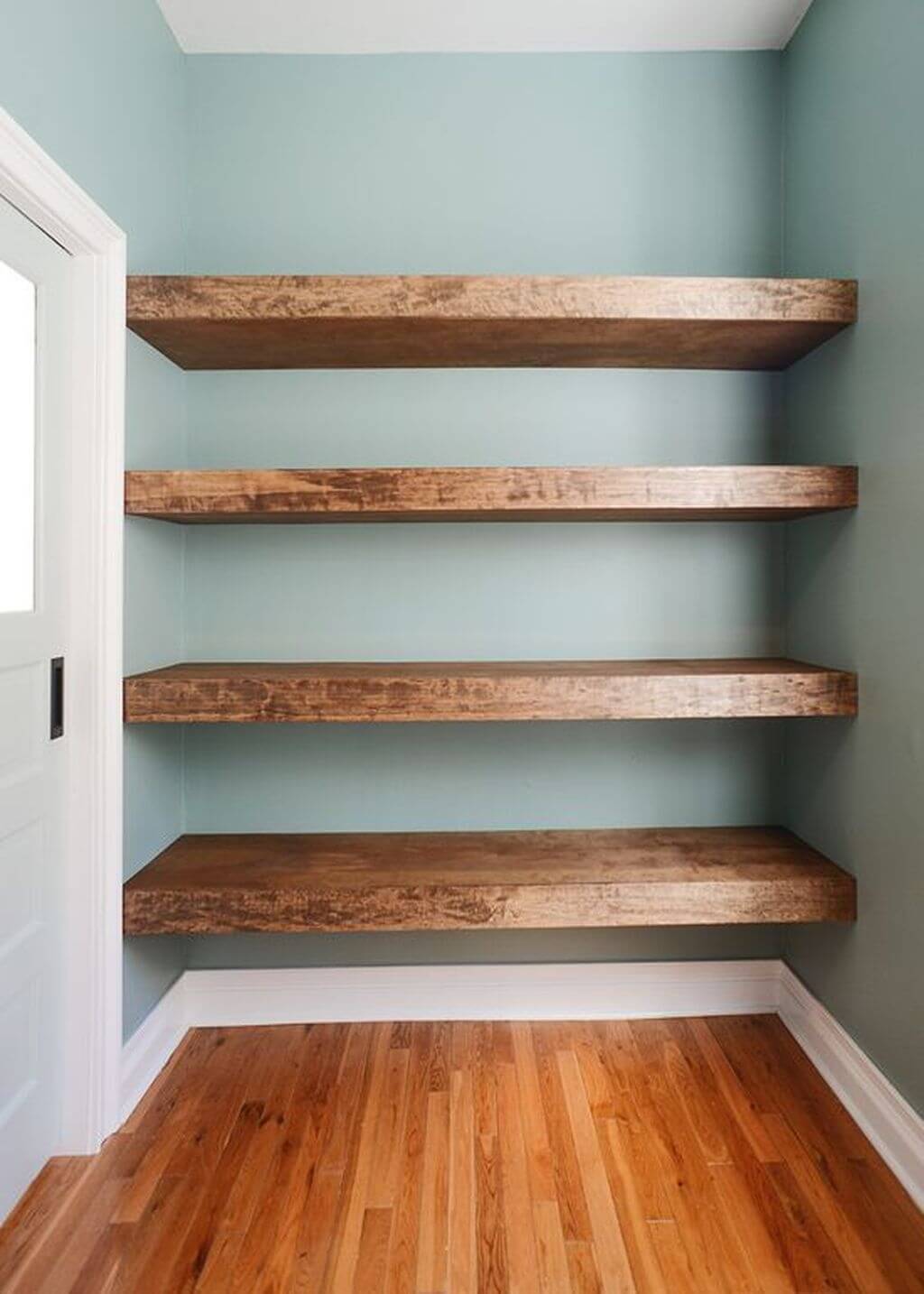 Ever wondered what to do with the tiny space at the end of the hall? These wide shelves turn that empty space into useful storage. The wooden grain is strongly differentiated from the colorful hallway. Use them to store linens, toys, books, or anything else that you might want to grab on your way in or out of the bedroom.
5. Floating Shelves with Wooden Block Bookends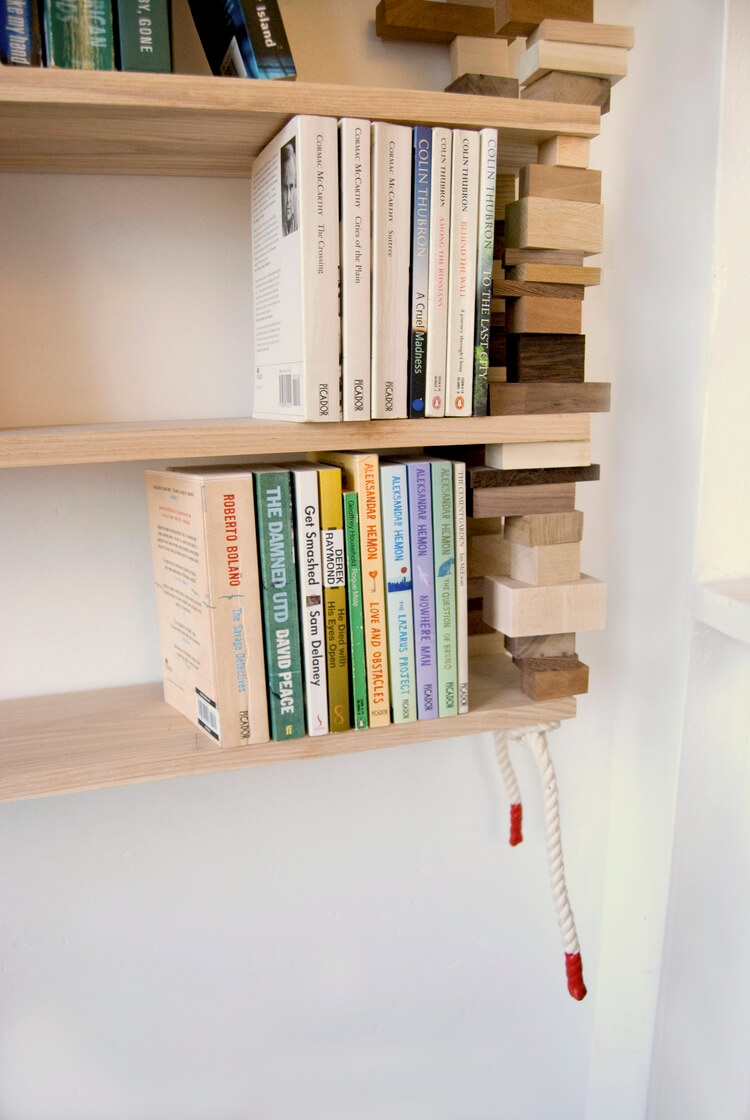 It looks like these wooden blocks are about to fall over, but really they're providing valuable support. This design takes advantage of the many beautiful colors of natural wood to create contrast and visual interest. Each shelf is just tall enough to hold a few favorite paperbacks. A charming tassel of rope makes it look like everything has just been strung together.
6. Cute and Classic Triangle Corner Shelves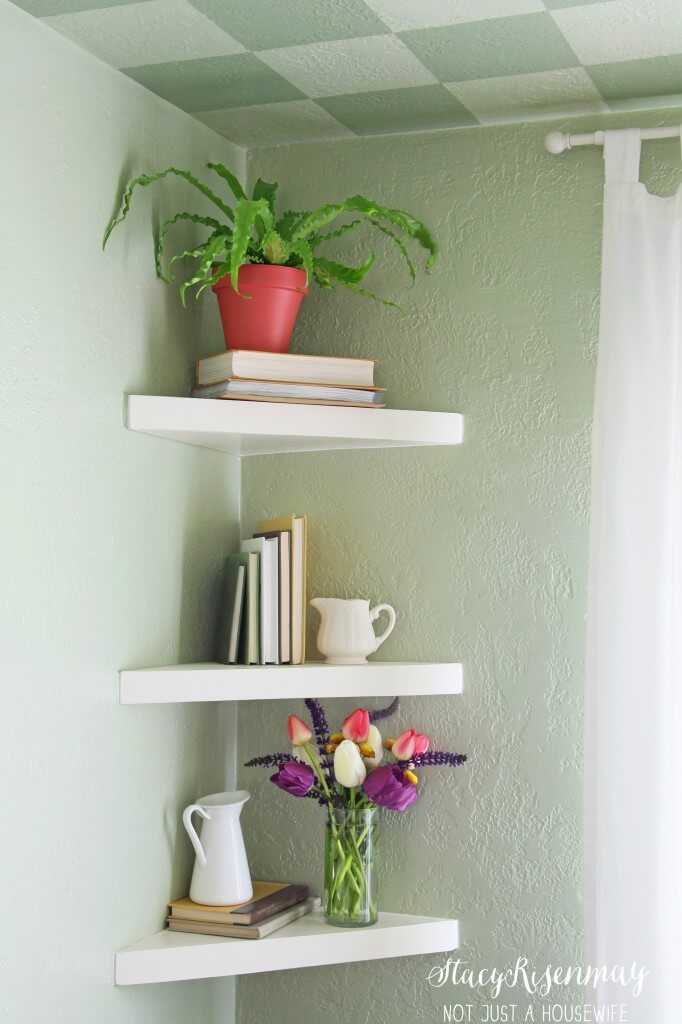 Shelves don't always have to be in straight lines. These triangle shelves fit perfectly in a corner, turning unused space into an elegant display. The placement near the window creates a lovely play of shadows over these houseplants. If there's no light in your corner, try adding some with a small decorative lamp.
7. Simple Hanging Wooden Plank Shelf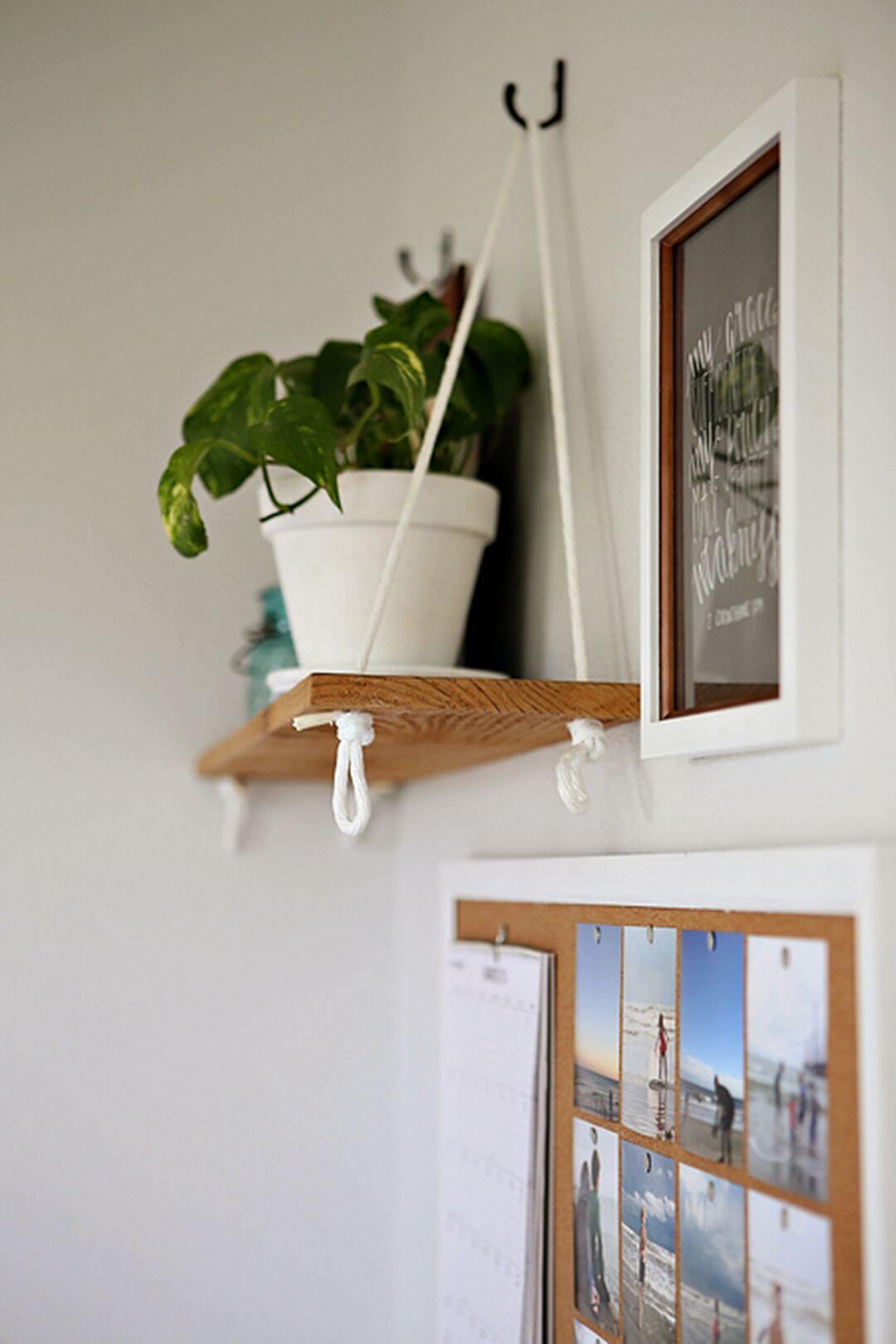 A hook, a plank, and a rope are all it takes to turn the space above a desk into convenient and decorative storage. Don't be fooled by these shelving ideas; there's most certainly a wall mount in there somewhere. A white plant pot has been carefully chosen to match the rope and create a bright and summery indoor vibe.
8. Across the Window Plant Shelves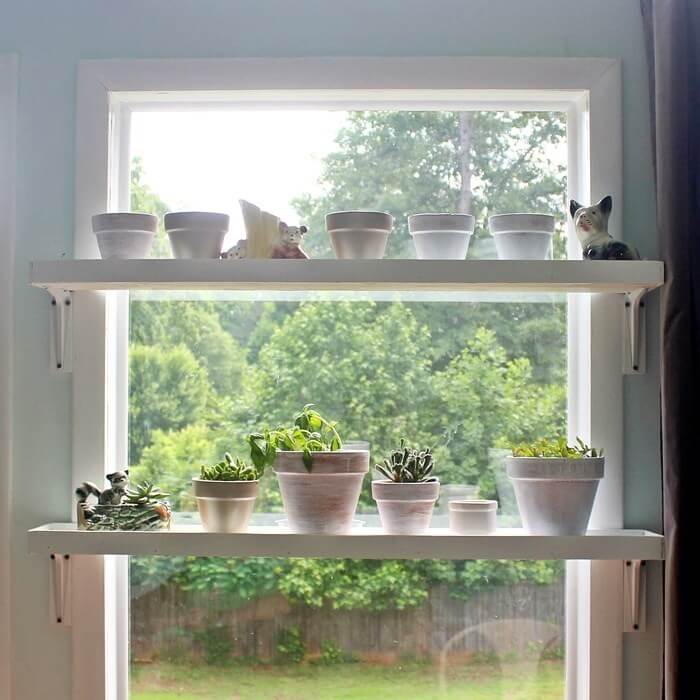 Plants need plenty of sunshine. These DIY shelves turn a kitchen window into the perfect place to grow an indoor herb garden. Shelves, plant pots, and window trim have all been painted to match each other; the color comes from the plants and the lovely greenery outside.
9. Moveable Peg Board Decorative Shelves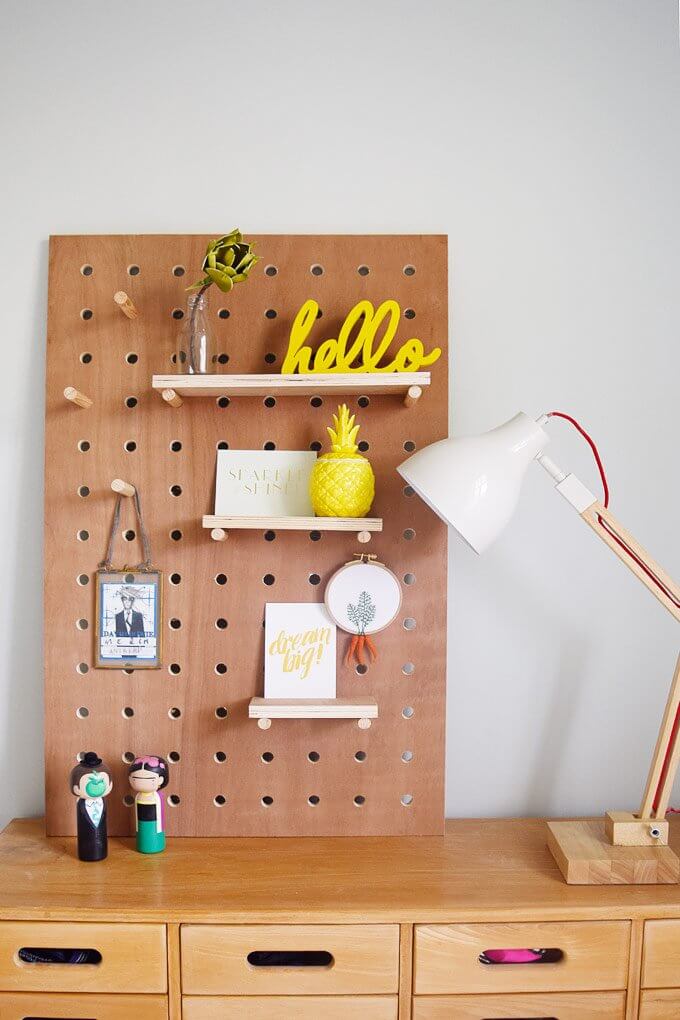 This pegboard lets you create and update your display whenever the mood strikes you. Reposition both pegs and shelves at a moment's notice; extra pegs can be used to hang jewelry or picture frames. This flexible and fun storage method is a perfect way to wrangle in small items.
10. Long Top of the Hallway Shelf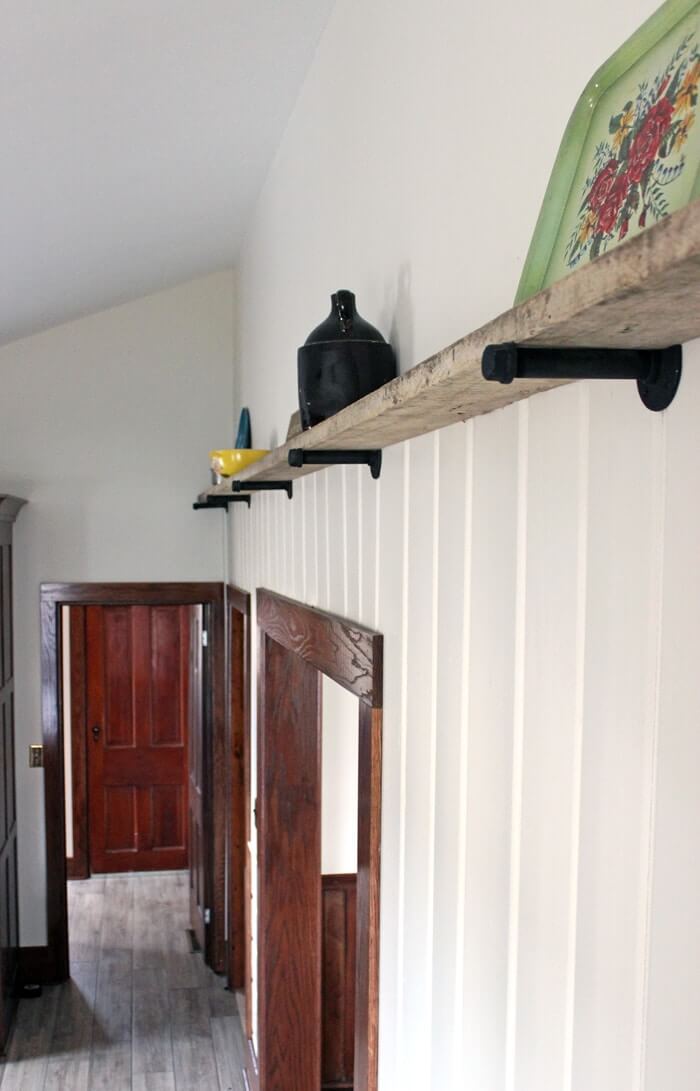 How often do you look up? In this long hallway, you'll be rewarded the second you do. These high up shelves are more for decoration than for storage; they make a great place for nick-knacks and family mementos. Both shelves and brackets present an opportunity to express your personality with creative color choice.
11. Clever Floating Block Shelf Display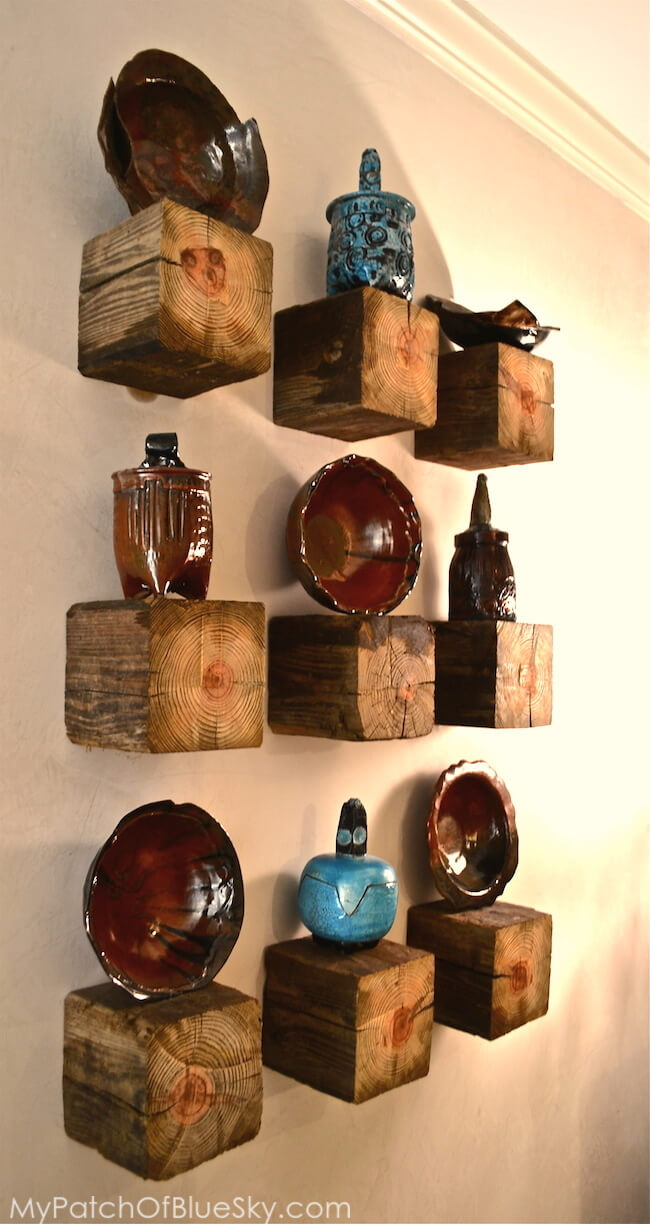 This intelligent display presents a pottery collection in a unique light. Nine matching blocks look like support beams jutting out of the wall. This display relies on the similarity of the items and the placement of the nearby light source. A setup like this could also be used for figurines or picture frames.
12. Thematic Tire Shelf for Small Figurines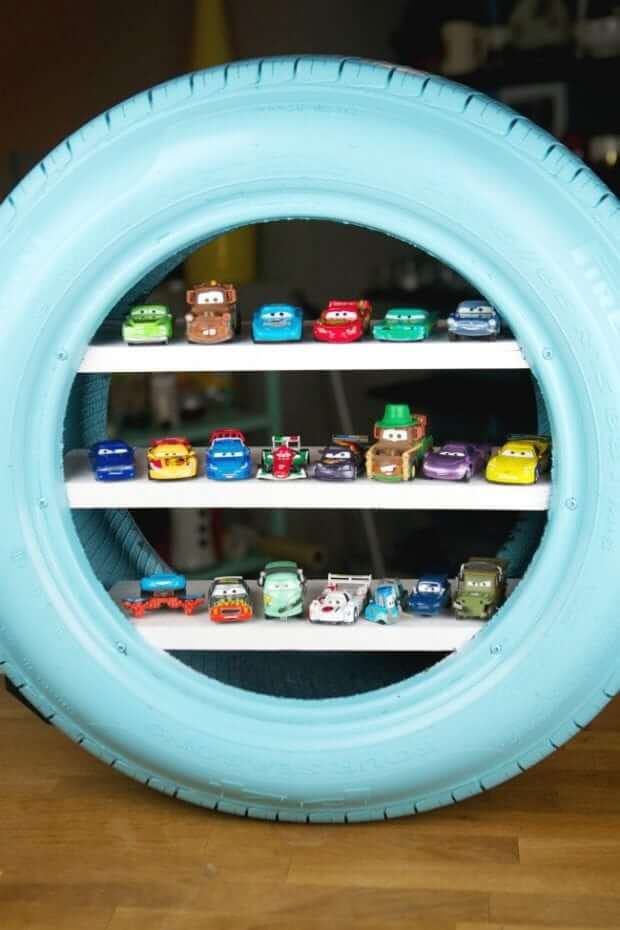 This kid clearly loves cars. These DIY shelves are carefully positioned within a painted tire, making a clever place to hold a series of small toys or figurines. The result is fun, thematic, and super adorable. Each shelf is easily accessible but stable enough to keep those toys organized. Talk about up-cycling in style.
13. Warm Wooden Crate Cubby Shelves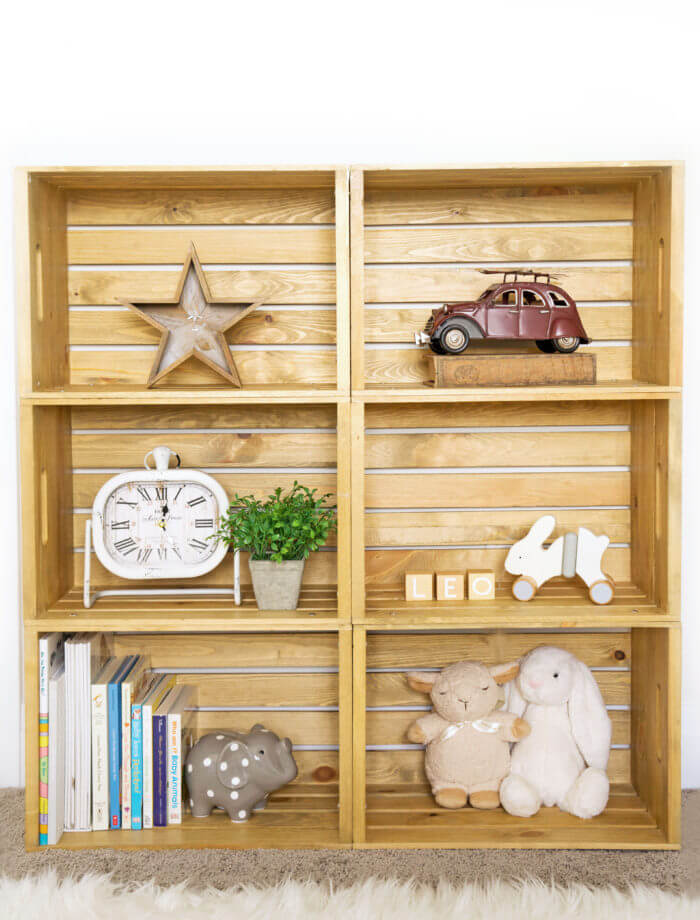 A few wooden crates turned on their side have become an adorable bookshelf right at kid height. The warm golden color of the wood makes an excellent place for toys, books, and a few display pieces. A modular setup like this can be rearranged whenever needed to accommodate a new room layout, making it perfect for a growing kid's room.
14. Airy Floating Frame Box Shelf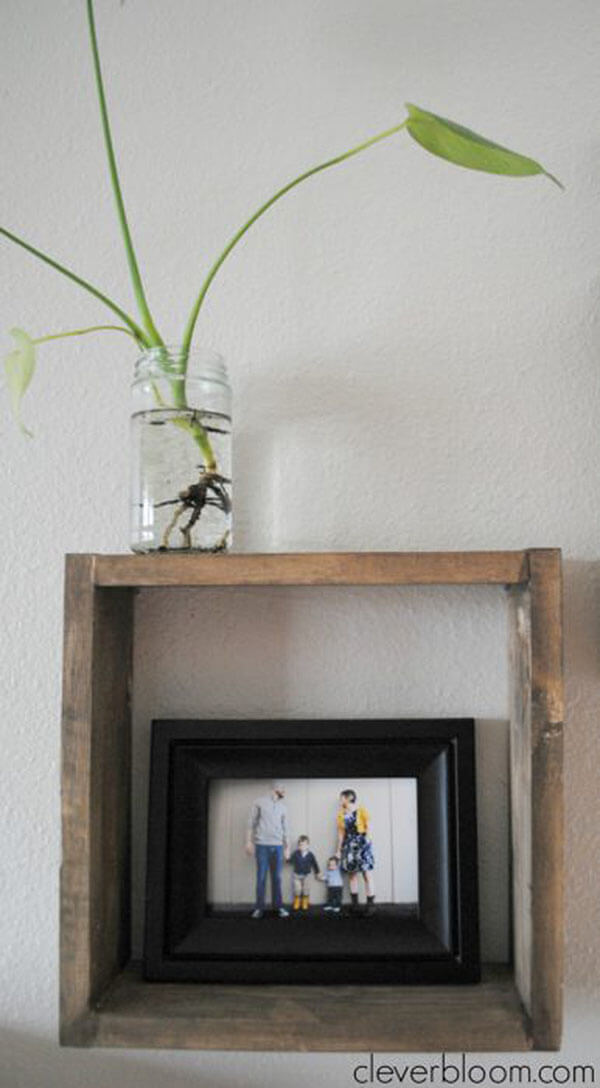 This frame within a frame creates a stunning picture. A box shelf like this one has two usable surfaces: one inside the box and one on top of it. There's no back panel, which adds to the floating effect of the shelf design. Place something sentimental inside the shelf and use the top for small plants that need plenty of light.
15. Hanging Box Shelf with Natural Rope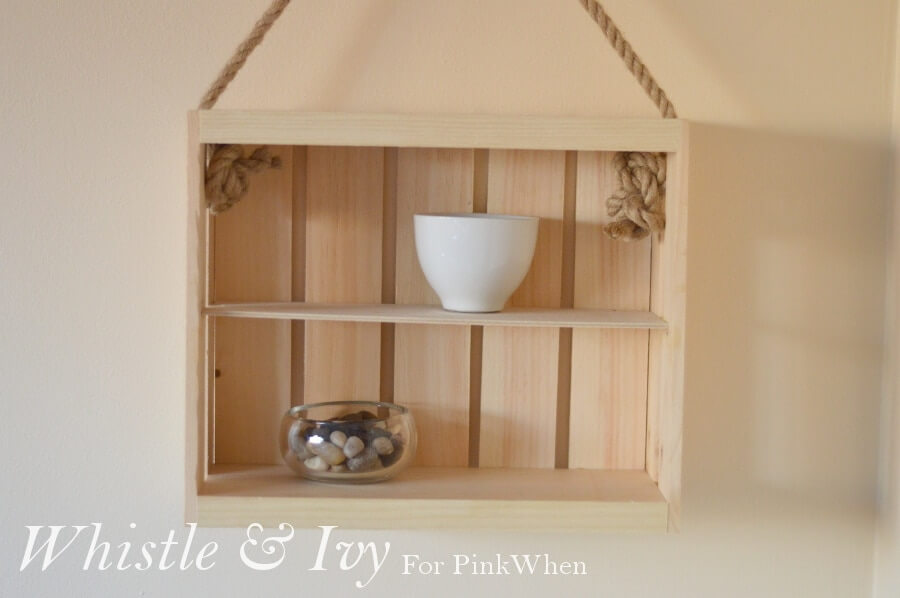 Another take on the box shelf, this one is suspended purely by a strong piece of rope. This lets the shelf tilt slightly to the side, creating a charming visual effect. The knotted rope is a strong element of this design; if you make one, consider tying something complicated and letting it hang down on the inside of the box.
16. Small Colorful Circular Cubby Shelves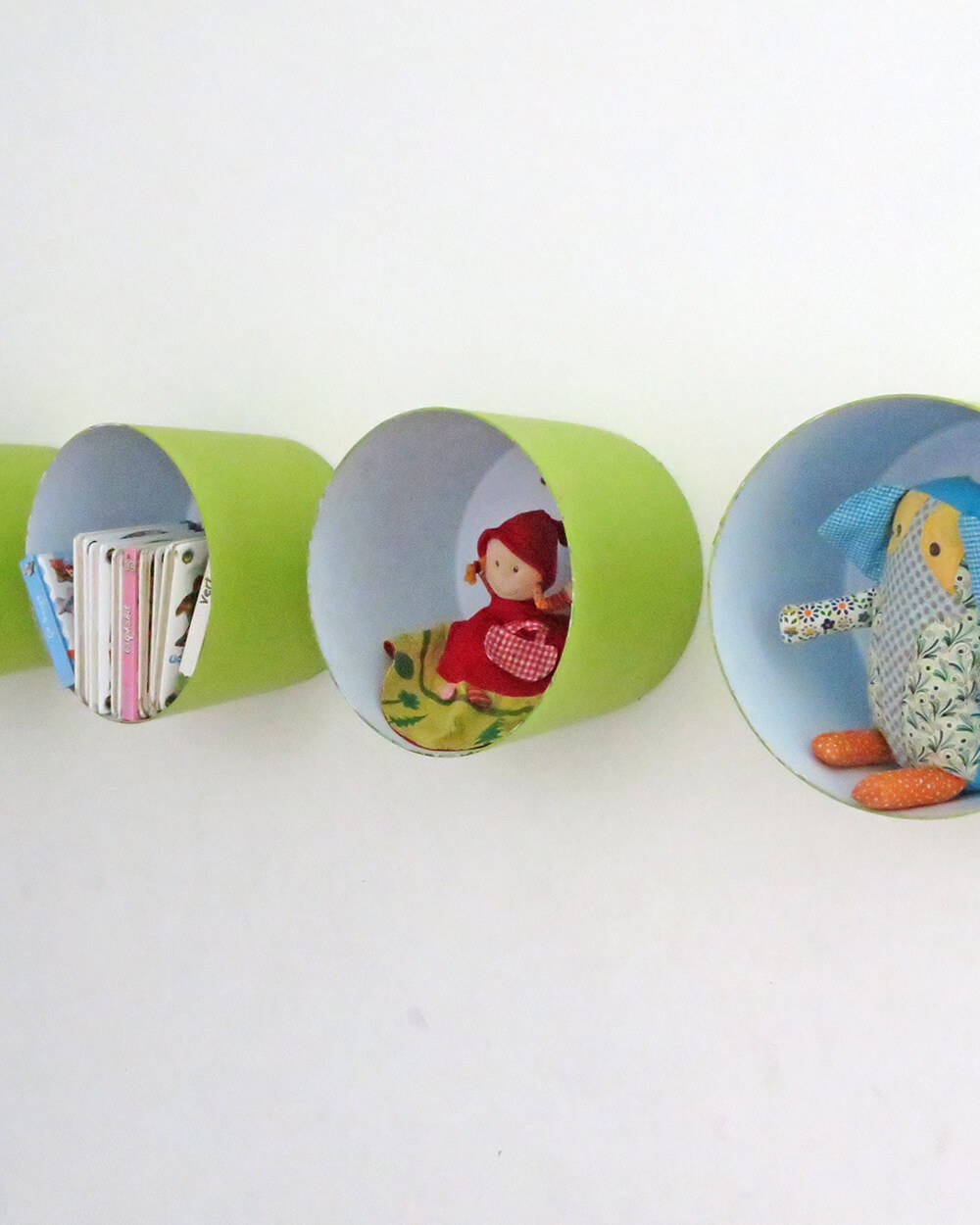 These wall cubbies look just like portholes in a magical submarine. Each small storage space is just right for a doll, a few books, or another treasured item. Bright colors help the shelves stand out from the wall. Make sure you hang these shelves low enough that little kids can reach them.
17. Cheerful Repurposed Drawer Tabletop Cabinet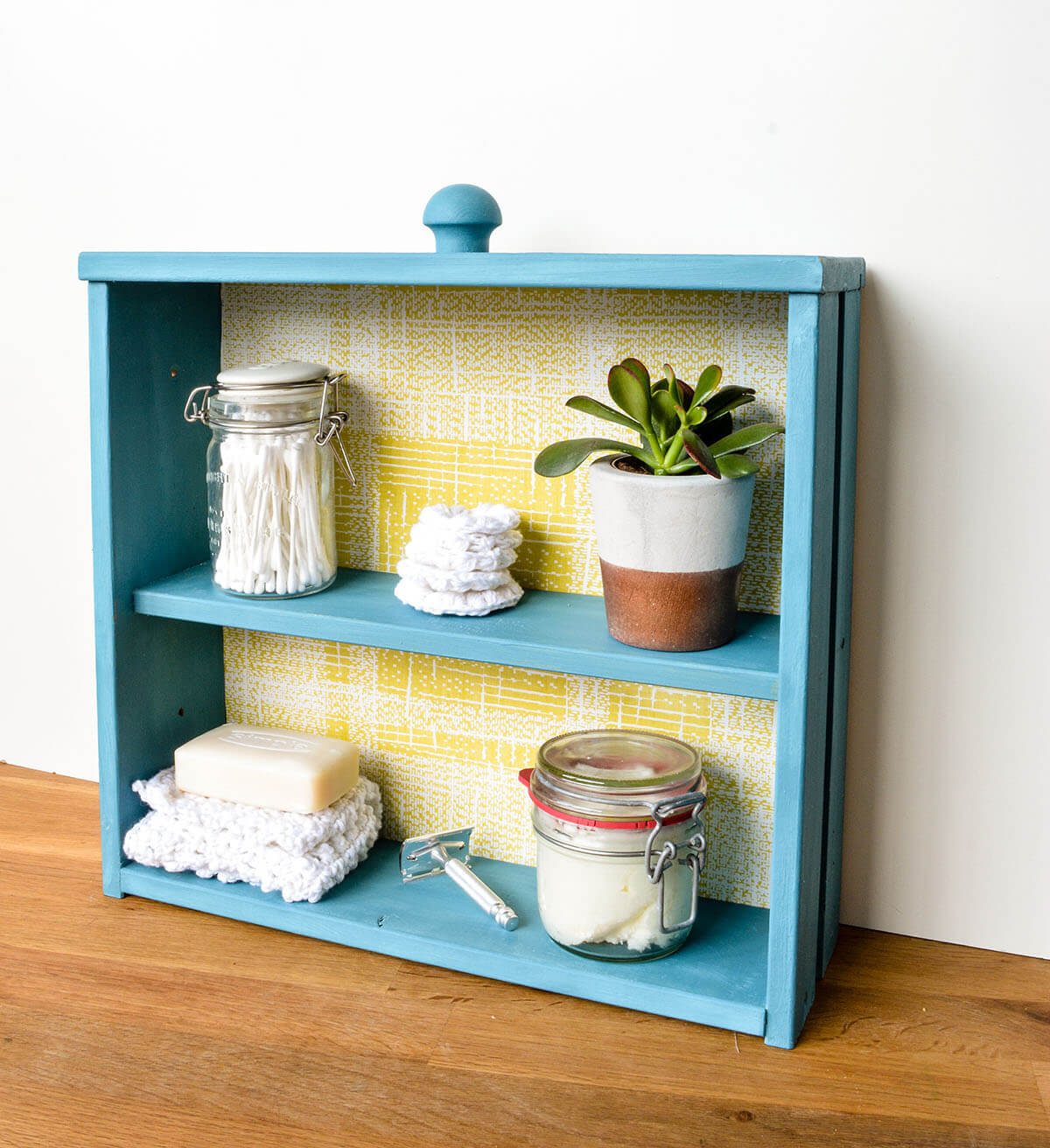 This is a clever way to store your bathroom essentials. A small drawer has been turned on its side to become the latest form of tabletop shelving. Colorful drawer lining paper has finally been put on display here; the yellow really pops against the blue shelves. Use a space like this to get small items away from the sink.
18. Fun and Relaxed Floating Book Shelves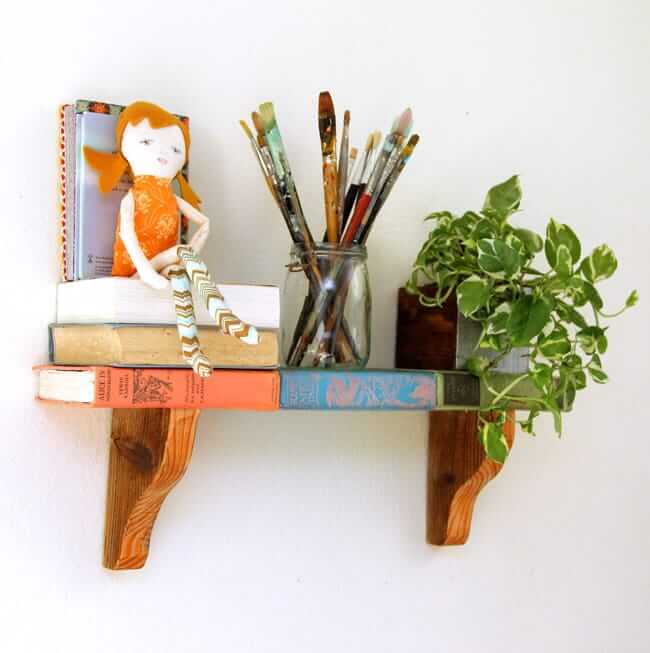 This bookshelf isn't a shelf for books – it's a shelf made of books. Choose books with bright, colorful covers and elegant side lettering to make the most out of your display. Notice that the items on the shelf match the color of each book cover, adding consistency to this charming work of art.
19. Natural Tree Trunk Table Shelf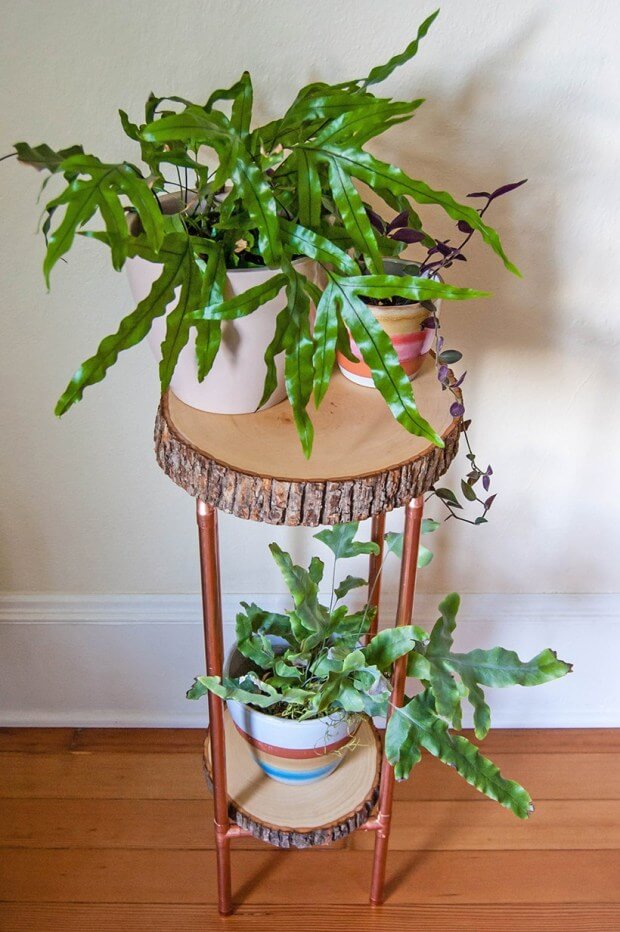 Here two slices of the same tree have been turned into an enchanting table. The copper legs help blend the natural motif with a modern decorative environment. Each slice of the trunk makes a fitting shelf for a cheerful potted plant. Use this creative concept bring a bit of nature into your home.
Choose Rustic Wall Decor Ideas to Make Your Home Warm and Inviting