There's no need to settle for traditional lampshades when some of the best unique lamp shades exist instead. There are many cleverly crafted shades that can turn common home lighting into something more innovative. So, if you are now curious about switching up your home décor, then consider trying out some unique lamp shades instead. If you are unsure where to begin, we have you covered with our list of 27 well-crafted, top-rated products.
27 Creatively Unique Lamp Shade Ideas to Breathe New Life into Your Lamp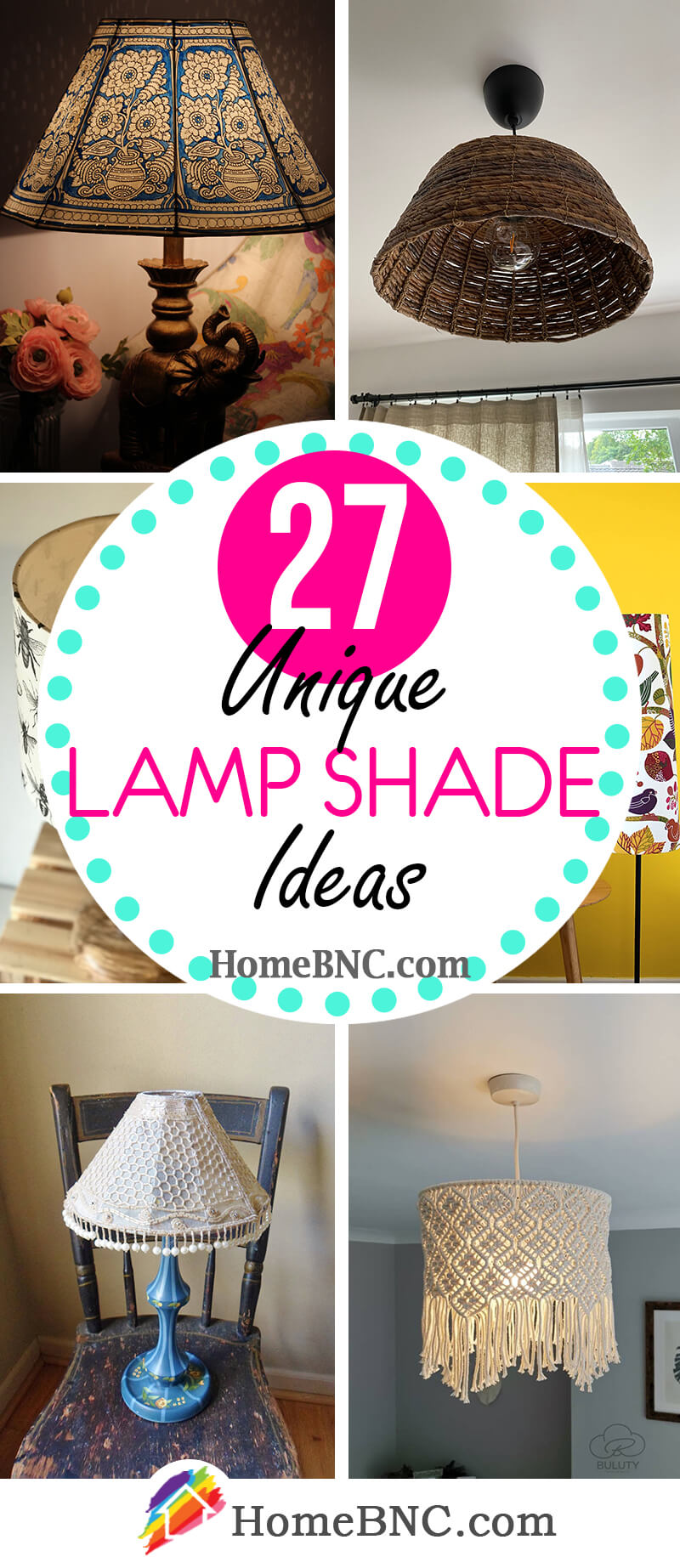 As you start your journey on discovering lampshades that curb the norm in terms of style, take a look at handcrafted creations. It is there that you can find some incredible pieces. You may want something that sticks to a bohemian theme if you have a room that features a coastal or beach vibe. These usually feature rattan material or are constructed using the popular macramé method that can give it a more homey feel as well. Or perhaps you are more interested in having a rustic feel instead? There are lampshades that can also fit well with that sort of vibe, and these are typically made using wooden material rather than fabric like so many lampshades are.
Or maybe you are in need of something different to fit into a children's room or a nursery? It is common to want to explore different options when you are designing your child's room. Maybe there is a pattern you are using in their furniture, wall, and bedding décor that you just cannot find in the stores. If that is the case, then you can readily seek out some well-made, handcrafted lampshades that stand out thanks to their distinctive design. There are some lampshades that feature child-like character designs that kids will love, while others are made using light, relaxed coloring so it can get a baby's attention without being too overwhelming on the senses.
No matter what you decide, our list should elicit some ideas. So, without waiting any further, check out our top picks to discover some well-made, custom lamp shades.
1. Modern Zebra Themed Gold Lamp Shade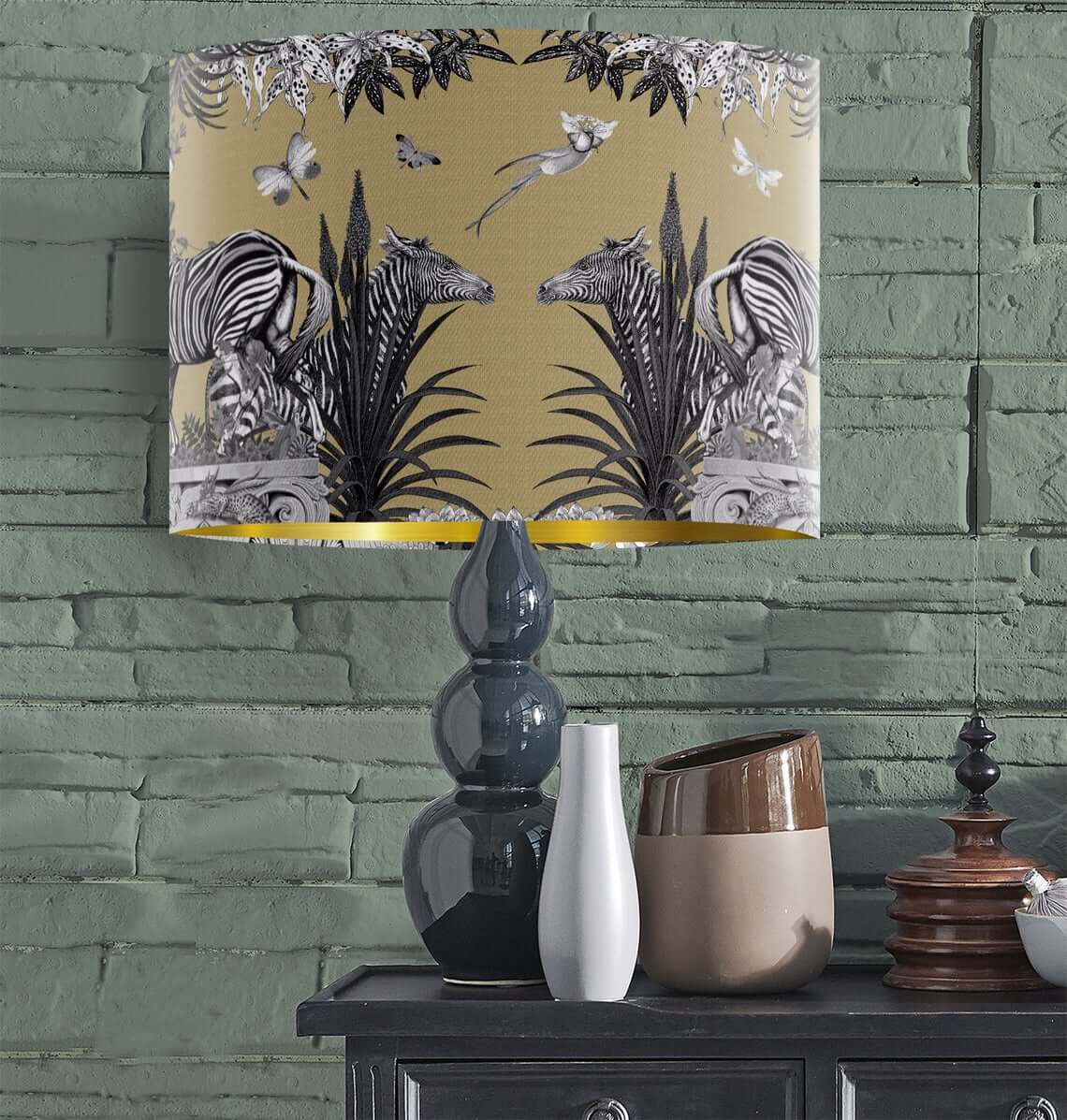 Looking for a modern way to add to your home decoration while sticking to an animal theme? With this honey gold lampshade, you can grace any lamp with a blended décor that is both classic and contemporary. The lampshade is also made with a gold lining so that the light will bounce off it well, and in turn, that can create a warmer feel in whatever room you choose to use it in. This also means that the lampshade can make even more of a statement whether it is turned on or not. As this comes in five different sizes, there's a good chance that you can use it on a variety of lamps.
2. Cool Bohemian Dangling Pearls Lamp Shade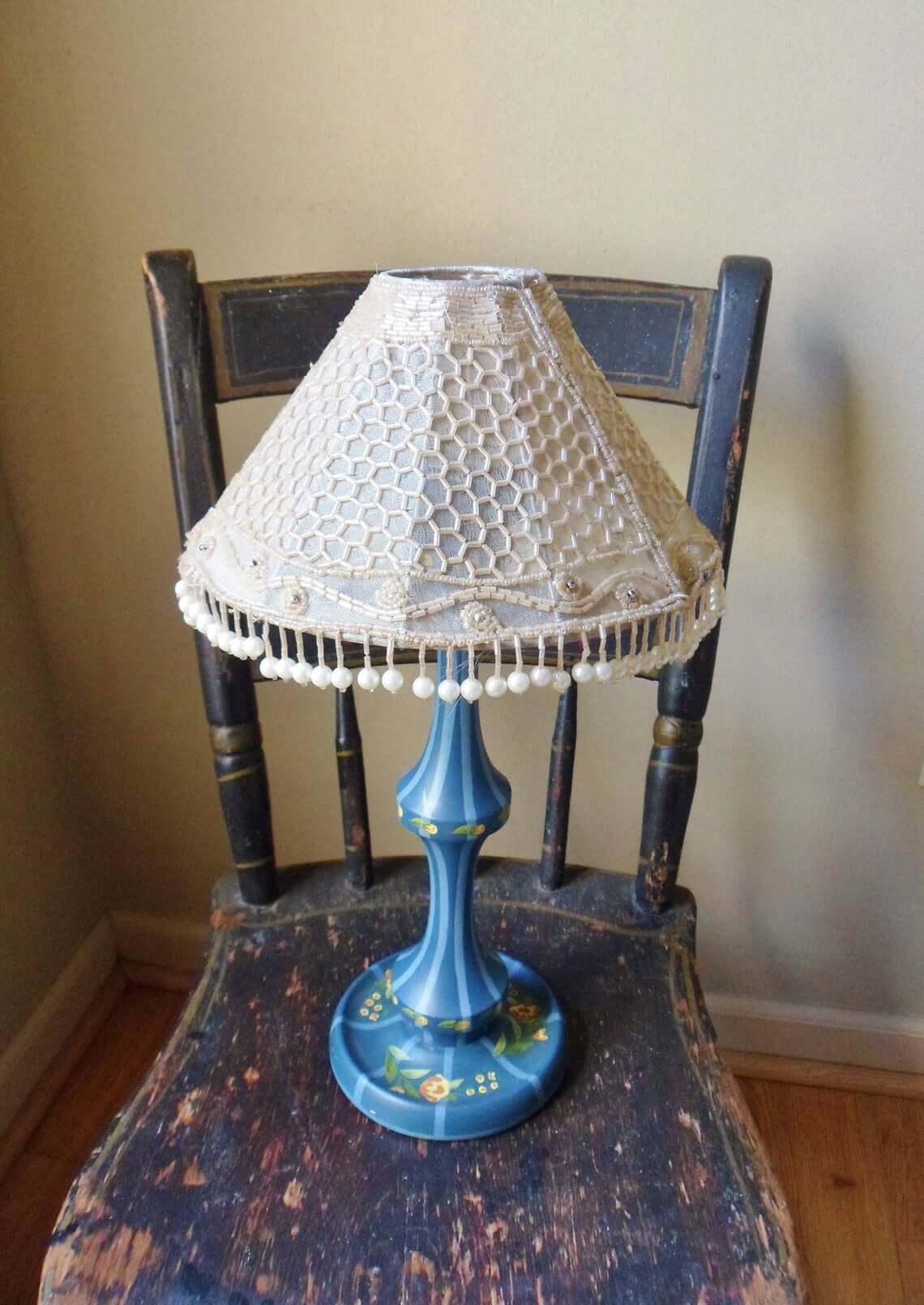 Bohemian is such a fun, laidback style, and all of that is properly reflected in this stylish throwback lampshade that originally came from the '60s. With its coolie shaped design named after those Chinese coolie hats, this lampshade is crafted from hundreds of glass beads, all beige-colored, that are placed on in the pattern of a honeycomb. It's a style that encourages closer inspection because then you'll notice the adorable tiny flowers that feature silver pearls in their centers draped along the bottom of the shade. Of course, there are also the hanging faux pearls that will draw the attention of anyone who sees this.
3. Navy Blue Mountain Sky Lamp Shade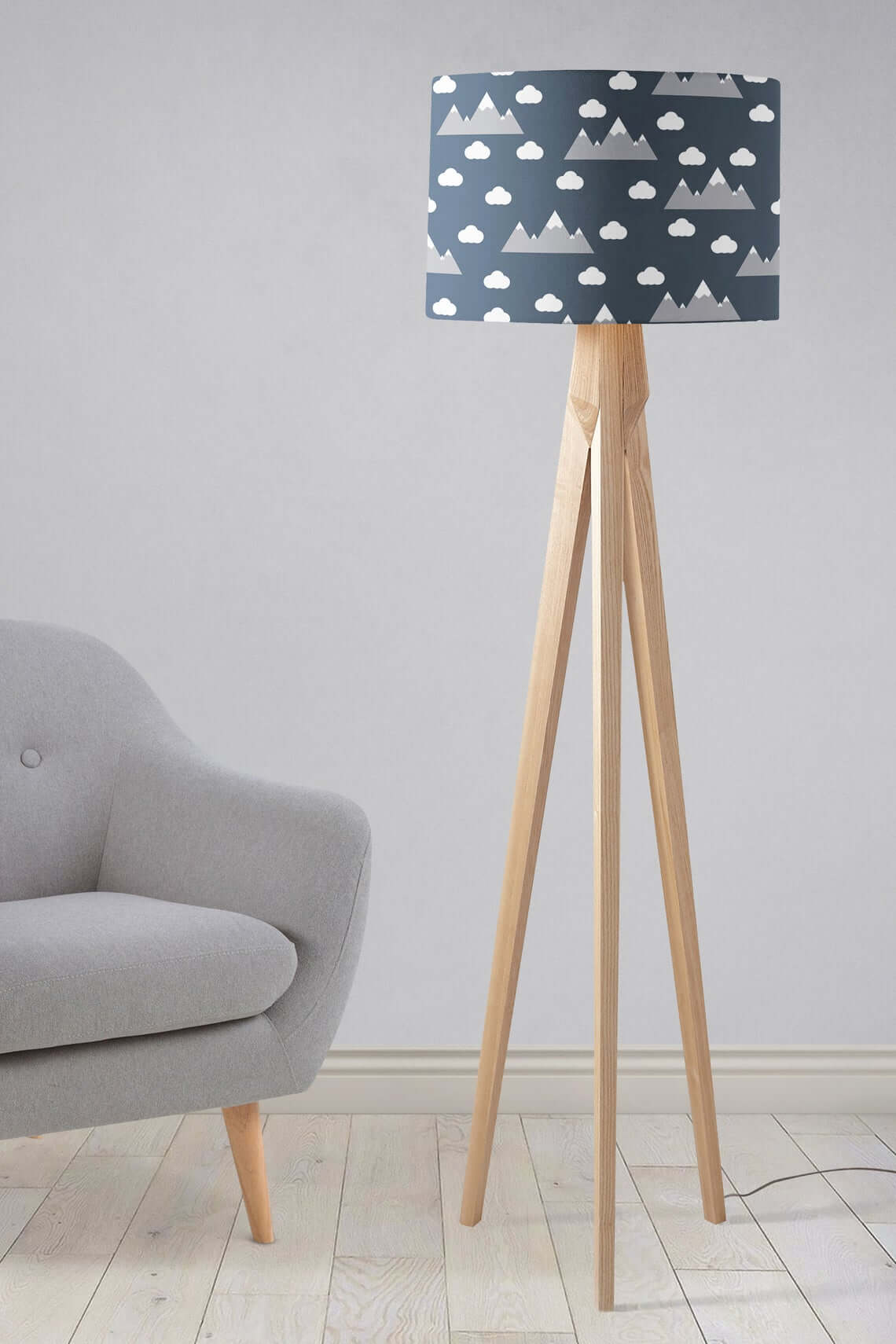 If you need some of the best unique lampshades that won't look out of place whether you use them in a living room or in a nursery, check out this incredible mountain-themed lamp shade. Available in table, ceiling, and floor lamp options, this features a simple, yet refined design. The navy blue coloring works effortlessly with the mountain and cloud landscape. It's the welcoming art style and the appealing color tones that may help make this so appealing for use in a nursery or child's room, but it might work anywhere else in your home with this similar décor. It's also available in several different sizes.
4. Monochrome Detailed Bee Drum Lamp Shade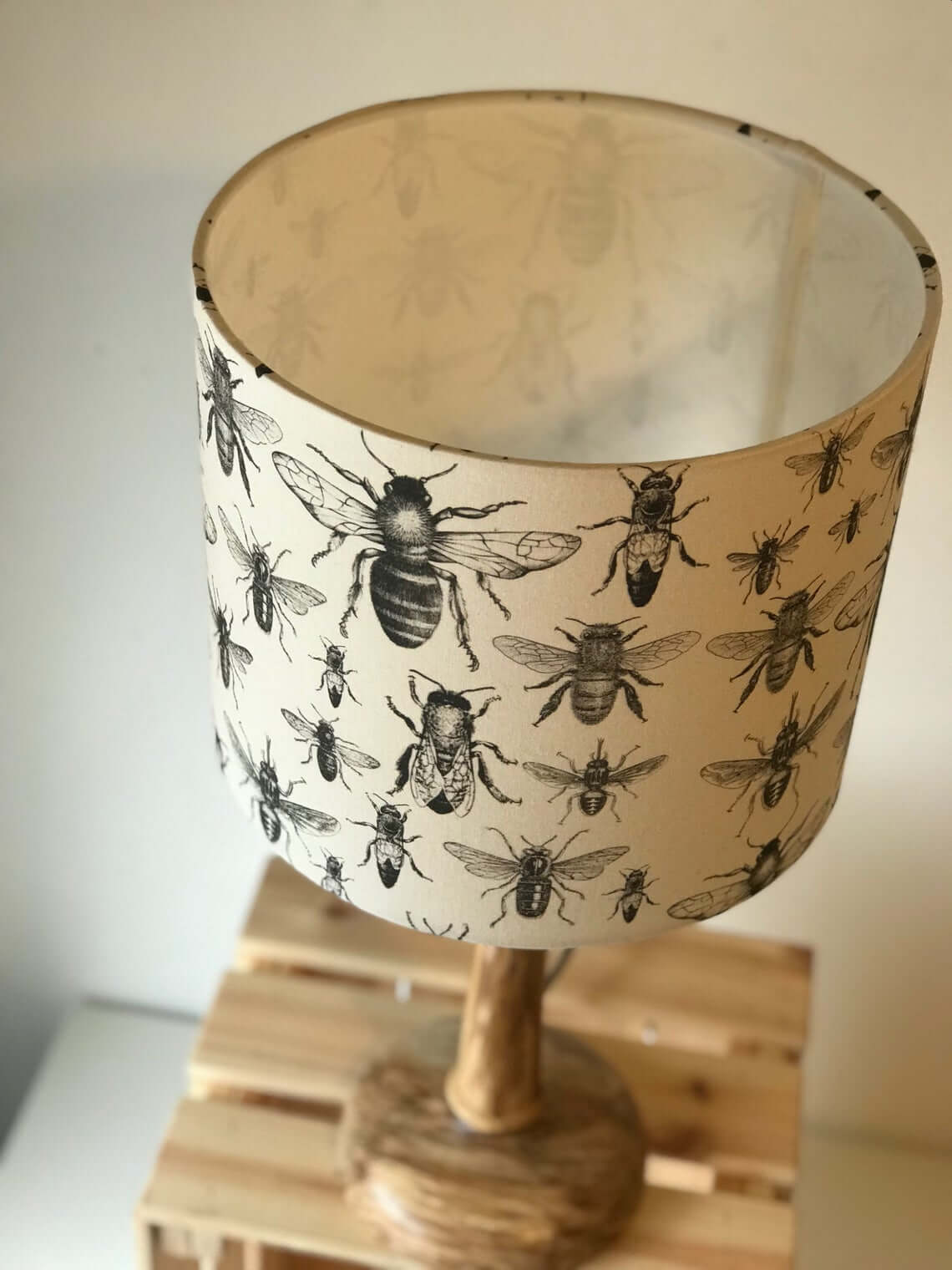 For those of you interested in adding an extra bit of pop to your room décor, this bee-themed lampshade can work as a great accent piece. It features a sepia wash background so that it appears off-white. There are numerous of sketched bees all around the fabric, and what's fun about examining the lampshade is that you will notice how the designs of the bees vary according to different species of the insect. They are each heavily detailed too for a more realistic touch. You can find this in a ceiling pendant or lamp style, and it comes in six sizes.
5. Pink and White Moth Origami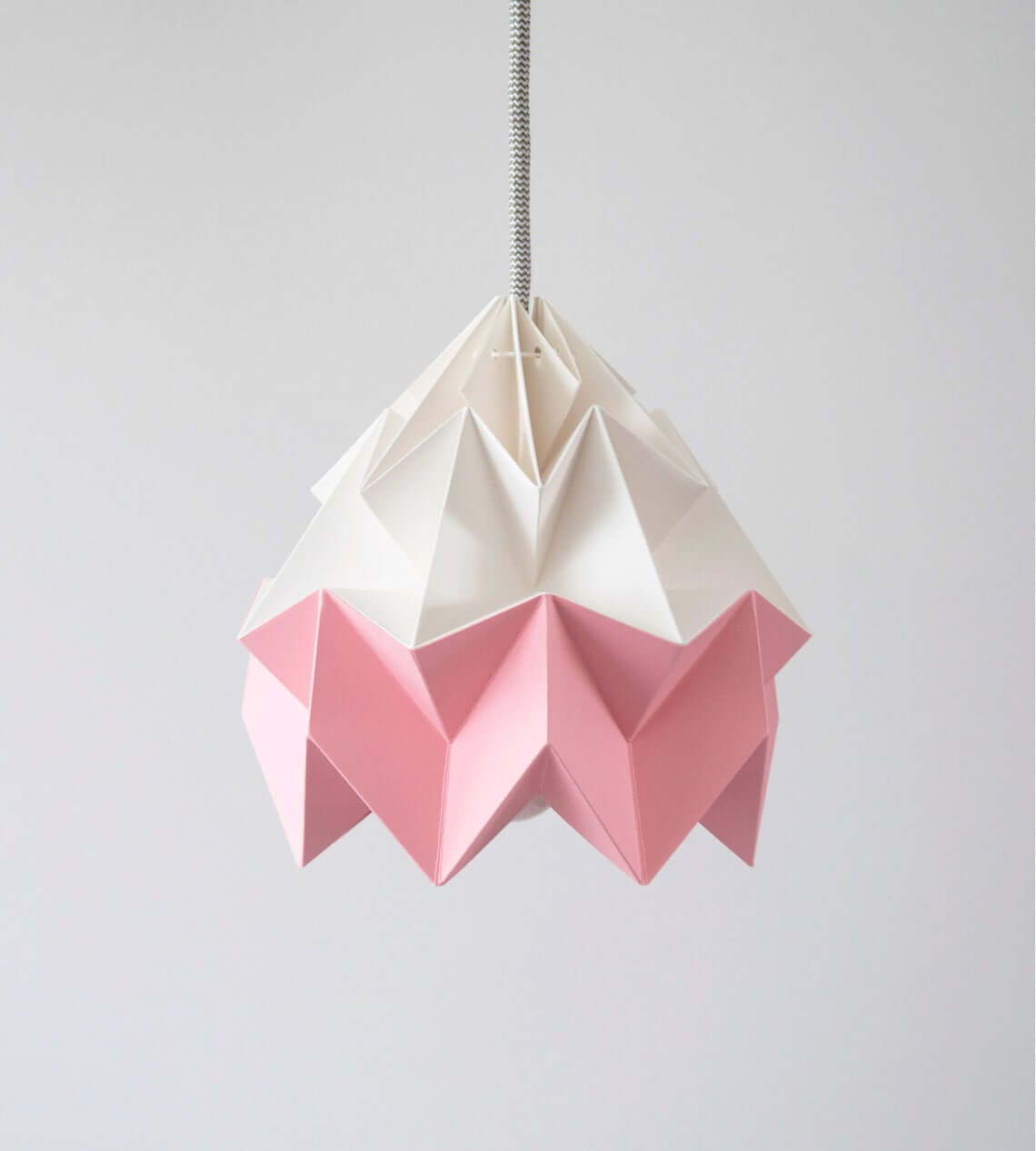 This gorgeous lampshade is constructed using a single piece of Butterfly paper. The particular folding pattern can help play with the light in a nice way, draping the room with inviting, warm lighting. It features pink and white coloring that's gentle, yet still manages to stand out. You can choose to order this with a cord set for hanging purposes, and the cords are available in 11 different color sets. This may help you sync up the lampshade more with the decoration you're using the room. Also, you can shorten the cord to better fit your ceiling rather than cutting it. Of course, you may elect to get it without the cord as well.
6. Hand-stitched Black Aluminum Table Lamp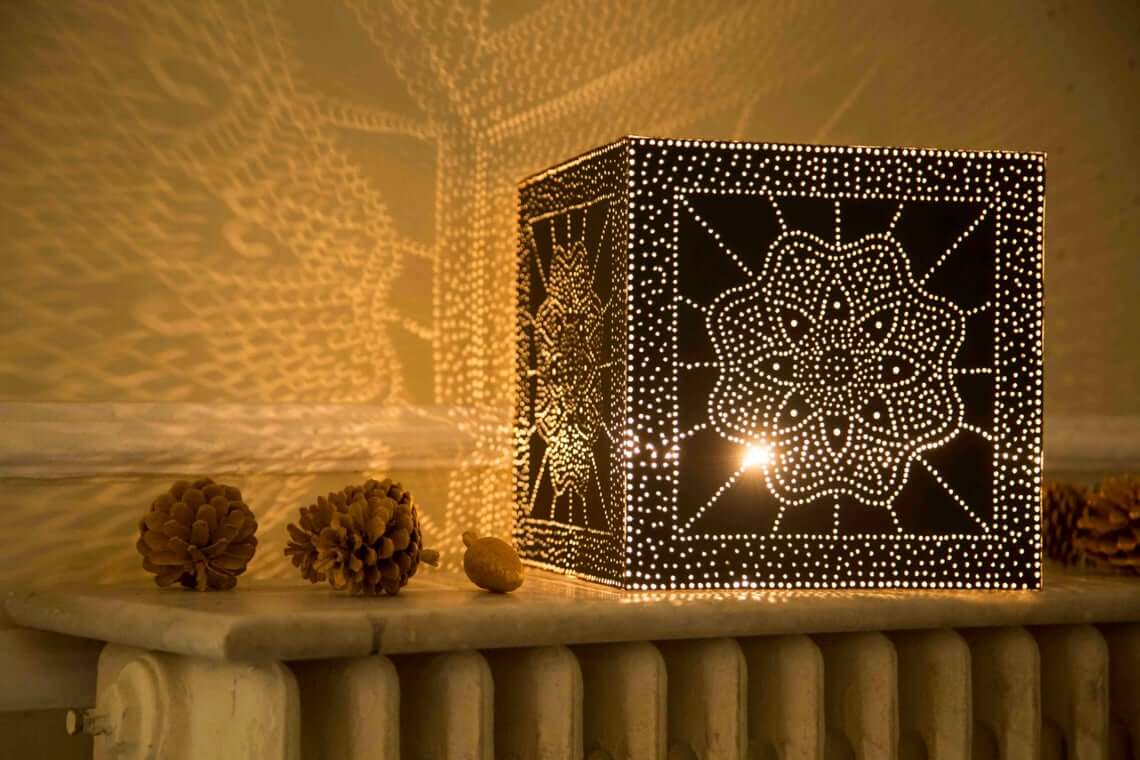 Whether you need a decorative piece on your corner table, or you want it on your nightstand for some ambiance lighting, this stunning aluminum table lamp will set the room apart. It features a beautiful pattern that's hand-stitched and can elevate any décor setting. When it isn't lit, it may come across as simple. However, once you turn it on, the light shines through perfectly, emphasizing the tiny delicate details throughout the lamp. This may be one of the more unique lampshade ideas when you want to do something different to your room's lighting.
7. Wicker Rattan Straw Chandelier Lamp Shade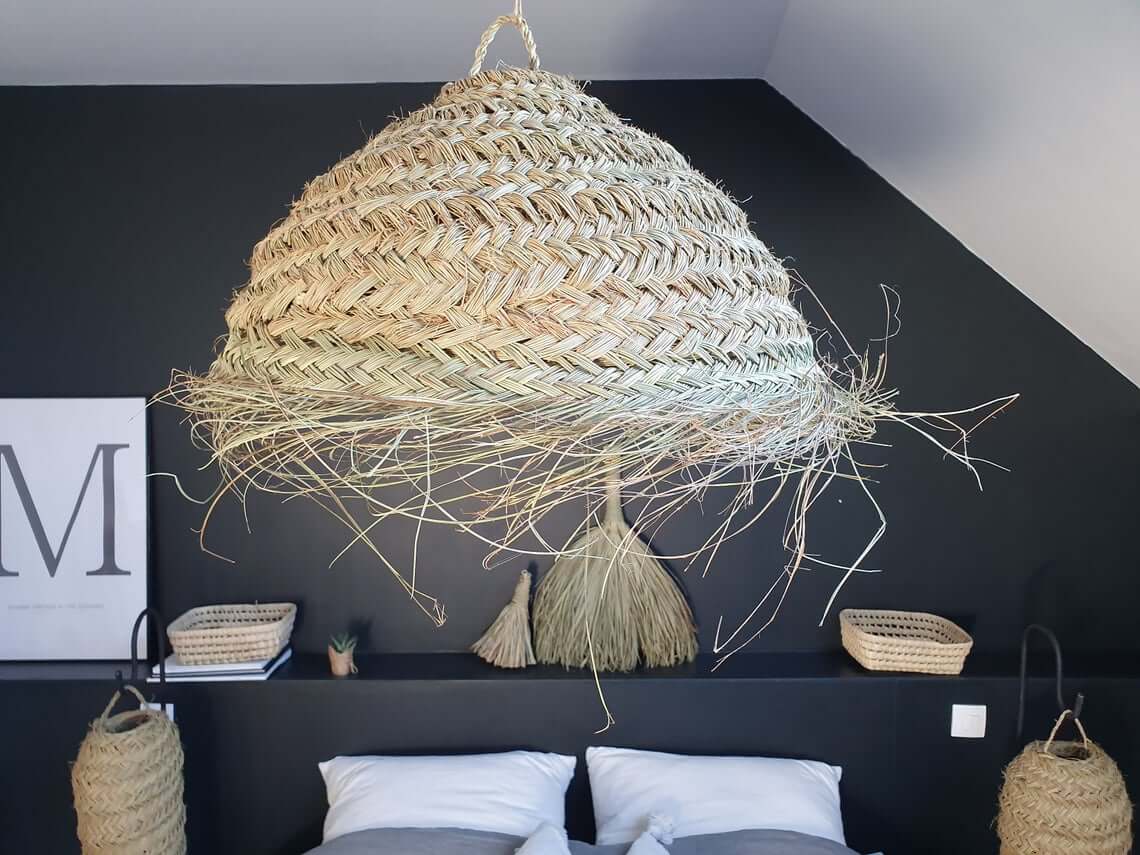 This rattan chandelier lampshade is a wonderful option if you want to add a touch of boho-chic to your home decorations. Handcrafted in Morocco, there are 18 sizes available, and the iron foot also comes in two sizes. You can hang it with ease from the ceiling, or you can attach it to the iron foot. Once you get it up, it may act as a focal point in the room. This lampshade has such a fun and interesting design thanks to the wicker material that it can help bring the beach to your home with little effort.
8. Sea-blue Mandala Pot Leather Lamp Shade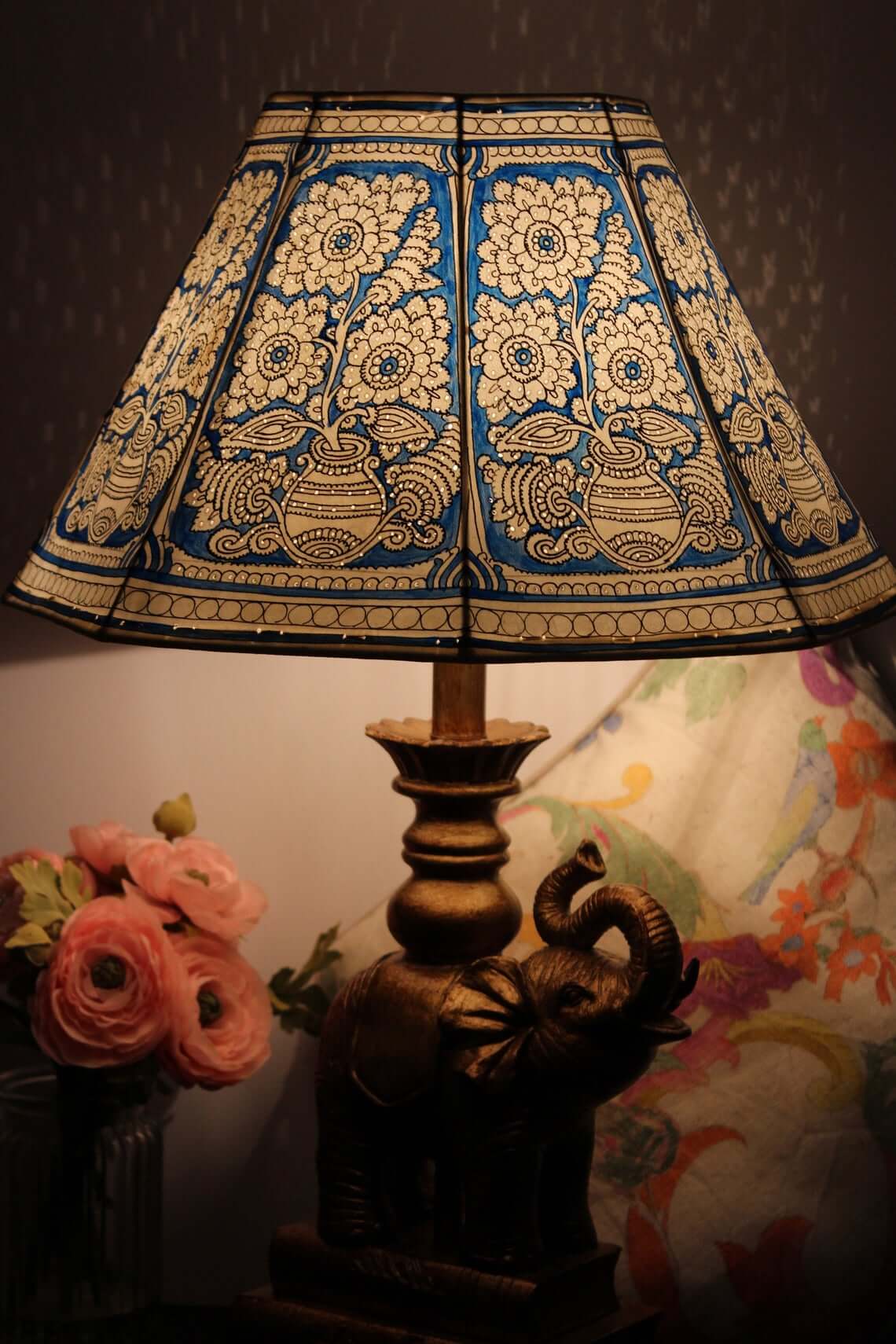 With the blue coloring shade inspired by Monsoon, this lampshade is an awesome idea if you are seeking something that is both functional and artistic. Made from leather, this is all carefully hand-painted, creating a gorgeous floral theme that goes all the way around the lampshade so you can appreciate the art from every angle. When you turn it on, the light is intended to go through the small chiseled holes that work in a decorative pattern to give off a pleasant ornamentation type of lighting in the room. This comes in a single size and made in an octagonal shape.
9. Aluminum Rounded Black Sconce Lamp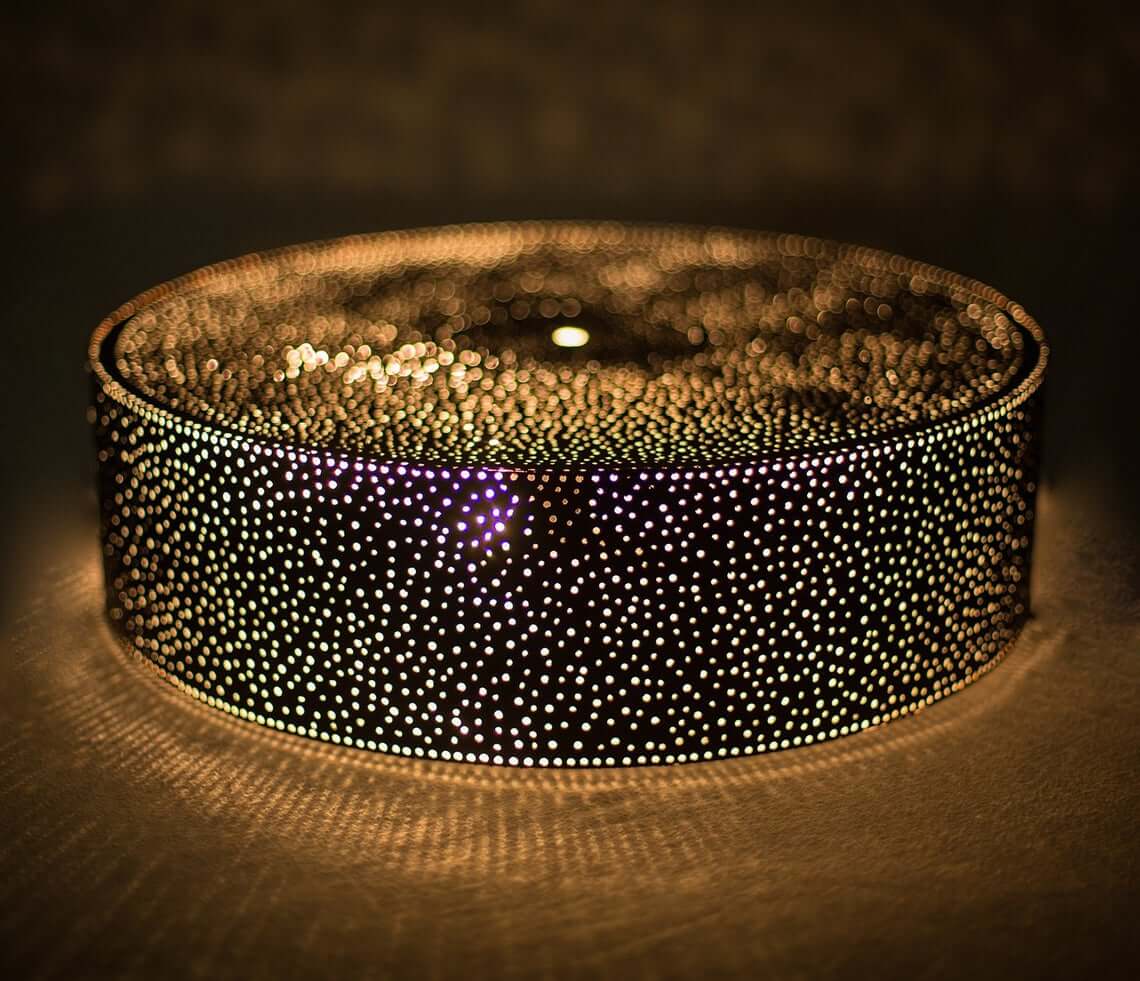 This handmade aluminum lamp can be the perfect ambiance piece for any room. Thanks to its compact size, you can place it just about anywhere. Set it up as a table lamp, or you can mount it as a sconce. When this rounded lamp is illuminated, the light shines through the small details that make the piece look more like the stars at night, especially against its black background. The dots go all around and on top to completely cover the lamp so there's not a single way you can set it up in which you don't see the intricate pattern.
10. Cool Handmade Natural Rattan Lamp Shade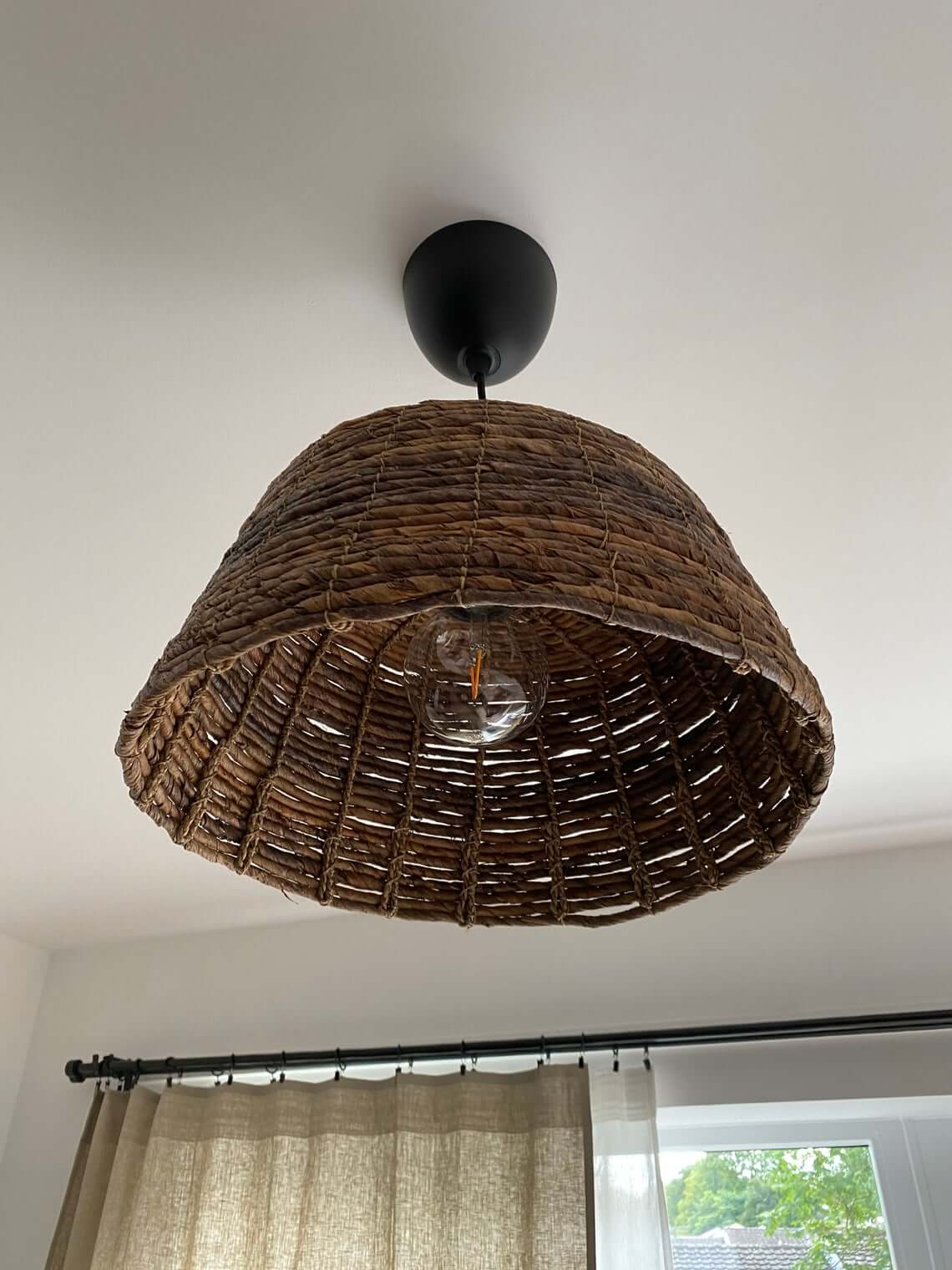 It can be so much fun decorating with rattan because it can suit several different themes. You can set up this attractive lampshade in a room with a coastal theme, or you can even use it in a room that has a more contemporary touch. Thanks to its natural appearance, this handcrafted lampshade can even help bring some texture into a room, a factor largely aided by the darker tones it has. It comes with a cord for an easier setup process, and if you wish, you can request the cord to come in white rather than black.
11. Deco-Styled Black and White Lamp Shade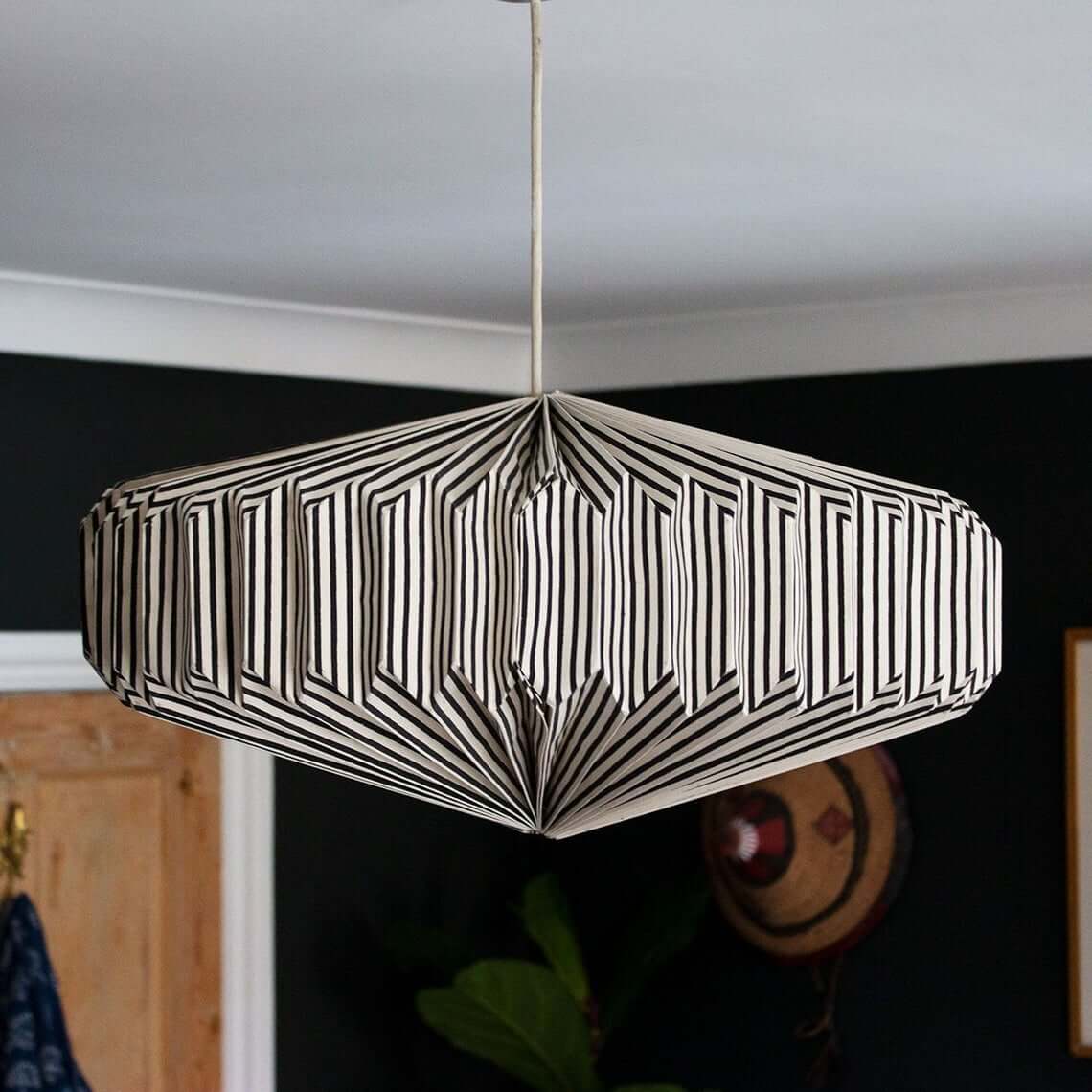 You can readily take advantage of a smaller ceiling height with this cool geometric lamp shade. Along with the saucer shape, it's made in black and white monochrome coloring, which further helps nail down the deco inspired style. Other than having an enjoyable appearance, this lampshade is also sourced using 100% recycled paper. So, getting this lampshade provides you with something that looks good and is also better for the environment if you're eco-conscious.
12. Romantic Pink Shabby Chic Lamp Shade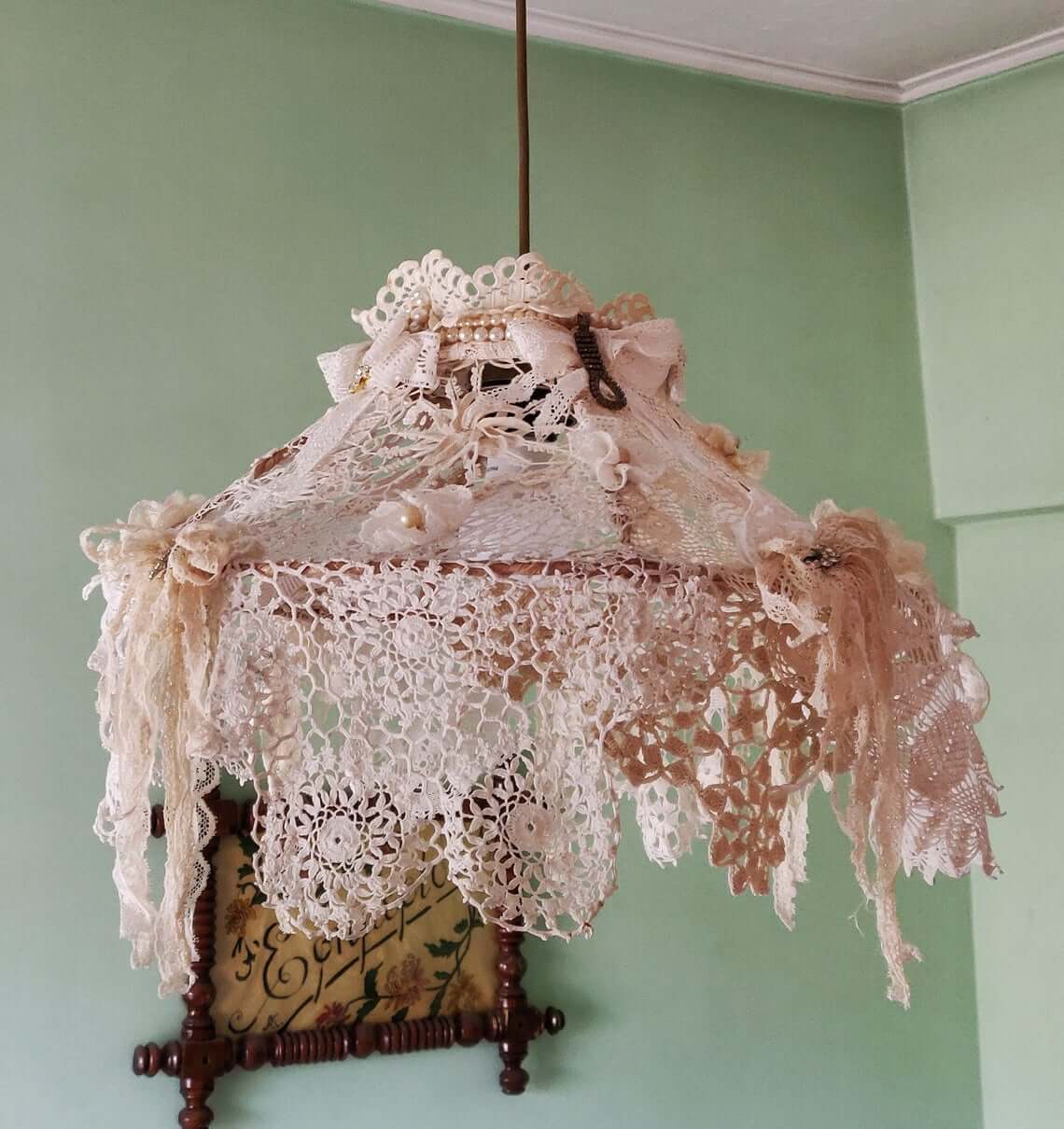 Some of the best unique lampshades have a wonderful vintage theme like this shabby chic piece. It's made out of old, hand-crocheted dollies in addition to other fabrics. The end result is a pretty, romantic-like pink lampshade that adds a perfect vintage style to your home. It can serve as a bold statement piece to instantly pull attention with people eager to get a closer look at the complex patterns throughout. There are even pearls and other rhinestone jewelry stitched into the fabric alongside cute tiny flowers and bows.
13. Gorgeous Scandinavian Botanical Lamp Shade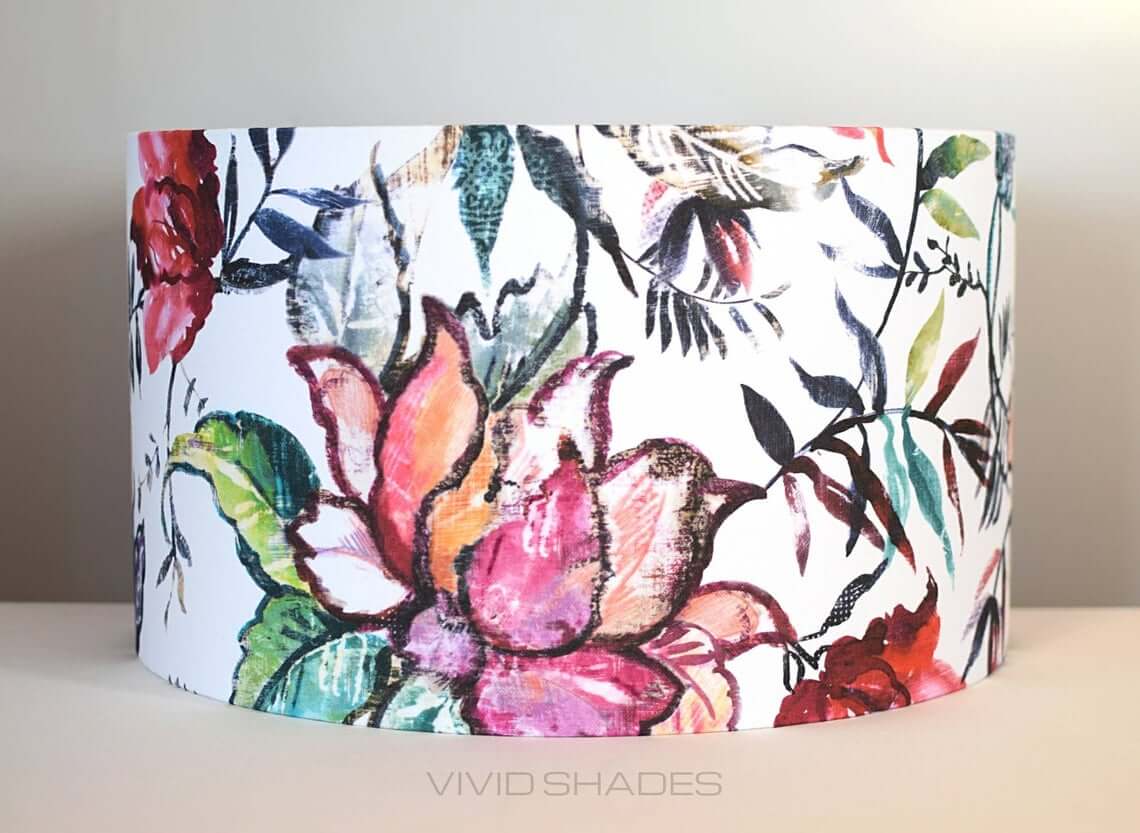 This stunning lampshade is made using Scandinavian fabric, and it's designed for use either as a ceiling pendant or a lamp base. It features vivid watercolor artwork that creates a botanical floral pattern around the entire shade. There are multiple colors used, so this lampshade can work in any room, but especially one that already features a floral theme. This also has a subtler pattern on top of the botanical watercolor drawings. With this pattern, the lampshade is given some nice texture.
14. Luxury Lokta Paper Hanging Lamp Shade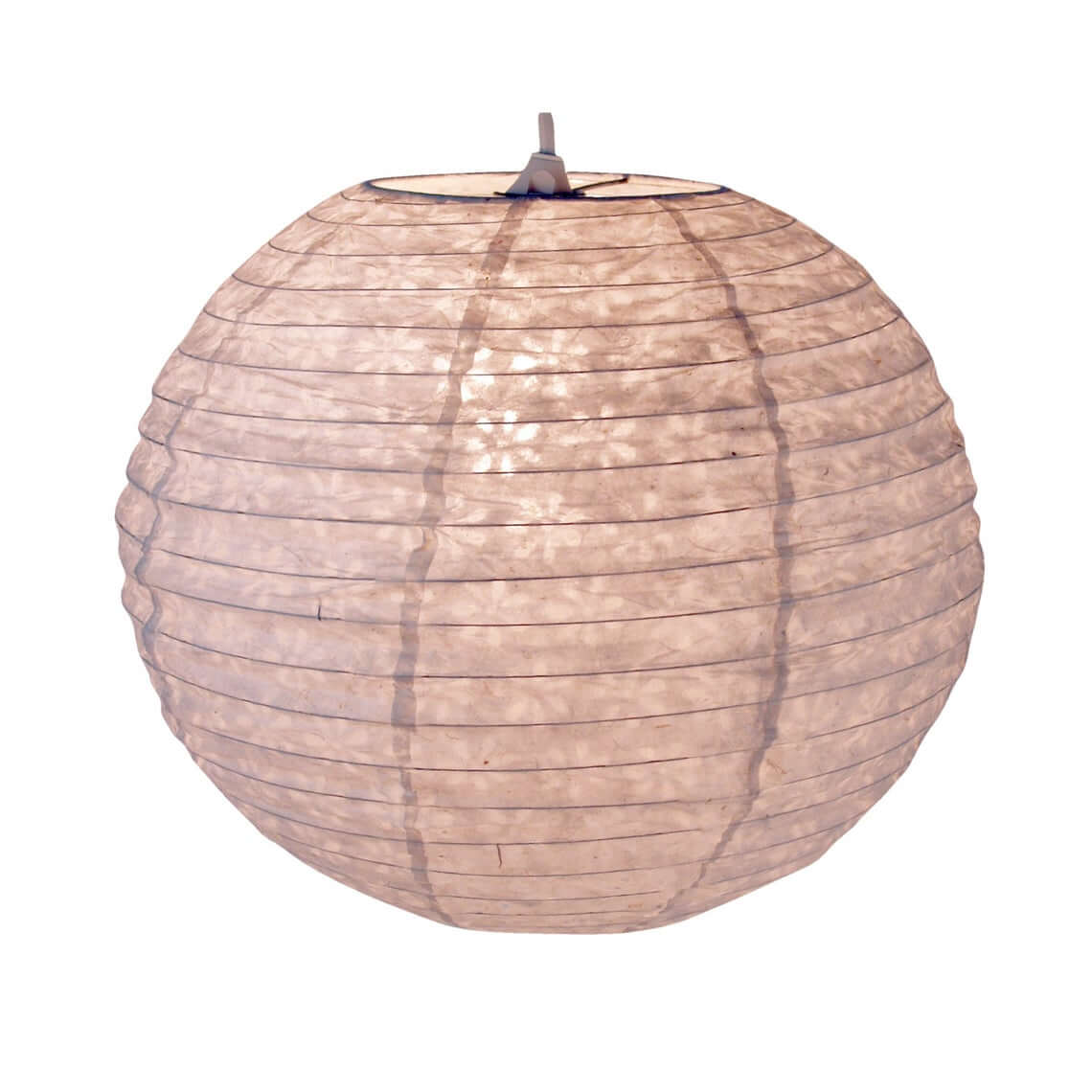 Made using authentic Nepalese Lokta paper, this distinctive lamp shade features a rounded design to give it a chandelier-like appearance. A fun thing about this is that you can easily fold it, which makes it simpler to pack up and move as needed. It is made in such a simple way and features neutral coloring so that this may work out well no matter where you hang it from whether it be the dining room, the living room, or even a child's bedroom.
15. Geometric Patterned Scandinavian Lamp Shade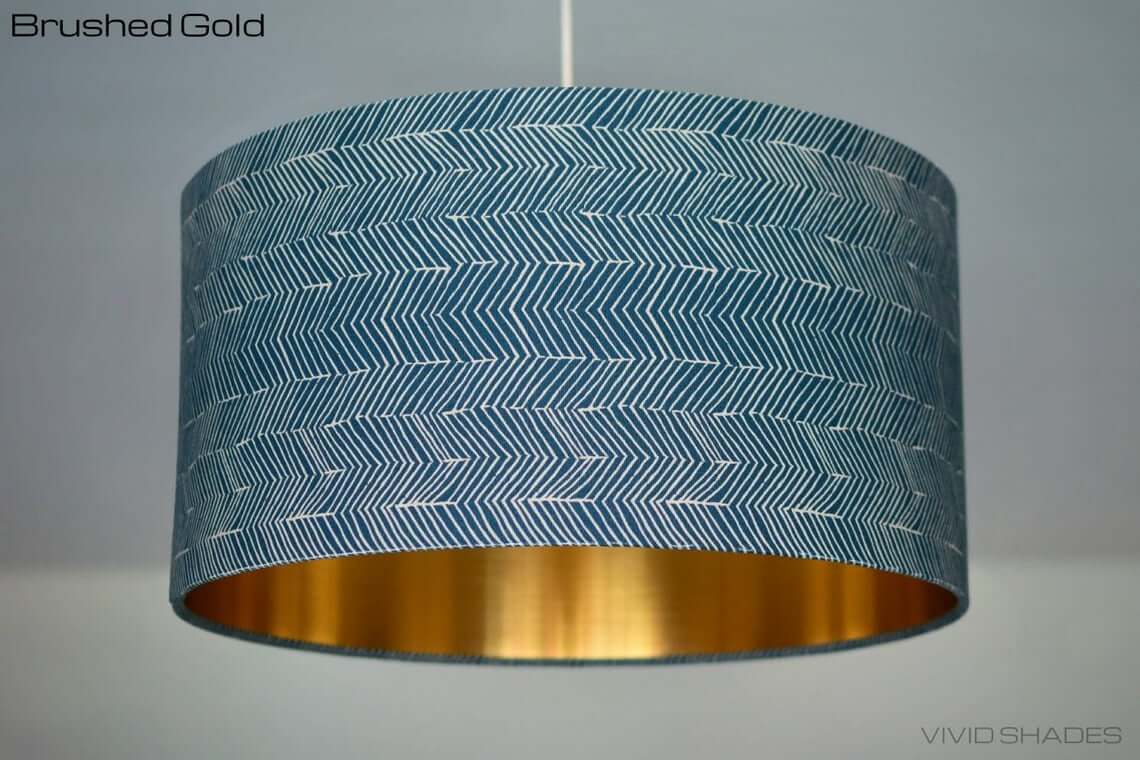 This funky, geometric patterned lamp shade may work as a great accent piece to your home décor. It's made using stylish Scandinavian fabric, and it features a nearly hypnotizing, continuous blue and white pattern. The drum layout of the lampshade works well with the overall design theme. It comes in numerous sizes so you can fit it on a large variety of lamps. Also, you can choose to get this with or without a diffuser to raise the lampshade to another level.
16. Blue and White Coastal Lamp Shade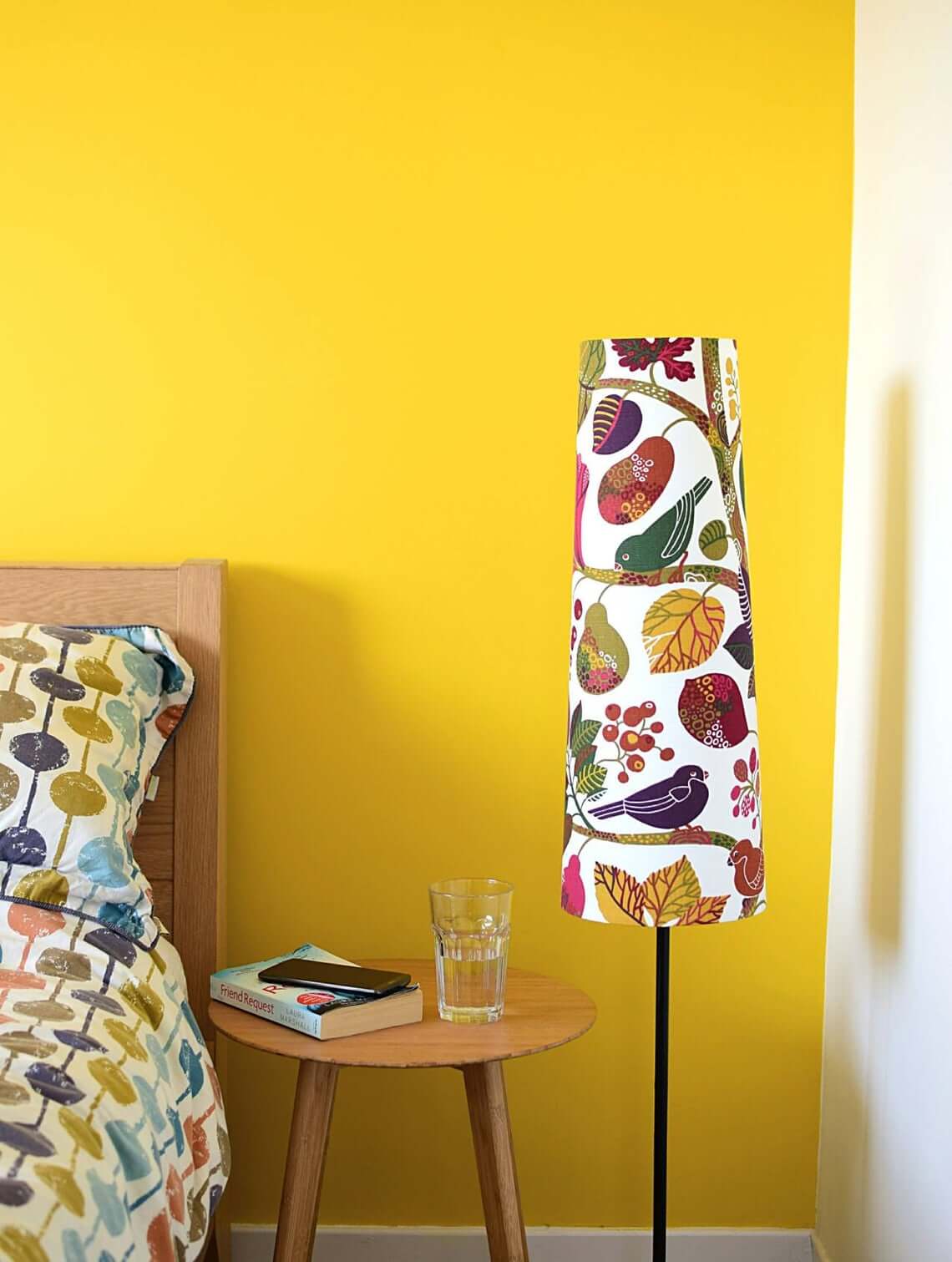 This coastal-themed lampshade is one of the best unique lamp shades for a few reasons. For starters, it features either a fun cylindrical or conical shape that stands out among other standard lamp shades. Next, the color pattern is attention-grabbing. The fabric features blue and white stripes that are laid out to resemble that of waves, fully embracing the overall beach feel. You can get this with just the shade alone or you can purchase the lamp base and shade combo.
17. Modern Bohemian Ceiling Lamp Shade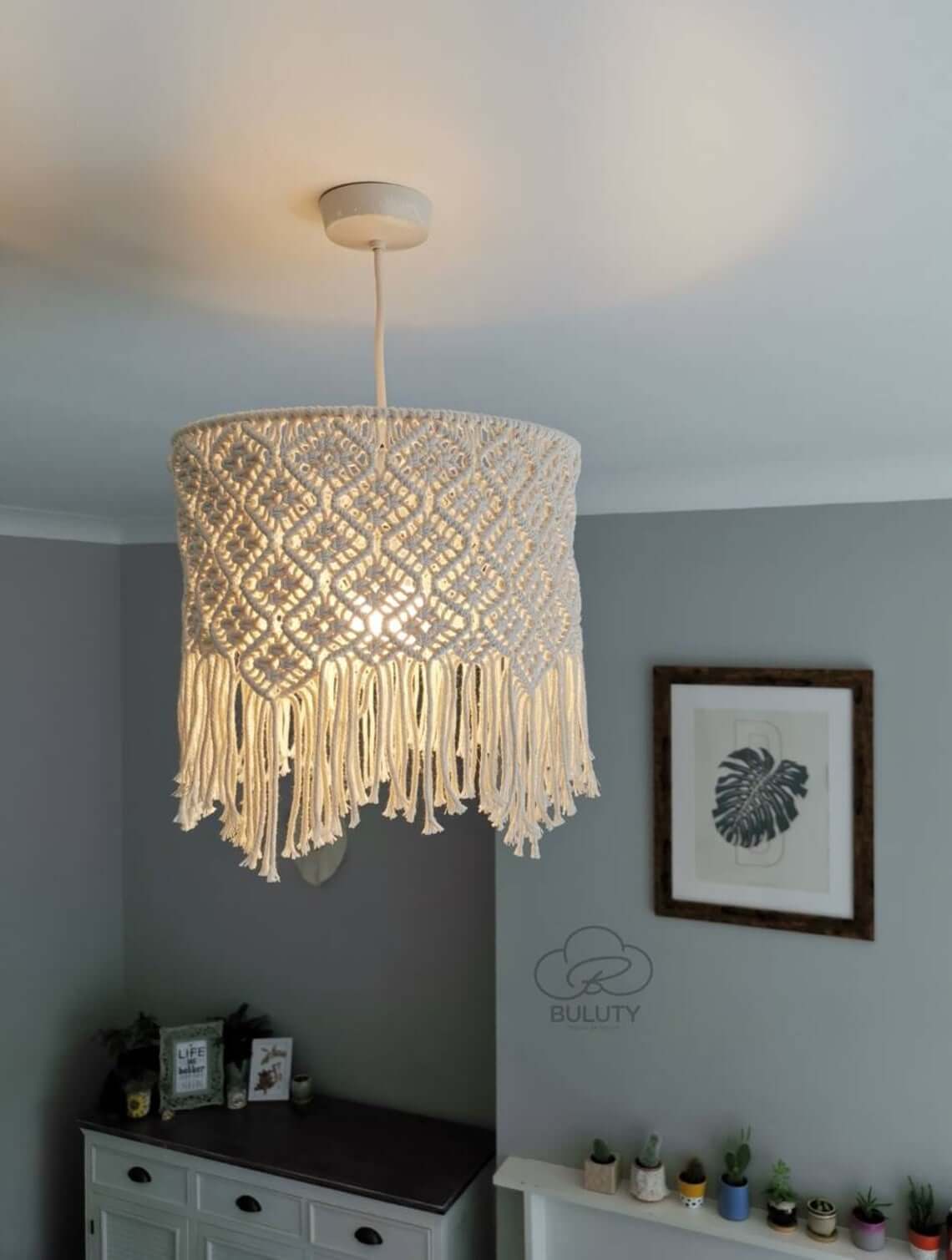 This piece takes the awesome idea of utilizing macramé within the design. To start, there is a beautiful bohemian-style pattern across the lampshade rounded out with cool cotton macramé cords that line the rim of the shade. You can purchase it in various top width sizes, and you don't have to just get the ceiling style as it is also made in a desk lamp shade version too. It comes in just ecru white, and such a universal coloring option can make it easier for you to add it to different rooms so the décor can have that relaxed feel.
18. Geometric Laser Cut Lamp Shade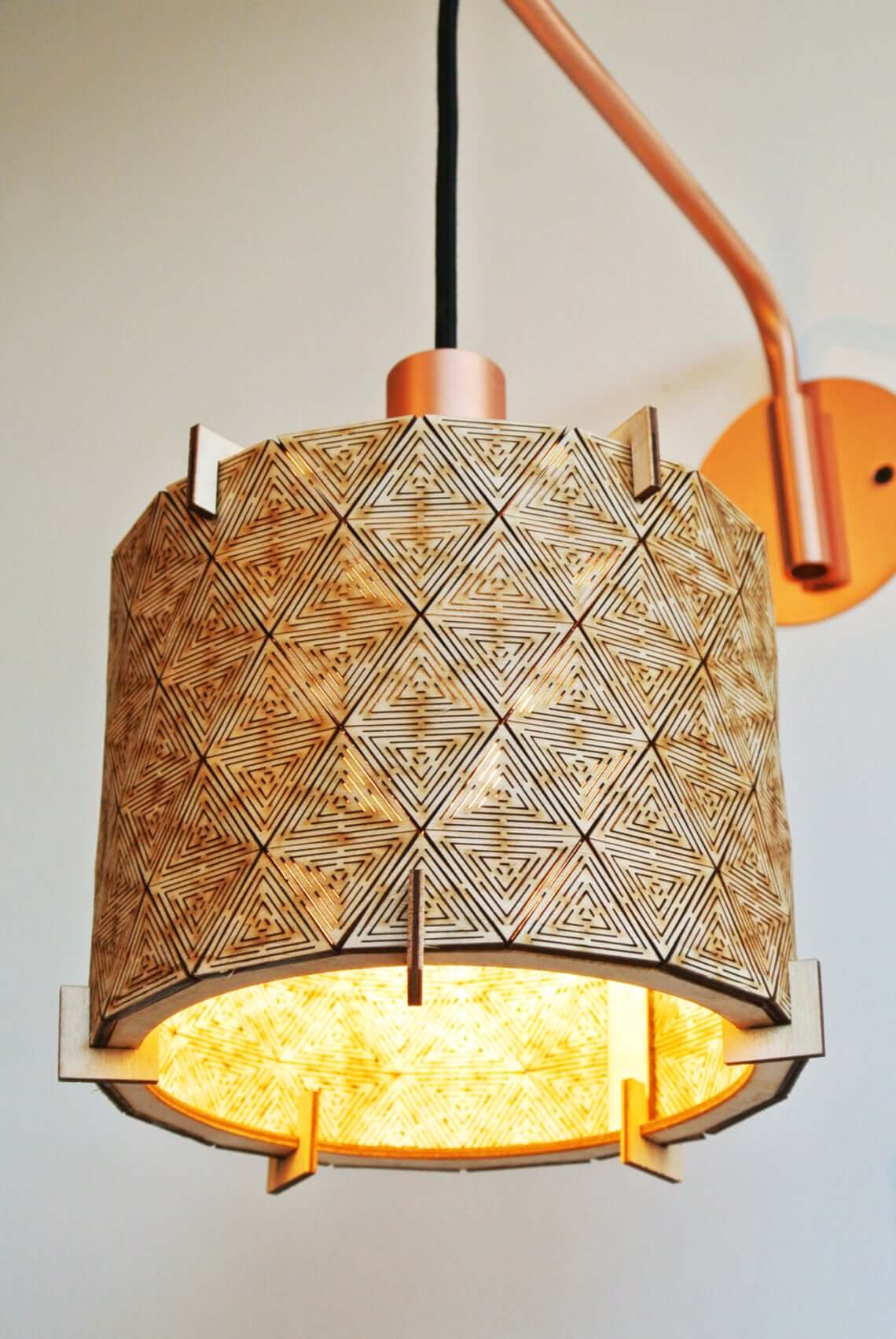 With so many fabric-based shades, using wood is a nice unique lampshade idea that can especially work out well if you need to use it in a decorative room that features a rustic theme. The face of this is made from a piece of plywood and features a triangular motif laser cut design. Each triangle is heavily detailed and covers the entire drum-shaped lamp shade. This helps the light shine through in such a pleasing, attractive way. It's made so well that the lampshade is appealing whether you have it turned on or not.
19. Moroccan and Turkish Pendant Lamp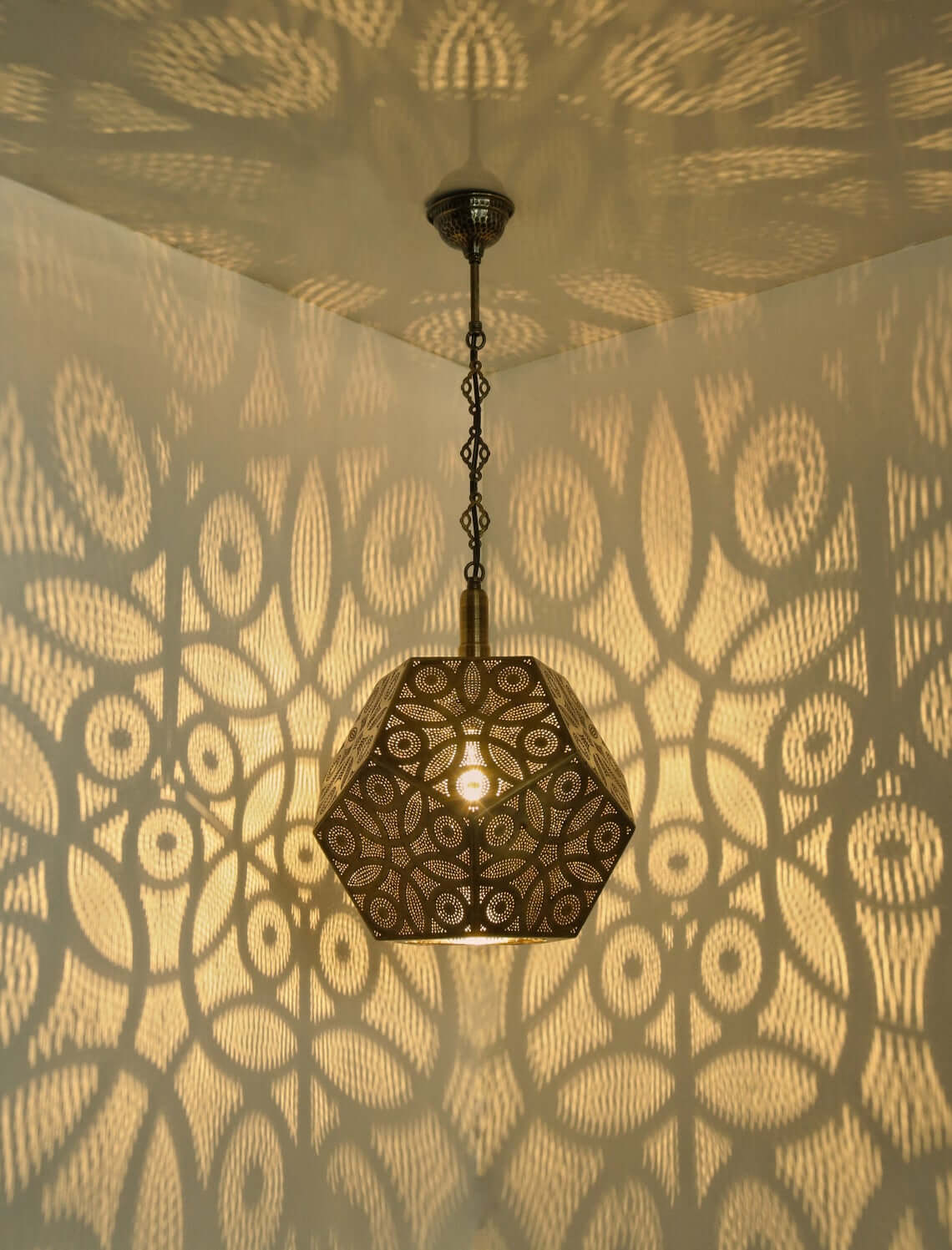 Are you looking for the best unique lampshades that will add a beautiful pattern of light throughout the room whenever you turn it on? Then this Moroccan and Turkish pendant lamp might be an ideal product for you to check out. It is absolutely stunning, and it features a geometric-like shape with gorgeous patterns woven throughout. These patterns shine effortlessly in the room once you turn the lamp on. Another good point about this lamp is that it comes in four different coating options. You can get it in brass or nickel, and you can get either color tone polished or have it in a more antique style for a vintage feel.
20. Adorable Cartoon Sloth Lamp Shade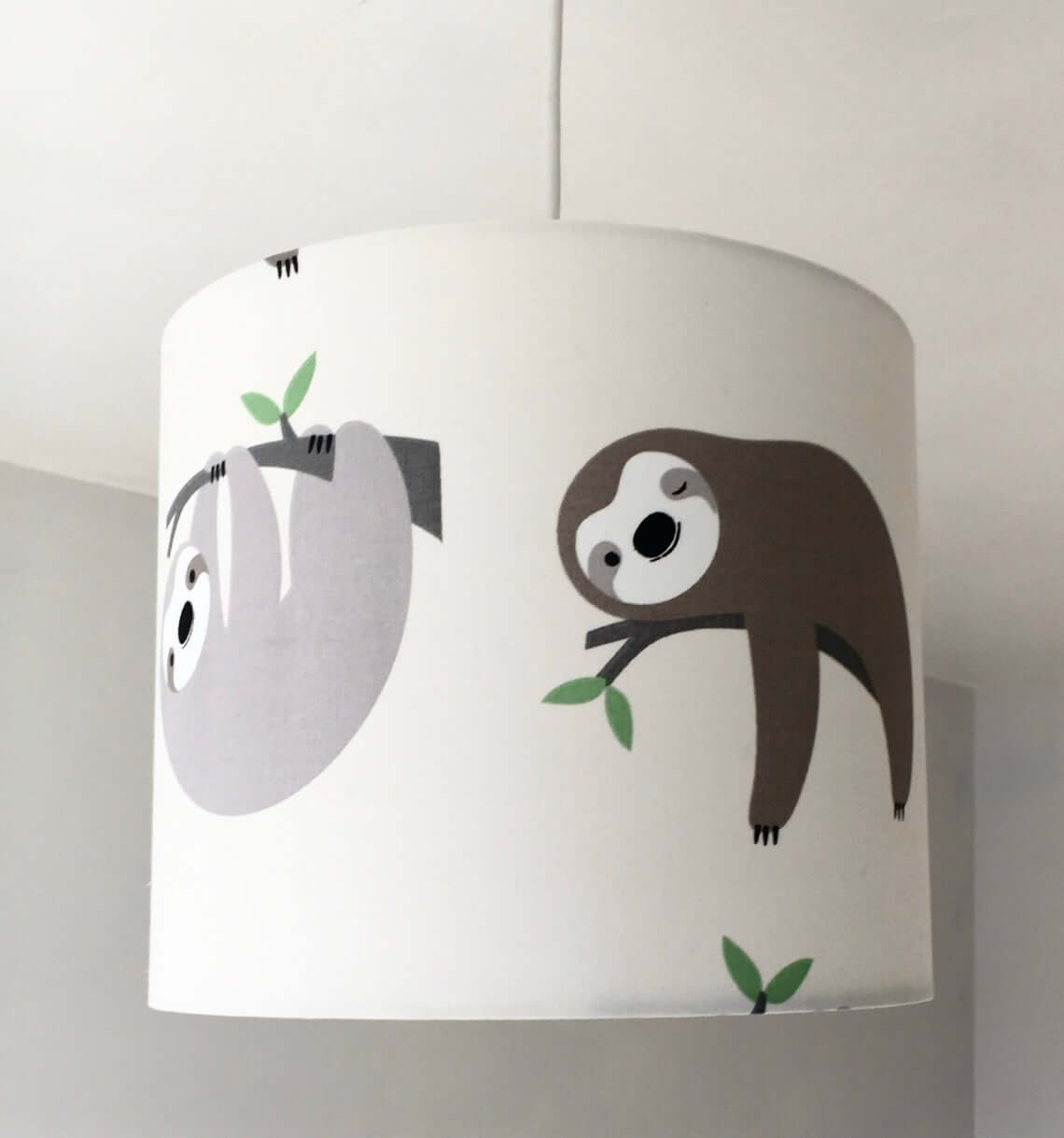 This fabric drum-shaped lampshade can add a wonderful, cute touch to any child's bedroom, playroom, or nursery. It features gray and brown sloths hanging out on tree branches against a bold white background. The smiling sloths go all around the lampshade, and they are well designed to be child-friendly. It comes in multiple diameters, and you can get it in either the ceiling pendant style, or you can purchase it as a floor or table lamp style. There is a good amount of safety put into the construction of the lampshade too since it features flame-retardant PVC, which might give you more peace of mind when used in the presence of children and babies.
21. The Woods Silhouette Lamp Shade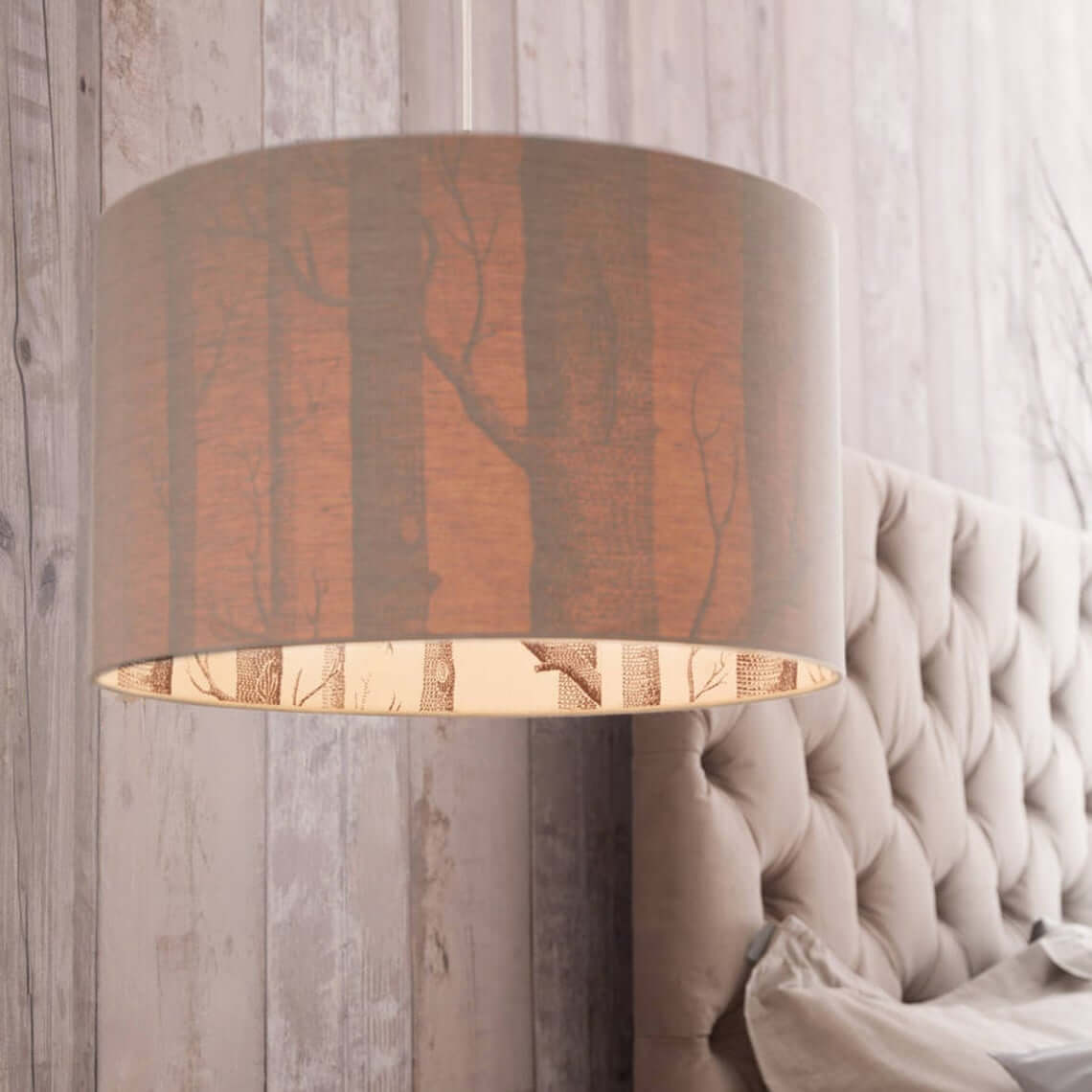 You can bring a taste of the outdoors inside to your living space with this unique lampshade titled "The Woods". It is a silhouette shade that features some iconic work from Cole and Son wallpaper. At a quick glance, you will notice the appealing oatmeal linen on the outside of the shade. It is straightforward, but the coloring can work with a nature décor theme. The interior features "The Woods" landscape in monochrome coloring. When you turn on the light, the combination works well as the landscape slightly shows through the sides of the lampshade. You can get it as a general lamp style or a ceiling pendant as well as in various sizes.
22. Artichoke Mixed Floral Lamp Shade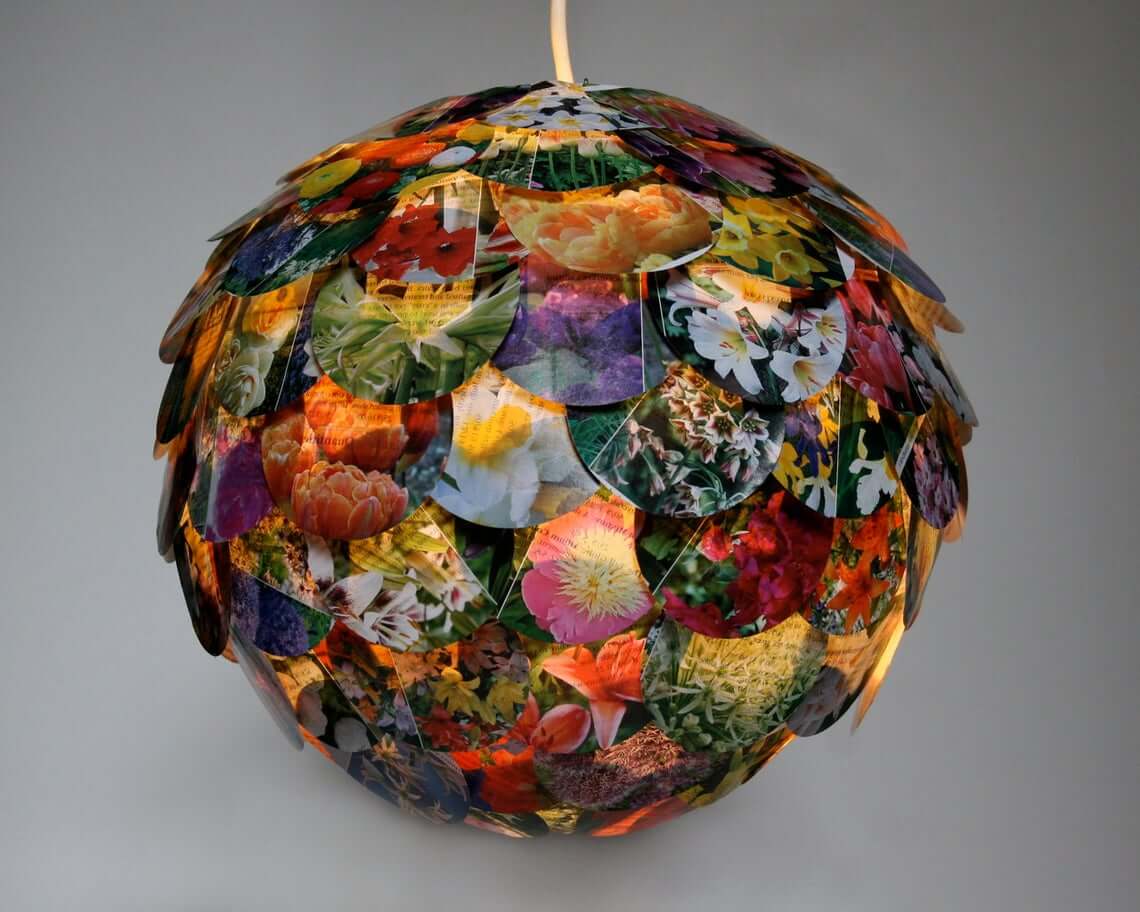 There are a few things that are more distinctive than artichoke-shaped lamp shades. It's made using a rounded paper lantern and cut out pieces of paper from magazines. This is such a fun, creative style that can give your room décor a unique appearance. The pieces of paper used to feature a variety of flowers, and the wide range of flower types used gives this lampshade a colorful look. When you turn the light on, there is a gorgeous, warm glow emitted from it. Depending on where you use it at, it can bring about some romantic vibes as well thanks to the gentle lighting pattern.
23. Natural Calico Diablo Light Shade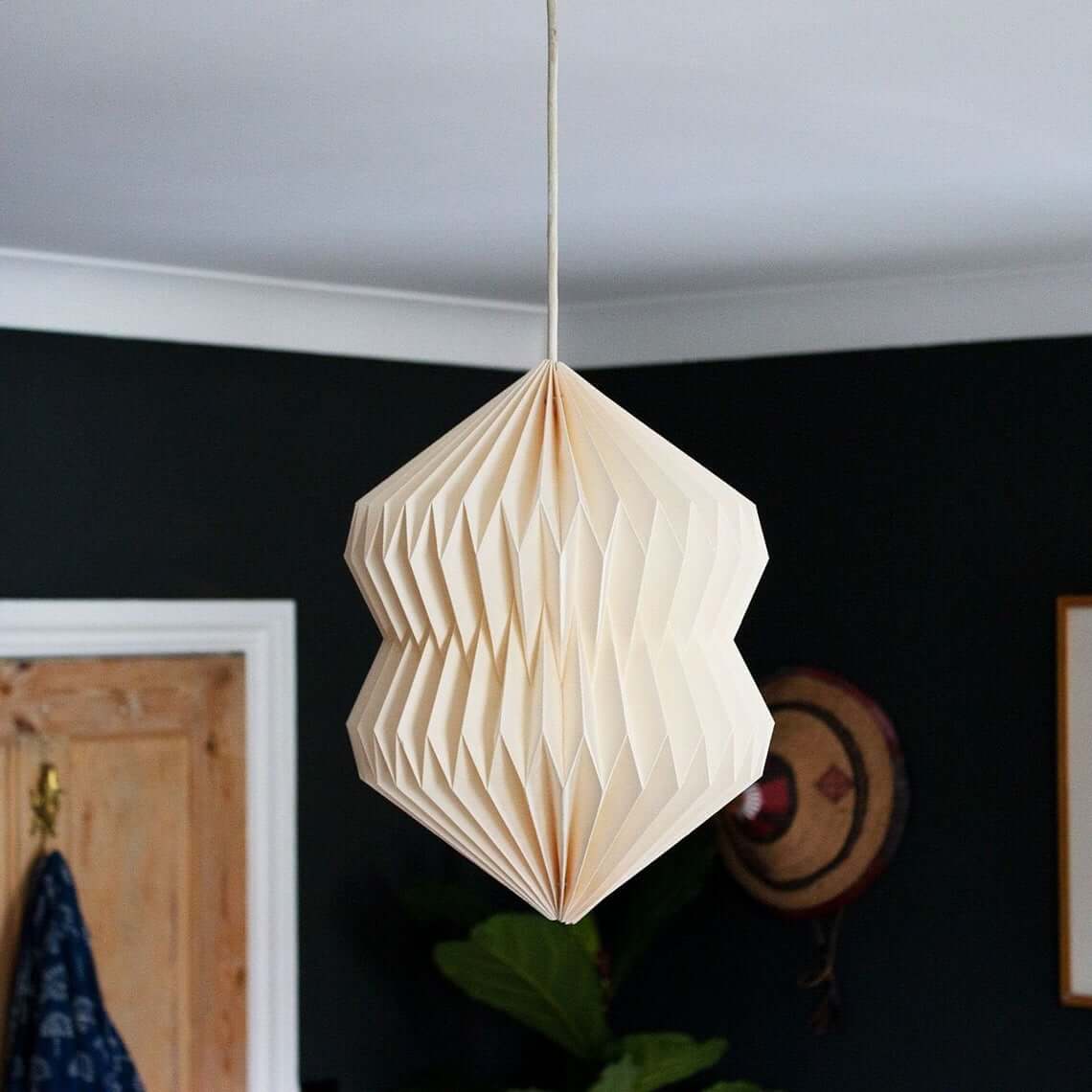 This Diablo Shade can work as a great atmosphere piece anywhere you wish to place it in your home. It's colored using natural calico. This can give it a more off-white appearance. Coupled with the geometric style, this lampshade can blend into a number of different décors so you have a bit more freedom about what room it can fit in. This paper style is so versatile that the lampshade won't look out of place if used as a party decoration. This quality lampshade is eco-friendly too since it is made using 100% recycled paper from India.
24. Elegant Macramé Bohemian Lamp Shade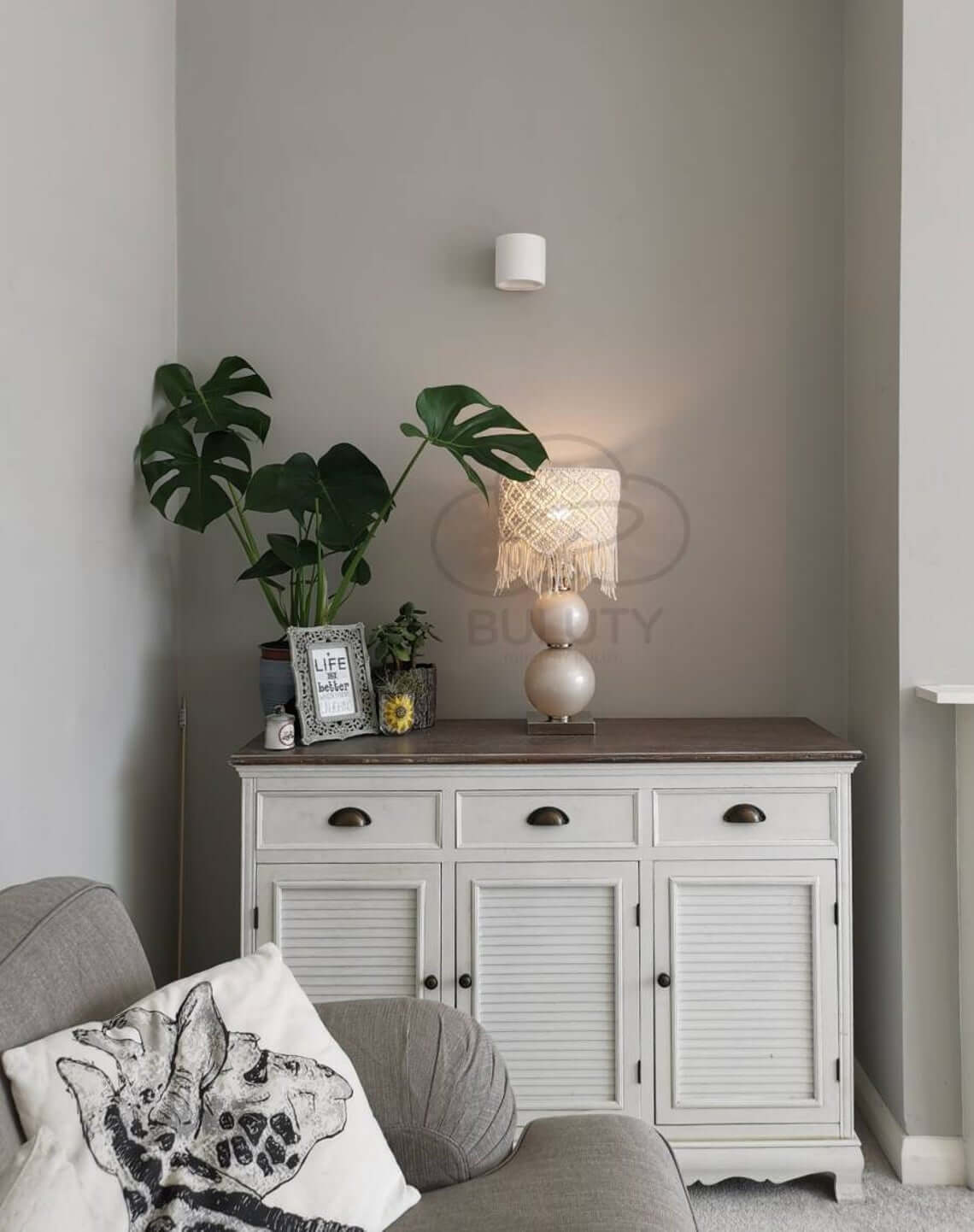 For those of you who wish to transform their home into a beach whether you live near one or not, check out this nice bohemian style lamp shade. It is handcrafted using the macramé technique. The light shines well through the tiny cracks in the pattern. Meanwhile, tousles line the bottom rim of the lampshade, aiding in the boho theme. This even uses a good off-white color so that it may better match up with a laidback beach vibe. Even if you don't have a room with boho décor, you can still hang this lampshade up as it's designed with enough neutrality to complement various styles.
25. Natural Bamboo Pendant Lamp Shade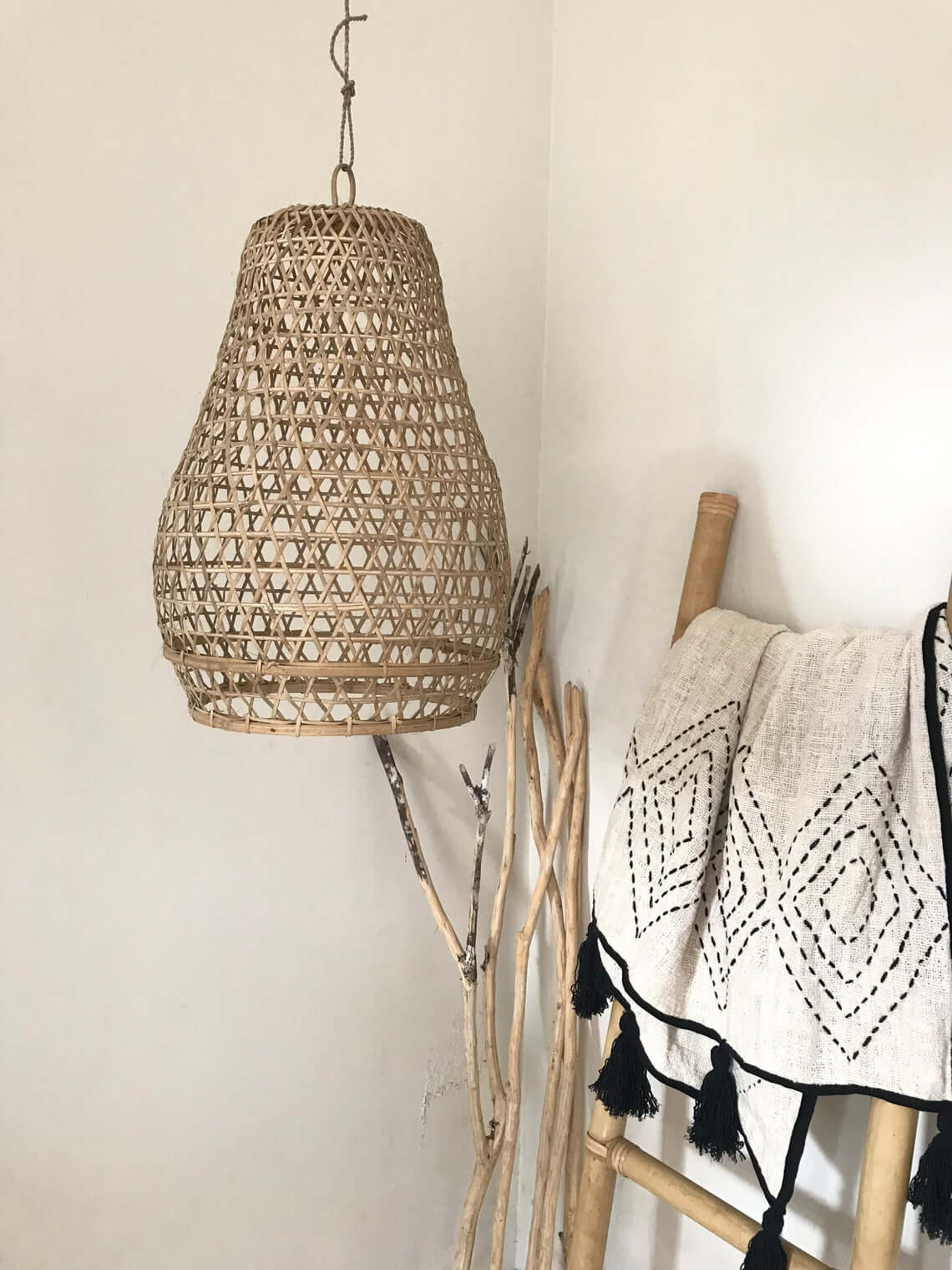 Handmade from Bali, this remarkable pendant lamp shade features the use of natural bamboo material to create a relaxed vibe that may help you reminisce about warm sand and fun times on the beach. It features a unique design that can stand out among the other lamps you may have around your home. This is also patterned with enough openings so that light is able to shine through with ease and illuminate the room in a nice, distinctive pattern. You don't have to light it, however, in order to take advantage of its appealing design as it can work just as well as general décor as it does for a lamp.
26. Graceful Vintage Red Lamp Shade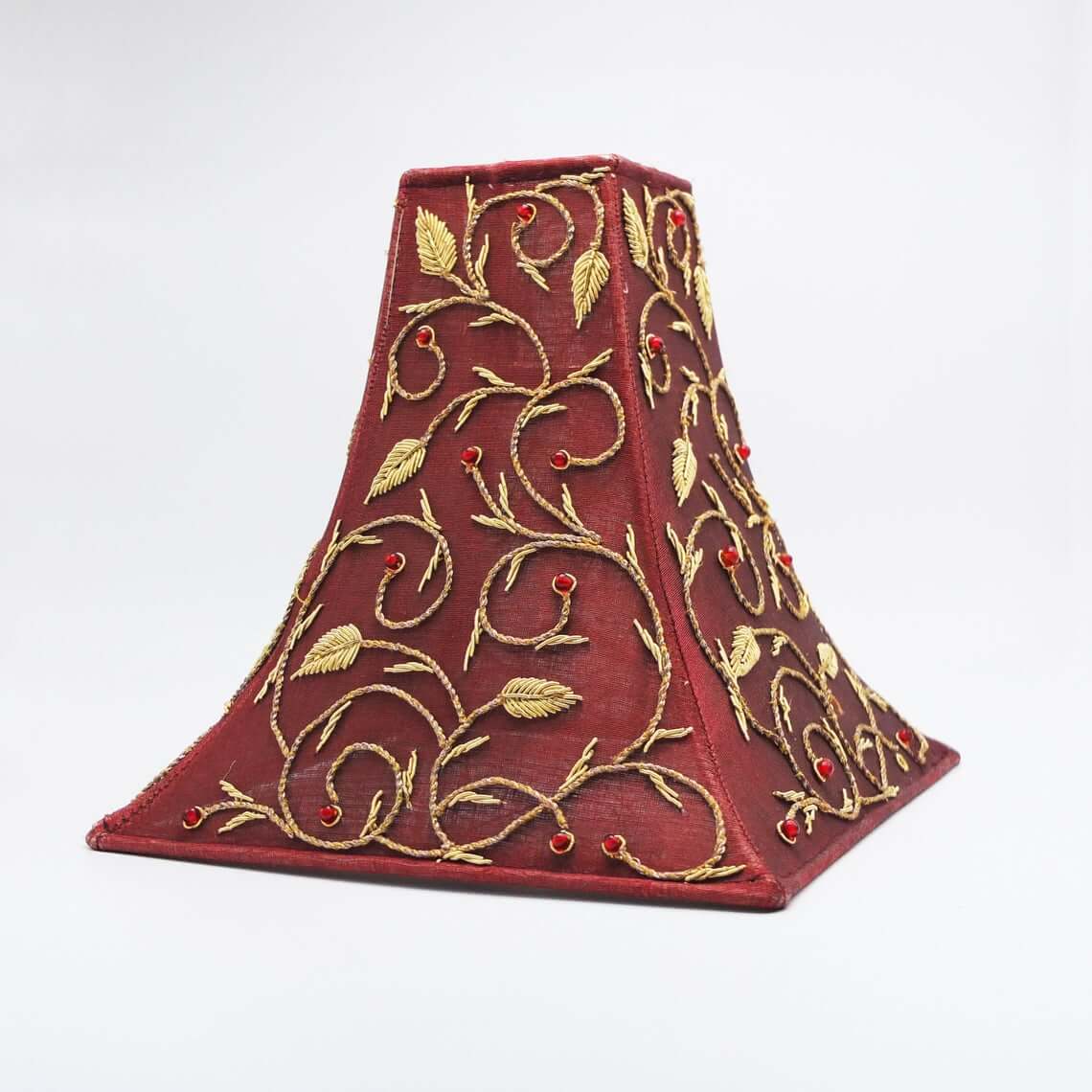 Sometimes, the simplest designs can make the most incredible pieces of art. That seems to be the case with this beautiful vintage lampshade. This handmade fabric features silk material, and although it features a traditional shade style, the design on it is what allows it to stand out more. It features elegant patterns of golden leaves. There are also some gold patterns on in the interior of the lampshade too, and this might help the light shine through in a different, appealing way. This works to elevate the old-school feel, making it ideal for those of you who are interested in vintage décor themes.
27. Pleated Lamp Shade with Pottery Lamp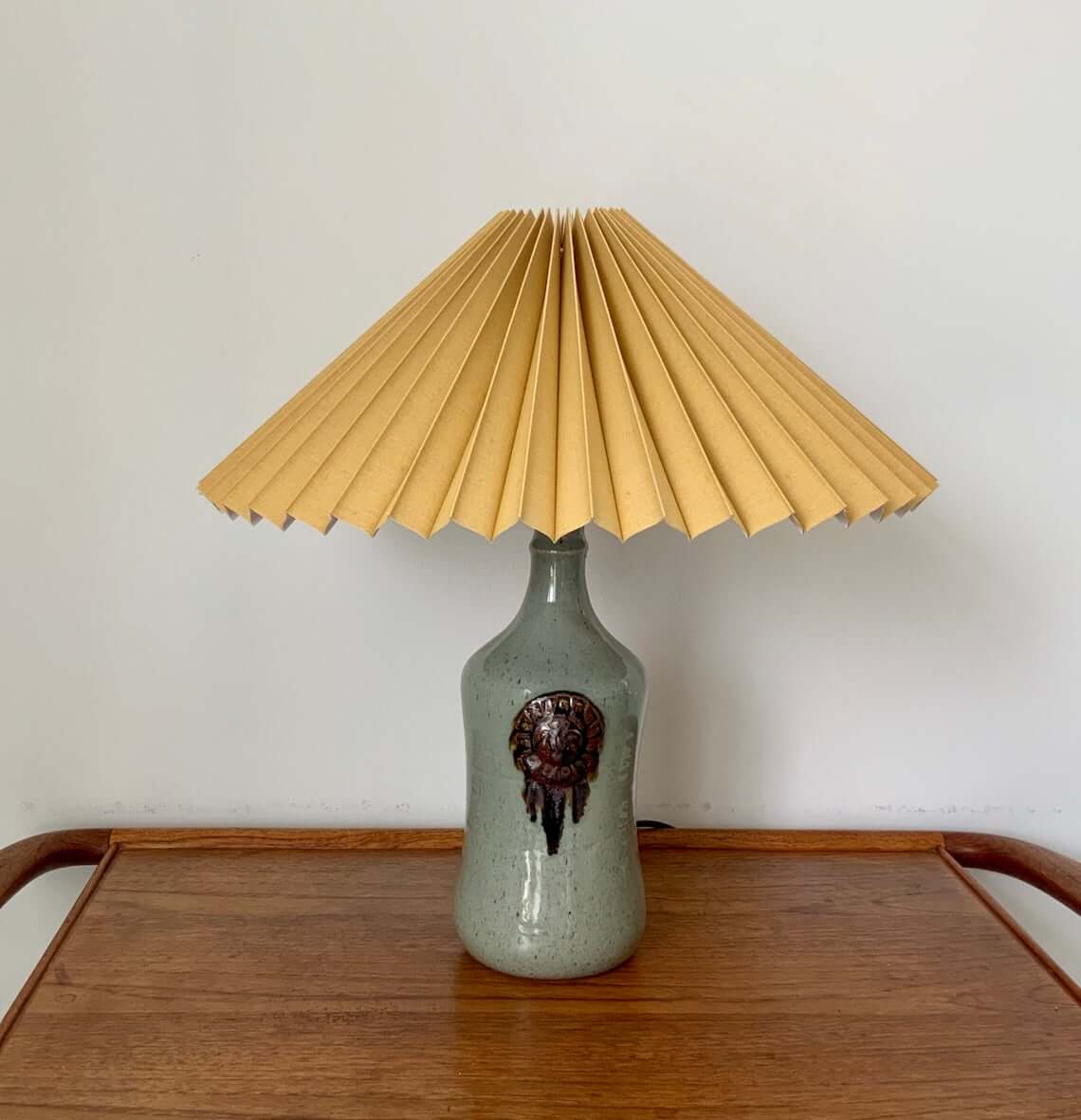 If you're looking to add a nice table lamp alongside a distinctive lampshade, try out this cool pottery lamp. The lamp itself features ceramic material that is glazed to look like stone, and it features a brown lion head on the front center. It comes from the 1960s, and it appears to be in wonderful condition. So, it can also work as a good vintage piece. Along with the quality lamp, you also get a pleated linen lampshade. It is yellow-toned, and it also helps fit in with the overall classic feel of the lamp. A cool thing about this is that you may even use the lampshade with another lamp in your house instead if you wish.
27 Unique Lamp Shades to Liven Up Your Home Décor
Lampshades are a dime a dozen. So, if you want your home décor to stand out a bit more, consider checking out some unique lampshade ideas. This way, your home decorations have a more distinct feel. These types of lampshades can also work if you are trying to create a certain vibe in different rooms. They can serve as accent pieces so that you don't have to fill the entire room with particular colors or patterns.
Another cool thing about having lamp shades with certain styling is that, depending on how the design is, the lampshade might even change the overall lighting to your room when you turn the lamp on. Some shades feature elegant patterning or tiny holes where light can shine through. This may help the lighting feel warmer, or it can even allow a particular pattern to shine throughout the room instead.
The above list of some of the best unique lamp shades should hopefully give you a good idea on where to start searching for your next décor piece. This list might even spark a new creative streak and encourage you to do some redecorating of your own. Whatever the inspiration is, feel free to take a look at the products above to see which one (or several) will work best in your home.