With the best unique placemat designs, you can completely transform the table in your dining room or kitchen into something that shows off your personality.
28 Unique Placemat Ideas for Your Next Dinner Party

There are so many ways to decorate the area that you eat at, and the use of placemats is an easy way to go about this. Placemats don't take up too much space, so they won't overpower any other decorations you may have in the room. Also, they are fitting for a minimalistic style since they are space-saving. If you go for handmade mats, you can readily find some that have a far more distinctive appearance rather than something standard and traditional. This way, you can freely express yourself while adding some much-needed atmosphere to your kitchen or dining room.
The only thing you have to think about is what direction you wish to go in. Do you want something that fits in with your specific décor? If so, then it is helpful to find placemats that are fitting for daily use. This way, they won't look out of place to have them set up all the time on the table rather than just pulling them out when it is time for meals. Or do you want something to help your dinner party stand out more? There are festive and holiday-specific placemats that are fitting for those occasions too. There are even some mats that will work well in both scenarios.
Many of these homemade mats are also designed so that you can use them for years to come. This means they can wipe down well or you can even throw them in the washing machine to clean them off. Because of that, many handmade mats are wonderful to use among family since they can survive various spills. Also, mats should have enough durability to also protect your table such as those made from heat-resistant materials.
If you aren't sure where to start, you can check out our list of some of our favorite placemat design ideas to get started.
1. Beautiful Mediterranean Style Patterned Placemats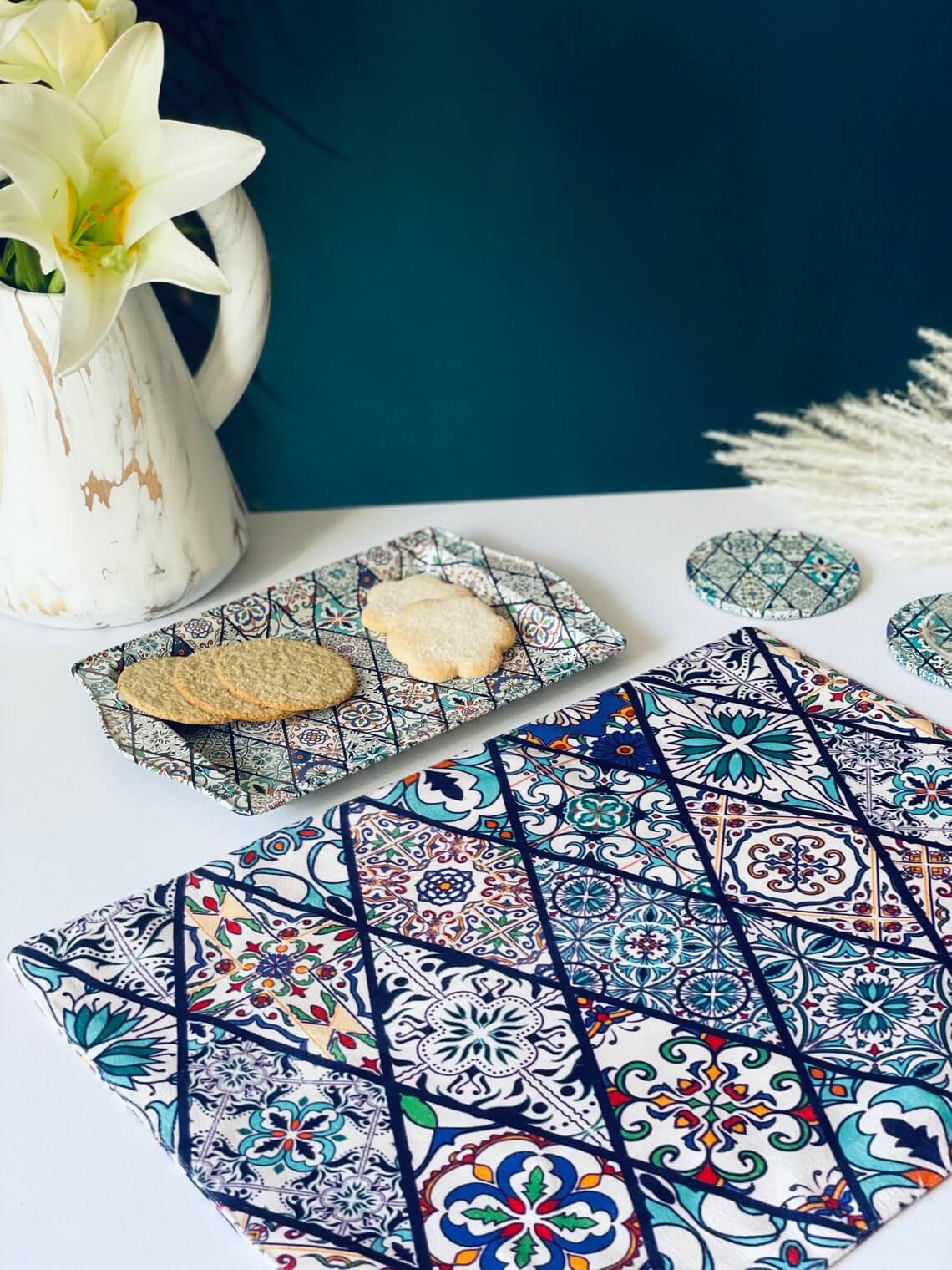 If you are aiming for a more Mediterranean style, these placemats will make for a perfect addition to your table setup. There are seven different color options you can choose from that all fit in with the same theme. This way, you can get mats that are closer to your particular style. All of the styles are vibrantly made too so that they can instantly grab attention. If you wish, you can get the mats in a set or also add on some matching coasters or trays. This way, you can get your party started off right with an entire set of decorative items for the table.
2. Awesome Handmade Ramie Woven Placemat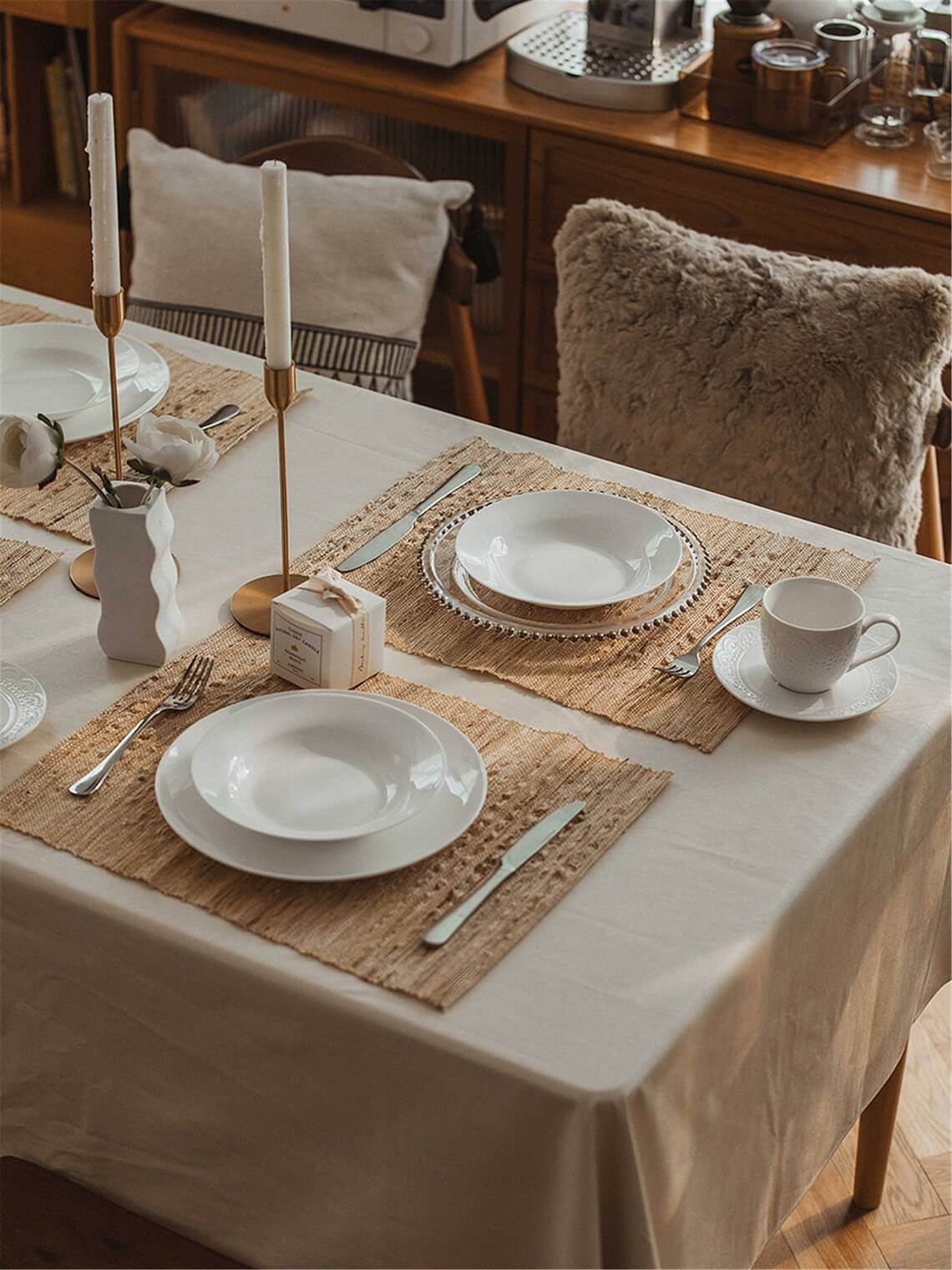 When you are looking to add some texture to your dining table, these woven placemats are a wonderful way to do that. There is a sense of lightness to these mats from their coloring to their overall style. This makes them fit seamlessly into a boho or coastal theme room. At the same time, the mats can still look just as well when used for any style of kitchen or dining room. Also, these mats can hold up well whether you use them inside or outside for your outdoor dining setup.
3. Boho Natural Design Raffia Placemats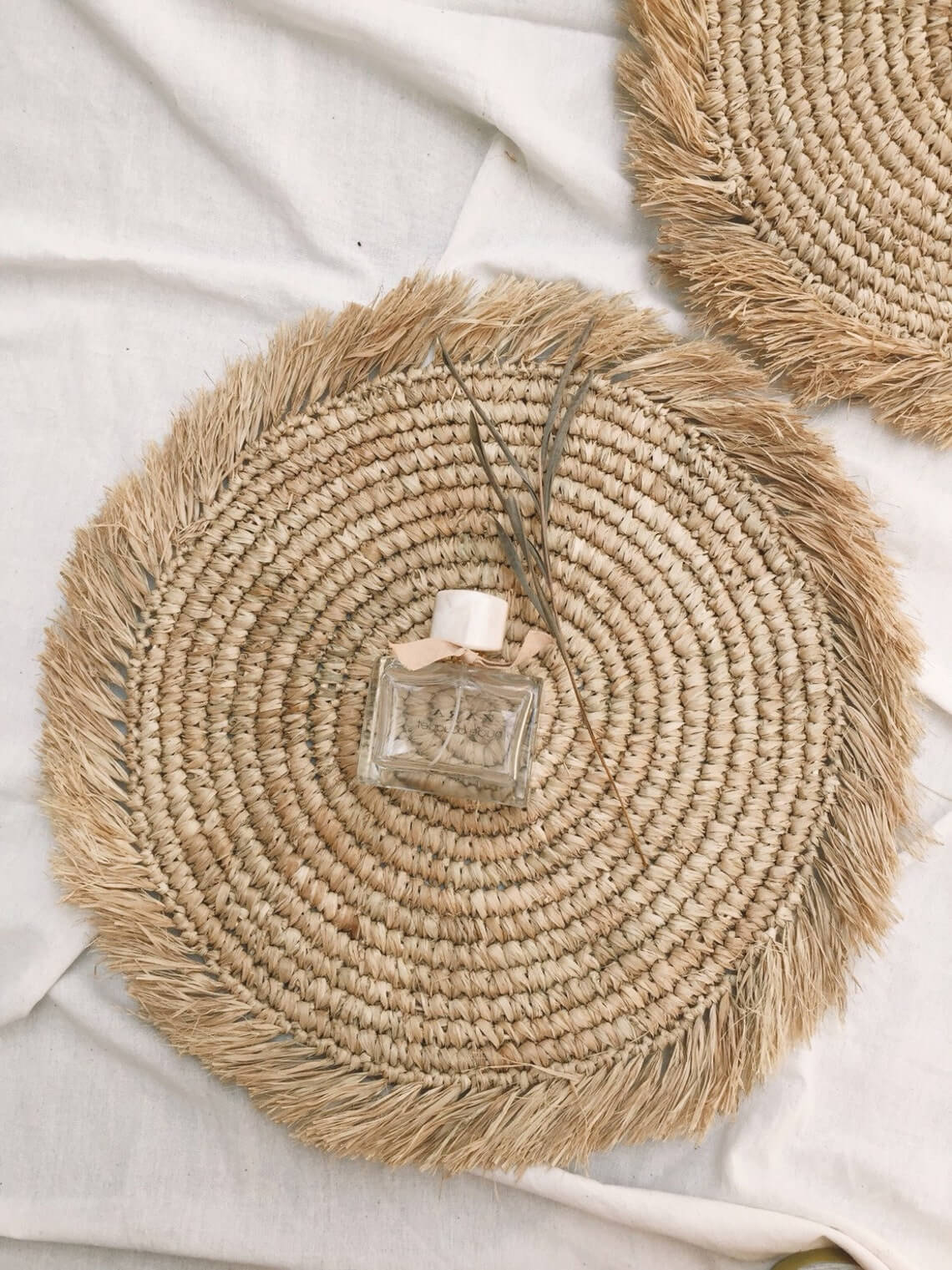 With these placemats, it is easy to go along with a boho theme in your kitchen or dining room. These are handmade using wicker material, and the natural weave is fitting for the home that deals with décor closer to nature in appearance. There is a nice rounded design with the mats too that allows them to stand out even further compared to the typical square or rectangular placemats. They have such a versatile appearance as well so that they can work out in just about any decorative style too beyond just the boho theme.
4. Handmade Wooden Resin Luxury Placemats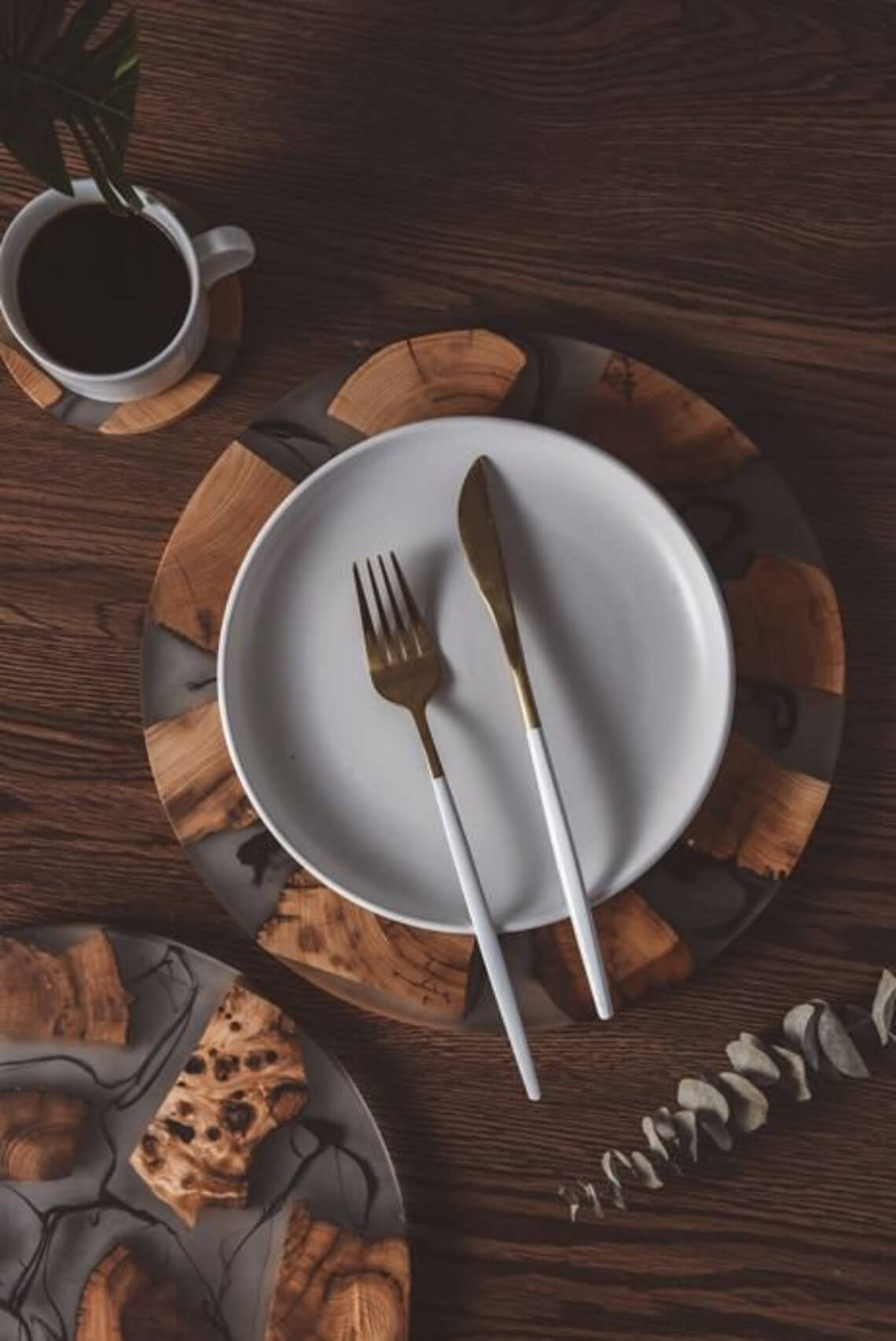 As far as unique placemat ideas go, these truly stand out from the crowd. They are made from wood and resin materials, creating this rustic, almost vintage-like appearance that works well alongside various decorative styles in your home. Also, they are instant attention-grabber, making them wonderful placemats to pull out for those special meal gatherings with friends and family. Due to them being handmade, the wood will be a bit different with each placemat. There is even a cool cedarwood smell to these so that you know they are the real thing.
5. Black Links Placemat Set Designs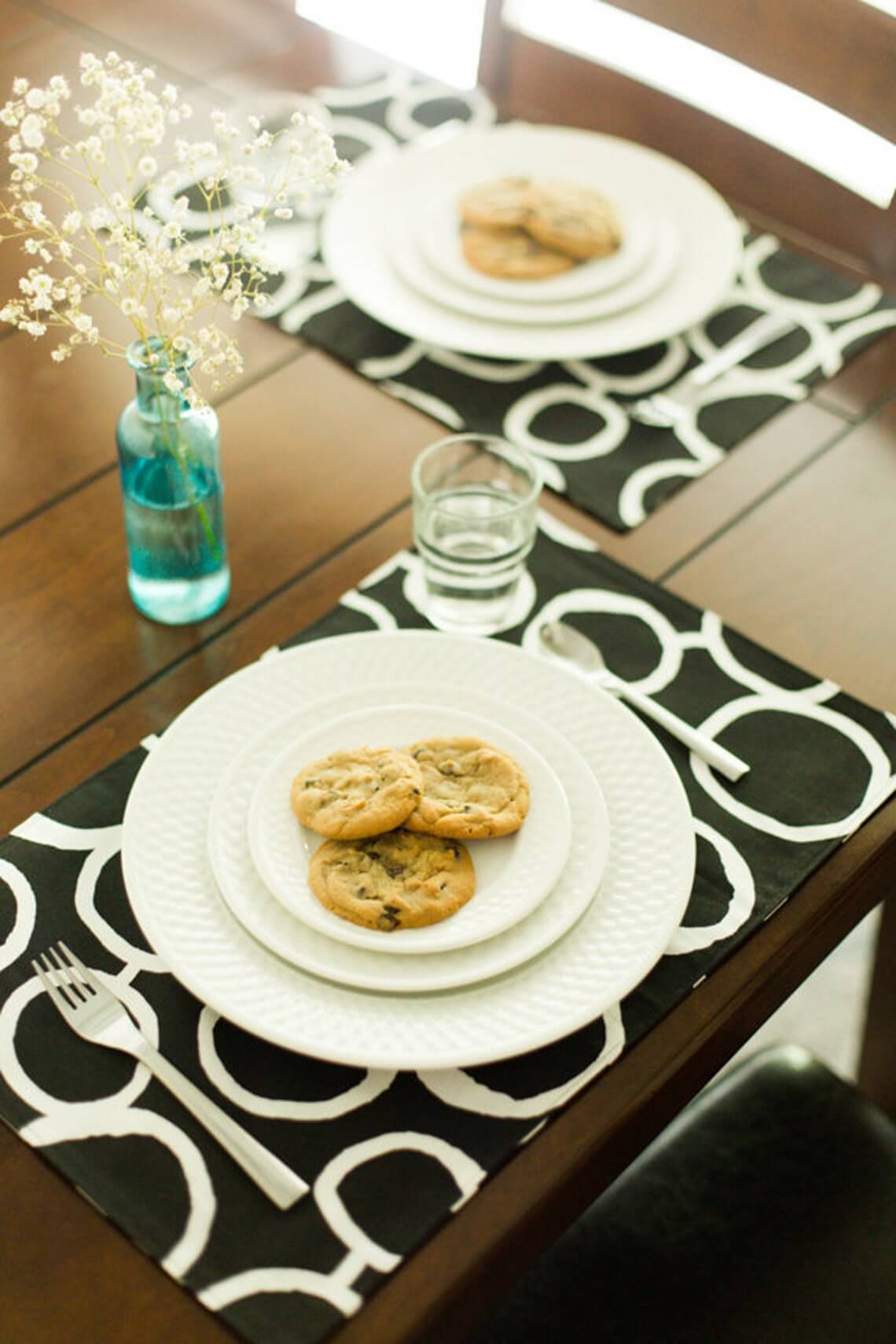 Bring a touch of contemporary and fashion to your next dinner with these black links placemats. Custom made in black and white print, these mats will make your meal have a sense of elegance to them as if you're hosting a fancy party. At the same time, there is some lovely simplicity applied to these mats because the designs aren't over the top. They are just bold enough to get attention without detracting from anything else you may have set up on the table. You will get a set of four with these so you can decorate a small to the medium-sized table easily enough.
6. Handmade Decorative Macrame Organic Placemat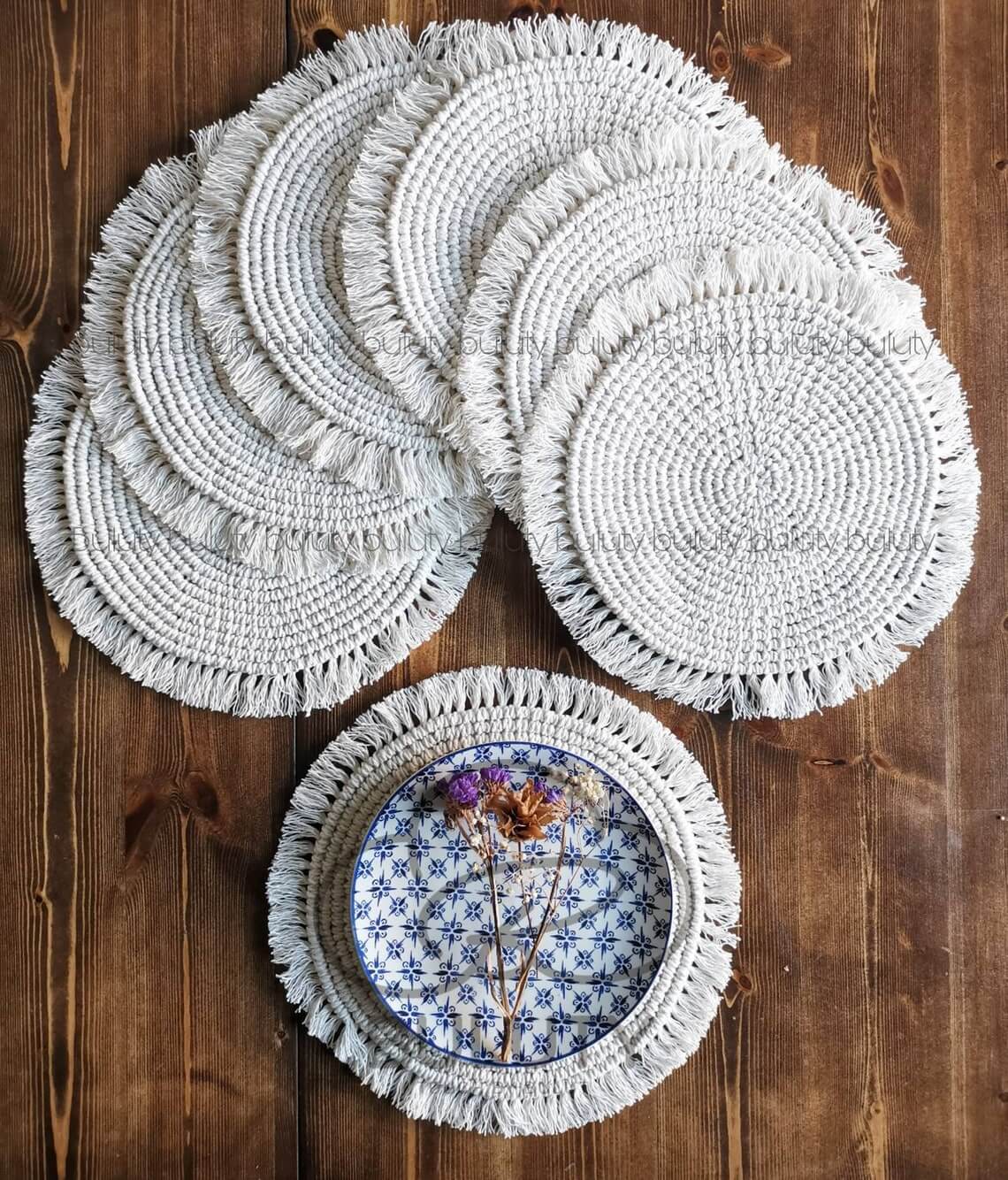 If you are looking for placemat design ideas that have a more down-home type feel, these macrame placemats are a good choice. They are handmade from 100% cotton yarn, and they are made in a large size so that they can easily work with plates of various sizes. You don't even have to just use these for plates. If you wish, they can even work well when used underneath plants. They also look beautiful just used for decorations on a dining room table that maybe no one actually eats on.
7. Scandinavian Style Daniel Fox Ochre Placemats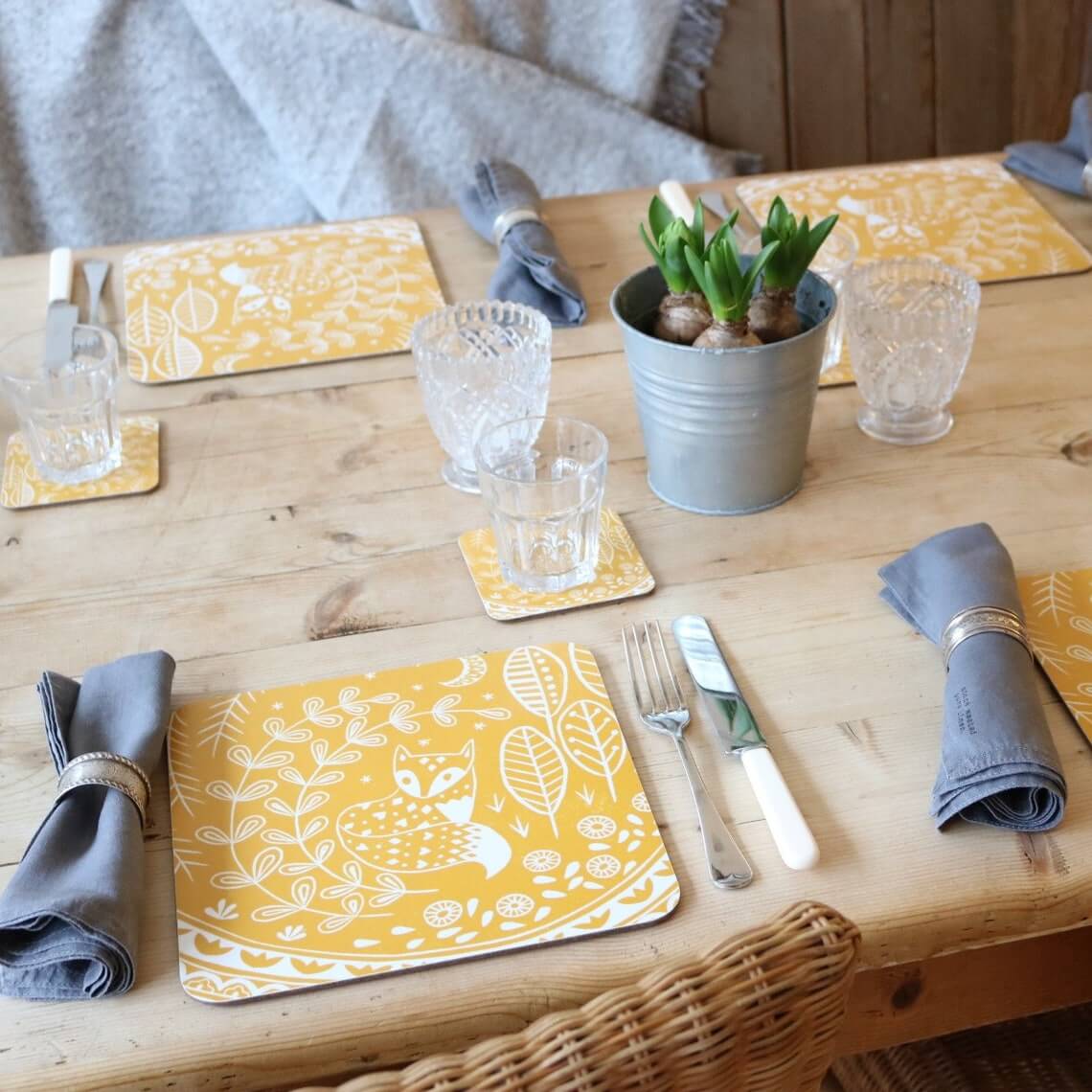 These Scandinavian-themed placemats are a fun way to show off your love of animal prints while keeping things fashionable. There is an abstract drawing of a fox on the mats alongside other nature-like artwork. However, what helps these mats capture attention is the vibrant yellow coloring contrasted by the outlines of white throughout. Available in a set of six, these can brighten up any table setting. They are well-designed from melamine material too so that they look even better as well as withstand use if you set them out as your daily mats.
8. Vinyl Tile Design Gray Placemats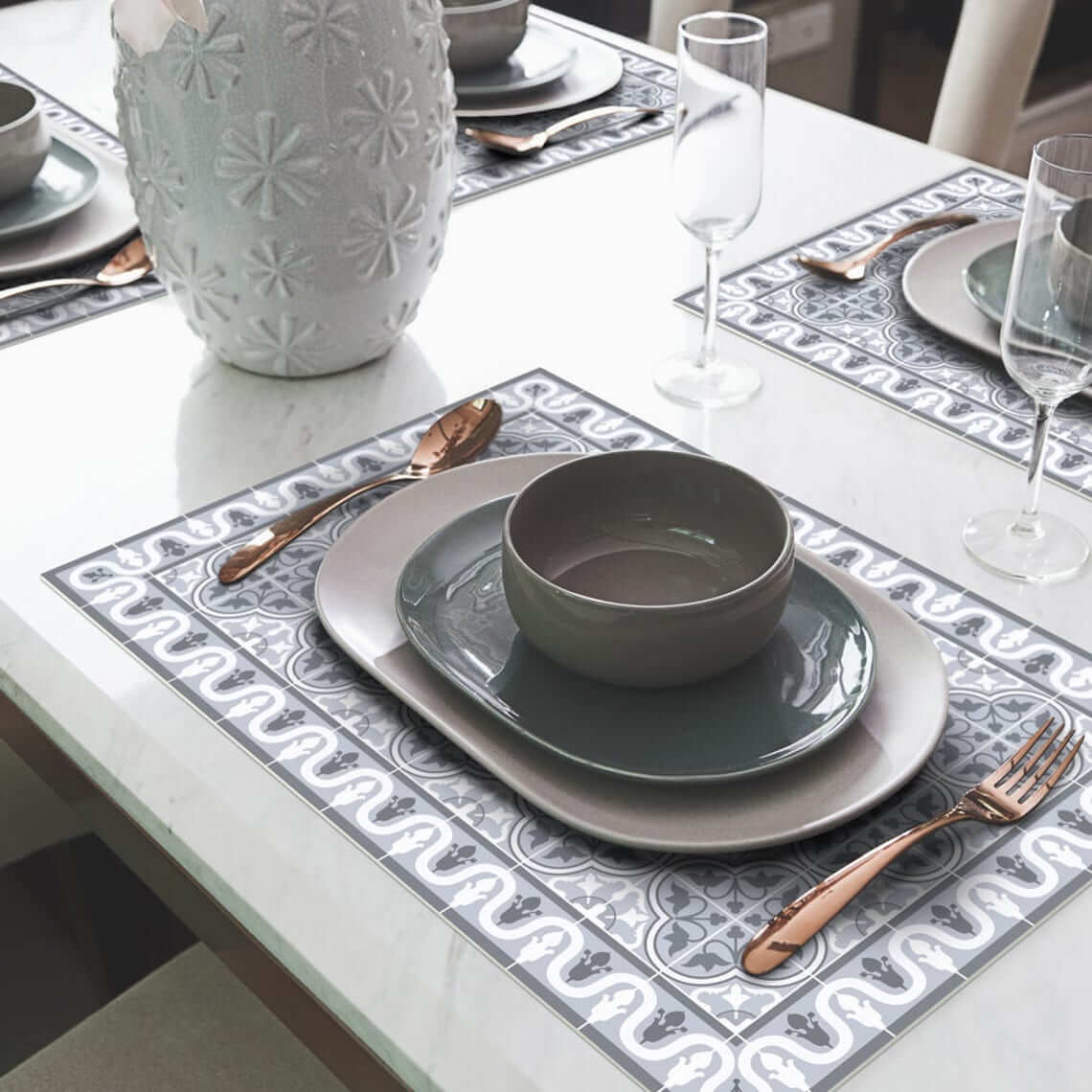 Some of the best unique placemat designs focus on a specific style like these vinyl placemats. These aim for a more modern approach what with their gray coloring. It is wonderful for a minimalistic style too as they can add just the right amount of style and fashion to bring a dinner set up to life. There are various shades of gray too with the darker and lighter areas adding in a wonderful deal of contrast so that the mats stand out more against any table you use them on. The vinyl material offers some easy upkeep as well so that it's acceptable to use these days rather than just for a fancy dinner party if you desire.
9. Floral Watercolor Artistic Placemat Designs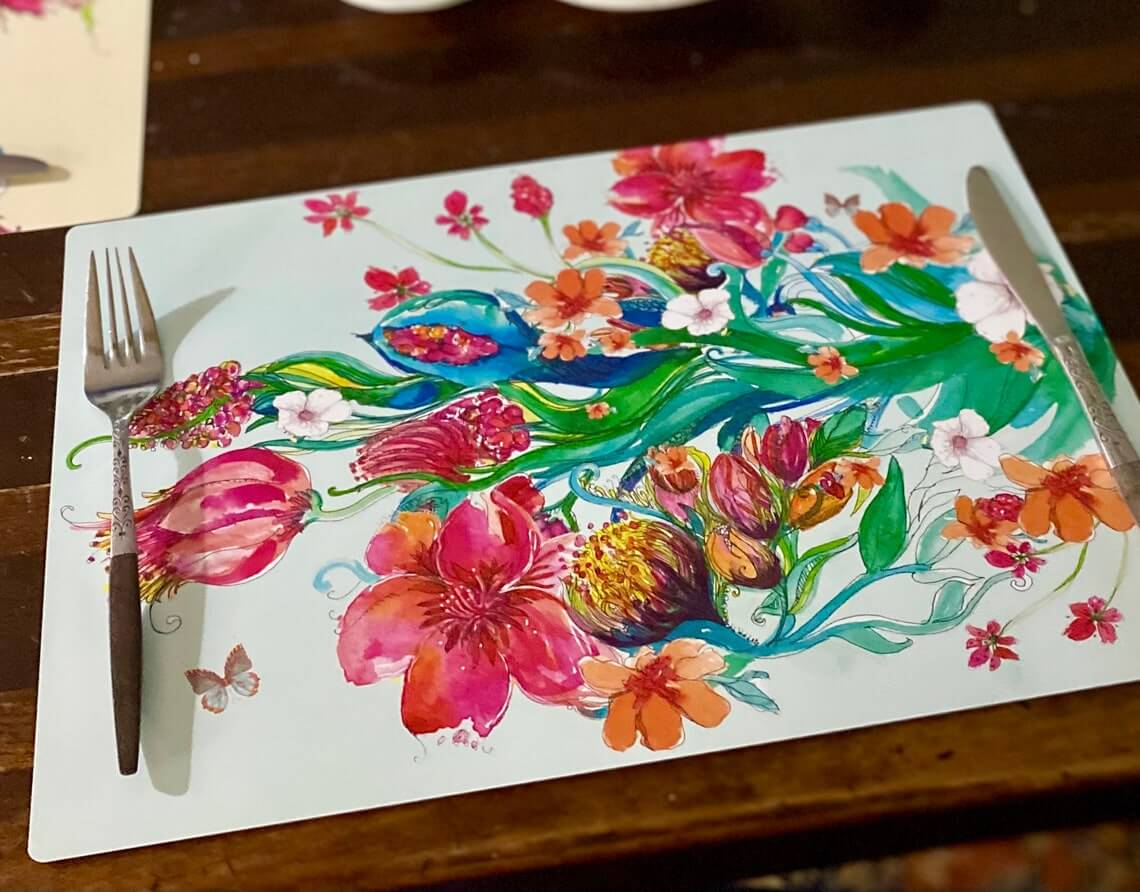 From boho style to a garden theme, these artistic placemats are wonderful to use. Made on vinyl material, these placemats have plenty of bold coloring with various floral designs. You can select from two different floral patterns, or you can simply get an even amount of both so that you can mix and match the style around your table. These can breathe new life into an otherwise plain dining room table, or they can look well when used for that summer or springtime party. The mats are also simple enough to maintain with their waterproof design so there is no worry about using them every day.
10. Decorative Abstract Design Vinyl Placemat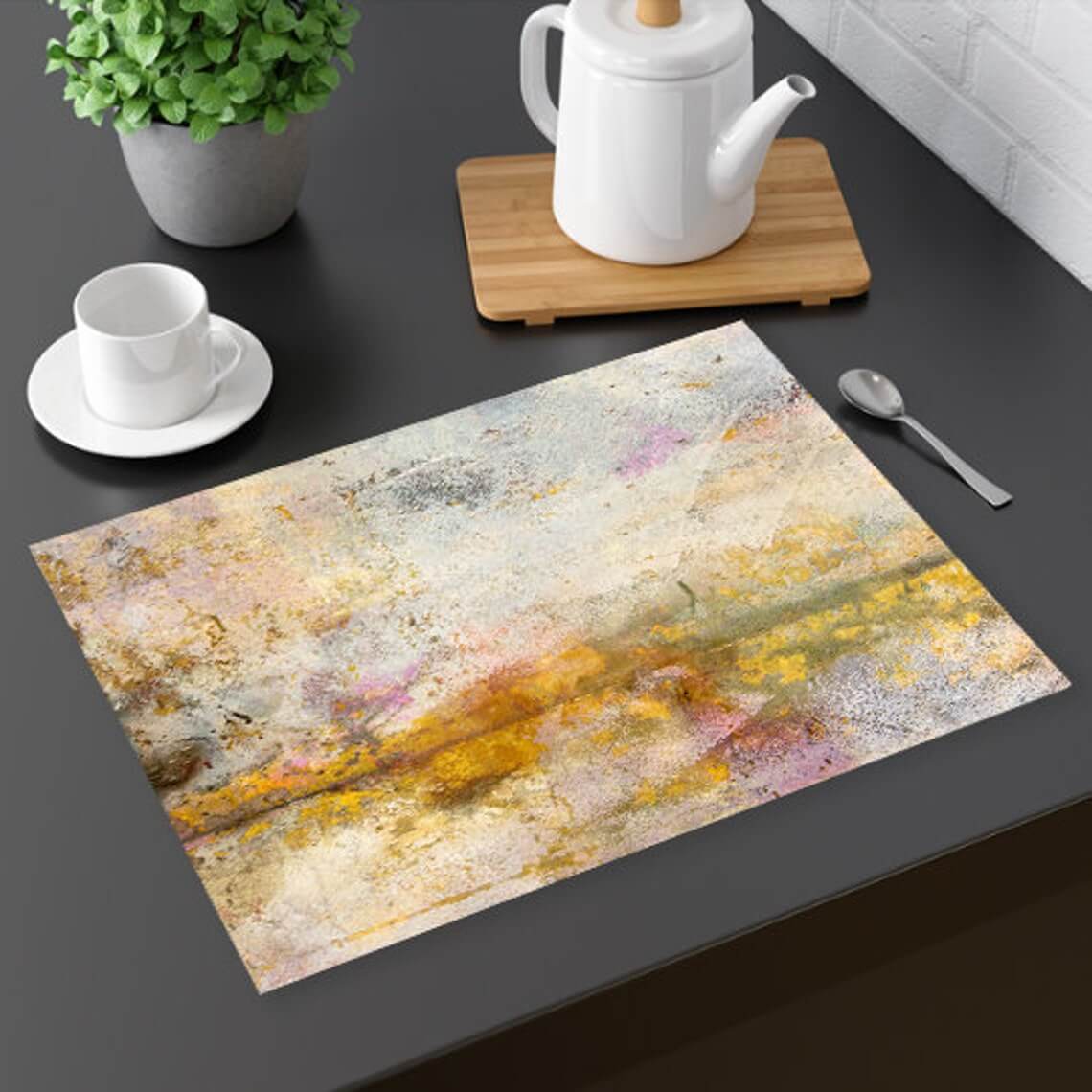 A fun way to add some atmosphere to your next dinner party is with these beautiful vinyl placemats. They are among the best unique placemat designs that will easily capture attention from a distance. This makes them wonderful for use just to decorate a table just as well as they are when used to protect your table during dinner. The mats are even heat resistant so that they can withstand frequent use. This allows you to use them as your daily mats as well as to bring them out just for a party.
11. Fun "Oxtail Soup" Animal Theme Placemat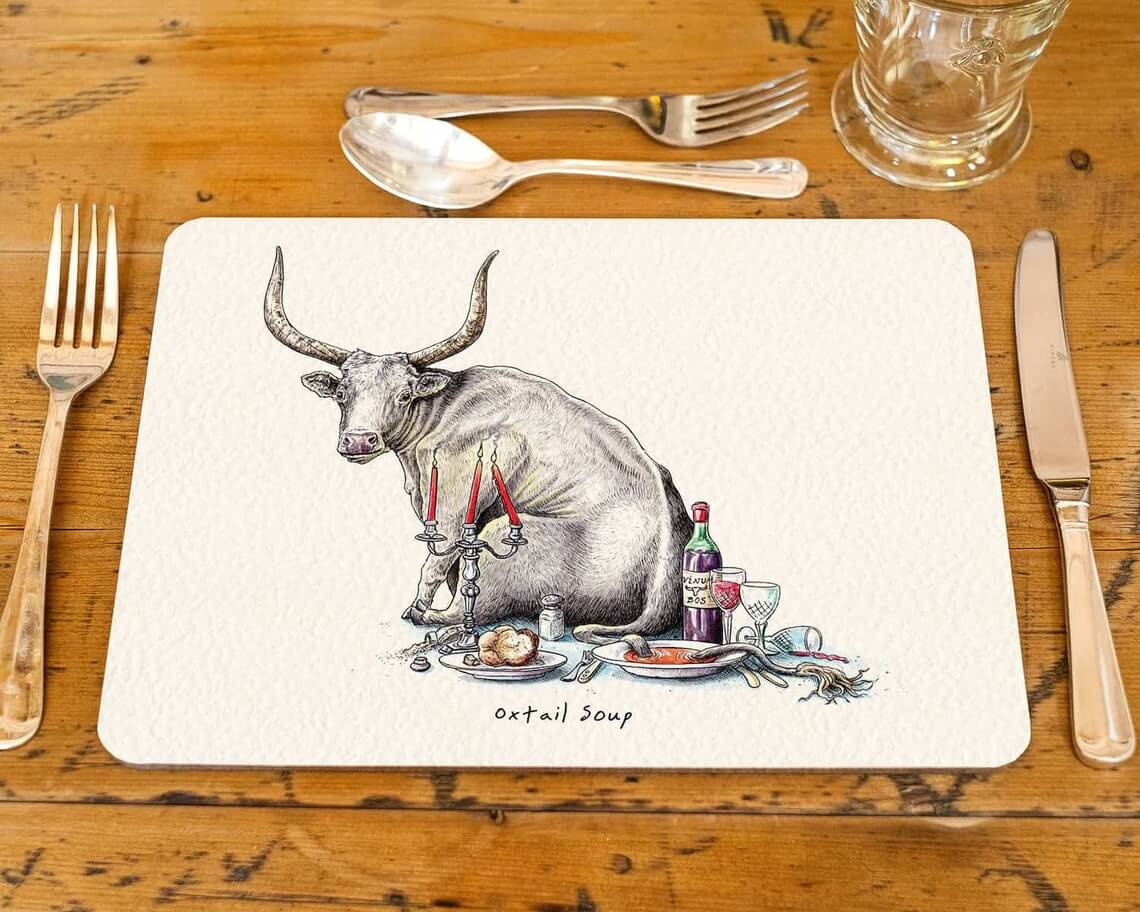 For those of you that enjoy animal-themed items, this placemat is equal parts adorable and fun. There is still a nice level of sophistication found on the mat thanks to how the image is designed. The ox and everything around it has great realism applied to it, and the little joke goes well with the "oxtail soup" wording at the bottom of the mat. This bold mat is designed to be stain and scratch-resistant. It is also simple to quickly wipe clean, so if anyone has an accident, it's easy to manage so that the mat keeps its stylish appearance.
12. Holiday Themed Buffalo Plaid Placemats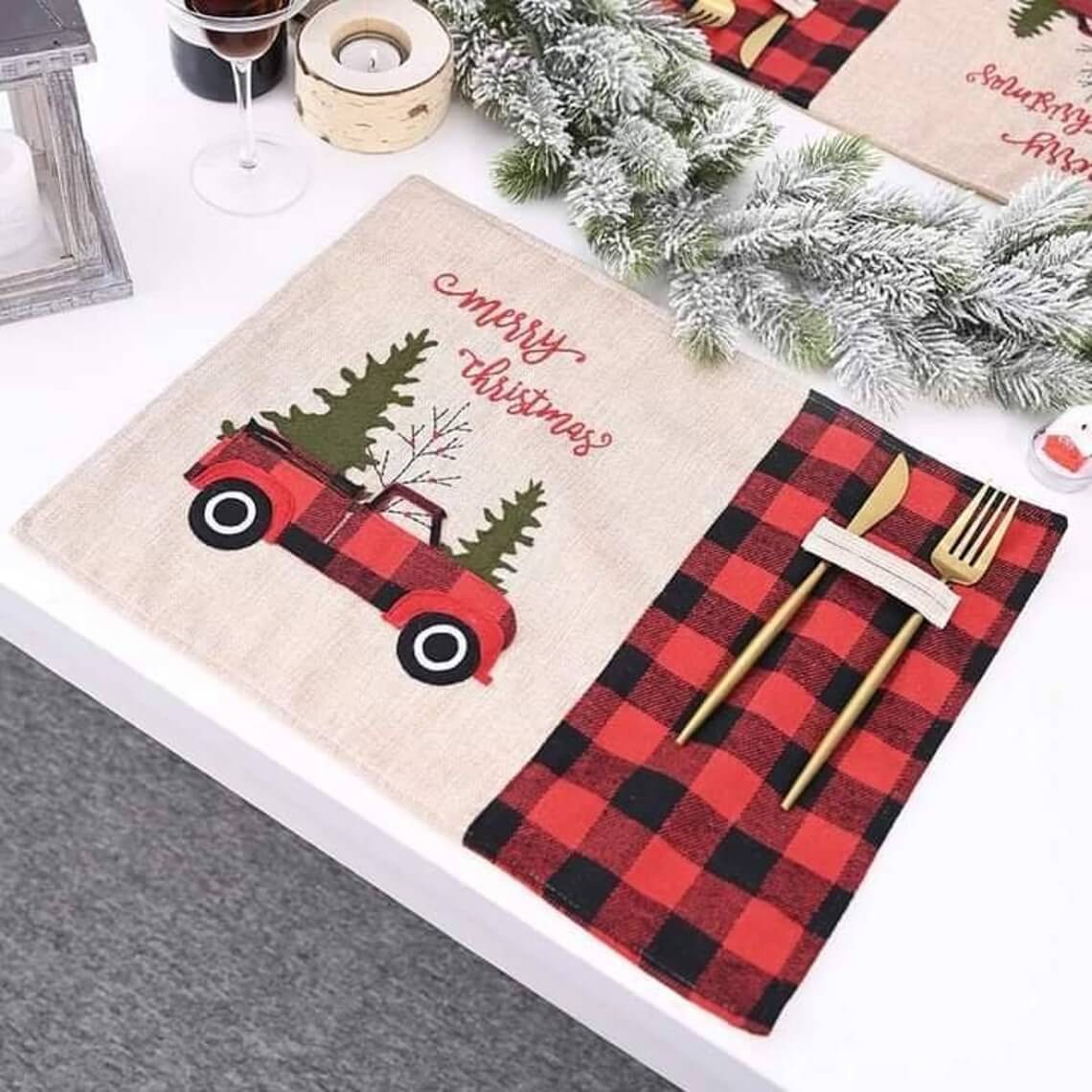 Dress up your dining table for the holidays with these cool buffalo plaid placemats. There is an awesome traditional Christmas design on the front with the truck and the trees. Also, the buffalo plaid design fits with the holiday theme easily enough, and it's found taking over the entire backside of the placemats. If you wish, you can even customize a name or family name on the mats, giving these a more unique touch. Besides the placemats that are designed with a little pocket for the silverware, this set also comes with a table runner. This makes it simple for you to decorate the entire table for the holidays.
13. Bright and Colorful Vinyl Placemats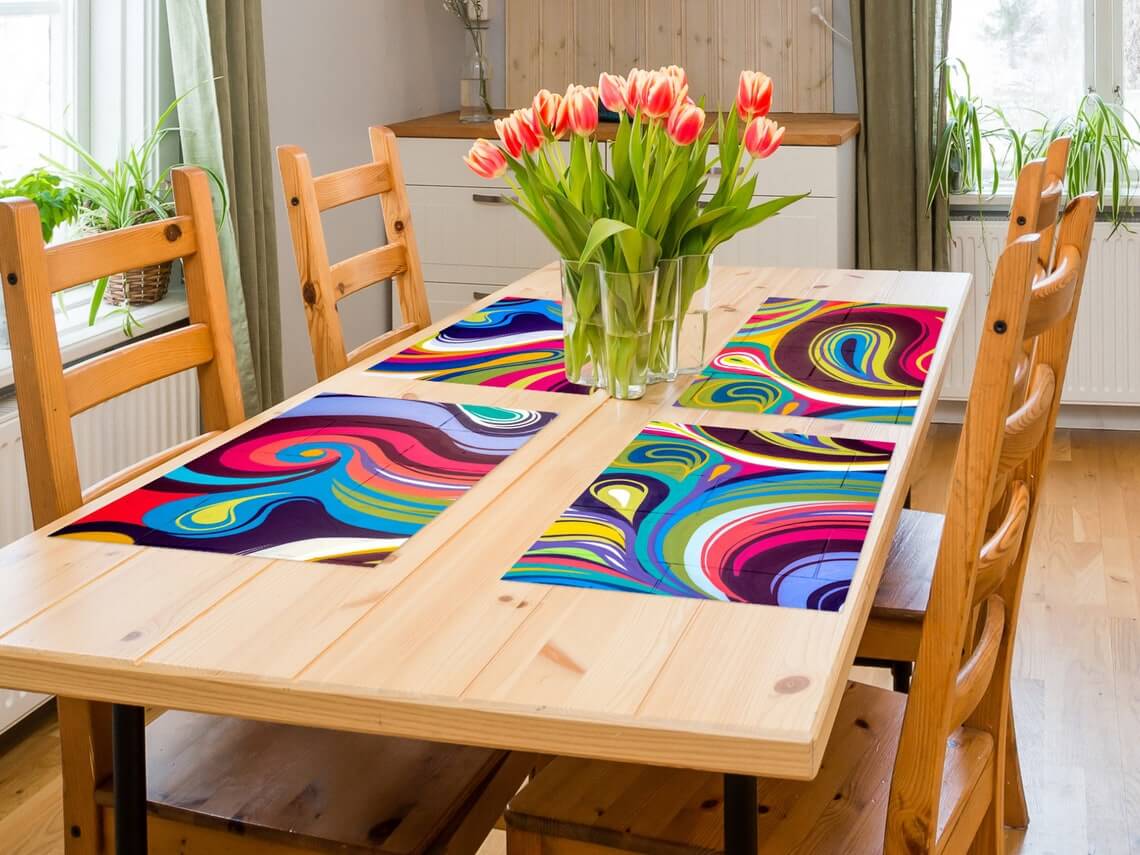 Bring in a psychedelic look with these vibrant vinyl placemats. The designs are actually from a photography collection of street art. They are bright, bold, and readily appealing for when you want some unique placemats to bring a pop of color to your kitchen or dining room. These make for the perfect party pieces or even just to have a more interesting family dinner. The large mats are available from a set of four up to a set of 12. You can even choose from three different sizes so that you get the mats that fit the best with your table.
14. Stunning Blue Geometric Placemat Set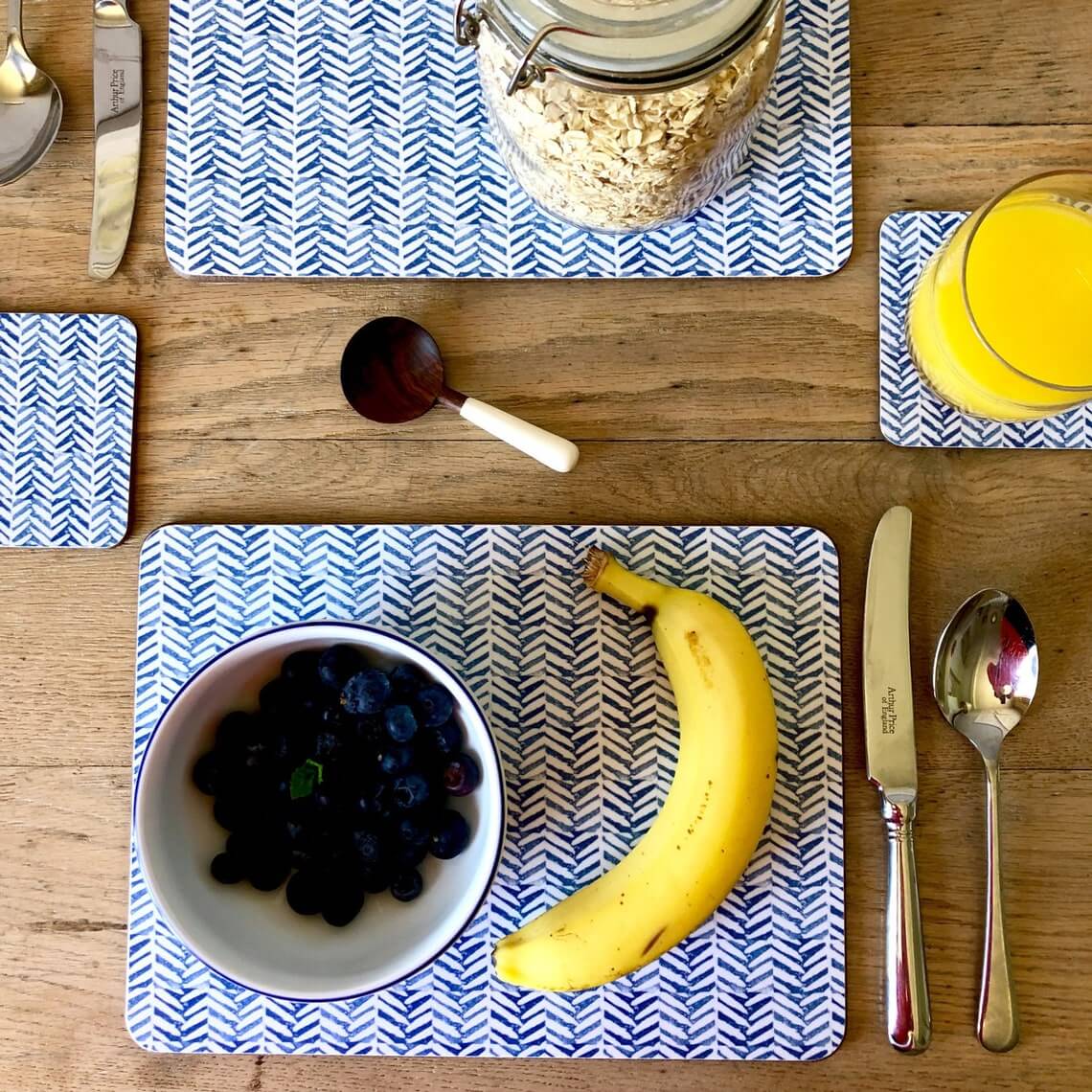 Show off your personality with these gorgeous geometric print placemats. These offer a timeless design that can fit in with a contemporary styled room with ease. They will readily add color to any table, especially when you place them on the common wood table. It can delight your family as well as any guests when you throw a dinner party. There is a great brightness about them that makes them fun to use all day long. Wake up with a smile with these for breakfast or bring some life into a late-night supper.
15. Vincent van Gogh Placemat Designs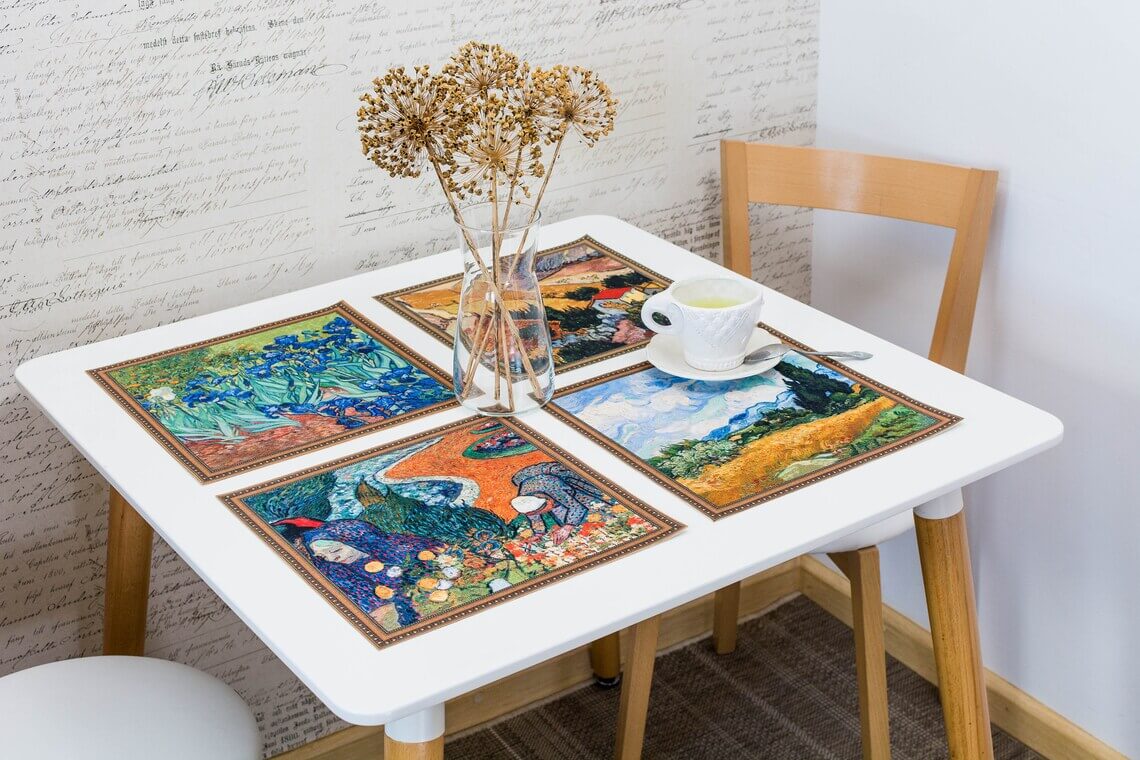 Are you an art lover? Well, you can transform that passion and place it into your dining room or kitchen with these beautiful placemats. Available in a set of six, each placemat features a design based on Vincent van Gogh's bold and attractive artwork. In fact, guests may easily mistake these mats for artwork that should instead be hung up on the wall. This is a unique way to add a classic flair to your setup without going too over the top with anything. Also, since there are six of these, you can easily fill out a large dining room table or switch some out for those smaller settings.
16. Cool Recycled Newspaper Woven Placemat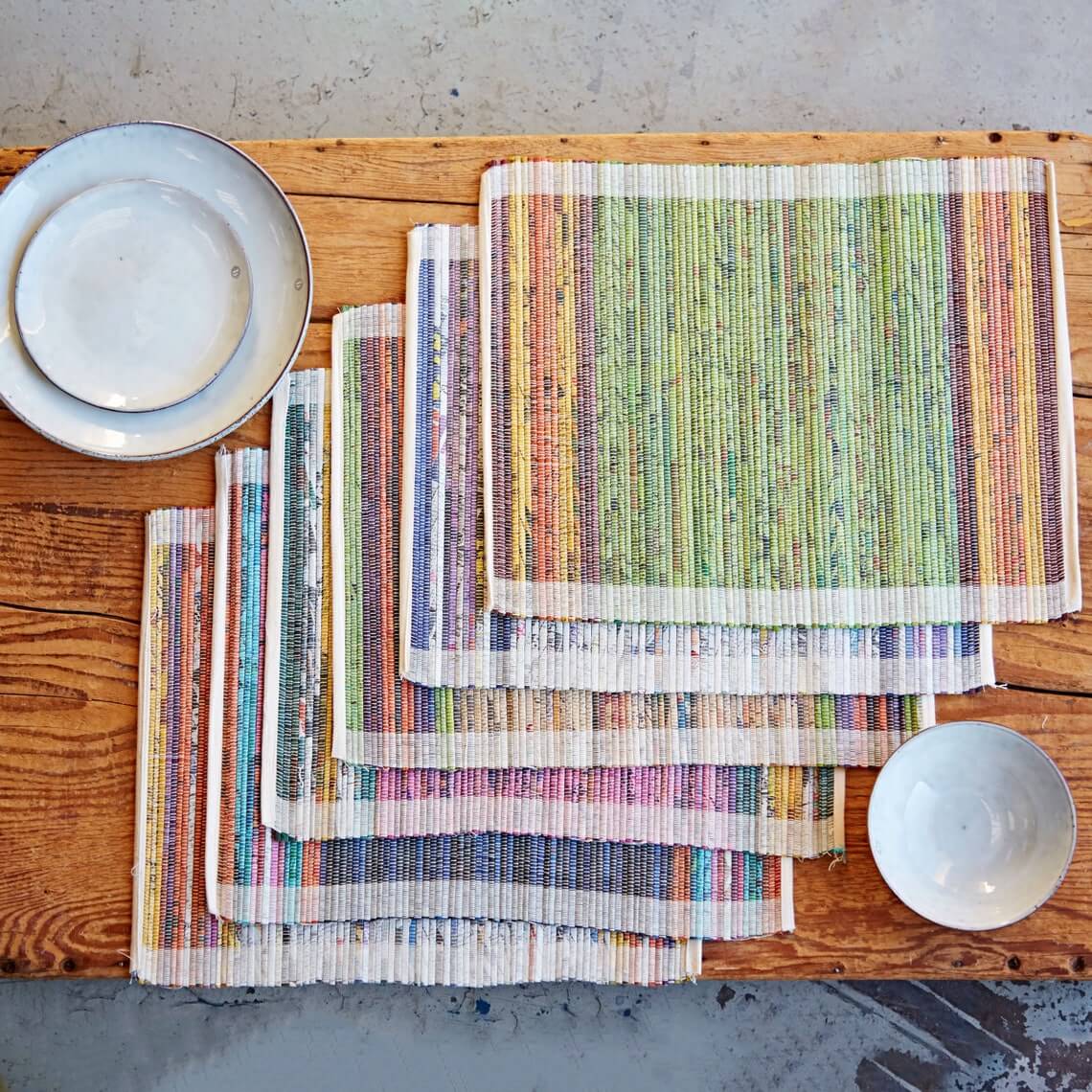 Anyone who loves sustainable décor will enjoy this woven placemat made from recycled newspaper. The individual strips of paper create a beautiful, colorful design that makes the placemat instantly noticeable. Setting up numerous of these all around the table can create a fun and festive vibe. This makes them wonderful to whip out for a party. At the same time, their appealing nature makes them work well even if you just use them for your daily dinner meals. Also, since these are handmade from individual newspapers, each placemat will be completely unique.
17. Natural Seagrass Boho Placemat Design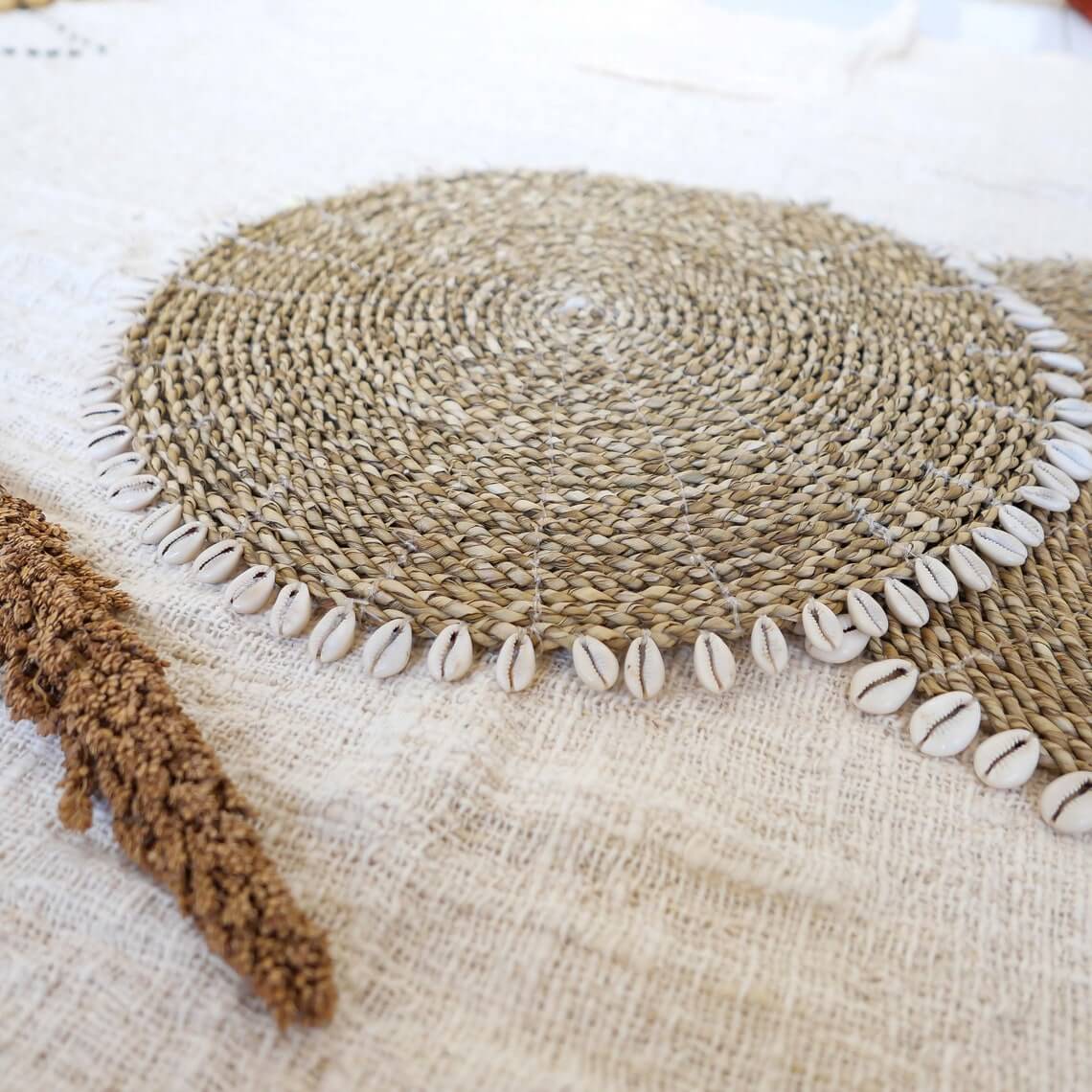 This placemat can truly bring you closer to the coast with this design. It is circular, allowing it to fit even better with the theme as a whole. It is handmade using seagrass material, and the brown-like coloring keeps it lowkey enough that it blends well with the boho style. At the same time, the mat is still bold and attractive. This is helped thanks to the fact that it also has cowrie seashells along the rim of the mat. It is a seamless way to give it that ocean vibe so that it stands out.
18. Awesome Digital Colorful Rectangle Placemats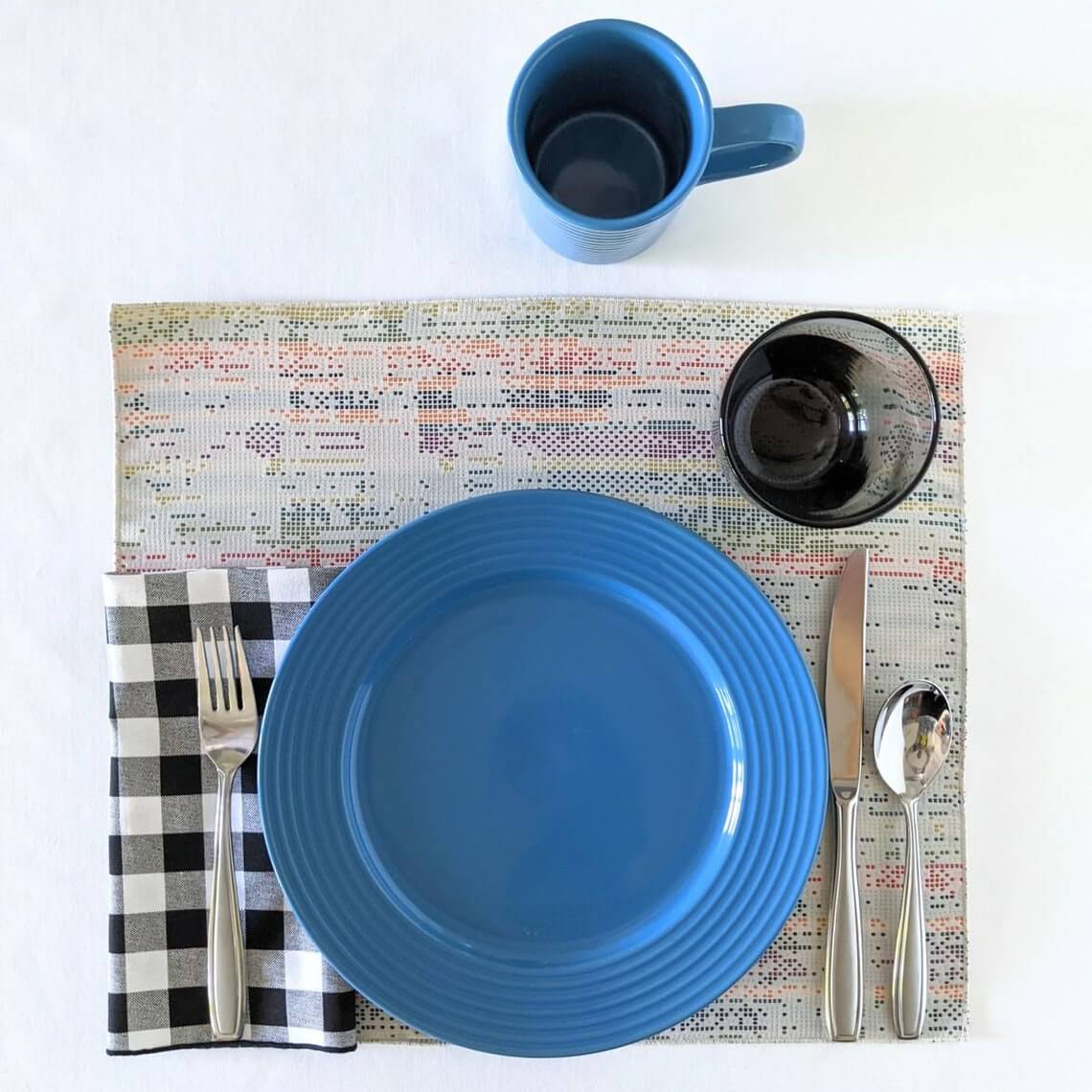 This unique placemat idea brings some retro style to your dining table. The placemats have a rectangular design with tiny, colorful rectangles for the design to help it have that digital-like appearance. It looks almost like something printed off of a computer, further cementing that distinctive look of the placemats. These will be fun to bring out for a party, but they are also entertaining to use every day. For daily upkeep, these mats just wipe clean, making them useful to use anytime you eat. They are a great size too so that you can fit not just a plate or bowl, but also silverware and a drink.
19. Set of Decorative Blue Linen Placemats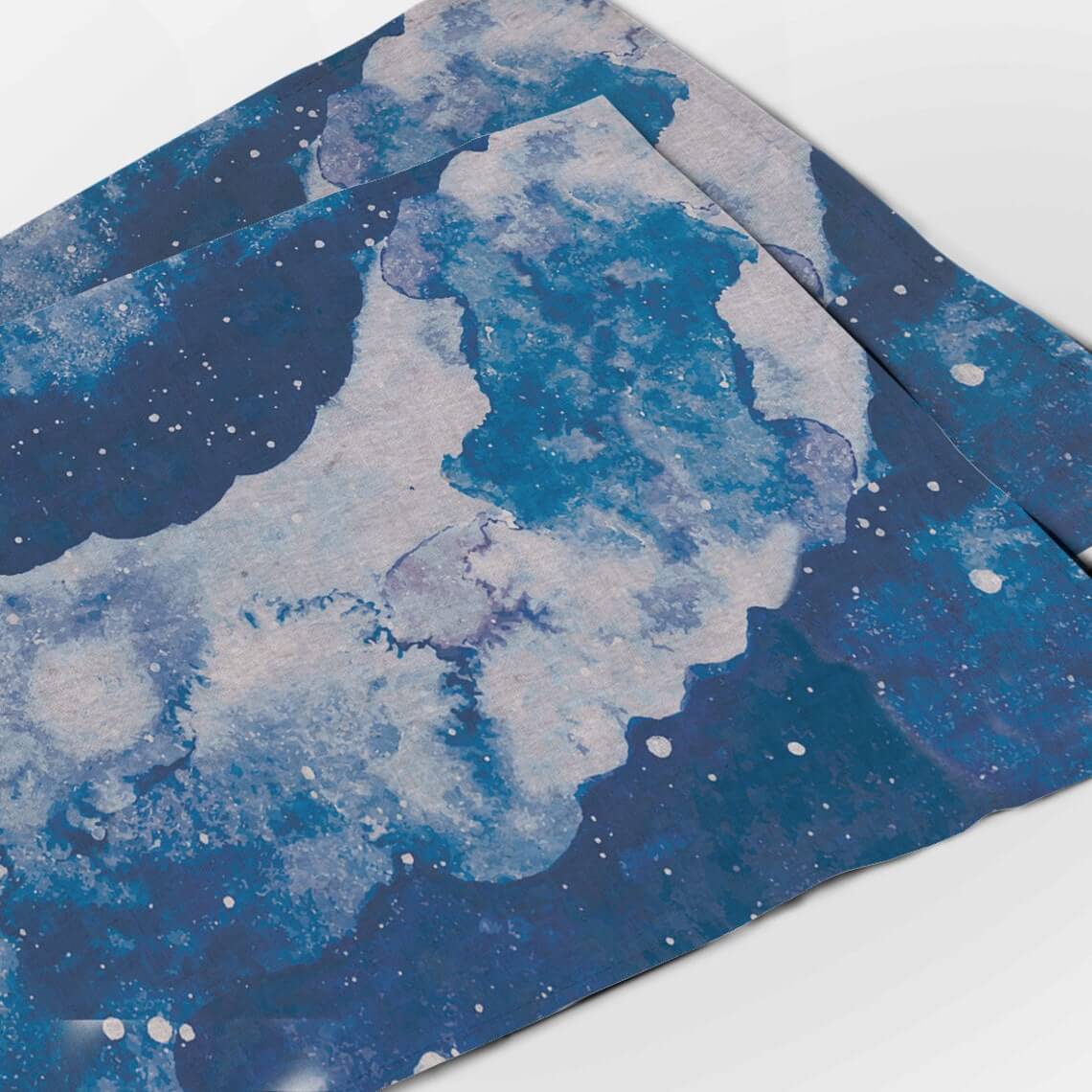 Are you looking for something a bit more whimsical that still has a mature look? These decorative linen placemats should fill that role. There is an artistic, almost space-like appearance about these mats that can help them fit in with the various types of décor. At the same time, they are not over the top so they can work well for a party and for everyday use. With them being made from linen material, the placemats are designed to be tougher, allowing them to withstand that daily use and hold well to any spills. This material also softens the more you wash it, so these can last you a long time.
20. Bright Rainbow Artistic Colored Placemats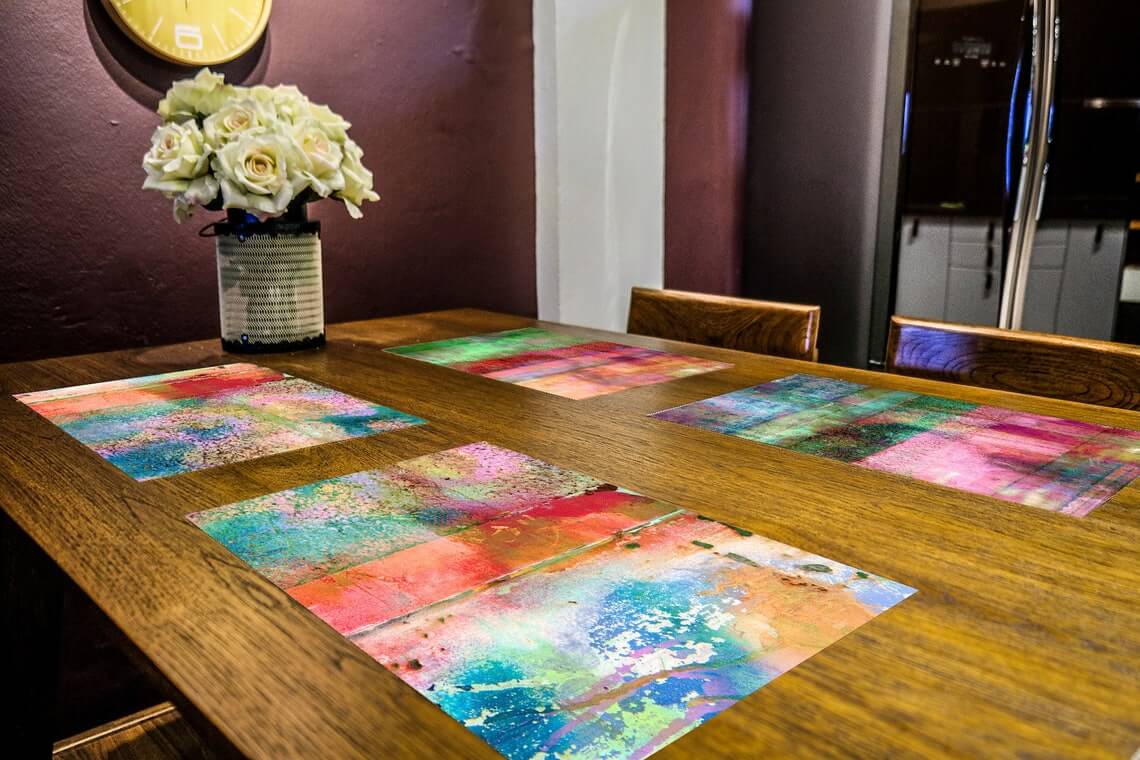 If your kitchen or dining room is severely lacking in color, then you can add these placemats to the table and see an instant difference. These come in three sizes too so that you can choose the one that fits with your specific table the best. As for the look, they have an artistic, abstract-like splash to them that allows them to capture attention well. There are four different styles as well so that they have a sense of flow to keep your attention when you look at them. Not only are they heat-resistant, but you can quickly wipe these down so that they last longer.
21. Elegant Colorful Secret Garden Placemats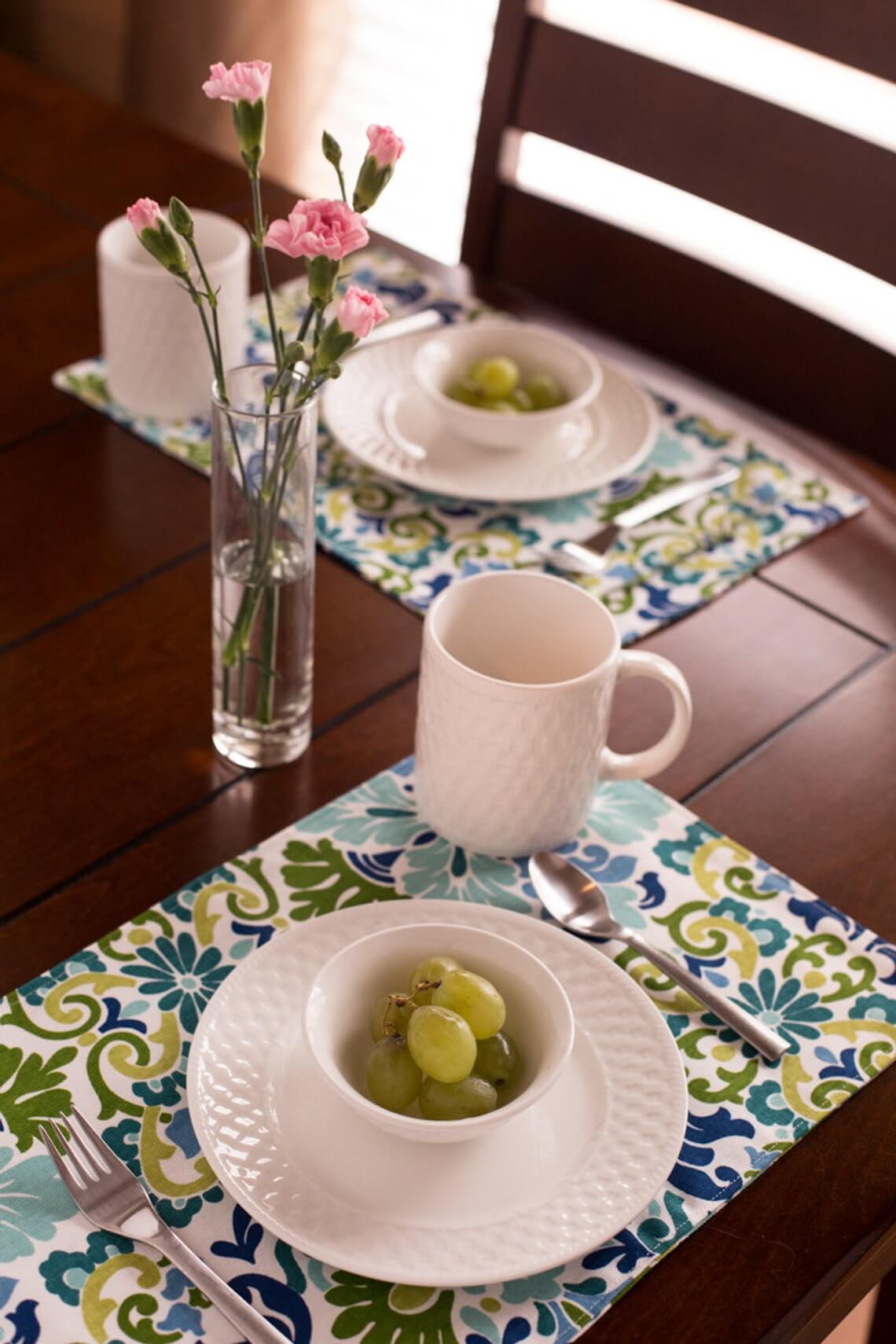 With these perfect custom placemats, you can liven up the dining or kitchen table whether to host others or just for yourself and your family every day. This comes in a set of four too so that you can get started decorating the average-sized table. There is some beautiful blue and green coloring applied to the mats with abstract-like flowers all over them. These are wide enough too to support all the tableware you need from the plate to the drink and silverware. The mats are even double-sided so that it doesn't matter which way you decide to set them up.
22. Stunning Bold African Print Placemats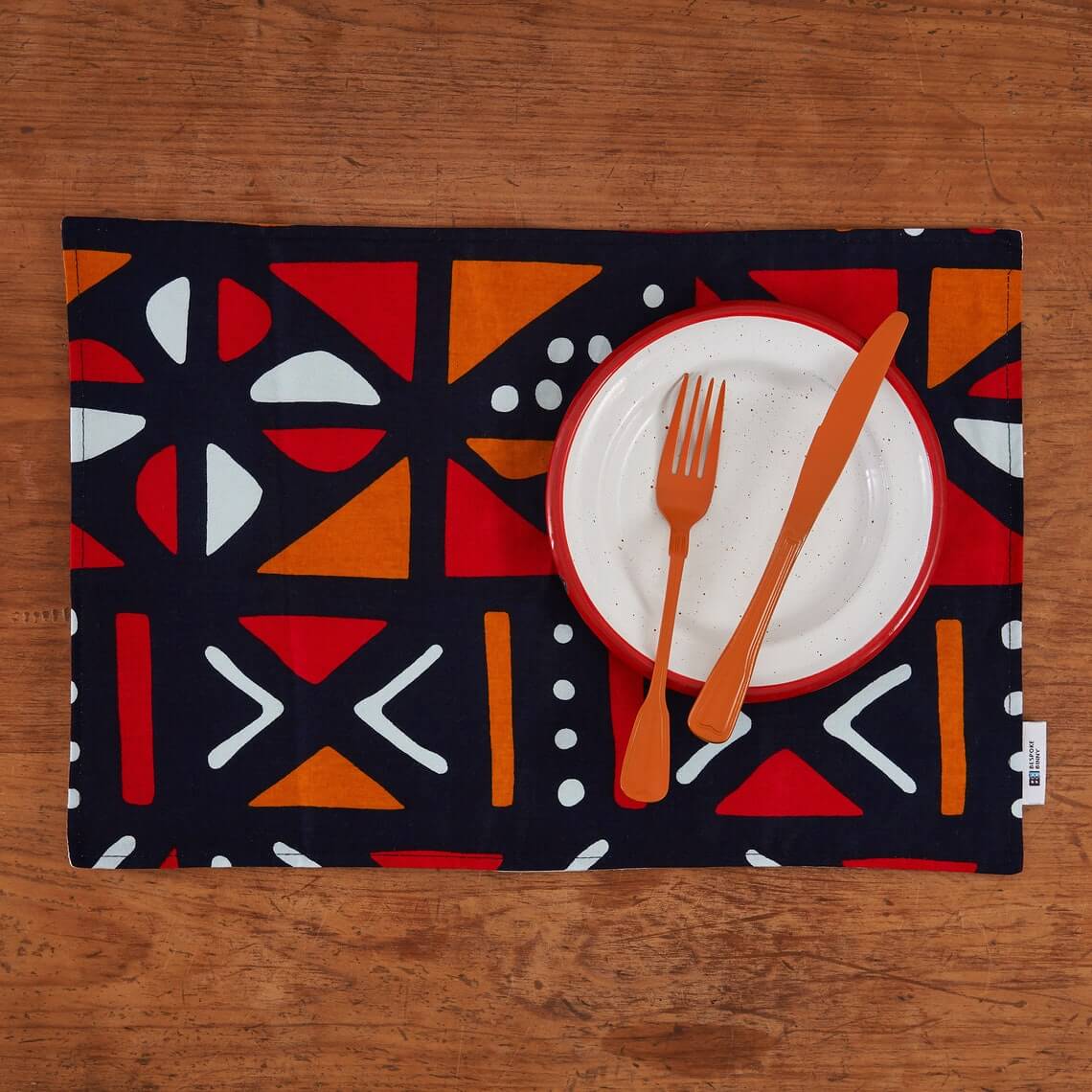 Bring some distinctive style to your table with these African-themed placemats. The print leans more toward the darker end with the bold black background, but this only helps the red and orange coloring that is used pop more. Available in a set of two, these placemats are made from reliable cotton material. They are machine-washable so that you can clean them off easily enough, allowing them to last you through dinner after dinner. Also, these are made to protect your table from heat damage, making them useful as well as stylish.
23. Attractive Three Layered Quilted Placemat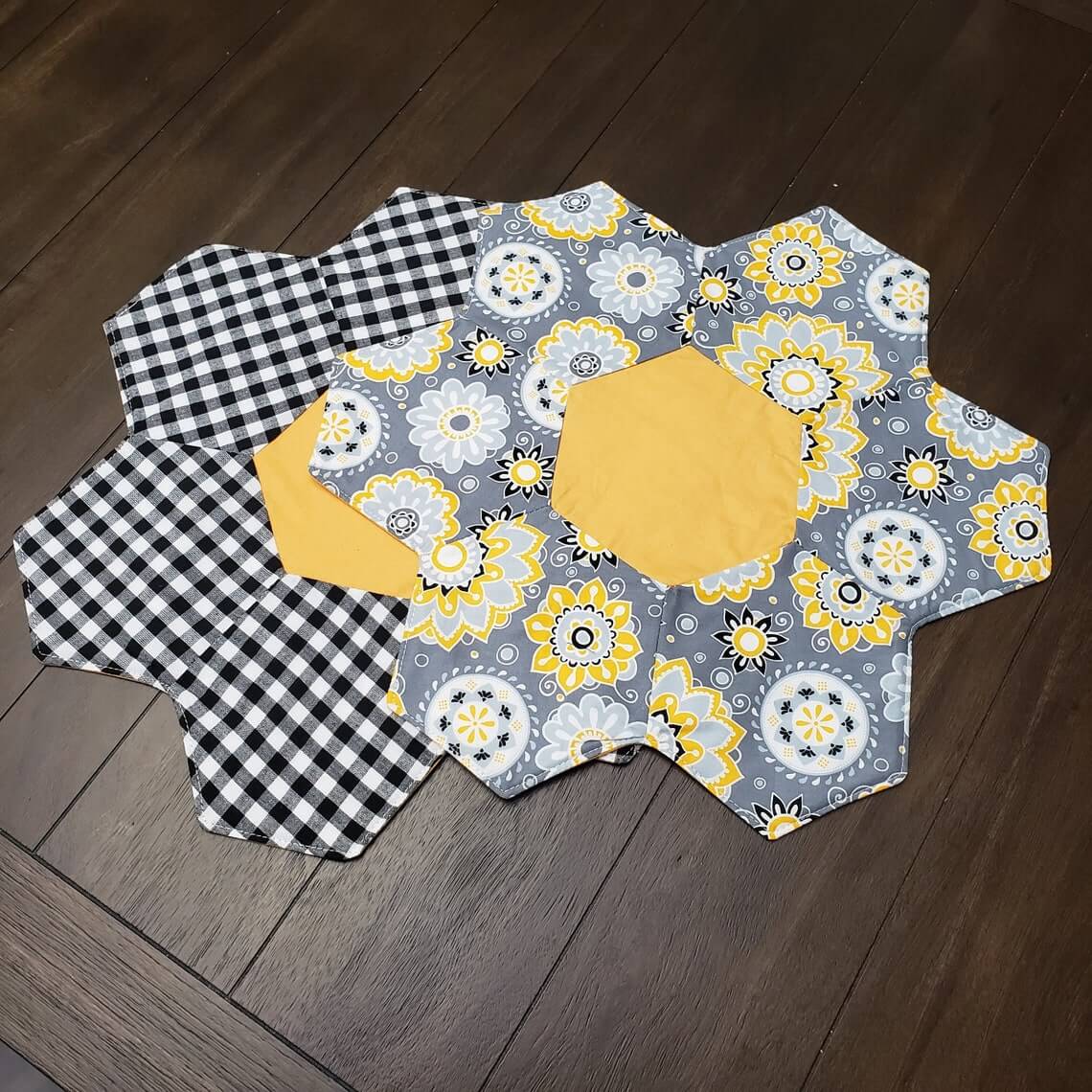 If you're looking for something truly distinctive, then these quilted placemats are the right mats for you. They are certainly one of a kind what with their reversible three-layer design. There is no worry about your dinner setup becoming static in any way since you can flip it over to use one side or the other whenever you wish. This is a good way to adapt your décor in the room to fit alongside any theme, especially if you are hosting a dinner party. Also, there is a geometric-like design to the mat itself that makes it stand out even more.
24. Modern Hand-Woven Geometric Placemat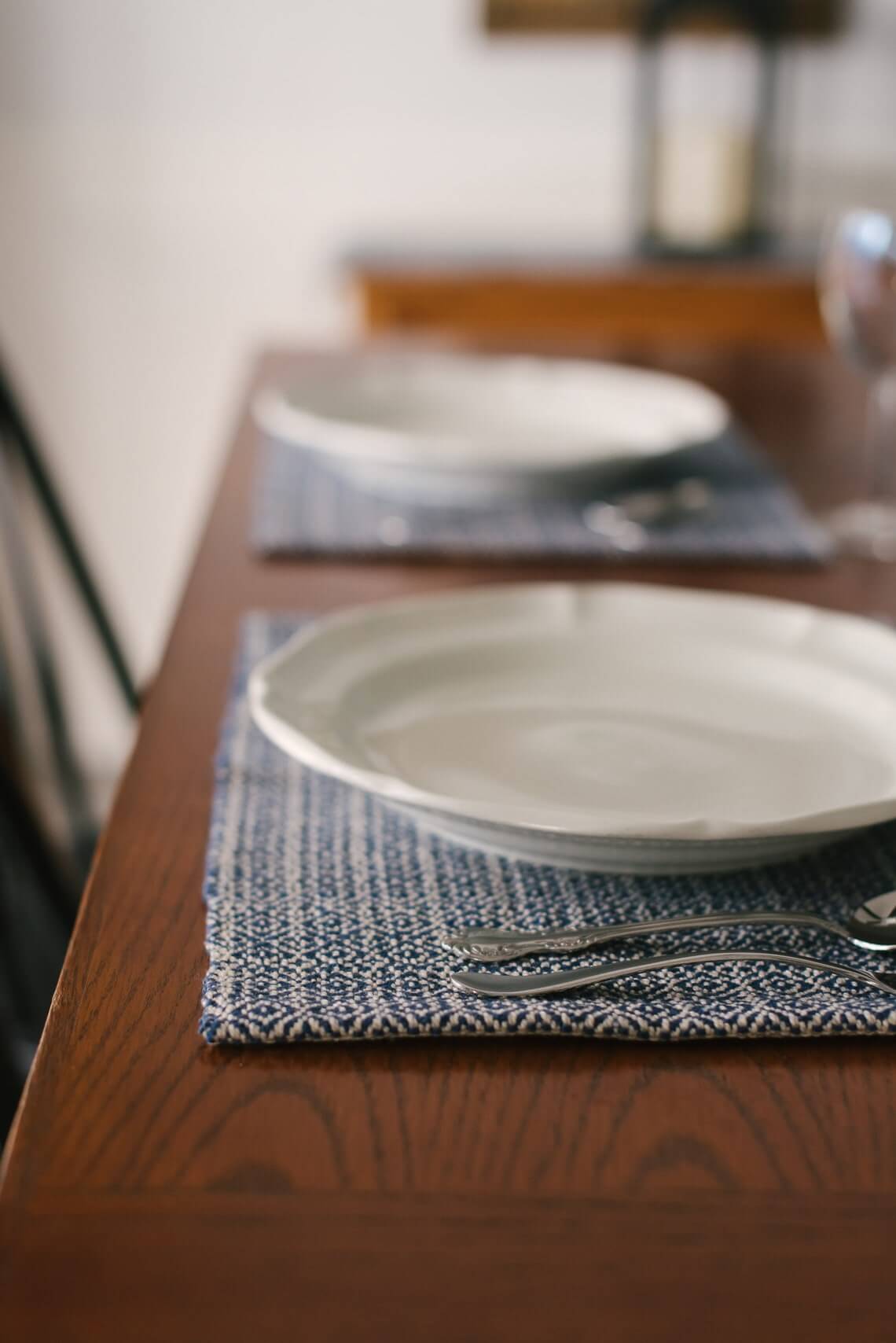 If you are looking for some placemats that combine a few different styles, this one works out well. Made from cotton, this placemat has a beautiful blue geometric-like pattern applied. It isn't overtly though, so these can still fit well if you have a more rustic kitchen or dining room set up. They are great to use inside a room that needs just a bit of accent coloring to bring it more to life. There is enough personality in the mat that makes them attention-grabbing without being over the top. There are three different lengths you can choose from as well.
25. Black and White Polka Dot Placemats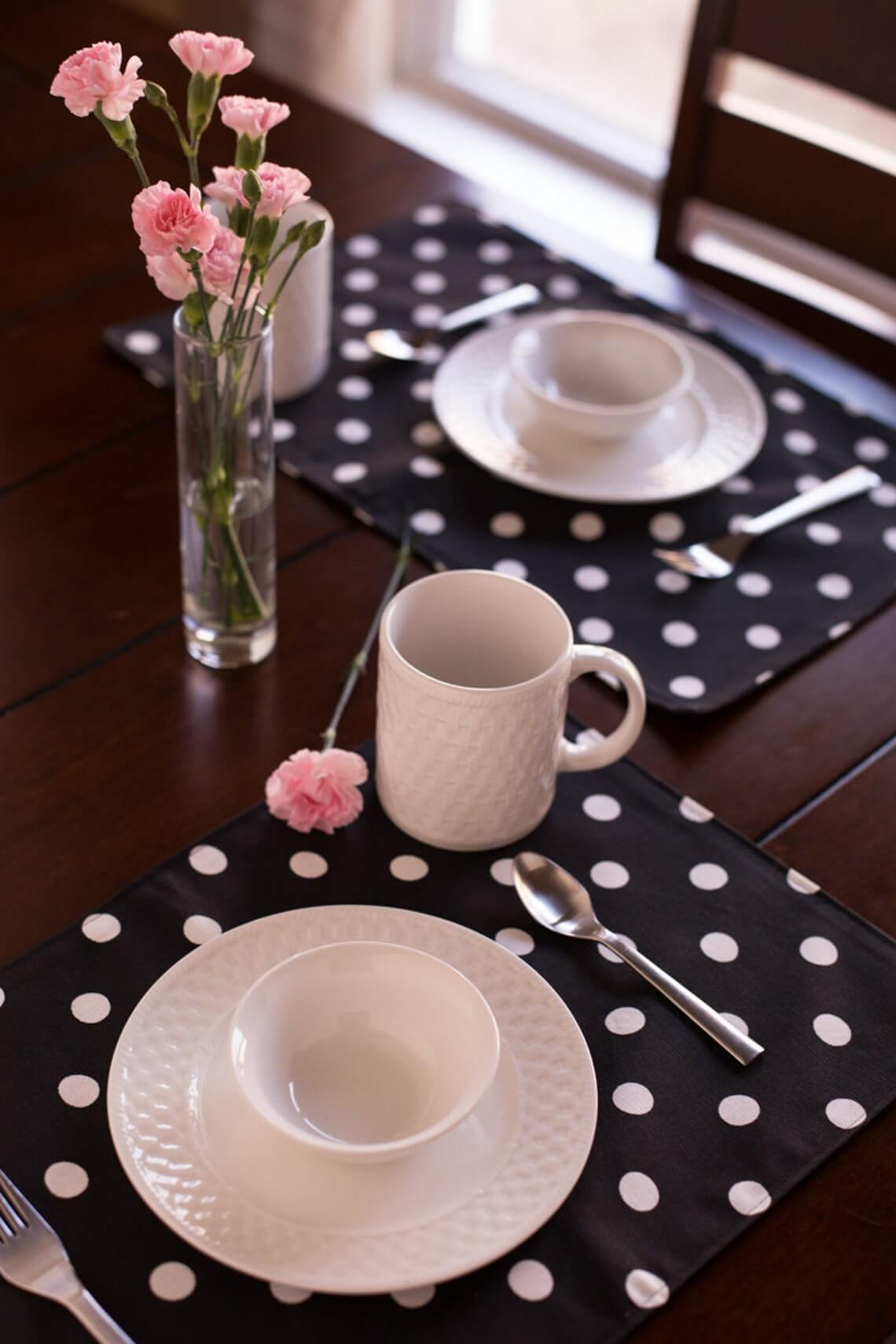 Do you love that simple and kind of retro polka dot style? These placemats manage to capture that feeling effortlessly. You can dress up your dining table every day or simply wait to bring these out when you have guests over. These can even look good just to sit on the table when no one is using them too. They can bring out the modern style you may have in your kitchen or dining room. The coloring on them can also help white dishware stand out very well while blending with ease with darker dishware too.
26. Reversible Set of Cotton Placemats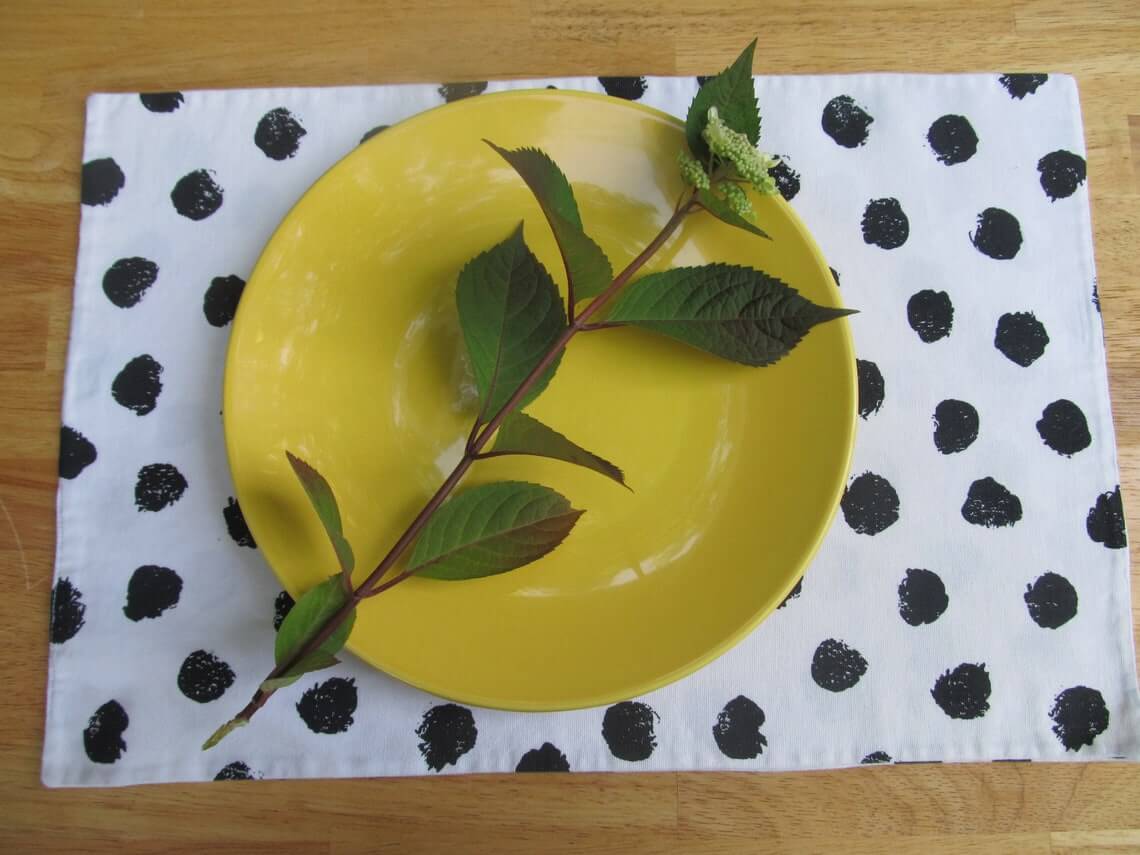 This set offers the best unique placement design for those who need something that fits in with a contemporary-styled home. Their black and white coloring provides the mats with a lovely bit of elegance that can quickly add some sophistication to your next dinner party. Another thing that makes these great is the fact that they are reversible. So, if one side isn't working out, you can simply switch to the other and keep going. These handmade placemats are also washable, and with them being pre-washed, there is no risk of them shrinking. They are also made from 100% cotton material that gives them a good deal of weight so they don't just slide around on the table.
27. Attractive Stylish Jacquard Placemat Designs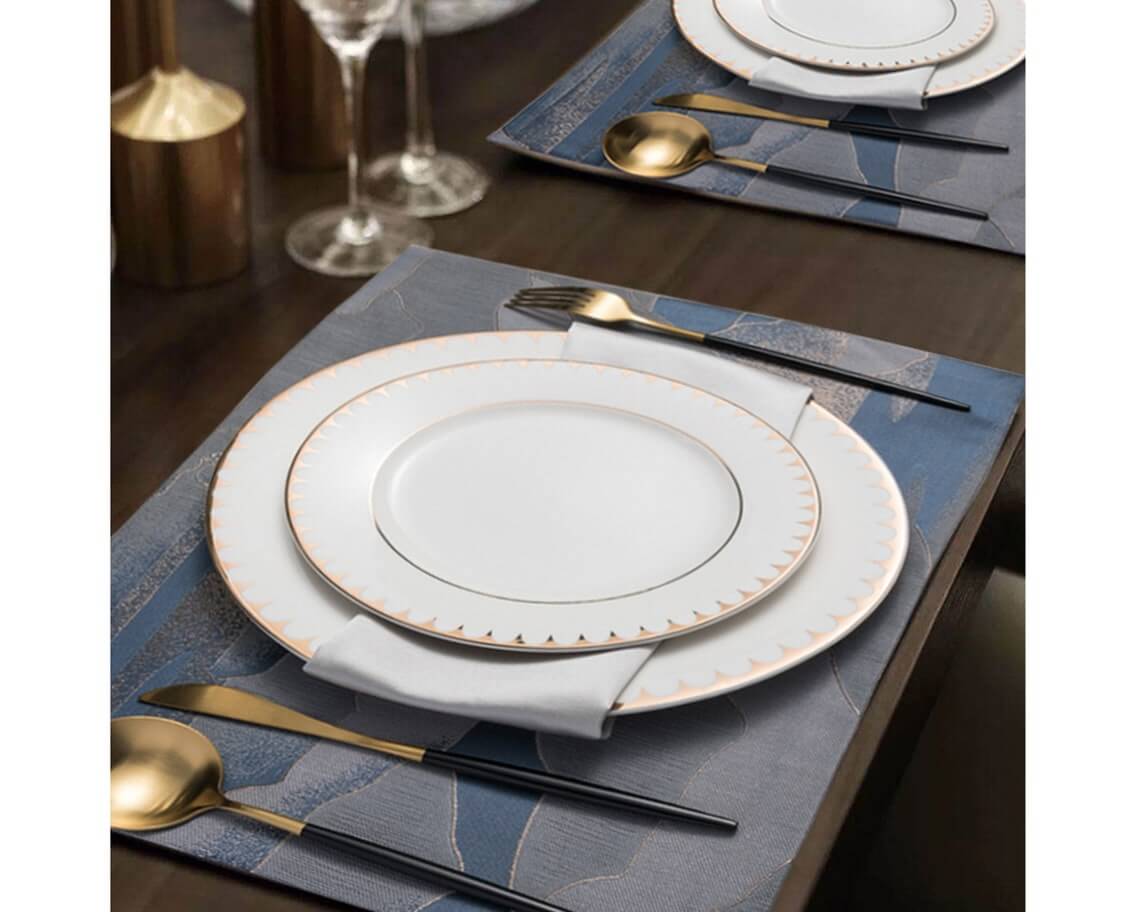 These placemats are designed from durable polyester to properly protect your table from spills. They aren't just made tough, however. These have such an appealing design that makes them look great even if you have them on the table all on their own. There are eight different styles you can choose from, and all these styles have bold, contemporary coloring applied. They are on the darker side, but they have such a great fashionable look that makes them fit well inside a dining room or kitchen that boasts a more modern style. You can get a single piece or up to six pieces depending on what you need for your table.
28. Colorful Patchwork Padded Placemat Designs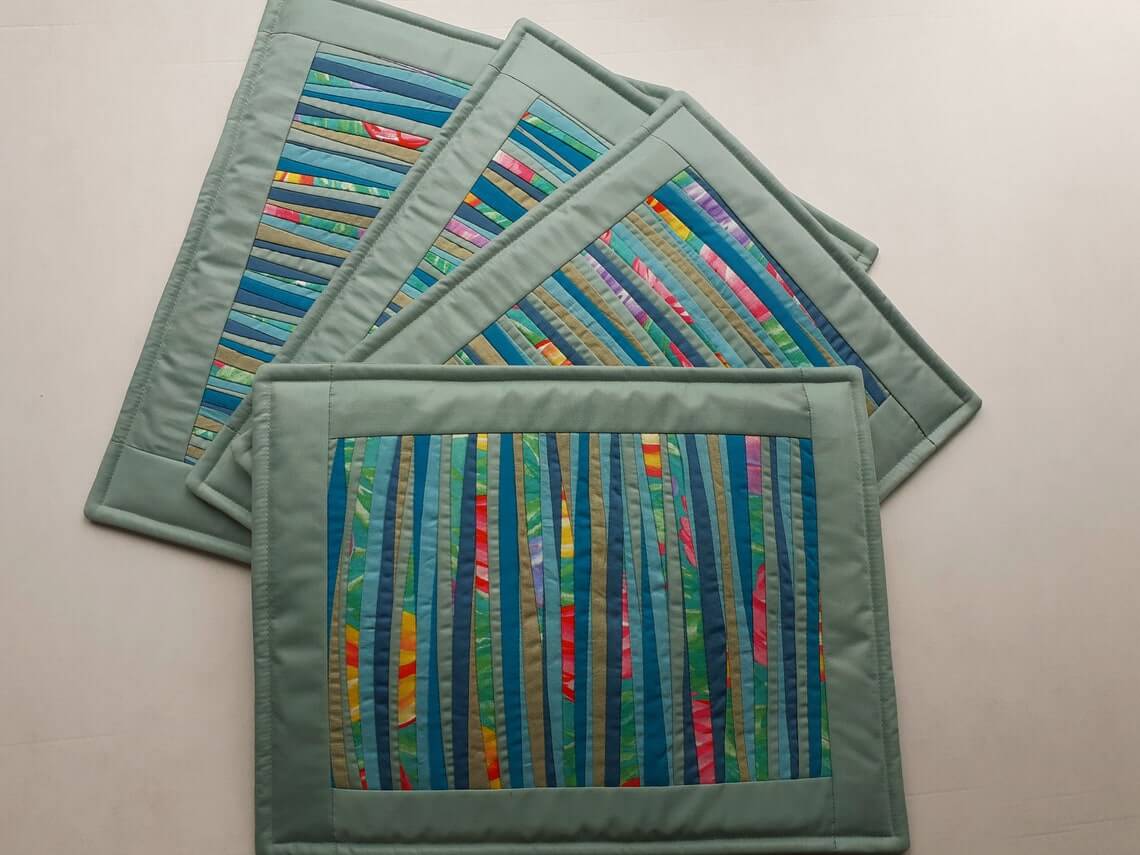 Sold in a set of four, these patchwork placemats really emphasize the homemade feel. There is a beautiful design on the mats, and they have some nice coloring applied in the center to give it just enough personality. These mats look great for daily use, and they can become the talk of any party. There is a nice modern look to these mats too. However, what really helps them further stand out is the fact that they are padded. They sit up a bit on the table, and this thick design helps them be a bit more durable for long-term use.
28 Incredible Placemat Design Ideas to Decorate your Dining Room
Decorating your kitchen or dining room doesn't just stop at choosing a good table to eat at. Rather, what goes on the table can go a long way into how the rest of the style in the room works. That is why it is always nice to find some quality placemats to set up. Not only that, but the right placemats made from high-quality material will ensure that your table stays well made no matter how hot the plate is or how many spills occur on the mat.
It is our hope that our list of the best unique placemat designs has given you some good ideas to work with. Whether you need something bright and bold to bring some color and life into your set up, or you are looking for something that is a bit more lowkey yet still beautiful, we have you covered.