There are plenty of loose knick-knacks floating around your house that you can tuck away in style with these unique tray ideas! Now that the holiday season is officially here, you need to ensure your home is in tip-top shape for the revolving door of guests that are soon to appear. Interior design isn't just about what fashionable decorations you can fill your home with that match perfectly with the season. You also must find creative ways to store the items you already have to ensure they don't get in the way of your decorating fun!
25 Unique Tray Ideas To Hold Your Personal Belongs In Any Room Of the House

Decorative trays provide you with an amazing opportunity to keep your house looking clean while adding your own bit of flair and personality. From a burst of color to a neutral addition, these unique tray ideas will deliver the perfect avenue to store those small items that somehow always end up in different places around your house! The best part is you don't have to use just one tray to satisfy all your home décor needs. Let your creative juices flow! Place a different tray inside every room of your house.
When most people think of trays that go inside the home, the first image that comes to mind is the trays that hold everyday items such as your favorite pen or the keys to your car. Interestingly enough, these unique trays can also be used to hold your go-to snacks whenever you come down with a serious case of the munchies! If you have children, this is a great way to help them keep track of their crayons and other must-have school supplies. From a creative tray in the kids' bedroom to an antique that poses as the centerpiece on your dining room table, the possibilities are endless when it comes to these unique tray ideas!
1. Wooden Ottoman Coffee Tray With Decorative Design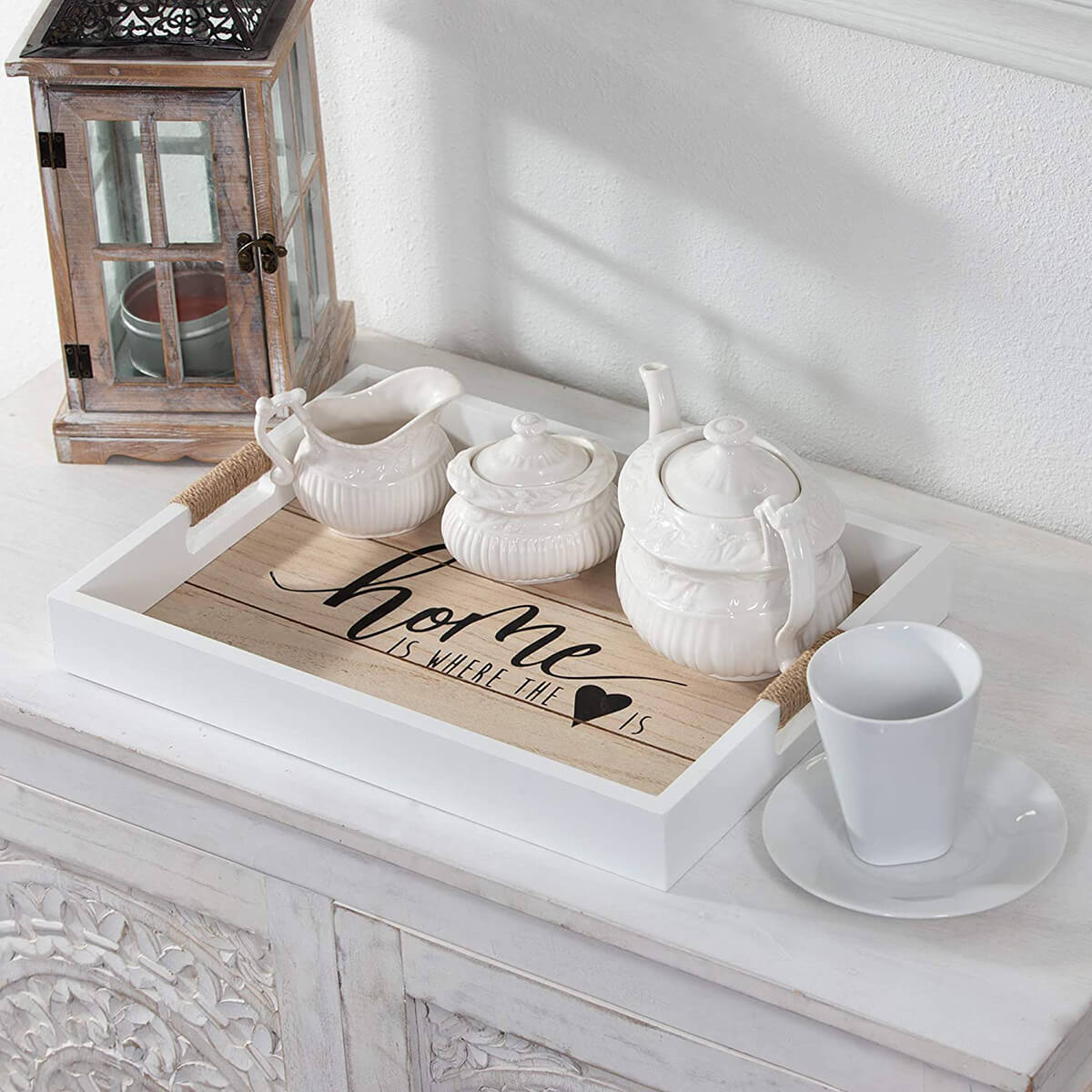 The modern look is in! This coffee tray combines the rustic look of wood with the modern feel of a white organizer. Picture your favorite interior design theme. Does it include geometric shapes with a lot of white? If the answer is yes, this ottoman coffee tray is an incredible choice for you! Not only will you be satisfied with the high-quality materials used to create this piece, but you'll also feel right at home with the sweet phrase printed on the inside. This versatile piece can be used as a trinket tray on top of your dresser or a decorative centerpiece on your dining room table!
2. Acrylic Jewelry Tray With Polished Metal Handles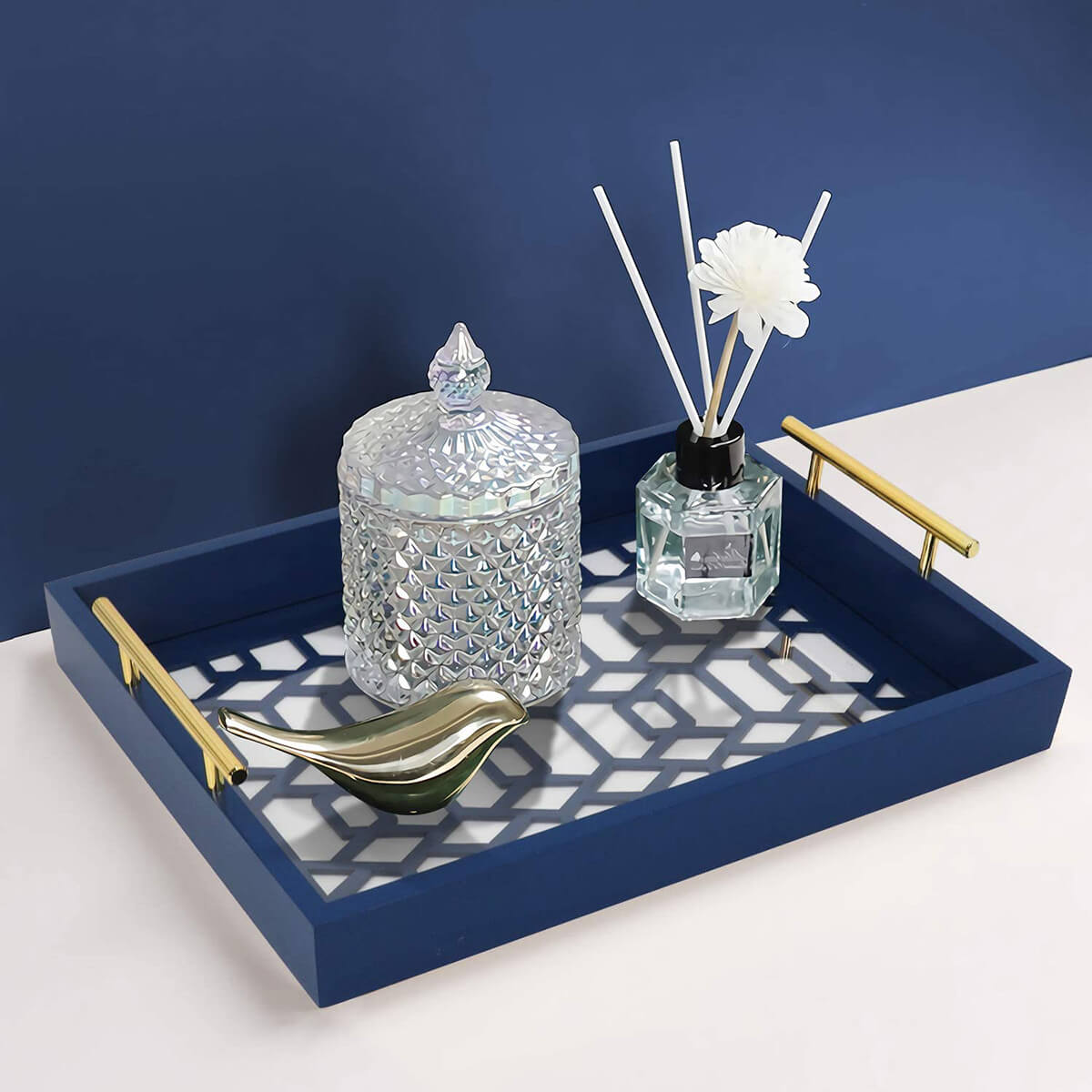 If your go-to style is clean-cut and sophisticated, this classic serving tray is a cool choice for you! The acrylic bottom plate allows you to easily see the beautifully designed carvings that are etched into the hollow frame. You can choose between dark blue, black, and white. All of these colors are going to give you the classy look you're going for! The sturdy MDF frame in combination with the gold polished handles is an extremely practical way to show off your more modern style. Feel free to share these high-class items with your friends who always appreciate durable decorations!
3. Decorative Vintage Globe Serving Tray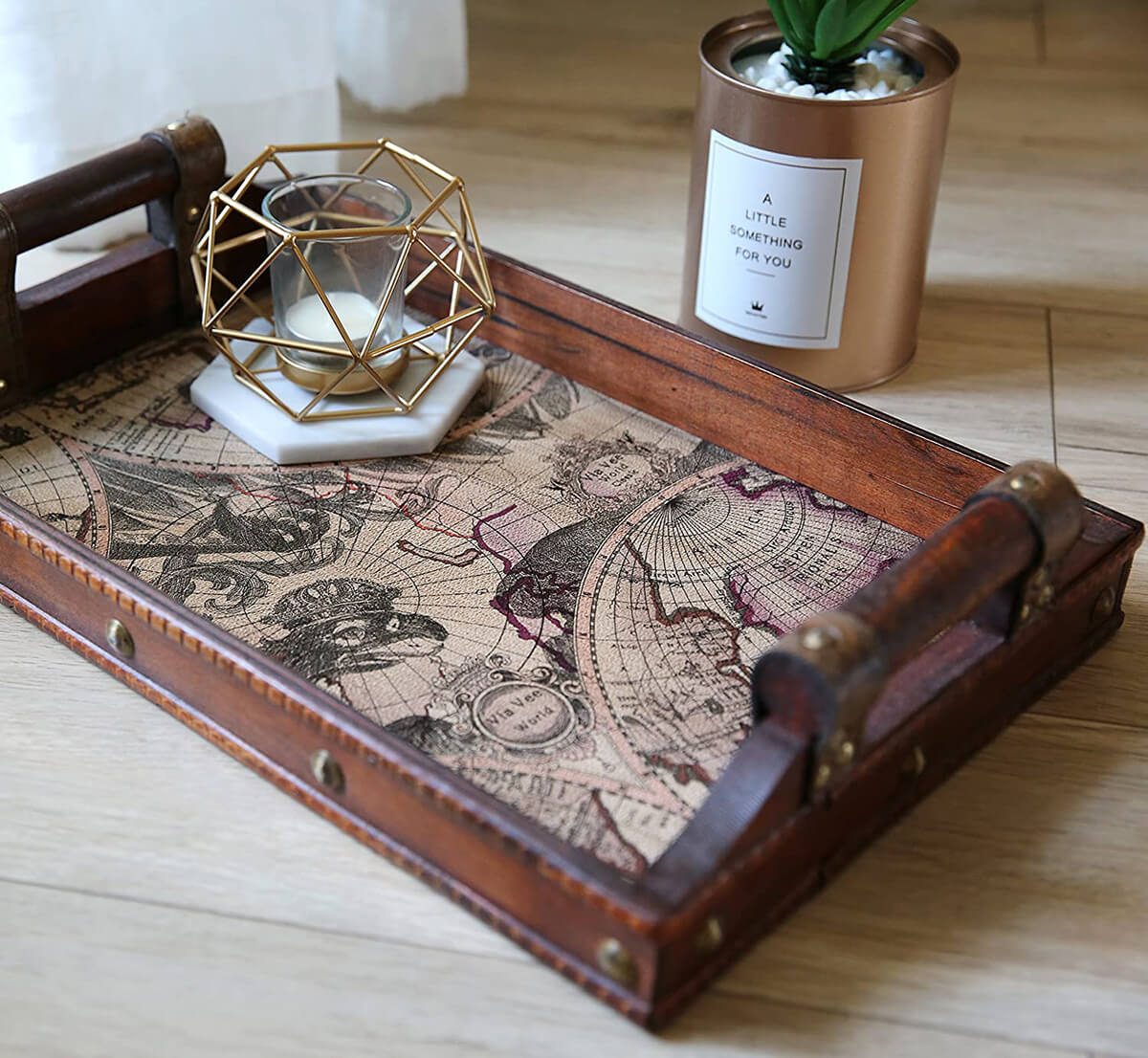 Have you ever heard the phrase, "the world is your oyster?" Well, this vintage serving tray allows you to have an intricate design of numerous globes while potentially eating oysters off of it in the process. If you're not a seafood junky, not to worry! This tray supports a wide variety of uses from serving food to your welcomed guest or creating a space where you place your favorite tealight candles. Either way, nothing can beat this old-fashioned design. Give your house a comfortable and homey feel with this rustic, wooden serving tray!
4. Neutral-Colored Wooden Chevron Serving Tray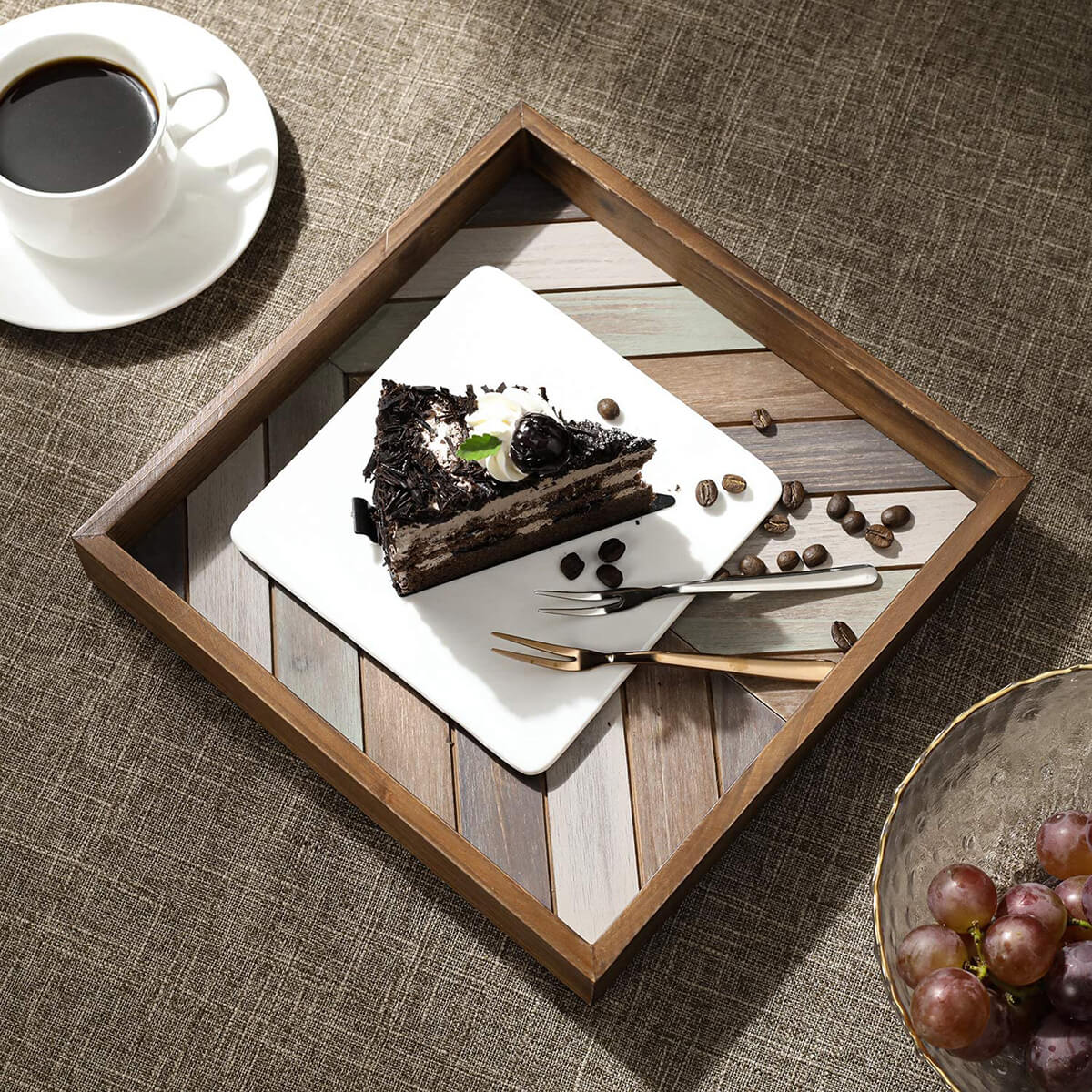 Normal is boring and this unique tray idea proves it! This 10-inch serving tray can fit remarkably well within any room of your home. The multicolored chevron design adds just the right amount of flair to a more rustic home layout. Being a fan of neutral colors doesn't mean you can't diversify your options by placing various shades of brown within one gorgeous decoration. Your guests are going to jump at the opportunity to be served their favorite snacks on this unique tray. If food isn't your forte, use this piece as your office organizer!
5. Turkish Copper Coffee and Tea Serving Tray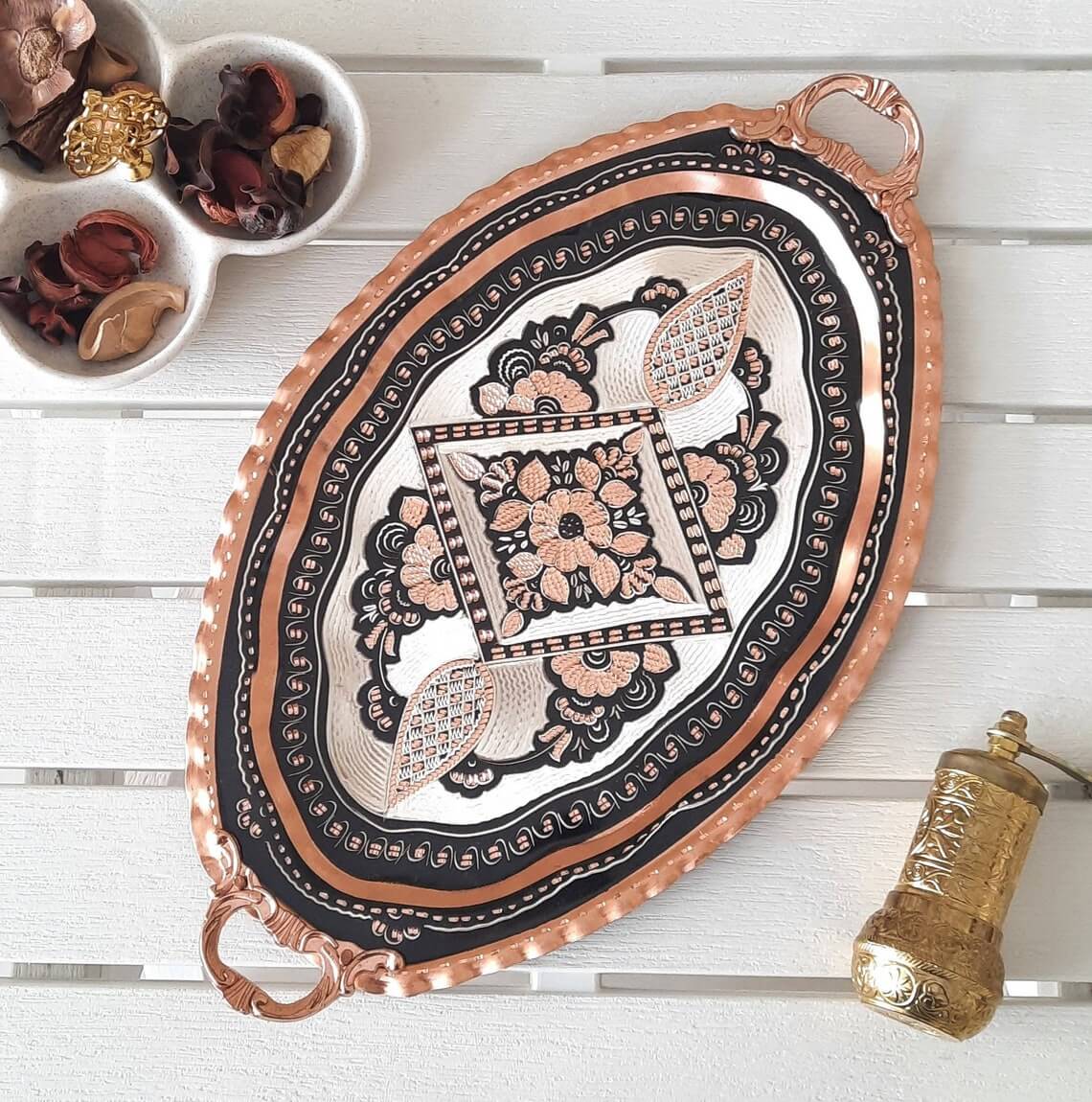 You can never have too many Turkish copper serving trays and if you do, give some to your loved ones! These cool, Turkish designs are extremely unique and truly display the unmatched talent of the Turkish artisans who created them. You get the option to pick either black/copper or multicolored as your design background of choice. Either way, you are going to receive a beautiful design that will show your guests just how seriously you take your interior design! This 9-inch by 15-inch serving tray delivers everything you could possibly want for your newest kitchen addition.
6. Engraved "9 Years of Marriage" Leather Tray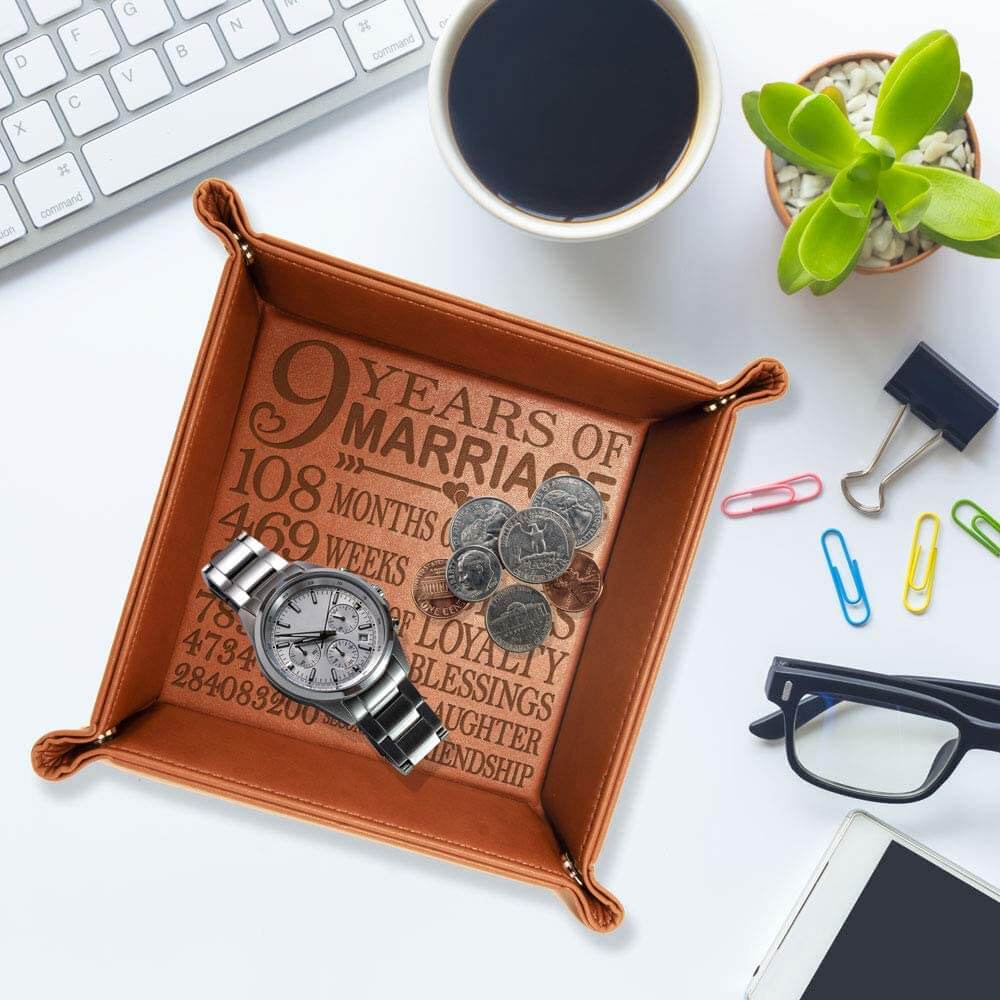 Are you struggling to figure out what exactly you should get for that special someone? This leather valet tray is the perfect gift for your significant other. Given the giving season is truly almost here, now is the perfect time to start checking off must-have items from your list! The high-quality material provides an elegant look to an office desk or even the coffee table. There is no shame in wanting your guests to know how much you love your significant other. They may even take the hint and get one to spread the love as well!
7. Black Walnut Wooden Charcuterie Serving Board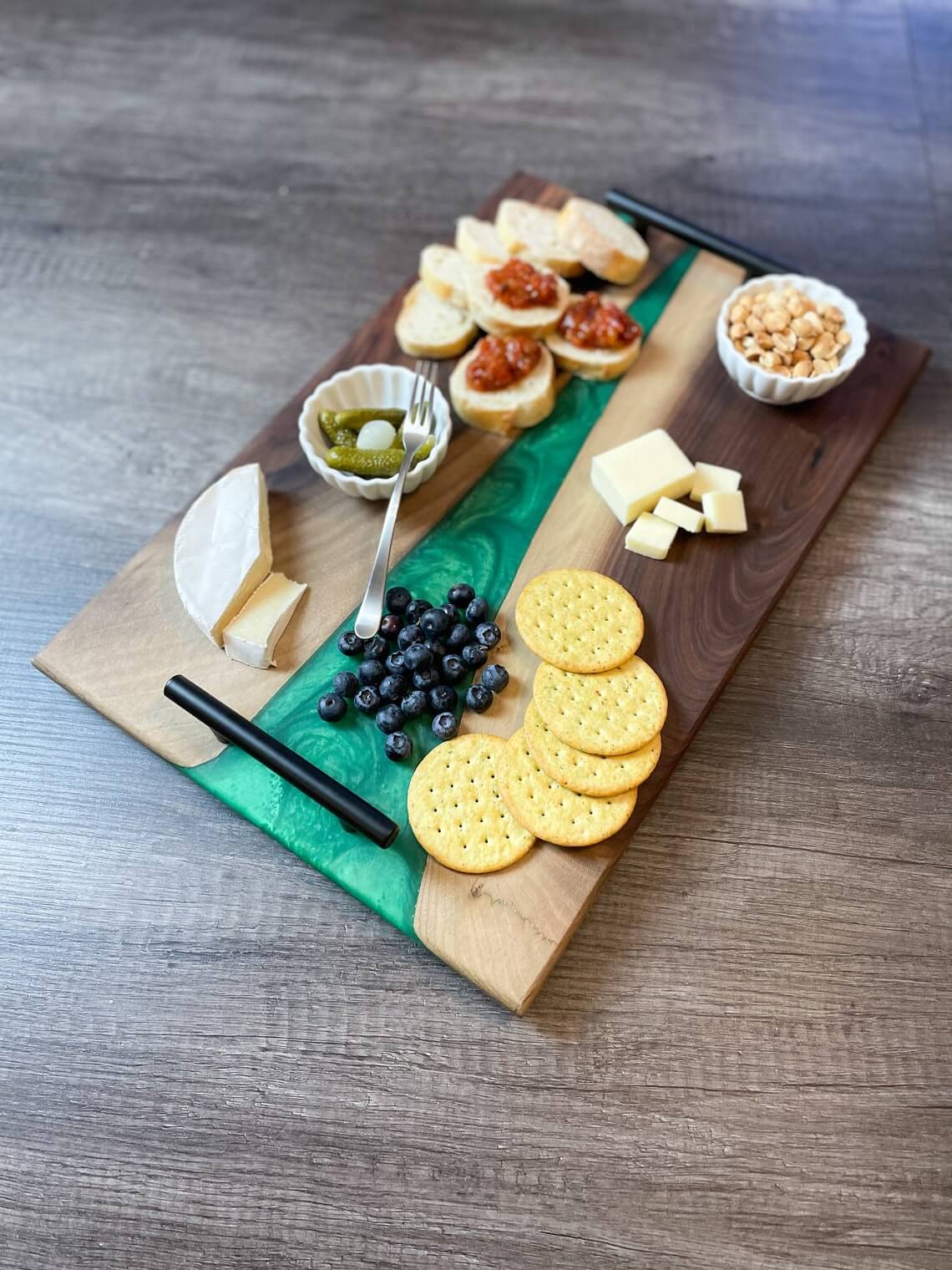 The charcuterie board craze is never going to fade away! This black walnut tray is handmade with high-quality to serve as the best cheese board you've ever seen. Meticulously organize your charcuterie board to flow around the incredible design of the epoxy river that runs down the middle. You have complete freedom to choose whichever color you'd like for your epoxy river! Be sure to choose one that matches perfectly with the current theme you have for the interior design of your kitchen. Either give this board as a gift or blow your guests away by serving them with this unique tray idea!
8. Versatile Gold Round Ottoman Tray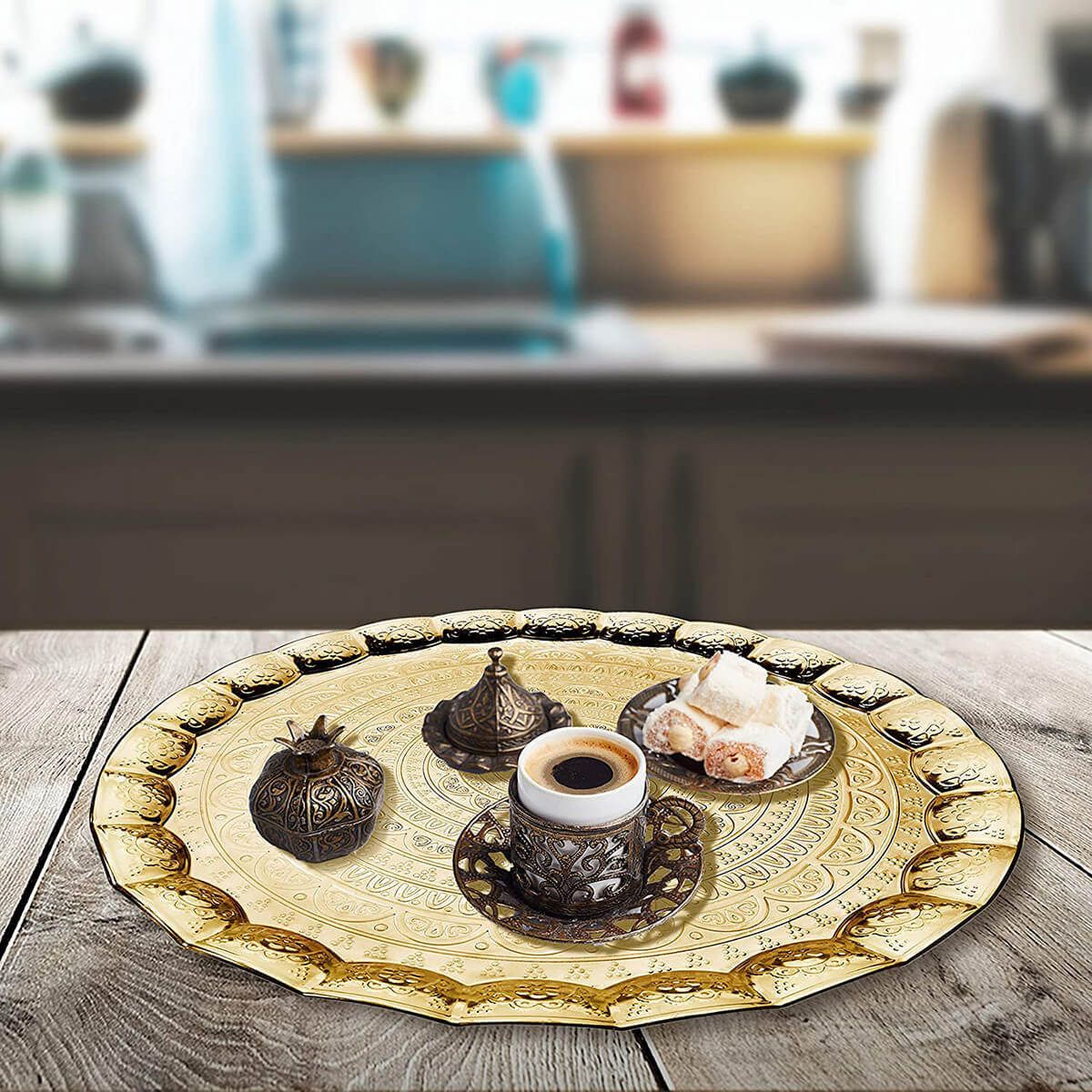 A pop of gold is never going to go out of style! This round ottoman tray is a necessary addition to any kitchen that still needs a serving tray or a centerpiece. With this versatile piece, you get to choose what you use it for! Both the gold and silver options are going to give your home that classy looks that also screams vintage! If you know someone who recently moved into a new home or just got married, this beautiful tray proves to also serve as an amazing housewarming gift. Satisfy your fashion taste buds with this unique piece!
9. Multicolored Alpaca Artwork Serving Tray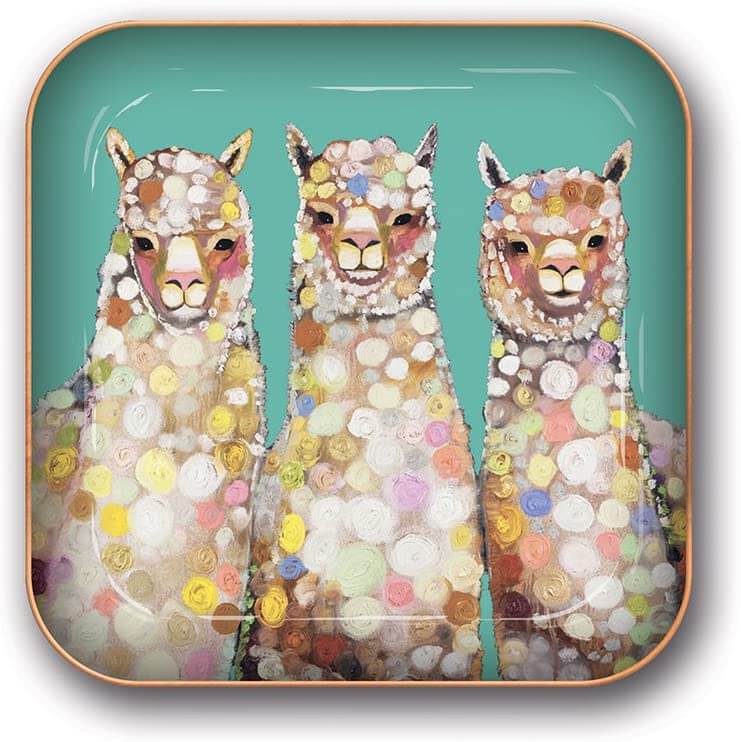 This metal tray displays one of the cutest animal designs you'll ever lay eyes on! This catchall tray can be a great addition to your current bedroom décor. If you're always losing your jewelry when you take it off and put it on your nightstand, you can use this tray to keep even your smallest personal belongings right where you can see them! Don't risk losing your favorite piece of jewelry just because you don't have a cute trinket tray like this to put it in. If you're an animal lover, say no more because this alpaca tray was made for you!
10. Customizable Leather Bowl With Initials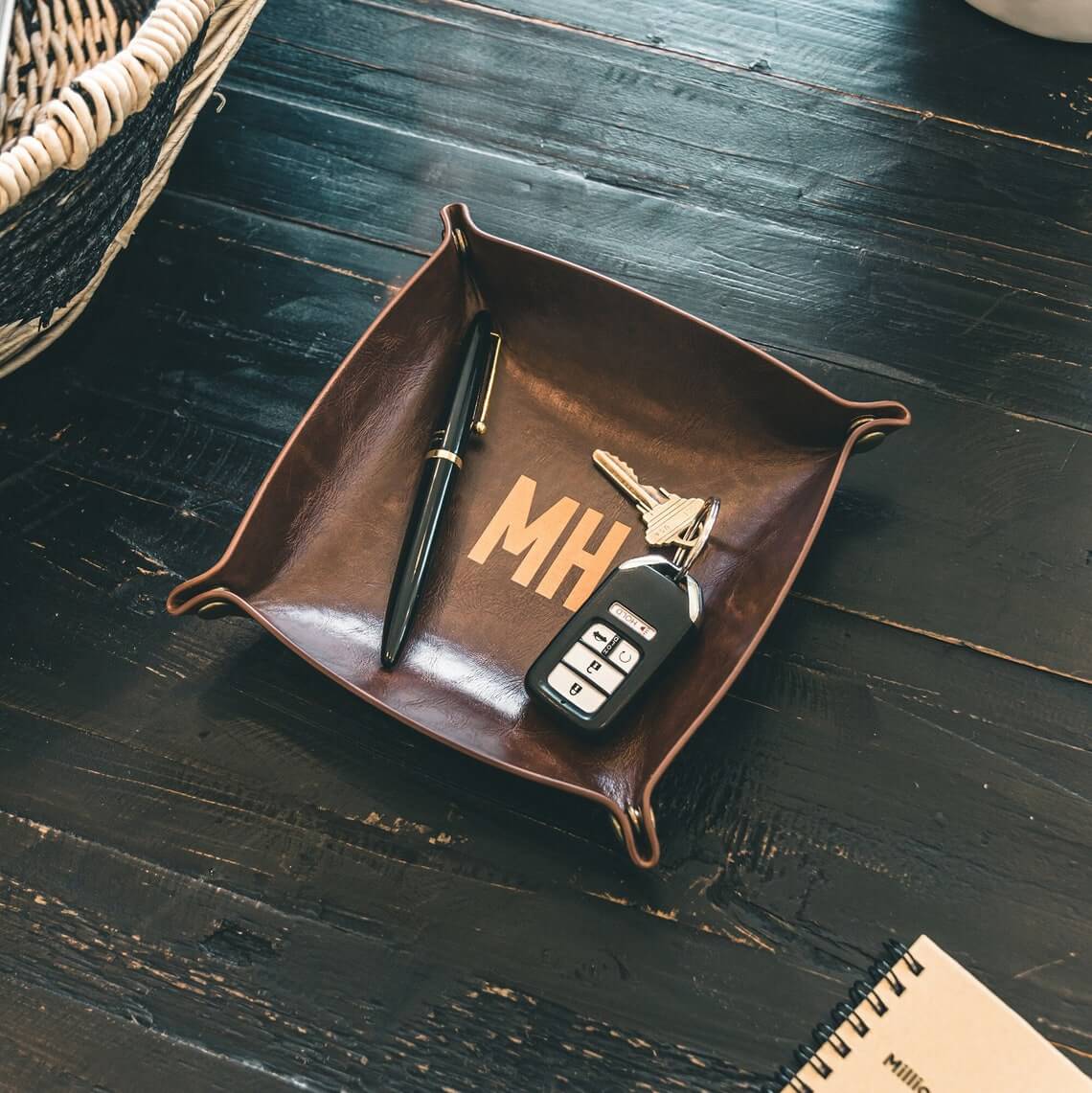 This stylish leather bowl is the perfect catchall tray for the entryway of your home! When you decide you can't go another day without this personalized tray, you receive a laser engraving that is tailored to your specific order. If you already have a different tray in your entryway, use this unique design as a way to keep track of all the knick-knacks on your office desk. The leather design can provide a masculine look to any room. Purchase this personalized engraved leather tray for that special someone who is still in need of a holiday gift or wedding anniversary present from you!
11. Multicolored Recycled Polymer Resin Tray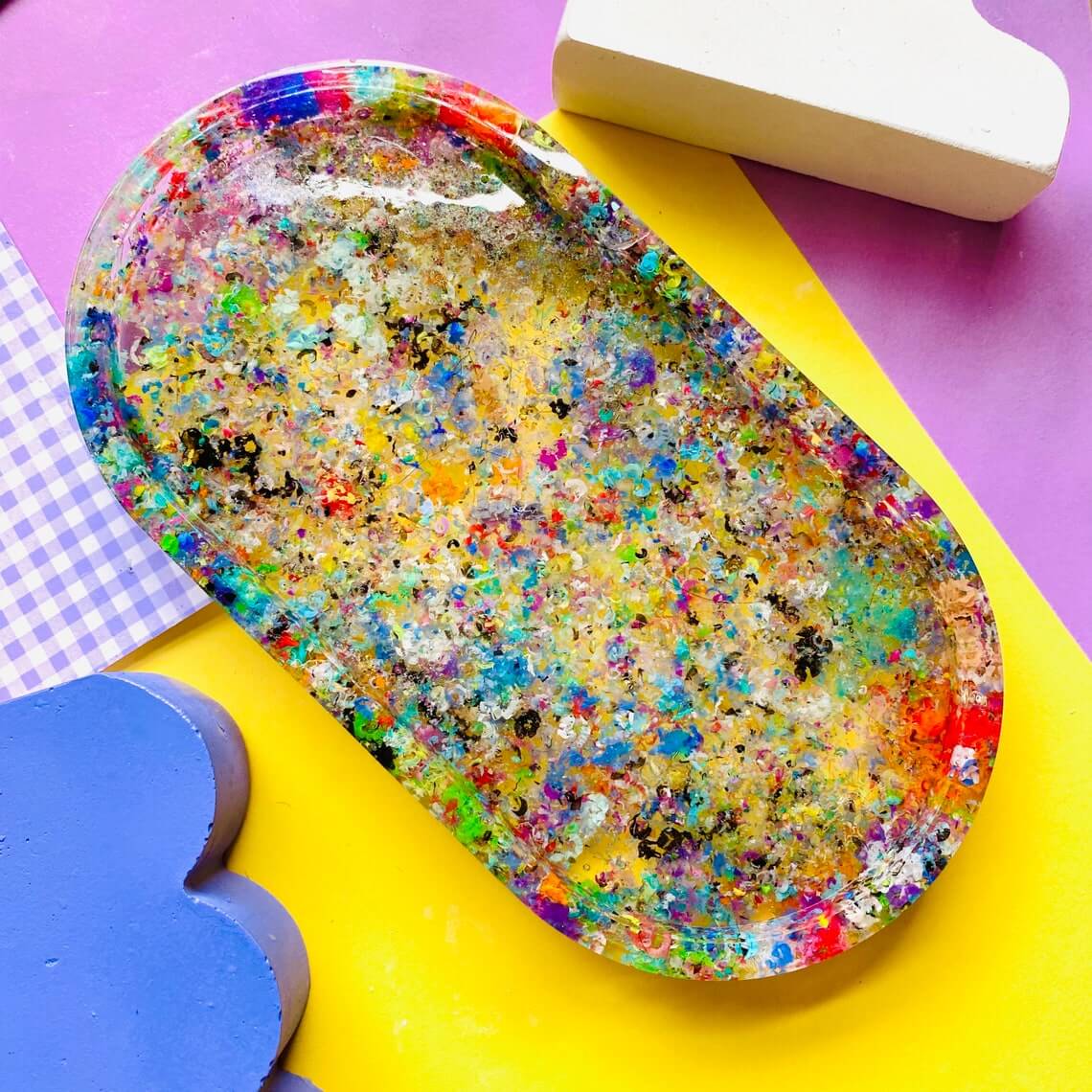 Who said you can't protect the planet and be stylish all at the same time? This color burst of recycled polymer clay delivers everything you need and more from a serving tray. Given the handmade nature of these designs, you can be extremely confident in the fact that your resin tray is completely unique and looks nothing like any tray you've ever seen before. This is the definition of a true trinket tray. Purchase this handmade tray and watch it light up any room in your home with a powerful punch of color combinations!
12. Hexagon Shaped Decorative Wooden Dinner Tray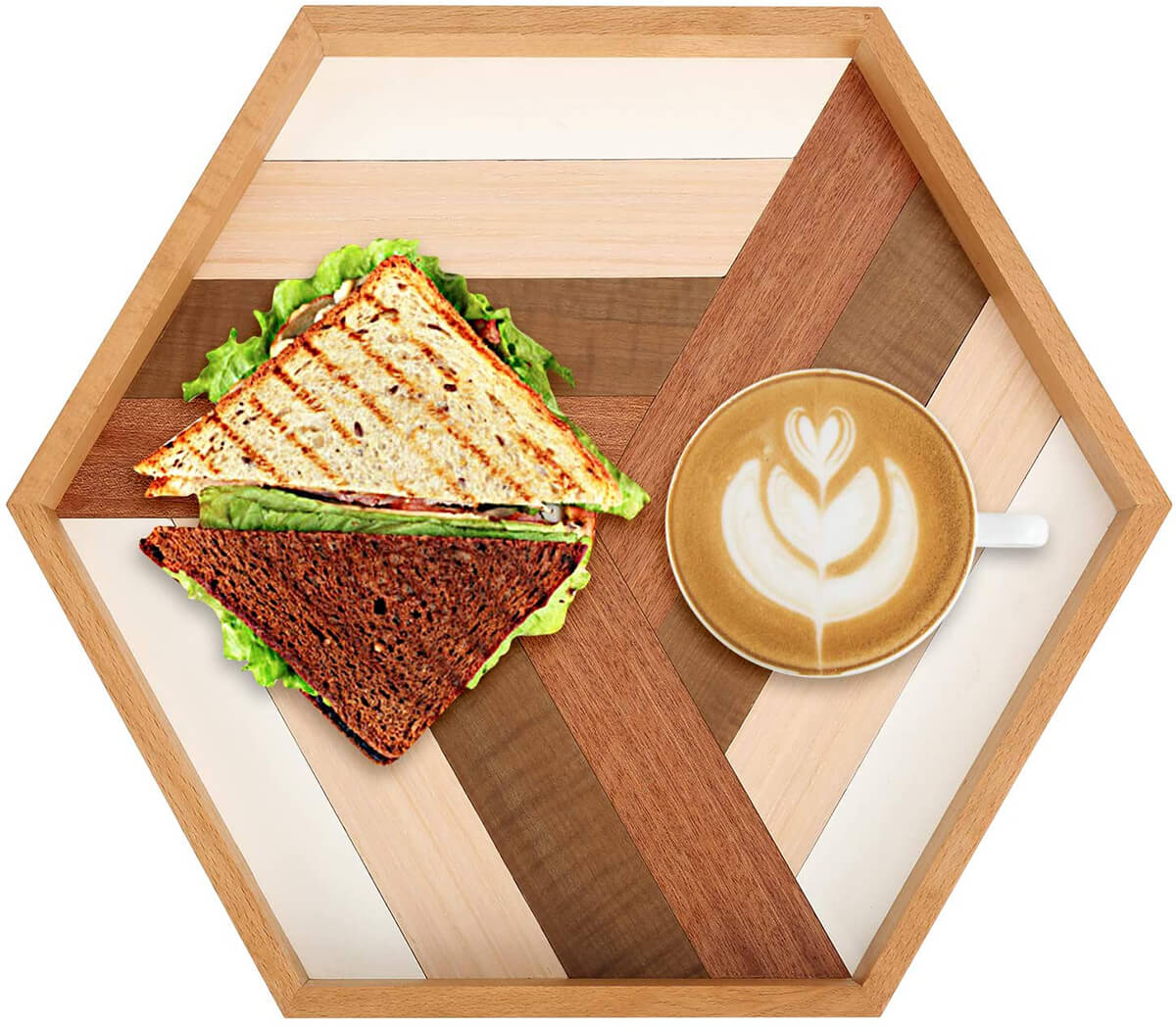 If you don't already have a hexagon-shaped decoration in your home, this is the piece for you! By getting this decorative dinner tray, you will open up a large variety of possibilities for your decoration game! Not only will you be able to serve your guests on a unique food tray, but you can also use this piece as an attractive addition to your kitchen décor when it's not in use! This refined tray supports multiple shades of brown that complement each other just right. Do you like breakfast in bed? That's not a problem with this versatile serving tray!
13. Multipurpose Resin Serving and Chopping Board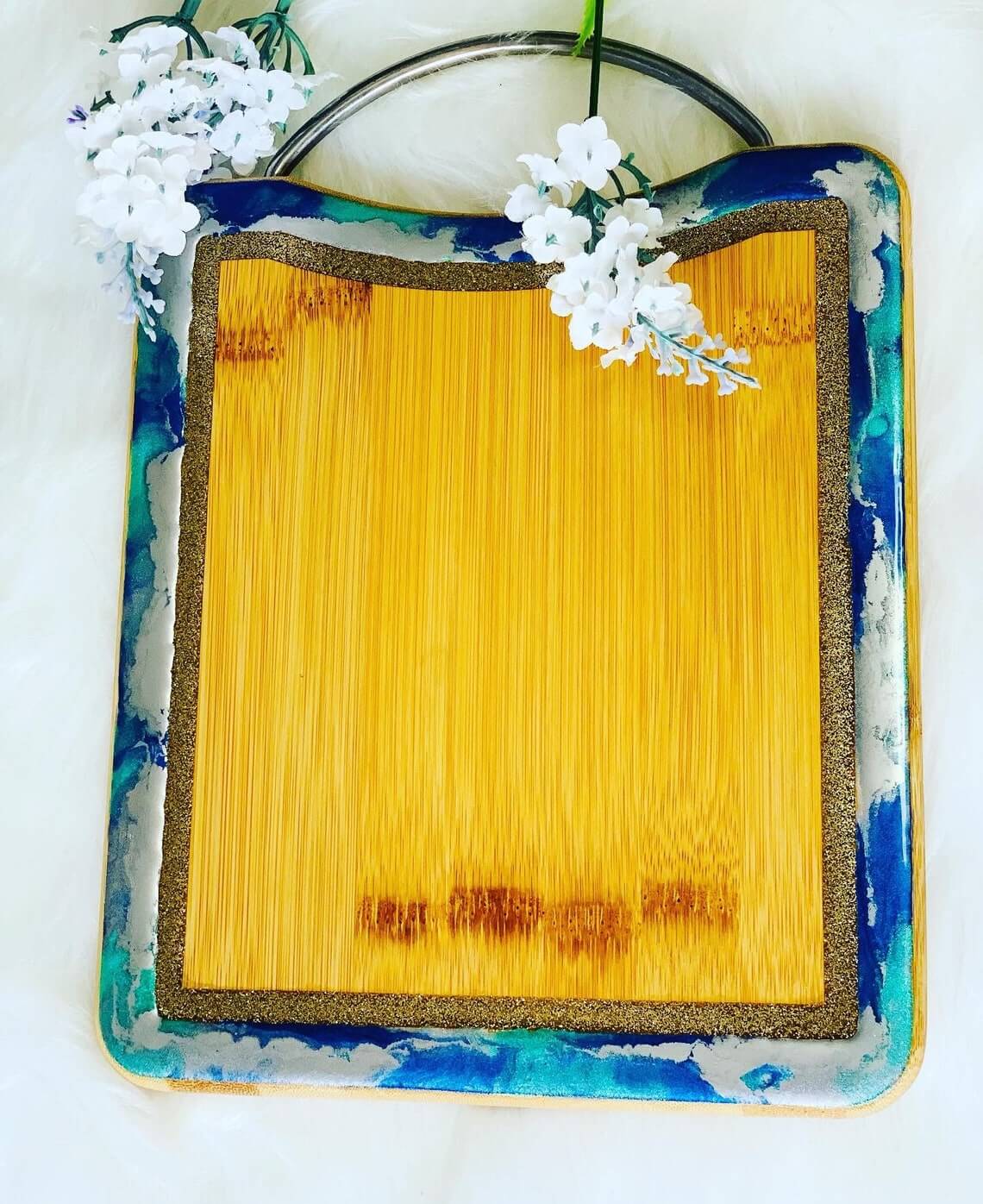 This resin serving board is going to remind you of your favorite beach trip! The exterior border is lined with varying shades of blue that complement the bamboo board in the center quite well. Given the board is made of bamboo, you can use this as a multipurpose tool for all your kitchen needs! This board can be used to chop up your cheese and serve it too. This playful board adds a subtle yet ever-present splash of color to your kitchen. If you add this rare board to your lovely selection of kitchen tools, you know you're going to be the most unique house on the block!
14. Old Country Inspired Porcelain Rose Vanity Tray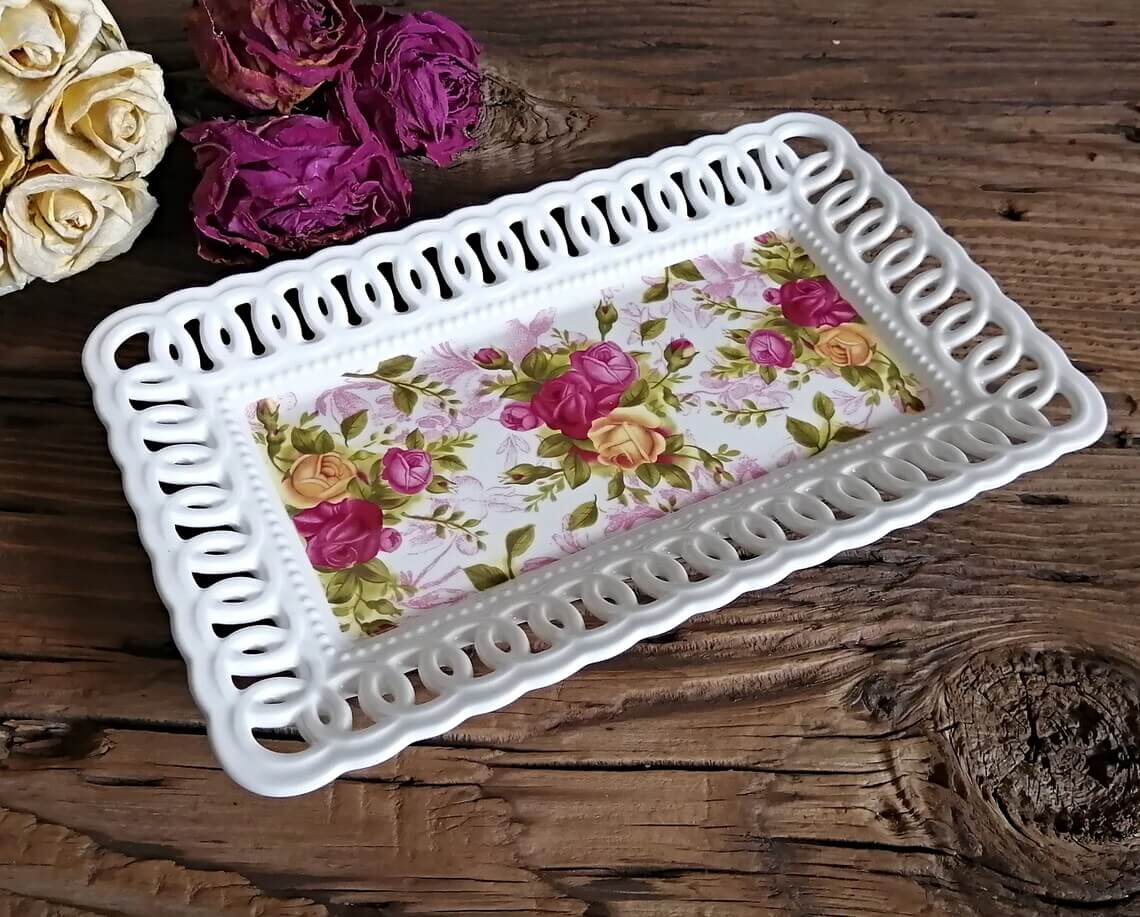 If you're a lover of fine China and fancy vanity pieces you're going to instantly fall in love with this porcelain serving tray. The rectangle shape of the dish allows this tray to fit rather nicely on any surface you choose. The old country rose patterns add a bit of humility and personality to this otherwise extremely elegant piece. The gorgeous design is the perfect combination of natural roses and vintage decorum. If you know a friend who loves to decorate their home to look as though they are living in a French farmhouse, this is the perfect gift for them!
15. The Perfect Gift: Copper Turkish Serving Tray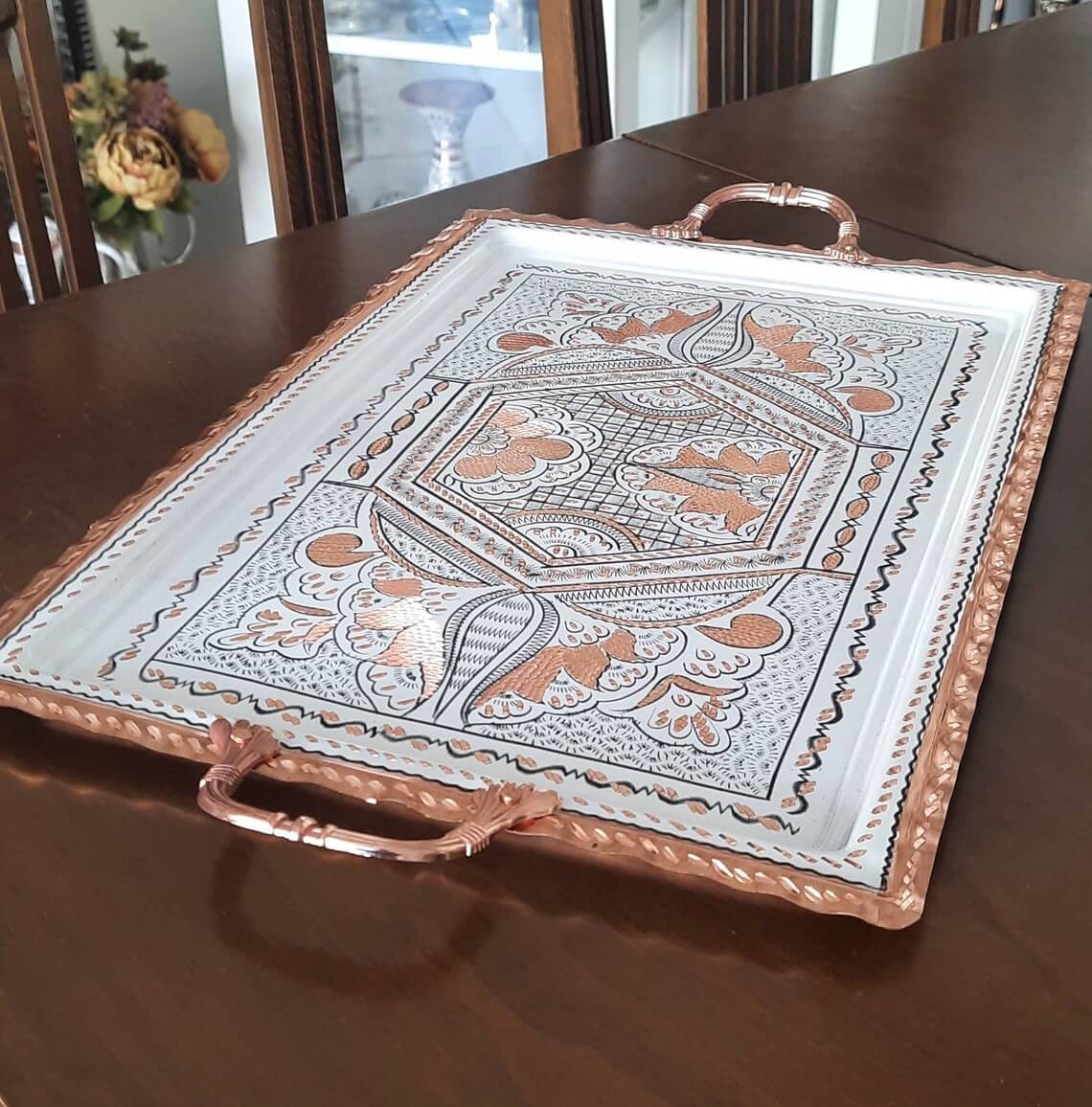 Add this copper Turkish serving tray to your holiday gift list because this is going to make the perfect present for someone you know! This coffee and tea serving tray is truly the definition of elegance and class. The intricate design in the middle perfectly complements the copper metal that completely lines the outside. Each colorful engraving tells the wonderful story of the amazing Turkish artisan who handcrafted the design. If you don't want to risk dropping this unique tray by using it for serving tea and coffee, consider using this as the gorgeous dining table centerpiece you've always wanted!
16. Metallic Gold and Black Handmade Jewelry Tray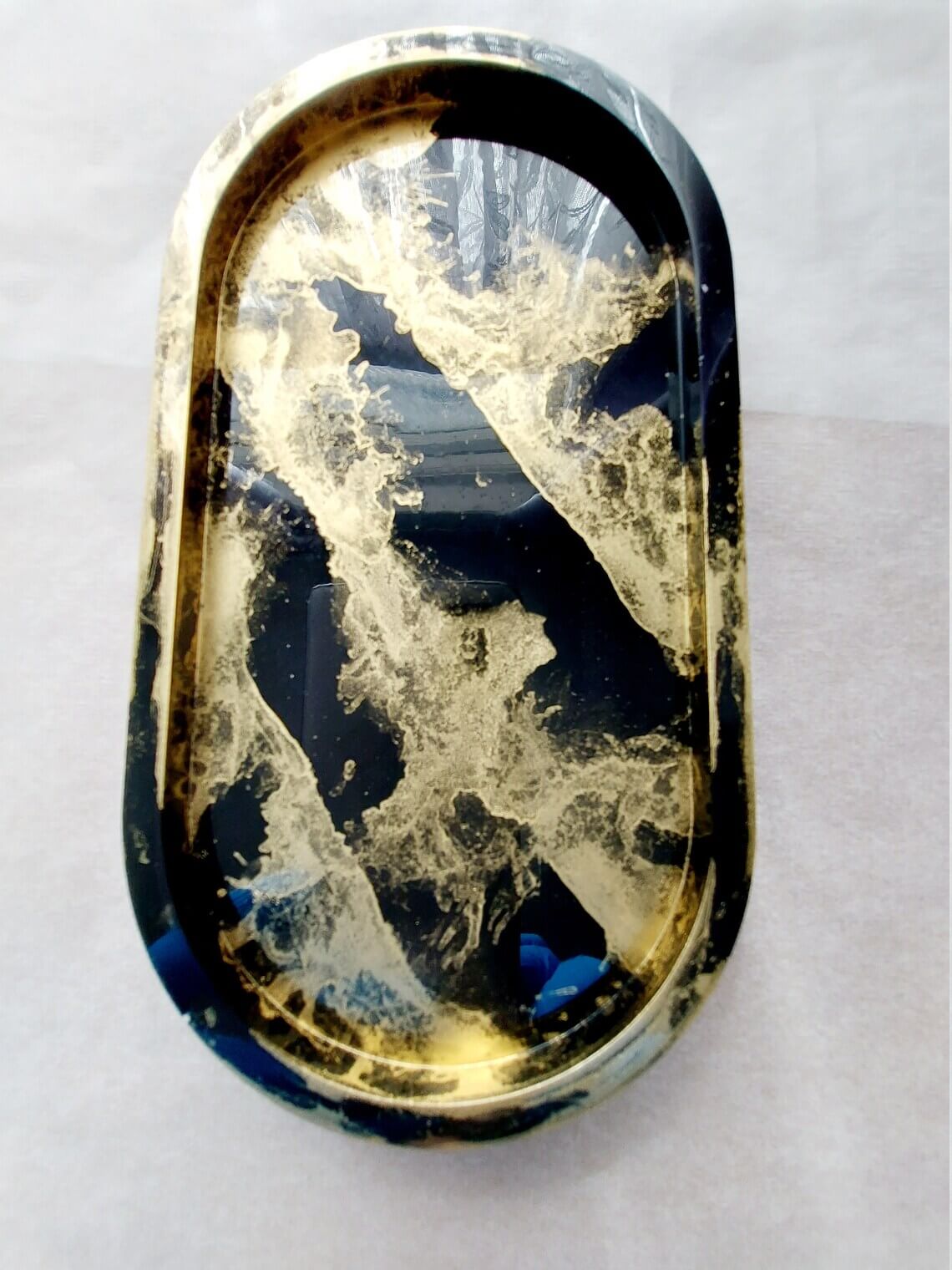 Don't you just love the sound of metallic gold? If you're someone whose home is filled with more neutral colors, this metallic gold and black resin tray provides the perfect opportunity for you to step out of your comfort zone in the most classy way possible. Being used to neutrals and then jumping to decorations that are extremely colorful might not give your eyes enough time to truly adjust. This resin tray is an unmistakably unique piece that combines chic and fun all in one! If you are in dire need of the perfect dining room table centerpiece before your house is filled to the brim with guests, this is the best option for you!
17. Gothically Unique Head Moth Galaxy Serving Tray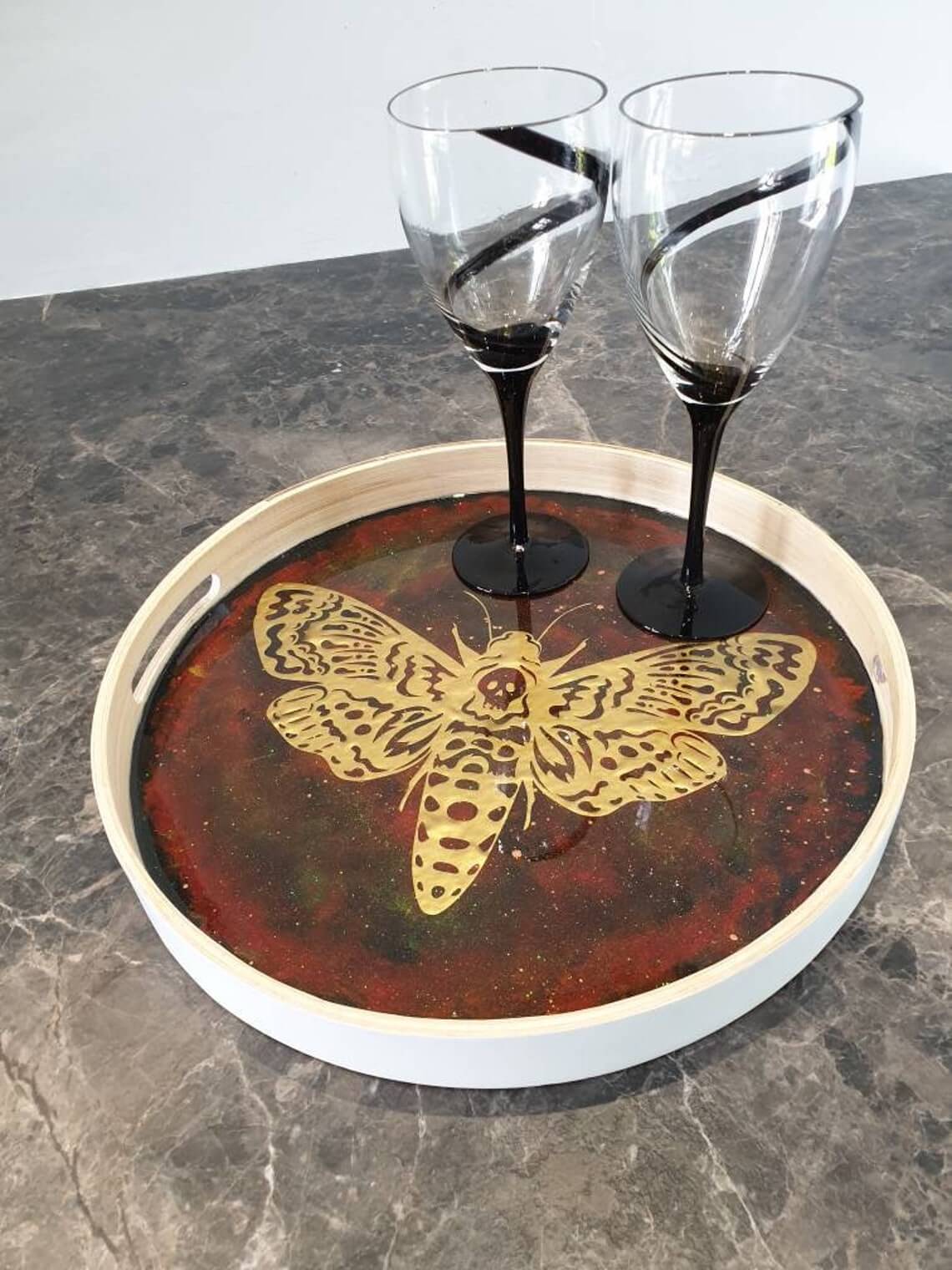 This time of year can bring out the gothic side of even the most avid rainbow girl! Are you looking to decorate a bit outside of the typical "norm" this year? This incredible head moth tray supports a captivating galaxy background with a holo glitter star cover. Of course, the picture isn't going to do this serving tray justice so you need to purchase one in order to see the true beauty of this unique design in person. You truly can't be the high-quality of a handmade piece like this that delivers the right touch of flair you were looking for!
18. Clear "Cookies For Santa" Cute Serving Tray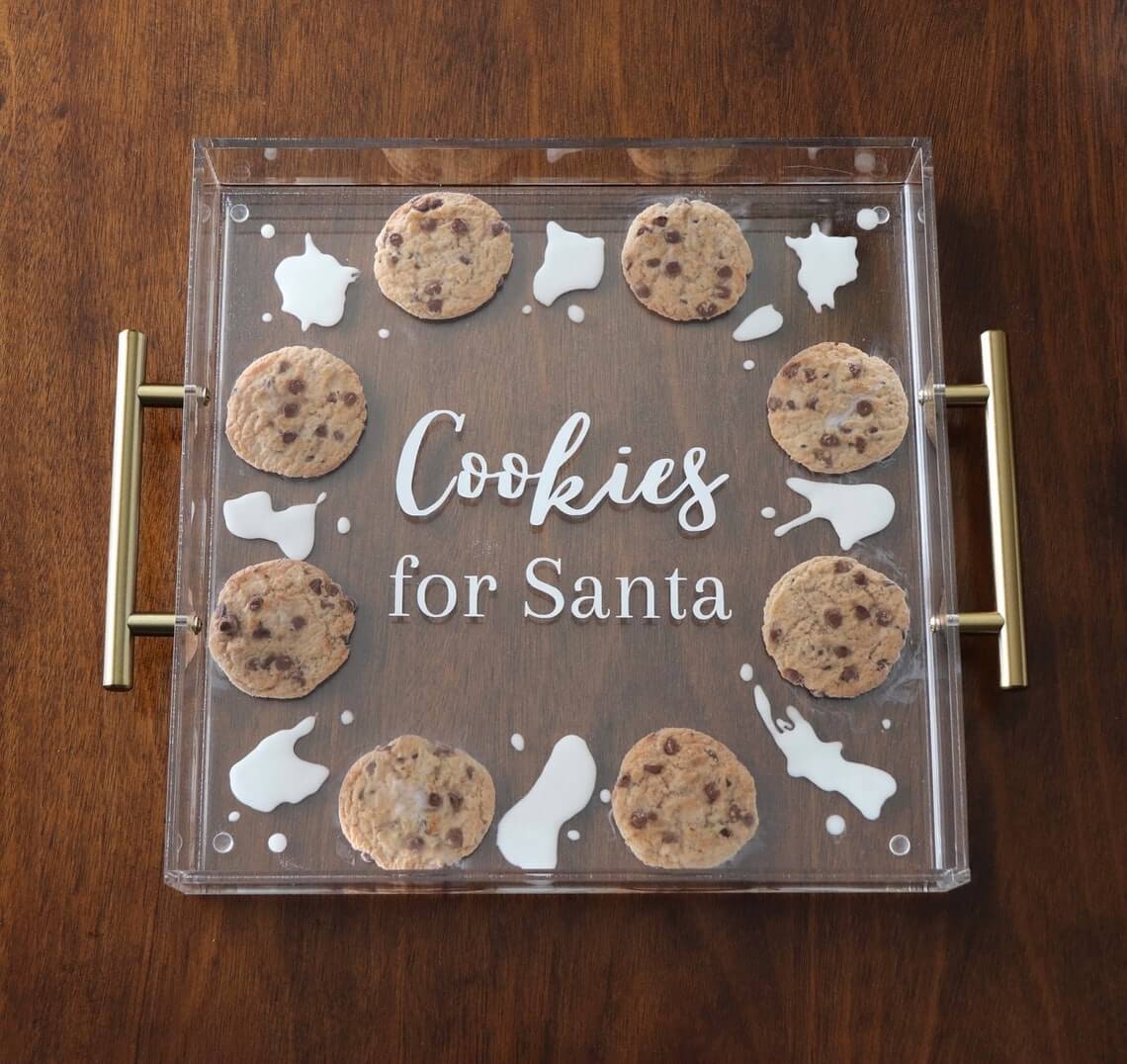 Your children are going to absolutely love this "cookies for Santa" serving tray! If you're a kid at heart, you're going to love it too. It's truly never too early to start preparing your house for the Christmas season that brings nothing but joy to you and your loved ones. Ensure this is true by taking advantage of this opportunity to purchase the interior design items you'll be putting up in less than a month. If you're someone who isn't afraid to start decorating for Christmas as soon as Halloween is over, this cute serving tray with gold handles is on the list just for you!
19. Wood Framed Lap Tray With Underside Cushion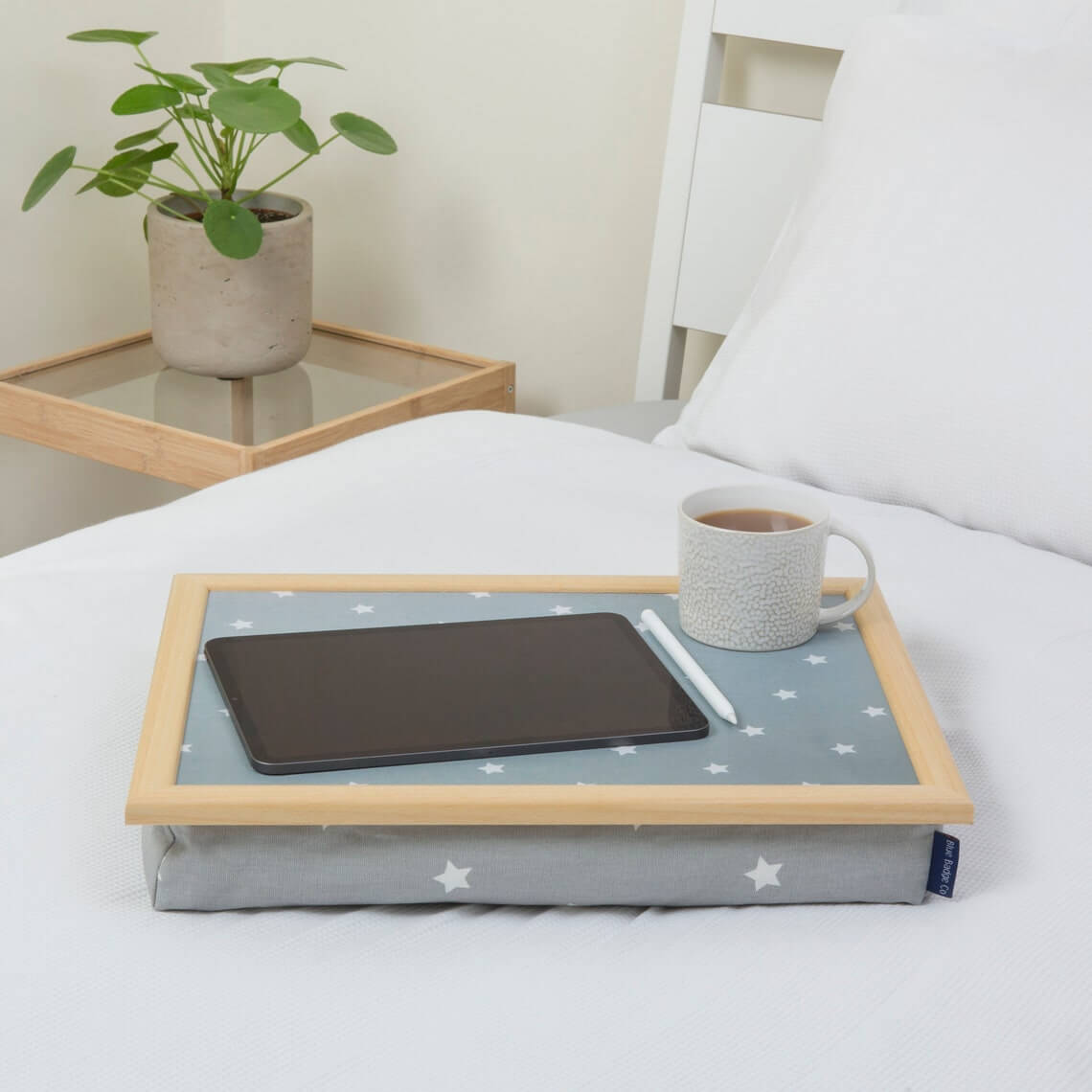 As the culture of working from home continues to take the world by storm, sometimes you may just want to spend all day working in your bed. Nowadays, that's perfectly okay! This cute and comfortable lap tray truly has everything you need. You get the comfort of the bean bag cushion on your lap while also having the sturdiness of the wooden frame tray on top to make sure nothing slips off while you're hard at work. With this unique design, you truly get the best of both worlds! The star pattern is a constant reminder that you're a child at heart, while the hardtop surface shows that you mean business.
20. Kid-Friendly Crayon Catchall Trinket Tray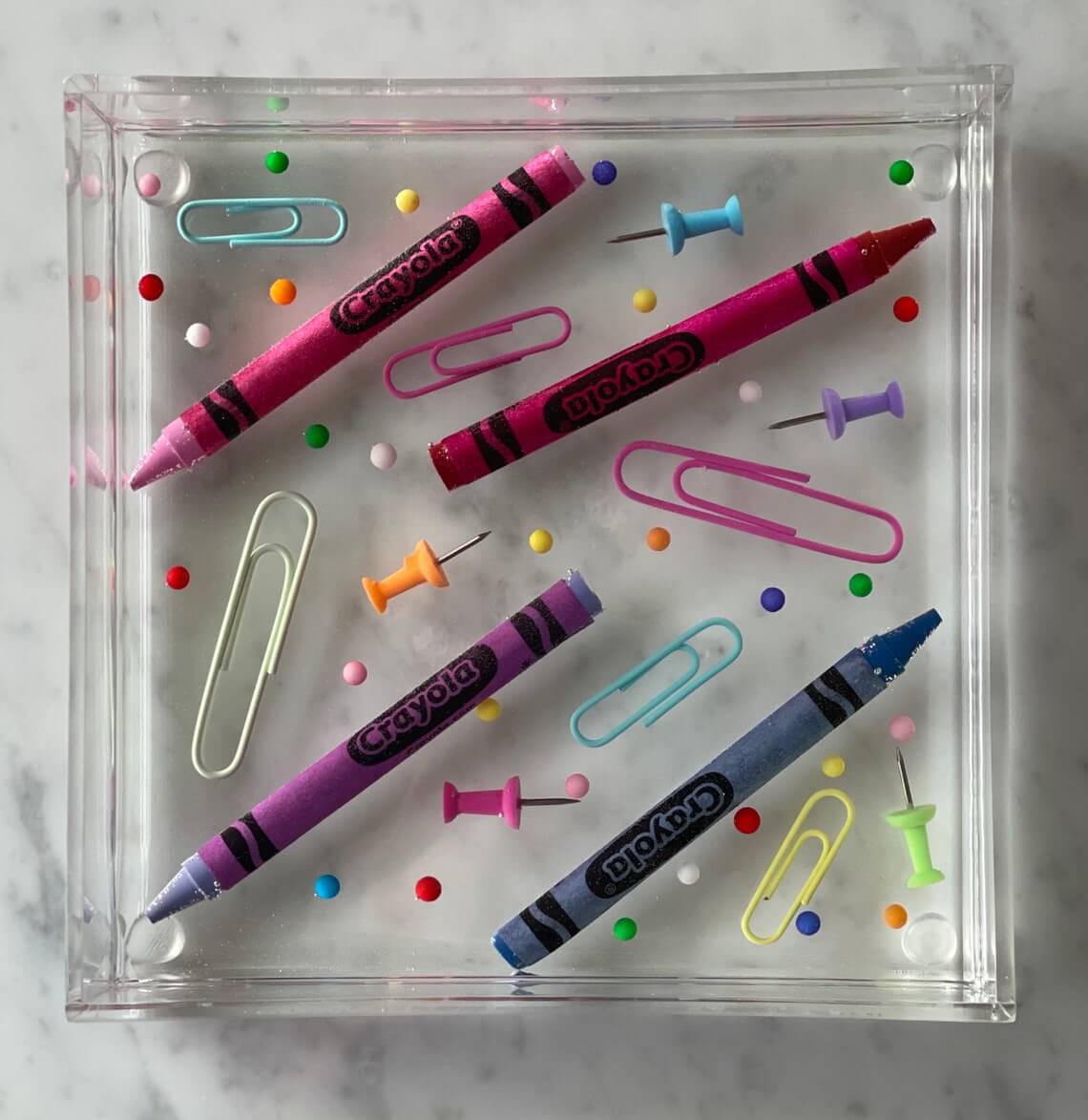 As the school year picks up, you're probably being overloaded with crayons! Your little kiddos are going to absolutely love this trinket tray. This ensures they have a great way to keep all their crayons from rolling off the desk when they're hard at work completing any tasks they got from school. Even when they're not actively using their crayons, this epoxy resin trinket tray actually utilizes crayons as part of the unique design. The tray itself comes with a filling that includes erasers, crayons, pushpins, pencils, and paper clips. How amazing is that?!
21. Multipurpose Metal Tray With Cat Paw Base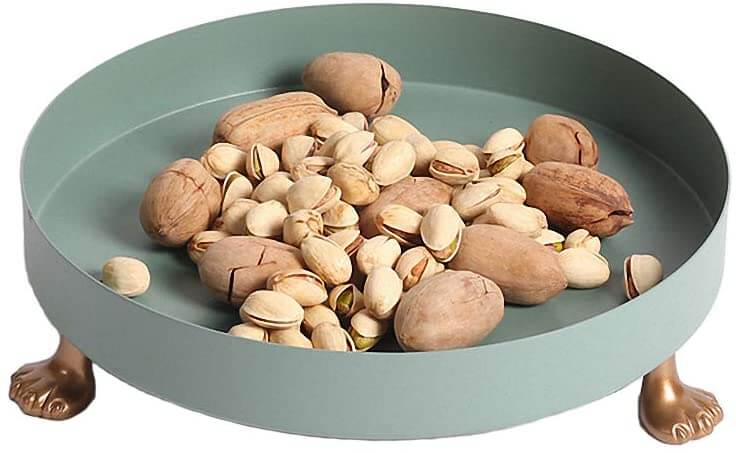 There is nothing wrong with keeping it classic when it comes to purchasing a serving tray that satisfies your need. This multipurpose metal tray provides a great solution to the common problem you might be having of needing a bit more simplicity in your life. This no-hassle organizer tray can be used to hold your favorite jewelry that you don't want to leave lying around on your nightstand. This is also an amazing catchall for the entryway of your home if you can never seem to find a great place to put your car keys. Let's not forget the fact that the base is supported by the cutest cat paws you've ever seen!
22. Metal Peacock Multicolored Trinket Tray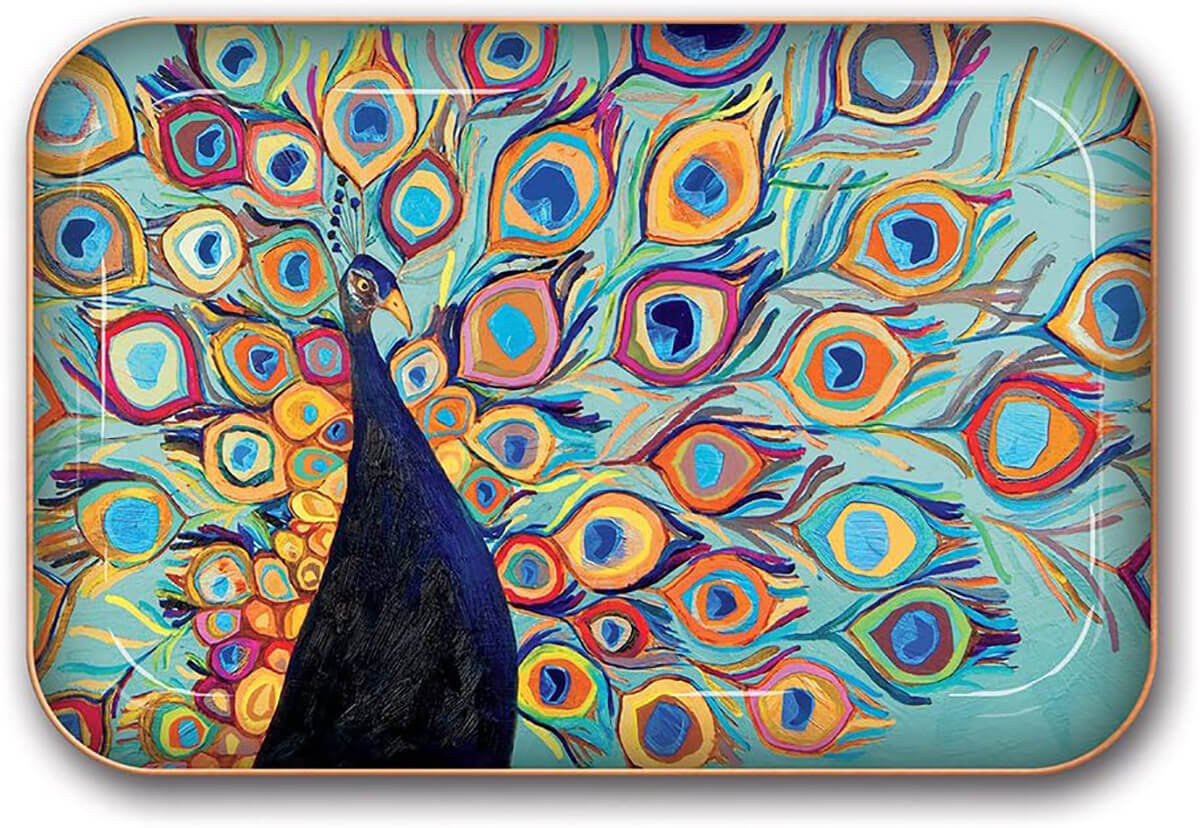 Combine your love for color with your need for unique decorations! This metal dish tray contains a gorgeous picture of a peacock as well as other beautiful handmade designs. The 4-color artwork allows you to get in touch with your inner artist while also feeling confident that your serving tray is going to last you for a very long time. The copper lining that frames the tray provides a durable lip to keep all your goodies trapped inside. Satisfy your sweet tooth for both beautiful art and candy by filling this dish tray with your favorite treats!
23. Colorful Homemade Decorative Floral Tray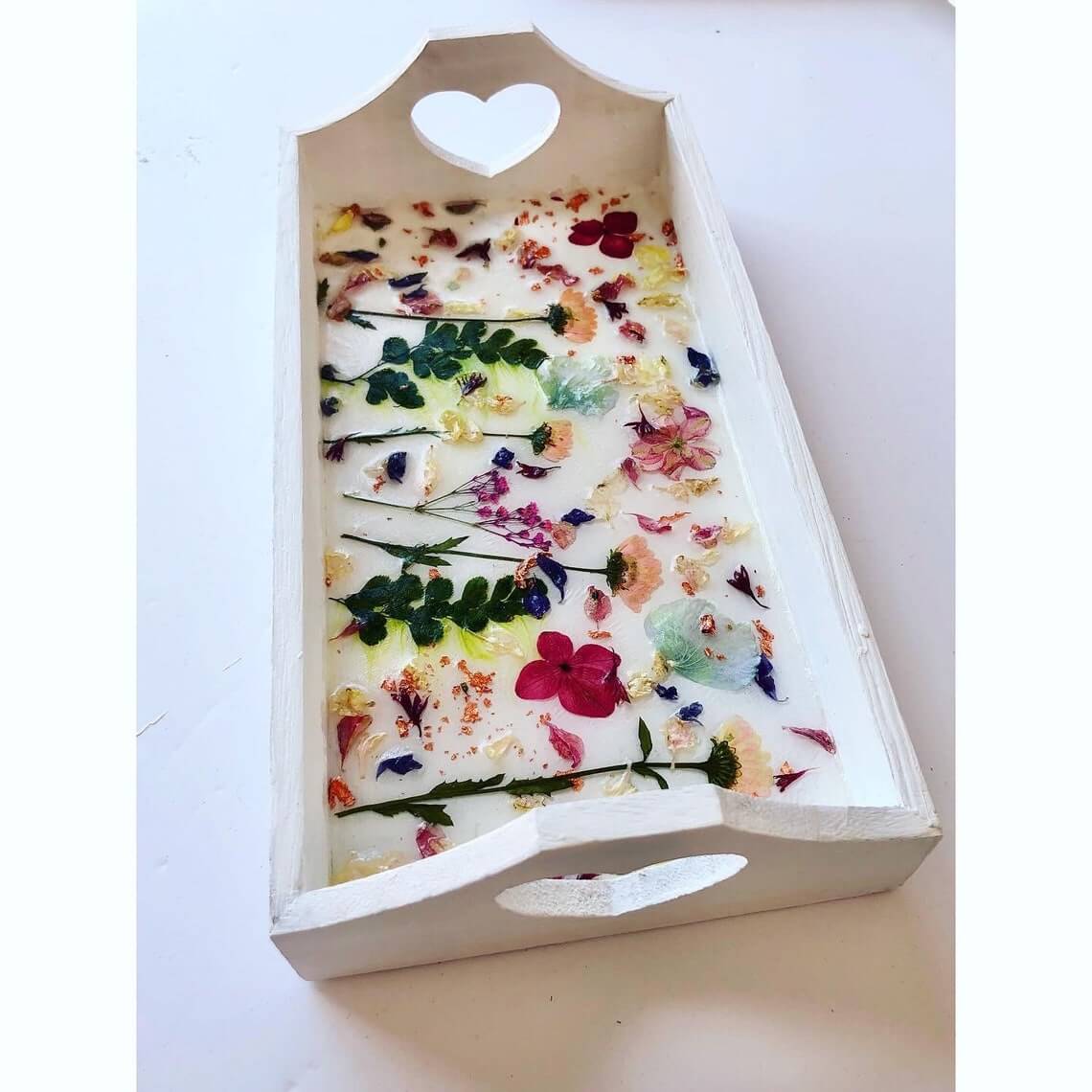 Even though fall has arrived, there is never a time of the year when you can't decorate your home with gorgeous flowers! This handmade botanical tray provides you with the perfect avenue to display your love for the light that flowers are able to bring into any room. These serving trays are exceptionally unique given the fact that they are created by using real, dried flowers that are pressed into the tray. Once this colorful array is successfully created, an epoxy resin is used to successfully lock in this incredible masterpiece. Get this serving tray and your kitchen will never be the same!
24. Vintage Black Mirror Frame Vanity Tray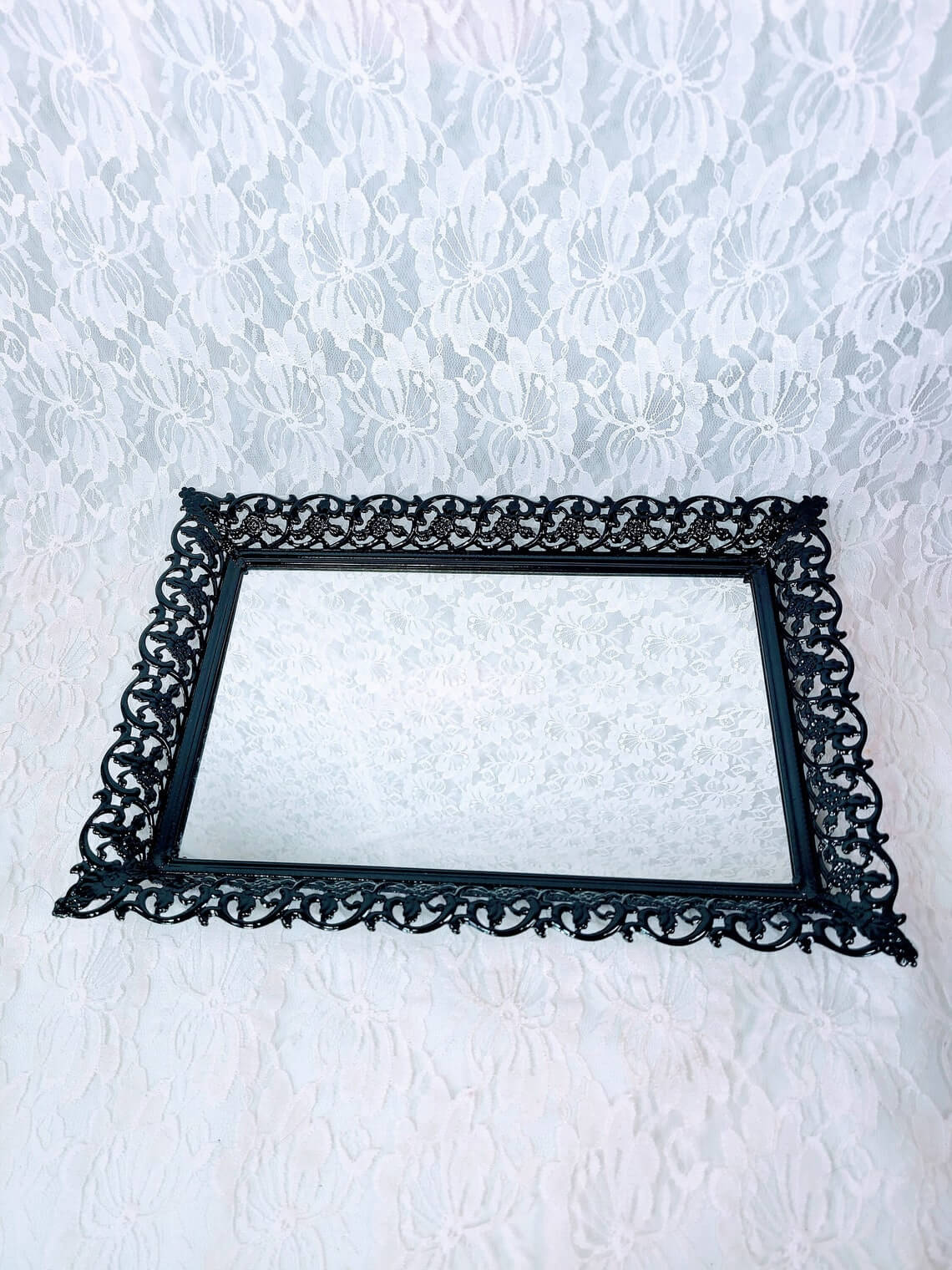 The witching hour is upon you! This upcycled witchy tray is the perfect addition to any vintage décor theme. The black square mirror frame can be used to hold your most valuable crystals or your most devious potions. Although Halloween has passed us by, you can never go wrong with classic black when completing your fall interior design. This tray will go perfectly within any space of your home. From your coffee table to your office desk, there is no way you won't find a good use for a chic design like this!
25. Intricately Detailed and Classy Wooden Decorative Tray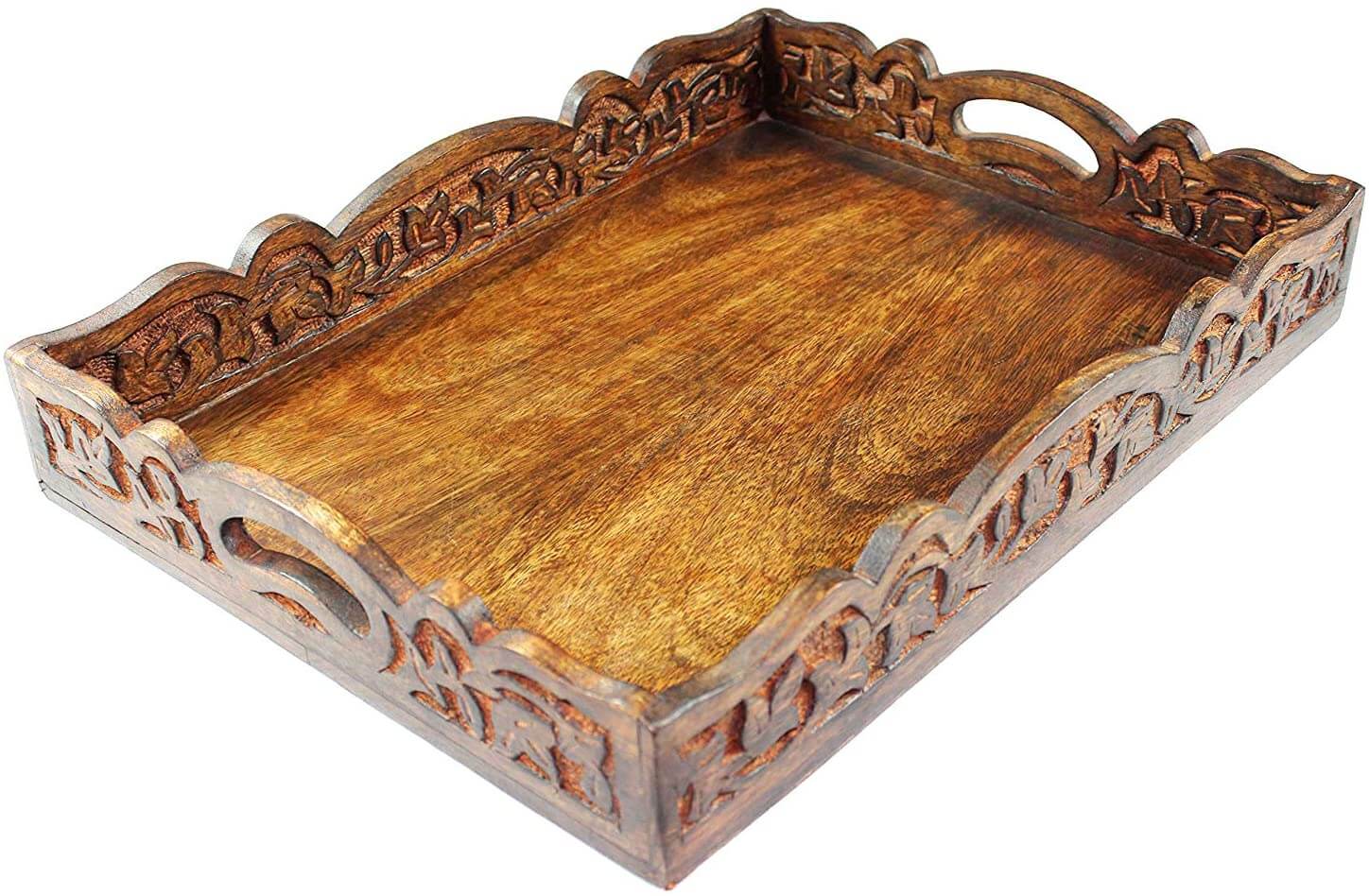 This sturdy, wooden piece brings you back to the sight of the old country! The natural finish truly makes this one of the most unique tray ideas you will find on the market today. The mango wood produces a high-quality product that won't disappoint. There is truly nothing this tray can't be used for! If you need a vessel to hold your favorite foods, this is the right choice for you. Maybe you're just looking for a vintage organizer to hold all the notebooks on your office desk, you still can't go wrong with this incredible option!
25 Exceptional Unique Tray Ideas To Add a Fashionable Flair To Your Typical Home Décor
These unique tray ideas are nothing short of fantastic! Each one provides its own benefits to your home and your life in general. Wouldn't it be nice to have one location where you can keep all your small yet important items? You're probably sick of losing your wallet and car keys as soon as you walk in the door. Place your favorite tray right at the entrance of your walkway so you know exactly where they'll be the next time you need to get up and go!
This time of year always brings cheerful guests who want to celebrate life's accomplishments, give thanks for where they've been, and ring in all that the new year has to offer with you! Don't you want your home to be the magnificent hot spot for all this joy? If your home usually looks like an explosion just went off, not to worry! These trays are going to keep every space clean while also showing your loved ones that your house is the one to beat! Let your amazing personality and fantastic interior design skills shine through by getting the trays that align best with the current theme of your home. Don't be afraid to go bold with your selection. Choose more than one tray so there isn't a single room in your house without a dash of personality!