Grab your green-thumbed friends and begin a new adventure as you envision the best-upcycled garden ideas and make them a reality in your current outdoor garden space. With so many amazing and inspirational concepts, it's hard to narrow down a favorite, so choose a few. The simplicity in the designs of these DIY projects along with the little to no cost involved makes these some of the most popular ways to add some pizazz to your garden.
26 Way to Turn Trash to Treasure with these Upcycled Garden Ideas

Perhaps you want to always have a flower in bloom. Make it happen by establishing some permanent blossoms in your flower bed like the metal ones or repurposed plates and dishes design. Either way, they keep a bright bloom standing tall and proud in your garden.
There is always room for a fun sign to welcome guests as well as a small harmless faux insect friend. Whatever your heart desires, you will find a DIY upcycled idea or two in this creative collection of 27 of the most promising repurposed projects on the planet.
1. Antique Pulley Hanging Lantern Sweet Succulent Upcycled Holder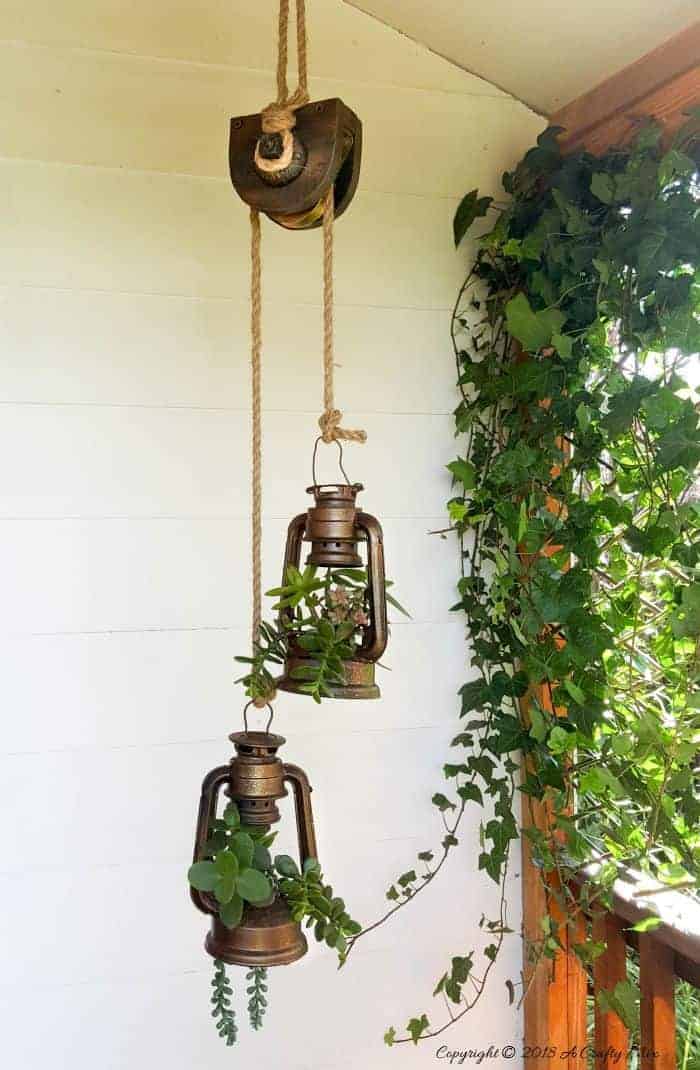 Bring some new life into some old household items with this sweet succulent holder. Created from an antique pulley, the sturdy rope holds the two dangling lanterns which are the perfect new home to some of your favorite succulent or other house plants. From vines to waxy leaves, these old lanterns find a new purpose as they no longer light the way, but still can brighten up the space in your backyard oasis. Hang this pulley lantern plant system in the corner of the porch to add some greenery into your outdoor living space.
2. Don't Spill the Beans about this Turned Over Flowering Wheel Barrow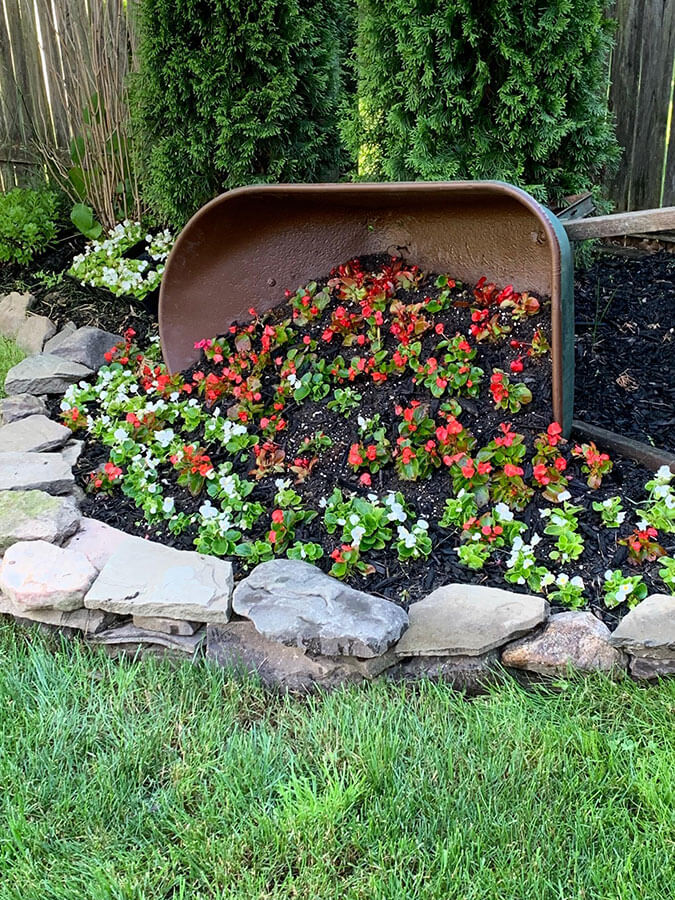 Tipped on its side, this wheelbarrow finds new life as a whimsical and welcomed addition to the flower bed. No need to throw out an old wheelbarrow that may have a rusted out bottom, simply set it up on its side to see its purpose in a new way. Incorporate some nutrient-rich potting soil along with your favorite flowered friends and you will have an amazing accompaniment for this old garden worker. Plant some red or white plants or begonias spilling out from this wheelbarrow to add a classic pop of color to your landscaping design.
3. Natural Brown Burlap and Nautical Knot Porch Planter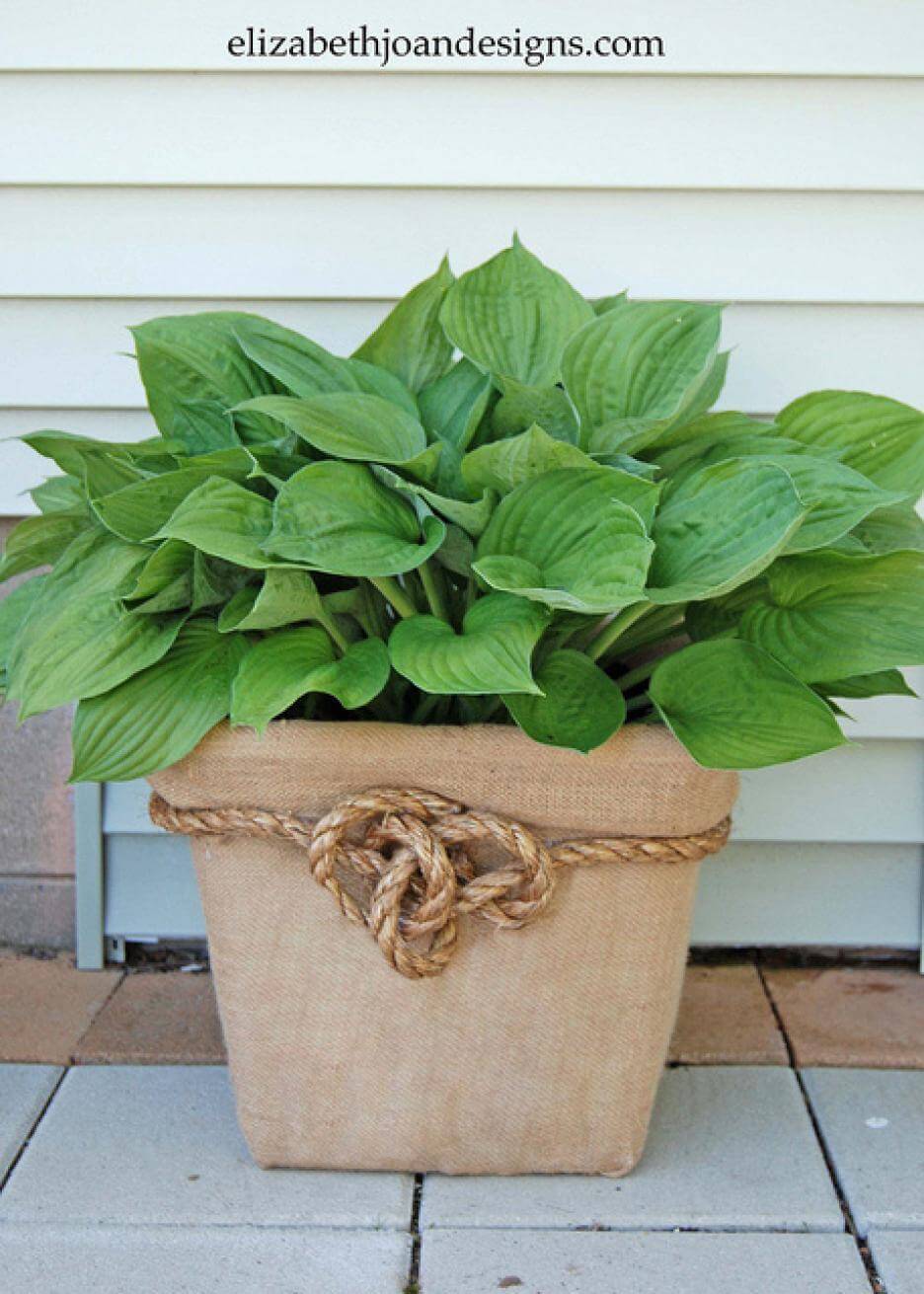 With just a few easy to find decorative items, you can transform your ordinary and dull flower pot into a one-of-a-kind burlap and knotted design. The earthy brown and natural feel of the burlap textile wraps the pot to create a completely new look. To finish it off, there is a thick, twine rope tied in a traditional nautical knot to enhance the beauty of this low-key and fuss-free flower pot upgrade. It gives your outdoor space a new look with its pairing of farm and sea. Add your favorite green-leafed friend to achieve the final masterpiece for your porch.
4. Solar Light Spectacular Outdoor Upcycled Centerpiece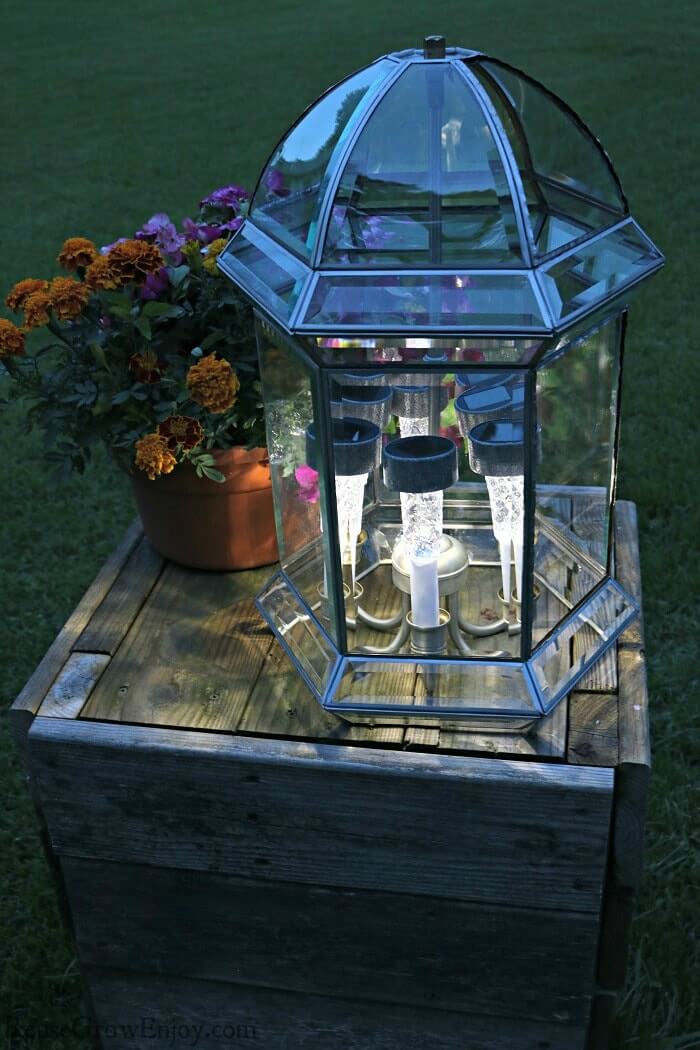 Forget the hassle of votive candles or battery-powered outdoor lighting. Channel that inner creative side and think outside the box by replacing these light sources with solar-powered walkway lights. These lights not only will get the job done in terms of lighting up your nighttime outdoor activities but will be easy on the wallet as they seek the sun as their source of power. Place this spectacular centerpiece in the middle of your outdoor dining table to add some sparkle and shine to help light up you after dark adventures in entertaining.
5. Wild and Wonderful Wine Bottle Outdoor Torch Lamp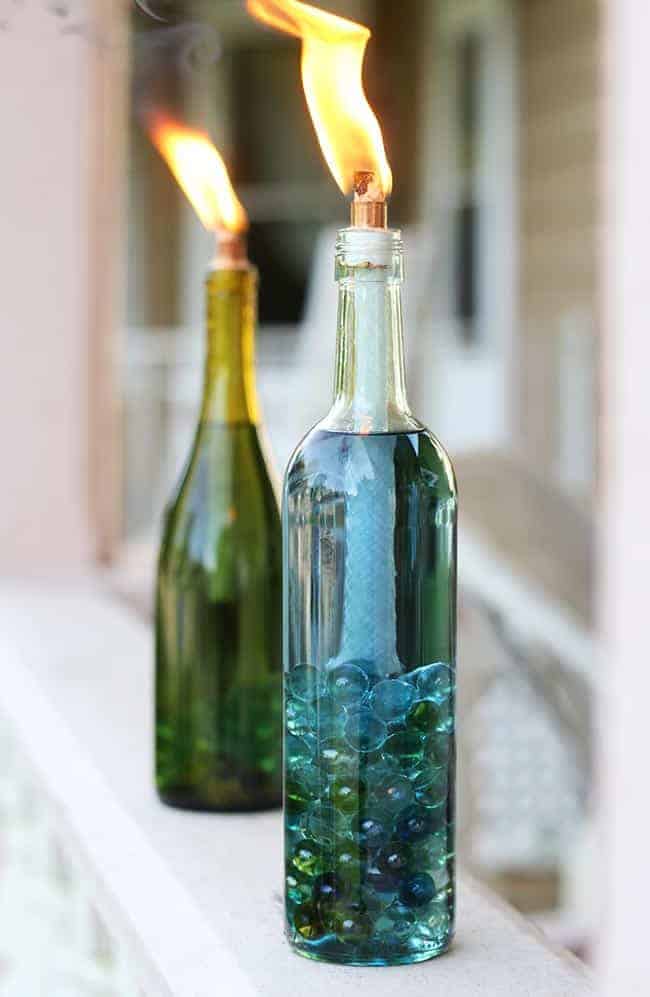 Instead of recycling, why not upcycle some of those empty yet beautiful glass wine bottles? It's a win-win since you get to enjoy the smooth and relaxing beverage followed by using the leftover bottle as a one-of-a-kind torchlight. Maybe you want to light the way along the path leading to your backyard getaway or you could use these torch lamps on top of your tables to provide that soft glow to set the mood for alfresco ambiance. Use a variety of bottle colors from blue to green to make the lamp your own and don't forget to add your choice of polished decorative rocks to hold your masterpiece in place.
6. Tiered Corner Drawer Full of Flowers Upcycled Garden Goodie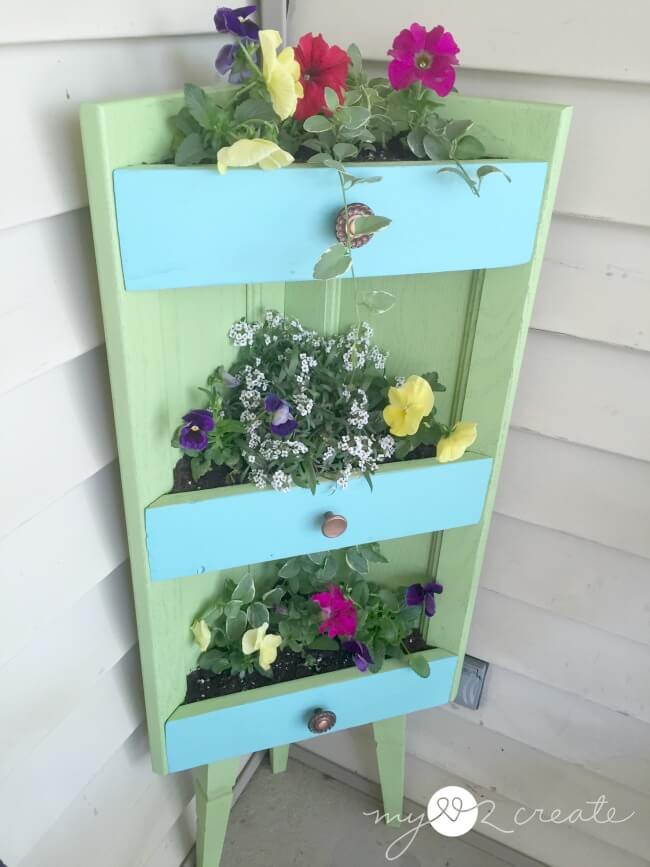 Don't scrap that scrap wood when you can repurpose it into a useful and cute corner flower display. The three drawers are cozy containers for your pretty petals to call home. Add a fun and decorative drawer pull/knob to each one for a cool look. Your corner could always use some cozy counterparts so choose to use your extra pieces of wood to create this interesting and appealing tiered planter to make your warm-weather porch friends feel right at home.
7. Petal Pleasing 'Have a Seat' in the Yard Petunia Planter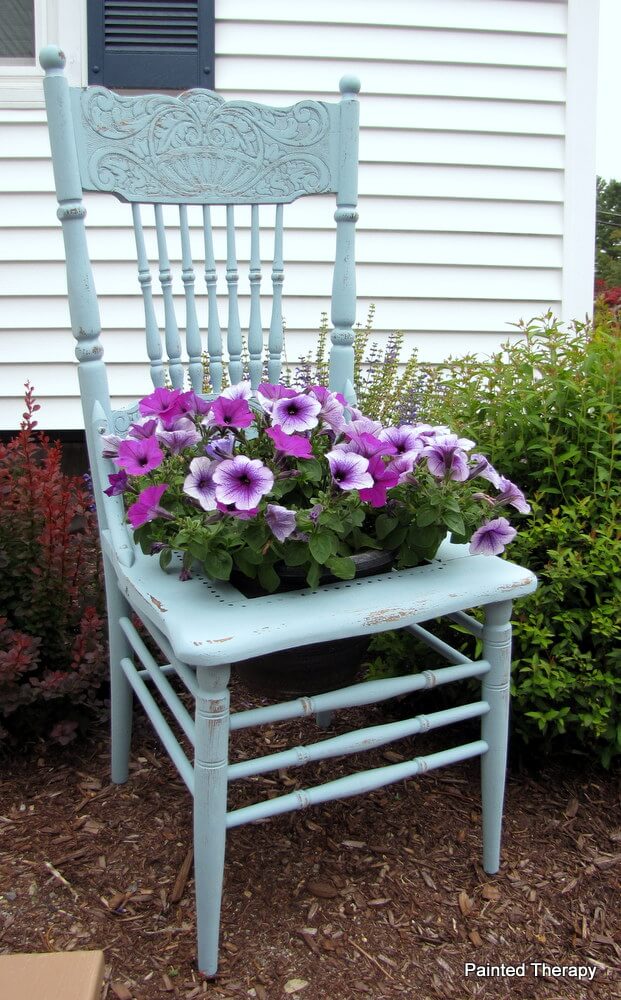 Pull up a chair and make yourself at home, if you're a flower that is, with one of the best-upcycled garden ideas of taking a worn-out chair and turning it into a new planter. Pack your petunias into this repurposed piece of furniture as an awesome idea for transitioning some indoor furniture into your outdoor space. This single chair that would otherwise be sent to the curb for tomorrow's trash collection can easily be turned into a new and fun feature for your gorgeous outdoor garden.
8. Upcycled Slender Spindle Single Bird House Perch Posts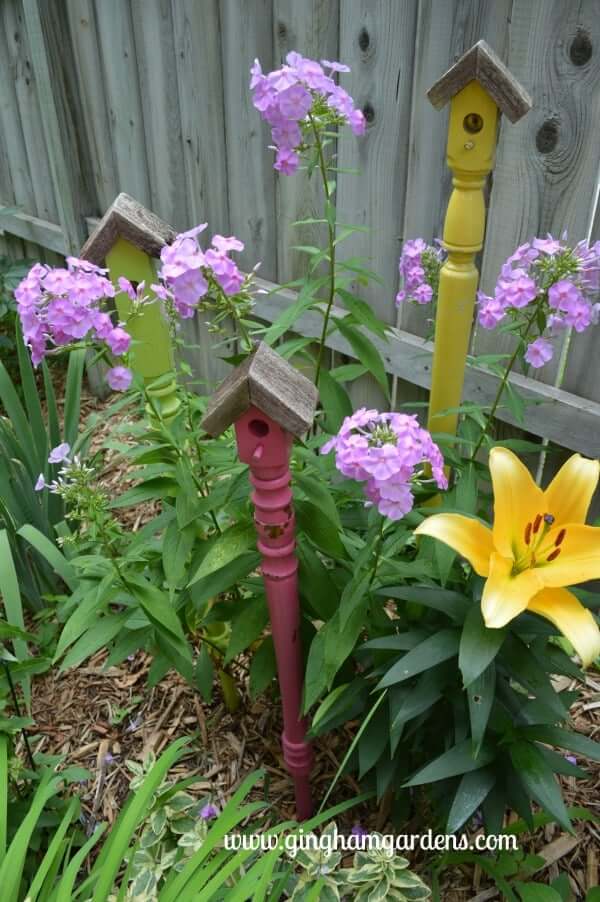 Stick in some simple elegance to welcome your feathered friends to your garden space. While these cute spindles are sure to brighten up your space and add some depth and height to your flower bed, they are the perfect porch companion for flying flock friends to stop for a rest. Even though the birdhouse itself isn't functional, its perch post most certainly is! Why not paint a few extra spindles in your favorite color to add an extra flair to your landscaping space. Every flying friend, from robins to cardinals, will enjoy this perch to rest their wings and enjoy a little glimpse of your garden goodness.
9. Goofy and Googly-eyed Golf Ball Ladybug Garden Friend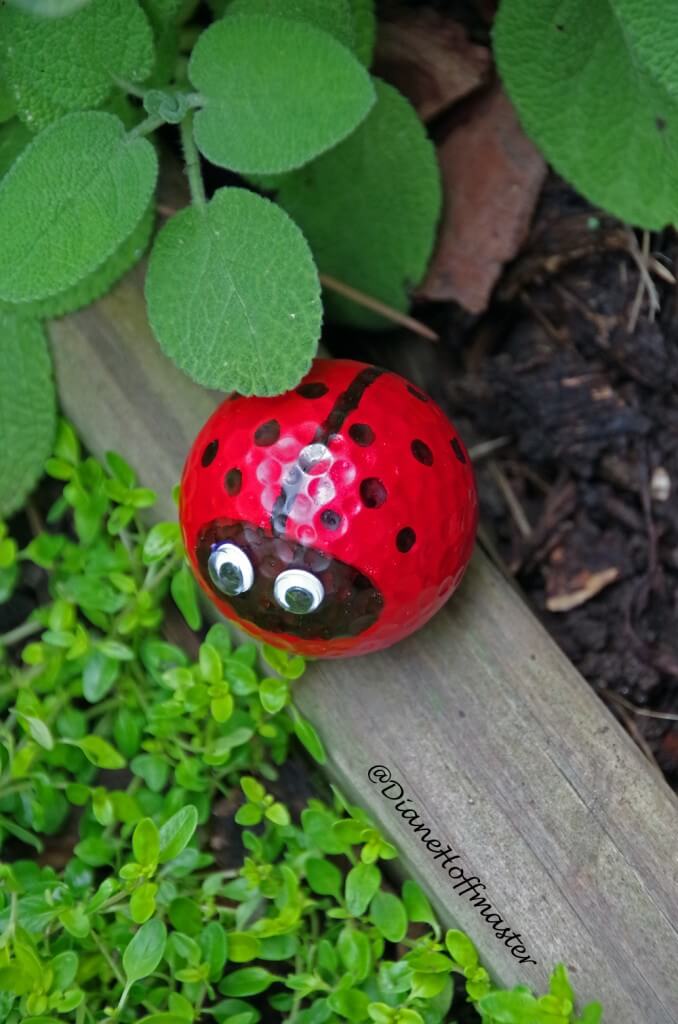 Get your googly eyes out and grab your gang to make some fun and frolicking garden friends with this easy and super cute golf ball ladybug. Just a few strokes of paint will get the body into place as you adorn this humble creature with those fun and giddy craft-loving eyes. When your neighbor enjoys teeing off and lands a few balls in your yard, just gather them and get your garden goddess on. There is so much fun to be had by the grandkids as they seek to find the five ladybugs in the garden and then hide them from each other. It's a smooth transition from a garden accessory to an outdoor game as these goofy ladybugs gather around the plants and flowers as they create yard art ideas that are easy to make for any age!
10. Red Hummingbird Feeder Chandelier Upcycling Idea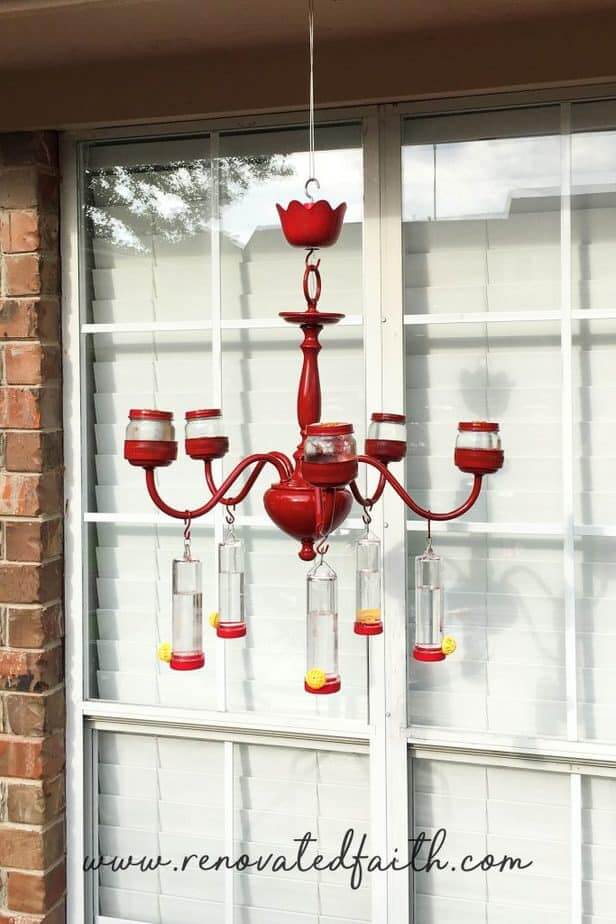 Paint the town red, or at least the outdoor chandelier that becomes the base for this fabulous and functional hummingbird feeder extravaganza. With a collective gathering of five feeders, the entire hummingbird flock will be amazed by this one-stop pit stop for the entire gang to wet their whistles. Suspend this overhead and near a rear window to enhance your view of these buzzing bundles of summertime beauty.
11. Unique Utensil Wind Chime Upcycling Idea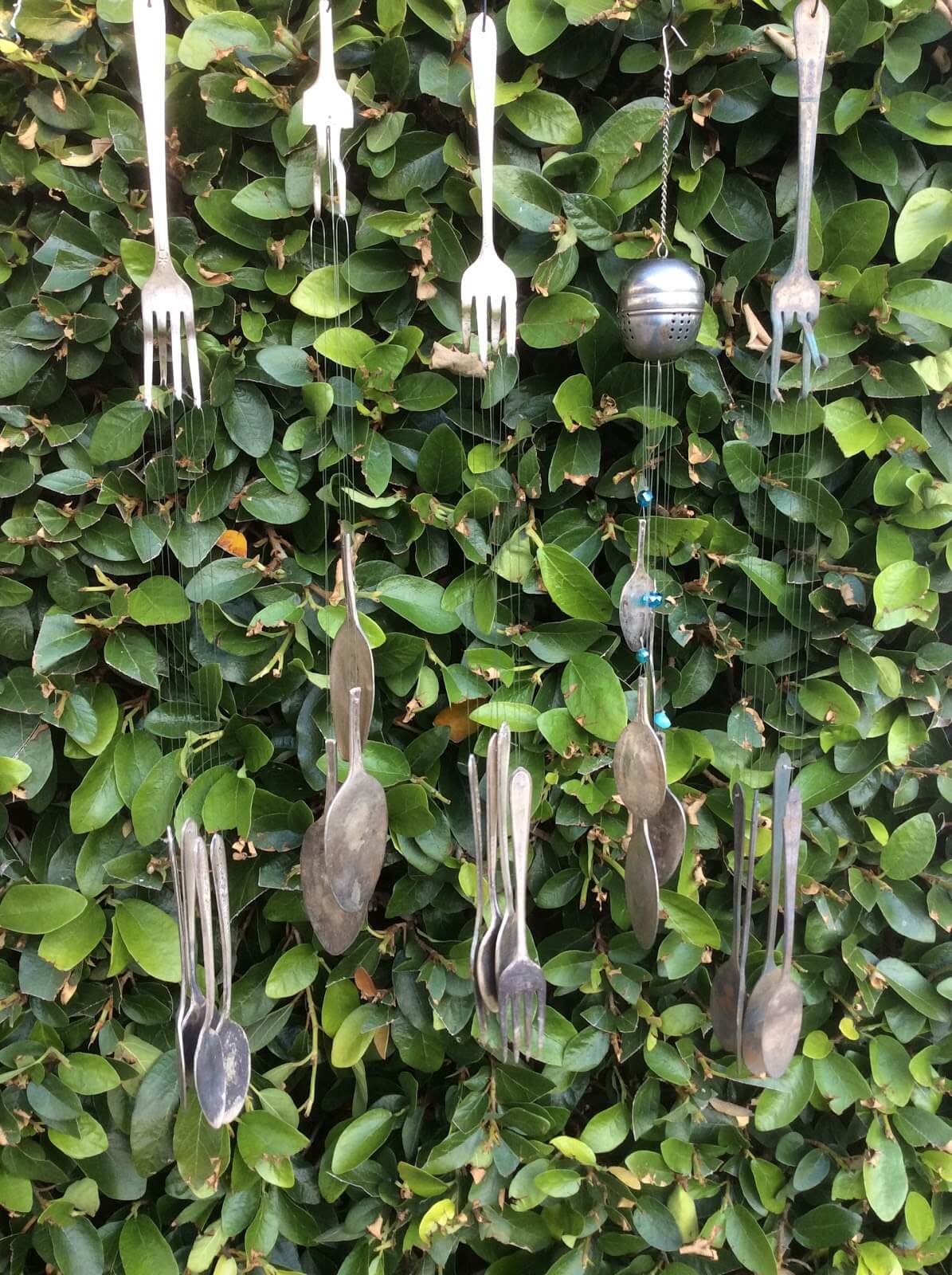 Hone in on your frugal instincts and scour those discount bins, yard sales, and flea markets to find the mismatched misfits of the utensil drawer so you can give them a new place to call home. You'll need some clear string to complete the job that will allow you to make some magical music from these leftover pieces from a once-loved fork, knife, and spoon collection. These adorable wind chimes will give your front porch a soft and serene space to relax and unwind at the comfort of your own home.
12. Life's a Garden so Dig this Gardener's Delight Wreath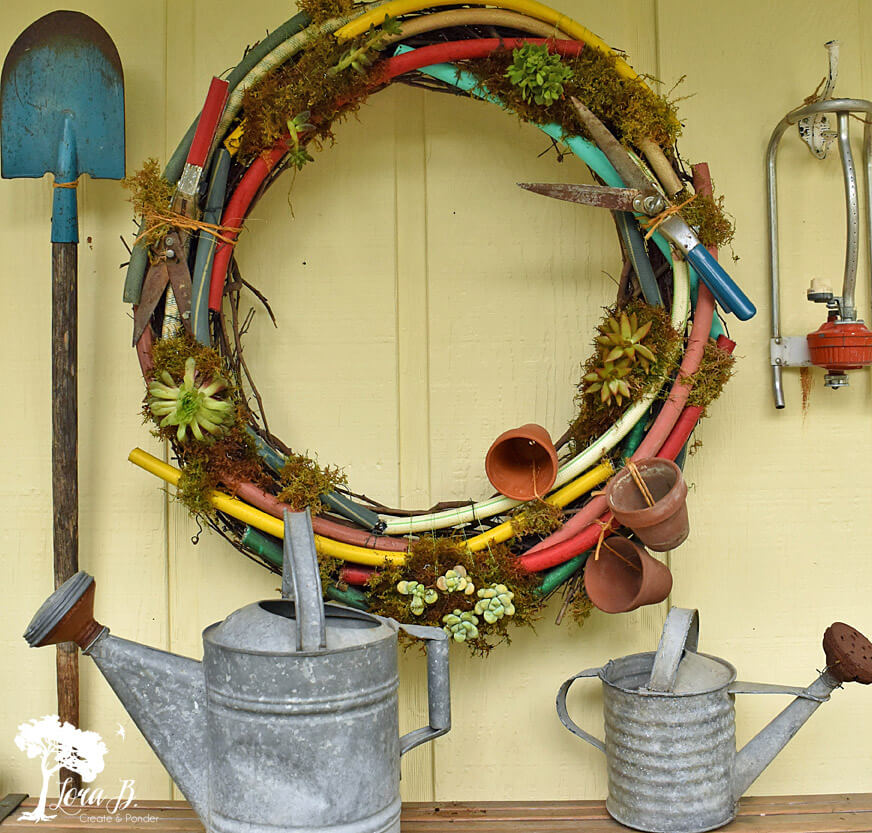 Here's a great home decoration that utilizes worn out and ready-to-trash garden tools and breathes new life into them as a visually interesting wreath idea. From garden hoses to rusty clippers, this garden lover's delight wreath is finished off with some moss, succulents, and miniature terra cotta pots to complete the look. This would look amazing hanging on the door of the shed or on the wall of the back porch. Either way, it makes a one-of-a-kind home decoration that is one of the best-upcycled garden ideas to turn pieces of trash into terrific treasures.
13. White Washed and Off the Road Tire Plant Holder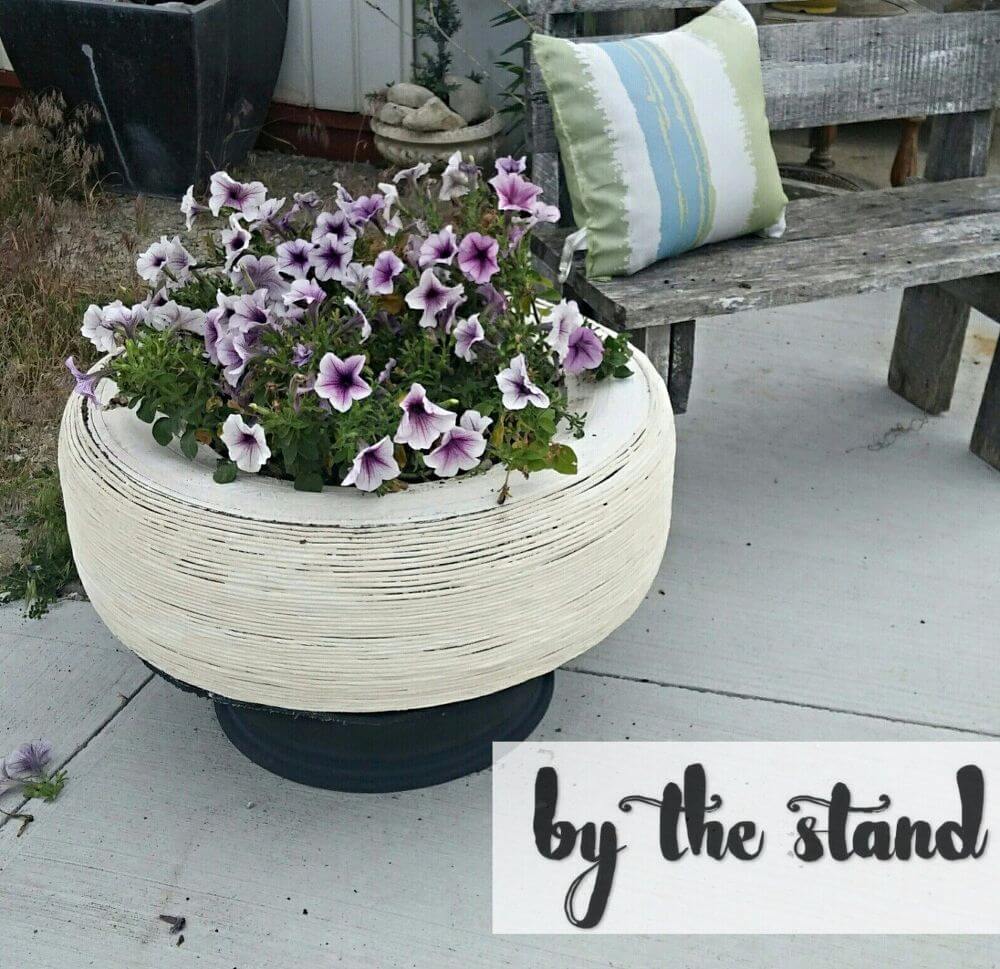 Even though the treads may be worn, there is still a lot of life left inside this used tire as it rolls off the beaten path and into your garden yard art ideas. Some white paint goes a long way on the road to creating one of the best-upcycled garden ideas with this worn and tired plant holder. Make an arrangement of three or five tires for a dynamic display or serve up a single section by placing it in an area to make it the focal point. Get your hands dirty as you fill-up the inside circle of this used tire with your favorite petal powered friends. For extra interest, rest your tire on top of a hub cab for increased height and drama.
14. Grillin' Up Some Garden Goodness Yard Art Idea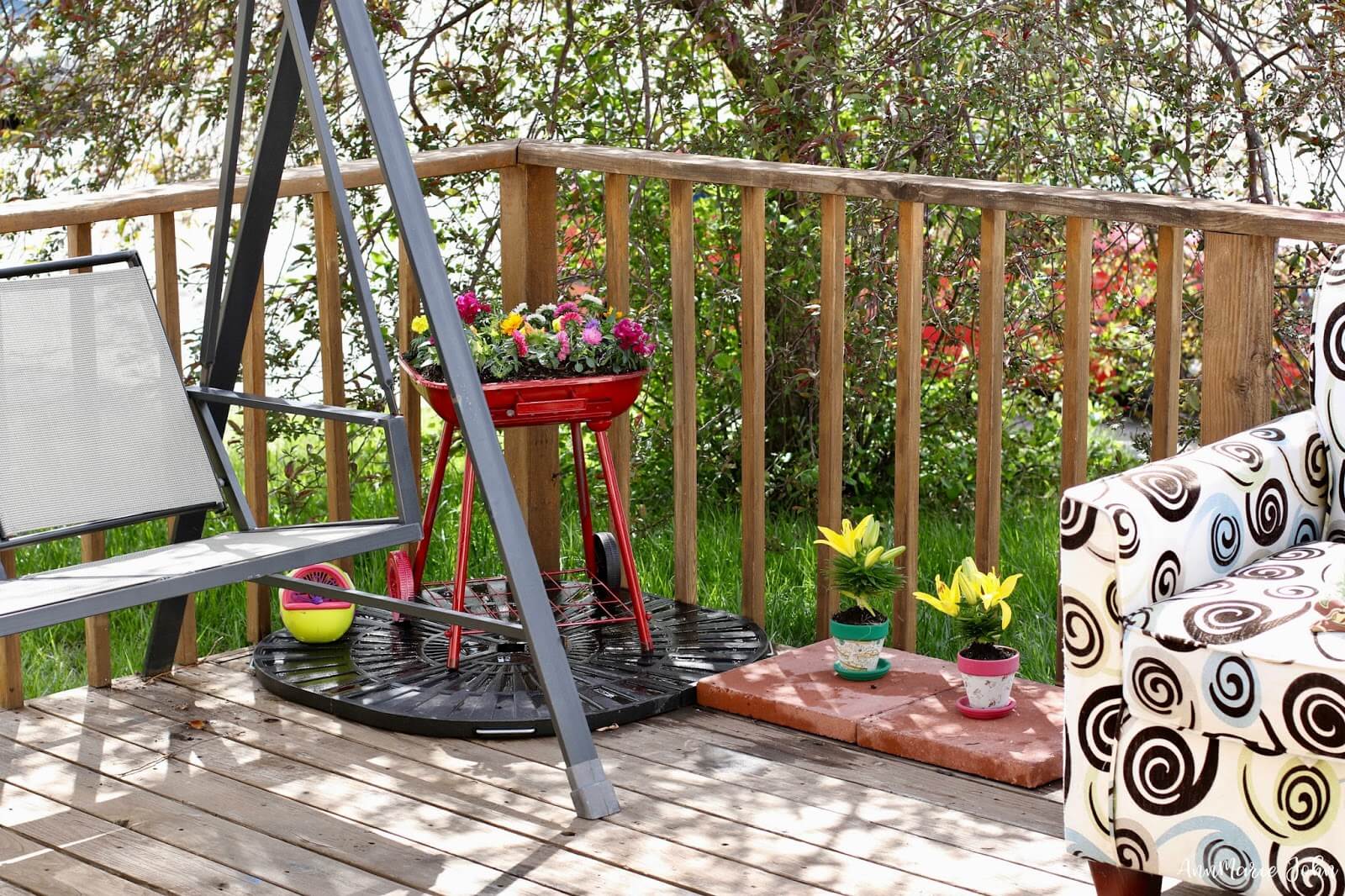 When you upgrade to a bigger grill, it's time to take this awesome idea and make it a reality. Spray some rich red paint over this coal-loving grill and add some dirt and flowers instead of the charcoal to become a garden goodness grill master. The design of a grill gives some increased height for a traditional planter which tremendously produces heightened design for this upcycling idea perfect for your backyard barbecue.
15. Scrolled Metal Screen Doors Trio Turned Arbor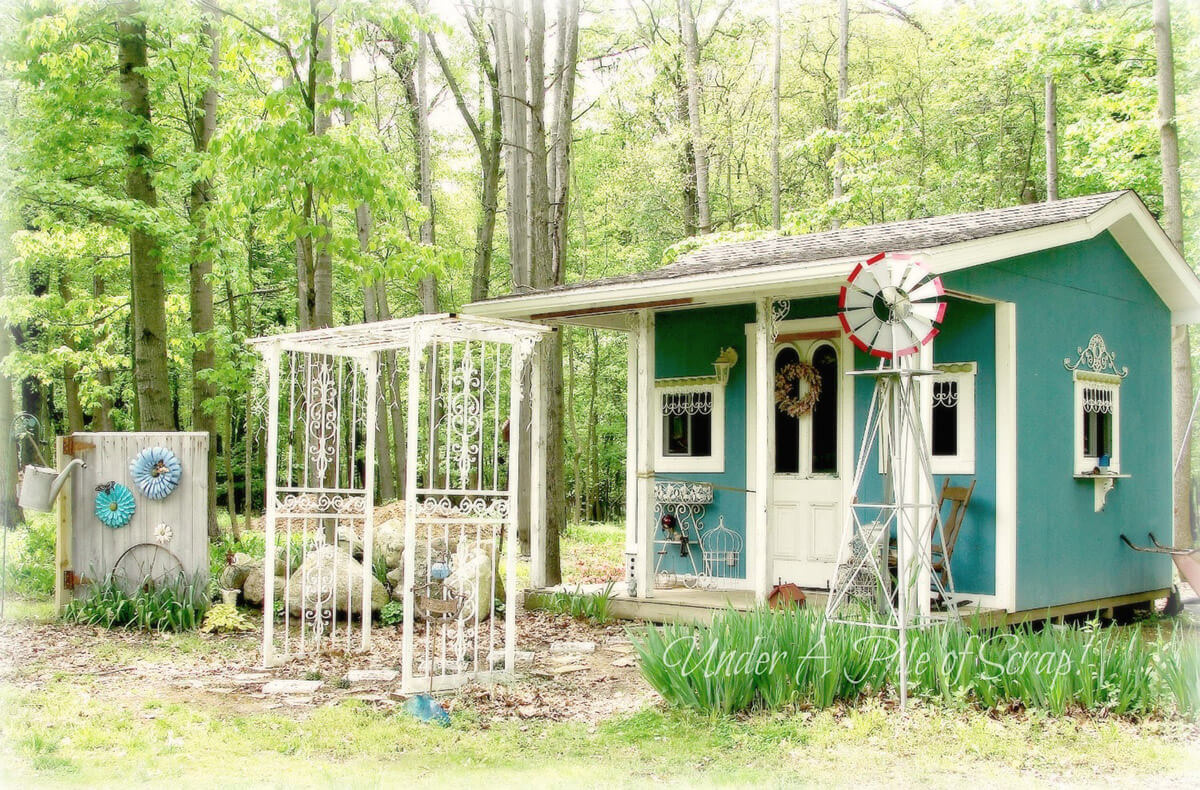 As trends change and door, decor follows suit, revisit the old, metal scrolled storm doors and transform three of them into a fantastic garden arbor. Not only does this new structure save some space at the dump, but it also secures itself since its solid design stands strong. Use it along your walkway to your backyard sanctuary or as a threshold for an outdoor wedding. This scrolled screen door arbor makes the most of the warmer seasons by creating a special space for your summertime gatherings.
16. Galvanized Metal Pipes Quirky and Cool Cactus Sculptures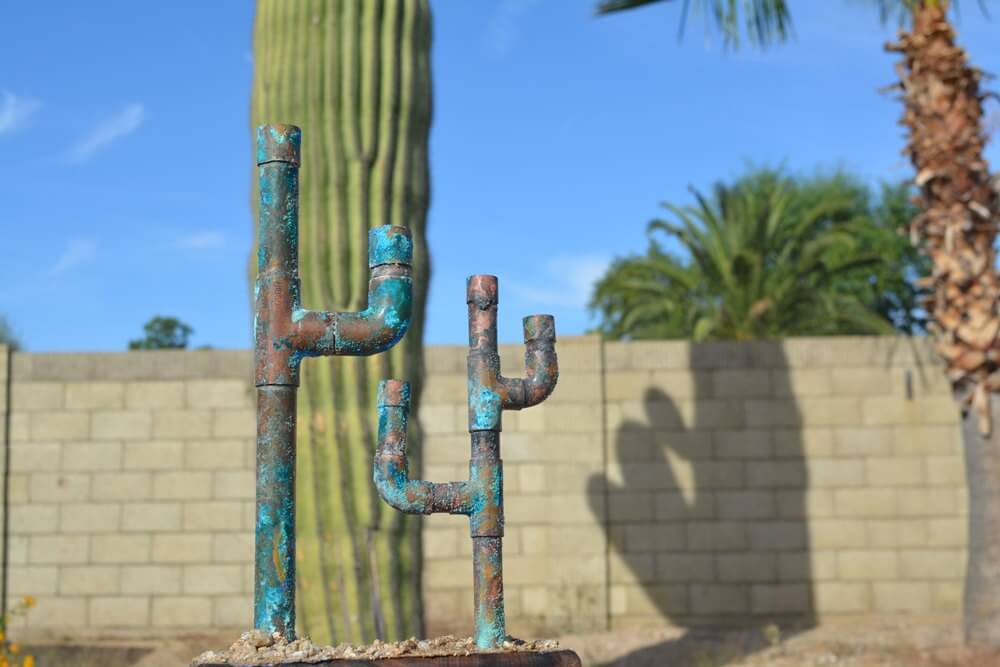 Cacti are plentiful when you think southwest, but you can add some of these industrial cool galvanized metal pipe cacti no matter where you reside! Created from used metal pipes, these cactus sculptures are as intriguing as they are ingenious! Keep them from heading to the dump by giving them a new place to call home as they protrude from the ground and cast a perfect cactus shadow on your back lawn. Now, this saguaro is a much smaller scale, but remains just as prickly cool!
17. Water Color Glass and Pretty Plated Flower Figure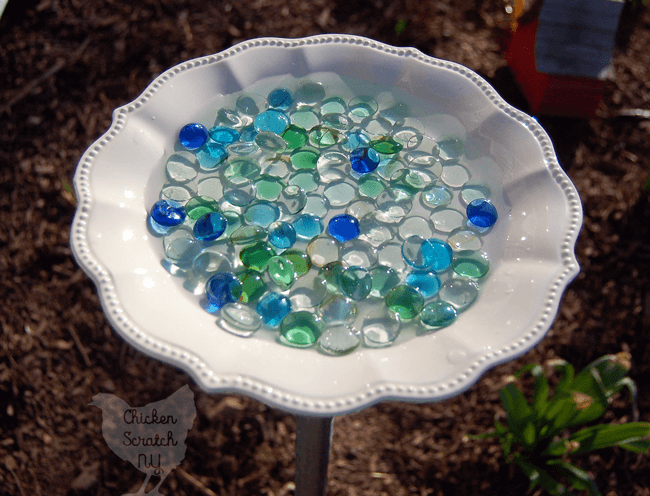 When your kitchen dishes no longer match, forget about throwing them out. Just give them a thorough overhaul as you transform them into some original garden art by creating cool flowers that you can forget about watering. The petals of the flower are created by the scalloped edges of the dining plate, while glue secures the stamen in the center which is a collection of gorgeous glass pebbles in multi-colored water hues. The sheen and shine of these glass pebbles make this plated petal punch up its level of sparkle as it joins the real-life flowers in your flower bed garden.
18. Mostly Mosaic Masterpiece Garden Stepping Stone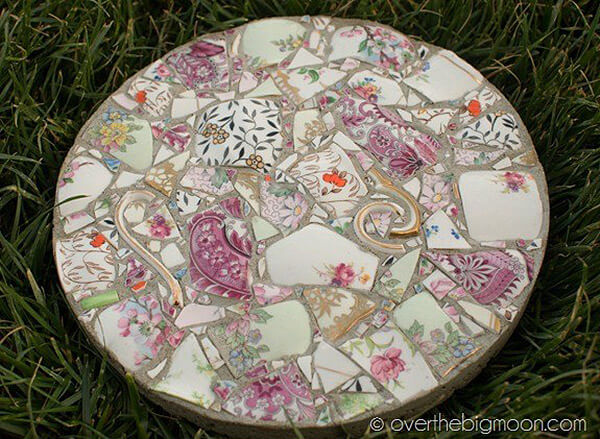 Your pathway to the garden or backyard sanctuary may be lined with flowers or lights to lead the way, but what about the actual pathway? Don't neglect this widely used space by incorporating an awesome idea in building your own stepping stones out of broken housewares to make the road to relaxation even more special. The cut pieces of dining ware are strategically placed in a circular mold to make this round stepping stone one of function and fabulous design. Make several to use as the main walkway from your back porch to your rose garden. Just a little bit of creativity goes a long way in arranging these shattered pieces into a real work of mosaic garden art.
19. Charming Soup Can Special Individual Fence Planters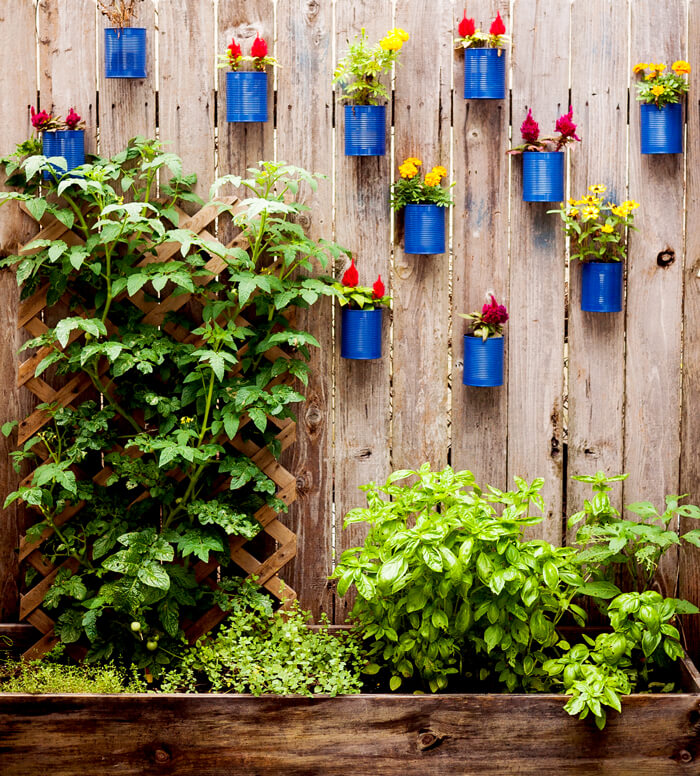 Want to save some cash but keep the look spectacular? Well, you don't have to break the bank to showcase your pretty petals when you recycle and reuse these soup and vegetable cans as your new personal planters. And think outside the box in terms of the display as you can line them along the wooden privacy fence to utilize your backyard space while keeping the overall look amazing! This is an easy and budget-friendly way to add a lot of flower power in a small space while staying on a small budget.
20. Towering Glass Bottle Decorative Garden Flowers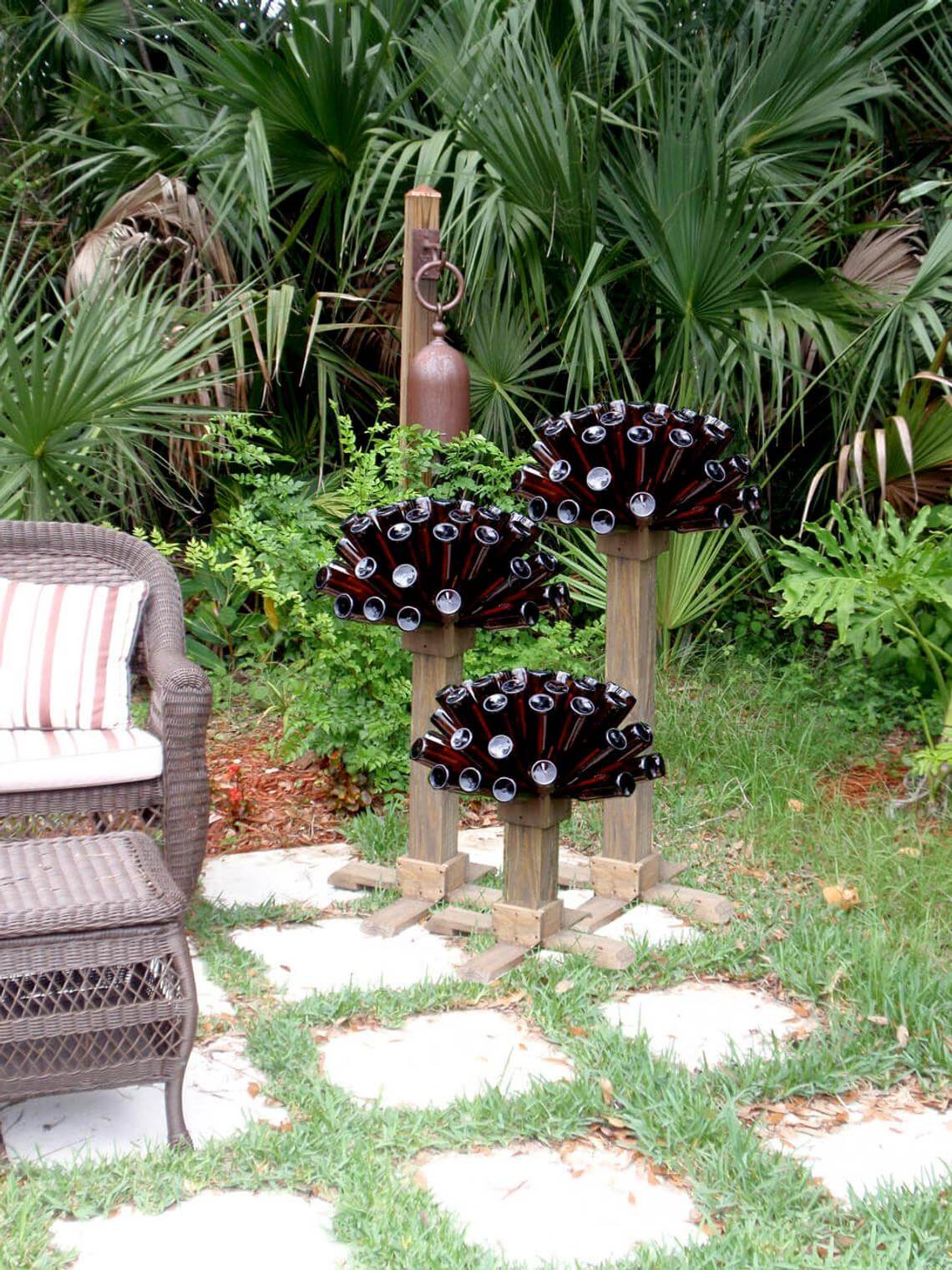 Larger than life is one way to describe this incredible trio of towering glass bottles and wooden decorative flowers family. Nestled in a corner or arranged in separate spaces, these wood and glass structures are visually appealing as they add height and girth to your outdoor living space. The multiple glass bottles create the ultimate flower while the wood firmly holds the picturesque plant in place. This set is certain to add some charm and character to your backyard oasis this summer.
21. Pretty with a Purpose Personalized Spoon Miniature Garden Sign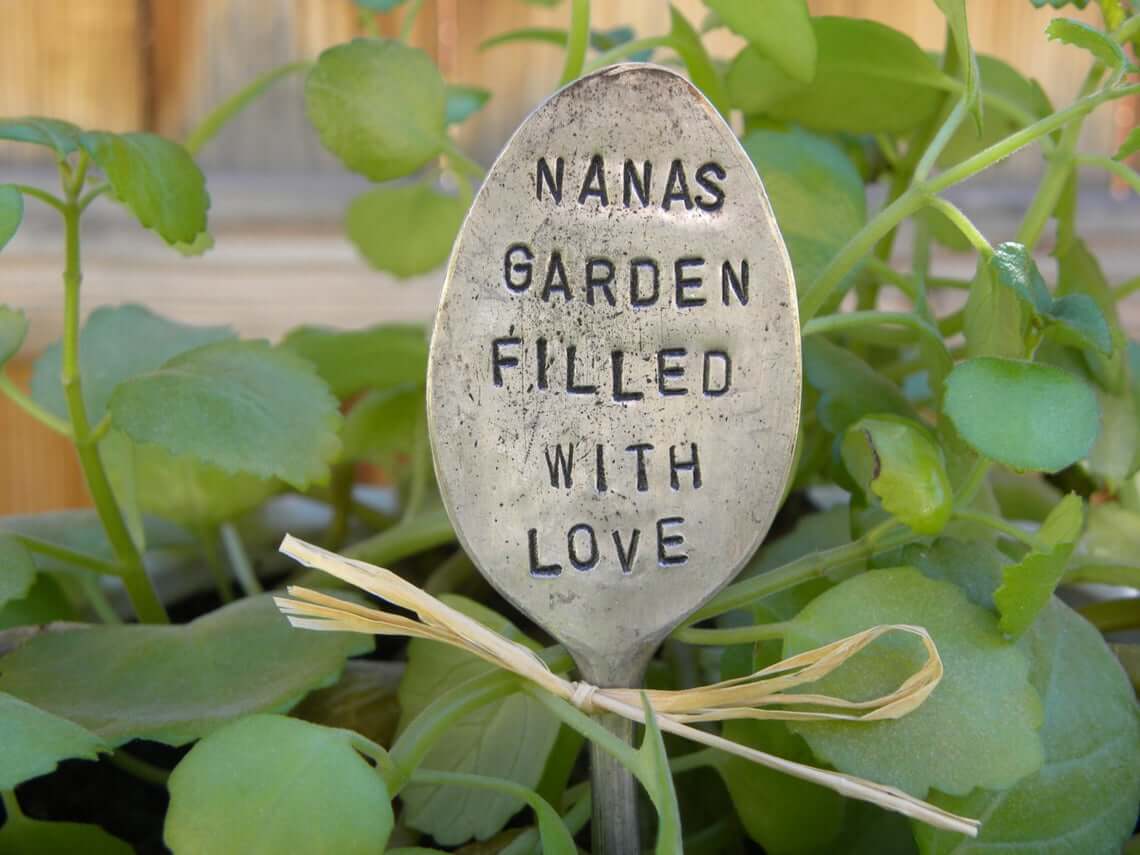 Engrave an old metal spoon with your favorite sentiment and give it as a gift for your green-thumbed friend or keep it for yourself! This unique miniature garden sign would work as a fun way to share a sweet sentiment or as a quirky way to label the glory of your garden gems. From a loving thought for Nana to an easy to identify tool for vegetable plants, you can't go wrong with this unique utensil garden decor.
22. Purple Painted Corrugated Metal Flower Garden Art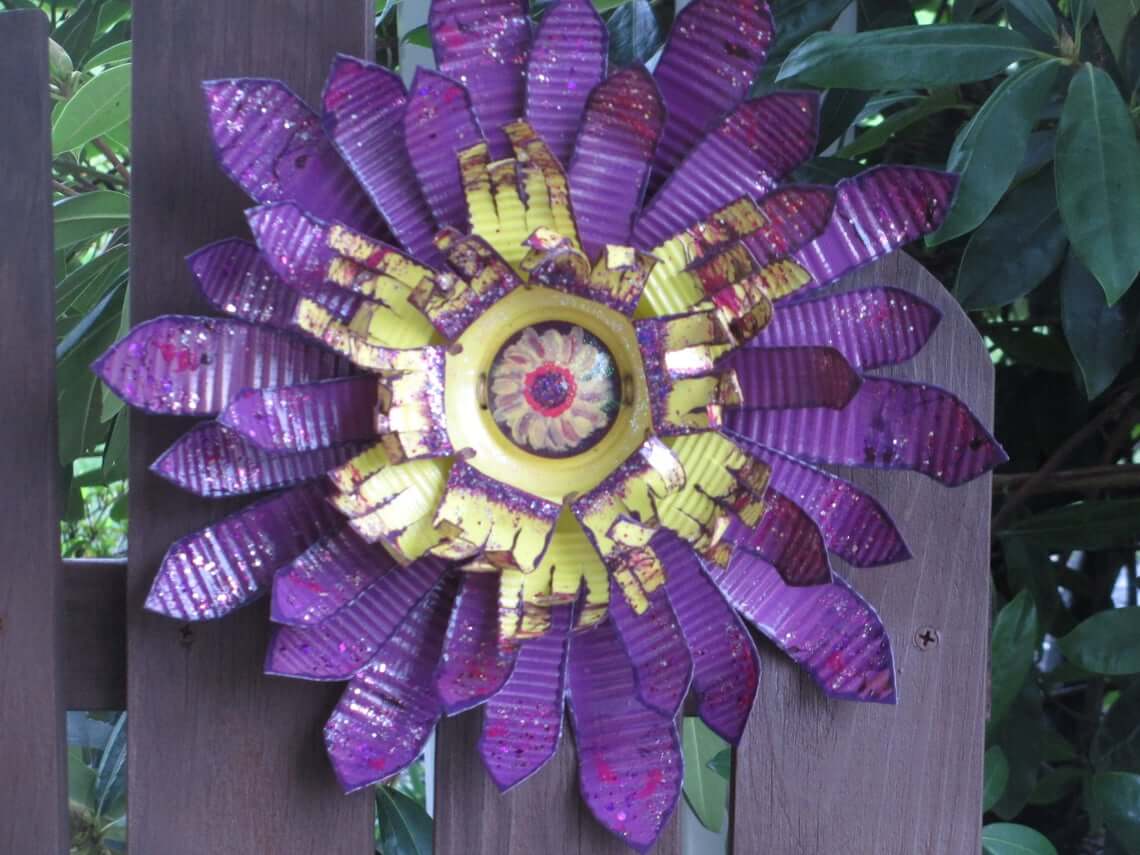 Here's another amazing idea for leftover metal cans. Grab some metal cutters and create some petals that you piece together for the ultimate in outdoor industrial garden design. Choose large or small petals to achieve the look you desire, and then arrange them around the center focal point to form your budding beauty. This metal flower is ideal for your outdoor space as it has the ability to weather the elements unlike some of its weaker-minded material friends. Hang this on your shed or under your back or front porch to have a constant bloom and punch of color each day of the season.
23. Giddy Up Fun and Fabulous Horseshoe Flower Trio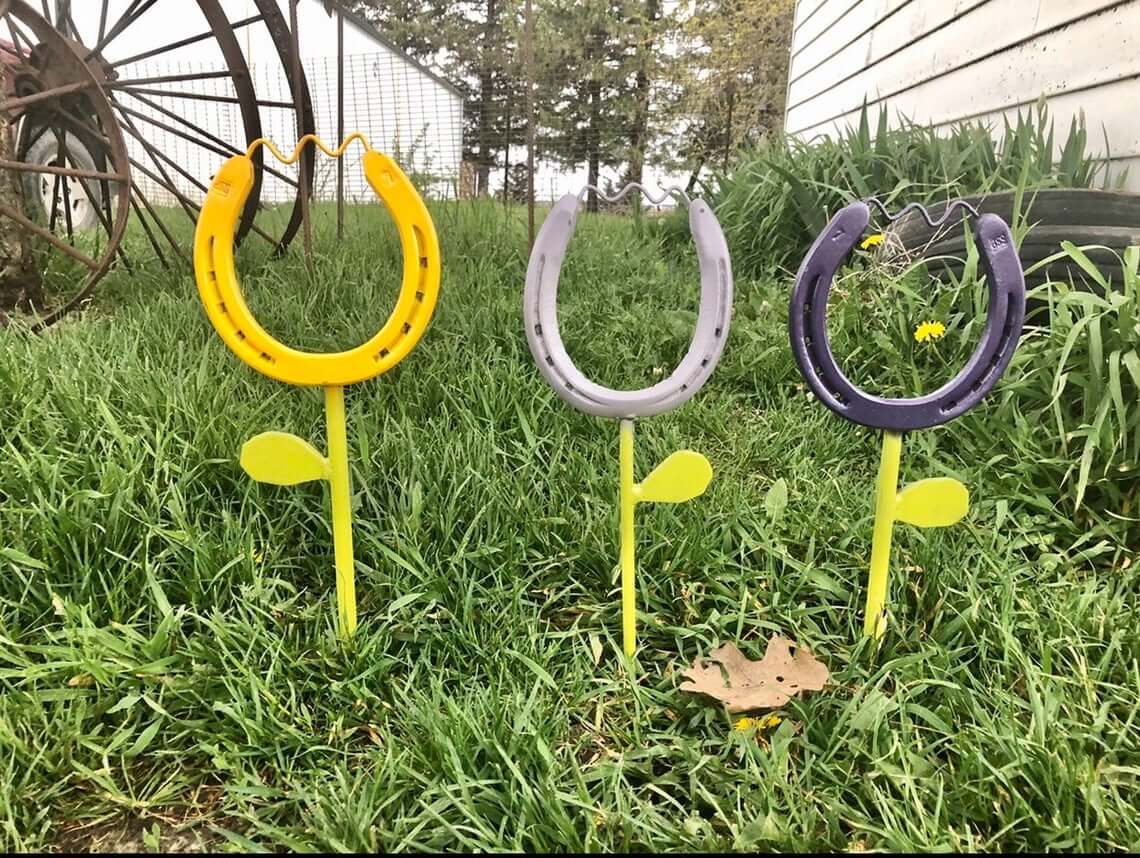 Saddle up for some fun on the ranch in the comfort of your suburban backyard with these giddy-up horseshoe flowers. Just stick them in the ground to add some cowboy swag to you garden goodness as you mosey around the yard. Paint them in any colorful hue you choose to make them stand out as a focal point in your summer oasis. Arrange them in a trio for a cute look or line them along a walkway for a warm welcome to all guests. These creative blooms allow your inner designer to go beyond the walls of your humble abode.
24. Love Grows Here Upcycled Shovel Garden Art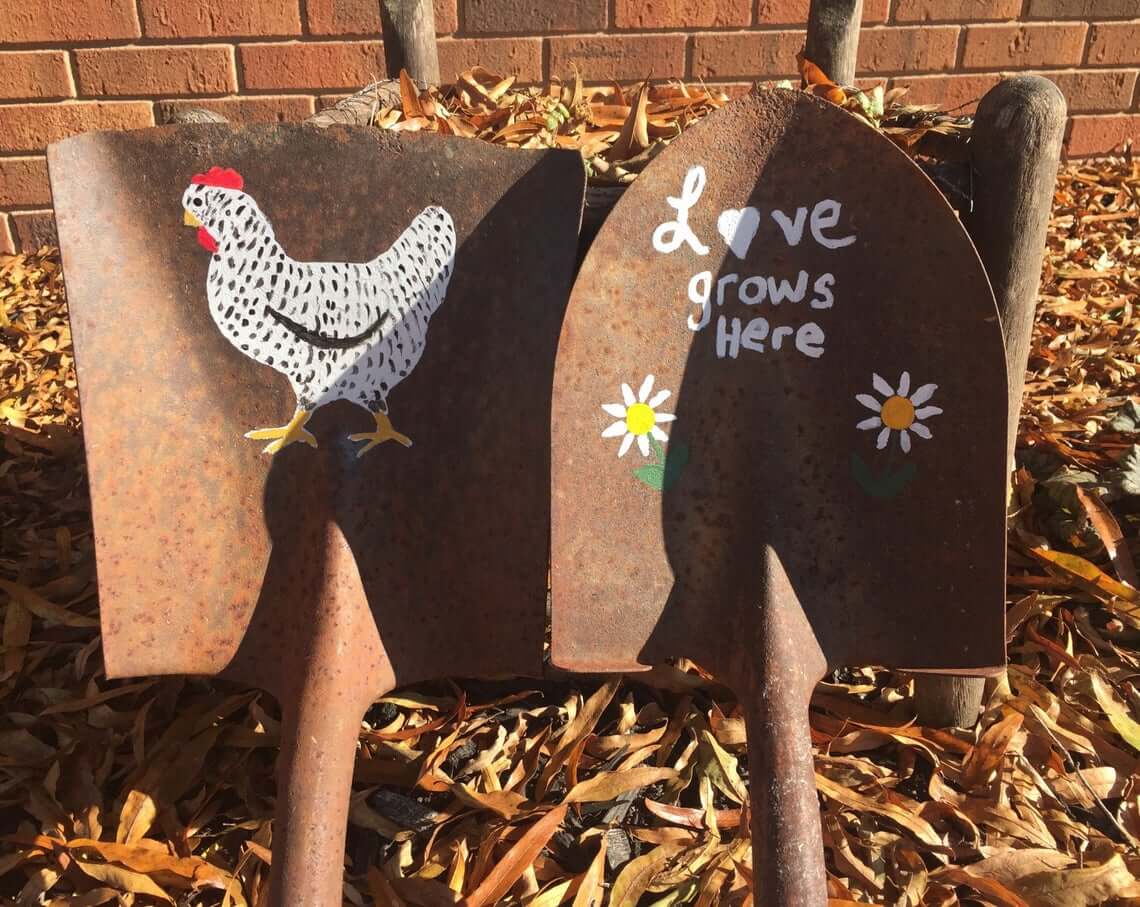 When your shovel becomes rusty and the handle splinters, do not dismay! The garden will welcome this trash-to-treasure piece with open arms. With just a little bit of paint and a lot of love, you can take this worn-out tool and transform it into a whimsical garden sign. Paint your favorite saying or most loved farm animal and stick this new sign in the ground to give your garden space a quick update with little to no cost involved.
25. Reimagined Elegant Tea Saucer and Plate Jeweled Flower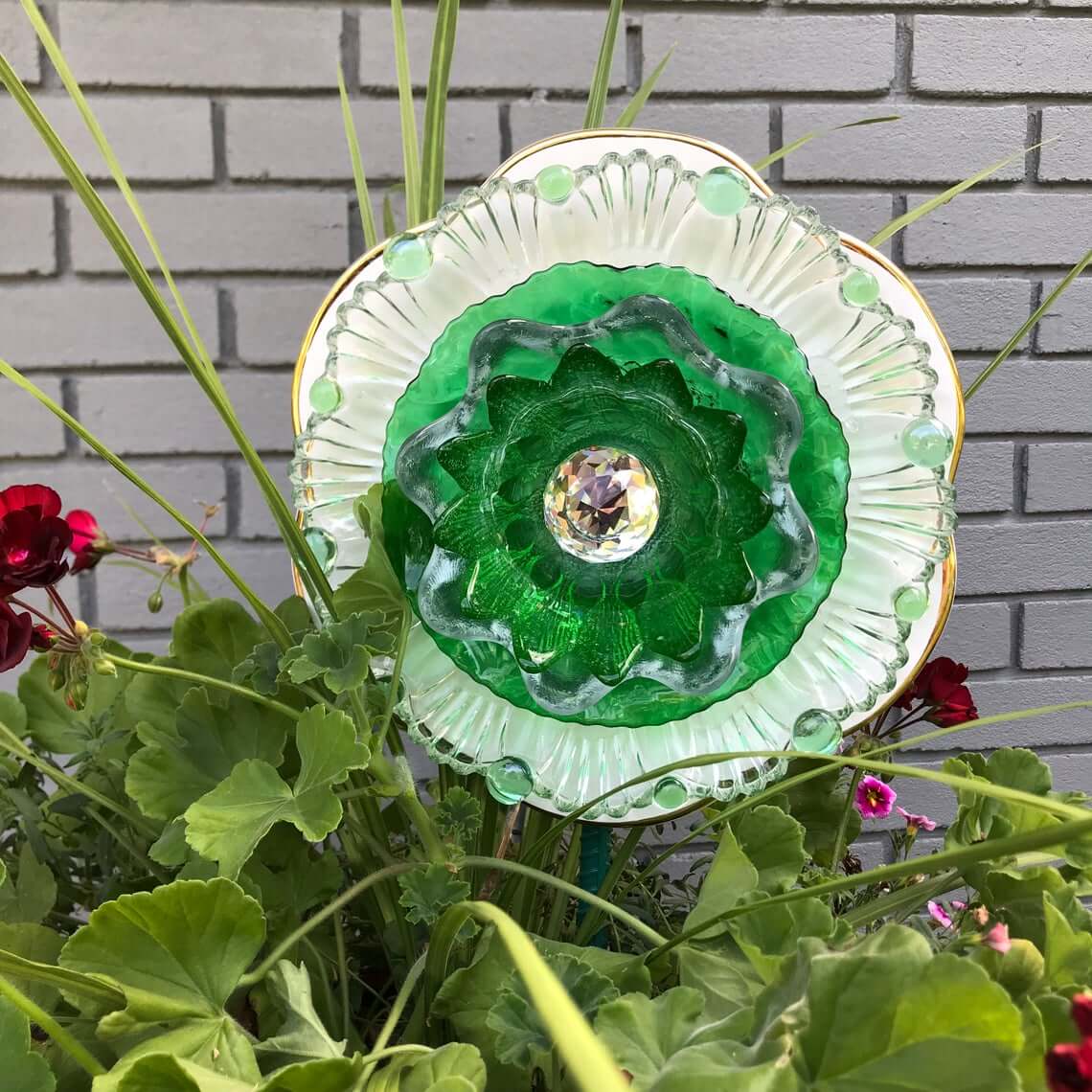 Add some sparkle and grace to your garden space with this elegant transformation of a saucer to flower. The layered effect adds to the pristine quality of this garden work of art that is sure to stand out among your petal-filled friends. In the center, a large jewel is adhered to draw the eye in as it reflects the noon sun and captivates all passersby. This would look amazing in the front flower bed just below the front porch or as a gift for your gal pal that has the greenest thumb around!
26. Turned Wooden Legs Buzzing into Your Summer Garden Space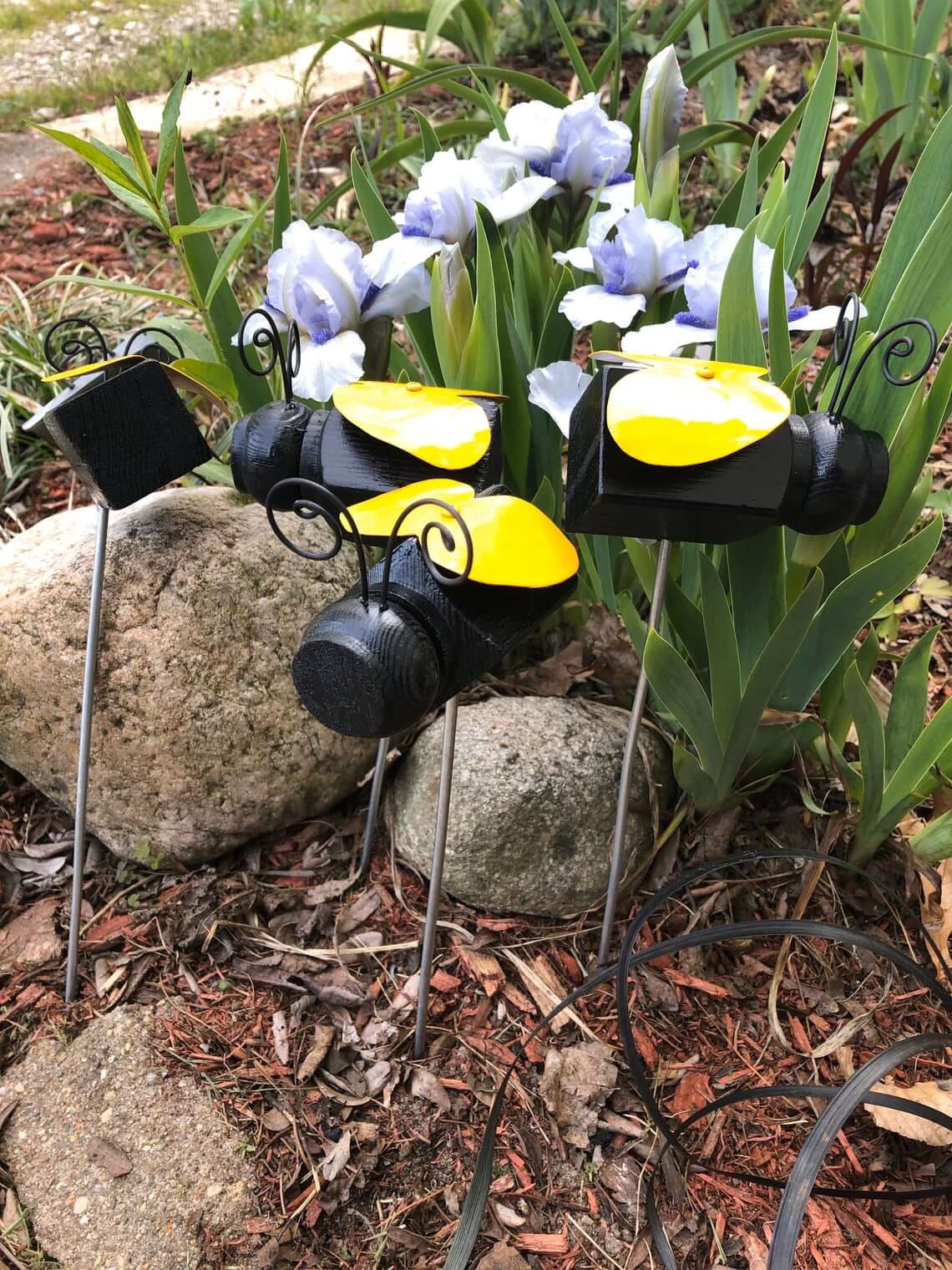 Take some gorgeous turned wooden legs or banister tops and reimagine them as one of the summer's mascots- the bee! Painted black and set on their sides, these wooden chunks create a wonderful foundation for the antenna and wings to complete the look of the most beloved form of bees of all, namely the ones without stingers! The painted yellow metal wings add such gloss and shine creating a good contrast to the textured black wooden body. Place one or a pair in your flower bed to add some dynamic flair alongside your butterfly bush or stick one near your mailbox for some authentic curb appeal. This would be a fun project for almost any level of a do-it-yourselfer and would be a fun activity for a bee themed backyard barbecue!
26 Super-creative Upcycled Ideas for Your Garden
Now that you've perused the list, plan a day to get your creative hat on and make some of these garden goodies your own. From trash to treasure, these reimagined pieces are no longer headed to the dump but are finding new life while grabbing attention as some of the cutest and inventive garden decorations in the yard.
You may find an old shovel lying around and new realize how it can be reused as a decorative garden sign with hand-painted butterflies, chickens, or a warm greeting as it stands among the greenery in your garden.
Or your cup of tea might be finding a new home for the mismatched saucers and plates as you redesign them into spectacular pieces of permanent blooming flowers. Maybe you want more than just an attractive flower bed, so take some worn out hoses and clippers to create a truly unique and upbeat wreath that doesn't take a backseat to anyone.
It may be that you have too many glass bottles lying around and find it hard to keep up on their recycling. Instead, try your hand at upcycling them into the awesome flower trio atop of wooden stems. They can even provide a warm, soft glow to your night time parties as you repurpose them into torch lamps on top of your alfresco dining table. Their beauty and shine make them some of the best items to transition from drink holder to design element.
No matter your preference from modern to primitive, the creations are what you make them. The supplies are super cheap and the concept is as simple as it gets in achieving these interesting and upcycled decorative garden gems. Anyone of these best-upcycled garden ideas is sure to feel right at home in your outdoor living space and spark some conversation as you tell of its transformation from trash to treasure.
Our Favorite Outdoor Decor Pots and Planters to buy on Amazon