The recent trend of vertical gardening is becoming increasingly widespread as gardeners channel their inspiration to new heights of creativity. No longer limited to the ground underneath their feet, gardens are taking shape in a range of unique directions, from repurposing old furniture into planters to transforming birdhouses and teapots into thriving miniature garden spaces. Gone are the days of strict garden designs; today vertical garden ideas are about showcasing the textures, colors and vibrancy of plants in fresh, new ways. And while they likely can't house various types of evergreen trees, they can still add a lot of greenery to your home.
While not limited to small spaces, vertical gardens are ideally suited to these areas because they offer the ability to maximize space artfully and efficiently. Creating a vertical garden can be as simple or complex as desired; gardeners are only limited by their imagination. It is also essential to take growing conditions into account when choosing plant species. Plastic PVC sheeting will act as a water barrier when lining any object used as a planter. Felt carpet padding serves as the medium to keep your plants in place and is an excellent material to use, as it holds water while resisting rotting.
While the ability to see things in a new way isn't always easy, what follows are 50 intriguing ideas that will act as your guide and inspiration as you beautify your home landscaping.
Take a Cue From These Innovative Designs When Planning Your Vertical Garden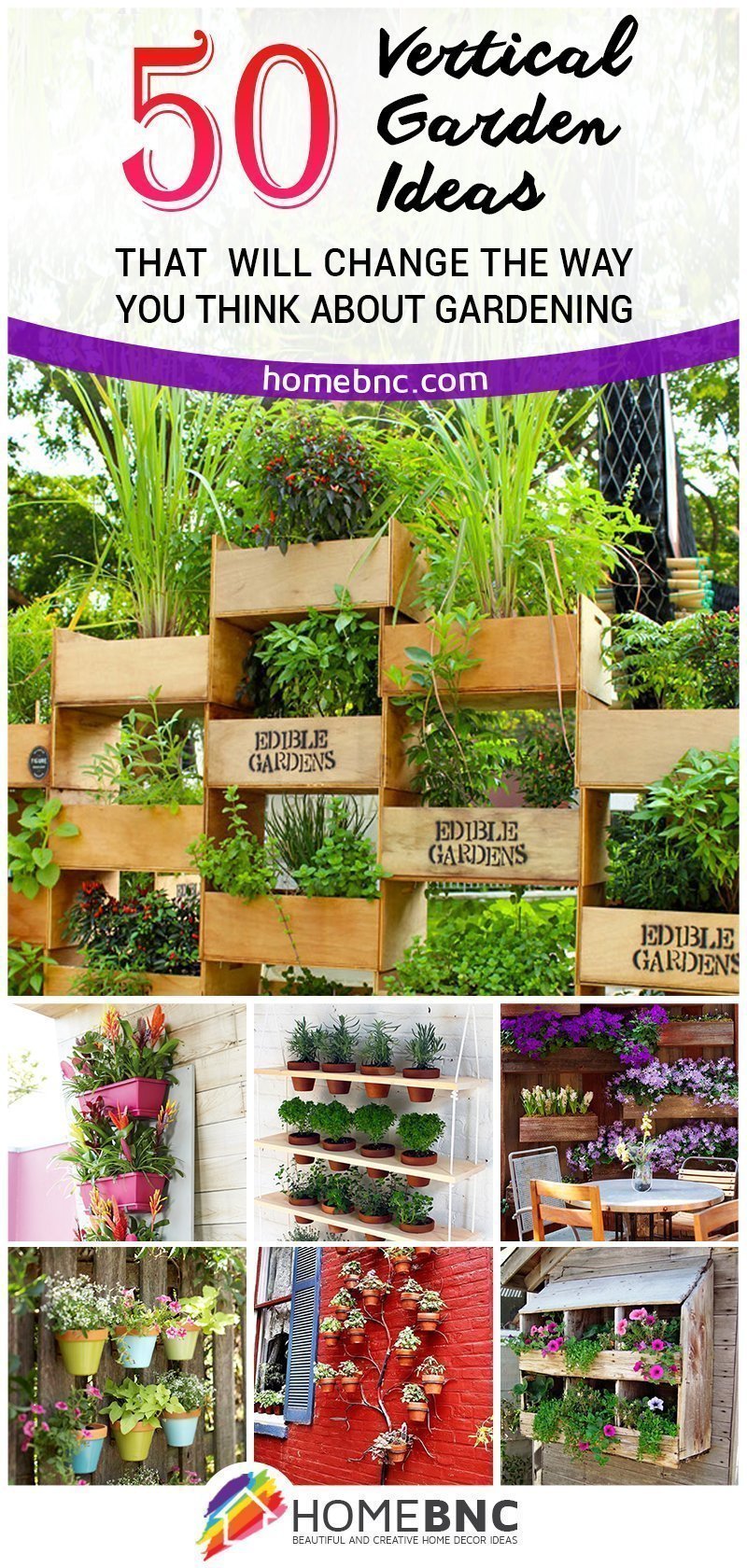 1. Frame a Patio Space with a Beautiful Hanging Garden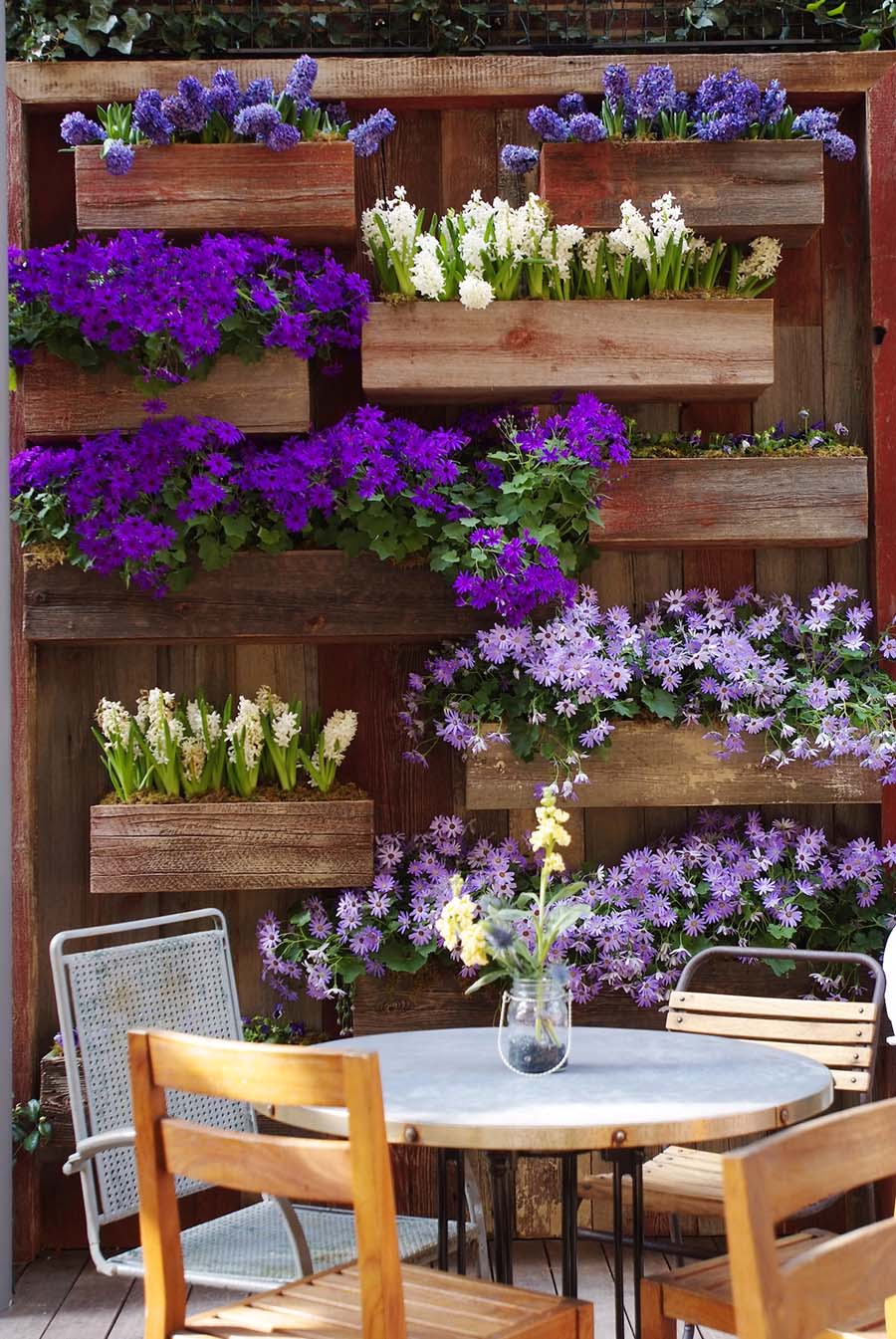 Source: The original source is not available anymore.
Using an array of spring blooms in shades of purple and white, these redwood boxes create a vertical garden with fresh, clean lines. Staggering the height of each box when attaching them to the wooden fence creates a backdrop that achieves strong visual impact without sacrificing its pleasing simplicity. Perfect for maximizing space in small gardens, for use as a screen to block unwanted views or as a way to section off a large back yard by creating an intimate space. The flowers can be rotated seasonally or the boxes can be planted with annuals that will bloom throughout the spring and summertime.
2. Create an Airy Garden Backdrop with Simple Chicken Wire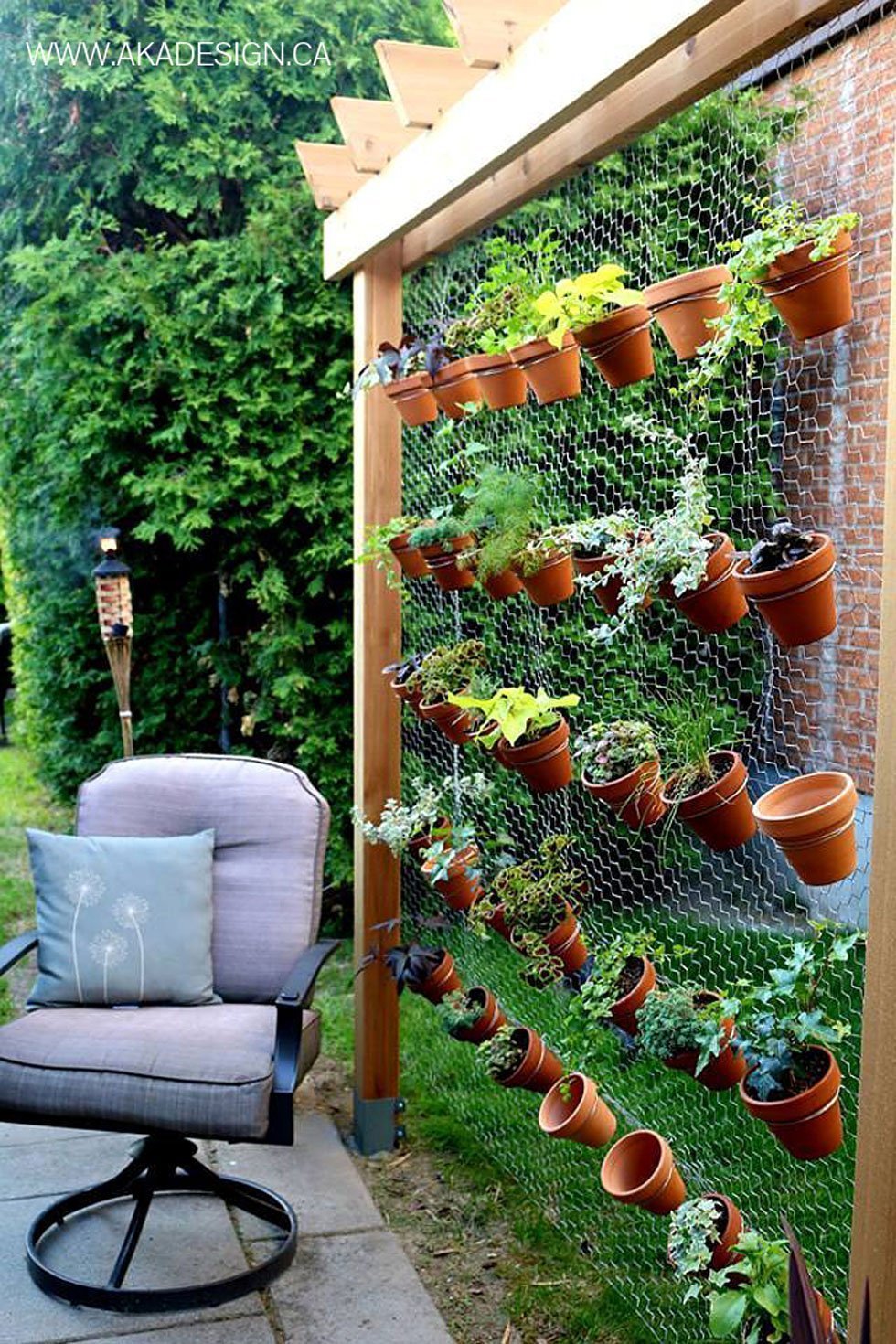 Achieving a vertical garden design without sacrificing the view of what's behind it is part of the beauty of this clever design. Inexpensive chicken wire is attached to strong supports that mimic the architecture of a trellis. Clay pots attach with a metal hook and make mixing and matching the layout a simple matter. Plant succulents, ivies, ferns and geraniums, or fill each pot with a kitchen garden's worth of herbs for a display that is beautiful and practical. Accent the edge of a patio or create a dramatic entryway near the front door.
3. Bright Pink Adds a Pop of Color and Accents Vibrant Bromeliads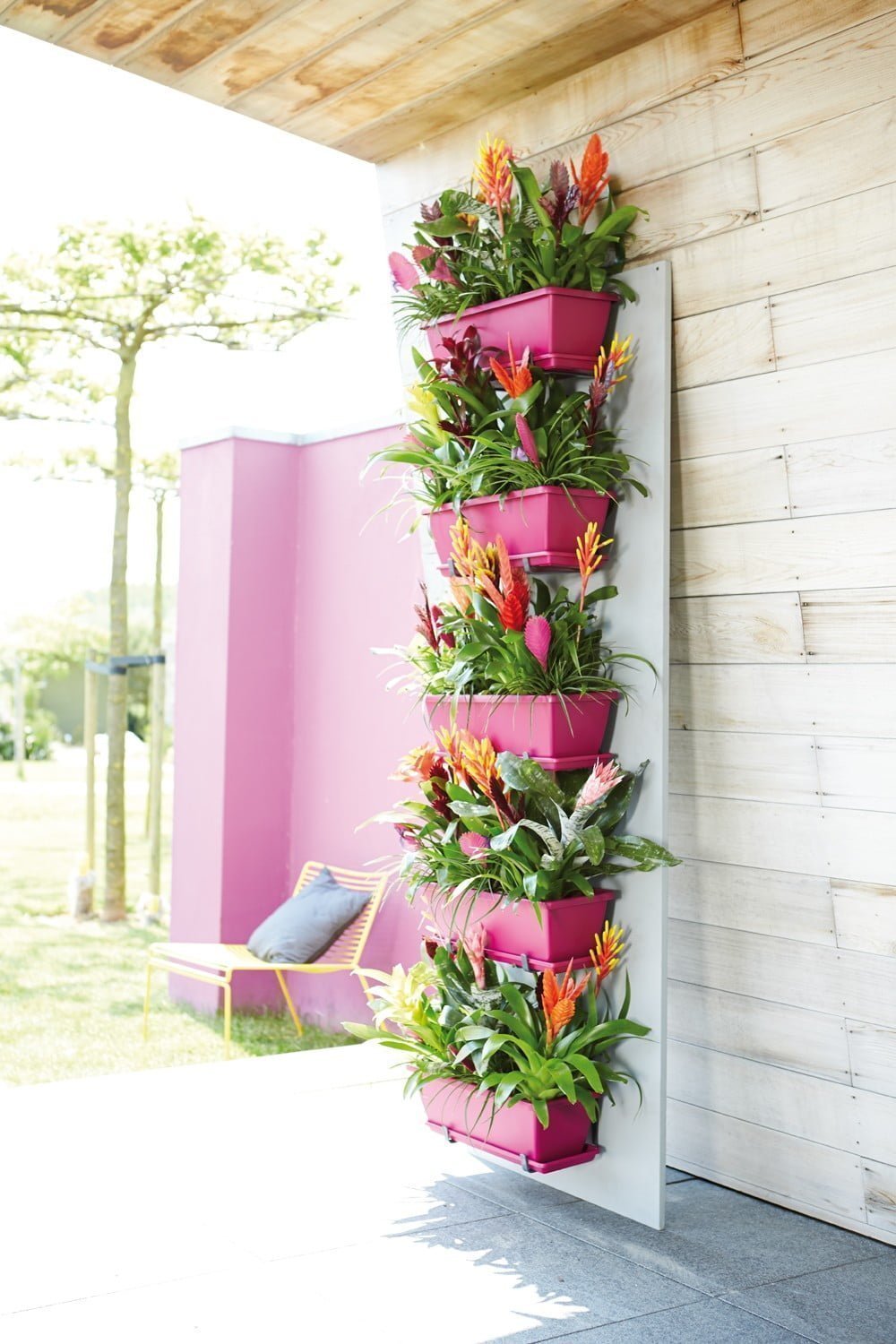 Source: The original source is not available anymore.
Jazz up a bland and boring space by closely stacking planter boxes in bright colors. The overall effect causes the eye to move upwards, creating visual appeal and imparting interesting texture and color. The choice of vivid bromeliads gives a warm, tropical feel to this home design. The boxes are attached to a board that's painted in a neutral color, adding stability while not detracting from the impact. This wall garden would create a welcoming atmosphere when placed next to an entryway or add a touch of nature to the wall of a garden shed.
4. Create a Living Wall of Leaves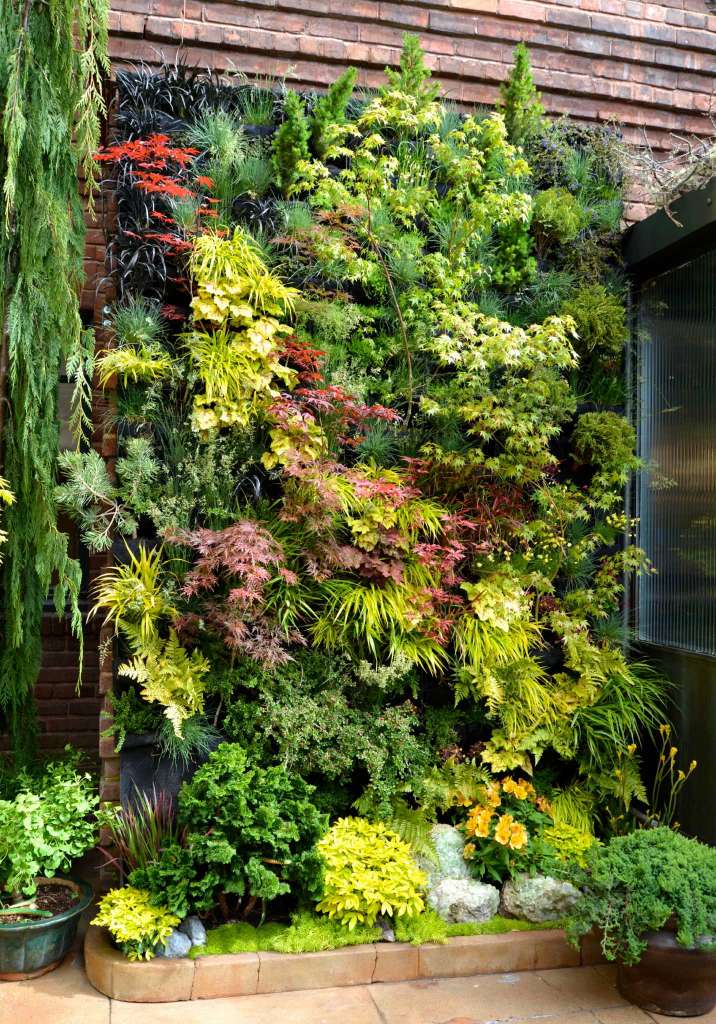 To really dress up a space and give it undeniable wow factor, consider planting a profusion of leafy varieties in close proximity. Then end result is a kind of green waterfall of varied leaves that provide an irresistible texture. The base of the design is edged with neutral bricks and encloses a moss garden punctuated by stones and small plants. Part of the success of this design is in the use of subtle shades of color from the leaves themselves. For a space needing a dramatic focal point, this design creates a commanding presence and would look especially pretty in a courtyard.
5. Bring Artwork Alive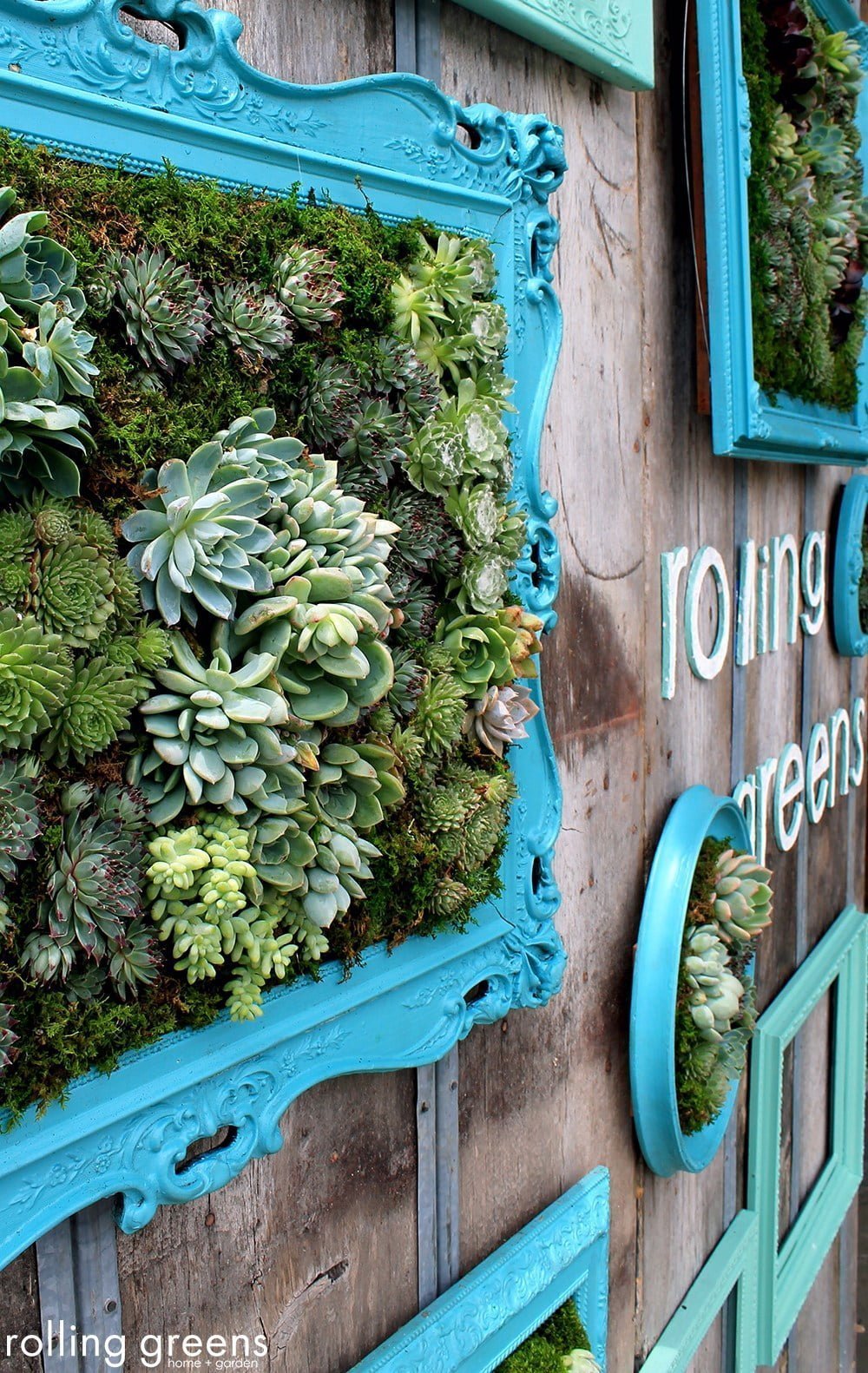 Consider painting with plants using this whimsical design. Elaborate picture frames in bright colors highlight the muted colors of succulents planted in close groupings. Any gaps in the planting are plugged with bright green moss, creating a variety of textures and strong visual appeal. This design can be used indoors or out, and the choice of succulents is a practical one, as they grow very slowly and require less water than some plant varieties. While this design works well alone, consider grouping three or more frames in different sizes and shapes for a striking wall collage.
6. Repurpose Old Items for a Fresh New Look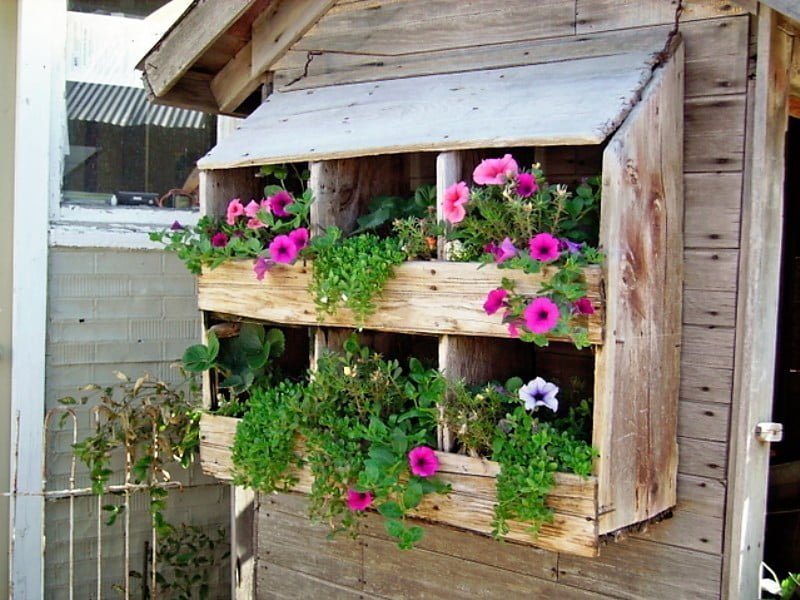 Source: The original source is not available anymore.
Nesting boxes for chickens in a former life, this planter brings the patina of age and a warm, primitive feel to this vertical garden design. Each nook holds bright blossoms and trailing greenery, bringing a touch of nature to any wall space. Using found objects in unexpected ways adds interest to a home design scheme and helps the environment by recycling unwanted items. Mounted on a garden shed, dressing up a bland space or incorporated into a larger patio design are all options for this versatile idea.
7. Pastel Shades of Blue and Green Highlight This Charming Design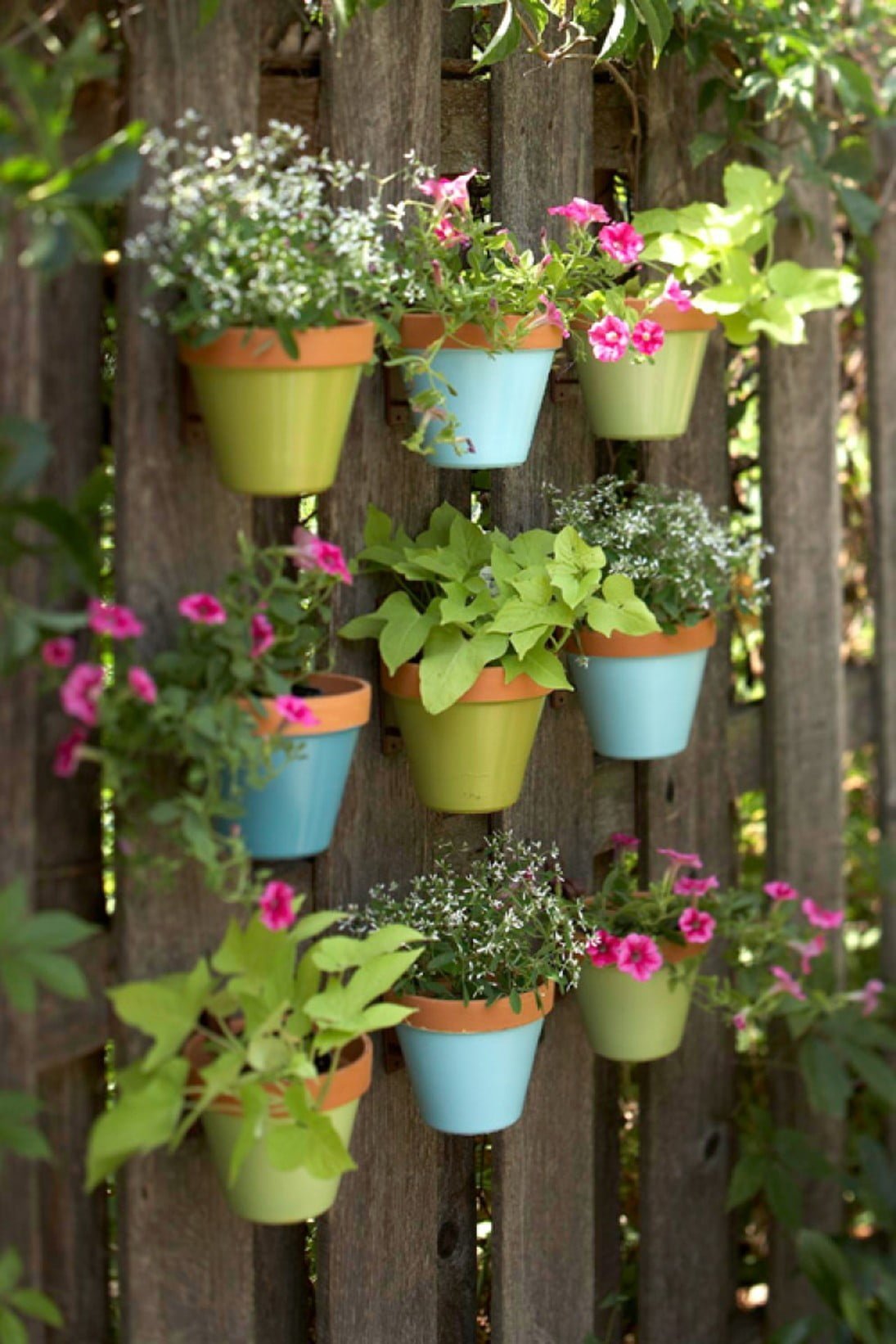 This tiny vertical garden makes a big impact thanks to its artful use of color. Alternating shades in pastel colors give a pleasing uniformity, while tiny flowers and leafy vegetation peek out from the tops of the terracotta pots. This design can be utilized to perk up an old fence or the same configuration installed on the side of a house will add a subtle artistic flair. This design could also be used indoors, perhaps in a kitchen, as a way to keep culinary herbs close at hand.
8. A Sleek, Modern Vertical Garden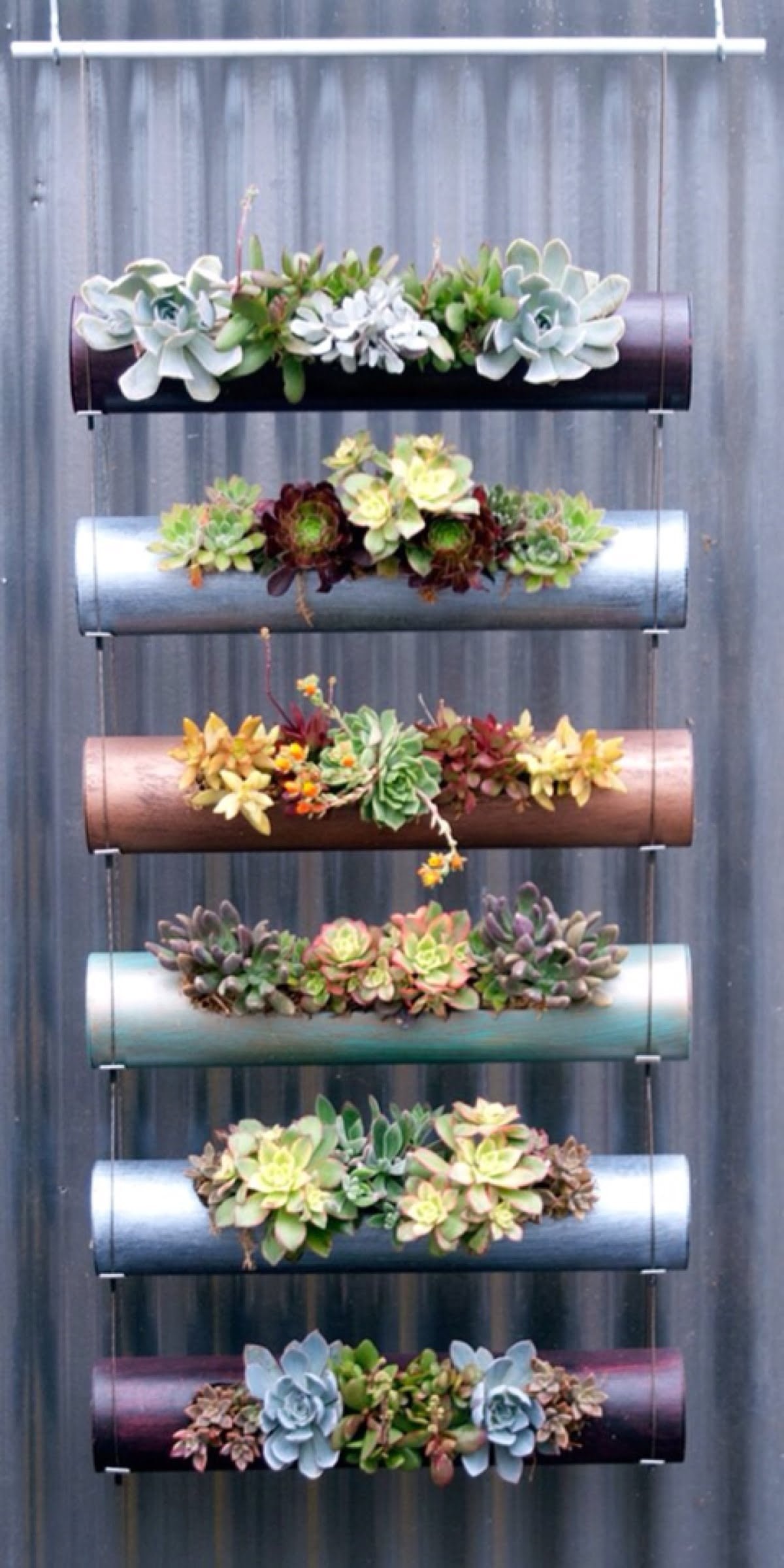 Source: The original source is not available anymore.
Lengths of metal pipe in contrasting colors create a juxtaposition of industry and nature when succulent plants are added in varied hues. Thin metal wire connects each planter, adding stability while also creating a ladder-like effect that draws the eye upwards. Perfect for a home design with a minimalist theme or as a way to bring the outdoors inside when planning to accessorize modern architecture. While the use of succulents is a popular choice due to their minimal requirements, creeping plants like ivies, wandering Jews or spider plants would also be pretty.
9. Take Pallet Gardening Vertical With This Simple Design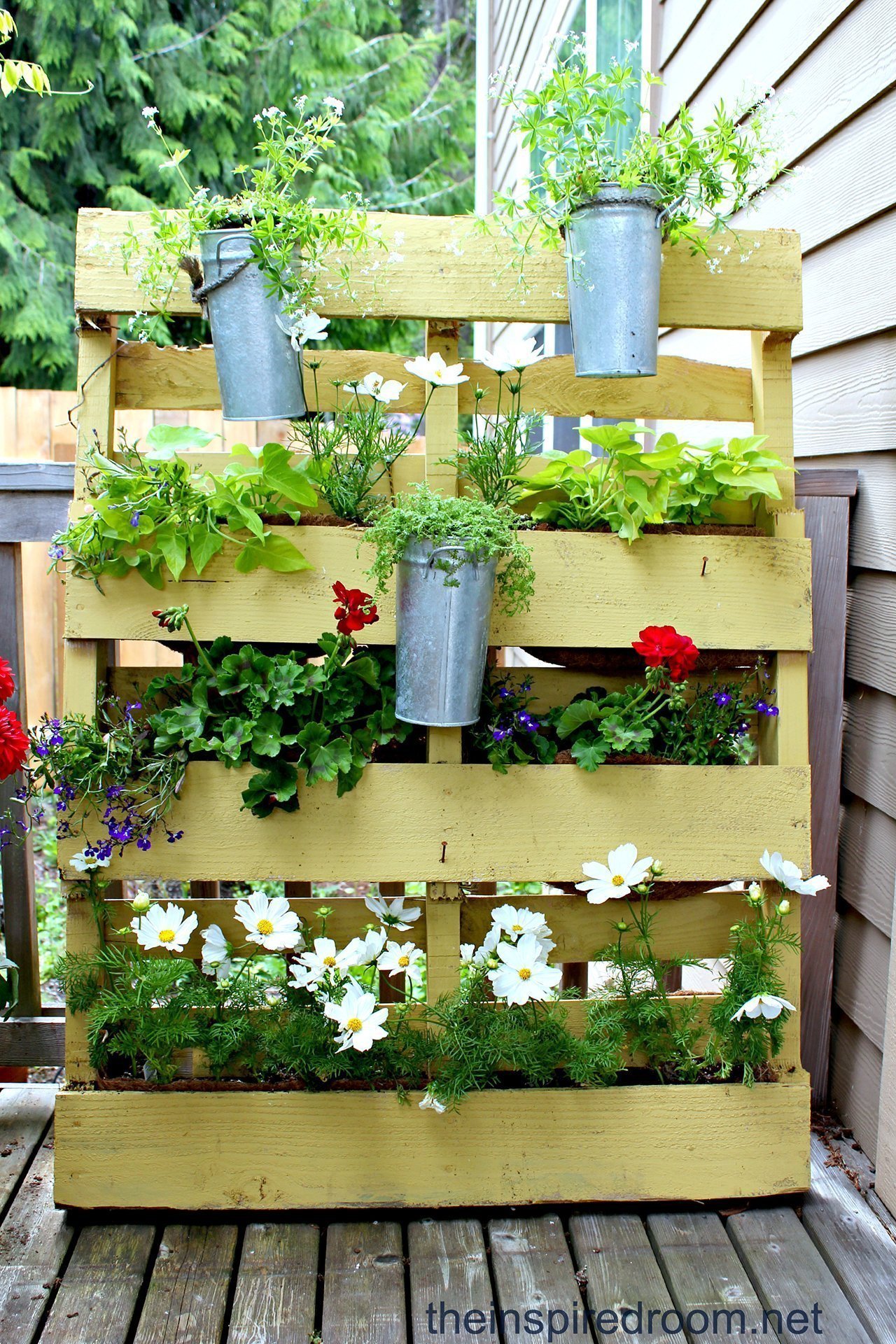 A by-product of stacking inventory in warehouses, pallets represent an inexpensive and plentiful building material for the vertical gardener. Painted in pretty colors to match a home or garden structure, pallets can be used as planter boxes by standing them upright and adding a base for holding flower pots. Grow flowers to beautify a small space or load each row with edible plants such as cherry tomatoes, basil or varieties of lettuce. Spending just an hour or two preparing this recycled item can yield lasting benefits. These planters can be used singly or grouped together to accent a larger space.
10. Embellished Wall Panel Showcases Succulents and Driftwood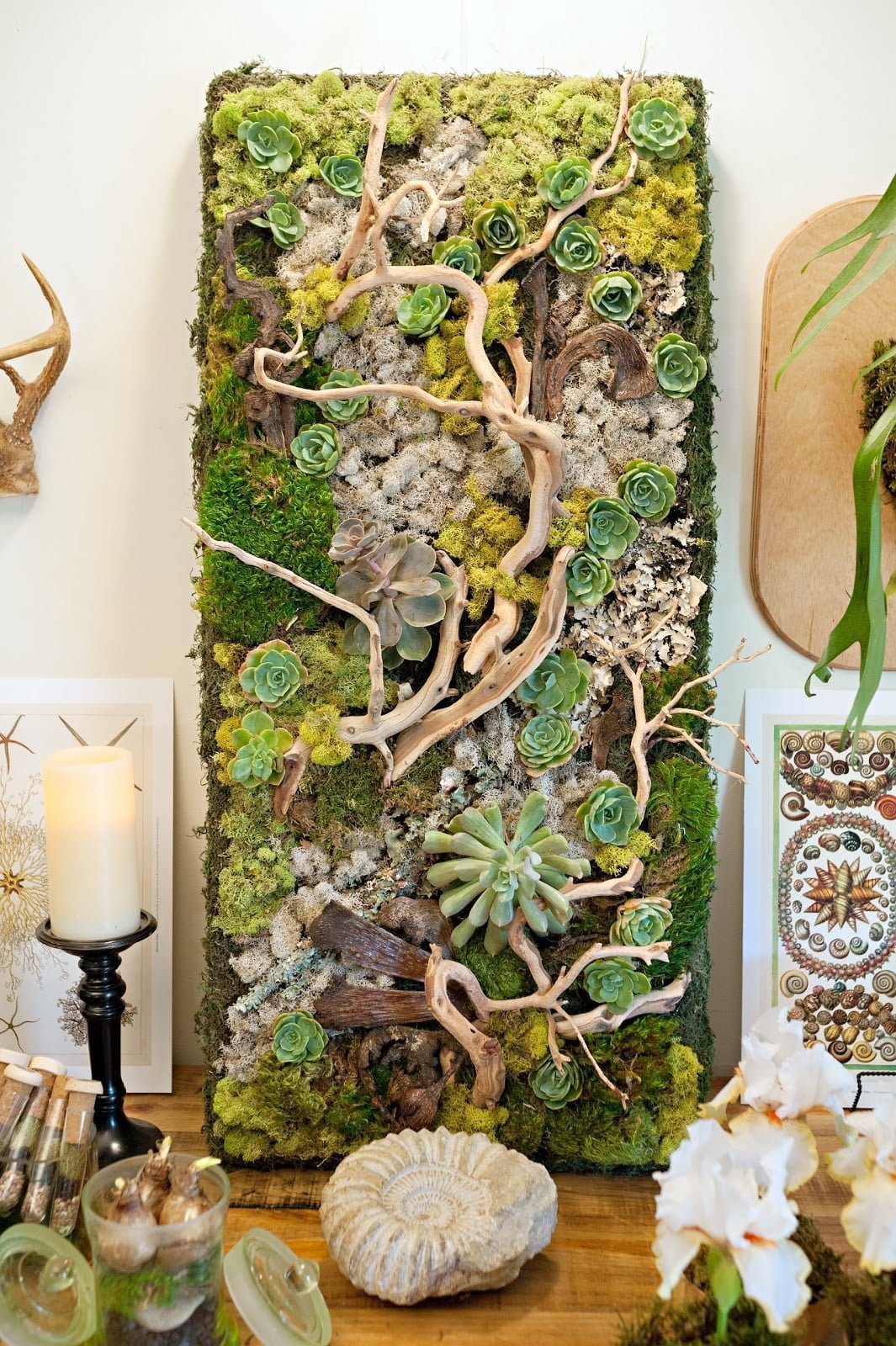 This living sculpture is at once both strikingly modern and appealingly primitive. The complex interplay of wood, moss and tiny succulents creates a fascinating tableau that catches the eye again and again. While this panel would work perfectly in a home as a piece of art for use on a wall, it would work equally well in a sun room or on a porch, where the vibrant textures of this miniature vertical garden will add a natural aesthetic. Plant the greenery in a metal tray, adding driftwood and moss for interest mist gently to keep it green and thriving.
11. Create a Miniature Fairyland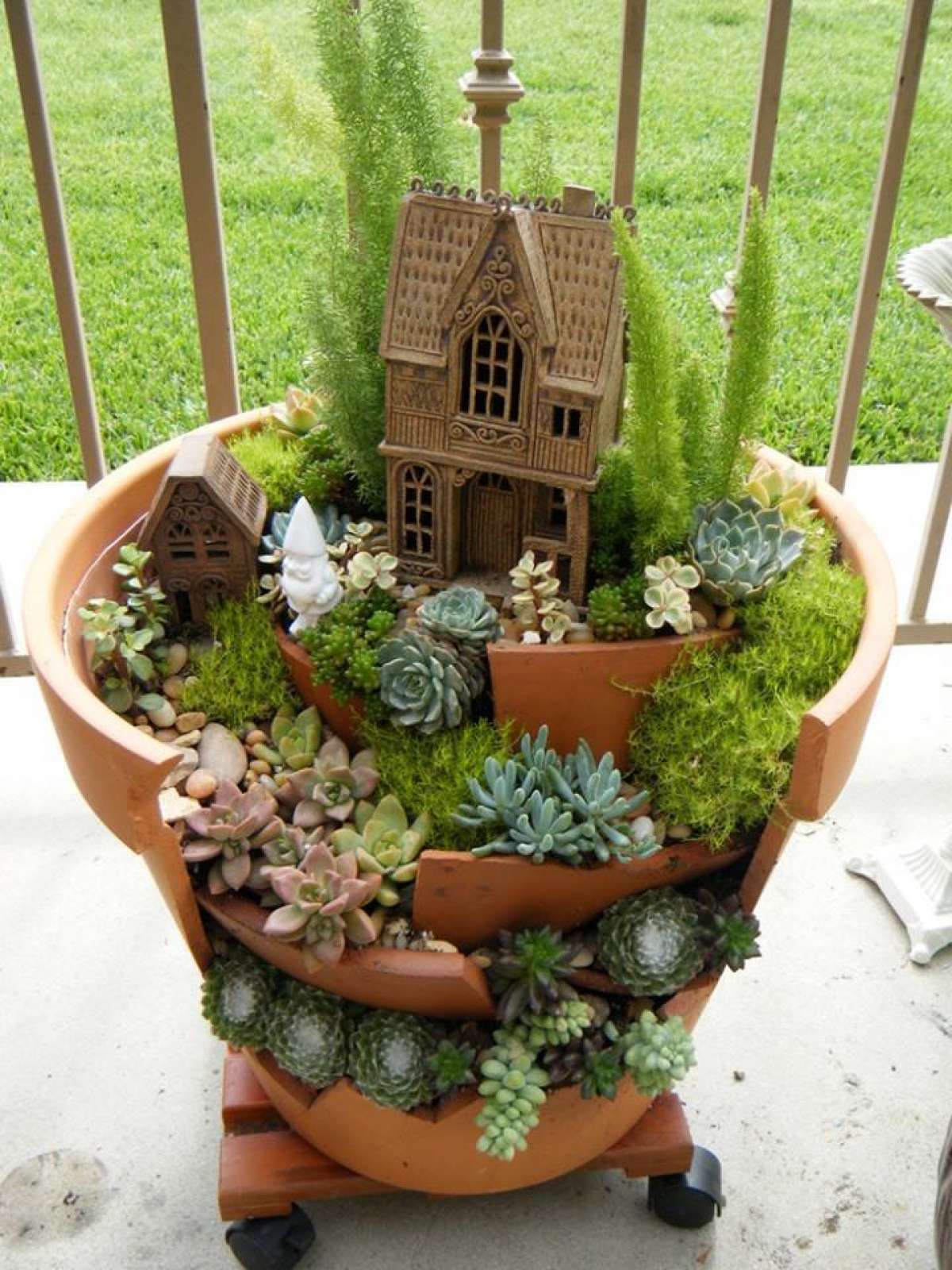 Source: The original source is not available anymore.
The recently popular trend of creating a fairy garden in the yard is taken to vertical heights with the clever use of broken pot shards. Staggering the shards and holding them in place with firmly packed soil gives it the tiered look of a tiny retaining wall and allows space for miniature succulent plants to grow. Whimsical fairy cottages complete the look, along with small plants meant to resemble full-sized trees. While this look is especially appealing to children, the playful nature of the design will bring a smile to any face. Placing the pot on a wheeled base makes for easy maneuvering on a patio or porch area.
12. An Unusual Twist on Kitchen Spice Jars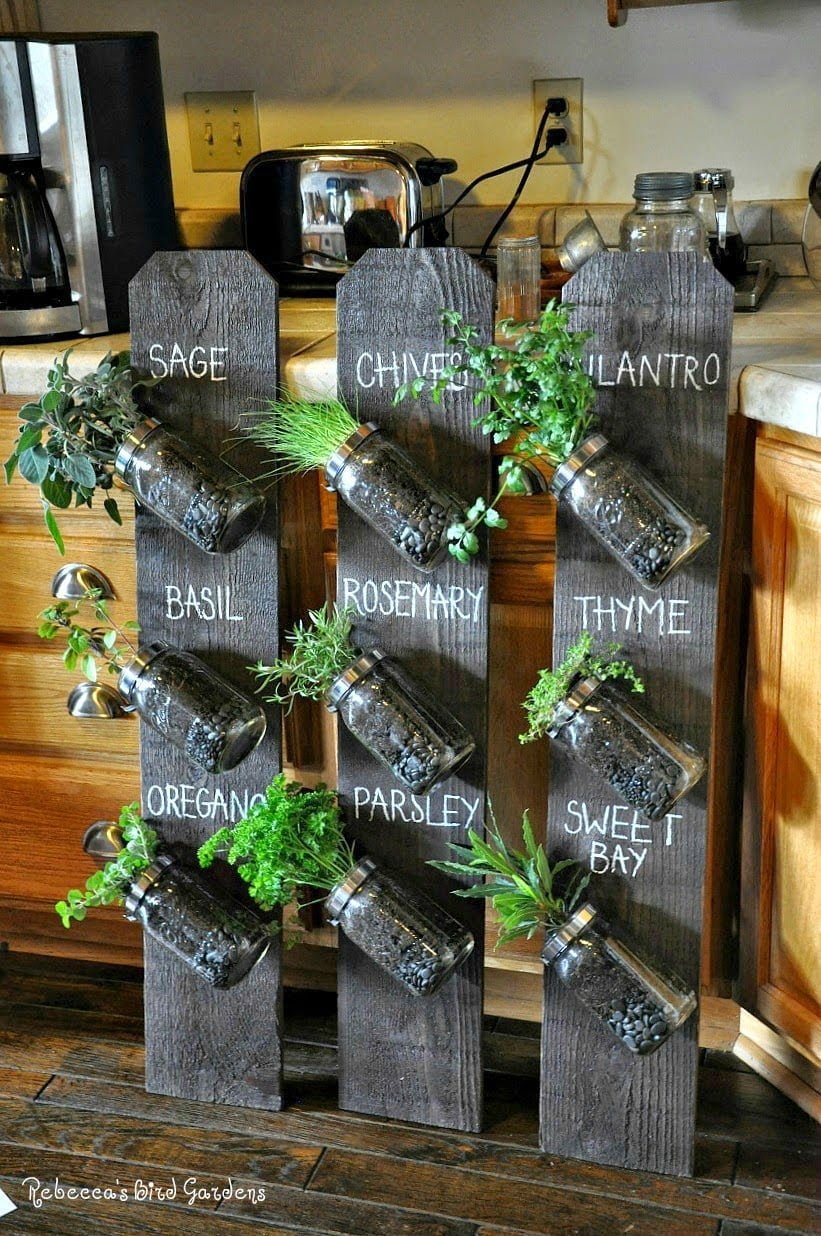 This fresh reimagining of a kitchen spice rack uses repurposed Mason jars to plant a host of useful herbs. Lining each jar with a handful of pebbles before placing the soil ensures the roots will not get too soggy. Attach the jars to attractive boards, like these weathered fence slats, and write the name of the herb in chalk for a completed look. Fresh herbs are potent and contain nutrients lost during the drying process, making this vertical garden a charming and practical addition to a cook's kitchen. Hang on a wall or prop the completed project on the floor for a variety of different design looks.
13. Mix and Match Baskets Full of Blooms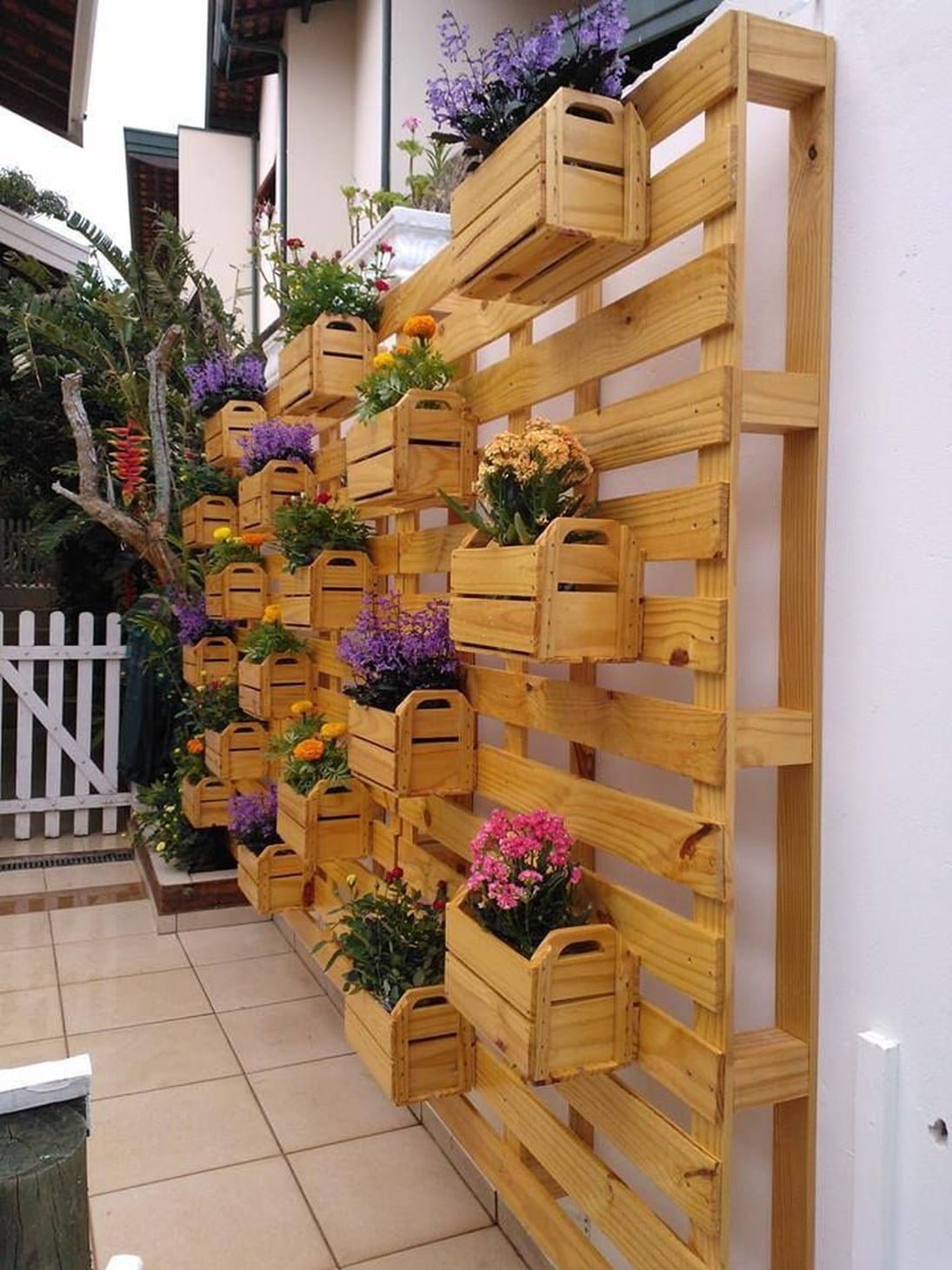 Blank walls crying out for ornamentation receive beautiful treatment with a facade created using fresh lumber. Matching wooden baskets hold blooming plants in a variety of colors, with the neutral background showing them to best advantage. An ideal way to cover a large section of exposed wall space, the boxes can also be used to grow herbs or salad items. Trading out blooms to match seasonally available plants will keep the display looking fresh.
14. A Look Straight Out of an Antique Flower Market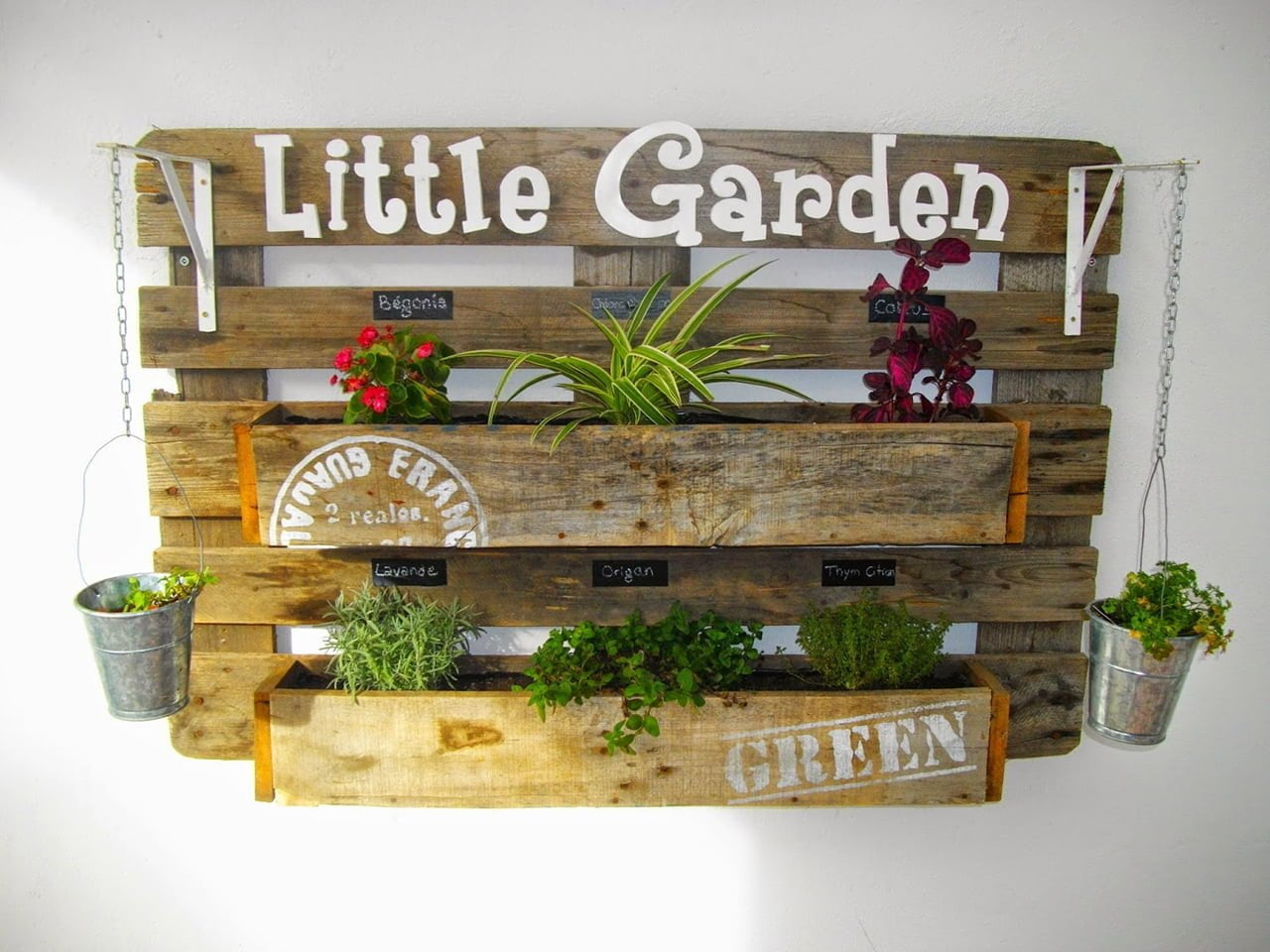 Repurposed wood from an old crate creates a sturdy backdrop for matching shelves that hold tiny plants and herbs. Two L-brackets on either side support charming tin buckets suspended from a chain. Add labels to identify each plant species and enjoy this tiny garden in a sunny spot indoors or hung on a porch or patio. While it can hold herbs useful in cooking, it can also showcase pretty blooms for a bright pop of color, making it a valuable addition to home decor.
15. Dress a Bleak Wall in Unforgettable Style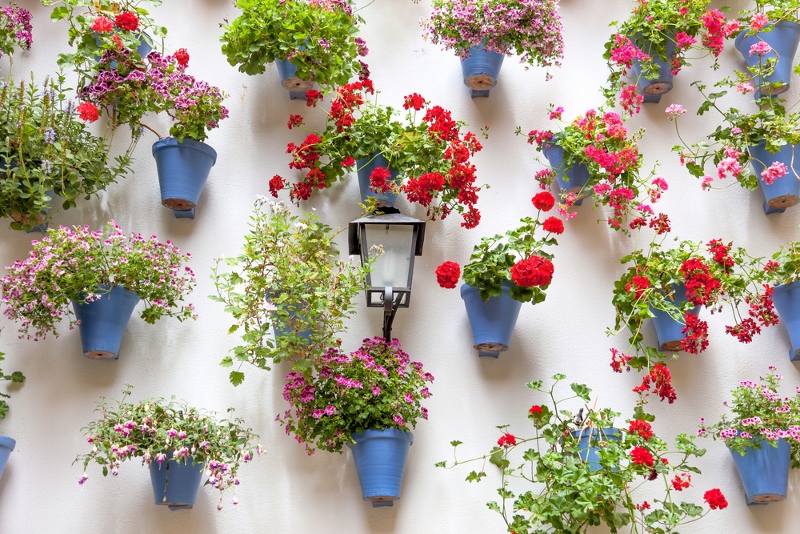 The uniformity of terracotta pots painted in a soothing French blue line a blank wall and provide the perfect base for a riotous array of bleeding hearts, geraniums and other pretty blooms. The pleasing contrast between the muted color of the pots, the high energy of the pink and red blooms and the neutral wall behind make this design an especially appealing example of vertical gardening. This design is particularly suited to those living in apartments or those with limited garden space.
16. A Vertical Garden Idea for a Seaside Cottage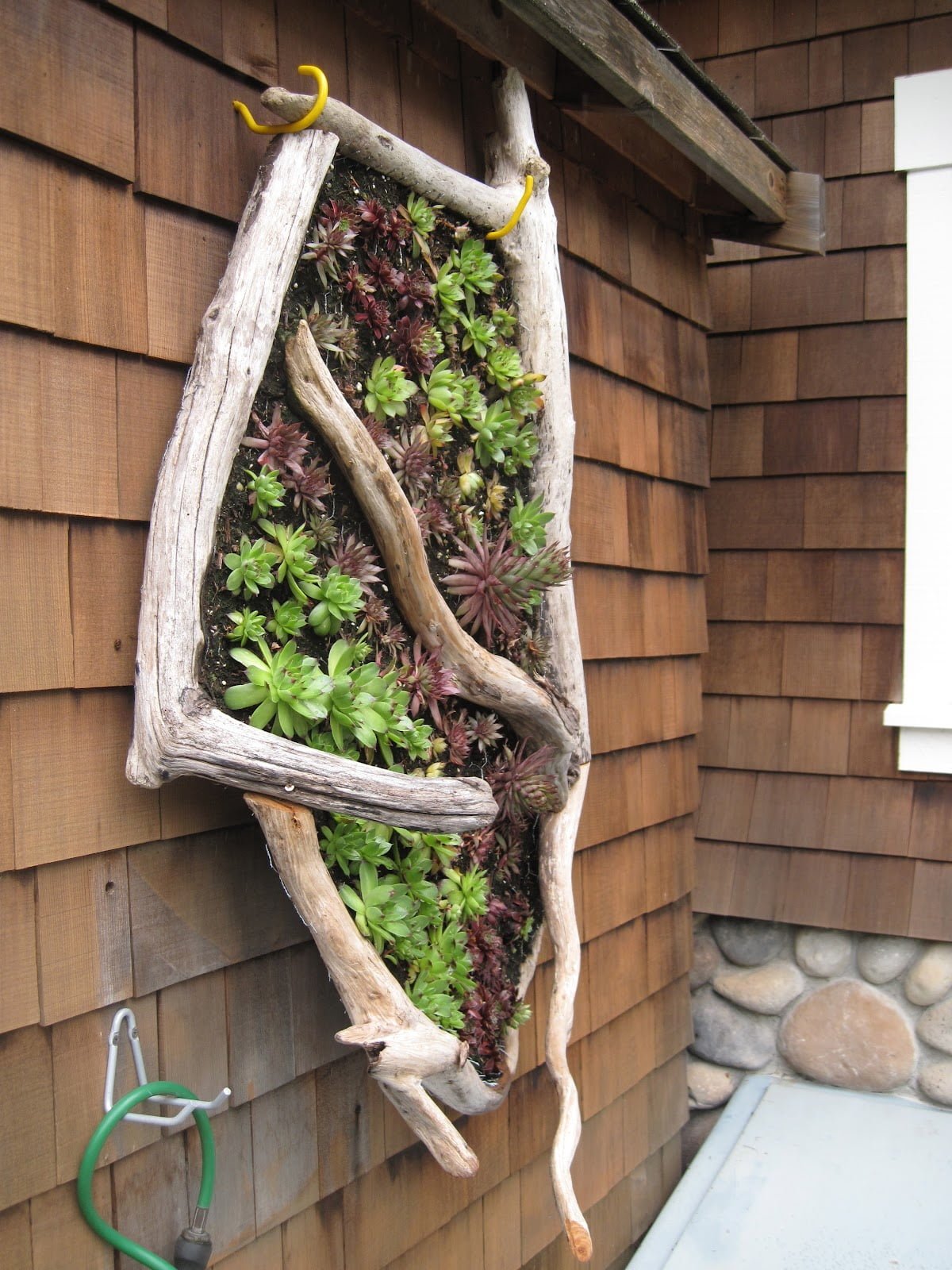 Artfully shaped pieces of driftwood form a living sculpture with the addition of small succulents in colors ranging from green to dusty red. Found objects, such as driftwood, can provide a wellspring of inspiration for crafting a vertical garden that becomes a piece of living artwork accenting a bare wall. Succulents are especially suited to vertical gardening, as they are low maintenance, slow growing and require little water. Their shapes provide interesting texture in any planting area and are particularly successful contrasted with the smooth lines of these driftwood limbs.
17. Stack Dresser Drawers to Create a Striking Vertical Garden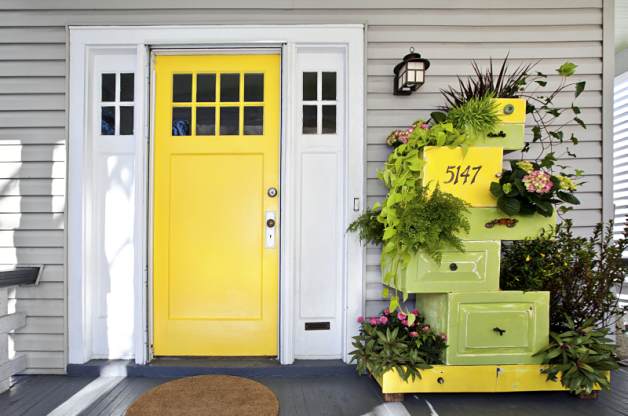 Source: The original source is not available anymore.
An example of a great way to create eye-catching drama by the front door is exemplified by the clever use of repurposed dresser drawers painted in harmonizing colors and planted with a wealth of lush ferns and flowers. Coordinating the color with that of the front door makes an especially impactful overall statement. In the fall, colorful gourds stacked in pleasing shapes can be substituted for the summer blooms, while in winter, evergreen boughs, springs of holly and other greenery fit the seasonal theme and keep the display looking fresh year-round.
18. Take Vertical Gardening to New Heights with Whimsical Art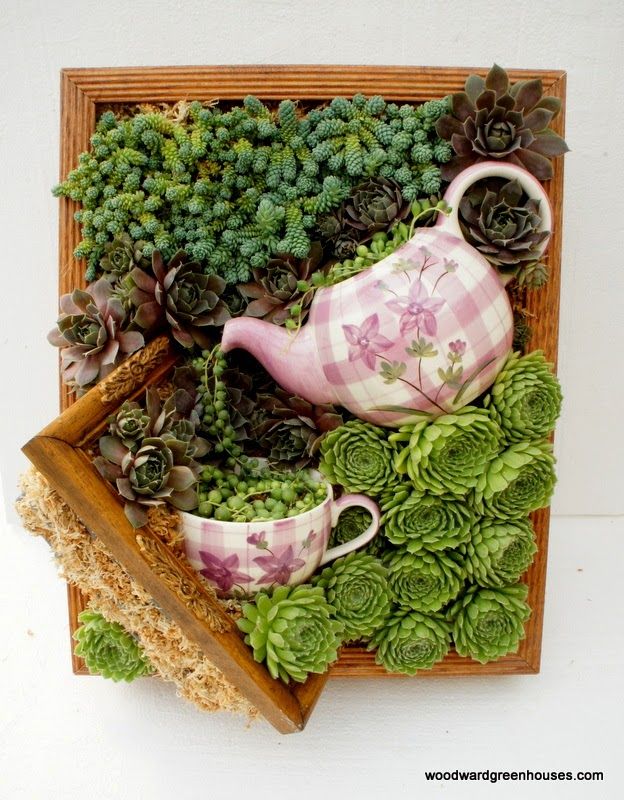 A charming wall garden that brings a touch of memorable whimsy to any home decor scheme, this tableau takes advantage of plant shapes to create its scenery. The appealing green bobbles of the pearl plant stand in for tea, spilling out of the teapot into the cup below, while rows of the hens and chicks succulents provide visual interest while supporting the china pieces. A matching frame set at right angles to the main frame takes the sculpture into three dimensions. This garden is perfect for livening up a breakfast nook or outdoor patio dining area.
19. A Two-Story Hanging Garden of Flowers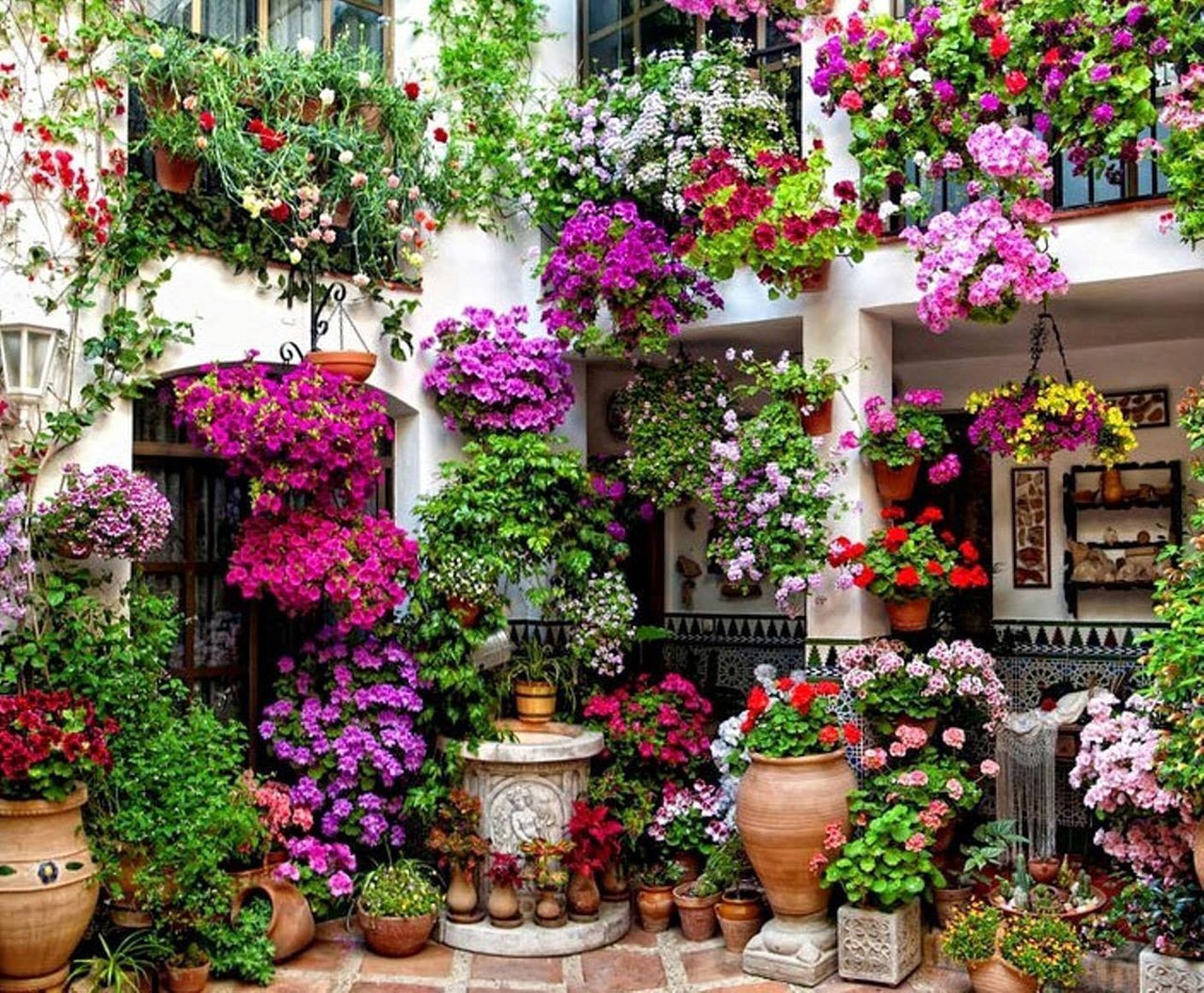 Source: The original source is not available anymore.
Lush blooms in varying shades of purple, red and pink grace every available space in this quiet courtyard. The lavish use of flowers creates a garden out of thin air; there's no soil to be found in this paved courtyard, but that didn't stop the designers from using planters to stunning effect. Attaching terracotta pots to the wall, using plant hangers and a variety of standalone pots are the key to achieving a garden when space is tight or no soil is available. Using perennial plants like petunias ensures large blooms all season long.
20. A Juxtaposition of Old and New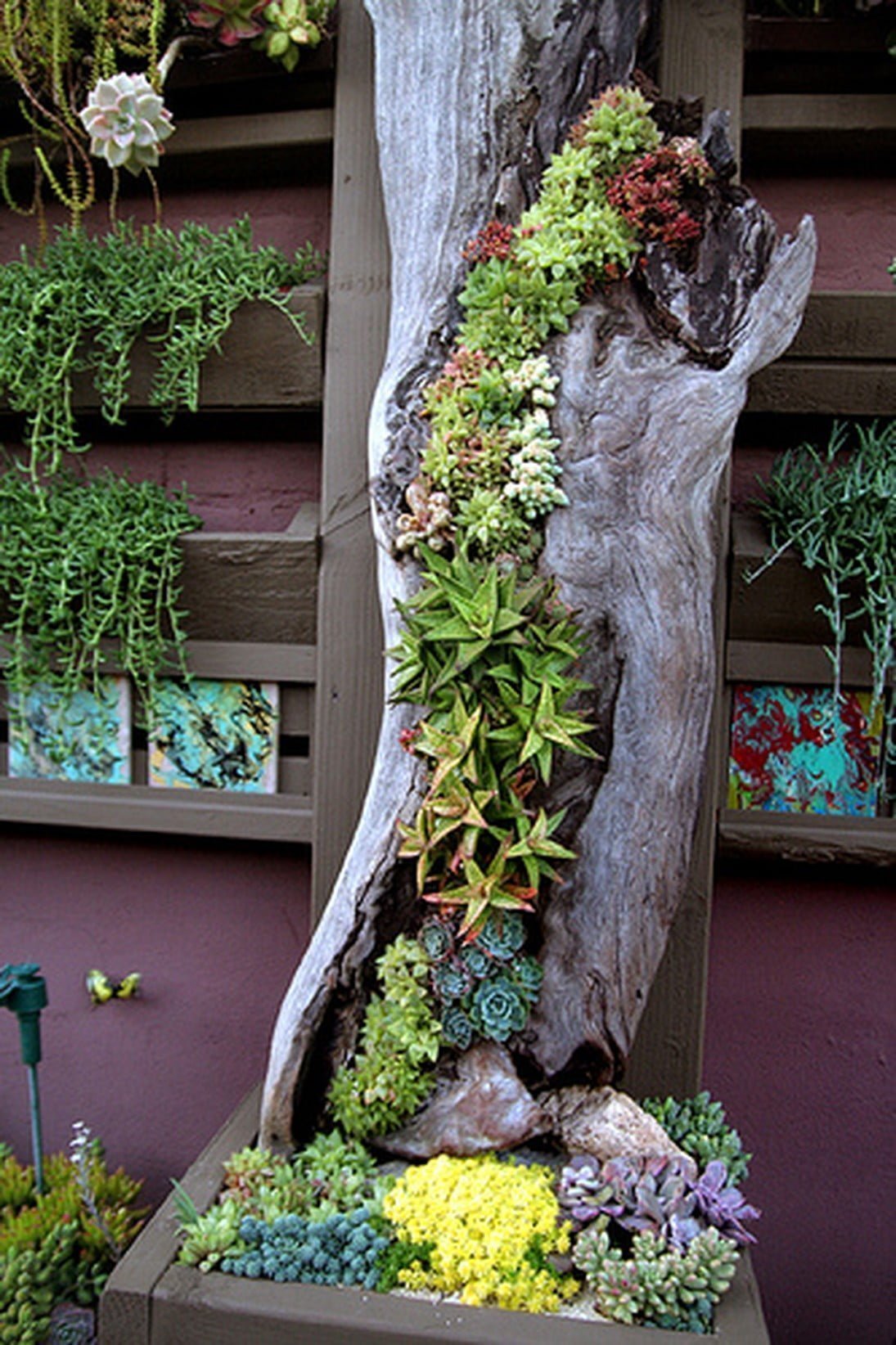 Part of a desiccated tree trunk receives new life as a stunning vertical planter. Artful use of texture and color when choosing the succulents to plant creates points of interest. The tree trunk is attached to a neutrally painted board for stability, with a matching planter box below that holds more succulents. While this can function as a standalone piece, incorporating matching planters in the background will extend the effect with a harmonizing use of color. This planter idea will work equally well indoors or out as a living focal point.
21. Create a Tiny Wall Garden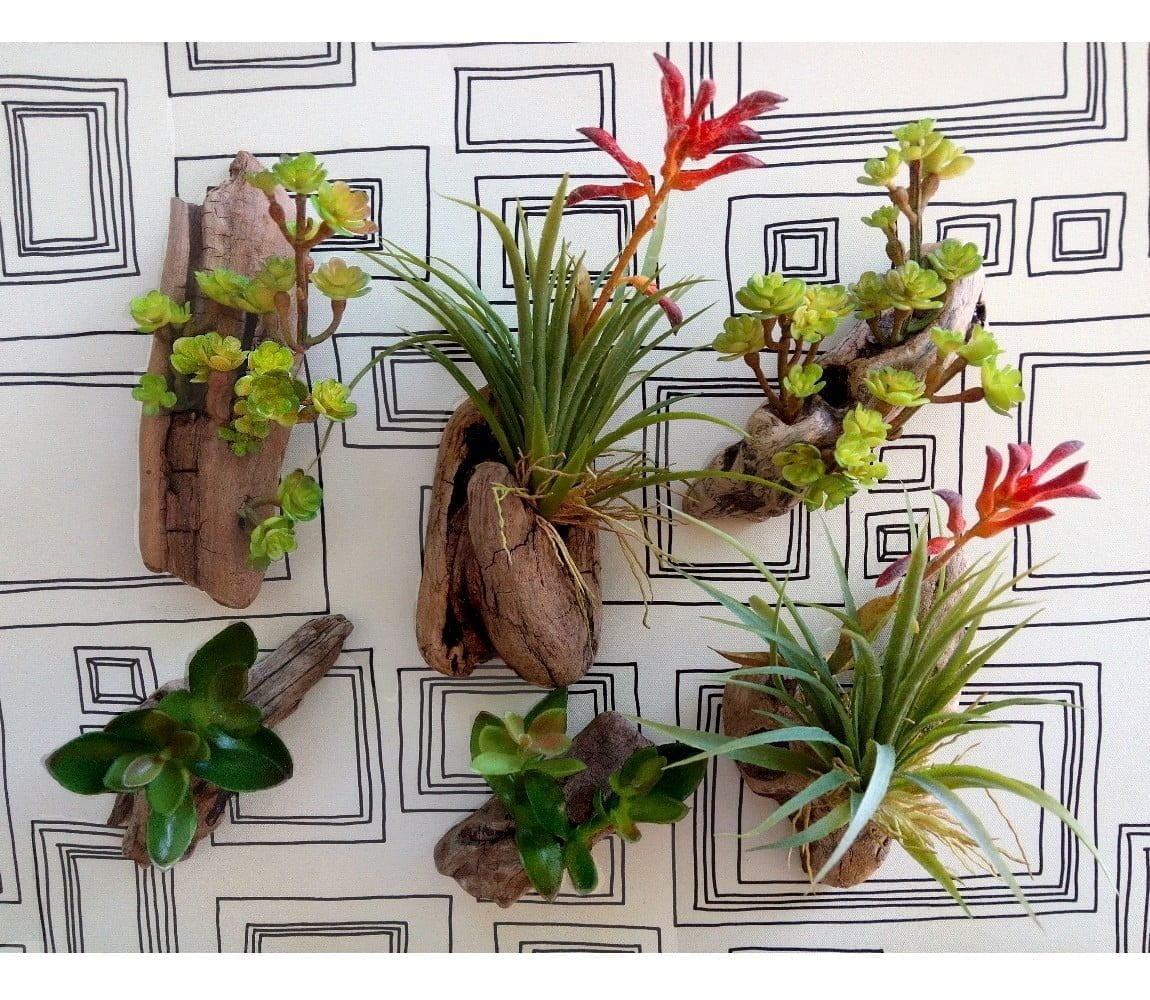 Source: The original source is not available anymore.
Strolling the beach can yield inspiration for a vertical garden design. Succulents and air plants fill small crevices of driftwood chunks to create tiny wooden planters. Consolidating them into a small grouping on the wall creates an arrangement perfect for tight spaces. Attaching magnets to the back extends their use to places like the refrigerator or metal containers for an unsuspected pop of color. These small pieces of driftwood can also be hung from the ceiling with transparent fishing line for a suspended, three dimensional garden.
22. A Minimalist Wall Garden Can Still be Striking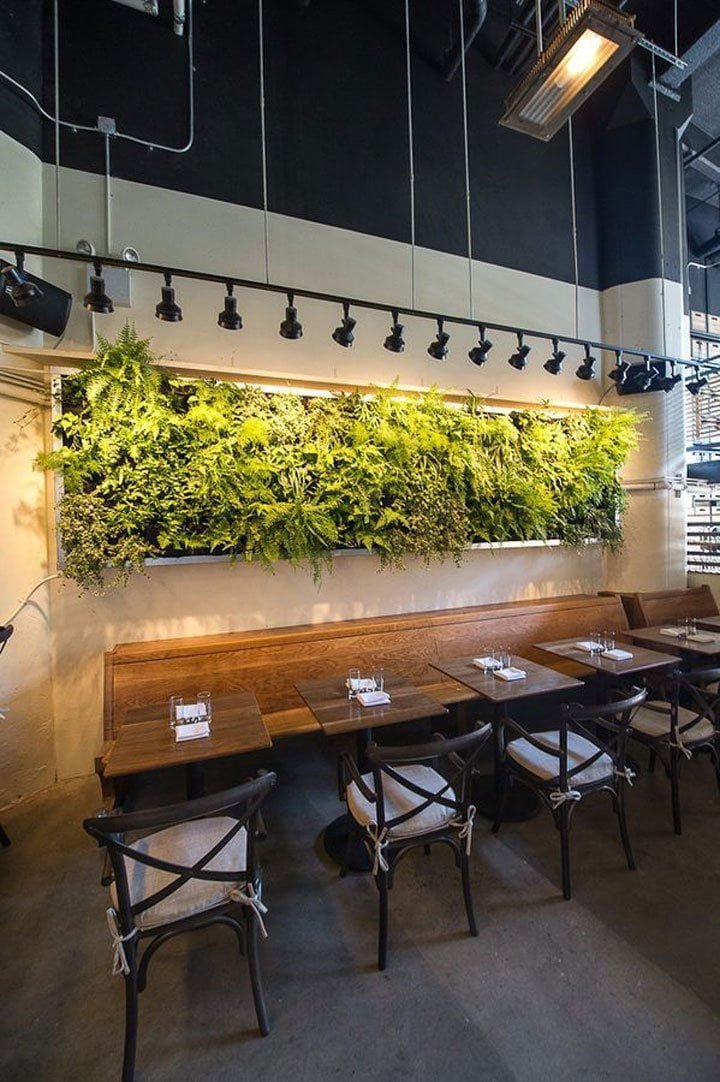 A profusion of ferns creates a uniform landscape of color and shape in this sleek wall display. The straight edges of the metal tray contrast with the greenery and create clean, sharply delineated lines. This idea is especially suited for modern interiors, where the clean lines and burst of color add focal interest. It's an excellent way to bring the outdoors inside while still adhering to an overall modern aesthetic. The ferns work especially well in this setting, as their leafy fronds extend several inches from the piece, creating a subtle, three dimensional effect. Adequate wall support is also essential for a vertical garden of this size.
23. Stack Crates for a Tiered Edible Garden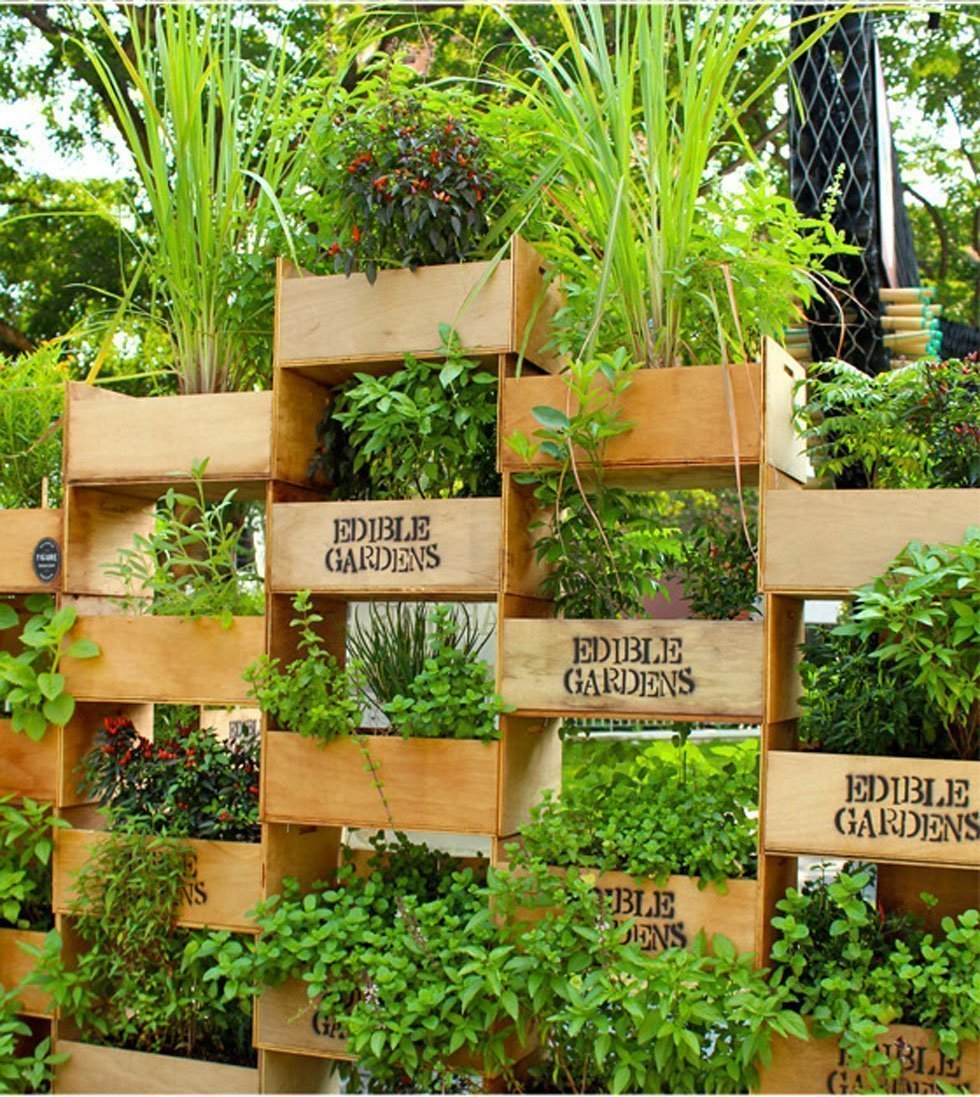 Reusable wooden crates reinforced with stabilizing planks create an appealing stacked garden. This installation would work nicely against a bare section of fencing or as a divider between a patio and the rest of the garden. Planting the boxes with edible herbs and salad greenery turns a pretty structure into a practical addition that saves money. Line the crates with metal trays to catch excess water, and place plants in individual pots for multiple groupings. Taller plants in the upper boxes add height and visual interest. These containers can be stacked quite high, matching the height of a background fence or wall, as long as there is adequate support for the unit.
24. Precision Meets Unrestrained Nature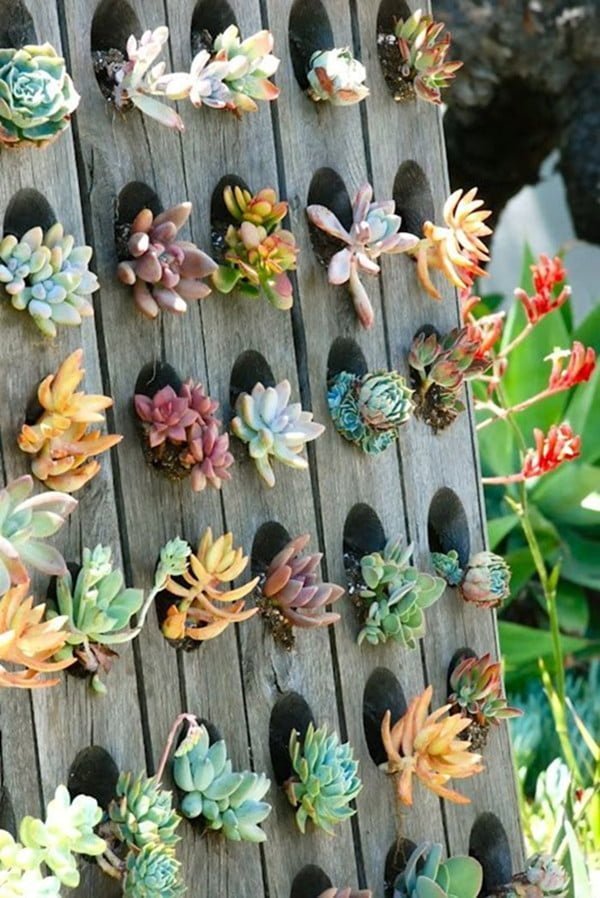 Weathered sugar molds provide the perfect planter for tiny succulents, which peek out from their respective holes and provide a touch of contrasting color and texture. What's especially appealing about this example of vertical gardening is its overall effect; the utterly organic use of wood and plants contrasted with the regular placement of the holes creates a pleasing pattern. This display would work nicely as part of a larger garden design or could work equally well leaning against a wall in a home's entryway.
25. Muted Round Zinc Planters Allow Plants to Shine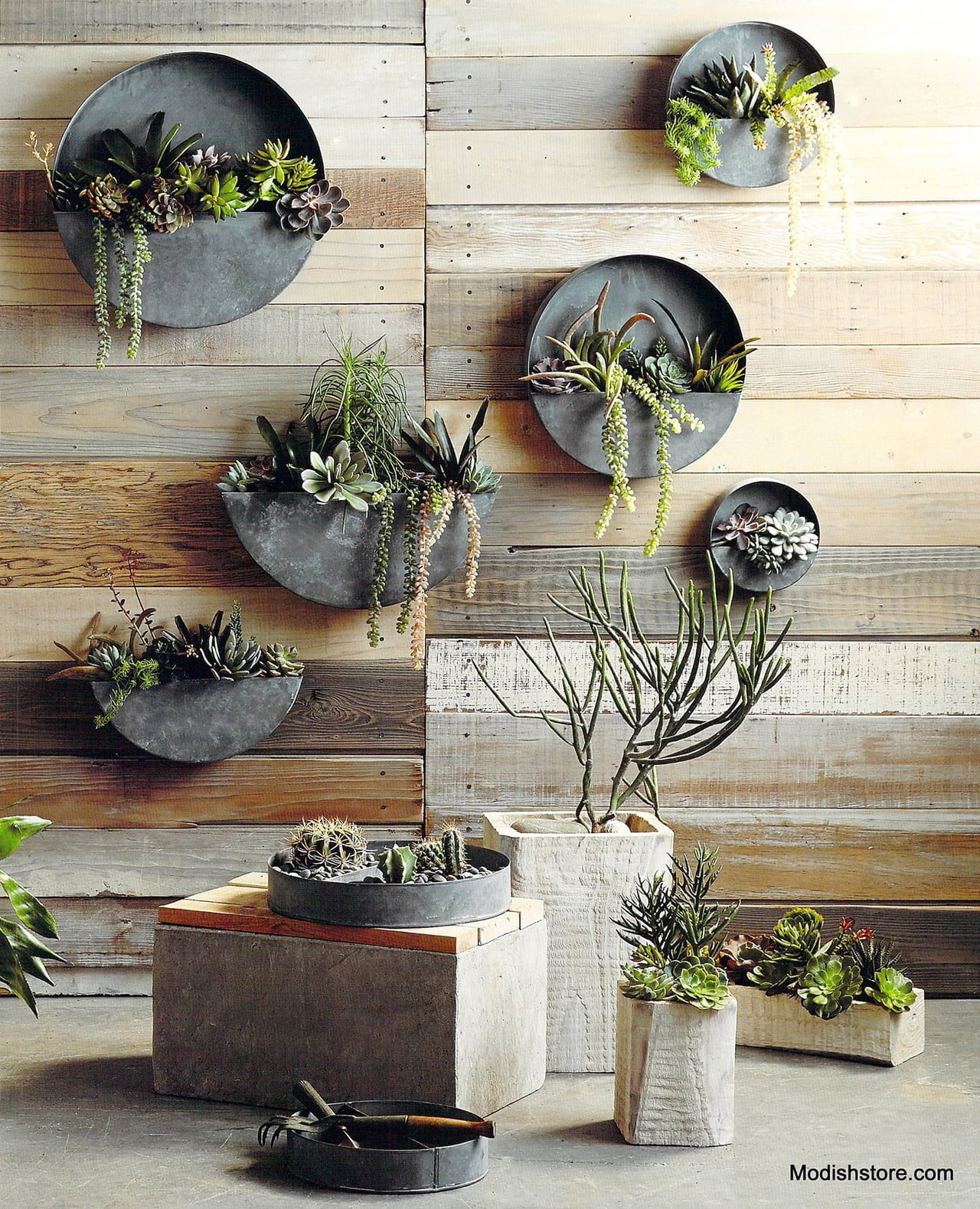 Zinc planters create an eye-catching collage for a wall space that would work either inside or out. For tight spaces or when taking a minimalist approach, these planters work to bring the essence of nature to an area without overpowering the space with an excess of greenery. The galvanized makes an excellent neutral background whose starkness allows the plants' shapes and colors to speak for themselves. Low upkeep succulents are the perfect choice for planting, although air plants or slow growing seedlings would also do well. Extend the effect by placing similar groupings of plants on the surface below the collage.
26. A Garden for the Birds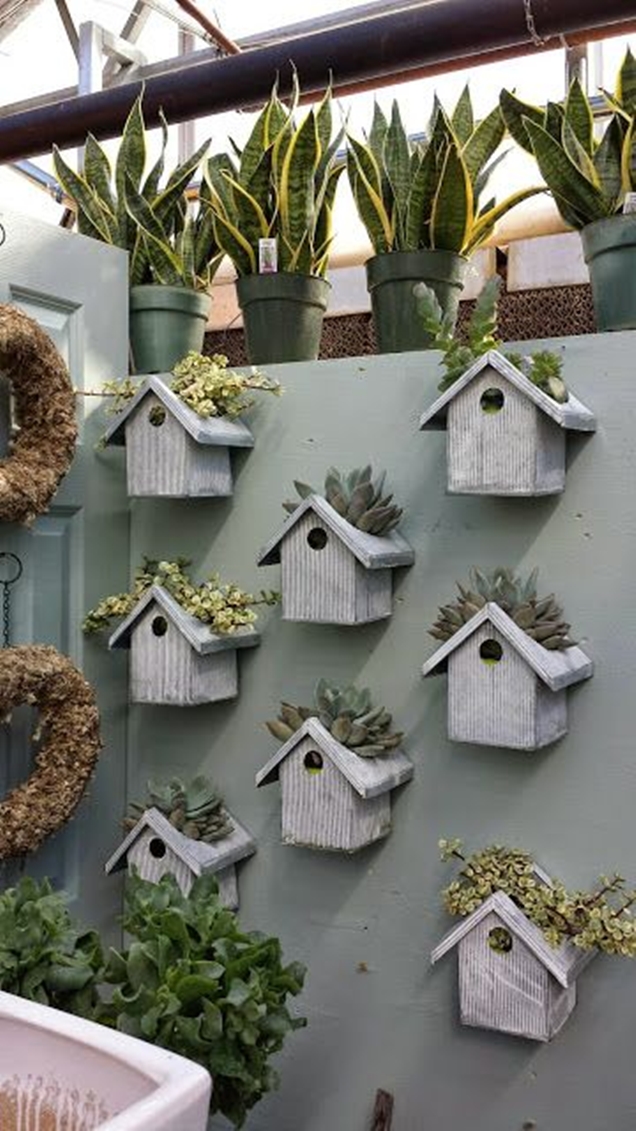 Inspiration can come from unexpected places; here the tops of birdhouses are transformed into tiny rooftop gardens. Working nicely as a grouping of planters, they can also be used singly to dress up a small space. Paint wooden or metal birdhouses in neutral colors or choose a colorful palette that coordinates with a home's color scheme. These would also look charming when hung by a front door or as an accent in a bird-themed garden space. While succulents work well in small planters, planting tiny blooming species would help attract butterflies and bees.
27. A Creative Use for Ordinary Wooden Crates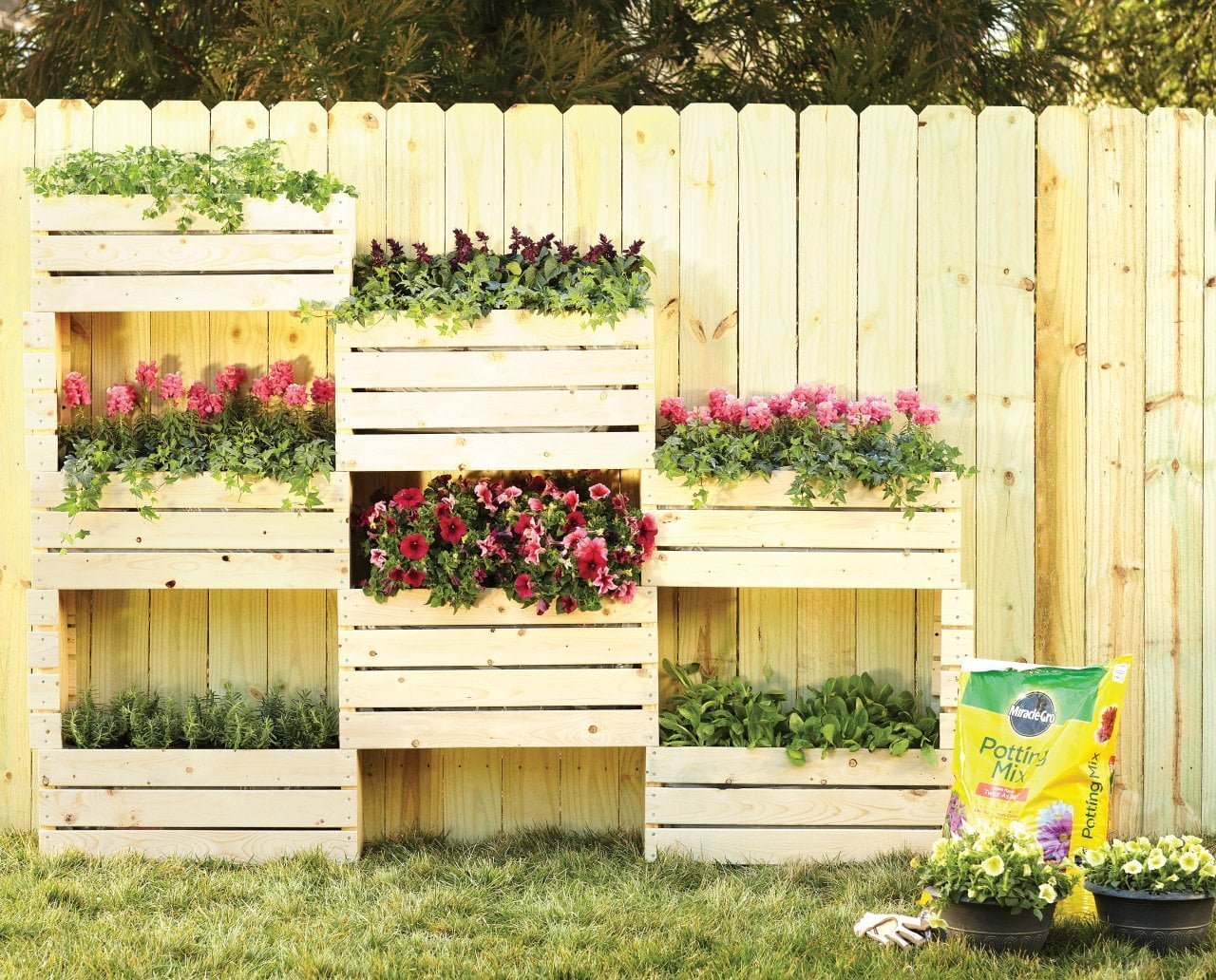 Source: The original source is not available anymore.
Honey-colored wooden crates match the fencing in this garden, part of their visual appeal. Exuberant and colorful blooms like petunias and trailing plants like ivies spill over the sides, breaking up the straight lines with an engaging use of texture. Mix blooming plants with kitchen herbs for a vertical garden design that is both edible and beautiful. While each crate can be lined with an equally sized planter, using individual pots allows for mixing and matching different plant species within the arrangement. Use this structure to accent a bare wall, to delineate different parts of a back yard or as the focal point for a small garden.
28. An Ultra-Modern Vertical Garden Idea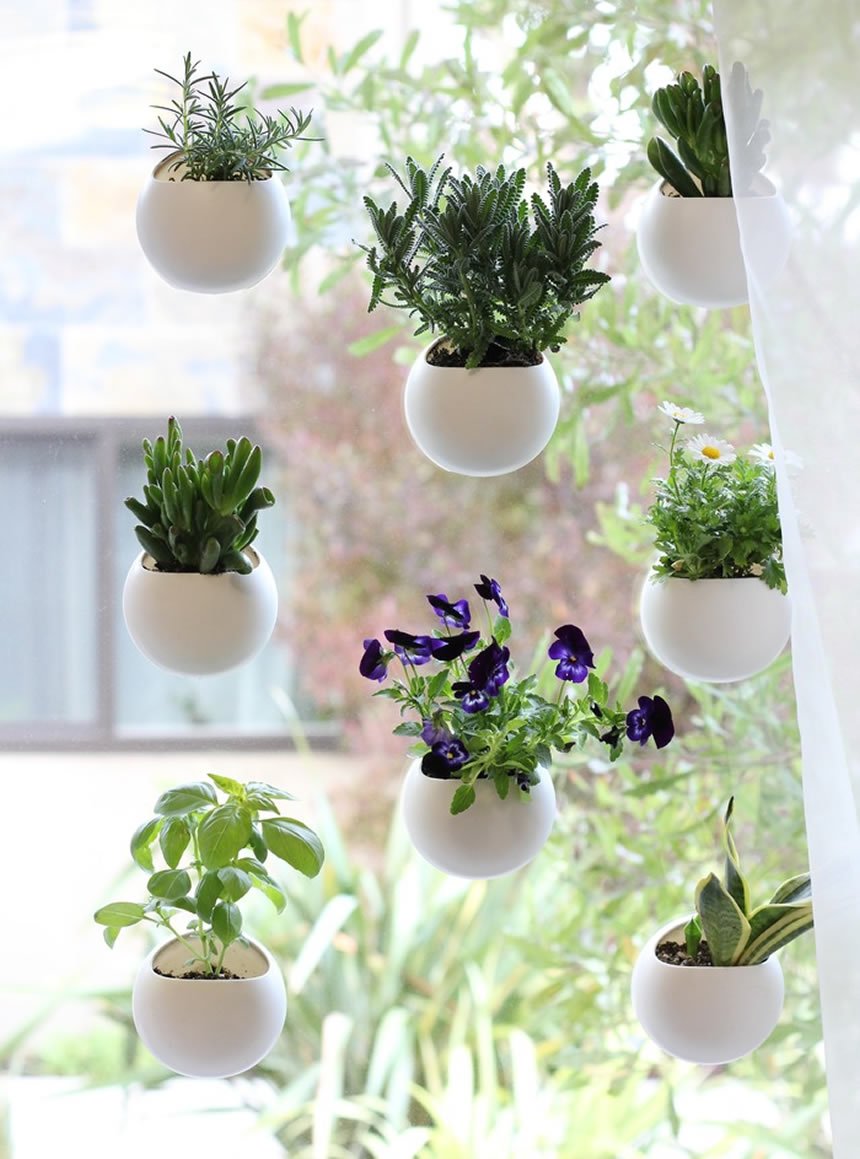 Source: The original source is not available anymore.
Seeming to float in the air, these tiny ceramic planters in a crisp shade of white combine with the outside greenery, creating a three dimensional effect and drawing the outdoors inside. Attaching to glass with a simple suction cup, they can be moved with ease to any smooth surface in another room or even used on a mirror for a reflective effect. Tiny pansies, daisies and a variety of greenery bring a needed pop of color to any part of the home and contrast nicely with the plain color of the planter base.
29. Tropical Plants Create a Wall of Color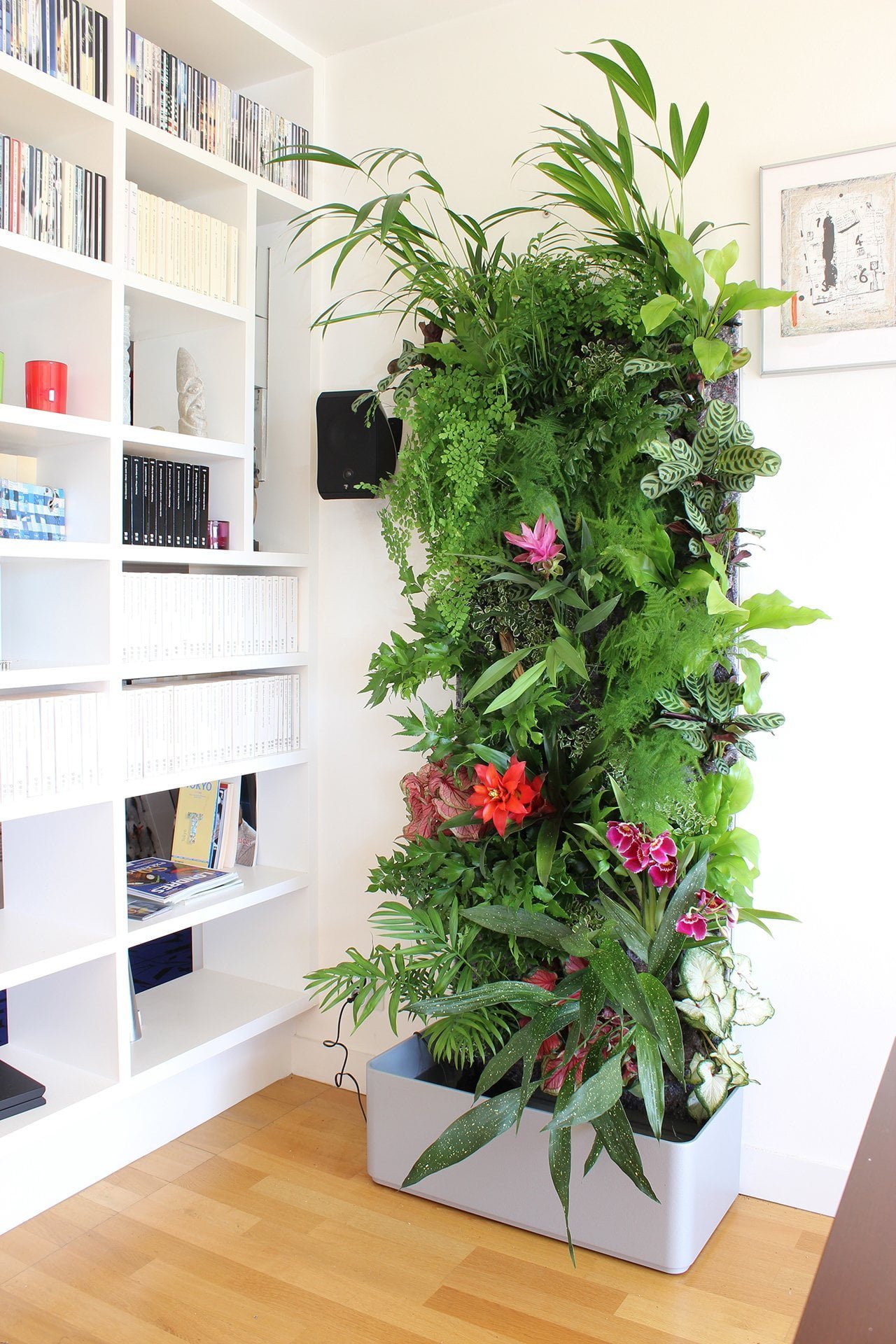 Source: The original source is not available anymore.
This striking vertical garden decor brings a fresh burst of color with its tall yet compact design. Brilliantly colored bromeliads and orchids mix with leafy ferns and plants with variegated leaves, giving a definitive tropical theme that works well in starkly decorated spaces, where its blend of textures can take center stage. There's a pleasing height to this vertical garden design as well; its commanding presence is the compelling factor of its appeal. While tropical plants feature heavily, a mix or Mediterranean or desert plants would also work well.
30. A Creative Alternative for Tiny Crates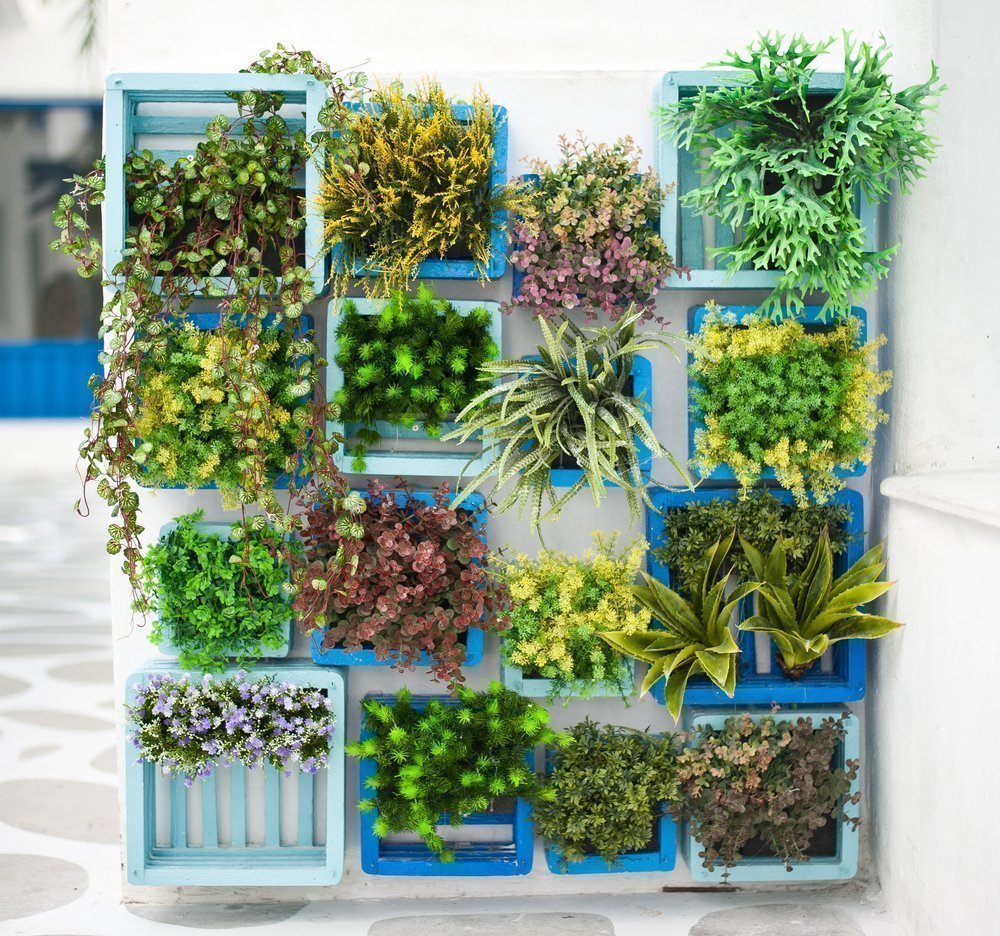 Wooden pint containers for fruit get a second chance doubling as planters for tiny, leafy plant varieties. Painted in shades of blue, this tiny garden offers a powerful burst of color despite its diminutive size. Placed on a blank wall, this charming display will excel at providing visual interest. Expert use of the plants' colors and textures contributes to its artful presentation, and its small size will work well in spaces where finding decorating inspiration is difficult. Mount these tiny crates on a board painted in a neutral color to display their colors to best effect.
31. A Vertical Garden Idea for the Kitchen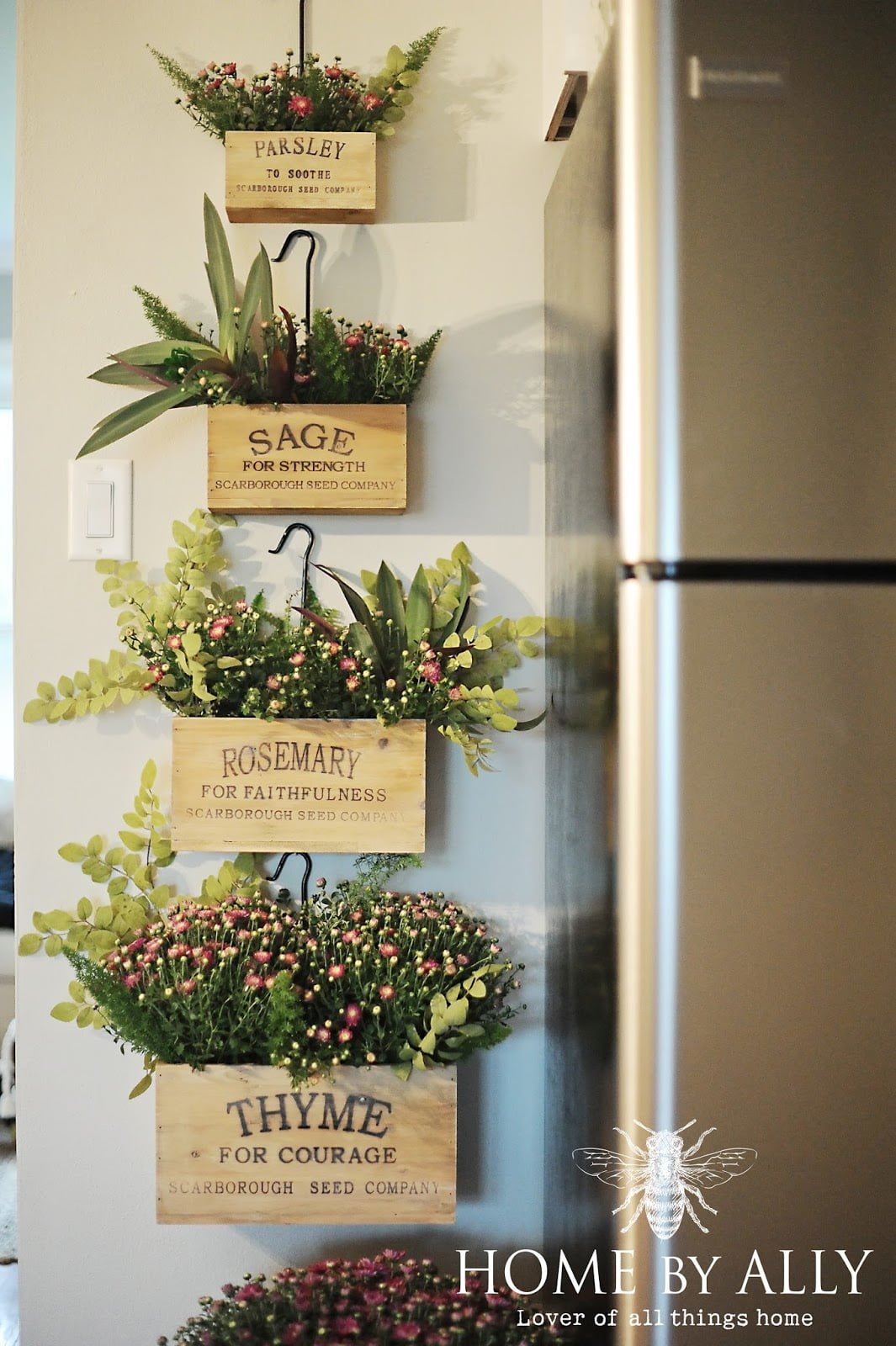 Seed containers in descending sizes stack neatly on a narrow strip of wall space. Their flowering contents spill exuberantly over the sides, adding to the strong visual appeal. Each box can be left plain or printed with the names of herbs or flowers to echo the appeal of antique flower market boxes. Plant herbs for a display that will supplement the contents of a spice cabinet, an idea perfect for the avid chef who treasures fresh ingredients. Strong metal hooks hold the boxes firmly in place and add a contrasting effect when painted in deep black.
32. Tiered Terracotta Garden Design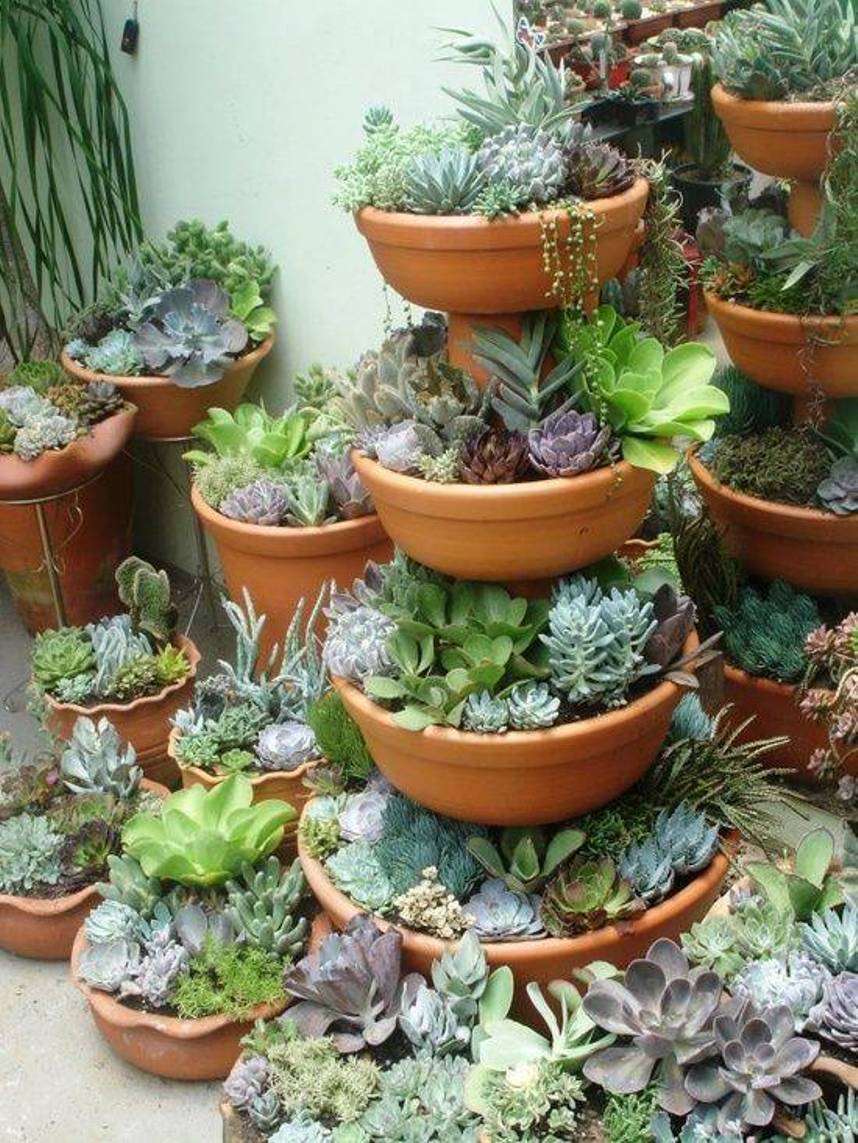 Source: The original source is not available anymore.
Vertical garden decor doesn't get much easier than this attractive example. Using shallow, round terracotta bowls, height is achieved by placing ordinary terracotta pots upside down and then placing a smaller round bowl on top. Pack potting soil in the remaining space of the bowls and plant a profusion of succulent species for an appealing vertical garden that would work especially well near a home's front entrance. Particularly suited to a desert climate, this design brings needed greenery and would also work well as the centerpiece to a small garden. While it can function quite well as a stand-alone piece, adding other clay containers of varying heights planted with succulents will heighten the effect.
33. Dressing Up Old Dresser Drawers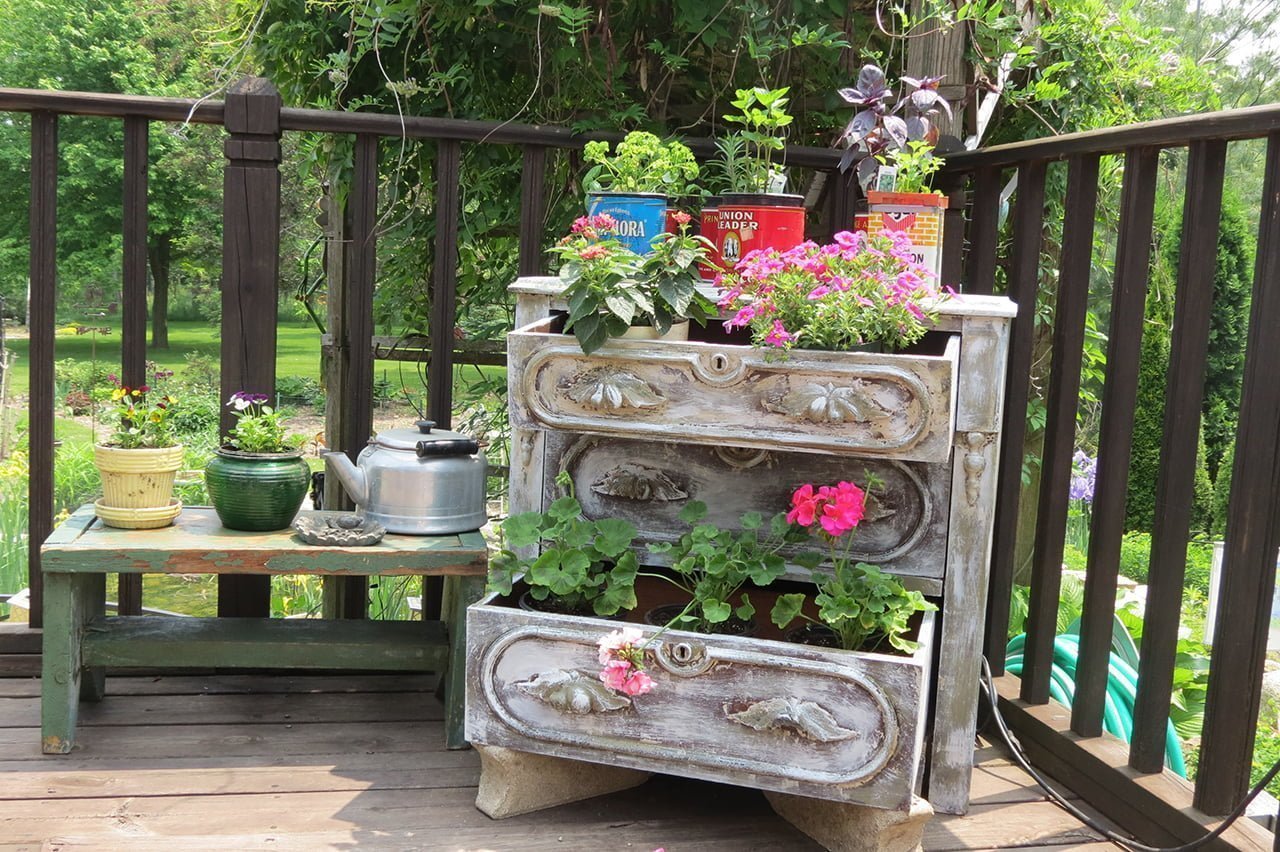 Unexpected planters are a trend whose time has come, as they help the Earth by recycling unwanted items and offer the ideal template for vertical garden decor. Here an unused dresser is dressed up by converting its drawers into impromptu planters. Stagger the amount of space when drawing the draws out and place flowering plants in individual pots and coordinating colors. Add to the appeal by including brightly painted food tins planted with flowers. This piece makes a creative addition to any eclectic garden design in addition to repurposing a cast-off item.
34. A Modern Vertical Garden Design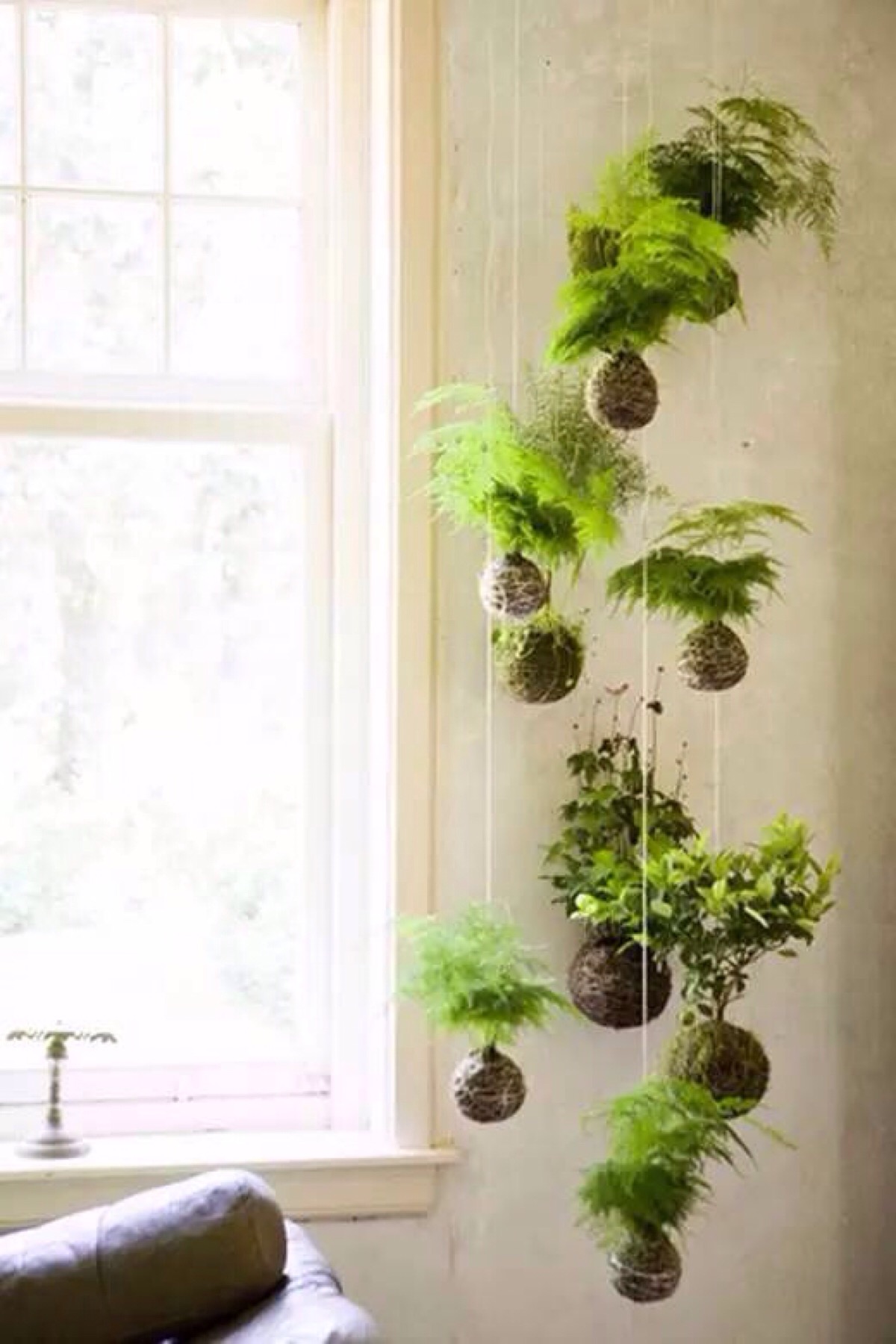 Light as air, these wispy plants with an exposed root ball hang suspended from the ceiling by delicate wires. An appealing way to dress up a bare corner, the plants also contribute a needed focal point with their arresting appearance. Add moss to the roots to aid in maintaining optimal moisture and select plants that grow slowly. Leafy varieties such as these will aid in cleaning the air and producing fresh oxygen, an added benefit to their lovely appearance. Their varying heights create a stair step effect and add to their visual complexity.
35. Make Gardens, Not War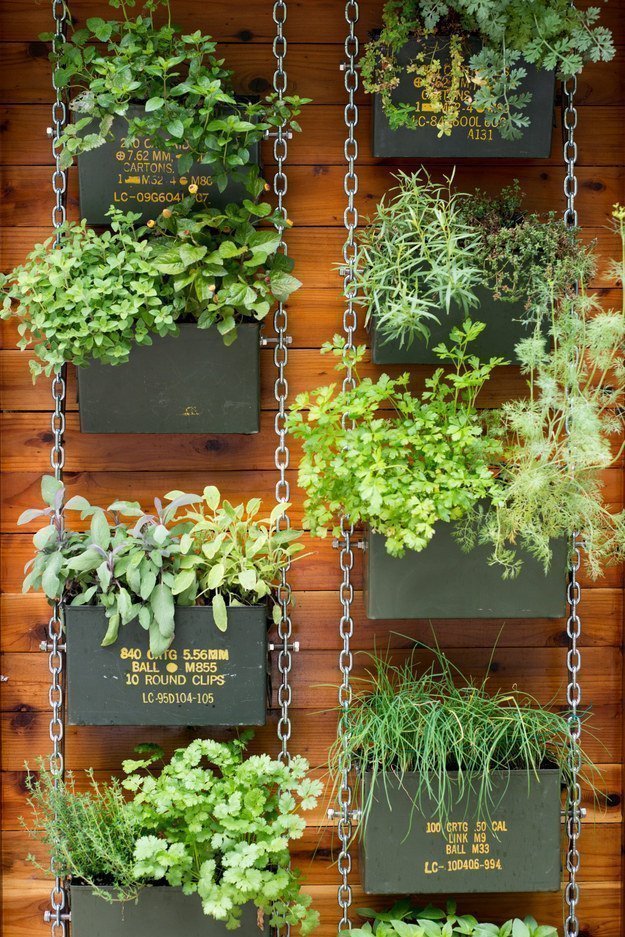 Source: The original source is not available anymore.
Old ammunition boxes make a surprisingly effective planter, especially when grouped together in a ladder-like presentation. Metal chain serves to hold the boxes in place while tying the whole look together. Effusive plant varieties burst from the top, offering startling contrast to the hard metal lines. Hanging two or more of these together would make a strong visual statement, dressing up a length of fencing or by decorating a patio space. Add edible plants for their strong shades of green and their use in the kitchen.
36. The Artful Use of Sculpted Metal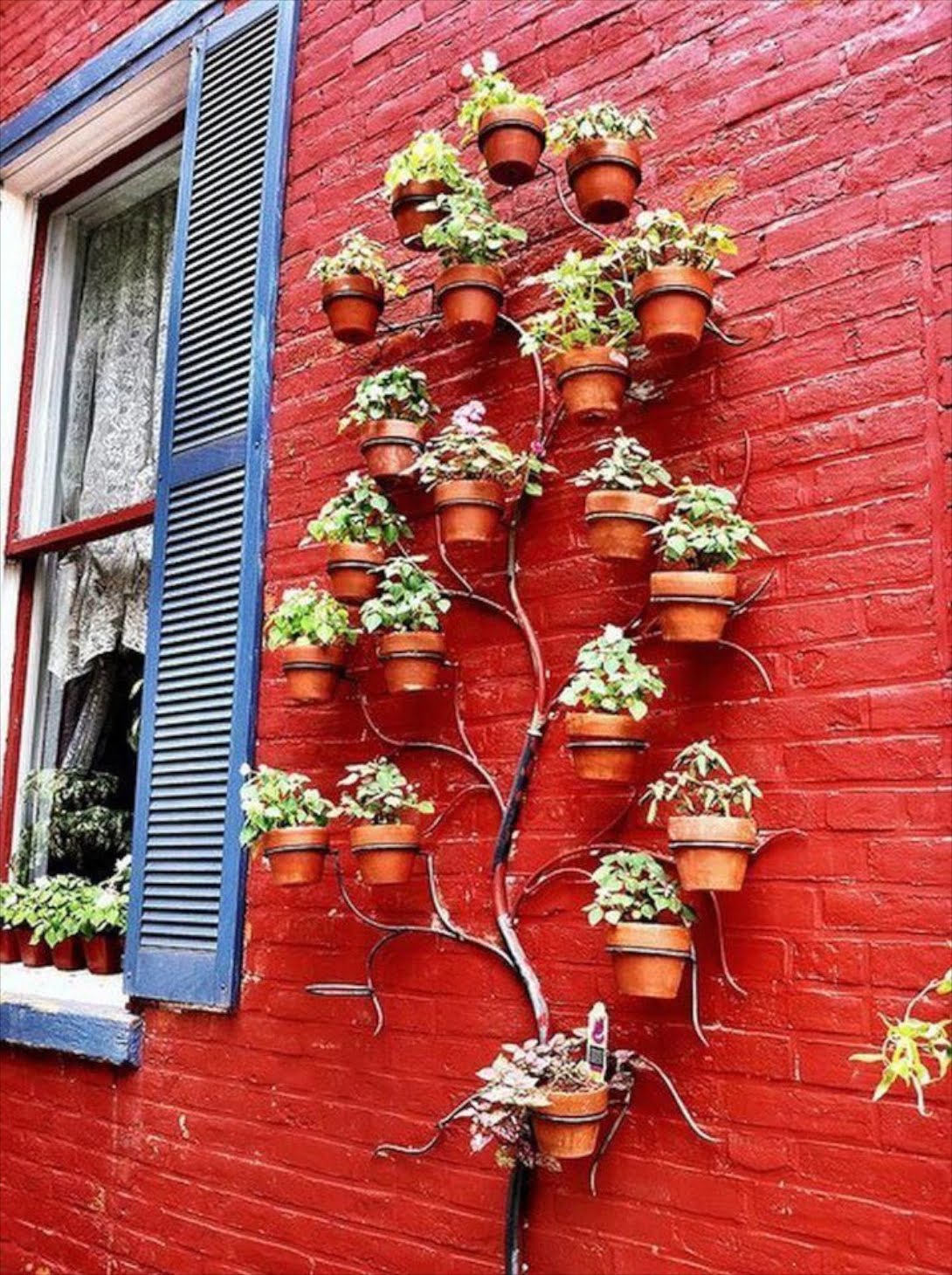 Source: The original source is not available anymore.
This creative wall garden benefits from the fascinating tree-like shape of the metal holder. Nearly two dozen rings hold small clay pots with a variety of leafy species and create a striking overall statement. While this example graces the outside of a home, it would also work well inside as a stunning artistic display piece. Use a sculpture like this on the bare wall of a small patio or balcony, where its graphic appeal will highlight the small space. The bold use of color behind the metal sculpture is also especially effective and something to consider when designing a space from scratch.
37. A Modern Vertical Wall Garden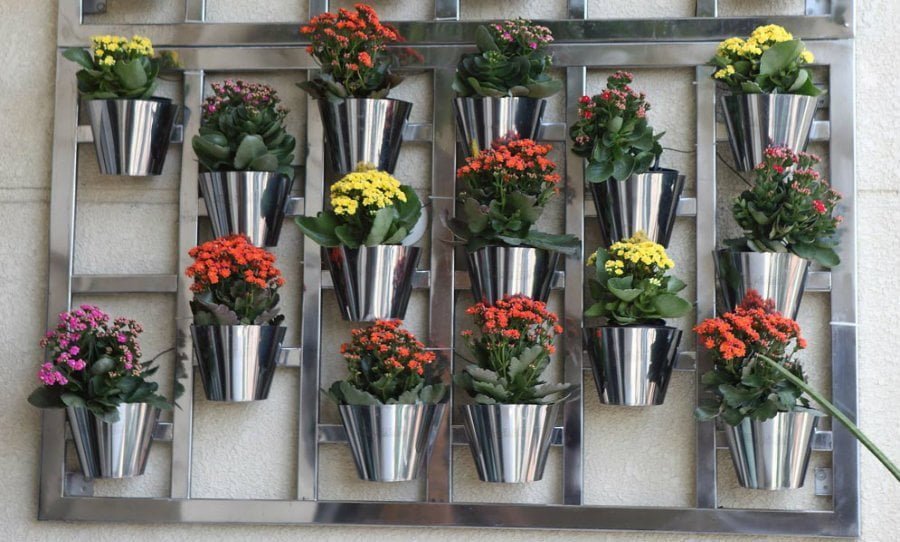 Source: The original source is not available anymore.
A sleek, modern metal framework supports matching plant holders, creating a minimalist container to hold small flowering plants. The shiny chrome finish contrasts starkly with the bright yellow, red and purple flower hues. A display like this could make a bold accent for an office, where its clean lines would compliment the foliage. It would also function well in any space with minimalist home decor. It could also hold herbs and tie in visually in a kitchen that uses a chrome finish on its appliances.
38. Imaginative Innovation is the Wellspring of This Vertical Garden Idea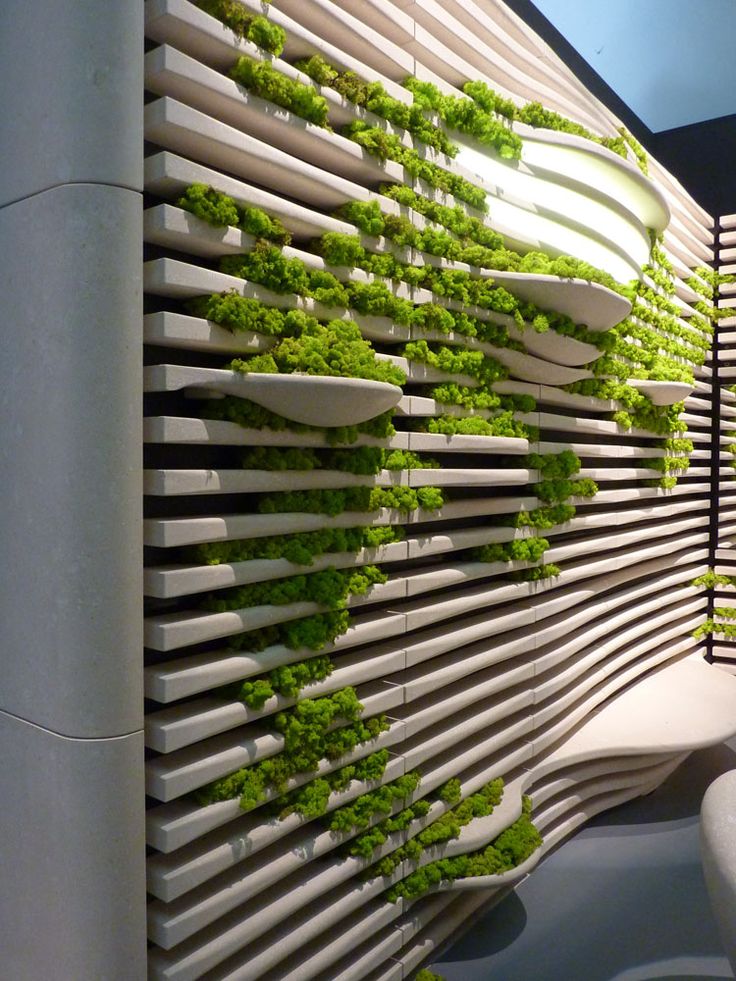 Looking like something from a science fiction movie set, this stunning installation uses regularly placed vertical pieces as a backdrop for the occasional protruding shelf with rounded edges. Bright green moss peeks out from the crevices, scattered in a haphazard fashion throughout the display. The effect is a futuristic display of clean lines interspersed with soft greenery. Ideal for a modern interior space, such as a sun room, other species, such as air plants could also be used to add a bit of variety, although the use of a single color ties the look together and provides definition.
39. Natural Wood Frames House a Miniature Garden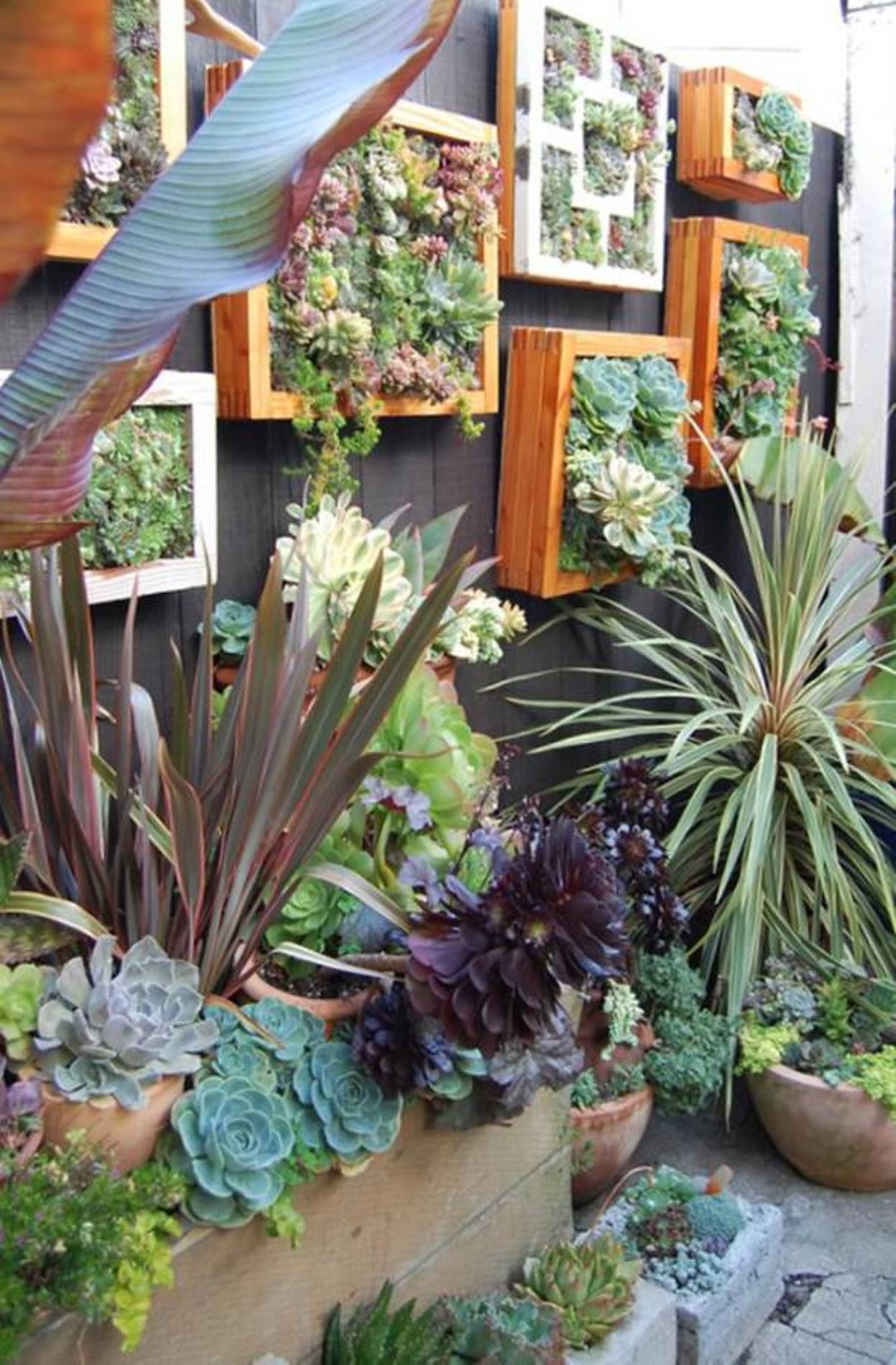 Source: The original source is not available anymore.
As more people move into large cities, keeping touch with nature becomes an increasing challenge. Here the need to incorporate greenery into a living space is satisfied by chunky wooden frames holding a range of succulent species. Grouped together, they form a cohesive whole and create a vertical wall garden ideal for a small space. Use indoors or out, and vary the look by adding interior partitions of matching wood inside the frame that separate the various planted species. Setting these frames against a neutral background color also aids in showing their textures to best advantage.
40. Creating a Vertical Garden With Recyclables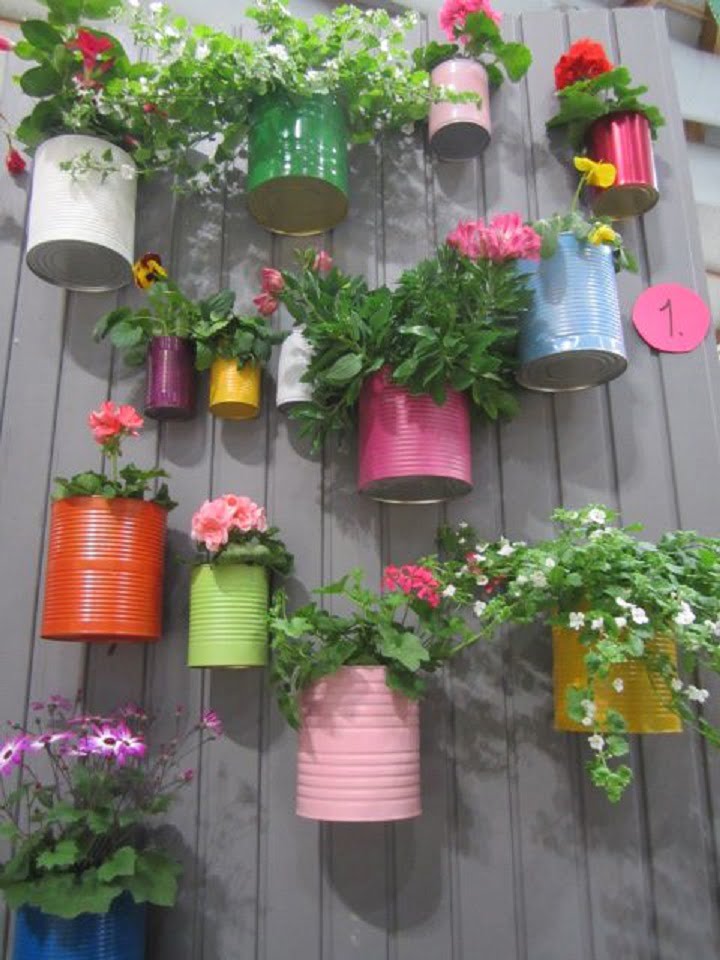 Source: The original source is not available anymore.
Don't toss out old coffee tins and soup cans. Using a mix of bright, appealing colors that wouldn't look out of place in a child's crayon box, these charming metal planters create a cheerful vignette using pretty blooms. Part of sustainable living is find a new use for items formerly considered trash. Attach these tiny treasures to a board or wall painted in neutral colors to really allow their personality to shine. While the flowers complete the look and pair nicely with the choice of paint colors, herbs could also find a welcome place in this vertical wall garden.
41. A Vertical Garden Idea for Small Spaces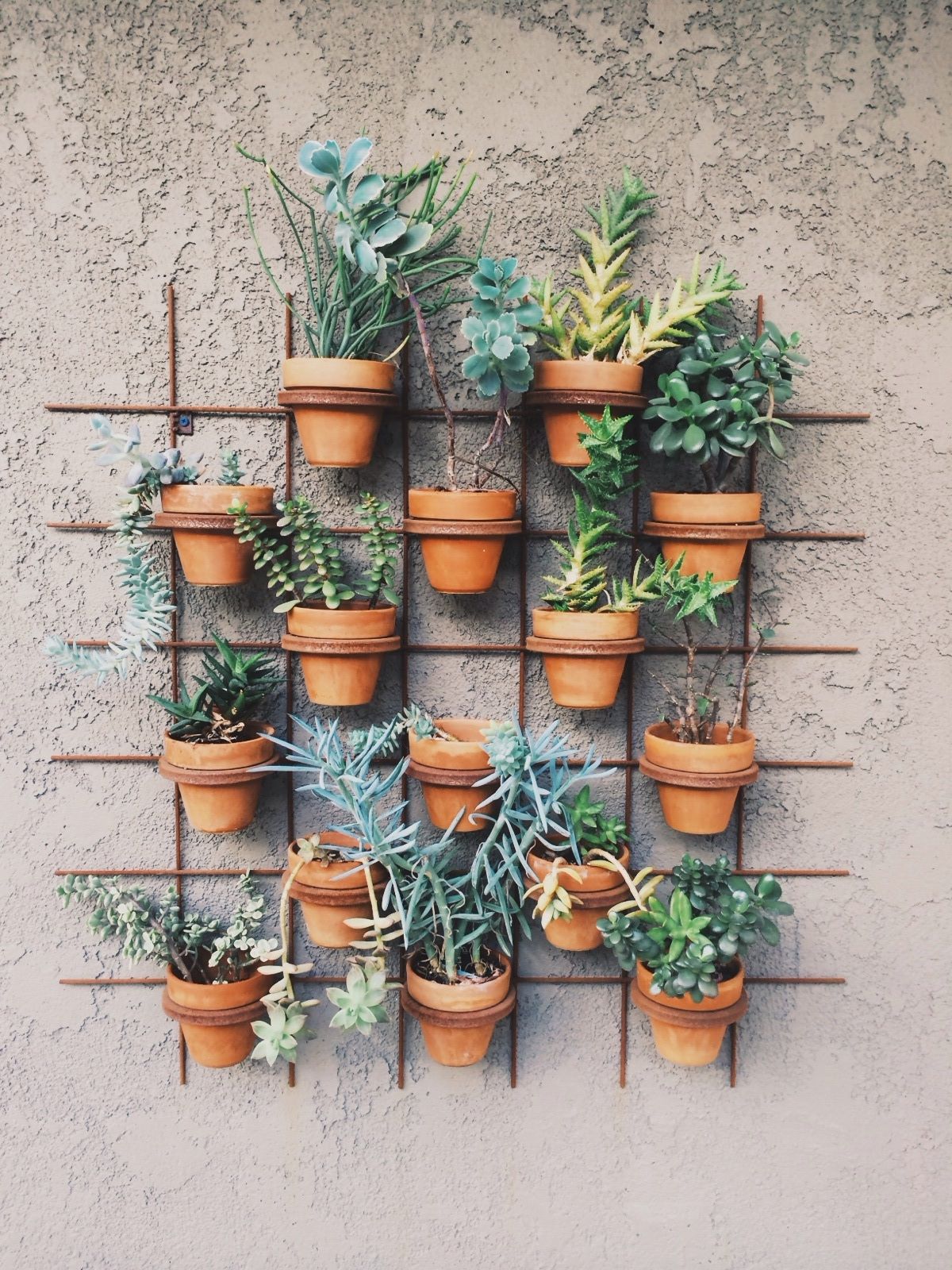 The regular grid lines of rusted metal form the backdrop for clay pots that slip easily into round holders, creating a trellis-like effect. Planted with a profusion of succulent favorites like jade plants, hen and chicks and aloes gives this tableau a distinctly desert theme and would work well in a very dry climate. While it would work equally well in a moist climate, delicate button ferns or baby's tears plants could make a nice substitution. Metal structures like these are ideal for use on a balcony and their subtle design allows them to work well with a variety of home decor options.
42. A Look That Wouldn't Be Out of Place in Alice's Wonderland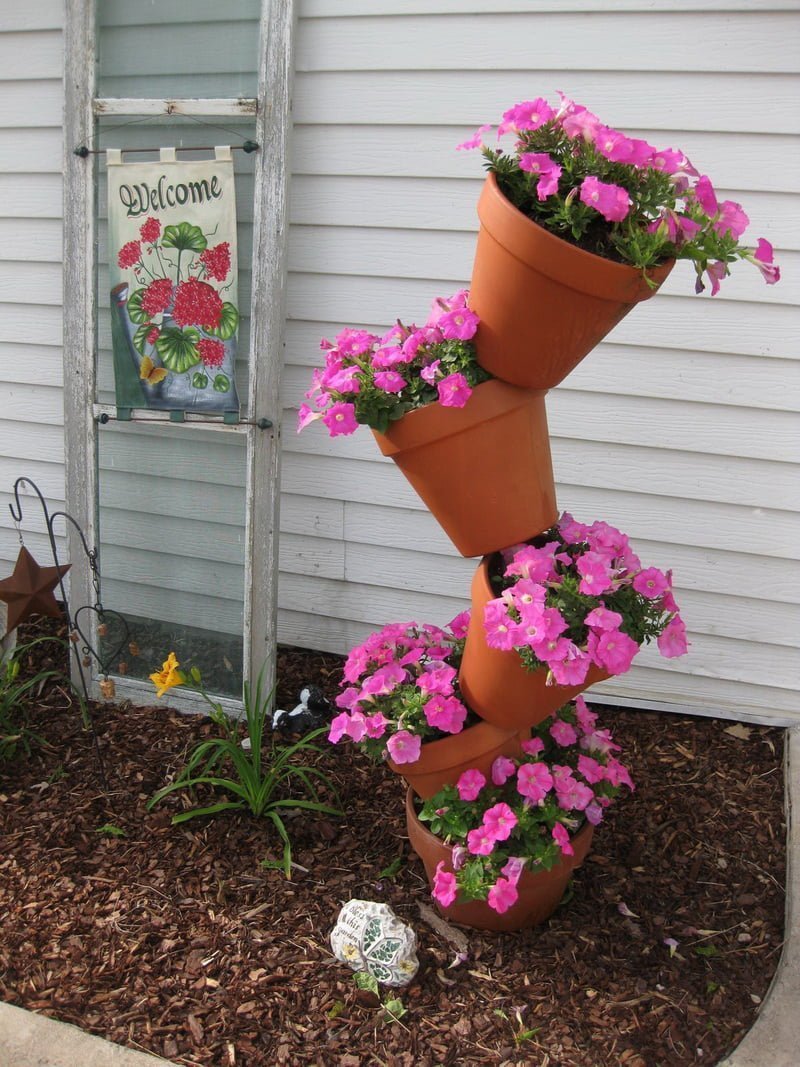 Source: The original source is not available anymore.
Incorporating a touch of whimsy into a garden or home design, these terracotta pots positioned in offset angles create an eye-catching focal point for a garden area. Planted with a profusion of petunias in a bright, bubble gum-colored shade of pink, they draw the eye irresistibly upward, creating height for level gardens. Stability is achieved by inserting a hidden metal pole through the center of the display, providing a firm foundation for the weight of soil and plants. Experiment with this playful planter design by using plants of complementary colors or trailing leaves.
43. Sophisticated Home Decor From Recycled Wood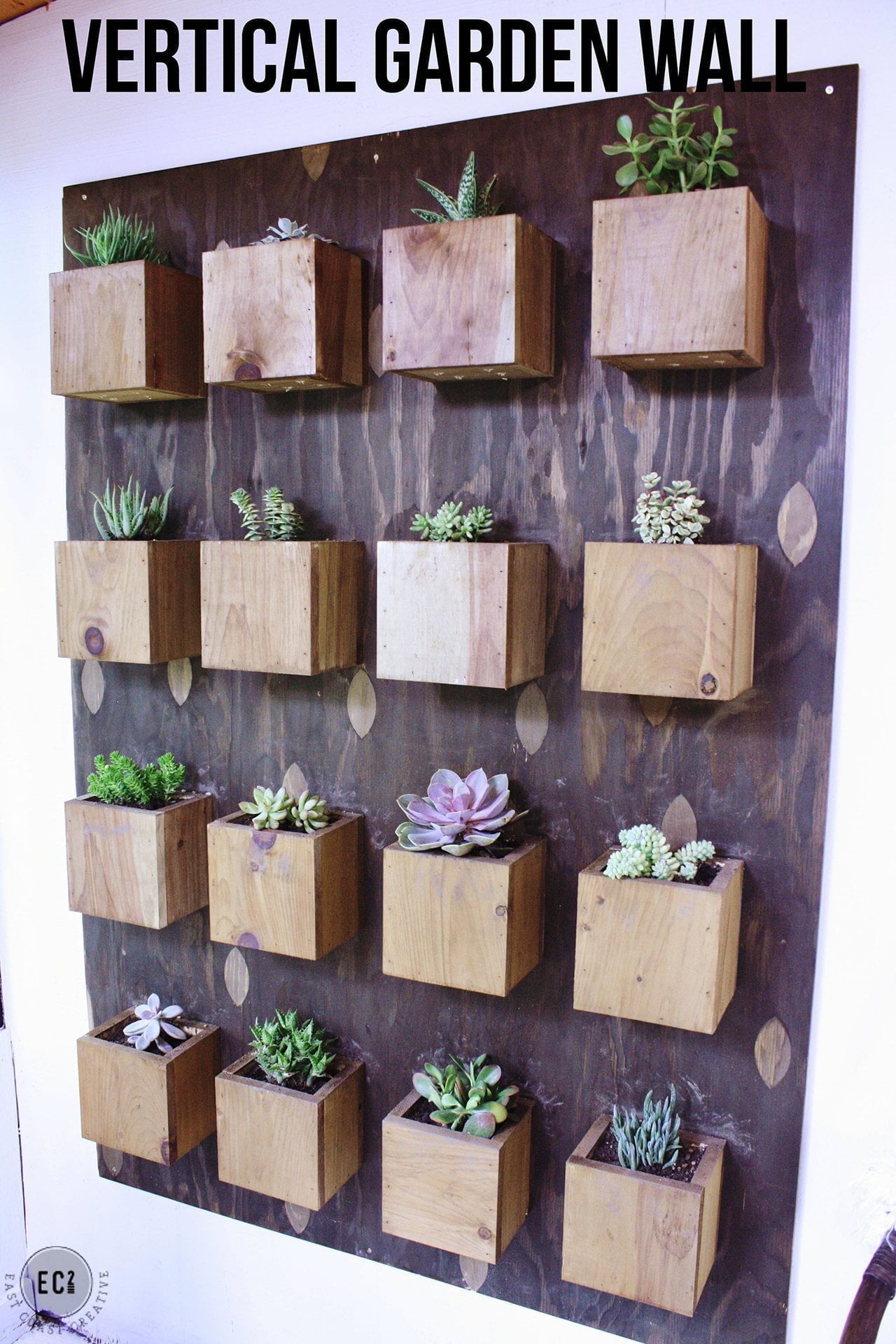 A board treated with a transparent wash of charcoal-colored pigment forms the background for regular rows of naturally colored wooden boxes. Filled with succulent plants, this vertical garden idea brings the outdoors inside and incorporates it into an artistic display. As an excellent way to use up excess scrap wood, it can also be Earth-friendly. Tiny succulent plants take up residence in 20 regularly spaced boxes, their colors and textures giving an air of freedom to the tightly controlled design.
44. Transform Airy Wooden Shelving Into an Herb Garden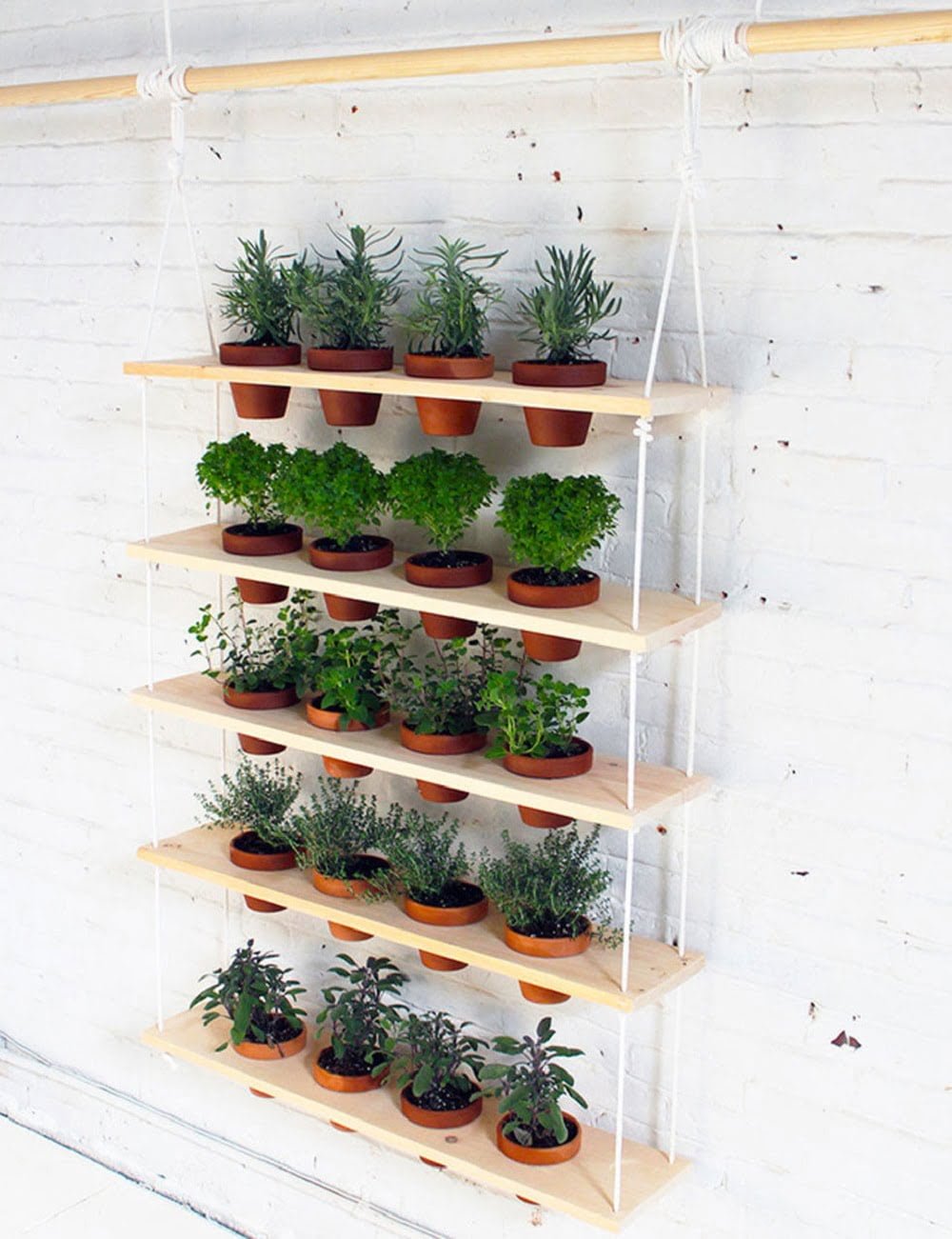 Source: The original source is not available anymore.
More than a passing similarity to a child's swing gives these stacked boards a playful air. Attached to each other with the clean, knotted lines of bright white cotton rope, the entire unit securely adheres to a wooden bar above using more rope. Holes drilled at regular intervals are just big enough to hold terracotta pots filled with cilantro, tarragon, thyme and sage. Choosing to fill each row with the same plant species gives the overall effect a pleasing uniformity. Use repurposed wood from discarded pallets to make this vertical garden decor Earth-friendly.
45. A Vertical Garden With Distinctive Sophistication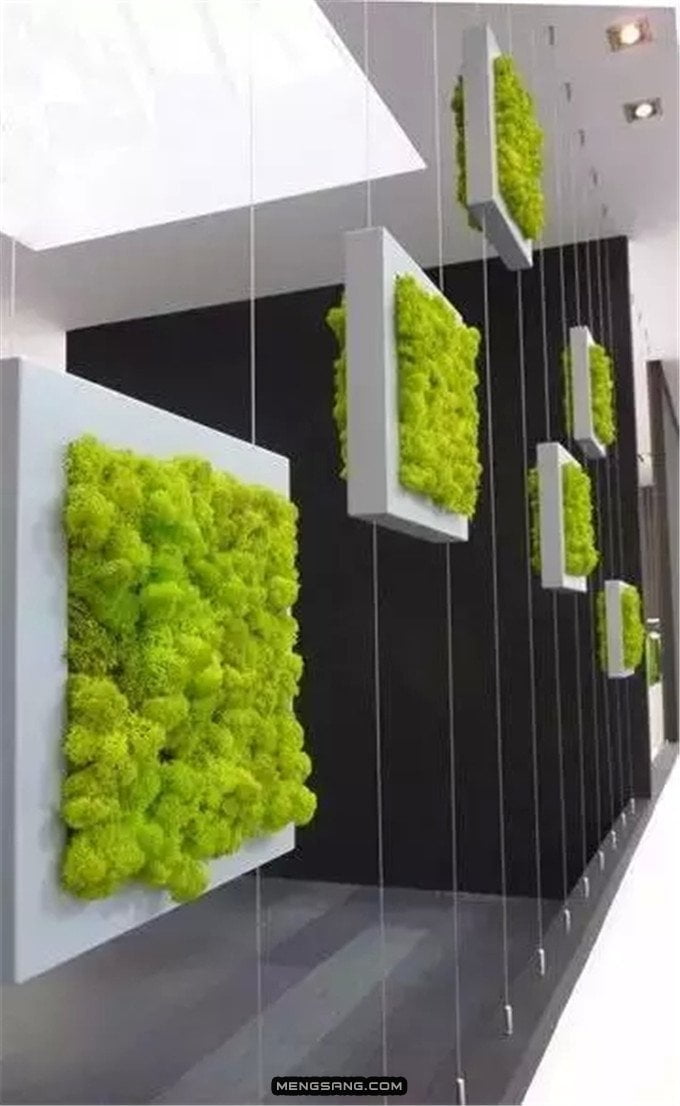 Source: The original source is not available anymore.
Looking like a modern art installation in a swanky New York gallery, this vertical garden idea takes a minimalist approach by using just two ingredients, bright green moss and sleek frames in a crisp white hue. Suspended on wires in a stark setting of angular lines makes the moss's color and texture the sole focal point. Each frame is planted back and front so the planters can be enjoyed from multiple angles. This design scheme could work when used as a transparent screen separating a living and dining area, on a patio or balcony, or as eye-catching decor for a modern office space.
46. Incorporating Found Objects Into Vertical Garden Decor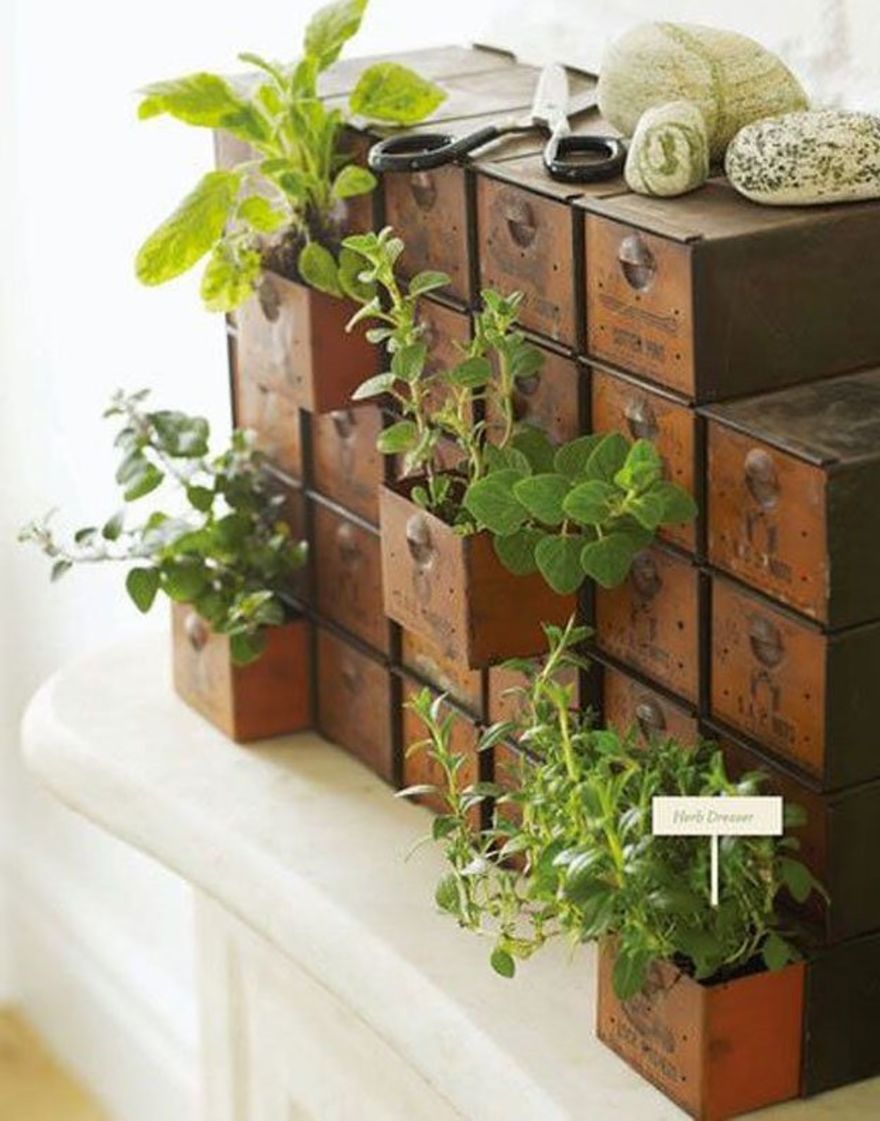 Source: The original source is not available anymore.
Tiny drawers from an old apothecary cabinet form the base of this diminutive vertical garden. Planted with herbs, it would make a charming addition to the kitchen, although using it in a sitting room or porch space would certainly ensure it becomes a conversation piece. The drawers are planted at random intervals, giving whimsical feel to the overall look. Antique store finds are especially suited to this sort of project and can provide needed inspiration when completing a room's decoration.
47. No Space is too Small for a Vertical Garden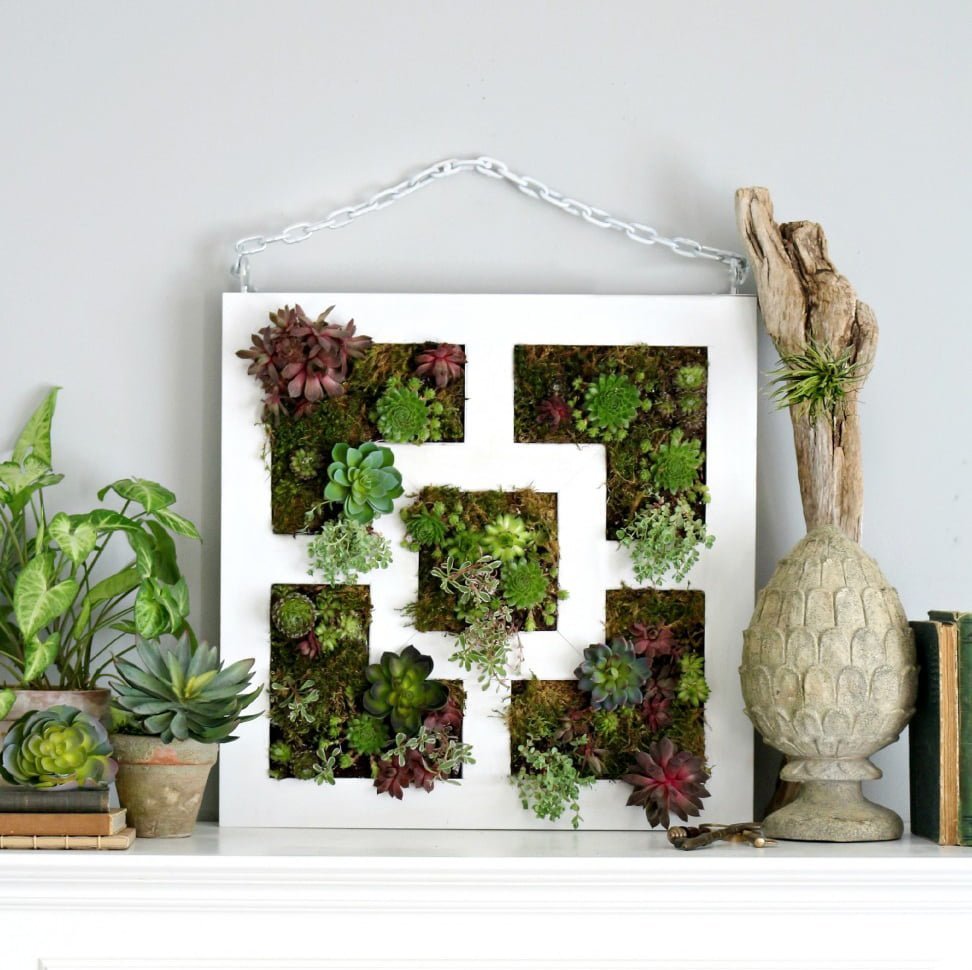 Vertical gardens don't need to be grand affairs, as this tiny planter shows. Strewn with a variety of succulent plants and propped between knickknacks on a shelf, it serves to set a natural theme for a home's design scheme. The clean white lines of the planter clarify the garden's shape with a subtle and pleasing pattern. While the attached chain shows it is clearly meant to be hung on the wall, leaning it on a bookshelf or mantle gives it visual appeal and extends the versatility of the piece.
48. Accent a Cozy Bohemian Reading Nook Using Vertical Garden Decor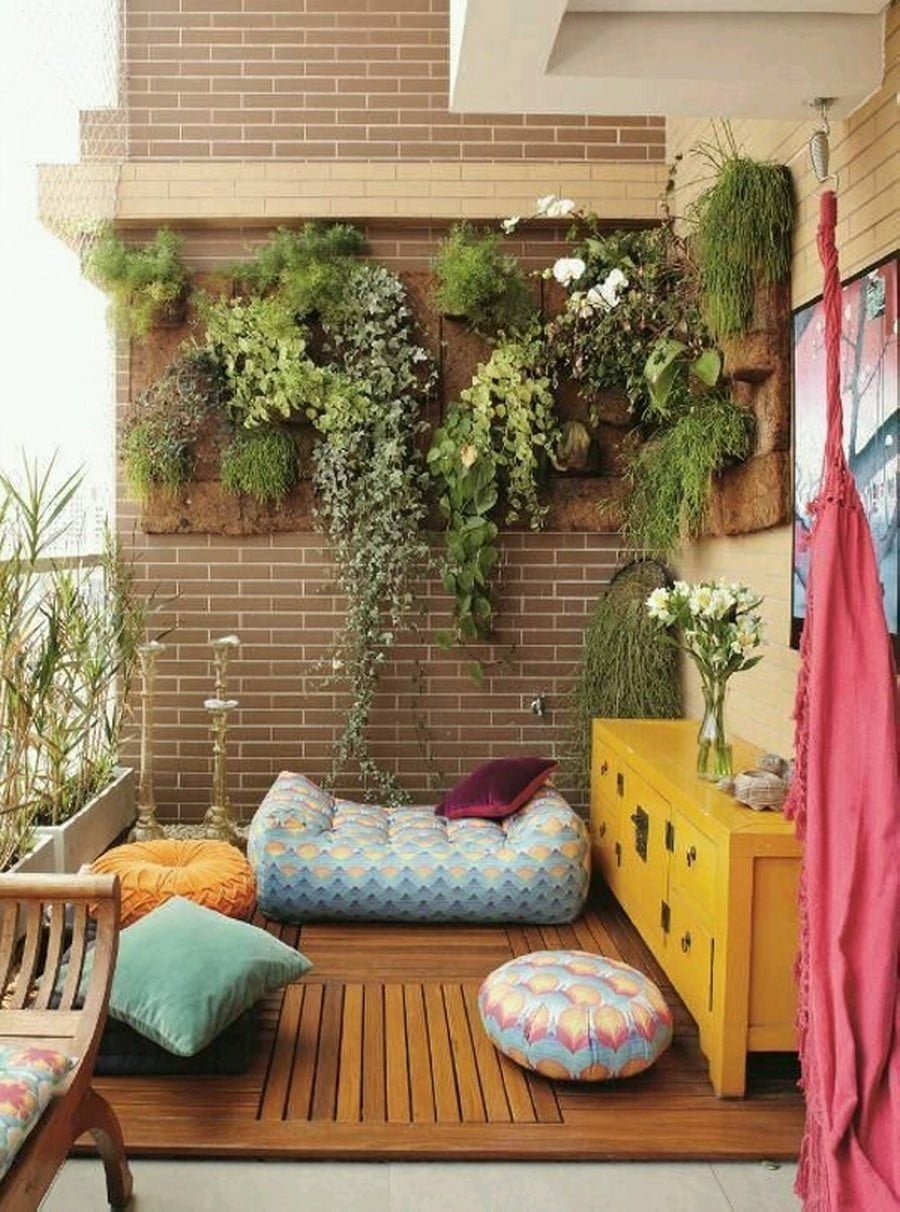 Orchids, ferns, ivy and other trailing plants burst forth from a muted background, creating an almost unbroken field of greenery above a small lounging area. Tricking the eye by mimicking outdoor scenery is one of the ways to incorporate nature into an interior setting. Pillows and furniture in bright colors serve to contrast with the uniform shades of green, creating an overall effect that is deeply appealing. While this example is used in a balcony space, it would look equally beautiful when brightening up a dull corner inside the house.
49. Hang a Garden on the Wall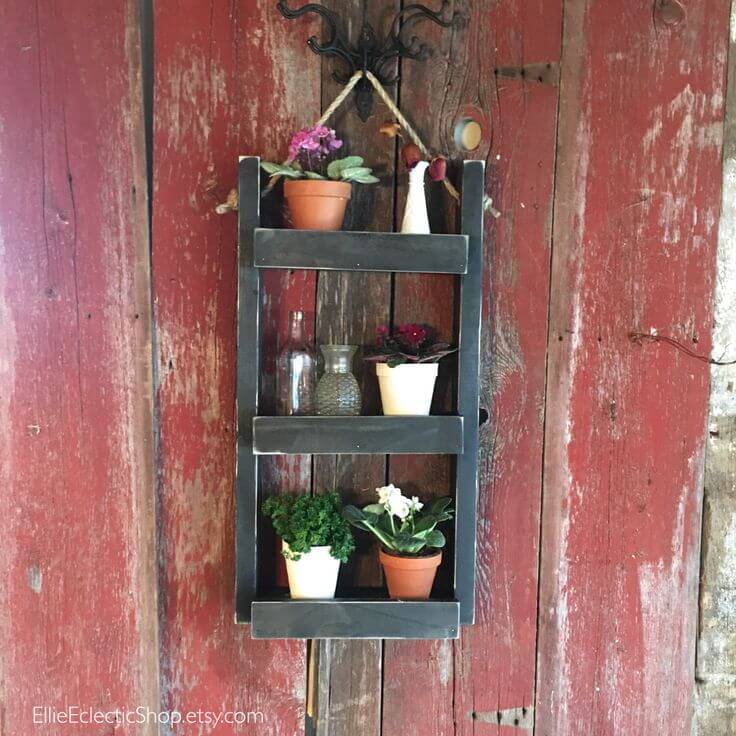 Take advantage of a bare stretch of wall, and hang a painted and antiqued wooden plant holder for an instant vertical garden. Holding an assortment of herbs in small terracotta pots and suspended from a giant iron hook with a length of rope, this charming planter is also a practical way to keep culinary herbs close at hand. Its compact size makes it suitable for a variety of locations, making it a welcome addition to small spaces that lack decorating inspiration. It will also work well in a kitchen area when planted with herbs necessary for seasoning dishes.
50. Paint a Wall with Plants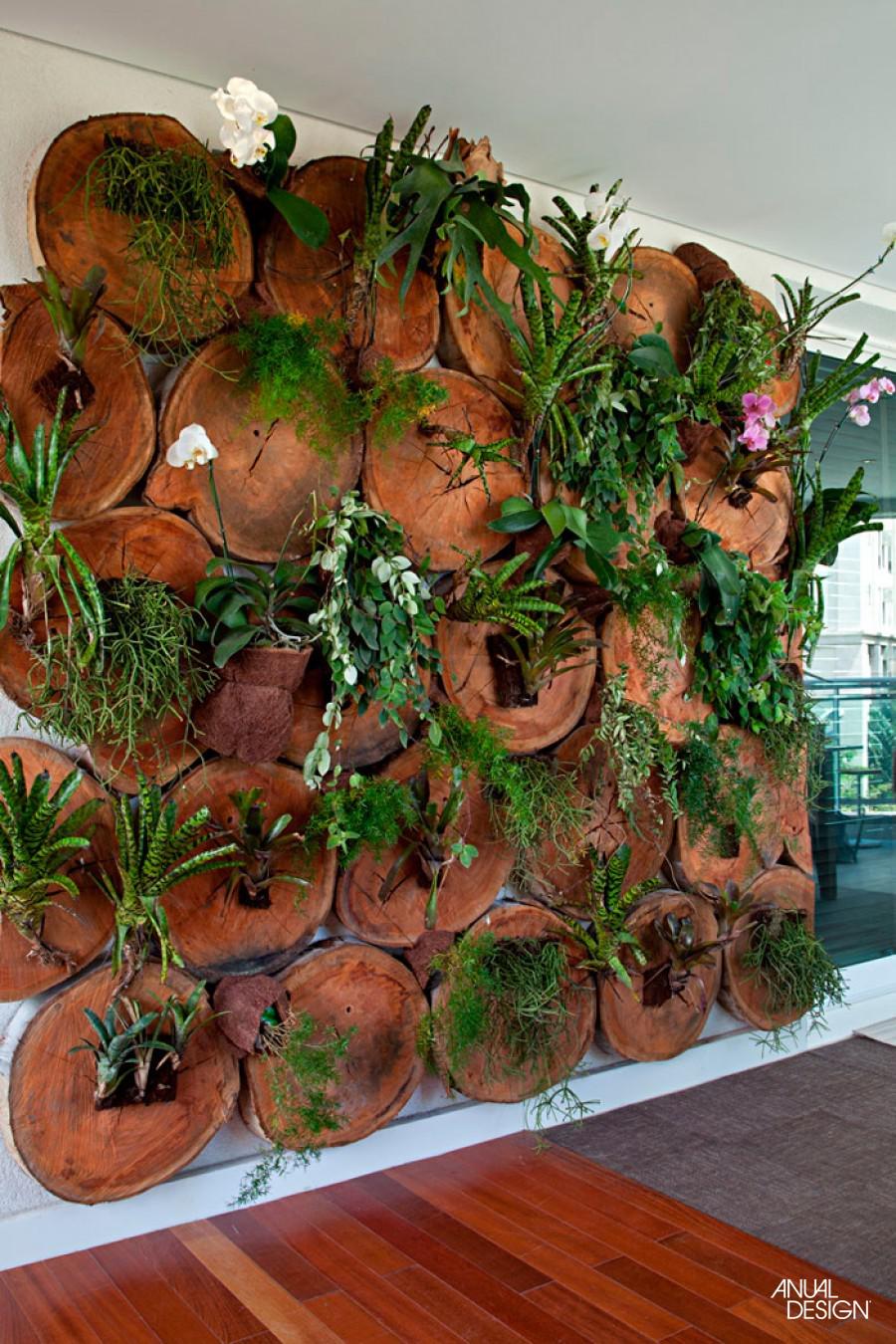 Slices of eucalyptus tree trunk serve as creative planters holding a variety of green foliage and orchids for a truly natural aesthetic. Some tree trunk slices are left blank to contrast with the exuberant greens and blooms of the neighboring trunks. This vertical garden becomes an economical and unique way to cover a large wall space while blending neatly with the rest of the home's decor, and it can work especially well in homes that already utilize a lot of wood in their design. Take account of plant shapes and colors when crafting this look, using spiky, airy and trailing plants together with orchids to achieve the same textured effect.
Be Ahead of the Vertical Gardening Trend With These Creative Designs
As these 50 ideas show, creating a vertical garden is a chance to unleash creativity and pay tribute to the glorious variety of beautiful flowers and plants from a range of different biomes. Utilizing found objects, natural lengths of driftwood or other unused containers make it an artistic endeavor that has the added benefit of being Earth-friendly. Whether it's a yard several acres in size or a tiny balcony in the heart of a big city, vertical gardening can bring added definition to a design scheme and incorporate lush plants and flowers that improve quality of life with their beauty and ability to cleanse the air.
There's no need to be a professional gardener, either; for those who lack experience in designing green spaces, simply start small. Moving on to bigger projects later will offer new challenges and a way to express creative inclinations. There's a vertical garden design to match any home's decor, and they can be as large or as small as required. They also make a good project for the whole family and can even be the inspiration for transforming the neighborhood or local community. Vertical gardeners can be a force for beautifying and transforming the world, one little garden at a time.