Sometimes the best vintage Christmas decorations are the ones you make yourself. Just because something is DIY does not mean it cannot have vintage charm, appeal, and styling. Great vintage decoration ideas can easily span decades, and sometimes the most modern ideas are those that have been borrowed from Christmases long past. These 26 fun ideas will inspire you to search through the treasure troves of family celebrations from long ago and feel inspired to create your own special memories and magic with modern updates on vintage classics.
26 of the Grandest Vintage Christmas Decorations for your Classy Holiday

One of the best features of using an inspired Christmas vintage design is that it is familiar but uniquely your own all at once. What might have been common 50, 75, or 100 years ago can look original and fresh today, especially when paired with some modern decorative touches. Plus, pulling from past generations for your Christmas inspiration will translate to a festive look that all ages enjoy. Children will see it as classic Christmas, and older friends and family will be reminded of their own magical holiday seasons of their youth.
Of course, you may be able to order some of these designs online or find similar items in the big box stores. If that's how you go about decorating, good on you for boosting holiday cheer. But for a more memorable experience and personal touch, nothing will beat making things by hand yourself. Taking the time to create new decorations adds to the Christmas magic and is always appreciated by those with an eye for décor. When you craft your own vintage ornaments or table settings, you get to take fun and whimsical elements from inspiring options like these and add your own customized styling. Of course, you can follow these designs to a T if you prefer, but don't be afraid to get creative.
1. Beautiful Post Card Poinsettia Vintage Christmas Decor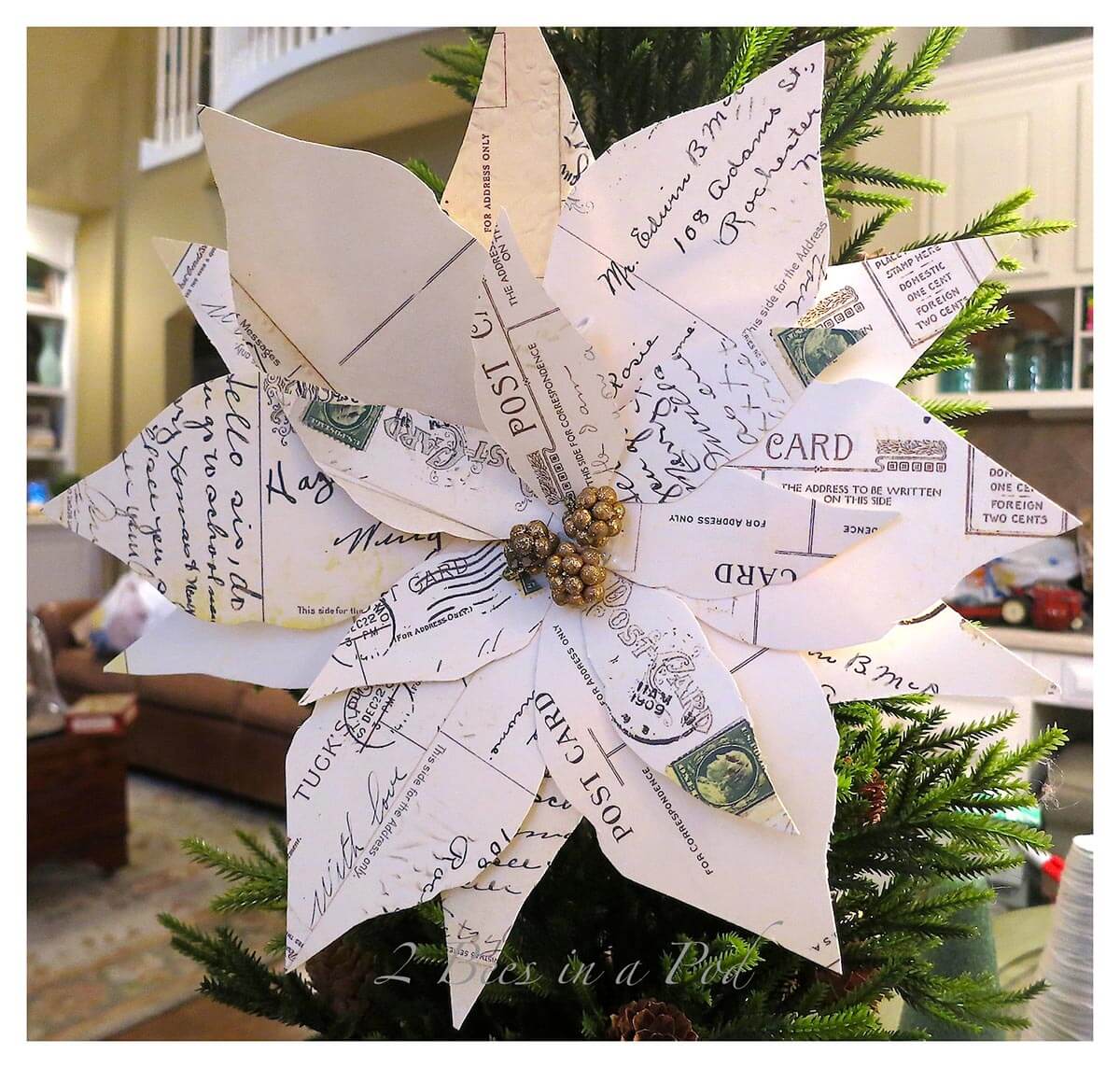 Paper ornaments such as this make for some of the best vintage decoration ideas. There is something romantic and whimsical about using paper to create lovely flowers, and this feeling is especially emphasized when using vintage-styled paper with beautiful writing on it. For your own flowers, you can buy craft paper that comes pre-printed, you can write your own, or, to add a real classic touch, you could find old writings from family members and use pages from those to create your décor. No matter what you decide, these flowers will look good with any Christmas set-up.
2. Pretty Pinecone and Jingle Bells Ornament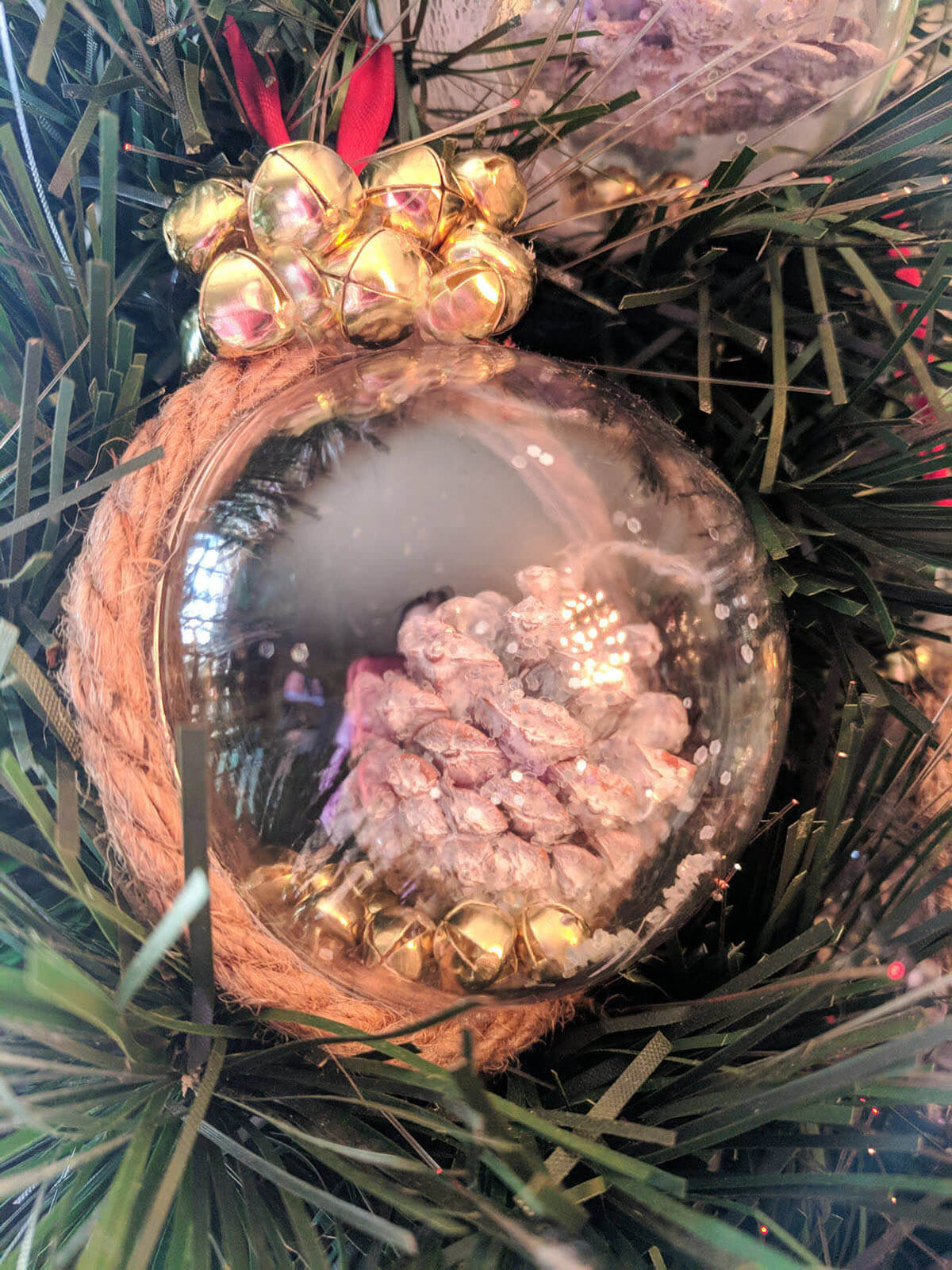 There is nothing like decorating the tree with homemade ornaments. These special gems help keep make the holidays unique and can often be crafted together as a family for extra enjoyment. The rustic and natural quality of this piece give it that vintage vibe, and it looks like something that could have easily been on the March girls' tree. It is simple, elegant, and, with a few jingle bells, fun and festive. If you have little ones in your home, be sure to use a plastic casing instead of glass since it will be so much fun to shake.
3. Vintage Box Filled with Winter Decor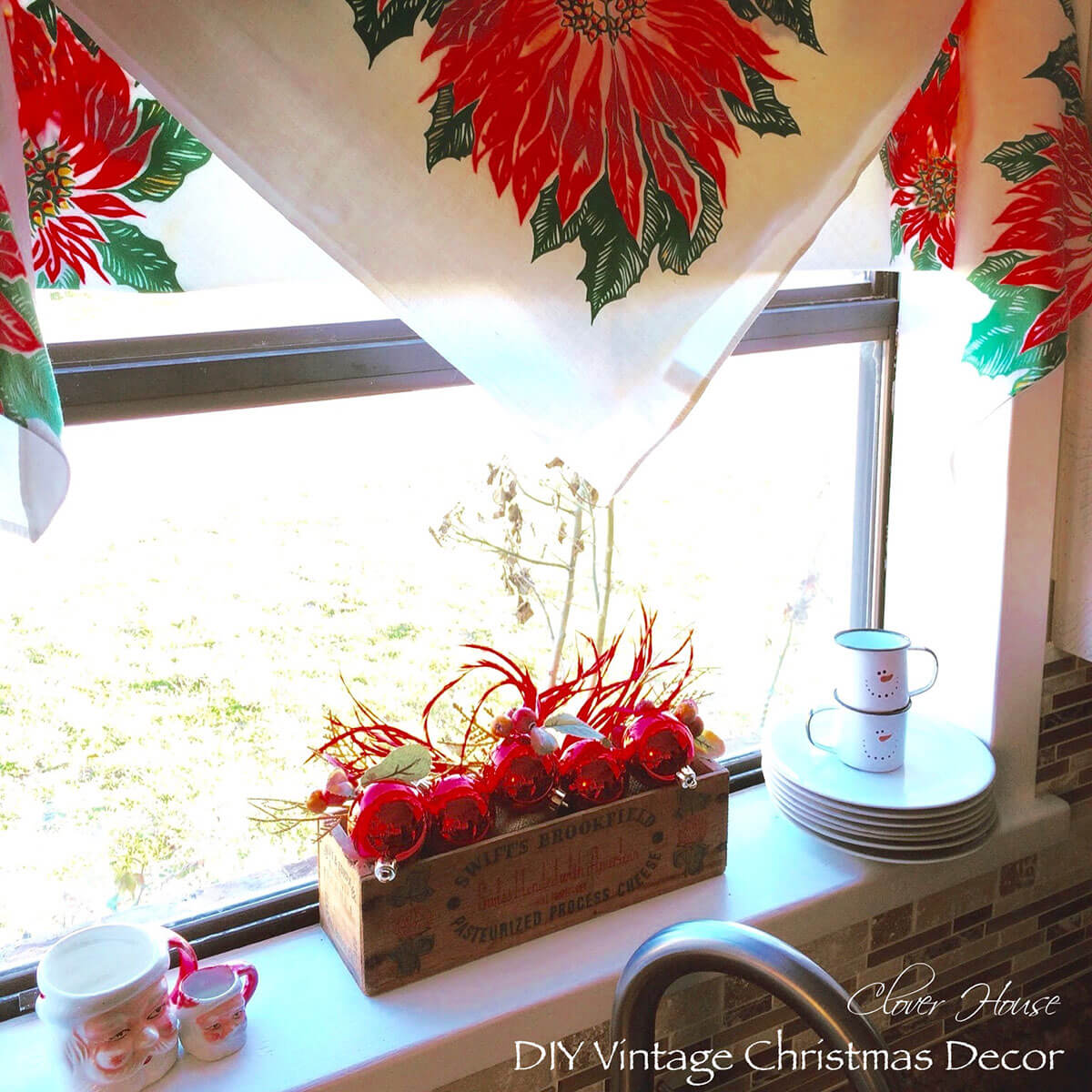 A great way to authentically tie vintage décor ideas into your holiday design is to incorporate a piece that is genuinely retro. This look uses a vintage box to house a beautiful display that explodes with holiday spirit and colors. If you have an old box of your own, you should use that, but finding something like this at your local thrift store or in your mom's attic shouldn't be much of a challenge. Whatever you decide to fill your box with, be sure to add some longer sprigs of color as seen in the photo so that you get some height and dimension for your display.
4. Creative Homemade Tin Christmas Tree Ornaments
These adorable ornaments are one of the best vintage Christmas decorations and can be dressed up as vintage or as modern as you choose. Be sure to gather your clip art prints or scrap book and lay out your design before you start anything else. This will give you a good idea of how to layer your glitter, paper, and other décor before you start gluing things down. The best part of this DIY Christmas vintage design is that it makes for a fun and creative family project that everyone can enjoy and participate in.
5. Simple Vintage Spindle Christmas Tree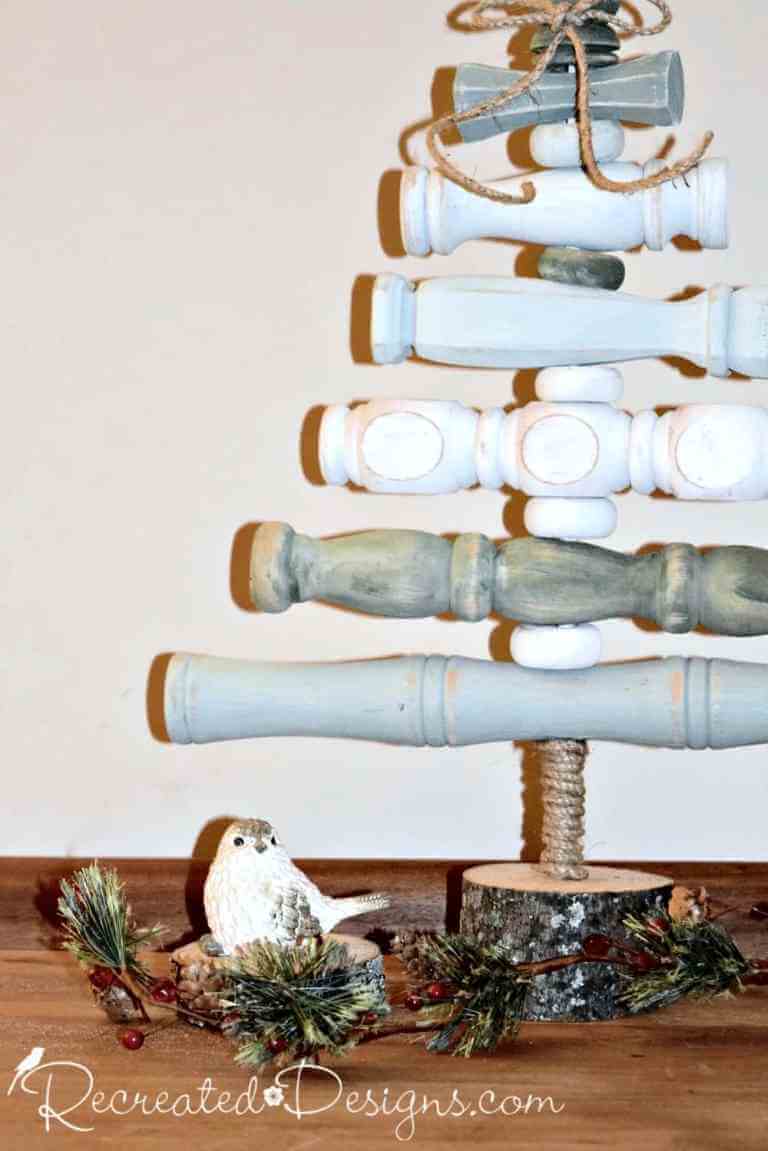 There is something that is so retro about wooden spindles. They exude a country chic feel and are easy to find, to use, and to color as you desire. You will need to find a dowel that is the height you desire and then figure out how many spindles and spacers you want from there. You can make this as tall as you like, but just be sure your spindles are each a little smaller than the one under it. If you can, try to find a bark-covered piece of wood for your base and cover any visible spots of the dowel with twine. Color this to match the ornaments on your tree for a cohesive look throughout the house.
6. Lovely and Fresh Evergreen Sprig Vases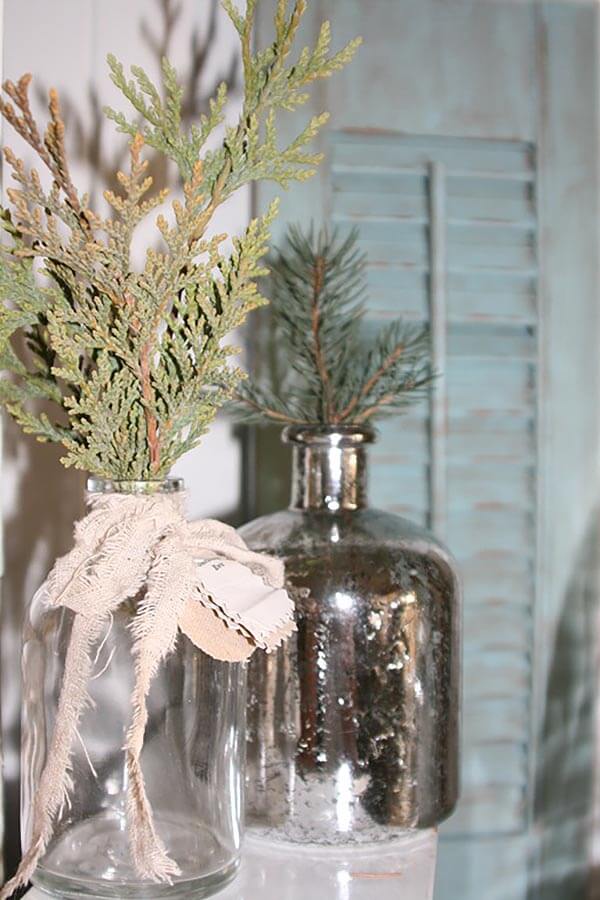 Sometimes to achieve a vintage look, you just need to keep things simple. This look takes beautiful vases, a bit of frayed burlap ribbon, and a fresh evergreen sprig to create a look that is completely suitable for the holidays but that also has an element of retro down-home charm. If you are trying to create an even more antique look, you can choose vases that have distressing, etchings, or a print that make them look as though they came from your grandmother's collection. The most important thing with this look is to embrace the simplistic perfection of it and not overdress it.
7. Full Mantle Displayed Christmas Vintage Design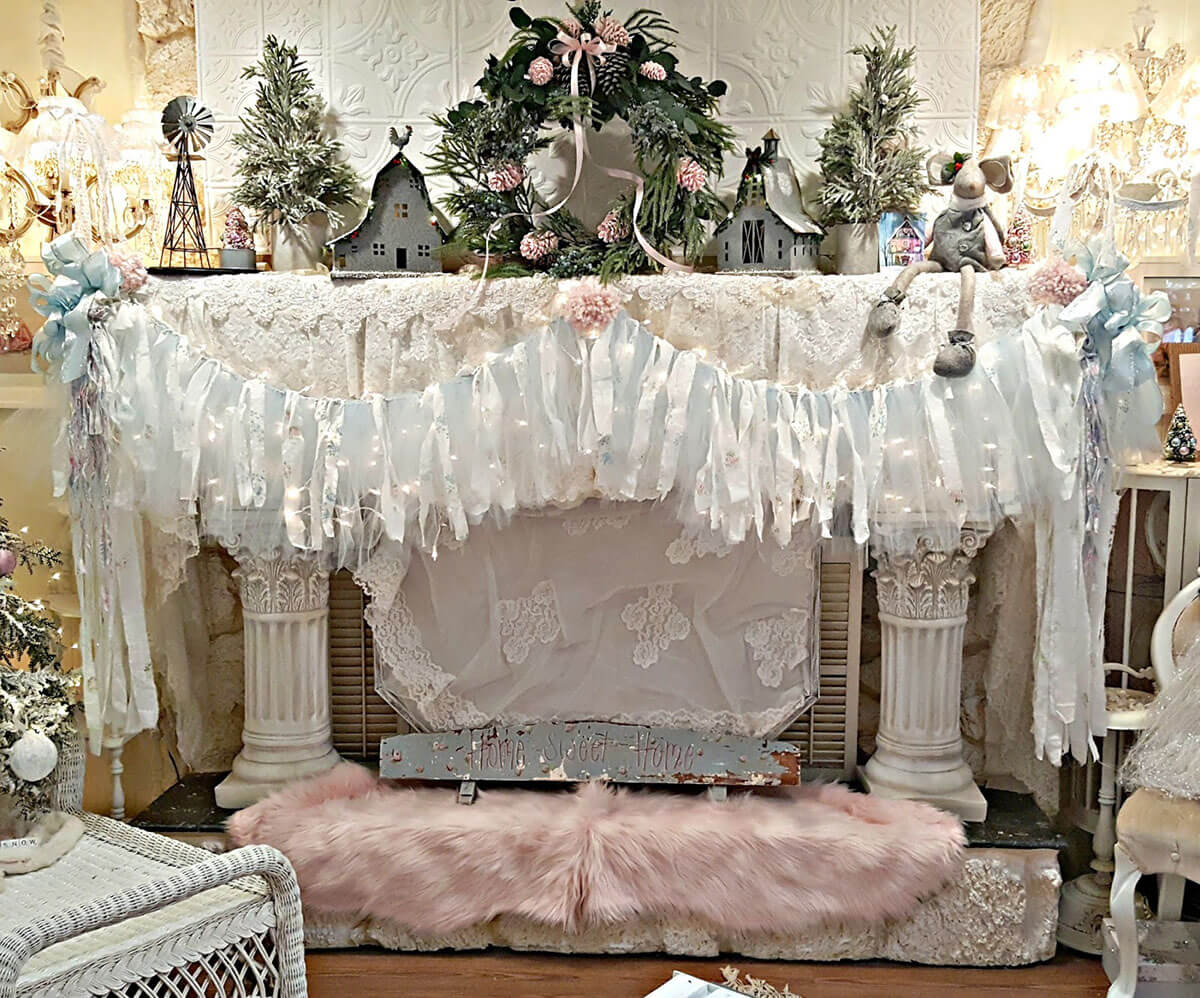 If you have the space to go big in your home, why wouldn't you? This look transforms your mantle – and really your whole living space – into a vintage-inspired Christmas extravaganza. This design is certainly not for the casual decorator, so be sure you are ready to go all in if you decide to go for this full look. Of course, you always have the option to simply take your favorite elements and use those as inspirations. The romantic and delicate lace and colors of this look are what really give it that cozy vintage farmhouse feel.
8. Professional Quality DIY Christmas Sign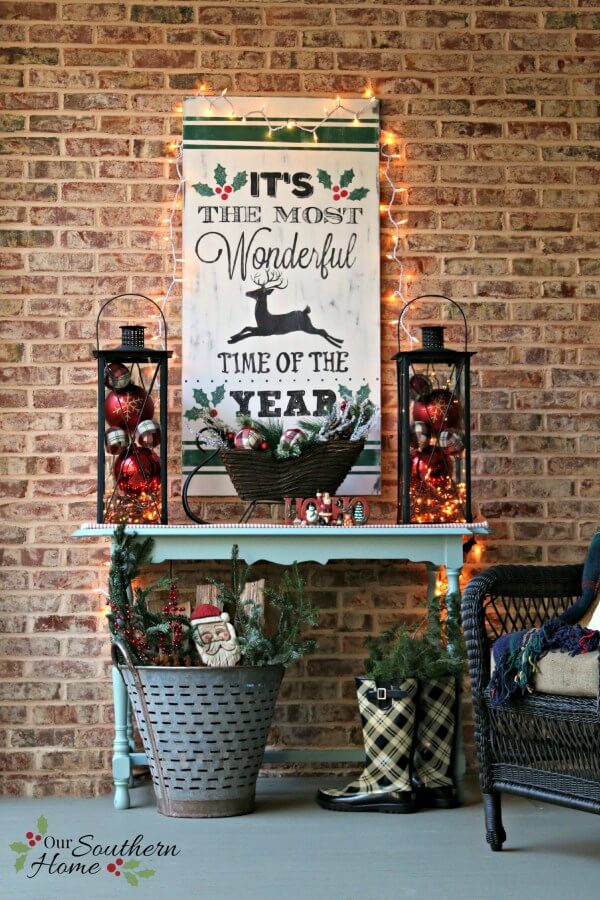 Looking just like it came off the shelf at your favorite décor store, this beautiful piece is easier to re-create at home than you may think. The most important thing is to take your time and use high-quality paints. Obviously, you can make your sign say whatever you like; however, if you are looking for vintage decoration ideas, something like the one pictured here is good. The colors are somewhat muted to give it a little bit of an older look, but the biggest vintage element is the distressing of the white base layer.
9. Family-Inspired Tree with Vintage Décor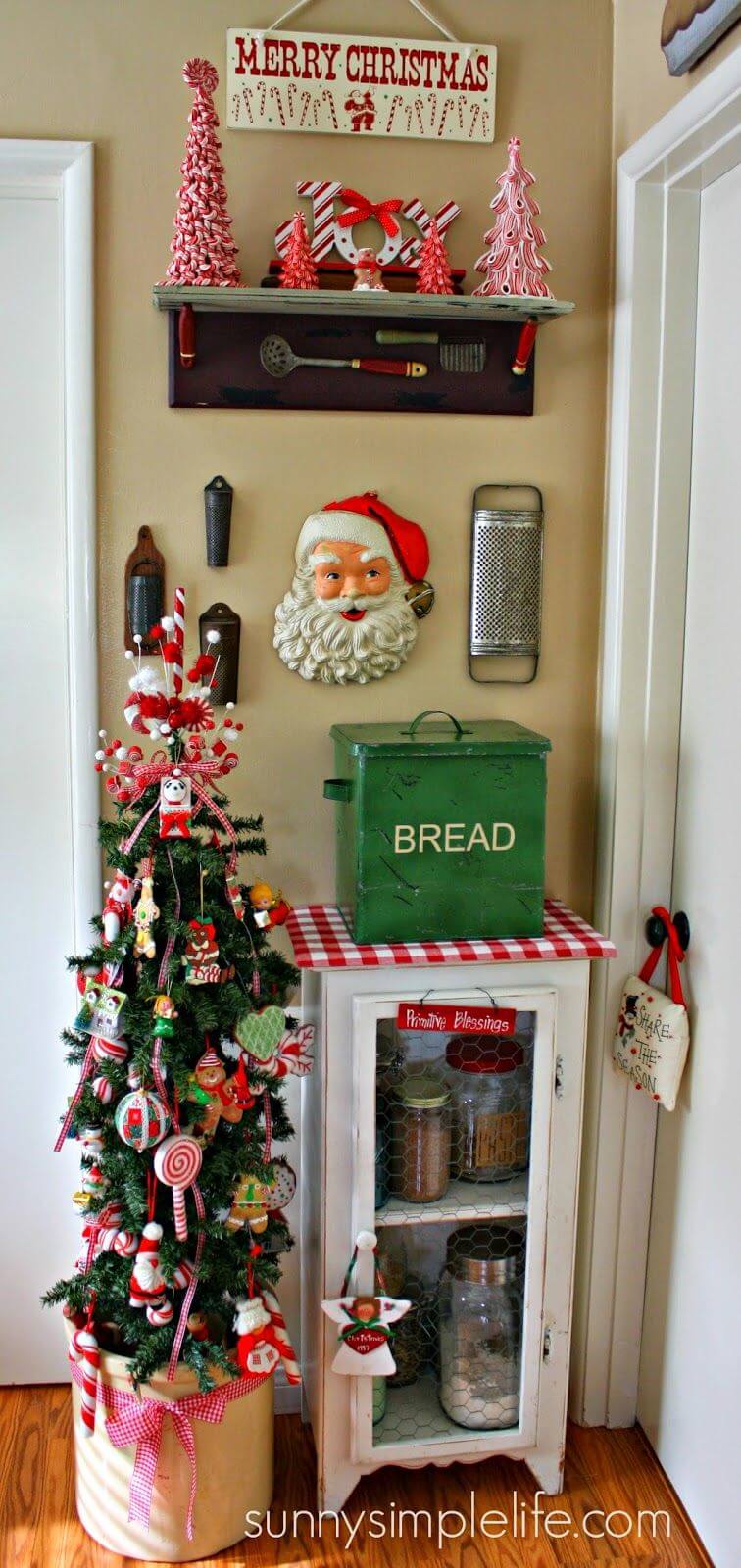 Doing something outside of the ordinary with your tree can feel a little scary, but when the payoff is as lovely as this design, you will feel inspired to go for it. This look takes classic ornaments for years past and displays them proudly for all to see. It is decked out from top to bottom and exudes a familial warmth and happiness that is indicative of the holidays. The addition of vintage Christmas decor next to and surrounding the tree only increases its appeal and creates an entire display instead of just a solitary tree.
10. Vintage Décor Ideas for Lodge-Style Mantle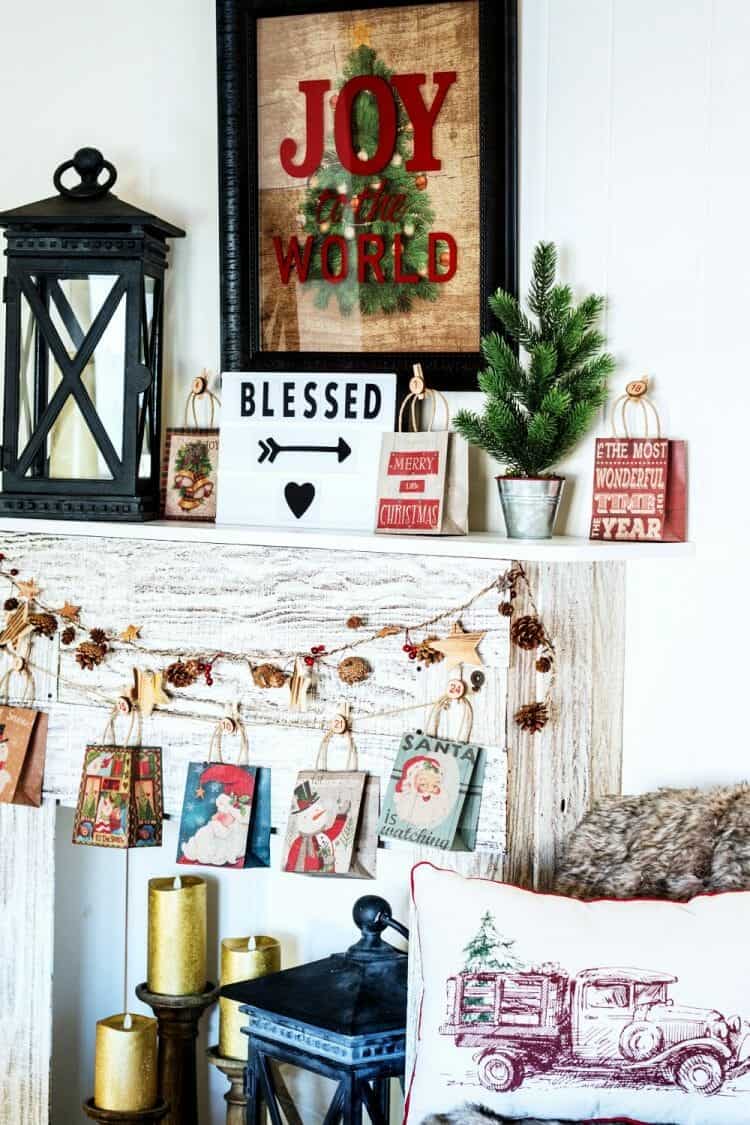 This pretty display takes a few classic elements and ties them together for a cohesive and fun look. Forget stockings – this look takes custom-designed vintage bags and hangs them on a festive garland for a varied and interesting effect. Everyone can make their own personalized bag, or you can purchase them to make it a totally matching set. Be sure to incorporate holiday signs, greenery, and some candles to add to the cozy faux fireplace feel. Everyone will want to snuggle up next to your fire whether or not there are any actual logs burning.
11. Colorfully Painted Vintage Yardstick Tree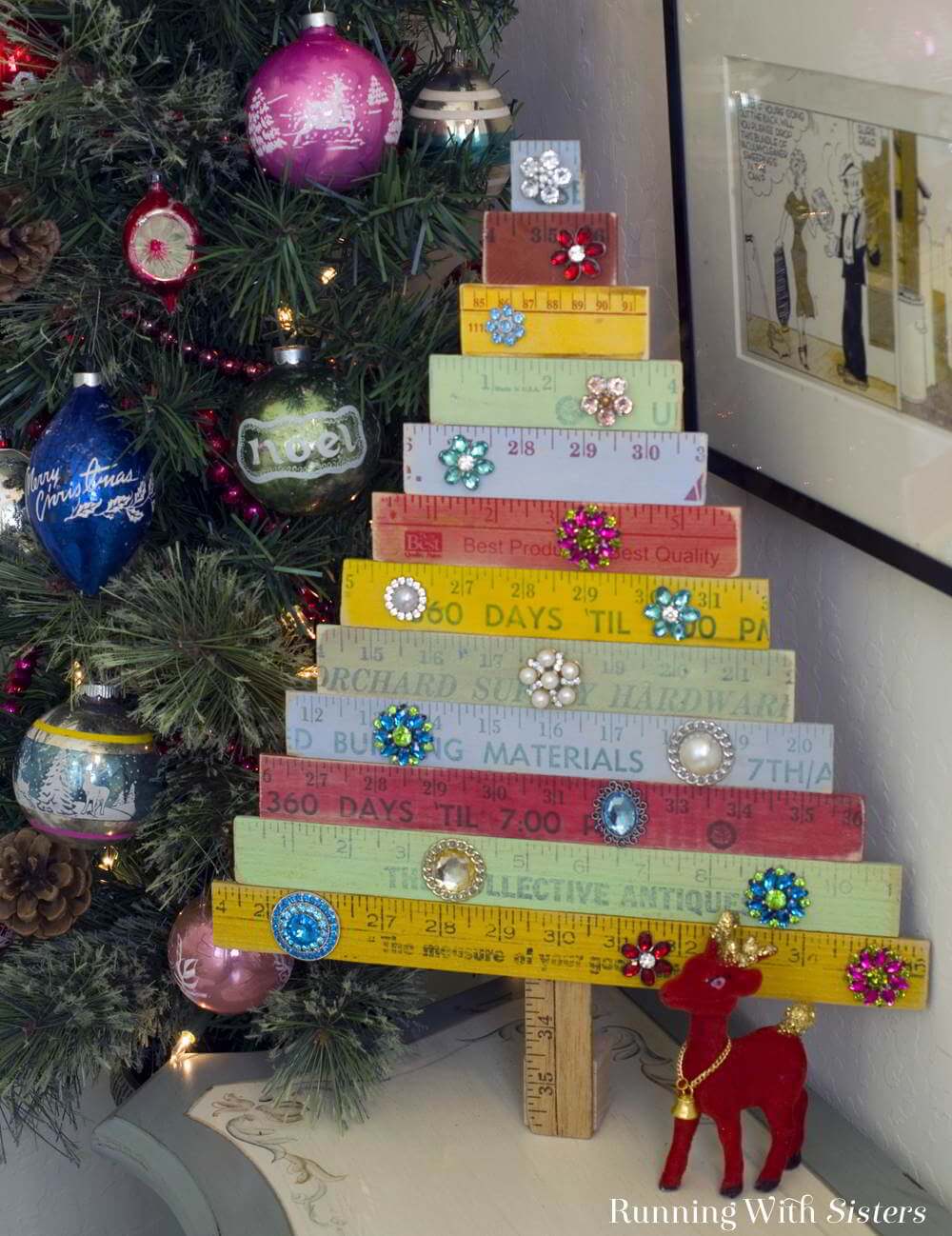 There is something charming and homey about yardsticks and rulers. They are almost quaint in their simplicity and often can be found with retro shops or sayings printed on them. As you can see, these rulers look like they were picked up at a vintage shop and have now been upcycled into this cute little tree. You won't need too many for the project since they will be cut, and you can choose paints that either emphasize or downplay the antique vibe. Be sure to add a few decorative elements to really make it look like a sparkly and fun tree.
12. Twig Tree Rustic Luminary Decorations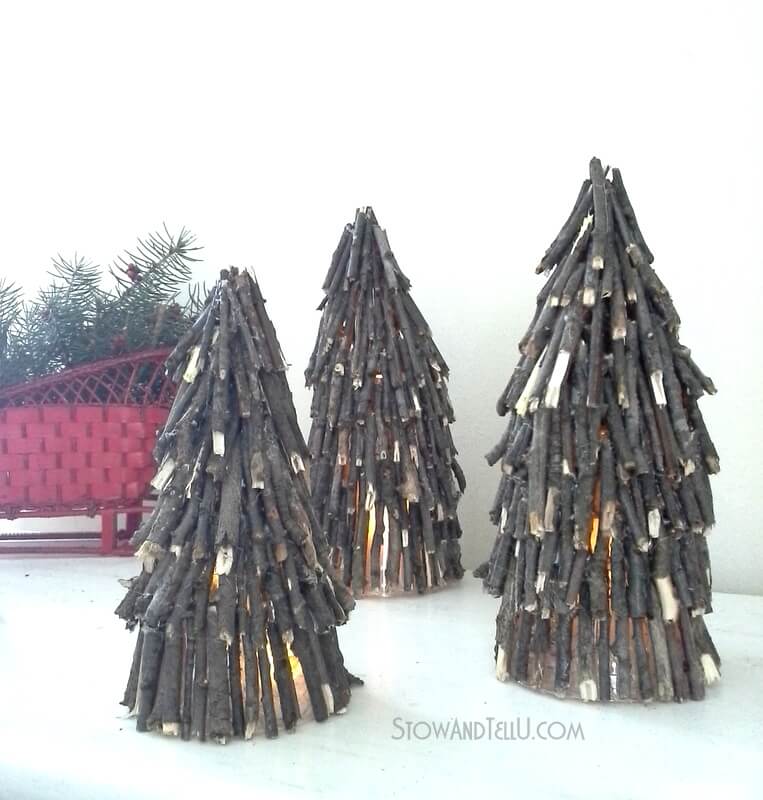 These beautiful luminaries are perfect as a holiday centerpiece or end table decoration. They are beautiful and whimsical, and they inspire the feeling of a rustic farmhouse. The best part about this design is how inexpensive it is to create. If you have trees in your yard, you need only to forage for a few choice twigs or, if you're not in the mood for picking sticks, you can buy a bundle of them from a local craft store. Besides that, you only need a plastic cup, a flameless tea light, and some glue. This is a great option for a vintage-style craft that the whole family can participate in.
13. Gorgeous Folded Book Page Decoration Ideas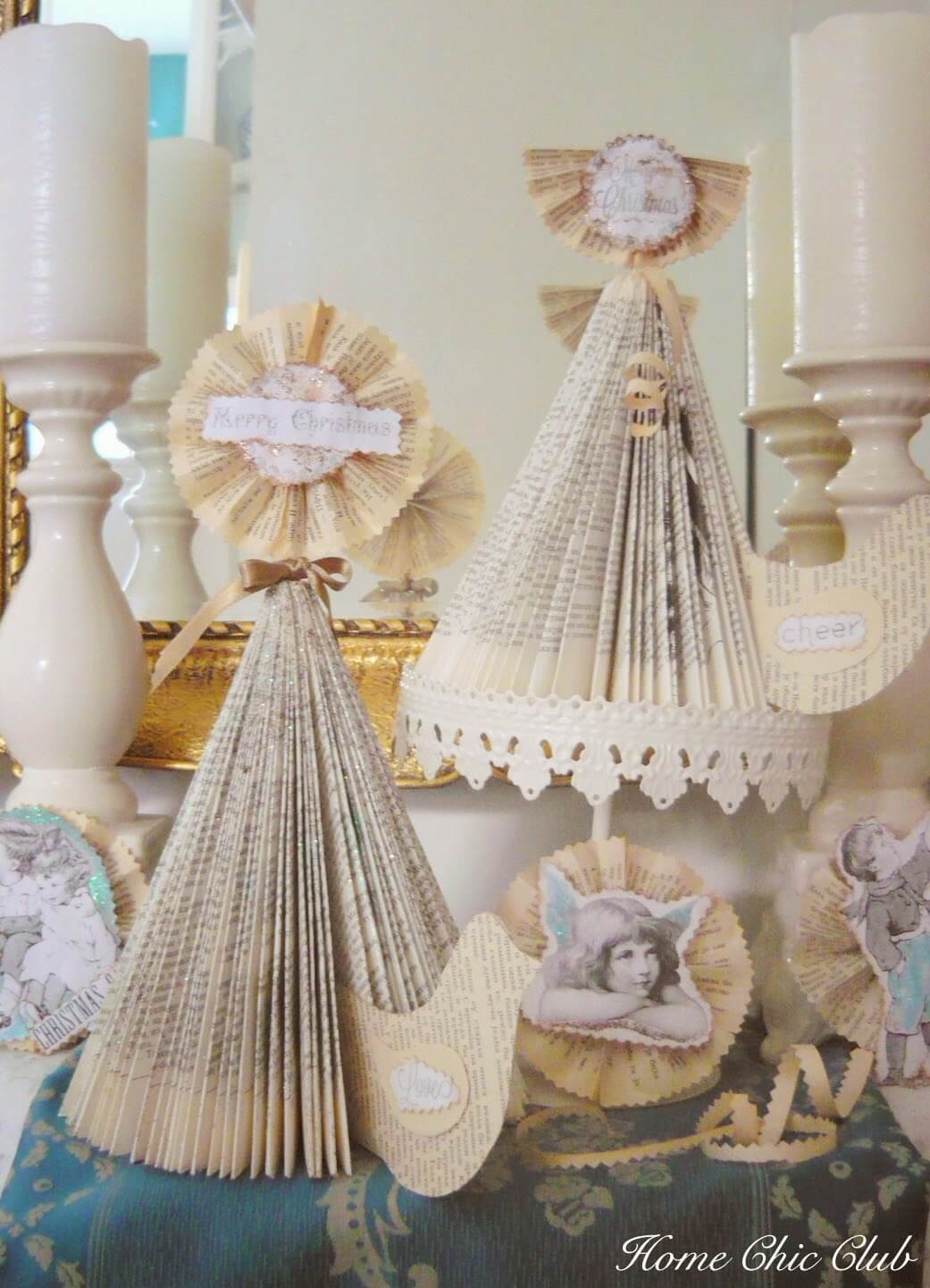 If you have an admiration for the old and romantic, then this is certainly one of the best vintage decoration ideas you will come across. These paper ornaments have an almost Victorian quality to them, but they can be handcrafted at home using pages from whatever old book you happen to be finished with. Each design has its own unique feel and would look splendid as a single display or spread throughout a room. There are often old books with sturdy and slightly colored pages such as these at local thrift stores and estate sales.
15. Distressed White Painted Christmas Tree Décor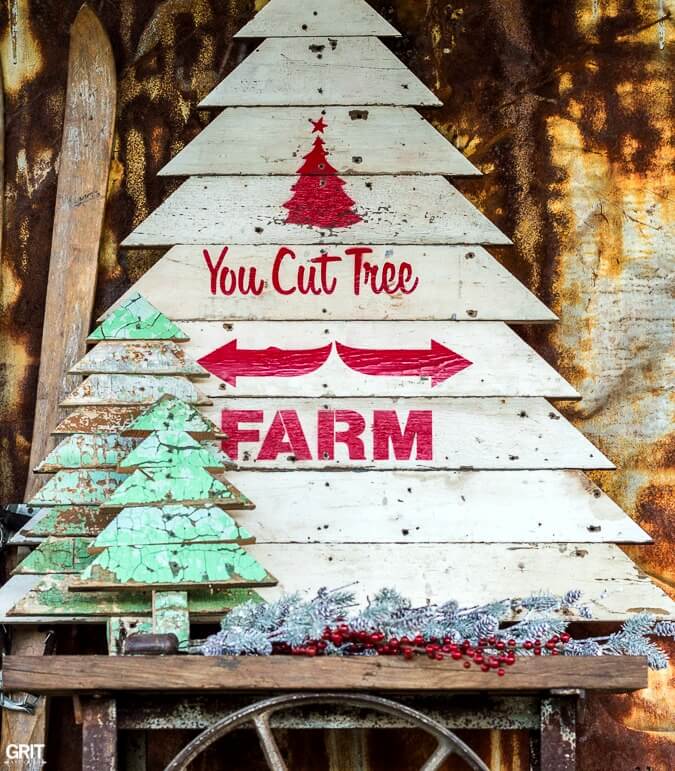 Once you know how to craft one of these lovely trees, you can make them in as many size, colors, and designs as you like. They make great holiday gifts and can also be stacked for a festive and cohesive look. You can decide if you want them to look old and weathered or fresh and new, and you can also have fun playing around with colors and sayings. You can make it look like it came from a tree farm as this one, or you can choose to represent your family homestead with your last name instead. The options are endless.
16. Paper Tree Vintage Decor Ideas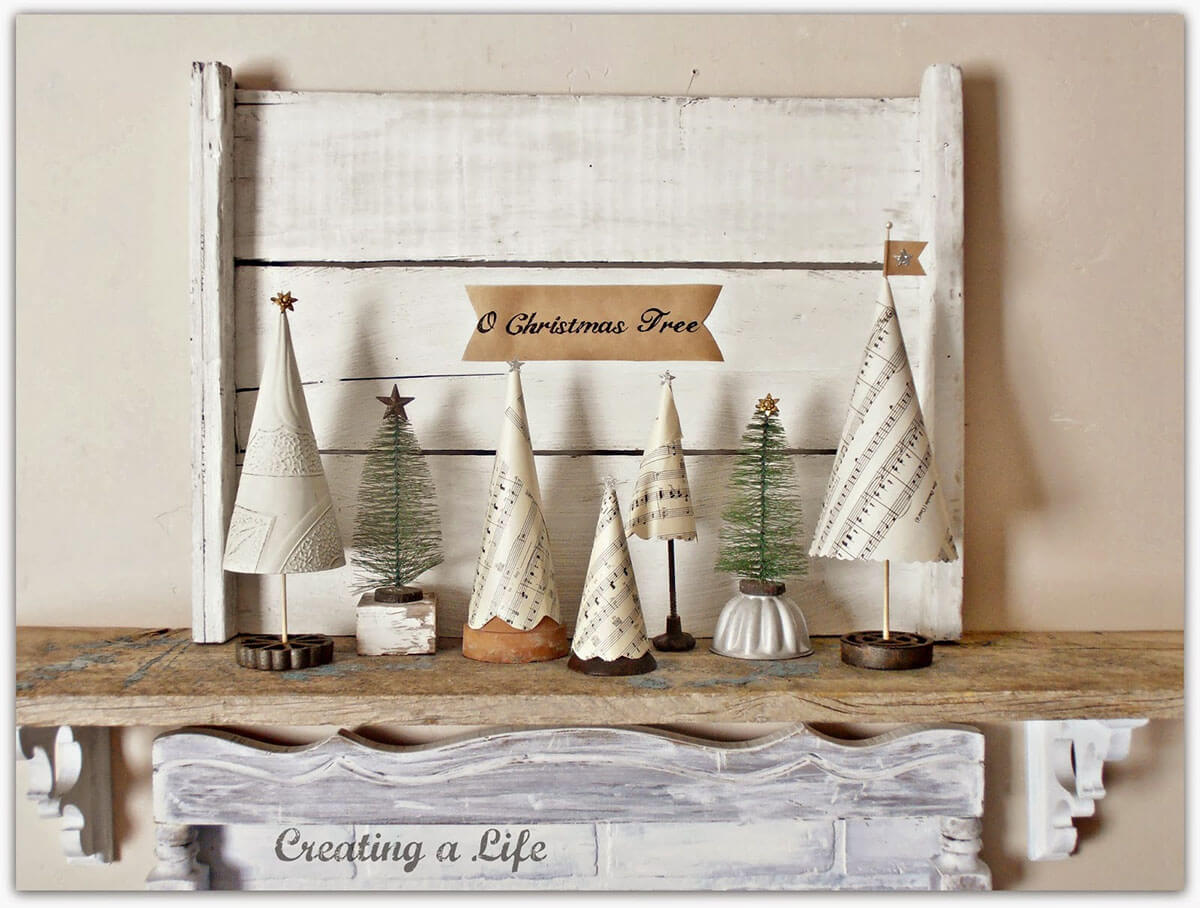 This adorable little forest is built from beautiful odds and ends. You can use many different found objects as a base – old wheels or gears are a great start – and then simply add a dowel and wrap with station paper or sheet music you may have laying around. Bonus points if the music is for a Christmas carol! Make as many paper trees as you like and be sure to pair them with a pretty background. You can also add homemade green trees that can be crafted from spray-painted bottle brushes.
17. Vintage Santa Clause Christmas Cane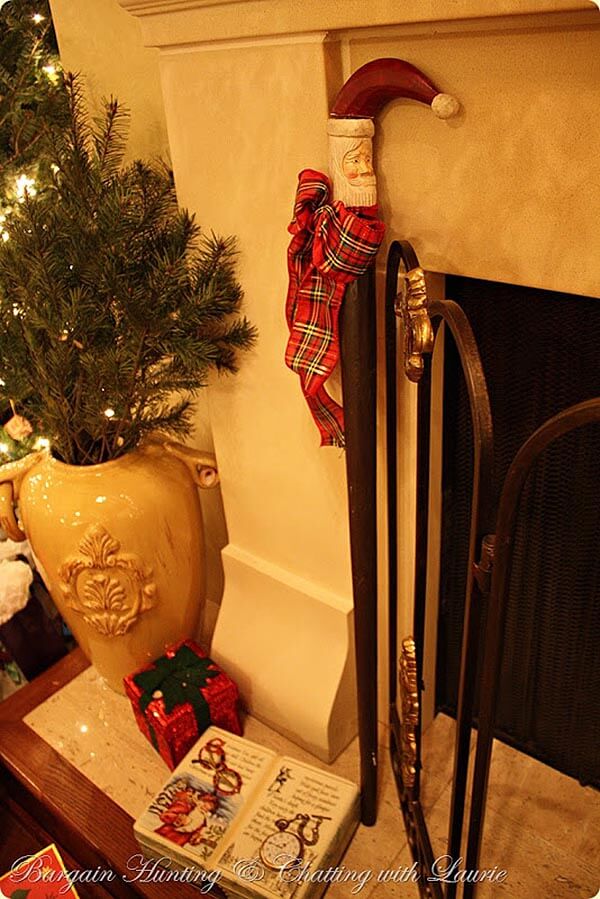 To create this exquisitely crafted cane takes a bit more of a specialized skill set, but it can be done and look amazing. You also could always seek one of these out online or at vintage shops, or you might even find pieces to put together and make your own semi-handmade version. The clever way that the cane's curve forms Santa's hat and the pretty bow that looks almost like a scarf around his neck make great touches to this already unique piece.
18. Multi-Tiered Pretty Page Trees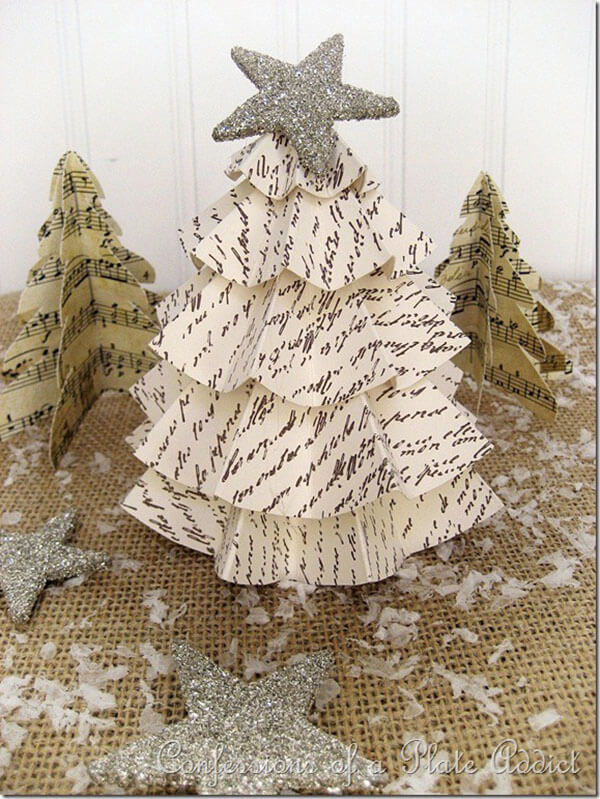 This beautiful handmade tree is the perfect centerpiece and one of the best vintage decoration ideas. It is elegant, clean, and easy to craft, meaning you can make one or a few if you have multiple places to set them. You just need to find the perfect paper to use that can give you the right amount of stiffness and has the design you want to see. For an extra personalized touch, you can find the right weight of plain paper and add your own writing. The addition of some stiff sheet music trees and some sparkling stars really makes it shine.
19. Painted White Village and Pretty Garland Decorations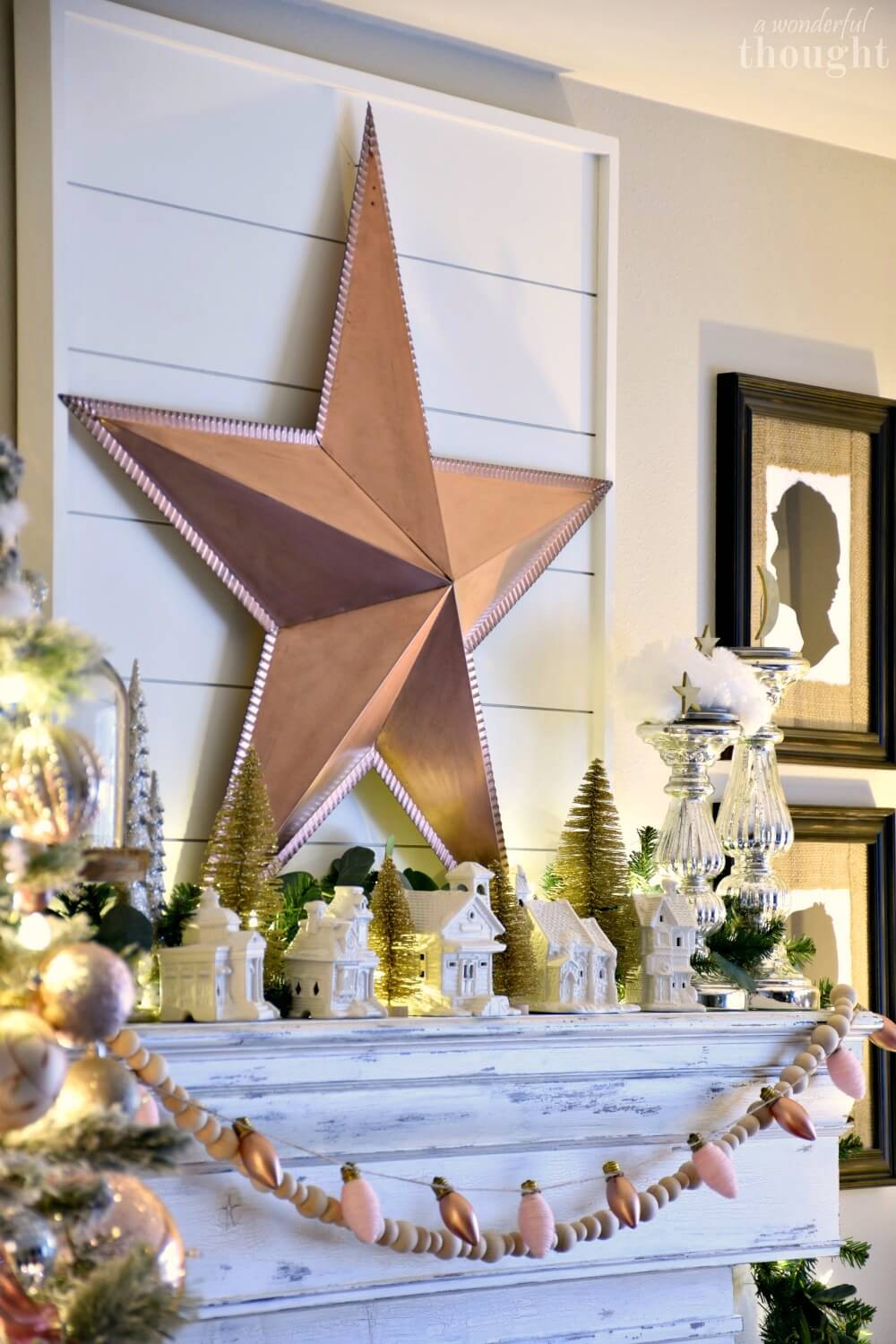 This beautiful mantle display houses many special pieces of holiday magic, including the beautiful Christmas village and fun to-theme colored garlands. It doesn't look it in the picture, but these were both painted to better match the existing décor. It is important to remember as you think about adding decorations that you can always add paint to make something more your own. When you do this, you expand your options, particularly for vintage items, and can make any piece that catches your eye your own. Don't be afraid to go for it and – number one rule of crafting – have fun.
20. Classic and Ornate Holiday Nutcrackers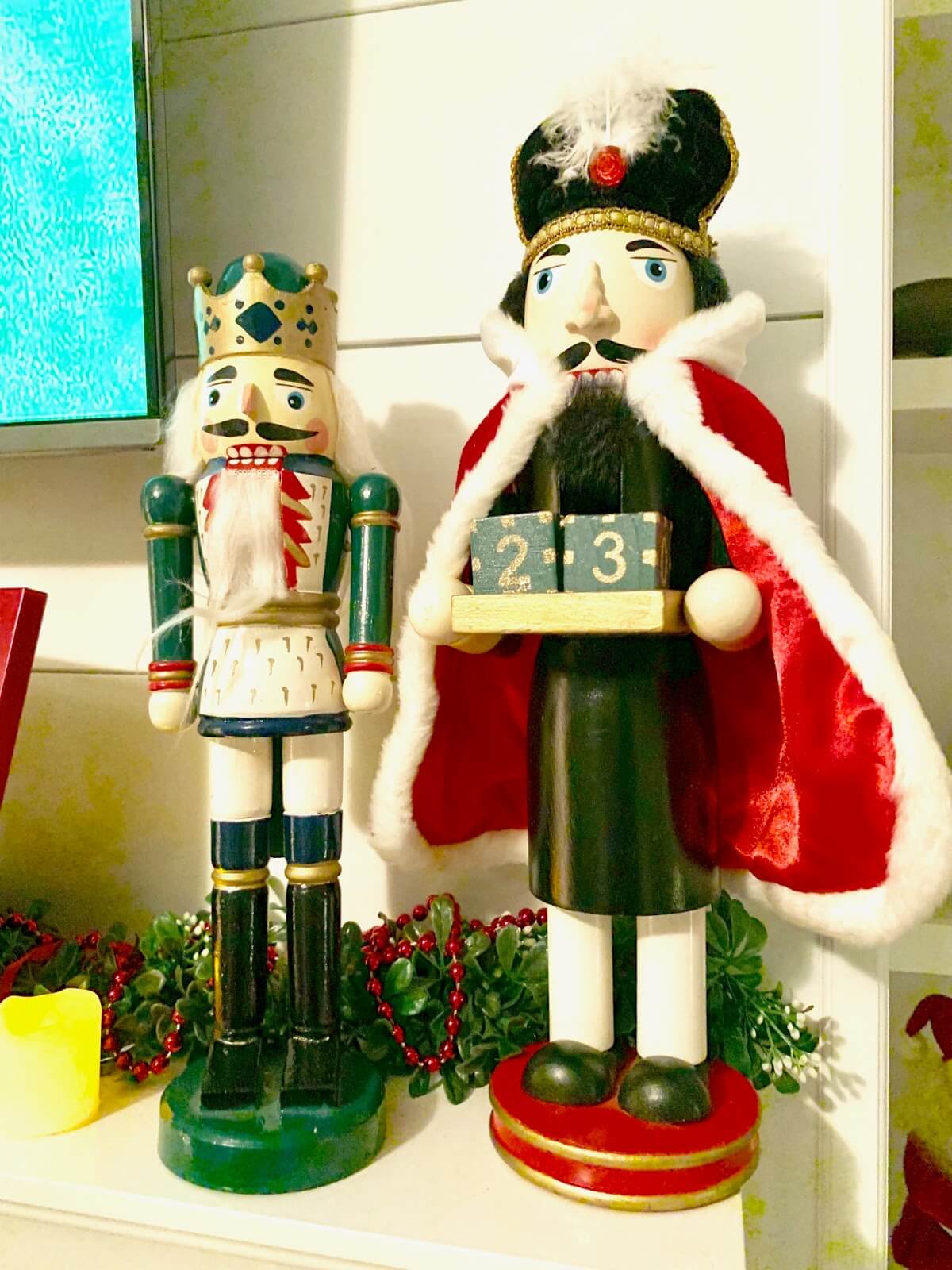 If you want to purchase new décor that will always have an element of vintage charm, then a nutcracker is the way to go. There is something of an old-world European feel to them, and they conjure up images of dancing snowflakes and sturdy soldiers. One of the best parts of using nutcrackers in your décor is that they are quite popular, so it should be relatively easy to find some that match the look you are going for. Still, even with their popularity, there is often great variety in the colors and stylings so as to keep them unique.
21. Simple Stickered Christmas Vintage Design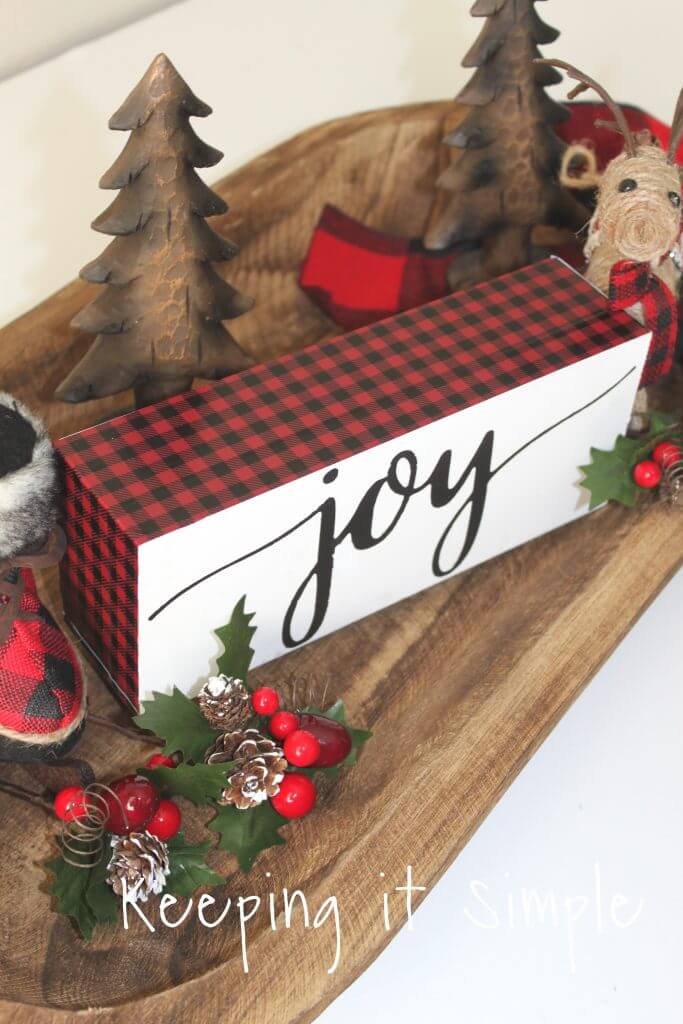 With so many ways to re-create this adorable block sign, you are sure to find one that works for you. Like the DIYer in the photo, you could build you own block with wood glue, use your Cricut for the writing on front, and used sticky vinyl for the sides. Of course, you can mix this up and create this from a solid wood block, or you could paint the lettering, or you could use holiday stickers instead. The joy in a project like this is coming up with what best suits your style, skill set, and available materials.
22. Big and Beautiful Wooden Plank Display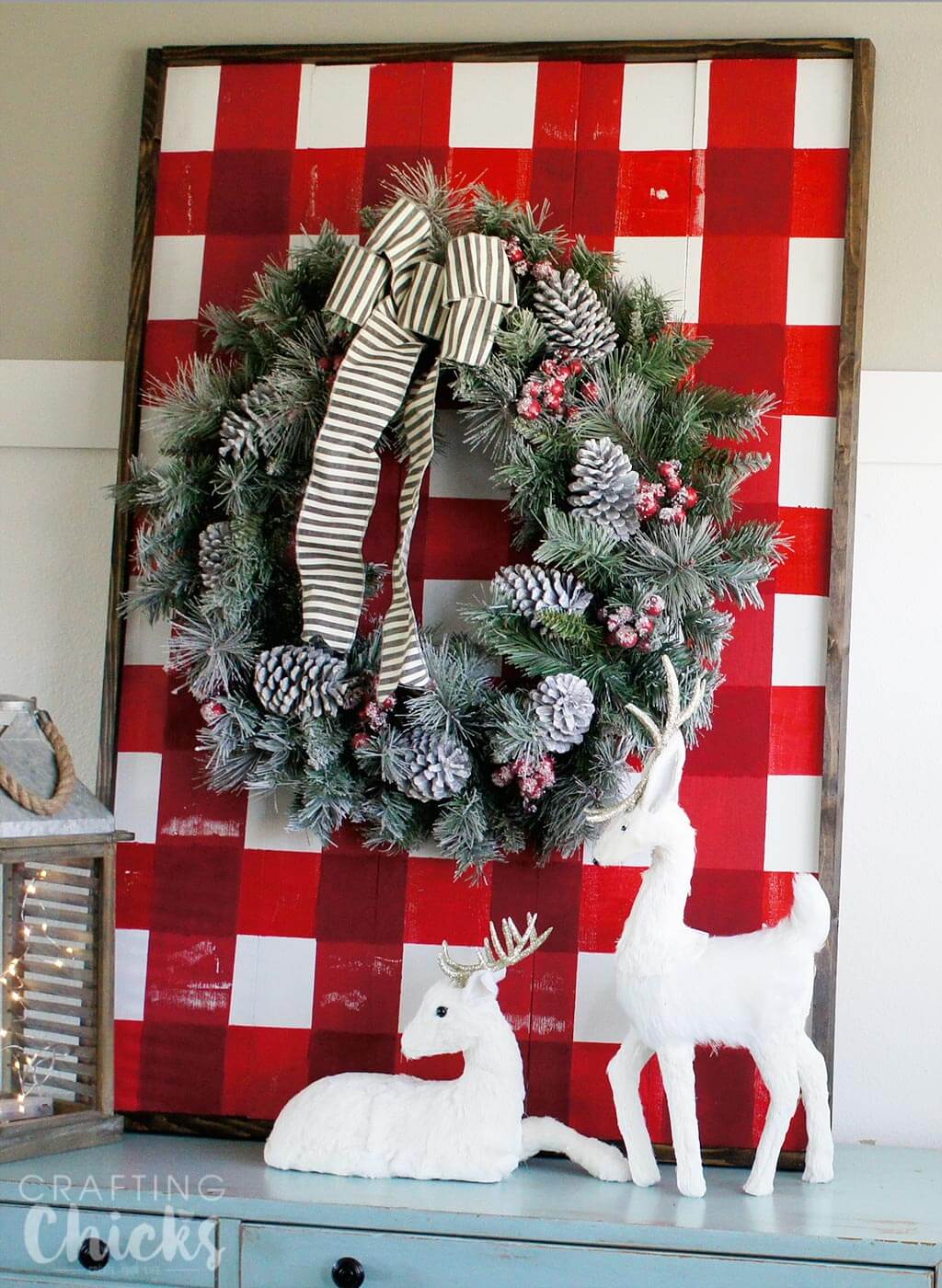 If you are looking for a vintage-style statement piece for your living space this holiday season, then this is a great choice. It is big, bold, and beautiful without breaking the bank. Since it is made from five different pieces of wood, you have the ability to sculpt this look yourself from there and can make it any color or pattern you desire. This classic checkerboard look reminds one of cozy Christmas flannel. Once you've completed the base design, you can add a border or wreath and a finishing touch. It will look amazing, DIY, and vintage as the backdrop to any holiday scene.
23. Stunning Vintage Holiday Table Décor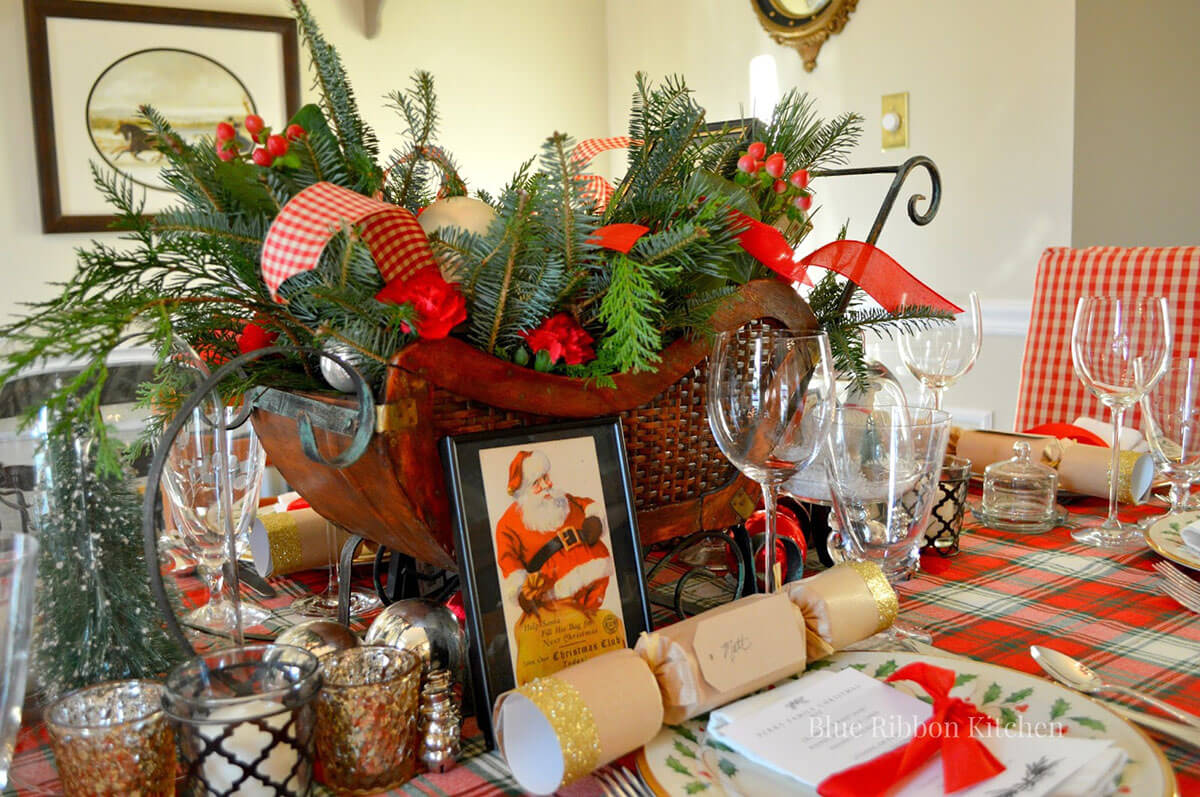 This beautiful display is warm, cozy, and beautiful. It uses many small touches to create an overall look that is quite lovely. The small sleigh as the centerpiece is filled with green foliage and red flowers to create a colorful bouquet of holiday flora, and the table is properly dressed to match in a lovely red and green gingham pattern. The framed vintage Santa postcards add a personalized and whimsical touch to the display and give each guest something special to look at and discuss. A few candles set the mood, and fun party crackers add to the holiday cheer.
24. Burlap Stars and Rope Reindeer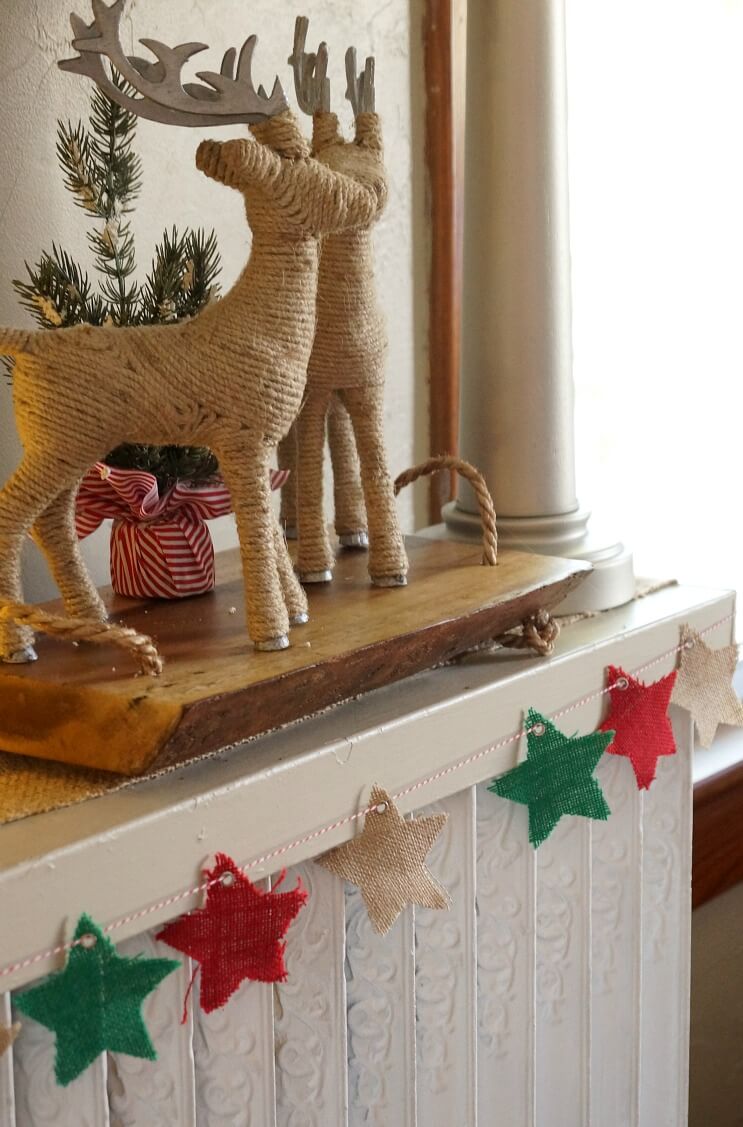 Great vintage decor ideas can start from anywhere and span decades and styles. This look is rustic in its vintage appeal, using natural burlaps and twine to create a festive holiday look. These stars shine brightly as they add a pop of color to an otherwise fairly neutral display. When working with natural fabrics, it is important to remember to add in those fun colors for a burst of brightness. The stars you can simply cut and string while the reindeer may be easier to purchase. If you have a solid model, you may be able to wrap and glue the rope yourself to accomplish this look.
25. Cute DIY Cabinet Front Panel Sign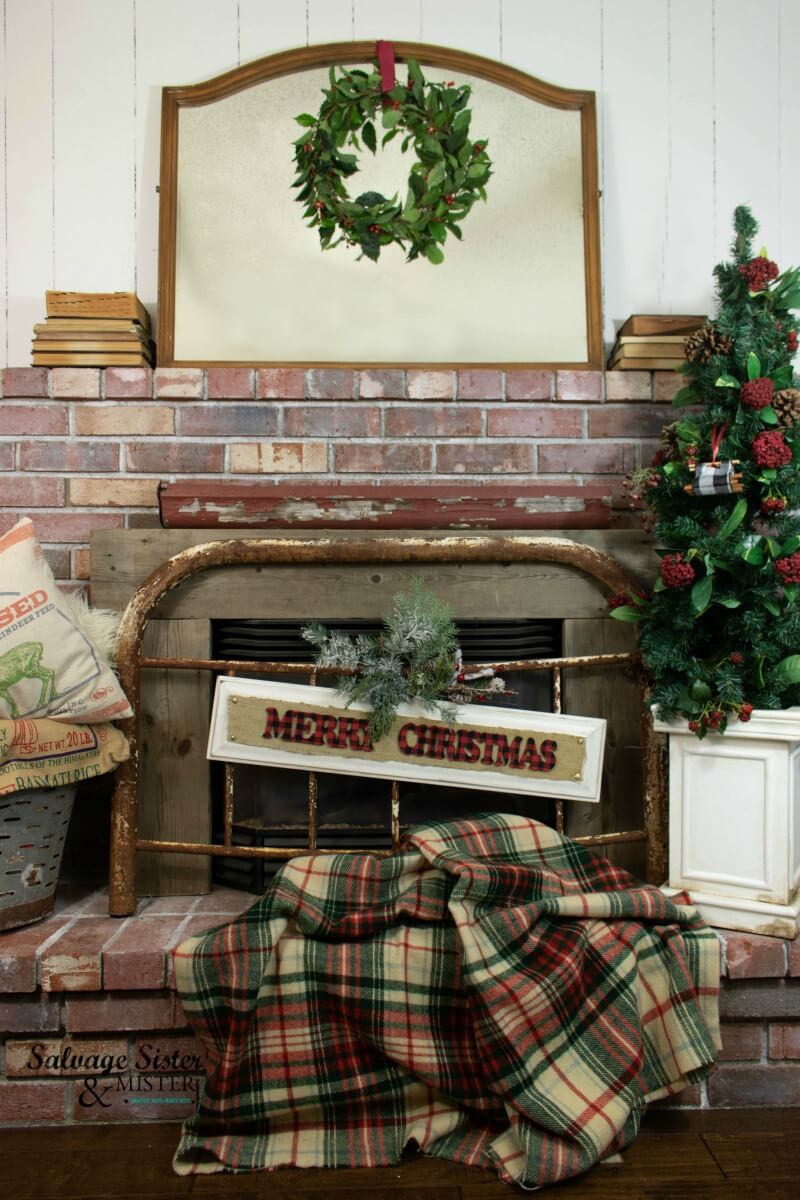 You can make your own crafts from just about anything you can find at the hardware store. Just because it may not traditionally be used for décor, you don't necessarily have to not count it out. This lovely sign is made from the front panel for a cabinet and couldn't have ended up any cuter. The key to transforming a piece like this is to have a plan and stick to it. For a vintage look, you can use some paint to distress the wood, and then you can decide how to decorate from there. The burlap looks is perfect for the holidays, and the small gold studs add a great finish.
26. Simple and Neat DIY Stick Trees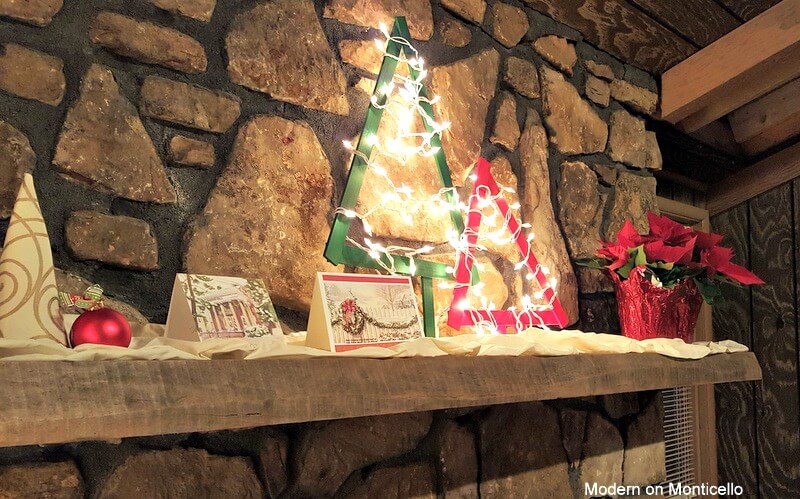 This Christmas vintage design is crafted from the simplest of items yet creates a pretty and playful finished look. Yardsticks and rulers can make up your tree outline as they are straight, inexpensive, and easy to cut. If you like, you can let a bit of the lines peek through by adding a little less paint, or you can totally hide the sticks' origins by heavily coating them. You could use any piece of straight wood for this project, so if you have paint sticks or extra trim lying around, that would do as well. Whatever you do, be sure to add lights!
26 Gorgeous and Festive Christmas Decorations to Spruce up your Holiday
Vintage decor ideas have so much range and depth. You can go for something Victorian or aim for something more American frontier. Whatever your home's style, there are certainly vintage touches that can be added for the holidays that will remind family and guests of simpler days gone by while making them feel right at home in the present.
If you are crafty, you can try your hand at just about any item on the list. After all, someone had the ingenuity and skill to make it in the first place; if they can do it, why can't you? Just be sure to have patience and know that some of the trickier things take time and practice. If you prefer to purchase your crafty décor, you can find something similar to most of these inspiration pieces on Etsy or at local shops.
Vintage décor remains popular for the holidays because it harkens back to memories of generations past, giving you a warm sense of belonging and tradition. Each piece feels especially unique and special.
Of course, you can also create these beautiful designs as gifts and really impress friends and family this year. However you choose to use these decoration ideas, they will inspire the love and sentimentality of the season.
Our Favorite Christmas Ornaments to Buy on Amazon