One of the easiest ways to personalize a space is to incorporate some of the best vintage posters and print ideas. This can be artwork or photographs that originated anytime in the past two hundred years. Not only does this give your space some interest, but it also is a great way to show off your tastes. Some vintage prints feature celebrities from Hollywood's Golden Age. These lend glamor to your space. The classics never go out of style, and means that you will be able to display these for years to come.
24 Conversation-Starting Vintage Print Ideas to Upgrade Your Style
There is something magical about retro artwork that viewers' captures attention. A vintage photograph can be a window to a different time. Before computers were used to create artwork, all illustrations were painted by hand. Instead of using fonts, someone had to either cut the lettering out or use his or her own handwriting. This gives any retro design with text a handcrafted, artisanal flavor.
Vintage prints almost always work with mid-century modern decor. With the right frame, many of these will also blend seamlessly in other decor styles. However, one thing to be mindful of when fitting a vintage print into your home is the color palette. While it is always an awesome idea to contrast colors, hanging a warm color print in a room with a cool color palette can be a bold design decision.
As you figure out what wall art you can use to refresh your space, remember to have fun. A well-placed print can rejuvenate a room and give it a new life. Part of what makes vintage prints such a great investment in your home decor is that they will never go out of style. This, in combination with a vintage print being unique, are reasons that they make wonderful gifts.
1. Four Vintage NFL Blueprint Sketch Downloads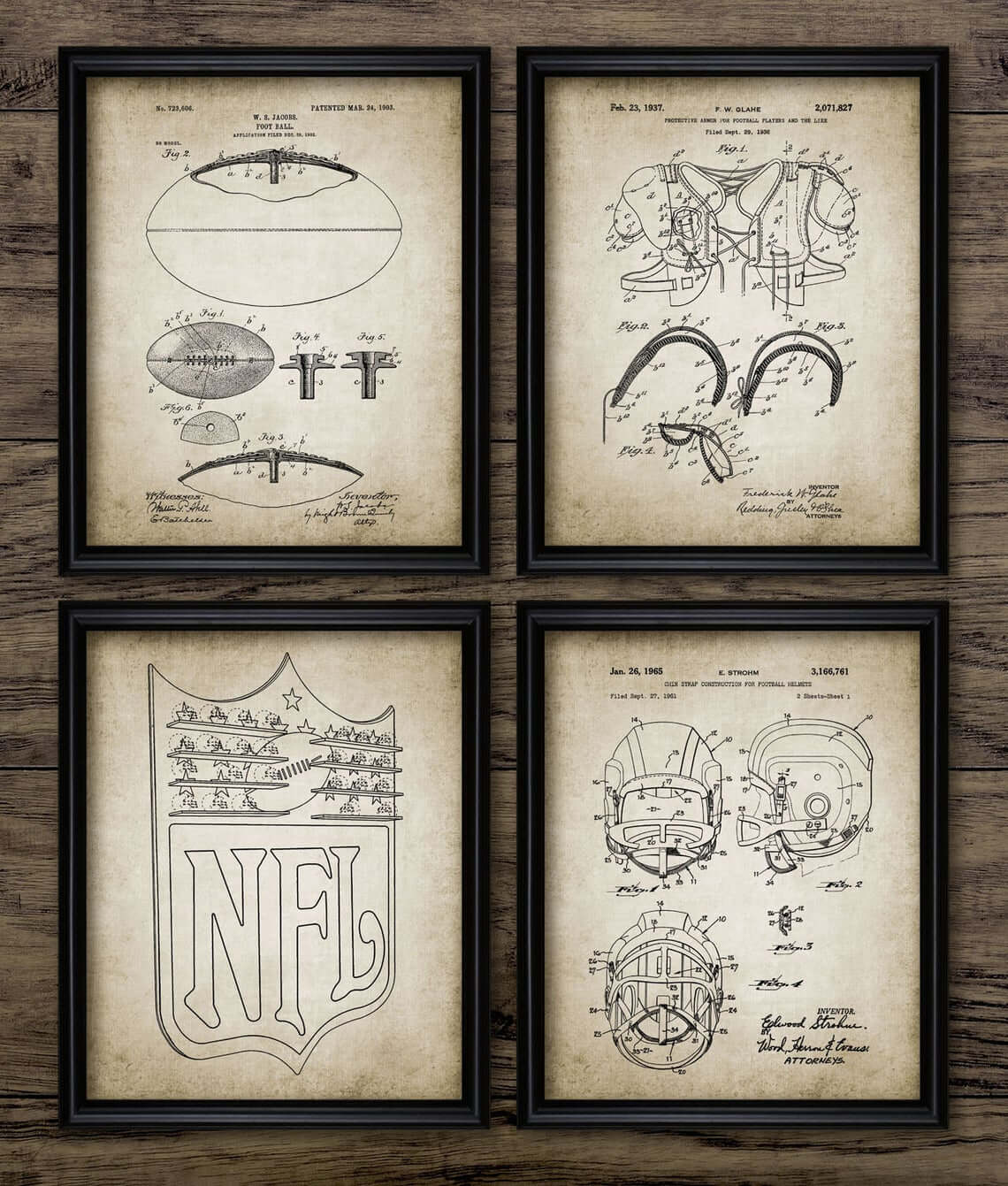 This set of four NFL sketches adds character to any space where football is routinely enjoyed. Because it is a high-resolution download, you are able to customize these vintage posters by choosing frames and finishes that match your space. A simple black frame would look good in a modern home while a rustic wood frame would help these fit in a farmhouse theme. If your space has enough room, you could even add your favorite team's poster as a focal point and show where your loyalties lie. Any home decor theme benefits from artistic workmanship, which is reflected in these four prints.
2. 1930s Photograph of Women Smoking & Playing Tennis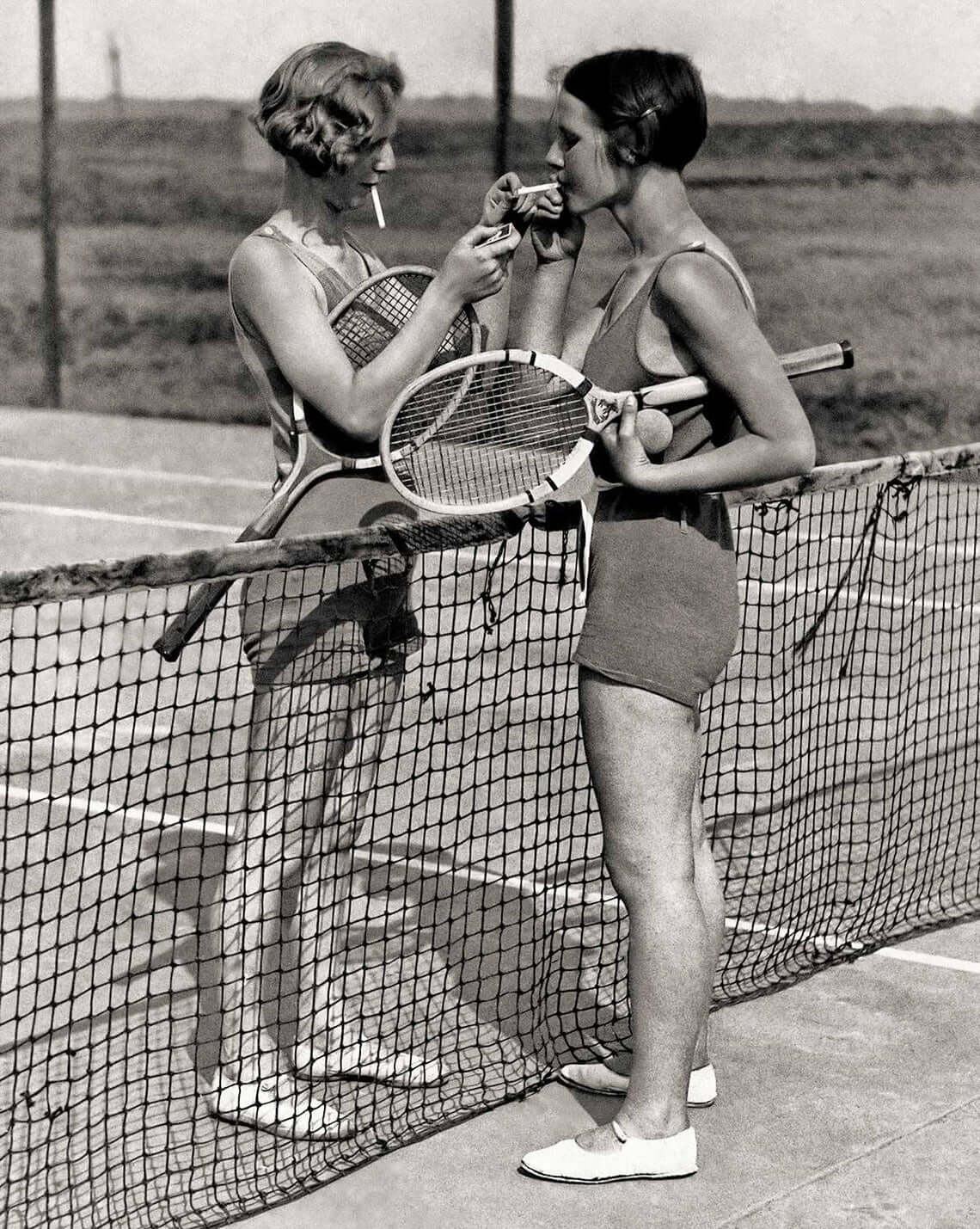 A great conversation piece, this vintage photograph is available in a variety of sizes. One of the many charms of this print front he 1930s is that it has a grainy, aged quality — it is not a high-definition picture. This photograph ships without the frame, so you are able to customize it to your space. One of the best vintage posters for anyone who smokes or loves tennis, this wall art is a unique window to a candid moment that is nearly 100 years old. Consider pairing this poster with some colorful 1930s art nouveau prints or a pair of crossed tennis rackets.
3. Antique Guillaume de L'Isle World Map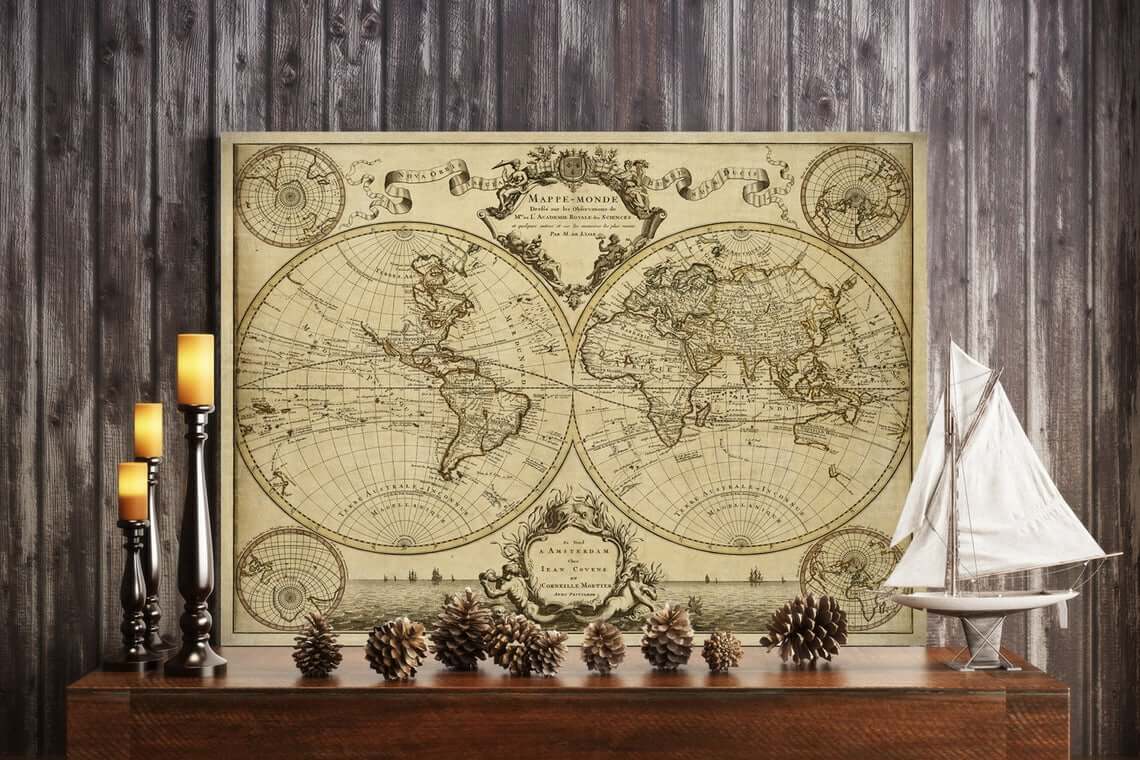 Designed by one of the most renowned cartographers of the eighteenth century, this world map will bestow some old-world elegance to your space. Available in five sizes as well as custom sizing and sent without a frame, you are able to customize this print to your space. This map is printed on high-quality art paper instead of cheap, shiny poster paper. Warm colors characterize this map, which means it will add some warmth and some adventure to your space. While this map can stand on its own, it could be paired with high-resolution photographs showing your adventures to help tell your story.
4. 10 Vintage Farmhouse Oil Painting Digital Downloads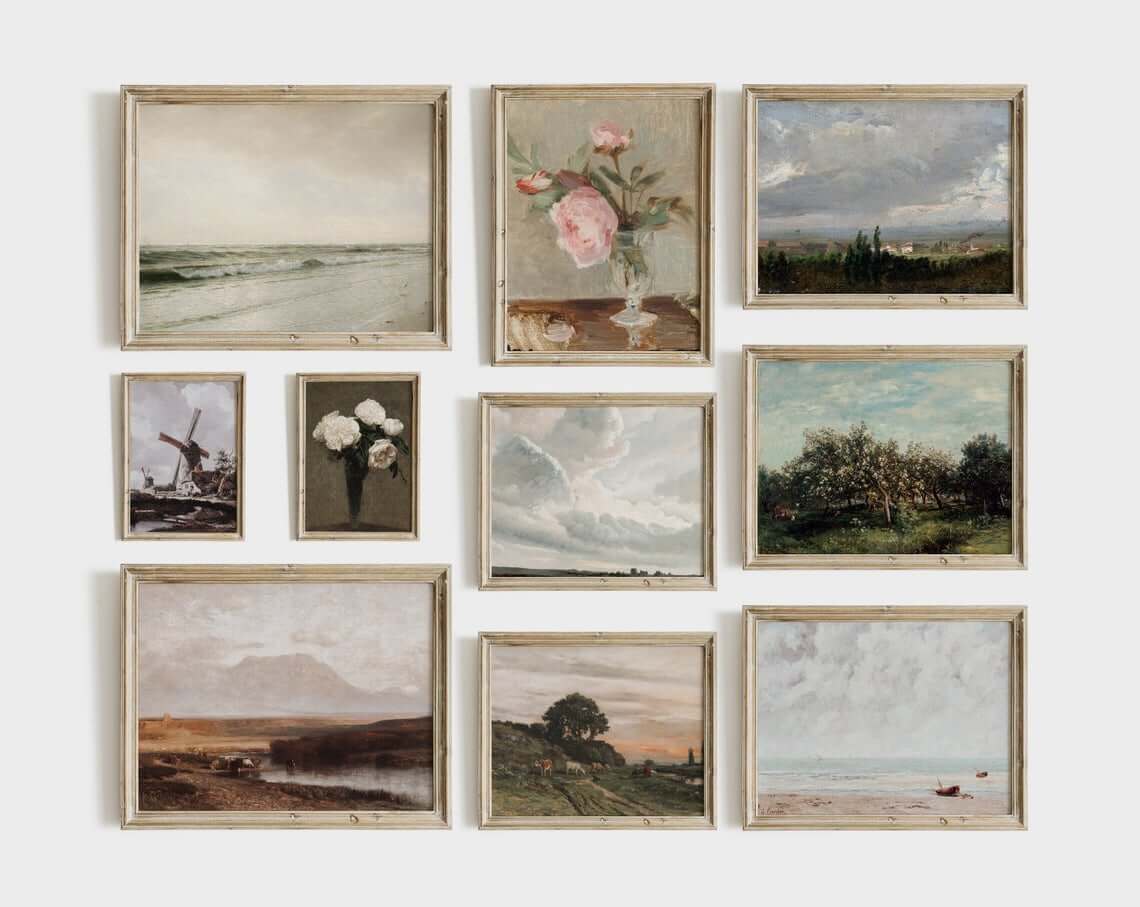 This collection of oil paintings allows you to hang literal works of art in your home. Because they are available as digital downloads, you are able to choose what size and finish to use for your prints. If you want the full artistic effect, consider printing these paintings on canvases. A collection of flowers, landscapes, seascapes, and even a windmill, these oil paintings will add instant sophistication to your space. Each image is available in a variety of sizes, so you are able to choose which to emphasize and which to show smaller. Each of these 10 images is beautifully rendered to give your space irrefutable refinement.
5. Vintage 1940s Tiki Cocktail Menu Poster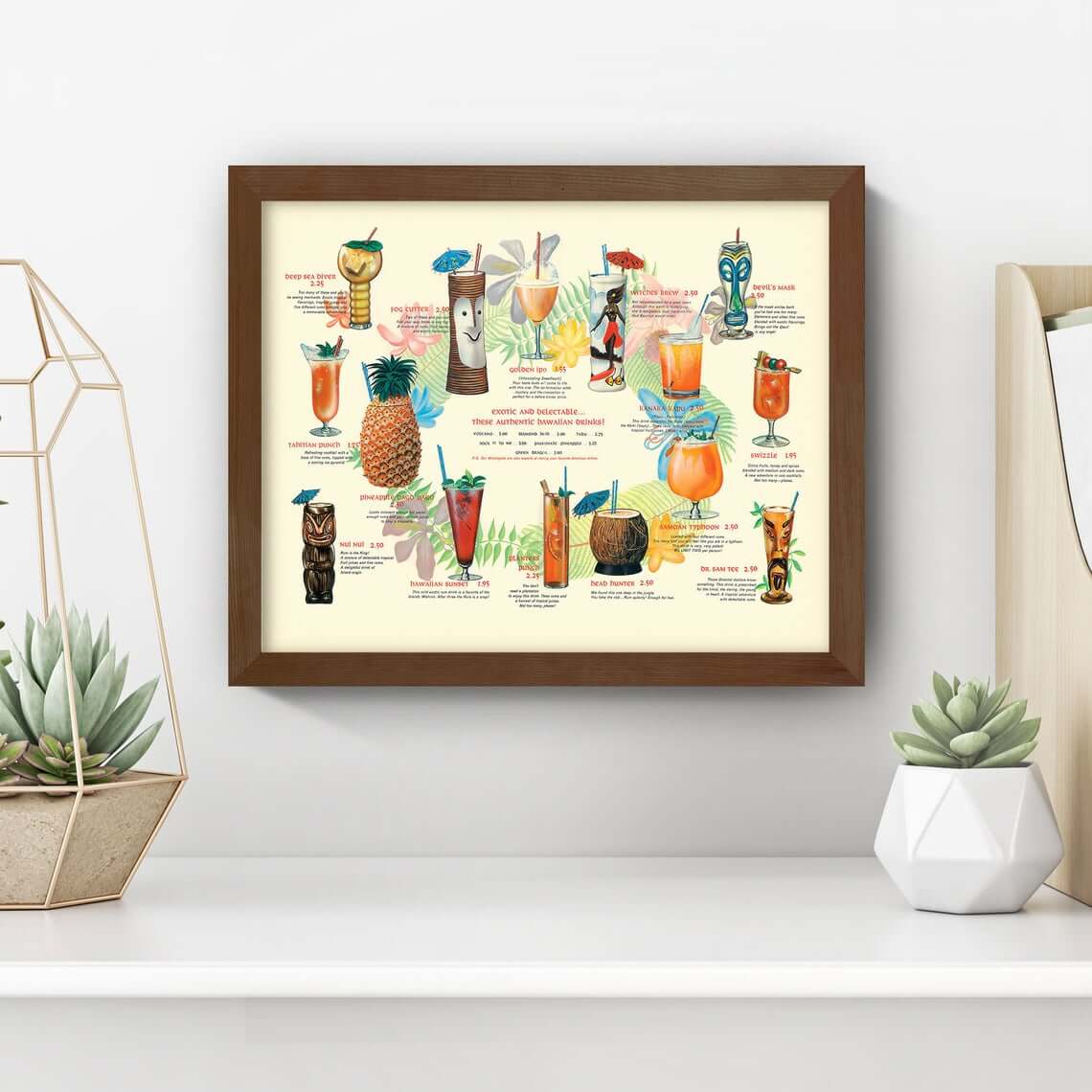 Perfect for anyone who loves cocktails, this poster details Hawaiian-inspired beverages from an age now departed. Each drink illustration is accompanied by a colorful description. These descriptions make this poster a delight to read. Vibrant cocktails and tropical florals can add cheer to even the most somber spaces. Like many vintage print ideas, this tiki menu fits many home decor styles. Using a frame crafted from natural materials like driftwood, bamboo, or even unfinished wood to add some untamed character. You can choose to hang this menu alongside other Hawaiian paraphernalia for a tropical ambiance or with other vintage alcohol posters to hang near a home bar.
6. Vintage Ocean Clipper Ship Poster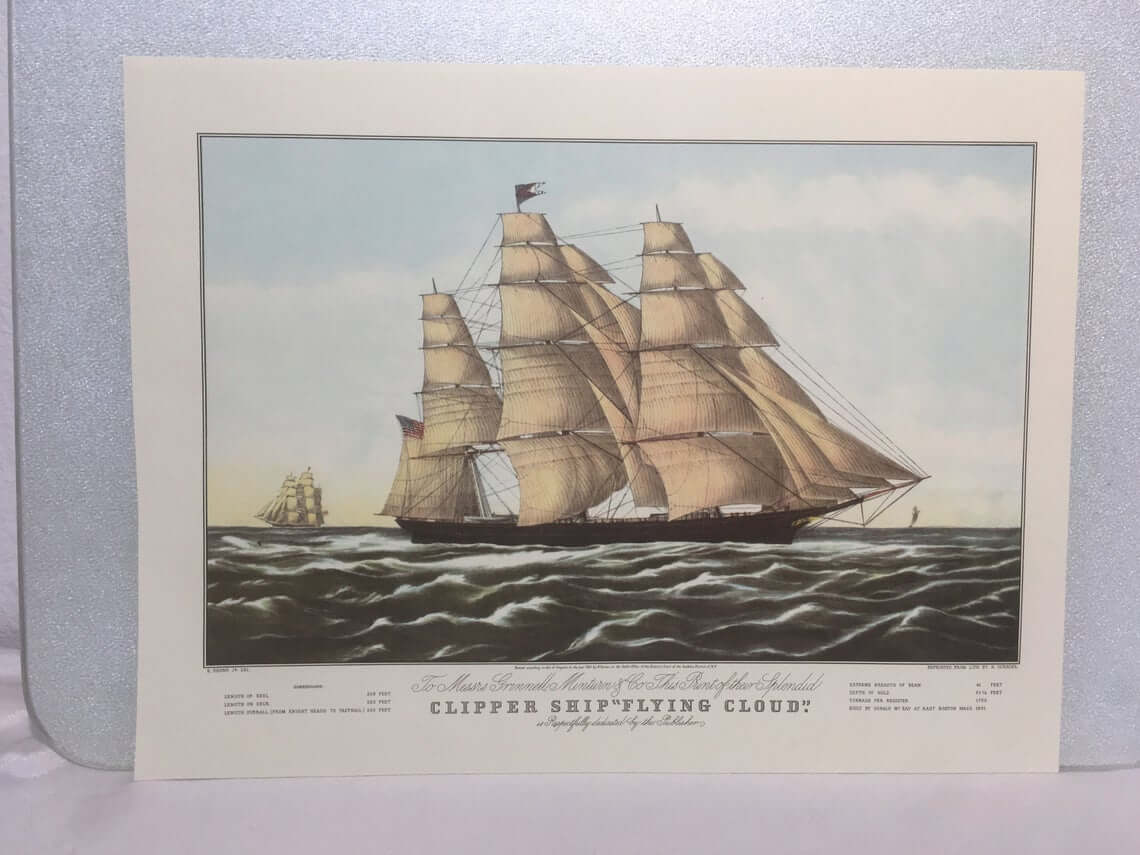 A majestic ship with billowing sails, this lithograph with artwork from 1852 will give your space some nautical flair. Because cool colors dominate this print with blue sky and steely gray water, this print is an awesome idea to complement spaces with cool color palettes. Because this poster is authentically vintage from the 1950s, it is available only in one size. With that authenticity comes some value as a conversation piece, as well as the knowledge that this poster will unequivocally match the mid-century modern decor. To make this print better fit a farmhouse theme, consider using a wood frame that has been painted gray.
7. Colorful Bauhaus-Style 1960s Heinz Ketchup Poster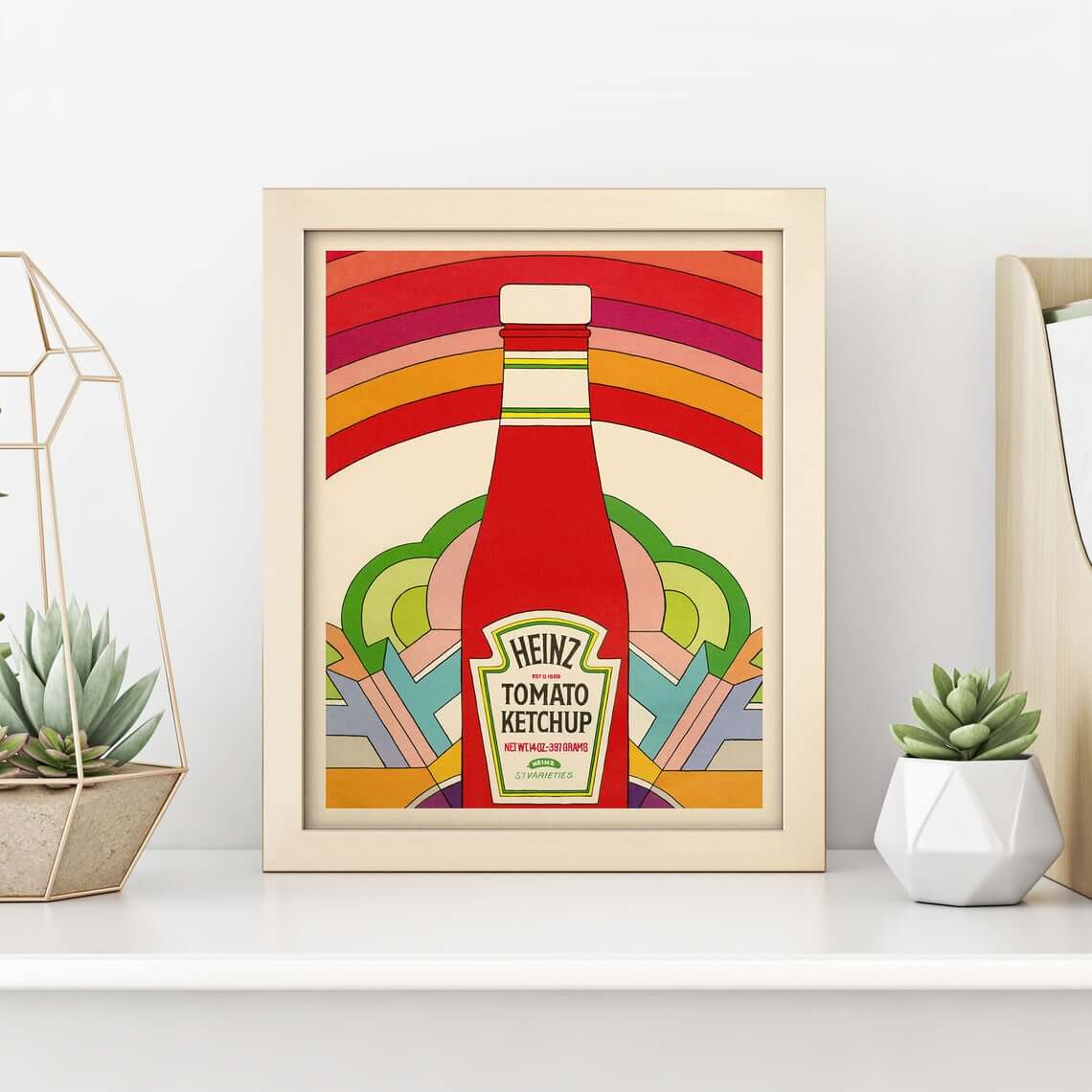 Originally from a cookbook from the 1960s, this ketchup poster will fit in mid-century modern decor because it is genuinely mid-century modern. One of the best vintage posters to hang in the kitchen, the appeal for Heinz tomato ketchup is almost universal. A variety of bright colors pop at the viewer and mean that this poster will look good in a variety of kitchen color palettes. The simple solids and geometric shapes mean that this vintage ketchup poster will fit many home decor themes if framed correctly. Use a simple black frame for modern decor or a natural wood frame for a more rustic appearance.
8. 1967 French Botanical Drawing of a Sequoia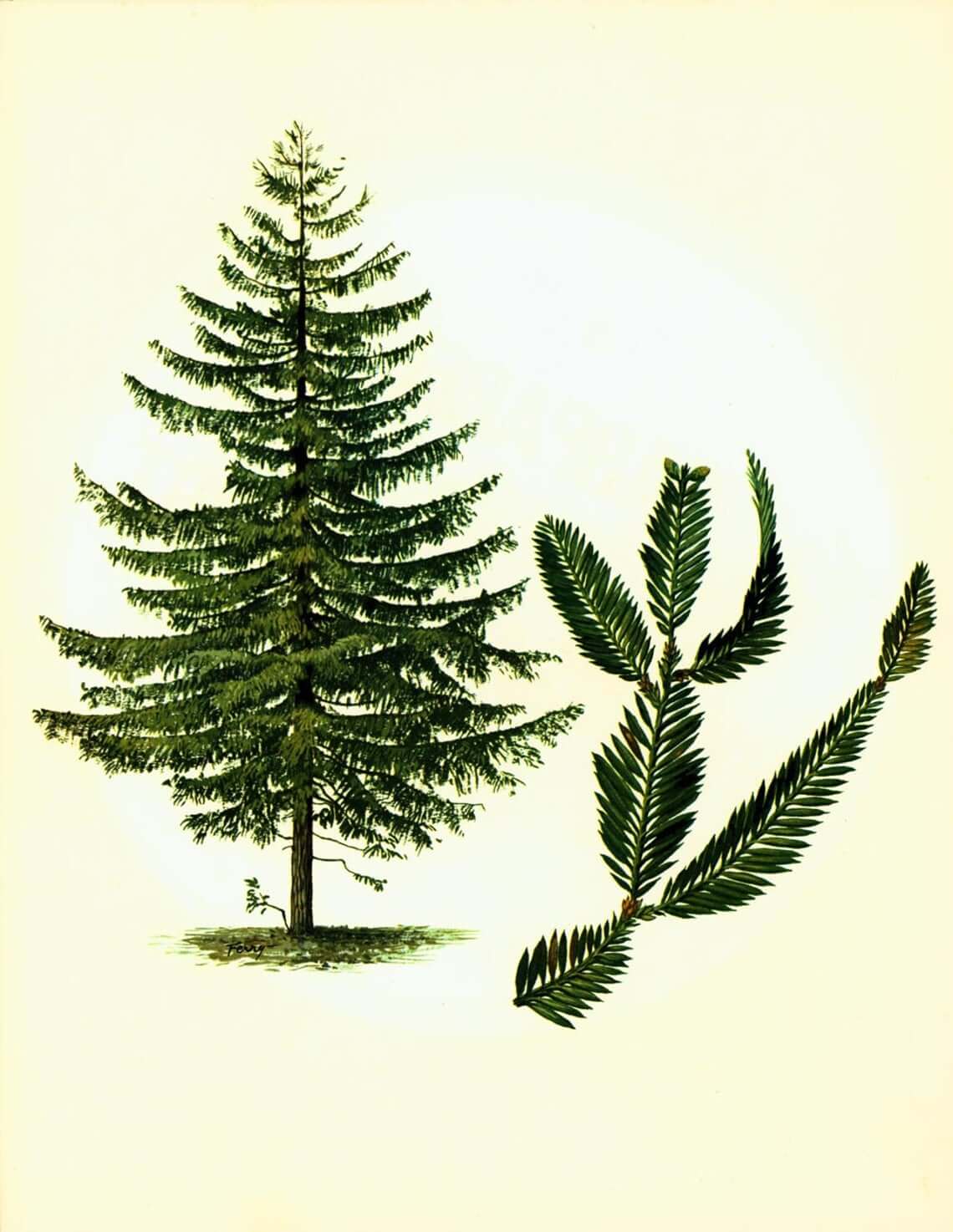 Rich, regal green and pale cream come together to give this poster a delightfully aged feeling. Originally printed in France, this botanical rendering of a redwood sequoia tree will look at home in any space. Consider hanging it on its own as a focal point or with other vintage botanical drawings for woodland ambiance. Using a metallic copper frame would contrast beautifully with the dark green, as well as give a mildly modernizing effect. The best vintage posters fit in all home decor types, and this print does that. It can be hung anywhere to remind you to be more eco-friendly.
9. Vintage British Tea Time Watercolor Print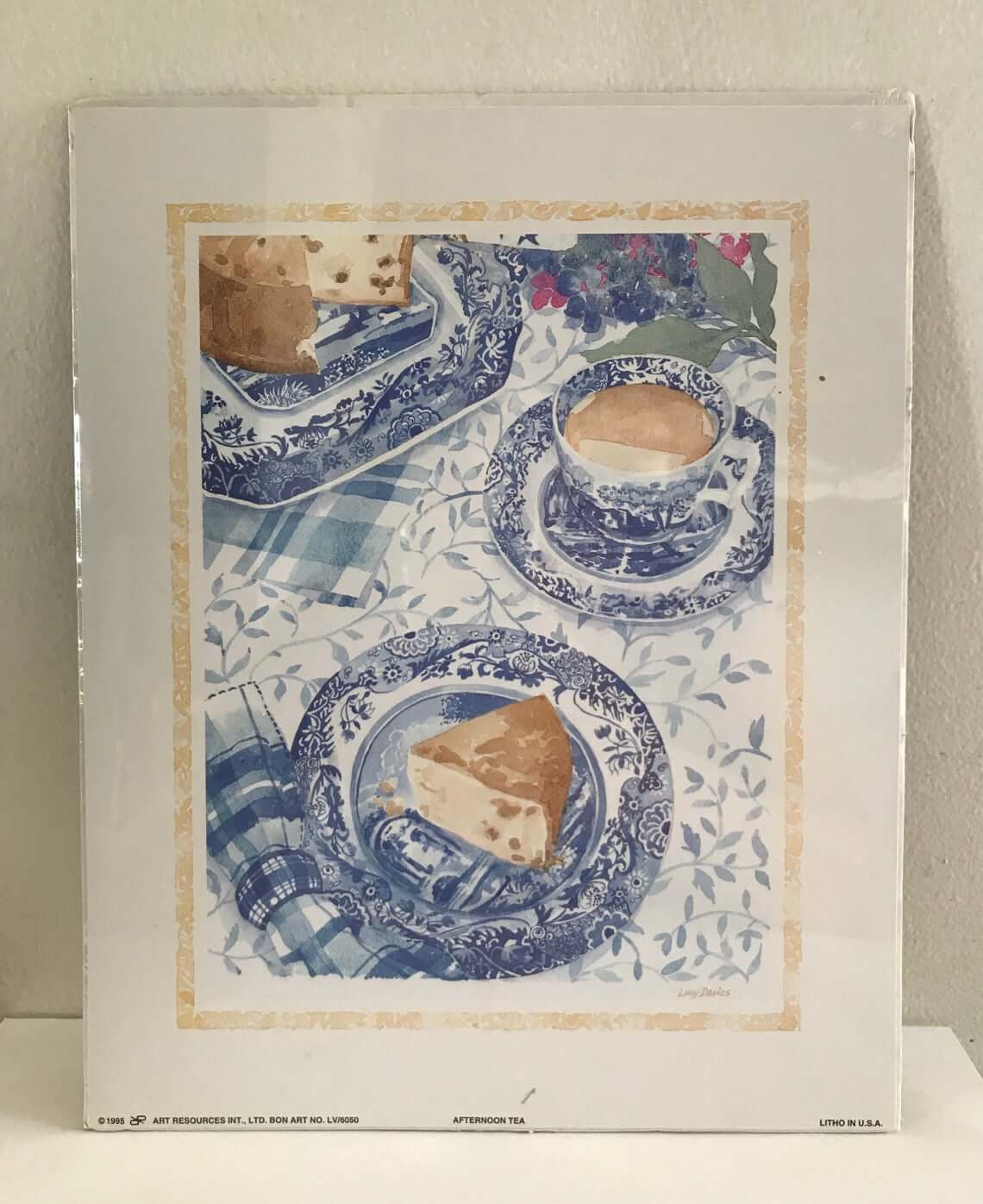 What could be more refined than a watercolor portrait of British high tea? Soft blues and browns pair with crisp white to create a soothing centerpiece. Because this print is vintage from the 1990s, it is available only in one size. However, this size is small enough to let another piece be the focal point but large enough to take the spotlight if needed. Using an ornate frame would dress it up for Victorian or Old World decor themes. A simple black brushed metallic, or natural wood frame would help this print fit seamlessly into any other home decor theme.
10. Casablanca Film Poster as a Metal Sign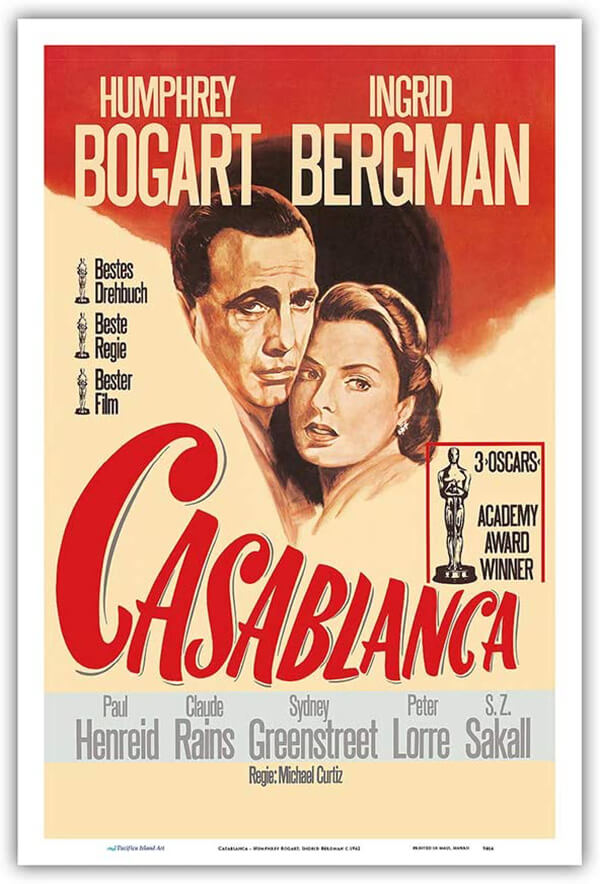 Because it is a classic, Casablanca will never go out of style. Some of the best vintage posters are film posters because they were often designed and illustrated by hand. This Casablanca movie poster metal sign is perfect for home theaters, living rooms, or anywhere that movies are discussed or enjoyed. Bursting with character, this metal sign is a great choice because it is so durable. There are other options under this listing, in case a metal sign would not look right in your space. Four pre-drilled holes mean that it is easily hung, and you do not even have to worry about a frame.
11. Audrey Hepburn Blowing Blue Bubblegum Canvas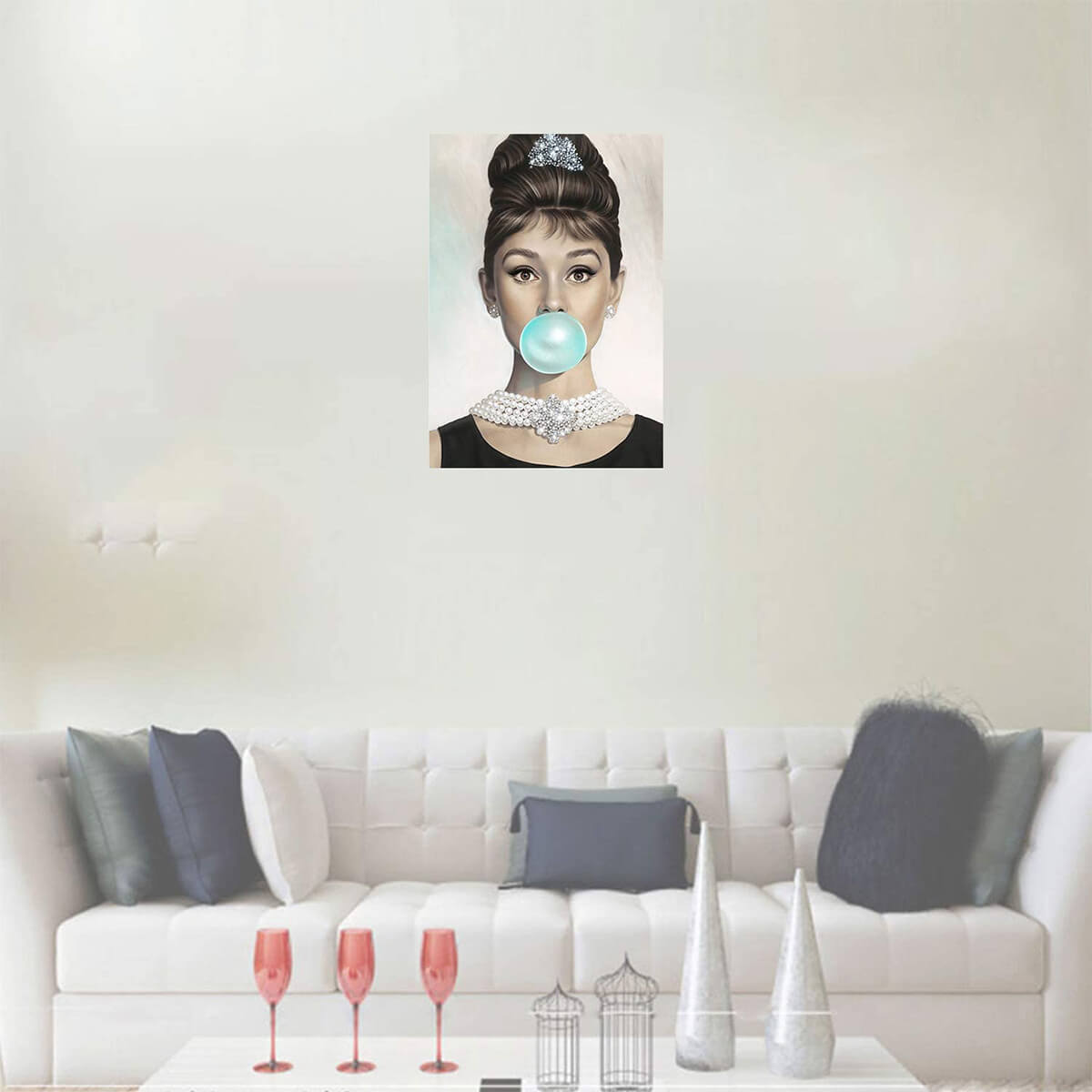 Vintage print ideas that are both glamorous and whimsical can be challenging to find. This Audrey Hepburn canvas offers both of these unlikely qualities on an elegant canvas. A subdued color palette with a bright pop of turquoise makes this an unpredictably intriguing home decor choice. If you have turquoise in your color palette, as is common with many Bohemian themes, this canvas will tie in with your other decor. A canvas gives you the option of framing or leaving unframed, depending on what looks right in your space. Be careful — Audrey Hepburn's classic Hollywood appeal may bewitch your guests.
12. Six Sunflowers on Book Page Backgrounds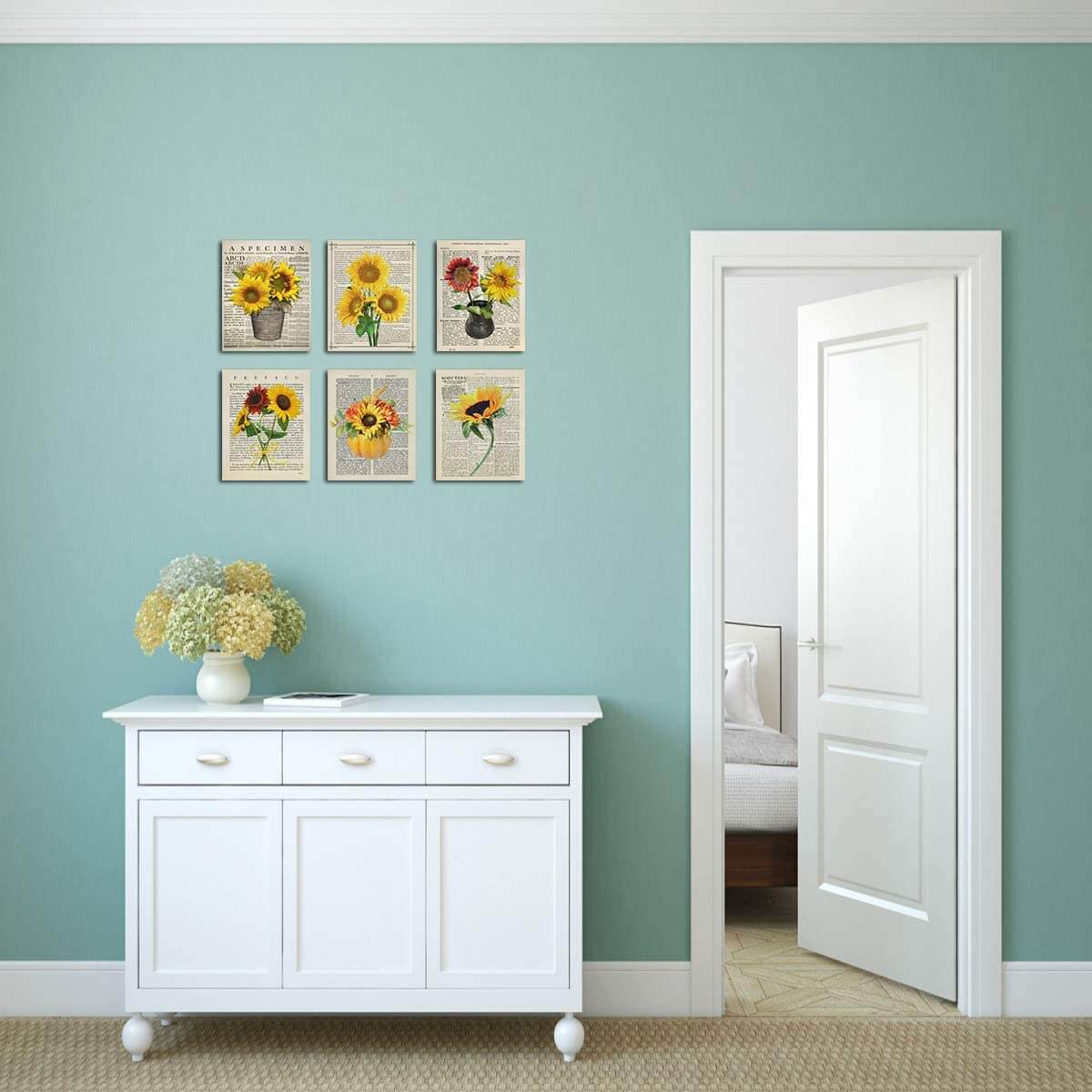 There is something soothing about beautiful sunflowers superimposed on book pages. Some of these sunflowers include only yellow and green while others show burgundy accents. While these six prints look good when displayed together, one awesome idea to give your home some continuity is to hang them along a hallway or stairwell. Different frames can emphasize different features. Try a painted wood frame for a farmhouse effect. Using a smooth black frame will emphasize the enduring quality of the written word and help the sunflower's vibrant colors pop. Consider a copper or bronze frame to add textural interest. The possibilities are endless.
13. Audrey Hepburn Vogue Cover on Pastel Background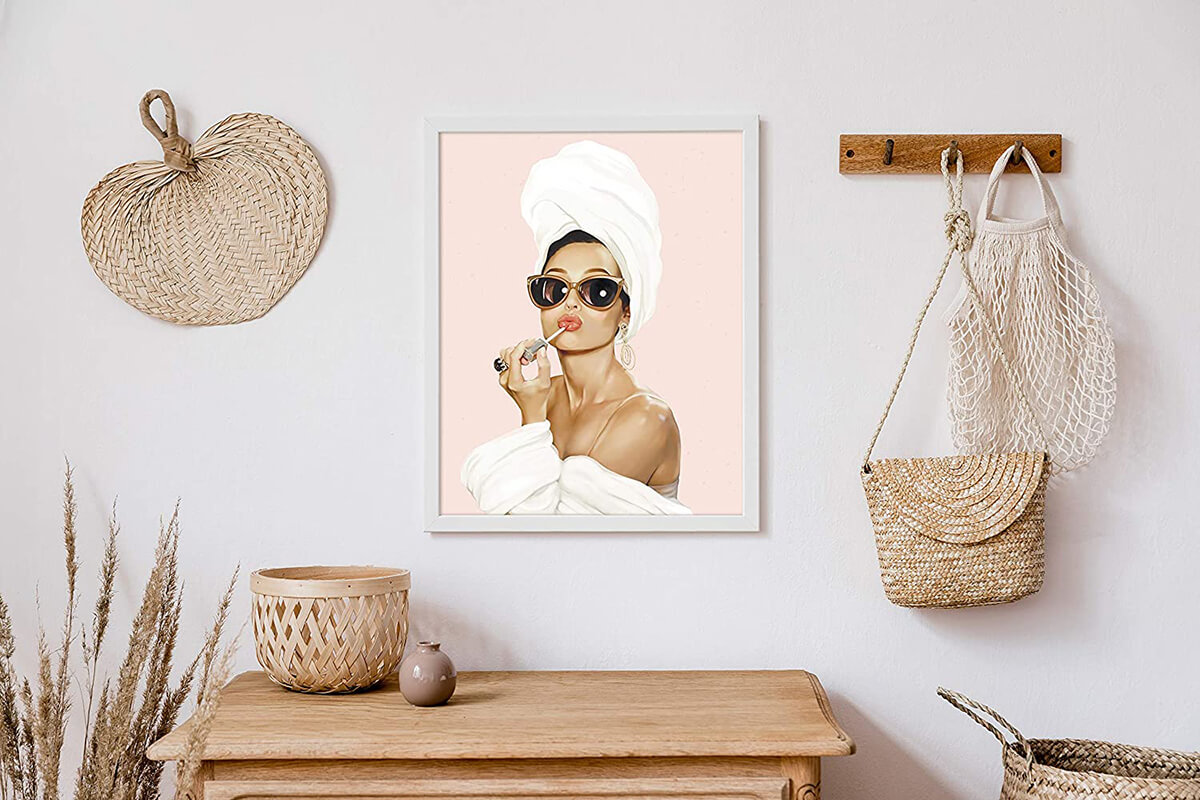 This print is an unexpected focal point and perfect for the bedroom, dorm room, the bathroom, or anywhere Hollywood's glamorous Golden Age is welcome. More artistic than a photograph, this is a painting that offers a pastel pink background that adds some soft color to this flirtatiously feminine print. To keep the focus on Ms. Hepburn, consider using simple frames that pull from one of the many shades in this print. Printed on high-quality giclee paper with ultraviolet resistant ink, this is an excellent-quality print that will last a lifetime. Everything about this print is eco-friendly, and it even ships in 100% recycled paperboard.
14. 1935 Empire State Building Aerial View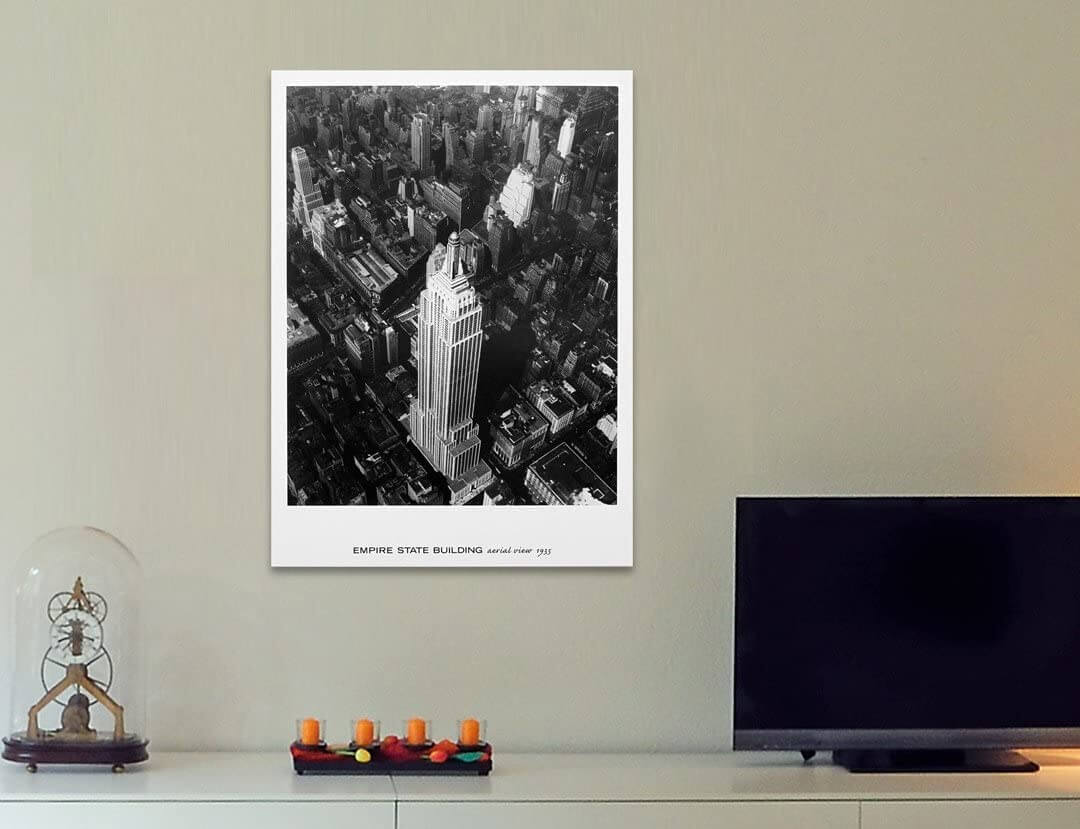 Some of the best vintage posters are black and white. This aerial view of 1935 offers a breathtaking window to the past. A unique addition to the home or office, this print is interesting enough to provide some visual interest but is able to step back to let other artworks be the focal point. Because it is black and white, this print would look good with any home decor color palette. If you have a mid-century modern decor theme, this print would look like it was made for your space. Consider pairing this print with aerial photographs of other cities or other prints from New York City.
15. Rustic Fern Botanical Illustrations Hanging Cloth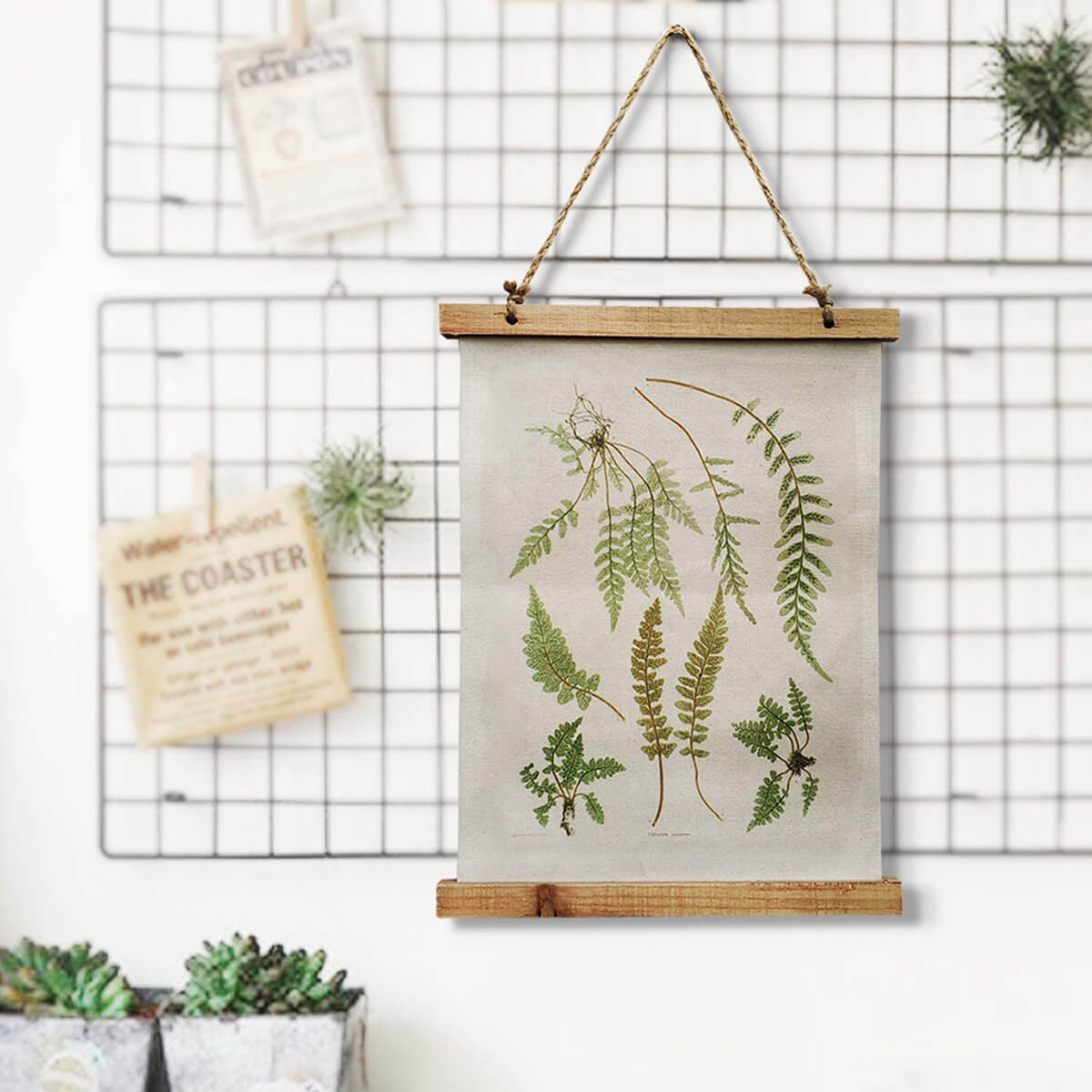 Natural linen, unfinished wood, and twine offer a unique twist on vintage print ideas. Instead of being printed on paper, the botanical ferns are printed on cloth and suspended between rough wood. This print is the perfect addition to a farmhouse or rustic theme with colors and textures from nature. Imagine hanging this in a woodland-themed room like a nursery. No frame is needed, and the twine means it arrives ready to be hung. One awesome idea to take advantage of the forest ambiance is to hang color depictions of woodland animals around this print. Another great idea is to pair it with a macrame.
16. Retro Design Collection Printed on Tin Signs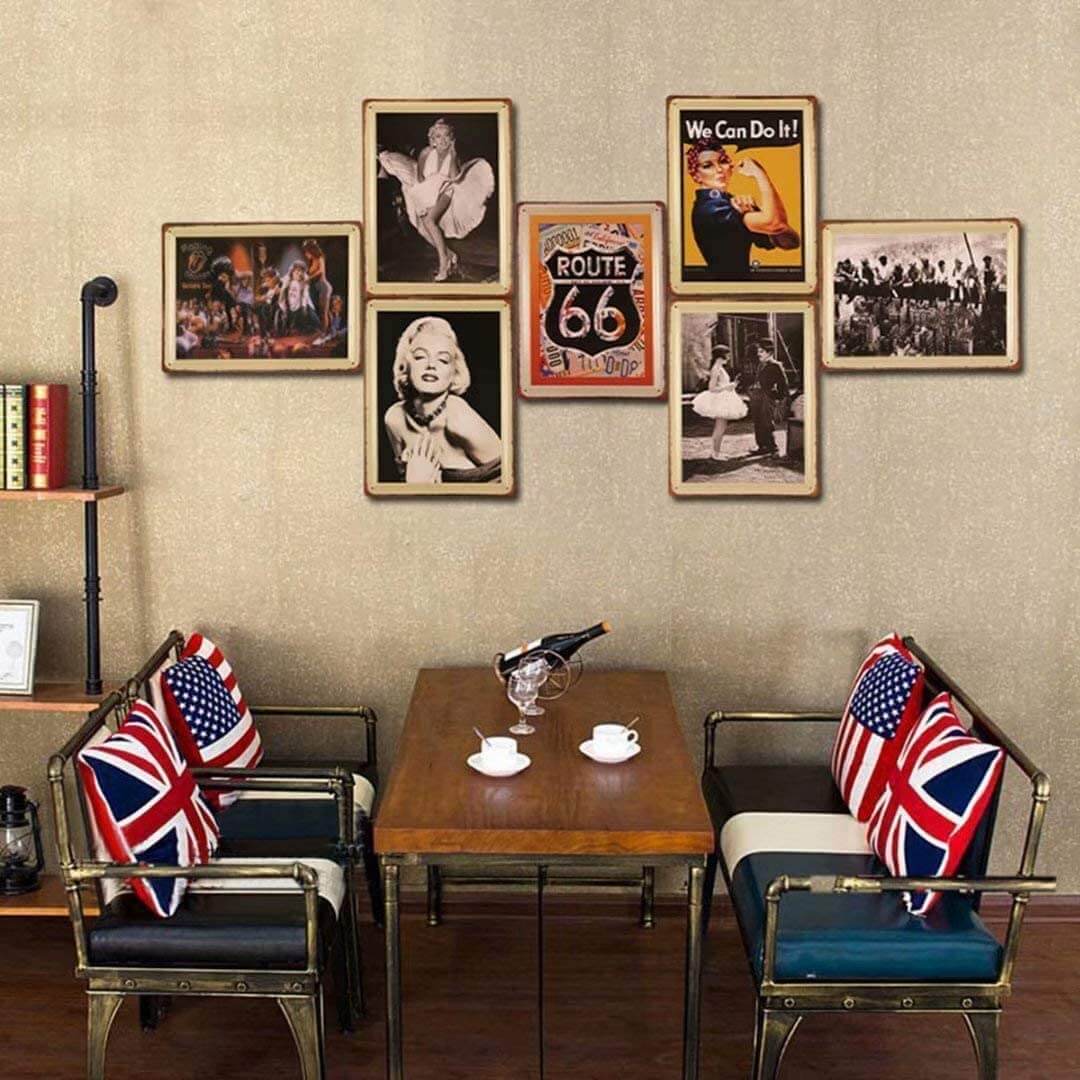 Measuring just larger than a sheet of standard printer paper, these signs are the perfect size to add that extra pop of atmosphere. Made from genuine tin, these signs offer a collection of 29 retro images that are sure to be a match for your space. If your space is lacking some textural interest, tin is the perfect candidate to provide some variety. The edges of each tin sign are designed with a weathered finish. A hole in each corner makes this sign easy to hang. Hang these signs together for a classic appearance or combine them with traditional prints to provide some variety.
17. Colorful Solar System Educational Poster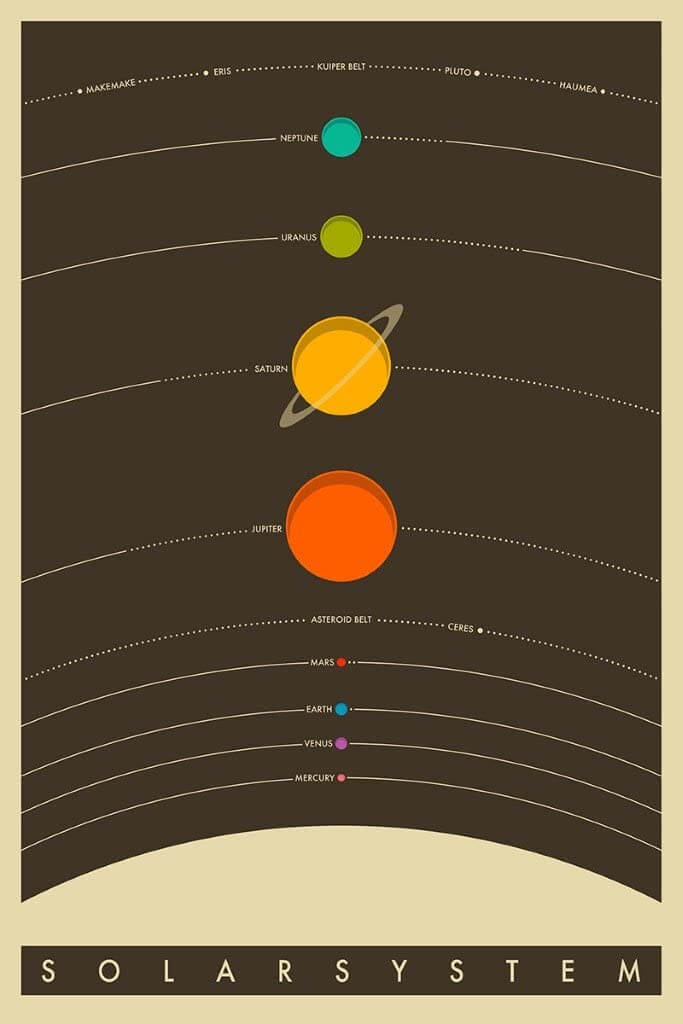 Intense colors accentuate the planets on this educational poster with vintage roots. A beige backdrop emphasizes the retro motif. The simple style makes this poster a design statement as well as an educational opportunity. This poster would look great in a space-themed nursery or in a home theater space. Because black is the primary color, this is a versatile poster that will look good in many home decor themes. Depending on the effect you are wanting, it can be framed, left unframed, go under glass, or go without glass. To achieve a retro space effect, this is one of the best vintage posters.
18. Six Watercolor Botanical Leaf Prints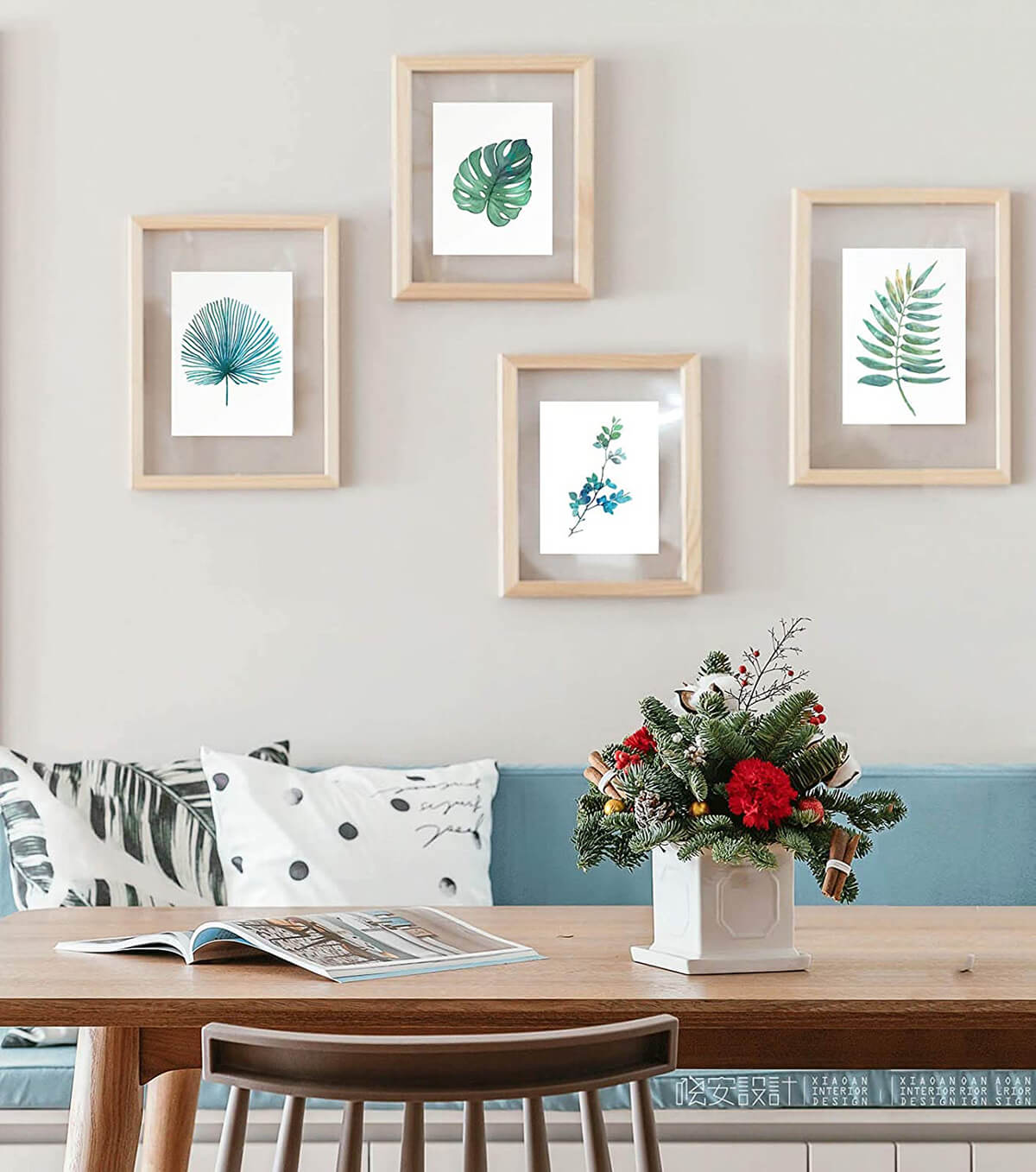 Printed on high-quality canvas with a cardstock backing, these botanical prints are a lot of fun to mix and match. The breezy watercolor style adds a modern twist to an antiquated layout. The cool blues and soft greens will pair well with neutrals and other cool color home decor palettes. Using light wood frames achieves a Scandinavian effect while using a dark, heavy, ornate frame would dress these prints up enough to look good in more formal spaces. Consider using a hammered copper frame to add some textural interest to your space. Botanicals are great vintage print ideas because nature is never misplaced.
19. Walt Disney World Vintage Illustration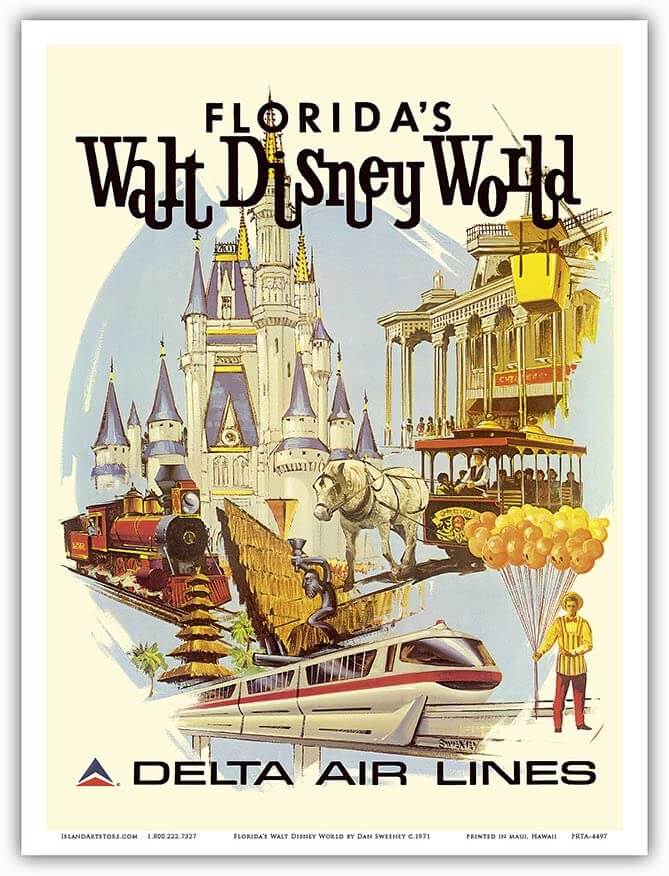 Because this image is printed on eco-friendly paper certified by the Rainforest Alliance, this illustration is the perfect eco-conscious choice for wall art. Also a great choice for the Disney fan who has it all, this illustration is a unique look back to Walt Disney World's past. Because this poster is just a little larger than a sheet of standard printer paper, it can go almost anywhere without overwhelming a space. Warm yellows tie the illustration together and emanate golden nostalgia. This illustration is a mature way to showcase one's love of Walt Disney World.
20. Collection of Six Floral Botanical Prints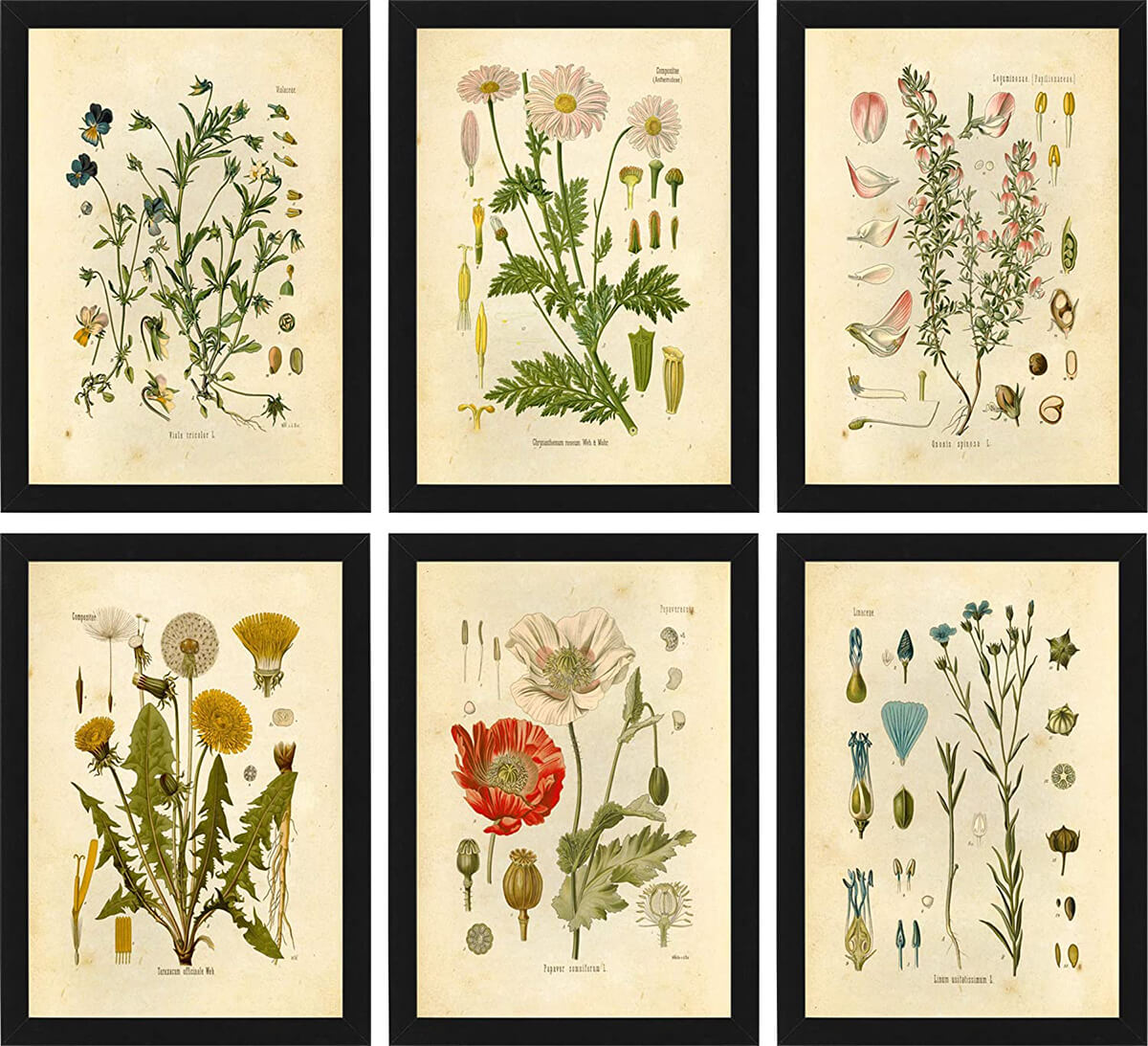 Decorate your space with education and sophistication by hanging these six botanical prints. Each plant is deconstructed and labeled with its Latin name to cultivate an intellectual feel. Instead of being photographs, the flowers consist of detailed artist's illustrations. The yellowed paper highlights the vintage style, and warm greens add some cheerful comfort. These six prints arrive unframed, giving you the opportunity to decide what aspects you would like to emphasize. Use simple black frames to help the colors pop. Natural wood could lend some subtle textural interest as well as emphasizing the natural elements. If you have a farmhouse decor theme, try framing with painted wood.
21. Four Retro-Inspired National Park Illustrations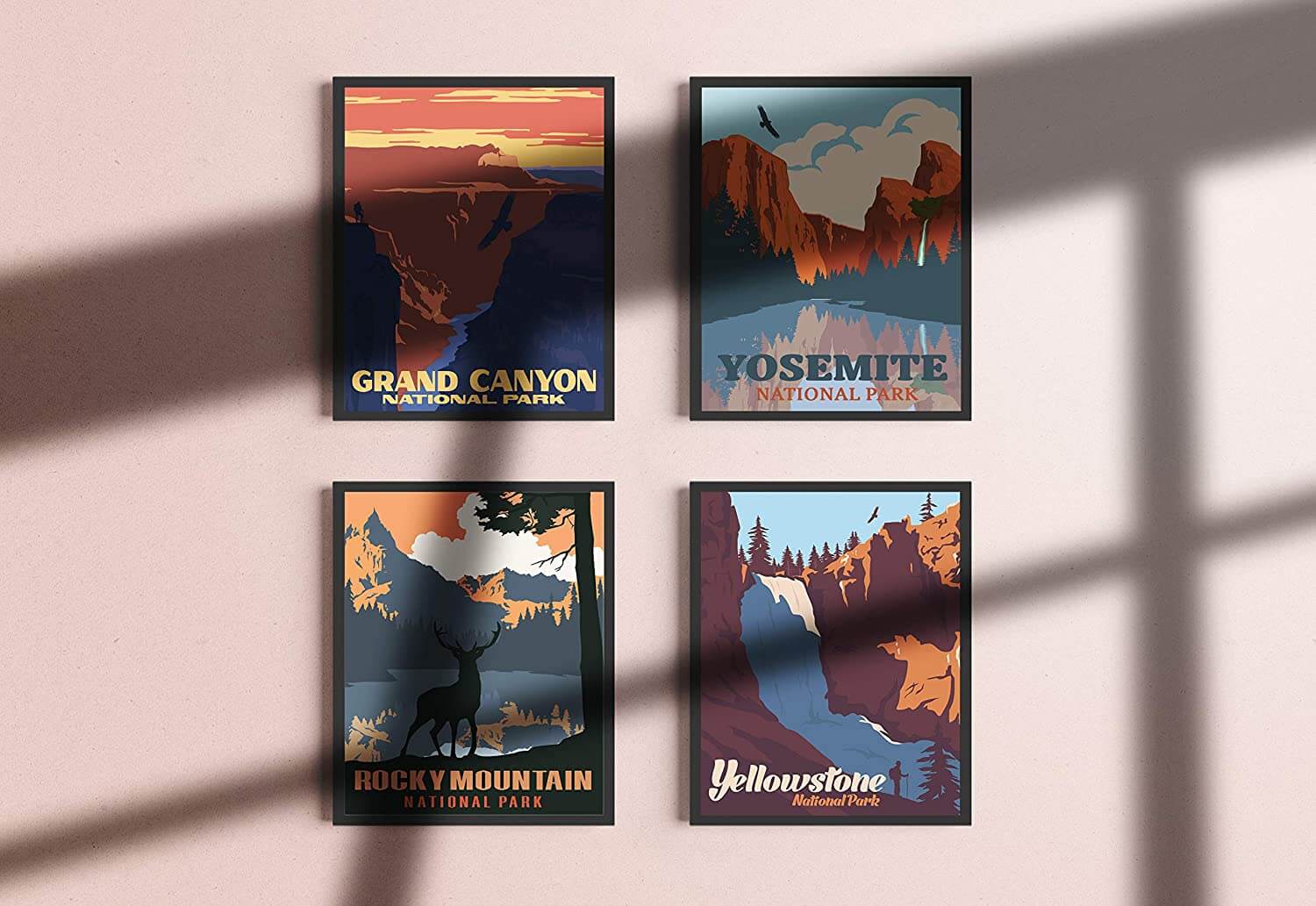 Showcase your love of adventure with these four prints featuring some of the wildest places left in the United States. Each uses a different font and a coordinating palette so they look good together without matching. Reds, oranges, blues, and browns mesh into most home decor palettes. You will be able to tailor these prints to your space in choosing the frames. Black frames help the colors stand out and are the most versatile. Blonde wood frames would achieve a Scandinavian effect. One awesome idea to provide some interesting textures would be to use coordinating hammered metallic frames.
22. Set of Two Vintage French Butterfly Prints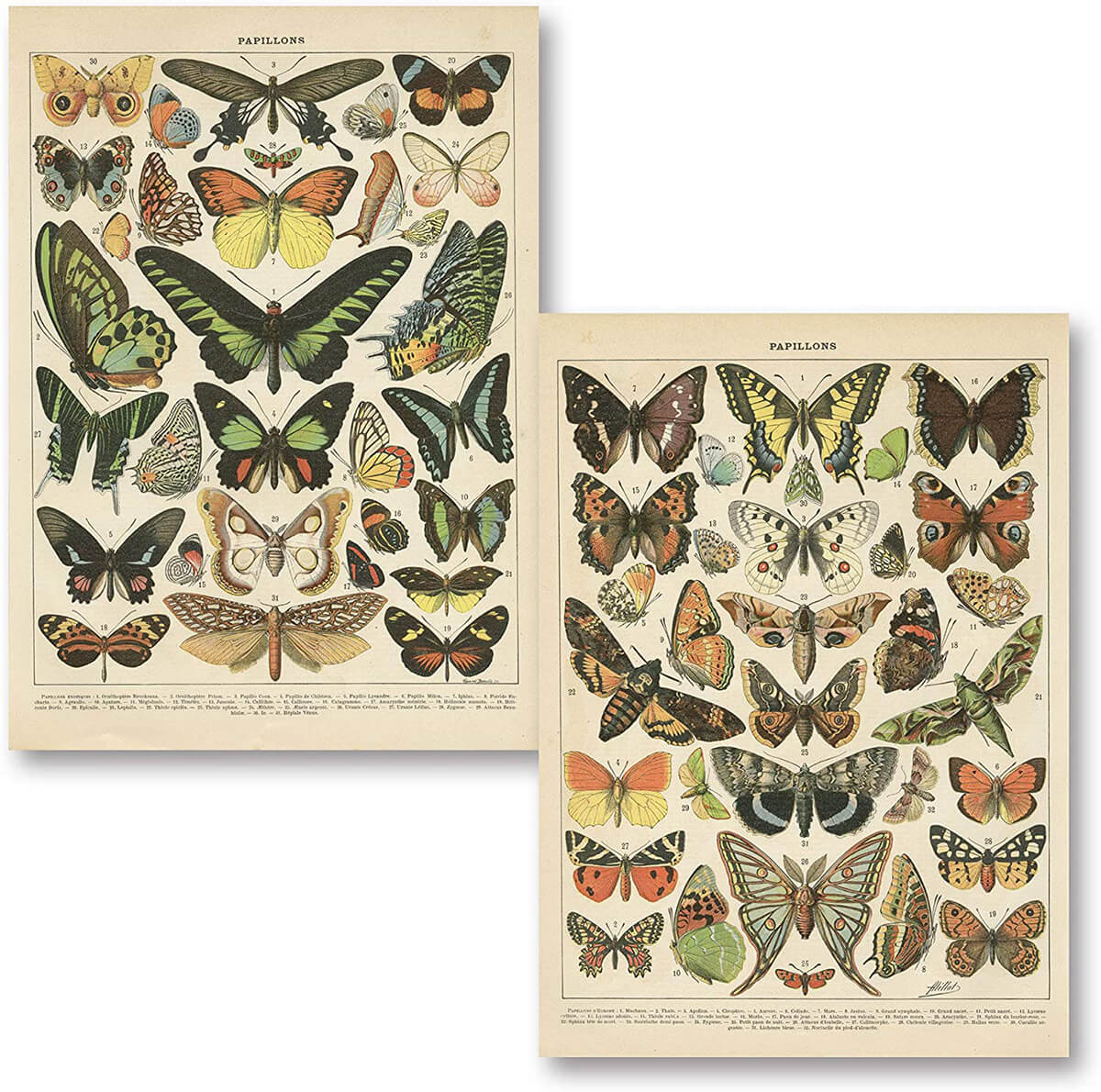 The beautiful thing about butterflies is that they look good anywhere. This set of matching illustrations will look perfect anywhere in your home or office. A title and labels in French will give your space some international sophistication. Because there is so much detail in these prints, you will probably want to choose simple frames. Of course, everyone's taste is different, and each space has different needs. Unlike some nursery decor, these butterfly prints are an awesome idea because the child will never age out of them. The best vintage posters are both versatile and a good conversation topic and these two prints meet those criteria.
23. 1967 Monaco Grand Prix Vintage Art Illustration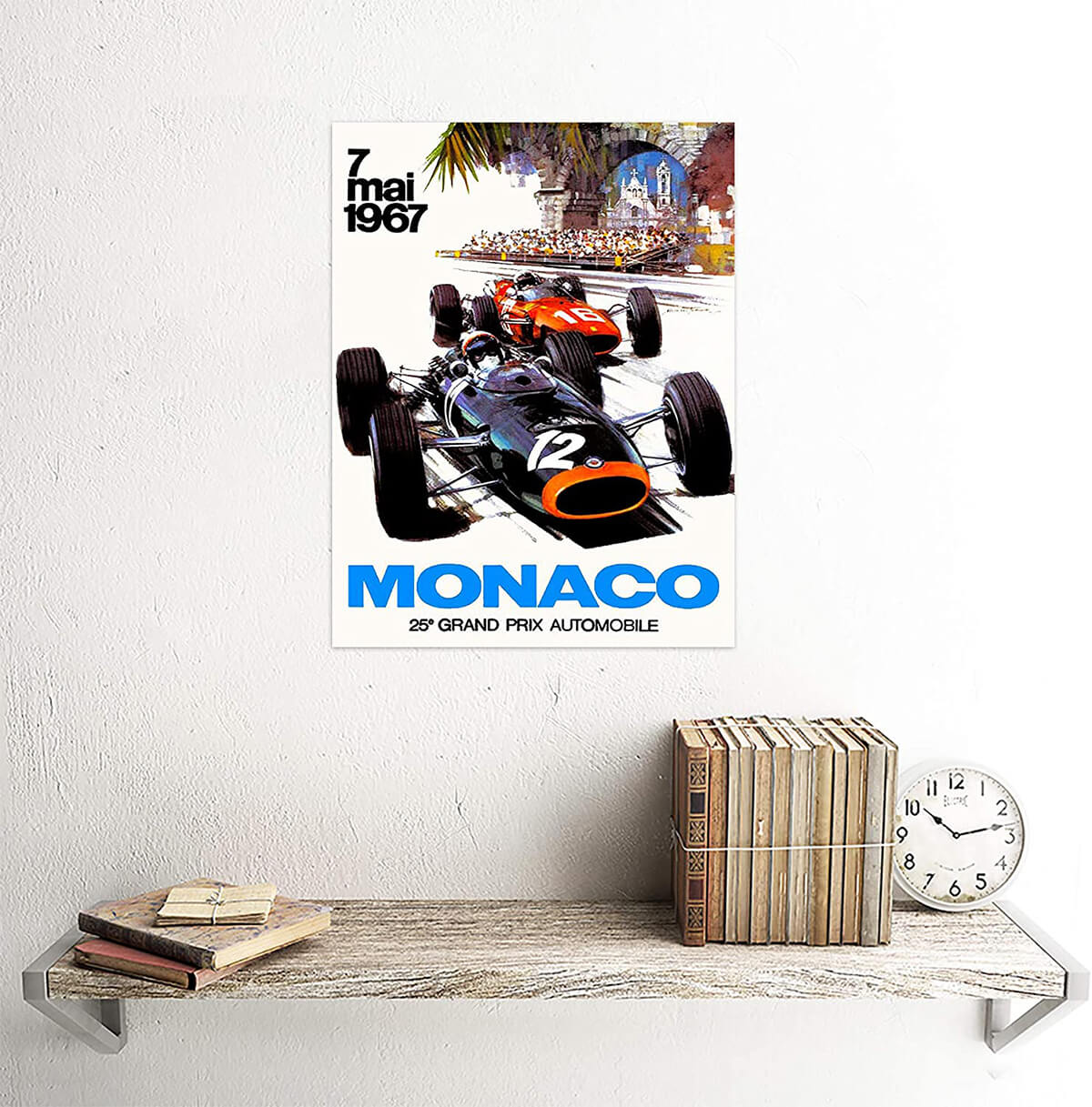 You can almost hear the roaring engines in this illustration of the 1967 Monaco Grand Prix. The dynamic design and artistic illustrative style make this one of the best vintage posters for race car fans. This poster is printed in Scotland on high-quality paper and shows excellent craftsmanship. It is about the same size as a sheet of legal paper, which means it is big enough to attract attention, but not so large to be overwhelming. Imagine hanging this in a home theater or man cave. This poster would also be the perfect choice for a car-themed child's bedroom, as a child will not outgrow this poster.
24. Two-Sided Bluebird James Audubon Bookplate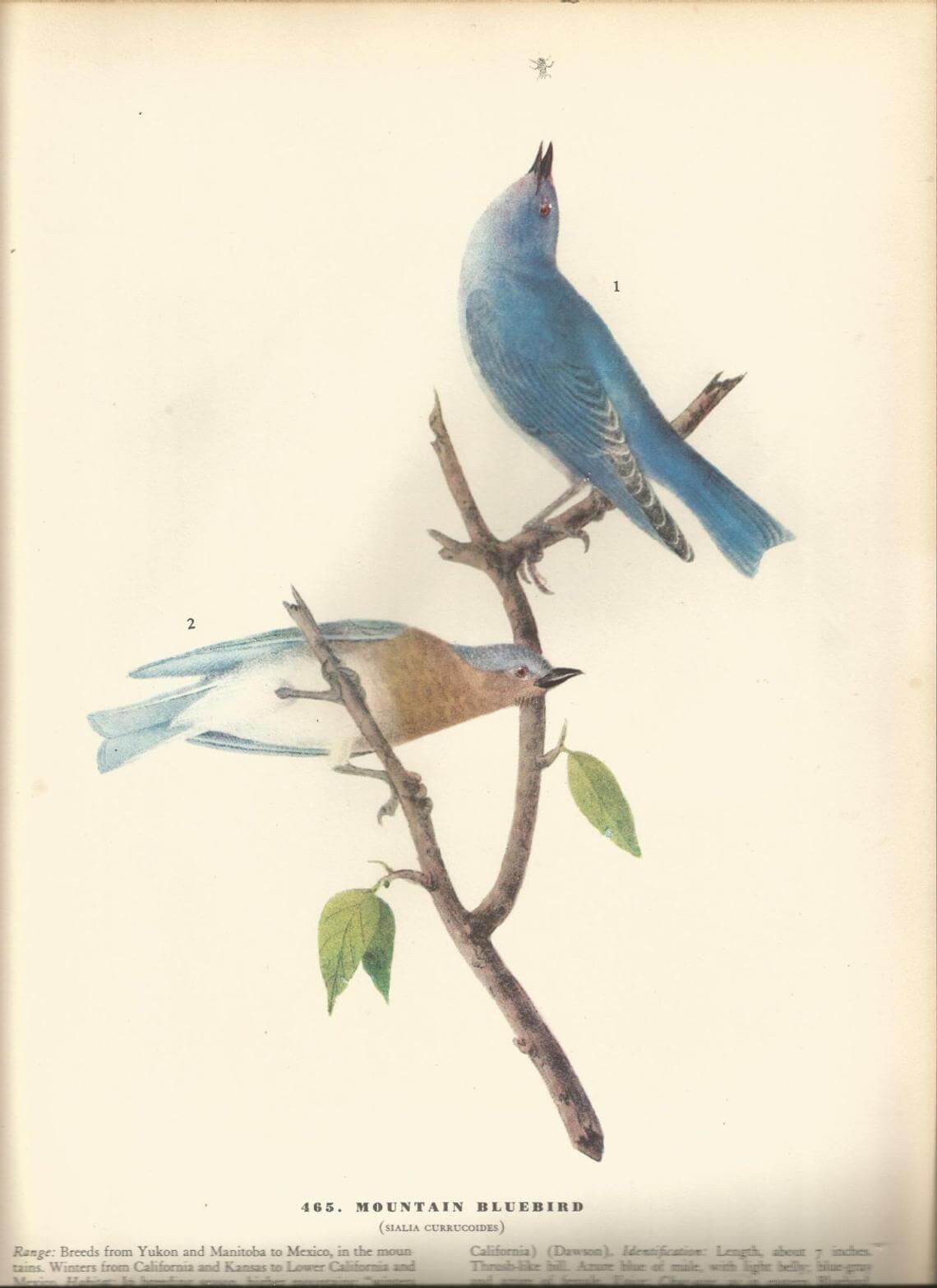 Because this print is a bookplate cut from a 1937 James Audubon book, it is authentically vintage. You can choose which side you like better to display in the frame. If deciding between mountain bluebirds and northern bluebirds is too difficult, you can always switch between the sides when you feel like a change. A few places this print would look stunning in are a nursery, home library, or sunroom. Pair it with some high-definition photographs of birds or maybe some oil landscape paintings. This print is versatile and would look good in a variety of frames, depending on the space.
24 Unique Vintage Print Ideas that will Never Go Out of Style
Now, it is your turn to figure out which would work best for you, and, if applicable, how to frame them. Black makes colors stand out more. Natural, unfinished wood offers a rustic appearance and can provide some interesting textures. Metallics are great for that textural variety and dimension but do not look good in every space. Choosing among materials offers more opportunities for personalization. Canvas looks more sophisticated than shiny poster paper, but each looks good in different applications. Some of these vintage prints offer the unique advantage of being printed directly on tin signs.
These are some of the best vintage posters that will show your personality while recharging your space. Get ready to mix and match to figure out the right ambiance. An example to get a unique woodland vibe would be to hang a pinecone wreath between vintage botanical prints. Maybe you could hang Audrey Hepburn next to the mirror you use to put on makeup. Another cool idea might be to hang a vintage map next to photographs of where you have been. Do not be afraid to get creative — this is your time to shine!
Choose Rustic Wall Decor Ideas to Make Your Home Warm and Inviting