Plenty of storage space is essential to keeping your house neat, organized, and running smoothly. While there are all kinds of plastic stacking drawers and cubbies available at your local home goods store, it's often hard to find pieces that are both beautiful and functional, especially on a budget. Instead, look to vintage pieces to add that lived-in character along with clutter-controlling storage space. These don't have to be high-end antiques; flea markets, garage sales, and thrift stores all offer unique pieces that might suit your needs just perfectly. Before you go shopping, make up a list of the kinds of storage ideas you're looking for– "vintage luggage," for example, or "storage shelf for bathroom." This will help you stay focused on your search, and can help you see the potential in unexpected items. One of the great things about vintage pieces is that it's easy to re-purpose them or use them in creative ways.
A Little Shabby, a Whole Lot Chic: 45+ Vintage Storage Ideas

A galvanized washtub becomes a bathroom towel rack when hung on the wall, and a heavy old picture frame, with just a couple shelves added, becomes a clutter-busting display. Let your inner DIY diva free and check out these 45+ vintage storage tips to inspire your next organizational spree.
1. Side Table and Upholstered Stool Boxes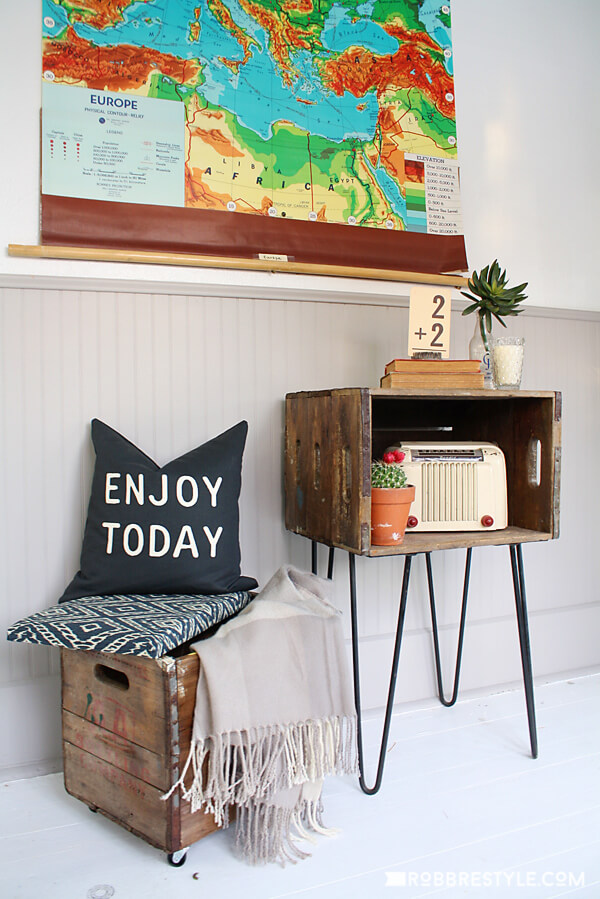 With some vintage boxes, you can add an affordable stool and side table to your living room. Adding upholstery to the stool helps it act as a seat as well, and inside, you can stash whatever can fit. For the table, consider using something supportive like hairpin legs to make it sturdy enough to hold items like a lamp. The table can also act as storage if you use the box on its side.
2. Classic Ironstone Pitchers and Copper Serving Tray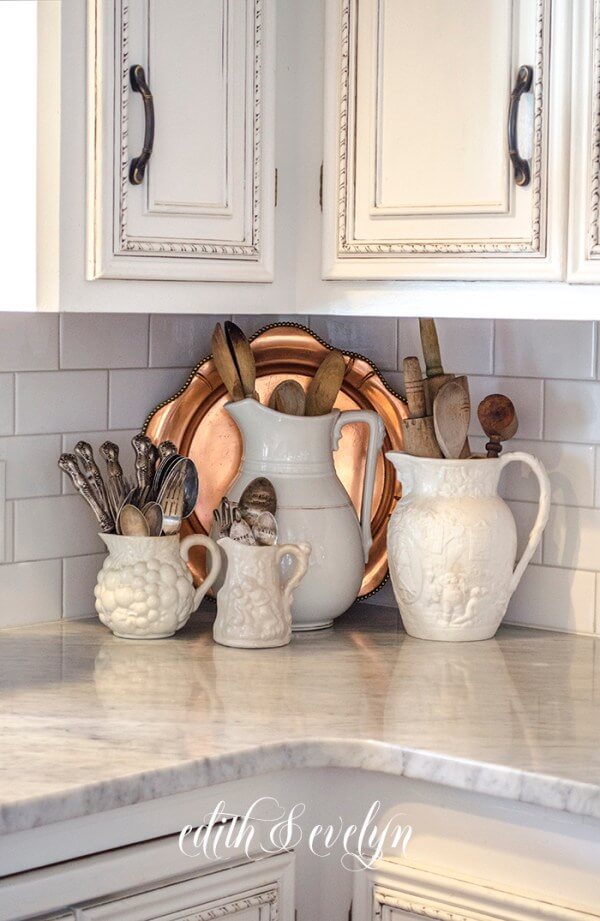 Storage doesn't just have to be functional. It can serve as a decorative area for the room as well. Consider using some classic ironstone pitchers to hold various utensils in the kitchen. Add in a beautiful copper tray, and you can emphasize an elegant décor in the room. If the pitchers are white, the tray may stand out even more.
3. Upcycled Thrift Store Seed Box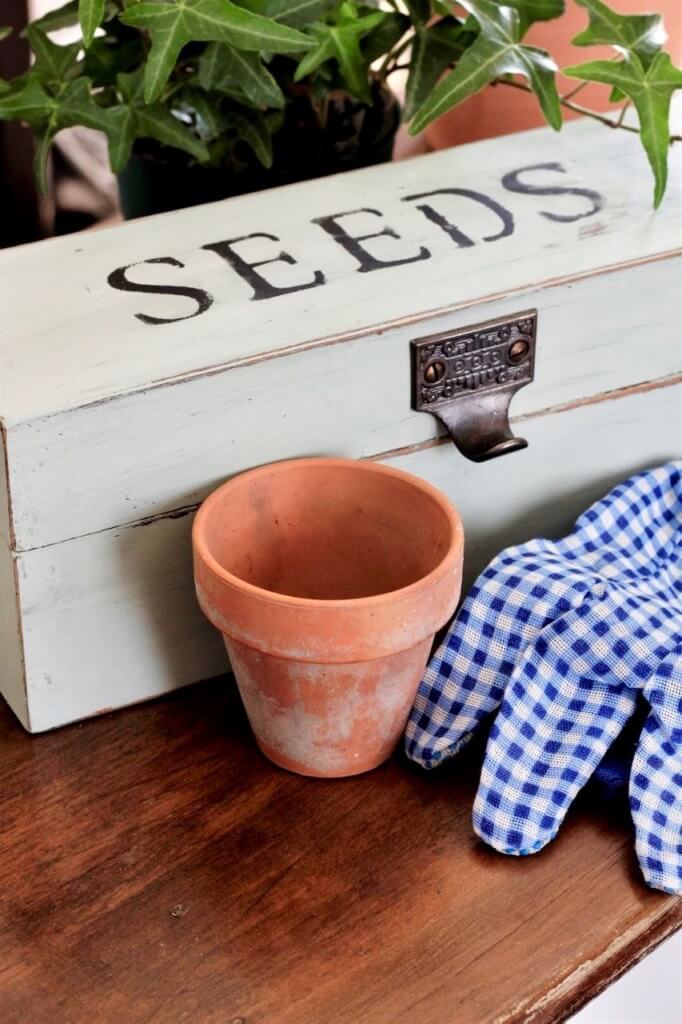 If you have a garden, then you understand the need for storage concerning things like seeds. Why not make it more appealing by using an upcycled recipe box? With this fun project, you can paint the box any color you like and add a rustic quality to it by attaching a vintage handle or knob. Since this transforms a recipe box, the inside is sectioned off so you can better organize your seeds.
4. Charming Rural Kitchen Storage Basket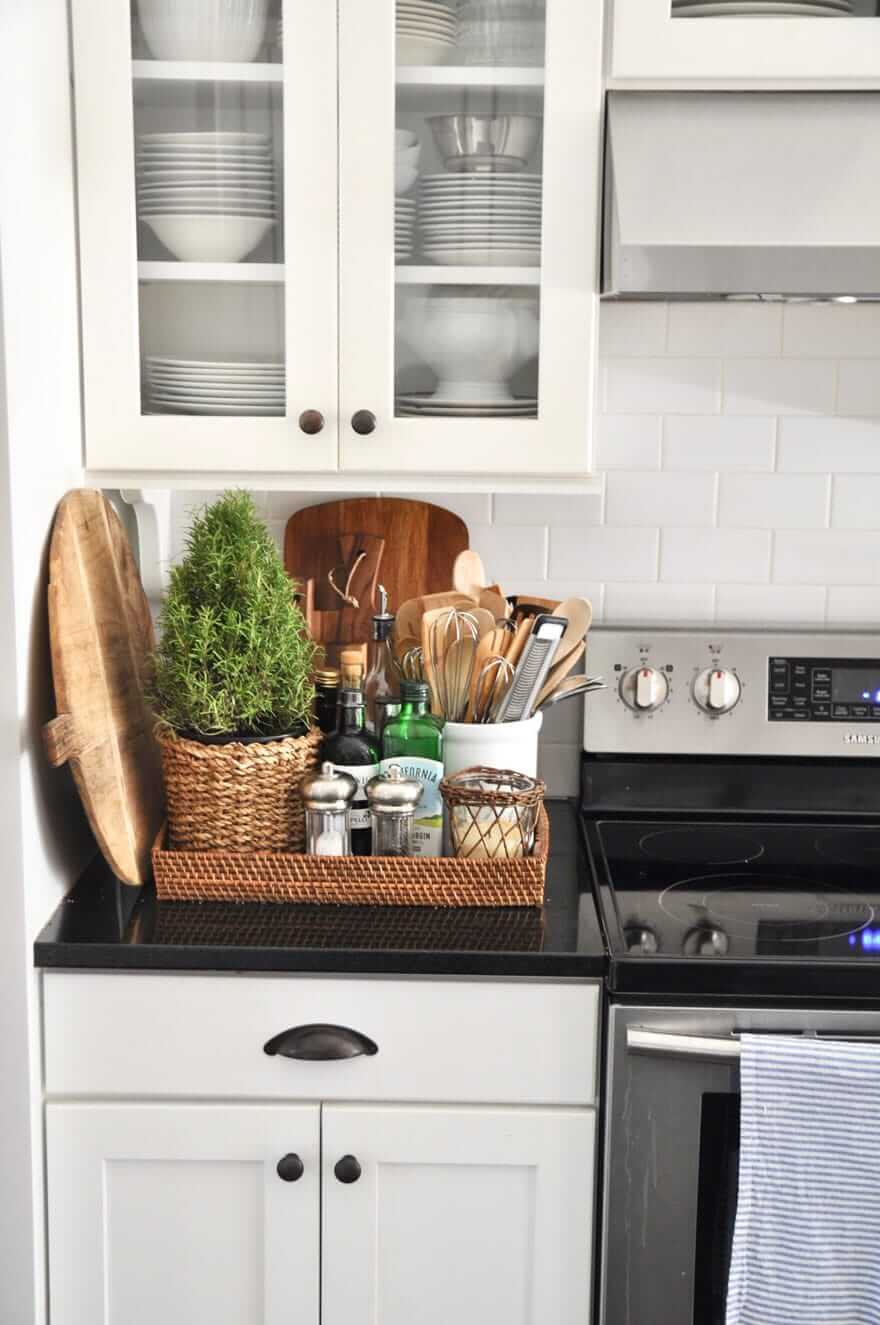 When you need to organize your kitchen counter, consider using an appealing, countryside-theme storage basket. Not only will it naturally go along with kitchen décor, but depending on the size, it offers plenty of space for you to organize various items such as utensil holders, seasonings and oils, or even some greenery to add some color to the room.
5. Aged Rustic Cage Fabric Holder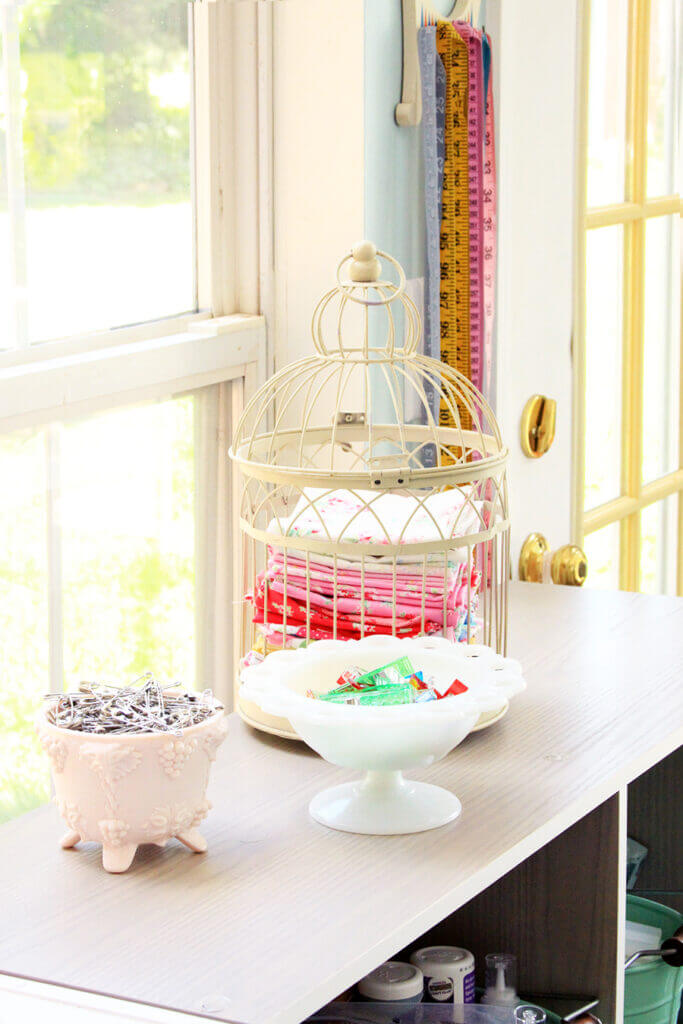 Those of you who sew could use different ways to store all of your gear. For some of your smaller fabrics, check out this simple cage storage. Whether you find an old birdcage to fix up or a plant holder, it's easy to transform the cage into a quality holder. Feel free to paint it to match your room's décor.
6. Hanging Canvas Bag Laundry Sorters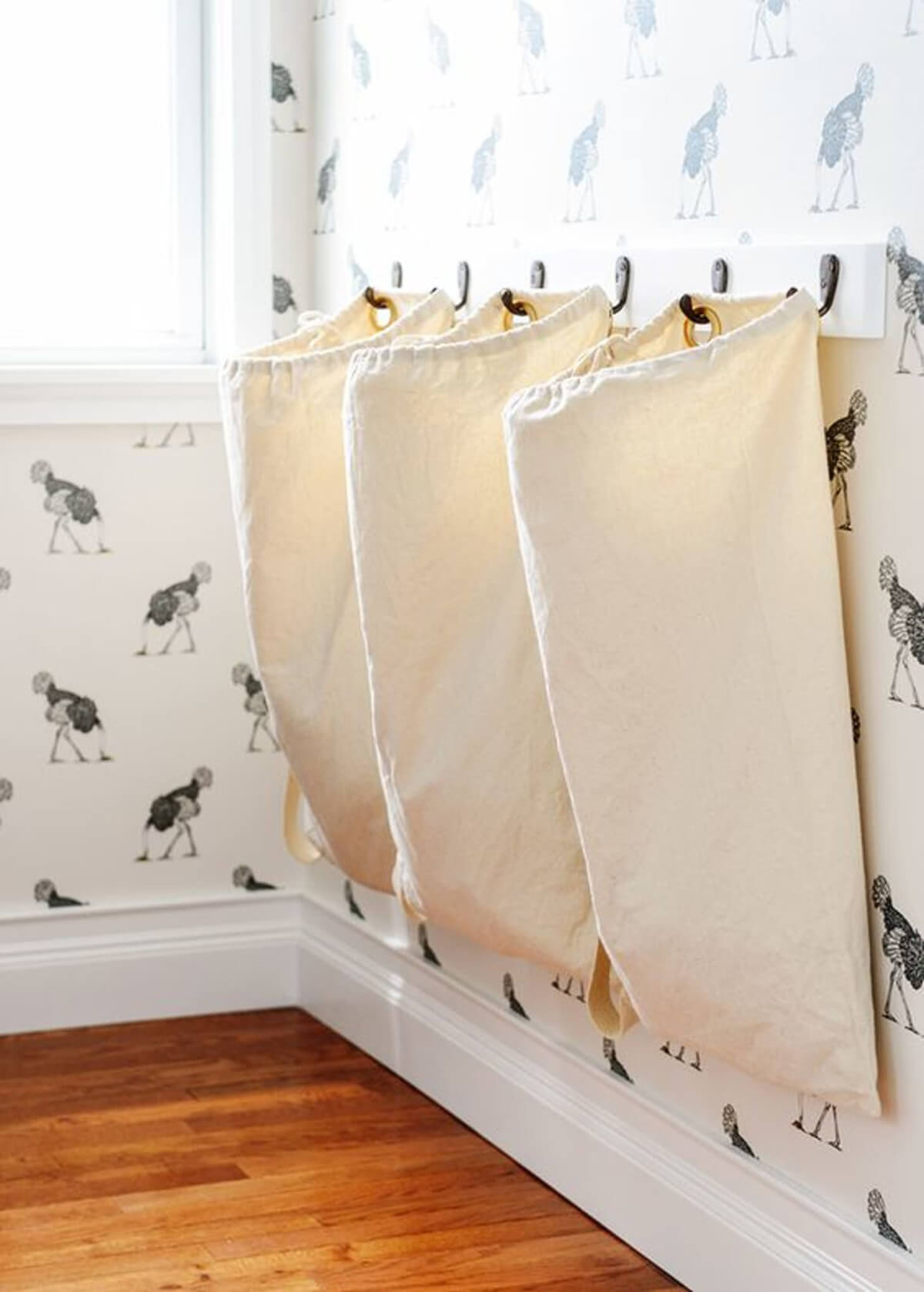 Laundry can get out of hand, especially in a multifamily household, so having specific areas for different clothes is helpful. You don't have to buy baskets for that as you can simply use classic canvas bags. With a little bit of time, you can turn them into laundry bags that hang right on the wall for easy access.
7. Industrial Pipe Shelves Laundry Room Storage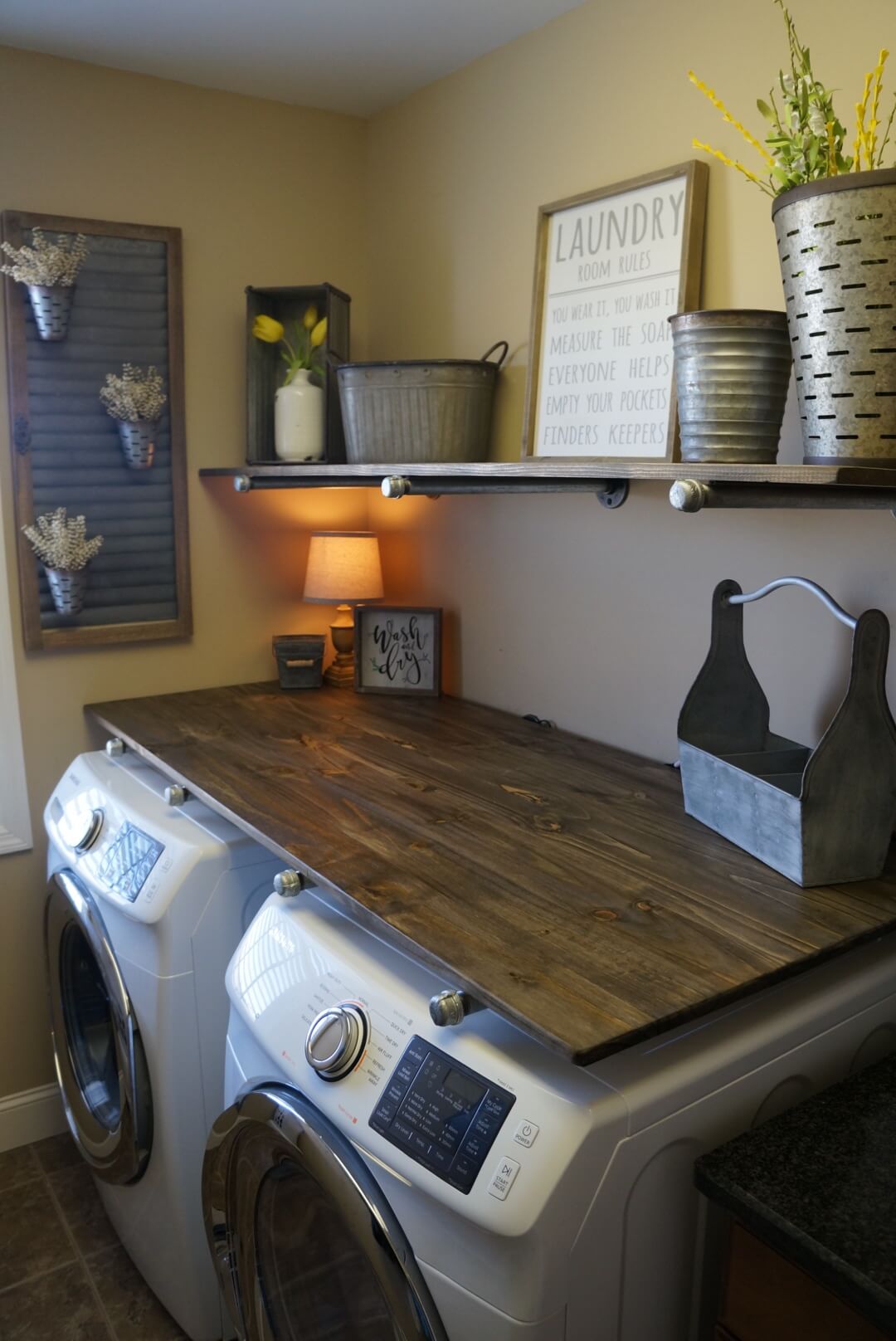 Not all laundry rooms are readily made with space for additional storage besides the machines. So, if you need somewhere to place all your detergent and other décor items, you can add in a few shelves using attractive wood slabs and industrial pipes to get that rustic look. It's a hands-on project that requires a bit of work, but the end results are wonderful as it keeps the laundry room organized and pleasant to look at.
8. Incognito Portable Wooden Storage Shelf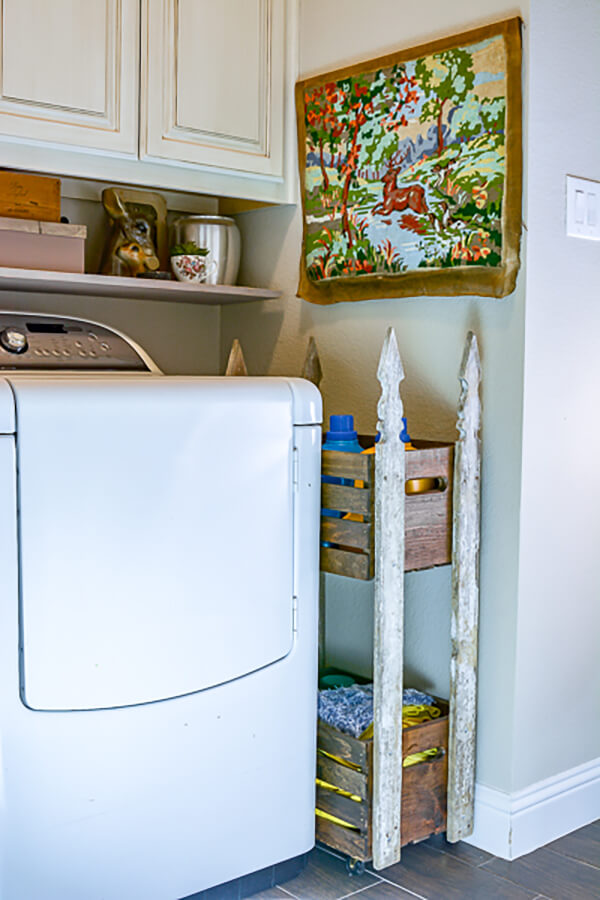 This incognito wooden storage shelf is ideal for a small space where having enough room is a luxury. With a little ingenuity, you can turn a pair of old wooden boxes into storage crates to hold all your detergent. Fence posts and some sturdy wheels can make it portable so the cart can slide in and out of its nook as needed.
9. Custom Built Laundry Room Cabinets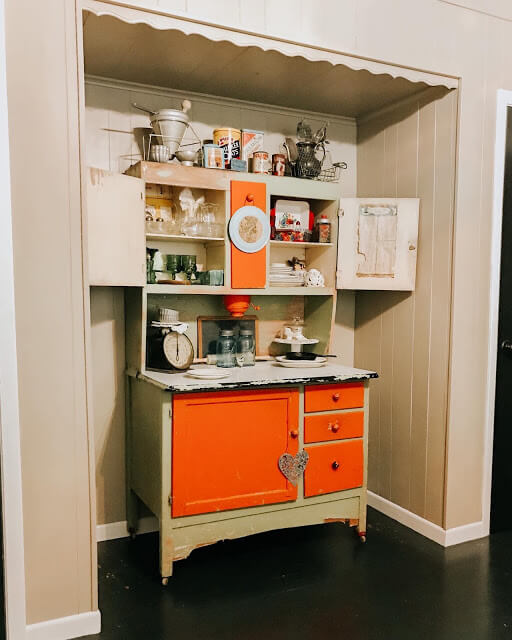 If you have enough room in your laundry area and you're comfortable with more extensive at-home projects, building these cabinets can help you optimize the space more. Once they're built, they look as though they've been a part of the room the whole time. Not only does this help everything look more organized, but it's also a fun way to personalize the room more as you can paint the cabinets however you wish.
10. Farmhouse Style Old Books Knife Block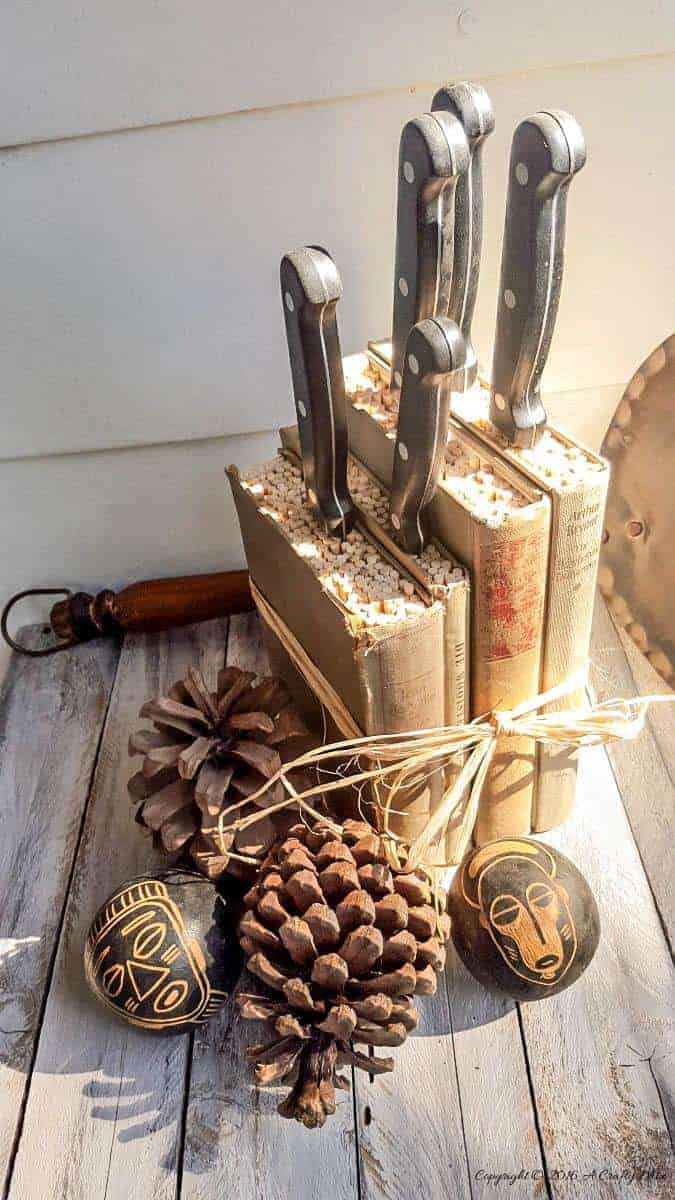 When some books are too old to preserve any longer, you can remove the pages and transform the books into a unique, farmhouse-style knife block. Adding glued bamboo skewers inside creates a good area to secure the knives. Tying the books together with raffia helps cement that overall rural theme so it'll stand out well on your kitchen countertop.
11. Classic Coca-Cola Crate Spice Rack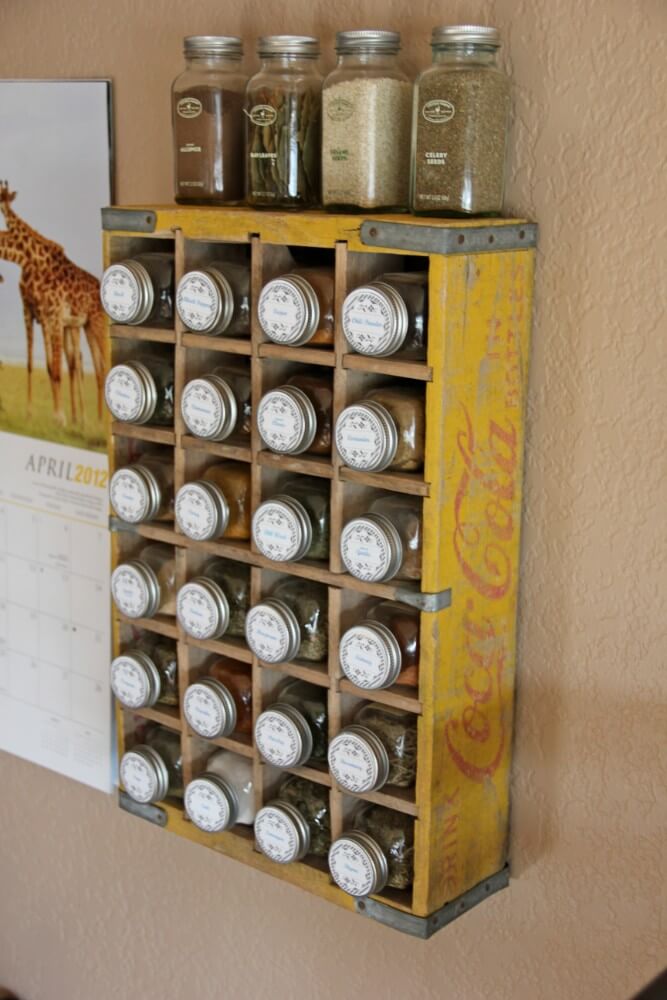 You don't need much to create a hanging spice rack for your vintage-themed kitchen. Take this cool Coca-Cola crate, for instance. All you need to do with it is clean it out and find something to hang it up with like picture hangers. From there, all that's left for you to do is add in your spices, and you've created a functional, appealing storage space.
12. Upcycled Tin Can Storage Containers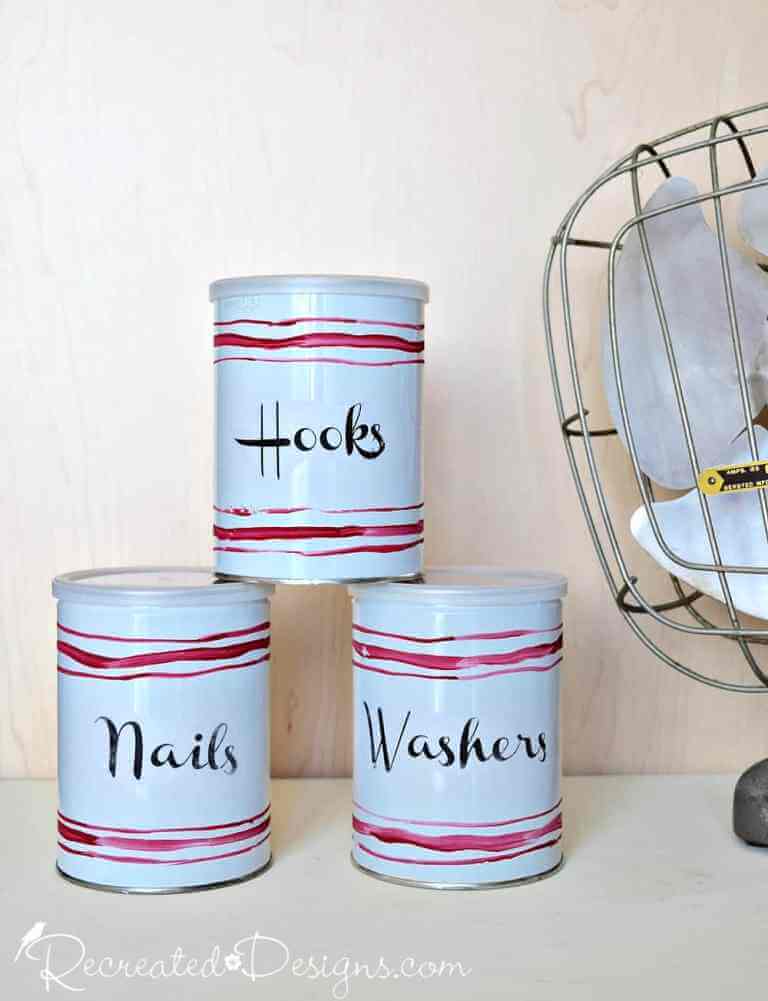 Tin cans are an easy and fun way to create a storage area that you can decorate as you wish. Paint and lettering can go a long way, allowing you to personalize the storage to match the theme of the room. What's so wonderful about this project is that there's no shortage of small items that you can store inside these cans.
13. Card Catalog Storage Crafting Shelf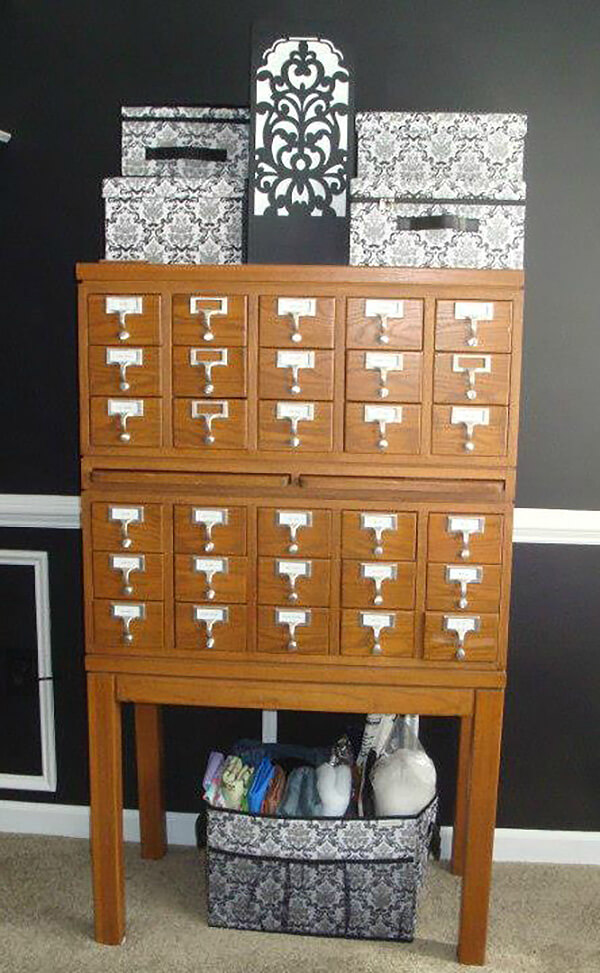 If you have a crafting room, an interesting way to store some of your smaller items is with this vintage-inspired card catalog shelf. It's reminiscing of an old library sorting system, but instead, you can use it to organize all your crafting tools. Besides the good use of space this shelf has, it simply looks refreshing and eye-catching.
14. Wire Rack Ribbon Organizer Tower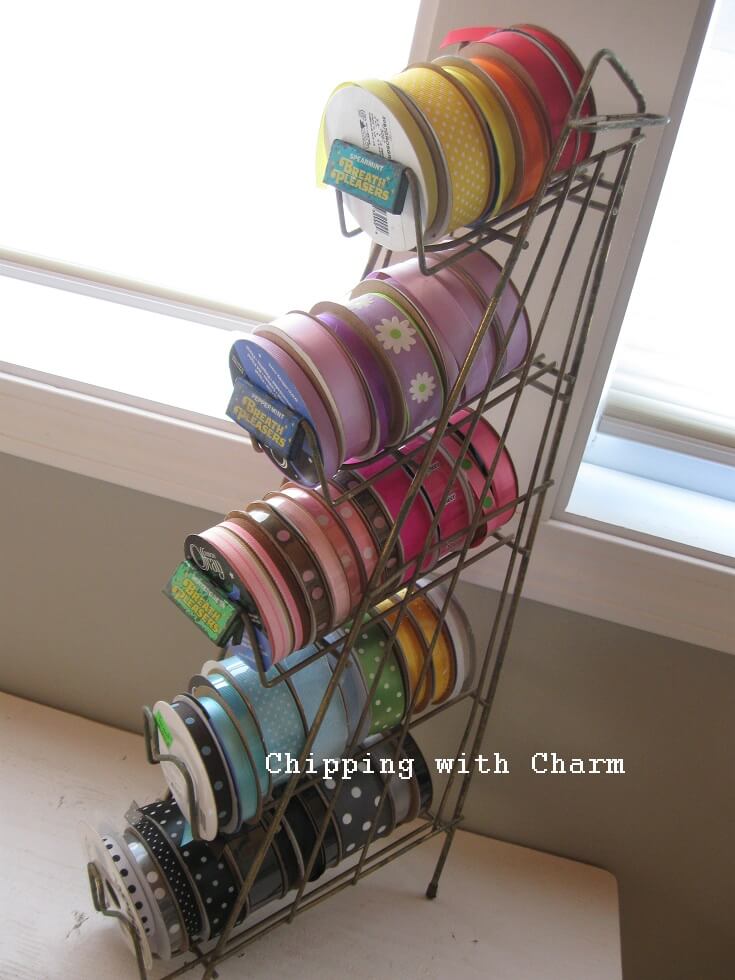 Crafting rooms can get a little out of hand if you've gathered a lot of supplies. Something that always seems in the way is a roll of ribbon. A good way to handle that is with this old-school wire rack tower. It's big enough to hold multiple rolls of ribbon, and the organizing is clear and straightforward so whatever you need is always easy to find.
15. Repurposed Farmhouse Style Flower Frog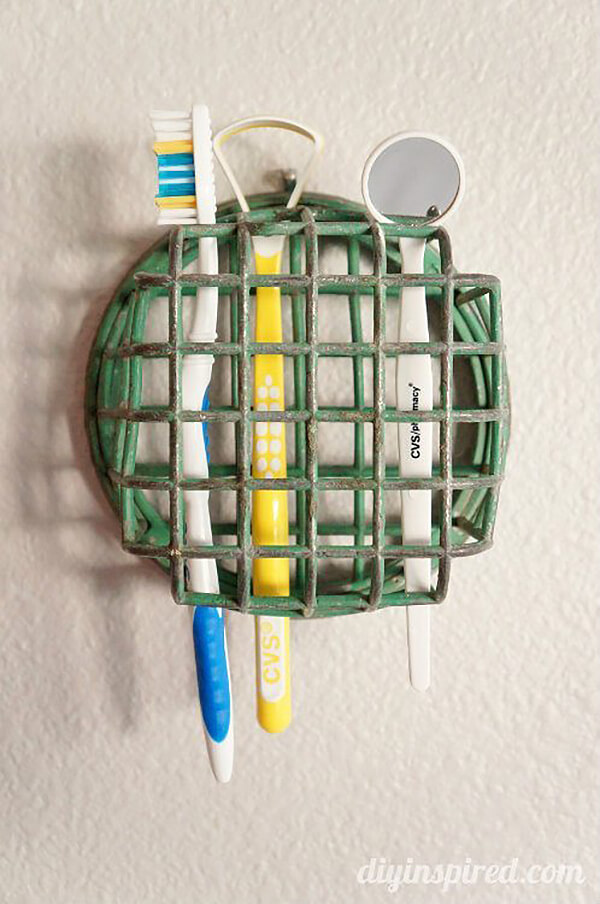 If you've seen a flower frog before, you might be surprised to know they can be more beneficial than just holding arranged flowers in place inside a vase. You can put good use to it inside your home, in particular your bathroom. This can be a wonderful rustic piece to hold your toothbrushes. The many openings can turn this into a toothbrush holder for the whole family.
16. Large Glass Jar Kitchen Organizer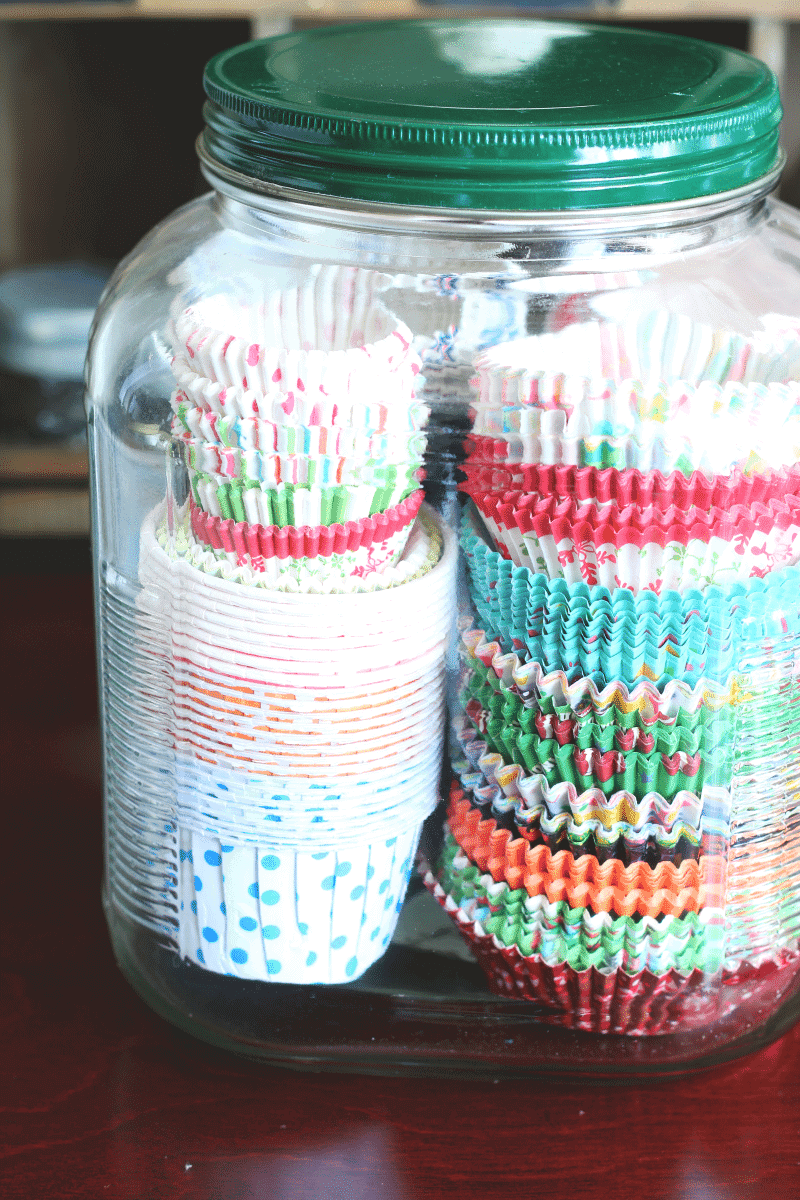 Oftentimes, simple is the perfect way to declutter your kitchen, especially if the room is small, making space limited. This large vintage glass jar is an easy way to pack up some handheld items that may be floating around your kitchen like cupcake liners. With it being glass and see-through, it can even serve as a decorative piece if you decide to leave it out on the counter.
17. Timeless Stacked Luggage Storage Solution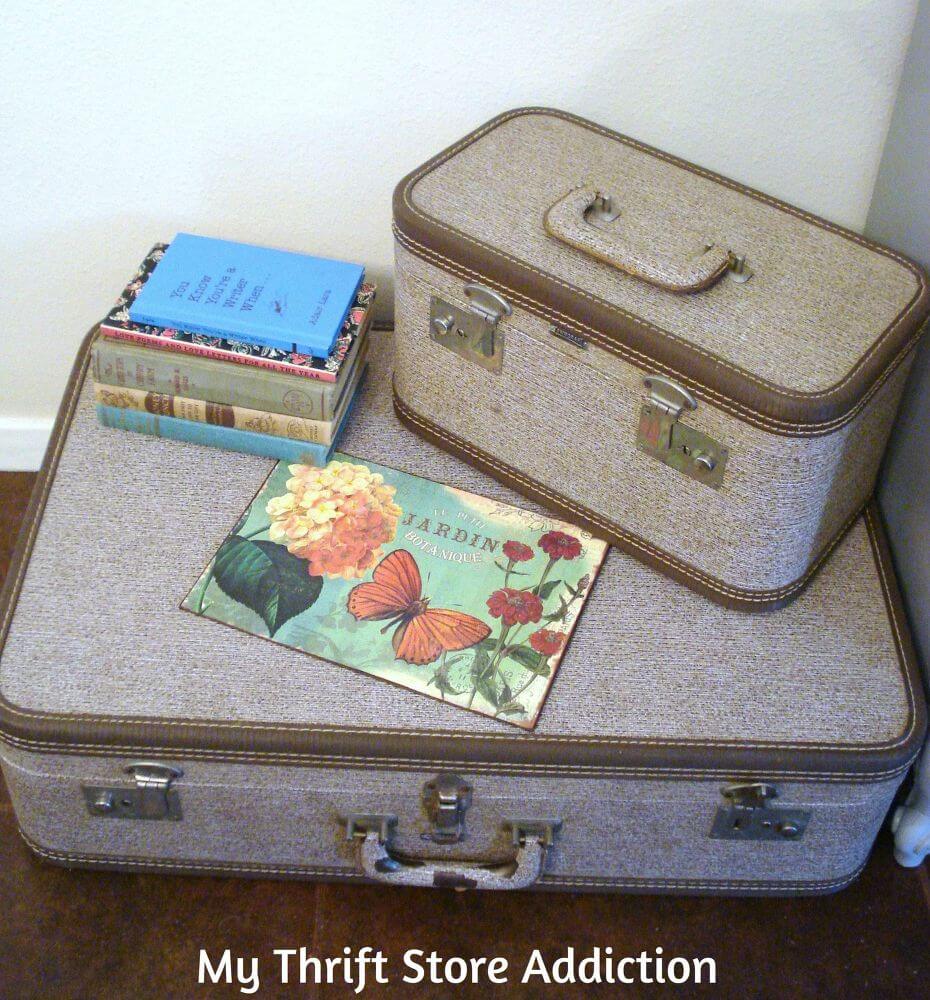 Have you seen those gorgeous classic luggage collections? Rather than use them for traveling, you can take the multiple-sized luggage and store much-needed or fragile items away from everything else. The outside is as useful as the inside since they're beautiful in appearance, and you can stack them in various ways for decorative purposes.
18. Painted Crates Stylish Bookshelf Tower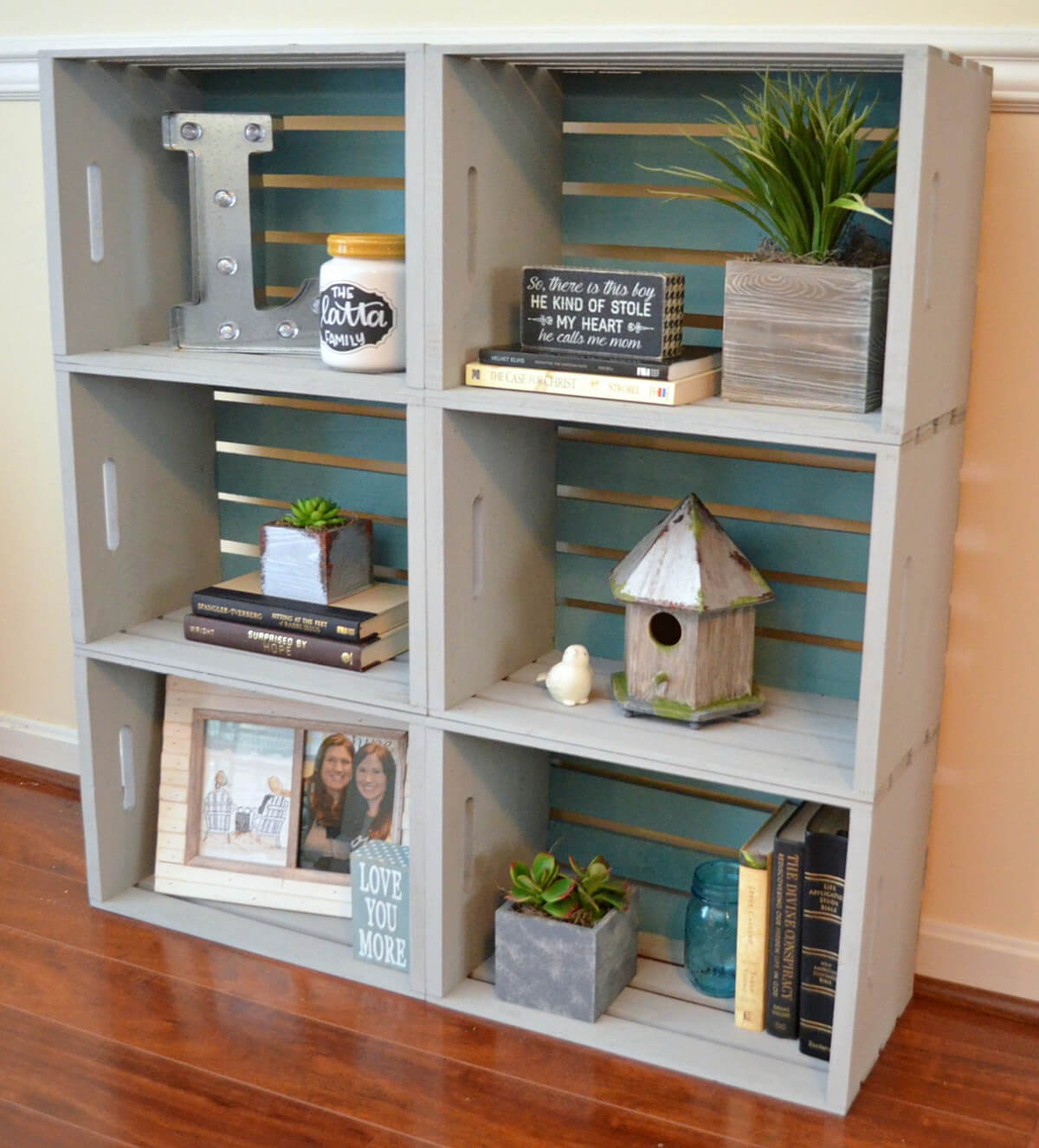 A unique spin on the usual bookshelf is using large crates instead of slabs of wood to hold your items. You can stack these crates however you would like but remember to sand paint, marking exactly how you want to set them all up before you nail anything together. Also, if you want to go for a more distressed, rustic look, simply sand it again once the paint is dry.
19. Secret Storage Large Book Box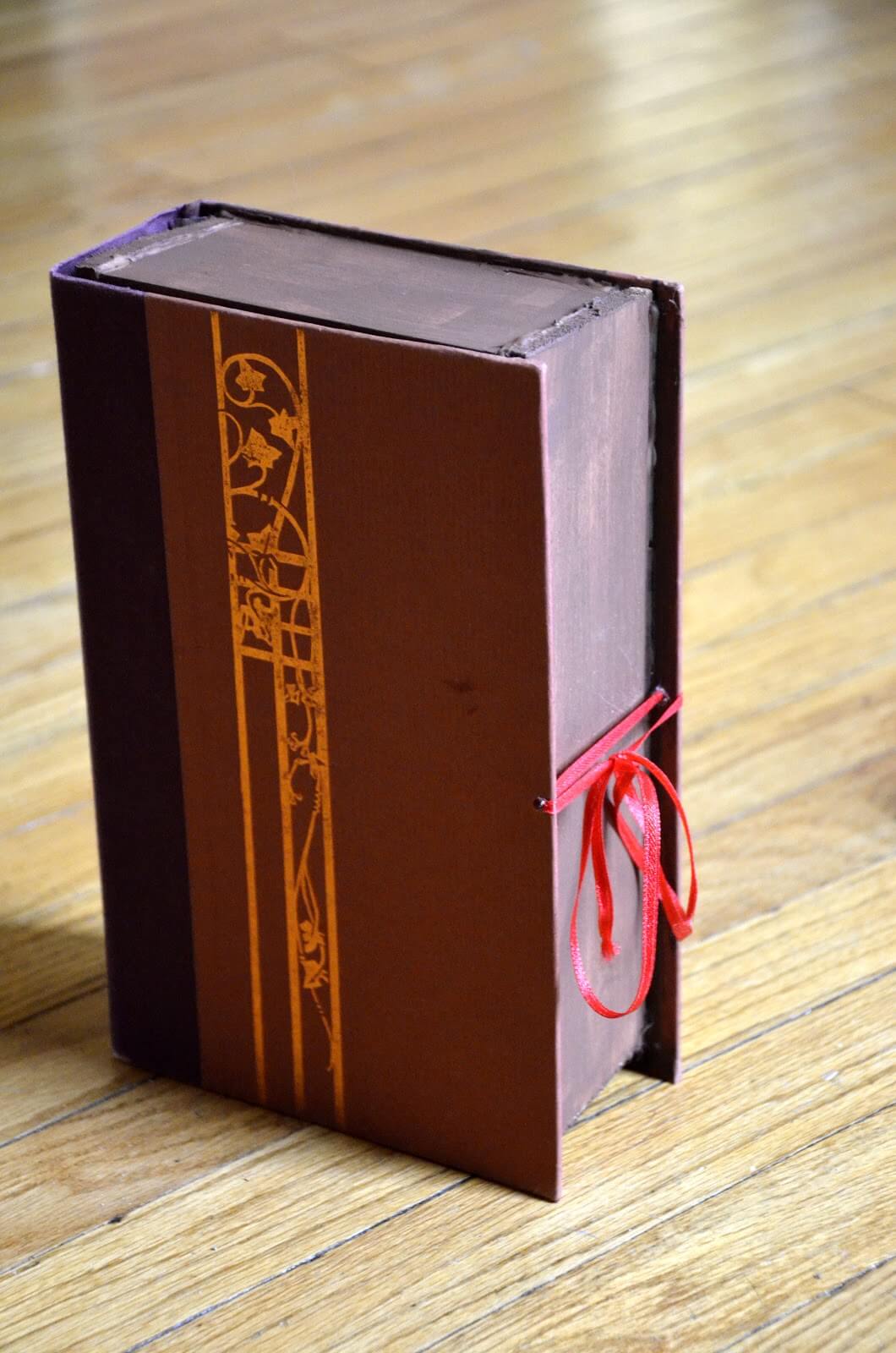 Some of you may need to keep only a few items tucked away together or you simply want something that looks unremarkable at first glance to hide some valuables away. Regardless of what you put into it, a book box is a cool idea when it comes to vintage storage. Find a good-sized old book to craft, and depending on the space inside, you may even have room to add small compartments to organize it more. Adding a ribbon to close it is a cute touch.
20. Paper Mache Book Page Canister Covers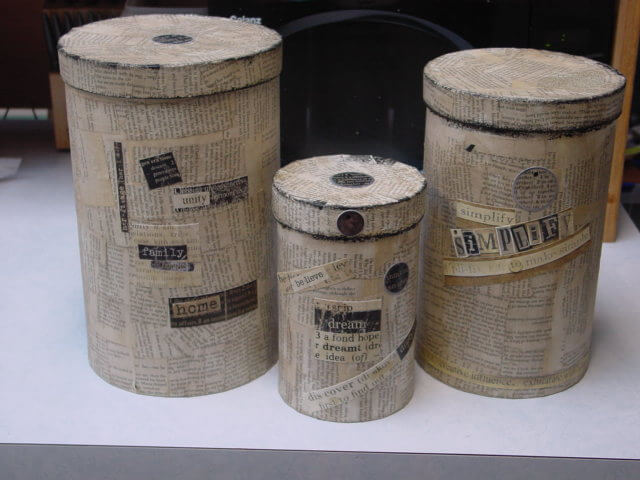 Paper Mache is an exciting project to undertake as there are so many places you can take it. If you've got some old canisters and books lying around, you can use the two to create some eye-catching storage. The torn book pages encourage visitors to take a closer look to inspect the words, so you can turn an ordinary canister and make it not just for storage, but also part of your décor.
21. Upcycled Old-School Red Locker Bench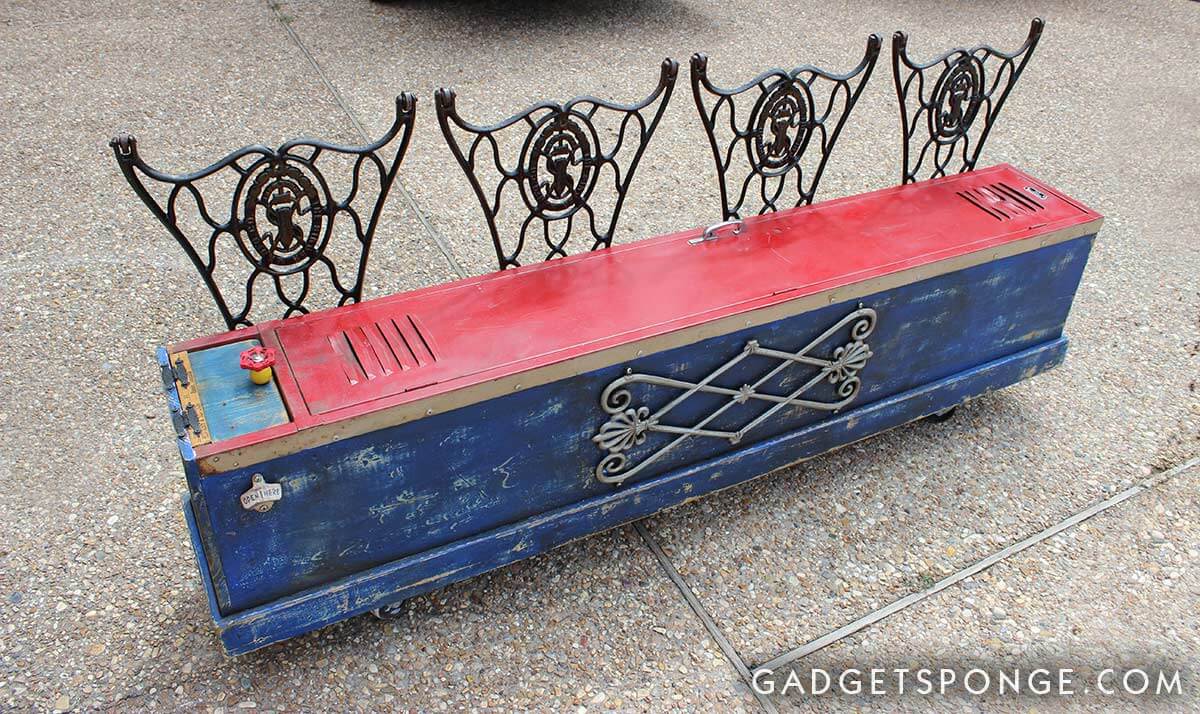 This nostalgic crafting project may transport you back to your school days. It brings new life to an old locker, and you can use other metal pieces to create the back support. If you want it portable, simply add some castor wheels to it. This doubles as storage easily thanks to the small top opening and large main compartment.
22. Assorted Vintage Suitcases Storage Solution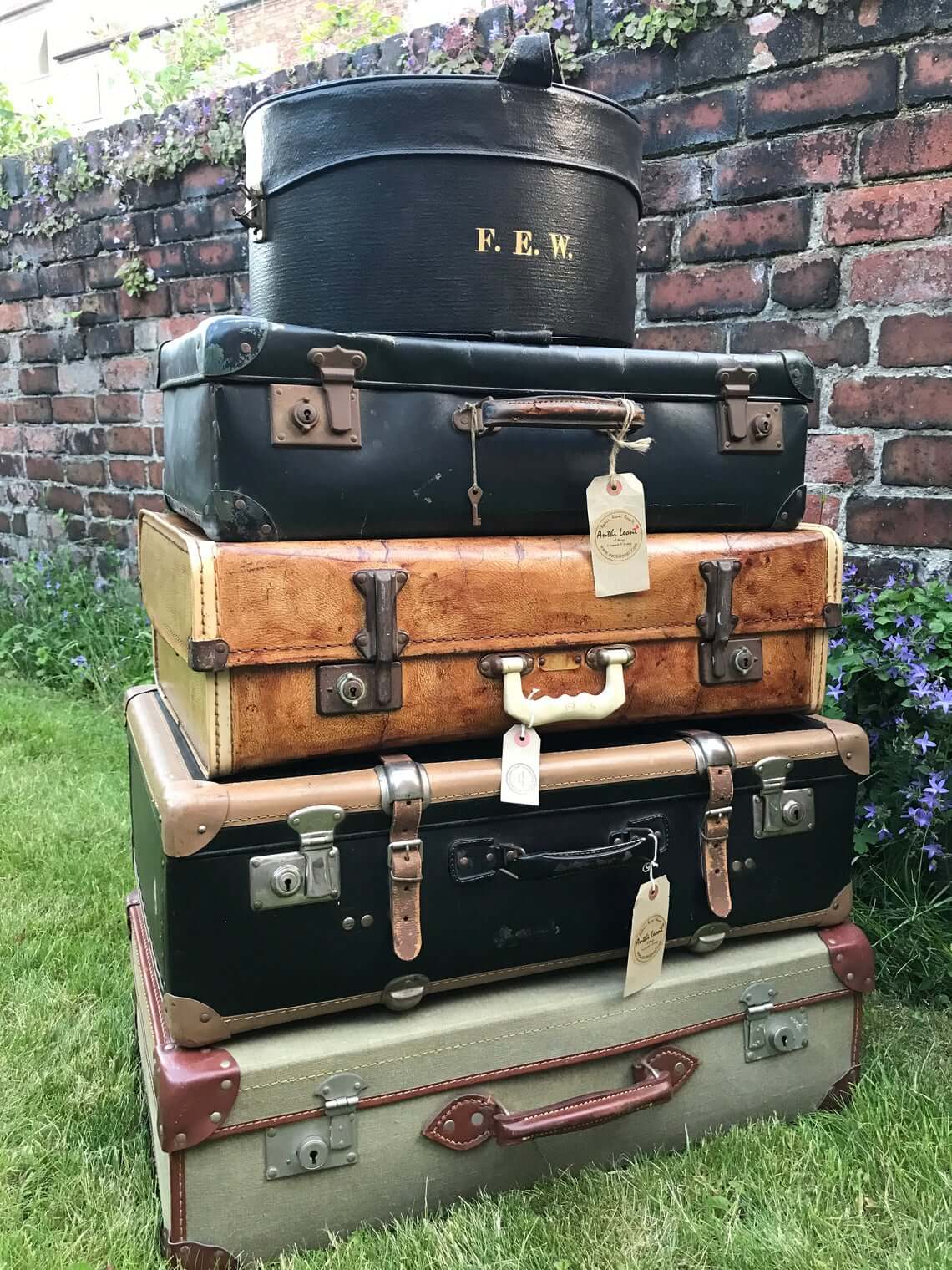 These retro suitcases are multipurpose as they can work for storage, stunning interior design, or even act as tables. There is more than enough space inside each one to organize plenty of handheld items around your home. You can keep them stacked or placed in them in various rooms throughout your home, enhancing the overall vintage charm of your décor.
23. Farmhouse Multiple Rolling Pin Wooden Rack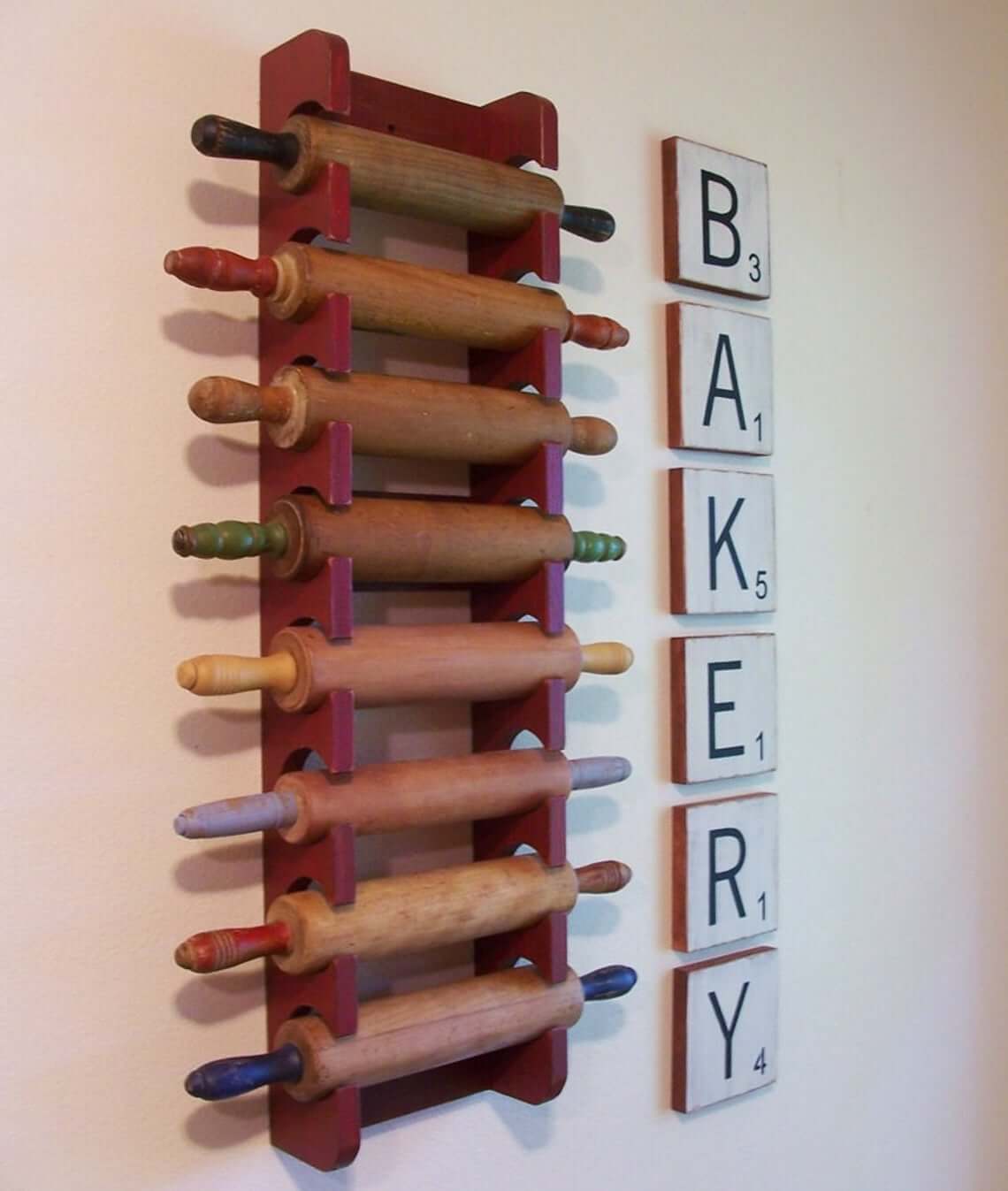 This is a beautiful take on kitchen storage if you have a bunch of rolling pins lying around. The rack is wonderfully made using quality wood, and it's capable of holding up to eight pins of different sizes. Not only can you choose from several different colors, but you can also elect to have an aged or like-new finish applied.
24. Retro French Biscuit Container Tin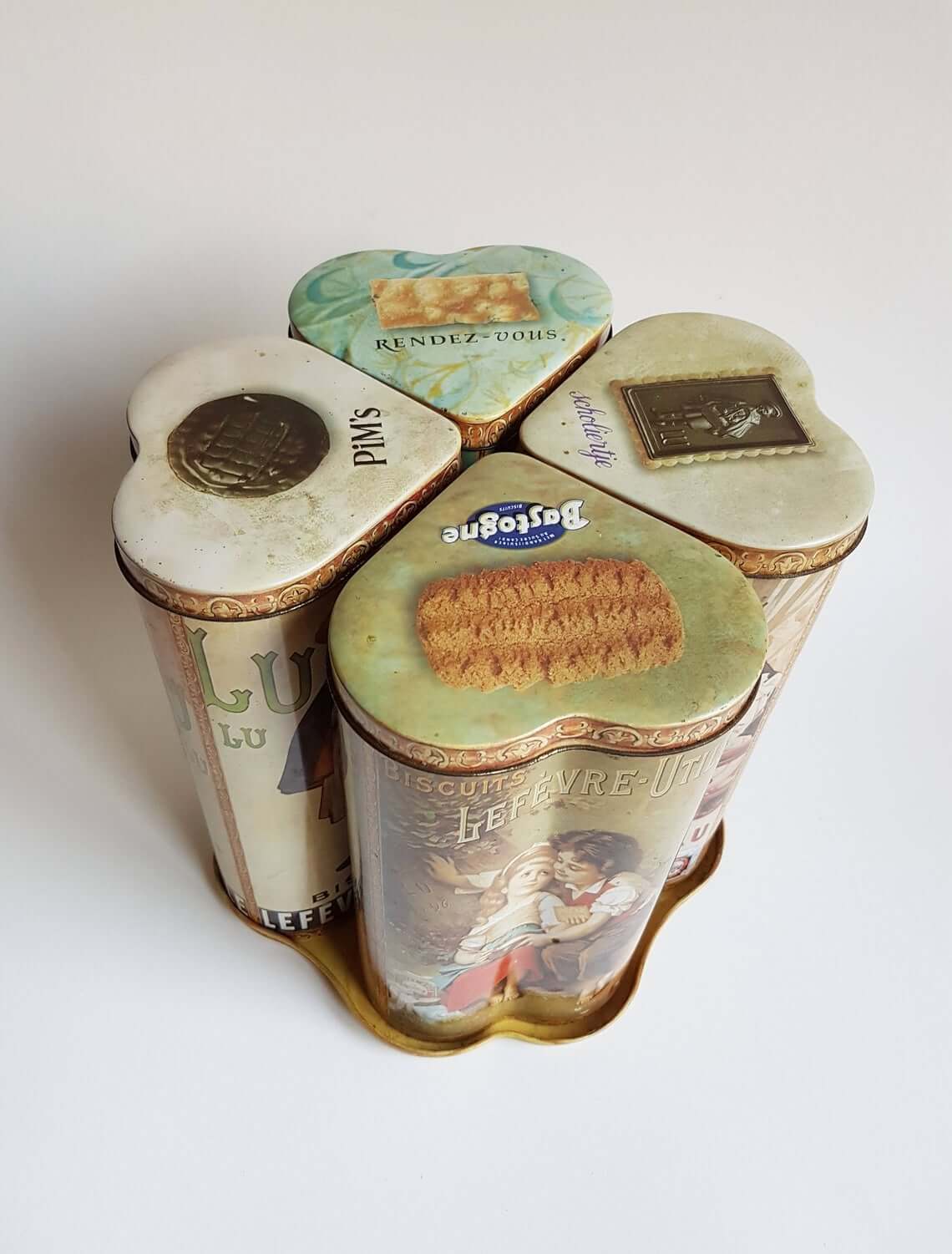 This stunningly rare container is from Lefèvre-Utile (LU), which is a French biscuit manufacturer that sold these tins until 1887. So, these heart-shaped tins can allow you to have a cool part of history right in your kitchen. It doesn't matter which you look at it either because the classic artwork is seen from all angles on each of the four tins.
25. '60s Faux Leather Ottoman Storage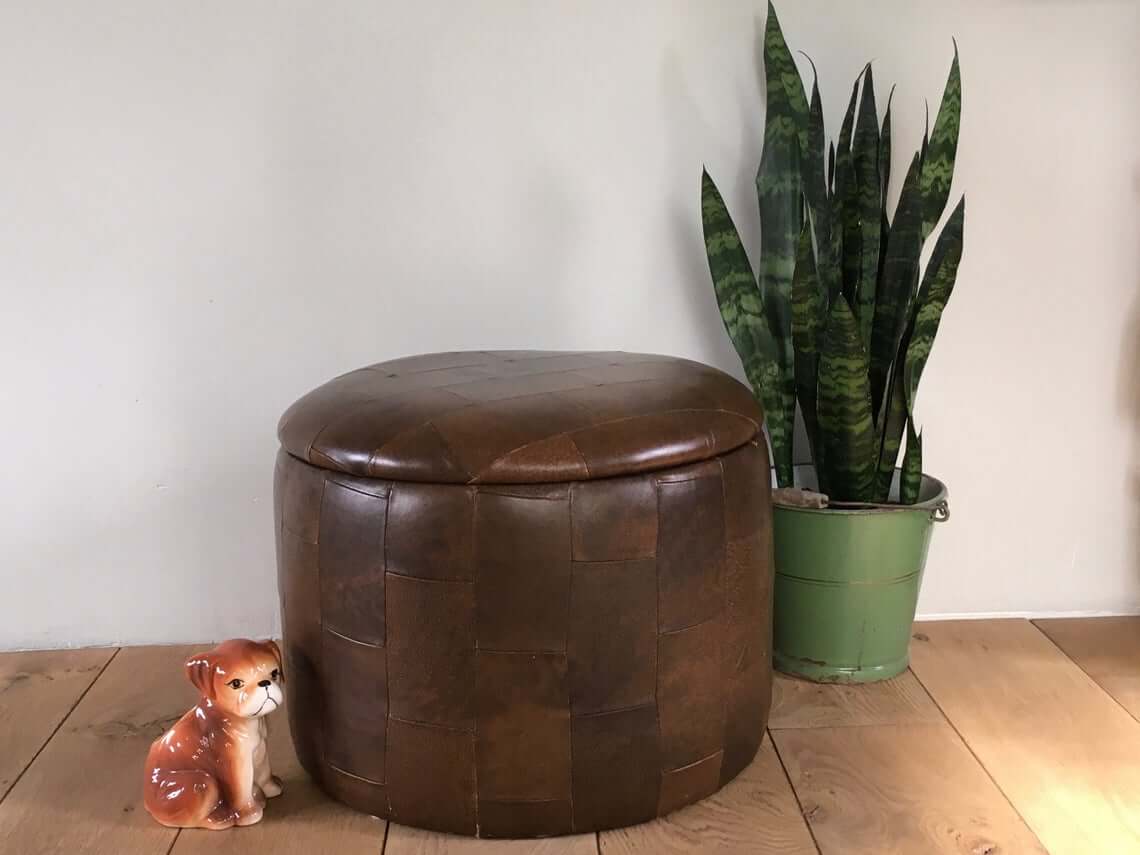 With this attractive ottoman from the 1960s, you can add some style to a retro-themed room. Its bold brown coloring and light patterns throughout inspire a closer look from any visitor. On top of the appearances, the ottoman is functional as a seat and a deep storage box.
26. Crusty Industrial Metal Cube Box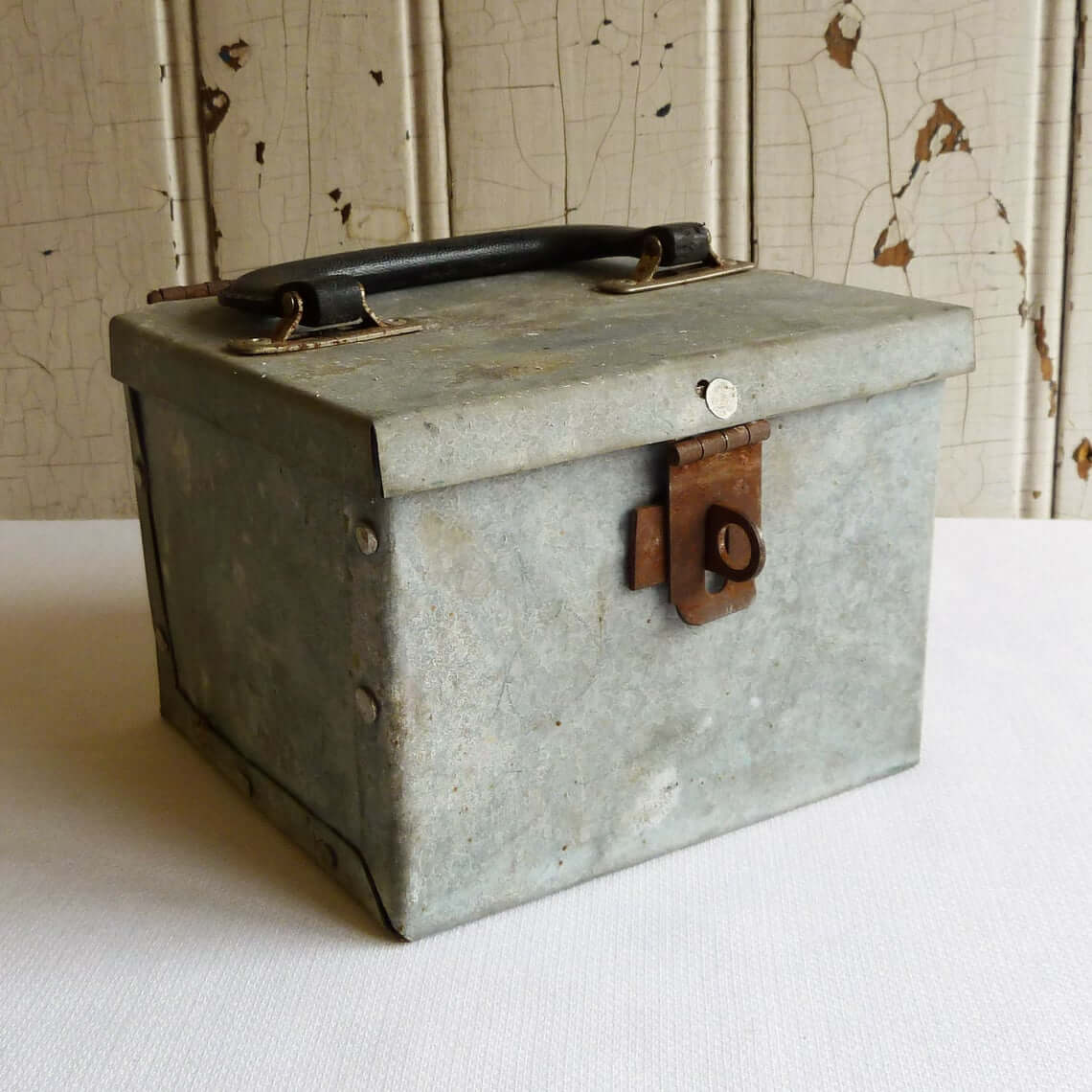 This so-called crusty metal cube box has just enough distress to it to give your room some industrial décor. There are a few discolorations and age marks to cement it as vintage, especially with the rusted flip-down latch and padlock. It has enough room inside to stash various items like small tools, so it may look perfect inside a workroom.
27. Vintage Storage and Coffee Table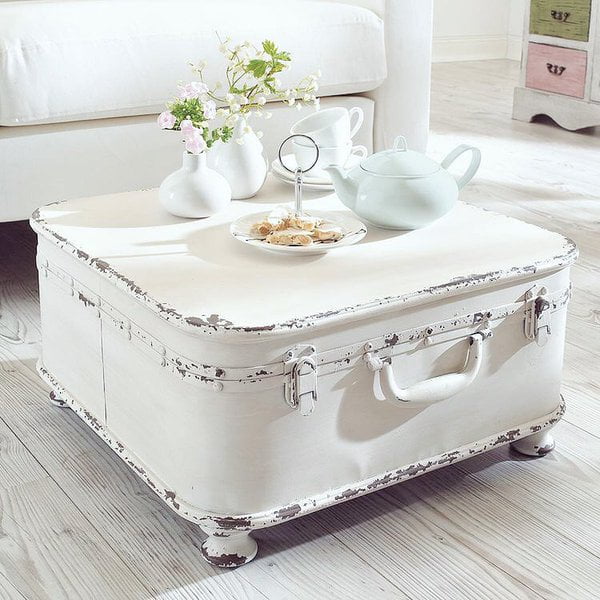 Small space storage is easy with this practical and chic vintage suitcase coffee table. It is an excellent solution for keeping winter sweaters, blankets, or other items that do not need to be in public view. The white chippy paint gives it a well-loved feel that goes well with any boho, Victorian, or shabby chic design.
28. Shabby Chic Window Frame Shelving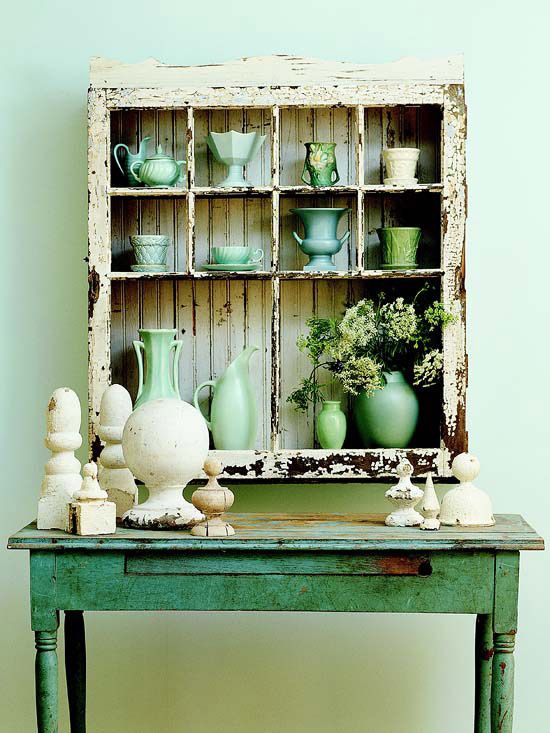 This shabby chic window frame shelving accentuates farmhouse or French country rooms. It is perfect for displaying collections, storing spices, or displaying favorite family photos. It can be used as a hanging piece or leaned up against a wall on a table top. The old world feel of this piece provides a touch of country charm.
29. Jewelry Display from a Card Catalog Drawer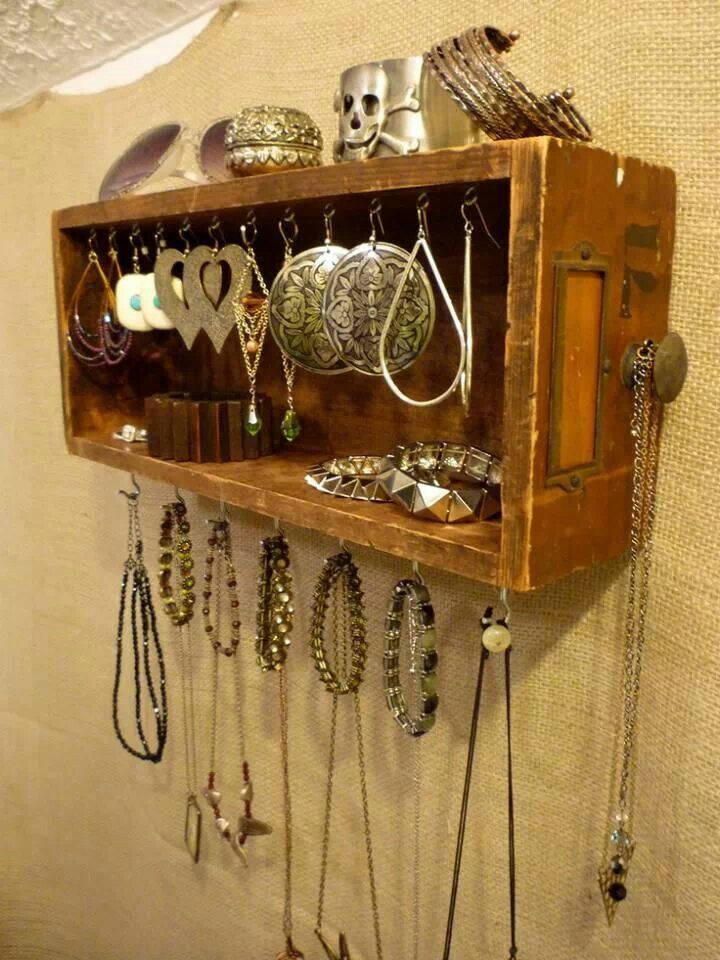 The best décor ideas come from finding unusual uses for practical items. This library card catalog turned into a jewelry display is the perfect way to keep organized. Never again will necklaces turn into a tangled mess or ear rings yearn for a mate. You can keep them all right where you need them with this clever upcycled piece.
30. Vintage Enameled Pantry Staple Containers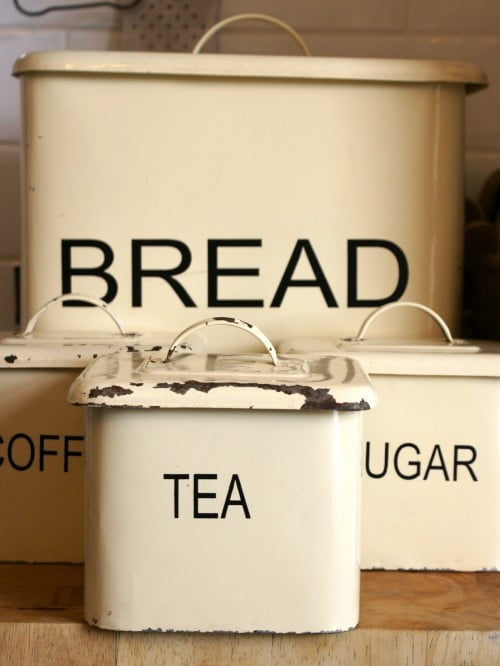 These vintage enameled pantry staples containers take you back to simpler days when life was less complicated. They can be used in a retro design, or to add interest to a rustic, French country, or minimalist kitchen. These canisters will pair well with any color scheme and blend well in a white on white color scheme for a dreamy country touch.
31. Vanity Storage Set from Vintage Luggage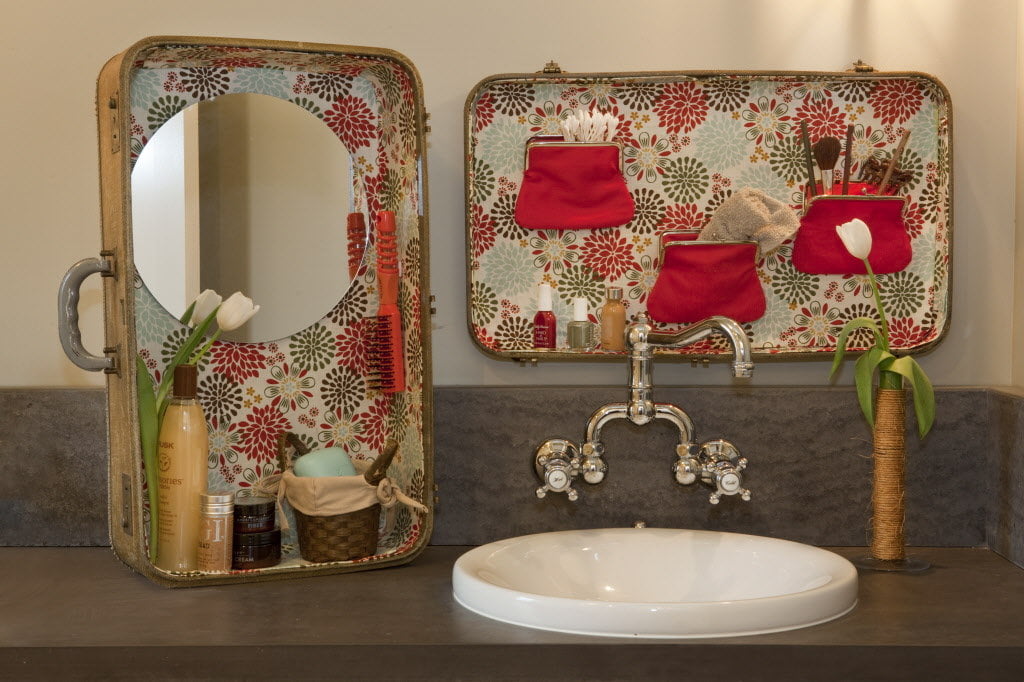 A vintage storage set made from vintage luggage adds a whimsical touch to any bathroom. You can keep everything you need organized and within reach. Red vintage change purses pop against the retro fabric and neutral tones of the suitcase. This is the perfect solution to a bathroom that uses neutral tones or natural elements in the design.
32. Three-tiered Wire Storage Racks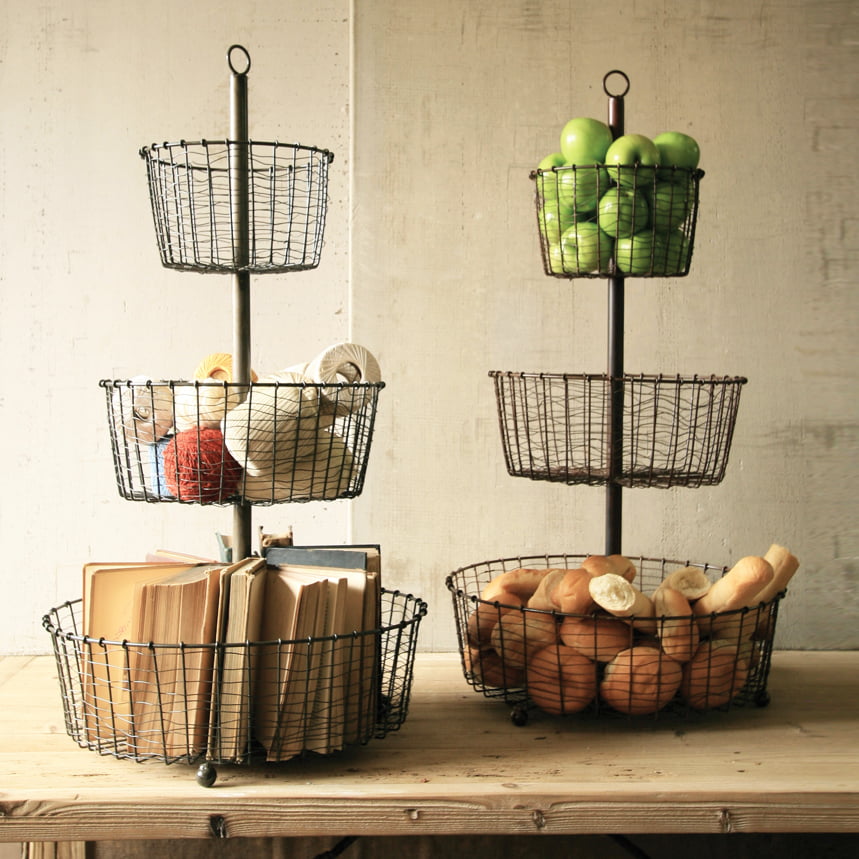 Three-tiered wire storage racks are the perfect storage solution for almost any area of the home. They can easily be used to hold craft items, fruits and vegetables, or can serve as a desk organizer. They add a sense of practicality and are a real space-saver by using vertical space. The simple design allows them to go with any style.
33. Whitewashed Shutter Storage Basket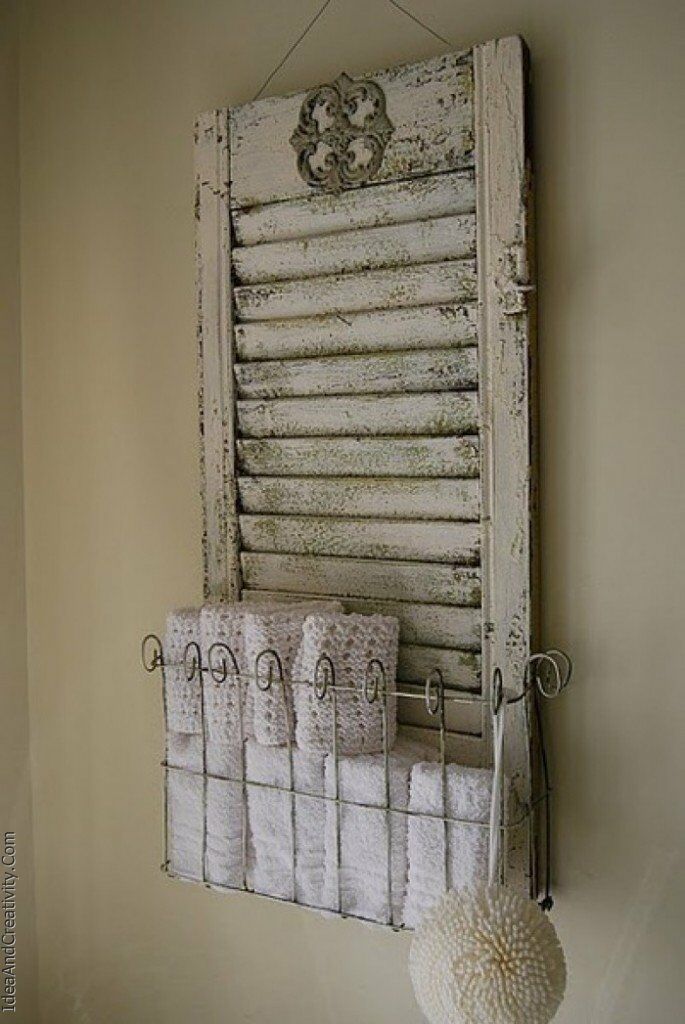 Nothing says English or French countryside like a shabby chic whitewashed shutter storage basket. This piece easily goes in the bathroom or in the kitchen for holding your favorite dishtowels. It adds interest and makes a beautiful conversation piece. Why not add a vase of fresh flowers in a bud vase to bring a touch of the garden indoors?
34. Distressed Wooden Crate Turned Spice Rack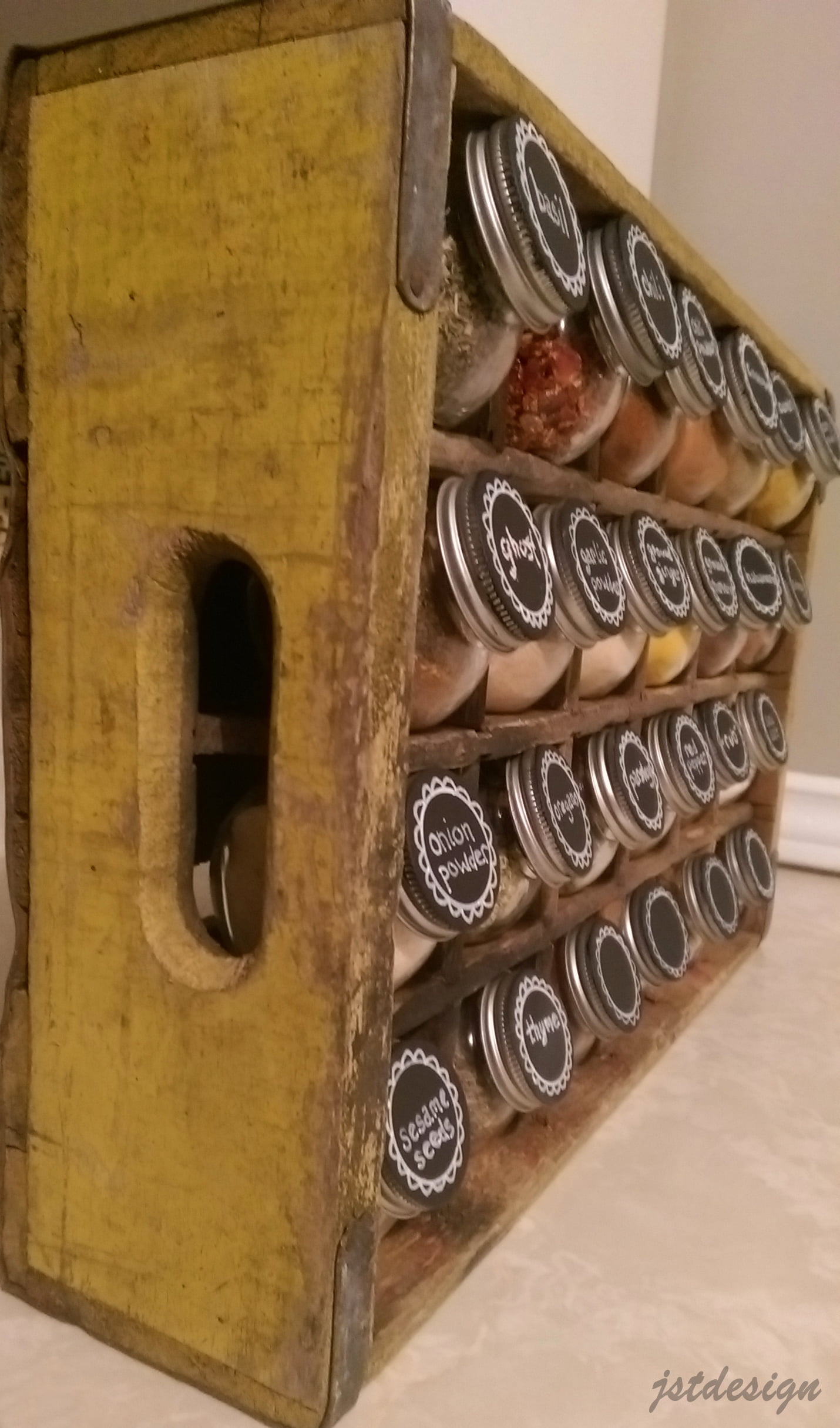 This unique distressed wooden crate turned spice rack keeps everything you need right at your fingertips for cooking delicious cuisine. Chalk paint lids make them practical and easy to write on so that you can keep stock. This piece adds a touch of rustic appeal to a country kitchen and makes the space feel welcoming and warm.
35. Bureau With Drawers Painted to Look Like Vintage Luggage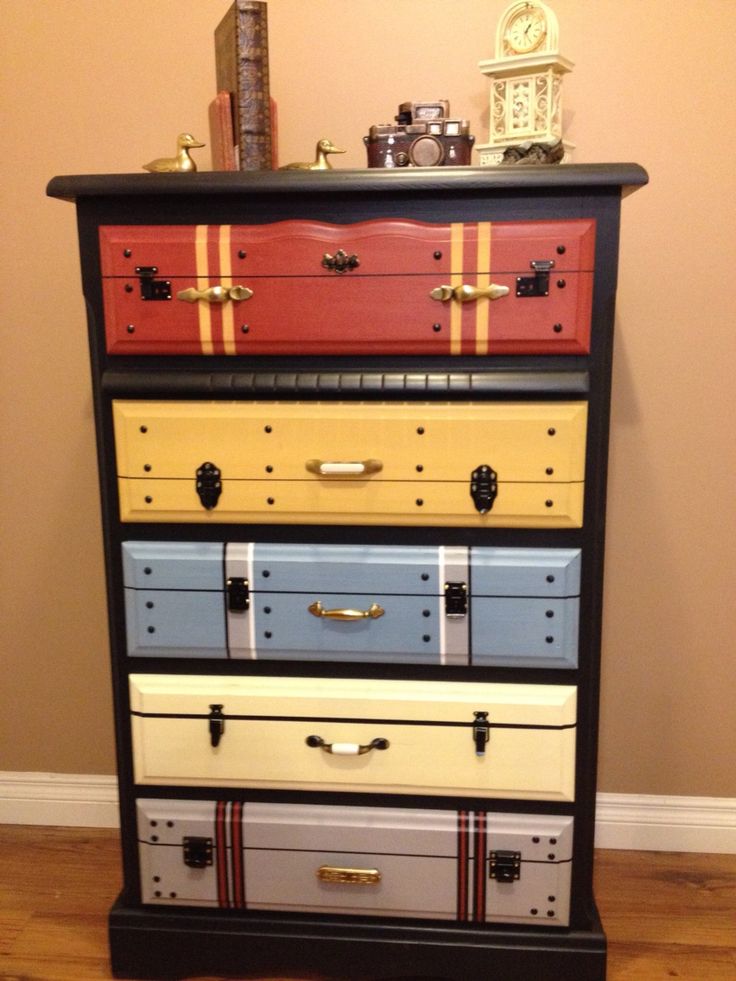 Look like a world class traveler with this bureau with drawers that are painted to look like vintage luggage. The colors add pop to a neutral décor or they can hold their own in a splashier room. The only thing for sure is that it makes a statement in the bedroom, hallway, or as a unique office piece.
36. Chicken-wire and Vintage Hanger Dress Form Display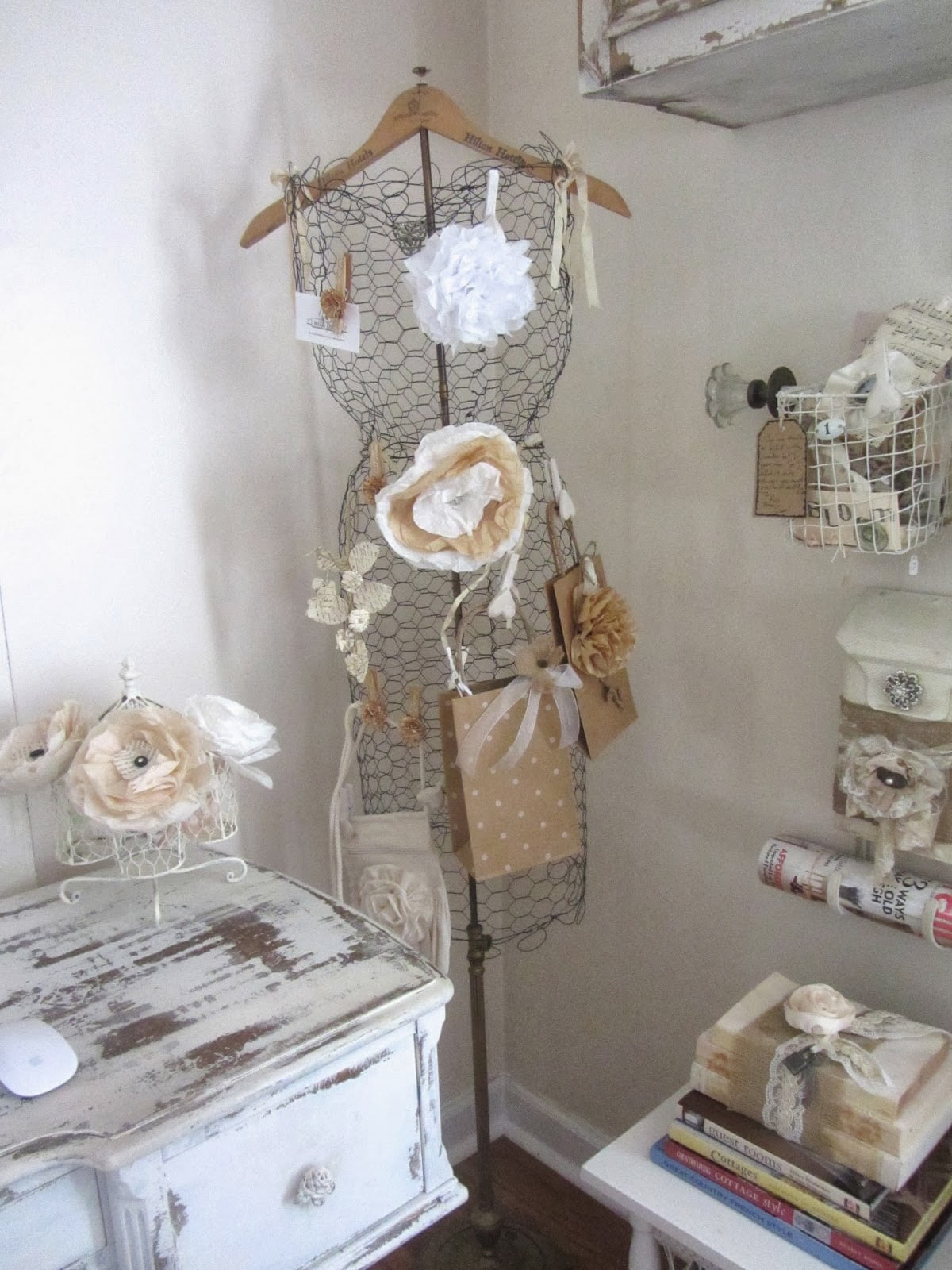 An adorable chicken-wire vintage hanger dress form display will bring a smile to anyone as soon as they see it. It is the perfect organizer for a hat collection, purse collection, scarves, belts, or jewelry. Of course, you could always use it to display your favorite vintage clothing too. This charming piece has so many possibilities.
37. Orchard Ladder Shoe Rack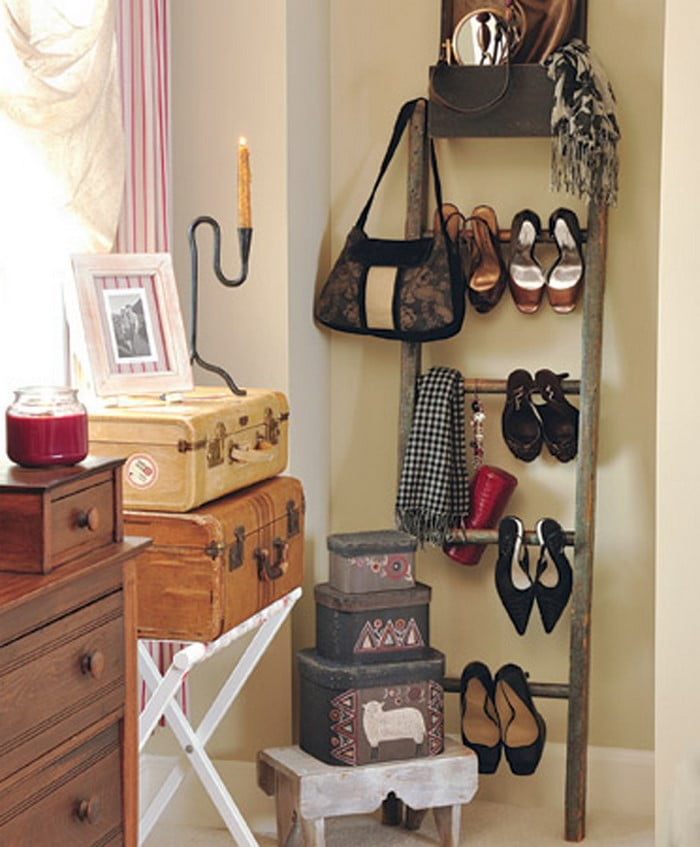 An orchard ladder shoe rack is great for keeping shoes and other accessories in their place. It tucks neatly against the wall so that it is out of the way. It would also make a great way to display your collection of fashion scarves. The aged wood gives it a vintage appeal that also works well in a traditional design.
38. Stacking Galvanized Industrial Bins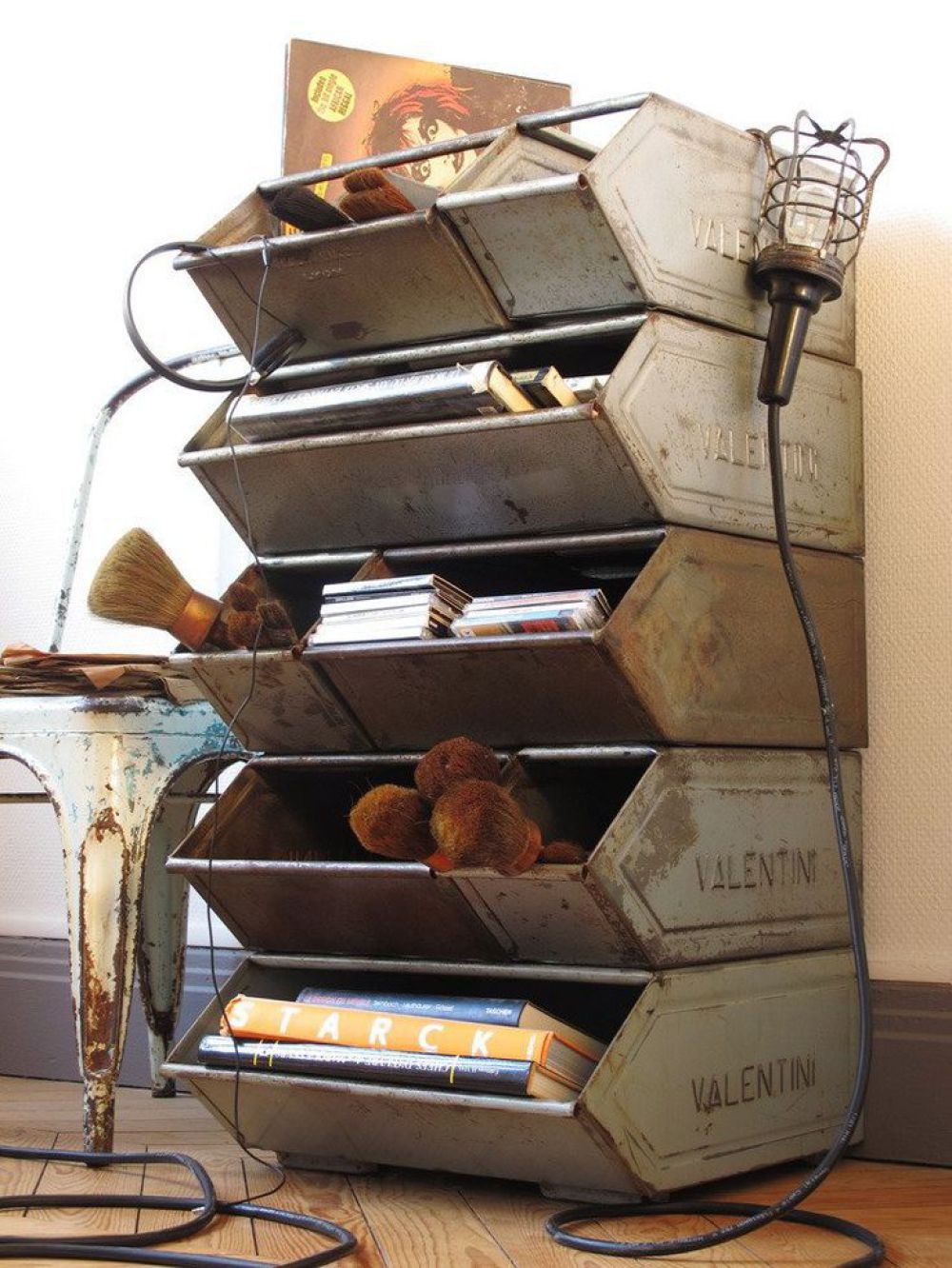 These stacking galvanized industrial bins harken to the days when productivity was king. They offer endless storage possibilities in an industrial, gothic, retro, Scandinavian, or contemporary design. From the office to the craft room to the kitchen, these bins add character to whatever you need to organize your life. They pair well with wood tones or other chippy pieces.
39. Wooden Produce Crates Turned Storage Bins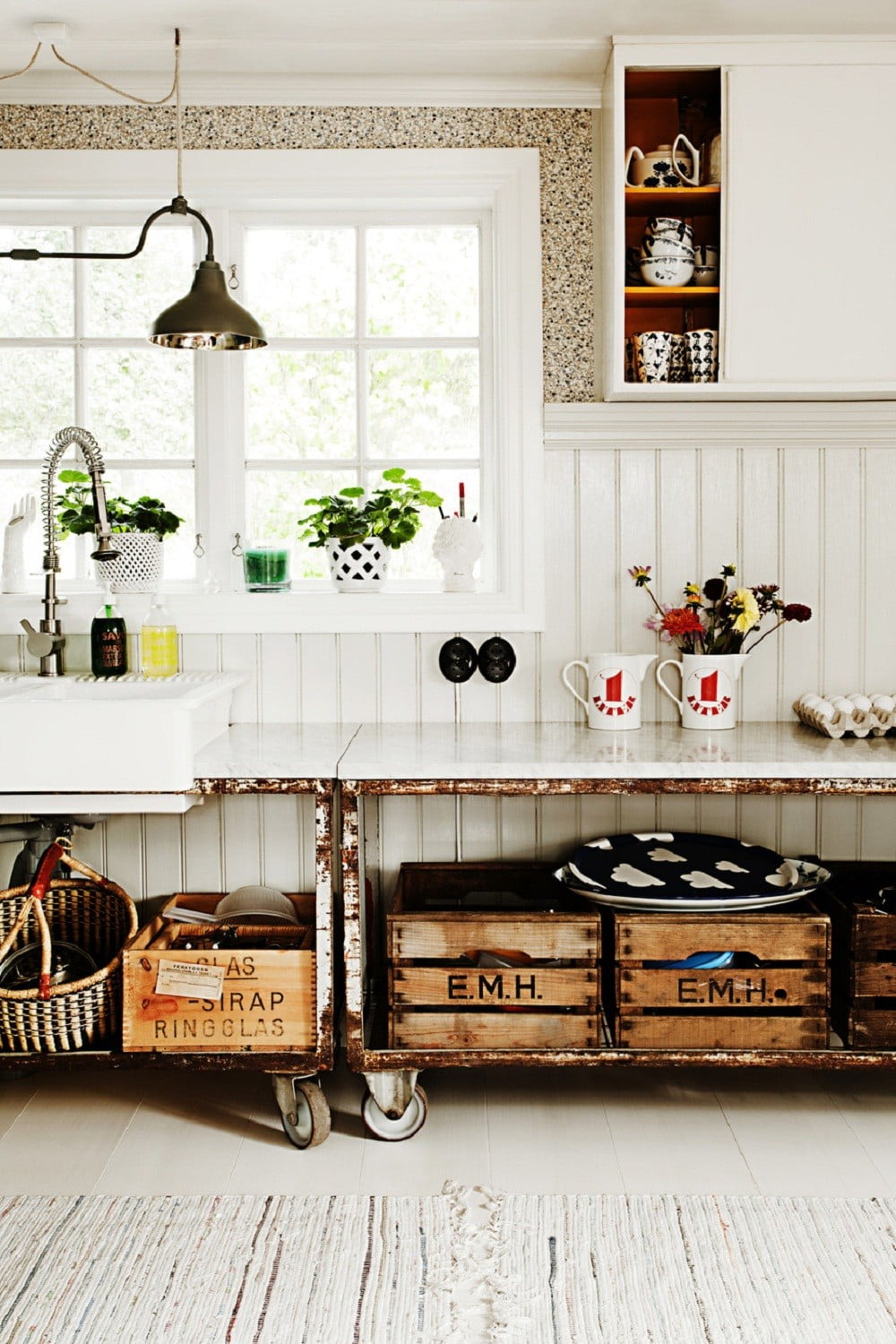 Wooden Produce Crates make wonderful storage bins. Used as they were originally intended, for storing things, they can be used to keep anything in its place. They are versatile and can work in a range of decorating schemes from country to industrial. They can be stacked or turned on their side and used as bookshelves or display shelves.
40. Rustic Galvanized Storage Basket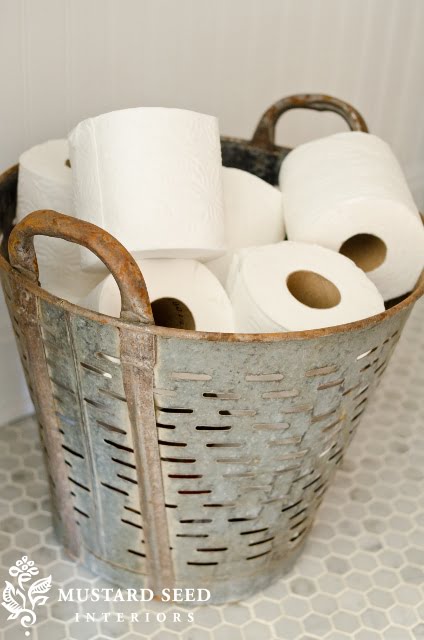 It is difficult to imagine a room or use for which this rustic galvanized storage basket would not be perfect. Whether it is in the bathroom holding rolled towels and washcloths, in the kitchen holding potatoes, or in the craft room holding balls of yarn, this bucket has a place. It adds a vintage appeal to any corner or surface.
41. China Display From an Old Bed Frame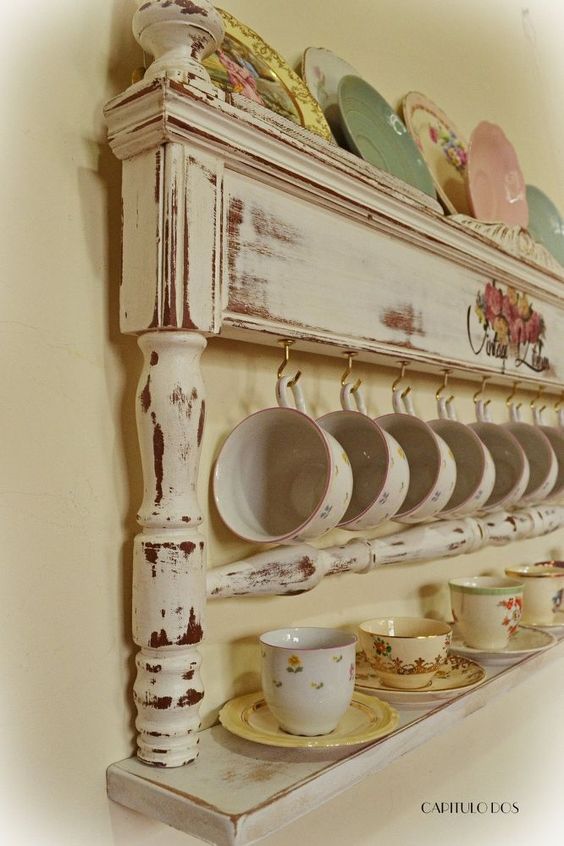 Nothing is more perfect for displaying your collection of vintage plates, teacups, and saucers than a shabby chic China display made from an old bed frame. Using items in a nontraditional way or in a room where they are typically not seen brings interest to a vignette. This is an adorable way to display any collection and give it unity.
42. Cheese Grater Utensil Vintage Storage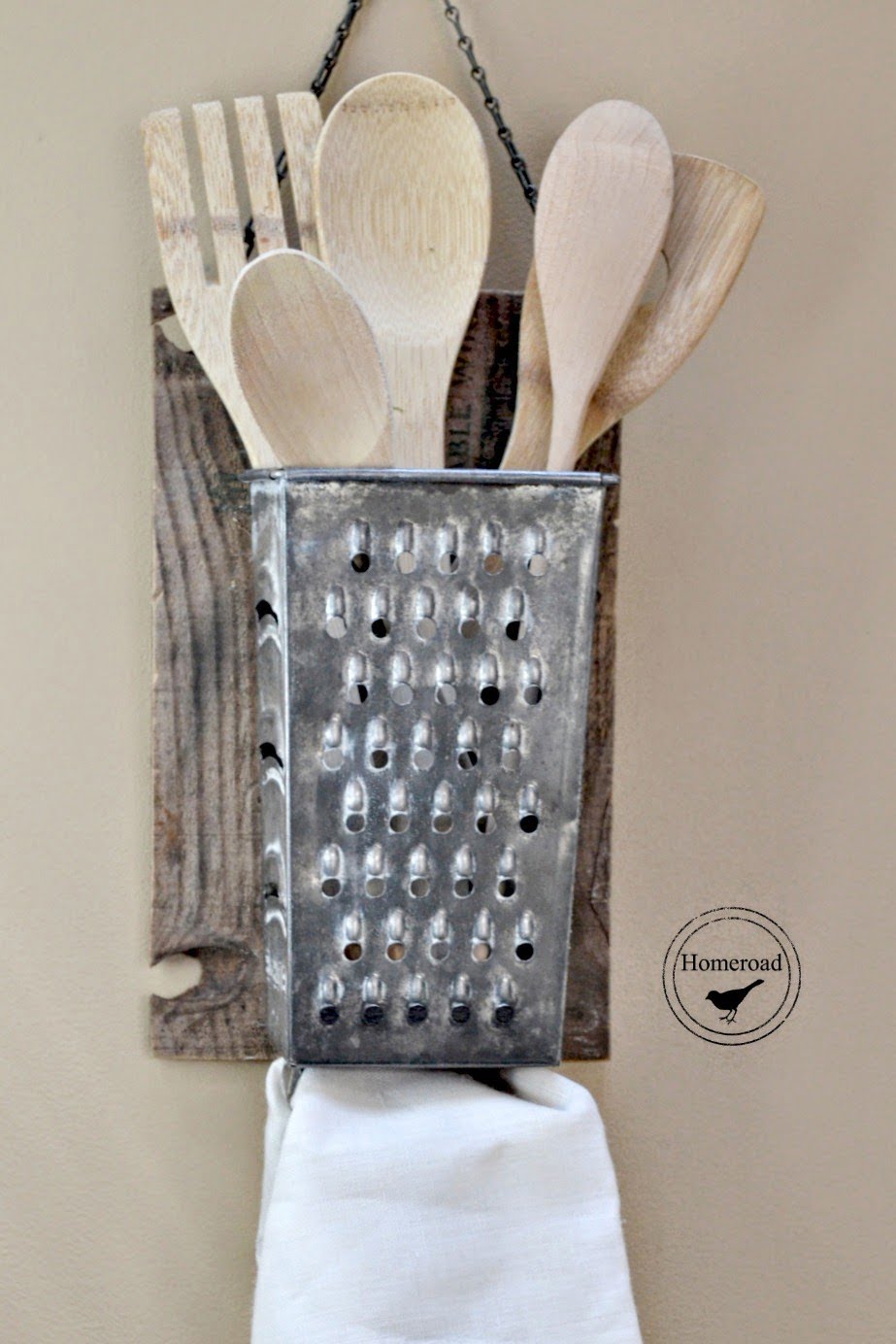 Who would have thought to use a cheese grater to store your favorite kitchen utensils? It certainly is perfect for any vintage or rustic kitchen decor scheme. The handle makes the perfect place for hanging a cute kitchen towel. This is the perfect solution for a farmhouse kitchen, regardless of whether you are a country or city dweller at heart.
43. Galvanized Bucket Planter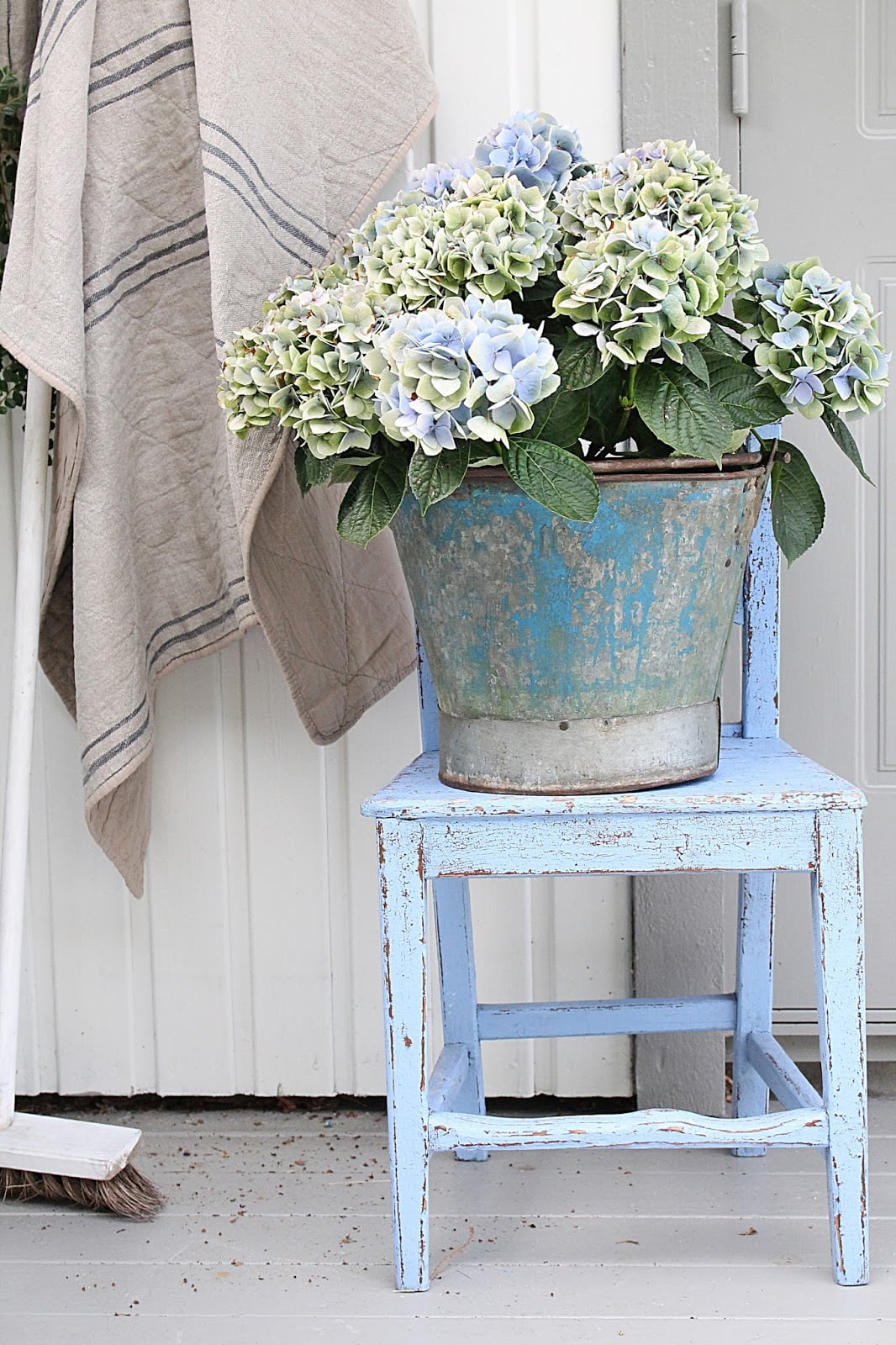 A galvanized bucket planter can be used for either live plants or cut arrangements from the garden. You can bring the freshness of the summer garden inside to add a little sunshine to any room. A few holes and a little rust help this bucket find new life as homespun essential that works well indoors or outdoors as a welcoming porch decoration.
44. Bathroom Storage Rack from Vintage Washtub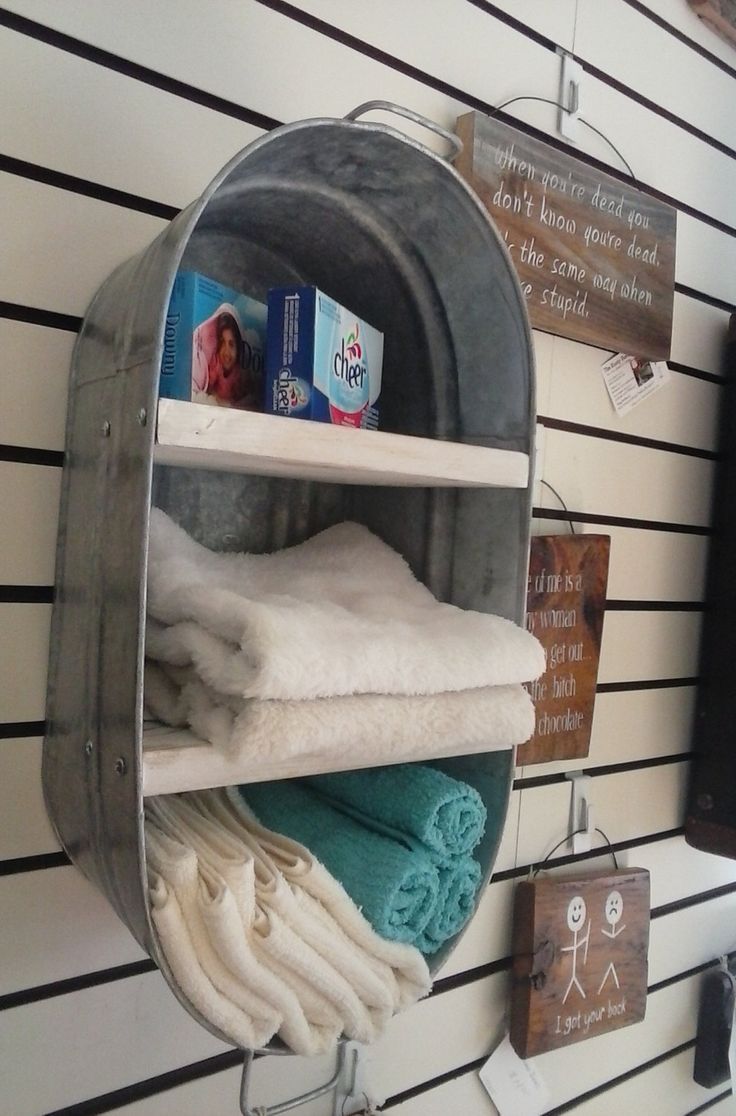 With just a few modifications, a vintage washtub easily becomes a clever bathroom or laundry room storage rack. Add extra space to a small bathroom or give vintage appeal to a larger one. You could even paint the shelves to match the color of your favorite scheme. Drape the shelves with homespun materials or lace for even more upcycled fun.
45. Cottage Chic Shelving on a Whitewashed Door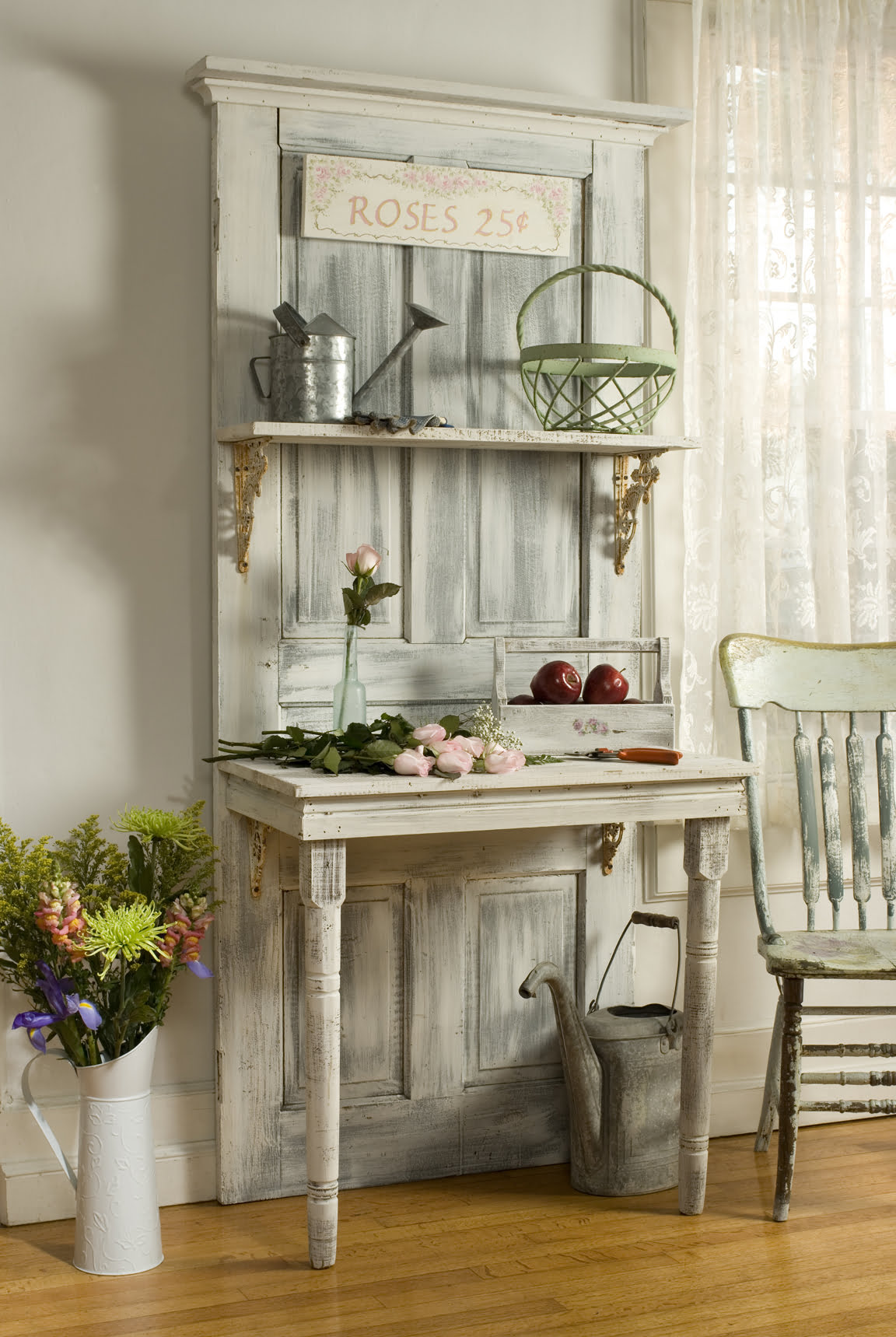 Cottage chic shelving on a whitewashed door brings back nostalgic feelings of spring gardens and the aroma of fresh baked pie. This piece creates an enchanting place to display keepsakes, vintage collections, or your favorite artwork. Use it in the kitchen, in a hallway, entranceway, or any room that needs a bit of country flair.
46. Mismatched Drawer Pull Jewelry Holder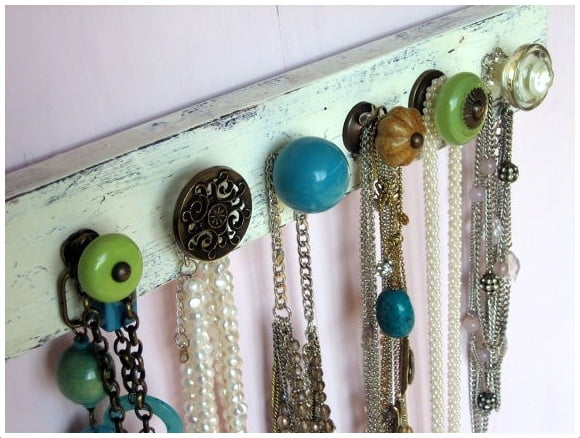 Keep your jewelry organized with an adorable mismatched drawer pull jewelry holder. This is the perfect solution for your necklace collection and will keep it right where you need it. The drawer pulls complement bold colors or stand out on walls in cooler pastel colors. It also makes an eccentric accent piece for boho, Moroccan, or country décor.
47. Chalk Painted Bathroom Storage Cabinet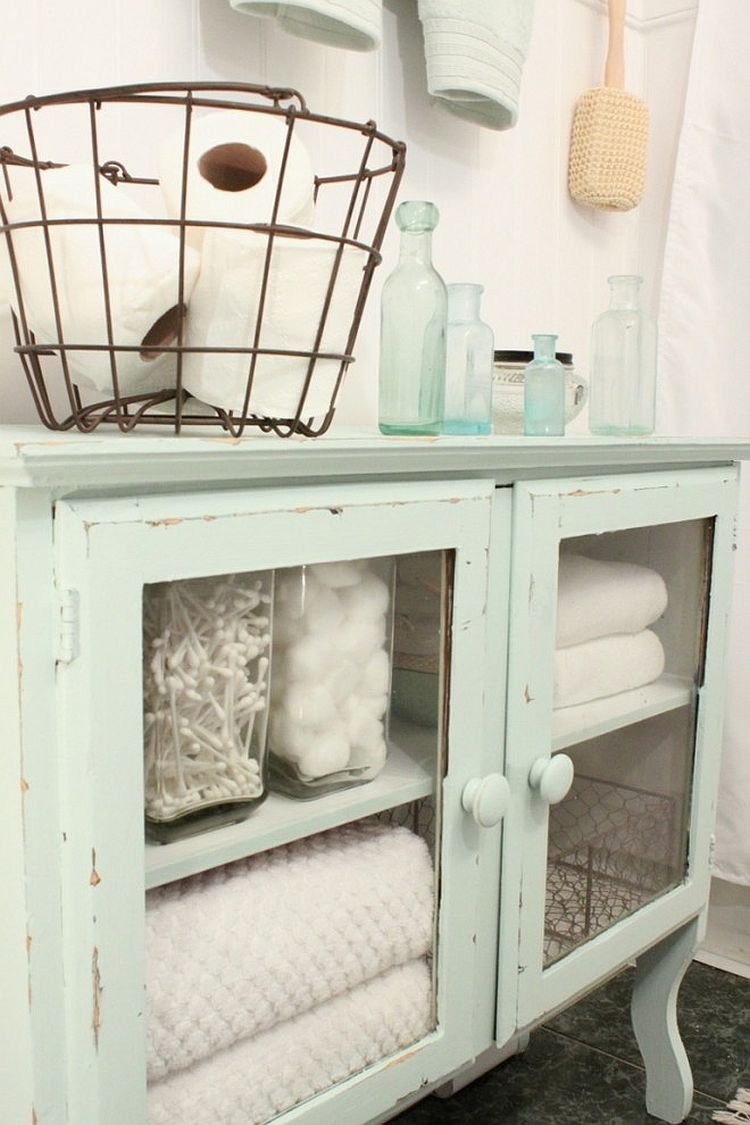 This chalk painted bathroom storage cabinet adds a touch of French farmhouse chic to your bathroom organization scheme. The vintage green goes well with tile, marble, or rustic wood flooring. It would also work well in a vintage kitchen. You can keep all of your essentials right where you need them with this convenient and cozy piece.
48. Vintage Rolling Pin Kitchen Towel Holder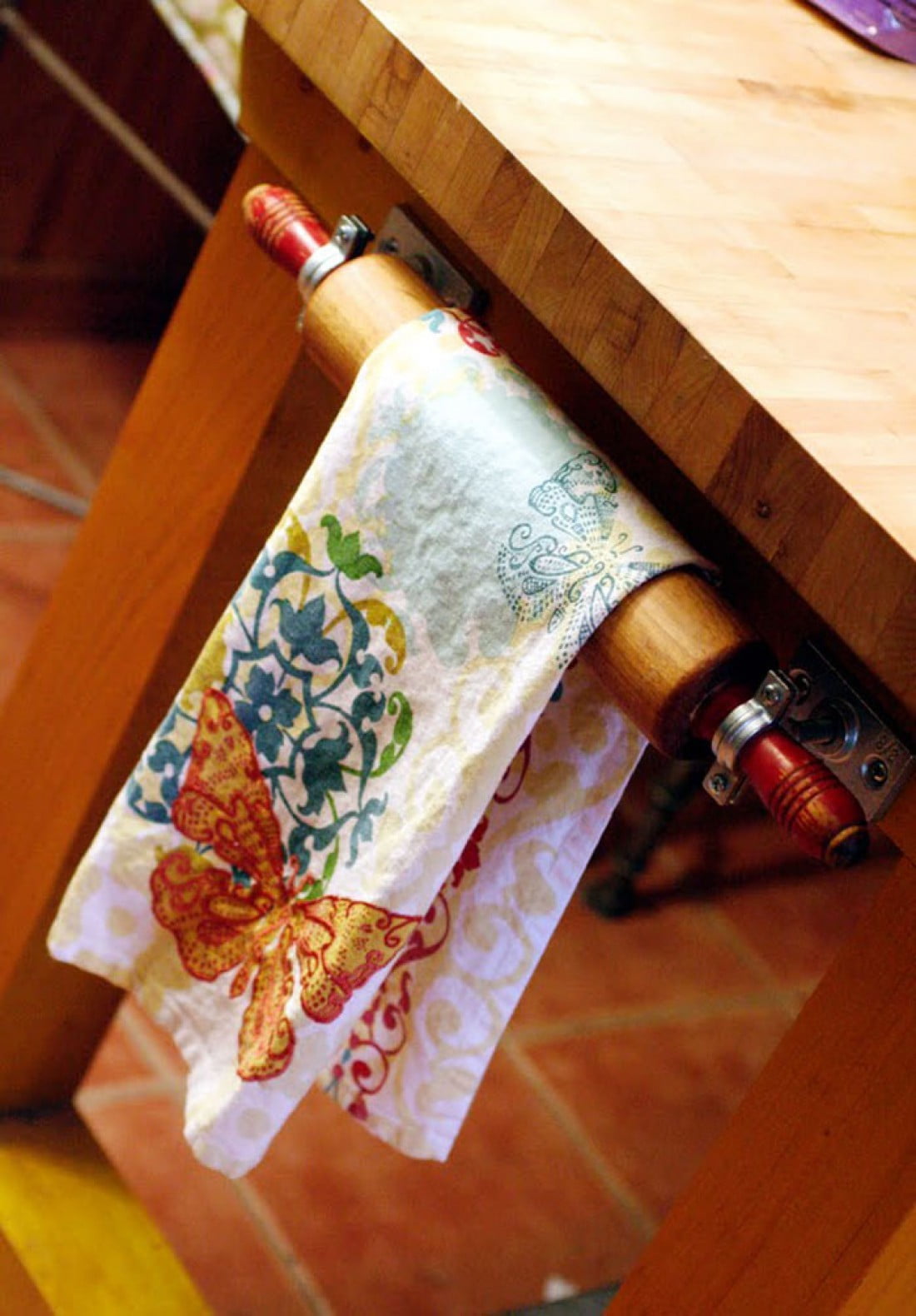 Nothing creates a better way to display your vintage kitchen towels than a towel holder made from a vintage rolling pin. The red handles highlight the towel holder and go perfectly with a collection of red handled vintage kitchen utensils. This dainty little piece is small and can tuck into any space under the counter or kitchen cupboards.
49. Kitchen Storage from Vintage Enamel Drawer Pulls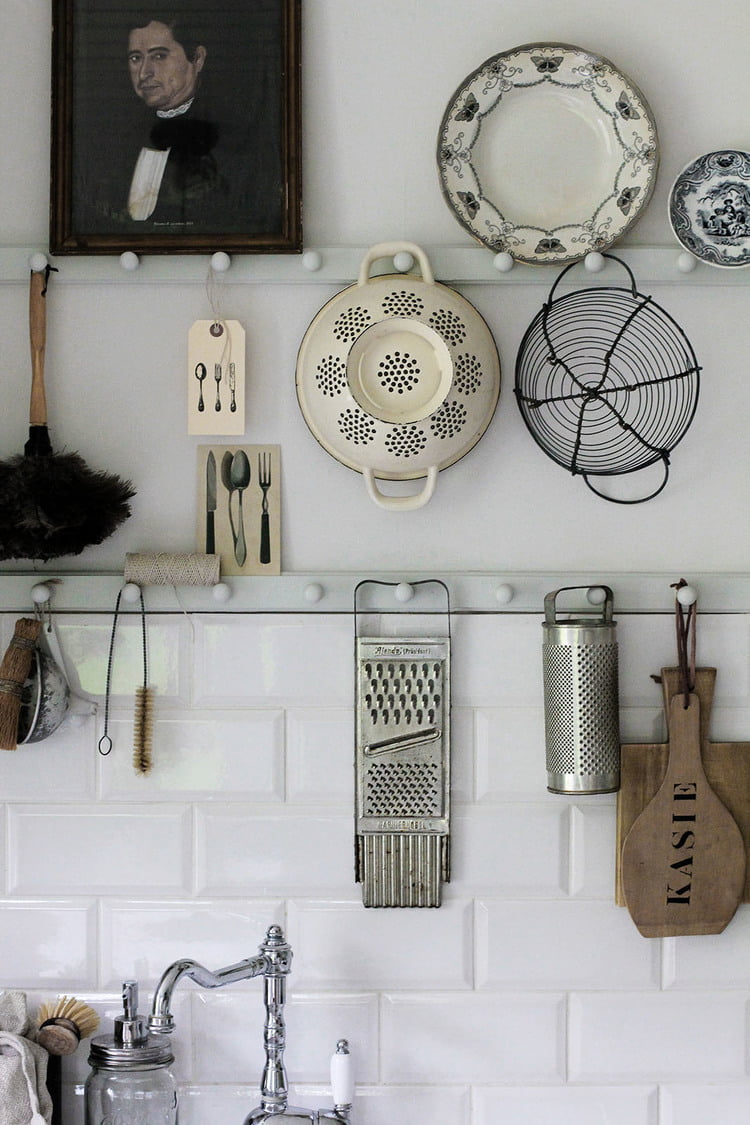 Vintage enamel drawer pulls make the perfect kitchen storage solution for all of your needs. The uniformity brings together the most eclectic collection of kitchen knickknacks and sundries. They keep everything within reach and provide a tiny shelf to display your collection of plates or favorite kitchen artwork. They look great when used with stainless steel and vintage faucets.
50. Easy DIY Vintage Storage Baskets Made from Vintage Linens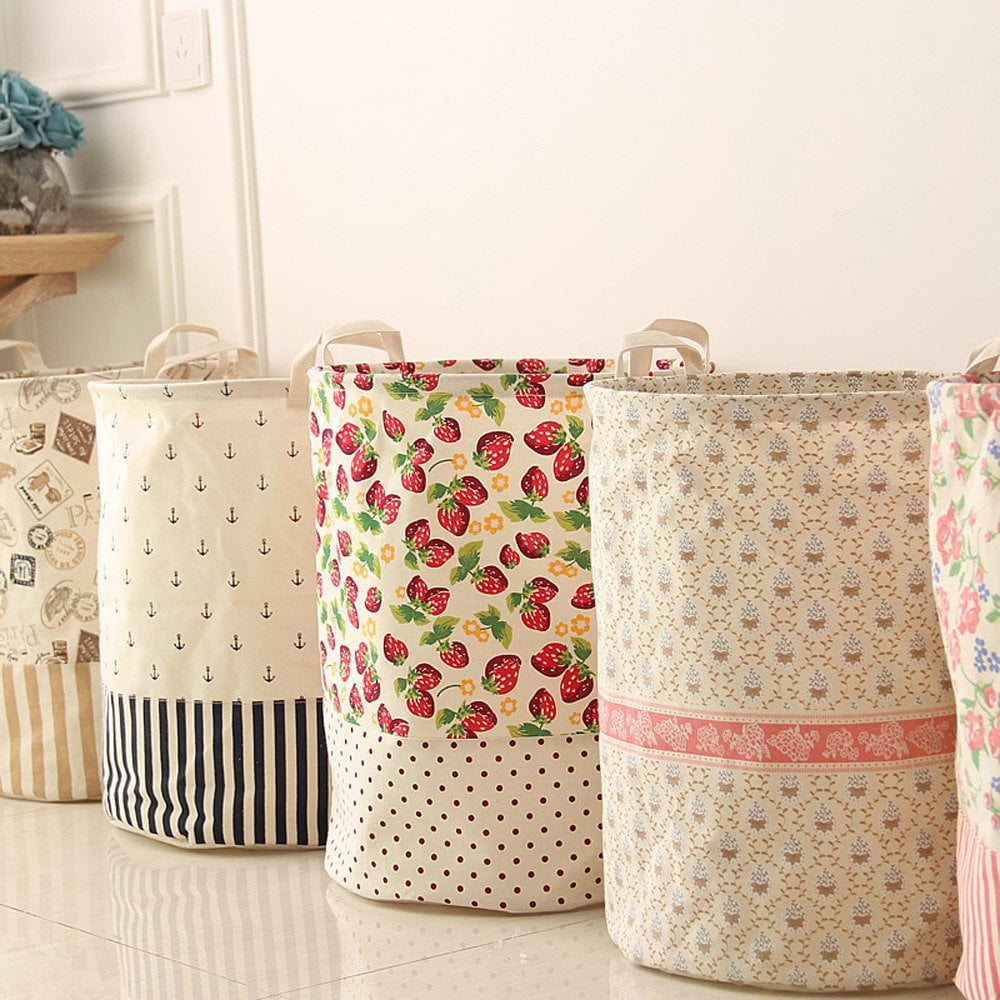 During the 1940s, flour producers found that women liked to make dresses and other necessities from the bags that their flour came in, so they started printing them with designs. You can take part in this tradition by using these easy DIY vintage storage baskets made from vintage linens. You can now sort laundry with a smile on your face.
51. Towel Hooks Made from Vintage Iron Door Handles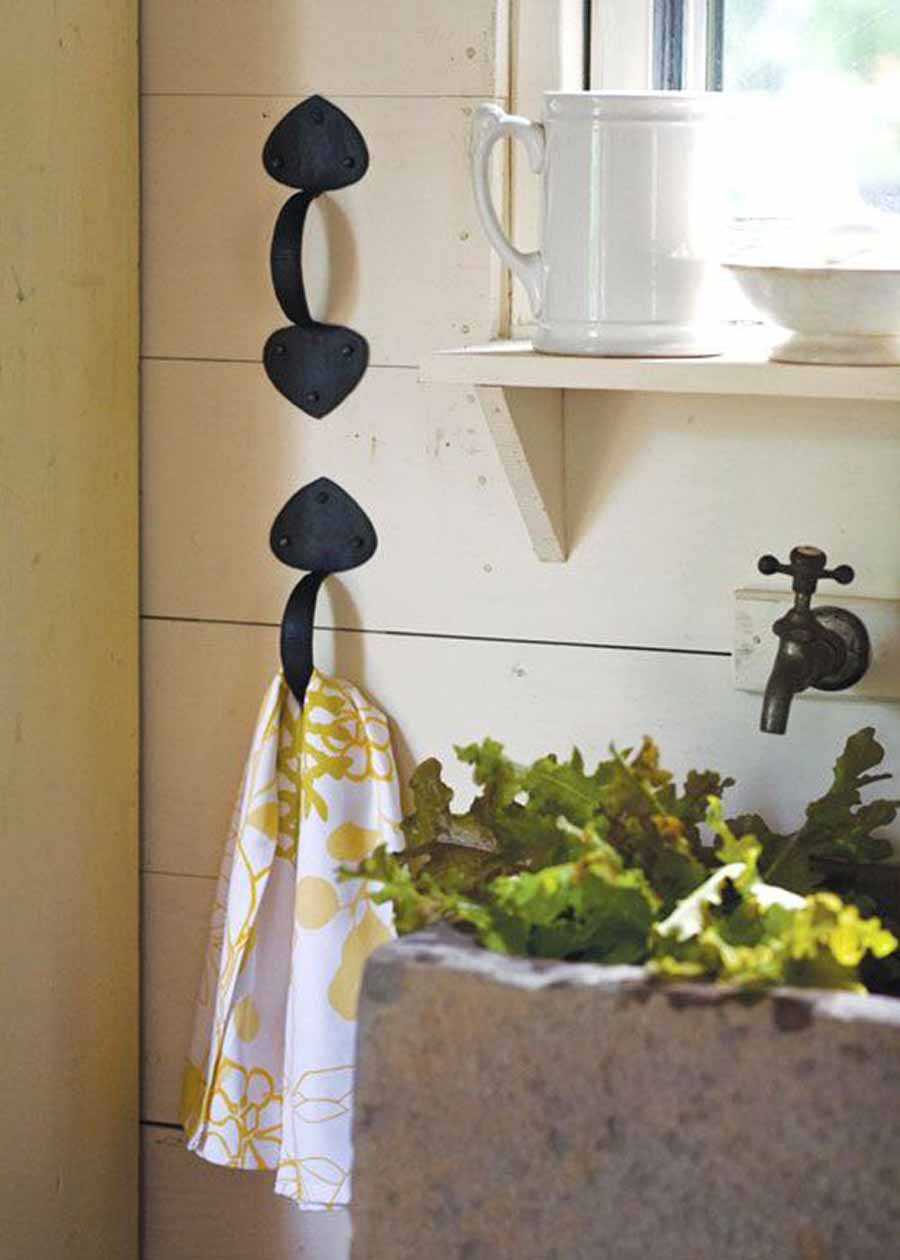 Vintage door handles make the perfect towel hooks. They are perfect for the bathroom, kitchen, or utility room. You can place them so that you have your towels exactly where you need them. They are black, so they will go with any decor, but look striking against lighter colors. They add rustic charm to any room.
52. Garden Rake Utensil Storage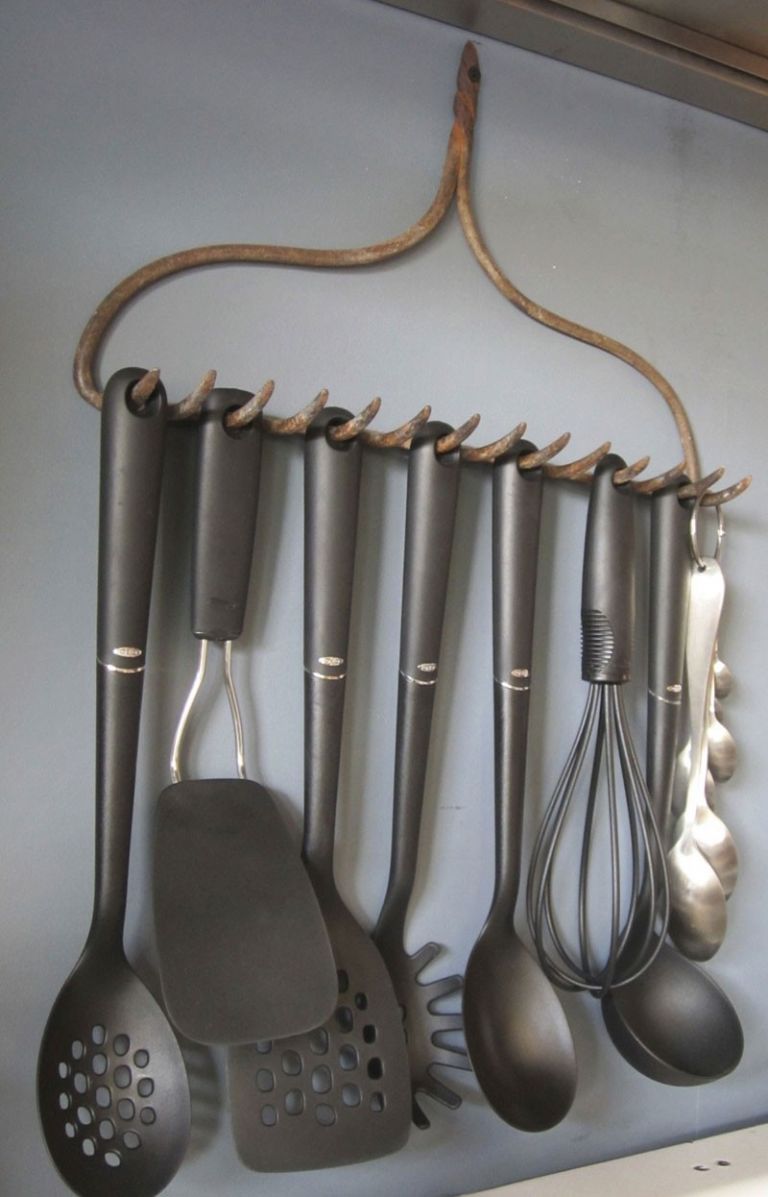 An old garden rake gets a new life when it is turned into a utensil storage rack for the kitchen. This country accessory could store extra utensils, or even wineglasses. It gives a vintage feel to modern décor and will blend in with any primitive scheme. It is a convenient, yet clever storage solution to small kitchens.
53. Vintage Birdcage Storage Basket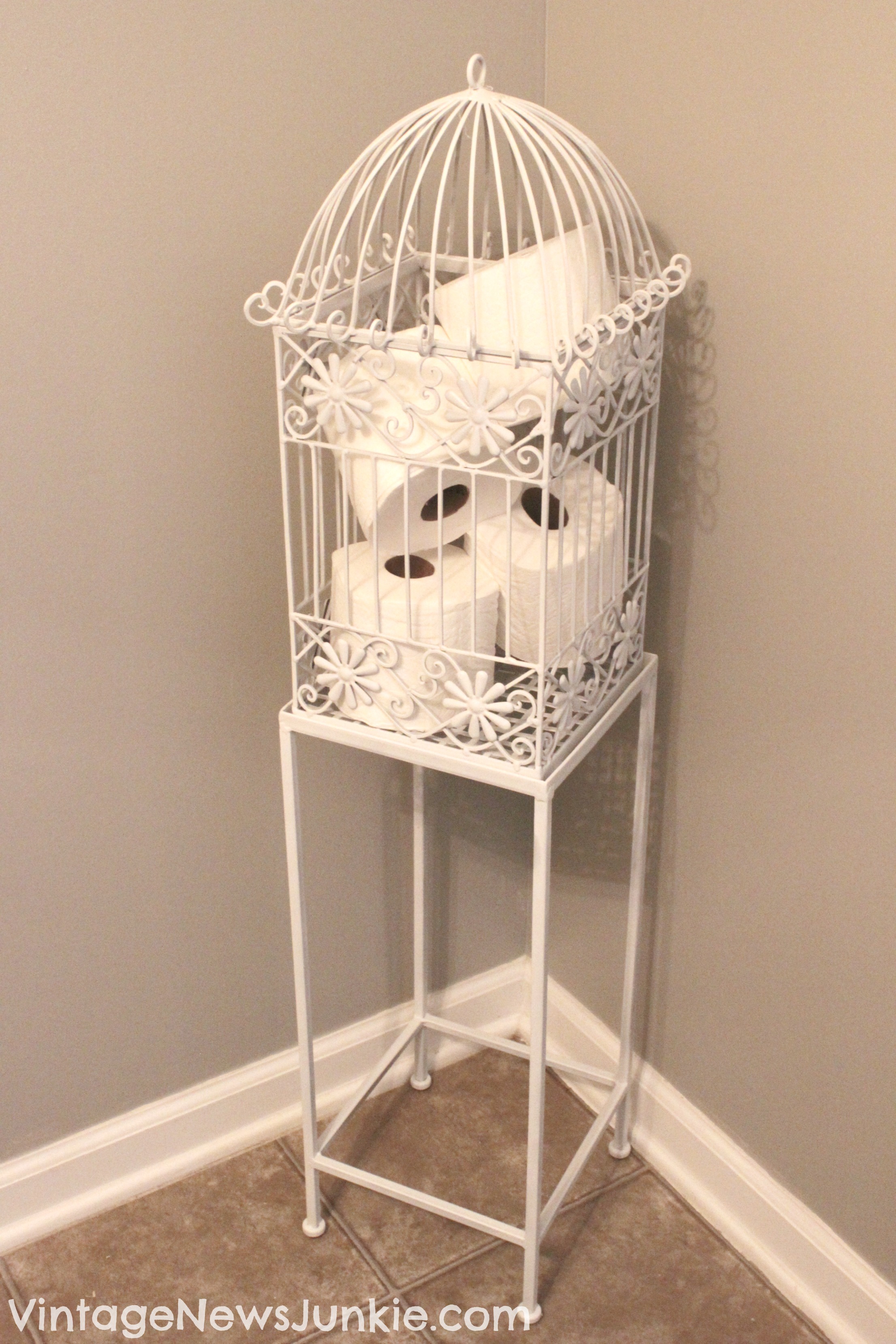 Vintage bird cages are a popular home decor item and make a clever storage basket in the bathroom. They can be hung from the ceiling, placed on a small table, or occupy the corner of any shabby chic design. They could also be used to store additional towels or small containers of items such as Q-tips and cotton balls.
54. Hall Table from Vintage Luggage and Reclaimed Table Legs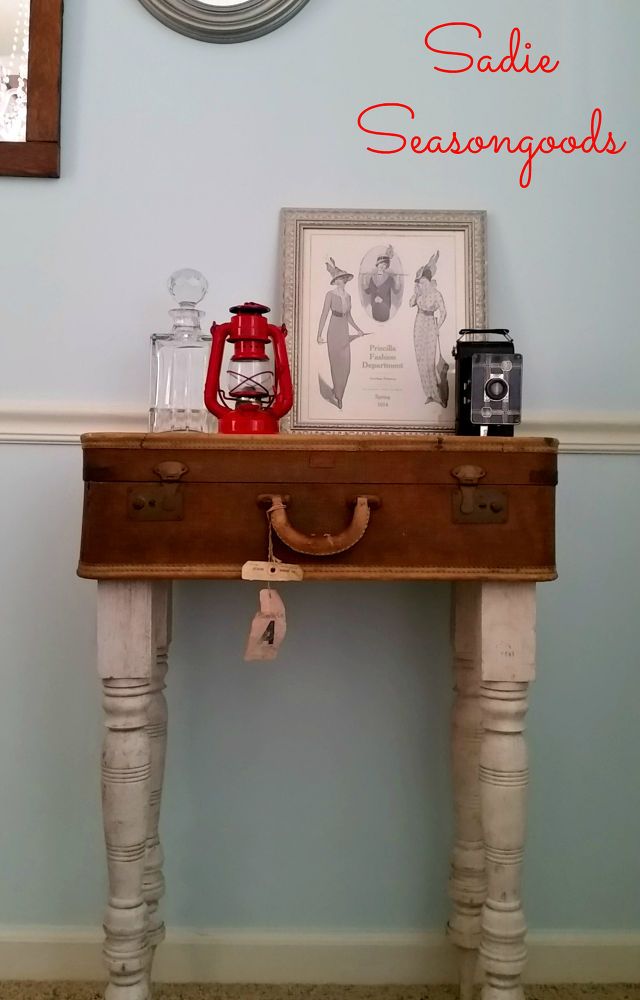 Reclaimed table legs and vintage luggage transform into a hall table that is not only decorative but could be used to store seasonal items or additional linens. This functional piece adds a sense of worldliness and eccentricity. It works with any colors game and will be sure strike up a conversation about the many places that it has seen.
Our Favorite Farmhouse Storage Items to buy on Amazon