Finding the right patio paver design idea is a fun project. You have a world of options for backyard pavers, and perusing your options until you find the right paver design should be an enjoyable experience.
8 Wonderful Walkway and Patio Paver Design Ideas to Try this Summer

This list will provide you with some amazing garden ideas with pavers that will inspire you to pick up some paver bricks and make your way into your home's outdoor space for an update. The time is always right to find and incorporate a new patio paver design idea, so don't hesitate getting started.
Be sure to take all the time you need since once you place your backyard pavers, you won't want to have to redo any of the work. When it comes any new design or décor project, it is always smarter to take a few extra days than to rush in and be disappointed with the outcome. When you are finding the right paver patio ideas, you want to be certain of your design plans before placing those first brick or concrete pavers. Often they are heavy and difficult to move so getting it right the first time is a good way to do it.
Creating a new outdoor space will enhance your whole home. It is one thing to have a beautifully decorated interior, but when you are able to extend your living space into the backyard deck, it elevates your down time at home as well as your hosting abilities. Using paver bricks is such a clean and simple way to bring new life to your outdoor living space without having to worry too much about maintenance.
Enjoy the process and have fun finding just the right patio paver design idea to suit all your needs and outdoor spaces. Feel free to use these ideas exactly as you see them, or let them serve as inspiration for your own paver patio ideas.
1. Tight-Knit Patterned Paver Bricks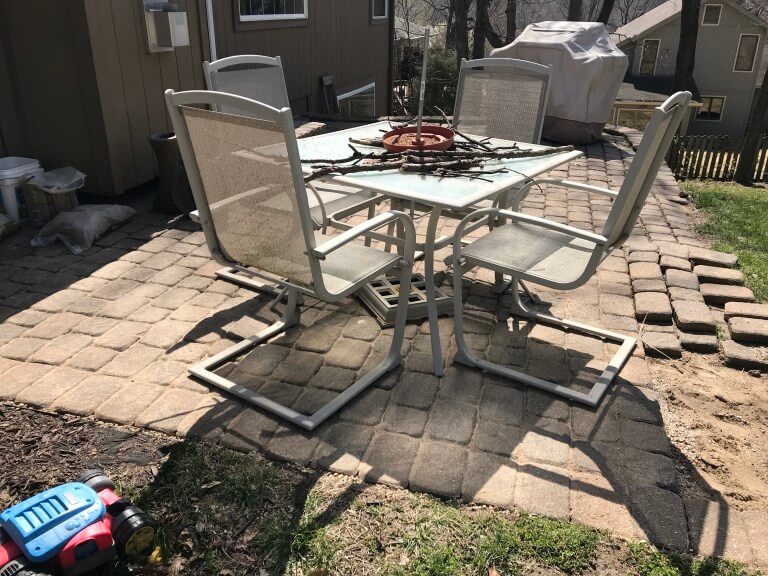 Brick paver projects are a great idea if you are looking for something fairly inexpensive and easy to acquire. There is not a lot of debating and deciding which stones look best when you have chosen a brick patio. As you can see in this photo, brick is easy to install and need only be laid out over a clear and smooth patch of dirt. It is easily filled in with sand or dirt and maintains a simple and rustic look, making it easy to maintain. You need only make sure you don't get weeds or grass pushing up from underneath or between your bricks.
2. Concrete Pavers for a Patio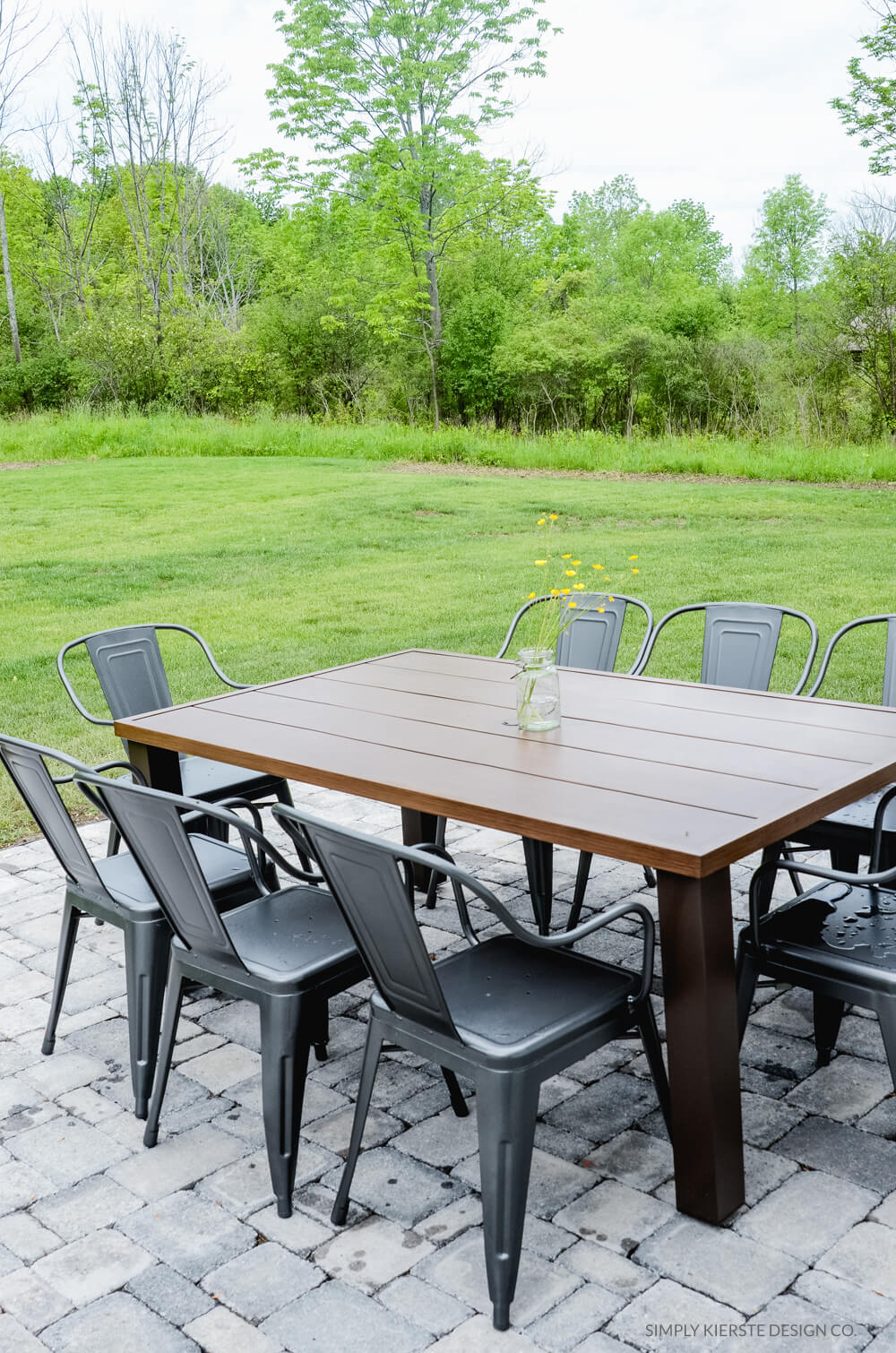 Similar in style to brick but much heartier, these concrete stones create a nice even patio surface for your outdoor living needs. They are available in many shapes and sizes, which allows you to create intricate and interesting patterns and designs in your pavers. Also, when they are placed close together, you don't have to worry about filling the gaps as there shouldn't be enough space for it to cause any trouble and will likely fill in naturally over time. Just remember that in the summertime, concrete can get warm. Give it a spray with the hose to keep it cool.
3. Simple Path-Style Paver Design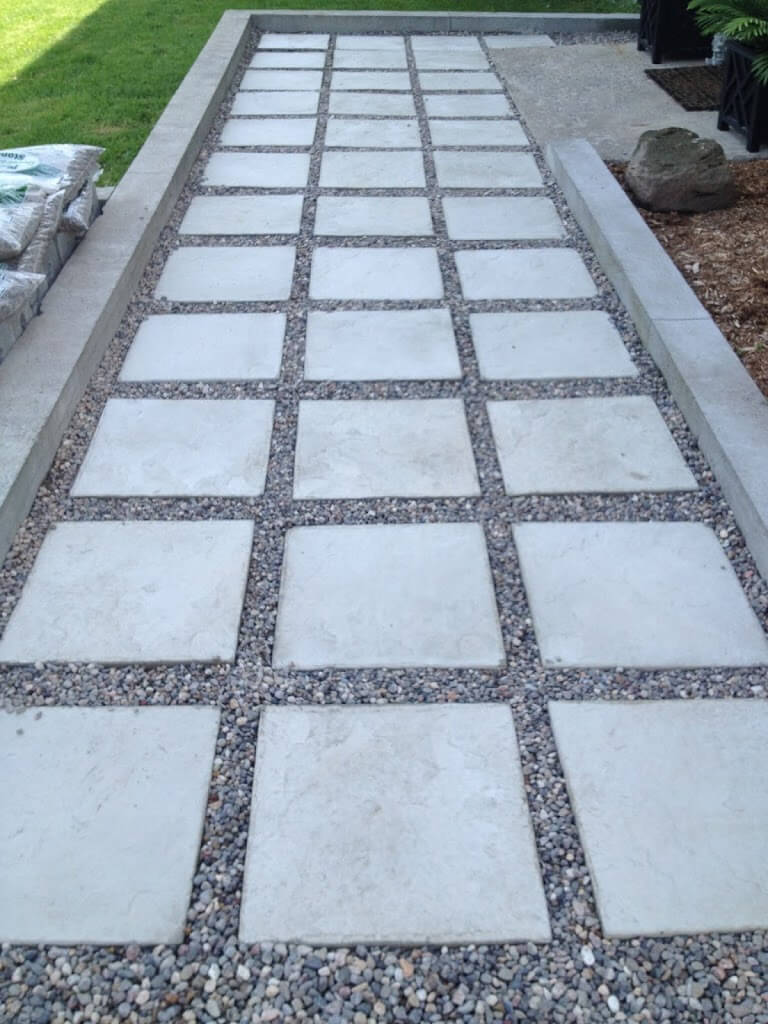 This lovely paver stone creation takes some time to get right, but the finished look is so polished that it is worth the extra effort. If you are looking to spend a lot of time in your outdoor living space, or hope to host a good deal, a design like this is a great choice since it is aesthetically pleasing. When you decide to create a look like this, you can fill as large or small of a space as you like. Just be sure to measure everything thoroughly and get your spacing and design laid out before you begin adding your pavers and filler stones.
4. Gorgeous Outdoor Living Space with Pavers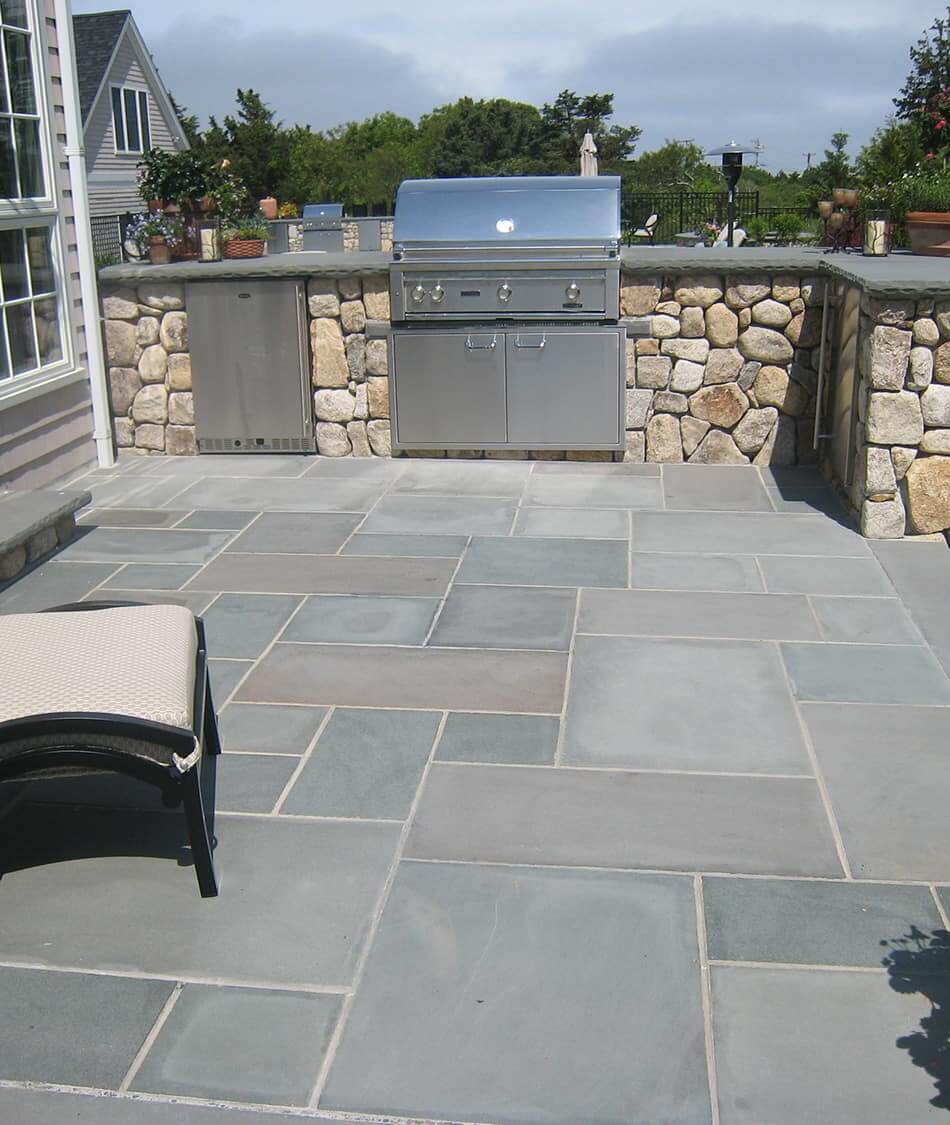 For a very finished and professional look, this is a good paver design choice. If you are a confident constructor, you can buy these awesome Thermal Bluestone Pavers and install them yourself, but if you have any doubts, it may be best to hire a professional for this job. These stones are flat, non-slip, and come in a variety of colors, making them an ideal choice for any outdoor patio, pool, or living space. You can also choose to use these for walkways around your house, making for a cohesive outdoor look for your whole home.
5. Beautiful Reclaimed Brick Paver Design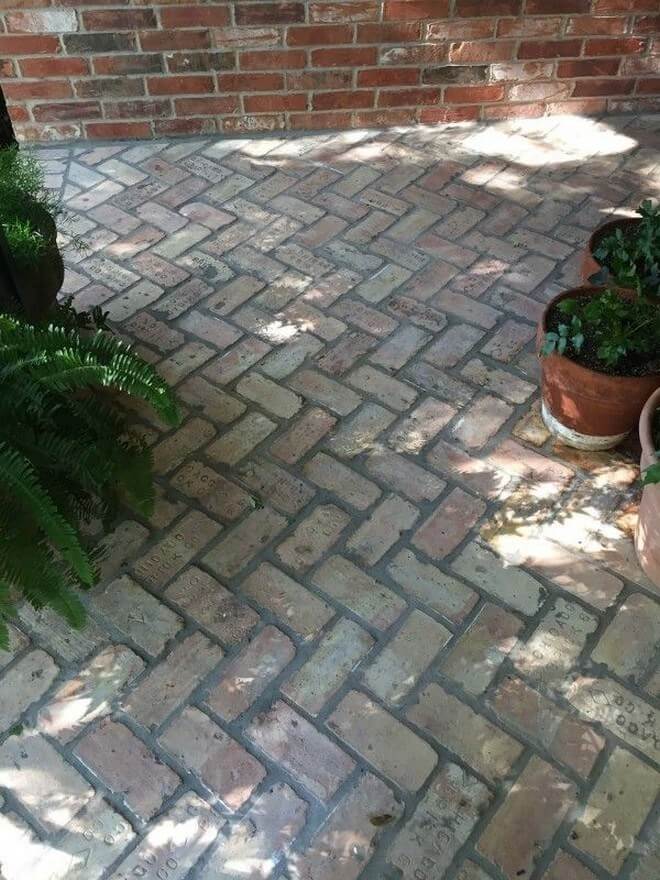 Brick is such a fun and simple way to create the patio design of your dreams. This website sells reclaimed bricks that have been cleaned and restored for you to use in your next patio project. The best thing about reclaimed bricks, other than the fact that it is always great to repurpose something, is that they are so versatile. You can create almost any pattern that you can dream up with these uniformly sized and shaped bricks. Even though they are consistently sized, the variety in color and stamping gives them a vintage and authentic look.
6. Wide and Lovely Paver Patio Ideas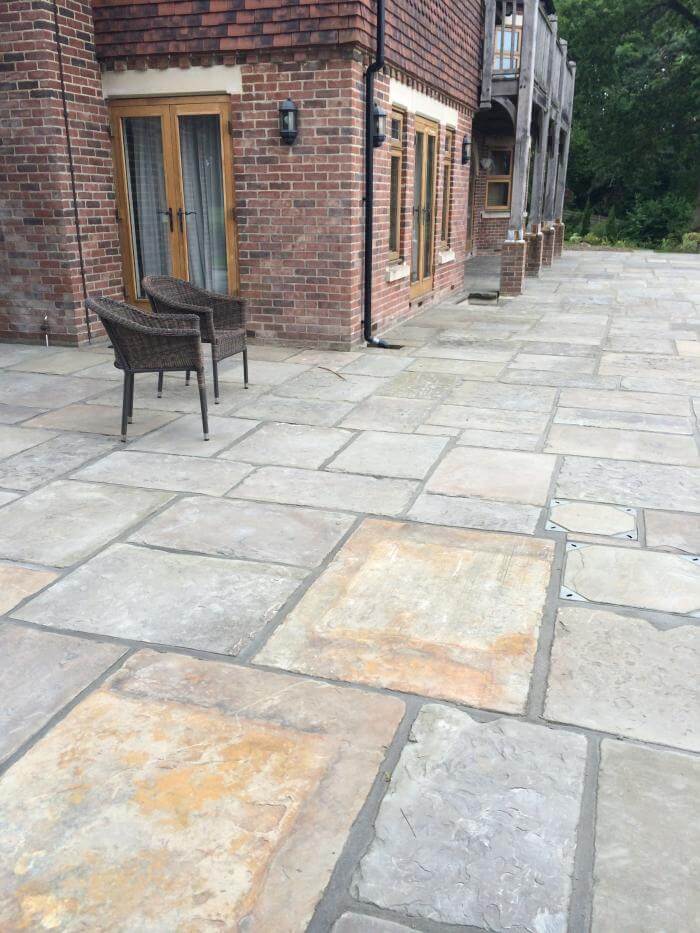 These natural stone pavers are made from reclaimed stone and create a classic, beautiful, and traditional look for your home. There is something very genuine and unique in this Yorkstone paving, and it will fit in with its natural surroundings as though it has always been there. If you decide to use these lovely stones, be sure that you have adequate space to let their full potential shine. They come in a wide variety of sizes, so you will want to get a good mix of big and small to enhance the naturally varied look.
7. Pretty and Simple Backyard Pavers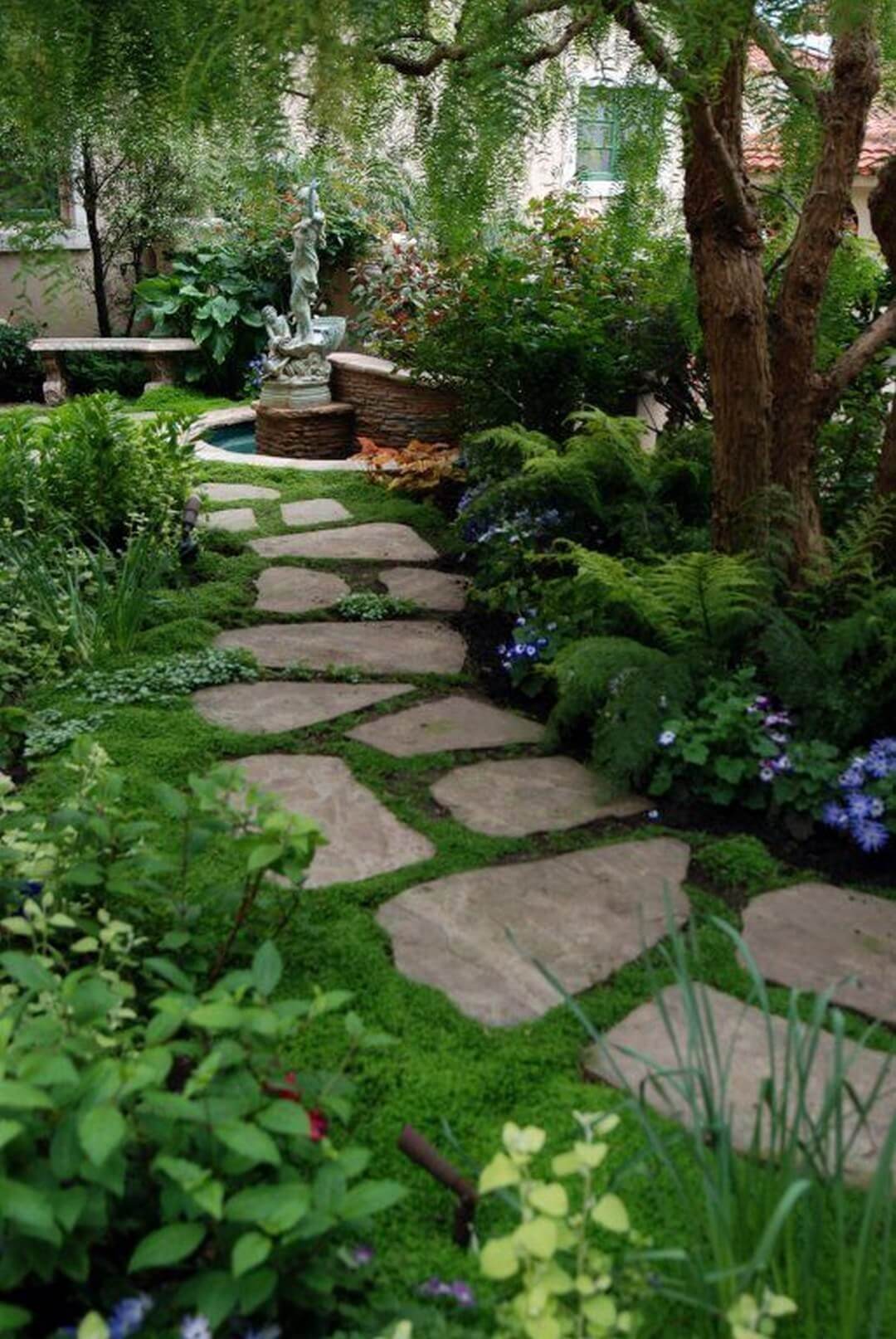 A great way to incorporate a paver stone look is to create a picture perfect path. While this looks like a totally natural stone trail, these lovely landscaping stones are actually Conserv-A-Stone Flexstone Landscape Stones, which are surprisingly made out of recycled rubber material. Requiring no maintenance and easy to install, these stones are a great choice if you want something simple, decorative, and eco-friendly. Currently the only color available is black, which is a great color for outdoor use and goes with most outdoor décor and furniture. Have fun crafting your new perfect path or patio with these innovative Flexstones.
8. Sandstone Dragonfly Garden Paver Stone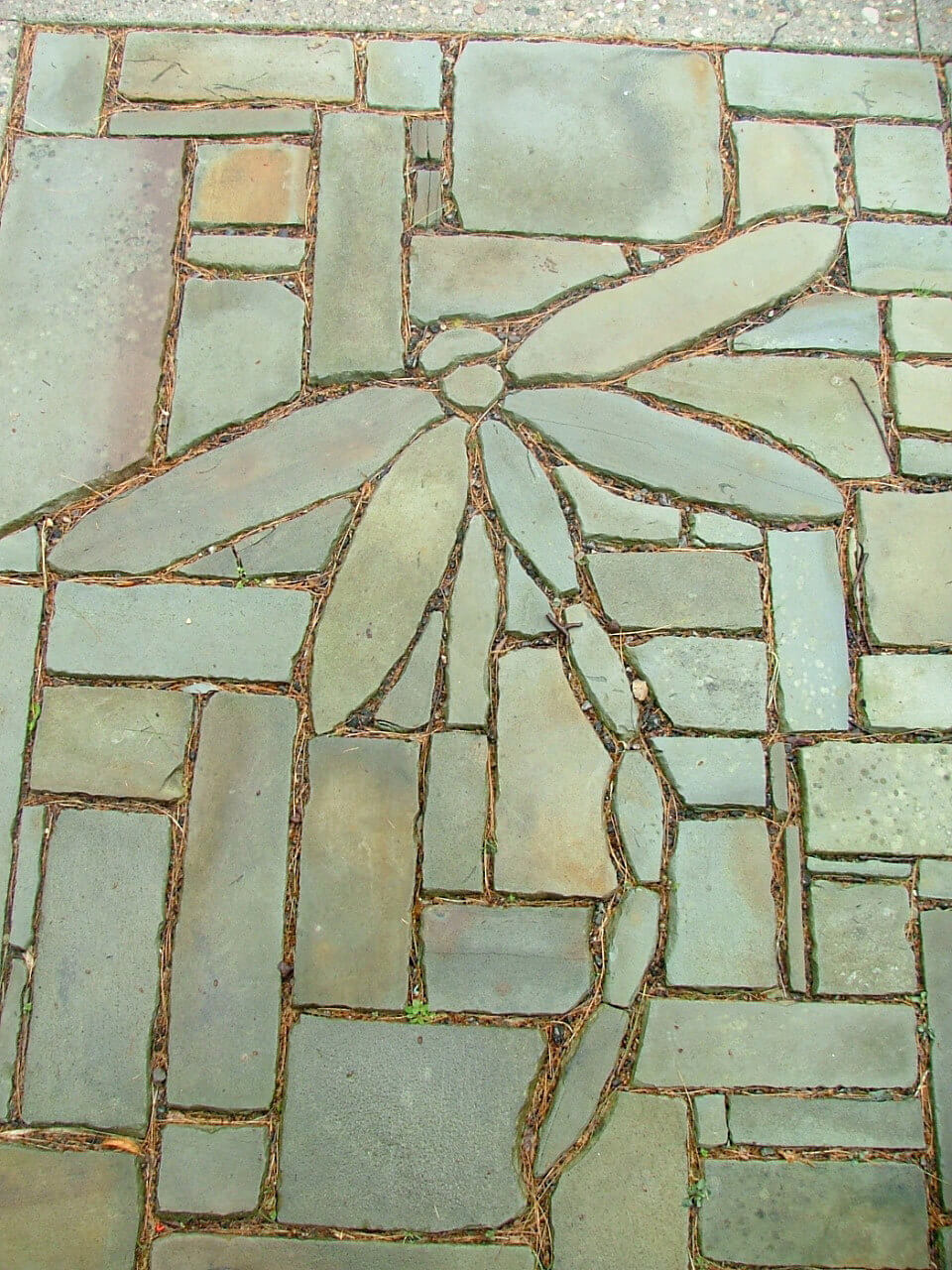 Great garden ideas with pavers often revolve around keeping it simple and in a standard pattern, but this beautiful stone dragonfly adds a new and unique element to your garden décor. Pavers are a great way to create a new look or patio, but often they don't add a lot of decorative fun to an outdoor space. This stone dragonfly flips around and will make your stones the most talked about piece in your garden. Made of sandstone, it is handmade and beautifully crafted. This shop also makes flowers, so keep your eyes open for other ideas.
There are so many amazing garden ideas with pavers. If you are just starting out on this big project, be sure to look over your options and consider where you would like to purchase your stones from. These online options are lovely, durable, and not too expensive, making them good choices if they fit your aesthetic.
Different types of pavers for a patio design will greatly impact the overall look and feel of your whole backyard or frontyard space, so be sure not to go with just anything. You want something that has the right look and feel for your home and that you will be comfortable maintaining for years to come.
Our Favorite Outdoor Decorations to buy on Amazon