The best wall wine rack ideas can transform a boring wall into a design element that is both beautiful and functional. Picking the best wine rack for your space depends on more than just your aesthetics: it also depends on your wine preferences. As you figure out where to hang your wine rack, there is more to consider than mathematical measurements. Wine has a few needs beyond the visual.
25 of the Best Wall Wine Rack Ideas to Keep Your Wine Within Arm's Reach

To figure out which wall-mounted wine rack is best, think about which wines you drink frequently. For example, corked wines should be stored on their sides. This keeps the corks moistened which can prevent bigger problems like seepage and off-tastes. Wines with non-cork closures can be stored either horizontally or vertically with no ill effects. Bottle shape, too, can help guide your decision. While 750-milliliter bottles that follow a traditional shape can go on nearly any wine rack, champagne bottles, dessert wines, and specialty wine bottles may not be compatible with all of the below racks.
Because wine is best stored away from direct sunlight, temperature swings, and strong vibrations, it is advantageous to avoid mounting a wine rack opposite windows or near ovens, washers, and dryers. You also might want to hang your wine collection away from high-traffic areas where the bottles might get accidentally bumped. Although this limits where you can display your wine, many of the options below offer space-saving solutions for small nooks.
Finally, with all the practical considerations taken care of, you can focus on the visual. Wood provides a warm, welcoming appearance, but might not be right for your energy. If you prefer cool, modern, minimalist vibes, pick a metal wine rack. Other materials to explore on this adventure are sleek acrylic and soft leather. Whichever you choose, your decor is elevated to the level of functional artwork.
1. Handmade Wall-Mounted Wine Rack with Zigzag Energy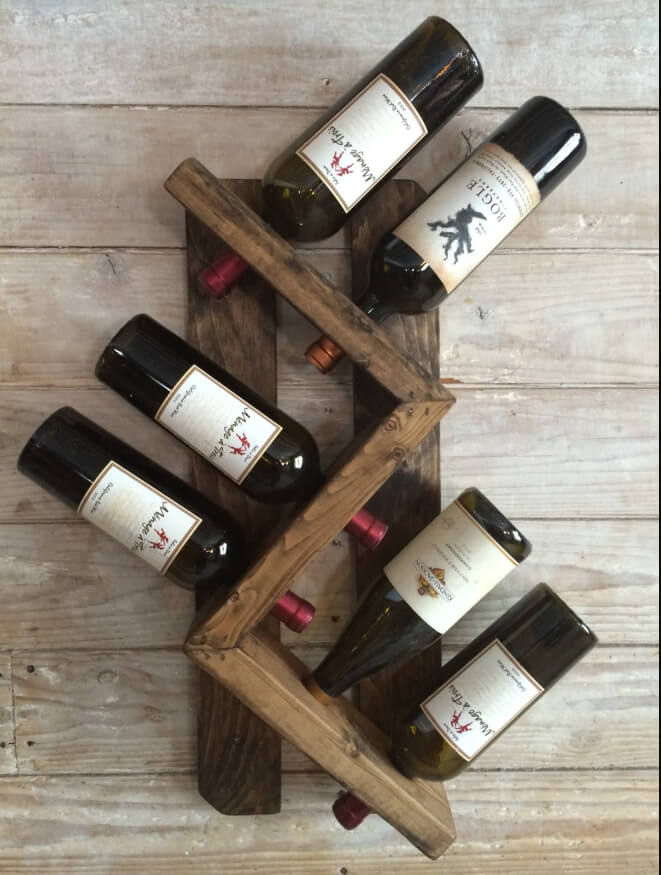 Sharp angles above straight lines transform this wine rack from a simple storage method to a work of art. To fit your style, there are four finish options: dark Kona, dark walnut, light walnut, and distressed white. Because all except the distressed white showcase wood's natural grain, this wine rack is ideal for rustic spaces. Each wine rack can hold six bottles of standard-sized wine. Due to the nature of this wine rack, it cannot contain bottles that are larger than a standard wine bottle. However, if it works for your wine tastes, this unique wine rack is a stunning conversation starter.
2. Wrought Iron 18-Bottle Wine Rack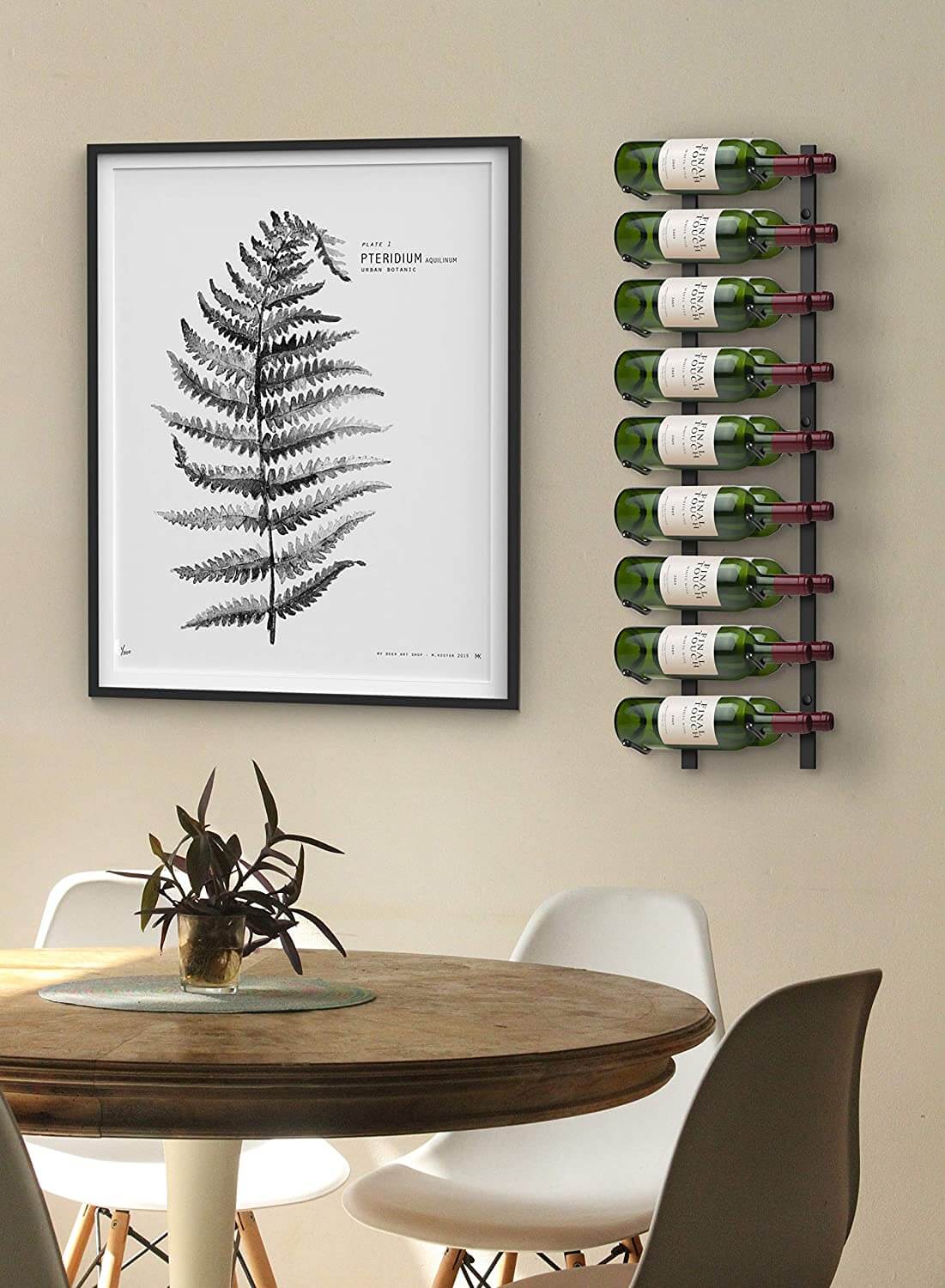 This sturdy wrought-iron rack is one of the best wall wine rack ideas for displaying a large wine collection in a limited space. Unlike other options, this wine rack places two bottles per level. If you prioritize easy-to-access wine over showing off the labels of each wine bottle, this style might work for you. Aesthetically, this rack looks best when you place two similar-looking wine bottles on each shelf. Of course, your wine collection is a reflection of your personality, and there is no need to be ashamed of a visually eccentric collection of wine.
3. Simple Black 10-Bottle Wine Holder Wall Idea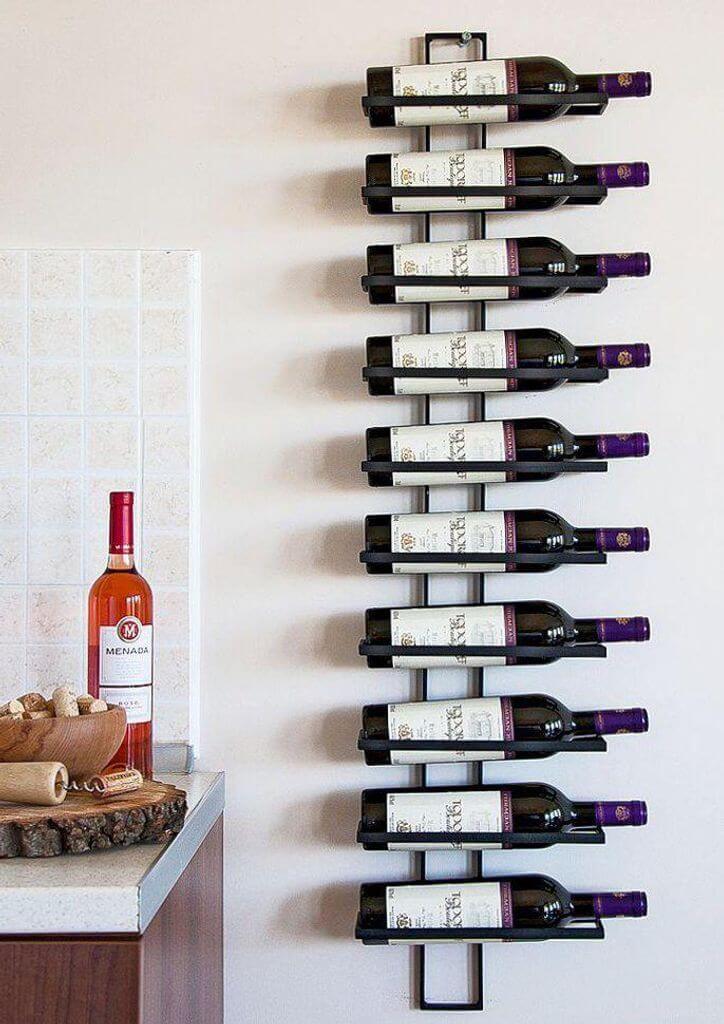 Simple and sleek, this wine rack allows your wine to do all the talking. The labels are visible making it possible to select a bottle without having to remove every single one from its cradle to read its label. Because it is just a little wider than a wine bottle, it also provides an excellent space-efficient way to keep your wine within arm's reach. Minimalist black cradles look great in nearly any type of decor. While this rack is built for 750-milliliter wine bottles, it can hold larger champagne and sparkling wine bottles without trouble. However, because of their slenderness, dessert wine bottles are incompatible with this wine rack.
4. Modern Stainless Steel Five-Bottle Wine Rack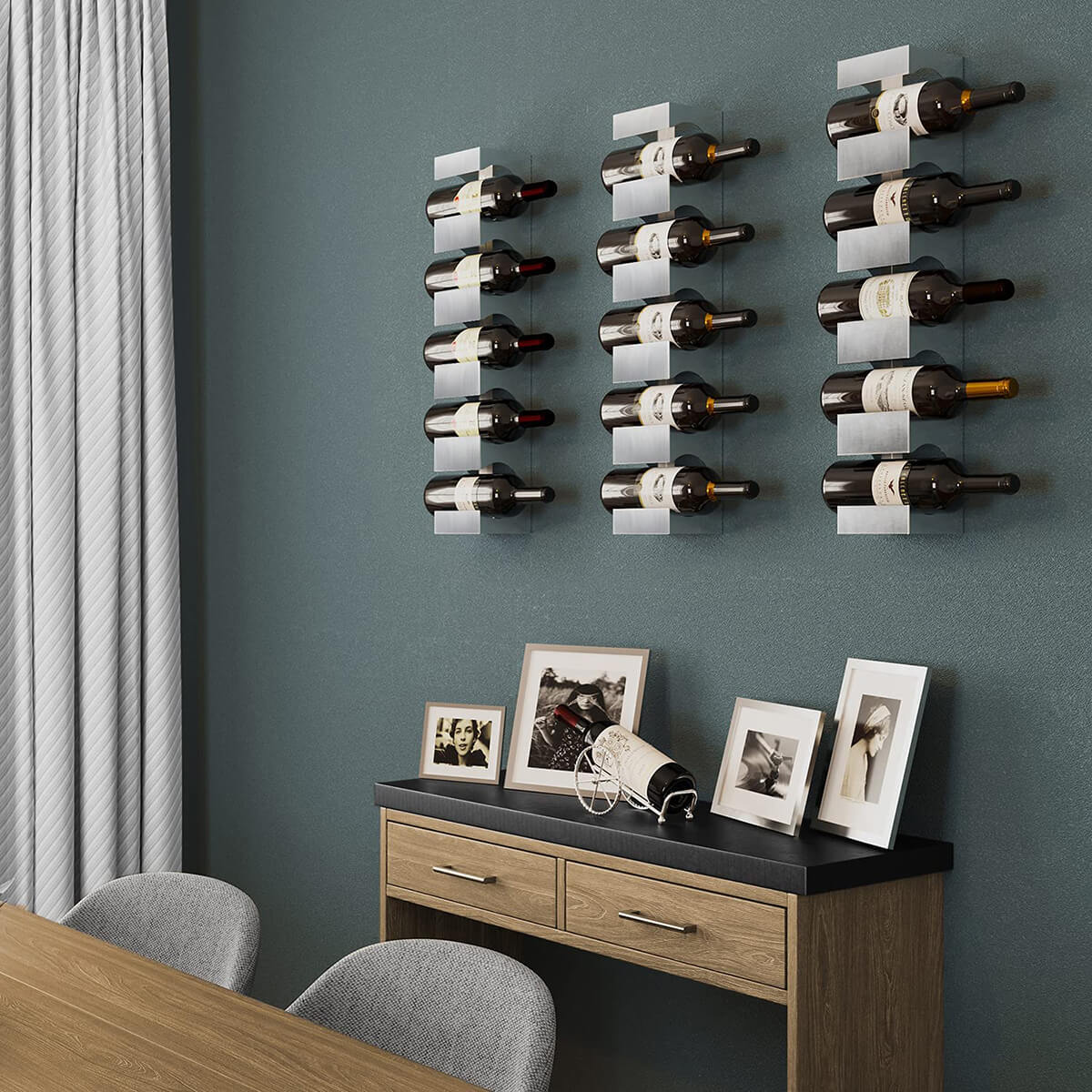 Sleek lines and a chic finish combine to create a stylish addition to any space alive with modern vibes. If you already feature brushed stainless steel, these wine racks are an excellent way to tie your wine collection into your decor. Each cutout is 3.6 inches and will work for the standard Bordeaux and Burgundy-style wine bottles. Before placing any bottles into the cutouts, however, you might want to inspect for sharp edges or burrs. After a little attention with steel wool, your stainless steel wine rack will be ready to display your five favorite bottles of wine.
5. Glamorous Gold Diamond Wall Shelf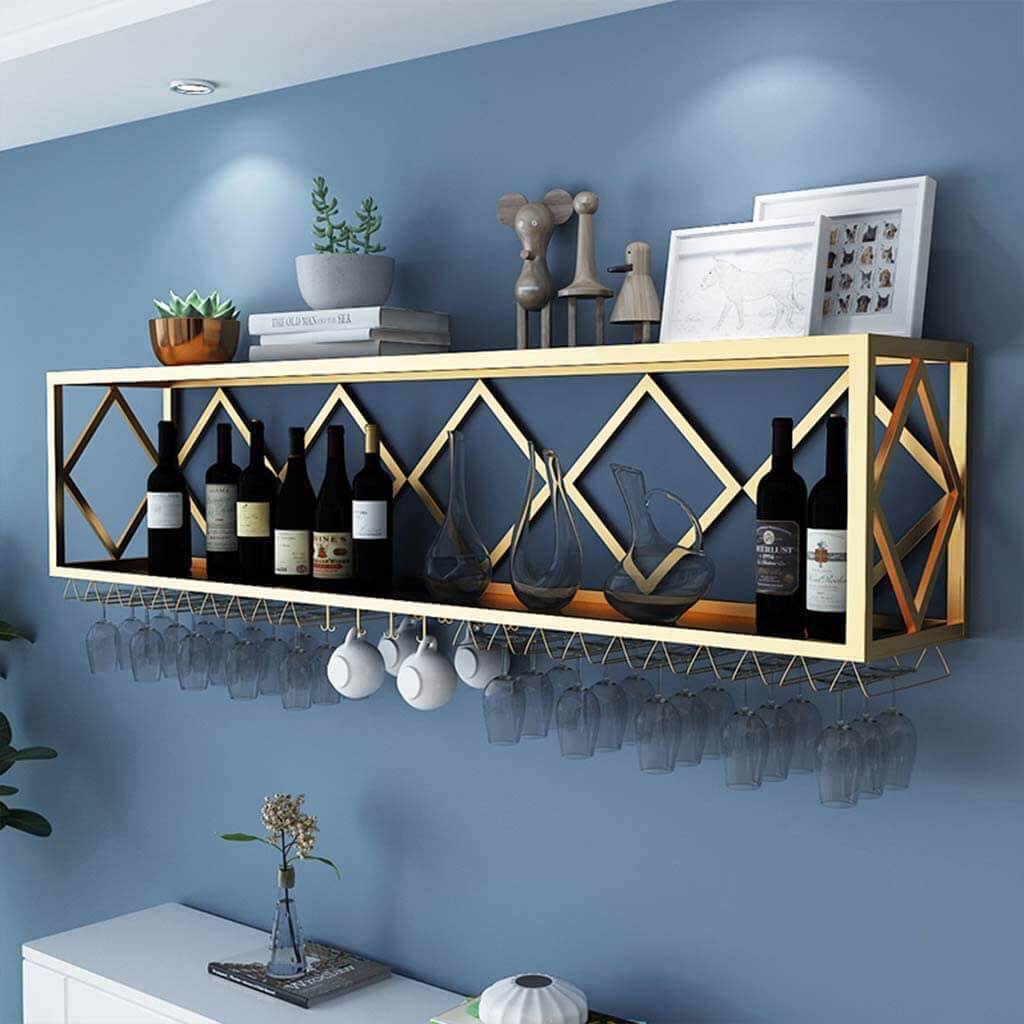 If you are looking for a way to add some pizzazz to a boring space, this wine shelf is ideal for anyone who loves to entertain. The practical design allows for the storage of a vast number of wine glasses along with a few types of other cups. Two shelf levels open the door for creative styling. Of course, if you want the gold diamond motif to remain visible, you will not want to fill the entire lower shelf with wine bottles. Choosing clear decanters as shown here is an excellent way to enjoy the decorative diamonds while still using that precious shelf space.
6. Geometric Iron and Wood Multipurpose Wine Rack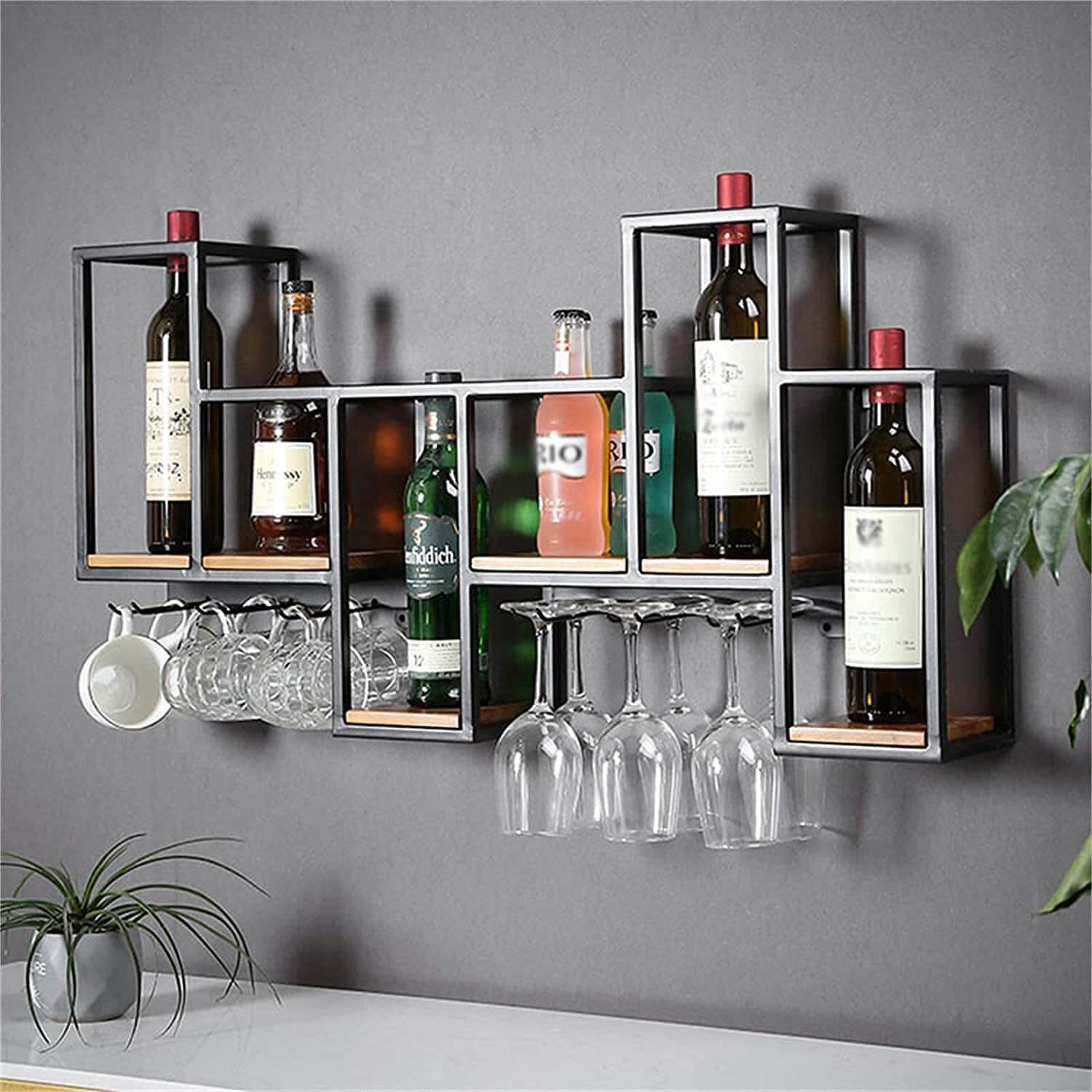 Defined by iron cubes and columns, this wine rack can hold everything you need to enjoy your favorite drinks. Wood platforms warm the piece up and transform this rack from a simple shelf to modern art. If your beverage tastes range beyond wine, you can draw inspiration from this wine rack's setup. Mix and match your favorite wines, whiskies, brandies, soft drinks, and beers to share what your tastes are. Because not all drinks taste best in wine goblets, hang different glasses from the brackets as shown in this example. To add a little greenery to your space, use one of the platforms to hold a lightweight potted plant.
7. Reclaimed Pine and American Steel Wine Rack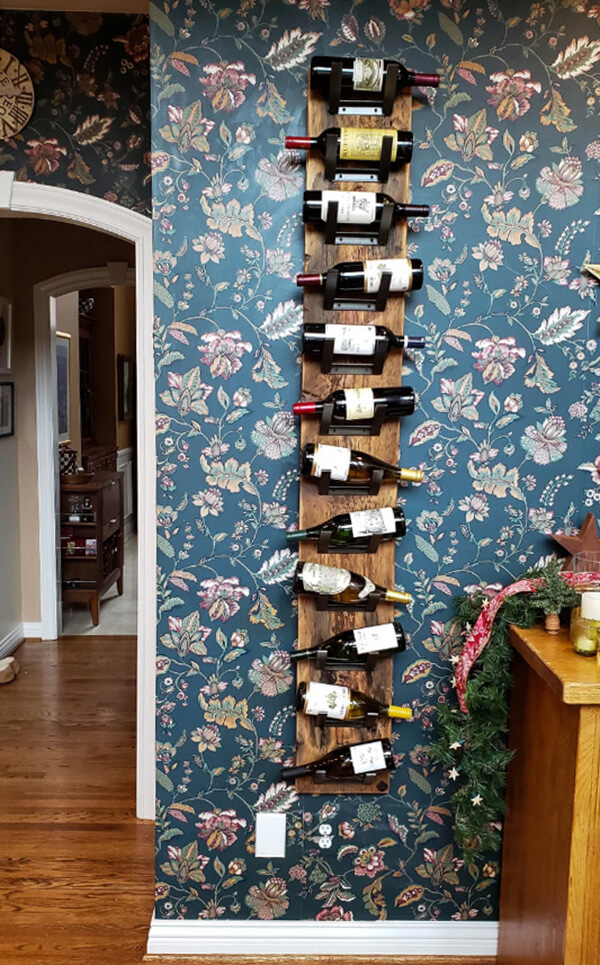 This wine rack's sturdy design means that it happily holds any size wine bottle up to the 1.5-liter magnum. Because the bottles are on their sides, this wine rack is well-suited to wine bottles sealed with corks. Each bracket is durable American steel and the wood is old-growth pine reclaimed from homes built in the early 20th century. Not only will this imbue your decor with a great deal of unique character, but also give your home an instant connection to history. Each of these wine racks emphasizes the wood's story and may feature knots, nail holes, and natural coloring.
8. Leather Straps to Make Your Own Rack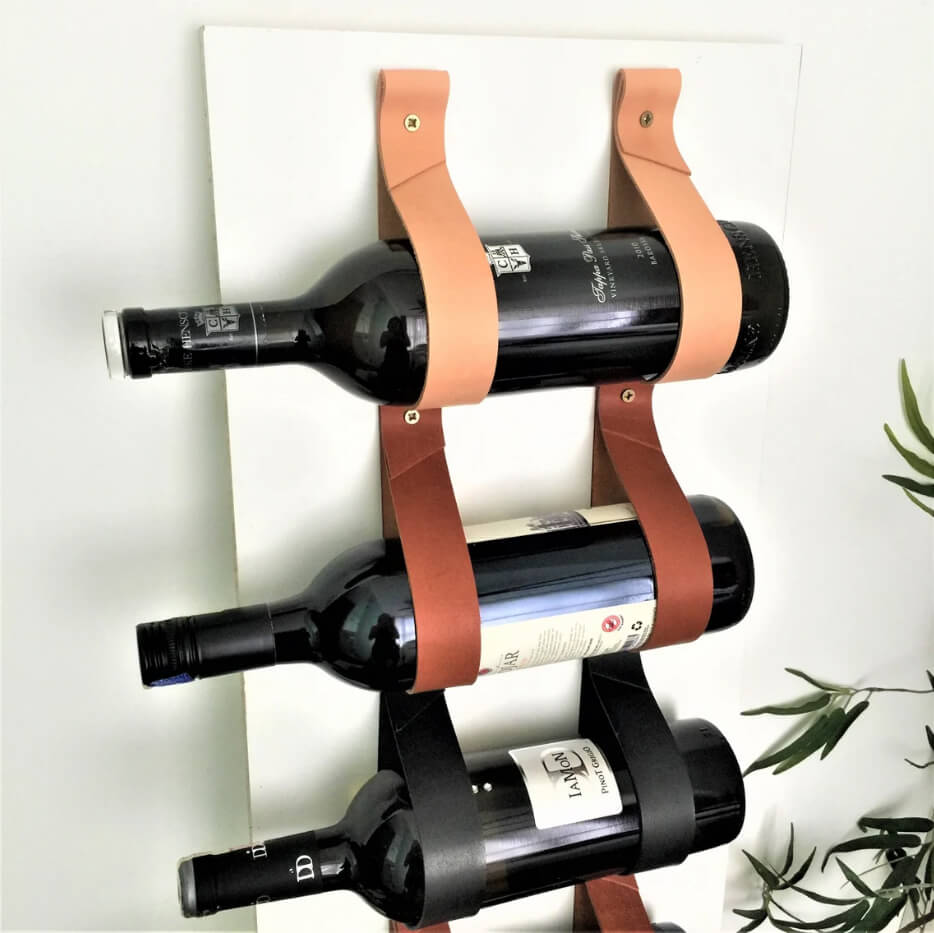 If you enjoy the challenge of making your own wine rack, these leather straps can add an interesting natural texture to your decor. You can control which wood or other backing material these straps are screwed into to create the ideal wine rack for your space. Each strap is long enough for a standard 750-milliliter wine bottle, but you can request larger or smaller straps if you regularly drink wines that come in specialty wine bottles. Besides the three color options, you can also choose the seam style. While the asymmetrical oblique option is shown here, you can also pick flat or round for different effects.
9. Handmade Wine Rack with Eight Bottle Capacity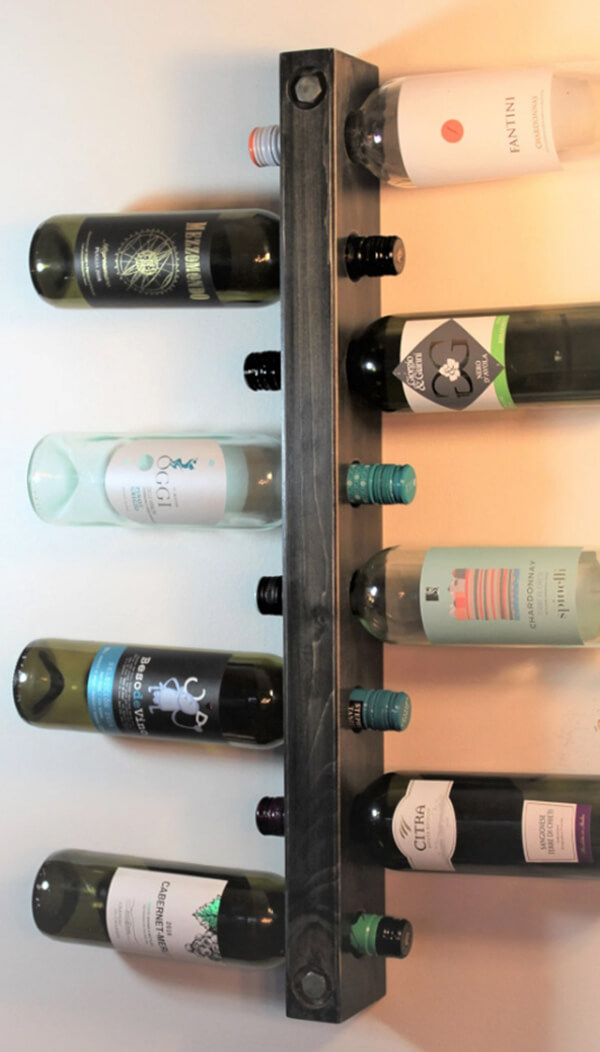 With a playful alternating pattern, this wall-mounted wine rack provides a functional use as well as an aesthetically pleasing accent. When it comes to choosing which of the 15 finish options is right for your home, it might be tempting to only think about the colors in your decor. However, wine bottle color should be taken into account as well. If you enjoy both red and white wines, imagine hanging the red on one side and the white on the other. Another idea would be to display the lighter-colored bottles at the top and get progressively darker as you get nearer to the bottom.
10. Hexagonal Wine Rack Made from Solid Wood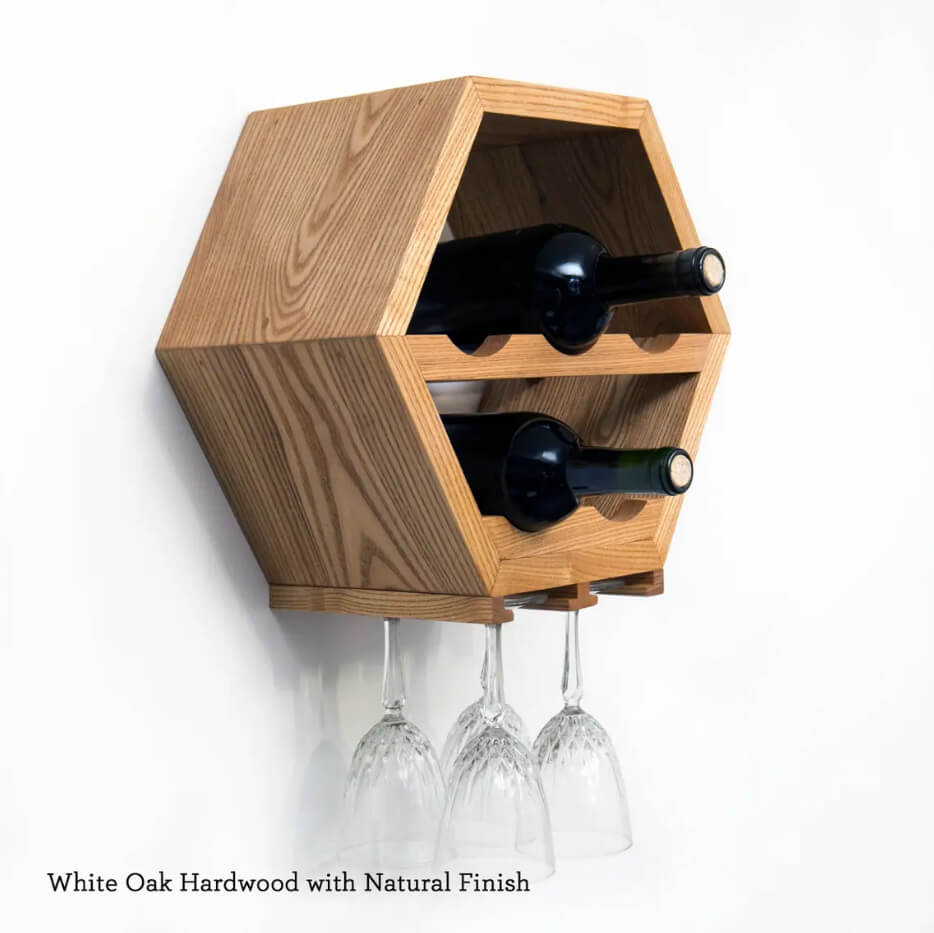 Every aspect of this wine rack has been carefully considered, sanded, and assembled to create the perfect wine holder wall. Because hexagons look great singly and in groups, these wine rack wall ideas can help any size wine collection look fantastic. To maximize space, this wine rack can contain up to seven bottles of wine at once. While the wine glass brackets shown here may no longer be available, you can choose among six types of wood and five finish options. Because these racks are handmade from solid wood, they are durable enough to last a lifetime, and, like a good wine collection, can become heirlooms.
11. Two-Tone Acacia and Oak Wine Rack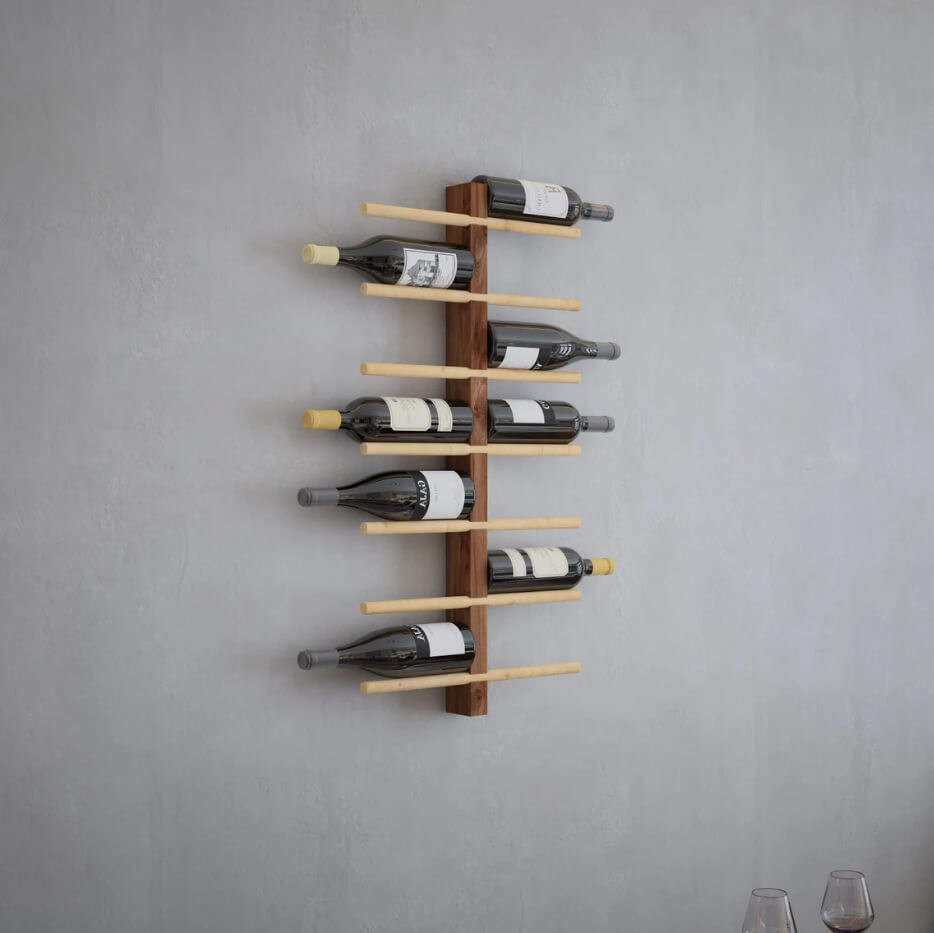 An acacia board and oak cylinders work together to create a breathtaking way to display a wine collection. Although this wine rack does require some assembly, the final effect is worth the extra effort. With a 14-bottle capacity, this wine rack is perfect to display wine collections that are larger than a few bottles. However, if you do not have 14 display-ready bottles of wine right, this wine rack looks great with fewer bottles as shown in this image. While it looks great on its own, grouping multiples can also cultivate an attractive effect.
12. Copper Wine Cradle with a Minimalist Design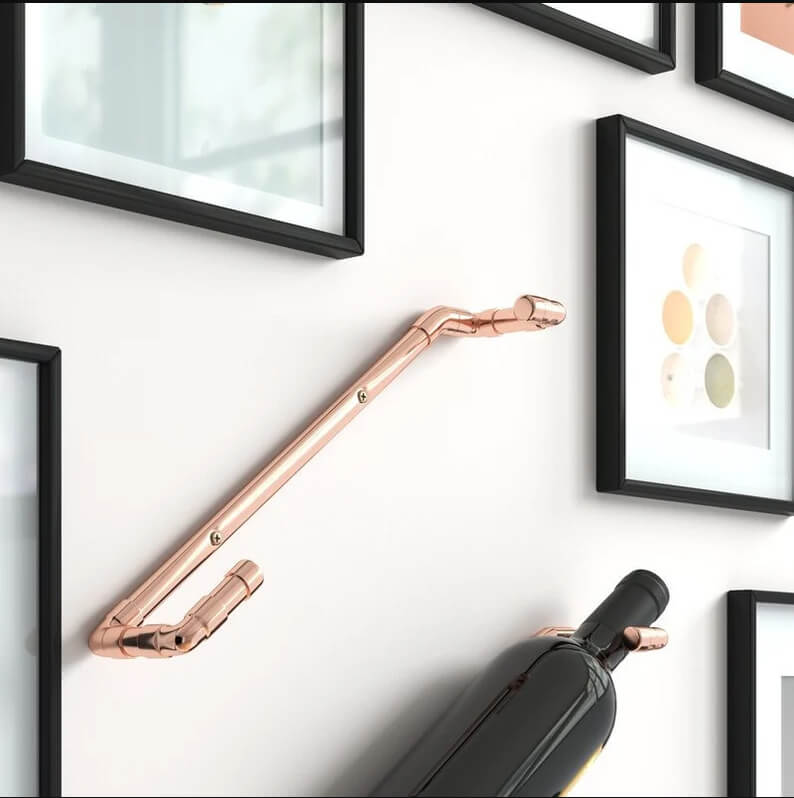 If you enjoy sleek silhouettes and creative wine racks, this cradle is for you. Because it is made from sealed copper, it will not acquire a green patina over time. Although the pipe construction feels industrial, this wine rack easily fits into any room where copper is welcome. This copper cradle would fit in nearly any setting from a 1920's speakeasy to a modern bistro. Because the wine label is fully visible, this wine rack is a great way to use your wine's label as wall art. To avoid catastrophes, hang each cradle where the bottles will not be bumped.
13. Asymmetrical Wine Rack for a Small Space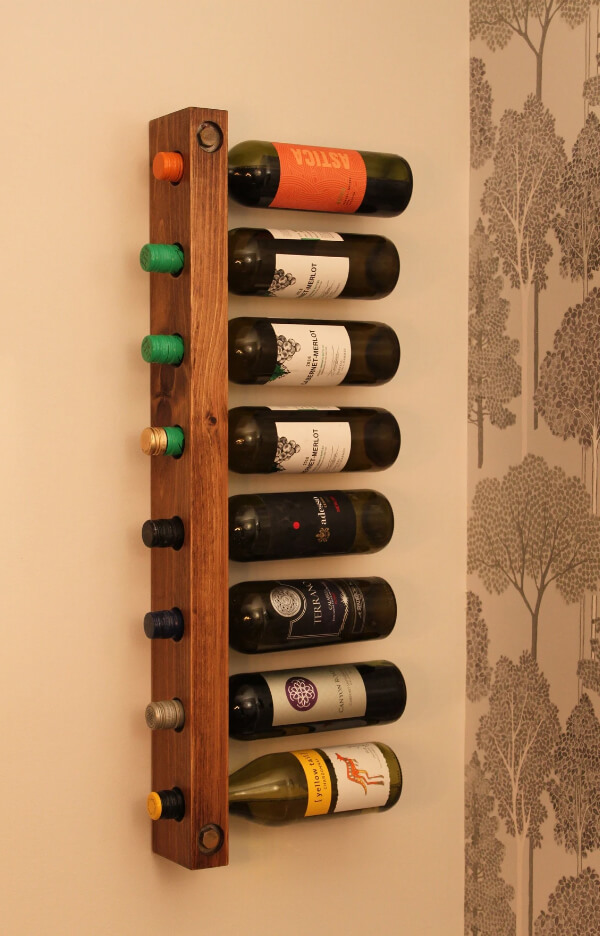 Balancing a love of vino with a small amount of space can be difficult. Luckily, this wine rack takes up as little horizontal space as possible so that you can enjoy your favorite eight bottles within arm's reach. The asymmetrical design is perfect for cultivating a sophisticated atmosphere. Depending on the look you wish to achieve, you can choose between bottles on the left and bottles on the right. If you are not worried about how much space you have, you can create some symmetry by hanging both options next to each other. With 15 finishes to choose from, you can tailor this wine rack to your home's existing decor.
14. Industrial Pipe and Pine Wine Rack Shelf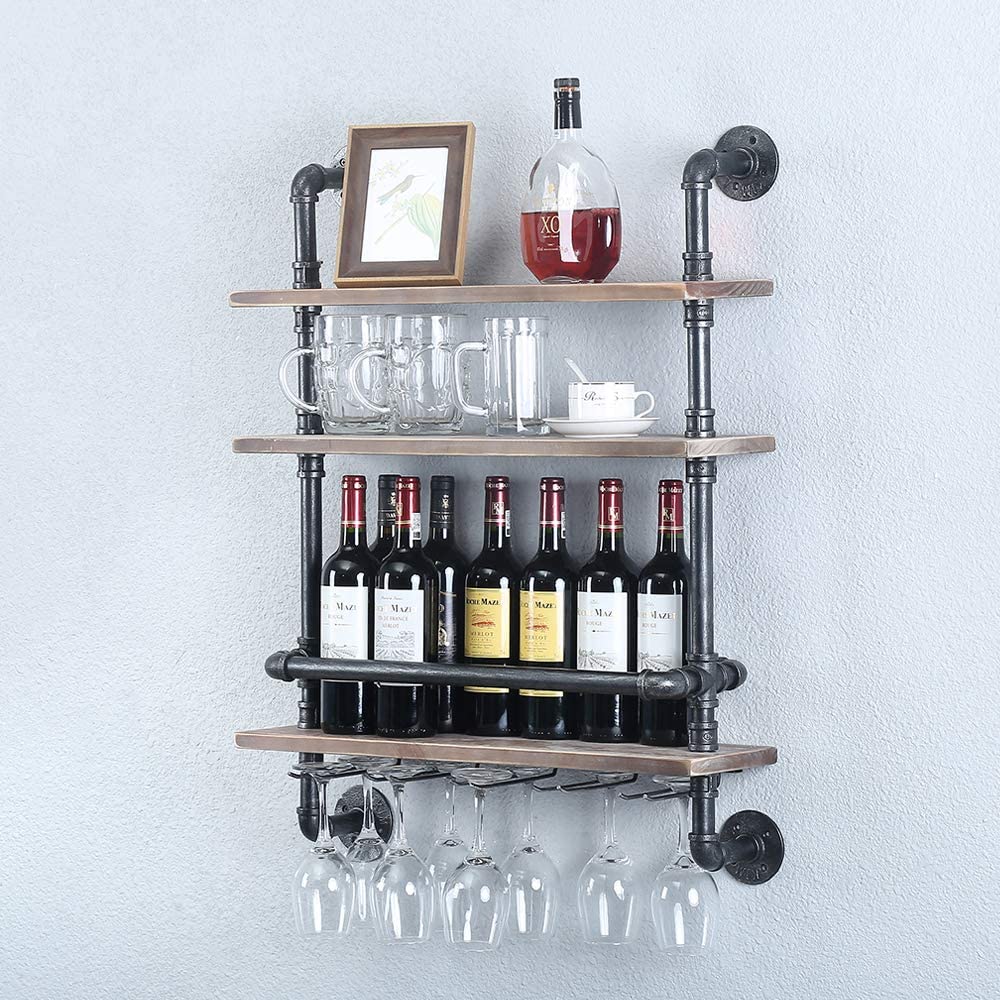 Made from iron pipe and solid pine, this wine rack is sturdy enough to contain high-value wines. Because it is so heavy, you will need at least two people to install it, and you will want to make sure it is properly secured in either studs or a brick wall. Because the wine stands upright in this wine rack, it is best suited either for short-term corked wine storage or wine bottles with non-cork closures. The upright storage also gives you the flexibility to display specialty bottles of nontraditional shapes and sizes. The upper two shelves can be used as shown here to provide convenient access to alternate glassware or spirits.
15. Sophisticated Wine Rack Ideal for Entertaining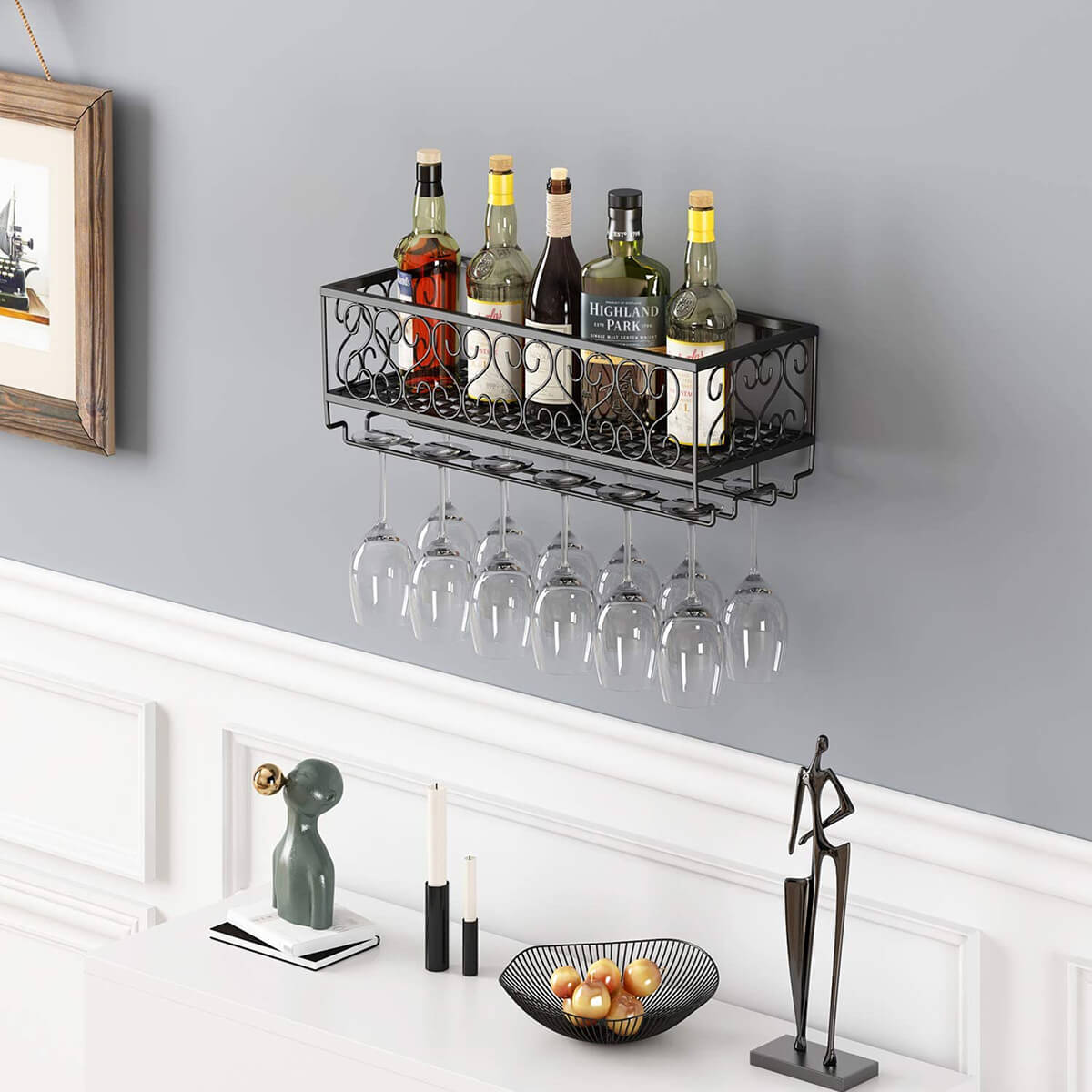 With the ability to hold 12 bottles of wine and 12 wine glasses, this wine rack is the ultimate for those who entertain frequently. The tray-like design means that you can mix and match wine with other types of adult beverage, like the Scotch whisky shown in this picture. With the potential for 12 full bottles on the rack, you will want to screw this wine rack securely into studs or a brick wall. From a design perspective, the metal swirls provide some European flair that will give any space a classy ambiance. To achieve a nightclub feel, try installing an LED strip beneath.
16. Walnut and Pipe Industrial-Style Wine Rack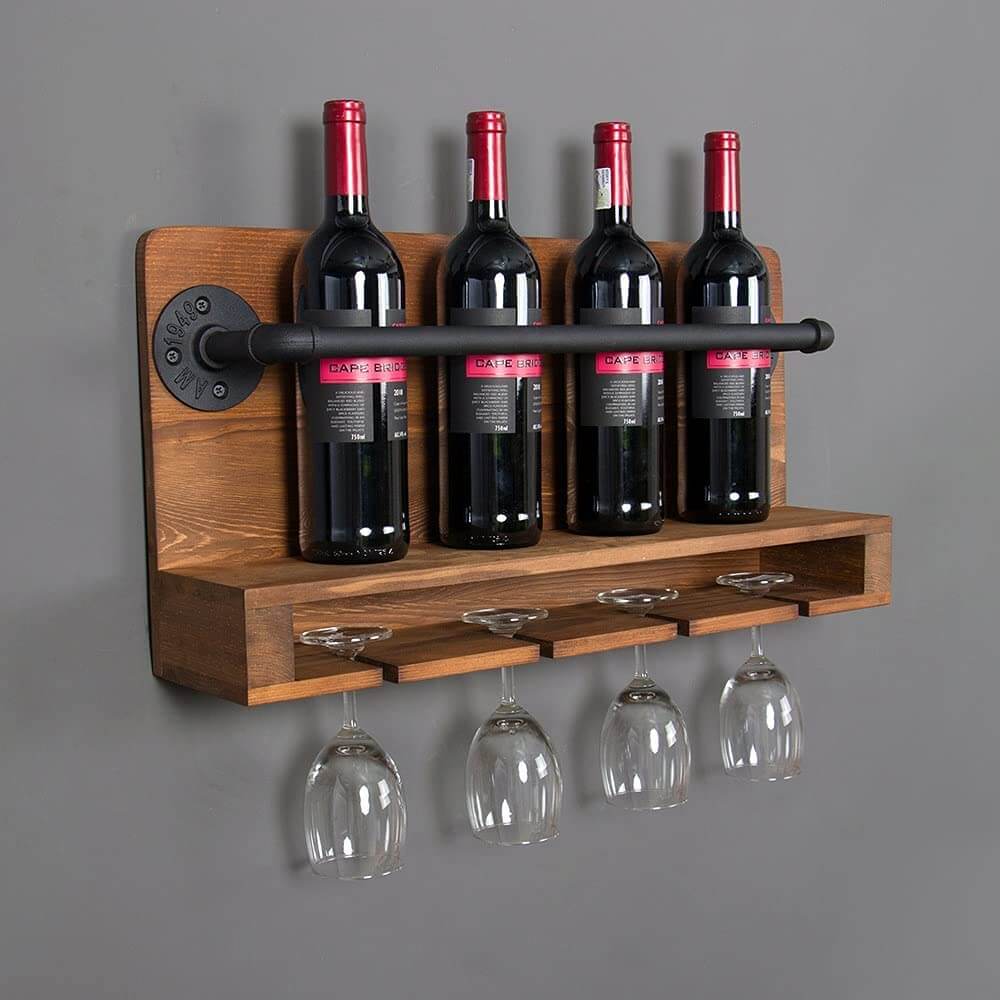 Where most decor labeled as industrial is dominated by cold metal pipes and their fittings, this wine rack balances cool metal with warm wood to achieve perfect equilibrium. Slots for wine goblets allow for storage that is both efficient and attractive. Because the board holding the wine is 5.2 inches across, you may need to measure your wine bottles especially if you tend to drink specialty wines from oddly-shaped wine bottles. When filled with dark-hued red wine bottles as shown in this image, this wine rack offers an air of gravitas. Display white wine bottles for a look that is light and refreshing.
17. Elegant Two-Bottle Wine Storage Solution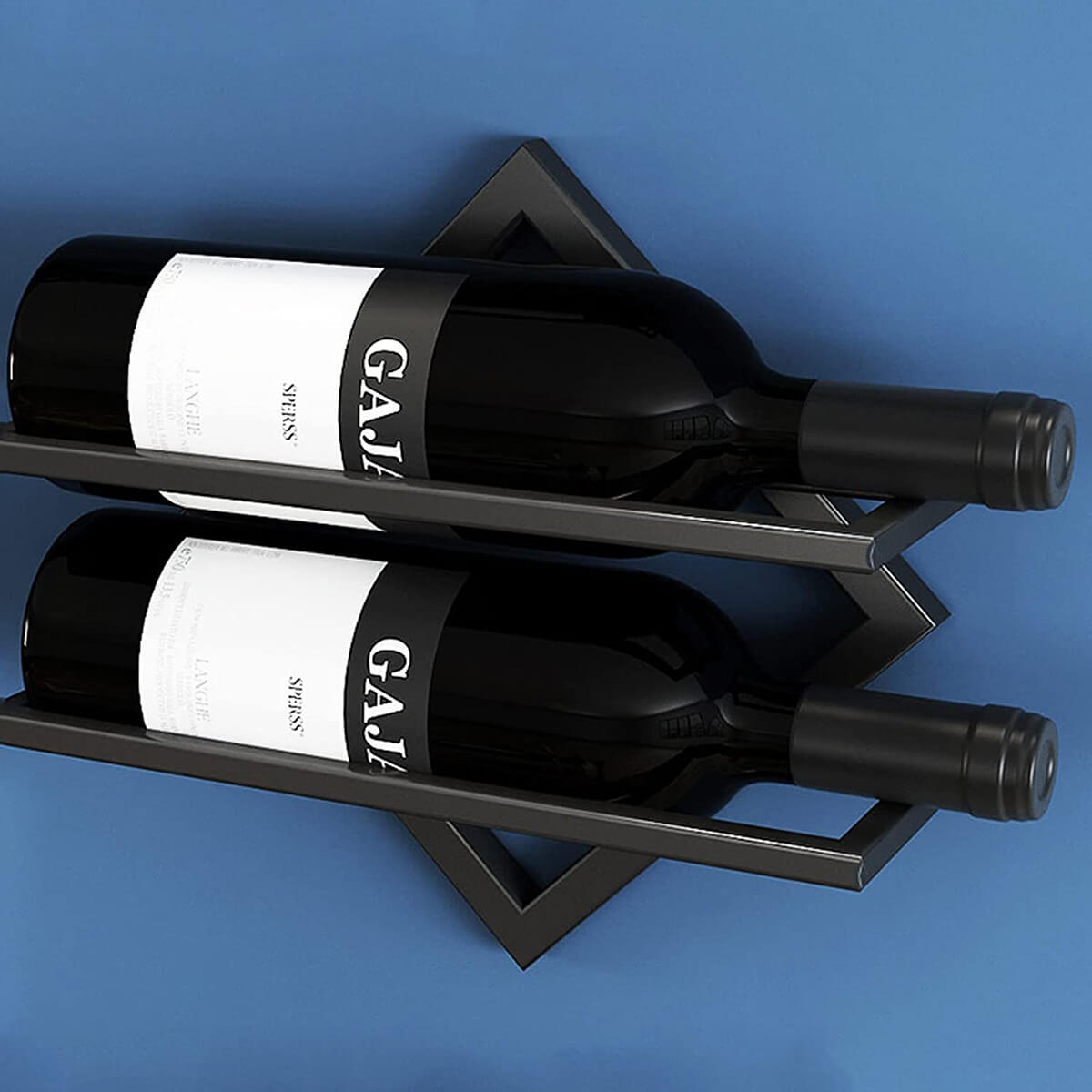 If you only have room for a few bottles of wine, this is among the best wine rack wall ideas. Because this design relies on simple geometry, it is a design statement that still keeps the focus on the wine. Coated in black spray paint, this wine rack can fit comfortably within many design aesthetics. However, if you would like to infuse it with some of your own personality, paint it in a color or pattern of your choice. This opens the door for some tasty distressed effects that look spectacular in farmhouse and rustic spaces. Try a variety of colors at once for a maximalist wine rack.
18. Metal Wine Rack with Cork Storage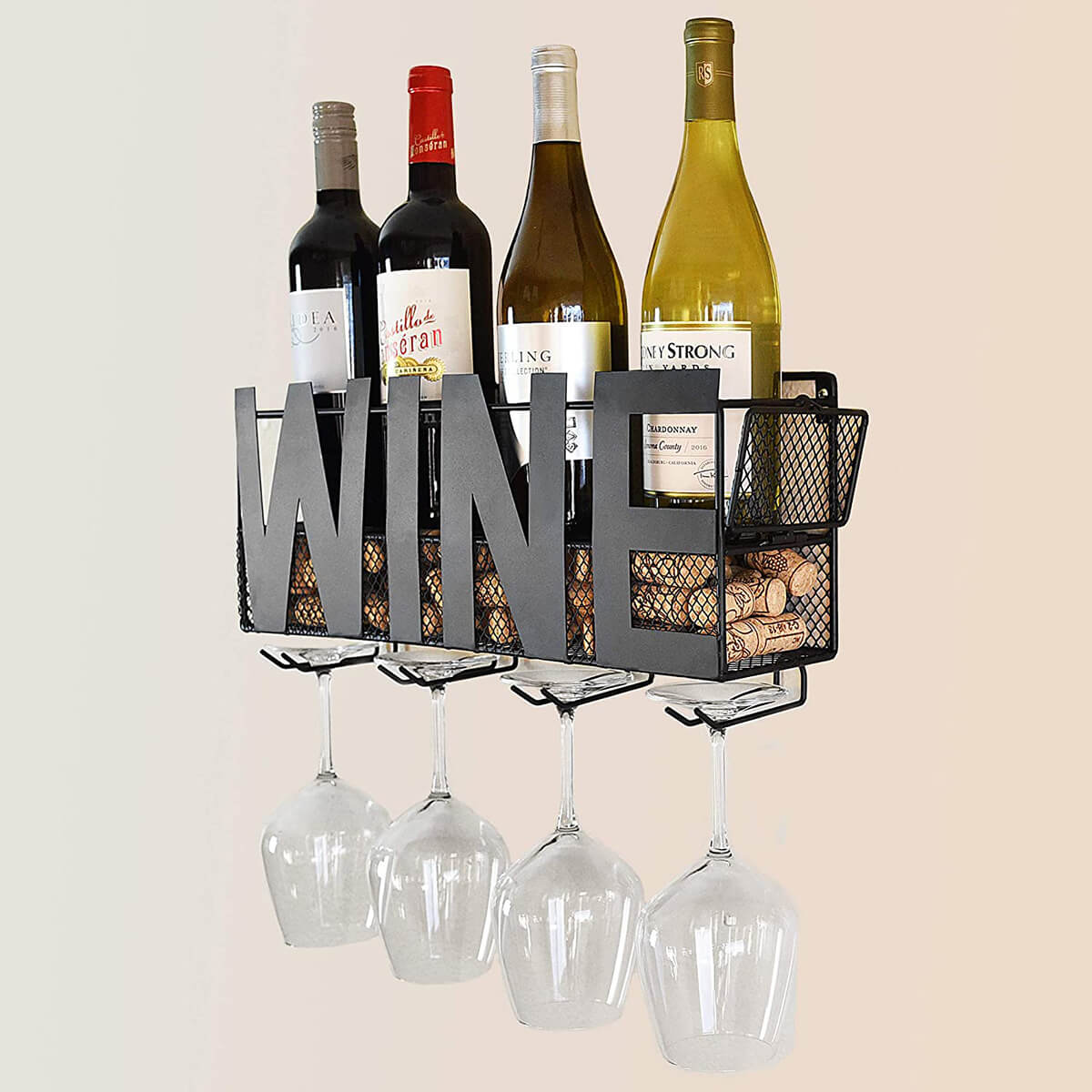 If space is a premium, this three-in-one wine rack can solve a lot of storage problems at once. Depending on what size wine bottles you usually drink, you can store up to five bottles on the top rack. As you can see, underneath the wine is an elegant cork storage box. When it fills up, you will have enough corks to work on your next crafty cork project and begin collecting again. To provide convenient access and prevent cluttered cabinets, wine glasses dangle beneath the corks. Meanwhile, the word "WINE" spelled across the front in bold sans-serif letters shares your love for vino with the world.
19. Minimalist Metal Wall-Mounted Wine Racks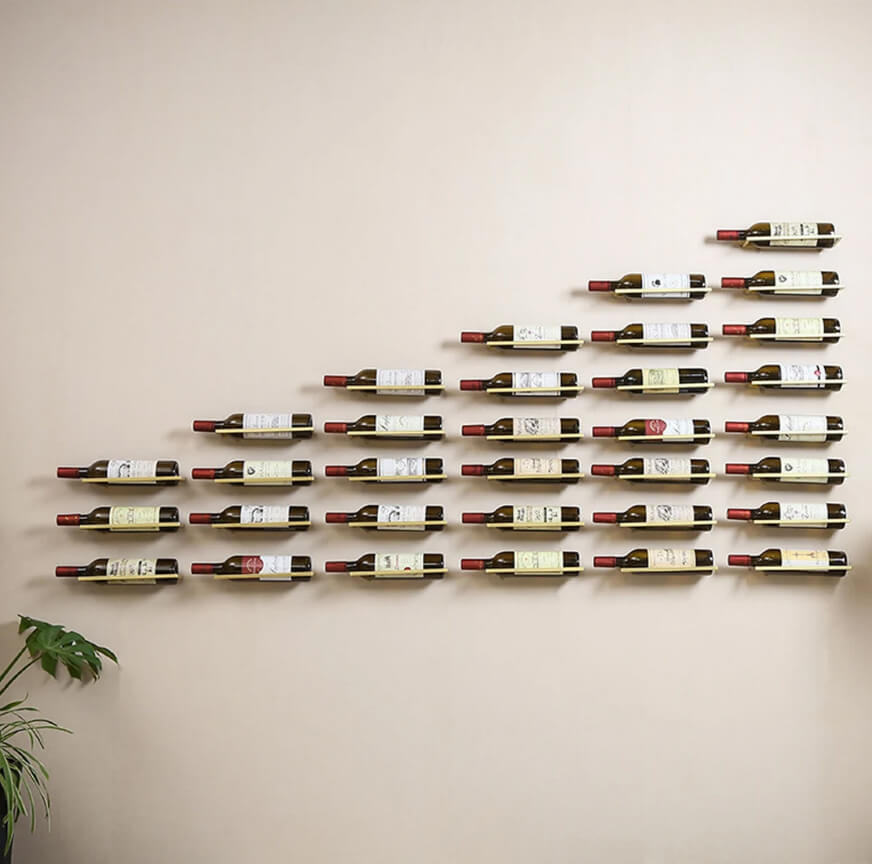 These simple metal cradles are some of the best wall wine rack ideas for those who enjoy making a design statement. Because the wine bottles are stored on their sides, you can use these racks for all types of wine, especially those with cork closures. Like the image shown here, you can create some eye-catching geometric shapes while displaying an impressive wine collection. With the modular design, this wine rack makes it easy to grow your wall storage with your wine collection – you might start small, but you can always add more racks. Best of all, there are four finish options to choose from: black, silver, copper, and gold.
20. Wall-Mounted Six Bottle Wine Rack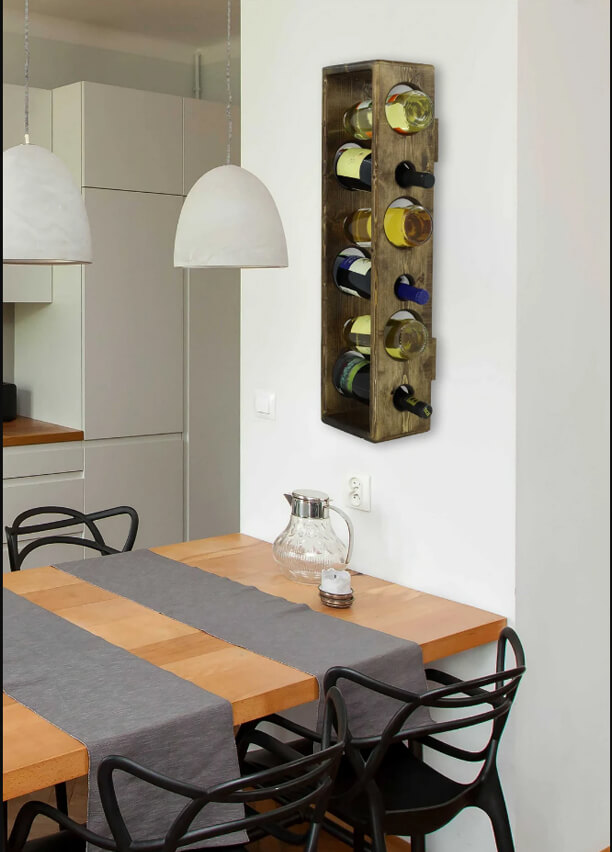 Visible wood grain makes it easy to connect with nature. Instead of the wine bottles being held perfectly parallel to the floor, each wine bottle is suspended at a more organic slightly tilted angle. Imagine how beautiful this wine rack will look when combined with a little greenery. This wine rack's dark walnut finish provides a cool ambiance perfect for setting a stress-free mood. If the dark walnut finish is not right for your space, you can request an unfinished wine rack from this shop to finish yourself. For those who have wine collections larger than six bottles, these wine racks look chic when hung in a group.
21. Reclaimed Wood Wine Rack Wall Ideas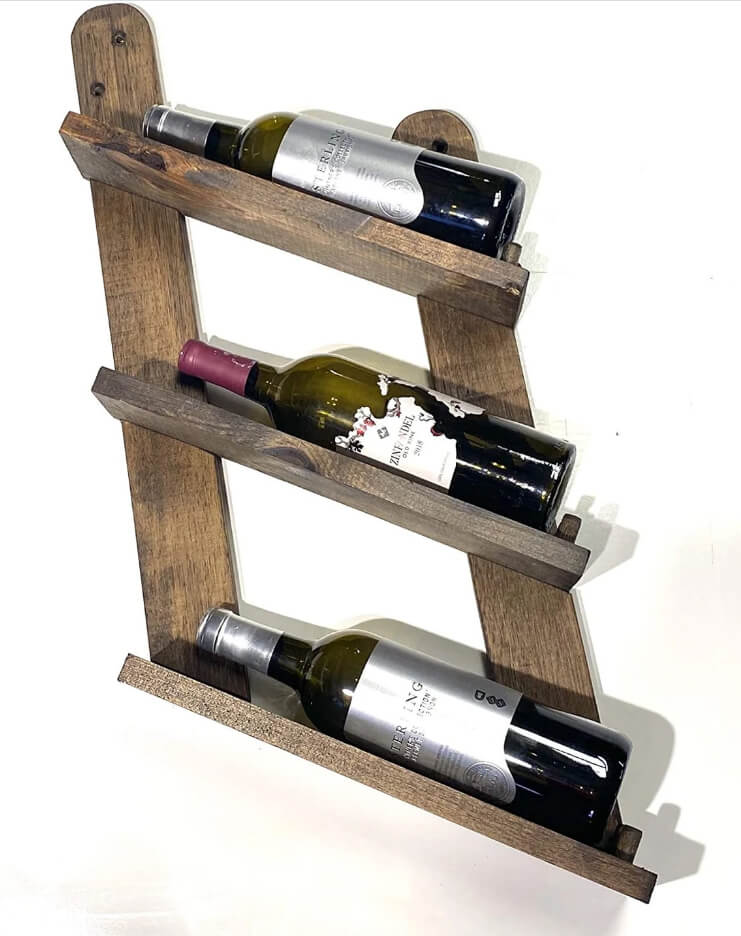 If your home is full of rustic or modern farmhouse decor, this wine rack is an excellent choice to showcase your favorite three bottles. Because it is crafted from reclaimed wood, it offers a sense of authenticity and a unique story. An unexpected slanting design adds a sense of motion to your decor. Because you know your space best, you can choose between a left-sloping or right-sloping design. If you want to create intriguing chevron shapes, pick one of each and show off an additional three bottles of wine. This is one of the best wall wine rack ideas for those who enjoy making bold design statements.
22. Clear Acrylic 12-Bottle Wine Holder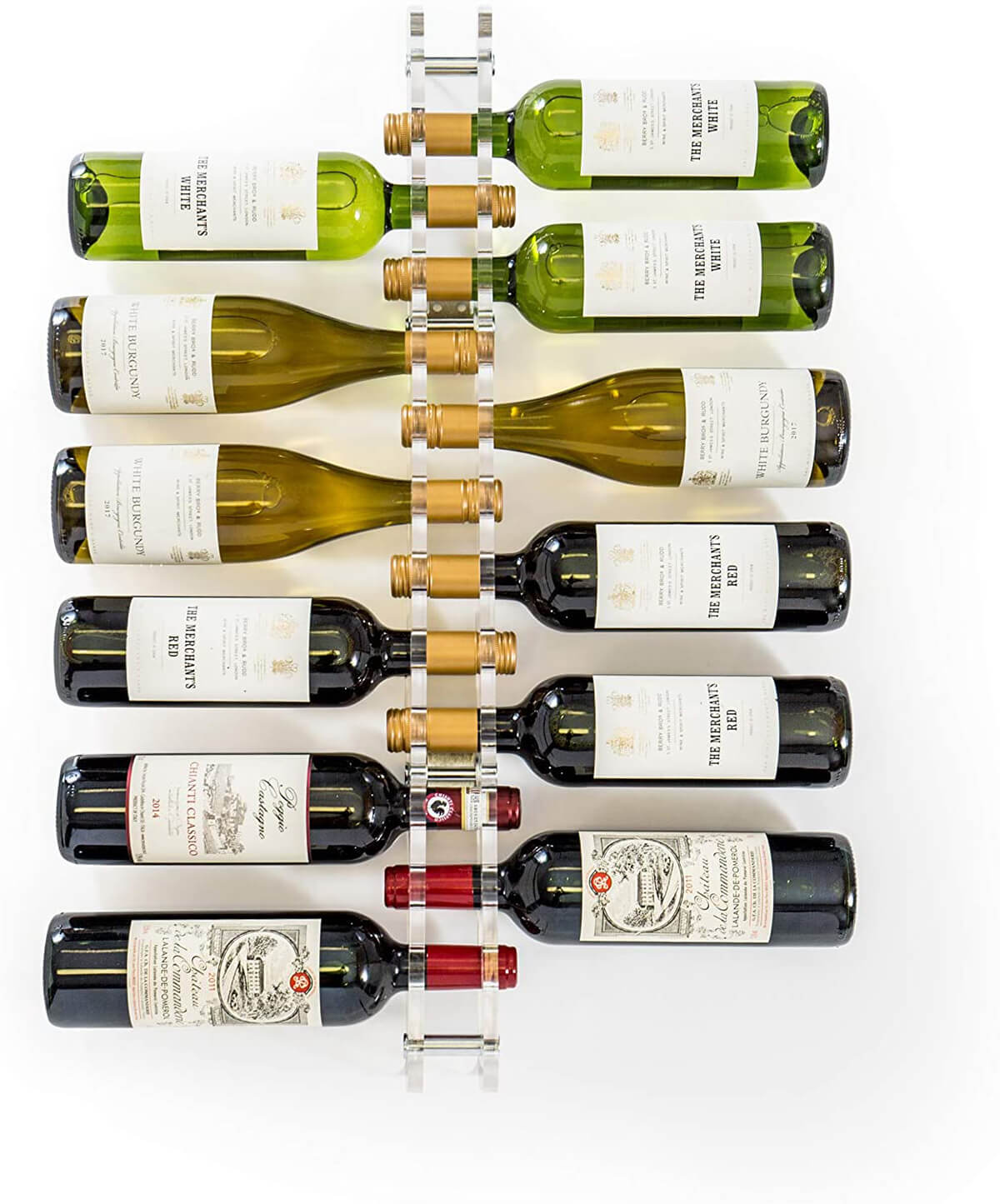 Made entirely from clear acrylic and two brushed metal brackets, no part of your wine bottles is obscured. Such material is perfectly suited for modern spaces or rooms with lots of LED or neon lighting. With this wine rack, it is possible to fully appreciate each label. For an attractive effect, arrange your wine from white to red as shown here. Another approach might be to use one side to store white wine and the other side to store your reds. This wine bottle rack is compatible with standard 750-milliliter bottles but is not suitable for champagne or port bottles.
23. Black Walnut Boat Paddle Wine Rack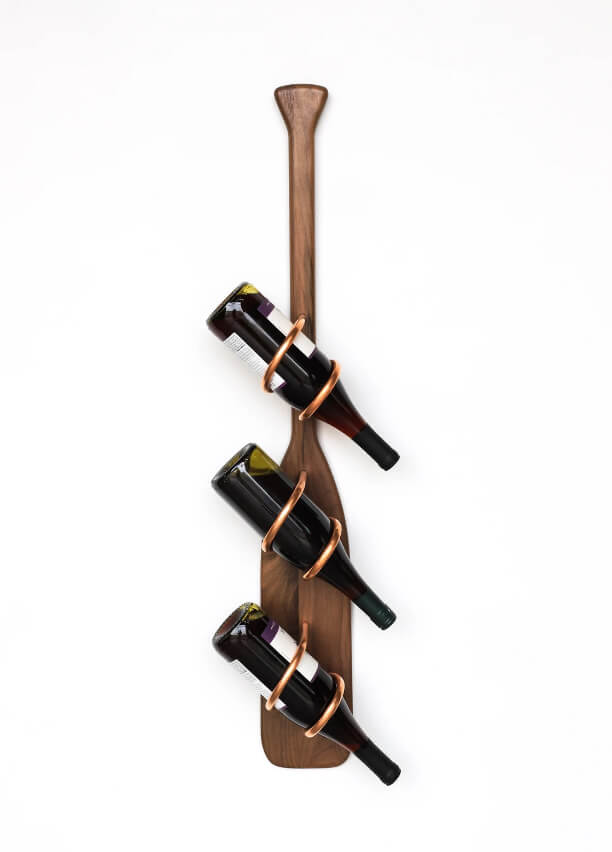 This creative wine rack is indisputably one of the best wine rack ideas for those who have a love for both wine and all things nautical. Sturdy copper swirls may seem like a whimsical way to hold wine but contrast magnificently with tinted glass wine bottles. They also add some seductive sophistication. If the copper is too warm for your space, this shop also offers a similar item with cool aluminum helixes. Each paddle is handmade from high-quality black walnut and puts the focus on the wood's gorgeous natural grain. The mixture of copper and wood is perfect for rustic, industrial, and nautical spaces.
24. Modular Wine Rack Perfect for Bordeaux-style Bottles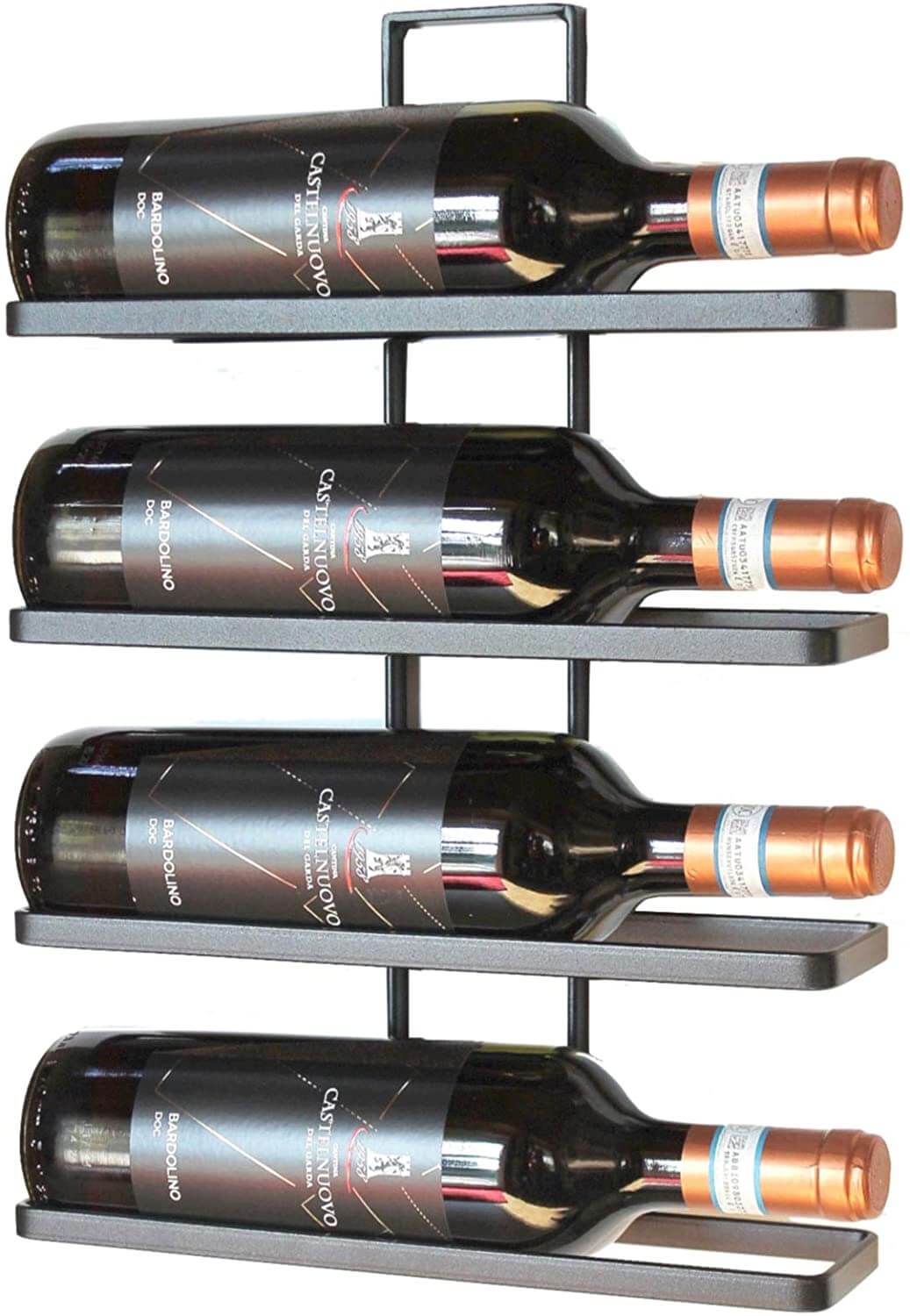 With a modular design, these wine racks are designed to look cohesive as your wine collection grows. When you are ready to display more than four bottles, add another rack above, below, or next to the first and you will have an attractive wall display. When placed next to each other, these wine racks almost look like floating shelves. Because these wine racks are only as wide as the wine bottles and only four bottles tall, they can fit perfectly in small spaces. In fact, this size is ideal for installation above kitchen countertops. When installed correctly, this wine rack is both sturdy and attractive.
25. Set of Six Iron Wine-Holding Hooks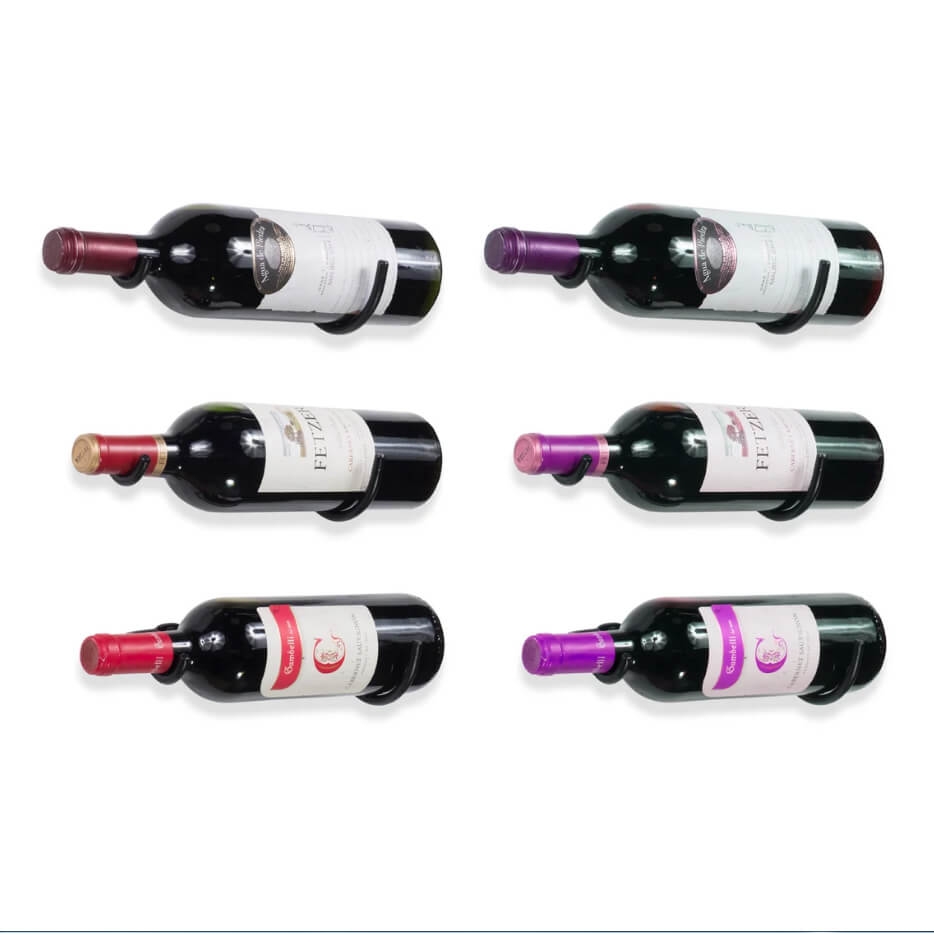 From rustic rooms to modern spaces, these simple iron hooks fit seamlessly into nearly any decor. Although there is not very much wine rack to see with these holders, zinc mounting hardware keeps precious bottles fastened securely to the wall. Because so little is visible, these wine holders emphasize your wine instead of how it is contained. If you are a wine connoisseur who would like to showcase your excellent taste on the wall, this is the wine rack for you. Because bottles are stored on their sides, you do not need to worry about dry cork catastrophes.
25 Cool Ways to Showcase Your Collection with the Best Wall Wine Rack Ideas
Wine holder walls are one way to take your space to the next level. Whether you have a large wine collection that you enjoy showing off or you prefer to keep a few bottles on hand for convenience, there is a wall-mounted wine rack to fit your needs and your style.
First, think about the wines you enjoy drinking the most. If they are closed with a cork or they feature a fancy bottle shape, you might have some measuring ahead of you. Then, begin planning where the wine rack will go. Finally, after your wall-mounted wine rack arrives, you can sit back with a glass of your favorite vino.