The best white Christmas decor ideas can make your familiar home seem new and magical. Because "white Christmas" means a different vision for each person, there are many possibilities. Is your perfect white Christmas snowy, icy, with cool-toned decorations? Maybe you want hygge-inspired whites and creams that highlight all the comforts of staying in when the outside landscape is covered in white. Layering cool whites above dark greens and natural browns can achieve the appearance of a realistic snowfall. Perhaps the right décor for your space involves incorporating all three of these versions of "white Christmas."
The Top 30 White Christmas Decor Ideas to Get You Into the Christmas Spirit
One of the best things about a white Christmas theme is that the decorations are quite versatile — many can be used after Christmas throughout the winter season. If that is a priority for you, take the ideas below and imagine ways to emphasize the winter elements over the Christmas elements. For example, if a display showcases a Santa figurine, imagine how it would look without that Christmastime statuette. Of course, the magic of a white Christmas is not that the décor can be used all season — it is about creating a beautiful atmosphere for your family and loved ones to share.
Below, you will find some of the best ideas to create your own white Christmas ambiance. As you look through these ideas, remember that it is easy to tweak colors or textures to match your vision. Beyond the aesthetics, it is important to consider practicality as well. For example, if you will be hosting small children or exuberant pets, some of these ideas may require some modification. However, several of them make fantastic crafts and are designed with children in mind. Whichever you decide to use, create, modify, craft, or purchase, you are decorating a space in which your loved ones will make cherished memories.
1. A Perfect White Christmas Fireplace Scene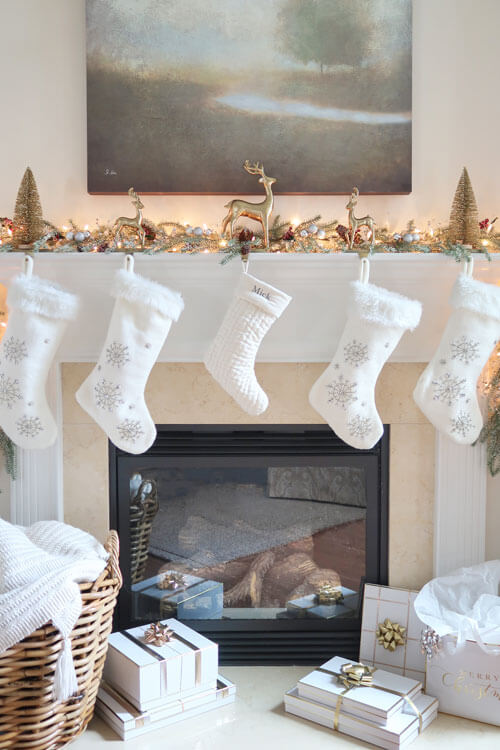 The holiday season would not be complete without a cozy snuggle by the fire with hanging stockings and immaculately wrapped presents. Careful planning ensures that the stockings and presents are the focal points. However, without the supporting actors of the basket of blankets and mantle decorations, the ambiance would not be as complete. Stylized golden reindeer tie into the gold-embroidered stockings and golden tones in the wicker basket to create a sense of general cohesiveness. The warm glow of fairy lights cements a feeling of buoyant togetherness. Because flat stocking holders are used, small sculptures or more Christmas decorations can be displayed.
2. Yarn Christmas Tree with Hygge Vibes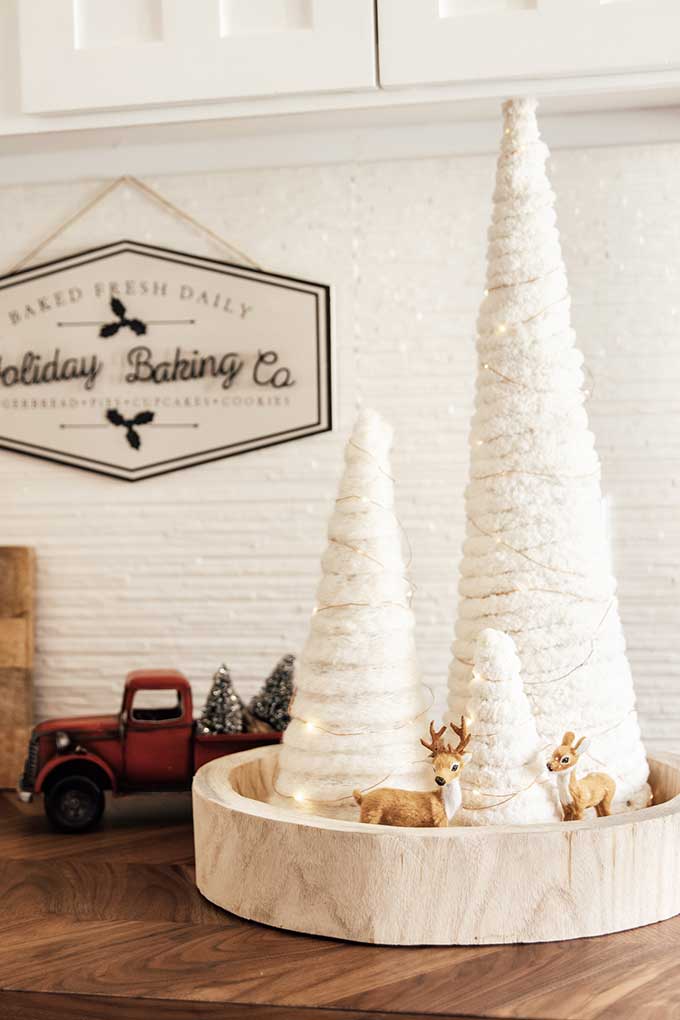 Among the best white Christmas decor ideas, these exquisite Christmas trees exude charm with cozy cream yarn. Of course, you can use whatever yarn you think works best with your space. Using a soft, chunky yarn like the one used in this example results in a snuggly atmosphere. For a more rustic effect, switch out the yarn for twine. If a Bohemian White Christmas feel is what you are after, use a yarn with pom-poms or try gluing cotton balls to your Christmas trees. For a sophisticated je ne sais quoi, you could experiment with a silver-to-white ombré.
3. Scandinavian Milk Carton House Ornament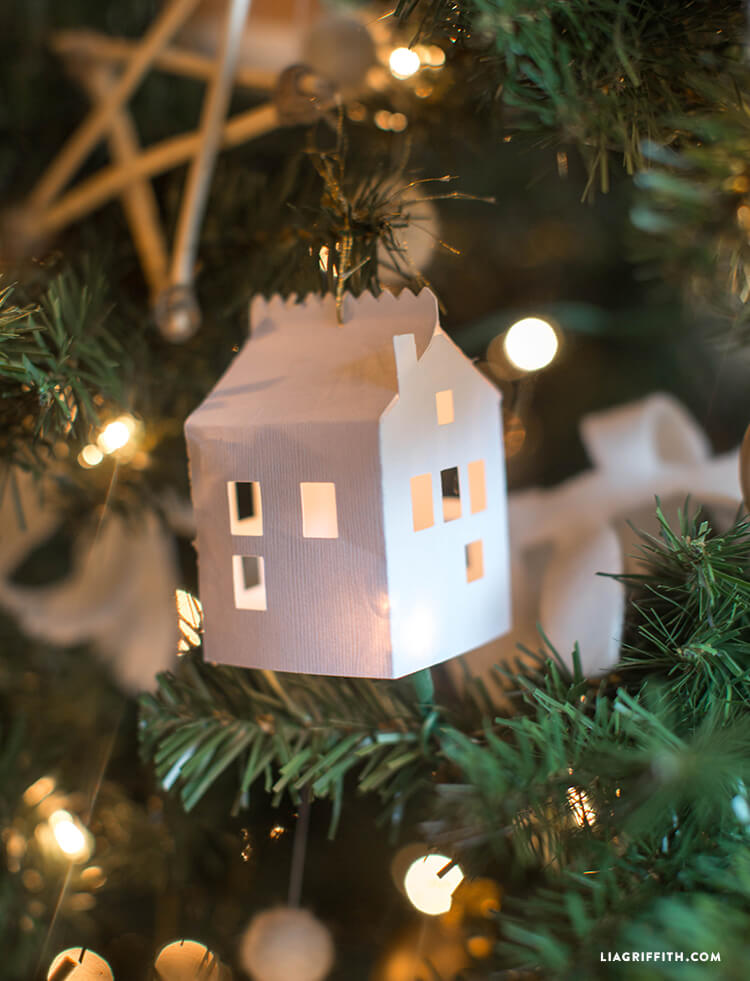 Transform white cardstock into the most enchanting Scandinavian houses. Windows allow light to shine through and cultivate an inviting ambiance. With a nostalgic milk-carton shape, this handmade ornament is sure to be a crowd favorite. The beauty of this house, like most Scandinavian décor, is in its simplicity. It is possible to personalize, but that might take away from the uncomplicated beauty. One easy way to personalize your house ornaments would be to add details to the houses with a fine-tip marker. You could use black for maximum contrast or your accent color to tie these houses into the rest of your white Christmas decorations.
4. Black & White Christmas Memory Ornaments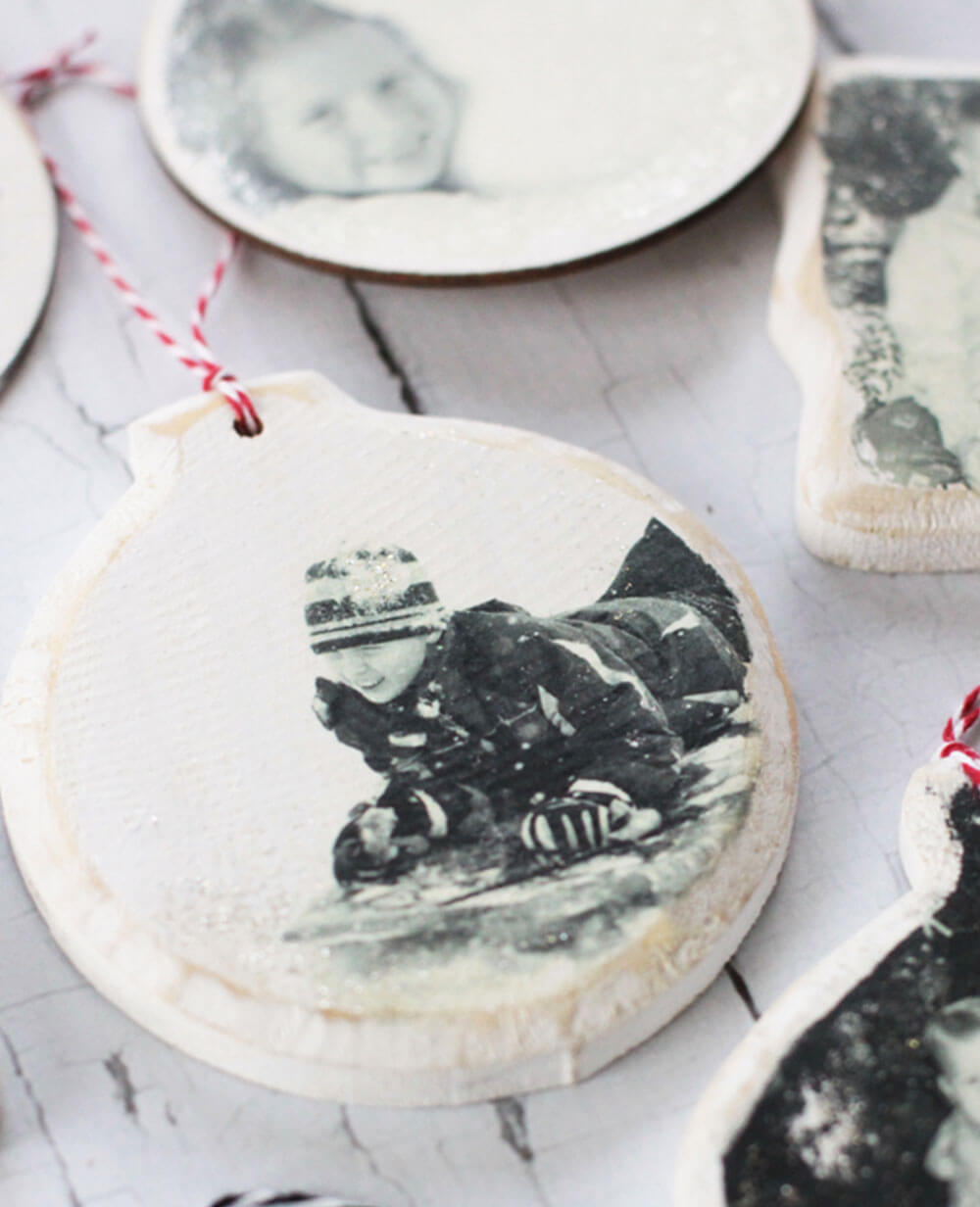 Surprise your loved ones with photo-transfer Christmas ornaments that look absolutely divine with a white Christmas theme. One white Christmas home decor idea is to paint the wood ornament with your accent color before painting with white. Then, with a little kiss from the sandpaper, your white Christmas photo-transfer ornaments tie seamlessly into the rest of your décor. While this technique looks best with black and white photographs, it can be used with color pictures as well. Why stop at pictures of loved ones? Imagine a travel-themed tree with black and white photographs of all the cities you have yet to explore.
5. Winter Wonderland in Shades of Champagne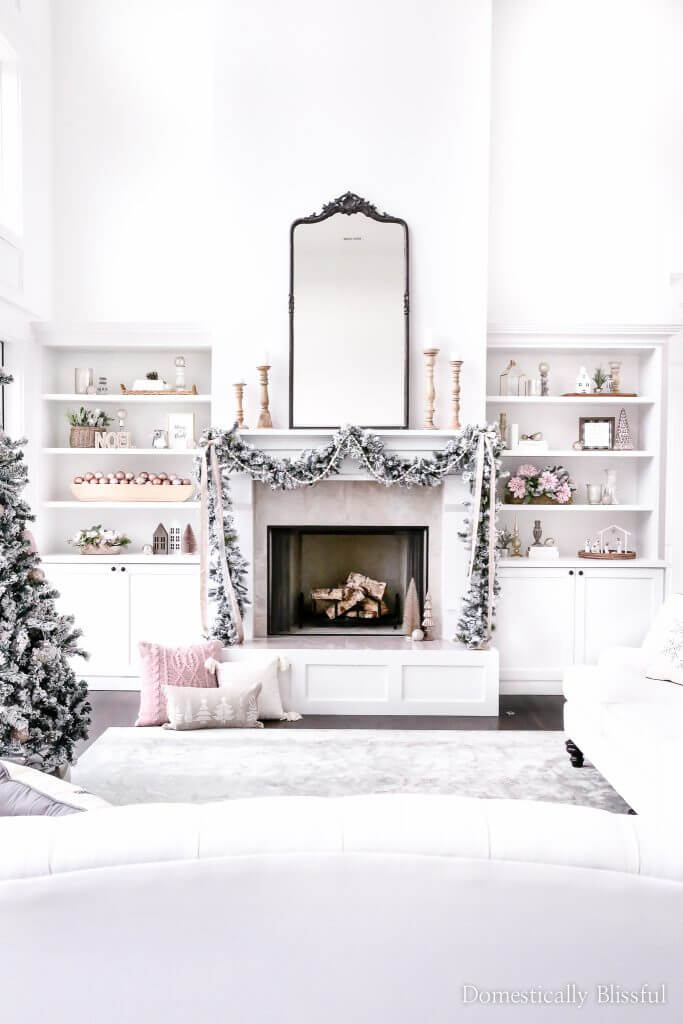 While it can be tempting to decorate a white-Christmas-themed space with only white, this spacious living space uses subtle shades of blush and champagne to accentuate the white. Inky flooring, a black-framed mirror, and dark evergreen bestow both contrast and dimension. White flocking gives the Christmas tree and evergreen garland the appearance of fresh snowfall. Integrating cozy, knitted textures and soft plush blankets can keep the space warm and inviting even when it is enveloped in cool white. If blush and champagne are not your speed, try experimenting with your favorite accent colors to create a look all your own.
6. Simple and Charming Customized Calligraphy Stars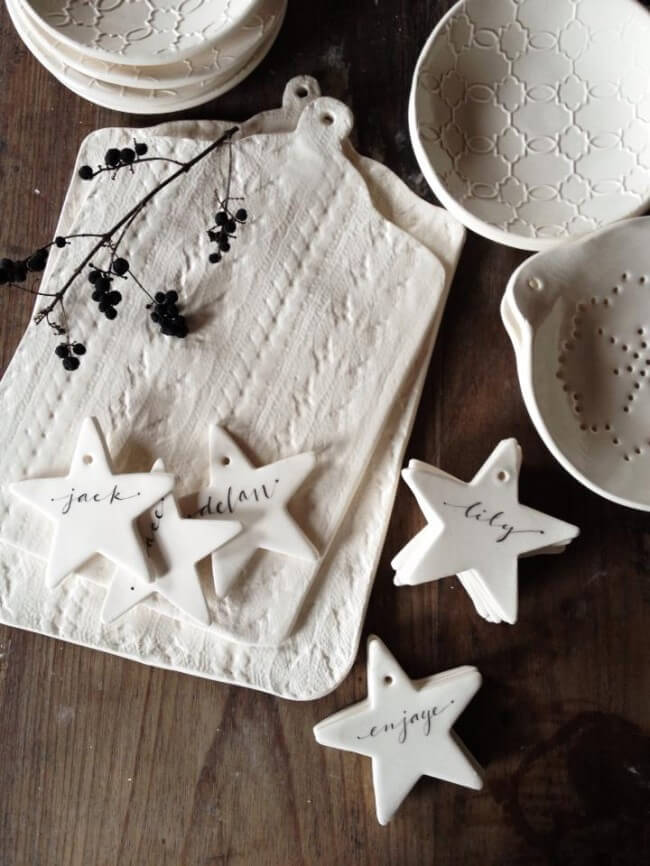 These ceramic styles are the perfect way to bring some more creativity to your Christmas decorations. At first glance, these stars certainly appear simplistic, fitting for a minimalistic style. Upon closer inspection is when you notice the intricate calligraphy design on each star. This is such a wonderful and pleasant way to share smaller gifts during the holidays that pack so much meaning. You can personalize these with individual names to give out, and they can look especially well when hanging on the Christmas tree, allowing every member in your household to leave a part of themselves in the decorations.
7. Stunning Miniature Christmas Village Decoration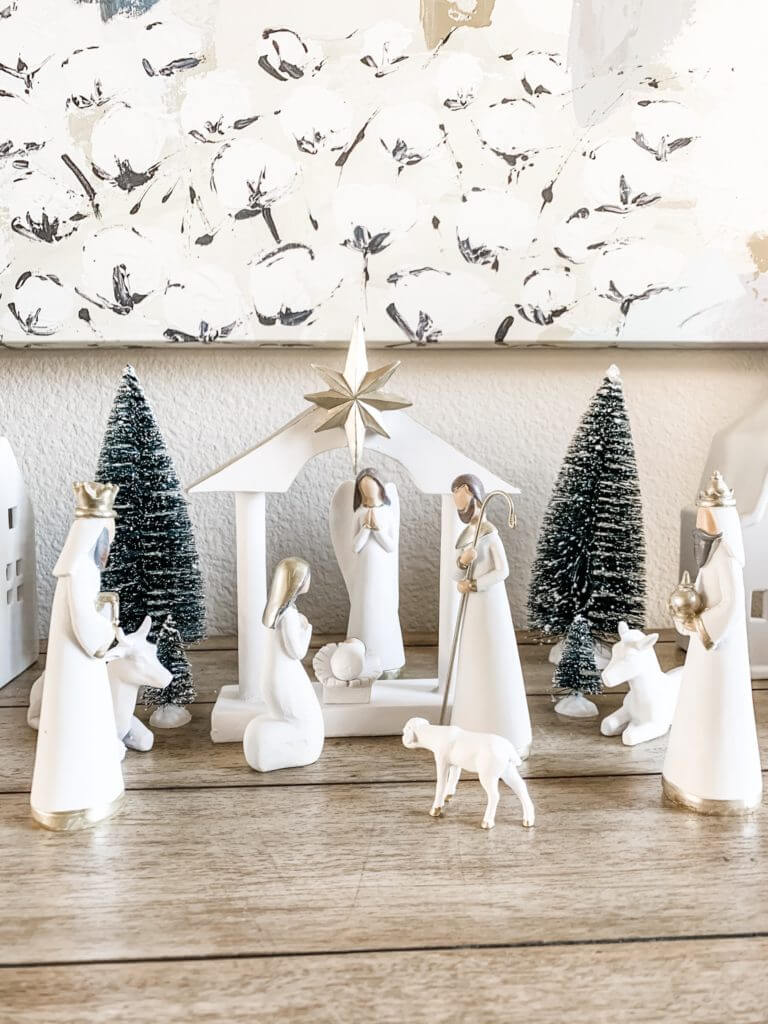 When decorating for a white Christmas, this village designed using neutral colors is a wonderful way to go about that. This perfect nativity highlights much of the religious origins behind the holiday. The white coloring works well at adding a sense of brightness to the piece. From there, the gold accents work well at breaking up the white, providing it with much more depth and style that helps this miniature village stand out. It makes for the perfect addition to any Christmas décor in your home as it manages to stand out without being too overwhelming to the point that it is overpowering any of your other decorations.
8. Unique Stacked Felt Christmas Tree Ornaments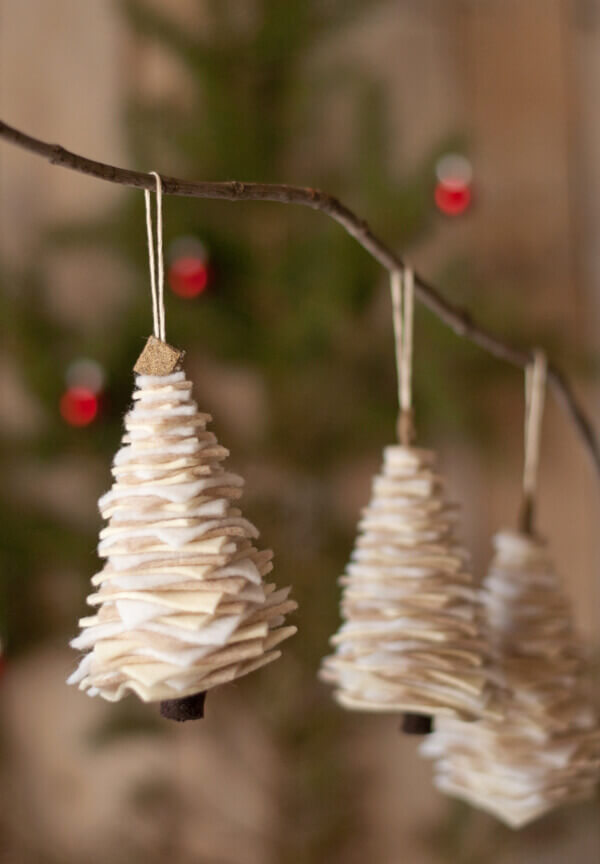 To create adorable little evergreen trees, layer soft squares of white, cream, and oatmeal. This easy-to-follow tutorial shows exactly how you can make your own darling white Christmas decorations. If you are after the "fresh snowfall" look, try layering white with dark green. Stacking felt from dark to light could achieve an avant-garde ombré effect. Add a spray coat of glitter to give these trees a sparkly winter-wonderland effect. While these are precious tree ornaments, you could make them larger (or smaller) to fit on your Christmas tablescape or to help add some soft textural appeal to your space.
9. Enchanting Three-Tiered Kid-Friendly Christmas Village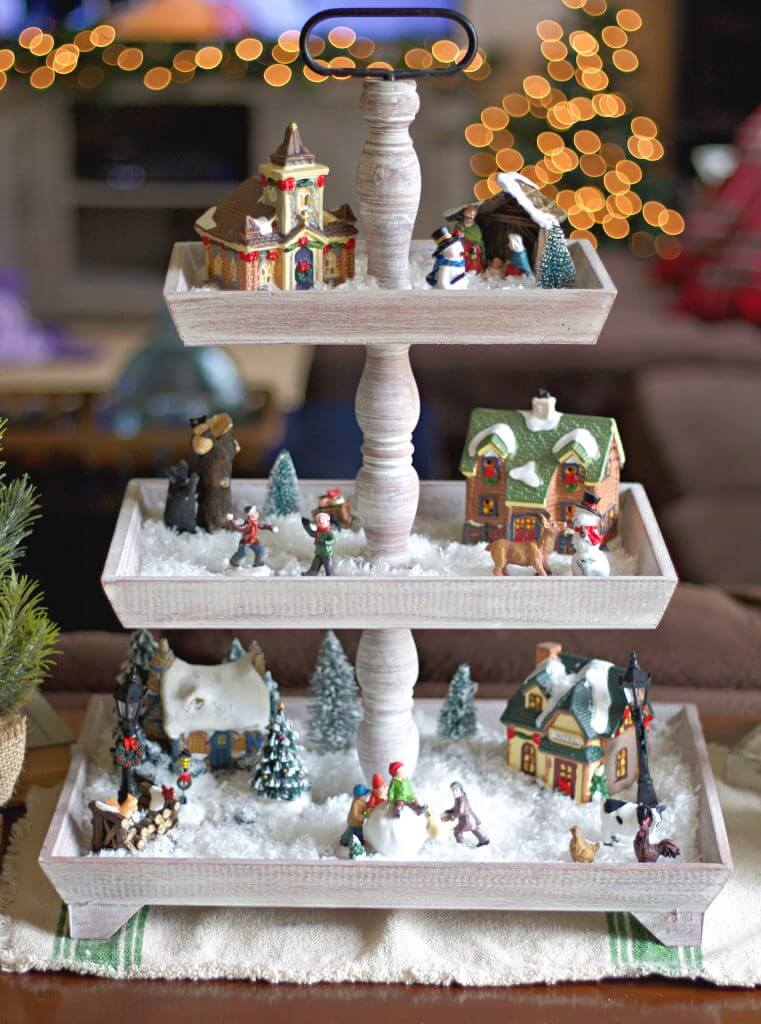 Give the children a cherished Christmas memory with a Christmas village that little hands can handle. This tutorial uses artificial snow, which is a good choice for older children. If younger children are present, you may want to use a snow alternative that is easier to clean up like pom-poms or felt. Either way, the magic of this village is using a three-tiered tray. This way, it has a smaller footprint and is easy to move if needed. While this tutorial uses a distressed white tray for a farmhouse effect, you can use whichever tiered tray is right for your space.
10. Unique Furry Ball of Joy Mantle Decoration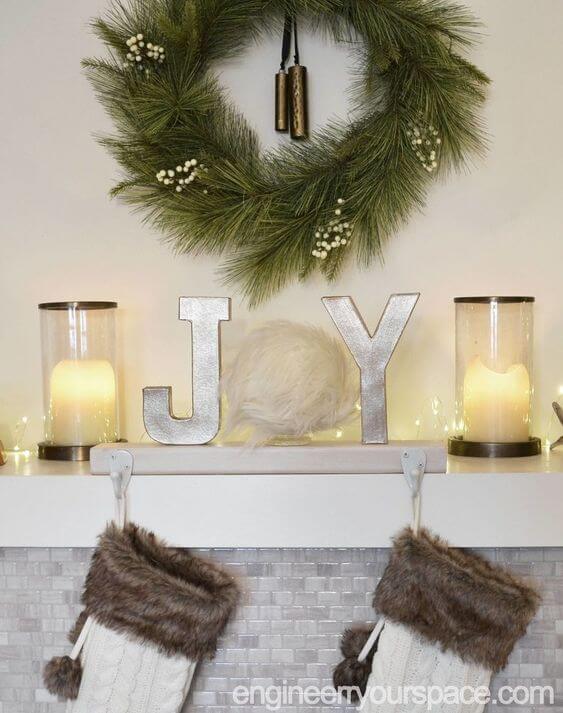 To add a dash of whimsical playfulness to the best white Christmas decor ideas, try including a furry ball of joy. This tutorial outlines how to craft your own inexpensive stocking hanger from a few scrap materials. For a feline variation to show what really gives you joy in the holiday season, you can glue black whiskers to the front of the ball and felt cat ears to the top. To keep the kids entertained, a pair of googly eyes can transform the furry ball into a "yeti." Of course, you could skip the fur altogether and use a silver-toned globe to showcase a love of travel.
11. White Christmas Wreath Packed with Pristine Poinsettias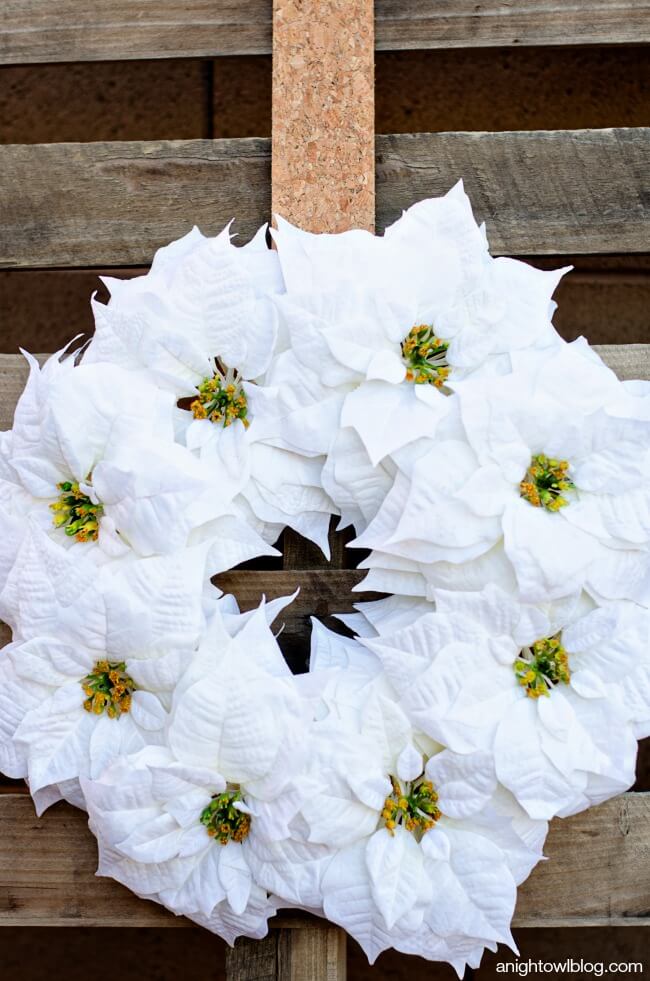 This white poinsettia wreath channels white Christmas vibes as a joyful explosion of Christmas cheer. Because it features only poinsettias and a hanging ribbon, this wreath is ideal for homes with rustic or natural themes throughout. However, if your idea of white Christmas decorations includes silvery and sparkly over pristine and white, this wreath is exceptionally easy to personalize. Using only white poinsettias might be eye-catching, but you could add dimension with silver poinsettias or by applying glitter. The ribbon is another easy way you can help this wreath harmonize with your other decorations.
12. Elevated White Christmas Scene Starring Santa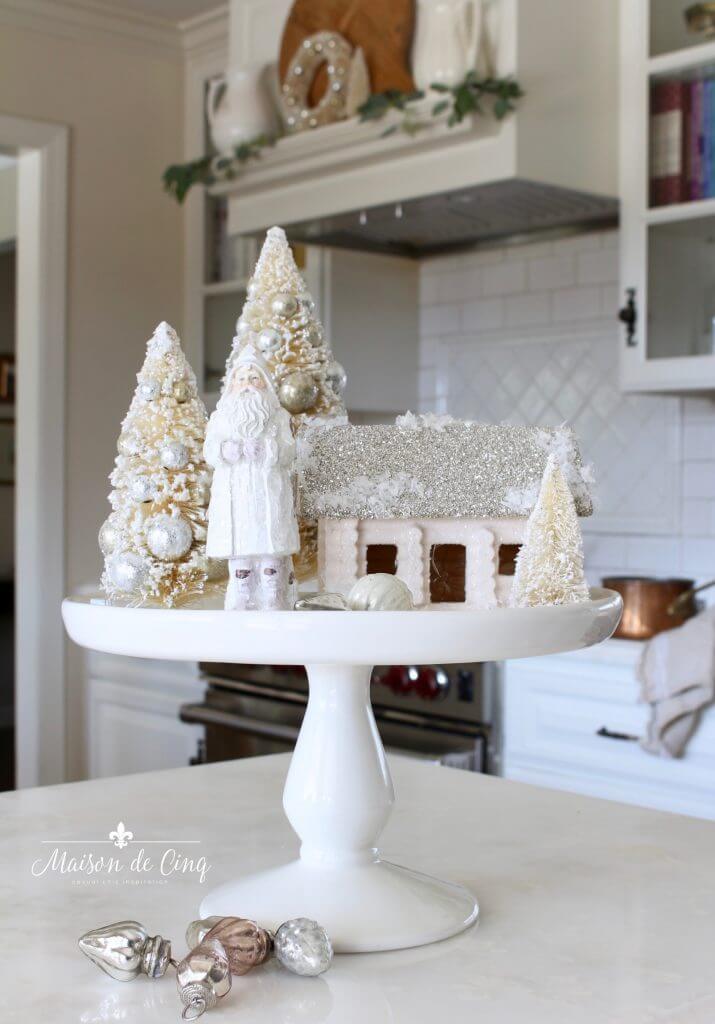 Framing a scene with a cake stand is an excellent way to use precious countertop space. Because the cake stand's footprint is relatively small, this is a great idea for small kitchens. Even for larger spaces, using a cake stand can create different levels for your white Christmas decoration landscape. If you need to use your counter for making sugar cookies, moving a cake stand is a lot easier than moving lots of loose decorations. To help the white Santa figurine stand out, this display showcases a palette of silvers, creams, and grays.
13. Essential-Oil Infused Glittery White Ornaments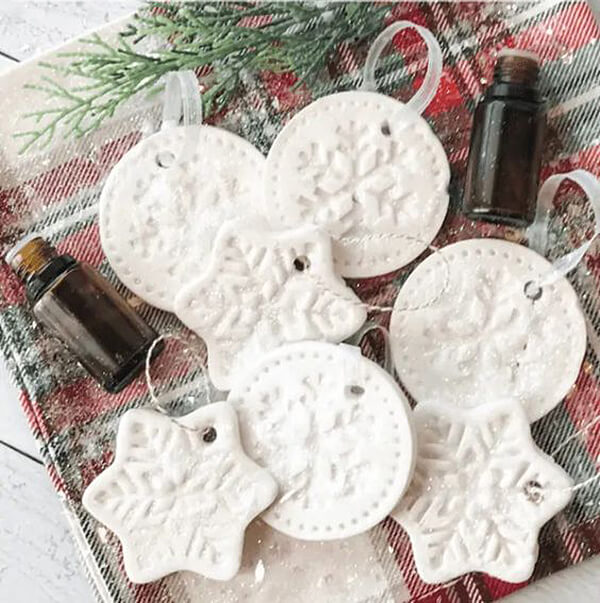 With only cornstarch, baking soda, water, and 30 drops of your favorite essential oils, you can whip up some aromatic Christmas ornaments. Like salt dough ornaments, you can use any cookie cutter or cookie stamp to create a true one-of-a-kind gift. They are also a great idea to craft with kids. This tutorial shows not only how to make these dainty decorations, but also shares some suggested recipes for different scent effects. While this recipe only uses white glitter, you could try developing some dimensions by including silver glitter as well. Switch up what ribbon or twine is used to hang them, and you will be able to reuse them year after year in various holiday décor schemes.
14. Bucket of Snowballs White Christmas Ornament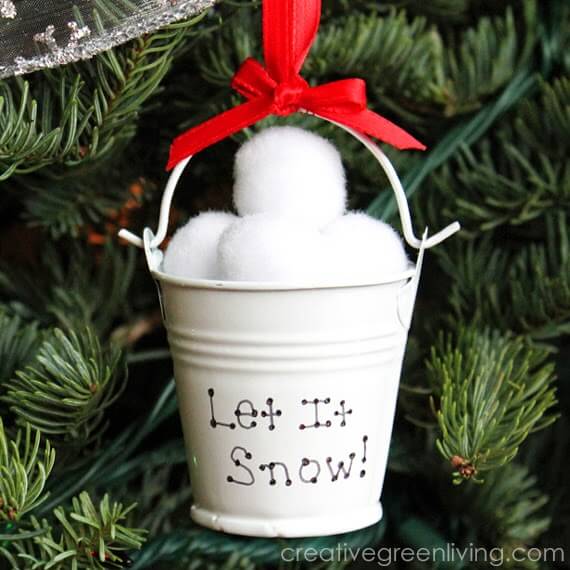 Nothing says "white Christmas" like a song about snow. Because you are making this ornament, you can tailor it to your space. You could use different bucket finishes or ribbons to tie this ornament into your other Christmas decorations. The true beauty of this ornament is how utterly versatile it is. Imagine using white jingle bells instead of pom-poms and writing "Jingle all the Way" for a Christmas song theme. Add some googly eyes to the top "snowball" and switch the text to "snowman kit" for a more kid-friendly version. Of course, this ornament is classy and playful all on its own.
15. Inviting Finger-Knitted White Christmas Wreath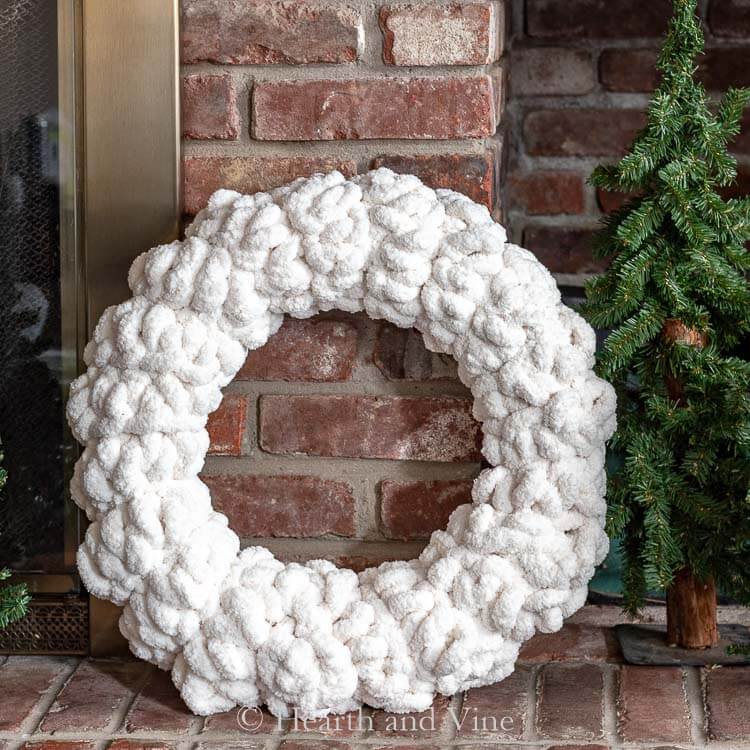 All you need to craft this pleasurably pillowy wreath are chunky yarn and a wreath form. Simple instructions show how to use your fingers to make a distinctive knit-like weave. While it is beautiful and cozy like this, you could infuse it with some extra Christmas cheer by adding your favorite Christmas ornaments. Alternatively, you could skip the wreath form and use it as a garland to decorate a fireplace or on your Christmas tree. If you are searching for white Christmas home decor ideas that tie cozy blankets into your theme, this is an effortless way to make that happen.
16. Kid-Friendly Crafts: Cute Snowman Tummy Ornaments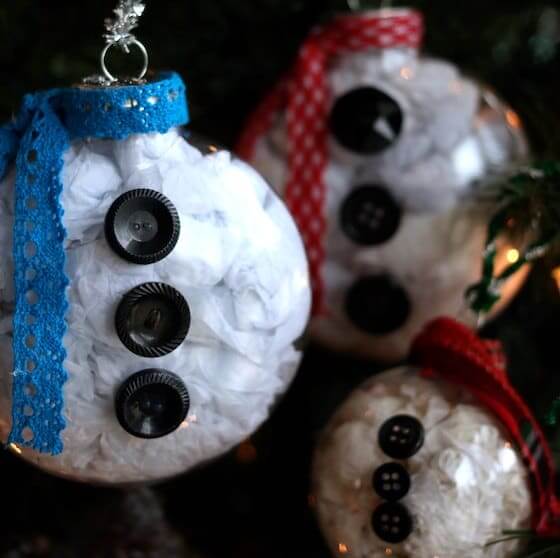 Even for young kids, constructing these darling snowmen will be a great memory. Because they are made with scrap ribbon and spare buttons, each snowman will have his or her own personality. The snowman innards can be anything white and lightweight you have on hand. You can use cotton balls, marshmallows, shredded coconut, paper, or tissues. While you could use white ornaments instead of the clear ornaments used here, the wadded tissue paper adds lots of fun textures. This picture shows playful, fun snowman tummies, but it is possible to create a glamorous snowman middle by switching out black buttons for gold and using a sophisticated silky ribbon.
17. A White Christmas on the Beach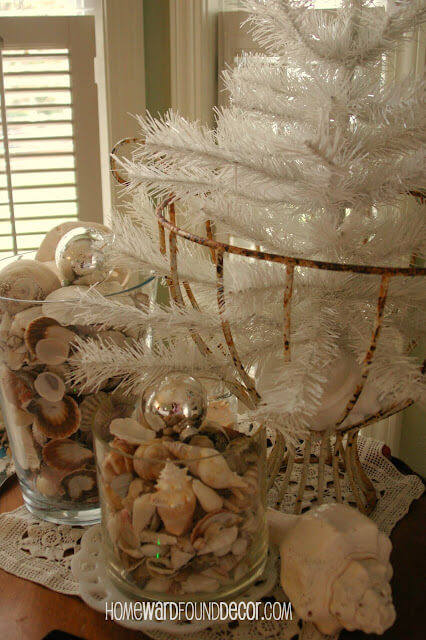 Who says that a white Christmas has to be cold? Fill a few clear vases with shells and silver ornaments, and you have some delightfully coastal white Christmas decorations. If you have seashells from your travels, this is a great way to display them during the festive season. If you prefer white Christmas home decor ideas that are silvery and snowy, you can paint the shells silver or white. The silver tree ornaments resting on top add just a pop of Christmas joy to this seaside table decoration. For a more brazen Christmas display, you could place a Christmas tree or snowman on top of the vase of shells.
18. Canvas, Lace, and a Candlestick Christmas Tree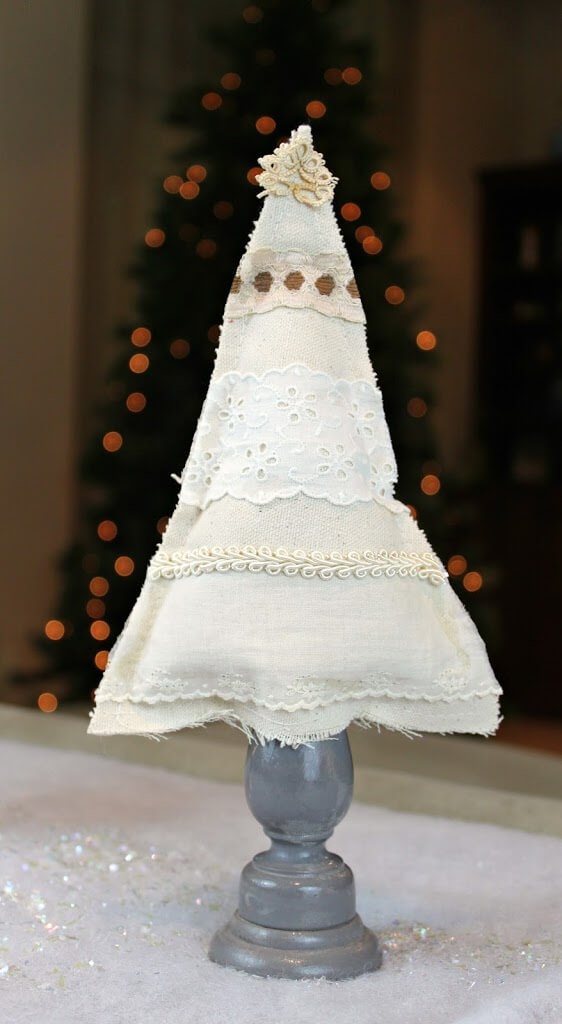 If shabby chic is your style, you might want to add this primitive candlestick tree to your list of the best white Christmas decor ideas. Vintage lace and textured canvas are a tactile wonderland, and this tutorial is easy to customize to your personality and décor palette. To give these charming trees a Bohemian spin, try adding multi-color pom-poms. For a farmhouse feel, use plaid or buffalo check ribbon instead of lace. These trees do not have to be stationary decorations, either. If you leave the lace a little loose, you will have a seasonal earring holder. Imagine the possibilities!
19. Dramatic Spray of Glitter Grass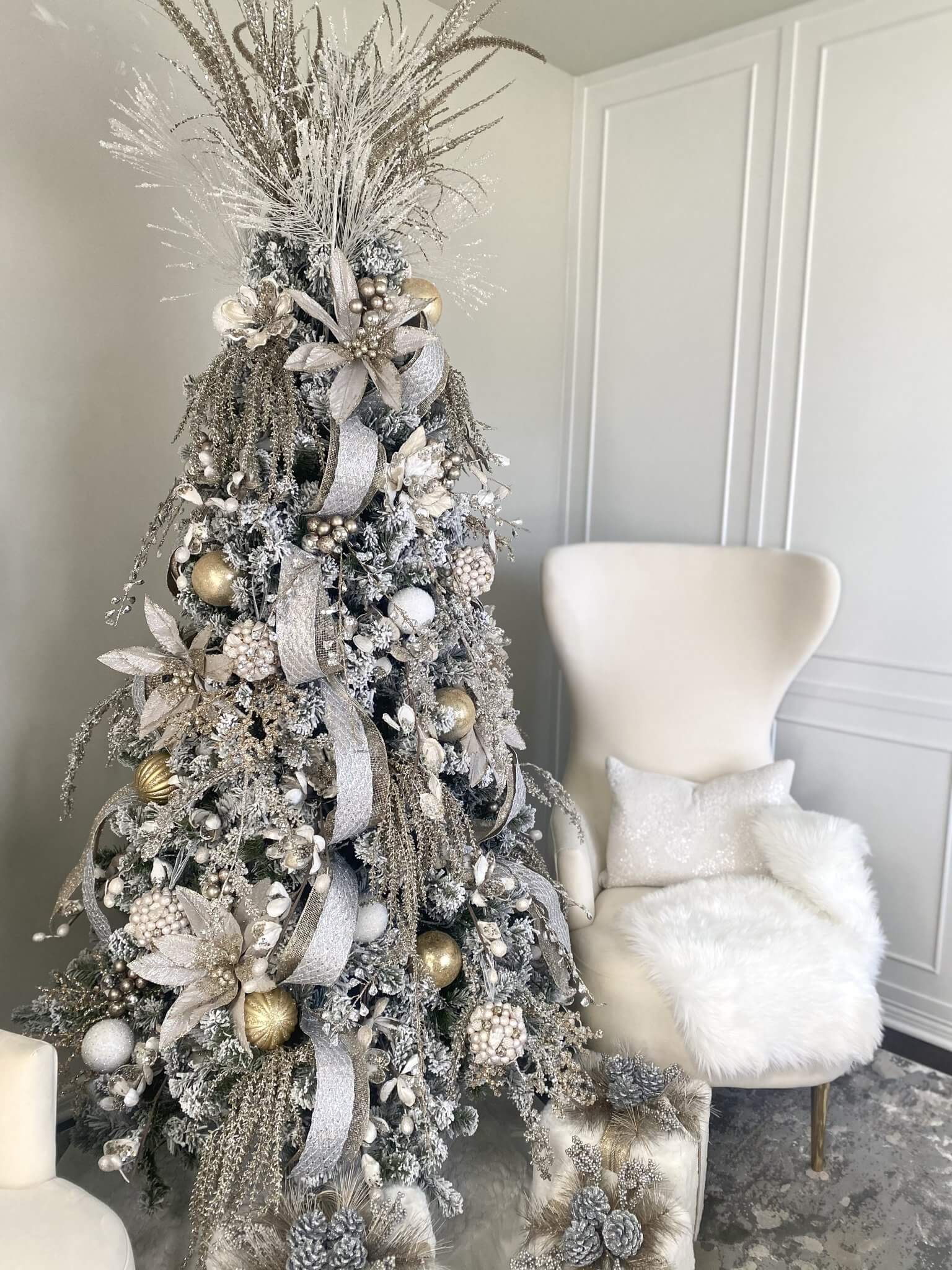 Non-traditional white Christmas home decor ideas can be difficult to track down, but this striking display of grass might be exactly right for your space. As shown in this picture, it can be used as a tree topper. Make a statement on your mantle by placing a branch in a vase. For maximum drama, try adding more than one sprig to your display. Because a spray of silver glitter is versatile, you can use these as design accents on their own or use them to create flourishing silver displays. To give the illusion of fresh-fallen snow, try layering this silver spray with deep green evergreen decorations.
20. Fluffy Faux-Fur White Christmas Tree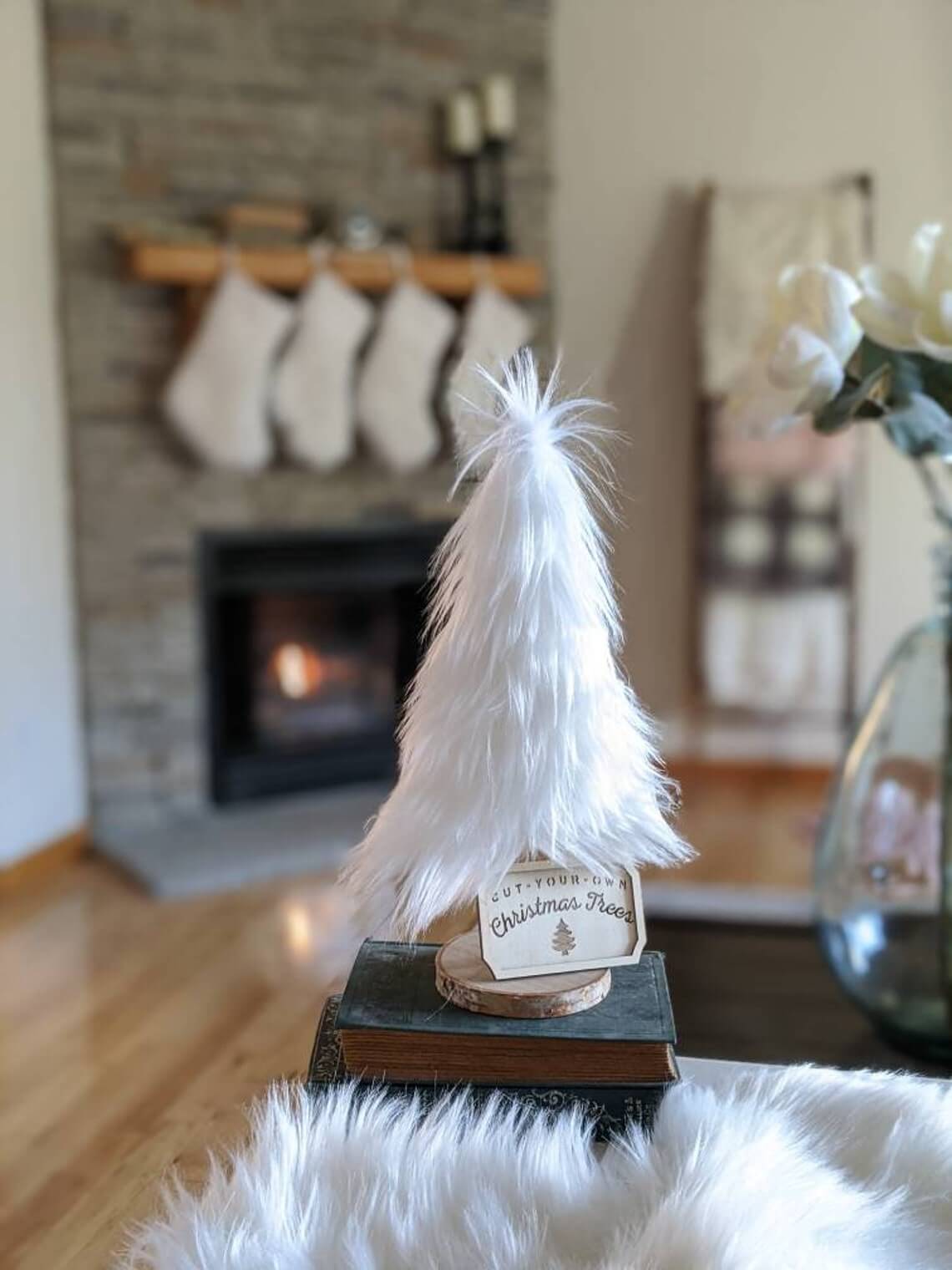 Four sizes and five color options mean you have plenty to choose from to construct your ideal white Christmas space. If you plan on displaying your fur tree against a wall, you can also save a little money by selecting to have only one side carpeted in faux fur. Larger trees are sold with a small wooden plaque that would fit perfectly in a rustic or modern farmhouse living space. You can create a wonderfully white wintery ambiance with either one or a forest of these charming trees. Varying the fur color and size will create a more natural forest appearance. Populating your space with only white trees will result in an ethereal effect.
21. Angel Feather Remembrance Christmas Ornament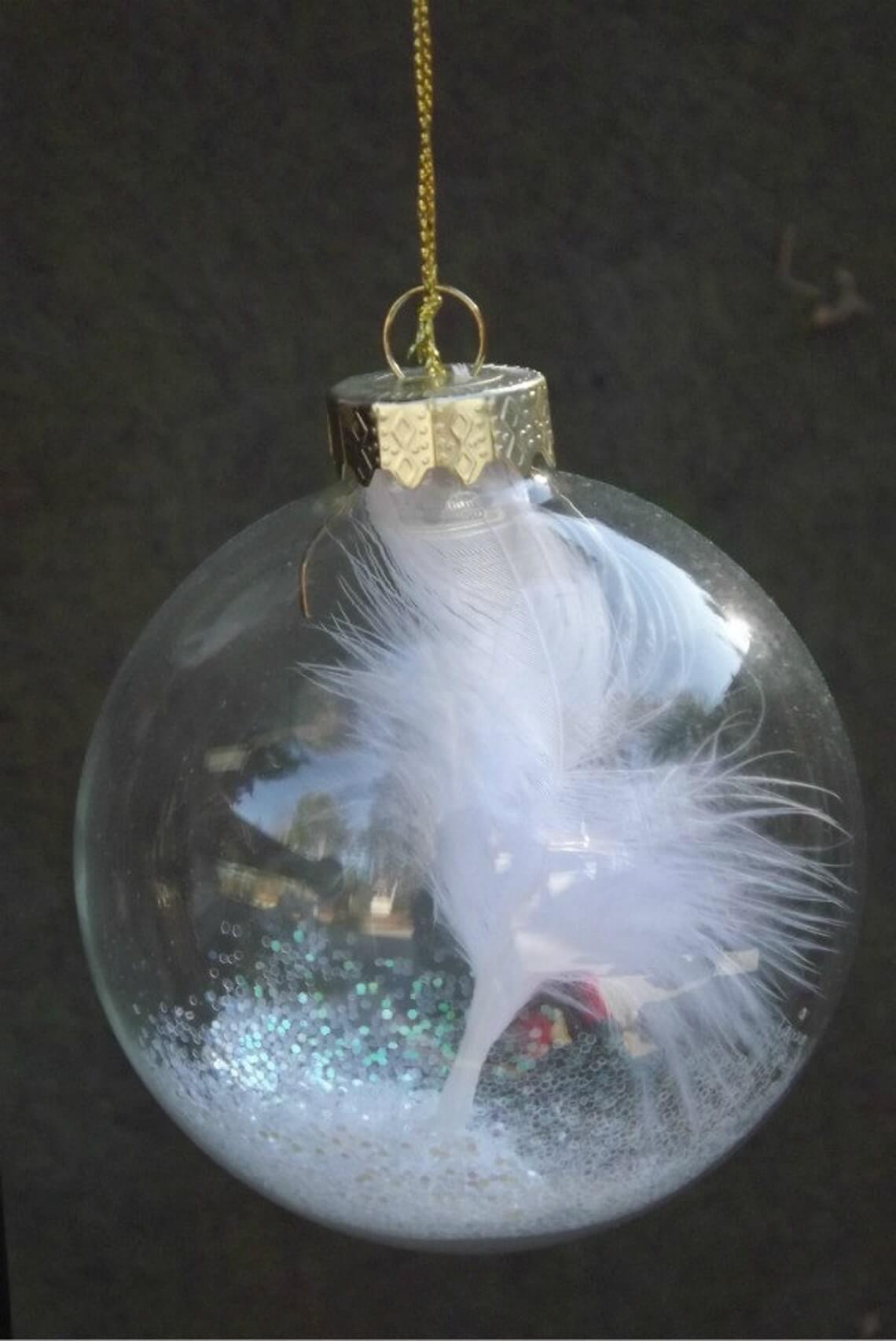 Suspended in a clear hand-blown sphere with iridescent glitter, this ornament is a poignant reminder of anyone who is no longer here to celebrate the season. This ornament can be in honor of a family member, friend, or pet. While it may not make their absence any easier, this ornament is a special way to express both love and grief. Every time you see this remembrance ornament, you can honor the departed as he or she lives on in your memories. This sympathy ornament is a way to include that lost loved one even though he or she has transcended this existence.
22. Scandinavian-Style Origami Star Christmas Ornament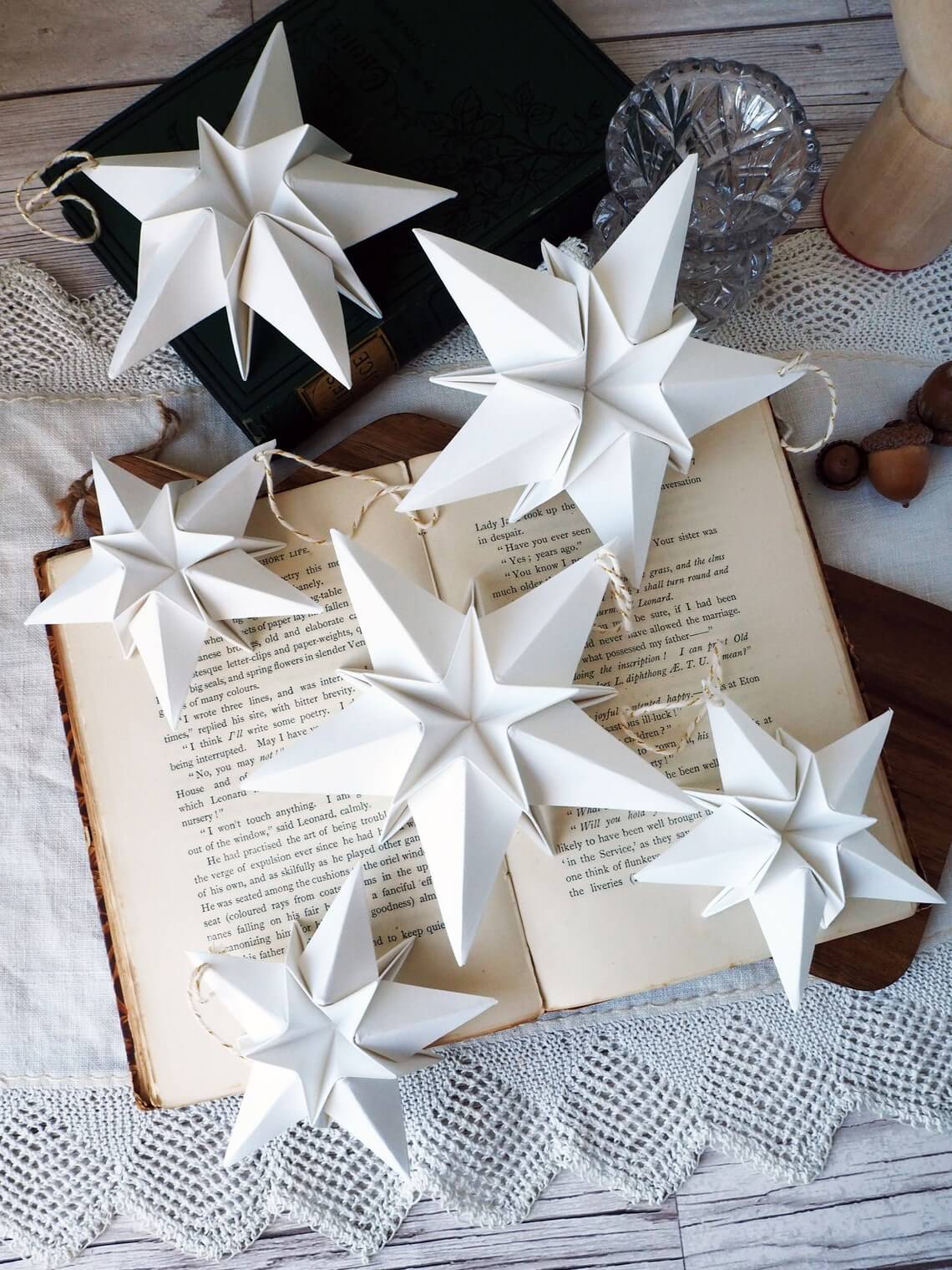 Simple geometry and excellent craftsmanship are on display with these Scandinavian-inspired Christmas star ornaments. The double-starburst design offers visual interest and inspires energy. Each is strung with metallic twine to keep the natural feel. The white paper is simple and versatile enough to fit into most décor schemes including even tricky minimalist, Japanese, Japan, and Scandinavian spaces. You can choose between two sizes or a bundle that includes both. Layering different sizes cultivate a sense of dimension. This Etsy shop does take custom orders in case you need different sizes or perhaps silver, gray, or cream stars.
23. Set of Six Glorious Glass Globes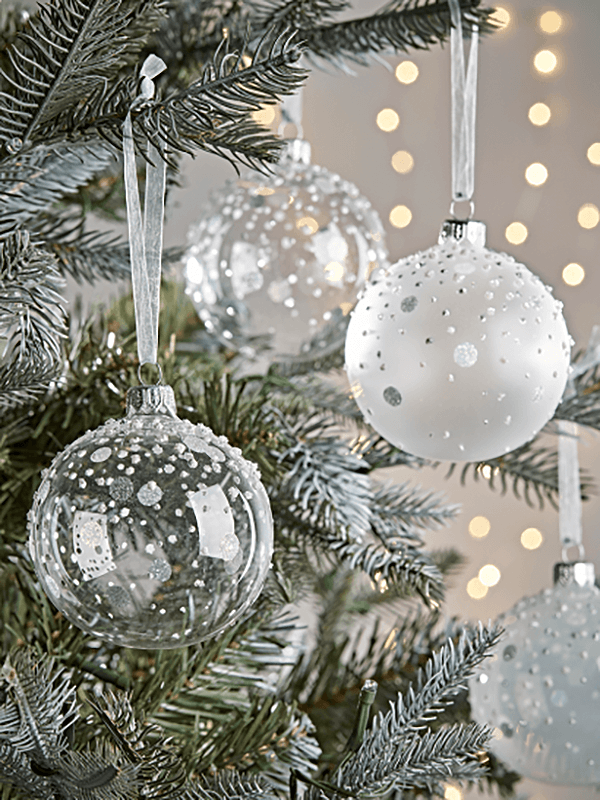 Featuring both glossy and matte finishes, these ornaments offer the magic of both ice and snow. Each glass ornament is embossed with waterfalls of glittery circles that mimic snow falling. Because translucent white and clear glass are compatible with most themes, you will be able to use this set of six ornaments year after year. The best white Christmas decor ideas often offer a variety of colors and textures, and this ornament set does just that with a variety of whites, silvers, and grays. Contrasting textures between hard glass and gossamer organza help add dimension and tactile appeal.
24. Deer and Tree Wintertime Scene Candle Holder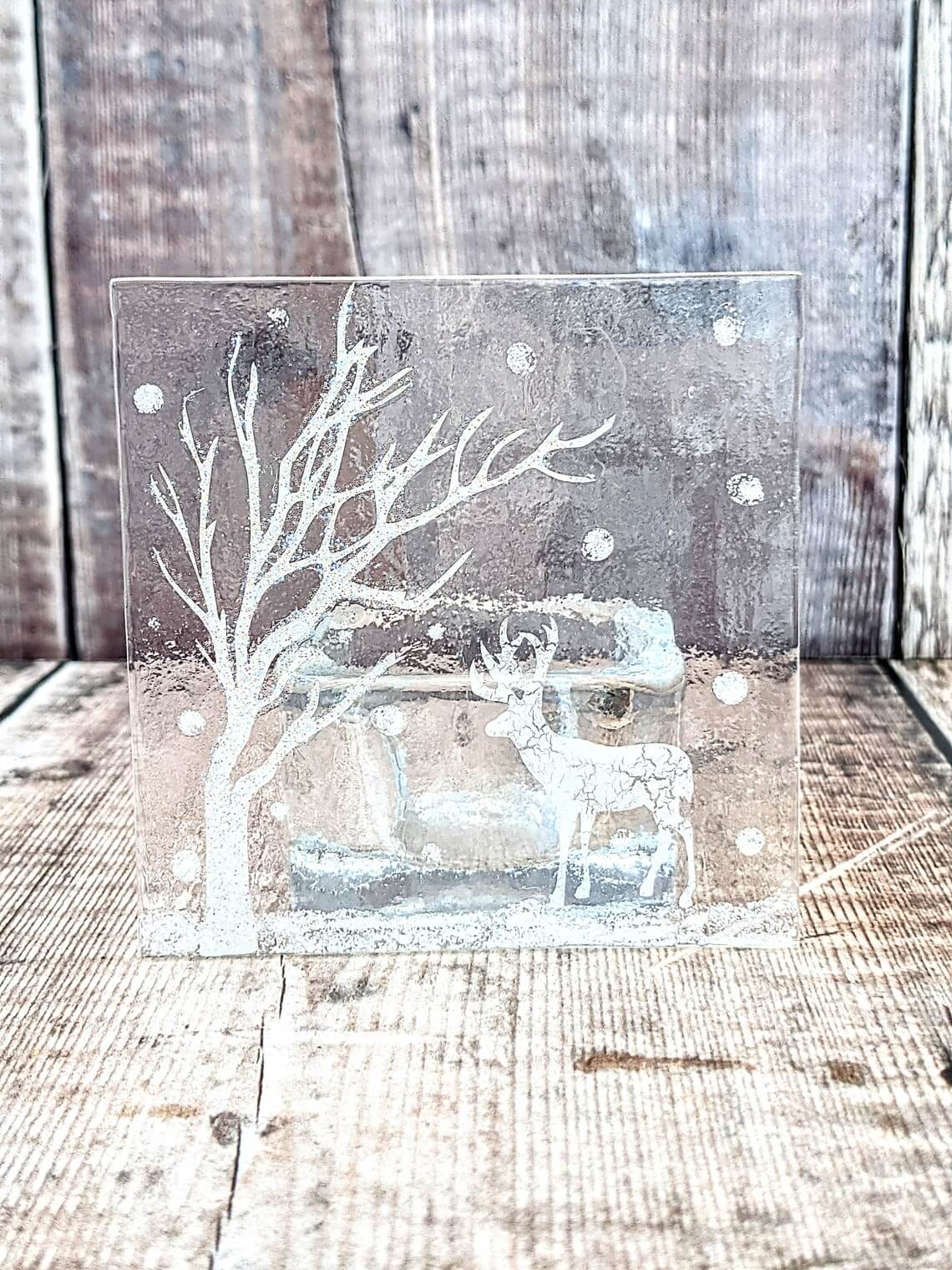 Glistening like a sheet of new ice, this candleholder will bestow magic and movement upon your space. The best white Christmas decor ideas involve incorporating a variety of textures, and this candleholder mimics the magic of winter itself. When unlit, the white and clear colors are cool and shimmery. Light a candle inside and the deer and tree will come alive and this candleholder will be transformed into a statement piece. For those who love the glamorous decor, try pairing it with ornate gold candlesticks. Slide it next to some distressed decorations, and you have a farmhouse dream.
25. Quiet Snowfall — White Velvet Poinsettia Wreath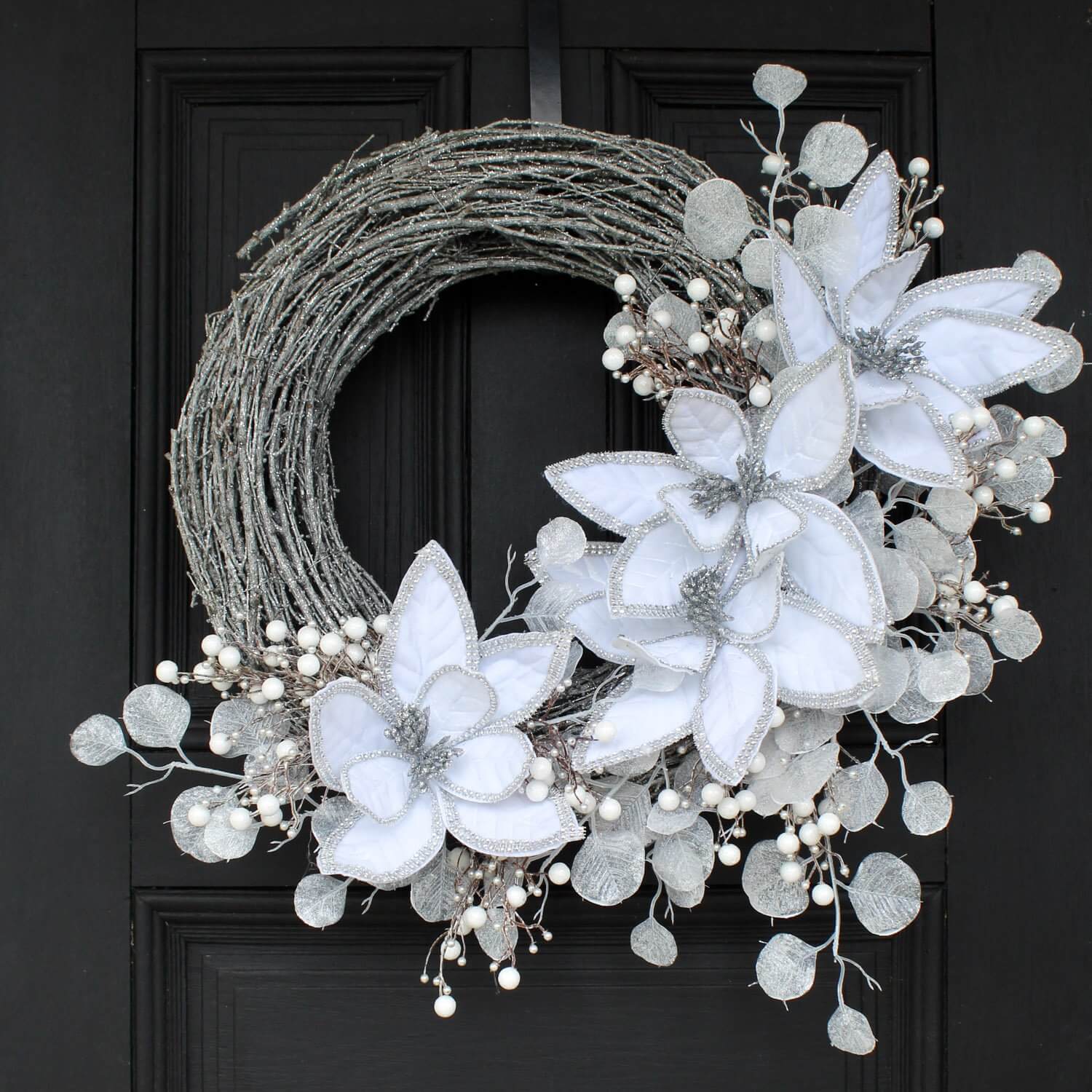 This wreath has it all: rhinestone poinsettias, soft velvet, sparkly glitter, eucalyptus leaves, and white berries. Shades of cool grays and silvers greet guests in a sophisticated spray of shimmers. Soft velvet poinsettias soften the wreath and help welcome anyone who enters. The best white Christmas decor ideas begin at the front door, and this glamorous wreath is an excellent start. Of course, you do not have to put it on your front door — it might look best on your mantle or in your entryway. Wherever you decide to place it, this wreath exudes the same soothing tranquility as a dawn snowfall.
26. White Christmas Shimmering Snowflake Garland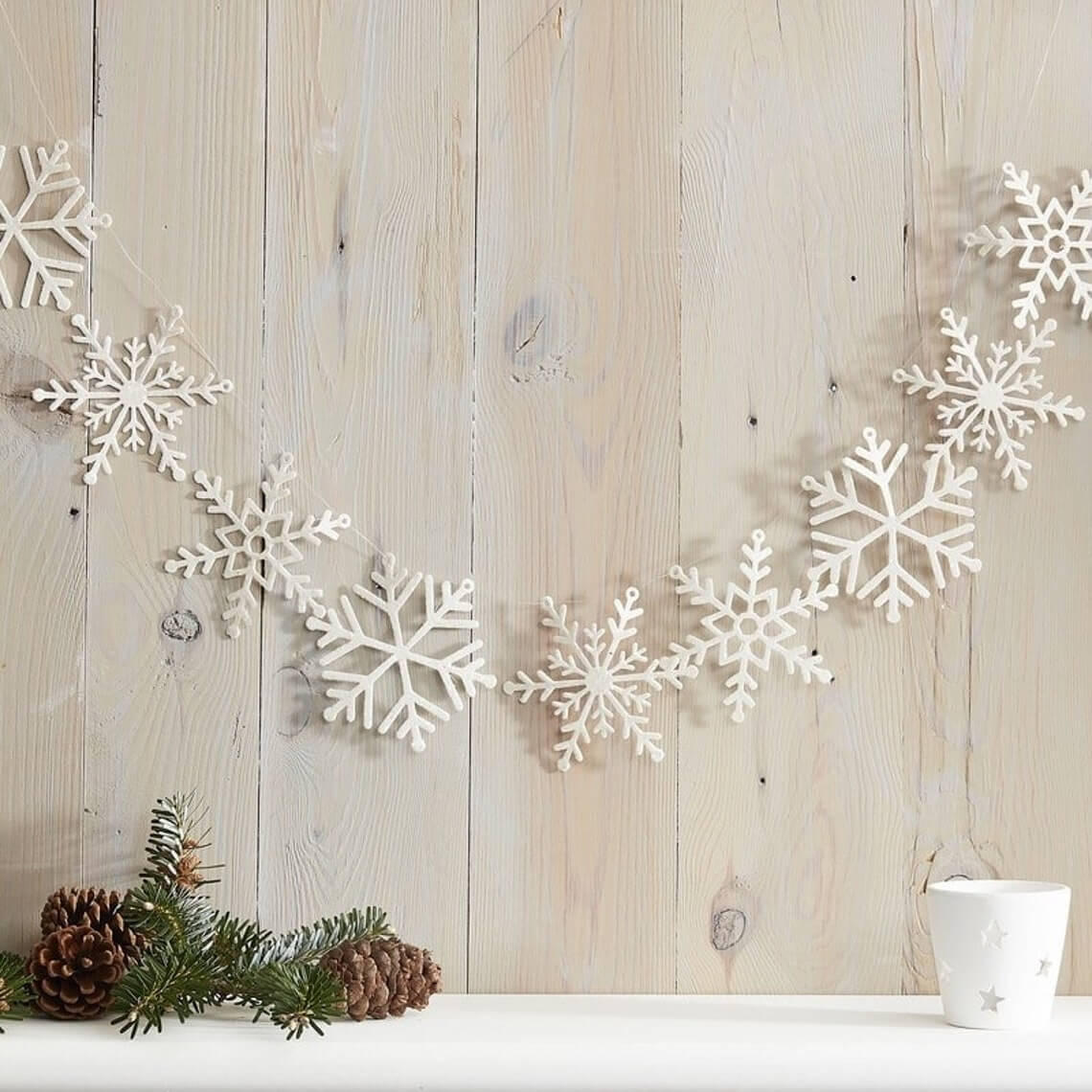 Draping glittering snowflakes across every surface may just be the best way to decorate for a white Christmas. This listing offers over six feet of sparkling white snowflakes perfect for building a white Christmas atmosphere. Dazzling sparkles catch the eye while three different snowflake patterns keep one's attention. Because snowflakes are in season all winter long, you can keep them out throughout the season. Hang it from the fireplace, on a staircase banister, or anywhere that needs some extra wintery charm. For a fairytale white Christmas vibe, this garland does a great job emphasizing other white glittery decorations.
27. Unique 2-in-1 Glass Vase Candleholders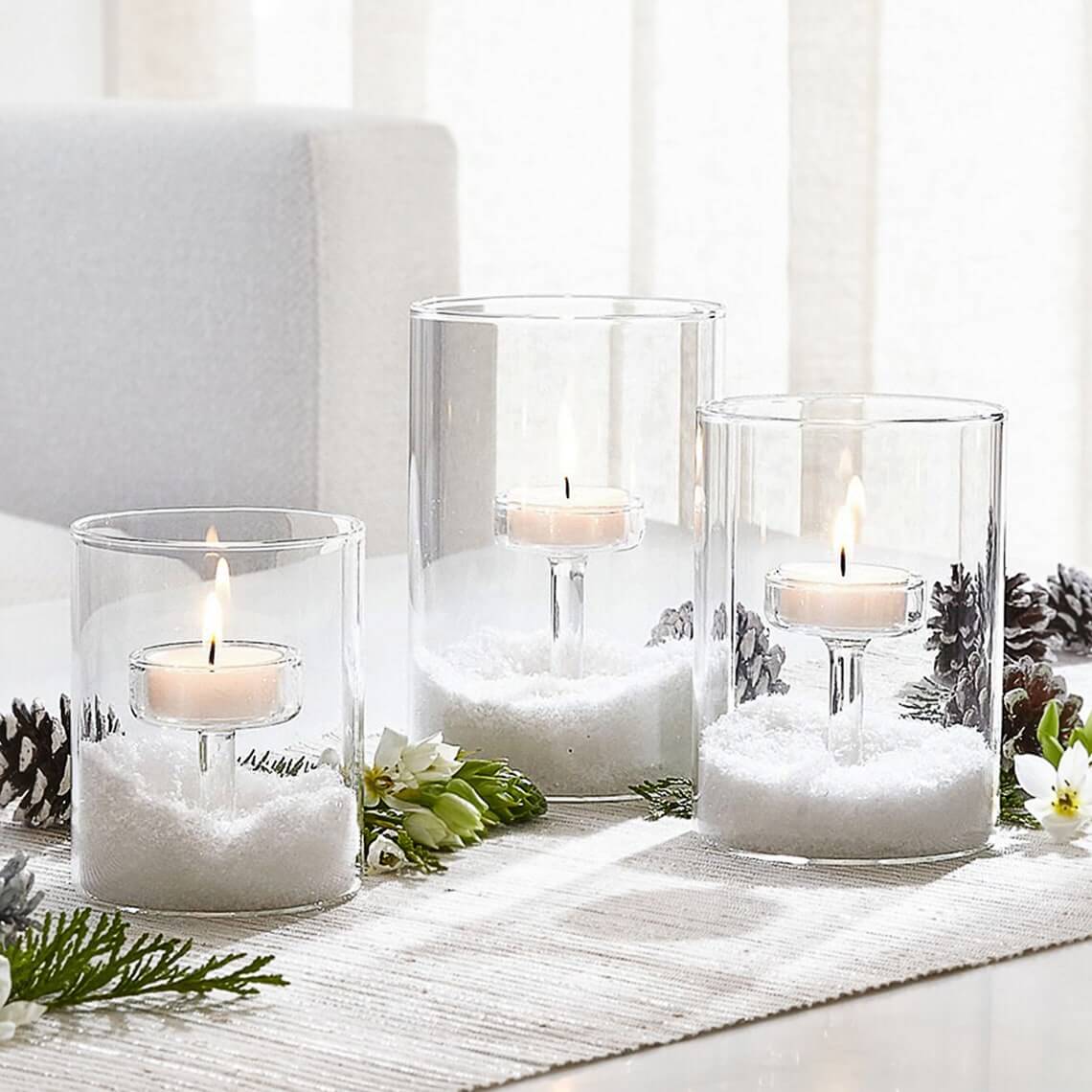 Simple and elegant, these vase candleholders elevate any space. As shown in this image, you can fill it with artificial snow. Alternately, you could fill each candleholder with anything as long as it does not pose a fire hazard. Imagine white-painted acorns for a woodsy white Christmas or even silver hex nuts to add some industrial grit to your white Christmas celebration. You can purchase these either as a set of three or if it suits your decorations better, individually. Because these are designed to showcase simplicity, they could pair seamlessly with minimalist, Scandinavian, or Japandi spaces.
28. Feathers & Pearls White Christmas Ornament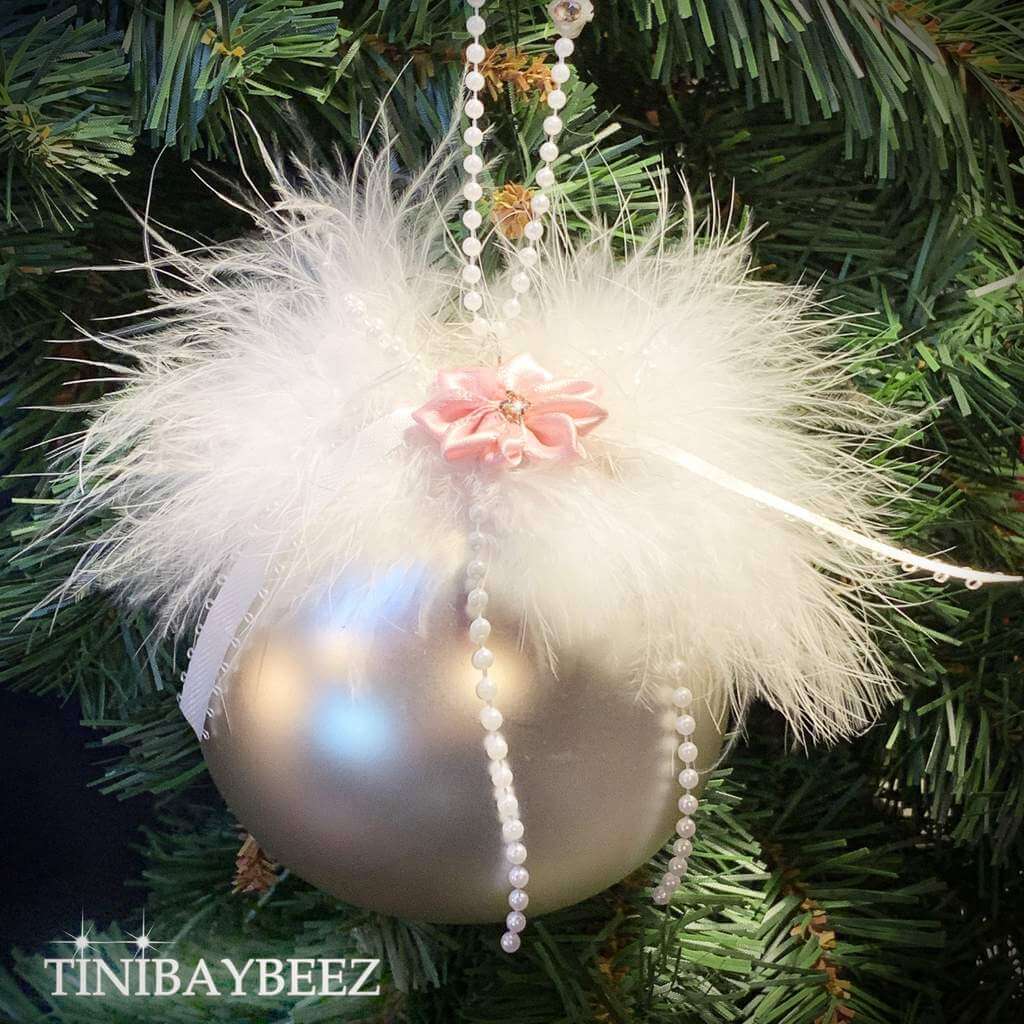 Gossamer feathers, petite pearls, and the ornament's matte finish combine in a delicate ballet perfect for creating a white Christmas ambiance. The soft, downy feathers contrast with the ornament's hard, geometric edge to an almost magical effect. Made from tiny pearls, even the ornament hanger adds elegance and sophistication to the overall effect. Because each ornament is handmade, each is unique. You can fill a tree with these to cultivate an ethereal white Christmas effect. Although each ornament can stand on its own as a statement piece, it can also step back to let another element shine.
29. Glamorous White Christmas Ornaments Fit for Royalty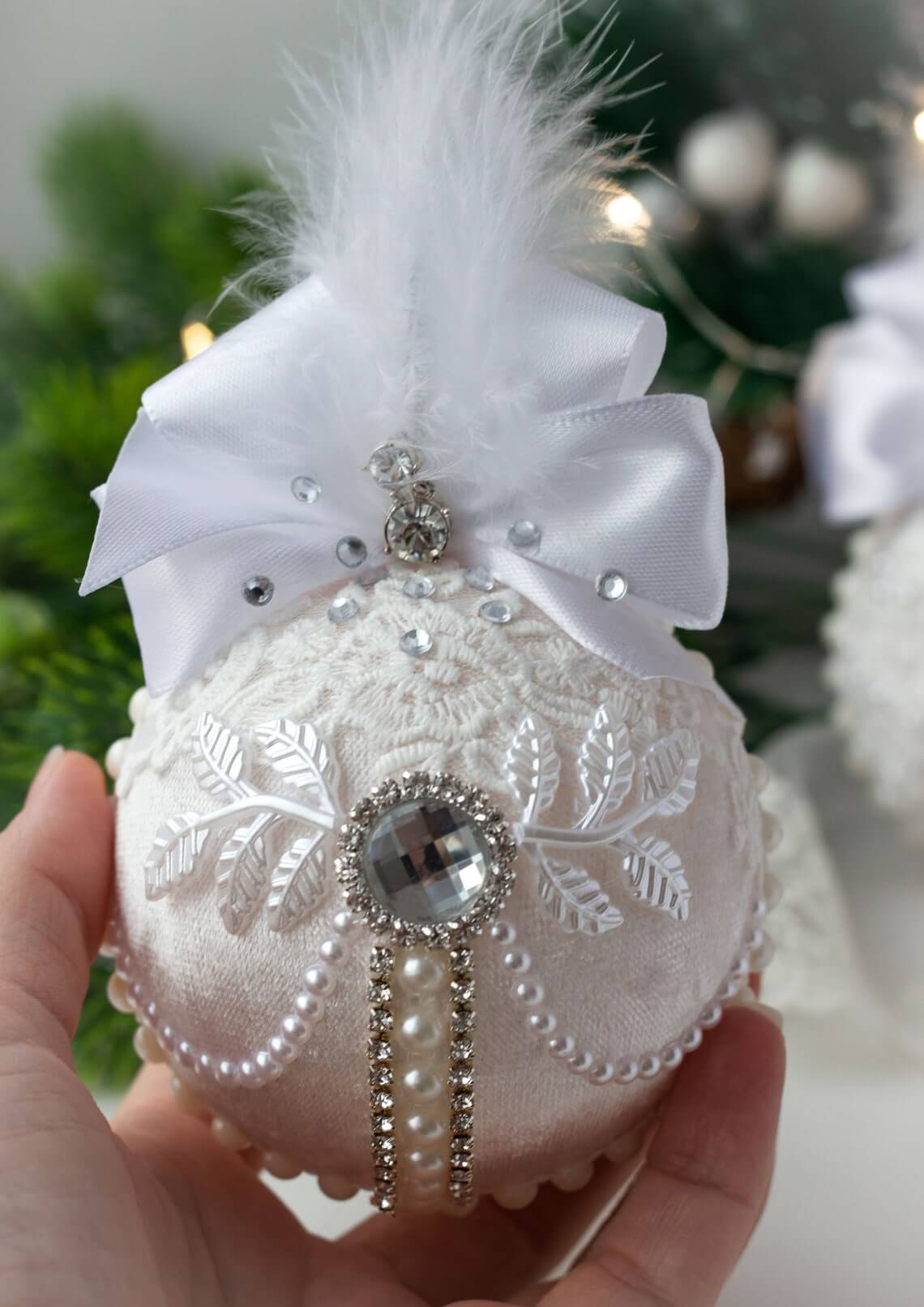 Each of these ostentatious ornaments is smothered in velvet and decorated with a selection of lace, pearls, brooches, feathers, and ribbon to create a handcrafted masterpiece. Underneath the velvet is a hard plastic ornament, which means no worrying about glass breakage. Because these ornaments transcend simple decorations and are works of art in their own right, you may be tempted to display them all year long. This ornament set comes with three unique designs, but the Etsy shop is open to custom orders should you have something special in mind. If paired with simple gold or silver ornaments, these regal decorations will be conversation-starting showpieces.
30. Suspended Acorn Ornaments Made from Natural Materials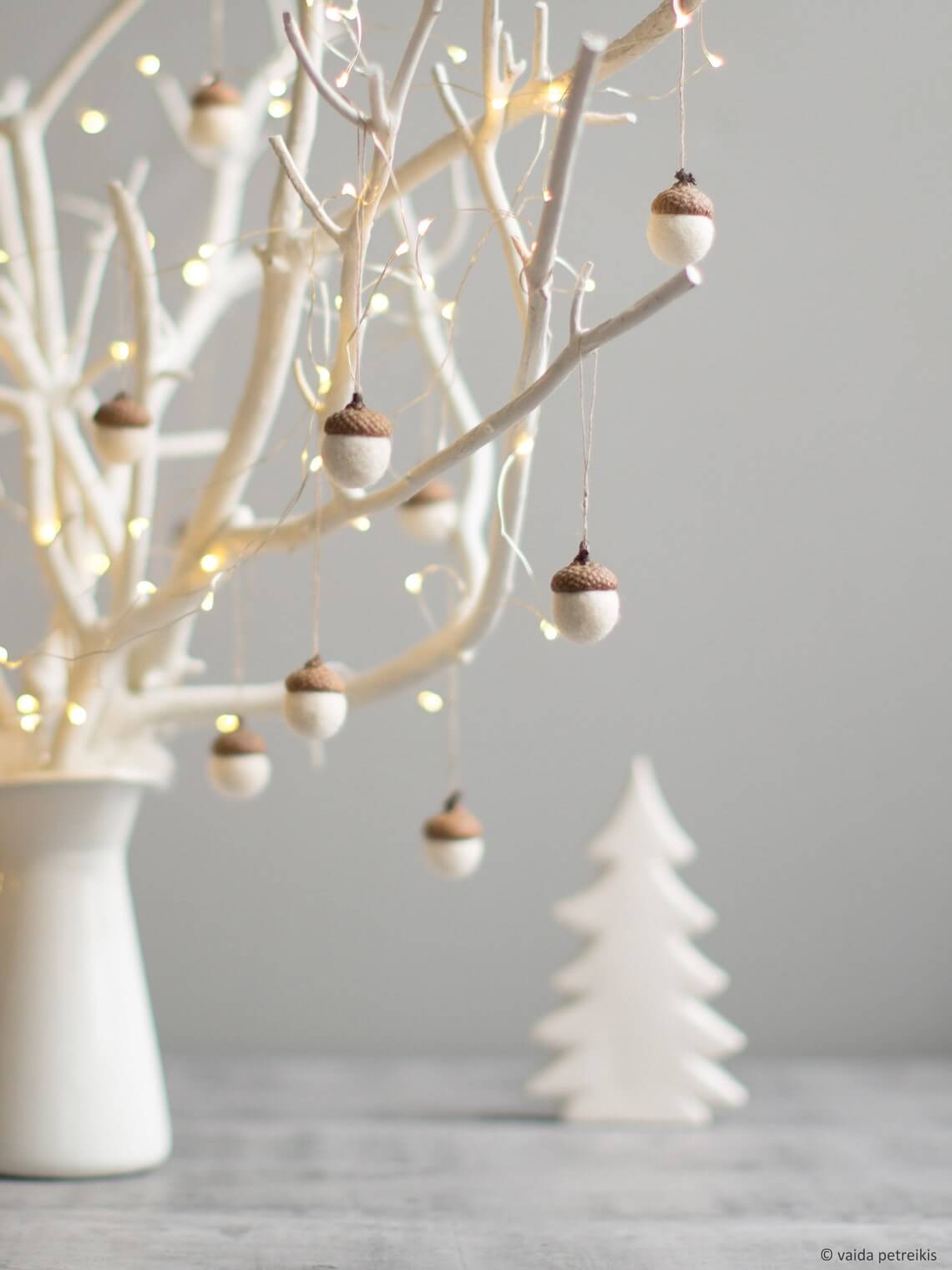 Featuring a real acorn cap and a white felt body, these ornaments are perfect white Christmas home decor ideas for rustic, natural, or Scandinavian-themed spaces. While they can be used as ornaments, you can also use them to create a sylvan atmosphere on tables, mantles, or countertops. With brown in your white Christmas color scheme, your space will feel both wild and inviting. These six acorn ornaments are an Instagram-worthy way to dress up a hot cocoa or coffee bar. Because each set is handmade and arrives in delightful packaging, these ornaments make fantastic presents. As each acorn cap is unique, these ornaments truly are one-of-a-kind gifts.
30 Magical Ideas for White Christmas Decorations to Build an Unforgettable Christmas
Do not be afraid to mix and match ideas, designs, and crafts. This is your space, and the possibilities are endless. These ideas are great springboards to find the perfect décor for your space and your family. Customizing many of these decorations for your space is easy to do; it just takes a dash of hard work and a sprinkle of imagination. For those who are crafty, get ready to break out the spray paint, glitter, garland, and glue guns. If you are not crafty, there are plenty of exciting ideas that do not require a single glue stick to make happen.
Christmas is a magical time of year that brings families and friends closer together. When that time is spent in a beautifully decorated space, this magic is amplified. As you assemble your white Christmas home decor ideas and bring them into reality, you are creating the spaces in which favorite Christmas memories will be made. Maybe some of these craft ideas, tree ornaments, or garlands will be new traditions for your family and friends in the years to come. You are creating a dazzling backdrop for your loved ones to enjoy the most magical time of year.