Did you know the latest indoor decorating trend can also make the best wooden Christmas decorations? But wood isn't in the usual repertoire of Christmas decor. As the temperature drops, our neighbors are beginning to string up their lights, blow up their inflatable rooftop santas, and thread popcorn by the pound. This is all part of classic Christmas imagery, but the classics can be boring. I don't know about you, but every once in a while, I like to include something unexpected in my holiday decorating.
26 Festive Wooden Christmas Decorations to Bring Joy to Your Home

Bringing natural wood to indoor spaces is the answer to the chaos of modern life. So it's no wonder why the calming presence of wood in the house has been such a hit this year. Why not keep the trend going by incorporating it into your seasonal decor? Exposed wood is sleek and modern. It's also neutral in tone, which means it works for every season. The great thing about wood is that it fits well into the rustic/shabby-chic aesthetic sweeping across the nation. So most likely, it'll fit into your aesthetic, as well.
When decorating with wood, think natural. Wood is an organic substance, so get your inspiration from nature. To get the most out of this trend, you can pair wood with pine garlands, unshelled nuts, cranberries, burlap, copper, or marble. Wood is fortunately easy to paint and customize to your liking. If you get stuck, you can always let the wood's natural grain do all the work for you.
It's beginning to look a lot like Christmas. If you haven't started decorating by now, it's time to get started. Now that you've received your primer on wood, here are 29 Christmas wooden decoration ideas.
1. Rustic Wooden Merry Christmas Wreath Sign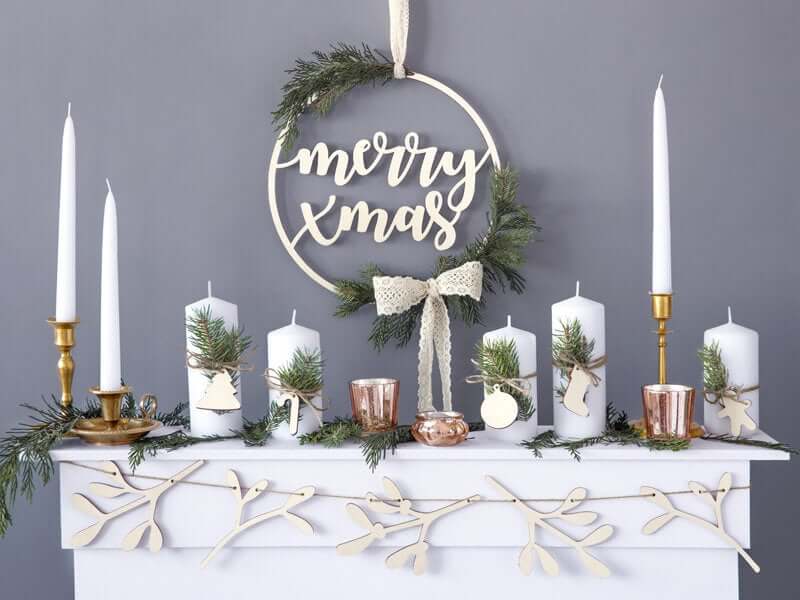 The playful wood lettering on this festive sign is the perfect way to greet your guests this holiday season. You can hang this sign on a wall, in a window, or on the front of your door to take the place of your wreath. This sign would also make an excellent focal point for your table's centerpiece or a great backdrop for holiday-themed photos. You can dress it up with candles, ribbons, and sprigs of cranberries, or dress it down with a single piece of twine for a rustic look. If you have stairs, try tying it to the banister. The simple design makes it easy to incorporate this sign with the rest of your wooden Christmas decor and truly make it your own.
2. Custom Wooden Christmas Gift Tags, Set of 12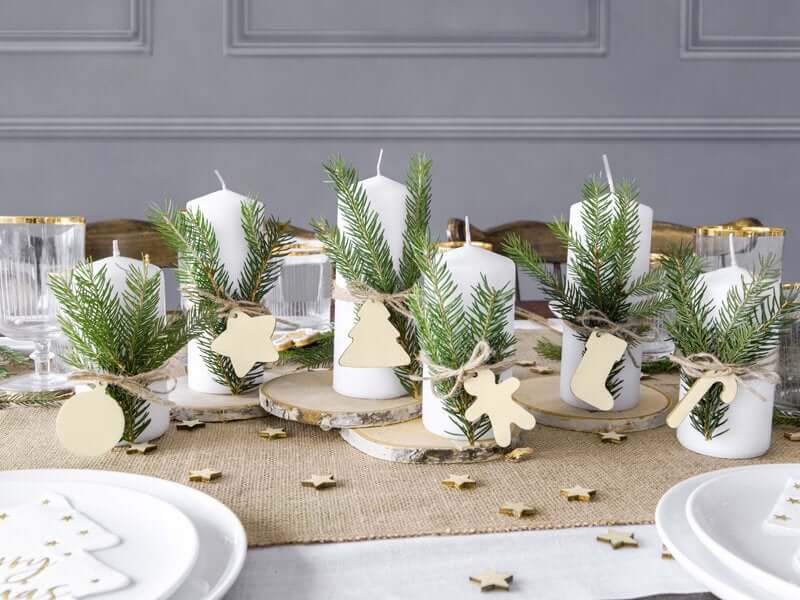 Gift tags are important, or else you risk ruining that impressive gift-wrapping job with an unsightly marker scrawl. If you want to make your gifts extra special this year, custom tags are the way to go. These tags come in adorable Christmas wooden design shapes, such as candy canes and gingerbread men. At just under two inches in length, they have enough room to display the names of your loved ones. Hang them on wrapped gifts, bottles of wine, or even place settings at the dinner table. You can also string them together to create a garland for your Christmas tree. Leave them unfinished and raw or decorate them with buttons and red-and-white gingham for a unique, wintery touch. All it takes is a little imagination!
3. Cheerful Garland Chain of Wooden Gingerbread Men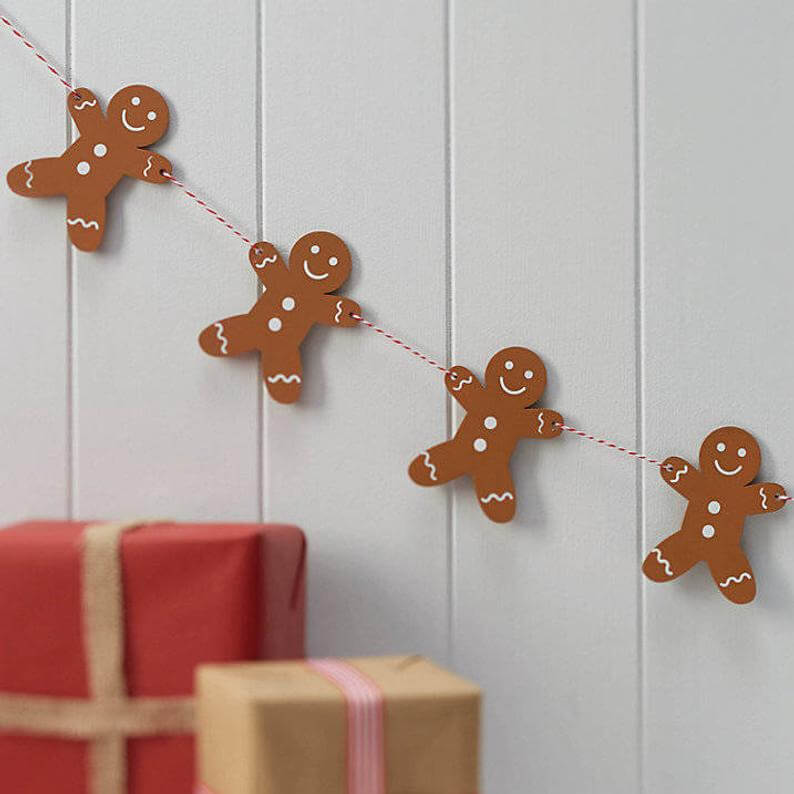 What's cuter than a smiling gingerbread man? A chain of gingerbread men, of course. This garland measures 1.5m long, the perfect length for your tree. The gingerbread men are about 9.5cm tall, each one wearing identical frosted grins and tied together with red and white twine. Some Christmas decor ideas for this garland include looping it around your tree, banister, or doorway. You can also drape it over the front of your mantle or above your child's bed. For extra credit, bake a plate of gingerbread cookies and wrap the garland around the dessert table. Let the smell of cookies elevate the Christmas wooden design experience.
4. Merry Christmas Wooden Cut-out Confetti, Pack of 20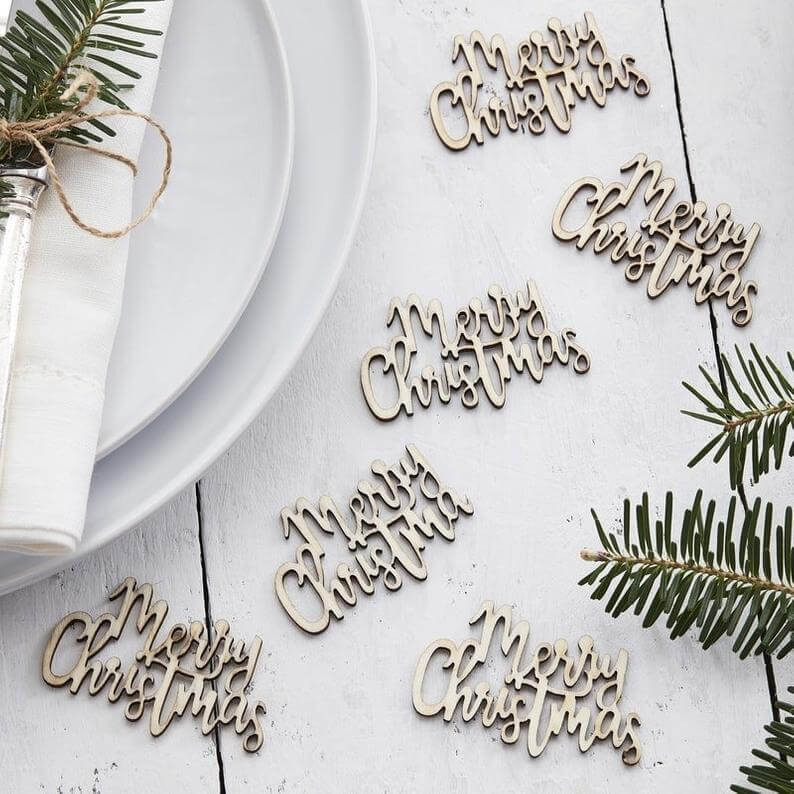 When it comes to holiday decorating, the devil is often in the details. Everybody has the tree, the lights, and the lawn ornaments figured out. So how can you stand out from the rest? These "Merry Christmas" cut-outs are the answer to that dilemma. Made of wood with slightly burnt edges, the confetti will add some texture and visual interest to your rustic tablescape or wrapped gift. Simply scatter them across your table or throw a few into gift bags, baskets, and boxes to make unwrapping even more fun. Try sinking them into the frosting of your cupcakes, or leave them peeking out from your bowl of potpourri. If you've decorated every inch of your house but feel like it's missing that extra something, give this confetti a try.
5. Oversized Wooden Holiday Star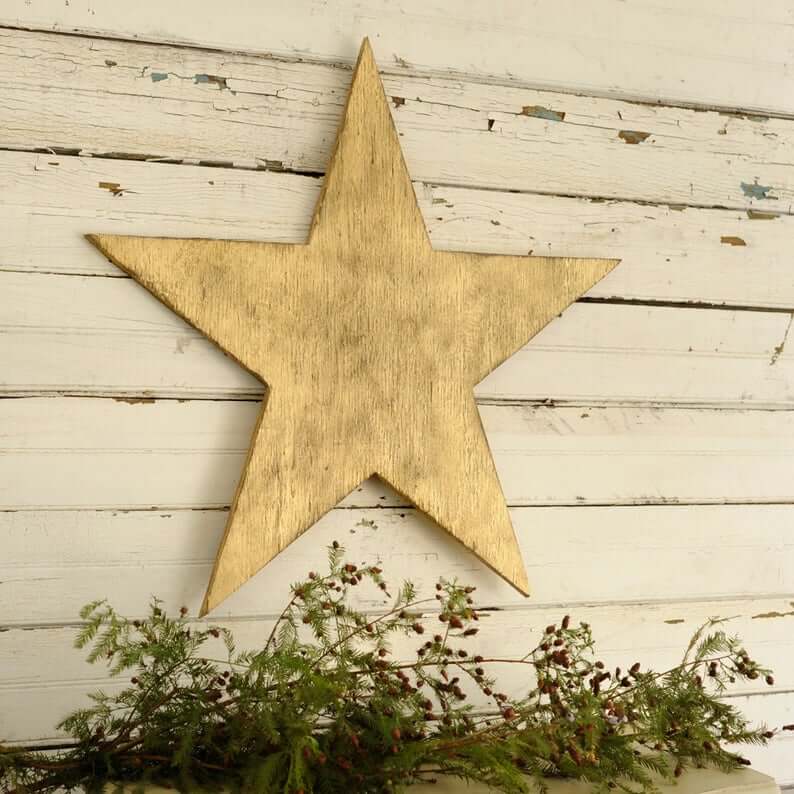 The Star of Bethlehem is a Christmas tradition. If your decorating style is inspired by the Nativity story, this massive piece of pine is sure to be the "star" of your home this winter. It comes with a keyhole in the back, so it's ready to hang both inside and outside your house. You can even customize the color to complement your decorating style. Add a single star to your frame collage, or hang a cluster of stars in colors that match your home's color scheme. The distressed finish makes this charming as a lawn ornament, as well.
6. Holiday Wooden Monogram Snowflake Decoration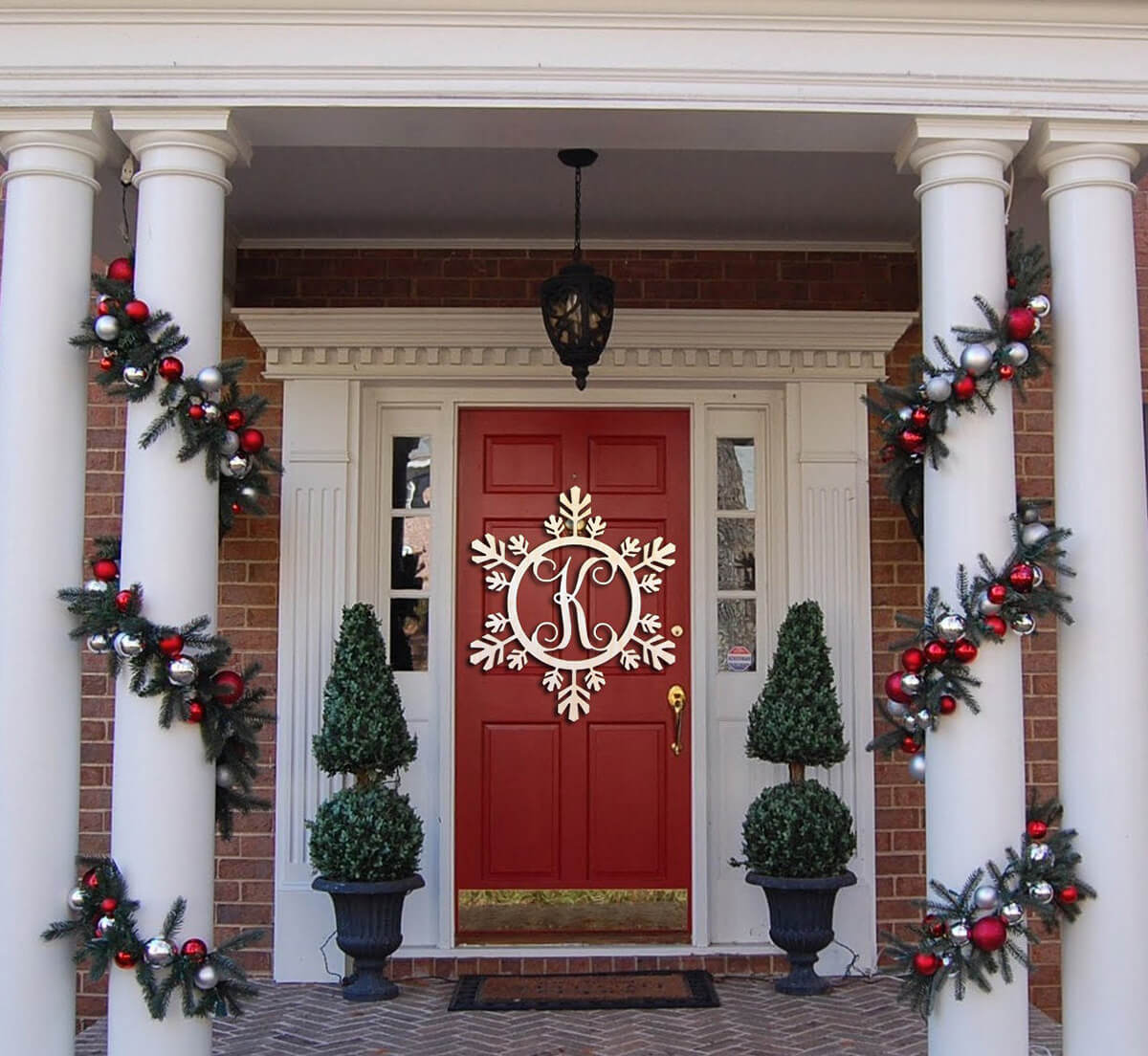 This isn't just a giant snowflake—it's a giant monogram! The lettering is expressed in an elegant script and measures 24" tall. Your visitors will know exactly which house is yours when you hang this on your door. Try painting it a contrasting color to give your walls a pop, or keep things cozy by letting the natural wood shine through. Pair this snowflake with twinkling lights or a giant bow to make things festive. We can't deny that this two-foot-tall snowflake is impossible to miss, so it would also make a memorable prop for your Christmas card photo.
7. Handcrafted Rustic Wooden Christmas Trees, Set of 3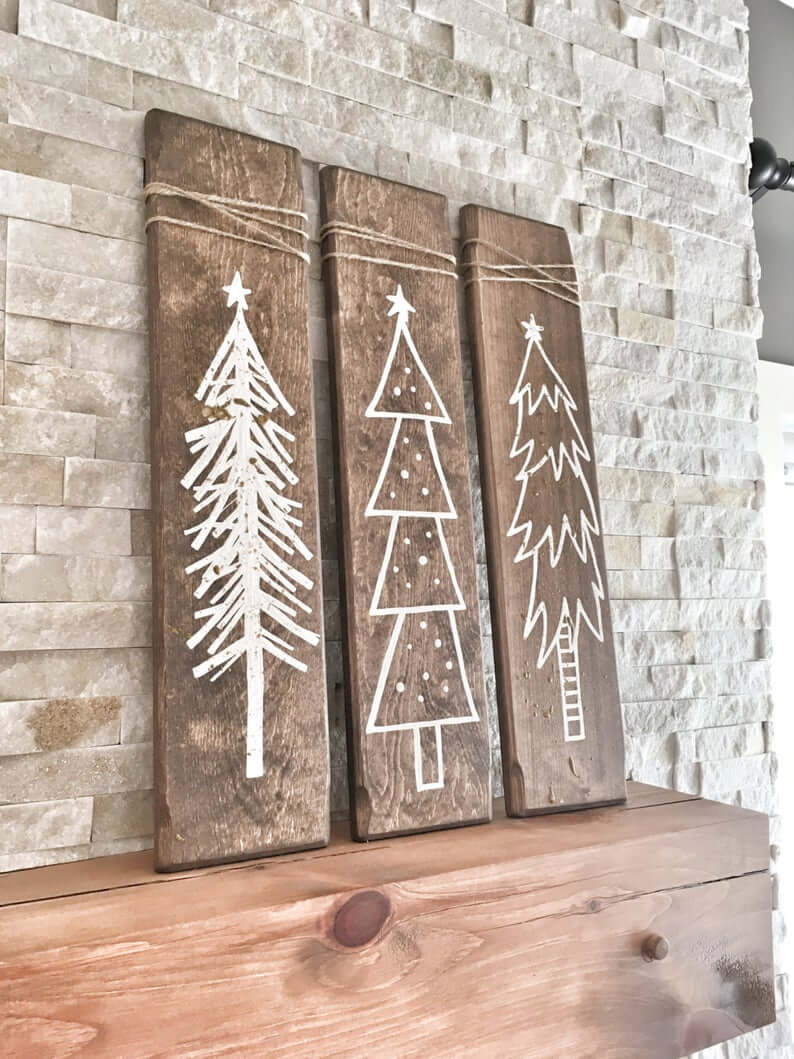 These stylized conifers are painted on wooden planks that are sanded and stained by hand for that authentic driftwood look. These come already wrapped in lengths of twine, but you can also try rope, pine garlands, or a string of light. If you have a farmhouse-style kitchen, the neutral colors of this rustic trio would add the perfect wintery touch. Use the brass plates on the back to hang them on the wall, or prop them up on your counter or mantel. You can also use them to add style to a shelf. Combine these trees with photo frames and candles of differing heights for a little visual interest.
8. White Reclaimed Wood Star Christmas Tree-topper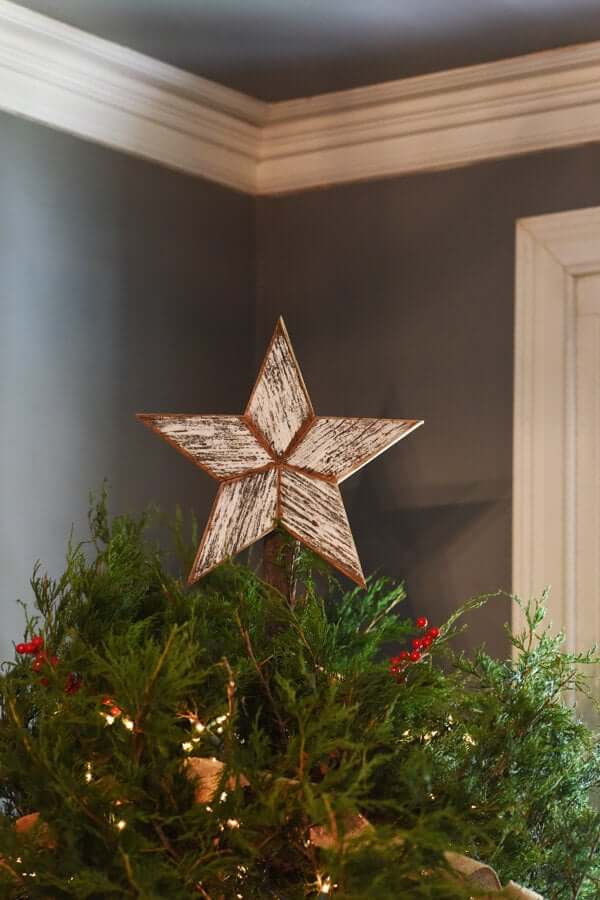 Make a statement this year—and every year from now on—with this 12" tree-topper. There's nothing more classic than a star on top of your Christmas tree, is there? This star is unlike any other because it's made from authentic, aged wood reclaimed from old barns. If barn walls could talk, this star might tell you how much it loves its new perch on top of your family's Christmas tree. Its faded, white-paint finish will look great with trees decorated in a rustic theme. It would also complement trees that are all white, silver, gold, or any combination of the three. The best thing about it is that it's a foot long, so you'll be able to see it from across the room.
9. Merry Christmas Painted Wooden Sign in Frame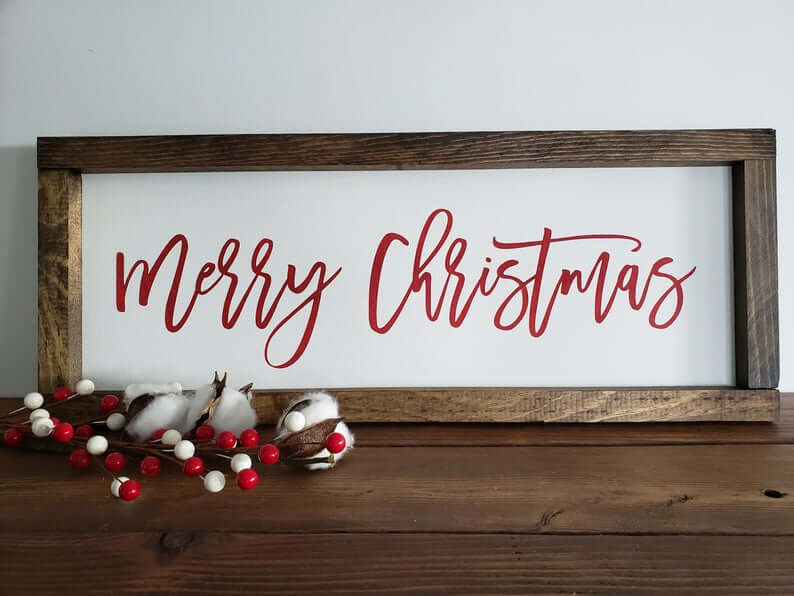 This sign literally says it all. The words, "Merry Christmas," are painted on a white background. The frame comes in a gray wash or dark walnut stain, so you can find the perfect finish for your home. You can use this sign as a wall hanging or a free-standing decor piece. Coordinate it with a checkered tablecloth or a sprig of holly. Try it under your Christmas tree or on your front porch for a barnyard feel. It's also the perfect size to prop up on your entryway table. This sign works both as an inside and outside piece, thanks to the naturally utilitarian nature of wood.
10. Hand-cut Wooden Nutcracker Decoration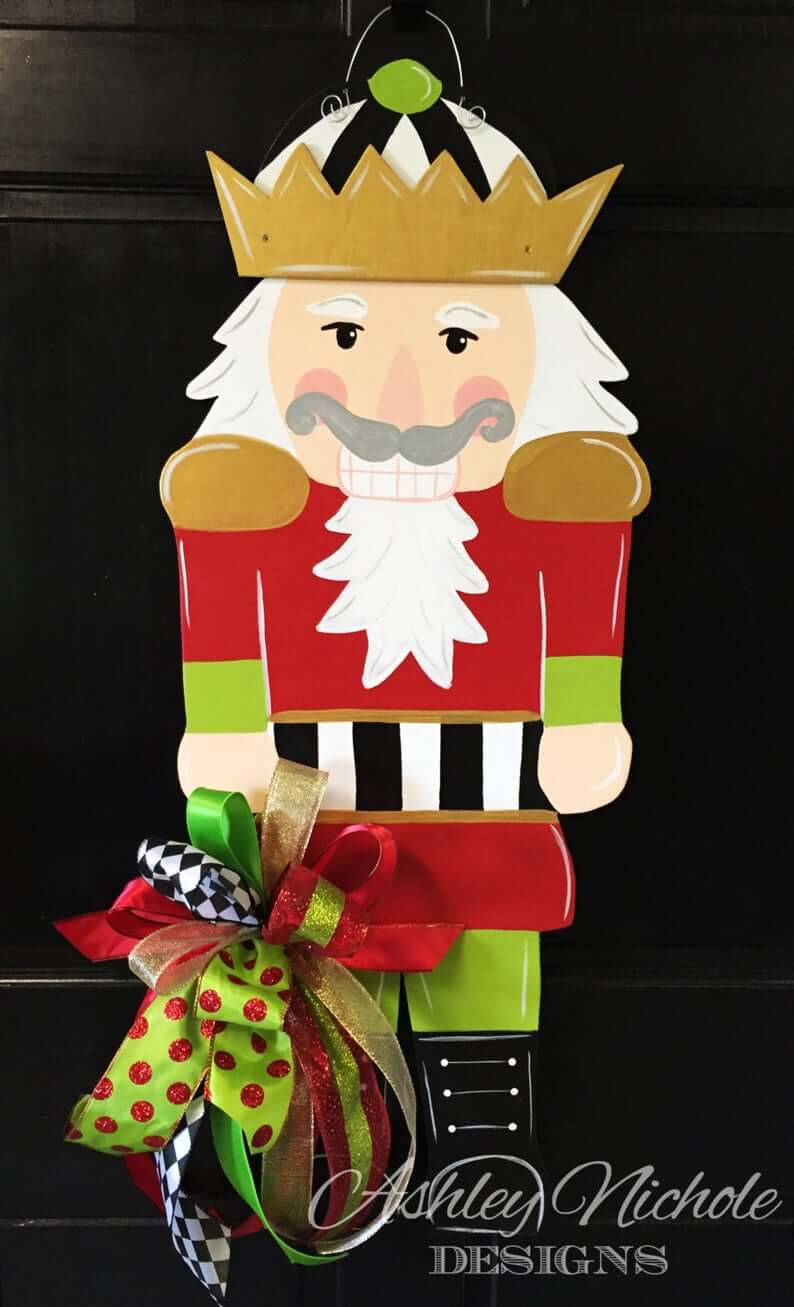 Like Santa Claus and jingle bells, nutcrackers are synonymous with Christmastime. This nutcracker decoration is both dynamic and dramatic, and it's bold enough to stand out in any home. The grinning character is hand-painted on a wooden plank in vibrant colors and comes with a giant ribbon bow. You can hang it anywhere you have room, but try it on your door to distinguish your house from a neighborhood of wreaths. It would be just as enchanting to hang it behind the glass in your window. His friendly smile and fun bow would also make this a great addition to a child's room.
11. Personalized Oak Wooden Napkin Rings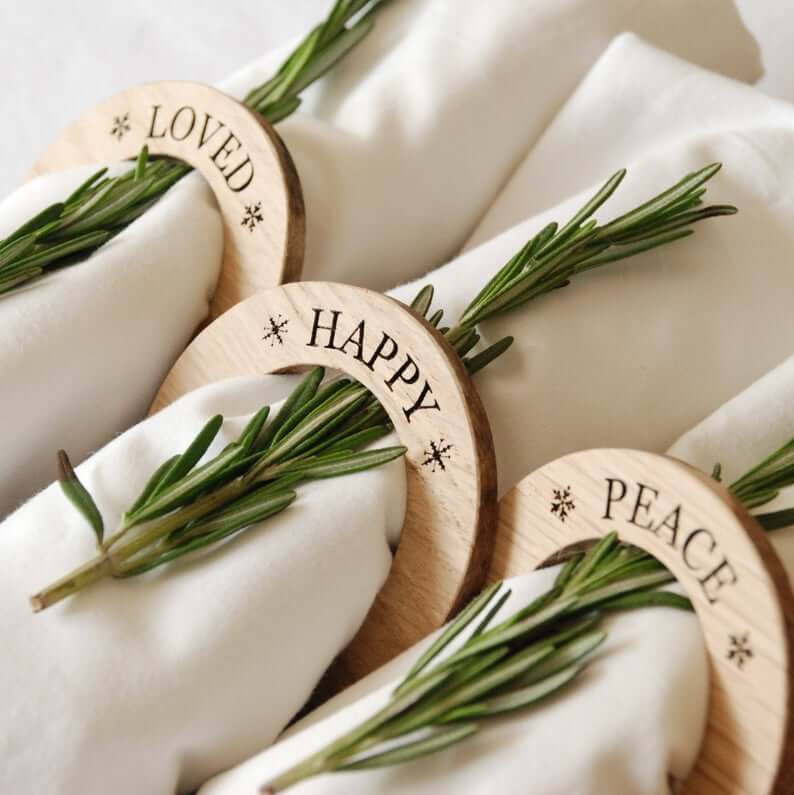 These oak rings keep things chic and tidy. Engraved with snowflakes and the lettering of your choice, they're an easy way to make your guests think you slaved away on your tablescape. In reality, these napkin rings do most of the work on their own. A folded white napkin and a tiny pop of color, such as a sprig of rosemary or lavender, is all you need to elevate your dinner from "quaint" to "elegant." How easy does that sound? For the wintertime, try a red flannel napkins and load your centerpiece with apples in a coordinating shade. These all-natural napkin rings are so unique, they might outshine the Christmas ham!
12. Tiered Wooden Pine Tree Trio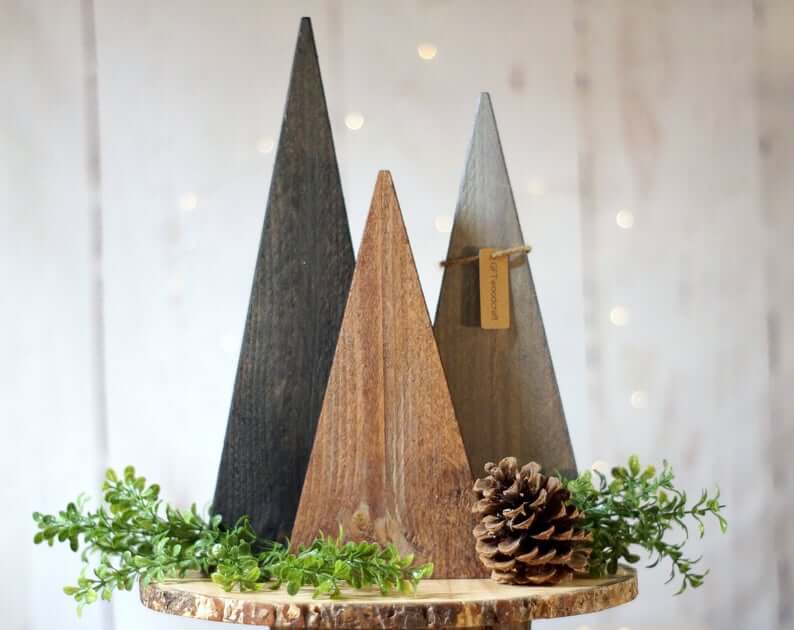 Tiered groupings are a no-brainer when it comes to shelf decorating. You can keep your shelfies on point with this set of three wooden Christmas trees. The reclaimed wood is naturally-aged, wearing nothing but its own history and a tiny lick of paint. With this set, you'll get a tree in soft gray, charcoal gray, and toasted brown, so each one has a character of its own. Pair this decoration on your shelf with a scented pine cone or your favorite succulent plant. Or light a candle, get cozy, and let the trees paint your walls with shadows.
13. Wooden 3D Punch-out Christmas Tree Puzzle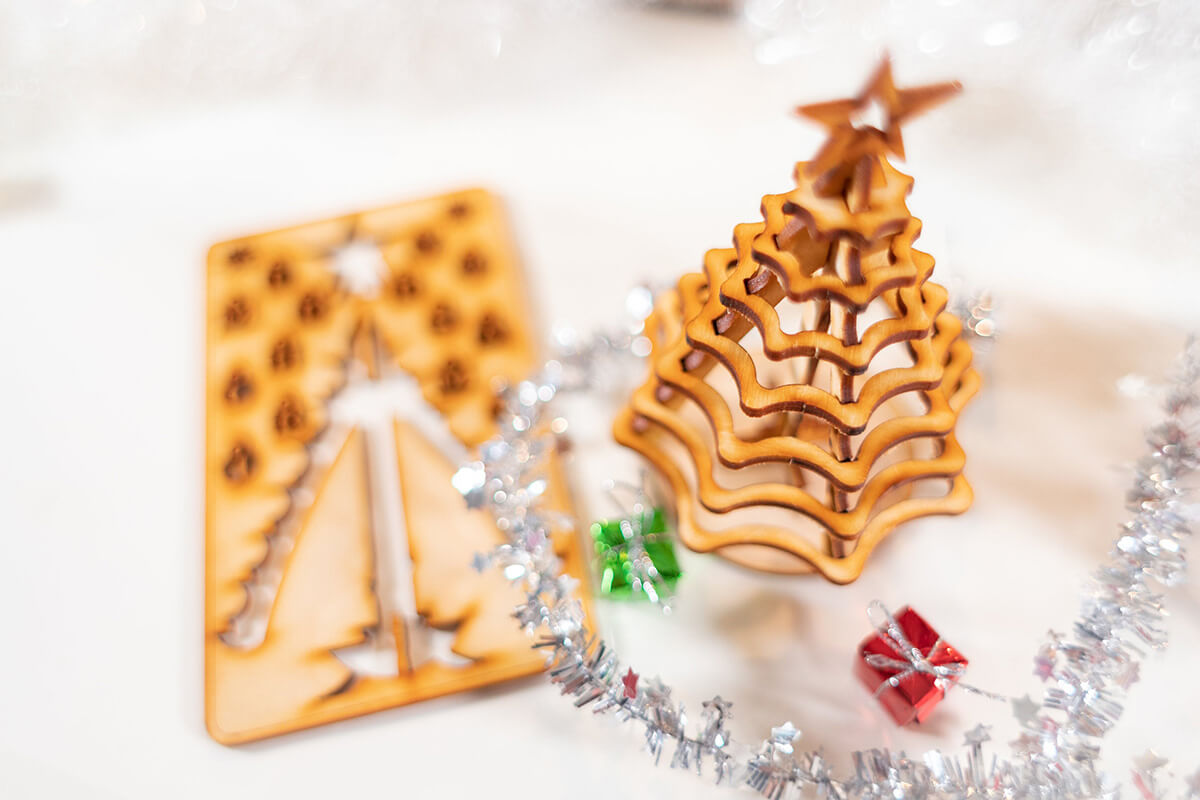 How cute is this tree? Standing at just 5.5" tall, it's the perfect height for a bookshelf, mantel, or desktop. Simply pop the pieces out of the card, assemble, and decorate! Each card comes with the main tree and tiny, wooden ornaments that spell out "Merry Christmas." Leave it raw and unfinished if you like, or paint it with your favorite seasonal colors. It's fun enough to make you want to buy it for yourself, but this little tree would make an even better office gift. Just imagine all the sad desks at your workplace that could use some Christmas cheer. The packaging on this tree is so convenient that it can easily fit inside a single envelope. In other words, it's the perfect size for stuffing stockings.
14. Personalized Winter Scene Wooden Wreath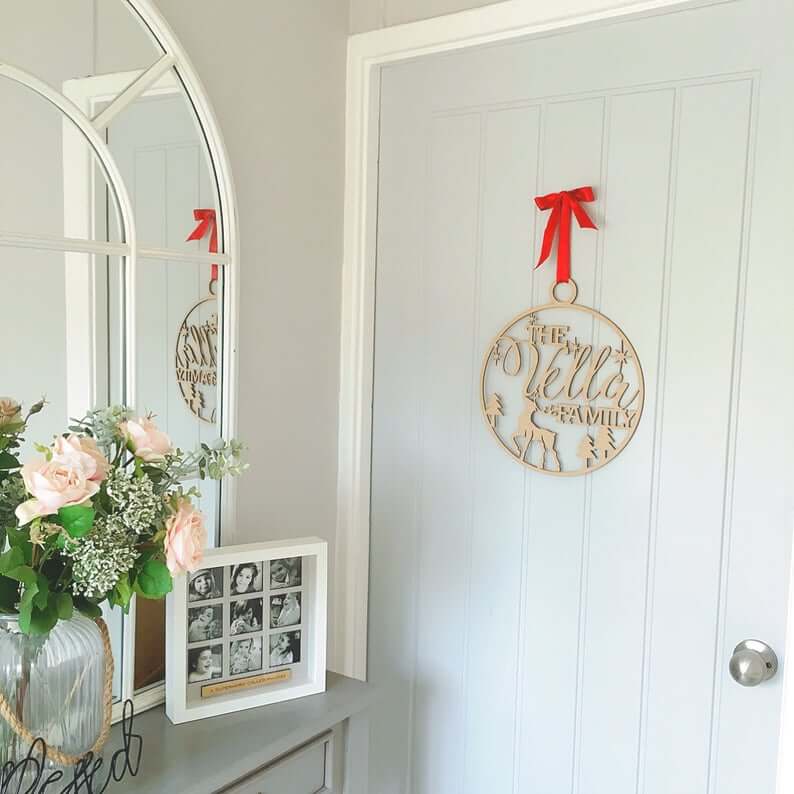 Wooden decoration ideas can be applied to the tried-and-true classics, as well. Instead of the typical pine bough wreath, mark your door with something a little more personal. With this wooden wreath, you have the option of making it your own by adding your family name. Christmas is all about family, after all. Shouldn't our holiday decorations reflect that sentiment? This Christmas wooden design also features a stag, pine trees, and twinkling stars. In comparison, a store-bought wreath isn't nearly as interesting. This piece is classic enough to be the pride in your family's collection of best wooden Christmas decorations.
15. Wooden Lettering Merry Christmas Banner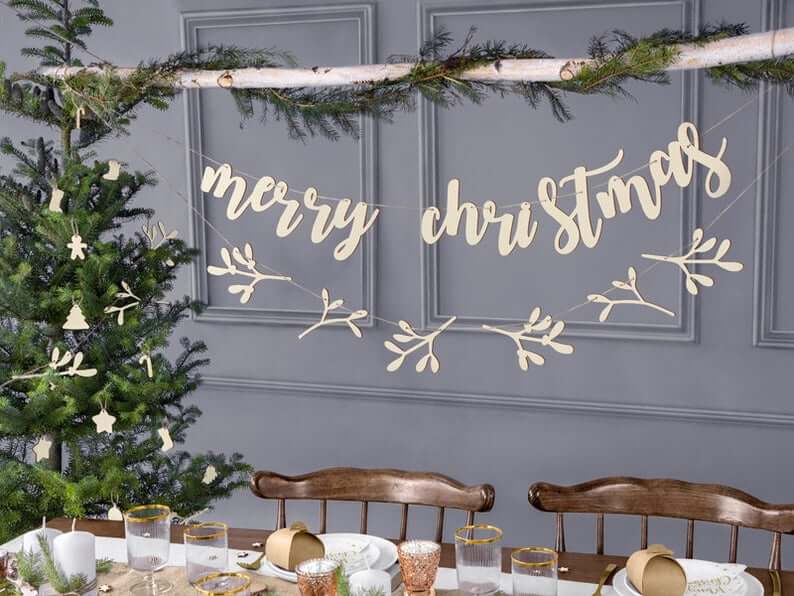 With just a strand of twine and some wooden letters, this banner can give any home a bit of extra merriment. It's simple enough to look homemade, but polished enough to impress all your guests. The all-lowercase font is friendly and inviting. With its wooden finish, it blends seamlessly among your existing collection of holiday decor. Mix-and-match for a new look every time. Stringed lights or paper snowflakes are just some ideas to accompany this banner. However, it's just as pretty on its own. So whether it's going on the wall, in the window, or above a doorway, decorating with this banner should be a piece of cake.
16. Personalized Wooden Snowflake Wreath Bauble Decoration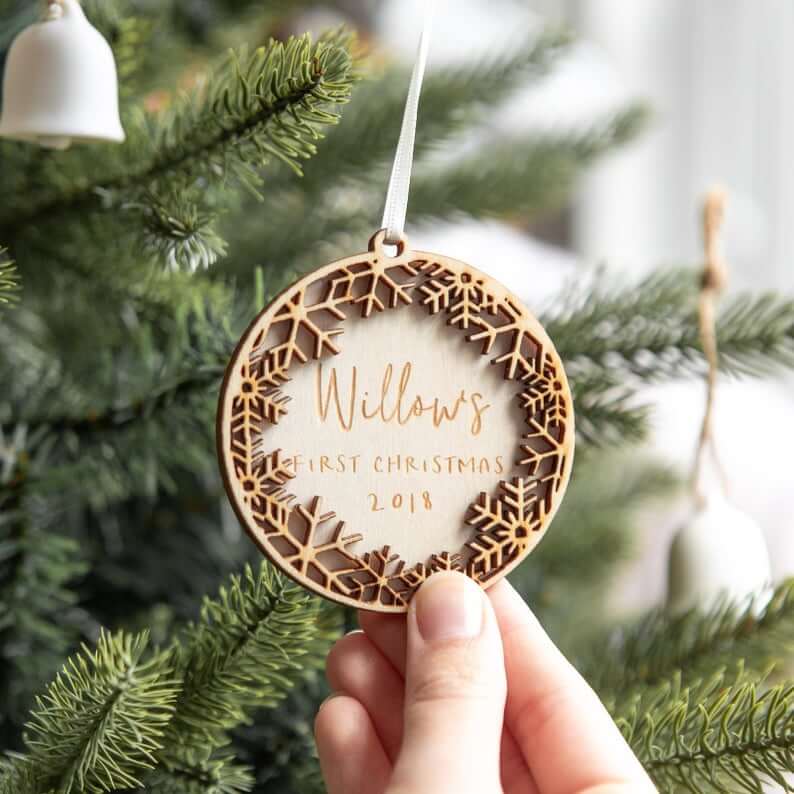 Handcrafted, wooden keepsakes make heartfelt gifts, but they can make excellent wooden decoration ideas. This bauble features a round wooden base, engraved with the wording of your choice. The final touch is a vintage-style, acrylic snowflake wreath. Try it with the other wood ornaments on this year's Christmas tree. It would also make a striking gift tag. The natural wood will look just as good under your tree as it does hanging from its branches. Whether you're commemorating an anniversary, celebrating a new birth, or dedicating this bauble to a certain someone, any memory can be captured on this piece of personalized wooden Christmas decor.
17. Light-up Wooden Christmas Town Diorama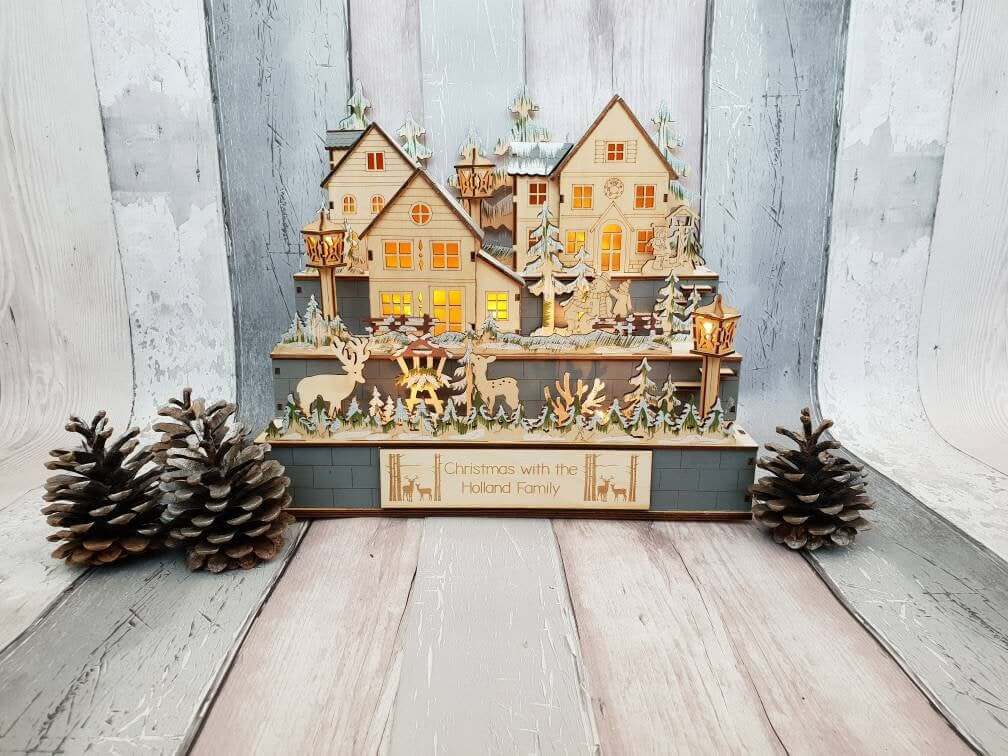 This breathtaking lamp is actually an entire winter scene displayed on three tiers. It features a pair of children building a snowman, a manger surrounded by deer, old-fashioned streetlamps, and three cabin-style houses. To take it to that extra level, the streetlamps and windows light up, thanks to the hidden LED wiring. At night, the lights will give the wood a cozy, amber glow. Keep it on your mantel, or place it in your window to share it with the neighborhood. The best thing about it is that you can have it personalized, whether you're gifting it to a friend or yourself!
18. Rustic Painted Reindeer Wooden Christmas Decor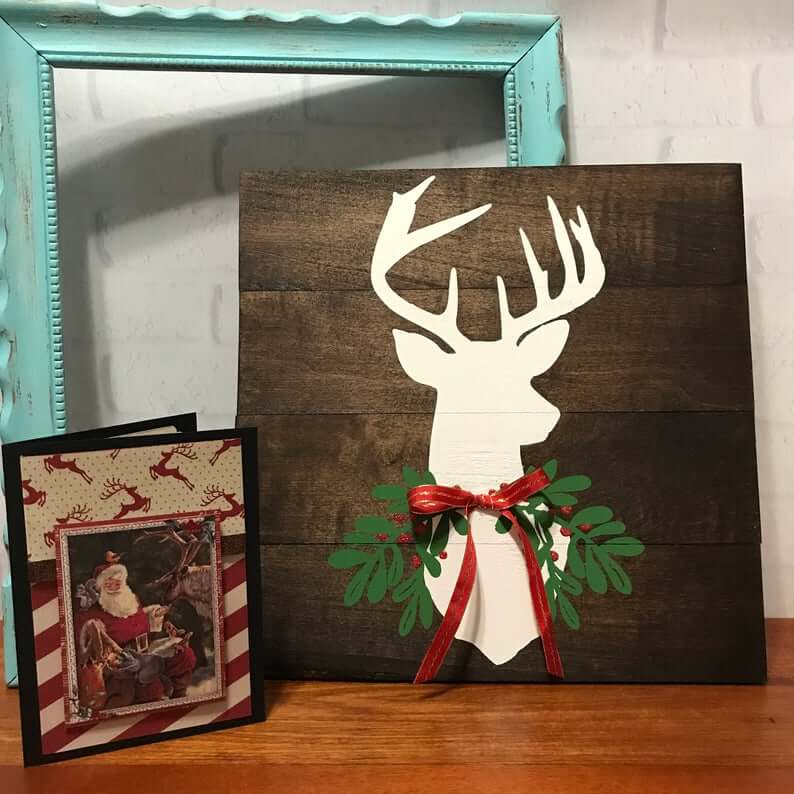 This striking, white reindeer is perfect for showcasing the grain on this wood. Now, all it needs is a warm home to bring it to life! Put it on the wall or on the porch. Try framing it in a contrasting color to bring out the wood even more. The handmade, silk-ribbon bow might make this a darling piece for a child's bedroom, as well. This wall hanging is definitely a conversation starter. You might find yourself pulling it out year after year, simply because it evokes the feeling of Christmas so well. When it comes to Christmastime, reindeer wearing red bow ties are always in season.
19. Oversized JOY Wooden Mantle Decor Letters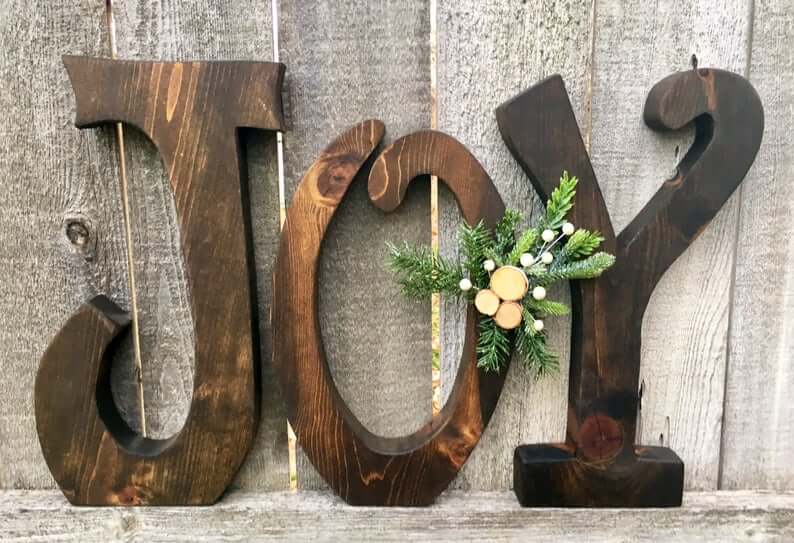 When in doubt, you can't go wrong with some classy lettering to spice up your wooden decoration ideas. Whether it's an embroidered monogram or a faux-marquee, letters are a shortcut to expressing our inner style. These letters are lovingly carved from solid pine. The dark walnut stain is reminiscent of a cup of hot chocolate, bringing just the right amount of warmth. And in case you forgot what season it was, the piece comes with a sprig of mistletoe attached to the "O." It's perfect when it's used for its intended purpose as a mantle decoration. Don't be afraid to get creative, though. Try dispersing the letters across three different bookshelves, or adorn your kitchen counter with this yuletide message.
20. Natural Plywood Wooden Christmas Decoration, Set of 3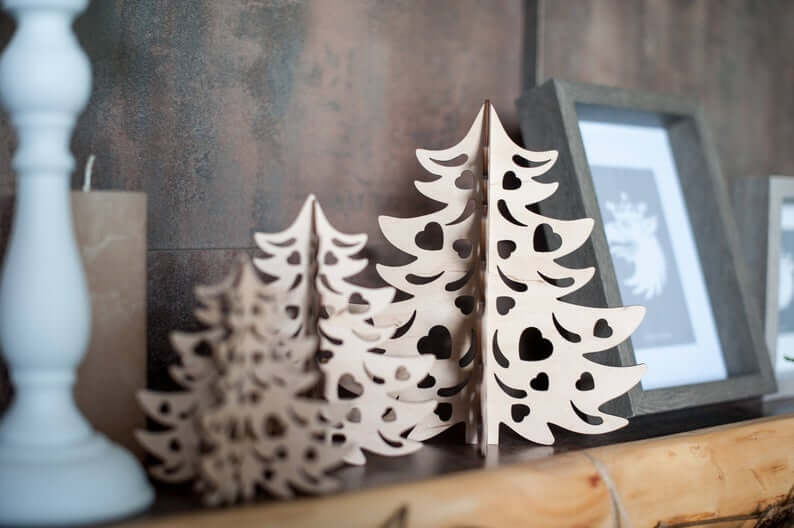 Trees make some of the best wooden Christmas decorations. These charming, plywood trees are just what the doctor ordered to brighten up your home or office! Each tree can be made by sliding two pieces together to fit like a puzzle, allowing them to stand on their own. They're available in seven styles and three different colors. You can also choose to leave them unpainted if you want to go for an authentic down-home country look. The trees measure 15-21cm, perfectly portable and easy to store. Arrange them on a wooden tray on your coffee table, or split them up to give your bookcase a seasonal makeover. These trees would also look cute in a mini nativity scene, or as part of any other Christmas decor ideas you may have.
21. Farmhouse-style Wooden Christmas Presents, Set of 3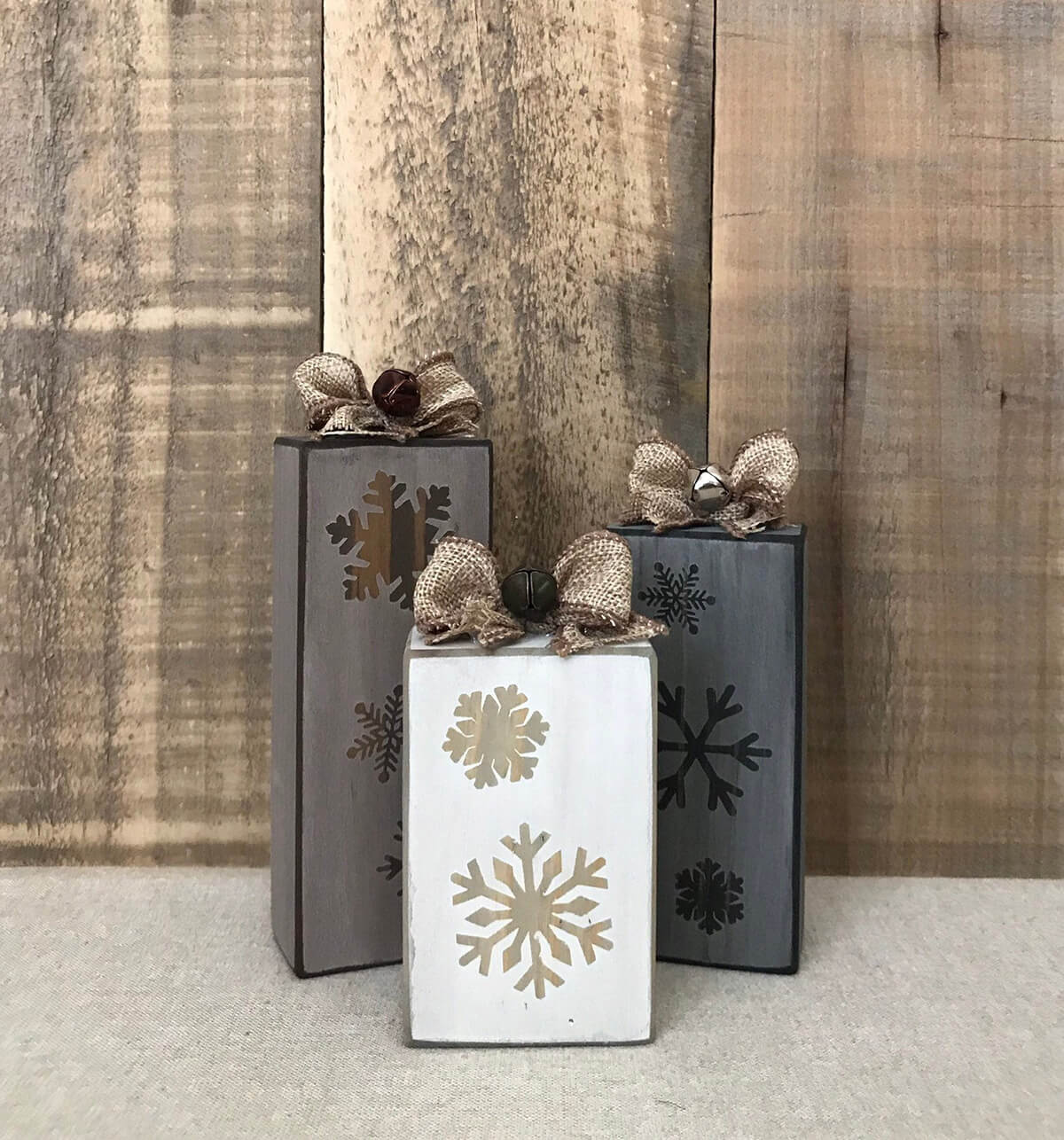 Some presents are just so pretty, it would be a shame to unwrap them. Luckily, you never have to unwrap this trio of gift boxes. Each box is made from a solid block of wood, painted with snowflakes, and adorned with a burlap ribbon bow. The entire look is topped off with a jingle bell, as if they were made by Santa's elves themselves! This set is such a statement piece, it doesn't need much more to impress. Simply set them up on your front porch to be enjoyed by your visitors, or leave them under the Christmas tree, exactly where Santa intended. If you want to achieve that wow-factor, assemble a large collection of these wooden gift boxes to really leave an impression.
22. Collapsible Wood Crate Christmas Tree Stand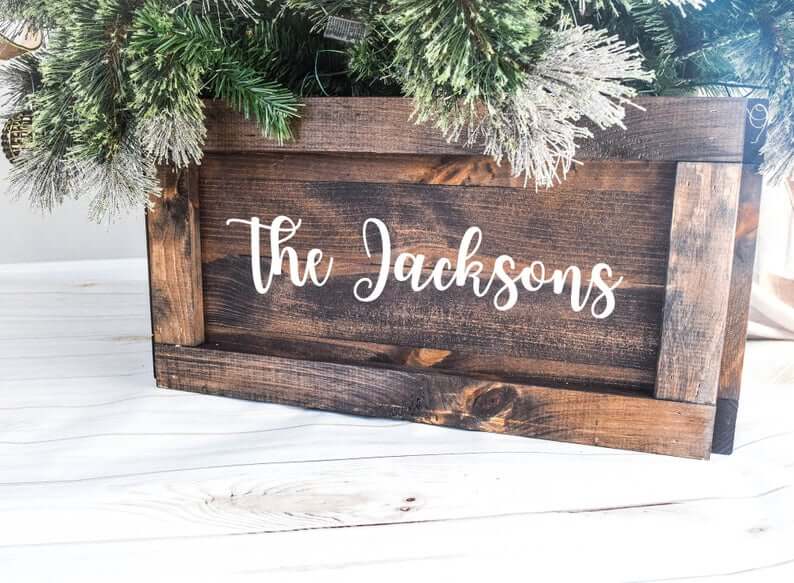 A lot of families change up their tree ornaments every year, but they might keep the same base and skirt. Doesn't your Christmas tree deserve a true top-to-bottom makeover? Make your tree stand out with this wooden base, styled to look like a well-used apple crate. It's hefty enough to fit even the fattest tree off the tree lot, yet still easy to store thanks to clever, hidden hinges. You can have it personalized with your family's name or keep it blank to capture the fresh-from-the-farm feel of your tree. As a bonus, you can also use it to store all your best wooden Christmas decorations.
23. Wooden Nordic Sweater Animal Ornament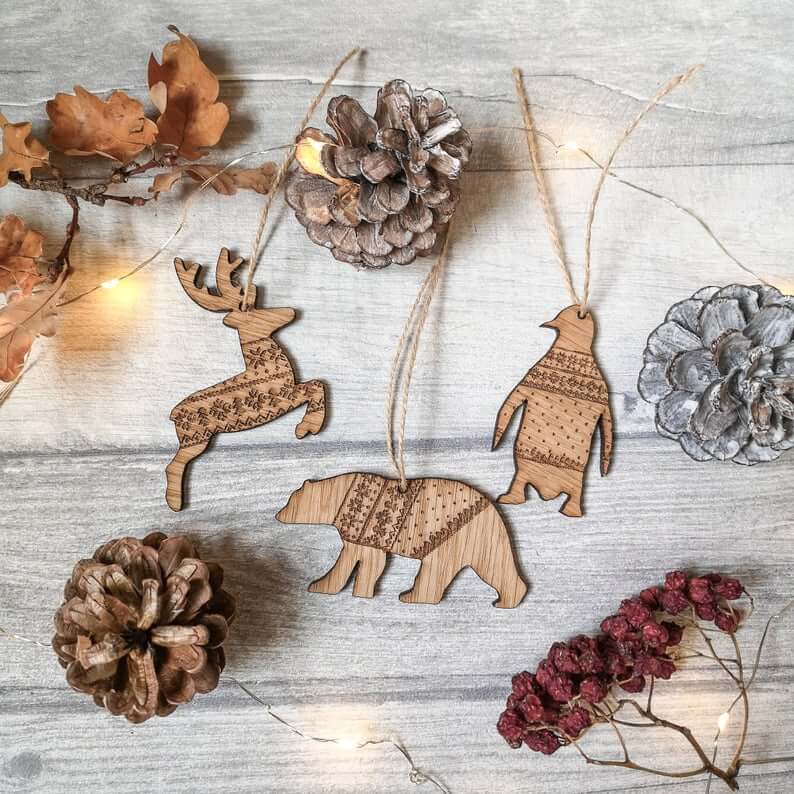 If you like a side of quirky with your cute, try these wooden ornaments on for size. You have your choice between a polar bear, deer, and penguin. By the way, each one is wearing a Nordic-style sweater! Scandinavian designs on wood aren't exactly a new thing, and neither are animal-shaped Christmas ornaments. But we have to give credit where credit's due, because this is truly one of the funnest wooden decoration ideas ever. Hang as intended as a tree ornament. Hang several, in fact. These ornaments are so lovable you might want to snag more than one.
24. Pine Block Winter Motif Ornaments, Set of 10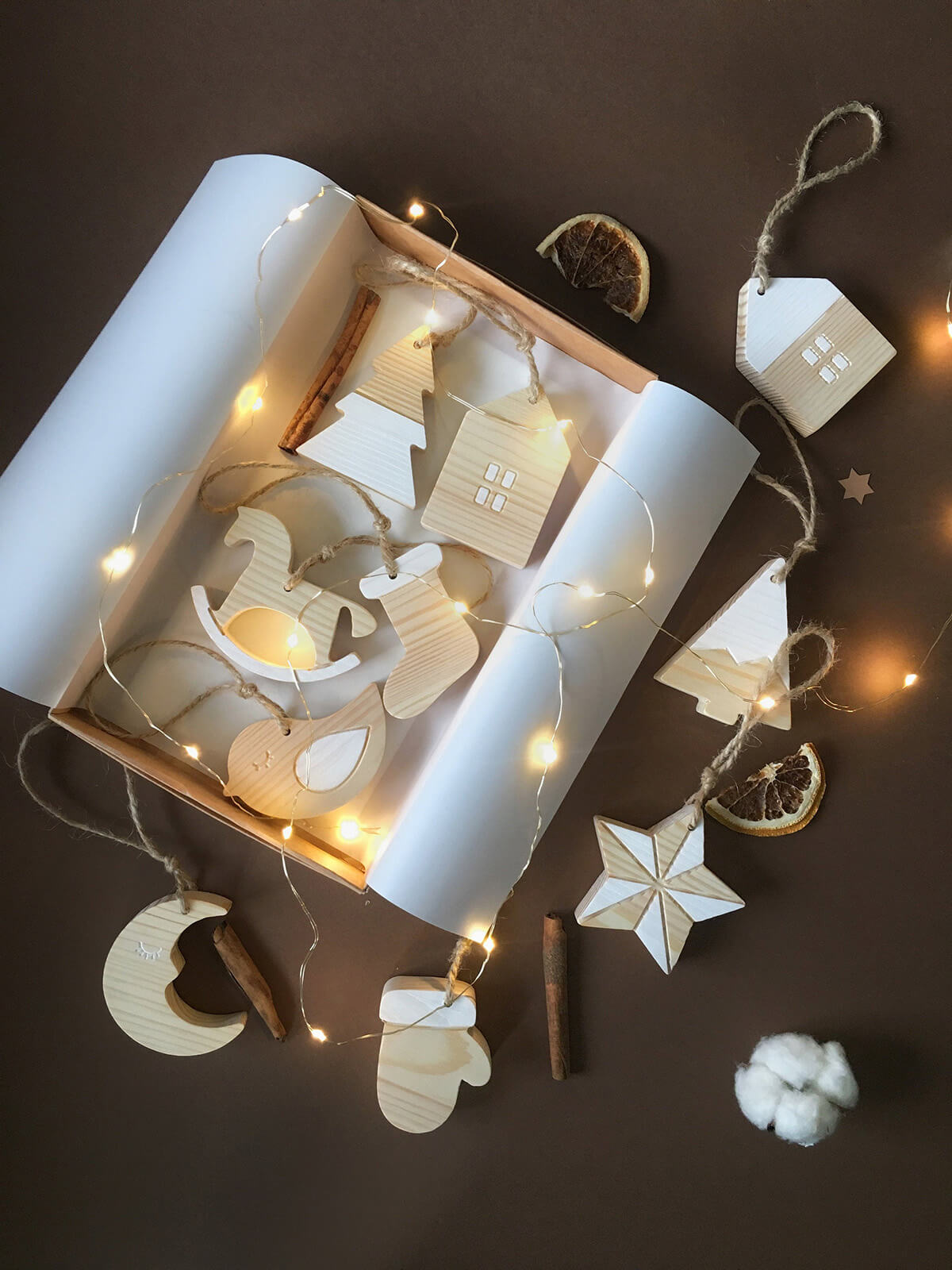 The simplistic design and curved edges of these fist-sized ornaments are perfect for enticing little ones to help decorate the tree. Each ornament is unique, featuring wintery shapes like a snow-dusted house, sleepy moon, and rocking horse, among others. Even if you don't have children in your home this year, the white-on-neutral color palette is a sophisticated combo that will make any tree look just a little more special. Wooden Christmas decor items have the added benefit of being more resilient than glass or ceramic, so you'll likely be using these sturdy ornaments for many years to come.
25. Oversized Rustic Gift Tag Wooden Christmas Decor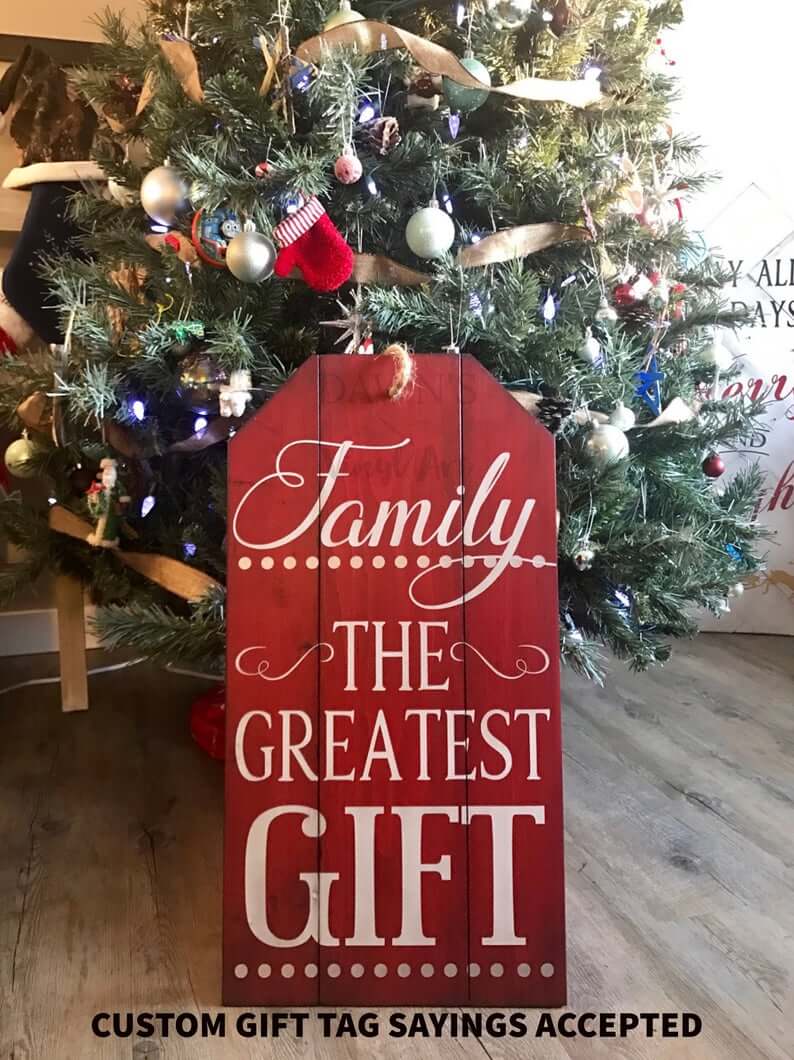 At a whopping 24" in height, this wooden "gift tag" has enough room to accommodate whatever it is you have to say. It's completely handmade and available in any color you can imagine, but don't be tempted to go with the season's usual red or green. Frosty shades of blue and gray are trendy this year, and a gigantic gift tag is the perfect canvas for experimenting with them. Prop it up on the porch, in your living room, or anywhere else you'd like to add a farmhouse touch. Thanks to the antiqued finish, this piece looks like authentic barnwood. In true rustic fashion, it also comes with a rope tied to the top, making this one of the best wooden Christmas decorations for your home.
26. Family Christmas Wooden Design Front Door Plaque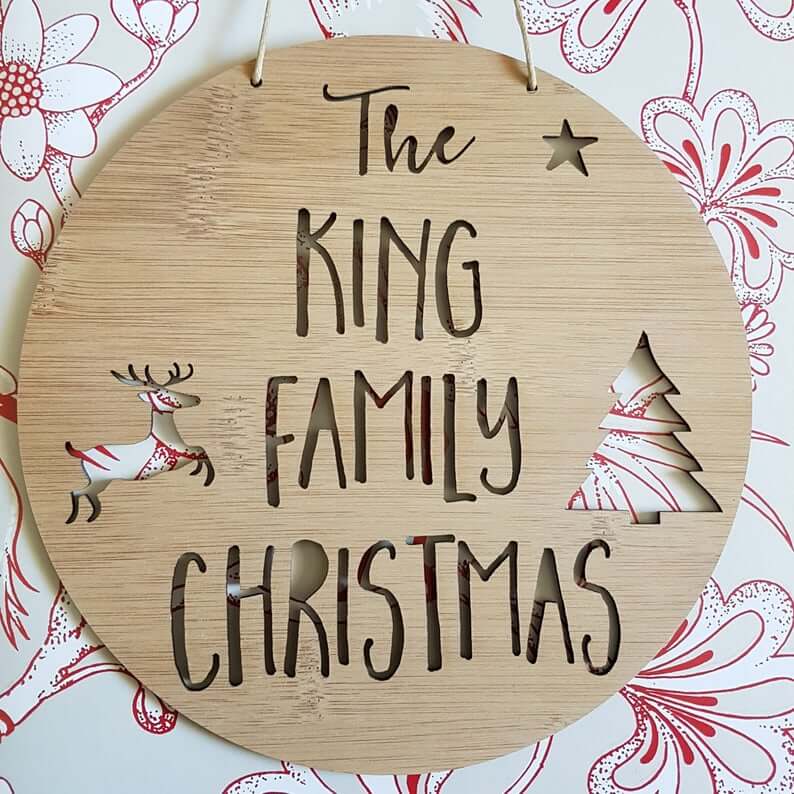 As far as Christmas decor ideas go, bamboo is slightly unconventional. But don't underestimate the serene powers of bamboo. This wall hanging takes advantage of bamboo's smooth, cool-sand shade to convey your hopes for the season. The holidays should be about family, so keep your family at the center of the home with a front door plaque. With its Christmas wooden design cut-outs of a leaping stag and pine tree, it's a seasonally appropriate way to greet visitors to your home. It would also make for an impressive window decoration or a nice centerpiece for your dinner table.
26 Best Wooden Christmas Decorations to Make Your Home Merry and Bright
Inspired yet? There are so many ways you can make your wooden decoration ideas a reality. I love using a good piece of wood as a charcuterie board or collecting branches to complement a flower arrangement. Wood works for indoor and outdoor decorating, for countertops and furniture, you name it. These days, it's best to keep it as raw as possible, allowing us to show off the wood's beautiful grain. Not only is wood trendy, it's timeless. Wood has been used by mankind for thousands of years, so it's not going out of style anytime soon. For us Christmas fanatics, that means we can pull out our favorite wooden decorations to use again and again.
If you're buying a wreath this year, why not a wooden one? Incorporate wood into your holiday decorating plans, and you'll never have to buy another cold, impersonal plastic knickknack again. A well-crafted piece of wood is more durable than plastic, too. So you can keep your favorite pieces in the family, collecting memories along the way. Whether you want to dress your tree in wooden ornaments or impress your friends with wooden confetti, the best wooden Christmas decorations will add some extra sparkle to the holidays.