Discovering fresh Christian Easter decor ideas for your home this year will lead to an unforgettable holiday. One of the best ways to figure out which religious Easter decorations are right for your space is to reflect on what feelings fill your heart during Easter. Do you resonate more with unbridled joy knowing Jesus has risen or a sense of peace knowing that God will take care of you? Perhaps decorating for Easter means filling your home with reminders of Christ's ultimate sacrifice on Good Friday. Bringing those feelings to life is the key to Easter decorations you will love.
17 Blissful Christian Easter Decor Ideas to Help You and Your Family Grow in Faith

As you begin assembling your Easter decorations, remember that success is achieved through creating an immersive ambiance. While the show-stopping focal points are important, layering smaller decorations can fill blank spaces and help ensure something intriguing in every corner. A few faith-filled ideas include signs with passages from scripture, elegant crosses, and empty tombs. These items can go on mantels, tables, walls, sideboards, tiered trays, or anywhere that would benefit from a reminder of the resurrection. All-season items such as crosses or favorite Bible verses are a tangible representation of your faith that can remain on display all year long.
1. Farmhouse Scripture Sign Made from Barnwood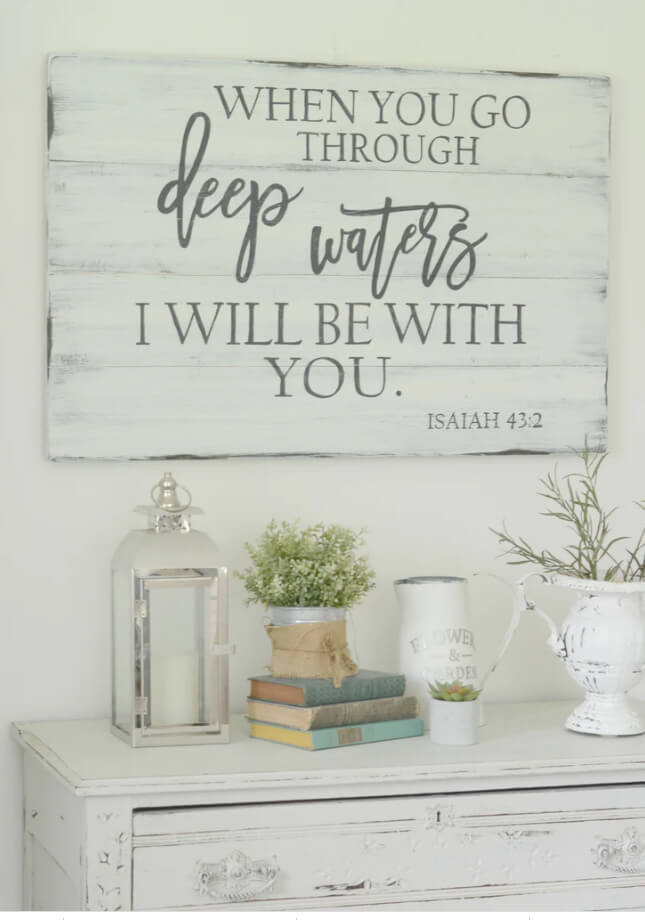 In many ways, choosing a Bible verse to adorn your walls is the ideal way to decorate your home. It is not only a way to remind yourself of a favorite passage but also serves as fitting decor during the Easter season. The whitewashed finish, mixture of fonts, and reclaimed barnwood shown in this image are a recipe for farmhouse perfection.
2. Setting a Rustic Table for Easter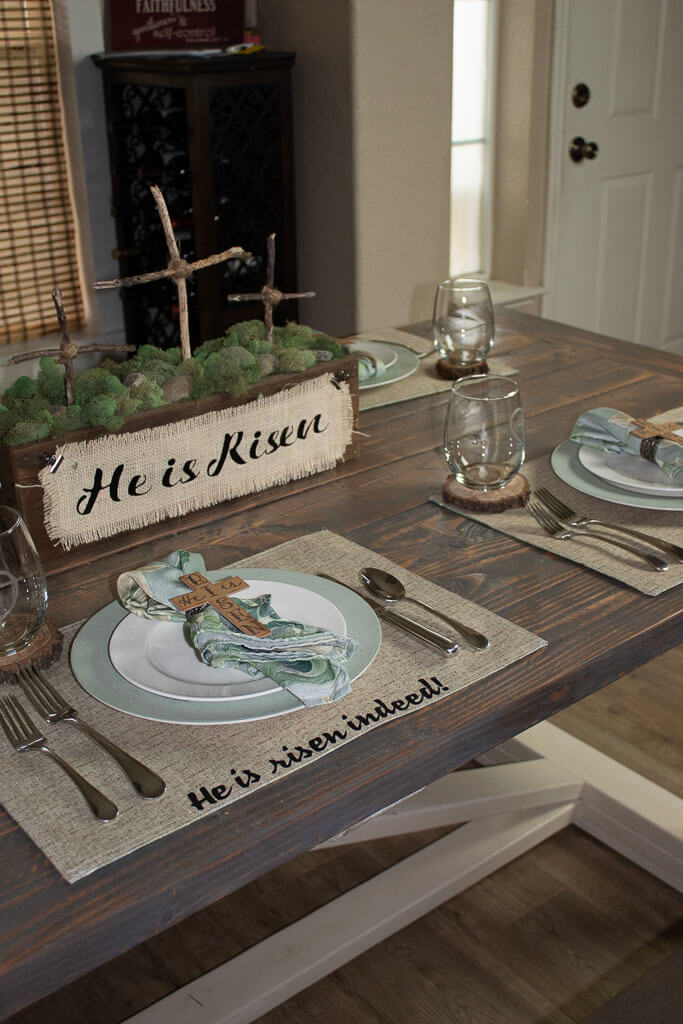 From the burlap placemats to the wooden coaster, everything about this table exudes rustic chic. To highlight the occasion for the celebration, the centerpiece consists of three empty crosses and mounds of lush green moss. While the greens and browns are a pleasant break from tradition, you could include a few flowers to the crosses to add a little color.
3. Basket of Sensory Resurrection-Themed Easter Eggs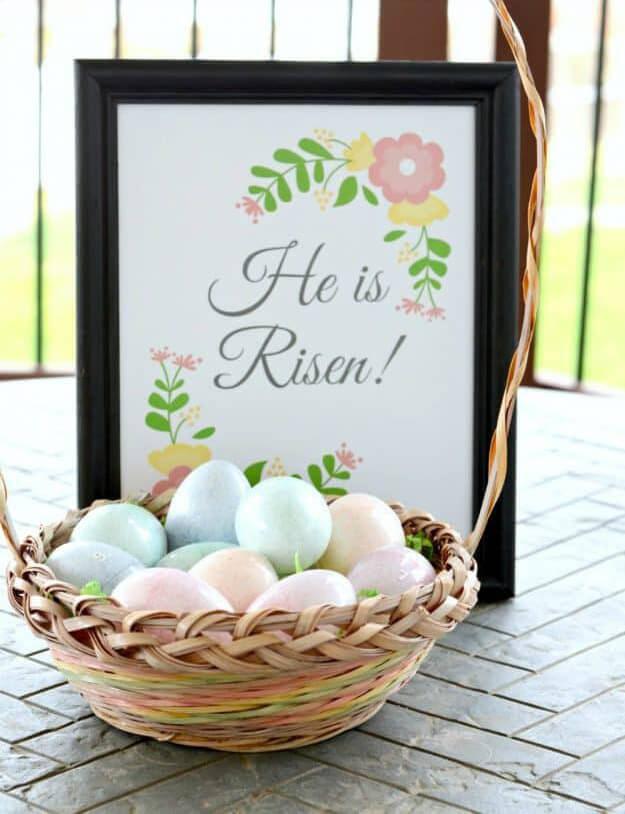 On the surface, this scene looks like an Easter basket brimming with muted plastic eggs. However, inside each egg is a small item that connects to the story of Christ's death and resurrection. For children, tangible objects are the perfect way to bring history to life. Use any type of egg that coordinates with your other Christian Easter home decor.
4. Bible Verse Christian Easter Decor Ideas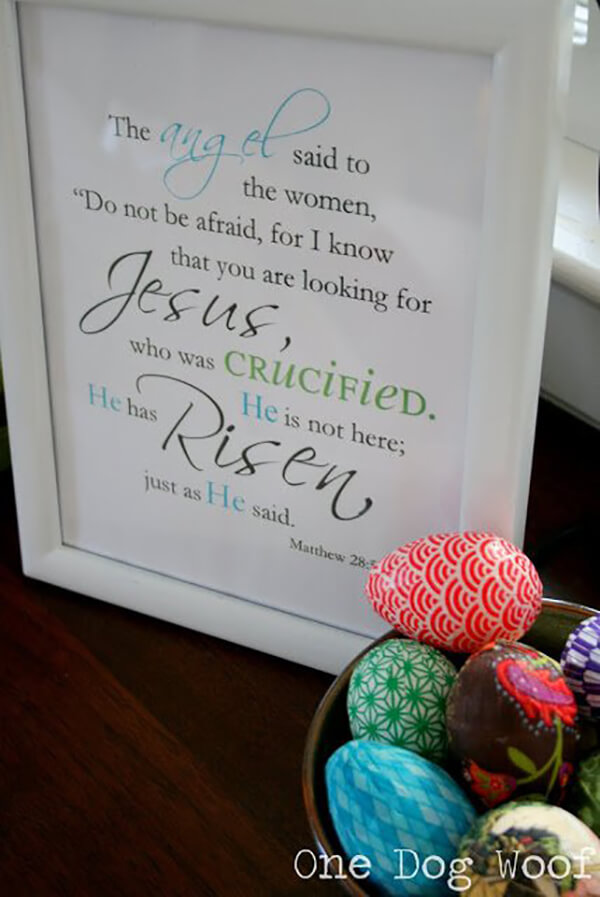 By emphasizing a few words, this printable scripture passage becomes artwork. A classic serif font anchors the piece while an invigorating script font provides a sense of motion. Cool blue and verdant green add another dimension to the text. Pop this beauty in a frame that fits your decor, and you will be able to enjoy it throughout the Easter season.
5. Watercolor Lenten Learning Cards for Kids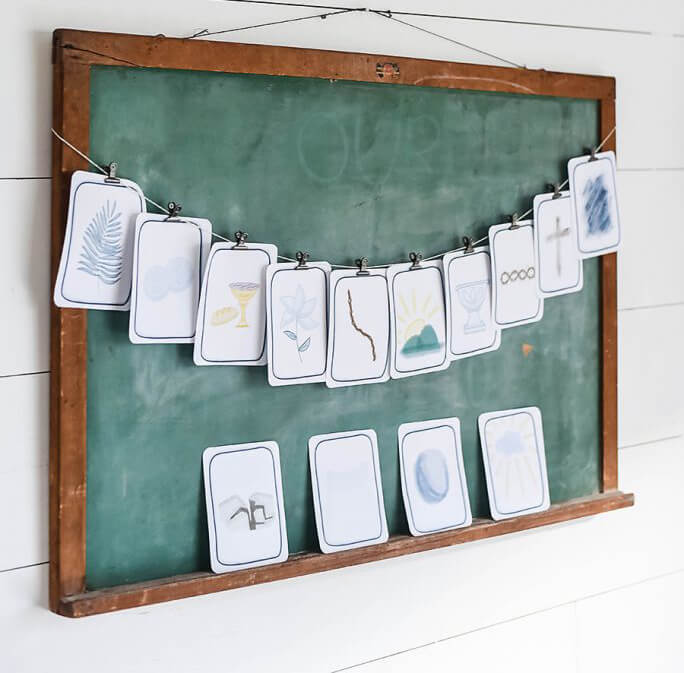 Each of these gorgeous cards depicts an object that relates directly to Christ's passion and resurrection. To kick-start conversations, the back of each card includes scripture, prayer, and discussion suggestions. Treat these cards like an Advent calendar and discover a new one every day. Because the illustrations are masterfully painted, these cards can hang proudly as part of your decor.
6. Freestanding Weathered Barnwood Cross Trio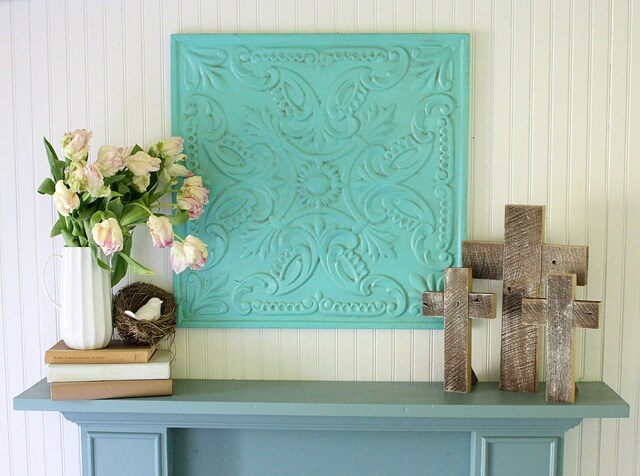 Although simple, these barnwood crosses will make a statement anywhere they go. Distressed barnwood delivers an abundance of texture, but you could use painted or stained wood for a more polished effect. Able to stand on their own, they can go on a table, a shelf, or a mantel. Pair them with spring flowers for a stunning Easter display.
7. Vivacious Cross Swathed in Faux Moss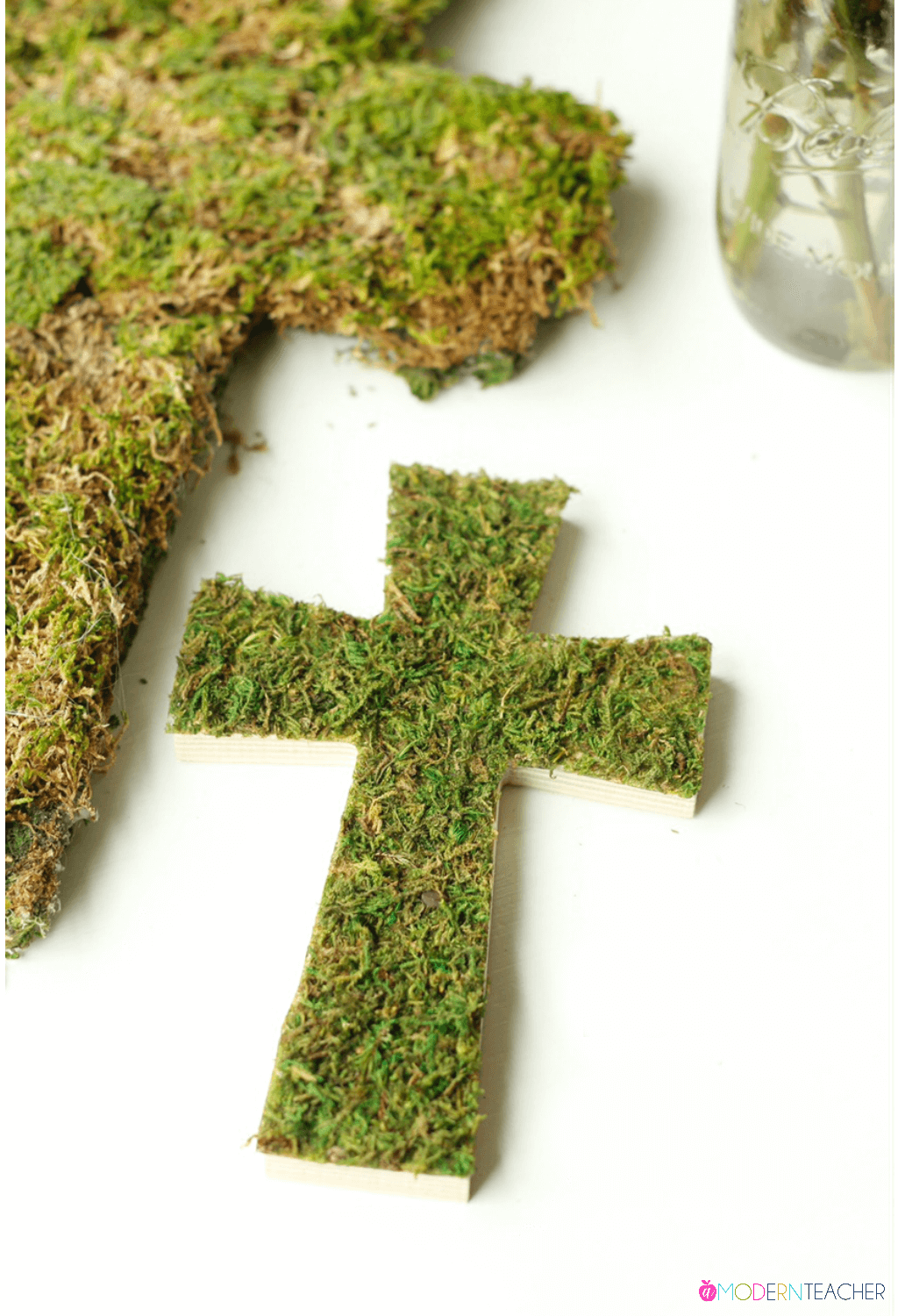 If green fits in your palette, a moss-covered cross is an excellent addition to your Christian Easter home decor. With an abundance of texture, displaying this cross will add a layer of visual interest to your ambiance. Best of all, this vibrant cross is easy to personalize. For a springtime feel, add artificial flowers. Imitation pearls can amplify this decoration's elegance.
8. Kid-Friendly Empty Tomb Garden Craft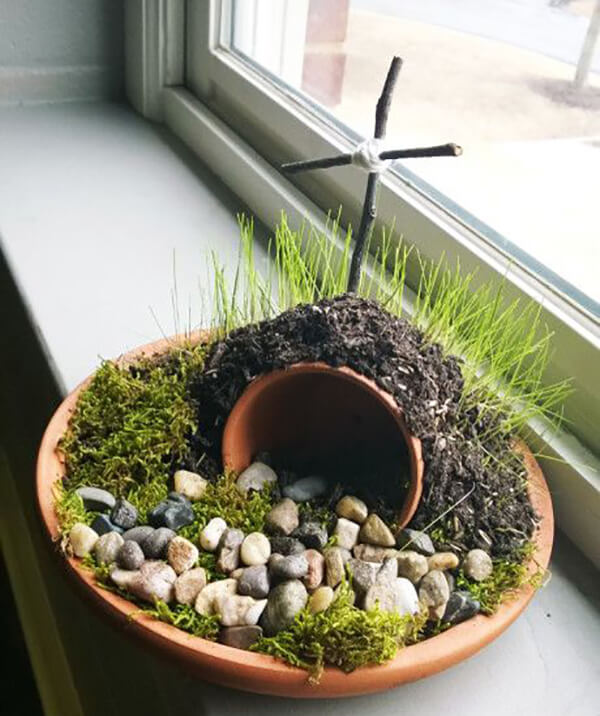 With a cross to represent Good Friday and an empty tomb to anticipate Easter Sunday, this craft is a great opportunity to teach kids about the faith. Before it springs to life, the grass seed does require a small amount of daily watering. If crafted at the correct time, the grass will even germinate in the week leading up to Easter.
9. Simple Twig Cross Religious Easter Decoration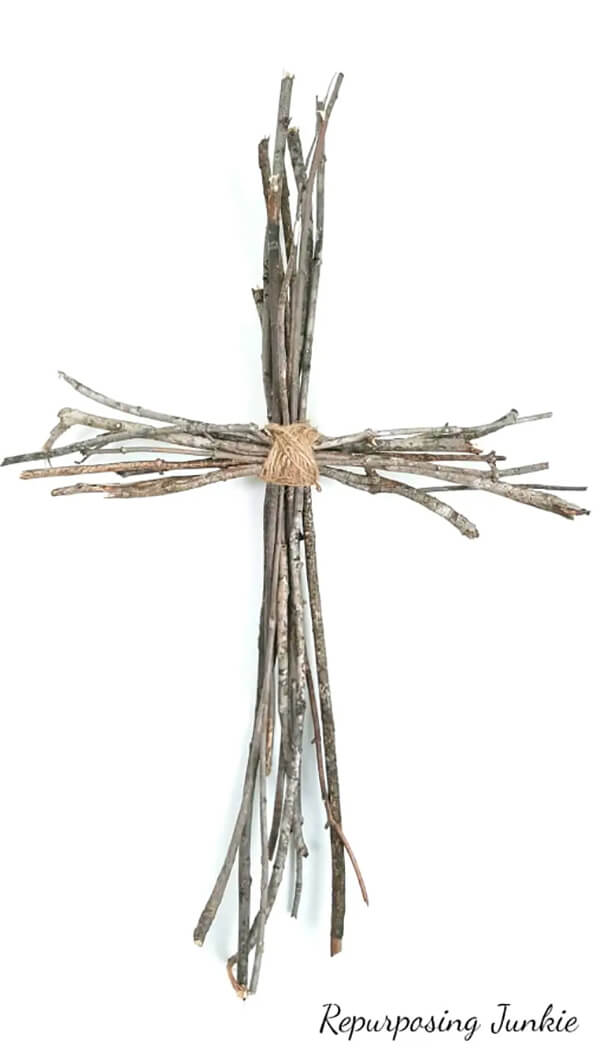 Made from unassuming sticks and jute twine, this cross is an evocative way to express your faith. Although it is beautiful when made per the tutorial, this cross-themed craft can be easily personalized. To add some sparkle, try gluing flowers or glass beads onto the cross. Cover the twine with colored embroidery thread to help it harmonize with your other decor.
10. Decking out Your Tiered Tray for Easter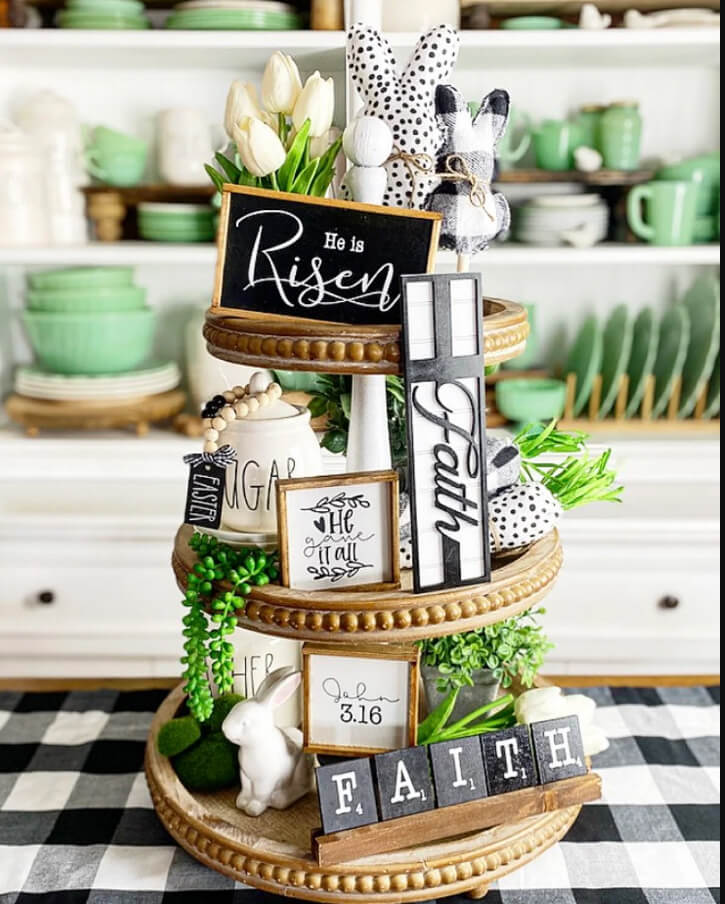 Filling your tiered tray with faith-centered decorations is a beautiful way to prepare for Easter Sunday. While the bunnies, carrots, and plants are adorable and add to the ambiance, the wooden signs and ceramic decorations are the focal points. If you are looking for a few extras to round out your tiered tray decoration, each sign is available on its own.
11. Distressed White Sign with Psalm 34:4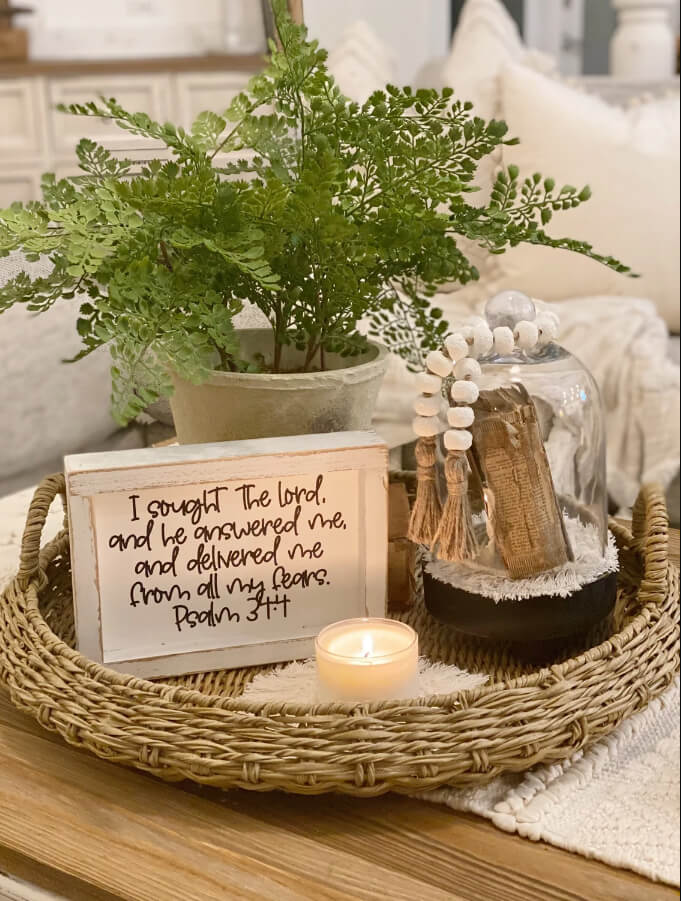 With its comforting message from the Bible, this sign is the perfect addition to your Christian Easter home decor. The black and white color scheme will fit anywhere, and the lightly-distressed frame adds visual interest. Use it to create a small display in your prayer corner or place it wherever you need a reminder that God will take care of you.
12. Handmade "He Has Risen" Sign in Sage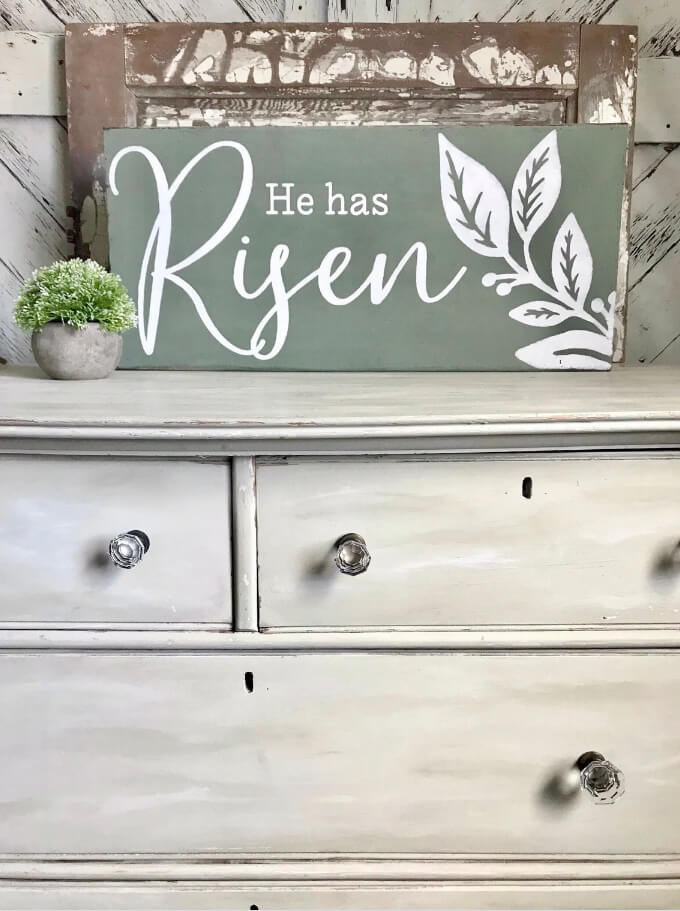 In three words, this sign succinctly states the reason for this holiday. Bathed in a cool sage green hue, this sign seems to radiate soothing vibes. Display it anywhere you need a reminder to be joyful. The graceful botanical silhouette is the perfect accent. If green is not right for your home, this sign is available in five additional colors.
13. Religious Easter Decoration Wooden Sign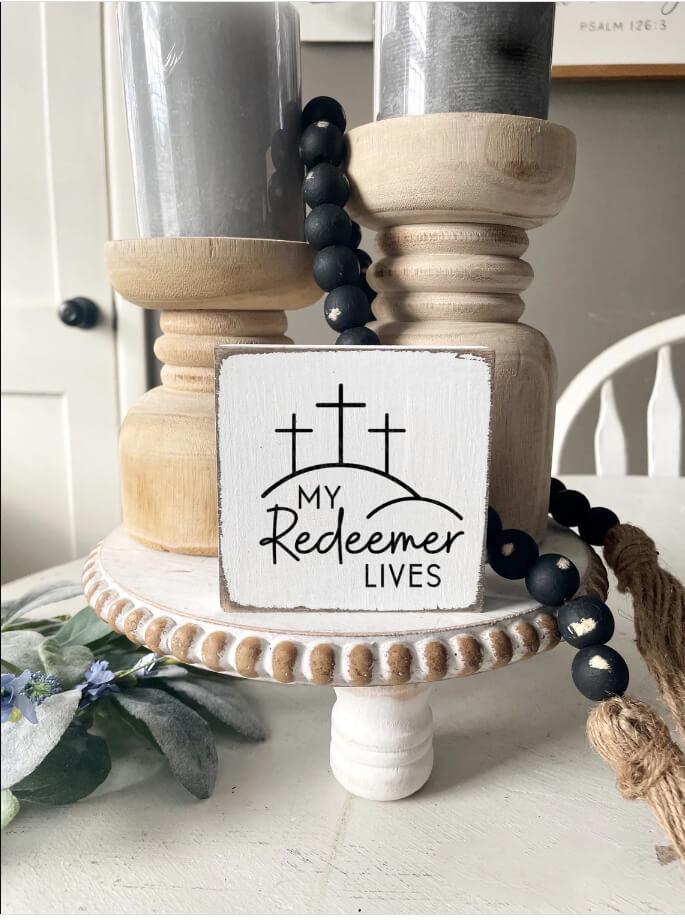 Standing at 4 inches square, this sign fills a unique hole within your decor. It is large enough to fill blank space but small enough to let larger decorations shine. A slight amount of distressing means it will harmonize with rustic and farmhouse decor. In contrast, the text and illustration showing calvary's hill are depicted with crisp, easy-to-see black lines.
14. Easter Wreath Overflowing with Springtime Flowers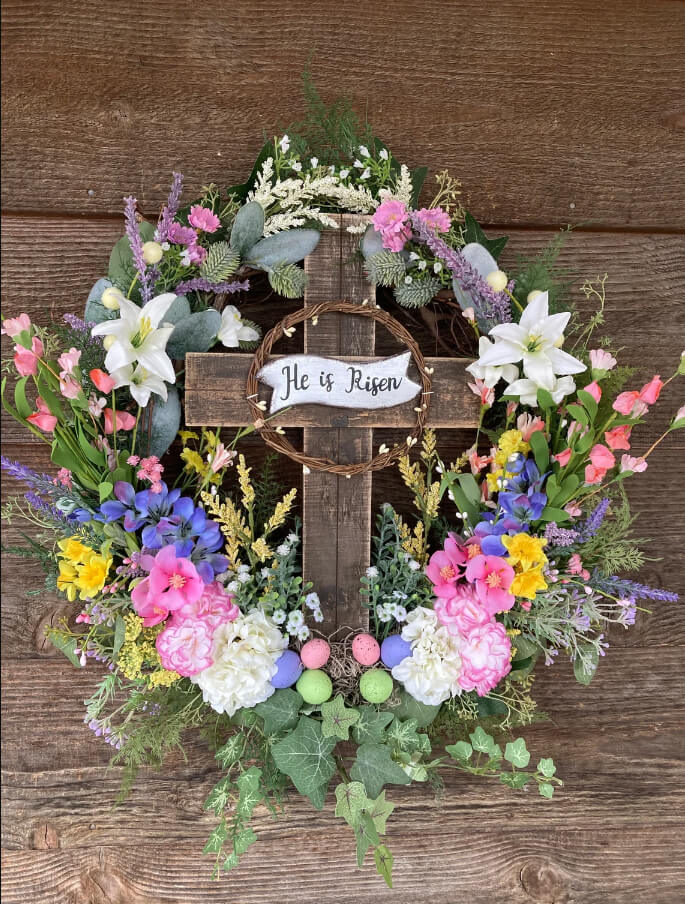 As you focus on decorating the inside of your home, it can be easy to forget about your front door. With vivid colors, this exuberant wreath is the perfect way to begin celebrating Easter. Handmade from cedar, the weathered cross is sure to tie into your other religious decor. Of course, this wreath will look just as joyful if hung indoors.
15. Vinyl Decals for Religious Easter Eggs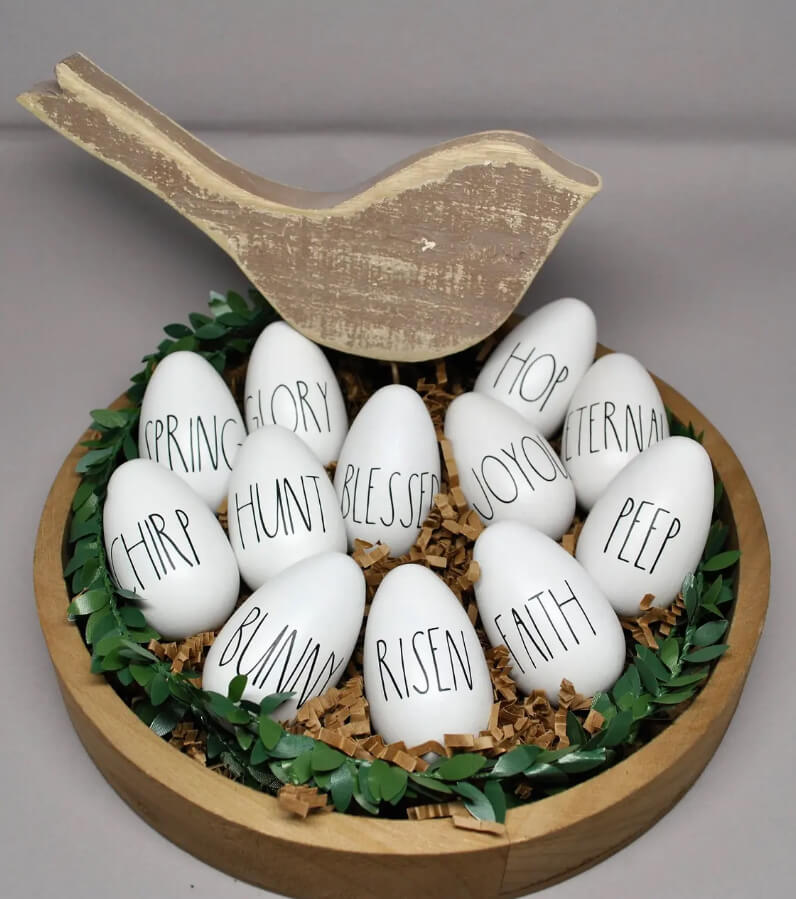 Easter eggs are so much fun to display, and this decal kit gives you one more reason to display a few more. Available in black or white, the vinyl letters are easy to apply to craft eggs. Whether you use white eggs like the ones shown here or pastel-hued eggs, these decals take Christian Easter decor ideas to the next level.
16. Collection of Handcrafted Religious Easter Decorations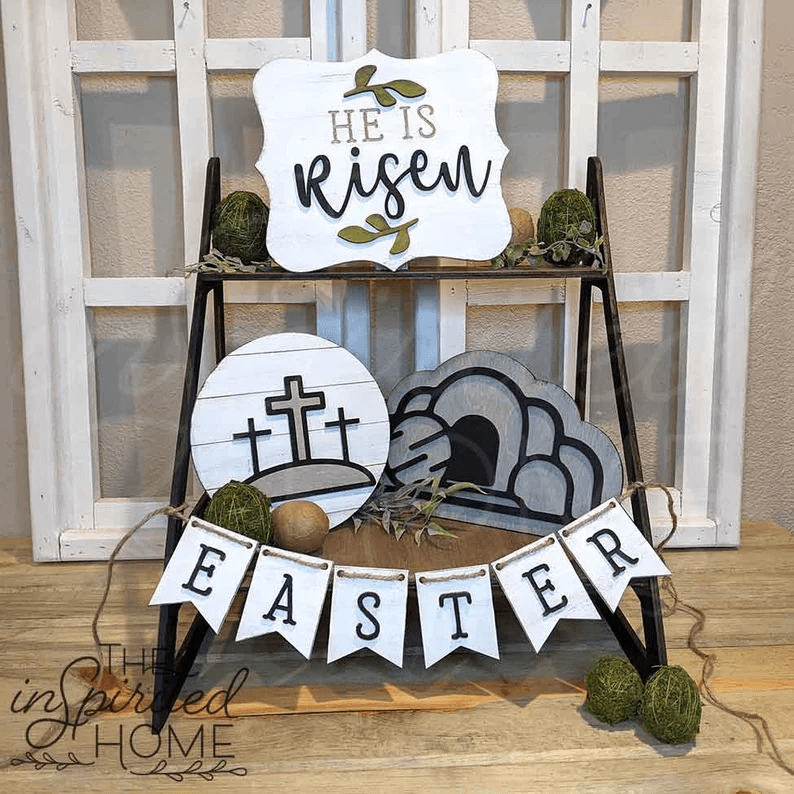 A hill with three crosses, an empty tomb, a "He is Risen" sign, and a pennant-style garland combine to make a delightful display on this tiered tray. Each of these Baltic birch signs is painted by hand and then lightly distressed. Display them together for the effect shown here or throughout a room to give your space coordinating accents.
17. Laser-Cut Resurrection Story Jesus Decoration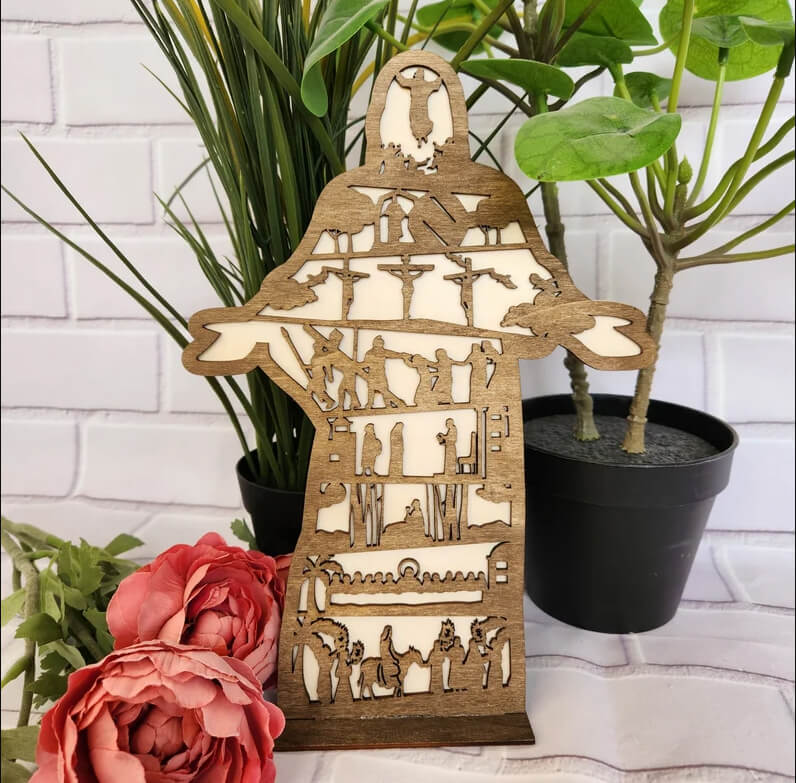 Starting with Palm Sunday and ending with Jesus ascending into heaven, this sculpture is a conversation-starting decoration. To illustrate unending love, the silhouette's arms are outstretched for an embrace. The dual birch layers will look great in any space that agrees with wood. Due to the excellent craftsmanship, this Jesus silhouette will be a favorite Easter decoration for years to come.
17 Devotional Christian Easter Decor Ideas to Bring Your Family Together
One of the best times to begin planning your Easter decorations is as Lent draws to a close. This gives you time to prepare your home at the same time you prepare your heart for Christ's passion, death, and resurrection. As the Easter season begins, you can then unleash your unique bright, colorful Christian Easter decor.
Whatever your aesthetic, incorporating religious Easter decorations into your decor is a great way to show everyone who enters your home that your faith is important. Drawing inspiration from the ideas above, bring the motifs that speak loudest to your soul into your home.